Tuesday, 14 August 2018
All the Ships at the Port of Dover...plus...

WWW.DOVERFORUM.COM/SEA-NEWS
Doverforum.com: Featuring all the ships that come and go and work at the Port of Dover with further coverage of the surrounding ports both sides of the Channel. Email: dover7@msn.com to send SEA NEWS pix or info....
or click ADD YOUR COMMENT below to post direct, no membership needed.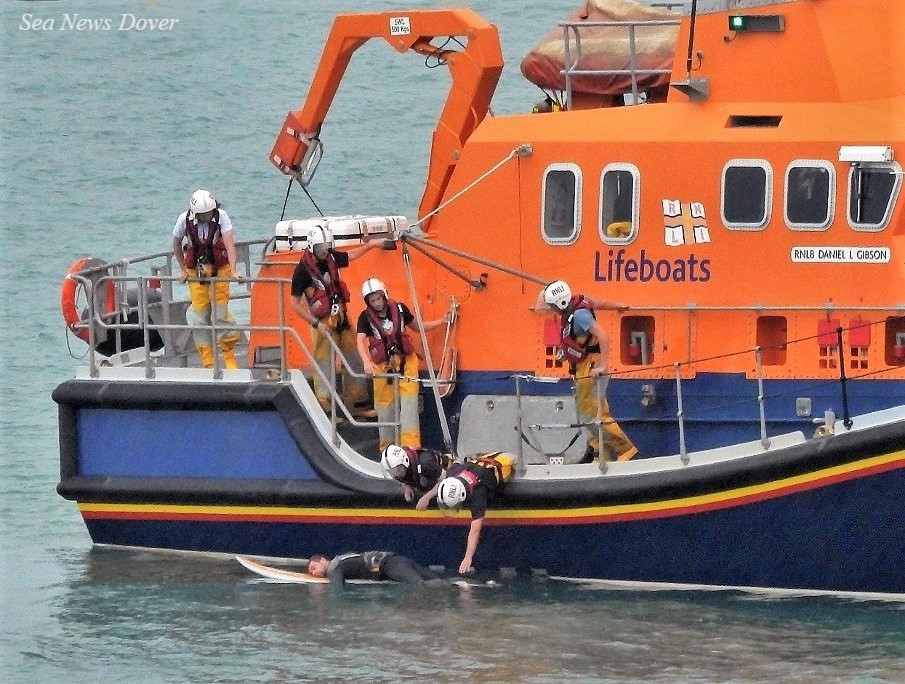 Dover Lifeboat action from Tuesday evening... the Lifeboat guys do training sessions on Tuesday evenings so we assume this to be a training session. We hope so, as the chap on the surfboard looks all in.
Excellent tourist season for P&O Ferries see 5127
VSBW Port of Dover - Women at Work 5117
P&O's summer recruits plus night-time fare deal see 5108
Port of Dover's influential project gets recognition see 5089
P&O - Students at the forefront..see 5087
DFDS and Marine Conservation at Dover Grammar Girls School see 5077
PORT OF DOVER new Board Member plus new Maritime Safety investment... see 5073
P&O FERRIES New Menu Launched...see 5071
DFDS the Success Story continues .. plus night-time fare deal 5068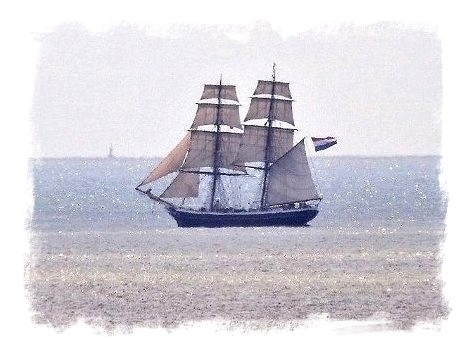 Fires near Dover Seafront .. see 5060
P&O's Jenny Evans - Maritime Young Person of the Year 5054 (also see 4608)
Europe's Best Festivals with DFDS 5029
P&O Pets Travel Free see 5019
DFDS Celebrates apprenticeship programme...5016
New Mobile App for P&O FERRIES see 5008
DFDS and ORCA see 5003.

DFDS ACQUISITIONS and EXPANSIONS...see below 4984
Dover Marina Control - New Contract Awarded see 4970.
PORT OF DOVER: Konecranes for new Cargo Terminal 4916.
PORT OF DOVER: £21 Million DWDR 'paving plus' contract awarded 4895.
PORT of DOVER - three cruise ships, one day 4885.
DFDS Charters New Ship see 4866.
New Marina Pier ... Latest...see 4861.
P&O FERRIES presents big cash to RNLI Dover...see 4829.
PORT of DOVER: Chief Executive TIM WAGGOTT Resigns...see 4778.


P&O FERRIES recruiting...4745.
PORT of DOVER awards Cargo Refrigeration Contract see 4740.
PORT OF DOVER: Community Benefit 4688
TRADING GROWTH FOR DFDS DESPITE BREXIT see 4642
PORT OF DOVER RECORD FREIGHT see 4551.
PORT OF DOVER: GEEST LINE arrival see 4597.
SECOND FEMALE CAPTAIN FOR P&O see 4608.
The Community REGATTA is on this year on the 26th August - see 5103.
Sea News Dover :
Use our SEARCH ENGINE below to find all sorts on the SEA NEWS pages....
More than 250 now with more than 5000 nautical posts.
Posts are welcome. Max of 5 pictures preferred per day although we can occasionally stretch to 6 on special stories.
Type CRUISE VISITS in our SEARCH ENGINE below for news of the latest arrivals.
Sea News Editor Paul Boland - dover7@msn.com .
Post 1041
PaulB, Dover
A FINAL FAREWELL TO THE RYNDAM
I think we were all quite surprised to see the ballyhoo on Saturday evening surrounding The Holland America Line's Ryndam as she departed the Port here in Dover. But then in due course the penny dropped and it dawned on us that she was leaving here for good. It was the final goodbye. So a commonplace departure turned into a sad farewell to an old staple. She heads off to pastures new we understand.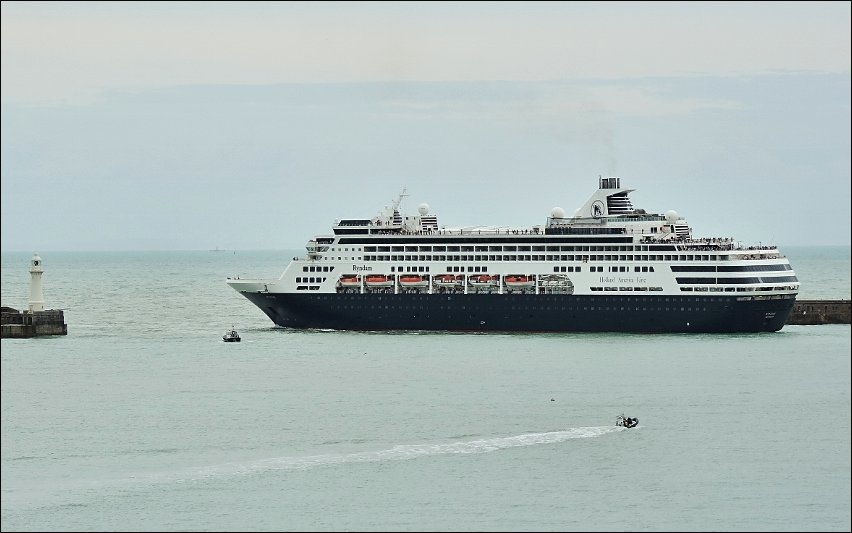 it was a still but slate grey evening as she moved away. The tugboat Dauntless led the way out into the open sea spraying vigourously and high into the calm cool air..you can see the beginning of proceedings in the picture below. The whole thing almost un-noticed on the Prince of Wales Pier..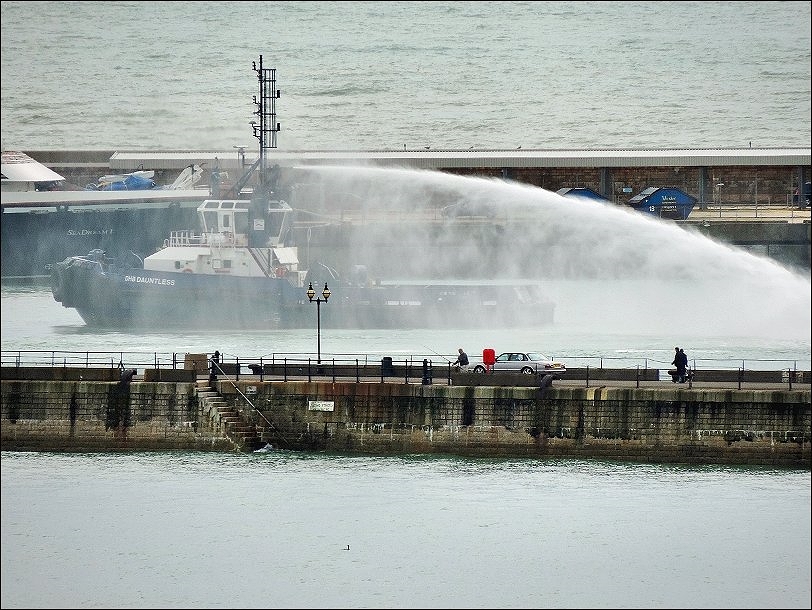 Out into the open sea she goes below, almost posing for the last picture, while Richard Mahoney's White Cliffs Boat Tour trundles by in the foreground - with not too many takers in the cool sharp evening.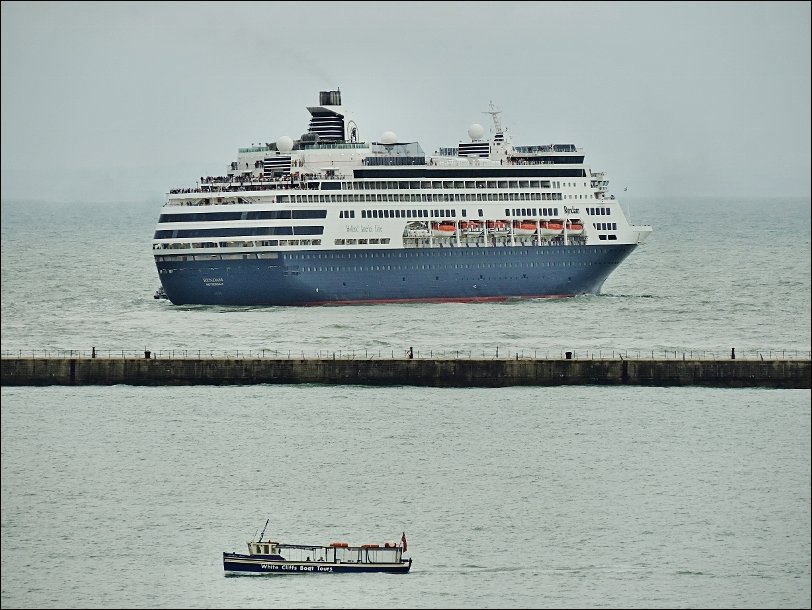 Monday, 1 September 2014 - 05:30
Post 1040
PaulB, Dover
Thanks for the information girls. Great stuff!

Colette have added the latest post number to the top listing as per usual, we still have some good and fab ships coming which is a satisfying and exciting prospect.
Jacqui thanks for that. We have had a varying info re the Ryndam since but nothing seems clear. Whatever happens to the ship in future.. well it certainly now looks that Dover wont be part of that future. Will have pictures of the final departure in the morning.
Sunday, 31 August 2014 - 18:18
Post 1039
ColetteB, Dover
Yes Jacqui, it will be a great shame to lose the Ryndam in 2015 if that is the case

Fabulous looking cakes for MyFerryLink's 2nd Birthday, the French make great cakes, Marie Antoinette will be fuming

Happy Birthday MFL
And now for the September Cruise Schedule
Tomorrow 1st September the AIDAStella cruises back to CT2, TR, for the last time this year.
Tuesday 2nd the Saga Sapphire arrives back to CT1,TR.
Wednesday 3rd the Marina is back for a PoC at CT2, she was here in June this year.
Thursday 4th brings the Artania with a PoC at CT2, she was last here in August 2013, so a nice treat to see her again this year

Friday 5th the Saga Pearl 11 is back at CT1, TR.
Saturday 6th, another chance to see the MSC Magnifica at CT2, PoC. This is her last call this year.
Over the next two days 3 Costas cruise into Dover, starting on Sunday 7th, the Costa Pacifica arrives at CT2, PoC, last here in June this year.
Two arrive on Monday 8th, the Costa NeoRomantica at CT1 & the Costa Luminosa at CT2, both PoC's & last here in May this year. This is their last call this year. Enjoy!
No cruises on Tuesday & Wednesday. Be back then

Sunday, 31 August 2014 - 14:31
Post 1038
Jacqui Whatson, Dover
Paul I just looked at the Holland America website and although I'm no expert it does look as though Ryndam will be using Harwich for her future cruises. Shame because she's one of our regulars.

Sunday, 31 August 2014 - 09:50
Post 1037
PaulB, Dover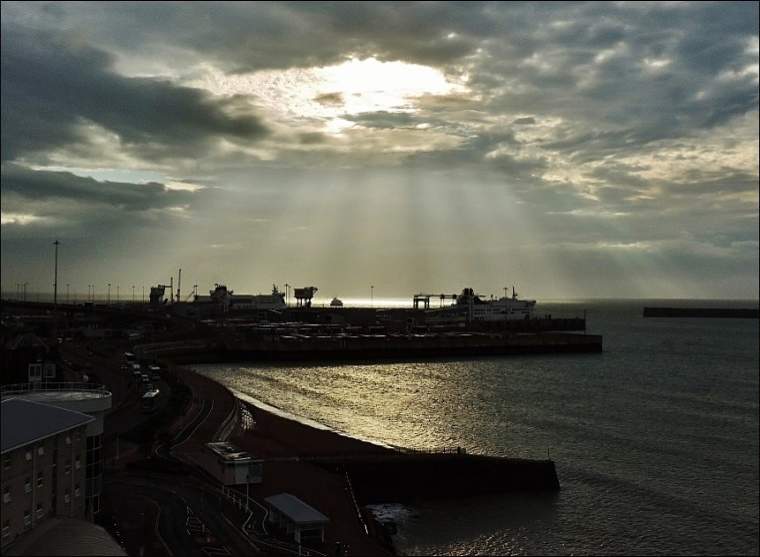 Just catching up here with some of the pictures. Back to the ever so exotic Sea Dream I again. Here she is approaching early on Saturday morning out of the blazing sun..ermm I say blazing sun but alas alas it blazed all too briefly. That tiny dot in the middle of things is the ship itself if you can spot it, so some fairly fierce zooming-in was required. So here we are...
The sea looks to be a tad choppy there but she looks good in her approach both in the pic above and below. Both pictures taken across the rooftops as it were. Lucky that there was no ferry in berth to spoil the view of the approach.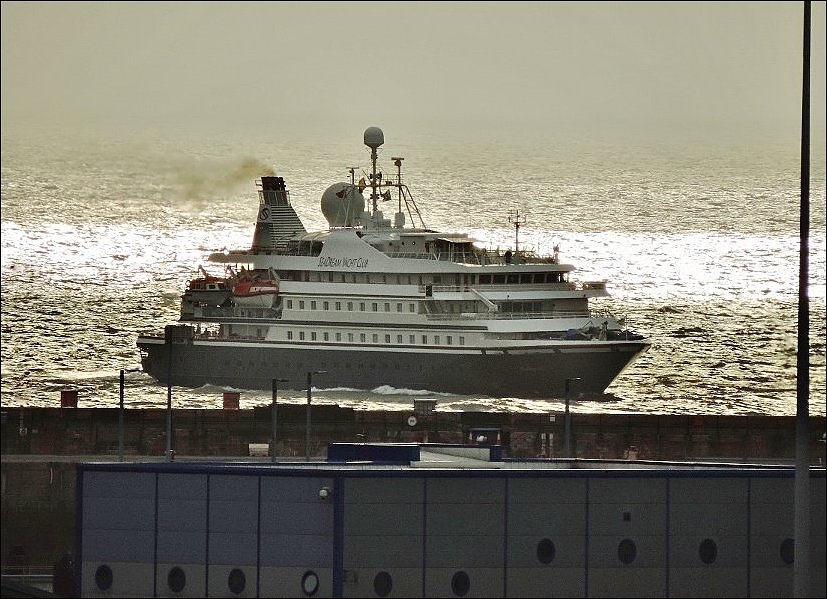 The Sea Dream was still trailing smoke as she left last evening but the situation doesn't look too problematic in the pictures above, got some pictures of her departure and also of the Ryndam departing with tugboat spray salute. I am still baffled as to why, somebody on Twitter said The Ryndam was departing Dover for the final time but I don't know how accurate that information is/was. Will have some pictures of it all anyway in due course...still in camera as I write and still not examined but should have some good ones. Hopefully.
ADDED: Crystal Symphony and Braemar in Port today.
Sunday, 31 August 2014 - 05:16
Post 1036
Mike J., Dover
Saturday - Seacat berth demolition continuing.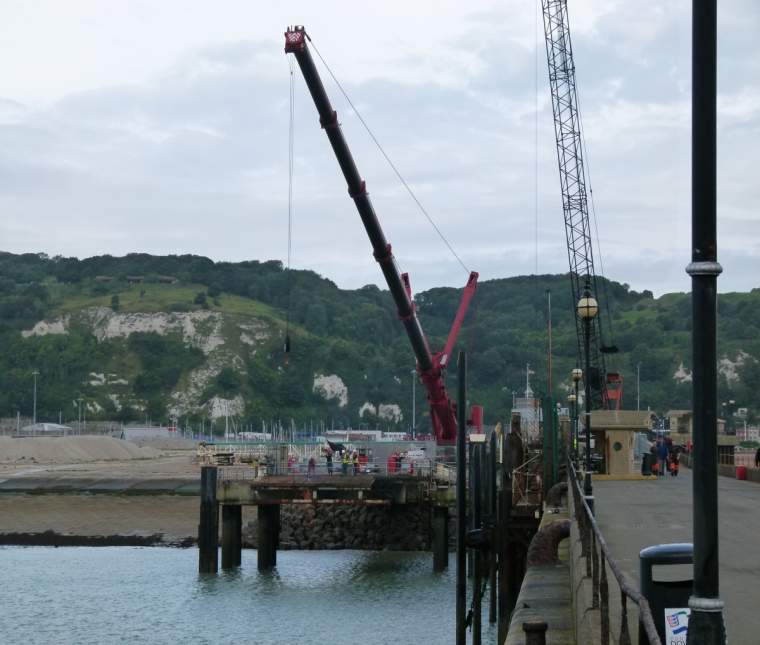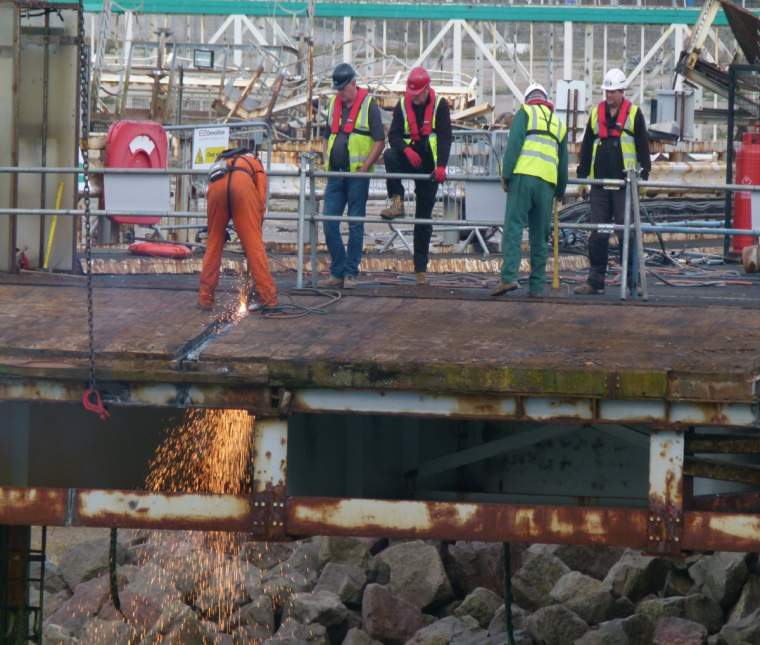 Saturday, 30 August 2014 - 23:30
Post 1035
PaulB, Dover
Nice pictures lads - just been watching the Ryndam depart with tug spraying. Have the awful sinking feeling she may be leaving us for the last time.

Saturday, 30 August 2014 - 17:16
Post 1034
Mike J., Dover
The SEADREAM-1 returned to Dover around 0800 Saturday morning, trailing her usual plume of smoke.
The RYNDAM had arrived earlier.
The first two photos are a slight 'cheat' & were taken on the SEADREAM's first arrival on 16/8.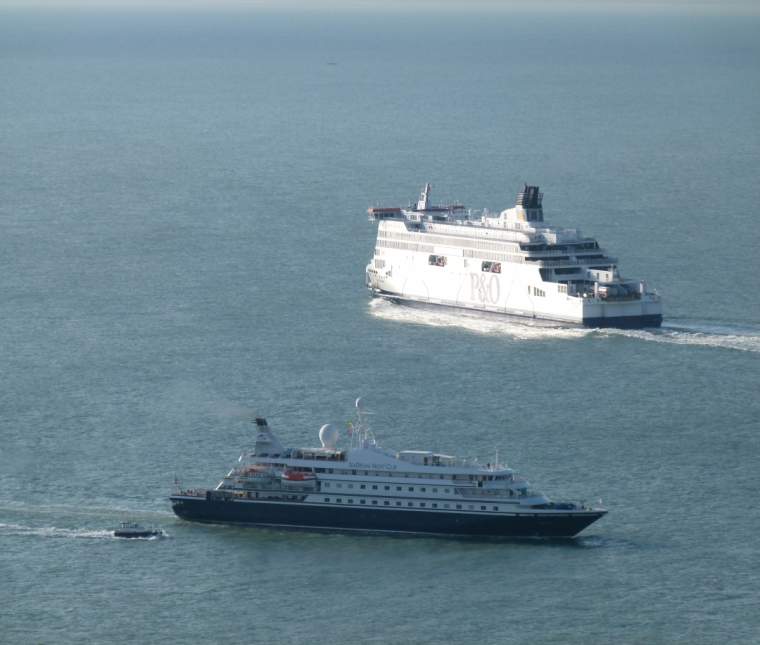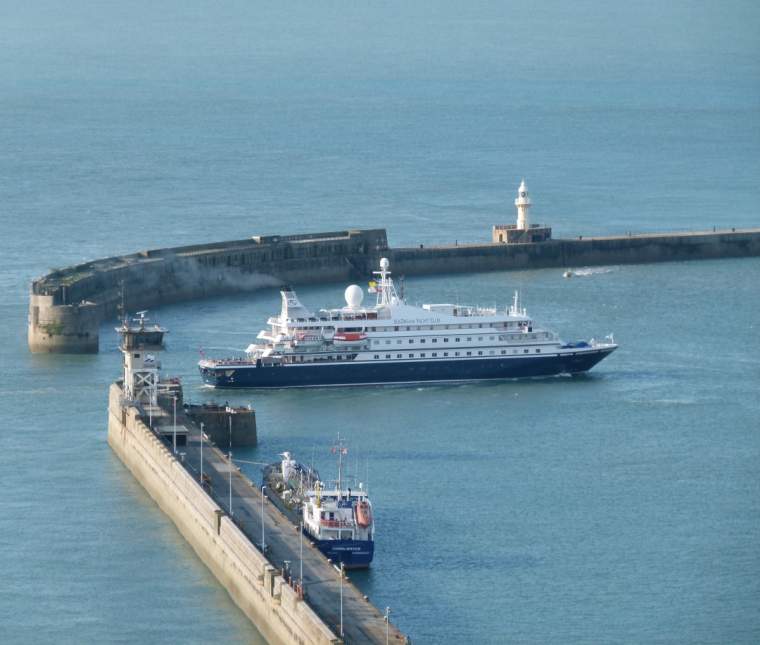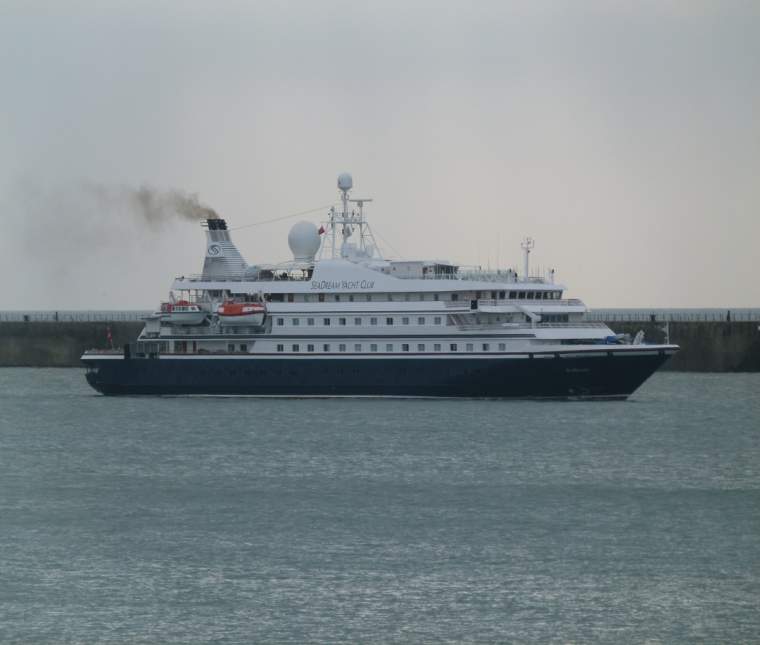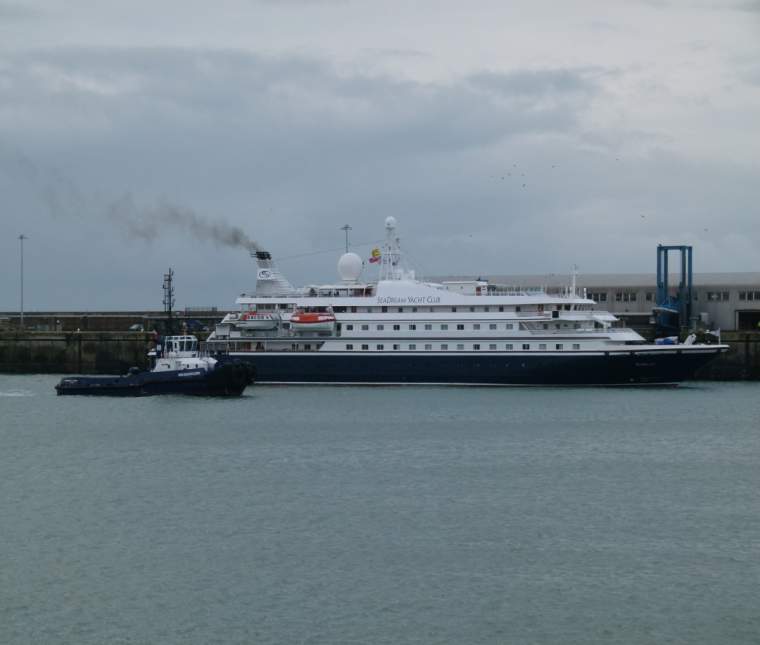 Saturday, 30 August 2014 - 13:37
Post 1033
Ed Connell, Dover
The little "multicat road-transportable multi-purpose workboat" Toplift working at the Southern breakwater at very high water with Spirit of Britain entering via Eastern and Pride of Kent departing by Western.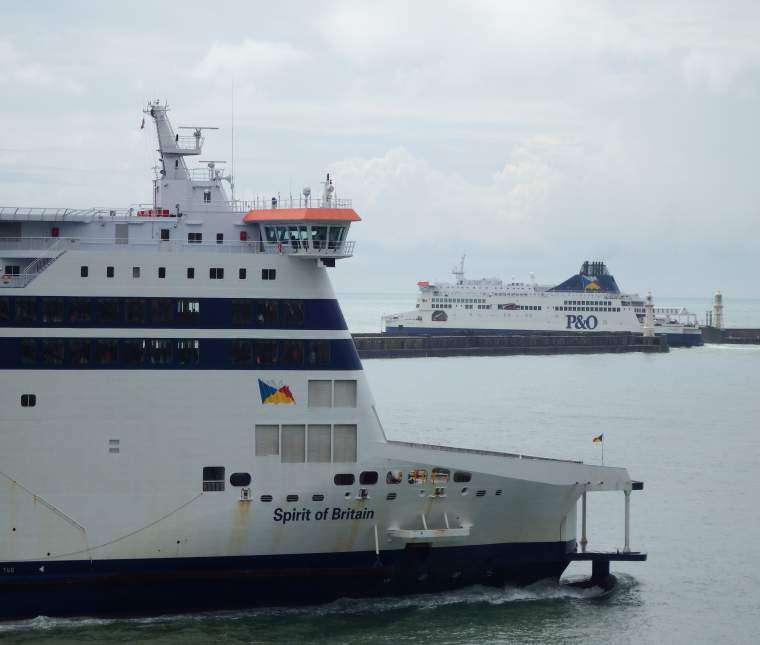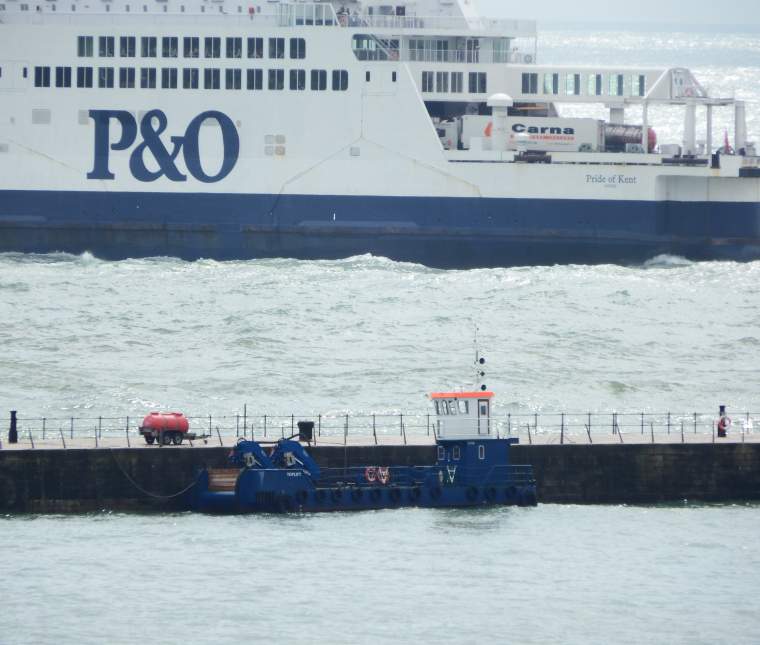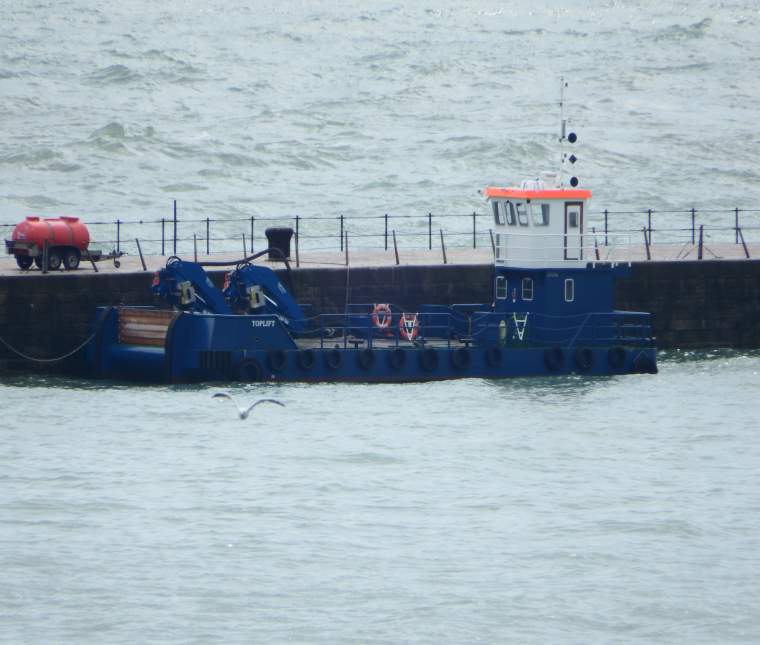 Saturday, 30 August 2014 - 13:23
Post 1032
Ed Connell, Dover
Another cargoship I do not remember seeing in Dover before. Hellas Reefer berthed at the Dover Cargo Terminal last Sunday.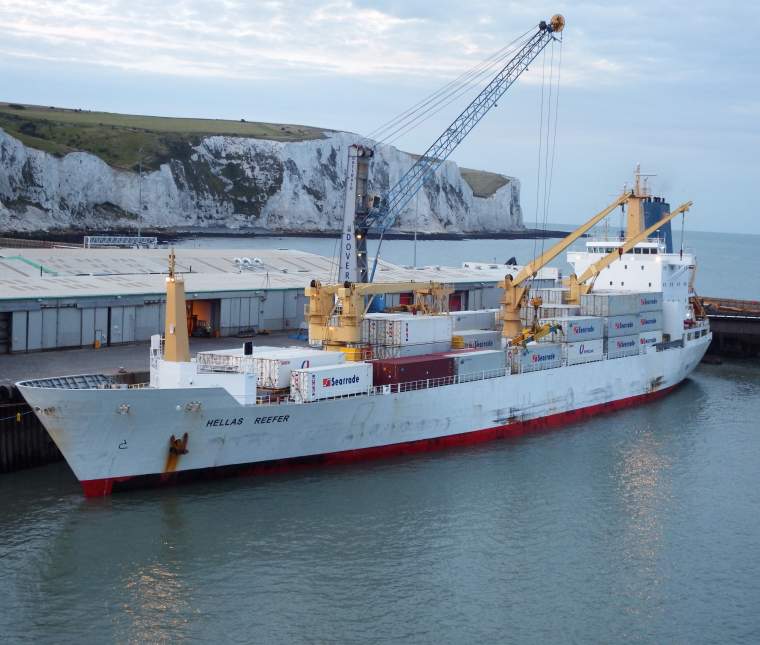 Kevin: Interesting provenance for the photo of HMS Illustrious. You are more than welcome to the original if you would like it, I was only interested in scanning it.
Saturday, 30 August 2014 - 13:09
Post 1031
PaulB, Sea News, Dover.
We are running a little late with this one. But here we are with a big well done to them..

* *
It's a piece of cake: MyFerryLink celebrates 2nd birthday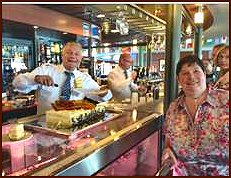 Passengers onboard MyFerryLink's fleet were treated to cake and free gifts last Wednesday, 20 August as the French ferry company celebrated its second birthday. The cakes had been specially created onboard by their pastry chefs and were devoured with great enthusiasm by passengers on the ferries. Customers who weren't travelling on MyFerryLink's birthday were included in the activities with a highly successful birthday special offer sale.
UK Managing Director, Robin Wilkins said the company certainly has reasons to celebrate: "MyFerryLink is going from strength to strength with excellent customer feedback and a really strong performance. On our first day of operation, 20 August 2012 we carried 230 passengers; one year later in 2013 we carried 5,476 passengers and this year on 20 August, our second birthday, the figure had increased to 7,341. We have had a highly successful summer this year and would like to thank all of those people who have chosen to travel with us in our first two years of operation."
20 August 2012: 13 trucks - 64 cars & other vehicles - 230 passengers
20 August 2013: 1,135 trucks – 1,327 cars & other vehicles – 5,476 passengers
20 August 2014: 1,329 trucks – 1,968 cars & other vehicles – 7,341 passengers
To find the best fares or for more information, visit www.myferrylink.com or call 0844 2482 100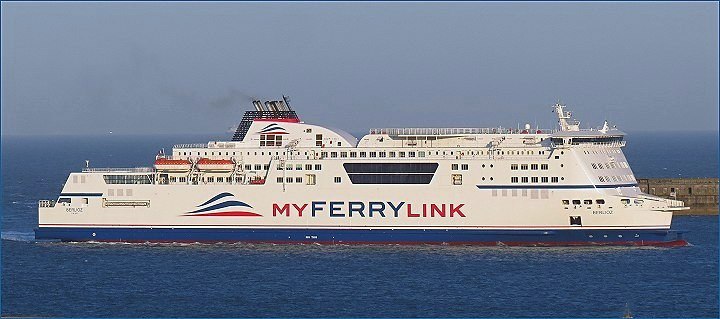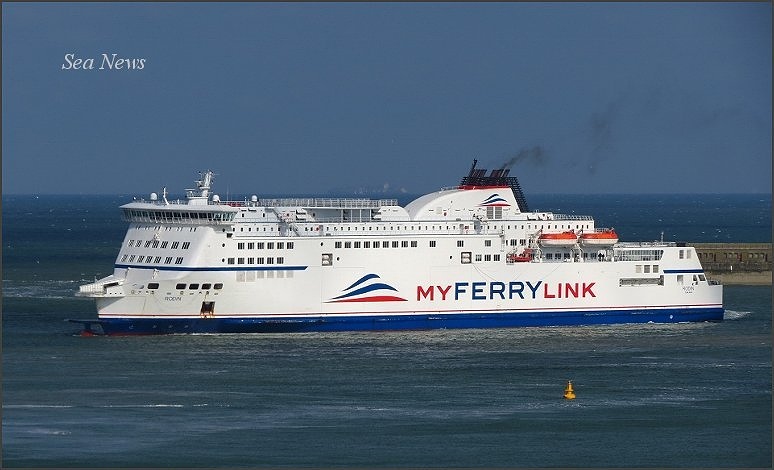 The Berlioz above and finally the Rodin.
Another Birthday!


ADDED: SEA DREAM and RYNDAM in today. Another double header. Enjoy!
Saturday, 30 August 2014 - 06:52
Post 1030
ColetteB, Dover
Well I Never!!!
Happy First Birthday to the Great Sea News



Well Done MrB & all the many contributors. It's jam-packed with awesome seafaring news & photos, LUVIT!
Onwards & Upwards!!!

Friday, 29 August 2014 - 14:26
Post 1029
PaulB, Sea News, Dover
Further Steps Towards Community Director Appointment
_____________________________________________
In accordance with the published timetable, the panel met at the Port of Dover on 26 August to review what were acknowledged by all present to be 27 high quality applications for the recently advertised non-executive Community Director role on the Dover Harbour Board.
Chief Executive of the Port of Dover, Tim Waggott said:
"It is very encouraging that we received such a substantial response as we continue the momentum of working together with our community to deliver for Dover. I would like to personally thank everyone who has taken the time to express an interest in the role for their commitment to being part of a shared vision for the future."
Candidates who have been shortlisted will be invited for interview on the 18 or 19 September, and will be met by the panel which includes the Leader of Dover District Council, the Deputy Mayor of Dover and the local MP. Alongside these locally elected representatives, candidates will also meet the independent Chairs of the Port & Community Forum and Port Users Group as well as members of the Board's own Nomination Committee and the Chair of the South East Local Enterprise Partnership.
Mr.Waggott added:
"Local elected representatives form around one third of the interview panel. We feel the group reflects an equitable distribution of responsibility and input between locally elected representatives, independent community and customer representatives and Dover Harbour Board itself."
* *
Departure time for the great ship...yes its the MSC Magnifica moving off late yesterday in slightly blustery conditions. Turning south heading for the delightful St Peter Port in the channel island of Guernsey.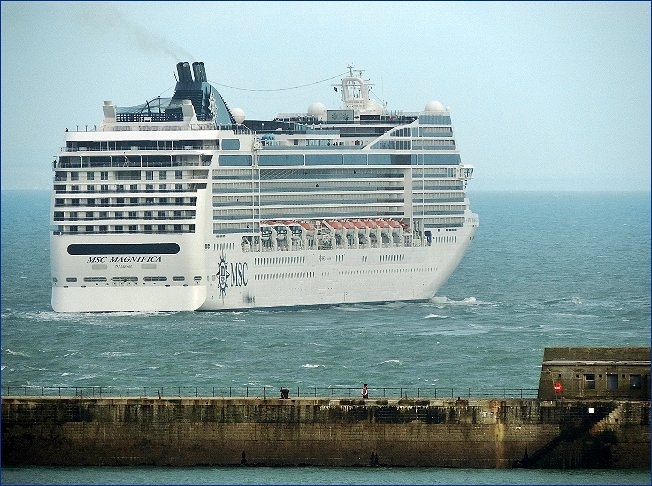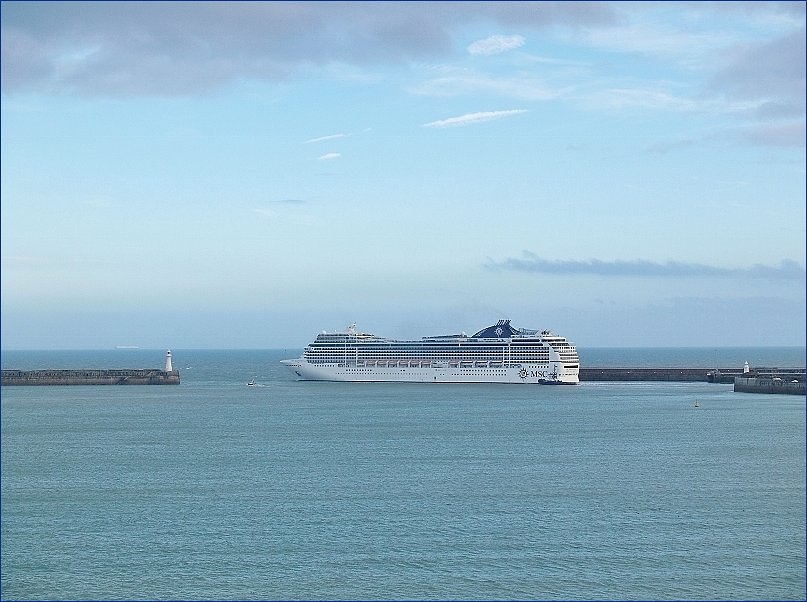 Great pictures below guys. Glad Ed was able to add that one for you Kevin.
Thanks for all the comments guys. Onwards and upwards as they say...

Friday, 29 August 2014 - 12:19
Post 1028
Kevin Charles, Dover
Hi Ed. The dates on your photograph correspond with my voyage from Portsmouth to Plymouth on HMS Illustrious in 1983! I'm guessing the photo was originally owned by one of my fellow Sea Cadets from Dover or the unit from Rye who were also onboard.

Thursday, 28 August 2014 - 22:15
Post 1027
Ed Connell, Dover
HMS Illustrious entering Dover in 1983, picked this up on eBay a few years ago.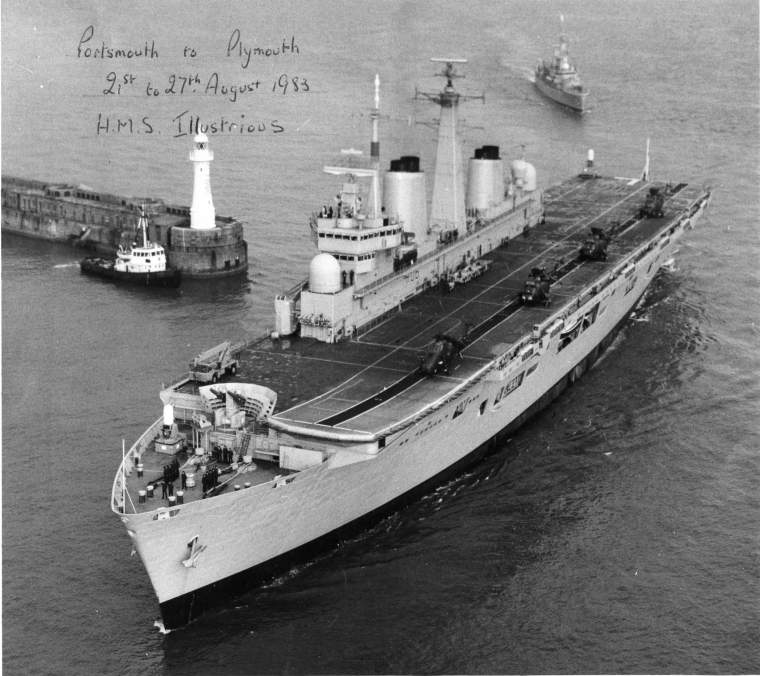 Thursday, 28 August 2014 - 21:47
Post 1026
Kevin Charles, Dover
Just checked my records and it was actually 31 years ago this week that I was onboard HMS Illustrious with Dover Sea Cadets!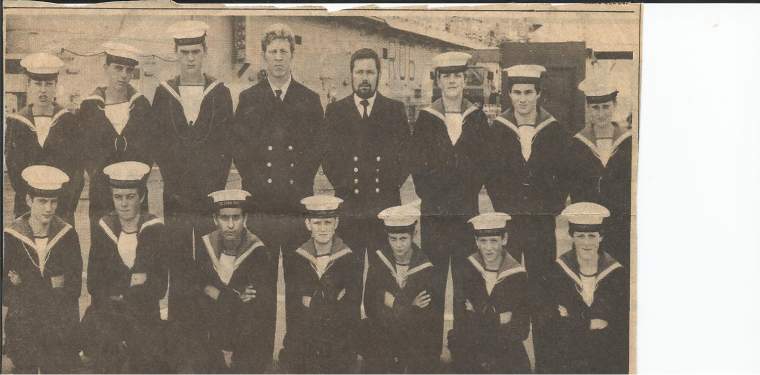 Thursday, 28 August 2014 - 21:33
Post 1025
vIC mATCHAM, dOVER
By far the best page for comments and photos and news about the port please keep it up. Thank you.

Thursday, 28 August 2014 - 19:44
Post 1024
Kevin Charles, Dover
Congratulations, PaulB on overseeing a year of Sea News!

Today saw the decommissioning of HMS illustrious which had strong links with Dover and visited the port on two occasions I recall. She was affiliated to the Cinque Ports, and as a Sea Cadet with TS Lynx in Dover I got to spend a week onboard, sailing from Portsmouth to Plymouth.

Let's hope the Royal Navy recognise the important role that Dover and the Cinque Ports played in the nation's maritime history and pass the honour to another major warship - the new HMS Queen Elizabeth would be great, although I am not sure she would fit in the port!

Thursday, 28 August 2014 - 19:39
Post 1023
PaulB, Dover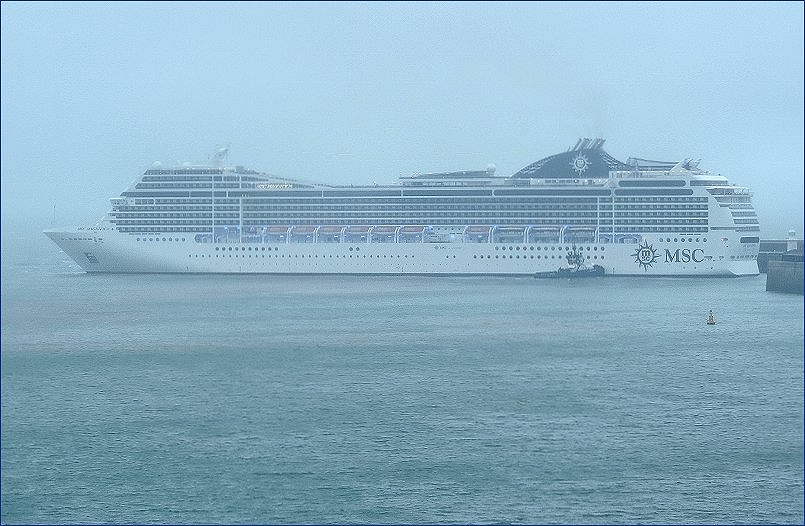 The Magnificent MSC Magnifica is in harbour today. The weather was abysmal for its arrival prior to 7am but conditions are slowly getting a wee bit better. Obviously all the very welcome visitors don't see Dover at its best in driving rain and awful visibility...the White Cliffs and Castle vanish from view for a start. But as we say...it looks to be improving now as we write. The top picture shows its arrival early today in the slate grey rain, you can see that some of the ships lights are still visible, the picture below better shows the great ship on a previous visit.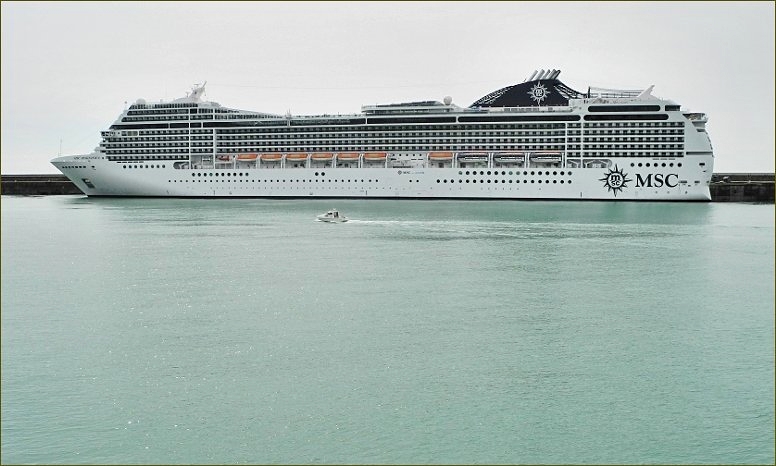 ONE YEAR OLD:
______________
Just to mention that this new SEA NEWS page was one year old as of yesterday. This page had been quietly languishing, no longer in use, so we re-launched it as Sea News on the 27 August 2013 and here we are one year on...busy busy and intending to keep busy. We are always interested in nautical items from contributors...just click 'add your comment' above or send direct to me Paul Boland on dover7@msn.com. It has been excellent receiving all the contributions and we have been very happy to receive full info from all the main players operating in and from the harbour...the ferry companies and of course especially the Port itself. Many thanks to one and all. PB


Nice set of pictures below there Mike showing the working boats coming in and out.

Thursday, 28 August 2014 - 15:12
Post 1022
Mike J., Dover
Off to work we go . . . . .
Wednesday morning with the DOVER WORKER & the TOPLIFT en route for the Southern Breakwater & the Range Safety Vessel SMIT ROTHER heading off to defend Hythe Ranges [or perhaps Lydd ranges ?].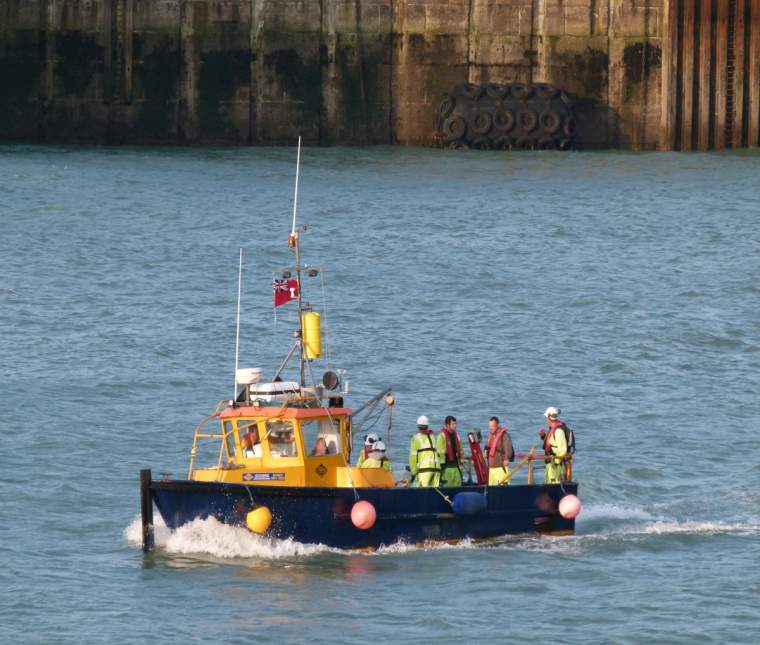 Quite a contrast in bows, the OCEAN PRINCESS & the TOPLIFT !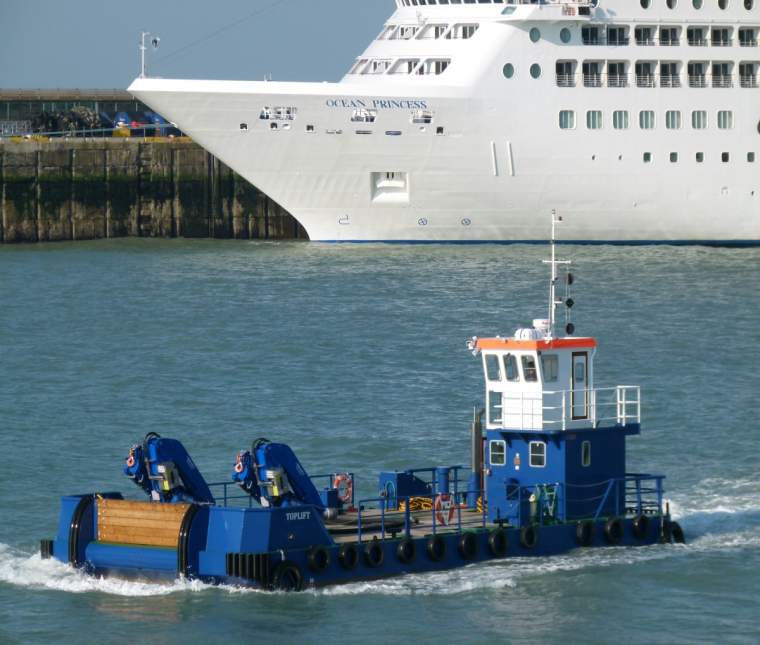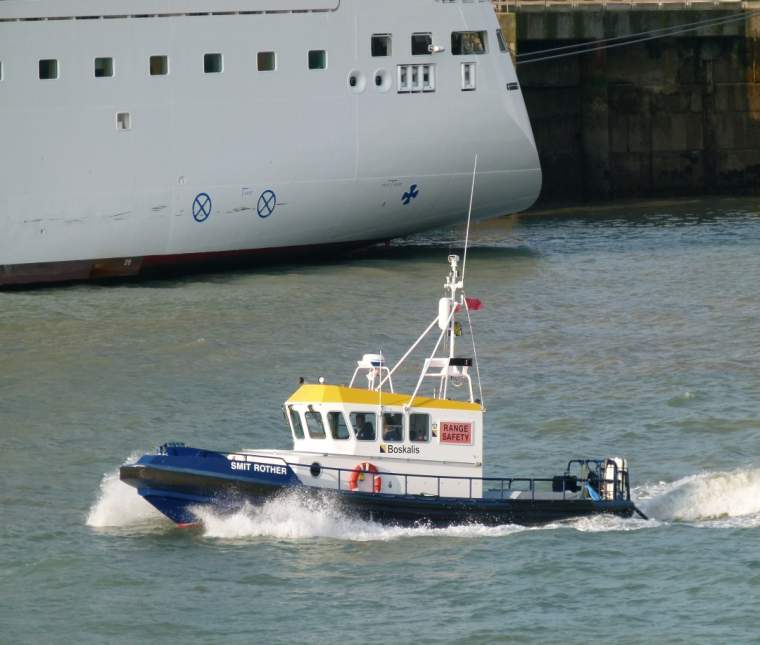 The DAUNTLESS doing her bit for the environment after helping to park AIDALUNA on Cruise-2.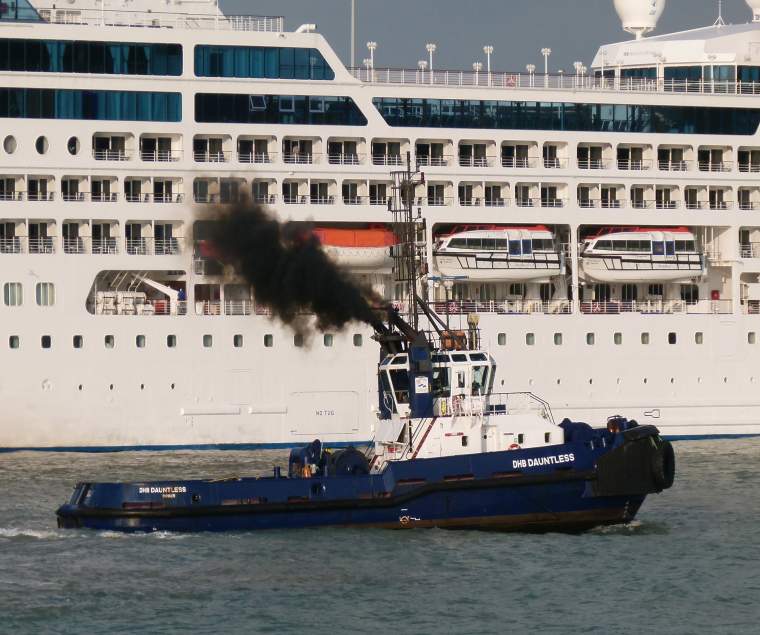 Wednesday, 27 August 2014 - 22:06