Thursday, 18 October 2018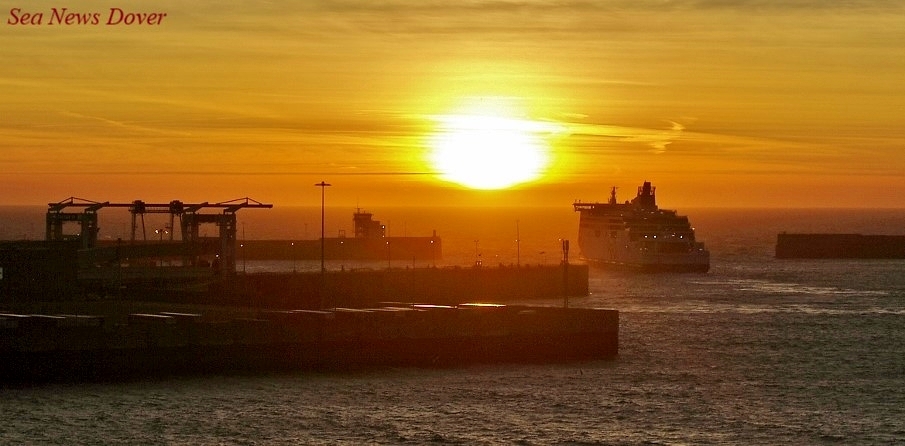 The Port of Dover with early ferry.

WWW.DOVERFORUM.COM/SEA-NEWS
Featuring all the ships that come and go and work at the Port of Dover with further coverage of the surrounding ports both sides of the Channel. Click ADD YOUR COMMENT below to post direct, no membership needed.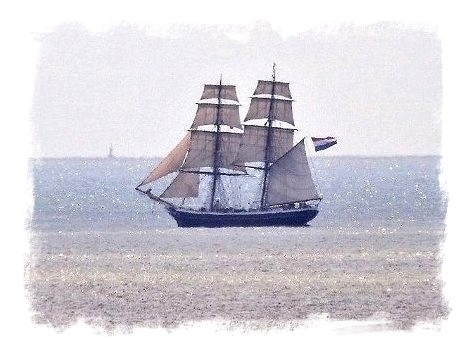 P&O: Schoolchildren mark WW1 see 5816.
Lower Thames Crossing boost..5812.
Dover Museum's revitalisation see 5807.
Port of Dover: Refrigerated Cargo Terminal .. software for 5801. Latest NATO also 5801.
Port of Dover: Great increase in summer traffic 5795.
Russian and shadow 5785.
The Waverley paddle steamer 5778...
New SAGA Ship launching in Dover see 5776.
P&O: To Rome on Horseback 5759.
DOUG BANNISTER: New Chief Executive Port of Dover see below 5734....
Merchant Navy Ceremonial images also 5734.
Dover Regatta Rescue incident plus .. see 5713.
Dover Regatta pictures Lifeboat etc..5716, 5717, 5718, 5720.
DFDS Expansion: More New Ferries on order... see 5693 see also 5500 and 5381.
Excellent tourist season for P&O Ferries see 5649.
VSBW Port of Dover - Women at Work 5638.
P&O Second Female captain see 5107. Also see latest 5570.



NEW:

For instant access to the items above - type the post number in the Search Engine below.



Sea News Dover : Use our SEARCH ENGINE below to find all sorts on the SEA NEWS pages....
... more than 5800 nautical posts now.
Posts are welcome. Max of 5/6 pictures preferred although we can occasionally stretch that on special stories.
Sea News Editor Paul Boland - send info or pix to dover7@msn.com. Always welcome.
Type CRUISE VISITS in our SEARCH ENGINE below for news of the latest cruise arrivals.
NOTE:

We have added a new feature. This has resulted in some slight change to the numbering system on the posts. We needed to align data in order for us to be able to use post numbers in the Sea News Search Engine. For example..type into the Search Engine box the number 5734 if you want the story on Doug Bannister...and it will pop up for you. This will be very useful going forward. You can still search in the older way too. My thanks to long time ace colleague Chris Tutthill for enabling the extra feature. Chris runs our sister channel..dover.uk.com. PaulB
All pictures on these pages are the copyright of the owners and must not be reproduced without permission.
Post 1253
PaulB, Dover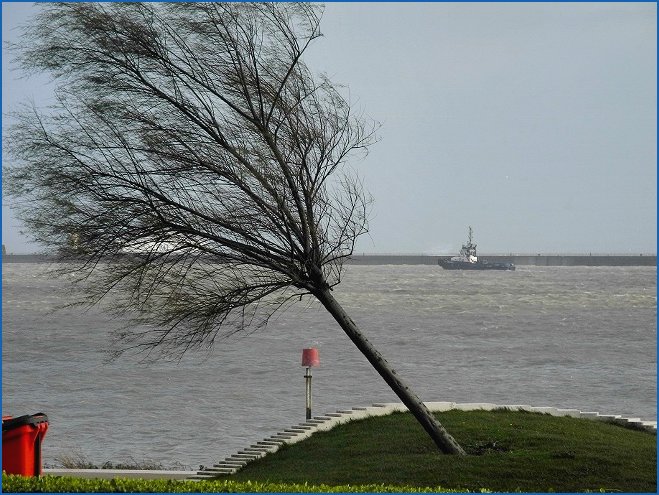 Many of the trees along our lovely seafront had long since adopted the position above, instead of leaping skywards as you would expect, they were kinda leaping towards Margate..so that would never do ! The horrendous storms of last winter rendered them more than a tad weatherbeaten. Yours truly quite liked them like that, as it showed something of a storm force character, but ones family members have often cried over their Pinot Grigios in the Dover Marina Hotel when gazing at the 'poor bent tees'. The good news now is the trees are restored to the erect position and are leaping skywards once again ...and now fully reinforced with 'stays'.. (not sure of the correct gardeners term there but the trees are now supported fully). A team came during the week complete with a JCB thingy and now all trees are restored to the perpendicular. No pictures yet of the re-aligned trees but watch this space in due course...

Vic the good news now is that all seem to be pulling together re the Port. so we can all drive forward hopefully in top gear. All seems more optimistic now than it has been for a long time.
Nice pictures below Mike. Its amazing what turns up in Dover Harbour ..never a dull moment. Nice story about it snaking all the way to Switzerland.
Friday, 31 October 2014 - 08:15
Post 1252
vic matcham, river
Nothing to do with the election next year then ( see post 1179 ),What the D.H.B. is doing had nothing to do with Dovers MP if he had his way it would have been sold off to a group call the Dover Port or wording of that kind, putting a rope round the neck of the port for a 100years paying ofF a loan. But port stayed a Royal Port after all now it can look forward and move ward in the safe hands of the D,H,B.

Thursday, 30 October 2014 - 17:10
Post 1251
Mike J., Dover
Inshore survey vessel HMSML [Her Majesty's Survey Motor Launch] GLEANER was berthed in the Tidal Harbour on Thursday afternoon.
Built in 1983 & said to be one of the smallest vessels commissioned into the Royal Navy she also has the rare distinction of being the only Royal Naval vessel to have visited Switzerland, going up the Rhine to Basel in 1988.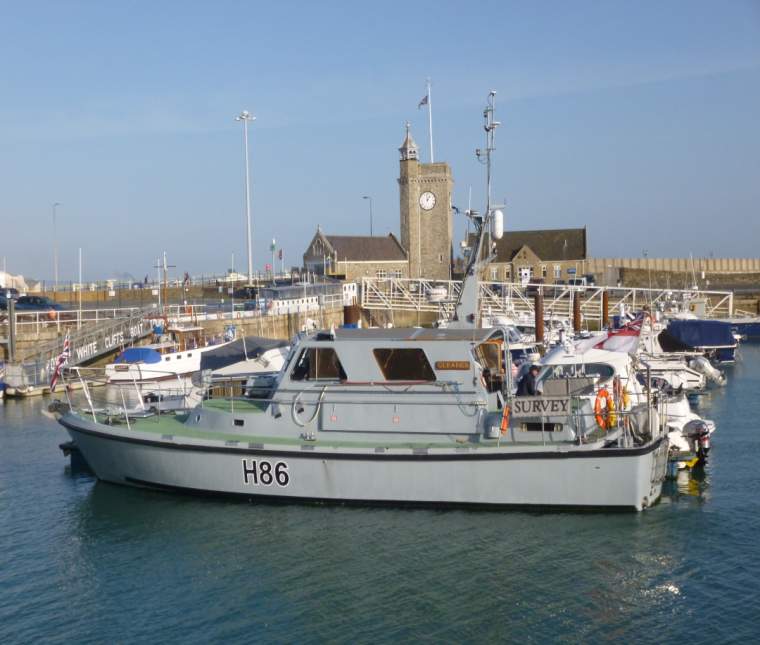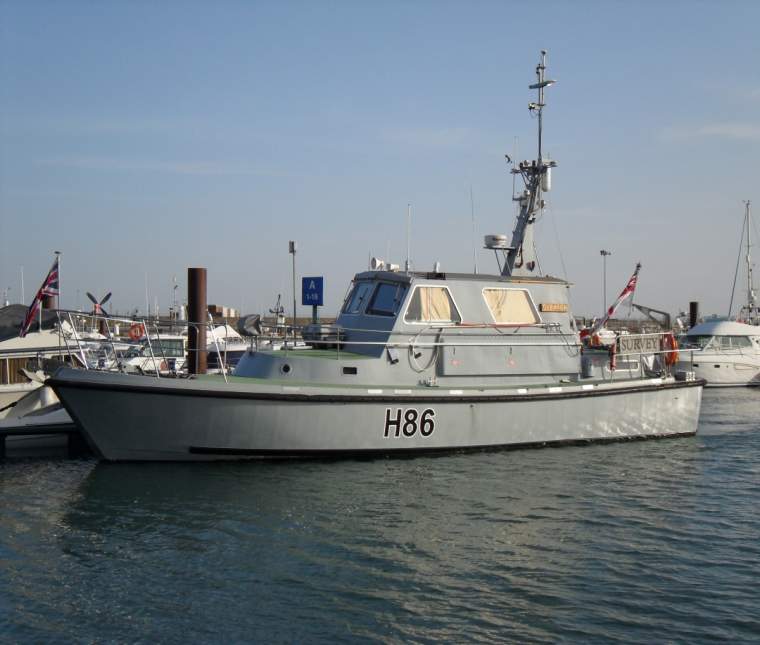 Thursday, 30 October 2014 - 15:53
Post 1250
PaulB, Sea News, Dover.
A PEOPLE's PORT IS RISING AT THE DOCKS says MP Charlie Elphicke
_______________________________________________________
Last week the New Ports Minister John Hayes visited the Port of Dover. He saw the progress that has been made over the last few years and the real change we have made together. It's important to remember that back in 2010 our port was about to be sold off. The previous Government planned to sell it to the French or whoever. When I was first elected all that was needed was the flick of the Minister's pen and it would all have been over.
Since that time we've come a long way. The battle against privatisation brought together the community, port workers and trades unions. It saw the foundation of the People's Port Trust with a plan to buy the port if the sell off was to go ahead. A referendum was held in Dover. The result was emphatic on a higher turnout than had been seen in the previous elections for the district council. Finally I took the battle to Parliament and defeated the Government in a key Parliamentary vote. After that Ministers decided that the sell off would not go ahead. Dover's port would be Forever England.
That was a great victory. Yet there was more. The campaign to save the port highlighted three serious problems. First the port needed to be able to raise money for investment. We need a great modern port fit to beat the competition from the Tunnel. Second people felt the port did nothing for the town. There needed to be a community fund to benefit our community. Third there needed to be a closer partnership between the port, port users and the people.
Things had to change. Business as usual was not an option. So some six months ago the previous Ports Minister, Stephen Hammond, visited Dover to set out his plan. The port would have new powers to raise the investment it needed to modernise and grow. Already the harbour revision order for this has been passed. Port management have also set out an ambitious plan for the Western Docks Revival with hopes to create 600 new jobs. A community fund would be set up which is now happening. It will help provide support for the skills, training and life chances of our young people. Finally he said there would be community directors. The first of these is currently being appointed.
The new Ports Minister was deeply impressed by what he saw. Much new investment is being made. There are plans for more. We've already seen demolition ahead of the Western Docks Revival. We have the area around the Marine Station in our sights. Alongside the moves to get Burlington House down many of the building blocks for the greater future of Dover are now in place. The next stage is to see through this change and transform our town.
ENDS
Charlie Elphicke is of course MP for Dover and Deal. Charlie sends out regular Newsletters and when they relate directly to the Port we are happy to reproduce on our Sea News pages even though we don't specifically do politics on these pages here. Charlie has been more involved with the team at the Port in recent times as all can see in our regular press releases.
More on the aforementioned ministerial visit in the earlier post number 1160 below.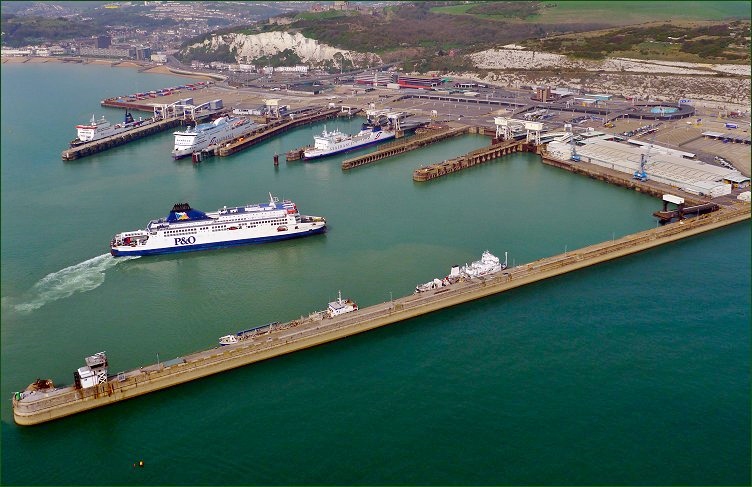 Thursday, 30 October 2014 - 07:10
Post 1249
PaulB, Sea News, Dover.
Another nice deal with free wine......enjoy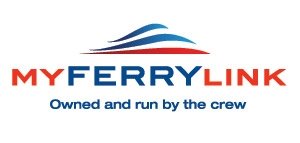 Free Magnum of Wine for the first 600 MyFerryLink bookings for outbound travel in November
___________________________________________________________________________
Issued 28 October 2014: With Christmas just around the corner, Dover-Calais ferry operator MyFerryLink is giving its customers an early present of a magnum of red wine for the first 600 bookings made between now and 29 November 2014.
With any duration fares starting from just £35 each way for a car and up to nine passengers, travelling by ferry is a great option for those planning to take a pre-Christmas break and stock up on their favourite French delicacies or for those visiting friends and family over the Christmas period.
As well as low fares, the first 600 MyFerryLink bookings will receive a free magnum of Petites Folies wine as a gift. This offer is available for all bookings made by 29 November 2014, for outbound travel between 1st to 30th November 2014 and return travel at any time in 2014.
To book, visit www.myferrylink.com and quote 'WINE' or call 0844 2482 100
Ends
PLEASE NOTE: THIS OFFER DOES NOT APPLY TO DAY TRIPS.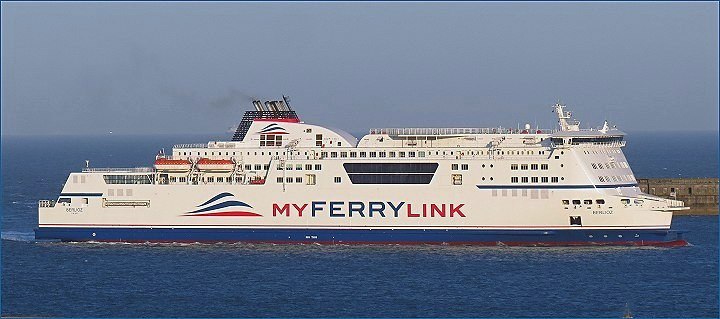 The Berlioz looking good.
* *
Although it is getting later in the year, there are still fantastic trips to be had on calm seas under big skies....both of which you can see in this recent picture..
We like our Big Sky pictures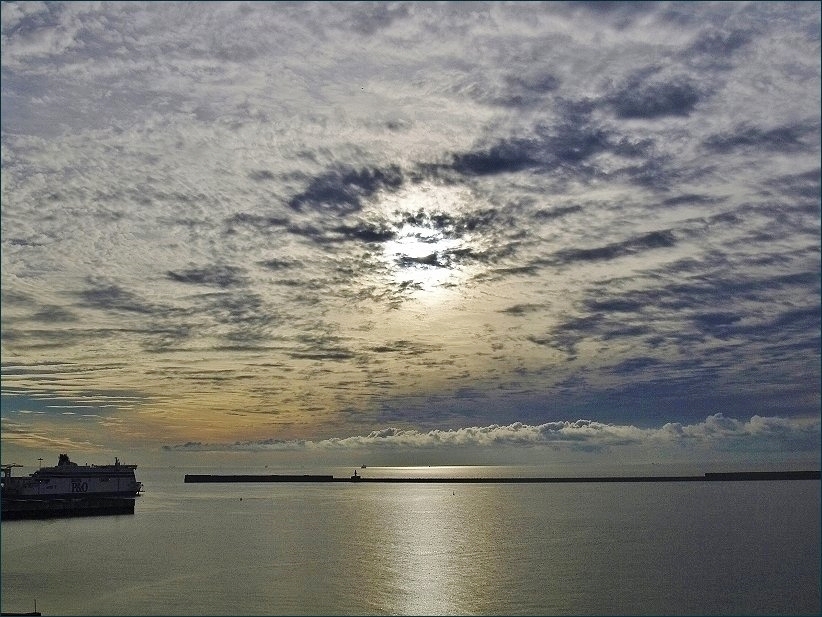 Wednesday, 29 October 2014 - 06:53
Post 1248
PaulB, Sea News, Dover.
SAILBOAT SPECIAL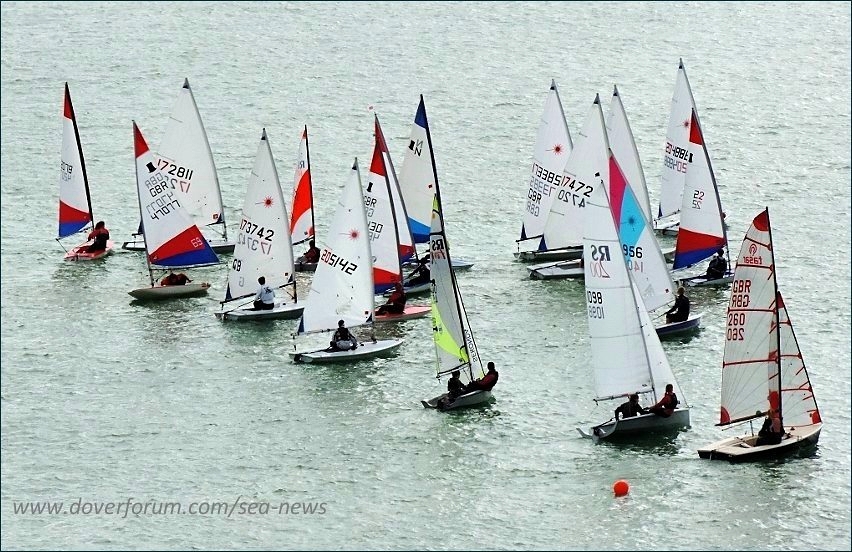 Saturday was a hugely exciting day for these little sailboats in Dover Harbour. The Sea Sports Centre was buzzing. There must have been something like forty boats whizzing this way and that out on the water. Tremendous colourful excitement for all the kids of all ages. Lots of safe monitoring too with much whistle blowing from the RIBs dashing hither and tither. To tell the gospel truth yours truly does not fully understand the whole procedure but just to say that everyone seemed to be enjoying themselves greatly and that these boats add a super colourful exciting content to any day out on the water. Great fun was had by all.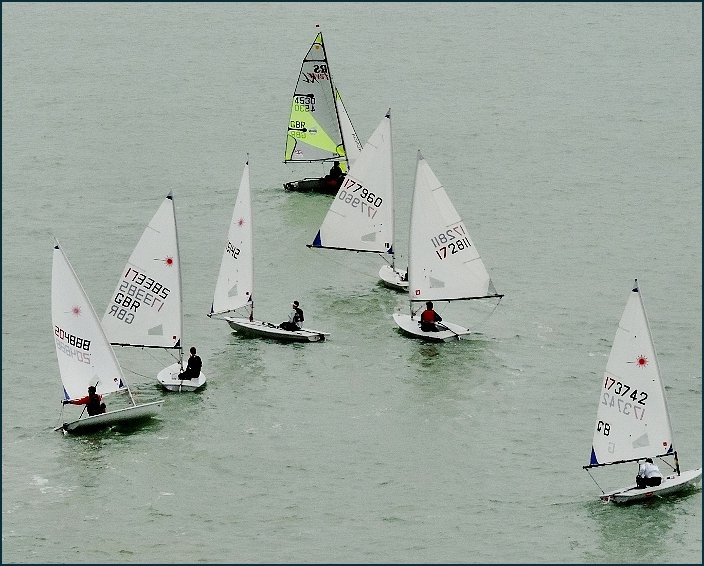 A special pictorial tribute post to the whole team at the Sea Sports Centre.

Tuesday, 28 October 2014 - 06:50
Post 1247
PaulB, Dover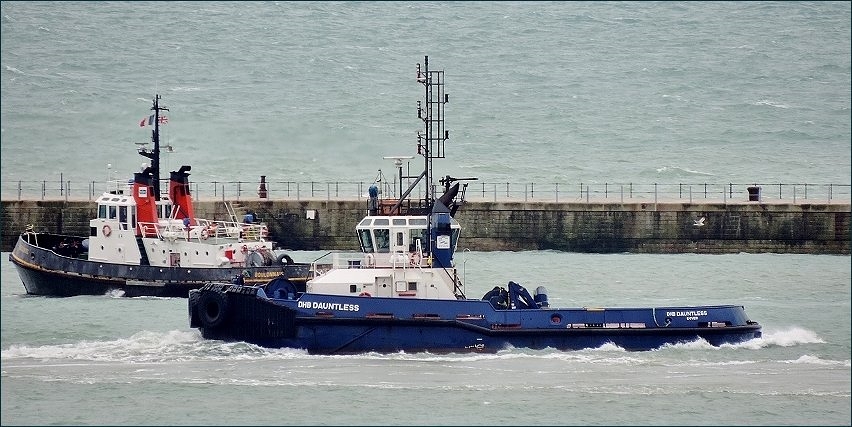 Above is a picture of the two current tugboats...Boulonnais and Dauntless just after they released the Columbian Star. Returning from a terribly exciting sunday morning jaunt to the supermarkets I saw the aforementioned cargo ship turning in the bay...the turning procedure always makes for some good pictures but frustratingly there was no camera to hand. However when yours truly eventually reached the 'observation tower' I managed to get the tail end of the goings on, hence the picture above and the two below. The ones below taken just after the Columbian Star left the harbour and went out into the open sea...longer range. The Columbian Star of course is a regular visitor here to the Port of Dover.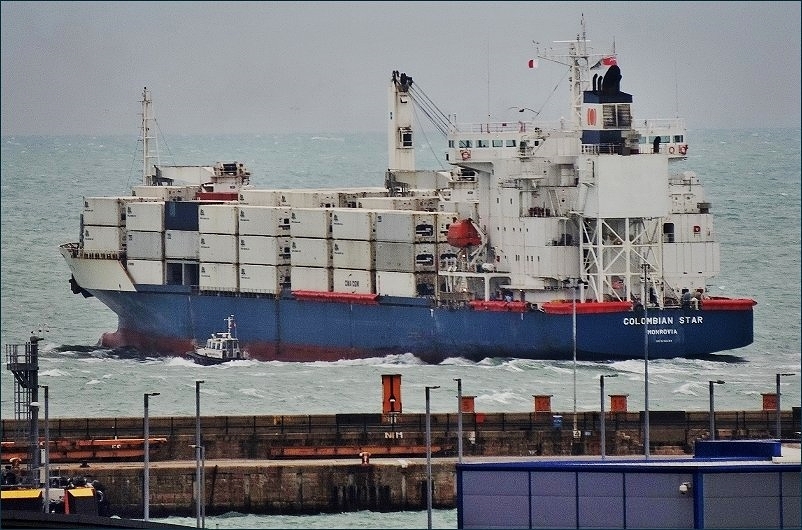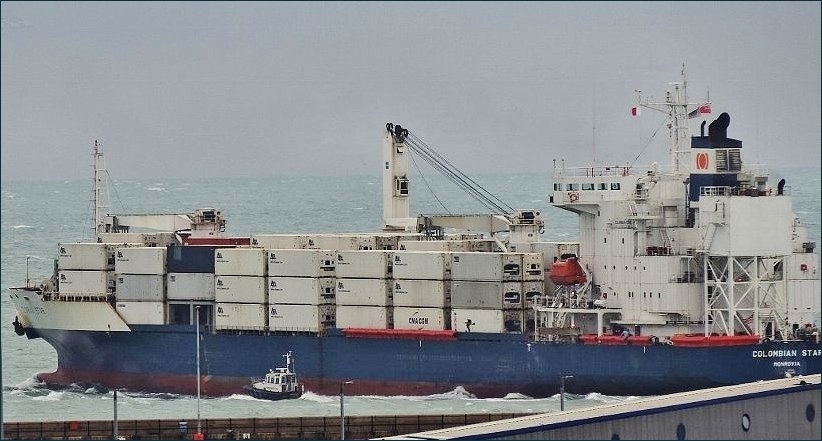 Just to mention that Saturday was a hugely busy day for the little sailing boats out there in the harbour...there must have been, well I don't know...thirty or forty out on the water. There may have been a special event on, as it all looked mightily busy at the Seasports centre. We will have some pictures of the sailboats in the next day or so all being well.
Monday, 27 October 2014 - 05:22
Post 1246
PaulB, Dover
That looks like the Columbian Star Howard...will have a few more pictures of that one tomorrow. That looks like the ship arriving..she left today with a huge load. Fast turnaround as ever.

Sunday, 26 October 2014 - 18:36
Post 1245
Howard McSweeney, Dover
A humble container ship passing through yesterday.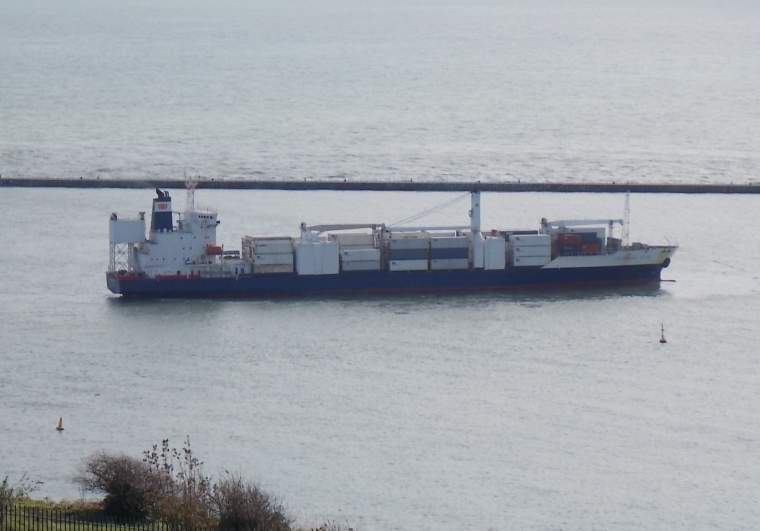 Sunday, 26 October 2014 - 13:08
Post 1244
PaulB, Dover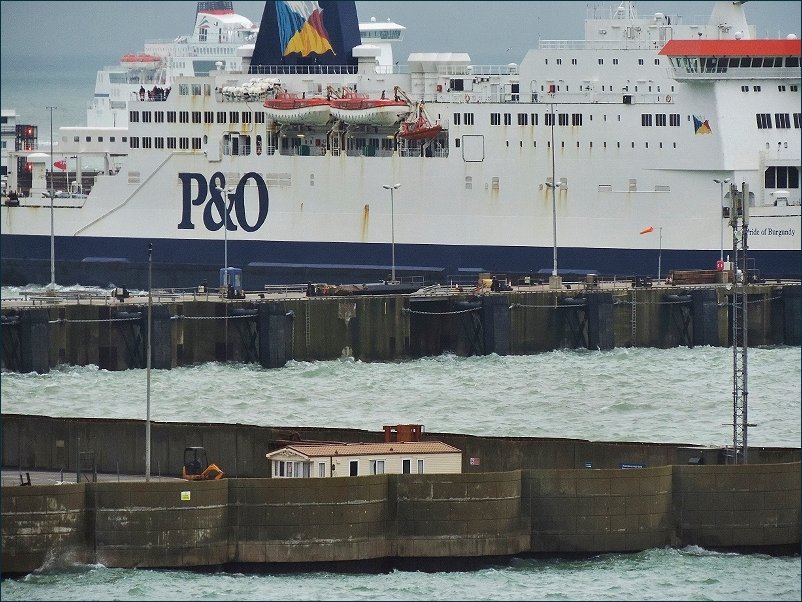 Whats this!? yes its an adorable des res in prime location with all amenities..right in the heart of all the throbbing pulsating action. Yours truly got quite excited when seeing this as was convinced it was to be the new home. Think of all the great photos from there with an added platform on the roof. I slept on it overnight, figured out all the legal paraphernalia, established how to raise the deposit....but alas alas heartbreak in the morning...the house was gone. It came Friday went Saturday...sheesh!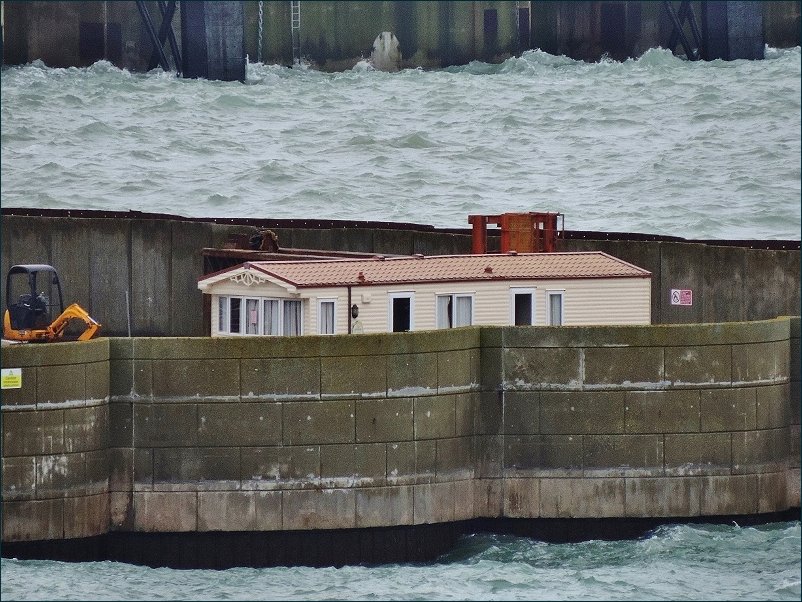 Sunday, 26 October 2014 - 08:04
Post 1243
ColetteB, Dover
A G&T whilst ambling gently around the harbour on the stylish Sea Dawn, what's not to like!! yes please

That's a cracking Super Sailing Ship at the top of the page

Saturday, 25 October 2014 - 13:56
Post 1242
PaulB, Dover
Anyone for a G&T...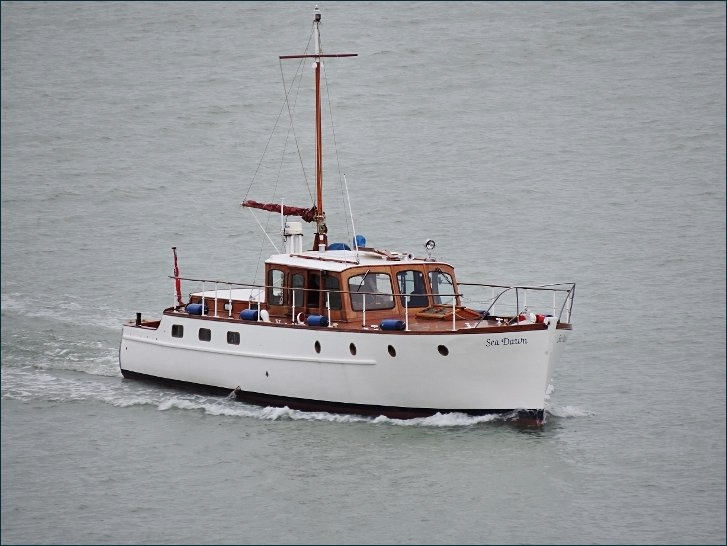 This classic style cruiser called Sea Dawn spent most of the afternoon a couple of days ago, during a calm interlude in the turbulent weather, just ambling quietly and gently around the harbour. Its old classic lines which are almost reminiscent of the best days of Hollywood prompted me to search the web to see if it was a noted vessel...and here we are.
An excerpt from famed auctioneer Bonhams catalogue in 2008..
"Sea Dawn" A Rampart 48 Gentleman's Motor Cruiser
Length:48ft.(14.63m) Beam:11ft.2in.(3.40m) Draft:4ft.9in.(1.45m)
Built by Rampart Boat Building Co., Southampton in 1960 of mahogany on rock elm timbers, with iroko decks. Painted white to the waterline and red below, with a black boot top.
Engines: Twin Perkins P6 diesel. Instrumentation includes Revolution counters, ammeter, oil pressure, fuel and water temperature gauges. Fitted with 24volt electrics and eight storage batteries, with management system.
General arrangement: Foredeck of laid planks, with galvanised cleats, fairleads and anchor windlass. Varnished guardrail with metal stanchions, square hatch to forepeak and glazed skylight to cabin. Ventilators to engine compartment. Varnished mahogany wheelhouse with port side entry, grab rails and tabernacle for steadying sail mast. Outside steering position to the rear, with dual wheel and engine controls. Raised aft cabin top with clerestory glazing and cream roof. Step down to small aft deck, of varnished laid planks, with sampson posts, fairleads, central warping winch and ensign staff.
Open cockpit aft, with upholstered side bench seats. Gas locker stowage beneath the starboard side, open stowage to port. Step down via double doors to Saloon, with sofa/berth to port, "L" shaped sofa to starboard, which opens to double berth. Fitted with storage cupboards and bookshelf. Single doorway to Galley space, with worktop to port and fridge beneath, gimballed gas cooker to starboard with stainless steel double drainer sink and gas water heater.
Bulkhead doors to engine space. Step up to wheelhouse, with hydraulic steering to port, bench seating and chart space. Step down with heads compartment to starboard, having a pump-out sea toilet and Porta Potti. Washroom to port, with hot/cold running water and shower, draining into separate sump. Door to sleeping cabin, with berths to port and starboard, stowage beneath and hanging cupboard. Further door to crew space, with two pipe cots to starboard, warp and sail stowage to port and anchor chain locker forward.
Saleroom notices...Late entry lot.
"Sea Dawn" A Rampart 48 Gentleman's motor cruiser Built by Rampart Boat Building Co., Southampton in 1960 of mahogany on rock elm timbers, with iroko decks. Engines: Twin Perkins P6 diesel. Instrumentation includes Revolution counters, ammeter, oil pressure, fuel and water temperature gauges. Fitted with 24volt electrics and eight storage batteries, with management system. Estimate £52,000-55,000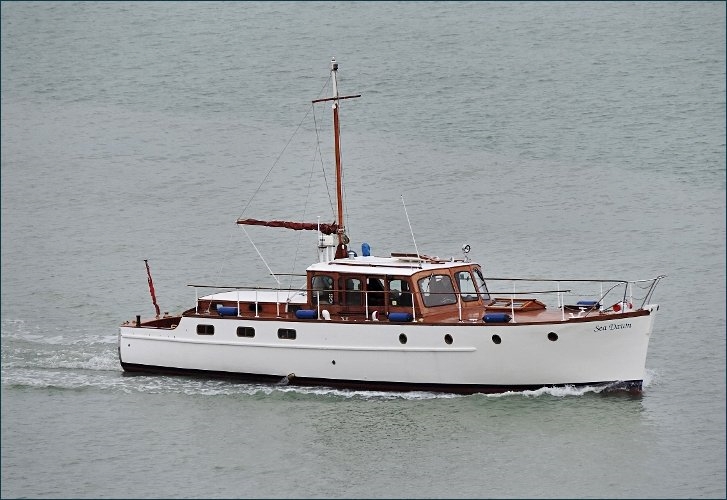 Very interesting info below Mike.

That sounds like both a tough job and a great job all at the same time Vic. Yes wages were that low alright in the old days...I mentioned this wage level to my daughter just the other day, and she immediately assumed I was talking about the hourly rate...I said no...we got about £5 a week!!
Strewth!!

Saturday, 25 October 2014 - 08:39
Post 1241
vic matcham, Dover
When I left school waiting till I went in the Army one of my first jobs was being a cabin boy on the pilot cutters out of Dover staying at sea one week at a time we would have the pilots living on the ship and being taken over to the ships by small boat best paid job for a boy of my age pay was £5 aweek alot of money in the 1950s

BUT MOST OF THE TIME i WAS SEA SICK.
Friday, 24 October 2014 - 20:18
Post 1240
Mike J., Dover
I'm sure PaulB was right about the pilot boat yesterday afternoon.
Earlier in the afternoon the bulk carrier YEOMANBROOK & the container ship CAP HAMILTON called off the port for the same reasons.
This is a quite common practice when the weather is bad & the pilots are unable to leave their ships after leaving Continental ports, particularly ships from Antwerp when they leave the River Scheldt & the pilot boat there [sometimes a helicopter] operate in a very exposed area.
If the weather is still too bad at Dover for the 'over-carried' pilot to disembark, they usually have to stay aboard until Brixham.
When the Ostend service was running out of Dover back in the 90s I remember that occasionally an 'Ostender' would be delayed for a few minutes to allow the Belgian pilot to join rather than a long wait for the next service.
The pilots are usually landed by one of George Hammond's yellow launches - a long-established Dover company founded in 1767 who have had deep involvement with the port & shipping in general for many years.
They provide a multitude of services, from stevedoring to their own pilotage service & much else besides.
Their website is worth a look -
www.georgehammond.plc.uk/
Meantime, down in the Tug Haven, the DAUNTLESS was carefully snuggling up to the BOULONNAIS after returning from a job.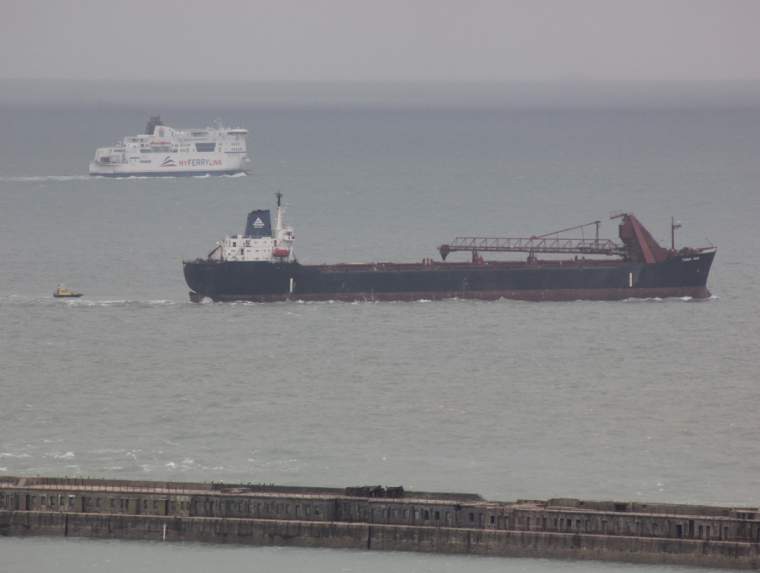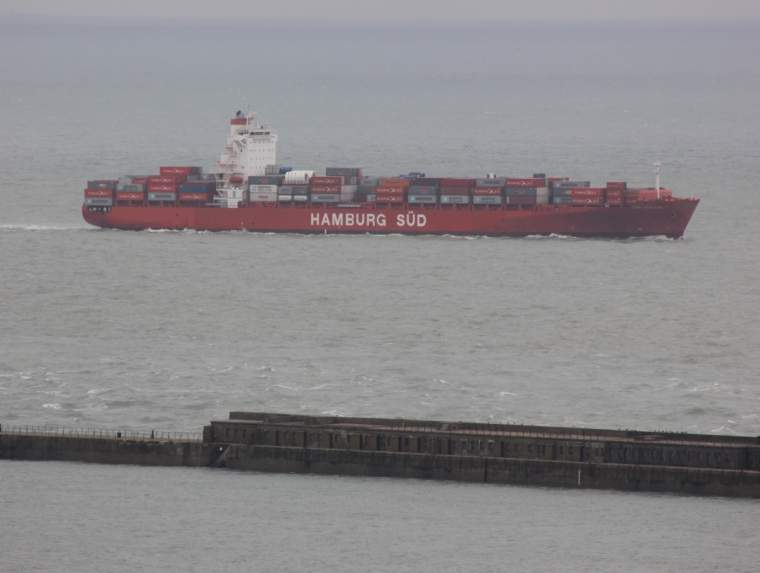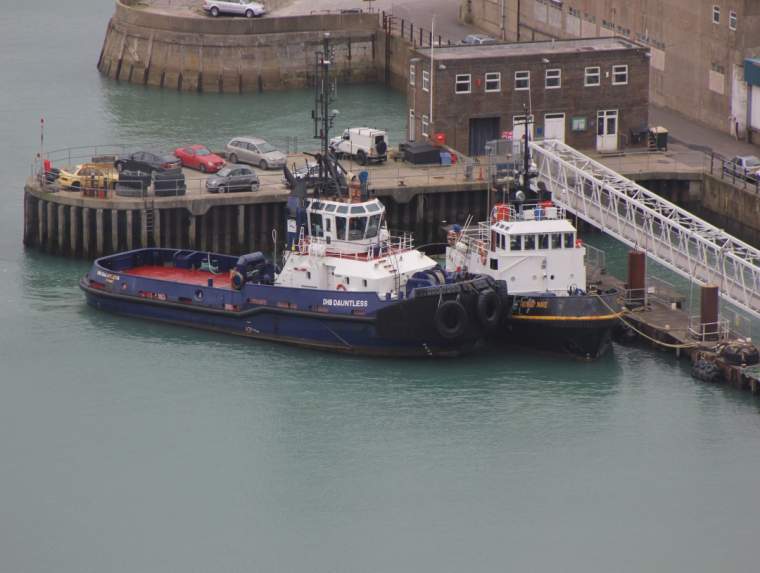 Friday, 24 October 2014 - 08:46
Post 1239
PaulB, Dover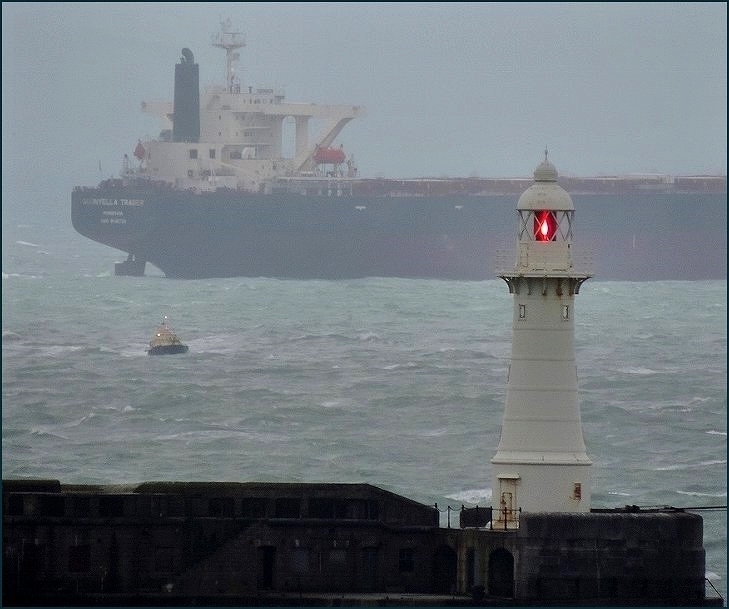 It was a tough ol' day again yesterday Thursday out there on the briny blue. Especially later in the day when the weather closed in. These pictures of the giant Goonyella Trader were taken around 5pm as the ship moved in close to harbour. I think we ascertained that when they do this procedure it is usually to drop off a pilot or sometimes for a change of crew. We reckon it was the pilot option yesterday as the small pilot boat bobbed and weaved its way out to the ship in the rough seas and just as it began to drizzle too...just to add to the difficulty.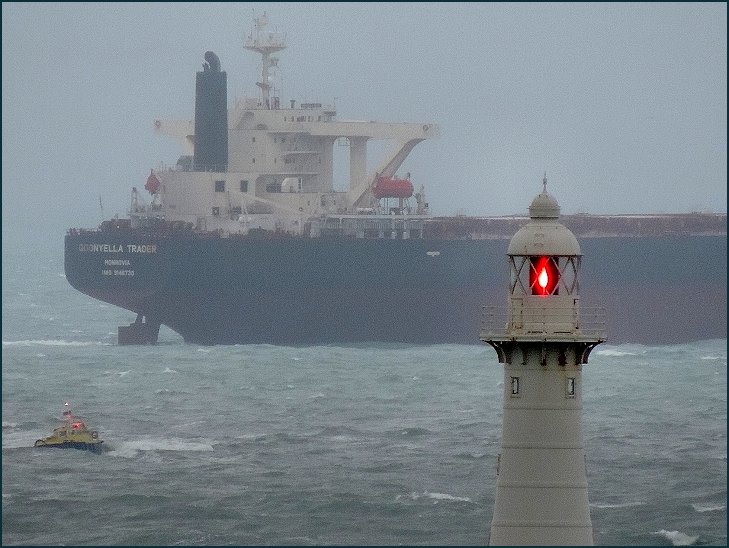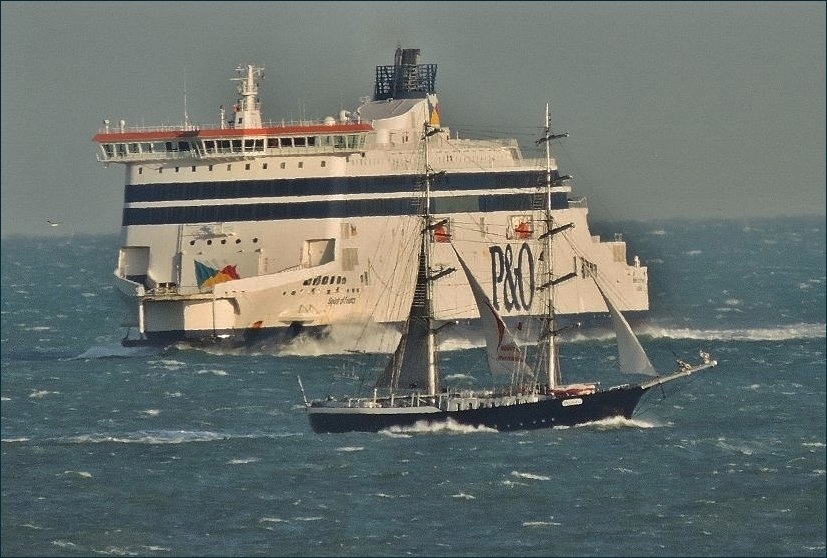 The picture at the tip top of page is clearly our best pic of the delightful Mercedes tall Dutch sailing ship. But I guess it is worth adding the one immediately above here just to show the contrast of the various vessels afloat out there. The huge ferry beats down upon the by-comparison rather delicate looking tall sailing ship but of course all was safe. I say delicate sailing ship...but it dashed through the rough water with optimum ease, so it appeared anyway. It looked terrific. Yours truly wouldn't fancy it in that weather however as ones sea legs are still trying to recover from the Princess Maud !

Well done with those pix below Mike. Good to see those. Yes big progress has been made at the old Seacat berth, popped down there on Monday to see the cruise liners up close and got some pictures of the dive vessel, the divers were working at the time...must fetch the pictures out of the system.
Friday, 24 October 2014 - 07:30
Post 1238
Mike J., Dover
Nice pix [& interesting story] from PaulB about ESMERALDA & BOULONNAIS & super sailing ship shot at the top of the page.
The DOUGHTY is currently away for refit up in Hull.
Having their own refits & a spot of TLC on the onetime Commercial Quay on Wednesday were the former lifeboat MAXIMUS & the hard-working DHB survey launch DIANA.
It looks like like the Seacat berth job is about finished with only tidying-up going on.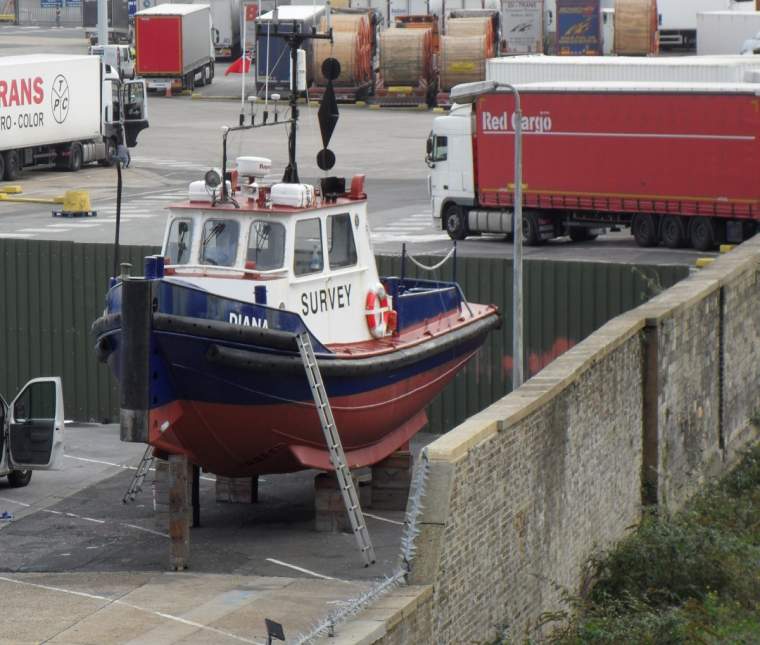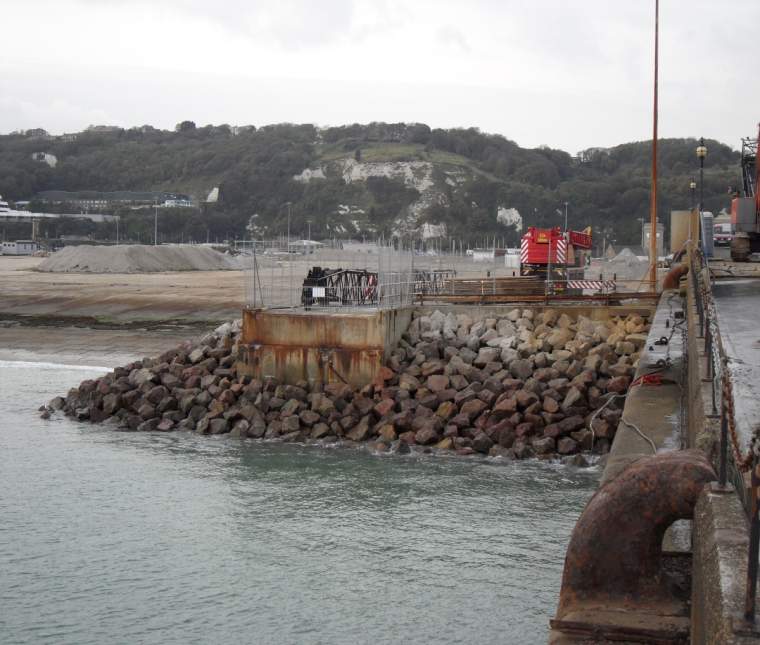 Thursday, 23 October 2014 - 07:01
Post 1237
PaulB, Dover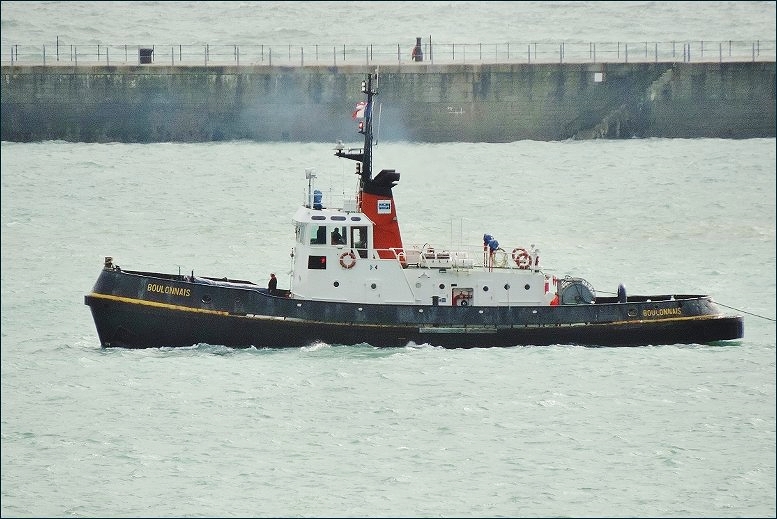 We have had a couple of working boats from Boulogne right here with us in the harbour over the past few days. First of all we saw the hi-speed action from Lifeboat Boulonnais alongside our own Lifeboat, pictures further down the page in post 1156, now we have tugboat Boulonnais right in the thick of it. We understand this tug is replacing Doughty in the short term as presumably Doughty is away for a refit.
The picture above was taken over the weekend in calmer conditions...the picture below was taken in rough ol' conditions on tuesday as she went to meet the approaching Esmeralda. Some of the guys will know more about this tugboat for sure...so any further information or memories welcome.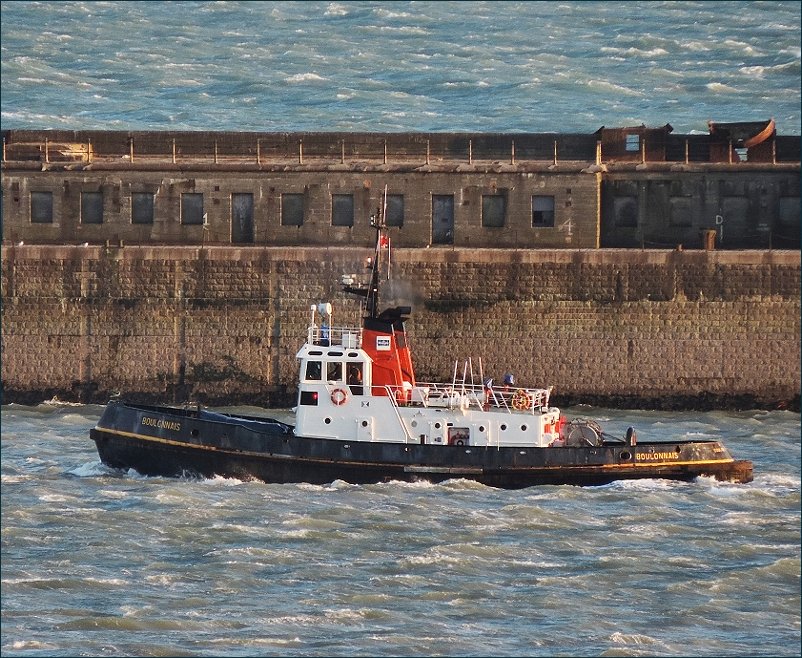 Yes there she is above heading out to meet Cargo ship Esmeralda ( One promised not to do the joke about 'The Bells The Bells' again but alas one has a soft spot for Esmeralda and cant resist

)
There is a story about Esmeralda's arrival. Both tugs were ready to meet her at about 17.50. The picture below was taken at that time as she approached. Within minutes the mother and father of a squall/thunderstorm hit us with flashing lightning and all the rest, and with driving rain like you would only see in a monsoon. In the space of five minutes.. no more, the conditions had transformed from a sunlit evening to pitch black hell. All happening as Esmeralda entered harbour. After a short while they had to abandon docking Esmeralda and she went back out into the open sea again. Clearly it wasn't safe. Don't recall seeing such a situation before. Never a dull moment here in Dover eh ! She returned later that night and all was well.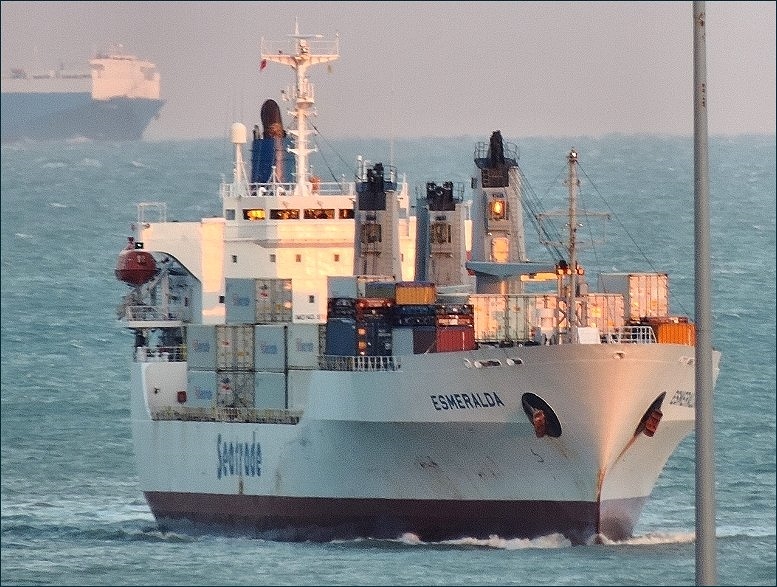 Hope all enjoy the fab sailing ship at the top of page. Wow! was that sea rough !! yet she streaked through with maximum elegance.
Thursday, 23 October 2014 - 06:41
Post 1236
PaulB, Dover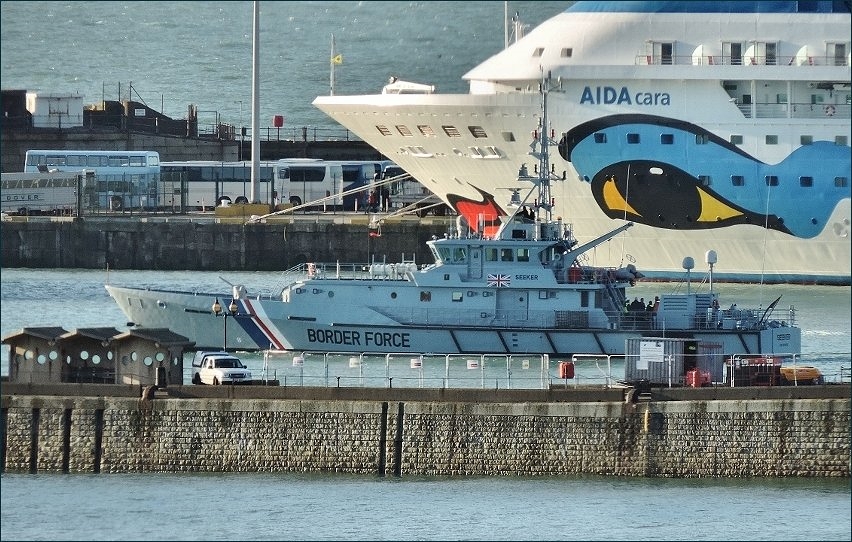 Another picture above from our glorious Monday when the weather was fabulous with cruise liners 'exotique' to match. But in the midst of all this excitable cruise liner activity some of the other vital activities were going on as well and of course must not be overlooked...the pic above shows the UK Border Agency setting off on monday morning to tackle whatever the day brings again out in the channel. Here we see Seeker, our protector against all sorts of marauders .. just whispering by the AIDA Cara on her way out to sea. Note that big eye on the AIDA Cara...watching the watchers!

By Tuesday the weather had turned rough. We were scarily promised all kinds of levels of Armageddon by the newspapers, the tail end of Hurricane Gonzo or whatever they called it, but in actual terms in transpired to be not much more than a windy day...as you can see in the pix below. First one shows the Pride of Kent just leaving the harbour and finding out just how rough it is. Several minutes later the Spirit of France began her approach once Kent was out of the way.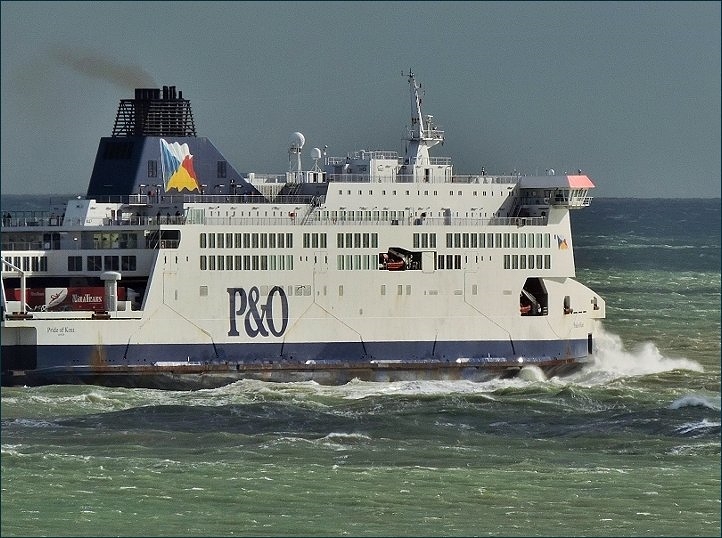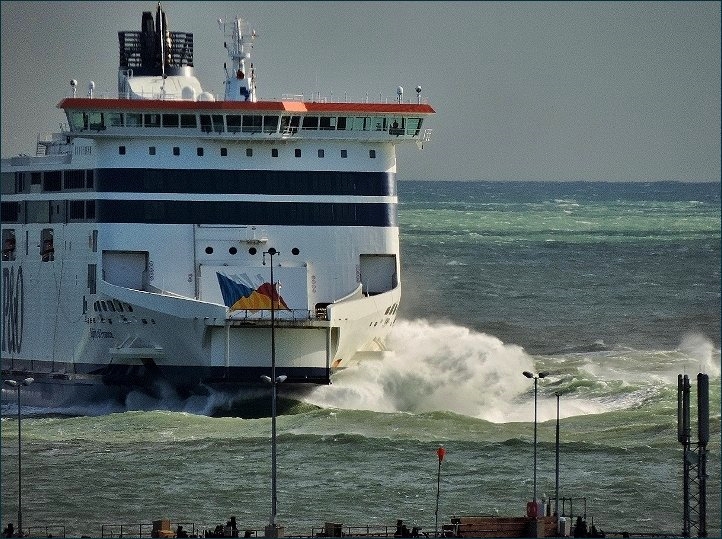 Wednesday, 22 October 2014 - 06:56
Post 1235
PaulB, Dover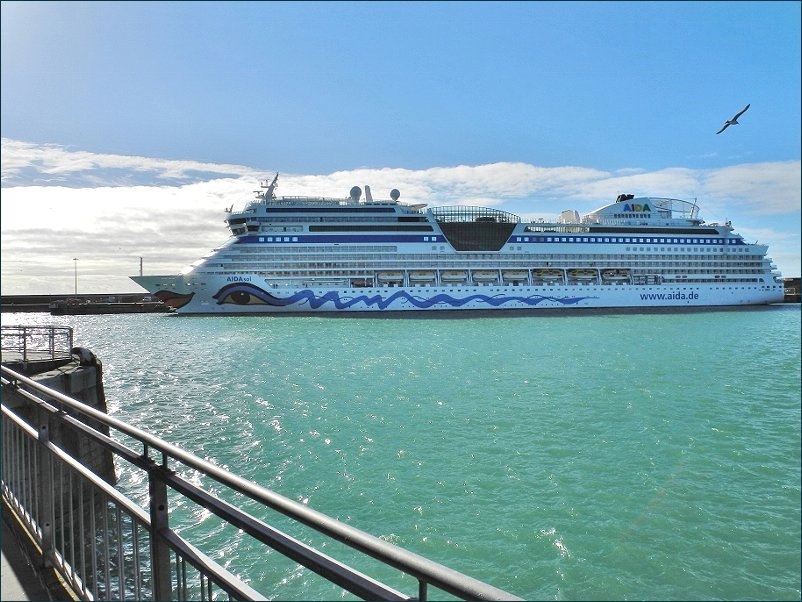 Monday was a fabulous day for cruise liners in the Port of Dover and no mistake. Both the giant AIDA Sol and the smaller AIDA Cara arrived in an impressive double header and looked absolutely fantastic all day in Dover's glorious sunshine. Of course we here in Dover laid on the sunshine specially so that the season could go out in...well in a blaze of sunshine. We had not expected the AIDA Sol but here she was, all 72,000 tons of her. They both left last night around 19.40 (7.40pm) moving away in a dazzling array of electrical colour. The AIDA Sol moving slowly across the harbour first and leaving through the eastern exit...followed slightly later by the AIDA Cara out the western exit and both turned south in tandem for the journey to Le Havre.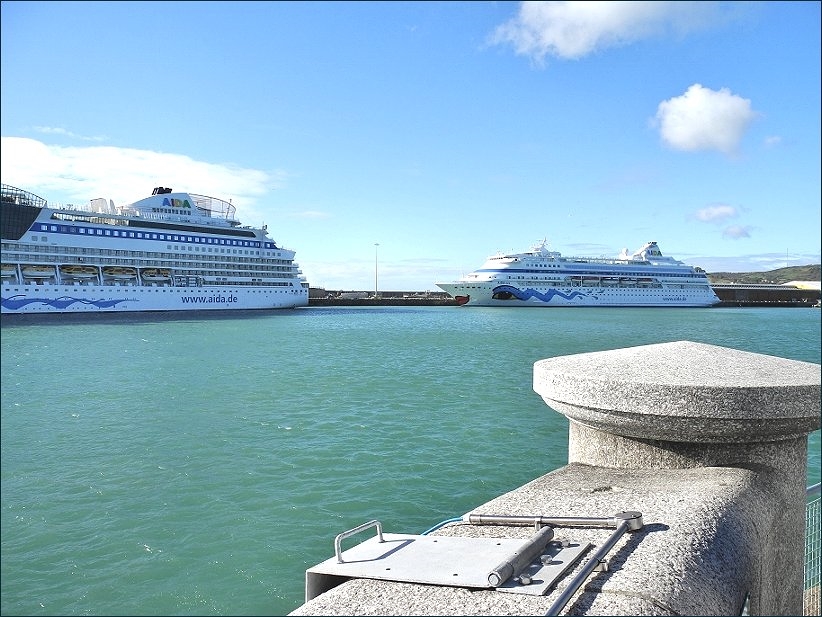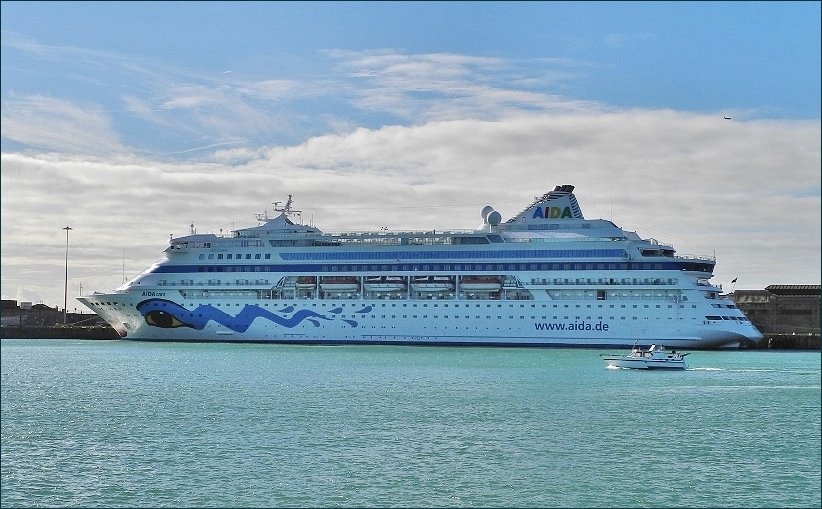 Top shot AIDA Sol, then AIDA Sol and AIDA Cara...then AIDA Cara.
Great stuff below lads. Crackers below there in post 1161 Ed of the AIDA ships, the second one in particular full of atmosphere..lovin it !
Real classic ferries in post 1162 from Mike. Gosh well before my time in frontline Dover, amazing to see those..glad you enjoyed those Vic.
Tuesday, 21 October 2014 - 08:20
Post 1234
vic matcham, Dover
I worked on both of them +the St David alot of my welding holding them up.

. IT would be great to see one of them back in Dover and made into a sea Heritage centre .

Tuesday, 21 October 2014 - 04:09