Saturday, 16 February 2019

WWW.DOVERFORUM.COM/SEA-NEWS Featuring all the ships that come and go and work at the Port of Dover with further coverage of the surrounding ports both sides of the Channel. Click ADD YOUR COMMENT below to post direct, no membership needed.

Listing highlights....


Scroll down or use our Search Engine for posts and pictures of Border Force in Dover and Ramsgate.
RHA - we need to avoid cliff-edge Brexit 6069.
BREXIT READY statement from Port of Dover/DFDS/P&O Ferries see 6021.
P&O Spirit of Britain - notable Cyprus reflagging see 6017. See also latest 6041.
Tourism Thriving see 6044.
Deal Pier Kitchen restaurant opens 6016.
Charlie Elphicke MP - making our borders stronger, safer 6014.
BORDER FORCE SEARCHER and migrant boat.. see 5969 below..

Port of Dover supports Women in Maritime 5975.
Christmas Lifeboats in Ramsgate see 5937.
P&O: Britain's Favourite see 5922.
DFDS: Voted Worlds Leading Ferry Operator...see 5918..
Charlie Elphicke MP: Migrant Crisis 5894.
P&O: Santa Onboard see 5870.



Highlights continue...


Wreck of the Anneliese 5880, 5881, 5882 ...
Port: Additional Funding for Kent Wildlife Trust 5879.
P&O: Apprentices welcome RB Legion veterans 5853.
Eight new apprentices graduate see 5845.
DFDS: 'SEE PORTS' Calais and Dunkerque 5834.

DFDS Revitalize Dining 5831
P&O: Schoolchildren mark WW1 see 5816.
Lower Thames Crossing boost..5812.
see now also 5817.
Dover Museum's revitalisation see 5807.

Port of Dover: Refrigerated Cargo Terminal .. software for 5801. Latest NATO also 5801.
Port of Dover: Great increase in summer traffic 5795.
Russian and shadow 5785.
The Waverley paddle steamer latest 5778...
New SAGA Ship launching in Dover see 5776.
DOUG BANNISTER: New Chief Executive Port of Dover see 5734....

Merchant Navy Ceremonial images also 5734.
P&O: To Rome on Horseback 5759.
Dover Regatta Rescue incident plus .. see 5713.
Dover Regatta pictures Lifeboat etc..5716, 5717, 5718, 5720.
DFDS Expansion: More New Ferries on order... see 5693 see also 5500 and 5381.
Excellent Tourist season for P&O Ferries see 5649.
VSBW Port of Dover - Women at Work 5638.
P&O Second Female captain see 5107. Also see latest 5570.




NEW:

For instant access to any item listed above - just type the post number in the Search Engine below.

Sea News Dover : Use our SEARCH ENGINE below to find all sorts on the SEA NEWS pages....
type in the topic and away you go, more than - 6000 - nautical posts now.

Posts are welcome. Max of 5 pictures preferred although we can stretch that for special stories..

Sea News Editor Paul Boland - send info or pix to dover7@msn.com. Always welcome.

All pictures on these pages are the copyright of the owners and must not be reproduced without permission.

To show your pictures at their best..it could be worthwhile resizing before posting to

840

pixels wide.
Post 1536
Sea News, Dover
P&O FERRIES HAS THE MIDAS TOUCH....
__________________________________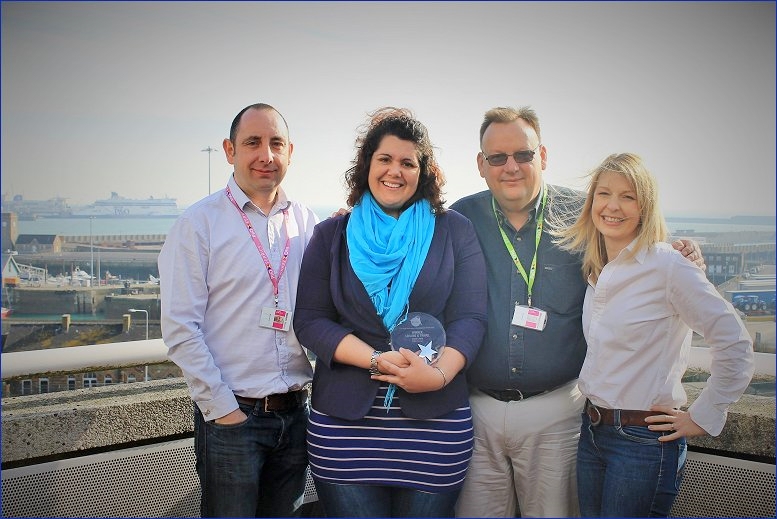 P&O Ferries has taken the top spot at The Menu Innovation Development Awards (MIDAS).
_______________________________________________________________________
The food and beverage team at P&O Ferries won the Leisure and Travel category for the development of their new waiter service Brasserie restaurant menu which features on the company's Dover - Calais, Hull - Rotterdam and Zeebrugge ships.
The MIDAS innovation forum was created in 2008 by industry experts at the Menu Innovation Network as a means for food development professionals to share and discuss their ideas across different sectors. They use mystery diners and judges to pick the winners.
Pictured celebrating with the award are members of the company's food and beverage team; left to right:
David Lewis, Natasja Ferreira, Paul Wilkin and Heidi Robertson.
(ends)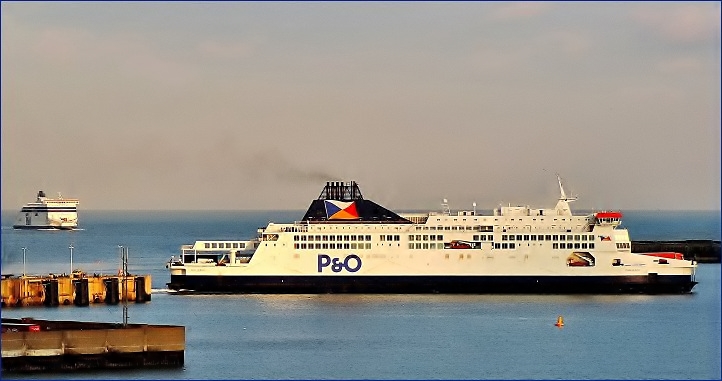 The Pride of Kent on a soft evening with an approaching Spirit...well done P&O Ferries.

Great pic below Ed...those guys do a great turnaround working all through the night.

Monday, 30 March 2015 - 06:59
Post 1535
Ed Connell, Dover
Schweiz Reefer working cargo on the DCT overnight.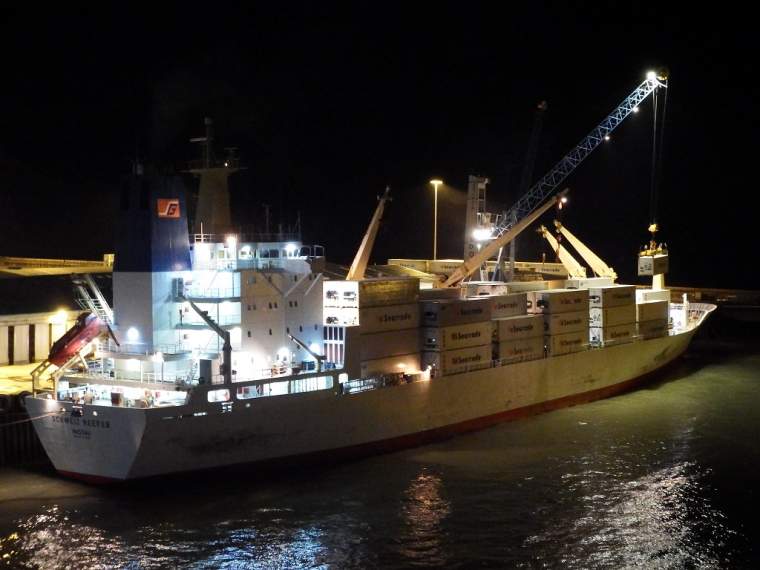 Monday, 30 March 2015 - 04:00
Post 1534
Sea News, Dover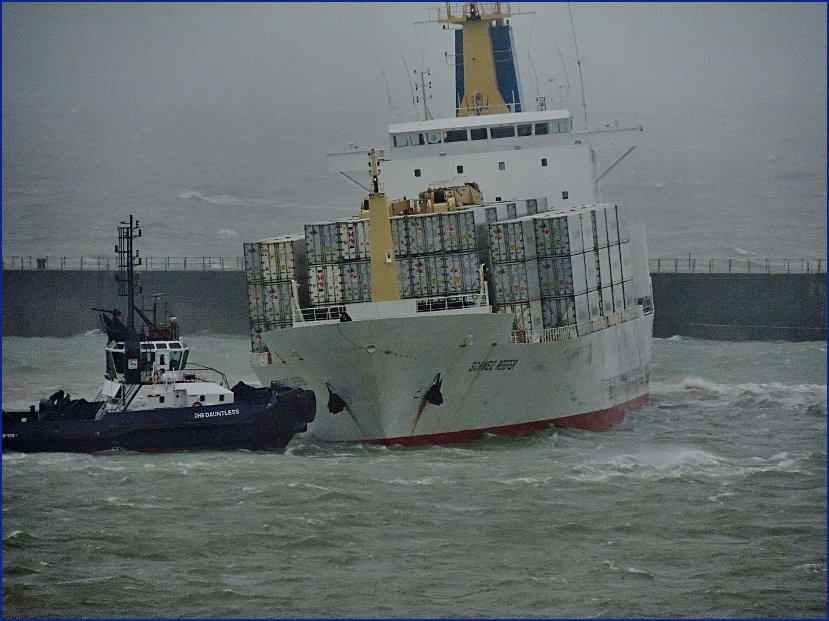 It is a grim oul day on the seafront and no mistake. Horrendous wind and torrential rain is the order of things today sunday. Not a day for the marathon runners to enjoy...totally abysmal. Its one thing doing 26 miles and another coming down along the seafront with the fierce wind behind, but once the runners had to turn round and head back into said wind it was terribly difficult. Many struggled bravely on with true grit. We take our proverbial hats off to anyone who made it to the finish. It was a tough ol day for sure.
In the midst of all the running into view came the Schweiz Reefer...and you can see from the picture at the top of the post just how rough conditions were. Tugboat Dauntless tussling here with the turning almost listing ship. Tugboat Doughty pulling just out of shot...you can just see the cable.
One word describles the day...fierce!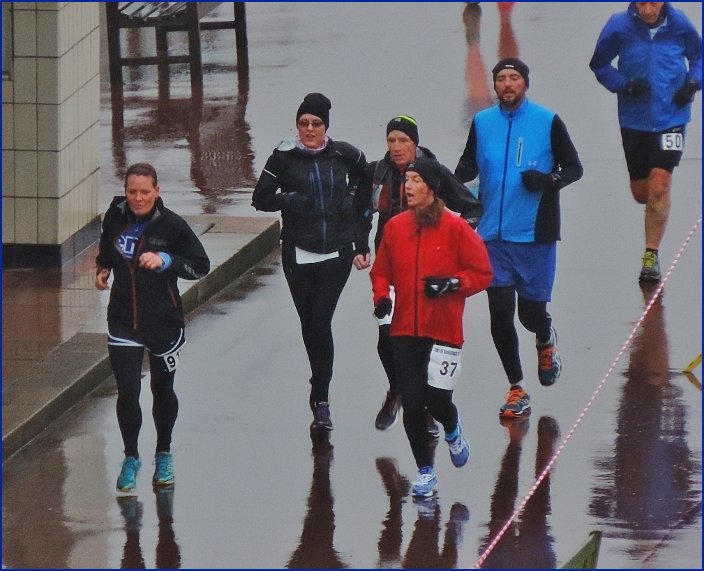 Just noticed: its a sheer fluke but I managed to get runner 37 two days running.. what are the odds.

PB
Sunday, 29 March 2015 - 15:55
Post 1533
Sea News, Dover
SEAFRONT: Further marathon to enjoy today...the weather situation isn't very nice so far today, but probably good for marathon runners especially when they reach around the 20 mile mark. Scheduled to start at 9am. Good luck to them all.

Sunday, 29 March 2015 - 07:53
Post 1532
Sea News, Dover
FOOTSTEPS IN THE FOG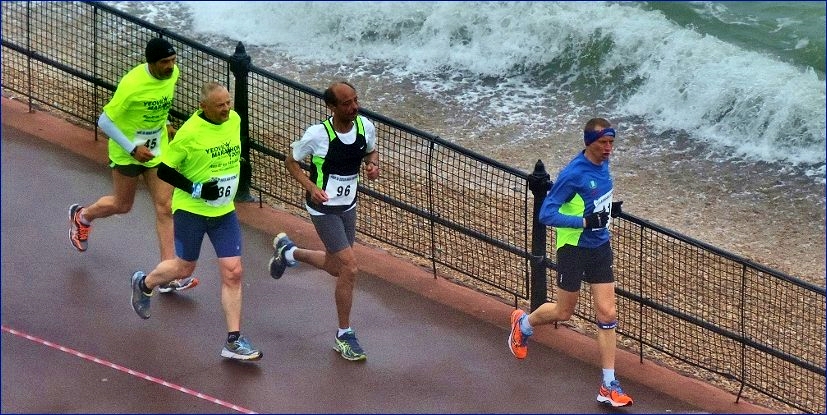 Wowser!! the marathon guys are hard at it as we speak (see earlier post) ....yours truly is working up a sweat just gawping from the wings. We managed to get these pictures quite early on, it was very foggy and damp...so had to force the pictures a tad, or more than a tad, to try and reduce the amount of mist in the shots. But the marathon runners look great with the raging surf behind them.. just fab! For a fleeting moment there it looked just like California, if you forget the cold and the fog and the drizzle!

As we know though
"it never rains in California...."

PB.
Saturday, 28 March 2015 - 11:44
Post 1531
Sea News, Dover
Its damp dark dank dreary and dismal this morning..cant see a damn thing from my harbour location. Fogbound! I hear the wailing bell!

"I see no ships" but those excellent pictures below from Ed will keep us buoyant. Particularly amazing shots/story 1449. PaulB.
ps: just a reminder that the Port of Dover Seafront Marathon and half marathon are on today...starting at 9.30am.
Type in Race in the search engine for more details.
Saturday, 28 March 2015 - 06:42
Post 1530
Ed Connell, Dover
Global Marine cableship "CS Sovereign" in the Dover Strait this afternoon.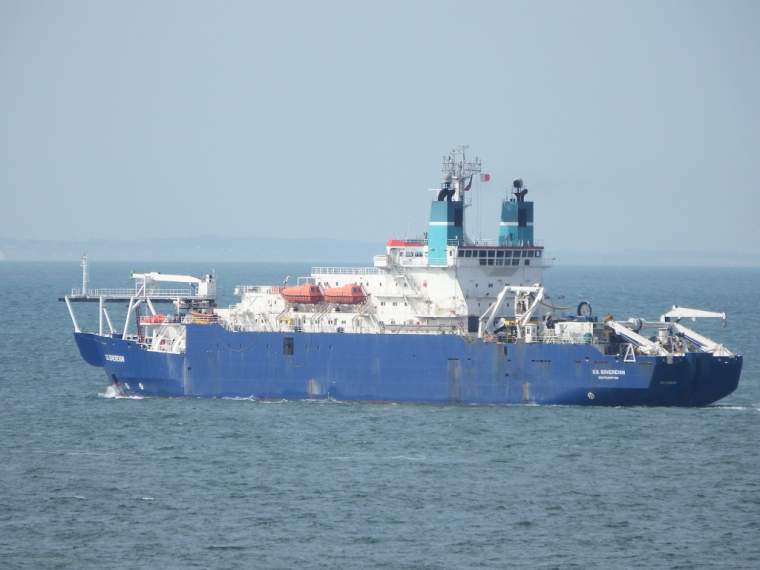 Friday, 27 March 2015 - 19:29
Post 1529
Ed Connell, Dover
Very unusual sight in the Southwest lane yesterday. Small craft making extremely heavy going in a slight sea, enveloped in spray. Turned out to be a Royal Norwegian Navy "Alta" class minesweeper, HNoMS "Rauma". Reason for all the spray given below.
From Wikipedia: "The Alta class was built by Kvaerner Mandal during 1996 and 1997, while the related Oksøy class was built in 1994 and 1995. A total of 9 vessels were built, 5 minesweepers and 4 minehunters. The catamaran hull is built in a fibre-reinforced plastic sandwich of very low magnetic signature. Two large fans located on each side create an air cushion between the two hulls and a front and aft rubber skirt, lifting the vessel, giving small drag and a high cruise speed, as well as low susceptibility to the shock of exploding mines since only a small portion of the hull is actually exposed in the water. Propulsion by water jet, again one in each hull, gives a low acoustic signature. A degaussing system gives the vessels extremely low electromagnetic signature."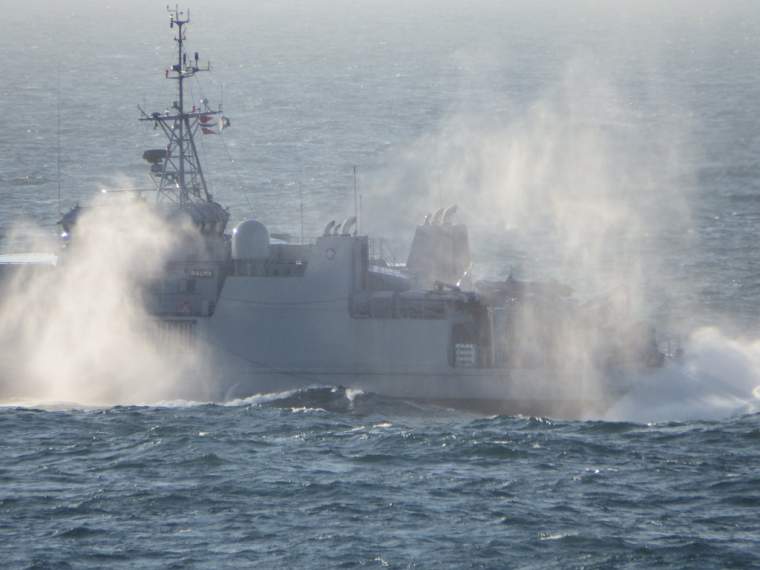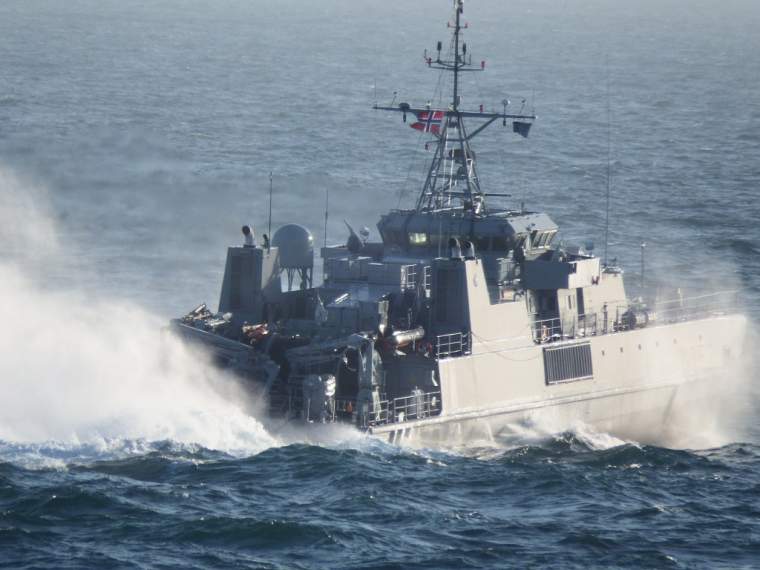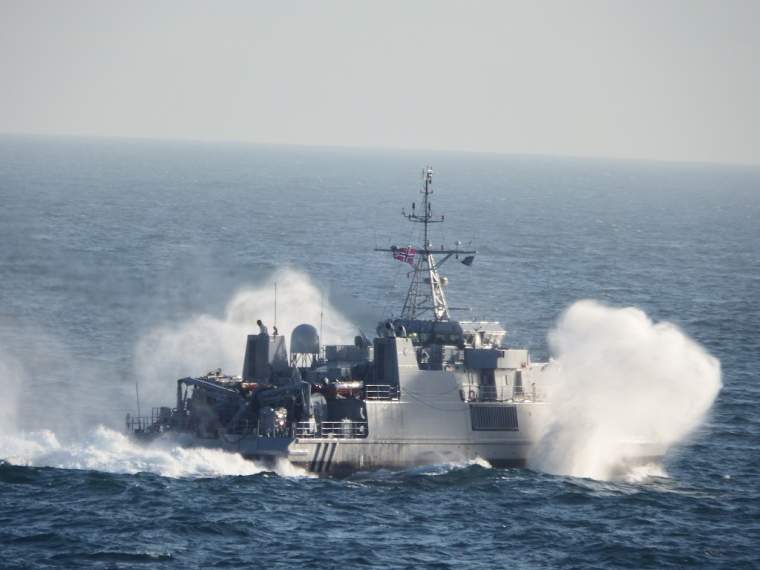 Friday, 27 March 2015 - 12:38
Post 1528
Sea News, Dover
Two ways to Celebrate 15 Years of the Dover-Dunkirk route with DFDS Seaways

__________________________________________________________________
- Day return sailings to Dunkirk for £15 each way for car +9
- 15% discount on all return sailings over 5 days on Dover-Dunkirk route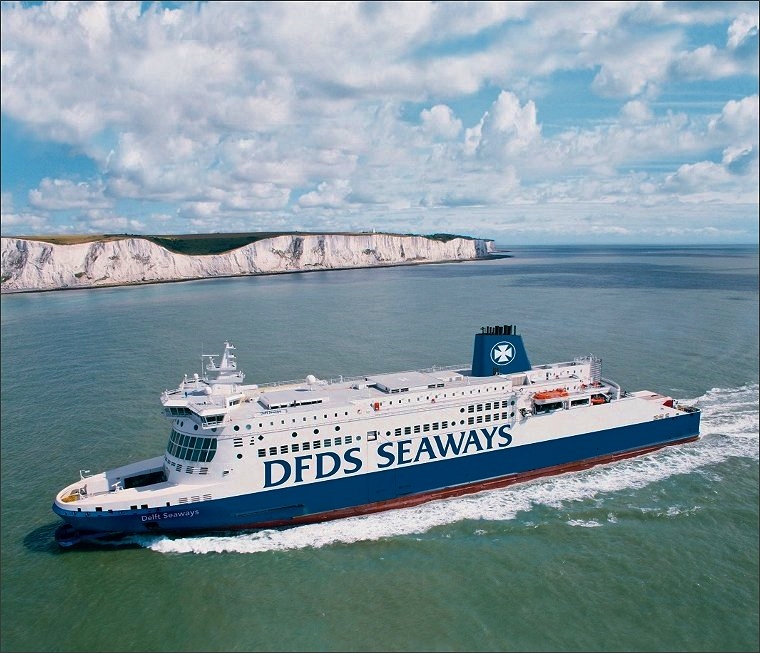 Award winning ferry operator, DFDS Seaways, has launched two special offers to celebrate the 15th anniversary of the cross Channel Dover-Dunkirk ferry service.
15th anniversary offers
· 15% discount - take your car and up to nine passengers from £34 each way with the 15% discount on offer by DFDS Seaways on its Dover-Dunkirk route. The offer is available on return of more than five days. Book by April 15 for travel on selected departures until 16 May, using code E15YEARS
· Day return – take your car and up to nine passengers on a day return from Dover to Dunkirk for £15 each way using code E15DAY . This offer must be booked by April 15 and is for selected departures until 16 May.
Take your car to France and explore the world's most popular holiday destination at your own pace. Our port in Dunkirk is just 30 miles from Calais and is well-connected with transport links to a variety of popular holiday destinations and cities in France, as well as further afield to Belgium, Holland and Germany.
With 24 daily sailings between Dover and Dunkirk in both directions, you're sure to find a sailing which suits both your wallet and your diary. Each crossing takes just two hours, and Dunkirk is well situated for people wanting to visit fantastic European cities such as Bruges in Belgium and the white sandy beaches of Le Touquet in northern France. Both cities are around an hour's drive from the Port of Dunkirk.
There's plenty to keep you busy as you sail, with a café bar, self-service restaurant, fast food outlet and shops onboard, as well as a dedicated children's play area. You can also visit our Sea View Lounge for just £8pp and enjoy the complementary drinks and snacks.
To find out more information, visit www.dfds.co.uk, or telephone 0871 574 7235.
* *
That is a great piece of news below there Kevin. Will be polishing up the lenses for those visits...

Friday, 27 March 2015 - 06:47
Post 1527
Kevin Charles, Dover
Exciting news on the cruise front for 2016! Disney Cruise Line have confirmed they'll be back in Dover next year with new itineraries, including their first round Britain cruise. Disney Magic is due in Dover for its first call of 2015 on 10 July.

Thursday, 26 March 2015 - 07:54
Post 1526
Sea News, Dover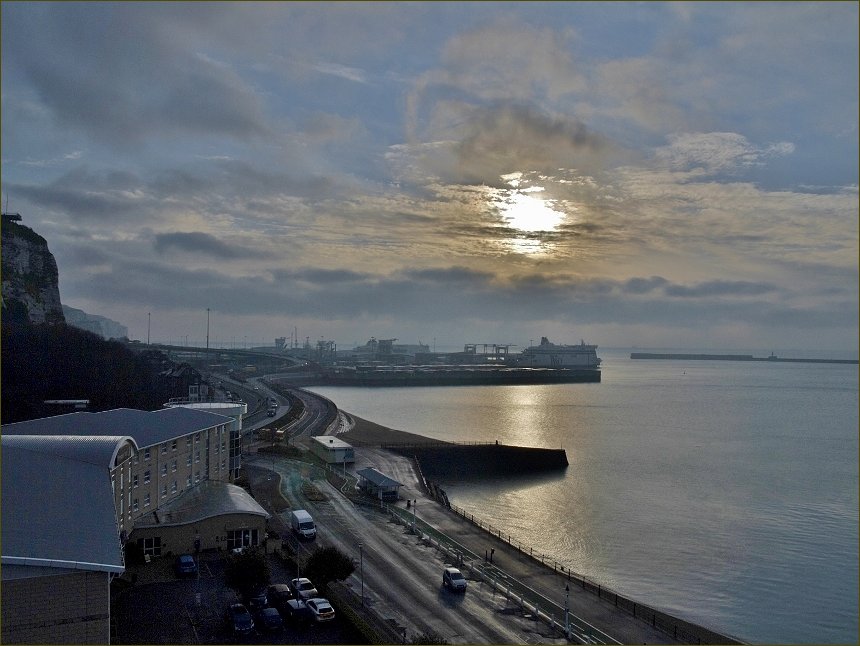 Our great Port of Dover wednesday morning early - getting ready for the EASTER Getaway.
EASTER A SHORT HOP OVER FROM DOVER
__________________________________
More than 225,000 passengers are expected to pass through the Port of Dover for the start of this year's Easter getaway – making Dover the gateway of choice to mainland Europe.
Over the Easter period from Good Friday through to Easter Monday, the Port will welcome around 40,000 cars and 2,000 coaches as they take a convenient ferry to access the motorways of France, Belgium and the Netherlands for that special holiday break. It will not only be day trippers taking advantage of the shortest route between the UK and France, but also families heading out across Europe even as a far as Italy and Spain for sun, sea and shopping.
The cross-Channel route has fewer restrictions than any other form of transport with the benefit of taking your vehicle from Dover to either Calais or Dunkirk in order to relax and enjoy the local treats of northern France, explore historic towns in Belgium or simply head further east and south to the attractions of Germany or even the French Riviera.
The great advantage of choosing from the excellent choice of frequent ferry services from the Port of Dover is that you do not have to suffer the pain of excess baggage charges and can bring back those holiday souvenirs with peace of mind. Add to this the comfortable 90 minute sea journey with a range of food and drinks on board and a place to rest and it is hard not to think of a reason to use a ferry from Dover to get into the heart of Europe.
Barbara Buczek, General Manager – Business Development, Port of Dover, says:
"This Easter, Dover ferry passengers will find a quality service and a dedicated team creating the perfect start to their Easter holidays. Dover offers customers a flexible and convenient way of crossing the Channel and is well placed for those travelling to Northern France, Belgium, Holland and beyond. Customers can rest assured that the Port of Dover will be working hard with its ferry partners to keep the Port and its customers moving into Easter."
ENDS
And now below pictures of the cargo ship Southern Bay leaving us yesterday wednesday through the Western Exit at 4pm...seen here getting lots of sterling assistance from the tugboats Doughty and Dauntless. Much better for us picturewise to see them leaving through this Exit. Smaller picture above shows the Port's Barbara Buczek with Cruise ship officers on an inaugural visit last year.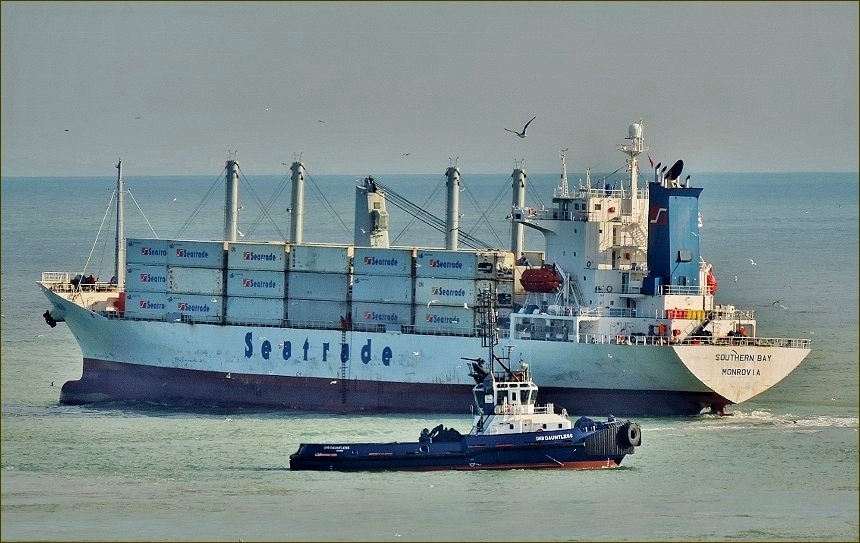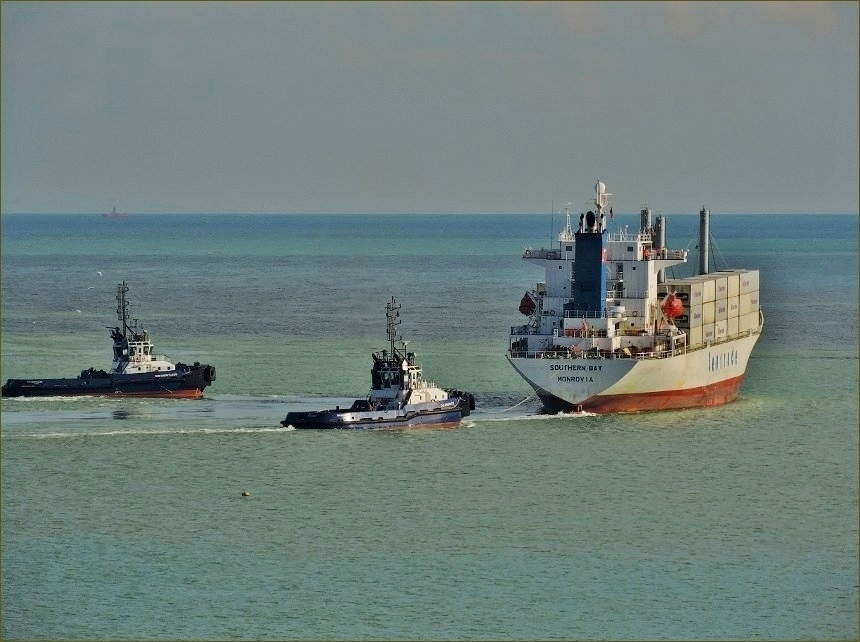 Great to see that one below Ed - I believe we may have featured it before, cant remember for sure off the top of my head...
I must search the new search engine. PB

Thursday, 26 March 2015 - 06:53
Post 1525
Ed Connell, Dover
CSCL Globe passing up the Northeast lane at lunchtime. Briefly the largest container ship in the world. She entered service in December and has already been surpassed by the MSC Oscar which can carry a handful more containers.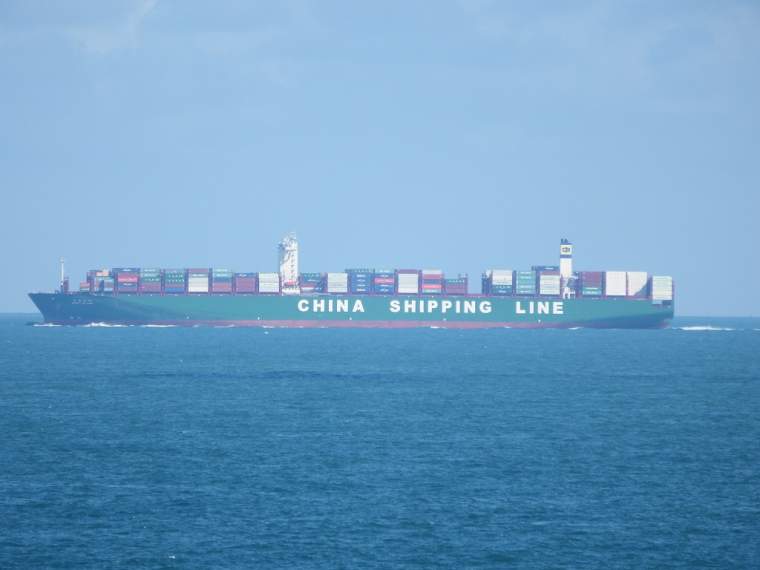 Wednesday, 25 March 2015 - 13:18
Post 1524
Sea News, Dover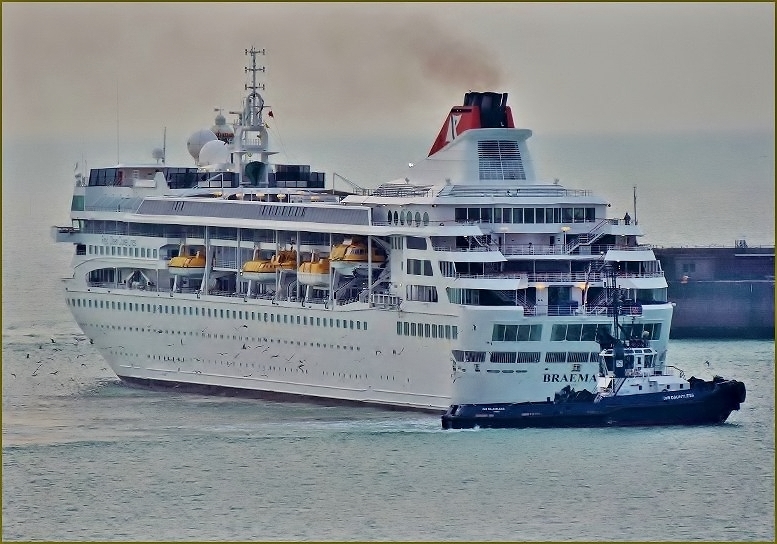 A couple of pictures here of the Braemar from yesterday tuesday. The shot above shows the arrival early morning with tugboat Dauntless in attendance, and the shot below shows her languishing at Cruise Terminal 2 in the late afternoon. The cruise visits are now in full swing as you can see...and very welcome too.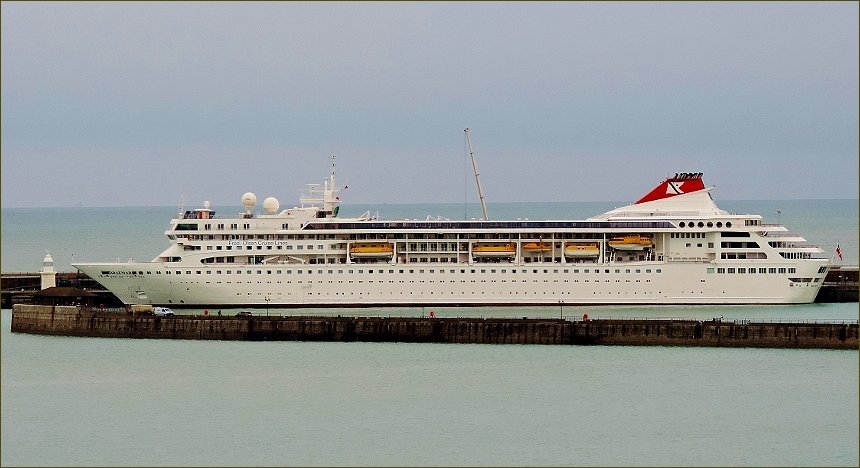 MORE FROM OUR MP CHARLIE ELPHICKE - THIS TIME ON THE SOLUTION TO OUR TRAFFIC PROBLEMS
_________________________________________________________________________________
Last week I held a debate in Parliament on the problems of Dover gridlock. I called for the port, ferry companies and Government to take responsibility and work with our community to find a lasting solution.
Dover suffers traffic gridlock on a weekly basis. People sit in traffic for hours struggling to get home. Dover businesses lose trade because customers can't reach their premises. Emergency vehicles can't get to those in need. And large parts of the roadside on the A20 have become dumping grounds for litter (and worse) left by HGV drivers stuck in tailbacks.
Why? The Port of Dover handled record freight in 2014 - up 10% on the last year. And it's expected to grow further. There are not enough spaces for lorries to park. Ferry check in systems are antiquated and frequently fail. The seas can be rough, Calais workers like to go on strike and ferries are sometimes run aground or into the harbour wall.
When there are problems, the Police, Port and the Highways Agency are often too slow and ill-equipped to tackle problems when they arise. High volumes of Port traffic just plough into the middle of Dover, whether the Port is ready to take them or not. This creates gridlock - now happening on a weekly basis.
When there are problems at the port, it's always the people of Dover who pay the price. That must change.
I called for the traffic problems in Kent and Dover to be made a national strategic priority by Ministers. Tailbacks not only make life a misery for local people - they hamper national trade and prosperity. The Government should lead the way in finding a long-term infrastructure solution.
A dedicated lorry park for the advance check-in of lorries before they arrive at Dover is badly needed. The best location for a 1,000 space site is near Folkestone on the M20. The Government should fund for this through revenue from the HGV Road User Levy, while the Port and ferry companies should contribute.
The A20 should be made a clearway, as well as box junctions at all roundabouts and road junctions in Dover. This will ensure no parking or stopping is allowed and ease road access in Dover - particularly for long suffering Aycliffe.
The Roads Minister, John Hayes, responded very positively. He said our community should not be inconvenienced and the Government will address the problem. He said he would support Kent County Council in making the A20 a clearway. The Government is prepared to make funding available for lorry parks and improved IT systems to deal with traffic volumes. These proposals will be set out in detail before the end of the month.
When there are problems at the port, it is wrong the town should suffer in gridlock. I am doing all I can to see a lasting solution is delivered for our community.
Charlie Elphicke
MP Dover and Deal.
____________________________
Also
Introduction of Government-imposed Exit Checks at Port of Dover .....
The UK Government has introduced Exit Checks at all ports, airports and Eurotunnel effective from April 2015.
From Wednesday 8 April 2015, all ferry customers using the Port of Dover will now be asked to present passports or national identity cards at check-in. This new additional Government process at the Port will result in longer check-in procedures at Dover Ferry Terminal.
To accommodate Exit Checks and minimise disruption to the town and the Port of Dover, we will continue to seek the support of the relevant agencies with which we work closely in order to help us deliver their national security objectives.
The Port of Dover is at the heart of the UK economy handling £100 billion of UK-European trade each year. We are already working on a major Traffic Management Improvement (TMI) project to deliver increased capacity within the ferry terminal and committing extra resources to manage traffic in Dover on the approaches to the Eastern Docks. We are playing our part, but this issue affects us all and our role is to ensure that together with all partners we keep traffic, Dover and the UK economy moving.
In order to speed up your journey through the Port, please ensure that you have passports or national identity cards to hand as these will be needed when checking in with your chosen ferry operator. It is imperative that freight drivers ensure they understand the new procedures and do not arrive at the Port of Dover without the correct documentation as this will cause further delay. During periods of increased freight traffic, it is advisable that all tourist drivers use the A2/M2 route towards the Port in order to minimise delays to your journey.
Ends
__________________
These items are already being discussed in our forums. You can make up your own mind of course as to whether all mentioned represents progress or not. The case rests...and the jury is out..
Wednesday, 25 March 2015 - 06:32
Post 1523
Sea News, Dover
Up to 20% off Easter breaks at top French theme parks with MyFerryLink
____________________________________________________________
Great deals on Parc Astérix and Futuroscope
Families travelling with MyFerryLink will now be able to enjoy their holiday for less this Easter! Dover-Calais ferry operator MyFerryLink has teamed up with popular French theme parks, Parc Astérix and Futuroscope, to offer their customers up to 20% off entry.
MyFerryLink customers heading to Picardy theme park Parc Astérix for Easter will receive 20% off its entrance fee. Tickets cost €30 (*£21) per child under 12 years (was €38) and €37 (£26) per adult (was €46). Based on the stories of Albert Uderzo and René Goscinny, Parc Astérix is jam-packed with thrilling rides, perfect for the whole family. Tweenagers can try out the 'Tonnerre de Zeus', one of the largest rollercoasters in Europe, whilst younger members of the family will enjoy the six theme 'worlds' - from the Gauls to Ancient Greece and the Roman Empire – not to mention daily dolphin and sea lion shows, acrobatics and street performances.
What's more, MyFerryLink customers heading to Futuroscope can also save €4 (£3) per person on a day pass to the science-fuelled attraction – that's a saving of 12%. Tickets are now €35 (£25) per adult (was €39) and €28 (£20) per child (was €32).
One of France's most popular amusement parks, Futuroscope launched a new Fun Xperiences arena earlier this year. Here, adventurous visitors can take on thrilling sports-inspired challenges, such as free-fall slides and laser training. Children can even try floating in space, enjoy a 4D effects movie or dance with robots at 23ft!
To get the discount, travellers must simply show their MyFerryLink lane hanger or MyFerryLink booking confirmation upon arrival at the attraction. These offers are available for travel until 1 November 2015.
MyFerryLink operates up to 16 daily crossings on the Dover-Calais route. Fares for a car and up to nine passengers start from £45 each way, £35 each way for a three day short break and £29 return for a day trip.
To find the best fares, visit www.myferrylink.com or call 0844 2482 100
Ends
A painterly picture of the Rodin a few days ago above...looking good. Some great deals above there from MyFerryLink.
Yours truly is very keen to get across soon and to take advantage of the many bargains on offer.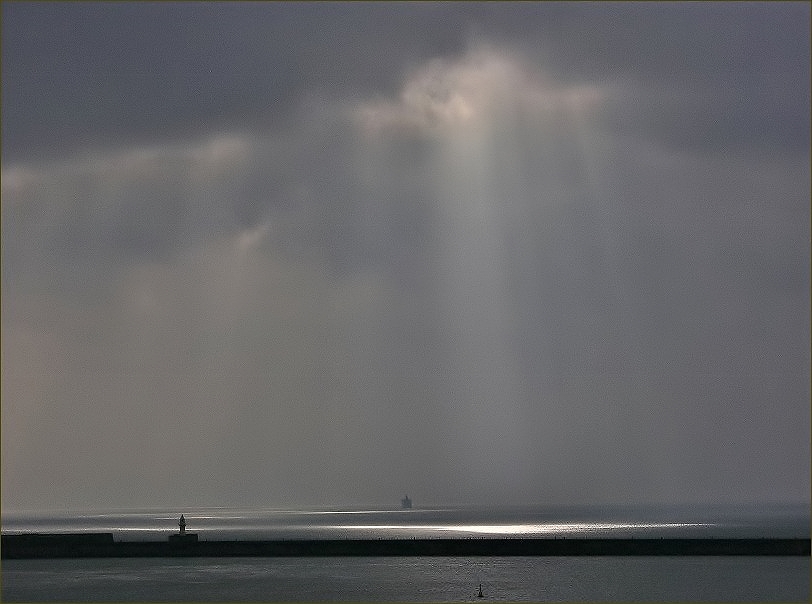 Above we have some heavenly light in the channel yesterday morning. Well we can all use a bit of divine inspiration. Yours truly could have used some while trying to picture the Saga Sapphire departing last night see below. No matter what one did the low evening sun reflected off the ships hull with dazzling discomfort. Grrrrr! With no help forthcoming from on high I resorted to giving the furniture a nice satisfactory kick...still, better days ahead. PB.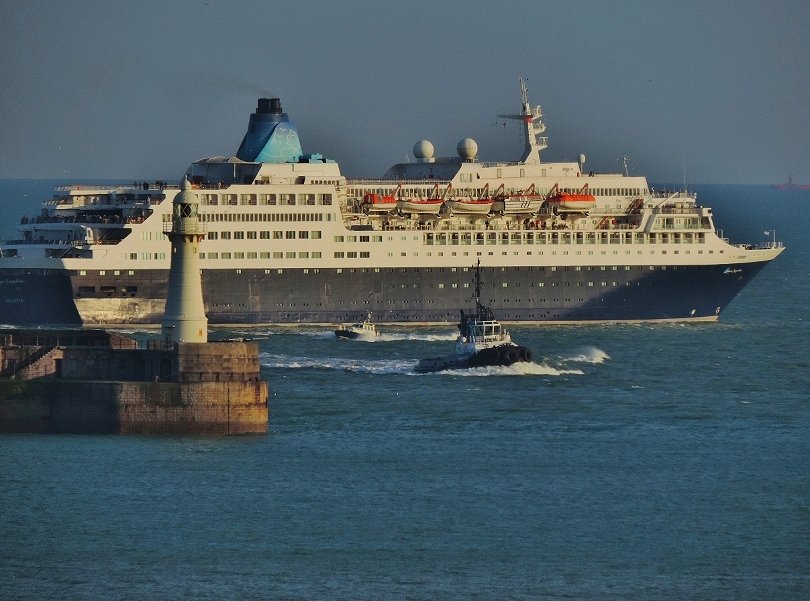 The Braemar is in this morning. Weather very grey once again but very calm....at the moment.
Tuesday, 24 March 2015 - 07:08
Post 1522
Sea News, Dover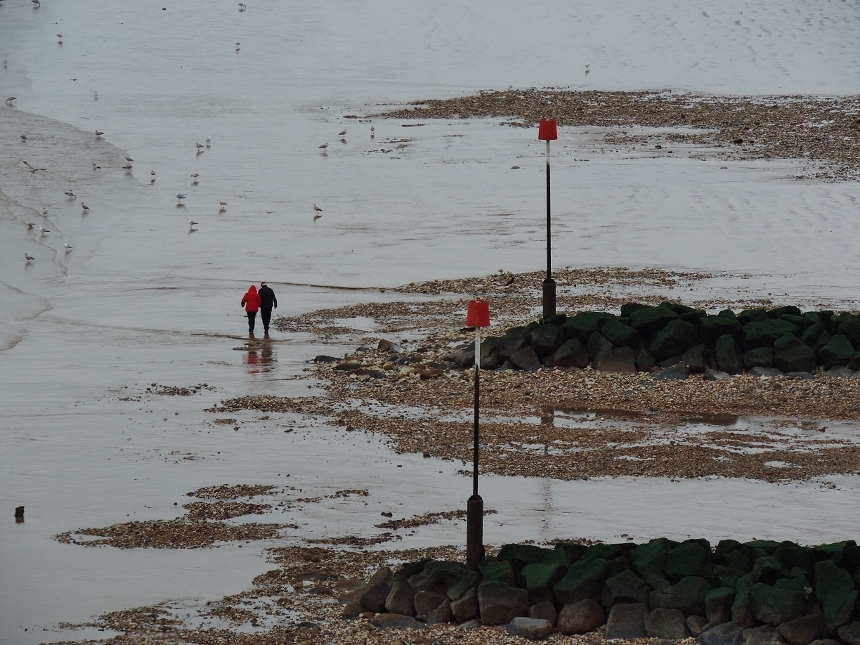 Just a further few pictures here to celebrate the extraordinary low tide. Pix from sunday morning at roughly 8am and this couple appeared to be doing that harbour end to end walk ...you know the one, without getting your feet wet. You can easily by-pass the groynes and the piers and be all at sea...ermm...all on shanks' pony...yesirreee great stuff! There ought to be some award for doing it...it is a safe thing to do as long as one keeps ones wits about one as to the turning tides.
In the previous post 1438 you saw the 'floating' lampshade. Well here she is in reality in picture 2, only this time with the tide at its lowest. You can see the huge difference in water levels at a glance if you compare it with the earlier picture in 1438. Some difference eh?
The final one below looks Portwards...it all made for an exciting if rather chilly sunday. Me timbers were a-shiverin' for sure...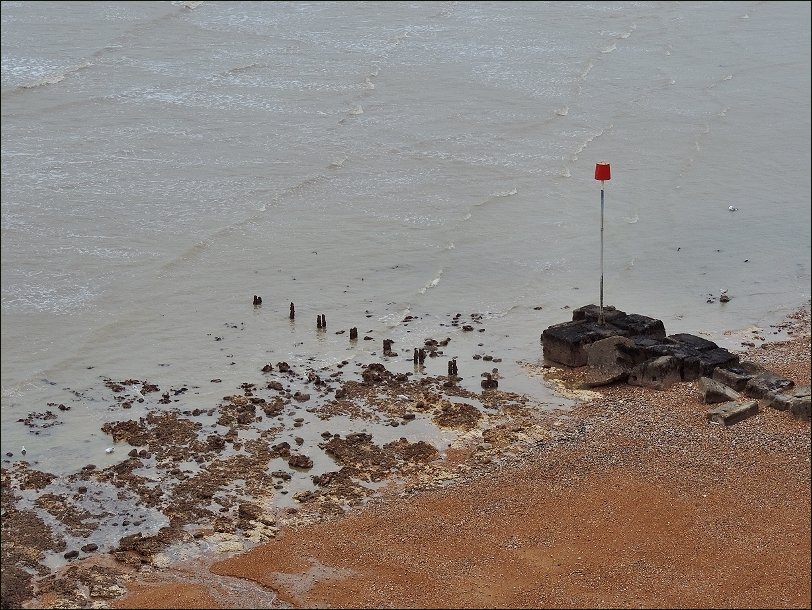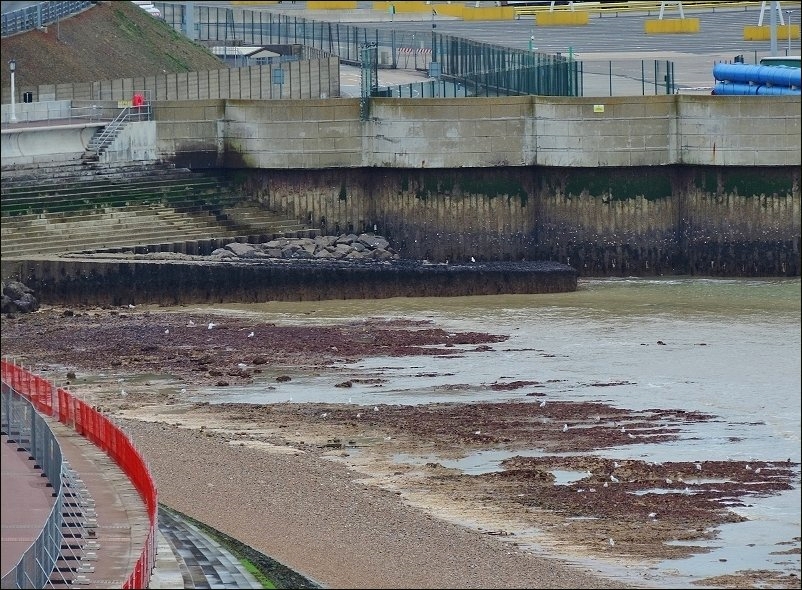 Good luck Scott with your efforts there, a noble cause in Post 1439. Hope all well in Lowestoft.
So that's what happened to Charlie Rock Ed....its a busy barge, excellent to see the lifting platform in position. Good pictures all round guys.
Just to mention too that the Hellas Reefer and the cruise liner Saga Sapphire also in harbour today.
Monday, 23 March 2015 - 15:09
Post 1521
Ed Connell, Dover
Charlie Rock on the Eastern Arm.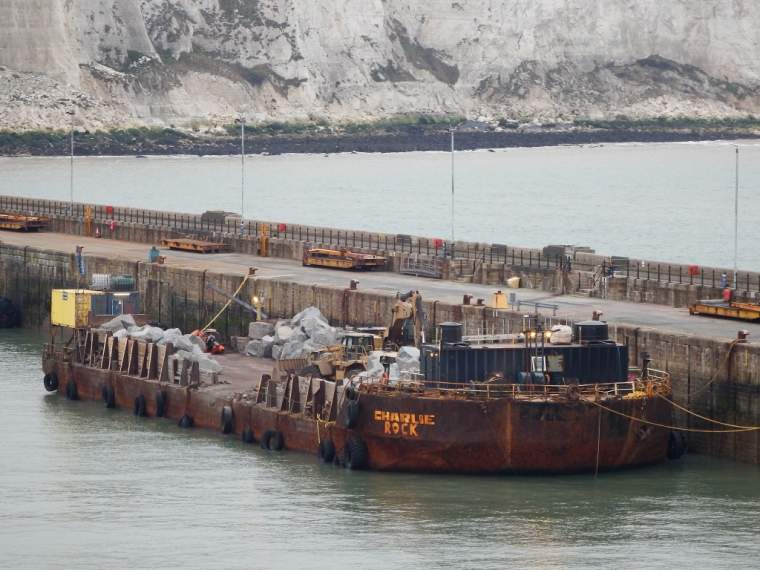 Monday, 23 March 2015 - 09:08
Post 1520
Ed Connell, Dover
Jack-up platform Topbond conducting latest berth renovation works.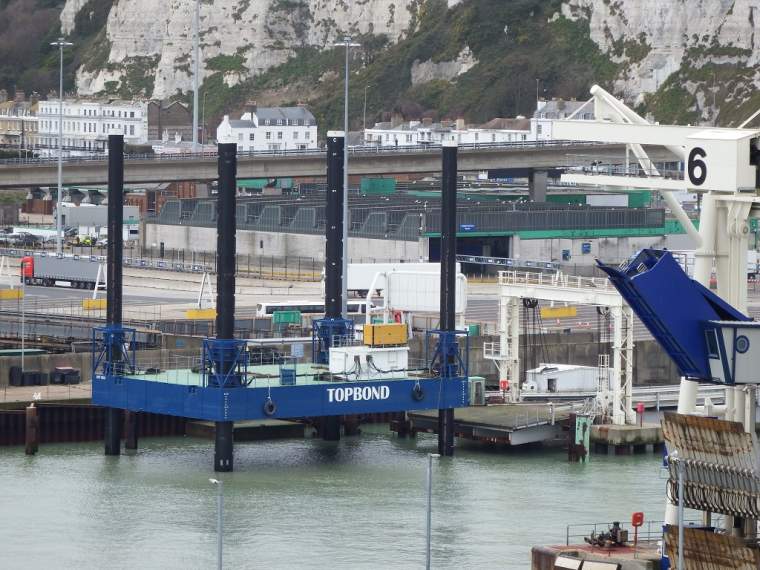 Monday, 23 March 2015 - 09:04
Post 1519
Scott, Lowestoft (s.snowling@50001.org.uk)
A charity based in Lowestoft is seeking funding to try and save the historic Dover lifeboat "Rotary Service" Built in Lowestoft 1973.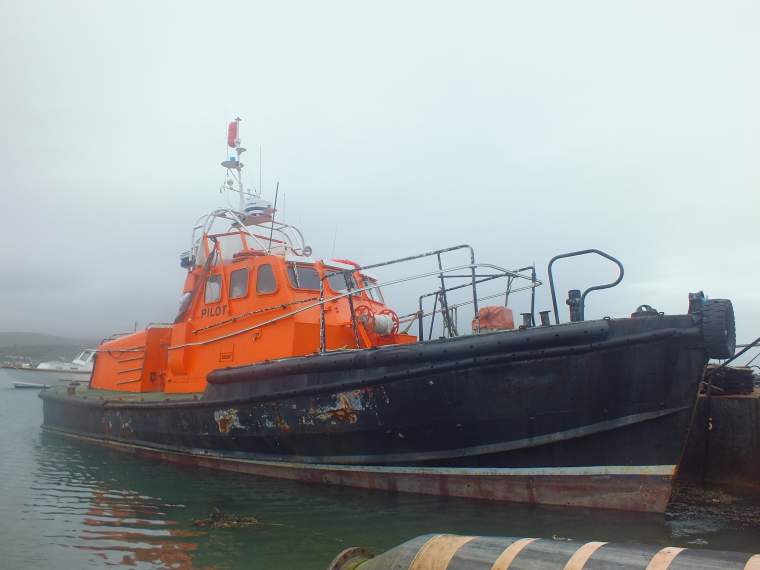 The Thames Class Lifeboat Trust web: 50001.org.uk aim to use the vessel in Lowestoft as a youth training vessel operating trips as far as Dover, several times a year.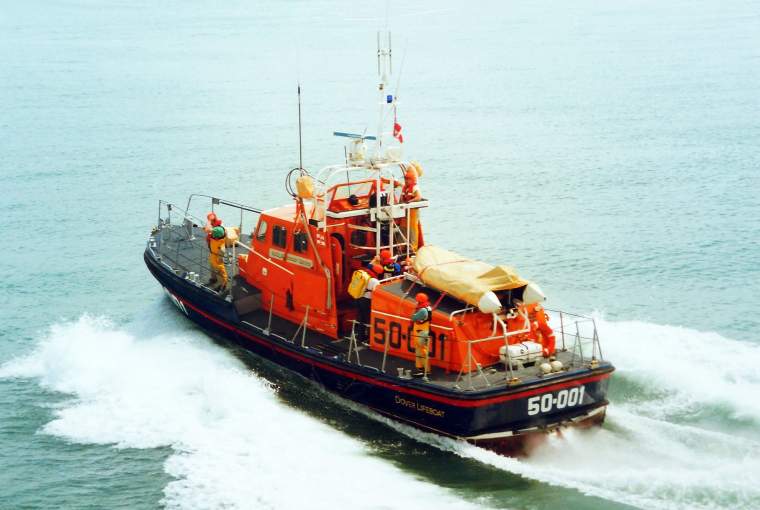 (Photo N. Leach)
The trust really need support to raise the £16,000 required to succeed. If you can help please see the website. Thank you for taking the time to read this.
Monday, 23 March 2015 - 01:14
Post 1518
Sea News, Dover
Yes indeed Kevin very extremes of tidal highs and lows at the moment. As we speak the tide is the lowest ever...a chap out on a jolly canter could easy walk the length of the harbour without getting his socks wet, the shoes might be a tad damp but that's all. The following two pictures show the high tide yesterday early afternoon. The rowers would have to walk if they were in the same position as I write. Below that the obligatory lampshade looks odd ...it looks like floating debris on a pea green sea, but not so of course. It shows how high the tide is.
Final shot shows low tide yesterday morning. As said - very very low right now at the time of posting.
That moon and sun .. they will play about in the heavens !!

PB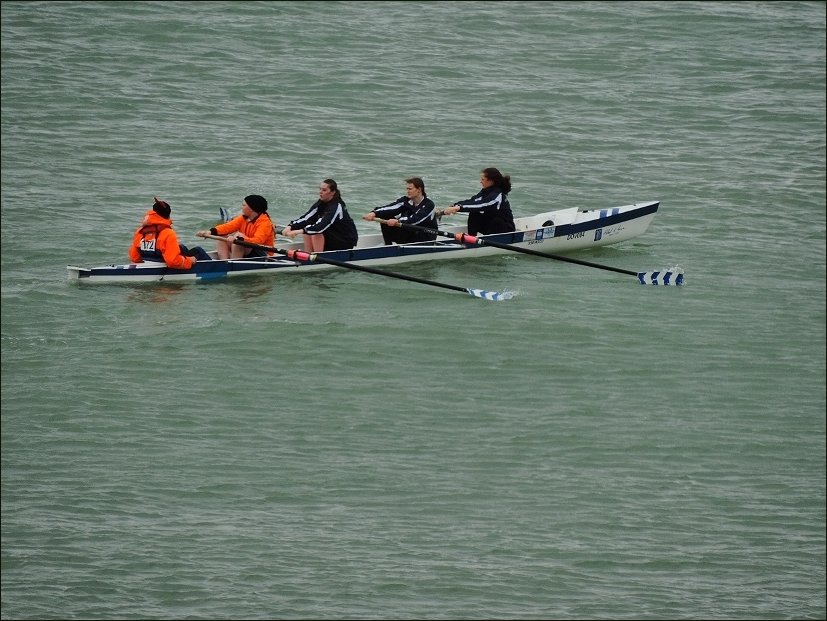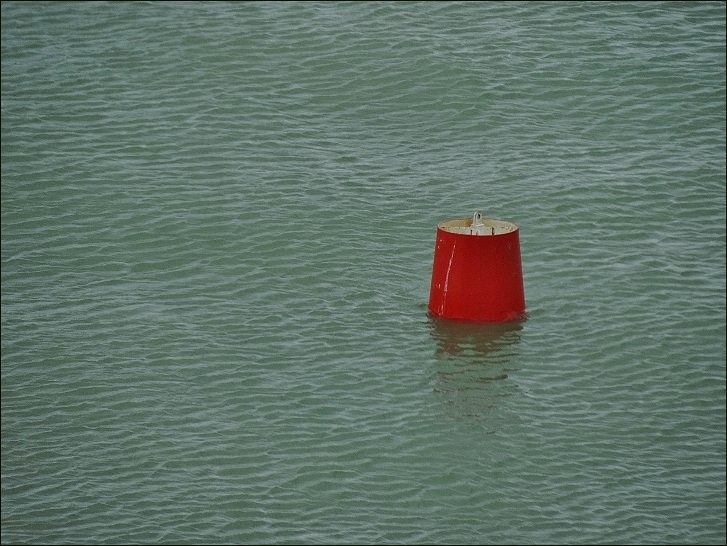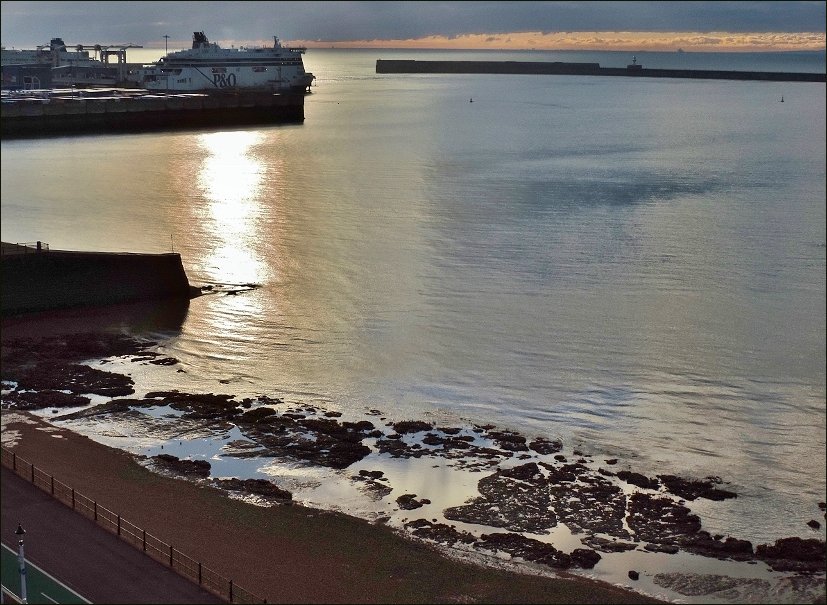 Picture from yesterday saturday. The tide is even lower this morning.
Yes indeed...we hope the team in Miami are doing well promoting...Destination Dover.
Sunday, 22 March 2015 - 07:34
Post 1517
Kevin Charles, Dover
Exceptionally high spring tides along the Channel coast linked to the eclipse - 7.10 metres in Dover this lunchtime and 7.30 metres tonight. Good job the sea is calm!

Saturday, 21 March 2015 - 12:44