Monday, 10 December 2018

WWW.DOVERFORUM.COM/SEA-NEWS
Featuring all the ships that come and go and work at the Port of Dover with further coverage of the surrounding ports both sides of the Channel. Click ADD YOUR COMMENT below to post direct, no membership needed.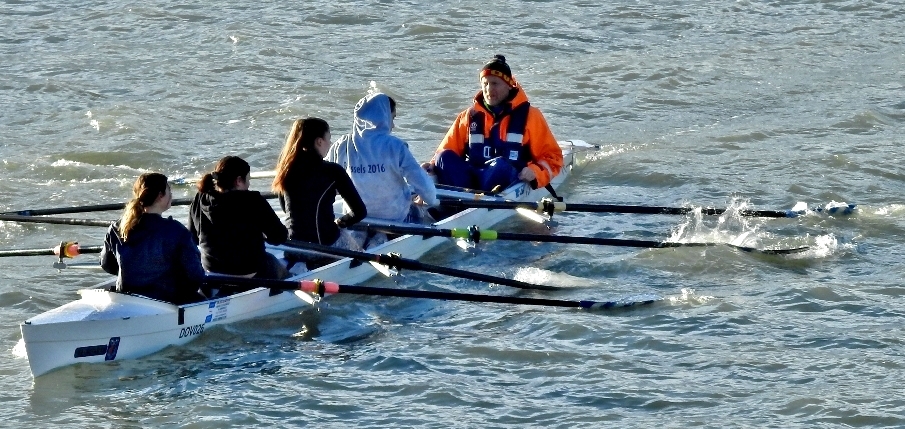 Rowers - cold sunday...
Listing highlights....
P&O: Britain's Favourite see 5922.
DFDS: Voted Worlds Leading Ferry Operator...see 5918..
Charlie Elphicke MP: Migrant Crisis 5894.
P&O: Santa Onboard see 5870.
White Cliffs Ice Christmas at Port 5852.
Wreck of the Anneliese 5880, 5881, 5882 ...
Port: Additional Funding for Kent Wildlife Trust 5879.
P&O: Apprentices welcome RB Legion veterans 5853.
Eight new apprentices graduate see 5845.
DFDS: 'SEE PORTS' Calais and Dunkerque 5834.
DFDS: Revitalising dining concepts onboard.. see 5831.
P&O: Schoolchildren mark WW1 see 5816.
Lower Thames Crossing boost..5812. see now also 5817.
Dover Museum's revitalisation see 5807.
Port of Dover: Refrigerated Cargo Terminal .. software for 5801. Latest NATO also 5801.
Port of Dover: Great increase in summer traffic 5795.

Continues...
Russian and shadow 5785.
The Waverley paddle steamer latest 5778...
New SAGA Ship launching in Dover see 5776.
P&O: To Rome on Horseback 5759.
DOUG BANNISTER: New Chief Executive Port of Dover see below 5734....
Merchant Navy Ceremonial images also 5734.
Dover Regatta Rescue incident plus .. see 5713.
Dover Regatta pictures Lifeboat etc..5716, 5717, 5718, 5720.

DFDS Expansion: More New Ferries on order... see 5693 see also 5500 and 5381.
Excellent Tourist season for P&O Ferries see 5649.
VSBW Port of Dover - Women at Work 5638.
P&O Second Female captain see 5107. Also see latest 5570.



NEW:

For instant access to any item listed above - just type the post number in the Search Engine below.
Sea News Dover : Use our SEARCH ENGINE below to find all sorts on the SEA NEWS pages....
type in the topic and away you go... more than 5900 nautical posts now.
Posts are welcome. Max of 5 pictures preferred although we can stretch that for special stories..
Sea News Editor Paul Boland - send info or pix to dover7@msn.com. Always welcome.
All pictures on these pages are the copyright of the owners and must not be reproduced without permission.
Post 1102
PaulB, Dover
Nice pictures lads - just been watching the Ryndam depart with tug spraying. Have the awful sinking feeling she may be leaving us for the last time.

Saturday, 30 August 2014 - 17:16
Post 1101
Mike J., Dover
The SEADREAM-1 returned to Dover around 0800 Saturday morning, trailing her usual plume of smoke.
The RYNDAM had arrived earlier.
The first two photos are a slight 'cheat' & were taken on the SEADREAM's first arrival on 16/8.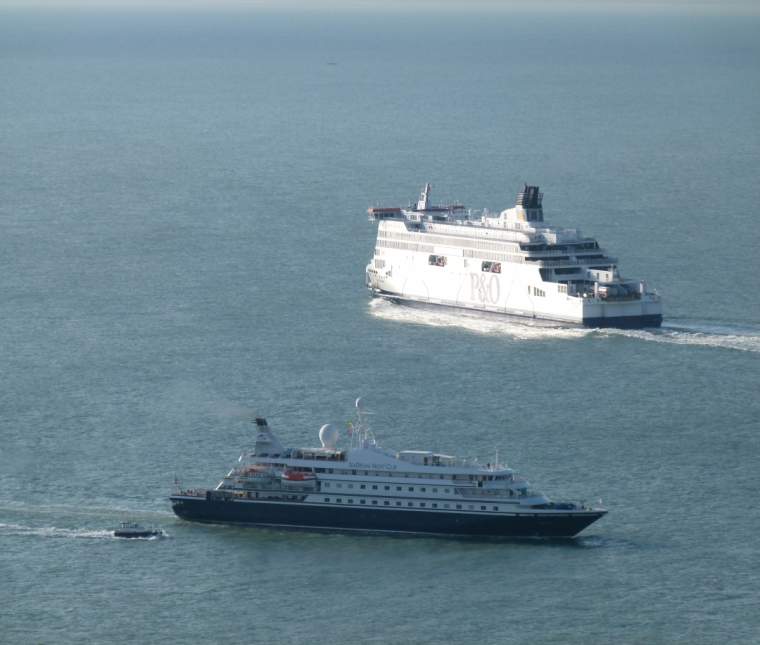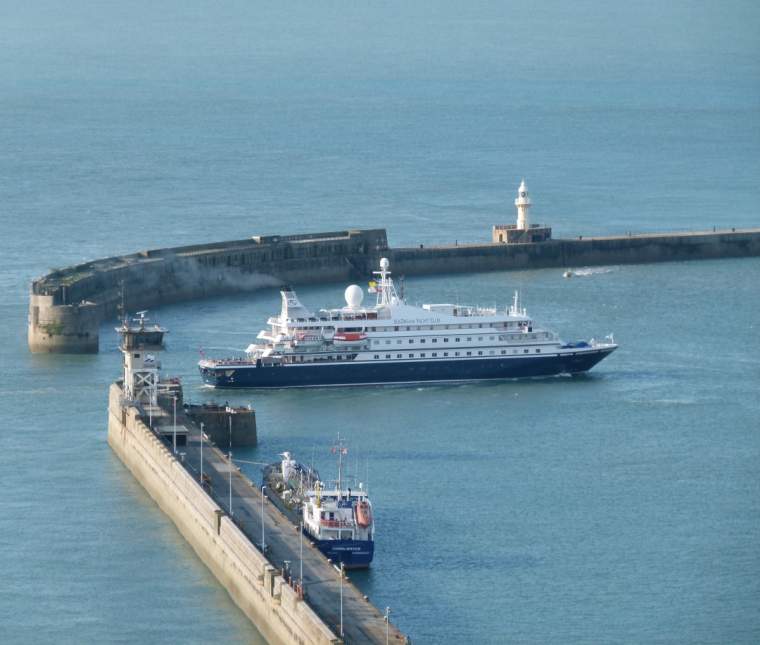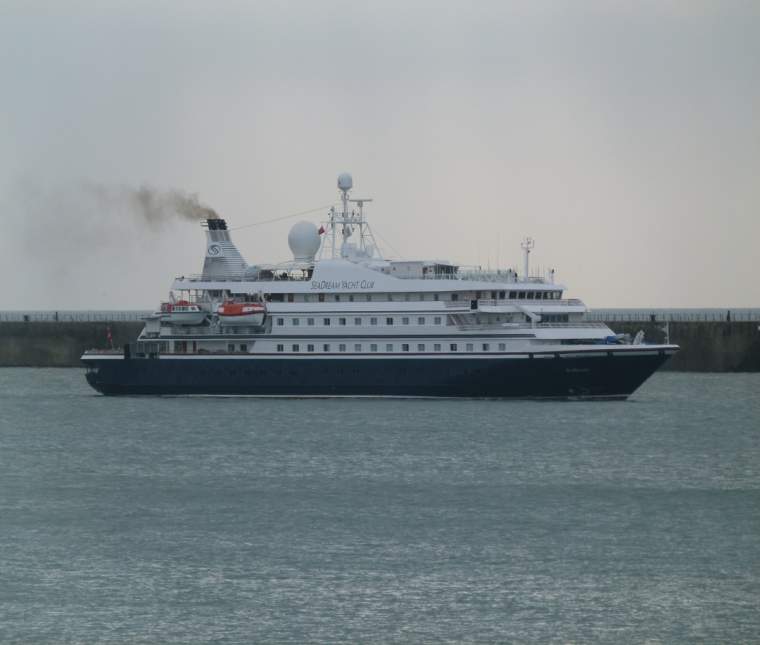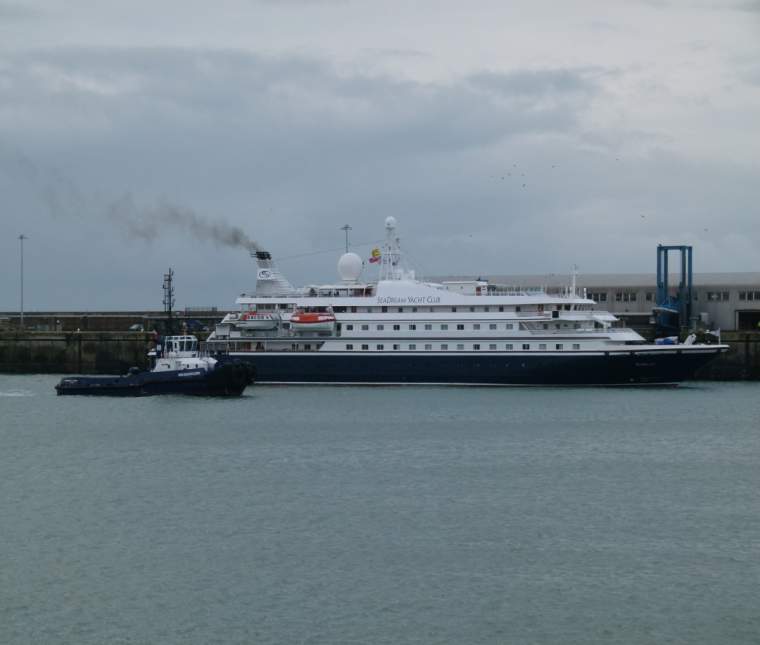 Saturday, 30 August 2014 - 13:37
Post 1100
Ed Connell, Dover
The little "multicat road-transportable multi-purpose workboat" Toplift working at the Southern breakwater at very high water with Spirit of Britain entering via Eastern and Pride of Kent departing by Western.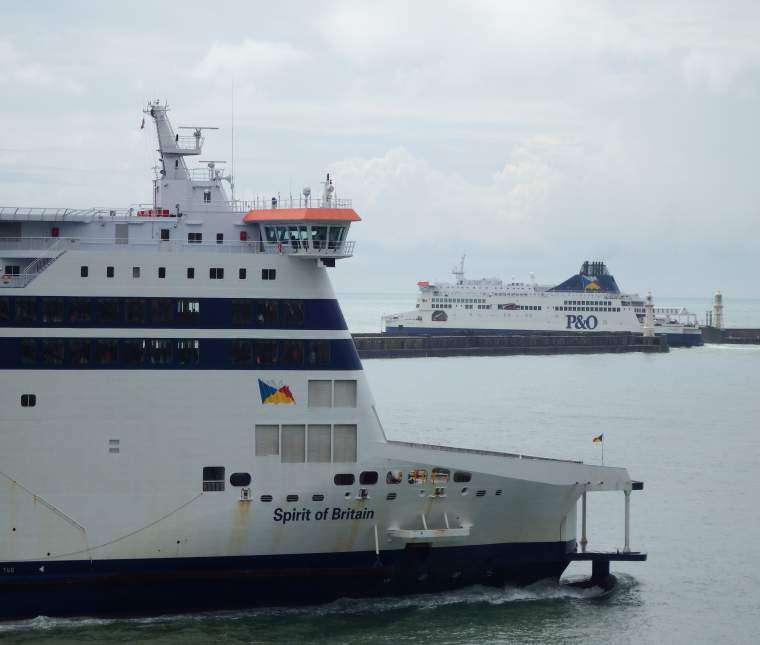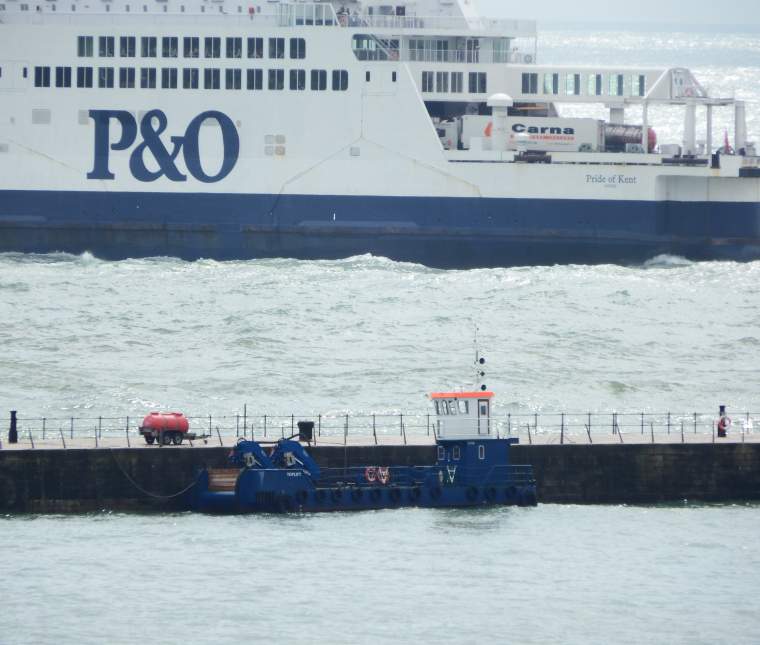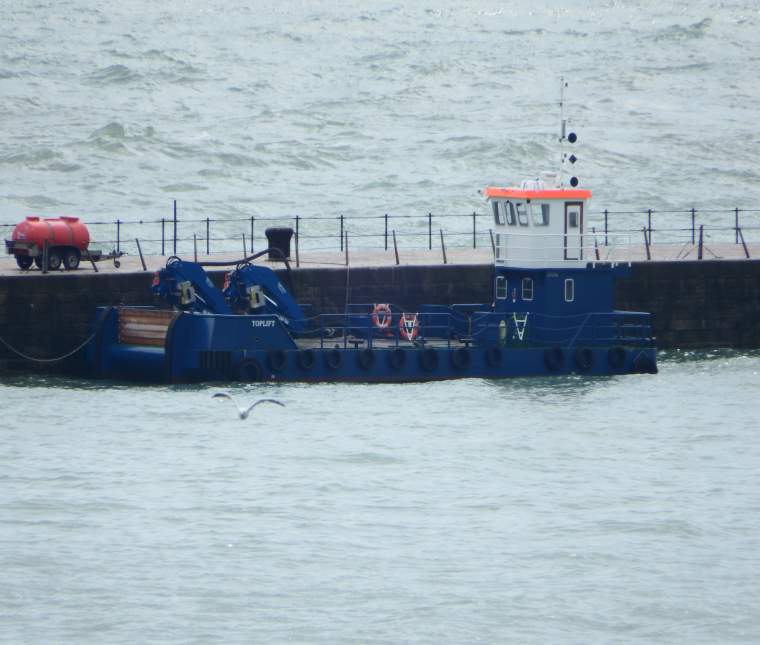 Saturday, 30 August 2014 - 13:23
Post 1099
Ed Connell, Dover
Another cargoship I do not remember seeing in Dover before. Hellas Reefer berthed at the Dover Cargo Terminal last Sunday.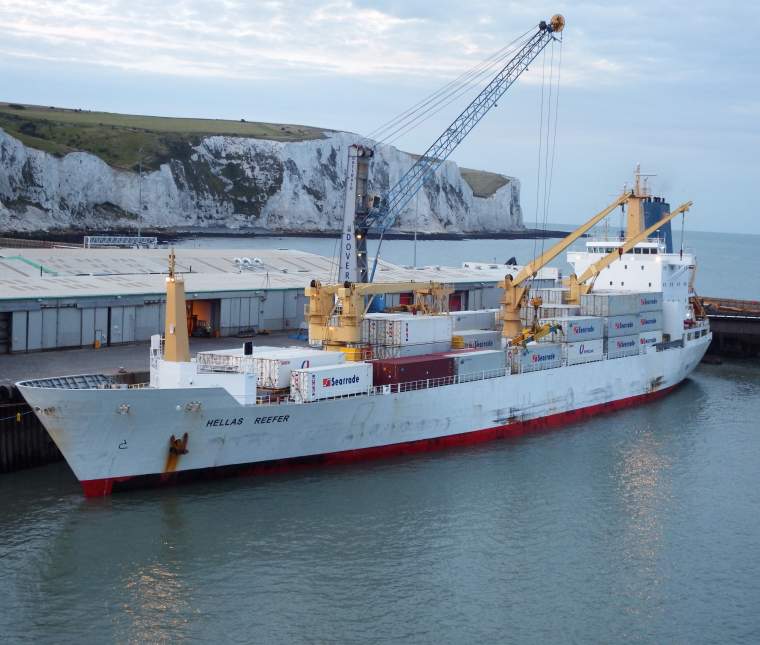 Kevin: Interesting provenance for the photo of HMS Illustrious. You are more than welcome to the original if you would like it, I was only interested in scanning it.
Saturday, 30 August 2014 - 13:09
Post 1098
PaulB, Sea News, Dover.
We are running a little late with this one. But here we are with a big well done to them..

* *
It's a piece of cake: MyFerryLink celebrates 2nd birthday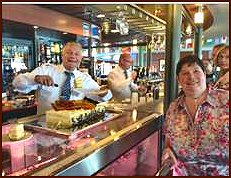 Passengers onboard MyFerryLink's fleet were treated to cake and free gifts last Wednesday, 20 August as the French ferry company celebrated its second birthday. The cakes had been specially created onboard by their pastry chefs and were devoured with great enthusiasm by passengers on the ferries. Customers who weren't travelling on MyFerryLink's birthday were included in the activities with a highly successful birthday special offer sale.
UK Managing Director, Robin Wilkins said the company certainly has reasons to celebrate: "MyFerryLink is going from strength to strength with excellent customer feedback and a really strong performance. On our first day of operation, 20 August 2012 we carried 230 passengers; one year later in 2013 we carried 5,476 passengers and this year on 20 August, our second birthday, the figure had increased to 7,341. We have had a highly successful summer this year and would like to thank all of those people who have chosen to travel with us in our first two years of operation."
20 August 2012: 13 trucks - 64 cars & other vehicles - 230 passengers
20 August 2013: 1,135 trucks – 1,327 cars & other vehicles – 5,476 passengers
20 August 2014: 1,329 trucks – 1,968 cars & other vehicles – 7,341 passengers
To find the best fares or for more information, visit www.myferrylink.com or call 0844 2482 100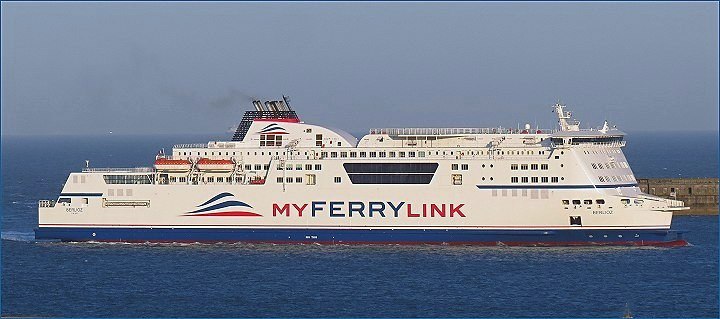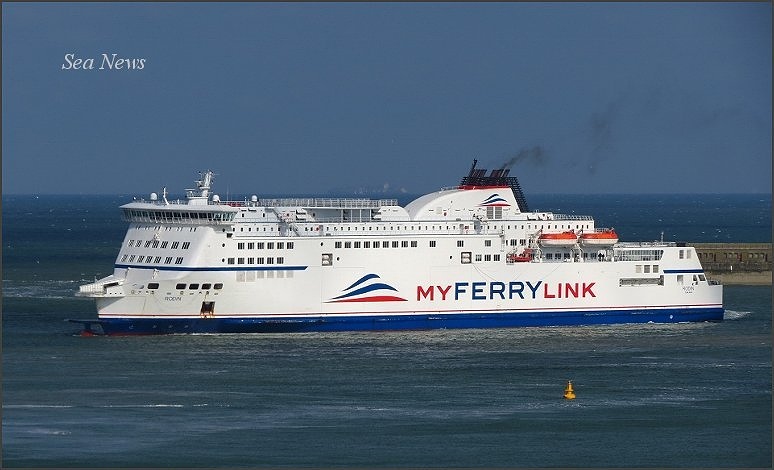 The Berlioz above and finally the Rodin.
Another Birthday!


ADDED: SEA DREAM and RYNDAM in today. Another double header. Enjoy!
Saturday, 30 August 2014 - 06:52
Post 1097
ColetteB, Dover
Well I Never!!!
Happy First Birthday to the Great Sea News



Well Done MrB & all the many contributors. It's jam-packed with awesome seafaring news & photos, LUVIT!
Onwards & Upwards!!!

Friday, 29 August 2014 - 14:26
Post 1096
PaulB, Sea News, Dover
Further Steps Towards Community Director Appointment
_____________________________________________
In accordance with the published timetable, the panel met at the Port of Dover on 26 August to review what were acknowledged by all present to be 27 high quality applications for the recently advertised non-executive Community Director role on the Dover Harbour Board.
Chief Executive of the Port of Dover, Tim Waggott said:
"It is very encouraging that we received such a substantial response as we continue the momentum of working together with our community to deliver for Dover. I would like to personally thank everyone who has taken the time to express an interest in the role for their commitment to being part of a shared vision for the future."
Candidates who have been shortlisted will be invited for interview on the 18 or 19 September, and will be met by the panel which includes the Leader of Dover District Council, the Deputy Mayor of Dover and the local MP. Alongside these locally elected representatives, candidates will also meet the independent Chairs of the Port & Community Forum and Port Users Group as well as members of the Board's own Nomination Committee and the Chair of the South East Local Enterprise Partnership.
Mr.Waggott added:
"Local elected representatives form around one third of the interview panel. We feel the group reflects an equitable distribution of responsibility and input between locally elected representatives, independent community and customer representatives and Dover Harbour Board itself."
* *
Departure time for the great ship...yes its the MSC Magnifica moving off late yesterday in slightly blustery conditions. Turning south heading for the delightful St Peter Port in the channel island of Guernsey.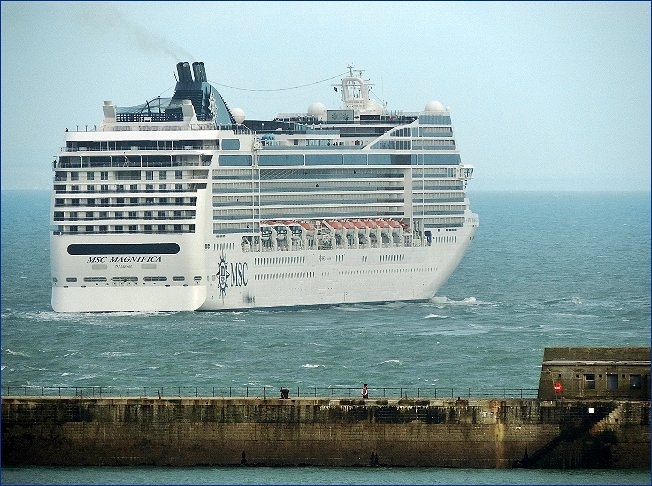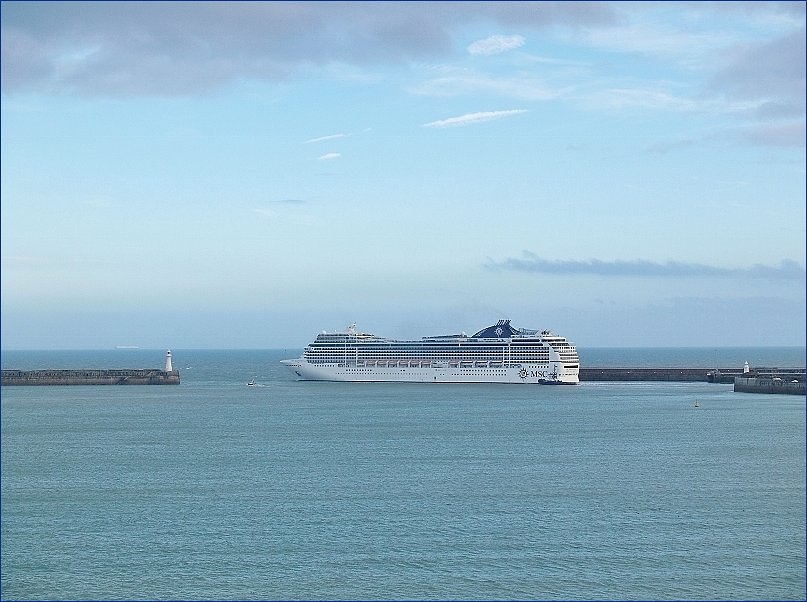 Great pictures below guys. Glad Ed was able to add that one for you Kevin.
Thanks for all the comments guys. Onwards and upwards as they say...

Friday, 29 August 2014 - 12:19
Post 1095
Kevin Charles, Dover
Hi Ed. The dates on your photograph correspond with my voyage from Portsmouth to Plymouth on HMS Illustrious in 1983! I'm guessing the photo was originally owned by one of my fellow Sea Cadets from Dover or the unit from Rye who were also onboard.

Thursday, 28 August 2014 - 22:15
Post 1094
Ed Connell, Dover
HMS Illustrious entering Dover in 1983, picked this up on eBay a few years ago.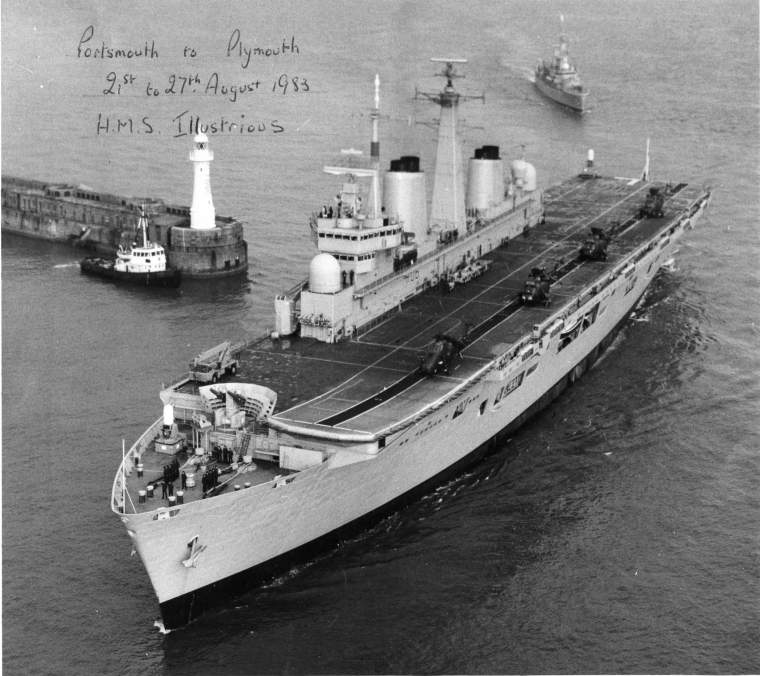 Thursday, 28 August 2014 - 21:47
Post 1093
Kevin Charles, Dover
Just checked my records and it was actually 31 years ago this week that I was onboard HMS Illustrious with Dover Sea Cadets!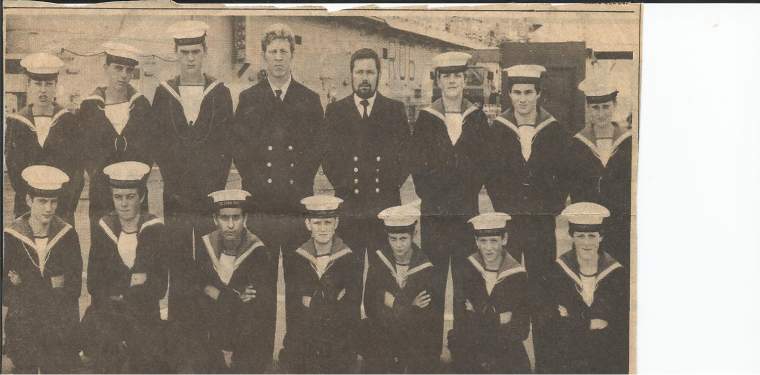 Thursday, 28 August 2014 - 21:33
Post 1092
vIC mATCHAM, dOVER
By far the best page for comments and photos and news about the port please keep it up. Thank you.

Thursday, 28 August 2014 - 19:44
Post 1091
Kevin Charles, Dover
Congratulations, PaulB on overseeing a year of Sea News!

Today saw the decommissioning of HMS illustrious which had strong links with Dover and visited the port on two occasions I recall. She was affiliated to the Cinque Ports, and as a Sea Cadet with TS Lynx in Dover I got to spend a week onboard, sailing from Portsmouth to Plymouth.

Let's hope the Royal Navy recognise the important role that Dover and the Cinque Ports played in the nation's maritime history and pass the honour to another major warship - the new HMS Queen Elizabeth would be great, although I am not sure she would fit in the port!

Thursday, 28 August 2014 - 19:39
Post 1090
PaulB, Dover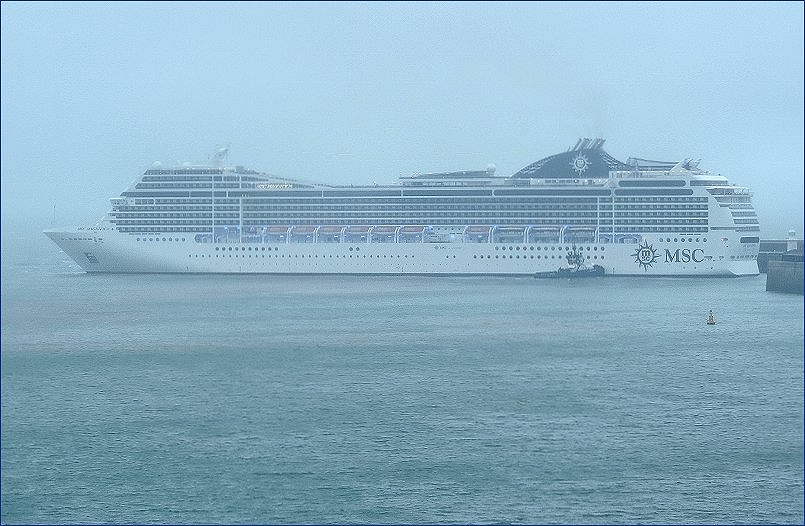 The Magnificent MSC Magnifica is in harbour today. The weather was abysmal for its arrival prior to 7am but conditions are slowly getting a wee bit better. Obviously all the very welcome visitors don't see Dover at its best in driving rain and awful visibility...the White Cliffs and Castle vanish from view for a start. But as we say...it looks to be improving now as we write. The top picture shows its arrival early today in the slate grey rain, you can see that some of the ships lights are still visible, the picture below better shows the great ship on a previous visit.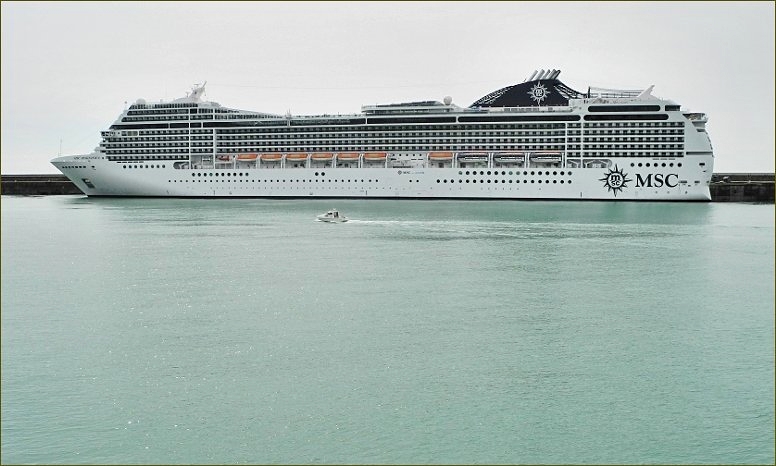 ONE YEAR OLD:
______________
Just to mention that this new SEA NEWS page was one year old as of yesterday. This page had been quietly languishing, no longer in use, so we re-launched it as Sea News on the 27 August 2013 and here we are one year on...busy busy and intending to keep busy. We are always interested in nautical items from contributors...just click 'add your comment' above or send direct to me Paul Boland on dover7@msn.com. It has been excellent receiving all the contributions and we have been very happy to receive full info from all the main players operating in and from the harbour...the ferry companies and of course especially the Port itself. Many thanks to one and all. PB


Nice set of pictures below there Mike showing the working boats coming in and out.

Thursday, 28 August 2014 - 15:12
Post 1089
Mike J., Dover
Off to work we go . . . . .
Wednesday morning with the DOVER WORKER & the TOPLIFT en route for the Southern Breakwater & the Range Safety Vessel SMIT ROTHER heading off to defend Hythe Ranges [or perhaps Lydd ranges ?].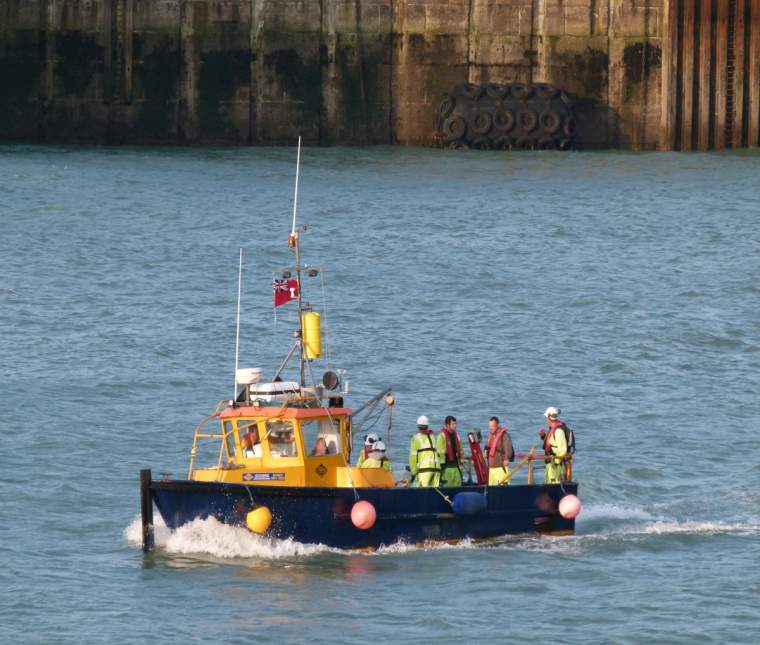 Quite a contrast in bows, the OCEAN PRINCESS & the TOPLIFT !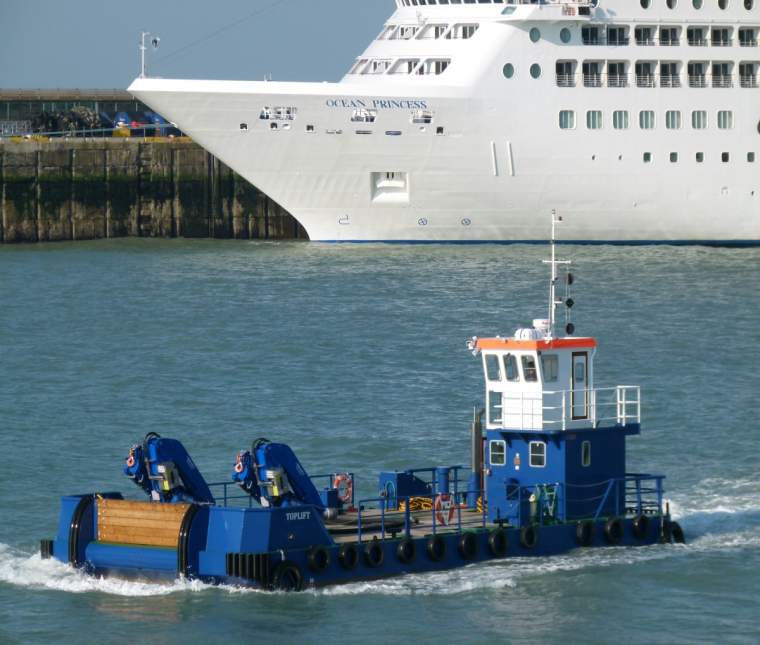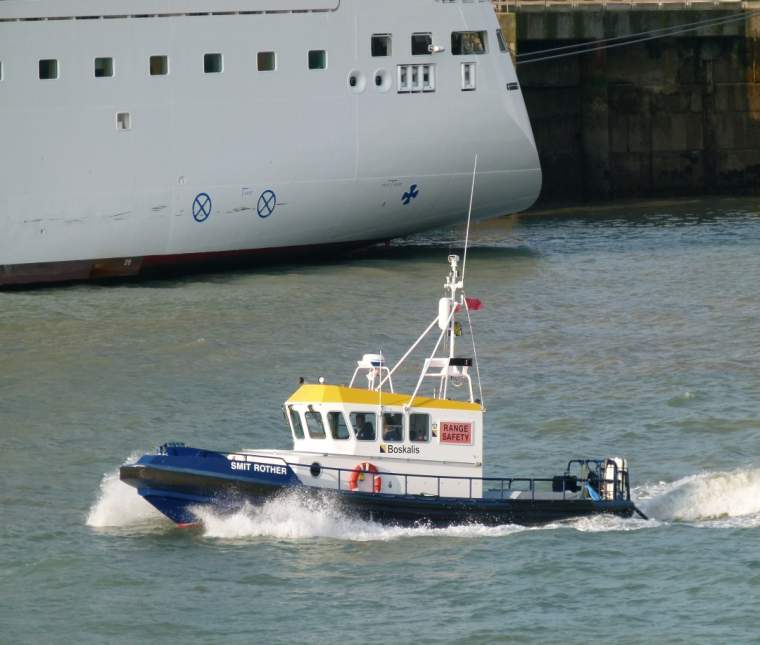 The DAUNTLESS doing her bit for the environment after helping to park AIDALUNA on Cruise-2.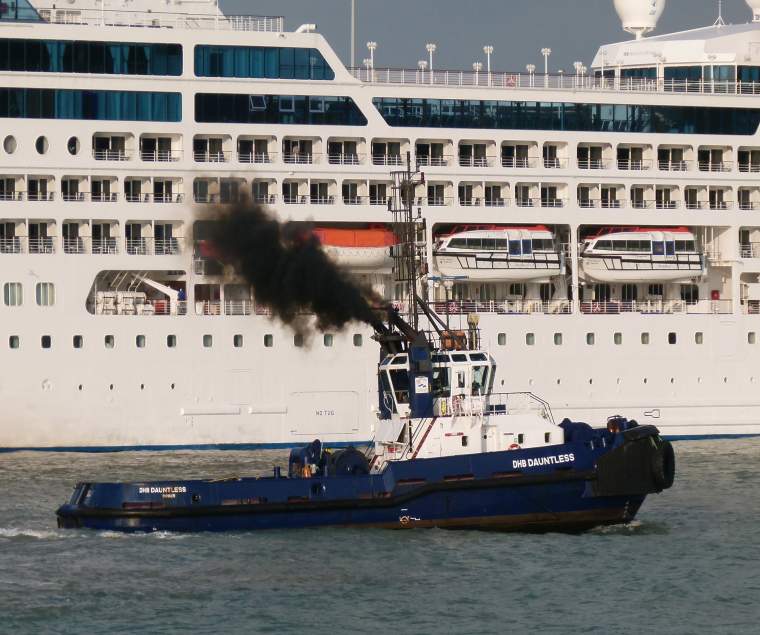 Wednesday, 27 August 2014 - 22:06
Post 1088
PaulB, Dover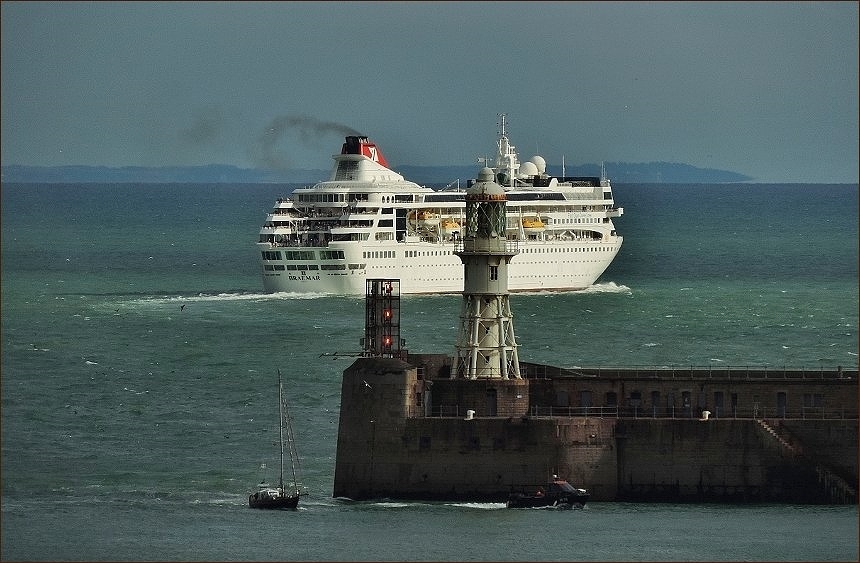 The Braemar leaving Dover a few evenings ago...heading south. Catching a ray of sunshine during the grimey weather. The cruise liner activity is still powering along in fine style with much more to come.
Wednesday, 27 August 2014 - 17:57
Post 1087
PaulB, Sea News, Dover.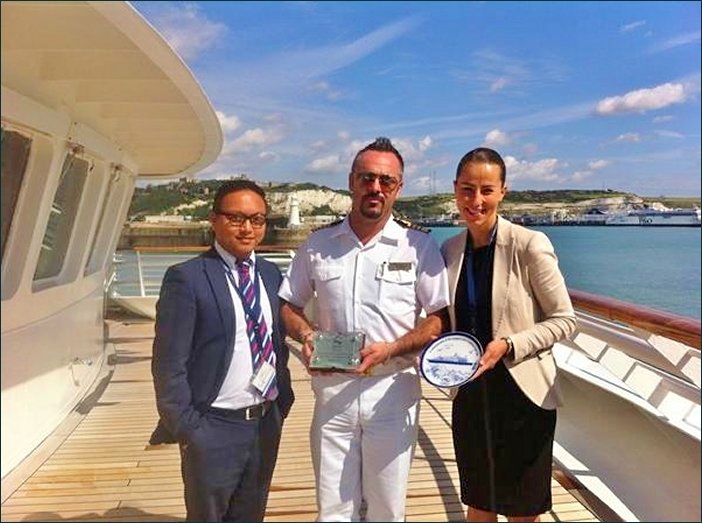 A fab picture to show that Dover can look glamourous too, right up there with many of the exotic locations that all these cruise liners visit. It shows the team from the Port of Dover, Ben Greenwood PR Man on the left and the lovely Barbara Buczek Head of Corporate Affairs on the right, presenting the Master of the Sea Dream I Remi Eriksen with a plaque extraordinaire to mark the vessel's fab inaugural visit to Dover.
Don't forget the Sea Dream returns on the 30th of August...which is this coming Saturday. So get those cameras charged...yours truly is plugged in to the mains already.


Many thanks to our colleagues down at the Port for the picture above.
Thanks also for that cruise schedule again Colette. Excellent. Have changed the post number on the listings above. Some good ones coming.
AIDA Luna and Ocean Princess in harbour today.
Wednesday, 27 August 2014 - 06:26
Post 1086
ColetteB, Dover
And here we have the rest of the cruise schedule for August.
Tomorrow, Wednesday 26th August, the Ocean Princess returns to CT1, TR & the AIDALuna also returns to CT2, PoC.
Then on Thursday, the MSC Magnifica is back at CT2, PoC, she was last here in May this year.
No cruise on Friday
Saturday, we have a second chance to see the elegant SeaDream 1 at CT2, TR & the Ryndam is back at CT1, TR.
Finally, ending the month of August on Sunday 31st, the Crystal Symphony returns to CT1, TR & the Braemar is back at CT2, TR.
Be back soon with the September schedule

Tuesday, 26 August 2014 - 11:38
Post 1085
ColetteB, Dover
Good to see The Dover Western Docks Revival going 'Full Steam Ahead' & a great pic of our MP with DHB Chairman & Chief Executive


That's a cool pic of the Jet Streams MrB with the Channel 4 logo

We had a lovely day on the beach on Sunday, just got a little chilly late afternoon. Couldn't believe the change of weather in a mere few hours though
There were quite a few peeps swimming in the sea so good work by the Harbour Patrol Vessel re Jet Ski

Tuesday, 26 August 2014 - 11:21
Post 1084
PaulB, Dover
Prior to the onslaught of the bank holiday monsoon which interjected a level of desolation along the seafront...there was abundant life the previous day sunday. All was jolly and busy. Swimmers aplenty as you would expect. Into this mix moved a jet ski at considerable tilt...jet skis and swimmers do not a good combination make. Within minutes almost out of nowhere the Harbour Patrol vessel came galloping across the bay and put an abrupt stop to the disappointed jet skier. Safety must prevail.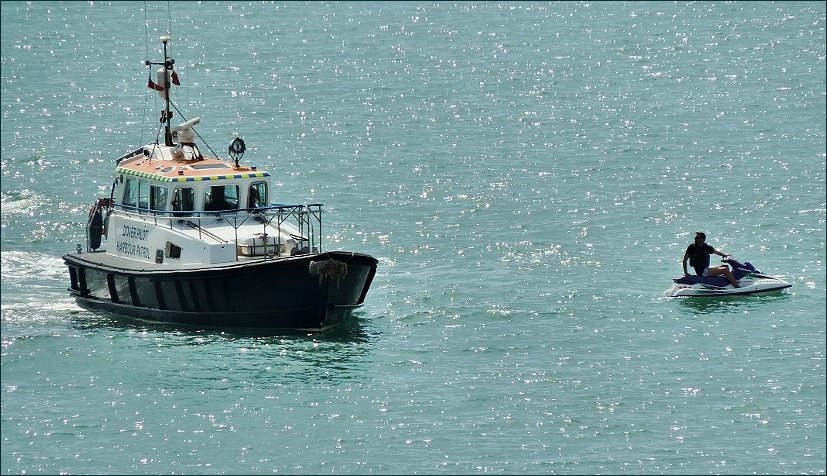 Tuesday, 26 August 2014 - 10:38
Post 1083
PaulB, Sea News, Dover.
PORT OF DOVER BREAKS NEW GROUND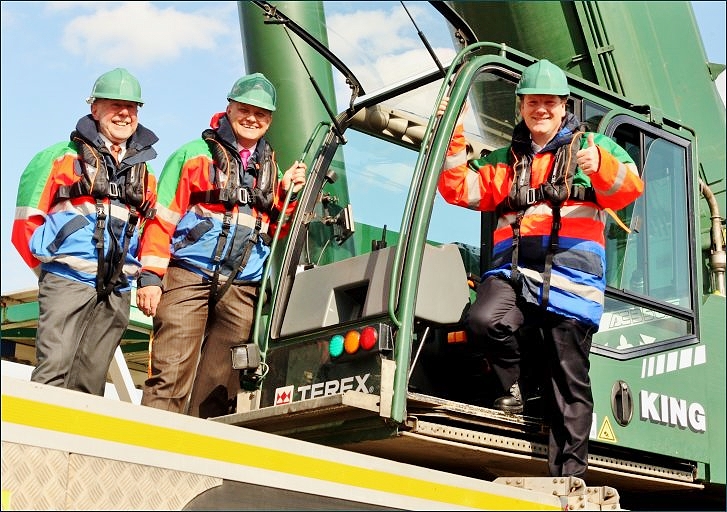 It was out with the old to prepare to bring in the new when Dover MP Charlie Elphicke ( right) stood alongside Dover Harbour Board Chairman, George Jenkins OBE, and Chief Executive, Tim Waggott, on Friday 22 August. All three were there to start the demolition of the old Seacat berth at the former hoverport – the first physical step in the major revival plan for the Port.
The Dover Western Docks Revival project is a multi-million pound port regeneration project. The demolition of the old Seacat berth, to be completed by the end of 2014, is the first stage in a project that will be a catalyst for the regeneration of Dover, the old berth making way for a new cargo terminal and associated waterfront developments over the next few years.
Charlie Elphicke:
"It is a real pleasure to be here at the groundbreaking of the Western Docks Revival. It's great to see the commitment of the port to new investment and the creation of hundreds of new local jobs. There's a real sense of change and partnership with the town. New investment, new community directors and a new fund for Dover too. A partnership that can strengthen Port of Dover's position as one of the UK's leading ports and enhance its position as the leading ferry port in Europe."
Tim Waggott:
"This demonstrates ongoing momentum for Dover Western Docks Revival that will bring the town and the port closer together as we develop a port that will protect our long-term port capacity and bring new business to Dover. We have spent a great deal of time discussing and debating the plan and this begins our journey to fulfilling those promises. This is a significant milestone as we continue regenerating the port."
Ends.
* *
This was the dazzling sky above the Port and above the Braemar Sunday morning. It must be the arrival of the colder air as all the jet streams showed up in spectacular fashion in the early morning sky. Almost unbelievable and the picture shows it exactly as was. No trickery even though there is a Channel 4 logo in the middle of it. Can you spot it? No such blinding sunlight today though for Bank Holiday Monday.
Monday, 25 August 2014 - 07:09