Tuesday, 20 November 2018

WWW.DOVERFORUM.COM/SEA-NEWS
Featuring all the ships that come and go and work at the Port of Dover with further coverage of the surrounding ports both sides of the Channel. Click ADD YOUR COMMENT below to post direct, no membership needed.
Listing highlights....
Wreck of the Anneliese 5880, 5881...
P&O: Santa Onboard see 5870.
Free Wine with P&O Daytrips see 5868.
White Cliffs Ice Christmas at Port 5852.
Port: Additional Funding for Kent Wildlife Trust 5879.
P&O: Apprentices welcome RB Legion veterans 5853.
Eight new apprentices graduate see 5845.
DFDS: 'SEE PORTS' Calais and Dunkerque 5834.
DFDS: Revitalising dining concepts onboard.. see 5831.
P&O: Schoolchildren mark WW1 see 5816.
Lower Thames Crossing boost..5812. see now also 5817.
Dover Museum's revitalisation see 5807.
Port of Dover: Refrigerated Cargo Terminal .. software for 5801. Latest NATO also 5801.
Port of Dover: Great increase in summer traffic 5795.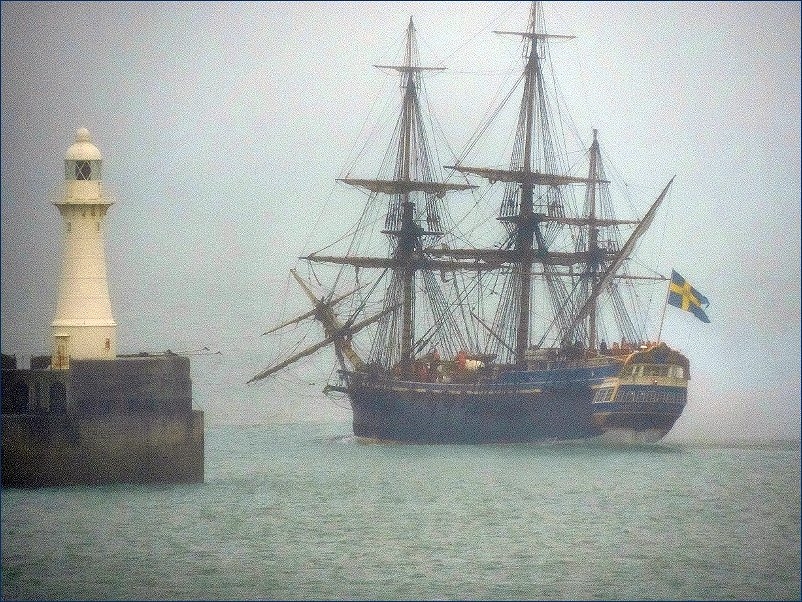 Gotheborg...

Continues...
Russian and shadow 5785.
The Waverley paddle steamer latest 5778...
New SAGA Ship launching in Dover see 5776.
P&O: To Rome on Horseback 5759.
DOUG BANNISTER: New Chief Executive Port of Dover see below 5734....
Merchant Navy Ceremonial images also 5734.
Dover Regatta Rescue incident plus .. see 5713.
Dover Regatta pictures Lifeboat etc..5716, 5717, 5718, 5720.

DFDS Expansion: More New Ferries on order... see 5693 see also 5500 and 5381.
Excellent Tourist season for P&O Ferries see 5649.
VSBW Port of Dover - Women at Work 5638.
P&O Second Female captain see 5107. Also see latest 5570.


NEW:

For instant access to any item listed above - just type the post number in the Search Engine below.


Sea News Dover : Use our SEARCH ENGINE below to find all sorts on the SEA NEWS pages....
... more than 5800 nautical posts now.
Posts are welcome. Max of 5/6 pictures preferred although we can occasionally stretch that on special stories.
Sea News Editor Paul Boland - send info or pix to dover7@msn.com. Always welcome.
Type CRUISE VISITS in our SEARCH ENGINE below for news of the latest cruise arrivals.
NOTE:

We have added a new feature. This has resulted in some slight change to the numbering system on the posts. We needed to align data in order for us to be able to use post numbers in the Sea News Search Engine. For example..type into the Search Engine box the number 5734 if you want the story on Doug Bannister...and it will pop up for you. This will be very useful going forward. You can still search in the older way too. My thanks to long time ace colleague Chris Tutthill for enabling the extra feature. Chris runs our sister channel..dover.uk.com. PaulB
All pictures on these pages are the copyright of the owners and must not be reproduced without permission.
Post 351
Kevin Charles, Dover
The port is now closed as wind gusts to 75mph. Ferries are sheltering off the Downs and the French coast. The AIDAsol cruise ship is just passing Dover on a very rough start to their Christmas cruise.

Monday, 23 December 2013 - 21:35
Post 350
Kevin Charles, Dover
Shipping forecast giving Hurricane force 12 in the Channel - spare a thought for those at sea tonight.

Monday, 23 December 2013 - 21:01
Post 349
ColetteB, Dover
Well I never!!! Can you believe it!!! They only went and won it


To the P&O Choir: We salute you, Dover is very proud this morning

I sat on the edge of my seat the whole hour, nail biting stuff for sure. All three Choirs did very well indeed, I thought for one minute that CITIBank had got it especially with their Gospel Chorus piece but what joy to hear P&0's name called as the winner.
And how awesome is Ely Cathedral! Gareth Malone, you have my vote

Just got back from town, be careful out there, very blustery & the winds are brewing just as forecasted.
Monday, 23 December 2013 - 10:34
Post 348
JanT, Dover
In a truly splendid setting a winning performance by P&O Choir with Gareth Malone at the helm,this has been a program that has been a real pleasure to watch and hopefully given Dover a feelgood factor.


How this was kept under wrarps till the program was aired must have been tough, and I guess we must not forget the other Choirs who did so well.
But Dover's P&O came out the winners


Below some great pictures of our winners

Monday, 23 December 2013 - 07:58
Post 347
PaulB, Dover
Well can you believe it !!! P&O won The Choir on BBC2 in fantastic style. Truly brilliant ! Here we are with a few pictures to enjoy.. as seen on TV.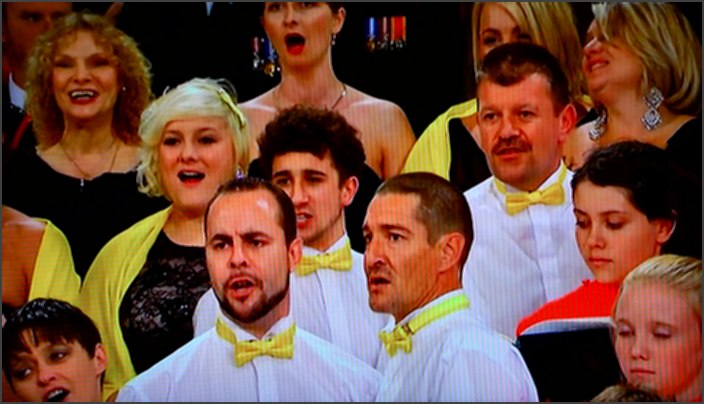 Yes indeed..They WON! Despite stiff opposition in this the final from CITIbank and the Cheshire Fire Service, our local boys and girls from P&O won through in spectacular style and in equally spectacular surroundings. It was highly stressful for them performing in the beautiful Ely Cathedral in Cambridgeshire as the venue was hugely packed to the proverbial rafters and of course with the added stress of having sublime 'professional' choristers also performing. But they did supremely well, they held their nerve and their performance together and won through. They sounded magnificent. Everybody was thrilled including Choirmaster Gareth Malone.
The humble viewer watching here in downtown Dover was under stress himself as I'm sure were many of you...all hoping P&O would win. And win they did. We all went through the ringer and the mangle together.
Picture above shows a section of the choir.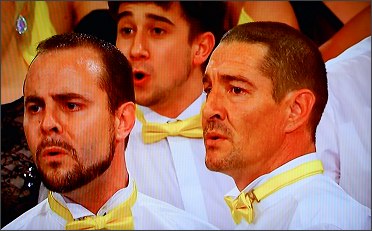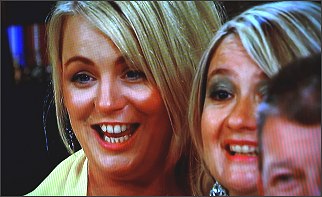 The brothers above fronted last nights performance and they were great. The girls were overjoyed to win.
A huge well done to all. A proud moment for P&O and for Dover. A PR coup for sure all round.
More info and pictures from earlier performances down and/or over the page
* *
Thanks for the info Colette. Disappointing not to get a chance to see the AIDA Sol which would have been a bit special for this time of the year...but large cruise liners cannot get into harbour in turbulent conditions, as we have seen before. So as not to deprive ourselves too much, here is an image of the ship herself from April 2011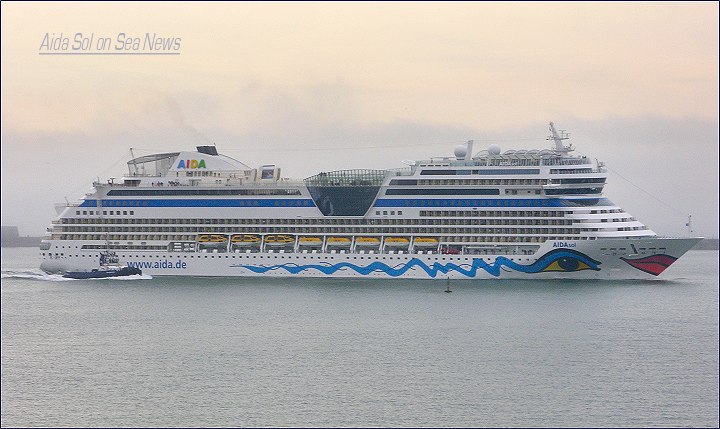 Yes very rough conditions Howard but when the sun came through for a tiny brief interlude I was lucky to have the Rodin approaching in full view. Glad you enjoyed the Choir.

Monday, 23 December 2013 - 05:59
Post 345
howard mcsweeney, dover
great photos of the tempest on the Dover approaches paul, now to relax and watch the final episode of "the choir"!!

Sunday, 22 December 2013 - 21:10
Post 344
ColetteB, Dover
Latest News: The AIDASol scheduled to arrive in Dover tomorrow 23rd December will now NOT be cruising into Dover as planned. So we have seen the last of the cruise ships this season.
We begin again next year in March with the very same AIDASol on Thursday March 6th 2014 at CT2.
Merry Christmas one and all

Sunday, 22 December 2013 - 14:26
Post 343
PaulB, Dover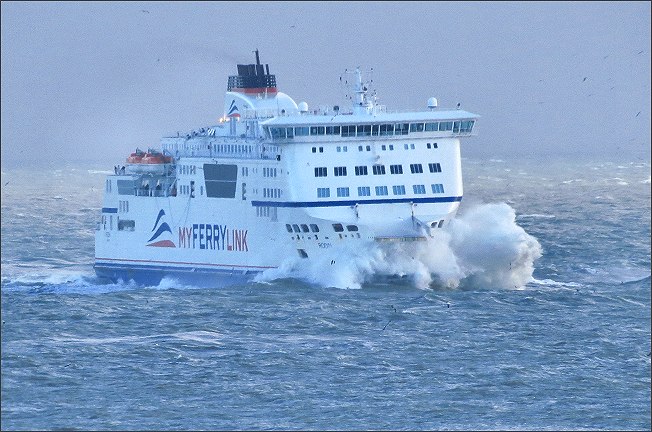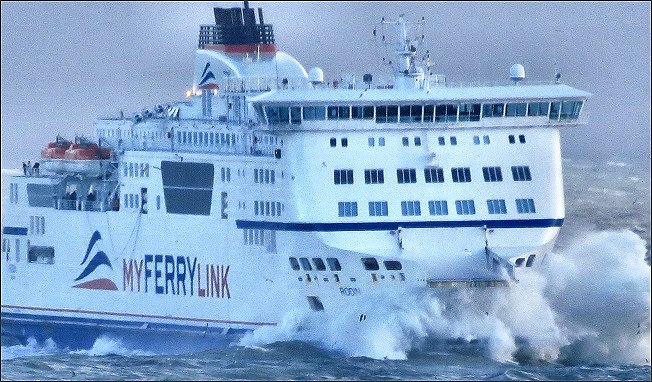 Some respite in the grisly oul weather allowed me to get these shots at long range of the MFL Rodin battling homeward through the very rough seas. Pictures taken just after midday. The second picture is a closer crop of the first. I cropped and enlarged a tad so you can see up close ..and you can hardly believe it... hardy souls braving the windswept weatherbeaten and maybe even dangerous decks.
Now, they are either ill
or very robust sailors indeed

. Which is it...I dunno.
See the note in the post below re THE CHOIR tonight.
Sunday, 22 December 2013 - 12:57
Post 342
PaulB, Dover
Just a reminder that THE CHOIR Christmas Final is on tonight at 9PM BBC2.
They have switched to sunday for the final..
Can the ultra local P&O team win it??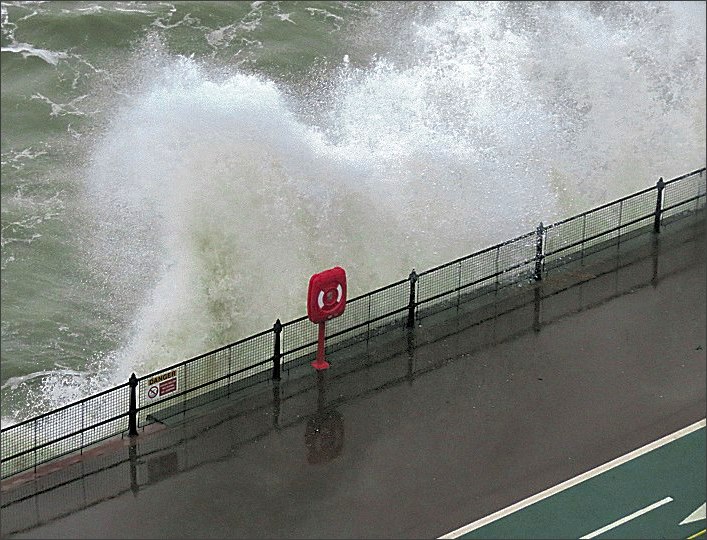 The scene yesterday. It looks almost refreshing doesn't it? But perhaps on another day, maybe when the temperature is soaring into the mid thirties.
But not right now. The grim faced weatherman tells us there is much more turbulence to come. Some of it quite severe.
Sunday, 22 December 2013 - 06:18
Post 340
PaulB, Dover
Took the following pictures about 3.30 - 3.40pm today saturday. Already it looks much later than it actually is because it is very dark and very gloomy...and of course very rough. Must be at least a Force 8 in the channel. Had a go at trying to get some pictures even though knew the quality wouldnt be the best, all in an effort to show just how difficult it is today for the crews and everyone else involved.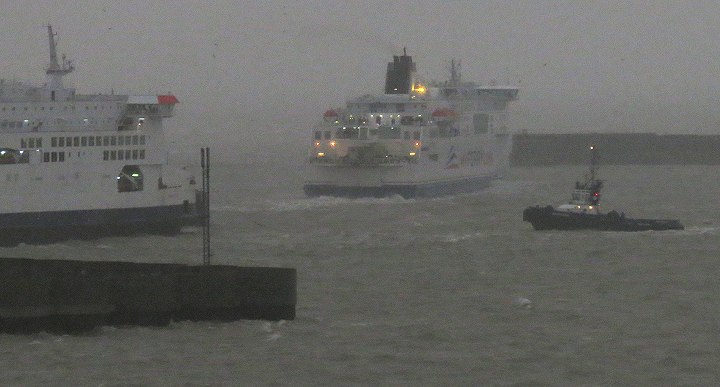 Above and below the My Ferry Link vessel gets underway..and below you can see the tugboat is beginning to pull the P&O off Dover 9.
Tough day.
Saturday, 21 December 2013 - 16:22
Post 339
PaulB, Dover
The efforts of the Port staff and ferry crews will be put to the test again today Howard..as its a fairly rough and miserable old day once more. Very blustery. A couple of pictures below from a few minutes ago as I write. Nothing special but show the state of play at the moment..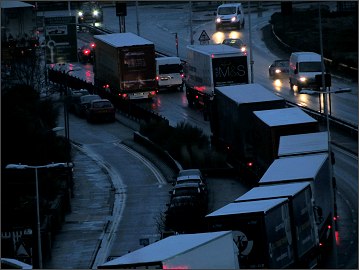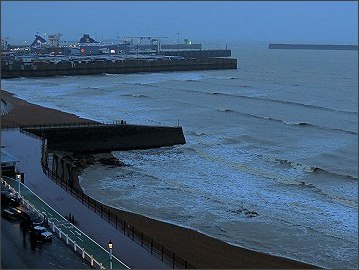 As you can see there appears to be a bit of a backlog of trucks trying to get away but the Port is still open and working relatively well although there are some inevitable delays. The tugboats are in operation.
Saturday, 21 December 2013 - 08:53
Post 338
howard mcsweeney, Dover
Mr Waggott is spot on in his praise for those "at the coalface", dover port keeps running when everywhere else grinds to a halt.

i know a couple of chaps, not much younger than me, that do the business out in the open and they just shrug their shoulders and smile when i comment on their jobs.

Thursday, 19 December 2013 - 21:17
Post 337
PaulB, Dover
LATEST from the PORT : "When it reached the resilient Port of Dover, it was game over for the Storm!"

The Port of Dover remained open and operational throughout last night's storm... as the professionalism and dedication of the Port's tug crews working together with the experienced ferry crews under the expert eye of Port Control shone through.
The teamwork displayed by everyone associated with the Port ensured that even with such bad conditions as were witnessed during the cold, wet and windy hours of darkness, the Port of Dover was able to ensure that all of its customers were safe and still able to get on their way.
Tim Waggott, Chief Executive, Port of Dover, said: "It is such an important time of year for people heading off for Christmas and lorries delivering goods to the shops in order that they are stocked for the festive season. Knowing that the Port of Dover is here, carrying on steadfast and resolute against the elements, is surely of great comfort and pride for our nation and our community."
In fact, the Port managed to handle more people and more freight traffic than on the same day last year.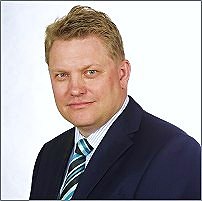 Mr Waggott added: "It is on nights like this that you come to realise just how good the people that work here are. They put Dover on the map for all the right reasons and I am proud to say so."
Thursday, 19 December 2013 - 15:25
Post 336
PaulB, Dover
Yes indeed it was a rough oul night Howard but the Port kept right on going...but it was a tough game out there last night and no mistake. Frightening is a word that could describe it. How they keep going I just dont know. I take my hat off to the guys in the thick of the action. Yours trulys flat rocked worryingly, more so than the previous storm but I guess it depends on wind direction and how it hits.
Here now with the official statement just in via email..
Port operating normally after last night's high winds – UPDATE 0620HRS
___________________________________________________________
The Port of Dover operated throughout the night, the ferries being assisted by the Port's tug crews. The safety of customers and staff remained the Port's top priority as the tugs ensured that ferries berthed safely in the high winds.
Sea conditions have now returned to moderate with a moderate westerly breeze, force 4, and good visibility.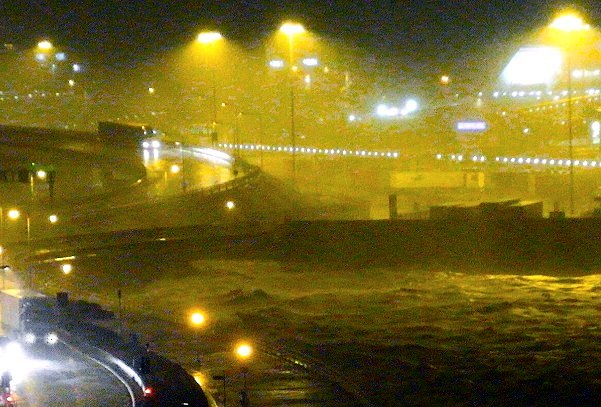 The picture above was not taken last night as it was too dangerous to open a window in the midst of it all, but this older pic gives a rough idea as just how..well how rough it can get. All feels a great deal calmer this morning.
Thursday, 19 December 2013 - 07:38
Post 335
howard mcsweeney, Dover
plenty of rain and a fair wind but not enough to cause disruption to the hardy souls in the eastern dock going by previous experience.


spent the evening alternating between the front and back doors so that the cat could reach a decision on what was the best option.

Wednesday, 18 December 2013 - 23:06
Post 334
PaulB, Dover

Weather Warning – advance notice - from The Port of Dover


In anticipation of the high winds (potentially in excess of 50 knots) which are forecast for tonight (Wednesday 18th December) between 1900hrs and 0300hrs, the Port of Dover is advising its customers to contact their ferry operator and check the Port's website (www.doverport.co.uk) or twitter account (@Port_of_Dover) for the latest information on Channel crossings.

The safety of customers and staff is our priority and we are monitoring the situation closely and making preparations to ensure that systems are in place to minimise any disruption and delays to travellers.

We apologise for any inconvenience this may cause and thank you for your patience.


Wednesday, 18 December 2013 - 15:58
Post 333
JanT, Dover
The Choir has certainly opened up some refreshing television with this programme and Gareth Malone has shown that the work place holds many talented people, if not for this programme none of us would have seen.

Last nights must have set many a foot tapping and to see the P&O Choir do so well, we here in Dover have fingers crossed that they can win.

It will be sad to see it finish but that is not the last we see of Gareth Malone,he will be conducting Kings College Choir in Cambridge BBC2 on Christmas eve,for those of us who have been watching him over the last few weeks.
Tuesday, 17 December 2013 - 19:13
Post 332
PaulB, Dover
As promised a few more pictures of the P&O Choir as seen on TV. Gosh they did so well.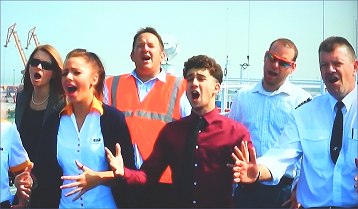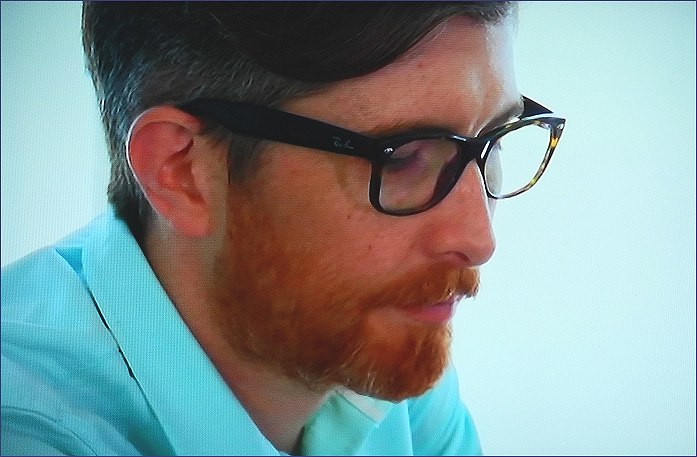 The star of the show himself...Gareth Malone above has been a revelation and is a new TV star for sure. His warmth and charisma and indeed spellbinding knowledge of music, brought out the best in all the choirs and in a relatively short space of time too. The judges gave P&O the thumbzzup as being the very best choir last night. It was an emotional night for all..even hardened veterans were reduced to tears in some cases. And as I mentioned earlier both Dover and the ferries get a delightful plug all through the programme.
Well, its the only way to travel !
Good to hear they were all chatting about it on the Spirit of France..there she is below.
The captain on the Pride of Kent is one of the choristers as well. Thats him right hand side of top shot left.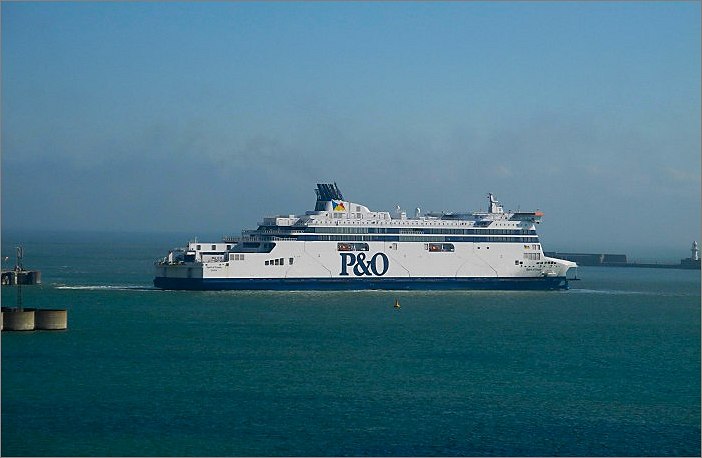 Another picture from last nights programme can be seen two posts below and more coverage in general further down the page.

PS: The Final is on BBCTV this sunday at 9PM.
Tuesday, 17 December 2013 - 15:09
Post 331
ColetteB, Dover
Agree, an absolutely brilliant performance from the P&O choir last night. They certainly delivered 'Gospel Music' like they have been doing it forever. Gareth Malone is obviously doing a fab job

I came back yesterday from the Christmas Markets in Cologne on the Spirit of France & almost everyone was talking about it on board. Gareth Malone has made choir singing very popular for sure.
Dover P&O to Win!!!


Tuesday, 17 December 2013 - 10:52
Post 330
PaulB, Dover
THE P&O CHOIR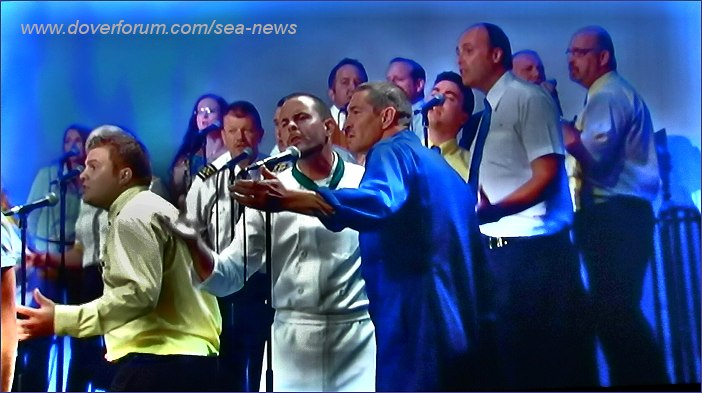 The guys are dead right in the comments below...the programme was both brilliant and heart wringing, but holy halleluhah our P&O ferry guys from right here in Dover have made it through to the big final, and its gonna be big. The choirs were required to do something very different and very difficult this time...sing Gospel music like they meant it...and the P&O guys and gals were all just FAB. They delivered bigstyle !
I will have more pictures later..unfortunately yours truly has 'an appointment with fear' at the boneyard in the shorter term so have to pop off for now. Well done to the team from Dover...the coverage of the ships, of Dover, and indeed of Calais and our familiar sugar refinery was great.


Tuesday, 17 December 2013 - 06:22