Thursday, 29 October 2020
www.doverforum.com/sea-news
Sea Pictures from Dover
See the OPEN LETTER from Port of Dover CEO Doug Bannister just below....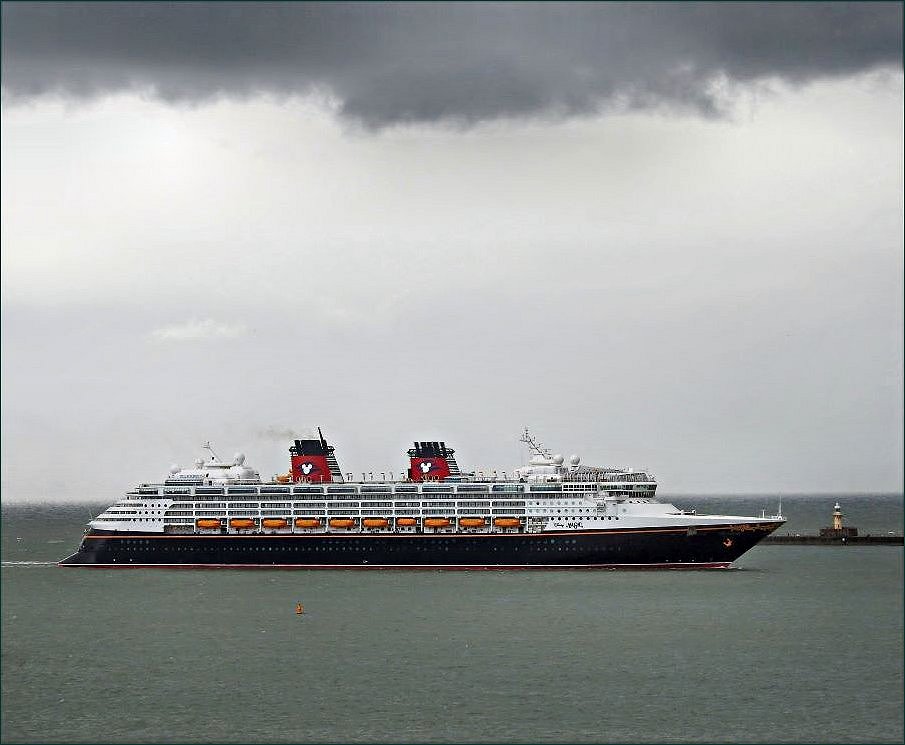 The Disney Magic setting off on a Channel run in the recent gloom....
The Disney Magic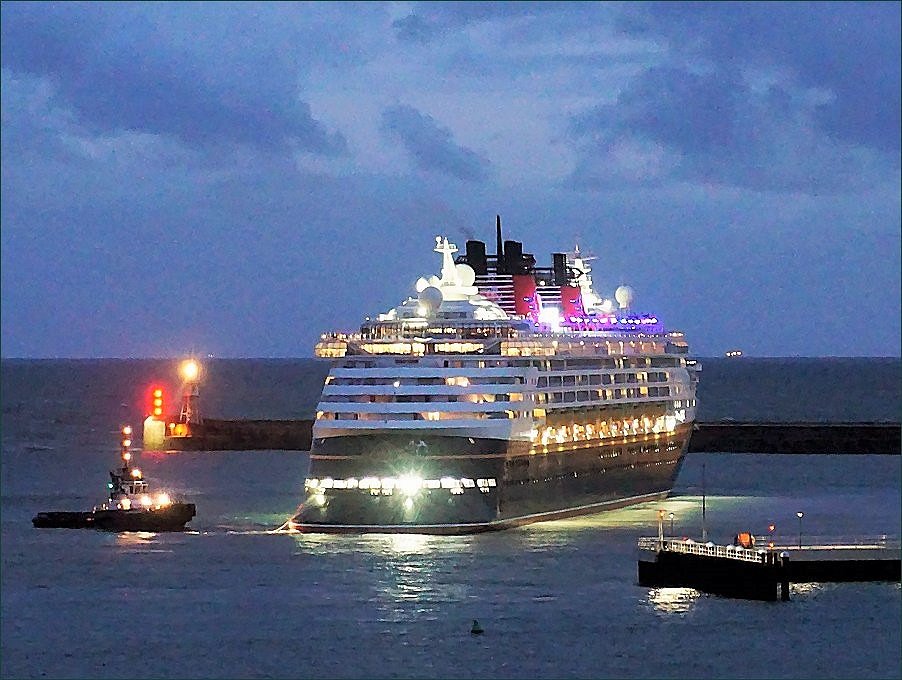 Moving the Disney Magic away from the new pier above just as night falls
...storm on its way...moving her to settle more securely on the eastern arm Port of Dover.
The Disney Wonder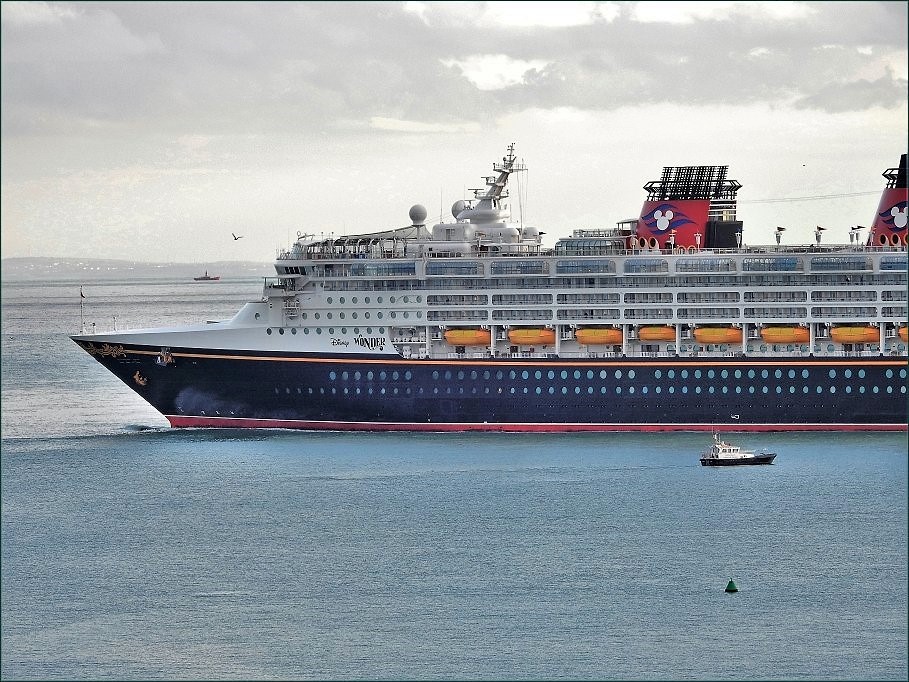 Another picture above of the Disney Wonder departing Dover... since this pic was taken the Disney Magic has returned.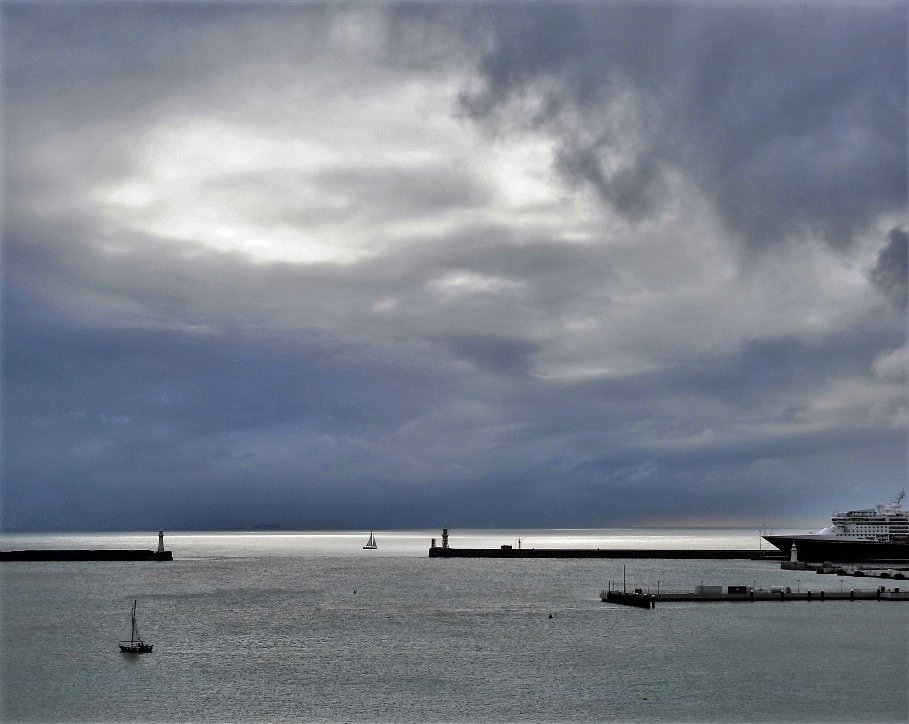 Big menacing sky at Dover above but the sea was still tranquil...for that moment anyway, but it didnt last.....
The Disney Wonder departs Dover...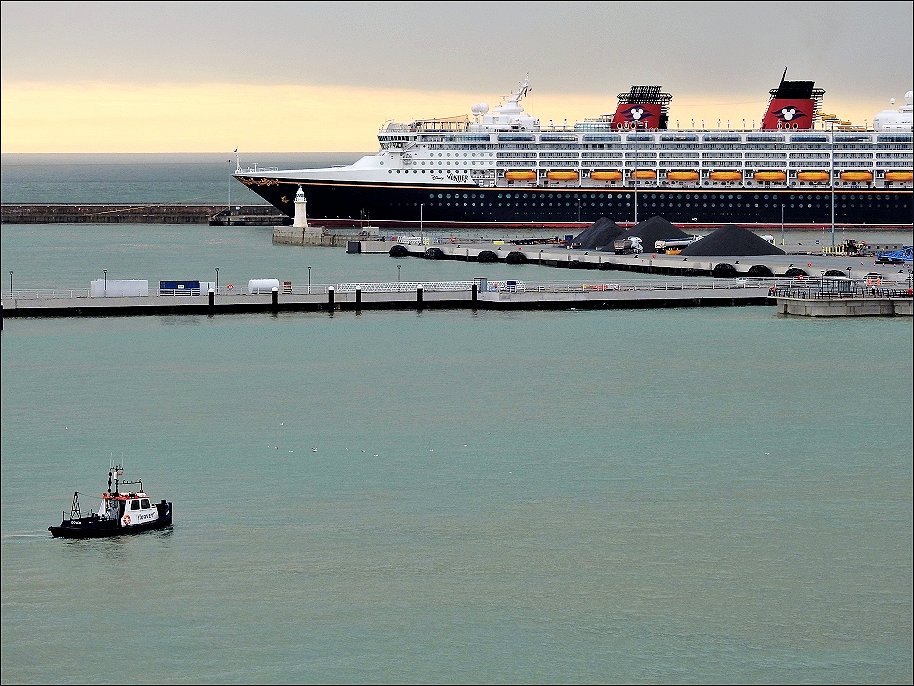 The Disney Wonder:
We had the magnificent Disney Magic with us here in the Port of Dover for such a long time until she left a few weeks ago....but now as if by wondrous magic, up pops another Disney,
The Disney Wonder...and you can see her pictured above there. Also in shot...survey boat Diana.
OPEN LETTER FROM DOUG BANNISTER, CEO, PORT OF DOVER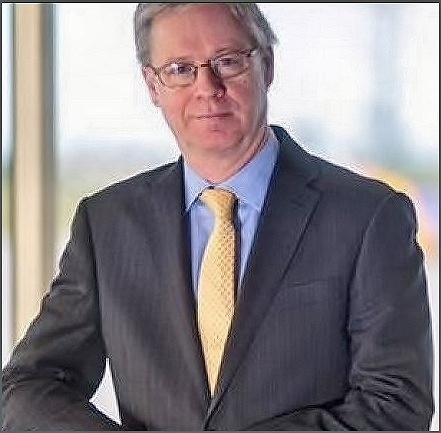 Dover is the right choice for business and consumers now more than ever
The United Kingdom Major Ports Group ('UKMPG') has issued a 'briefing paper' intended to encourage businesses to transfer cargo away from the Short Straits, the UK's most vital link to European markets.
The paper points out that the Short Straits, which includes ferry links between Dover and Calais, as well as the Channel Tunnel, has a 60% market share of 'British-Continental EU trade'. The Short Straits has achieved this market share because it is the right choice for business. Indeed, the paper acknowledges that the routes businesses use today are the right ones and the reason businesses choose the Short Straits is simple; it offers the most time efficient, cost effective and resilient access to international markets, delivering an estimated £3 billion saving for British businesses and consumers compared to alternative routes.
Our own independent analysis (Oxera 2018) has previously suggested that it would cost around £2.7 billion to take just 20% of our existing traffic in order to pay for new ferries operating on longer and slower routes. Importantly, these new ferries do not exist today and need to be built. With shipyard capacities and construction lead times, delivering such a fleet of new ferries holds significant lead time.
The UKMPG paper suggests that other ports might have capacity to take up to 60% of Short Straits traffic now, but acknowledges that this requires both Government and trader support for this offer of 'resilience' to be possible. Exponentially, this suggests that the cost to businesses and ultimately the consumer could be up to around £8 billion.
For Port of Dover, when looking at the overall UK Trade Resilience we take a systemic view – across ports, vessels, capacities, frequencies, operating models and traffic management schemes. To focus only on port capacity is terribly one-dimensional.
The geographic advantage that Port of Dover holds with the UK's largest trading partner means that a single vessel can complete up to five round voyages in a single day, making our ferries hugely productive assets. Further, our operating model delivers an average inbound dwell time at our port of just five minutes, providing unparalleled port efficiency.
Other operating models, for example containers and unaccompanied trailers may have inbound dwell times from several hours to even several days, adding inefficiency to the system-wide supply chains. For those routes with longer sea voyages, a single vessel may only make a single round voyage in a day – meaning to replicate the capacities and frequencies offered via Port of Dover would require five times as many vessels.
The UKMPG paper admits that a 'short term' constraint might be the availability of additional ferries to handle the trucks being encouraged to divert to other routes, whilst also citing wider capacity issues on the southern North Sea corridor.
The report is right to focus on resilience as we approach the end of the Transition Period, but what resilience do you have if you are sending traffic to ports where the ferries do not exist? Neither is that a quick fix. The market dynamic is important here. In fact, rather than investing in new ferries, operators at some of the alternative ports have actually been closing these longer routes with tonnage moving back to the short routes as that is what the market wants – Dover has of course kept going throughout the pandemic. This dynamic applies to the European side too, with the majority of freight vehicles choosing to route through northern France to Calais and Dunkirk as it is simply closest.
All EU-facing UK ports will be under the same rules – there will be a standard process and transaction applied everywhere. We know from examples elsewhere, such as 'Operation Wellington' on the Humber, which anticipates using parts of the M62 and M180 as holding areas for HGVs, that if there is disruption it will be everywhere. The report itself admits that there is already a risk of disruption at these alternative ports due to new systems for HGVs. Therefore, on top of this, sending more traffic to ports that do not even have the ferry capacity will make the situation far worse and create far less resilience for UK trade.
In contrast, the traffic management regimes for the Short Straits are tested and proven – in short, we know they work. For example, the recent national security operation that affected all ports with additional screening and searches left around 4,500 lorries in Operation Stack. When the security operation ended, Dover had cleared all queuing traffic and was back to normal operations within just 12 hours. Nowhere else could do that. It would take weeks with the current vessel capacities and frequencies available elsewhere. For UK trade resilience, supply chains must have the confidence in managing periods of disruption, and crucially recovery and restoration of normal flows as swiftly as possible – both areas in which Port of Dover has excellent credentials.
As we all navigate the massive economic difficulties caused by COVID, and the uncertainties as we approach the End of Transition, it is right to showcase the incredible efforts of the maritime sector, and the excellent ports that we have across the nation towards ensuring supply chains are robust and functioning well.
Come what may, we will keep working to keep the nation supplied with the essential goods people need at this difficult time and give all businesses wherever they are the benefits of Dover's unrivalled service. This is what we do all day, every day.
Indeed, as the Maritime Minister said on a panel discussion with us only the other day regarding the national trade network; 'you have to have goods and people moving around freely. So if you are to have parts moving quickly and efficiently across the Channel, and through Dover, and through the country, you have a much easier opportunity for companies that might exist in the Midlands or in the North to get involved in whatever that industry is.'
The report says that the UK has not always been reliant on the Short Straits, harking back to pre-Single Market days. Equally, the UK has not always been reliant on the internet and same day/next day/just-in-time deliveries, but it is now.
A vision that takes the UK backwards is not the vision of the future we want to see. We need one that backs consumers and businesses everywhere for the challenges and opportunities ahead of us. We feel that we should celebrate our impressive, modern and efficient supply chains across all ports and modes throughout the nation.
For Dover, we fully appreciate the essential role that we conduct for the nation, and will continue to take our responsibility with all of the due care and attention the British people would expect of us, which is why Dover will remain the clear market choice.
Doug Bannister, CEO Port of Dover.
ENDS
ITALIA STREAM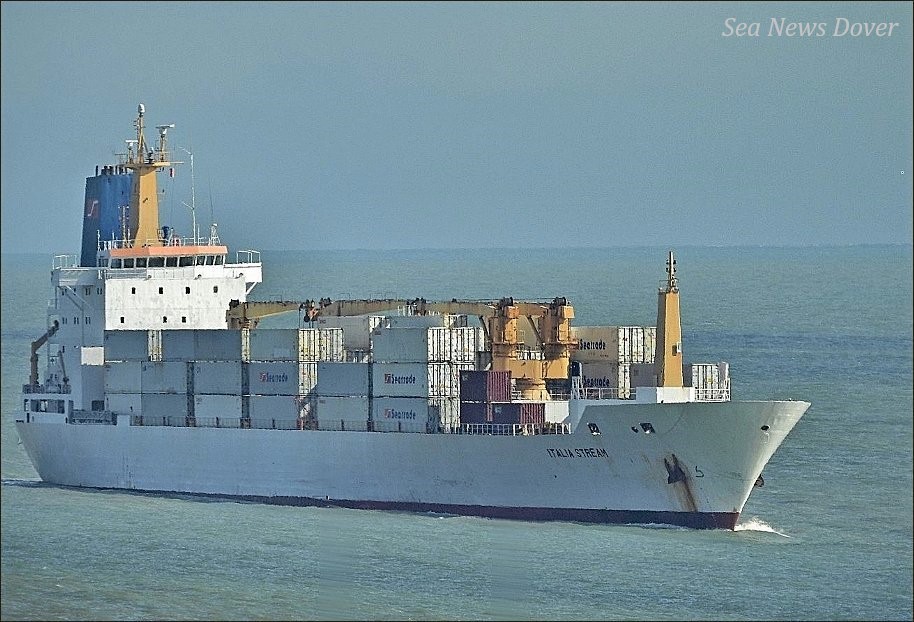 Italia Stream...regular reefer... seen here approaching the Port of Dover.

WWW.DOVERFORUM.COM/SEA-NEWS
Sea Pictures from DOVER ....
Use our SEARCH ENGINE below to find all sorts on the SEA NEWS pages....type in the topic and away you go,
or if you have the post number, just type it in the Search Box, more than
- 7000 -
nautical posts now.
Paul Boland - dover7@msn.com
Sea News Dover:
All pictures on these pages are the copyright of the owners and must not be reproduced without permission.
Post 651
PaulB, Dover
Very long range shot of the cargo ship Baltic Jasmine after she left Dover last night. Quality isn't great because of the range and the fading light but you can get the gist of the situation. Time of picture about 7.30pm in low yellowing light as the sun went down. You can see the pilot has just departed. The ship is just off South Foreland Lighthouse as a rough estimate at the time of picture.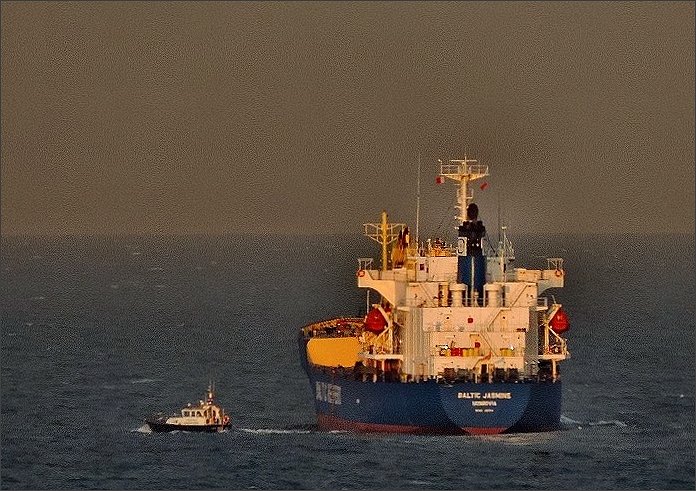 The Baltic Jasmine was indeed heading for the Baltic and to the glorious St Petersburg in Russia in particular. Her slot here in the harbour has already been filled by yet another cargo ship. One in one out. Very busy. There is most definitely an urgent need for cargo facility development here in Dover... as per the Ports new plans...an avenue to potential growth and prosperity lies in wait, with regard to cargo development in particular.
Sunday, 13 April 2014 - 08:15
Post 650
vic matcham, Dover
There you have it in photos, wait till we see the younger ones doing it .

Saturday, 12 April 2014 - 12:17
Post 649
PaulB, Dover
Kids on the Rocks!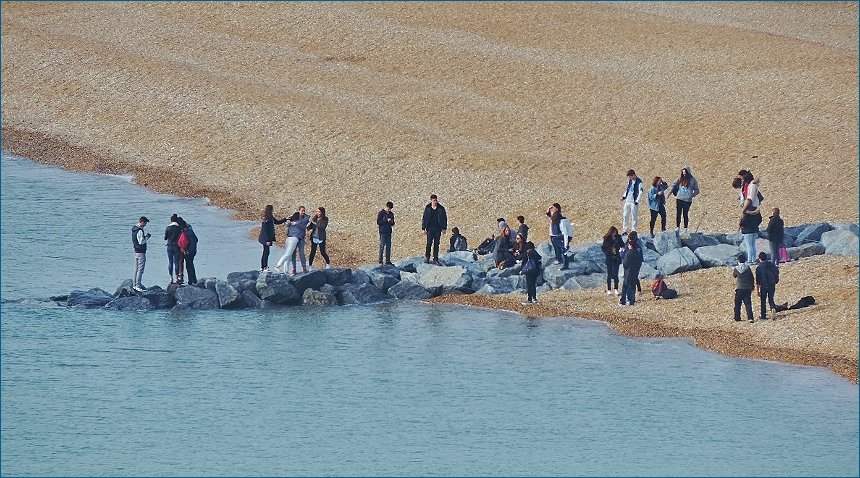 The rest of the beach might be entirely empty but where the rocks are the kids will surely follow. The Norwegian rocky groynes are already weaving a strange spell on kids from everywhere. These particular kids look like students passing through. Of course in time they will become slippery...the rocks that is not the kids ! and the mighty sea may well claim the odd mobile phone or dampen the odd trainer.

Yes always plenty going on Howard, will be even more too once the cruise liners get into full swing. Yes indeed the patrol vessel cut a dash yesterday.
Saturday, 12 April 2014 - 07:21
Post 648
howard mcsweeney, Dover
great photos of the harbour patrol boat paul, as you say there is never dull moment in our harbour.

people station themselves on the langdon cliffs, st martin's battery etc for hours on end to watch the action.

Friday, 11 April 2014 - 20:04
Post 647
PaulB, Dover
The harbour patrol guys powering onto the scene earlier today. I think the pictures speak for themselves but it looks thrilling and spectacular.
Very busy boat that.. always plenty to do. There's never a dull moment here in Dover.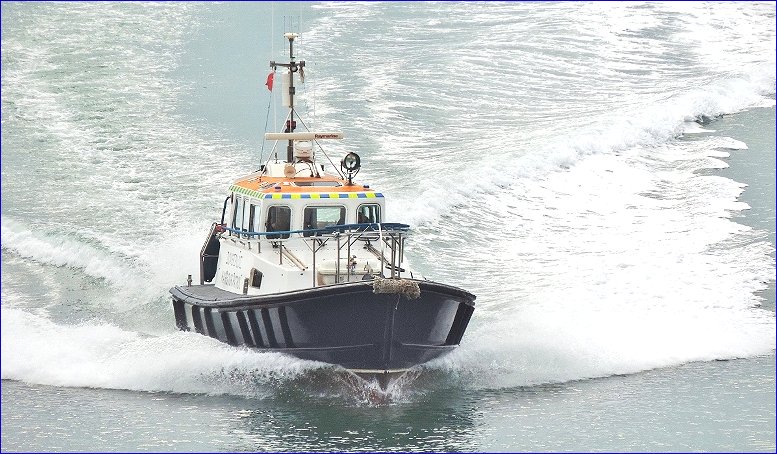 Friday, 11 April 2014 - 15:50
Post 646
PaulB, Dover
PASSENGERS ARE SPOILT FOR CHOICE WITH DFDS SEAWAYS - read more !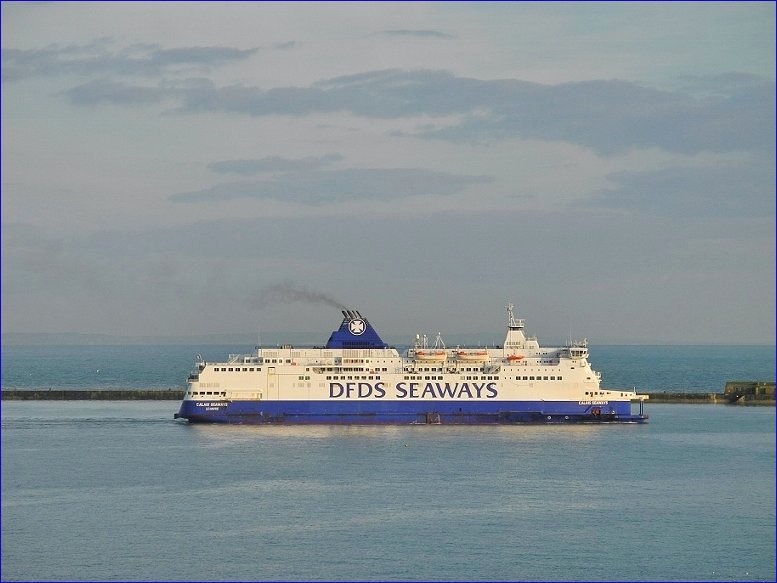 PASSENGERS - SPOILT FOR CHOICE WITH THE LATEST DFDS SEAWAYS OFFERS!

- Up to 50% discount available on crossings between Dover and France
________________________________________________________________
Award winning ferry operator, DFDS Seaways, has launched a trio of discounts for passengers to choose from, with discounts of up to 50% available on both the Dover-Dunkirk and Dover-Calais crossings.
You can choose from the following discounts, which must be booked by 21 April, for travel between 7 April and 30 June 2014:
- 50% off sailings in both directions between 02:00 and 04:00
- 20% off sailings in both directions between 22:00 and 01.30
- 10% off all remaining sailings in both directions
Whether you're looking to travel to Northern Europe by car with your family or friends or hit the open roads on your motorcycle, crossing the Channel with DFDS Seaways is the perfect way to start your journey.
Max Foster, passenger director at DFDS Seaways, comments:
"We already offer passengers a choice of ferry routes from Dover to both Dunkirk and Calais and now we're offering even more choice by introducing our new range of discounts - so you can choose what works best for your holiday! If you like to maximise your time away, take advantage of our 50% off discount and travel through the night to enjoy quieter roads, however if you're looking for a more leisurely start to your trip, travel during the day and save 10% off crossing prices."
DFDS Seaways operates up to 44 sailings per day between Dover and France, offering passengers a choice of departure times and flexibility. Passengers can relax onboard during the short crossing and grab a bite to eat at one of the restaurants or cafes, pick up last minute travel essentials from the onboard shop, let the kids play in the dedicated children's areas or explore the ship's deck and take in the sea air.
To find out more information, visit www.dfds.co.uk/chooseyourdiscount or telephone 0871 574 7235 to book.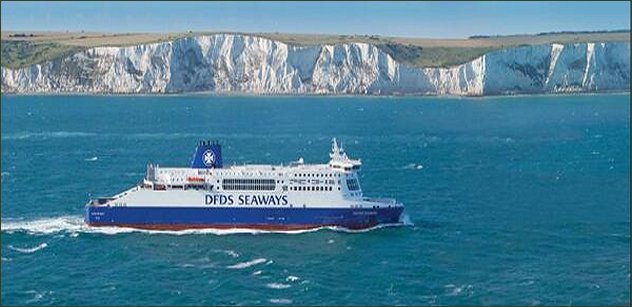 * * * * *
Fantastic collection of nauticals below there Ed...absolutely brilliant. Left them in pole position for as long as I could. When we look at those we can feel the salty spray on the wind and hear the yelp of the seagull on the wing. Great stuff! Some fantastic zooming there...I wonder if you have a new camera. They add wonderfully to the mix on here for sure...we are amazingly seen far and wide these days on Sea News too, more so since relaunch, never ceases to amaze. I guess its thanks to our solid positioning on the search engines Google and Bing ( just type in Sea News ) something that surprised me...but of course 'twas a very welcome surprise.

Friday, 11 April 2014 - 07:39
Post 645
howard mcsweeney, Dover
you certainly never come up short with the photos ed along with many others here.

Thursday, 10 April 2014 - 23:12
Post 644
Ed Connell, Dover
Three masted barque "Kaskelot" passing Dover Seaways in the Northeast Lane on 28th March. Used for film and charter work around the UK.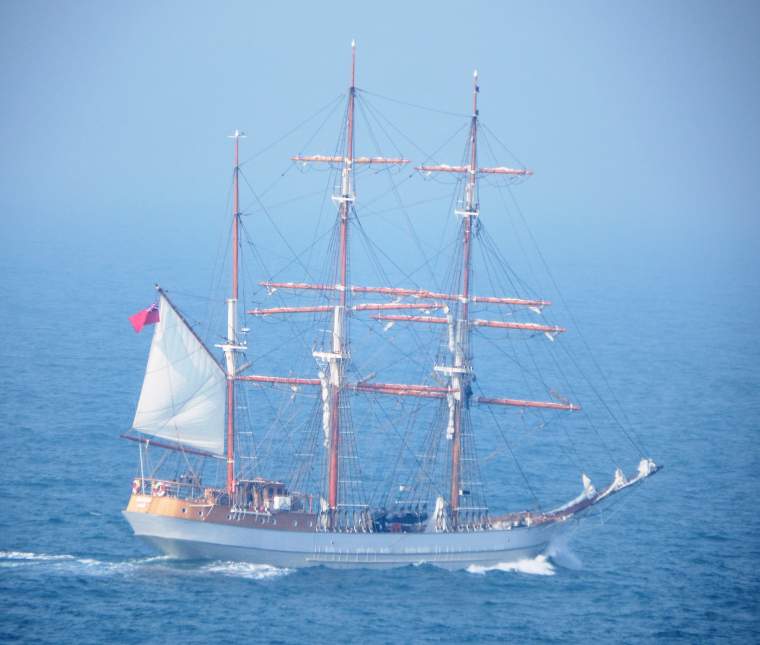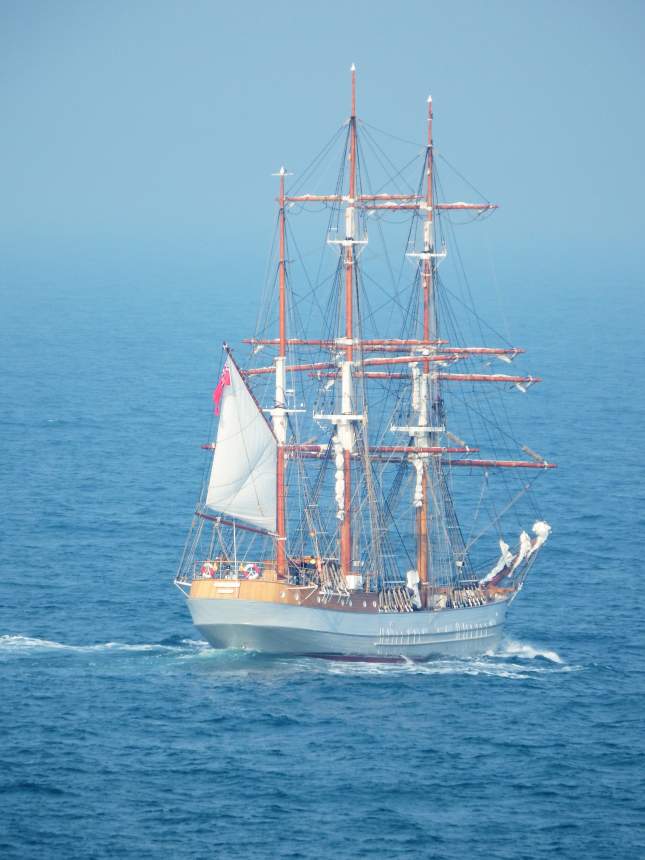 Thursday, 10 April 2014 - 15:30
Post 643
Ed Connell, Dover
Reefer "Caribbean Star" approaching Eastern Entrance on Saturday with DHB Doughty making fast aft and DHB Dauntless enveloped in a brief cloud of smoke whilst waiting under the Knuckle Light.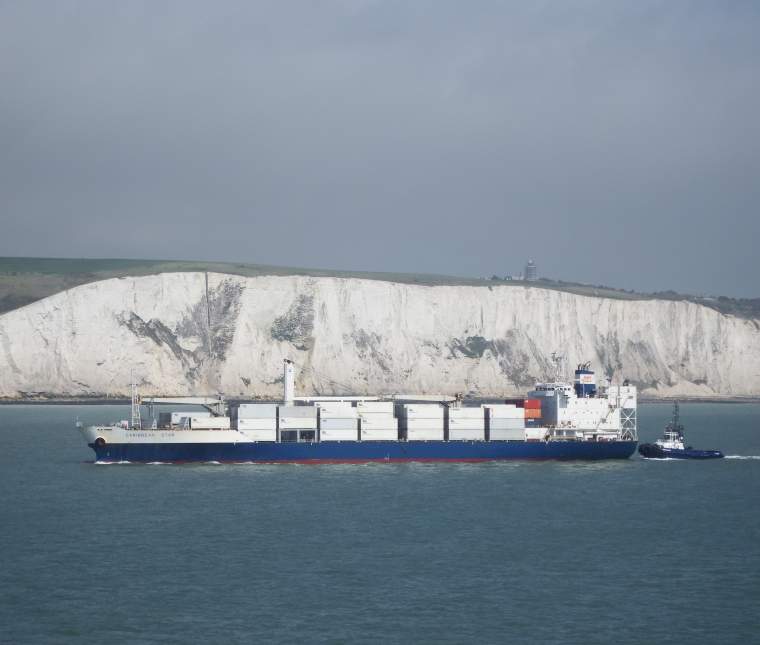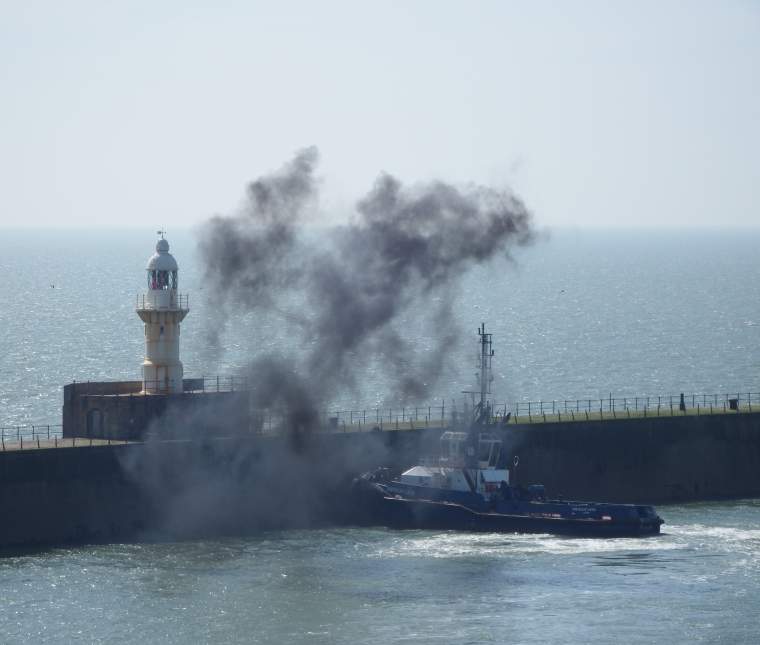 Thursday, 10 April 2014 - 15:12
Post 642
Ed Connell, Dover
French Navy patrol vessel "Cormoran" passing Dover Seaways off Calais on Tuesday.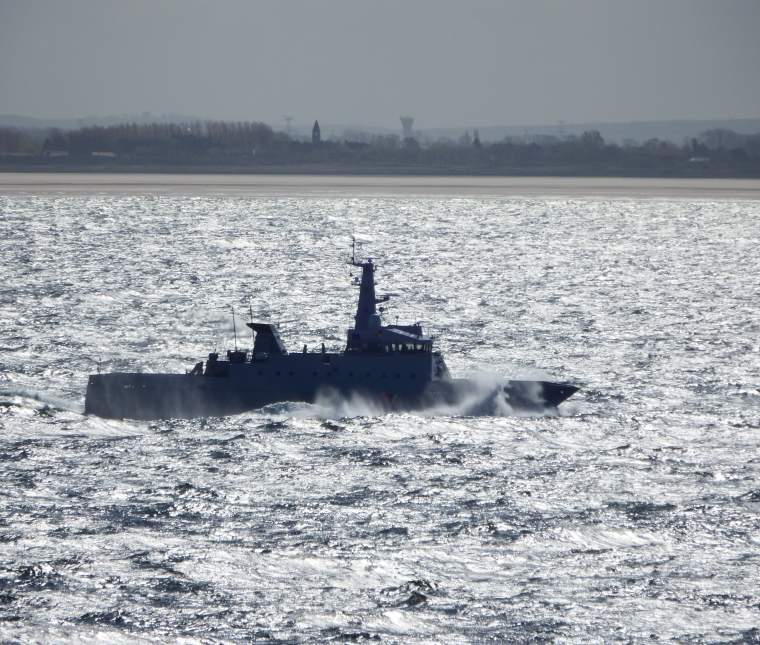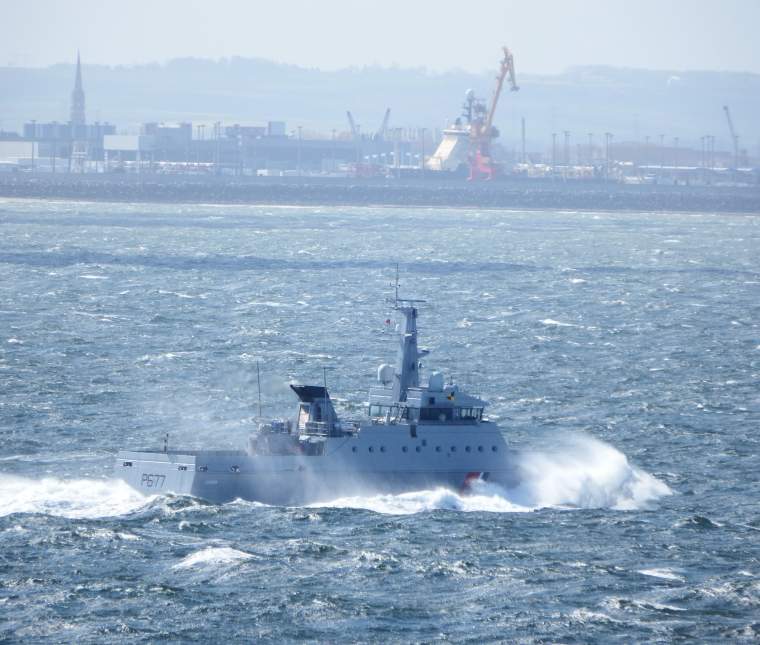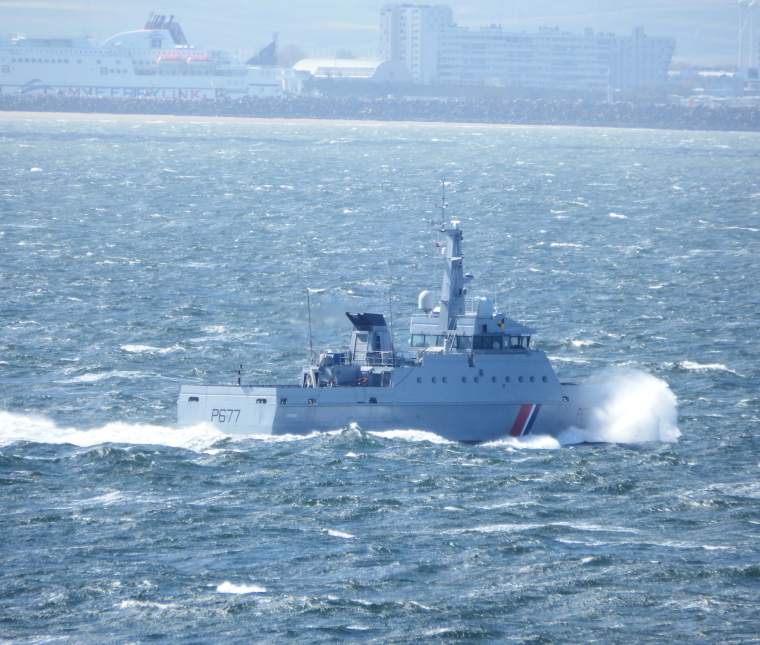 Thursday, 10 April 2014 - 14:59
Post 641
Ed Connell, Dover
French Navy command and replenishment ship "Somme" passing Dover Seaways off the Dyck buoy on Monday. Somali pirates mistakenly attacked her a couple of times in 2009 and 2010 and paid the price, their ship identification skills leaving a bit to be desired.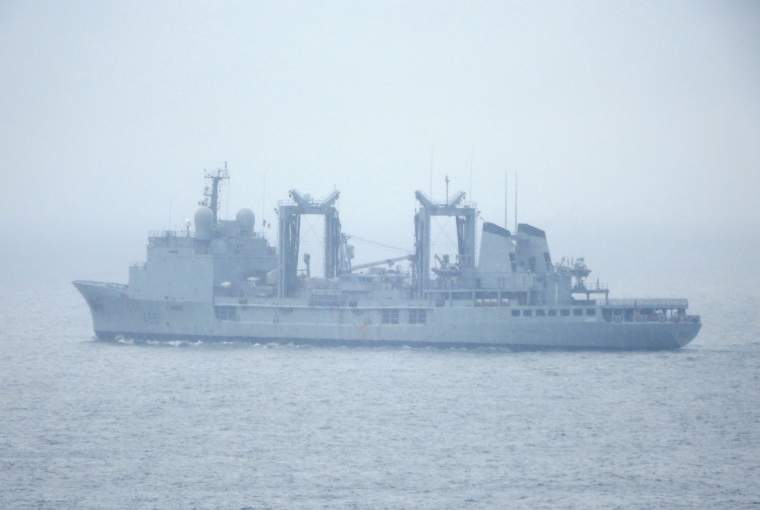 Thursday, 10 April 2014 - 14:39
Post 640
Ed Connell, Dover
Last couple of HMS Lancaster showing her departing CT2 with Folkestone looming large in the zoom lens.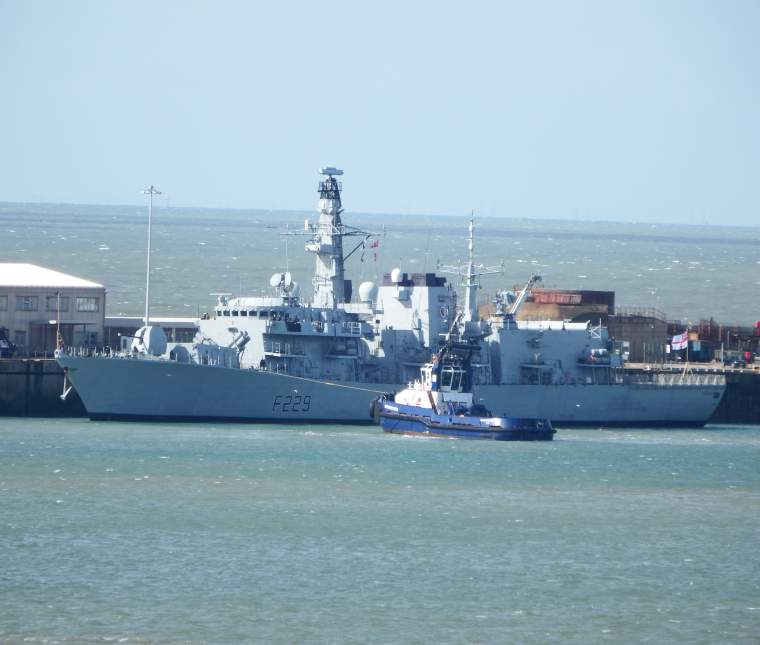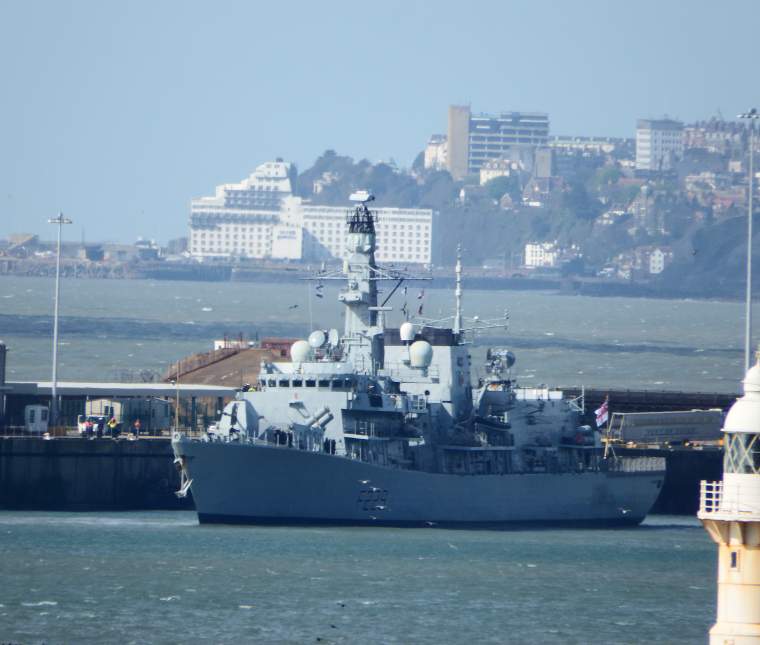 Thursday, 10 April 2014 - 12:18
Post 639
Vic Matcham, Dover
Very good news that the great port of Dover is to stay a Royal one and that the new look D,H,B, will carry on running it.
Any other way could have seen the port sold off at some point and the plan of having it turned to a /public of Dover port was doomed before it got off the ground it never had worked.
But now the D.H.B. can loan more cash to make major improvements is also good news .
In my own view the Dover MP, and Mr Wiggins and the others were doing what was good for Dover in their own minds and indeed they might have help in seeing the improvements that are about to happen to the port but their plan of loaning well over £300 million pounds ad on top of that saying that they could give the town of Dover funding of around £50million was pie in the sky and I am glad that that plan is now dead.

Thursday, 10 April 2014 - 07:42
Post 638
PaulB, Dover
Press release issued yesterday wednesday 9 April.......
Port Welcomes Minister to Dover.
_____________________________
The Port of Dover has welcomed the visit of Shipping & Ports Minister Stephen Hammond, who has today set out his plan for the Port of Dover to continue as a Trust Port.
George Jenkins, Chairman of the Dover Harbour Board, said
"I welcome the praise of the Minister for the work that has been done by the refreshed board and executive team in improving relationships with Port users, while also re-launching and developing engagement with the local community. With our recently announced vision for the Dover Western Docks Revival capable of supporting major inward investment into Dover, I am delighted that the Minister wishes to give us his backing in creating a thriving port which in turn supports and delivers for a thriving town. We will be resolute in continuing our engagement with the community; this is a real opportunity for the Port and Town of Dover to come together and deliver an exciting future for all."
During his visit Mr.Hammond viewed some of the developments in port infrastructure that have been delivered in the last 12 months.
He said: "The port has put in an excellent performance over the past year with a 13% increase in ro-ro traffic, and an £85 million investment programme in key infrastructure projects. This includes the completed berth 6 and traffic management improvement works which include the creation of a new holding area with capacity for 220 freight vehicles. This is equivalent to taking almost 4 km of traffic off Dover's roads."
Mr.Hammond added "I would also like to thank everyone at the port for their remarkable resilience in ensuring that the port continued to operate effectively during the appalling weather we experienced this winter."
Commenting on the visit and the announcement, Port of Dover Chief Executive, Tim Waggott said:
"I am grateful to the Minister for praising our hardworking team on all they have achieved, and for providing the certainty on Trust Port status they have craved for some time. Our commitment to be the Best Port in the World for the benefit of our customers and community is clear, and I look forward to further enhancing our relationships as we develop a shared vision to the benefit of future generations."
ENDS
* * * * *
Just catching up today...
HMS Lancaster left us on Tuesday morning around 10.15 am. We have carried other Royal Navy pictures earlier in the process ie further down the page, but here are a couple more to wish her bon voyage on her further adventures.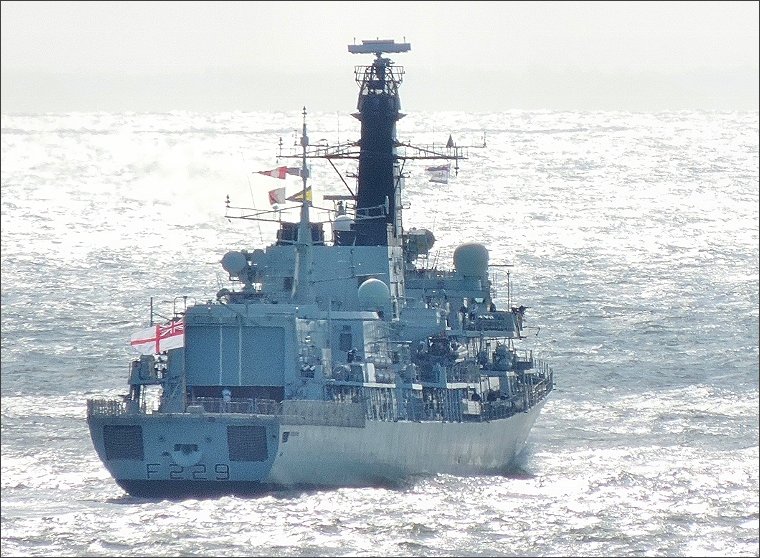 Top pic shows her just after leaving the eastern exit...once outside the harbour HMS Lancaster pulled sharply right in the midst of all the traffic and headed off through the blinding sparkling sea.. as in picture 2.
Many thanks to the guys at DHB for the unsolicited info sent in below on the groyne pole. Always good.
Looks like Ray H called it right below there

Thursday, 10 April 2014 - 06:50
Post 637
PaulB, Dover
Many thanks for your comments guys.
We also have had the following comment through from the Port re the Groyne marker problem mentioned below in post 581.
Port of Dover:
'Thank you very much for very useful observations and photos. Indeed there is a top section to add to the pole. This is because the opportunity was taken to fit the base section during the recent low Spring tides when access was good. The top mark is being galvanised and will be fitted to the correct height when returned.
We look forward to seeing more pictures posted by the Members of the Forum.'

Wednesday, 9 April 2014 - 14:56
Post 636
Ray H, Dover
Time will tell but you may just have a shorter pole there until the new fixings harden, there may be a workboat come along and drop the top section over the pole complete with new daymarker. Only a guessing but it would be easier than trying to plant a full length pole and marker on those rocks.

Tuesday, 8 April 2014 - 23:00
Post 635
Kevin Charles, Dover
Post #580 - Dover has always benefited economically from the port. Direct and indirect employment, local suppliers, local hotels, guest houses, etc.

Tuesday, 8 April 2014 - 22:43
Post 634
PaulB, Dover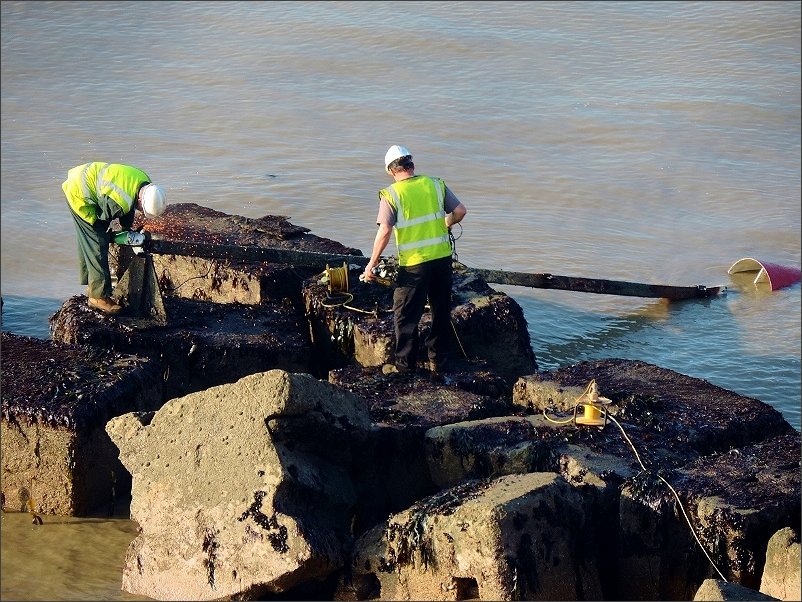 This is probably a bit of a dull one but I thought I might point it out and hope the guys from the Port are looking in. But the story goes thus...in the winter storms, the marker to tiny groyne no 1 ( counting from the busy port side) collapsed in the fierce weather, bruised battered beaten and ..probably bewildered!

There has been loads of work going on down here on the seafront as we know, and in the midst of all this action several workmen came to cut the old pole and 'lampshade' down in order to take it away. And so they did...that's the picture at the top.
However they replaced it with another marker pole ...its not yet had its lampshade. But there seems to be a problem. The picture below left shows how small it is, its not up to the right level. The pictures below are two feet below high tide and once hide tide gets here fully...this marker is menacingly just below the surface and unseen...and could be a danger to boating, to all craft. Also shown in the final picture is an older marker further along and you can see how high it is above the tide. Pic 2 and 3 were taken at the same time. I know I might be teaching my grandmother to suck eggs here but just in case...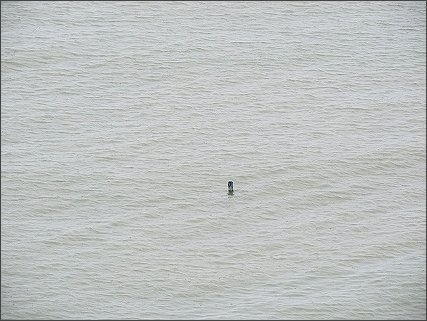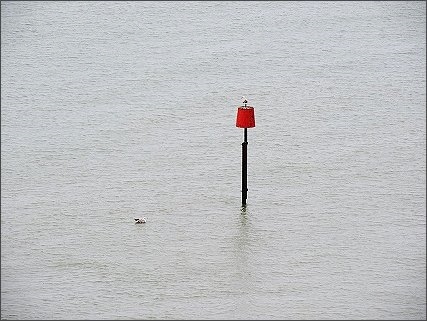 * *
Yes Roger an excellent report below. And yes indeed that is a staggering amount of trade. Thumbzzup Dover

Tuesday, 8 April 2014 - 19:09
Post 633
Roger, Dover (lindenrog@aol.com)
Very good write-up below and an important evaluation of the Port of Dover.

Hopefully DHB will use this to support EU funding; it should also be used to convince the Government of upgrading the A2.

It will also be good to know when Dover Town (not the Town Council of course) will benefit.



Roger

Tuesday, 8 April 2014 - 08:06
Post 632
PaulB, Dover
THE PORT OF DOVER's CONTRIBUTION TO THE UK AND EUROPEAN ECONOMY CONFIRMED...
___________________________________________________________________________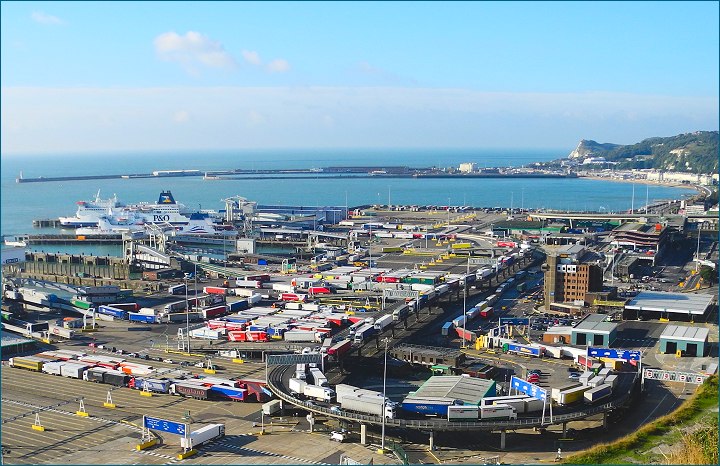 Proof that the Port of Dover is a national asset – and crucial to the performance of the Kent economy – has been demonstrated by an economic impact survey.
" Its staggering" says Tim Waggott
________________________________________________________________________________________________________________________________
Independent economic consultancy Oxera has calculated the 2.2 million freight vehicles a year using the Port carry goods worth an estimated £89 billion, reinforcing Dover's reputation as Europe's busiest ferry port.
The report also highlights Dover's role as one of Europe's most important ports, with 98 per cent of its freight traffic by weight either originating in or destined for the EU.
Tim Waggott, Chief Executive, Port of Dover, said: "This report shows the real, and too often unseen, value of the Port and the work of the team on behalf of UK plc, and the customers it serves. The scale and value of goods handled by the people working at the Port is staggering and demonstrates its importance to the nation and the need for continued and major investment."
The report also found the combination of Dover's location and the efficiency of its operations resulted in a net benefit to its customers of some £2.3 billion.
Tim Waggott added: "Being the closest UK port to mainland Europe means a reduced crossing time, coupled with excellent service and capacity, this adds up to a remarkable saving to hauliers who choose to travel through Dover."
To add further value, Dover Harbour Board recently announced plans for the revival of the Western Docks with the development of a new cargo terminal and associated facilities. This includes the prospect of creating more than 600 jobs, which would generate an additional £25 million of Gross Value Added (GVA) per year for the district's economy.
Tim Waggott added: "The report is proof positive that every day we are delivering for the UK economy, as demonstrated by our current investment of £85 million to upgrade the Eastern Docks.
"We are also looking to protect this nationally vital trade route by securing long-term capacity through our Dover Western Docks Revival vision, and must secure additional powers in order to deliver this effectively. The timing is right, our customers share our vision, and so enabling the Port to quickly pursue the revival and regeneration of Dover's Western Docks makes eminent commercial and economic sense."
Andrew Meaney, Managing Consultant of Oxera, said: "Following a robust economic analysis, it is plain to see the Port of Dover is a vital cog in the UK economy and European logistics chain. It already adds significant value and, given the right powers, can add so much more. Without it, the UK would be less competitive and the cost to industry would be substantial."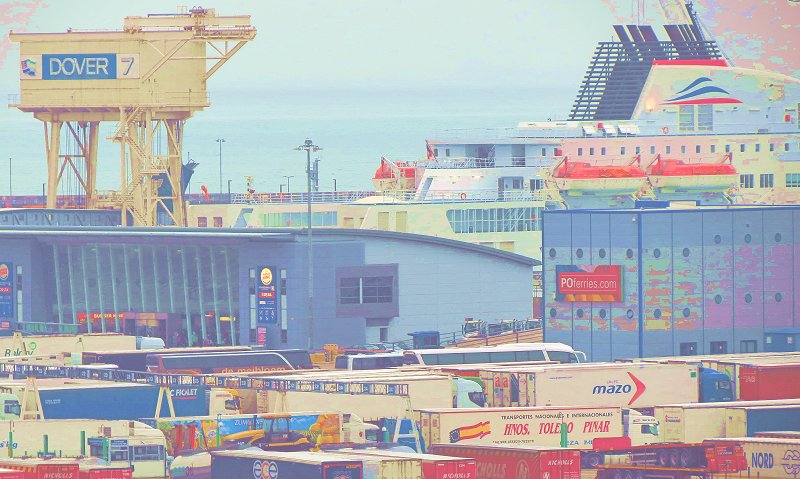 Tuesday, 8 April 2014 - 07:01