Wednesday, 25 April 2018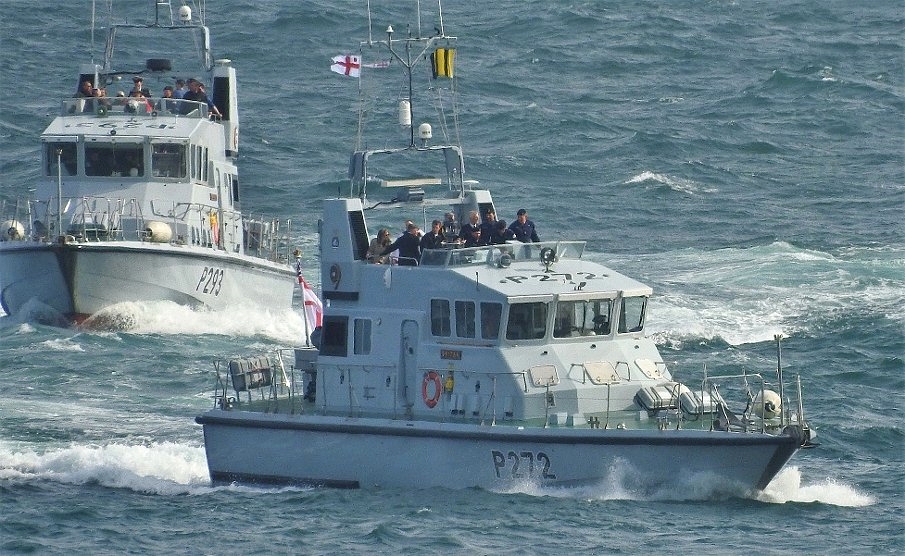 HMS Smiter and HMS Ranger approaching the Port of Dover in choppy seas Monday afternoon 3pm exactly....

doverforum.com/sea-news
Doverforum.com: Featuring all the ships that come and go and work at the Port of Dover with further coverage of the surrounding towns both sides of the Channel. Email: dover7@msn.com to send SEA NEWS pix or info.... or click ADD YOUR COMMENT below to post direct, no membership needed.

Port's Chief Executive TIM WAGGOTT RESIGNS see 4778
_______________________________________________________

P&O FERRIES presents big cash to RNLI Dover...see 4829.
P&O FERRIES recruiting...4745.
PORT of DOVER awards Cargo Refrigeration Contract see 4740.
PORT OF DOVER: Community Benefit 4688
TRADING GROWTH FOR DFDS DESPITE BREXIT see 4642
PORT OF DOVER RECORD FREIGHT see 4551.
PORT OF DOVER: GEEST LINE arrival see 4597.
SECOND FEMALE CAPTAIN FOR P&O see 4608.
Sea News Dover : Use our SEARCH ENGINE below to find all sorts on the SEA NEWS pages..more than 240 now with more than 4750 nautical posts. Posts welcome. Max of 5 pictures preferred per post.
Type CRUISE VISITS in our SEARCH ENGINE below for news of the latest arrivals.
Sea News Editor Paul Boland - dover7@msn.com .
Post 945
vic matcham, Dover

Thanks again some great photos of our world beating port working 24/7 never sleeps .

Monday, 4 August 2014 - 20:07
Post 944
PaulB, Sea News, Dover.
It's easy to see that summer starts at the Port of Dover....

_____________________________________________
More than 250,000 passengers sailed to mainland Europe from the Port of Dover at the start of the summer holidays on Dover's luxury ferries.
Over 60,000 tourist vehicles (cars, campervans, coaches and motorcycles) travelled through the Port of Dover with 278,000 passengers (including freight), proving once again that summer begins at the Port of Dover. The Port of Dover summer getaway service continues to lead the way on the cross-Channel route with the Port taking over 55% of the tourist market during the key first holiday weekend since schools broke up.
Overall passenger numbers are 3.3% up year to date at Europe's busiest ferry port, having also recently seen a record number of freight vehicles depart through the Port earlier this month (9 July).
Shaun Pottage, Finance Director, Port of Dover, says: "Ferry passengers are experiencing a quality service, a dedicated team and what is really a mini cruise across the Channel to start their summer holidays. We are making great strides towards achieving our commitment to be the Best Port in the World for the benefit of our customers and community and the volumes of people choosing the Port of Dover illustrates this."
Figures are for week beginning Wed 23rd July – Wed 30th July.
Ends
* *
We saw the earlier report on the record increase in freight too..see 883..
and likewise with the cargo ships too, ever busier. Yesterday sunday was a very busy day. One ship out and the next one comes right on in..the Columbian Star out followed by the Pacific Reefer in. Keeping all in Port very active, including the busy busy tug crews.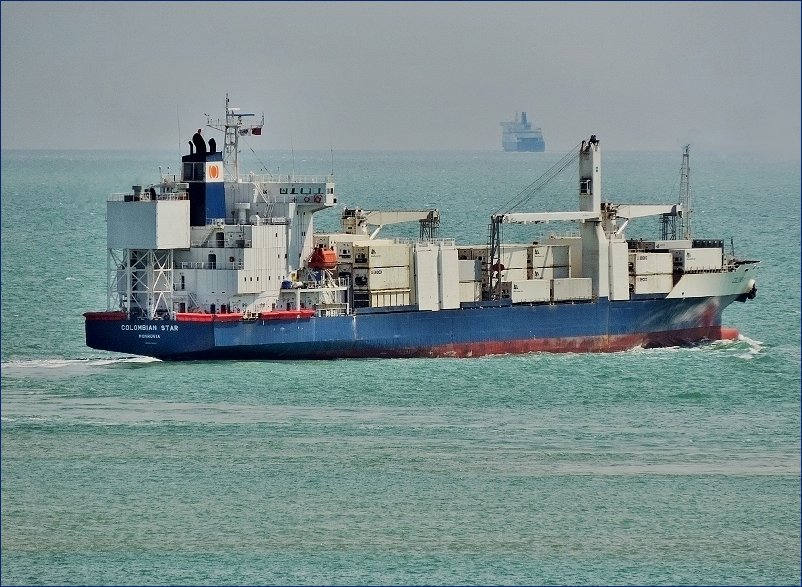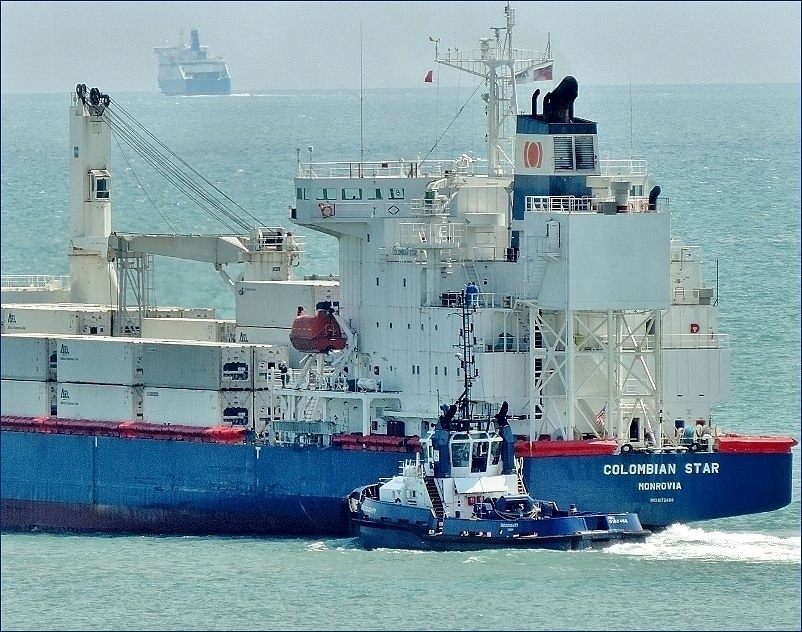 Columbian Star departing above, and the Pacific Reefer arriving below.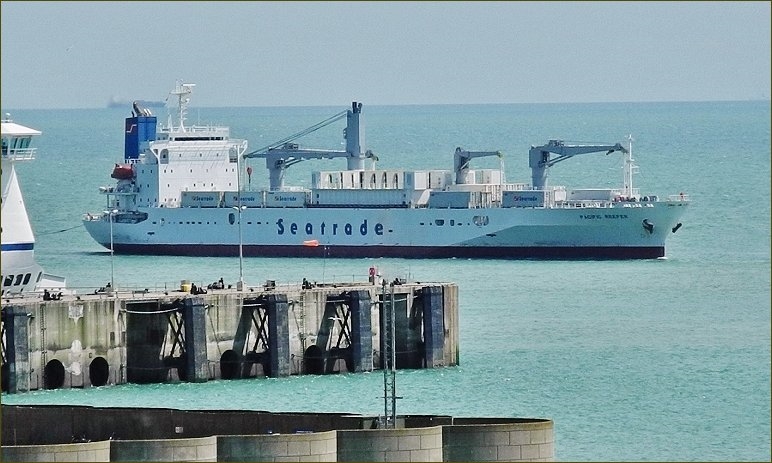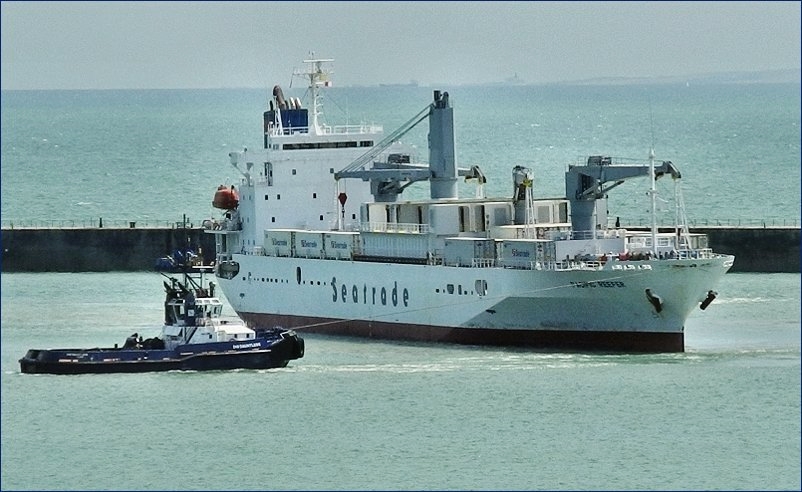 Yes the Spirit of Britain has left the Port. Reversing across the harbour at 10.10pm last night. It appears to be back in service.
Monday, 4 August 2014 - 07:13
Post 943
brian, dover.
thanks paul,the spirit of brittain has now left the cruise terminal.

Monday, 4 August 2014 - 06:17
Post 942
Mike J., Dover
Sunday evening - PRIDE OF KENT is back on the run but the SPIRIT OF BRITAIN remains on Cruise-1 after problems docking in No.9 berth on Saturday evening.
No.9 berth is out of action.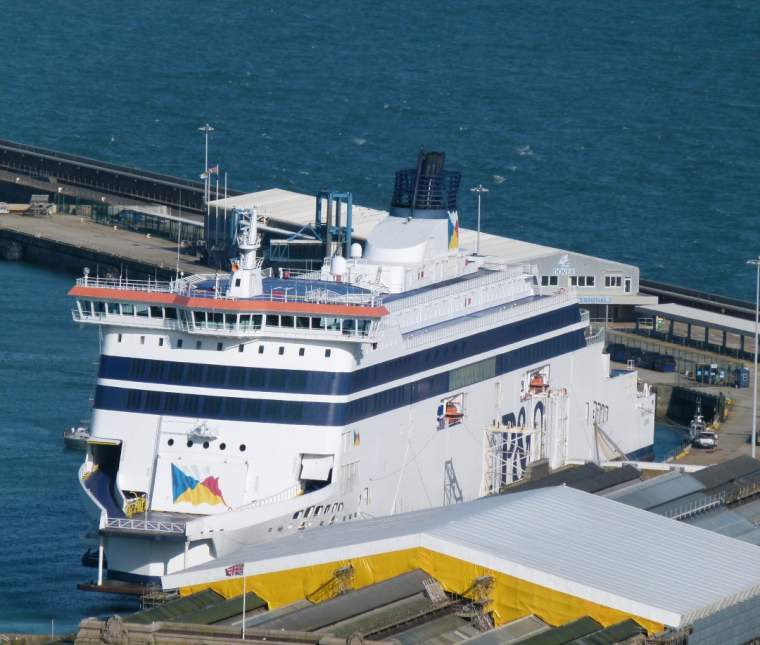 Sunday, 3 August 2014 - 20:20
Post 941
PaulB, Dover
Oh dear! that's a bit nasty Brian. Well done finding that.
Looks like the ship will be laid up for a while. Good spot Mike that they were both out of action. Several P&O customers on twitter are disgruntled with the resultant delays on a hugely busy weekend, particularly as nobody is informing them of the situation on the ground. So the word is anyway.

Sunday, 3 August 2014 - 20:02
Post 940
brian, dover.
https://fbcdn-sphotos-d-a.akamaihd.net/hphotos-ak-xpa1/v/t1.0-9/10475682_10152598010689787_3317472463820647453_n.jpg?oh=449be3e6fbe2c7c07caf5d6b6659b27a&oe=543E5529&__gda__=1414446655_d32a4872f8279a76e257816867a6c240
the secret hole that no one is supposed to know about.

Sunday, 3 August 2014 - 19:36
Post 939
brian., dover
rumor has it the Spirit of Brittan has a hole at the stern end, hit something or other.

Sunday, 3 August 2014 - 16:38
Post 938
Mike J., Dover
Ferries are occasionally taken out of service for short periods for maintenance or repairs but it is a little unusual to see two off service at the same time.
Early Sunday saw the PRIDE OF KENT & the SPIRIT OF BRITAIN 'on the wall'
But Saturday night is usually the quietest night of the week.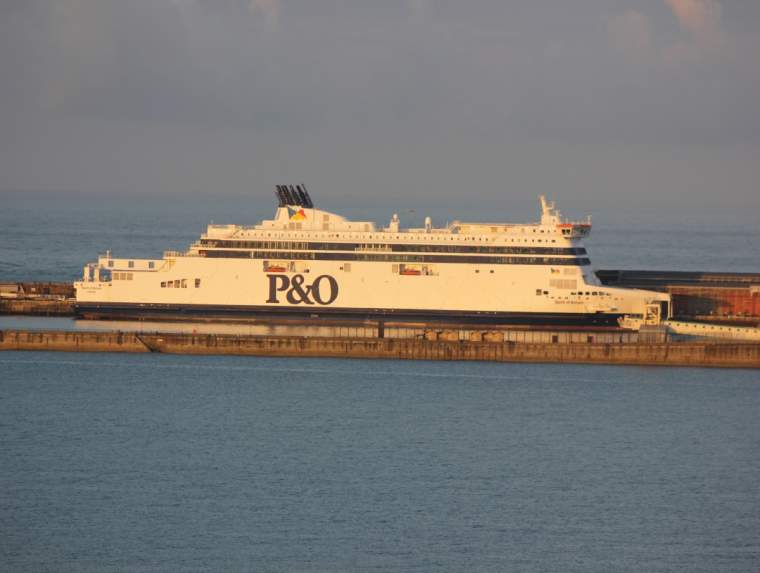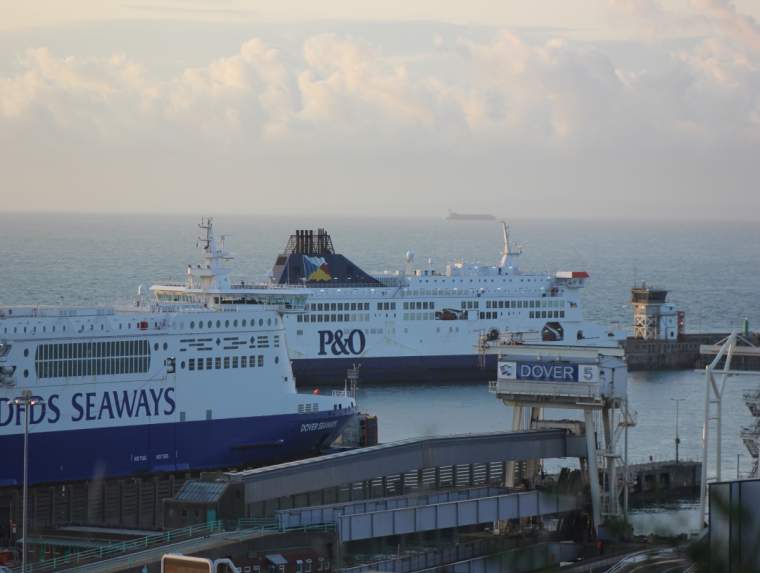 Sunday, 3 August 2014 - 06:52
Post 937
PaulB, Dover
Here we have The Ryndam's arrival early Saturday morning...the ship was greeted by the sun rounding the headland in spectacular fashion and lighting the port and harbour with a dynamic and warm glow. A nice arrival for the passengers. Welcome to Dover.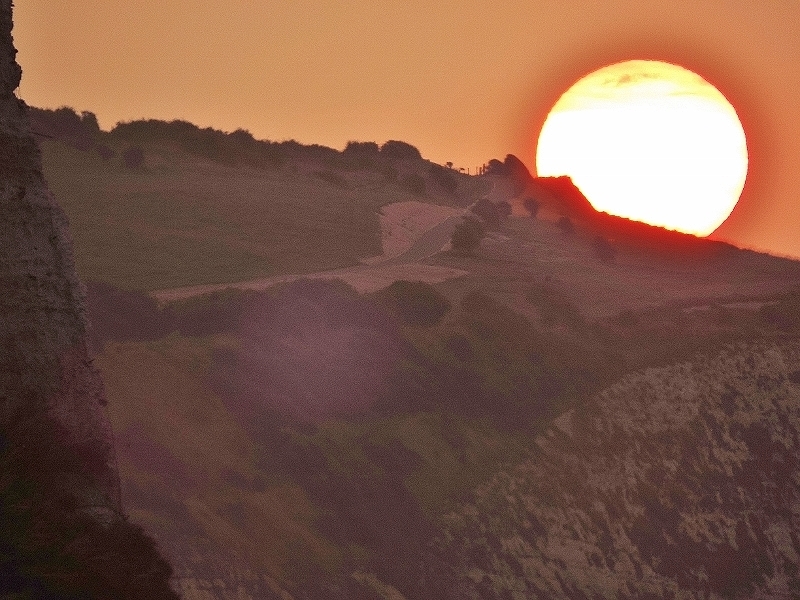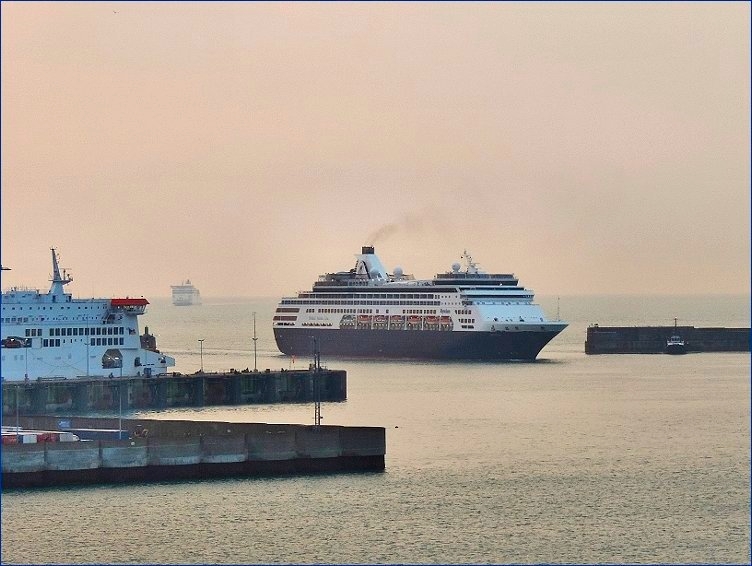 Saturday, 2 August 2014 - 11:58
Post 936
PaulB, Sea News, Dover.
The following is a press release from Dover District Council...
***********************************************
AIR QUALITY MANAGEMENT AREA REVOKED
AT THE PORT OF DOVER
Dover District Council is lifting the Air Quality Management Area (AQMA) at the Eastern Docks relating to levels of sulphur dioxide (SO2) from shipping at the Port of Dover - the revocation of the AQMA takes effect from Friday, (1 August).
The AQMA at the Eastern Docks was set up in June 2002 after air quality monitoring showed levels of SO2 higher than Government objectives. The AQMA was declared following public consultation.
Since 2002, and following changes in EU Directives, sulphur emissions from ferries using the Port of Dover have reduced. Data collected by DDC shows that recorded SO2 levels have not been over Government objectives since 2006. This was reported to DEFRA, and the Council stopped monitoring sulphur dioxide levels at the docks in January 2013. Further reductions in sulphur content in fuels are proposed to be implemented from 1 January 2015.
For more information on air quality monitoring in Dover District, please see the DDC website at www.dover.gov.uk/Environment/Environmental-Health/Home.aspx or see the Kent Air website at www.kentair.org.uk
Ends
* *
Is the above a good move ??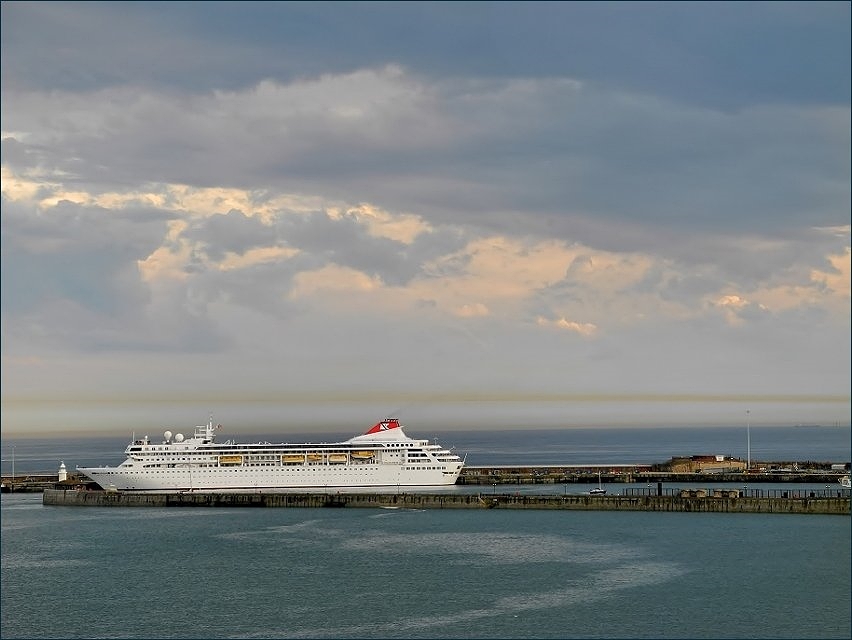 Line of pollution.
Ah yes we remember the Azamara Journey..
Saturday, 2 August 2014 - 06:08
Post 935
jason , parker (offico@cruisebriatin .org)
I wouid like to visit you name azamara journey dover

Friday, 1 August 2014 - 16:52
Post 934
PaulB, Dover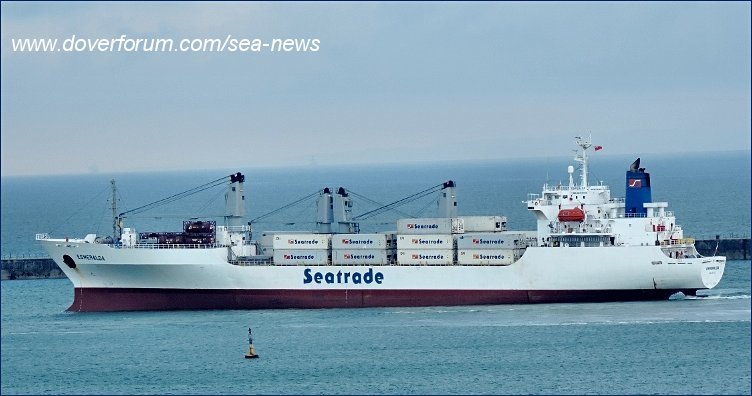 Our old friend the Esmeralda (the bells..the bells...) is in a spot of bother. It seems vast quantities of cocaine (40 kilos) with a street value of millions of pounds has been found amongst the bananas by the UK Border Agency. The Border Agency has been very vigilant locally in recent times and they would regard this as a massive coup, a massive success. The ship had come from South America with its crop of bananas and was heading via Dover to Rotterdam. The Netherlands are known for a somewhat more relaxed approach to drugs but not so here in the UK and the drugs were of course seized.
The seizure took place Wednesday night we understand.
Friday, 1 August 2014 - 16:07
Post 933
PaulB, Dover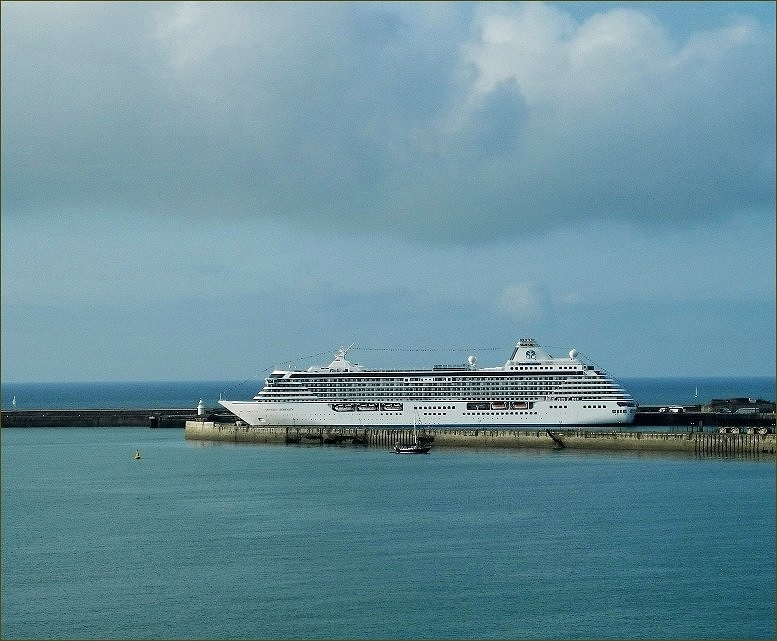 A mid morning shot of the Crystal Serenity which shows the ship in better lighting..'tis a little bit brighter anyway than in the earlier low-light picture taken at 05.30. Bit of a shock being up and picturing the arrivals that hour of the morning indeed Mike. In fact it was pot luck seeing it first thing. A nice looking ship though - good to see it here. Good capture that of the departing Saga Sapphire, missed it completely myself. Also....there has been no further news as far as I am aware re the body in the water report...may have been a false alarm. I wonder if someone mistook the tiny canoe/dinghy shown below for...
Friday, 1 August 2014 - 11:00
Post 932
Mike J., Dover
0530 - Too early for me for the CRYSTAL SERENITY !
Here's the SAGA SAPPHIRE at a much more civilised hour, sailing for Stockholm via the Kiel Canal & crossing the bay before departing via the Eastern Entrance yesterday evening.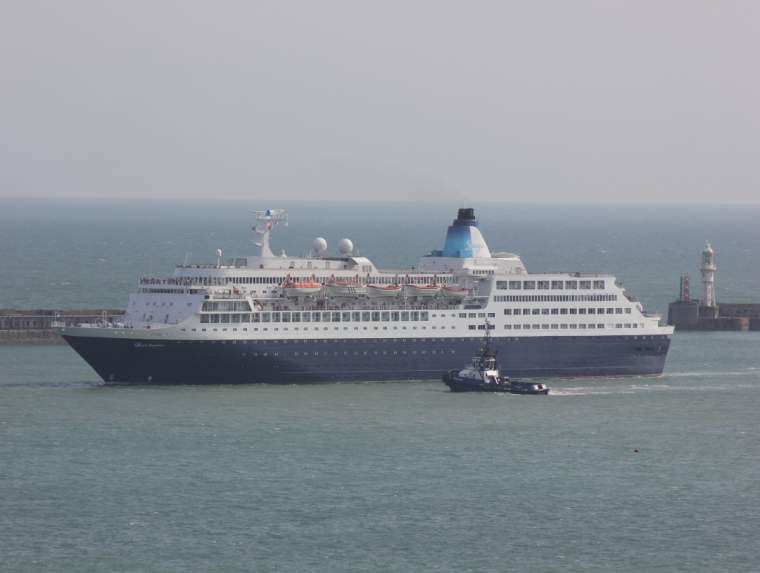 Friday, 1 August 2014 - 07:59
Post 931
PaulB, Dover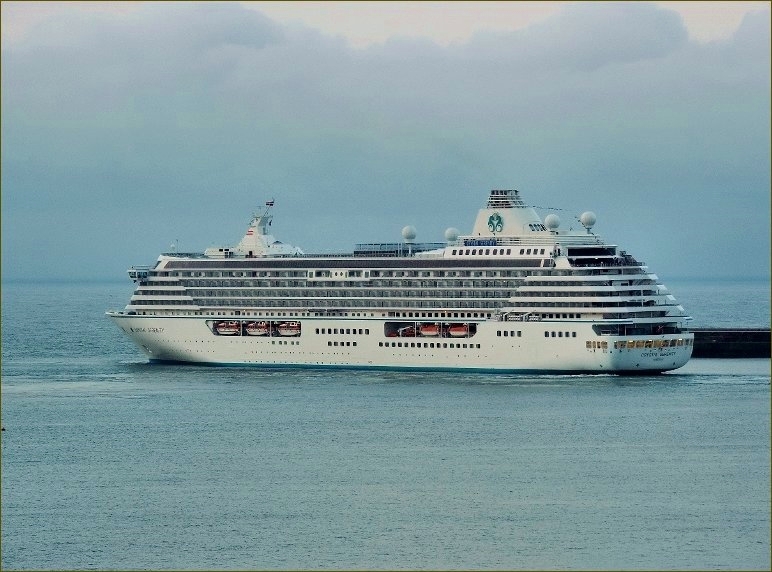 The Crystal Serenity arriving at 5.30am this morning. Early arrival for sure, just as there was enough light to get some pictures. Very welcome she is too..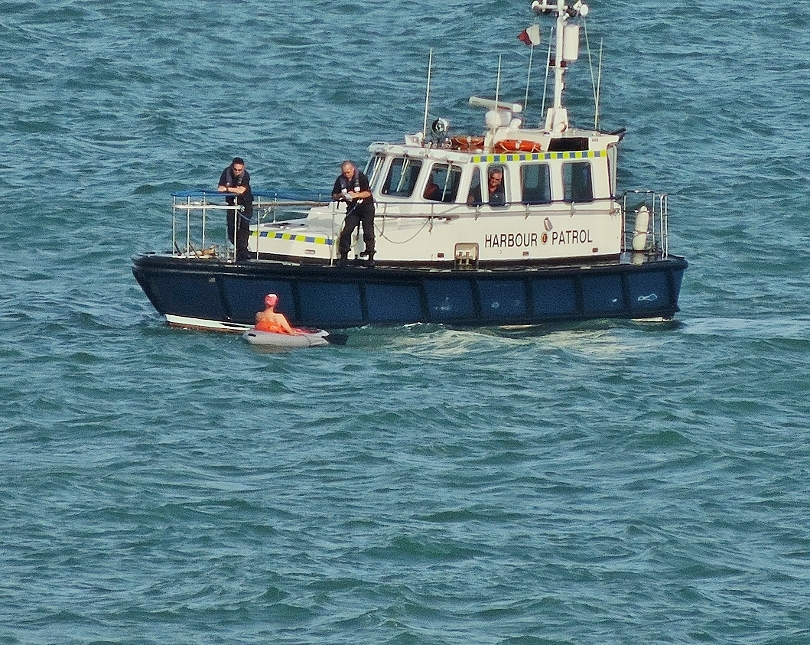 Last evening was a busy old time in the harbour, the Lifeboat was sent just outside the harbour to the immediate east, searching for a reported 'body in the water'. Also in the immediate area too was one of the ever busy Uk Border Agency vessels which also appeared to be searching for the body. In this heightened attitude the harbour patrol spotted a lone canoeist arriving into the harbour and sharply went to investigate. They were on the case as quick as a flash. Nothing further as yet on the body situation.
The Saga Pearl II departing for Gibralter a couple of nights ago..the pilot returning home after another excellent job done. The Saga Sapphire was also back in Port yesterday too...so a busy time for Saga.
Friday, 1 August 2014 - 06:38
Post 930
Mike J., Dover
After over two months laid-up in the Wellington Dock [see post 746 of 27/5] the TOPLIFT was seen working at the Southern Breakwater on Thursday morning.
Not often that you see a road vehicle out on the Breakwater !
Thursday, 31 July 2014 - 07:14
Post 929
PaulB, Sea news, Dover.
PRESS RELEASE re The Community Regatta from the PORT of DOVER...
* * *
Port of Dover Community Regatta – bigger and better event delivered for Dover

________________________________________________________________
On Saturday, 26 July, thousands of people enjoyed it and thousands of pounds were raised on a day that saw a maritime celebration of Dover, its community and its Port complemented by exciting displays on land and in the air.
Officially opened by Admiral of the Fleet, the Lord Boyce, the day also featured a host of entertainment and over 40 stalls for people to explore.
Lord Boyce said: "I was delighted to open the second Port of Dover Community Regatta which brought the community of Dover together to celebrate its maritime heritage. Seeing the Port of Dover working with its partners in making the most of one of Dover's best assets, its splendid seafront and harbour, for the benefit of its community was great to see. I am sure that everyone had a wonderful day in a wonderful place."
Tim Waggott, Chief Executive, Port of Dover, said: "What a fantastic day for Dover. We all shared in and saw the vision coming to life of a vibrant waterfront bringing everyone together."
Alongside a stunning classic car display, dramatic demonstrations by the Kent Fire and Rescue Service, an RNLI sea rescue display and a host of different stalls lining the entire seafront, the day was rounded off in style by The Blades Aerobatic Display Team.
Mr Waggott added: "I am proud that the Port, together with its community partners delivered a great event for Dover. It is events such as these where we are all working together, that can help turn Dover into the great destination we know it can become."
The Port of Dover sponsored Dover Port Dash charity races were back by popular demand, raising money for the Cinque Ports Pirates Sailing Club, a local voluntary organisation with charitable aims that works with children aged 8 to 18 in Dover Harbour to bring the skills and enjoyment of sailing to anyone and everyone.
Karen Amber, Cinque Ports Pirates, said: "I was delighted that we were chosen as this year's charitable cause, even more so as we are so closely connected with the harbour which seems most fitting for the Port of Dover's Community Regatta. The money raised will go a long way to providing even more opportunities for local young people to experience the enjoyment of sailing, bringing the local community and the Port ever close together"
ENDS
Note: all press releases are pinned for a period of time.
More on the Regatta with pictures in Posts 914, 918, 920.
Thursday, 31 July 2014 - 07:05
Post 928
PaulB, Dover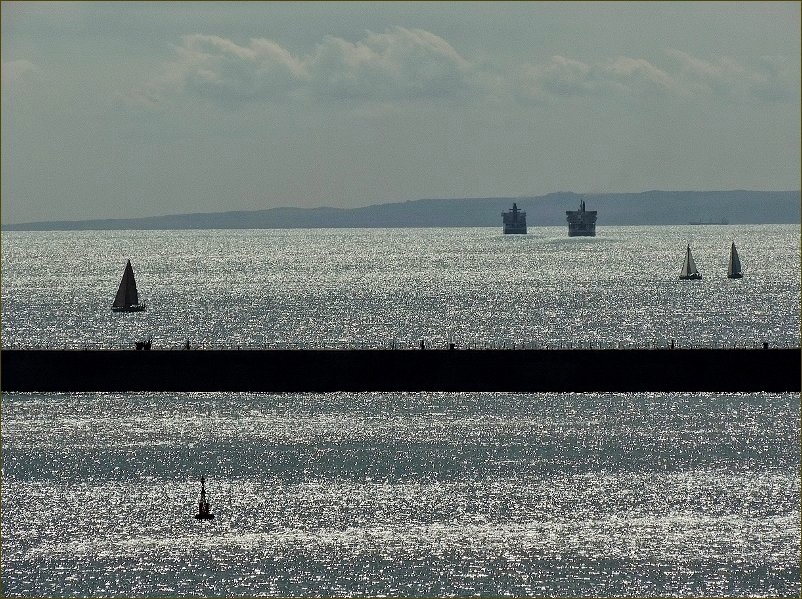 Dazzling sparkling seas yesterday out in the channel. Lovely to see. All so clear between here and France as thousands of holidaymakers excitingly ferry over in the gorgeous conditions. its a great way to travel on a day like that..you cant beat it. Below we have the early yesterday morning approach of the Saga Pearl II. A long distance picture but even that early the sea was made of dazzling diamonds.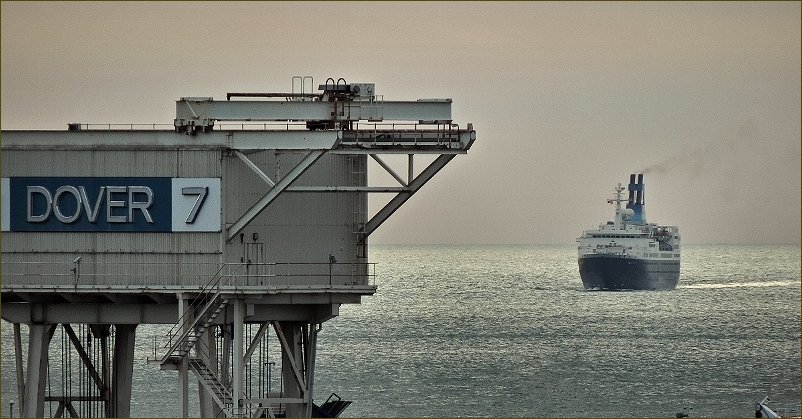 Well done with that list Colette...the Crystal Serenity wow!
..charging me batteries

yes indeed Howard some of these happenings sneak up on a chap..
Thursday, 31 July 2014 - 06:56
Post 927
ColetteB, Dover
As listed last time, tomorrow 31st July the Saga Sapphire is back at CT1, TR.
And now for the first week or so of August Dover cruises

On Friday 1st August the beautiful Crystal Serenity arrives for the first time this year at CT2, TR. She was last here in September 2013.
Then the following day Saturday 2nd August the Ryndam returns to CT1, TR.
The next day Sunday 3rd August the Ocean Princess is back CT2, TR.
Monday 4th August the Braemar returns to CT1, TR.
Tuesday 5th August brings the return of the AIDAStella with a PoC at CT2.
No cruises on Wednesday & Thursday but on Friday 8th August the Seabourn Quest arrives at CT1, TR. We saw the Seabourn Sojourn here in September 2013 & the Seabourn Pride 2012/11.
The following day Saturday 9th August the Ryndam arrives back at CT1, Debark.
No cruise on Sunday, on Monday 11th August the Ocean Princess returns to CT2, TR.
That's all for now


Wednesday, 30 July 2014 - 20:31
Post 926
Howard McSweeney, Dover
I missed it all, but for Paul and Mike's photos i wouldn't have known about the "publican's walk" or the "doris pickles".

Wednesday, 30 July 2014 - 20:11