Monday, 11 December 2017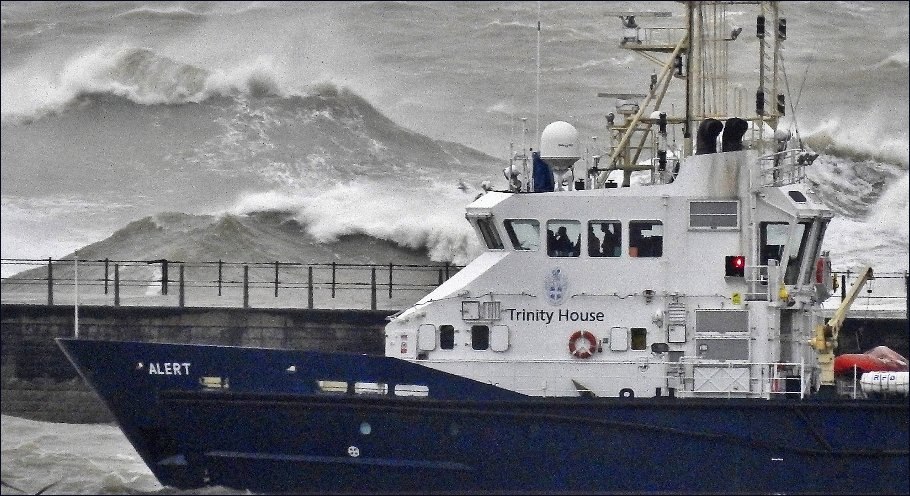 The guys onboard Trinity House Vessel Alert pause briefly before tackling the raging seas of Storm Caroline at Port of Dover. This is a zoomed-in cropped version of our picture further down the page with more emphasis this time on the rough seas.. PB.

doverforum.com/sea-news
Doverforum.com: Featuring all the ships that come and go and work at the Port of Dover with further coverage of Ramsgate, Calais, Dunkerque. Email: dover7@msn.com to send SEA NEWS pix or info.... or click ADD YOUR COMMENT below to post direct, no membership needed.

Port of Dover's Big White Christmas Ice Event. Delightful fun for all...see..http://www.whitecliffschristmas.co.uk/
See also post 4460 below.
Charlie Elphicke MP : On being suspended...see below 4424.

P&O Ferries- Britain's favourite 4465
Mammoth Tooth Find - Extraordinary at Port of Dover see 4389.
DFDS - Helping to tackle Breast Cancer - see 4377.
PORT of DOVER: COOL CARRIERS..great cargo coup. New Trade for Dover.. 4336.
P&O FERRIES...women in the workplace .. also 4336..also see 4370 for the new graduate seafarers.
also see 10 new local apprentices 4451.

PORT: Latest DWDR news and drone pictures...see 4330.

DFDS and the Maritime Catering Apprentices 4323.
P&O Ferries help children with serious illnesses cross to France 4316.
Port of Dover sponsors War Horse 4294
DFDS - Crowned Europe's leading Ferry Operator 4287.
DDC Leader Paul Watkins retires...see 4282 and 4270. Replacement 4328.

Use our SEARCH ENGINE below to find all sorts on the SEA NEWS pages..more than 200 now with more than 4000 nautical posts. Posts welcome. Max of 5 pictures preferred per post. Sea News Editor Paul Boland.
Type Cruise Visits (or indeed anything) in our Search Engine below for the latest cruise ship arrivals..
Post 4457
Mike J., Dover
Certainly echo Patrick's comments on Paul's photo of the EASTERN BAY - for me the picture is 'made' by the lights of the ships out in the Dover Straits.
Saturday afternoon & the Dutch PEAK BREMEN was discharging sheet piles onto lorries.
She's operated by the Swedish company PEAK PROJECT CARRIERS & had brought the cargo from Dintelnoord.
She sailed for Belfast about 2100 the same evening.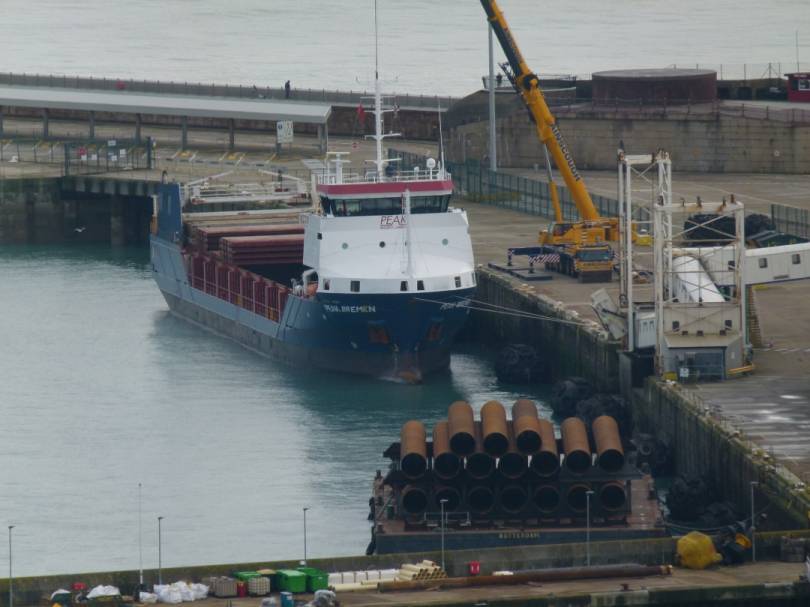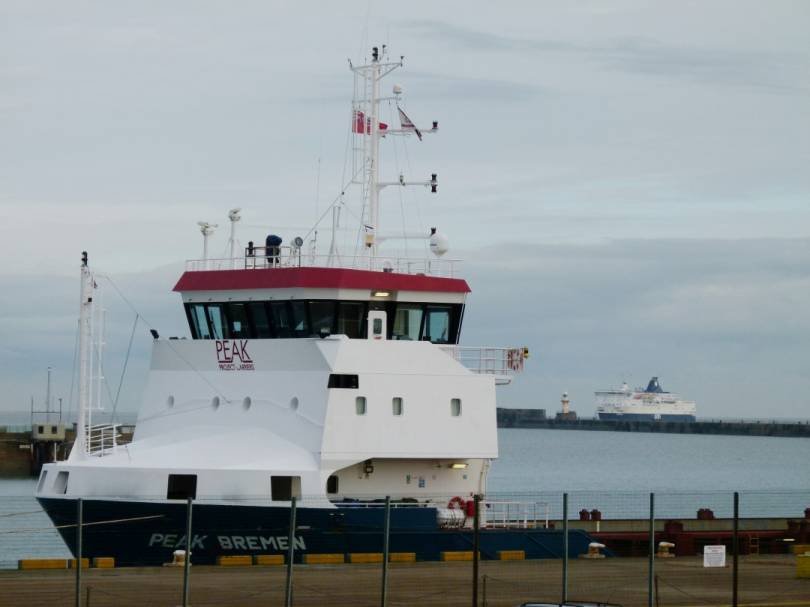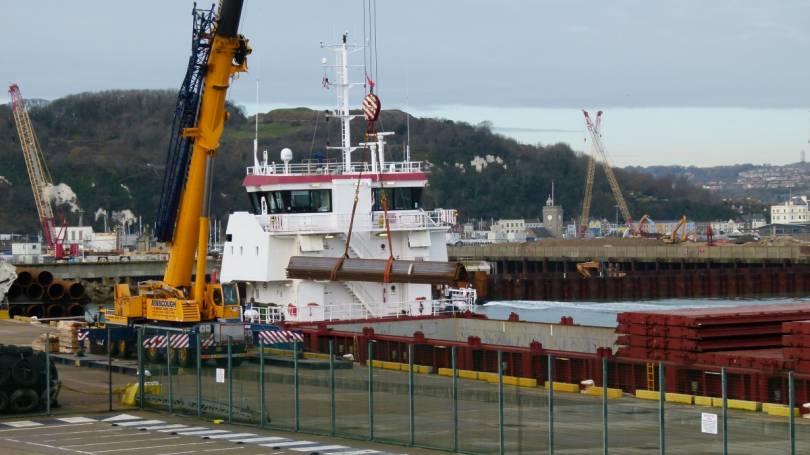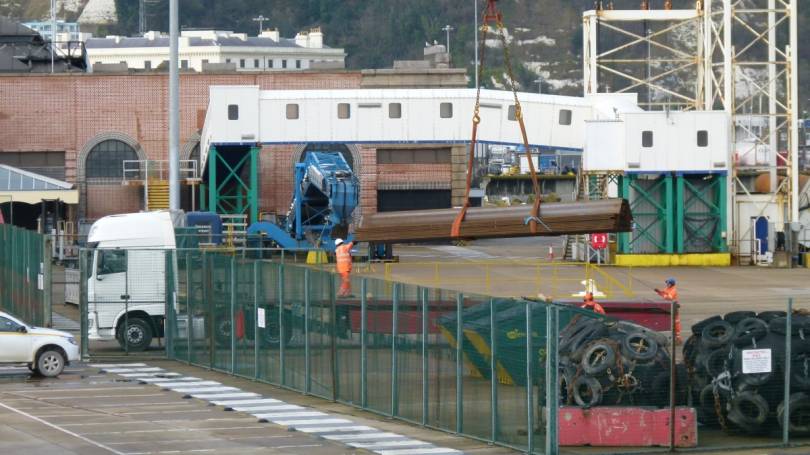 First time I've noticed this 'stone yard' in Wellington Dock - from the lamp posts in some the larger blocks [higher quality pix show they have labels on them & other posts are stacked nearby] I assume that they are 'salvage' from the reduction in height of the Prince of Wales Pier.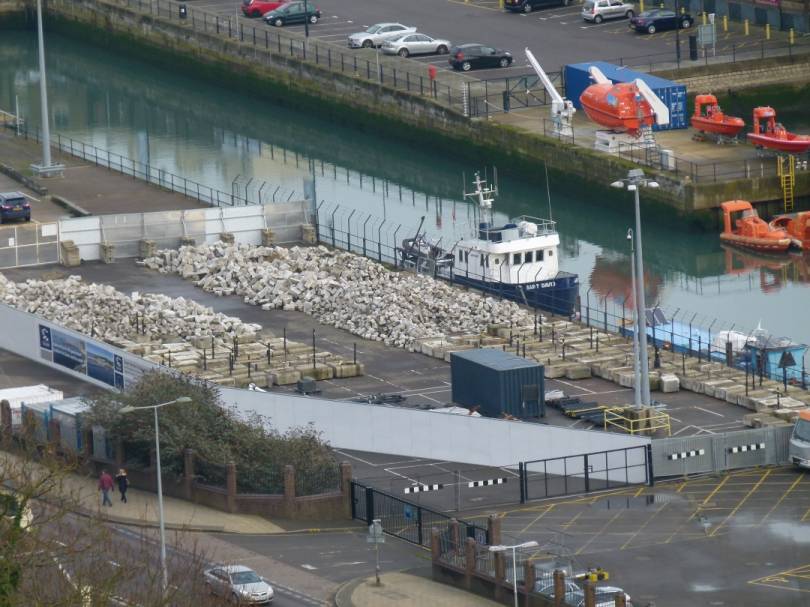 Perhaps DHB are going to build a rockery in memory of the much-missed pier ?
That's the SAINT DAVID moored by the yard, probably the only vessel in Dover to have flown the Swastika.
For more details do a search for her in the 'Sea News' search box.
Sunday, 3 December 2017 - 00:59
Post 4456
PatrickS, Marine Parade
Cracking evening shot of the Eastern Bay there Paul.
Here is one more for the memory of being soaked by Dover Fire Service during their recent exercise. At least it saved me the bother of taking my annual shower. Bit on the chilly side. I asked them to turn on the hot tap but only got drenched from the second cold hose. Only joking of course......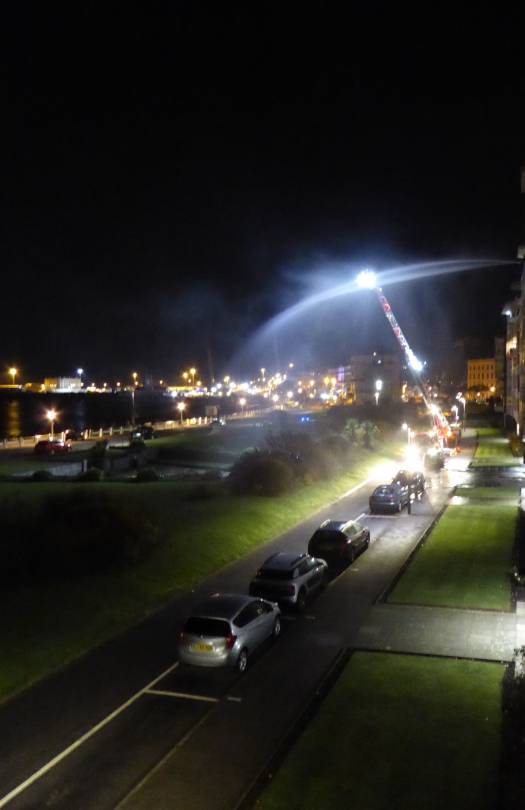 Saturday, 2 December 2017 - 21:46
Post 4455
Sea News, Dover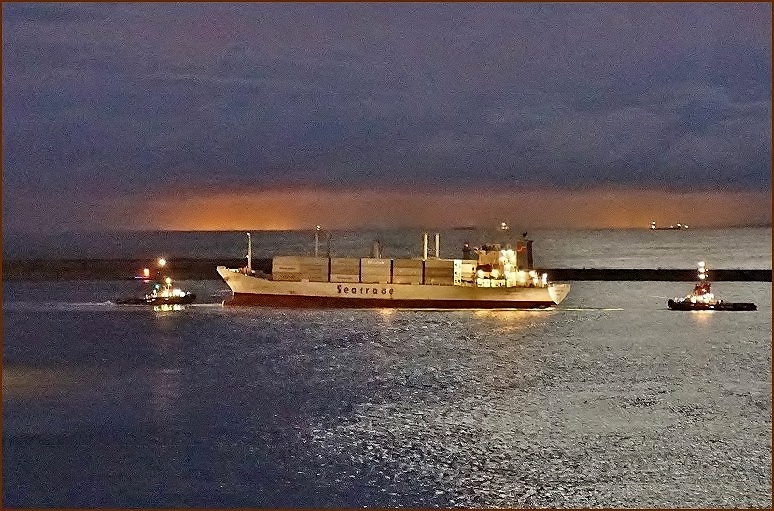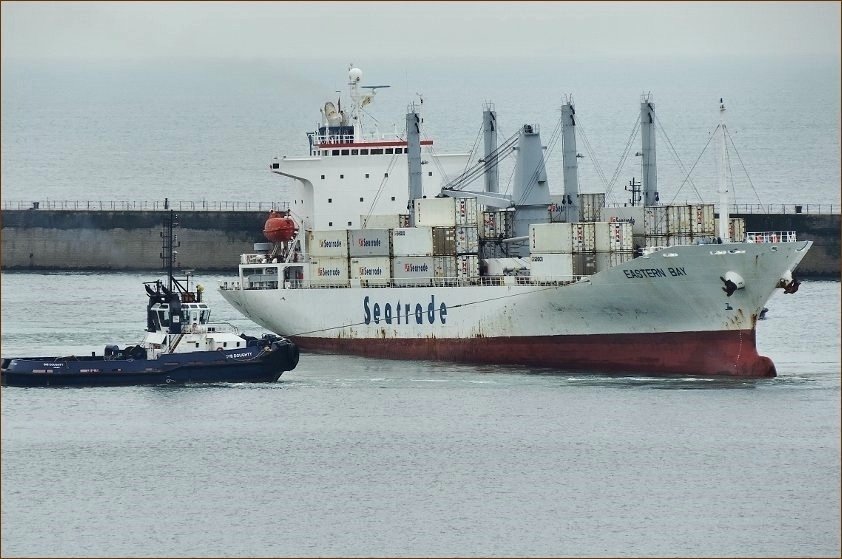 A couple of pix above there of the reefer Eastern Bay which left us on Wednesday night. I made a note of where she was heading but alas alas notes go astray..presumably Hamburg or Rotterdam as per usual. The top shot was taken on Wednesday night but of course its very dark so not hugely clear. I have added the second shot from a previous time to give a clearer idea of how she looks.
On the same night..Wednesday, the Fire Brigade carried out an extensive exercise in the Gateway Flats here on Dover seafront. Residents had been notified beforehand in order to nullify any prospect of panic at the dramatic goings-on. Some images below...
never a dull moment around here ...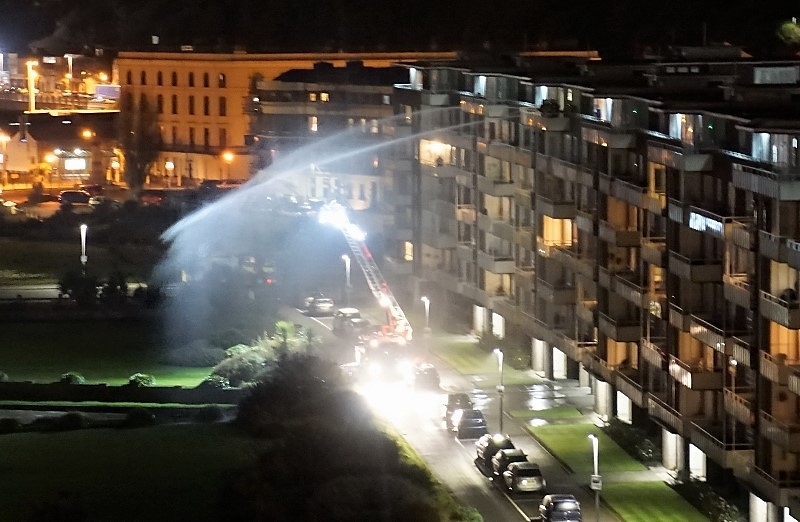 The water jets out towards the gardens from two sections in the flats and the Fire Brigade ladder climbs..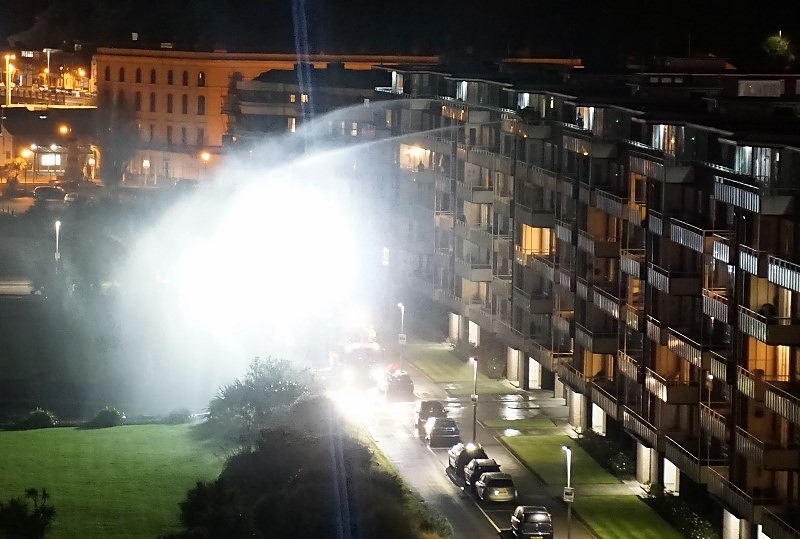 The floodlights catch the jetting water...
The parked cars got a free wash....

!!!
PaulB.
Saturday, 2 December 2017 - 07:33
Post 4454
Colette B, Dover
Many thanks for your kind words Patrick, I always look forward to seeing your photos & I love your recent Dover Harbour Panorama

Next year is looking good, especially with the ongoing positive projections from Port of Dover's Ms Buczek and Ms Limbrick prior to the International Cruise Summit in Madrid on Wednesday.
It all sounds very positive for an increase in cruise calls for Dover in 2018

Friday, 1 December 2017 - 22:04
Post 4453
Sea News, Dover
Following along from Patrick's shots of the Artania and Mike's pix of the Deep Helder... some further shots here...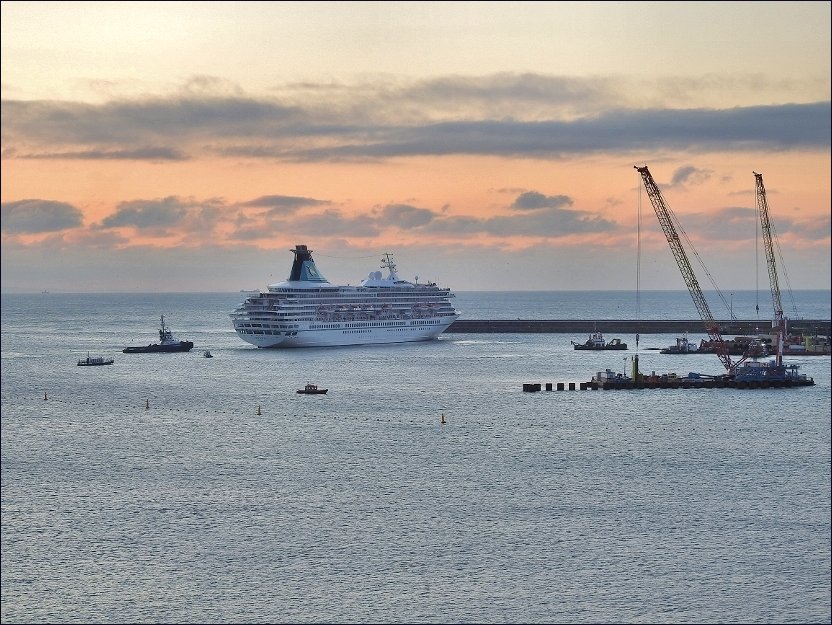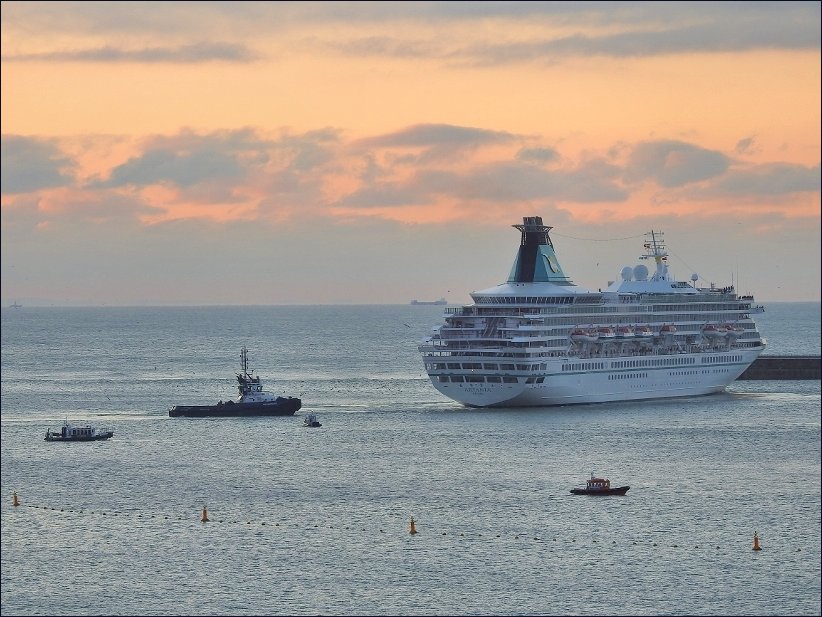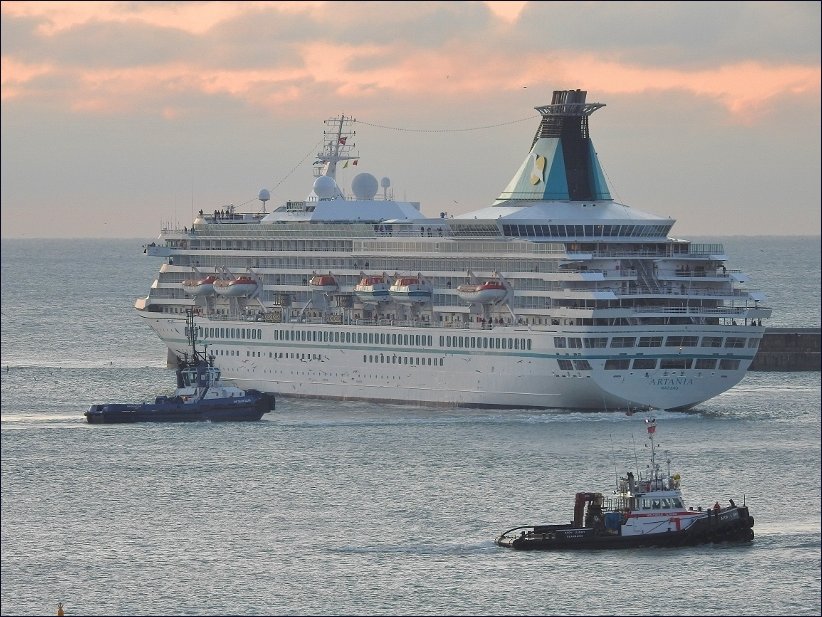 Yes indeed a surprisingly late-in-the-season cruise visit above there from Artania. She arrived about 07.50 yesterday right on schedule on a cold ol day...well you can tell from the pictures it was cold. Within half an hour of her arrival there was a snow blizzard, thankfully it didn't last too long but yours truly had to brush snow off his vehicle a short time later. Not the kind of weather a chap might associate with Cruising. Hopefully the passengers were woven into their interlocked reinforced thermals to brace themselves against the Dovorian winter. Gosh - even the Pimms would need to be warmed up these days. Heavens!


A couple of extra ones of the exciting Deep Helder to add to Mike's collection below page (4450).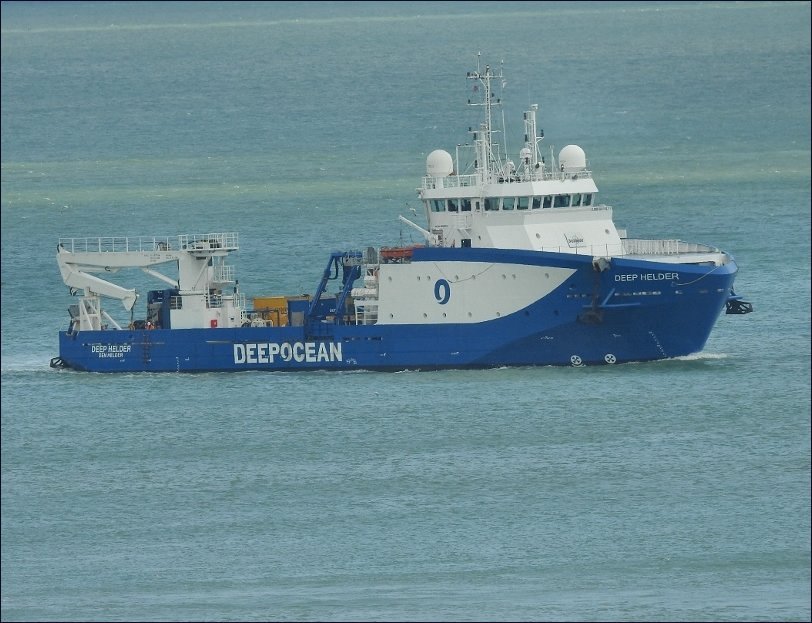 Nice ones below Patrick. Yes she left last night at 8pm right on the button heading south as we said.
PaulB.
Friday, 1 December 2017 - 06:47
Post 4452
Patrick, Marine Parade
The last Cruise Liner of the year - m/v ARTANIA - arrived from Hamburg early today framed in the glow of an early morning sunrise (and the odd seagull).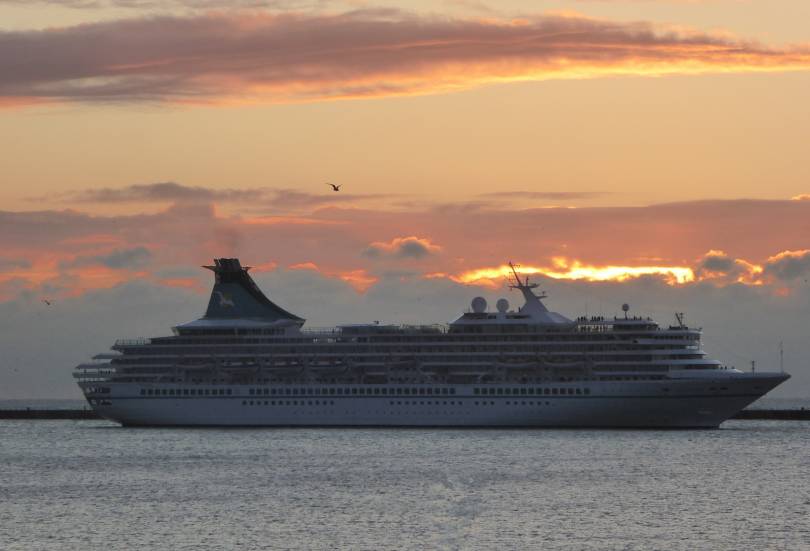 Set sail this evening for Le Havre with a different sort of glow of her own making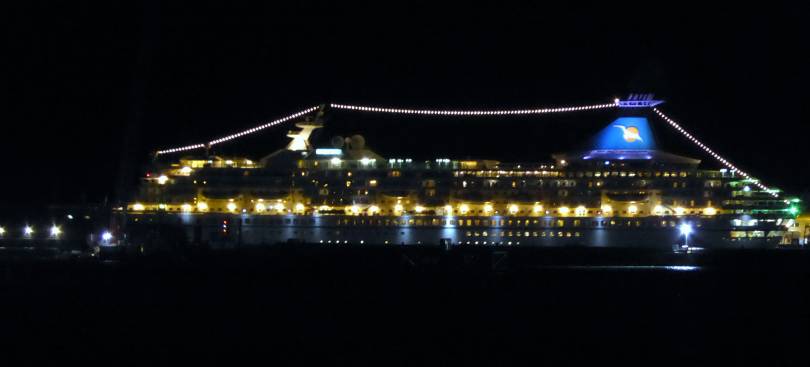 Many thanks to Colette for all the information on this seasons cruise callers.
Keeps us land lubbers alert and informed about all that is happening at Dover Port Cruise Liner Terminal during the Spring Summer and Autumn Cruise Schedules. Great stuff for sure.
Look forward to even more next season.
Thursday, 30 November 2017 - 21:58
Post 4451
Sea News, Dover
TEN LOCAL APPRENTICES WIN PLACES ON P&O FERRIES APPRENTICESHIPS SCHEME
....AFTER IT RECEIVES 176 APPLICATIONS FROM ASPIRING SEAFARERS
TEN local apprentices - including the first ever female apprentices - started work at P&O Ferries this month as they began a two-year course which will lead to them becoming fully qualified seafarers aboard 47,000 ton ships on the English Channel.
The ten - who are aged between 18 and 29 - hail from a variety of backgrounds in Kent including a bar tender, a former employee of the school exclusion unit and one who worked as a football coach in the United States.
Seven of the ten are studying to become what are known in seafaring as Deck Ratings, with responsibility for steering the ships, loading cars and look-out duties. The other three are studying to become Engine Ratings, which entails working in the engine room and maintaining machinery.
All ten are employed on a Shoreside Learning Contract, whereby they travel daily onto the ships and have taster periods of living on board by way of preparation for when they are qualified.
Mike Willis, Learning and Development Adviser at P&O Ferries, said: "This is the fourth consecutive year in which we have run the apprenticeships course and we received an enormous amount of interest, with 176 applicants applying for the positions."
"We are delighted to welcome our first female apprentices, which reinforces the point that seafaring is an exciting career for men and women alike. During the next two years we will be investing in their training, accommodation and examinations to equip them with a set of skills which will stay with them for life."
Stacy Gregory (pictured front row, second from right), who is 25-years-old and from Folkestone, said: "Seeing what the last group of apprentices did made it look really exciting. I am especially looking forward to obtaining a qualification at the end of the course."
Sam Jones (pictured back row, second from right), a 29-year-old from Dover, added: "This qualification will secure my future and the future of my family. I will have something that will set me up for the rest of my life."
P&O Ferries' apprenticeships scheme has been running since 2014 and helps local people start a career at sea. The Dover-based employer's wider stakeholder programme offers visits to schools and colleges within the local community, a free initiative with the visit often tailored to school requirements and their current projects.
ENDS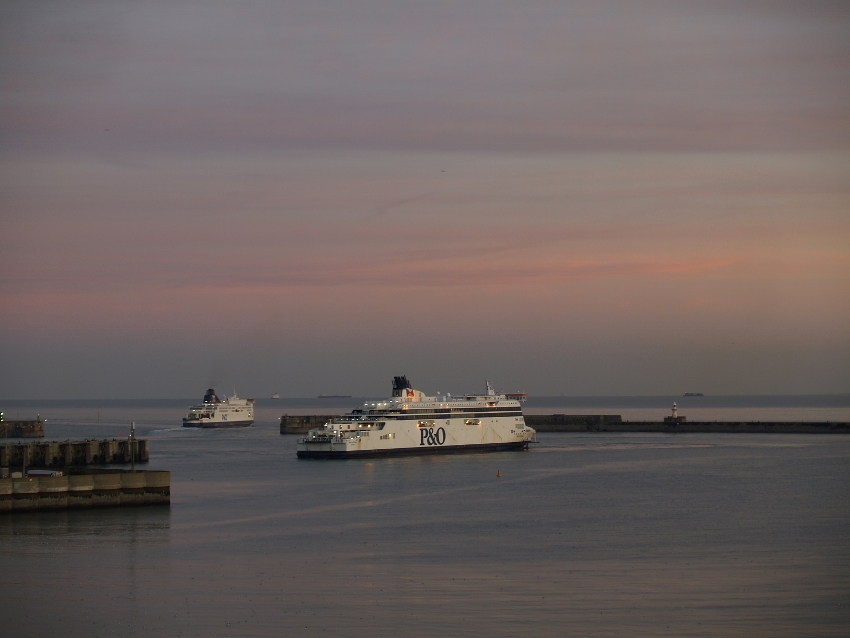 The P&O Ferries above looking good in a little late evening sun 2/3 days ago...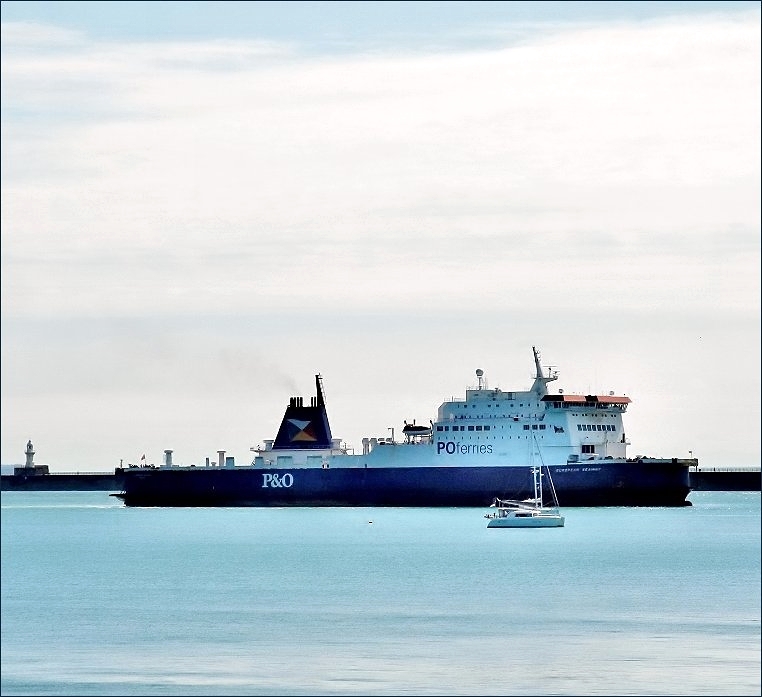 While sorting out the P&O pix I came across this one above in the file from 2/3 years ago...taken from the inshore end of the Prince of Wales Pier...so nice pictures will be possible from up there in the future.
Many thanks as ever to the guys over at P&O.
* *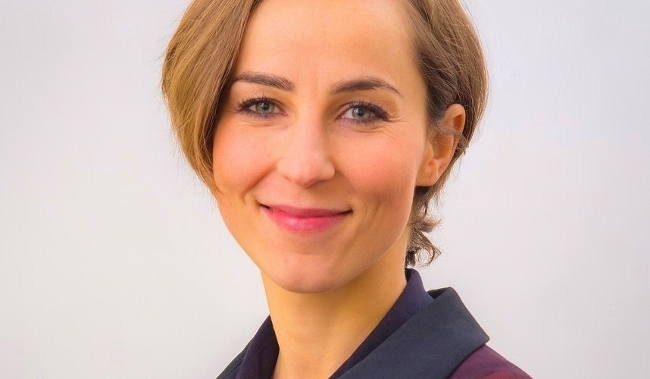 Barbara Buczek
Barbara Buczek, Port of Dover Director of Corporate Development and Operations will speak at the International Cruise Summit in Madrid on 29 November 2017.
The ICS is a truly international event that attracts an average of 400 international delegates every year. Since its inception in 2011 the event has been growing into one of the most recognized in the industry for addressing vital topics and at the same time evaluating solutions to common challenges affecting our industry.
She will participate as a panel member of the "Market Trends Impacting on the Future of Cruise Ports" session where her associates on the panel will include representatives from CruiseLine, Royal Caribbean Cruises, Marella Cruises, Pullmantour Cruises, Intercruises Shoreside & Port Services as well as delegates from other ports.
"It's a real privilege to be invited to speak at the world renowned International Cruise Summit and share knowledge and successes with such esteemed colleagues." Ms. Buczek said.
Also, attending will be Sonia Limbrick, Port of Dover Head of Cruise Business Development. Since taking on leadership of the Cruise team in November 2015, Dover Port cruise calls have increased by a substantial 30% and ongoing projections remain positive.
ENDS
I'm a little late with that one above but I am sure Barbara was great last night.
Good to see Sonia L attending too - should be positive for future cruise business here at the Port of Dover.
* *
Well done Mike..a cracking collection below there of Deep Helder plus. I got a couple too but am behind schedule again...but great to see those. Bet it was cold down there. Shiver me timbers..


A great panorama again Patrick... lovely stuff. Heck of a sweep with the camera there.

Well done Colette with the Cruise info below. One late last ship...thought it was all over.

Exciting cruise info/possibilities above there with Barbara B.
PaulB
Thursday, 30 November 2017 - 06:43
Post 4450
Mike J., Dover
A chilly Wednesday afternoon with only one fisherman on the Admiralty Pier & the arrival of the Dutch support vessel DEEP HELDER who has been working on the Nemo power cable project between Pegwell Bay & Zeebrugge.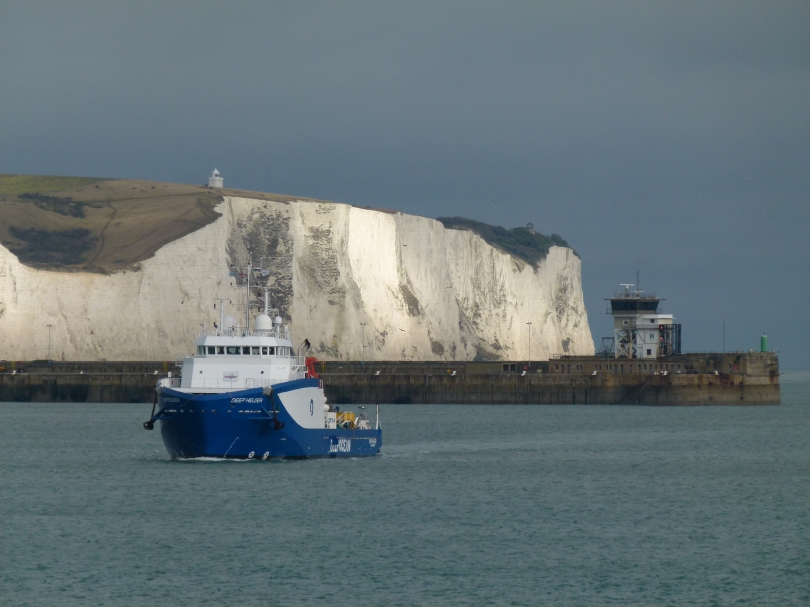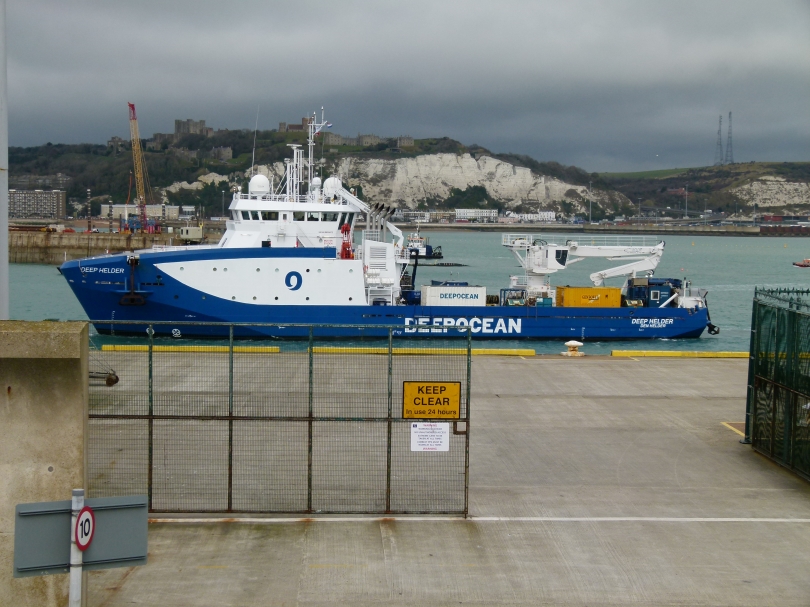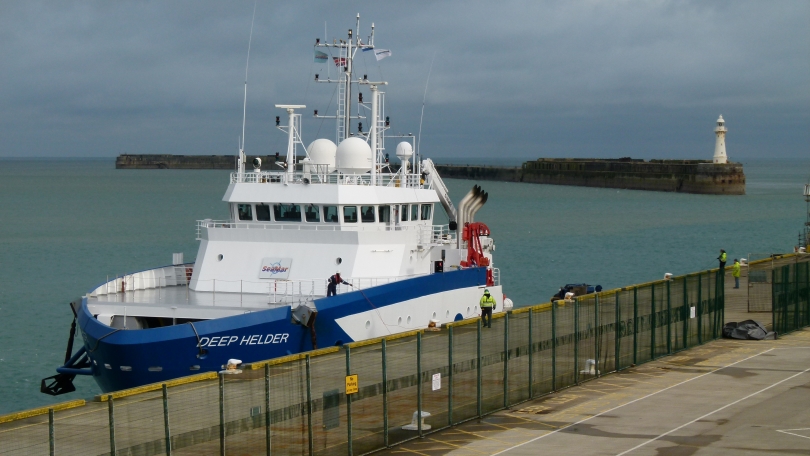 After coming off the Admiralty Pier I caught the LLANDDWYN ISLAND departing the old Jetfoil terminal.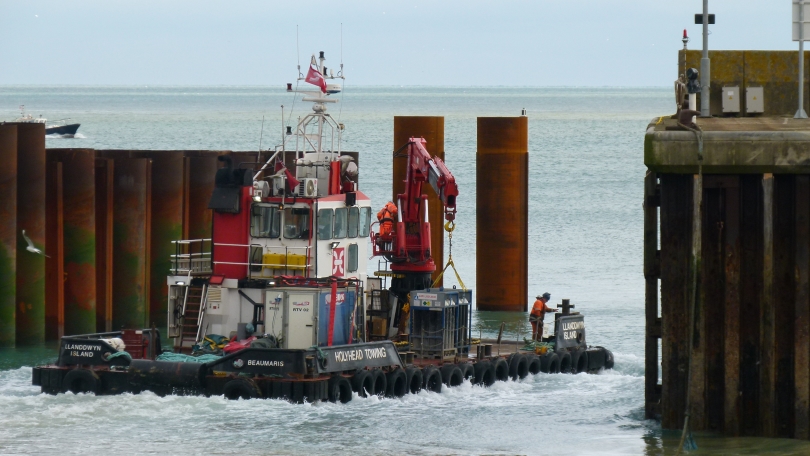 Thursday, 30 November 2017 - 00:24
Post 4449
Patrick, Marine Parade
Dover Harbour panorama

Wednesday, 29 November 2017 - 23:53
Post 4448
ColetteB, Dover
CRUISE VISITS
Wow! Great photos as always from the Sea News Team


Well the time has come for the last visitor of the 2017 cruise season. Tomorrow the Artania last seen in September, cruises into CT1 at 08.00hours on her 6 night return trip to Hamburg. Her ports of call are Le Havre, Rotterdam and Ijuiden. She departs at 20.00 hours, PoC. We wish her well

FYI, she then sets sail from Hamburg on Dec 4th for a 17 night cruise to Marseille where she sets her compass for lands further afield. She cruises from Marseille on Dec 21st for the Indian Ocean on a 24 night cruise to Sri Lanka. What a wonderful way to spend Christmas & New Year

That's it for this season unless we have a surprise visitor!!!
Wednesday, 29 November 2017 - 12:14
Post 4447
Sea News, Dover
Zeebrugge Bell Returns To Dover Ahead Of 2018 Centenary
The Zeebrugge Bell has returned to Dover following restoration and cleaning at the Loughborough bell foundry of John Taylor & Co. The Zeebrugge Bell was given to the people of Dover by HM The King of the Belgians, Albert I, as a souvenir of the naval raid on Zeebrugge harbour on St George's Day (23 April 1918).
The Bell was welcomed back to Dover by Cllr Neil Rix, the Town Mayor of Dover, Cllr Sue Chandler, the Chairman of Dover District Council, and Tony Yelverton, Managing Director of Hipperson Builders, the project contractors who also completed conservation work to the bell housing and tower.
The Zeebrugge Bell is housed at Dover's Grade I listed Maison Dieu and is struck each year by the Town Mayor at noon on St George's Day (23 April) as part of annual commemorations organised by Dover Town Council.
The centenary of the Zeebrugge Raid will be commemorated in Dover on Monday, 23 April 2018 with a series of events organised by Dover Town Council. Later in the day, Royal Marines Heritage Trails will be launched in Deal. The Royal Marines played a pivotal role in the raid on Zeebrugge with many of them trained at the Royal Marines Depot in Deal.
Ends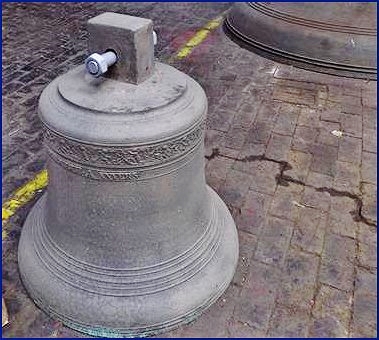 Ah that's great Sarah, looking forward to that - well done the roving reporter. Paul

Wednesday, 29 November 2017 - 06:30
Post 4446
Sarah, Ramsgate
No worries Paul, I'll get a photo of Lady of Hilbre looking all Christmassy for you.

Tuesday, 28 November 2017 - 10:38
Post 4445
Sea News, Dover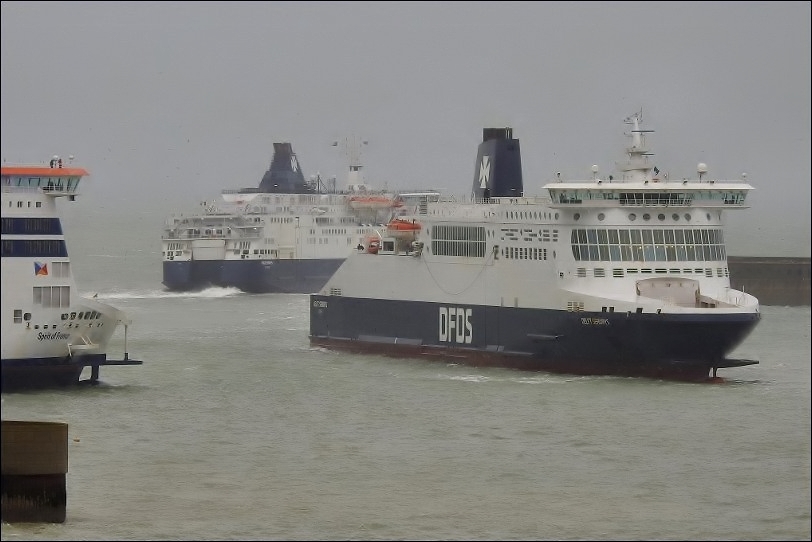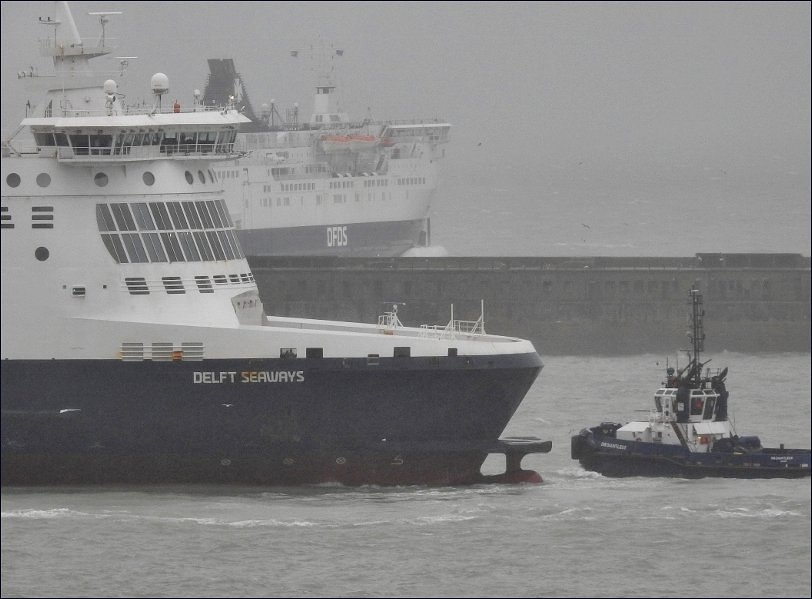 A cold grey day yesterday with a strong wind whipping through, the shipping forecast told us it was a 'severe gale 9' at one point. But as ever the ferries managed very well. Featured ferries above are the Spirit of France to the left, the Delft Seaways to the right and in the background the Calais Seaways sets off bound for ...well... Calais. The tug was needed in the turbulent conditions and did a great job as ever.
Yesterday the Atlantic Reefer was with us. I missed her arrival but here is a longer range picture from a previous time. She left in the wee small hours of the morning for Hamburg.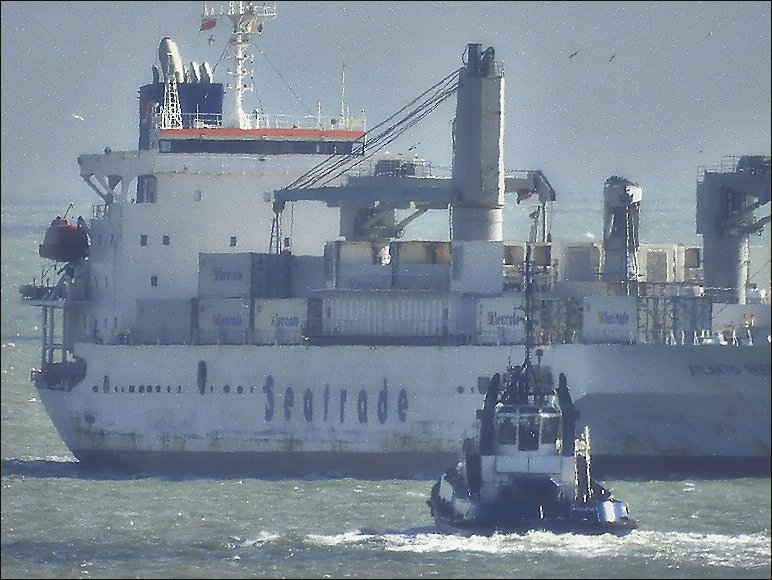 * *
Jubilee Way was closed for many hours yesterday as once again there was a nasty nasty accident just above the Port. The air ambulance was called and needed. Surely the time has come for something to be done about this road. How many more people have to die??
Last year during extensive roadworks..a temporary concrete barrier was put in place separating the uplanes from the one going done. This kept the workers safe, it was very solid. That barrier needs to be brought back on a permanent basis to keep road users safe.
* *
Well done below Sarah.

It looks like Christmas has come early for you over there, bet you are enjoying having all those lifeboats. We look forward to you getting that shot of the one with the Christmas lights. We had one from you previously, so we can use that if you are not able to get round to it in the busy busy holiday period.
PaulB
Tuesday, 28 November 2017 - 06:48
Post 4444
Sarah, Ramsgate
This is getting mad here, we now have four all weather lifeboats in the harbour as Margate Lifeboat is now here due to problems with their launcher.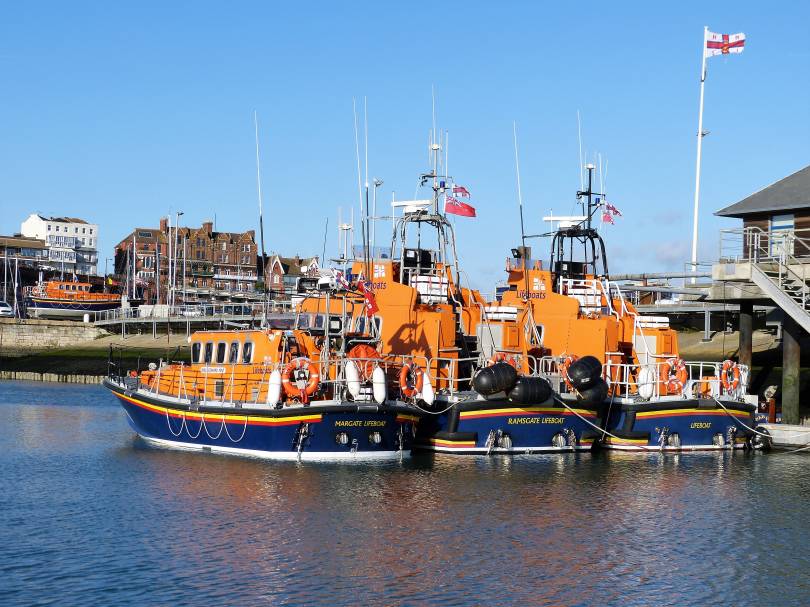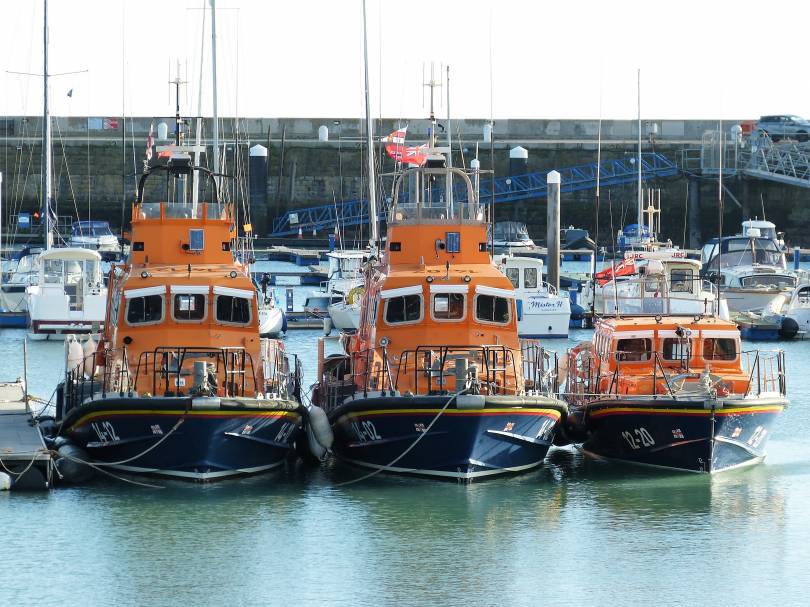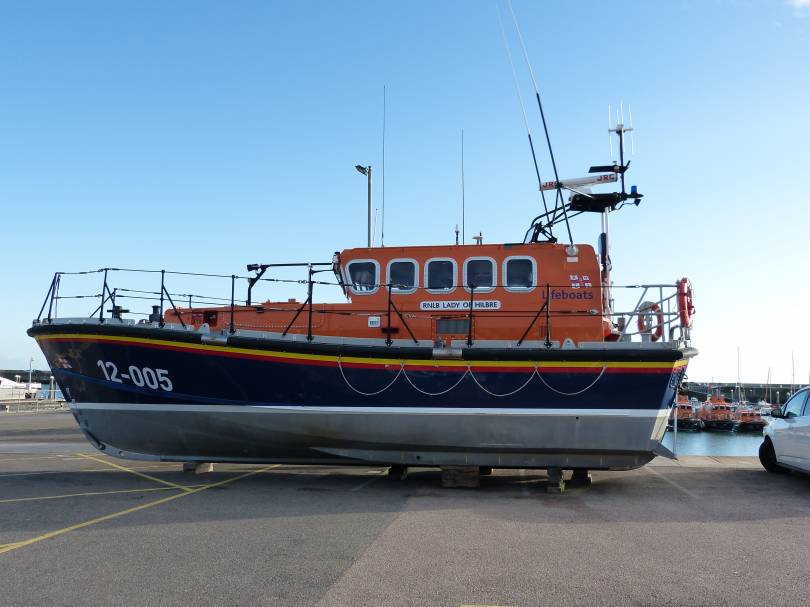 Monday, 27 November 2017 - 17:36
Post 4443
Sea News, Dover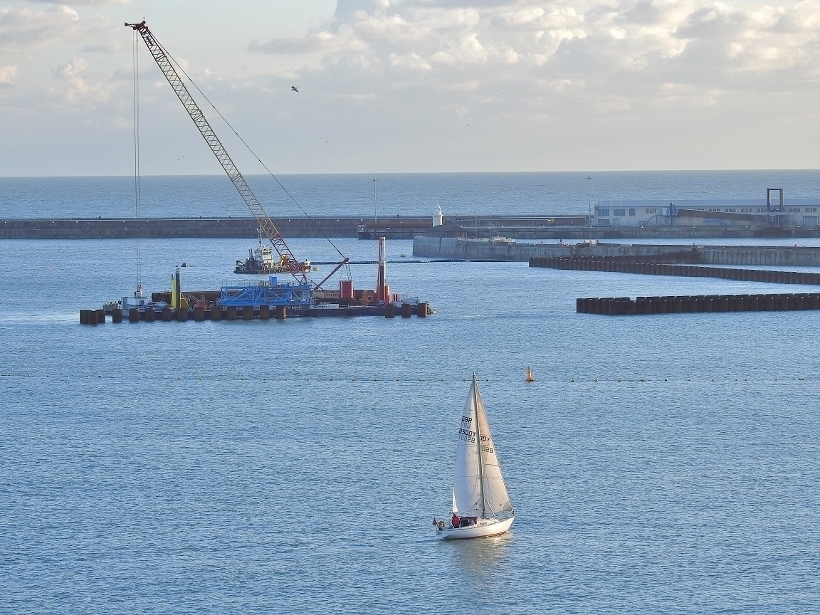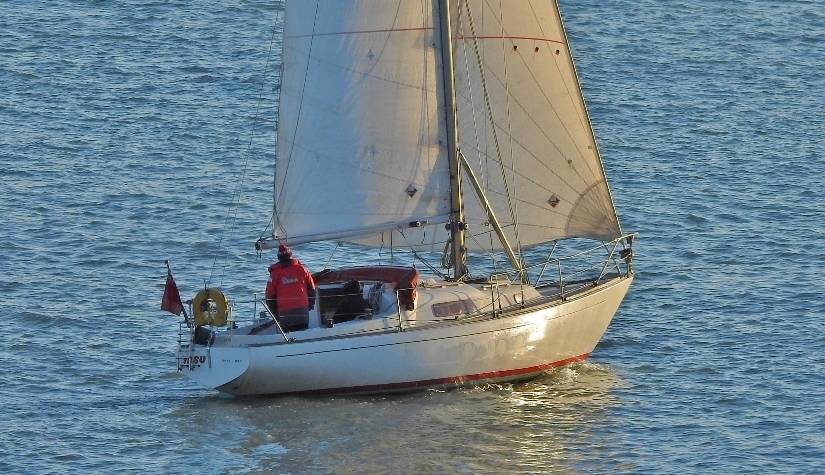 It was certainly a bracing oul day yesterday sunday, bright but bracing...yours truly's cheeks almost went ruddy for a moment, so ... it must have been 'invigorating' out there on the briny blue and no mistake...but those guys above were keen, staying out for a considerable time. PaulB
From DDC re Christmas Parking...
Small Business Saturday
Dover District Council is reminding everyone that we are supporting Small Business Saturday again this year by offering free parking in DDC off-street car parks on Saturday 2 December 2017.
Small Business Saturday is designed to raise the profile of small businesses across the UK. DDC is supporting this initiative for the fifth year running by offering free parking in its off-street car parks. This offer will not apply to on-street parking places or car parks that are privately owned, such as Sainsbury's and the Co-op in Deal.
Cllr Nigel Collor, DDC Cabinet Member for Access, said:
"We are delighted to continue to support Small Business Saturday. We urge people working and living in the town centres to join with us in the spirit of this offer by parking where they usually do to allow customers of town centre businesses to take advantage of the free parking."
ENDS
Monday, 27 November 2017 - 06:14
Post 4442
Sea News, Dover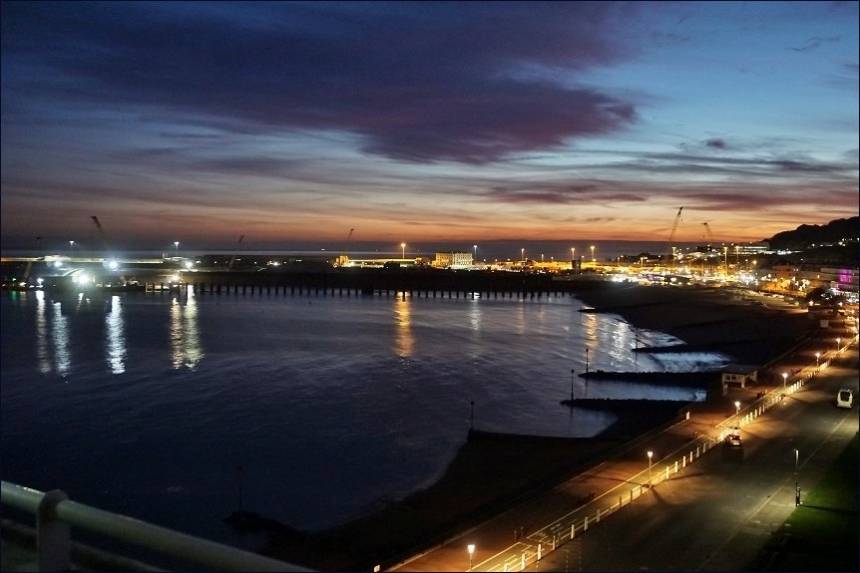 Night falls on the harbour. Picture taken just a few days ago while there was still some light in the sky...but you can see the guys settling in for a long nights work to the left as all the lights are blazing out there amongst the piling. You notice...not too many camper vans this time of the year. Chilly weather at the moment too, me timbers are a shiverin'...
Thanks for all the info Mike and for the excellent pictures...terrific sequence below there of David Church trying with some difficulty to come back to base. Great stuff!

Brilliant work Sarah below...great shots of all the Lifeboats over there in Ramsgate currently. As you said...that's happiness for you.. and indeed for us too as we are able to see them all through your pictures.

Lovely shots Patrick of the dazzling sky over the hills of France. Enjoyed those...

PaulB
Sunday, 26 November 2017 - 15:17
Post 4441
Mike J., Dover
On close comparison of Paul's safety boat photo & the one that I posted of the CRC COMET I realise that I've made a mistake - my apologies !

At 0900 Sunday morning the COMET is in the Tidal Basin & the only other small safety boat showing on AIS is the PAMPERO who is owned by NORTHERN RIB HIRE.

Sunday, 26 November 2017 - 09:06
Post 4440
Mike J., Dover
Post 4436, Paul's unidentified workboat - I think it's the CRC COMET who has been showing on AIS for a few days & must be a recent arrival.
Here's a photo of her from her owner's website - COMMERCIAL RIB CHARTER, who operate most of the Safety & Crew boats for the DWDR job.
The COMET is the latest addition to their hire fleet.
CRC have a large fleet of different craft & an interesting website, well worth a look.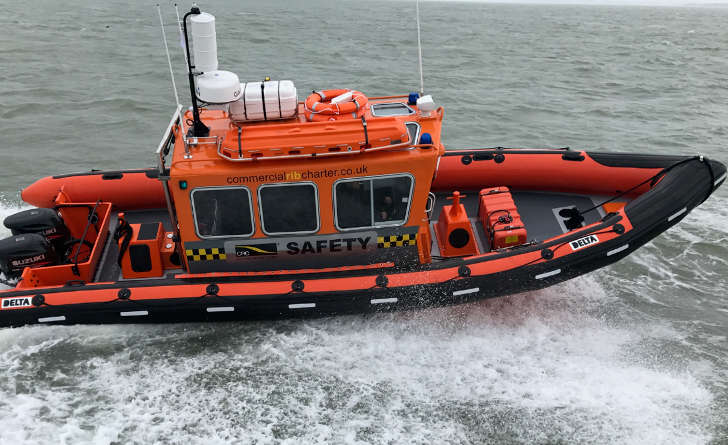 A big concrete pour was taking place in the new cut on Friday afternoon, here the pump is waiting for another lorry-load of cement.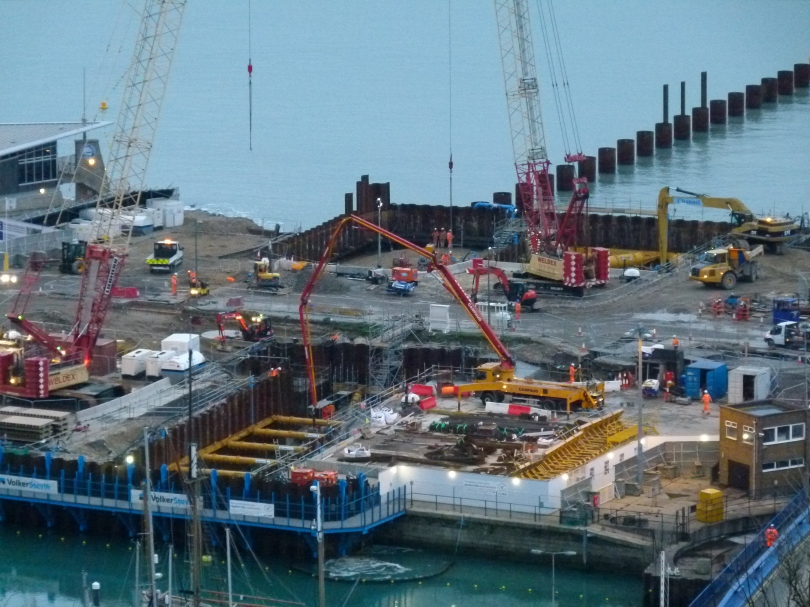 A sequence, at dusk, as the DAVID CHURCH made a very careful approach thru the 'Dunkirk Gap' with her usual route hindered by a jack-up rig.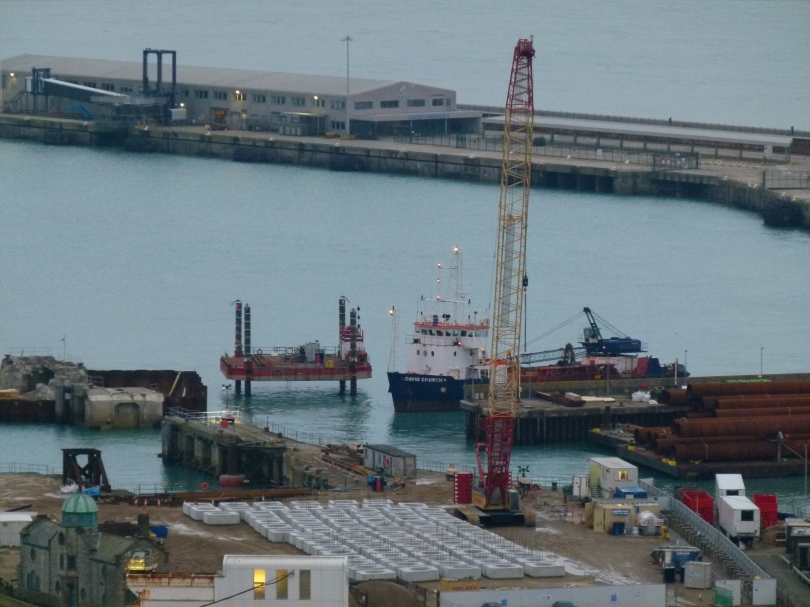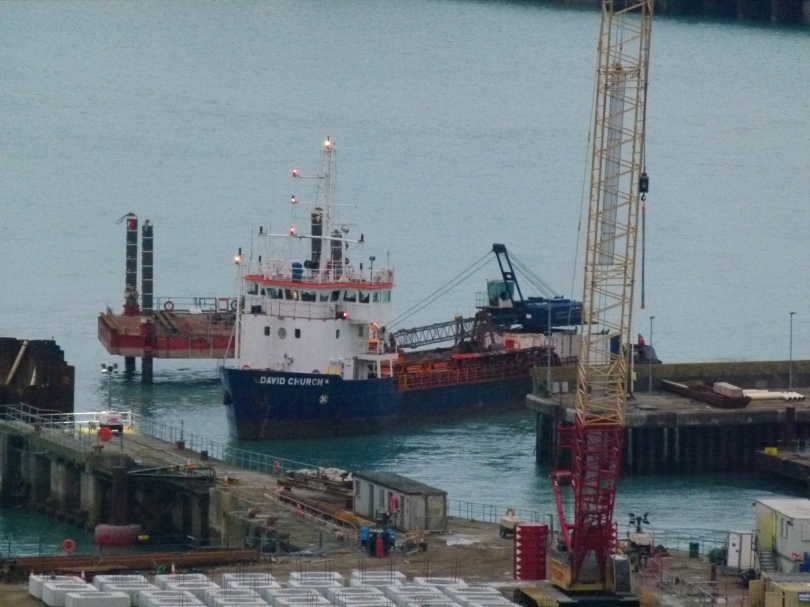 Made it !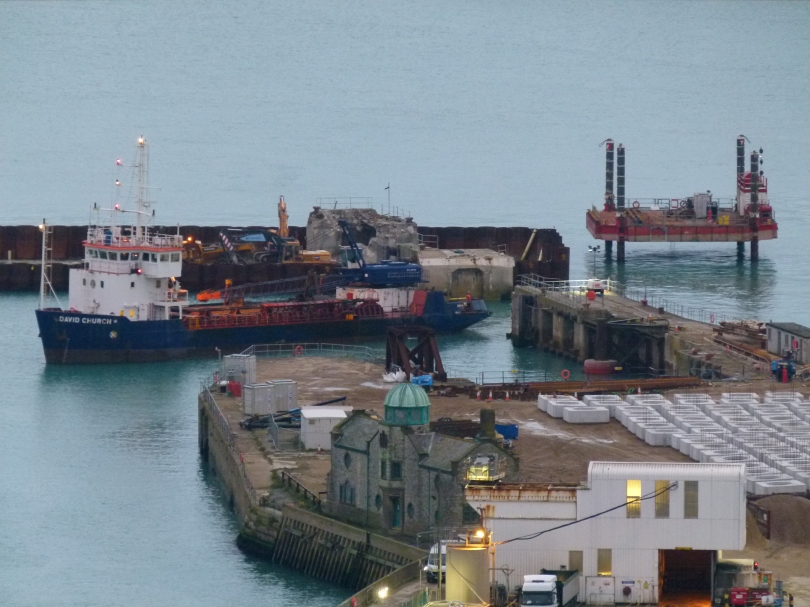 Sunday, 26 November 2017 - 00:08
Post 4439
Patrick, Marine Parade
Great photos Sarah.
Daybreak today over Dover harbour provided an impressive sight as the sun rose against a darkened sea and the distant shadow of the French coast edging the clouds in white light before disappearing once more to start another day.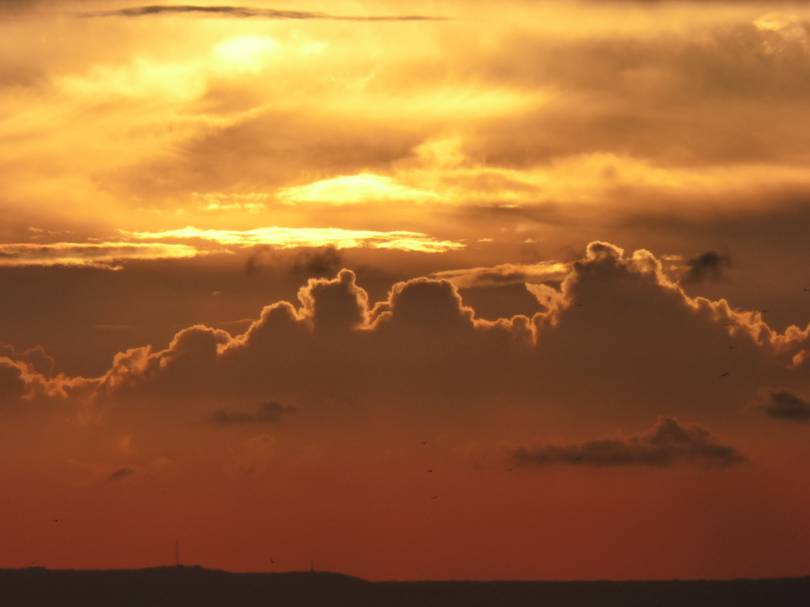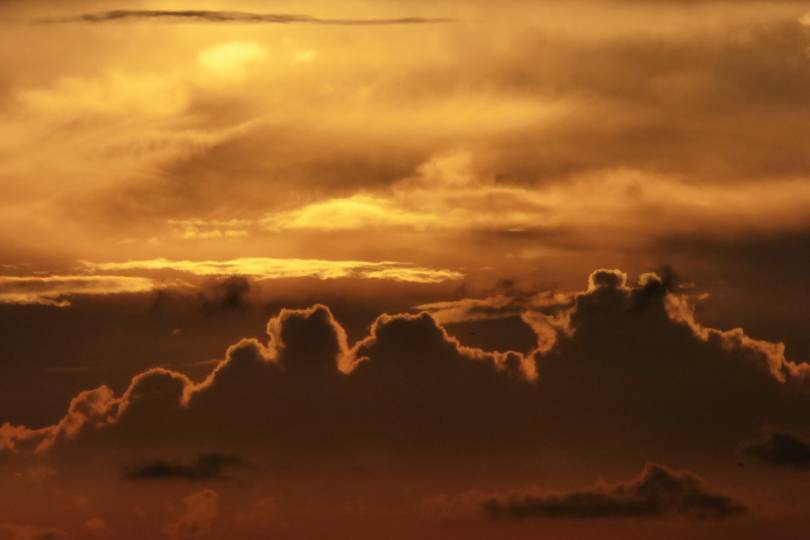 Saturday, 25 November 2017 - 22:31
Post 4438
Sarah, Ramsgate
Photos of all of the all weather lifeboats currently at Ramsgate, happy days for me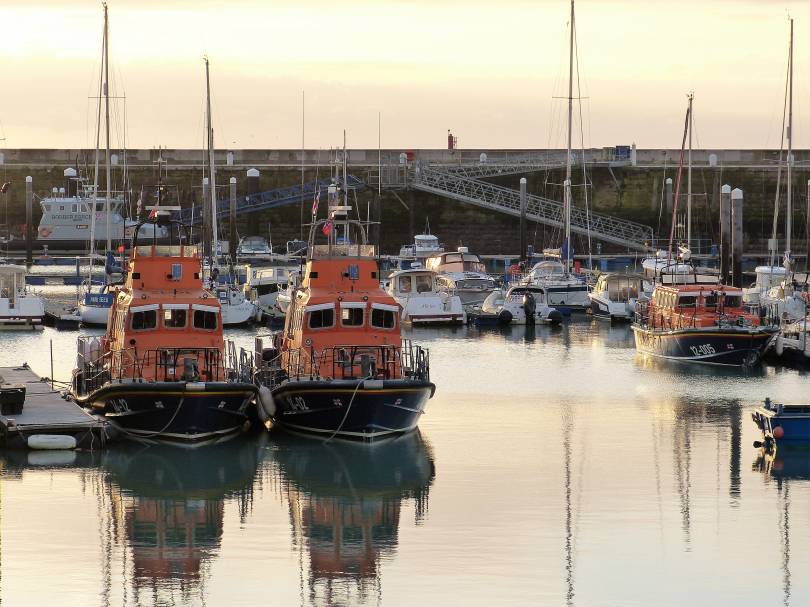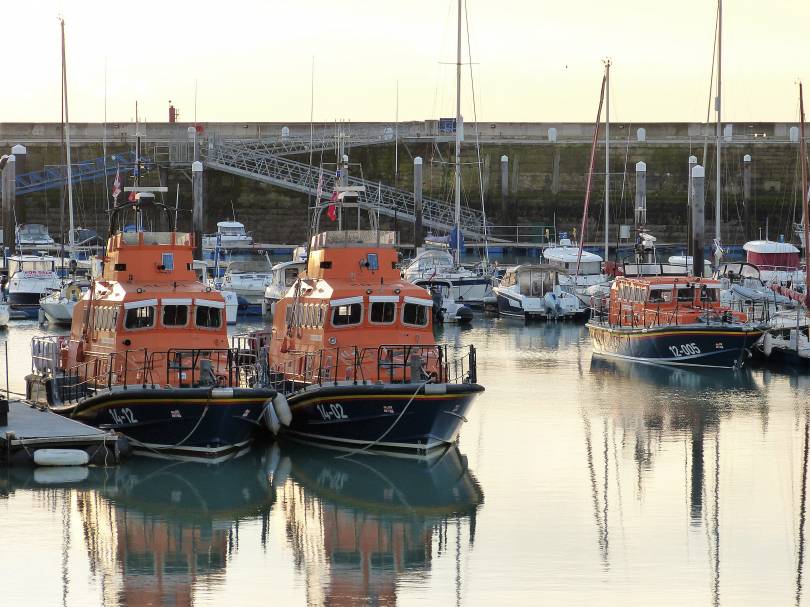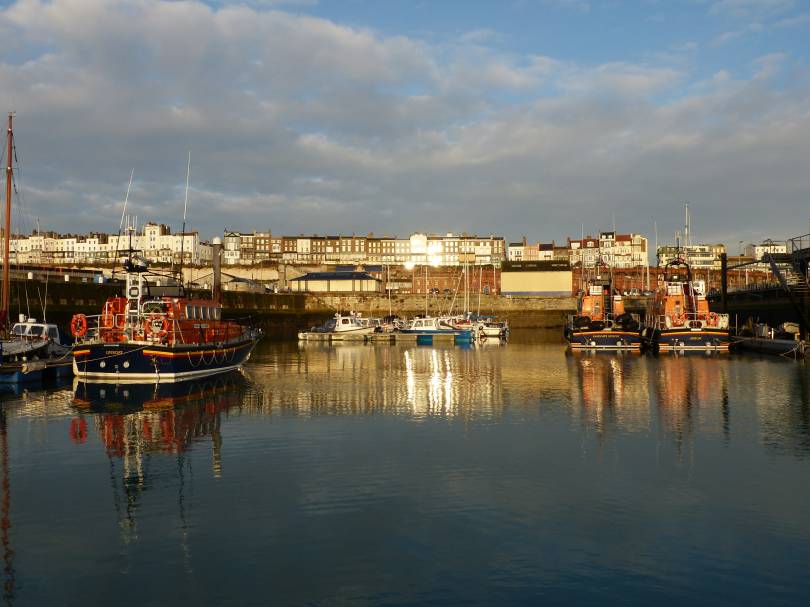 Saturday, 25 November 2017 - 17:54