Wednesday, 25 April 2018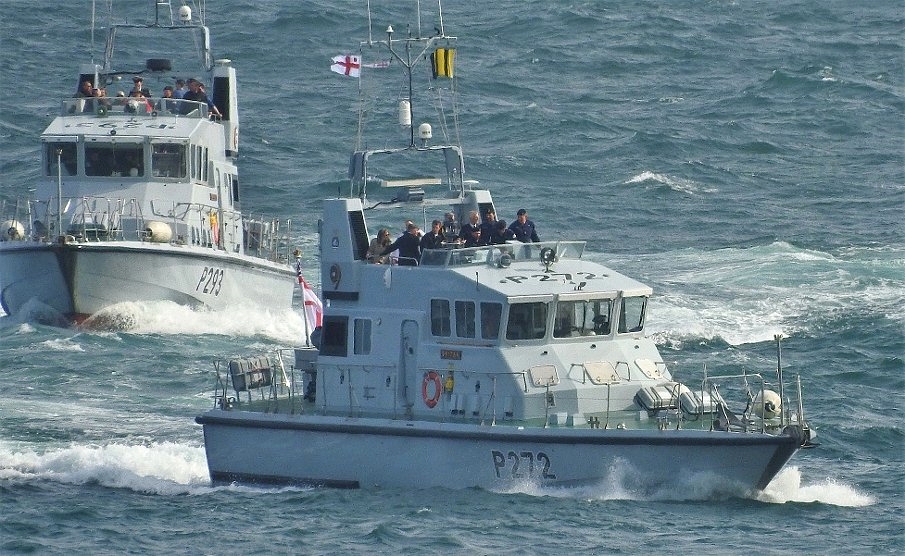 HMS Smiter and HMS Ranger approaching the Port of Dover in choppy seas Monday afternoon 3pm exactly....

doverforum.com/sea-news
Doverforum.com: Featuring all the ships that come and go and work at the Port of Dover with further coverage of the surrounding towns both sides of the Channel. Email: dover7@msn.com to send SEA NEWS pix or info.... or click ADD YOUR COMMENT below to post direct, no membership needed.

Port's Chief Executive TIM WAGGOTT RESIGNS see 4778
_______________________________________________________

P&O FERRIES presents big cash to RNLI Dover...see 4829.
P&O FERRIES recruiting...4745.
PORT of DOVER awards Cargo Refrigeration Contract see 4740.
PORT OF DOVER: Community Benefit 4688
TRADING GROWTH FOR DFDS DESPITE BREXIT see 4642
PORT OF DOVER RECORD FREIGHT see 4551.
PORT OF DOVER: GEEST LINE arrival see 4597.
SECOND FEMALE CAPTAIN FOR P&O see 4608.
Sea News Dover : Use our SEARCH ENGINE below to find all sorts on the SEA NEWS pages..more than 240 now with more than 4750 nautical posts. Posts welcome. Max of 5 pictures preferred per post.
Type CRUISE VISITS in our SEARCH ENGINE below for news of the latest arrivals.
Sea News Editor Paul Boland - dover7@msn.com .
Post 4825
Sea News, Dover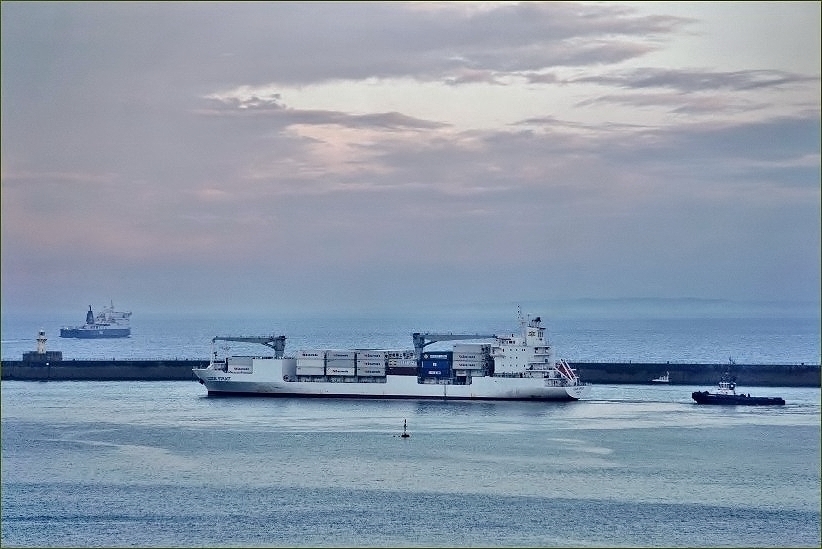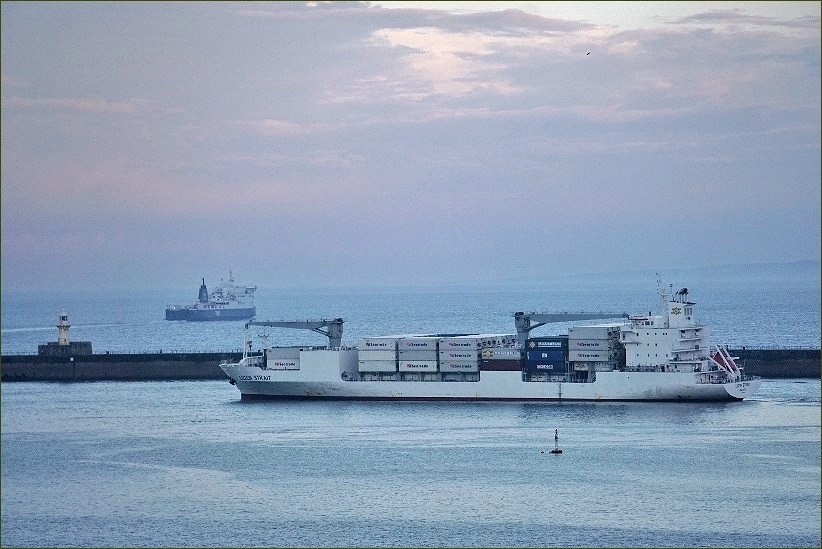 That's the Luzon Strait leaving us last night with a full load heading for Vlissingen in the Netherlands (Vlissingen is also know as Flushing in English terms). Time of departure was 7.30PM last night - so light was fading and the pictures went a wee bit blue, but at least there was no fog. I corrected some of the 'blueness'. Atlantic Reefer has come in overnight to take up the slot at the DCT (Dover Cargo Terminal) now, so it all remains very busy which is good news for sure. By the way...in the background there is P&O's European Seaways.
Below .. prior to the murky gloomy foggy weather there was some yachting activity in the harbour, the activity began as Spring sprung. The first two shots are the same boat a-coming and a-going and are clearly visitors here enjoying the facilities.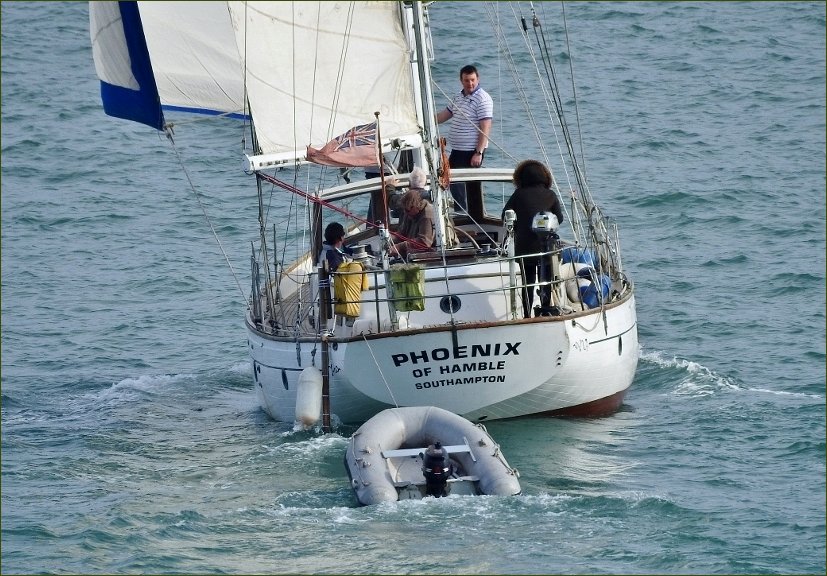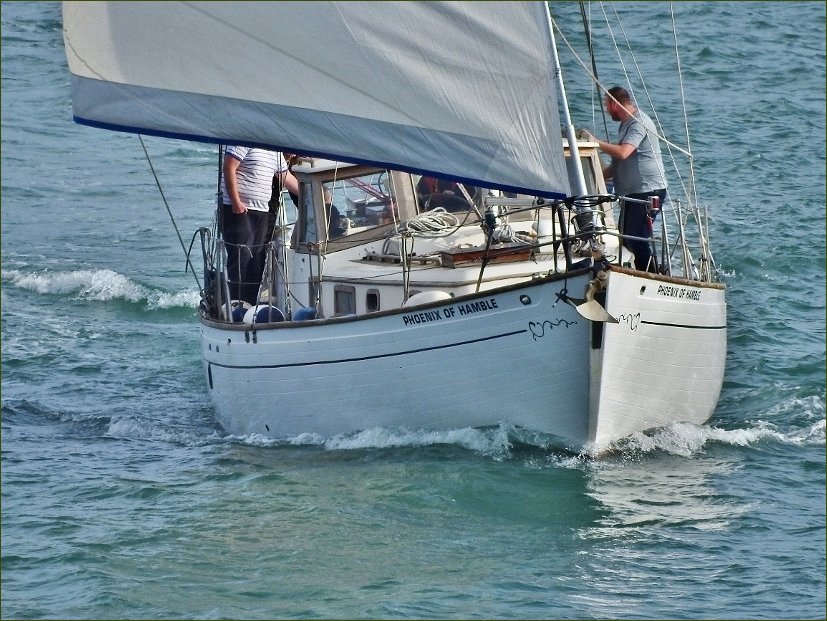 The second two pictures are some of the regular yachts but not seen since last year and here we are.
The second shot ever so slightly 'romanticised'.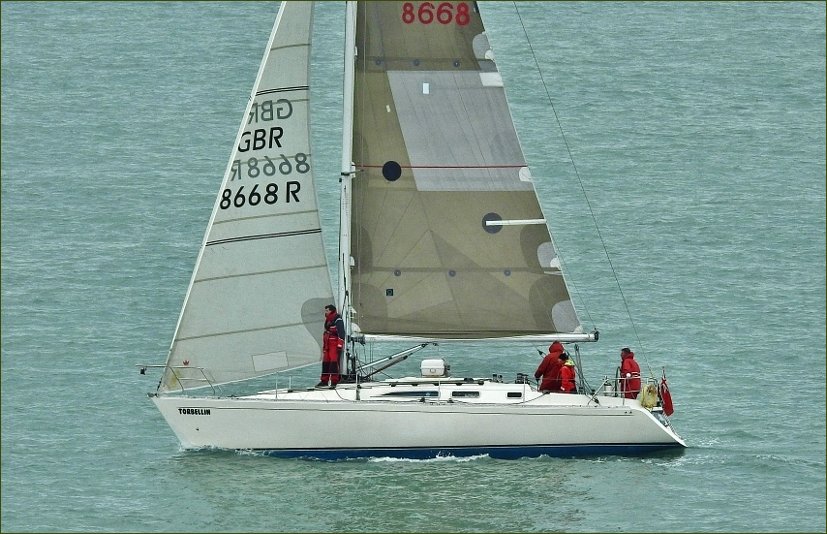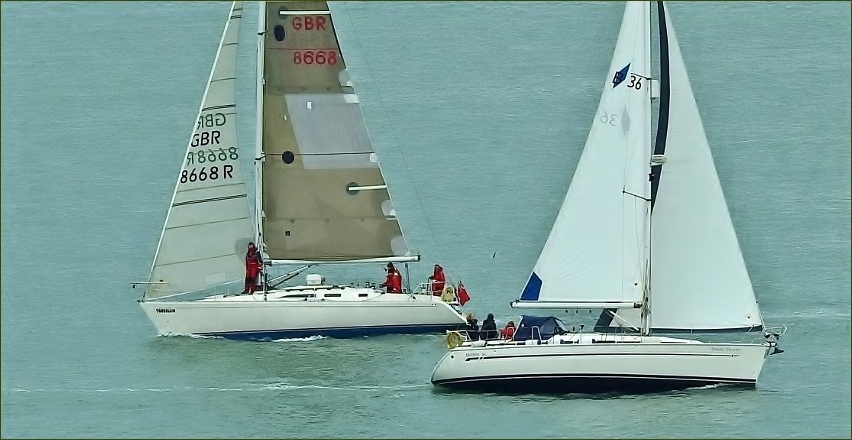 These yachting pictures are from a week or ten days ago prior to the fog.
There was more yachting on the Saturday just gone too in misty conditions - will get those ones up too..in due course.
Nice collection below Mike - you made the fog work for you there...all look good. Liking that one bigtime of the sailing boat, the custom house, and the monster AIDAsol ...

PaulB
Monday, 16 April 2018 - 06:20
Post 4824
Mike J., Dover
We've certainly been blessed with fog recently, particularly during the mornings.
Saturday morning low-lying fog was accompanied for most of the morning by an orchestra of fog horns including the irritating high-pitched one that goes off every ten seconds with occasional deeper grunts from ferries.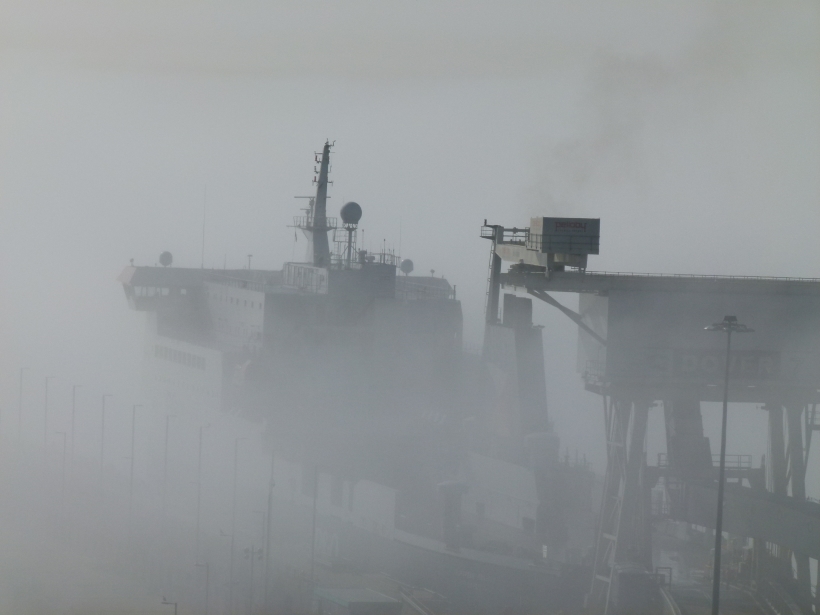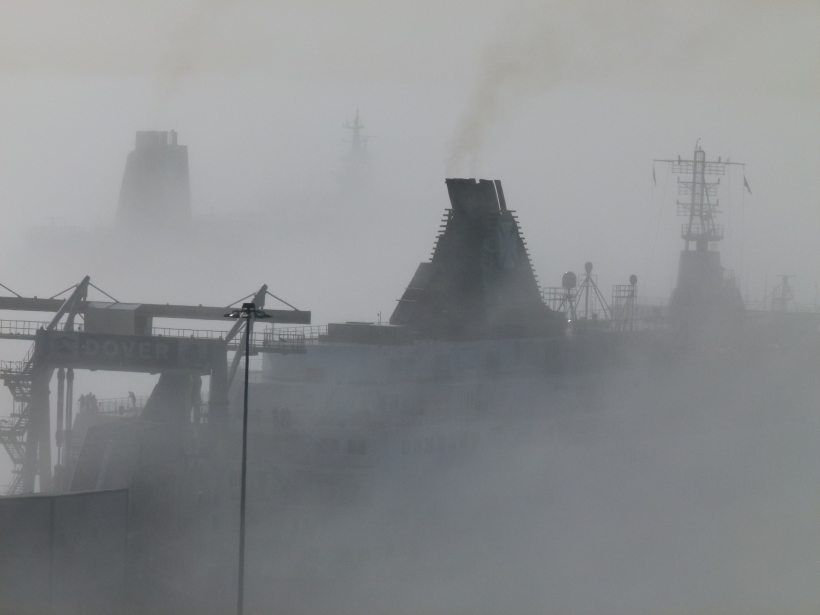 The DWDR cranes were poking above the fog, with Shakespeare Cliff just visible.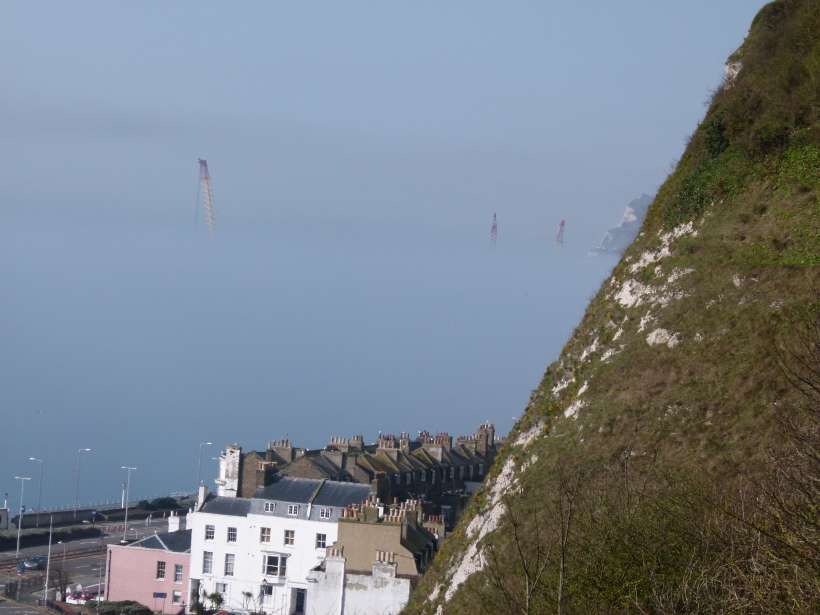 Friday was merely misty with the WILLOW OF HARTY in the Tidal Basin & looking to be preparing for sailing after wintering in Wellington Dock, perhaps heading back to her usual berth in Faversham Creek.
In the background the Customs Watch House which will hopefully survive DWDR & the monster AIDASOL looming over everything.
The rather more elegant BOUDICCA was out on the Ad.Pier on Cruise-2 & was almost invisible in the mist ilooking across from the beach.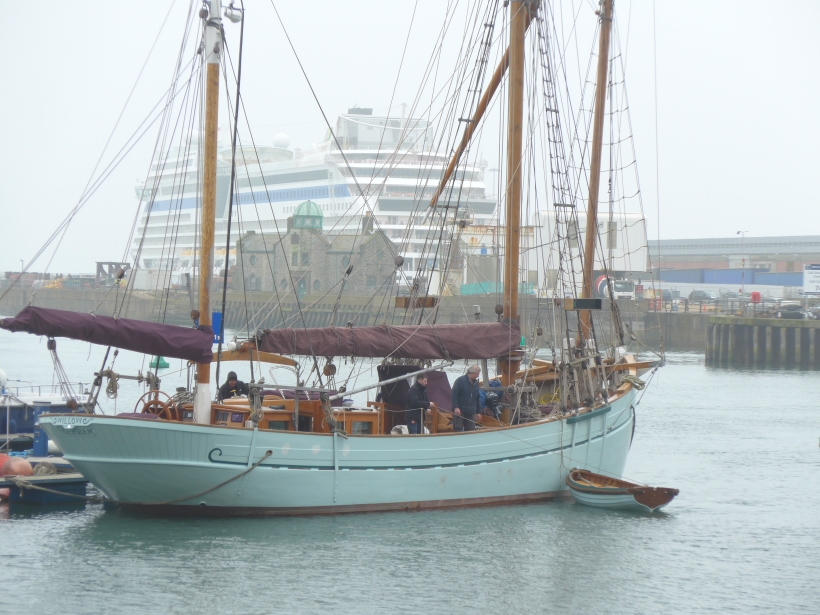 Sunday, 15 April 2018 - 18:08
Post 4823
Jan T, Dover
Go along with Harald..Ed will be missed good wishes go to him and his family.
Gosh calm sea and sunshine as the ship leaves Dover in the pictures below.

Certainly looks like spring.

Sunday, 15 April 2018 - 09:53
Post 4822
Sea News, Dover
BOUDICCA reverses...
Yes Boudicca leaving us here in these pix on frday evening at 6PM. She reversed out of the harbour this time...guided and aided by the pilot boat as you can see. Conditions were very misty at the time but pictures were still possible. it turned to thick fog later. The electronic pulses and foghorns are still sounding here as I write but they promise us better weather this coming week.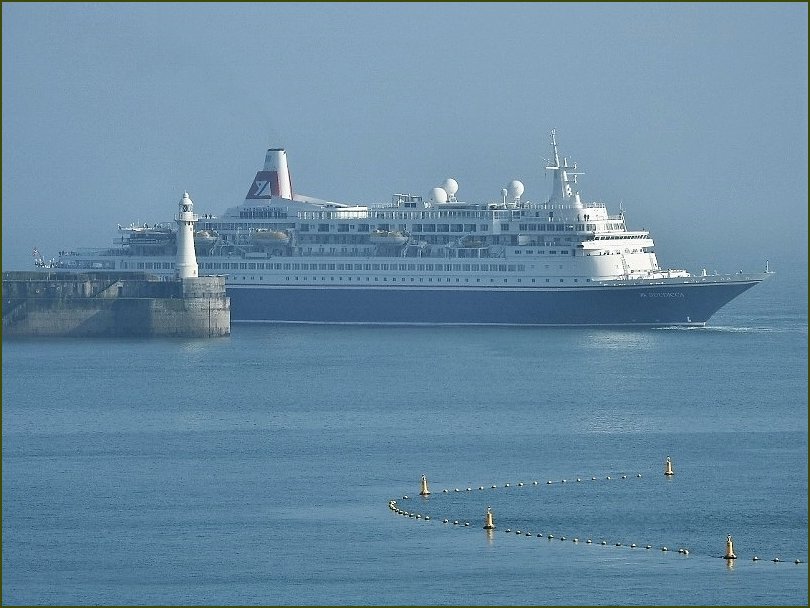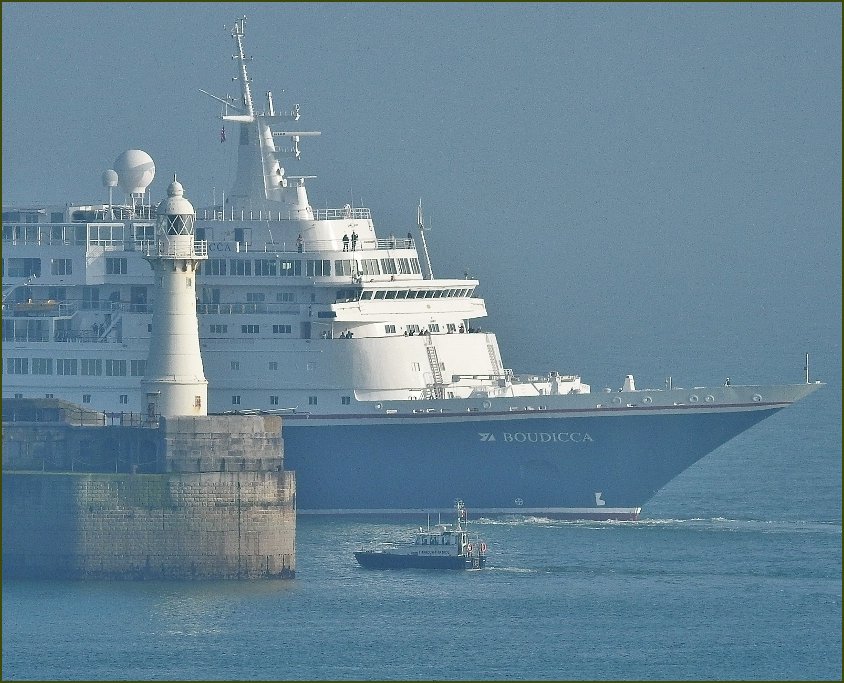 Well said Harald below...fully with you there..

PaulB
Sunday, 15 April 2018 - 07:19
Post 4821
Harald Boot, Tholen, The Netherlands
Ed, I wish you all the best for your medical treatment!
Be sure I will miss your wonderful pictures.

Saturday, 14 April 2018 - 13:05
Post 4820
Sea News, Dover
AIDAsol at the Port of Dover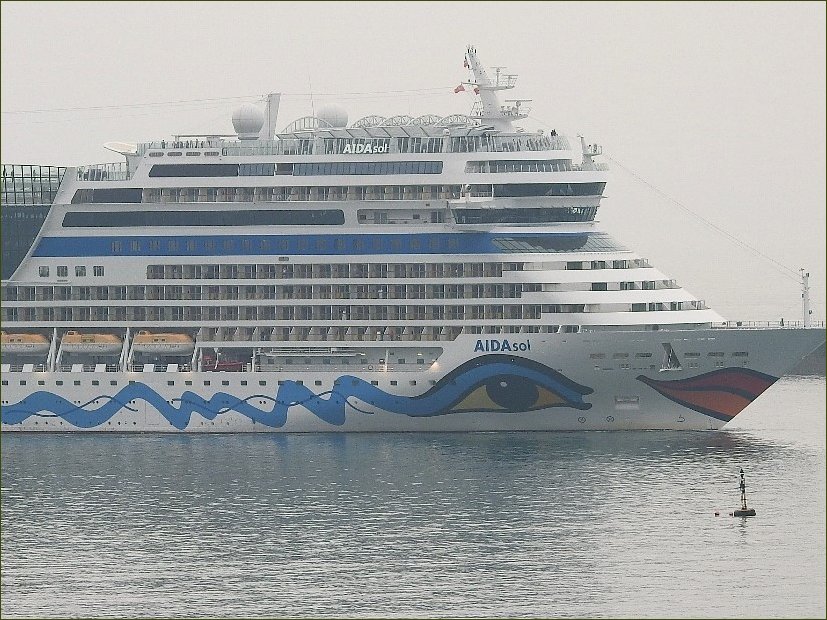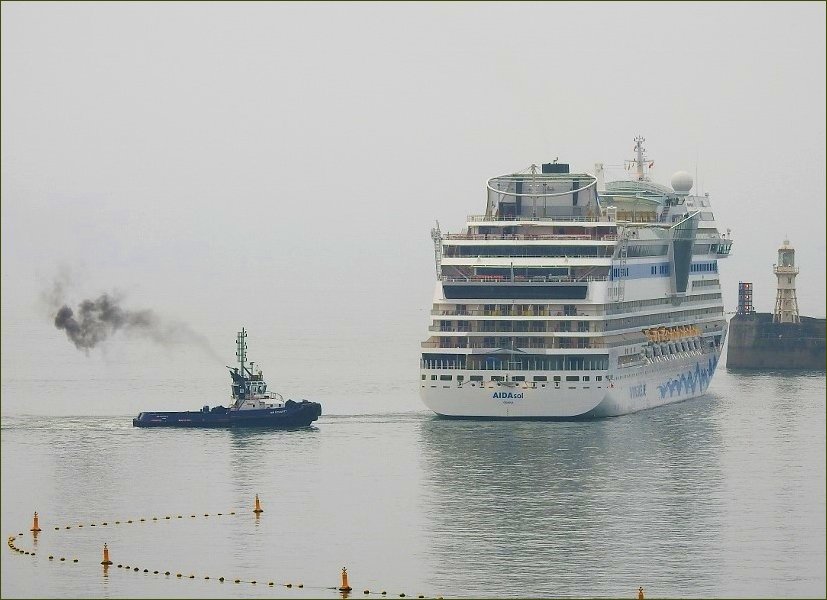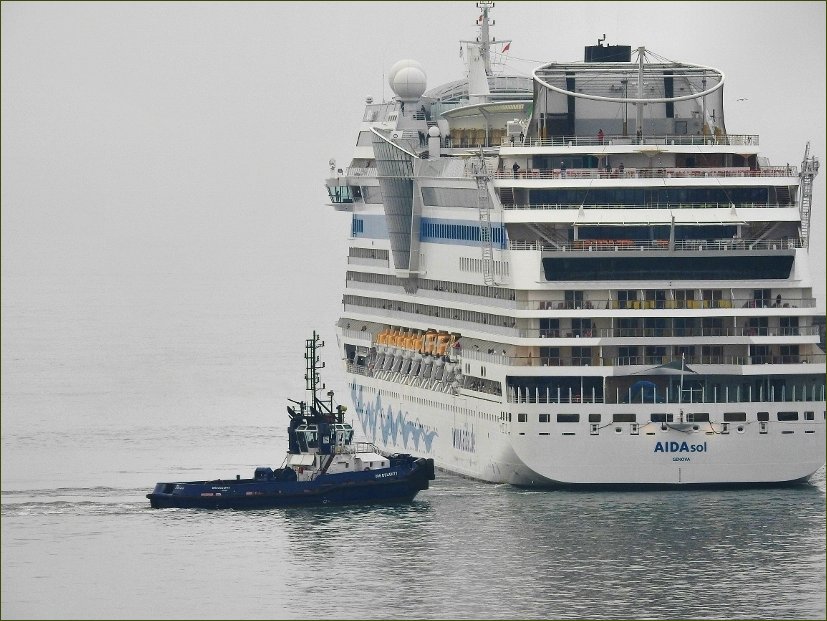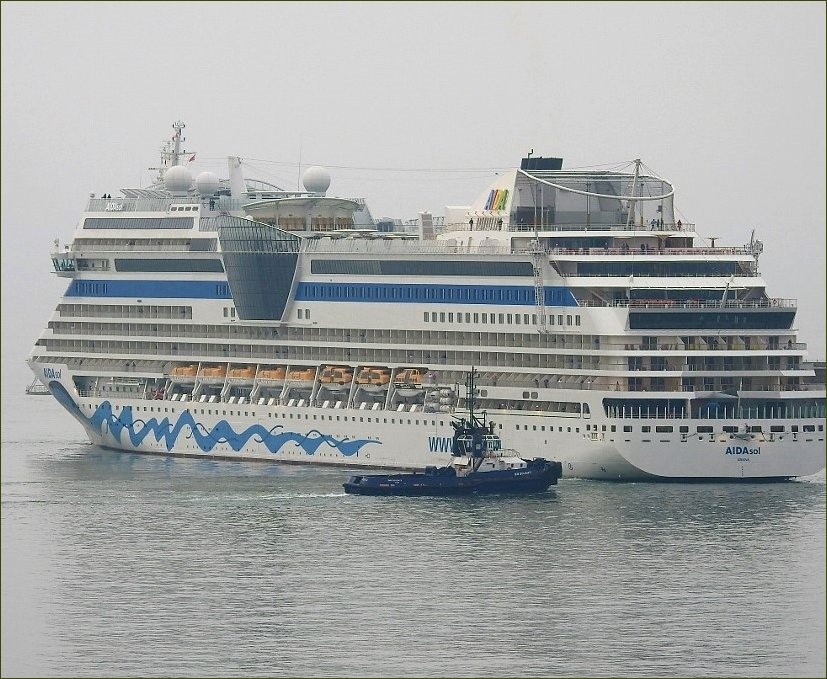 A sequence above there of AIDAsol arriving with us here again yesterday morning at 05.50. The fog had pulled back a tad to enable some pictures to be taken. Nature being very conveniently kind to us there and working with Sea News...

She left last night in foggy conditions again at 21.45 ( 9.45PM) bound for Hamburg. Soon after she departed the fog surrounded us here like a white blanket....and the banshees wailed...
Boudicca had departed earlier..around 6PM.
PaulB
Saturday, 14 April 2018 - 05:14
Post 4819
Sea News, Dover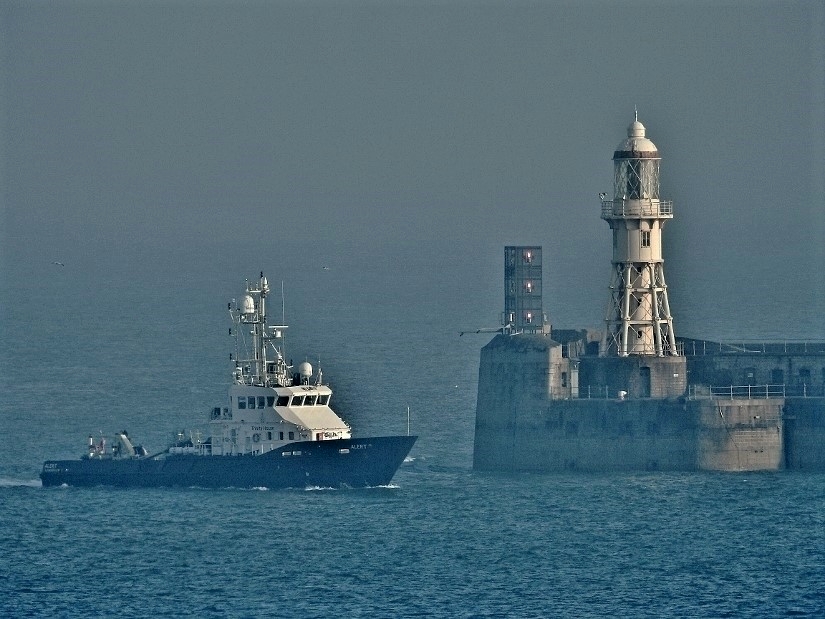 One of the few pictures of the past couple of days shows Trinity House Vessel Alert returning to the Port through the fog on Wednesday evening. Every so often the mist thins and there we are. Although visibility not great today there is some clarity and the wailing foghorns have ceased...will have pix of the AIDasol arrival in due course. Bear with...

lol Mark...
Ah yes indeed he can of course walk on water..
the boat just provides some extra essentials..ie a kitchen and a bed..
where would he be without his forty winks.

PB
Friday, 13 April 2018 - 15:57
Post 4818
Mark Rushton, Northants
Re the latest sailing boat pictures. What does Jesus need a boat for ? Surely he WALKS on water ? I'll get my coat.

Friday, 13 April 2018 - 13:39
Post 4817
Sea News, Dover
We are stuck in this miserable foggy spell at the moment and pictures are nigh on impossible. if Moby Dick himself swam into Port with Cap'n Ahab on his back I doubt we would get a picture. Herman Melville would have been disappointed.. nay crushed .. at the lost opportunity for publicity. But there we are, we soldier on..
The pictures here are from about one week ago...and show ELIDA Sailing for Jesus in Port. The yacht comes in about once a year. We understand she tours the coastal towns bringing 'the Word'... and here she is.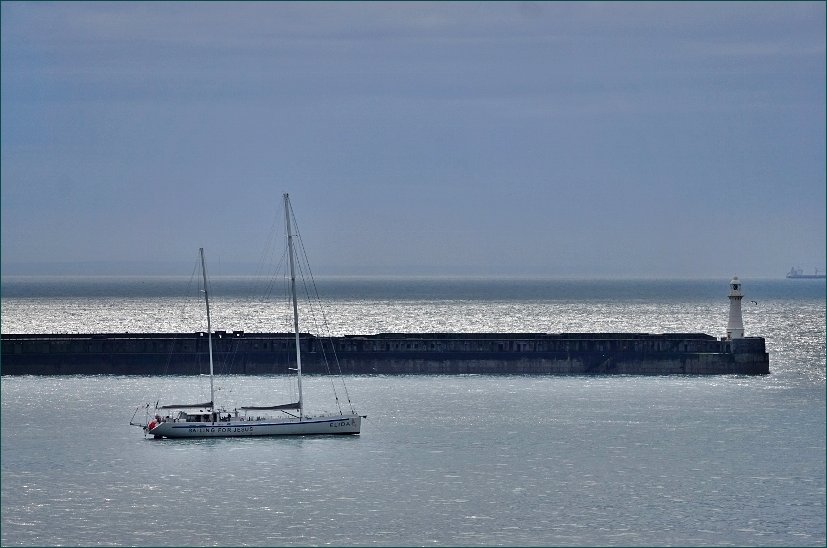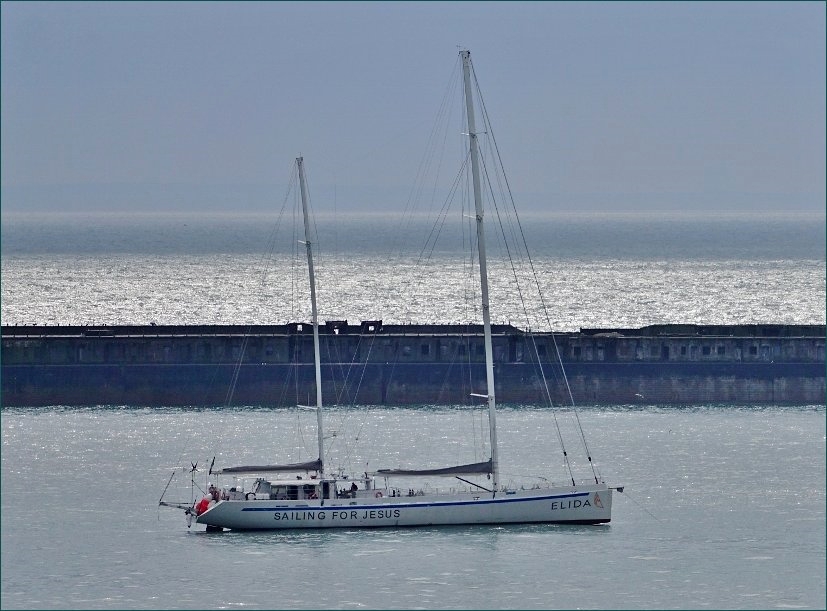 Here is an extra picture now of Elida from the files. It dates from 2015..warmer weather too...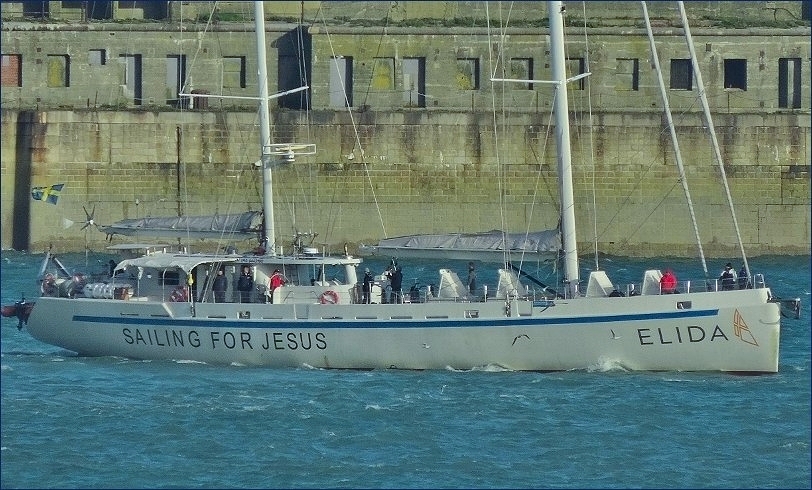 Boudicca has just arrived back into Port...she arrived about 05.20 just in time for the Shipping Forecast on Radio FOUR.

AIDAsol is approaching as I write...
our first double whammy of the year.
To see ColetteB's cruise list type in CRUISE VISITS in the Search Engine above.
PB.
Friday, 13 April 2018 - 06:04
Post 4816
Sea News, Dover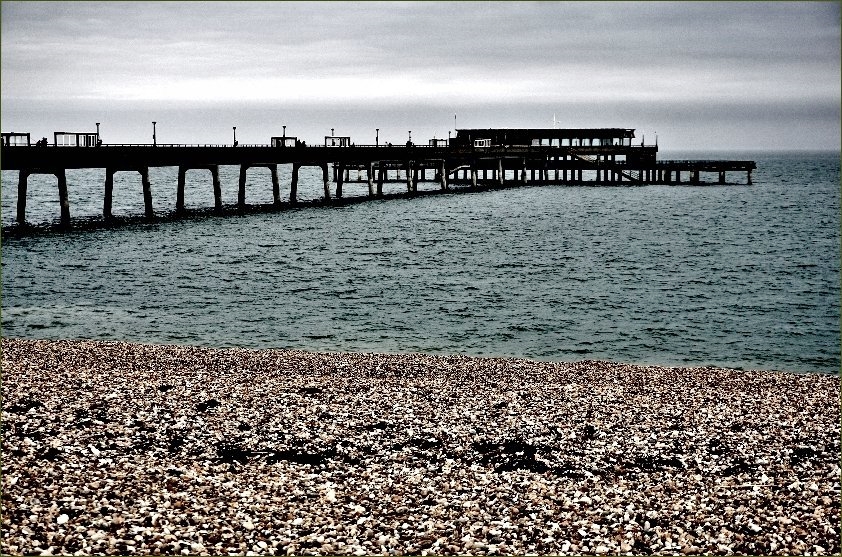 Work to Start on £500,000 Revamp of Deal's Diamond Pier
___________________________________________________
The £500,000 refurbishment of Deal Pier is due to start on 16 April following the award of a contract to resurface the entire length of the pier which celebrated its Diamond anniversary in November 2017.
Kent-based contractor, HTR Building Services Ltd, won a competitive tender to lay a new asphalt surface to the pedestrian pier in the first stage of a programme of refurbishment works that will also include new seating.
Gary Judd, Managing Director of HTR Building Services, said: "Having worked on the resurfacing of Southend Pier, at 2.16km the longest pleasure pier in the world, it's exciting to be involved with a shorter but nonetheless great pier in Deal."
The resurfacing of the 300 metre long pier is expected to take five to six weeks to complete, depending on the weather conditions. The pier will remain open throughout the refurbishment although fishing will be restricted to the lower deck during the resurfacing.
Dover District Council has also appointed Fleurets, a leisure property specialist, to market potential opportunities for the new long-term lease of the café at the end of the pier.
Cllr Trevor Bartlett, Portfolio Holder for Corporate Assets, said:
"Deal Pier is the jewel in the crown of Deal Seafront and we are delighted to be investing to upgrade this popular public amenity to make it fit for the next 60 years.
"We're also pleased to be working with Fleurets to help us deliver a new offer for the café at the end of the Pier."
ENDS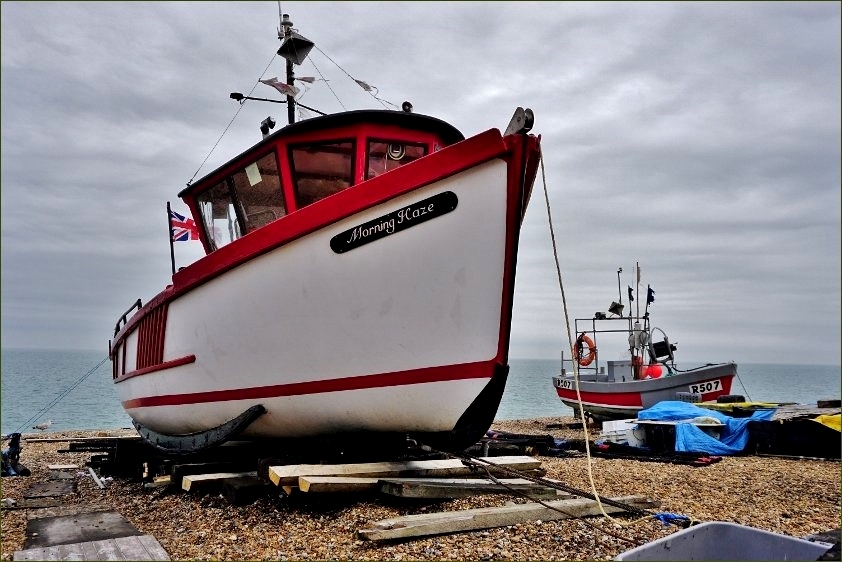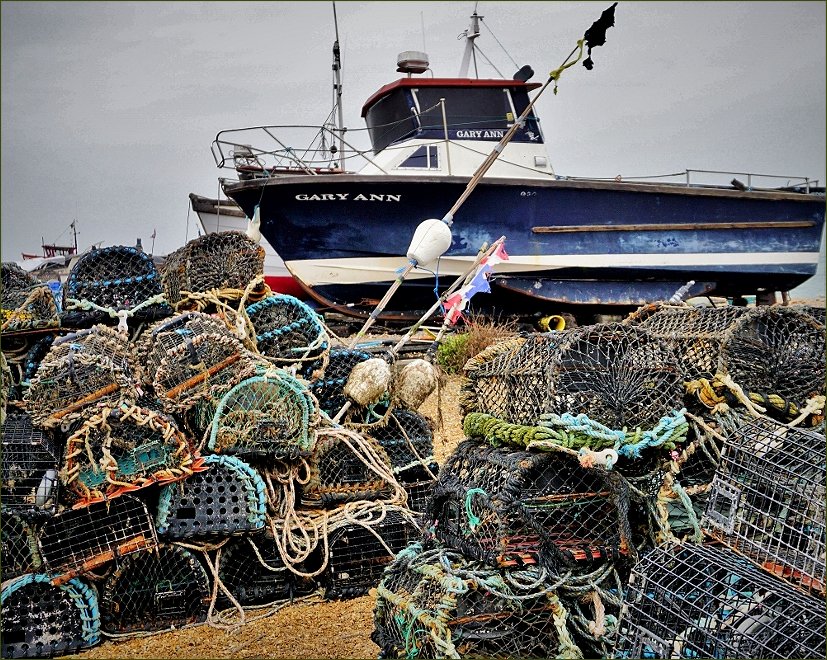 All pictures were taken last sunday. Top shot is of course Deal Pier, the second two pictures show the fishing boats resting on Deal Beach. Great to see that the boats are still there - long may it continue. Excellent too to see some money being spent on the pier...it all starts in a few days.
Great collection of shots of the naval guys over there at Ramsgate Sarah.
Nice pictures for sure from our 'roving correspondent' there.

And nice collection too from our 'inshore correspondent' Mike. Nice cocktail cabinets...

!

" She keeps Moet & Chandon in a pretty cabinet "

PaulB
Thursday, 12 April 2018 - 07:24
Post 4815
Mike J., Dover
A murky Wednesday morning found two floating cocktail cabinets, sorry, 'Sunseeker' luxury motor yachts, lying in the Tidal Basin, probably overnighting on a delivery trip from the builders at Poole.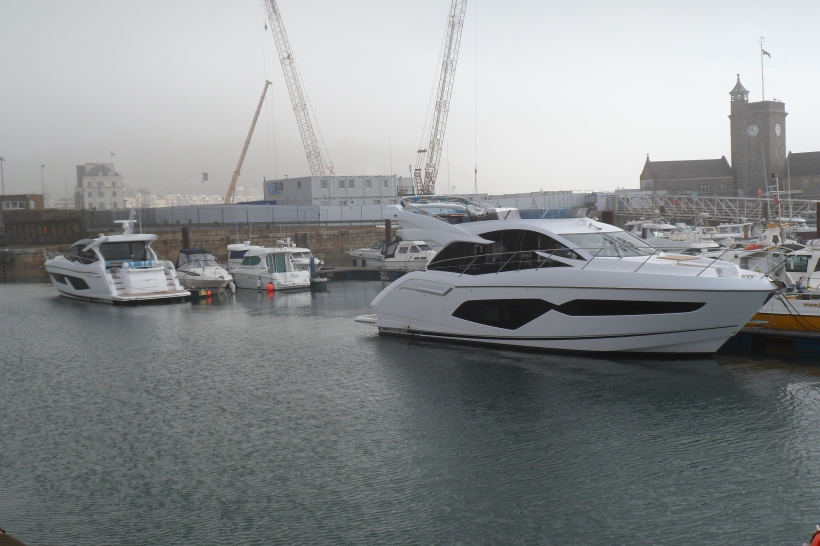 The oyster dredger CARDIUM 2 [post 4802] has moved into the Granville Dock & will presumably be in Dover for a while.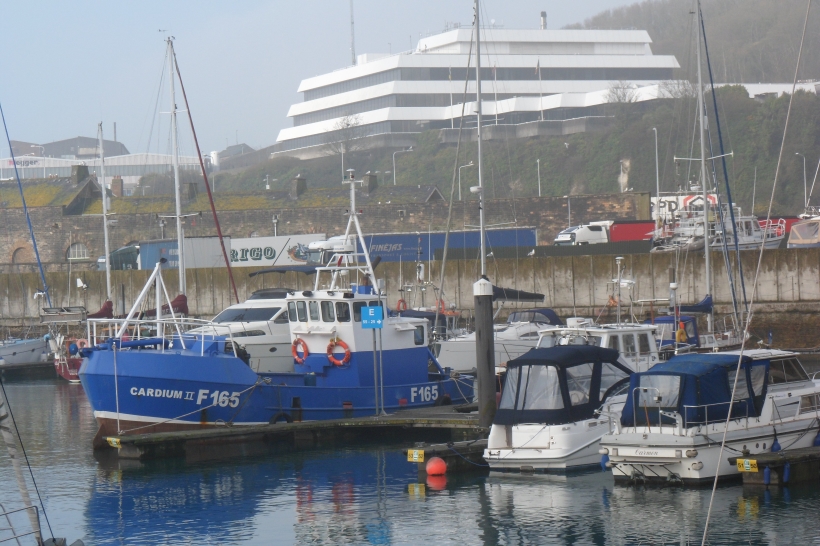 In the background is Channel House, P&O's headquarters, often referred to as the 'Wedding Cake' & at times used as a steering 'mark' for the ferries as they approach the Eastern Entrance when the ship is being steered by a quartermaster rather than by the auto-pilot.
Wednesday, 11 April 2018 - 21:41
Post 4814
Sarah, Ramsgate
The Royal Navy did a stop over on 9th April, we had a small fleet in the harbour. Photos below of the fleet leaving Ramsgate on 10th April in the early morning mist.
HMS Smiter, P272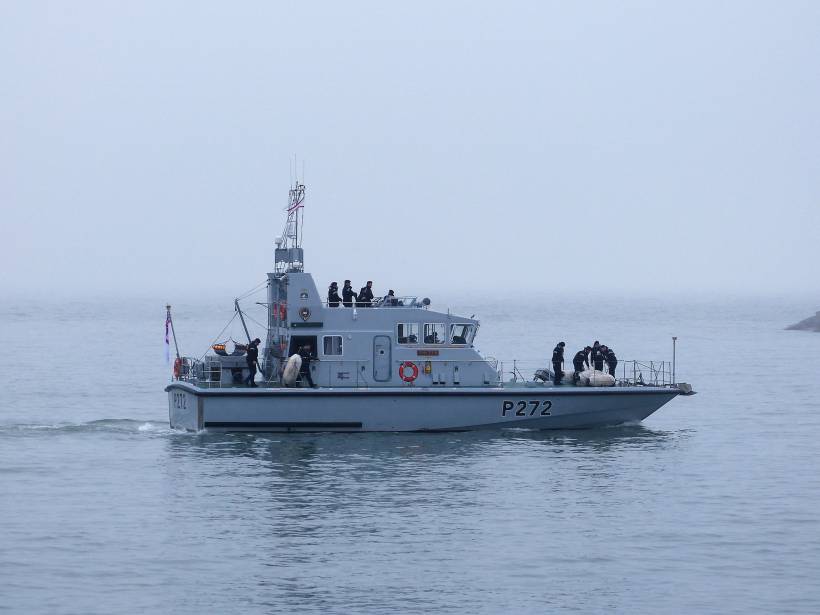 HMS Trumpeter, P294
HMS Ranger, P293
HMS Archer, P264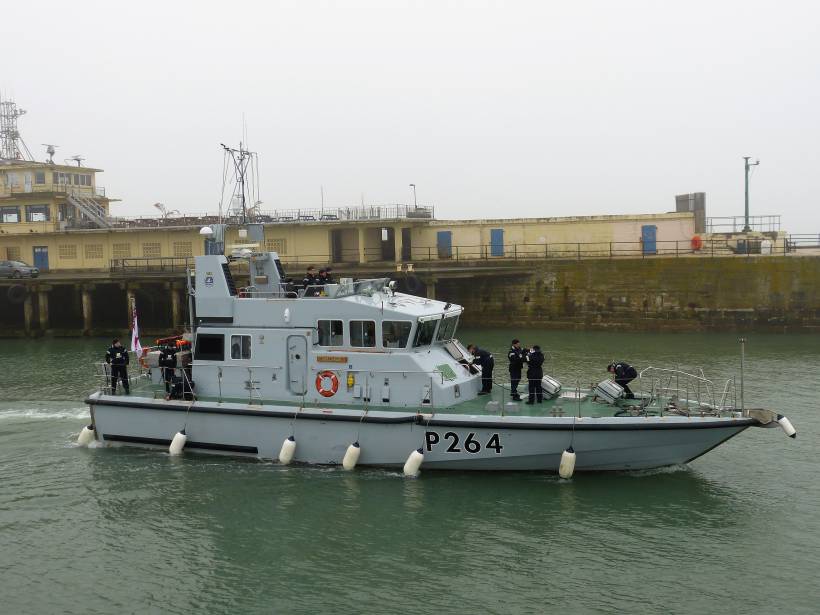 Wednesday, 11 April 2018 - 08:44
Post 4813
Sea News, Dover
THE ATLANTIC KLIPPER arriving at the PORT OF DOVER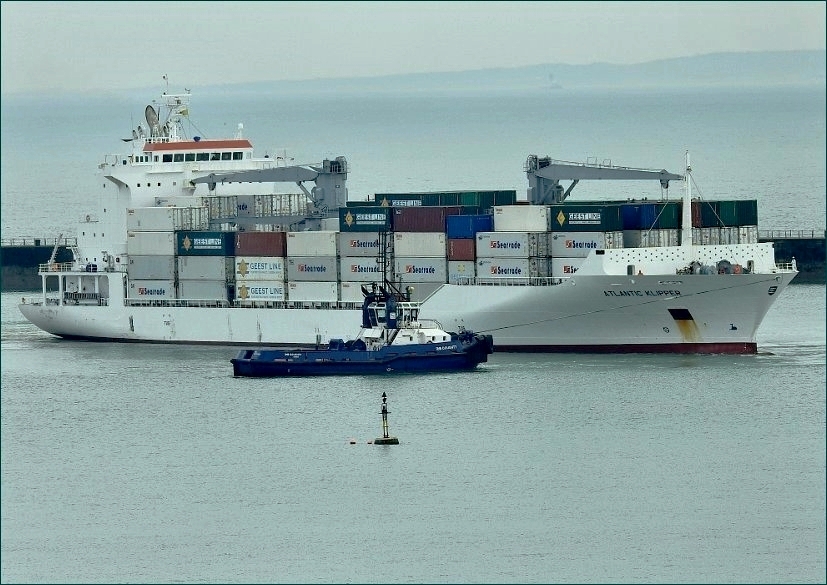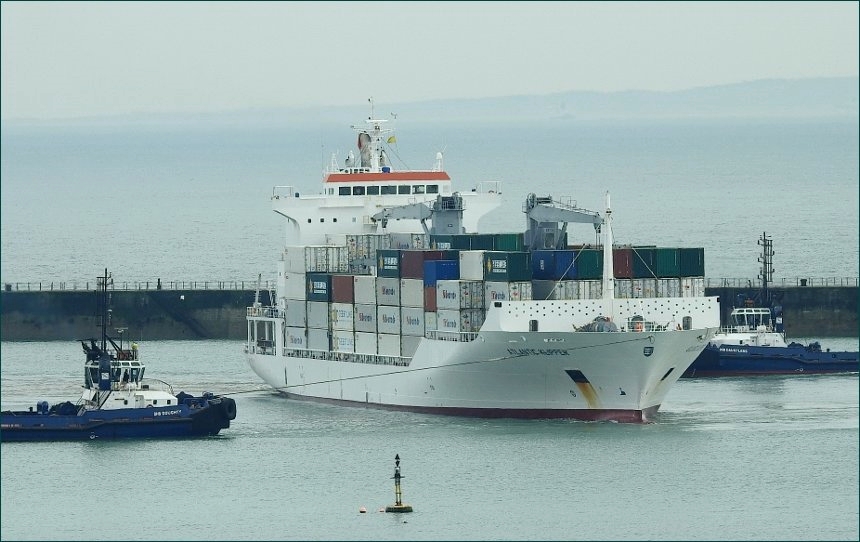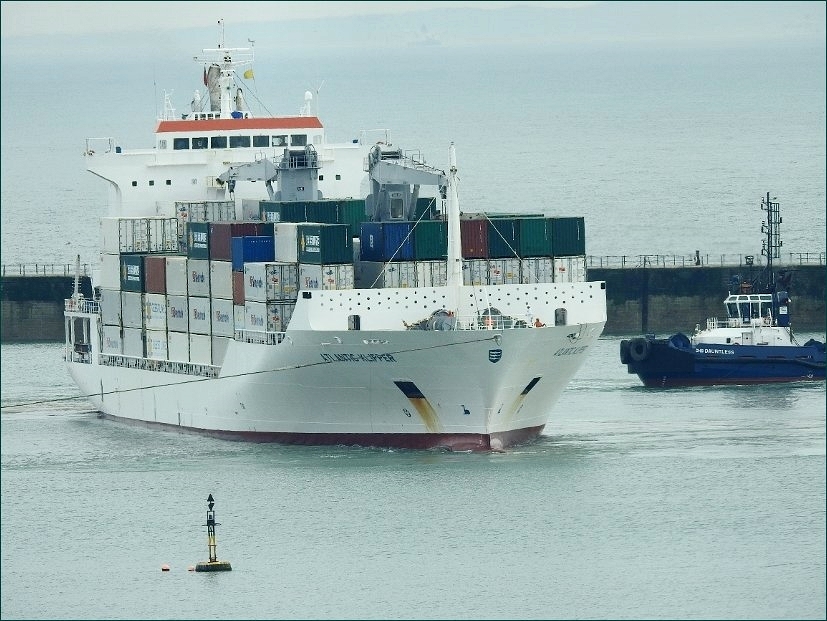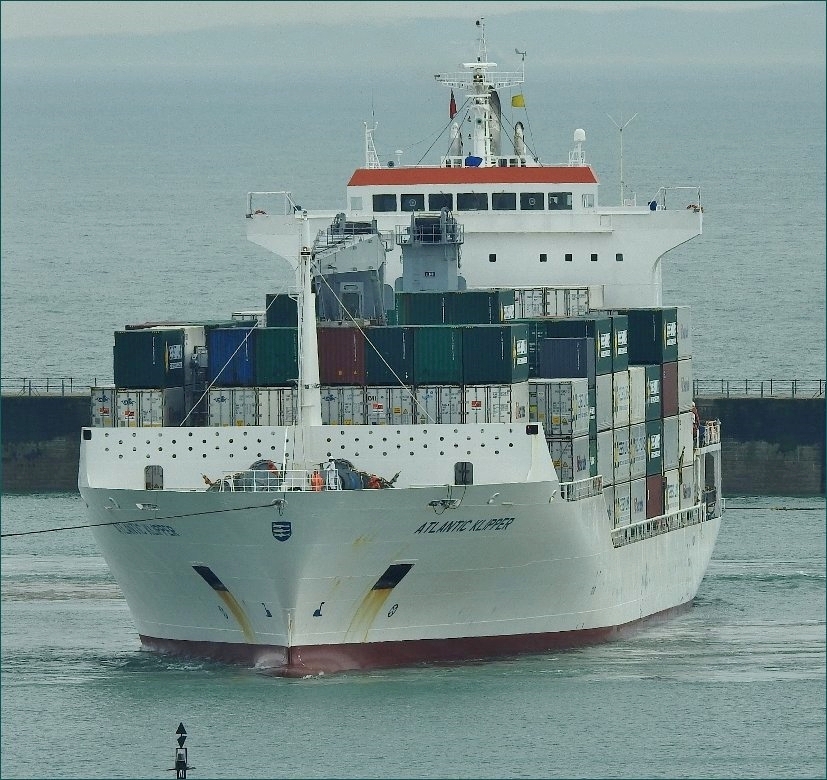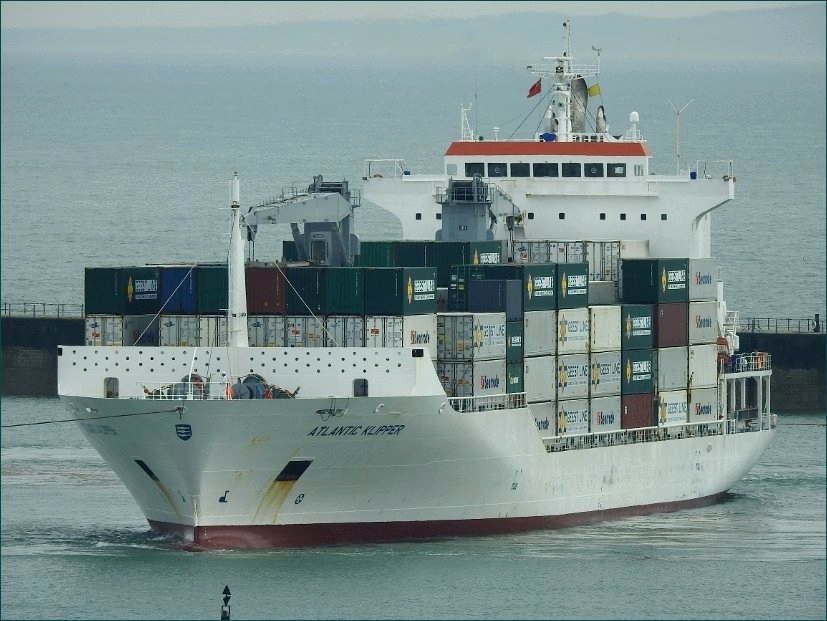 Yes as promised there we are above with pictures of the Geest chartered Atlantic Klipper arriving with us here once again. This time we were lucky enough to capture her arrival in the daylight hours. You can see the vessel slowly turning above there with the help of both tugs Dauntless and Doughty. She came at the weekend and left then after a couple of days for Vlissingen. Eastern Bay then came in...she in turn left last night about 8pm bound for Hamburg...twas a shorter stay in her case.
PaulB.
Wednesday, 11 April 2018 - 06:02
Post 4812
Sea News, Dover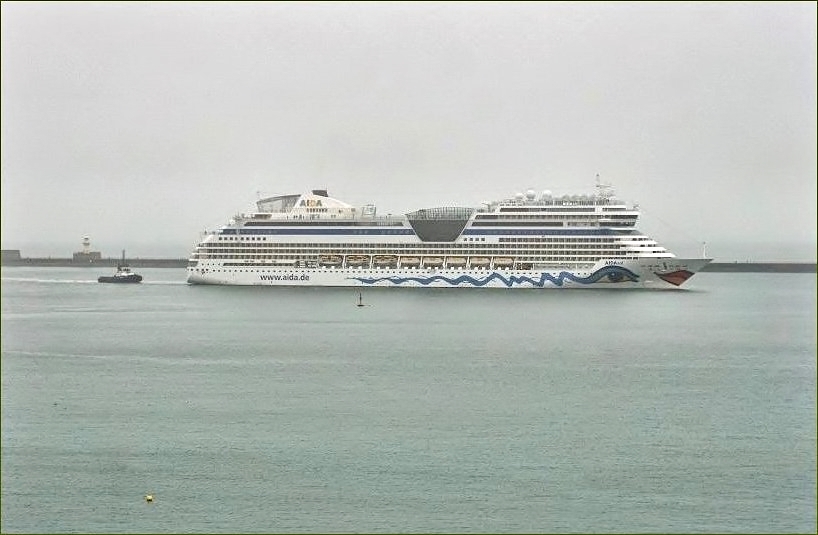 A watery image above there of the AIDAsol arriving in the foggy conditions yesterday. She arrived to the musical sound of lonely wailing foghorns...much of the time visibility was very low here in Dover, both yesterday and during some parts of today. It was actually foggier than it looks in the picture...modern technology reduced the fog in the image...eventually..

!!
Will have pictures of the Atlantic Klipper...in the morning now.
Also in today at the Dover Cargo Terminal is the Eastern Bay. Atlantic Klipper just out, Eastern Bay just in.
Great post below from Mike re the protesting fisherman. Pinned it to the top for most of the day. Ace work Mike.

Excellent post too from Ted below showing some favourites there in his 'Famous Five' . Enjoyable for sure.

Good to see all the topical comments too mostly about our Ed...from Patrick, Jeremy, Adam, Mike, Vic, Brian, and Colette.

PaulB.
Tuesday, 10 April 2018 - 19:11
Post 4811
brian, dover
sorry to see you go ed, I hope the recovery is quick and painless.

Tuesday, 10 April 2018 - 19:11
Post 4810
vic matcham, Dover
Being a fisherman is a hard life with only few doing it, they need all the help they can get from us all.

Tuesday, 10 April 2018 - 15:04
Post 4809
Ted, Canterbury
'FIVE FROM DOVER HARBOUR BOARD'
The first vessel is the dredger ADMIRAL DAY photographed from Port Control outward bound to the spoil ground.She was sold in 1995 and replaced with the DAVID CHURCH.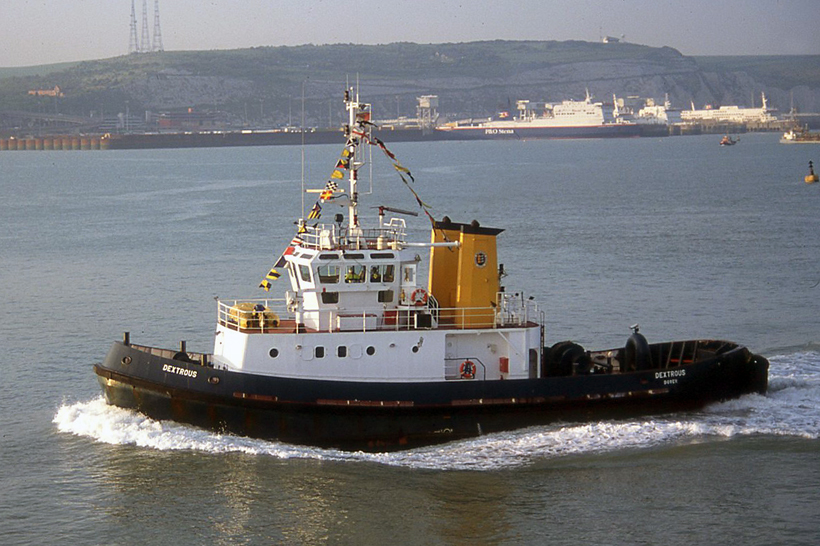 The tug DEXTROUS built 1984 with her sistership DEFT.They were both sold in 2000.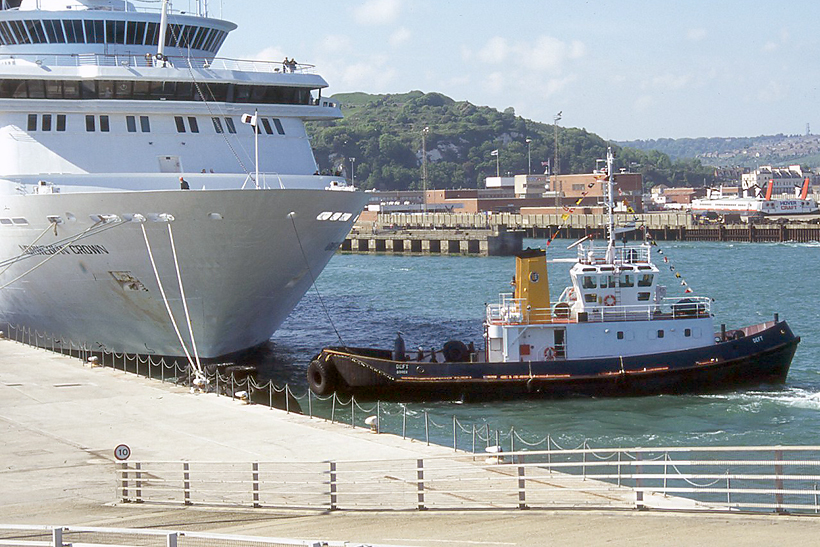 The tug DEFT assisting the liner NORWEGIAN CROWN better known today as Fred Olsens BALMORAL.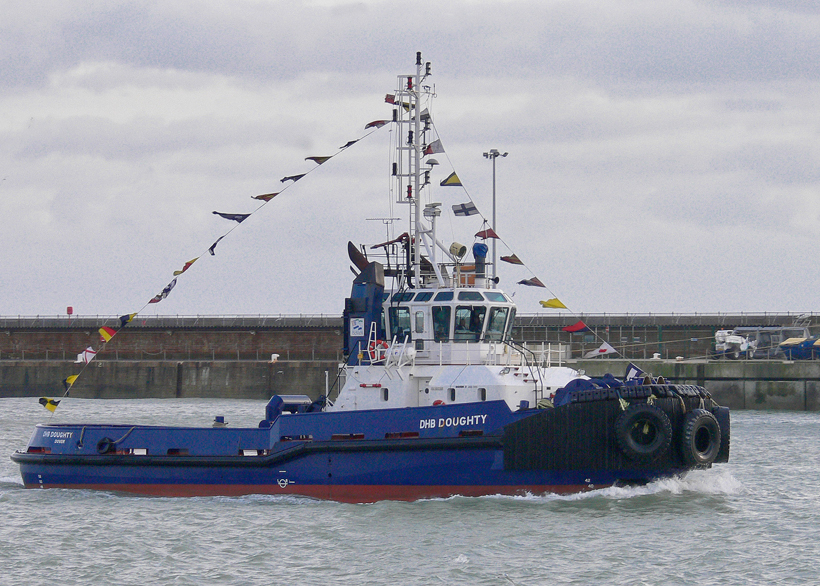 The DHB DOUGHTY built 2000 and photographed on her arrival to the Port.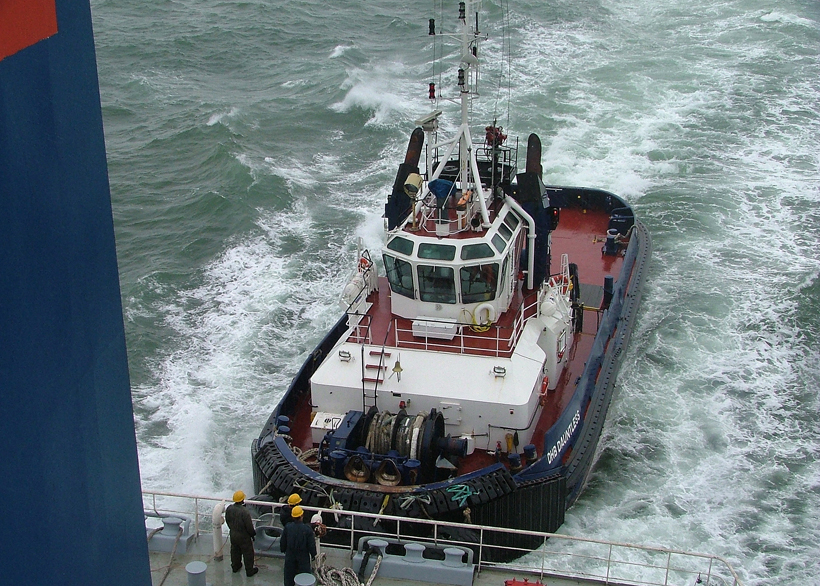 The DHB DAUNTLESS built 2000 and photographed from the stern of the Reefer SOUTHERN BAY.
Tuesday, 10 April 2018 - 10:12
Post 4808
Mike J., Dover
Sunday afternoon there was a rally at Whitstable, one of a number held at UK ports, to protest against the harm being done to the UK's fishing industry by the Government's BREXIT policies.
Whitstable harbour was packed with fishing vessels, flying flags & banners & joined by 'visitors' including at least two from Sarfend & maybe one from Maldon.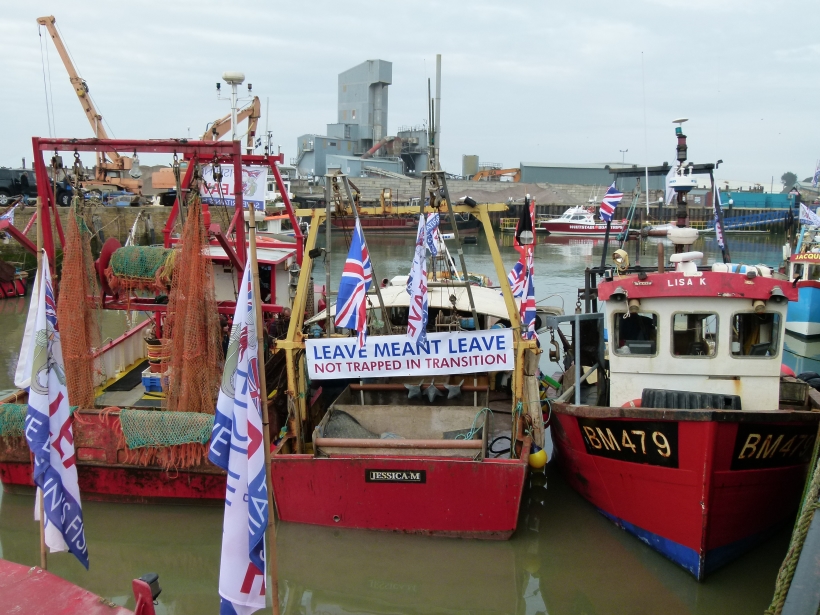 A good turnout of the general public which built as the climax approached.
Mid-afternoon virtually every craft in the basin sailed & after circling off the beach the larger f/vs rafted up alongside the west pier while the smaller craft entertained the crowds.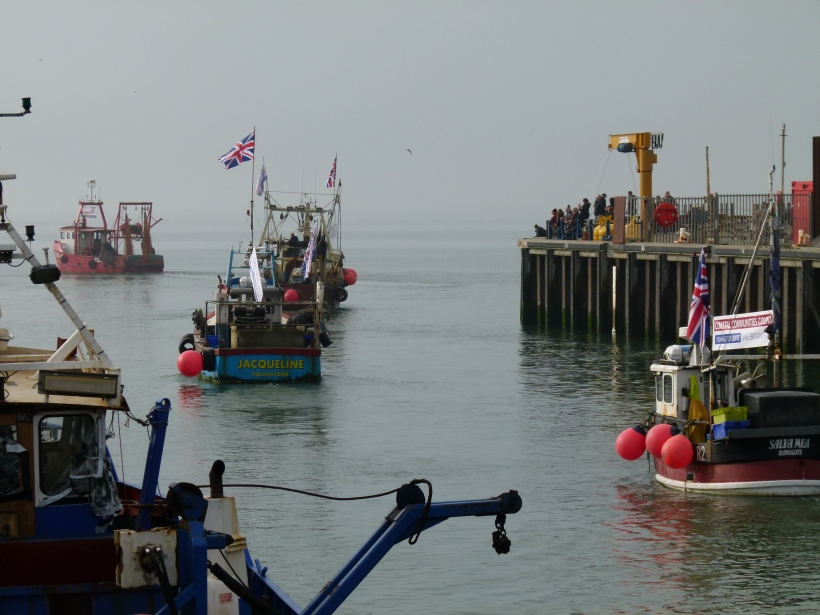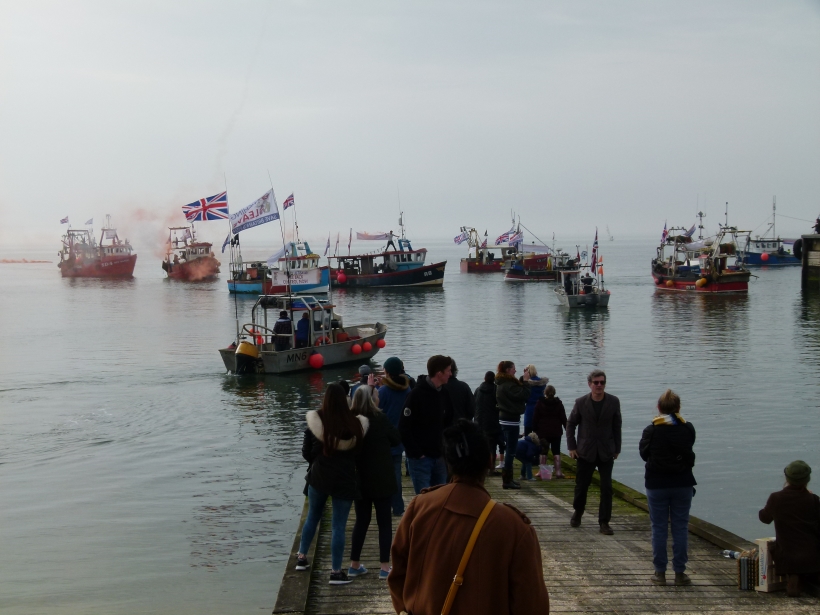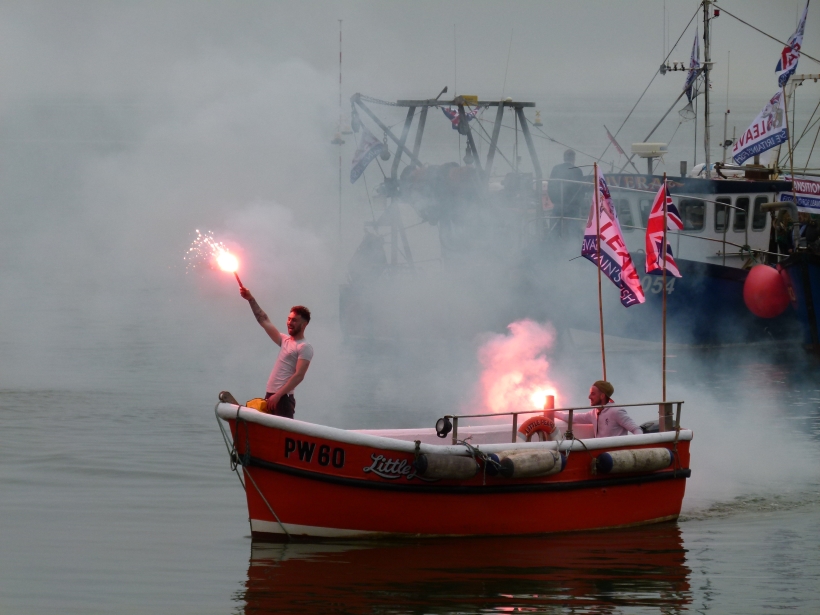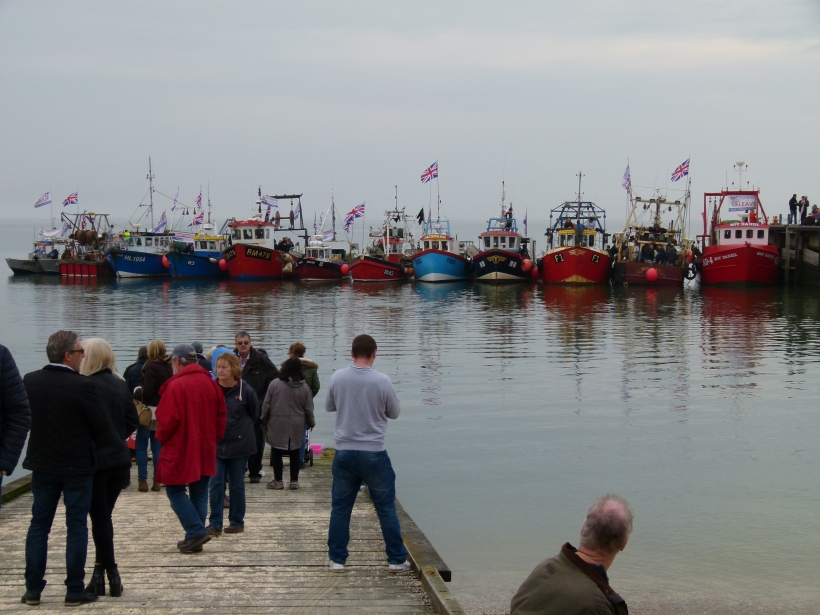 Fireworks & flares were fired, Euro flags burned, & hooters hooted, greeted with cheers from the crowds ashore, reaching a crescendo with the arrival, aboard the excursion launch SITESEEKER, of Mr.Farage who 'reviewed' the fleet.
After the excitement died down Mr.F came ashore surrounded by his entourage & excited placard-waving supporters & set fire to the sacrificial fishing boat on the beach. [more photo opportunities for the media].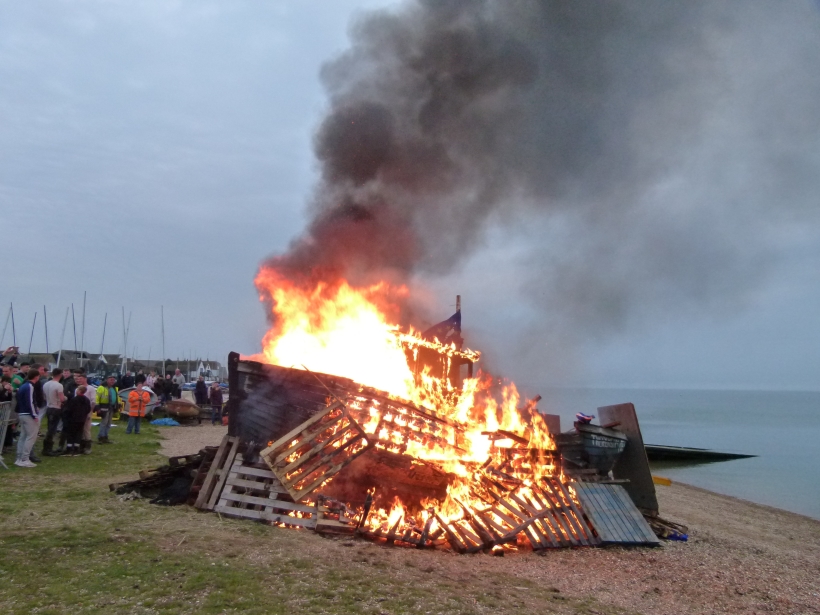 The fire was a little reluctant to start at first but a few buckets of diesel thrown onto the fire got it going well & the crowd slowly retreated from the heat as the fire took hold.
Health & Safety would have had kittens.
There were a some minor scuffles between 'Brexiteers' & 'Remainers', mostly verbal, but a few little tugs-of-wars with Euro flags that were about to be ceromoniallly incinerated but it was mostly light-hearted & a little knot of the 'Remainers' had their enthusiasm dampened by a fishing boat that came close inshore & sprayed them with seawater.
There was little doubt where the sympathies of most of the crowd lay.
No sign of the Whitstable lifeboat which stayed firmly in the RNLI boathouse, but I guess the RNLI stay clear of politics.
The harbour is well worth a visit as like Ramsgate the public can wander around a working harbour with hardly any restrictions at all apart from a chain fence to prevent visitors falling into the dock.
There are places to eat & drink, from restaurants to whelk stalls & other stalls selling local art & touristy knick-knacks.
An interesting afternoon.
Tuesday, 10 April 2018 - 01:45
Post 4807
Patrick, Marine Parade
Ed, Thanks for all the great photos and commentaries. I wish you all the very best going forward. Sea News will be just that bit less rich without your valuable contributions.

Monday, 9 April 2018 - 20:36
Post 4806
Jeremy Ward, Whitfield, Dover
Sorry to hear about Ed Connell leaving, enjoyed looking at his great photo's on here. I wish him all the very best.

Monday, 9 April 2018 - 11:58