Thursday, 18 October 2018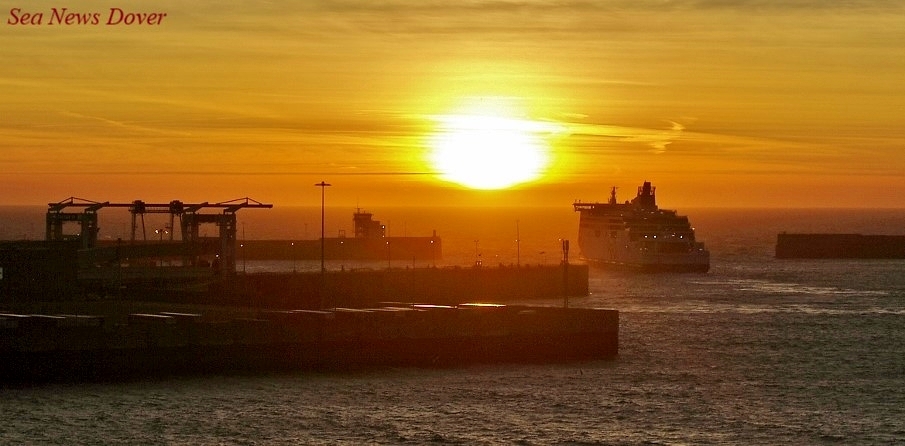 The Port of Dover with early ferry.

WWW.DOVERFORUM.COM/SEA-NEWS
Featuring all the ships that come and go and work at the Port of Dover with further coverage of the surrounding ports both sides of the Channel. Click ADD YOUR COMMENT below to post direct, no membership needed.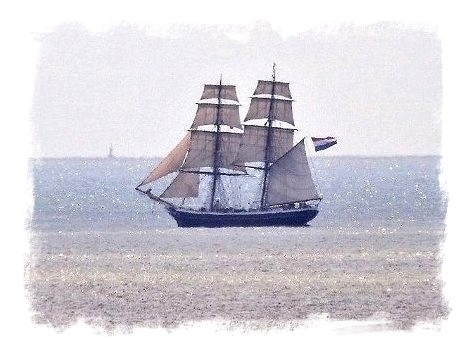 P&O: Schoolchildren mark WW1 see 5816.
Lower Thames Crossing boost..5812.
Dover Museum's revitalisation see 5807.
Port of Dover: Refrigerated Cargo Terminal .. software for 5801. Latest NATO also 5801.
Port of Dover: Great increase in summer traffic 5795.
Russian and shadow 5785.
The Waverley paddle steamer 5778...
New SAGA Ship launching in Dover see 5776.
P&O: To Rome on Horseback 5759.
DOUG BANNISTER: New Chief Executive Port of Dover see below 5734....
Merchant Navy Ceremonial images also 5734.
Dover Regatta Rescue incident plus .. see 5713.
Dover Regatta pictures Lifeboat etc..5716, 5717, 5718, 5720.
DFDS Expansion: More New Ferries on order... see 5693 see also 5500 and 5381.
Excellent tourist season for P&O Ferries see 5649.
VSBW Port of Dover - Women at Work 5638.
P&O Second Female captain see 5107. Also see latest 5570.



NEW:

For instant access to the items above - type the post number in the Search Engine below.



Sea News Dover : Use our SEARCH ENGINE below to find all sorts on the SEA NEWS pages....
... more than 5800 nautical posts now.
Posts are welcome. Max of 5/6 pictures preferred although we can occasionally stretch that on special stories.
Sea News Editor Paul Boland - send info or pix to dover7@msn.com. Always welcome.
Type CRUISE VISITS in our SEARCH ENGINE below for news of the latest cruise arrivals.
NOTE:

We have added a new feature. This has resulted in some slight change to the numbering system on the posts. We needed to align data in order for us to be able to use post numbers in the Sea News Search Engine. For example..type into the Search Engine box the number 5734 if you want the story on Doug Bannister...and it will pop up for you. This will be very useful going forward. You can still search in the older way too. My thanks to long time ace colleague Chris Tutthill for enabling the extra feature. Chris runs our sister channel..dover.uk.com. PaulB
All pictures on these pages are the copyright of the owners and must not be reproduced without permission.
Post 5796
Barry W-S, Dover
CRUISE VISITS
____________
Hello Chaps, here I am in Colette's absence with the latest batch of cruise calls.
Sea News over the past week is varied to say the least, the discovery of Dover's very own 'Terracotta Army' and Andrew's impressive photos of the granite boulders making a 'Splash' off Herne Bay and there's more …...
The Russian Tall Ship 'Mir' caught in the far distance, a speeding Comet, a Russian Naval ship being shadowed along the English Channel and the wonderful Waverley paddle steamer passing by. It almost takes my breath away that all this is going on within the workings of our busy port with ferries, cruise ships, container ships and all the while the expansion work is forging along

Tomorrow Saturday 6th October Pacific Princess glides into CT2 at 05.00 hours to begin her 12 night one way 'European Explorer' cruise. Her ports of call are Le Havre, La Coruna, Cadiz, Gibraltar, Barcelona and Sete before setting her sights on the Italian ports of Genoa and Livorno before dropping anchor at Civitavecchia Thursday 18th October.
She will be based in the Mediterranean cruising from Venice & Civitavecchia until December when she crosses the Atlantic to Fort Lauderdale in the good 'ol U S of A sailing to Los Angeles, the Caribbean, Cape Town & Sydney. She returns to our shores in June 2019.
She departs at 17.00 hours, T/R.
The following day Sunday 7th October AIDASol arrives at CT2, 09.30 hours with a massive smile. She calls in to say Hello whilst on her 4 night Hamburg round trip after calling at the Dutch port of Ijmuiden along the way. She drops anchor in her home port of Hamburg on the morning of Tuesday 9th October.
She will be leaving at 21.30 hours, PoC.
On Thursday 11th October AIDASol calls in with a winning grin once more, whilst on her 4 night Hamburg Round trip. She arrives in her home port on Saturday 13th October.
She leaves us at 21.30 hours, PoC.
Then on Friday 12th October Saga Pearl ll arrives at CT1, 09.00 hours to start her 18 day 'Ancient Wonders of the Mediterranean' cruise. Her ports of call are Lisbon, Barcelona, San Remo, Livorno, Civitavecchia, Cagliari, Cartagena and Gibraltar before dropping anchor in her new home port of Portsmouth on Tuesday 30th October until February 2019.
Sadly this will be her last visit to Dover as this is her 'Farewell Cruise Season', she finishes in a blaze of glory with a 54 night African Cruise, finally arriving in Portsmouth April 2019. There she awaits her new future or retirement
She leaves us at 18.00 hours, T/R.
Colette will be back with the final cruise calls for the 2018 season.
Friday, 5 October 2018 - 20:48
Post 5795
Sea News, Dover
Increase in summer tourist traffic signals return to benefits of cross-Channel ferry travel
________________________________________________________________________

Following a spell of exceptional summer weather, the benefits of starting a holiday by setting sail across the English Channel with the famous White Cliffs as a backdrop have seen holiday makers flocking back to Europe's busiest international ferry port.
The Port of Dover welcomed nearly 42,000 more cars compared to the summer of 2017 (573,076 in 2017 to 615,035 in 2018), a 7.3 per cent increase, while 442 more coaches took thousands of additional customers on their way to France, representing a 3.2 per cent increase from 13,885 in 2017 to 14,327 in 2018.
The busiest day for tourists bound for Europe was Saturday July 28 when 12,993 cars headed to Dover for the short sea crossing to Calais or Dunkirk.
Barbara Buczek, Director of Corporate Development and Operational Businesses, said:
"With so many holidaymakers reliant on us to get their well-deserved break off to the best start, we spend months planning with our major ferry customers and border agency partners to deliver an efficient and welcoming service. The flexibility and ease of ferry travel along with unrivalled crossing times makes Dover the perfect departure point to explore the rich variety of Continental Europe."
Kasper Moos, Vice President & Head of Business Unit Channel at DFDS, said:
"The increase in passengers travelling through the Port of Dover this summer, compared to summer 2017, re-enforces the fact that more Europe-bound holiday-makers are realising the benefits of ferry travel. As Europe's Leading Ferry Operator taking passengers to Calais and Dunkirk, we're committed to ensuring all passengers enjoy a fluid journey through the port and can get their holiday off to the best possible start. We look forward to continuing our strong relationship with the Port of Dover to ensure that this smooth process continues for all passengers."
ENDS
You will remember we spoke yesterday about the recent hotel expansion here in Dover and the continued ongoing expansion as well, you can see why following the report above...
Thanks to the team at the Port for the info above.
And now catching up on a cruise visit by AIDAvita. We featured the much bigger AIDAsol only recently yet she has been back again since...its all go. But we didn't take any further pictures of AIDAsol as we have had lots of coverage of that one...but here we are from a day later Oct 2...and its the smaller sleeker AIDAvita arriving on a grey morning.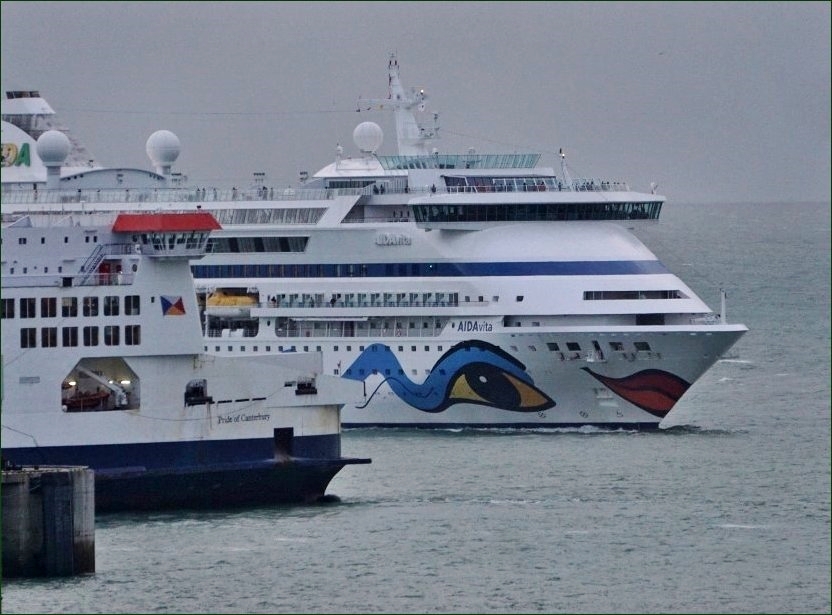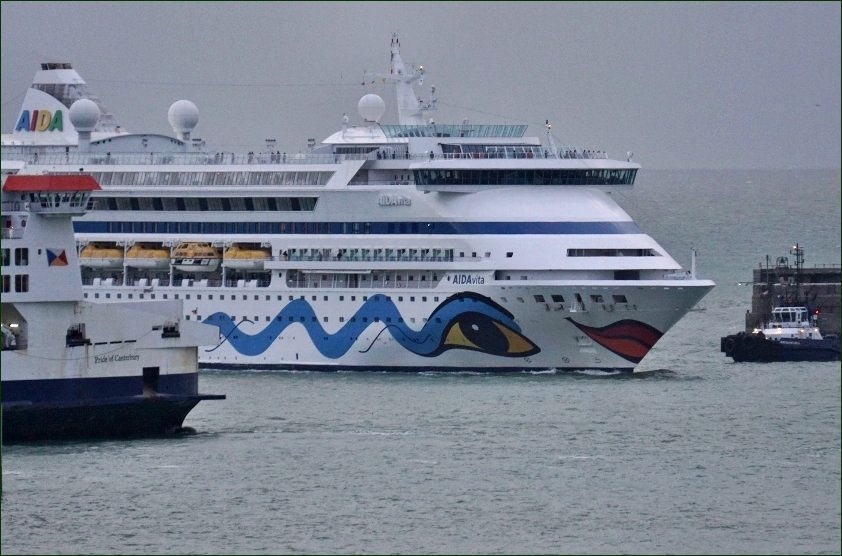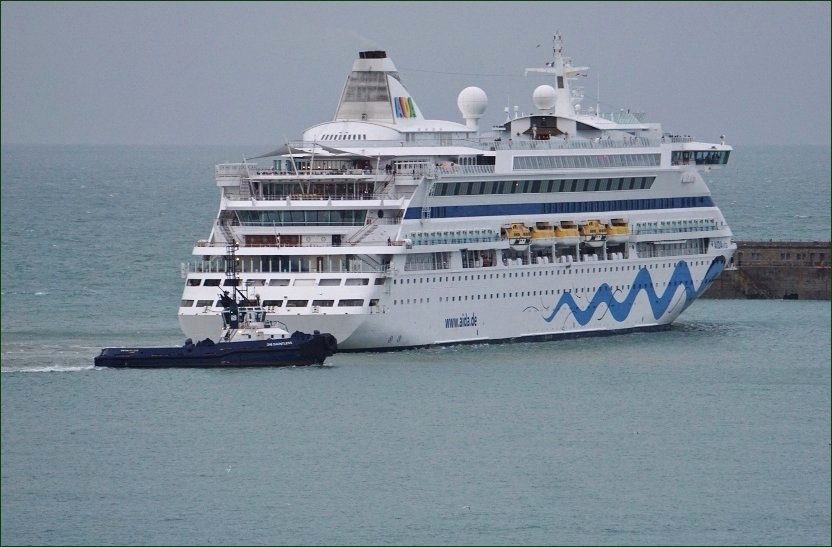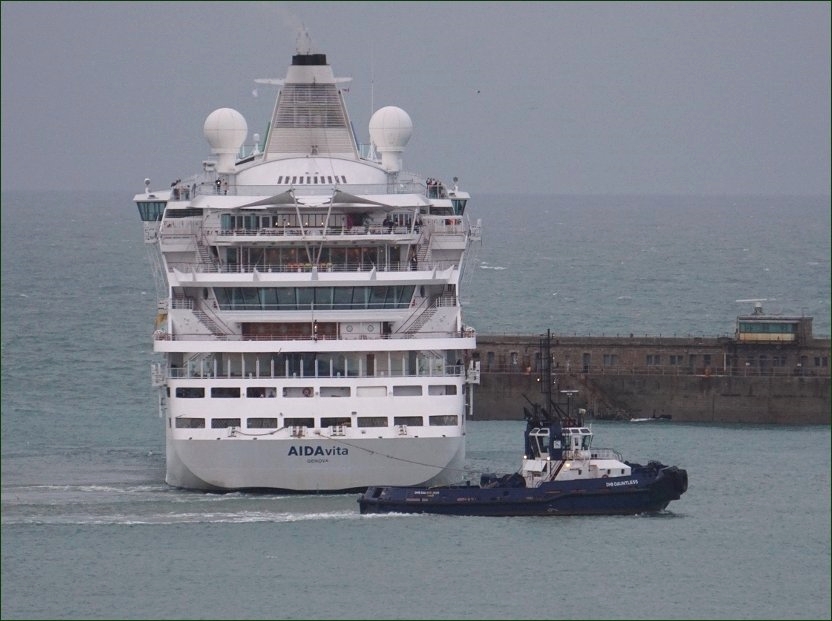 Good info and interesting pix below there Mike

We will have pictures of a departing Sun Discoverer in due course
plus more warships as well...this time from NATO. We have a backlog but like Microsoft says...we're working on it...

PaulB

Friday, 5 October 2018 - 06:18
Post 5794
Mike J., Dover
Fascinating Herne Bay sequence from Andrew - a much smarter barge than the battered old CHARLIE ROCK who was in Dover a few years back on s similar groyne job as well as assisting with the railway seawall works. [posts 569 & 3367].
Job done at Herne Bay the little NEW ROSS 1 [post 5789] was noted on Thursday afternoon passing Dover & is now back in her home port of Falmouth.
I was out on the Admiralty Pier on Thursday afternoon waiting for the coaster DRAIT who was due to load grain after coming up from Plymouth.
She didn't make her expected ETA, finally docking 1800 by which time I was long gone.
Fortunately the long wait on the Ad.Pier wasn't a total waste of time as the caff was open & unsatisfactory pix were possible of the heavy-lift ship SUN DISCOVERER who was on Cruise-1 waiting for the swell to subside so that she could discharge her cargo of bulky heavy Eurotunnel transformers.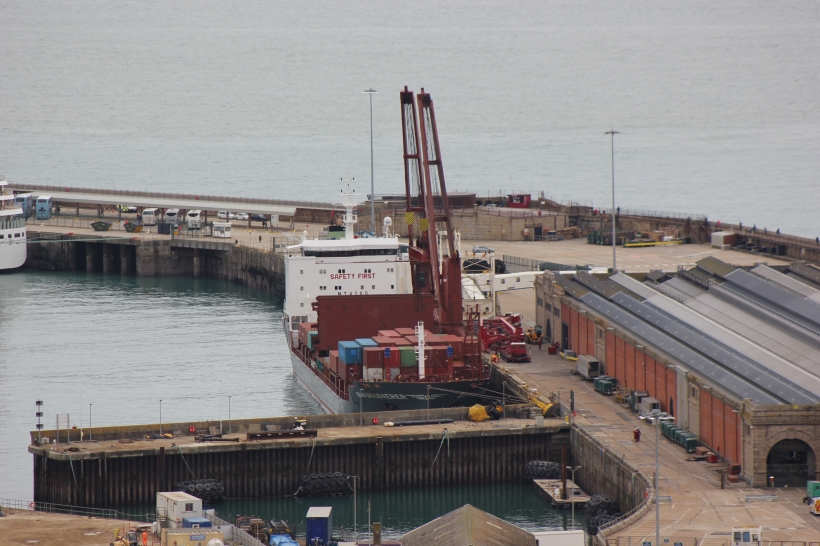 She had arrived on Wednesday from Vlissingen & sailed for Cartagena around 1630 Friday afternoon.
Cruise-1 is now a bit of an awkward spot for photos 'across the bay' as someone has built a socking great shed in the way.
How I wish that drones had been invented sooner, I could have got very keen on them . . . . .
MILLENIUM DIAMOND [post 5782] is now on the slipway at Ramsgate, pix to follow.
Thursday, 4 October 2018 - 21:35
Post 5793
Sea News, Dover
As we know, Dover is a busy busy place at the moment..heavy 'workings' going on all over the place, so just some general pictures now of all the hard work. Time now for that famous quote, very appropriate for these pictures...
'hard work fascinates me, I could sit and watch it all day'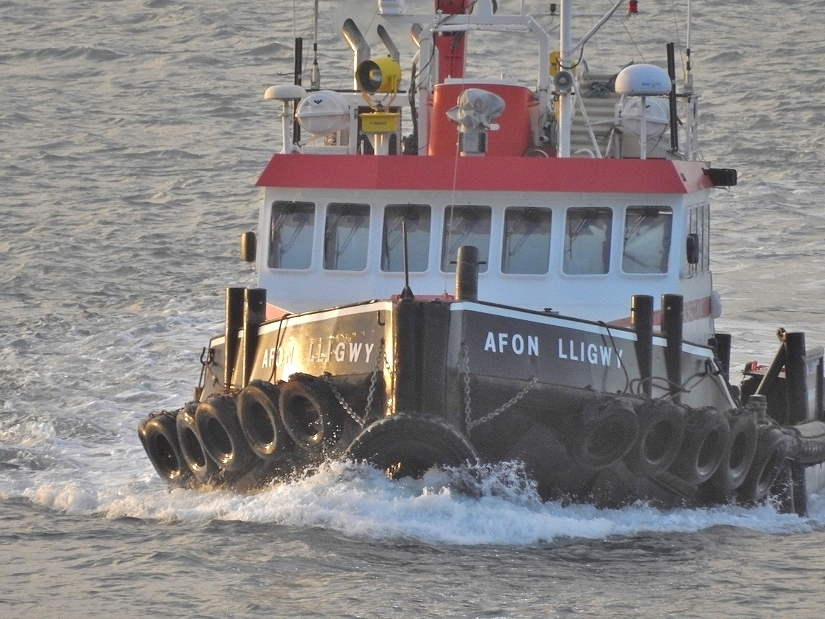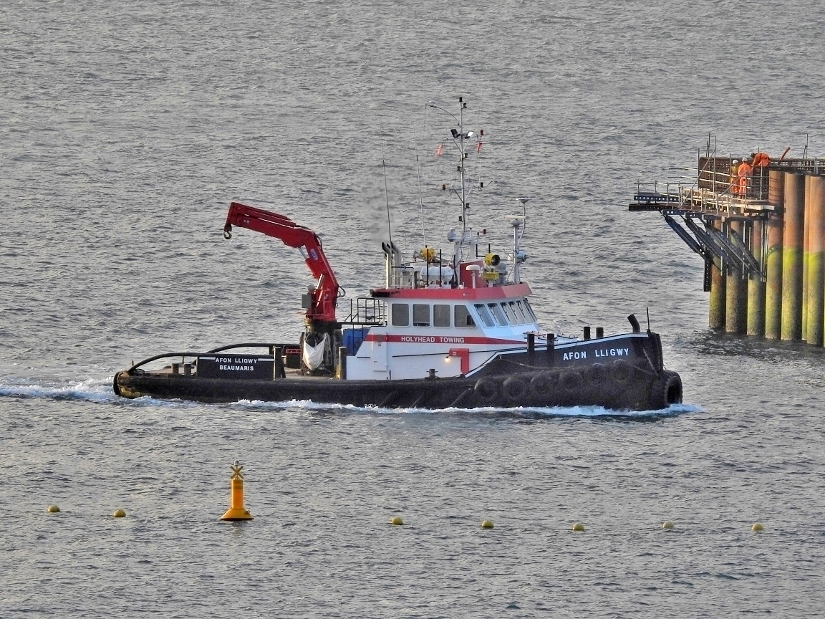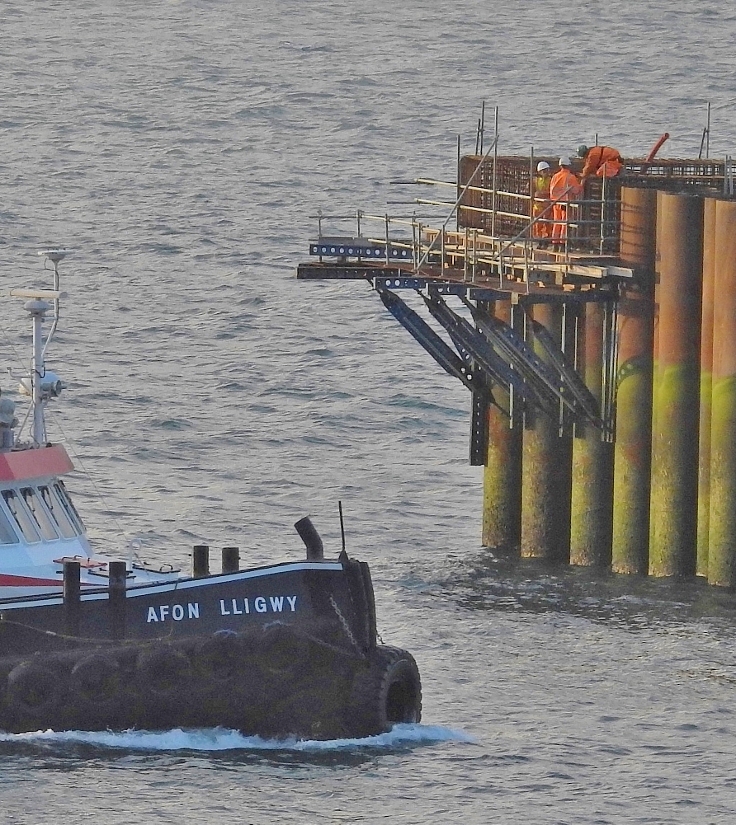 Above there we have Afon Lligwy coming out onto the morning scene for another hard day at the office. As Afon gets to the end of the new extended arm you can see the men already working there. The third pictures is a crop of that section of picture 2.
Now back to the expanding Premier Inn. This expansion work is being undertaken in order to meet the demand from the growing ferry tourist traffic into Europe. We also of course, have a brand new Travelodge just across the road doing the same thing..meeting the demand. We will have more on this growth following soon.
A picture below of Dover's very own 'Terracotta Army'...

!!
Yes this collection of strange monoliths were dug up at the back of the Premier Inn a few days. But lets got get too excited...they were probably just some old foundations from a former time. Whatever they were anyway, they are now demolished... but we have captured them for all time with the camera...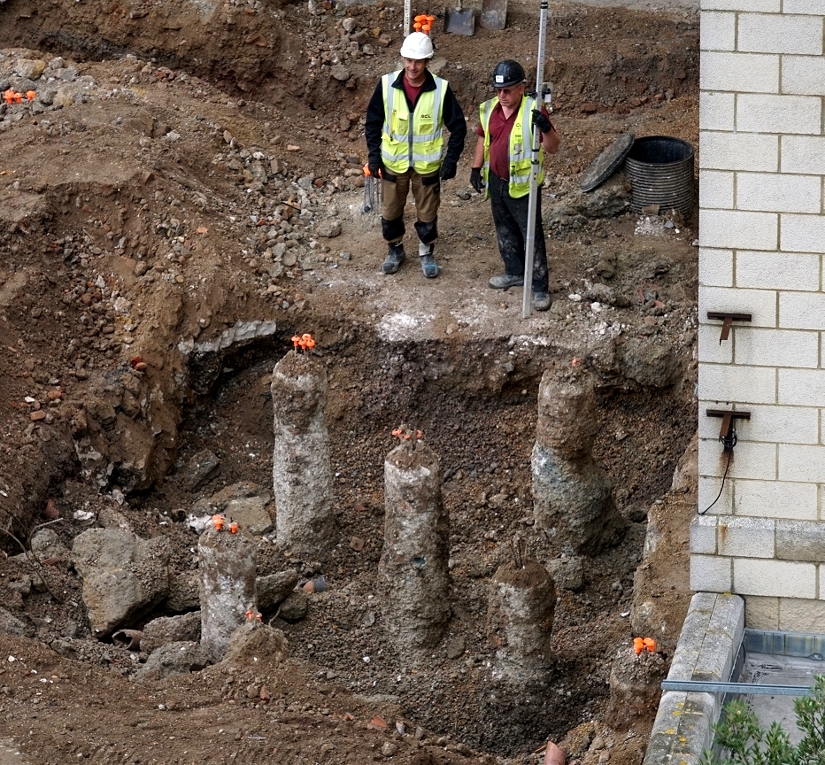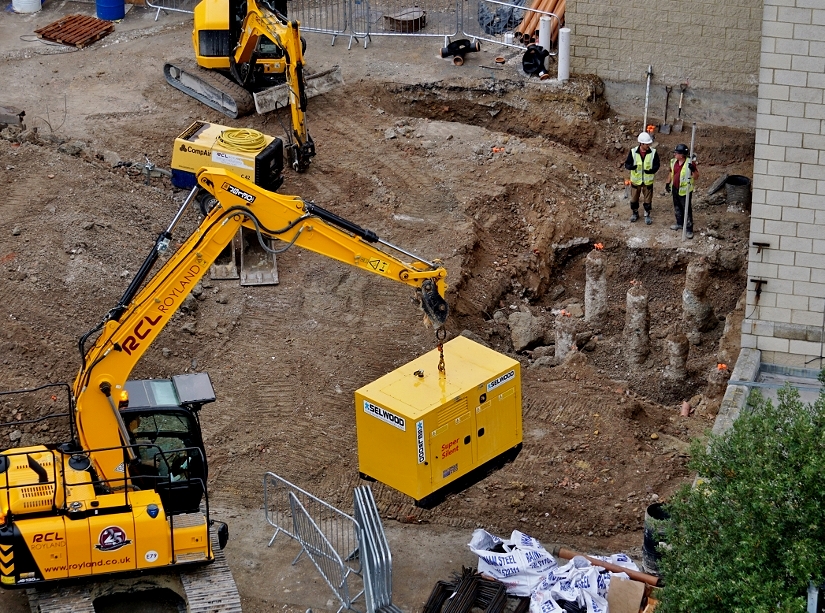 Excellent post below Andrew. Great collection of pictures to enjoy there. Don't miss that!

PaulB
Thursday, 4 October 2018 - 06:15
Post 5792
Andrew, Broadstairs
Herne Bay's 2.5 million pounds sea defence and coastal erosion work is well under way and brought a new seaside entertainment, be it brief, to the townspeople enjoying an afternoon walk along the promenade in the warm autumn sunshine on Tuesday.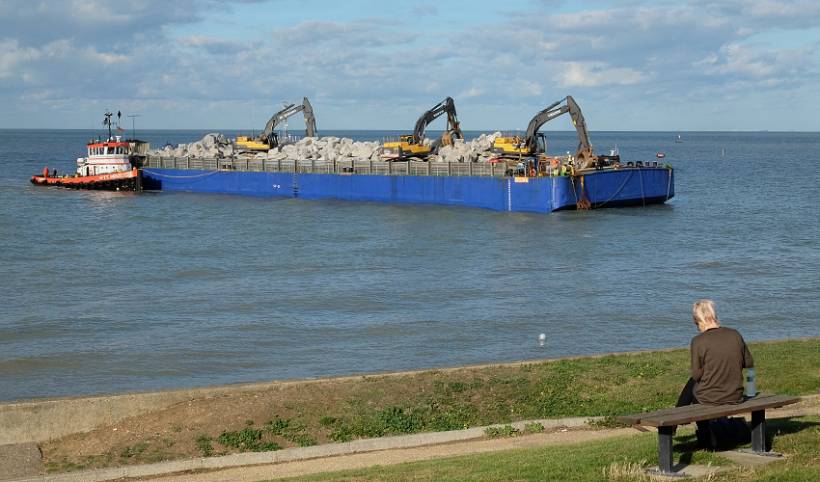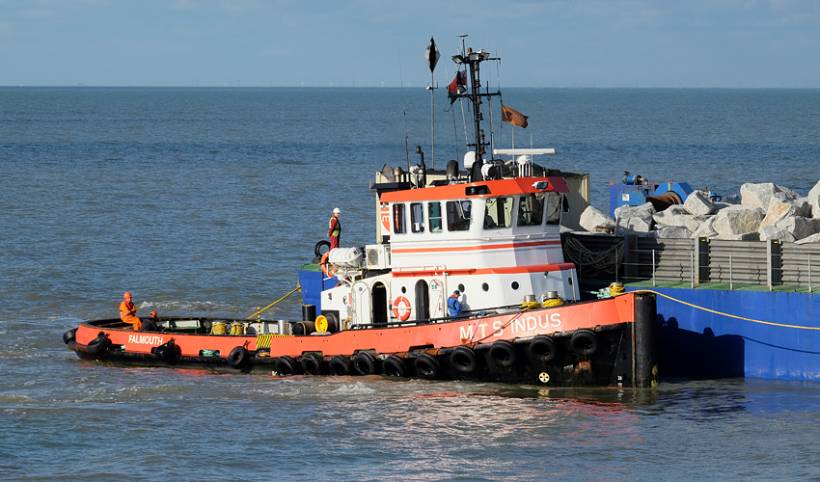 The tug MTS INDUS (a Dover visitor see Posts 3086 and3099) carefully, with the assistance of 'pushycat' tug NEW ROSS 1 (Mike's recent Ramsgate Post 5789)and Medway tug CHRISTINE (Post 4804) brought the rock carrying barge SELINA very close to the shore, just east of the Kings Hall Theatre.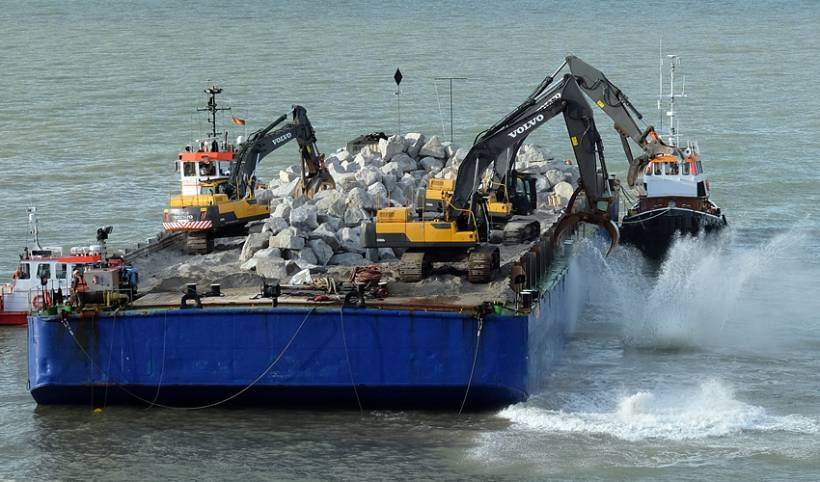 Laying 90 degrees to the shore line the three crawler cranes started to discharge the granite boulders into the sea with some impressive noisy splashes which brought more onlookers the majority of whom produced mobile phones, tablets, video and still cameras to capture the moment and if possible the highest splash and with luck a boulder caught in mid-air! (No Paul it is not Photoshoped in!)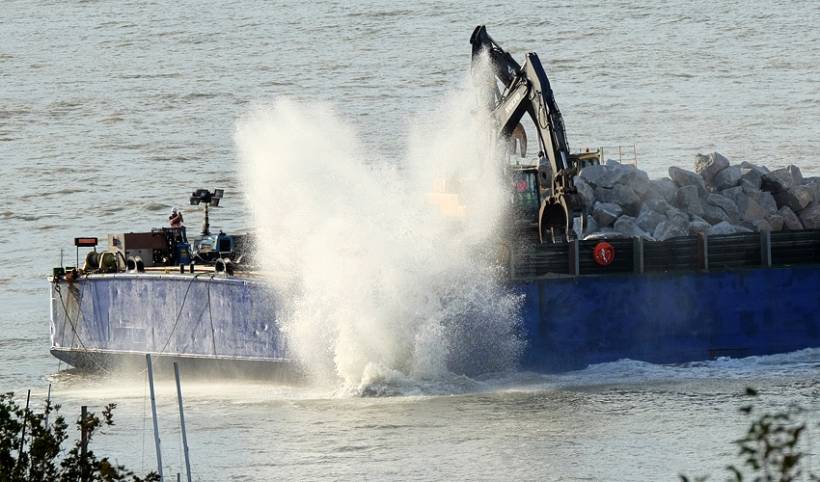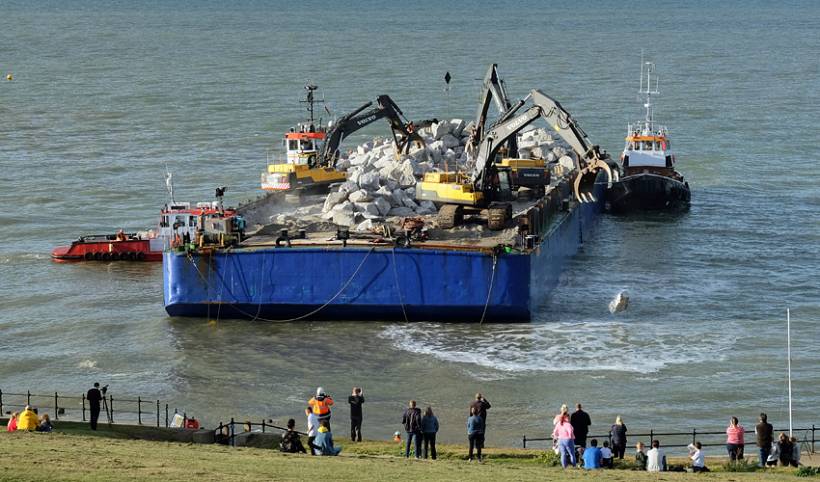 As we have experienced at Dover these armour rock projects are often sourced from Norway but on this occasion, I am pleased to report, it is entirely home grown. The SELINA, only acquired from Sweden in August, and tug NEW ROSS 1 both belong to an Appledore based company specialising in all types of marine work including salvage and the granite was mined from newly reopened quarries in Cornwall.
Thursday, 4 October 2018 - 01:11
Post 5791
Sea News, Dover
Another Russian....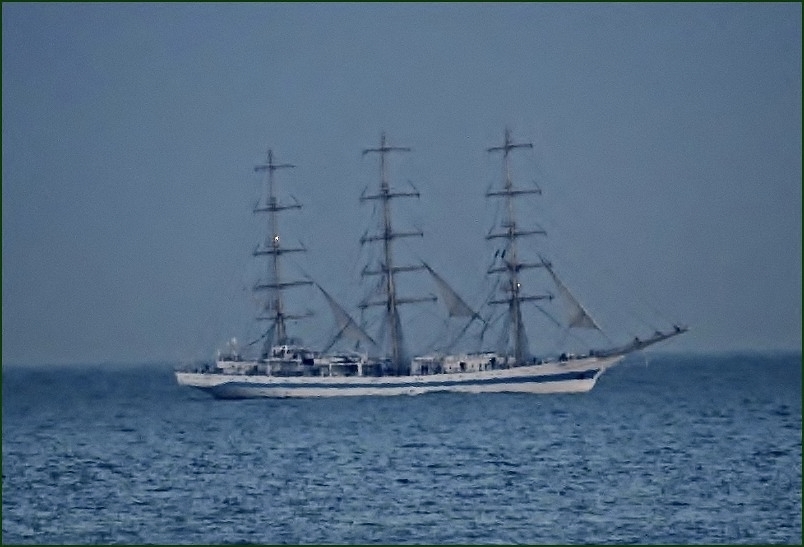 This magnificent Russian tall ship was coming down the channel last night. Yours truly saw it coming a long way off and hoped it would reach us before it got dark. Unfortunately it didn't work out...it was just too dark as it passed Calais above... managed to get an image but...
However here we are below, delighted to be able to show this one...a nice shot taken of the very same ship .. Mir.. in Dunkerque in 2013 at a huge and exciting tall ship event there... had a magnificent trip over there that time, even met some of the friendly crew...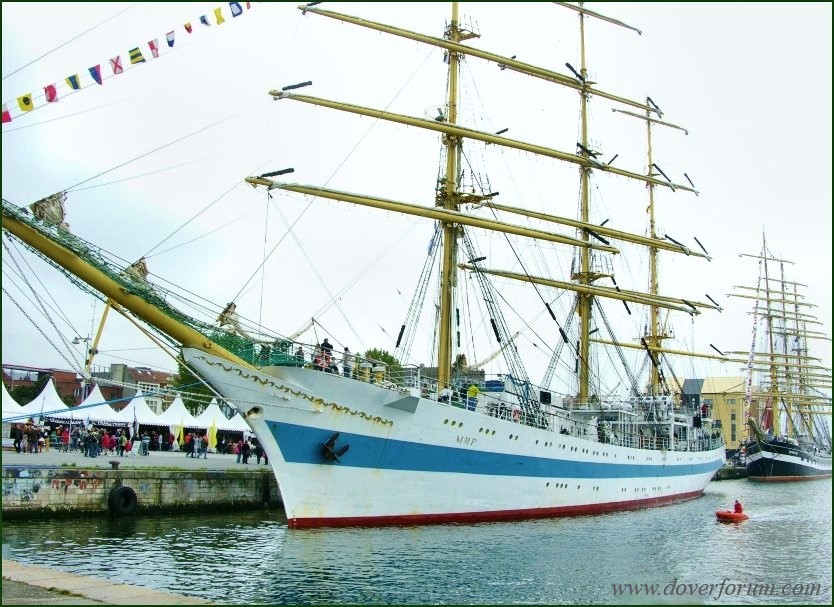 PaulB
see also todays earlier post below.
Wednesday, 3 October 2018 - 15:03
Post 5790
Sea News, Dover
The CRC Comet in dazzling action...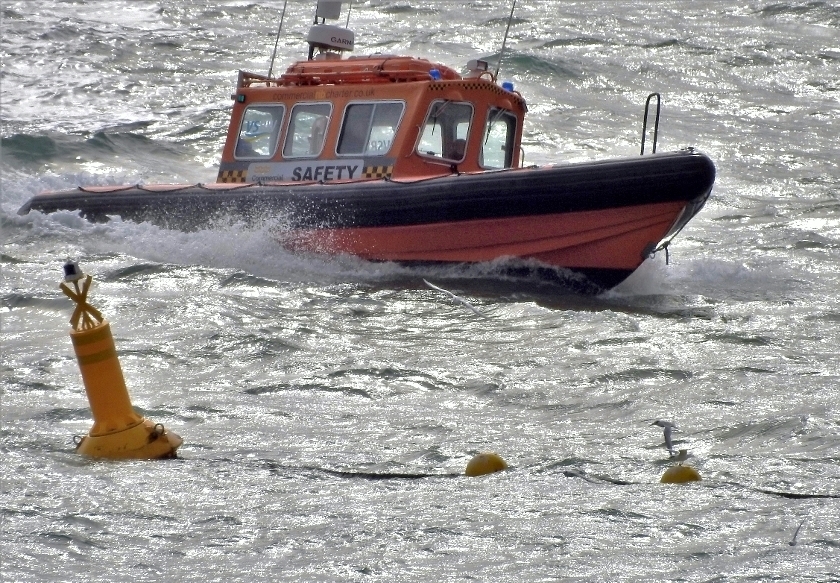 She came hurtling towards yours truly at considerable speed ( but obviously from a long way off!). Fortunately the camera was ready and a few shots were fired off...completely missing the Comet in the last one below as it flashed past. That's todays deliberate mistake...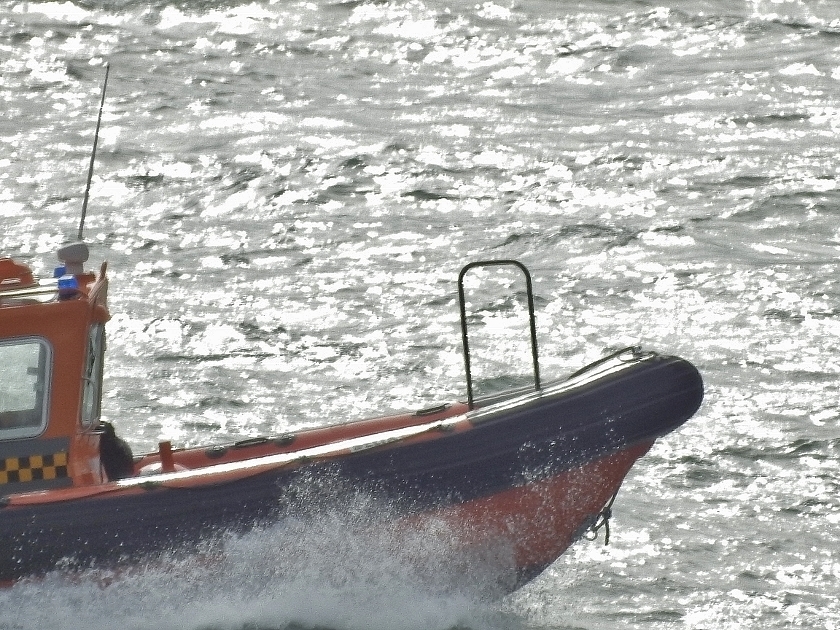 Whoops!! missed it that time

CRC stands for Commercial Rib Charter we understand. The CRC Comet is working as a safety boat with the DWDR.
Thanks Mike for the update below.

PaulB
Wednesday, 3 October 2018 - 07:06
Post 5789
Mike J., Dover
In contrast to Paul's nice pix of the AIDA SOL & the SEABOURN OVATION & their tugs, a final view of the ST.MICHAEL leaving Ramsgate for the Thames last Saturday.
Sarah was on duty at the RNLI boathouse & kindly sent a few pix of SPEEDWELL towing her out, with BUMBLE in attendance.
Thanks Sarah !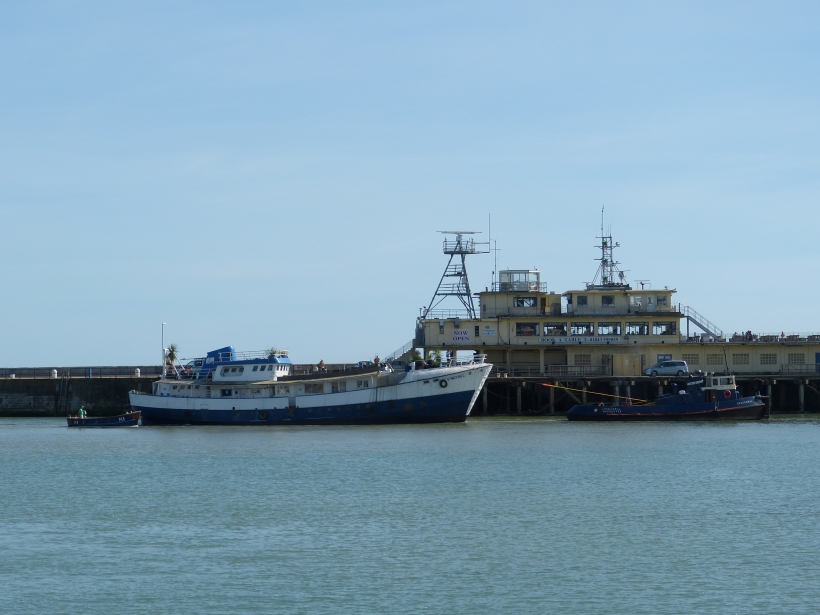 The MILLENIUM DIAMOND [post 5782] didn't go onto the Ramsgate slipway on Monday.
My 'source' had told me 'Monday maybe' which turned out to be quite accurate when I made a brief visit around high-water.
Work was taking place on the slipway carriage which has had extra girders fitted to accommodate the very wide beam of the DIAMOND.
The only photo I took over in Ramsgate was the neat llittle workboat NEW ROSS 1 on the windcat pontoons who had arrived from Eastbourne in the wee small hours of Monday morning.
Interesting to read that she is a Dutch design & the builder's name for the workboat class is 'Pushycat' !
Tuesday, 2 October 2018 - 08:15
Post 5788
Sea News, Dover
AIDASOL and Tugs at the Port of Dover.
As promised here we are with some more arrival pictures of the AIDAsol but this time majoring on the tugs. By now...in the shot above...AIDAsol is across the harbour and Dauntless stands by, ready to help the large ship into place if needed. Then the DWDR support tug from Holyhead Towing, Afon Lligwy, moves alongside to help out as you can see below ( you can just see her nudging into the picture above too ). We have featured Afon Lligwy in all sorts of different roles but as noticed by Mike recently..she occasionally helps out now in place of regular tug Doughty.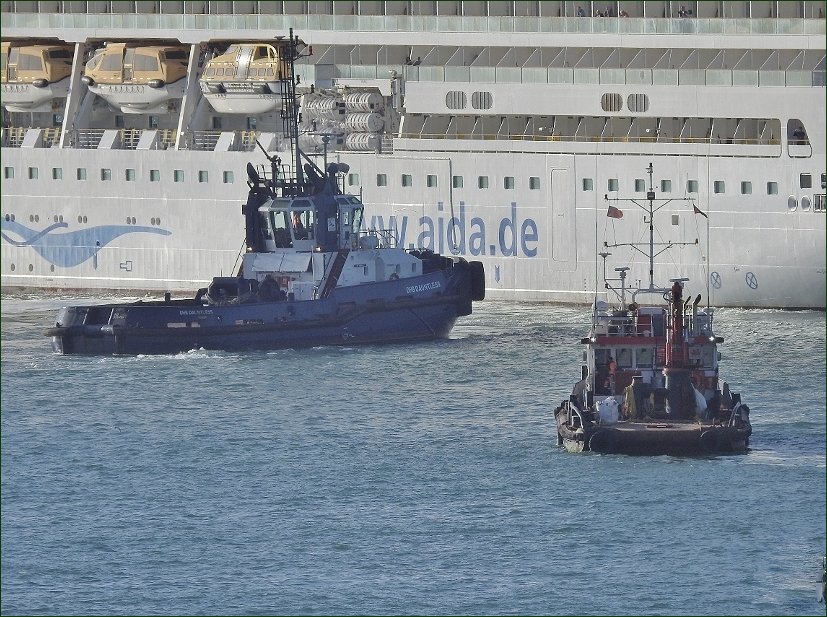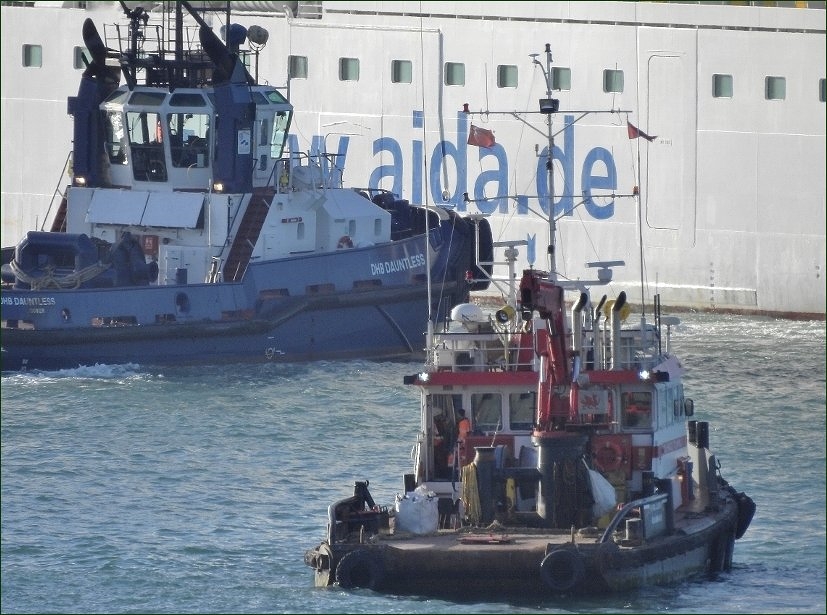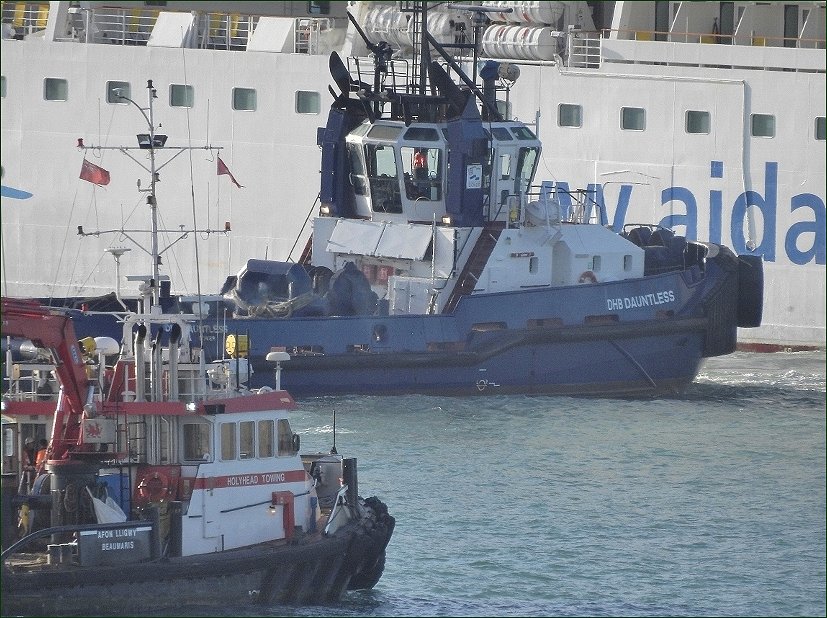 A wider shot below.....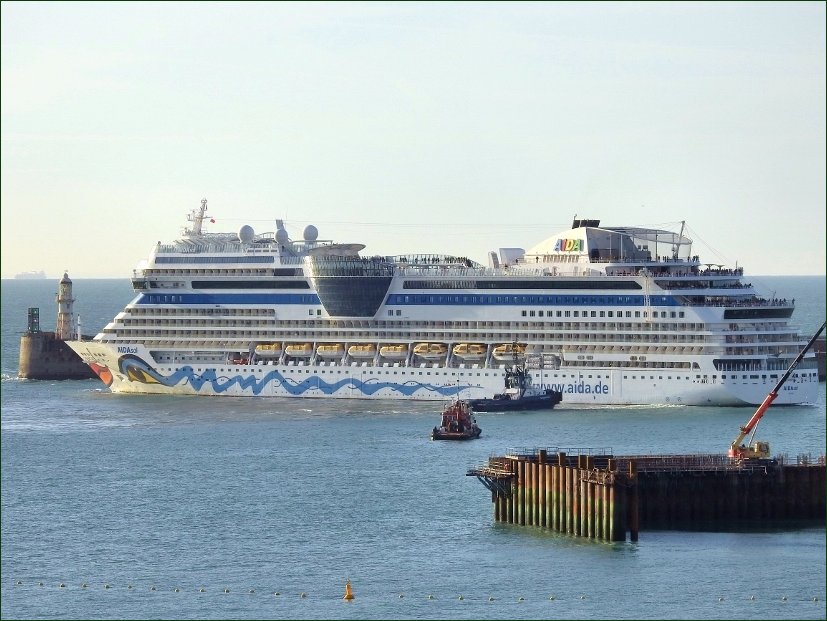 Just popping this one in...yes its the Seabourn Ovation once more. She came in to port in the dark and alas left in the dark too...but here she is around dawn yesterday over at Cruise Terminal 2. She is brand spanking new...a great design, look at these sleek lines...

Lol Brian .. is that when it happened - it crept up on me...

PaulB
PS: some fast shots of the CRC Comet coming next.
Tuesday, 2 October 2018 - 06:12
Post 5787
brian dixon, dover
October happened over night paul. lol

Monday, 1 October 2018 - 12:43
Post 5786
Sea News, Dover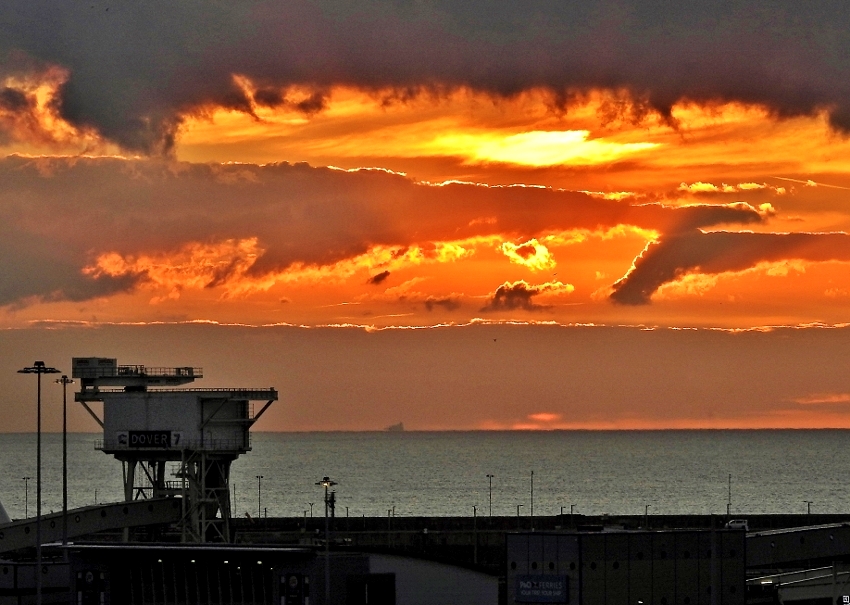 Looking across the top of Dover7 above at the dazzling morning sky a couple of days ago. A day later below and we see the fab AIDAsol approaching in the same area. The 72,000 ton ship is a fair way out in the first of the pictures and of course approaches slowly.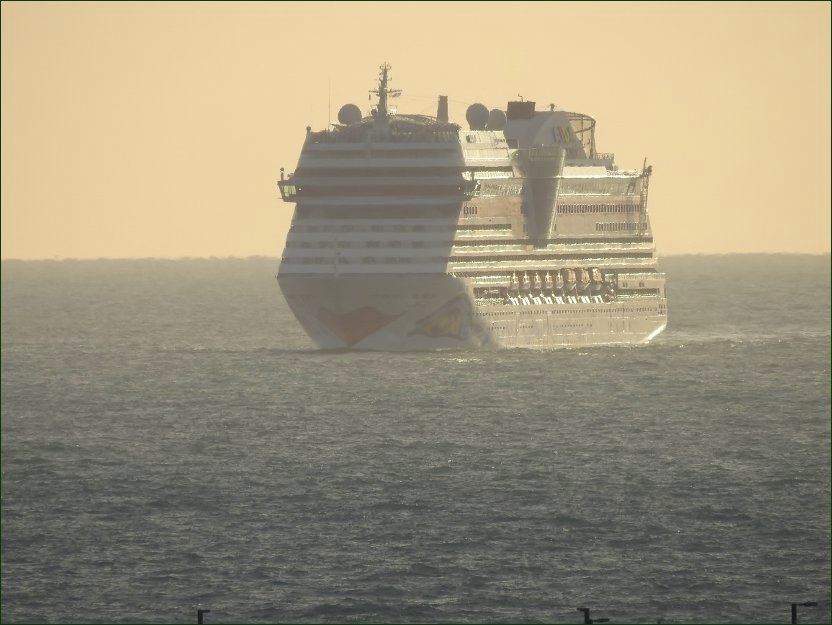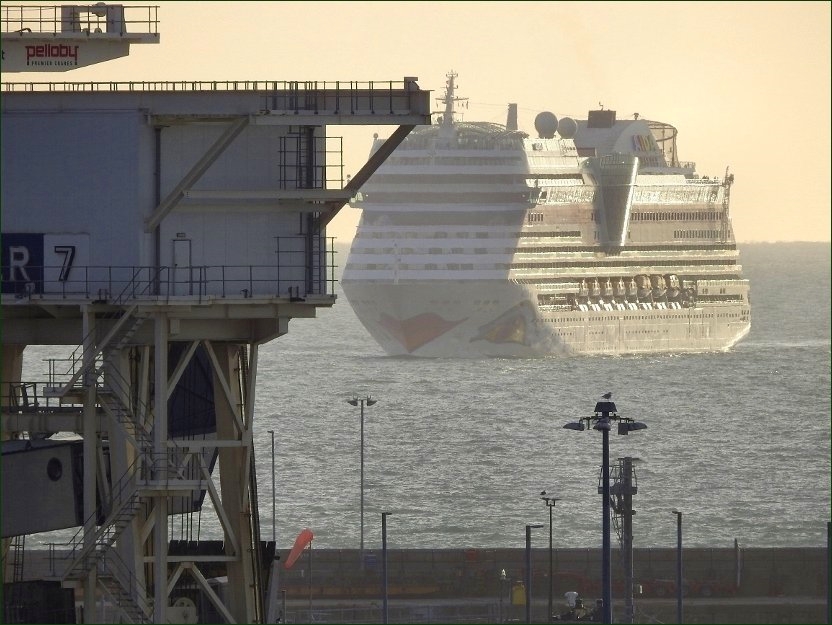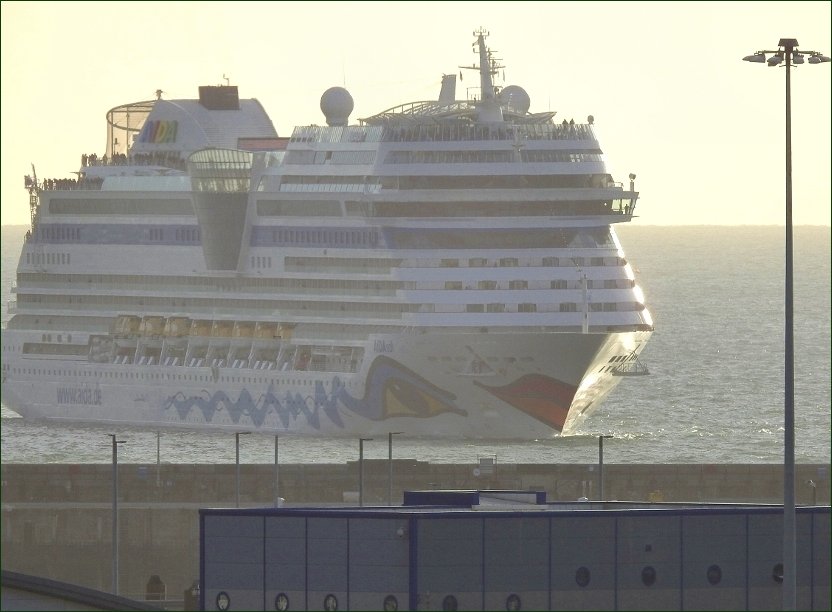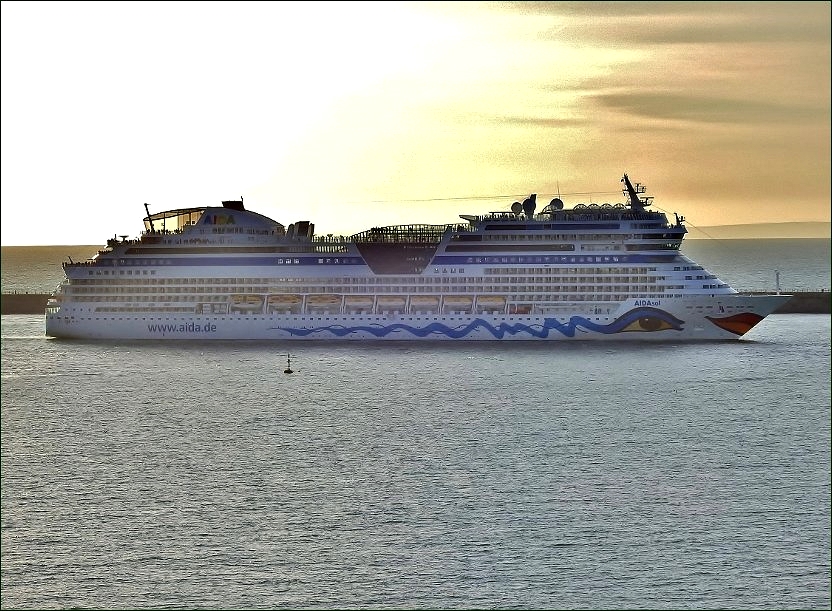 Dazzlingly blindingly bright on that last one..sunglasses needed.

Had to wrestle with that one to get an image.
When she came across the harbour pictures were easier, we will have some of those in due course... Afon Lligwy seemed to be joining in with Dauntless on tug duties again...will have pictures...
See also the interesting item in the post below. Never a dull moment eh.
Heavens!... just realised its October..when did that happen??


I think we can safely say now that summer has gone...
PaulB
Monday, 1 October 2018 - 06:43
Post 5785
Sea News, Dover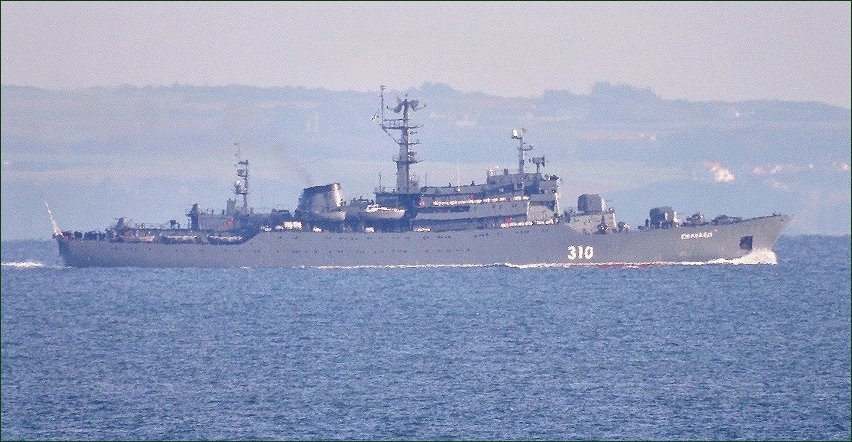 Foreign weaponry moving down the channel yesterday evening saturday about 5.30pm. At a guess the top one there is a Russian ship as it was being shadowed gingerly at a distance by the one below....a sign of the obvious procedure. The markings on the one above suggest RFS Perekop. No discernible markings on the one below, not that yours truly could see anyway ...they were a long way out.
Update: We now believe the escort ship to be HMS Mersey.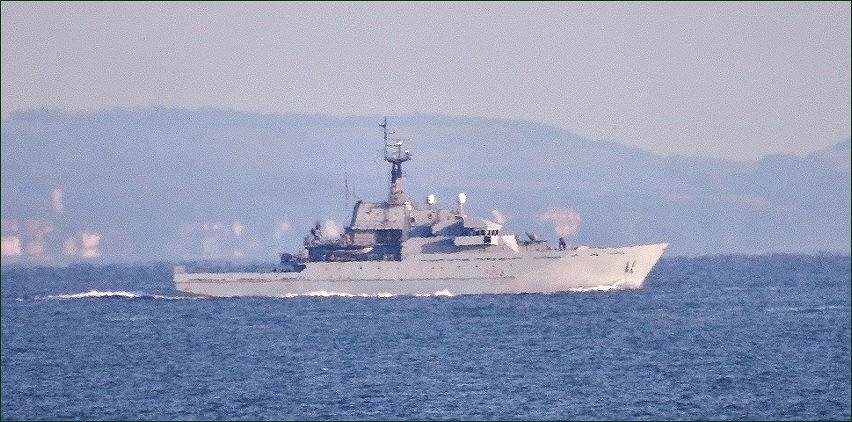 PaulB
Sunday, 30 September 2018 - 17:27
Post 5784
Sea News, Dover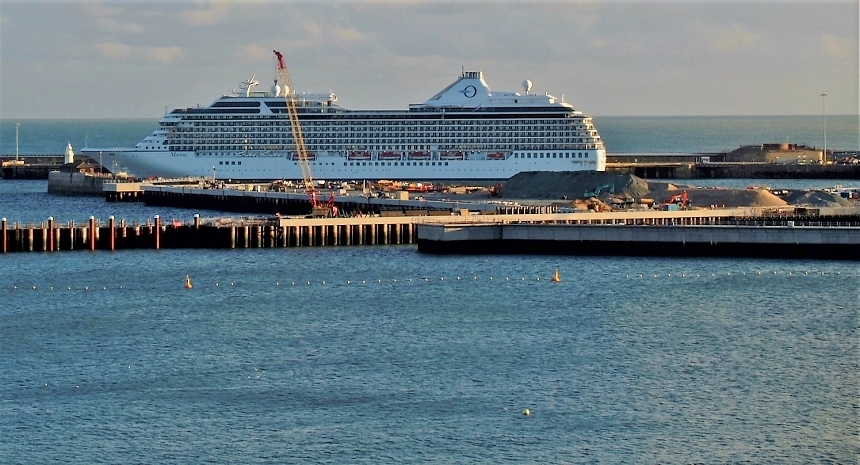 A colourful pic above there of the Marina cruise ship on Friday evening...looking across at her through 'the workings'. Yours truly didn't catch her either coming or going alas alas… although its a nice colourful evening above, earlier in the day it wasn't like that...a wee bit grim is the term that leaps to mind and you can see that below. Same ship same day different conditions.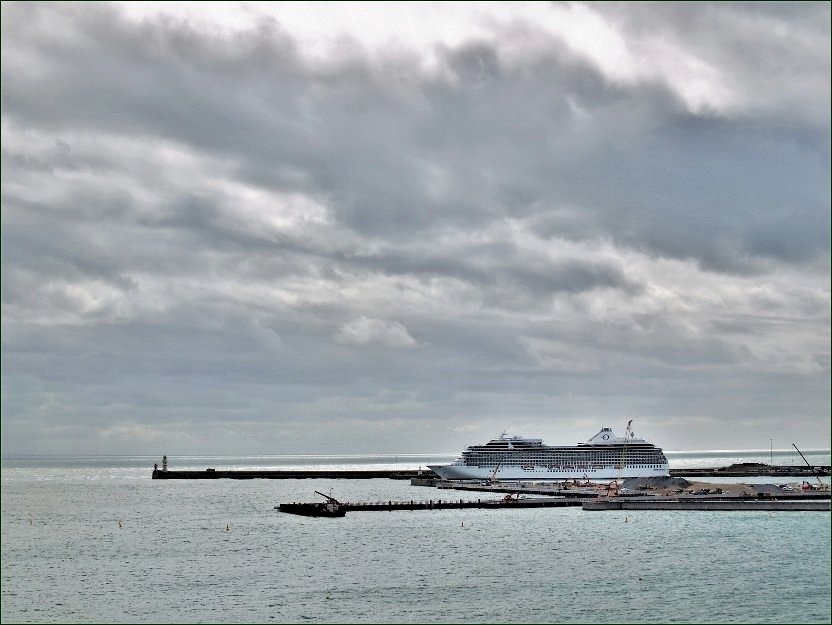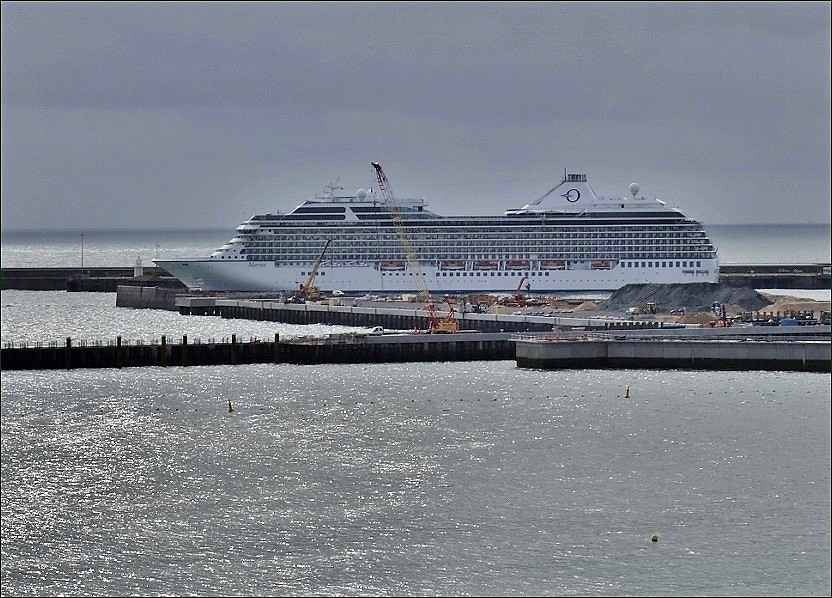 We are having great cruise ships this year...the near 72,000 tonner AIDAsol was back in with us yesterday. Will have pictures of her approaching long range to follow in due course.
While uploading the Marina cruise liner just now...just spotted this pic below in the files from times past, taken at that other marina. Yes an artist at work in Cullins Yard..painting yes you've guessed it...the marina. A nice pleasant cheerful picture for sure.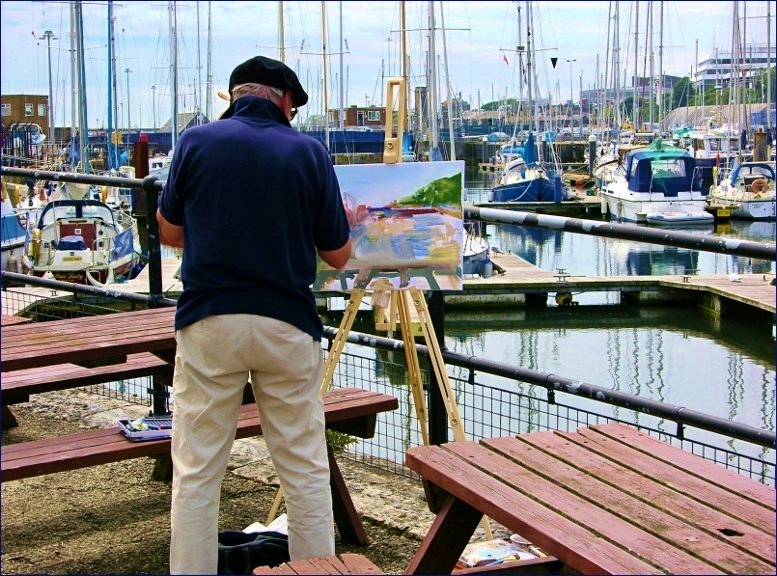 Some gorgeous heavy metal basking in the sun outside the Premier Inn yesterday Saturday. Yours truly has always had a passion for the motorcycle, and these Harley Davidsons below are a joy. Look at the engineering there...all immaculate too. A lot of delicate polishing went on here...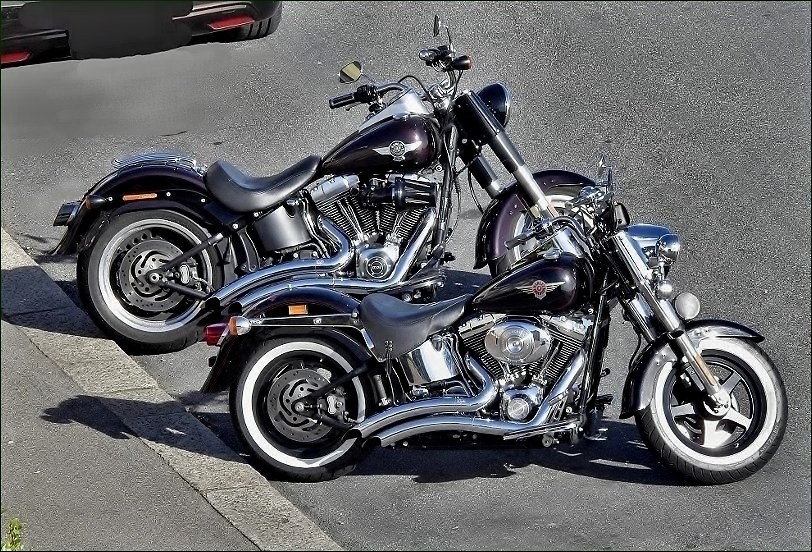 An excellent collection below Mike from Ramsgate. You have been very busy..great to see those.

Mike mentions several previous post numbers below there...don't forget to reach previous posts easily you can now just type the post number in the Search Engine above and lo and behold the previous posts appear as if by magic.

PaulB
Sunday, 30 September 2018 - 07:13
Post 5783
Mike J., Dover
ST.MICHAEL was finally 'launched' Friday midday & was being moored on the East Pier at high water with the assistance of the Cannon's workboat BUMBLE.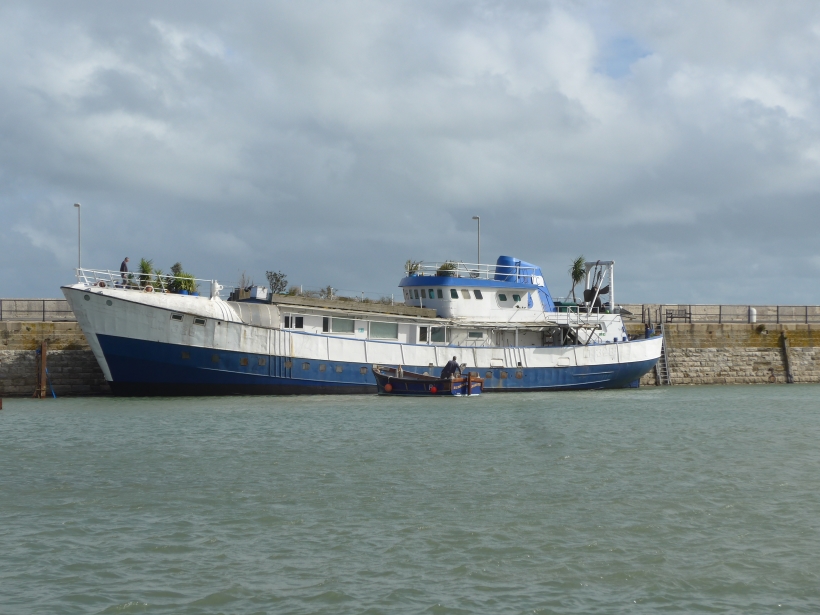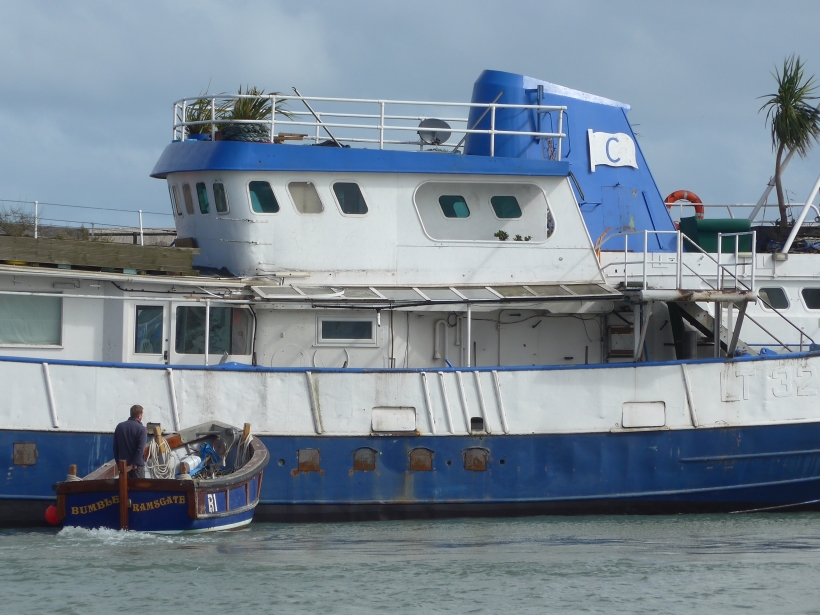 Tug SPEEDWELL [post 5756] arrived from the Medway about 2200 Friday night & will tow the ST.MICHAEL back to the Thames & Vauxhall Marina, the little convoy is expected to sail at noon on Saturday.
The brisk weather had brought at least 15 windcats into port & the fishing boat berths were well filled.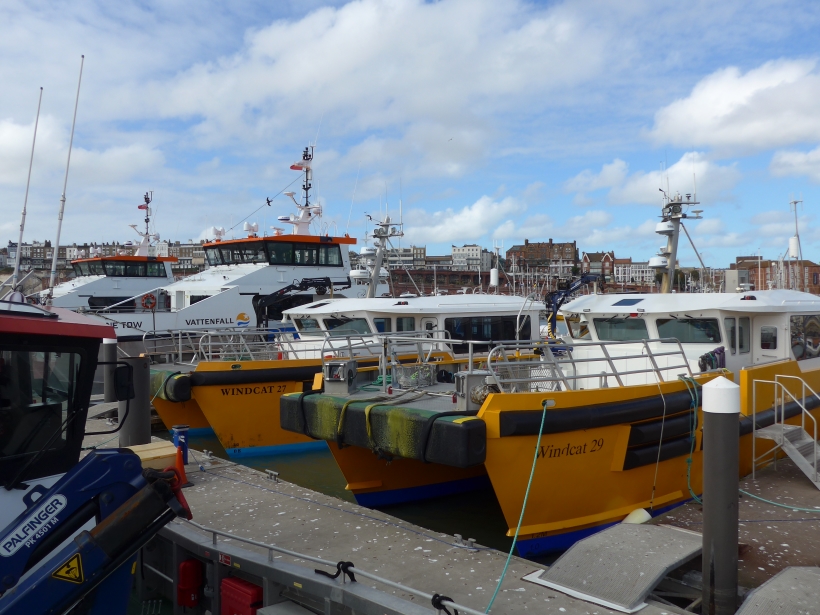 The Svitzer workboat GRAY JUMBO had come in from Newhaven & walkers along the East Pier were getting 'sprayed' from time to time.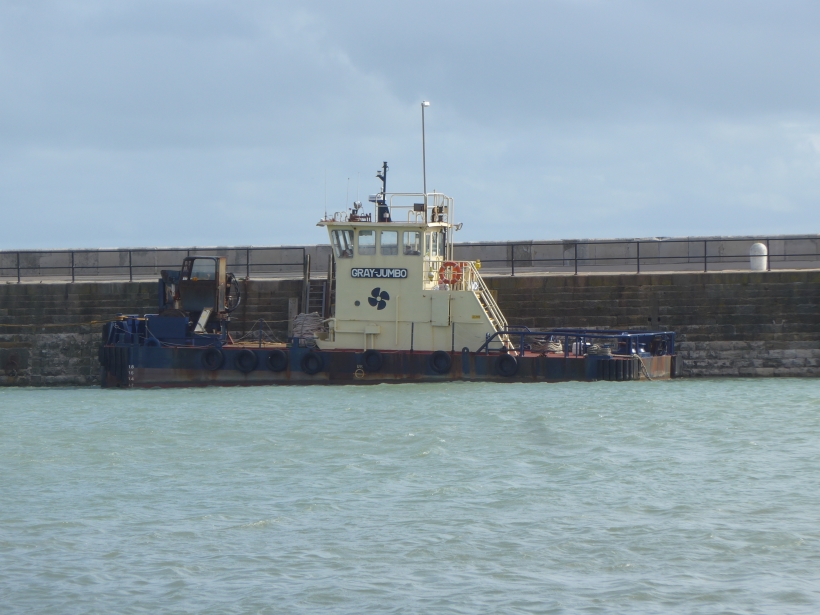 .
Saturday, 29 September 2018 - 00:42
Post 5782
Mike J., Dover
A frustrating Thursday afternoon at Ramsgate.
After hearing from a 'reliable source' [the owner] that the ST.MICHAEL [post 5756] was going back in the water on the midday tide there was a delay & the 'launching' was deferred.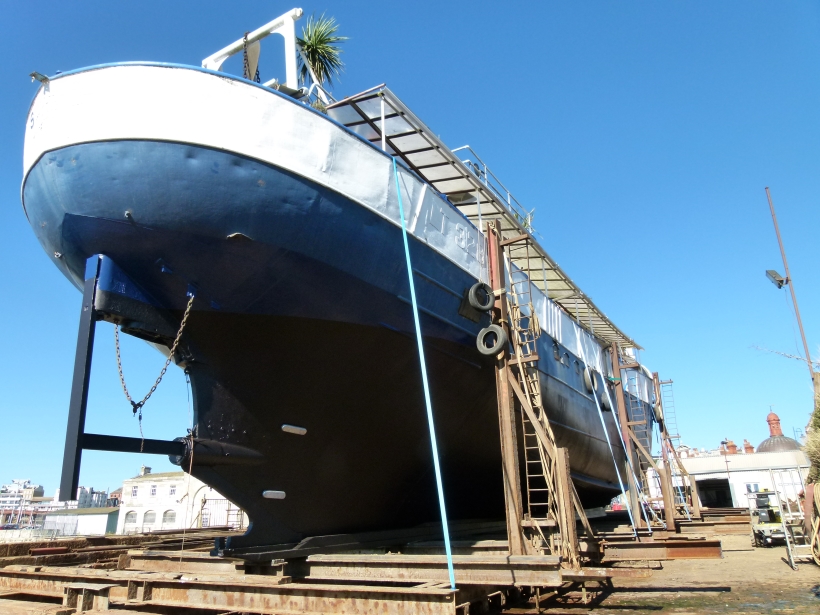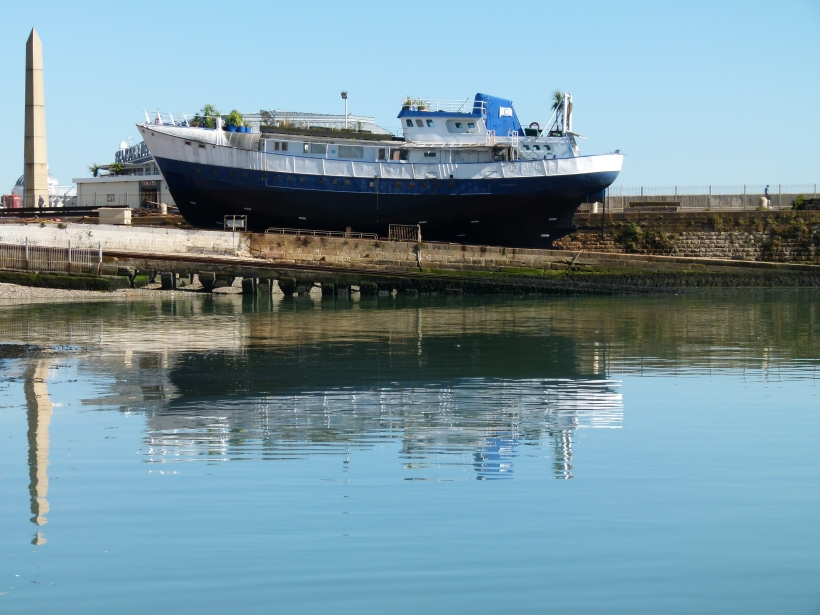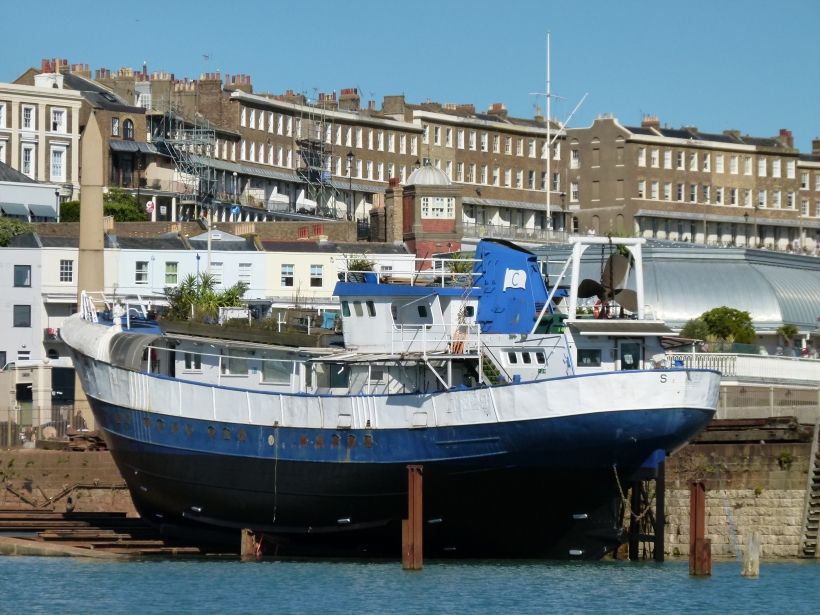 Hopefully this is only a minor 'blip' as tied up to the Commercial Quay is the slipway's next customer, the Thames sightseeing catamaran MILLENIUM DIAMOND of the CITY CRUISES fleet.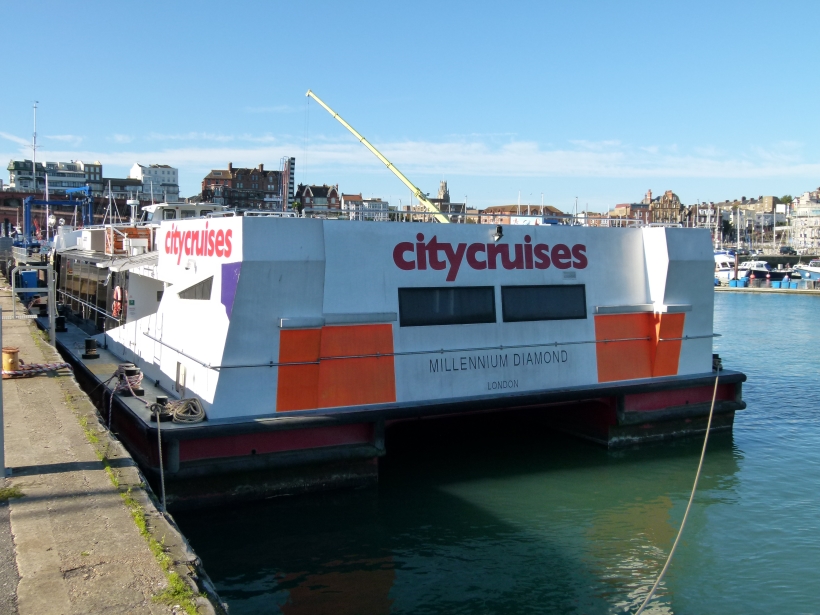 We occasionally see CLIPPERs in Dover [post 5420], calling in briefly for fuel while on passage to & from refits at their builder's yard in the Isle of Wight..
The MILLENIUM was well boarded-up to prevent damage in case she encountered bad weather when at sea away from the rather smoother Thames.
She is expected to go on the slipway on Monday & remain for a month.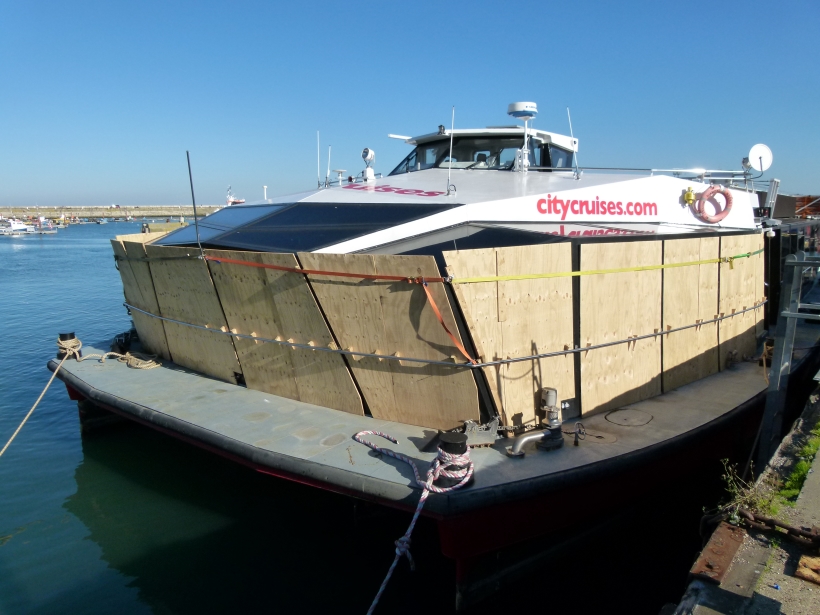 Friday, 28 September 2018 - 11:45
Post 5781
Sea News, Dover
In tandem with the picture at the top of the page today..here are some extra images of the Holyhead Towing guys in recent operation...
This picture above shows Salt Island late in the day yesterday Thursday...in the background you can see a section of the new development as it all begins to take magnificent shape... there is a huge amount of work going on across a wide area.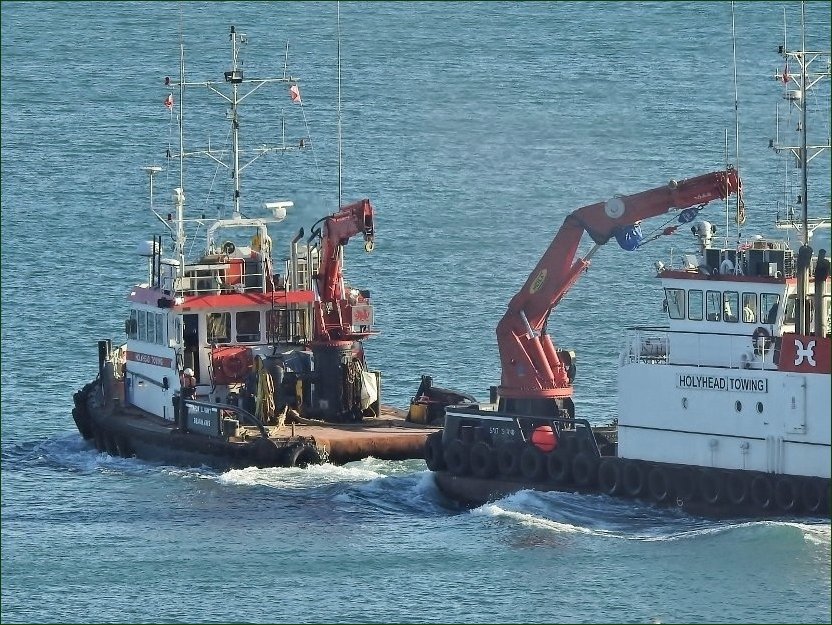 Afon Lligwy and Salt Island catching the late day sun as they head back to the inner sanctum..there they go, yes pictured yesterday late in the day. The pic currently showing at the tip top of page is from a week ago approx.
And now a pic from previously below showing Afon Lligwy once more as she approaches...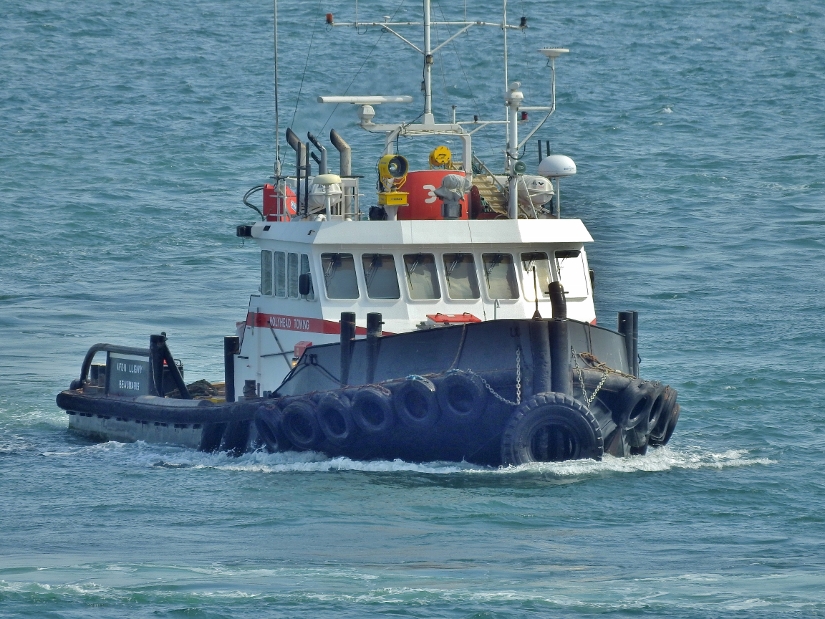 PaulB
Friday, 28 September 2018 - 04:48
Post 5780
Sea News, Dover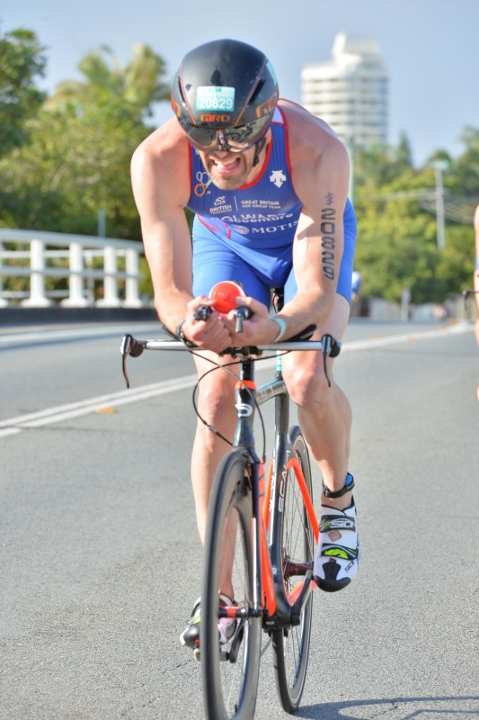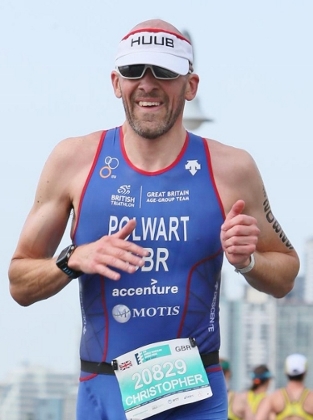 You will remember we covered the Triathlon story about the MOTIS IRELAND commercial director Chris Polwart...just had this email through. Brilliant result indeed. Many thanks for the news and pictures Rachel. PaulB
Hi Paul,
Please find attached a few snaps from the triathlon. Chris finished with a time of 2hrs 07 minutes, 33 Seconds – 31st out of 95 and 2nd Brit home out of 12.
Kind Regards,
Rachel
The original post to follow to refresh everyone... yes here we are...
Motis Ireland Limited Commercial Director qualifies for the GB Triathlon team!
______________________________________________________________
Motis Ireland is pleased to give full support to our very own Commercial Director, Chris Polwart, who will be heading to the Gold Coast (Australia) to compete in the ITU Triathlon (Age Group) World Championship's representing team GB in September this year.
Chris has completed Triathlons from the Shorter "Sprint" distance all the way to Full distance "Ironman" over the last 6 years and managed to secure a spot on the GB squad at a qualifying race in Chester in July where he finished 2nd in the Age Group category. This gave him the opportunity to compete in the same arena with the likes of Jonny Brownlee, Mario Mola and many of the current greats of the sport. Chris will be racing in the "Olympic Distance" race which comprises of a 1500mtr Sea Swim, 40km Bike and 10km Run.
As Motis is very much a Pan European business, Chris spends a significant amount of time visiting customers, suppliers, partners and staff throughout Europe. It is not unusual for Chris to be out running / Swimming / Cycling at sunrise (and before!) to keep fit (and hopefully fast) whilst managing a busy schedule and you are unlikely to find him travelling without at least a pair of trainers in his suitcase!
Motis Ireland is Europe's leading supplier of Freight Ferry bookings, Motorway Toll payment systems, Truck parking, VAT reclaim, Operates the FSA Facility in Dover's Western Docks in addition to many other services to the European Transport industry. Learn more at www.motis.com.
Ends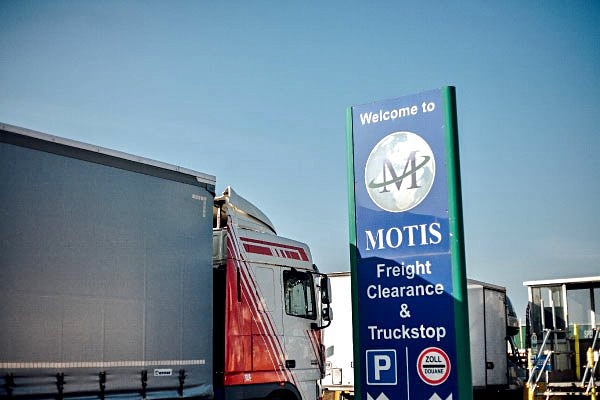 Type MOTIS in our Search Engine for more Motis News.

Thursday, 27 September 2018 - 04:32
Post 5779
Sea News, Dover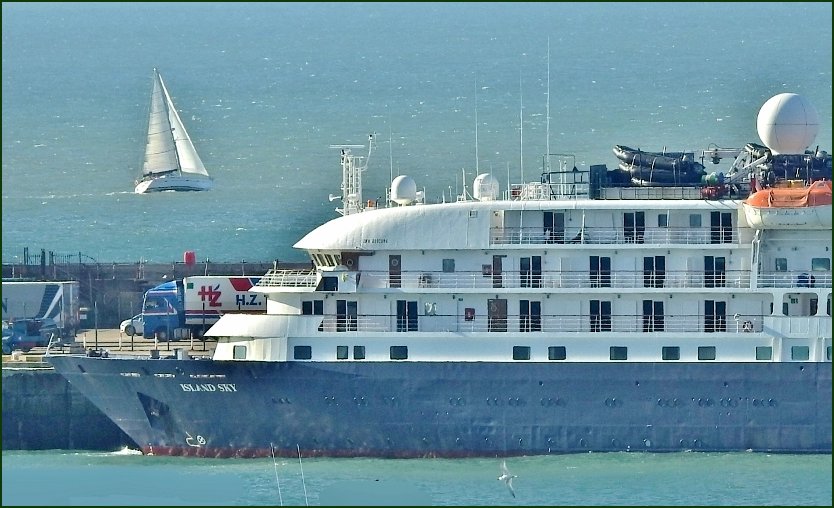 A couple of pictures above there of recent visitor Island Sky. She had just finished a long cruise which involved calling at fab locations like St Petersburg, Tallinn, Helsinki etc. She left us here at the Port of Dover ahead of schedule...departing at 1pm or 1300 hours on Monday...
another exciting visitor...
Below we have two departing pictures of Pacific Reefer from the same day Monday. This time though an evening departure in low level orange sun...always tricky on the camera. The colours look a tad off! Yours truly's dials need adjusting...I am maladjusted!

In the foreground of the first shot you can just see the bow of the Nederland Reefer while in the distance a DFDS ferry heads to Dunkerque. See also Jeremy's picture showing Nederland Reefer in 5777.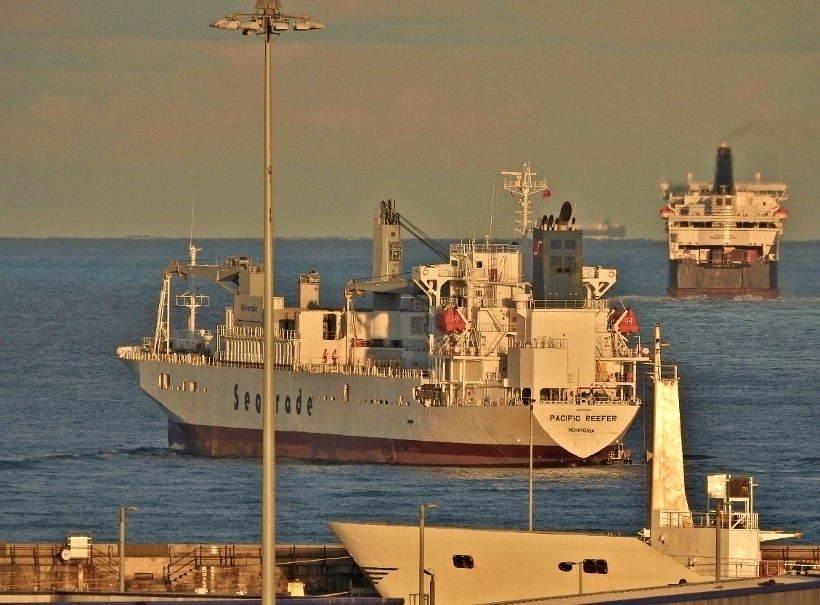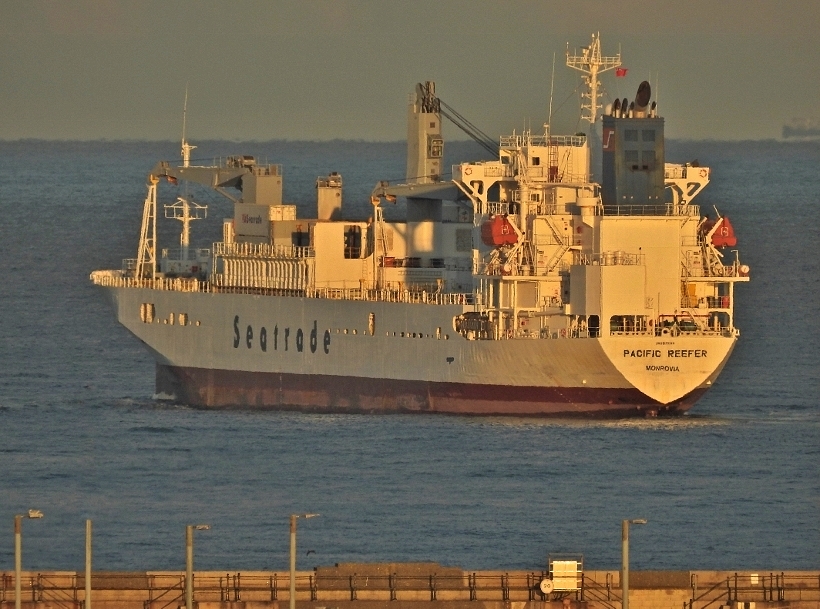 PaulB
Wednesday, 26 September 2018 - 06:30
Post 5778
Sea News, Dover
The Waverley in the English Channel.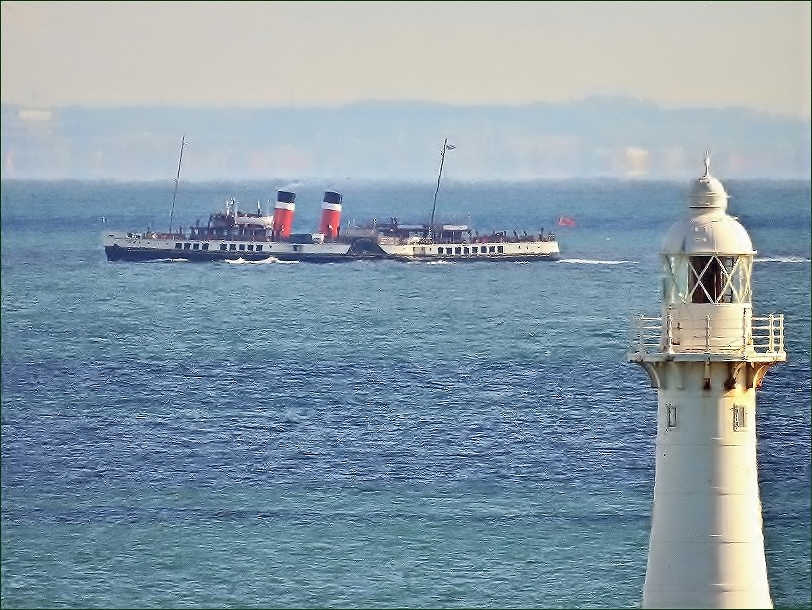 With naked vision I saw something small and brown in the far far distance yesterday...when I grabbed the binoculars I found it to be the famed Waverley paddle steamer passing by west to east. She was a long way out and the visibility wasn't great...but with the help of the computer...well there we have it above...
Cant resist also including this closer shot this morning...this pic below from 2014. Ah such a delight...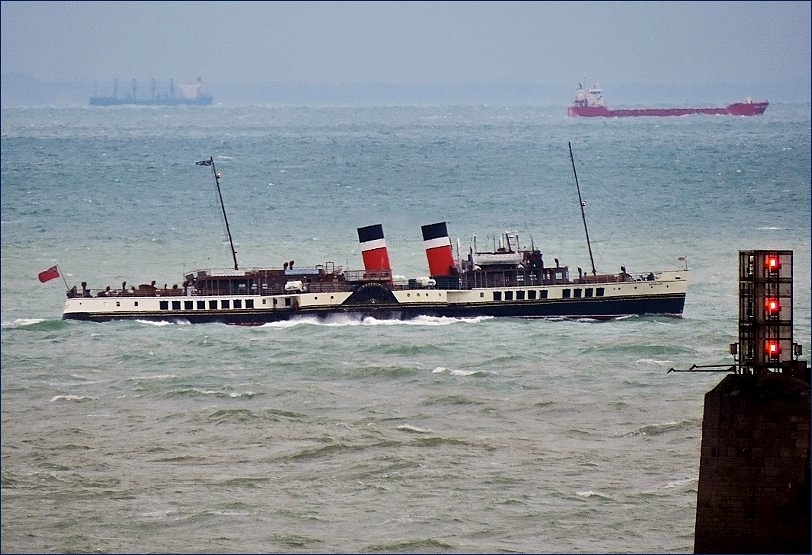 * *
Now the scheduled post...

!!
catching up on some, some, of the regular recent reefer arrivals and departures. First shots up here, the first two, we see the departing Elvira a few days ago...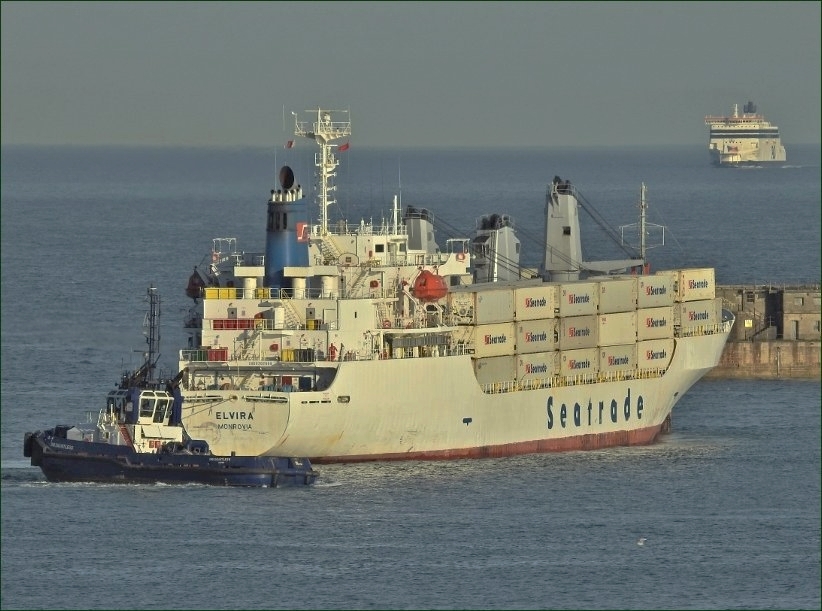 No sooner had Elvira left...we then had the arrival of the heavily loaded Baltic Klipper.
Here she is approaching on the morning of the 22nd...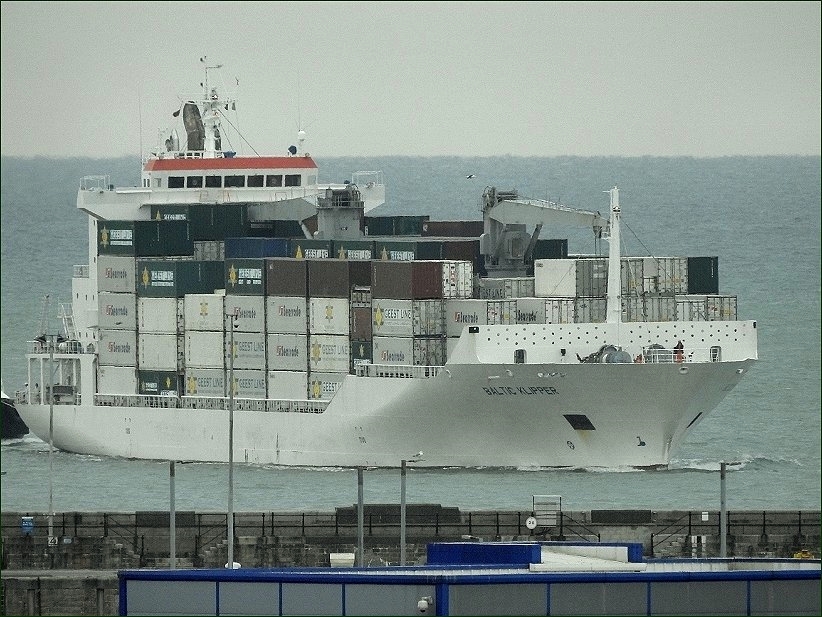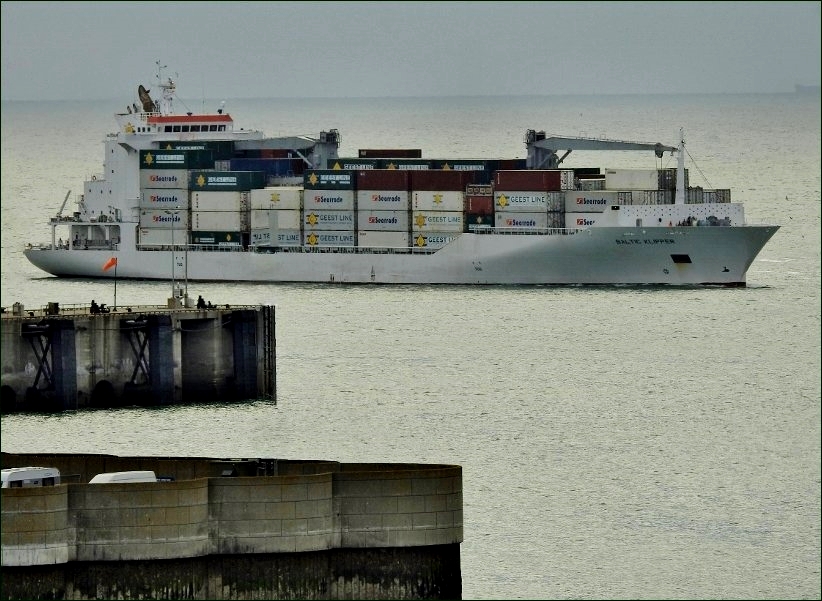 Although those pictures were taken just a few days ago, we since then have had Pacific Reefer and Nederland Reefer...its all happening, no respite on the regular rollicking reefer front.

And speaking of Nederland Reefer - that's a great shot of Nederland Reefer below Jeremy.

Really liking the other pic too. Well done with those.
Yes Nederland Reefer has been at the eastern arm for several days. She may have been in early escaping some of the rough weather while waiting for Pacific Reefer to depart. Pacific Reefer left yesterday and I gather Nederland Reefer moved across to the Cargo Terminal...but this morning she is also gone... so a slight mystery there...
PaulB
Tuesday, 25 September 2018 - 07:47
Post 5777
Jeremy Ward, Whitfield, Dover
A glorious afternoon overlooking the Port of Dover. Wonder why the Nederland Reefer is moored at the Eastern Arm?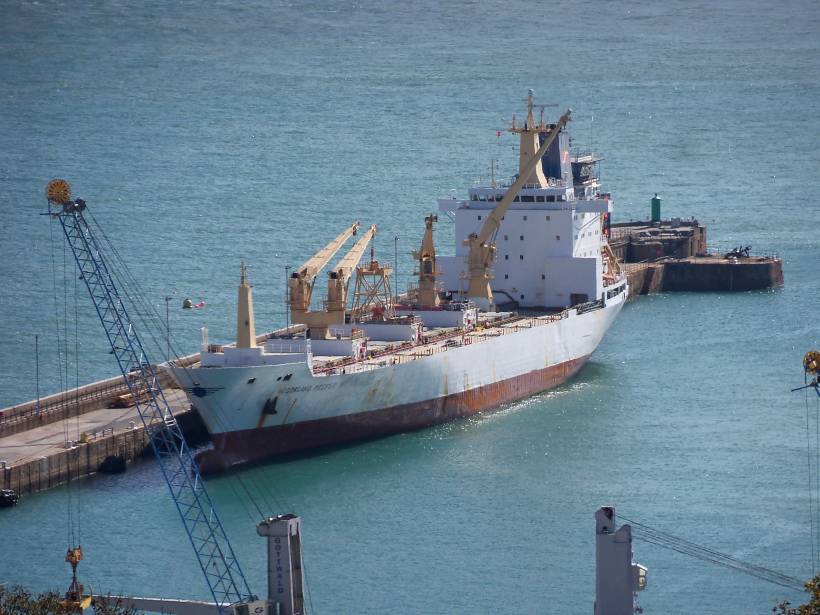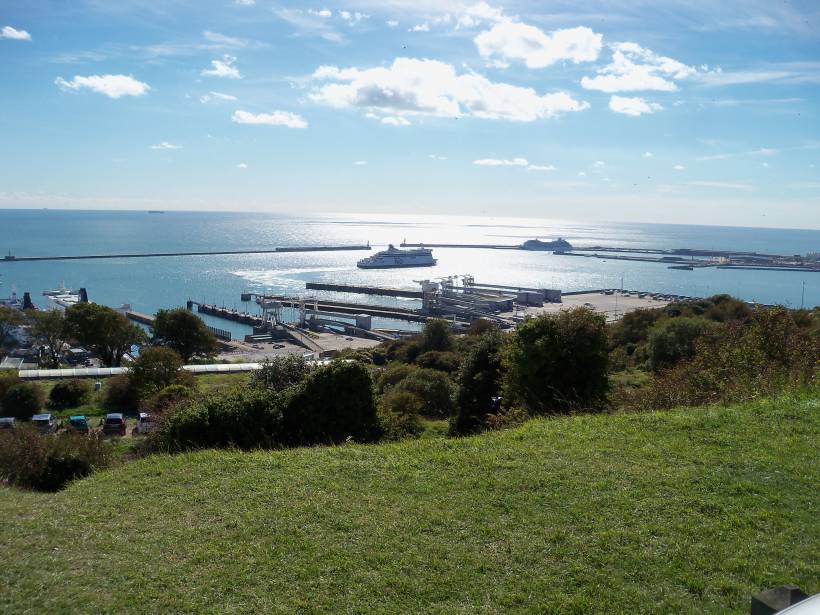 Monday, 24 September 2018 - 16:31