Sunday, 25 February 2018
Dover Lifeboat in evening action. More below...

doverforum.com/sea-news
Doverforum.com: Featuring all the ships that come and go and work at the Port of Dover with further coverage of Ramsgate, Calais, Dunkerque. Email: dover7@msn.com to send SEA NEWS pix or info.... or click ADD YOUR COMMENT below to post direct, no membership needed.

TRADING GROWTH FOR DFDS DESPITE BREXIT see 4642
PORT OF DOVER RECORD FREIGHT see 4551.
PORT OF DOVER: GEEST LINE arrival see 4597.
SECOND FEMALE CAPTAIN FOR P&O see 4608.
Sea News Dover : Use our SEARCH ENGINE below to find all sorts on the SEA NEWS pages..more than 230 now with more than 4500 nautical posts. Posts welcome. Max of 5 pictures preferred per post. Sea News Editor Paul Boland.
Post 4651
Sea News, Dover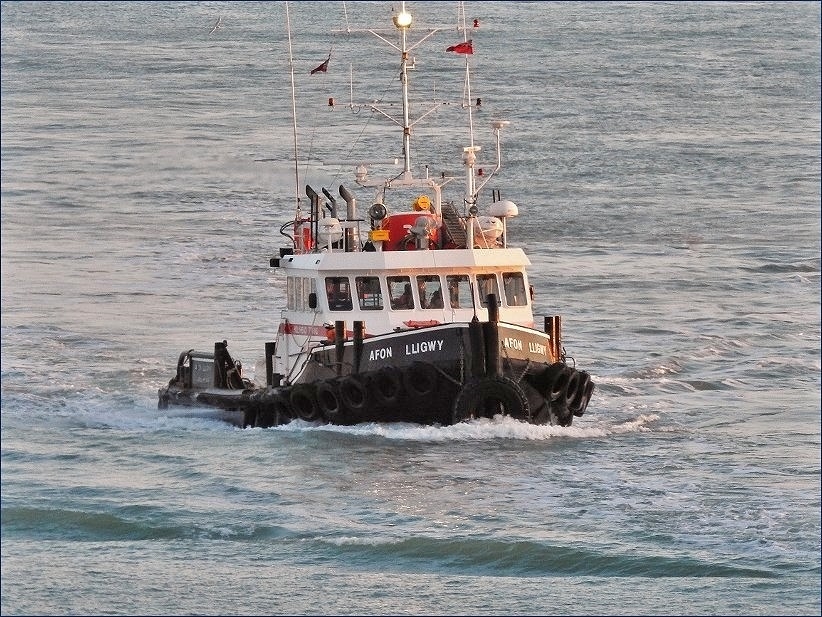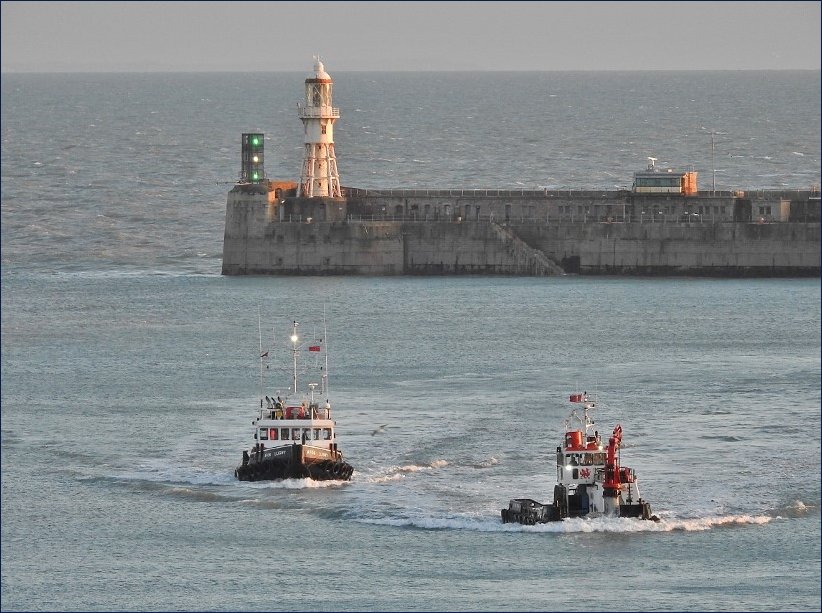 End of the Day: A couple of evening pictures above there... taken just two days ago as the two hard working DWDR tugs Afon Lligwy and LLanddwyn Island come out for another hard session in the front line. The scene is washed by the gentle touch of a dying sun.
The Royal Klipper has been in with us at the Cargo Terminal for the past 2 days ...am hoping to get a picture of that one. Great to see all these new reefers coming all the time now. Exciting! Its all going bananas !

Saturday, 17 February 2018 - 06:07
Post 4650
Sea News, Dover
DWDR crews... in the shadow of the piling ..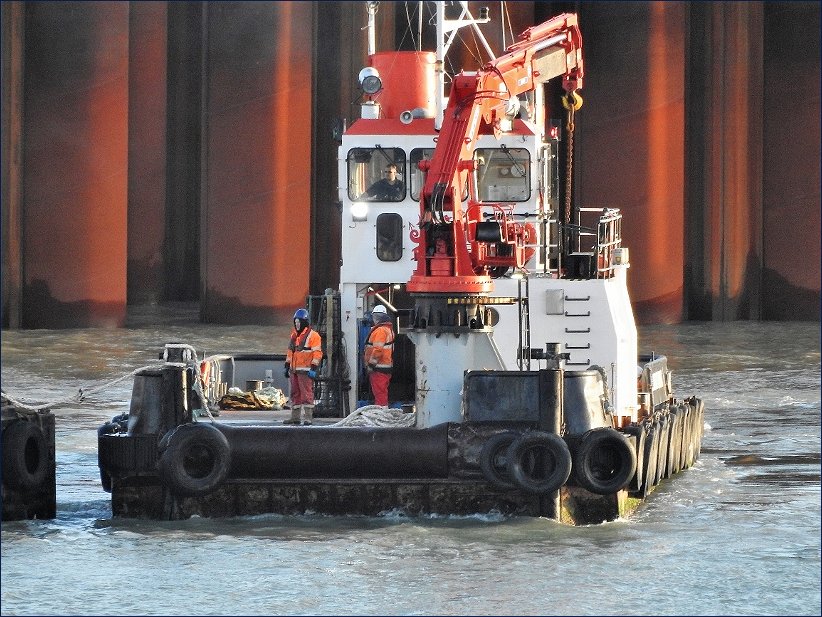 A small selection of shots here of some of the working crews. Top picture shows the guys on the DWDR tug Llanddwyn Island. These pix taken in the past couple of days in the bitter weather, you can see the guys are well wrapped up against the elements ( the chap at the controls however is in short sleeve shirt, must be warm in there! )...and well wrapped up they are too in the picture below taken at the same time. ...this picture below shows one of the crane platforms.
Llanddwyn Island meanders back to the inner sanctum ..the inner harbour, while in the foreground right you can see the Piling Safety Device as featured previously.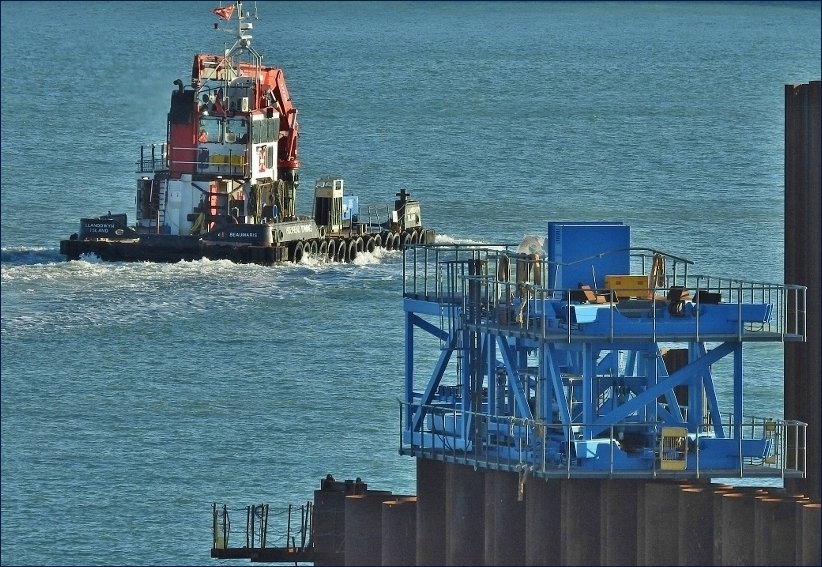 While uploading the pictures above I came across this one in the files of the crew change on the MP40 dredging platform...remember that one. Now long departed the scene. Its all constantly changing. Good to see this one again. Yours truly has pictures in the files I have long since forgotten...sometimes its quite a surprise to come across them.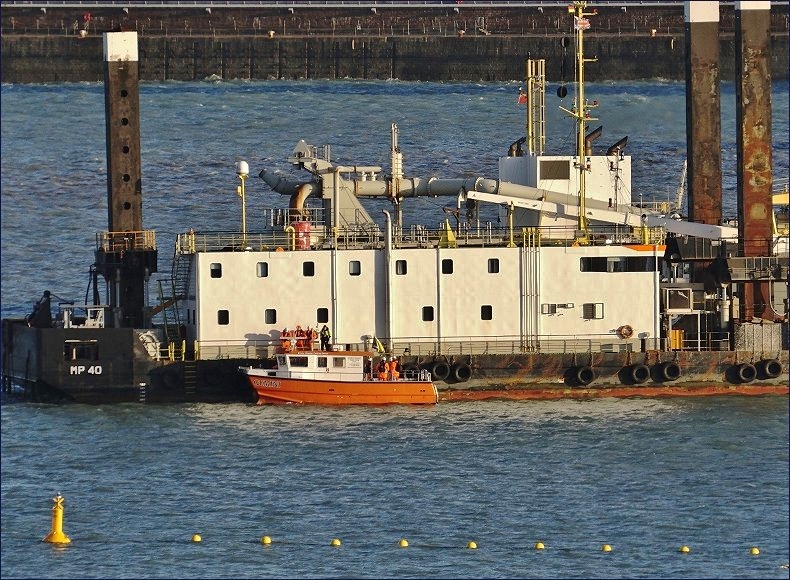 Well done Ted below there - really nice collection from Ramsgate. Great info too...all those cars taken off there. Quite a feat. Very enjoyable Ted and well done Mike for getting them up.

Also a nice collection below from Mike showing the Lifeboat out of the water here in Dover. Great stuff!

PaulB
Friday, 16 February 2018 - 05:04
Post 4649
Mike J., Dover
Thursday morning & CITY OF LONDON II receives a little TLC.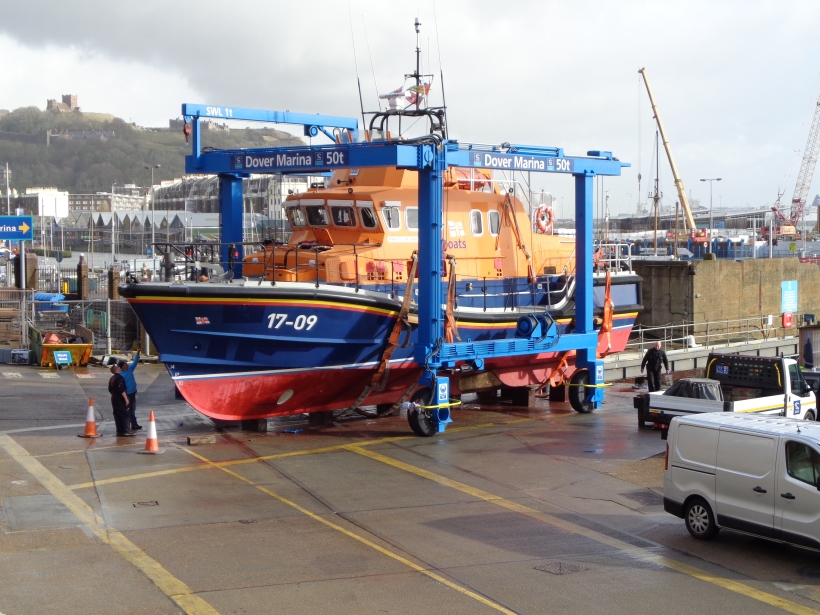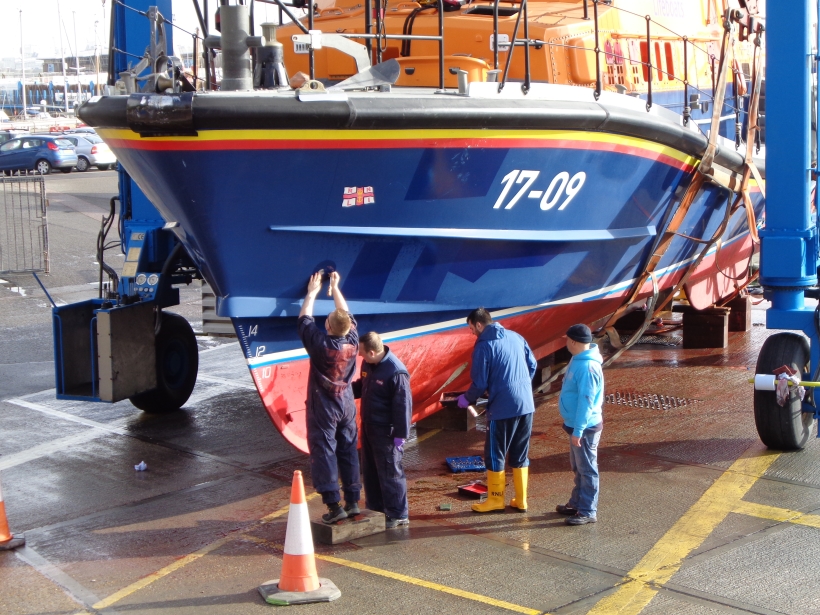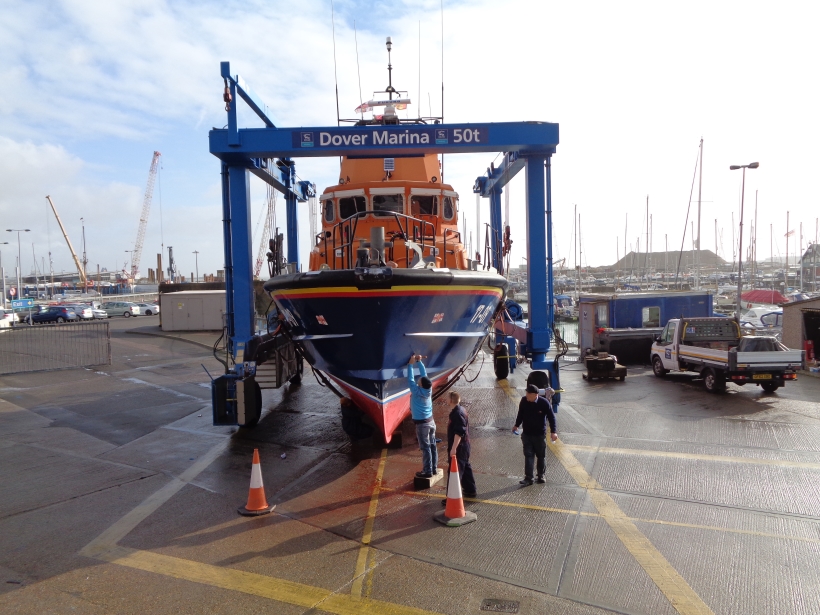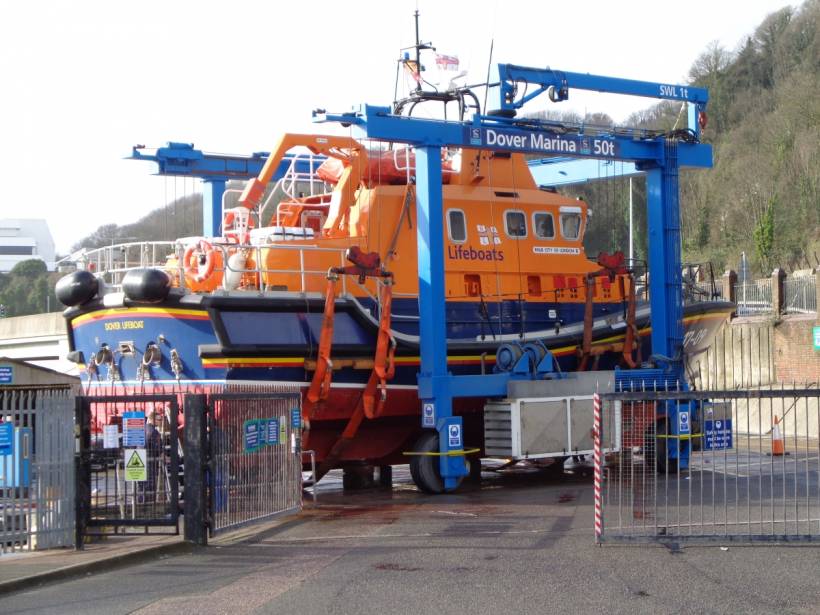 Thursday, 15 February 2018 - 22:28
Post 4648
Mike J., Dover
Ted ingham was in Ramsgate on Wednesday & sent these photos of the French car-carrier CIUDAD DE CADIZ & the tug NORECREST which was once the famous British Railways tug MEECHING, mostly based at Newhaven, a tug with a lot of history & which now operates as part of the fleet of Queenborough-based N.E Murray Marine Contractors who have a most interestig fleet of small craft & good website.
She came down from Sheppey to help with docking operations.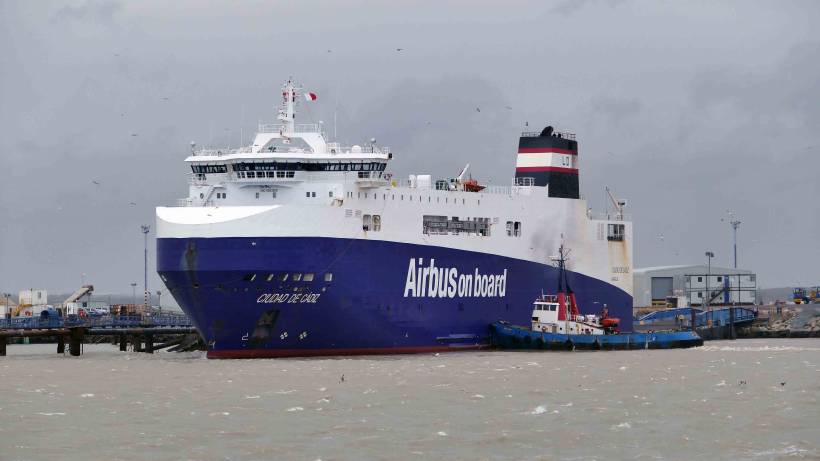 The CIUDAD DE CADIZ was chartered by Airbus Industries from LD lines for carriage of Airbus components between their European assembly plants including two in the UK.
When not carrying Airbus cargo ehe works as a conventional vehicle carrier & came to Ramsgate due to lack of capacity at Sheerness & unloaded 400 cars in little more than 4 hours.
The paint job, Airbus branding apart, may be familiar - it was carried on LD Ferries during their brief spell at Dover - their NORMAN SPIRIT. originally PRINS FILIP, is still with us after many name changes as the CALAIS SEAWAYS.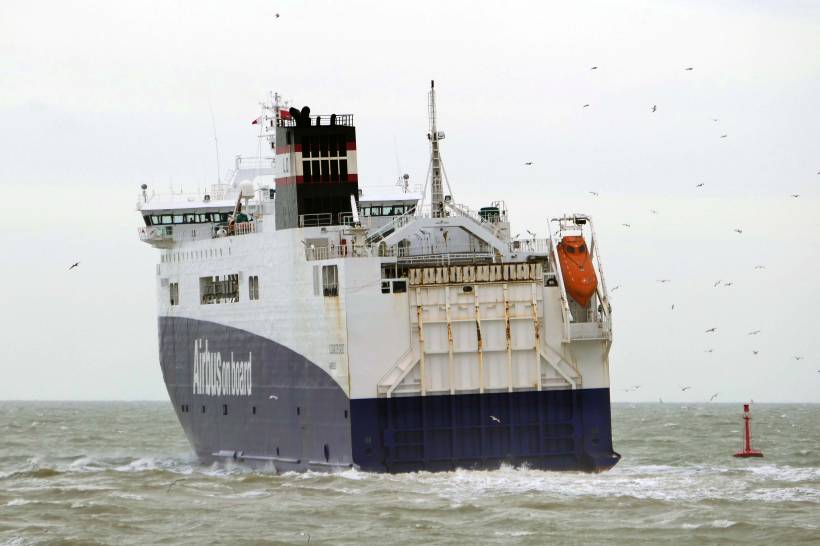 Thanks to Ted for these excellent pix.
Airbus Industries also operate unusual aircraft for carrying Airbus wings..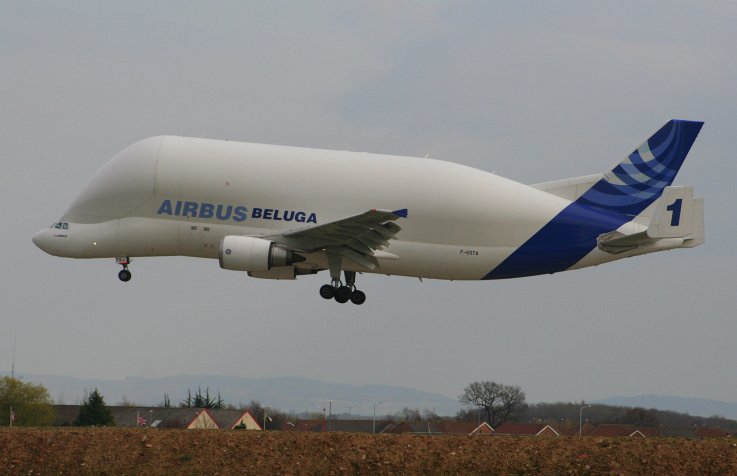 Internet image, regret photographer not recorded.
Thursday, 15 February 2018 - 14:27
Post 4647
Sea News, Dover
As promised here we are with pictures of the Benguela Stream departing in the fiercely windy conditions...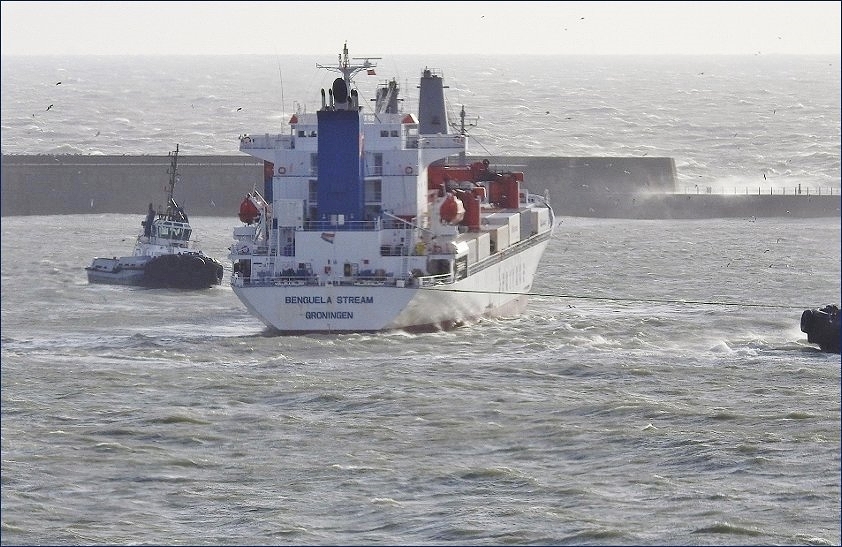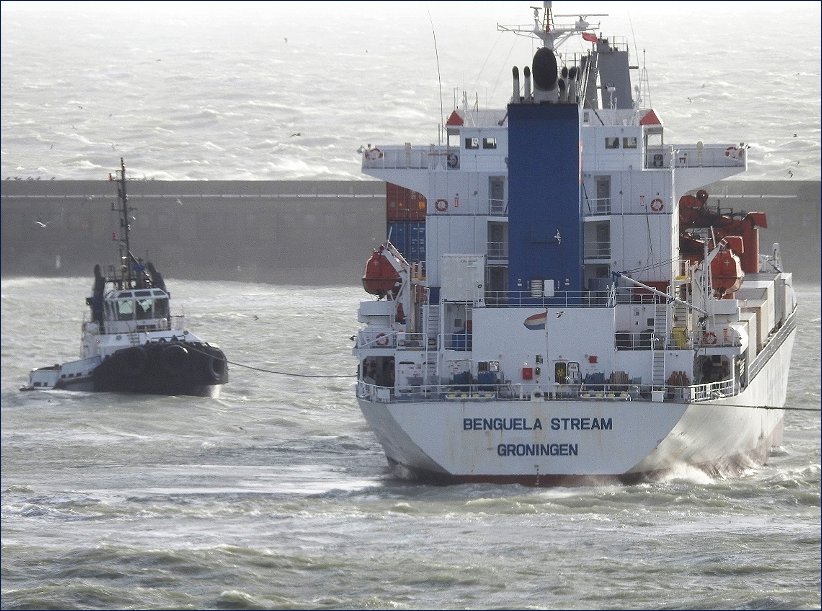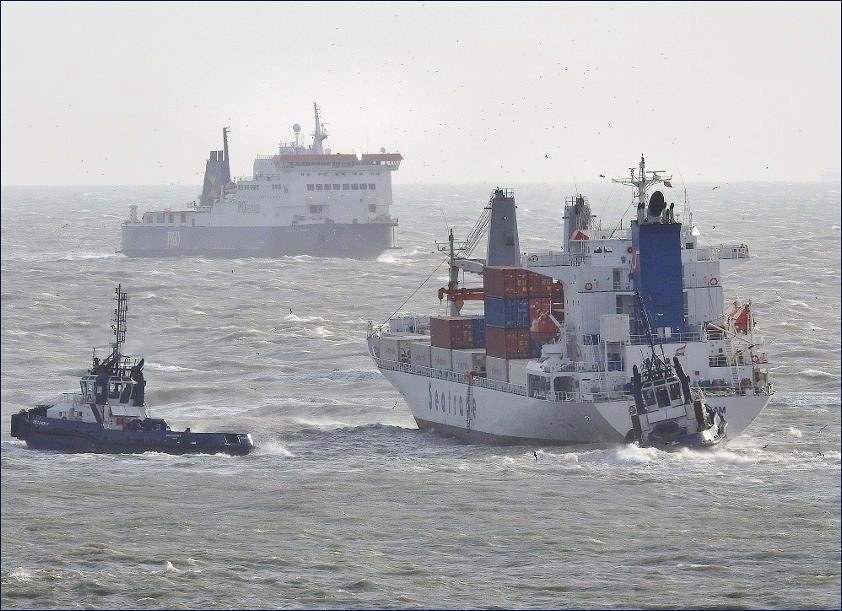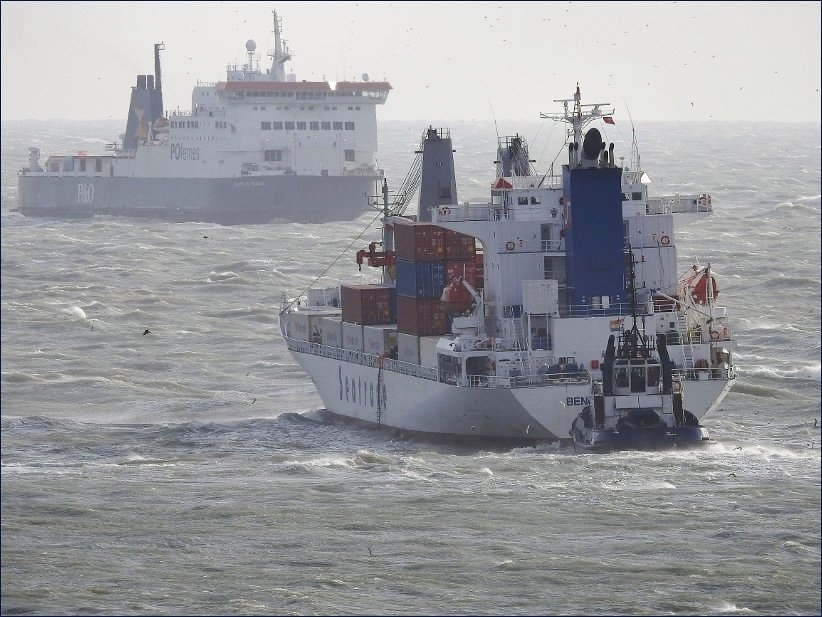 Both of the tugs, Doughty and Dauntless did a great job turning her around so that she could exit with the wind as it were... through the eastern exit. No AIS on offer so we don't know where she was heading but no doubt it will all kick in before too long.
Last night was extremely rough ....even the 'observation tower' took a battering.
See also 4644...also, in the pix above you can see the European Seaways at last having a sniff at the possibility of entering port.
PB
Thursday, 15 February 2018 - 06:48
Post 4646
Sea News, Dover
Rough Night in Dover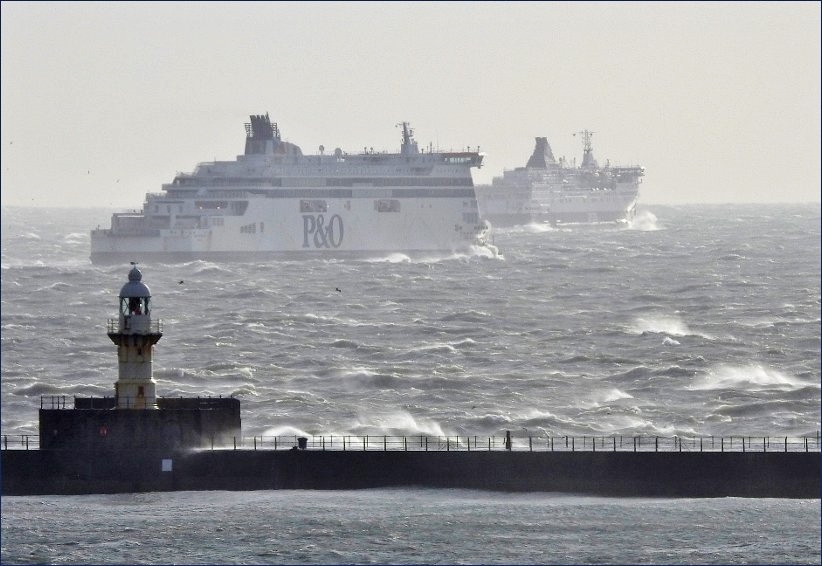 Really really rough out there tonight...one heck of an awful night. Good luck to the crews out there. The pic above shows some of the rough conditions yesterday in the severe gale....but tonight ....

That's an amazing story about Pathfinder losing Puma Mike. Sounds like a script from a disaster movie.

PB - ps: will have those further pix of Benguela Stream first thing in the morning...all being well.
Wednesday, 14 February 2018 - 18:05
Post 4645
Mike J., Dover
There are reports that the NAS PATHFINDER, now in La Coruna, was towed in after steering gear failure & that the PUMA was left adrift & is now being searched-for.
A voyage of disasters.

'YACHT 95' sailed from Dover 0700 Wednesday morning & although not shoowing a destination on her AIS seems to be in the Rotterdam approaches.

Wednesday, 14 February 2018 - 13:54
Post 4644
Sea News, Dover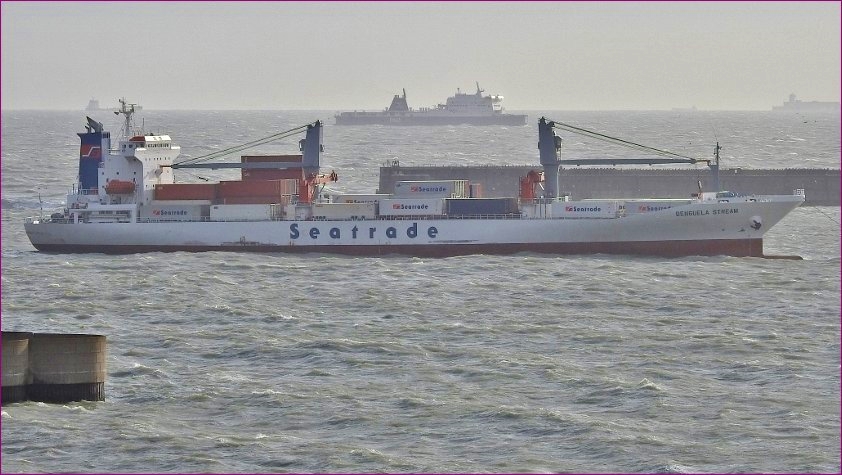 This is the mysterious cargo ship departing yesterday morning around 09.40. I say mysterious as she doesn't seem to employ the use of AIS. Its another new one, or more accurately new to us here in the Port of Dover...Benguela Stream. Fascinating indeed. Yours truly could see her in the distance at the DCT but couldn't tell what she was called without AIS. She was leaving above there in a fierce gale..'severe gale 9'. The tugs managed to turn her about....will have follow up pictures of that in due course. In the background you can see P&O's European Seaways waiting offshore. There was something of a berthing backlog in the fierce wind.
Wow! nice collection below there from our 'inshore correspondent' Mike

"This old tub" .. love it...


PaulB.
Wednesday, 14 February 2018 - 06:54
Post 4643
Mike J., Dover
This old tub came in from Poole on Monday evening for shelter on a delivery voyage, final destination currently unknown.
She is showing on AIS as '95 YACHT'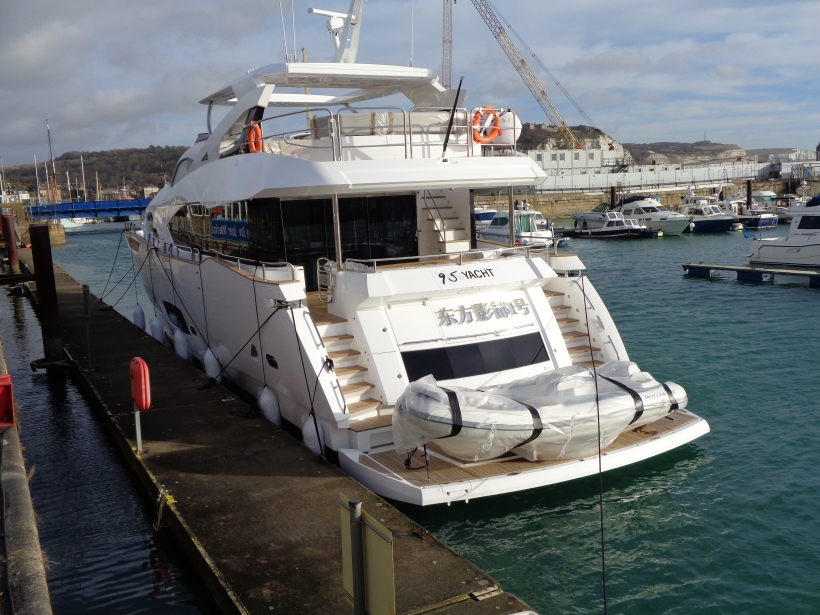 Can anyone out there read Chinese ?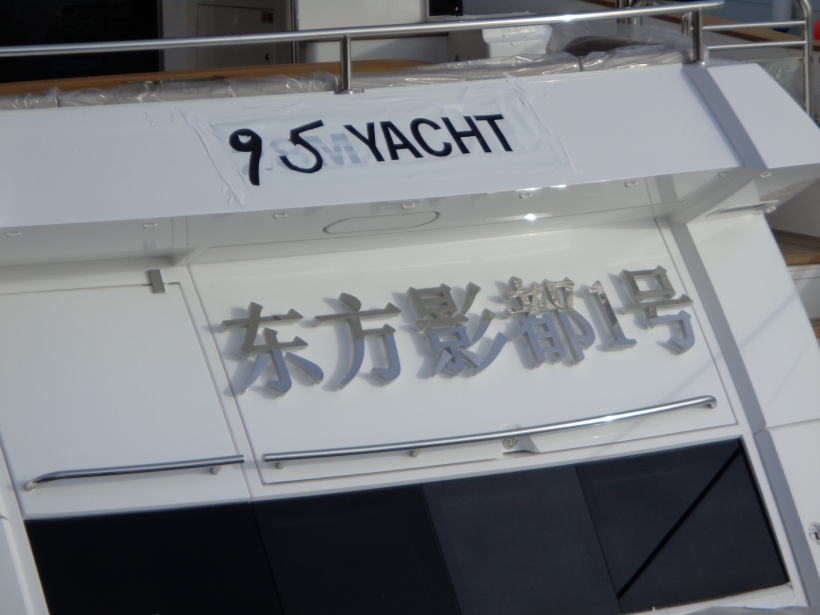 The CRC COMET in the Tidal Basin.
She deson't seem to get out much, very few photos of her on the forum.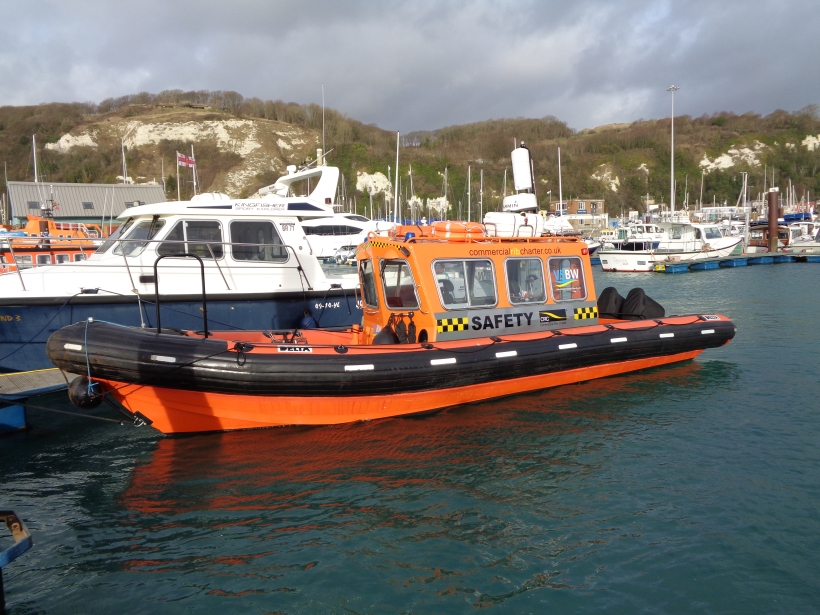 Tuesday, 13 February 2018 - 15:03
Post 4642
Sea News, Dover
Cote des Flandres at Dunkerque.. picture by George Holland.
DFDS ANNUAL RESULTS SHOW TRADING GROWTH DESPITE BREXIT UNCERTAINTY
_________________________________________________________________________
Ferry operator DFDS has reported another record year for 2017, with the company's Annual Results released this morning showing an operating profit of DKK 2.7 billion (£321 million*) last year.
Despite ongoing uncertainty caused by Brexit, the company's operations across Europe continued to grow into the fourth quarter, with a positive consensus looking into 2018 based on recent key indicators.
"Overall, North Sea freight volumes grew by 7% in 2017. In spite of the Brexit issue, and the delayed Brexit agreement between the UK and EU, we see that the UK's economy is still growing, albeit at a slower pace," says Niels Smedegaard, CEO & President, DFDS.
"According to the UK government's official prognosis, growth is expected to continue at just over 1 per cent in 2018. At the moment, we even see an increasing growth in British exports, which also contributes positively to our developments on our ten North Sea routes. Brexit is not what we hoped for, but it does not change our confidence about the future. The official expectation is that the UK economy will keep growing (although at a slower pace), and as the EU economy is also predicted to grow and both parties depend on trade, we are hopeful for the future."
Operations across Europe continued to grow in Q4 2017, including in the UK – DFDS' largest market – where export volumes continued to grow at a high rate, while import volume growth slowed due to reduced car imports. Demand for passenger services was stable in Q4 as demand in the UK continued to stabilise.
In 2017, DFDS invested significantly in their digital infrastructure and will increase these investments in 2018, introducing systems for bookings, payments and journey planning, across all devices, including mobile. New apps for freight customers and their drivers were recently introduced to make it easier for them to work with DFDS.
Company revenue is expected to increase around 2% in 2018, excluding acquisitions while investments company-wide are expected to amount to around DKK 1.1bn (£130 million*). Trading in 2018 is expected to remain robust with growth across Europe expected to mitigate the inevitable uncertainty caused by the Brexit negotiations.
To accommodate the expected volume growth over the coming years, DFDS has ordered four new mega ships with a capacity of 475 trailers each for the North Sea traffic. The ships will be delivered from 2019 and onwards from the Jinling Shipyard in China.
"In spite of the challenges Brexit may lead to over the coming years, we can also see opportunities for providing our customers with new, valuable, customs clearance services after Brexit, should customs clearance become necessary," says Niels Smedegaard.
For the full list of Annual Results, please visit:
www.dfds.com/group/investors/reports-and-presentations/q4-report-2017
ENDS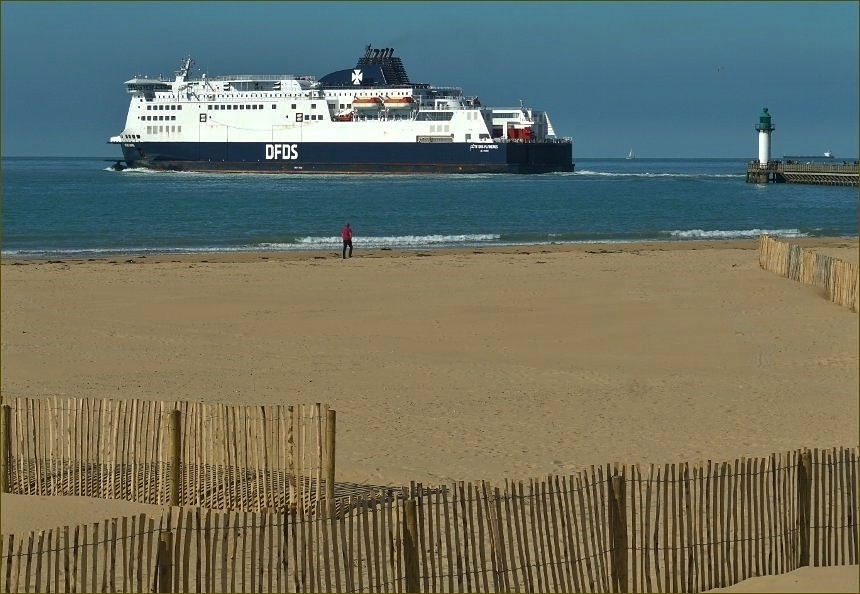 Cote des Flandres leaving Calais.
Many thanks to DFDS for the information above once again. Positive news there..


Tuesday, 13 February 2018 - 07:08
Post 4641
Sea News, Dover
SEVENTEEN P&O FERRIES APPRENTICES WELCOME DOVER COUNCILLOR MJ HOLLOWAY
....... TO MARK SUCCESS OF COMPANY TRAINING SCHEME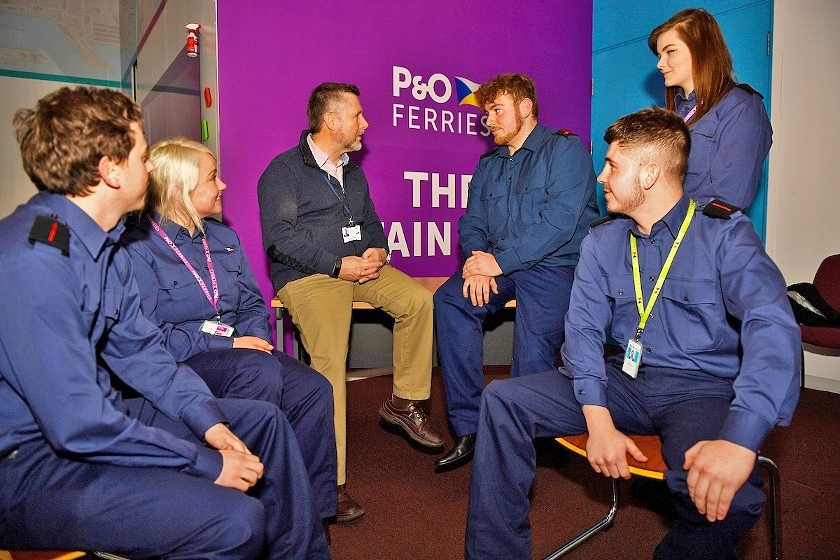 SEVENTEEN apprentices from P&O Ferries' successful training scheme welcomed the Dover Councillor MJ Holloway to company HQ last week (31st January) to explain how the course was helping young people locally get into the workforce.
Councillor Holloway has responsibility for the council's training portfolio and spoke with the apprentices to find out more about why they applied for the two-year course, how it works and what life is like on board one of P&O Ferries' 47,000 ton ships on the English Channel.
Councillor Holloway said: "I would like to thank everyone at P&O Ferries for extending this kind invitation to me. It's a great programme and the apprentices on it are impressive and inspirational for others."
Mike Willis, Learning and Development Advisor for P&O Ferries, added: "The apprentices were delighted to meet Councillor Holloway and explain what our scheme has done to help them. Being trained to help sail a 47,000 ton ship on the English Channel is an exceptional career opportunity and P&O Ferries is absolutely committed to help develop the seafarers of the future."
"We will be inviting new applications in the summer for next year's course, which will start in October. I would urge any men or women who are thinking of a career at sea to register their interest by emailing poferries.com/careers."
P&O Ferries' apprenticeships scheme has been running since 2014 and has to date helped more than 30 local people start a career at sea. Of the 17 apprentices currently doing the course, 10 are studying to become what are known in seafaring as Deck Ratings, with responsibility for steering the ships, loading cars and look-out duties. The other seven are studying to become Engine Ratings, which entails working in the engine room and maintaining machinery.
All ten are employed on a Shoreside Learning Contract, whereby they travel daily onto the ships and have taster periods of living on board by way of preparation for when they are qualified. They also study for a diploma in maritime studies at North Kent College in Gravesend as part of the course.
P&O Ferries' wider stakeholder programme offers visits to schools and colleges within the local community, a free initiative with the visit often tailored to school requirements and their current projects.
ENDS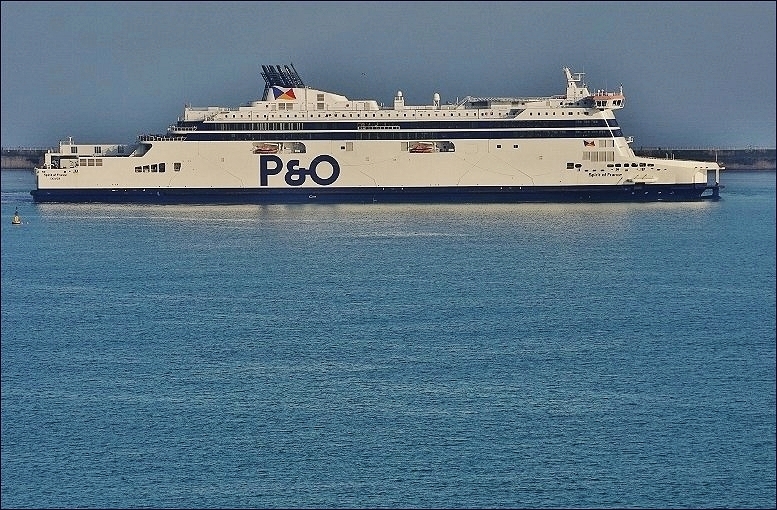 The Spirit of France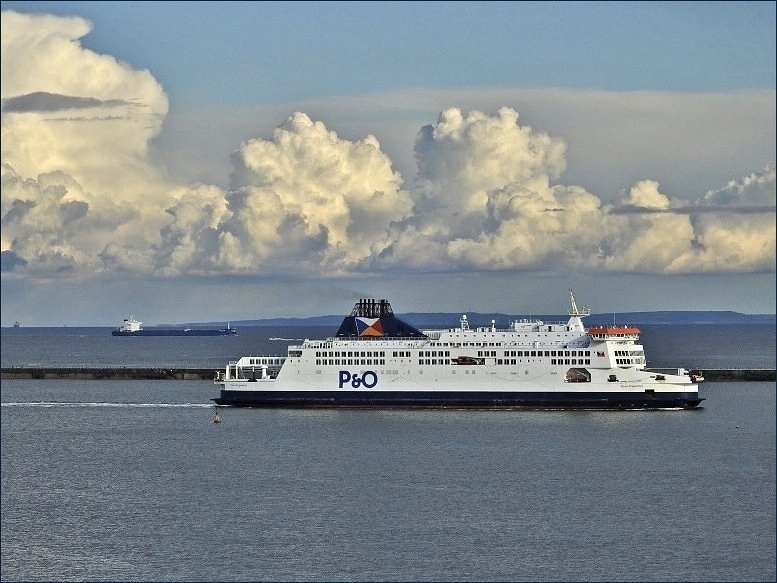 The Pride of Canterbury
Many thanks once again to P&O Ferries for the information above.
* *
A special EXTRA. Fox News: We were delighted to see these fascinating visitors over the weekend. Taking the light sea breezes they were, with an additional bask and a stretch and a snooze in the blinding sun, as they watched the ferries too-ing and fro-ing to la belle France. Gosh they even have a better spot to watch than yours truly!! Shouldn't be allowed....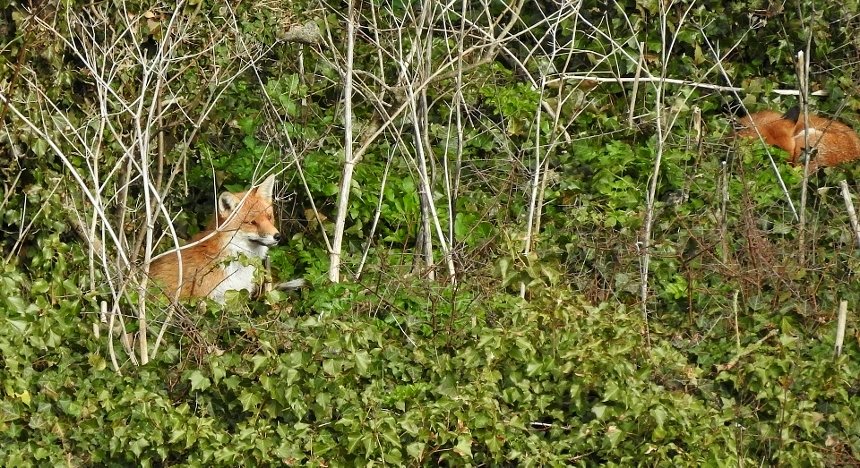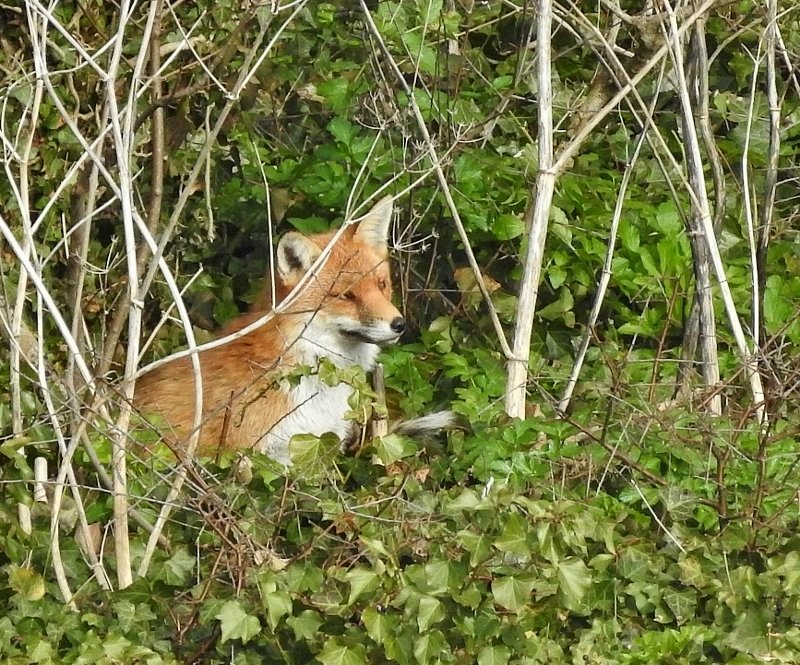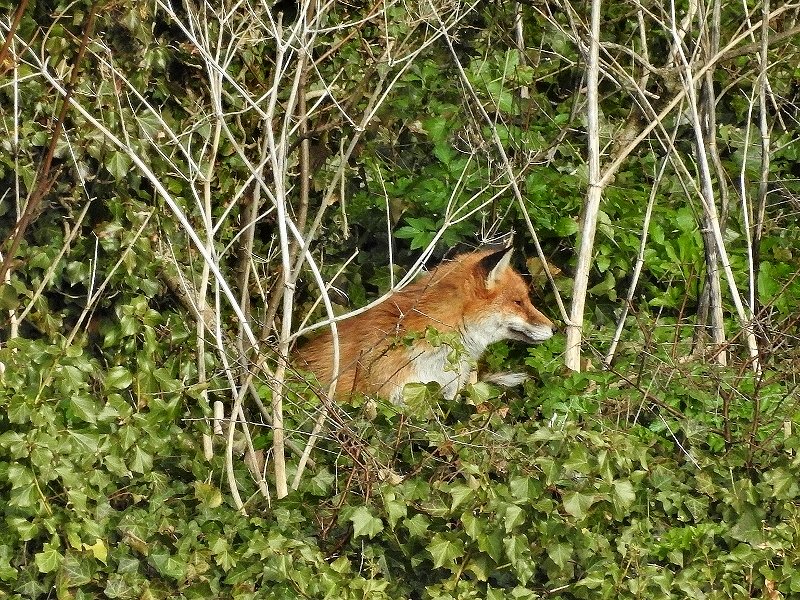 Good info and pictures below there Patrick - well done all round.

Ahhh nice shot again Ed of the Lombok Strait below. Great stuff!

The Lombok Strait left us this morning early heading for Vlissingen in the Netherlands. There is another ship in now but currently there is no AIS reading...so... don't know which one. Just caught the tail end of it arriving and reversing in...no pix though. Very busy times for sure at the cargo terminal.
PaulB

Monday, 12 February 2018 - 06:30
Post 4640
Patrick, Marine Parade
Yet another progression in the DWDR development. Having seen the dredger 'Barent Zanen' leave last month from its regular sand runs to the infill area alongside the Prince of Wales Pier and returning to Rotterdam, closely followed by the departure of attendant tug 'Morag' to Felixstowe; one of the floating crane barges left Dover today, also heading for Felixstowe, towed by tug MTS 'Vanquish'.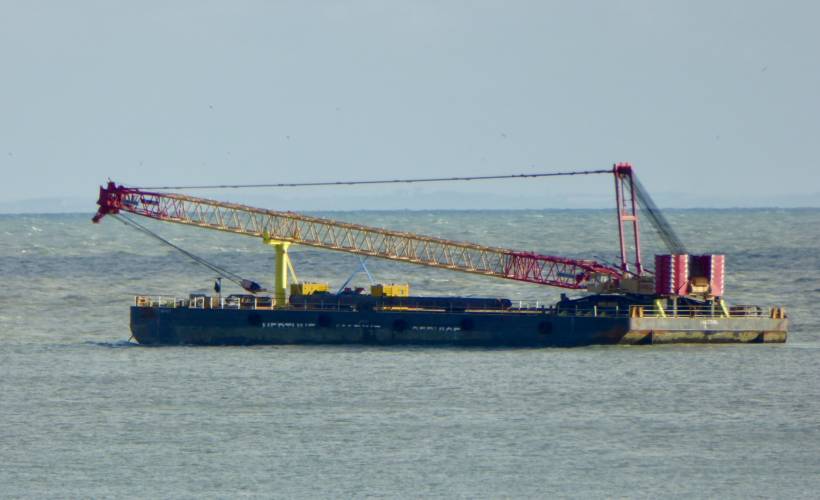 Sunday, 11 February 2018 - 17:09
Post 4639
Ed Connell, Dover Strait
Lombok Strait at the DCT yesterday afternoon.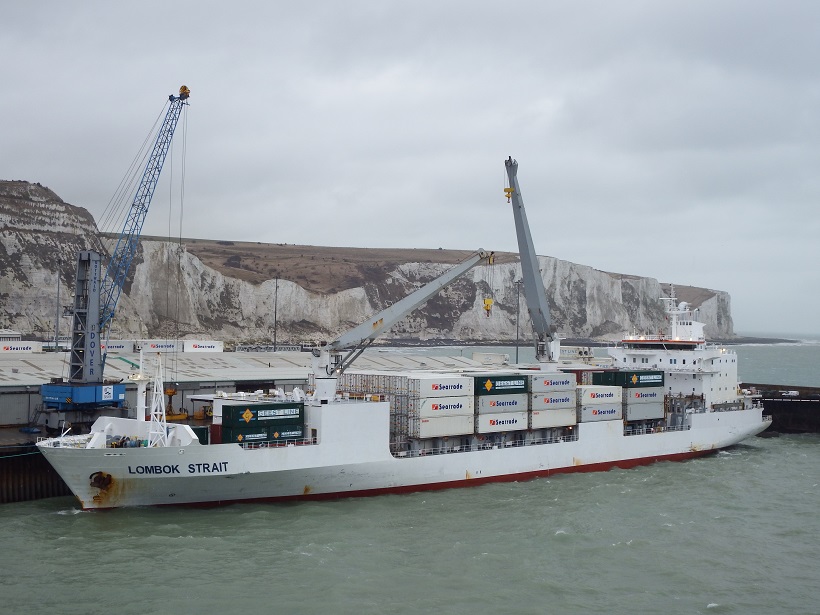 Sunday, 11 February 2018 - 08:27
Post 4638
Sea News, Dover
Sun and Deluge:
These dramatic images were taken on the day of the snow. In the beginning the sun blazed up and over the horizon in awesome fashion...dazzling the crews of the early ferries as they powered to Calais. You can see two ferries in the shot below. For a short glorious while the sky was aflame, a vision in gold and red...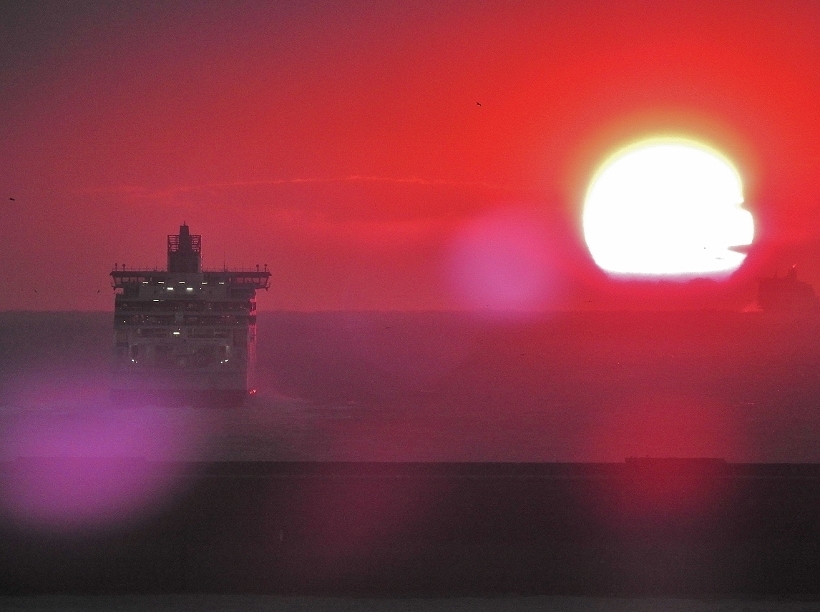 And then came the deluge. Calais was getting it good .. as you can see in the picture below..and the sun was blotted out. Snuffed out like a candle on a dark and stormy night ...brrrrr ...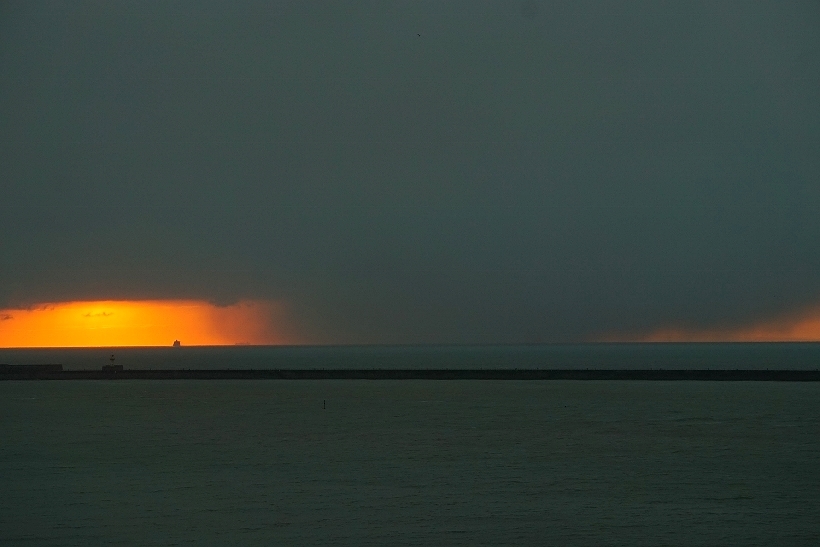 An extra earlier image taken on a different camera ...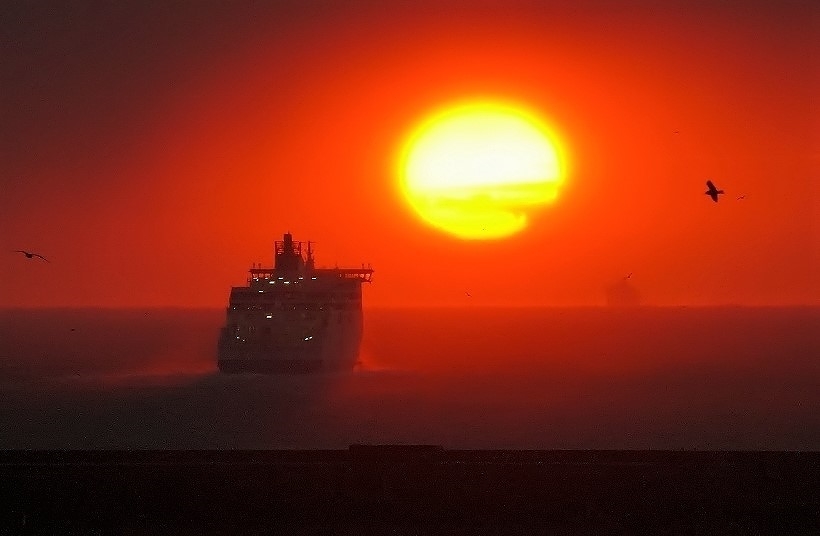 PaulB.
Sunday, 11 February 2018 - 07:01
Post 4637
Sea News, Dover
The Lombok Strait: Also newly contracted to the Geest Line ( Geest Line now operating through the Port of Dover). Yes she arrived about 5.30 pm last night from the Dominican Republic. Yours truly tried several shots but it was just too dark over the longer range. However ... got just this one pic above, which came out reasonably well...it was taken while she waited with tug Doughty to reverse into the DCT ( Dover Cargo Terminal ). It was the only picture I could manage..so well done Ed you saved the day again with that ace shot below.


PB.
Saturday, 10 February 2018 - 07:31
Post 4636
Ed Connell, Dover Strait
Lombok Strait at the DCT tonight.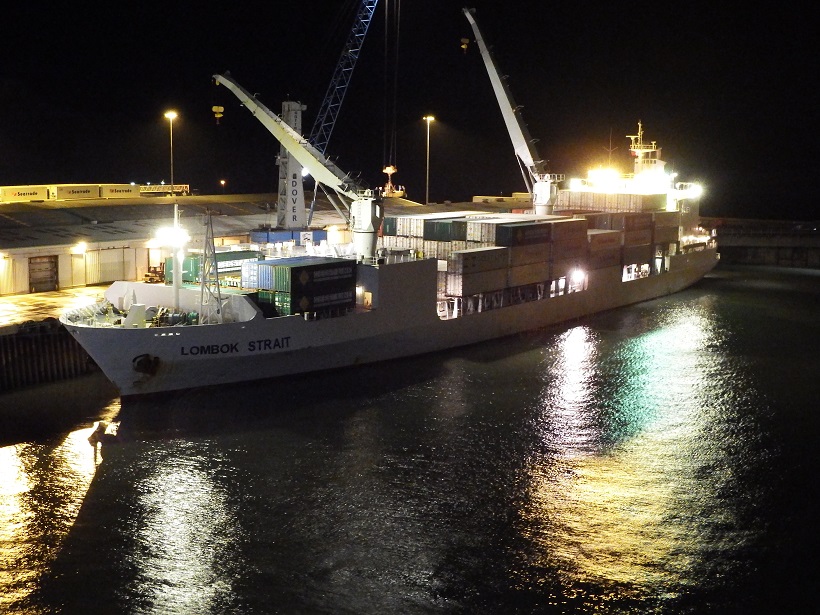 Saturday, 10 February 2018 - 01:43
Post 4635
Sea News, Dover
Absolute cracking picture that below Ed..

Friday, 9 February 2018 - 16:41
Post 4634
Ed Connell, Dover Strait
Snowing in Dunkerque West this morning.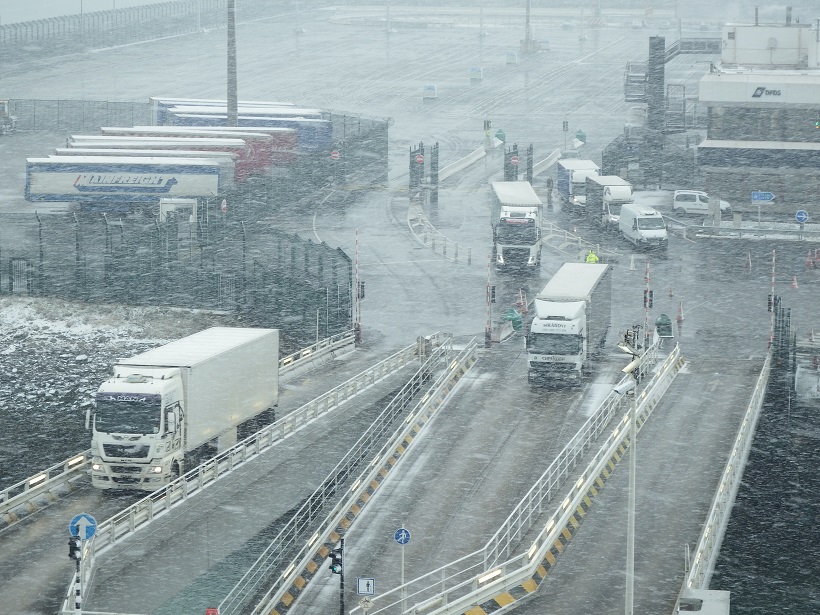 Friday, 9 February 2018 - 12:53
Post 4633
Sea News, Dover
As promised here we are with the catch-up shots of the Klipper Stream... these pictures running a couple of days late...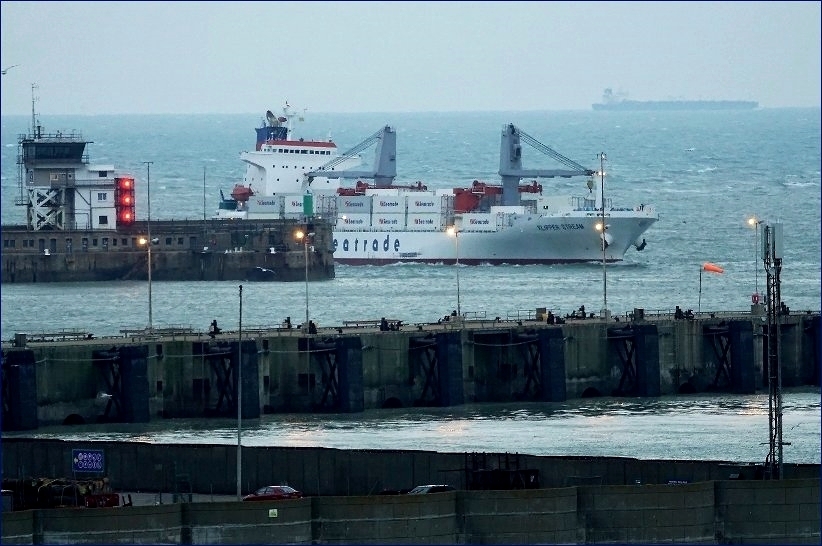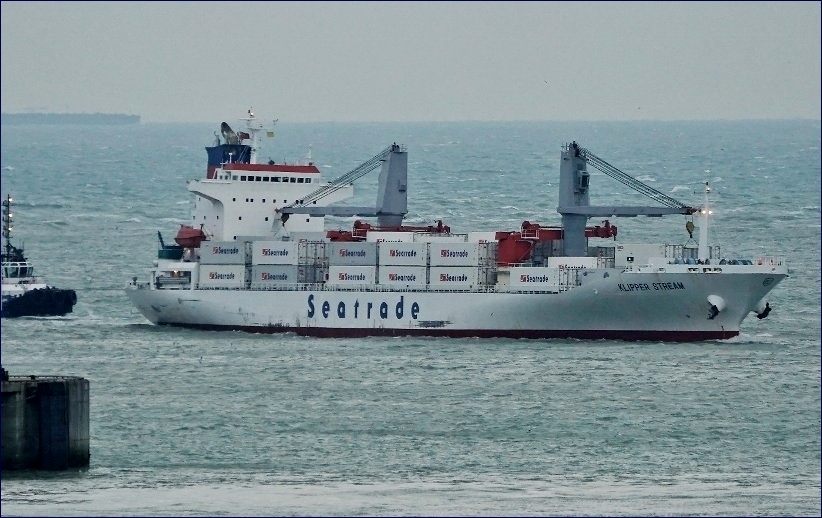 The two pix above show her arriving late in the day on Monday the 5th - she had been waiting for the Luzon Strait to depart. Time of arrival roughly 16:45 (quarter to five) just as it was getting dark. Happily the days are stretching a tad lightwise.
Below we have her departure the following day. Just a single tug boat helping as she is in relative terms a wee bit smaller. Off to Hamburg she was. Exciting to see these different ships coming into the Port of Dover. Also don't miss Ed's close-in pictures further down page....posts 4623 and 4621.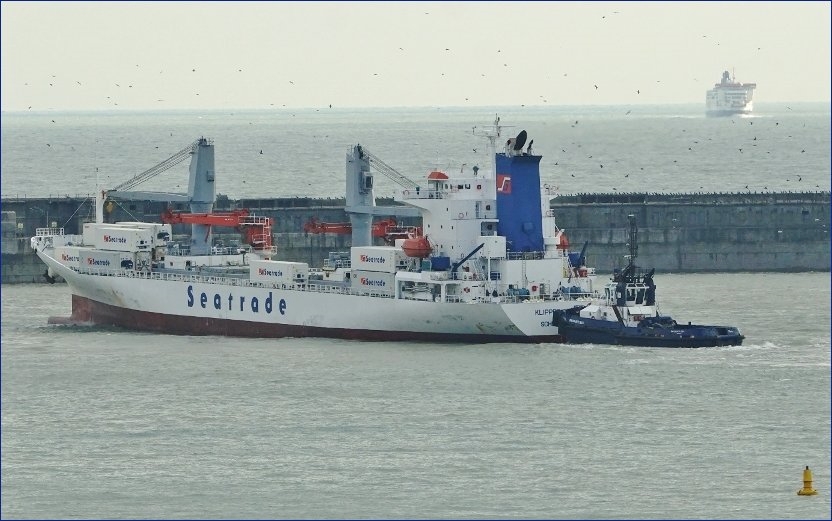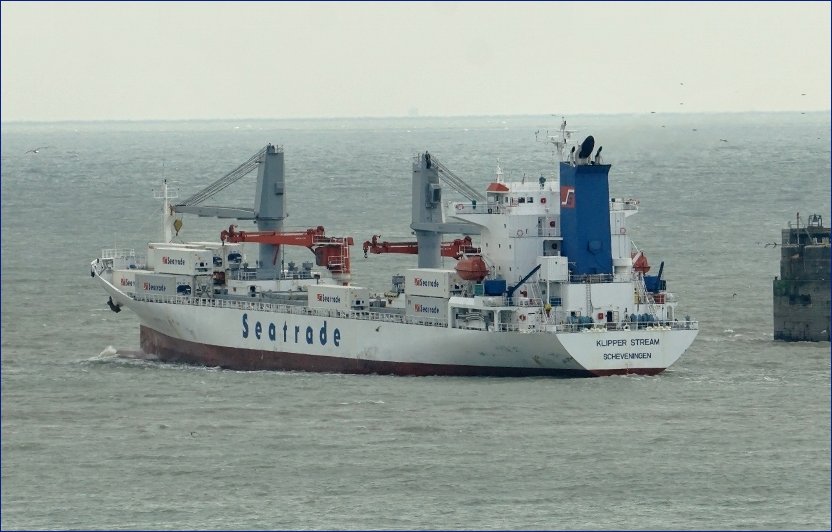 Great collection below Mike, great info too. Yours truly didn't realise for example that our beloved MoragM has gone. Oh nooo ..

Wow Sarah, fascinating to see those Flog It pictures. You roved over to Dover. Blimey - hope you didn't flog off the family jewels


I know who those experts are as I regularly watch ( don't tell anyone


) Bargain Hunt.
Don't miss these pix from Mike and Sarah below.
PaulB
Friday, 9 February 2018 - 07:46
Post 4632
Mike J., Dover
DWDR works Thursday afternoon.
Land reclamation seems to have stopped for the moment, with the BARENT ZANEN tied up in Rotterdam since the end of January, but the piling thuds on & concrete is being poured in the 'Cut'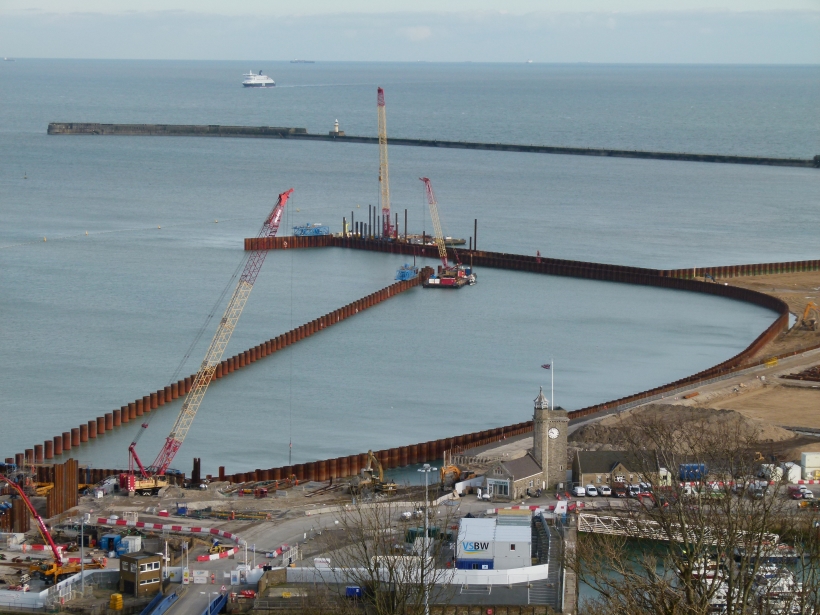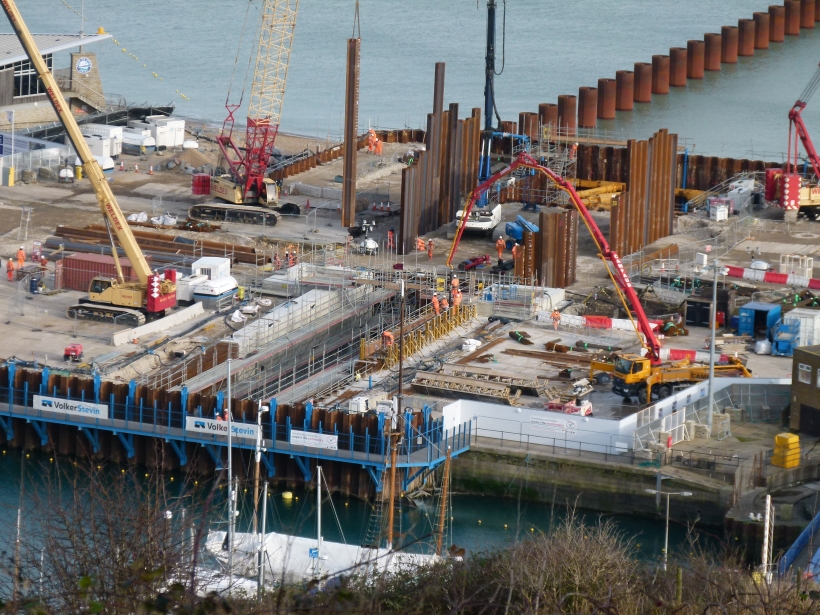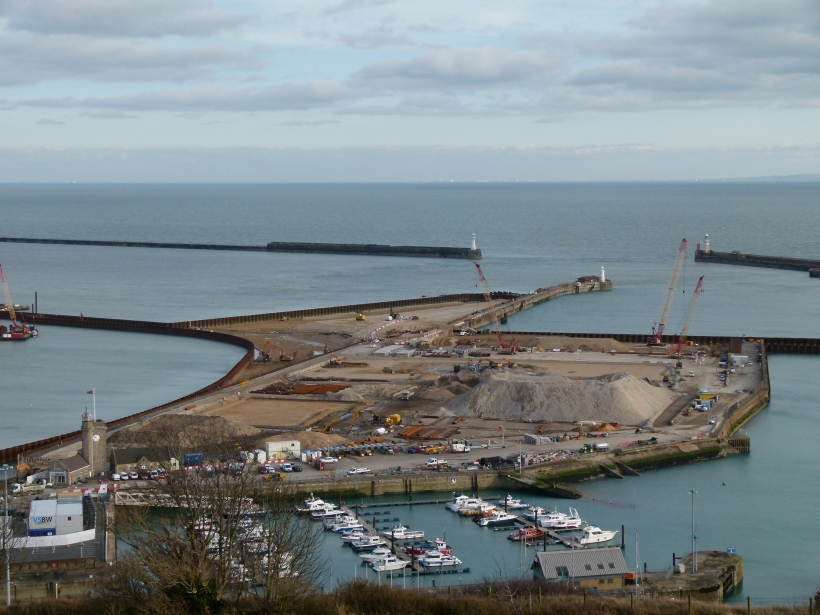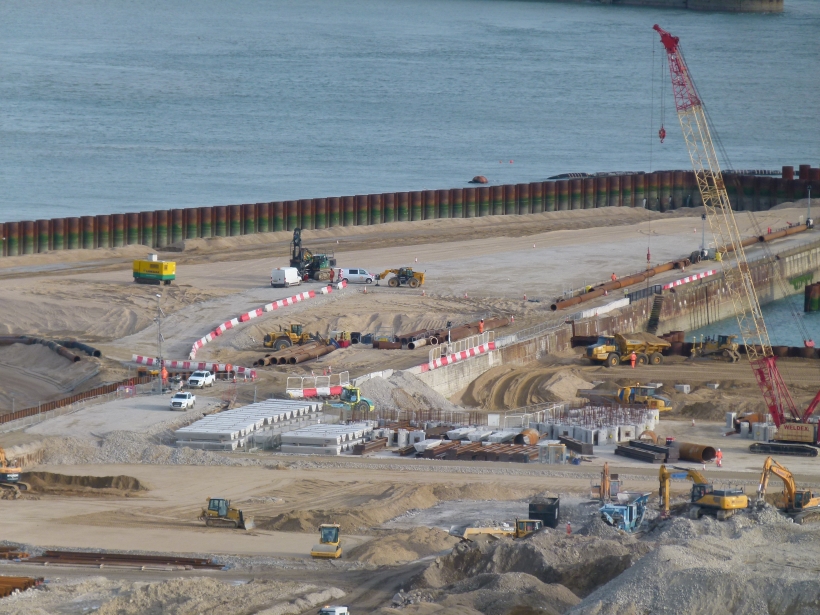 The green & yellow 'thing' looks very similar to a tracked vehicle that was used for 'ground radar' investigation work during the railway seawall rebuild job a few years back - if it is its probably checking how the sand is settling down.
GPS AVENGER sailed Wednesday evening towing at least one barge & is now in Rotterdam..
SMIT YOUNG only went as far as Folkestone on Wednesday & is now back in Granville Dock & moored astern of an interesting workboat - I'd not noticed the PATRIOT before.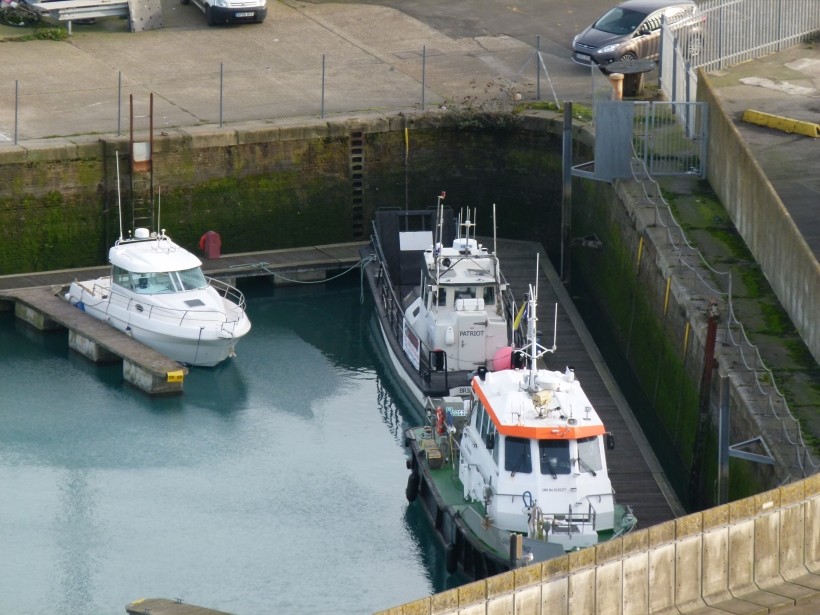 I also noticed that the MORAG M was 'missing' & found her tucked up with other workboats & tugs in Felixstowe, having left Dover on Tuesday.
Ain't AIS womderful ?
Friday, 9 February 2018 - 00:12