Wednesday, 28 June 2017
Dover Lifeboat in recent action. Long range picture...
doverforum.com/sea-news
Featuring all the ships that come and go and work at the Port of Dover with further coverage of Ramsgate, Calais, Dunkerque.
Email:dover7@msn.com to send SEA NEWS pix or info.... or click ADD YOUR COMMENT below to post direct, no membership needed. Use our SEARCH ENGINE below to find all sorts on the SEA NEWS pages..more than 180 now with more than 3666 nautical posts. Posts welcome. Max of 5 pictures preferred per post. Sea News Editor Paul Boland.



Sea News Dover:



P&O Ferries give Lifeboat £10,000...see 3933.
DFDS Cycling Special : Tour de France see 3902.

P&O visit St Richards School 3904.
P&O Ferries award surprise Bursary.... 3816.
BEST EVER FIRST QUARTER FOR DFDS...see below..3813.
Highest ever Q1 Freight Volumes for P&O see 3623.
Type Cruise Visits in search engine below for the latest cruise ship arrivals..
in fact you can find anything in our Search Engine.
Post 3920
Ed Connell, Dover Strait
European Seaway is back from relieving the vessels on Cairnryan - Larne whilst they went away for their annual refits. Seen here on ED2 conducting crew change.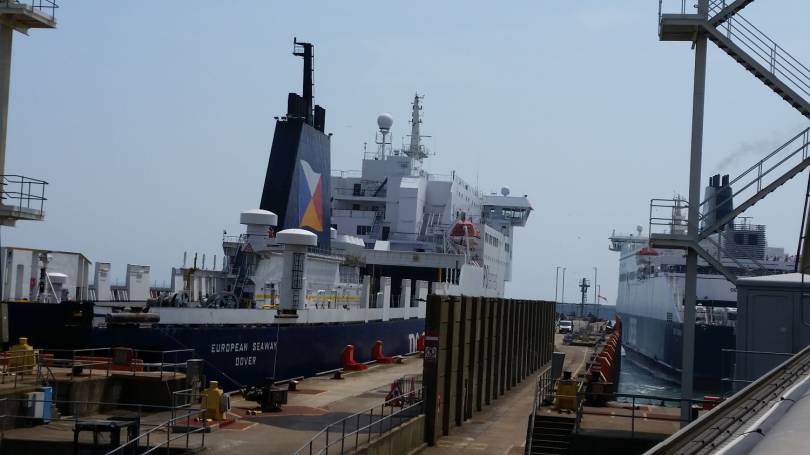 Wednesday, 21 June 2017 - 14:29
Post 3919
vic matcham , Dovor
We are lucky when I was piling years ago both London and Norwich it was done day and night


Wednesday, 21 June 2017 - 08:19
Post 3918
Sea News, Dover
Getting ready to pile drive another one in....here we go...bang! bang! bang! ..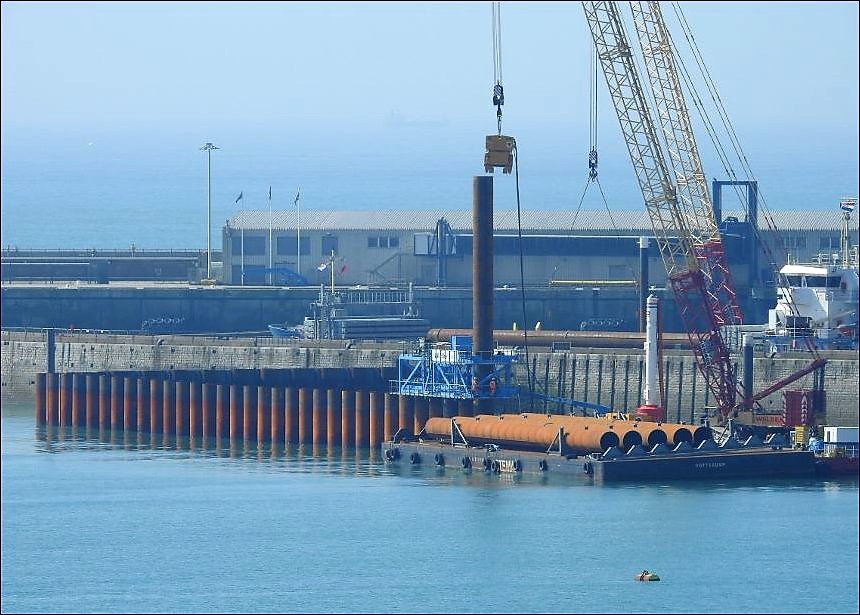 The picture above was taken on Saturday morning...
and now pictures below from Sunday morning which show the arrival of the Nederland Reefer in the blazing heat. Its terrifically busy at the cargo terminal and last time I looked ( yesterday) Nederland Reefer had left and Emerald was in her place. Despite the searing heat and its associated haze, you can still catch a glimpse of France in the background in the pix below.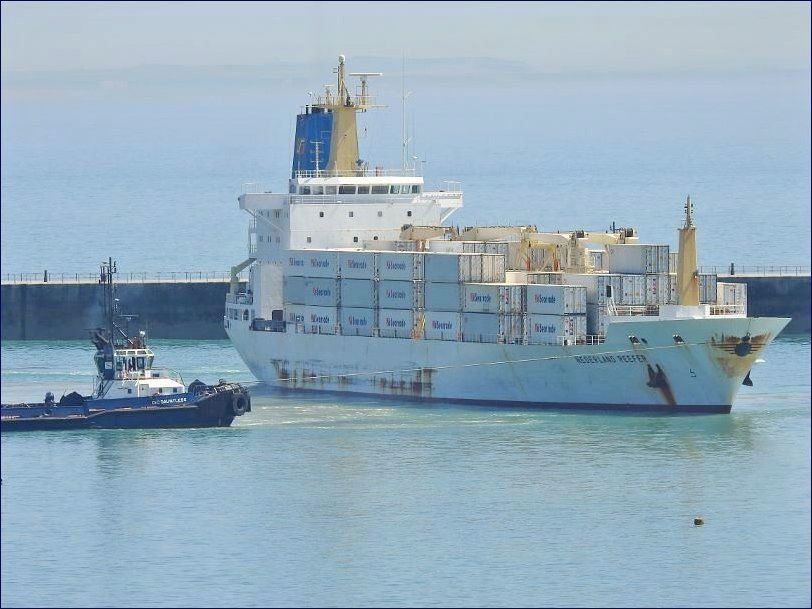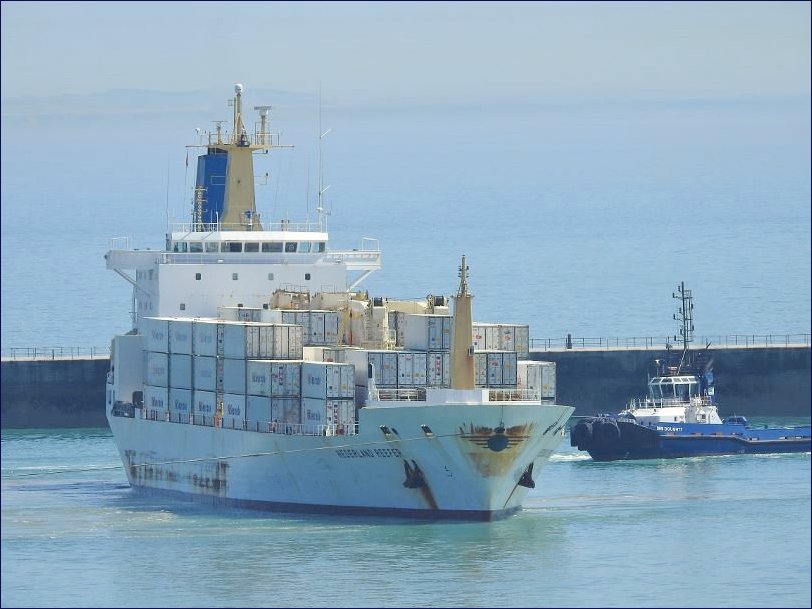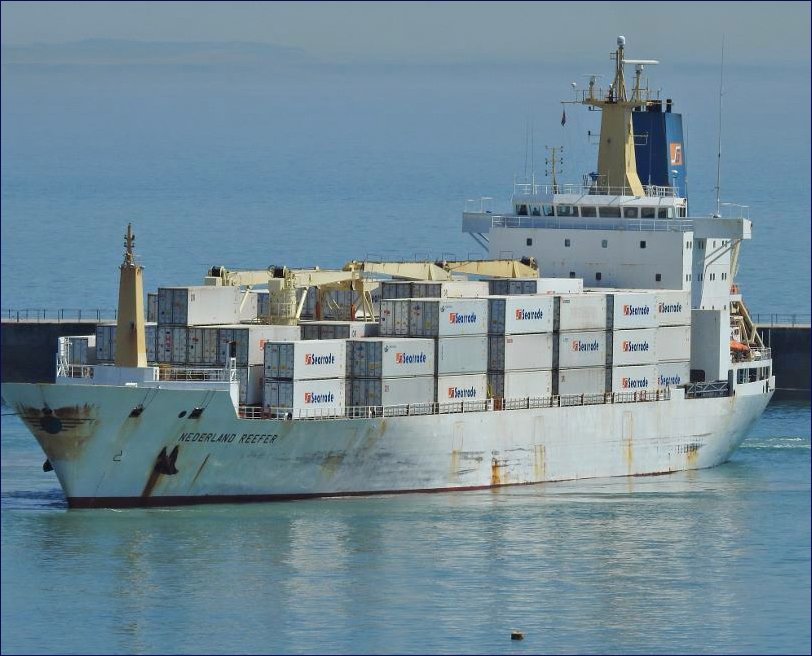 Like that picture below Mike of Crane City. Great stuff!

Ah thanks Sarah - glad you like that one. I remembered you liked that vessel.


Cruise Ship Black Watch is back in with us today.
Wednesday, 21 June 2017 - 07:40
Post 3917
Sarah, Ramsgate
Awesome photo of THV Patricia, excellent stuff Paul



Wednesday, 21 June 2017 - 05:24
Post 3916
Mike J., Dover

CRANE CITY !
Tuesday, 20 June 2017 - 22:28
Post 3915
Sea News, Dover
Mike mentioned the Trinity House Vessel Patricia in an earlier post a few days ago (3906)...and here she is passing right on by ...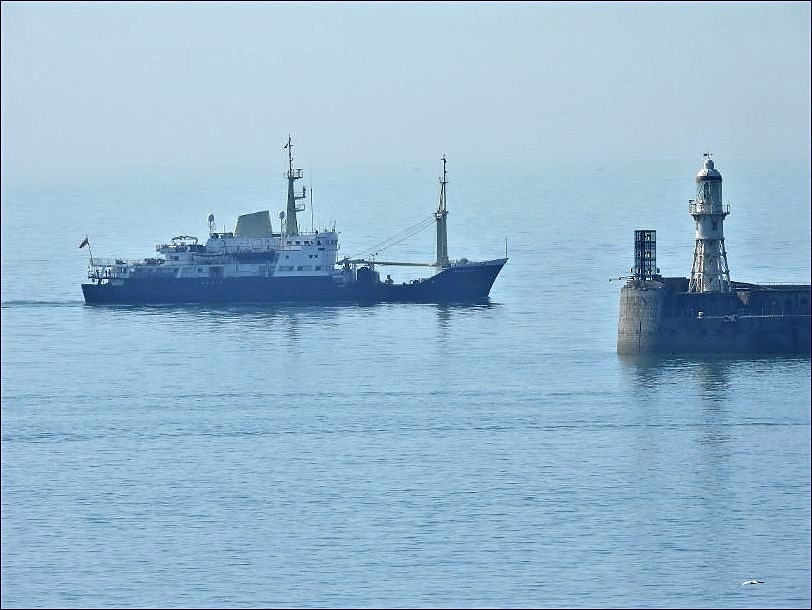 Picture taken a few days ago..
The heat haze is making it difficult at the moment, in fact the heat is making it difficult full stop..phew!


Tuesday, 20 June 2017 - 16:29
Post 3914
Sea News, Dover
We had a hugely busy Dover Beach and Dover Seafront on sunday. It was a sizzling hot day as the rowers arrived for their annual event. All that energetic rowing looked like hard exhausting work in the 30 degree heat.... but the teams powered on... and of course lots of people turned up to have a beach day too. If you're gonna fry you might as well fry here!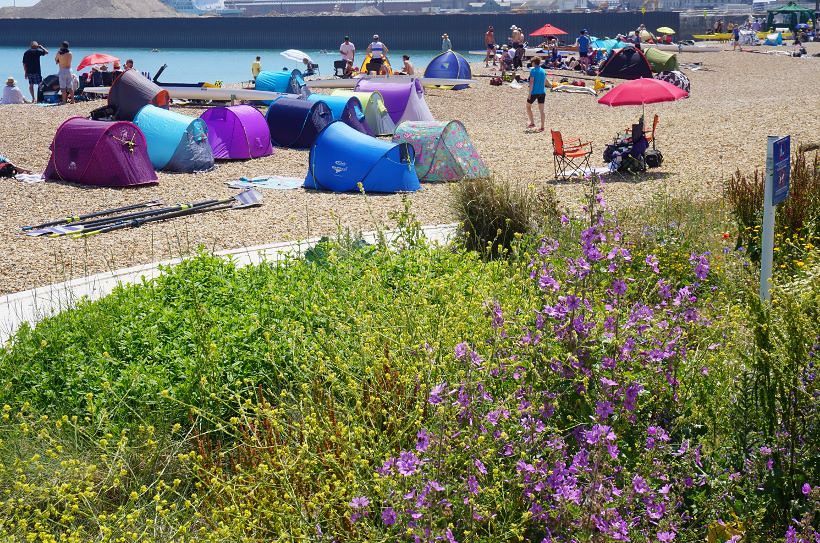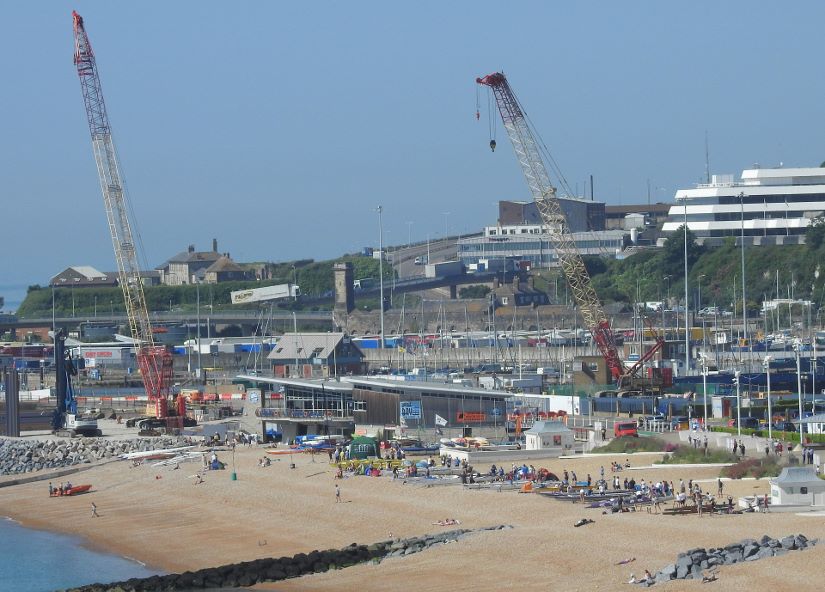 On Monday morning...the great AIDAbella arrived. Here she is amongst the cranes....as the hot weather continues.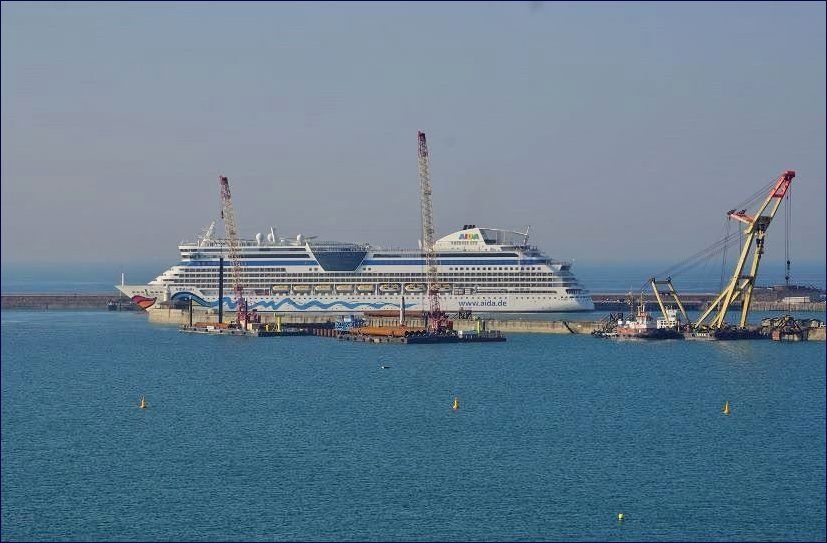 Very interesting shot below there Mike of the piling. Yes the fearsome thudding goes on...but things are taking shape. Yes indeed...'the shape of things to come'

Great set of pictures below there Sarah (3911 and 3912). Yes it must have been an emotional time for all concerned...its amazing to see that fabulous lifeboat going through the streets...awesome pictures there for sure from our roving reporter.
Well done with those.

PaulB.
Tuesday, 20 June 2017 - 05:58
Post 3913
Mike J., Dover
As the piles thud into the seabed the shape of some of the reclaimed land is starting to appear.
The quay edge at the end of the hoverport ramp are visible & on the east side of the Prince of Wales Pier part of the edge of the quay for the reclaimed land that will partly swallow the pier can be seen.
We live in interesting times.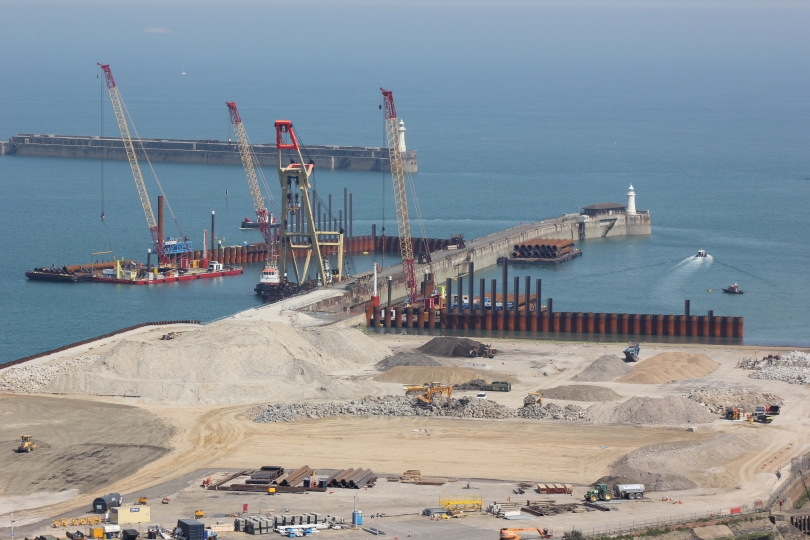 Monday, 19 June 2017 - 23:59
Post 3912
Sarah, Ramsgate
Some up to date photos of "Priscilla MacBean"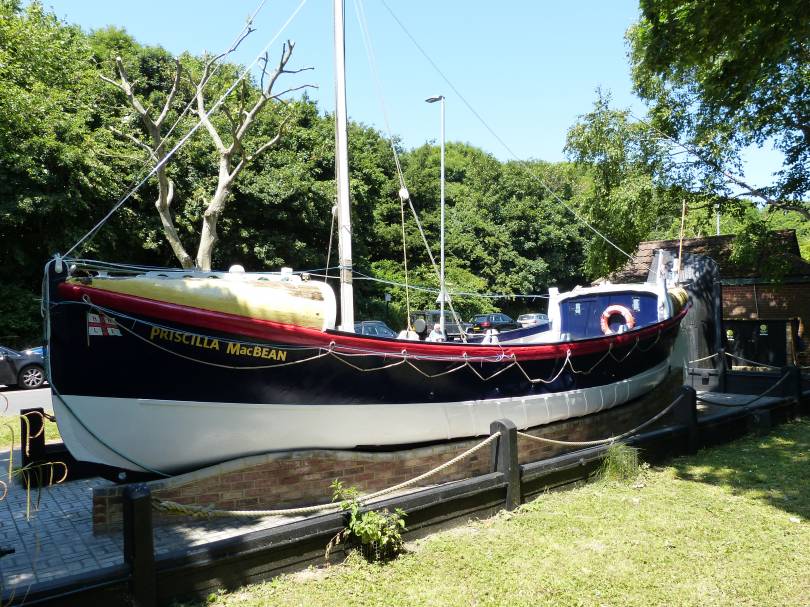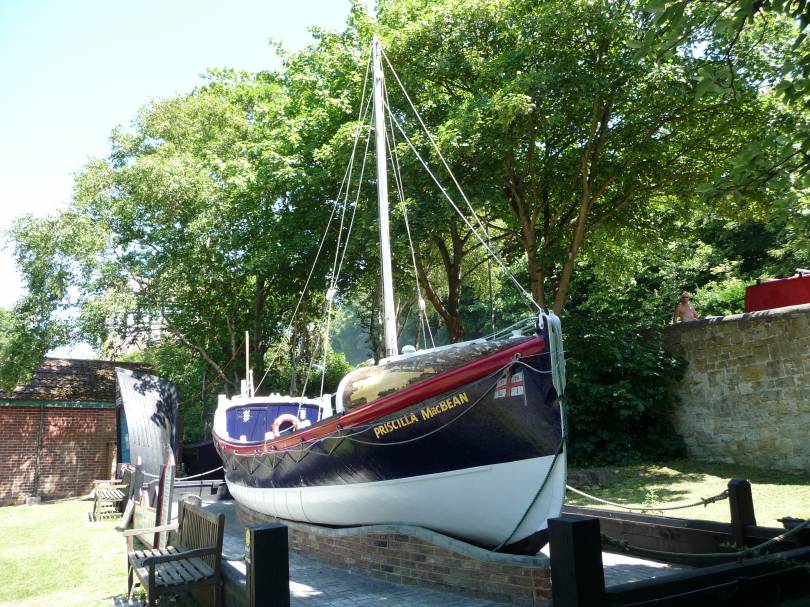 Monday, 19 June 2017 - 06:50
Post 3911
Sarah, Ramsgate
There has been some brilliant photos recently, this site is such a joy, well done to all the contributers



On Saturday I had the privilege of seeing the result of a fantastic restoration, the old Hastings Lifeboat "Cyril & Lilian Bishop". She was moved from near the current Hastings Lifeboat Station to Harold Road in the Hastings Old Town to be displayed approximately 100 yards away from the other lifeboat on display which is the "Priscilla MacBean" which has been featured on this site. It was a very emotional occasion seeing the good people of Hastings pulling the lifeboat to its new home. "Cyril & Lilian Bishop" was a Little Ship of Dunkirk, manned by the Royal Navy. I couldn't stop thinking about the terrible things she must have seen. Many congratulations to the team that restored her, the same team that restored "Priscilla MacBean"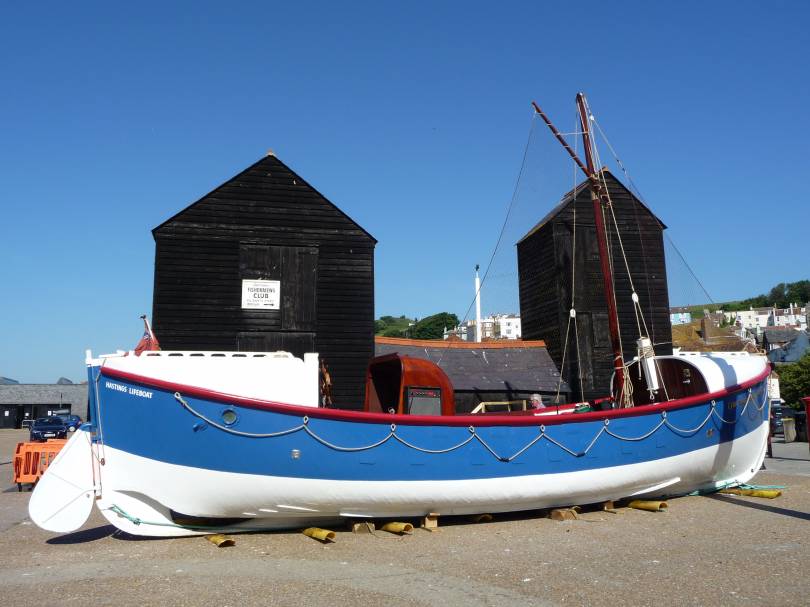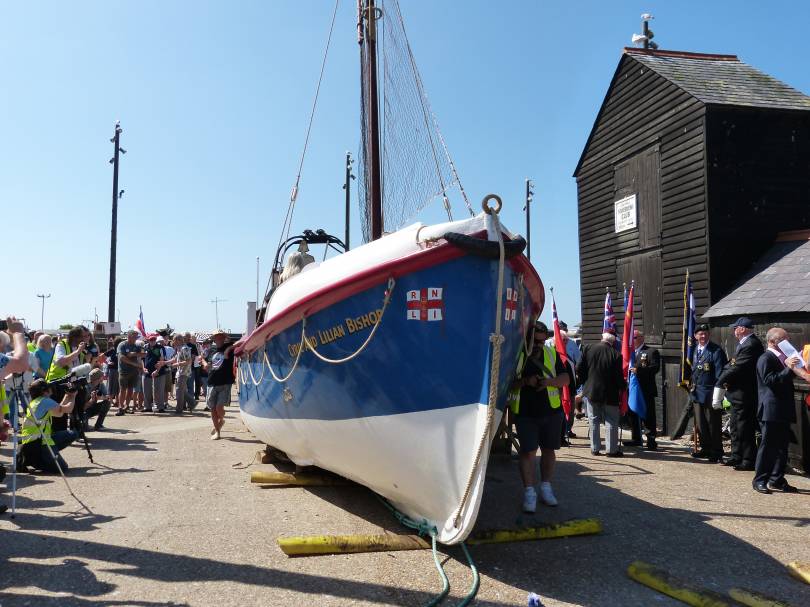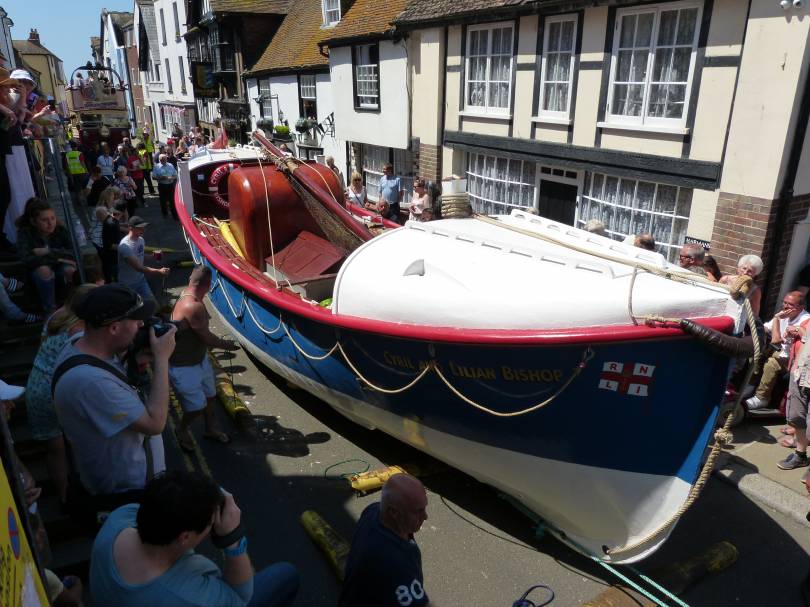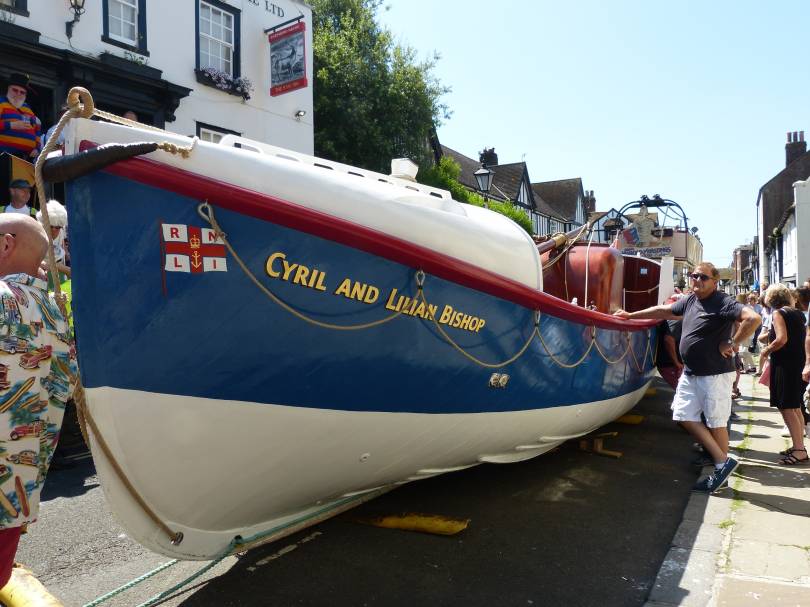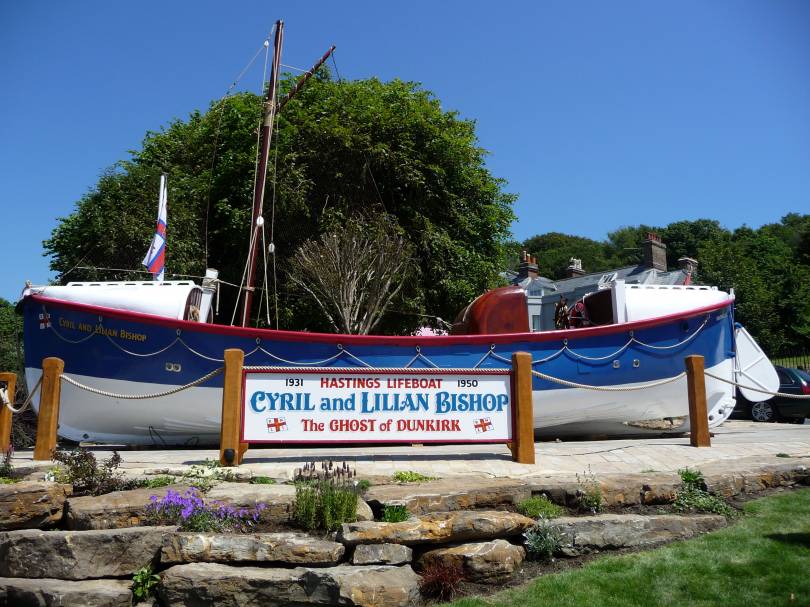 Monday, 19 June 2017 - 06:41
Post 3910
Sea News, Dover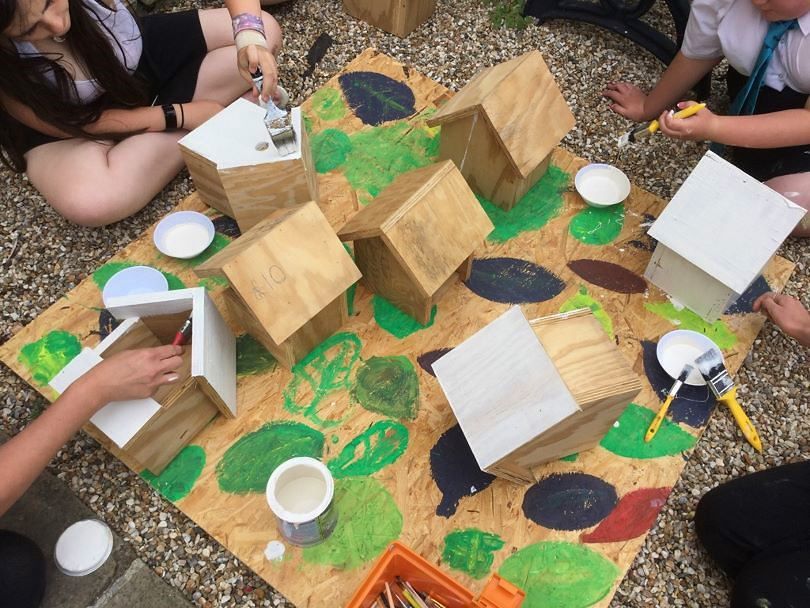 Bird Beach Huts up for Grabs
_______________________
The Port of Dover and VSBW have raised money for a local charity by working with young carers in the community to construct 50 limited edition 'beach hut' bird houses out of recycled timber from the Dover Western Docks Revival (DWDR) construction site.
Dover smART Project, a local charity working with vulnerable and disadvantaged people through community art projects, will be selling the 'beach hut' bird houses on their website to raise money for local young carers who care for family members. All money raised will go into the young carers Christmas fund.
Dawn Maddison, from Dover smART, said: "Dover smART Project are thrilled to be able to work with VSBW and the Port of Dover as recycling waste materials for the benefit of Dover's community is a genius idea.
"These limited edition 'beach hut' bird houses are all individually painted and numbered, with the first 20 already sold - money raised will be used for our young carers Christmas events."
As a further contribution to nature and wildlife conservation, VSBW also built two bat roosts, which will be donated to the Kent Bat Group for inclusion in local woodland areas which will provide a further safe habitat for the bats.
Ron Eckersley, Corporate Social Responsibility Manager for VSBW, said: "We chose to build the 'beach hut' bird houses as it ties in with our project development at Dover, and using reclaimed wood material is a great way to raise money for the children and get them involved.
"The bird houses took a few hours of our time to make, which we hope contributes to the children enjoying a better Christmas from the funds raised as recognition for their hard work."
Alyson Hudson, Corporate Social Responsibility Officer for Port of Dover, said: "It is great to see how a project such as Dover Western Docks Revival will not only support local regeneration once completed, but is already supporting work with local charities, local young people and local wildlife by making every part of the project, including the construction phase, count."
The 'beach hut' bird houses are £10 each and can be purchased via the website....
doversmartproject.co.uk/2017/06/02/charity-beach-huts-for-birds/
you need to put https:// in front of the web address above
only 50 available so get in quick guys.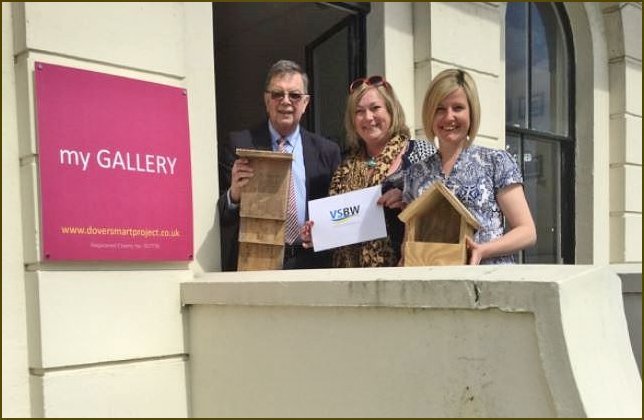 Ends
See Mike's post 3906 below for more information on Emuna ...here she is departing for Ghent having delivered lots more piling for us here at the Port of Dover.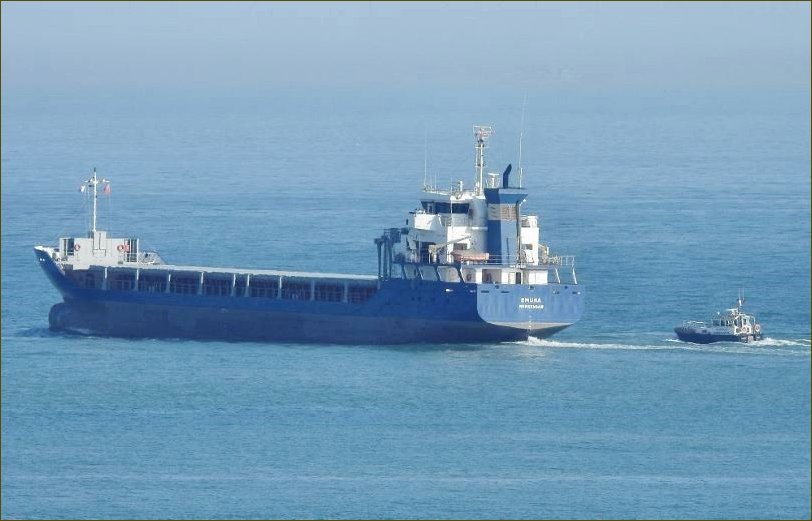 In the earlier picture of Saga Sapphire, taken as she arrived yesterday morning, you can see a sleek sailing yacht. Well, here is that particular vessel again. She is called Mulligan and is actually bigger than she looks in this picture as she sits next to the burly tug Dauntless. In the distance a motor launch powers by. Mulligan left us last evening about 9pm heading for Falmouth we understand. Dauntless was waiting for the arrival of the Nederland Reefer, more on that later. It was a hot humid night in old Dover last night. The sea was calm and all was well. PB.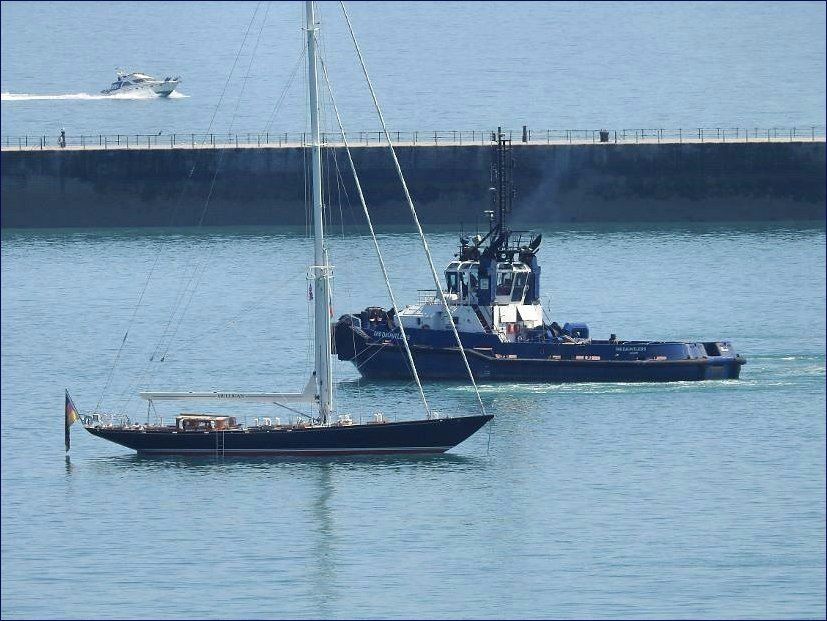 Monday, 19 June 2017 - 06:10
Post 3909
Sea News, Dover
And speaking of the Saga Sapphire...here she is arriving this morning at the beginning of a glorious summers day..
we sizzled today that's for sure...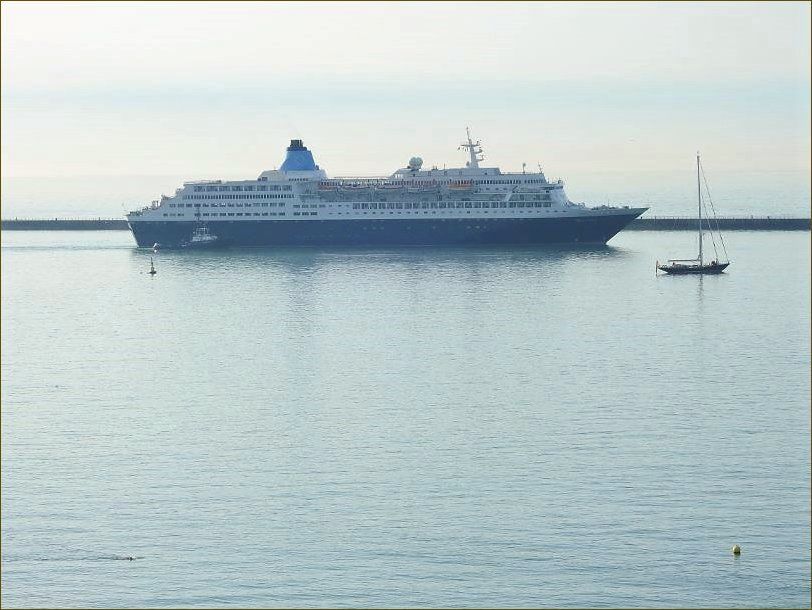 Thanks for that update below Colette.

Sunday, 18 June 2017 - 20:38
Post 3908
Colette B, Dover
CRUISE VISITS:UPDATE
____________________
It's great to welcome the Saga Sapphire today on such a glorious Summers day

Just a quick update for all you sun worshippers out there, it seems the AIDAbella will be visiting us on Monday June 19th after all

After Wednesday June 21st when the Black Watch says hello again, the next cruise visit is not until Tuesday June 27th, details to follow closer to the date.
The Save our Banksy Campaign has got off to a great start, well done to Charlie.
Great photos there Mr B

......Girl Power Rules! Where would you men be without us women

Well Done Sarah with your photo

Happy Fathers Day to all Dads out there

Be back again soon

Sunday, 18 June 2017 - 14:19
Post 3907
Sea News, Dover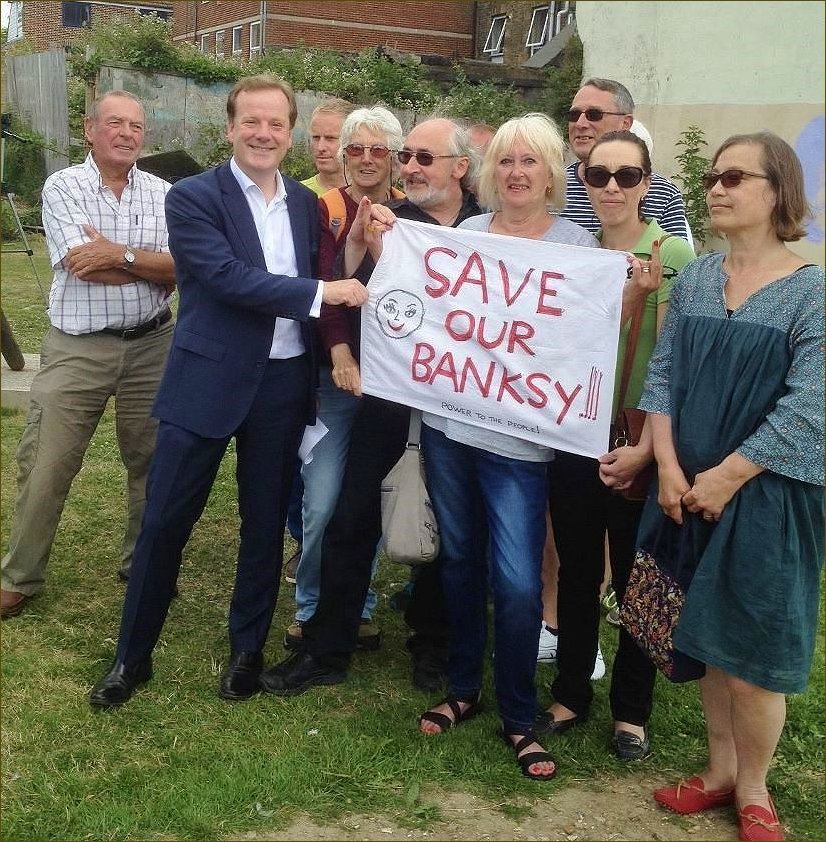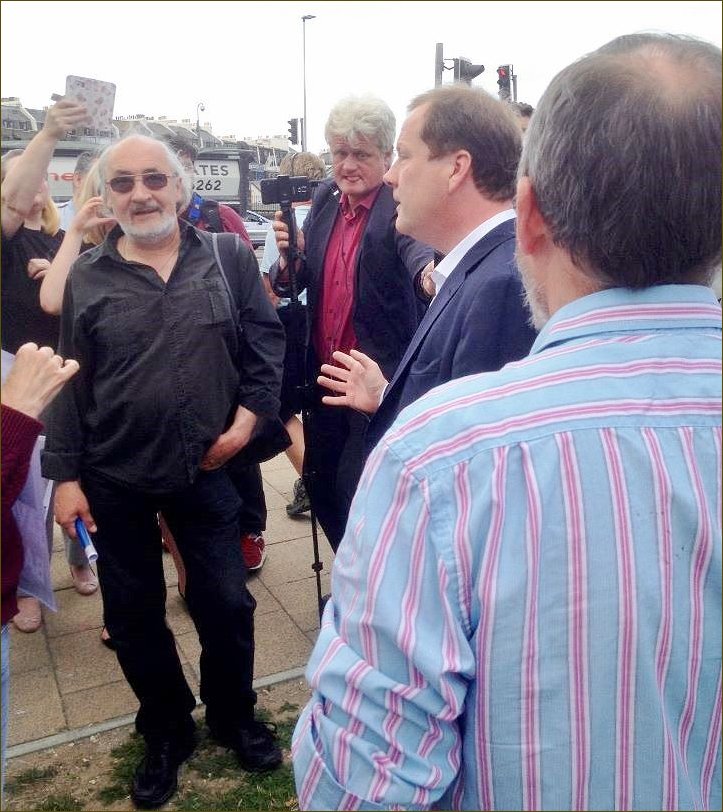 On Friday around midday local MP Charlie Elphicke launched his campaign to save the Banksy...or more accurately to save it for Dover. Much rumour exists that this immensely popular Banksy painting will be sold on when the building its gracing is demolished. It would be great for Dover if both the building and now the painting remain in place....easily viewed by a million tourists as they pass through each year and warmly enjoyed by us locals too.
Pictures above by our woman on the spot .. COLETTE B.
Here's the already famous painting in the picture below... and showing its wider location as it were.
see also Sarah's picture in an earlier post no 3885.
Another one here of the PolarLight, essentially for search engine purposes, as my previous picture had exposure difficulties. Hopefully this one will reproduce a bit better.
Most interesting and varied collection below Mike. Great stuff! Wow look at that lobster!!

PaulB.
Sunday, 18 June 2017 - 06:35
Post 3906
Mike J., Dover
The Dutch EMUNA came in around 0800 Saturday morning from Dintelnoord, a small port south of Rotterdam where most of the DWDR piles seem to be loaded & was busy discharging during the afternoon.
She didn't stay long & sailed at 1800 for Ghent.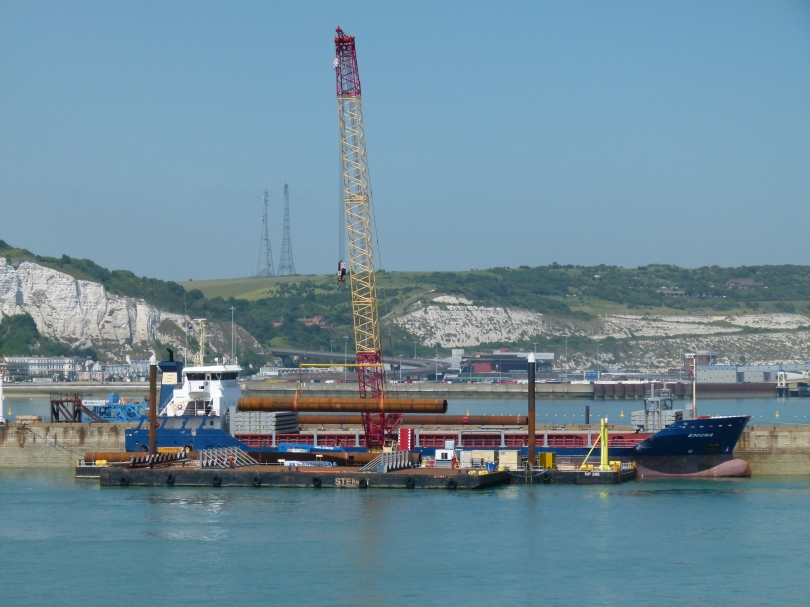 Had I arrived a half-hour earlier I would have seen THV PATRICIA very close-in to the Admiralty Pier before heading off for Deal, perhaps Mr.B has her in the bag.
The demolition of the Dunkirk Jetty is steadily continuing with a large chunk already missing & removed by the ENAK who was having a quiet Saturday afternoon on the east side of the Prince of Wales.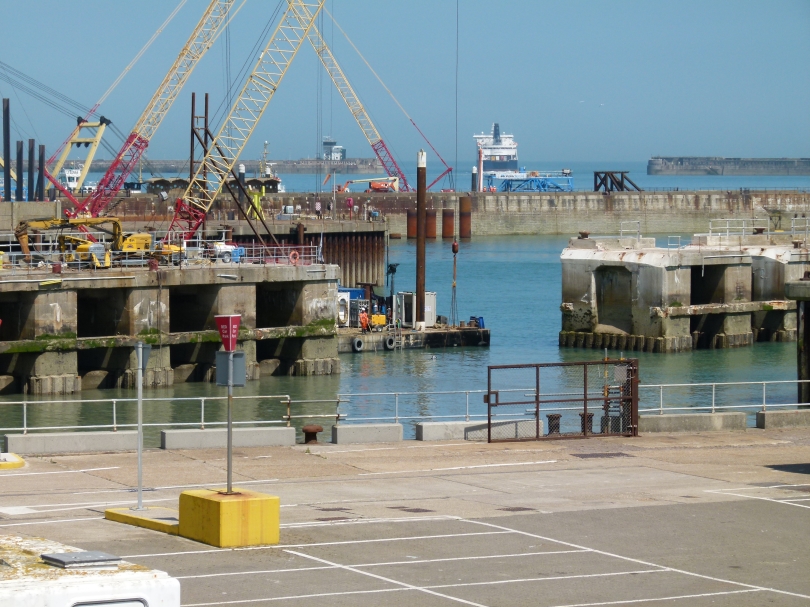 Chatting at the caff at the Turret I almost missed the departure of an unfamiliar pilot boat which left by the Western Entrance & headed off at speed.
No visible name but she was flying the Dutch flag & also the house flag of 'DAMEN' a major Dutch shipbuilder & ship repairer who operate worldwide & was probably heading home to Cloggyland.
A little internet rummaging showed that she was a 'Stan Pilot 505' a new lightweight Damen pilot vessel that had been on show down at Southampton last week for the 'Seawork 2017' trade show which had also been attended by PLA's survey vessel MAPLIN [posts 3897 & 3901].
The Ad.Pier was fairly busy with anglers, mostly seeking the mackerel shoals which so far haven't put in much of an appearance this year - when they do turn up the pier the word will spread quickly & the pier will be PACKED.
One bottom-fishing angler was delighted to have caught a lobster instead of the usual dogfish & the like & insisted on a photo of his catch !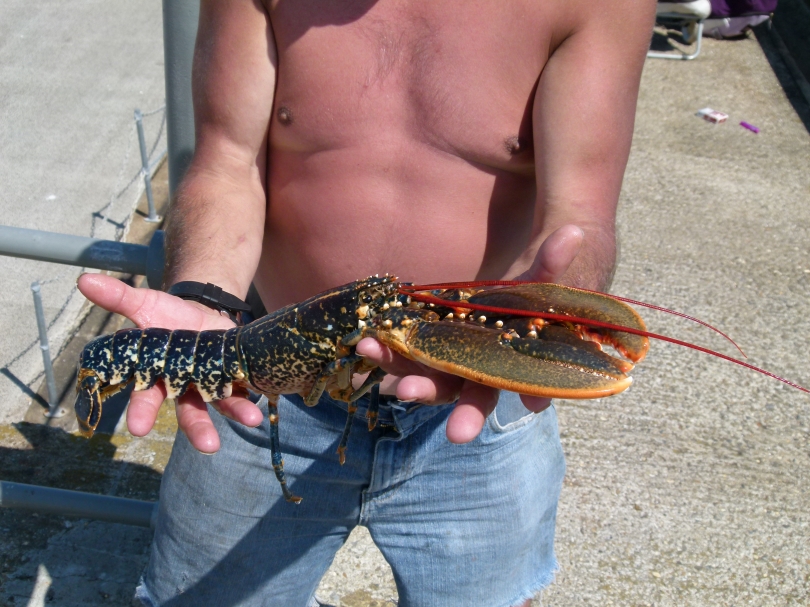 Mutiny Diving's MAVERICK heading out.
If she was sticking to her published schedule she was heading for the wreck of the cable ship MONARCH, mined off Folkestone in 1915,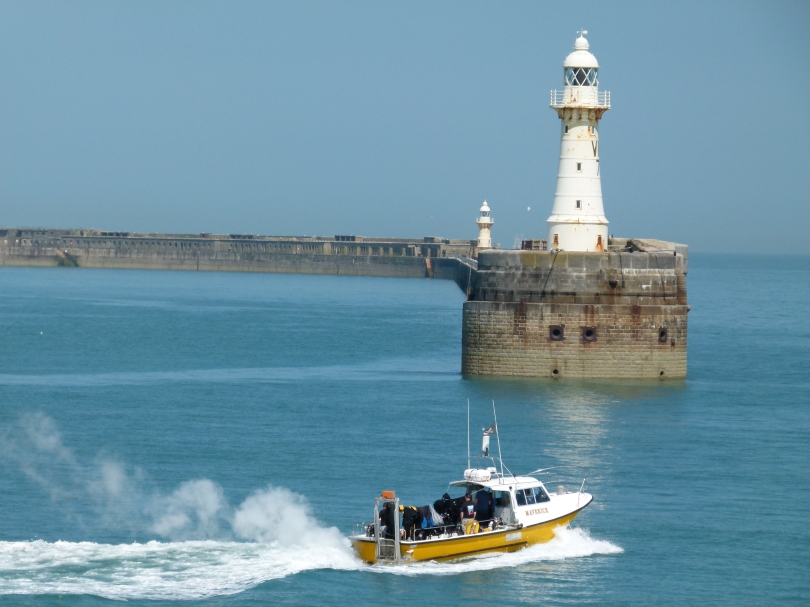 Sunday, 18 June 2017 - 00:38
Post 3905
Sea News, Dover
Flying The Flag For Armed Forces Day 2017
____________________________________
To mark the start of Armed Forces Week, flag raising ceremonies are being organised around the country to raise the Armed Forces Day flag on Monday 19 June – including a ceremony on the Guildhall Forecourt in Sandwich from 10.20am.
The Chairman of Dover District Council, Cllr Sue Chandler, will be hosting the event at the Guildhall on 19 June with the Deputy Mayor of Sandwich, Cllr Veronica Lioté. The flag will be raised at approximately 10.30am.
This is one of many events being held across the country to mark the lead up to, and to celebrate national Armed Forces Day on Saturday 24 June, including other local events in Aylesham on 24 June, Dover on 24 June, and Deal on 25 June. The day is an annual opportunity for the nation to show support for the men and women who make up the Armed Forces community. For more details on local events, see the What's On pages on the White Cliffs Country website.
The Armed Forces Community Covenant was launched in Dover District in 2013, encouraging communities across the district to support the service community and promote understanding of issues affecting the Armed Forces community.
End. Thanks to DDC for the above info.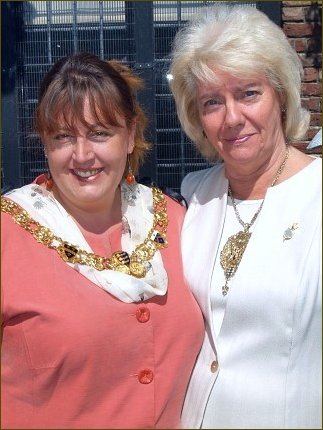 This picture above was taken at a previous time at Sandwich at the same event. It shows two former Dover Mayors...Cllr Sue Jones on the left and Cllr Veronica "Ronnie" Philpott on the right.
Sadly the lovely Ronnie on the right in photo passed away very recently.
PaulB.
Saturday, 17 June 2017 - 05:41
Post 3904
Sea News, Dover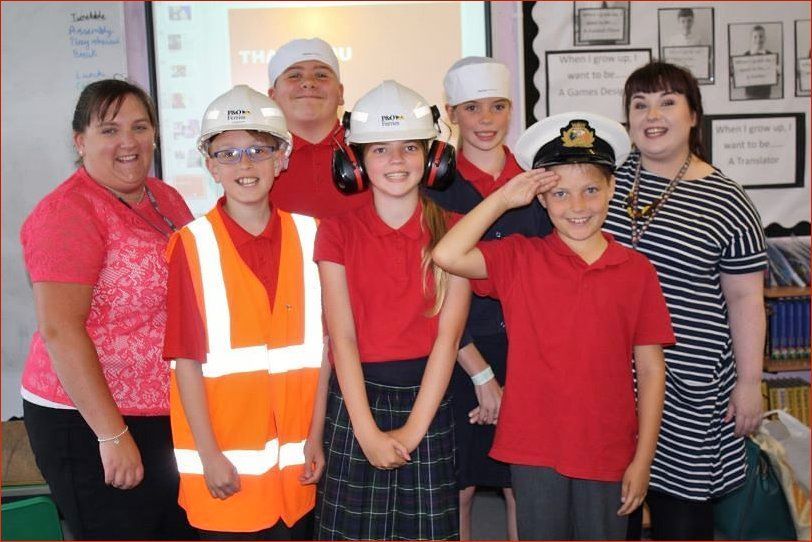 P&O FERRIES VISITS DOVER SCHOOL TO GIVE CAREERS ADVICE TO CLASS OF 10 AND 11-YEAR-OLDS
___________________________________________________________________________________
THIRTY children in Year 6 at St Richard's Catholic Primary School in Dover learned this week (12th June) that it's never too early to start planning for the future when the town's largest employer dropped in to give some careers advice.
Jacqueline Burns from P&O Ferries, whose headquarters is located less than two miles from the school, gave a presentation to the 10 and 11-year-olds on why getting on to the career ladder was so important.
Jacqueline's theme was 'think differently' and the jobs which the children told her they wanted to do in later life included a Crown Prosecution Service lawyer, dancer, forensic pathologist, translator, flight attendant - and one who wanted to be the captain of a P&O Ferries' ship. The children asked questions including 'how much fuel does a ship use?' and 'how long does it take to fill up?'.
Elizabeth Cope, a teaching assistant at St Richard's, said: "The presentation introduced the children to the different careers available and really gave them an idea of what is out there. Many of the children's parents work for P&O Ferries and they loved hearing more about the company."
Jacqueline Burns, Corporate Communications Officer at P&O Ferries, added: "The children who saw the presentation will all be leaving and going to secondary school in September so this was the ideal time for them to start thinking about their future employment opportunities."
"We are celebrating our 180th anniversary this year and were delighted to be invited to tell them more about the biggest employer in their community. If they study hard and learn a second language then they will be in a strong position to find jobs with P&O Ferries when they finish their school careers in a few years' time."
P&O Ferries' stakeholder project offers visits to schools, colleges and businesses within the local community. This is a totally free initiative. The visit is tailored to school requirements and their current projects. It can be a talk, with learning materials and other artefacts, judging a competition or providing an insight into the world of ferries and logistics.
ENDS
Picture above shows teaching assistants Elizabeth Cope left and Bethany Brown right...with year 6 students in between.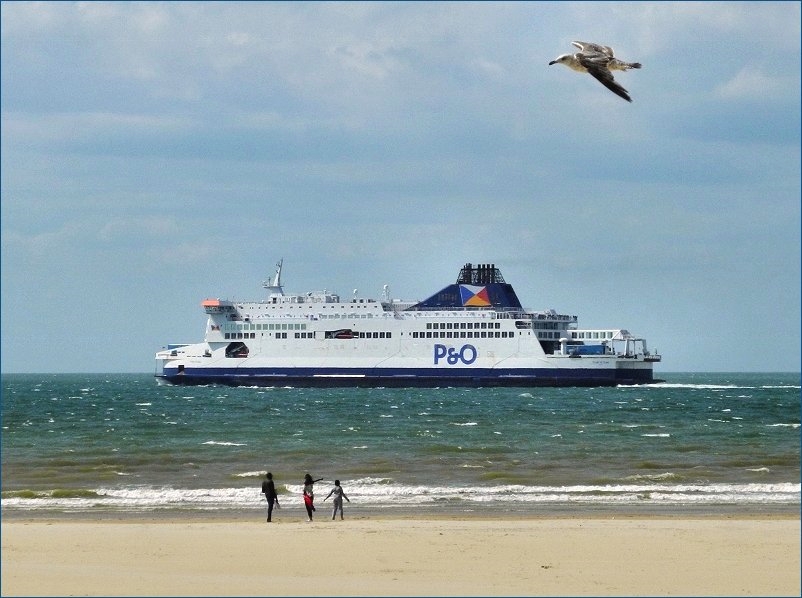 Our much loved shot of the Pride of Kent from a bracing Calais beach.
Many thanks to the team at P&O for the above...my local school here...

And now some pictures from Wednesday of the Southern Bay as she leaves us for Rotterdam in the blazing sunlight. You saw her arrival, as she waited offshore, now she travels on to the delights of the Netherlands.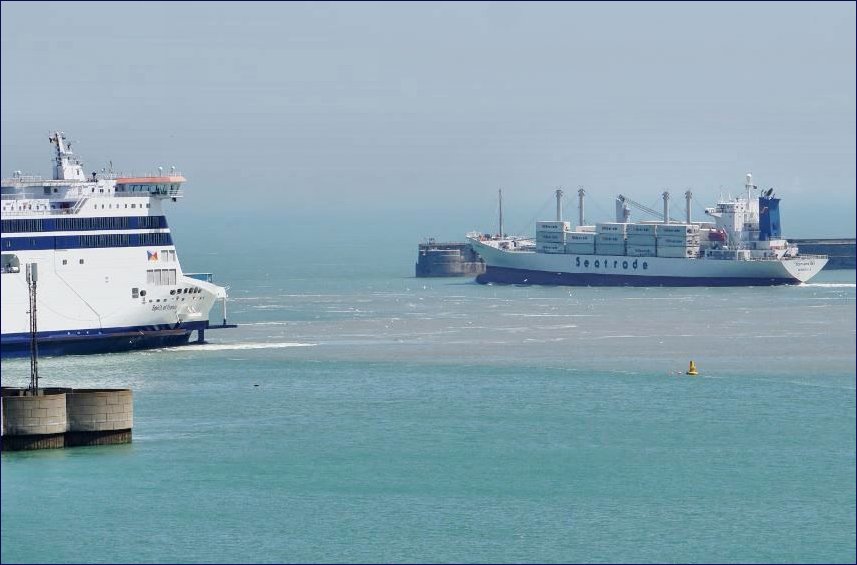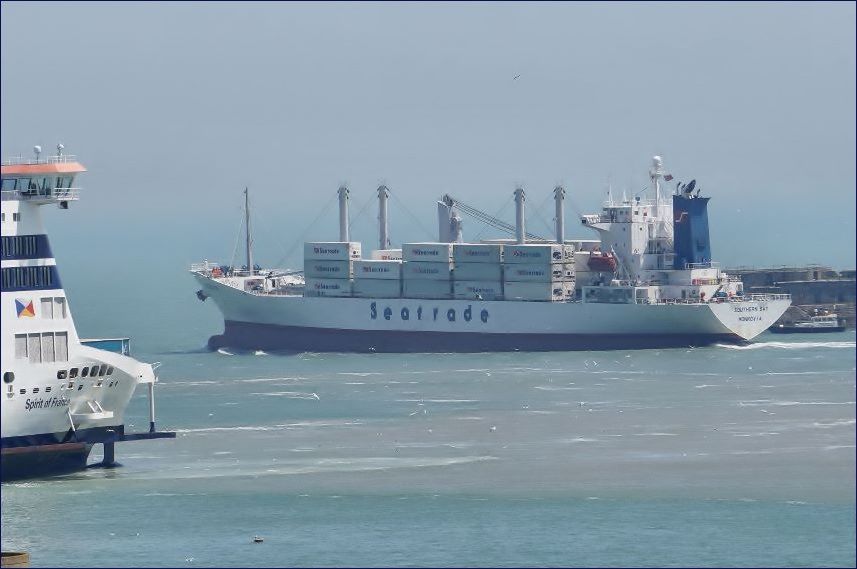 Thanks Mike for the one below. Interesting pictures.
Yes that time lapse video is fascinating...its also on Twitter on the Port of Dover account.
also
#DoverWesternDocksRevival
PaulB.

Friday, 16 June 2017 - 07:11
Post 3903
Mike J., Dover
Interesting structures are appearing in Wellington Dock, at the site of the new 'cut'
Further developments are awaited with interest.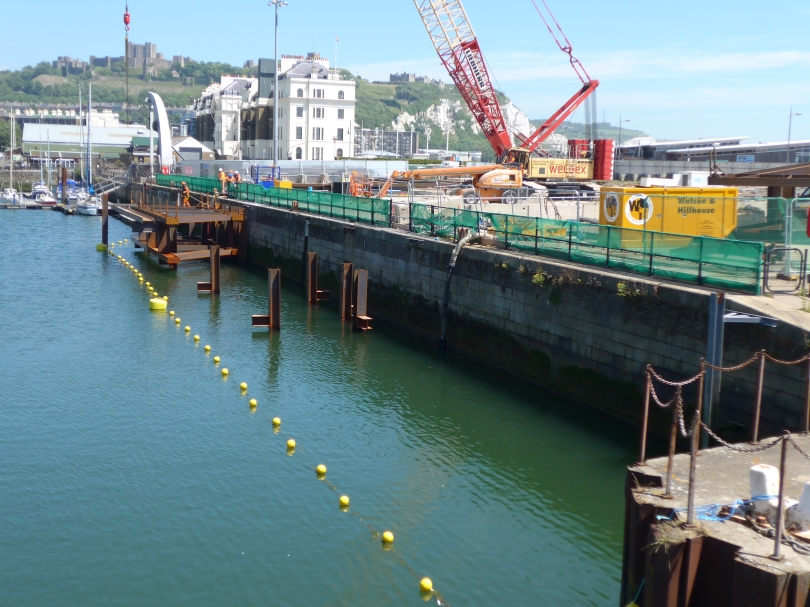 For an interesting DHB time-lapse video covering DWDR works, from roadworks to piling by way of dredging & bulldozing - try Googling 'DWDR STAGE 1&2'
Thursday, 15 June 2017 - 23:26
Post 3902
Sea News, Dover
EASY ACCESS: REACH THE TOUR DE FRANCE BY FERRY
_____________________________________________
With British cyclist Chris Froome attempting to seal his fourth Tour de France triumph, DFDS has devised the must-use guide for any cycling enthusiasts looking to emulate their sporting heroes.
The Tour's Grand Depart in Dusseldorf on 1st July will see the highlight of the cycling calendar kick-start its journey across Belgium and Luxembourg towards France, as cyclists compete for the coveted yellow jersey.
Europe is but a stone's throw away, and DFDS' ferry routes make it easier than ever before to make the most of this year's Tour de France. The most direct route to Dusseldorf for cyclists is via the company's Newcastle-Amsterdam service. The daily overnight ferry crossing allows customers to relax and enjoy a good night's sleep in a comfy on board cabin and a host of entertainment, before making the three hour drive from Ijmuiden to Dusseldorf. For the braver cyclist, Dusseldorf is a day's cycle ride from the port. The company's Newhaven-Dieppe service also provides the closest direct route to Paris for spectators looking to catch the final stages of the cycling spectacular.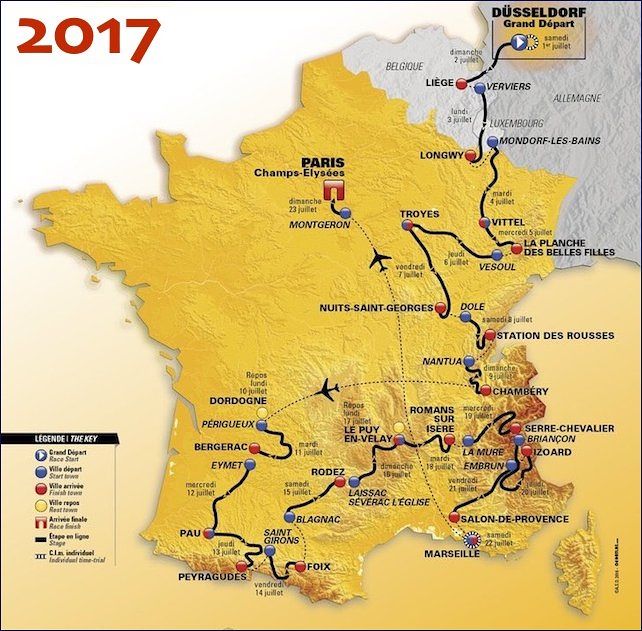 DFDS provides accessible and affordable routes for all budding cyclists, a far more economical option than flying. Fares on the Newcastle-Amsterdam route for two people on two bikes, sharing an ensuite cabin start from £42 per person each way. For travel in a car, including a bike rack and as much luggage as you need, prices are from £79 per person each way based on two people sharing a cabin.
On the Newhaven-Dieppe route, prices start from £30 per person each way for cyclists. Prices for two passengers in a car start from £49 per person each way.
Accessibility is paramount to DFDS' approach to cyclists; whether boarding as a large group or an individual, cyclists can store bikes securely while relaxing and enjoying the crossing. The company provides plenty of top tips and advice for cyclists, whether riding straight aboard or taking bikes safely on your car: www.dfds.co.uk/cycling.
Beyond the ferry, cyclists can choose from a vast array of routes across Europe. In the Pas-de-Calais, the region of France nearest to the UK, local tourist boards have teamed up to highlight the best routes to explore by bike. The 32 suggested routes include the tranquil Seven Valleys countryside south of Boulogne, coastal rides along the Cote d'Opale between Calais and Berck-sur-Mer, and routes which explore the Artois area in historic Arras. All 32 routes can be found here
www.uk.pas-de-calais.com/pas-de-calais-vacances/nature-randonnee/32-itineraires-cyclotouristiques.htm
DFDS sails directly to Calais and Dunkirk with a choice of up to 54 departures a day. Prices are from £39 each way for a car and up to nine passengers, or from £20 per person for cyclists.
Book at www.dfds.co.uk or call 0871 574 7235
Ends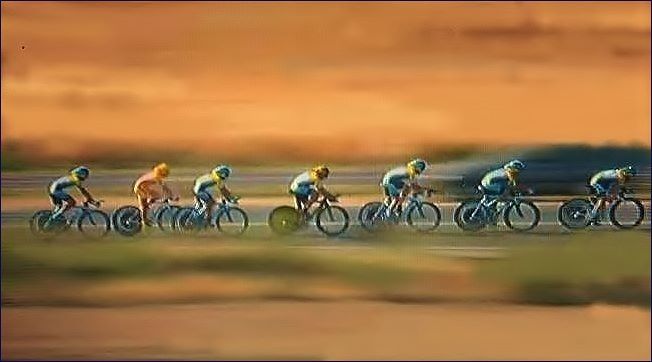 There are vast amounts of cyclists in large groups moving through Dover at the moment...very exciting!
Thanks to the DFDS team for the latest info above.

* *
Very busy time on Tuesday and Wednesday at the Cargo Terminal. Immediately below we have a picture of PolarLight as she begins her departure with the help of both tugs. She came in on Tuesday early and left Tuesday late on, while just offshore in picture 2 the Southern Bay waits to slip into her slot. The PolarLight was off to Hamburg.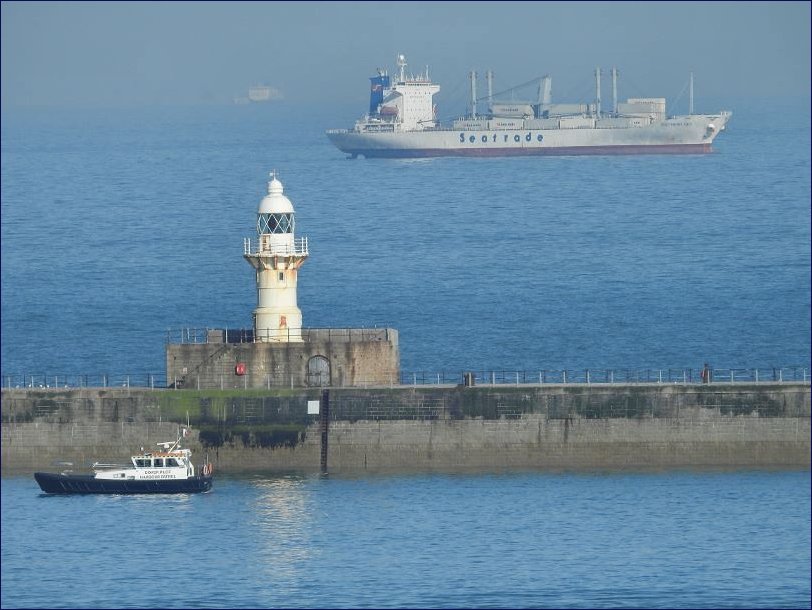 Top picture of the Cote des Flandres is by GEORGE HOLLAND. Many thanks George.


Thursday, 15 June 2017 - 05:59
Post 3901
Sea News, Dover
Following along from Mike's nice collection in 3897, these pictures were taken by Lifeboatman Benjamin Payne and again show the Port of London's Maplin as she relaxes at Crosswall Quay. Good pictures Ben.
Ben informs me that he was actually one of the guys onboard the lifeboat in those dramatic pictures we showed a few days back ( see 3890 ).Wowser!
A couple of extra longer range pix now of Maplin arriving, taken by yours truly this time.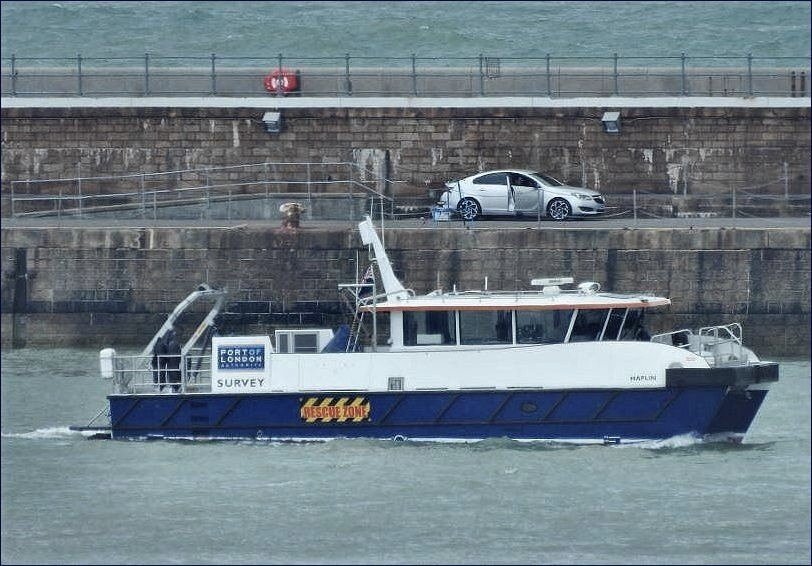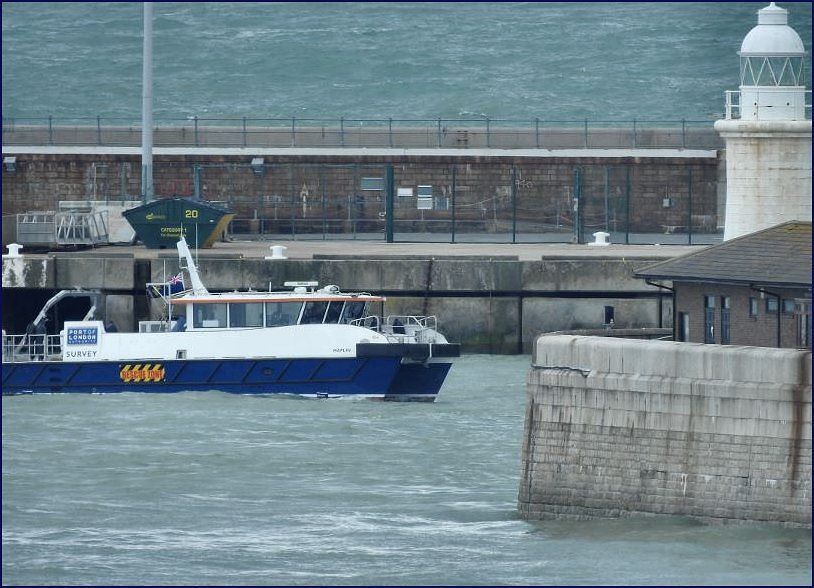 And finally for the moment...Saga Pearl at Cruise Terminal One a couple of days back ...amongst the cranes. You know there were 9 cranes of one sort or another working in the Port yesterday, its all happening! It was a busy day yesterday for sure with much pile driving and dramatic vibration. The observation tower was tingling all over... so it was..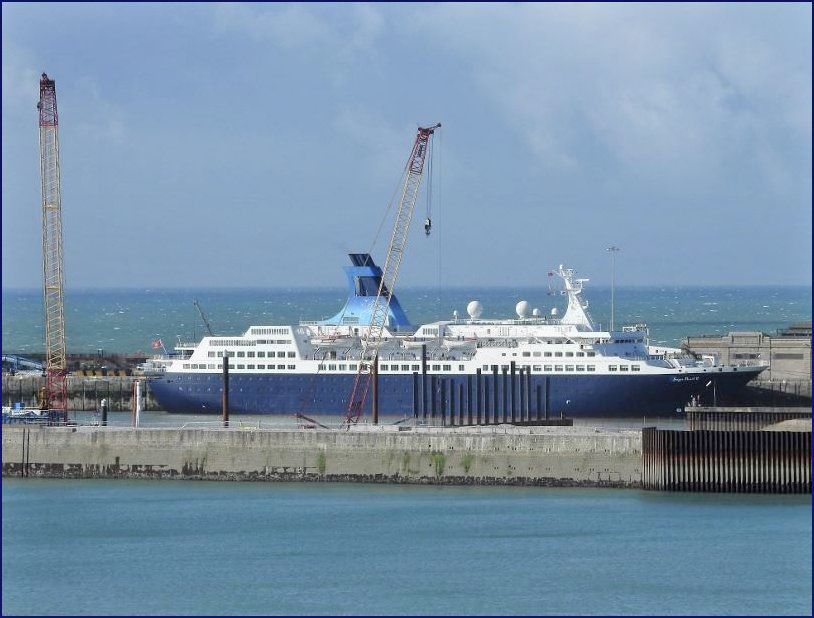 Thanks Del, good to hear from you.
Glad you are still enjoying the Port 24/7 Vic.
PaulB
Wednesday, 14 June 2017 - 05:31