Tuesday, 14 August 2018
All the Ships at the Port of Dover...plus...

WWW.DOVERFORUM.COM/SEA-NEWS
Doverforum.com: Featuring all the ships that come and go and work at the Port of Dover with further coverage of the surrounding ports both sides of the Channel. Email: dover7@msn.com to send SEA NEWS pix or info....
or click ADD YOUR COMMENT below to post direct, no membership needed.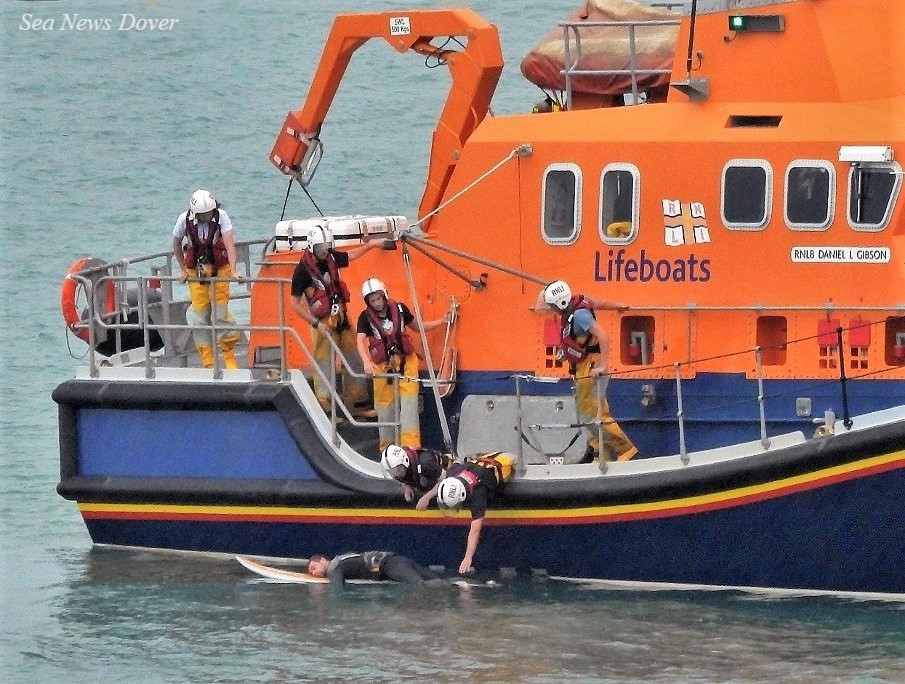 Dover Lifeboat action from Tuesday evening... the Lifeboat guys do training sessions on Tuesday evenings so we assume this to be a training session. We hope so, as the chap on the surfboard looks all in.
Excellent tourist season for P&O Ferries see 5127
VSBW Port of Dover - Women at Work 5117
P&O's summer recruits plus night-time fare deal see 5108
Port of Dover's influential project gets recognition see 5089
P&O - Students at the forefront..see 5087
DFDS and Marine Conservation at Dover Grammar Girls School see 5077
PORT OF DOVER new Board Member plus new Maritime Safety investment... see 5073
P&O FERRIES New Menu Launched...see 5071
DFDS the Success Story continues .. plus night-time fare deal 5068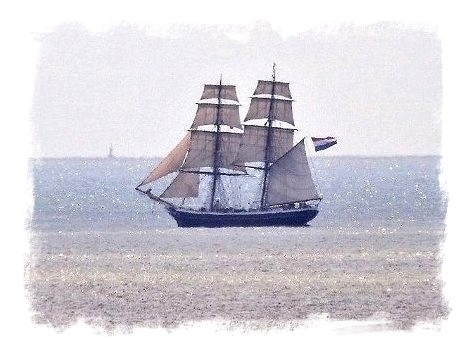 Fires near Dover Seafront .. see 5060
P&O's Jenny Evans - Maritime Young Person of the Year 5054 (also see 4608)
Europe's Best Festivals with DFDS 5029
P&O Pets Travel Free see 5019
DFDS Celebrates apprenticeship programme...5016
New Mobile App for P&O FERRIES see 5008
DFDS and ORCA see 5003.

DFDS ACQUISITIONS and EXPANSIONS...see below 4984
Dover Marina Control - New Contract Awarded see 4970.
PORT OF DOVER: Konecranes for new Cargo Terminal 4916.
PORT OF DOVER: £21 Million DWDR 'paving plus' contract awarded 4895.
PORT of DOVER - three cruise ships, one day 4885.
DFDS Charters New Ship see 4866.
New Marina Pier ... Latest...see 4861.
P&O FERRIES presents big cash to RNLI Dover...see 4829.
PORT of DOVER: Chief Executive TIM WAGGOTT Resigns...see 4778.


P&O FERRIES recruiting...4745.
PORT of DOVER awards Cargo Refrigeration Contract see 4740.
PORT OF DOVER: Community Benefit 4688
TRADING GROWTH FOR DFDS DESPITE BREXIT see 4642
PORT OF DOVER RECORD FREIGHT see 4551.
PORT OF DOVER: GEEST LINE arrival see 4597.
SECOND FEMALE CAPTAIN FOR P&O see 4608.
The Community REGATTA is on this year on the 26th August - see 5103.
Sea News Dover :
Use our SEARCH ENGINE below to find all sorts on the SEA NEWS pages....
More than 250 now with more than 5000 nautical posts.
Posts are welcome. Max of 5 pictures preferred per day although we can occasionally stretch to 6 on special stories.
Type CRUISE VISITS in our SEARCH ENGINE below for news of the latest arrivals.
Sea News Editor Paul Boland - dover7@msn.com .
Post 5121
Sea News, Dover
That's a very ordinary picture above in most aspects save for one thing...look at that bright blue line along the entire horizon. A couple of evenings ago this somewhat bizarre strip of light became intensely visible ...its obviously heat related and at a guess pollution related. Hopefully I at least partially captured it there so all can see.
The small pic below is an enlargement of the tiny section of horizon from the extreme right of top shot. You can see our ol friend the silo/refinery or whatever it is in Calais. Above it and around it... a layer cake. You have a thick brown layer on the bottom, a bright blue intense layer in the centre, and a weaker/looser brown layer on top of that. It looks like nasty pollution all round. Not a very tasty layer cake! And if we can see it as we look over there, it is of course over here too.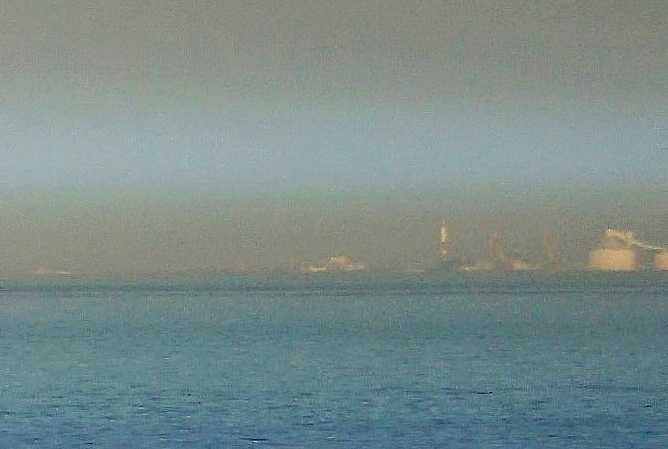 And now the inaugural arrival of the Viking Sky yesterday morning in the blinding sunlight...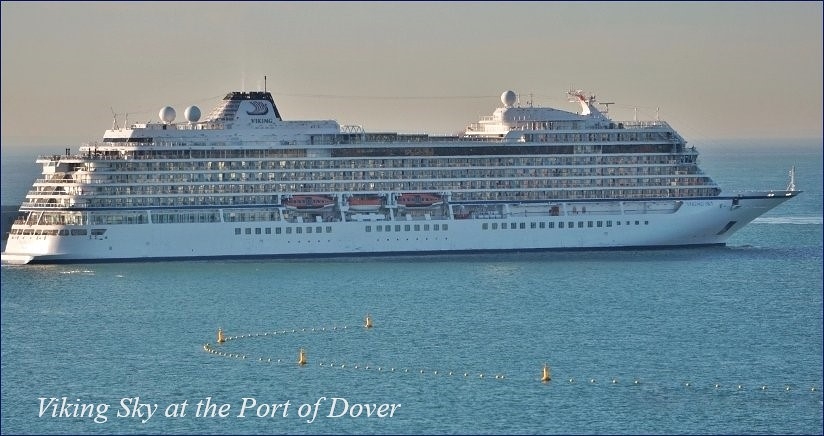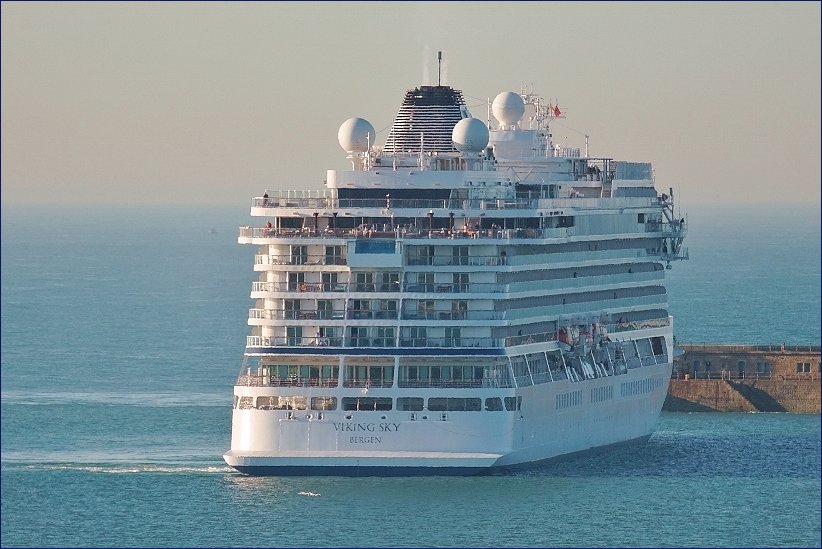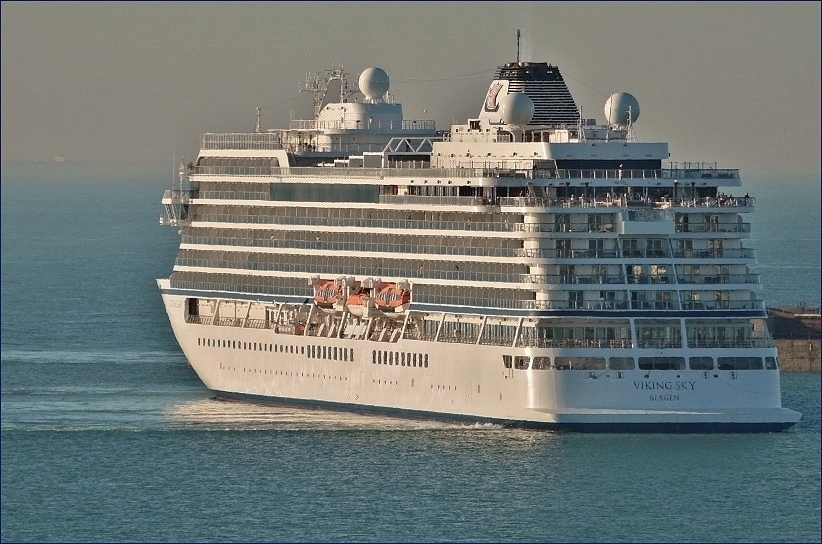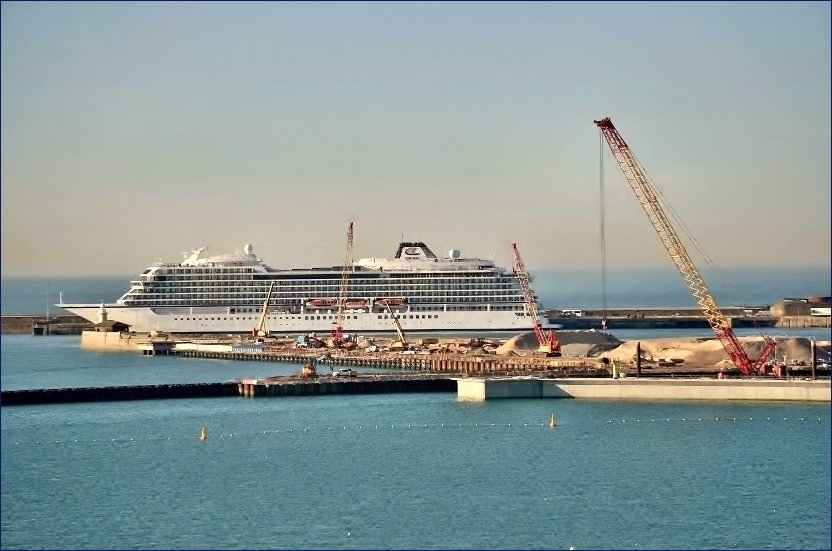 Some excellent pictures below there from Jeremy and Mike of the delightful Hebridean Princess. Lovely shots there for sure. Very enjoyable indeed so don't miss those below.

Thanks Vic for your interesting comment as always.

Triple whammy of cruise ships today.. Brilliance of the Seas, I think that's Saga Sapphire also, and the Hebridean Princess is still with us. Brilliant !
PaulB
ps: I took some pix of the departing HMS Diamond... haven't caught up as yet, still in camera, but if any good will get some up on display in due course.
Tuesday, 7 August 2018 - 07:25
Post 5120
vic matcham, dovor
Yes she is a great small ship to sail in and build in 1964, but would I like to sail in her with a gale force 10, I do not think so, I done it many years ago when in the army going to one of Scotland Islands. On it for some 10hrs and sick all the time
, again great photos coming in of the Royal Port of Dover.

Tuesday, 7 August 2018 - 06:35
Post 5119
Mike J., Dover
Further to Jeremy's arrival pix from Langdon Cliffs here's the HEBRIDEAN PRINCESS approaching Cruise-3 & just about to disappear behind the VIKING SKY berthed on Cruise-2.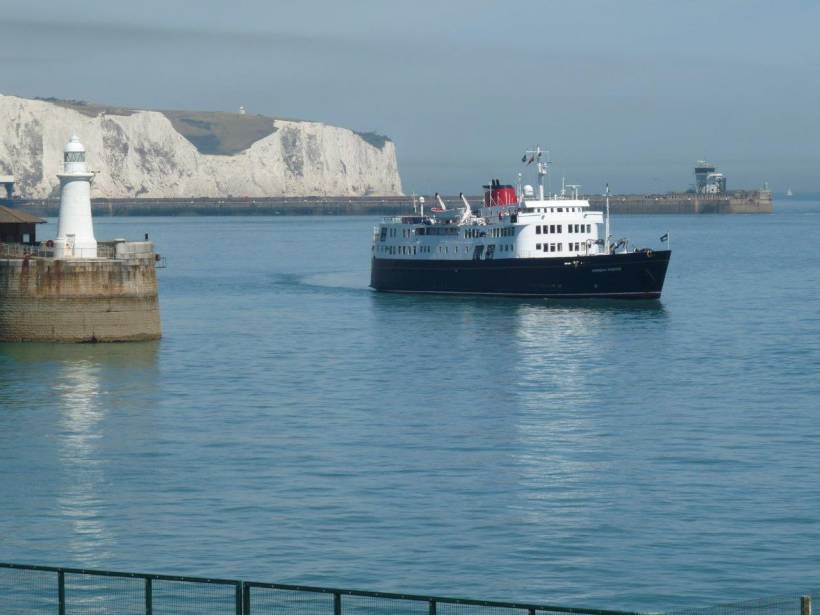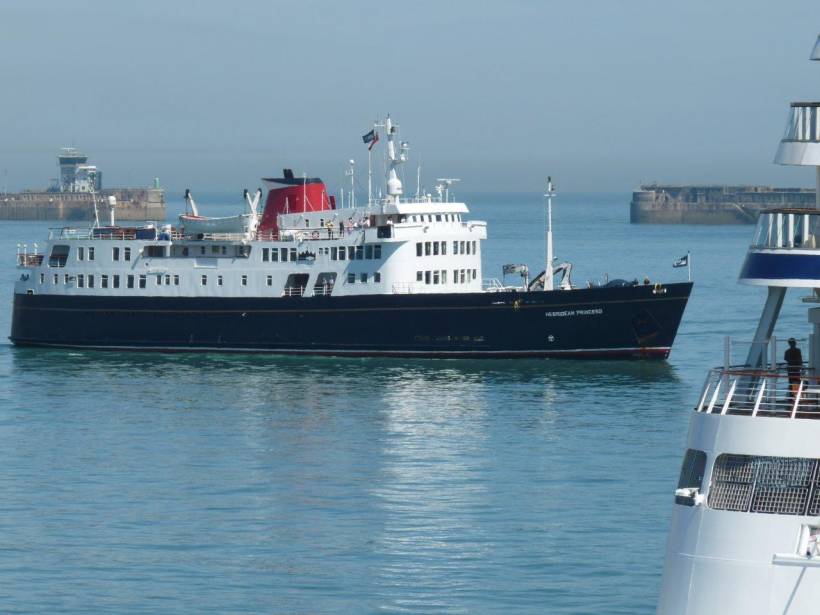 Sadly the Ad.Pier was closed beyond the Turret so no closer-upper view of this elegant little vessel, formerly a Scots ferry & twice privately chartered by HM the Queen after the Royal Yacht BRITANNIA was withdrawn in 1997.
The outer end of the Admiralty Pier will remain closed until Thursday.
Monday, 6 August 2018 - 23:54
Post 5118
Jeremy Ward, Whitfield, Dover
Seen arriving this afternoon is the 1964 built HEBRIDEAN PRINCESS. Lovely little cruise ship.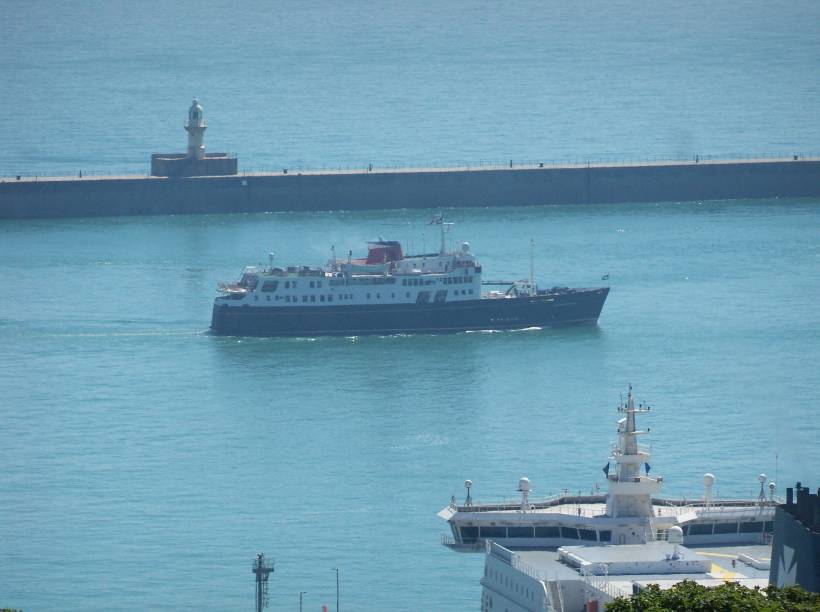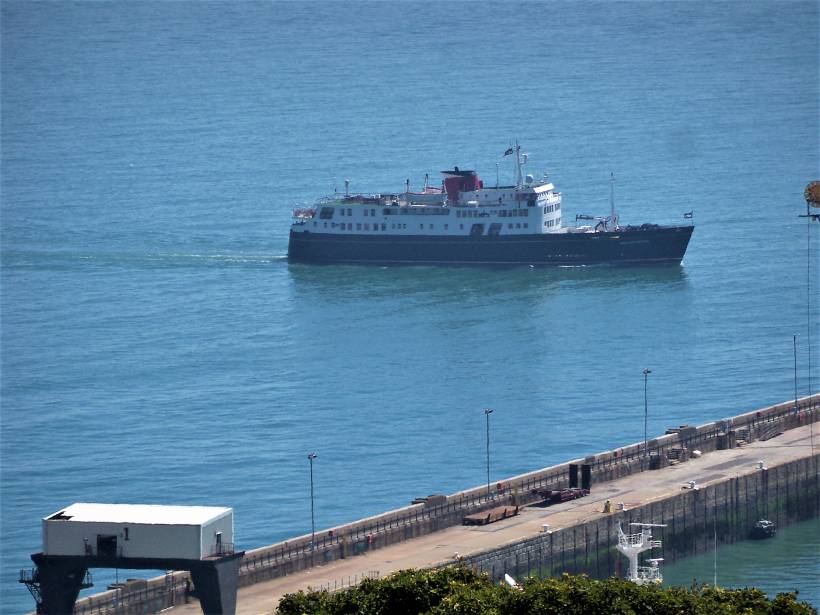 Monday, 6 August 2018 - 16:10
Post 5117
Sea News, Dover
Talented female engineer returns to Dover:
VSBW, a joint venture between VolkerStevin and Boskalis Westminster, that is delivering the first stage of the Port of Dover' prestigious Dover Western Docks Revival (DWDR) development, is bucking the national trend in terms of the number of females working on-site - currently running at 16% of the workforce.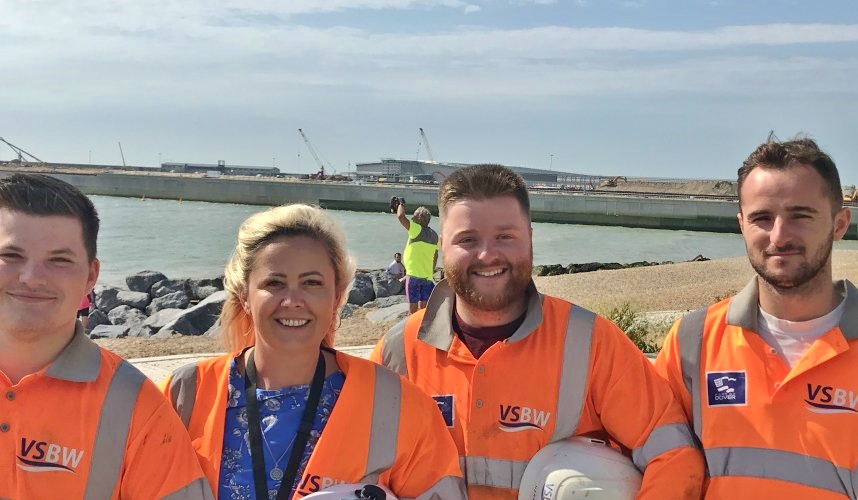 One of those women in question is Paula Cruttenden, a project manager with VolkerStevin.
Paula is in fact a local girl, born in the area and educated at St Edmunds Catholic School in Dover before leaving to complete a BTech in Building and Construction studies in Folkestone. Paula then went on to university in London – Queen Mary and Westfield, where she attained her degree in Civil Engineering and Project Management.
After graduation, Paula openly admits: "I knew what I wanted to do with my career, but I honestly didn't know how to get into the industry", so she decided to go freelance with the ultimate goal of working her way up through the ranks in engineering.
Paula has worked on a variety of high profile projects in different industries, including marine, railway and building projects such as the iconic Shard building in London, Battersea power station and even the Olympics.
"I started my career as a setting out engineer, was then promoted to senior engineer and then site manager. I then worked my way up to construction manager and project manager", says Paula.
"Being freelance has given me a great deal of flexibility to try out new experiences and develop my knowledge and expertise. Becoming Chartered has never been high on my radar and fortunately in my varied 21 year career has never been a requirement."
When asked if Paula liked being 'back home', she said: "It is strange to only have a 25 minute commute to work at the moment and to know the area in which I am working, but a real pleasure too."
As a working mother with a young son, Paula is very keen to not only ensure a good work/life balance, but also to demonstrate being a good role model for her son for the future.
Paula also said: "I am immensely proud and privileged to be working with an outstanding team who have gone the extra mile in delivering this challenging programme, and who are committed to maintaining the highest standards while ensuring the work is completed on time.
"The DWDR development is definitely close to my heart and is a pleasure to work on, as it is not only a prestigious and innovative project in terms of engineering and delivery, but it will also have a lasting legacy for my home town."
ENDS
Pic top ..Left to Right: Rory Sutton - VSBW Apprentice Engineer, Paula Cruttenden – VSBW Piling & Demolition Project Manager, Harry Maybank – VSBW Site Engineer and James Scott-Stewart – VSBW Senior Engineer
* *
My thanks to the team at the Port - a very interesting item above there.

A couple of pictures now of the Pacific Princess as she moves away a couple of evenings ago. She was off on her British and Irish tour in glorious weather...also in shot is the Pilot Boat doing the essential necessary, dashingly darting this way and that. In the background the rolling hills of France ...yours truly has often leisurely ambled through those and very nice they are too....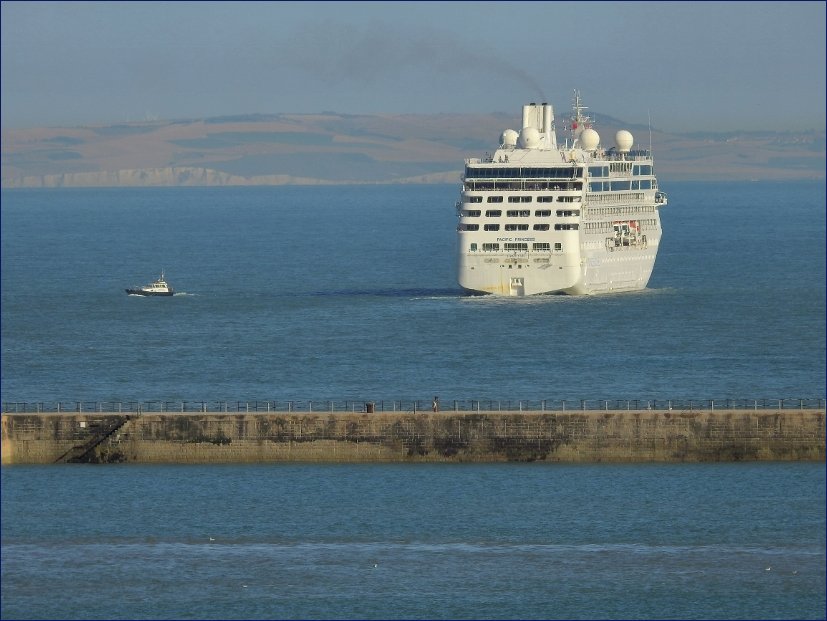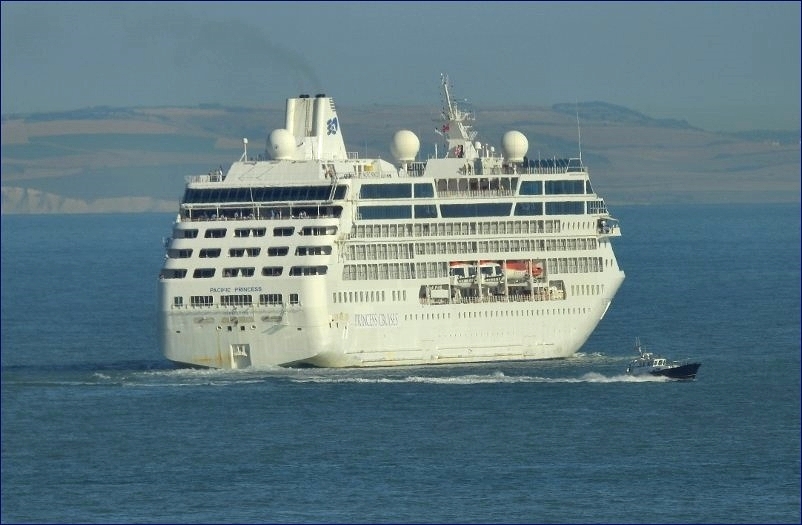 Just following Mike and adding these extra few shots of the Maersk Connector. First shot at the Cruise Terminal, the second as she reverses for imminent departure, and third one the rear view with the pilot again. And away she goes...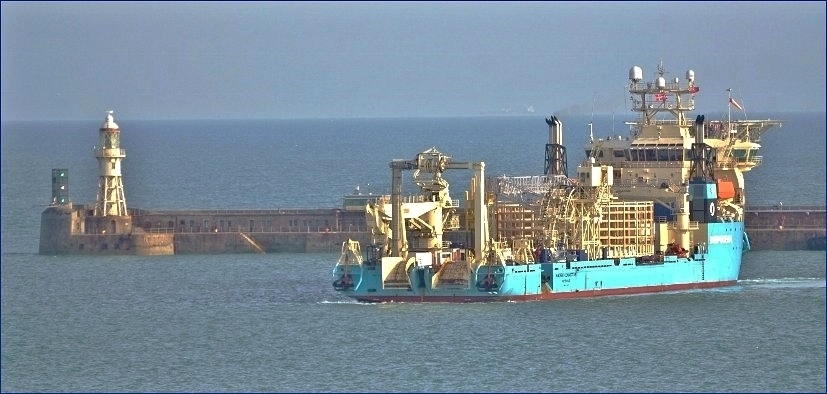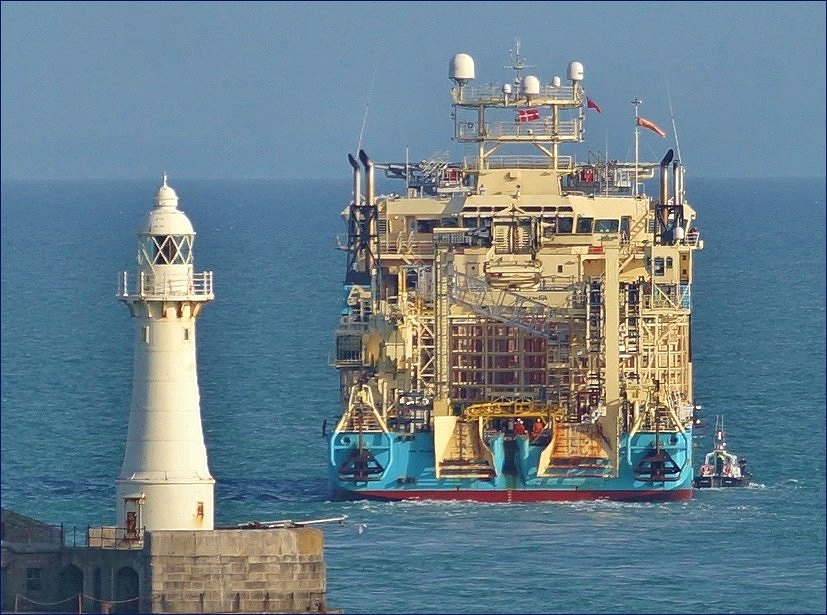 Well done Mike again...nice shots below there of the Maersk Connector right up close...and indeed the Lifeboat too.
Great stuff Mike!

And also ..Well done Patrick once again with HMS Diamond …
I'm sure Colin's family will enjoy all those Patrick as have lots of others too.

PaulB

Monday, 6 August 2018 - 06:49
Post 5116
Mike J., Dover
As well as HMS DIAMOND another unexpected arrival was the MAERSK CONNECTOR who paid a brief visit on Saturday.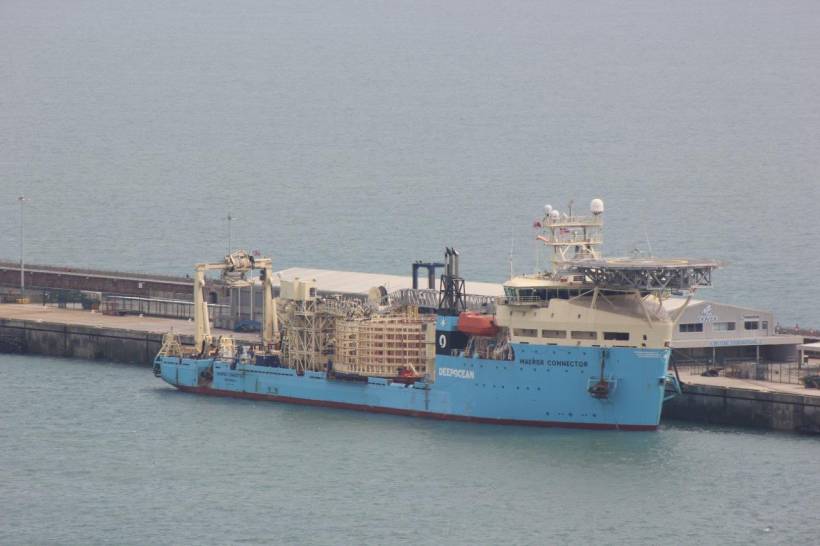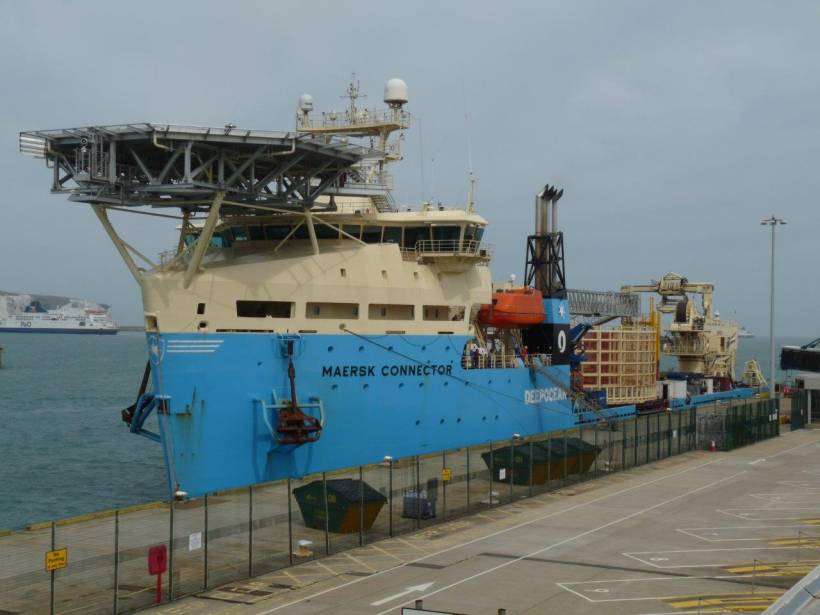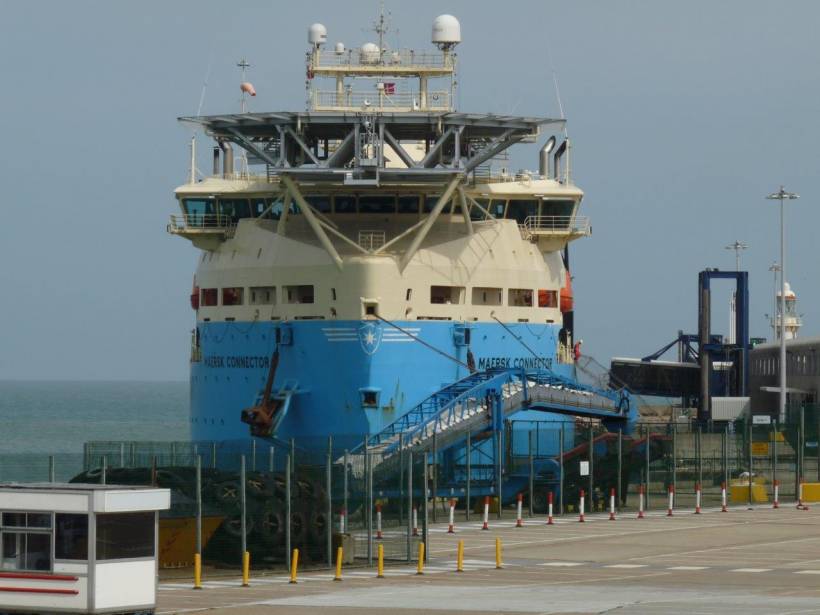 After being laid-up in the Wellington Dock & then ashore in the boatyard since late May the CITY OF LONDON 2 was back in the water in Granville Dock on Saturday afteroon.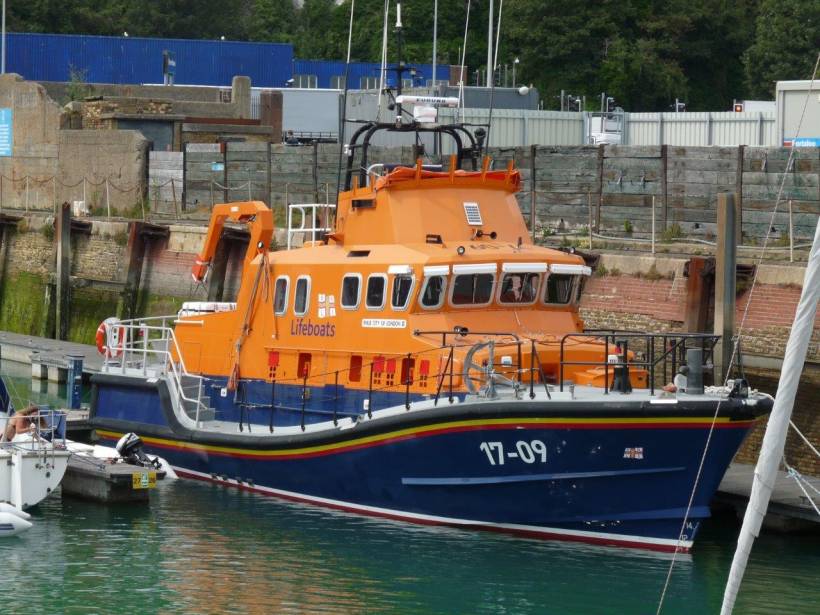 Sunday, 5 August 2018 - 23:43
Post 5115
Patrick, Marine Parade
Paul, thank you for forwarding the email from Colin Lewis MBE. Always glad to provide a little bit of pleasure to those that follow our forum and some very kind sentiment from Mr Lewis. The pleasure is mine.
I have put a short 20sec video on YOUTUBE of the arrival of HMS Diamond through Dover Eastern entrance on 3rd August. It was on a hand held camera so a little jerky but shows off the vessel well.
https://youtu.be/5Yt6r9m1ai4
Here are a few additional shots I took which may add to Mr Lewis' collection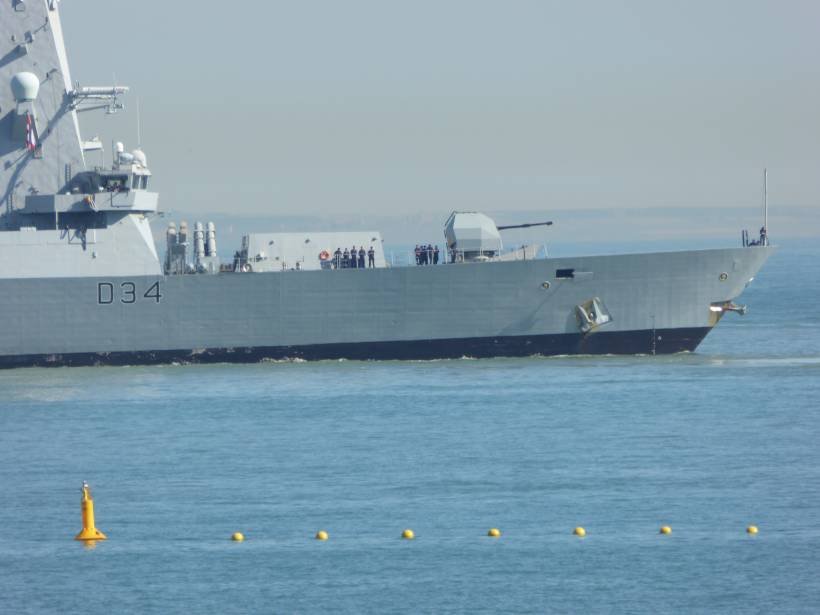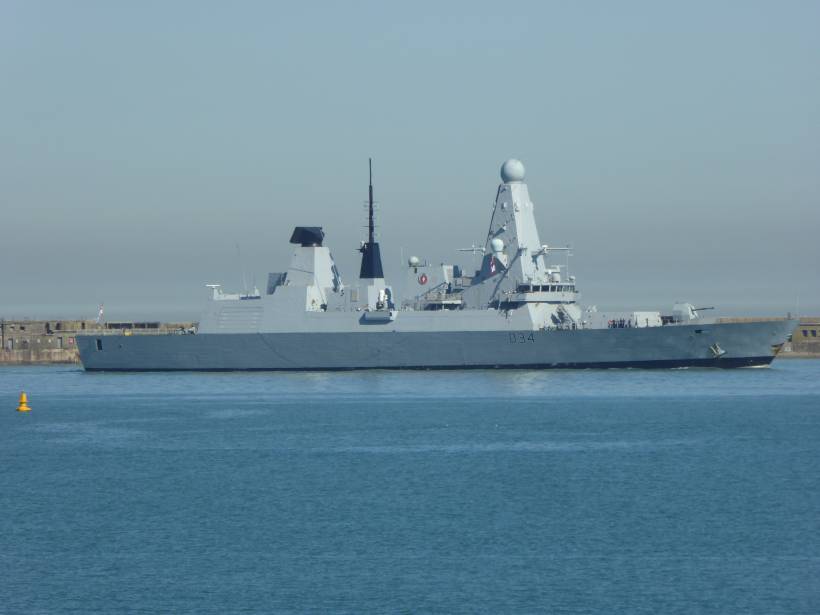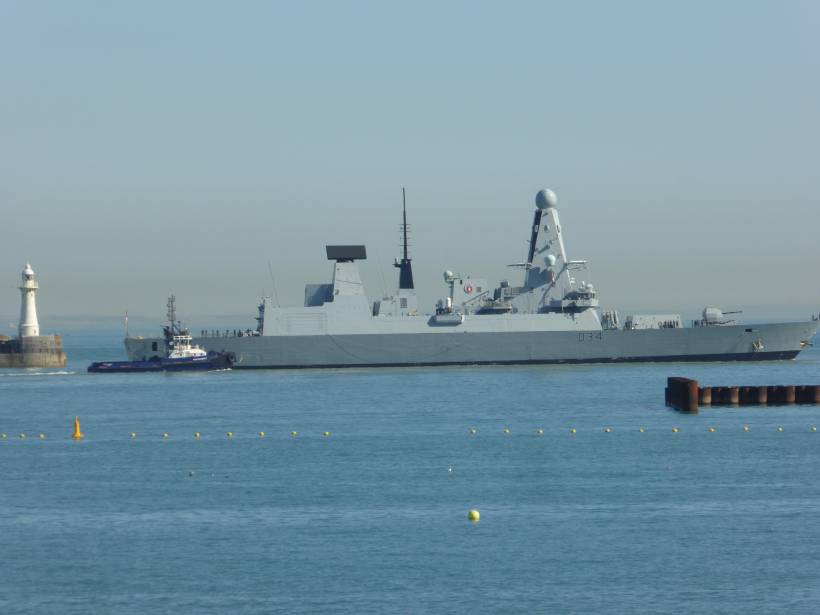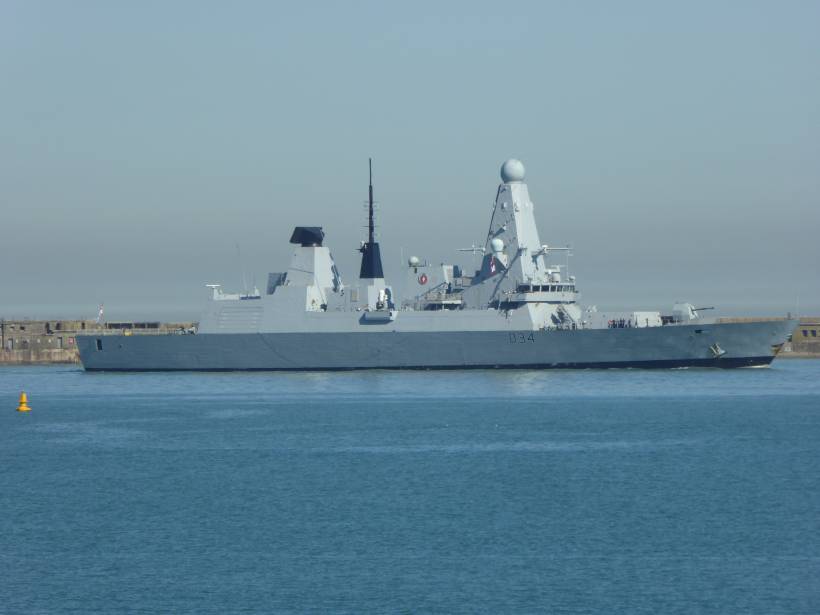 Sunday, 5 August 2018 - 11:50
Post 5114
Sea News, Dover
Had this nice email through from Colin Lewis MBE. Many thanks Colin - great to hear from you...

"
Hi Paul,
I would be grateful if you could pass on my thanks to your contributor Patrick who took the photos of HMS Diamond.
My son is on the Diamond and I try to collect photos from his travels so that he can enjoy them in the future. They are lovely pictures and as I say I'm grateful.
Best wishes.
Colin
Colin Lewis MBE
"
* *
Yes Patrick's pix were great for sure. Well done once again Patrick.

Also Mike's pictures in the new post below from Sandwich. Great stuff Mike ! great info too.

Also a huge well done to Colette for the latest cruise list. Great info there Colette. Busy time coming up.

PaulB
Sunday, 5 August 2018 - 06:38
Post 5113
Mike J., Dover
Excellent 'catch' by Patrick of HMS DIAMOND - unexpected for sure, as was the MAERSK CONNECTOR who sailed early Saturday evening for Blyth.
Also from Colette another of her most useful lists with timings for the cruise ships - many thanks - Monday should be interesting.
The former Port of London Authority pilot boat X-PILOT spent a week at Sandwich & was caught coming downriver on Wednesday, heading for an overnight at Ramsgate before returning to her usual moorings at Queenborough.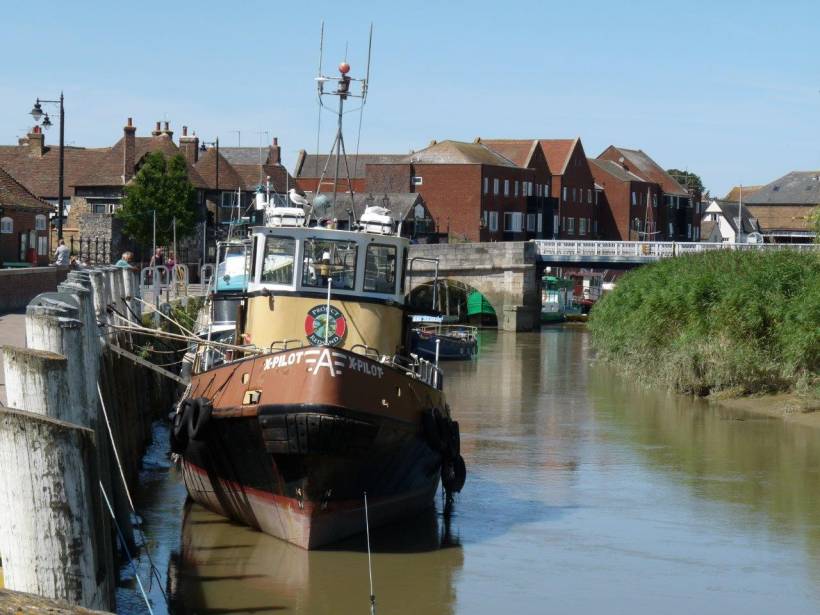 Unusual to see such a large vessel in the Stour although the American Rhine Patrol boat P22 remains at Sandwich - in the 'olden days' Sandwich was a busy coaster port with regular cargoes being timber for the local sawmill, coal for the gasworks with tankers regularly going upriver beyond the toll bridge & grain was often exported.
The X-PILOT was built in 1967 & in her PLA days worked mostly at Gravesend.
Now in private hands she is available for charter in the Thames & Medway area & was one of the 'Committee Boats' at the recent Thames Sailing Barge match which was a bit of a disappointment this year due to lack of wind.
Here she is passing the 'White Bridge' just below Sandwich, looking like a scene from the 'African Queen' [all that is lacking is Katherine Hepburn & Humphrey Bogart !]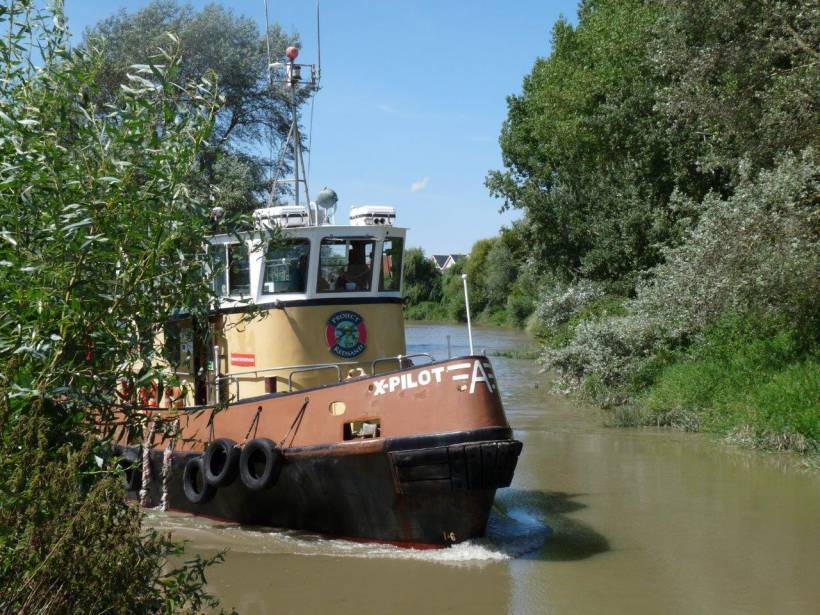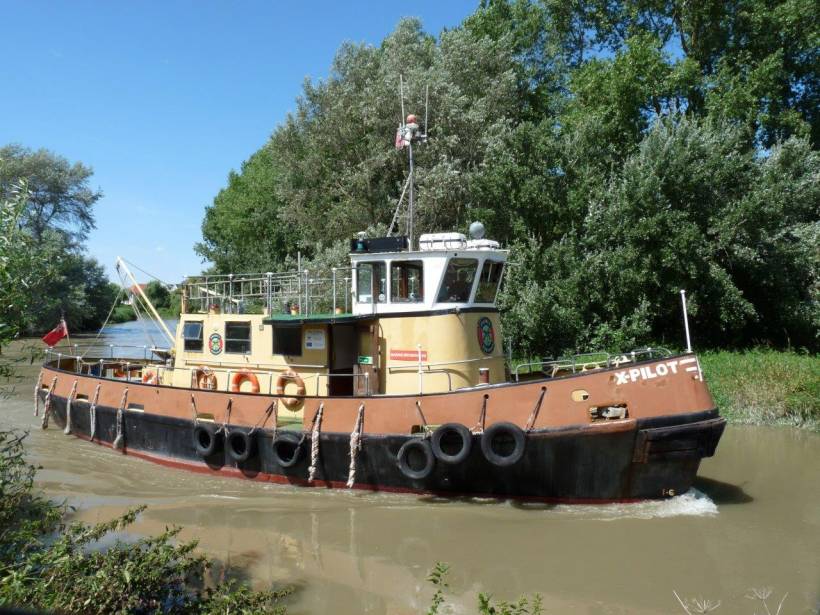 An hour or so later she passes the sluices at Stonar Cut in the last mile or so before the river mouth passing [off-camera] the derelict Richborough wharves & in the distance the remains of the WW1 train ferry dock.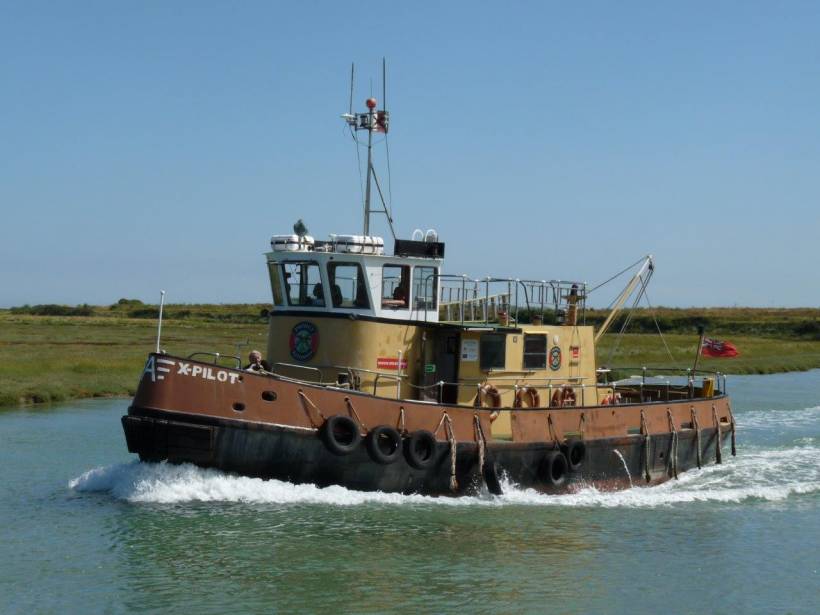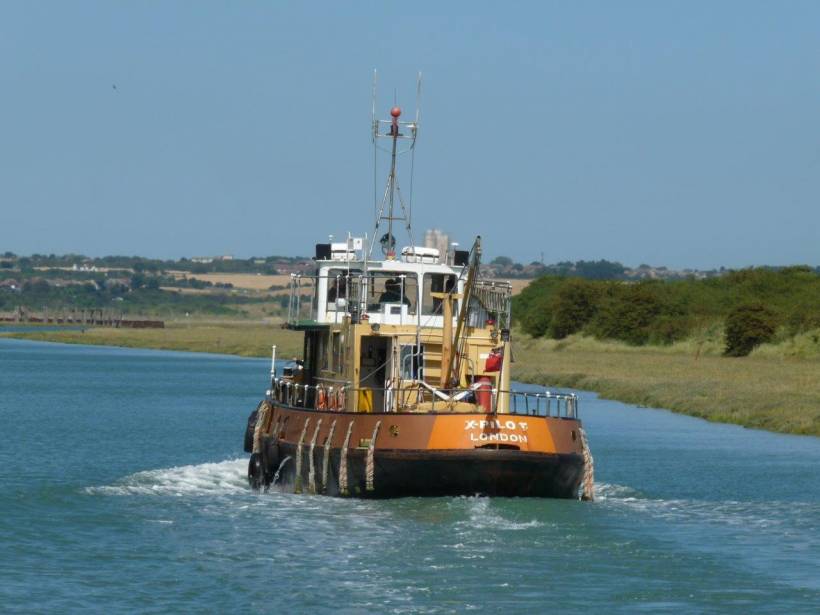 Sunday, 5 August 2018 - 00:54
Post 5112
Colette B, Dover
CRUISE VISITS
_____________
We have been treated to some amazing happenings over the past couple of days, a surprise visit by HMS Diamond (Well Done, Patrick), a mixture of interesting vessels in the Tidal Basin (Thanks Mike)

TV Personalities in Market Square and to cap it all a Phenomenal shot of the Moon.
The photo of the threatening skies over Dover Castle is eerie …

telling of the tempest en route.
Also an interesting shot of 'Percy Pigeon' taken by 'Cruise Virgin' Ian J Handley with the forever graceful lady Boudicca in the background.
And Wowser! The Jardins de la Ballue close to Mont-Saint-Michel with the chateau in the background is so beautiful

Here we go chaps with an interesting week of cruise calls including 'a brace' of 'Double Whammy's'

Firstly on Monday 6th August, we have another 'Newby' with the inaugural visit from Viking Sky, Welcome!

She sails into CT1, 08.00 hours on her 13 night One Way Tilbury to Bergen cruise. Her ports of call are Dublin, Holyhead, Liverpool, Belfast, Ullapool, Kirkwall, Edinburgh, Invergordon, Lerwick before dropping anchor in Norway on Friday 17th August. She leaves us at 18.00 hours, PoC.
Four hours later we welcome back an old friend not seen here since August 2015, Hebridean Princess glides into CT2 at 12.00 noon, close to the end of her 9 night One Way Portland to Greenwich cruise. She has called at the following ports Caen, Dieppe, Boulogne-sur-Mer, Dunkirk, and Zeebrugge. After leaving us she then sails up 'Old Father Thames' arriving in Greenwich Thursday 9th August. This former Scottish ferry holds the esteemed Royal Patronage of being chartered twice by her Royal Majesty Queen Elizabeth ll including once for her 80th Birthday celebrations. She departs at the same time as the Viking Sky above 18.00 hours, so watch for the two going out in tandem, PoC

The following day Tuesday 7th August the awesome Brilliance of the Seas arrives at CT2, 07.00 hours whilst on her 12 night British Isles Round Trip from Amsterdam. Having visited Edinburgh, Invergordon, Greenock, Dublin, Holyhead, Cork, Guernsey, St Peter Port, before finally arriving back in Amsterdam tomorrow morning. She will be leaving us at 16.00 hours, PoC.
One hour later Saga Sapphire sails into CT1, 08.00 hours to start her 15 night 'Baltic Adventures' Round Trip. Her ports of call are Karlskrona (Sweden), Helsinki, St Petersburg, Riga, Liepaja (Latvia), Gdyania (Poland) through the Kiel Canal before returning to Dover Wednesday 22nd August.
She will also leave us at 16.00 hours, so watch for both of them cameras at the ready, T/R.
Then on Wednesday 8th August the graceful 'Old Lady' Boudicca arrives at CT2, 06.00 hours to begin her 16 night 'Icelandic Adventure with Greenland' Round Trip. Now here are some interesting ports of call, Reykjavik, Isafjordur, now a few to try and get your tongue around the Greenlandic ports of Nanortalik, Narsarsuaq and Qaqortoq then on to Scrabster in Scotland before returning to our shores Friday 24th August.
She departs at 17.00 hours, T/R.
Two hours later at 08.00 hours, Saga Pearl ll sails into CT1 to start her 13 night very poetic sounding 'Western Skies and Scottish Isles' Round Trip. Her ports of call are Jersey, St Helier, Bristol, Campbeltown (just across from Turnberry Golf course, owned by a certain President Trump
), Scrabster and Edinburgh before returning to Dover Tuesday 21st August.
She will be leaving us at 16.00 hours, T/R.
On Friday 10th August Pacific Princess arrives at CT2, 06.00 hours to start her 8 night 'Ireland & Scotland with optional Military Tattoo' Round Trip. Her ports of call are Jersey, St Helier, Dublin, Londonderry and Edinburgh before returning to our shores on Saturday 18th August.
She leaves us 17.00 hours, T/R.
The following day Saturday 11th August, Hebridean Princess graces us with her presence once more. She arrives at CT1, 08.00 hours whilst on her 9 night One Way 'Greenwich to Portland Island' cruise. Having left Greenwich, London & Chatham Docks she heads for Dover. She leaves at 14.00 hours to visit the French ports of beautiful Honfleur and Cherbourg. Her next ports of call are the Channel Islands of Sark and Alderney, St Anne before cruising down the English Channel to Portland arriving there on Saturday 18th August.
She departs at 14.00 hours, PoC.
That should be enough to be getting on with, back real soon folks!

Saturday, 4 August 2018 - 21:09
Post 5111
Sea News, Dover
Wow Patrick! Absolutely cracking pictures below there of HMS Diamond - you got a real scoop there!

Enjoyable collection further below too from Mike from the tidal basin. Great work all round!

PaulB
Saturday, 4 August 2018 - 05:37
Post 5110
Patrick, Marine Parade
An unexpected but very welcome visitor berthed at CT1 today. HMS Diamond Type 45 air-defence Destroyer.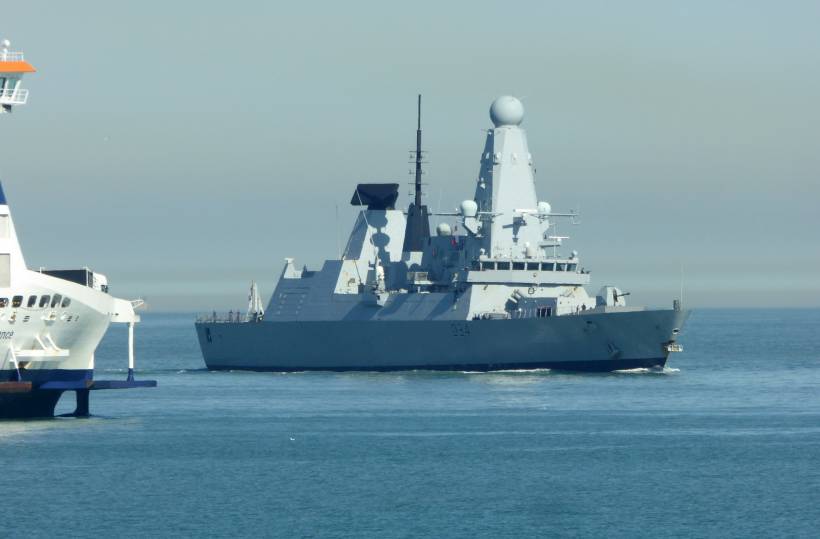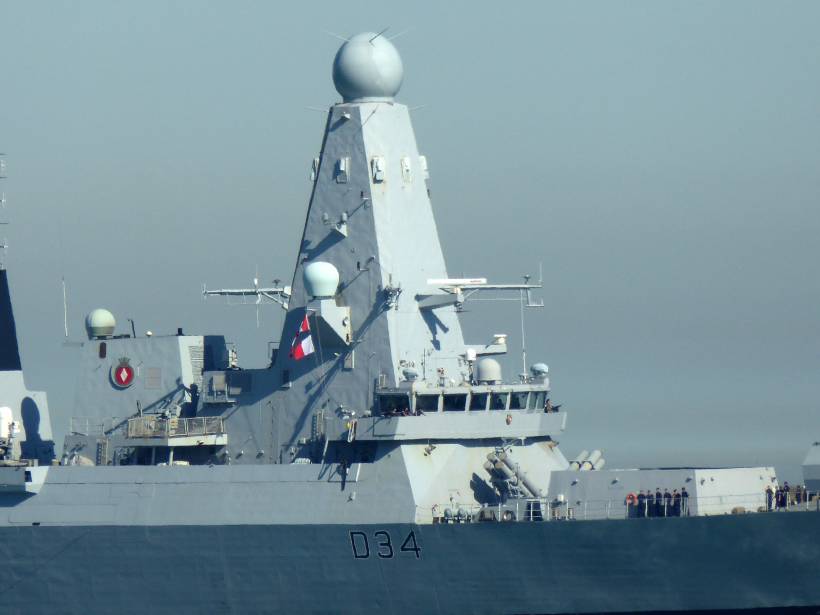 Friday, 3 August 2018 - 17:27
Post 5109
Mike J., Dover
More from the Tidal Basin, Thursday afternoon.
Another Cross-Channel swimming support vessel, the Dover-based GALLIVANT.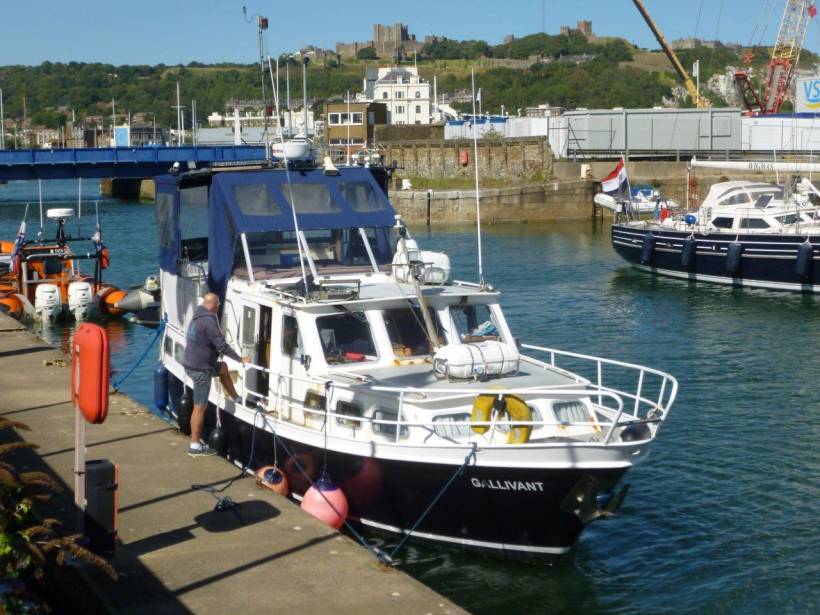 The Maritime Volunteer Service training vessel EAST SUSSEX was in for an overnight stay.
Further pix & details of her visit in August 2017 in post 4091 [or search for her name].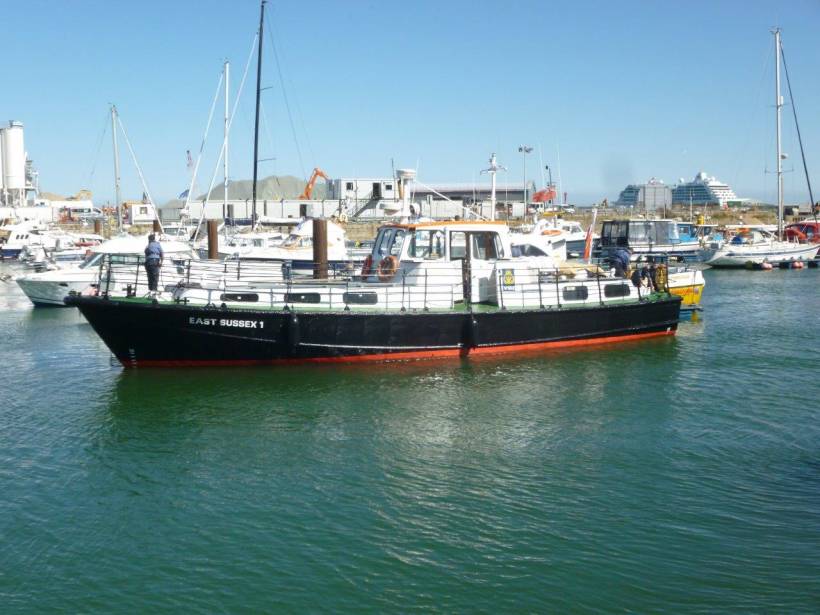 Sealift Diving's SEA-LIFT III - hardly a thing of beauty, but perfectly designed for her work as a workboat & salvage vessel.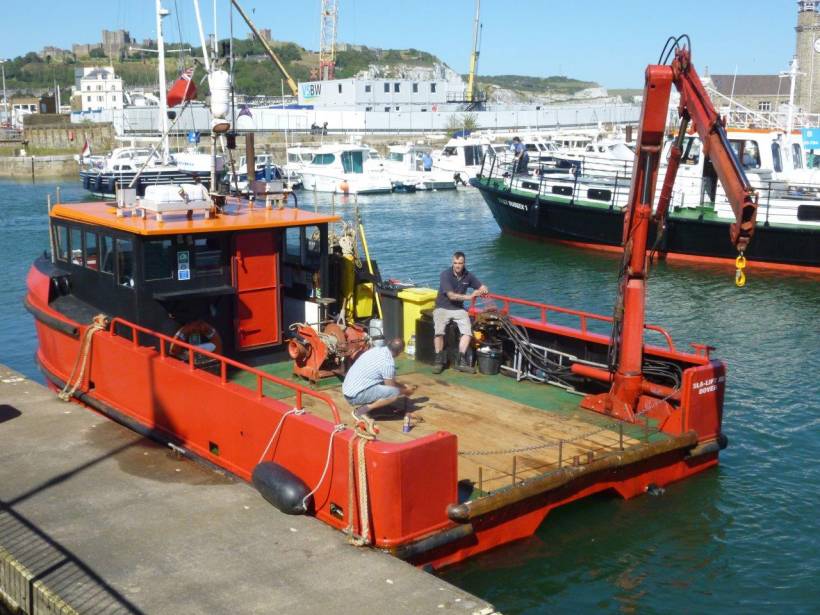 The rarely photographed Border Agency NIMROD - her only previous mention on 'Sea News' was when she was in Ramsgate was in March when she was 'captured' by Sarah
- post 4725.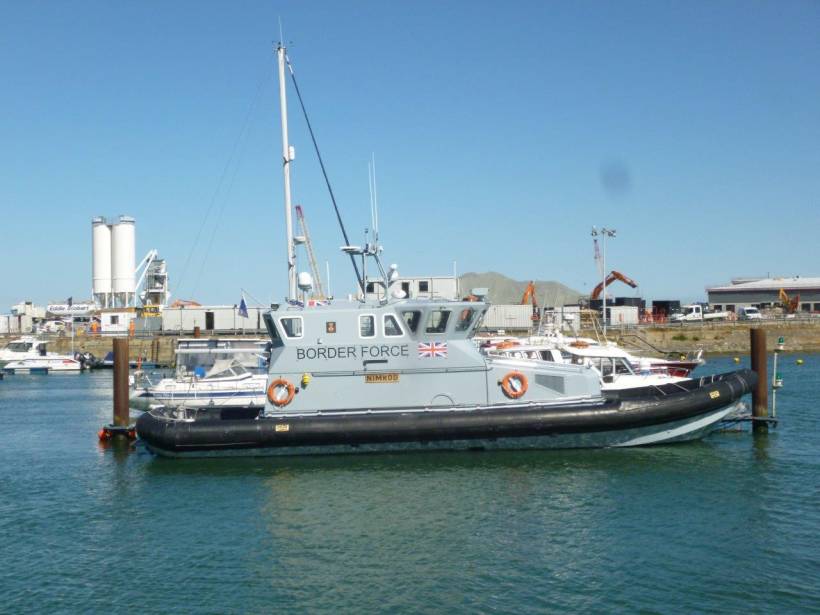 Friday, 3 August 2018 - 13:31
Post 5108
Sea News, Dover
DOUBLE NEWS item now from P&O FERRIES
_______________________________________
P&O FERRIES HIRES 130 NEW EMPLOYEES TO WORK ON THE ENGLISH CHANNEL DURING PEAK SUMMER SEASON
__________________________________________________________________________________________________
ONE of Kent's leading employers has taken on more than 130 new members of staff this summer to help serve the millions of tourists expected to sail between Britain and France.
P&O Ferries, the integrated ferry and logistics company, runs six ships on the Dover-Calais route including the 47,000-ton flagships Spirit of Britain and Spirit of France. With the hot weather making the ferry experience an even more attractive way of starting a summer holiday, the company expects to carry more than one million passengers between Britain and the Continent in the month of August alone.
It has taken on more short-term employees to cope with the expected number of tourists and the majority of positions are being filled by local people from Kent, some of whom will be starting their first jobs.
More than 80 people have been recruited to work on board the ships themselves in positions such as chefs and assistant stewards. Another 27 new recruits will help with the company's operations at the Port of Dover, with roles including port drivers and mooring operatives.
P&O Ferries' warehouse at Whitfield, which supplies its fleet of more than 20 ships sailing around the British Isles, has taken on 5 new people to cope with the summer rush. And the company's call centre at Channel House in Dover has recruited 15 new faces for the duration of peak season.
Lesley Cotton, Divisional HR Director at P&O Ferries, said: "We have been one of Kent's leading employers for many years and this summer we are delighted to have taken on 130 new people to help make the P&O Ferries experience even more special for more than a million tourists travelling to and from their holidays."
"We recruit from a wide range of backgrounds including students who have just graduated, people entering the workforce for the first time and others who simply wanted to try something different for part of the year."
"Everyone at P&O Ferries will be doing their utmost to ensure that our customers' holiday begins as soon as they set foot on our ships. And anyone who might be interested in working for us should log on to www.poferries.com/careers to register for job alerts."
ENDS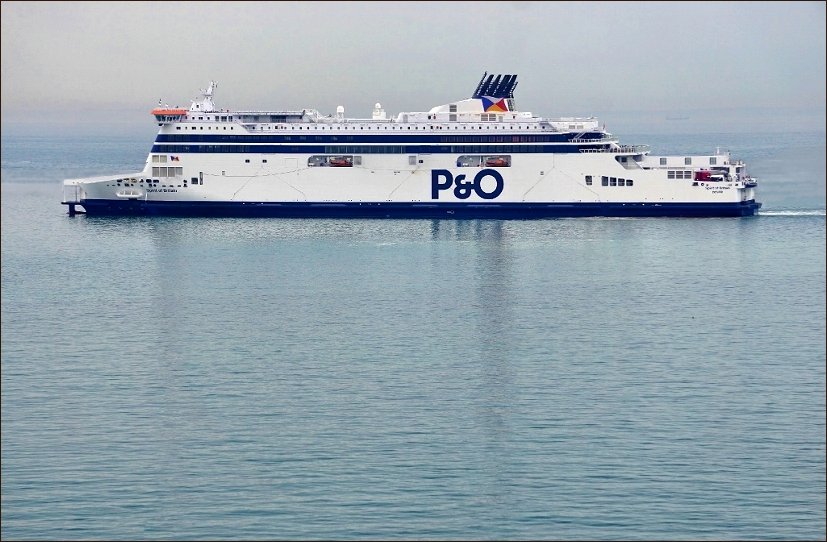 The Spirit of Britain

also
....DONT MISS THIS DEAL >>>>
YOU CAN SAVE 20 PER CENT ON A P&O FERRIES SHIP TO THE CONTINENT BY SAILING AT NIGHT
______________________________________________________________________________________
Release time: immediate
ANYONE who wants to beat traffic on the roads and hot weather during the day this summer has the option of sailing to France for 20 per cent less thanks to a new offer from P&O Ferries.
Britain's favourite ferry company is offering to cut a fifth off the price of a crossing between Dover and Calais so long as you sail between 10pm at night and 6am in the morning.
The offer applies to all sailings between now and mid-December, with the exception of weekends during the school holidays. You have to be driving a car or a motorcycle and book before 13th August to qualify.
Sarah Rosier, Director of Passenger Sales at P&O Ferries, said: "The big advantage of sailing at night is that you don't have to worry about the traffic, either on your way to Dover or once you reach the other side and head to your final destination on the Continent."
"There is also more space on the ship, which is often ideal for families with children, who want to be able to take a break in the middle of their journey."
"Our promise to our customers is that their holiday begins as soon as they set foot on our ship. The advantage of sailing at night is that their holiday will get off to an even better start as they drive across the Continent's roads when they are at their least busy."
P&O Ferries has been voted Britain's Favourite Ferry Company by the travelling public for ten consecutive years at the British Travel Awards.
P&O Ferries is a leading pan-European ferry and logistics company, sailing 27,000 times a year on eight major routes between Britain, France, Northern Ireland, the Republic of Ireland, Holland and Belgium. It operates more than 20 vessels which carry 8.4 million passengers and 2.3 million freight units annually.
ENDS
Huge thanks to the team at P&O Ferries once again. Great to have all the info coming through.

* *
Well known TV personality Professor Alice Roberts was in Dover over the past couple of days and nice to see her it was too. She has been on TV in various scientific/nature programmes for quite some time and here she is in Dover's Market Square on Wednesday interviewing local journalistic legend Terry Sutton.
They are making a programme for C4 on Dover's History. No doubt Terry was giving them a real insight into Dover's recent past. It is scheduled to be shown in 2019 - if and when we hear more in due course we will let everyone know.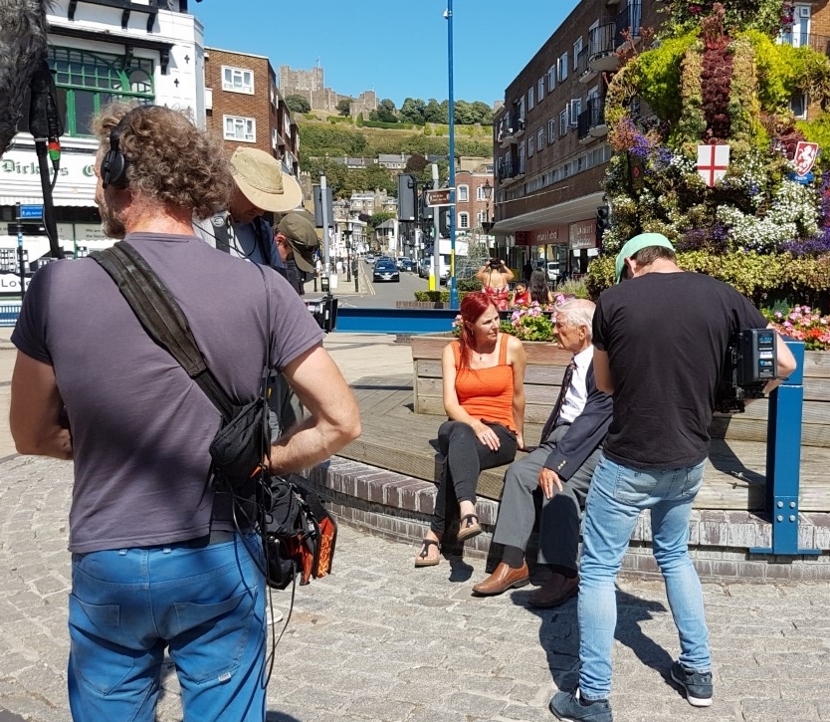 Picture by Jan Tranter
Many thanks to Jan T for the nice shot above there.

Thanks Mike all round.
Great set of pictures below there from our 'inshore correspondent'.
Great stuff indeed - keeping us all up to speed on all the inshore goings on.

Thanks Del. I did the very same thing last night re the Space Station..saw it going over at 10.45pm. Got the details from colleague Chris Tutthill's page ...see dover.uk.com on menu left. Ah yes I remember those moon landings too.

ENDS

Friday, 3 August 2018 - 07:17
Post 5107
Del Styan, Norwich
Thanks for the Goodwin sands info - I'll have a look at the forum. On another tack - great moon shot. It reminds me - last week my wife and I went into our garden around 10.30 ish and watched the Space Station pass overhead. It reminded me of being a youngster and going into my parents garden to look at the moon when the first moon landings took place. I think you will have no problem guessing my age!

Thursday, 2 August 2018 - 23:15
Post 5106
Mike J., Dover
A cracking moon shot & a very nice view of BOUDICCA 'by dawn's early light' [as the Yankees sing].
Damned lighting poles . . . .
DWDR Tuesday - every day something different.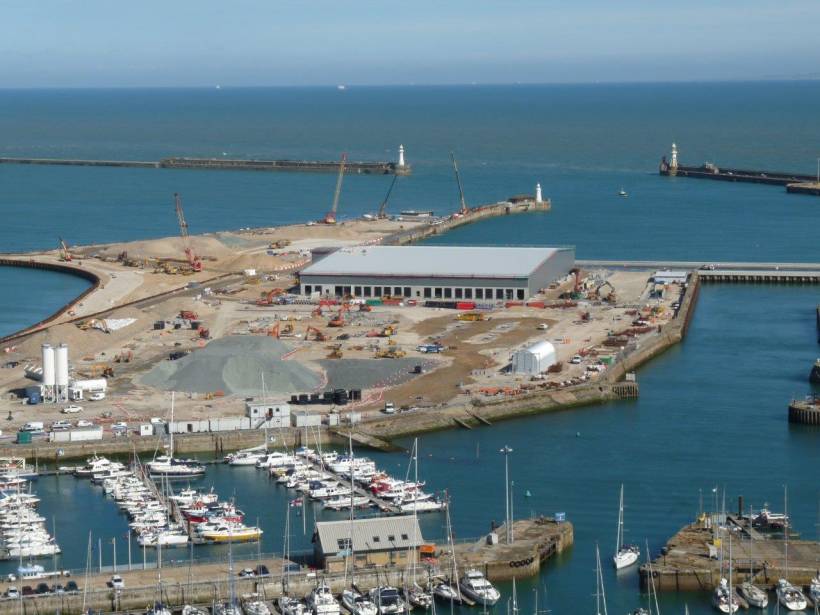 The capping of the 'promenade pier' looks to be approaching completion.
The multi-jointed vehicle on the Marina Curve is a concrete pump.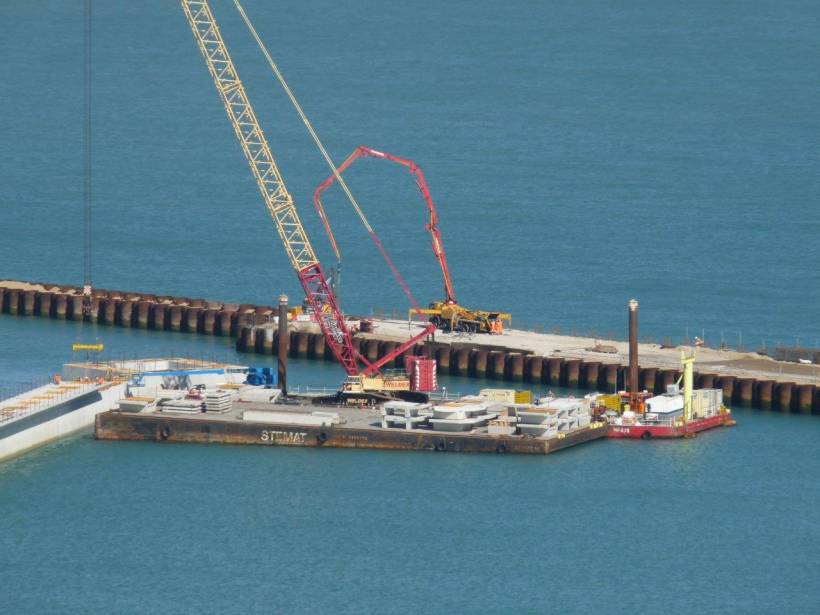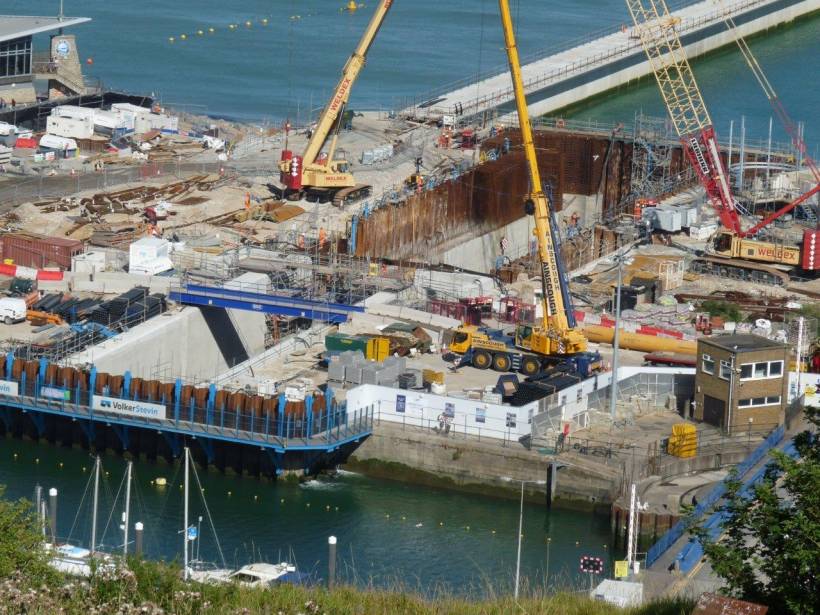 The AFON CEFNI has come up from Ramsgaste to join her two Holyhead Towing fleetmates.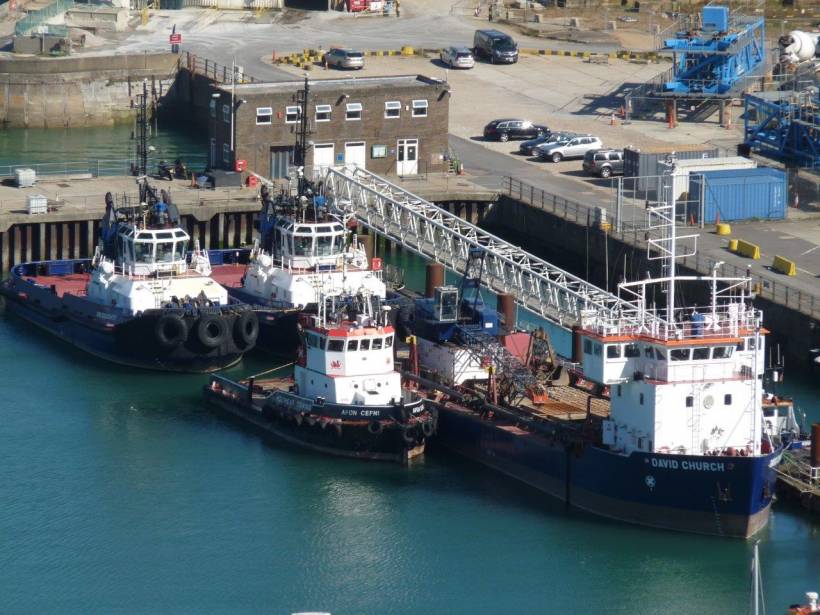 The odd-looking Channel swimming support vessel JOHN MARY ROSE, thought to have been converted from a Mediterranean fishing boat & normally based in Ramsgate, came in Wednesday afternoon with engine trouble.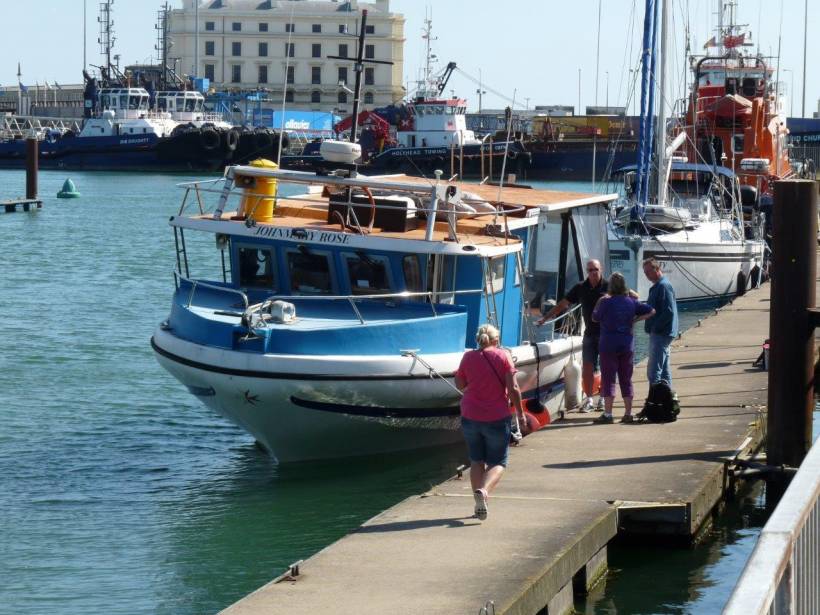 Thursday, 2 August 2018 - 12:24
Post 5105
Sea News, Dover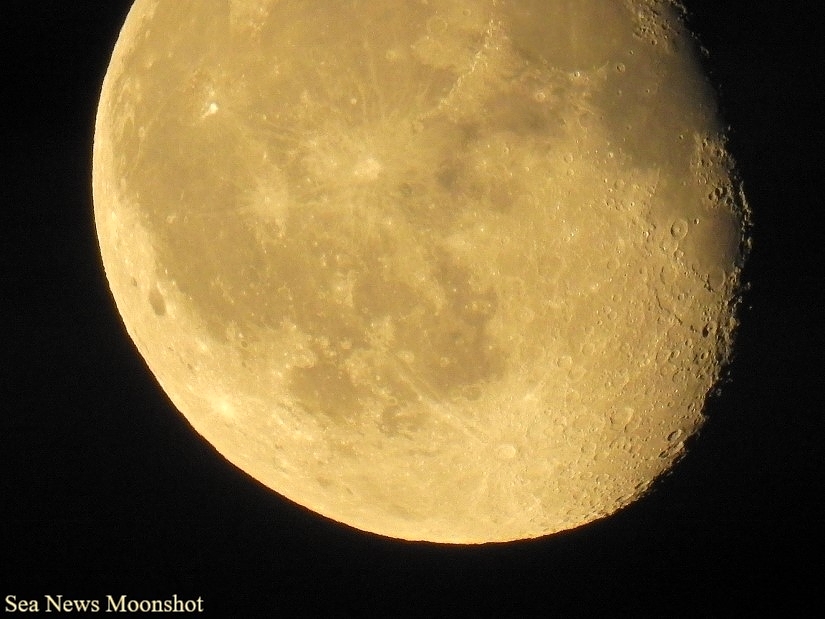 This picture of the moon was taken at 10 minutes to midnight on tuesday night as the great orb hung over the Port. It looked magnificent, so zooming in we caught the detail. Bog standard shot this...no artificial anything involved.
"There's no dark side of the moon really
matter of fact its all dark"
....so sayeth Pink Floyd - The Dark Side of the Moon.
Speaking of all things 'night sky'.. see my colleague Chris Tutthill's front page to enjoy the path of the International Space Station. Details of its travel and when to watch are there...
that's on Dover.uk.com see menu left.
Poor wider pic below of the moon at the same time as the top shot...I only use it to show context.
Tug Doughty and Tug Dauntless returning to base after assisting Esmeralda into slot at the Dover Cargo Terminal earlier the same day.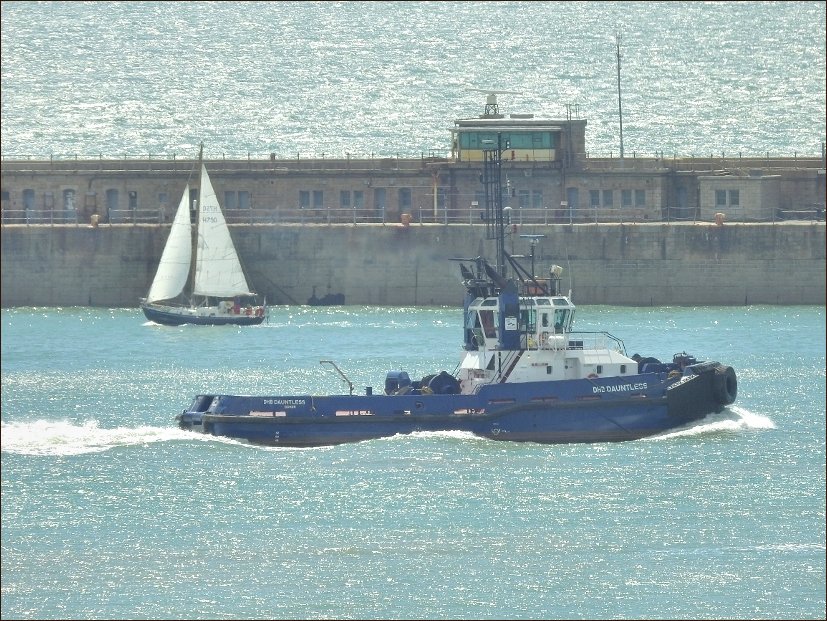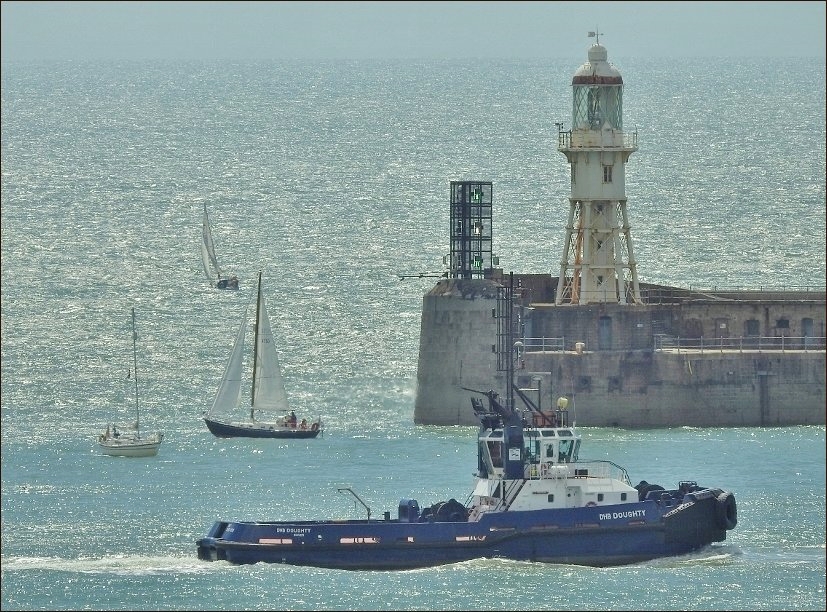 Del yes controversial - big and exhaustive debate on this in the Forum see menu left.
PaulB
Thursday, 2 August 2018 - 06:44
Post 5104
Del Styan, Norwich
Is that Goodwin Sands announcement good news or bad? I'm not up to date with the controversy. Related to not dredging the sands I guess?

Wednesday, 1 August 2018 - 23:01
Post 5103
Sea News, Dover
PORT of DOVER SPECIAL: Regatta plus ….
________________________________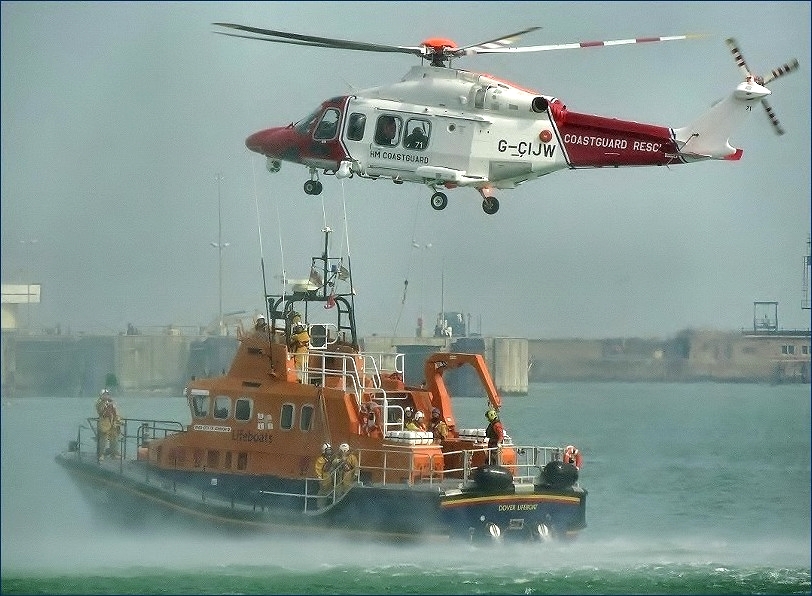 Now in its sixth year and with a focus on our wonderful maritime heritage in Dover, this years' free family fun-packed, port of Dover Community Regatta on Sunday 26 August is going to be the best yet.
Taking place in the magnificent Dover Harbour and along the award-winning esplanade, there's a host of new nautical activities, demonstrations and performances throughout the day including Hovercraft, Port vessels, Dover Lifeboat, Royal Cinque Ports Yacht Club yacht races and a Viking Maritime Skills Academy training display.
And now, everyone can join in the fun on the water and have a chance to win a trip to Nausicaa in Boulogne or Sea Safari Tickets with The Watersports Centre, by entering the Port of Dover Community Raft Race. Organised by the Port of Dover with the support of the Dover & Deal Sea Cadets, Dover Watersports Centre and the RNLI, it's a fun new event for this year's Regatta. Teams will go head-to-head in their homemade rafts and help to raise funds for our supported charity, the Dover Outreach Centre. The Raft Races will be held in the morning, within the Swim Zone area of Dover Harbour.
For more information and an application form to enter a raft and team of 6 adults please contact us at events@doverport.co.uk Team entry costs £36 including vat.
A wealth of new shore-side entertainment is also on offer this year. There's a human football table, roundabouts, bungee trampoline, crazy golf, model boats and giant board games. Performances on the outdoor stage from a variety of fabulous musical acts will keep everyone on our impressive
seafront promenade entertained throughout the day and into the evening.
As usual, there will be plenty of stalls along the seafront offering food and drink, crafts and local produce as well as useful community and charity information.
All proceeds from this years' event will be donated to the Dover Outreach Centre, a local charity supporting people out of homelessness - so come along for a wonderful time and help raise funds for this deserving cause.
Port of Dover Harbour Master, Steve Masters said: "Dover has a long and prestigious maritime heritage and I'm thrilled that this year's Regatta will be celebrating this with a much stronger focus on the sea.
"I'm particularly looking forward to seeing all of the inventive entries in the new Community Raft Race which is sure to be enormous fun for both teams and spectators and will help us raise much needed funds for our chosen charity, Dover Outreach Centre.
"It's going to be our best port of Dover Community Regatta yet and so please come along and have a wonderful time."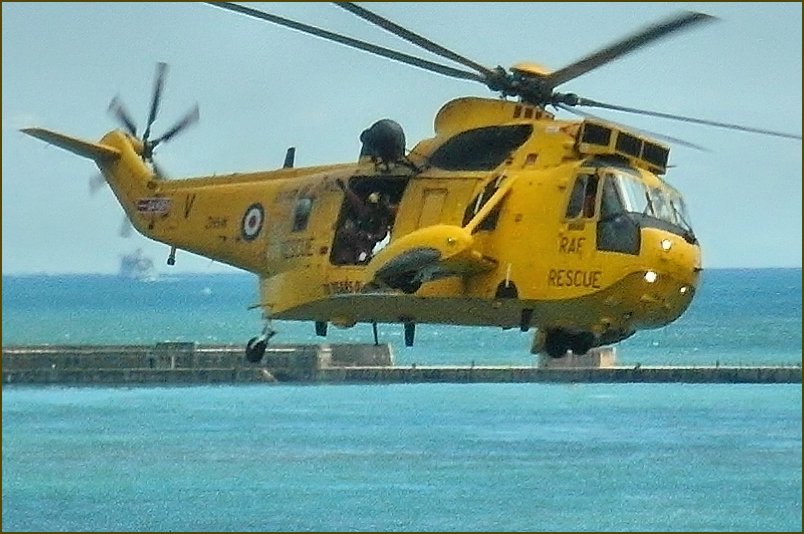 Port of Dover Corporate Social Responsibility Officer, Jenny Beacon said: "This years' Community Regatta, the ports' flagship summer event, offers more exciting activities and entertainment for the community than ever before. Our maritime heritage is something that we can all be proud of and through this fabulous free event, it's great that the port and community can come together to celebrate this."
ENDS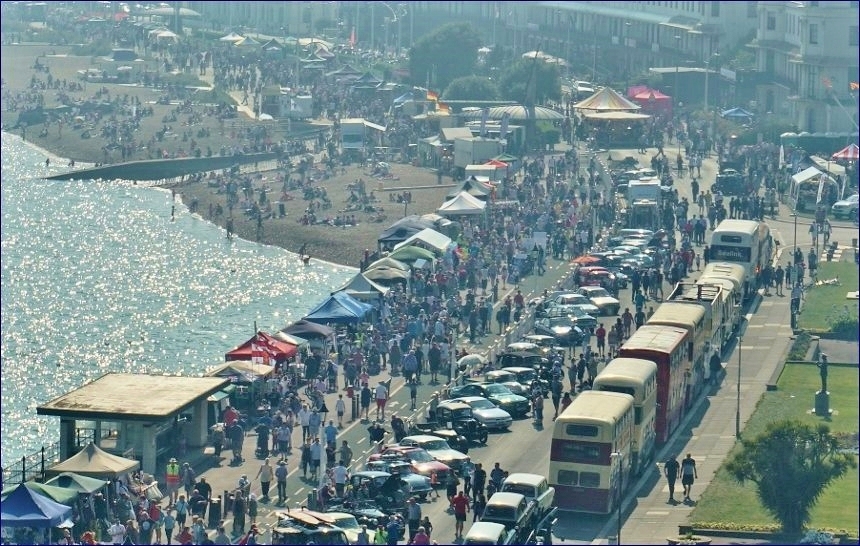 As all can see we have added some pictures of the Regatta there from times past. Very enjoyable those even if I say so myself..

!
Also today we have the following recent announcement:
Decision on the Goodwin Sands Marine Licence Application (MLA/2016/00227)
The Port of Dover is pleased that the Marine Management Organisation (MMO) has issued the marine licence necessary for it to obtain the reclamation material that it would need to complete the final reclamation stage for the Dover Western Docks Revival (DWDR) development.
The MMO is an independent, evidence-based decision maker and in order to make an informed decision has considered all the information made available through the application and the public consultation process. We welcome the decision which hopefully brings a conclusion to this matter.
This is excellent news for British trade; DWDR will create additional capacity and resilience in a port which already handles 17 per cent of the UK's trade in goods and is important too for the future of Dover and East Kent region. It forms a key element of the town's regeneration plan, bringing significant economic development to the region, and will act as a catalyst for the waterfront development.
ENDS
Yes Del glad we were able to get Ian's pigeon up and running.

And glad about John's long range pic too.

Thanks Dave

PaulB

Wednesday, 1 August 2018 - 05:59
Post 5102
Del Styan, Norwich
Well done Ian, lovely shot of the wildlife of Dover.

Tuesday, 31 July 2018 - 23:01