Tuesday, 14 August 2018
All the Ships at the Port of Dover...plus...

WWW.DOVERFORUM.COM/SEA-NEWS
Doverforum.com: Featuring all the ships that come and go and work at the Port of Dover with further coverage of the surrounding ports both sides of the Channel. Email: dover7@msn.com to send SEA NEWS pix or info....
or click ADD YOUR COMMENT below to post direct, no membership needed.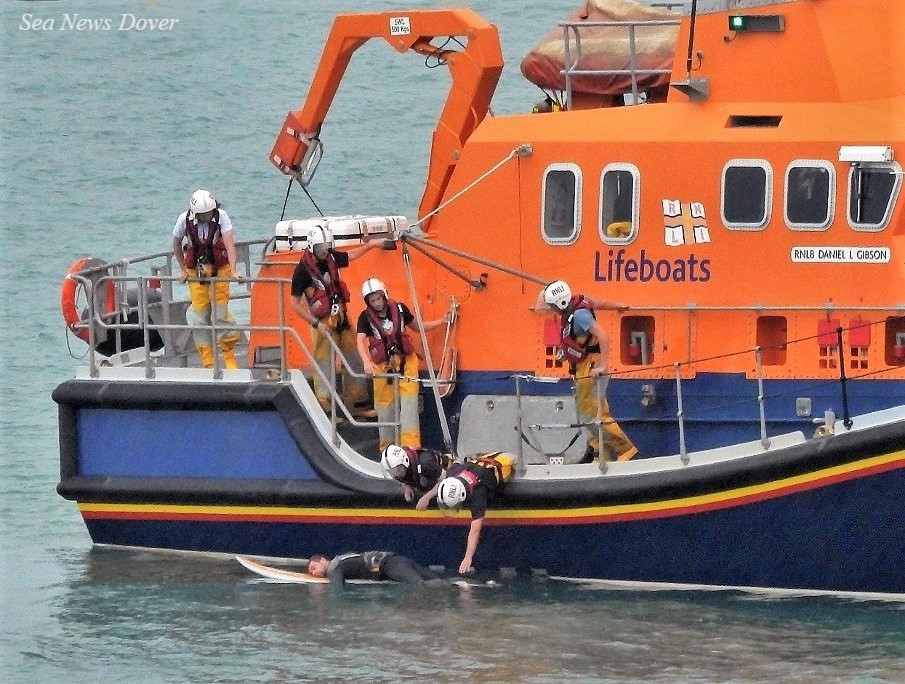 Dover Lifeboat action from Tuesday evening... the Lifeboat guys do training sessions on Tuesday evenings so we assume this to be a training session. We hope so, as the chap on the surfboard looks all in.
Excellent tourist season for P&O Ferries see 5127
VSBW Port of Dover - Women at Work 5117
P&O's summer recruits plus night-time fare deal see 5108
Port of Dover's influential project gets recognition see 5089
P&O - Students at the forefront..see 5087
DFDS and Marine Conservation at Dover Grammar Girls School see 5077
PORT OF DOVER new Board Member plus new Maritime Safety investment... see 5073
P&O FERRIES New Menu Launched...see 5071
DFDS the Success Story continues .. plus night-time fare deal 5068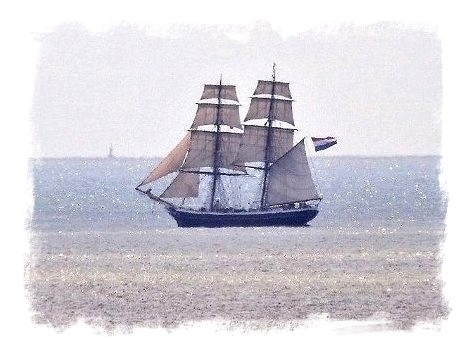 Fires near Dover Seafront .. see 5060
P&O's Jenny Evans - Maritime Young Person of the Year 5054 (also see 4608)
Europe's Best Festivals with DFDS 5029
P&O Pets Travel Free see 5019
DFDS Celebrates apprenticeship programme...5016
New Mobile App for P&O FERRIES see 5008
DFDS and ORCA see 5003.

DFDS ACQUISITIONS and EXPANSIONS...see below 4984
Dover Marina Control - New Contract Awarded see 4970.
PORT OF DOVER: Konecranes for new Cargo Terminal 4916.
PORT OF DOVER: £21 Million DWDR 'paving plus' contract awarded 4895.
PORT of DOVER - three cruise ships, one day 4885.
DFDS Charters New Ship see 4866.
New Marina Pier ... Latest...see 4861.
P&O FERRIES presents big cash to RNLI Dover...see 4829.
PORT of DOVER: Chief Executive TIM WAGGOTT Resigns...see 4778.


P&O FERRIES recruiting...4745.
PORT of DOVER awards Cargo Refrigeration Contract see 4740.
PORT OF DOVER: Community Benefit 4688
TRADING GROWTH FOR DFDS DESPITE BREXIT see 4642
PORT OF DOVER RECORD FREIGHT see 4551.
PORT OF DOVER: GEEST LINE arrival see 4597.
SECOND FEMALE CAPTAIN FOR P&O see 4608.
The Community REGATTA is on this year on the 26th August - see 5103.
Sea News Dover :
Use our SEARCH ENGINE below to find all sorts on the SEA NEWS pages....
More than 250 now with more than 5000 nautical posts.
Posts are welcome. Max of 5 pictures preferred per day although we can occasionally stretch to 6 on special stories.
Type CRUISE VISITS in our SEARCH ENGINE below for news of the latest arrivals.
Sea News Editor Paul Boland - dover7@msn.com .
Post 5101
Sea News, Dover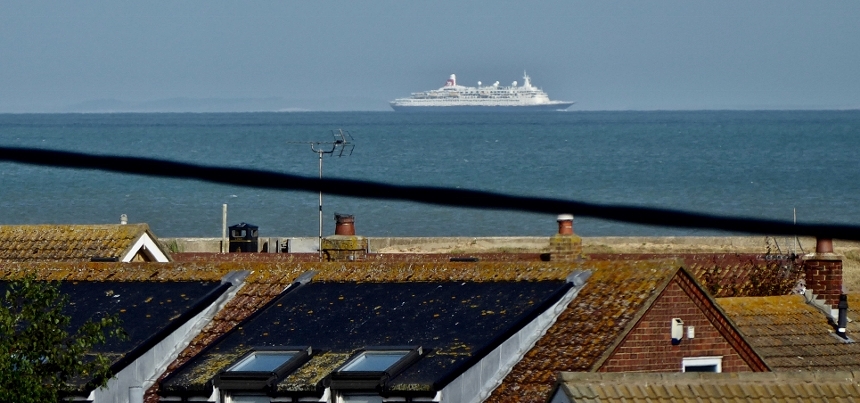 There we are with John's image of Boudicca - it didn't upload in the post below. All fine now...
Tuesday, 31 July 2018 - 15:20
Post 5100
John Hendy, St Mary's Bay (johnhendy479@btinternet.com)
Here's the very distant Boudicca passing St Mary's Bay at about 5.20 last evening at the start of her final Dover-based circumnavigation of the British Isles this season.

Tuesday, 31 July 2018 - 14:24
Post 5099
Dave, Sandwich
https://www.gov.uk/government/news/dover-dredging-application-decision

https://www.doverport.co.uk/about/news/decision-on-the-goodwin-sands-marine-licence-appli/13380/

https://www.kentlive.news/news/kent-news/new-lease-life-given-dovers-1840248

Seems this bit of news slipped through the net!
The port has approval to dredge the Goodwin Sands. The Kent News article is an interesting read with regard the timing. But, it is to be expected with the way our councils and the varying governments carry on!

Tuesday, 31 July 2018 - 10:24
Post 5098
Sea News, Dover
Yesterday we had this following picture and email through from Ian J Handley , cruise passenger staying at the Dover Marina Hotel. He captured both Boudicca's arrival and Percy the friendly hi-flying pigeon in the one shot.. more below...
Email from Ian:
"
There weren't any.....
...'Blue Birds over the White Cliffs of Dover' this morning as the Boudicca arrived for our nine night round Britain Cruise - but Percy the pigeon joined us to view the scene from our room at the Dover Marina Hotel (I wish it remained as the White Cliffs Hotel).
Never been cruising before - another adventure.
"
…..
Many thanks Ian - hope your first cruise goes very well indeed.

As the glamourous Disney Magic was leaving (5097), gently meandering across the harbour, in came the Lifeboat guys...normal life still goes on despite all the raazzamatazz. Both pictures are crops...the second pic being a further crop of the top crop..ermmm..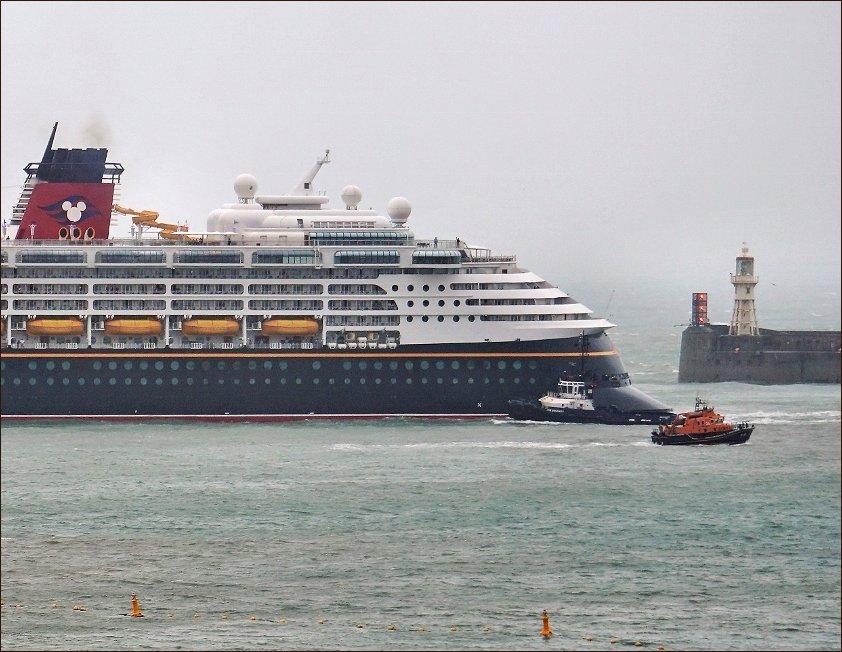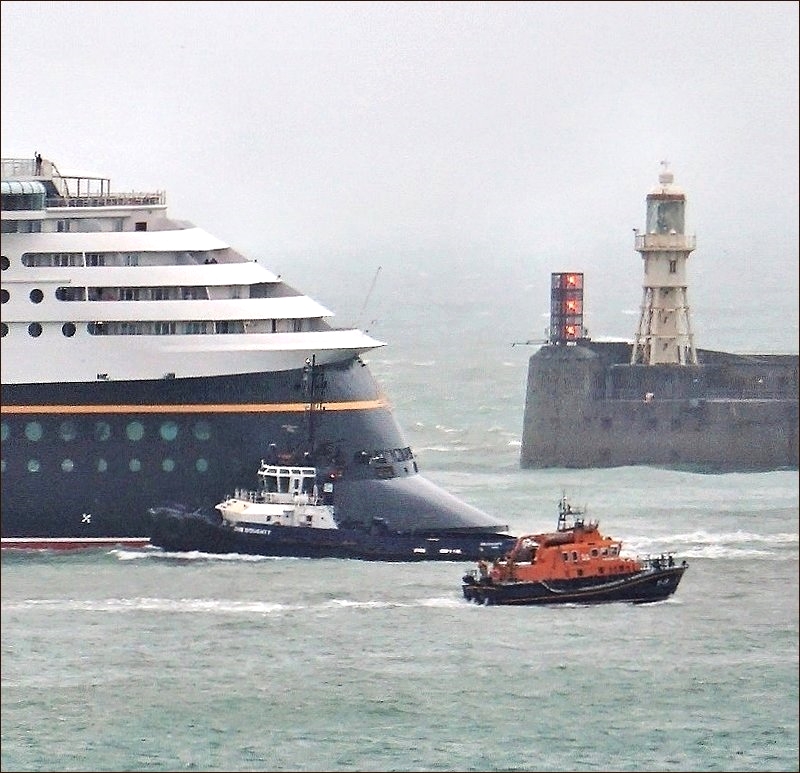 Look at that chap waving top left there.
A gloomy shot below of the departing Crystal Serenity which of course was in Port at the same time.
PaulB
Tuesday, 31 July 2018 - 07:06
Post 5097
Sea News, Dover
FROM GREAT BRITAIN TO GREAT BRITTANY
______________________________________

DFDS & Brittany Tourism have partnered to provide customers with exclusive offers for Brittany this summer
Ferry operator DFDS has teamed up with Brittany Tourism to launch new offers and discounts to local Brittany attractions, exclusive to DFDS customers on its Newhaven to Dieppe route.
Just three hours from Dieppe, Brittany has plenty to offer both families and couples, with a lively city centre, beautiful scenery, and some of the world's oldest standing architecture. It is an ideal base from which to explore the Emerald Coast and the many little hamlets in the countryside, as well as the cities of Dinan, Dinard, Cancale, Combourg, Fougères and Saint Malo.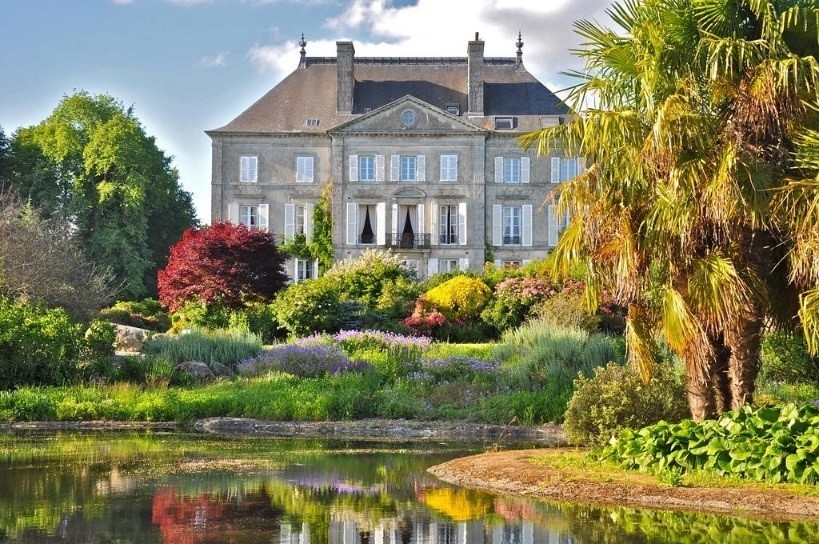 Families can enjoy cruising the calm waters of the River Rance with Croisieres Chateaubrind, who are offering DFDS customers a 10% discount on river trips. Or, if a 'voyage into space' is more to your liking, how about taking a journey of discovery at Planetarium de Bretagne, with 10% off all tickets prices in July and August.
For couples seeking a romantic getaway, benefit from the reduced entry fee and stroll the Jardins de la Ballue close to the Mont-Saint-Michel, overlooking the Couesnon Valley. Local gem Jardin Bretagne B&B is offering a third night free when two are purchased, plus café and garden entry discounts to DFDS customers. With 24 themed gardens, it is certainly a place of tranquillity and inspiration.
More exclusive offers ranging from discounted entrance fees for museums, gardens and historical sites, to hotel stays, river trips, sporting activities, and food and drink, can be found at dfds.co.uk.
With three departures per day, Newhaven to Dieppe crossings start from just £49 for two people each way and £57 for four people each way.
For more information or to book a crossing, visit: www.dfds.co.uk.
-Ends-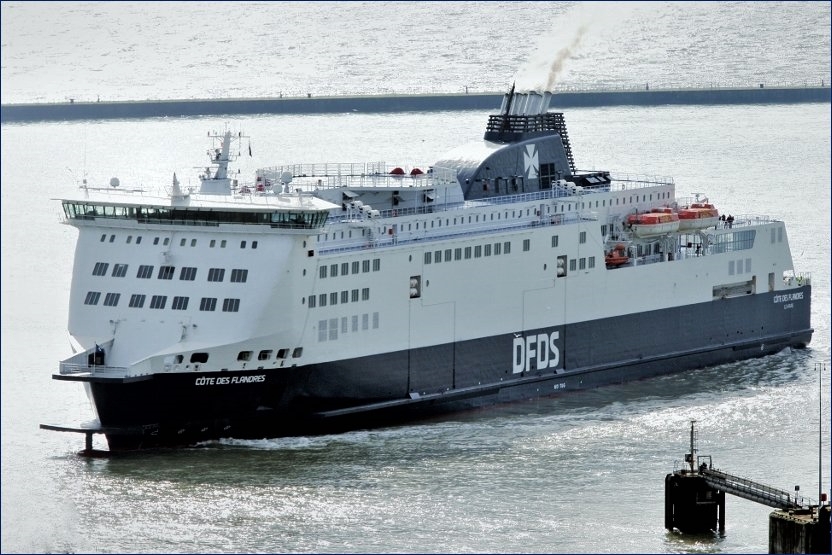 Cote Des Flandres above there...
Many thanks once again to the team at DFDS for supplying the info.

* *
As we saw in Jeremy's pictures yesterday, it was a wet and windy day here in Dover for the visit of the magical Disney Magic. Rain, drizzle, and gloom... but most specifically we had strong winds. The Disney Magic as a consequence of the windy weather left through the eastern exit last evening...and here she goes.. onwards to Copenhagen, St Petersburg etc etc..fab!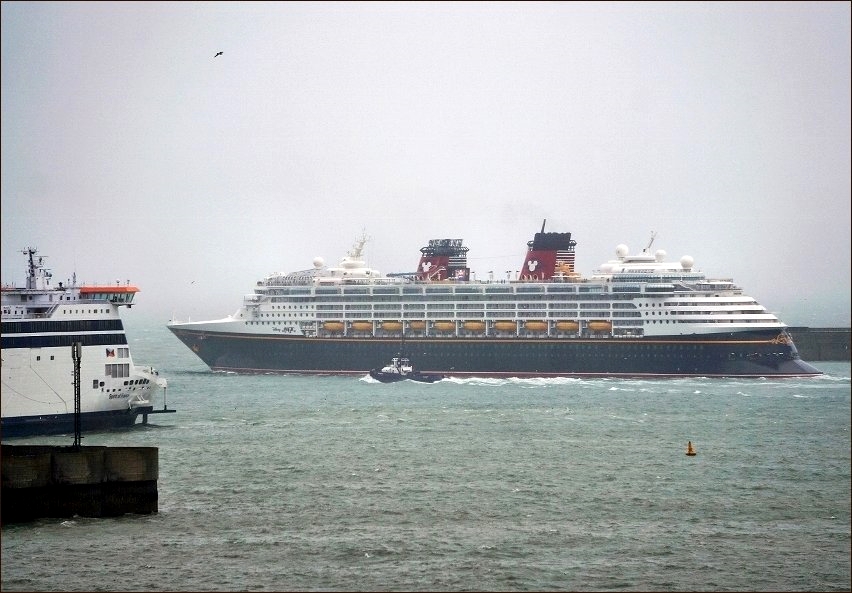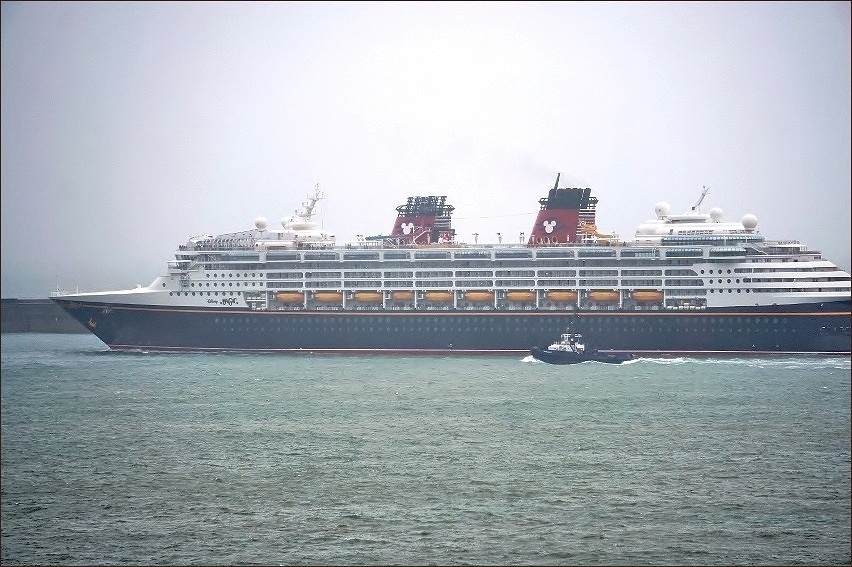 Well done with those long range pictures below Jeremy.

They show the great ships yesterday and the conditions. I will also be able to add a departure shot of the Crystal Serenity in due course.
Yes indeed Brian - a good idea there. Something needs to be done as its a local nightmare. Its such a relief now to look out the window and see no traffic bottleneck. We are bottleneck free at the moment.

PaulB
Monday, 30 July 2018 - 06:56
Post 5096
Jeremy Ward, Whitfield, Dover
Disney Magic and Crystal Serenity today in gloomy wet and windy conditions.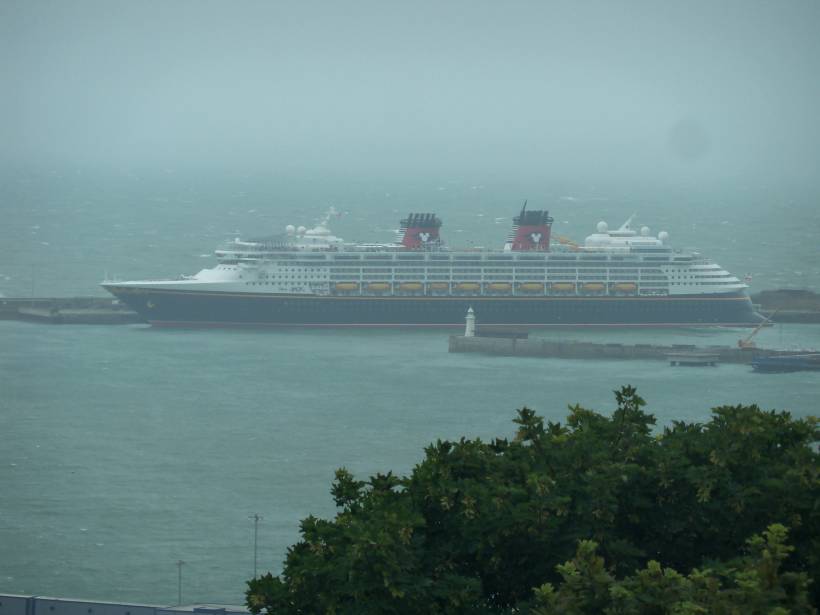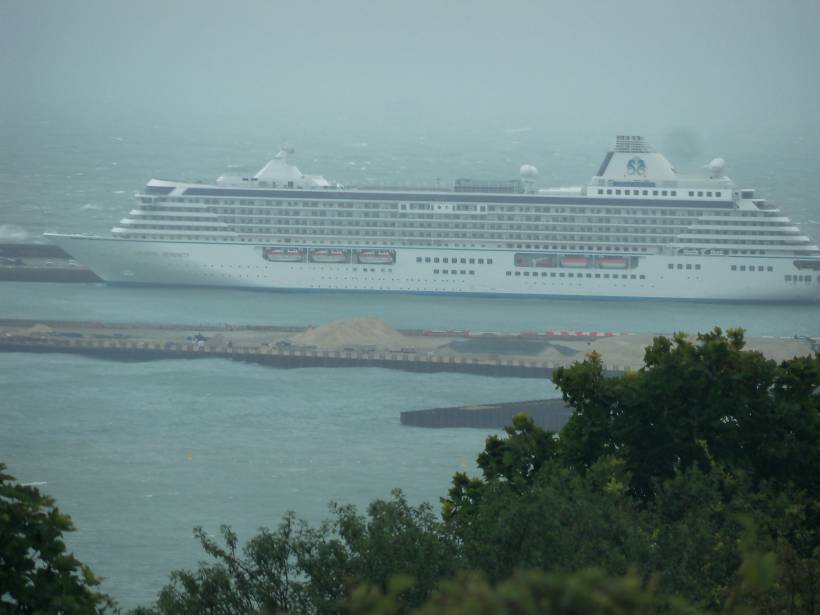 Sunday, 29 July 2018 - 15:37
Post 5095
brian dixon, dover
yes paul b, every year the same. time to have a couple of large lorry parks with customs checks and booking in booths, so when ferry enters they can send down the right amount of lorrys.

Sunday, 29 July 2018 - 09:08
Post 5094
Sea News, Dover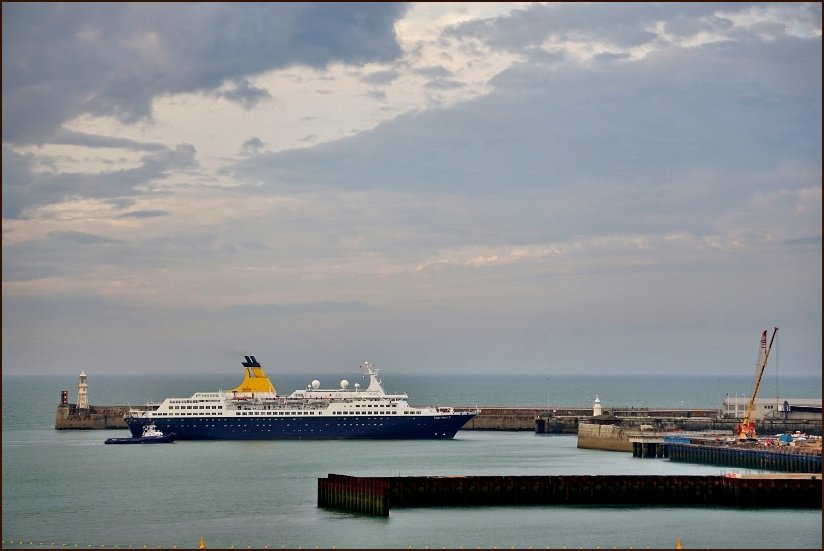 The picture above there shows the Saga Pearl II arriving with us yesterday morning early under much fresher conditions. There were quite strong winds at times yesterday and some heat.. but.. no searing heat. Some relief for sure for the passengers aboard Saga Pearl.
Two brilliant cruise ships in today at the Port of Dover.. the legendary Disney Magic and the very stylish Crystal Serenity. They came in very early. Well done the Port of Dover

Brilliant post yesterday from Mike showing great pictures from Ramsgate. Excellent info too..great stuff indeed Mike!

Brian yes the traffic was awful. I mean we have had this before but was it ever this bad? For two solid days we have had misery. Residents cant get off the seafront. Of course most of all its miserable for those travelling...something must be done to ease this. We can see it coming everytime. On a personal note yours truly was scheduled to go out last night but those picking me up couldn't get here. The town always grinds to a halt...someone mentioned that unmentionable word last night...
"is this what its going to be like after Brexit."
However we can rest assured on that one. The politicians know what they're doing!!!


Vic yes indeed...glad you always enjoy the pictures both from Dover and Ramsgate.

ADDED: the traffic chaos appears to have eased this morning..touch wood! but I speak with nervous tongue.
PaulB
Sunday, 29 July 2018 - 06:19
Post 5093
vic matcham, dovor
Must say this weather is turning out some great photos of both the royal ports of Ramsgate and Dover thank you

Sunday, 29 July 2018 - 05:16
Post 5092
brian dixon, dover
its bad for sure traffic that is, its become a yearly event,this is the third year in a row its happened.

Saturday, 28 July 2018 - 14:21
Post 5091
Mike J., Dover
Ramsgate on Friday & the CIUDAD DE CADIZ makes her second call to Ramsgate in recent days with new vehicles from Zeebrugge.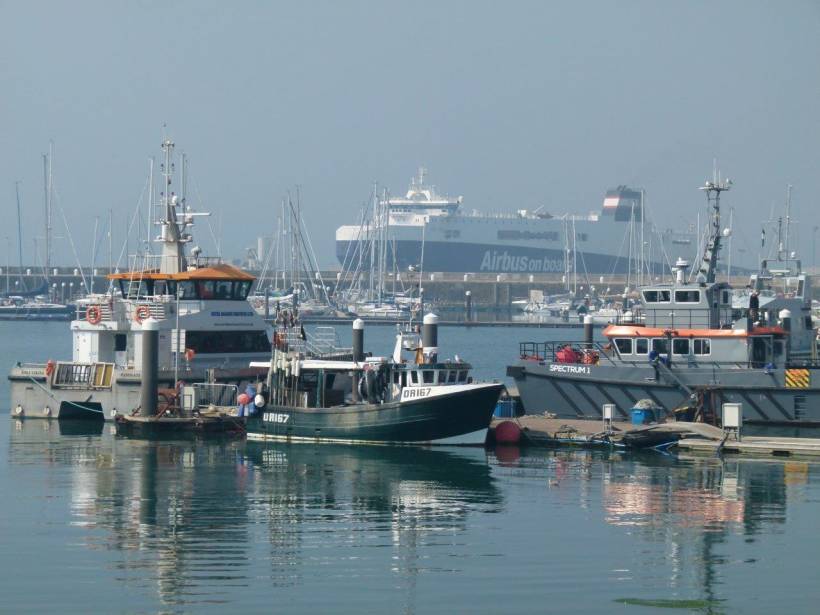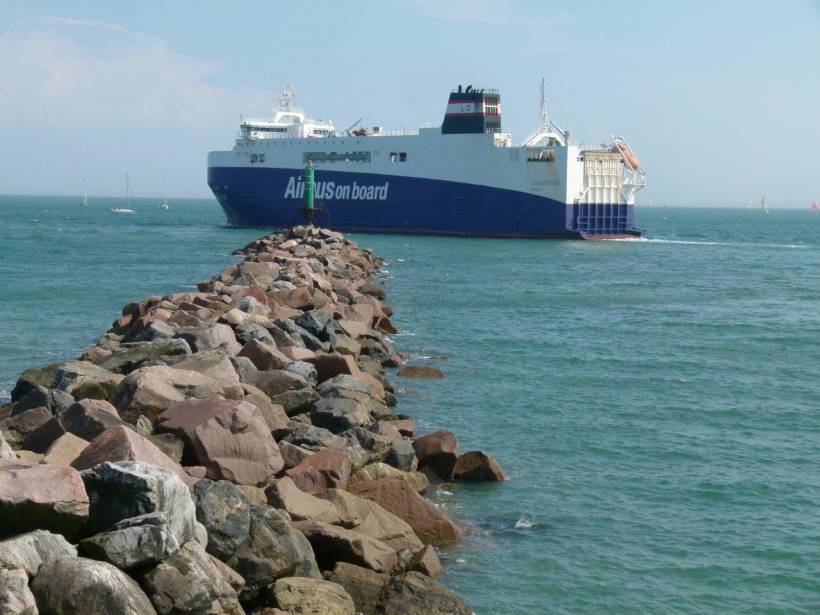 Plenty of yachting activity on the last day of 'Ramsgate Week' the annual regatta of the Royal Temple Yacht Club that had attracted many overseas yachts.
The starter sends off the final race of the week using his little portable cannon which produced extremely loud bangs.
10-bore shotgun blanks if interested !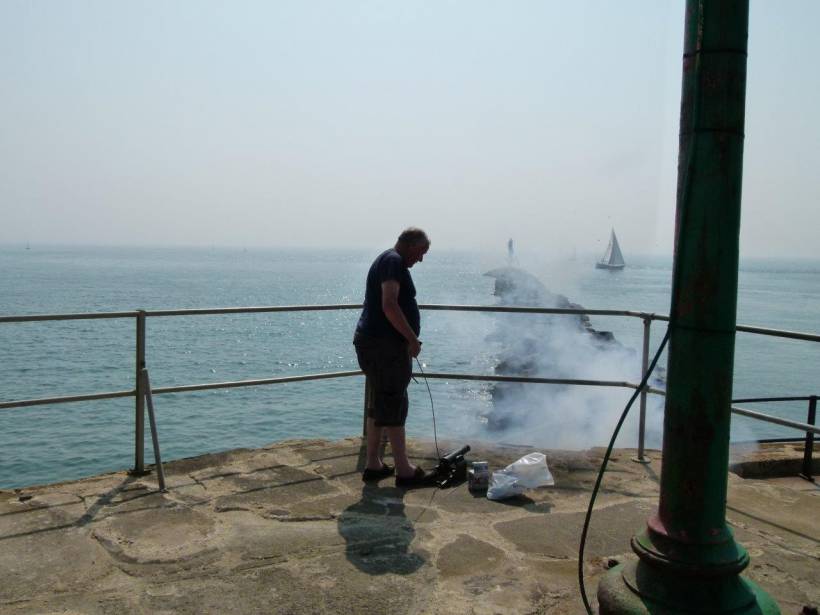 The starting gun might have caused a little concern aboard P197 EXPLOIT & P279 BLAZER of the RN Cabin Cruiser Inshore Squadron who were sailing at the same time & may have thought that they were under attack.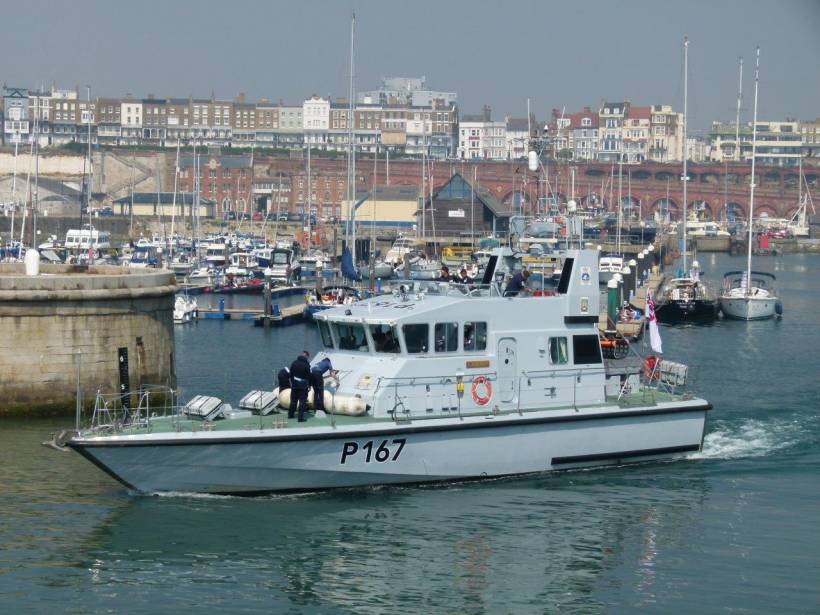 The bridge of the BLAZER seems a little over-manned [or perhaps over-womanned].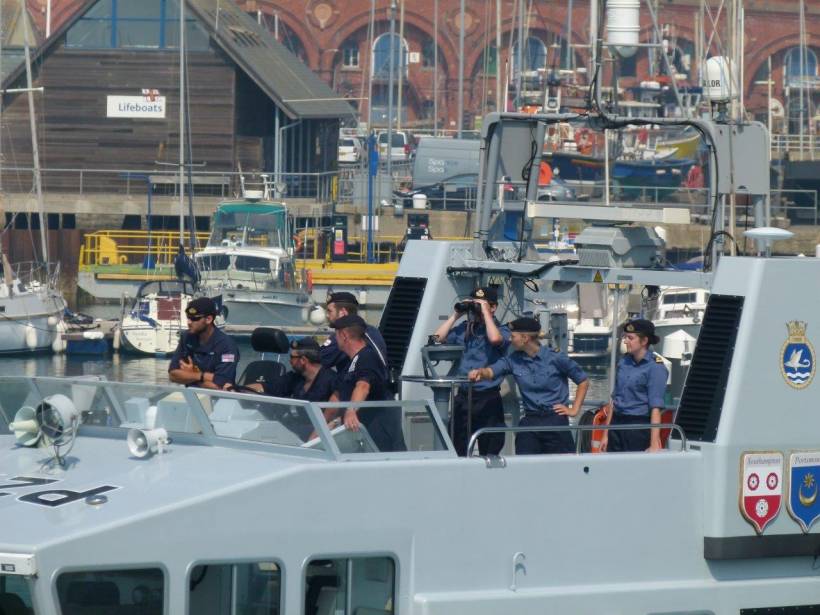 For the first time for a long time I didn't drive round Ramsgate's Inner Harbour to the Commercial Quay [where the lifeboats live] & was unaware that that there had been a fire in the Inner Harbour on Thursday night with one yacht sunk & a second badly damaged.
A tragedy for the boat-owners but very lucky that no other craft became involved, or that anyone had been hurt.
Saturday, 28 July 2018 - 12:05
Post 5090
Sea News, Dover
Port of Dover : The Charge to the Continent. The situation was like this all through the night last night...a huge amount of traffic heading across and its still like this at 06.35 this morning as I write... this is the scene about 10pm last night. There must be an easier way, and it stretched back beyond Aycliffe etc etc. You can see it stretching back along Jubilee Way too..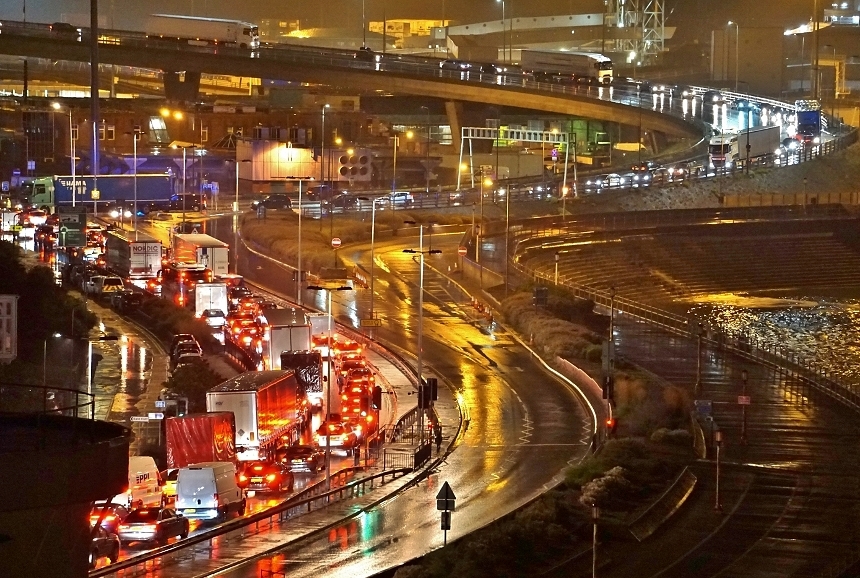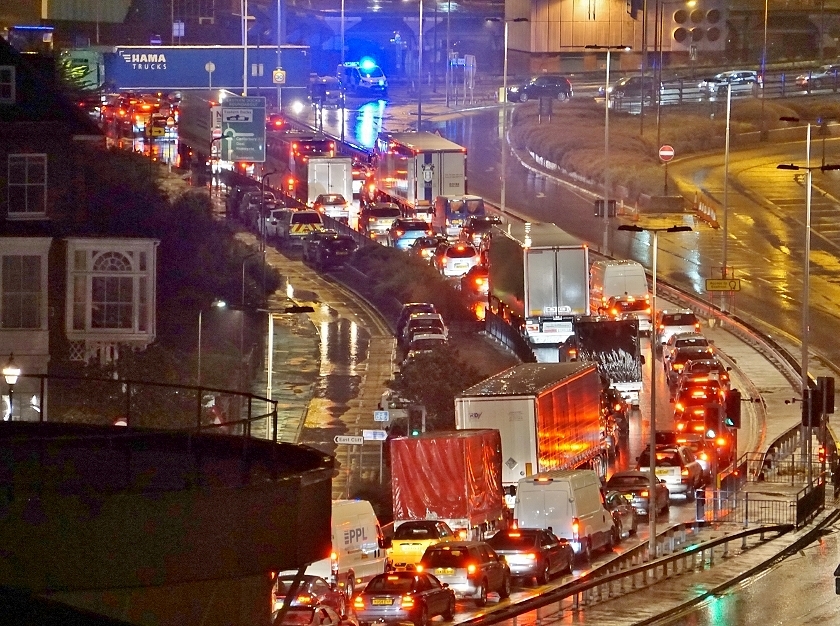 There was one story yesterday on BBC News 24 of one particular family. Stuck at Eurotunnel they were, in the sweltering 35 degree heat for 6/7 hours. They had small tiny kids in the car too ages 1,3, and 5. Now that must have been very tough indeed. The chap spoke to the cameras from Saarbrucken, very happy to have made it through. Gosh !!
A couple of extra pictures now of the Splittnes arrival a few days back, we have had pictures previously...as we know she was delivering more sand/stone for the DWDR.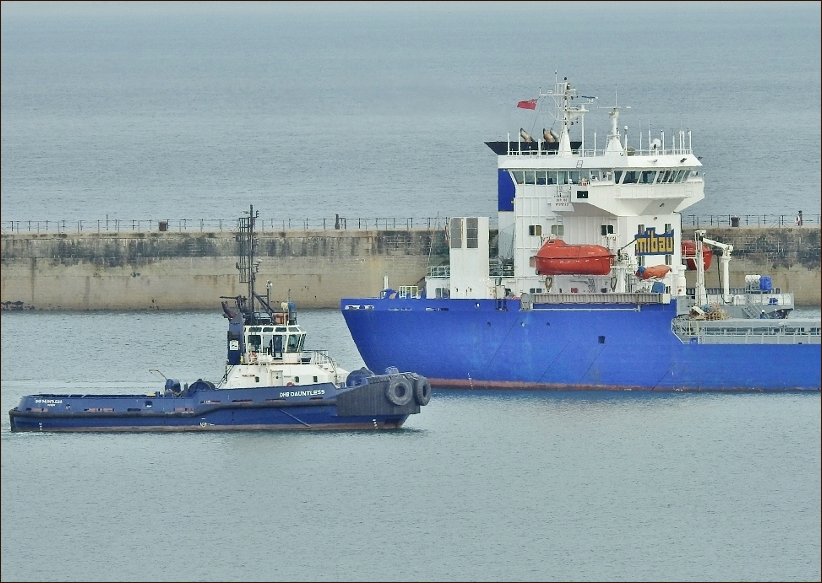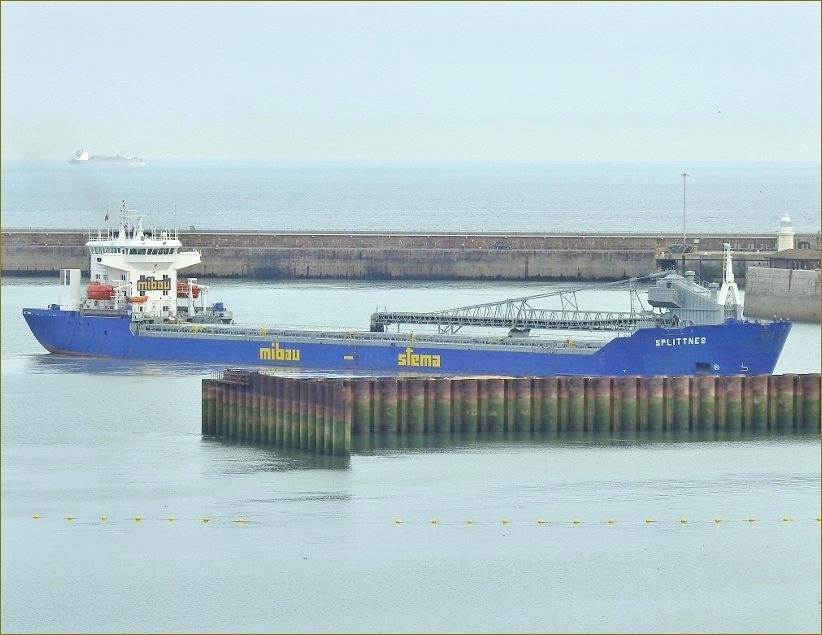 Is it cooler, let's hope so.
PaulB
Saturday, 28 July 2018 - 06:45
Post 5089
Sea News, Dover
ICE 200: Port of Dover - one of top 200 influential projects that shaped the world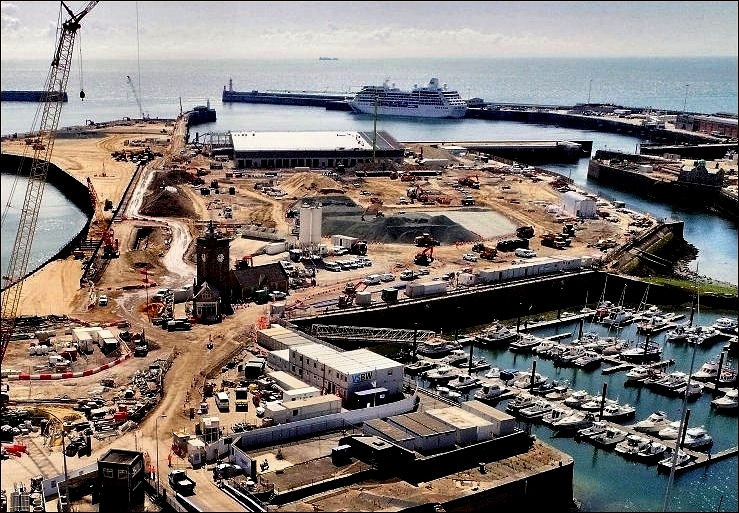 The Institution of Civil Engineers (ICE) has announced the Port of Dover as one of the top 200 influential projects, past and present, which illustrate how civil engineering has shaped the world and transformed people's lives for the better.
To mark the ICE's 200th anniversary, and to support Government's Year of Engineering, the Institution is highlighting 200 inspirational and world-changing projects from around the world throughout 2018. Nominated by the ICE's members and selected by an expert panel, the chosen projects illustrate the breadth and depth of civil engineering's impact.
The Port of Dover has played a significant role in British history. Dover's existence as a harbour of refuge contributed to Britain's strength as a trading nation. The port was also an essential base for the Royal Navy during both world wars and played a major role in the evacuation of British forces from Dunkirk in 1940.
This was made possible in part due an enduring connection between the ICE and the Port. Thomas Telford, ICE's 1st President, was approached by the Duke of Wellington, then Chairman of Dover Harbour Board, in 1834 to be involved in the development of Wellington Dock - the first enclosed dock in Dover – which now forms a key feature in the port's current development.
Sir John Hawshaw, another past President of the ICE, designed the Admiralty Pier, which still forms the western arm of the harbour. Completed in 1909, the 800ft (244m) long stone structure curving out from the shore into the English Channel was named as one of the great British engineering feats of the 19th and early 20th century. Built of large concrete blocks weighing from 30 to 40 tons, it has an outward granite facing on those blocks that are above water level.
Today, thanks to the building blocks of the past two centuries, Dover remains a leading commercial port and is currently undergoing a new phase of development. The Port of Dover's flagship £250m Dover Western Docks Revival (DWDR) development is the single biggest investment it has ever undertaken and represents the next exciting stage of its evolution, delivering long-term capacity for a key international gateway handling trade to the value of £122bn and representing up to 17% of UK trade in goods.
Jonathan Baggs, Director ICE South East England, said:
"The development of the Port is recognition of its importance locally and internationally as Europe's busiest roll-on roll-off ferry port.
The investment of this scale in the region shows how infrastructure can be a catalyst for economic growth and improving the lives of local people - and civil engineers are at the heart of delivering this"
With UK Government approval DWDR will deliver two deep-water berths and a new refrigerated cargo terminal, with 13 hectares of reclaimed land for future port-centric development – thereby releasing space to enhance the capacity and efficiency of the ferry terminal in the Eastern Docks. With DWDR plans also including a new marina in the outer harbour and a transformed waterfront, the project will protect jobs and create long-term economic benefit both locally and nationally.
Dave Herrod, DWDR Programme Director at the Port of Dover, said:
"The Port's flagship Dover Western Docks Revival (DWDR) is a one-off opportunity for the regeneration of Dover, bringing new investment into the area and ultimately ensuring the long-term resilience of this vital cross-Channel trade link.
"The revival of the western part of the Port estate supports the developing destination agenda for Dover, being identified as the key catalyst for the wider regeneration of the area. It has delivered valuable employment opportunities during construction and will continue to do so on completion of the new cargo facility."
The Port of Dover is one of 200 projects that will be published throughout the year on the What Is Civil Engineering? pages of the ICE website. What is Civil Engineering? will not only host these projects but can also be used as a career guidance tool for those hoping to pursue a career in civil engineering. Once inspired by the projects being produced each month, there is comprehensive advice and guidance on how to become a civil engineer no matter what level of education someone has, or what stage in their career they have reached.
This platform has been designed to help promote the career of civil engineering after it was revealed that only 45% of adults know what the career entails and only 35% of young people could tell you what a civil engineer does.
ENDS
Many thanks to the team at the Port for all the info pictures and helpful support....

And speaking of drones like we were...hopefully all can see those pictures above okay. Big pictures with wide coverage...so yours truly is squeezing a quart into a pint pot there but hopefully all can see okay.
* *
While we are on a mad roll about seafront cyclists...another huge group below there at the Marine Court/Premier Inn on Wednesday. These following along from the earlier group powering through as we saw. These guys look the more sporty advanced types. Good luck to them all... alas I wont be joining in as I prefer my two wheels with an engine!!

Great to see them all .. and...the hotels are doing good business.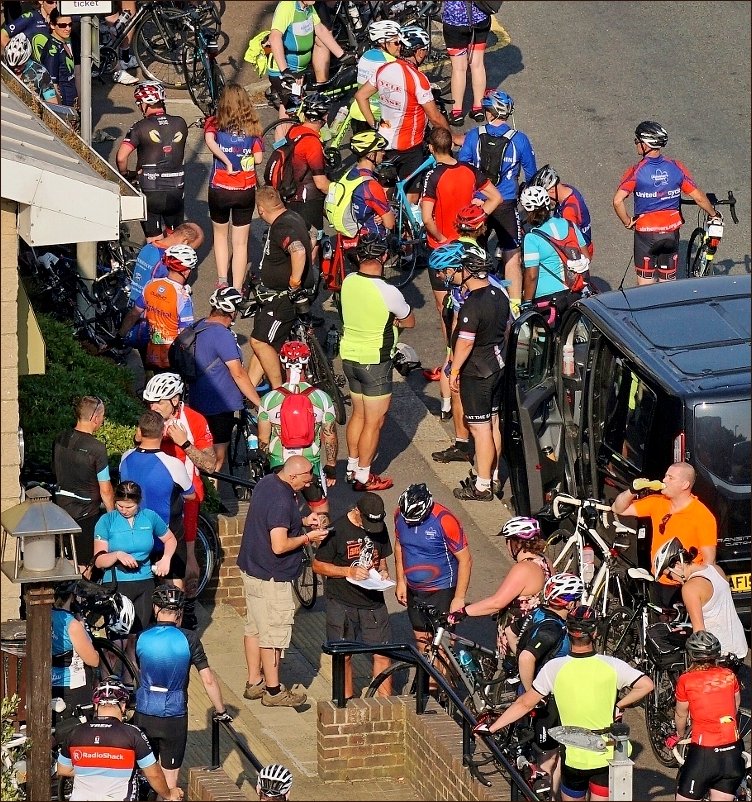 The heat goes on... sheesh yesterday was hot. Yours truly was frying at the top of the 'observation tower'.
Sizzle ..sizzle... no more drizzle ...
This was the distant scene on Wednesday evening as the sun began to sink across the rooftops looking inland.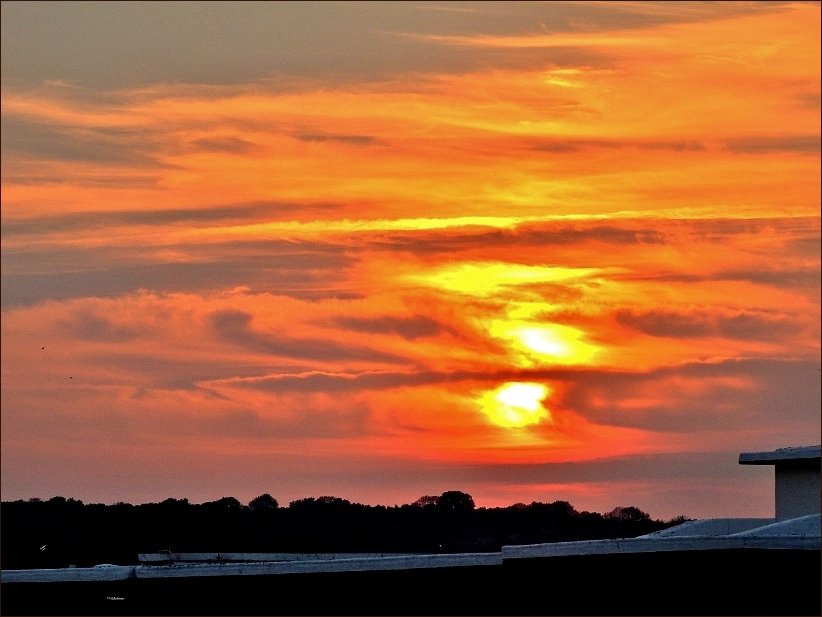 PaulB
Pinned item

Yours truly is behind schedule on all fronts but catching up...says he bravely/hopefully..
Well done with that list below Colette. A lot of info there. Well I'm an early riser but 4am for Disney might be stretching it. It would probably be dark anyway at that time. But we will see how it all pans out.

Now unpinned.
Friday, 27 July 2018 - 07:32
Post 5088
ColetteB, Dover
CRUISE VISITS
_____________
The activity in our harbour is awesome to watch, Drones overhead monitoring the berthing operation (Big Brother is everywhere, well spotted Mike). A visit from HMS Exploit & HMS Blazer, wonderful photos of the Celebrity Eclipse, hundreds of cyclists and best of all, our 'new' sandy beach is expanding, buckets & spades at the ready ……

Here we go again, eyes down ladies and gentlemen for the final cruise visits for the month of July.
We begin on Saturday 28th July when Saga Pearl ll arrives at CT1, 08.00 hours to start her 11 night 'Wine, Walking & Tapas' Round Trip. Her ports of call are La Rochelle, the French Basque port of Bayonne, why not sample their famous Ham whilst strolling the medieval streets in the old Grand Bayonne district on your way to visit Basque & Bonnat museums

She sails on to Gijon where you can see the haunting statue of 'Mother of Immigrants' stretching out her hand to the lost sons who sailed to the Americas. She then drops anchor in the Northern Basque port of Pasajes which lies at the foot of Mount Ulia, then an overnight stay in Bordeaux before finally returning to Dover on Sunday 12th August.
She departs our shores at 16.00 hours, T/R.
The following day Sunday 29th July we have an 'Awesome' Double Whammy

Firstly at the very early time of 04.00 hours Disney Magic will silently arrive at CT1, having obviously left in such a rush to get back to Dover again, you will see 'Pluto' hanging from the stern trying to finish painting her name

You'll need to get up really early Mr B to catch her arrival, so no late nights for you

She starts her 11 night 'Northern European' Round Trip, ports of call are Amsterdam, Warnemunde-Rostock, Stockholm, Helsinki, St Petersburg, Tallinn & Copenhagen. I can just hear Danny Kaye singing 'I'm Hans Christian Anderson, that's me' ….. trailing into the far distance. She will be using Dover as her home port up until 9th September

She was last seen here in July 2017. Leaving at 17.00 hours, T/R. 'When you wish upon a star' …..
Two hours later at the more reasonable time of 06.00 hours

Crystal Serenity arrives at CT1 to begin her 13 night 'Vineyard & Vistas' cruise. Her ports of call are St Peter Port, Guernsey, Bordeaux, Porto, Lisbon, Barcelona, Cassis on the French Riviera and Monte Carlo. We say farewell to this wonderful ship this year as she will be based in the Mediterranean for the rest of 2018.
She leaves us at 18.00 hours, T/R.
On Monday 30th July the forever graceful lady Boudicca arrives at 06.30 hours to start a 9 night Round trip 'Lochs, Islands & the Military Tattoo' cruise. Her ports of call include Dublin, Fort William, Isle of Skye, Kirkwall in the Orkneys and Edinburgh for the Tattoo, returning to Dover Wednesday 8th August.
She leaves at 17.00, T/R.
We will include our first visit for August, as the famous Irish author Edna O'Brien wrote 'August is a Wicked Month' and Boy! Have we got a very busy up and coming schedule for August

On Thursday 2nd August Pacific Princess arrives at CT2, 06.00 hours to start her 8 night 'Ireland, Scotland & Wales' cruise with an optional Military Tattoo. Her ports of call are St Helier, Jersey, Milford haven, Dublin and Edinburgh returning to Dover Friday 10th August.
She departs at 17.00, T/R.
I'll be back with the beginning of a packed August with something to 'Whet your Appetite'

Colette as this is such a comprehensive list, will pin it temporarily so all can take it onboard.(now unpinned)

Thursday, 26 July 2018 - 16:25
Post 5087
Sea News, Dover
FOUR KENT STUDENTS ENJOY A WEEK OF WORK EXPERIENCE WITH P&O FERRIES
_________________________________________________________________________
FOUR local students from Kent have enjoyed work experience with P&O Ferries this month with the highlight being helping to sail a 47,000 ton ship across the English Channel.
The GCSE students experienced an action-packed programme which introduced them to the workings of the Dover-based international ferry and logistics company. The itinerary included company safety, port operations, on-board services and a lunch in the crew's mess.
Pictured on the Bridge of the Spirit of Britain are Rose Harrop and Kavaya Limbu, both 15-year-old students at the Duke of York Military School in Dover, where they were shown how to sail the ship by Deck Officer Cadet James Williams. He provided explanations on navigation, Bridge equipment and took them on a tour of the ship's helipad.
Rose said: "I have liked everything, there is nothing I have not liked and working at P&O Ferries seems incredibly exciting and interesting. I cannot believe how kind everyone has been to us."
The previous week two other Kent students, 17-year-old Callum Deadman from Dover Grammar School for Boys and 15-year-old Kiera Christie from St George's School in Broadstairs, had experienced the same programme.
The work experience course is run by Rachel Crepin, P&O Ferries' Fleet Procurement Manager. She said: "This is the seventh year that we have successfully introduced local students to P&O Ferries and we hope that their experience will inspire many more. Working for a company which sails the biggest ferries on the English Channel is very exciting and we know that the young people in the communities we serve will become our employees and customers of the future."
P&O Ferries' wider stakeholder programme offers visits to schools and colleges within the local community, a free initiative with the visit often tailored to school requirements and their current projects.
P&O Ferries is a leading pan-European ferry and logistics company, sailing 27,000 times a year on eight major routes between Britain, France, Northern Ireland, the Republic of Ireland, Holland and Belgium. It operates more than 20 vessels which carry 8.4 million passengers and 2.3 million freight units annually.
ENDS
Many thanks to the team at P&O Ferries for the information once again.
As the students featured spent their time on the Spirit of Britain...
here we are below with a couple of new shots of the 'newly done' very same ship... the Sprit of Britain.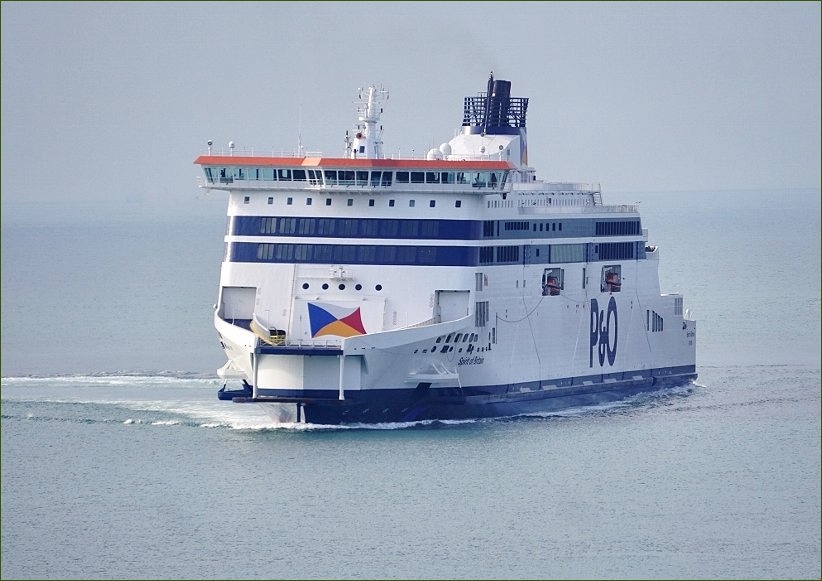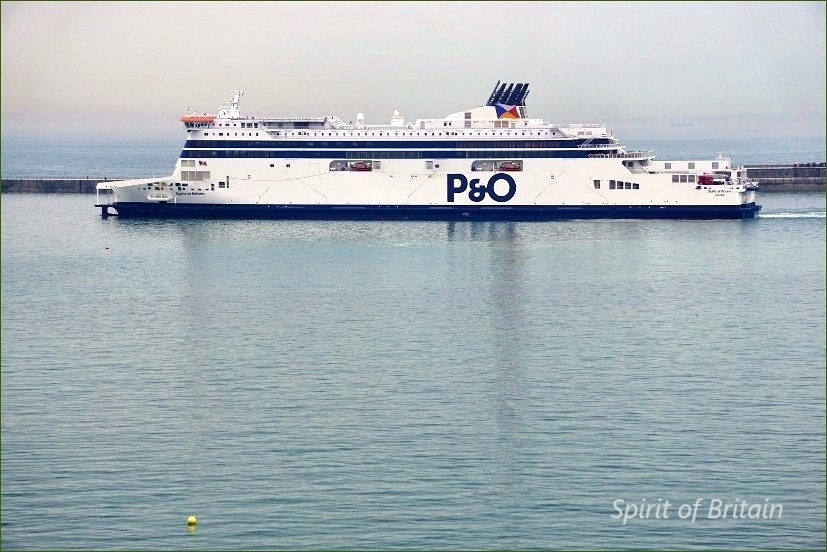 * *
A quick turnaround for the Eastern Bay, she came and went in one long hot day in a long hot summer (Tuesday). This picture below shows her arrival...its a bit rough as pic taken through the heat haze and the blinding early light, had to force an image and here we are...
Ahh a nice collection below again Mike. Well spotted re the drone. Heavens! we are being watched both near and far...Big Brother ( the George Orwell version!

) thrives...
Had some close encounters myself in recent times but say no more.....


Haven't dabbled my toes for a while Del...but if this heat continues I might throw all caution to the wind...


PaulB

Thursday, 26 July 2018 - 05:11
Post 5086
Mike J., Dover
Nice evening view of rhe SPLITTNES discharging - the reflection from the floodlights 'makes ' the picture [for me anyway].
I was going thru Tuesday's pix of the arriving SPLITTNES & noticed a mark on the screen.
Thinking that it was just a piece of muck [more fly droppings ?] I dabbed at it with a finger but it refused to shift.
Further investigation revealed that it was a drone keeping an eye on the berthing operation. The SPLITTNES didn't stay long, you can see the piles of stone that she deposited, sailing for Norway at about 1100 on Wednesday.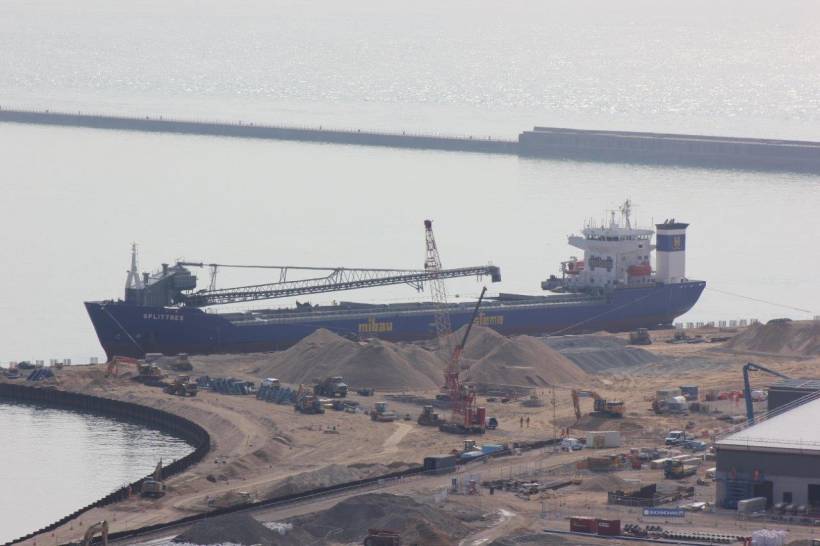 Tuesday with the CELIBRITY ECLIPSE on Cruise-2 the outer end of the Admiralty Pier beyond the turret was closed for security reasons & one of the the Harbour Patrol Launches [The DIRECTOR I think] had been transformed, as if by magic, into a Police Launch by the cunning use of a sign [magnetic ?] which concealed the word 'HARBOUR'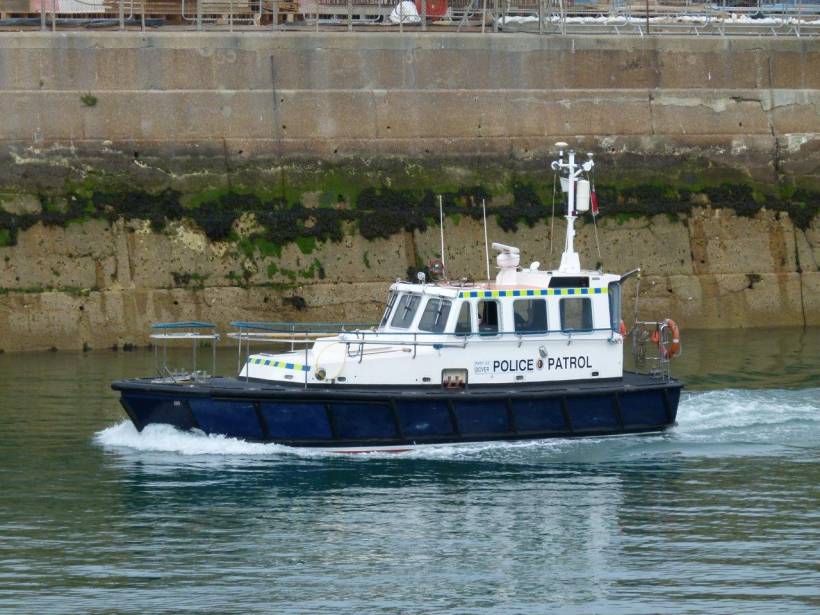 Closure of the outer end of the Ad.Pier often happens when a visiting cruise ship on Cruise-2 is particularly paranoid [sorry, concerned] about security & the Police Launch provides a level of reassurance for the cruise ship passengers.
Disney seem particularly security conscious & insist that the entire Admiralty Pier is closed, to the disgust of the anglers [& to a major loss of takings at "Mel's Cabin" the excellent anglers' caff out by the Turret].
So don't bother thinking of taking a stroll up the Ad.Pier next Sunday when the DISNEY MAGIC visits Dover.
Hopefully helpful hint - always check that the gate onto the Ad.Pier is unlocked before feeding money into DHB's hungry parking meters.
Incidentally for them as is that way inclined & in recognition of the large number of Muslim anglers Mel's Cabin offers Halal burgers & similar items.
At one time the DHB Police used to produce their big rubber boat & zoom about in a very reassuring manner, but I've not seen the RIB for some time.
Wednesday, 25 July 2018 - 23:34
Post 5085
Del Styan, Norwich
As you say - the heat goes on. Do you ever have a paddle in the sea?

Wednesday, 25 July 2018 - 23:17
Post 5084
Sea News, Dover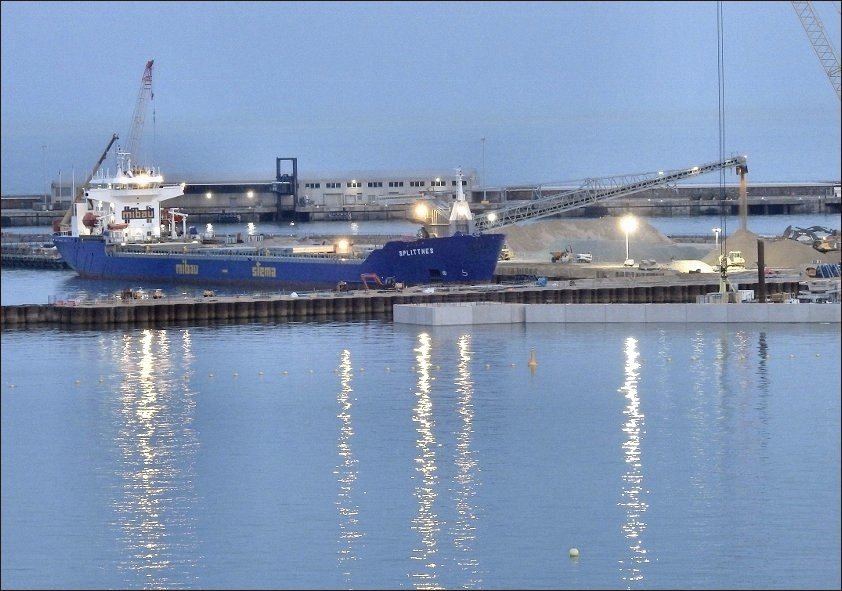 An extra picture above there of Splittnes...this one shows her discharging her sand cargo last night... its not quite dark...but getting there, as the sand powers off into the frenetically developing area. Its all intense action over there now ...as you can see from the pictures below too. The final one showing the Lifeboat as she returned last night, through the heavy metal of DWDR.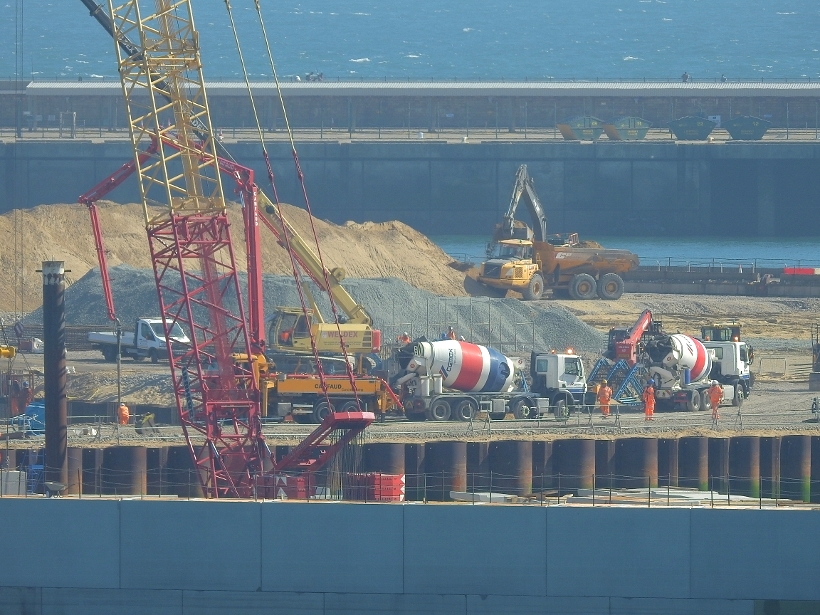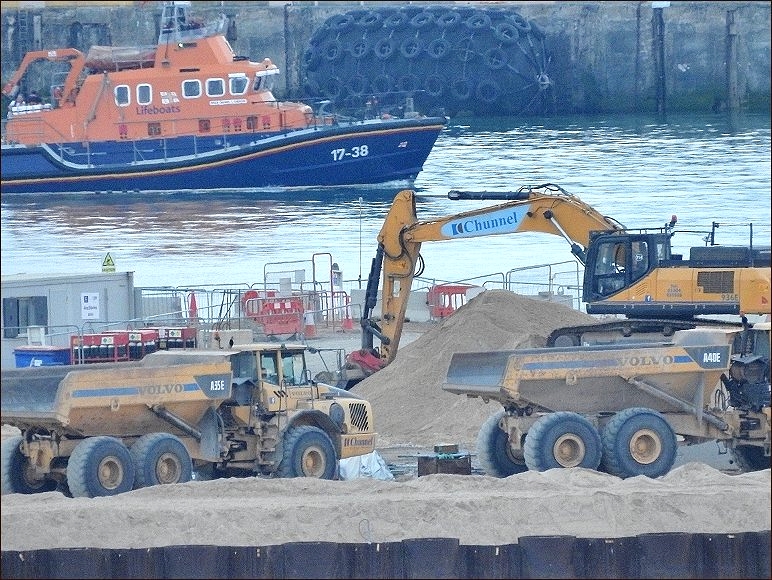 Don't miss those posts below, great contributions from the team.

PB
Wednesday, 25 July 2018 - 15:24
Post 5083
Sea News, Dover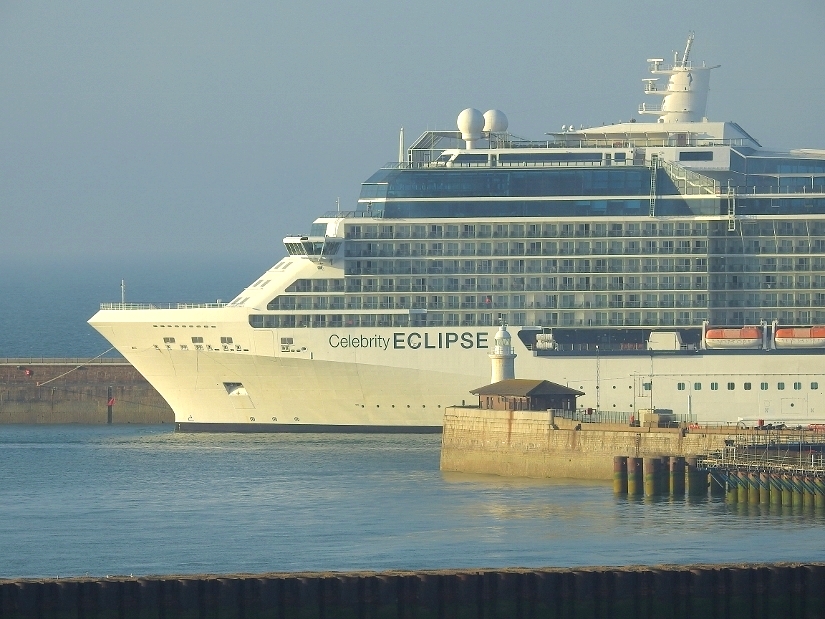 Following along from Mike's cracking pic of the Celebrity Eclipse in the post below...a couple of extra images above there. Yours truly had a peculiar day yesterday on the picture-front, as missed 'the Celebrity' coming in and missed her leaving.
I blame all this heat...!!

Well you have to blame something...

A fabulous ship...great to see these ships here at the Port of Dover.
I was about to do a large press release but will hold back as don't want to push all those excellent posts below too far down the page at once.
Great work below Mike... great enjoyable all round inshore info and pictures. Don't miss those!

Great stuff Patrick..great info and pictures further below there too. Don't miss those either.

Del believe it or not they are all adults on the bicycles...a huge group there, almost makes a chap want to don the lycra

ermmm almost!!
Sampling the delights of all those restaurants in Calais, with all that wine...but got a library of general pictures too.

Nice stab at the Celebrity Eclipse from afar Jeremy...haze has been a blight in recent days but in that picture we can especially see the sheer size of the monster ship.

PaulB
Wednesday, 25 July 2018 - 06:34
Post 5082
Mike J., Dover
Tuesday - Arrivals & Departures.
CELEBRITY ECLIPSE sails for Amsterdam & VIKING PRINCESS loads passengers.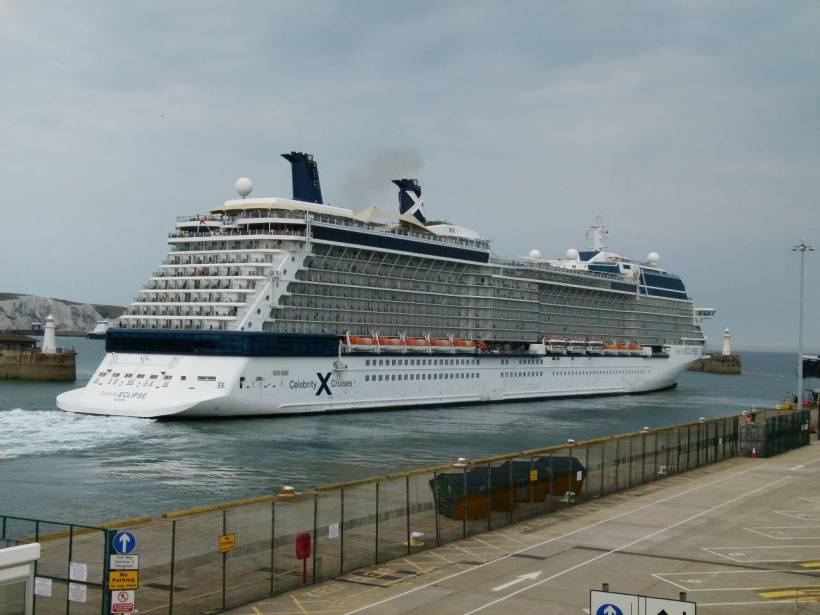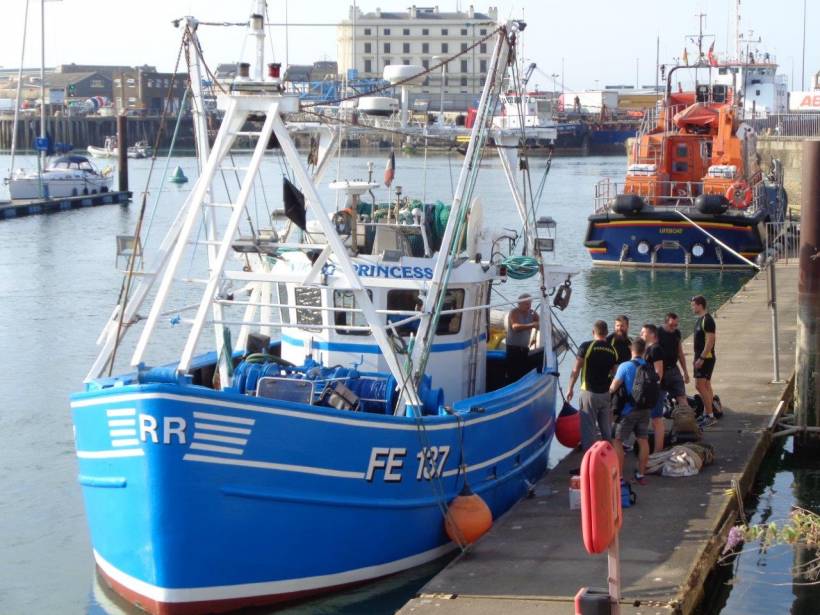 Self-discharging bulker SPLITTNES arrives from Denmark via the Kiel Canal with stone for DWDR.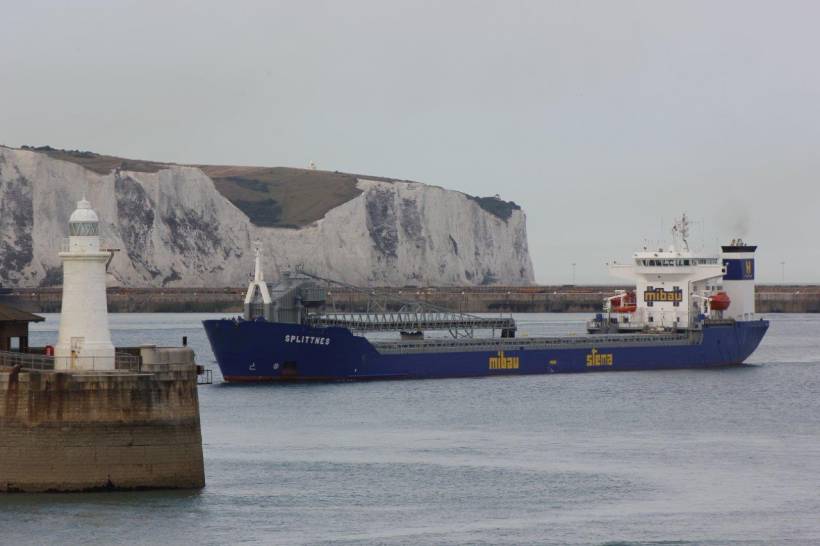 Return of elegant Baltic ketch WILLOW OF HARTY.
She normally lives in Faversham Creek, but wintered in the Wellington Dock last winter.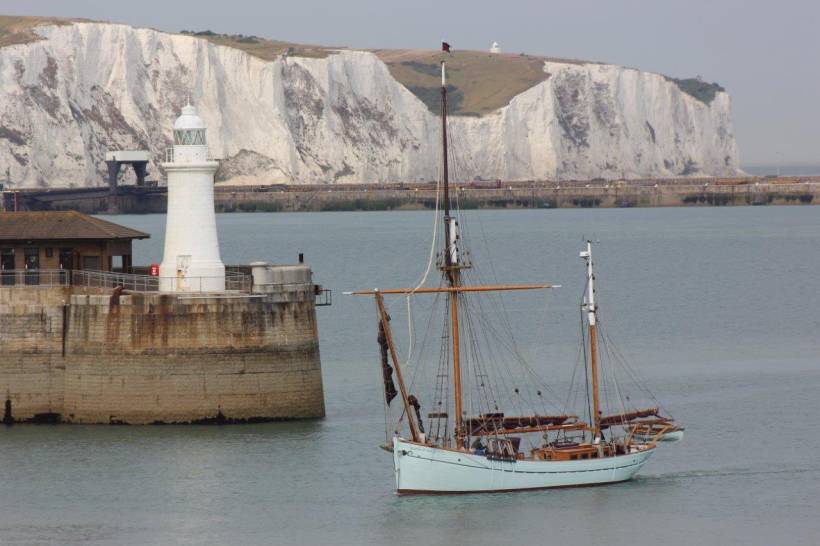 EMS VULCAN, often laid-up in the Wellington Dock, has been busy in & out of Dover recently, working with the MAERSK CONNECTOR & other vessels off the Belgian coast on the Nemo power cable project.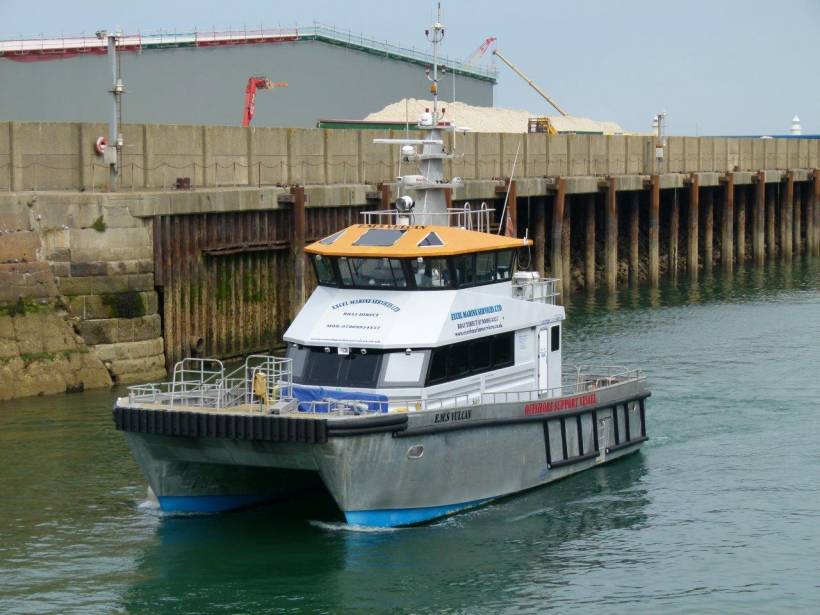 Wednesday, 25 July 2018 - 01:02