Wednesday, 28 June 2017
Dover Lifeboat in recent action. Long range picture...
doverforum.com/sea-news
Featuring all the ships that come and go and work at the Port of Dover with further coverage of Ramsgate, Calais, Dunkerque.
Email:dover7@msn.com to send SEA NEWS pix or info.... or click ADD YOUR COMMENT below to post direct, no membership needed. Use our SEARCH ENGINE below to find all sorts on the SEA NEWS pages..more than 180 now with more than 3666 nautical posts. Posts welcome. Max of 5 pictures preferred per post. Sea News Editor Paul Boland.



Sea News Dover:



P&O Ferries give Lifeboat £10,000...see 3933.
DFDS Cycling Special : Tour de France see 3902.

P&O visit St Richards School 3904.
P&O Ferries award surprise Bursary.... 3816.
BEST EVER FIRST QUARTER FOR DFDS...see below..3813.
Highest ever Q1 Freight Volumes for P&O see 3623.
Type Cruise Visits in search engine below for the latest cruise ship arrivals..
in fact you can find anything in our Search Engine.
Post 3900
Del Styan, Norwich
Fantastic moon shots there. Well done!

Tuesday, 13 June 2017 - 23:13
Post 3899
vic matcham , Dovor
Great photos of our great 24/7 port working at night and the moon and sun.
Tuesday, 13 June 2017 - 06:46
Post 3898
Sea News, Dover
Hark back to Saturday night if you will, yours truly was gazing out from the observation tower window...gazing across the channel as the light was fading, not immediately noticing the great orange ball in the sky seemingly just a few feet above Calais...and then it twigged! Good grief .. look at the moon!
The main camera was charging so had a stab at it with camera 2... and here we are.
These are bog standard pictures with no trickery.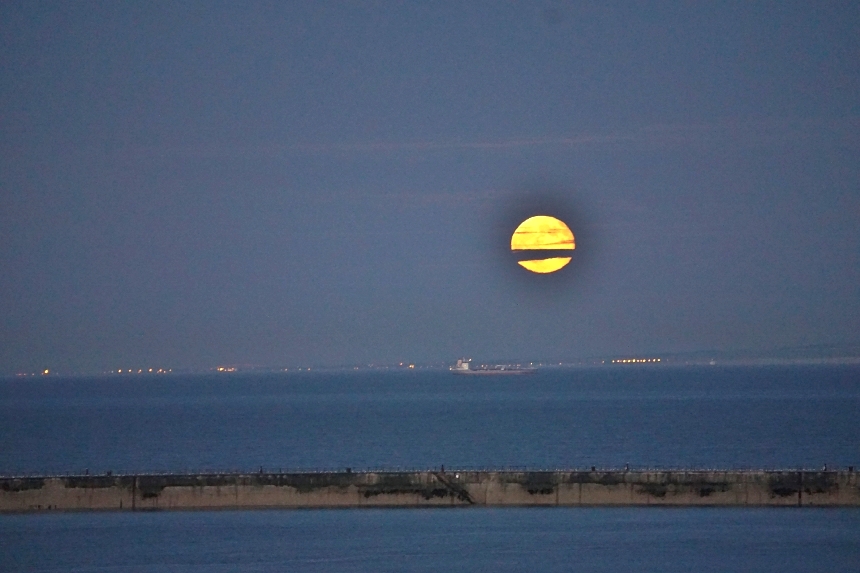 While I was on a roll I went for the flashing harbour lights right here in Port and even got the flashing Exclusion Zone marker buoys...as they..well, flashed! In the background you can see the lights of the French Coast and Boulogne while a Hamburg Sud ship moves slowly southwards in the mid range.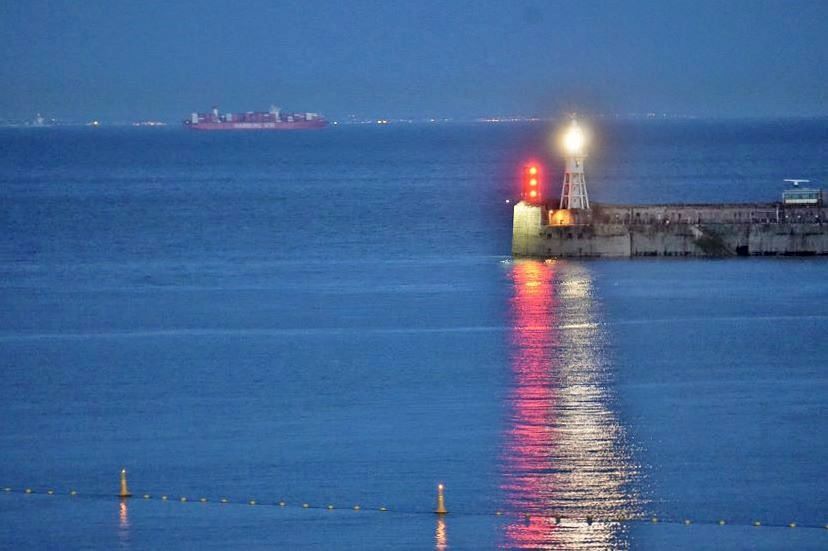 As we have often featured the moon in the past, we are completely loon.. I mean we are completely lunar mad, here are a couple of extra shots from earlier times to complete the post..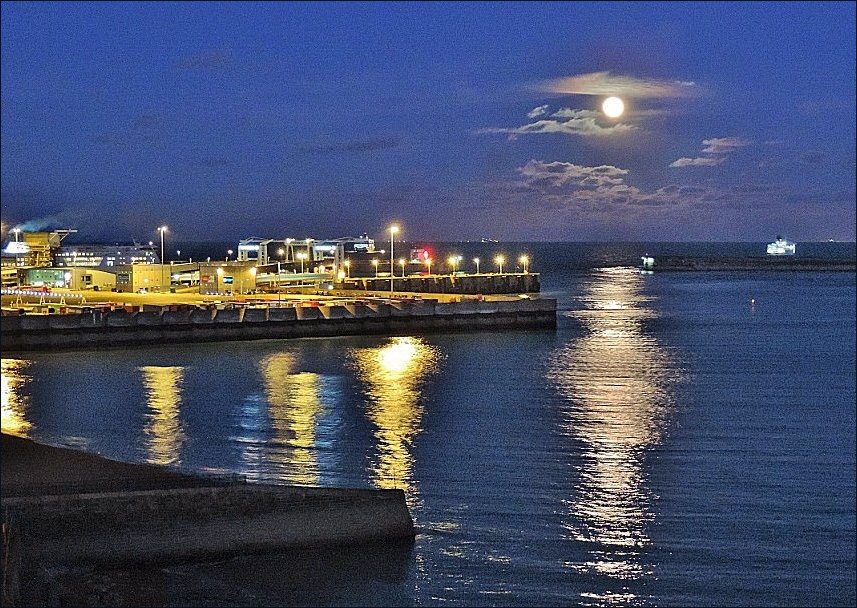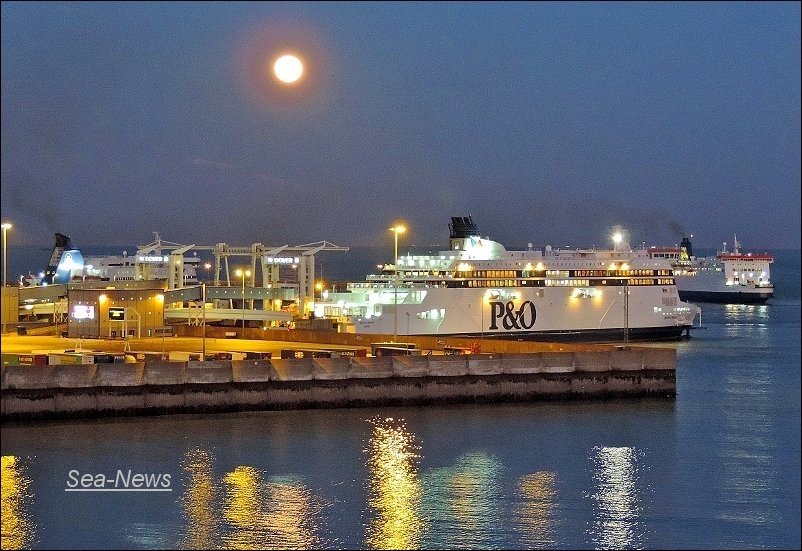 Very interesting post below from Mike. Nice pictures and good information.
I have had some pictures across of that vessel too from Lifeboatman Ben Payne...will get those up soon to add to Mike's. Interesting about the Marco Polo, glad we had those pictures of her.
Thanks Angus - good to hear from you over there in Romney Marsh..
PaulB.
Tuesday, 13 June 2017 - 06:19
Post 3897
Mike.J, Dover
The PLA survey launch MAPLIN was sheltering in Dover on Monday.
She had been en route Southampton for the 'Seawork' trade exhibition but had turned back after passing Dungeness due to the weather, entering Dover late morning.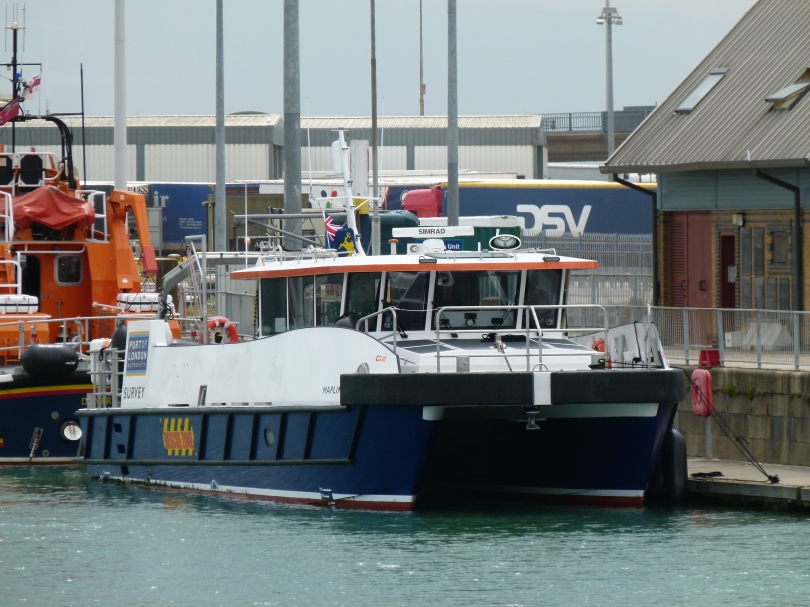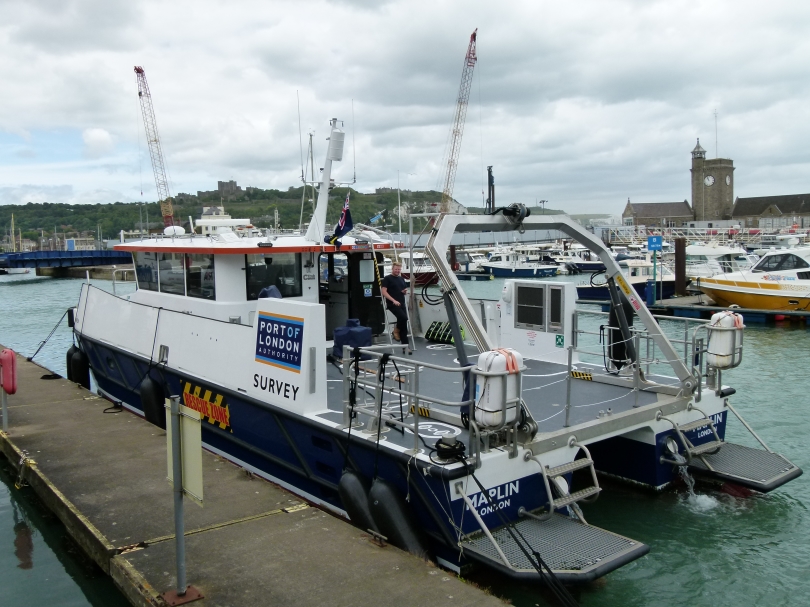 Perhaps the most sophisticated vessel in the PLA survey fleet the MAPLIN entered service in 2016 & can perform many operations, including surveying at a much higher speed than usual.
She has a low profile & a folding mast for passing under the Thames bridges.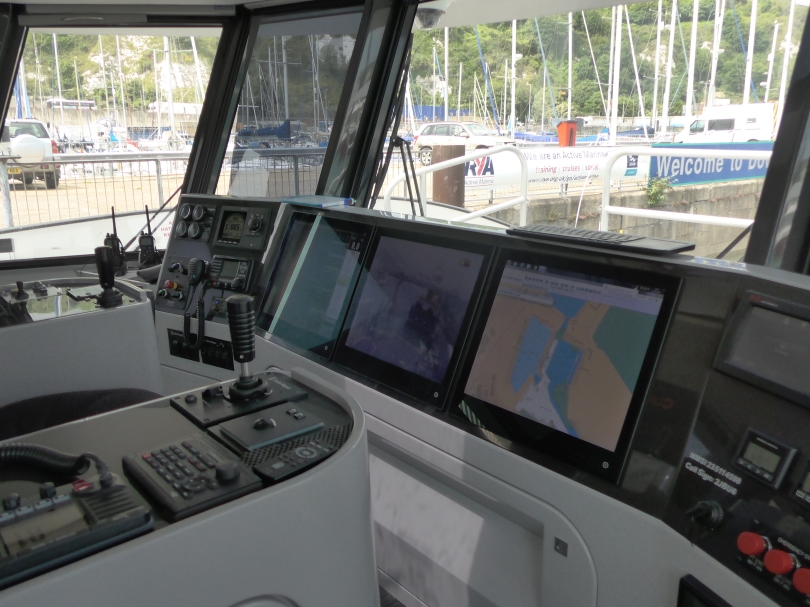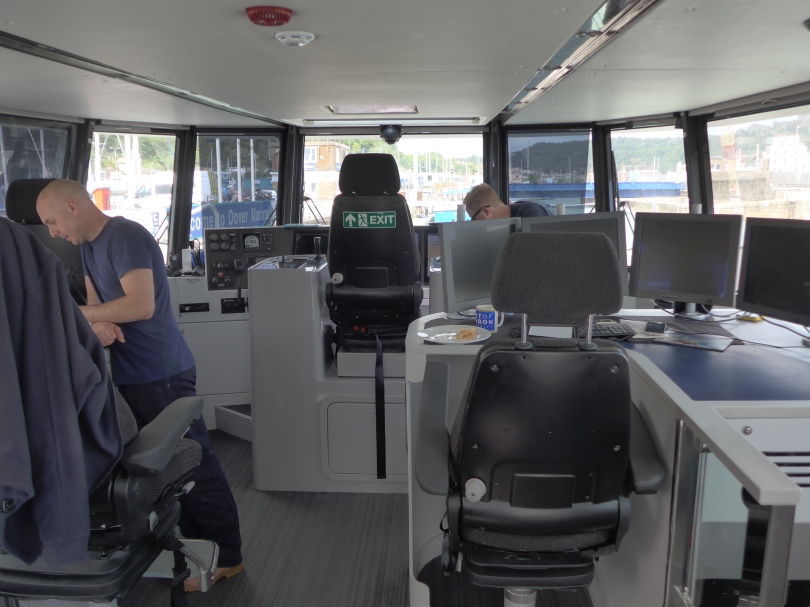 For a short PLA film on the vessel Google 'Maplin our underwater eyes'
Thanks to Skipper Gary & crewman Sam for an interesting lookaround.
A 'different' view of the Dover Lifeboat thru the MAPLIN's A-frame -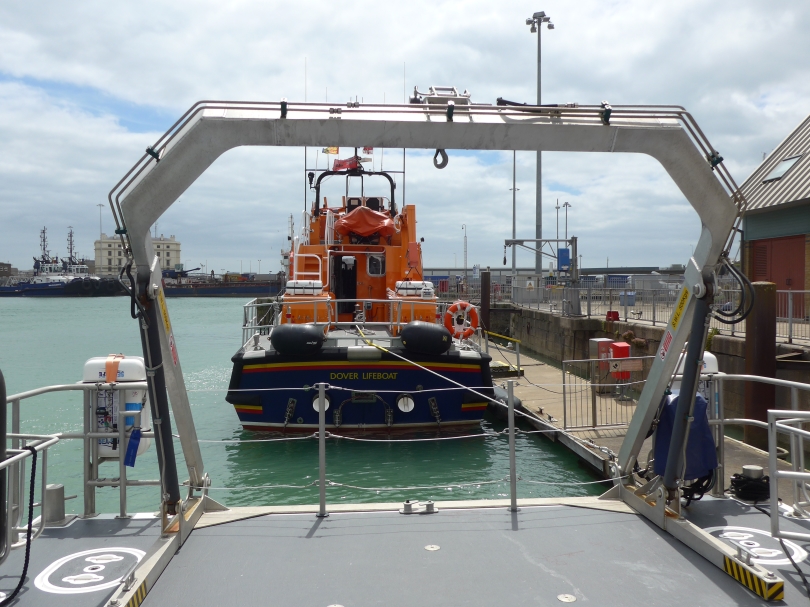 The MARCO POLO photos in earlier posts may be unrepeatable as the ship is coming to the end of her charter next year with her present operators, 'Cruise & Maritime Voyages'
Originally built in 1965 as the Russian ALEXANDR PUSHKIN she will then be up for sale & at 53 years old this elegant ship may be approaching the end of her long career.
Monday, 12 June 2017 - 23:56
Post 3896
Angus, Romney Marsh
You ask - Is there name for a collection of crane & piling barges?

A conglomeration ?

Monday, 12 June 2017 - 23:10
Post 3895
Sea News, Dover
The Black Watch a-coming and a-going yesterday Sunday...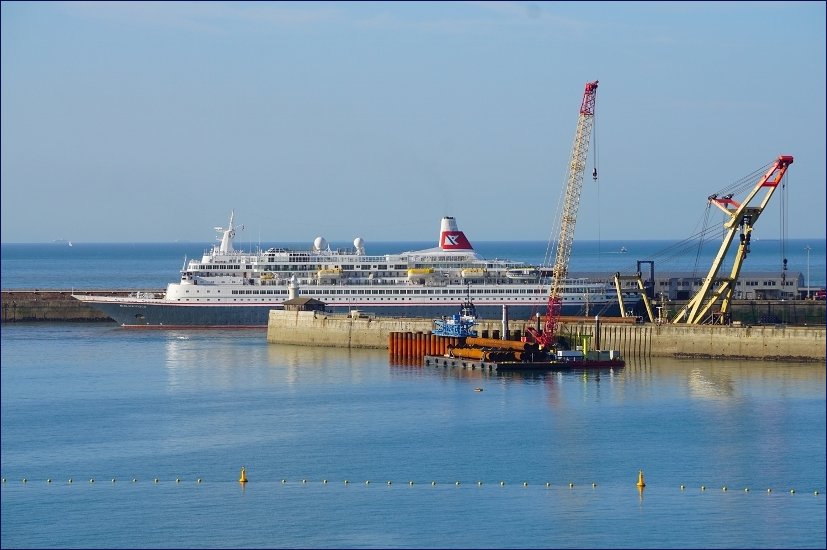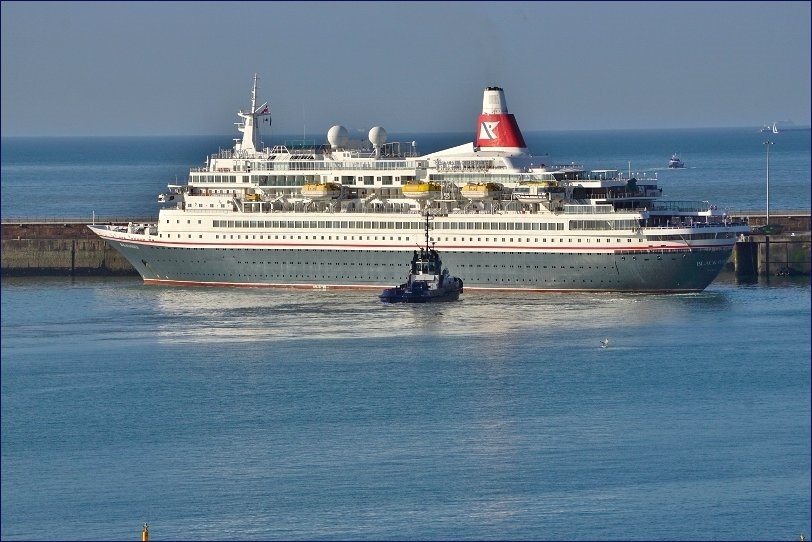 The pictures above show her early arrival at 7am in gorgeous sunlight. Yes it was a fine ol' morning at the Port of Dover. It became overcast soon after but remained warm, however a whipping breeze picked up later that saw people shuffle away from the beach.
Below we have her departing for Dublin at 17.30 or 5.30pm and you can see how the conditions had changed. See ColetteB's cruise list below page for details of the cruise in question....or type Cruise Visits in the search engine above.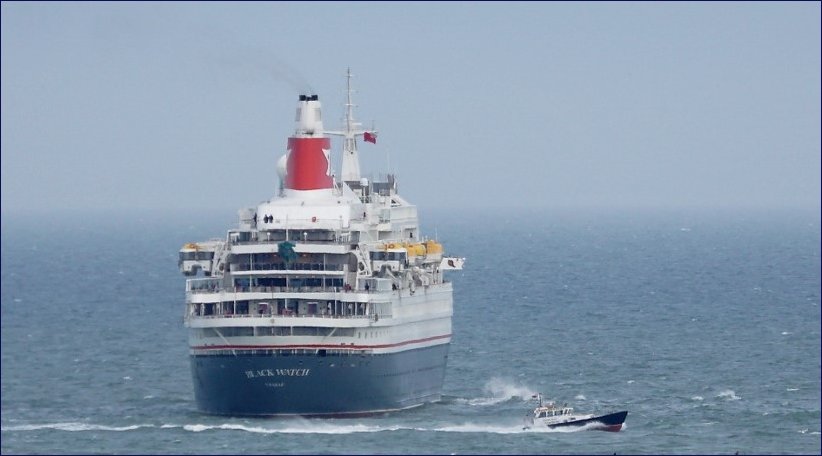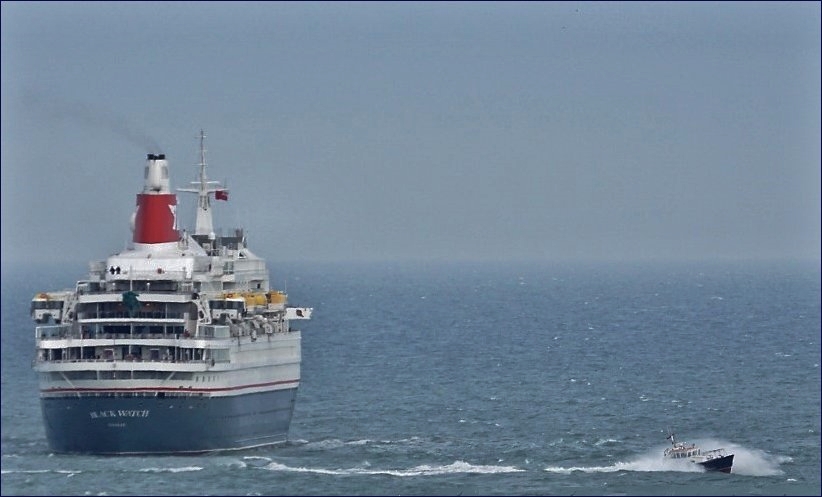 The pilot departs...
Saga Pearl II is back in with us today...
Monday, 12 June 2017 - 05:53
Post 3894
Sea News, Dover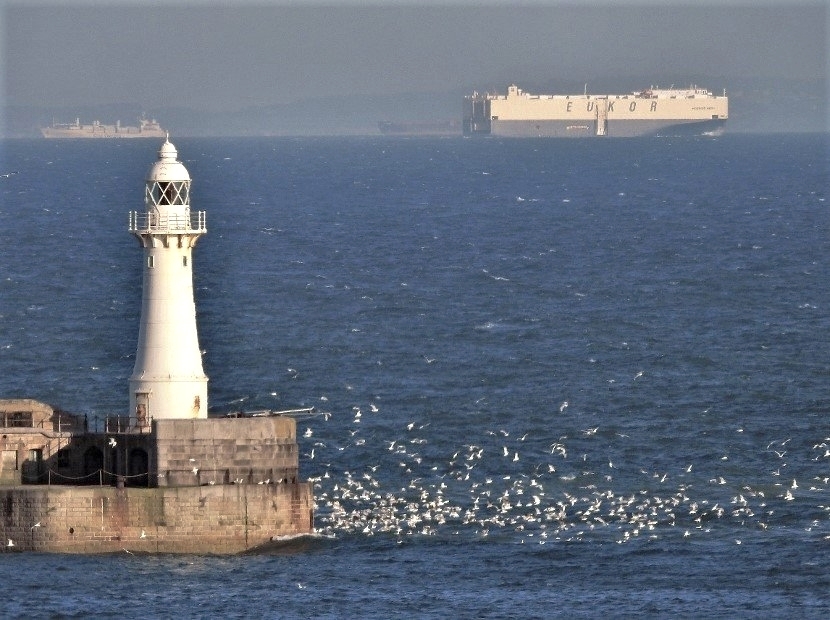 A contrasty image above there from several evenings back showing the wild birds going mad around the breakwater lighthouse ( perhaps the mackerel are back ), while in the distance the giant Eukor vehicle carrier Morning Ninni heads on and away to the far flung far east.
Yours truly had forgotten these pictures below, they were in a charging camera that was as flat as...ermm a pancake.. and when it charged up, there they were. Yes a few extra ones of the delightful Marco Polo as she prepares for departure.
Thanks Colette for the Cruise List again.

The Black Watch is arriving...
Sunday, 11 June 2017 - 06:55
Post 3893
Colette B, Dover
CRUISE VISITS
I see that we had a surprise visitor in the shape of the Marco Polo a few days ago, taking shelter in our harbour from the rough weather before cruising against the tempestuous North Sea to Hull on her Icelandic cruise.. She was last here in November 2016, we look forward to her next visit.
Now for our next visitors………
Tomorrow Sunday June 11th our dear friend the Black Watch starts her 11 day cruise to the Bonnie Lochs of Scotland, you take the high road… I'm sure there is a song there somewhere. Her first call is Dublin then on to Loch Fyne, Fort William, the Isle of Skye, the Orkneys and Invergordon. She arrives at CT2, 07.30, leaving 17.30 hours, T/R.
On Monday June 12th Saga Pearl ll starts her Mediterranean Trio cruise for 18 nights, calling into the Spanish delights of Huelva and Ibiza then on to the beautiful Italianian cities of Rome and Livorno. She also visits Barcelona and the Valencian capital, Castellon de la Plana before calling into Leixoes, Portugal. Arriving CT1, 08.00, departing 16.00 hours, T/R.
We have a few days break before the next cruise call on Sunday June 18th (Fathers Day) with the Saga Sapphire starting her 16 day cruise to the Faroes & Land of Ice & Fire. She cruises in to Newcastle before visiting Torshavn in the Faroe Islands then on to Seydisfjordur, Akureyri, Isafjorour and Reykjavik in Iceland. She arrives at CT1, 08.00, leaving 16.00 hours, T/R.
On Monday June 19th we have another surprise visit from AIDAbella arriving CT2, 08.00, departing 20.00 hours, PoC. I don't have any further information at this time other than she needs to be in Kiel to start her next cruise on June 22nd. As I've said before, we'll wait and see

Then on Wednesday June 21st the Black Watch starts her 10 day cruise to the German Waterways & Kiel Week. Kiel Week or Kiel Regatta is an annual sailing event being the largest sailing event in the world, attracting millions from all over Germany and neighbouring countries. She arrives at CT2, 06.00, leaving 17.30 hours, T/R.
That's it for now, I'll be back with more real soon

Saturday, 10 June 2017 - 15:46
Post 3892
Sea News, Dover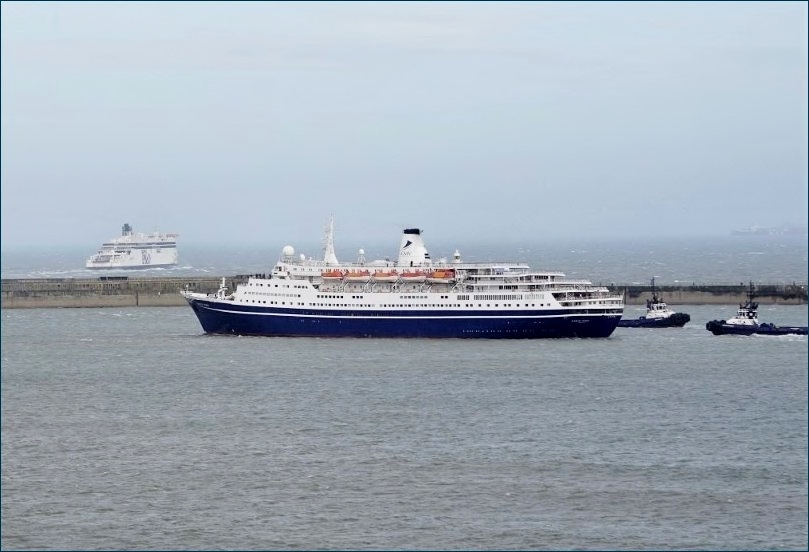 Just adding this picture of the departing Marco Polo from a couple of days back. It was more than a little dull as she left the Port of Dover. You can see the tugboats just relaxing as she goes on her way. She was heading out our eastern exit and up the turbulent North Sea to Hull we understand. Perhaps not the most exciting cruise destination but it will have made for an interesting trip one way or another.
Well done with those pictures below Sarah. Great clear images below there from our roving correspondent... and hugely enjoyable.

Glad you enjoyed those earlier lifeboat shots.
Saturday, 10 June 2017 - 12:36
Post 3891
Sarah, Ramsgate
Awesome lifeboat photos Paul



, I'm loving them

A few photos taken recently at Ramsgate.
CRC Galaxy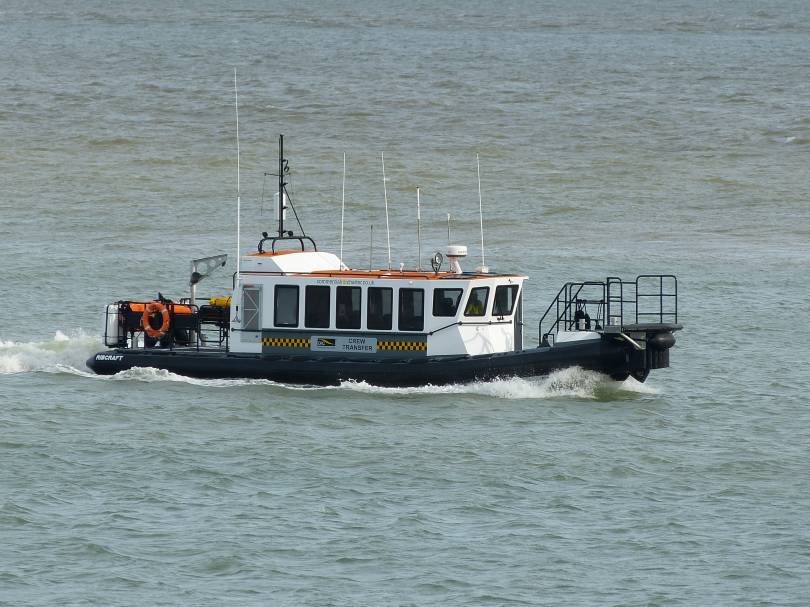 Scheldeoord & CRC Galaxy
Estuary Guide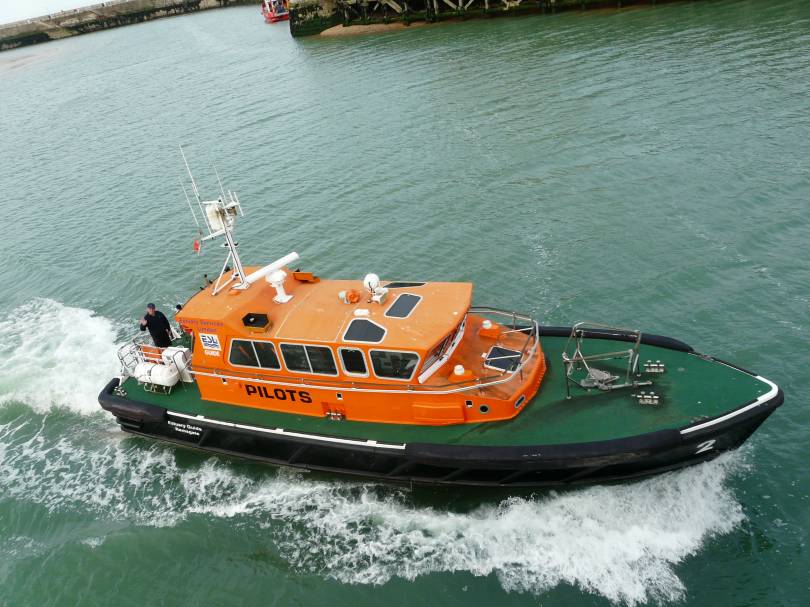 Ramsgate Lifeboat "Esme Anderson"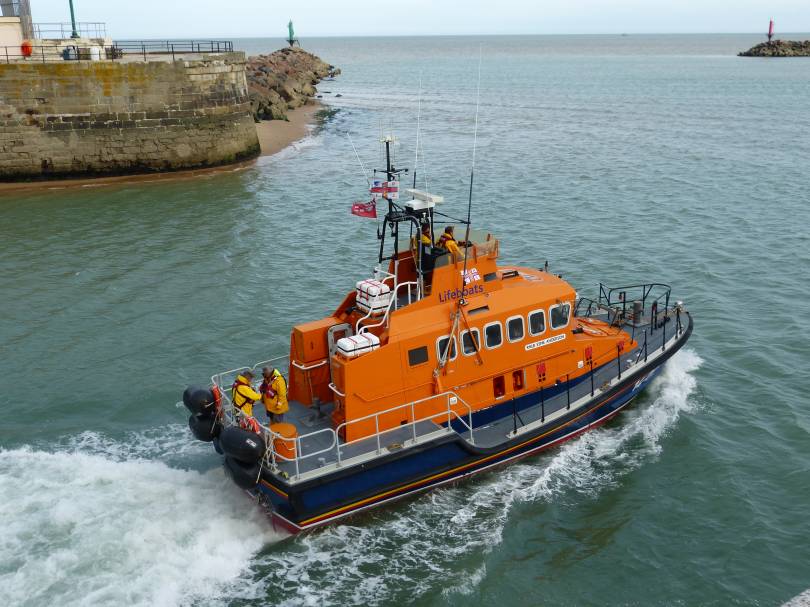 Ramsgate Lifeboat "Claire & David Delves"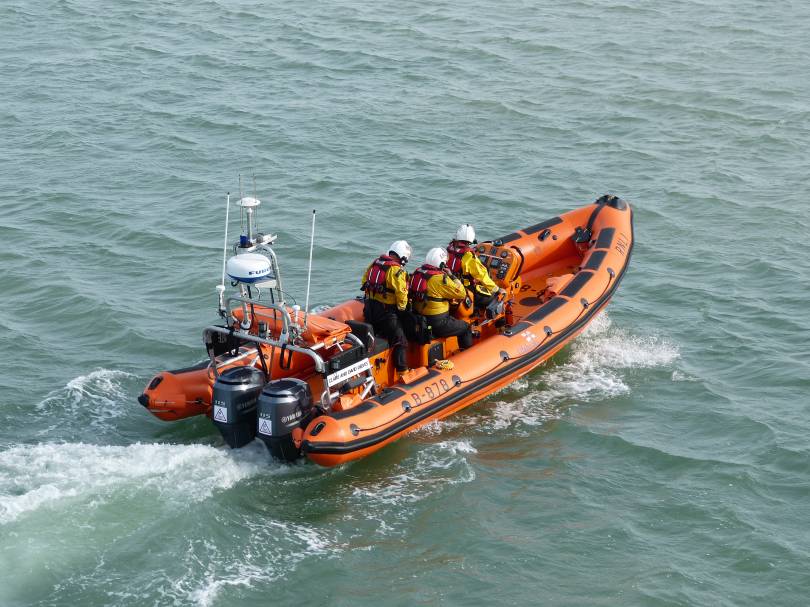 Saturday, 10 June 2017 - 06:19
Post 3890
Sea News, Dover
As promised here we go with our latest Lifeboat Special.
The Lifeboat was out there in the roaring raging surf on Tuesday...Twice!. These shots below were taken in the afternoon, they also went out again in the early evening. Now...Tuesday evening is a normal training time for them, so it looks like they may have had a serious call-out in these pictures below...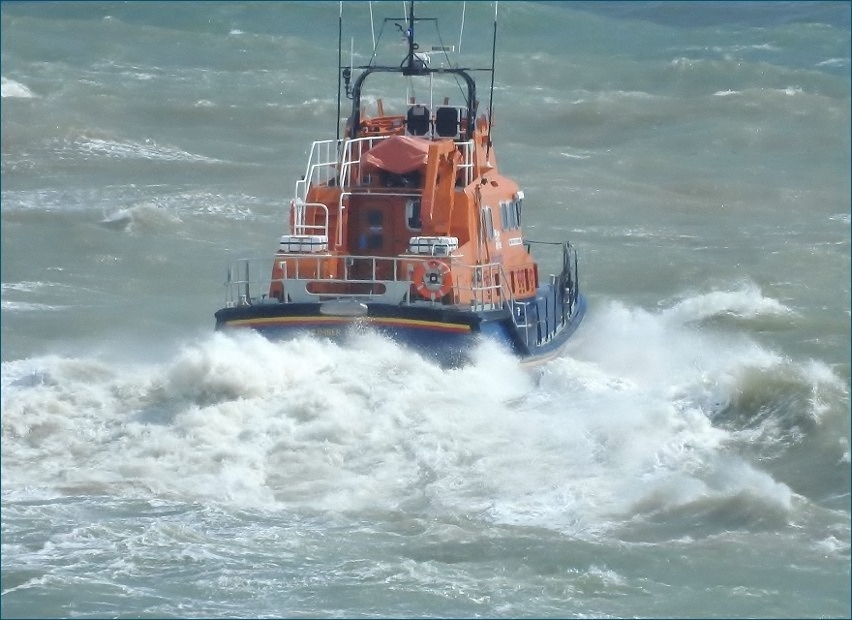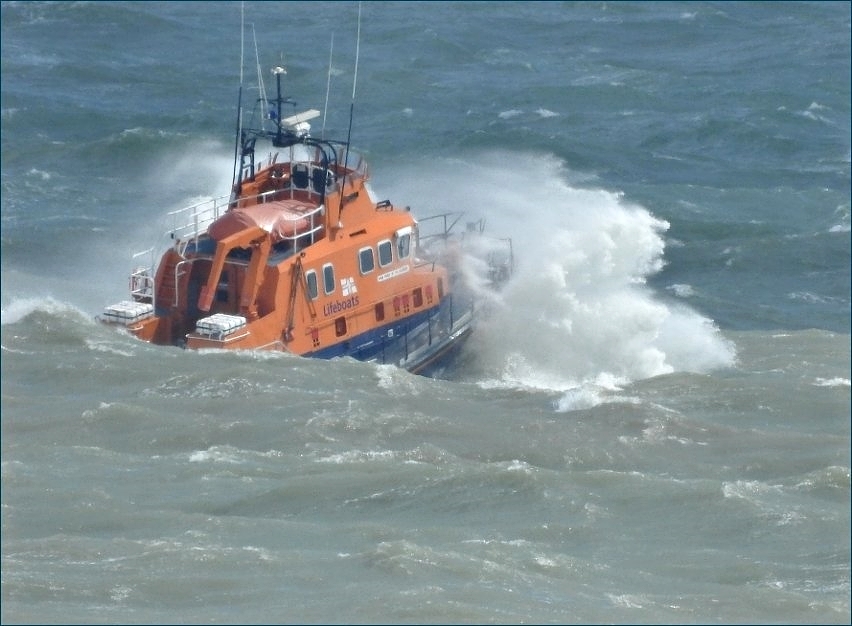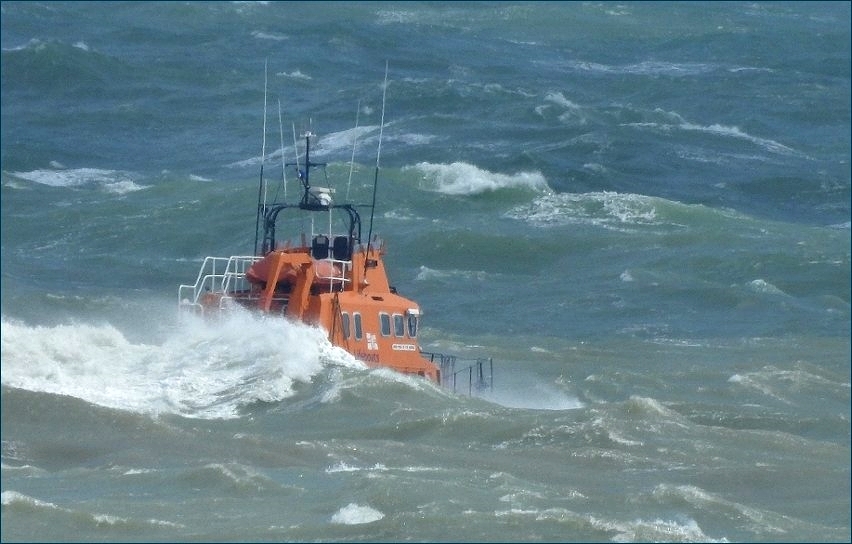 The pictures are of course obviously long range and the conditions were dire... the seas were explosive..
well done those guys. It was hard enough being on dry land on Tuesday as we know.

Friday, 9 June 2017 - 06:54
Post 3889
Sea News, Dover
Two recent shots now of the Holyhead Towing team moving the piling into position...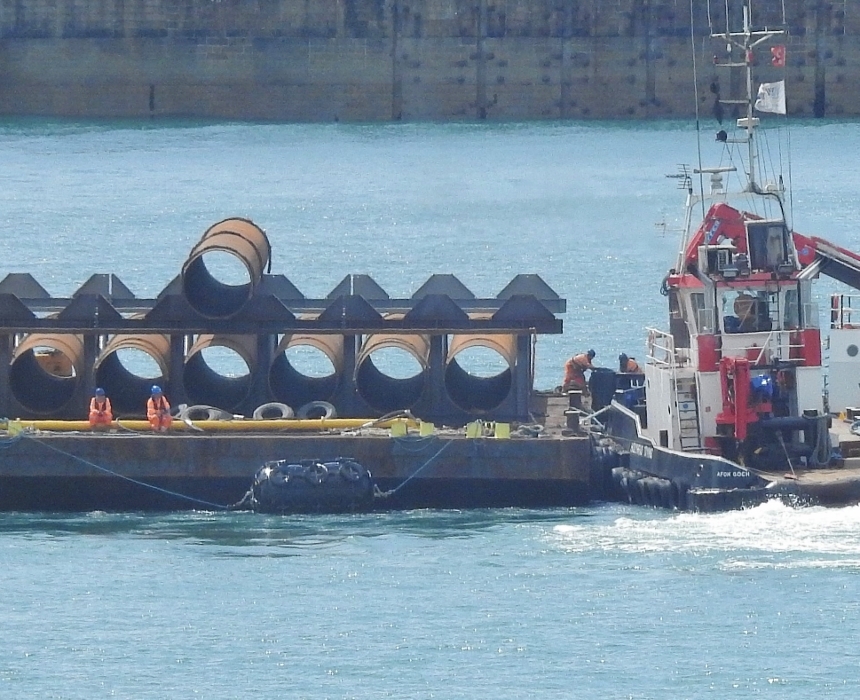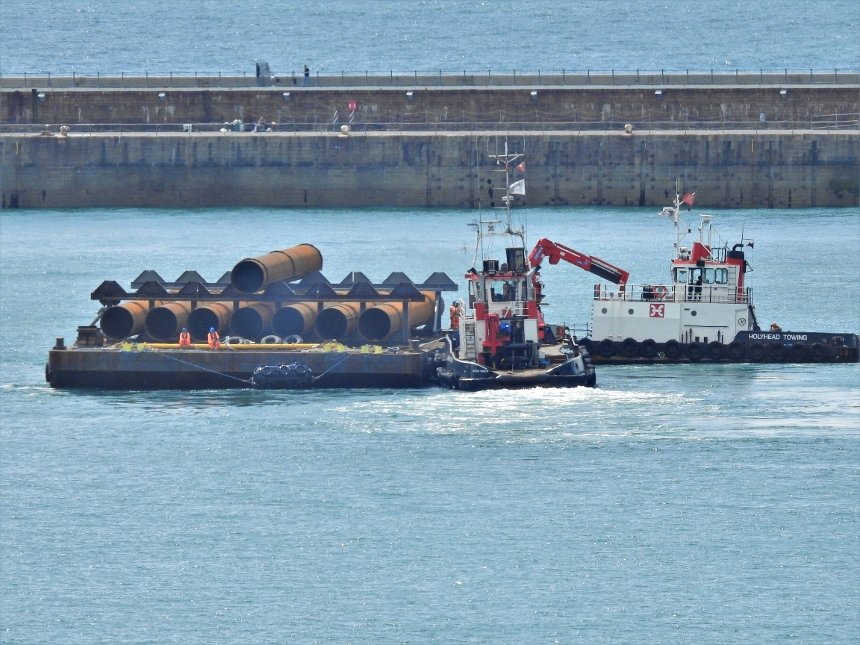 Holyhead Towing tugs in action are.. Afon Goch and Llanddwyn Island.
Thursday, 8 June 2017 - 15:18
Post 3888
Sea News, Dover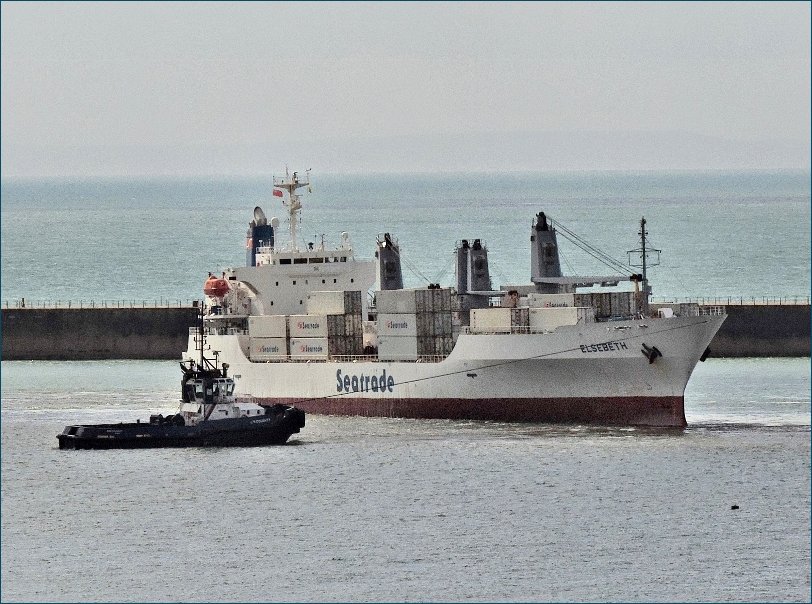 Our regular friend Elsebeth left us some minutes ago heading for Flushing in Holland. Unfortunately I missed the actual moment of departure even though it happened right in front of me...note to self: must take head out of computer. But here she is from a previous time with a picture not used before. PB.
Thursday, 8 June 2017 - 07:09
Post 3887
Sea News, Dover
Here we are now with the heavy-lift ship recently photographed by Ed at night...and inadvertently photographed by me during the storm a couple of days ago as she headed for some shelter off Deal, those posts below page. Name of ship: Wiebke. Pictures: Tuesday.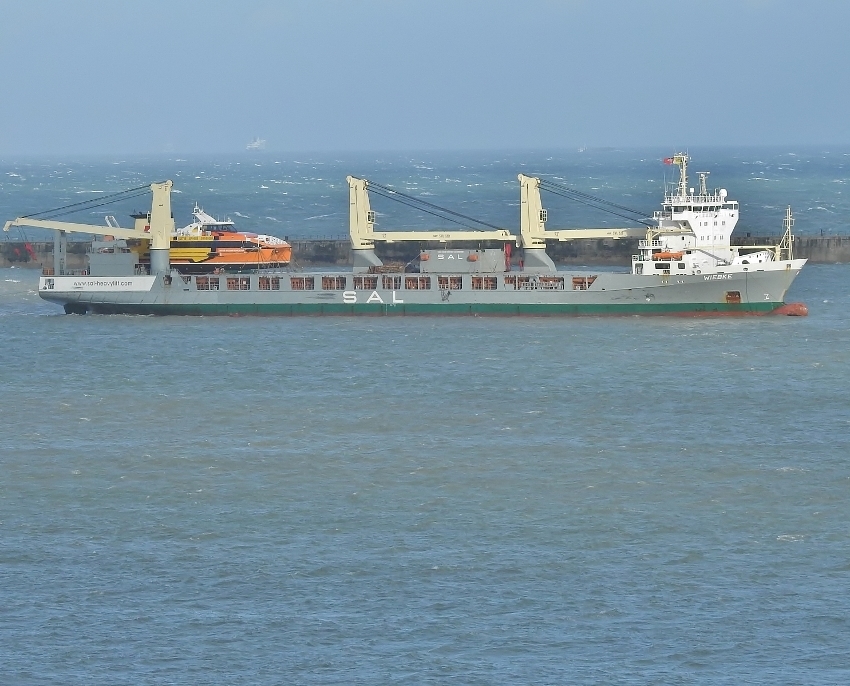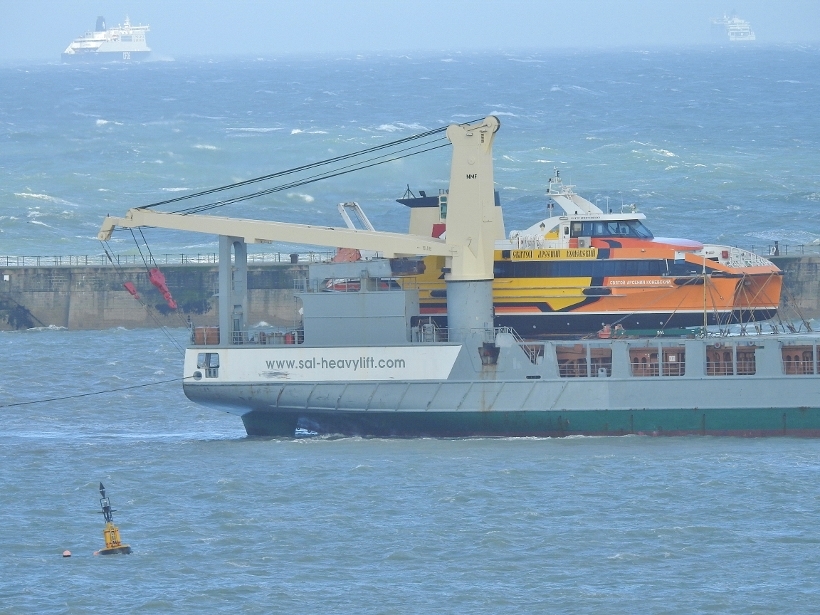 Also newly in Port yesterday wednesday was a vessel called O T Ideaal and you can just make her out amongst the DWDR cranes below as she delivers more piling material.
Thursday, 8 June 2017 - 04:31
Post 3886
Sea News, Dover
Hi Sarah - nice shot of the Banksy there..yes indeed its a nice one, we are very lucky to have it.
Ah no I didn't get better weather yesterday - my Lifeboat pix are from a few days back. I'm way behind schedule. I did get some more Lifeboat shots yesterday as they powered out into the hugely rough seas. Still haven't sorted them as yet...but hopefully one or two will be exciting. Keeping the camera steady in the howling wind was a challenge but not quite the same level of challenge the Lifeboat guys had. Will get some of those shots up in a day or so when I catch up with myself coming back...

Enjoyed your lifeboat pictures from Dover. Had to have a double take when I saw the pix were from Dover.

Paul.
Wednesday, 7 June 2017 - 19:19
Post 3885
Sarah, Ramsgate
Lovely photos of Dover Lifeboat Paul,



seems like you had much better weather than I did yesterday.

Whilst in Dover I managed to get a shot of the Banksy, it is very impressive in my humble opinion.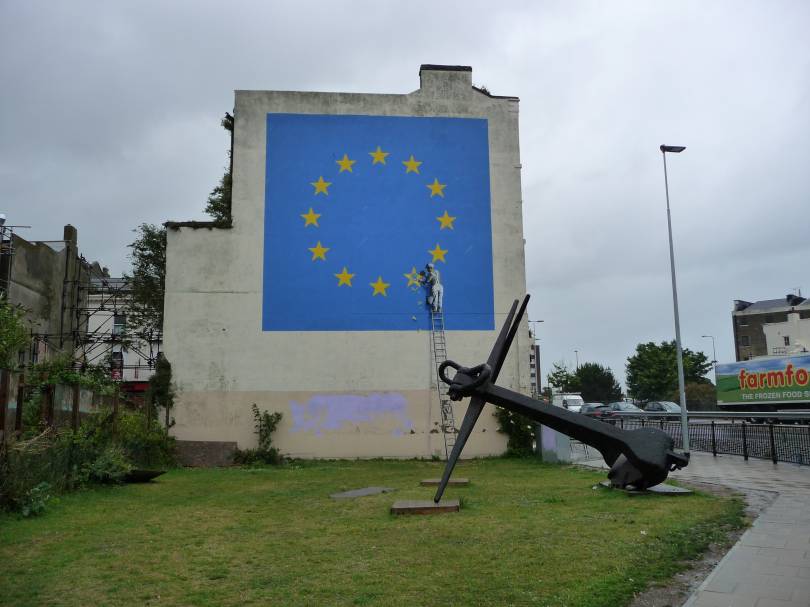 Wednesday, 7 June 2017 - 19:01
Post 3884
Sea News, Dover
Above there we have the beautifully packaged Marco Polo arriving with us early this morning. There was, for a time, a bit of a lull in the windy conditions but the wind is strong again as I write. Some June so far... hold on to your hat!
Just adding below here to Ed's earlier excellent pictures of the departing Saga Sapphire yesterday. Yours truly has eventually caught up with his uploads...there she goes...off to see the 'Umbrellas of Cherbourg' with the help of both tugs. One tug had to work hard to keep her pinned to the terminal wall all day in the fierce winds. That has to be a dull job, but of course essential..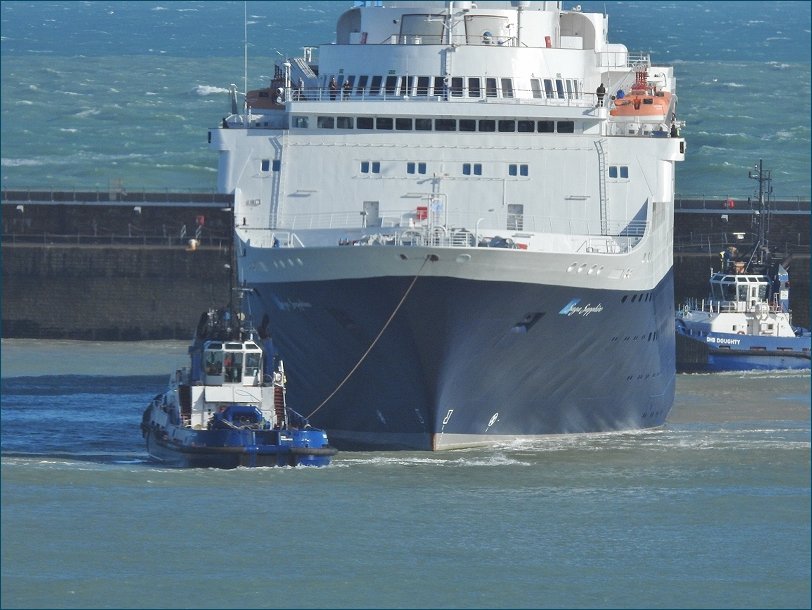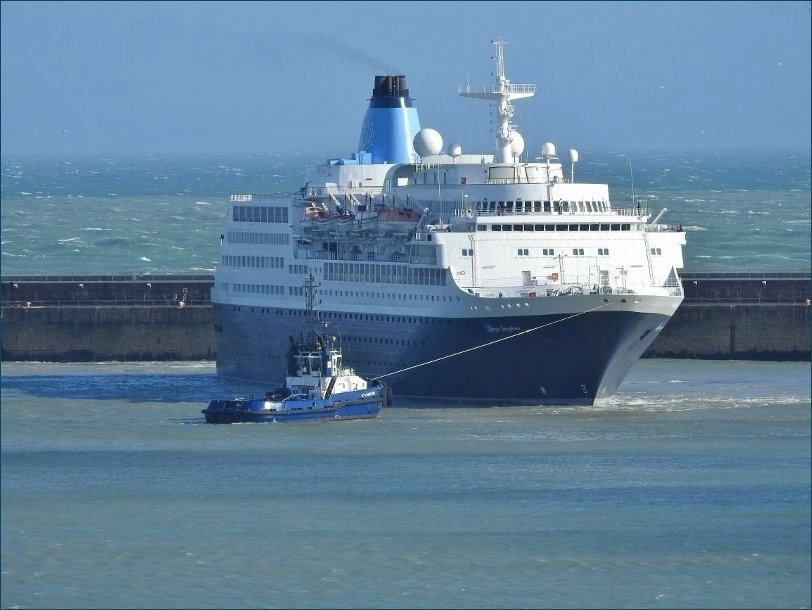 PB.
Wednesday, 7 June 2017 - 15:03
Post 3883
Sea News, Dover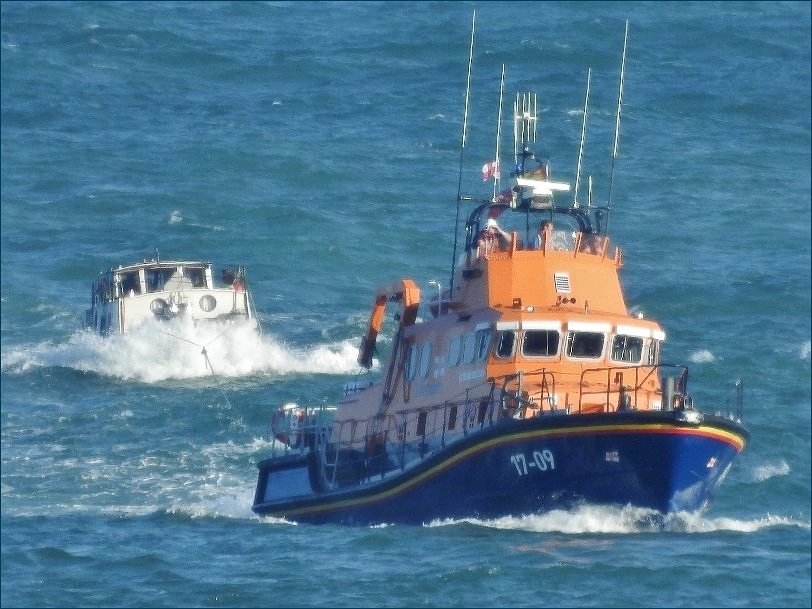 We recently had a very similar picture with the Dungeness Lifeboat towing in a beleaguered small fishing boat and here we are again but this time its the Dover Lifeboat towing in another troubled boat. Pictures from a few days back. There is so much happening at the moment that its almost impossible to keep up. As the man said "So much to doooo...so little time.."


Earlier in the week the guys were paused for a conflab out in a the bay while catching the late evening sun, and here we are below...the second shot just a zoomed in version of the first one.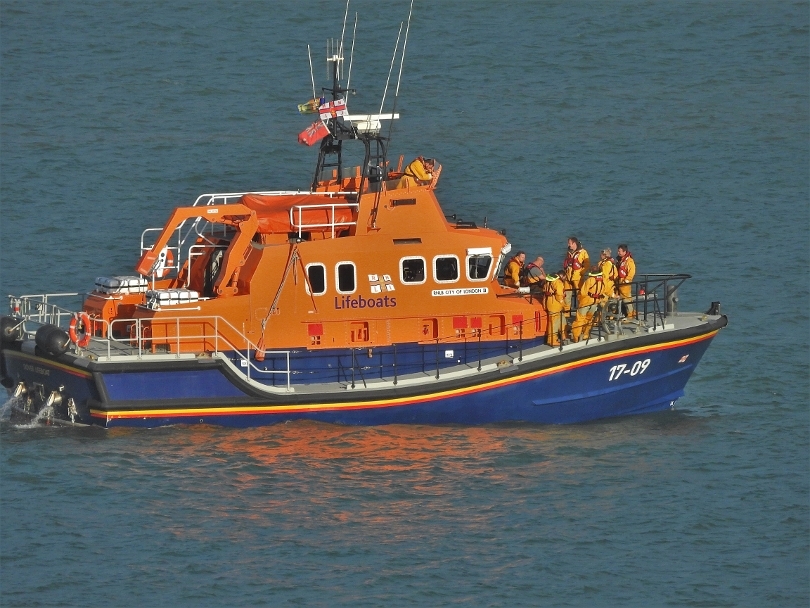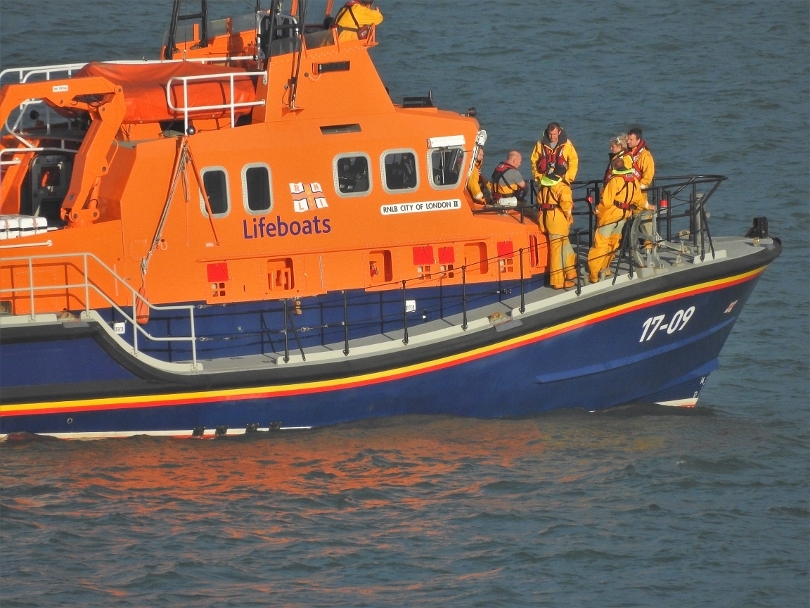 A picture of our ol favourite Alert now.. arriving through the DWDR works...
Great work by the team below. Great pix to enjoy today.
Well done Ed...brilliant shots of the departing Saga Sapphire, you saved the day again as I cant keep up with all the stuff. And ahhh yes - thanks for the info on the lift ship. Enjoying the night shots of it there below.
Great shots too from Sarah. Cracking stuff for sure from our roving reporter!.. who clearly roved over to Dover. Don't miss those!
Ah sadly no Vic ...no overtime yesterday in the atrocious weather.
The pictures are reproducing much better all round now since the recent upgrades which is great. Well done to Chris T behind the scenes...

Cruise Ship Marco Polo is in today. PaulB.
Wednesday, 7 June 2017 - 06:12
Post 3882
Ed Connell, Dover Strait
The SAL heavy lift ship Wiebke pictured in Paul's post 3877 is now berthed on the Eastern Arm, seen here at midnight. Serious bit of kit down aft by the funnel.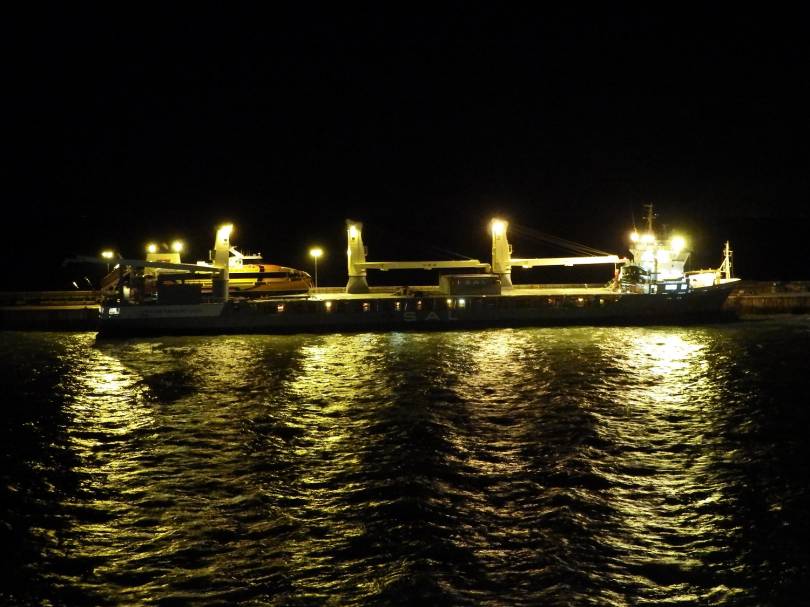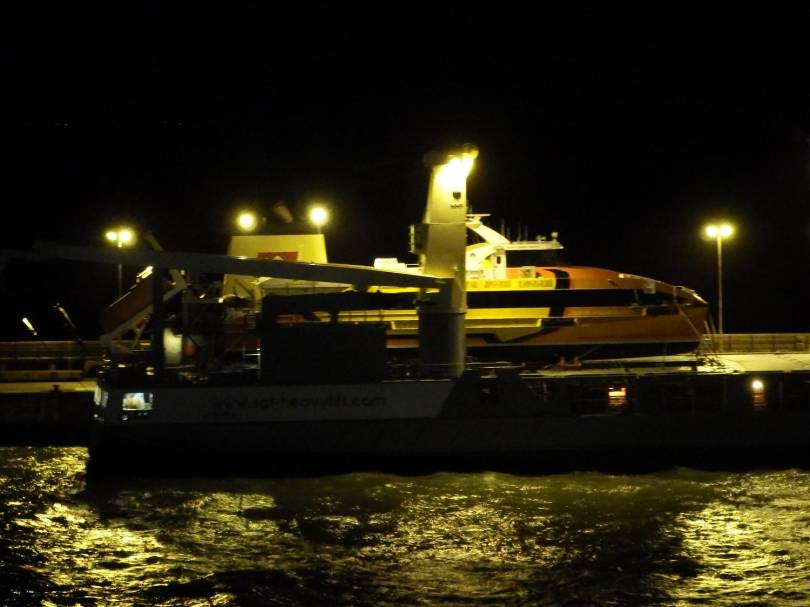 Wednesday, 7 June 2017 - 01:04
Post 3881
Sarah, Ramsgate
Humber Lifeboat after an overnight in Dover, delayed leaving due to the horrible weather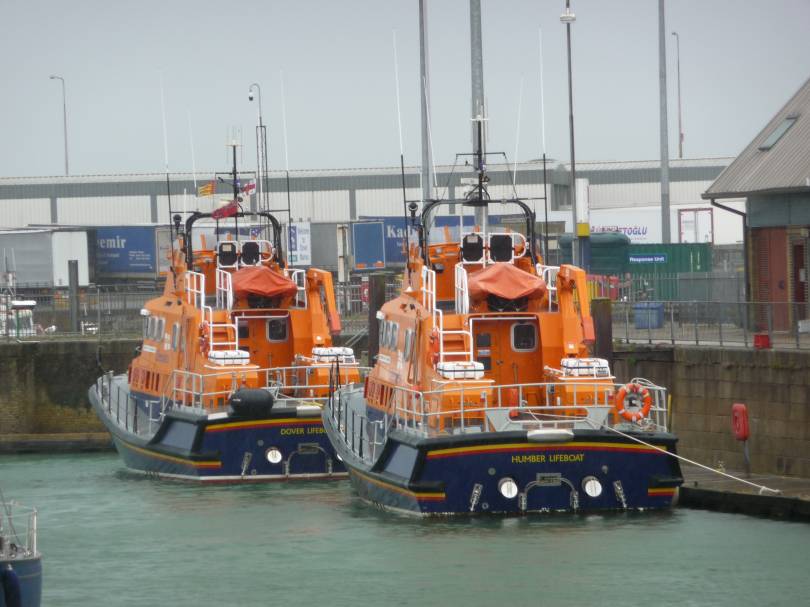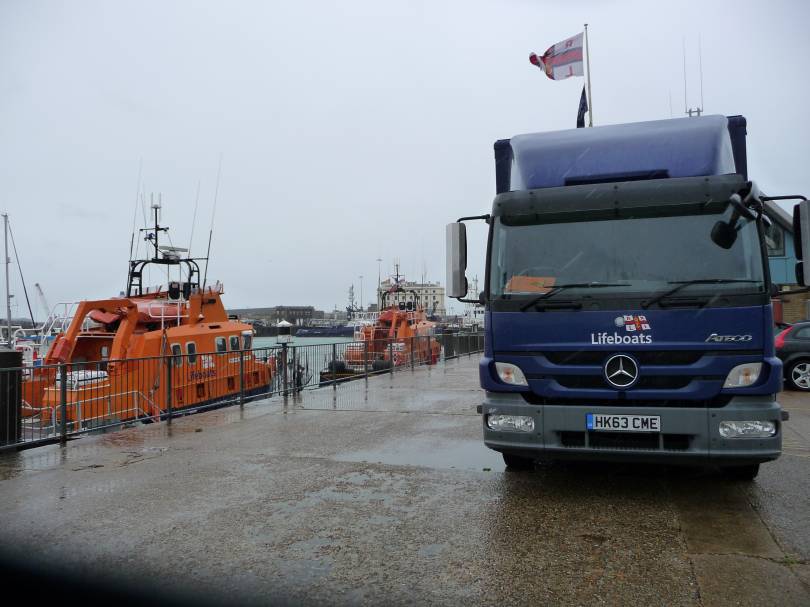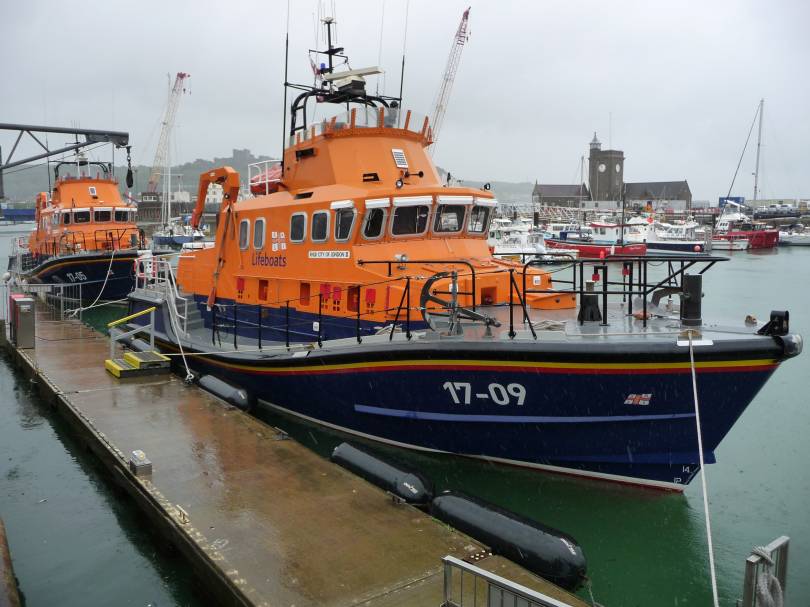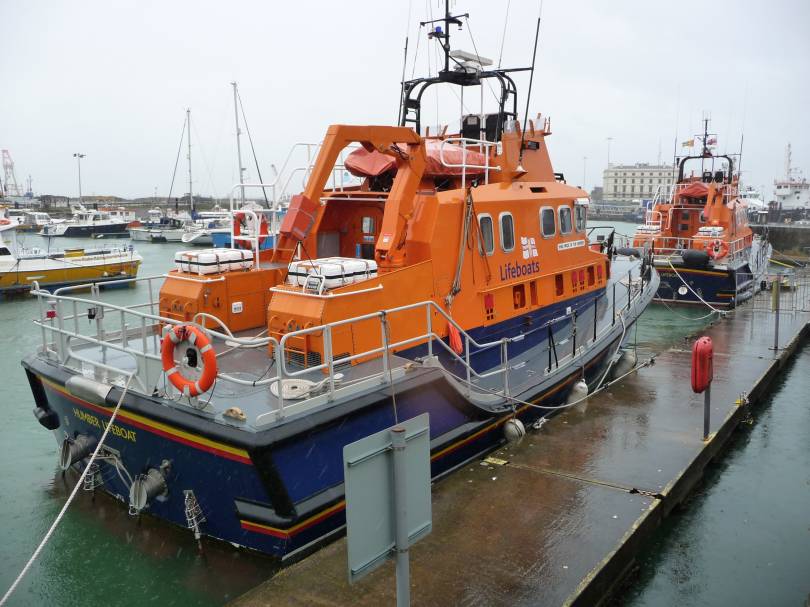 Tuesday, 6 June 2017 - 22:11