Thursday, 18 October 2018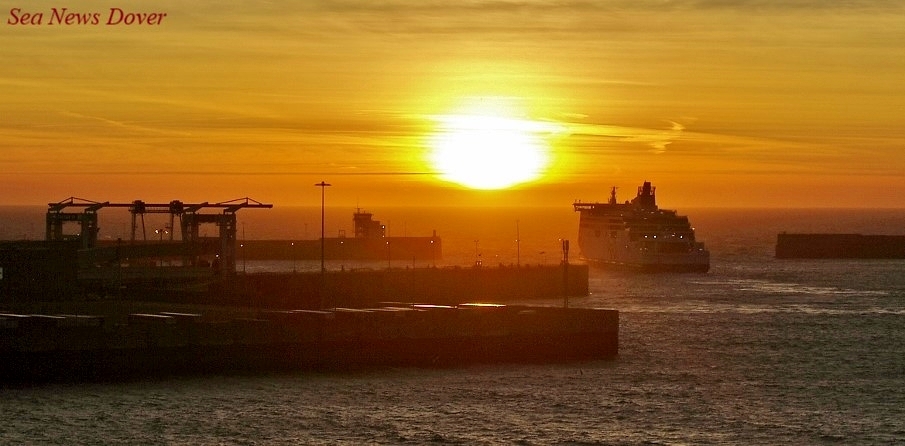 The Port of Dover with early ferry.

WWW.DOVERFORUM.COM/SEA-NEWS
Featuring all the ships that come and go and work at the Port of Dover with further coverage of the surrounding ports both sides of the Channel. Click ADD YOUR COMMENT below to post direct, no membership needed.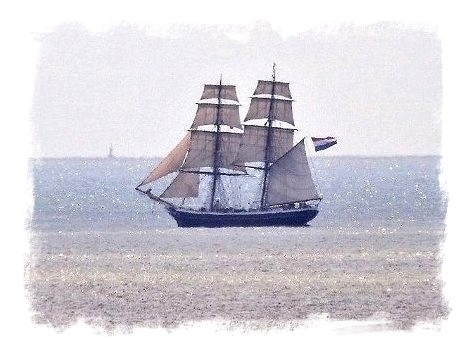 P&O: Schoolchildren mark WW1 see 5816.
Lower Thames Crossing boost..5812.
Dover Museum's revitalisation see 5807.
Port of Dover: Refrigerated Cargo Terminal .. software for 5801. Latest NATO also 5801.
Port of Dover: Great increase in summer traffic 5795.
Russian and shadow 5785.
The Waverley paddle steamer 5778...
New SAGA Ship launching in Dover see 5776.
P&O: To Rome on Horseback 5759.
DOUG BANNISTER: New Chief Executive Port of Dover see below 5734....
Merchant Navy Ceremonial images also 5734.
Dover Regatta Rescue incident plus .. see 5713.
Dover Regatta pictures Lifeboat etc..5716, 5717, 5718, 5720.
DFDS Expansion: More New Ferries on order... see 5693 see also 5500 and 5381.
Excellent tourist season for P&O Ferries see 5649.
VSBW Port of Dover - Women at Work 5638.
P&O Second Female captain see 5107. Also see latest 5570.



NEW:

For instant access to the items above - type the post number in the Search Engine below.



Sea News Dover : Use our SEARCH ENGINE below to find all sorts on the SEA NEWS pages....
... more than 5800 nautical posts now.
Posts are welcome. Max of 5/6 pictures preferred although we can occasionally stretch that on special stories.
Sea News Editor Paul Boland - send info or pix to dover7@msn.com. Always welcome.
Type CRUISE VISITS in our SEARCH ENGINE below for news of the latest cruise arrivals.
NOTE:

We have added a new feature. This has resulted in some slight change to the numbering system on the posts. We needed to align data in order for us to be able to use post numbers in the Sea News Search Engine. For example..type into the Search Engine box the number 5734 if you want the story on Doug Bannister...and it will pop up for you. This will be very useful going forward. You can still search in the older way too. My thanks to long time ace colleague Chris Tutthill for enabling the extra feature. Chris runs our sister channel..dover.uk.com. PaulB
All pictures on these pages are the copyright of the owners and must not be reproduced without permission.
Post 5776
Sea News, Dover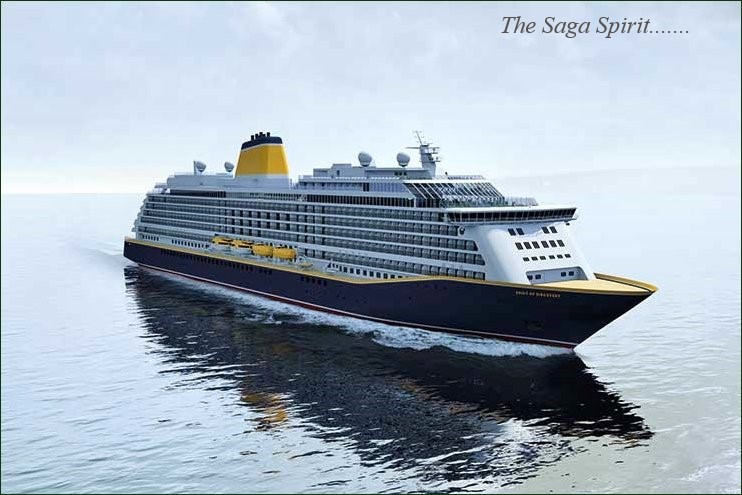 It's a date - Saga announces Dover to be the port for the naming of Spirit of Discovery on July 5th, 2019 -
Saga's first new-build boutique cruise ship to be named in home port. Dover delighted to be chosen as location of momentous naming.
___________________________________________________________________________________________________
Saga have announced that the official naming ceremony of Saga Cruises' first new-build ship Spirit of Discovery will be held at the Port of Dover on July 5, 2019 – the first ship to be named at Dover following the completion of stages 1& 2 of the £250m redevelopment of Dover Western Docks.
"As the place that Saga's first cruise ship set sail from more than 20 years ago, Dover was 'the natural choice", revealed chief operating officer Nigel Blanks, in London, on 18th September at an exclusive event with Jools Holland – the face of The Club by Jools' on board Spirit of Discovery, the only small ship currently being built for a British Market.
"With Saga's Group headquarters based in Kent, we felt it only right that we name our first brand new, purpose-built cruise ship in Kent and what better way to do that than with the iconic White Cliffs of Dover as a backdrop. Spirit of Discovery will be the first cruise ship to be named in the port for more than a decade and the first following the regeneration of the Western Docks.
We are already planning a few surprises, and will no doubt add a few more before next year, so save the date, as we christen the first of our new-build fleet" Blanks added.
Spirit of Discovery's maiden voyage will sail from Dover on July 10, 2019. The 999-guest luxury boutique ship will circumnavigate the British Isles.
"We are really excited about her first cruise as it's a great way to show-off our first new boutique cruise-ship to the British market as we call in to iconic ports such as Newcastle, Edinburgh, Belfast and Liverpool," said Blanks.
The inaugural cruise has already sold out and most other 2019 itineraries are well ahead of expectations with the 109 single cabins proving extremely popular. Spirit of Discovery's destinations throughout summer 2019 include Spain, Scandinavia and the Baltic, as well as a four-night mini-cruise to Holland, Germany and Belgium.
In addition, Saga recently announced the company's strategic decision to move to all-inclusive cruising as standard from 2020. Nigel Blanks said "the decision to go all-inclusive in 2020 had been made to distance ourselves further from the competition and mass cruise market". He said: "I firmly believe this will not only sit very well alongside our 'Boutique Cruising' proposition but will reaffirm our position as Britain's niche luxury cruise operator'.
Port of Dover Head of Cruise, Sonia Limbrick said: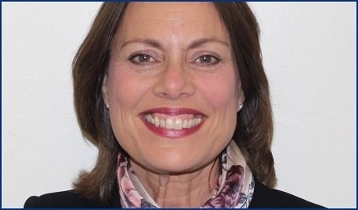 "It is a great honour, and we are thrilled that Dover Cruise has been chosen as the venue for the momentous naming ceremony of Saga's new ship 'Spirit of Discovery'.
"Having first sailed from Dover back in 1997 with the Saga Rose, their magnificent cruise ships have been a welcome feature of the historic Western Docks for over 20 years. With our exciting £250m redevelopment well underway, 'Dover Western Docks Revival' will offer a uniquely enhanced experience to the ship when she calls in 2019 and we are greatly looking forward to greeting her in Dover."
Ends
Exciting times! Many thanks to the team at the Port as ever.

* *
And now - the hotels step up to the plate to keep abreast of all this cruise expansion here in Dover ...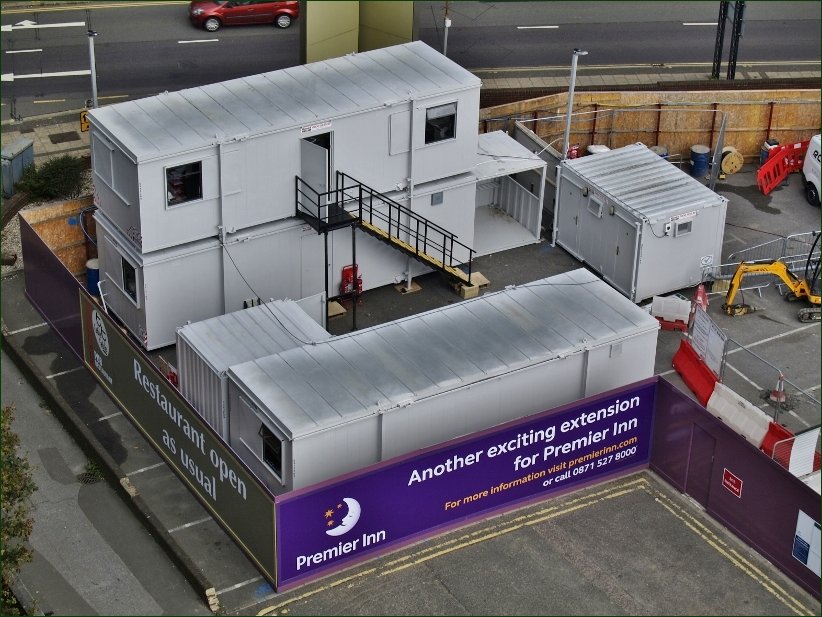 Premier Inn Extension: That's a shot above there of the new extension wing at the Premier Inn...fab portocabin accommodation..!!

Nooo noo just kidding

Those cabins above have recently been moved in and are used by the building team - the building guys have clearly moved in for the long haul. You will remember the pictures of the tree felling....now the concrete pumping into the ground at the rear of the hotel has begun...and you can see the device below. There were numerous diggers in action previously.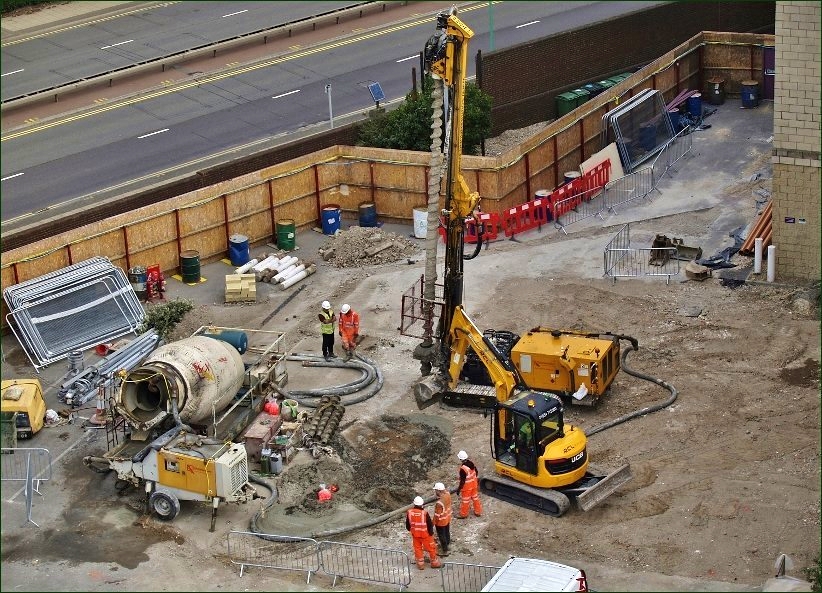 The final view gives a wider shot from a few days earlier.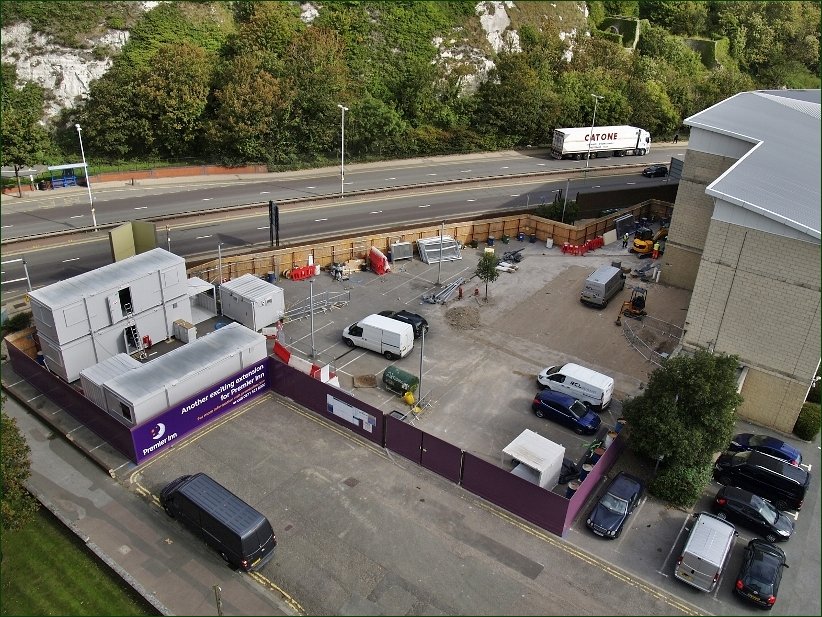 Building work all over the place now on the seafront.
Once more...these are exciting times!!


Excellent cruise item below Colette. Great detailed info there and nice comments. Great stuff!!

PaulB
Monday, 24 September 2018 - 07:53
Post 5775
Colette B, Dover
CRUISE VISITS
_____________
Wow! Sea News has been very active over the past few days

The pictures of Saga Sapphire's early arrival due to stormy seas and the parting photo of her finally leaving port on Friday are testament to the rough seas, looks as though the passengers standing on the stern are maybe having second thoughts

Great shot of the moon MrB, I remember Dark Side of the Moon's closing line by Gerry O'Driscoll in his soft Irish brogue, There is no Dark side of the moon, really. Matter of fact, it's all dark ………

Excellent close-up of the men working on the extended arm from Holyhead Towing's 'Salt Island' and the photo of the Dutch schooner 'Oosterschelde' sailing outside the harbour is very nostalgic, another era……….
Here we are chaps, the last week of September cruise calls and we start with a 'Double Whammy'.
Tomorrow Monday 24th September Pacific Princess glides into CT2 at 06.00 hours to start her 12 night 'European Capitals' Round Trip. Her ports of call are Le Havre, Antwerp, Amsterdam, Oslo and the Danish ports of Helsingor & Copenhagen. Then through the Kiel Canal and Hamburg before her return to Dover on Saturday 6th October.
She leaves at 17.00 hours, T/R.
One hour later Noble Caledonia's 'Island Sky' makes her inaugural visit

at CT1, 07.00 hours ending her 14 night one way 'Stockholm to Dover' cruise. This is a debark only after visiting the following ports, Helsinki, St Petersburg, Tallinn, and Saaremaa Island, Kuressaare (Estonia). She has also called at Riga, Klaipeda (Lithuania), Gdynia, Ronne Bornholm Island (Denmark), Wismar, Kiel and Harlingen.
This small expedition vessel with a 'touch of elegance' has a draft of only 13ft so is able to reach remote islands and unique coastal destinations. Unsure where her next destination is, but I do know that she is due to sail on a round trip to Antarctica via the Falklands & South Georgia from Argentina in November. She departs our shores at 18.00 hours.
Four days later Friday 28th September we welcome another new visitor, Oceania's 'Marina' arrives

at CT2, 07.00 hours whilst on her 31 night 'Copenhagen to Barcelona' cruise. She has already visited the following ports, Helsinki, St Petersburg, Tallinn, Stockholm, Visby, Warnemunde-Rostock, Skagen, Oslo and Amsterdam.
After leaving Dover she visits the French ports of Le Havre, Saint-Malo, Brest, La Rochelle and St Jean de Luz. Her next visits are the Iberian ports of Bilbao, Ferrol, Porto, Lisbon, Cadiz, Malaga, Alicante and Palma de Mallorca. Then the glamorous Monte Carlo & Marseille on the French Riviera before dropping anchor in Barcelona on Tuesday 16th October. That's some cruise!

She will be leaving us at 19.00 hours, PoC.
On Saturday 29th September the forever smiling AIDASol cruises into CT2 at 09.30 hours whilst on her 4 night Hamburg Round Trip. She has called at Ijmuiden after leaving her home port of Hamburg.
She departs at 21.30 hours, PoC.
Then Aghast! October is upon us!

On Monday 1st October, once more the Seabourn Ovation arrives at CT1, 07.00 hours on a 12 night one way 'Dover to Lisbon' cruise. She calls at the following ports, Rotterdam, Antwerp, Rouen, Cherbourg, Portland, Falmouth, La Coruna, Porto and Lisbon. She leaves at 17.00 hours, T/R.
Then we have another 'Double Whammy'!
The following day Tuesday 2nd October AIDAVita greets us with a wonderful smile as she arrives at CT2, 08.00 hours. She is on a 13 night one way 'Kiel to Palma de Mallorca' cruise. Having already visited Goteborg she will visit the following ports, Honfleur, La Coruna, Lisbon, Cadiz and Malaga before her arrival at Palma de Mallorca on Friday 12th October. She will be based there until the end of October when she will sail to the Far East via Dubai and cruise to the Philippines, Hong Kong, Vietnam and Singapore to name but a few. She departs at 19.30 hours, PoC.
One hour later Saga Pearl ll arrives at CT1, 09.00 hours to begin her 10 night round trip of 'Scenic Scandinavia'. She visits the following, Amsterdam, Kiel, then the Danish ports of Sonderborg, Hundested and Zealand Island before Goteborg returning to Dover on Friday 12th October.
She leaves us at 18.00 hours, T/R.
On Wednesday 3rd October AIDASol once more gives us a wink as she arrives at CT2 whilst on her 4 night Hamburg Round Trip. She has visited Ijmuiden along the way. She departs our shore at 21.30 hours, PoC.
That's it for now Folks, Phew!
Sunday, 23 September 2018 - 16:27
Post 5774
Sea News, Dover
It has been a rough few days for the Saga Sapphire...the pictures here just catch her as she 'finally' moves away 5pm friday. Conditions still rough and those tough conditions felt once again by the returning pilot... although I suspect he is used to getting jarred about...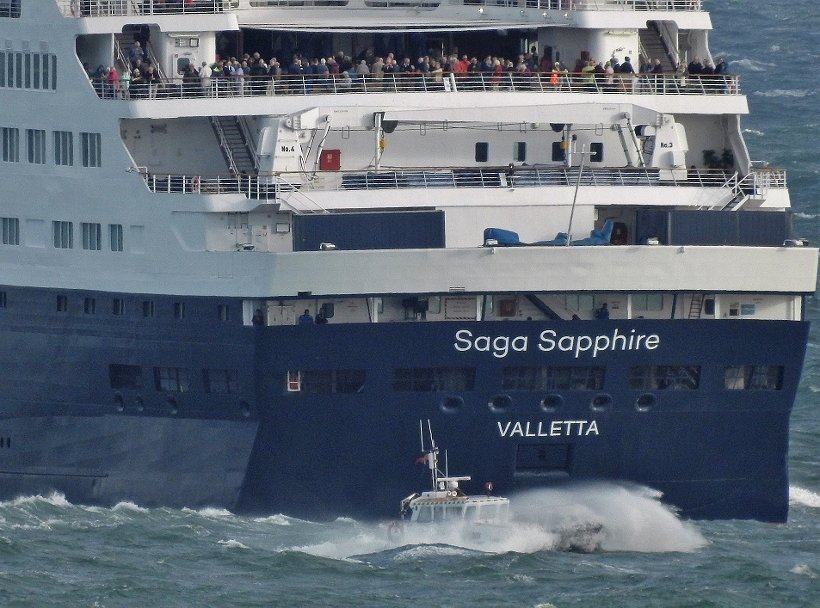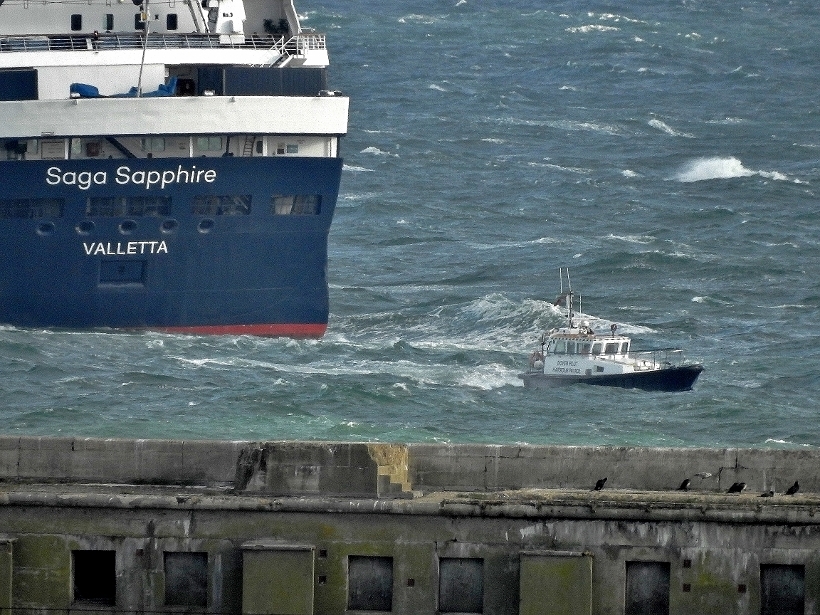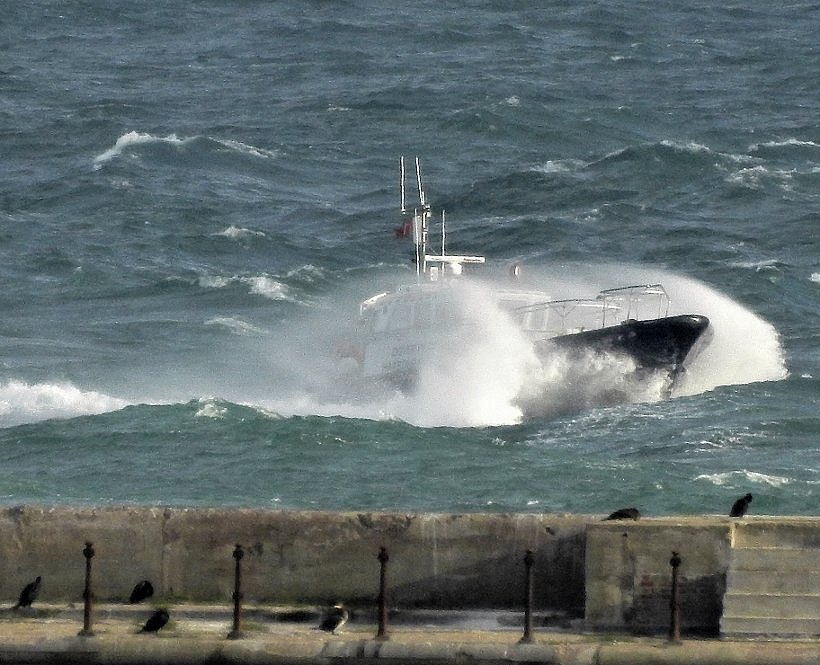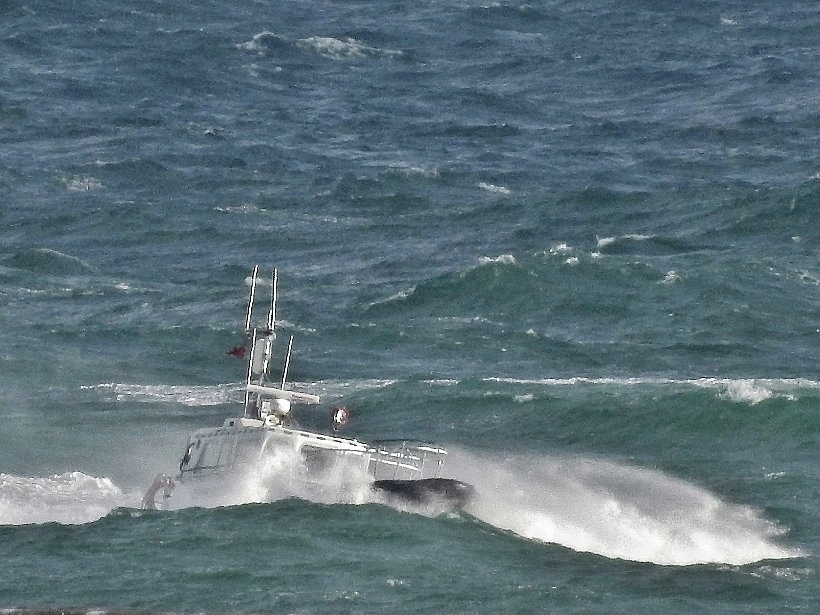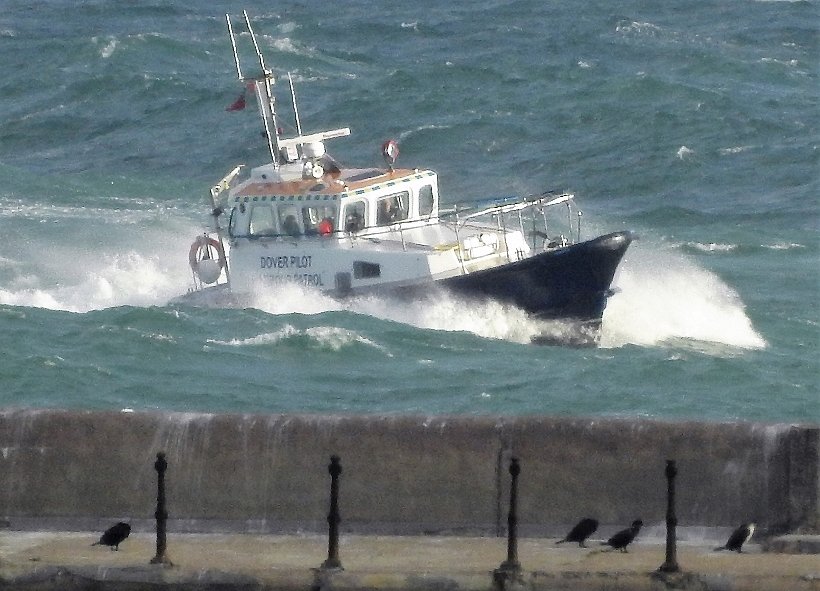 Longer range shots above there looking over the top of the breakwater... a bit soft in places. Those look like cormorants on the breakwater wall.
Thanks Del below...yes here we are featuring the moon yet again. A further touch of lunar lunacy...

Yes indeed, yet another Pink Floyd one leaps to mind
"Is there anybody...out there!"


PaulB
Sunday, 23 September 2018 - 06:28
Post 5773
Del Styan, Norwich
Wonderful moon pics - well done - where is the dark side of the moon? (Time for a song!)

Saturday, 22 September 2018 - 23:22
Post 5772
Sea News, Dover
Moon over the Port of Dover...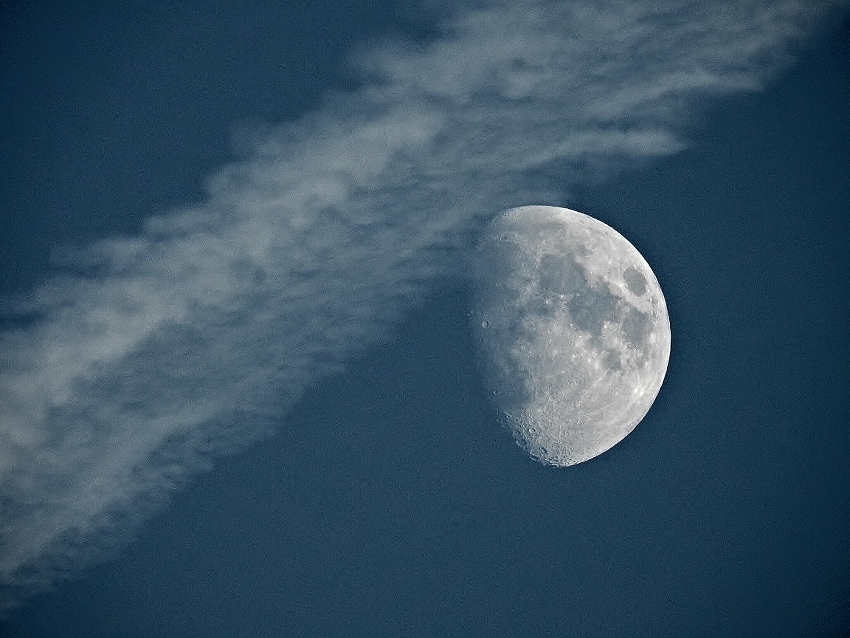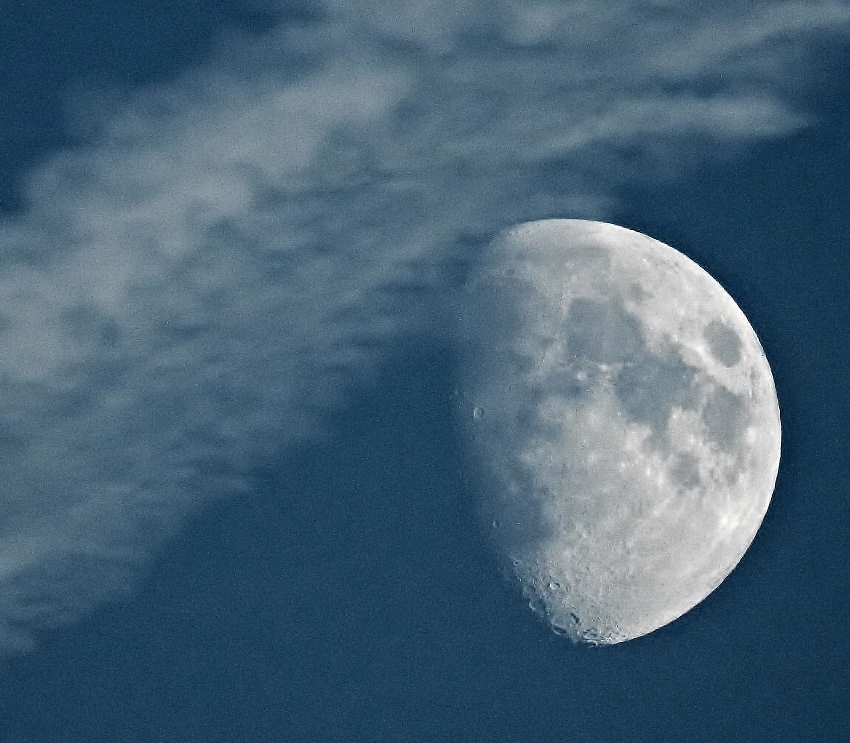 Above we see the moon over Dover Harbour on Wednesday evening, just as night begins to set in. That's a jet stream running by alongside there … bog standard images no tricks. Extraordinary the way the dark side disappears isn't it...
Yes indeed Brian the Saga Sapphire came back into Port yesterday morning after a 'night on the tiles' sheltering behind the headland. 'Twas a rough oul night for sure. Here she is elegantly re-arriving with tug Dauntless alongside under a windswept sky.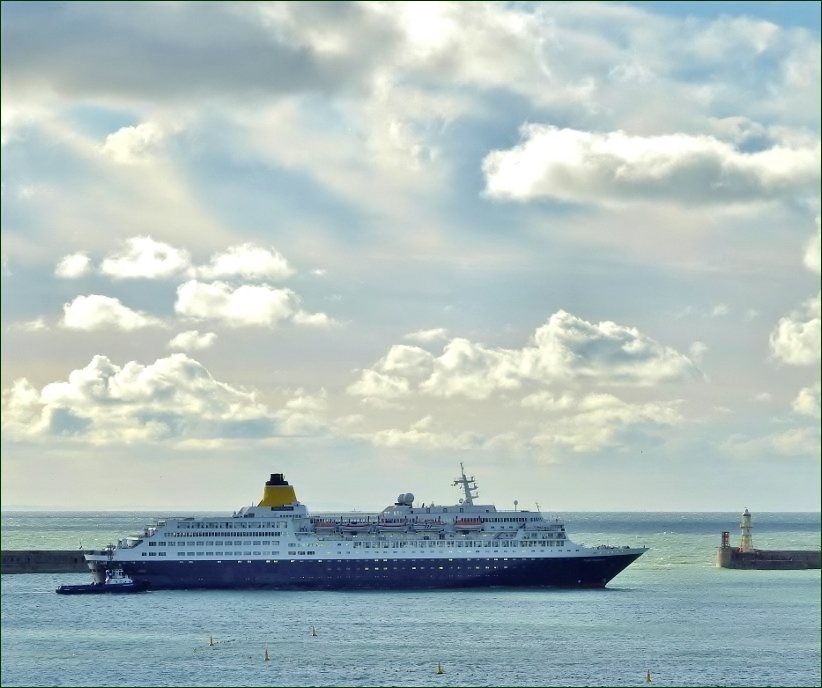 Some of our local readers will be interested in this news re the new development..
Top Hygiene Ratings For St James
All food businesses within the St James development have achieved the top food hygiene rating of a 5 at their recent food hygiene inspection.
Nando's, Travelodge, The Food Warehouse by Iceland, Marks and Spencer Simply Food, Greggs, Poundland, Cineworld and the two Costa stores have all been deemed to be providing high standards of food hygiene and safety by Environmental Health Officers from the Public Protection Team at Dover District Council.
These businesses form part of the 73% of food businesses within the district that currently have the top '5' rating in the Food Hygiene Rating Scheme. The scheme is designed to allow consumers to make informed choices about where they eat out or shop for food by giving them information about the hygiene standards in food outlets at the time they are inspected.
For more information on the Food Hygiene Rating Scheme, or to find the food hygiene rating for a restaurant, takeaway or retailer, please visit the Food Standards Agency website...
www.food.gov.uk/ratings
ENDS
PaulB
Saturday, 22 September 2018 - 07:02
Post 5771
brian dixon, dover
now back in cruise 1.

Friday, 21 September 2018 - 14:06
Post 5770
Sea News, Dover
Following along from Brian and Mike...
Yes indeed the Saga Sapphire came into port yesterday ahead of schedule. The bad and very rough weather obviously playing a part in the schedule change and here she is arriving in Port late afternoon (yesterday Thursday), time of pictures 16:34 (4.34pm)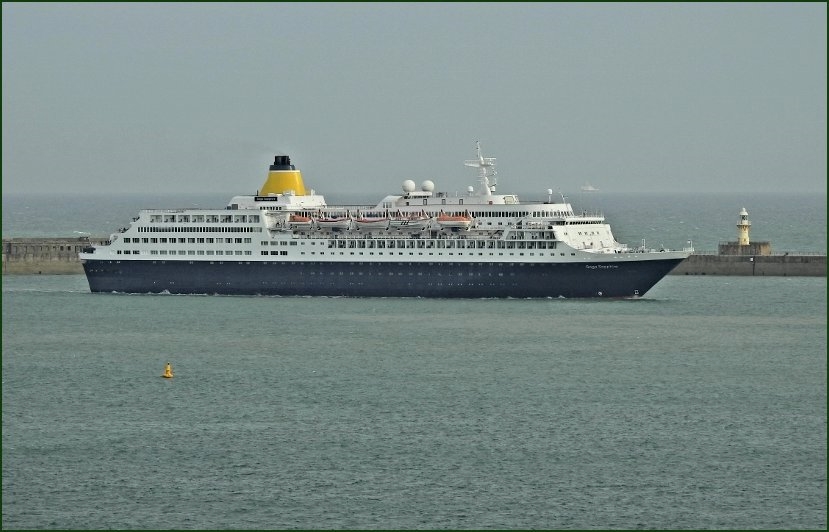 She had been waiting outside of Port for quite some considerable time in the late afternoon. What drew my attention to her was one of our usual tugs waiting for the arrival by the breakwater ( see also the post below re the tug situation 5769 ).
And speaking of Holyhead Towing's Salt Island...here are some pictures of her working at the tip of the extended arm on a bright afternoon a few days ago. Some heavy work going on down there, including the return of pile driving...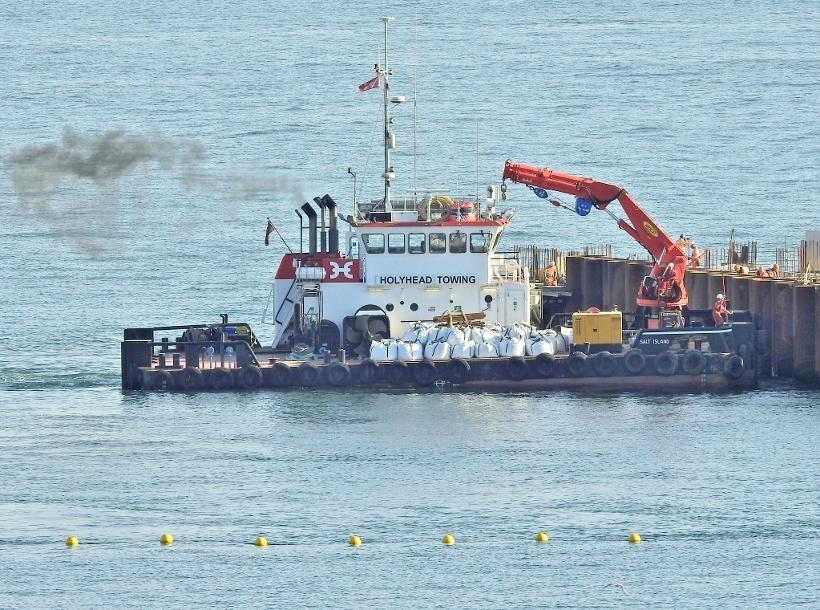 Just another couple of the Combi Dock 1...these were the scheduled pictures until Saga Sapphire broke the rules...

I deleted one of the earlier Combi pictures in my previous post 5766 as it was soooo bad..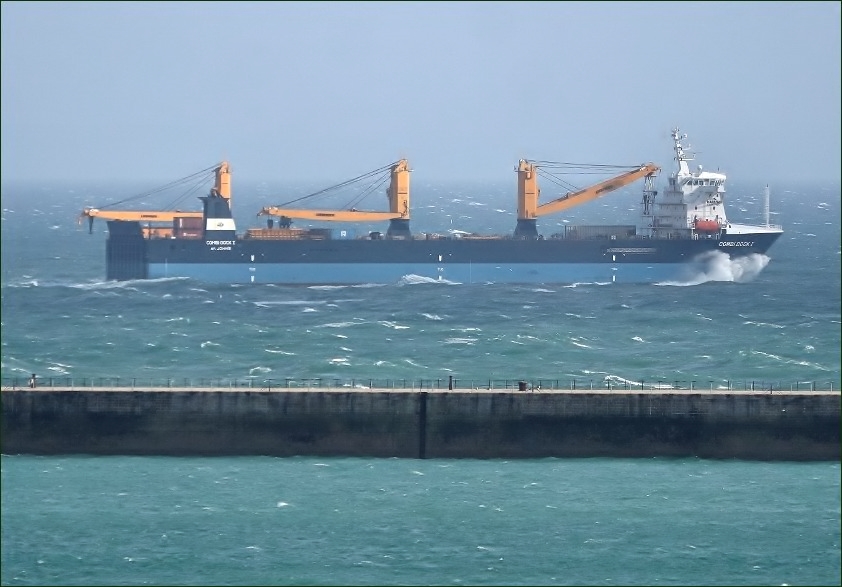 You can see how rough the sea is as she heads west. She left the port by the eastern exit see below and then turned back on herself in the pic above ...as it were...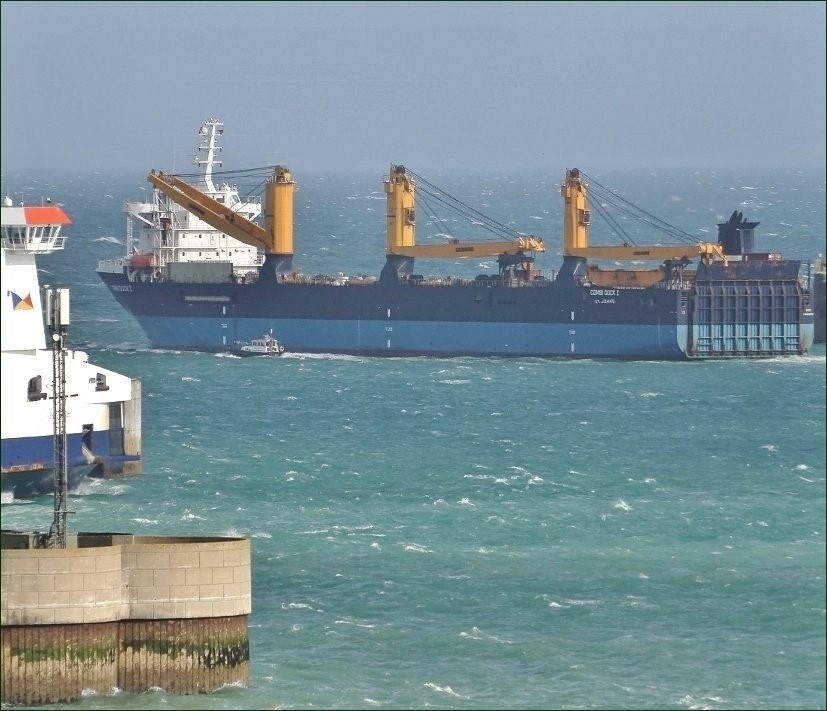 Good pix below Mike..hard to get pictures in the current blustery/stormy conditions.

Good spot Brian

PaulB
UPDATE: Saga Sapphire has just arrived back in Port … 09:20 .. after sheltering off Deal/Walmer..
our regular tugs in attendance.
Friday, 21 September 2018 - 05:07
Post 5769
Mike J., Dover
Further to Brian's post -
Despite Collette's prediction that the SAGA SAPPHIRE at was due at 0900 on Friday the ship turned up early from the Danish port of Skagen & berthed on CT1 at about 1700 on Thursday.
The little fellow heading out into the bay is the DOVER WORKER who has been busy with diving operations during the last few days,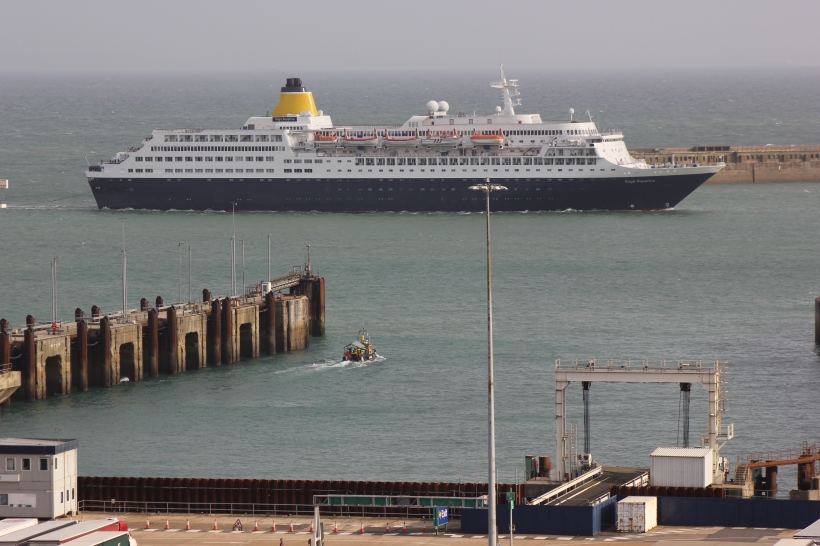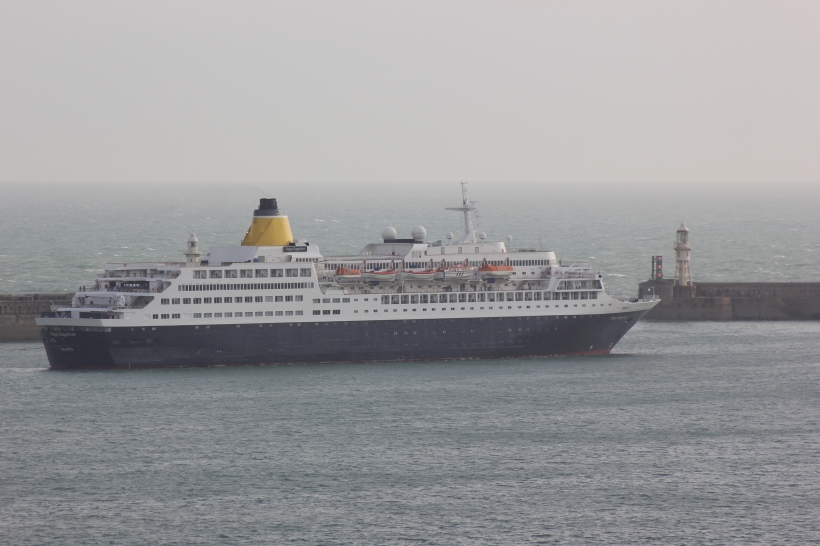 The DAUNTLESS met her off the port but there was no sign of the DOUGHTY & it was unusual to see the SAPPHIRE docking with the aid of the two DWDR tugs/workboats SALT ISLAND & AFON LLIGWY.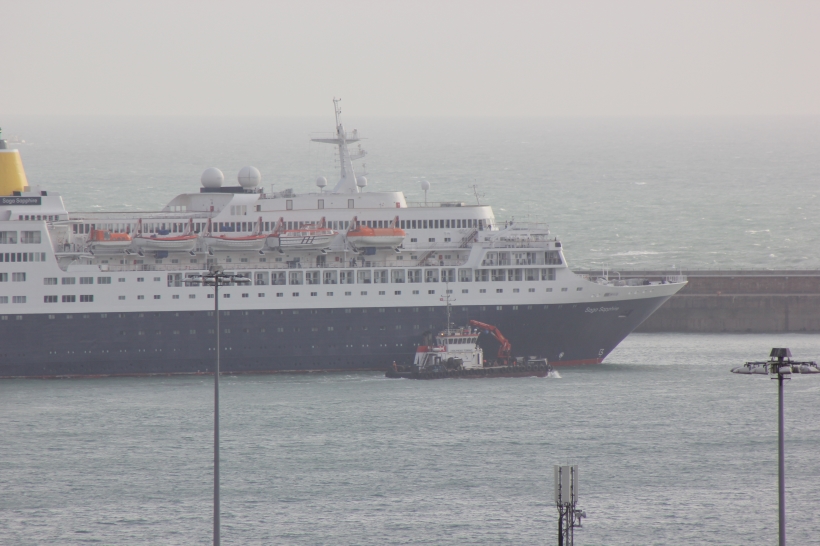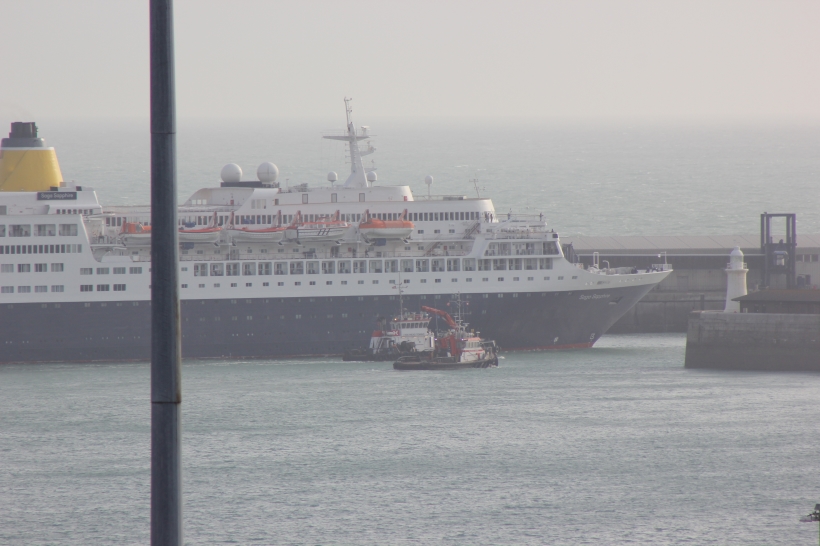 Damned lighting poles !
Perhaps Paul has better views of this unusual event.
AIS shows the DOUGHTY as being tied up in the Tug Haven since Wednesday afternoon.
Maybe she has problems & DWDR are helping out.
Not really what DHB wants, one tug down & bad weather.
As Brian mentioned the SAGA SAPPHIRE has now sailed, with the assistance of the DAUNTLESS & SALT ISLAND & is currently sheltering up in the Downs, the channel between the mainland & the Goodwins & the area usually used by the ferries for shelter in bad weather.
With the forecast she may well be joined there during the night.
Current forecast is southwesterlies severe gale 9 increasing to storm 10 - not good.
Thursday, 20 September 2018 - 23:55
Post 5768
brian dixon, dover
I see the saga sapphire came in Thursday afternoon, sat sail again at 2140.a mystery

Thursday, 20 September 2018 - 21:44
Post 5767
Sea News, Dover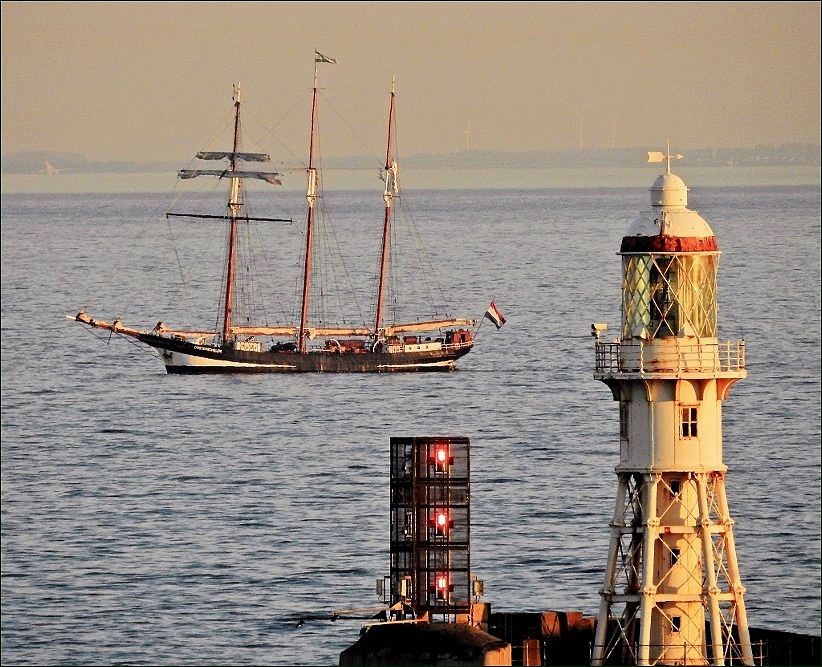 The last rays of a long day were hitting the port and beyond when Oosterschelde passed by. Behind the camera there was an orange sky as the sun sank in the west....so the whole area was bathed in an unusual glow. Sadly Oosterschelde wasnt under full sail but...there we are...Picture taken on the 17th.
from BING :
The Oosterschelde is a three-masted schooner from the Netherlands, built in 1918. She is the largest restored Dutch freightship and the only remaining Dutch three-masted topsail schooner. Her home port is Rotterdam.
PB
Thursday, 20 September 2018 - 15:26
Post 5766
Sea News, Dover
As promised here we are now with a collection of the impressive heavy lift ship Combi Dock 1 which has been in the Port for the past few days. The pictures show her readying for departure yesterday in the strong winds. She left by the eastern exit...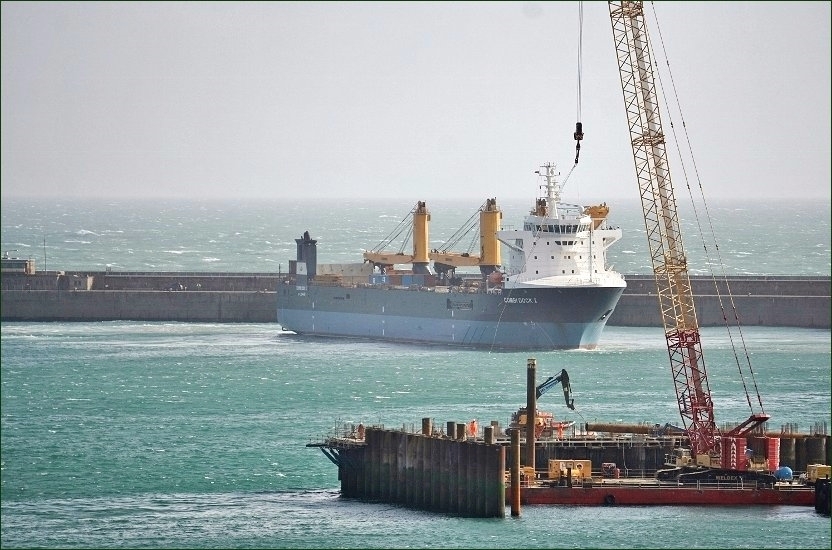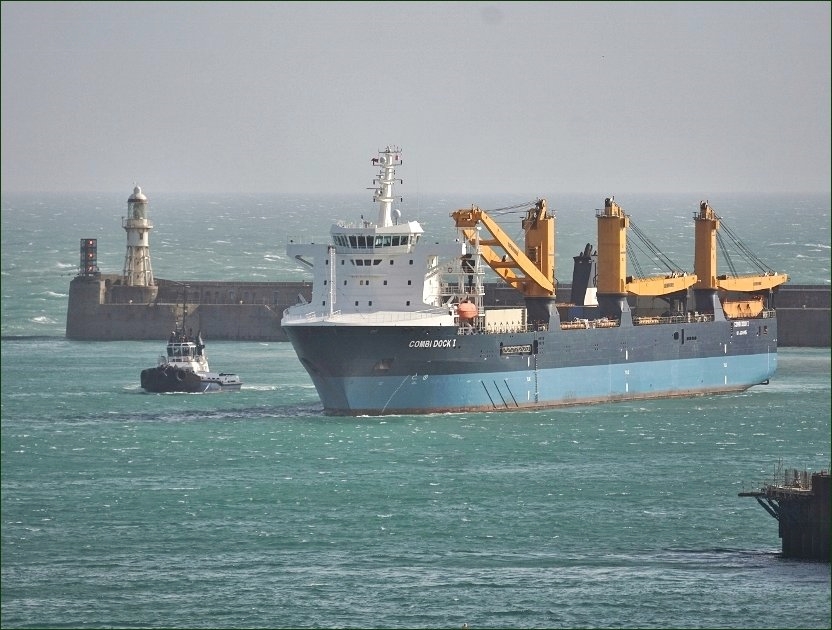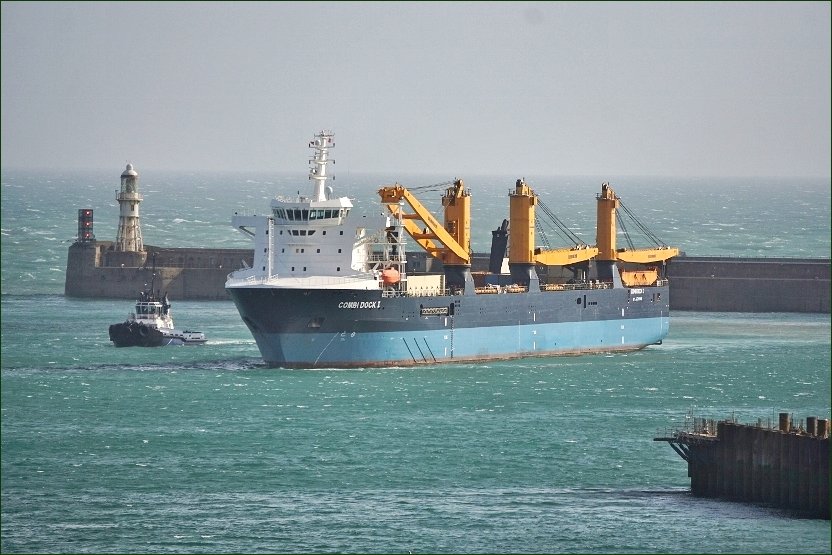 There she goes... time of pictures : roughly 3.30pm yesterday Wednesday.
Roughly being the operative word...

PaulB
Thursday, 20 September 2018 - 05:49
Post 5765
Sea News, Dover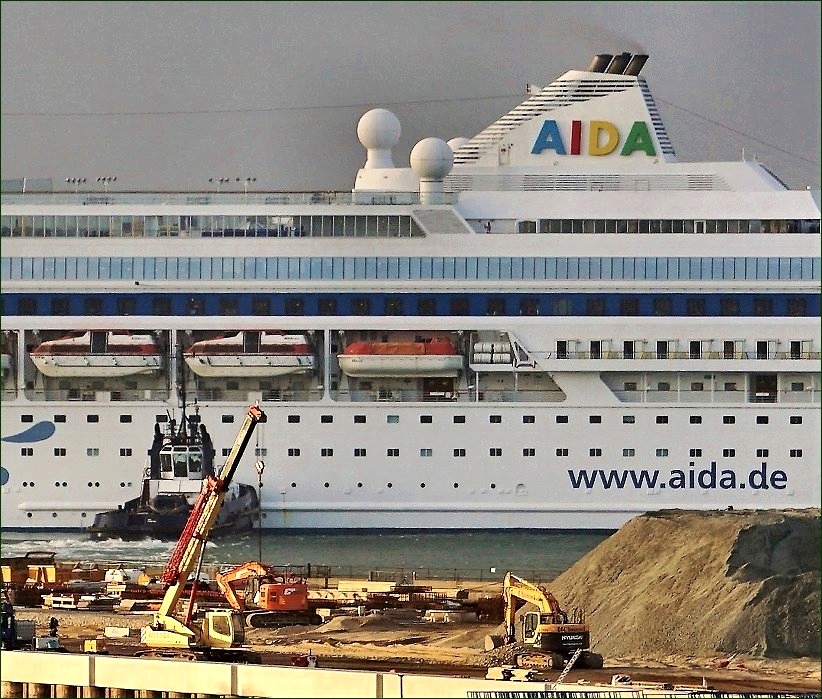 Another pic of the windswept AIDAcara yesterday. A zoomed in shot this time showing once again the tug pinning the cruise ship to the dock in the fierce wind. More in the posts below. We had more high winds today but probably not as bad as forecast, or indeed as bad as elsewhere.
Nice collection below Mike.

Will have a collection of pictures of the departing Combi tomorrow...just getting them sorted.
PB
Wednesday, 19 September 2018 - 19:19
Post 5764
Mike J., Dover
Heavy lift carrier COMBI DOCK 1 arrived from Antwerp in the wee small hours of Tuesday morning with another refurbished transformer for Sellindge.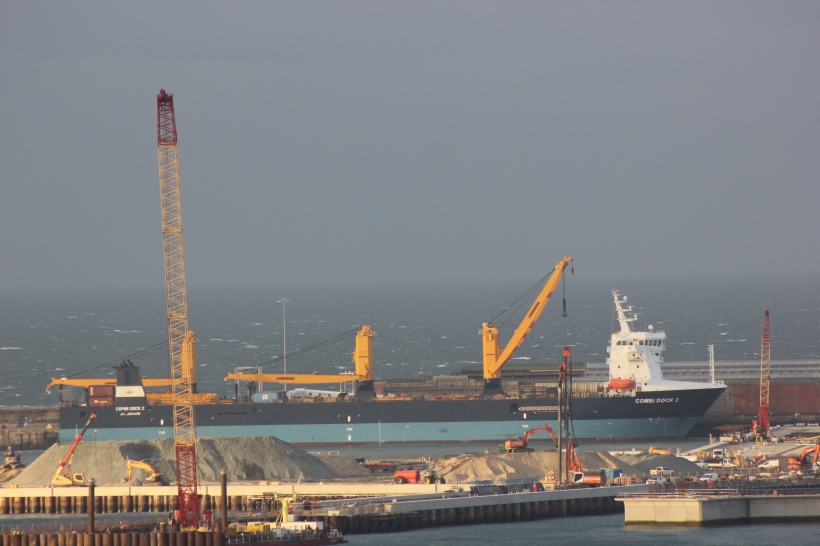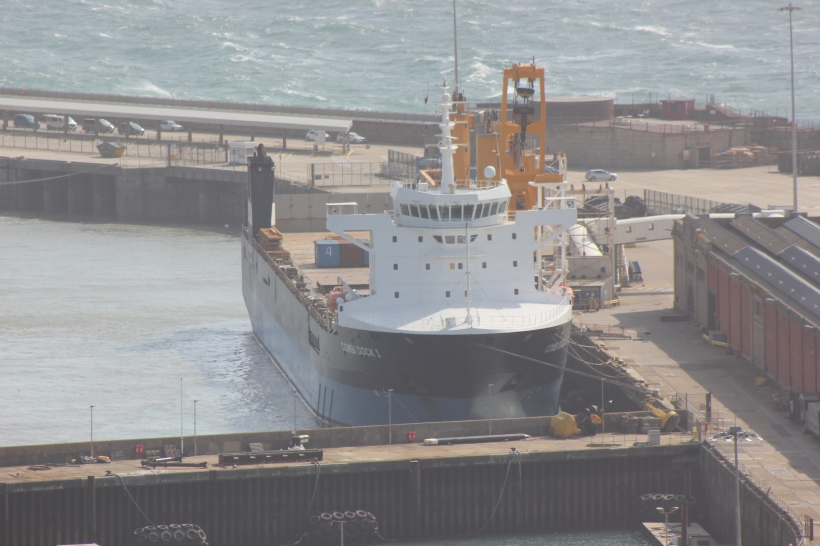 She's still alongside Wednesday morning so presumably was unable to unload due to yesterday's unpleasantness which had a tug 'pushing up' on the AIDA CARA for much of the day.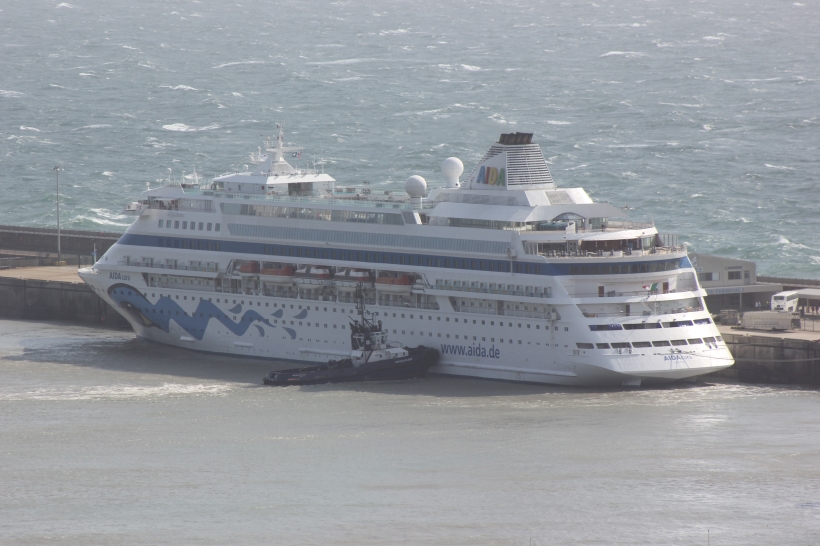 DWDR - there is an excellent selection of photos by one 'Patrick S' on the Dover forum, under 'Dover Harbour Plans' showing the work around the new lock - you can now walk across a new footbridge that crosses the lock chamber but it's hard to see much due to a very fine plastic mesh along the security fences.
Yesterday the footpath was closed from time to time as cranes lifted loads across the footpath.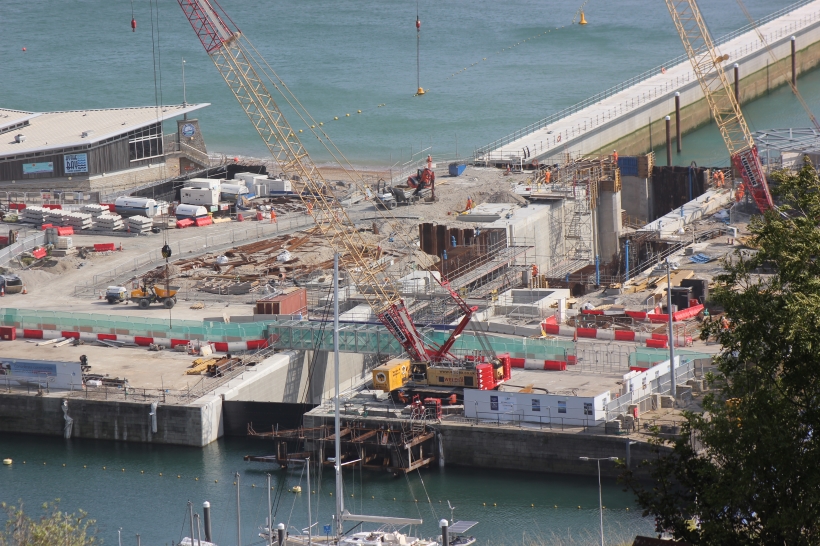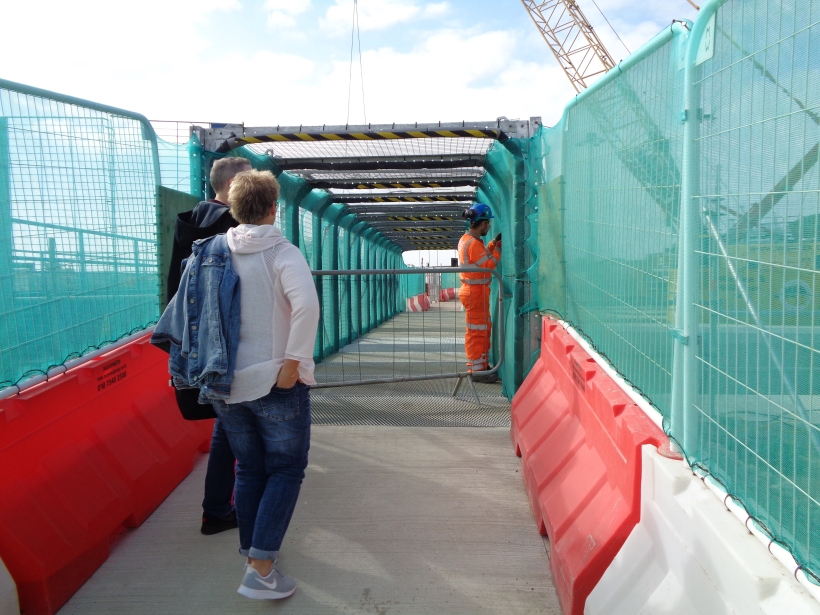 Re post 5762 & Deal Pier - good to see some money spent on it, but I'll bet a pound to a penny that timber fendering hasn't been installed at the pierhead to permit the WAVERLEY to berth there which would be good for business to have another landing place.
WAVERLEY has been in Dover in the past but no longer calls - probably too expensive & of course the Prince of Wales is no longer available.
On one of her calls the Master was a former DHB tug skipper & at least once she has entered thru Eastern, crossed the bay & left via Western without stopping !
Wednesday, 19 September 2018 - 09:28
Post 5763
Sea News, Dover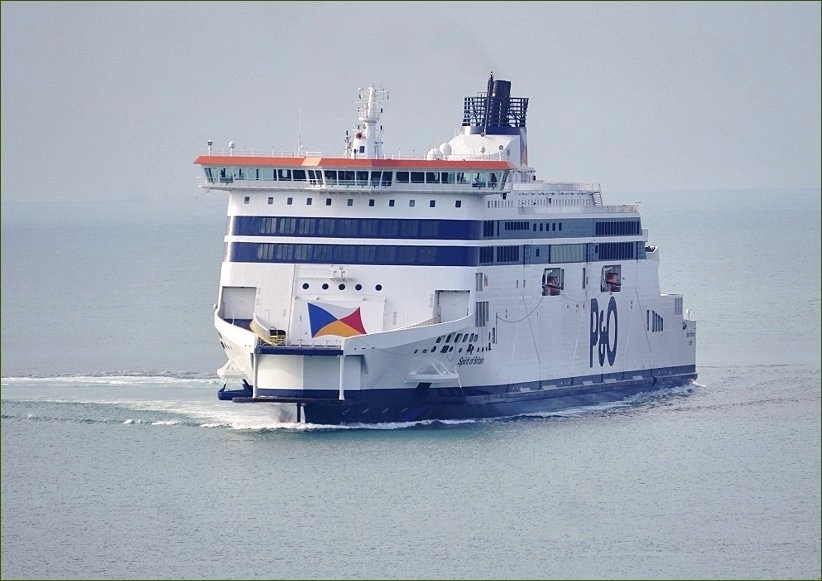 Enjoys a day trip to France with 6 bottles of wine thrown in for FREE


Free Wine Day Trip Offer
Our popular FREE WINE DAY TRIP OFFER is back!
SAY P&O FERRIES
To take advantage of this great promotion, simply book a day trip between now and 7th October 2018 using discount code 'WINE18' in the farefinder for travel between 17th September and 26th October 2018.
Your voucher will be printed at Dover check-in and you can collect your 6 bottles of red or white Banrock Station wine from the onboard shop on your outward journey only.
Now is a great time to stock up your wine cabinet, so why not take advantage of our other great on board offers too!
* *
We cant do live links here but copy and paste this below...it should work fine n dandy
www.poferries.com/en/dover-calais/offers/day-trip-offer?promotionCode=WINE18
or
http://www.poferries.com/en/dover-calais/offers/day-trip-offer?promotionCode=WINE18
* *
If you want to enjoy a day trip over you might want to pick a better day than yesterday...man it was rough! Yours truly had to nail everything down up here in the 'Observation Tower'.. I was a-quakin' and a-ratllin' … and there is more rough stuff scheduled by the weatherman later on today.
A couple of pictures below from yesterday. First one shows the Cote des Dunes battling through the rough seas yesterday afternoon with the Spirit of Britain in the foreground, and this was after it had calmed somewhat.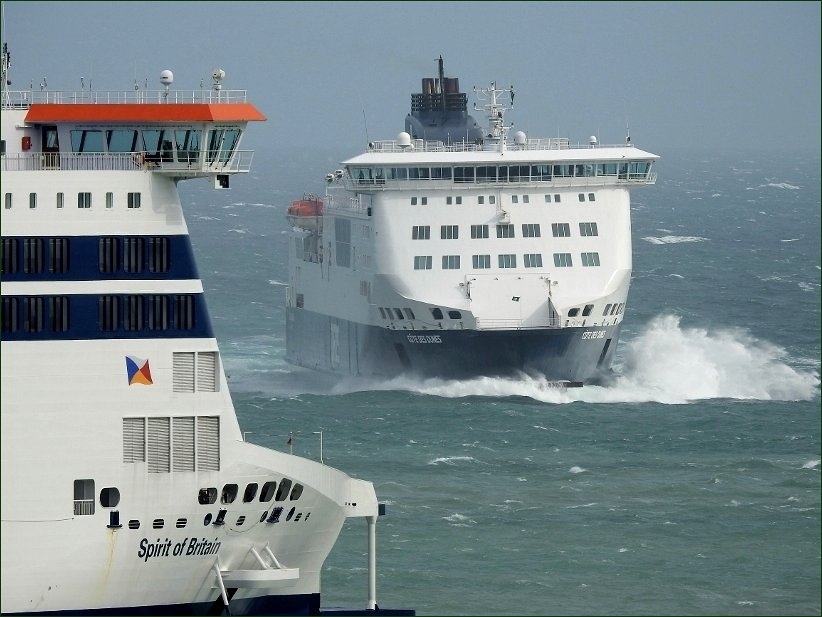 The AIDAcara came and went in pitch darkness yesterday...her sleek lines leaving through the eastern exit last night at 8pm because of the rough weather. The pic below shows her over at Cruise Terminal Two where she was pinned to the dock all day by the tug...all day.. you can see the tug there...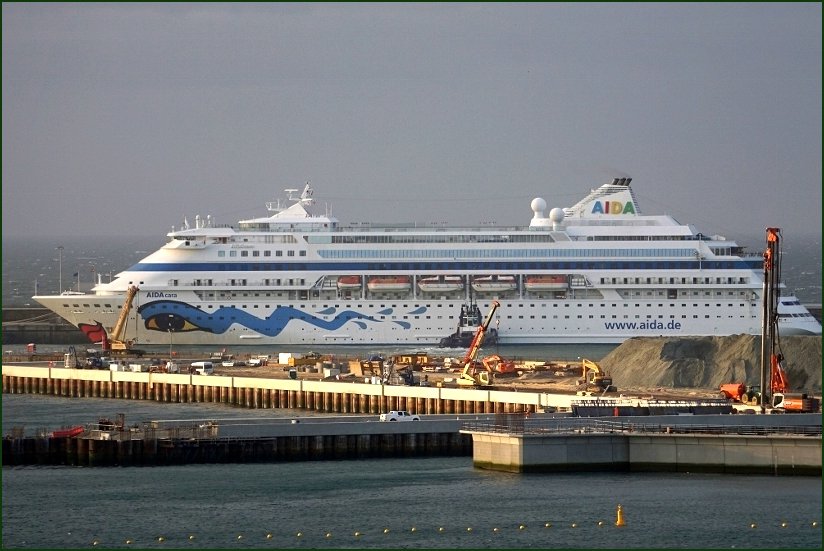 PaulB
Wednesday, 19 September 2018 - 06:54
Post 5762
Sea News, Dover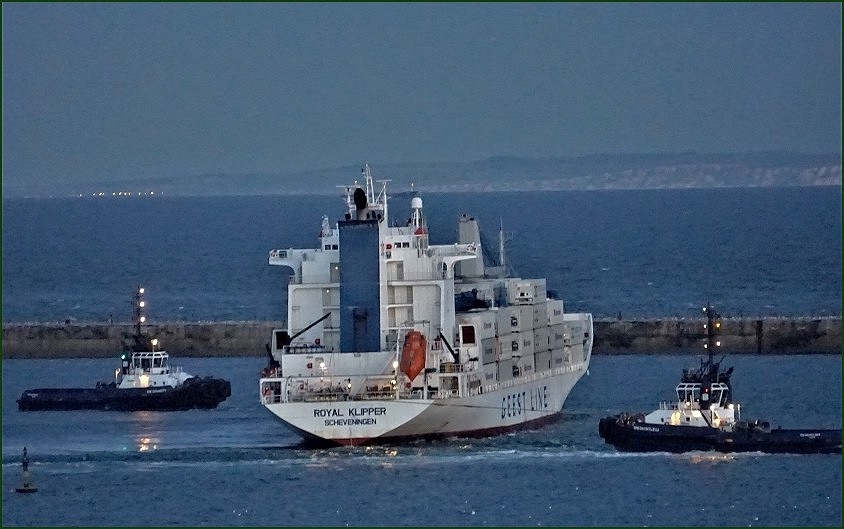 Lucky to get a nice nightime shot of the departing Royal Klipper. She was off to Vlissingen on Sunday night, time 19.30 or 7.30PM ..whichever you prefer, and you can see the inviting channel quite clearly behind her. There was still some light in the sky which helped. You can see the lights of the Calais approaches in the far distance and in the near distance the tugboats as ever do their thing with Royal Klipper...
For those who like dining on Deal Pier..read on..
The café at the end of Deal Pier is set to reopen as Deal Pier Kitchen.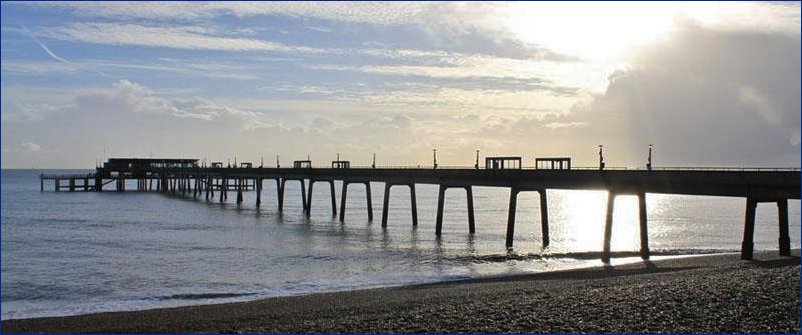 The RIBA award-winning structure will be occupied by Deal Pier Kitchen Limited, which was founded by Tim Biggs and Rebecca Hodson.
Tim Biggs commented: "Deal Pier Kitchen firmly believe that the best restaurants are borne out of a true partnership with the community. Our aim is to build such a partnership with Deal's community by working together to create a highly successful, enjoyable and welcoming environment that proudly reflects and enhances the reputation of Deal. We were drawn to this particular property due to its irresistible and individual views, which we hope to capitalise on with the design of the interior."
The property will now undergo a comprehensive refurbishment programme. Once completed, Deal Pier Kitchen will offer an all-day dining menu in a modern environment, which will also feature a baby grand piano.
Tim Biggs continues: "We are intent on creating a warm and welcoming atmosphere, with a unique menu to meet the needs of the Deal residents. We are passionate about great quality, healthy and locally sourced produce, with a focus on reducing the journey from farm/sea to plate. Our main offering will be an exciting mix of brunch and lunch dishes accompanied by interesting drink and dessert options; and we hope to expand our evening offering as the summer nights get longer in 2019."
Cllr Trevor Bartlett, Dover District Council Cabinet Member for Property Management, said: "We're delighted that the Deal Pier Kitchen is bringing a new, fresh offer to the café at the end of the pier which is enjoyed by local people and visitors to Deal alike as a place to sit and enjoy the magnificent views out across the English Channel.
"Having been opened in November 2008 by the Lord Warden of the Cinque Ports, Admiral The Lord Boyce, the Deal Pier café is an iconic and award-winning part of the seascape. Designed by Niall McClaughlin Associates the timber framed café features on the Chalk Up 21 trail celebrating contemporary coastal architecture on the stretch of coastline from Capel-le-Ferne to Deal."
Simon Bland of leisure property specialist Fleurets, who sold the 20 year lease to Deal Pier Kitchen on behalf of Dover District Council commented: "It has been a pleasure to work on this project for Dover District Council. Interest was exceptionally strong in what is a fantastic and of course unique business opportunity. I'm excited to see the Deal Pier Kitchen open and serving customers very soon and adding something special to the vibrant local food and drink scene."
ENDS
Many thanks to DDC for the info above.
Another pic now of the arriving Alert a few days ago. Picture taken at the same time roughly as the previous one in post.. 5757 which also shows the fast boat bringing up the rear. Those Alert pictures were gloomy late evening shots and needed a bit of work...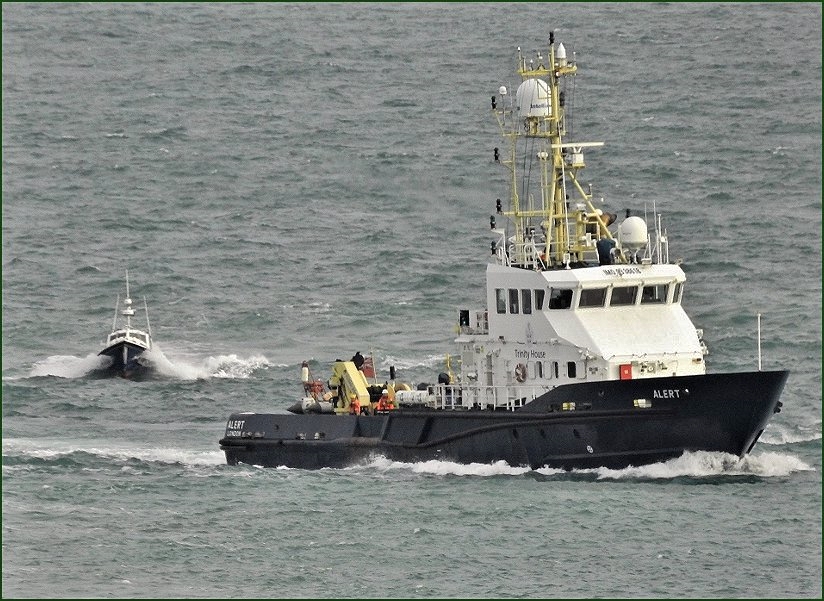 Nice pictures and info below once again from Mike our 'inshore correspondent' ...great to get all the latest 'goings-on'.

Well done Colette with the cruise list once again in 5760. Great stuff!
Keeps us up to speed.

Interesting lift ship Combi Dock 1 is in Port also AIDAcara has arrived. More on those in due course... no pictures as yet as too dark.
PaulB
Tuesday, 18 September 2018 - 06:41
Post 5761
Mike J., Dover
About ten days ago I noticed on AIS that Holyhead Towing's LLANDDWYN ISLAND had been replaced by the almost identical SALT ISLAND & finally cornered her in the old Jetfoil terminal on Saturday, parked-up with long-serving AFON LLIGWY who is on the 'inside'
Quite a contrast in designs.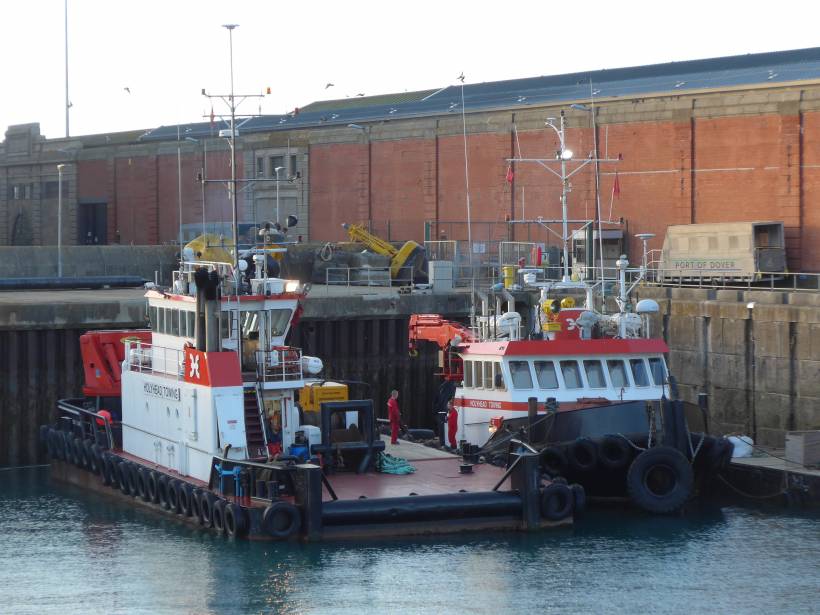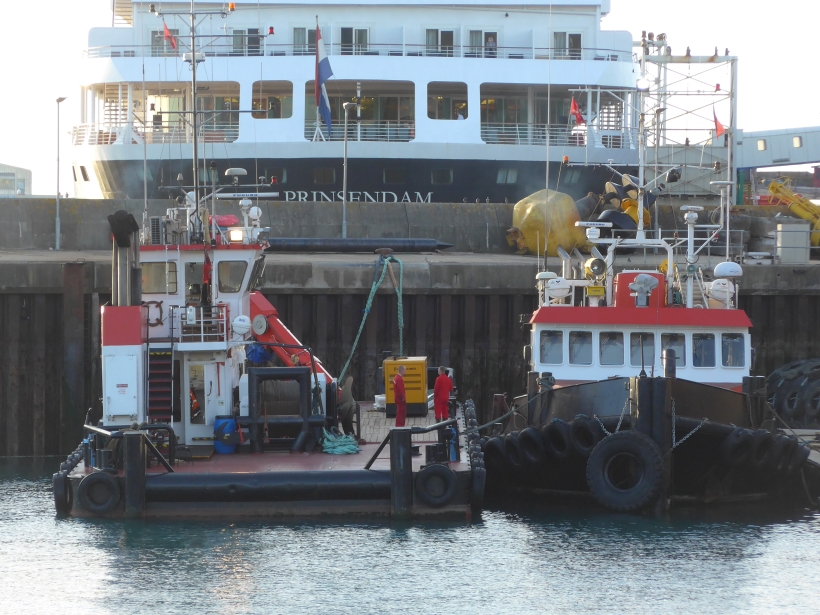 AIS shows the LLANDDWYN ISLAND currently in drydock in Great Yarmouth.
SALT ISLAND had come down from Holyhead.
Perhaps 'Sea News' readers remember storm EMMA back in March which destroyed Holyhead's Marina ?
Quite a few Holyhead Towing craft were damaged as was one of the Border Agency's big RIBs & many yachts & other small craft.
For pix & video of the devastation try Googling 'HOLYHEAD MARINA DESTROYED'
Re post 5752 & the sinking of the SOUTHERN QUEEN & another Sandwich trip boat - vandalism is thought to have been the cause. Mindless idjits.
Monday, 17 September 2018 - 22:55
Post 5760
Colette B, Dover
CRUISE VISITS
_____________
Great photos all round from the Sea News team, Sarah's photos of USN P22's visit to Ramsgate looks as though we have travelled back through time

then Mr B's pictures of HMS Archer brings us back to the present day.
Wonderful action shots of the pilot boat powering through the waves MrB and also good to see that the sedate floating garden/houseboat on the St Michael was still in one piece after being towed into Ramsgate(thanks Mike).
It's all in a day's work for our team, Well Done Guys!

Thanks for feedback Patrick, you're very welcome.
Now for our cruise calls this week.
Tomorrow Tuesday 18th September we welcome back an old friend

AIDACara arrives with a beaming smile at CT2, 08.00 hours. She is the oldest of the AIDA fleet (launched back in 2002, her last visit was in September 2015), She is visiting us whilst on her 15 night one way 'Hamburg to Palma de Mallorca' cruise.
Her ports of call are the lovely Honfleur, St Peter Port Guernsey, La Coruna, Porto, Lisbon, Cadiz, Valencia, Palamos, Port Mahon finally dropping anchor in the Majorcan port of Palma de Mallorca on Monday 1st October. She will be based there until late February 2019 visiting the Canaries & the Azores

She departs our shores 19.30 hours, PoC.
Then a few days break until Friday 21st September when Saga Sapphire arrives at CT1, 09.00 hours to start her 28 night 'Nova Scotia & St Lawrence in the Fall' cruise. Her first port of call being Ponta Delgada (Azores), she crosses the North Atlantic calling at Halifax, Sydney (Nova Scotia) and Havre-St Pierre on the north shore of St Lawrence river. Then Quebec City, Montreal, Gaspe (Quebec) and St John's (Newfoundland) before dropping anchor in Southampton on Saturday 29th October.
She leaves us at 18.00 hours, T/R.
Just the two cruise calls, many more to come next week, see you then

Monday, 17 September 2018 - 19:15
Post 5759
Sea News, Dover
THE PILGRIMS PROGRESS....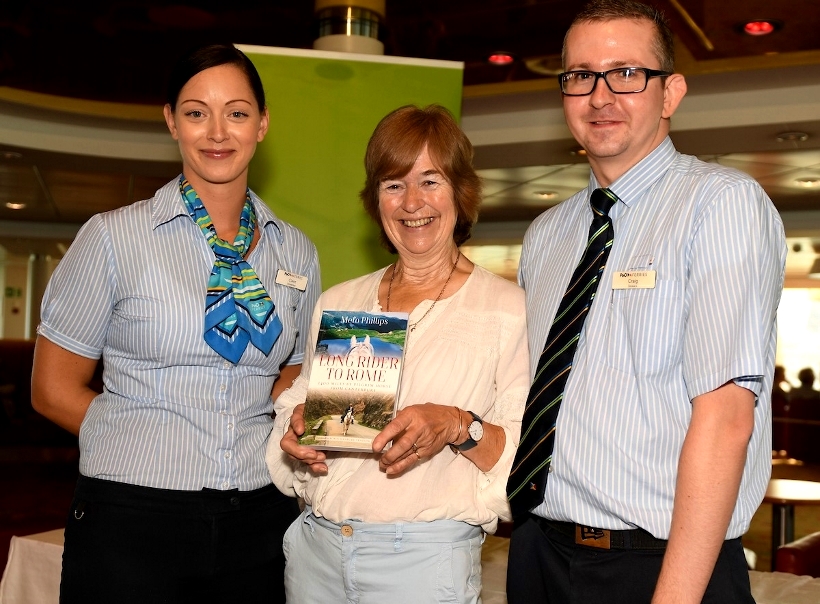 P&O FERRIES HOSTS ON-BOARD LAUNCH OF BOOK CHRONICLING PILGRIMAGE TO ROME ON HORSEBACK
_____________________________________________________________________________________________
A P&O Ferries ship last week hosted the launch of a book by a Kent woman who rode her horse from Canterbury to Rome in aid of the Alzheimer's Society.
Mefo Phillips' Long Rider to Rome details her three month journey in 2006 from being blessed at Canterbury Cathedral to St Peter's Square in Rome.
She crossed the English Channel on a P&O ferry and slept in her Bedford horsebox most nights to save money. Her horse, Leo, spent the nights in a pop-up pen created by a mobile electric fence.
Once in Italy they followed the same route to Rome once trodden by St Francis of Assisi and taken by many pilgrims today.
The 69-year-old author launched her book on P&O Ferries' Spirit of France and gave a talk to passengers about her adventures over afternoon tea in the family lounge. She signed copies of her book, which will be stocked on board P&O Ferries' ships.
Mefo said: "I had a great time meeting everyone and thoroughly enjoyed my day - I am a lucky author to have received such special treatment. Long distance horse riding is a bit of a mad pursuit but I loved it and was very pleased to ride in aid of the Alzheimer's Society."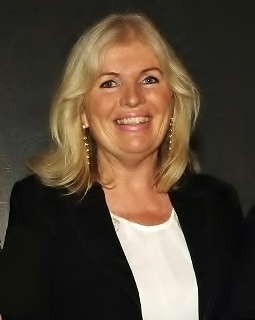 Jacqueline Burns, Corporate Communications Officer at P&O Ferries, said:
"We were very pleased to have helped Mefo and her horse Leo make their journey to Rome all those years ago and even more delighted to host the launch of her book. We have spaces on board which are perfect for hosting receptions, conferences and weddings and we hope that this will be the first book launch of many."
ENDS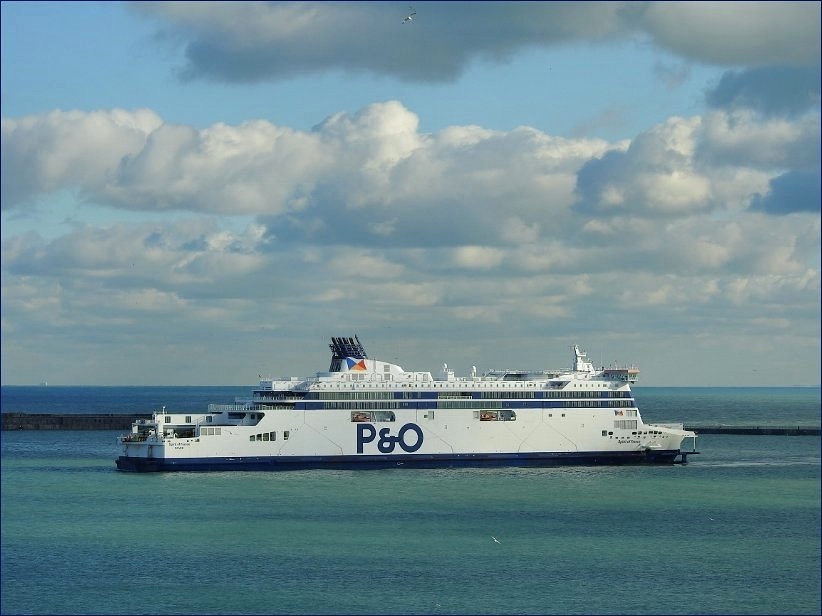 The Spirit of France...
Thanks once again to the guys at P&O Ferries for the interesting news release above.
A nice story for sure.

* *
Following along from Patrick's pictures of Prinsendam and Seabourn Ovation...here we are with some more. Quite exciting indeed to see two cruise ships depart almost at the same time...and here we go..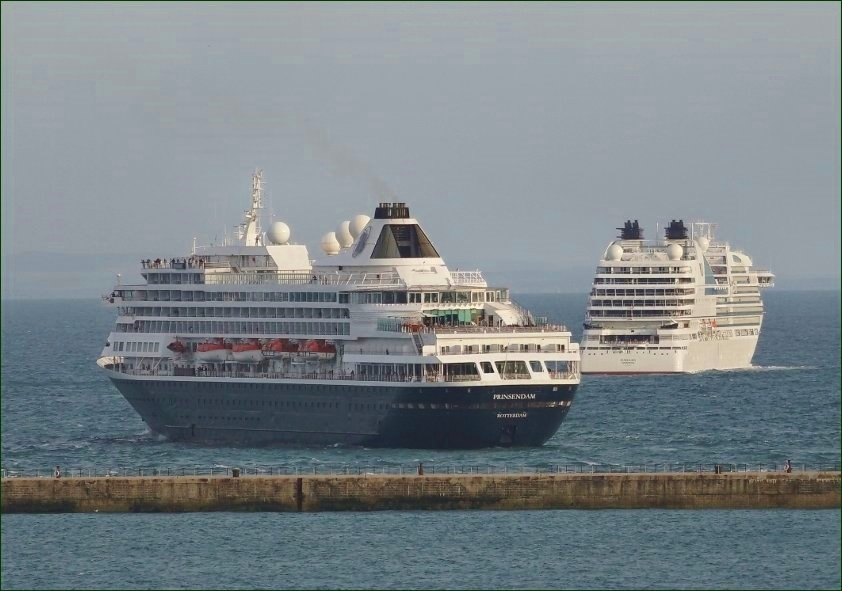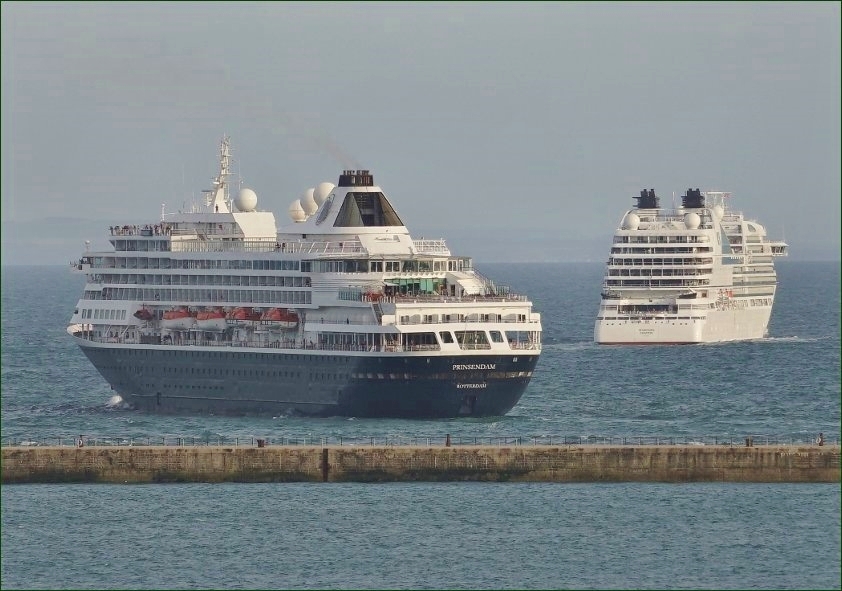 Yours truly wasn't sure which picture to use above there...couldnt decide which was best, so the upshot is …. when you strike 'dither mode' use both...

Singular shots below of both ships... Prinsendam first and finally the very new Seabourn Ovation.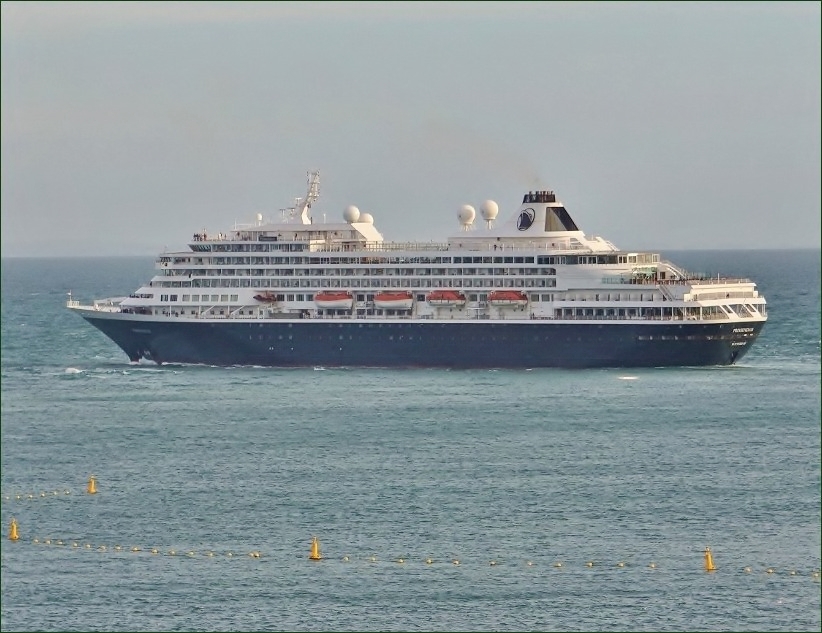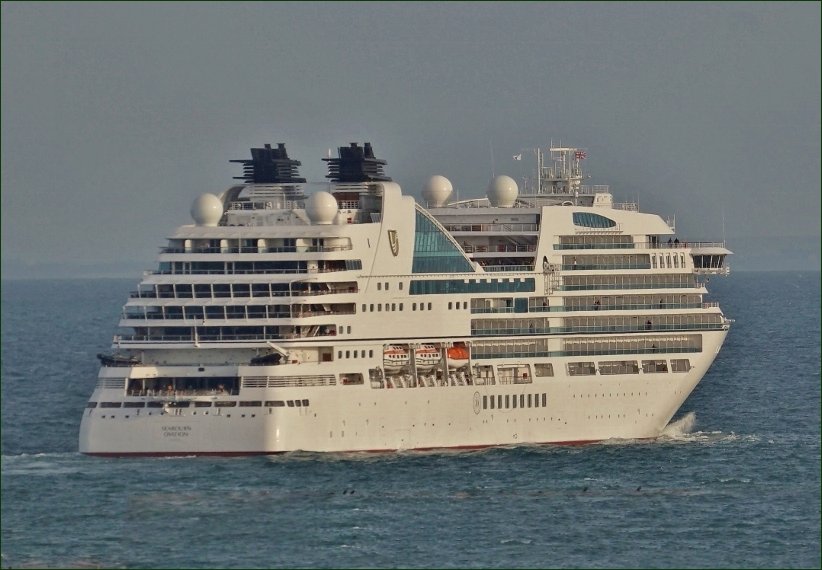 See also Patrick's post below...

PaulB

Monday, 17 September 2018 - 05:56
Post 5758
Patrick, Marine Parade
Just managed to catch the double departure yesterday of the 'Seabourn Ovation' and 'Prinsendam' just before 6pm with the light fading fast these days. Busy afternoon for the pilots and launch.
Very first visit to Dover the newly built 'Seabourn Ovation' (thanks for the info Colette)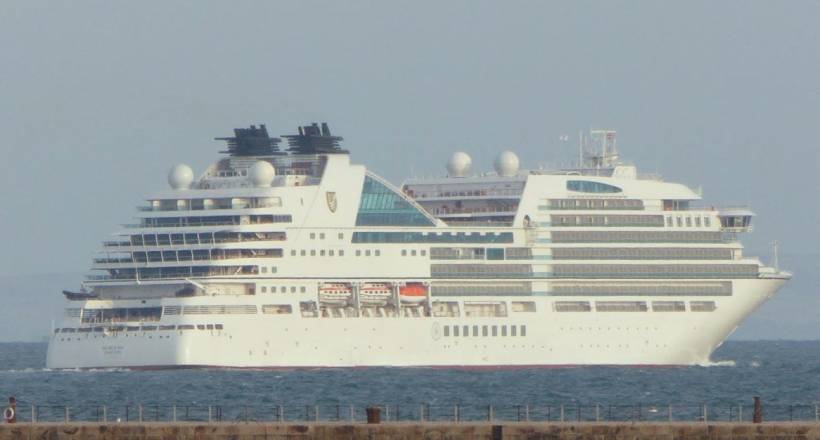 departed south for Portland
'Prinsendam'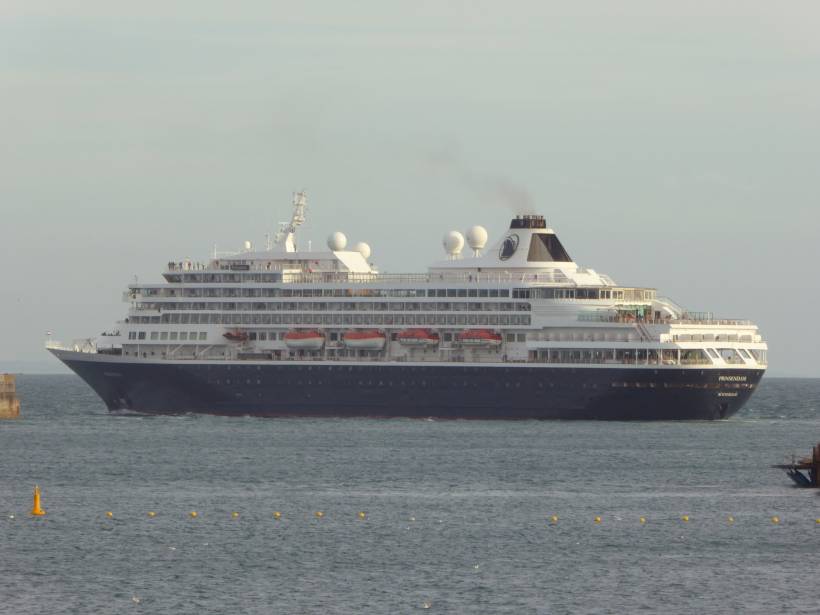 departed north for Amsterdam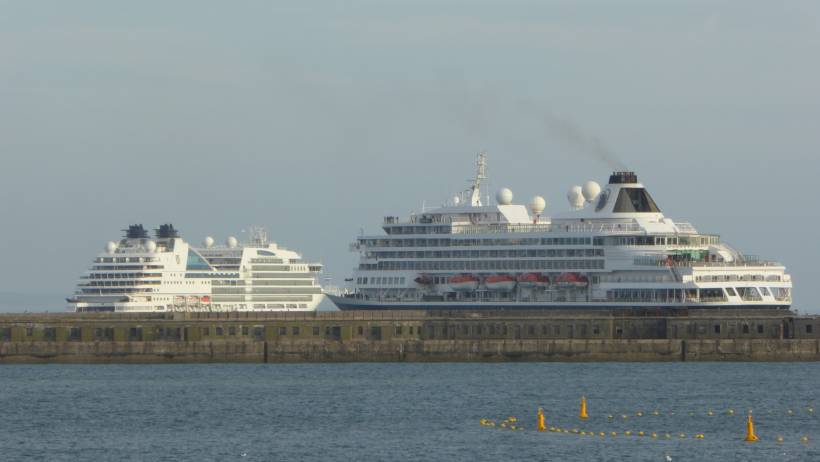 busy day for the pilots and launch
Sunday, 16 September 2018 - 17:11
Post 5757
Sea News, Dover
Friday evening saw the Trinity House Vessel and ol favourite Alert approaching the Port in some choppy conditions as you can see above. When yours truly took the fairly long range pic ...well he hardly noticed the small boat chasing along behind at some speed...so its name was never looked up. When looking at the pictures later it was clear the small boat was playing its part in the image...
A pic below from a few days earlier and we see both tugs Doughty and Dauntless ready to leap into action as they pause out there close to the breakwater....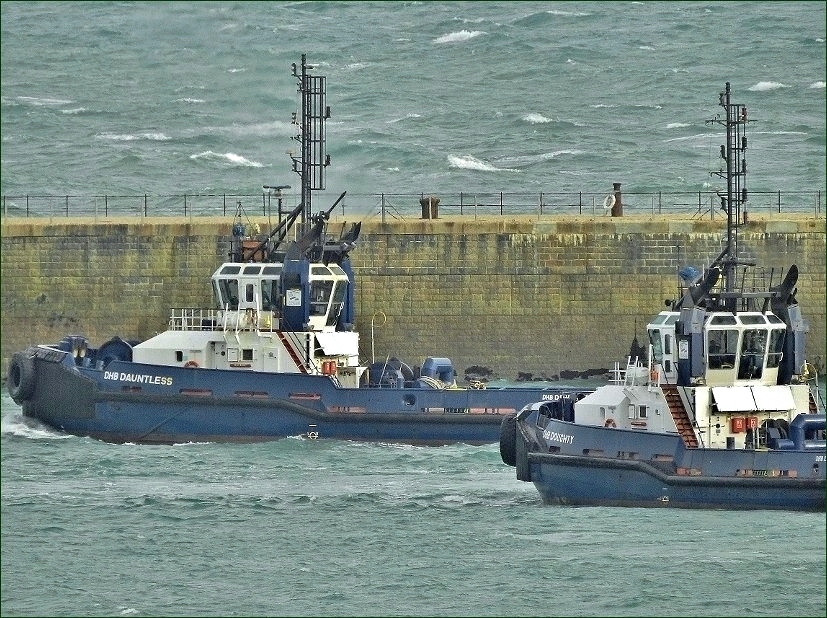 On reflection...that pic above of the tugs looks a tad biliously green...

Excellent enjoyable pictures below there Mike from Ramsgate. Good to see those. There is something special about the light over there at Ramsgate...
Nice to see Andrew in the distance.

See also Sarah's excellent recent Ramsgate pix in 5751.
PaulB
Sunday, 16 September 2018 - 05:14