Saturday, 19 August 2017
doverforum.com/sea-news
Featuring all the ships that come and go and work at the Port of Dover with further coverage of Ramsgate, Calais, Dunkerque.
Email:dover7@msn.com to send SEA NEWS pix or info.... or click ADD YOUR COMMENT below to post direct, no membership needed. Use our SEARCH ENGINE below to find all sorts on the SEA NEWS pages..more than 200 now with more than 4000 nautical posts. Posts welcome. Max of 5 pictures preferred per post. Sea News Editor Paul Boland.



Sea News Dover:


Busy P&O Ferries take on 140 Summer Staff see 4048
The exciting upcoming Dover Music Festival see 4002
Record Half Year for P&O FERRIES ...see below 3964.
The Crown Princess at the Port of Dover... see 3956 and 3953.
P&O Ferries give Lifeboat £10,000...see 3933.

Type Cruise Visits (or indeed anything) in our Search Engine below for the latest cruise ship arrivals..
Post 4080
Patrick, Marine Parade
Could Guinness really be that heavy?

Thursday, 10 August 2017 - 09:16
Post 4079
Patrick, Marine Parade
Many thanks for the latest Cruise Liner updates Collette. Always good to see additions to the original Cruise Liner Schedule calling at our Port.
Another passing stranger in the Channel yesterday was the Heavy Load Carrier 'Fairmaster' (aka 'Jumbo') out of Szczecin(PL) going south en route to Limerick in the Republic of Ireland.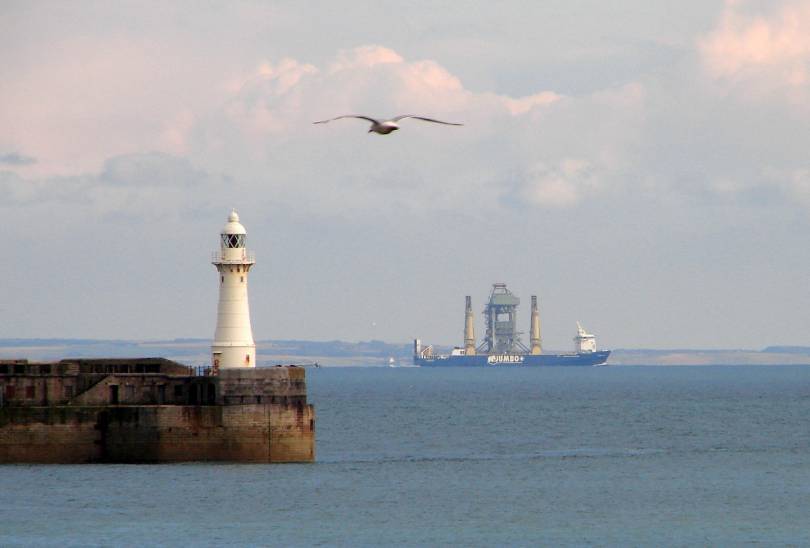 Thursday, 10 August 2017 - 09:13
Post 4078
Sea News, Dover
The Discovery Bay departs for Rotterdam...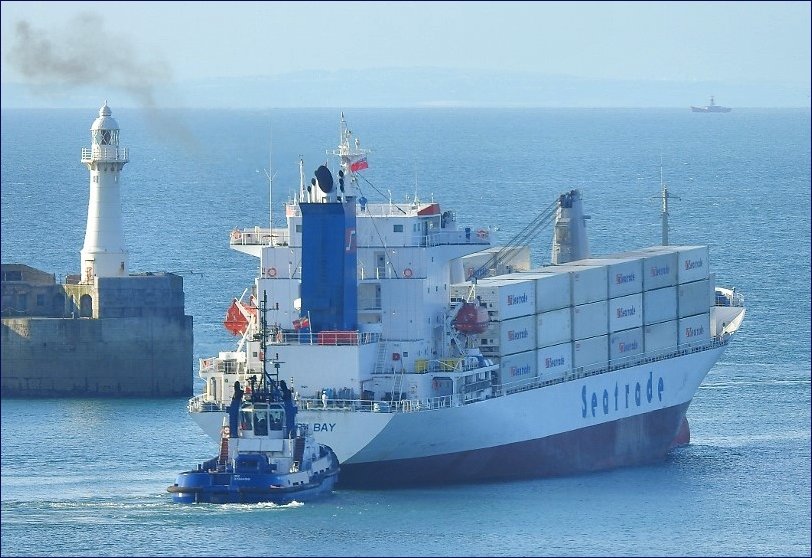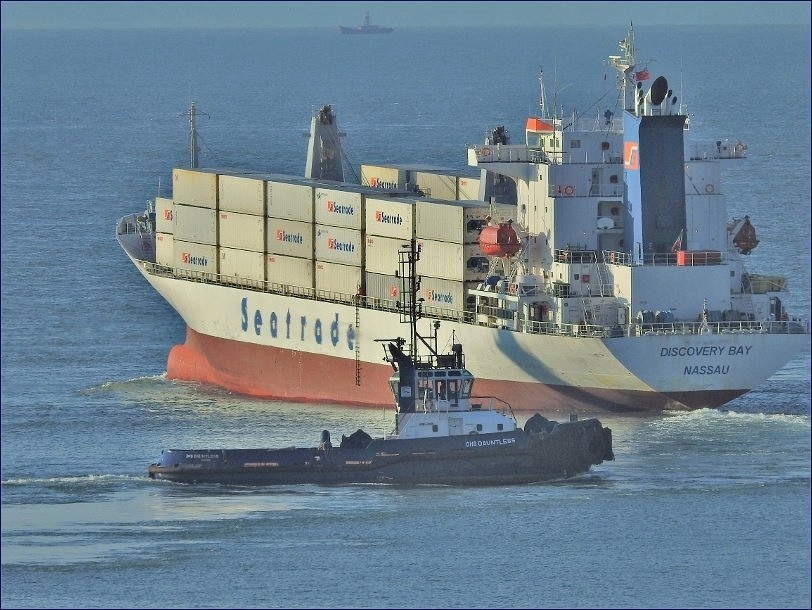 Just when I thought I had missed the Discovery Bay she popped into view from behind the ferries .. and made the departure very convenient picturewise for yours truly by coming right across the harbour and leaving through the western exit. Just catching the early sun as she turned...off to Rotterdam she went. Time of departure: Wed morning 07.17
A short time later Charlie Elphicke himself turned up beneath the 'observation tower' to give a pre-arranged interview to Radio Kent. What he was chattering on about I don't know...but we may find out when Charlie's regular missive arrives later in the week.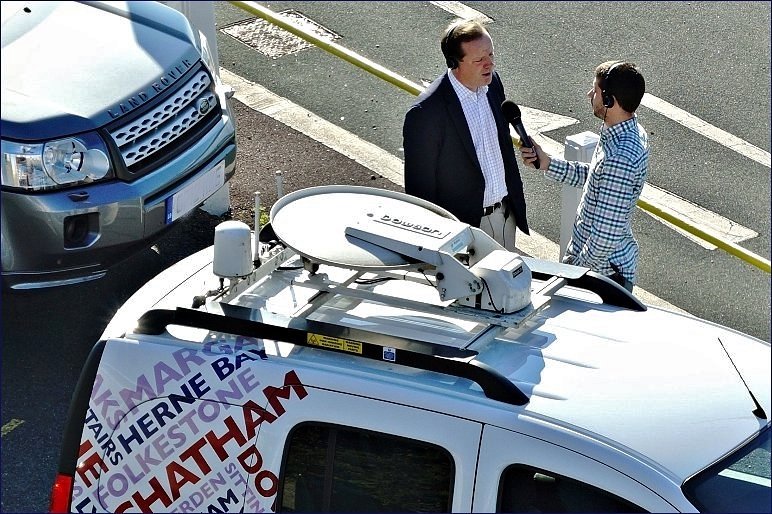 Will be watching for the arrival of the Crystal Symphony now...
PaulB
Thursday, 10 August 2017 - 05:56
Post 4077
Sea News, Dover
Further to Colette's post below...here we have some more info just in from the Port...
The Port of Dover is celebrating the very welcome return of Crystal Cruises to the historic Dover Cruise Port this year.
For the first time since 2015, tomorrow the 10th August, the renowned 238m long, 12-deck luxury cruise ship Crystal Symphony will call at Dover bringing approximately 1,000 discerning passengers to the town.
Three further calls in August will follow and, with additional calls already booked for 2018, 2019 and 2020, the celebrated cruise ship will be a valued, regular sight in Dover in the future.
Sonia Limbrick, Port of Dover Head of Business Development (Cruise) said: "I am delighted to once again be hosting calls from the prestigious Crystal Cruises at Dover Cruise Port. Here her passengers can not only experience state-of-the-art facilities, but also enjoy the iconic white cliffs, historic location and benefit from easy proximity to London and beyond.
"I would like to thank Crystal Cruises for selecting Dover Cruise Port as a port of choice for the foreseeable future and extend a warm, advance welcome to all of her passengers calling at Dover."
Edie Rodriguez, CEO & President of Crystal Cruises said: "We are thrilled that our beautiful ships will be once again calling into the Port of Dover, which we've enjoyed a wonderful relationship with over the years. With impressive facilities, great links to London and numerous attractions on its doorstep, the Port of Dover is always popular with our discerning guests and we look forward to a successful ongoing partnership."
Ends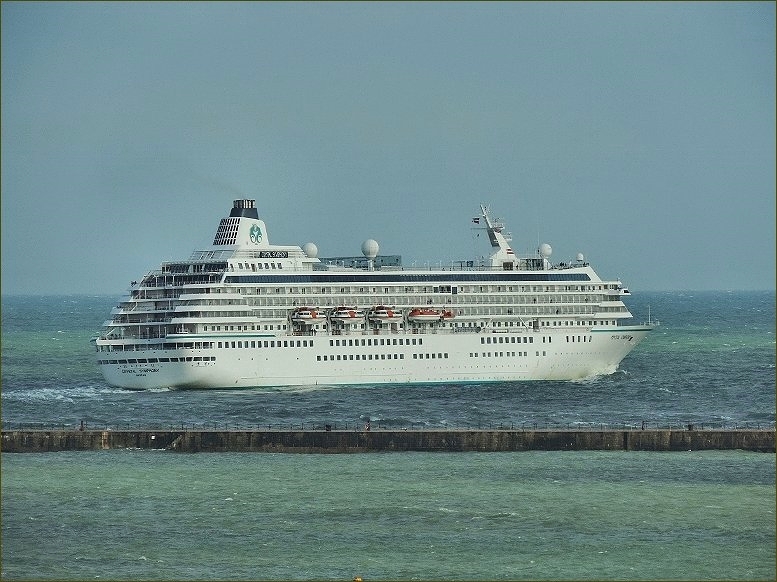 That's great news...

Wednesday, 9 August 2017 - 16:31
Post 4076
Colette B, Dover
CRUISE VISITS
______________
The fantastic array of photos taken by the Sea News team is mind boggling with Monster Container ships caught in a Summer haze, Dredgers, Sunbathers enjoying a Sunday on the beach and Mackerel being reeled in by the dozen, there is something for everyone. Also wonderful photos of the Oyster Dredgers from Whitstable and to cap it all, Glorious Thames barges including Gerta, one of the Dunkirk 'Little Ships'. Luvitt!!

Now for our cruise visits, tomorrow Thursday August 10th the Black Watch takes a 3 night 'Short Break' cruise to Amsterdam. Arriving here at CT2, 06.00, leaving 17.30 hours, T/R.
Then on Saturday August 12th we have a 'Double Whammy', firstly, the beautiful Princess Cruises 'Pacific Princess' visits us once again. She starts her 8 night 'British Isles' cruise including the 'Royal Edinburgh Military Tattoo' also calling at Jersey, Waterford and Dublin. She arrives here at CT2, 06.00, departing 17.00 hour, T/R.
On the same day Saga Sapphire starts her 'French Interlude' 5 night cruise calling at St Peter Port, Guernsey, Channel Islands before visiting the French ports of Cherbourg and Brest. Arriving here at CT1, 08.00, leaving 16.00 hours, T/R.
The following day Sunday August 13th the Black Watch visits us for the last time this year as she will be cruising from Leith, Edinburgh for the next 3 months. She arrives here tomorrow morning at CT2, 06.00, leaving at 09.30 hours Debark only.
I'll be back with more cruise visits real soon folks

Wednesday, 9 August 2017 - 13:39
Post 4075
Sea News, Dover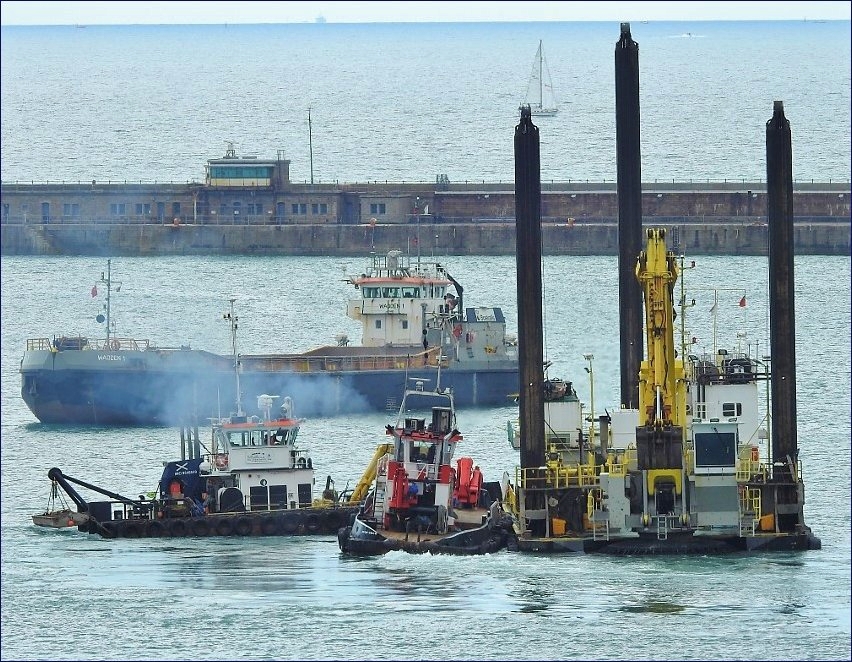 Some more DWDR action there above, the picture showing a whole gaggle of working boats all involved in the fantastic action. The main player in this particular shot is the dredging platform to the right of picture...this one newly on the scene and called Manu-Pekka we believe.
Below we have another pic of the Baltic Klipper being attended to by tug Dauntless as she arrived with us here at the Port of Dover. The Discovery Bay...well was hoping to get some pix of her departure but she must have slipped away in the dead of night.
Ah update - error on the Discovery Bay...I see her..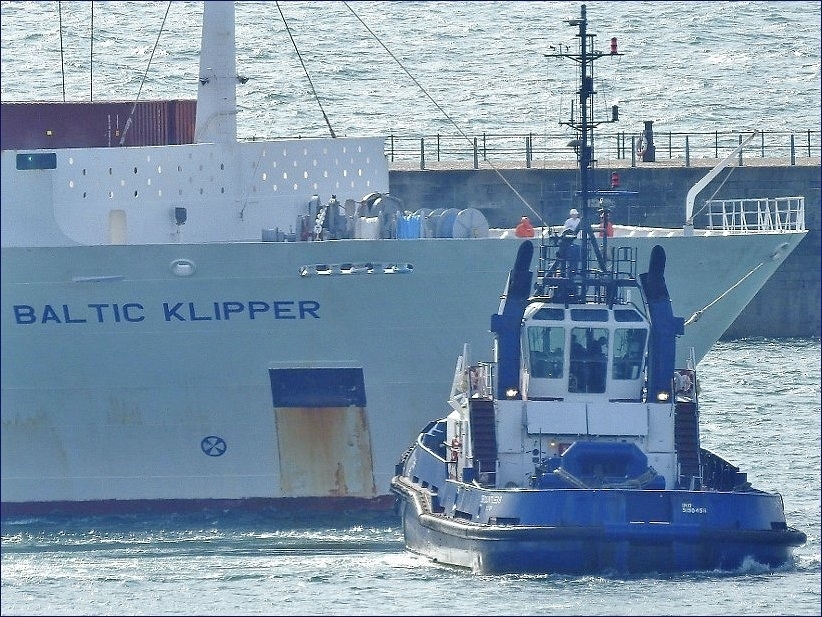 Another monster from the channel below...the pictures are a bit forced as the evening shimmer and haze was difficult. But yes here we have the CMA CGM Vasco de Gama. She was moving on down the line to Port Said and most probably further afield to the Far East. She is very appropriately named, as Vasco de Gama was the great Portuguese explorer who was the first European to discover the existence of India and the Orient...so there we are. In the foreground is one of the P&O Spirits heading over to Calais. PB.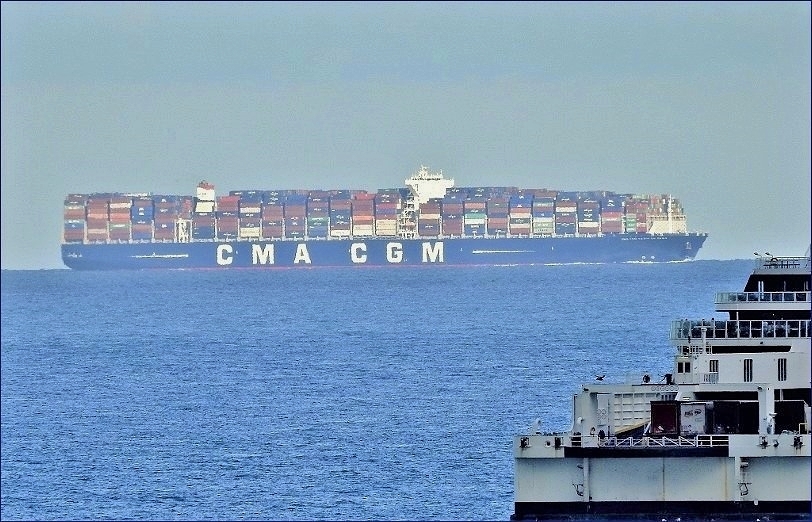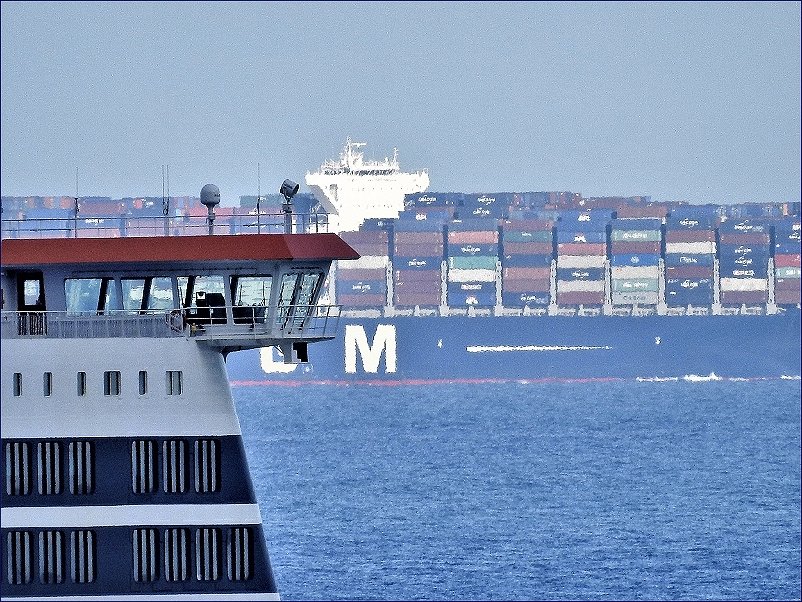 Wednesday, 9 August 2017 - 06:05
Post 4074
Sea News, Dover
Delighted to capture the Baltic Klipper arriving with us yesterday morning...and here she is....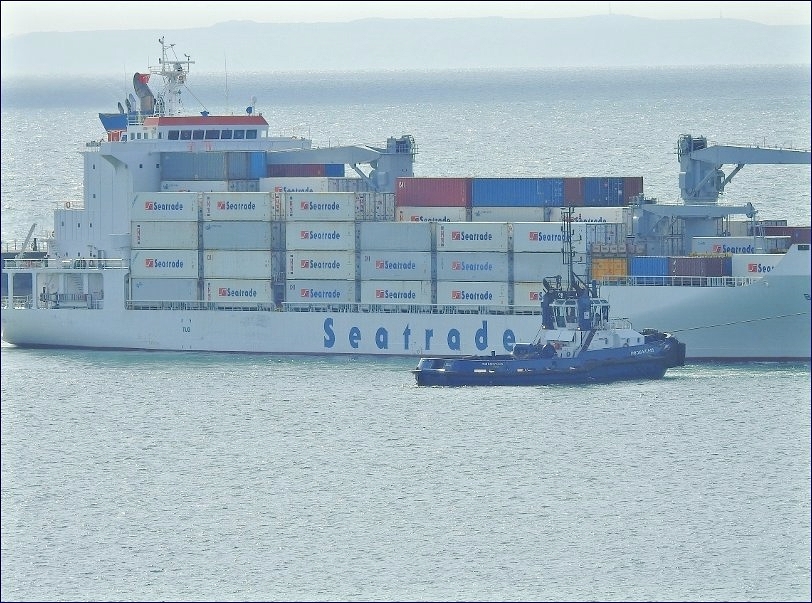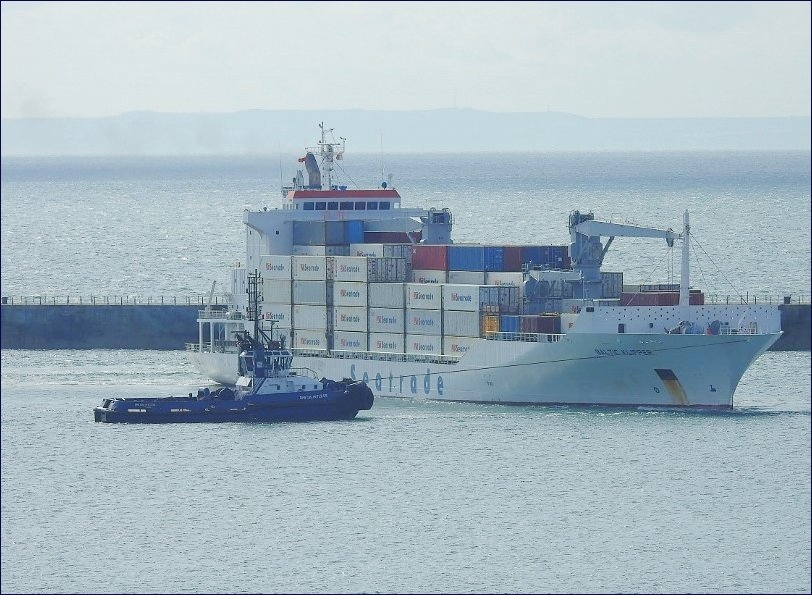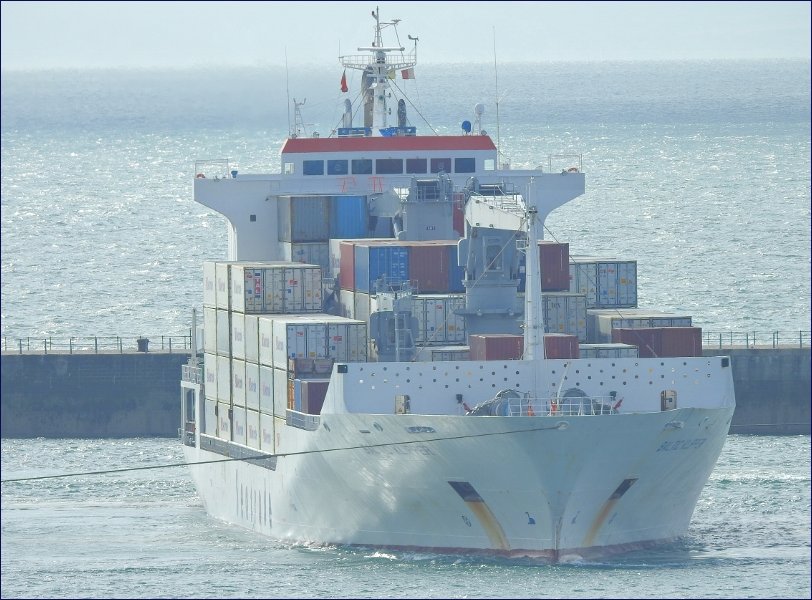 It was a gorgeous morning as you can see .. a wee bit hazy but you can still see the coast of France clearly in the background. She has since left us heading for the German city of Hamburg. She must have departed in the dead of night as her slot at the cargo terminal is already occupied, this time by the Discovery Bay. It is great to see the cargo terminal being ever busy busy. Keep those ships coming Dover!
A very nice picture below Barry - well done with that one for sure. Like it. Looks like that chap behind the windbreaker has perfected the fine art of relaxation.....

Tuesday, 8 August 2017 - 07:26
Post 4073
Barry W-S, Dover
And another photo from the Glorious Sunny Day yesterday on Dover Beach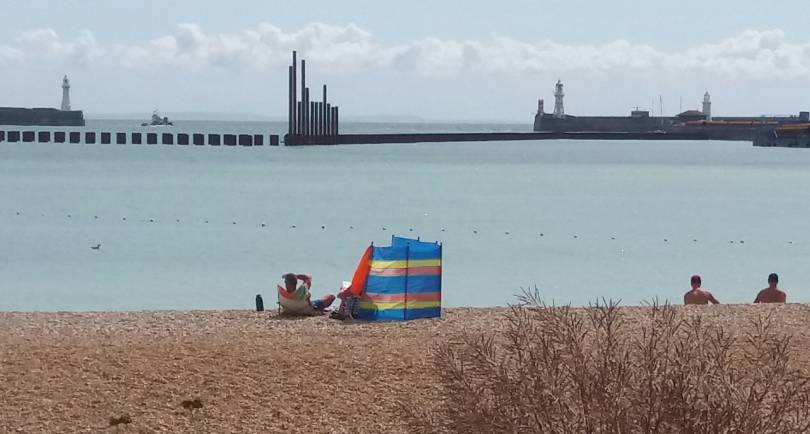 Monday, 7 August 2017 - 18:46
Post 4072
Sea News, Dover
Love on the Rocks: Very bright happy sunday for people enjoying themselves yesterday and loving being on the beach rocks above. All very jolly as twas a lovely day...and below you can see how close to the shore the DWDR dredgers and barges are.... right up close a-diggin' and a-splashin'.
The pictures in this post were taken on the ancient camera so the colours are a bit wishy-washy. One likes to give it a run now and again when a chap can get it to charge up that is.
Below we have a recentish wide shot of the sky and sea, mostly to show the line in the water. It always fascinates yours truly how nature can draw such a sharp line in water but there we are. Life is full of amazements. Its not visible all the time but from time to time it appears.
Magical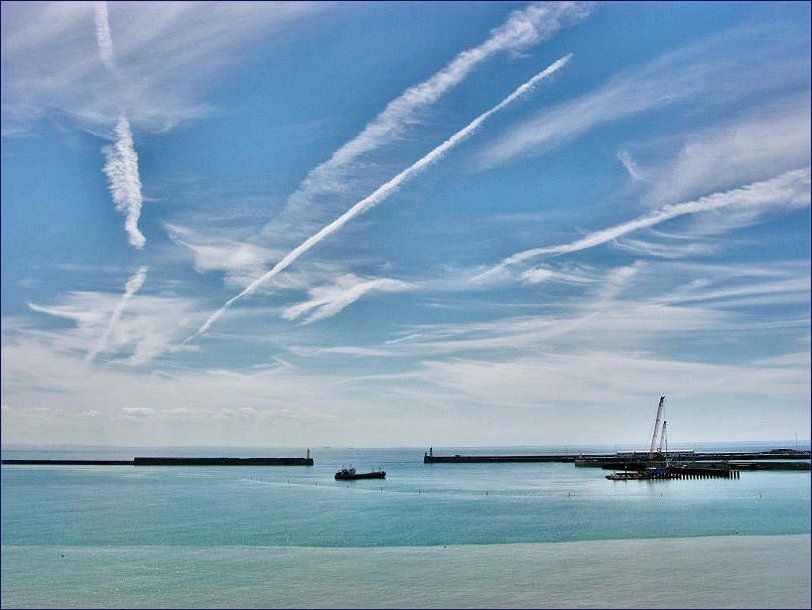 PB.
Monday, 7 August 2017 - 15:53
Post 4071
Sea News, Dover
HOLY MACKEREL! Part II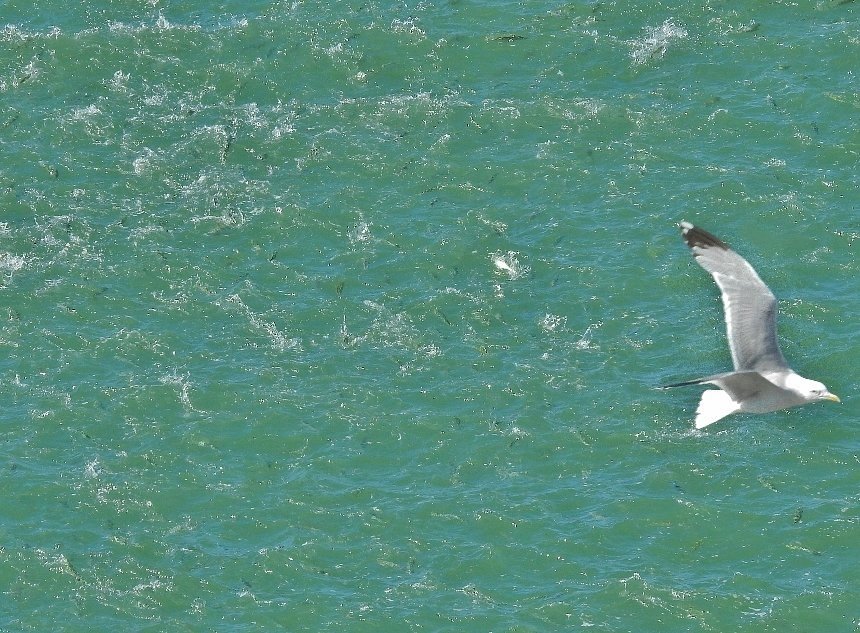 I've pushed the picture above as large as possible so that hopefully...hopefully.. all can see the shoal of mackerel below and around the airborne gull. After a day or two of quieter mackerel activity, the spectacle burst into radiant life again at the weekend. Its quite an event at times... even the police turned up at one point to have a look. Boat trips could be organised but the downside is the little blighters don't let you know when they are coming...they just turn up un-announced.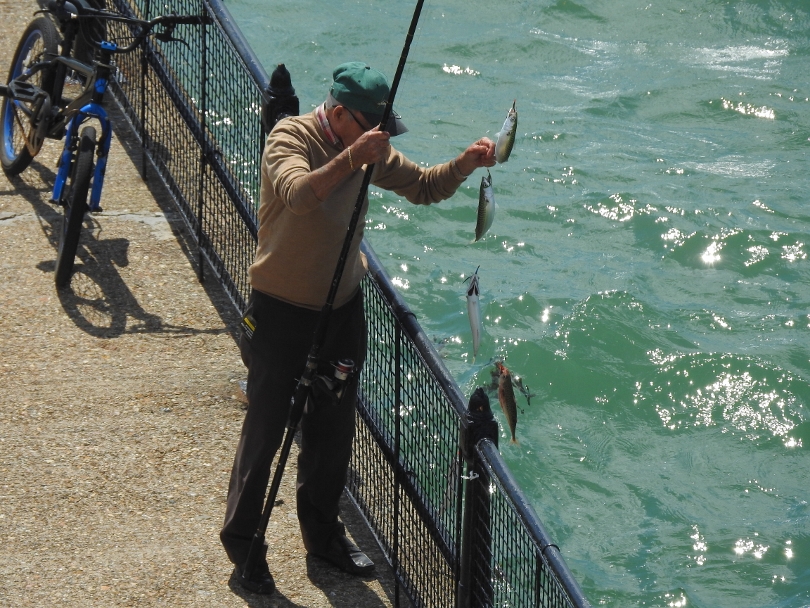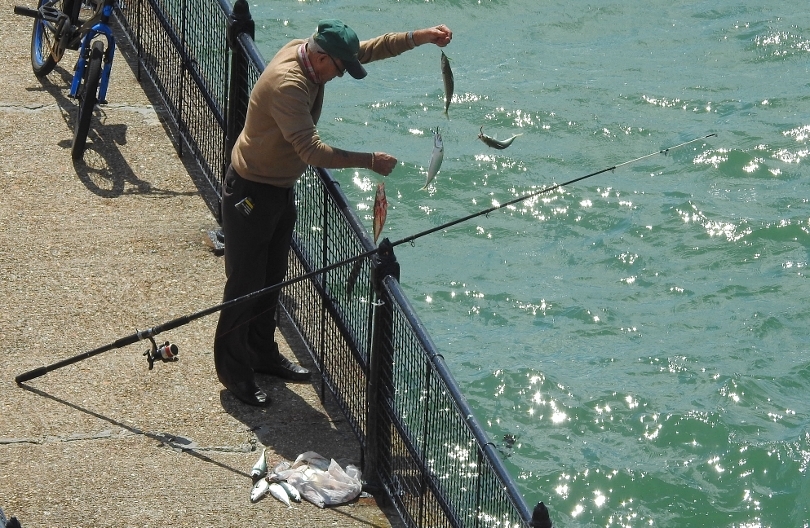 This chap was reeling them in...as I mentioned previously..sometimes pulling out 5 or 6 at a time.
Mike - hopefully these ones below didn't end up in any local restaurant as they lay in this plastic bag for hours...many more mackerel were added to the same bag and lay there etc etc etc..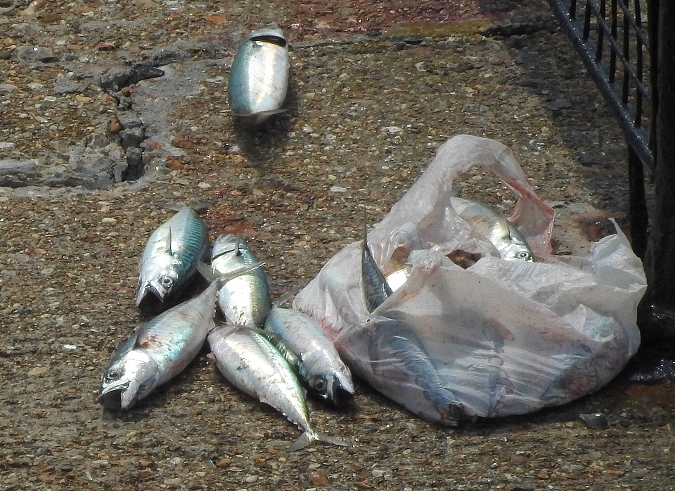 Well done guys with the Whitstable coverage below.

PaulB
Monday, 7 August 2017 - 06:19
Post 4070
Sarah, Ramsgate
Great photos Mike, shame that weather didn't carry over onto the Saturday. One vessel I did not expect to see in Whitstable was Pluto. Pluto is a frequent visitor to Ramsgate usually hidden away for any decent photos so I took the opportunity whilst I could fully see her.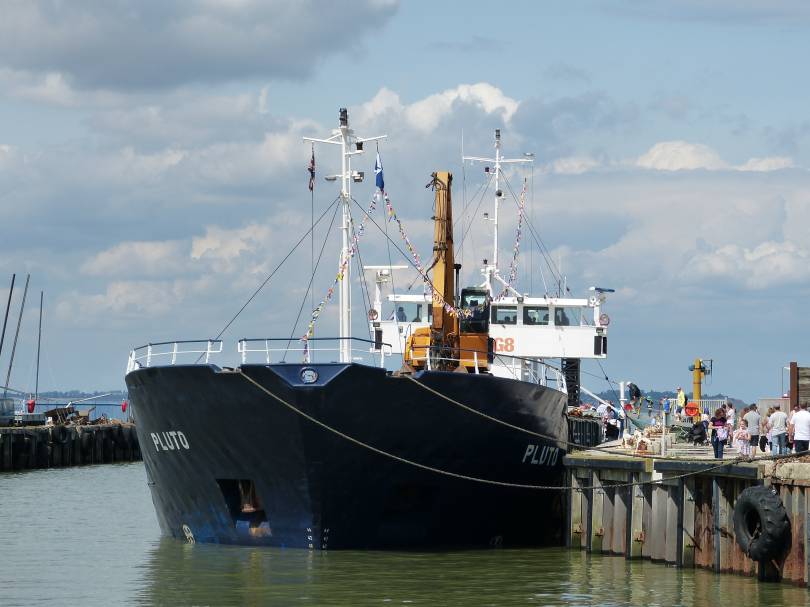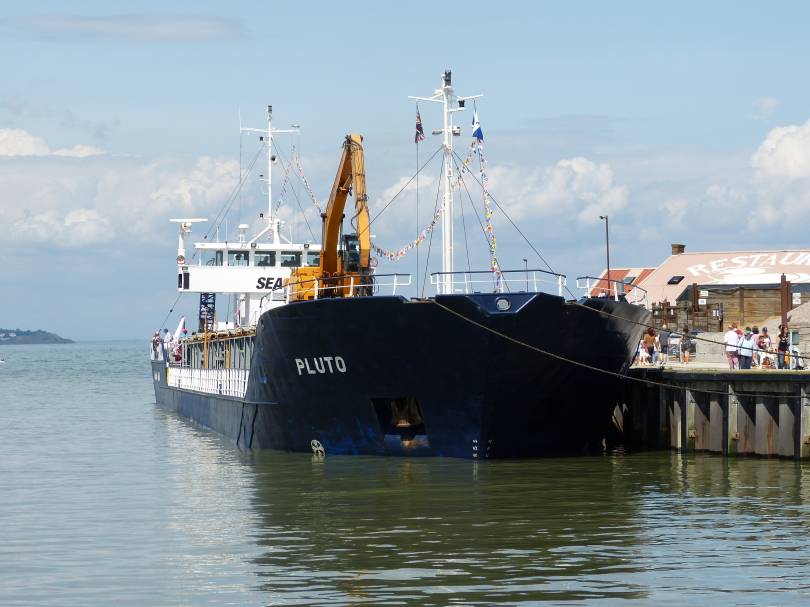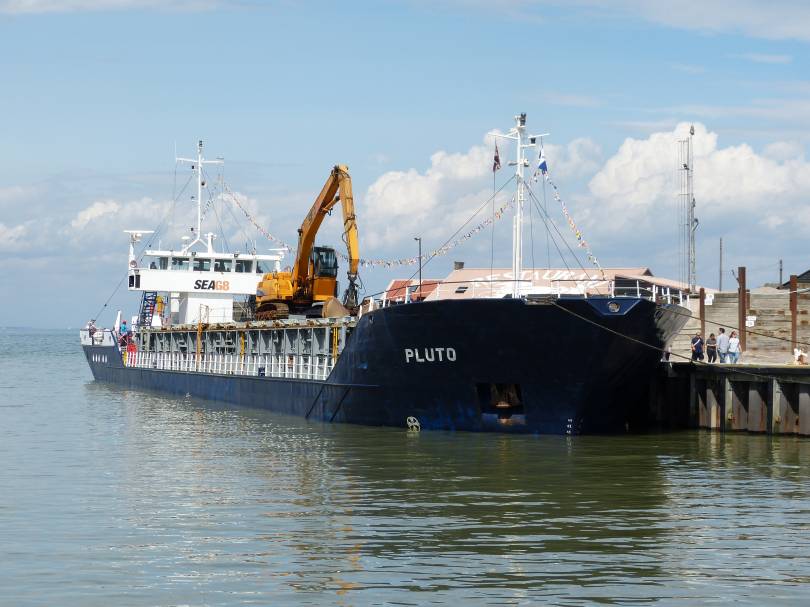 EMS Viking as mentioned by Mike is a regular in Whitstable & Dover but also frequents Ramsgate on many an occasion.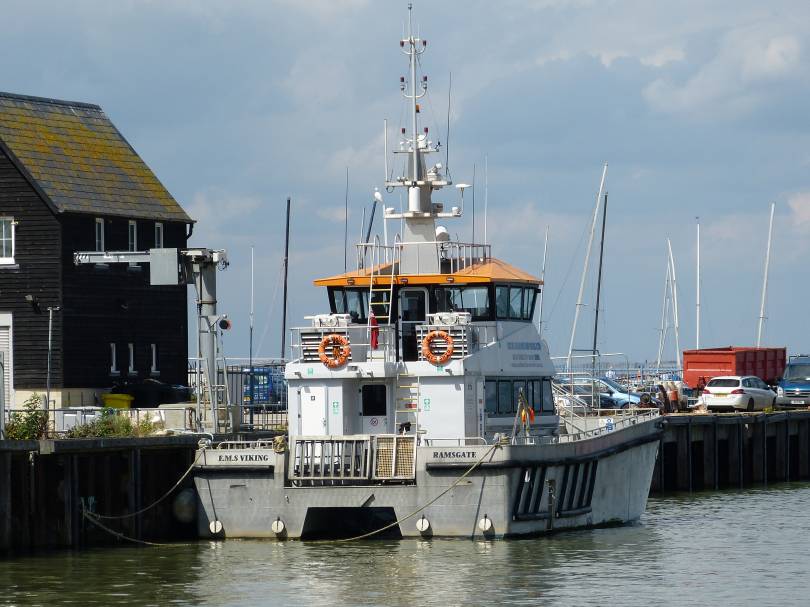 Monday, 7 August 2017 - 04:39
Post 4069
Mike J., Dover
A few more to add to Sarah's excellent Whitstable coverage..
A nice little port & worth a visit even on 'normal' days, always plenty of colourful fishing boats in port including some very specialised oyster dredgers & you may find the occasional coaster coming in with stone.
There's open access to most of the quays with cafes & wine bars & gift shoppes & of course oysters to scoff.
Sarah's 1892-built sailing barge GRETA offers excellent day trips from Whitstable & Faversham..
A few pix from last Friday, the day before 'Whitstable Harbour Day'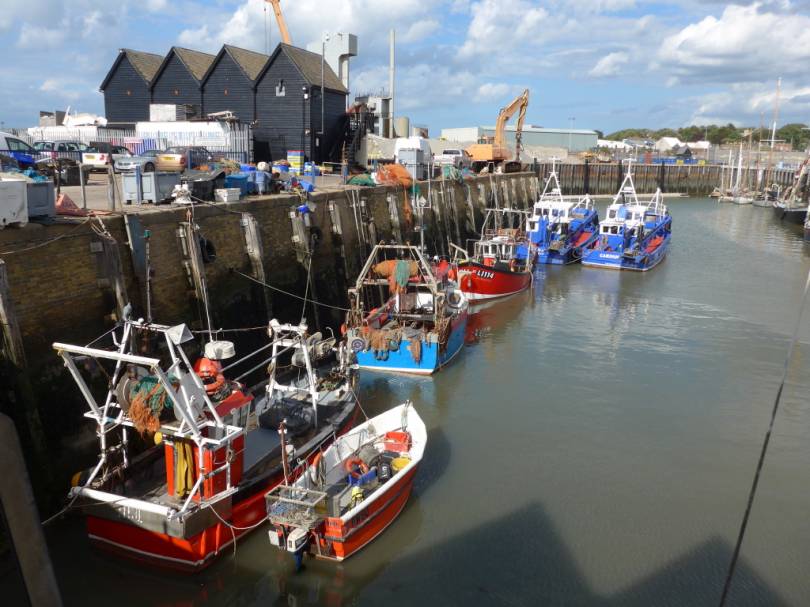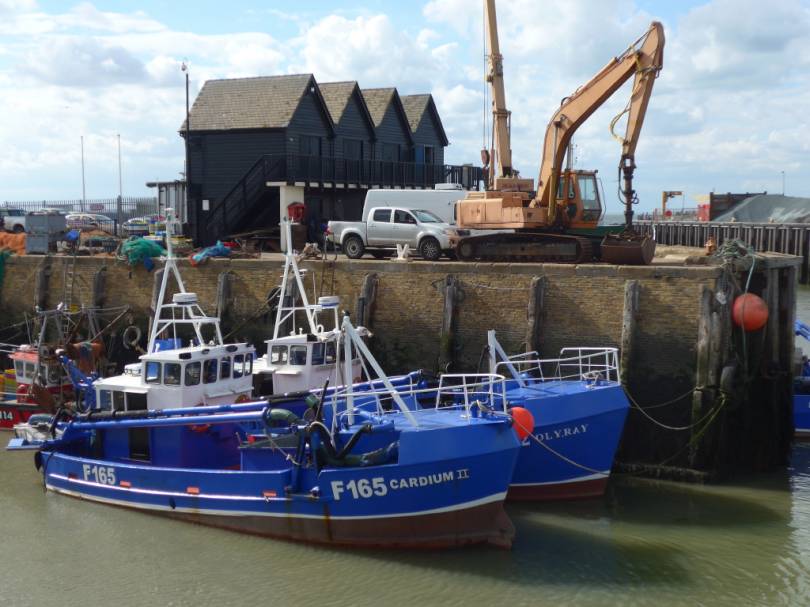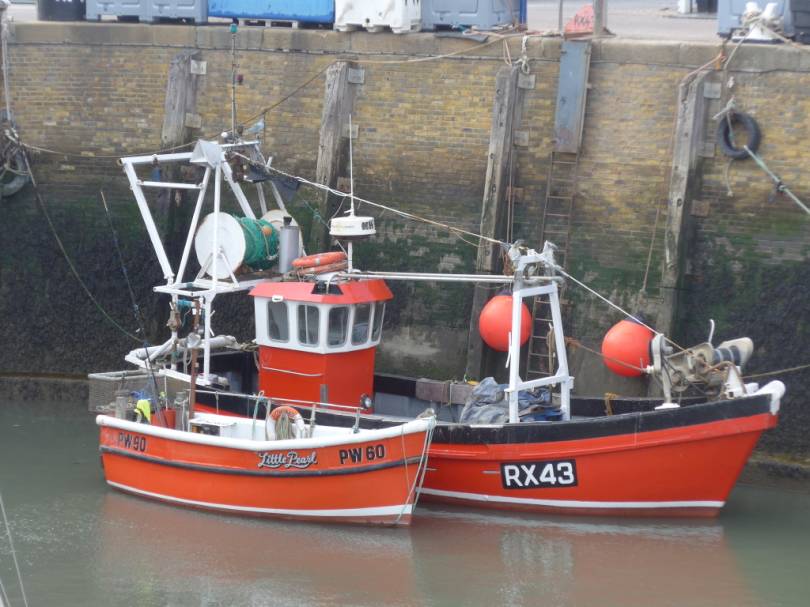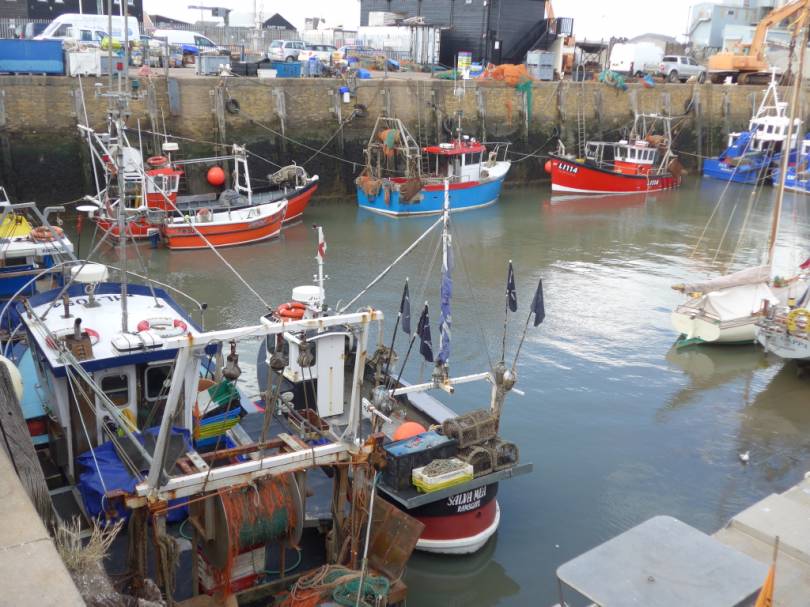 Whitstable is the usual base for the windcat EMS VIKING who is often in Dover, last noticed in post 4023.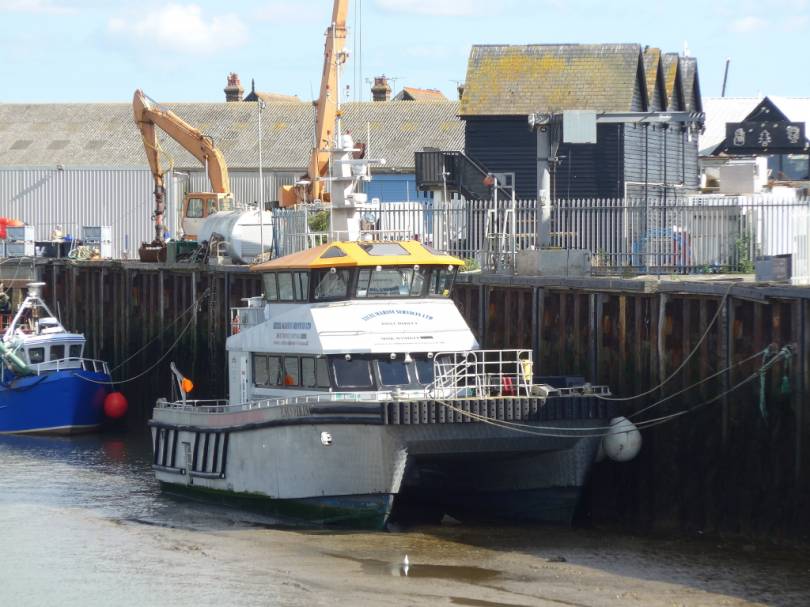 DAVID CHURCH has been known to do dredging work at Whitstable.
Paul wondered what happened to all the mackerel - the freezer is usually the destination for most of them..
When I was a little lad in pre-freezer days mackerel had the reputation of going 'off' very quickly & were always eaten on the day that they were caught.
Many no doubt make the journey from the freezer to the plate in restaurants.
Monday, 7 August 2017 - 00:42
Post 4068
Sarah, Ramsgate
A few more from Whitstable
Whitstable Lifeboat - Lewisco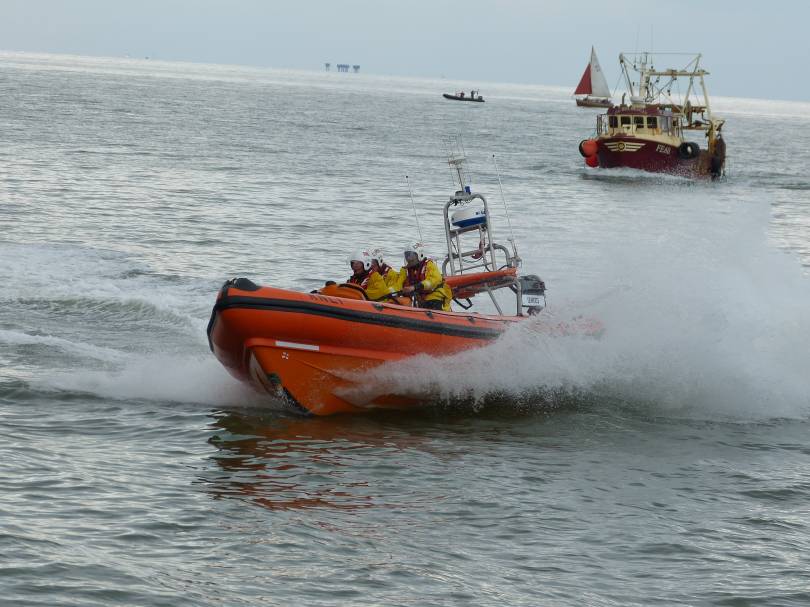 In the pouring rain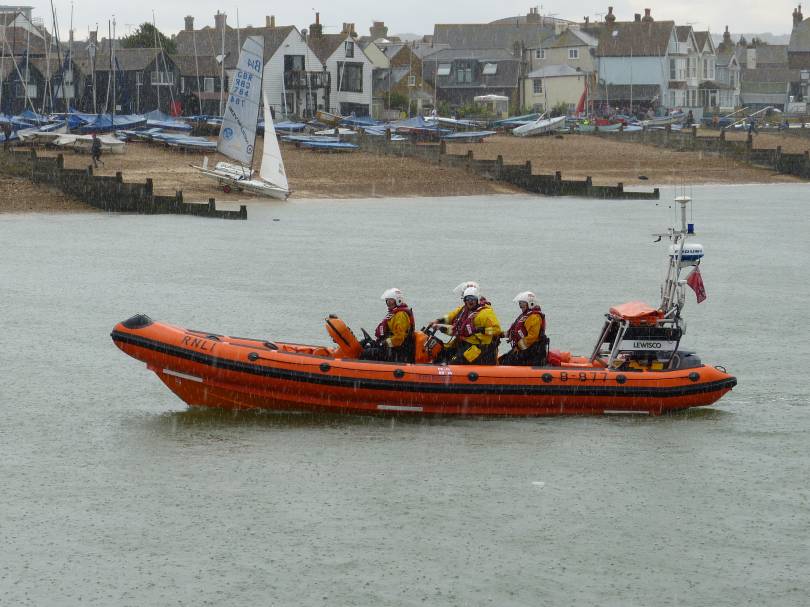 Retrieval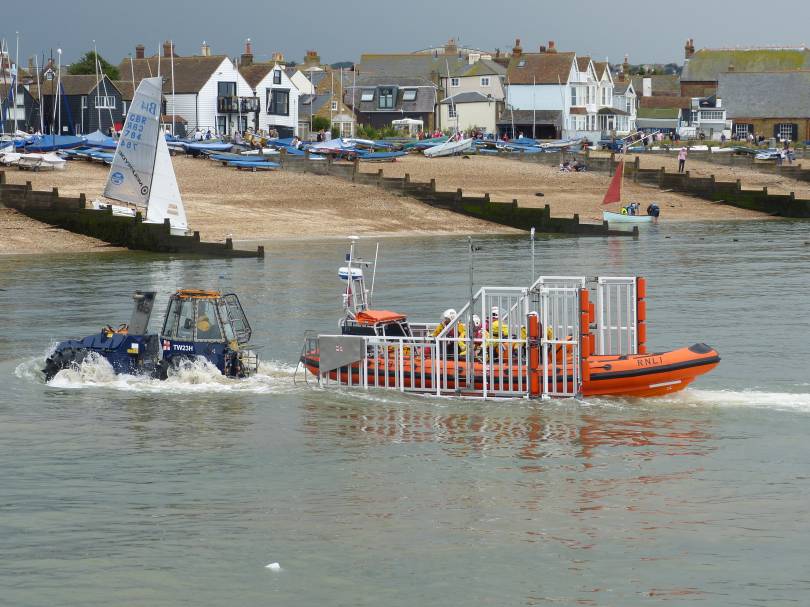 Pilot Boat - Speedwell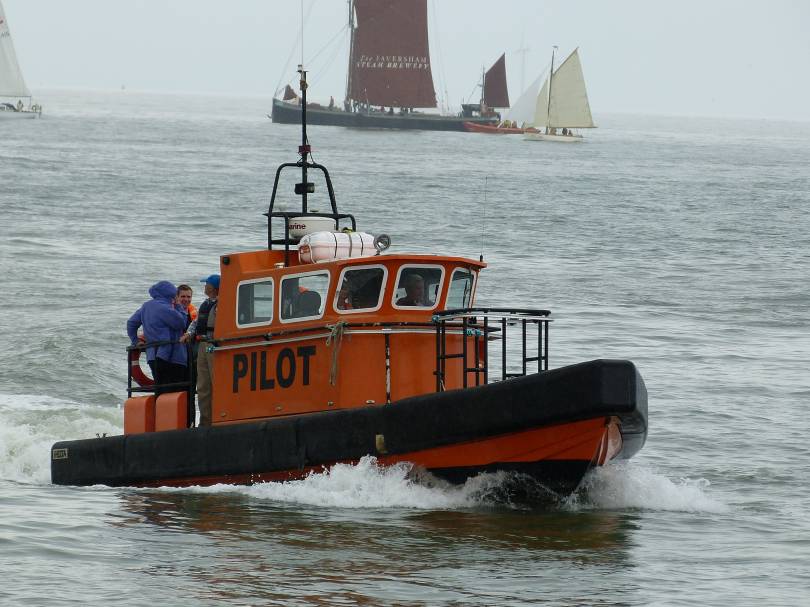 with the two Thames Barges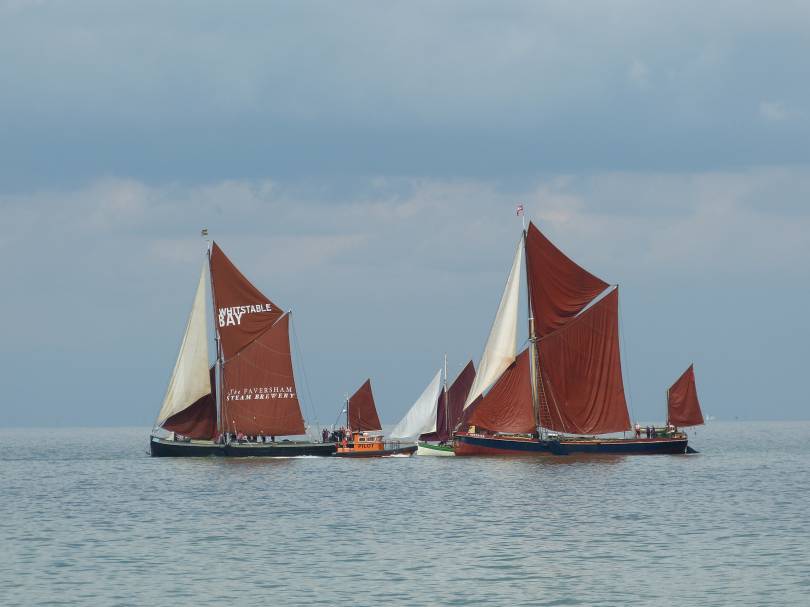 Sunday, 6 August 2017 - 12:40
Post 4067
Sea News, Dover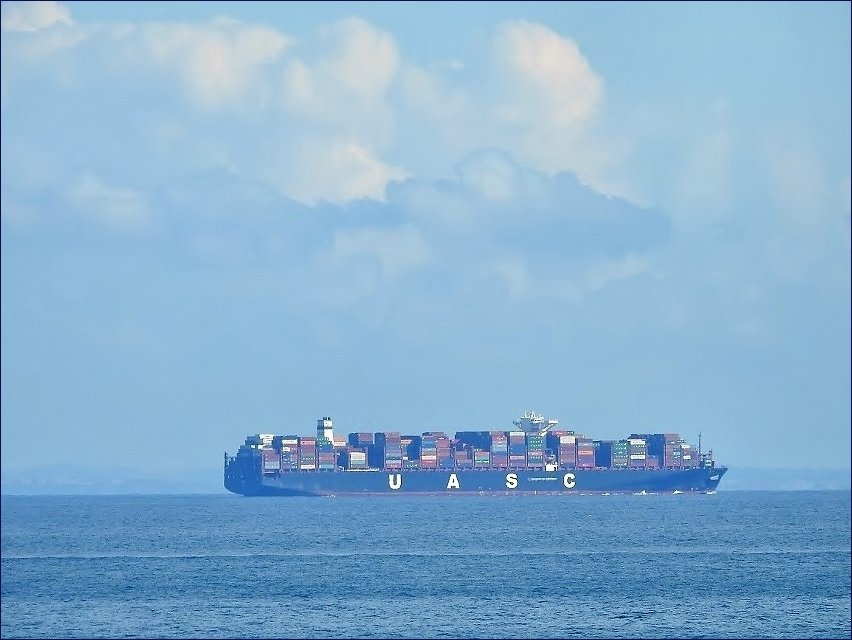 That's the Al Nefud container ship moving on by yesterday evening. Caught her in between showers. A huge beast ... yes approximately 195,000 tons of heavy metal on the move there. She left Rotterdam yesterday and we see her heading for Le Havre...but presumably with a further far flung destination in hand.
Excellent pictures from the teamsters below ...
Mike down on the pier there excellent. What do they do with all that mackerel?? Ive seen it here...everytime they put a line in they pull 5 or 6 mackerel out. Its too easy and so people probably catch too many...
Ah sorry to hear you got soaked Sarah. Ahhhh the perils of being a Roving Reporter...one day soaked, the next day sunkissed!!

All for art sake as your pictures are really great.
Keep going!
Don't miss 4065, 4066.

PB.
Sunday, 6 August 2017 - 06:24
Post 4066
Mike J., Dover
While Sarah was getting soaked at Whitstable I just managed to get off the Ad.Pier just before the heavens opened.
The CALYPSO came in from Dindeloord early afternoon with more piles & docked on Cruise-2.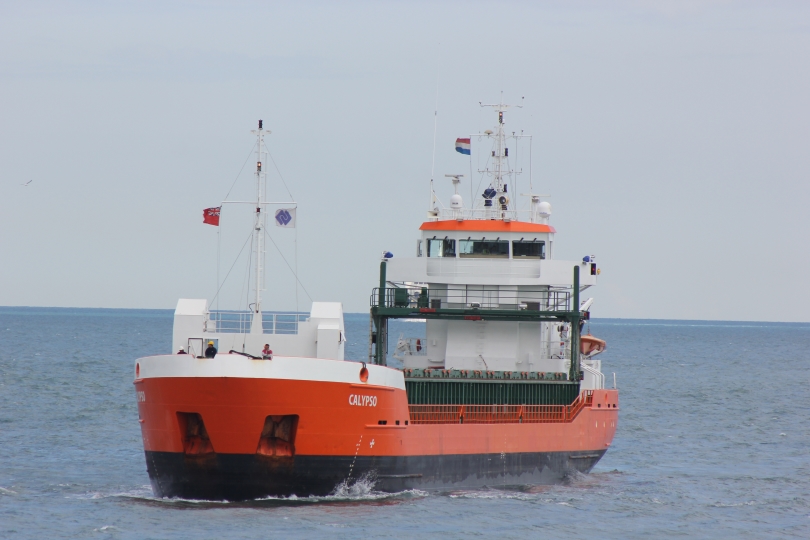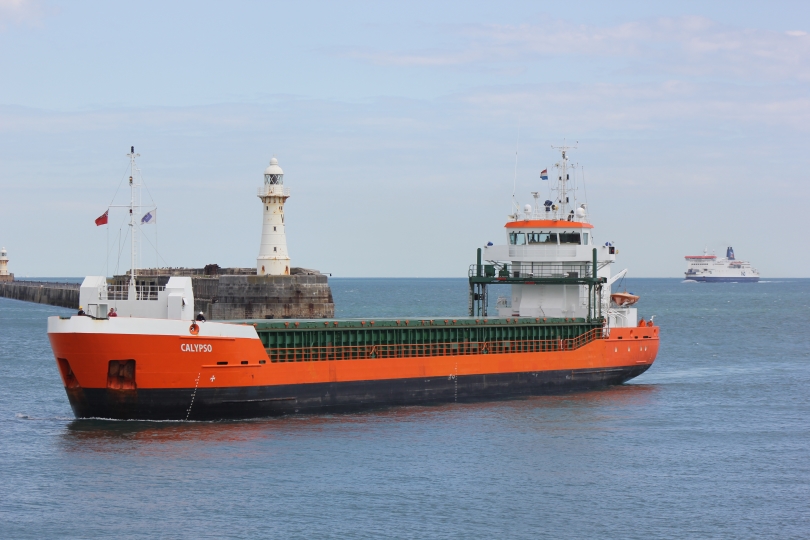 Whilst I was waiting, the EUROPEAN SEAWAY left via Western.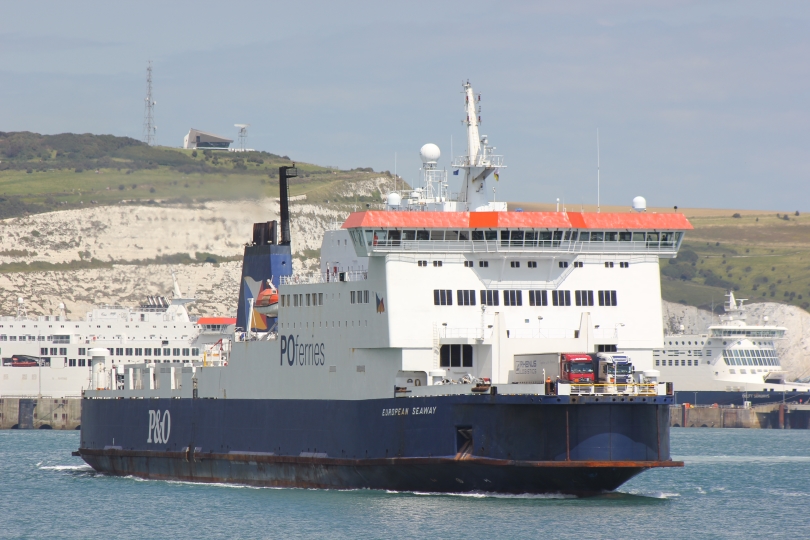 The mackerel are still running.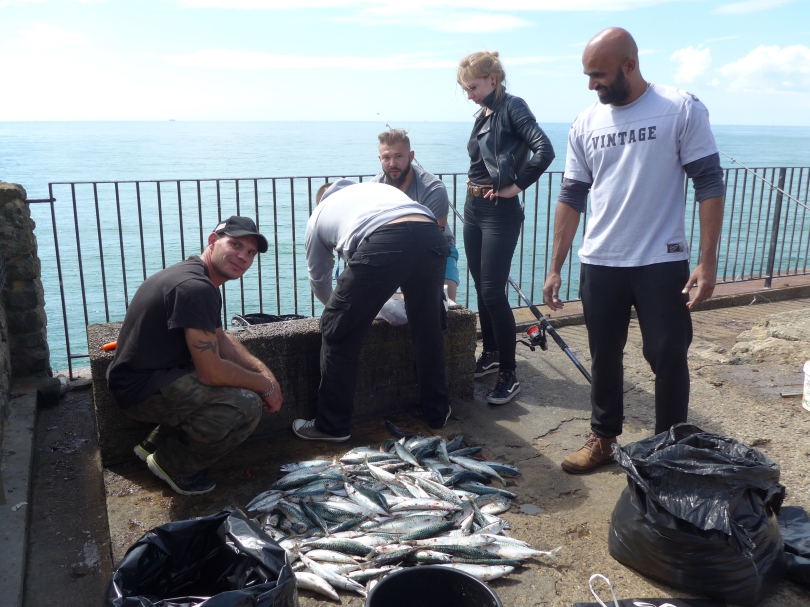 Sunday, 6 August 2017 - 00:41
Post 4065
Sarah, Ramsgate
I went to Whitstable Harbour Day today, shame about the weather, I got soaked

A Coastguard Helicopter flew over briefly.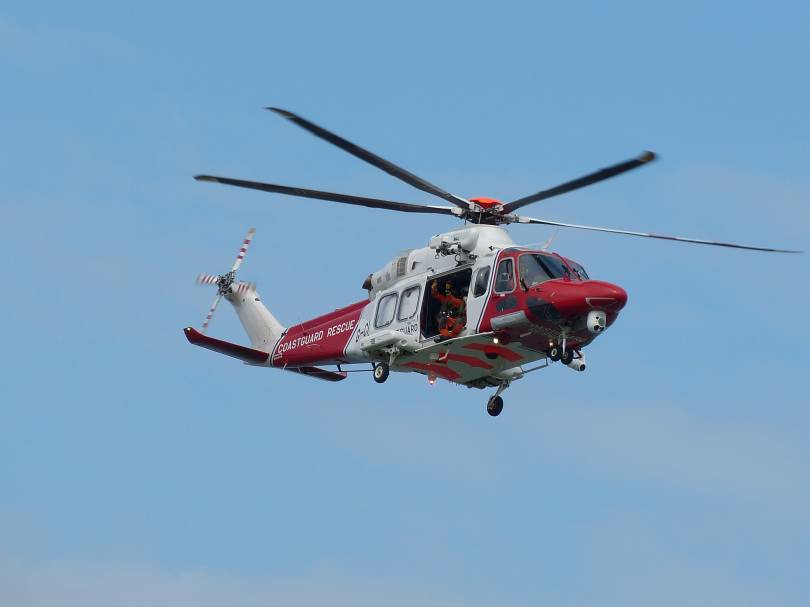 Thames Barge - Repertor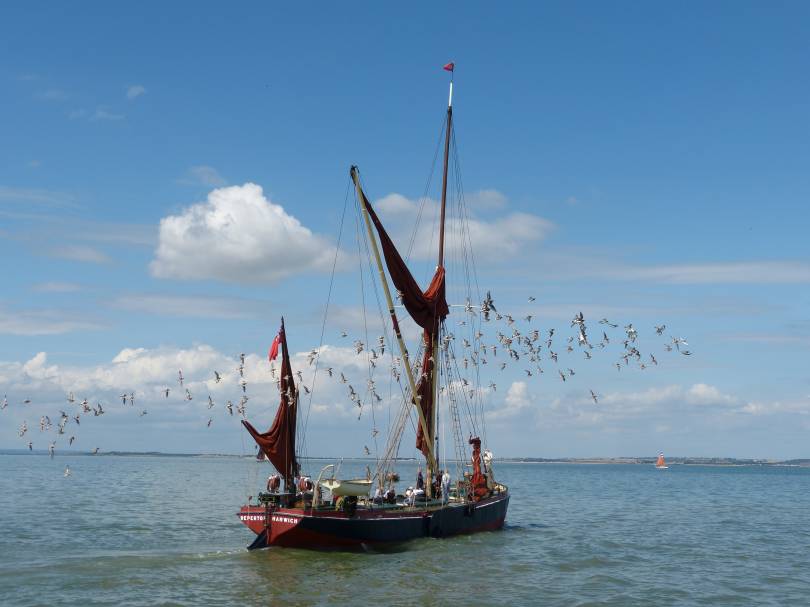 Thames Barge - Gerta ( A Little Ship of Dunkirk)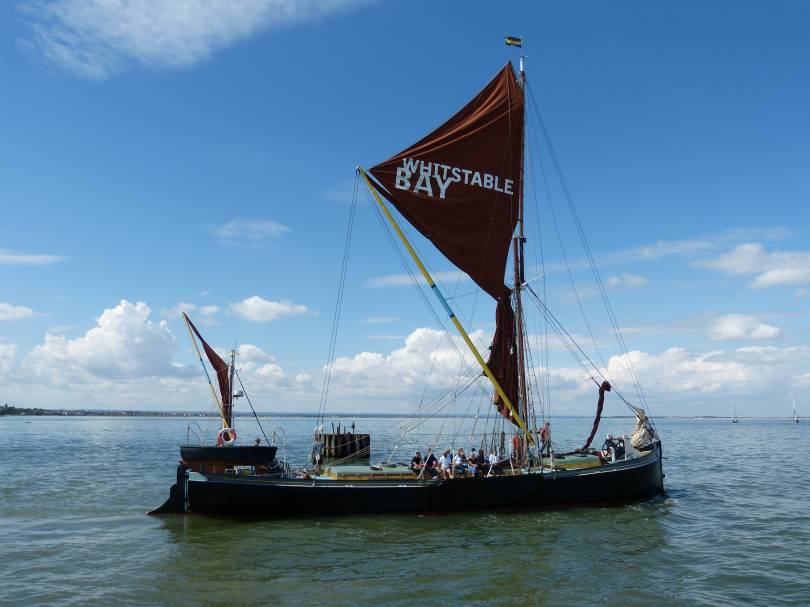 Pilot Boat - Speedwell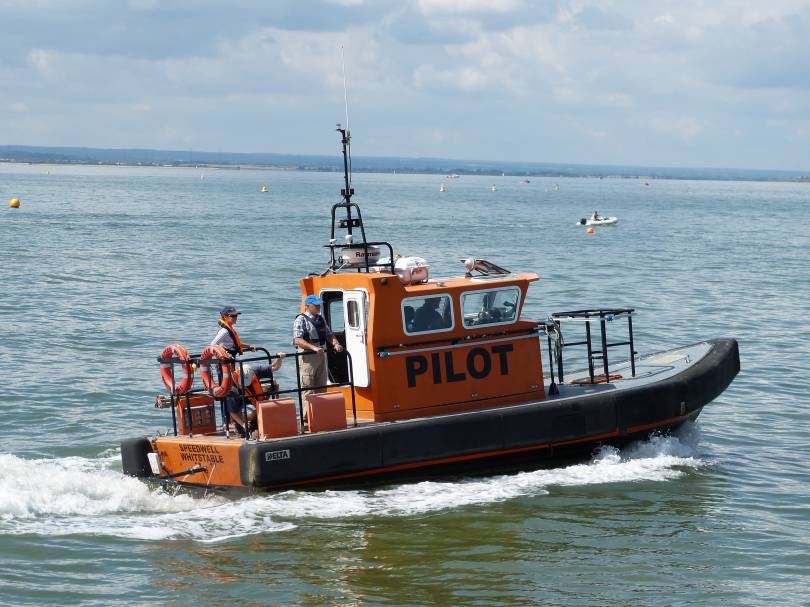 Margate Relief Lifeboat - Margaret Jean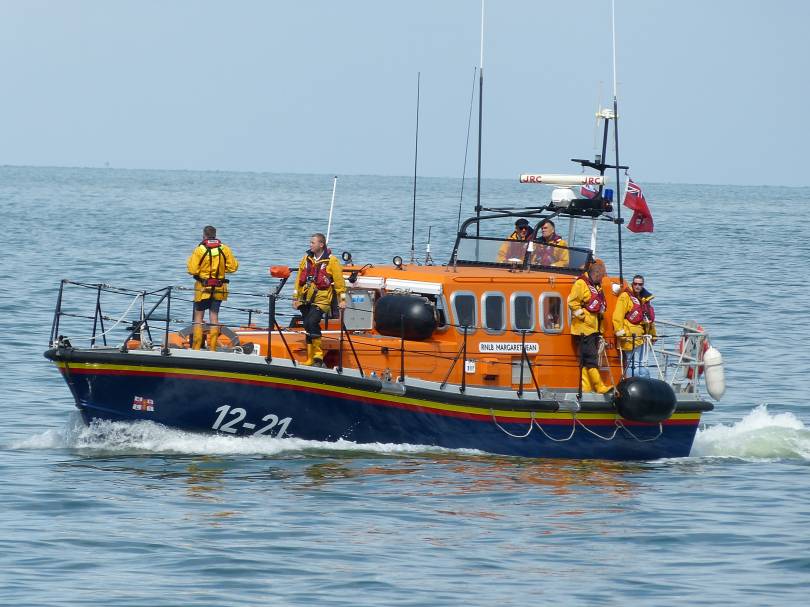 Saturday, 5 August 2017 - 19:51
Post 4064
Sea News, Dover
Another picture of the Seabourn Quest as she moves away on her Scottish/Irish tour...
Saturday, 5 August 2017 - 17:28
Post 4063
Sea News, Dover
Rough Day Tug Action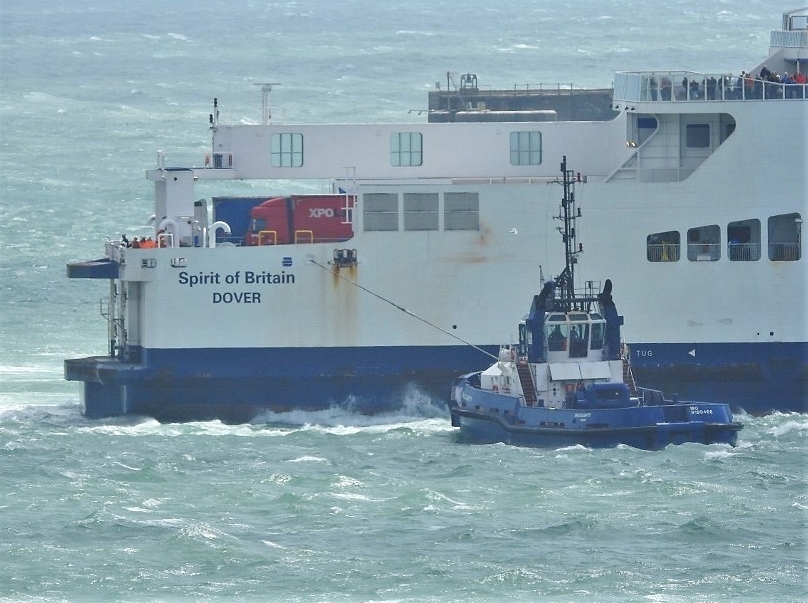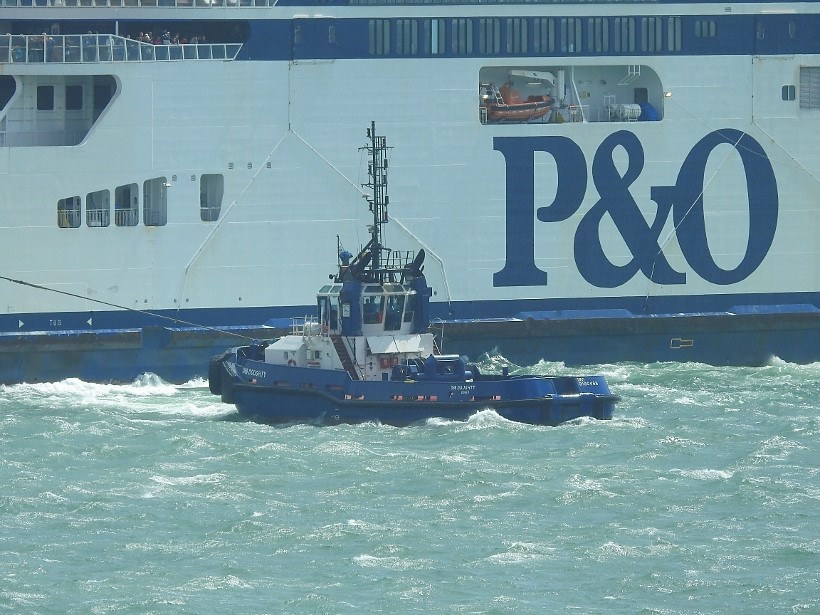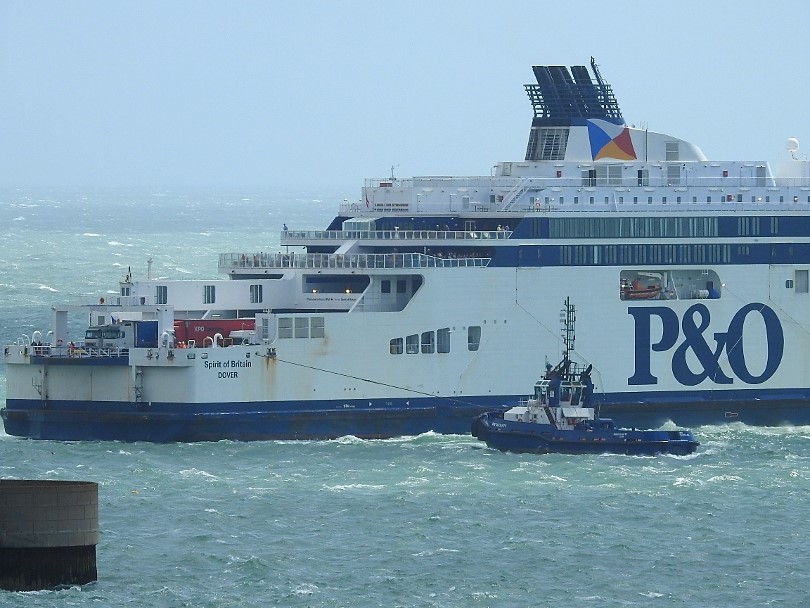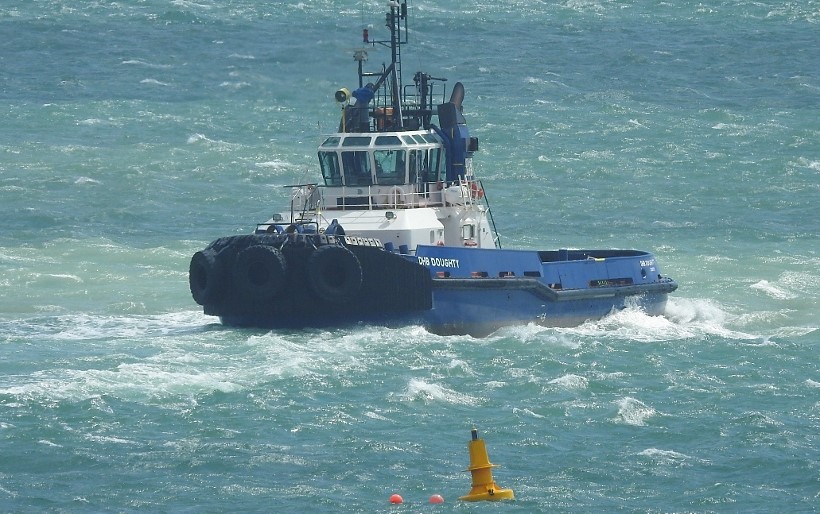 Thursday was a rough tough day...the wind was fiercely strong as it whistled across the harbour from west to east. Both tugs were called into action while the ferries waited offshore and struggled to get into harbour. That's just a small selection of pictures from the day above there covering just one episode. It felt wintry here in the UK while parts of the EU are sizzling above 44degrees...
Yikes

Saturday, 5 August 2017 - 06:04
Post 4062
Sea News, Dover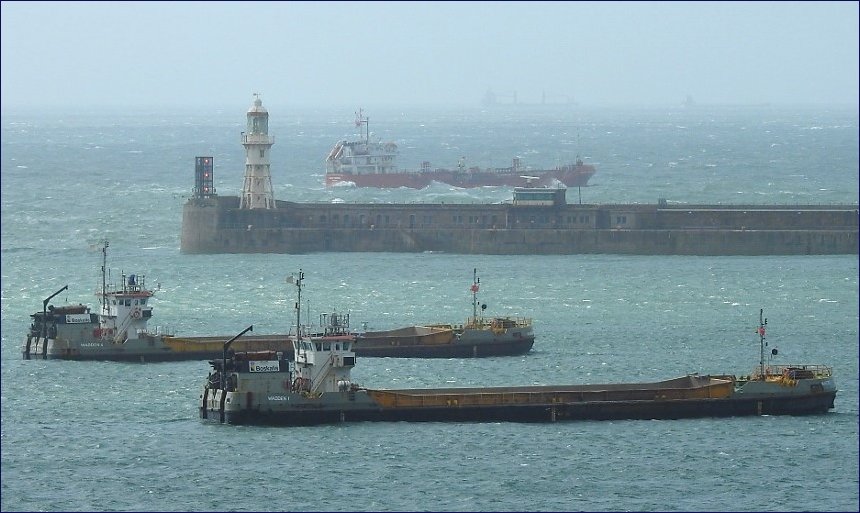 You can see the Duzgit Venture in the middle distance there, the red one, moving away in the rough weather yesterday after servicing the Seabourn Quest. In the near range you can see both Wadden vessels ..Wadden 1 and Wadden 4. It was a rough oul day yesterday...the worried weatherman said that such strong winds were highly unusual for august. And they were...ferries laid up offshore and both tugs in the thick of the action helping them dock when they eventually could get in to Port.
Glad Mike got those pictures in the post below of the Seabourn Quest...it didn't work well for yours truly yesterday just this one to half write home about.. Gorgeous ship - small but beautifully formed!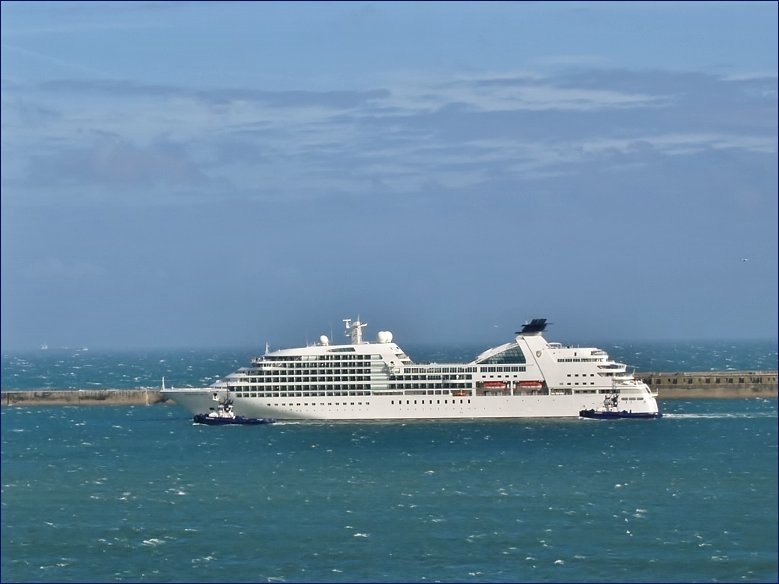 And speaking of traffic worries...here is Charlie's recent missive...just in and right on topic.
Gridlocked again - why we must be Ready on Day One
Dear Mr Boland,
Twelve months on from last year's disaster, the roads to Dover were once again in gridlock this weekend. The A20 had queues stretching back to the Roundhill Tunnels. While on the A2 traffic jams stretched back to Lydden. Cars and lorries started to pile through Capel and Folkestone Road on the B2011.
Year after year it is the same. Last summer the traffic chaos was caused by French border officers failing to turn up for duty. This weekend adverse weather conditions and a P&O ferry breaking down led to the tailbacks. It happens all too easily and all too often – and shows that our infrastructure is too finely balanced to cope properly. The people of Dover suffer every time – and so does the nation as delays at the port costs our national economy dear.
Action is needed now. We need more investment in the roads to the Channel Ports. The A2 needs to be dualled, the M20/A20 to be expanded and the lorry park to be delivered on time. The Government needs to be better prepared for French strikes, bad weather or ageing ferries conking out.
Very soon we will also face the challenge of Brexit here at the Dover frontline. That's why I have put together a detailed report with industry experts and business leaders on the action we must take now to ensure we are ready on day one for every eventuality.
Stories in the national press this week warned that we will be hit by huge border delays and suffer more than £1bn a year in economic damage when we leave the European Union. The truth is that Brexit can be a huge success for Britain and for Dover – but only if we are prepared. At the moment the Government is not doing enough to be prepared. So I am pressing them to get a grip and do better.
That includes accelerating investment in the technology and infrastructure we need to keep trade flowing freely through our ports. With fellow MPs I have been urging the Treasury to move faster in preparing our border for Brexit. Especially to take on board that for customs, the border is a tax point - not a search point - and that with digital borders customs clearance can be managed incredibly quickly. In Singapore, for instance, clearance takes less than a minute.
We have also been urging the Department for Transport to invest in roads and infrastructure to ensure Britain is Brexit ready on day one at Dover and the Channel Ports. It is concerning the Department for Transport appears more interested in Crossrail than cross-border trade. For too long Britain has worked for big cities like London rather than the towns and regions. This has to change. We need a renaissance of the regions.
With Brexit less than two years away, we must have real investment at Dover. There are huge opportunities to increase our trade across the globe when we leave the EU. We must invest in our borders now to ensure we can boost business from day one.
Charlie Elphicke, MP for Dover and Deal.
* *
Thanks Del...more on the traffic situation above there for you to ponder.
Cracking set of pictures below Mike. Truly capturing the moody day moment. No need to feel frustrated as they are just right...
The Saga Pearl is back in with us today as are the mackerel...shoals of them, exciting the life out of the seagulls..see also 4021.

PaulB
Friday, 4 August 2017 - 06:12
Post 4061
Mike J., Dover
Frustrating.
A stroll up an almost deserted Ad.Pier in very nice light with winds gusting almost to 50kts in the hope of nicely-lit pix of the SEABOURN QUEST as she left by Western with 'white caps' to improve the photo.
She left by Eastern.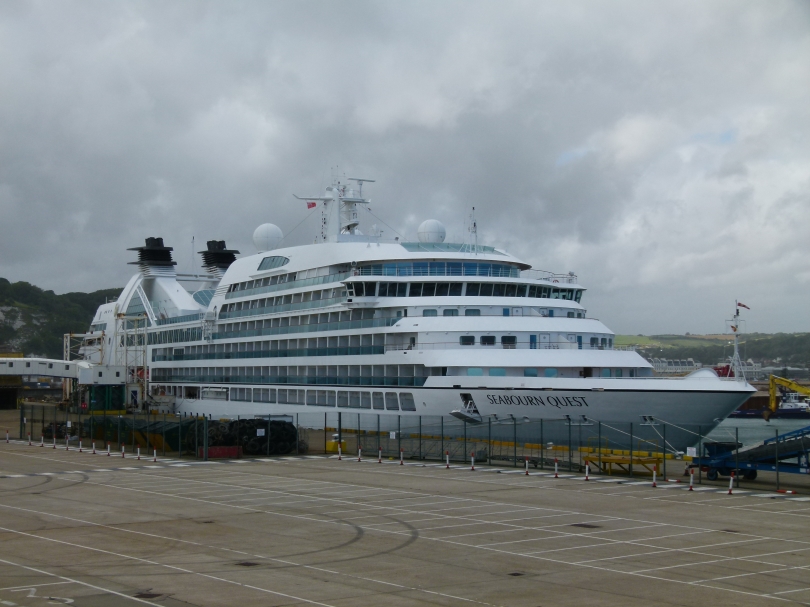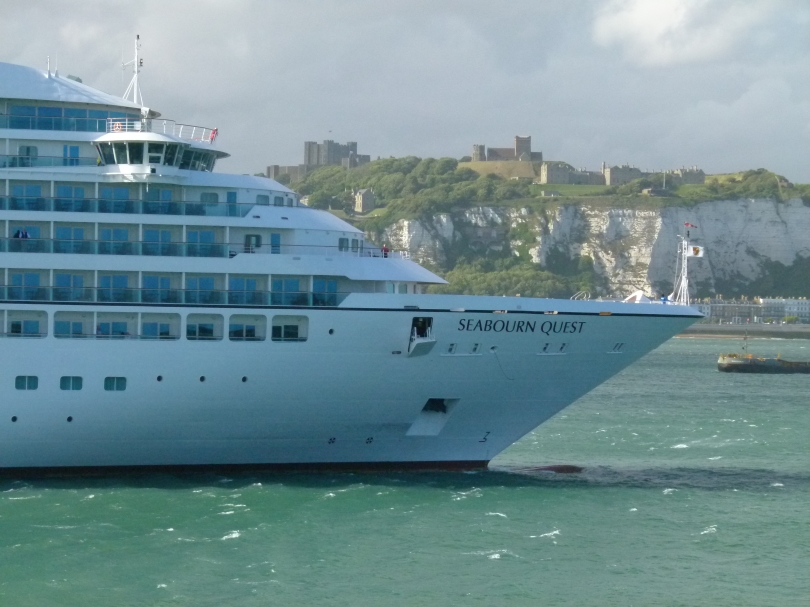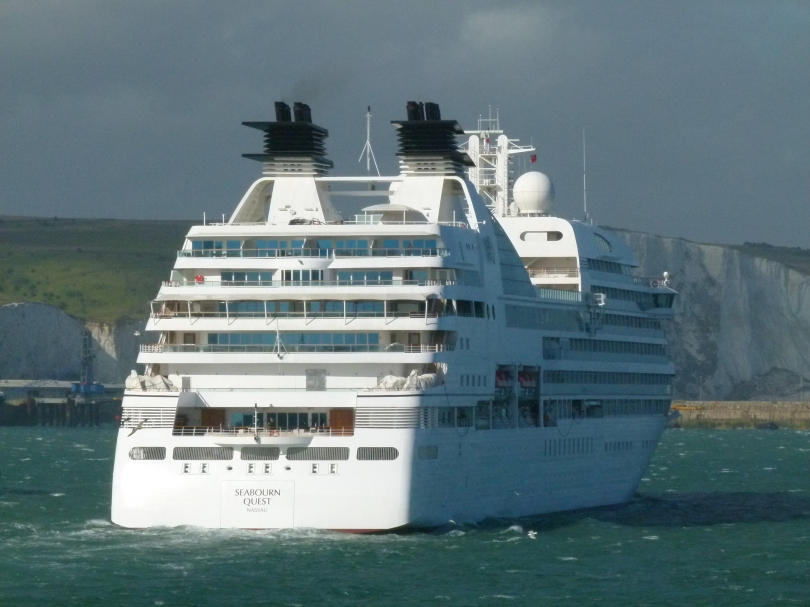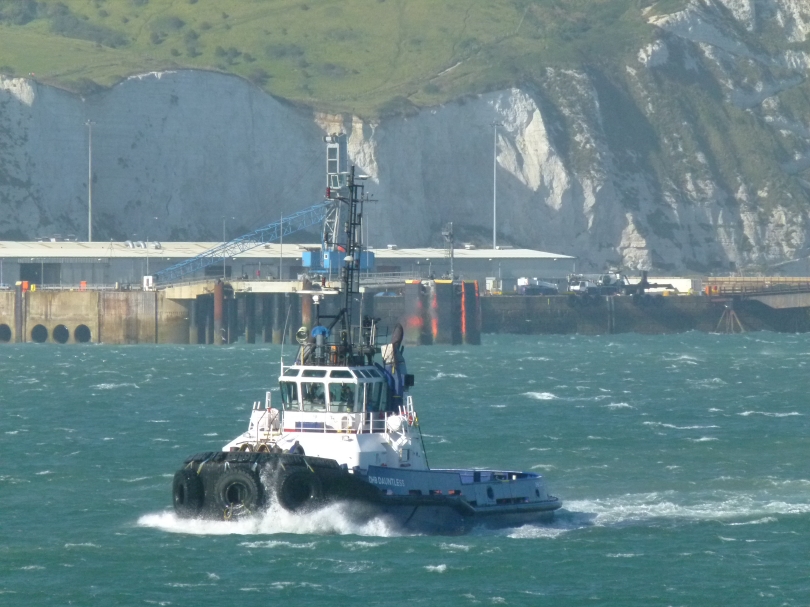 Del - Maybe i should have qualified my remarks by saying that EVERYTHING gums up when traffic is heavy, particularly as the freight has discovered the A2 as a potential short cut, altho' sometimes they are turned back when they come off the M2 & told to go back up the M2 to use the M20.
Inevitably some of them then head towards Ramsgate & try the 'via Sandwich Bypass' route to rejoin the A2 between Whitfield roundabout & the Duke of York & Jubilee Way goes solid.
Friday, 4 August 2017 - 00:44