Saturday, 14 December 2019
Sea Pictures from Dover....

WWW.DOVERFORUM.COM/SEA-NEWS
Featuring all the ships that come and go and work at the Port of Dover ..
... with further coverage of the surrounding ports.
Sea News Dover
Port of Dover: New CARGO TERMINAL opens for business see 6688....


Christmas

Spectacular Event at the Port 6648... Port Fundraise Record 6659.
MP Charlie Elphicke moving aside for wife..see 6646. Wife Natalie Elected 6694.
P&O: St Richards School trip to Calais for 6 year olds see 6630. New Apprentices 6662. AWARD SUCCESS 6681.
DFDS: Contract Cancelled see 6626. New Apprenticeships 6650. WORLD'S BEST see 6676.

P&O Ferries Choir dates for

Christmas

... see 6693.
Use our SEARCH ENGINE below to find all sorts on the SEA NEWS pages....type in the topic and away you go, or if you have the post number, just type it in the box, more than
- 6600 -
nautical posts now. Posts are welcome. just click 'Add Your Comment' below. Max of 5 pictures preferred although we can stretch that for special stories.. Sea News Editor Paul Boland - send info or pix to dover7@msn.com. Always welcome.
UPDATE:
To show your pictures at their best..it could be worthwhile resizing before posting to
850
pixels wide.
All pictures on these pages are the copyright of the owners and must not be reproduced without permission.
Post 6656
Sea News, Dover
Looking West: Western Docks Dover.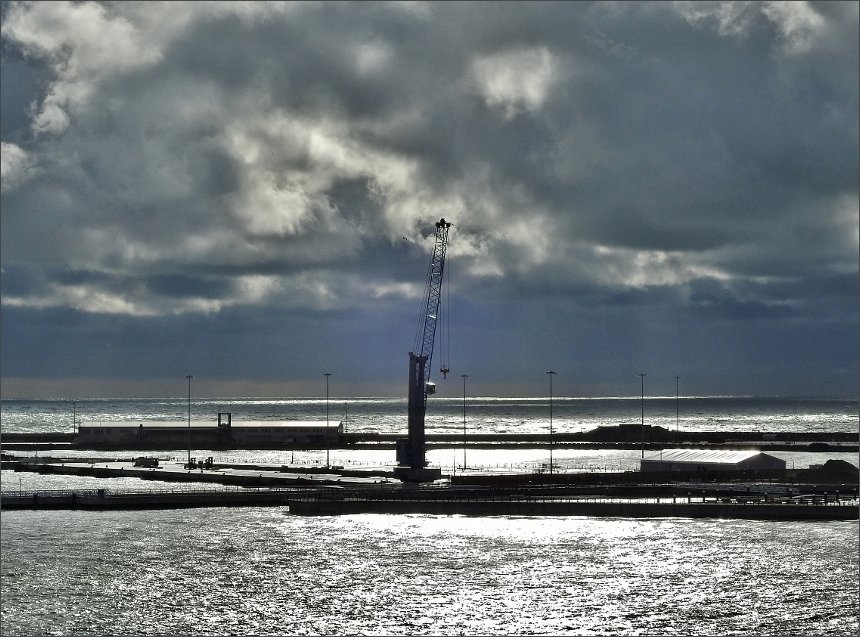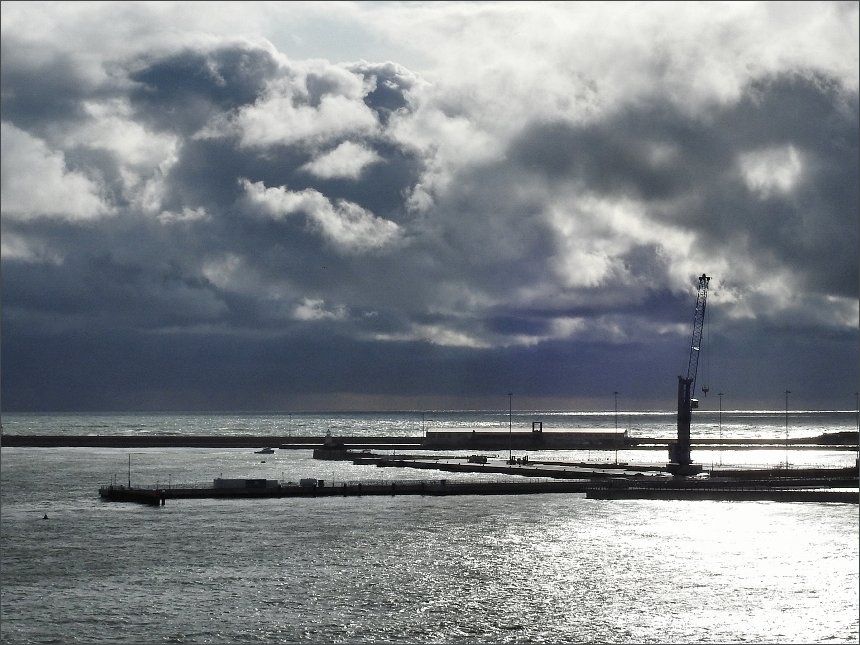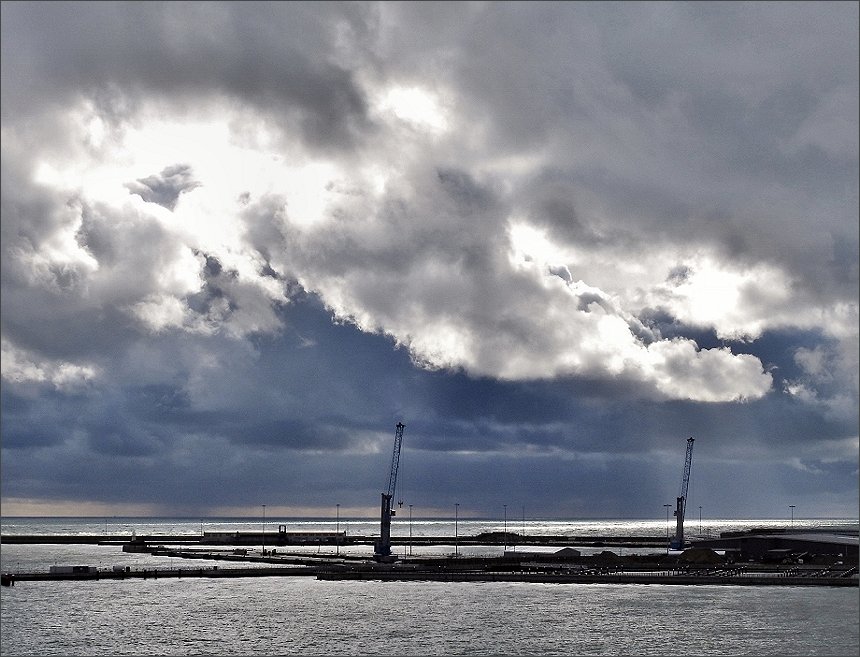 Rough Days in Dover: Much rain has fallen...and when you look at the skies in the pictures above you can see why. This was the situation in Dover on Thursday mid morning. The sun was still battling to get through but gave up before too long...the dark menacing clouds took over and the rains came...

As the pictures are wide landscapes ..have tried to push them so they show that bit larger so all can see well...
Well done Ted below

...a great fast 'Famous Five' collection of Seacats there, hugely enjoyable. Yours truly only had one run on a Seacat, to Boulogne it was, if I'm remembering correctly. Enjoyed it .. so very interesting to see those pictures.
Great stuff Ted!

Ah Yes Del the Hovercrafts supplied a mixed bag of emotions, up and down! ...the Seacats as shown were a tad easier for the traveller but all were exciting in their own way.
PaulB
Saturday, 16 November 2019 - 06:43
Post 6655
Del Styan, Norwich
Ahh the Hovercraft. Happy yet not so happy memories. Great idea, but not so good in practice. Fast - yes, but noisy, shuddery, and coudn't see a thing out of the windows because of the spray.
Sorry to see them go, but the ferry was a much nicer, if longer experience.

Friday, 15 November 2019 - 22:56
Post 6654
Ted, Canterbury
"Five from the past" Now just a memory...The "Fast Craft" era at Dover Western.
Hoverspeed's DIAMANT.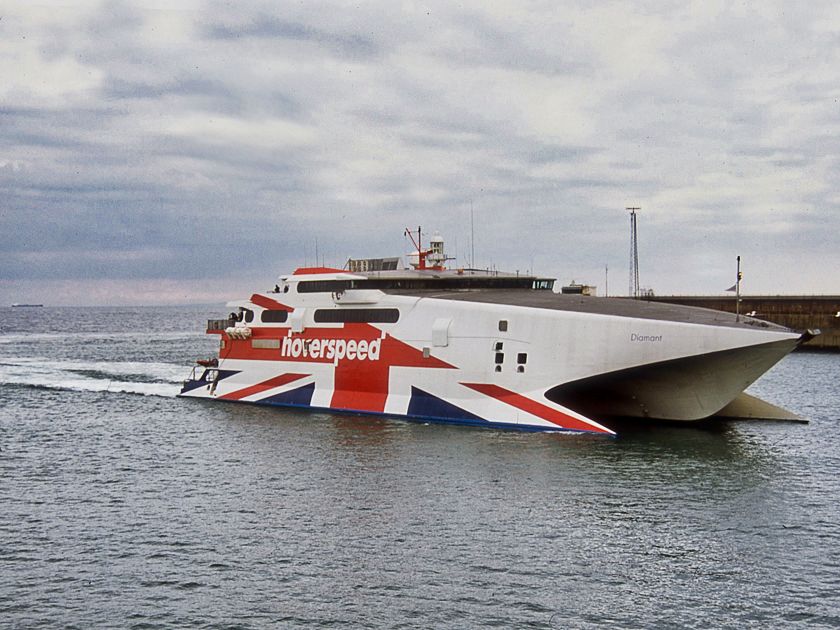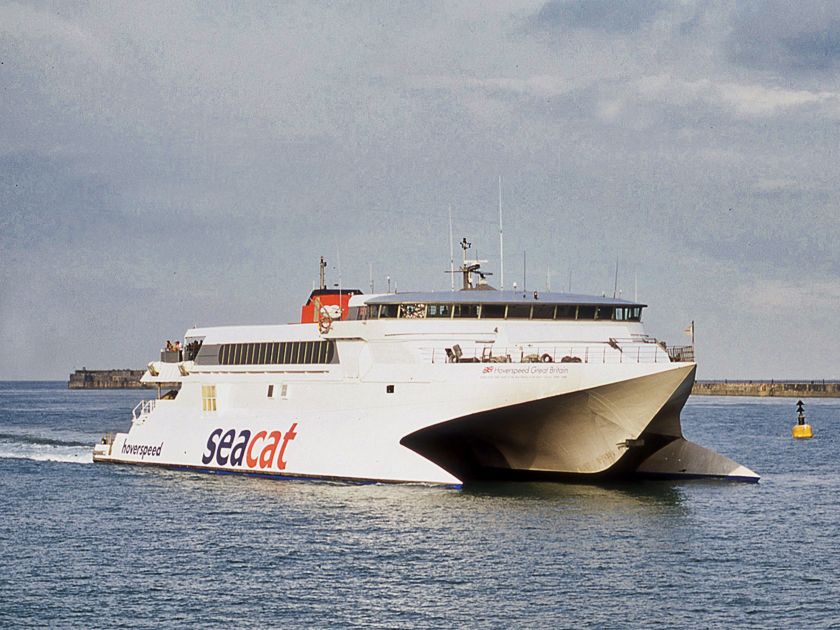 Hoverspeed Great Britain.Holder of the Blue Riband. Fastest Atlantic Crossing.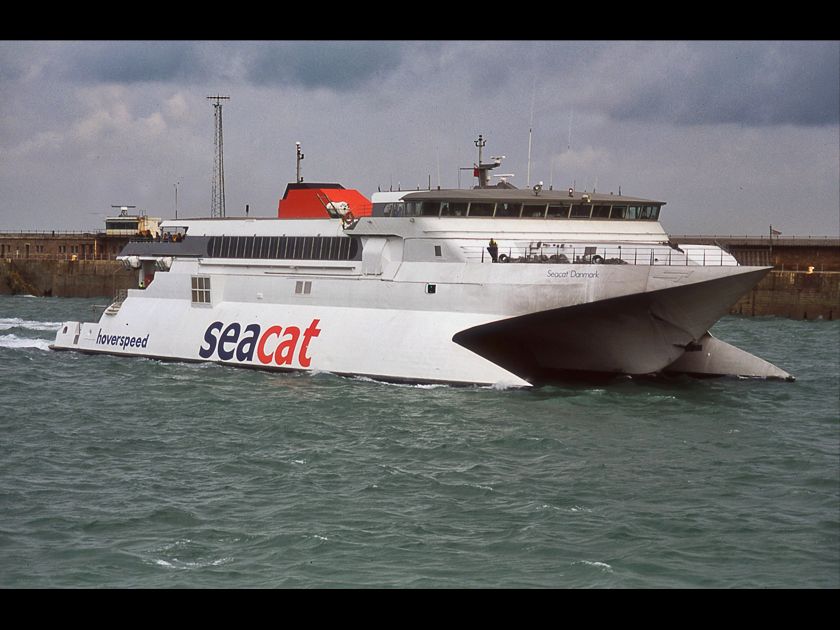 Seacat Danmark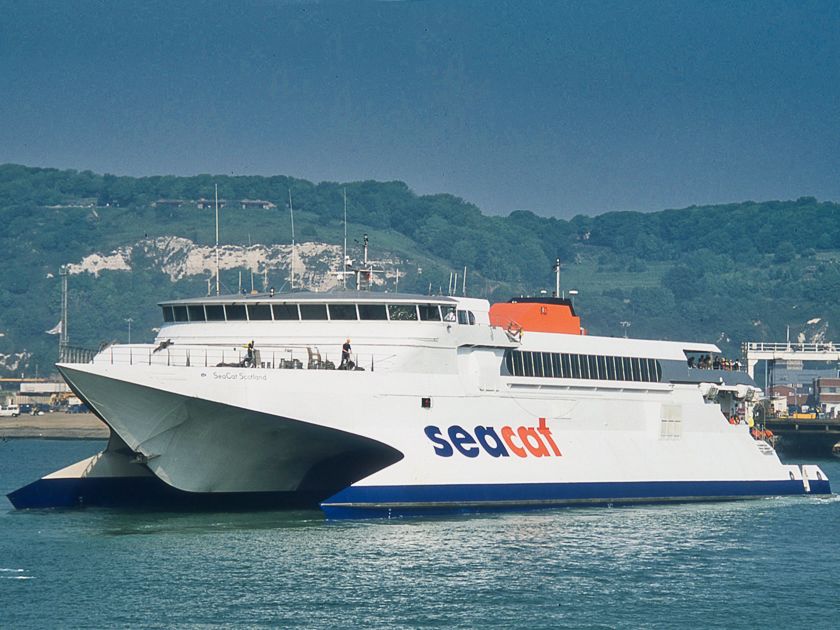 Seacat Scotland
Speed Ferries SpeedOne.
Friday, 15 November 2019 - 16:29
Post 6653
Sea News, Dover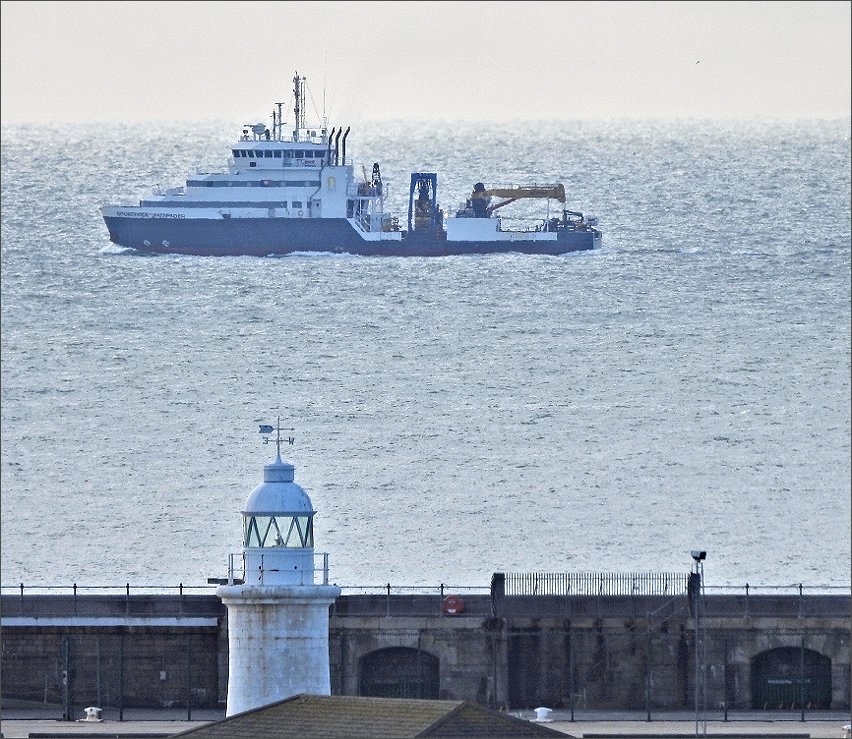 General Roundup: While photographing the Pride of Burgundy at the Cruise Terminal, the photogenic Noordhoek Pathfinder drifted into view once more...as you will have seen in yesterdays pix. That's an extra picture above there which also shows the lighthouse at the end of the one time Prince of Wales Pier. As mentioned in the UPDATE at the base of yesterdays post...the Pride of Burgundy has vacated the Cruise Terminal and is now back in action.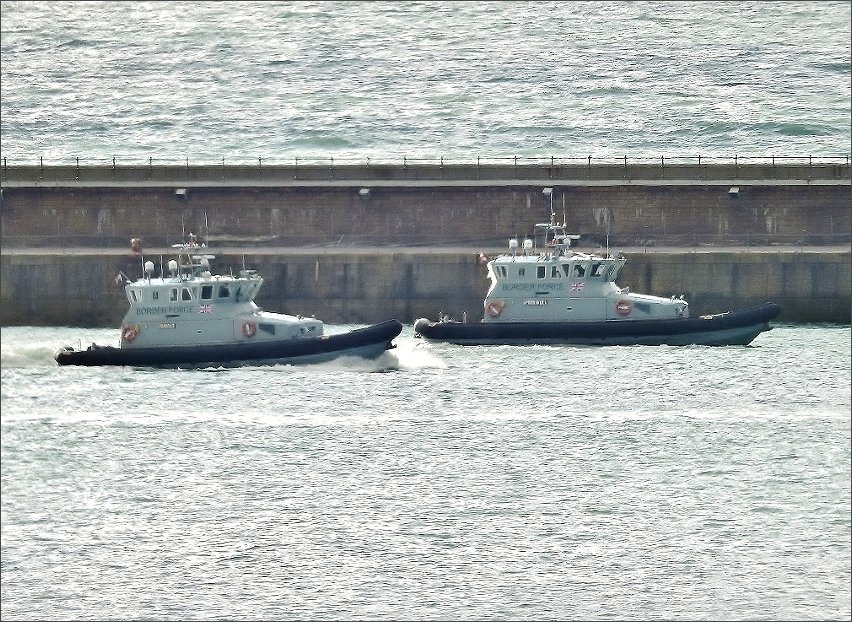 Recent picture above there of two Border Force patrol boats as they return to base...on the left we have Hunter and on the right..Speedwell. The Border Force continue to have a very busy time with yet more migrant boats picked up. The ordeal goes on...neither of the main political parties appear to have a cohesive plan on immigrants or immigration...its like a chocolate bar - all fudge!
A couple of pictures below of a huge platform being towed down the Channel a few days ago. The pictures are not very clear for some reason but thought it worth including them nonetheless... have the name of the dual tug team somewhere...yes here we are...Karmarina and Carlo Martello.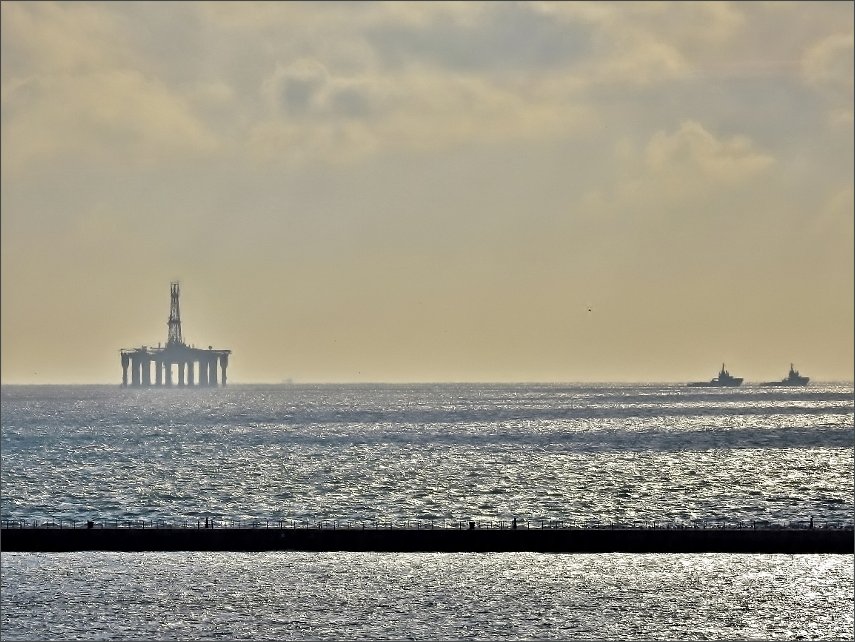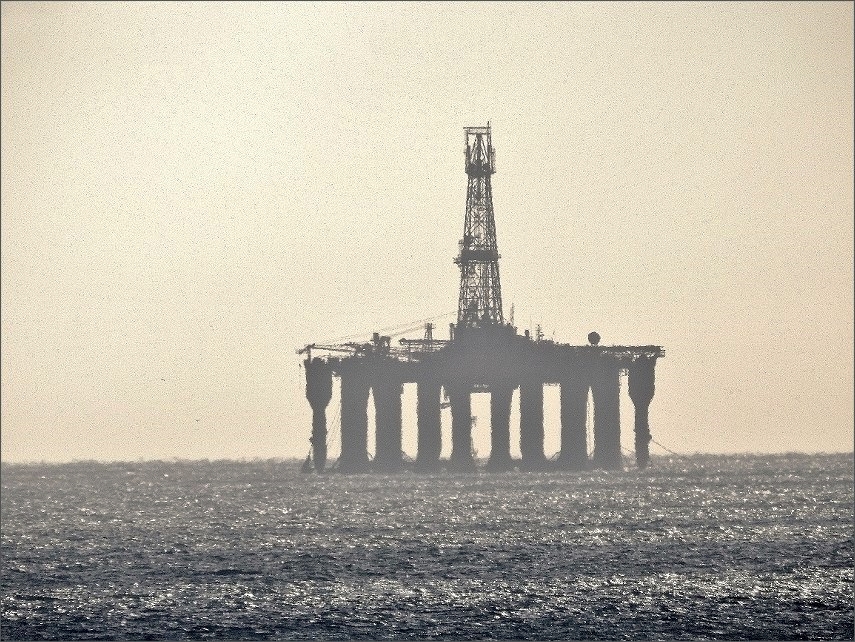 PB
Friday, 15 November 2019 - 06:58
Post 6652
Sea News, Dover
NO DRONES
__________
On 1st November the Port of Dover became the first port in the country to be a granted its own legislation for the restriction of flying drones in or over the Port. The Port made the application, which has been granted by the UK Government, because it is a site of critical national infrastructure. It was therefore decided that it was in the interest of public security to make the order.
The order means that there is a flight restriction of 1000ft above sea level and a 2.25 mile radius covering the Port's estate for unmanned aircraft (typically known as drones).
*Unmanned aircraft operating with the permission of Port of Dover Police are exempt from this order. Permission will be granted on a case by case basis.
ENDS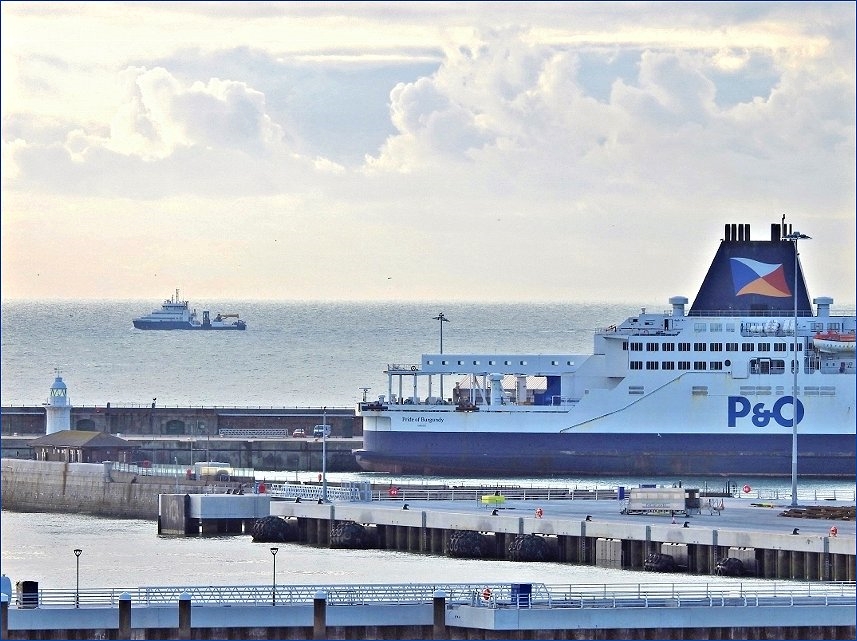 The Pride of Burgundy continues to linger at the Cruise Terminal...Cruise Terminal 2 to be precise. While taking some pictures yesterday the Noordhoek Pathfinder conveniently wandered into the viewing path. The second picture below is a crop of the above but am just carrying out some testing on this one...testing 1,2,3,4,...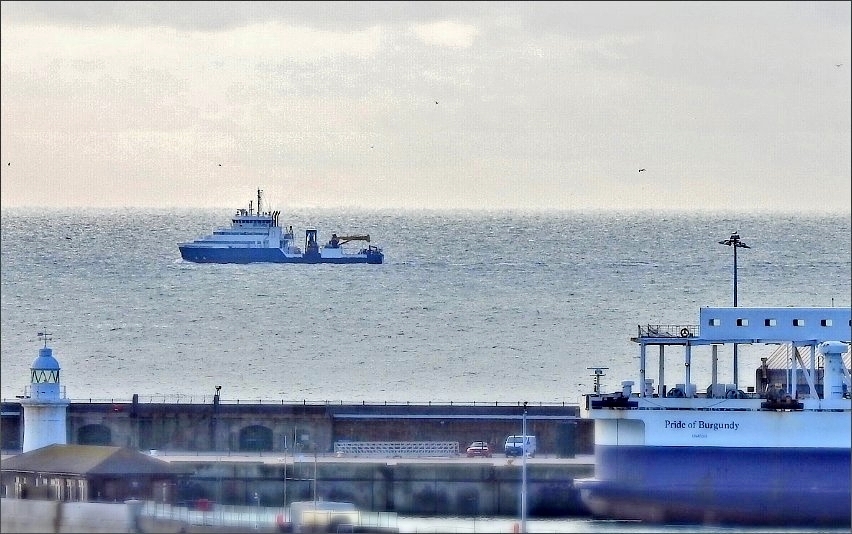 The Pride vessels have been such stalwart 'workhorses' for P&O, one cant but admire their resilience and it only becomes apparent when they stop. Here are a couple of Burgundy pictures from our archives below...
...one from the days when our pictures here were even smaller...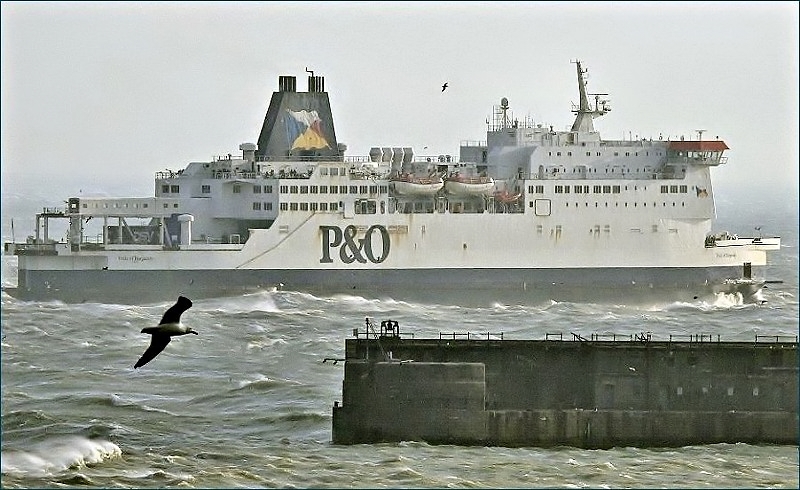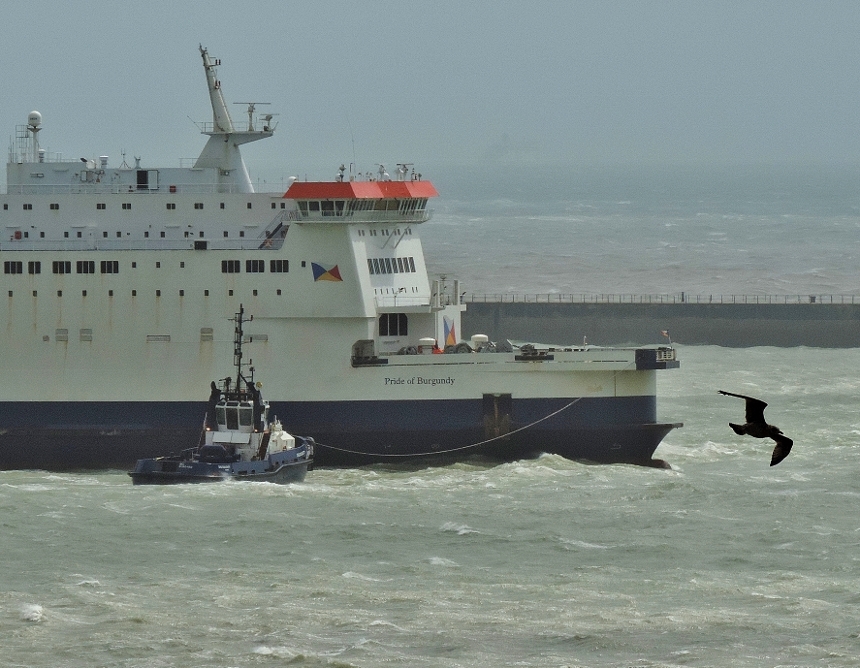 Sid the Seagull playing a big part as ever above.
The top 2 pictures above were taken yesterday, but we switch back to Tuesday night now for the picture below. Its 8PM and through the darkness and gloom the Lombok Strait readies for departure with the help of both tugs. Yours truly had a stab at a picture even though the odds were against us....and here we are...she was off to Bridgetown I believe..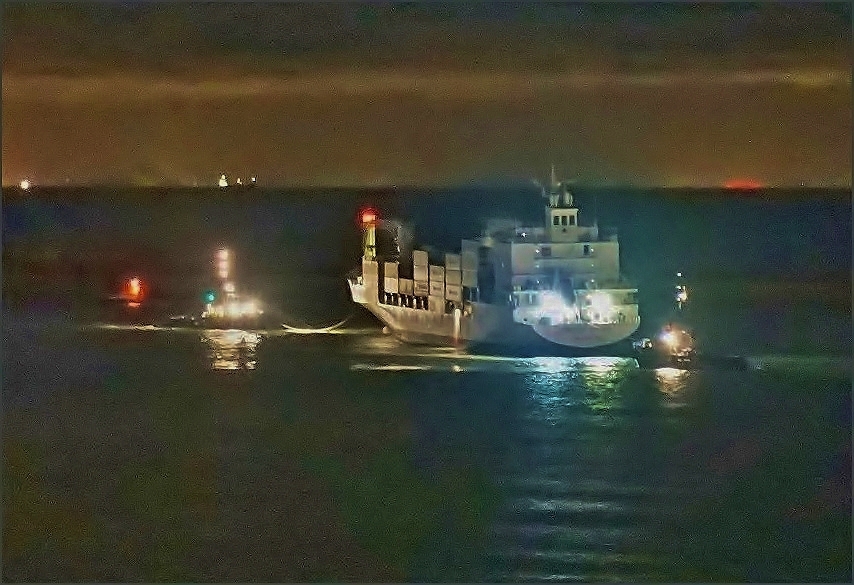 To my surprise I've just found this one below...had obviously attempted a night shot before of Lombok Strait...totally forgot...well here we are an added extra...
Hugely enjoyable further collection from Sunday below. Mike was right on the spot. Don't miss that post below..

PaulB
UPDATE: the Pride of Burgundy left the Cruise Terminal mid morning and now appears to be back in action.
Thursday, 14 November 2019 - 06:57
Post 6651
Mike J., Dover
More from Remembrance Sunday.
Dover Lifeboat CITY OF LONDON 2 came down to Capel to watch the Poppy Drop before heading off beyond Folkestone to continue her Sunday morning exercises.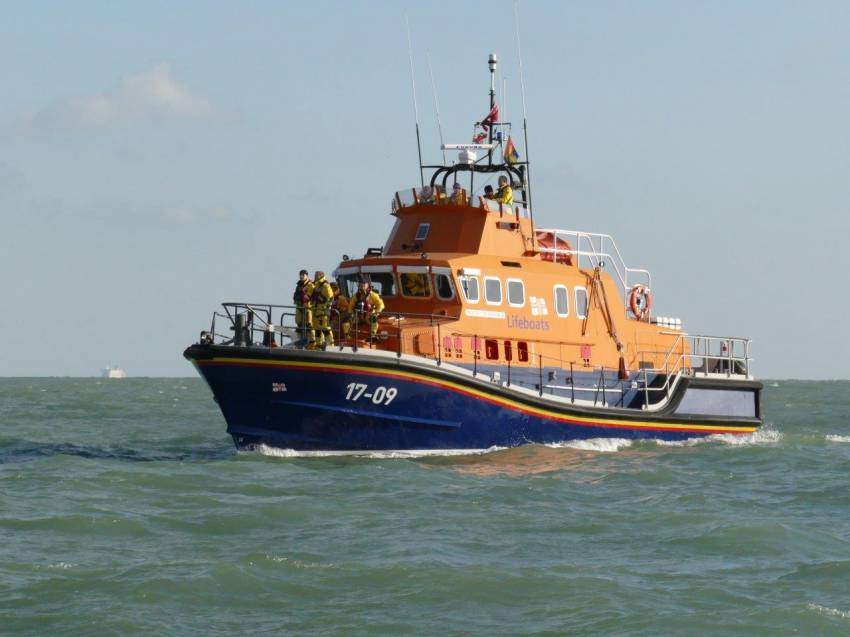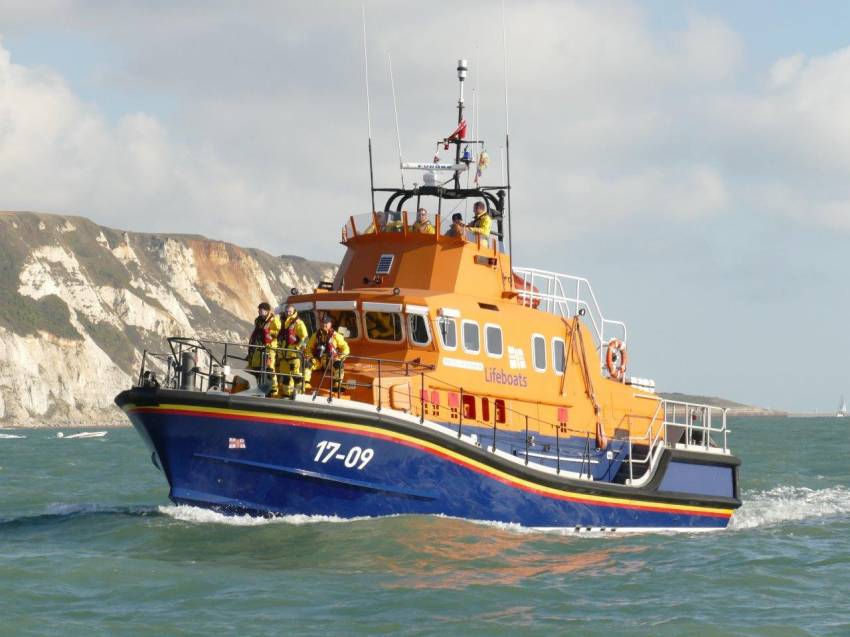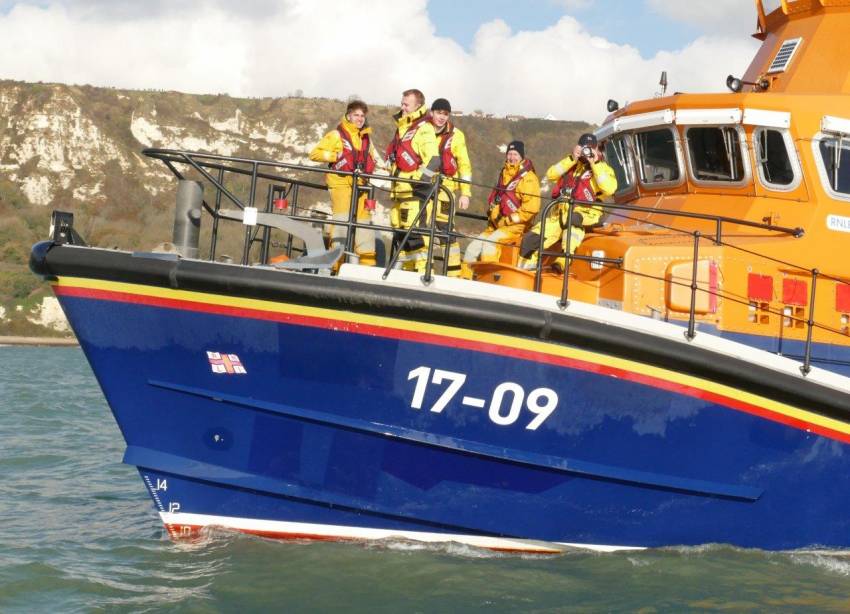 As WET WHEELS returned to Dover, Border Force patrol vessel SEEKER was entering Western ahead of us towing a RIB & we passed her in the bay as she was shortening her tow before berthing at the Tug Haven, where Border Force cutter VIGILANT was already alongside.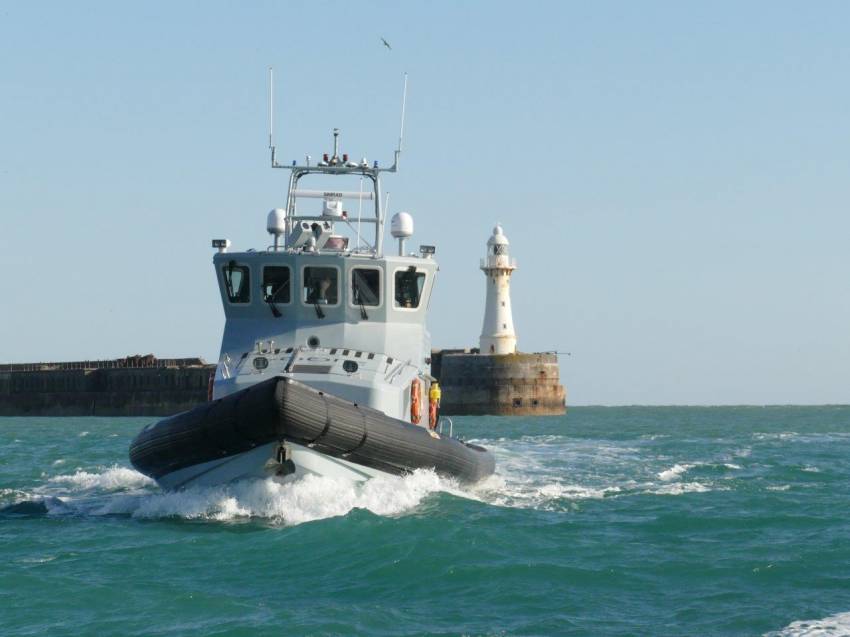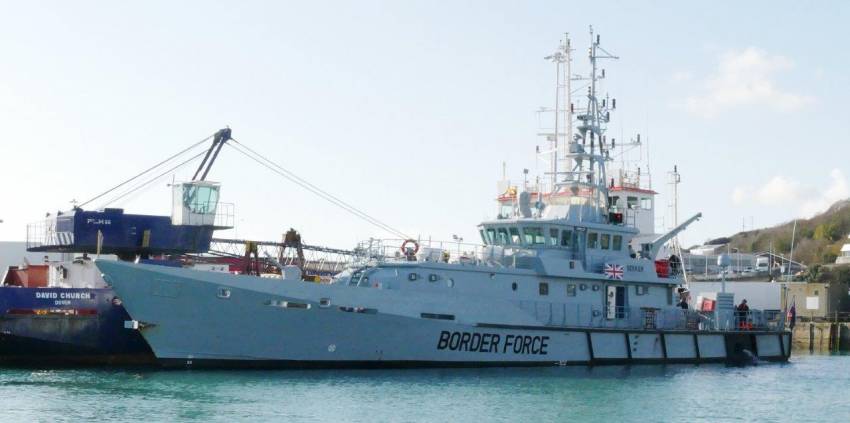 Thursday, 14 November 2019 - 02:21
Post 6650
Sea News, Dover

Ferry giant DFDS launches new apprentices in careers at sea
________________________________________________


Leading ferry operator DFDS has begun to make the dreams of a sea faring career come true for nine new apprentices
Ferry giant DFDS launches new apprentices in careers at sea. Leading ferry operator DFDS has begun to make the dreams of a sea faring career come true for nine new apprentices from east Kent.
DFDS has launched its sixth programme of apprenticeships which it hopes will deliver the ships captains and chief engineers of the future. DFDS was the first maritime company to offer these apprenticeships.
The group were formally welcomed into DFDS at a launch event at the Dover Marina Hotel on Monday 7 October 2019.
Vice President of Human Resources and Crewing, Gemma Griffin, told the new recruits that there was no limit to the careers they could forge for themselves. She said: 'Future captains and chief engineers are here in this room. You can go all the way in this organisation and we have a lot of examples of that in DFDS.'
Ms Griffin began DFDS apprenticeship programme in 2012 after a staff survey revealed a need for new recruits. She said: 'We wanted to reach out particularly to people in the Dover area to say there are great careers and opportunities for you, and we would get new recruits into DFDS as a result. Each apprentice starting today is guaranteed a job with us when they finish.'*
Now on the sixth apprenticeship programme, for the first time this year, external applicants were invited to spend a week of work experience at sea to find out if they would be suitable. The week at sea proved to work for both DFDS and the apprentices.
Seventeen year old Eliot Worsell from Elmes Vale, Dover, said: 'I enjoyed it so much after that week I knew I wanted to have this career and signed up as soon as I could. I want to go as far as possible with my career, there's no limit.'
The apprenticeship programmes last from 18-24 months with onboard training and courses in the classroom based at North Kent College.
The nine divide into 5 deck and 4 engine apprentices. The deck scheme enables trainees to become fully qualified Able Bodied Seafarers. The engine scheme enables workshop skills with the ultimate goal to become a Fitter.
In first instance apprenticeships were offered to family and friends of current employees and to qualify, recruits had to: –
1.Live in Dover or surrounding areas
2.Aged between 17 years and 6 months and 24 years
3.Minimum of Grade C in GCSE Maths and English/Functional Skills
4.Medically fit and able to pass Medical Fitness Test
5.Willing to live on board and live away from home during College phase
Following lunch with their families and DFDS staff, the students left to begin their apprenticeship. The first four weeks training will begin with aspects of seamanship and workshop scenarios. The MNTB designed Apprenticeship course is a two-year training programme which gives students the foundations for a career at sea.
During this apprenticeship, the students spend significant periods of time at sea, maintaining the safety and security of the vessel, cargo and personnel on board, and undertaking a range of practical seafarer skills covering ropework, anchoring and mooring activities and operations.
The nine recruits are:
Eliot Worsell, Dover
Louis Radley, New Romney
Lewis Rembridge, Deal
Robert Coughlan, Guston
Callum Amos, East Studal
Michael Snuggs, Dover
Bradley Watkinson, Walmer
Charlie Abbott, Dover
Lloyd Castillo, Ashford
The apprentices experienced fire-fighting training with North Kent College on Wednesday 30 October 2019.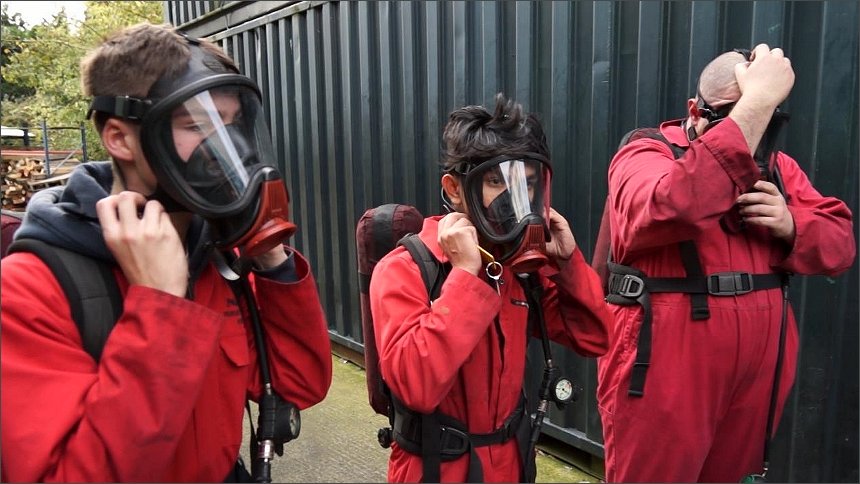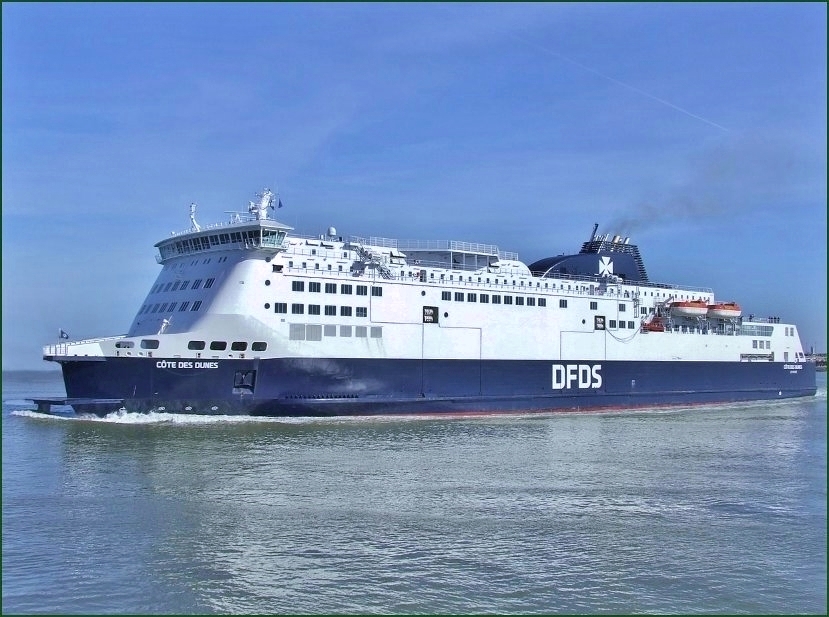 Life at sea.....
Ends
Good luck to all the new apprentices above there....

Many thanks to DFDS once again.
* *
Welcoming Tug Doughty back into the fray ( or should that be back into the spray!)
She's been away for a refit but now returns in style, working alongside Dauntless as per usual...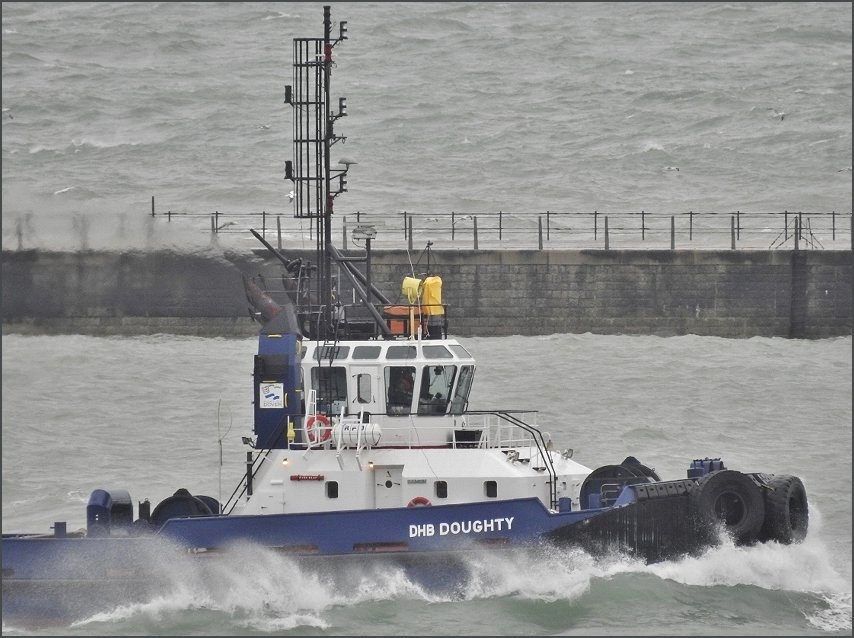 Below we have a pic of the Pride of Burgundy over at Cruise Terminal 2 where she has been now for several days.
There is obviously a problem of some sort... although this does happen occasionally, its rare. Also in shot you can just make out ( through the blinding light! ) dredger David Church.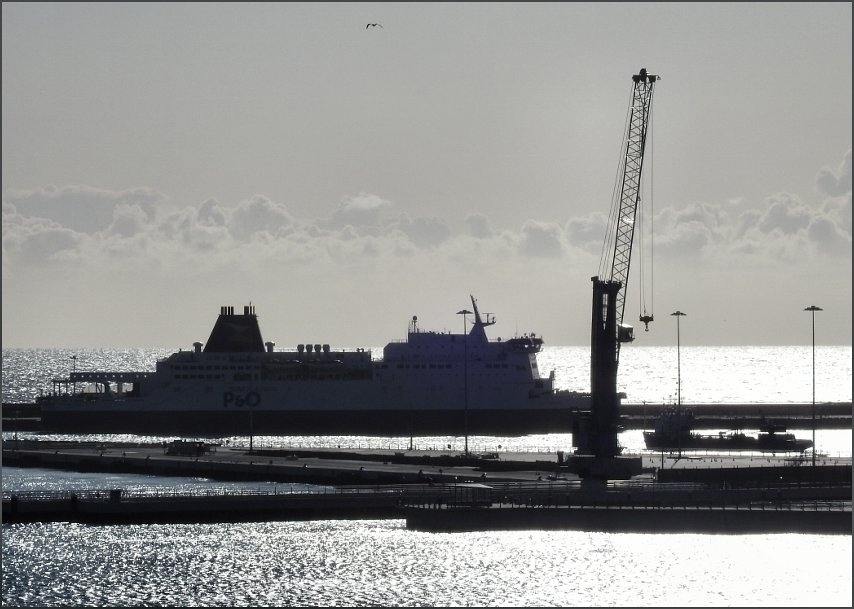 Really excellent post below from our 'inshore correspondent' Mike...capturing the poignant poppy drop..

PaulB

Wednesday, 13 November 2019 - 07:00
Post 6649
Mike J., Dover
A small flotilla of small craft, including WET WHEELS [post 6372] left Dover in blustery conditions on Remembrance Sunday for the flypast & a massive drop of poppies over the Battle of Britain Memorial.
On arrival off Capel the clifftops were packed & apparently there was traffic chaos in the village with some very inventive parking.
At 1300 & on time the three aircraft appeared, a Dakota that had flown in D-Day operations escorted by two Spitfires & accompanied by a yellow Harvard, a prewar military training aircraft from the U.S. acting as a 'camera ship'.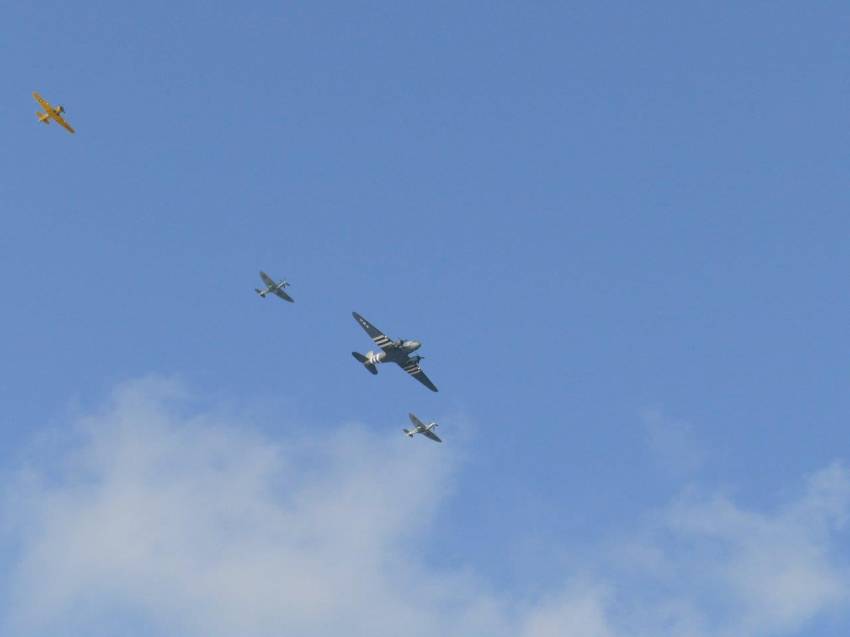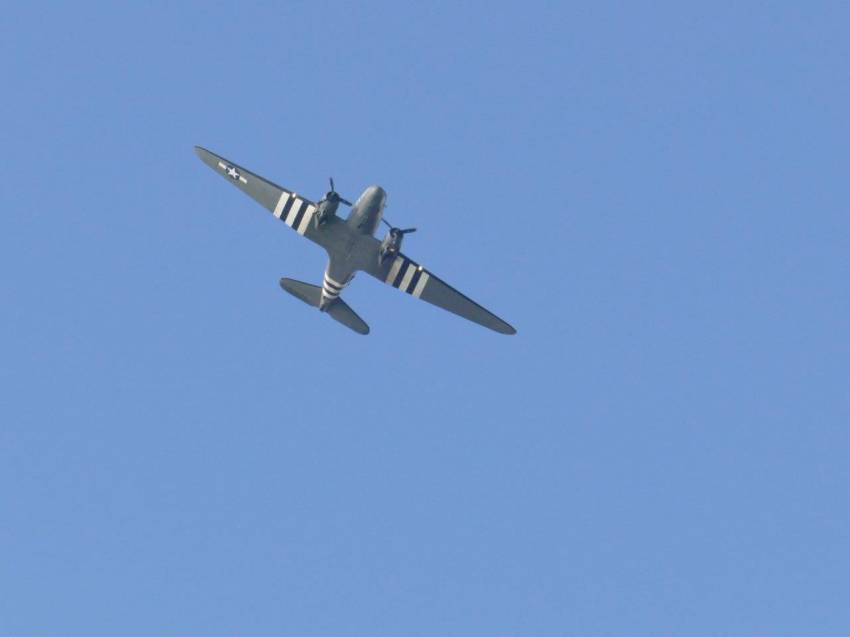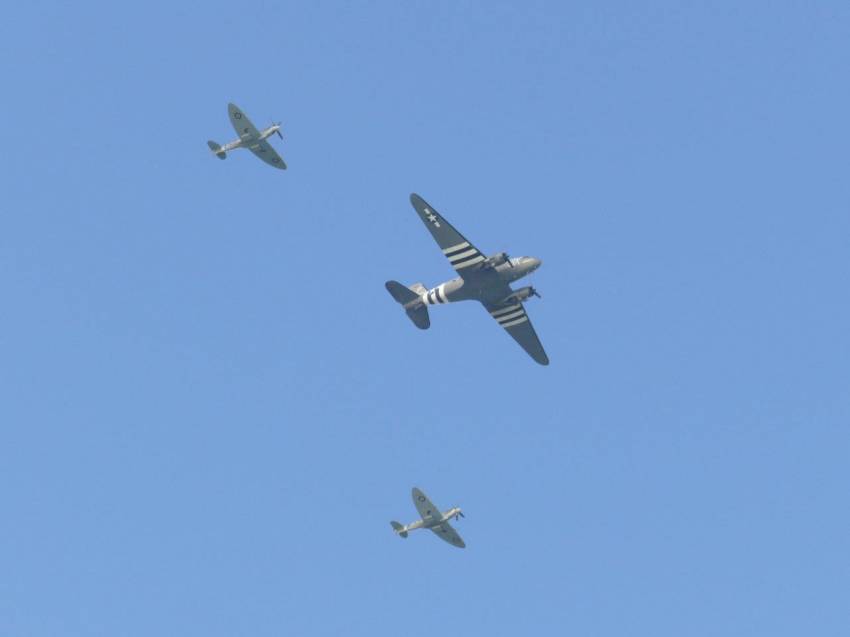 Two 'poppy runs' were made, the 750,000 poppies appearing in the distance as puffs of red smoke - an impressive sight & a wonderful gesture to the memory of all those who fell in conflict & to surviving injured veterans.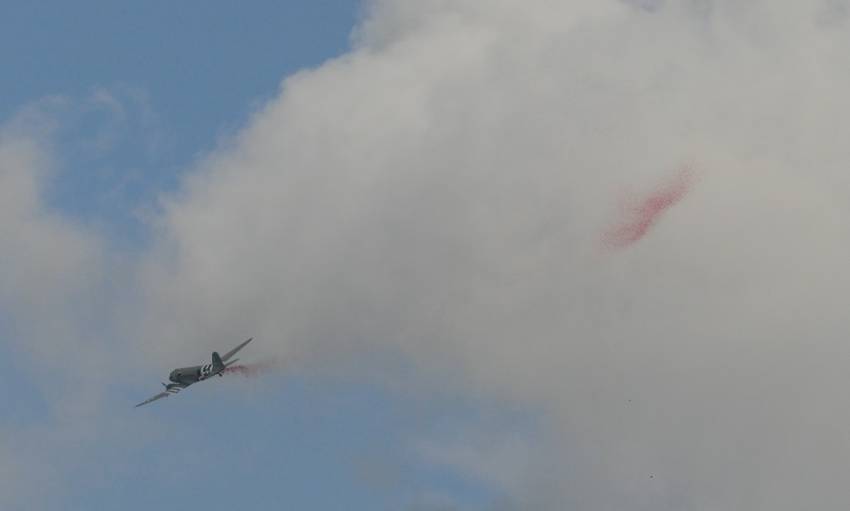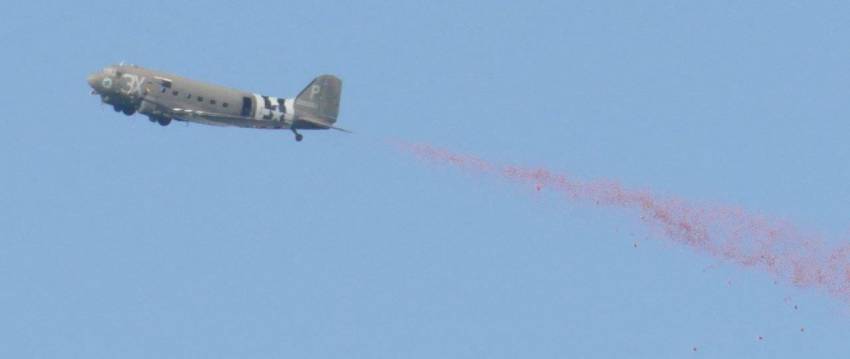 The four aircraft, all from the 'Aero Legends' fleet, carried on past Dover before returning to North Weald Airport in Epping Forest.
For more details of the aircraft google 'Aero Legends'
There is also excellent coverage of the 'Poppy Drop' in their 'News' section.
The poppies [bio-degradable] were carried in the brisk easterly wind over Folkestone & apparently a large number landed in Sainsbury's carpark . . . . . .
Tuesday, 12 November 2019 - 02:08
Post 6648
Sea News, Dover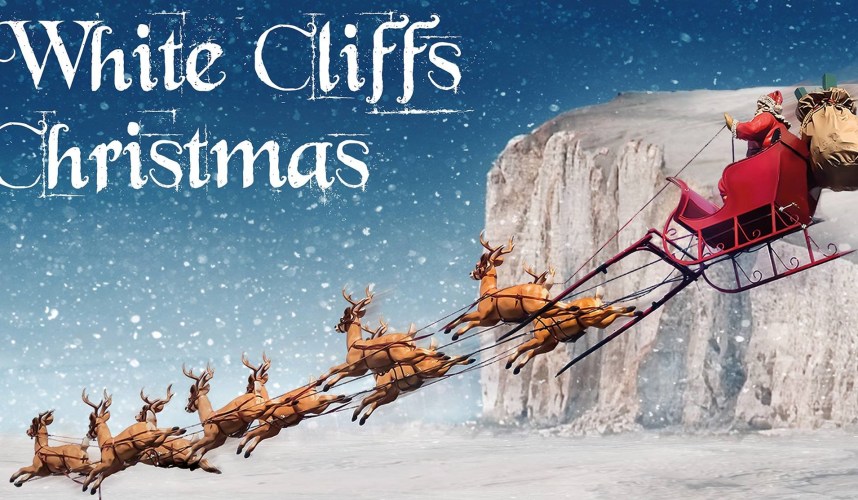 Port of Dover's White Cliffs Christmas spectacular returns bigger than ever for its fourth year
___________________________________________________________________________________
Experience a truly magical white Christmas this year, as Dover's charming Cruise Terminal One is transformed into an enchanting winter wonderland, with the stunning white cliffs setting the scene in the background. White Cliffs Christmas is kindly supported by DFDS.
Father Christmas and his elves will be there to see everyone on this year's naughty and nice list and the undercover ice rink will be the biggest yet at 440 metre squared, meaning more people than ever can skate inside the beautiful marine station. Around 30 christmas market stalls will offer festive treats, crafts and unique gift ideas for loved ones.
Barbara Buczek, Chief Commercial Officer at the Port of Dover said:
"White Cliffs Christmas is a wonderful festive extravaganza for locals and those further afield - we can't wait to spread some Christmas magic around Dover. Now in its fourth year and with more festivities than ever before, White Cliffs Christmas is the perfect winter celebration."
Opening times and prices – opens 1st December *all events are wheelchair friendly

Entry into the event and car parking are free
Skating, sponsored by DFDS (last skate session is one hour before closing)
• Thursday evenings from 5pm until 8pm
• Friday evenings from 5pm until 9pm
• Saturdays from 10am until 9pm
• Sundays from 10am until 7pm
• 19 December 10am until 8pm
• 20 & 21 December until 9pm
• 22 & 23 December until 8pm
• 24 December 10am until 7pm 27 December – 01 January open from 11am until 6pm
• Child £8.00
• Adult £10.00
• Family £30.00 (family of 4)
Father Christmas grotto, sponsored by Walker Construction
• 11:00 – 18:00 Saturdays and Sundays
• 11:00 – 18:00 from Thursday 19 Dec – Sunday 23 Dec
• 10:00 – 13:00 on Christmas Eve
• £10 entry
The Christmas Market will be open every Saturday and Sunday from 10am until 6pm, and every day from 19 to 24 December.
Due to popularity, we recommend booking advance. To book, or for more information visit www.whitecliffschristmas.co.uk. For schools or large group bookings please contact events@doverport.co.uk for a bespoke package.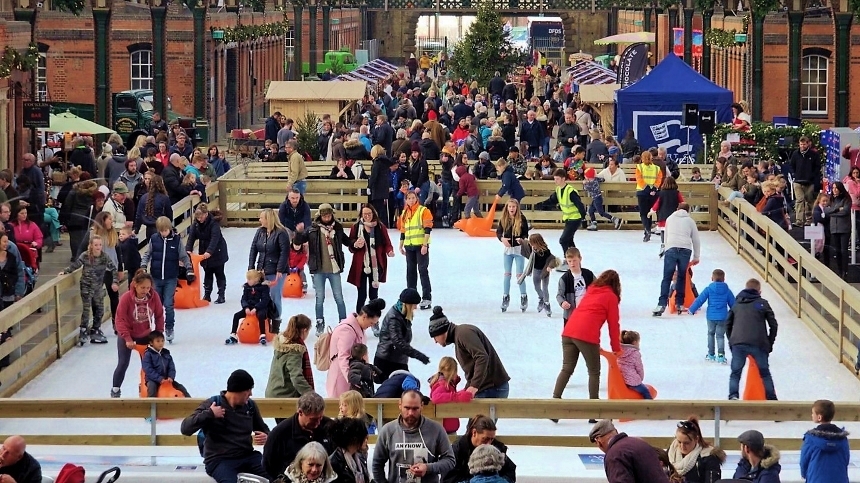 ENDS
Always a very exciting event and in a great location.

Monday, 11 November 2019 - 07:43
Post 6647
Sea News, Dover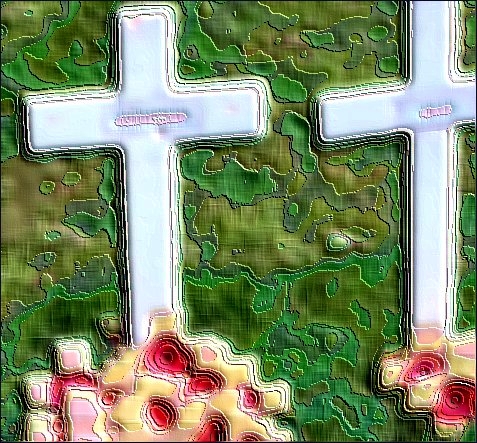 Remembrance …..
Sunday, 10 November 2019 - 06:00
Post 6646
Sea News, Dover
Yes indeed, as Del says below, because Charlie Elphicke MP has a legal case to answer, his wife Natalie is taking up the reins in his stead... and standing in the general election as the Conservative representative for Dover. Well I never!
A clever twist ?
Dover and Deal Conservatives Association chairman Keith Single said: "We considered matters most carefully and it is clear to us that Natalie will be an outstanding candidate for the Conservatives in Dover & Deal."
He went on to say..
"She has loyally and effectively campaigned for the Conservatives over the past 30 years, and with us in Dover and Deal for over a decade. Nationally, she has led a government review into housing policy and been director of the Conservative party's policy forum."
* *
I had the following scheduled to go up so will go ahead anyway... never a dull moment...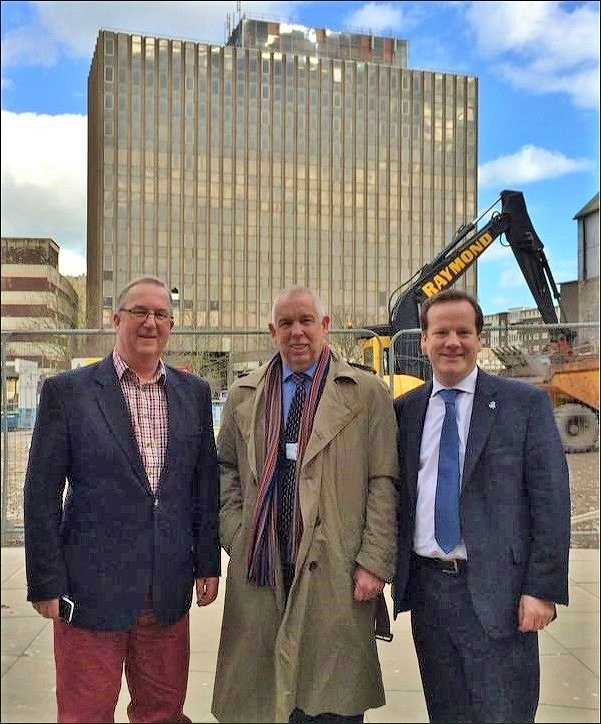 This is one from the past, it shows three local leaders posing in front of the then soon-to-be-demolished Burligton House.. We have from left to right former long time Leader of the Council Paul Watkins, top council man Tim Ingleton, and of course Charlie Elphicke MP. An historical picture now in more ways than one...
This latest missive below arrived with us here from Charlie Elphicke MP on Thursday....
Delivering for our area
______________________
Dear Mr Boland,
We've come such a long way together. Why would we want to return to where we were less than a decade ago?
Since 2010, record investment has been secured for the public services we all rely on. I have campaigned tirelessly for more jobs and money because a secure job and being able to pay the weekly bills matters to us all.
In healthcare we've seen the new £26 million hospital built in Dover, while Deal Hospital was safeguarded after our strong local campaign. Now we also have a new medical school on the way, taking its first students next year. The UK's first ever dementia village is due to open in Dover too. On top of all that, the record NHS investment secured in the new national funding deal means £350 million upgrades are planned for our major hospitals in east Kent.
School standards are up as well. Since 2010, some 27 local schools have improved their Ofsted ratings. I also fought for a new funding deal that will see our pupils get nearly 10% extra, meaning millions more for years to come. An official study recently put Dover and Deal in the UK top 10 for social mobility in both nurseries and primary schools meaning more opportunity for our young people.
The campaign for the renewal of our area has helped create 7,700 new jobs, rising wages and more than £500 million of investment. Burlington House is down, with a £53 million cinema and shopping complex rising in its place. We've also got the new £26 million leisure centre and the £250 docks transformation, while the fast train sweeps into Deal and the villages all day, every day.
And we've worked to get our area's voice heard at the very top of Government. We got the French authorities to dismantle the Calais Jungle. I am just as clear now on the need for them to take stronger action to stop people making dangerous journeys in small boats. Because everyone knows that letting the migrants in Calais into this country, as proposed by Jeremy Corbyn, only encourages more people trafficking.
We've fought for safer streets too. I campaigned in Parliament to secure £23.6 million extra cash for Kent Police from central government an 8.1% boost. As a result, 380 new officers have been recruited across the county. From the latest intake alone, an extra 11 officers will soon be patrolling the streets of Dover and Deal.
Alongside the mum of a teenager who died from a deadly new drug, I also campaigned to secure "Robert's Law". This means tougher sentences for dealers of fentanyl. Deaths from it fell for the first time for years in 2018 and our top cops at the NCA have heaped praise on the campaign.
It's vital that we build on all this massive progress for our area, not go backwards. We need to get Brexit done so we can keep moving forward. Our best days are yet to come.
Charlie Elphicke
* *
Some gentle wide pictures of the Lifeboat going out on exercise last sunday morning...all was calm.. We were going to lead with these shots but the latest news changed the order.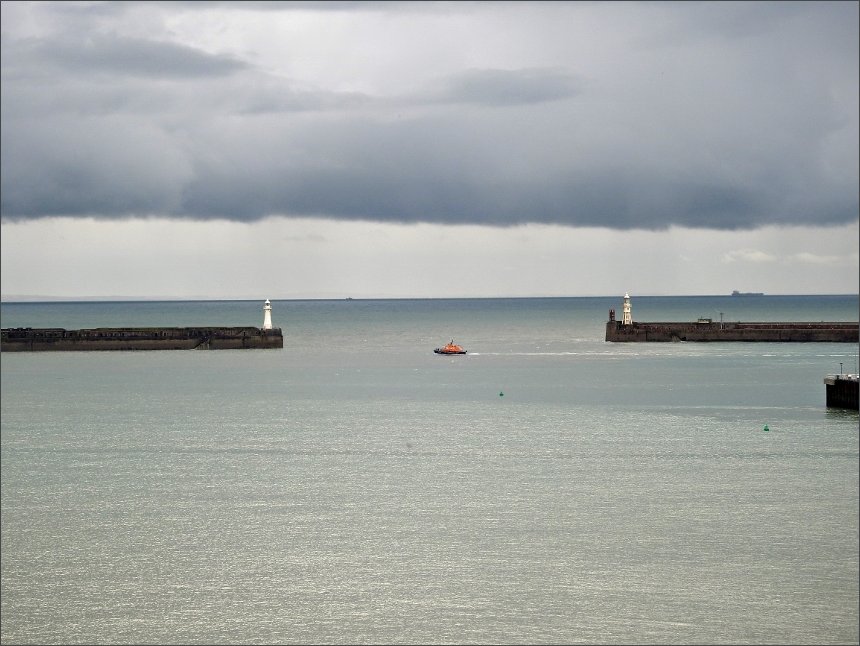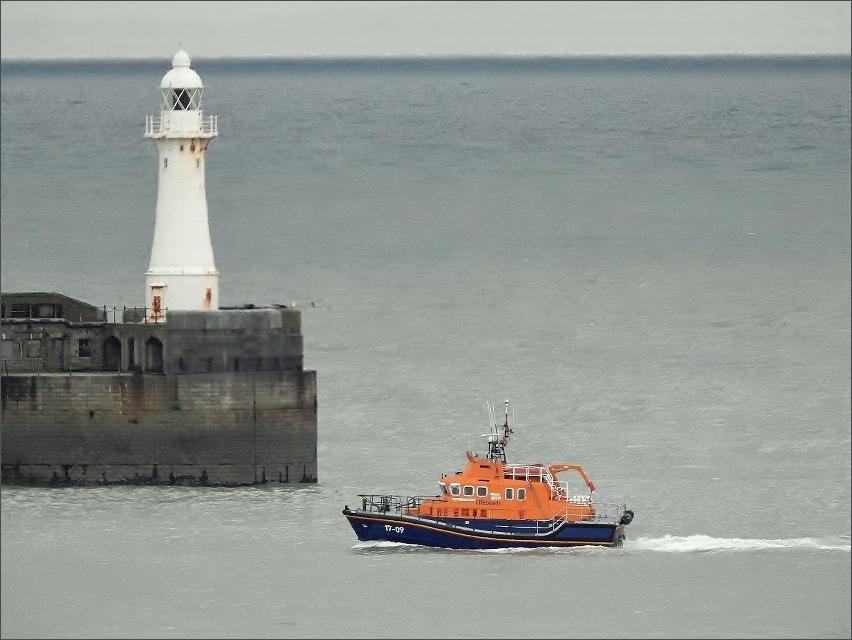 The picture below from Thursday shows German warship Mecklenburg Vorpommern passing by. I thought it was a first for yours truly but later came across another picture in the files of the same ship...the pic wasn't all that sharp then either ! It must be a camouflage thing !!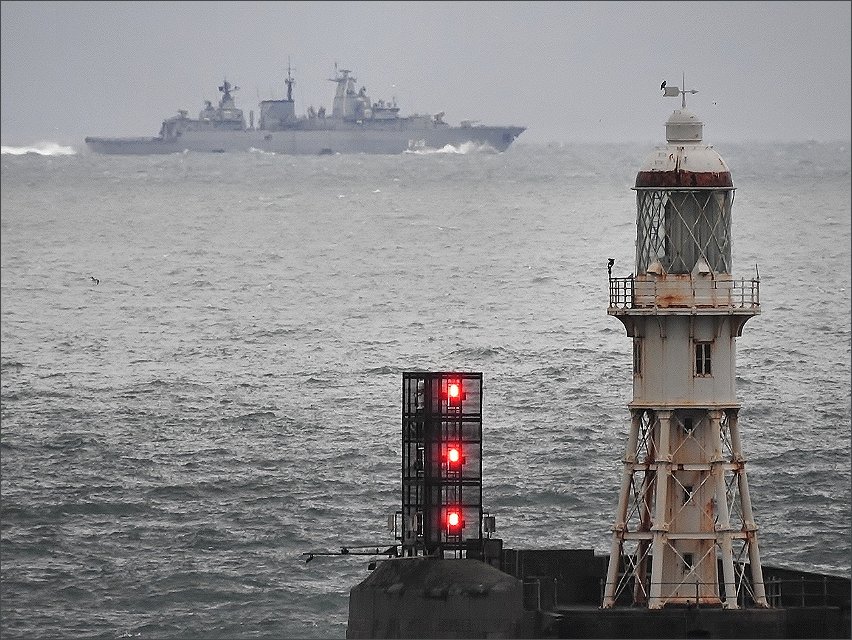 No we didn't see that one coming Del...

Let's see how all this develops...
A cracking 'Famous Five' collection below from Ted once again. Don't Miss All That! great pictures and great info Ted...

PaulB
Saturday, 9 November 2019 - 06:28
Post 6645
Del Styan, Norwich
I see Mrs Charlie has been selected to be his successor. Didn't see that coming!

And I learnt a bit about the UK's gas supplies as well - what an interesting day.

Friday, 8 November 2019 - 22:56
Post 6644
Ted, Canterbury
"Five from far away"Well,still in Kent.The North Kent Coast on the Isle of Sheppey.
A one off.
When you turn on the gas at home...ever wondered where it comes from?......
Well as North Sea gas is becoming depleted we have to import the gas from overseas. LNG (Liquid Natural Gas). With the drop in temperature demand increases.The latest shipment of LNG arrived at the Isle of Grain from North Russia,Sabeta, in the Arctic Circle and the USA (Sabine Pass).It also arrives from Trinidad and the Middle East.
The photo below was taken from Queenborough.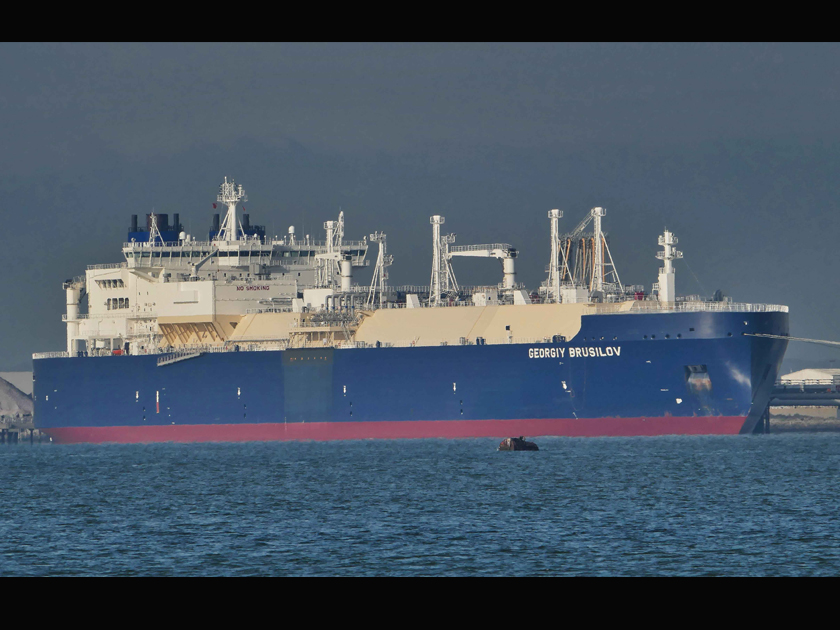 The Russian LNG tanker GEORGY BRUSILOV has just completed discharging and is waiting for the Pilots and tugs ready for departure.There are now a few number of this class of vessel with ice breaking capabilities for the Arctic journey.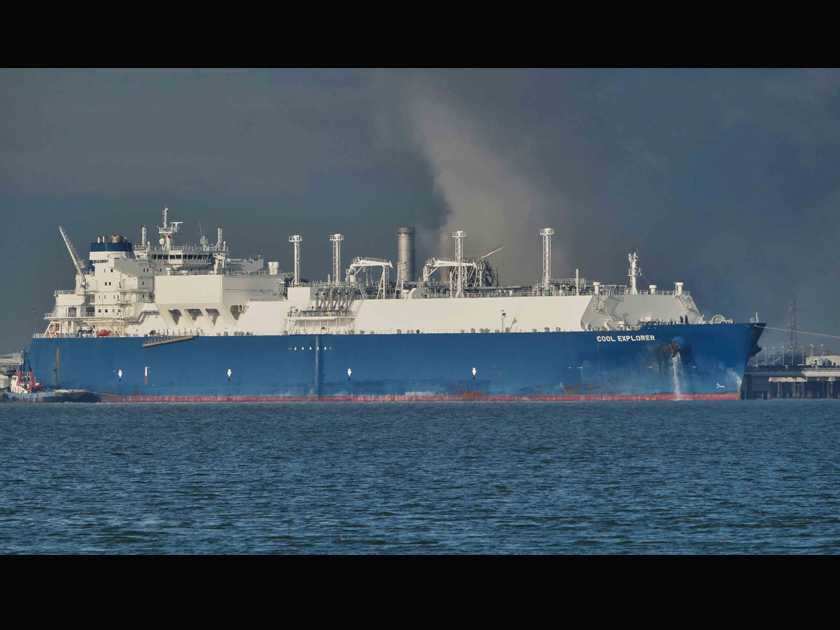 The Maltese registered LNG tanker COOL EXPLORER has just arrived from Sabine Pass U.S.A.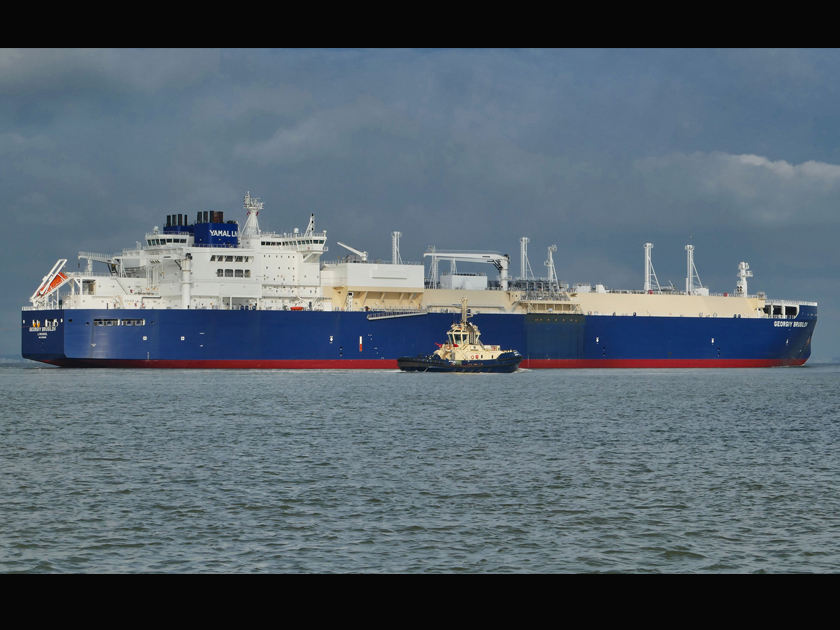 The GEORGY BRUSILOV bound for the large LNG Terminal in Sabeta,North Russia.She has a tug escort whilst in the Medway Channel.One tug is connected to the stern and the other follows alongside.The journey to Sabeta takes approx twenty days.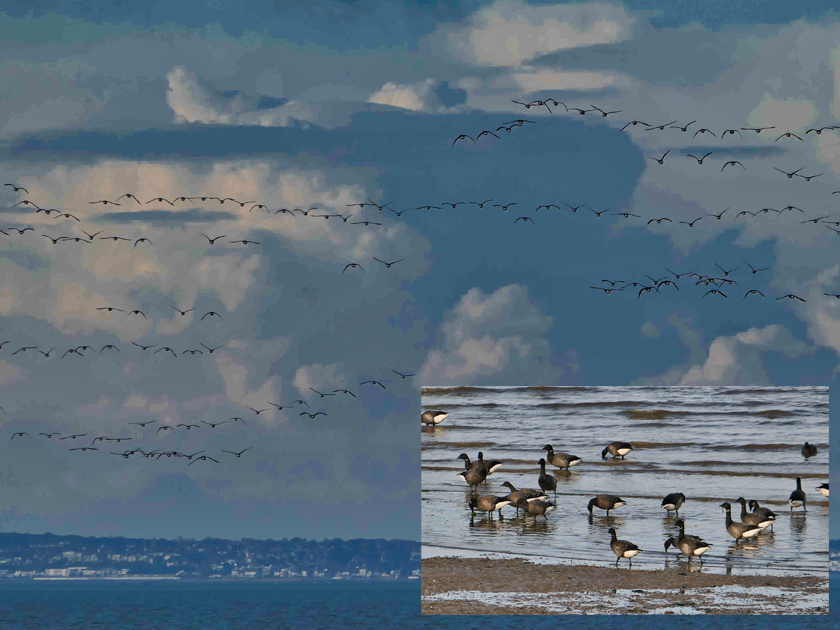 Whilst on the subject of North Russia...Hundreds of Brent geese are arriving on the North Kent Coast from North Russia.They can be seen feeding on seaweed and grasses along the shoreline before spending the nights on the Medway Marshes.They arrive at the end of October and usually depart in April heading back to North Russia to breed.
Friday, 8 November 2019 - 16:41
Post 6643
Sea News, Dover
Noordhoek Pathfinder back again....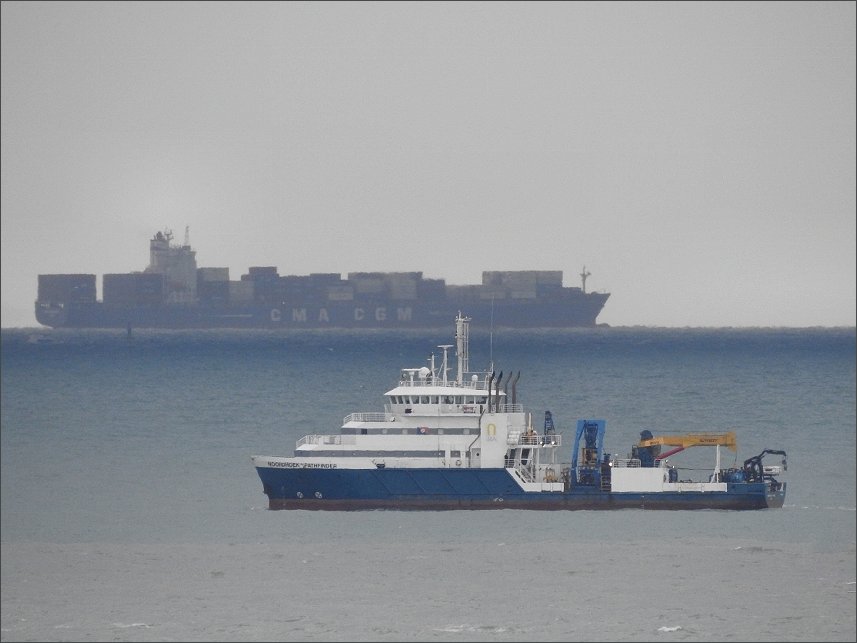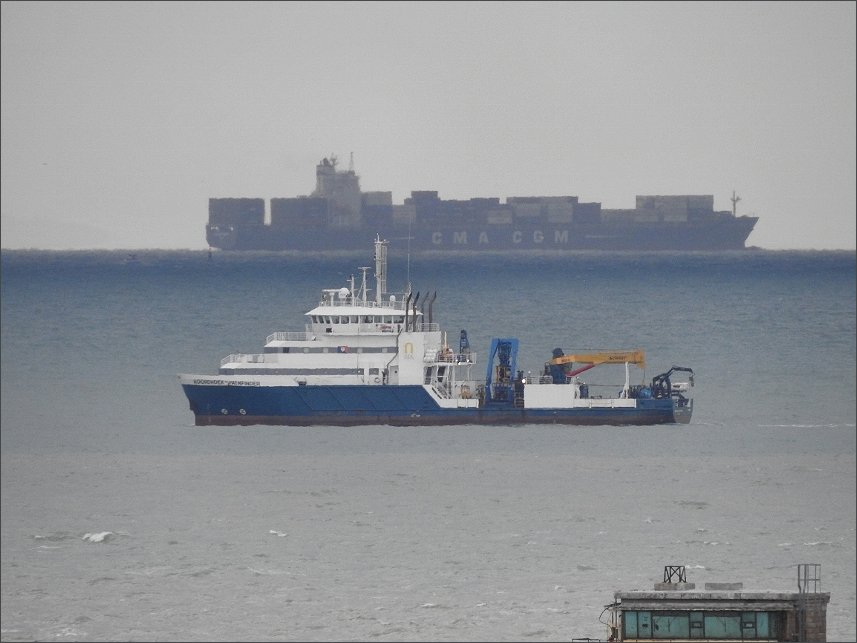 Yes indeed the support/survey vessel Noordhoek Pathfinder is back with us again ( or almost with us!) doing her thing just offshore once more... these pictures show her out there on a much welcomed calm sea, but under a dark brooding sky. In the background of the shots you can see container ship CMA CGM Sambhar moving south....heading to Tangier.
Gadzooks!! can you believe it !
Pathfinder has just come into Port as I write but alas alas yours truly missed it.... well I never..

PaulB
Friday, 8 November 2019 - 07:14
Post 6642
Sea News, Dover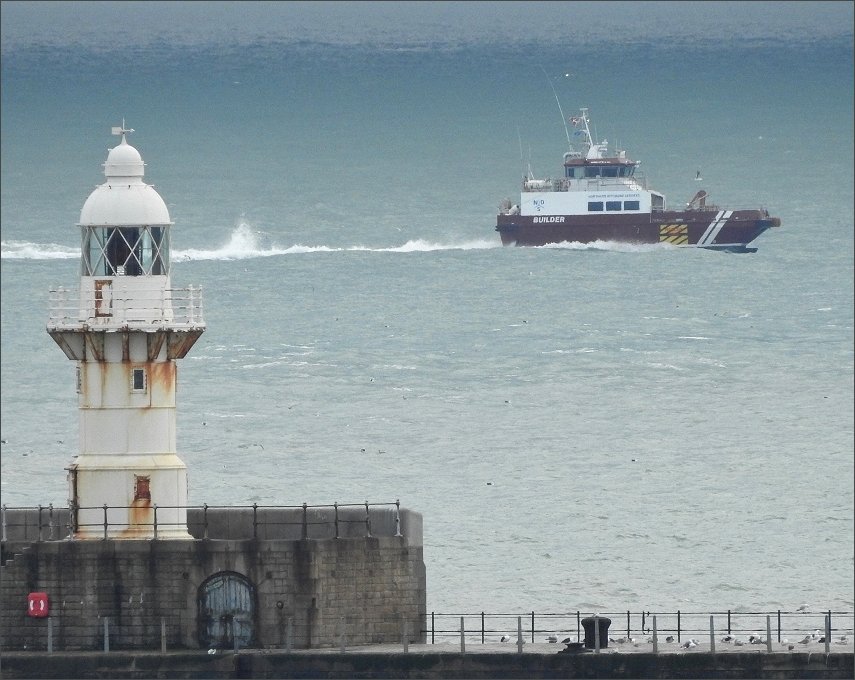 The boat shown above there came powering by the Port a few days ago..just after the storm...you can see something of a menacing sky still lingering. Its a boat called Builder as you can see... a windfarm support vessel from Northern Offshore Services. It looked impressive dashing by. If you go on their website on Google it shows some of their fleet coming almost towards you mid-ocean and all at once.. a nice moving picture..worth a look...
or go to (copy and paste)
https://n-o-s.eu
click on The Fleet...then click.. View All
The ferry above there is P&O's Pride of Burgundy
An enjoyable collection below there from our 'inshore correspondent'. Well done with those Mike..and thanks to Nigel for the added image. Great stuff!


PB
Thursday, 7 November 2019 - 06:16
Post 6641
Mike J., Dover
Impressive heavy weather pix, particularly the Breakwater & the LUZON STRAIT & the tugs struggling in the bay.
Gibraltar-registered EEMS DART came in from the Thames early on Wednesday from the Thames is is loading grain on WD5.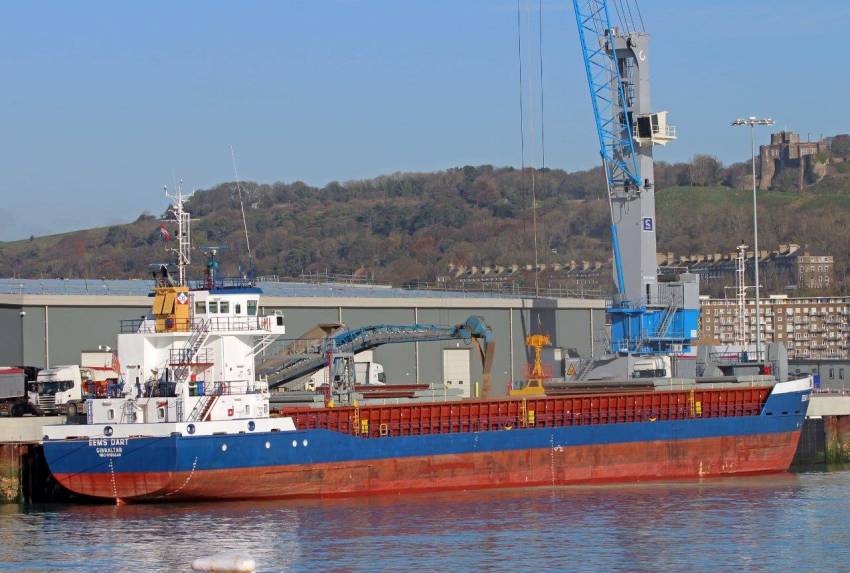 This excellent photo courtesy of 'Dover Straits Shipping' who have access to the Ad.Pier.
Thanks Nigel !
Access to the Ad.Pier for anglers & walkers [& shipspotters] looks to be a few days off as much of the low-level walkway [post 6637] was wrecked during Saturday's storm when seas were breaking over the Ad.Pier.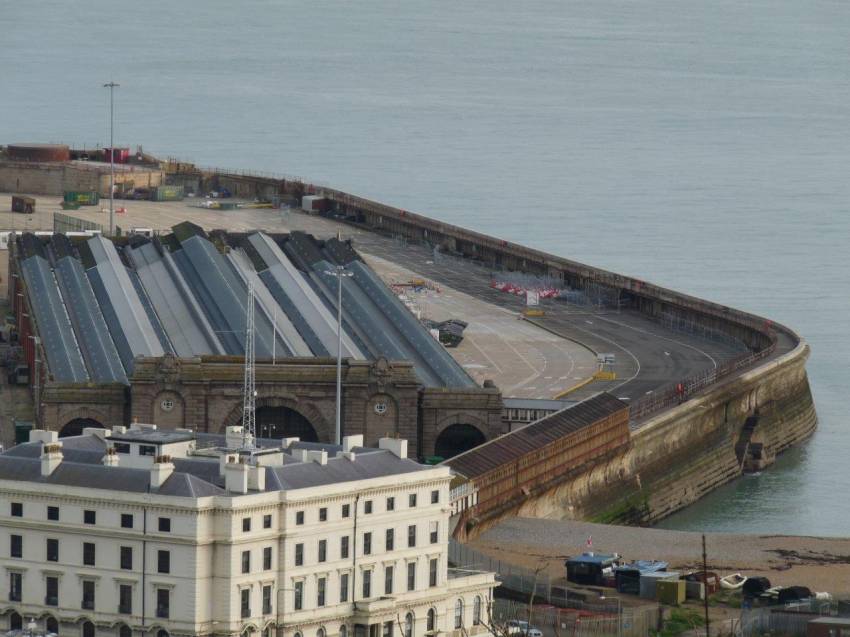 The compressed photo won't give much detail but the low-level walkway extends from the end of the covered way to the grey 'cube' [anglers WC] just short of the caff [red, behind the lighting pole] & the turret [rusty].
Some fenciing is still scattered about but much has been gathered up & piled up with the red & white plastic mounting blocks.
While I was up at St Martins Battery I noticed the SPEEDWELL entering via Eastern & hurried down get a few pix of her coming down the Wick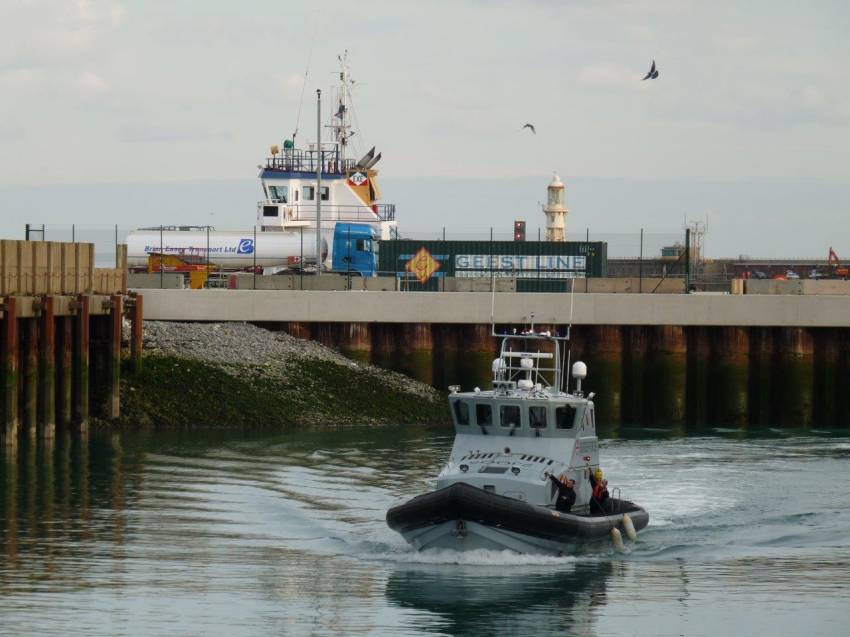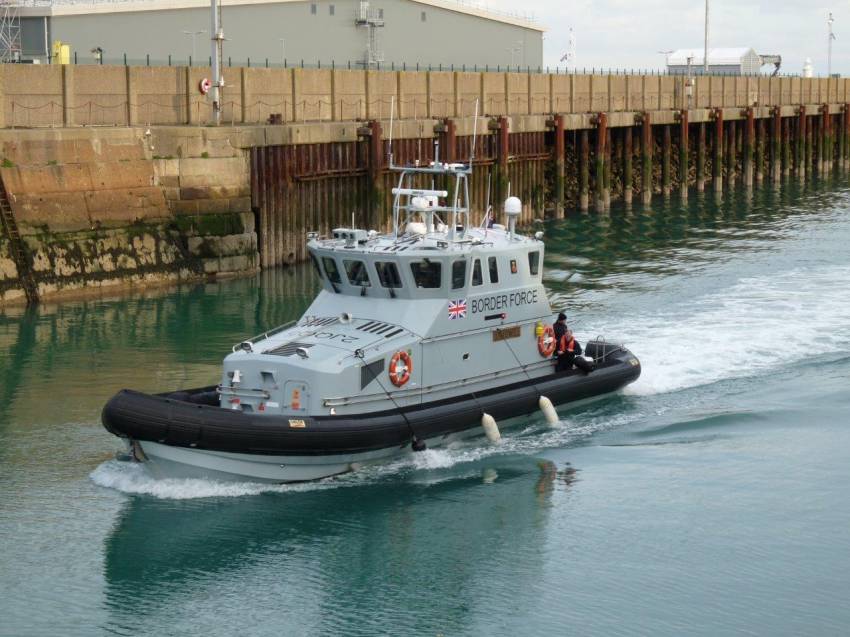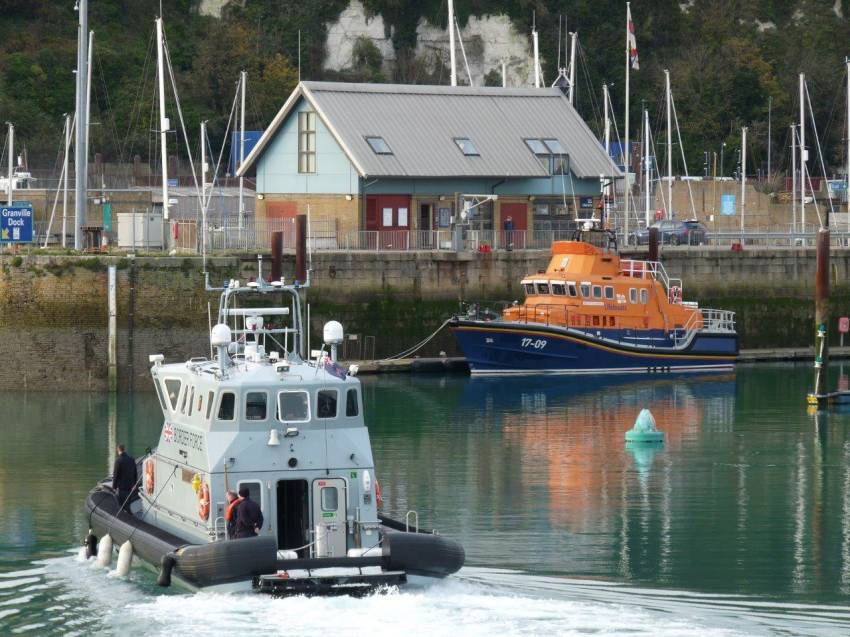 Thursday, 7 November 2019 - 03:00
Post 6640
Sea News, Dover
The dredger Reimerswaal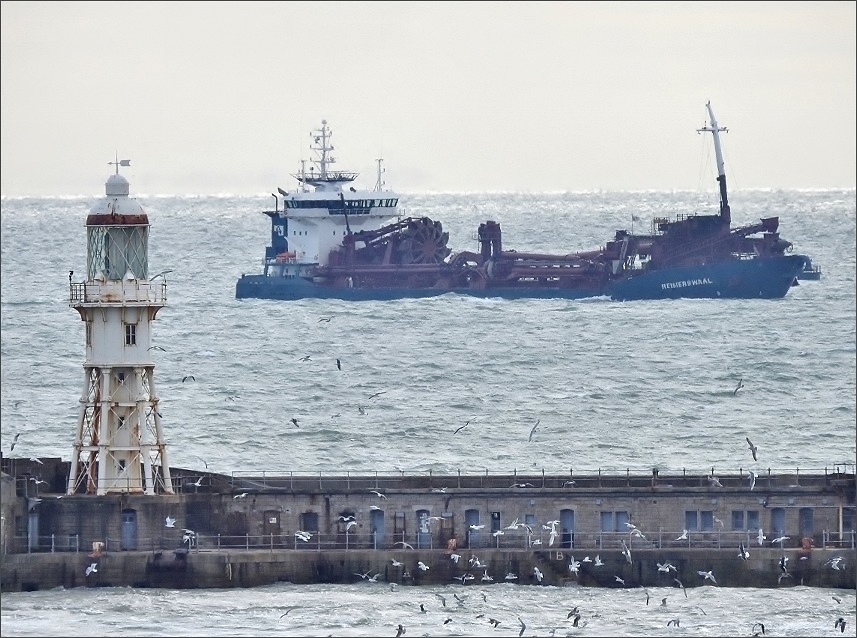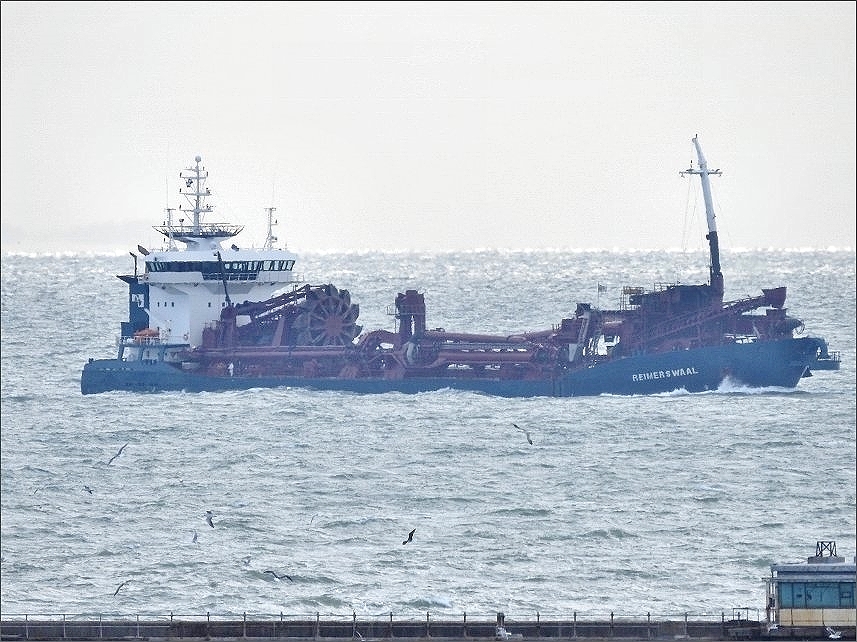 Something of an old friend Reimerswaal, we have photographed her before. She doesn't come into Port as such but often idles by just outside. We go back now to just before the storm, we had these pictures ready but with the storm we had to put them on hold in order to get the more topical shots on display...but here they are now. They show the vessel lingering for a time just outside the western entrance six or seven days ago.
"
The Reimerswaal was developed with one key characteristic in mind: flexibility.
As a result, the Reimerswaal can be used for ship-to-shore pumping, rainbowing, discharging (shoreface nourishment), dry discharging, and rock fill depositing. The innovative engineering plan has resulted in a ship that is suited both for the dredging and the offshore industry.
The Reimerswaal is equipped with state-of-the-art technology, including an operating system with a programmable logic controller at the heart of it that can be operated fully from touch screens at various locations on board.
"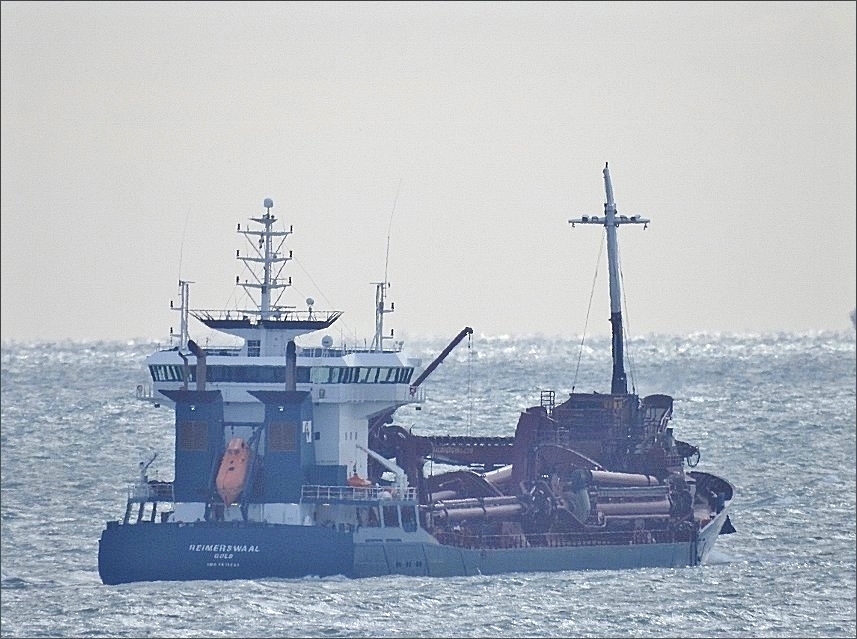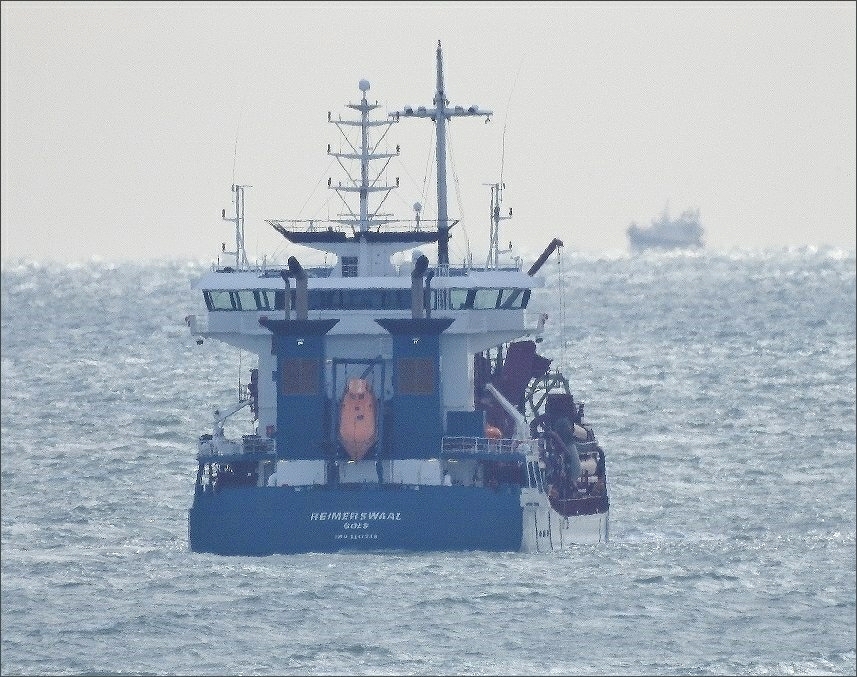 PaulB
Wednesday, 6 November 2019 - 06:55
Post 6639
Sea News, Dover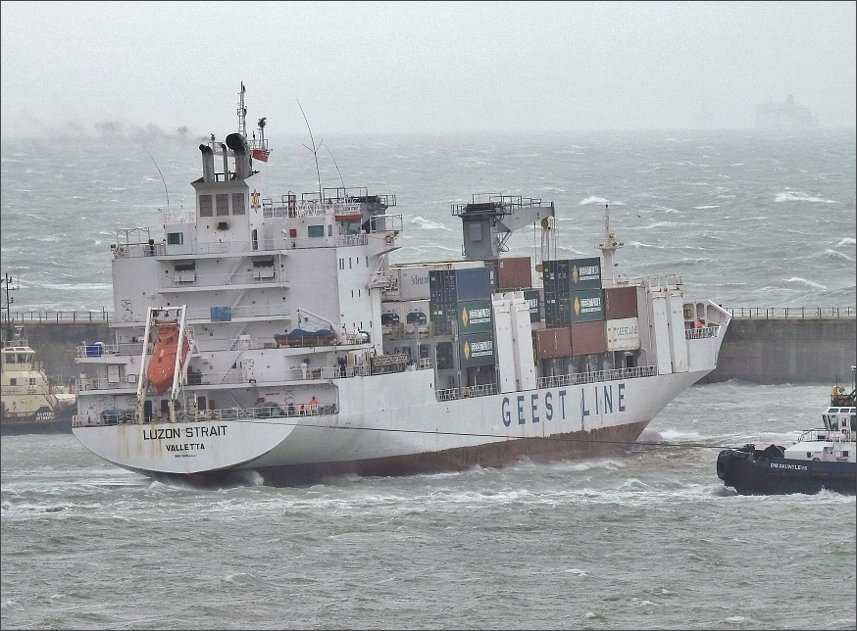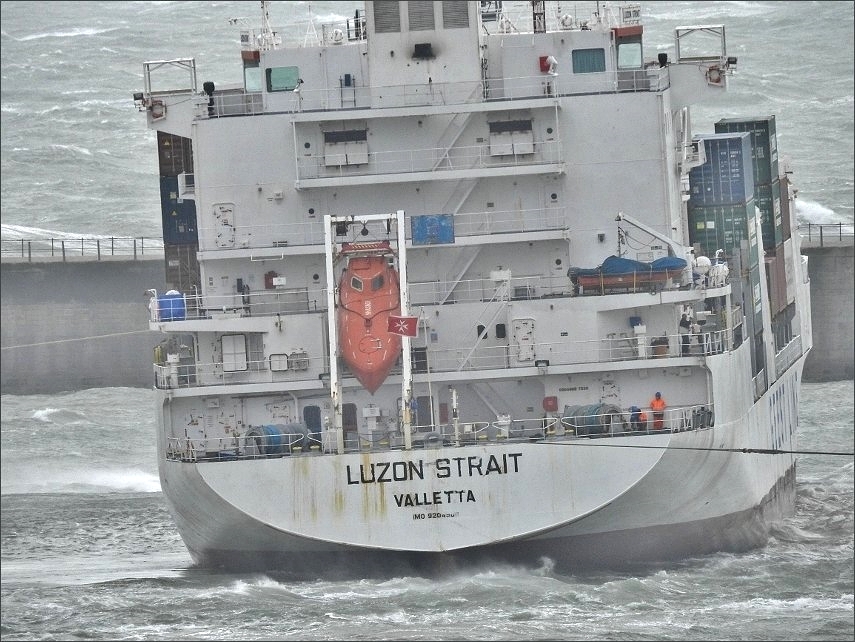 There we are with pictures of the Luzon Strait preparing to leave the Port in the rough wild conditions on Saturday morning. The full beast of the storm had'nt arrived yet and the ship was exiting the harbour to weather the fierce storm offshore. Must admit yours truly is not grasping the full logic of that plan, but there must be a sound nautical reason for it. Surely the safety of the harbour would be.... well...
Just two pictures of this as twas impossible to keep the 'observation tower' window open. The other storm pix were taken from the more sheltered rear window but Luzon wasn't fully visible from that angle...just out of camera reach.
Anyway..there we are..cables straining at the leash...
You can see in the background there ..the ferries were still running at this point...time of first shot 09.59...or 10am in easy money.
PaulB
Tuesday, 5 November 2019 - 07:32
Post 6638
Sea News, Dover
Tug Dauntless out there battling the rough weather on Saturday...see other 'rough' pictures below (6635) and up top...
Don't miss Mike's all round report below...essential updates..

Yes rough times Del...in more ways than one..

PaulB
Monday, 4 November 2019 - 06:12
Post 6637
Mike J., Dover
A wild old Saturday with the port closed as mentioned by Paul around high water during the afternoon.
Prior to the closure several ferries 'aborted' whilst trying to dock despite tug assistance & returned to sea with the DELFT SEAWAYS being the last ship to sail before the port was closed.
Langdon Coastguard reported gusts up to 69mph at 1300 & at one stage six ferries were waiting off the port.
Horizontal rain & poor visibility discouraged photography [wimp !] & I understand that there was minor damage over on the Admiralty Pier.
Nice picture under 'difficult' conditions from Paul as the SVS VEGA shifted to Cruise-1 for shelter.
The reefer LUZON STRAIT left the DCT as the storm approached & spent the day sheltering up in the Downs with other vessels but is now back alongside & I see on AIS that the SVS VEGA has now returned to WD4.
Speaking of the Ad.Pier it has now re-opened for anglers & walkers after the repairs mentioned in post 6580.
Due to damage to the upper level walkway at the shoreward end it is now necessary to descend to the lower level of the pier after passing the Dover Sea Angling's steward's hut at the end of the covered walkway & then walk almost to the turret along a fenced-off path before regaining the upper level.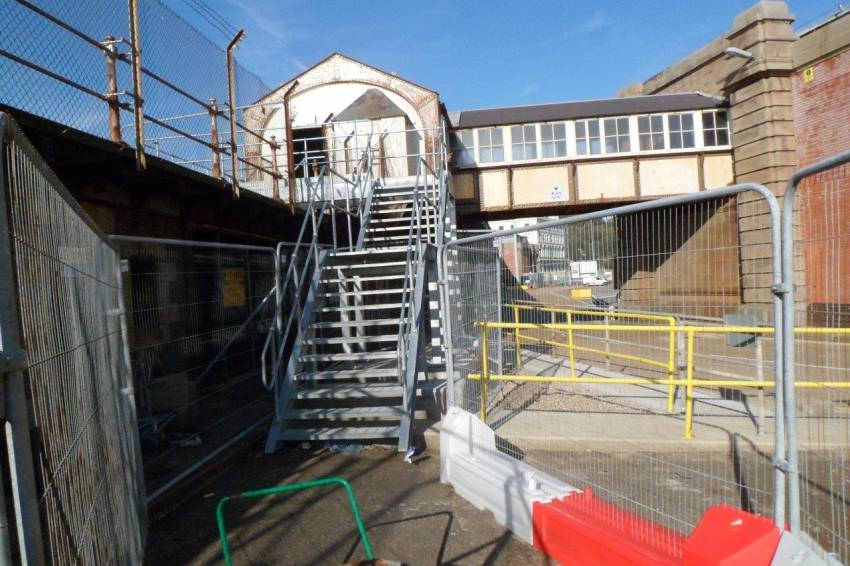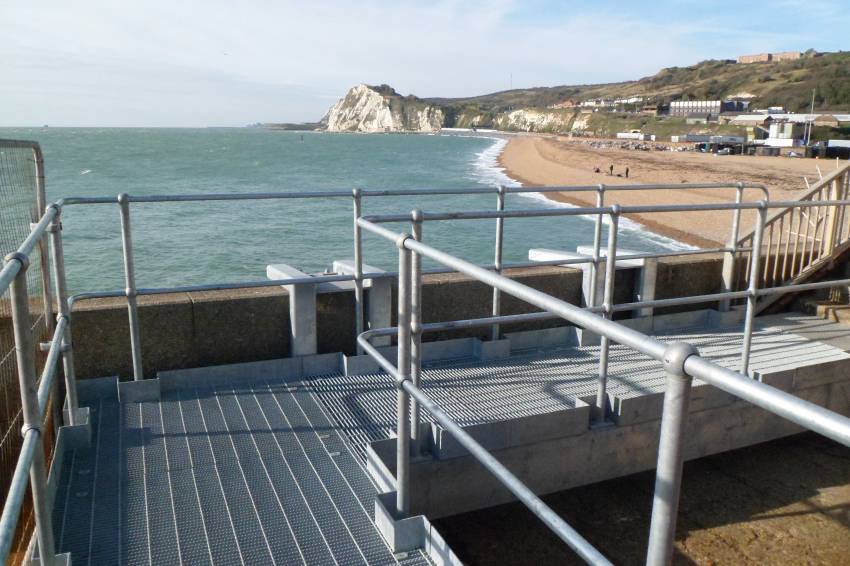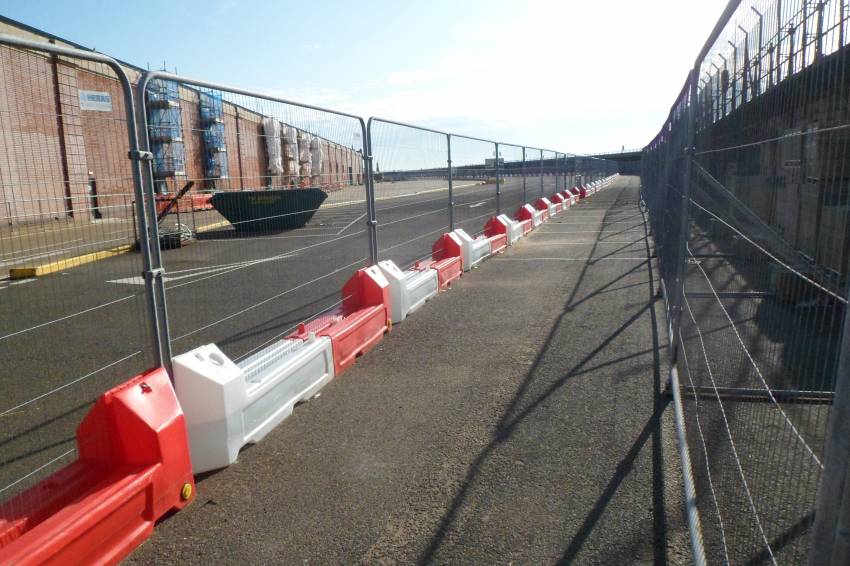 I've not walked the walk yet & these pix were taken on 30/10 but I understand that, if you wish, you can walk [& fish] back down towards the shore on most of the upper level [the main damage being to the walkway being almost at the shoreward end].
The gate for the outer section beyond the turret will continue to be closed when paranoid cruise ships are on Cruise-2 but apparently next cruise season will not be closed for EVERY cruise ship on CT2 as seems to have been the practice recently.
Of course the whole pier will be continue to be completely closed in bad weather, unlike the much-missed all-weather Prince of Wales which has gone forever.
I was hoping for a morning stroll up the Ad.Pier in the much improved sunny Sunday weather [& for a bacon-roll provided that the caff hadn't been washed away] but unfortunately after all the work for the new access the pier has now closed again for walkers & anglers & I understand that there was further damage on the pier.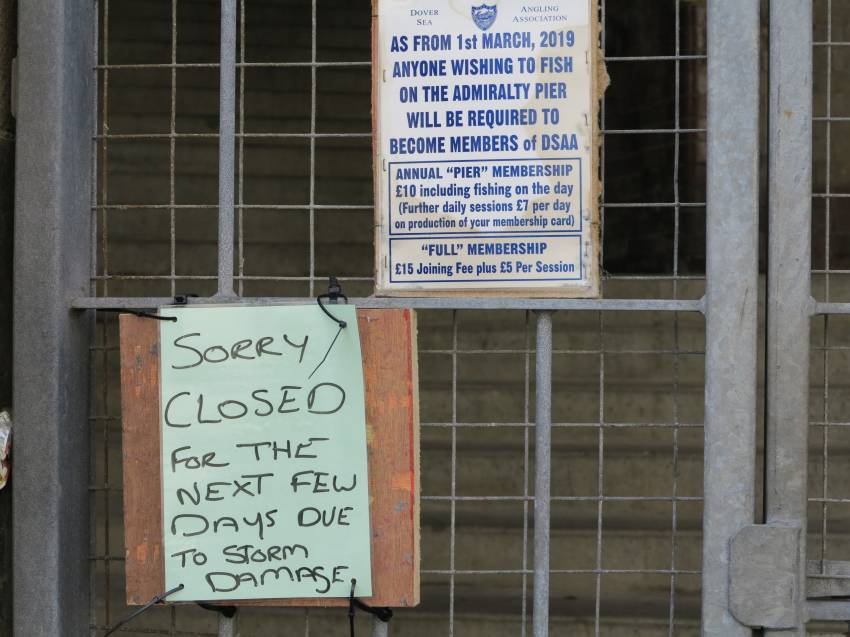 By Sunday mid-morning The DOUGHTY had arrived back from her Hull refit & the SVITZER INTREPID was preparing to return to the Medway.
Probably the last photo of of the INTREPID's visit to Dover [she certainly worked for her charter fee yesterday, as did the DAUNTLESS] unless Paul caught her departure - by 1800 she was back at Sheerness.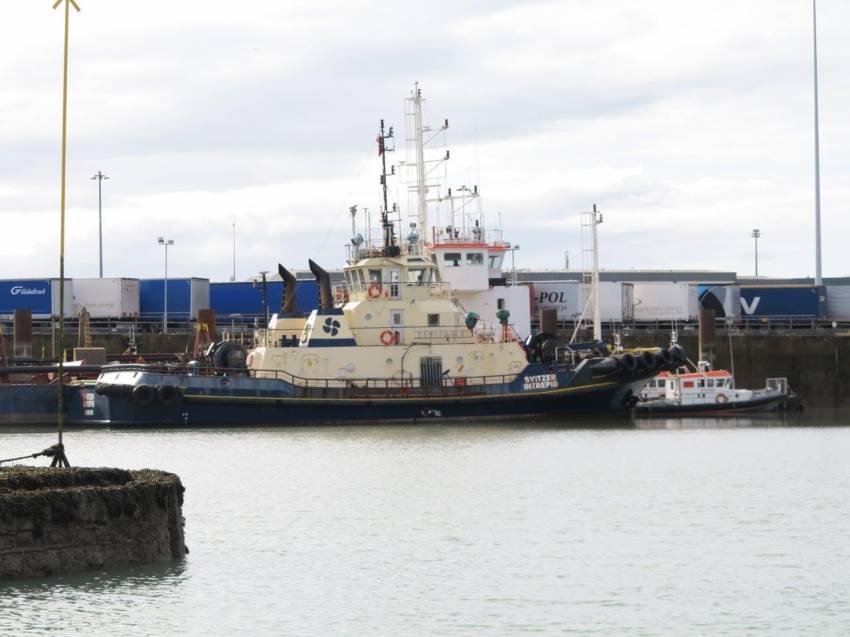 The lifeboat was also back at the boathouse after her Sunday morning exercises.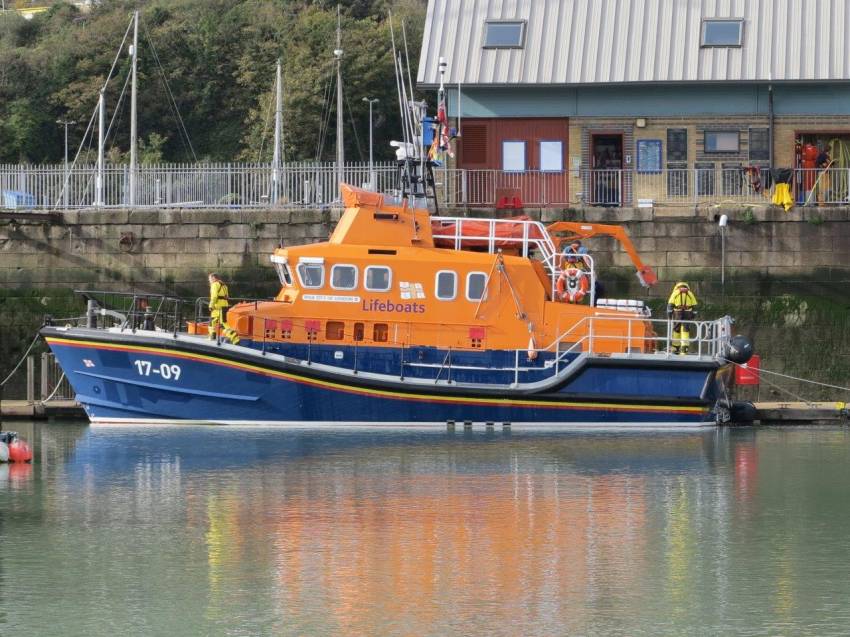 Monday, 4 November 2019 - 01:20