Wednesday, 25 April 2018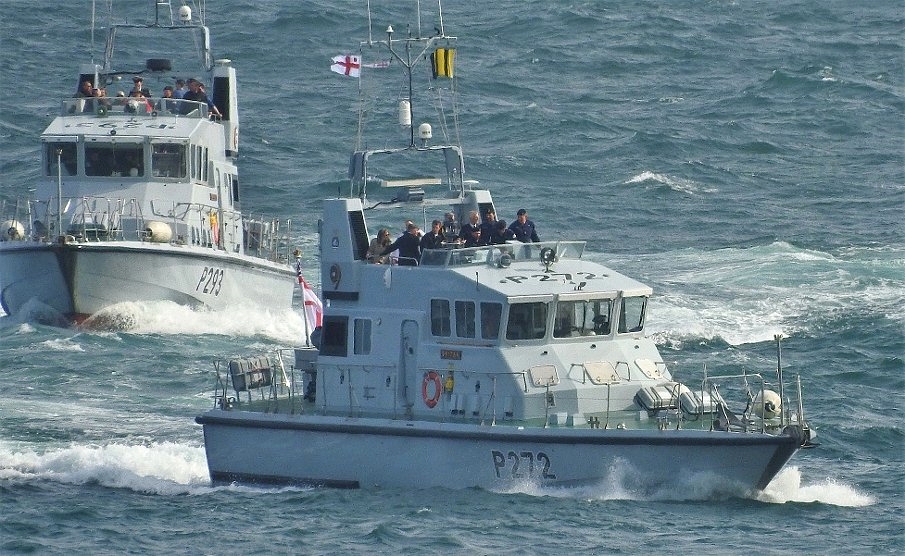 HMS Smiter and HMS Ranger approaching the Port of Dover in choppy seas Monday afternoon 3pm exactly....

doverforum.com/sea-news
Doverforum.com: Featuring all the ships that come and go and work at the Port of Dover with further coverage of the surrounding towns both sides of the Channel. Email: dover7@msn.com to send SEA NEWS pix or info.... or click ADD YOUR COMMENT below to post direct, no membership needed.

Port's Chief Executive TIM WAGGOTT RESIGNS see 4778
_______________________________________________________

P&O FERRIES presents big cash to RNLI Dover...see 4829.
P&O FERRIES recruiting...4745.
PORT of DOVER awards Cargo Refrigeration Contract see 4740.
PORT OF DOVER: Community Benefit 4688
TRADING GROWTH FOR DFDS DESPITE BREXIT see 4642
PORT OF DOVER RECORD FREIGHT see 4551.
PORT OF DOVER: GEEST LINE arrival see 4597.
SECOND FEMALE CAPTAIN FOR P&O see 4608.
Sea News Dover : Use our SEARCH ENGINE below to find all sorts on the SEA NEWS pages..more than 240 now with more than 4750 nautical posts. Posts welcome. Max of 5 pictures preferred per post.
Type CRUISE VISITS in our SEARCH ENGINE below for news of the latest arrivals.
Sea News Editor Paul Boland - dover7@msn.com .
Post 4805
Adam, Warrington
unreal photos of the Margerethe Maersk, what a BEAST

Monday, 9 April 2018 - 11:10
Post 4804
Colette B, Dover
Ed, just looked in on Sea News & saw your post

I am so sad that we are losing your terrific photos & all your nautical knowledge, as Mr B said, you have been with us from way back making you part of the fabric of this forum & a very reliable member of our team. We will sure miss you on here

The very best of luck Ed with all your medical treatment & yes keep a keen eye on us

Until we hear from you again take very good care of yourself. Love to you & your family

xxx
Monday, 9 April 2018 - 09:08
Post 4803
Sea News, Dover
Ah gosh Ed I am sorry to hear that our famous nautical man on the dover straits has made his last post for us here on Sea News. You have been a great correspondent with excellent news items and excellent pictures. We have known each other for years right through the old forum days and its all been great fun plus. I hope your medical treatment goes very well and I bet the team on the Delft Seaways and formerly the Dover Seaways were all sorry to see you go. Yes keep looking in and we will do our best to entertain you.
Good luck Ed

PaulB
See also Mike's comments.
Monday, 9 April 2018 - 06:21
Post 4802
Mike J., Dover
On the Tidal Basin pontoons on Sunday afternoon was the latest addition to the 'Wetwheels Foundation' fleet the WETWHEELS SOUTHEAST who is now permanently based in Dover.
The Foundation is a charity devoted to providing opportunities for disabled and disadvantaged people to access the sea in a safe, stimulating and rewarding way through specifically modified craft, giving these people opportunities that until now they have been unable to experience.
This most worthwhile charity operateS similar craft at various centres around the UK.
For more information google 'Wetwheels Foundation; or look for the 'Wetwheels Southeast' Facebook page.
Also in the Tidal Basin, on the Crosswall pontoon, was an unusual fishing vessel, the CARDIUM 2, an oyster dredger that is normally based in Whitstable.
Quite a coincidence coming across the CARDIUM 2 as an hour later I was in Whitstable to watch the fishermen's BREXIT protest which concluded with the burning of a fishing boat & I'll post a few photos when I get them sorted.
My luck was in when I arrived at Whitstable as my arrival coincided with the arrival of the 46-year old Padstow-registered dredger MANNIN, presumably coming to Whitstable from Teignmouth for a spot of contract dredging.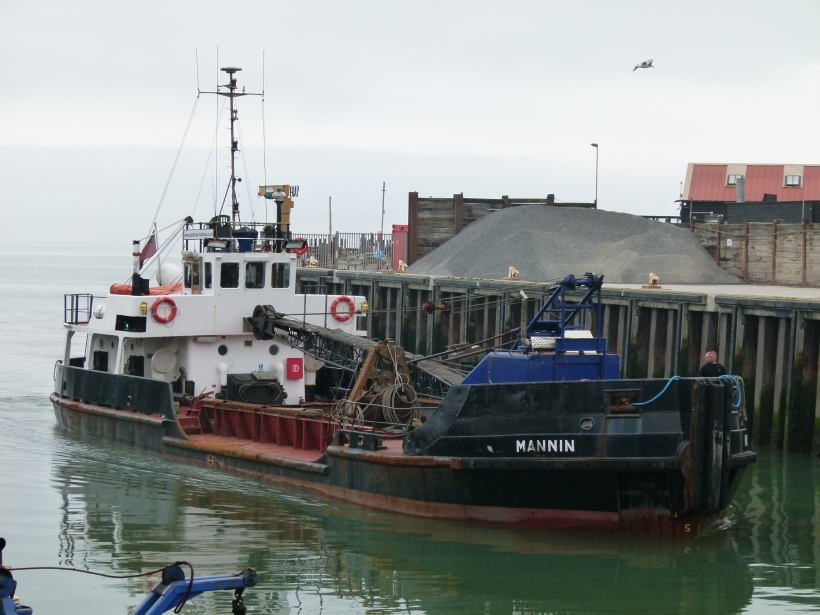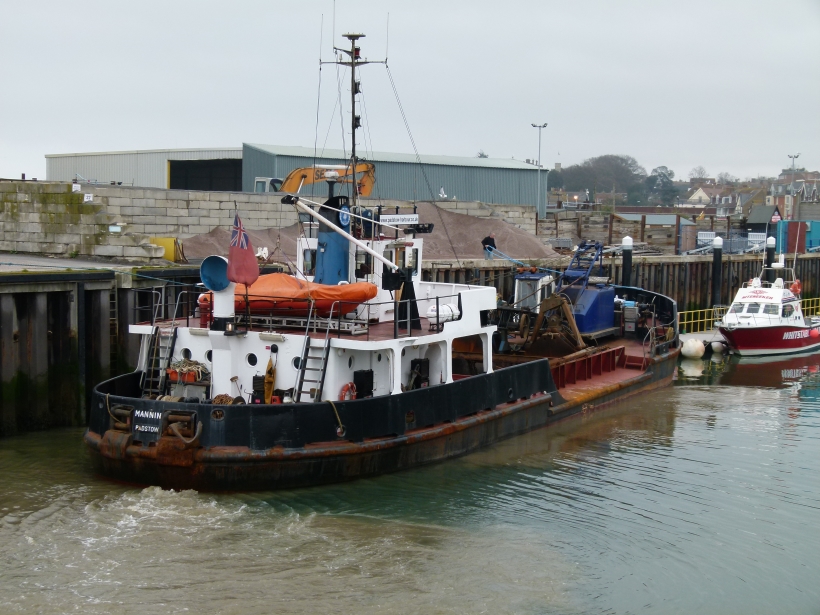 Also at Whitstable was the Windcat EMS VIKING who has often been laid-up in Dover.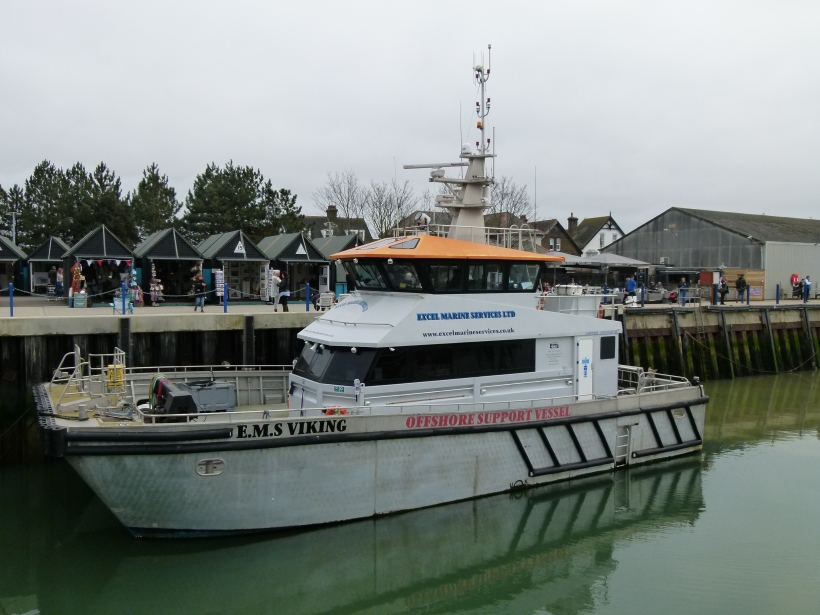 I was shocked to read that Ed had had to leave the DELFT SEAWAYS for medical reasons & I'm sure everyone is wishing him well in the days ahead.
His excellent photos will be much-missed.
When I joined Sealink Ferries from deep-sea, back when dinosaurs ruled the earth, I did a few shifts on the ST.CHRISTOPHER with Ed who patiently introduced me to the very different routines in the Radioroom & on the Bridge & after the demise of Sealink we continued on with DFDS & Stena respectively, with Ed lasting at sea much longer than I did.
Good luck Ed, & if Paul will permit a little morse jargon, lets hope that it is QRX rather than VA !
Monday, 9 April 2018 - 00:11
Post 4801
Edmund Connell, Blackpool
This will be the last post from your Dover Strait correspondent as I have now left the Delft Seaways to commence a lengthy period of medical treatment. Everybody was very kind and assembled in the crew mess to bid me farewell. I was quite overwhelmed to be presented with a model of the ship which now takes pride of place on our mantelpiece in Blackpool. Needless to say, I shall be keeping a close eye on Sea News from afar!
Sunday, 8 April 2018 - 19:47
Post 4800
Sea News, Dover
It seems like only yesterday ( despite it being a long winter) that we saw these same guys removing the swimming zone marker buoys...winter was drawing in and there was little need for the markers any more. Now spring is upon us ( says yours truly hopefully ) so here we go with putting them back in position again.
Far side of marker buoys: yachts etc
Near side of marker buoys: swimmers etc.
So all should enjoy the water in safety.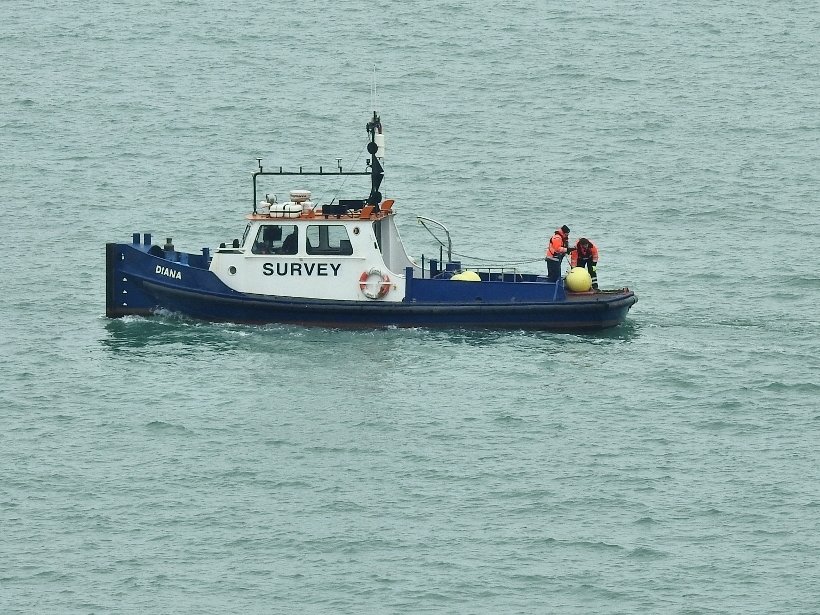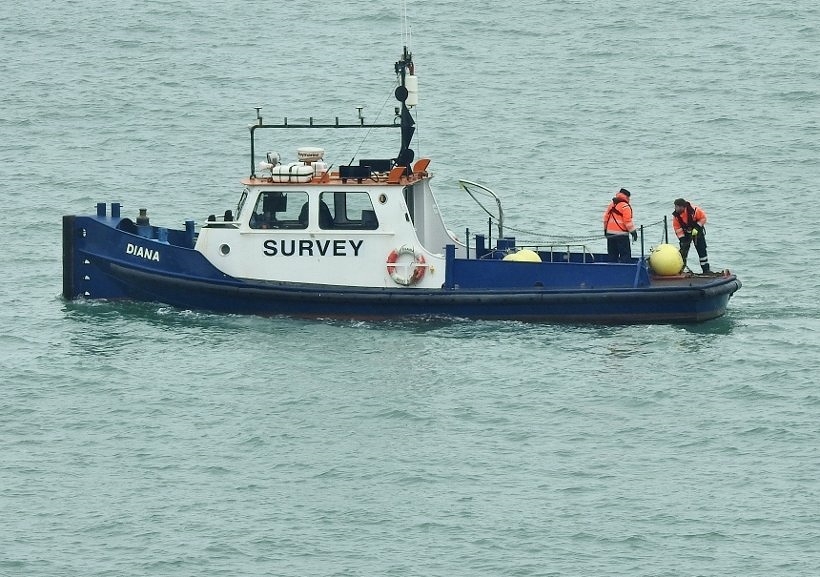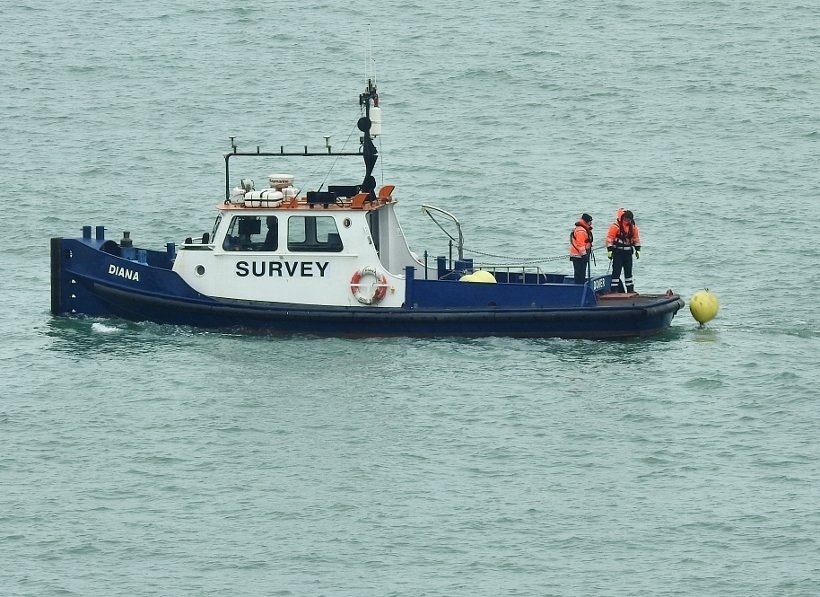 The Diana Survey vessel in action above there.
Colette mentioned that the AIDAsol is due in again..she eventually caught some sun on her recent visit as the morning wore on, and here we are. The earlier pics in 4795 were a wee bit grey. So here we have Sol for the ermm Sol.. ( okay - that's the last time I will do that one ! )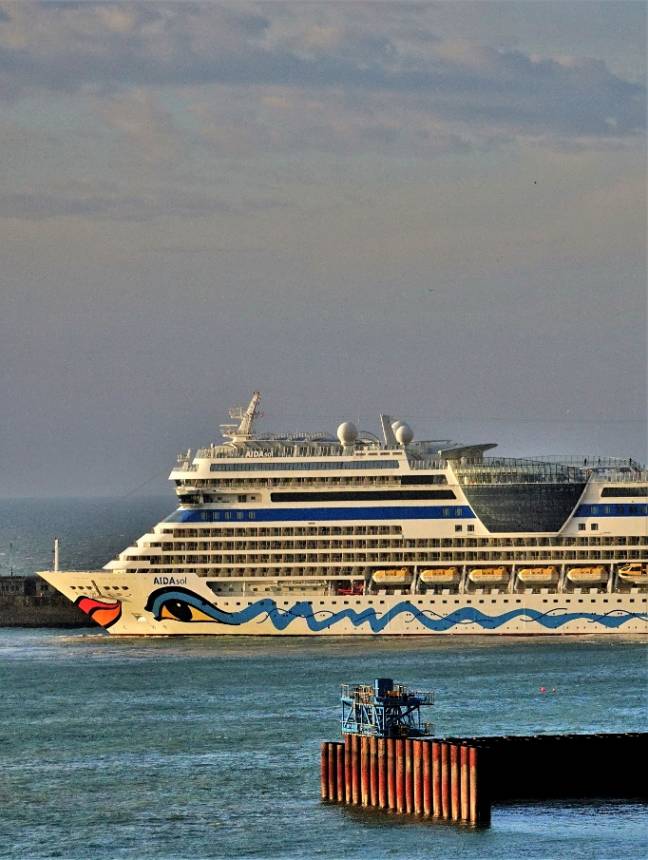 Well done 'the girls' below there. Nice collection from Sarah our 'roving reporter' in Ramsgate with those lifeboat pictures.
Great stuff Sarah!

and thanks to Colette for the Cruise info as ever. We know where we are now...

PaulB
Sunday, 8 April 2018 - 05:11
Post 4799
Sarah, Ramsgate
Ramsgate Inshore Lifeboat "Claire & David Delves" returning from a service call - 7th April 2018.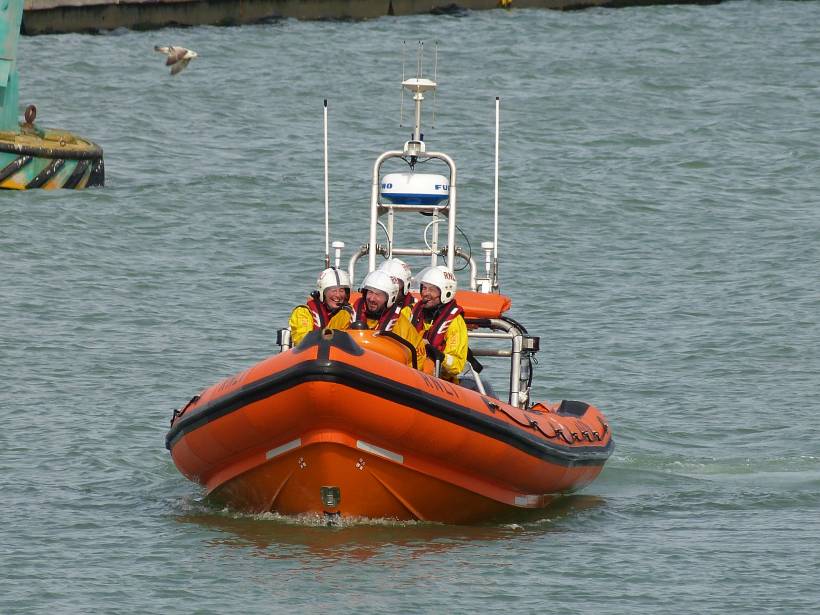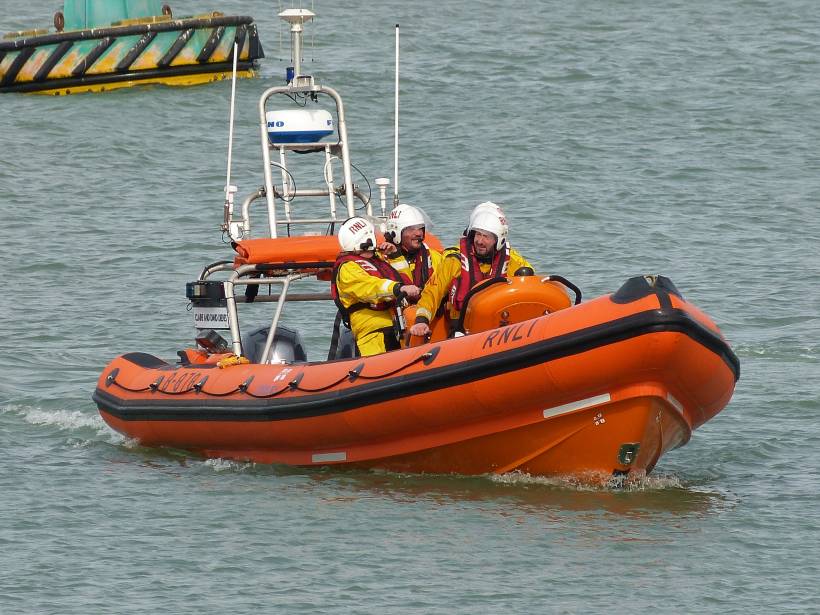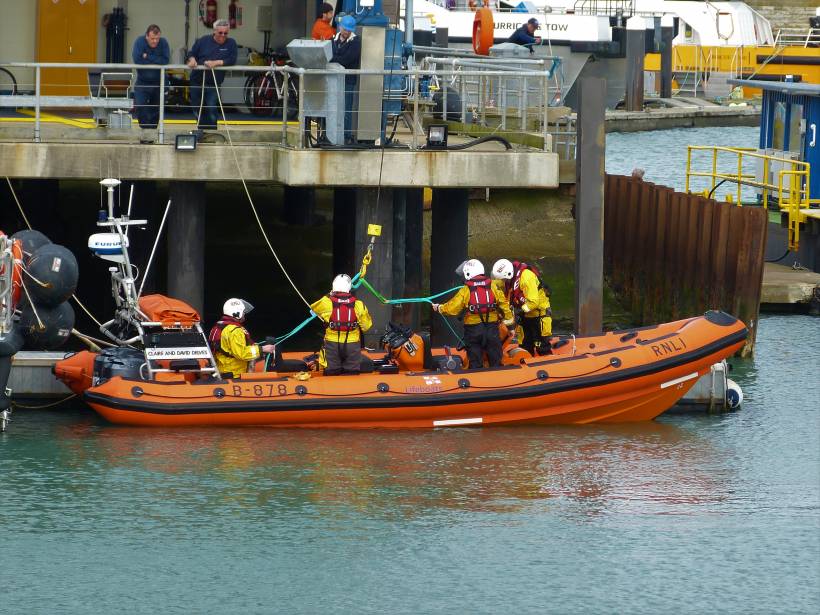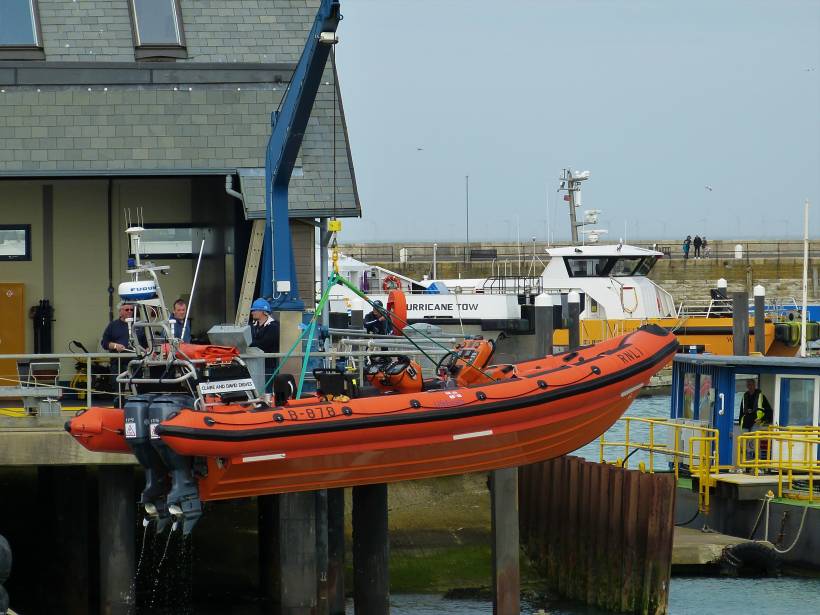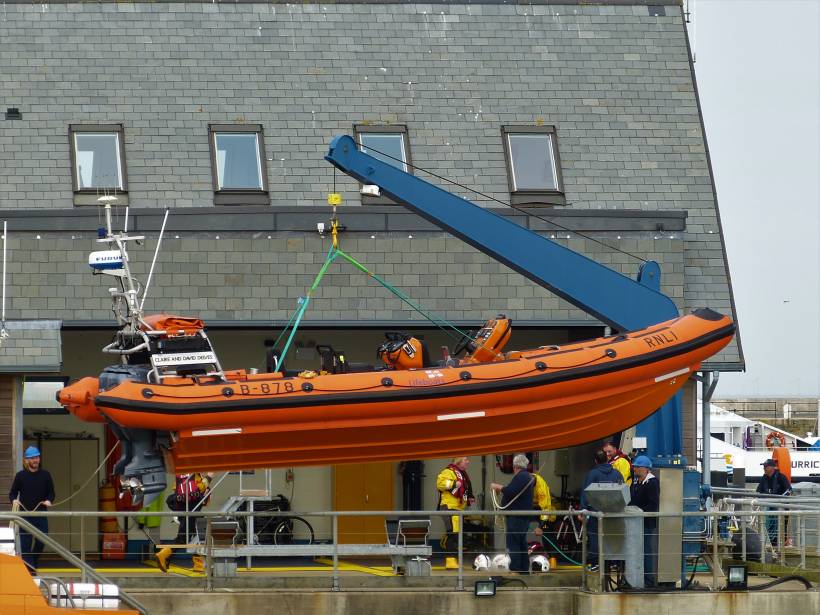 Saturday, 7 April 2018 - 23:40
Post 4798
Colette B, Dover
CRUISE VISITS
_____________
Well here we are again folks…..
On Monday 9th April we greet our day with a smile

once again the AIDAsol is calling at CT2, 09.30 hours on her way to her home port. She is on her 4 night Hamburg round trip from Ijmuiden in the Netherlands before dropping anchor in Hamburg on Wednesday. She leaves our shores at 21.30 hours, PoC.
Then on Friday 13th April

we have our first Double Whammy of the season. Firstly the old girl herself, Boudicca, cruises into CT2 at 06.30 hours. She sets sail on her 15 night round trip to Floral Funchal & the Canaries. Her ports of call are Vigo, Lisbon, Santa Cruz de la Palma, Funchal, and Porto. She departs at 17.00 hours, T/R.
Three hours later on the same day AIDAsol calls into CT1 at 09.30 hours. Once more, calling in to say Hello on her 4 night to Hamburg round trip. She is leaving us at 21.30 hours, PoC.
Back soon Guys ……

Saturday, 7 April 2018 - 19:07
Post 4797
Sea News, Dover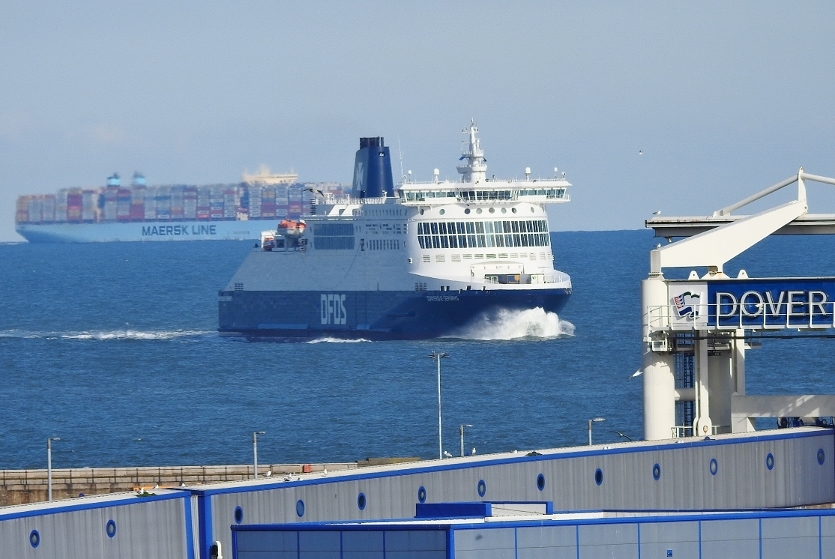 Was testing out the camera after some feature adjustments.... testing it on the Dunkerque Seaways and only then noticed the monster in the background...so took some unplanned shots of the huge ship as she passed Dover, taking advantage of the terrific visibility on Thursday. The ship is the Margrethe Maersk, almost 200,000 tons of it. Destination marked as the Suez Canal but no doubt heading way out to the Far East.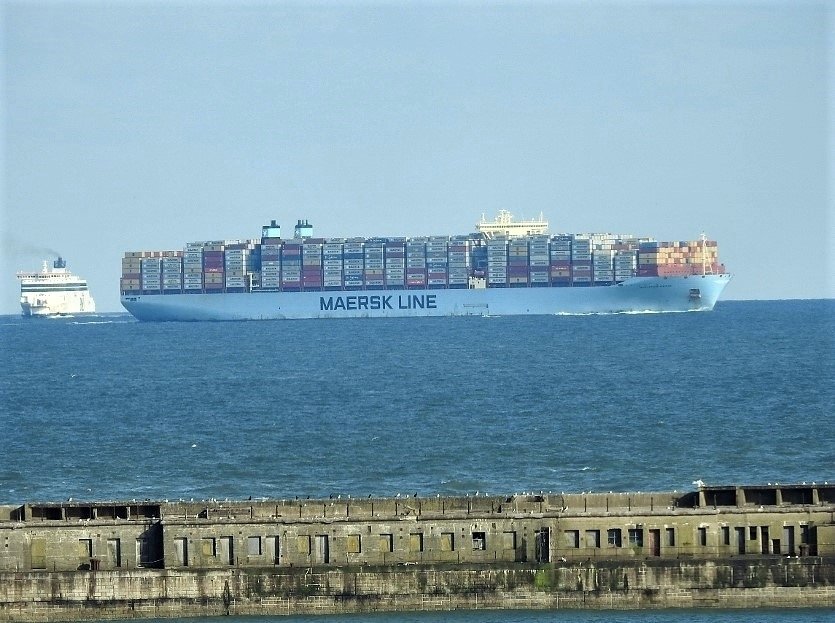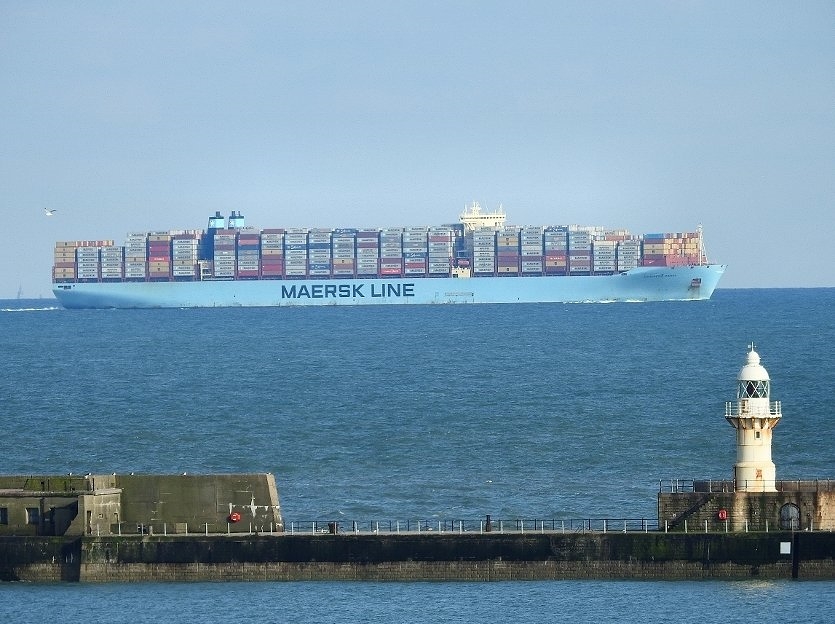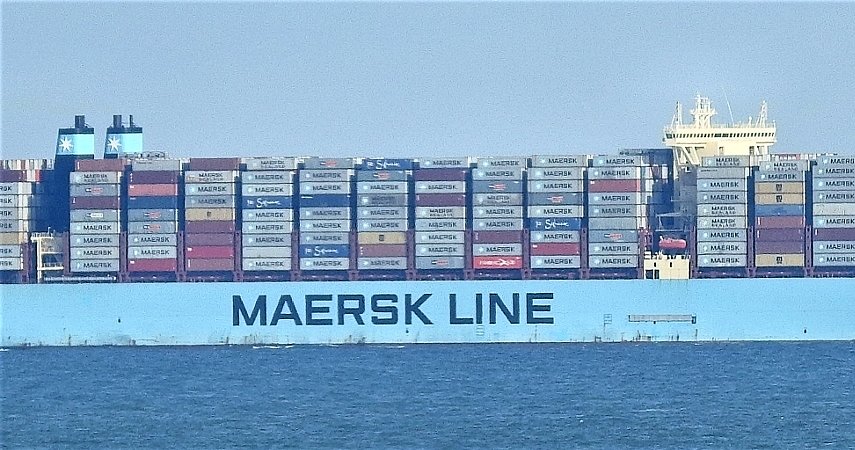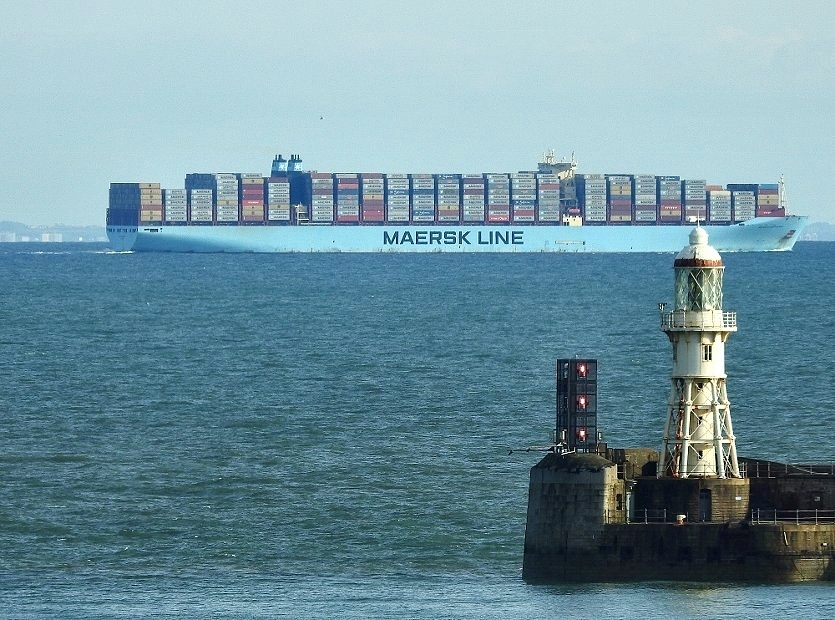 That's Boulogne to the rear of the Maersk in the last picture there, taken as the light begins to change.
Cracking pictures below there Ted...keep going with your 'Famous Five'

PB
Saturday, 7 April 2018 - 05:00
Post 4796
Ted Ingham, Canterbury
'FIVE FROM THE PAST'
The HM Coastguard Emergency Towing Vessel 'Anglian Monarch' testing her fire hoses off the port.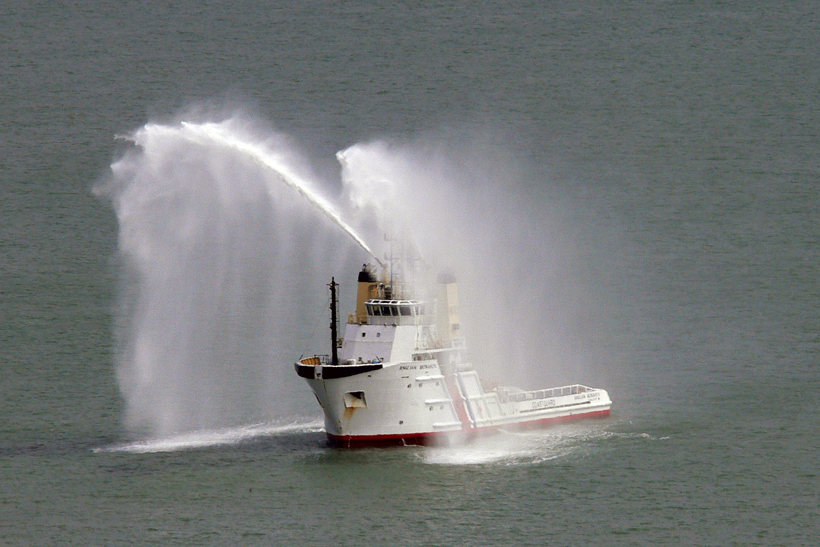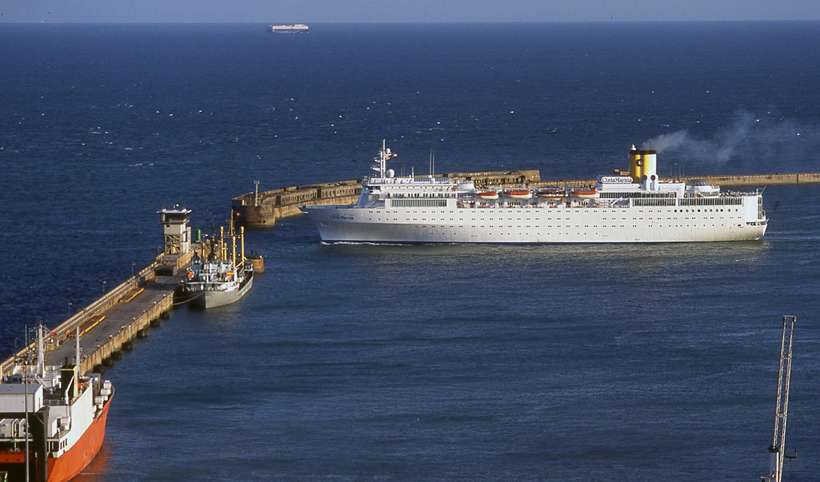 The cruise liner Costa Marina departing through the Eastern entrance.
Costa Marina was built in 1969 as a Container vessel Axel Johnson. After a period of layup she was sold to Costa Cruises and converted in 1988.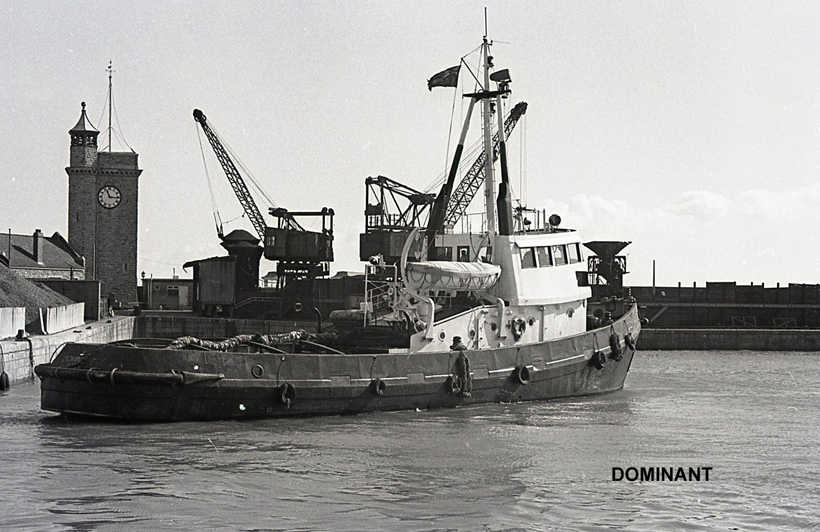 The Dover harbour Board tug Dominant.Built in 1957 with her sister Diligent.
She was replaced in 1984 by the tractor tugs Dextrous and Deft.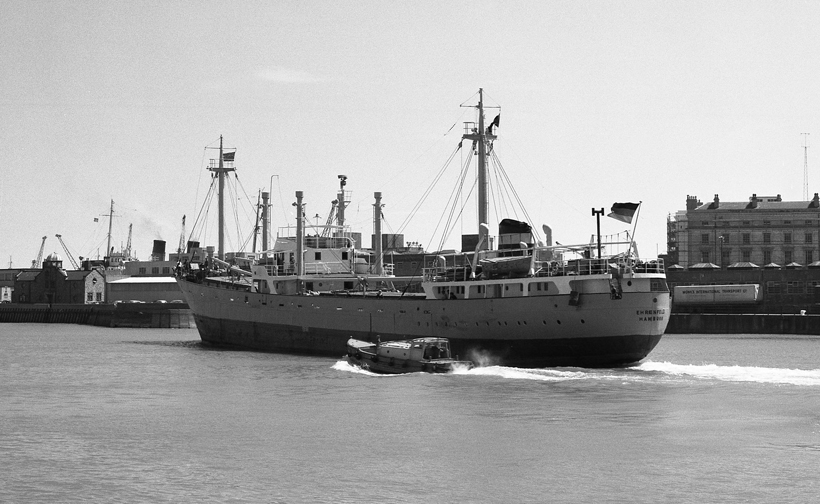 Outward bound from the Granville Dock with one of the Hammond launches alongside is the Ehrenfeld.In the background can be seen the Train Ferry berth.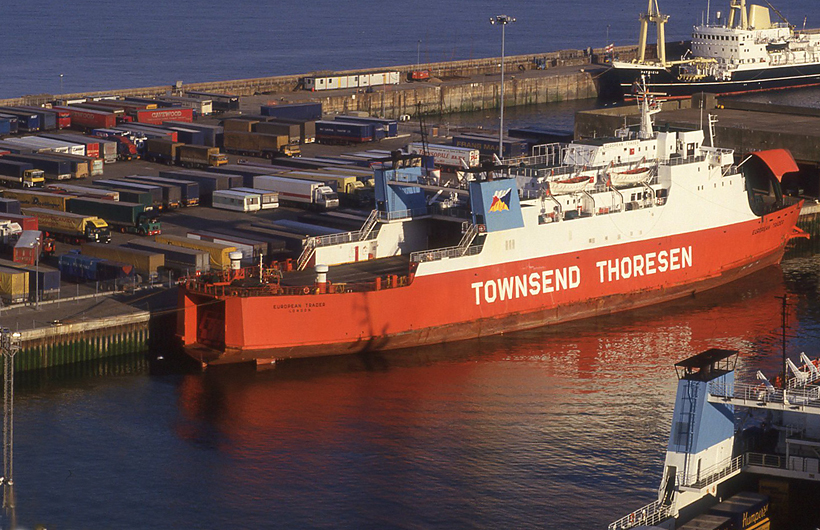 Looking down on the Camber the freight vessel European Trader and the Trinity House vessel Patricia can be seen.
Friday, 6 April 2018 - 10:39
Post 4795
Sea News, Dover
Alas there wasn't a great deal of Sol

for the arrival of AIDAsol earlier this week...
but here she comes anyway in fine style...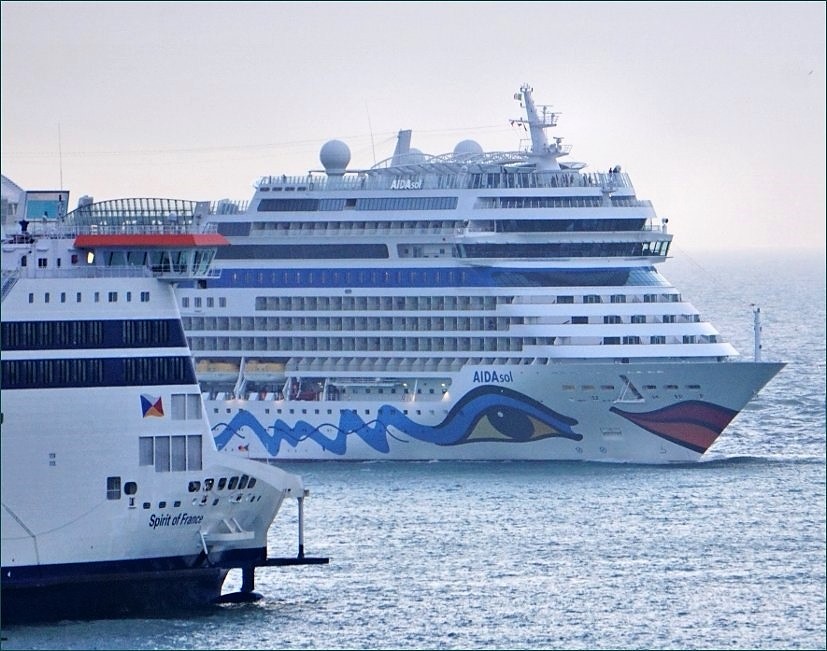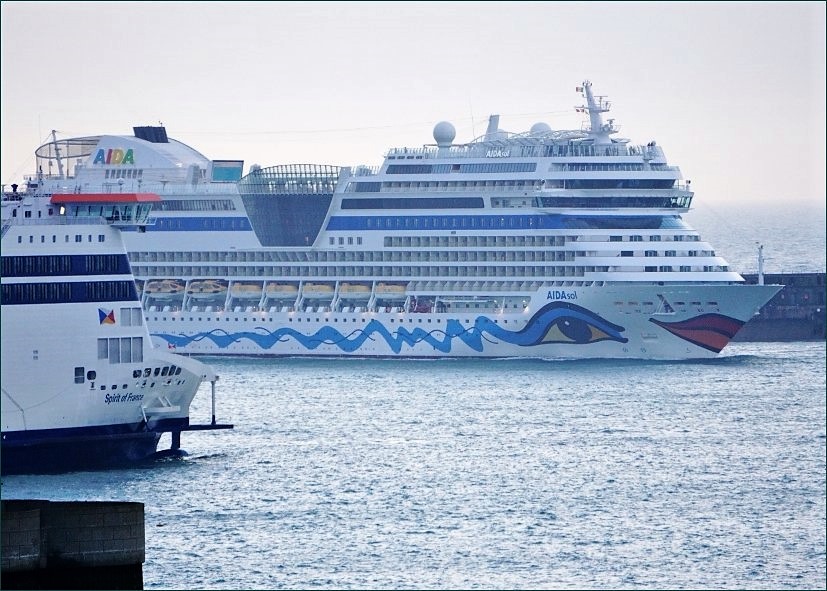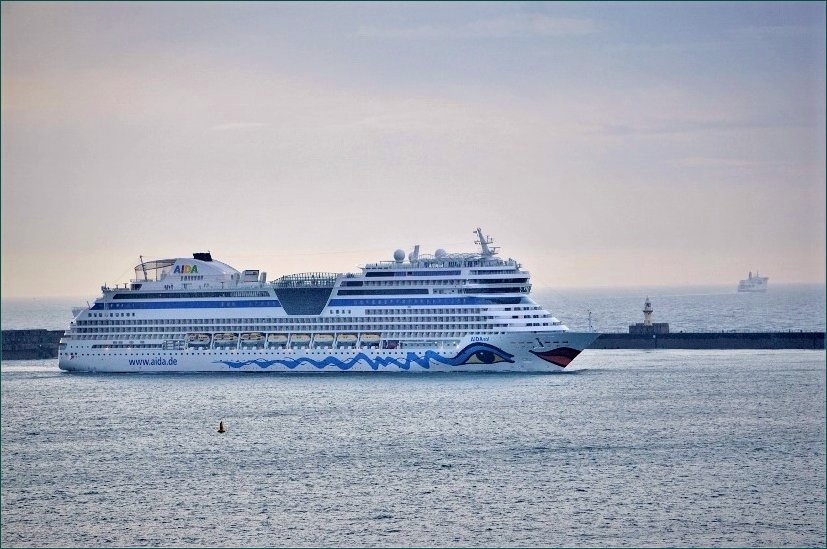 The cruise ship looked fabulous as she arrived here at the Port of Dover on Wednesday this week. Very colourful as we know... dazzlingly so.. a much bigger ship than the first AIDA of the year, which was of course AIDAvita.
Have added the picture below from a previous time...just to show in close-up those famous lips.
" I'm ready for my close-up Mr DeMille "

PaulB
Friday, 6 April 2018 - 06:16
Post 4794
Sea News, Dover
Just rounding off the Pacific Reefer visit with these shots of her departing...
she left us on Tuesday evening at 6PM, both regular tugs doing the business.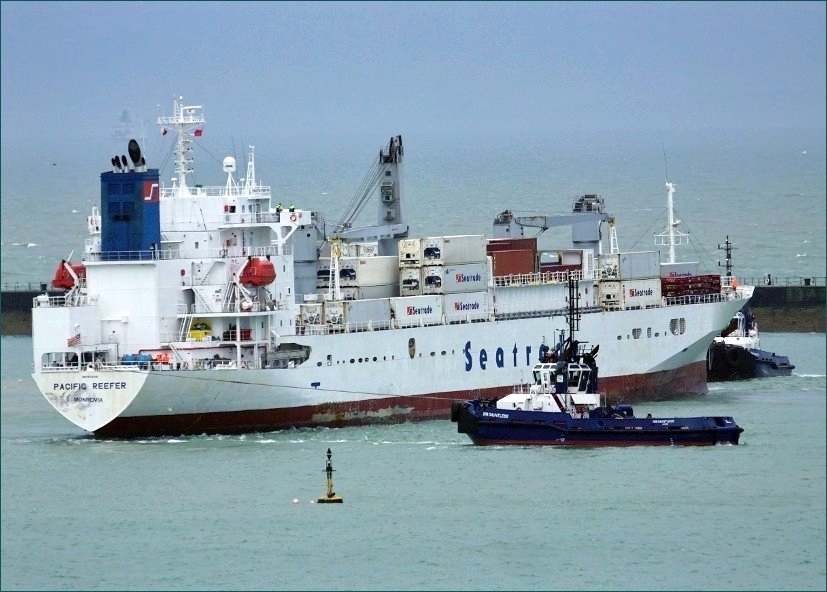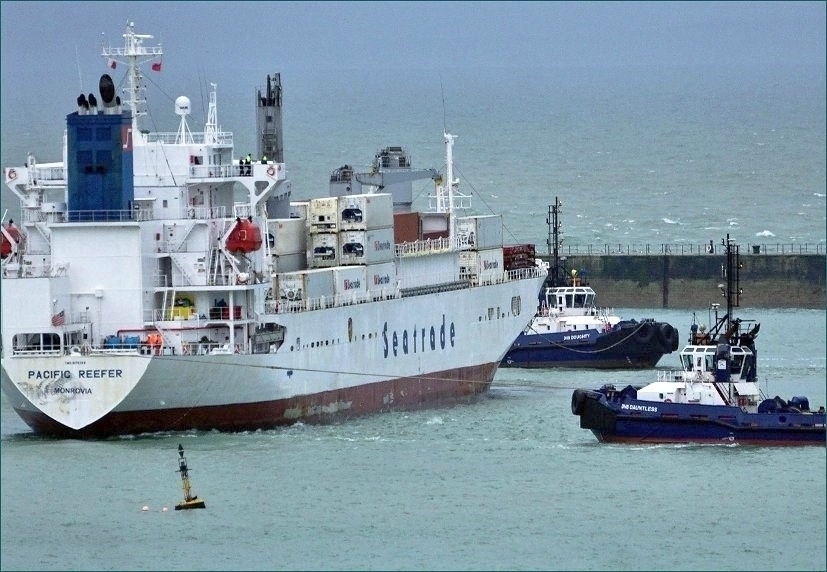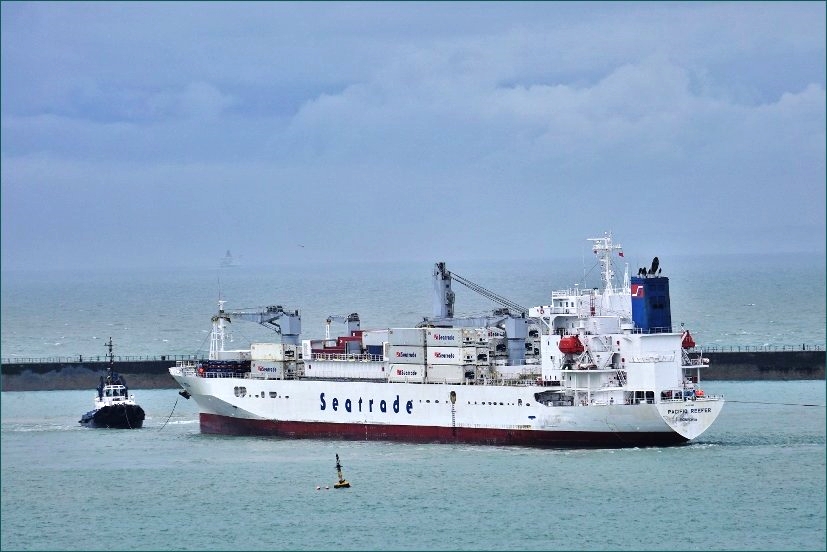 We catch her turning around above there...getting ready to go..
Great pictures from Sarah in the post below. Cracking stuff Sarah...right in the thick of the action.
Don't miss those....

Will have AIDAsol pix in due course...a bit behind here..
PaulB
Thursday, 5 April 2018 - 11:35
Post 4793
Sarah, Ramsgate
Margate Lifeboat out on exercise - 4th April 2018.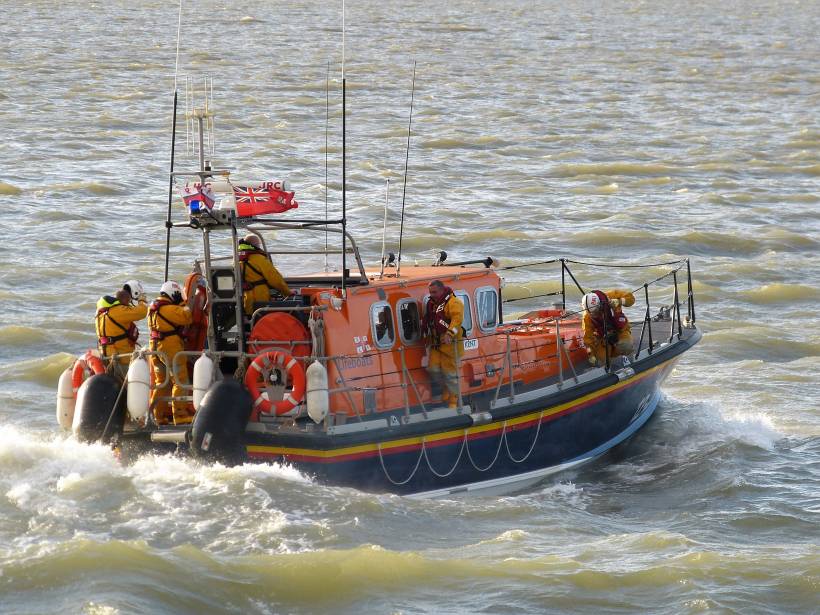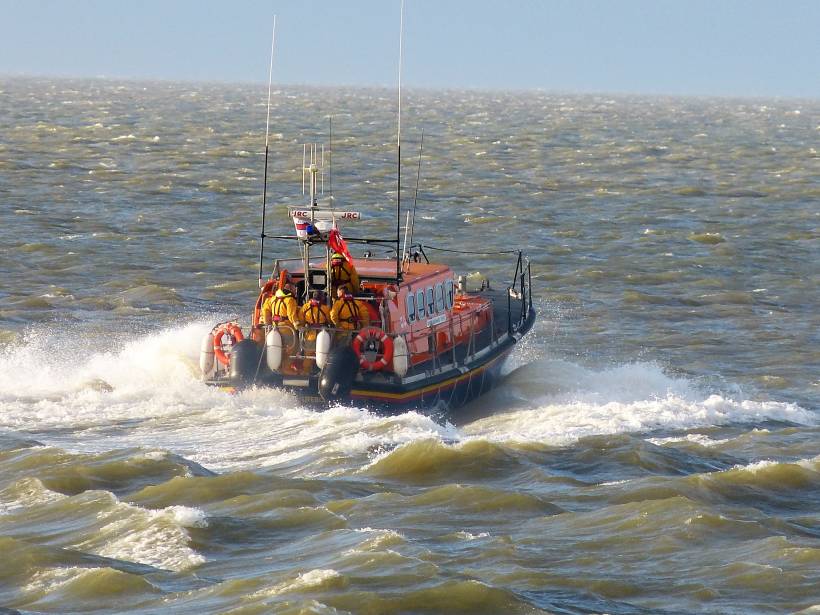 THV Patricia spotted off Margate - 4th April 2018.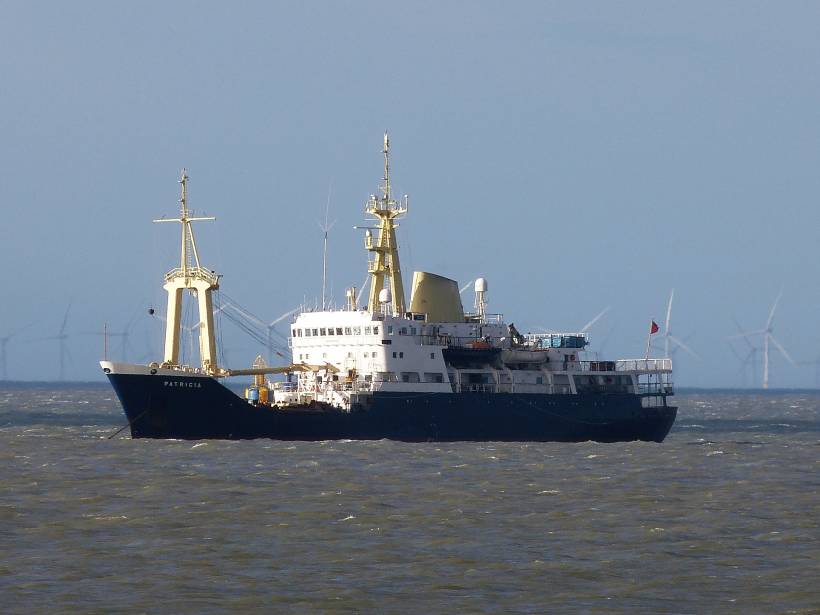 Thursday, 5 April 2018 - 01:34
Post 4792
Sea News, Dover
Pacific Reefer and tug Dauntless at the Port of Dover.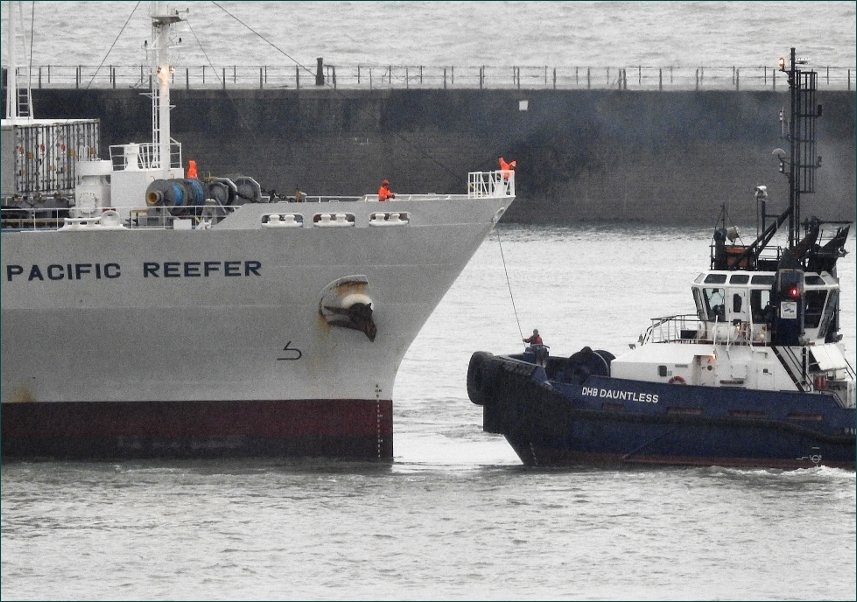 Some more pictures of the Pacific Reefer now, yours truly just catching up on the busy busy Port situation over the past few days. These pictures show her arriving on..ermmm..let me see..yes late Monday afternoon around 5.20pm. You can see a crewman on the bow of Pacific Reefer getting a line to the newly returned Dauntless tug. Similar picture below but zoomed in more. Further below a general shot which makes a chap grateful for Ed's closer pictures from the DCT..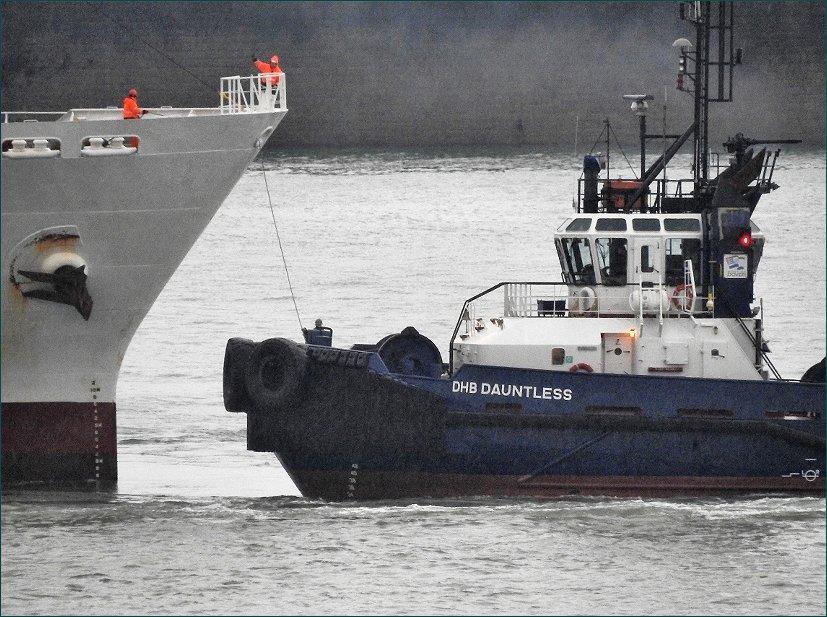 I have been asked what the dark speck in the water was as cruise ship Boudicca departed, see the picture in the post below. Well here we are...its a 'Man in an Orange Dinghy' . I didn't have a separate picture but have enlarged the small section of the main shot and yes here we are... it was choppy windy and wet out there...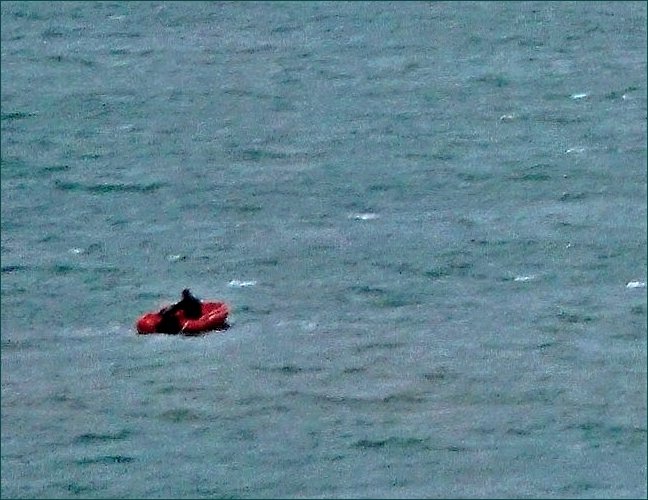 PaulB
EXTRA: The magnificent AIDAsol approaching.
Wednesday, 4 April 2018 - 06:00
Post 4791
Sea News, Dover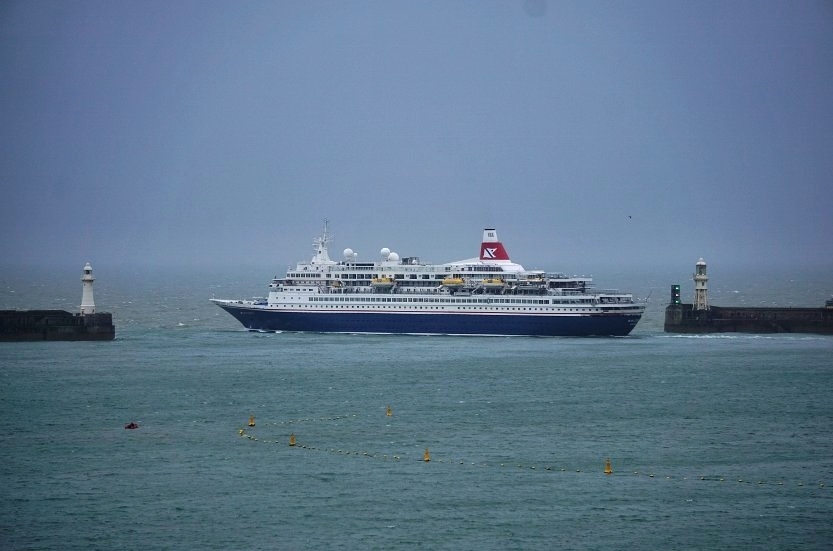 Boudicca leaving us here at the Port of Dover just a short while ago...5PM to be precise-ish. Once again the gloomy drizzle played a part in the departing picture. Bound for Hamburg she was .. her first stop on a German Waterways tour....
Many thanks for those pix below Ed. Great to get those angles for sure.

Will have more of Pacific Reefer following along soon too.
PB.
Tuesday, 3 April 2018 - 18:32
Post 4790
Ed Connell, Dover Strait
Boudicca at CT2 and Pacific Reefer at the DCT today.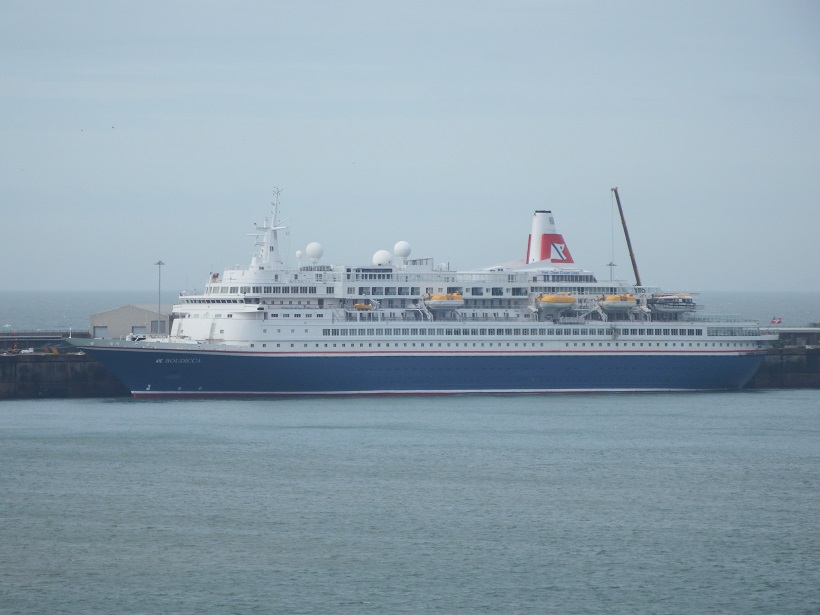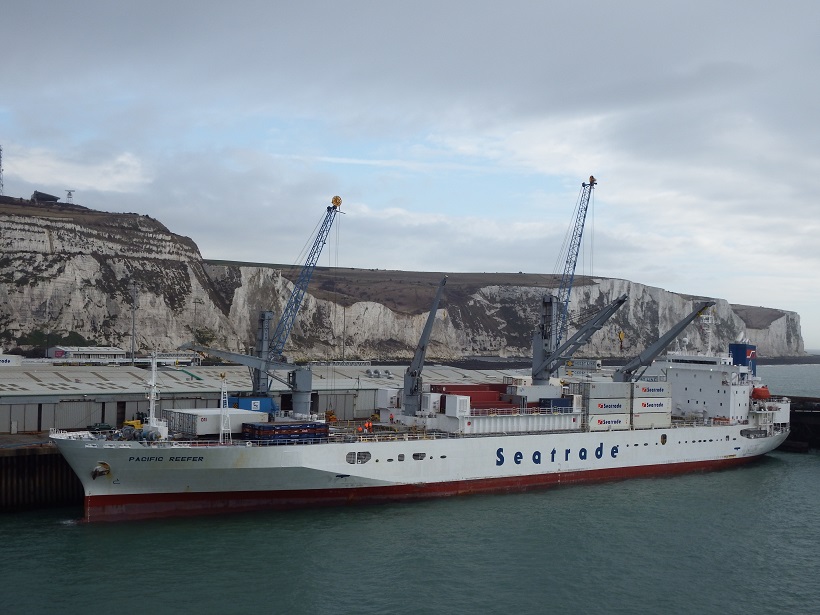 Tuesday, 3 April 2018 - 09:24
Post 4789
Sea News, Dover
A cracking picture in the post below from Ed of the just arrived Pacific Reefer, but just before she arrived yesterday the Baltic Klipper left us for Flushing with a packed load. We have a fascinating picture of Baltic Klipper below, not from Dover at all, but from the other end of the line... sent over yesterday by MICHAEL COMFORT of Deal ... huge thanks Michael.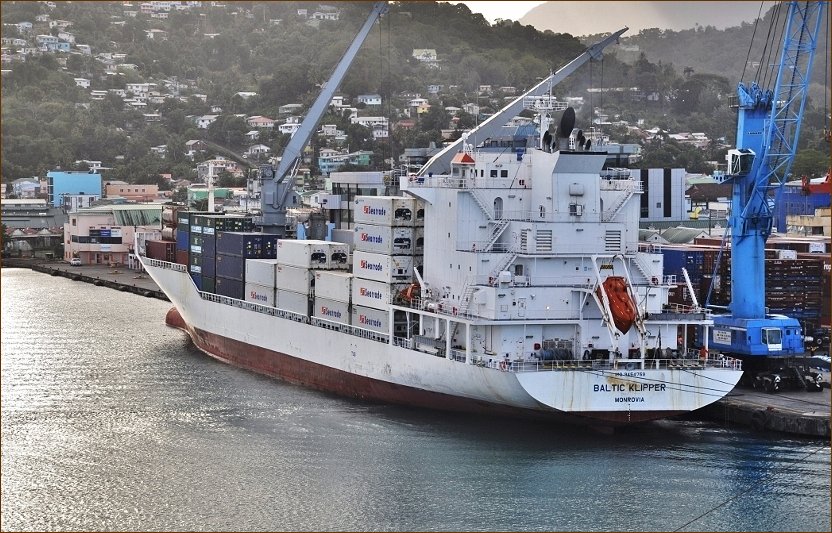 I will let Michael's email explain more...
Dear Paul
Thankyou for the site and information with pics you constantly deliver - always of local interest.
Thought you might like to have the enclosed snap of one of the Dover regulars, probably at other end of his journeys.
For the record it was taken on 13th March 2018 at Castries, St. Lucia. - must be on the banana loading.
Best wishes
Mick C.
Deal
And here she is leaving with a full load yesterday about 6.15PM. Unfortunately sods law .. just as she was leaving it started to rain. So these pictures are a bit less exotic.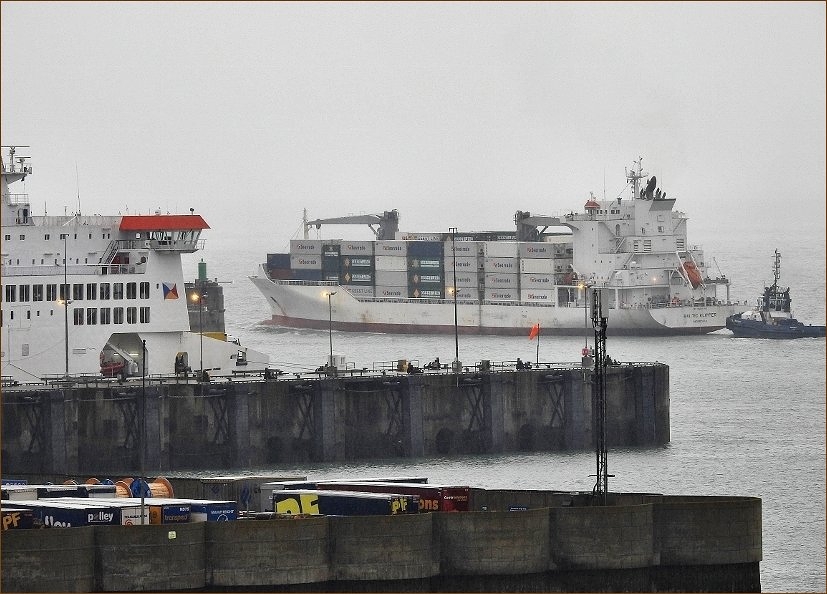 Will add this extra one below . Pictures are a bit forced because of the conditions. But as soon as Baltic Klipper left us Pacific Reefer came right in ...within minutes..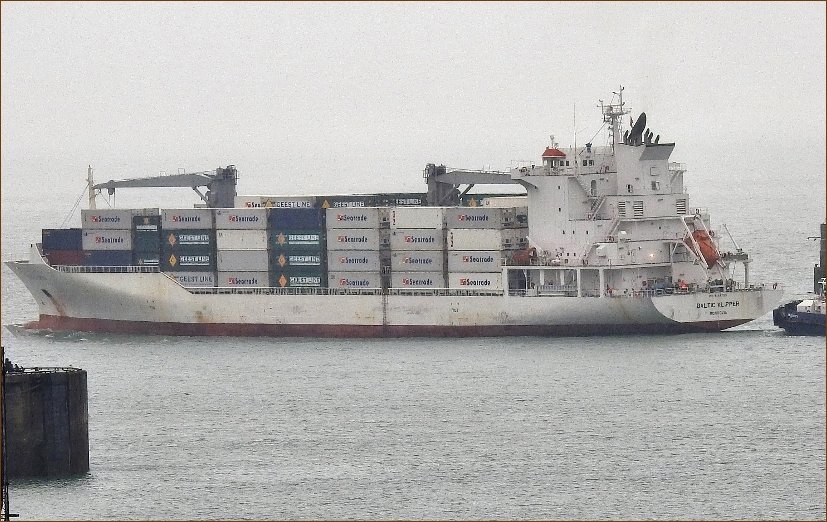 Great picture below Ed of Pacific Reefer...those night shots always tricky.

PaulB
PS: Boudicca back in Port.
Tuesday, 3 April 2018 - 07:26
Post 4788
Ed Connell, Dover Strait
Pacific Reefer at the DCT tonight.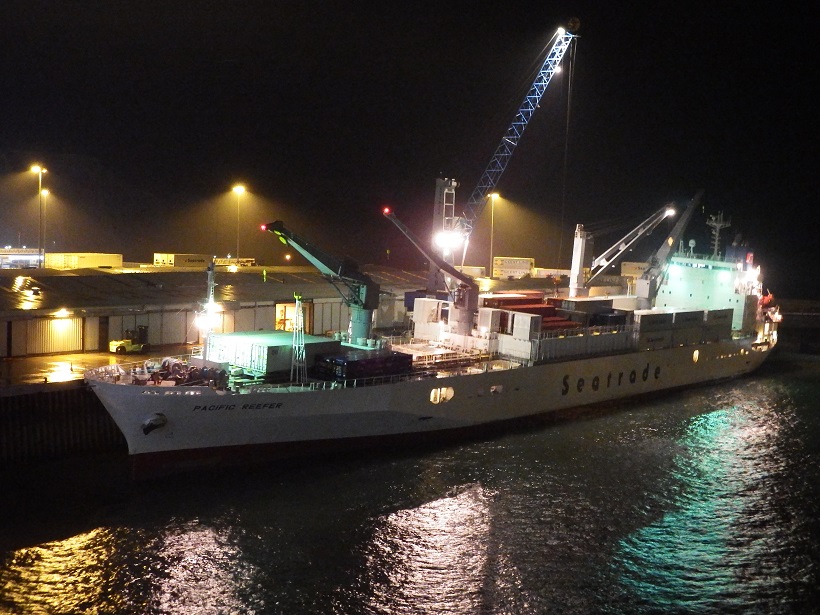 Monday, 2 April 2018 - 22:04
Post 4787
Sea News, Dover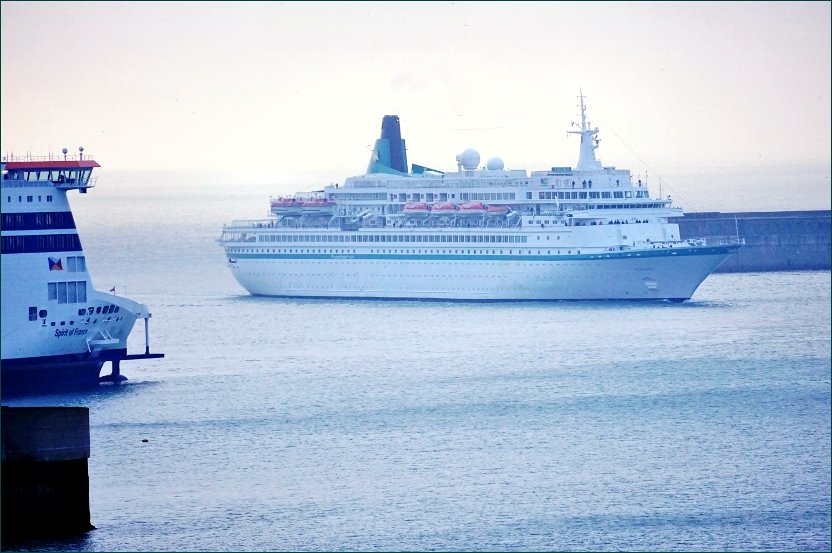 Albatross was in with us yesterday as mentioned, and there she is. Top shot is a bit wishy-washy unfortunately but shows her arriving during the misty morning. The pic below is from a while later looking across some of the DWDR workings. There are better pictures of Albatros ( or Albatross) in the system, just type the name in our search engine and you will see those.
Ah love that one of the 'Bunny on the Bridge' Ed
left it in top slot most of the day...nice to see those pix of the Polish Squadron car too. Great stuff all round

Monday, 2 April 2018 - 15:04
Post 4786
Ed Connell, Dover Strait
Easter bunny on the bridge of the Delft Seaways.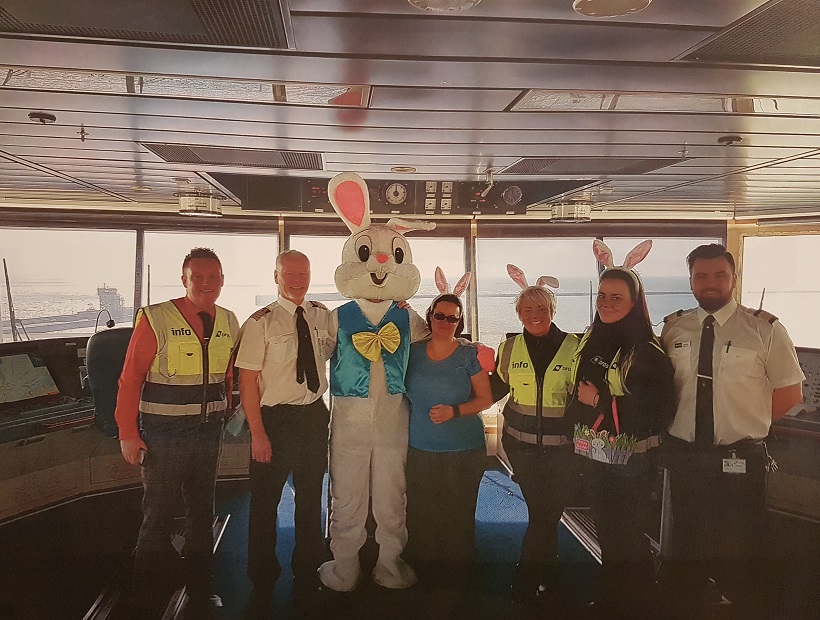 Car adorned with wrap representing 303 Squadron RAF which was comprised of Polish pilots and was the most successful unit in Fighter Command during the Battle of Britain.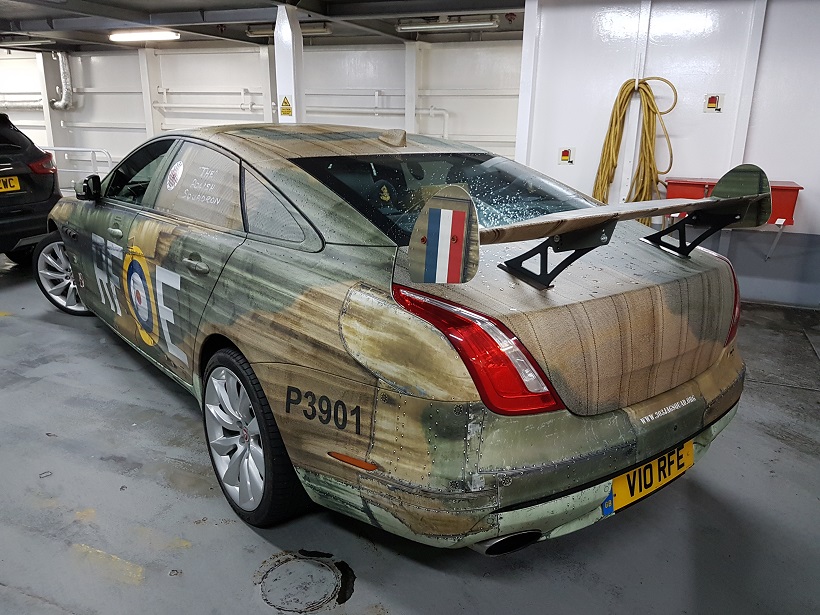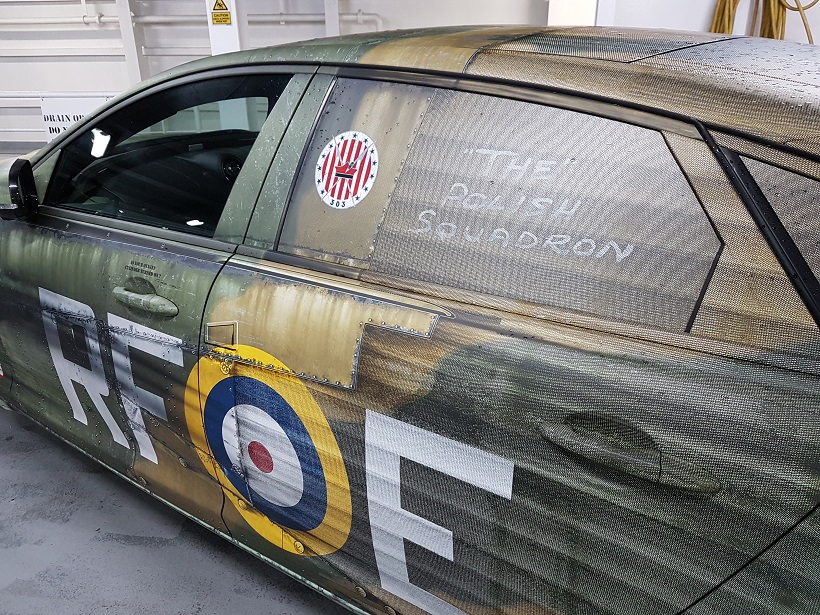 Monday, 2 April 2018 - 00:38