Monday, 1 June 2020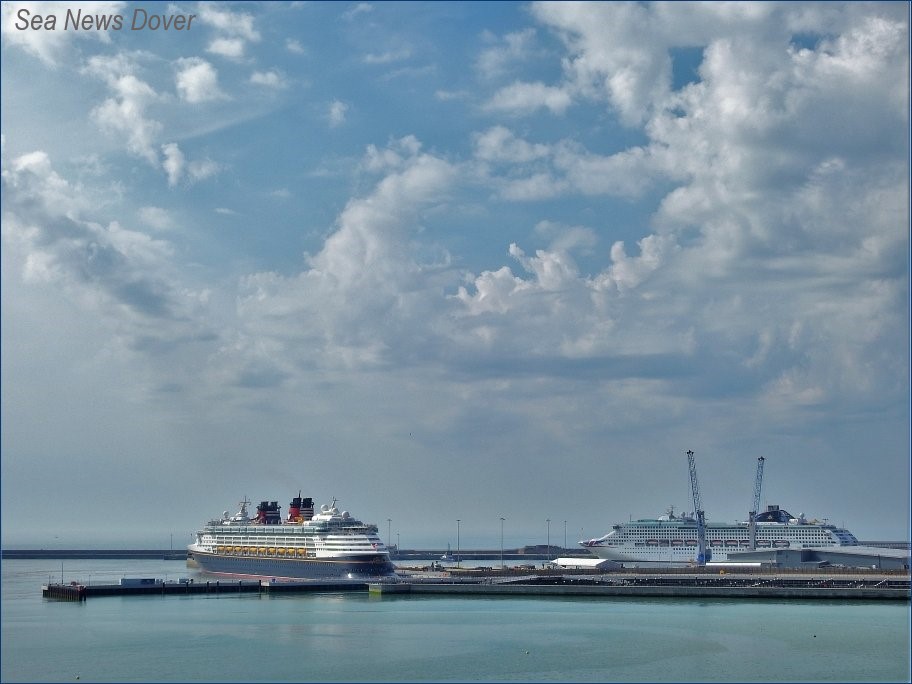 Big Sky over the Port of Dover with Disney Magic and Oceana.
And zooming in on Disney Magic below....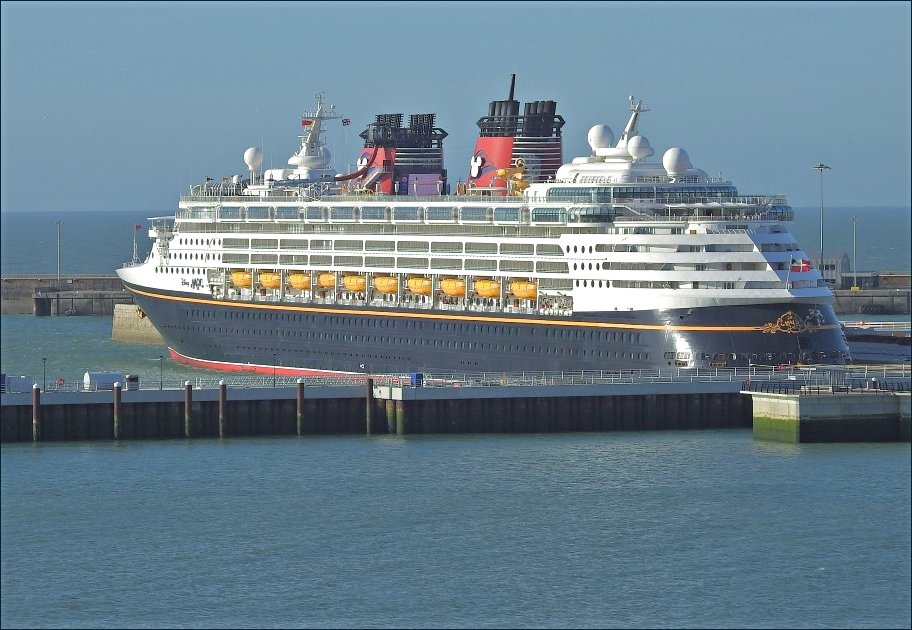 WWW.DOVERFORUM.COM/SEA-NEWS
Sea Pictures from DOVER: Featuring all the ships that come and go and work at the Port of Dover ..
... with some further coverage of the surrounding ports.
Sea News Dover
Use our SEARCH ENGINE below to find all sorts on the SEA NEWS pages....type in the topic and away you go,
or if you have the post number, just type it in the Search Box, more than
- 7000 -
nautical posts now.
Posts are welcome. just click 'Add Your Comment' below.
Upload a Max of 5 pictures....Many Thanks.
Sea News Editor Paul Boland - send info or pix to dover7@msn.com. Always welcome.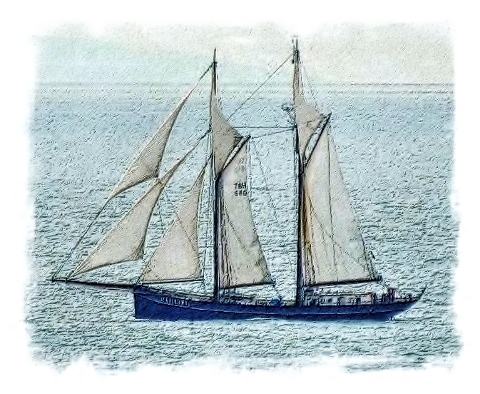 Headlines....
REGATTA CANCELLED see post 7012 below..
Doug Bannister: Open Letter re Covid-19 Critical Supply from Port of Dover CEO 6968.
PORT OF DOVER donates £40,000 to Coronavirus Fund see 6923
P&O FERRIES 1100 staff laid off and Furloughed to HMG scheme , see 6909.
P&O Ferries secure vital flow of goods, medicines...see below, post 6901.
DFDS Coronavirus announcements below see post 6880 and 6885.
P&O Ferries present record breaking cheque to Dover Lifeboat...post 6874 below.
P&O Ferries - European Expansion 6867
Hurtigruten and the Port of Dover see 6857...see also pictures in 6856 and 6859.
See SCARLET LADY pix.. FIREWORKS too..type Scarlet Lady in our SEARCH box below..
DFDS Refit Investment...luxury lounges 6821.
P&O FERRIES - POST BREXIT travel info below 6780.
P&O NEW FERRIES Images below 6775...
Port of Dover, DFDS, P&O say...Travel with Confidence from Dover.. see 6786 below.
Visit us here in White Cliffs Country see 6772
Natalie Elphicke MP - thoughts post Brexit 6784
Just type the post number from the listed Headline in the Search Box below.
Port of Dover Cruise Calls:
http://www.doverport.co.uk/cruise/find-a-cruise/
To show your pictures at their best..it could be worthwhile resizing before posting to
860
pixels wide. Our new standard size.
All pictures on these pages are the copyright of the owners and must not be reproduced without permission.
Post 797
PaulB, Dover
CLEANING UP YOUR ENVIRONMENT:
The dogdirt issue was a problem we were blighted with to a considerable degree some years back, fortunately things are better nowadays with people more aware of their social conscience and social obligations, not to mention the social pressures. It is a delight therefore...of sorts..to see pet owners following their dogs with those little plastic bags at the ready. The beach nearest the docks used to be a favourite place for ermm.. deposit leaving, then some time later young kids would come and play on the same spot. Not nice! It was always good too in times past to see those wider beach cleans that used to be organised by SEAFRANCE. Overall things have improved generally but more can always be done...well done the School mentioned here. Information below if other schools want to join in.
The following info through from DDC..
PUPILS HELP RAISE AWARENESS TO KEEP OUR ENVIRONMENT CLEAN FOR THE FUTURE

___________________________________________________________________________
Pupils at St Martin's Primary School in Dover used their creative talents to help draw people's attention to the importance of picking up after pets, to help keep our environment clean and safe for the future.
Following an educational talk from Dover District Council's Environmental Crime Team, pupils designed posters reminding dog owners to pick up after their pets. A winning design was selected, and has been used on signs that have been put up in the area.
The winning poster was by Freya Gardner (aged 10) who was congratulated and given gift vouchers at a special presentation at the school earlier this month. The runners up were also presented with swimming vouchers from Your Leisure.
Dover District Council continues to work in partnership with local primary schools, giving educational talks encouraging respect and pride within our communities, and highlighting the importance of looking after the local environment.
Diane Croucher, DDC Head of Regulatory Services said: "We were delighted at the range of excellent and creative ideas from pupils, and thank everyone who took part. We continue to look at a balance between education and enforcement in tackling littering and dog fouling across the district."
Katie Wratten, Head Teacher of St Martin's Primary School said: "It was lovely to be invited to join in the poster competition.  The interest and concern of the children in how they could improve the situation is something I am extremely proud of."
If you think your school would benefit from a presentation from the Environmental Crime Team, please contact them on (01304) 872085 or envcrime@dover.gov.uk. For more information, please see the DDC website www.dover.gov.uk
* *
And speaking of environment matters..
The Groynes Go Green !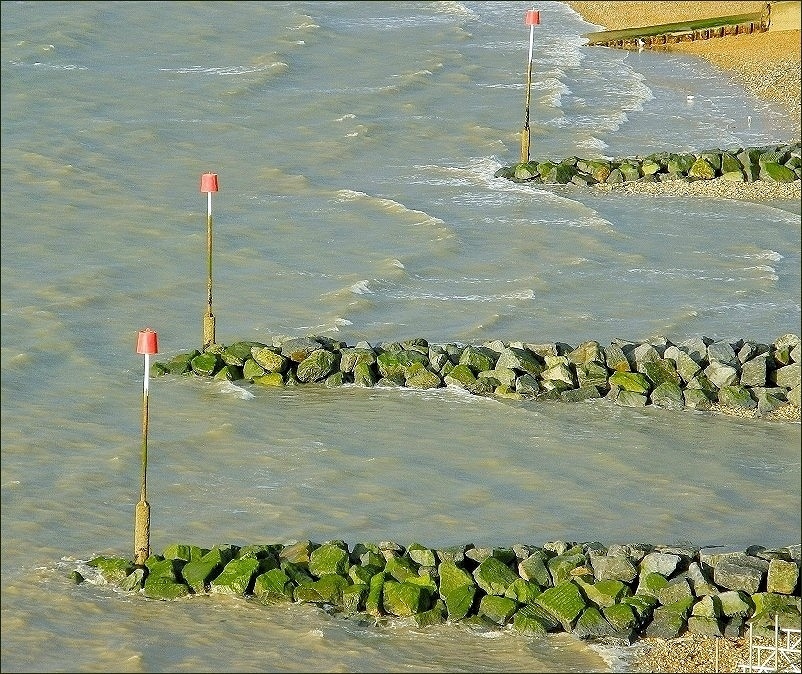 The Norwegian Larvic Rock has now taken on a life of its own, blending in gently with the immediate environment. No longer slate grey as you can see but a mossy green. Could be slippery though kids...so beware!
Saturday, 24 May 2014 - 06:15
Post 796
PaulB, Sea News, Dover.
Dover Harbour Board - Executive Member Appointment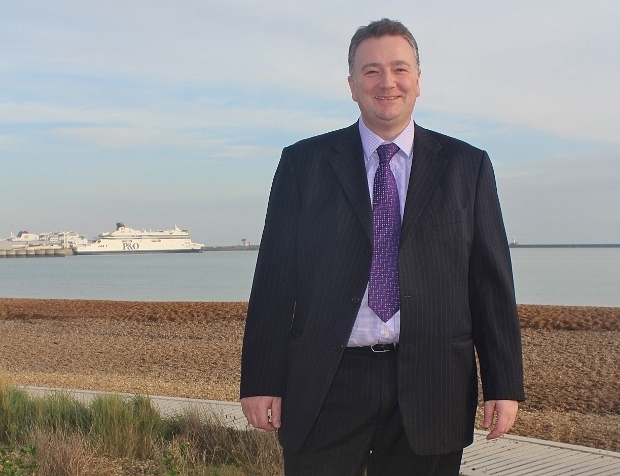 Dover Harbour Board is delighted to announce that Shaun Pottage has been appointed as the second Executive Member of the Dover Harbour Board with immediate effect.
Tim Waggott, Chief Executive, Port of Dover, said: "My congratulations to Shaun on his appointment. Since joining the organisation towards the end of 2013 he has impressed everyone with his approach, intellect and delivery.
"Shaun will continue to manage his existing portfolio within the business whilst also leading on a number of key workstreams in support of the Dover Western Docks Revival. He will also carry on supporting me closely in further developing the future direction and financing of the organisation.
"I hope that he will be afforded the same gracious support that I have been given as we continue to deliver on our commitment to be the best port in the world for the benefit of our customers and community."
Shaun is a chartered accountant and is married with two children.
Friday, 23 May 2014 - 06:46
Post 795
PaulB, Dover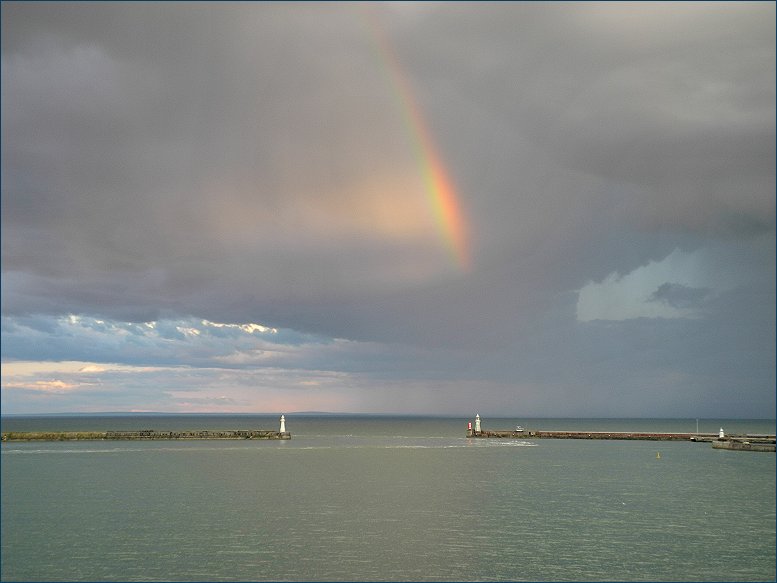 We had everything but the kitchen sink weatherwise yesterday. We endured blustery squalls, dramatic skies, lightning over the channel, choppy seas, torrential rain, blinding sunshine...and then nice rainbows to finish it all off.

When a chap goes out these days he doesn't know whether to wear his anorak or his speedos!
Nice set of pictures below there Mike..some blinders there

We are getting some cracking ships in..well done the team at DHB.
Friday, 23 May 2014 - 06:42
Post 794
howard mcsweeney, dover
Love that one of the "funchal" hadn't realised the "scillies" were a destination from here.

Thursday, 22 May 2014 - 22:06
Post 793
Mike J., Dover
Here's a rather dodgy view of the DELFIN on Wednesday.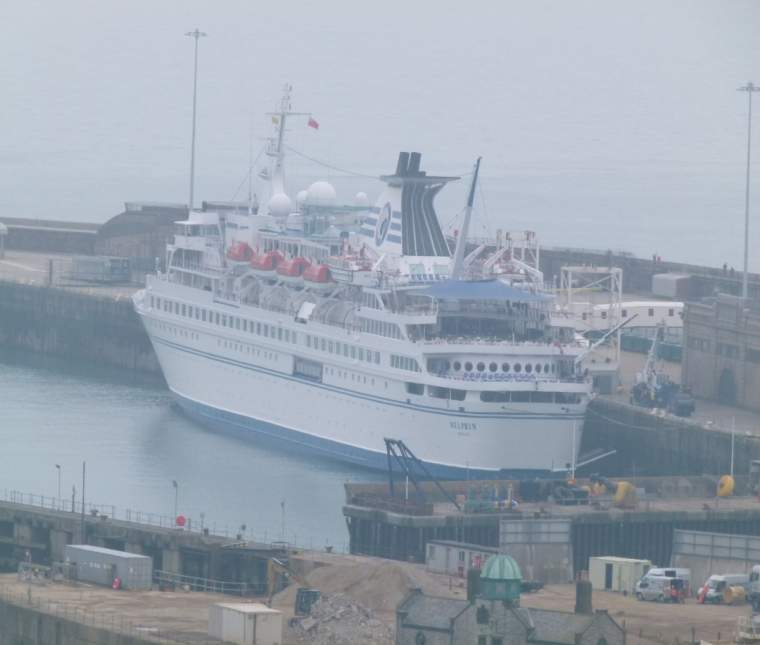 The elegant FUNCHAL came in around 0730 Thursday & sailed for St.Marys, in the Scilly Isles, at 1500.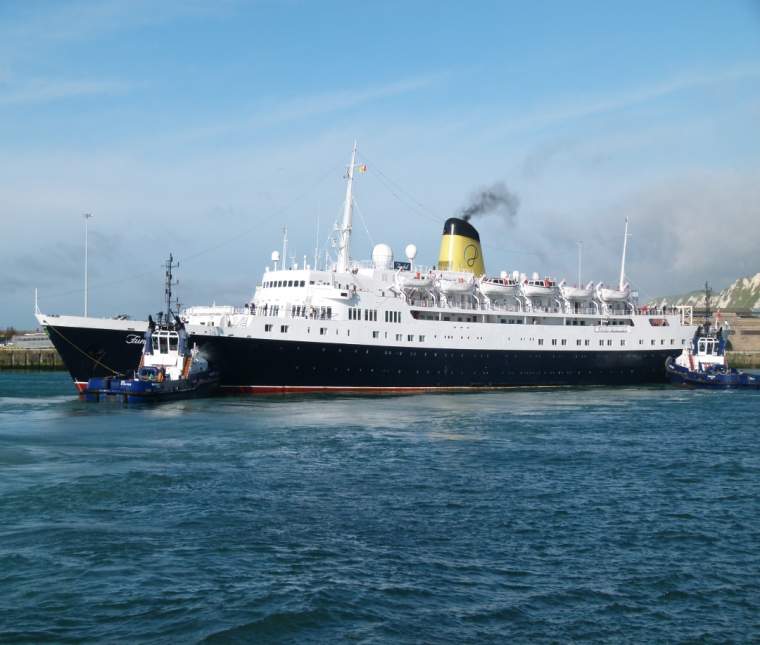 Danish-built in 1961 she has been considerably rebuilt internally & re-engined for cruising duties, but has retained her most attractive appearance.
Whilst the DOUGHTY was pushing the FUNCHAL she was spraying water on her bow fenders & onto the FUNCHAL's hull - this is often done to reduce marking the cruise ship's hull.
On occasions, although never at Dover, I've seen tugs with clean white canvas covers over their fenders to avoid marking cruise ship hulls.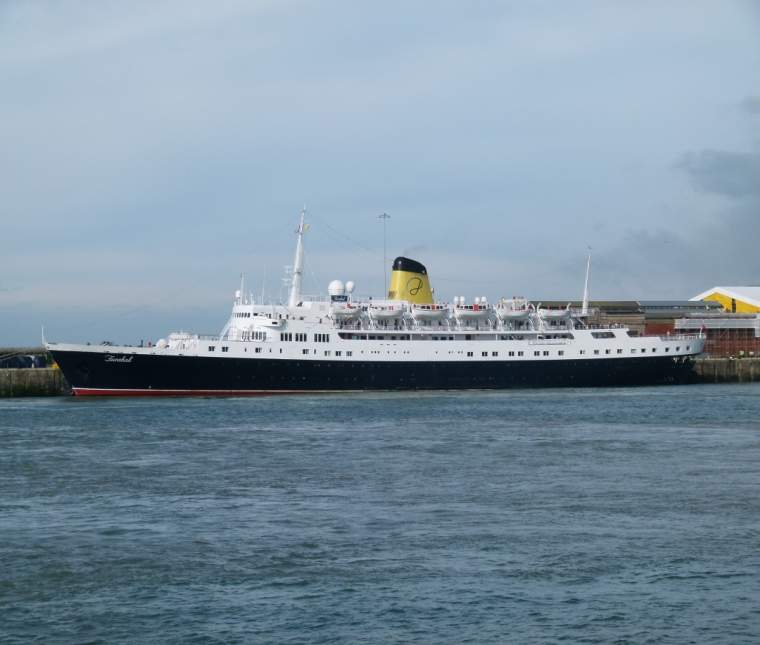 After the beauty, the beast !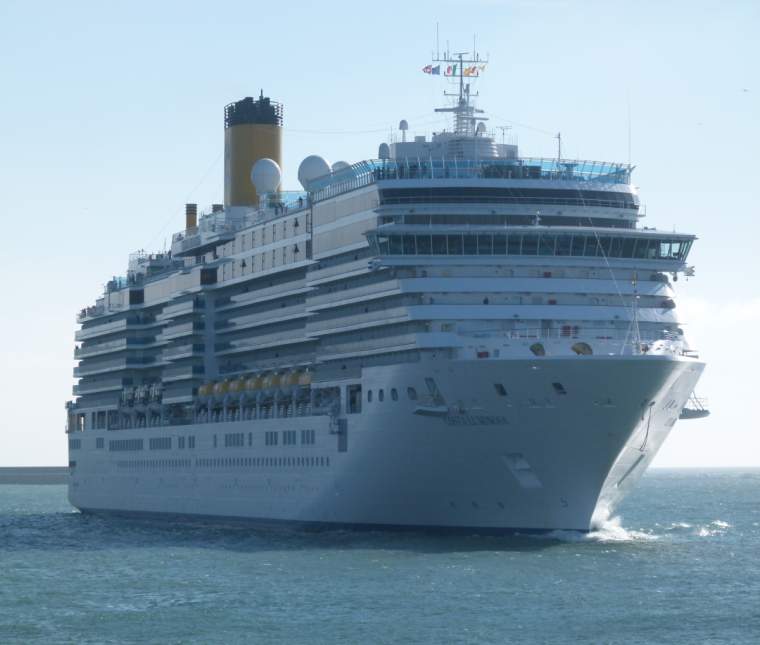 Following the FUNCHAL into the bay came the giant COSTA LUMINOSA.
The FUNCHAL took two tugs for berthing in the brisk wind but the LUMINOSA docked without any tug assistance, thanks to her three bowthrusters & twin swivelling 'Azipods' down aft.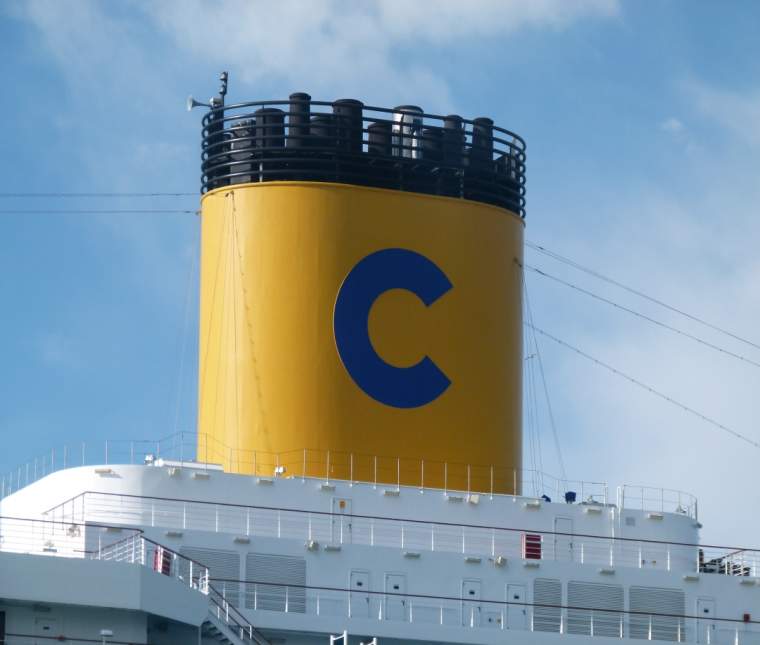 Little & Large ! The FUNCHAL sailed for St Marys, in the Scillies, mid-afternoon & was somewhat dwarfed as she passed the LUMINOSA.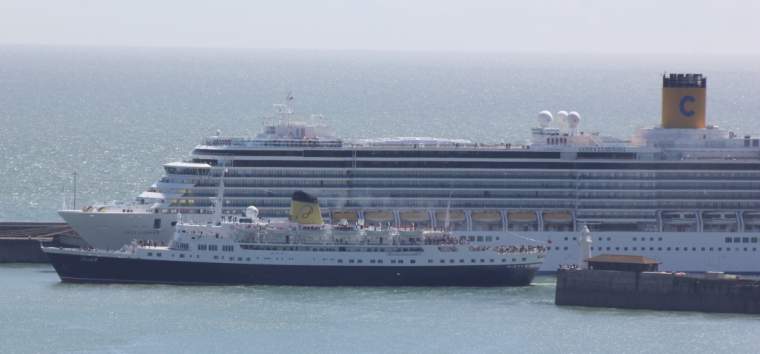 Thursday, 22 May 2014 - 21:23
Post 792
PaulB, Dover
Todays sparklingly luminous visitors....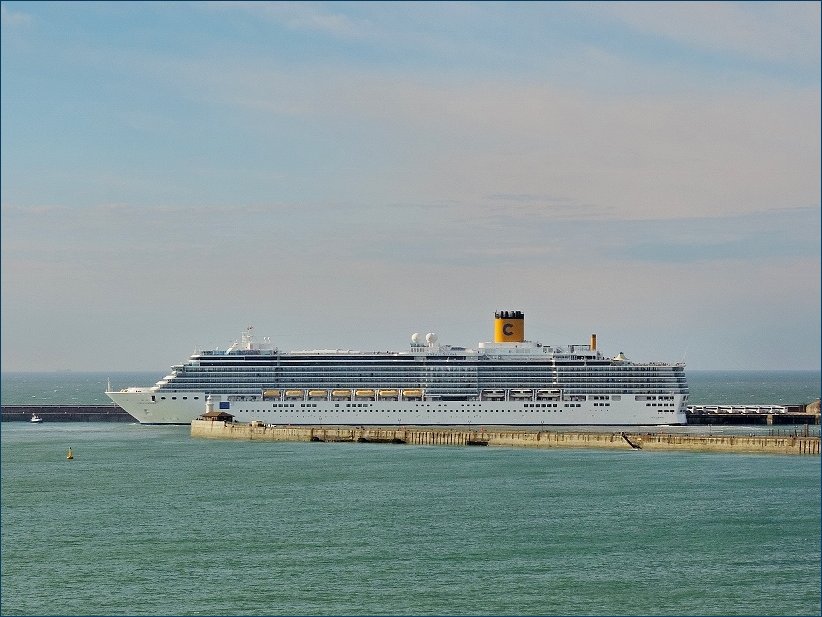 The Costa Luminosa looking truly magnificent as her 93,000 tons languishes massively but gently on the dock. The gentle giant. Luckily we had a selection of pictures to chose from and opted for the most colourful... just when she was caught by the early sun.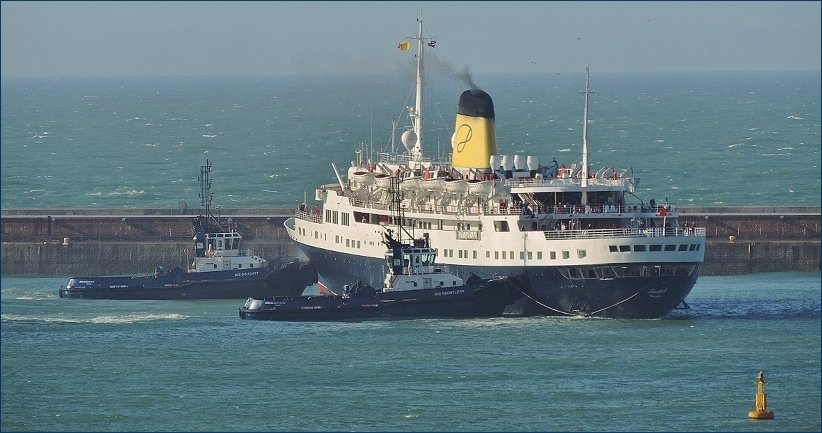 The much much smaller Funchal being helped in the earlier blustery conditions by both tugs.
Well done..smashing pictures below there John of the Delphin. Fascinating story behind her...didn't know any of that, so all the more interesting for everyone. Great stuff!
Thursday, 22 May 2014 - 15:16
Post 791
John Mavin, Dover
I also missed the Delphin yesterday - pity because she's one of the more interesting ships that occasionally call at Dover. Originally called Bylorussiya she was built in Finland in 1975, and was one of a class of five ships ordered by the Soviet Black Sea Shipping Company.
Originally designed as a combined cruise ship and ferry it was found her car carrying capacity was considered insufficient and her bow car doors were welded up. Her starboard quarter rear car doors are still used to transfer stores and equipment.
There was a bit of unpleasantness at Singapore in 1993 when the ship completely rolled over when being maintained in a floating dock which sank!
After a number of changes of owner I understand she's now Indian-owned and operated by a German company.
These are from previous calls.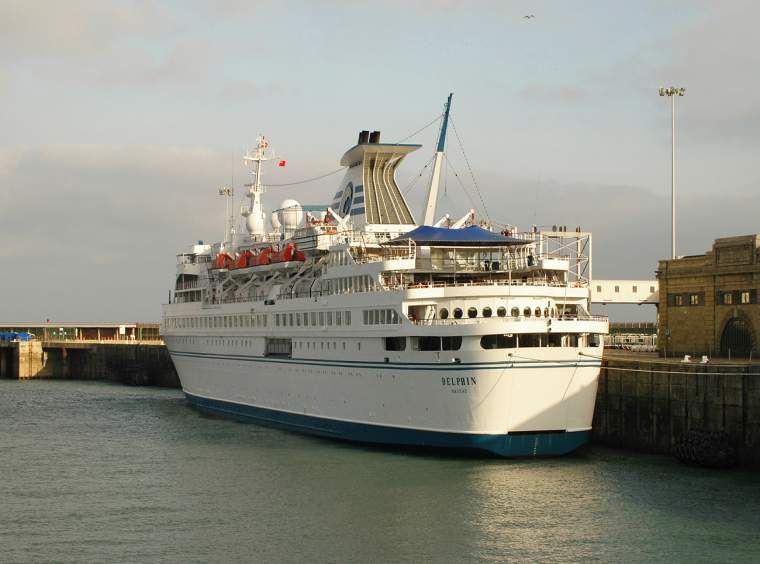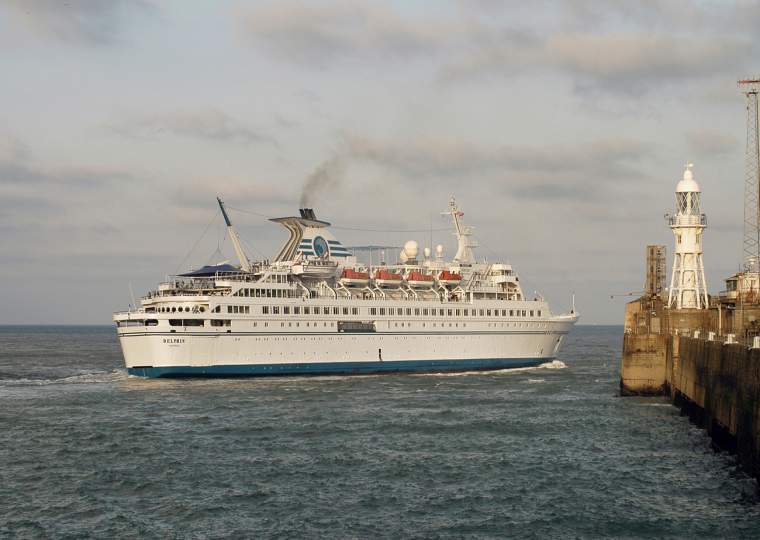 Thursday, 22 May 2014 - 10:52
Post 790
PaulB, Sea News, Dover.
Book Your Spring and Summer Travel to France With DFDS Seaways for a Great Deal
You can SAVE £10 with DFDS on return economy fares or £5 off single fares from Dover-France
Award winning ferry operator, DFDS Seaways, has launched its latest offer on the Dover-Dunkirk and Dover-Calais crossings. Book your crossings before 2nd June, for travel by 18th July to save £5 each way on your ferry crossings, with fares starting at just £24 each way for a car and up to four passengers.
What's more, we're so certain that you will like our prices, that if you can find a cheaper fare* with any of our competitors then you could be in with a chance to win £500! Just fill in our form on our website at ...
www.dfdsseaways.co.uk/ferry-offers-and-deals/ferry-to-france-offers/tell-us/
Whether you're looking to travel to Northern Europe by car with your family or friends or hit the open roads on your motorcycle, crossing the Channel with DFDS Seaways is the perfect way to start your journey.
Max Foster, passenger director at DFDS Seaways, comments: "Our latest offer means that now is a great time to book your travel to France with DFDS Seaways. And with our comfortable and frequent sailings from Dover to Dunkirk and Calais, you not only have a fantastic choice of sailing times to France, but can also relax onboard with a fresh cup of coffee or a delicious hot meal, ensuring your holiday starts as soon as you board the ferry."
DFDS Seaways operates up to 44 sailings per day between Dover and France, offering passengers a choice of departure times and flexibility. Passengers can relax onboard during the short crossing and grab a bite to eat at one of the restaurants or cafes, pick up last minute travel essentials from the onboard shop, let the kids play in the dedicated children's areas or explore the ship's deck and take in the sea air.
To take advantage of this offer visit www.dfds.co.uk or telephone 0871 574 7235 to book, using code ETELLUS.
* * *
Celebration picture of the Dieppe Seaways above.. taken just a few days ago. Back in regular and sleek action.
Always good to hear of special cross channel deals...many thanks to DFDS for keeping us informed. We all get the travelling urge once Spring arrives and many will be taking advantage.
Nice set of interesting pictures there below John from right in the thick of the fray. Jet Skis to the fore...!

Yes a pity about the cuts, the RIB is sadly missed. I have a few pix of it too somewhere in the system.
PS: the little Delphin was in yesterday but got no picture - defeated in the end by the weather.
EXTRA JUST IN...the Funchal, another little ship of old charm...and the mighty Costa Luminosa all 93,000 tons of her. massive ship. Will have pictures later, better get back to the snapping...you've got to tip your hat to the Port of Dover for bringing in ships like this. Fab !
Thursday, 22 May 2014 - 06:48
Post 789
John Mavin, Dover
Interesting to see that the Director is now used by the DHB Police. This is her in her former role.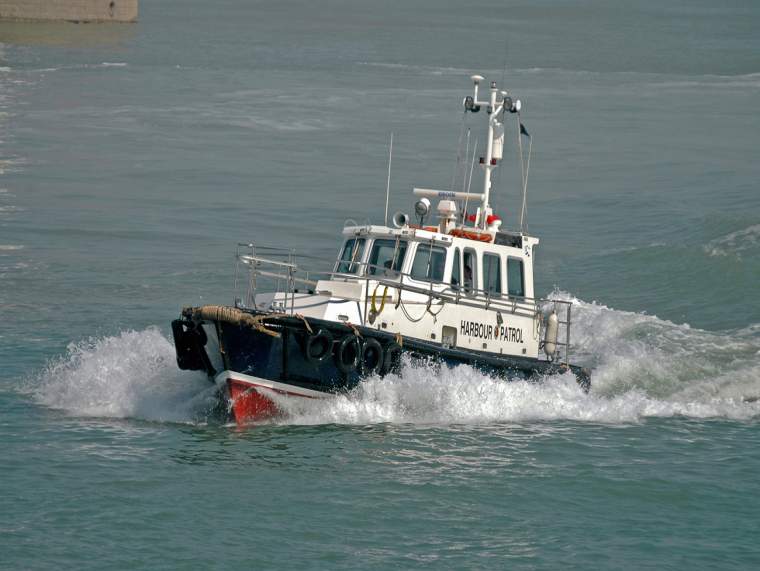 ..and a couple with her successor, Dovorian.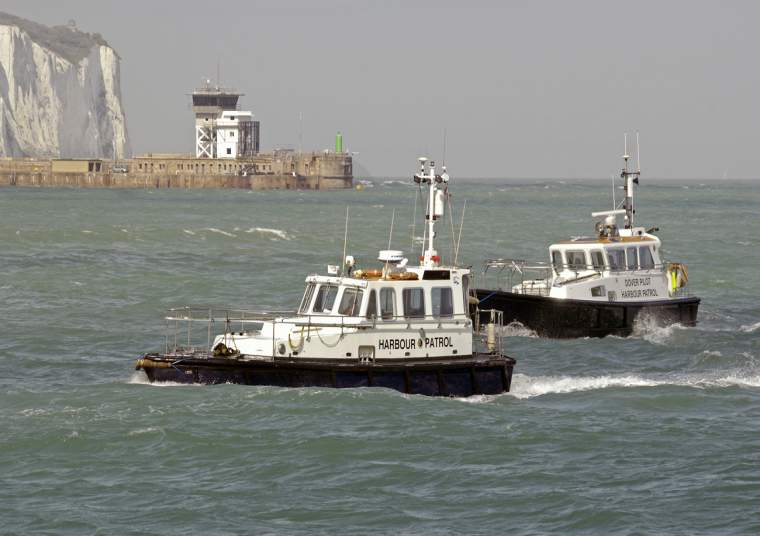 This is the one that tickles me - Kent Police on operations in the harbour in 2007 ....... and they've got a Jetski! (nice work if you can get it .... in summer that is!).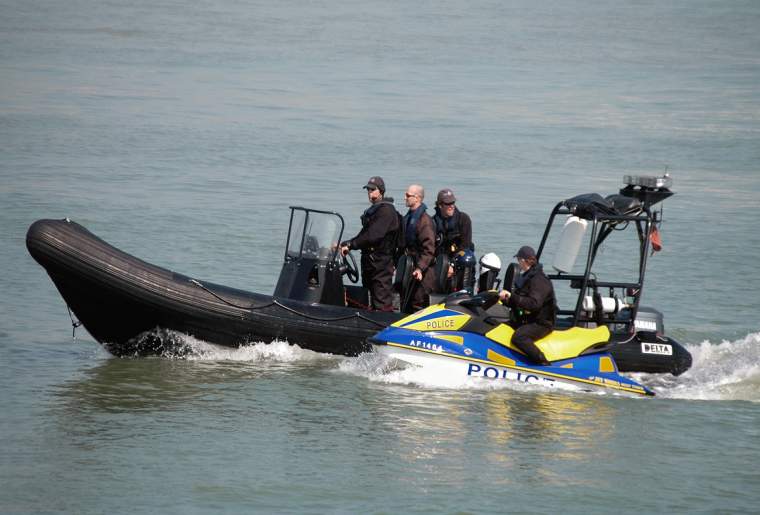 Wednesday, 21 May 2014 - 11:19
Post 788
PaulB, Sea News, Dover.
Press Release Port of Dover issued Tuesday 20th May 2014
_______________________________________________
Community Director
Dover Harbour Board today announces it will commence a process to appoint its first Community Director.
George Jenkins OBE, Chairman of Dover Harbour Board, said: "We intend to engage with Community leaders and elected representatives to establish an open and transparent, arms length process for the appointment of that Director.
Our aim is for the recruitment process to commence in the summer demonstrating a further commitment to move forward following the recent Ministerial announcement."

Wednesday, 21 May 2014 - 06:28
Post 787
PaulB, Dover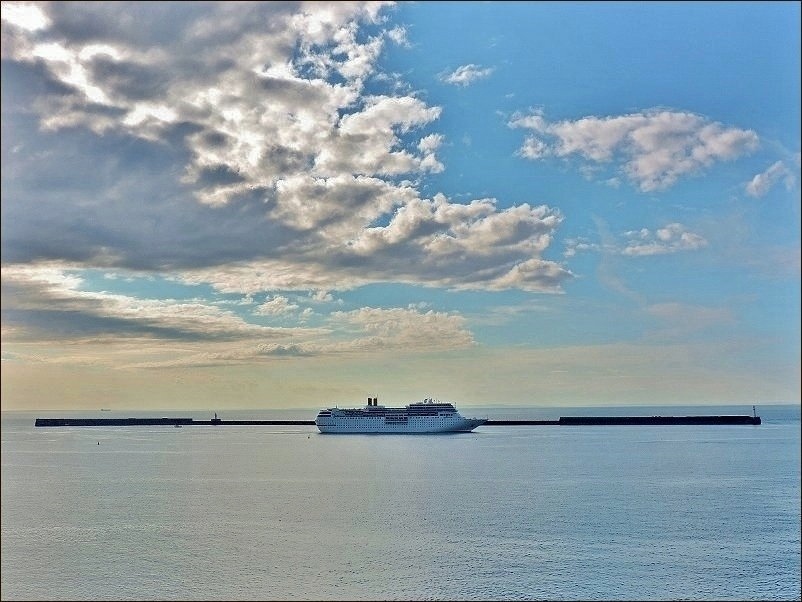 We give the Costa Romantica ( or Costa neoRomantica) the full ermmm Dover romantic treatment here with warm sunshine and wide blue sky as she arrives in fine style early on Tuesday morning. Unusual ship in some ways but all the Costa ships are so attractive in their distinctive way, and very Mediterranean.
We love those famed yellow funnels.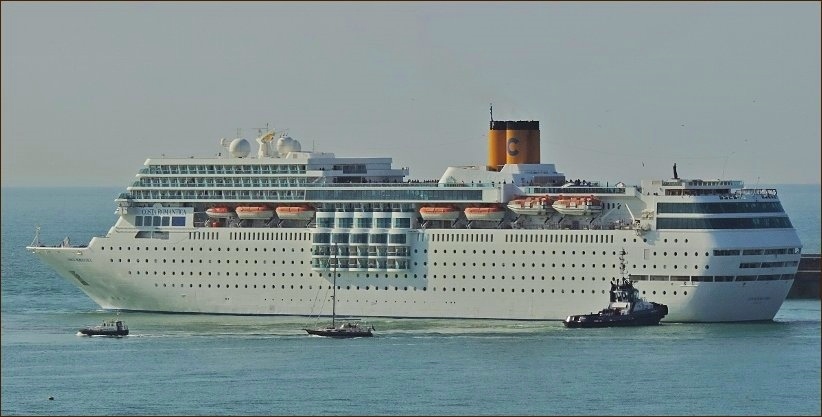 Very interesting item there below Mike. That dock fetches up many interesting vessels indeed, the range surprises me sometimes for sure. interesting to see the conversions. Yes sadly the financial cuts have affected some of the services.
Wednesday, 21 May 2014 - 06:23
Post 786
Mike J., Dover
PaulB -
The MAXIMUS is not the only former lifeboat conversion to have visited Dover.
In 2006 the protoype 'Tamar' class lifeboat was sold to the Kent Police & expensively converted, keeping her RNLI name PRINCESS ALEXANDRA 3
She was in Dover in October 2010 but has since become a victim of cuts in the Police budget & has been disposed of.
A similar fate met DHB Police's RIB 'DELTA 99' for similar reasons.
At least one of the Harbour Patrol launches has acquired Police chequer stripes & becomes an instant Police Launch when the sign 'POLICE' is placed over the sign 'HARBOUR' & this can be seen in the photos of the recent Marina Open Day.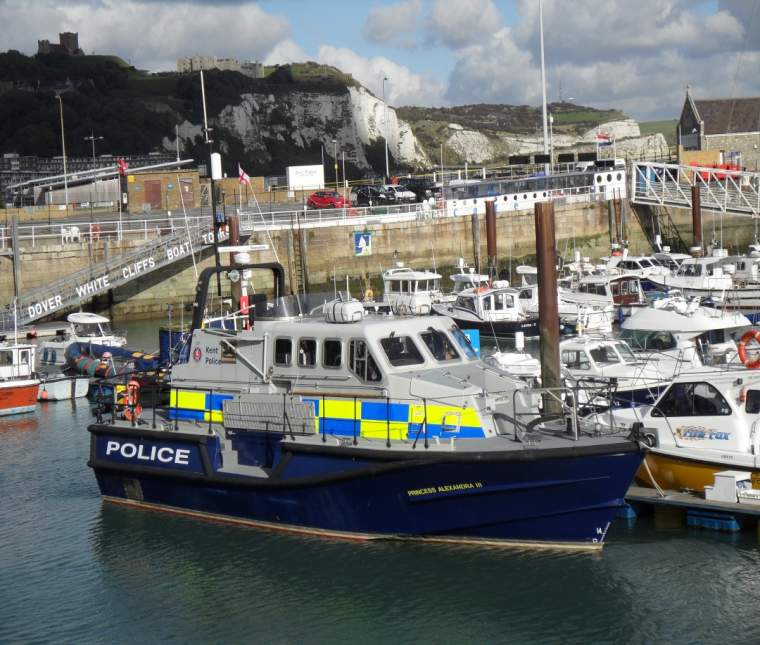 Tuesday, 20 May 2014 - 16:30
Post 785
PaulB, Sea News, Dover.
IT'S MOTHERS DAY IN FRANCE very soon....
So Celebrate Mother's Day the French way with MyFerryLink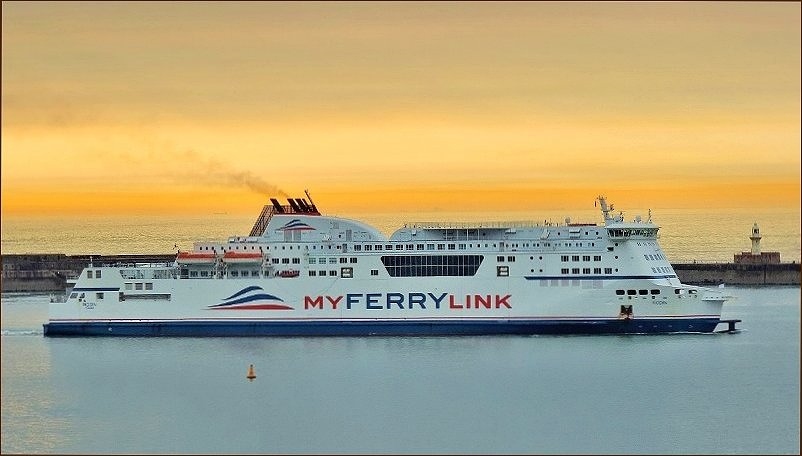 Treat mum to her favourite fragrance and receive a free bottle of sparkling wine too !
It's Mother's Day in France on 25 May and to celebrate, MyFerryLink is offering customers who purchase perfume from the onboard boutique a free bottle of pink bubbly. Why not hop across the Channel and celebrate Fête des Mères for as little as £29 return for a car and up to nine people with Dover-Calais ferry operator MyFerryLink?
Treat mum to a Mother's Day weekend continental style, without having to go much further than the Nord-Pas de Calais area - a mere 75 minutes from Dover! With miles of beautiful coastlines for beach lovers, boutique shops for fashionistas and restaurants serving delicious, authentic cuisine for gourmet lovers, there is something for everyone. What's more, when you purchase a bottle of mum's favourite perfume from MyFerryLink, you will receive a bottle of Blanc de Blanc sparkling wine or a box of chocolates – what a great way to start mum's perfect Mother's Day!
This offer is valid from 23 to 26 May 2014. For details on how to book and more offers, visit www.myferrylink.com. MyFerryLink operates up to 16 daily crossings on the Dover-Calais route. Fares for a car and up to nine passengers start from £29 return for a day trip, with other special fares available online.
To find the best fares, visit www.myferrylink.com or call 0844 2482 100


* *
Great idea above, time to spoil Mum again.
Wow! That's an interesting one below there Mike,
Have never before seen a Lifeboat recycled as it were...
ADDED EXTRA at 08.30: The exotic Costa NeoRomantica arriving.
Tuesday, 20 May 2014 - 06:31
Post 784
Mike J., Dover
A former lifeboat was in Granville Dock today, Monday.
The MAXIMUS is the 1980-built 'Arun' class SIR MAX AITKEN & was sold into private hands by the RNLI in 2003.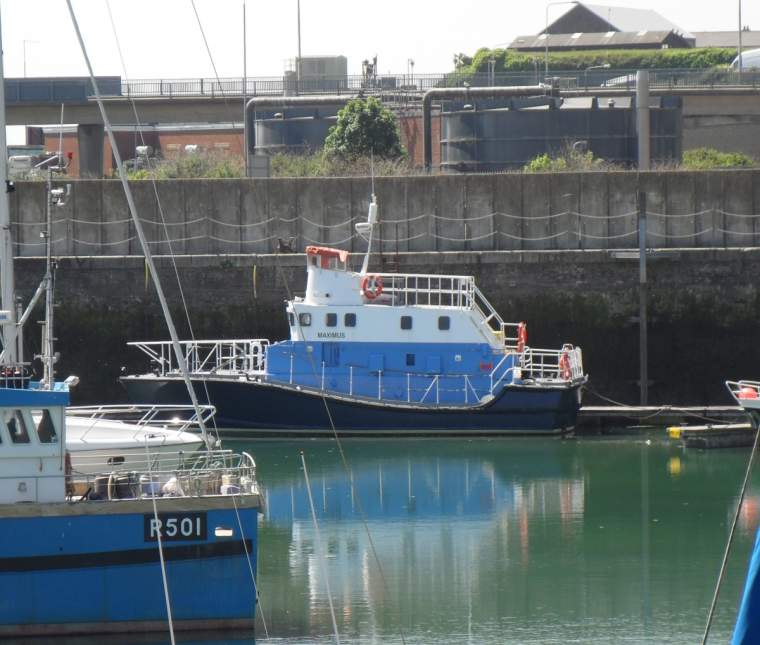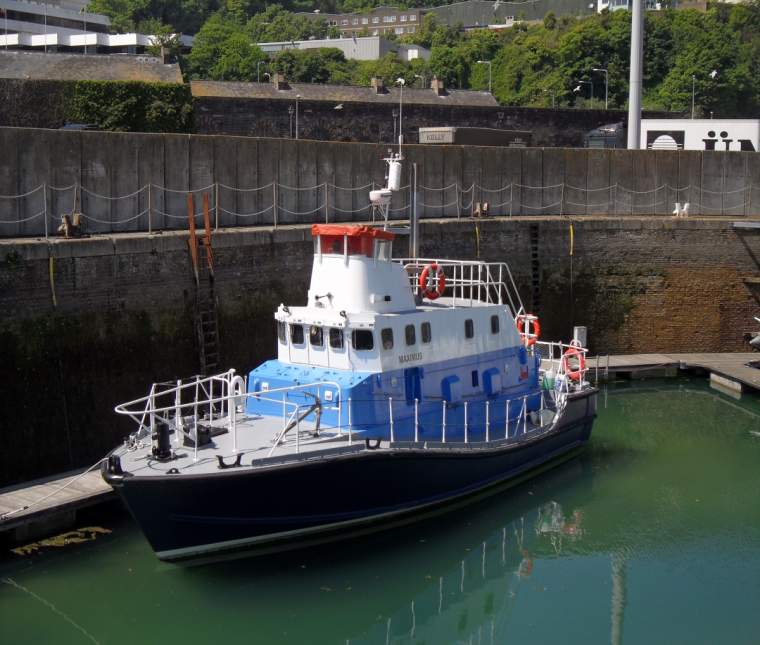 Monday, 19 May 2014 - 21:43
Post 783
PaulB, Dover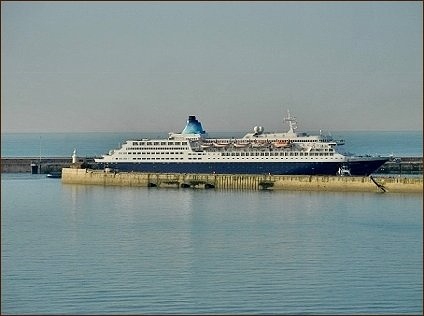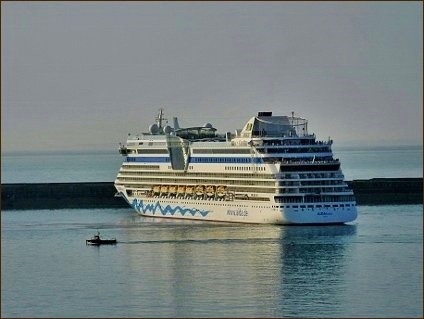 As mentioned in the previous posts below, here are a couple of quick small ones of this mornings arrivals..Saga Sapphire and AIDA Luna. Both pictured many times previously but here they are this morning.See earlier posts re Saga particulary 720.
Also check out pictures below page re Marina Open Day.
Monday, 19 May 2014 - 08:48
Post 782
JanT, Dover
Another beautiful sunny morning and yet again we have two ships gracing our seafront today.
And as mentioned below Saturdays Marina Open Day was also lucky with the weather, and hopefully it is an event that will grow.
It was good to also catch up and chat with Adrian,Wayne,and of course Trevor.


Some good pictures below also showing how busy our harbour is every day of the week.
Monday, 19 May 2014 - 07:47
Post 781
PaulB, Dover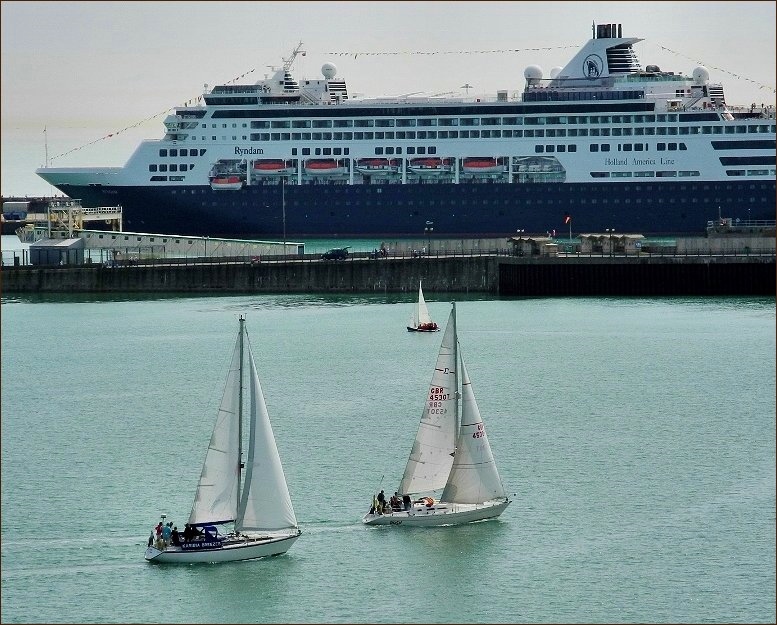 Just to mention that the Marina Open day was a joint venture, with DHB and RCPYC being the main participants...and to mark the input from the Royal Cinque Ports Yacht Club, here they are in fine style on the day itself Saturday..fleeting across the warm harbour with nonchalant ease. The Ryndam on hand as a masterly backdrop. More pictures from the Event in Post 719.
Bernard Sealy, Commodore, Royal Cinque Ports Yacht Club, said: "The return of this event and the growing partnership with the Port of Dover demonstrates the great work going on to promote Dover as a destination – somewhere to savour a rich maritime heritage and somewhere to experience and enjoy the delights of the sea."
* *
Thanks for that ace list again Colette, have marked it at the top of page. Comes in very handy. According to your list both AIDA Luna and Saga Sapphire are scheduled for today...and here they come as we write.. The Saga Sapphire unusually approaching from the west.
Great items there Ed on the Saga Sapphire and the William and Kate Johnston..keep them coming as and when you can. The Saga Sapphire following those aforementioned concerns has turned up. Not in harbour yet and light too blue for long distance pictures. Good to see the old bird again especially after that news. See Post 720 below...
Well done Mike with that one, out in the midst of the action again. Memory and battery power always a niggling problem isn't it.
Monday, 19 May 2014 - 06:33
Post 780
ColetteB, Dover
Good photos there MrB of yesterday's open Dover Marina Day & the weather was just perfect too, a very enjoyable day, loved it

And now for the rest of May's cruise schedule.
Tomorrow, all things being well after the electrical switchboard fire on the Saga Sapphire she will cruise into Dover at CT1, TR. Joining her will be the AIDALuna, once again at CT2, PoC.
Tuesday 20th May, the first Costa of the season arrives in the shape of the Costa NeoRomantica at CT1, PoC. She was last here in August 2013.
The next day, Wednesday, the MS Delphin cruises into Dover at CT1, PoC, last seen here in September 2013.
Then Thursday 22nd May, the second Costa of the season arrives, Costa Luminosa at CT2, PoC, last here in May 2013.
On the same day, Thursday 22nd, we have a real treat in store with the arrival of the very elegant MV Funchal (formerly the Portuguese Presidential Yacht) at CT1. This of course is the second of Dover's Newcomer Portuscale Cruises, the MV Azores being the other which was the first cruise in Dover this season, 30/3/14. Cameras at the ready Guys & Gals

We end the week on Friday 23rd May with the return of the AIDALuna at CT2, PoC.
No cruises then until Thursday 29th May when the Sleek & Sassy third Costa of the season arrives here, the Costa Mediterranea at CT2, PoC. Not sure if she was here before, think not, but I'm sure the Sea News Gurus will let us know.
Then the Ryndam arrives back on Saturday 31st May at CT1, TR.
Sunday, 18 May 2014 - 12:27
Post 779
Mike J., Dover
After PaulB's super photo of the RYNDAM's arrival in that strange yellowy light Saturday morning [there was a line of denser yellow muck on the horizon as well] here's a view of her sailing for Copenhagen via the Eastern Entrance at about 1700.
If I'd not run out of memory at the crucial moment the photo here would not have had a ship sticking out of the RYNDAM's funnel !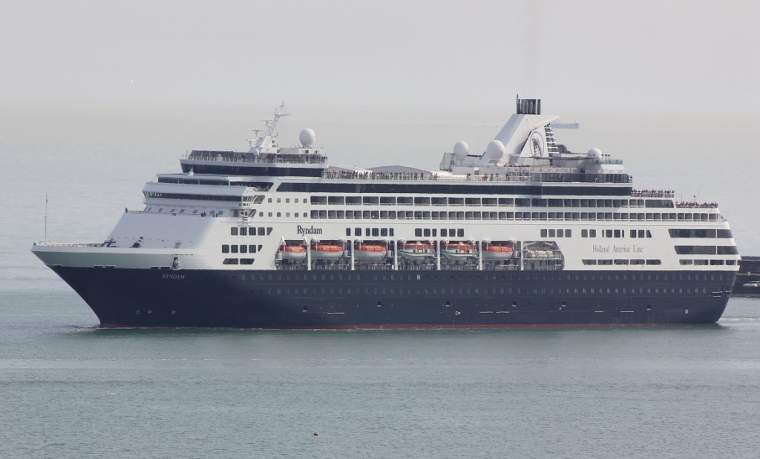 Sunday, 18 May 2014 - 10:45
Post 778
Ed Connell, Dover
One of our regular visitors, Saga Sapphire, has had an electrical switchboard fire. Item below from the BBC News website:
A cruise liner with 1,008 passengers and crew on board is stranded off the Isle of Mull after an electrical fire. An emergency was declared on the Saga Sapphire when the fire broke out at about 10:00 on Friday, knocking out the ship's power supply. Coastguard crews provided support while the ship's own crew dealt with the problem. The liner was expected to resume its voyage on Saturday following repairs. There were no reports of injuries. Saga Holidays UK tweeted: "The ship is currently anchored, in fine weather, off the Isle of Mull whilst the damaged electrical panel is repaired and tested. "Our priority is always to make sure our passengers and crew are safe and well."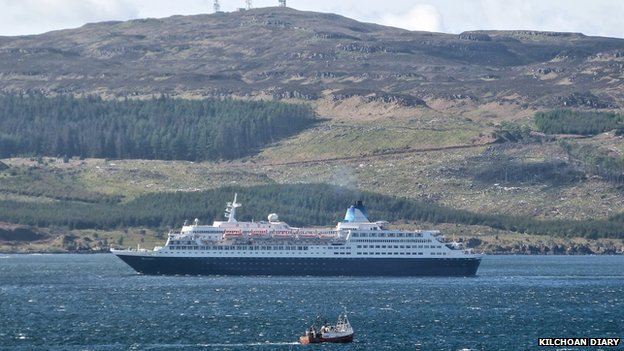 Further to Paul's photo of the old lifeboat "William & Kate Johnston" below. She was one of the Little Ships of Dunkirk and is seen here in the Dunkerque approach channel during the Operation Dynamo commemorations a few years ago.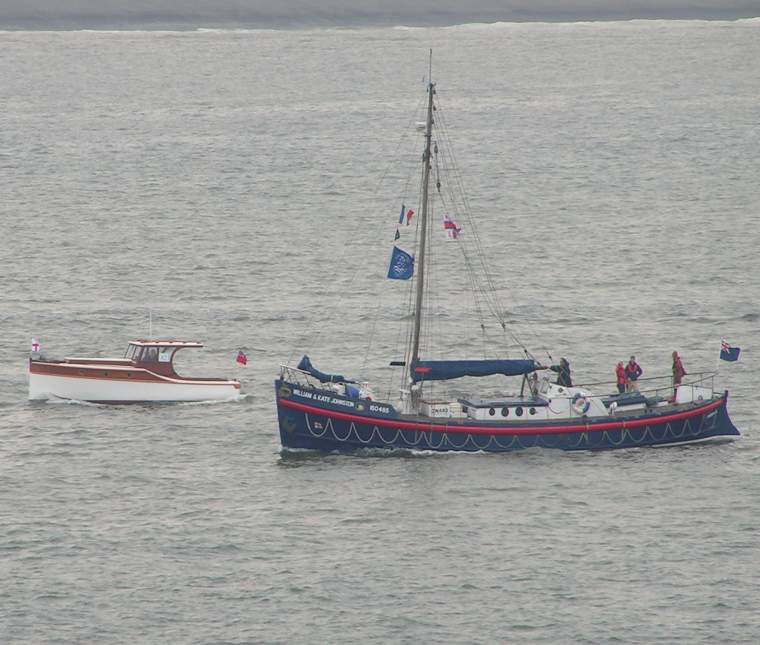 Sunday, 18 May 2014 - 10:32