Tuesday, 29 September 2020
www.doverforum.com/sea-news
The Shape of Things to Come.... is this what Brexit will look like?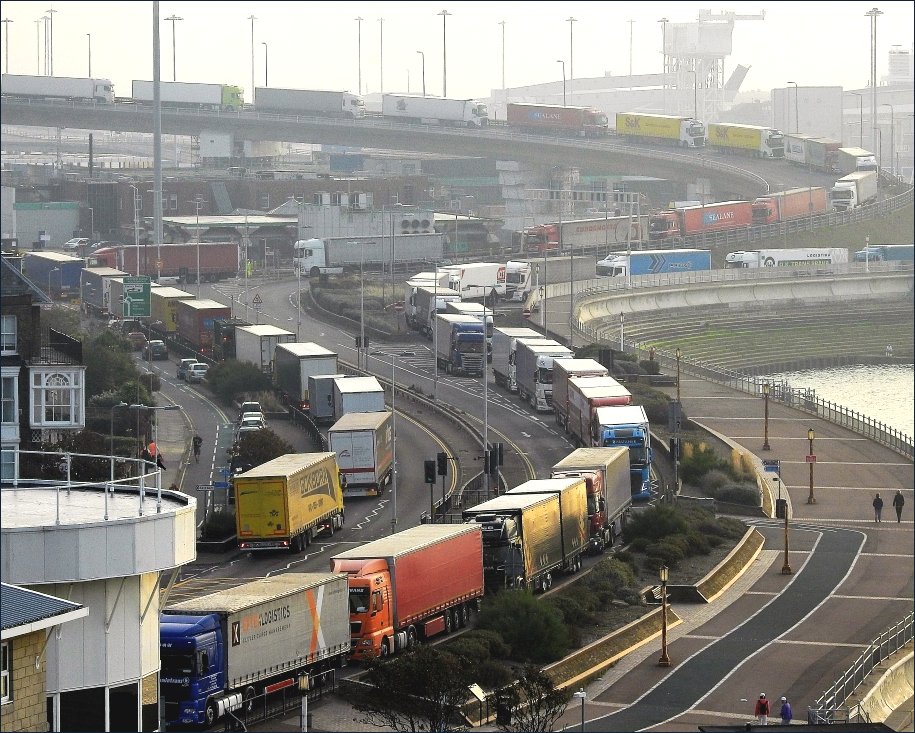 Trucks to the left of us...trucks to the right of us...into the Valley of Dover drove the 7,000 ..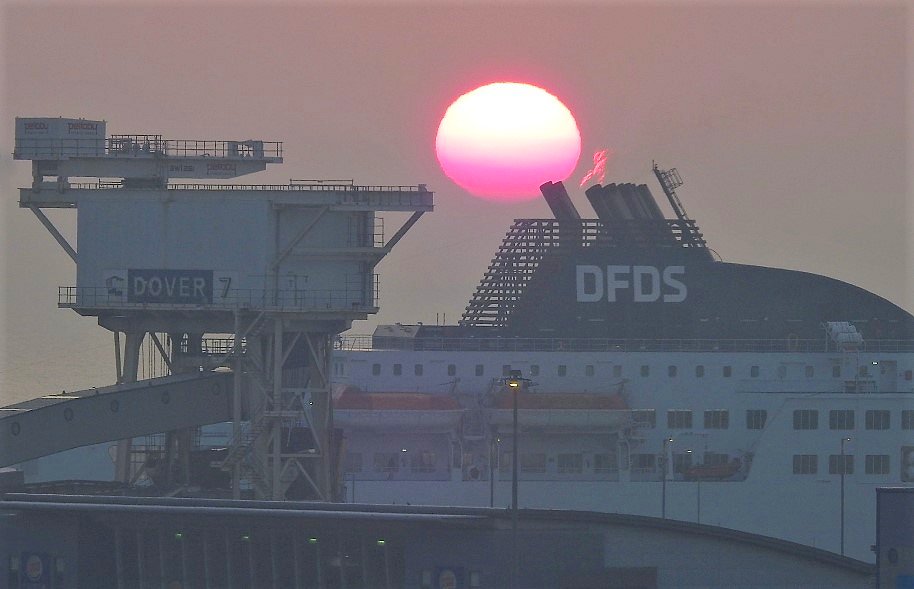 DFDS and the Dover7 sunrise.

WWW.DOVERFORUM.COM/SEA-NEWS
Sea Pictures from DOVER ....
Use our SEARCH ENGINE below to find all sorts on the SEA NEWS pages....type in the topic and away you go,
or if you have the post number, just type it in the Search Box, more than
- 7000 -
nautical posts now.
Paul Boland - dover7@msn.com
Sea News Dover:
All pictures on these pages are the copyright of the owners and must not be reproduced without permission.
Post 735
PaulB, Sea News, Dover.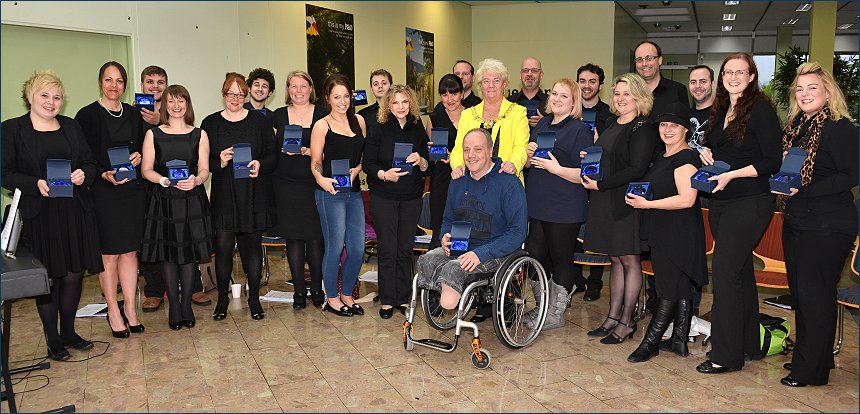 AMBASSADORS AWARDS FOR P&O FERRIES CHOIR

The Right Worshipful the Town Mayor of Dover, Councillor Veronica Philpott, surprised members of The P&O Ferries Choir during rehearsals to present the singers with special awards in recognition of their role as ambassadors for Dover.
The Mayor congratulated each member of the choir in turn and thanked them for their positive representation of the town, as she handed them an engraved glass medallion.
The choir won the BBC's 'Sing While You Work' television series at the end of last year. Their performances since then have included appearances in Dover Town Hall with the White Cliffs Symphonic Winds orchestra, and at the Hammersmith Apollo with Susan Boyle. Their forthcoming engagements include the Leeds Castle open air concert on 12 July which is the largest open air classical concert in the UK.
Hilary Campbell, the choir's musical director, said: "The Mayor's visit was a complete surprise and very much appreciated by all. It was extremely kind of the town council to make this gesture and for the Mayor to make time to visit us in person to present the awards was very generous indeed."
Ends.
* * * * * * * * * * * * *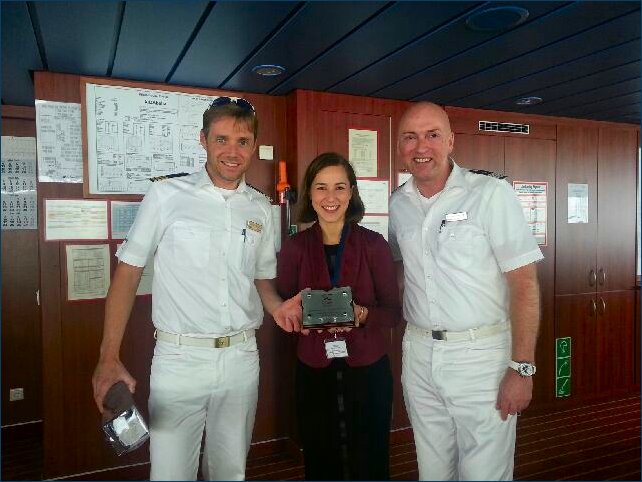 When the AIDA Bella made its inaugural call last week, Barbara Buczek, General Manager and Head of Business Development and Corporate Affairs at the Port of Dover was on hand to present them with a very worthy plaque to mark the special occasion. You can see Barbara with the Senior Officers in the shot above. The super colourful AIDA ships are very welcome and regular visitors here to Dover and of course it is always great to see a new ship like the AIDA Bella joining in. Always very welcome.
Now unpinned from top slot !

UPDATE: Both Saga Sapphire and Empress now in Port. Will aim to have pictures later.
Tuesday, 6 May 2014 - 06:17
Post 734
howard mcsweeney, dover
fair point from kevin about the attraction of capital cities, coastal towns don't have the same allure to cruise passengers.

mike and jan refer to the café on the pier, the problem is when is it open. a board in place at the entrance to the pier says whether it is open or closed but during school holidays it gets mysteriously turned around.

re; the marina - I rather like it where it is, get great photos from the swingbridge, If the plans come to fruition the walk along the pier will not have the same attraction.

Monday, 5 May 2014 - 18:16
Post 733
Mike J., Dover
A trip on the SOUTHERN MAID is recommended for interesting low-level pix of the harbour, particularly when a cruise ship is in port.
Also interesting 'angles' on Dover & the castle.
There's a good commentary & the crew are very friendly.

JanT - always a nice stroll up the Prince of Wales, particularly when the weather is good & the caff is open !

Sadly if the various plans for Western Docks ever come off we will lose access to most of the Prince of Wales & most views on the remaining stub accessible to the public will be thru a forest of masts in the new marina - see PaulB's post 418 & earlier.

I see that the DIEPPE SEAWAYS left the Eastern Arm about 1500 & at 1745 had just left Calais & so seems to be 'back on the run'


Monday, 5 May 2014 - 17:45
Post 732
JanT, Dover
Yes certainly was a busy day on Dover seafront yesterday,people were enjoying the sun PaulB and myself took a very leisurely stroll along the pier, to take a look at the cruise liner, close up it certainly looked impressive.


We even stopped for a cup of tea in the cafe at the end many people had the same idea, and even the fishermen were out in force.
We are very lucky we have a seafront that definatly comes into its own on days like yesterday.
Monday, 5 May 2014 - 10:18
Post 731
Kevin Charles, Dover
Great photos, Paul! A lot of the cruise ships visiting Dover also call at Le Havre on Northern Europe itineraries as it is the closest deep sea port to Paris. Just as some of the passengers arriving in Dover go on coach trips to London, likewise with Le Havre.

Monday, 5 May 2014 - 07:28
Post 730
PaulB, Dover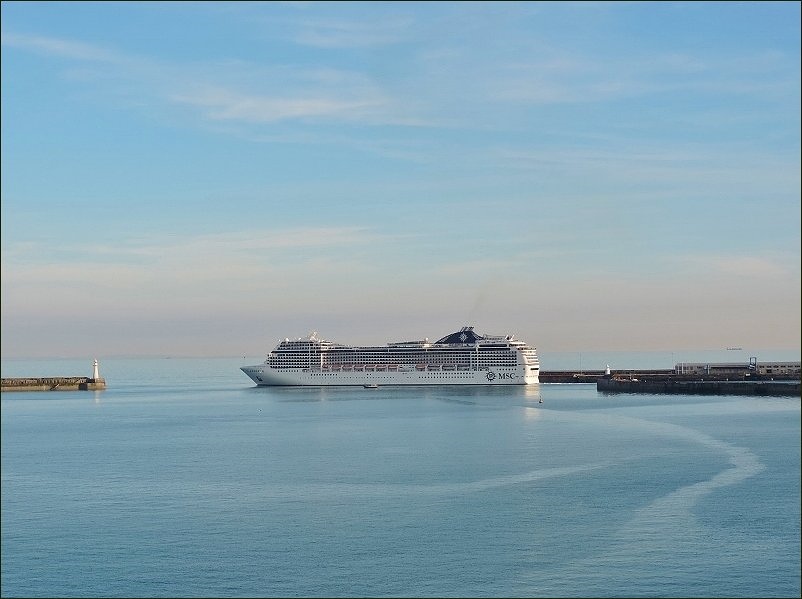 Yes indeed Kevin it was truly a gorgeous day in delightful Dover yesterday sunday. We had hundreds of visitors from all corners of the EU enjoying the facilities here on Dover Seafront. Some were swimming, some were sailing, some were just strolling, and some were even dining Al Fresco...whoever he is !

The picture above is almost a true summer picture, it shows of course the MSC Magnifica leaving last evening at 6.30pm on a sea of ice blue. Yes a busy week for cruise liners...always worth visiting our seafront to see them all coming and going and too-ing and fro-ing.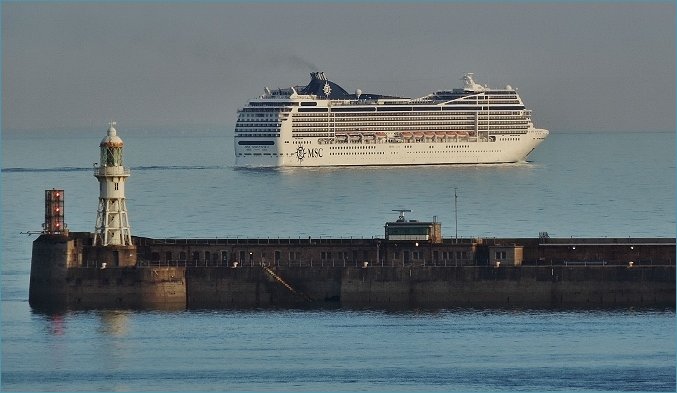 Above...and we head for Le Havre and all points south. Its all happening in Le Havre these days ..when its not happening in Dover !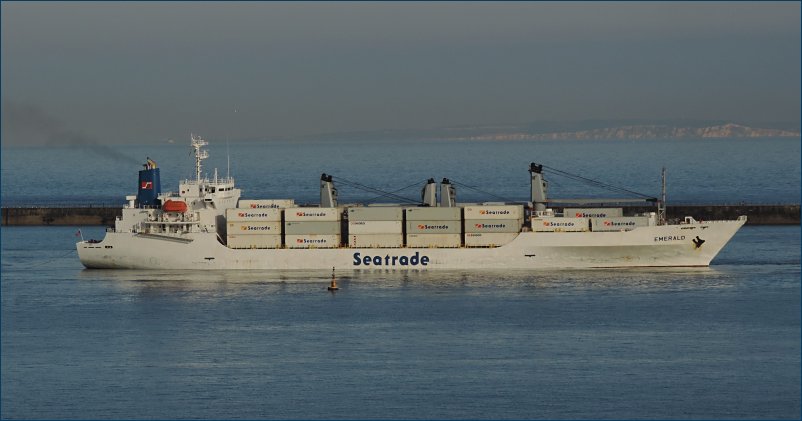 The Emerald cargo ship arriving just at the same time as the Magnifica was departing. Believe it or not at 5.30am this morning this one left again with the help of the tugboats. As we say...busy busy time for the cargo business.
John and Vic ..interesting comments there on the Southern Queen. I must take more notice of her the next time she glides by. I didn't realise she was such a rarity. I did get some pictures several years ago but it must be time for a few new ones.
Monday, 5 May 2014 - 07:16
Post 729
John Mavin, Dover
There can't be many vessels in Dover older than Southern Queen. The following is taken from Dover White Cliff Tours website :-

...... "Southern Queen" was built in 1935 and was known as the "Hearts Content". She is 47ft in length, constructed of pitch pine on oak frames. She was one of four boats that ran from Plymouth to Bovis and Cawsands as part of a herring fleet until the 1960's. In 2001 she was welcomed to Dover and was renamed the "Southern Queen" and is the only one of her kind left. In 2012 the captain started to restore the vessel's interior to her original wood state.

Monday, 5 May 2014 - 00:04
Post 728
Vic Matcham, Some where in Dover
Good to see the White cliff motor boat still running with vistors to Dover on it.

Sunday, 4 May 2014 - 12:17
Post 727
Kevin Charles, Dover
Lovely morning arrival for MSC Magnifica. Looks like passengers are in for a glorious day in sunny Dover!
A busy week ahead for Dover with Saga Saphire and Empress (Tuesday); Celebrity Constellation and AIDAluna (Wednesday); and no less than three ships on Thursday with MSC Orchestra, Albatros and Princess Daphne all in port. The week ends with the return of Ryndam.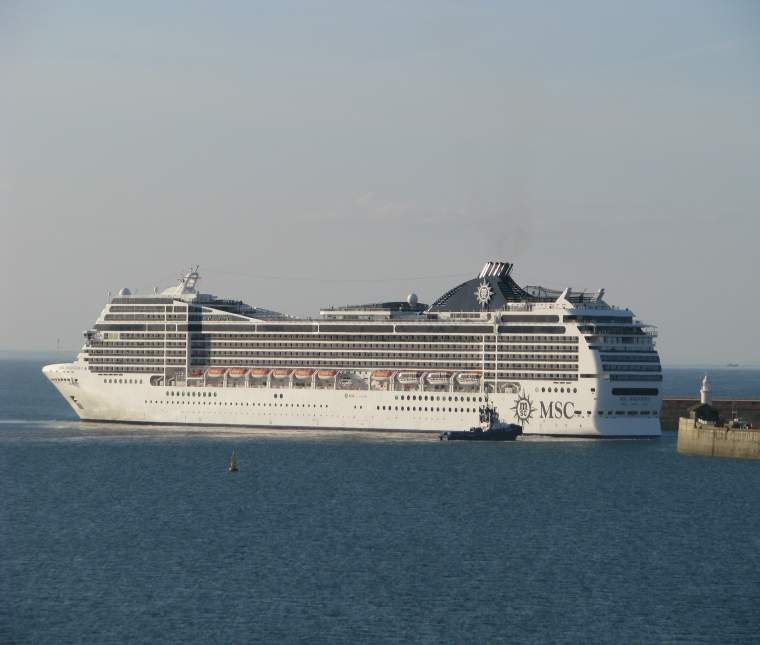 Sunday, 4 May 2014 - 07:32
Post 726
PaulB, Dover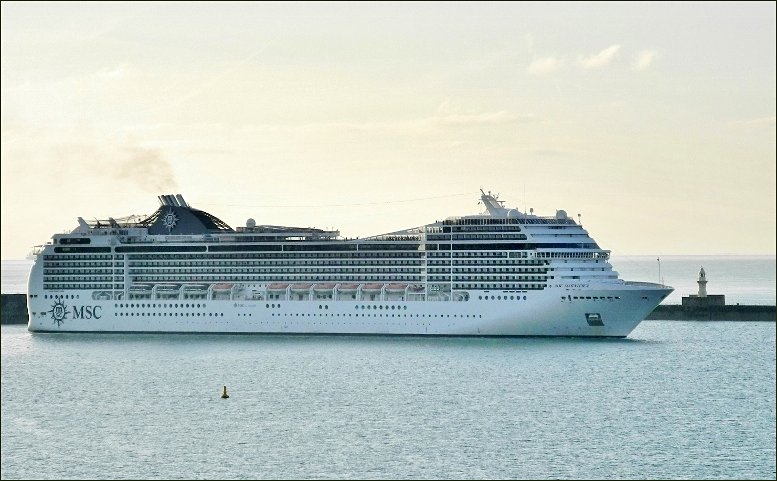 It truly is awesome to see this great giant of a beast gliding gently across the harbour early on a bright sunny morn. Yes its the magnificent MSC Magnifica coming to see us once again, back to pay another visit to us here in Dover..extraordinaire!
Busy times for the cruise liners and very welcome they are. The Ryndam was with us yesterday as we know...here is a shot of her after reaching the open seas last evening. Slipped out almost un-noticed she did. On her way north to Bergen.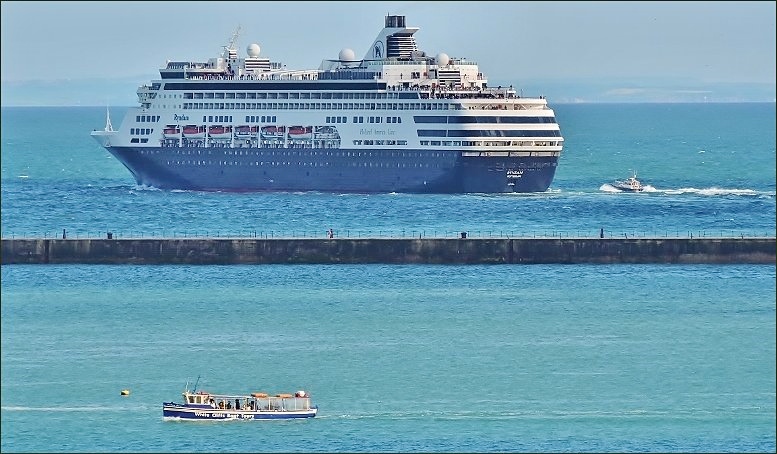 Lovely work below there John.

Sunday, 4 May 2014 - 07:09
Post 725
John Mavin, Dover
Here are some more of the Ryndam from previous visits. It's always a pleasure to see ships of the Holland America Line, a company founded in the 1870s which catered for the Transatlantic market before being swallowed up by the Carnival Corporation in 1989.
One of their best loved ships, the 1958-built Rotterdam, was lovingly restored and returned in 2006 to her home city where she is now a hotel, museum and educational centre. We can't even seem to save one classic cross-channel ferry!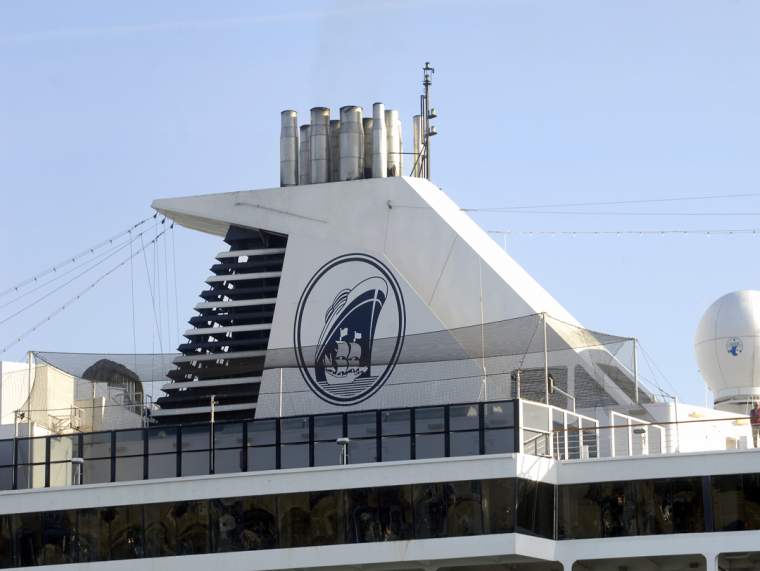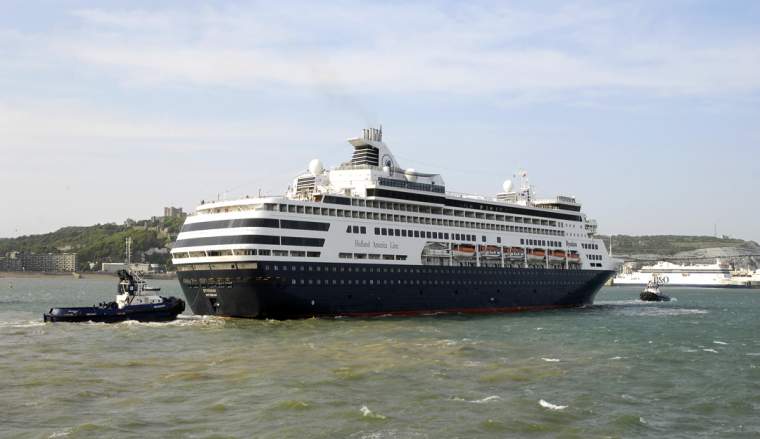 Saturday, 3 May 2014 - 11:48
Post 724
PaulB, Sea News, Dover.
PORT SEES GROWTH OVER KEY EASTER PERIOD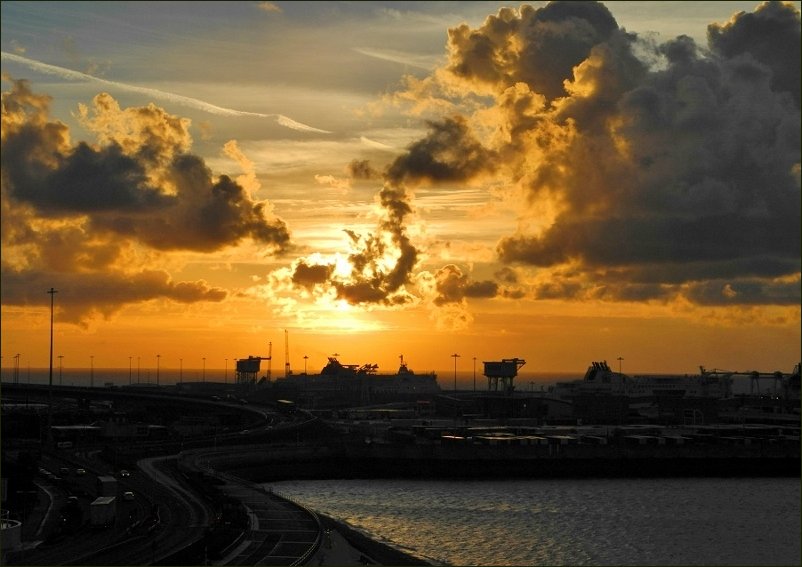 The timing of Easter might ebb and flow like the tides, but what is clear is that the flow of tourist customers choosing Europe's busiest ferry port is growing as the Port of Dover's work to transform customer service continues.
Comparing the March-April period for 2013 with 2014 in order to capture the earlier Easter last year and the later holiday this year, the Port accommodated 5% more cars and 2.3% more coaches compared to 2013.
Tim Waggott, Chief Executive, Port of Dover, said: "The Port plays an important role in getting families off to a great start when heading off for their Easter holidays. This year has been no exception.
"In fact, the growth in traffic over the key Easter period shows that the brilliant customer service we are committed to delivering with our major ferry business partners and the shared vision of delivering the best port in the world is ringing true with our customers who deserve a brilliant break."
Such good tourist customer results are on top of almost 10% growth in freight vehicles over the same period.
Mr Waggott added: "We already handle £89 billion of trade each year. Seeing such positive growth on top of a 13% growth in freight vehicles last year shows how customers increasingly rely on us to get them where they need to go – whether it is goods to European markets or people to great holiday destinations."
Brian Rees, Head of Press & Public Relations, P&O Ferries commented: "The Port of Dover can be seen as a barometer of economic conditions and the robust uplift in freight volumes is really encouraging as it reflects a return to market growth. Tourist volumes are also strengthening and after several years of having economic conditions against us this is a heartening start to the year."
ENDS
* * *
Always great news to see the Port doing well as per the uplifting figures above. Onwards and ever upwards.
Cruise liners aplenty coming into Dover now too.
This morning's arrival... Saturday around 5.30am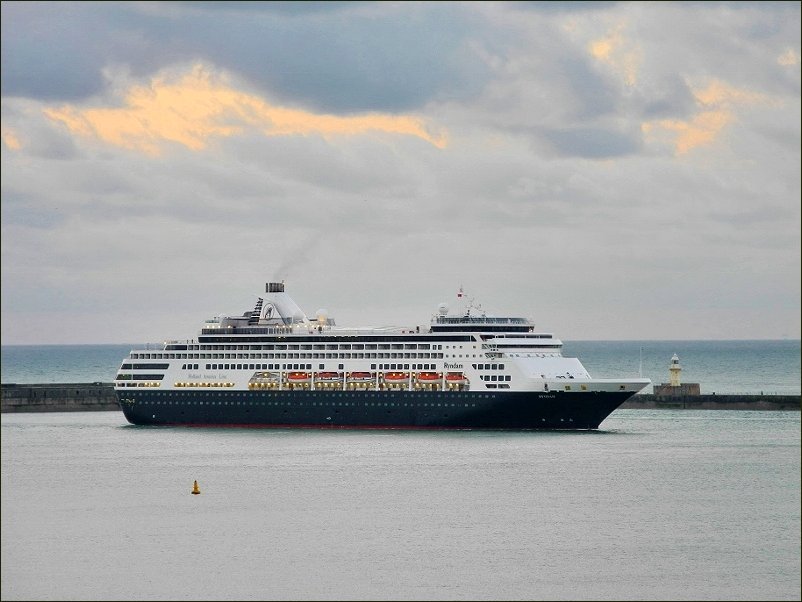 Yes its an early arrival for our old familiar friend The Ryndam, back for another year and very welcome too.
Saturday, 3 May 2014 - 05:57
Post 723
Mike J., Dover
Mid-morning Friday the DIEPPE SEAWAYS shifted across from No.6 to the Eastern Arm & remains there.
Saturday, 3 May 2014 - 01:12
Post 722
PaulB, Dover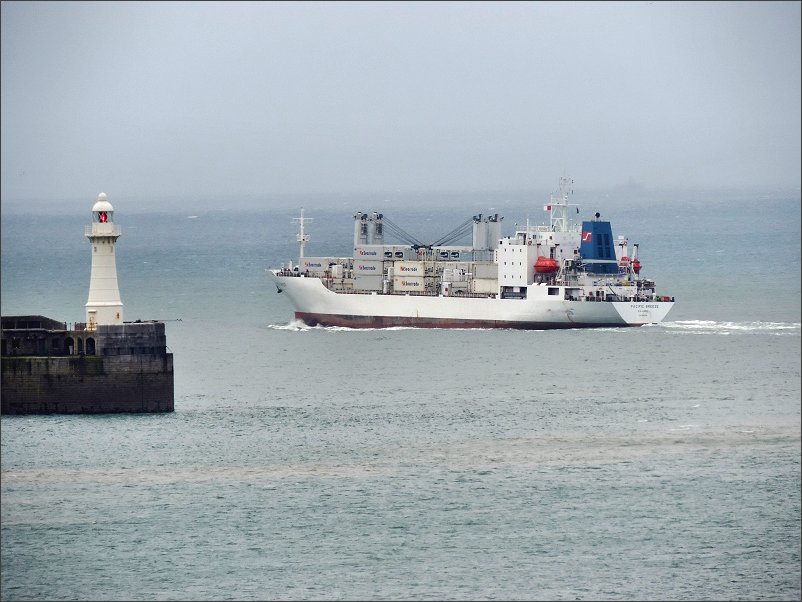 The Pacific Breeze leaving us at about 7.15am this morning heading for Vlissingen . She left through the western exit which is unusual for a cargo ship but as we know things are slightly out of sync at the moment following the recent mishap. The pinned post re the DFDS incident has been released from the top and has now slipped down the page so to see it just scroll down. We wish all those with injuries a speedy recovery.
Friday, 2 May 2014 - 15:49
Post 721
Andy MacLean, Old Wives Lees (jazzandy@btinternet.com)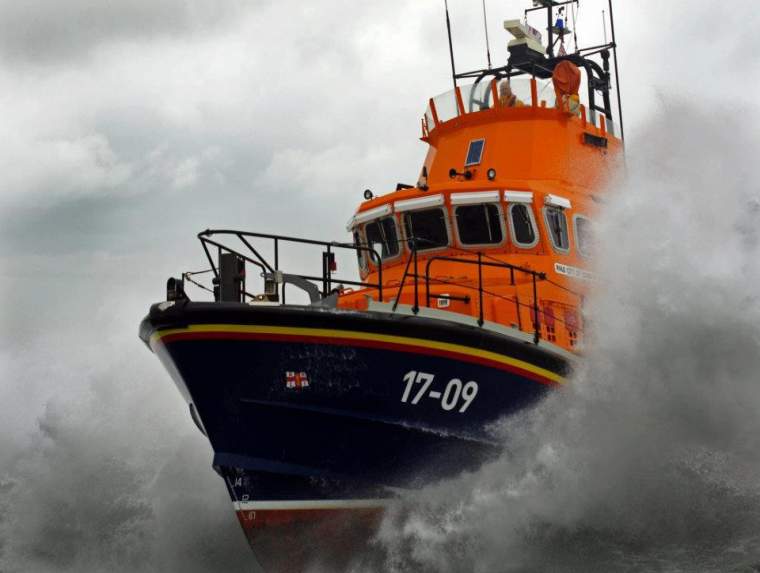 Dance to France 2 – Midsummer Madness!
Saturday 28th. June on board MV Spirit of Britain.
Midsummer Madness is due to hit the channel at the end of June. That's the theme of the next Dance to France event on Saturday 28th. June.
Announced today, the disco cruise aimed at raising funds for the Dover Lifeboat and the TSS Dover project is set to build on the success of the last party on board MV Spirit of Britain at the end of March. PsychoSean has been booked again to organise the disco and the forward lounge on the vessel with its' central dance floor will be the venue.
"Numbers are strictly limited to 250," commented Andy MacLean, one of the organisers of the event. "It's first come first served and we've already got reservations in hand from many who enjoyed the last cruise!"
Fancy dress on a theme of 'Summer Beach Party,' is optional but will be encouraged by bumper prizes for participants. "Think Caribbean, think Hawaii or come dressed for Dover beach on a rainy day," Andy suggested, "At any event we're all going to have a lot of fun!"
The Dance to France cruise is non-landing but party-goers will need their passports. Tickets for cars with up to seven occupants or for foot passengers who will be bussed from Dover Priory station are on sale now from 01227 732414 or from 01304 210572.
Friday, 2 May 2014 - 10:20
Post 720
PaulB, Dover
Here is a picture of the air ambulance arriving during the Dieppe Seaways incident on thursday.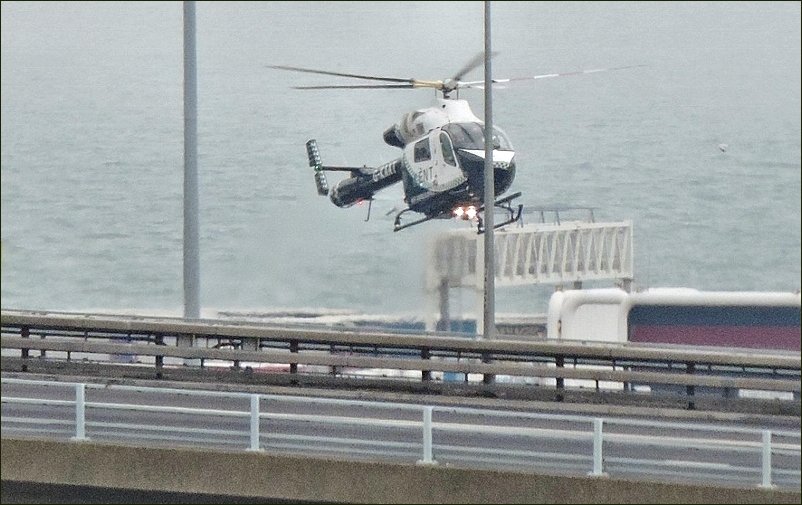 A long range pic..that's Jubilee Way in the immediate foreground.
Well done Mike with the report and pictures below.

Quite right Vic, thankfully we still have the resources to throw at these potentially nasty incidents.
Friday, 2 May 2014 - 05:43
Post 719
Vic Matcham, Dover
Thank you sir for that report it is good to know even with all the cut backs going on at this time that the e/services can turnout in very quick time.

Friday, 2 May 2014 - 05:06
Post 718
Mike J., Dover
I was unaware of the DIEPPE SEAWAYS incident as I walked up the Prince of Wales, apart from noticing heavy traffic on the A20 & hearing many sirens.
Arriving at the end of the pier I heard of the fire but could see nothing unusual in Eastern Docks, altho' traffic heading for the ferries was now at a standstill.
One report says that the fire broke out in the boiler room as the vessel approached Dover & that there were some injuries amongst engineroom crew & firemen.
A most unpleasant experience for those aboard.
The port continued working with ferries coming & going although the DOUGHTY had gone over to Eastern Docks.
Had the incident been more serious I'm sure that the port would have been closed & both tugs & possibly the lifeboat would have been in attendance & probably all the other ferries sent out to sea.
The Fire Service launched their RIB from the hoverpad & after a hesitant start it was escorted by the Patrol Launch round the end of the Prince of Wales & across to Eastern Docks.
The SAGA PEARL 2 sailed a little late at about 1630, heading off to Bergen.
She still has different markings on each side of her funnel.
The stalled A20 traffic was clearing as I walked back to the shore before going up to Langdon Cliffs where there were no sign of any problems on the DIEPPE SEAWAYS, but a lot of fire engines & support vehicles were still standing about, but little activity.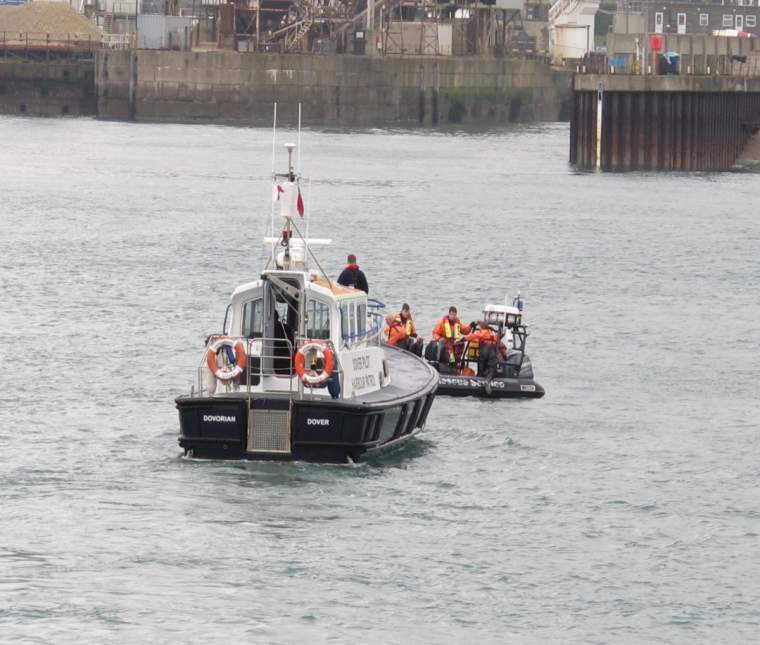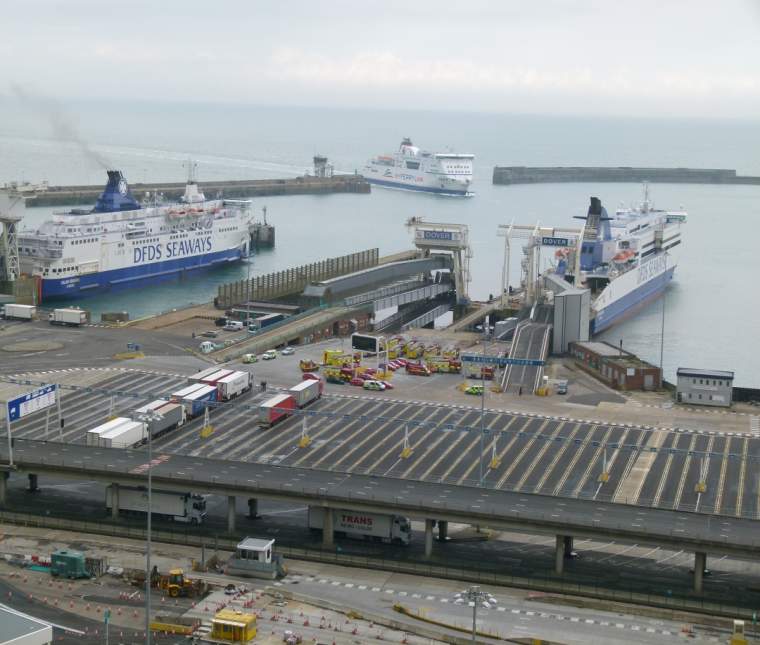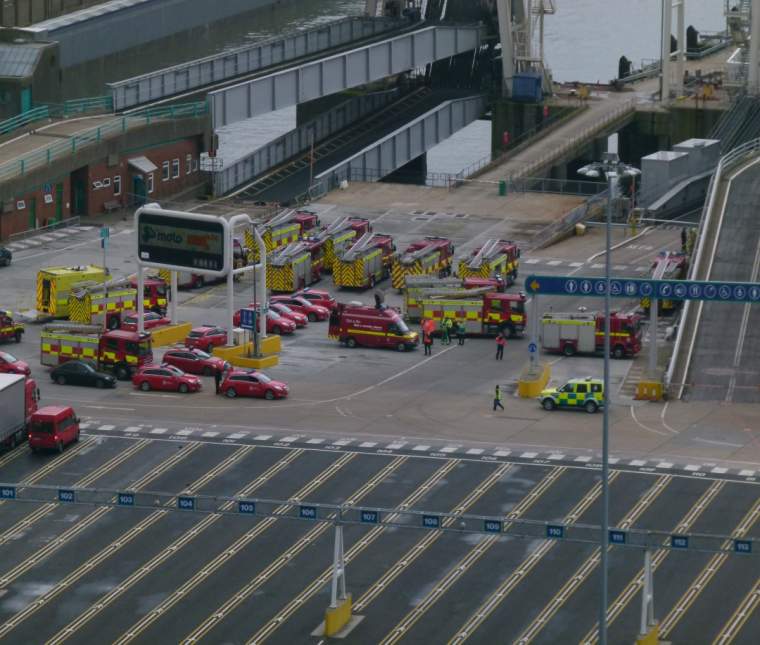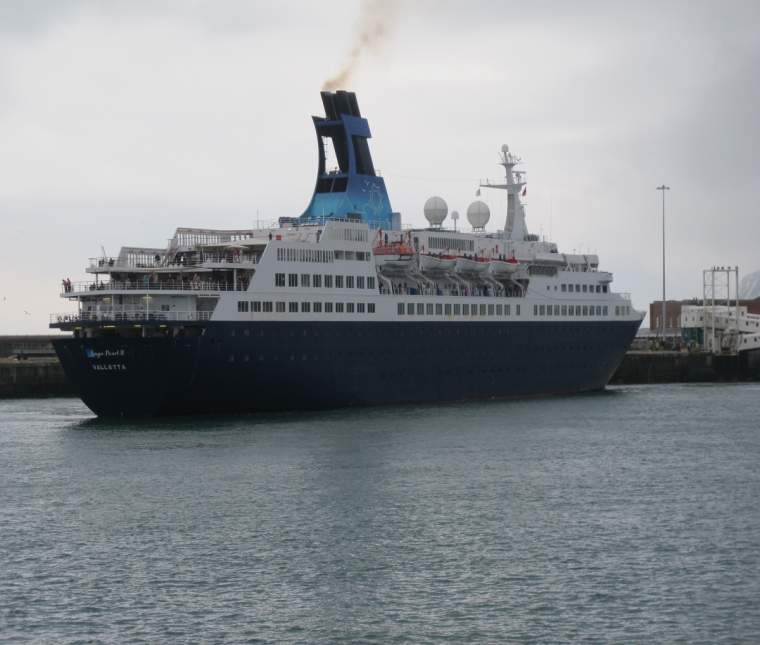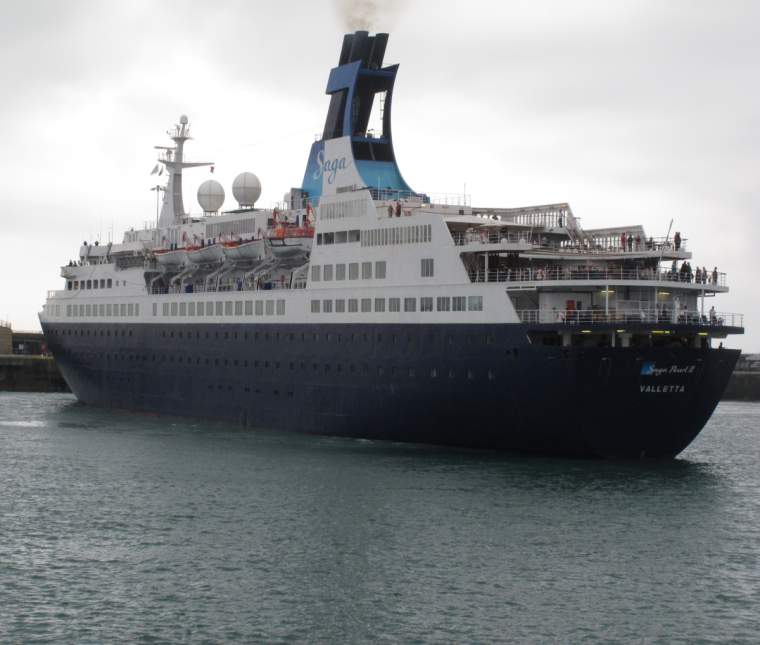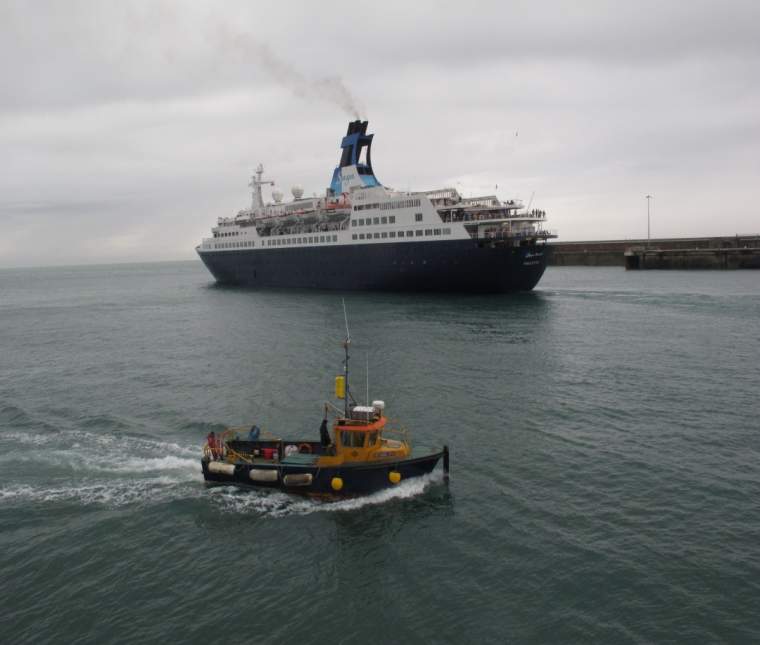 The workboat DOVER WORKER returns to the Tidal Basin after acting as a Safety Boat for work at Eastern Docks.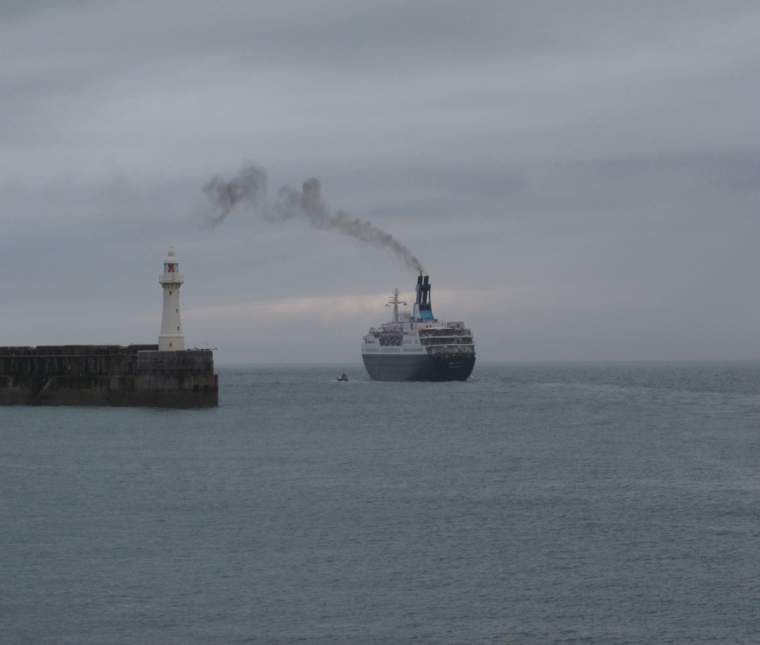 Friday, 2 May 2014 - 00:17
Post 717
PaulB, Dover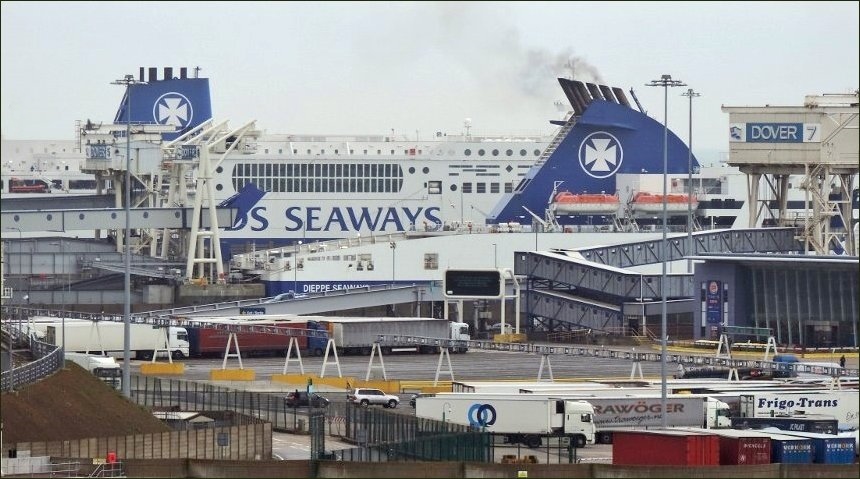 There has been a fire onboard the Dieppe Seaways while in the Port. The picture shows the scene at 4.20pm thursday. Many appliances raced to the scene...we understand there have been some flash burn injuries...
* * * *
..........UPDATED approx 6am friday with this latest bulletin through directly from the Port of Dover..
DFDS Seaways ferry incident – FINAL UPDATE @2330
___________________________________________
The Port of Dover advises customers that a small fire was located in a boiler room onboard DFDS Seaways Dieppe Seaways vessel shortly before its arrival into Dover this afternoon. The boiler room was shut down and water suppressant systems were used to cool the area and control the fire with Kent Fire and Rescue in attendance.
During the initial stages of the incident four firefighters and six members of crew were injured, some of whom were treated at the scene for minor injuries and are now back at work. Others remain in the care of the emergency services and are wished a speedy recovery by all in the Port community.
The Port's priority is the safety of all of its customers and all 316 ferry passengers who were onboard, were safely disembarked and accounted for.
The Port of Dover remains open with all other ferry operator services running normally. Some Dieppe Seaways sailings have been cancelled, but other DFDS Seaways sailings continue to run to schedule.
Customers are advised to check with their ferry operator before travelling. We will also be updating our website (www.doverport.co.uk) and Twitter @Port_of_Dover with the latest Dover travel information.
We apologise for any delays caused as a result of the incident and thank customers for their continued co-operation.
Ferry Operator Contacts
Operator Type Ferry Operator Telephone No.
Freight DFDS Seaways 01304 218 400
Freight P&O Ferries 01304 863 340
Freight DFDS/LD Lines 01304 218 400
Freight MyFerryLink 01304 828 422
Tourist DFDS Seaways 0871 574 7235
Tourist P&O Ferries 08716 64 64 64
Tourist DFDS/LD Lines 0871 574 7235
Tourist MyFerryLink 0844 248 2100
A20 Traffic congestion due to high volumes of traffic
__________________________________________
Traffic moving freely again.
Thursday, 1 May 2014 - 16:23
Post 716
brian d., dover.
re Post Below : an accident closed the road for a while.a couple of cars/lorries.the fire brigade had to cut a 4 year old out of one the cars.i do hope the child is ok.

Thursday, 1 May 2014 - 14:59