Saturday, 16 January 2021

www.doverforum.com/sea-news
Sea Pictures from DOVER ....
Rising Bridge below :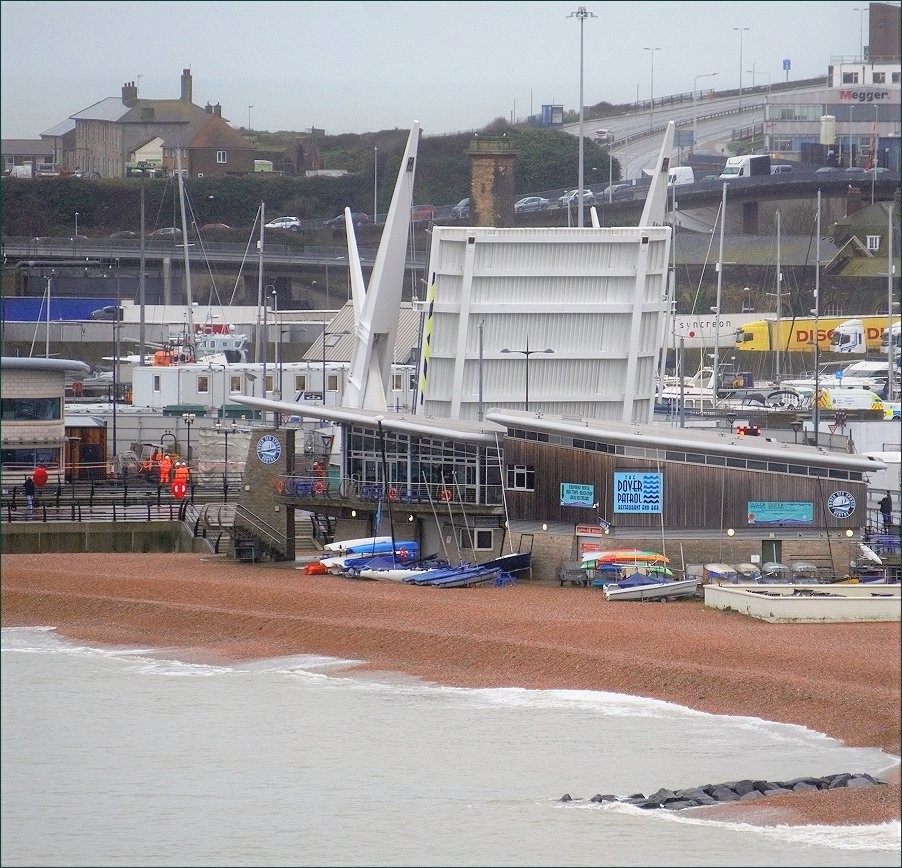 You can see the new bridge rising there...it towers above the Seasports Centre and the now renamed Dover Patrol Restaurant (formerly the Hythe Bay restaurant...we understand the ownership is still in the same hands). The new marina cuts across the seafront road into the old marina, hence the need for a bridge (a 'bascule' bridge, you might need to look that one up!). Traffic gets paused from time to time to accommodate the incoming/outgoing craft....it was paused at the time of shot as you can guess.... otherwise everybody would......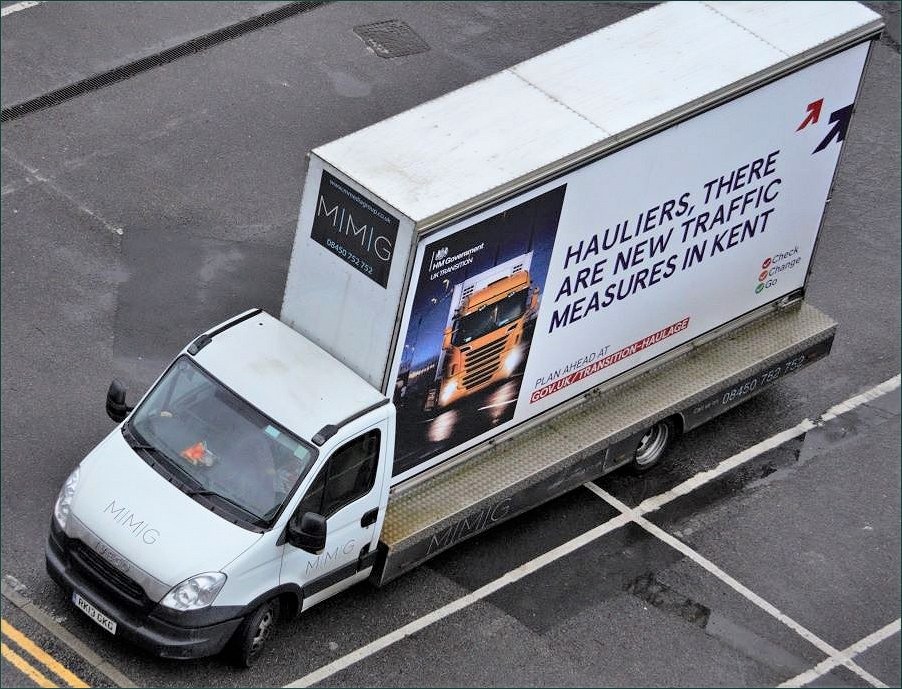 The advertising truck shown above is obviously touring the roads of a harassed Kent informing everyone about the need for new paperwork now that we have left the EU...as if we didnt know already. But like they say...every little helps...
Below we have a picture of the self-discharging bulk carrier Tertnes leaving the Port of Dover a few days ago. She had just self-delivered a considerable amount of aggregate to pier WD4 here at Dover... here we see her heading back to Norway and the Port of Eikefet...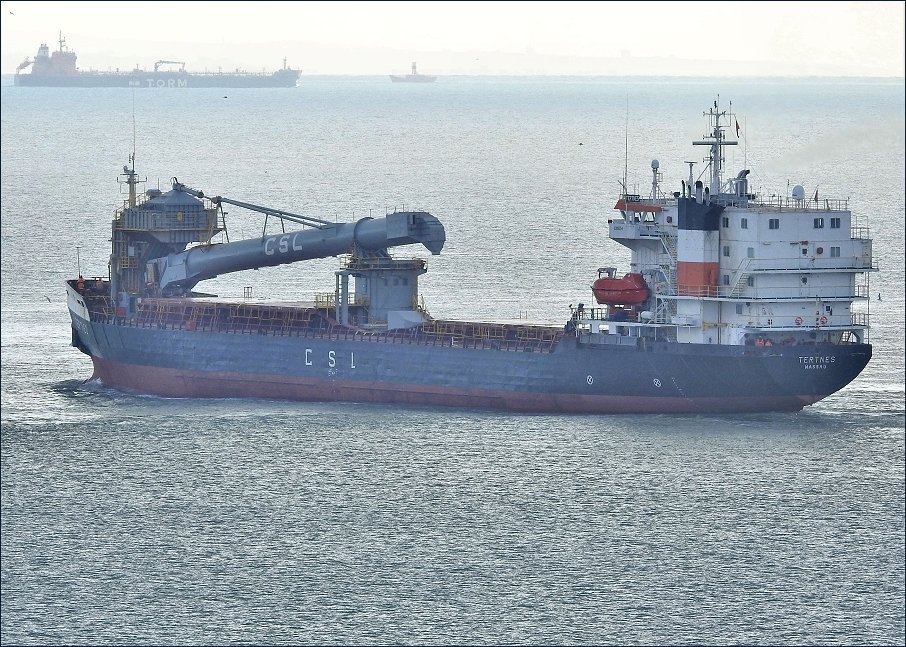 Tertnes...the self discharging bulk carrier leaves the Port...
Dover Seafront below in the approaching fog.....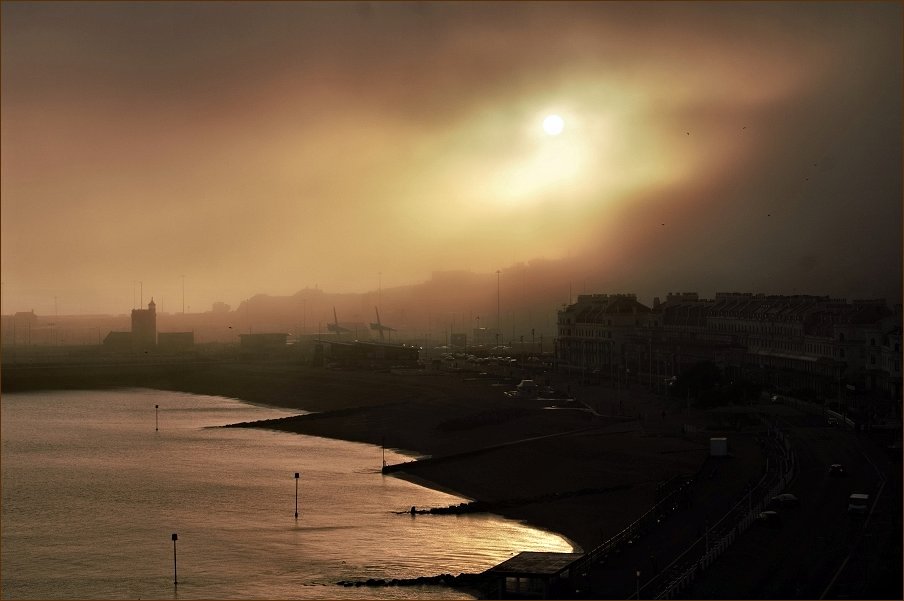 The Disney Magic finally moved away on Saturday from its position on the eastern arm Port of Dover. It moved off through the fog, but the situation cleared partially to allow us to capture the shot above...also in the picture, which shows the western entrance to the Port, is one of the Border Force patrol vessels, these vessels are on constant local patrol. The Disney Magic is expected to return after a 'channel run'... ( ...and she has!).
Reuters are reporting that...Trade flows between Britain and the European Union have remained low this week after many companies stockpiled goods in late 2020 to avoid having to cross the new customs border in the first week after Britain left the EU's orbit on Dec. 31. Despite the quieter period..."We are experiencing a high volume of vehicles being refused and delayed at the Ports of Calais, Dunkerque and Dover, due to incorrect paperwork being presented at check-in," DFDS said on Twitter.
The early morning ferry nearing France...
..........you can just about see the rolling hills ...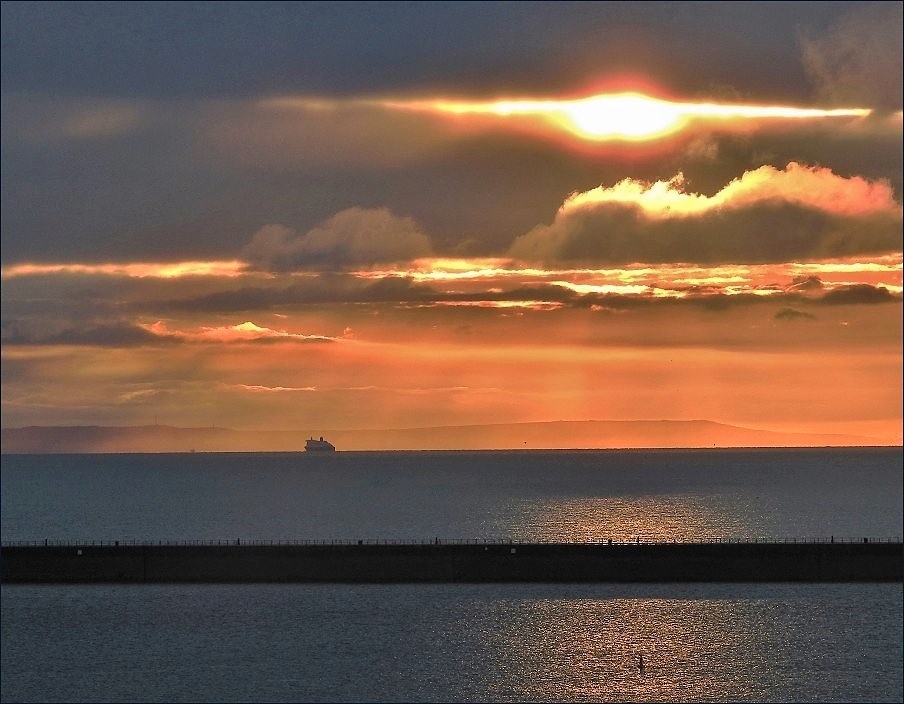 The spectacular sky above lasted for such a brief few-minute period a couple of days ago, afore long we were shrouded in drizzle and dark skies, skies that have barely lightened since.The Port isn't busy as of yet, the expected new year drama hasn't quite begun, but we wait with anticipation and concern to see how it will all play out post Brexit.
* *
A bit of a grim oul picture now of the departing Nederland Stream ( formerly Nederland Reefer) taken a couple of days ago. The grim nature of the beast however is in keeping with the grim times we find ourselves in yet again, with yet another Coronavirus lockdown. Although there hasn't been a surge to the EU as of yet.. at the ferry end of things...the reefer cargo ships have been coming steadily and frequently to the Port of Dover over the past few days....
The Nederland Stream looking a little weatherbeaten as she departs the Port of Dover.
THE MEDIA DESCENDS ON DOVER....
Extra picture added immediately below of our Media friends as January gets underway... we continue to witness/enjoy the frenzy of reporting from Dover...Waiting below to send in their reports from the mini pier mid harbour Dover, are a team from TV station France 24. Brexit and its consequences are still fascinating the world it seems.... all round though Dover so far remains quiet.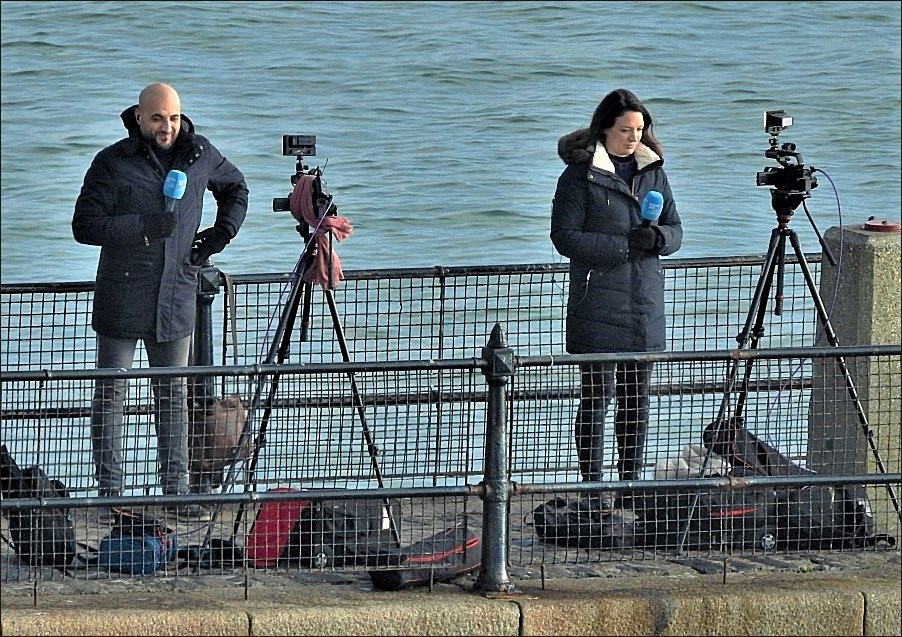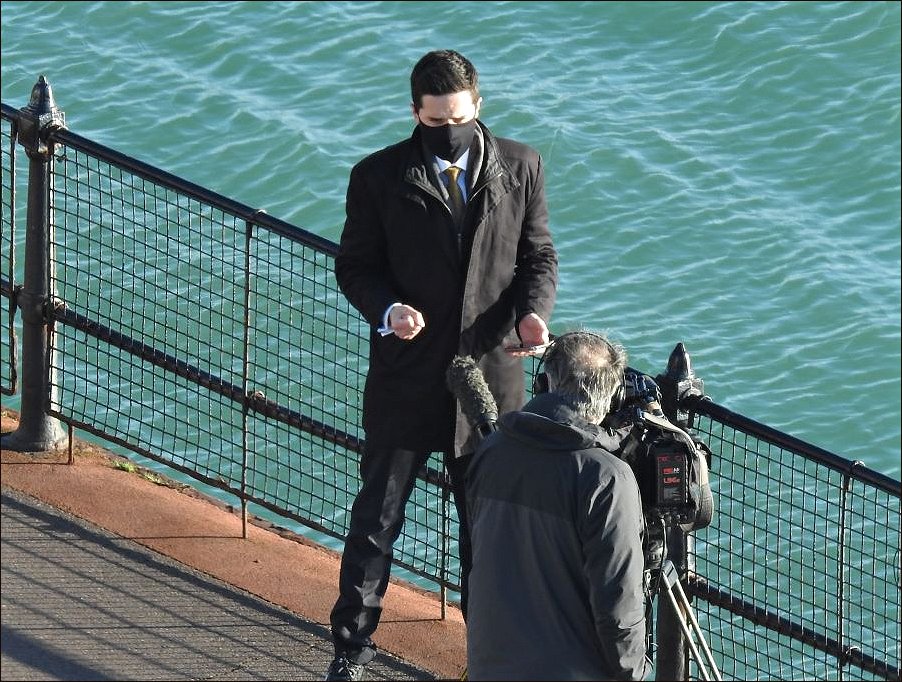 In the space of one hour midday on New Years Eve we saw four, yes four, media teams in the immediate hundred yards. There were many more too just out of vision reporting from hither and thither, every Dover vantage point seemingly used. They all had the .. ermm 'original' idea of reporting from weary Dover on our final day with the European Union. Dover however was eerily quiet...everyone giving it a miss for fear of holdups. There were no holdups as nobody turned up! ... except the media...and of course they were all very welcome....
(That's ITV News in shot 2, not sure who that is in shot 3)
* *
The Manor Endurance again... not the best quality this time but we couldn't resist the explosive sea...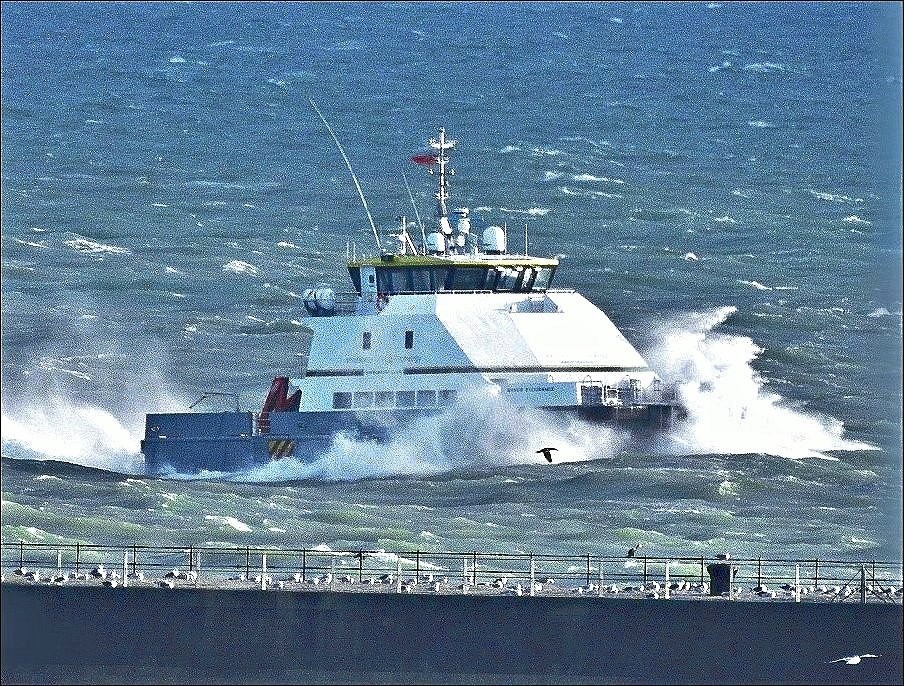 The Manor Endurance in fine action approaching the Port of Dover.
Manor Endurance... an extra crop pic of this shot now added further below...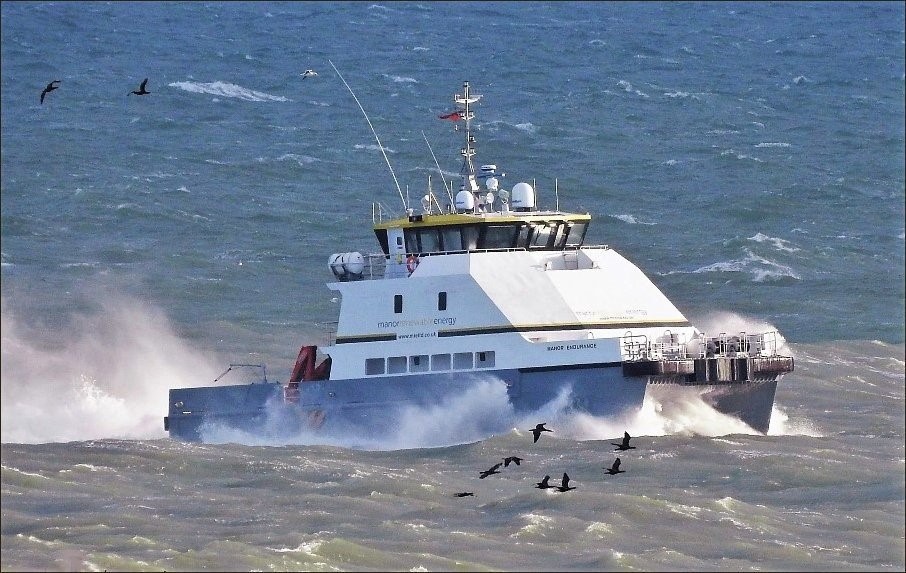 Manor Endurance...the windfarm support vessel, seen above approaching the Port of Dover recently, accompanied by some delightful wildlife... cormorants at a guess...
As mentioned... the picture below is a close up crop of the one above, detailing the birds a tad (cormorants !).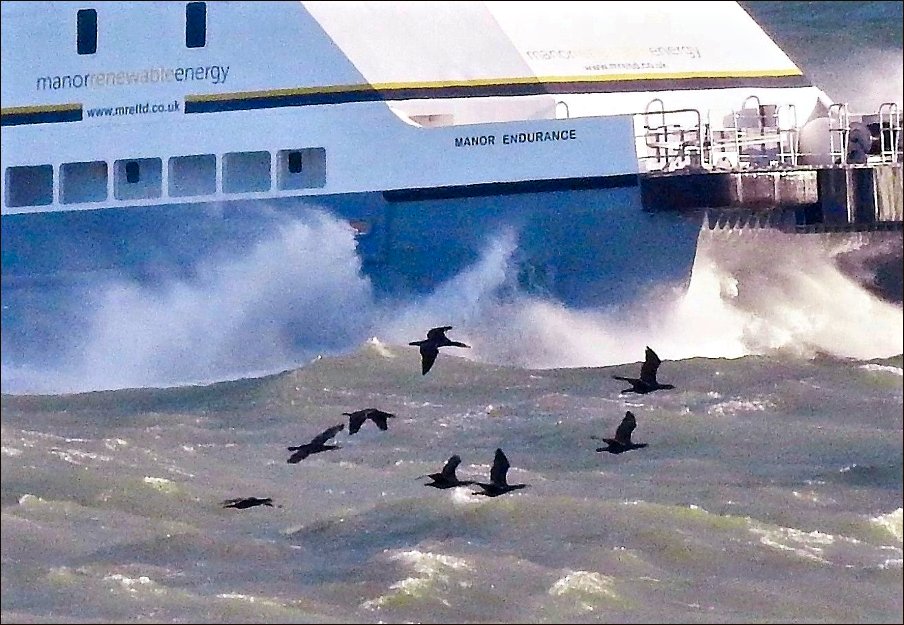 * *
TRAFFIC :
The good news continues on the local traffic front...the town of Dover is clear and functioning. Much relief to all.
For the non-functioning scenario see pix below.
* *
MOTIS NEWS - BOXING DAY DOVER TRAFFIC UPDATE....
- The A20 & Manston Airport are now clear of vehicles.
- Still significant numbers of Vehicles on the M20
- The Ferries and Eurotunnel are running an optimised timetable to help remove the back log
- Covid testing continues on the M20 and also in the Buffer zone at Port of Dover
- Lydden Hill race circuit (CT4 6RX) is also available for Testing for Vehicles below 7.5 Tonnes only (no HGV's)
- No Negative Covid Test within the last 72 hours= No Travel
Certainly looking more positive there.....that will cheer us all up in Dover.
Many thanks to
MOTIS
once again for the info...
...and a huge thanks to all those who are working hard to clear the backlog.


The Pride of Canterbury ferry heads to Calais early on Christmas Day...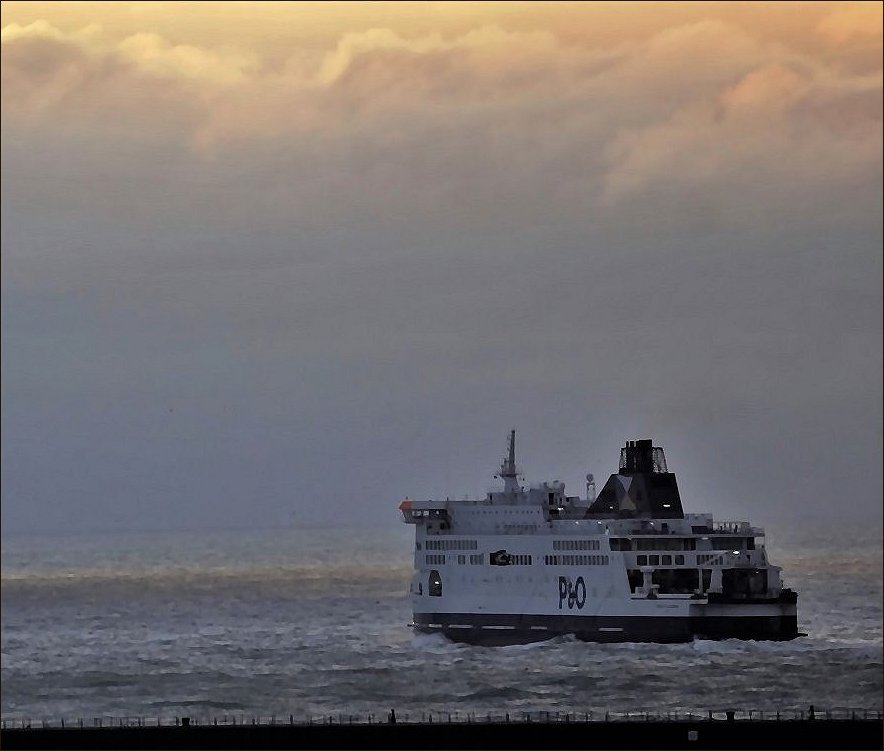 Ferry heads for Calais in the early gloom of Christmas Day
The Port remained open and the ferries worked all through Christmas day to try and clear the backlog....
although having said that, this particular ferry doesn't look terribly packed...but it may just be the early light.
Motis News: Christmas Day latest....
The Traffic Situation in South East Kent is improving and definite progress is being made. However due to the sheer volume of Vehicles in the Backlog this will inevitably take some time to clear.
- A20 Main road through the Town of Dover is now Clear of traffic - This was a key point to resolving the issue as allows
Vehicles access to the port when they are released from Manston Airport / Operation Brock/Stack and traffic to be managed
properly.
- 800 Military Personnel were deployed last night to increase testing capability. This seems to have improved the situation.
- The Ferry Operators and Eurotunnel are running a robust timetable to deal with the back log (full credit to all for re-staffing on
Christmas day to clear the backlog).
- Whilst there is still some way to go, we believe that the process is now in a good position to manage the reduction of the
back log as quickly as possible.
- Note, No NEGATIVE Covid Test = No Travel, Please don't attempt travel to the port without one. Testing continues at
Manston Airport & on M20 (join queue at Junction 8).
- UK Government advises no vehicles to travel to Kent at the moment.
Many thanks to MOTIS for sending through the info above.
* *
Dover on Christmas Eve below...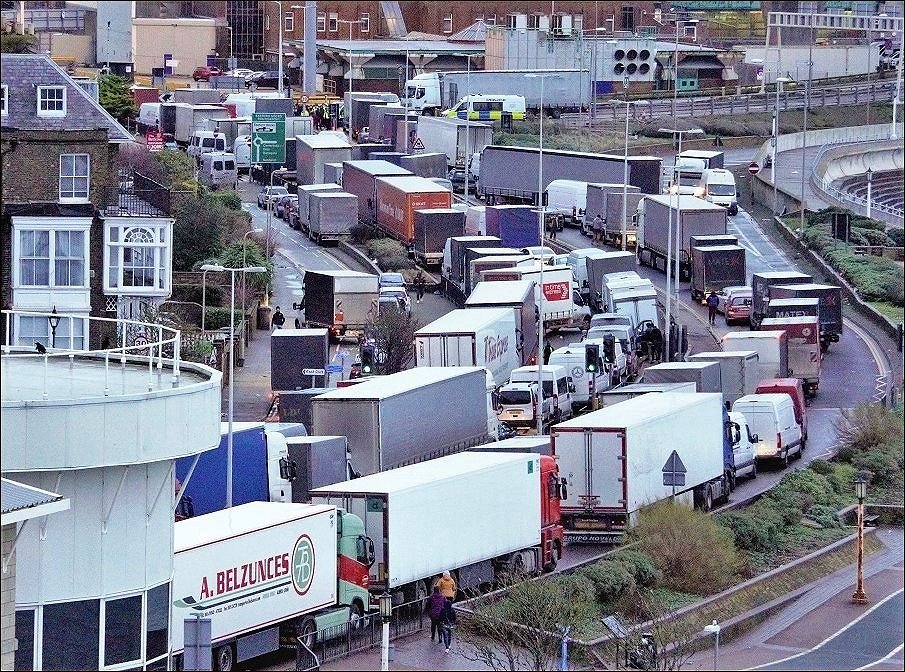 Port of Dover Traffic Surge :

The great lunge towards the Port gates above...yes you are seeing it right, illegally from both sides of the carriageway the vehicles push to move forward. The picture above was taken at 07.53 on Christmas Eve morning, amid horrendous gridlock all around the town and increasing desperation.

Since then the overall situation has improved somewhat with the authorities working hard to restore some order.
The BBC are estimating that we are up to more than 6,000 trucks now...so quite a backlog to clear....
and the Covid tests still apply.

* *

Dover: Truck drivers abandon their vehicles to demonstrate at the Port gates amid the chaos....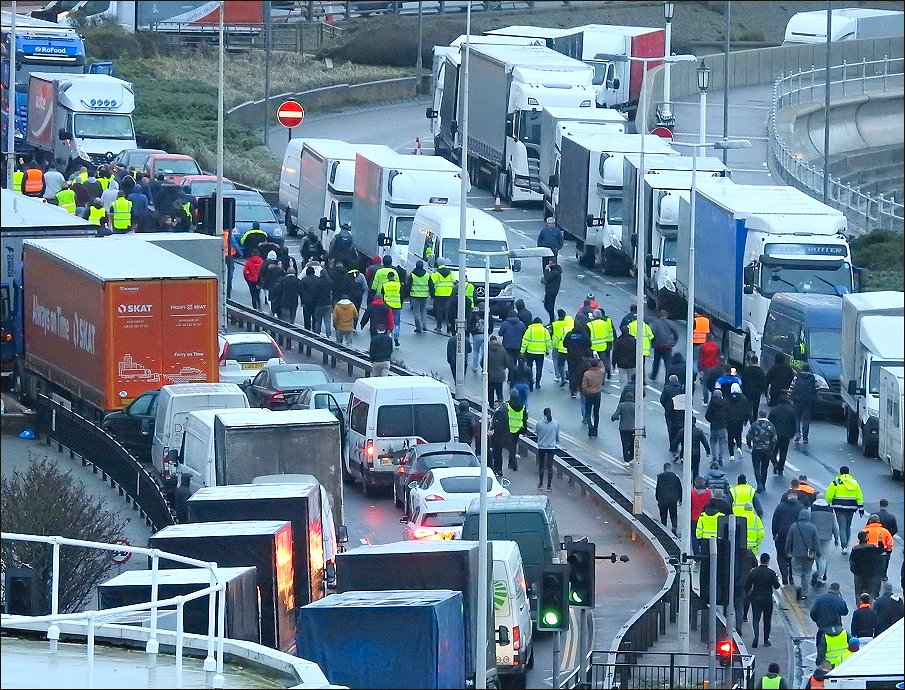 Frustrated truck drivers march towards the Port entrance...as the weary wait goes on...


Latest: Port of Dover is re-opening slowly, but everyone travelling must have a valid Covid test. Mass testing has begun. Because of the testing it will take quite some time to clear the backlog...we now have up to 4,000 trucks waiting...waiting... Only EU nationals are allowed to travel we understand.

* *

Port of Dover: France and other EU countries have closed their borders to the UK for 48 hours. This is due to the new Coronavirus variant sweeping the southeast UK. No trucks will leave Dover but the inward operation is still running....but the issue is whether trucks bringing supplies inwards will want to come for fear of being trapped in the UK. There have been calls for an extension to the Brexit deadline due to the ongoing chaos.

Overnighting below..... trucks laid up for the night.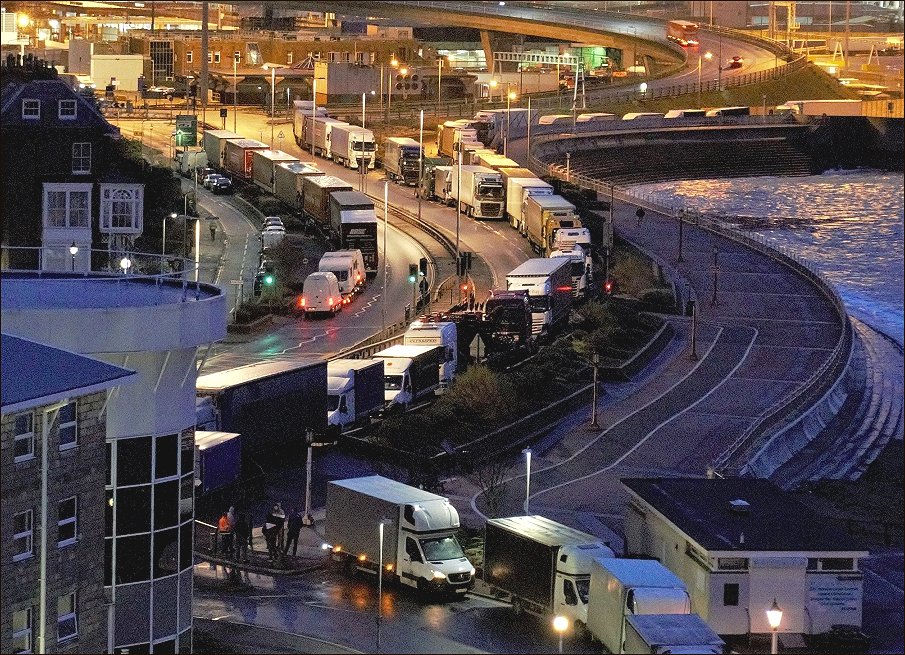 Sleeping Trucks everywhere......at Dover:
Transport Secretary Grant Shapps naively said yesterday there were 170 trucks queuing at Dover. That of course was inaccurate spin, we can see that many from our window here, the BBC more accurately estimate 900 trucks queuing (latest estimation 1500, now 3000 and growing).... we have sympathy for all those drivers stuck.


See also the OPEN LETTER from Port of Dover CEO
Doug Bannister further down page...
* *
Also the Port responds to funding shortfall....Note in particular paragraph 3 below re funding detail ....
PORT OF DOVER RESPONSE TO PORT INFRASTRUCTURE FUND ANNOUNCEMENT
Keeping the nation's trade flowing should be a partnership effort. The Port of Dover has worked positively together with both UK and French partner agencies located in the port, to establish the requirements for maintaining a smooth flow rate of traffic through the port following Brexit under the special arrangements of the joint UK-France Le Touquet Treaty, which is an international agreement that governs the provision of juxtaposed border controls in Port of Dover.
Indeed, this work was presented to the UK Government a year ago, with the rationale for a specific project concerning the outbound border controls to be government funded. The port was encouraged to seek funding via the Port Infrastructure Fund to deliver it. This was based on the identified and agreed need for additional French passport control booths to compensate for slower transaction times and a reordering of controls within the port to enable any non-compliant traffic to have been detected before reaching the French control. It also catered for further EU immigration system changes in 2022.
The Government's own border planning assumptions, as well as those of French counterparts, were predicated on that work and in good faith the port applied for £33 million of funding, but at the eleventh hour the Port has only been offered just one tenth of one per cent of what was needed. For the primary gateway handling unitised trade with the EU, to reach this conclusion so late in the piece undermines so much work by all parties in preparation for the end of the Transition Period.
The port wishes to reassure customers and our community that it will continue working hard to keep traffic flowing, having already shown its resilience by doing so throughout the entire COVID-19 pandemic and more recently as businesses choose Dover in order to stockpile ahead of the end of the Transition Period. Dover will still provide the highest frequency, highest capacity and therefore ultimately the best supply chain resilience as the closest point to Britain's largest trading partner, but the lack of financial support will make a smoother transition more difficult. This should and still could be avoided as we continue to seek support from Government ......
but the clock is ticking.
ENDS
THE DISNEY MAGIC STORY CONTINUES at the PORT OF DOVER.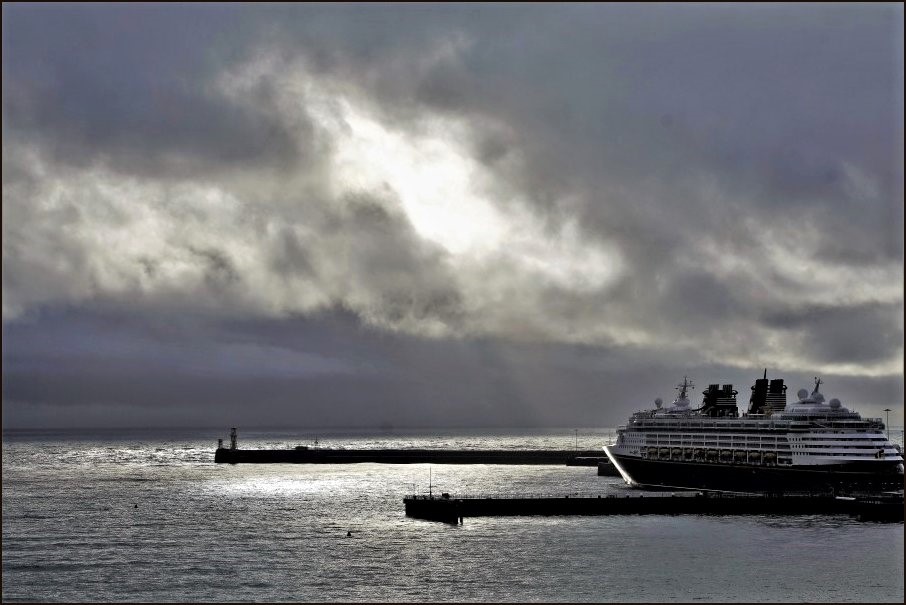 The Disney Magic pictured above in the approaching gloom.
As you can see the weather was turning rough...the Disney Magic, a short time later, moved away from new pier WD4 above to a more secure footing on the eastern arm Port of Dover.
BORDER FORCE VIGILANT at the PORT OF DOVER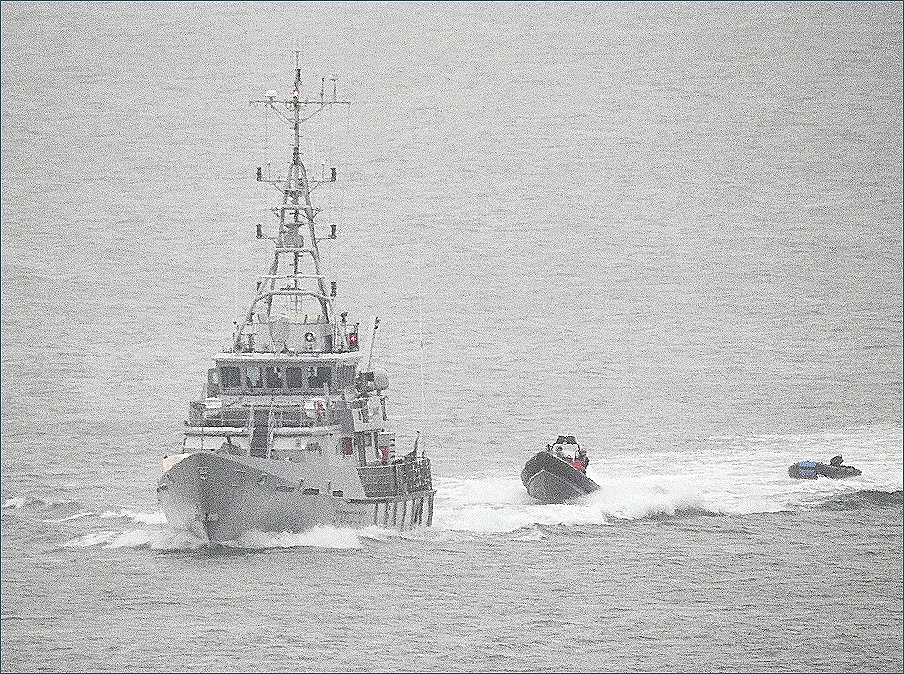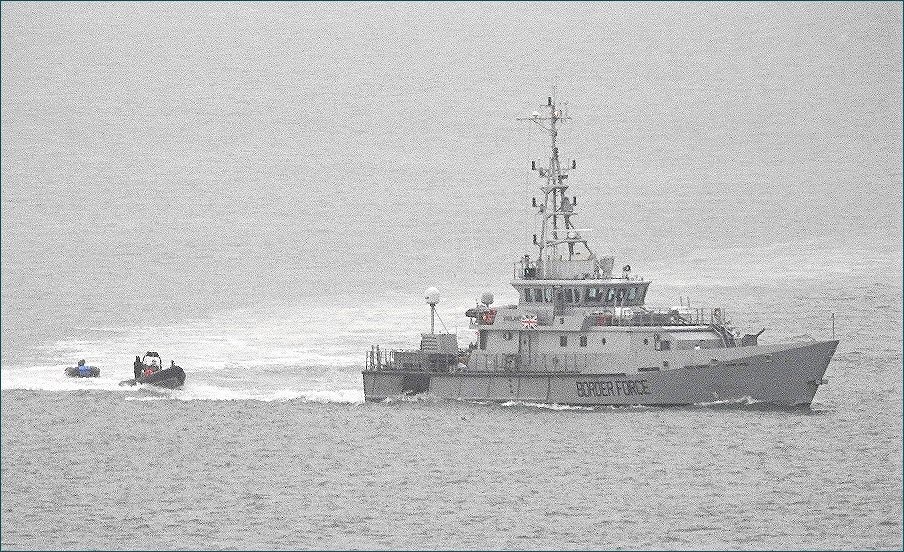 Border Force Vigilant returning to the Port of Dover through the mist.
The Border Force RIB following along behind towing a migrant dinghy....
Recent pictures....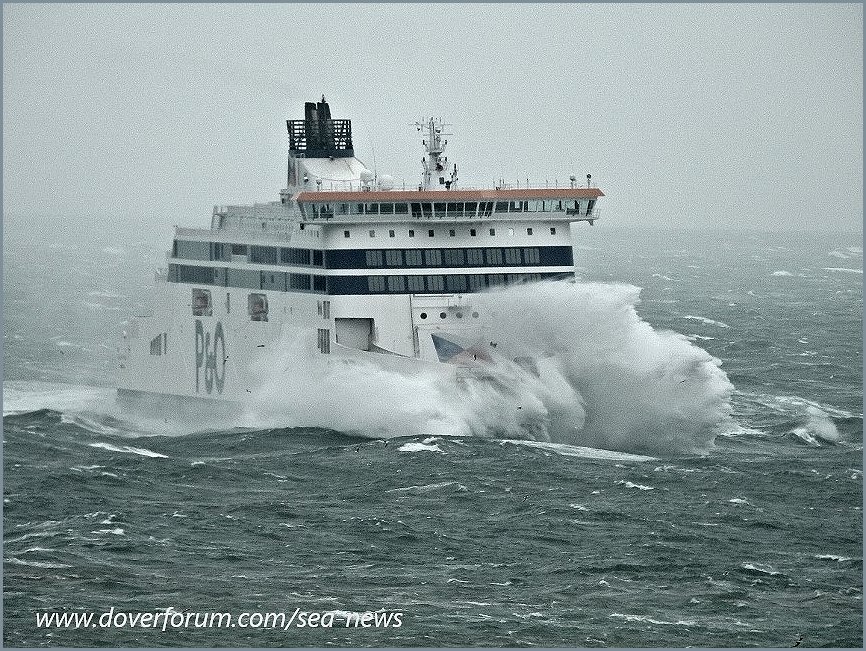 The Spirit of France:
The picture above is actually one from the past, one from our own archives....yours truly was reminded of it when seeing it recently on Google. We're using it again today as the picture sums up the current weather situation quite well...ie very rough in the Channel..... but the ferries keep right on going...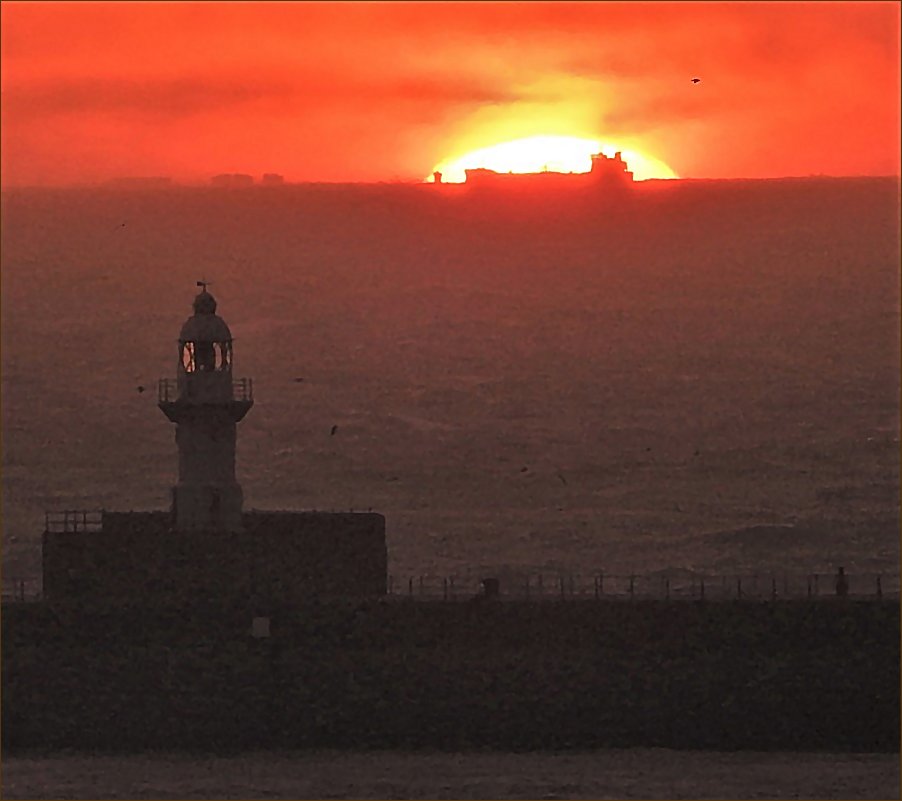 Dover: Rising Sun dramatically encircling a ship early morning on the Dover Straits ...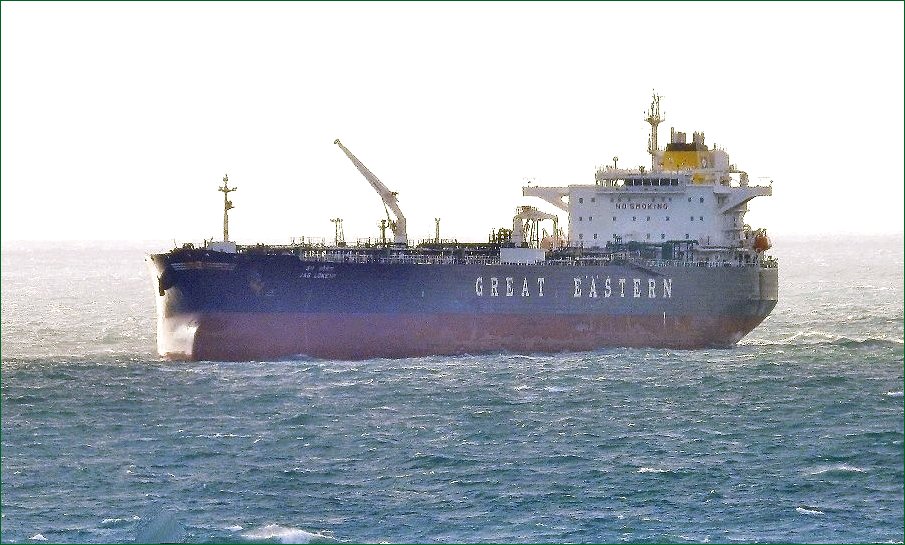 Indian registered tanker Jag Lokesh waiting offshore recently for a crew change ...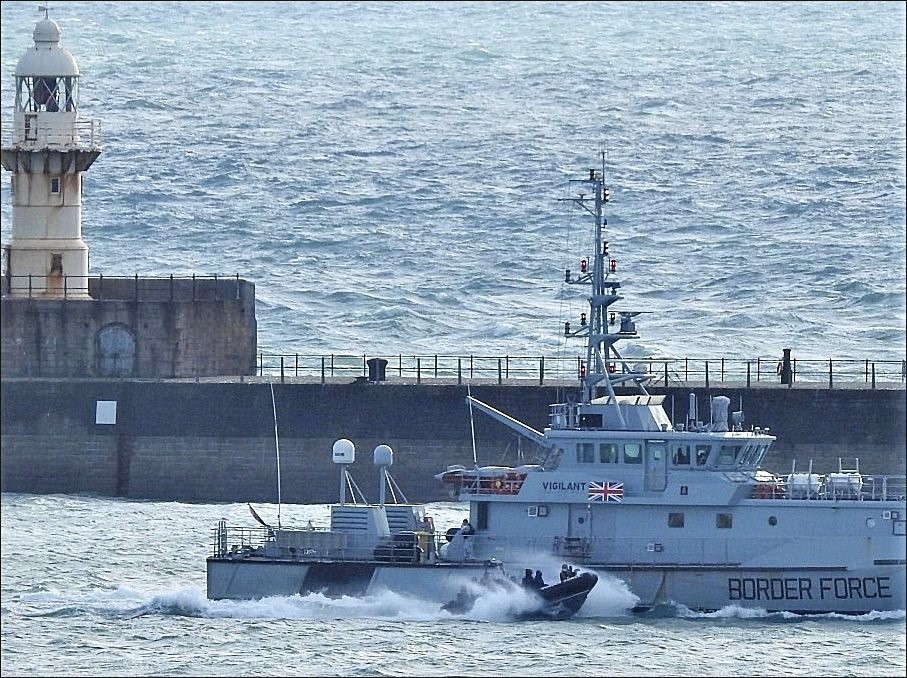 Border Force Vigilant seen above returning to the Port of Dover in recent days...we believe the Border Force rib powering alongside contained some migrants as several incursions were reported on the day.
The Disney Magic resting tranquilly at new pier WD4 Port of Dover, the tranquility making a change from all the recent rough weather...while in the foreground the Harbour Patrol Boat meanders along keeping everything safe and secure... In the far distance you can just see the Vasco da Gama cruise ship heading for Portugal.
DISNEY at DOVER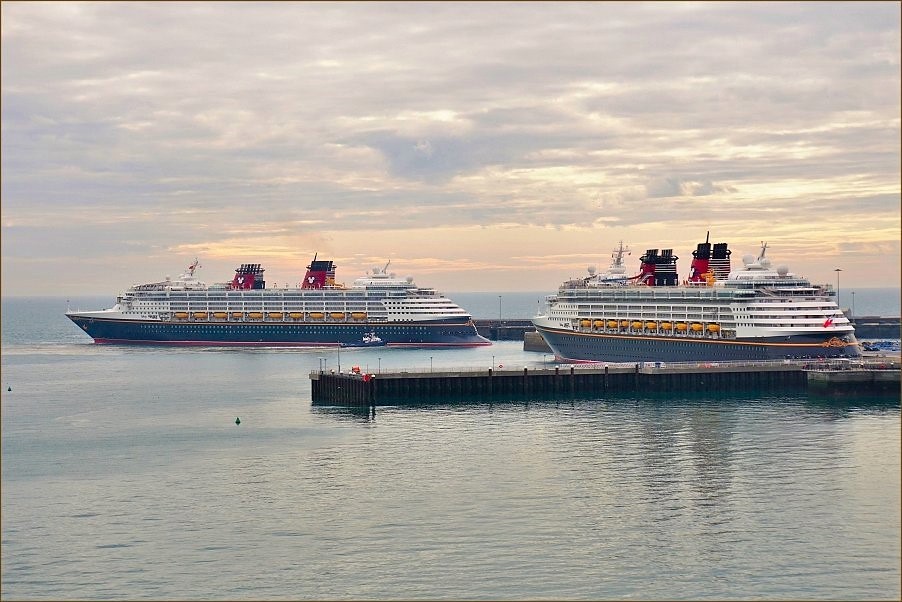 The Disney Wonder and the Disney Magic
If you quietly wish upon a star, hoping for even more wondrous magic in Dover,
...well you might just end up with two Disney's....
* *
OPEN LETTER FROM DOUG BANNISTER, CEO, PORT OF DOVER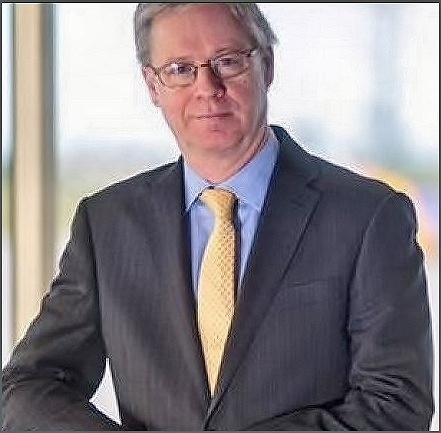 Dover is the right choice for business and consumers now more than ever
The United Kingdom Major Ports Group ('UKMPG') has issued a 'briefing paper' intended to encourage businesses to transfer cargo away from the Short Straits, the UK's most vital link to European markets.
The paper points out that the Short Straits, which includes ferry links between Dover and Calais, as well as the Channel Tunnel, has a 60% market share of 'British-Continental EU trade'. The Short Straits has achieved this market share because it is the right choice for business. Indeed, the paper acknowledges that the routes businesses use today are the right ones and the reason businesses choose the Short Straits is simple; it offers the most time efficient, cost effective and resilient access to international markets, delivering an estimated £3 billion saving for British businesses and consumers compared to alternative routes.
Our own independent analysis (Oxera 2018) has previously suggested that it would cost around £2.7 billion to take just 20% of our existing traffic in order to pay for new ferries operating on longer and slower routes. Importantly, these new ferries do not exist today and need to be built. With shipyard capacities and construction lead times, delivering such a fleet of new ferries holds significant lead time.
The UKMPG paper suggests that other ports might have capacity to take up to 60% of Short Straits traffic now, but acknowledges that this requires both Government and trader support for this offer of 'resilience' to be possible. Exponentially, this suggests that the cost to businesses and ultimately the consumer could be up to around £8 billion.
For Port of Dover, when looking at the overall UK Trade Resilience we take a systemic view – across ports, vessels, capacities, frequencies, operating models and traffic management schemes. To focus only on port capacity is terribly one-dimensional.
The geographic advantage that Port of Dover holds with the UK's largest trading partner means that a single vessel can complete up to five round voyages in a single day, making our ferries hugely productive assets. Further, our operating model delivers an average inbound dwell time at our port of just five minutes, providing unparalleled port efficiency.
Other operating models, for example containers and unaccompanied trailers may have inbound dwell times from several hours to even several days, adding inefficiency to the system-wide supply chains. For those routes with longer sea voyages, a single vessel may only make a single round voyage in a day – meaning to replicate the capacities and frequencies offered via Port of Dover would require five times as many vessels.
The UKMPG paper admits that a 'short term' constraint might be the availability of additional ferries to handle the trucks being encouraged to divert to other routes, whilst also citing wider capacity issues on the southern North Sea corridor.
The report is right to focus on resilience as we approach the end of the Transition Period, but what resilience do you have if you are sending traffic to ports where the ferries do not exist? Neither is that a quick fix. The market dynamic is important here. In fact, rather than investing in new ferries, operators at some of the alternative ports have actually been closing these longer routes with tonnage moving back to the short routes as that is what the market wants – Dover has of course kept going throughout the pandemic. This dynamic applies to the European side too, with the majority of freight vehicles choosing to route through northern France to Calais and Dunkirk as it is simply closest.
All EU-facing UK ports will be under the same rules – there will be a standard process and transaction applied everywhere. We know from examples elsewhere, such as 'Operation Wellington' on the Humber, which anticipates using parts of the M62 and M180 as holding areas for HGVs, that if there is disruption it will be everywhere. The report itself admits that there is already a risk of disruption at these alternative ports due to new systems for HGVs. Therefore, on top of this, sending more traffic to ports that do not even have the ferry capacity will make the situation far worse and create far less resilience for UK trade.
In contrast, the traffic management regimes for the Short Straits are tested and proven – in short, we know they work. For example, the recent national security operation that affected all ports with additional screening and searches left around 4,500 lorries in Operation Stack. When the security operation ended, Dover had cleared all queuing traffic and was back to normal operations within just 12 hours. Nowhere else could do that. It would take weeks with the current vessel capacities and frequencies available elsewhere. For UK trade resilience, supply chains must have the confidence in managing periods of disruption, and crucially recovery and restoration of normal flows as swiftly as possible – both areas in which Port of Dover has excellent credentials.
As we all navigate the massive economic difficulties caused by COVID, and the uncertainties as we approach the End of Transition, it is right to showcase the incredible efforts of the maritime sector, and the excellent ports that we have across the nation towards ensuring supply chains are robust and functioning well.
Come what may, we will keep working to keep the nation supplied with the essential goods people need at this difficult time and give all businesses wherever they are the benefits of Dover's unrivalled service. This is what we do all day, every day.
Indeed, as the Maritime Minister said on a panel discussion with us only the other day regarding the national trade network; 'you have to have goods and people moving around freely. So if you are to have parts moving quickly and efficiently across the Channel, and through Dover, and through the country, you have a much easier opportunity for companies that might exist in the Midlands or in the North to get involved in whatever that industry is.'
The report says that the UK has not always been reliant on the Short Straits, harking back to pre-Single Market days. Equally, the UK has not always been reliant on the internet and same day/next day/just-in-time deliveries, but it is now.
A vision that takes the UK backwards is not the vision of the future we want to see. We need one that backs consumers and businesses everywhere for the challenges and opportunities ahead of us. We feel that we should celebrate our impressive, modern and efficient supply chains across all ports and modes throughout the nation.
For Dover, we fully appreciate the essential role that we conduct for the nation, and will continue to take our responsibility with all of the due care and attention the British people would expect of us, which is why Dover will remain the clear market choice.
Doug Bannister, CEO Port of Dover.
* *

WWW.DOVERFORUM.COM/SEA-NEWS
Sea Pictures from DOVER ....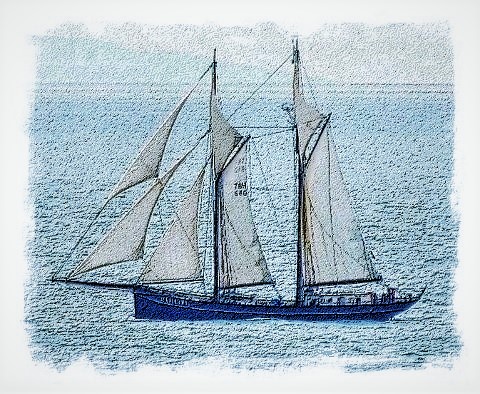 Use our SEARCH ENGINE below to find all sorts on the SEA NEWS pages....type in the topic and away you go,
or if you have the post number, just type it in the Search Box.
There are more than
- 7000 -
nautical posts in the section below.
Paul Boland - dover7@msn.com
Sea News Dover:
All pictures on these pages are the copyright of the owners and must not be reproduced without permission.
Post 91
howard mcsweeney, Dover
took these about half an hour ago, trying to work out what the orange/yellow ones are about as i don't remember seeing them before.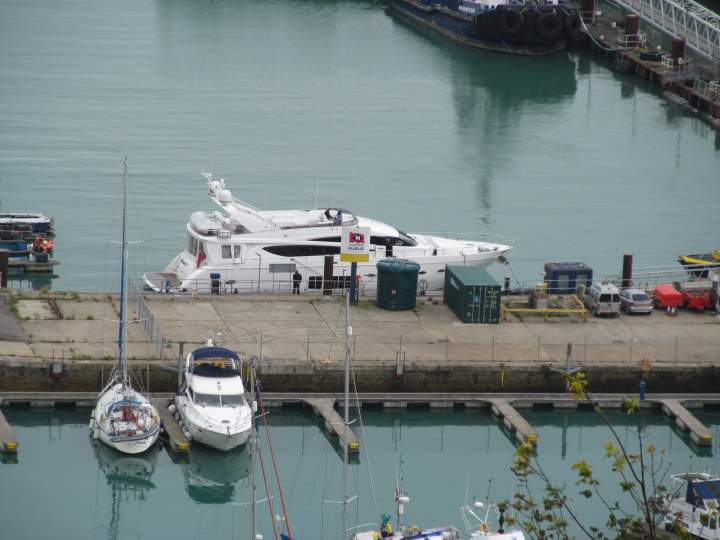 Friday, 20 September 2013 - 15:19
Post 90
Ed Connell, Dover
German Brandenburg class frigate Mecklenburg-Vorpommern passing Dover this morning. Try saying Mecklenburg-Vorpommern after a few scoops of Schnapps.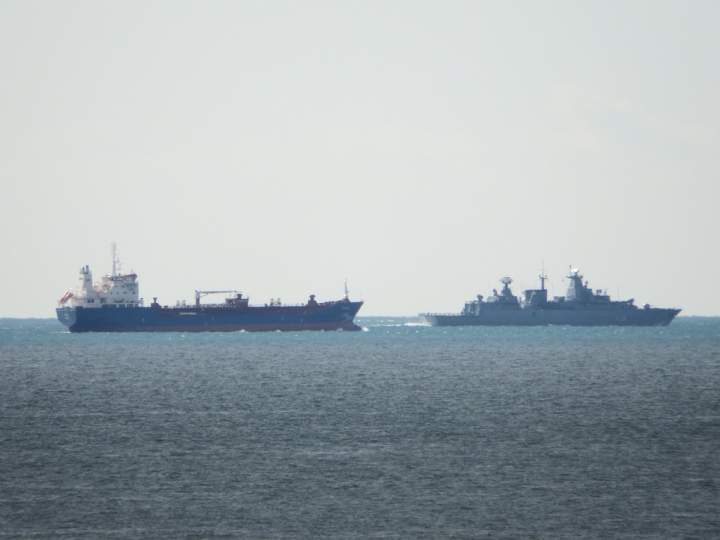 Friday, 20 September 2013 - 12:41
Post 89
howard mcsweeney, Dover
never a dull moment, every type of conceivable vessel in the last few posts and now we have the boom - not heard anything about a pollution scare so could be a dummy run .

Friday, 20 September 2013 - 09:55
Post 88
PaulB, Dover (dover7@msn.com)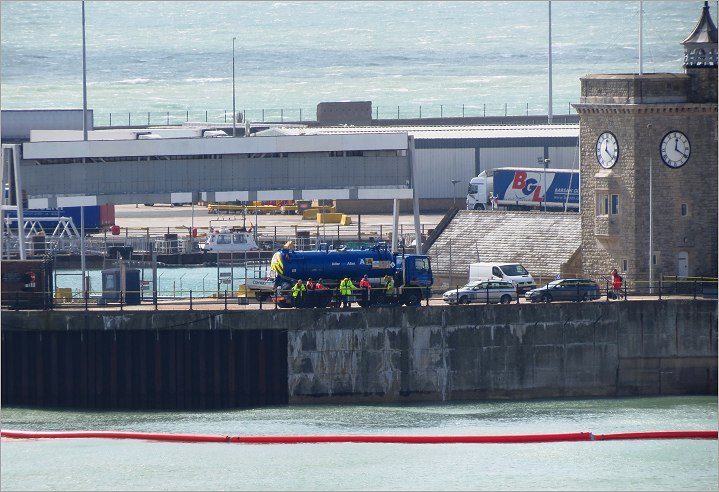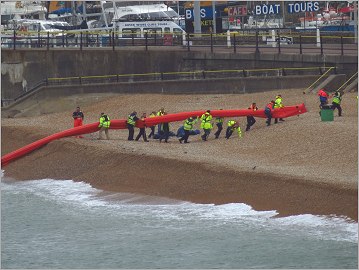 I came across the above at the very last minute. It took place yesterday..time on the clock. To my surprise they had cast a boom across the water at the very western corner of the harbour. There was quite a considerable amount of personnel in place with a number of anti-pollution trucks there and so on. Whether it was a dummy run to see how they would handle such an emergency or whether there was actual pollution I know not. A boom in normal pollution situations is used of course to prevent the pollution from spreading further. As we say though it may all have been a test run. But here we are with the pictures anyway...we may find out more later. Everyone of course is very jittery about pollution these days so lets hope there wasn't a serious or real problem. This is the weekend of Beachwatch too...for all good marine conservationists and volunteers. More info on Beachwatch further down the page.
And now following on from Ed's picture below..here is a further picture of the Ovit, this time leaving late in the day yesterday in the miserable and rough conditions. Out into the open seas she goes. Both tugs gave her assistance.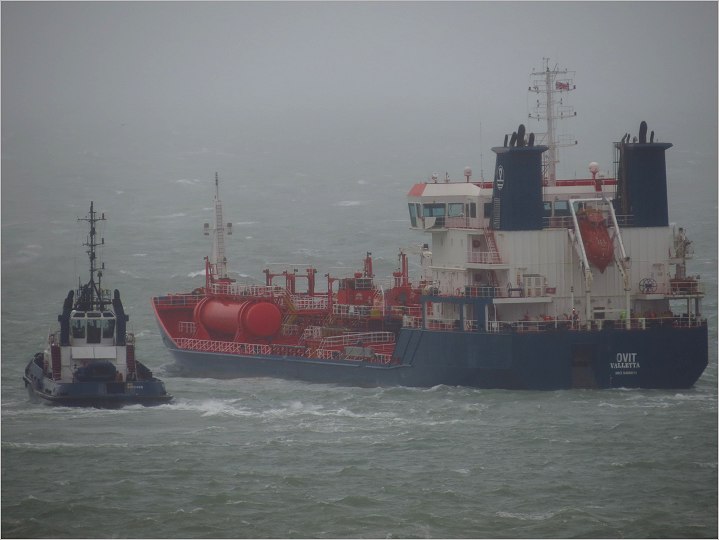 Thanks for the feedback below Ed. I will direct Chris to it. Best if our top man technical guru Chris looks at it to see if there is a solution.
Friday, 20 September 2013 - 07:38
Post 87
Ed Connell, Dover
This is the chemical carrier Ovit which was laid up on the Eastern Arm for a day or two and has now departed.
Paul/Chris: Tried to upload this several times before but the new Sea News format was not allowing it. Nothing to do with size, it is the same size as all the others I was trying to upload in the same comment. I reduce them all to 1024x768 and this one comes out at 278KB. The problem was that I uploaded several photos in one comment and then tried to upload several more photos in another comment following immediately afterwards. As they no longer have individual names as on the original thread, but just come up with a number such as IMAGE-1 then the next comment displays the IMAGE-1 from the previous comment instead of the new one which has just been uploaded but has the same name.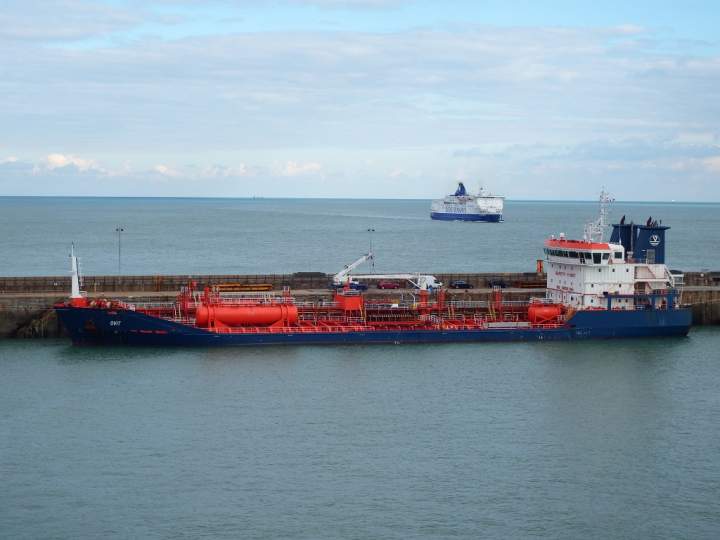 Friday, 20 September 2013 - 04:08
Post 86
PaulB, Dover (dover7@msn.com)
Quite an exciting vessel of immense scale moved slowly down the channel last evening. It was a huge maintenance/crane platform called Hermod and yes it moved slowly and very carefully. In between pictures I managed to go to Tesco and back for the supply of pot noodles and it was still moving at gradual pace when I returned. That explains the difference in light and colours. It weighs more than 75,000 tons and had left Rotterdam heading south to a Spanish port I believe. To be ever so technical about it...'twas a whopper!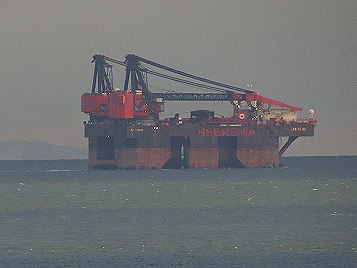 In the picture left above , taken from very very long distance, it is probably still technically in the North Sea. By the time I photographed it on the right above.. evening was drawing in and yours truly's Tesco trip had been completed, and the platform was moving slowly by Dover itself.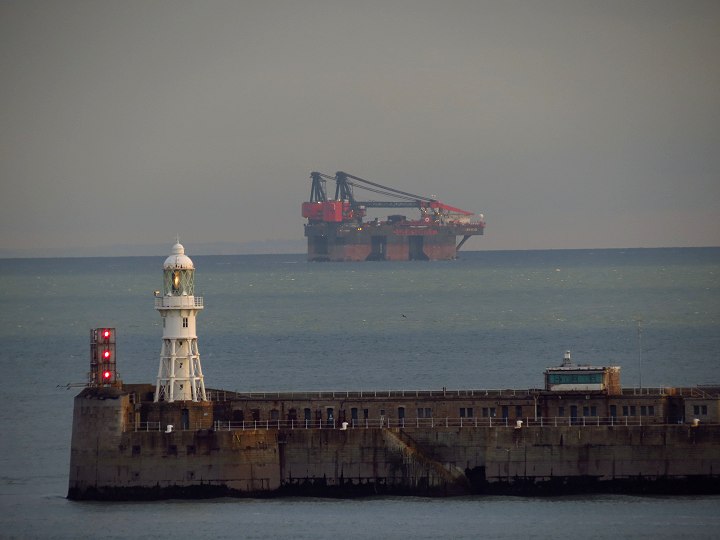 This shot above shows the wider view as she passes down the Channel just beyond Dover.
Below we have a last shot of the Astor taken in blazing afternoon light. The Astor left last night about 8pm and the Empress about 9pm. So as the evenings are dark now no prospect of pictures at that point.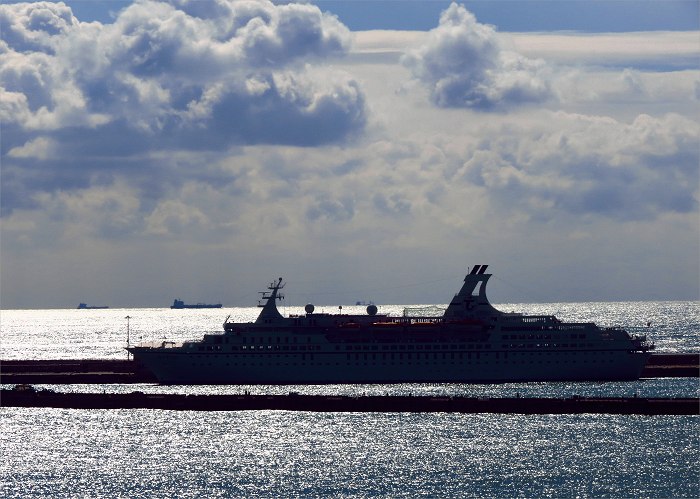 Interesting pictures of the underside and thrusters of Dover Seaways there Ed.
The reason some pix are not coming out is possibly because they may be too large.
We have been ironing out small problemos. Nice one Howard.
Thursday, 19 September 2013 - 08:18
Post 85
Ed Connell, Dover
Try again.
David Church dredging over remains of the removed blockship Spanish Prince.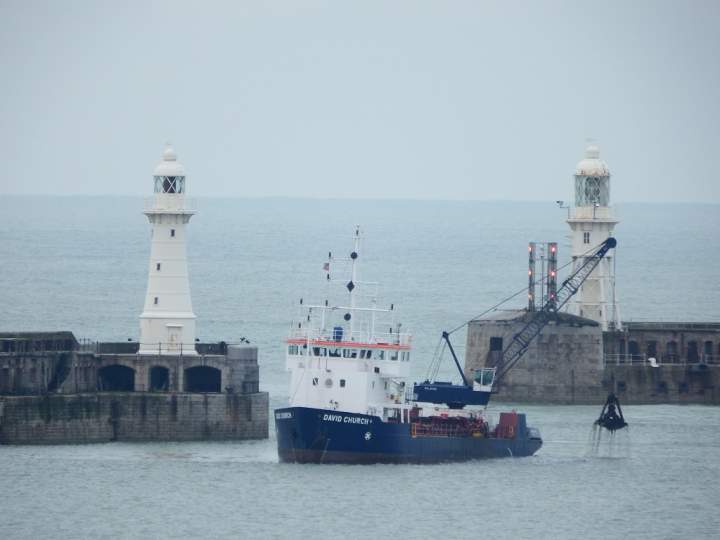 Chemical carrier Ovit moored on Eastern Arm.
[IMAGE-11]
Thursday, 19 September 2013 - 01:04
Post 84
Ed Connell, Dover
Ships in port in the last couple of days:
Braemar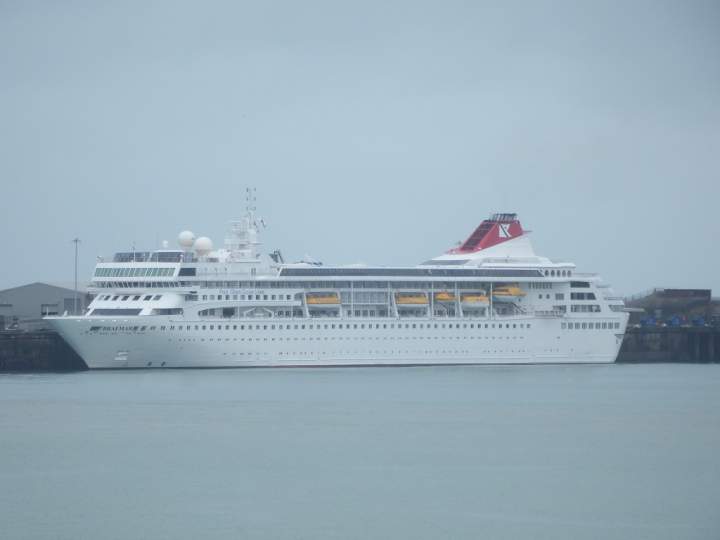 Amadea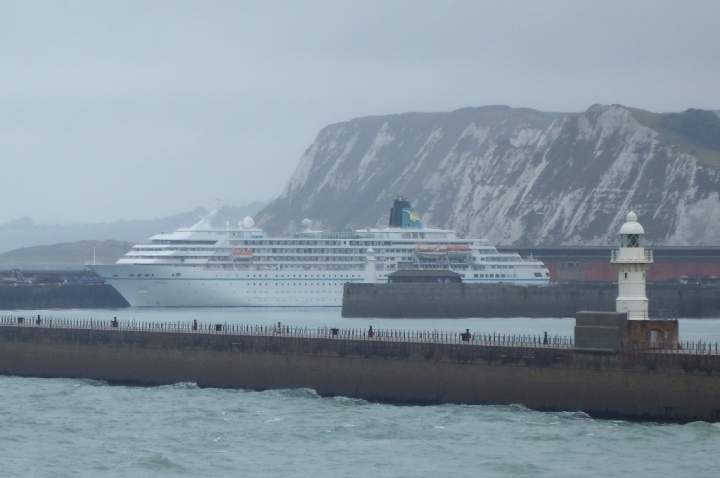 Astor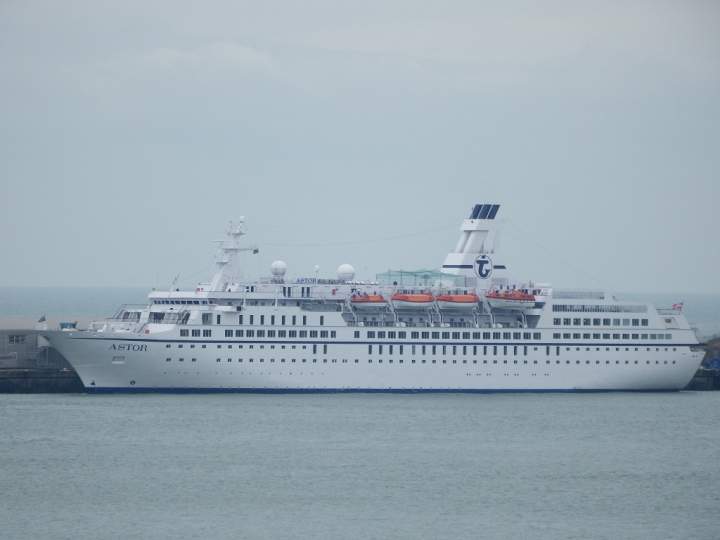 Empress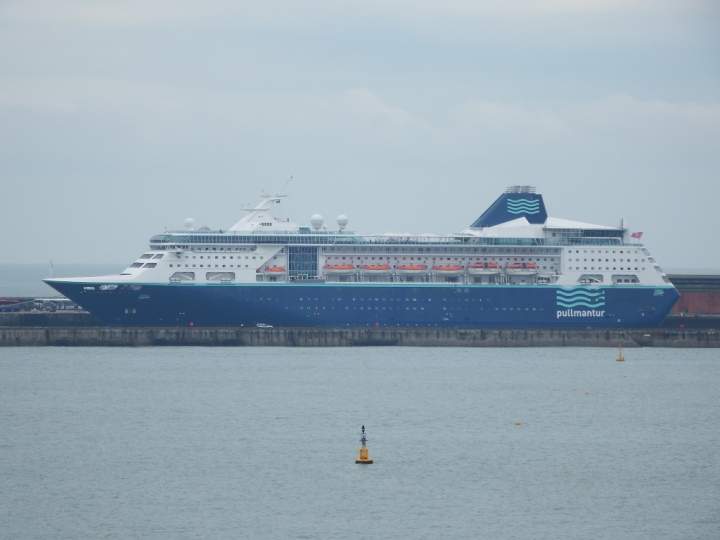 David Church dredging over the remains of the removed blockship Spanish Prince.
[IMAGE-10]
Chemical carrier Ovit moored on Eastern Arm.
[IMAGE-11]
Thursday, 19 September 2013 - 00:48
Post 83
Ed Connell, Dover
Re the query about stern thrusters on the old Sea News thread. Here are some photos of the Dover Seaways including her previous incarnation as the Maersk Dover.
Stern thruster visible behind propeller tail shaft.
New propellers fitted later to reduce fuel consumption.
The three bow thrusters with the painted markings above.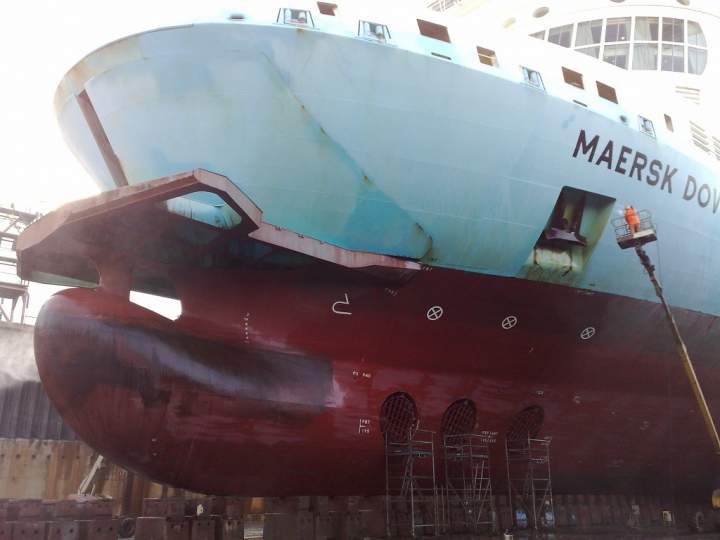 Close-up of the bow thrusters being examined by the ship's captains.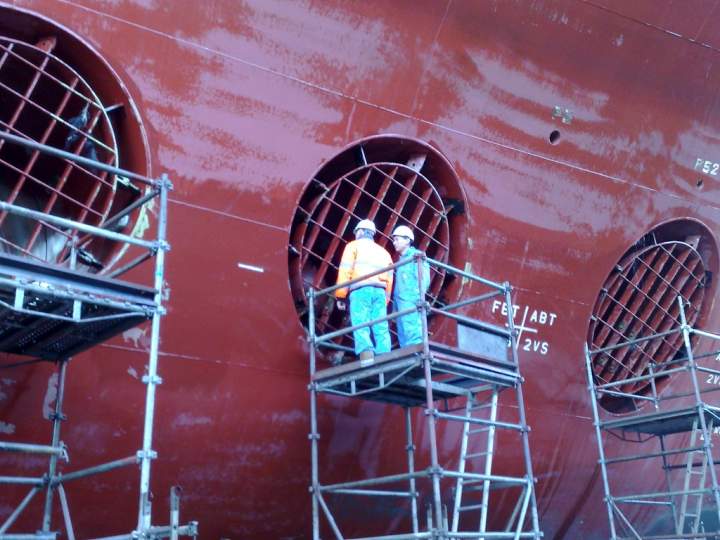 Thursday, 19 September 2013 - 00:24
Post 82
howard mcsweeney, dover
some great photos taken this morning, here is one taken from higher up.
Wednesday, 18 September 2013 - 19:20
Post 81
PaulB, Dover (dover7@msn.com)
The tide has helped with the pictures here..bringing the striking Pullmantur Empress higher and better into camera view..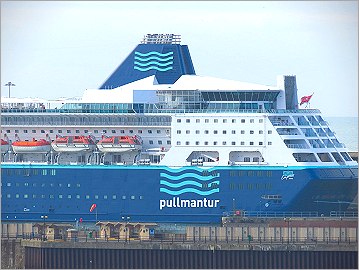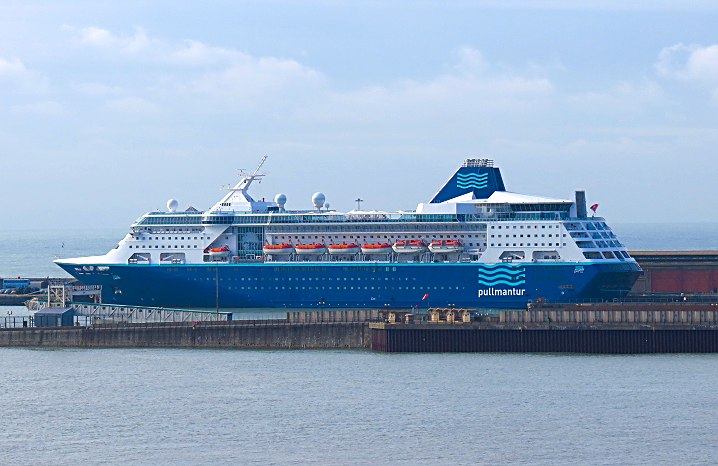 The Astor is also in, see the post below for picture of same and further info.
Wednesday, 18 September 2013 - 11:14
Post 79
PaulB, Dover (dover7@msn.com)
New research from DFDS SEAWAYS shows that people in the South East of England have voted Meatloaf's classic 'Bat out of Hell' as the best summer driving tune for 2013. Despite some hot new releases making the top ten list, old classics have come out on top as the favourite songs to listen to while driving, beating off hits from Rhianna and One Direction.
The survey was conducted by award winning ferry operator DFDS Seaways, which has transported thousands of holidaymakers with their vehicles from the UK to Europe this summer.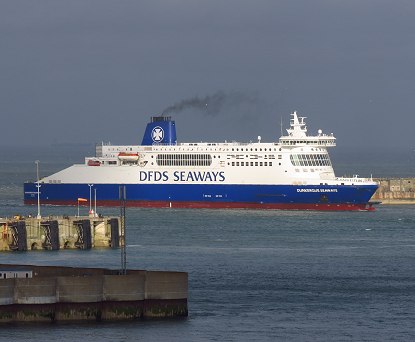 If the truth be told, and not a lot of people know this...yours truly did a far bit of rockin and rollin to Bat out of Hell..indeed so. In the old days of course. Saw Meatloaf performing in London at least twice if memory serves. That terrific female he used to sing with used to give him hell in those songs I can tell you...
"stop right there !!"

And you can see why people even to this day like to blast it out. Great fun.
The picture above shows the DFDS Dunkerque Seaways coming into harbour. This is one of the ferries involved in Ed's story below.
And now calming down from all that a-rockin and a-boppin..two cruise liners in today.
One is the Pullmantur Empress..I dont think this one was scheduled so it took me by surprise,
and the Astor. And here is the Astor arriving a few minutes ago (7.40am approx) on a super calm sea.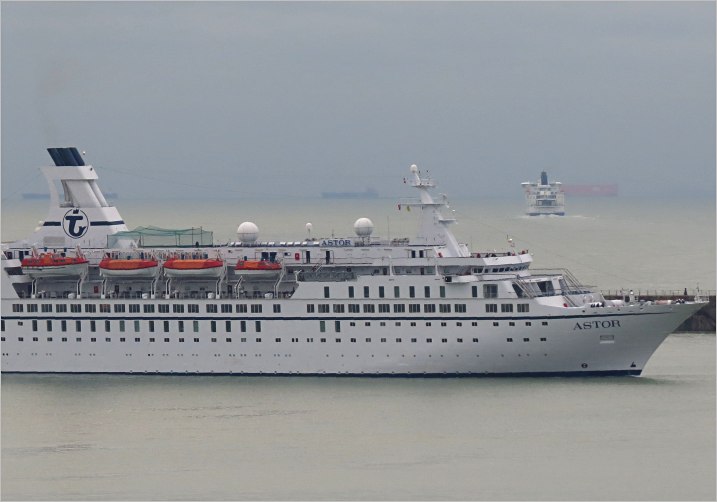 Unable to get a good pic of the Empress at the moment, she's an interesting one.
Wednesday, 18 September 2013 - 07:45
Post 78
Tom Austin, London, bright and cool, ever so cool...

Costa Concordia is successfully salvaged - in pictures

(http)://www.theguardian.com/world/gallery/2013/sep/17/costa-concordia-successfully-salvaged-in-pictures#/?picture=417495969&index=0

Raising Costa Concordia - timelapse video

(http)://www.theguardian.com/world/video/2013/sep/17/raising-costa-concordia-timelapse-video

Well done all. :)


Tuesday, 17 September 2013 - 13:48
Post 77
ColetteB, Dover
Yes indeed PaulB, I'm a little late this time around, the weeks seem to fly by!
Not much of a week though for cruise ships in Dover, well the season is coming to an end so it's to be expected

Today as we can see from below the Beautiful Amadea is here with a PoC at CT2. I don't remember this one here before, if she was, it must be a while back but I'm sure one of the guys will enlighten us

Also the familiar Braemar is now at CT1, T/R.
Tomorrow, 18th September, the Astor cruises in for a PoC at CT2, she was last here in May.
No cruise ship then until Wednesday September 25th when the Carnival Legend arrives back at CT2, T/R for the last time this season

That's all for now folks

Ed, Awesome photos

Tuesday, 17 September 2013 - 09:49
Post 76
PaulB, Dover (dover7@msn.com)
AUTUMN COLOURS OVER DOVER HARBOUR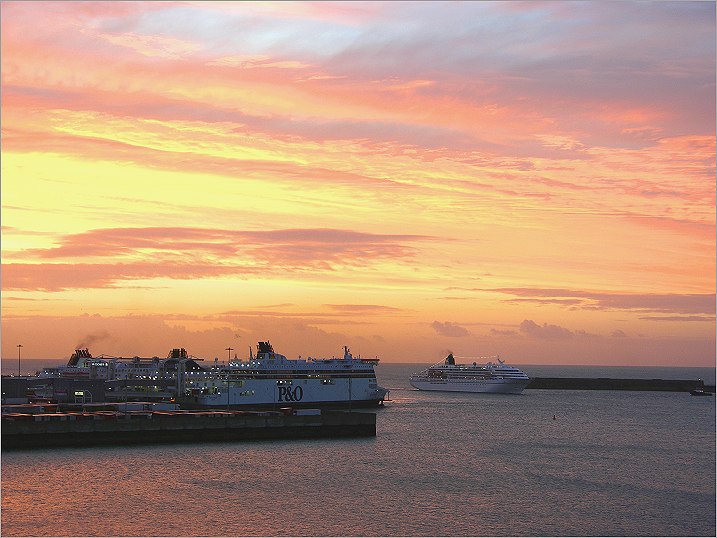 The ships are just about catching the early light as they come into harbour these days now that Autumn is here. The days are truly getting shorter..with light coming off at each end. Today the newly arrived Amadea just caught the early light and posed for us under a blazing sky. Not a hugely familiar visitor but I seem to remember her from the past. She is a smaller ship but with a modern look. Now also arriving as we speak is the much travelled and familiar Braemar. See more info on the Braemar over the page. So another double header of ships today - plenty of visitors for the town again.
News is coming through that they have righted the once magnificent Costa Concordia..all 116,000 tons of her. That took some doing. Inch by inch they slowly slowly pulled her upright. I believe the process is called parbuckling and so far, according to one pundit on TV, the operation has cost in excess of half a Billion pounds. Some bill eh! But well done them for making spectacular progress.. I'm sure the vessel lying there on its side at Giglio must have given something of a bizarre tourism boost to the local economy. See also the posts below.
ColetteB if you are looking in dont forget your cruise listing

Still gobsmacked with those pix from Ed below. Have added a headline at top of page.

Tuesday, 17 September 2013 - 07:27
Post 75
JanT, Dover
Crumbs Ed some great pictures there, it certainly looked like pretty hairy conditions.

also good to see you on sea news Tom.

Seeing the picture of Concordia it just shows us what a huge job it is to get it upright again.
Monday, 16 September 2013 - 15:33
Post 74
PaulB, Dover (dover7@msn.com)
Wow! great set of pictures Ed...you were the man on the spot for real there. Yes indeed conditions were terrible late yesterday so a tough ask for all concerned. Really and bravely in the teeth of the gale there and no mistake. The pictures tell the story.

Thanks for the info re Concordia Tom. All seems to be progressing there slowly.
Monday, 16 September 2013 - 14:53
Post 73
Ed Connell, Dover
The Dover Seaways was involved in an incident at 1800 last night in the approaches to the Dunkerque West fairway. It was blowing a gale and raining heavily.
Dunkerque Seaways had just left Dunkerque West and reported seeing the kite from a kite surfer board in the water. The French rescue helicopter and lifeboat had been scrambled to investigate.
As we approached this area on the Dover Seaways, the navigator spotted a black shape in the water which could have been a person or body in a black wetsuit. We reversed course and cleared the fast rescue craft ready for launching.
As we came up to the object, the helicopter appeared with the lifeboat not far behind so it was unnecessary to chance launching our fast rescue craft in the prevailing conditions.
Here is a sequence of photos of the incident, unfortunately all rather blurry as taken in the driving rain, the latter four through the Bridge windows.
Helicopter passing along starboard side.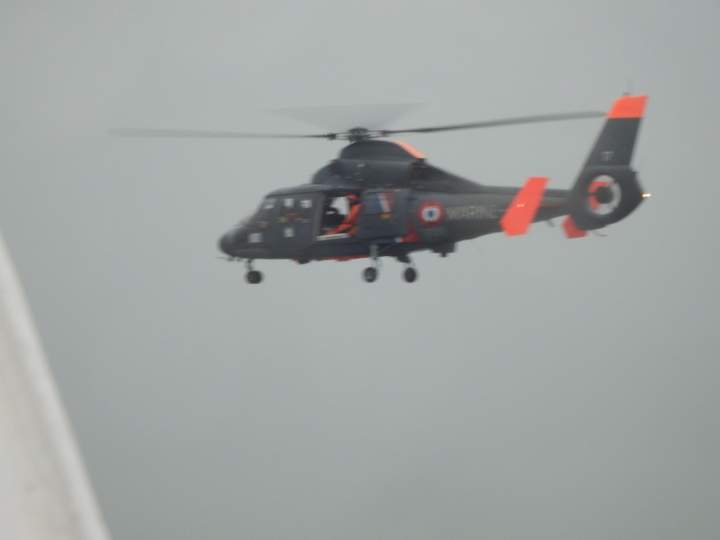 Diver descending from helicopter.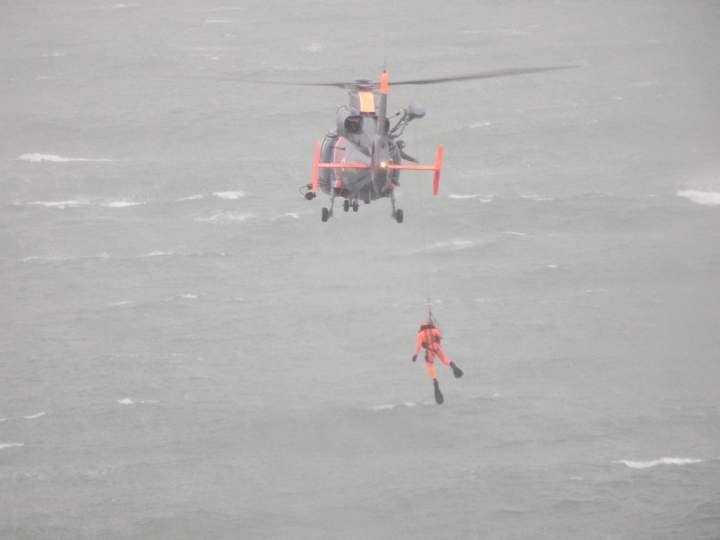 Diver ascending again after retrieving object.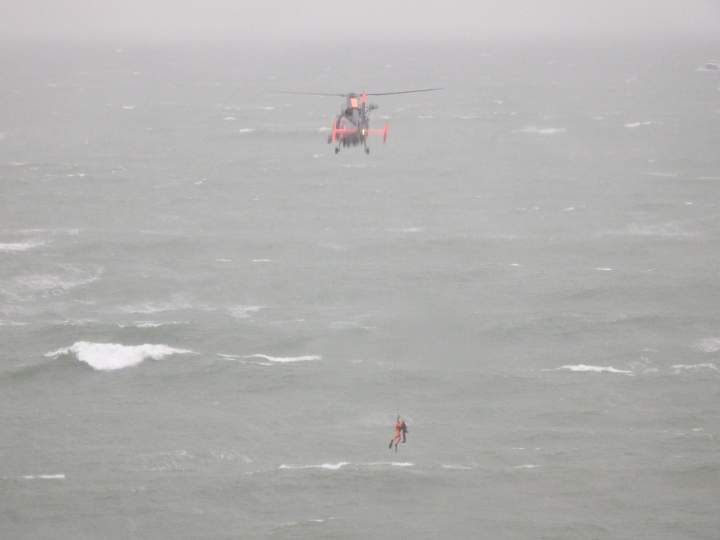 Diver with object which transpired to be just a pair of chest waders!
Diver re-entering helicopter.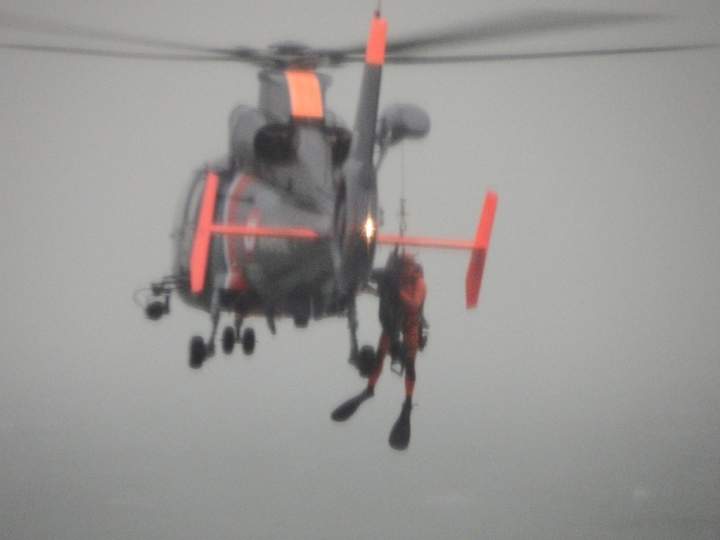 We were then released from standing-by and resumed our passage. The object in question was just a pair of chest waders probably lost overboard from a fishing boat. However, the incident was useful training for all concerned and went very smoothly.
Monday, 16 September 2013 - 12:47
Post 72
Tom Austin, London, bright and cool, ever so cool...
This may be of interest to all you ex- and budding marine engineers...
"Costa Concordia: salvage teams attempt to right cruise ship - live updates"
(As well as textual live updates there is a live video feed.)
(http)://www.theguardian.com/global/2013/sep/16/concordia-salvage-operation-giglio-parbuckling-live-updates
The cranes are taking the strain as I type.
N.B.
Please remove the brackets around the 'http' of the web address.

Monday, 16 September 2013 - 10:20
Post 71
PaulB, Dover (dover7@msn.com)
The big global sea news story today monday is the attempted salvage of the doomed Costa Concordia. The huge and spectacular cruise liner ran aground off the Italian coast in headline grabbing horror, packed as it was with passengers aplenty. Most managed to get off the ship and were rescued safely but 32 people died in dismal conditions. As we understand it only two people are missing, unaccounted for, and these are presumed to be somewhere onboard..lost in the vast bulk of the ship. The ship, according to Alan Johnston of the BBC, is the length of three football pitches and weighs twice as much as the Titanic. So it will be one heck of a job getting this one righted. It will never see service again of course.
As we are all very aware, the magnificent Costa cruise ships are regular visitors to us here in Dover. Only a few days ago the stunning Costa Pacifica was in harbour..pictures further down the page ( ah !...now on PAGE TWO ). But here we are today with a picture of the Costa Concordia lying on its side just off the Tuscan island of Giglio..good luck to the salvage people.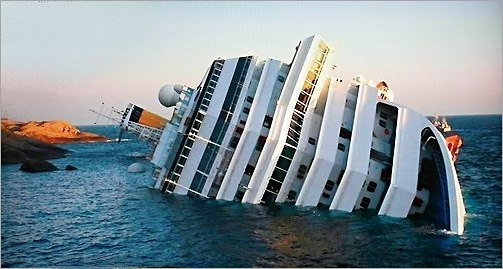 Monday, 16 September 2013 - 06:33