Thursday, 20 September 2018
All the ships at the Port of Dover...plus...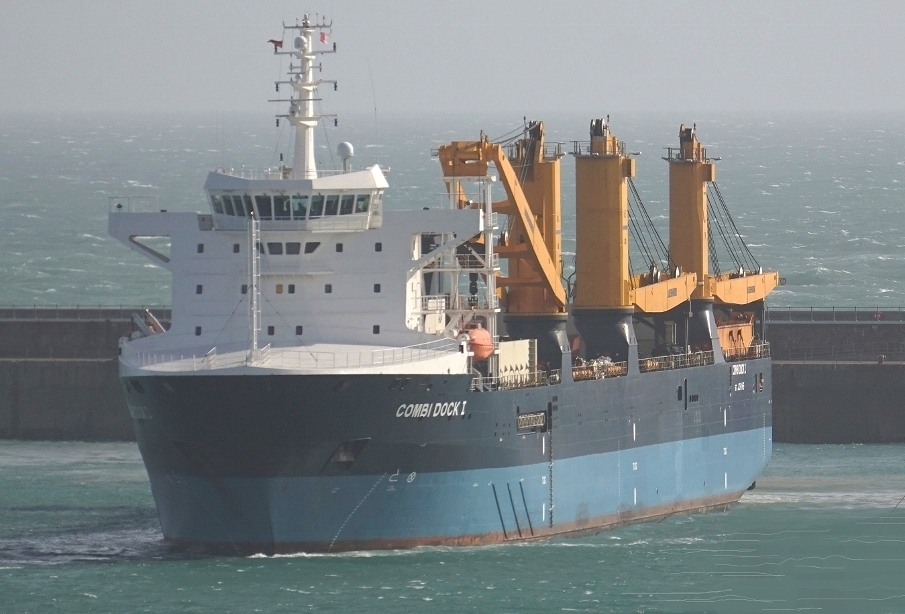 Heavy lift ship Combi Dock 1 at the Port of Dover. More pictures below....

WWW.DOVERFORUM.COM/SEA-NEWS
Featuring all the ships that come and go and work at the Port of Dover with further coverage of the surrounding ports both sides of the Channel. Email: dover7@msn.com to send SEA NEWS pix or info....
or click ADD YOUR COMMENT below to post direct, no membership needed.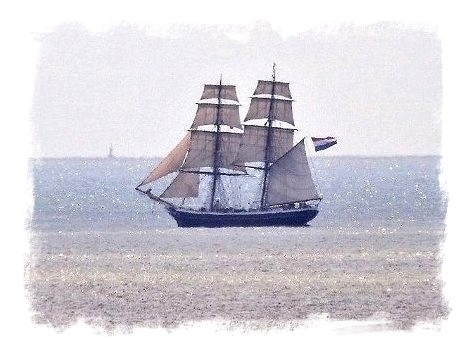 P&O: FREE WINE offer 5763.
P&O: To Rome on Horseback 5759.
DOUG BANNISTER: New Chief Executive Port of Dover see below 5734....
Merchant Navy Ceremonial images also 5734.
DFDS: Motorhome and Caravan savings deal see 5733.
Dover Regatta Rescue incident plus .. see 5713.
Dover Regatta pictures Lifeboat etc..5716, 5717, 5718, 5720.
DFDS Expansion: More New Ferries on order... see 5693 see also 5500 and 5381.
Excellent tourist season for P&O Ferries see 5649.
VSBW Port of Dover - Women at Work 5638.
P&O Second Female captain see 5107. Also see latest 5570.

For instant access to the items above: type the post number in the Search Engine below.

Sea News Dover :
Use our SEARCH ENGINE below to find all sorts on the SEA NEWS pages....
... more than 5700 nautical posts now.
Posts are welcome. Max of 5 pictures preferred per day although we can occasionally stretch to 6 on special stories.
Type CRUISE VISITS in our SEARCH ENGINE below for news of the latest cruise arrivals.
Sea News Editor Paul Boland - dover7@msn.com.
NOTE:

We have added a new feature. This has resulted in some slight change to the numbering system on the posts. We needed to align data in order for us to be able to use post numbers in the Sea News Search Engine. For example..type into the Search Engine box the number 5734 if you want the story on Doug Bannister...and it will pop up for you. This will be very useful going forward. You can still search in the older way too. My thanks to long time ace colleague Chris Tutthill for enabling the extra feature. Chris runs our sister channel..dover.uk.com. PaulB
All pictures on these pages are the copyright of the owners and must not be reproduced without permission.
Post 874
PaulB, Dover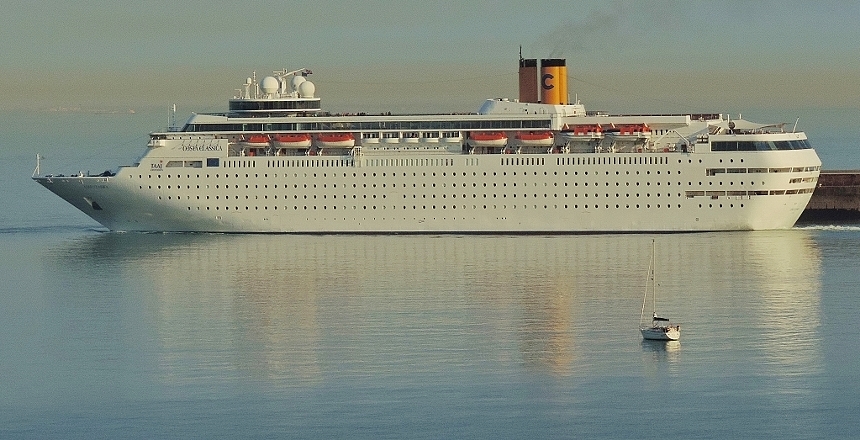 Great information in the post below there Kevin. Excellent and a very nice picture too. There were brilliant colours last evening for the Costa Classica's departure to Cherbourg and the most placid tranquil sea you will ever come across, nobody got motion sickness last night. I got very similar pictures to Kevin as can be seen.. just a slightly different angle. There is something exotic and exciting about those Costa ships for sure and on a warm summers evening..well it all looks totally fab. Puts one in the mood for a glass of the finest. Champagne anyone?? well it is the Fathers Day weekender..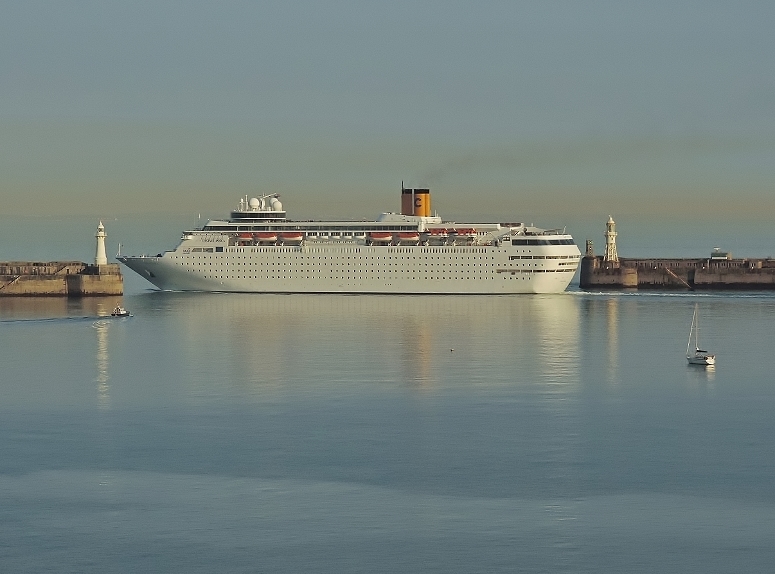 Scheduled for today are the Ryndam and the Braemar according to ColetteB's listing. So watch for those...
Saturday, 14 June 2014 - 06:02
Post 873
Kevin Charles, Dover
Ships of the Royal Navy fly the White Ensign as opposed to the Red of the Merchant Navy. There is also a Blue Ensign which can be flown by yachts owned by members of "priviliged" yacht clubs, one of which is Dover's very own Royal Cinque Ports Yacht Club. There are a couple of variations, for example, where the master of a merchant ship holds a commission in the Royal Navy Reserve (Blue Ensign).

Friday, 13 June 2014 - 21:57
Post 872
Keivn Charles, Dover
A perfect evening for the departure of the Costa Classica as she heads out into the English Channel on a flat clam sea bound for Cherbourg.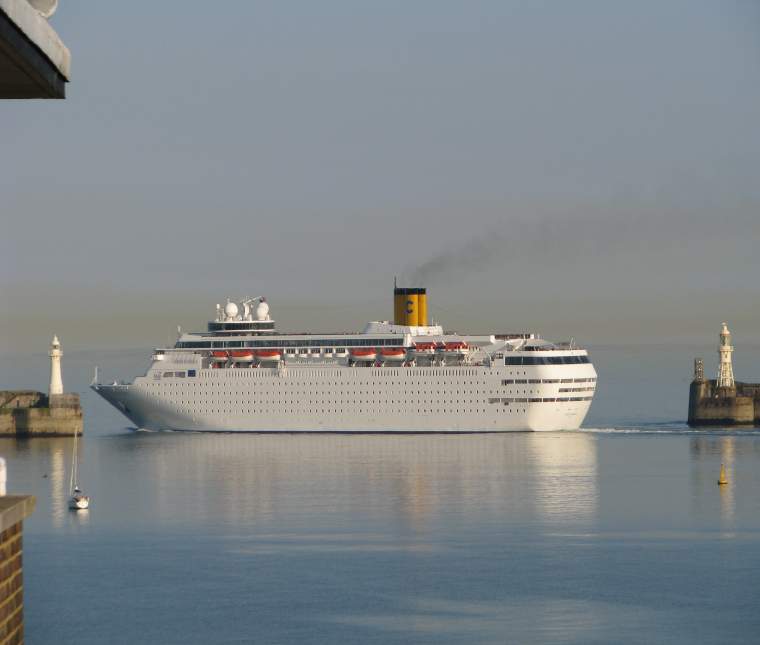 Friday, 13 June 2014 - 21:29
Post 871
Vic Matcham, Dover
That's the one some years ago I was in the R.N.V.R service and when we went in a port we had to put the Royal ensign flag up.Again great photos.

Friday, 13 June 2014 - 20:53
Post 870
PaulB, Dover
Hi Vic, here is another angle. This one shown here is HMS Puncher. There is a flag to the rear which is hidden from the head on picture in 802.
Is that the flag you refer to?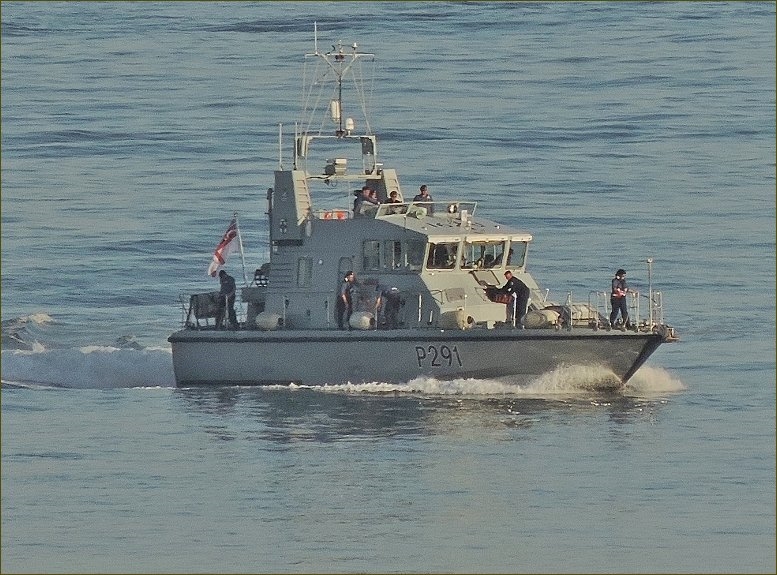 Yes indeed each boat has quite a large crew by the looks of it. The sleeping arrangements must be cramped and no mistake.
Friday, 13 June 2014 - 16:04
Post 869
Vic Matcham, Dover
Missing from the R.N.BOATS is the flag when visting a port the flag must always be shown.

Friday, 13 June 2014 - 15:51
Post 868
vic matcham, Dover
The very small R.N.Boats have more crew then the big ships where do they all sleep and eat.?But makes the cleaning easy for them

Friday, 13 June 2014 - 15:05
Post 867
PaulB, Dover
Thanks Kevin. Yes always fascinating to see the Royal Navy flashing into Port. Off the top of my head I think we may have had similar vessels a while back...always great to see the Royal Navy. A great career for a youngster as seen in Pic Post 802.


Friday, 13 June 2014 - 10:26
Post 864
Kevin Charles, Dover
Great photos, Paul! Couldn't quite get the two RN visitors. This class of ship are attached to universities to give sea experience for those interested in pursuing careers in the Royal Navy.

Friday, 13 June 2014 - 08:22
Post 863
PaulB, Dover
The Costa Classica arriving a few minutes ago...
At approximately 53,000 tons it is not the biggest of the Costa ships to visit us here in Dover, but as always it is very impressive, beautifully Mediterranean, note as ever their usual and iconic twin yellow peaks..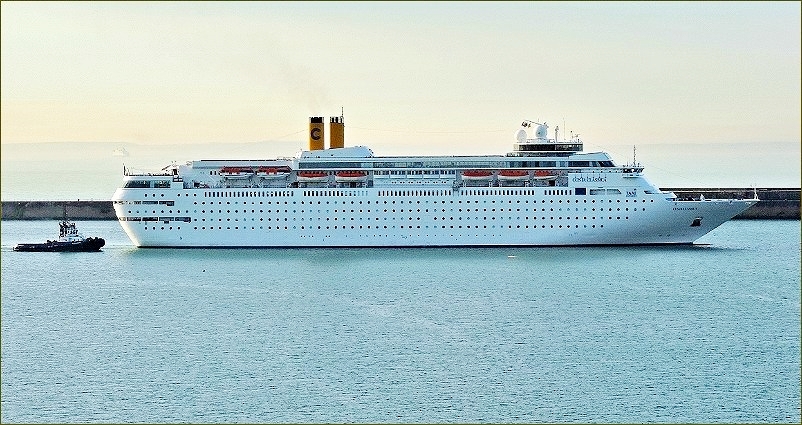 The liners keep right on a-coming. We have had a stunning array of ships so far and the season is still young.
Friday, 13 June 2014 - 07:41
Post 862
PaulB, Dover
Here we are Kevin...a picture of the two arriving.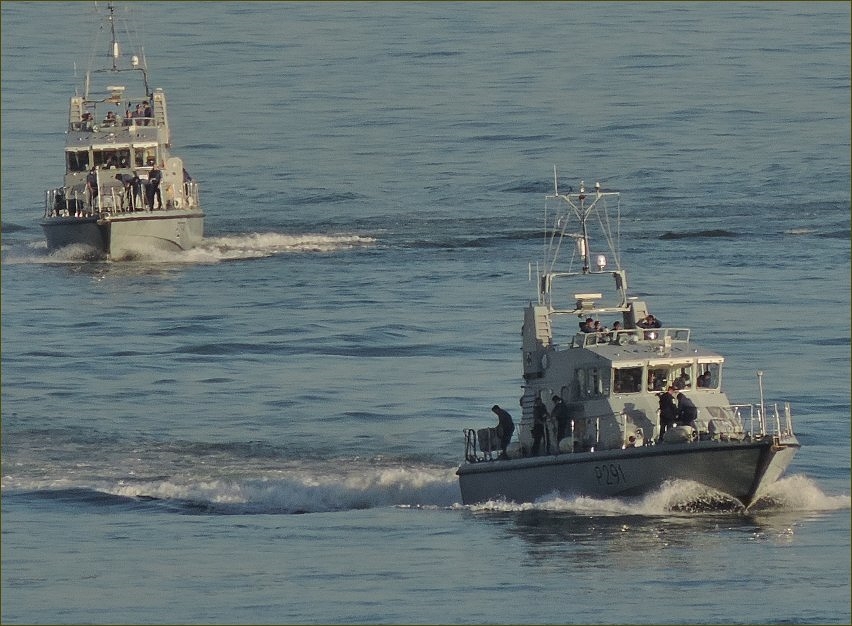 Saw them quite by chance so grabbed the trusty camera. Long evening shadows once again though Im afraid. That's HMS Puncher leading the way with HMS Blazer coming along behind.
Friday, 13 June 2014 - 06:50
Post 861
Kevin Charles, Dover
The Royal Navy ships, HMS Blazer and HMS Puncher have just arrived at the Port, presumably staying overnight.

Thursday, 12 June 2014 - 19:21
Post 860
Andy MacLean, Old Wives Lees (jazzandy@btinternet.com)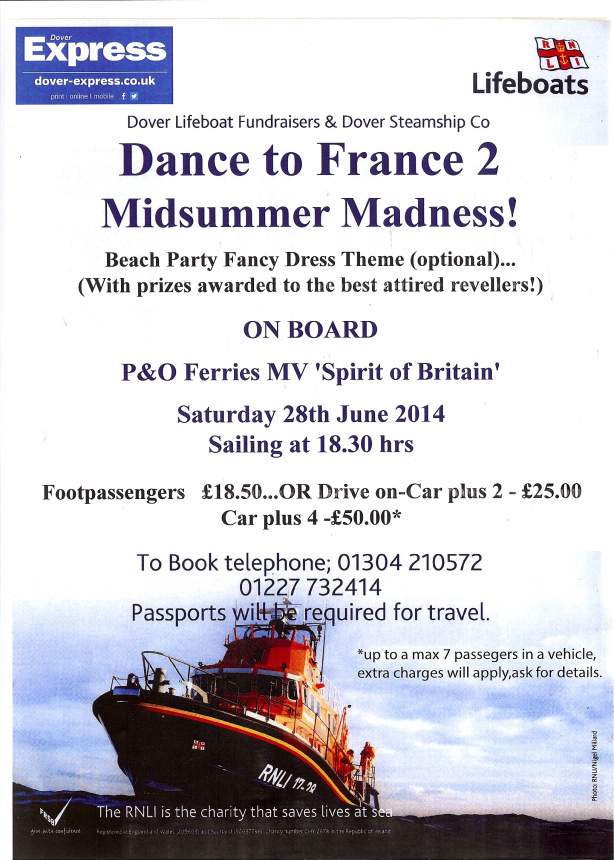 Thursday, 12 June 2014 - 17:04
Post 859
PaulB, Dover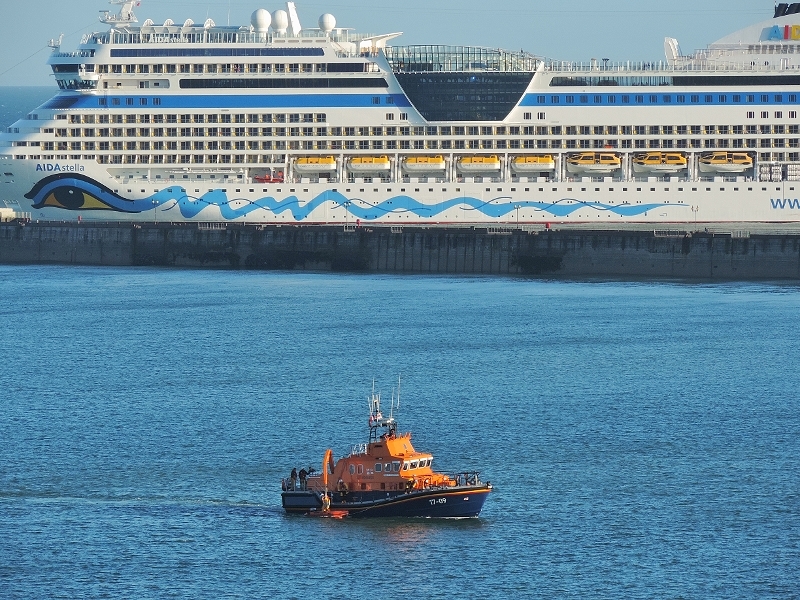 Catching the late late sun on Tuesday evening were team Lifeboat. The whole scene looking immensely colourful in the dying sun with the giant AIDA Stella making an impressive backdrop. The guys were getting in some training I guess, keeping things sharp with the busy season upon us...and it sure gets busy as we know. They launched the small RIB as you can see in the picture below.
Three of the crew enter the small craft...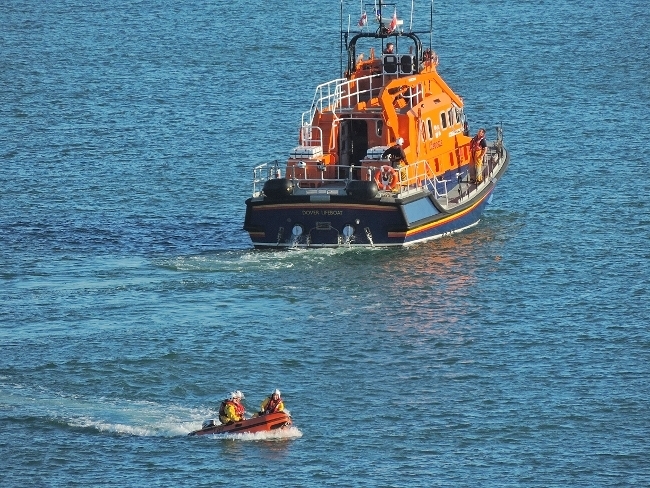 And away they go.
Eventually below.. a majestic final 'flypast'.
Good luck to them all in the coming season...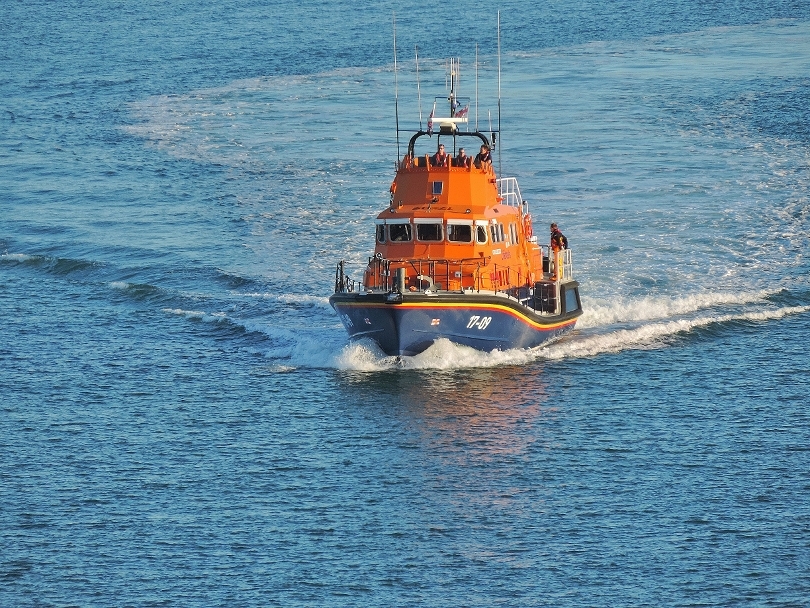 "For over 165 years Dover lifeboats have been saving lives and over 30 awards for gallantry have been presented to the crews. Today, the station operates the largest lifeboat in the fleet, a Severn class lifeboat.
This station is classed as a Discover station....our crews from Discover stations are equally welcoming to visitors but many of these stations were built before visitors were considered. These stations normally open their boathouse doors during the summer months. "
Thursday, 12 June 2014 - 07:12
Post 858
PaulB, Dover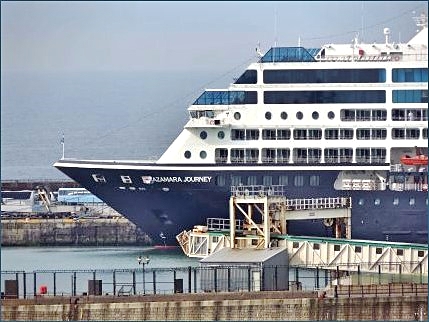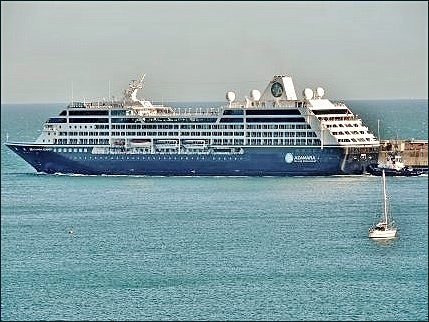 A couple of pictures here of the Azamara Journey. First one on the left shows her earlier in the day during her stay, and the one on the right shows her beginning to move off last evening getting a little assistance from the tug.
Following her out below a while later was the Aida Stella. You can see her here outside the harbour just turning south, the pilot has just left and a sail boat saunters nonchalantly by, enjoying the evening sun.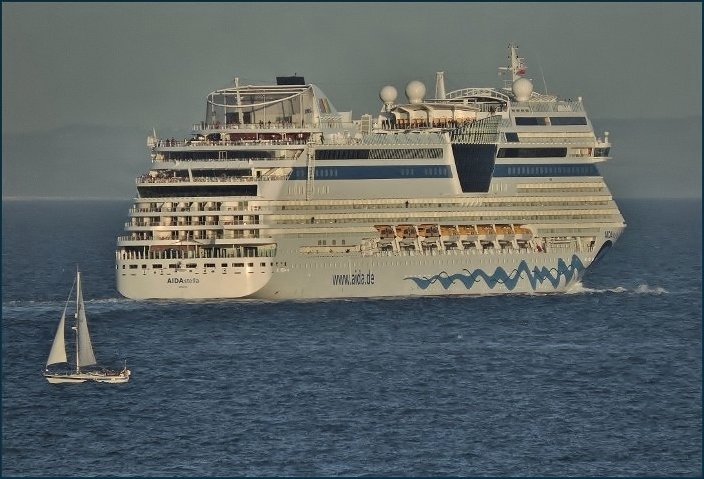 Vic you got me going there. I was about to set off to join you on the rear deck, champagne at the ready. Keep trying, you might win big yet.

Jan yes these are certainly exciting times..every morning something dazzling to see.
Thanks Kevin. Gosh you have a great memory going there Kevin..1994. Never knew that. A beautiful vessel for sure and certainly worth remembering.
Before my time in Dover, must have been quite different here in those days.
Wednesday, 11 June 2014 - 06:18
Post 857
Vic matcham, dover
Yes Paul that super yacht was the one I had on order because I won the euro on Friday but when I took my draw card into the shop it was only £3 not the 33milloin so I had to send it back but again great photos taken in good weather thank you.

Tuesday, 10 June 2014 - 14:37
Post 856
JanT, Dover
Yet again I open my curtains this morning to see two more cruise liners, a splendid sight in anybodies book.

Well done to DHB for getting these ships to make Dover a stop over.

Agree Kevin some great pictures below always good to see that those cameras have been busy.

Also good offer for Father's Day from myFERRYlink for those Dad's who enjoy golf


Tuesday, 10 June 2014 - 11:41
Post 855
Kevin Charles, Dover
Great photos, as usual, and the cruise ship season really is in full swing now. I believe Silver Cloud has actually visited Dover before, I think in 1994. The port didn't have dedicated cruise terminals back then so the ship was moored on the cargo terminal.

Tuesday, 10 June 2014 - 08:32
Post 854
PaulB, Sea News, Dover.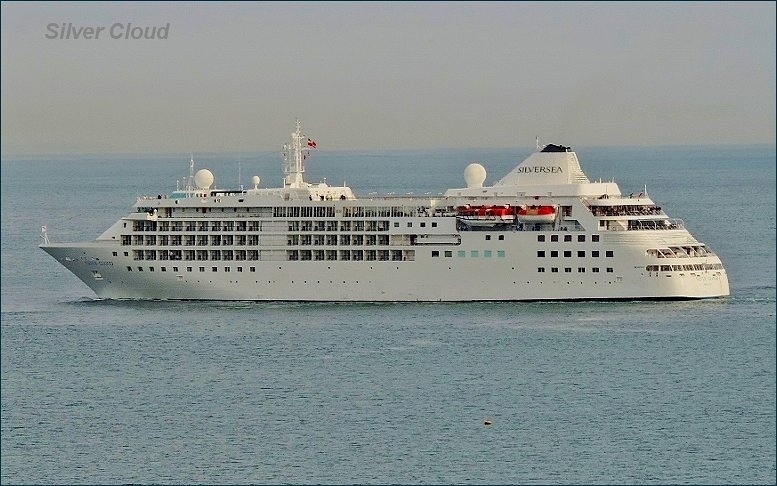 The small but cool and elegant Silver Cloud departing for Antwerp last night with the champagne definitely on ice..
And now for the latest FATHERS DAY suggestion...this time from My Ferry Link...read on..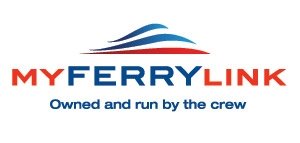 The par-fect Fatherís Day getaway with MyFerryLink
MyFerryLink offers travellers a free round of golf at Golf & Country Club de la Côte díOpale
To celebrate Fatherís Day, 15 June, Dover-Calais ferry operator MyFerryLink has secured an exclusive two for one golf deal with Golf & Country Club de la Côte díOpale, located just 20 minutes from Calais. MyFerryLink is offering its customers the chance to get one free 18-hole round of golf worth £21 and a free bottle of red wine for every green fee purchased this June. With MyFerryLink fares starting from just £29 per car for a day return, you can treat dad to a game of golf across the Channel for as little as £50 for both of you.
Nestled in between the woods of Ruminghem and the forest of Eperlecques, this 18-hole course has amazing views of the coastline between Dunkirk and Calais. Styled on American greens, the Golf & Country Club de la Côte díOpale will challenge the best of the best and bring out the competitive streak in dad!
To claim this offer, customers simply quote the MyFerryLink two for one deal when booking a round of golf, then hand in their MyFerryLink lane hanger upon arrival at the course. This offer is valid from 1 to 30 June 2014. Customers are advised to book their tee time in advance. For details of how to book and more offers at the club, including a group green fee offer of just £90 for 9 people, visit www.myferrylink.com.
MyFerryLink operates up to 16 daily crossings on the Dover-Calais route. Fares for a car and up to nine passengers start from £19 each way for short breaks (72 hours) and £29 return for a day trip, with other special fares available online.
To find the best fares, visit www.myferrylink.com or call 0844 2482 100
-Ends-
* *
Some exotic machinery moving down the Channel on sunday evening .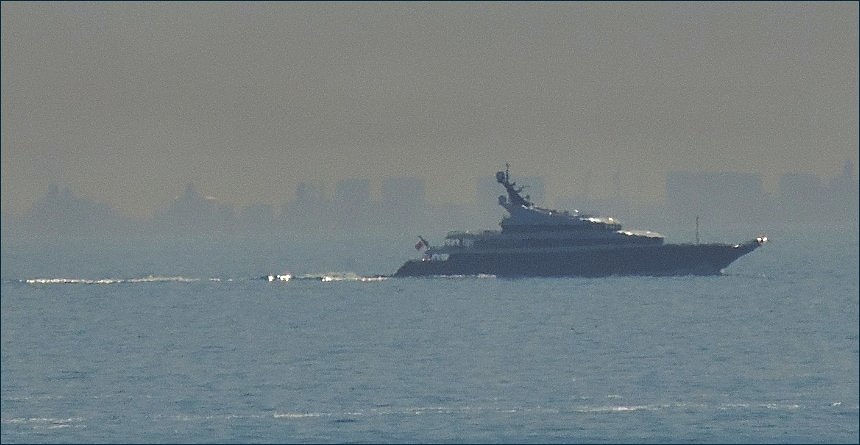 This superyacht is Phoenix2. Don't know a great deal else about her, thought for one moment it was the one that rested here last year..but no. Looks fabulous of course...that's Calais blistering in the background. Very long distance shot as you can see.
There were huge container ships in abundance on the move Sunday night, or late sunday evening...took this one through the sinking smog. Its the Hanjin Harmony. Huge...the size of several world cup football pitches no doubt..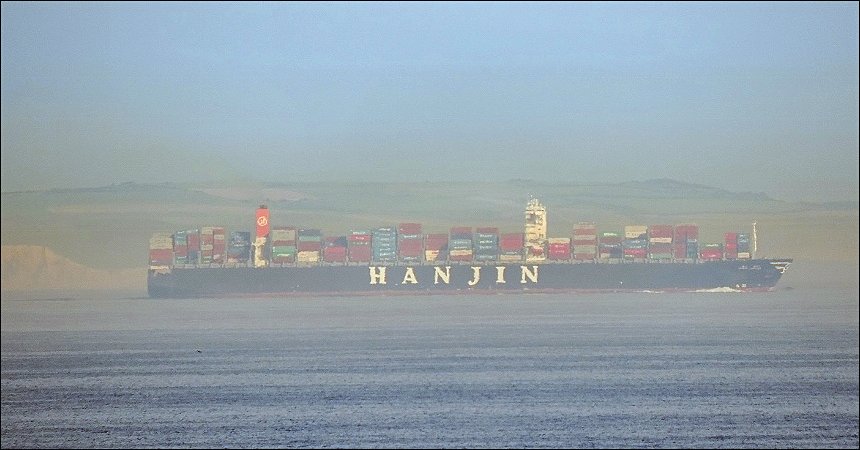 More exciting cruise liners in today...the oh so colourful AIDA STELLA plus the Azamara Journey. Brilliant stuff Port of Dover

Tuesday, 10 June 2014 - 07:36
Post 853
PaulB, Dover
Todays visitors - The Saga Sapphire left and on the right...Silver Cloud. The sleek Silver Cloud is another inaugural visit ...

Monday, 9 June 2014 - 18:40