Thursday, 18 October 2018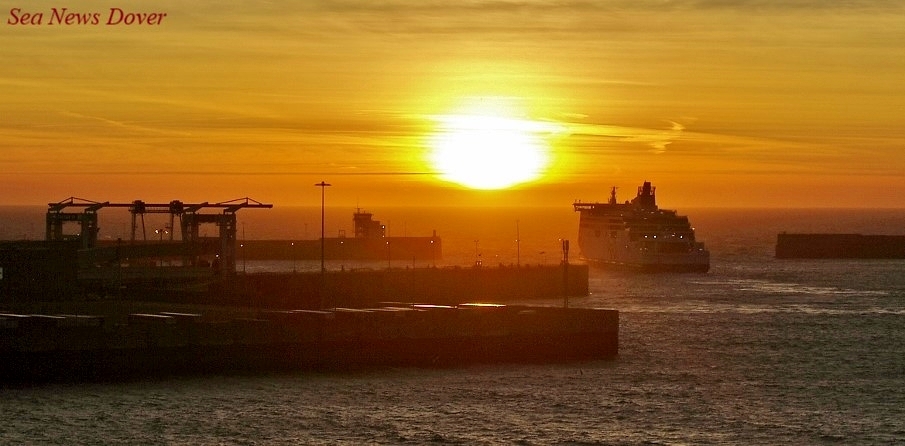 The Port of Dover with early ferry.

WWW.DOVERFORUM.COM/SEA-NEWS
Featuring all the ships that come and go and work at the Port of Dover with further coverage of the surrounding ports both sides of the Channel. Click ADD YOUR COMMENT below to post direct, no membership needed.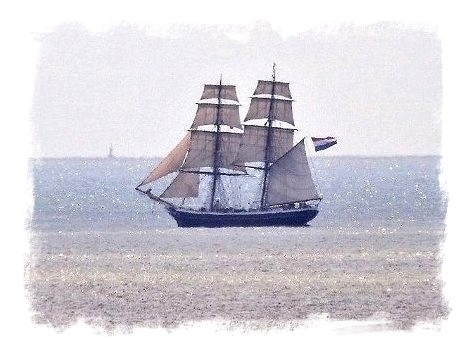 P&O: Schoolchildren mark WW1 see 5816.
Lower Thames Crossing boost..5812.
Dover Museum's revitalisation see 5807.
Port of Dover: Refrigerated Cargo Terminal .. software for 5801. Latest NATO also 5801.
Port of Dover: Great increase in summer traffic 5795.
Russian and shadow 5785.
The Waverley paddle steamer 5778...
New SAGA Ship launching in Dover see 5776.
P&O: To Rome on Horseback 5759.
DOUG BANNISTER: New Chief Executive Port of Dover see below 5734....
Merchant Navy Ceremonial images also 5734.
Dover Regatta Rescue incident plus .. see 5713.
Dover Regatta pictures Lifeboat etc..5716, 5717, 5718, 5720.
DFDS Expansion: More New Ferries on order... see 5693 see also 5500 and 5381.
Excellent tourist season for P&O Ferries see 5649.
VSBW Port of Dover - Women at Work 5638.
P&O Second Female captain see 5107. Also see latest 5570.



NEW:

For instant access to the items above - type the post number in the Search Engine below.



Sea News Dover : Use our SEARCH ENGINE below to find all sorts on the SEA NEWS pages....
... more than 5800 nautical posts now.
Posts are welcome. Max of 5/6 pictures preferred although we can occasionally stretch that on special stories.
Sea News Editor Paul Boland - send info or pix to dover7@msn.com. Always welcome.
Type CRUISE VISITS in our SEARCH ENGINE below for news of the latest cruise arrivals.
NOTE:

We have added a new feature. This has resulted in some slight change to the numbering system on the posts. We needed to align data in order for us to be able to use post numbers in the Sea News Search Engine. For example..type into the Search Engine box the number 5734 if you want the story on Doug Bannister...and it will pop up for you. This will be very useful going forward. You can still search in the older way too. My thanks to long time ace colleague Chris Tutthill for enabling the extra feature. Chris runs our sister channel..dover.uk.com. PaulB
All pictures on these pages are the copyright of the owners and must not be reproduced without permission.
Post 820
ColetteB, Dover
Great photo there Mike of the beautiful Sea Cloud II

Also, just a little teaser for everyone, another inaugural visit to look forward to on Monday June 9th is the Silversea Cruises Silver Cloud

And now for the June cruise ship schedule (first week)
On Monday 2nd June the Saga Sapphire returns again to CT1, TR.
Also on Monday is the inaugural visit of Sea Cloud Cruises, the beautiful Sea Cloud II cruises into CT2, PoC, a real treat for us all, cameras at the ready guys

Again on Monday, when the Saga Sapphire departs from CT1, the Black Watch will cruise into its slot at approximately 1800hrs, embark only. This will be the first Fred Olsen in Dover this season, they usually come here at the beginning of the Season but alas not this year. She was last here in December 2013.
No cruise ships then until Friday 6th June when the Ocean Princess arrives at CT2, TR, last here in August 2013.
On Saturday 7th June the Ryndam returns to CT1, TR. On the same day, Oceania's cruise line, the sophisticated & elegant Marina arrives at CT2, TR. She was last seen here in September 2012.
Ending the week on Sunday, the Braemar arrives at CT2, TR for the first time this season, she was last here November 2013, also being the first cruise ship in Dover in March 2013.
That's it for now folks, Enjoy!!
Friday, 30 May 2014 - 15:34
Post 819
PaulB, Dover
Wow! that looks a bit special Mike.
Will be watching for that one camera at the ready..huge thanks for the tip off

Reminiscent in principle of the Wind Surf...do you remember that one?
Friday, 30 May 2014 - 14:43
Post 818
Mike J., Dover
& now for something completely different !
The 'sailing' cruise ship SEA CLOUD 2 is due in Dover at 0700 on Monday next.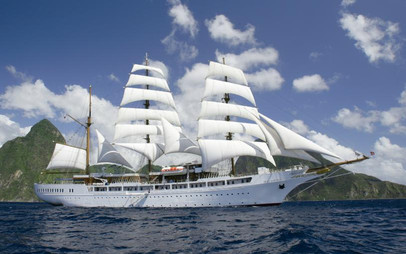 Let's hope that she makes it & is not a 'No-Show' like the expedition ship POLAR QUEST back in April.
But she's on the list on DHB's website & my spies in the docks tell me that the visit is 'on'
Friday, 30 May 2014 - 10:09
Post 817
PaulB, Dover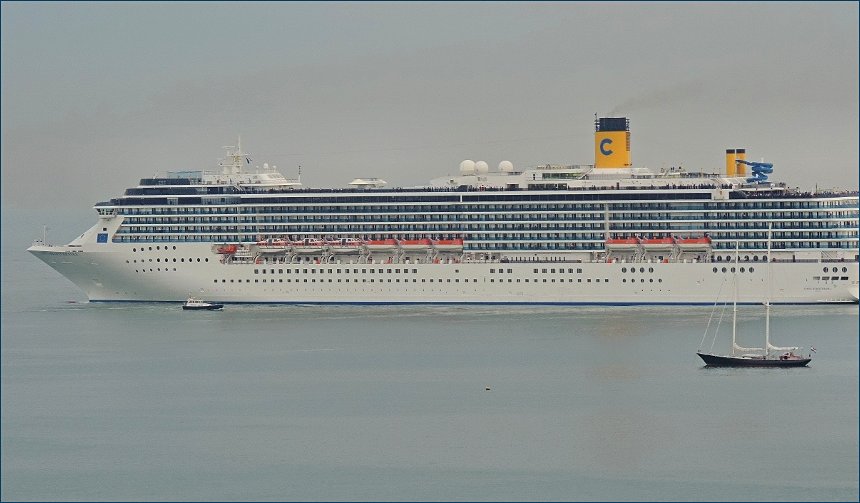 The magnificent Costa Mediterranea moving off yesterday evening Thursday roughly about 7pm. We had some very weak and watery sunlight to send it on its way. Off to Amsterdam I believe and in some style too as you can see. All this exotic cruising - well its a hard life but someone has to do it !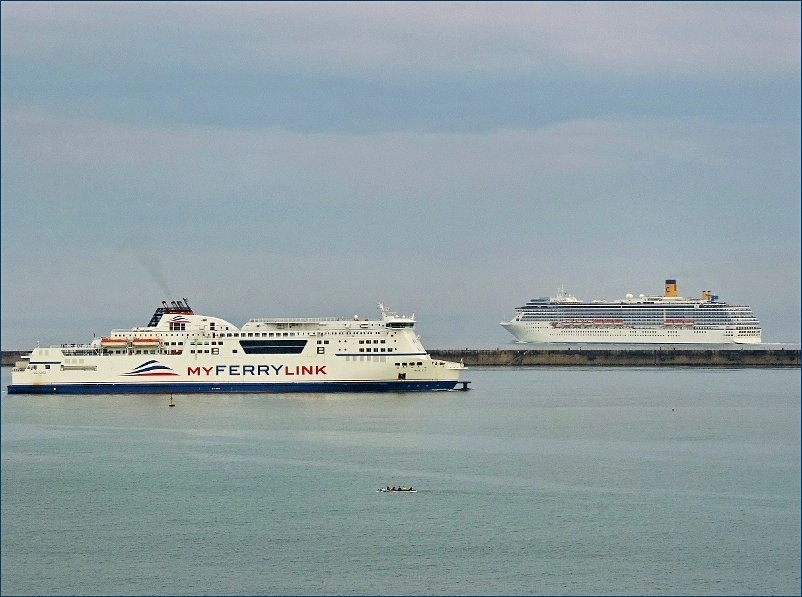 The Berlioz begins to follow the cruise liner out...on its regular trip to Calais, this time leaving by the western exit/entrance.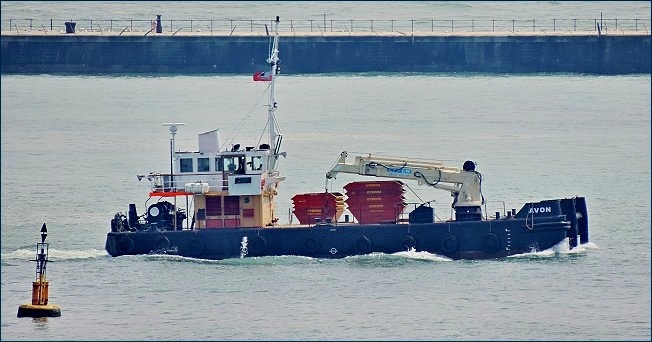 Mike got a picture of the Avon in post 709 with some added info..here she is again moving across the harbour yesterday afternoon, returning to base. The vessel is working hard on the redevolpment at Pier 2...for more on this see Ed's post no 752 below.

Thanks to one and all re the comments about Briony. Howard making us laugh out loud as ever. Jacqui yes it seems like twas only yesterday she was in school...where do the years go. Well said Colette and Brian...we will all be discovering ailments we didn't know we had now

I watched for the bikers Ed. I think I saw them heading up Jubilee Way..if it was the same batch. I couldnt get any pictures though. There seemed to be a lot of bikes around yesterday. Must be something major afoot..."the game's afoot Watson!"
Friday, 30 May 2014 - 06:53
Post 816
Howard McSweeney, Dover
Wonderful news after 6 years of hard work.

Without wishing to sound mercenary will there be a forum member's discount for treatment?

Back is playing up, knee is giving me gip and I am a martyr to my Farmer Giles.

Thursday, 29 May 2014 - 21:47
Post 815
Jacqui Whatson, Dover (rainflowers@hotmail.co.uk)
Huge congratulations to Briony! It doesn't seem that long since she left school and went to uni and now she's a doctor. Paul and Colette you must be soooo proud of her, wonderful news.
All best wishes for a wonderful future Briony, you deserve it xx

Thursday, 29 May 2014 - 18:12
Post 814
ColetteB, Dover
Indeed Paul, Congratulations to our beautiful daughter Briony, after 6 years hard work studying medicine, she is now officially Doctor Boland

A Huge Well Done to Briony xxxx



Thursday, 29 May 2014 - 17:41
Post 813
brian, sunny dover.
well I never many congrats to briony for passing out and becoming a doctor.

Thursday, 29 May 2014 - 14:20
Post 812
Ed Connell, Dover
Hi Paul. As a dedicated biker you may be interested to know that we have fifty motorbikes onboard going somewhere so you may see them streaming past you when the Dover Seaways berths some time after 1300.

Thursday, 29 May 2014 - 12:45
Post 811
PaulB, Dover
Dover Welcomes Another Great Costa....
The huge and striking Costa Mediterranea is in today... approximately 86,000 tons of mass appeal.
Had to wait for the gloom to disperse before we could get a reasonable picture.
Below :The Declaration of Independence.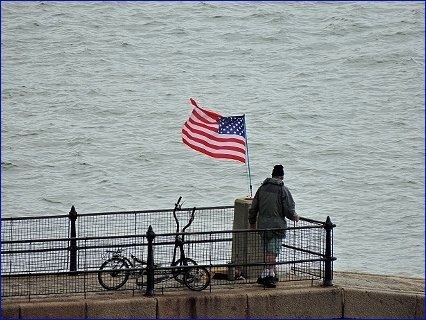 For a while there yesterday a piece of Dover became part of the USA. But, just as we were about to mobilise the gunboats, we realised what it was...the channel swimmer guys practising their long range strokes with added support crew...as shown. Always a pleasure to see our American friends...very welcome.


Good to see that post below Ed. Fascinating to see the development up close. The walking man shows the scale.
Good to hear that its a real bargain below Brian... hopefully we can keep tipping everyone off to the deals available. Huge thanks to DFDS for the info.
Personal Note :After years of immense struggle my daughter qualified as a doctor yesterday. Waiting here for the final results was rough, even my own sinews and nerve ends were stretched as if I was on the rack in the Tower..Strewth!! Well done Briony. Phew!


Thursday, 29 May 2014 - 11:25
Post 810
Ed Connell, Dover
Work in progress on the major renovation to berth ED2. Fender installation cofferdam seen out of the water, suspended from a crane. We saw photos of this during the similar work on ED3 last year. It is attached to the side of the pier and the water pumped out enabling preparation work to be carried out prior to installation of each new fender. Jack-up platform named Harwich Haven Seajack seen nestling against the pads on ED2.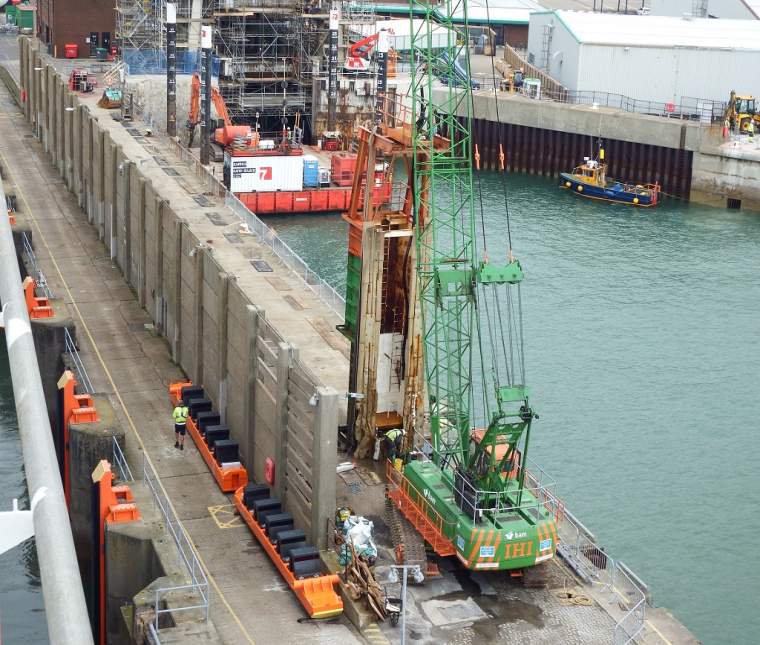 Thursday, 29 May 2014 - 00:08
Post 809
brian, dover
that's a bit of a bargin below. the park tickets cost 45 euros 8 years ago.

Wednesday, 28 May 2014 - 14:25
Post 808
PaulB, Sea News, Dover.
DFDS SEAWAYS OFFERS "FERRYTALE" ADVENTURES WITH DISNEYLAND® PARIS

- Ferry passengers can now buy park tickets and hotel packages to Disneyland Paris from DFDS Seaways
A great one for the kids...of all ages !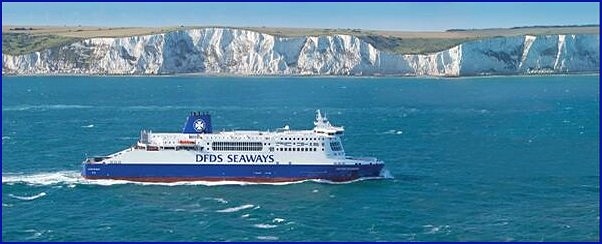 Award winning ferry operator, DFDS Seaways, has joined forces with Disneyland Paris to offer its customers the opportunity to purchase the very best offers on Park tickets or short break packages to the popular theme park. If you're looking for a fantastic family break, then why not head for a "ferrytale" adventure in Disneyland Paris? Young and old alike will love the magical Disney® atmosphere with five exciting lands to explore.
Special Offers:
DFDS Seaways passengers can book a number of special offers on Disneyland tickets:
· Hopper Tickets, allowing entrance in to Disneyland and Walt Disney Studios® Park
· 1 day 2 Parks Hopper Ticket – Save 10% on gate price
· 4 days for the price of 3 Hopper Ticket
· 5 days for the price of 4 Hopper Ticket
Standard tickets are also available and passengers travelling on our Dover routes to either Dunkirk or Calais can also save 10% on their crossing, using code EDISNEY, which is valid on all departures before December 19.
Max Foster, passenger director at DFDS Seaways, comments: "This is a great partnership for our passengers with families, who can benefit from the freedom and flexibility of travelling in their own vehicle and at a time that suits them. It also makes it easy to combine a trip to the theme park with a longer European break, depending on your plans. Travelling by car and ferry also means you should have plenty of luggage space for all your magical purchases!"
DFDS Seaways offers you a wide choice of ferry routes and sailing times from the UK to France and Holland, so you can choose the most convenient route to fit your holiday plans. Our ferry services from Dover are the most convenient for those living in southern England, as there are up to 44 daily sailings between Dover and our ports in Dunkirk and Calais, allowing you to choose exactly when you cross. Our port in Dieppe is the closest port to Paris, which is serviced with twice daily departures from Newhaven, and we also operate a daily ferry service from Portsmouth to Le Havre.
If you live in northern England or Scotland then our Newcastle to Amsterdam route could be the best option for you, with the drive to Paris taking less than 5 hours from port.
How to book:
You will need to book your ferry crossing with DFDS Seaways and your park tickets and / or accommodation separately by using the following link: www.dfds.co.uk/disney
To find out more information, visit www.dfds.co.uk or telephone 0871 574 7235.
* * *
Yes indeed he did Howard, so its very good to see him back in general action as it were.
I don't think the item was on TV as of yet...but will watch for it.
Wednesday, 28 May 2014 - 06:40
Post 807
Howard mcsweeney, dover
Good to see Donald on form there I seem to remember he collapsed a year or two back at a ceremony outside the town hall and there was great concern for his health.

Tuesday, 27 May 2014 - 21:48
Post 806
PaulB, Dover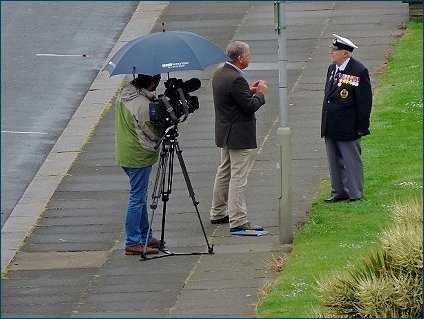 Donald Hunter, he of the Merchant Navy Memorial fame, the monument on the seafront... and himself a noted veteran...being interviewed and filmed by the BBC earlier today. it may have been something to do with marking the 100 years since war was declared. Not entirely sure as yet.
Tuesday, 27 May 2014 - 16:39
Post 805
PaulB, Dover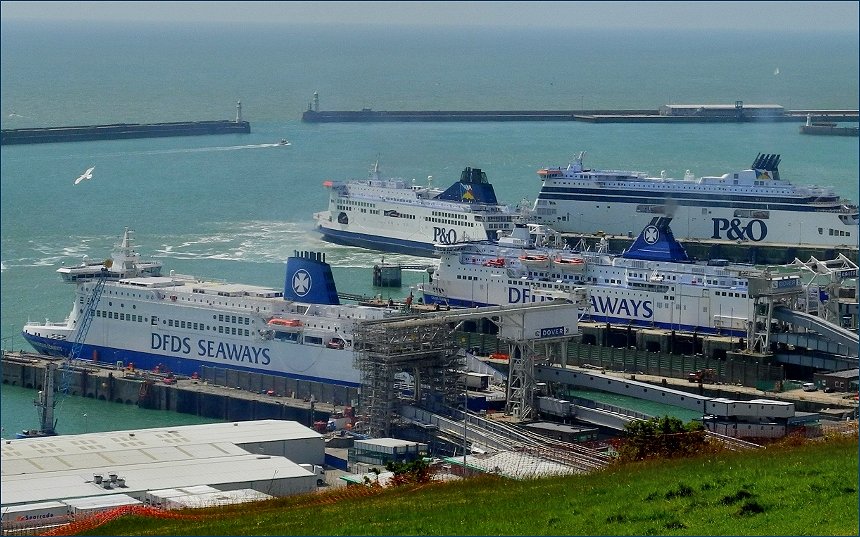 Another hugely busy weekend for Dover Harbour. These long bank holiday weekends are coming thick and fast....and this one is/was combined with the frantic half term break. I don't know but I have a feeling we were slightly less crowded this time around...in the hotels and so on, but only marginally so. Maybe long weekender battle fatigue has kicked in to some extent with the great mobile British public...you know what I mean, all that heavy traffic, all that churning effort... and of course that famous "daddy are we there yet ! " line to top it all off.
You can see the ferries all working hard in the picture above and as ever the Port copes with everything.
Below we see the arrival of Elvira on sunday morning. The cargo terminal is still very busy as we have come to expect by now, you very rarely see the slot empty. As we said previously it is usually a case of one in one out. The picture at the bottom of post shows the Elvira unloading a little bit later on the same day...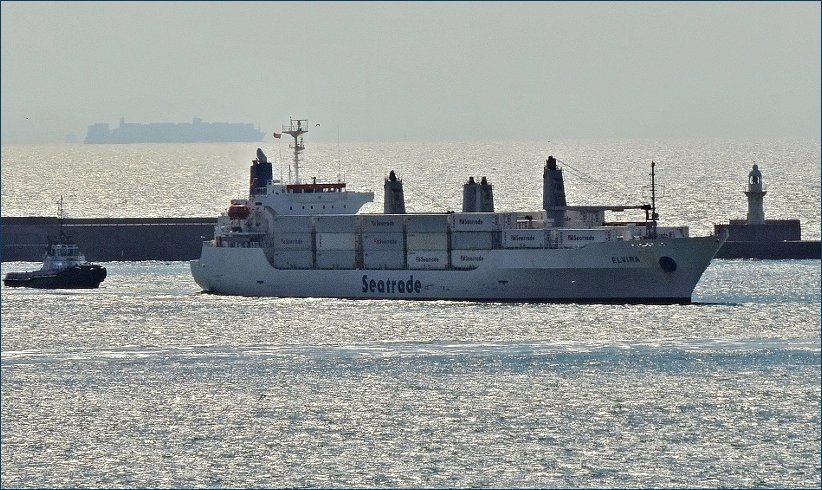 You keep coming up with those gems from the dock Mike. Great little vessel that one..amazing how they can split it in half. Never a dull moment around here.
Ah you cheeky beggar Brian...that one is strictly for the birds !!lol...as we used to say in the seventies!


Tuesday, 27 May 2014 - 07:03
Post 804
Mike J., Dover
Unusual workboat 'TOPLIFT' in Wellington Dock, Sunday morning.
She is on a delivery voyage from her Portsmouth builders to windfarm work in the Thames Estuary.
Interesting 'modular' construction - she can be split down the centre for transport by lorry for working on landlocked inland projects.
You can see the 'join' in the stern view.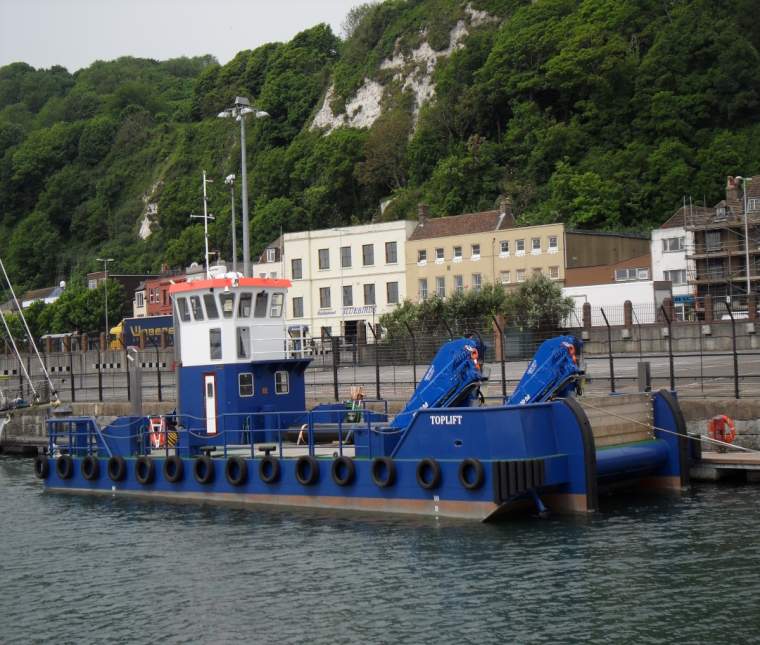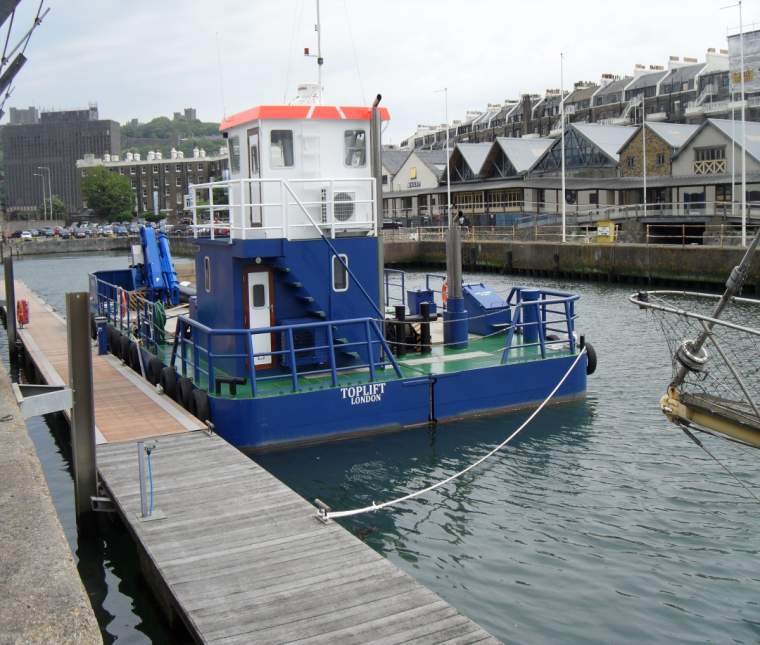 Monday, 26 May 2014 - 22:52
Post 803
brian, dover.
well stone the crows,fancy nesting out there.
Monday, 26 May 2014 - 20:59
Post 802
PaulB, Dover
Yes indeed amazing pictures of the 'black seagull'. Well it's truly extraordinary. I can see several seagull nests from my location but never crows. Although... come to think of it... in recent times I have wondered if I was imagining it or not but there does seem to be much more activity from crows along the seafront, more than ever before. Yours truly is very familiar with the yelp of the seagull but have recently noticed an increase in the " kaw kaw " of the crow coming from my rooftop and elsewhere...so those pictures are all the more fascinating. Any experts out there noticing a change in habit?
Well done Capt Andy re the tip off.
Saw those cruise liners in the far distance the other night Ed. Good capture there..on their way to Southampton I guess.

Monday, 26 May 2014 - 15:41
Post 801
ColetteB, Dover
Well I'll be blowed! That's an amazing pic there Ed of 'The Black Seagull', obviously that crow likes a holiday home by the sea or in this case right in the middle of it

Monday, 26 May 2014 - 13:32