Friday, 18 January 2019

WWW.DOVERFORUM.COM/SEA-NEWS
Featuring all the ships that come and go and work at the Port of Dover with further coverage of the surrounding ports both sides of the Channel. Click ADD YOUR COMMENT below to post direct, no membership needed.
Listing highlights....
Scroll down or use our Search Engine for posts and pictures of Border Force in Dover and Ramsgate.
BREXIT READY statement from Port of Dover/DFDS/P&O Ferries see 6021.
P&O Spirit of Britain - notable Cyprus reflagging see 6017.
Deal Pier Kitchen restaurant opens 6016.
Charlie Elphicke MP - making our borders stronger, safer 6014.
BORDER FORCE SEARCHER and migrant boat.. see 5969 below..

Port of Dover supports Women in Maritime 5975.
Christmas Lifeboats in Ramsgate see 5937.
P&O: Britain's Favourite see 5922.
DFDS: Voted Worlds Leading Ferry Operator...see 5918..
Charlie Elphicke MP: Migrant Crisis 5894.
P&O: Santa Onboard see 5870.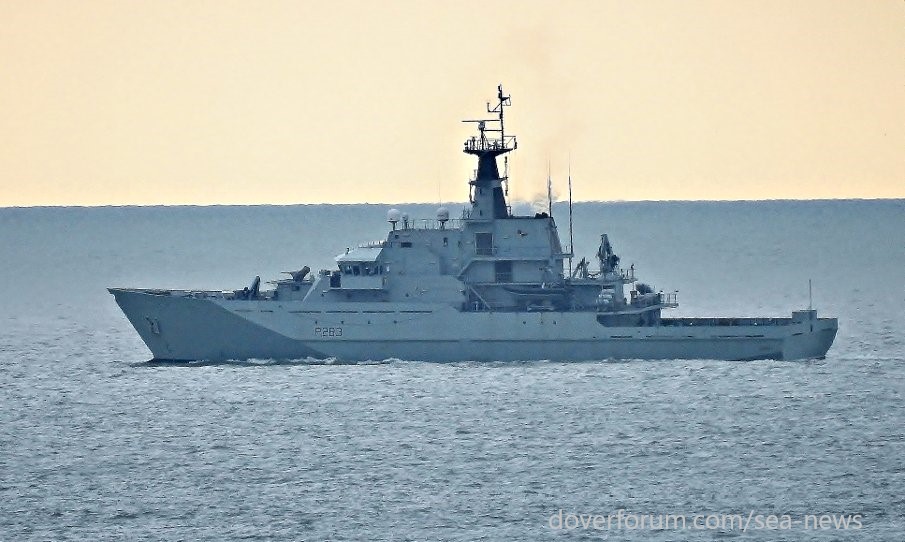 The Royal Navy - HMS Mersey off Dover.

Highlights continue...
Wreck of the Anneliese 5880, 5881, 5882 ...
Port: Additional Funding for Kent Wildlife Trust 5879.
P&O: Apprentices welcome RB Legion veterans 5853.
Eight new apprentices graduate see 5845.
DFDS: 'SEE PORTS' Calais and Dunkerque 5834.
DFDS: Revitalising dining concepts onboard.. see 5831.
P&O: Schoolchildren mark WW1 see 5816.
Lower Thames Crossing boost..5812. see now also 5817.
Dover Museum's revitalisation see 5807.

Port of Dover: Refrigerated Cargo Terminal .. software for 5801. Latest NATO also 5801.
Port of Dover: Great increase in summer traffic 5795.
Russian and shadow 5785.
The Waverley paddle steamer latest 5778...
New SAGA Ship launching in Dover see 5776.
DOUG BANNISTER: New Chief Executive Port of Dover see below 5734....
Merchant Navy Ceremonial images also 5734.
P&O: To Rome on Horseback 5759.
Dover Regatta Rescue incident plus .. see 5713.
Dover Regatta pictures Lifeboat etc..5716, 5717, 5718, 5720.

DFDS Expansion: More New Ferries on order... see 5693 see also 5500 and 5381.
Excellent Tourist season for P&O Ferries see 5649.
VSBW Port of Dover - Women at Work 5638.
P&O Second Female captain see 5107. Also see latest 5570.



NEW:

For instant access to any item listed above - just type the post number in the Search Engine below.

Sea News Dover : Use our SEARCH ENGINE below to find all sorts on the SEA NEWS pages....
type in the topic and away you go, more than - 6000 - nautical posts now.
Posts are welcome. Max of 5 pictures preferred although we can stretch that for special stories..
Sea News Editor Paul Boland - send info or pix to dover7@msn.com. Always welcome.
All pictures on these pages are the copyright of the owners and must not be reproduced without permission.
To show your pictures at their best..it could be worthwhile resizing before posting to
840
pixels wide.
Post 918
brian., sunny aycliffe
it seems that the cma prefer Arab/Danish companys to a local company. i smell a rat or two.
Friday, 27 June 2014 - 17:18
Post 917
JanT, Dover
I find this decision by the CMA against MyFERRYLink a very bad one, apart from putting people out of work both sides of the channel,and limiting the ordinary traveller crossing the channel to less choice, surely with the port expanding and more people travelling why take away the publics choice on who takes them across to France.
The other two companies are worldwide companies with many other outlet's as well, so I for one will be using MyFERRYLink for as long as it keeps on running.
And hope that they can find a solution to this problem.


Friday, 27 June 2014 - 15:26
Post 916
PaulB, Sea News, Dover.
TWO Press Releases below from MyFerryLink and GROUPE EUROTUNNEL issued today re the future of MYFERRYLINK.
PRESS RELEASE
Calais, June 27th, 2014
FULL SAILING SCHEDULE GUARANTEED FOR THE SUMMER AND BEYOND
The Competition and Markets Authority (CMA) has this morning published their revised conclusions on the matter of Eurotunnel/SeaFrance merger. This follows the judgment of the Competition Appeal Tribunal (CAT) in December last year, which required the CMA to reconsider their analysis. MyFerryLink is not surprised, that the CMA has maintained the same position as set out in their preliminary findings both in March and May.
We continue fundamentally to disagree with the CMA on a number of critical points. First and foremost we do not consider that the CMA has jurisdiction to review the transaction as a matter of UK merger law. It is also manifestly the case that the CMA's decision, which will reduce choice, is bad for consumers, bad for competition and bad for all those involved in cross-Channel operations (staff, employees, customers and the wider regions in both Dover and Calais).
We will therefore be appealing to the CAT to seek its review of the CMA's revised conclusions in this regard.
Given that any appeal is unlikely to be finally determined until much later this year at the earliest, we would like to reassure our loyal customers that we will continue to operate our full schedule throughout the summer season and beyond.
MyFerryLink operates up to 24 daily crossings on the Dover-Calais route, with high season summer fares starting from £39 each way for a car and up to nine passengers.
To find the best fares, visit www.myferrylink.com or call 0844 2482 100.
Ends
* * *
GROUPE EUROTUNNEL describes as absurd the Competition and Markets Authority decision to ban MyFerryLink from Dover
___________________________________________________________________________________________________
The Competition and Markets Authority (CMA) has just confirmed the decision that it made last year (June 2013), to ban the ferries Berlioz and Rodin from the port of Dover for ten years:
Groupe Eurotunnel stated that:
- The decision of June 2013 was rejected on appeal in December of 2013, as the purchase via public auction of the assets of a business that had been liquidated nine months previously could not be considered as the acquisition of an enterprise, - The short straits freight market has changed dramatically, in terms of competition and growth since 2011/2012, when SeaFrance went into administration, - The current freight market shares by operator: Eurotunnel: 37%, P&O: 29%, DFDS: 24%, MyFerryLink: 9% show that the competitors in the ferry market have strong positions that are in no way threatened by MyFerryLink.
The analysis made by the CMA is the opposite of that made by its French counterpart, even though it relates to the same market.
Groupe Eurotunnel asked the CMA to seek a convergence of views with its French counterpart, through the offices of the European Commission. Groupe Eurotunnel cannot understand why the CMA refused such an opportunity to resolve this crisis.
Groupe Eurotunnel believes that by removing one competitor from the market, the CMA is creating a de facto duopoly in the maritime sector which will lead to an increase in prices for consumers and a reduction in revenues for the ports of Dover and Calais, without taking account of the social drama it will generate for the 600 employees of the SCOP.
Groupe Eurotunnel is astonished by the length of the prohibition, which includes any minority participation, and also that the CMA recommends selling the ships to another operator. Groupe Eurotunnel can only appeal such an un-just decision.
Jacques Gounon, Chairman and Chief Executive Officer of Groupe Eurotunnel SA stated: "The decision by the CMA is a denial of the reality of the situation. It penalises the consumer and puts 600 people out of work without any real justification.
* *
ALSO NOTE: we have further statements from DFDS SEAWAYS and P&O which we will add first thing tomorrow morning. See 853.
Friday, 27 June 2014 - 15:02
Post 915
PaulB, Sea News, Dover.
And speaking of Dunkerque and all things east and south...like we were...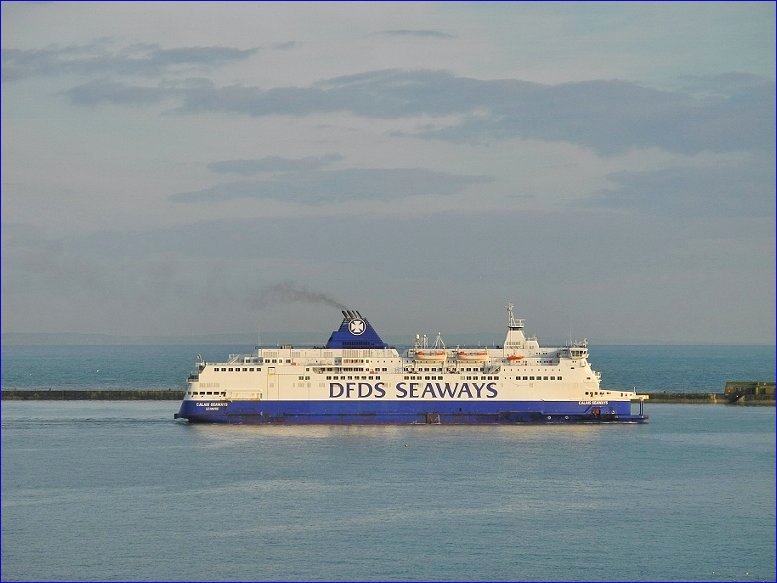 Here we are with the latest offer from DFDS SEAWAYS..good saving plus a possibility of FREE WINE in there too

______________________________________
Travel to France the Easy Way with a Cheeky Offer from DFDS Seaways !
· Travel to France on our Dover routes for as little as £24 each way for a car and nine people
· Find a lower fare elsewhere and we'll give you two bottles of wine for free!
If you find yourself needing to travel to France this week and don't want to be affected by air strikes, travel with award winning ferry operator, DFDS Seaways. Our ferry crossings from Dover to Calais and Dunkirk are quick, hassle-free and the best value around.
Fares are from as little as £24 each way for a car and up to nine passengers on DFDS Seaways' Dover-France routes, which is a £5 saving each way on your ferry crossing. And, if you find a lower fare from any other competitor sailing out of Dover, we'll even give you two free bottles of wine if you book with us.
Our ferry crossings from Dover to Calais and Dunkirk are quick, hassle-free and the best value around. The offer code for the £5 fare saving to Dunkirk or Calais is EOH. Make sure you book before 30 June, for travel until 17 December.
If you find a valid fare cheaper elsewhere for travel on the dates when the EOH code is valid, we will give you a wine voucher to claim two free bottles of wine once on board when you book with us. To claim your voucher, simply fill in the form online and if we can verify your claim you will receive a unique code by email. Just use this code when you book and you will be able to claim your wine once on board using your booking confirmation.
DFDS Seaways operates up to 44 sailings per day between Dover and France, offering ease and flexibility. You can relax on board during the short crossings and grab a bite to eat at one of the restaurants or cafes, pick up last minute travel essentials from the onboard shop or let the kids play in the dedicated children's areas.
To book your travel now, or for more information on this offer, visit
www.dfds.co.uk/cheekyoffer
* *
Picture top shows the DFDS ferry Calais Seaways having just arrived Dover harbour.
Pictured here below...The Braemar leaving us last evening. There is another Fred Olsen cruise ship in today too...the Black Watch.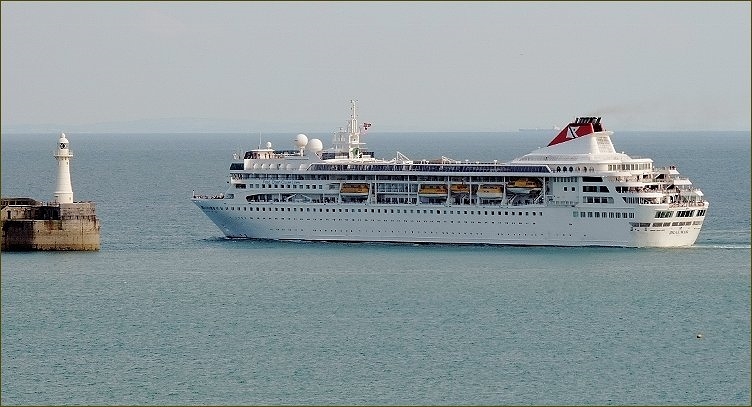 It was a bit of a wishy washy greyish evening again as she departed prior to some rain - pity - we get used to all the sunshine don't we..
Friday, 27 June 2014 - 07:02
Post 914
PaulB, Dover
Smashin' picture that Ed of Dunkerque West. Left it in pole position undisturbed so that all could enjoy it at its best in top slot.. makes a chap think about another trip to delightful Dunkerque. I think Second Mate Colin might well be right re that complex on the up-slopes across the channel in post 840, it looks modern and probably too big to be anything but a shopping complex. A couple of us googled and binged and although there are several things marked nearby...like the war cemetery for example, none really suggest such scale. Now as promised a picture of the Esmeralda leaving on Tuesday evening late...in between the small showers...took the wide view on this one by way of a change.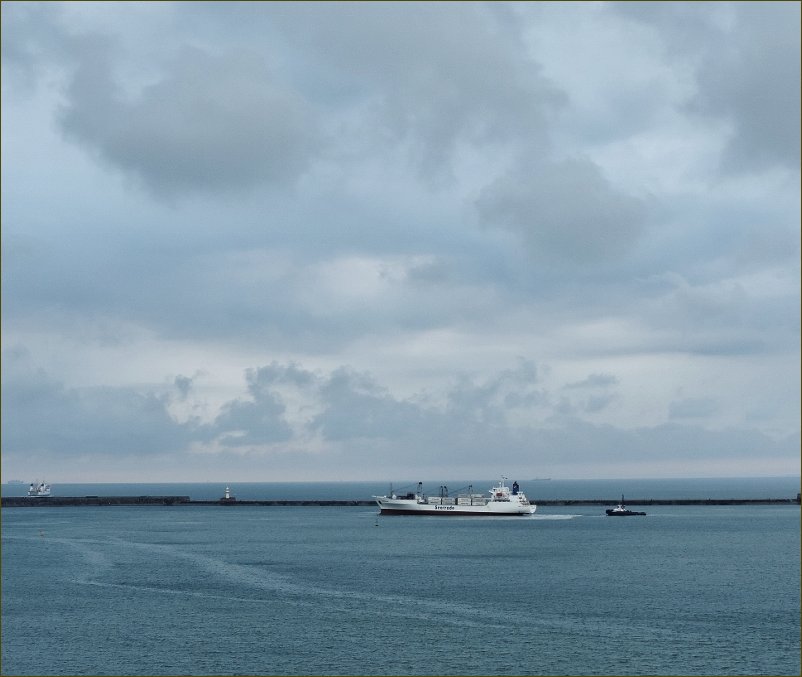 "Esmeralda..the bells, the bells ! "

Thursday, 26 June 2014 - 15:30
Post 912
Ed Connell, Dover
Beautiful sunset over Dunkerque West. Photo doesn't do it justice.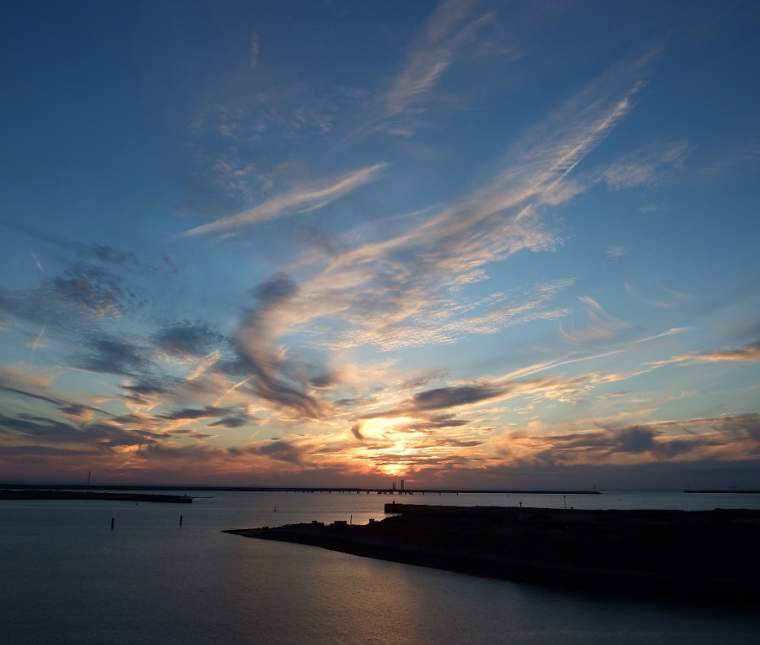 Re #840: Our Second Mate Colin thinks the building complex north of Boulogne might be a shopping outlet centre which he has been to.
Thursday, 26 June 2014 - 00:31
Post 911
PaulB, Dover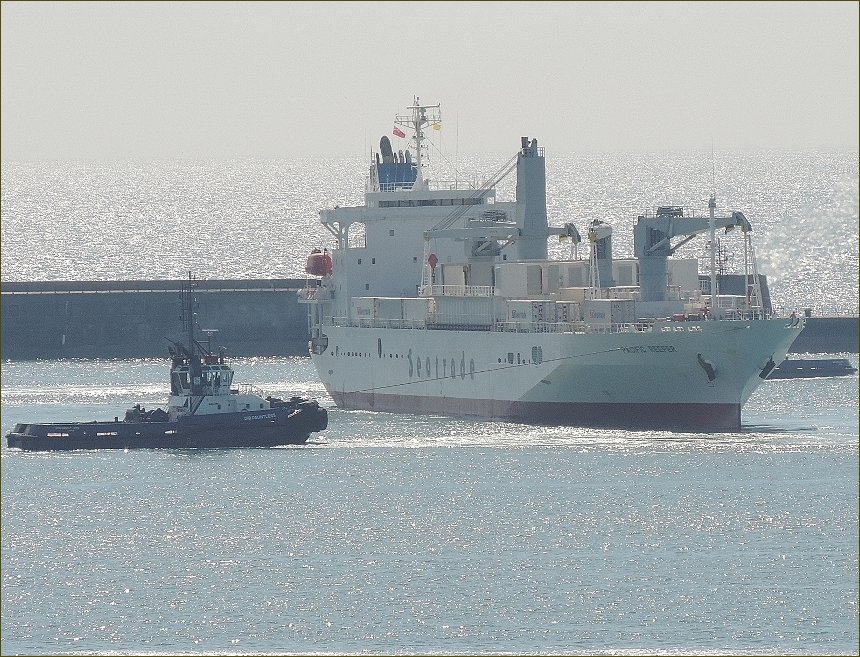 This is the Pacific Reefer arriving a couple of days ago in blinding early sunlight. The pictures were way too bright initially but was able to retrieve them to a degree. It is great to see and enjoy all the cargo ships coming these days...and great to see the Port this busy.
Ed has a more detailed shot of the ship in Post 835.
The cargo terminal is still keeping very busy...since then the Esmeralda has been in and gone. Great stuff.
Might have a reasonable picture of that one leaving last night...still in camera.
Got tied up with the football. it took a bite-size chunk out of my evening..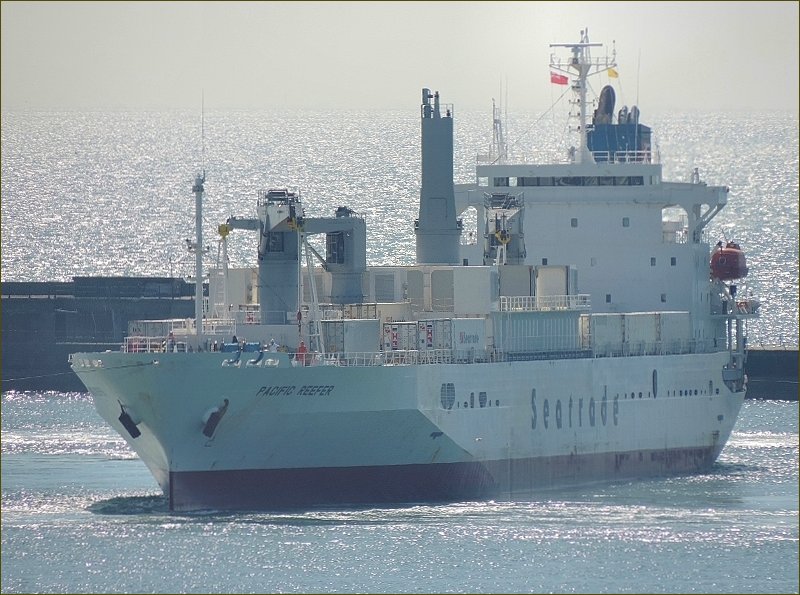 Well done guys all round for the comments below.
Will investigate a bit further in due course when I get a minute as to what that structure is across the water.
Wednesday, 25 June 2014 - 07:00
Post 910
Howard McSweeney, Dover
I have been in Deal twice over the last 4 days and it is very nice along their seafront but for those who want to look at more than an azure view Dover wins hands down.

This thread alone shows the massive variety of seagoing vessels that visit or go past very near our port, excellent work from all those that contribute photos here.

Tuesday, 24 June 2014 - 21:12
Post 909
Vic matcham, Dover
I have my own war bunker in my garden Ha Ha

Tuesday, 24 June 2014 - 16:38
Post 908
brian, dubris
there is a ww2 german bunker complex on the cliffs,near the dover patrol area.a large one at that.

Tuesday, 24 June 2014 - 15:53
Post 907
PaulB, Dover
The structure looks too big to be those Colette...ermm I think, but I just don't know. It's a headscratcher so it is!

Will try and find out.
Tuesday, 24 June 2014 - 15:34
Post 906
ColetteB, Dover
Paul, could it be the World War11 bunkers in the background of your photo ?
Agree, fascinating photos from Ed there below and I just love them sailing boat pix MrB

Tuesday, 24 June 2014 - 11:55
Post 905
PaulB, Dover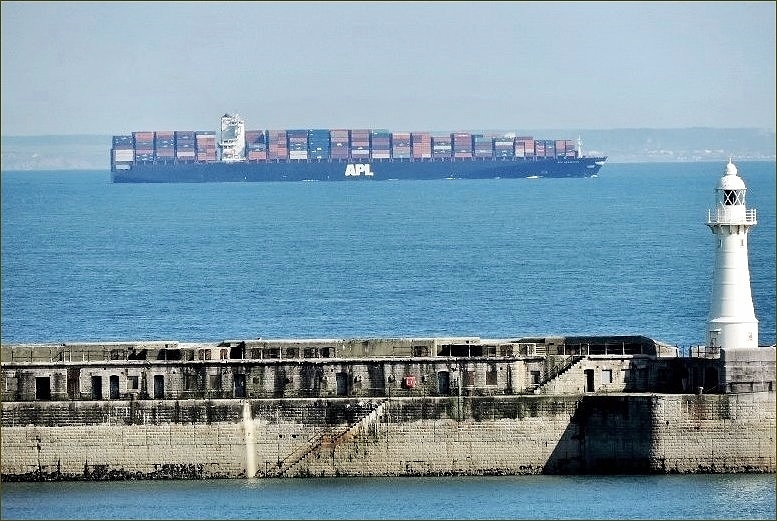 Another one of these monster APL ships making its way down the channel last evening. A few days ago we had APL Raffles, this one is the APL Gwangyang...bound for Suez. A huge ship of 350 metres long. What a load !
While taking pictures of the giant ship, I noticed this on the hillside beyond. Wonder what it is??...anybody know? could be a hospital or big factory or something. Looks to be just north of Boulogne..south of Wissant. Baffled. Cropped image below.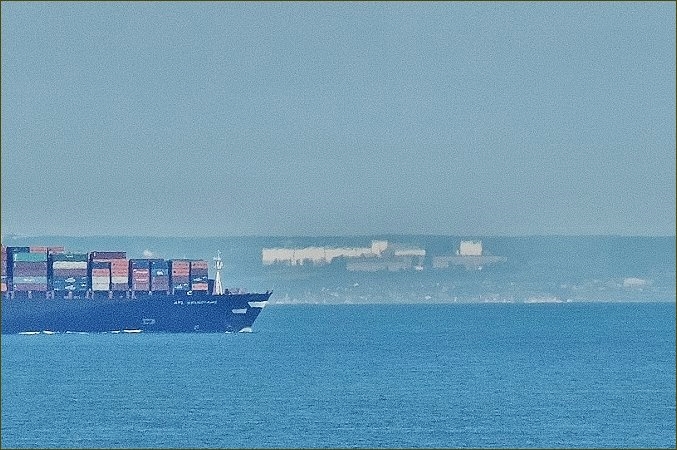 Tuesday, 24 June 2014 - 07:59
Post 904
JanT , Dover
Some lovely pictures how can anyone be critical of our seafront when you see pictures like that,and I'm sure there were plenty of ice creams sold yesterday.


Also some good pictures there from Ed shows how busy they are in the docks.
And yes Vic we do miss the jobs we enjoyed doing can't always say that these days.
Monday, 23 June 2014 - 17:33
Post 903
PaulB, Dover
Sunday was a blistering summers day..the seafront was all abuzz with swimmers and sailors and ice cream lovers and much more besides. It was as ever a great place to be. The kids in the sail boats made for spectacular viewing as ever for those doing a bit of easy dining, and there were very many. One or two were even doing a bit of wining as well..so I hear...the sea was blue and so was the sky, what more could anyone ask. Most of this post dedicated to the seasports guys...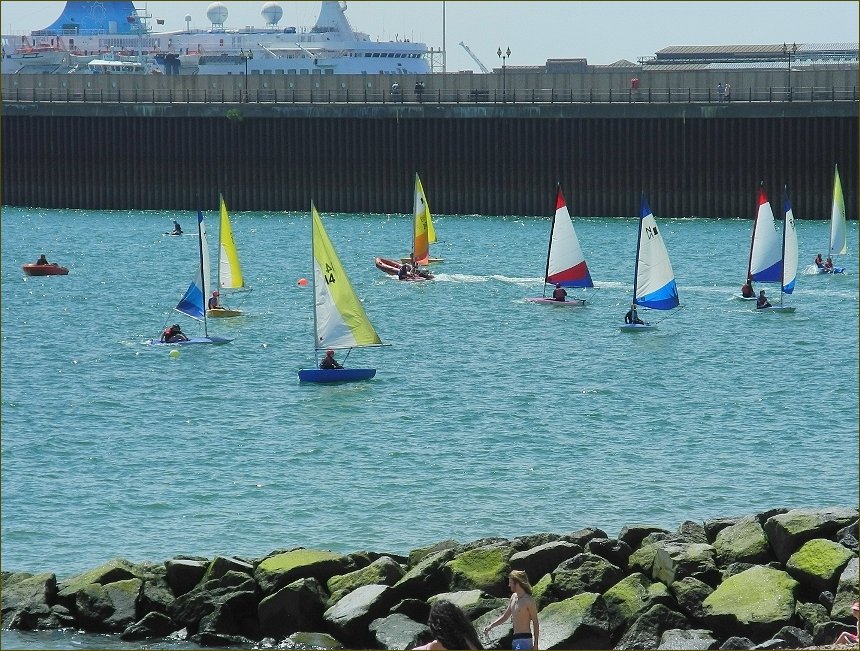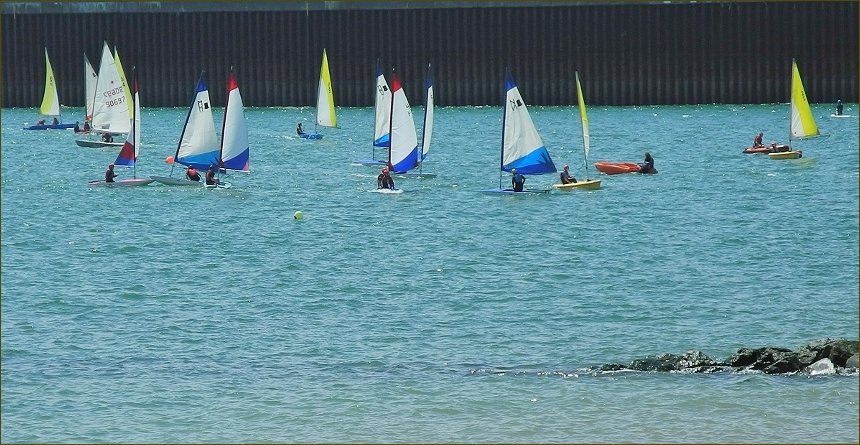 An added extra to those colourful sailboats.These wild seafront flowers are still looking good and offering spectacular colours of their own too, and still going strong.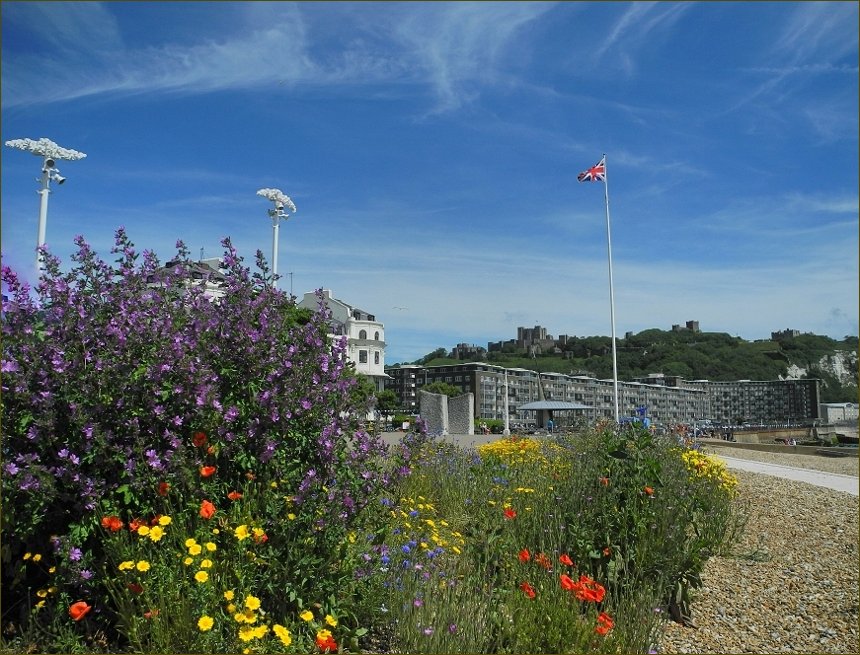 Brilliant post below Ed. Great pictures indeed..

right up close in the midst of all the action. Good to see the new developments taking shape. Saw the Pacific Reefer arriving myself, tried to get a picture but was shooting into the blinding light.
Always interesting stuff...and good to hear about your exploits down there too Vic.

Monday, 23 June 2014 - 15:28
Post 902
Vic Matcham, Dover
Just to add they are putting that new birth in over the top of one of the copper dams which was made up and welded by my mates and myself we done all the births along there bar the last one or maybe two which was done after I had packed up work

Monday, 23 June 2014 - 04:21
Post 901
vic matcham, Dover
Thanks for the good photos yes as you know that was my line of work and work I loved to do and still miss it now.

Monday, 23 June 2014 - 04:16
Post 900
Ed Connell, Dover
Multi-role vessel Avon helping to move the platform which is working on the pads on ED2, seen a couple of days ago. According to the Jenkins Marine website, "Avon is an extremely versatile 'multi-category' vessel. Offering shallow draft, deck crane, spud legs, and substantial deck space and load capacity , it is ideally suited to diving, construction, dredging support duties, salvage, and survey work." The fender installation cofferdam can be seen at top left of photo, sitting on the pier. Now back in the water working on the next fender.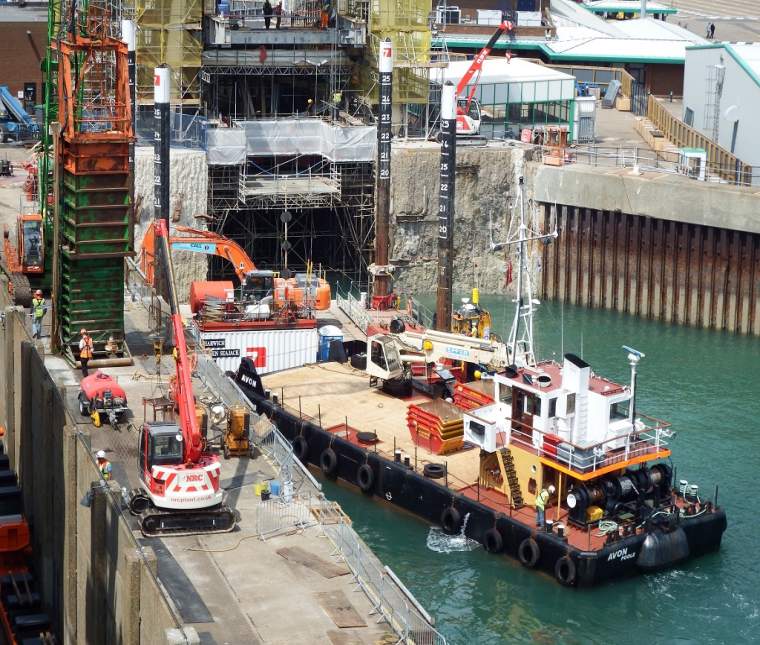 Avon together with workboat Dover Worker.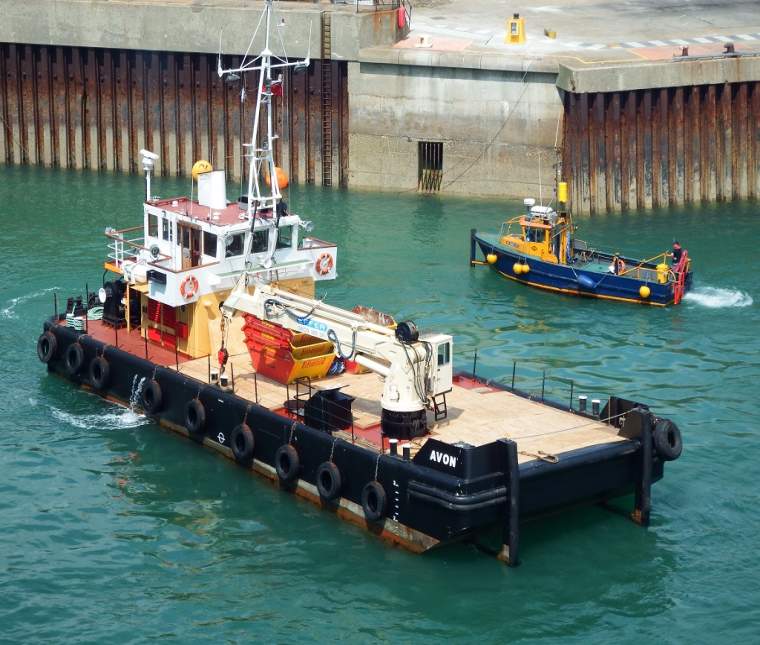 ED2 today with the platform moved to work on the other pad.
Cargoship Pacific Reefer at the Dover Cargo Terminal today.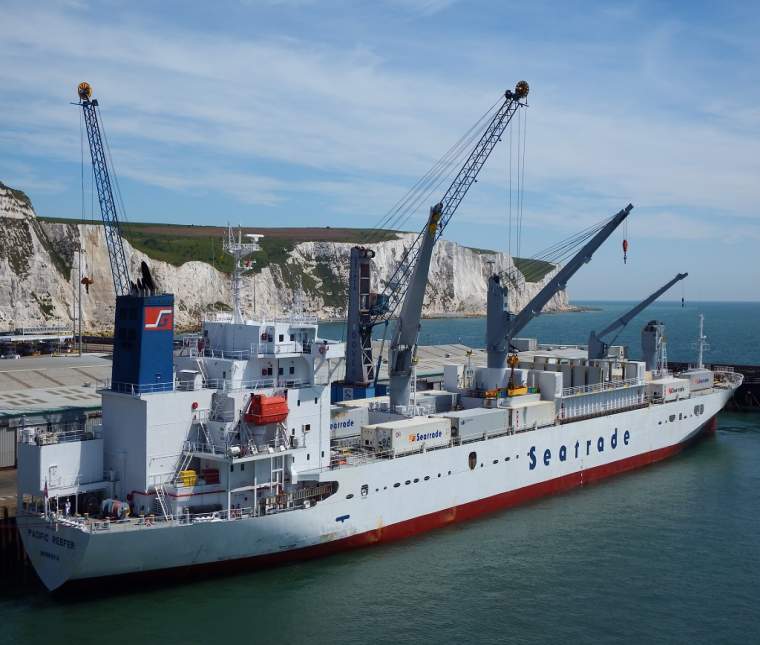 Sunday, 22 June 2014 - 23:22
Post 899
Andy MacLean, Old Wives Lees (Jazzandy@btinternet.com)
Good crowd coming on Dance to France next Saturday!

Join us! Sounds from the sixties through to the 90's on the disco. Great fun.

MV Spirit of Britain - 1830 sailing Saturday 28th. June.

Tickets still available - Phone 01227 732414

Sunday, 22 June 2014 - 09:28
Post 898
PaulB, Dover
The Ocean Princess pictured again just now...with less of that early morning yellow light as shown in the post below. The second ship Saga Pearl now also arriving as I write, more in the posts below. Its a glorious sunny day. A day for the seafront stroll for sure.
Sunday, 22 June 2014 - 07:38