Wednesday, 19 June 2019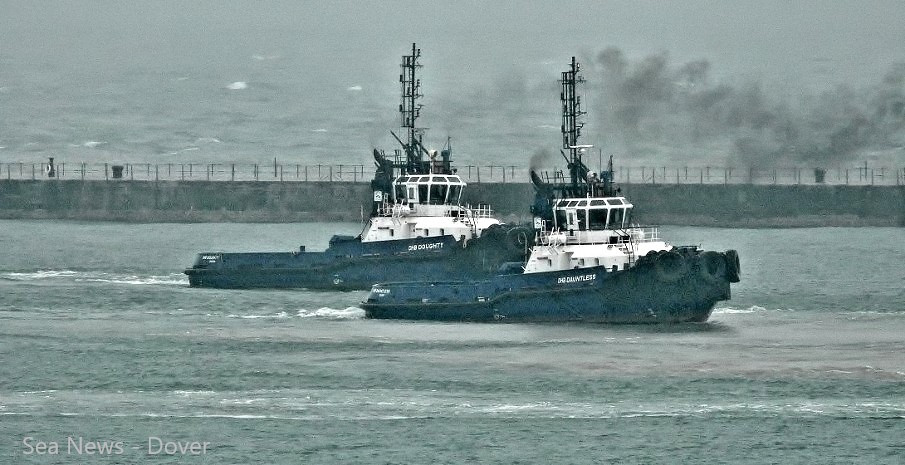 Just having sent Pacific Reefer on her way, the tugs turn back into the Summer (!!) gloom....

WWW.DOVERFORUM.COM/SEA-NEWS
Featuring all the ships that come and go and work at the Port of Dover ..
... with further coverage of the surrounding ports.
Sea News Dover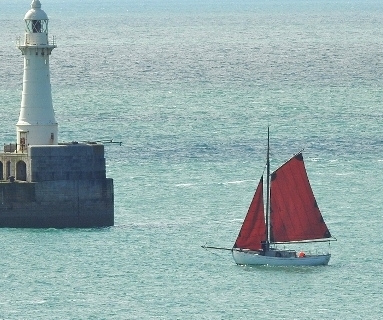 DFDS NEW SHIP for Channel see 6303
DFDS Europe's award winning Ferry Operator 6332
Port of Dover : Virgin Voyages 6289
Port of Dover: Brexit Resilience 6123

P&O Ferries: Alternative Euro Breaks 6298
P&O Ferries: Record Fundraising for Lifeboats see 6253
Port of Dover: Reducing Carbon Footprint 6332
Port of Dover: New Cargo Manager see 6205

Thames Estuary Forts 6250
SS Richard Montgomery at rest (WW II Supply Ship ) 6329
DFDS: ORCA 6179
Premier Inn completes see 6149 plus

Scroll down to see the Boudicca D-Day pictures in several posts.
Use our SEARCH ENGINE below to find all sorts on the SEA NEWS pages....
type in the topic and away you go, or if you have the post number as shown above, just type it in the box, more than - 6300 - nautical posts now.
Posts are welcome. just click 'Add Your Comment' below. Max of 5 pictures preferred although we can stretch that for special stories..
Sea News Editor Paul Boland - send info or pix to dover7@msn.com. Always welcome.
CRUISE CALLS:
https://www.doverport.co.uk/cruise/find-a-cruise/
UPDATE:
To show your pictures at their best..it could be worthwhile resizing before posting to
850
pixels wide.
All pictures on these pages are the copyright of the owners and must not be reproduced without permission.
Post 1220
PaulB, Dover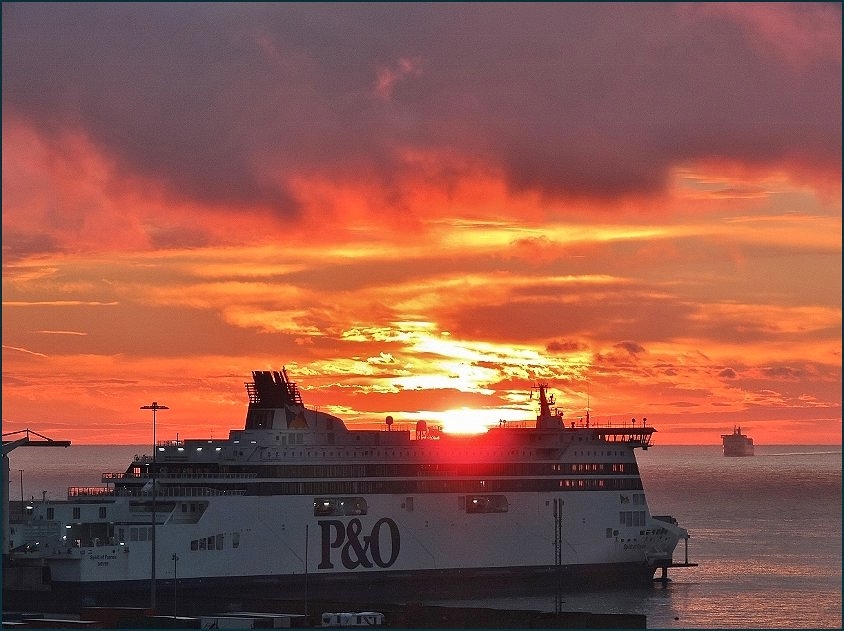 This picture above was taken on Wednesday morning and shows the sun rising behind the P&O ship Spirit of France. This is definitely the season for dramatically colourful skies with nature itself doing all the work and putting on a fabulous light show. The picture is just a simple 'point and shoot' with the camera, and shows the scene exactly as was. A terrific sky for sure. We hope to see more dramatic skies in similar vein throughout the autumn and maybe even in winter.
This picture is specially for Stacey from the P&O Choir.. see post 1148 below page.

By the way everyone, don't forget the P&O FREE WINE offer is still in place for day-trippers.

See post 1092 for details. Post 1092 is now amazingly over on Page 4 already.
Nice pic there in the post below from Phil Smith. Well done Phil and also Howard.
Just wondering if Phil got the day right as that looks like Hermod which went down the channel on the Friday, see post 1140 further down page...or was there another monster mover..
Friday, 17 October 2014 - 06:25
Post 1219
Howard McSweeney, Dover
Great selection of vessels in recent times on this thread, here we have a drilling rig passing through on Sunday morning, photo courtesy of Phil Smith.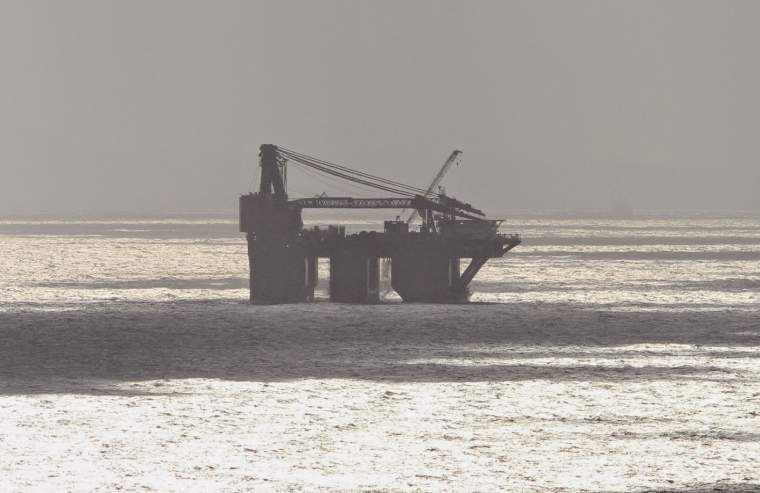 Thursday, 16 October 2014 - 15:09
Post 1218
PaulB, Sea News, Dover.
'INVEST IN DOVER' AT UK'S PREMIER PROPERTY TRADE SHOW
____________________________________________________
Dover District Council, the Port of Dover, and Discovery Park, the UK's most successful Enterprise Zone, are taking the 'Invest in Dover' message to the UK's premier trade show at London Olympia from 15-17 October 2014. Attended by investors, developers, local authorities, occupiers, hotel groups, agents and business service providers, MIPIM UK is a unique opportunity to promote Dover to a UK and global investment audience.
The exhibition comes at a key time with a wide range of outstanding investment opportunities joining together across the 'Enterprise Coast'. The Dover district will undergo a period of significant change over the next 12 years as transformational plans to build a more prosperous district with more jobs, improved housing, and a wider range of local facilities come to fruition.
The plans include:
10,100 new homes in the Dover district by 2026 and 14,000 in the longer term reflecting its 'Growth Point' Government designation
£120m initial investment already committed at the Port of Dover for Phase One of Dover Western Docks Revival, which will include a new cargo terminal and port-centric distribution facility supporting over 600 jobs, plus potential marina and mixed-use waterfront development
The delivery of 3,000 new jobs at the Discovery Park Enterprise Zone with significant funding and incentives to attract new businesses
£50m town centre transformation with development of 120,000 sq. ft. of new retail and leisure space
£40m Betteshanger Sustainable Parks situated on the site of the former Betteshanger Colliery, this landmark development will combine sustainable business & commerce, sustainable education & sustainable energy & tourism.
As well as promoting investment opportunities the 'Invest in Dover' stand will also highlight the area's excellent transport links, affordability, and lifestyle. The introduction of high speed trains in 2009 marked a step change in the district's infrastructure, creating new opportunities for inward investment and bringing the Enterprise Coast within one hour of London. Planned major expansion at the Port of Dover, Europe's busiest ferry port and handling £89 billion of trade each year, will further cement Dover's position as the 'Gateway to Europe'.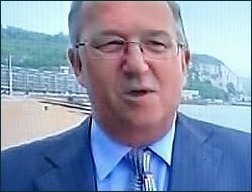 Cllr Paul Watkins, Leader of Dover District Council, said:
"I am delighted that we're working in partnership with the Port of Dover and Discovery Park to promote opportunities to 'Invest in Dover'. Investor confidence in the district is high, with new housing developments underway, exciting plans to maximise the potential of the Western Docks, and strong tenant demand for the outstanding facilities at Discovery Park. Our plans to transform Dover town centre are attracting strong levels of interest as retail and leisure investors look to rebuild their portfolios following the recession."
Tim Waggott, Chief Executive, Port of Dover, said:
"MIPIM provides a great platform to demonstrate the shared vision and momentum being created in Dover between the Port, the town and the district. Our major investment in Dover Western Docks Revival, one of the most significant developments in the region, is ripe for promoting to one of the most important gatherings of investors and developers in the UK. Furthermore, with historic news that we have just been granted additional powers to deliver even more, we now have the ability to play a bigger part than ever before in the regeneration of Dover.
"Dover Western Docks Revival brings huge potential for the Port, its customers and the local community, protecting long term port capacity, unlocking the ability to develop and grow a thriving cargo business whilst delivering a waterfront transformation that has been described as the catalyst for Dover's wider regeneration. Alongside other exciting plans for Dover, this creates a unique opportunity to build 'Destination Dover,' creating a new golden age for those living in, working in and visiting this incredible place."
Paul Barber, Managing Director, Discovery Park Ltd, said:
"We're seeing exceptionally strong demand for facilities at Discovery Park. We already have over 100 tenants and 1,600 employees, with more projects in the pipeline. We're delighted to be attending MIPIM alongside the council and port to promote the wide range of investment opportunities at Discovery Park, from laboratory and office space, warehousing and manufacturing facilities, to bespoke land development. With significant funding and incentives for businesses both large and small, we're expecting a busy three days! "
Ends
* *
Good luck to all at the event above. These are exciting times for sure.
Doing it for Dover !

Great collection once again Ed in the post below.
I got some pictures of the military manoeuvres also..
had no idea what or who they were but now see Ed's post below. Mistral class French amphibious assault ship slowly slowly moving down the channel yesterday. So this is the type destined for Russia but suspended due to the Ukraine crisis..well I never! Thanks for that info Ed as ever. Great stuff!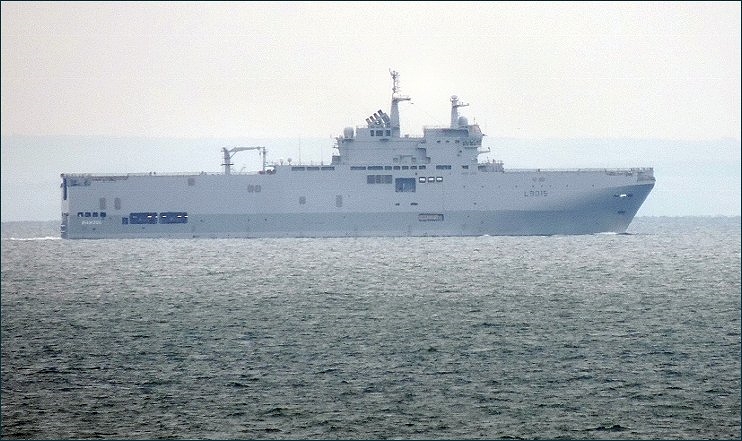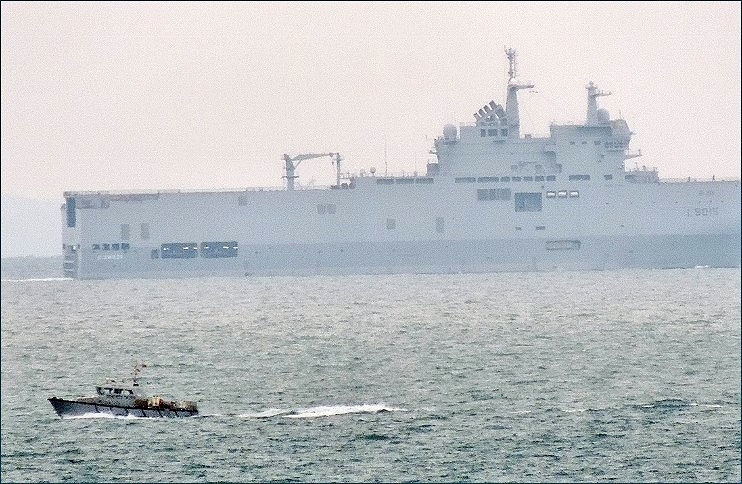 With added fisheries vessel..see also below.
Thursday, 16 October 2014 - 07:33
Post 1217
Ed Connell, Dover
David Church dredging by the pads at berth ED2. Dropping the spoil into skips on the poop.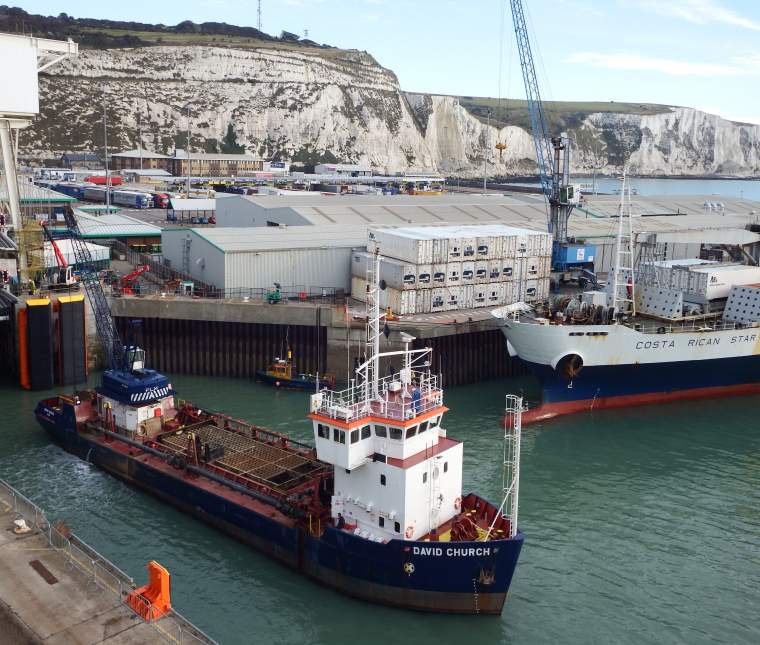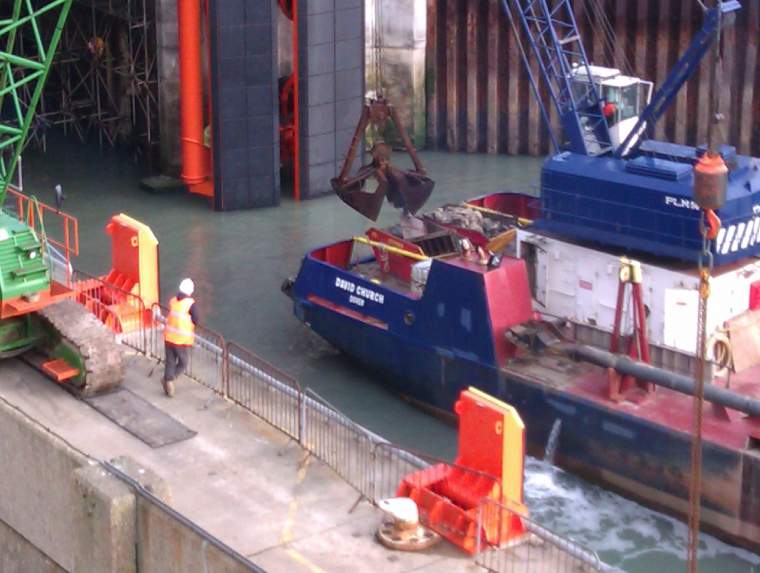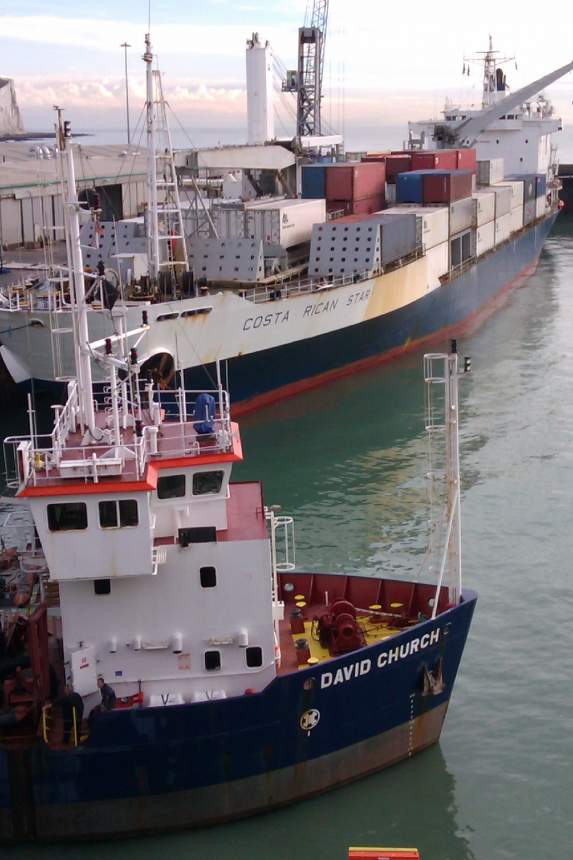 French amphibious assault ship of the Mistral class passing down the Southwest lane on Wednesday afternoon, with Spirit of Britain departing Dover. France was building two of the Mistral class for Russia but they have been put on hold due to the Ukraine crisis.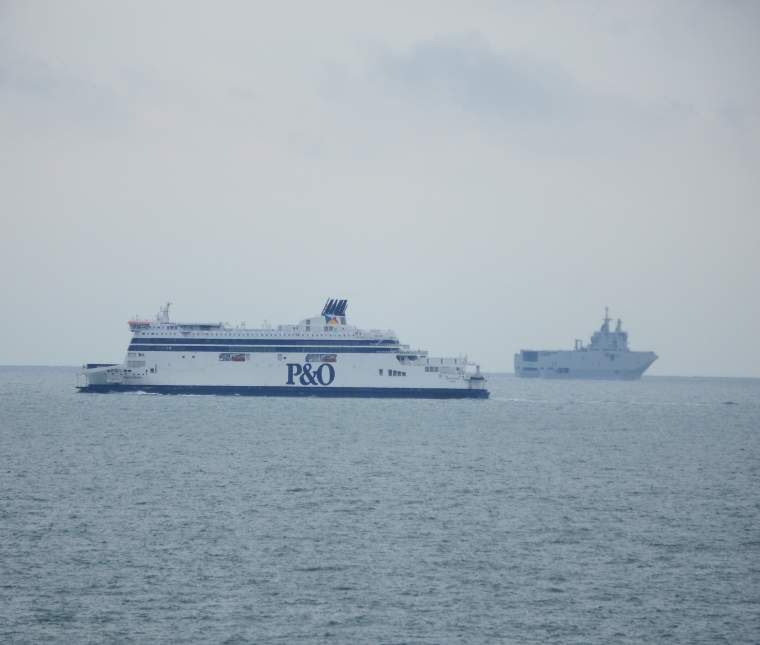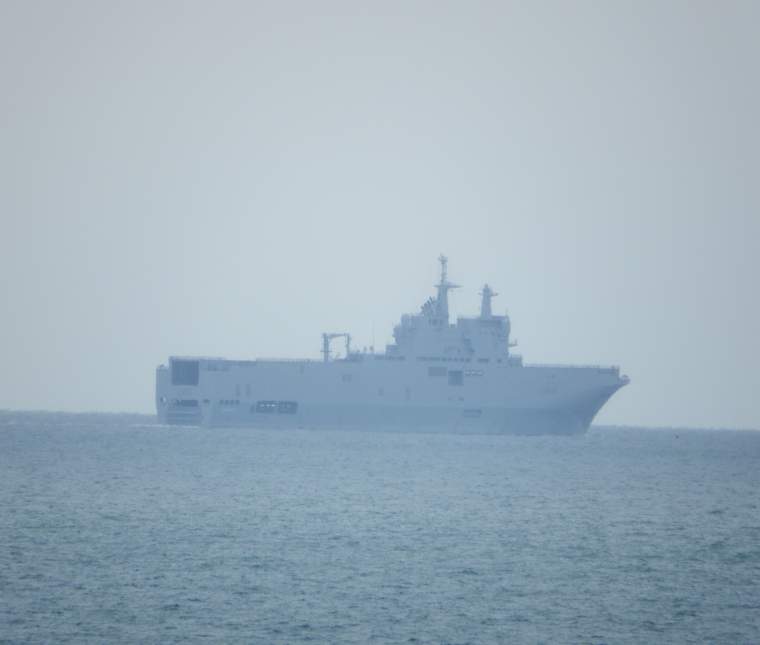 Kent and Essex IFCA Fisheries Patrol launch passing Dover at same time.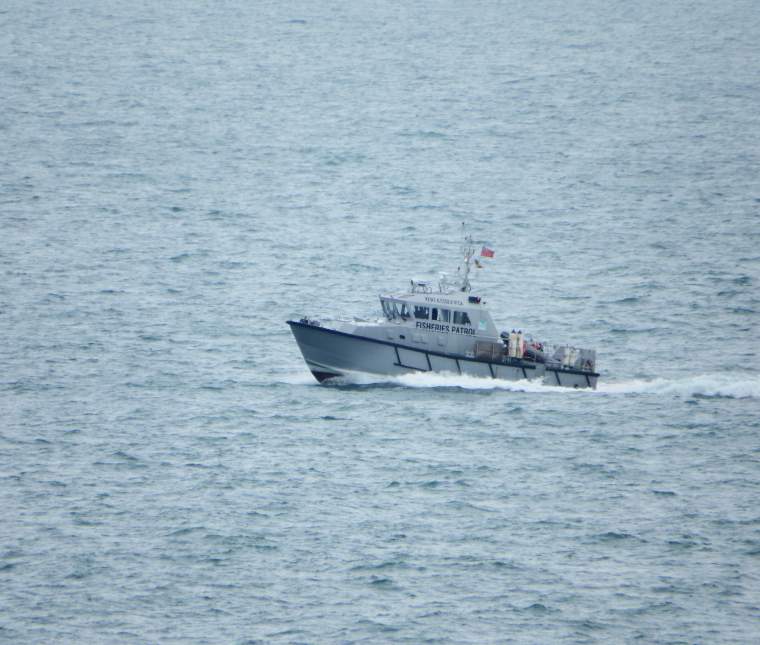 Thursday, 16 October 2014 - 01:02
Post 1216
PaulB, Dover
Thanks Stacey - good to hear from you.
Yes I think we all loved the brilliant achievements of the P&O Choir. The programme was fantastic as was the singing. I was gripped completely and I know many others were too. It was totally exciting.. both for P&O and for Dover. It gave the town a huge lift at the time.
A big well done to you. Pass on our congratulations too to all the choir..

(For those who missed it...see posts 288,290,303 among others..)
Wednesday, 15 October 2014 - 15:00
Post 1215
Stacey Young, Kingsdown (stacey.young@poferries.com)
Thank you PaulB for sharing the photo of the choir and for the little write up - how lovely!
Kind regards,
Stacey (The P&O Ferries Choir)

Wednesday, 15 October 2014 - 11:38
Post 1214
PaulB, Dover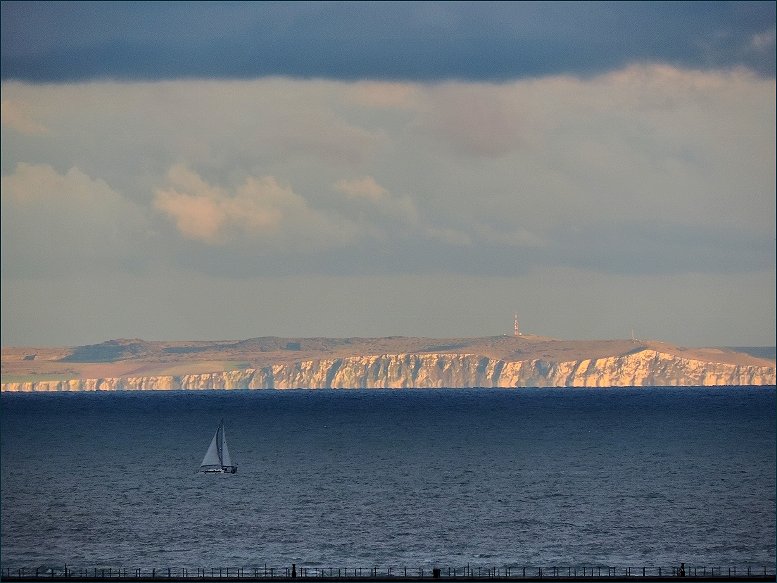 This was the scene across the channel late yesterday afternoon around 17.45 or thereabouts. While Dover was covered in thick black cloud, you can just see some of the aforementioned heavy cloud at top of picture, over on Cap Gris Nez all was looking splendid in the glorious sunlight. In the foreground in the much darker conditions a passing yacht obliged at the right time by sailing into view. Yours truly has had many a nice drive down along that delightful French coast..even flirted with al fresco along the way so I did...

A good collection there in the post below Ed. I also got the passing Waverley but only at the last minute, was just popping out but had to grapple back at speed, seize the camera and just made it before it drifted out of good view. Yes I remember it here in Dover several years back..must be quite a while back now.. 'tis quite an eyecatcher ! Great to see it.
"
PS Waverley is the last seagoing passenger-carrying paddle steamer in the world. Built in 1946, she sailed from Craigendoran on the Firth of Clyde to Arrochar on Loch Long until 1973. Bought by the Paddle Steamer Preservation Society (PSPS), she has been restored to her 1947 appearance and now operates passenger excursions around the British coast.
Since 2003 Waverley has been listed in the National Historic Fleet by National Historic Ships UK as "a vessel of pre-eminent national importance". She appeared in the 2011 film Sherlock Holmes: A Game of Shadows. Waverley is named after Sir Walter Scott's first novel.
"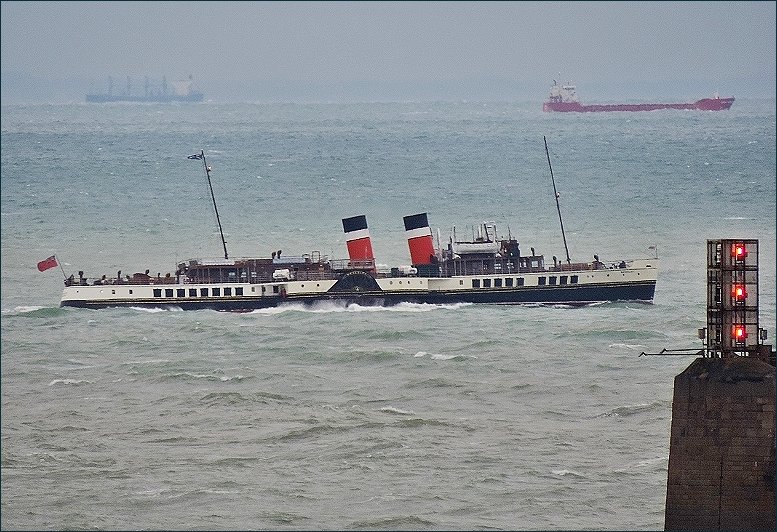 The Waverley - passing tuesday morning.
Wednesday, 15 October 2014 - 07:05
Post 1213
Ed Connell, Dover
Paddlesteamer Waverley passing Dover this morning, not seen her since she was stooging around making the Sherlock Holmes film some years ago. Bunker barge Coralwater in the bay after refuelling one of the P&O ferries. Cargoship Discovery Bay on the DCT.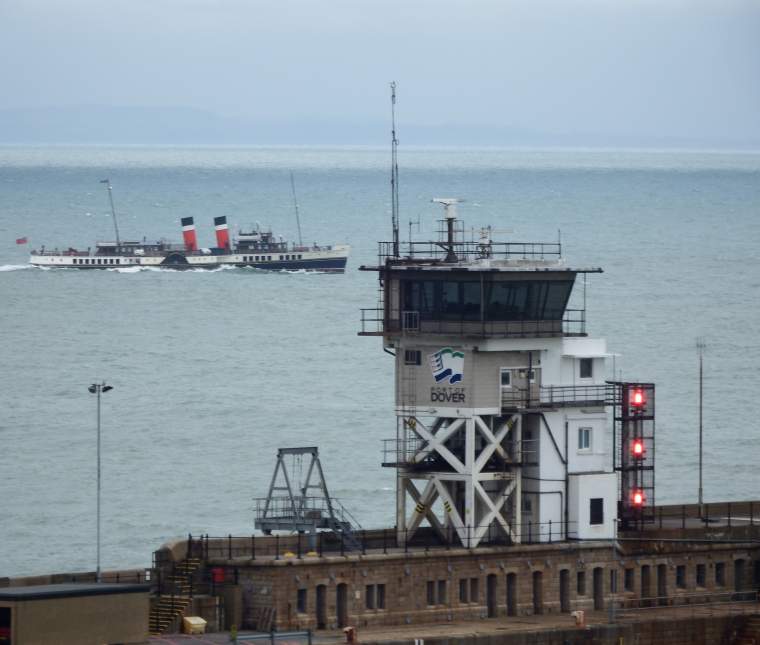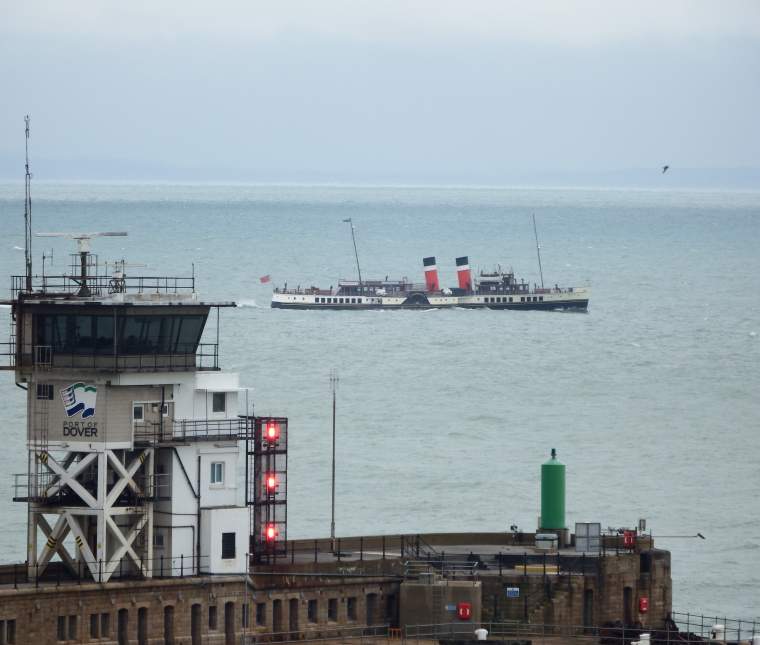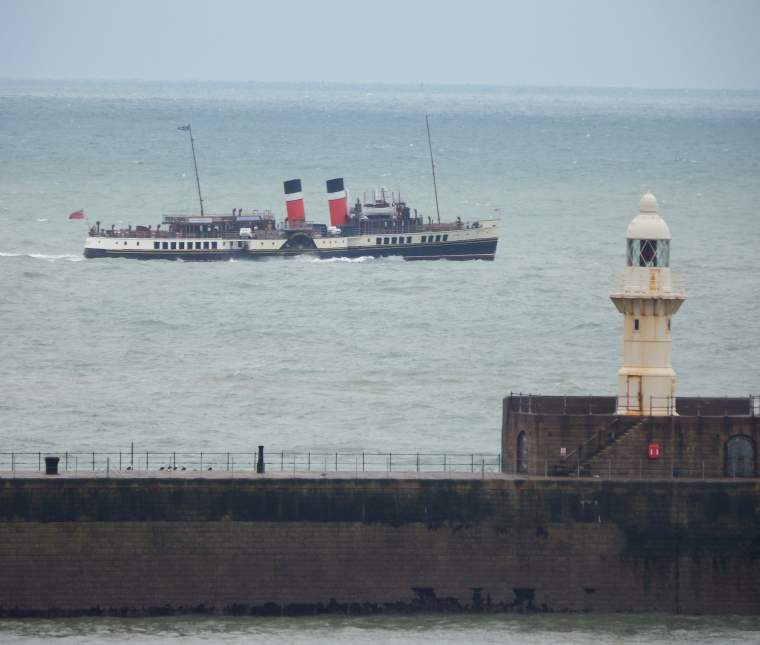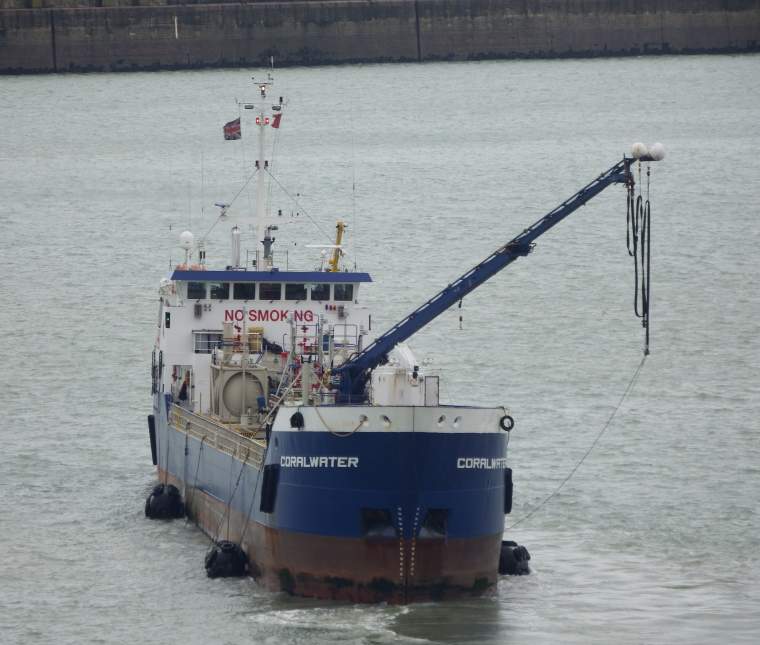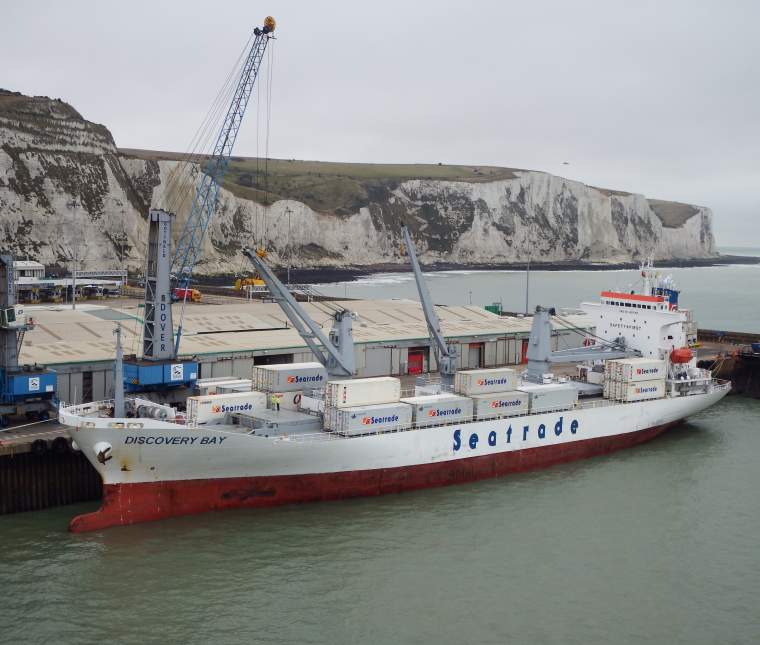 Tuesday, 14 October 2014 - 13:03
Post 1212
PaulB, Sea News, Dover.
Port celebrates new powers to deliver for Dover
______________________________________
Celebrating a landmark achievement in the rich and varied history of the Port of Dover, the Dover Harbour Board is delighted to confirm the Marine Management Organisation has approved the Board's application (through a Harbour Revision Order) for additional powers.
George Jenkins, Chairman, Dover Harbour Board, said:
"The Board are delighted that the future of the Port of Dover as a trust port has been secured, allowing us to play a bigger part than ever in the regeneration of Dover.
"Unlocking the potential of the organisation to deliver for its customers and community in a way not possible before, the Port has received what has to be seen as a huge vote of confidence in the shared vision and organisational approach being developed by the team at Dover.
"We are building momentum. We are already moving forward on a clear timetable to deliver the first ever community director of Dover Harbour Board. We are establishing a new community fund for Dover with £¼ million now committed to launch it. This decision will reinforce our delivery."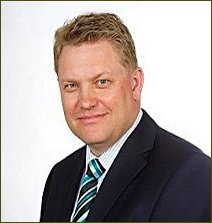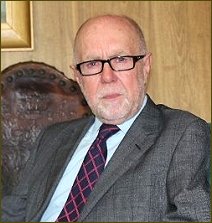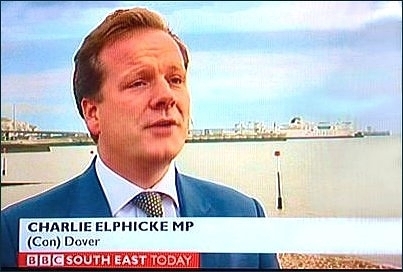 Tim Waggott, Chief Executive, Port of Dover, said:
"This empowering decision arrives just four months after the initial application was made. Such a swift approval, in record time, comes only days after we announced the biggest ever single investment in Dover, the £120 million Phase 1 of Dover Western Docks Revival. This means we now have the necessary powers to progress the project, delivering over 600 new jobs for Dover and transforming the waterfront to be the catalyst for Dover's wider regeneration.
"We look set to deliver a record traffic performance in 2014. Moving forward with major investments in the Eastern Docks Ferry Terminal whilst providing excellent customer service demonstrates how the Port of Dover and its ferry operator partners are maximising our contribution to the local Community, East Kent and the Nation.
"I would like to pay tribute to my team for their hard work and also to thank all at the Department for Transport and our local MP, Charlie Elphicke, for their help, support and encouragement. I also salute our customers and community who have supported us hugely in our quest. This is a proud and exciting time to be associated with Dover and its Port.
"These are new and uncharted waters for us all, but I believe we are entering a period of time that will go down in the history books as the start of a golden age if we all continue to support each other and work together to deliver for Dover."
Ends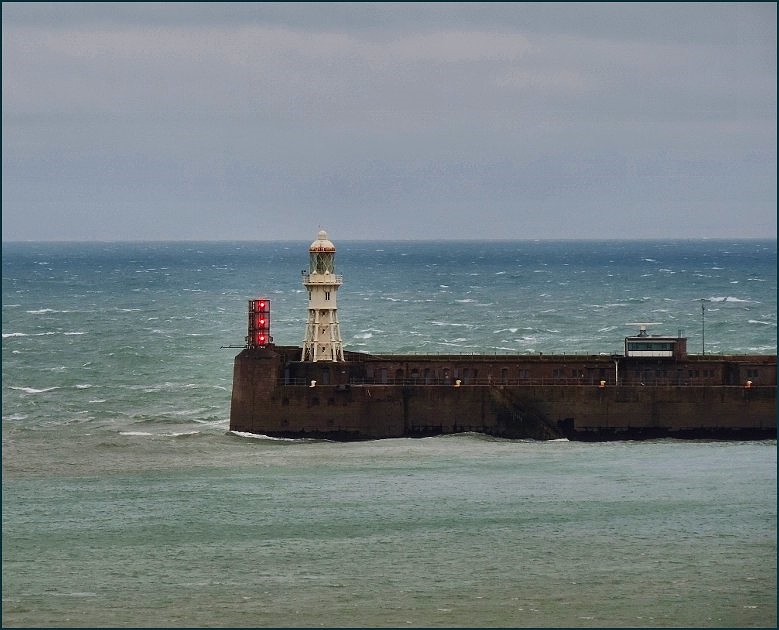 Pictures: Choppy waters yesterday - its not always smooth sailing...but things get better.
Top portraits left to right in circular motion, Tim Waggott, George Jenkins, Charlie Elphicke.
Tuesday, 14 October 2014 - 07:11
Post 1211
PaulB, Dover
Thanks Barry - welcome back to Dover. Will aim to keep up all the good work and hopefully the other guys will continue to join in too.
This picture was taken literally a few minutes ago...its rough out there.. cripes !!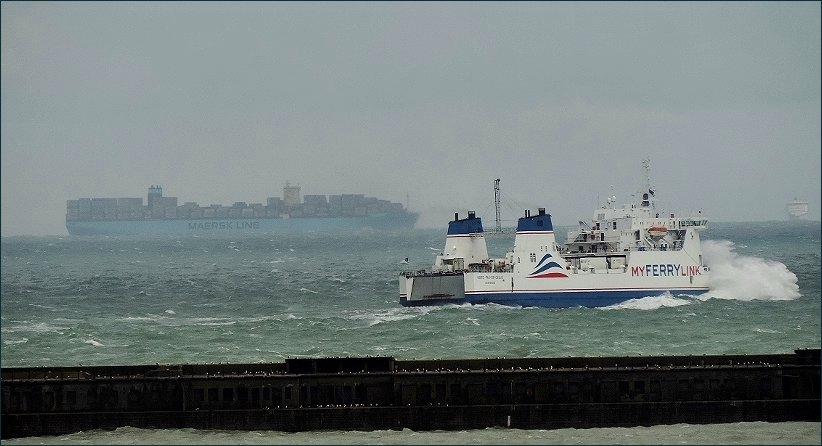 Picture shows the Nord Pas de Calais freight carrier battling its way towards Calais in the very rough conditions. Not too many people ordering fry-ups onboard today I'll wager..

.. In the distance is the huge Maersk...the Marstal Maersk powering towards Tangier.
Have the latest important information via press release from the Port which we will get up on page tomorrow.
Monday, 13 October 2014 - 15:34
Post 1210
Barry W-S, Dover
Just got back from my conference tour in Bonnie Scotland & the Midlands, it's refreshing to see the interesting photos covering so many aspects on Sea News. Keep up the Great work Guys

Monday, 13 October 2014 - 10:28
Post 1209
PaulB, Dover
The harbour was fantastically busy-busy over the weekend despite the menacing skies, particularly on Saturday when there was swimming, sailing, yachting, boating...and rowing...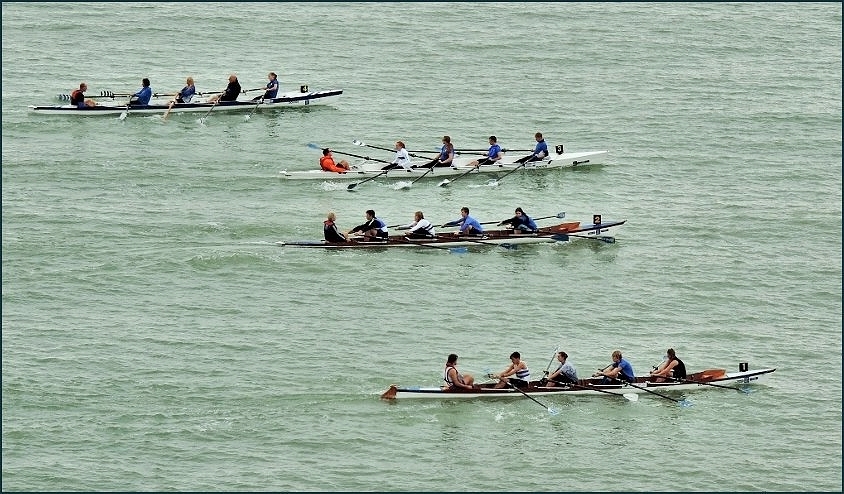 The guys above spent much of the day on Saturday racing across the harbour from east to west. You often see guys practising or in training, but these guys here were racing for real. Line up as directed from the small pier then whoosh..away at breakneck speed. Amazing how fast they can get from one side of the harbour to the next. The only way to travel...
Good to see that close up of the Schweiz Reefer Ed. I got a shot too as she approached so will pop it up as well. I had to wait, camera poised, until she positioned herself between Dover7 and Dover 8...and then release the shutter. Range too long here for detail so good to have that close up in the post below.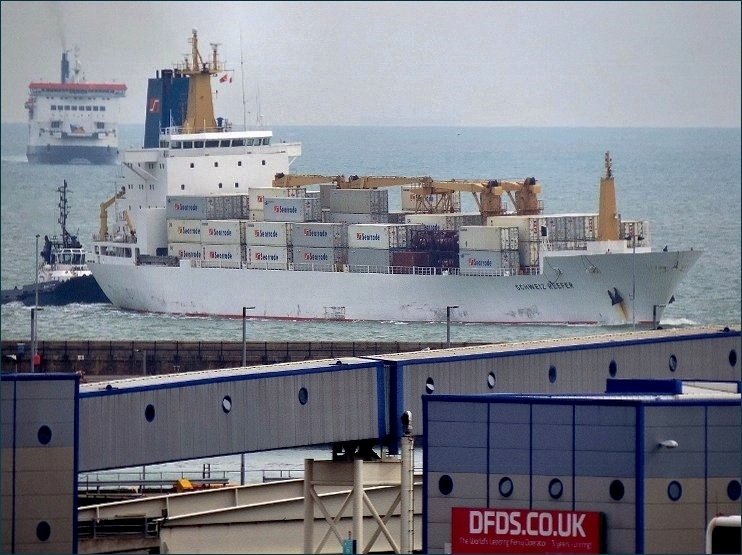 Monday, 13 October 2014 - 07:23
Post 1208
Ed Connell, Dover
Some crackers there, Paul. Here is Schweiz Reefer at the Dover Cargo Terminal today.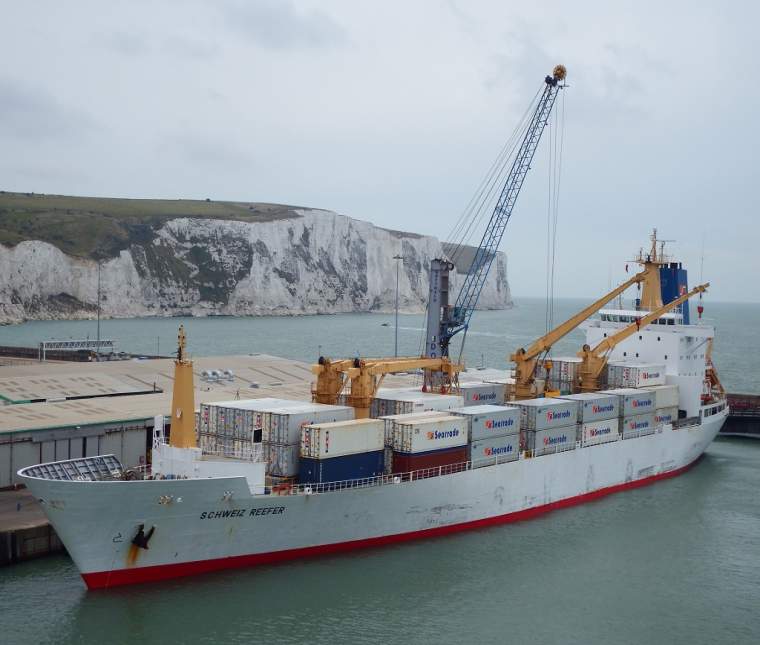 Sunday, 12 October 2014 - 15:24
Post 1207
PaulB, Dover
Good posts below lads. Enjoyed those.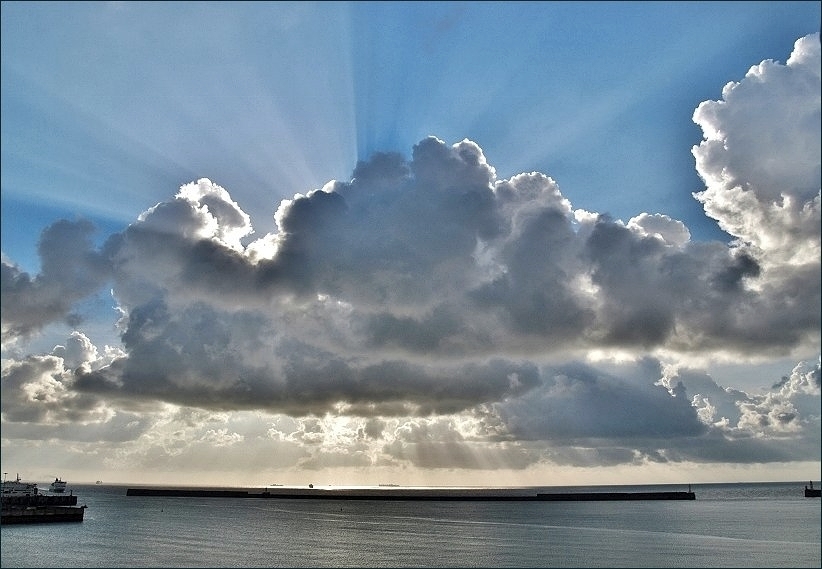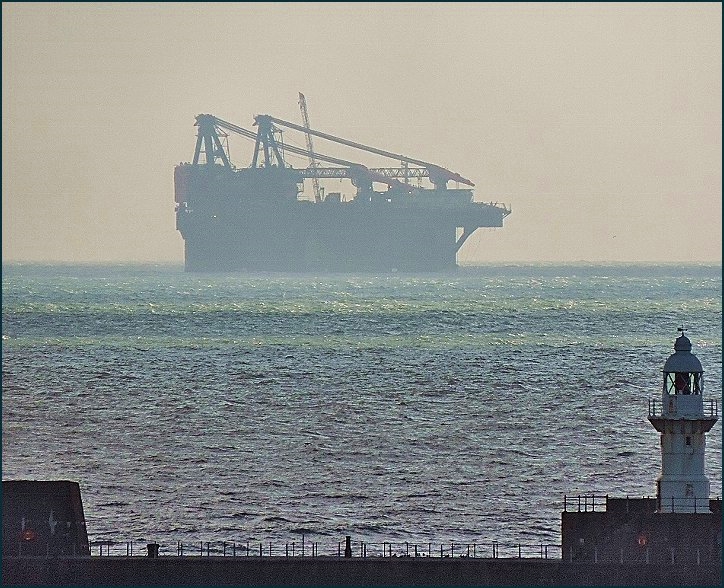 The hugely impressive and fabulously named Hermod moved down the channel on Friday morning. Slowly heading south from Rotterdam to the Ivory Coast. The picture showing above was taken about 10.30am. A monster mover for sure. Weather conditions at the time were up and down so we don't have the definitive picture but here she is anyway with some added info via the world wide web...
"
Semi submersible crane vessel (SSCV) Hermod was constructed in 1979 by Mitsui Engineering & Shipbuilding Co., Ltd.. Hermod and sister vessel, Balder were the world's first semi-submersible crane vessels. In the early 1980s these vessels set several lift records while operating in the North Sea.
The hull consists of two floaters with three columns each. The transit draught of 12 meters is normally ballasted down to 25 meters for lifting operations, with the floaters (with a draught of 12 meters) are well-submerged, reducing the effect of waves and swell.
Propulsion is by two controllable pitch propellers and two forward, retractable, controllable pitch thruster. The helicopter deck will sustain a Sikorsky 61-N. Up to 336 people can be supported in the air conditioned living quarters.
The Hermod has two cranes at the stern. Originally the starboard-side crane was rated at 3000 short ton and the port-side at 2000 short ton. In 1984, the lifting capacities were upgraded to 5000 and 4000 short ton respectively. The main hoist can lift 92 m (302 ft) above the work deck. The auxiliary hoists can lower to a depth of 3,000 m (10,000 ft) below the work deck. A tandem lift using the main hoists can lift 9,000 short ton at 39 m (128 ft) radius.
"
So there you have it.
The sky pictures show the dramatic variations in the weather under the big big sky on friday.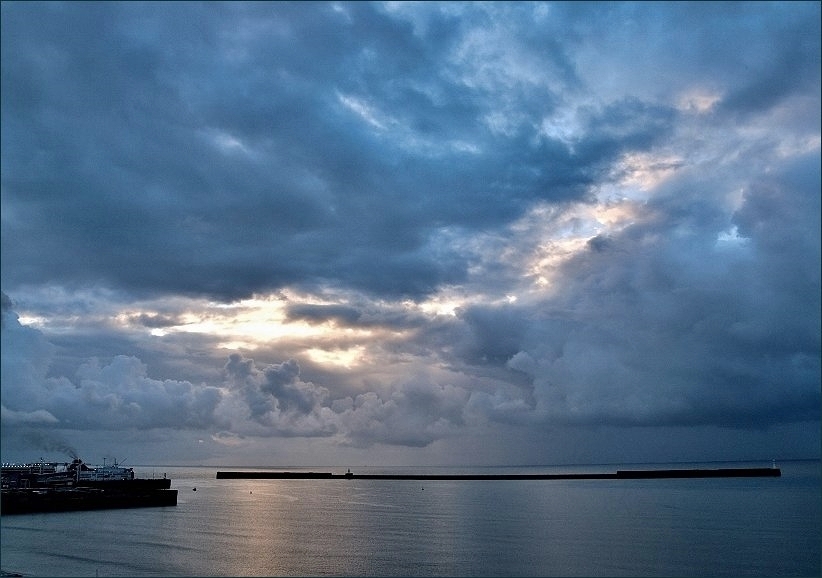 And now as an added compliment to Eds picture in the post below...the funnel cloud yesterday saturday. As said she came, strengthened, faded, strengthened again then faded away and didn't touch down. I wanted to re-examine the funnel pictures we used a year or two back on doverforum but for the life of me I cant find them in the system. Must have filed them under an odd name or something..grrrrrr!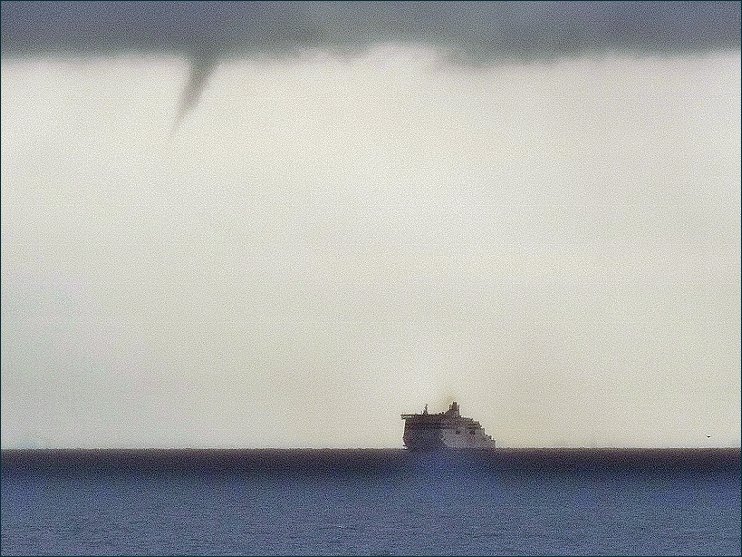 Sunday, 12 October 2014 - 06:45
Post 1206
Ed Connell, Dover
Funnel cloud seen over the Dover Strait on Saturday. Alternately lengthening and shortening but did not make it to the sea surface to become a tornado and therefore a waterspout.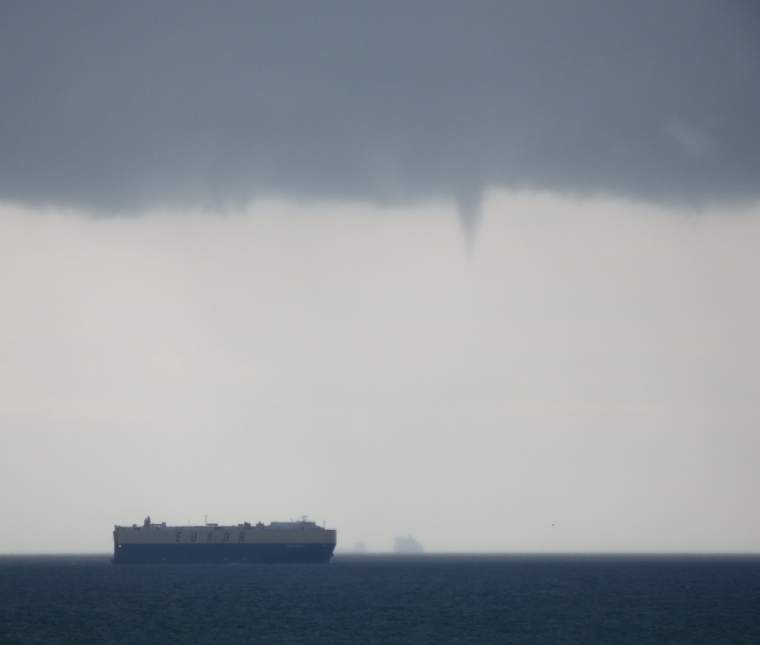 Progress with the renovation of berth ED2 as of Saturday. Looks nearly finished.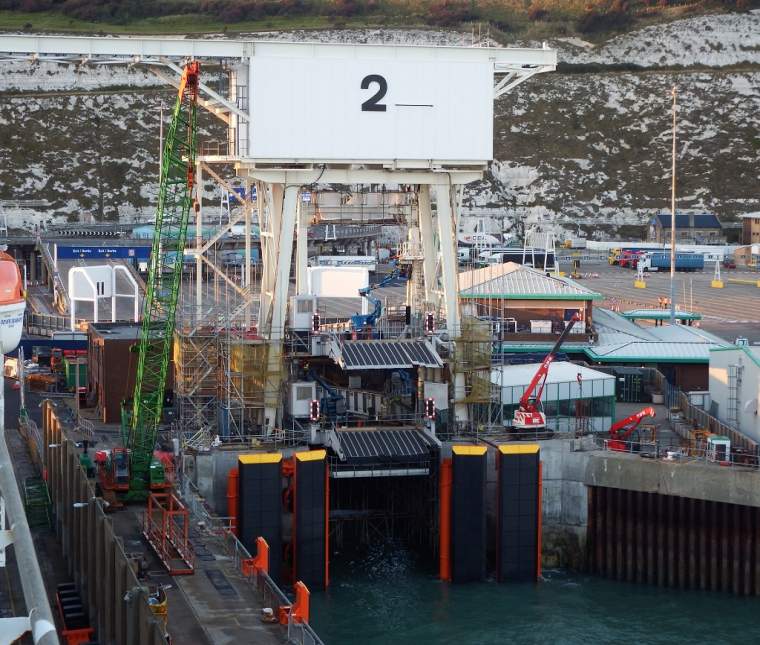 Sunday, 12 October 2014 - 01:31
Post 1205
Ed Connell, Dover
The Greenpeace vessel Esperanza passing down the Southwest lane past Dover at 1630 today bound for Funchal in Madeira.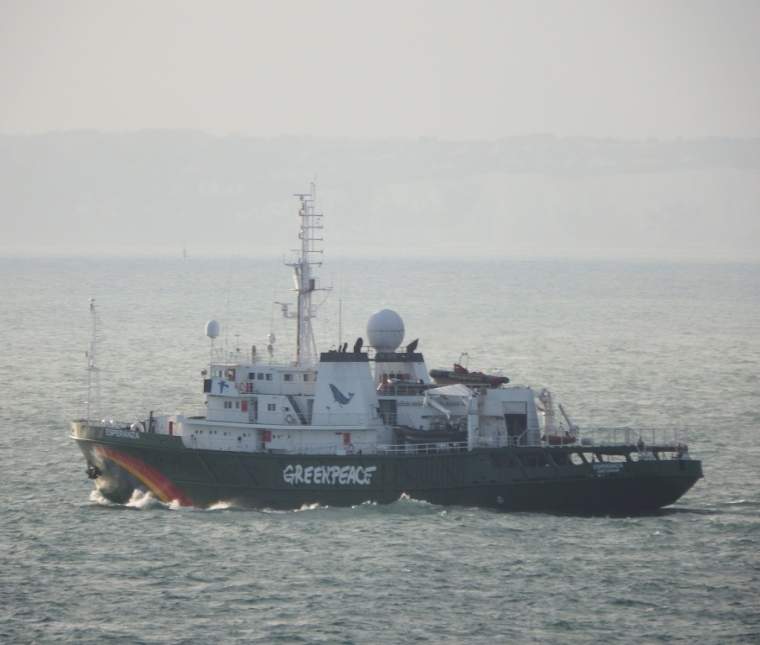 Friday, 10 October 2014 - 23:53
Post 1204
Mike J., Dover
The Seacat berth demolition continues.
Most of the steelwork has gone & the contractors are demolishing the concrete supports while local diving firm SEALIFT DIVERS are cutting away at the piles underwater.
If the Western Docks project goes through most of the sea visible in the photos will disappear when land is reclaimed & the public will lose access to the Prince of Wales pier.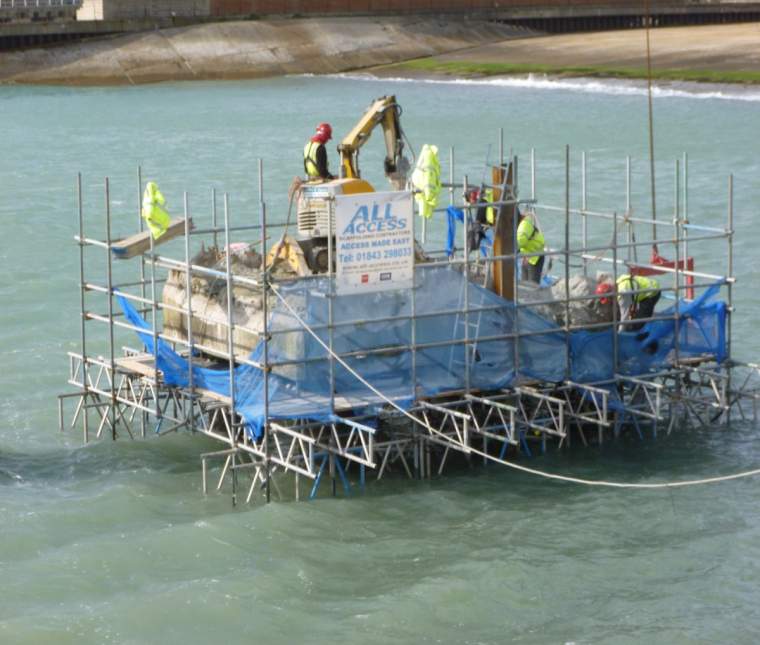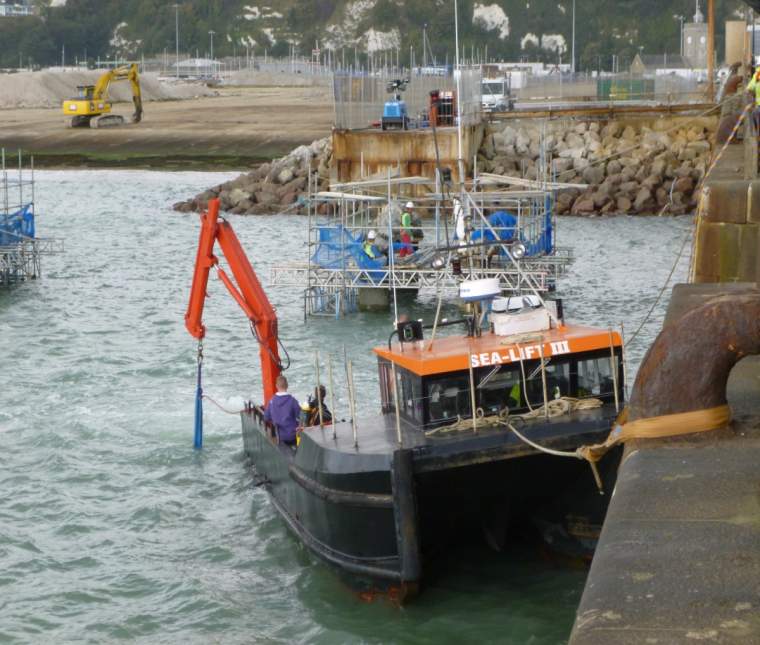 Friday, 10 October 2014 - 21:57
Post 1203
PaulB, Sea News, Dover.
Port of Dover commits £¼ million to launch community fund
________________________________________________
The Port of Dover is delighted to announce that it has committed £¼ million to launch the community fund.
The fund will also benefit from an ongoing annual contribution of 1% of pre-tax profits.
Tim Waggott, Chief Executive, Port of Dover, said:
"We have been working hard to establish a community fund for Dover and have positively engaged with our community on how to make it really effective. I am personally very grateful to the Bishop of Dover, the Right Reverend Trevor Willmott, for his guidance and input and offer my sincere thanks to all those who have given their time to help us move forward in delivering a key element of our shared vision for Dover."
The Bishop of Dover, Right Reverend Trevor Willmott, said:
"People are passionate about Dover and are passionate about how this fund should be used. We must come together to ensure that Dover receives the best opportunity from this significant new fund which the Port is establishing together with its community. I am delighted to be playing my part in guiding this process on to make sure this happens. "
Ends
* *
Good news for the community above. Moving forward together.

All this talk of money has prompted me to use this photo taken on Wednesday evening. My personal leprechaun tells me regularly that there's gold at the end of the rainbow. So there must be stacks of it onboard the Pride of Kent. I'm off, shovel in hand, to join the search for treasure. Although why I would need a shovel onboard the Pride of Kent I don't know but its an obligatory piece of equipment for the gold prospector!... The featured picture shows that brief moment in the midst of all the horrible weather when the late sun bursts through, creating strange intense colours and...yes...the magical rainbow.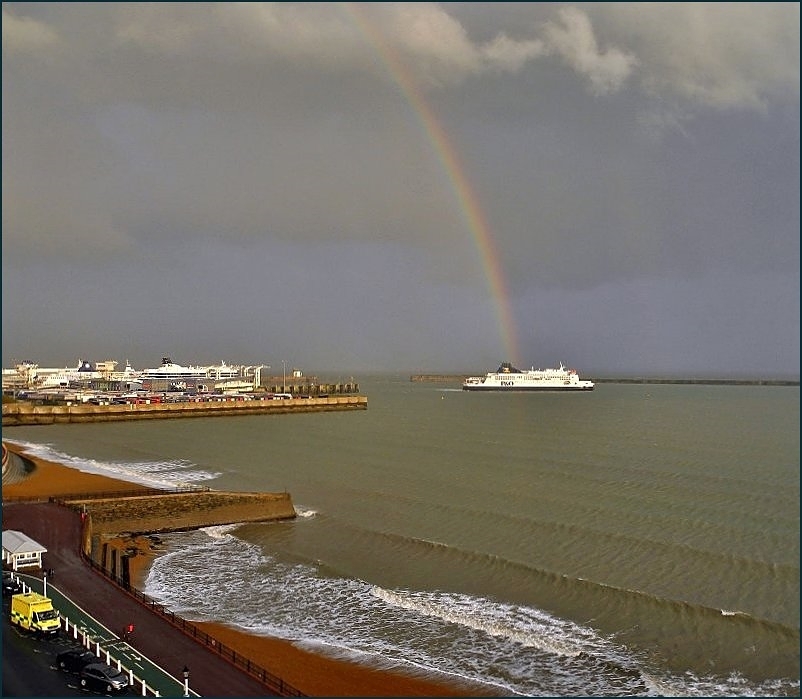 Friday, 10 October 2014 - 07:14
Post 1202
PaulB, Dover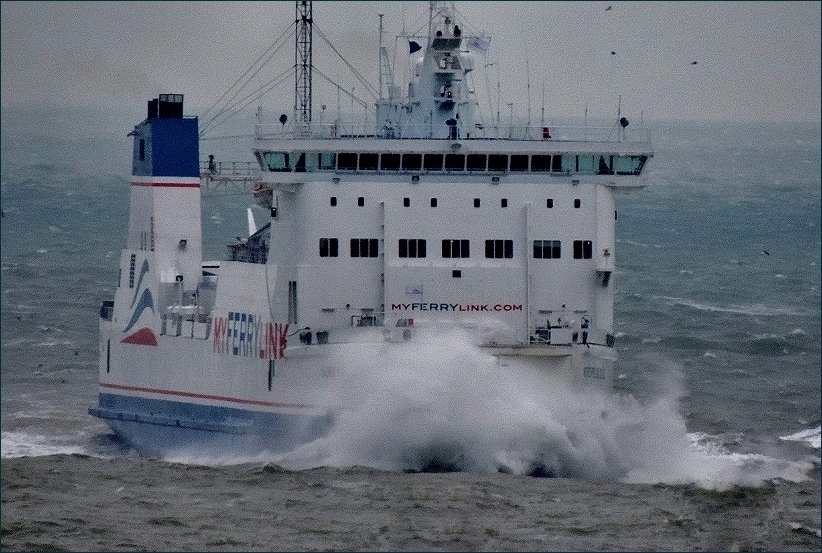 A rough oul day again yesterday and probably with more to come today. Took the pictures shown at different times of the day yesterday, and conditions didn't improve much if at all as the day wore on... and today once again it looks a tad dismal ( a master of the understatement). Perhaps not the best spell of weather to take advantage of the offers from the Ferry Companies...not for bringing your granny over perhaps. As they say in pubs everywhere...'beware the mal de mer'

Top shot shows the ever busy Nord Pas de Calais which of course is a freight only vessel with MYFerryLink. A hard working vessel too and seems ever popular with the truckers. Below we have another pic from yesterday, this time from the afternoon which was perhaps a mite less rough, and we see the old favourite Calais Seaways again... battling homeward. Look at that crewman right on the bow and up at top right you can see the Captain (?) checking out the angle of lean !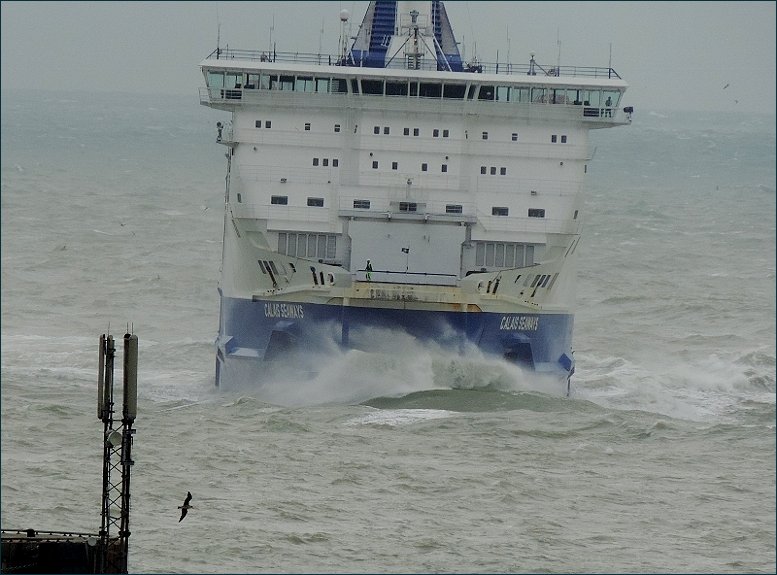 By the way Mike...meant to say, that was a great piece of film of the Norman Spirit/Calais Seaways approaching the harbour. You have to be full of admiration for the crews when you see that. Easy to see it too... I just copied your link in post 1129 and placed it at the bottom of page in Windows 8.1 and it does the rest...no need for the http:// bit.
Blimey Colette I mustnt be getting out enough...yours truly hasn't been to either Lille, Bruges or Amsterdam..

Thursday, 9 October 2014 - 06:58
Post 1201
ColetteB, Dover
Terrific Ferry photos there Guys & with some great deals for half term too

I love Lille, Bruges & Amsterdam, I remember doing these with my daughters on school breaks when they were younger, sweet memories. We actually done Bruges again not so long ago

Wednesday, 8 October 2014 - 14:54