Monday, 27 May 2019

WWW.DOVERFORUM.COM/SEA-NEWS
Featuring all the ships that come and go and work at the Port of Dover ..
... with further coverage of the surrounding ports.
Sea News Dover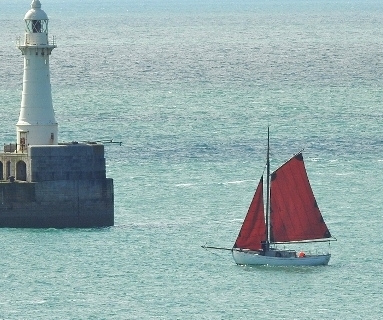 Port of Dover : Virgin Voyages 6289
Port of Dover: Brexit Resilience 6123
P&O Ferries: Record Fundraising for Lifeboats see 6253

Port of Dover: New Cargo Manager see 6205
Thames Estuary Forts 6250

DFDS: ORCA 6179
Premier Inn completes see 6149 plus
DFDS: For apprentice information see 6125
P&O: Jobs Fair/Apprenticeships 6187

P&O Ferries : FREE WINE with P&O !!!! see 6258
P&0 Ferries : FREE Fuel Voucher see 6268
Use our SEARCH ENGINE below to find all sorts on the SEA NEWS pages....
type in the topic and away you go, or if you have the post number as shown above, just type it in the box,
more than - 6250 - nautical posts now.
Posts are welcome. just click 'Add Your Comment' below. Max of 5 pictures preferred although we can stretch that for special stories..
Sea News Editor Paul Boland - send info or pix to dover7@msn.com. Always welcome.
CRUISE CALLS:
https://www.doverport.co.uk/cruise/find-a-cruise/
UPDATE:
To show your pictures at their best..it could be worthwhile resizing before posting to
850
pixels wide.
All pictures on these pages are the copyright of the owners and must not be reproduced without permission.
Post 861
Kevin Charles, Dover
The Royal Navy ships, HMS Blazer and HMS Puncher have just arrived at the Port, presumably staying overnight.

Thursday, 12 June 2014 - 19:21
Post 860
Andy MacLean, Old Wives Lees (jazzandy@btinternet.com)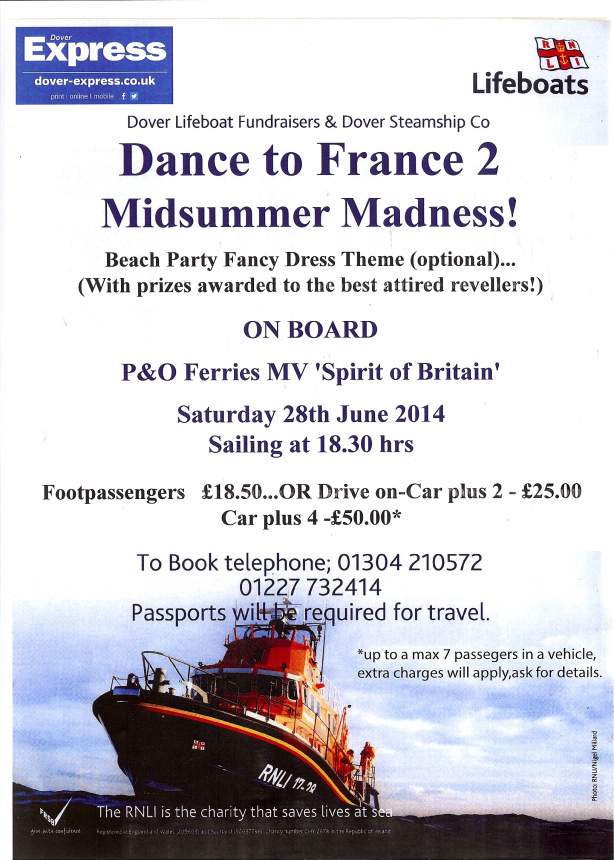 Thursday, 12 June 2014 - 17:04
Post 859
PaulB, Dover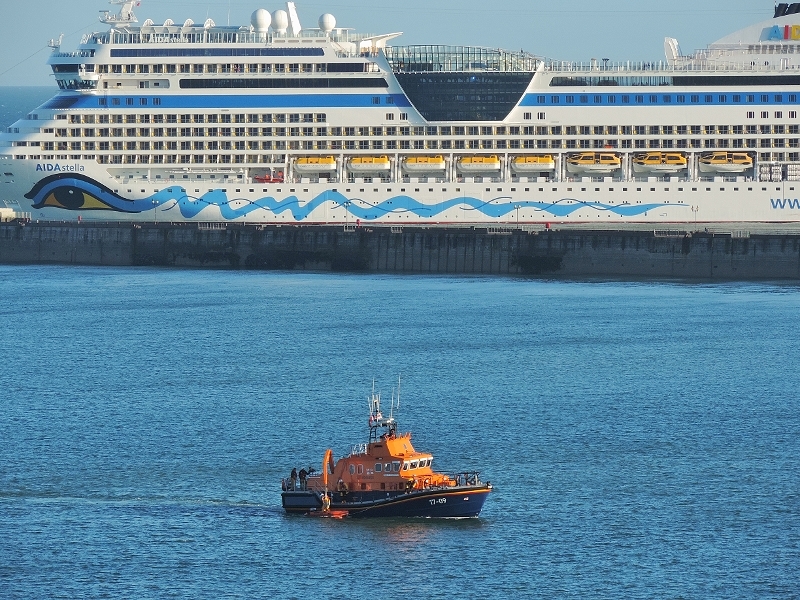 Catching the late late sun on Tuesday evening were team Lifeboat. The whole scene looking immensely colourful in the dying sun with the giant AIDA Stella making an impressive backdrop. The guys were getting in some training I guess, keeping things sharp with the busy season upon us...and it sure gets busy as we know. They launched the small RIB as you can see in the picture below.
Three of the crew enter the small craft...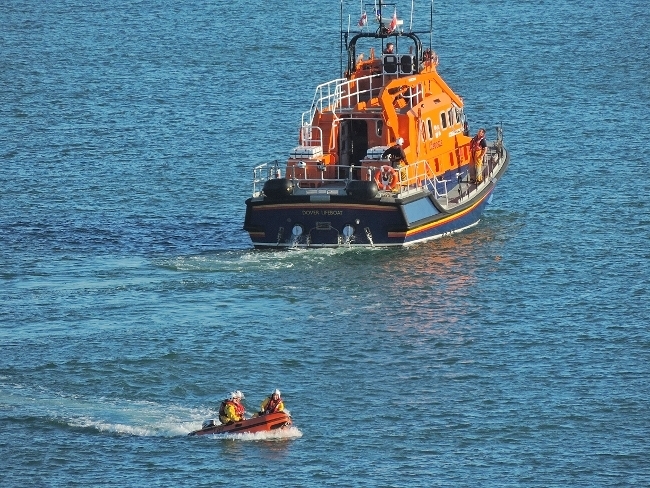 And away they go.
Eventually below.. a majestic final 'flypast'.
Good luck to them all in the coming season...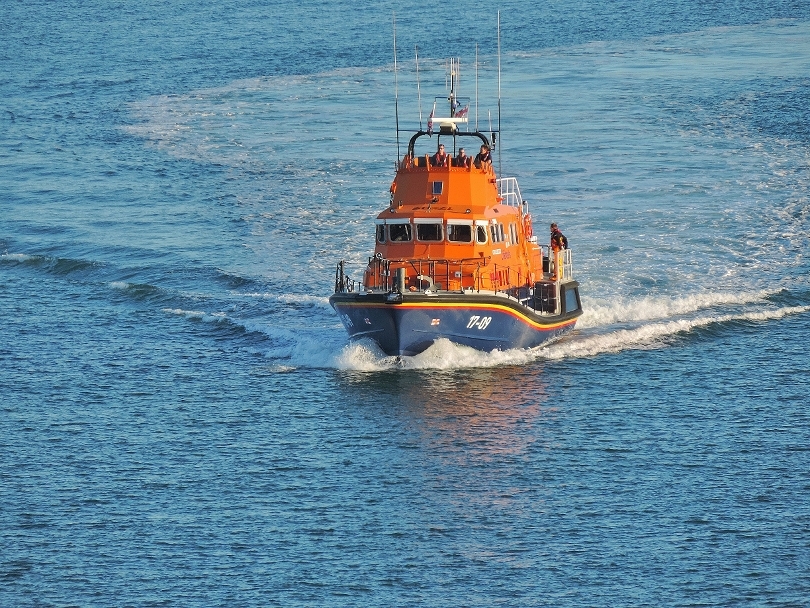 "For over 165 years Dover lifeboats have been saving lives and over 30 awards for gallantry have been presented to the crews. Today, the station operates the largest lifeboat in the fleet, a Severn class lifeboat.
This station is classed as a Discover station....our crews from Discover stations are equally welcoming to visitors but many of these stations were built before visitors were considered. These stations normally open their boathouse doors during the summer months. "
Thursday, 12 June 2014 - 07:12
Post 858
PaulB, Dover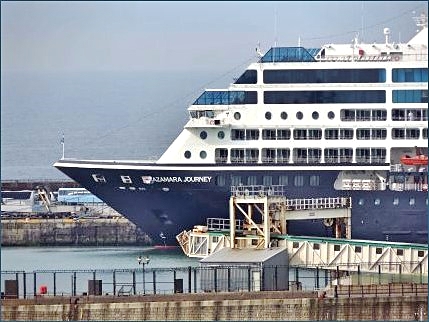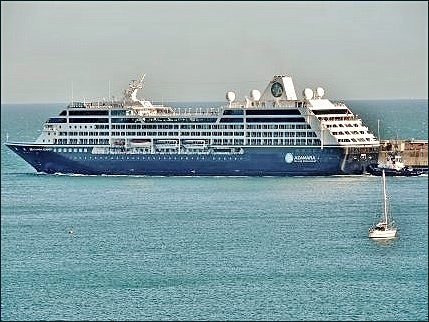 A couple of pictures here of the Azamara Journey. First one on the left shows her earlier in the day during her stay, and the one on the right shows her beginning to move off last evening getting a little assistance from the tug.
Following her out below a while later was the Aida Stella. You can see her here outside the harbour just turning south, the pilot has just left and a sail boat saunters nonchalantly by, enjoying the evening sun.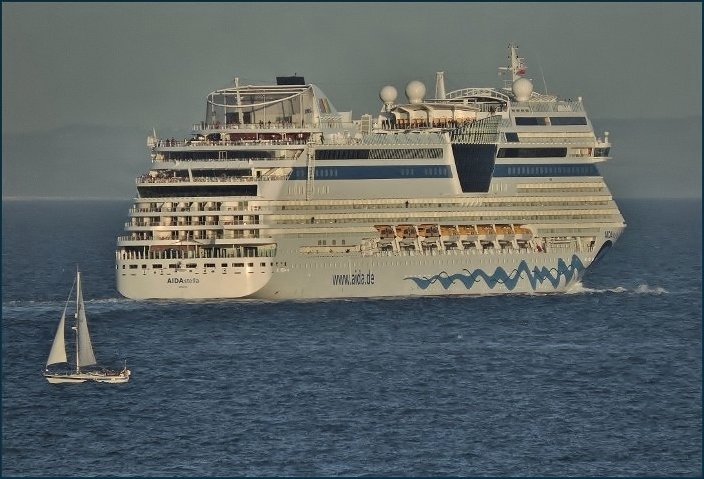 Vic you got me going there. I was about to set off to join you on the rear deck, champagne at the ready. Keep trying, you might win big yet.

Jan yes these are certainly exciting times..every morning something dazzling to see.
Thanks Kevin. Gosh you have a great memory going there Kevin..1994. Never knew that. A beautiful vessel for sure and certainly worth remembering.
Before my time in Dover, must have been quite different here in those days.
Wednesday, 11 June 2014 - 06:18
Post 857
Vic matcham, dover
Yes Paul that super yacht was the one I had on order because I won the euro on Friday but when I took my draw card into the shop it was only £3 not the 33milloin so I had to send it back but again great photos taken in good weather thank you.

Tuesday, 10 June 2014 - 14:37
Post 856
JanT, Dover
Yet again I open my curtains this morning to see two more cruise liners, a splendid sight in anybodies book.

Well done to DHB for getting these ships to make Dover a stop over.

Agree Kevin some great pictures below always good to see that those cameras have been busy.

Also good offer for Father's Day from myFERRYlink for those Dad's who enjoy golf


Tuesday, 10 June 2014 - 11:41
Post 855
Kevin Charles, Dover
Great photos, as usual, and the cruise ship season really is in full swing now. I believe Silver Cloud has actually visited Dover before, I think in 1994. The port didn't have dedicated cruise terminals back then so the ship was moored on the cargo terminal.

Tuesday, 10 June 2014 - 08:32
Post 854
PaulB, Sea News, Dover.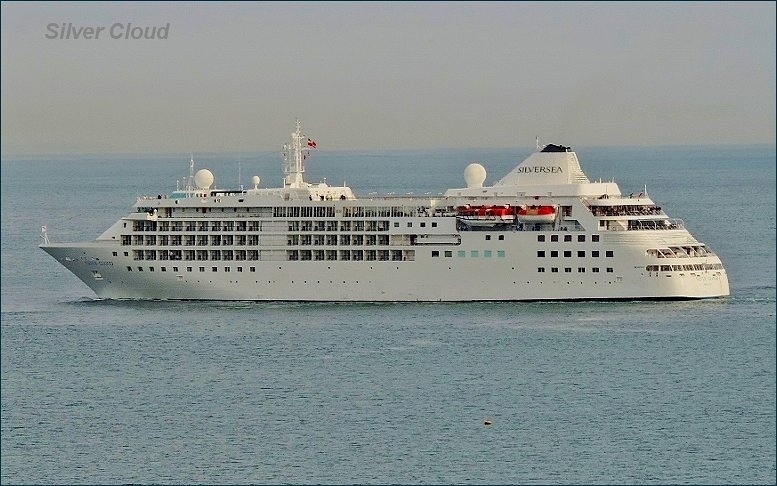 The small but cool and elegant Silver Cloud departing for Antwerp last night with the champagne definitely on ice..
And now for the latest FATHERS DAY suggestion...this time from My Ferry Link...read on..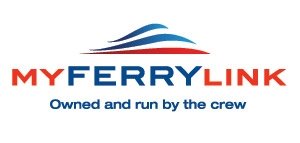 The par-fect Fatherís Day getaway with MyFerryLink
MyFerryLink offers travellers a free round of golf at Golf & Country Club de la Côte díOpale
To celebrate Fatherís Day, 15 June, Dover-Calais ferry operator MyFerryLink has secured an exclusive two for one golf deal with Golf & Country Club de la Côte díOpale, located just 20 minutes from Calais. MyFerryLink is offering its customers the chance to get one free 18-hole round of golf worth £21 and a free bottle of red wine for every green fee purchased this June. With MyFerryLink fares starting from just £29 per car for a day return, you can treat dad to a game of golf across the Channel for as little as £50 for both of you.
Nestled in between the woods of Ruminghem and the forest of Eperlecques, this 18-hole course has amazing views of the coastline between Dunkirk and Calais. Styled on American greens, the Golf & Country Club de la Côte díOpale will challenge the best of the best and bring out the competitive streak in dad!
To claim this offer, customers simply quote the MyFerryLink two for one deal when booking a round of golf, then hand in their MyFerryLink lane hanger upon arrival at the course. This offer is valid from 1 to 30 June 2014. Customers are advised to book their tee time in advance. For details of how to book and more offers at the club, including a group green fee offer of just £90 for 9 people, visit www.myferrylink.com.
MyFerryLink operates up to 16 daily crossings on the Dover-Calais route. Fares for a car and up to nine passengers start from £19 each way for short breaks (72 hours) and £29 return for a day trip, with other special fares available online.
To find the best fares, visit www.myferrylink.com or call 0844 2482 100
-Ends-
* *
Some exotic machinery moving down the Channel on sunday evening .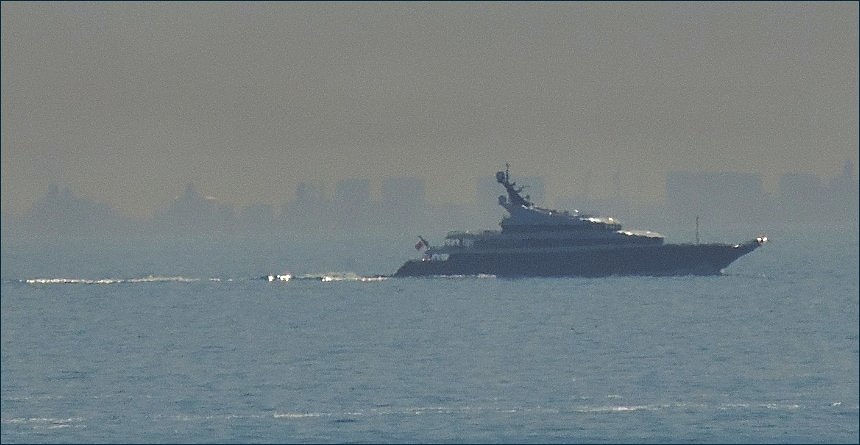 This superyacht is Phoenix2. Don't know a great deal else about her, thought for one moment it was the one that rested here last year..but no. Looks fabulous of course...that's Calais blistering in the background. Very long distance shot as you can see.
There were huge container ships in abundance on the move Sunday night, or late sunday evening...took this one through the sinking smog. Its the Hanjin Harmony. Huge...the size of several world cup football pitches no doubt..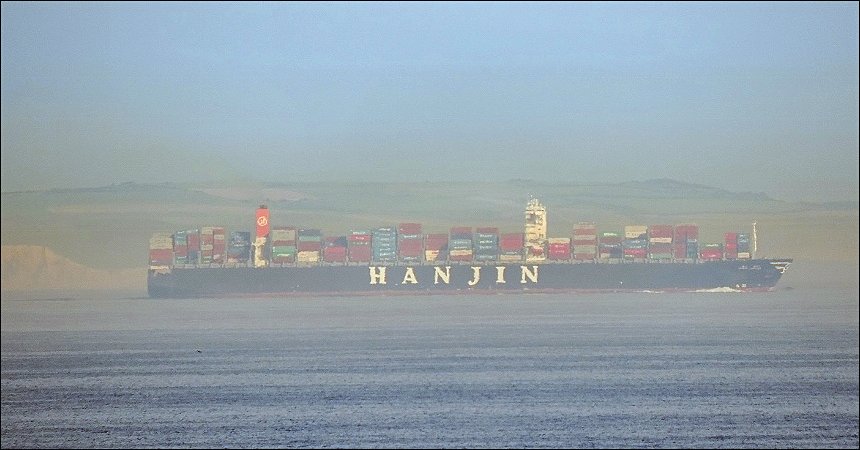 More exciting cruise liners in today...the oh so colourful AIDA STELLA plus the Azamara Journey. Brilliant stuff Port of Dover

Tuesday, 10 June 2014 - 07:36
Post 853
PaulB, Dover
Todays visitors - The Saga Sapphire left and on the right...Silver Cloud. The sleek Silver Cloud is another inaugural visit ...

Monday, 9 June 2014 - 18:40
Post 852
Jon Miell, Dover (sandettie@btinternet.com)
Ed Connell, any chance of a full copy of the lifeboat and Seaking 125 ?

Monday, 9 June 2014 - 07:10
Post 851
PaulB, Sea News, Dover.
TREAT DAD to a BEER in BRUGES


Yes indeed - Treat Dad to a beer tasting trip to Bruges this Fatherís Day with DFDS Seaways
- Price for three day return from only £39 for car and 9 passengers on Dover-France routes
Why not go the extra mile for Fatherís Day this year (15 June) and treat your Dad to a special beer tasting trip to Bruges? And with DFDS Seaways offering crossings from both Dover to Calais and Dover to Dunkirk from as little as £39 return for a car and up to 9 passengers, you neednít break the bank to get there.
In under an hourís drive from Dunkirk and less than an hour and a half from Calais, you can reach the charming medieval city of Bruges, where Belgian beer and chocolate abound. If you are interested in how Belgian beer is made, then why not take your dad to the Halve Maan (The Half Moon) brewery; the cityís famous, family-run brewery. Guided 45-minute tours are available for only 7,50 euros per person, where you can learn all about all about the special combination of malt and hops, as well as sample the beers that many consider to be the finest in the city.
Home to some 50 chocolatiers, Bruges is also the unofficial chocolate capital of Europe, where visitors can indulge in a sumptuous array of hand-crafted chocolates.
During your short two-hour crossing on DFDS Seawaysí award-winning ferry service to Dunkirk, or 90 minute crossing to Calais, you can relax onboard with a Costa coffee, or enjoy a delicious hot meal in one of our restaurants. You can also shop for last-minute holiday essentials and luxuries, or if youíre travelling with younger children, unwind in one of the café areas as they play in the dedicated childrenís area. Whoever you are travelling with, your holiday starts as soon as you board the ferry!
DFDS Seaways sails up to 44 times a day between Dover and France, providing passengers with flexible crossing times, a luxury travel experience and convenient travel options.
To find out more information, visit www.dfds.co.uk, or telephone 0871 574 7235.
ENDS
* * *
The Braemar arriving yesterday Sunday in the early afternoon. Caught it prowling slowly across the harbour while out enjoying a bit of the al fresco along the seafront. 'Twas a very busy and enjoyably warm day along the seafront, lots of our sun-starved populace out and about..ice creams were very popular..
The Braemar's arrival almost caught me out.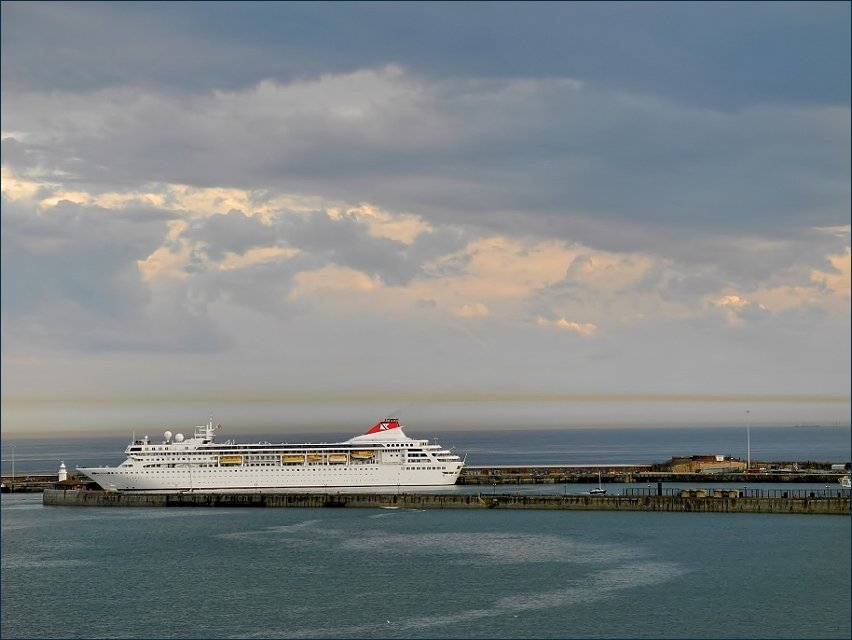 This pic above of the Braemar was taken just before she left ...taken about 8.15pm last night as it was beginning to darken. What is notable about this picture is the almost pencil looking line right across it. ..do you see it..just behind the soon to depart Braemar. Sadly it looks like pollution. Perhaps its the price we pay for the warm weather.
PS: the Silver Cloud is in today. Small and sleek - no picture as yet.
Added at 08.30: Saga Sapphire arriving
Monday, 9 June 2014 - 06:59
Post 850
PaulB, Dover
Wow! that's a cracking picture below Ed so it is. Brilliant!

Will have a couple of pix of The Braemar tomorrow Brian especially for yourself..

Sunday, 8 June 2014 - 20:27
Post 849
brian, sunny location.
I note that the braemar has made a visit,parked up earlier this afternoon.

Sunday, 8 June 2014 - 17:28
Post 848
Ed Connell, Dover
Dover lifeboat "City of London II" at the Folkestone Air Show yesterday with the RAF Sea King, range safety boat and the Folkestone Inshore Rescue Boat which unbelievably the locals have built themselves and does not belong to the RNLI.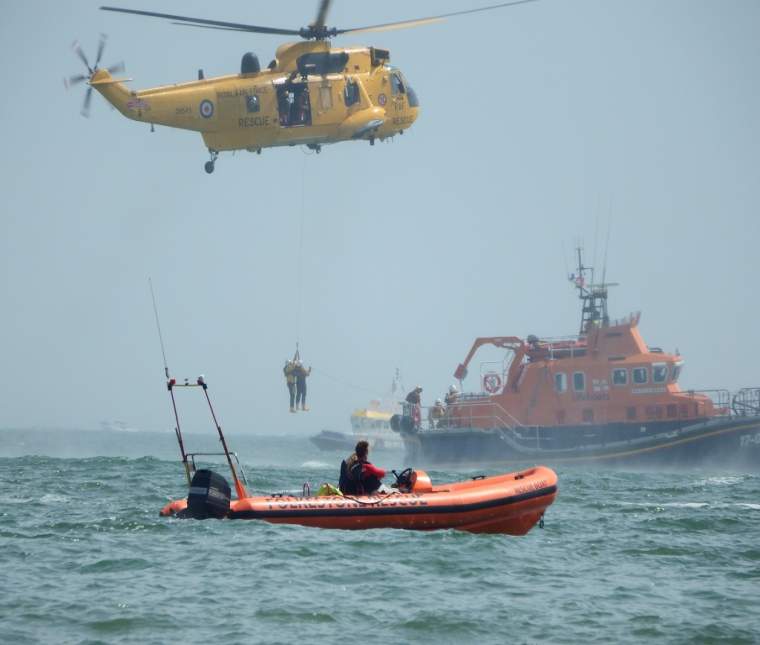 Sunday, 8 June 2014 - 11:00
Post 847
PaulB, Dover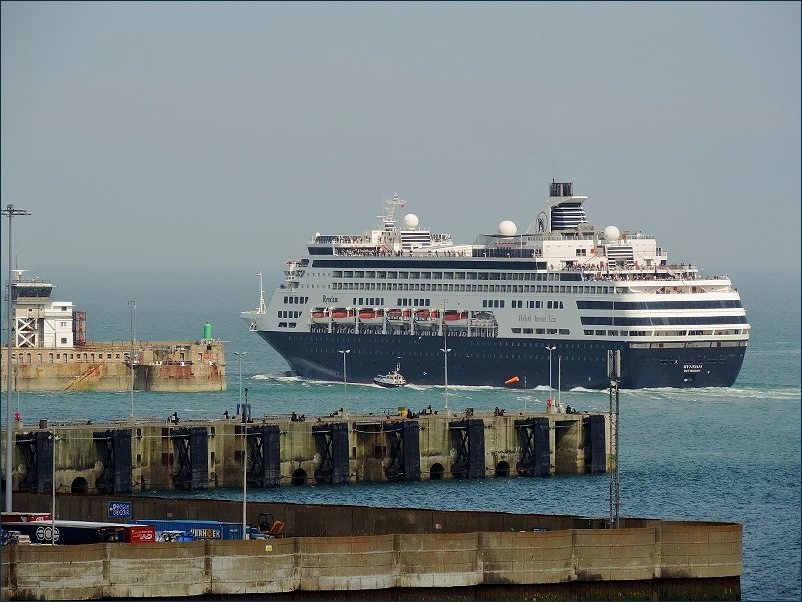 Busy evening one way or another with all the comings and goings. On the cargo front the Columbian Star changed places with the Lady Rascise and with the ferries crossing the harbour more these days and the cruise liners departing...well there is so much going on and it is all adding up to exciting times. Picture above shows our familiar friend departing the eastern exit around about 5.30 pm last evening, heading off to Oslo - its all happening in Norway these days.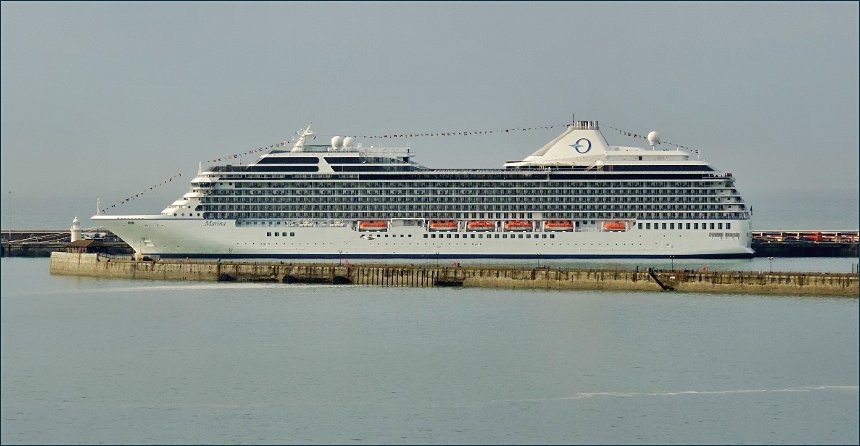 Also in harbour yesterday of course was The Marina. The Marina is an attractive ship for sure and it's always good to take pictures of that sleek look...the pic above is from earlier in the day saturday, taken once the early grim weather of the morning departed. Below we have her leaving around an hour after Ryndam last night. The 66,000 tonner was off to Zeebrugge in fine style as you can see.
One of these days yours truly will be on the deck photographing backwards....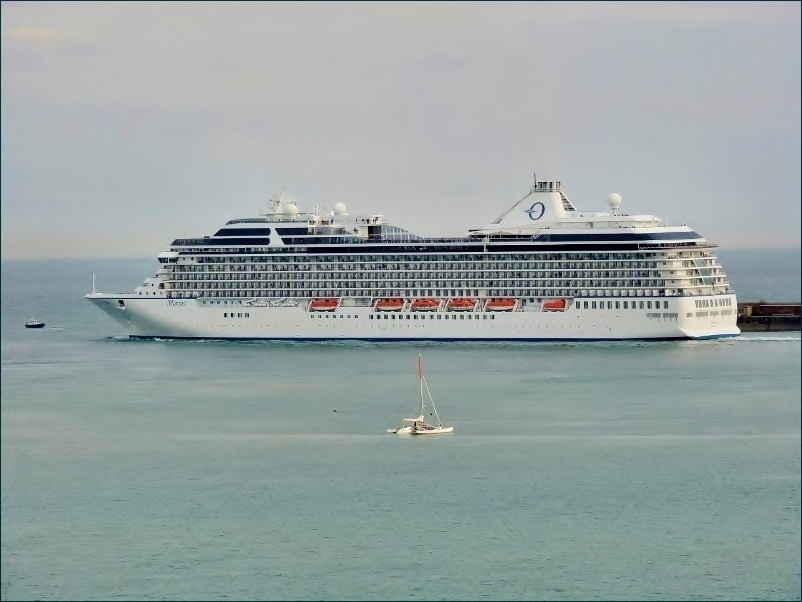 Great ships coming in these days. Dover is always worth a visit.
Sunday, 8 June 2014 - 06:07
Post 845
PaulB, Dover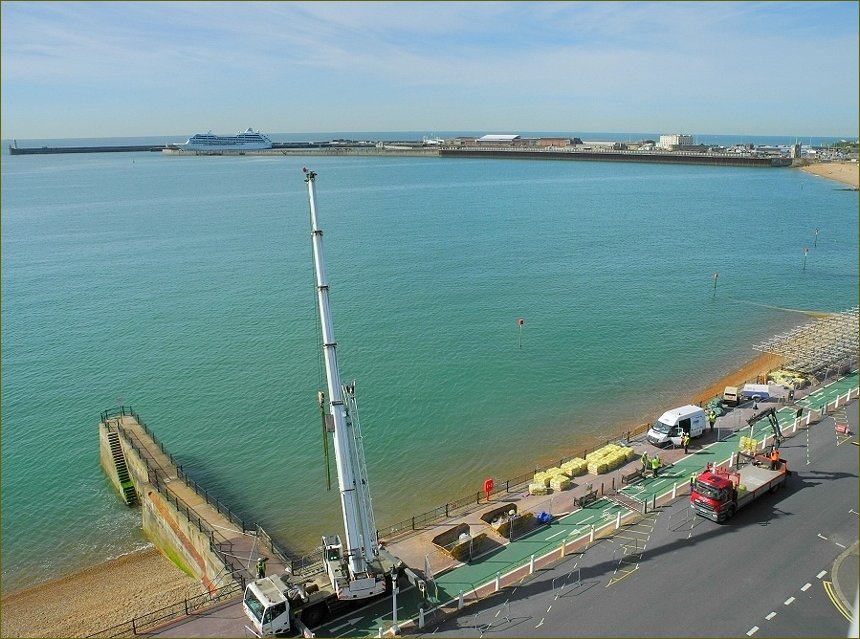 Another exciting few days again for Dover...more fab cruise ships in today but a little more on that in a moment. Just to tie up yesterday first. The picture above is a wide view of the harbour showing both the ongoing harbour works on the sea wall and the Ocean Princess as a delightful backdrop in the distance. They appear to have upped the ante on these defence/repair works once again..powering forward, working with gusto when the tide is out
The picture below shows the Ocean Princess departing the harbour last evening around 5.30pm en route to Bergen in Norway. It was a gorgeous colourful evening as she left through the eastern exit and headed out into the Channel..blue sky blue sea..all was right with the world.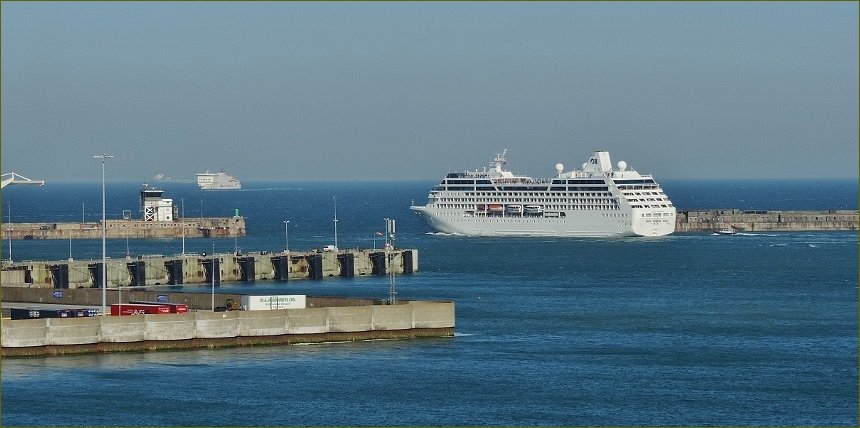 Great stuff in the post below there from Kevin with the up to the minute arrivals this morning. The Ryndam and the Marina are in..pity its a grey ol' morning right now but there we are. You cant have everything.
Great to have the list again Colette...helps us keep abreast of things for sure..otherwise yours truly would be truly astray.
Have mentioned it at the top again for easy reference as things sometimes go down the page fast. Keep doing it.
Glad you made those acknowledgements there John marking the D-Day anniversary..interesting bit of info and a nice pic that too of the Discovery.
Saturday, 7 June 2014 - 07:07
Post 844
Kevin Charles, Dover
Today's visitors - Holland America Line's, Ryndam and Oceania Cruises', Marina. Another busy day for port and town!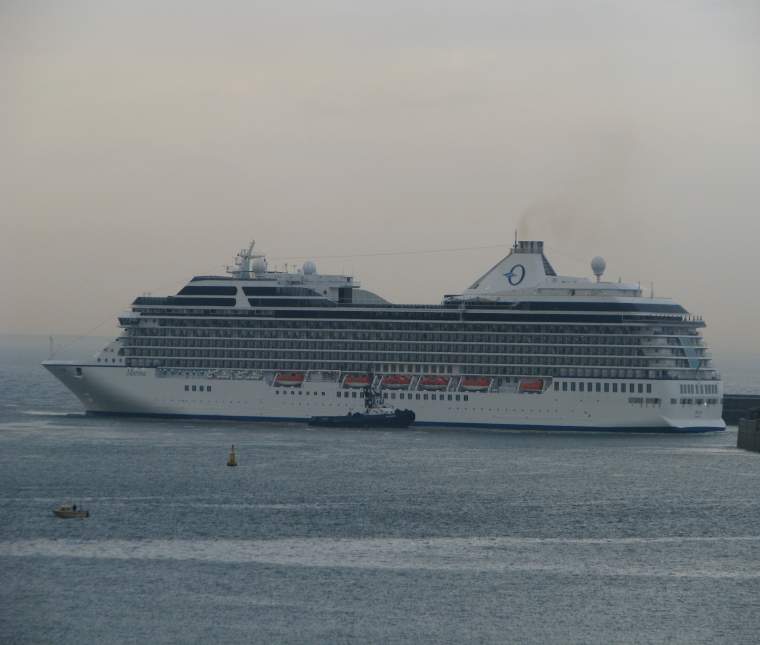 Saturday, 7 June 2014 - 07:02
Post 843
ColetteB, Dover
Sea News is Ace!!!



Good luck to Dover Harbour Board with the HRO, workshop date 15th July is in my diary

And now for more Cruise Ships.
As said on my last cruise schedule, tomorrow we see the Ryndam return & the beautiful, elegant, sophisticated Marina cruises into Dover once again, last here September 2012. The Braemar's in on Sunday for the first time this year.
On Monday the 9th June, two cruises arrive, the Saga Sapphire is back at CT1, TR & the inaugural visit of Silversea Cruises, the Silver Cloud cruises into CT2, TR (cameras ready guys)
The following day Tuesday 10th another two cruise ships, the AIDAStella is back at CT2, PoC & the luxury cruise liner, Azamara Journey complete with butler service arrives at CT1, PoC, she was last here in May 2012.
Nothing then until Friday 13th June when another Costa cruise arrives here in the shape of the Costa Classica at CT2, PoC. I don't recall her coming into Dover before but maybe our Sea News guru's will enlighten us.
The following day Saturday 14th June another two cruise ships, the Braemar returns to CT2, TR & the Ryndam returns to CT1, TR.
Ending the week on Sunday 15th June (Fathers Day) the Saga Pearl II arrives back to CT1, TR.
On Monday 16th June the Black Watch returns back to CT2, TR.
Tuesday 17th June the Saga Sapphire is back at CT1, TR.
No cruise ships then until Sunday 22nd June when the Saga Pearl II returns after her short cruise, to CT1, TR & the beautiful Ocean Princess returns to CT2, TR.
No cruise ships then until Thursday 26th June. I will be back then

Friday, 6 June 2014 - 22:16
Post 842
John Mavin, Dover
Looking at the D-Day Memorial events at Normandy today I notice five cruise ships in the area, all of which have visited Dover. Off the beaches are the Marco Polo, Minerva and Discovery; whilst the Sea Cloud 11 is in the Caen Canal and Fred Olsen's Braemar is at Le Havre.
I think the Discovery has visited only once - in June 2012.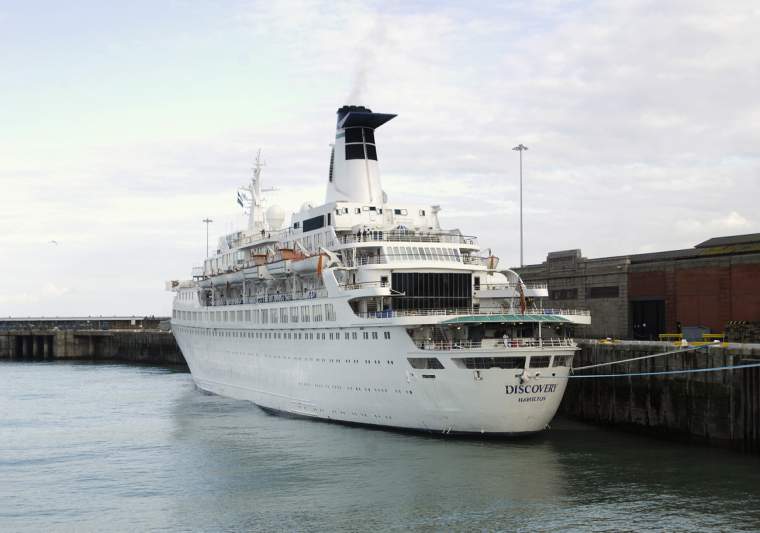 Friday, 6 June 2014 - 13:01
Post 841
PaulB, Dover
The small but beautifully packaged Ocean Princess is back in again...for the first time this year. As we say..she is relatively small, weighing in at approximately 30,000 tons, but the sleek design looks great basking in the high bright but very early sun. Yes a very early arrival for this one...this picture immediately below was taken at 5.50am and even then she appeared to have been in harbour for quite a while.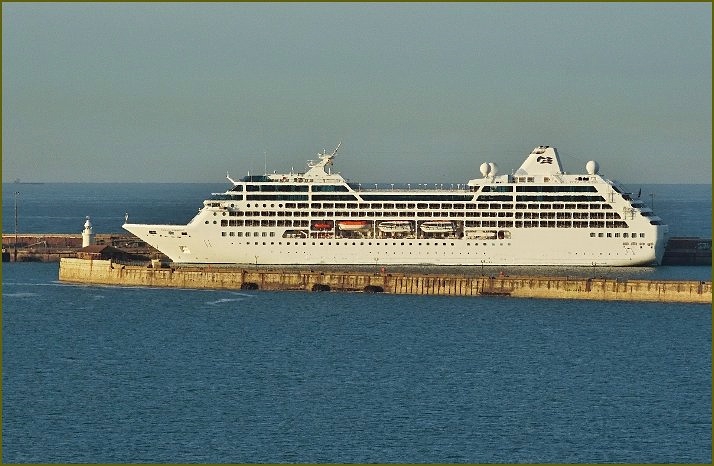 Below we have a pic of the crane that's been operating down at pier 2 or as Ed calls it ED2, to give it its proper name. Lots of development work going on there, for more detail see also Post 752..a very large crane this one reaching into the heavens as you can see.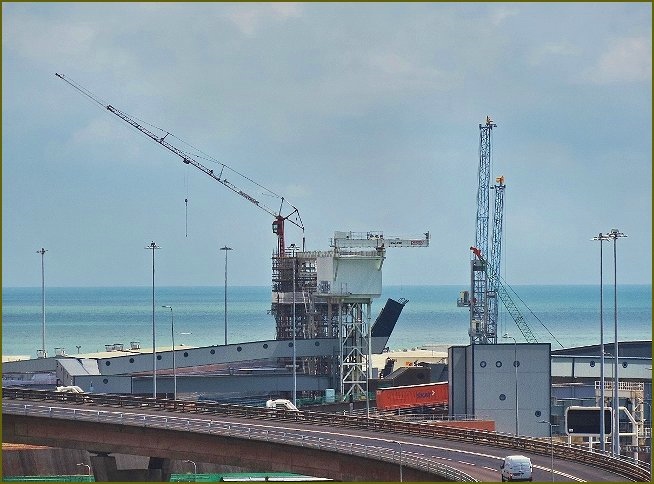 Friday, 6 June 2014 - 06:44