Friday, 18 January 2019

WWW.DOVERFORUM.COM/SEA-NEWS
Featuring all the ships that come and go and work at the Port of Dover with further coverage of the surrounding ports both sides of the Channel. Click ADD YOUR COMMENT below to post direct, no membership needed.
Listing highlights....
Scroll down or use our Search Engine for posts and pictures of Border Force in Dover and Ramsgate.
BREXIT READY statement from Port of Dover/DFDS/P&O Ferries see 6021.
P&O Spirit of Britain - notable Cyprus reflagging see 6017.
Deal Pier Kitchen restaurant opens 6016.
Charlie Elphicke MP - making our borders stronger, safer 6014.
BORDER FORCE SEARCHER and migrant boat.. see 5969 below..

Port of Dover supports Women in Maritime 5975.
Christmas Lifeboats in Ramsgate see 5937.
P&O: Britain's Favourite see 5922.
DFDS: Voted Worlds Leading Ferry Operator...see 5918..
Charlie Elphicke MP: Migrant Crisis 5894.
P&O: Santa Onboard see 5870.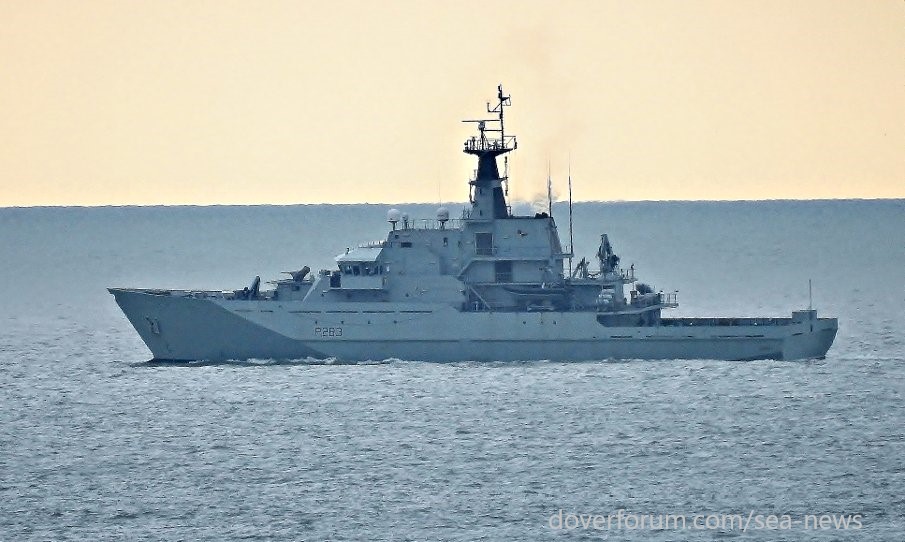 The Royal Navy - HMS Mersey off Dover.

Highlights continue...
Wreck of the Anneliese 5880, 5881, 5882 ...
Port: Additional Funding for Kent Wildlife Trust 5879.
P&O: Apprentices welcome RB Legion veterans 5853.
Eight new apprentices graduate see 5845.
DFDS: 'SEE PORTS' Calais and Dunkerque 5834.
DFDS: Revitalising dining concepts onboard.. see 5831.
P&O: Schoolchildren mark WW1 see 5816.
Lower Thames Crossing boost..5812. see now also 5817.
Dover Museum's revitalisation see 5807.

Port of Dover: Refrigerated Cargo Terminal .. software for 5801. Latest NATO also 5801.
Port of Dover: Great increase in summer traffic 5795.
Russian and shadow 5785.
The Waverley paddle steamer latest 5778...
New SAGA Ship launching in Dover see 5776.
DOUG BANNISTER: New Chief Executive Port of Dover see below 5734....
Merchant Navy Ceremonial images also 5734.
P&O: To Rome on Horseback 5759.
Dover Regatta Rescue incident plus .. see 5713.
Dover Regatta pictures Lifeboat etc..5716, 5717, 5718, 5720.

DFDS Expansion: More New Ferries on order... see 5693 see also 5500 and 5381.
Excellent Tourist season for P&O Ferries see 5649.
VSBW Port of Dover - Women at Work 5638.
P&O Second Female captain see 5107. Also see latest 5570.



NEW:

For instant access to any item listed above - just type the post number in the Search Engine below.

Sea News Dover : Use our SEARCH ENGINE below to find all sorts on the SEA NEWS pages....
type in the topic and away you go, more than - 6000 - nautical posts now.
Posts are welcome. Max of 5 pictures preferred although we can stretch that for special stories..
Sea News Editor Paul Boland - send info or pix to dover7@msn.com. Always welcome.
All pictures on these pages are the copyright of the owners and must not be reproduced without permission.
To show your pictures at their best..it could be worthwhile resizing before posting to
840
pixels wide.
Post 583
ColetteB, Dover
Well it's cruise season again starting this Sunday 30th, Mothers Day, with the historic MV Azores at CT2, thanks to Mike for the very interesting background information

Then on Thursday 3rd April we welcome back the AIDACara at CT1, PoC.
The following day, Friday 4th April we see the arrival of Discovery at CT1, PoC, she was last seen here in June 2012.
Then on Monday 14th April the MSC Magnifica arrives at CT2, PoC.
A break then until Tuesady 22nd April when the Ocean Nova calls into CT1, PoC. I can't recall this one before, over to Mike

On Friday 25th April the MSC Magnifica returns back to CT2, PoC.
The last call for April is the last day of April, Wednesday 30th, we welcome the AIDABella at CT2, PoC, this also looks like a first visit.
We have an abundance of cruise ships coming to Dover in the month of May with two & three cruise ships coming in some days, so a real treat to come. We start with the first of the Saga fleet on May Day, the 1st May with the Saga Pearl ll.
That's the first cruise call information for 2014

Tuesday, 25 March 2014 - 12:09
Post 582
John Mavin, Dover
Thanks Mike for the posting on the Saint David of London. There can't be many vessels left that flew the swastika and as far as I'm aware SDL is permanently based at Dover. I'm not sure if you're aware of her own website:

www.saintdavidoflondon.com

....this gives not only her remarkable history but photos showing her her dramatic transformation over the years which was so extensive her insurers re-classified her as a new build in 1992 .


Tuesday, 25 March 2014 - 08:57
Post 581
PaulB, Dover
PORT WELCOMES NEW RECRUITS FULL OF DETERMINATION AND DEDICATION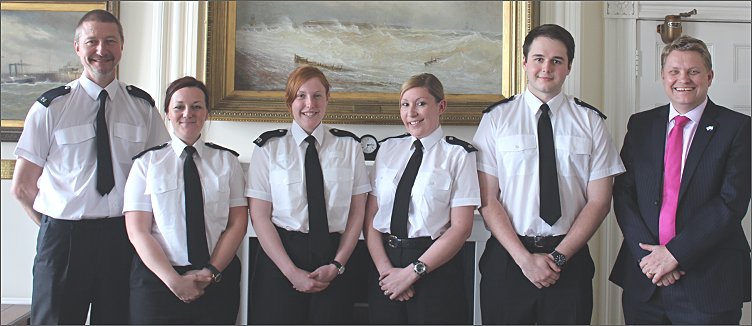 The Port of Dover has welcomed four new Port of Dover Police Officers to Europe's busiest international ferry port as they commit to playing their part in meeting the Port's vision of becoming the best port in the world for the benefit of customers and the community.
Dedicated to the safety and security of the Port, the 13 million customers who use it and the local community, the appointment of new officers reflects the ongoing commitment of the Port of Dover Police to provide a visible and effectiveness police service to the Port community.
Superintendent Paul Wilczek, Chief Officer for Port of Dover Police said:
"It's fantastic to see such enthusiastic and committed new officers joining the Port of Dover Police force which has such a great heritage of serving its Port community."
The four new recruits are:
Donna Shorter, who was previously a Courts Warrants Officer and a Kent Police Special Constable where she performed the role of A/Section Officer, responsible for up to 15 officers. Jake Griffiths has a BSc (Honours) degree in Crime and Policing and previously held the position of Freight Co-ordinater within the Port for DFDS Seaways. Jennifer Wheatley is a Master of Mathematics (2.1 Honours) and worked with Kent Police as a civilian employee in the Police National Computer (PNC) Bureau. Sarah Lavender was formerly a Community Safety Officer for Shepway District Council and has an Advanced NVQ Level 3 in Business and Administration and a Btec Level 3 in Neighbourhood Nuisance and Anti-Social Behaviour.
Tim Waggott, Chief Executive, Port of Dover, added:
"I am delighted that the Port of Dover Police has been able to recruit people who are full of such enthusiasm and with relevant academic and employment experience. I am sure that they will be highly valued by the Port's customers and community whom they will serve. I wish them well in their careers within the police service, joining at such a exciting time for the Port and for Dover."
Pictured left to right – PC Paul Skinner, PC Sarah Lavender, PC Jennifer Wheatley, PC Donna Shorter, PC Jake Griffiths and Chief Executive Tim Waggott.
Tuesday, 25 March 2014 - 06:57
Post 578
PaulB, Dover
Thanks Vic - we will continue to do our best to bring good pictures and interesting items. More to come...

Monday, 24 March 2014 - 16:16
Post 577
Vic Matcham, Dover
Great photos again of one of the most busy seaports in the world working 24/7 /365days a year and with the photos come some very good write ups.
Thank you for doing them.

Monday, 24 March 2014 - 07:01
Post 576
PaulB, Dover
DOVER HARBOUR: Springtime Sailing on a Sunday Afternoon...and on a pea green sea too...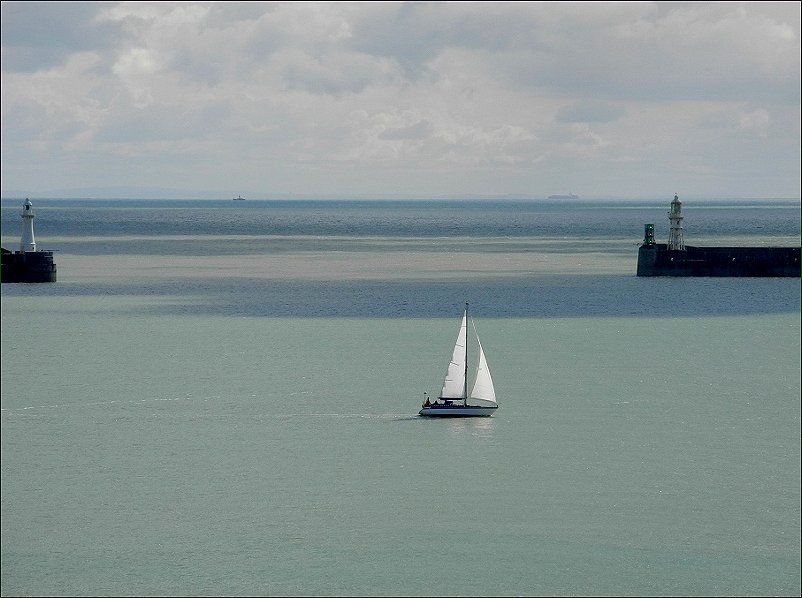 It all went jollying along in fine style until the showers started rolling in. One hardly spilt the Pimms at all. But being Spring it didnt last...you can see the heavy stuff approaching in the pictures below, coming in from the west with a hint of menace.... spoiling the genteel tranquillity.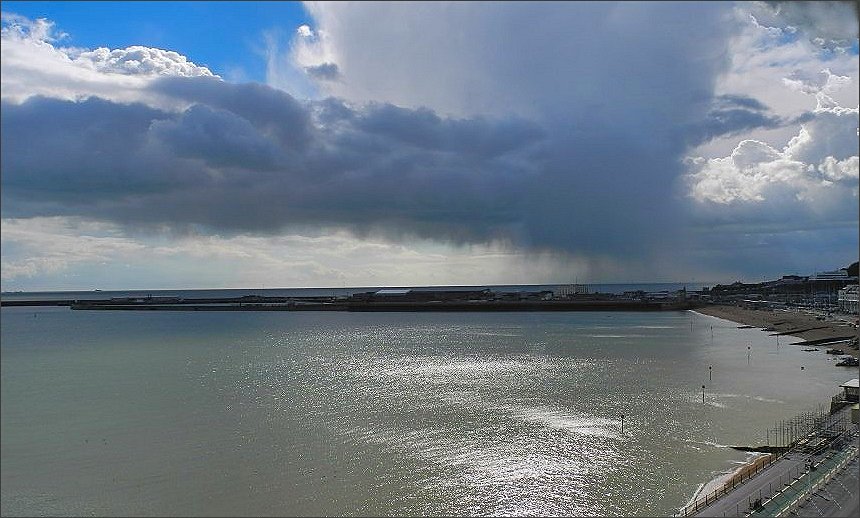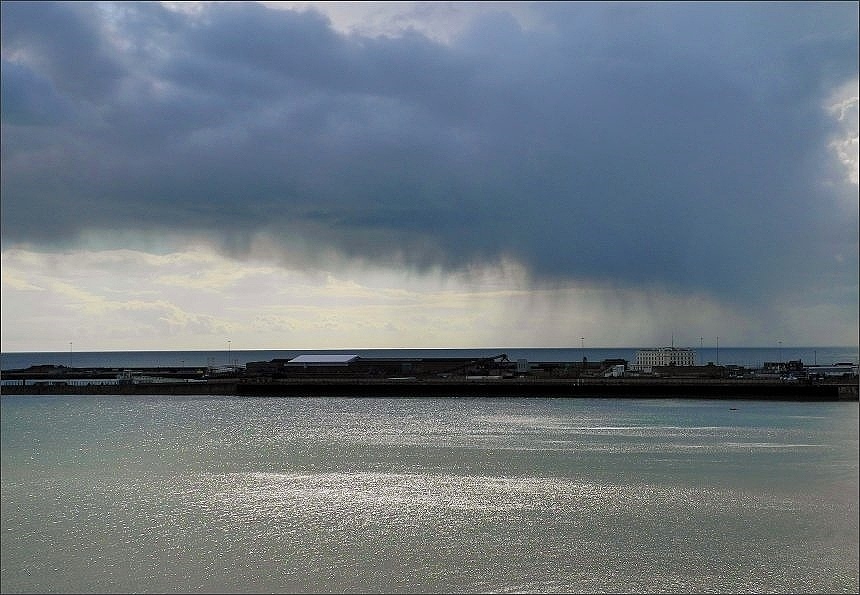 I'm afraid it was a day of sunshine and showers but once again lots of people were out and about enjoying the day. The latest trend is being photographed on the Norwegian Rocks. I suppose its a great novelty while they are still in a series of large heaps. One for the scrapbooks indeed. Before too long they will be nicely laid out in groynes and the spectacular mounds of volcanic rock will be gone, be dissipated.
Nice pictures of the Saint David below there. Took a detour to take a look at her yesterday after seeing Mike's pictures and info

Monday, 24 March 2014 - 06:19
Post 575
Andy MacLean, Old Wives Lees (jazzandy@btinternet.com)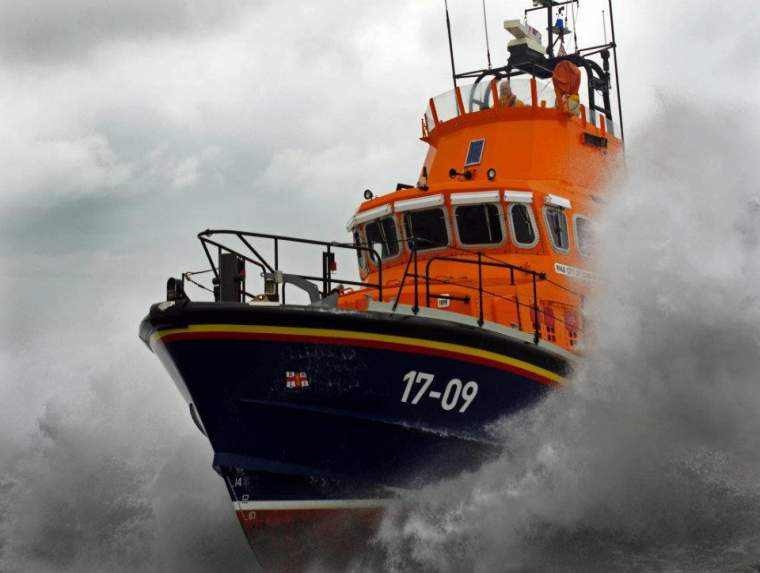 Last couple of days to aid the Dover Lifeboat and the TSS Dover restoration funds!
JOIN US ON OUR 70'S AND 80'S DISCO CRUISE ON MV SPIRIT OF BRITAIN
Saturday 29th. March at 1835. retuining by 2230 hrs.
Both cars and foot passenger availability.
Phone 01227 732414 for tickets NOW!
Sunday, 23 March 2014 - 11:50
Post 574
Mike J., Dver
Another elderly vessel was in Wellington Dock on Saturday morning & is probably still there.
The SAINT DAVID OF LONDON was built in Sweden in 1905 as a small steam passenger vessel & was later converted to a salvage vessel/icebreaking tug.
She has had an interesting & varied career, being converted to diesel power in the late 1950s.
In 1939 she was seized by the German Navy whilst carrying Jewish refugees & used as a patrol vessel during WW2.
Little remains of the original vessel apart from the hull which itself has been modified.
She has been an occasional visitor to Dover over the years.
I found most of her history on the 'Shipspotting' website, just Google the site & type in her name.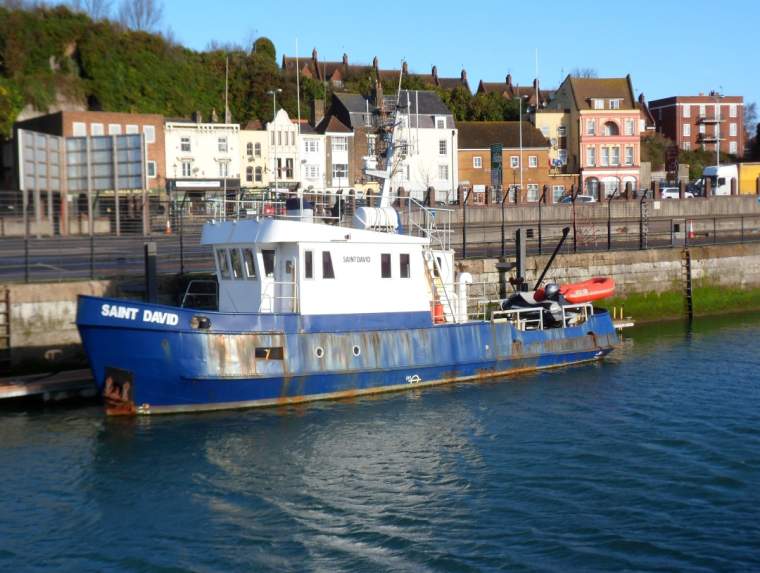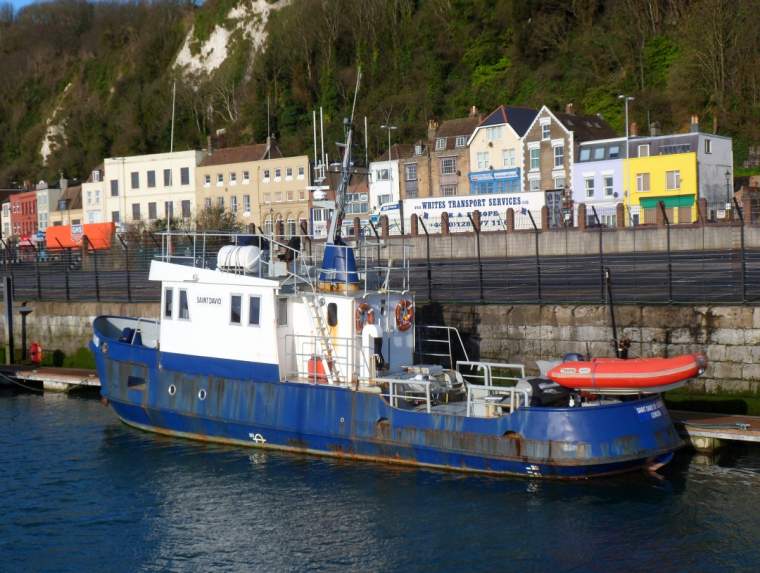 Sunday, 23 March 2014 - 09:31
Post 573
PaulB, Dover
Thanks for that info Mike, great stuff! I will certainly look out for both the cruise liner and the next Norwegian Rock delivery. Have added a pic temporarily to the top of the page which looks down from above (.. to an extent !

the helicopter was unavailable at the time! ) on barge Charlie Rock and I think you were right as you can see from the load onboard .... that they were just bringing the last of the previous rock..
Nice picture of the Athena/Azores below there too..

Yes you might be right there Howard re Folkestone...I don't know for sure either. But somehow I cant see it happening.
Sunday, 23 March 2014 - 06:23
Post 571
howard mcsweeney, dover
Will look forward to the "new" cruise liner, certainly has an interesting history.

richard suggests that my ferry relocate to folkestone but i thought the ships were too big for the harbour there. i'm willing to be corrected on that.

Saturday, 22 March 2014 - 12:19
Post 570
Mike J., Dover
PaulB -
My spies tell me that there is another shipload coming from Norway, but ETA is uncertain.
I think that yesterday's pix [very good !] was just dumping off some rocks that remained on the CHARLEY ROCK from the first delivery.
On 30/3 we have a 'historic' ship coming into Dover - the m/v AZORES, probably the oldest cruise ship still in ocean-going service.
She was built in 1948 as the STOCKHOLM & gained notoriety in 1956 when she was in collision in fog off Nantucket with the Italian liner ANDREA DORIA which subsequently sank with the loss of 46 lives, 4 lives being lost on the STOCKHOLM.
She now looks quite different from her original appearance & has had many namechanges & I think was last in Dover in 2010 as the ATHENA, being renamed the AZORES in 2013.
Saturday, 22 March 2014 - 10:15
Post 569
PaulB, Dover
Mike J was spot on re further Norwegian Larvic Rock delivery. I suddenly saw this unannounced laden monster slowly creeping across the harbour yesterday. And the vessels are of monster size for sure. Shooting into the ultra blinding sunlight gave the pictures a surreal air...the first one looks almost like a watercolour.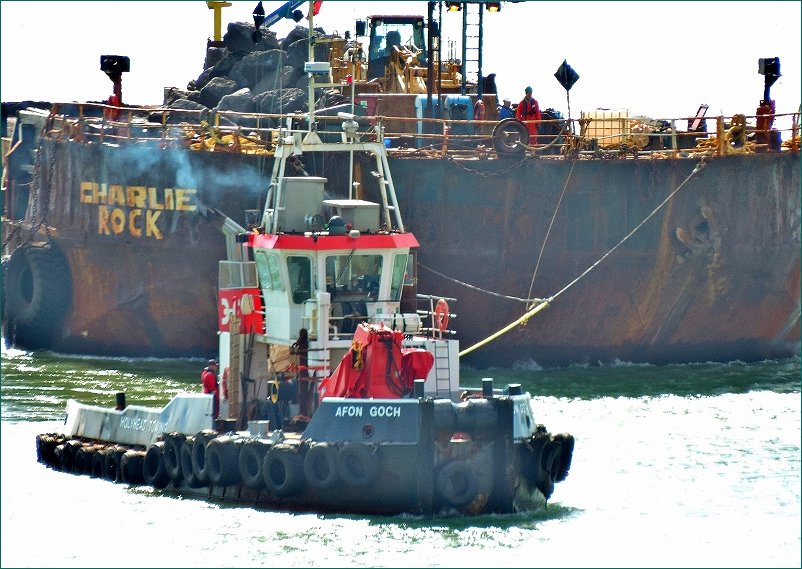 Above in the noonday sun...Afon Goch tows Charlie Rock..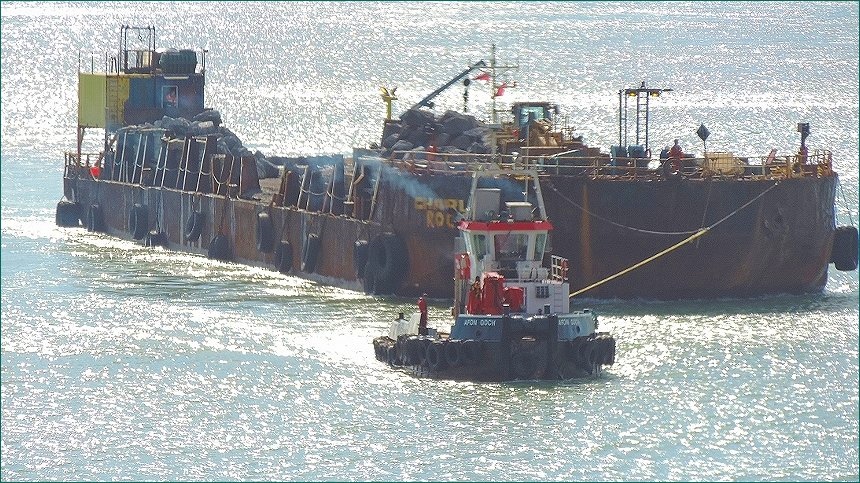 A wider shot of the same event. The huge barge Charlie Rock transporting yet more Rock to the beach for the continued groyne renewal. Lots of rock and no roll. Tons of the volcanic rock, I presume its volcanic, has arrived now and is being worked and shaped daily. Have lots of other pictures of the scene but will leave it at that for now.
Interesting comment Richard. We will have to see what happens now. I wont say much on the topic but.. it would be a shame to lose those ships.
Saturday, 22 March 2014 - 06:20
Post 568
Richard Moffatt, Elham
My Ferry Link-Why not retreat with all their kit and start up in Folkestone? It's not too late to challenge the forthcoming Harbour Revision Order and retain the harbour branch railway. The new seafront development of Roger De Haan can co-exist with a new cross channel operation to Boulogne. It's as simple as that.

Friday, 21 March 2014 - 21:09
Post 567
PaulB, Dover
Following this morning's announcement of the Competition Commission's preliminary findings.... ( Eurotunnel statement now added below)


A Statement from DFDS
_____________________

DFDS is pleased with the UK Competition Commission's provisional findings that it does have the jurisdiction to decide on Eurotunnel's entry into the Dover-France ferry market with the former Seafrance ships. In June 2013, the Competition Commission ruled that Eurotunnel must leave the ferry market, but the Competition Appeal Tribunal decided that the Competition Commission should reconsider whether it was in fact a merger and therefore within the CC's jurisdiction.

As the findings announced today are provisional, we are not able to comment further on this at the moment. We can only reaffirm our objective, which is to act in the best interests of our employees and customers. This can only be achieved if conditions for fair competition are established in the Channel.



*****************************************************************************************************************************

Or in other words and in simple terms.. My Ferry Link are back on dodgy ground again due to their association with Eurotunnel..


Here is the Eurotunnel response
_______________________________


Groupe Eurotunnel expresses incomprehension regarding
Competition Commission provisional findings

The Competition Commission has reaffirmed its competence by considering that Groupe Eurotunnel took over SeaFrance and that this takeover falls under the Merger Act. As a result, the Competition Commission has concluded that it has no reason to change its opinion and that MyFerryLink must cease operations, even though MyFerryLink provides a new and appreciated proposition for consumers.

As a reminder, The Competition Appeal Tribunal found unanimously against the original decision by the Competition Commission. In accordance with British procedure, the Commission has published an initial report to enable the parties involved to comment. The Competition Commission must publish its decision relating to Groupe Eurotunnel's acquisition of three ferries from the defunct maritime operator, SeaFrance, in July 2012 and the creation of MyFerryLink, at the beginning of May.

Groupe Eurotunnel confirms that SeaFrance ceased operations in November 2011 and was liquidated six months before it acquired the ferries and leased them to an independent operating company, the SCOP. Groupe Eurotunnel cannot understand how it is possible to acquire a company six months after it has ceased to exist and nine months after the closure of all operations. Groupe Eurotunnel also points out that the decision of the Competition Commission is completely contradictory to that expressed previously by the French competition authorities.

Groupe Eurotunnel emphasises that over the past two years the market has in no way been negatively affected by MyFerryLink. On the contrary statements by a competitor confirming that it would have to leave the Short Straits are, in the light of the evidence from public statements about their financial strength and ambitions to expand, entirely incredible.

To conclude, if prior to its final decision the Competition Commission does not wish to review its perspective on the competition which exists across the Strait of Dover in the light of the current reality, and not based on suppositions from two years ago, Groupe Eurotunnel will withdraw its ferries from the Channel.


Friday, 21 March 2014 - 08:46
Post 566
PaulB, Dover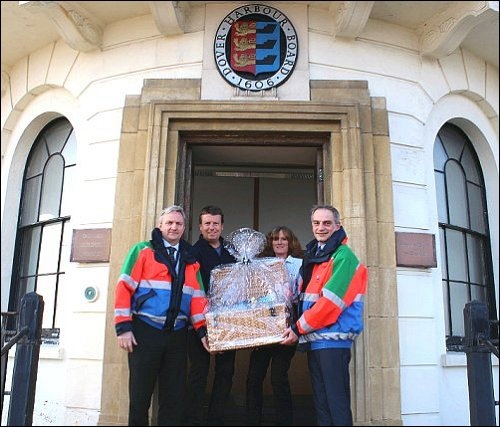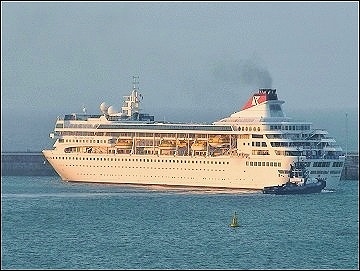 Kentish Hamper Winner
.......... a very satisfactory result all round.

The Hamper winner shown above is from Kent and he received a hamper made from Kentish produce supplied by a Kentish caterer for completing a questionnaire at Kent's number one cruise port.
As part of the Port of Dover's commitment to provide the very best Kentish service to its cruise customers as part of its award winning partnership with Visit Kent, the Port has been operating customer feedback kiosks to gain information on its performance.
Sean Chaffey, Marketing and Customer Relations Manager, Port of Dover, said: "We greatly value the feedback we receive from all of our customers. These are the people who are going to tell us whether or not we are achieving our vision of being the best port in the world. Our cruise customers are no exception."
Having travelled on a Fred Olsen cruise last summer, Mr P. Troubridge completed his feedback at the kiosk and was entered into a free prize draw to win a lovely Kentish hamper kindly donated by Dover-based Riverside Catering Services, caterers to Dover's cruise terminals. Mr Troubridge turned out to be the lucky winner of the hamper.
Rob Kirk, Co-owner of Riverside Catering Services, said: "We work closely with the Port to provide quality services to cruise passengers as well as the local community and visitors to Dover. We were delighted to provide a special Kentish hamper that reflects how we are all working together to promote Kent and showcase what we have to offer."
What's more, Mr Troubridge stated that he was very satisfied with the service and facilities at the Port. So it is a great result all round and shows that the Port is heading in the right direction towards the achievement of its vision.
Mr Chaffey added: "The Port is working hard to deliver the best product for its customers whilst at the same time supporting local suppliers that promotes the best of Kent and contributes to the local economy."
Photo (left to right) is of Mark Punton (Business Manager Cargo and Cruise, Port of Dover), Mr and Mrs Troubridge, and Sean Chaffey (Marketing and Customer Relations Manager, Port of Dover). Pictured right...The Braemar. A Fred Olsen cruise ship and regular visitor to Dover. Picture from last summer.
* *
The Pride of Kent back in the thick of the action yesterday Thursday. Picture taken around 5pm.
Friday, 21 March 2014 - 05:10
Post 565
PaulB, Dover
Thanks for that info on the Pride of Kent Howard..wasn't aware of that. Obviously knew something was up. The ships generally are hugely reliable when you consider the pounding they get. Good to see it back in action so swiftly.
Work continued on the ever growing Groynes into the dead of night... this is the scene late last night...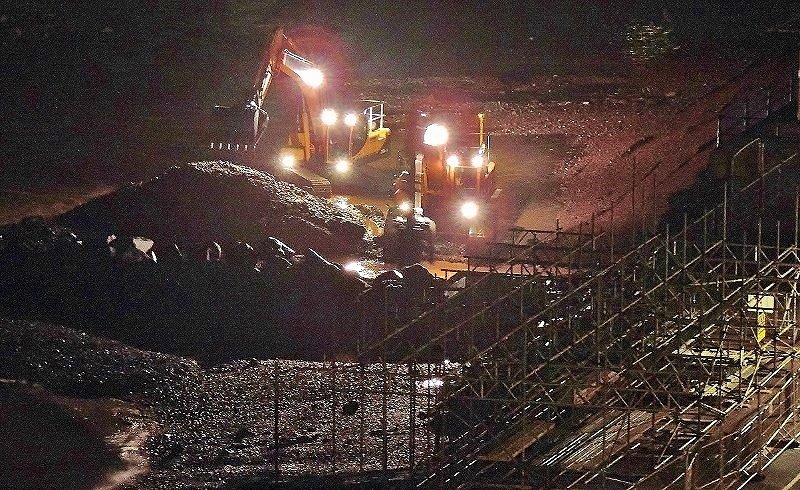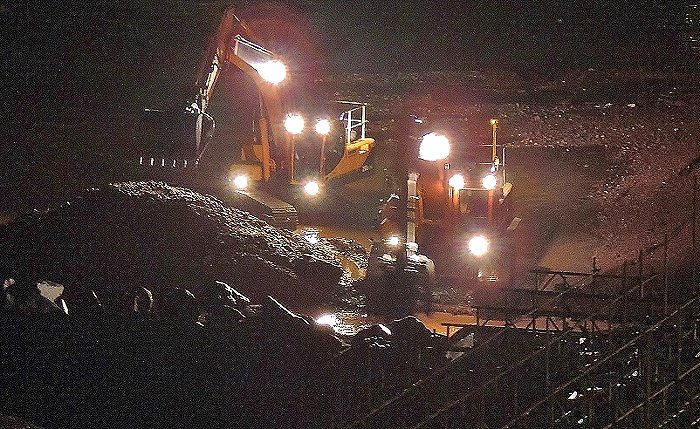 The huge diggers were a-growling and a-groaning and a-spitting fire...a chap coming back late from the pub after drowning his sorrows re George Osborne's Budget... would have an attack of apoplexy if he saw these approaching. Heavens!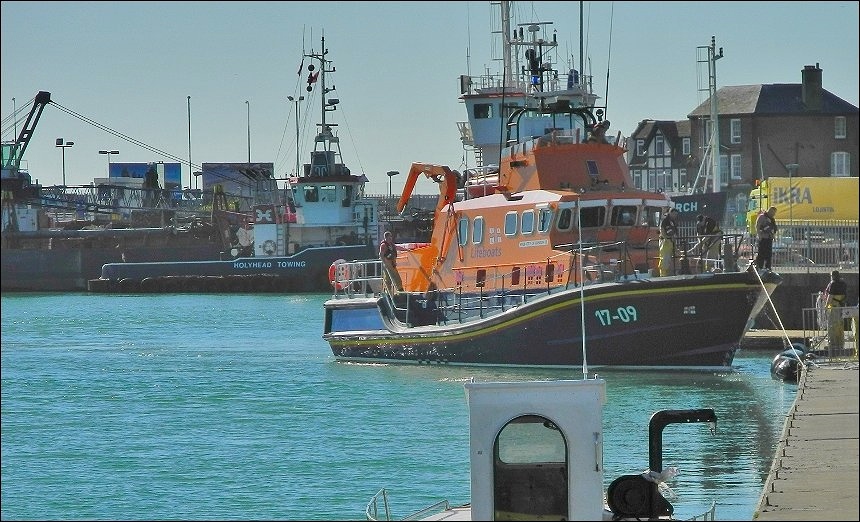 A more cheery photo...from last Sunday morning. The Lifeboat normally goes out and about training on Sunday morning and here it is returning to base. In the background left you can see Holyhead Towing's Afon Goch...one of the vessels involved in the Norwegian Larvic Rock delivery.
Thursday, 20 March 2014 - 07:14
Post 564
howard mcsweeney, Dover
the groynes are coming along nicely now paul, i think they will look great when it is all complete.

the "pride of kent" underwent a repair to a steering pump on a rudder.

Wednesday, 19 March 2014 - 19:40
Post 563
PaulB, Dover
The Shape of Things to Come..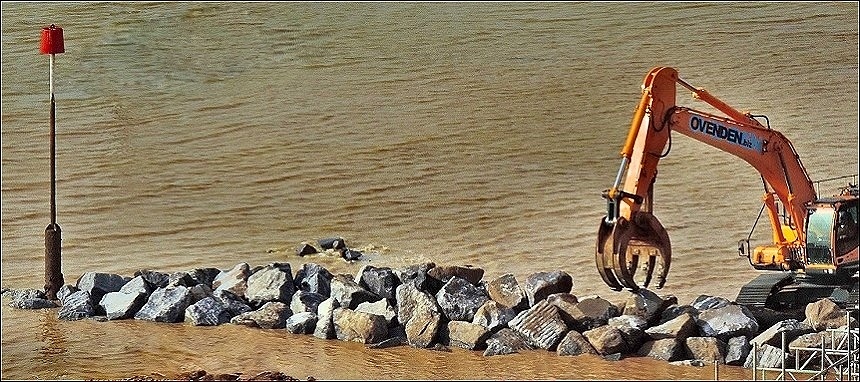 A new groyne taking real shape earlier on this morning while the tide was low. It is all completely submerged now by high tide as I write, submerged up to the level as seen on the lampshade marker. You can see where the tide rises to...not really sure how such small groynes will make a real difference as they are completely dwarfed by the high tide.. although, they may be about to make them larger. But of course more knowledgeable heads than mine are working on it..
Wednesday, 19 March 2014 - 12:23
Post 562
PaulB, Dover
The Pride of Kent was out of action for most of the day yesterday..languishing at the Cruise Terminal until about 4pm. It left then and went up along the coast towards Deal, presumably testing that all was functioning properly. A short time afterwards she rejoined the action at Pier 8 around about 5pm. The pictures were taken in the afternoons glorious summer-style sunlight..during the time that the aforementioned sunlight managed to make it through the cloud cover.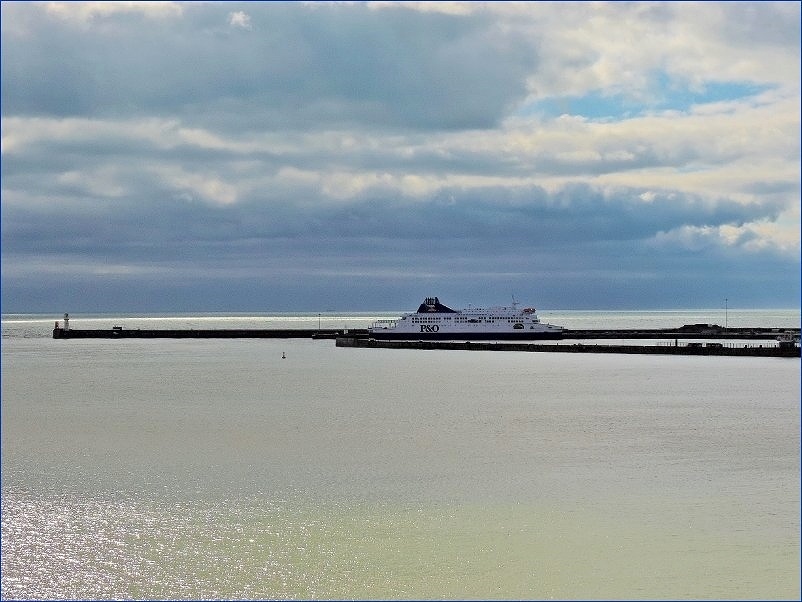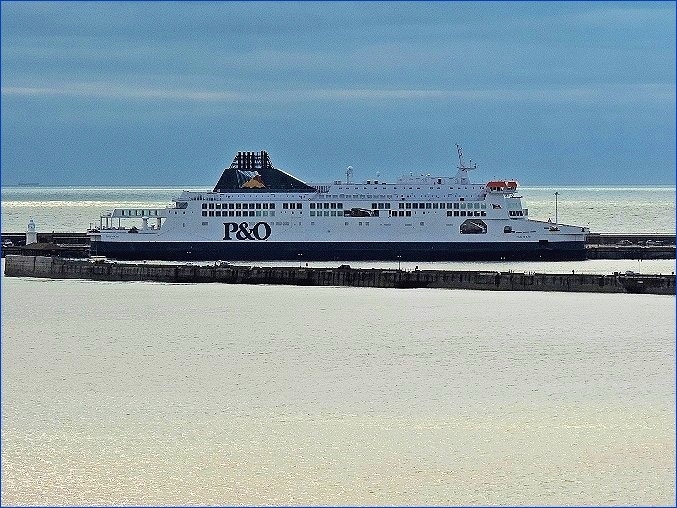 You will have noted I am sure that all the posts now have a number. Ace man Chris T has added those for us and this will help us now to locate and refer to earlier posts at will.
Also don't forget our side-reader device on Windows 8. Click the Open Book at the end of the page next to the URL and all pops sideways into book form. You might need to right click your mouse and get the tabs to open and then there you are..the open book. Fascinating.

Wednesday, 19 March 2014 - 06:54
Post 561
PaulB, Dover
Its.....National Ferry Fortnight !! (March 15 to March 29 )
**************************************************************************************
MYFERRYLINK offers free children's meals to celebrate National Ferry Fortnight


To celebrate National Ferry Fortnight, MyFerryLink is offering families a special onboard meal deal. For every adult's three-course meal and drink purchased onboard at MyFerryLink's Le Relais restaurant, customers will receive a free child's meal comprising a main course, dessert, drink and Kinder Surprise.
This offer is valid on crossings between 4 and 21 April 2014, and must be booked during National Ferry Fortnight, from 15 and 29 March 2014 using the offer code NFF2014. It is not available on day trips. To book the offer visit www.myferrylink.com or call 0844 2482 100.
Le Relais is a friendly self-service restaurant offering a range of delicious French and international cuisine for the whole family to enjoy, all prepared onboard by MyFerryLink's chefs. The Relais' seating is situated adjacent to the children's soft play area, meaning that parents can relax whilst kids run off their lunch, and there are also microwaves available for warming up babies' bottles.
MyFerryLink operates up to 16 daily crossings on the Dover-Calais route. Fares for a car and up to nine passengers start from £39 each way any duration and from £29 for a day return with special offers often available.
To find the best fares, visit www.myferrylink.com or call 0844 2482 100
**************************************************************************************
Join the DFDS SEAWAYS ferry family during National Ferry Fortnight 2014
· Kids eat free on all DFDS Seaways cruise ferry and ferry crossings booked during NFF!


· 10% off all ferry crossings to France, Holland and Denmark
DFDS Seaways, the award-winning ferry operator, is celebrating National Ferry Fortnight (NFF) this year by inviting holiday makers to join its ferry family and experience the joy of ferry travel.
Families who book their travel with DFDS Seaways on any of its routes to France, Holland and Denmark during NFF (15-29 March 2014), can take advantage of our free kids meals offer and 10% discount on fares, designed to highlight just how fun and easy ferry travel really is!
DFDS Seaways is also offering a fantastic 40% discount on its 2-night mini cruises, sailing from Newcastle-Amsterdam and Harwich-Esbjerg, in Denmark. These short getaways can be enjoyed from £30 per person (based on four people sharing) on the Newcastle-Amsterdam route and £45 per person (based on four people sharing) on selected departures on the Harwich-Esbjerg route.
Max Foster, passenger director at DFDS Seaways, says: "Ferry travel is one of the easiest and most relaxing ways to start your holiday, where the journey is a fun and important part of the whole experience. We pride ourselves on offering all our passengers a warm, friendly and relaxing experience onboard our ferries and hope that even more families will test the waters and book their ferry travel with us this year.
"Our ships are all equipped with a range of fantastic facilities, including dedicated children's play areas, restaurants and cafes serving delicious food and beverages, meaning that there is always something to do or see during your journey. Our cruise ferries, which sail on our routes to Holland and Denmark, also include a range of comfortable en suite cabins, including five-berth cabins for larger families, as well as live entertainment onboard."
For families who book with us during NFF, kids can eat for free on our Dover-France routes and can also eat free on our North Sea routes when an adult meal is purchased. Children's meal options include everything from chicken nuggets and chips, Mexican chilli, burgers and hot dogs all finished off with jelly and ice cream!
The 10% discount offer is valid for all ferry crossings booked during NFF, on DFDS Seaways' routes from Dover-Dunkirk, Dover-Calais, Newhaven-Dieppe, Portsmouth-Le Havre, Harwich-Esbjerg and Newcastle-Amsterdam, for travel on selected departures. This means that ferry tickets for a car and up to four passengers start from as little as £26 each way on the Dover-France routes and from £33 each way per person on the Newcastle-Amsterdam service, based on four people sharing a cabin + car, or £65 each way per person on our Harwich-Esbjerg route service based on four people sharing a cabin + car. All offers are subject to availability.
Northern Europe is home to a whole host of family friendly destinations and when travelling by ferry, your luggage goes free, so you can load up your car with all your family holiday essentials, without worrying about additional luggage charges!
To take advantage of these offers or to find out more information, please visit www.dfds.co.uk/ferryfortnight or telephone 0871 574 7235.
ALSO
To see the Ports response to National Ferry Fortnight see Post 505 below.
Tuesday, 18 March 2014 - 20:39