Monday, 27 May 2019

WWW.DOVERFORUM.COM/SEA-NEWS
Featuring all the ships that come and go and work at the Port of Dover ..
... with further coverage of the surrounding ports.
Sea News Dover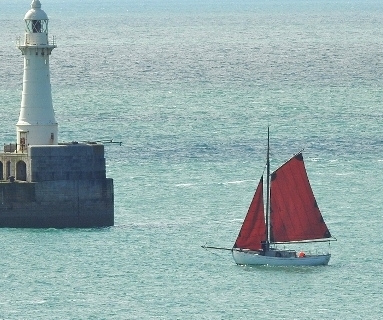 Port of Dover : Virgin Voyages 6289
Port of Dover: Brexit Resilience 6123
P&O Ferries: Record Fundraising for Lifeboats see 6253

Port of Dover: New Cargo Manager see 6205
Thames Estuary Forts 6250

DFDS: ORCA 6179
Premier Inn completes see 6149 plus
DFDS: For apprentice information see 6125
P&O: Jobs Fair/Apprenticeships 6187

P&O Ferries : FREE WINE with P&O !!!! see 6258
P&0 Ferries : FREE Fuel Voucher see 6268
Use our SEARCH ENGINE below to find all sorts on the SEA NEWS pages....
type in the topic and away you go, or if you have the post number as shown above, just type it in the box,
more than - 6250 - nautical posts now.
Posts are welcome. just click 'Add Your Comment' below. Max of 5 pictures preferred although we can stretch that for special stories..
Sea News Editor Paul Boland - send info or pix to dover7@msn.com. Always welcome.
CRUISE CALLS:
https://www.doverport.co.uk/cruise/find-a-cruise/
UPDATE:
To show your pictures at their best..it could be worthwhile resizing before posting to
850
pixels wide.
All pictures on these pages are the copyright of the owners and must not be reproduced without permission.
Post 840
PaulB, Dover
Port applies for powers to deliver a great future for customers and community.
________________________________________________________________
A key milestone has arrived today with the submission by Dover Harbour Board of a Harbour Revision Order (HRO) to Government in order to increase its powers and deliver on its firm commitment to play a major role in the regeneration of both port and town.
Tim Waggott, Chief Executive of the Port of Dover, said: "This is a great moment for the Port and for Dover. It represents a clear sign of our commitment to both deliver our flagship Dover Western Docks Revival project, currently being so positively received and supported, and crucially to be able to further support our community with charitable donations through a new community fund.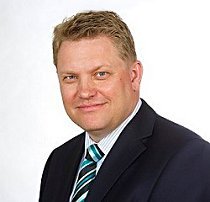 It is a major step forward in delivering the shared vision that we are developing with our customers and community."
Since the Port's Annual Consultative Meeting held last month, at which the decision to appoint its first community director was announced, a workshop for local elected representatives has been arranged in order to establish the process to deliver this key appointment.
Furthermore, the Port is very much looking forward to continuing engagement with local stakeholders on the establishment of the community fund and the vision for Dover Western Docks Revival. A public workshop is to take place on 15th July – further details to be announced soon.
Mr Waggott added: "I sincerely hope for a swift granting of the HRO so that the momentum to transform the port and town of Dover will allow us all to experience the great future in which we all wish to share just as soon as possible. In the meantime, I encourage the people of Dover and all of our stakeholders to come to our workshop in July and help us shape the community fund together. These are exciting times for all of us in Dover!"
Tim Waggott pictured.
Thursday, 5 June 2014 - 16:17
Post 839
vic matcham, Dover
You are right Paul first page I look at each morning, this looks like the only post I will end up giving out views but they will only go one way and that is up well done and keep them coming.

Thursday, 5 June 2014 - 07:50
Post 838
PaulB, Sea News, Dover.
Six Local Men in Peak Condition to Raise Funds for Charity - Plus the Delights of Dover Seafront below...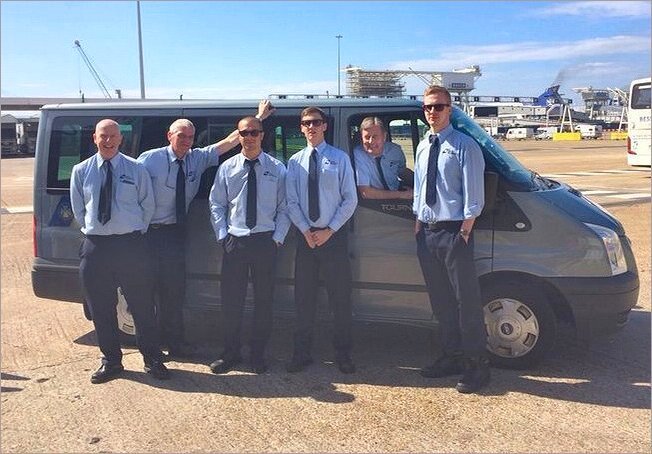 Six men from Dover are undertaking the Three Peaks Challenge in early July to raise money for MacMillan Cancer Support and the Royal National Lifeboat Institute (RNLI). The men, Chris Harbidge, Michael Hillier, Mike Cocklin, Charles Sherred, Jack Stewart and John Brayne, who all work for DFDS Seaways at the Port of Dover, will attempt to ascend and descend three mountains across England, Scotland and Wales within a 24 hour period. They will leave Dover on Sunday 6th July and head to Ben Nevis in Scotland to tackle their first mountain. From there the team will leave for Scafell Pike in North England and then, last but by no means least, tackle Snowdon in Wales. The men hope to arrive back in Dover late on Monday 7th July after an extremely long trip in a minibus!
The team has taken on this challenge for two different charities, which both provide essential support to the wider community. The RNLI saves lives at sea by providing a crucial search and rescue service, as well as offering advice and support to those affected by flooding. MacMillan Cancer Support provides practical, medical and financial support to those affected by cancer. Both of the charities are close to the hearts of the members of the fundraising team, who are hoping to raise as much money as possible for each charity before, during and after the challenge.
If you would like to support these two charities, you can donate via the team's JustGiving page, which is: www.justgiving.com/teams/DFDSDoverThreePeaks
Many thanks as ever to DFDS SEAWAYS for the info. Huge good luck to all the guys involved

* * *
DOVER SEAFRONT in FLAMING JUNE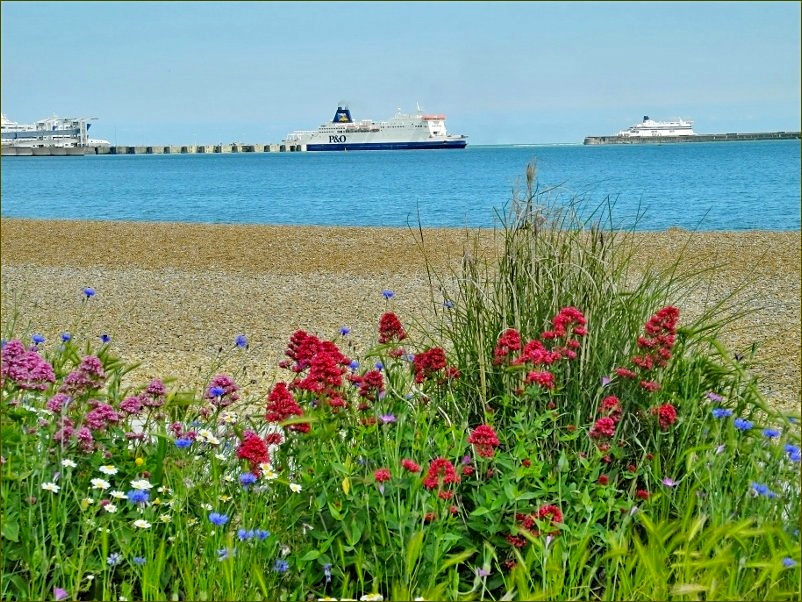 Okay...maybe its not quite so flaming just yet. But give us some delightful sunshine like we had last weekend and we can hold our own with all the best places. The seafront here in Dover is a great place for a stroll so if you are not a regular, then get on down here...its full of nice surprises. At the moment we have wild flowers colourfully proliferating along the seafront. A purposeful collection of meadow-like flower beds designed specifically for the occasion and the occasion is now as you can see in the pictures. To add to your joyfull stroll we also have fabulously exotic cruise liners to delight the eye, and for those who are not familiar...the ferries make a super backdrop coming and going all day. Yours truly lingers regularly and is ..ahem.. often forced after much arm twisting to enjoy a glass of wine or two and heck even a light lunch!
Hythe Bay Restaurant, Dover Marina Hotel, Cullins Yard, and the Premier Inn all along the seafront are all great fun.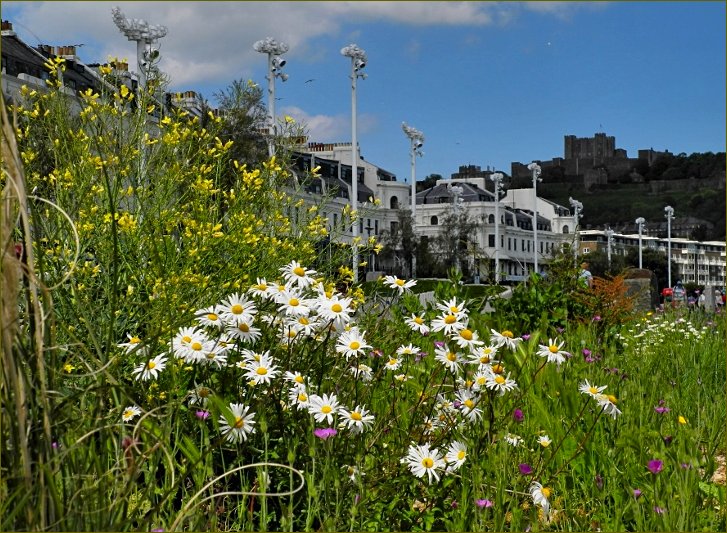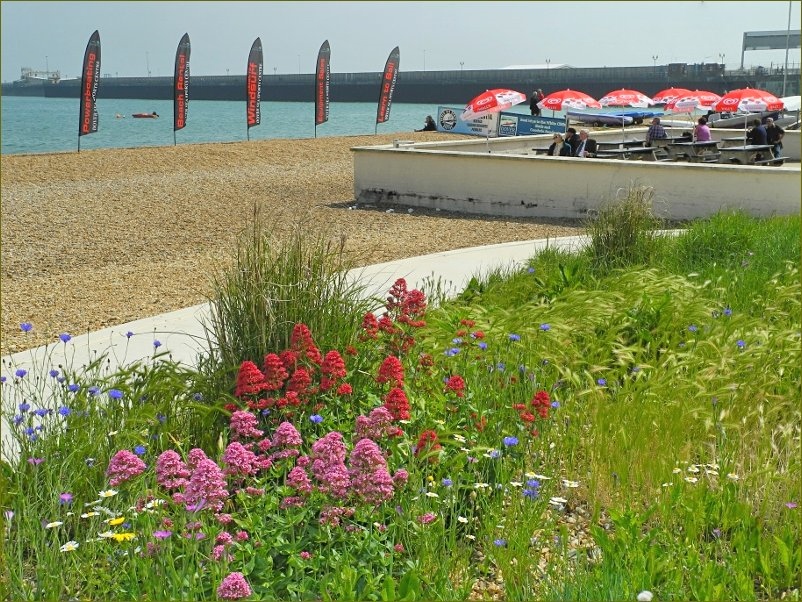 Pictures above taken last weekend as June busted out all over..
Nice one there below of the French sloop Ed. We are building up a good collection of warships, glad to see Vic enjoying it all too. Excellent.
Many thanks once again to DFDS SEAWAYS for the top story. Good luck to all the guys. I'm worn out just thinking of it...give something if you can. Great cause.
Thursday, 5 June 2014 - 06:48
Post 836
vic matcham, Dover
Thank you for that but they are years behind our latest war ships which are the best in the world.
Even the USA have said we are 50 years behind having what the UK have .

Wednesday, 4 June 2014 - 16:34
Post 835
Ed Connell, Dover
French sloop "Lieutenant de vaisseau Lavallée" stooging about in the Southwest lane earlier today.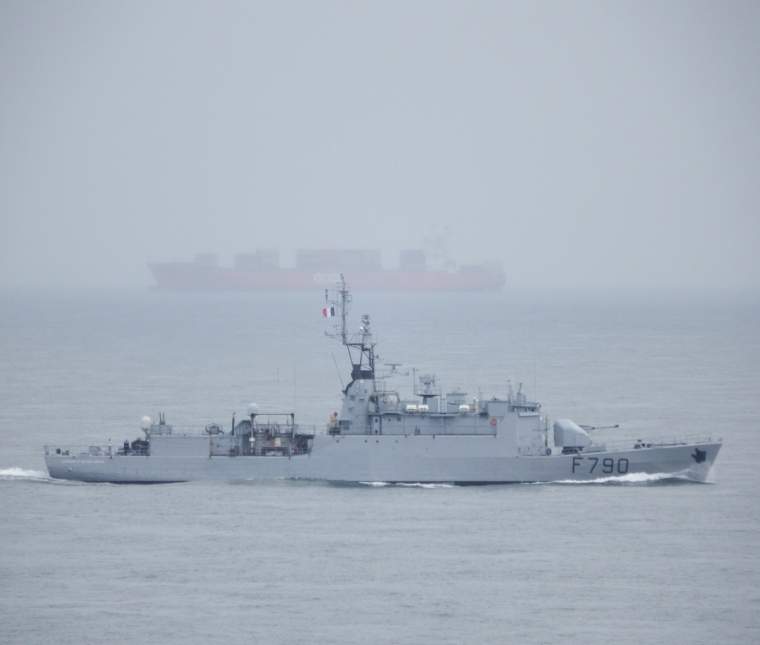 Re Vic's comment below (775):
The USS Mount Whitney and her sister ship the USS Blue Ridge are command ships which are fairly long in the tooth but are packed with electronic equipment, quote:
"Alleged to be the most sophisticated Command, Control, Communications, Computer, and Intelligence (C4I) ship ever commissioned, Mount Whitney incorporates various elements of the most advanced C4I equipment and gives the embarked Joint Task Force Commander the capability to effectively command all units under his or her command.
The Mount Whitney can transmit and receive large amounts of secure data to and from any point on earth through HF, UHF, VHF, and SHF (satellite communications) communications channels. This electronic technology enables the Joint Intelligence Center and Joint Operations Center to provide the most timely intelligence and operational support available in the Navy."
Wednesday, 4 June 2014 - 14:20
Post 834
PaulB, Sea News, Dover.
PORT SUPPORTS LOCAL BUSINESS .... as new Patron of Kent Channel Chamber of Commerce

__________________________________________________________________________________
At the time when its Chief Executive is engaging local businesses in further developing the shared vision for Dover Western Docks Revival, the Port of Dover is delighted to announce that it has become a Patron of the Kent Channel Chamber of Commerce.
Tim Waggott, Chief Executive, Port of Dover, said: "The Kent Channel Chamber of Commerce represents businesses in Dover and across East Kent. By becoming a Patron, we can both better engage with our valued community business partners on shaping the future of the Port whilst also support them as the major business in this area."
The Chamber works to help the local business community prosper and develop, providing advice to all sectors and sizes of business from sole traders to large companies and multi-nationals.
Tim Kidd, Chief Executive, Kent Channel Chamber of Commerce, said: "It is fantastic to have the Port as a Patron. The Port is a major business handling £89 billion of trade each year, but it also supports many local businesses which supply goods and services to it and its customers. The Port will be a great ambassador for local business, and its patronage demonstrates a great commitment to bring local benefit from an international business."
Mr Waggott attended a networking breakfast last week, organised by the Chamber at the Best Western Dover Marina Hotel and Spa, the first event since the Port became a Patron.
Mr Waggott said: "Gaining the support and ideas from the local business community is vital, so what more fitting occasion than attending our first event as Patron of the main representative business organisation in the area."
Mr Kidd added: "From the Port's presentation and discussion with Chamber members, it is clear that local business is both supportive of the Port's vision for reviving the Western Docks and the opportunities that this will bring to local businesses. It is a win win situation and the Chamber will be working hard with the Port to ensure that Dover thrives from the delivery of that vision.
* * *
Last picture for now of the Sea Cloud II. This excellent one is from our colleagues down at the Port. Many thanks to them..always good to get extra pictures particularly the close ups. Nice moody picture indeed.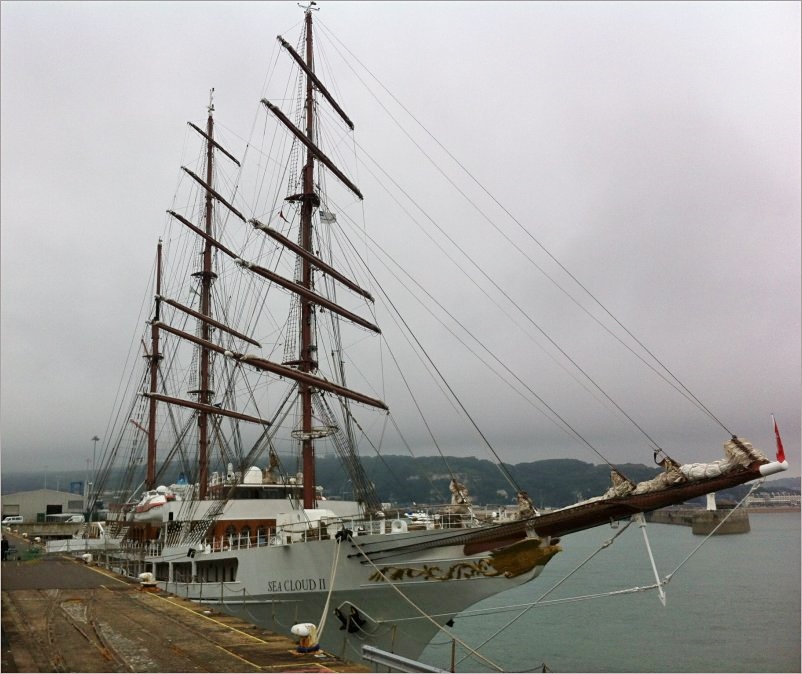 Wednesday, 4 June 2014 - 07:09
Post 833
vic matcham, dover

Nice war ship below but very small for a flag ship.
We have come used to seeing only big ships from the USA navy or do they have big cutbacks the same as our own Royal Navy?.
Again thank you all for the very good photos of the great port of Dover and ships that pass
by it.

Tuesday, 3 June 2014 - 06:55
Post 832
PaulB, Sea News, Dover.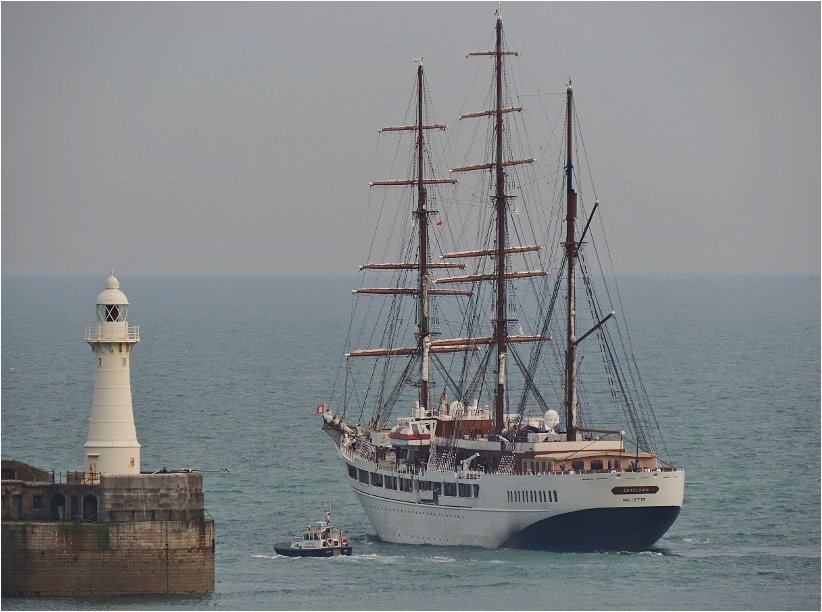 Round about 7pm last night our three master visitor Sea Cloud II began moving off...heading to those famous 'Umbrellas of Cherbourg'. It had been hugely grey all day long but it brightened up a minuscule amount for departure and there we are above. This picture looked the best for inclusion as it had that olde worlde of sail look about it..hopefully

There she goes off into the evening and about to turn south. One wished for full sail but it wasnt to be.
This pic above courtesy of our colleagues down at the Port of Dover. Port CEO Tim Waggott presents a plaque to Capt Nemerzhitskiy of the Sea Cloud II....to mark the exciting inaugural visit. This visit certainly got us all excited for sure.
This one from earlier in the day in the very grey conditions. Huge thanks to all for the Sea Cloud contributions of all kinds.
* * *
And now, following all these super exotic visitations we are all frothing feverishly as we gallop forward into full holiday mode...so..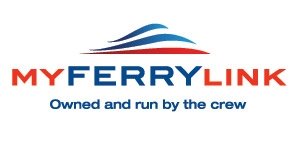 GET AWAY FOR LESS IN JUNE WITH MYFERRYLINK
____________________________________________
Dover-Calais operator launches short break fares from just £19 each way
Dover-Calais operator MyFerryLink has launched a range of great value short break fares for travel in June - perfect for customers looking to soak up the early summer sun before the main holiday rush.
With the special June fares, customers can hop across the Channel from as little as £19 each way for a car and up to nine passengers, for return within three days (72 hours). For those looking to spend a little longer on the continent, MyFerryLink is also offering a five day (120 hours) break deal from £22 each way, which is less than £5 per person return!
Robin Wilkins, MyFerryLink's UK managing director, said: "We expect these great June fares to be extremely popular as we come into the summer season, so customers are advised to book as soon as possible to take advantage of the bargains available."
This offer is valid for travel from 2 June to 30 June, and must be booked by 29 June, using the offer code SBUK14.
To find the best fares, visit www.myferrylink.com or call 0844 2482 100
Ends
* * *
A great set of pictures below Ed...cracking stuff indeed. All most interesting for sure... you keep coming up with these nautical fascinations..
Was reluctant to put this post on top. You're on a roll with that camera.

Tuesday, 3 June 2014 - 05:32
Post 831
Ed Connell, Dover
Chinese heavy lift ship Zhen Hua 25 passing on Sunday loaded with a single container crane, often see these ships carrying several container cranes or other extraordinary loads.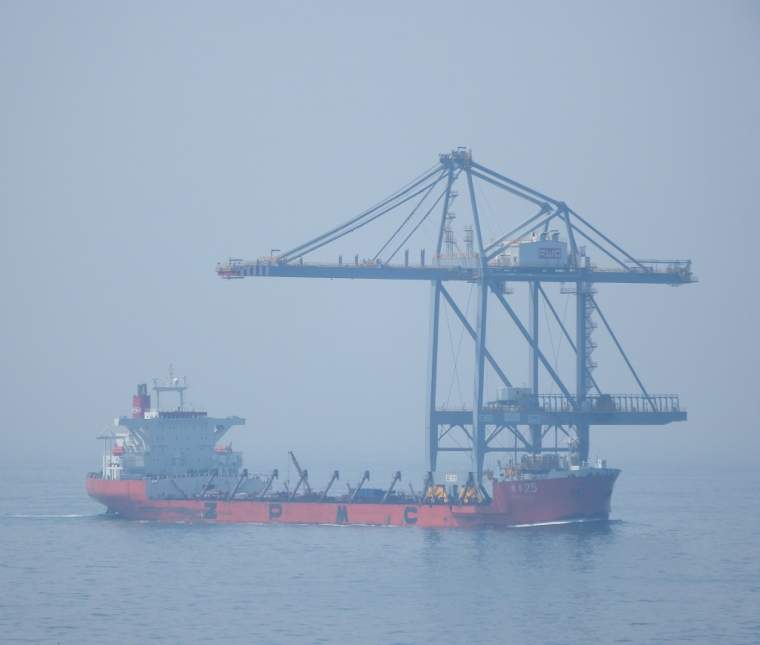 Re the reefer Summer Flower mentioned below. I took a photo of this attractive reefer some months ago and a Dutch gentleman recently contacted me and asked if he could use it in a book he is writing about the Seatrade reefers.
Re the reefer Cote D'Ivoirian Star mentioned below. Cote d'Ivoire is of course the Ivory Coast in West Africa. The main port is Abidjan and I went there several times many years ago. There was still very much a French presence and Abidjan and Dakar had the reputation of being the most expensive places on earth at the time. We seamen used to frequent an area of Abidjan which we knew as Trashville (corruption of the French spelling) which had plenty of bars and dusky maidens.
Tuesday, 3 June 2014 - 01:02
Post 830
Ed Connell, Dover
USS Mount Whitney, flagship of the U.S. Sixth Fleet in the Mediterranean, passing up the northeast lane on Monday afternoon bound for a multinational naval exercise in the Baltic.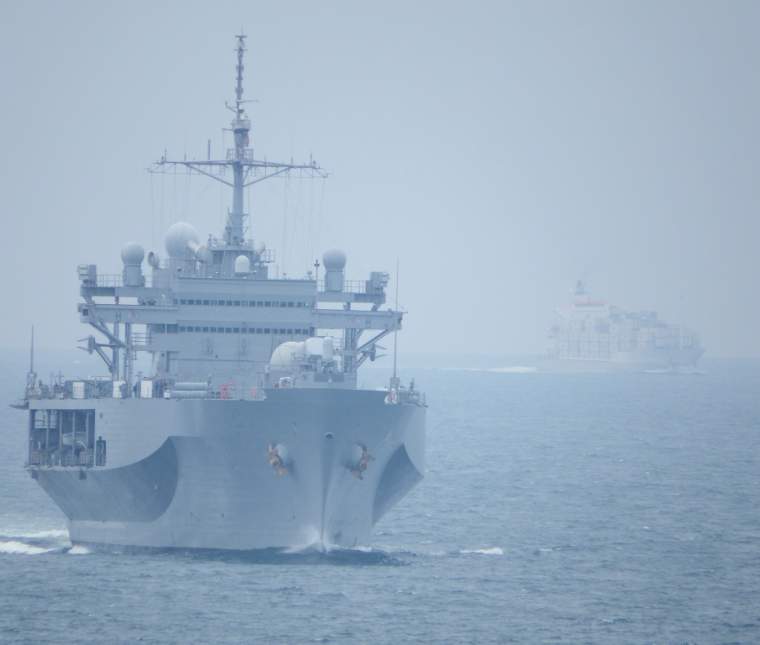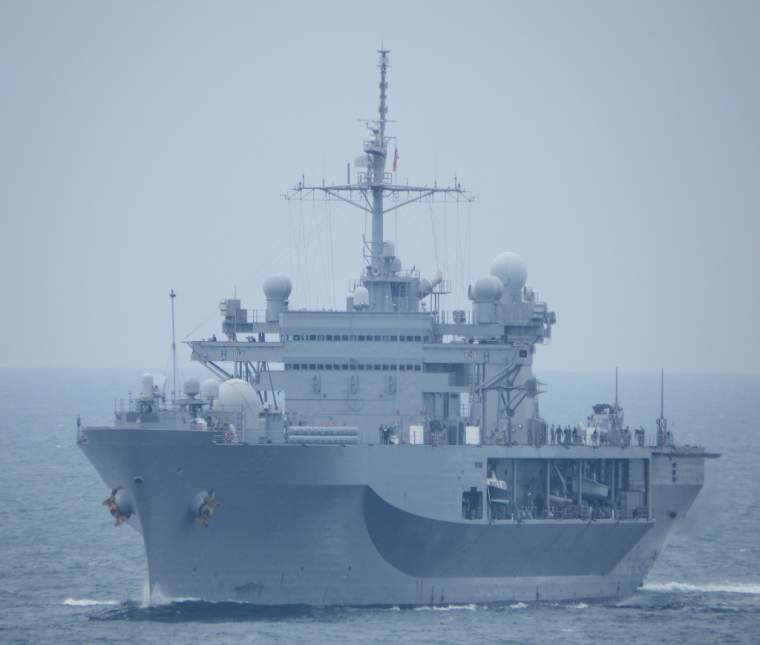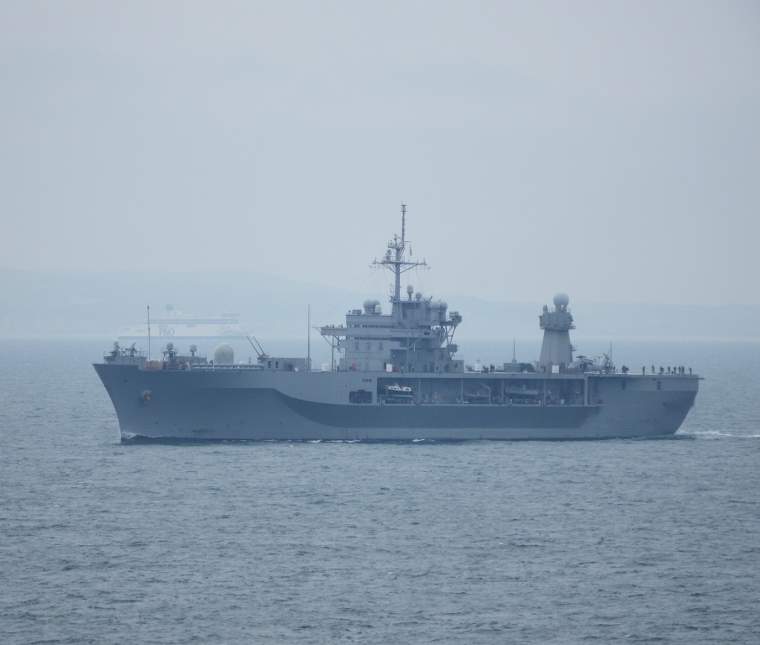 Tuesday, 3 June 2014 - 00:37
Post 829
Ed Connell, Dover
Sea Cloud II and Black Watch.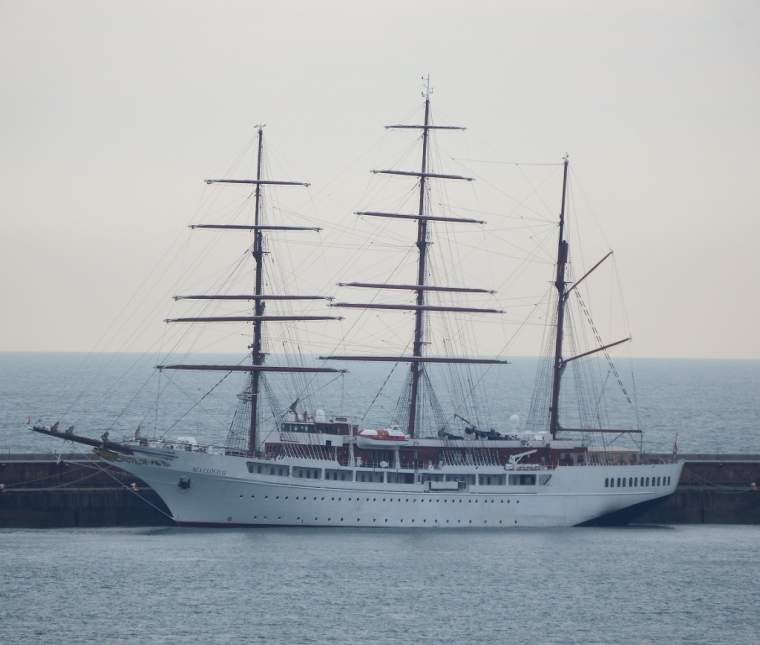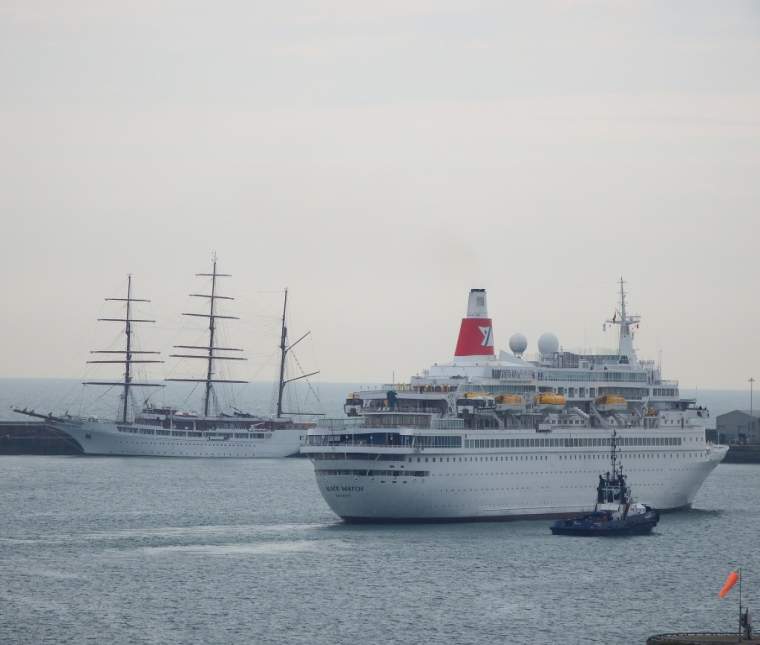 Monday, 2 June 2014 - 18:48
Post 828
PaulB, Dover
Excellent pictures below Mike...great stuff! Right in the thick of the action.

Monday, 2 June 2014 - 17:44
Post 827
Mike J., Dover
Security didn't arrive to unlock the Prince of Wales Pier until after the SEA CLOUD 2 had passed the end of the pier so no close-up 'bow-3/4' views !
She was followed in by the SAGA SAPPHIRE who docked on Cruise-1.
BLACK WATCH is due about 1800 & will only be in port for a few hours.
SEA CLOUD 2 is Maltese flag & was built in Spain in 2000.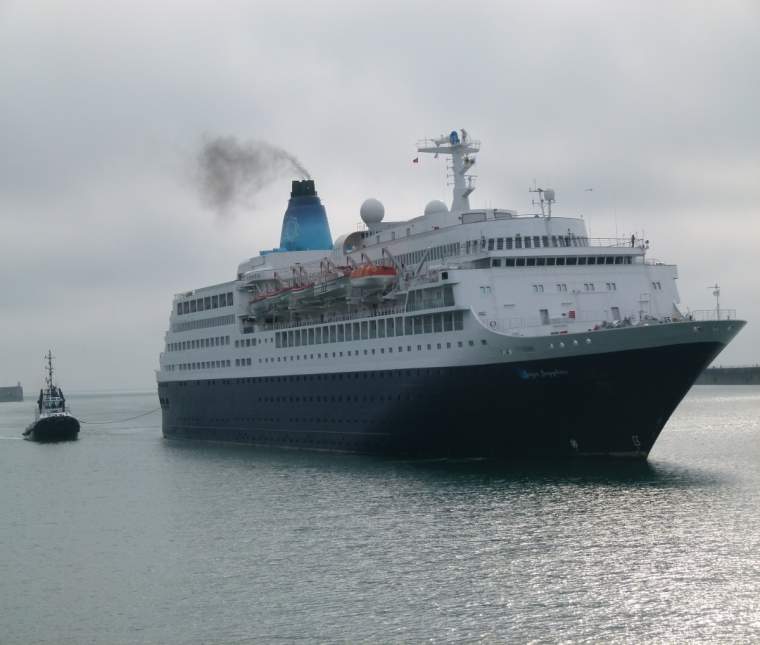 Monday, 2 June 2014 - 16:07
Post 826
PaulB, Dover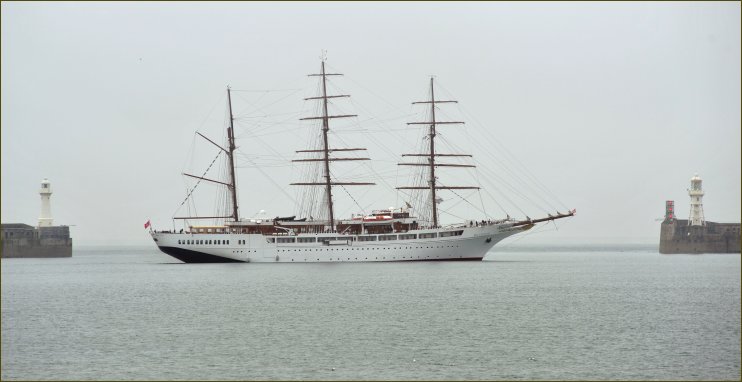 A big well done to Paul Sampson for this shot of the Sea Cloud II arriving this morning. Excellent stuff Paul, this picture saved the day as we didn't have one to speak of..also big thanks to Howard. Well done lads...

Thanks Vic...yes good to see the quick turn around with the cargo ships, saves on costs as you say, all going swimmingly there.
Monday, 2 June 2014 - 10:27
Post 825
Vic Matcham, Dover
That's what the trading companys like about Dover their ships get unloaded and back out again in record time making their costs a lot lower then other ports.
Also their goods can get to the London markets in just over the hour or two.
And again thanks for the great photos of the grand ships we have coming in and out of the port.

Monday, 2 June 2014 - 08:47
Post 824
PaulB, Dover
The magnificent Sea Cloud II is in today as is the Saga Sapphire...the great collection of ships continue to amaze here in Dover. No pictures yet of the Sea Cloud II , none that do it justice anyway. She languishes currently at the tip of Admiralty Pier in calm but very grey conditions.
In the meantime here is a look at the Summer Flower departing last evening on a glacier sea and in beautiful sunlight.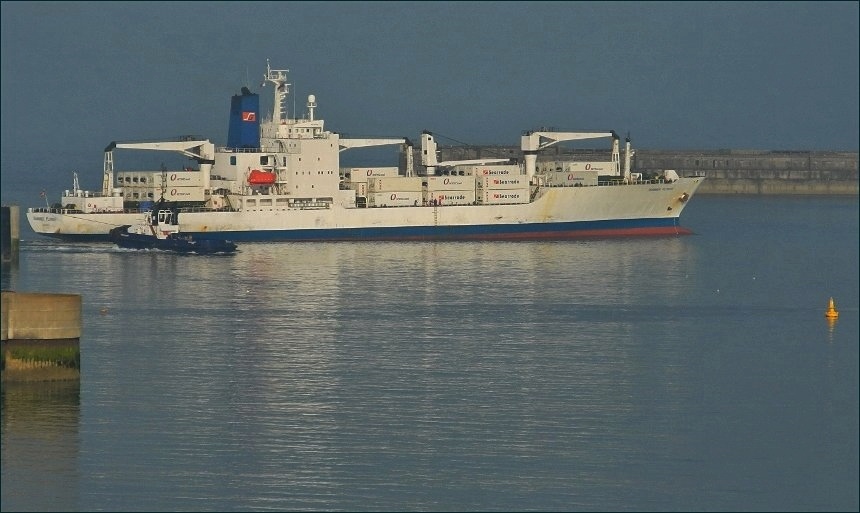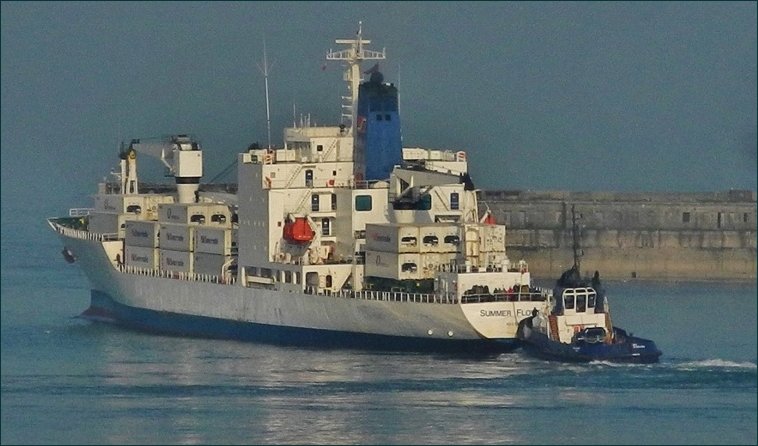 See post 760 for a full sail picture of Sea Cloud courtesy of Mike and Sea Cloud Cruises.
Monday, 2 June 2014 - 08:09
Post 823
PaulB, Dover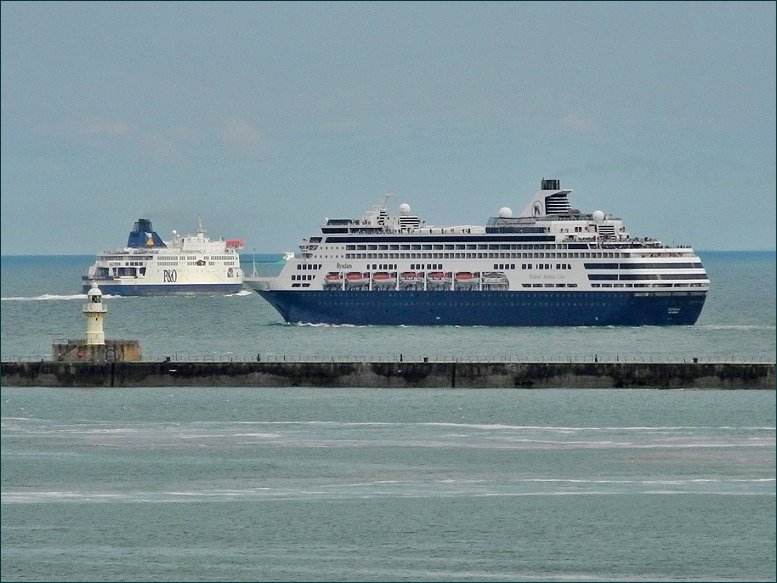 The Ryndam heads off last evening heading north into the busy shipping lanes of the English Channel...a very popular ship by all accounts. Yours truly didn't manage to get a picture of the ship arriving but managed the departure which was relatively early at around 4.15 (16.15) so there was plenty of light to play with....and there we are above.
By the way someone asked me yesterday if the orange sunrise picture of the Ryndam further below was 'photoshopped'. The answer is no. I don't have Photoshop as I am not a fan, preferring to keep things as natural as possible. Most I do generally is brighten them up and/or use the added extra facilities in the camera. I have a whole brace of orange ones from that weekend...I think the colours were down to a mixture of pollution and early sun.
Yesterday saw the arrival of..and double check the name...the Cote Divoirian Star. Very similar to Dovorian, the name threw me for a moment, so she is in the right place for sure. Bit of a plain picture alas, cant seem to do the cargo ships justice.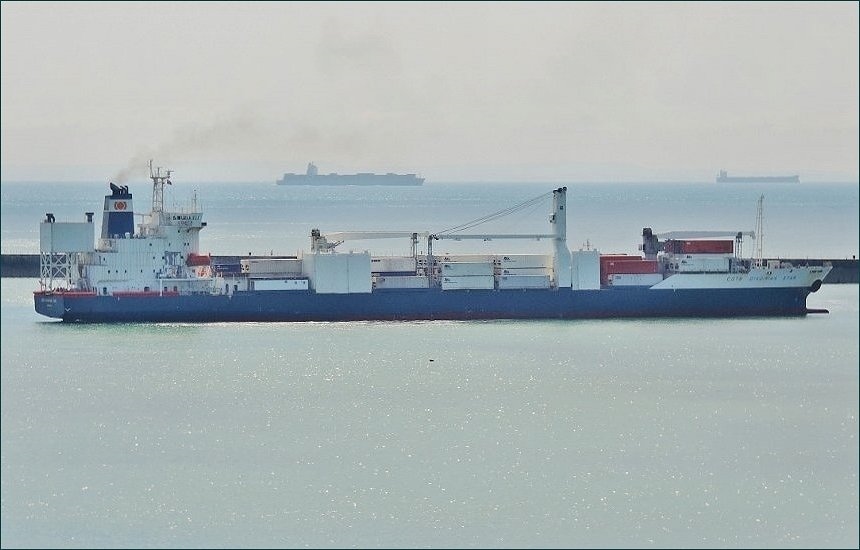 The cargo bay continues to be very busy which is always good to see. Thumbzzzupp to all involved.
Sunday, 1 June 2014 - 08:23
Post 822
PaulB, Dover
The Ryndam of the Holland America Line arriving Dover Harbour.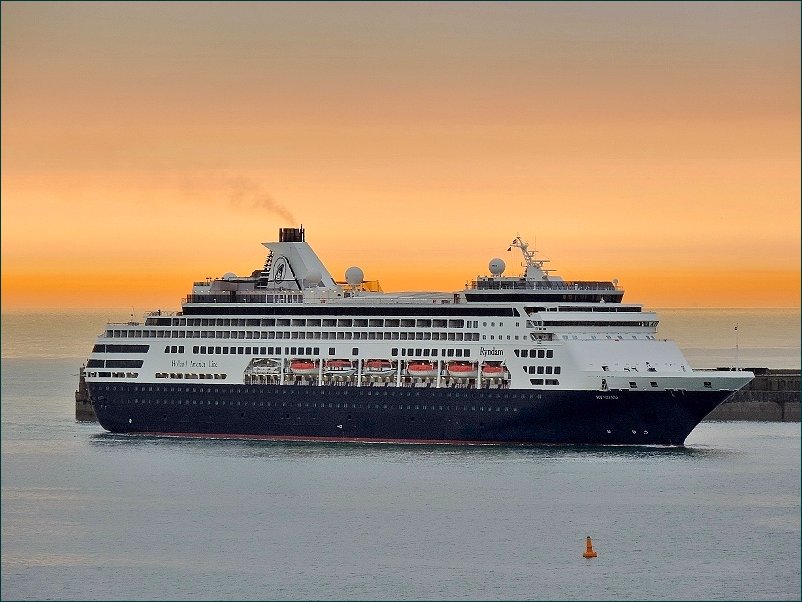 Yes our old friend The Ryndam is in this morning. The picture shown however was taken a couple of weeks ago during that period of the deep deep orange sky. Haven't used it before so took the opportunity to do so now...as missed the actual arrival this morning...sleeping tut! tut! very bad...
What a collection of ships we have had this year already and more exciting ones coming too as you can see from the other posts. Thanks for that list again Colette. Will promote it again at the top for easy reference.

Ah yes nice one below there of the Wind Surf Mike. One of the favourites for sure. So spectacular under full sail. I have a few pictures somewhere in the system too. Well done with that one.
Exciting times coming up.

Saturday, 31 May 2014 - 08:37
Post 821
Mike J., Dover
Colette/Paul -
Not my photo !
I should have mentioned that it was copyright of SEA CLOUD CRUISES & lifted from their website.
She's similar to [but different from] the WIND SURF which had five masts & a different 'rig' of sails - the SEA CLOUD is more of a 'square-rigger'
Here's a snap of WIND SURF leaving Dover via Eastern in July 2012.
Lets hope that the SEA CLOUD does the same & that the weather is good !
Friday, 30 May 2014 - 20:18
Post 820
ColetteB, Dover
Great photo there Mike of the beautiful Sea Cloud II

Also, just a little teaser for everyone, another inaugural visit to look forward to on Monday June 9th is the Silversea Cruises Silver Cloud

And now for the June cruise ship schedule (first week)
On Monday 2nd June the Saga Sapphire returns again to CT1, TR.
Also on Monday is the inaugural visit of Sea Cloud Cruises, the beautiful Sea Cloud II cruises into CT2, PoC, a real treat for us all, cameras at the ready guys

Again on Monday, when the Saga Sapphire departs from CT1, the Black Watch will cruise into its slot at approximately 1800hrs, embark only. This will be the first Fred Olsen in Dover this season, they usually come here at the beginning of the Season but alas not this year. She was last here in December 2013.
No cruise ships then until Friday 6th June when the Ocean Princess arrives at CT2, TR, last here in August 2013.
On Saturday 7th June the Ryndam returns to CT1, TR. On the same day, Oceania's cruise line, the sophisticated & elegant Marina arrives at CT2, TR. She was last seen here in September 2012.
Ending the week on Sunday, the Braemar arrives at CT2, TR for the first time this season, she was last here November 2013, also being the first cruise ship in Dover in March 2013.
That's it for now folks, Enjoy!!
Friday, 30 May 2014 - 15:34