Monday, 10 August 2020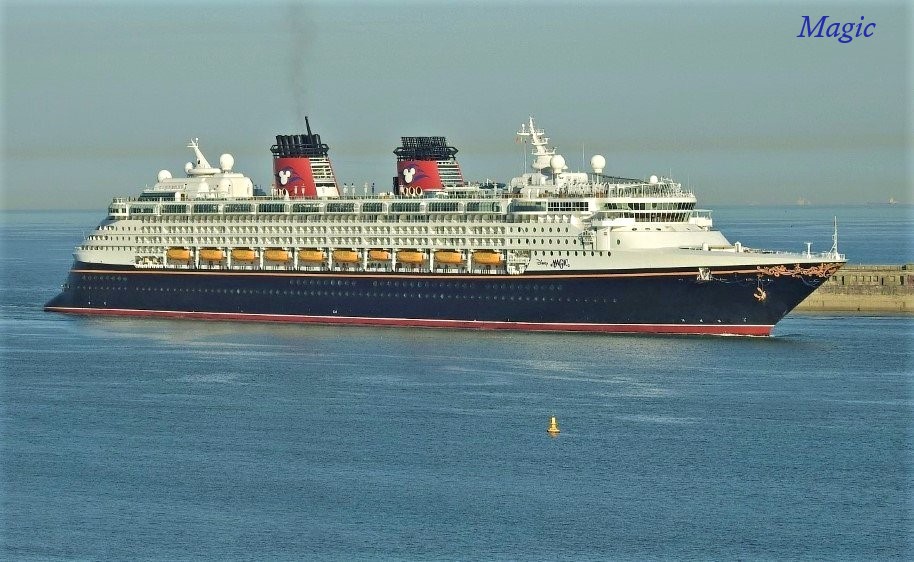 The Disney Magic entering the Port of Dover once again after a brief channel run....

WWW.DOVERFORUM.COM/SEA-NEWS
Sea Pictures from DOVER ....
Just to let everyone know...we have essentially closed Sea News.
Times have changed and these changes havent been good to us.
We will leave it open for research purposes ...if anyone wants to check anything etc etc
Other than that its all over.
A huge thanks to everyone who contributed over the 7 years.

Paul Boland - dover7@msn.com.
.
Use our SEARCH ENGINE below to find all sorts on the SEA NEWS pages....type in the topic and away you go,
or if you have the post number, just type it in the Search Box, more than
- 7000 -
nautical posts now.
Sea News Dover:
All pictures on these pages are the copyright of the owners and must not be reproduced without permission.
Post 1005
Mike J., Dover
Ferries are occasionally taken out of service for short periods for maintenance or repairs but it is a little unusual to see two off service at the same time.
Early Sunday saw the PRIDE OF KENT & the SPIRIT OF BRITAIN 'on the wall'
But Saturday night is usually the quietest night of the week.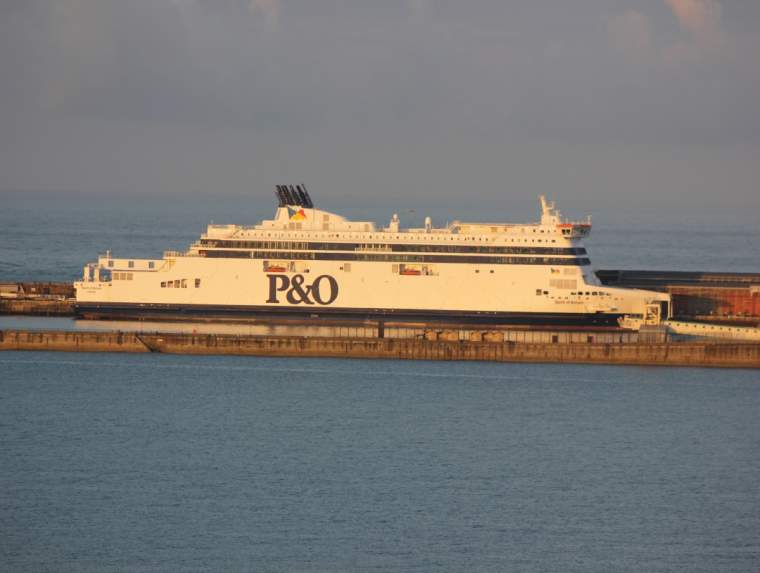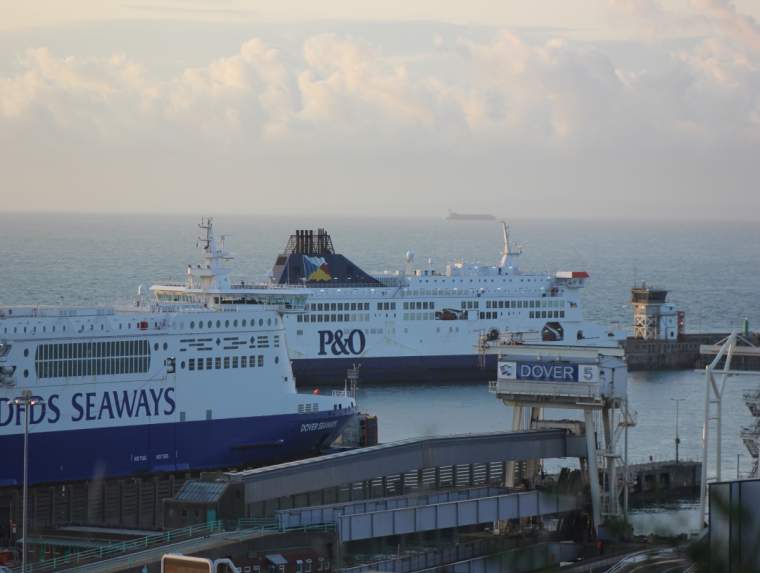 Sunday, 3 August 2014 - 06:52
Post 1004
PaulB, Dover
Here we have The Ryndam's arrival early Saturday morning...the ship was greeted by the sun rounding the headland in spectacular fashion and lighting the port and harbour with a dynamic and warm glow. A nice arrival for the passengers. Welcome to Dover.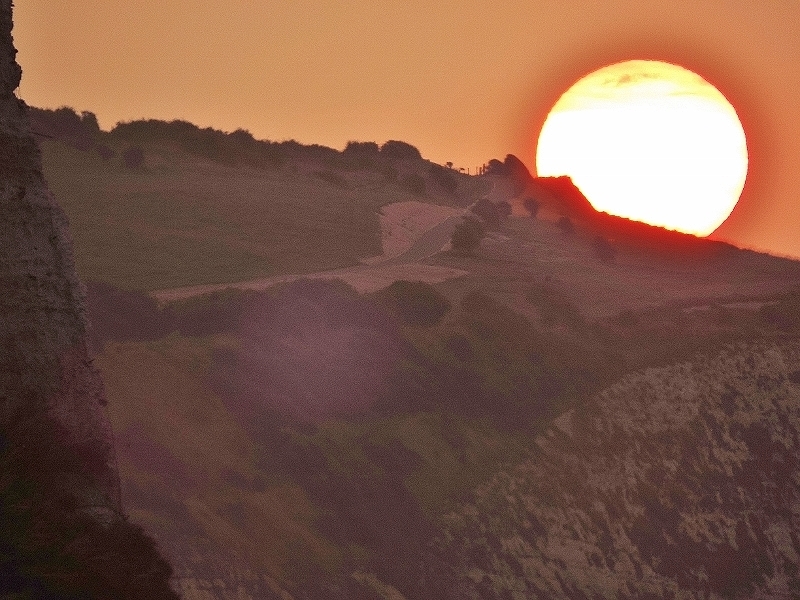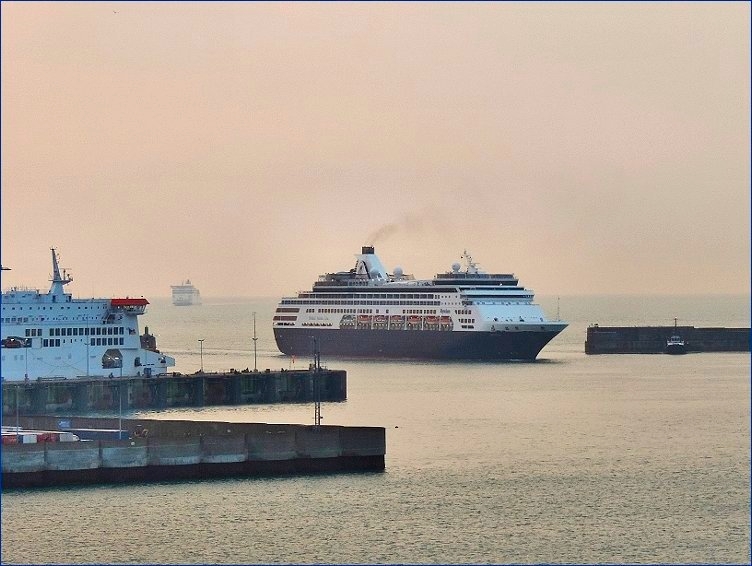 Saturday, 2 August 2014 - 11:58
Post 1003
PaulB, Sea News, Dover.
The following is a press release from Dover District Council...
***********************************************
AIR QUALITY MANAGEMENT AREA REVOKED
AT THE PORT OF DOVER
Dover District Council is lifting the Air Quality Management Area (AQMA) at the Eastern Docks relating to levels of sulphur dioxide (SO2) from shipping at the Port of Dover - the revocation of the AQMA takes effect from Friday, (1 August).
The AQMA at the Eastern Docks was set up in June 2002 after air quality monitoring showed levels of SO2 higher than Government objectives. The AQMA was declared following public consultation.
Since 2002, and following changes in EU Directives, sulphur emissions from ferries using the Port of Dover have reduced. Data collected by DDC shows that recorded SO2 levels have not been over Government objectives since 2006. This was reported to DEFRA, and the Council stopped monitoring sulphur dioxide levels at the docks in January 2013. Further reductions in sulphur content in fuels are proposed to be implemented from 1 January 2015.
For more information on air quality monitoring in Dover District, please see the DDC website at www.dover.gov.uk/Environment/Environmental-Health/Home.aspx or see the Kent Air website at www.kentair.org.uk
Ends
* *
Is the above a good move ??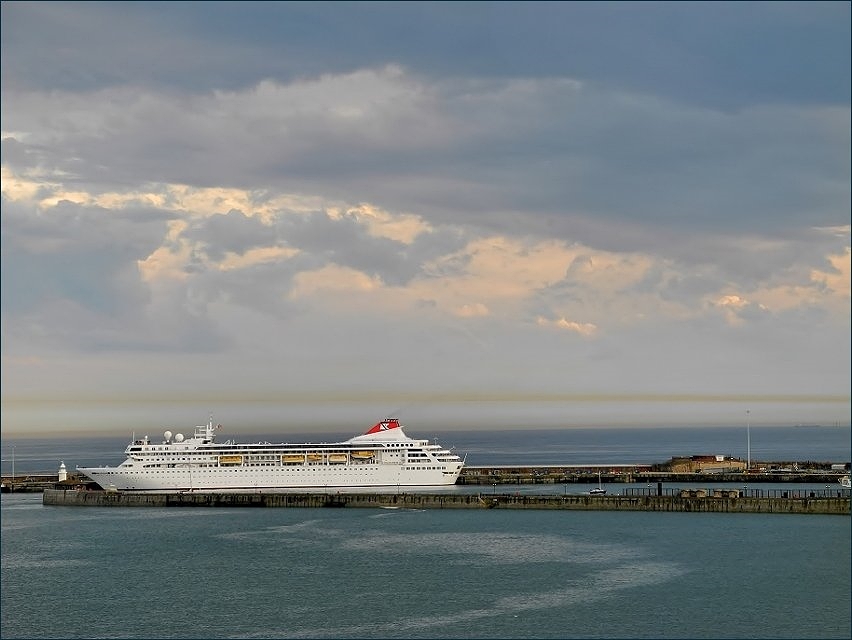 Line of pollution.
Ah yes we remember the Azamara Journey..
Saturday, 2 August 2014 - 06:08
Post 1002
jason , parker (offico@cruisebriatin .org)
I wouid like to visit you name azamara journey dover

Friday, 1 August 2014 - 16:52
Post 1001
PaulB, Dover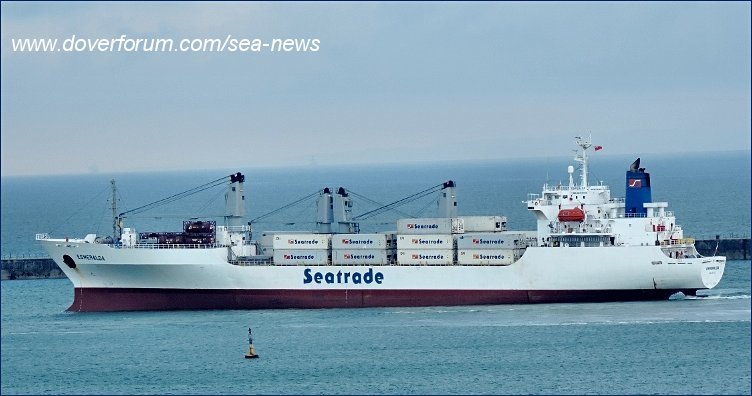 Our old friend the Esmeralda (the bells..the bells...) is in a spot of bother. It seems vast quantities of cocaine (40 kilos) with a street value of millions of pounds has been found amongst the bananas by the UK Border Agency. The Border Agency has been very vigilant locally in recent times and they would regard this as a massive coup, a massive success. The ship had come from South America with its crop of bananas and was heading via Dover to Rotterdam. The Netherlands are known for a somewhat more relaxed approach to drugs but not so here in the UK and the drugs were of course seized.
The seizure took place Wednesday night we understand.
Friday, 1 August 2014 - 16:07
Post 1000
PaulB, Dover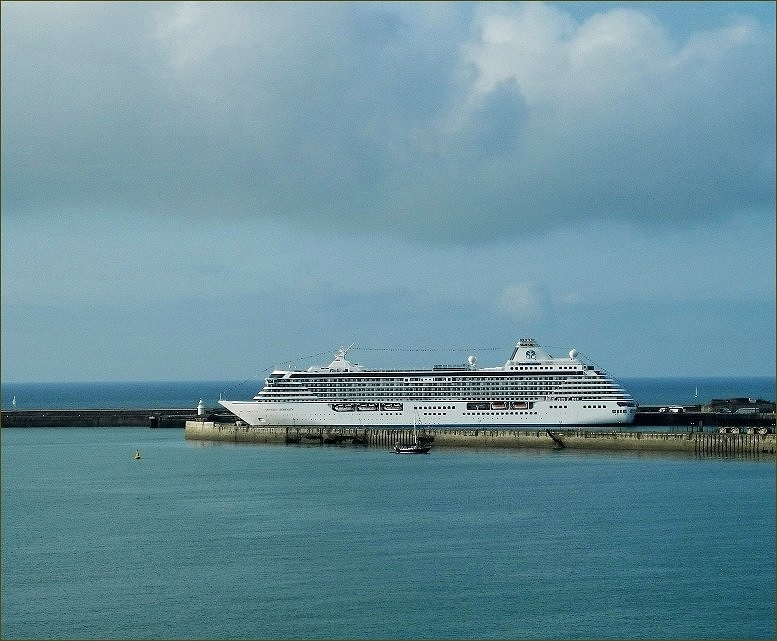 A mid morning shot of the Crystal Serenity which shows the ship in better lighting..'tis a little bit brighter anyway than in the earlier low-light picture taken at 05.30. Bit of a shock being up and picturing the arrivals that hour of the morning indeed Mike. In fact it was pot luck seeing it first thing. A nice looking ship though - good to see it here. Good capture that of the departing Saga Sapphire, missed it completely myself. Also....there has been no further news as far as I am aware re the body in the water report...may have been a false alarm. I wonder if someone mistook the tiny canoe/dinghy shown below for...
Friday, 1 August 2014 - 11:00
Post 999
Mike J., Dover
0530 - Too early for me for the CRYSTAL SERENITY !
Here's the SAGA SAPPHIRE at a much more civilised hour, sailing for Stockholm via the Kiel Canal & crossing the bay before departing via the Eastern Entrance yesterday evening.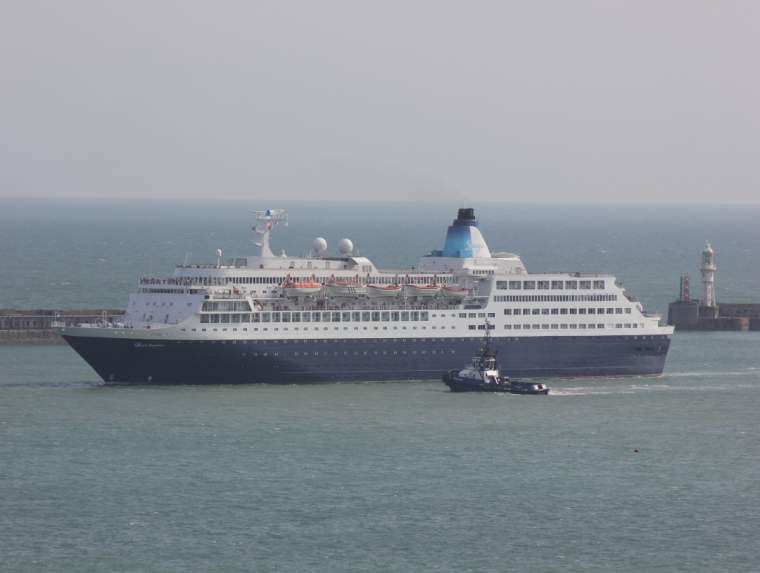 Friday, 1 August 2014 - 07:59
Post 998
PaulB, Dover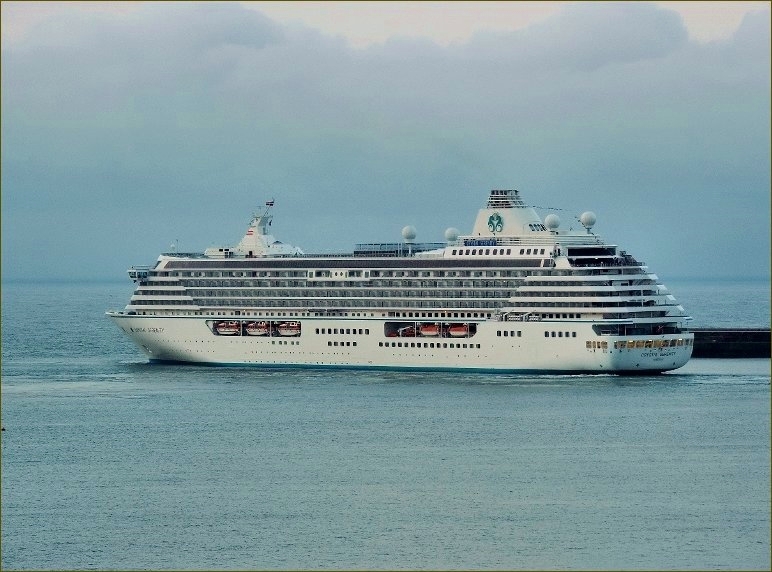 The Crystal Serenity arriving at 5.30am this morning. Early arrival for sure, just as there was enough light to get some pictures. Very welcome she is too..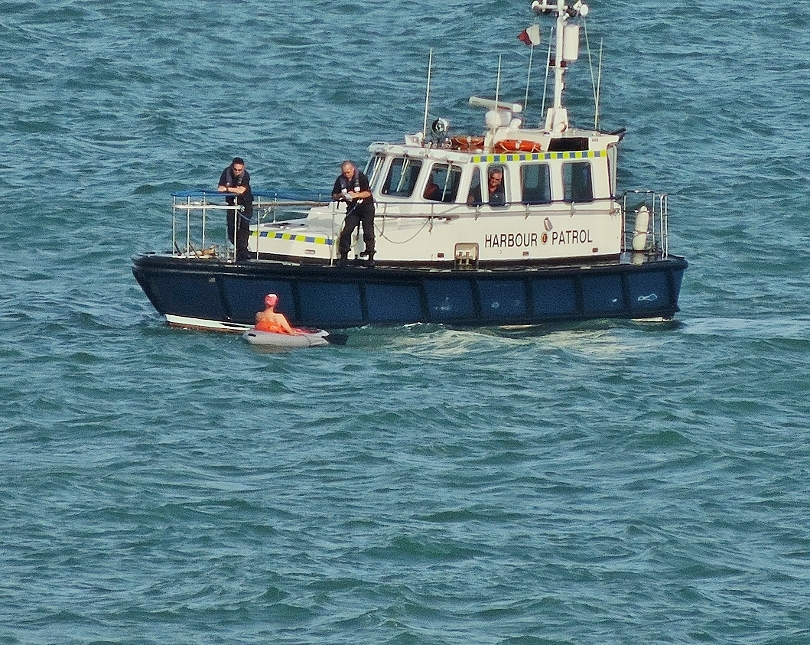 Last evening was a busy old time in the harbour, the Lifeboat was sent just outside the harbour to the immediate east, searching for a reported 'body in the water'. Also in the immediate area too was one of the ever busy Uk Border Agency vessels which also appeared to be searching for the body. In this heightened attitude the harbour patrol spotted a lone canoeist arriving into the harbour and sharply went to investigate. They were on the case as quick as a flash. Nothing further as yet on the body situation.
The Saga Pearl II departing for Gibralter a couple of nights ago..the pilot returning home after another excellent job done. The Saga Sapphire was also back in Port yesterday too...so a busy time for Saga.
Friday, 1 August 2014 - 06:38
Post 997
Mike J., Dover
After over two months laid-up in the Wellington Dock [see post 746 of 27/5] the TOPLIFT was seen working at the Southern Breakwater on Thursday morning.
Not often that you see a road vehicle out on the Breakwater !
Thursday, 31 July 2014 - 07:14
Post 996
PaulB, Sea news, Dover.
PRESS RELEASE re The Community Regatta from the PORT of DOVER...
* * *
Port of Dover Community Regatta – bigger and better event delivered for Dover

________________________________________________________________
On Saturday, 26 July, thousands of people enjoyed it and thousands of pounds were raised on a day that saw a maritime celebration of Dover, its community and its Port complemented by exciting displays on land and in the air.
Officially opened by Admiral of the Fleet, the Lord Boyce, the day also featured a host of entertainment and over 40 stalls for people to explore.
Lord Boyce said: "I was delighted to open the second Port of Dover Community Regatta which brought the community of Dover together to celebrate its maritime heritage. Seeing the Port of Dover working with its partners in making the most of one of Dover's best assets, its splendid seafront and harbour, for the benefit of its community was great to see. I am sure that everyone had a wonderful day in a wonderful place."
Tim Waggott, Chief Executive, Port of Dover, said: "What a fantastic day for Dover. We all shared in and saw the vision coming to life of a vibrant waterfront bringing everyone together."
Alongside a stunning classic car display, dramatic demonstrations by the Kent Fire and Rescue Service, an RNLI sea rescue display and a host of different stalls lining the entire seafront, the day was rounded off in style by The Blades Aerobatic Display Team.
Mr Waggott added: "I am proud that the Port, together with its community partners delivered a great event for Dover. It is events such as these where we are all working together, that can help turn Dover into the great destination we know it can become."
The Port of Dover sponsored Dover Port Dash charity races were back by popular demand, raising money for the Cinque Ports Pirates Sailing Club, a local voluntary organisation with charitable aims that works with children aged 8 to 18 in Dover Harbour to bring the skills and enjoyment of sailing to anyone and everyone.
Karen Amber, Cinque Ports Pirates, said: "I was delighted that we were chosen as this year's charitable cause, even more so as we are so closely connected with the harbour which seems most fitting for the Port of Dover's Community Regatta. The money raised will go a long way to providing even more opportunities for local young people to experience the enjoyment of sailing, bringing the local community and the Port ever close together"
ENDS
Note: all press releases are pinned for a period of time.
More on the Regatta with pictures in Posts 914, 918, 920.
Thursday, 31 July 2014 - 07:05
Post 995
PaulB, Dover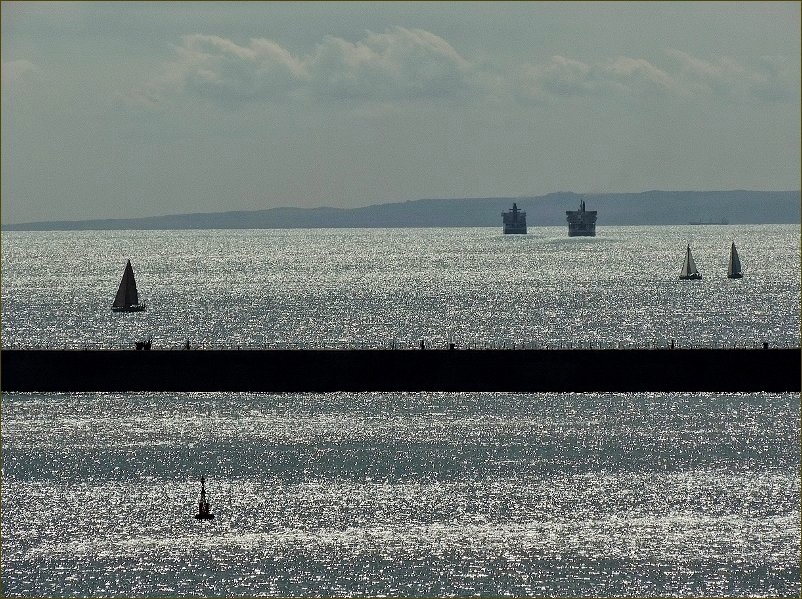 Dazzling sparkling seas yesterday out in the channel. Lovely to see. All so clear between here and France as thousands of holidaymakers excitingly ferry over in the gorgeous conditions. its a great way to travel on a day like that..you cant beat it. Below we have the early yesterday morning approach of the Saga Pearl II. A long distance picture but even that early the sea was made of dazzling diamonds.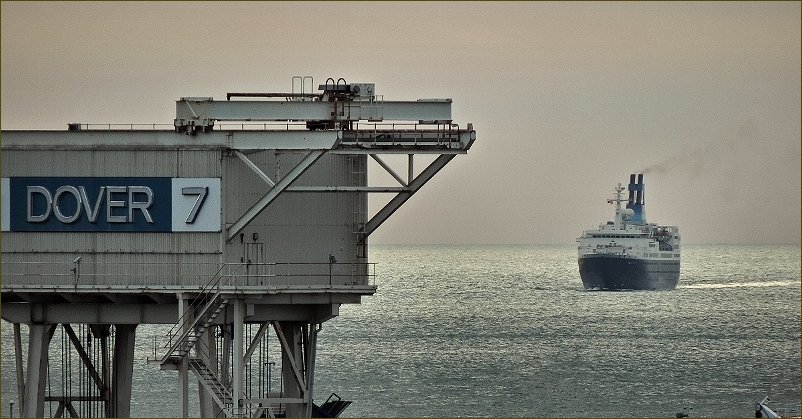 Well done with that list Colette...the Crystal Serenity wow!
..charging me batteries

yes indeed Howard some of these happenings sneak up on a chap..
Thursday, 31 July 2014 - 06:56
Post 994
ColetteB, Dover
As listed last time, tomorrow 31st July the Saga Sapphire is back at CT1, TR.
And now for the first week or so of August Dover cruises

On Friday 1st August the beautiful Crystal Serenity arrives for the first time this year at CT2, TR. She was last here in September 2013.
Then the following day Saturday 2nd August the Ryndam returns to CT1, TR.
The next day Sunday 3rd August the Ocean Princess is back CT2, TR.
Monday 4th August the Braemar returns to CT1, TR.
Tuesday 5th August brings the return of the AIDAStella with a PoC at CT2.
No cruises on Wednesday & Thursday but on Friday 8th August the Seabourn Quest arrives at CT1, TR. We saw the Seabourn Sojourn here in September 2013 & the Seabourn Pride 2012/11.
The following day Saturday 9th August the Ryndam arrives back at CT1, Debark.
No cruise on Sunday, on Monday 11th August the Ocean Princess returns to CT2, TR.
That's all for now


Wednesday, 30 July 2014 - 20:31
Post 993
Howard McSweeney, Dover
I missed it all, but for Paul and Mike's photos i wouldn't have known about the "publican's walk" or the "doris pickles".

Wednesday, 30 July 2014 - 20:11
Post 992
ColetteB, Dover
Brilliant colours there at the Publicans Dover Seafront walk, love the outfits especially the awesome clown with the adorable child


Wednesday, 30 July 2014 - 12:32
Post 991
PaulB, Dover
It was a frantic weekend on Dover Seafront one way or another and all in fabulous weather.
No sooner did we have the departing Regatta on Saturday when up turned the Publicans Walk on Sunday..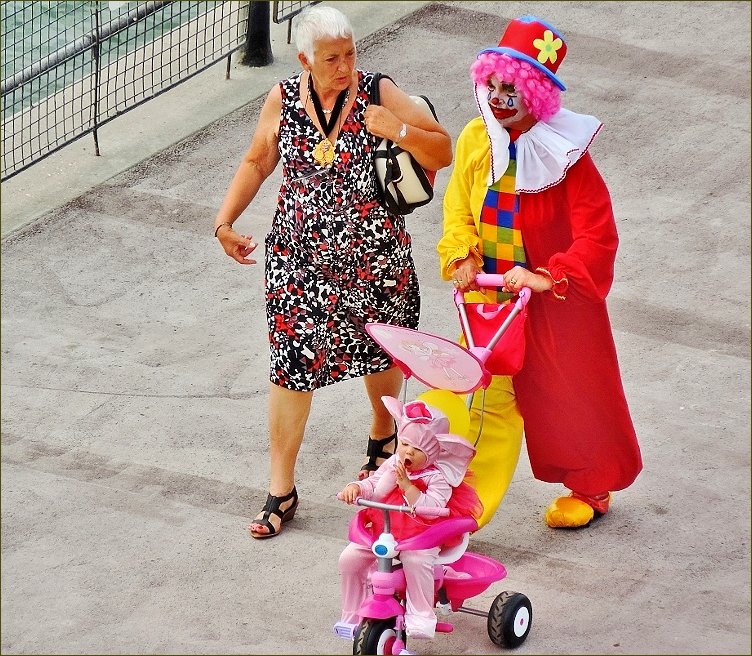 Although it is a well known charity event, there never seems to be any advance warning that it is all about to take place. It kind of creeps up on a person so yours truly saw it merely by chance before popping off out. Top picture shows the Mayor herself Cllr Pam Brivio taking part, she was in there amongst all the rip roaringly colourful outfits. We only have a small selection here but isn't he/she a great clown above.
Look at the delightful child yawning..clearly showing no interest in Politics!!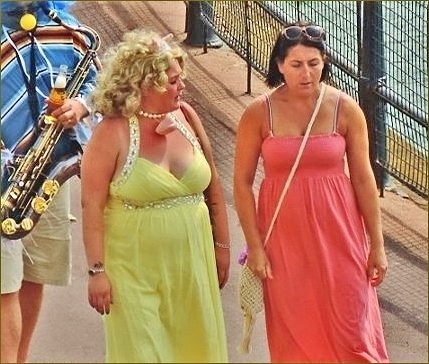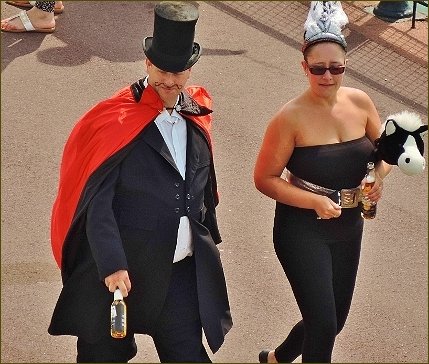 Plenty of terrific outfits were on show from Roman Gladiators to Kermit the Frog etc etc. Lots of very colourful ladies too. The two on the left were enjoying ambling up and down in elegant style, and two on the right were no doubt off to the theatre for sure...the carriage awaits!! I don't think I did the girls justice there as the picture is small so...wait for it...here we are blown up and giving it large...

ooh I say!
Good post below Mike. Good to see those barges.
There is a full press release on Chris T's www.dover.uk.com news frontpage just in re those busy busy weekender Lifeboat adventures...
..so have a look at that too.
Glad your pictures are working better Vic..may just have been one of those things. Hope all is working fine n dandy for you now.
Bet it was good down at Farnborough Barry W-S...wowser Red Arrows !
Wednesday, 30 July 2014 - 06:44
Post 990
Mike J., Dover
Excellent 'Blades' pix - wish I'd been in Dover on Saturday !
At the end of post 914 PaulB mentions that the lifeboat was called away to do a 'real' rescue during last Saturday's Regetta.
Initially the Walmer inshore lifeboat, who was also at the Regatta, was sent out to assist a motor barge who had sprung a leak off the port & the Dover lifeboat later assisted, helping with pumping & towed in the DORIS PICKLE which is now moored in Wellington Dock across from iDe Bradeleis.
Googling 'DORIS PICKLE DOVER' should bring up a full description & video of the rescue.
Apparently the barge had been delivered to Dover by lorry a few days earlier.
On Tuesday morning there was another considerably larger barge in the Tug Haven.
It looks Dutch in origin but is flying the Red Ensign.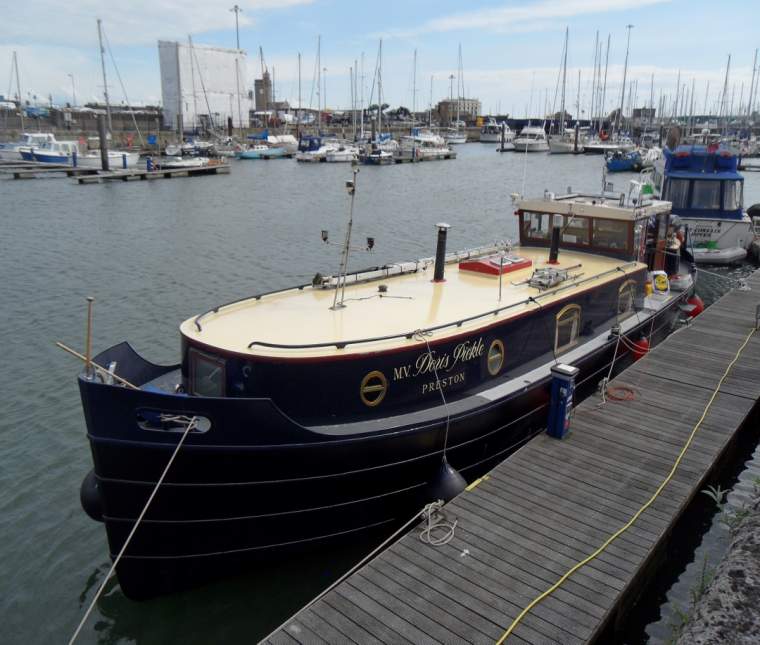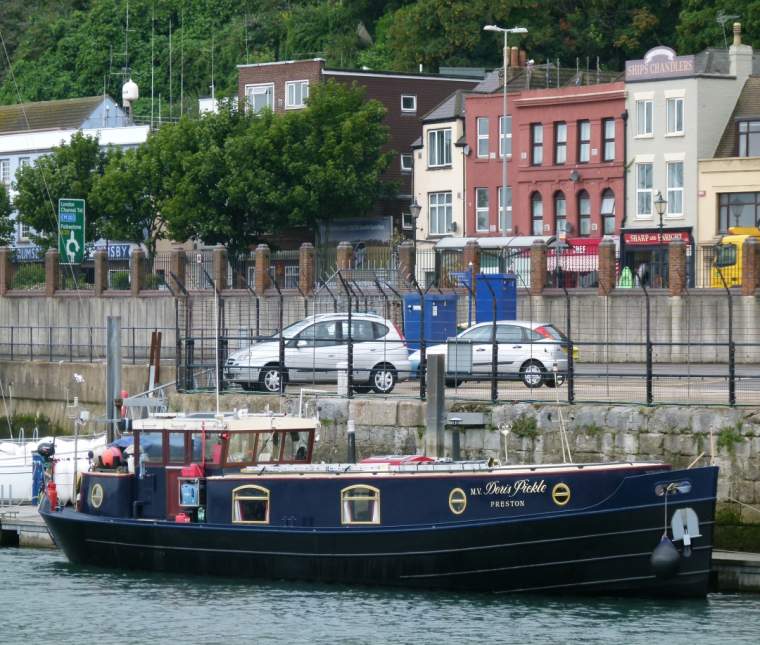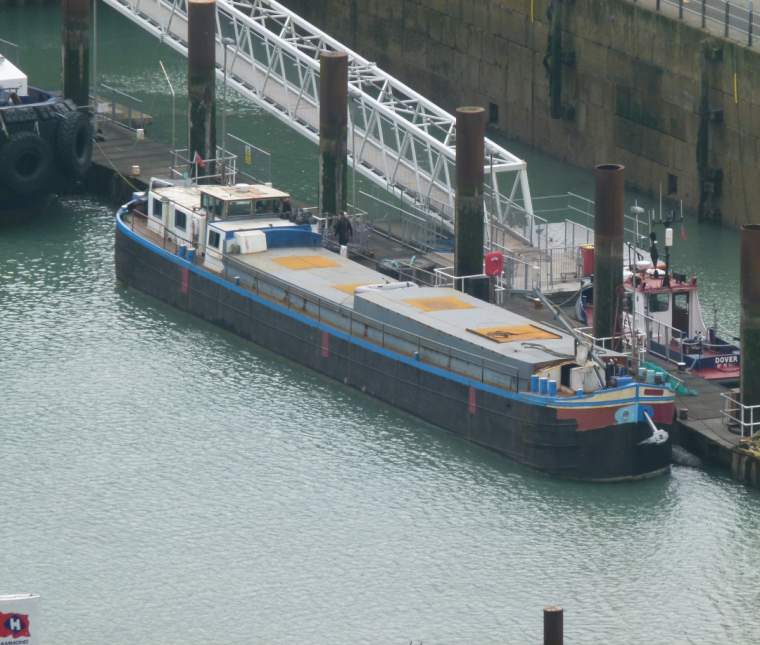 Tuesday, 29 July 2014 - 22:47
Post 989
Barry W-S, Dover
Stunning aerial photos of the Blades PaulB and to think you took them on a compact camera! Fandabbydosie!! The display was excellent especially on such a basking day

I'm aero displayed out after Farnborough Airshow but I managed to meet the pilots of the Red Arrows a really nice bunch

I also met the test pilot of the Typhoon Eurofighter, who put on an "Awesome" display

Tuesday, 29 July 2014 - 14:52
Post 988
vic matcham, dover
THE photos are loading better today maybe it is a weather thing.
Great photos again but can not see Lesley and myself in any of them.
Dover is lucky to have such a good water front. I was talking to the chairman of the D .H. B when we was down there he told me they are still working on getting a very good outside gym down there.
As some might know I have been trying now for some years to get them not only in Dover but some of the parish,s to.

Tuesday, 29 July 2014 - 08:00
Post 987
PaulB, Dover
And now we have The Blades aeronautic display team in fine dazzling action right over the harbour...
these guys closed the Regatta Day in fabulous style.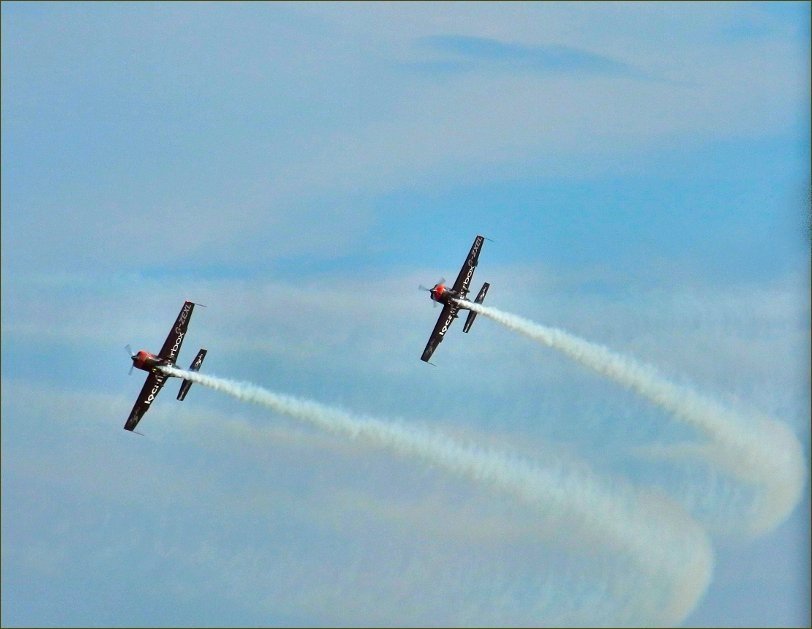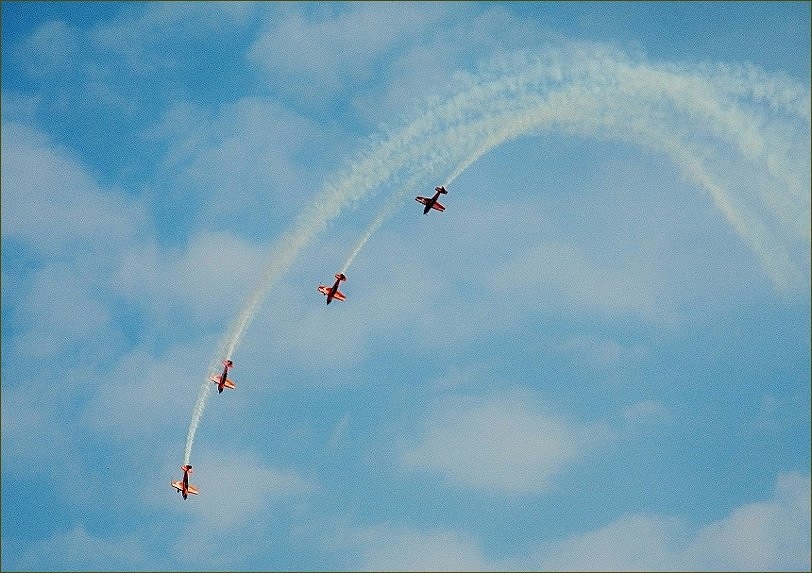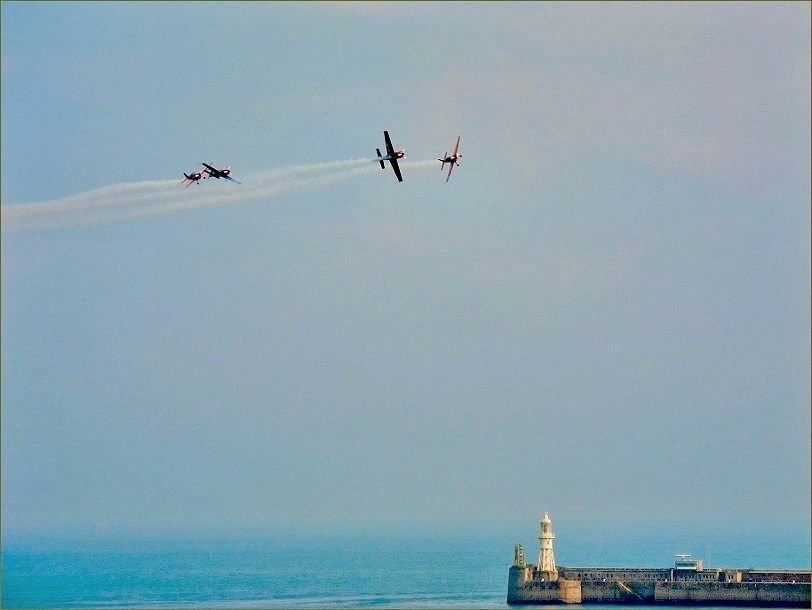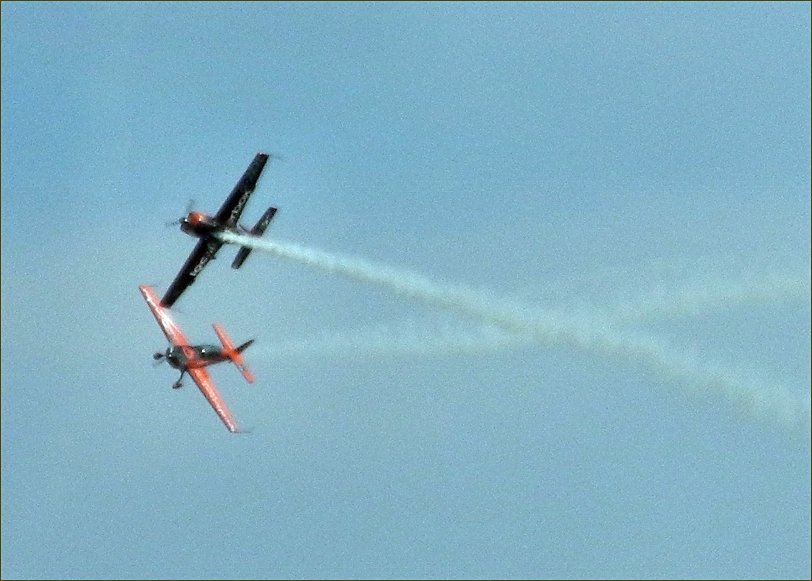 These pictures were taken on a relatively simple compact camera so I hope I managed to do the guys and their mind-blowing stunts justice. And wow can these guys fly...they sure can. All ex Red Arrow pilots to a man, they came wowing us in fine high speed thrilling action, darting this way and that, climbing into the heavens and falling, bursting out of formation..and so on. Their display lasted about 20 minutes and they finished the day off brilliantly. Although it had been a long hot day, a very large crowd still remained to enjoy the display, taking up excellent positions along the beach. Ferry passengers didn't know what hit them as the planes roared over their heads...almost whipping the tops off their frothy Cappuccinos!
To find out more about the Blades team and for an opportunity to fly with them see their website
www.theblades.com
Once again a huge well done to the organisational team at the Port of Dover. It was all fab.
See also posts 914 and 918.
Tuesday, 29 July 2014 - 06:29
Post 986
ColetteB, Dover
Great bunch of photos there of the Brilliant Regatta day, really enjoyed it this year

As Howard said below 'It was like the Regatta of old' Well done to all involved, truly a Fantabulous day

Monday, 28 July 2014 - 15:28