Wednesday, 23 October 2019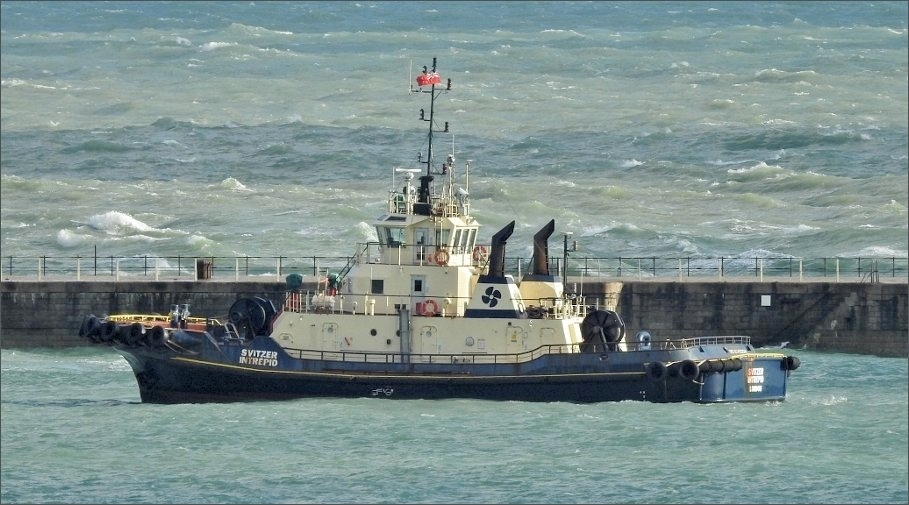 Svitzer Intrepid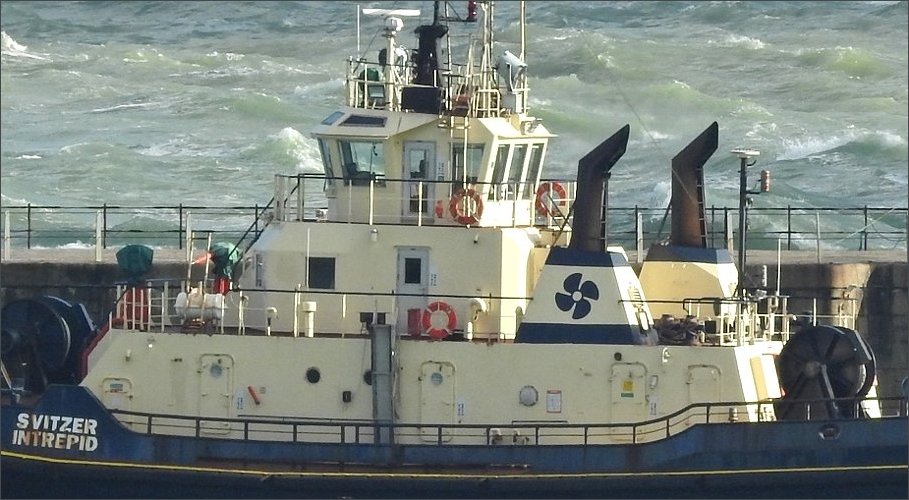 Svitzer Intrepid... the temporary replacement tug for Doughty at the Port of Dover.

WWW.DOVERFORUM.COM/SEA-NEWS
Featuring all the ships that come and go and work at the Port of Dover ..
... with further coverage of the surrounding ports.
Sea News Dover
P&O FREE WINE see 6600 --- Dover Lifeboat Sunday Drama see 6607.
Use our SEARCH ENGINE below to find all sorts on the SEA NEWS pages....type in the topic and away you go, or if you have the post number, just type it in the box, more than
- 6500 -
nautical posts now. Posts are welcome. just click 'Add Your Comment' below. Max of 5 pictures preferred although we can stretch that for special stories.. Sea News Editor Paul Boland - send info or pix to dover7@msn.com. Always welcome.
CRUISE CALLS:
https://www.doverport.co.uk/cruise/find-a-cruise/
UPDATE:
To show your pictures at their best..it could be worthwhile resizing before posting to
850
pixels wide.
All pictures on these pages are the copyright of the owners and must not be reproduced without permission.
Post 521
Mike J., Dover
The HELENE arrived on Cruise-1 on Monday night, loaded with rock for the groyne replacement job.
On Tuesday morning the tug/workboat LLANDWYN ISLAND arrived with the flat-top barge CHARLIE ROCK & this was tied up alongside the HELENE.
The tug/workboat AFON GOCH also arrived.
By Tuesday afternoon the HELENE was unloading rock onto the barge & the two tugs were tied up alongside the CHARLIE ROCK who has a large JCB aboard & this will be used for placing the rocks.
At least one of the tugs will be needed for moving the barge.
HELENE before arrival of CHARLIE ROCK - one of the Range Safety launches departing for Hythe or Lydd ranges.
The groyne replacement work will be something different to see on the seafront & I'm sure that we'll be getting some high-level views from PaulB !
Tuesday, 4 March 2014 - 21:27
Post 520
Andrew MacLean, Canterbury (jazzandy@btinternet.com)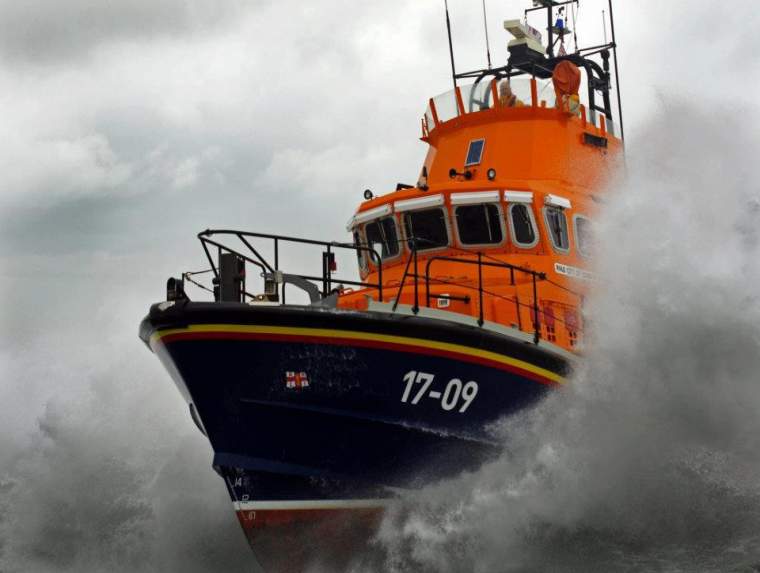 GREAT NEWS!! We're now accepting foot passengers on 'Dance to France' in aid of Dover Lifeboat and the restoration of TSS Dover.
On board MV Spirit of Britain - Saturday 29th. March - 18.35 sailing returns by 2215.
Buses from Priory Station at 1730 - Passports needed!
Tickets from 01227 732414
Book early as numbers are strictly limited!
Tuesday, 4 March 2014 - 16:12
Post 519
PaulB, Dover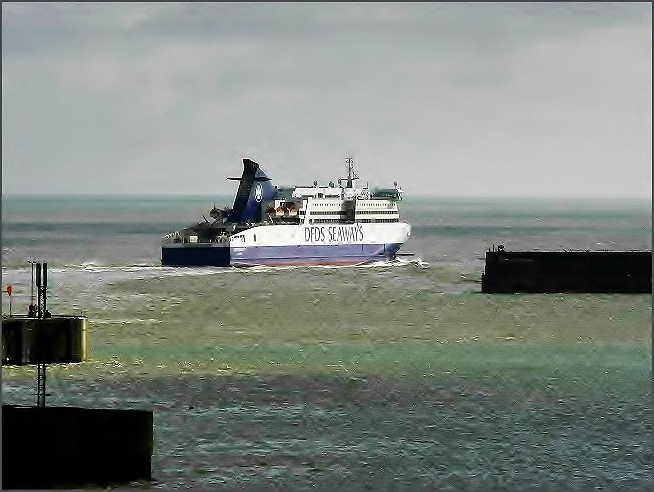 FREE CHOCOLATES : Travel to Bruges This Spring for a Sweet Deal with DFDS Seaways
____________________________________________________________________
•• Free exclusive Belgian chocolates for passengers visiting Bruges
•• 20% off return ferry crossings from Dover to Dunkirk
If you are looking for a sweet deal on a short break this Spring, then Bruges could be your perfect destination. Renowned as one of the world's chocolate capitals, the beautiful city of Bruges is less than an hour's drive from the French port of Dunkirk.
DFDS Seaways is offering 20% off its Dover-Dunkirk ferry crossings if you book before March 17, for travel throughout March and April, using code EBRG, making now the perfect time to book your break away. And if that isn't a tempting enough offer, those travelling on to Bruges can also claim a free box of exclusive Belgian chocolate swans from any Guild of Chocolatiers shop in the city on presentation of your DFDS Seaways booking reference.
A paradise for chocolate lovers, Bruges is home to the Bruges Guild of Chocolatiers, which seeks to preserve the art of chocolate-craft in the city. The historic Belgian city also houses 70 specialist chocolate shops in the city alone, many of which make their chocolate on site.
If there's one thing Belgium does as well as its chocolate, then it's beer and Bruges is no exception to this rule. Visit De Halve Maan brewery, the oldest in the city, and you can enjoy a panoramic view of the city, a guide to the brewing process and samples of Brugse Zot Blond beer. Most bars and cafes in Bruges stock a huge range of beers and it is not uncommon for the number to reach into the hundreds!
DFDS Seaways operates up to 24 sailings per day between Dover and Dunkirk, offering passengers excellent flexible sailing times. Passengers can relax onboard during the short two-hour crossing and grab a bite to eat at one of the restaurants or cafes, pick up last minute travel essentials from the onboard shop or let the kids play in the dedicated children's areas.
To book your travel now, or for more information on travelling to Bruges, visit www.dfds.co.uk.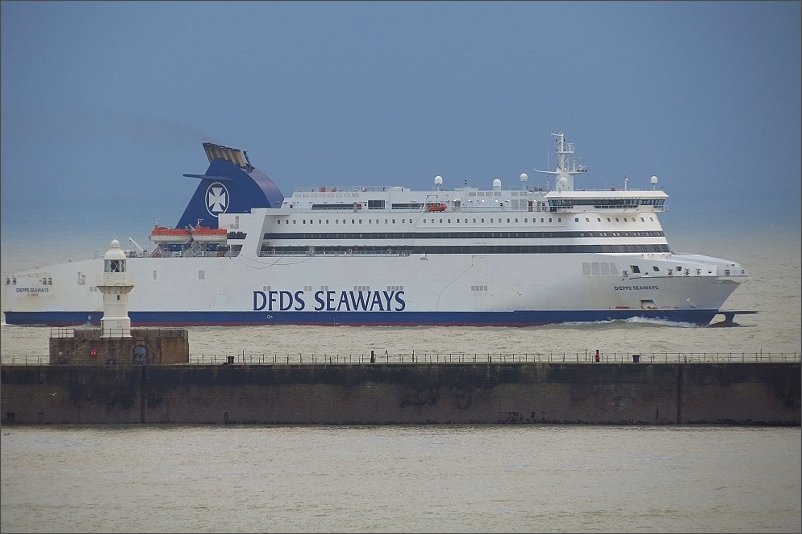 Hark.. you might be thinking! Two pictures, but is this the same ship?? yet it looks different somehow?
well indeed it is the same ship, the Dieppe Seaways, but it now has a different livery, a different design...
but which is the newer picture??

* *
Glad you are liking the groyne pictures lads. Yes you are dead right Vic. They seem to be cutting them across at the base. Looks a big and laborious job. Once the cutting is done the brute force of the JCB takes over. That seems to be the formula. The destruction of the second groyne is now underway.
Tuesday, 4 March 2014 - 06:46
Post 518
Vic matcham, Dover
Yes you can see the burner and his tools there,as you can see all he has done is cut the old pile off as low as he can.they will just cover them up and lie the stone down go job all does is burnthem off and then on stand by till he does the next one,that the jobs I loved to do,one you do not have to think about first.

Monday, 3 March 2014 - 20:57
Post 517
howard mcsweeney, dover
interesting photos - clearly going to be a long and arduous task, have no idea how deep down they go.

going to be rather a lot of truck journeys disposing of the old ones as against the new ones coming in by sea.

Monday, 3 March 2014 - 20:17
Post 516
PaulB, Dover
A PAIN IN THE GROYNE !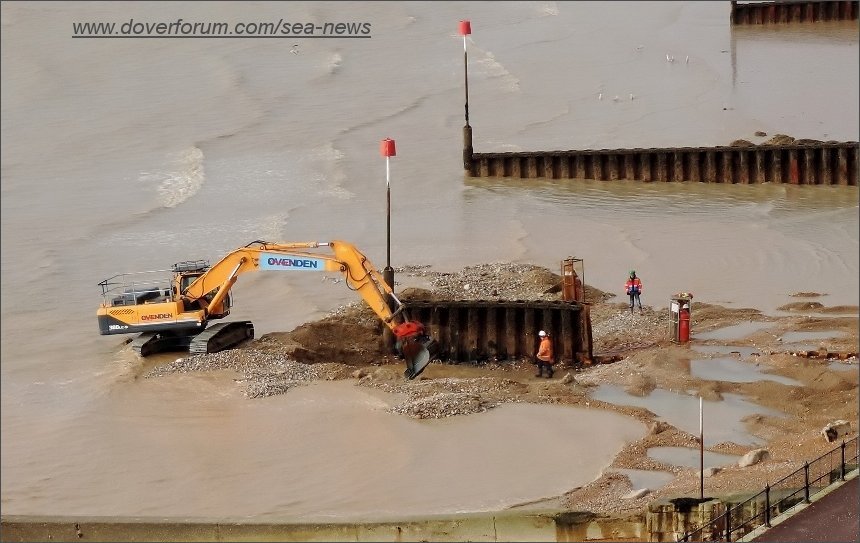 These pictures were taken on sunday morning. For a while the scene was semi floodlit by a weak and low early sun as the guys fought swiftly against the incoming tide. They worked for many hours as you can imagine, but towards the end several hefty kicks from the JCB type vehicle were required and eventually the groyne fell over with a thud. Then with the tide getting ever closer the fallen groyne was scooped up in quick time and taken back up the hill as it were to terra firma. Number one groyne was down.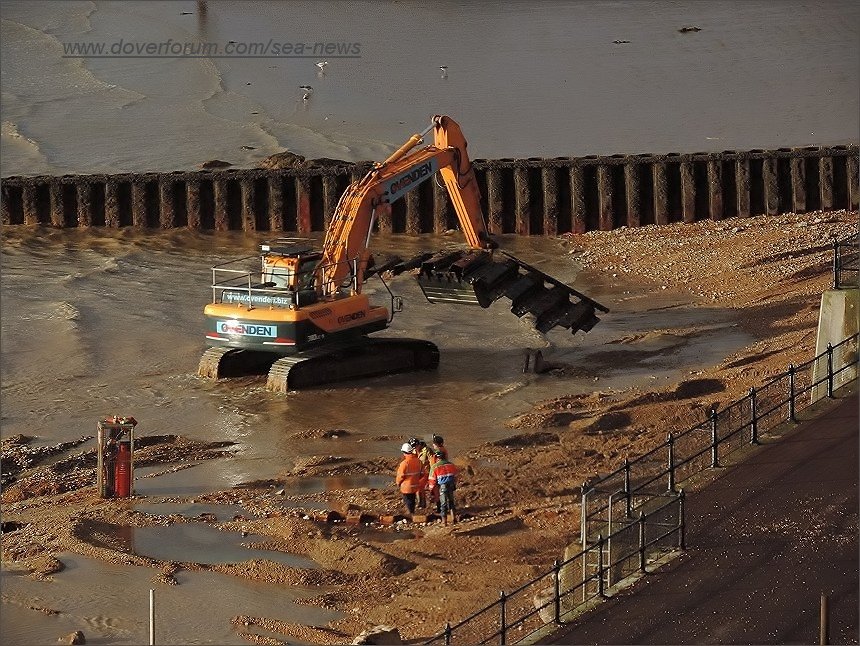 I have further pictures but we better leave it at that for the moment
Thanks for the info there Vic. Far from an expert me...but I think they are replacing all the metal groynes with specialised hard-wearing stone ones. Whether welding of any kind will be required I don't know myself...but we will see all develop as we go along. The following is a quote from the news release.."work will commence to replace the existing groynes with new rock groynes made of Larvic rock from Norway, one of the most durable types of rock, that will both defend and protect the beach but also create a much more visually appealing beach environment. Part of the promenade sea wall will also be repaired at the same time".
So there you have it...
Monday, 3 March 2014 - 06:11
Post 515
vic matcham, Dover
Will they do a good job or just a patch up one,you can see the holes is the sheet piles the good job and what needs to be done is that they are all pulled out and replaced by newones,or newones put down on the faces of the old ones,all we done last time was weld patchs over the old ones,if they do it that way it will not last a year because the rest of the pile around the new patch is all rotton.
If they go for new ones then there will be no sleep for any of you living down there or half of Dover if done at night if the tide is low .Cover your ears up ,Thats why I can not hear much today because of the years puting down piles and cuting them off.

Sunday, 2 March 2014 - 18:40
Post 514
vic matcham, Dover
THis job is just up my street I need to get down there and offer my help.

Saturday, 1 March 2014 - 09:47
Post 513
PaulB, Dover
DEMOLITION DOVER! see also RNLI LIFEBOAT information re our Mystery below.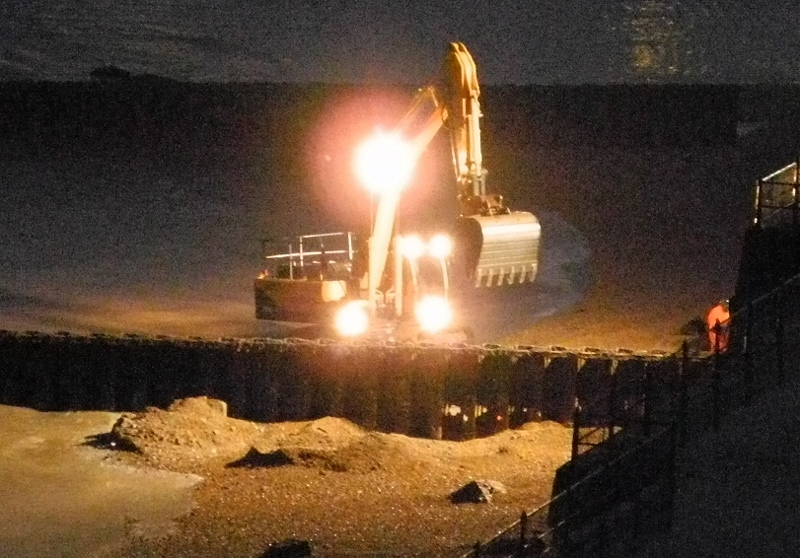 The work began in earnest on our seafront defences last night in the dark. This is the scene at about 6.10pm last night friday. The guys were working while the tide was out for obvious reasons. On page 3 you can see the official notification in a news release re the work commencing... and here we are in earnest now..it has kicked off. The seafront groynes, as they are called, are being replaced and renewed.
Have added the extra pic below just to give a better idea of the exact location of the work..its at the eastern end of the main beach, if I can put it that way. The groyne being tackled in the pictures is now partially gone as I write. The guys are working again right now to once again make hay as it were while the tide is out.
Another chance to see the initial news release below.......saves trawling back to page 3.
"
PORT OF DOVER: Having withstood the elements for many years, the seafront groynes are to be replaced and upgraded with the highest quality of rock groynes in order to provide the best beach protection and frontage for Dover's community.
The current groynes are reaching the end of their life and the Port of Dover wants to ensure that they are replaced with the very best to support the wider waterfront regeneration agenda being pursued for Dover.
From 24th February, work will commence to replace the existing groynes with new rock groynes made of Larvic rock from Norway, one of the most durable types of rock, that will both defend and protect the beach but also create a much more visually appealing beach environment. Part of the promenade sea wall will also be repaired at the same time.
Jack Goodhew, General Manager – Technical Services, Port of Dover, said: "We were determined to combine our desire to preserve and enhance the beach for the long term with our wider vision of a quality waterfront that is part of reviving Dover as a destination."
Access to parts of the beach will be limited as the work progresses in order to ensure the safety of everyone. The Port is currently engaging with all those who live or work on the seafront and interested local organisations on the project in order that they are fully informed about the works.
Mr Goodhew added: "We are starting the work this month in order that it is completed for the Summer season. The beach is valued greatly by our local community and we want to ensure that it is ready for when the summer holidays begin."
The Port apologises for any inconvenience that the work may cause as it works to deliver an improved seafront for the benefit of its community.
"
_______________________________________________________
ALSO JUST IN RE THE LIFEBOAT MYSTERY FURTHER DOWN THE PAGE
Had the following through from the RNLI LIFEBOAT guys.. from James Clapham in fact, much thanks to James for this.
"
Hi Paul
Was looking on the Dover Forum this afternoon, and saw a picture of the lifeboat near the Castle jetty.
To put your mind at rest the lifeboat was on a training exercise at anchor using our breeches buoy to the jetty. Not that clear in the photo.
Hope that helps.
Kind Regards
James
James Clapham
F/T 2nd Coxswain / Mechanic
Dover Lifeboat Station
"
Many thanks again James.

Saturday, 1 March 2014 - 07:12
Post 512
PaulB, Dover
Channel Dash Memorial – keeping Dover's important memories alive
_______________________________________________________
Whilst the Dover Straits are today synonymous with the movement of cross-Channel ferry traffic between Europe's busiest international ferry port and the Continent, 72 years ago the Straits represented a narrow divide between Great Britain and occupied Europe. The Port of Dover is extremely mindful of the extraordinary wartime heritage that exists in Dover, much of it associated with the role of the Port itself.
As such, having supported the establishment of the Channel Dash Memorial in 2012, commemorating the incredible bravery of those who took part in Operation Fuller, the Port is once again honoured to support the Channel Dash Memorial Trust in developing an IT educational project to remember such a poignant episode and honour the memories of those who took part.
Tim Waggott, Chief Executive, Port of Dover, said: "It is really important for us to recognise the ultimate sacrifice made by the 146 young men who gave their lives fighting for our country. The IT Educational Project, proposed by the Channel Dash Memorial Trust, will help keep it in our memories and we are very proud to be able to support it. We recognise that this part of history is hugely important for both the town and community of Dover."
Together with representatives from the local community through the newly established Port and Community Forum, the Port has been developing a heritage strategy that connects important parts of Dover's history in order to tell its unique story. A significant part of that is revealing Dover's maritime heritage, both in war and in peace. The educational project will make a very meaningful contribution to that work in remembering and interpreting what was an amazing chapter that recognises such incredible commitment to a cause, whatever the odds.
Jim Williams, Trustee of the Channel Dash Memorial Trust, said: "Dover Harbour Board supported us in 2012 with the Operation Fuller Memorial and has kindly offered to help us take this project a step further. It is fantastic to know that the Port is keen to be a part of this community initiative to keep the memory alive of the airmen who took part in the wartime Operation Fuller - known as the Channel Dash."
* *
The picture from our collection shows the Channel Dash Memorial on Dover Seafront.. taken during the balmier days of last summer.
Friday, 28 February 2014 - 06:26
Post 511
PaulB, Dover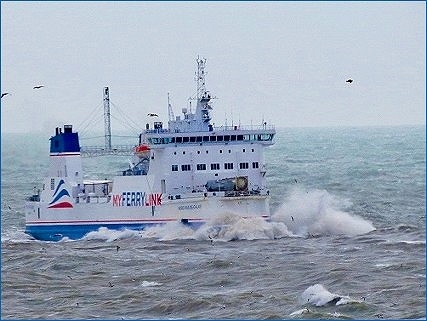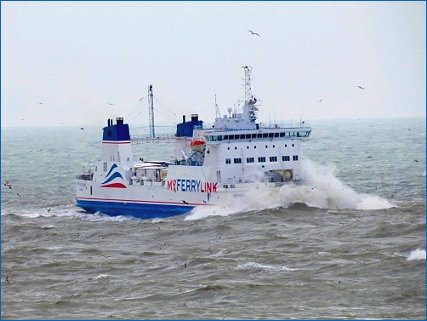 Here we see our old friend the battling Nord Pas de Calais grinding its way homewards in dire conditions an hour or so ago...in conditions that fluctuated between a gale force 8 and a severe gale 9. it was rough and tough out there but all home safe and sound now.
Fortunately as i write all is almost benign again now with the sea...but it was difficult for a time there this morning. It is amazing how quick it all changes, sometimes for the worst and of course sometimes for the better.
Yes Mike you might well be right re an exercise. Normally they let people know about exercises and the like...but we will wait and see and perhaps we will get some info through in due course.
Thursday, 27 February 2014 - 11:22
Post 509
Mike J., Dover
A training exercise perhaps ?

Thursday, 27 February 2014 - 08:48
Post 508
PaulB, Dover
Yes its very odd Howard, there has been no news at all anywhere about what was going on with the Lifeboat. I have had a trawl around several times now to see if there is any news anywhere...but no mention. As you say even if its a false alarm 'shout' some news is usually issued. The guys I knew there previously have left I believe too...so..I guess we will just have to wait on this one.
Weather extremely grim again today out on the ocean waves. Very rough with poor visibility. But..better days ahead...says he hopefully. It has been a long gruelling winter for sure this time.
Here is a picture of the Rodin in the fairly rough conditions of Tuesday mid-day.. but alas its even worse out there today.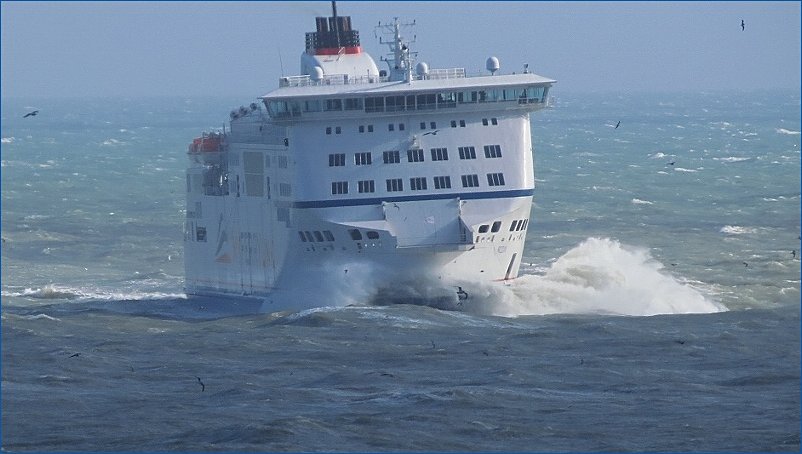 Thursday, 27 February 2014 - 07:39
Post 507
howard mcsweeney, dover
all rather strange, nearly 24 hours since the incident and no press release from the rnli as far as i can ascertain.

they always report on false alarms as well as rescues.

Wednesday, 26 February 2014 - 20:14
Post 506
PaulB, Dover
A bit of a drama was played out last night right under our noses here on Dover Seafront.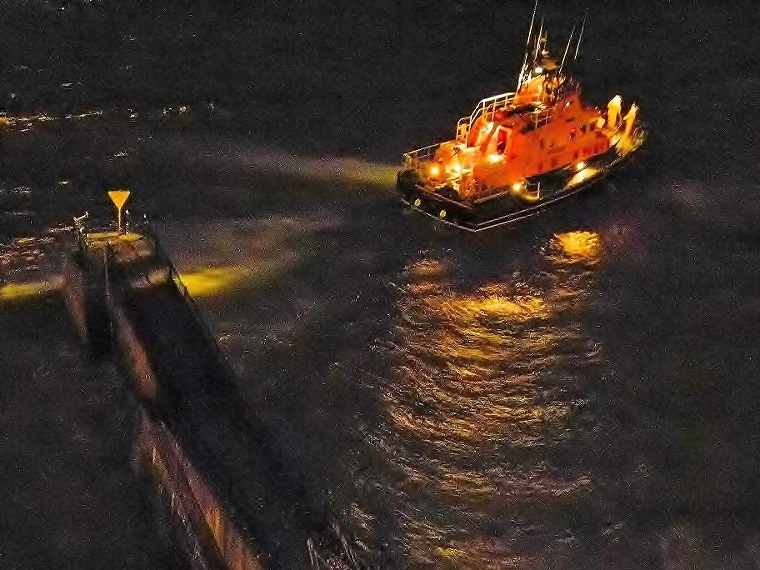 The Lifeboat arrived around 8pm and appeared to be searching the water with floodlights and so on...with several of the crew standing at the bow looking directly into the water. They remained for 40 minutes in approximately the same spot...while other personnel appeared to be searching the main beach in the near distance with lights/torches etc.
It was very dark at the time but I attempted to get some sort of image and there we are. If and when we hear anything further will let all know.
Wednesday, 26 February 2014 - 07:17
Post 505
PaulB, Dover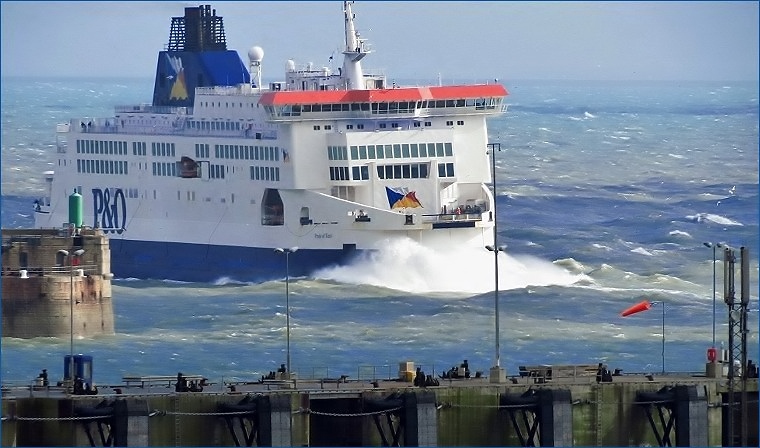 Thanks for the info again as ever Mike. It turned out to be a bit of a filthy day alright..very rough at times with a gale force 8 a-blowin'.
There was a bit of a burst of sunlight at one time so I gave a few pictures a go, the brightness caught me out though...the picture was a bit brighter than expected, have had to try and tone it down. But it captures the battling conditions around lunchtime today. The ship is the Pride of Kent. Another tough day!
Just a further note about how important the cargo terminal has become. No sooner had the Wild Lotus moved out than the Fegulus moved in to slot.
Its like a warm bed in a doss house. As soon as one guy gets out another one gets in !!

Tuesday, 25 February 2014 - 15:55
Post 504
Mike J., Dover
The BURGUNDY is about to go off for refit & will probably be having an MES [Marine Escape System] deployment sometime today, so expect some activity around her when the rafts are in the water.

The majority of the crew will go down into the rafts. All good fun.

Filthy day for it.

Tuesday, 25 February 2014 - 07:31
Post 503
PaulB, Dover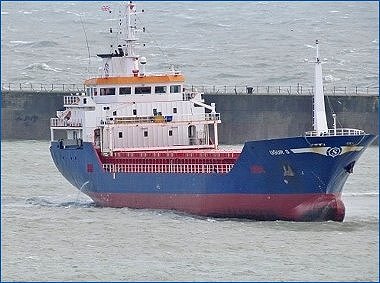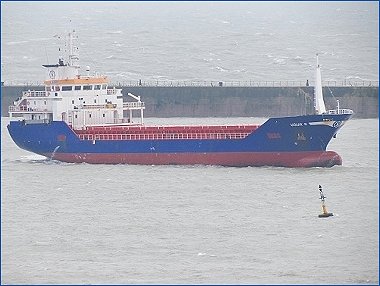 Another busy time for cargo vessels. Above..currently on the western arm at Cruise Terminal 1 is the Ugurs. It did some posing for us the other day as it arrived, doing the 360 degree turn outside the rear window. It arrived two days ago and it has been here ever since..also at the same cruise terminal as we speak is the Coral Water which recently had mechanical failure but is now returned to the fray with all bits fully functioning.
The ship below from NYK COOL is the Wild Lotus. Don't remember this one previously but this vessel slipped into position at the regular cargo terminal yesterday and is now as we speak being helped with departure by the tugboats in the very strong gale force wind. The cargo terminal as we see is in very big demand and ripe for expansion...one way or another. More expansion with cargo equals more jobs.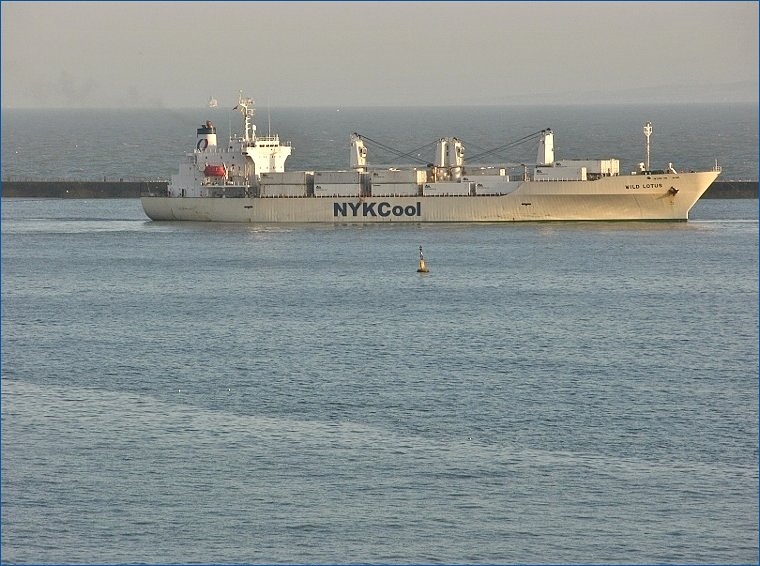 Our old friend the veteran warhorse the Pride of Burgundy is currently resting at CT2, been there since last night..presumably she is experiencing problems..anybody know anything re her condition?
Tuesday, 25 February 2014 - 06:58
Post 502
PaulB, Dover
EXPORTING EXPERTISE
The Port of Dover Expertise Goes Global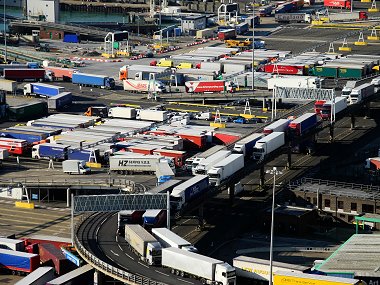 The Port of Dover, together with its international partners Mott MacDonald and Buchan Group, is delighted to announce that it has been successful in securing a significant contract to guide the major future development of three ports managed by Taiwan International Ports Corporation Ltd (TIPC).
Having established strong relationships with TIPC, cemented through the signing of a Memorandum of Understanding in 2011, the Port of Dover's world-class expertise in port management and port development has been showcased both in Taiwan and in the UK. The contract is a clear recognition of the global reputation that the Port has now achieved as a valuable consultancy partner when requiring a team made up of the best international experts.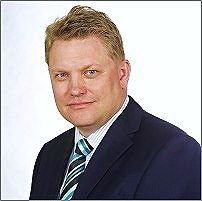 Tim Waggott, Chief Executive, Port of Dover, said: "This is a fantastic achievement for the Port team, its partners, and for the global reputation of the British maritime industry. Moreover, it gives our staff an incredible platform for career development and reflects the vision that we have for our community in providing new and inspiring opportunities."
As the consultancy business develops and Dover's port expertise is required elsewhere as well as still in Dover, this will lead to the creation of high quality jobs at Dover with exciting prospects for all those associated with the Port. This is a further strand of the Port's drive for transformation, nurturing talent in Dover that then delivers expertise all around the world with Dover's name becoming synonymous with opportunity, quality and excellence. In turn, this will contribute towards inward investment as Dover becomes a hub for maritime expertise, furthering the Port's ability to act as a catalyst for regeneration.
Beating off stiff competition, the partners also received fantastic support from UKTI (the British Trade & Cultural Office in Taiwan) in promoting British expertise in Taiwan.
Chris Wood, Director, BTCO said: "This is a great boost to Britain's international reputation in port planning and with such a strong partnership evident between Mott MacDonald, Buchan Group and the Port of Dover, goes to show that with the right expertise and our support, the UK can play a major role in global maritime affairs."
The contract is focused on carrying out master planning activities for the three Taiwanese ports of Keelung, Kaohsiung and Anping in order to promote the ports' domestic and international passenger transport and tourism services, including the construction and modernisation of passenger terminal facilities.
Glen Curry, Mott MacDonald said: "This is a very exciting contract to have won and with the specialist skills and experience of the Port of Dover supporting our port planning and engineering expertise, we are confident we can plan great things for Taiwan's ports."
The partners will conduct research and analysis on the location and characteristics of Keelung Port, Kaohsiung Port and Anping Port in order to carry out a detailed investigation of possible domestic and foreign development projects. They will then produce the final master plan presenting the most appropriate developments, their location and size, configuration and the types of industry suited to the ports.
* *
Yes Howard I suspect half term may have something to do with the seafront being deserted. Lots of traffic going over all week. Busy busy!
Sunday, 23 February 2014 - 17:48
Post 501
howard mcsweeney, Dover
very stark photograph of the rainbow paul, two answers to your question.

a) people were still indoors because of the storm.

b) parents, usually the mums, are at the end of their tether towards the end of any half term/easter/christmas break and just want to park their offspring at the school gates.

Saturday, 22 February 2014 - 21:56