Friday, 20 October 2017

doverforum.com/sea-news
Featuring all the ships that come and go and work at the Port of Dover with further coverage of Ramsgate, Calais, Dunkerque. Email: dover7@msn.com to send SEA NEWS pix or info.... or click ADD YOUR COMMENT below to post direct, no membership needed.

DFDS and the Maritime Catering Apprentices 4323.
P&O Ferries help children with serious illnesses cross to France 4316.
Port of Dover's Big Christmas Event 4311. Fun for all...
Port of Dover sponsors War Horse 4294
DFDS - Crowned Europe's leading Ferry Operator 4287.
DDC Leader Paul Watkins retires...see 4282 and 4270. Replacement 4328.


Use our SEARCH ENGINE below to find all sorts on the SEA NEWS pages..more than 200 now with more than 4000 nautical posts. Posts welcome. Max of 5 pictures preferred per post. Sea News Editor Paul Boland.
Type Cruise Visits (or indeed anything) in our Search Engine below for the latest cruise ship arrivals..
Post 269
howard mcsweeney, Dover
i was trying to think what the pilot ship reminded me of in that photo, suddenly came to me it looked like one of those remote controlled model boats that we used to see at regattas.

who on earth would want to go out and/or back in one of those in the sea conditions pictured is a source of amazement to me - the giant containership puts it all into context.

Friday, 6 December 2013 - 20:29
Post 268
PaulB, Dover
SURGING TIDE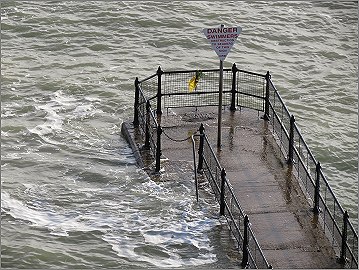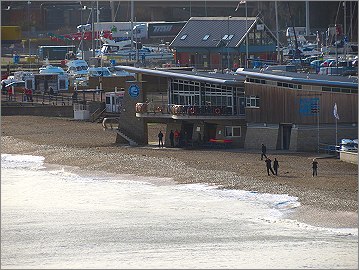 Pier swamped, never seen the water that high before, and Seasports Centre menaced.
LATEST FROM DDC:
The Leader of Dover District Council would like to thank the local community and all partner agencies for the great community spirit and partnership work in the district during the flooding situation over the last two days.
A wide range of agencies has been working closely together to undertake all necessary actions and monitor the situation. The Council has worked closely with a wide range of agencies, including the Environment Agency, Kent County Council and Kent Police, and private contractors.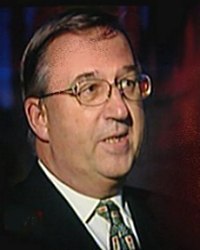 Cllr Paul Watkins said: "We would like to say a big thank you to the local community and to all our partner agencies who have worked together so well during this emergency. We will continue to monitor the situation over the weekend."
* *
See more on the Tides below.
Well done getting that one Howard. great stuff! Yes it looks like a serious and mighty lifting device..cant get much of a pic of it myself

Friday, 6 December 2013 - 16:21
Post 267
howard mcsweeney, dover
bit of a give away here but this vessel has the huge piece of machinery to be transported through dover to sellinge on sunday.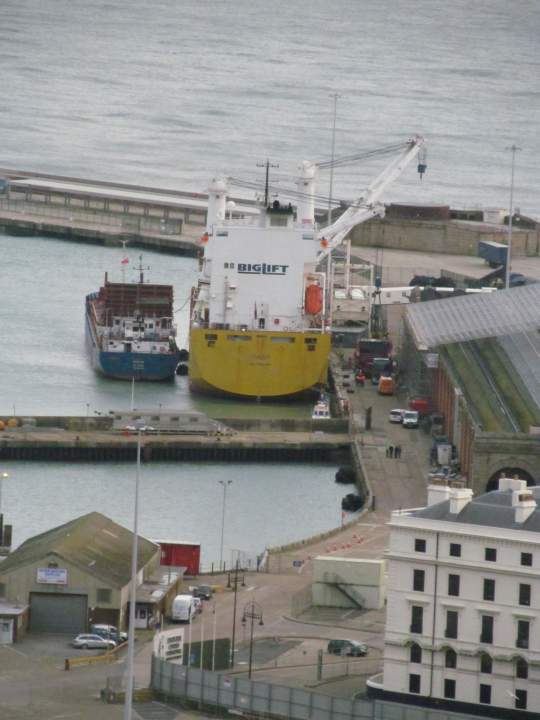 Friday, 6 December 2013 - 15:36
Post 266
PaulB, Dover
On the way back from Christmas shopping in downtown Dover we saw some of the DHB team leafleting cars along the seafront advising people not to park on the seafront later due to severe weather/very high tides and danger of flooding. Of course the sea is calm at the moment but if the wind whipped up there could be a tricky situation indeed. The bridge was closed and several areas around Cullins Yard were flooded because of the high tide in Wellington Dock.

Friday, 6 December 2013 - 15:20
Post 265
howard mcsweeney, Dover
thanks for info john, great photos all round - the port seems to have coped admirably with the conditions and only closed for a very short time.

Friday, 6 December 2013 - 12:47
Post 264
PaulB, Dover
Just to reinforce the level of difficulty out there..will show the two emails from the Port of Dover's Barbara Buczek which came in during the dead of night...showing the latest first
Port re-opens 02.53
----------------------
We are pleased to confirm that the Port of Dover is now open and ferry services have resumed. The Port was closed due to adverse weather conditions and a power outage caused by unusually high tides. The Port and ferry operators will now continue to work together to ensure that services are running with minimum disruption. Please note that there may be initial delays to services as the Port re-opens.
Passengers are advised to check with their ferry operator for further updates and consult our website (www.doverport.co.uk) or twitter account (@Port_of_Dover) for the latest information.
We apologise for any delays or inconvenience as a result of the closure but you will appreciate that the safety and security of everyone is of the utmost importance.
EARLIER :
Port closure 01.31
---------------------
Due to adverse weather conditions and some absence of electrical power the Port of Dover is currently closed. The primary concern of the Port and ferry operators is the safety of customers and staff. Passengers are advised to check with their ferry operator before travelling and consult our website (www.doverport.co.uk) or twitter account (@Port_of_Dover) for the latest information.
Having earlier assessed the potential impact of the weather conditions and taken suitable pre-emptive action to minimise its effects on the Port, we will continue monitoring the situation closely in liaison with the ferry operators in order to re-open the Port as soon as possible once it is safe to do so.
Please note that there may be delays to services when the Port re-opens.
We apologise for any delays or inconvenience as a result of this closure but you will appreciate that the safety and security of everyone is of the utmost importance. All customers are asked for their full co-operation and support.
* *
The above news follows on aptly from Eds pictures below which show the extraordinary tidal surge situation as it was happening up close.
Great work again Ed.
Have had some info through from ColetteB..those scheduled to meet the Black Watch have been cancelled. She was due in today but because of the horrendous weather...look at it in the North Sea in particular, the ship is delayed. Not surprising at all. Not sure now when she will get here.
So Jan as a cruise liner fan you wont be able to see it for the moment.
John smashin' pictures there below - thats the very one. The name of the company rolls off the tongue..so easy to remember..lol


PS: An unusual ship called Tracer has taken up the position formerly occupied by the aforementioned unpronounceable fishing vessel.

Friday, 6 December 2013 - 06:56
Post 263
Ed Connell, Dover
Took the first photo at noon to show the space where the anchors were removed from beside Port Control and mounted in town. Therefore makes an interesting comparison with the second one which shows the height of the tide just after midnight. The last two show the tide coming close to overtopping the piers. Pitch black of course but the top half of the Yokohama fenders were riding above the quays.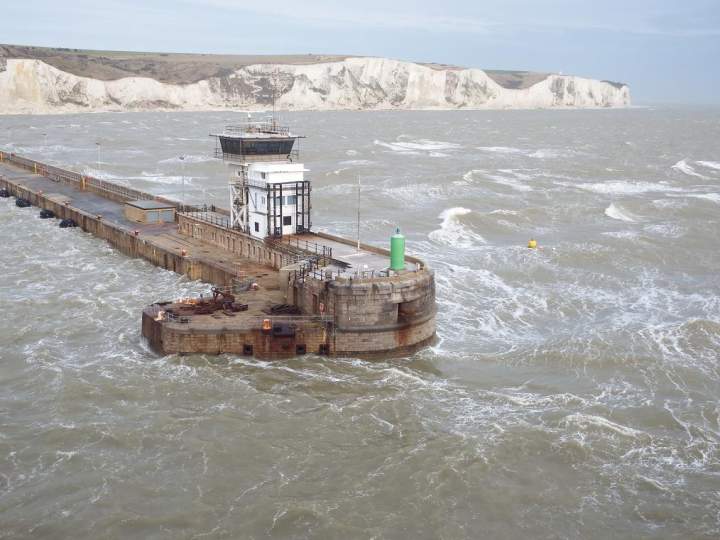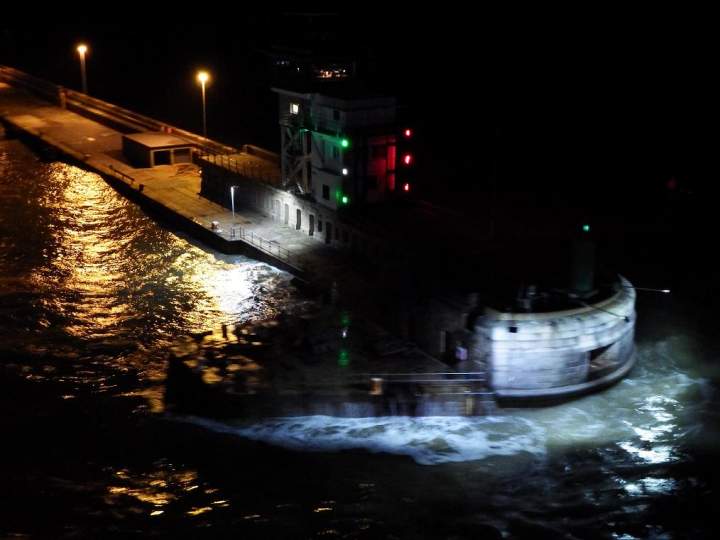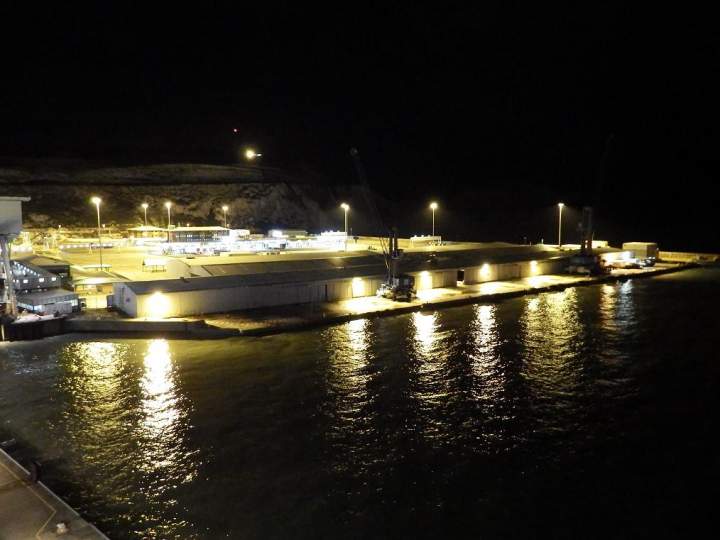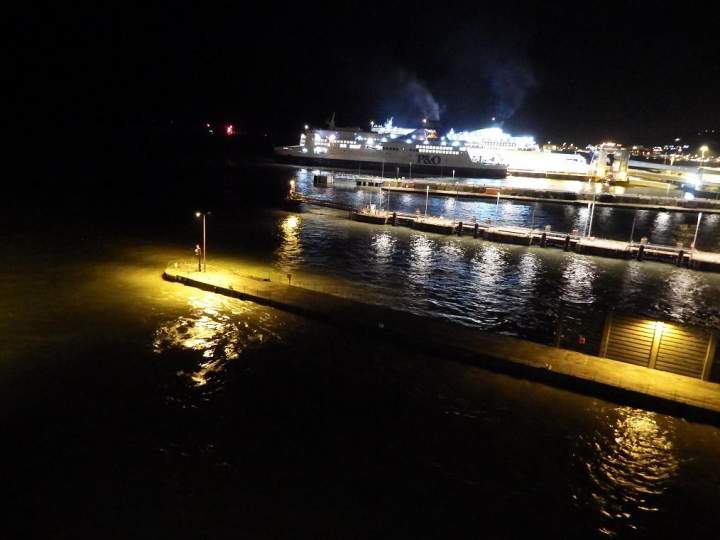 Friday, 6 December 2013 - 02:47
Post 262
JanT, Dover
Staff at MyFerryLink will be breathing a sigh of relief that their jobs are there for the moment, and as has been said good luck for the future.
Some good information below from DHB and Laura Sandys as ever keeping us up to date.
And to note one last cruise ship on the 23rd to take some lucky people off on a Christmas cruise.

Thursday, 5 December 2013 - 17:04
Post 261
John Mavin, Dover
The ship Howard saw........ No penalties for not remembering the name there Paul.
She's the Cornelis Vrolijk Fzm, operated by a company called (wait for it!) ....... Cornelis Vrolijk's Visserijmaatschappij BV.

She calls at Dover from time to time, and as far as I can see it's usually for a crew change.
Here she is from a few years ago.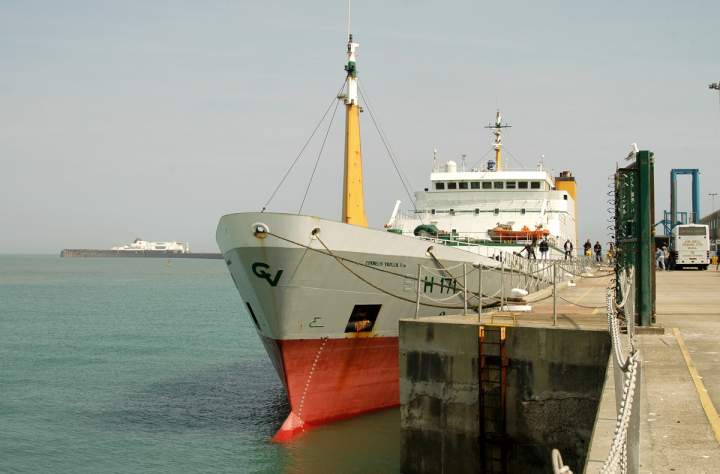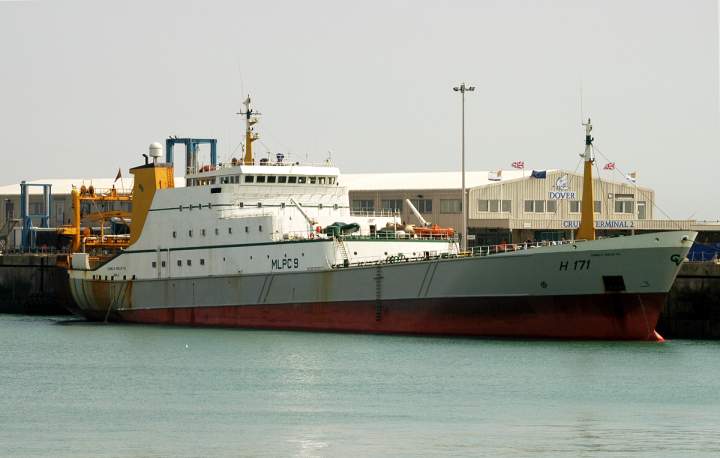 Thursday, 5 December 2013 - 15:28
Post 260
PaulB, Dover

Had some tidal surge concerns in from the Port of Dover and from Laura Sandys MP for Thanet South.
Here we go..

________________________________________

Serious Risk of Flooding on Sandwich Coast

Call 0800 80 70 60 to report an incident. Visit www.environment-agency.gov.uk/homeandleisure/floods or follow @EnvAgencySE on Twitter for the latest information.

"I would like to make all local residents aware of the flood warning that has been issued for areas along the Sandwich Coast for Friday. There is a severe flood alert for The Quay in Sandwich, with serious warnings for Sandwich Town and the Discovery Park Site and a general alert for the entire coastline from Pegwell Bay to Deal.

"I would strongly advise people to avoid all coastal areas on Friday where possible until the tides have subsided, as there is a very strong chance that beaches, coastal paths and promenades could be flooded and pose a significant danger.

"I have been in close contact with the Environment Agency to ensure that all possible steps are being taken to protect people and properties ahead of tomorrow's forecast events."


Anyone concerned about flooding should contact Floodline on 08459 881 188, or call 0800 80 70 60 to report an incident. All up-to-date information can be found online at www.environment-agency.gov.uk/homeandleisure/floods
______________________


Port of Dover - possible tidal surge -
Press Release

05 December 2013

Port of Dover prepares for possible tidal surge


The Port of Dover has been working hard with its customers in order to prepare for the possibility of a tidal surge as gale winds combine with high spring water tides later today.

Last night, staff conducted a full scale inspection of the Port estate in order to assess the potential impact of the predicted weather conditions on Port operations and on neighbouring businesses and residences.


The safety of customers, staff and the local community is paramount and the Port will be taking the appropriate action to mitigate the effects of the weather as far as possible.


The Port advises ferry customers to contact their chosen ferry operator before travelling and to keep updated via the Port's website (www.doverport.co.uk) and twitter feed https://twitter.com/Port_of_Dover.




Thursday, 5 December 2013 - 15:05
Post 259
PaulB, Dover
THE STORY GOES ON FOR MY FERRY LINK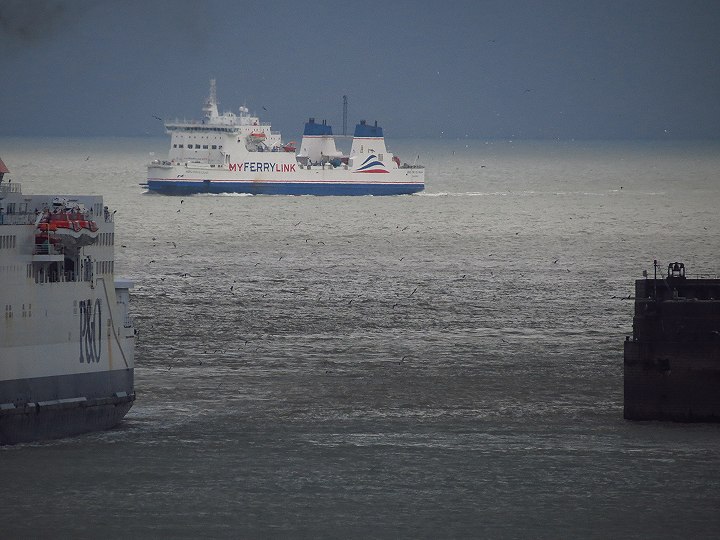 LATEST FROM MY FERRY LINK:
MyFerryLink is looking forward to 2014 and a bright future on the English Channel following wednesday's announcement that the decision of the Competition Commission calling for the company to cease operating from Dover has been quashed.
The Competition Appeal Tribunal found that the Competition Commission did not have jurisdiction to investigate MyFerryLink as the acquisition of certain former SeaFrance assets did not constitute a merger.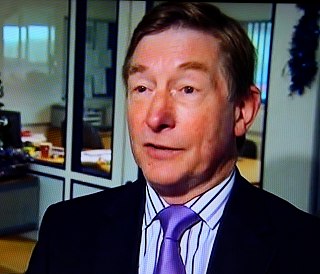 MyFerryLink managing director Robin Wilkins said:
"We are delighted with the ruling. We anticipate that this will finally enable us to build our business without further legal challenges.
"We are already the highest rated cross-Channel operator and have built a substantial business based on quality of service and value for money. This is a very good day for our staff, our customers and our future customers."
Ends
___________________________
Fascinating developments indeed, some feel the story is not entirely over yet but certainly its a serious boost for MFL and their 600 staff members...who will be grateful today to be holding on to their jobs in these difficult times.
Good luck to them.
Top picture shows the familiar but sometimes overlooked Nord Pas de Calais battling through the gloom a couple of days ago. My Ferry Link have three ships in action, the Nord freight vessel above, plus the Rodin and the Berlioz.
Other picture shows the Managing Director Robin Wilkins.
Thanks for the reminder about the cruise liners below there Colette will keep an eye out for sure.
Good spot that Howard. A fishing trawler with an unpronounceable name it was, I made a mental note of the name only to promptly forget it again. It appears she has left us now...cant make her out through the early gloom as I write anyway.

Thursday, 5 December 2013 - 07:07
Post 258
ColetteB, Dover
Some great Ferry News on this Dynamic Sea News page, from some great offers, fantastic awards, photos etc and I bet MFL are very pleased with their early Christmas present

Now lets cast our minds back to cruises, well the last three of the year until next season which will start on March 6th 2014 with the AIDASol. Talking of the AIDASol, she will also be our very last cruise here in Dover on Monday 23rd December at CT2
Before that we will see the Black Watch return here this Friday 6th December at CT2 and again after a short cruise, on Tuesday 10th December for debark only.
That's it for this year, Merry Christmas to all.
Wednesday, 4 December 2013 - 16:51
Post 257
howard mcsweeney, Dover
i suspect the saga of eurotunnel/my ferry and dfds has a way to run yet which will please the legal profession.
spotted this through the gloom earlier.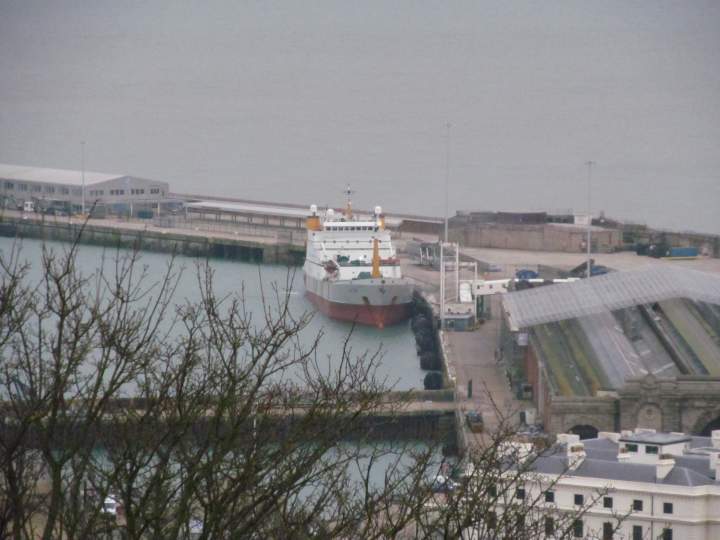 Wednesday, 4 December 2013 - 16:30
Post 256
PaulB, Dover
MY FERRY LINK HAVE BEEN ALLOWED TO CONTINUE TRADING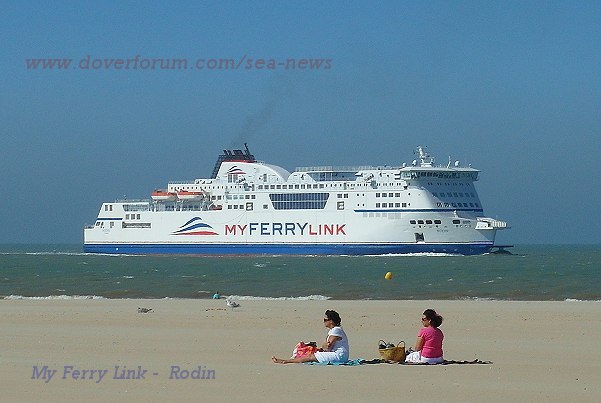 An Appeal Tribunal has overturned the previous ruling by the Monopolies Commission.
Saving 600 jobs.. almost 100 of them here in Dover.

We will have more on this in due course, but for now all looks mightily improved for MFL.
____________________________________
ADDED: A STATEMENT JUST IN FROM DHB.
THE PORT OF DOVER will study carefully the Competition Appeal Tribunal judgment in order that it can fully assess its impact on the Port and its customers and the local community. We will seek to discuss the matter with our ferry customers.
The Port's priority is providing an excellent service to the 12-13 million customers who use the Port each year and to ensure that it continues to offer value for money and choice to the consumer. Our immediate priority is to ensure service provision during the busy Christmas period.
As growth in ferry traffic is sustained, the Port is committed to ensuring that it provides the very best infrastructure and adequate port capacity to meet the demands of the market and the requirements of its major ferry business partners going forward. As it continues to review its master plan, the Port is working hard to ensure that it will be ready to respond positively to whatever demands such on-going growth places upon it.
Wednesday, 4 December 2013 - 15:06
Post 255
PaulB, Dover
Ahh - its always a sad sight to see the ferry like that in the picture in the previous post. I suppose its the inevitable life cycle in action but nevertheless.
On the upside I guess it brings somebody somewhere a job.
Good to hear of your achievements on the Lifeboats Ed...will remember to salute when I bump into you next...lol!


Yesterday was leaden grey across the entire day...a bit cold and a bit miserable. But for a brief early morning moment the blinding sun split the heavens...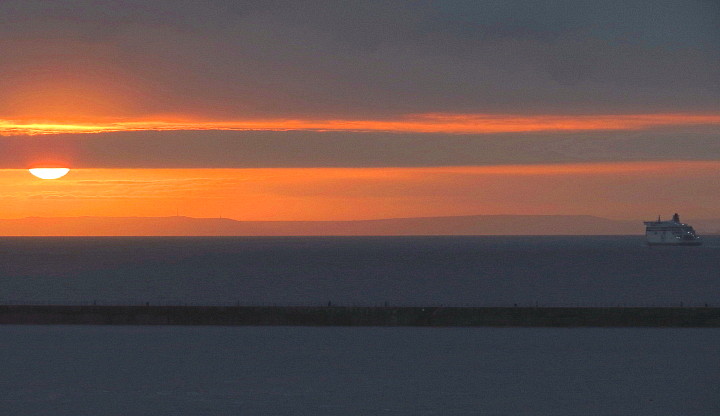 The early P&O ferry above having left Dover Harbour through the western exit/entrance heads into the burning light.
Below...well its never a good idea to fly too close to the sun. Both pics taken at roughly the same time.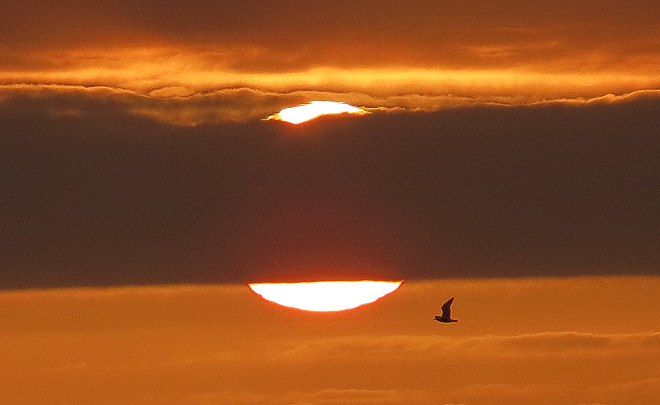 ps: Ed you can put web addresses but dont put the http bit first...just start with www - because its a live open page thats the best do-able as otherwise we could be spammed big time which happened previously.
www.doverforum.com.
Wednesday, 4 December 2013 - 08:33
Post 254
Ed Connell, Dover
Image off Facebook of the Ostend Spirit (ex Pride of Calais) being scrapped at Aliaga.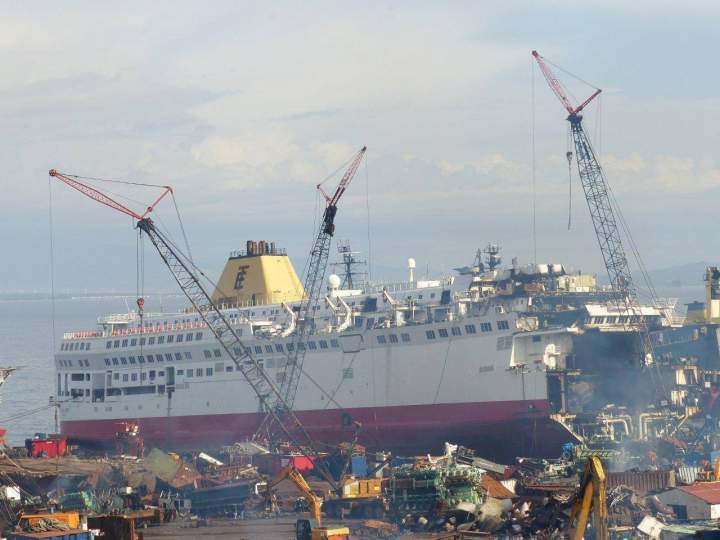 There is a video taken from the Bridge as she ran up the beach. This was the second attempt as the first one went a bit wrong. Not permitted to enter a website address in the comments section so just Google the LiveLeak website and enter "old ferry is beached" in the search box.
Wednesday, 4 December 2013 - 01:35
Post 253
Ed Connell, Dover
I have been on leave for the last two weeks, Paul, so not much from me. Half of my previous leave was spent down at Warsash doing a PSCRB course in lifeboats and rescue boats as my designated role in an emergency is as Launch Commander responsible for launching the liferafts and assisting with the lifeboats and rescue boats. Lots of ribald comments re this onboard and I now refer to myself as L.Cdr Connell PSCRB MN.

I have learned from bitter experience not to comment online on anything to do with any company I am working for! As for these awards, there seem to be a lot of them and each ferry company naturally chooses to highlight the ones which reflect well on them.

Tuesday, 3 December 2013 - 12:25
Post 252
PaulB, Dover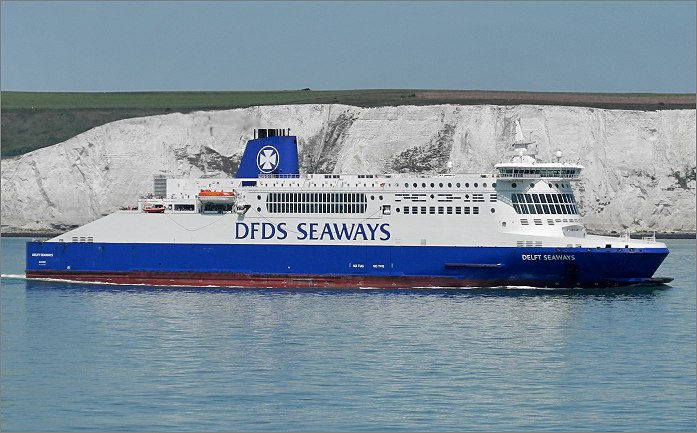 DFDS - THREE TIME WINNER
_________________________
DFDS Seaways has been awarded the prestigious accolade of 'World's Leading Ferry Operator' at the 2013 World Travel Awards Gala in Doha, Qatar (30 November) for the third year in a row.
The World Travel Awards, hailed as the premier awards programme for the travel and tourism industry, celebrates excellence throughout the global travel, tourism and hospitality sector. The winners are decided by votes from travel industry professionals and consumers.
In addition to the 'World's Leading Ferry Operator' accolade, DFDS Seaways also received the title of 'Europe's Leading Ferry Operator' at the European leg of the World Travel Awards held in August 2013. Together, these titles recognise the DFDS Seaways' commitment to excellence during the last twelve months
"We are very honoured to be awarded 'World's Leading Ferry Operator' for three consecutive years. This is a fantastic endorsement of the excellent service and standards we strive to deliver to our loyal customer base. This prestigious award is testament to the hard work and commitment of our staff, who work tirelessly to provide the very best travel experience," said Max Foster, Passenger Director for DFDS Seaways.
"We believe that a customer's holiday should start as soon as they board a DFDS Seaways ferry and are committed to continuing to provide the highest quality service and experience for everyone who sails with us."
DFDS Seaways operates a comprehensive passenger route network, which incorporates six routes from the UK to Europe, via Dover-Dunkirk, Dover-Calais, Newhaven-Dieppe, Portsmouth-Le Havre, Newcastle-Amsterdam and Harwich-Esbjerg, providing passengers a wide range of choice and a gateway to Europe. DFDS also operates a number of ferry routes across the Baltic Sea. For further information please visit www.dfds.co.uk or telephone 0871 882 0885.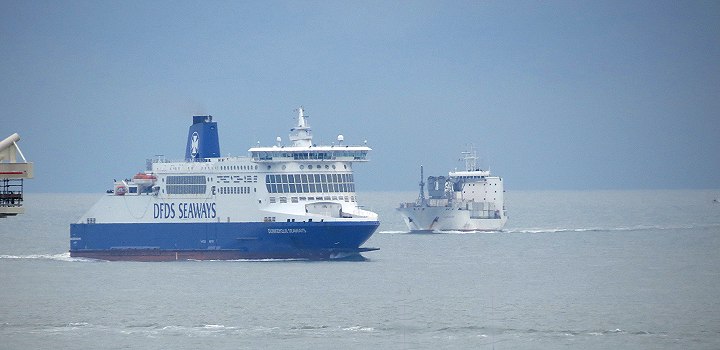 * *
You just beat me to it there Howard. Great stuff above there from DFDS SEAWAYS. Yes hopefully some comments from our mariner extraordinaire Ed on this one. Havent seen too much from Ed or the guys lately but with the changing season its difficult...not as many ships etc. Hopefully all are still enjoying things.
Interesting NOTE re GOOGLE : Yours truly isnt a huge Googler but nevertheless I was amazed to find that we have a strong position on Google among the world players. I typed in SEA NEWS the other day and there we were at the top of page 4. I was amazed and pleased at the same time as this particular page here is only going a wet day.
This gives us a great chance to flag up Dover to the wider world..show our best assets of sea, sky, seaport, sailing and ships..leading with our ferries, cruise liners, cargo ships etc etc and much more beside.


Tuesday, 3 December 2013 - 08:16
Post 251
howard mcsweeney, dover
announced earlier that dfds have won the ferry operator of the year award again.

i suppose we will have to expect ed coming on with the line "unnacustomed as i am to making speeches etc etc".

Monday, 2 December 2013 - 19:48
Post 250
PaulB, Dover
HEADING OFF TO THE LILLE CHRISTMAS MARKET WITH DFDS SEAWAYS
and enjoying a great deal at the same time. Lille here we come...!!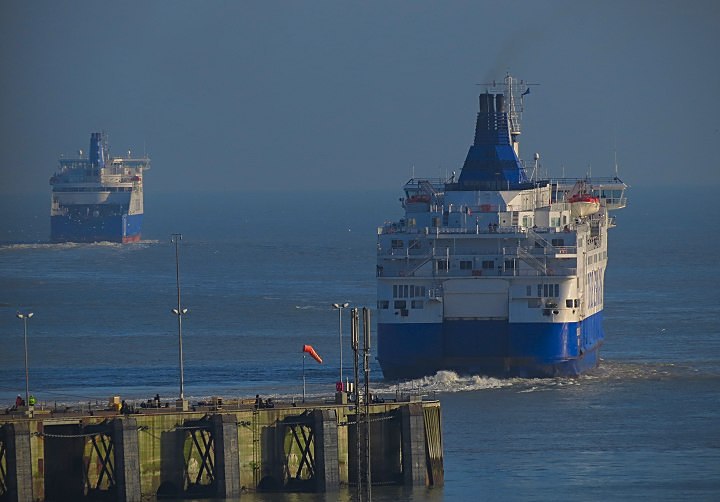 Lille Christmas Market with DFDS Seaways

- Travel to Dunkirk from 27 November to 13 December and visit the popular Lille Christmas Market

Book by 11 December to receive £10 off return crossings and £20 to spend onboard

DFDS Seaways, the award-winning ferry operator, is spreading some festive cheer with its latest cross-Channel offer designed to help people wanting to visit the Lille Christmas market this winter. Passengers who book to travel from Dover–Dunkirk between 27 November and 13 December will receive £10 off their return sailing and a free £20 voucher to spend in the onboard shop. This means you can cross the Channel on your way to the Lille Christmas market for as little as £48 return for a car and up to four passengers.
The Lille Christmas market, (Marché de Noel), is a perfect destination for a festive trip or short break at under an hour's drive from Dunkirk. The Flemish city hosts the largest Christmas market in Northern France and is especially enchanting during the festive season. A huge Christmas tree and giant Ferris wheel take centre stage in the main square and the Grand Place and the surrounding streets dazzle with lights, colour and the aromas of delicious food and drink.
The main Christmas marketplace is situated in Place Rihour where wooden chalets sell handmade toys, Christmas decorations, festive food and warming mugs of mulled wine. Lille is also a shopper's paradise, as the city centre boasts a wide range of excellent shops and boutiques, as well as a number of museums and restaurants that specialise in Flemish and French cuisine. The cobbled streets of the old part of the city have a delightfully old fashioned Christmas feel, and are home to a heady mix of boutique shops and cosy cafes and restaurants.
With your £20 voucher, you can continue your Christmas shopping onboard and take advantage of the special offers available in the DFDS onboard shop. The shop has a range of perfume, cosmetics, wines, beers and spirits as well as confectionery, toys and travel essentials on sale, ensuring there is something for everyone. You can also grab a hot bite to eat in the onboard restaurant, enjoy a drink at the bar or simply take in the fantastic sea views, while the little ones can amuse themselves in the children's soft play area.
Max Foster, passenger director at DFDS Seaways, says: "As the festive season approaches, we're getting in the spirit of giving with our latest onboard voucher offer and travel discount for passengers wanting to visit the illuminating Lille Christmas market. One of the advantages of travelling by car and ferry is that there are no luggage restrictions, which means you are free to stock up with Christmas presents, regional delicacies or wine and beer."
DFDS Seaways sails up to 24 times a day between Dover and Dunkirk, providing passengers a luxury onboard experience and flexible, convenient and fuss-free travel options.
To take advantage of these offers, book now or to find out more information, visit www.dfds.co.uk or telephone 0871 574 7235.
For more information visit our Lille travel guide to find out more. www.dfdsseaways.co.uk/travel-guides/france/lille/
For more information on the Lille Christmas market, visit www.lilletourism.com/lille_tourist_office-1-0-355-gb.html
Monday, 2 December 2013 - 07:57