Wednesday, 19 June 2019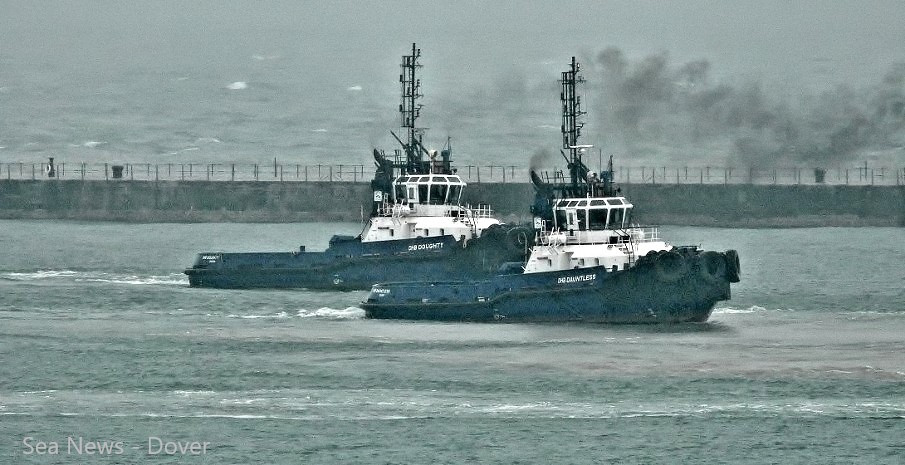 Just having sent Pacific Reefer on her way, the tugs turn back into the Summer (!!) gloom....

WWW.DOVERFORUM.COM/SEA-NEWS
Featuring all the ships that come and go and work at the Port of Dover ..
... with further coverage of the surrounding ports.
Sea News Dover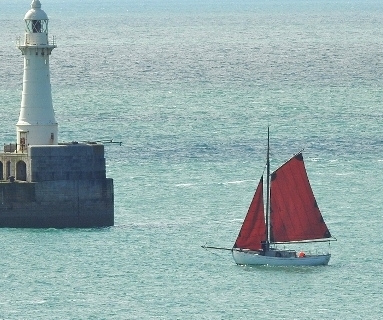 DFDS NEW SHIP for Channel see 6303
DFDS Europe's award winning Ferry Operator 6332
Port of Dover : Virgin Voyages 6289
Port of Dover: Brexit Resilience 6123

P&O Ferries: Alternative Euro Breaks 6298
P&O Ferries: Record Fundraising for Lifeboats see 6253
Port of Dover: Reducing Carbon Footprint 6332
Port of Dover: New Cargo Manager see 6205

Thames Estuary Forts 6250
SS Richard Montgomery at rest (WW II Supply Ship ) 6329
DFDS: ORCA 6179
Premier Inn completes see 6149 plus

Scroll down to see the Boudicca D-Day pictures in several posts.
Use our SEARCH ENGINE below to find all sorts on the SEA NEWS pages....
type in the topic and away you go, or if you have the post number as shown above, just type it in the box, more than - 6300 - nautical posts now.
Posts are welcome. just click 'Add Your Comment' below. Max of 5 pictures preferred although we can stretch that for special stories..
Sea News Editor Paul Boland - send info or pix to dover7@msn.com. Always welcome.
CRUISE CALLS:
https://www.doverport.co.uk/cruise/find-a-cruise/
UPDATE:
To show your pictures at their best..it could be worthwhile resizing before posting to
850
pixels wide.
All pictures on these pages are the copyright of the owners and must not be reproduced without permission.
Post 1040
vic matcham, dover
The small warship has no flag flying so might not be Royal Navy or might not be in service yet, just doing sea trials.

Wednesday, 13 August 2014 - 08:06
Post 1039
PaulB, Dover
Climbing the Walls....
I know the feeling..

Ahhh those youthful warm days of summer. Great days. The kids here in Dover have a splendiferous time leaping into and throwing themselves at the water in every which way imaginable. Call it diving or even call it tombstoning, its all just summer long fun to them. We don't need rollercoasters or dodgems here in Dover Harbour..we got the sun, the sea, and the surf, and the occasional pier to leap off.
Yesterday evening this Royal Naval vessel in the pic below appeared just off the harbour. We have been seeing the UK Border Agency in this role recently...but this time it was the Royal Navy itself. The ship prowled, patrolled, and indeed lingered not far off Shakespeare Beach for a considerable time. They don't do the AIS information system but it appears to be HMS Mersey a "river class offshore patrol vessel". In the foreground you can see the newly restored façade of the dockside railway terminal...was it called Dover Marine one time?? But there we are anyway...long range pic taken in the lowering evening sun.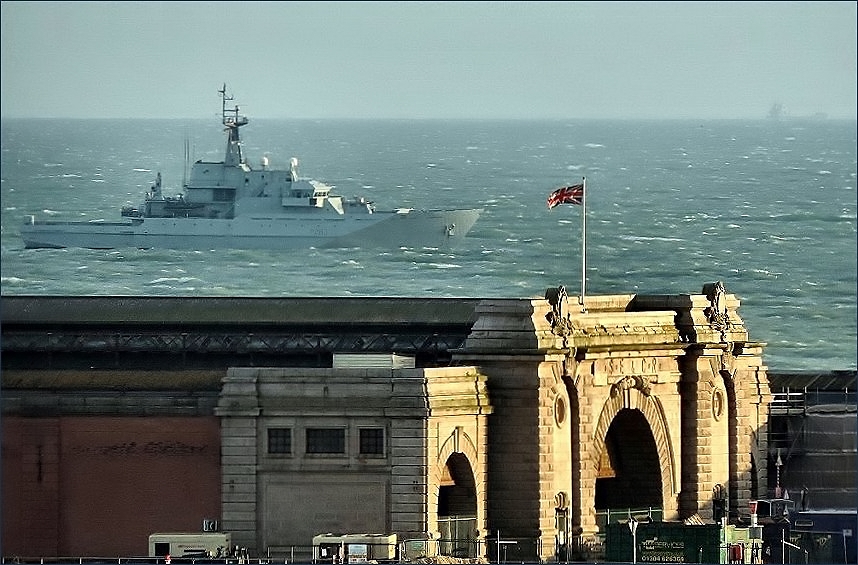 Wednesday, 13 August 2014 - 06:05
Post 1038
PaulB, Dover
This is the Coral Mermaid arriving this morning at approx. 7.30am. No doubt with another load of very welcome perishables for the nations table.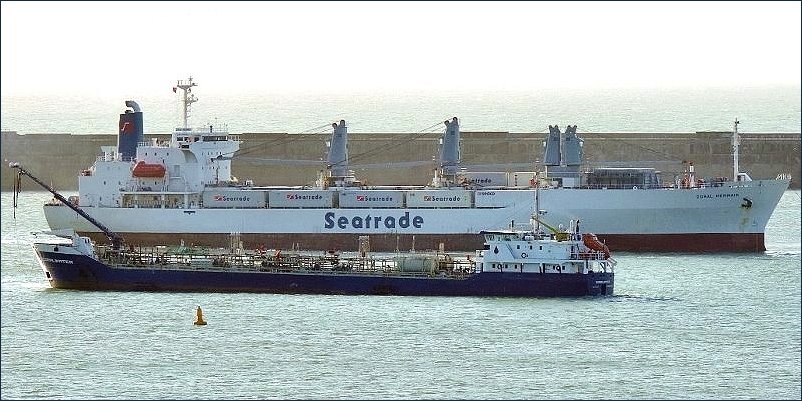 In the foreground of the Coral Mermaid is the Coral Water the regular service vessel. A lot of Coral all of a sudden.

PS: The Virgin Strive Challenge guys had to abandon their epic row across the channel because of the persistent bad weather. They are I understand now in Calais about to pursue the next leg of the Challenge and will do the row across the channel at a later date. Pity the weather spoiled it but there we are. At least we got a picture of the craft and the team practising here on Sea News ( post 968).
Tuesday, 12 August 2014 - 08:01
Post 1037
PaulB, Dover
Early morning and evening for the Ocean Princess...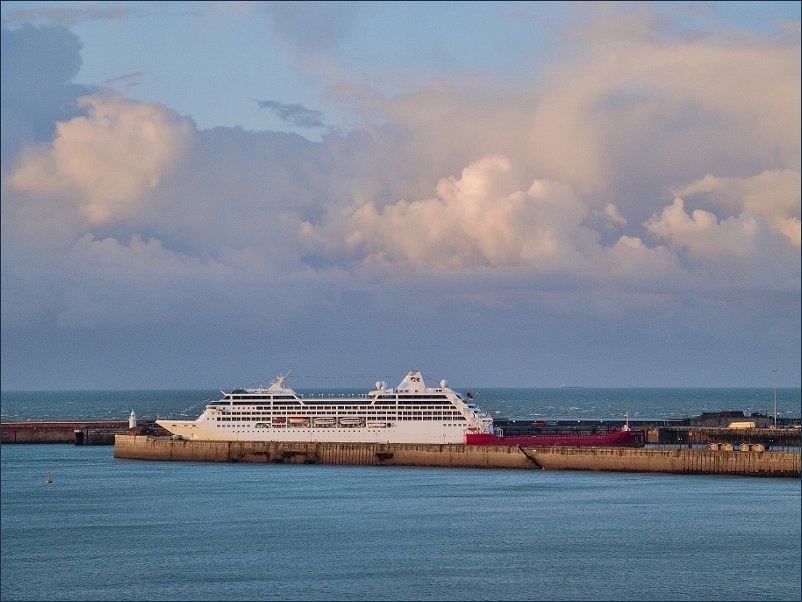 This pic above was taken at 6am yesterday and you can see the vivid pastel colours that are produced by the sun rounding the headland that time of the early morning. In the distance you can see one of several of yesterdays minor thunderstorms approaching us, the tail end of Hurricane Bertha still being felt. Below we have the evening departure through the eastern exit. The ship was heading for Rosyth where they are/were still feeling the very rough weather but hopefully by the time Ocean Princess got there everything was a mite calmer.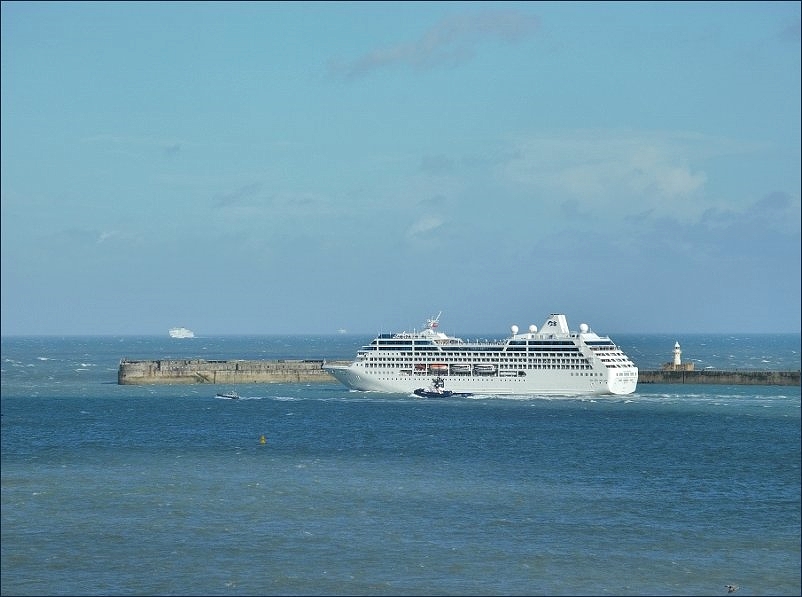 Thanks for those listings Colette. Great stuff!

Tuesday, 12 August 2014 - 06:44
Post 1036
ColetteB, Dover
Beautiful sunny afternoon now after the atrocious weather conditions this morning so time for our next update of expected cruises over the next week or two

There are no cruise ships now until Thursday 14th August when two familiar sights arrive back to Dover in the shape of the Saga Sapphire at CT2, TR & the AIDACara last seen here in April, PoC at CT1.
On Friday 15th August the Saga Pearl 11 is back at CT1, TR & the AIDALuna arrives once again for a PoC at CT2, she was last here in May.
A real treat on Saturday 16th August, cameras at the ready, for the inaugural visit of SeaDream Yacht Club's SeaDream1 at CT1, TR. She is the ultimate in Yachting Luxury with a 5-Star Service inclusive. She carries a maximum of 112 guests all pampered by an award winning crew of 95 & the best thing is, we will have the pleasure of seeing her here again on the 30th August when she returns from her Baltic Voyage Roundtrip. She will then cruise from Dover to Lisbon. I would love to spend even a few hours on her, maybe one day!
We end the week on Sunday with a Crystal Cruise, this time it's the turn of the beautiful Crystal Symphony at CT1, & the Braemar returns to CT2, TR.
Two ships again on Monday 18th August, the Saga Pearl 11 is back at CT1, TR & the AIDACara returns to CT2, PoC.
Then on Tuesday 19th August, two more cruise ships, the Ocean Princess returns to CT1, TR & the AIDALuna has a PoC at CT2.
Be back again soon

Monday, 11 August 2014 - 16:37
Post 1035
PaulB, Dover
Virgin Strive Challenge 2014...these are the guys from The Challenge rowing in the harbour about an hour ago as I write..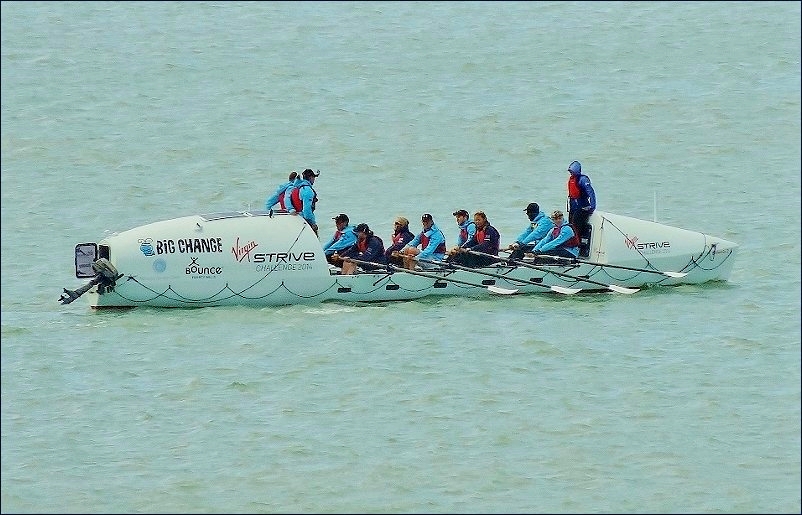 As far as I know they didn't row across the Channel today due to the adverse weather..not that I could see anyway. The challenge is to raise money for charity by getting from London to the top of the Matterhorn in Switzerland by physical human effort. All sounds very physical indeed...so good luck to them.
And another clap of thunder rings out...
Monday, 11 August 2014 - 10:54
Post 1034
Mike J., Dover
DOCKWISE VANGUARD - False start !

She sailed at 2200 but merely moved downriver from Rotterdam & is now moored at Europoort, near the mouth of the river.

Presumably preparing for her trip to Brazil, perhaps she is loading an oil rig.

Sorry 'bout that Jacqui !


Monday, 11 August 2014 - 06:46
Post 1033
PaulB, Dover
The remnants of Hurricane Bertha swept menacingly through Dover yesterday morning. The sky at one point was threatening full scale Armageddon and the sea was very rough indeed, we believe it notched its way up to a Severe Gale 9 and possibly beyond. This caused delays to the ferries of course, as you would expect, and was a shock to the proverbial system for all those summertime holidaymakers waiting to cross over. A rough tough start to the holiday for sure.
Yes indeed tough for those out on the water, you can see the Lifeboat in the bay in this picture. It did venture outside the harbour in horrendous waves at one point. Not sure if it was on a shout or whether the guys were in training..serious training.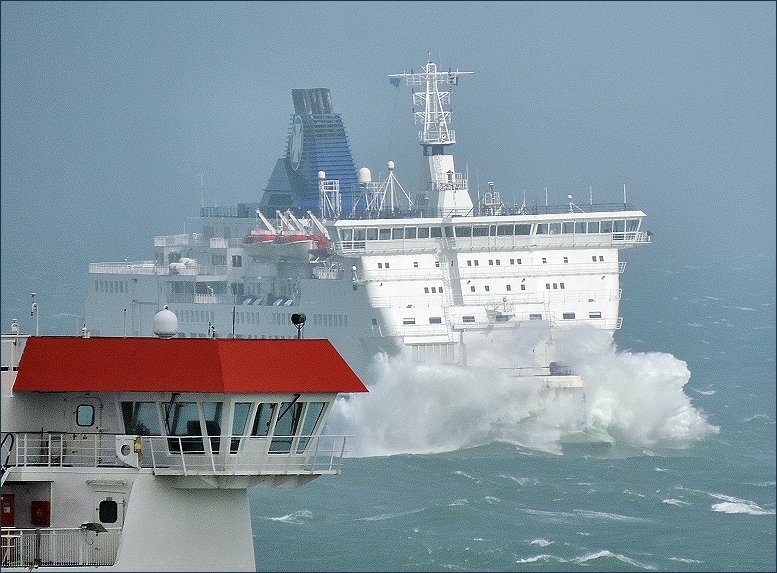 In the afternoon the gloomy situation brightened up and the worst of the dismal weather went away but the sea remained rough. This picture shows the DFDS Calais Seaways making its way towards the harbour and taking a pounding in the process. In the foreground you can see the edge of a resting P&O ship.
Thanks for those tips Mike ..will hopefully get a glimpse of the activity all being well.
Jacqui I wasn't about on Saturday so didn't see any of the helicopter action. Glad Brian was able to fill you in with what was going on. Should be a bit calmer on the crossing today. Rather today than yesterday.
Monday, 11 August 2014 - 06:07
Post 1032
brian., dover
hi Jacqui,the air ambulance landed in de bradli wharf to pick up a passenger [walking wounded],also 2 ambulaces a couple of police cars also in attendance.story and pictures on facebook.

Sunday, 10 August 2014 - 13:37
Post 1031
Mike J., Dover
Jacqui -

Should think that they've got quite a good chance of seeing her if she keeps to her 2200 ETD.

If they've got access to AIS on their phone ['Marine Traffic' is also available on the main Dover forum] they'll be able to check her exact position.

Looking forward to seeing their pix on 'Sea News' !


Sunday, 10 August 2014 - 13:08
Post 1030
Jacqui, Dover
Good morning PaulB.
Did you see the air ambulance yesterday afternoon over the harbour? I didn't take any photos because I thought you would lol. It went down very close to the water in the bay then was circling between the two dock areas. Eventually it disappeared then a bit later came back across to the western and went inland. Just wondered if you could shed any light on it. Nothing on SWR about it. I know a young lad was rescued from the cliffs last night but this was much earlier. I was in my usual place - St Martins Battery.

Sunday, 10 August 2014 - 11:26
Post 1029
Jacqui, Dover (rainflowers@hotmail.co.uk)
Good morning Mike.
My son and his partner are sailing DFDS to Dunkirk on the 07.00 sailing in the morning. Do you think they might see Dockyard Vanguard en route or will that be too early?
What a striking looking vessel!

Sunday, 10 August 2014 - 11:17
Post 1028
Mike J., Dover
DOCKWISE VANGUARD - this very strange heavylift ship is sailing for Brazil from Rotterdam at 2200 tonight.
With any luck she should be passing Dover in daylight tomorrow, probably during the morning.
Plenty of information on her on the Internet.
She can lift 117,000 tons & at one stage was being thought of for carrying the COSTA CONCORDIA to the scrapyard.
Pray for good vis tomorrow !
There's also a possible flypast late morning on Monday of WW1 biplanes & a modern jet between Capel Battle of Britain Memorial & Langdon Cliffs.
Details on the main Dover forum.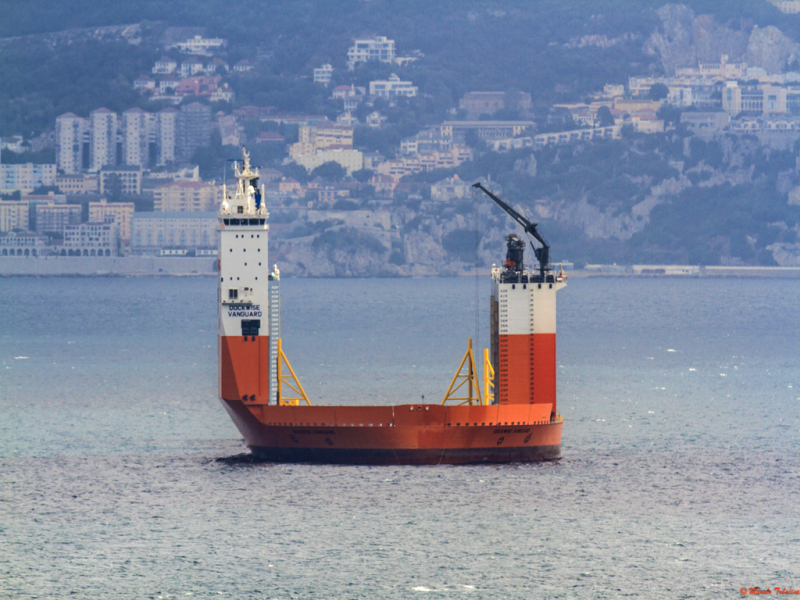 Sunday, 10 August 2014 - 10:09
Post 1027
Howard McSweeney, Dover
I think that Chris may be referring to the P & O "knock" as seen in the photos earlier Paul.

Saturday, 9 August 2014 - 19:40
Post 1026
PaulB, Dover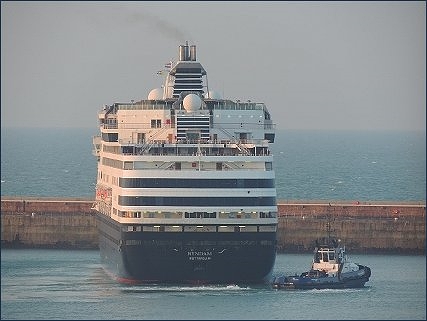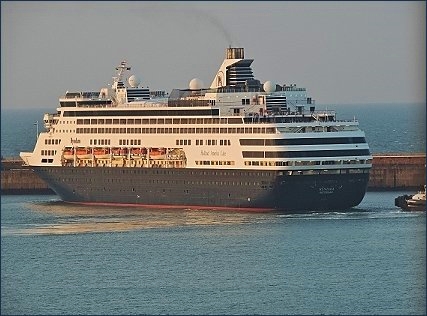 Our regular old friend the Ryndam arriving at 06.15 this morning Saturday. it is a gorgeous morning here in Dover with fab colourful views of the cliffs and harbour... 'tis enough to gladden the heart of any visitor. Very welcome all.
Saturday, 9 August 2014 - 06:33
Post 1025
PaulB, Dover
Hello Chris..I've had a trawl around the news channels and have been unable to find any item about a ferry in collision. So far there is nothing on the airwaves. It may have been a yarn but obviously we will keep our eyes and ears pinned for any news just in case.
Hope you enjoyed it down the pier with daughter.

Friday, 8 August 2014 - 20:04
Post 1024
Chris R, Folkestone, KENT (m3ozp@hotmail.com )
I was in Dover this afternoon with my daughter on the pier, waiting to see the Seaborne Quest leave when someone came up to us and said that a ferry had collided mid channel wiitha a freighter. But not seen anything on the news about it. Does anyone have any iinformation on this incident, or were we being spun a yarn.

Friday, 8 August 2014 - 18:32
Post 1023
PaulB, Dover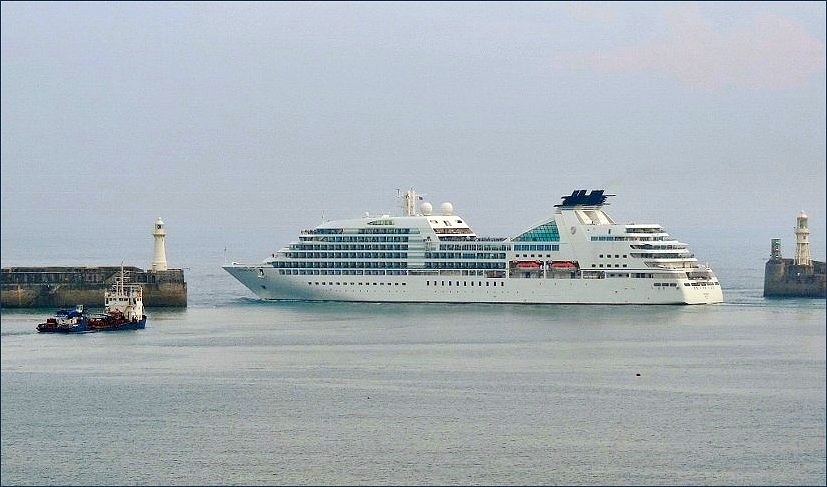 The Seabourn Quest departing Dover just a few minutes ago as I write (4.30pm or 16.30 if you prefer)...watching on is the dredger David Church. The ship is heading for Dublin in the Emerald Isle.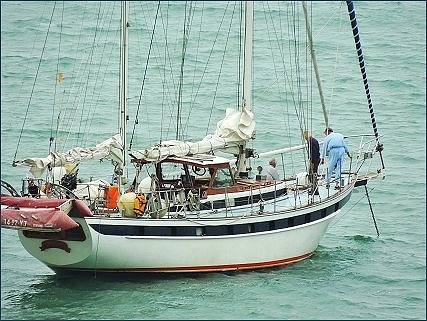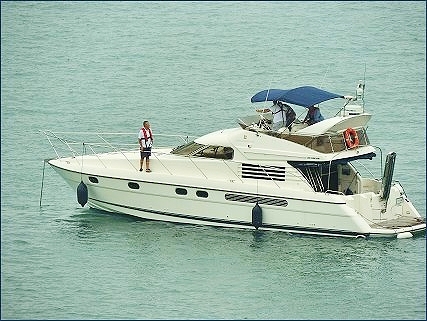 These two have very recently anchored just 80 metres from the Sea News observation tower. One yesterday morning, one today. The first thought that occurs to the local bod is...do they know about the huge variation in tide levels? One has visions of them being left aground. But all was well...these mariners know the ropes much more than the observing landlubber.

Friday, 8 August 2014 - 16:40
Post 1022
PaulB, Sea News, Dover.
FURTHER THOUGHTS ON THE PORT from our MP CHARLIE ELPHICKE ( see also 818 )
___________________________________________________________
This week the change we've made at the port hits another milestone. The Harbour Board is advertising for the first community director. Over the next year Dover will move to become a community led port. A port that will forge an ever closer partnership with the town and port businesses. A port that will have a community fund to benefit the town. And a port that will have the powers to raise the investment needed to transform the port and seafront forever.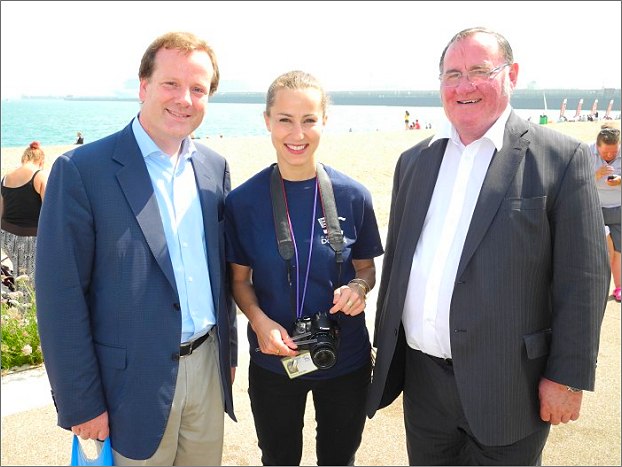 We've come a long way since 2010. The previous Government planned to sell off our port to the French or whoever. All that was needed was the flick of the Minister's pen and it would all have been over. Everyone thought it was a lost cause. They thought our opposition was gallant in a tilting at windmills sort of way. Yet we did it. And we did it together.
We put forward the People's Port alternative - if the Government was going to sell it then we'd buy it. We would keep our port forever England. The People's Port Trust, the unions, Dame Vera Lynn and the people of our community united under the banner of a clear plan for the future.
It didn't just matter to us. It mattered to the nation. Dover is symbolic. The land of the White Cliffs. Emblematic of so much of the heart and soul of our nation. It would never do for such an important part of our nation to be lost as the previous Government proposed. That was the clear statement of the people in the referendum we held. That and my overturning the Government in a key Parliamentary vote effectively left the sale plans dead in the water.
Yet in the campaign to save the port we had tasted the possibilities of what might be. For the port to potter along like it had done was not an option. Things had to change. That's why I made the case for a second stage of reform at the port. The seafront of Dover should be an engine for our prosperity. A new connection had to be fashioned between the port and community. The town must feel the port provides benefit to it. These arguments gained favour at Westminster. They led to the Minister's announcement of reform a few months ago. They have led to the advertisement we see this week for the first community director.
We've come a long way. Yet we have further yet to go. We need to see the community directors in place. The plans must be put together for how the seafront should transform. The investment must then be raised. We have a project of town building and town changing that lies ahead of us. A project everyone must be part of. We stand at the threshold of an opportunity that has eluded us ever since our town was shelled in the war. We must make it happen this time.
Best wishes
Charlie
* * *
Picture shows Charlie Elphicke left at last years Regatta with Barbara Buczek who is Head of Corporate Affairs at the PORT and Nigel Collor leading local councillor.
We don't do Party Politics on here but always interested to hear the thoughts of the sitting MP.
Howard yes indeed re staycating but once again last night hotels are/were packed here on the seafront. We have all gone mad for a touch of the continentals. I have been informed by the other BB ( daughter) that Thursday is the new Friday...it looks that way..

The Seabourn Quest is in harbour today...a lot of mist so far so no pictures but a nice ship. Fab design.
Friday, 8 August 2014 - 06:44
Post 1021
Howard McSweeney, Dover
The sun glistening on the sea Paul yet the port is breaking all records for departures.

We had a great summer last year and despite the odd storm this is as good, so why are people not "staycating" apologies for the awful cliche.

Nowadays people do not book months in advance but wait until the last minute for the best deals.

Thursday, 7 August 2014 - 20:11