Monday, 1 June 2020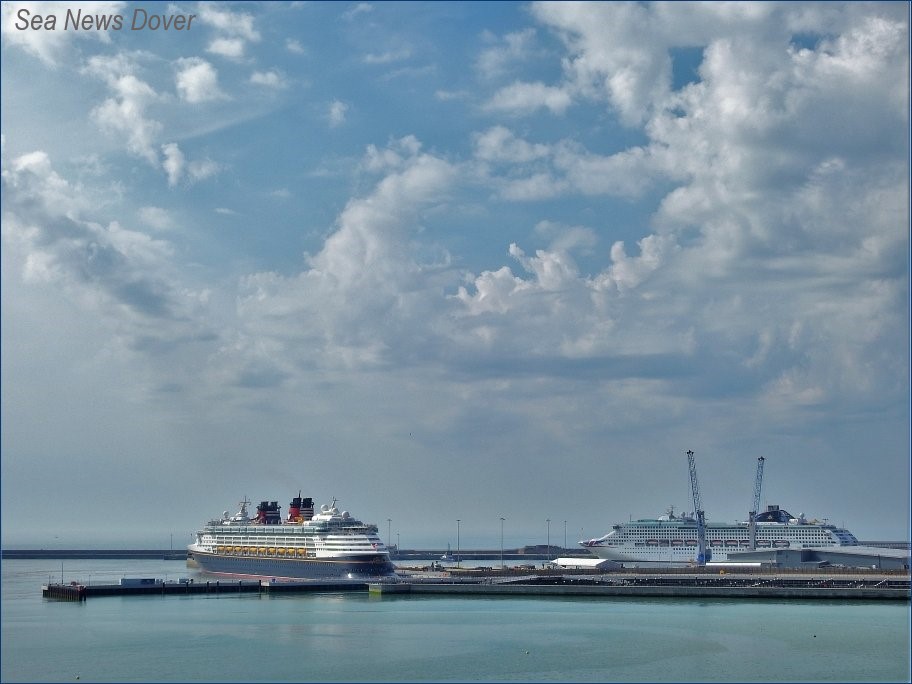 Big Sky over the Port of Dover with Disney Magic and Oceana.
And zooming in on Disney Magic below....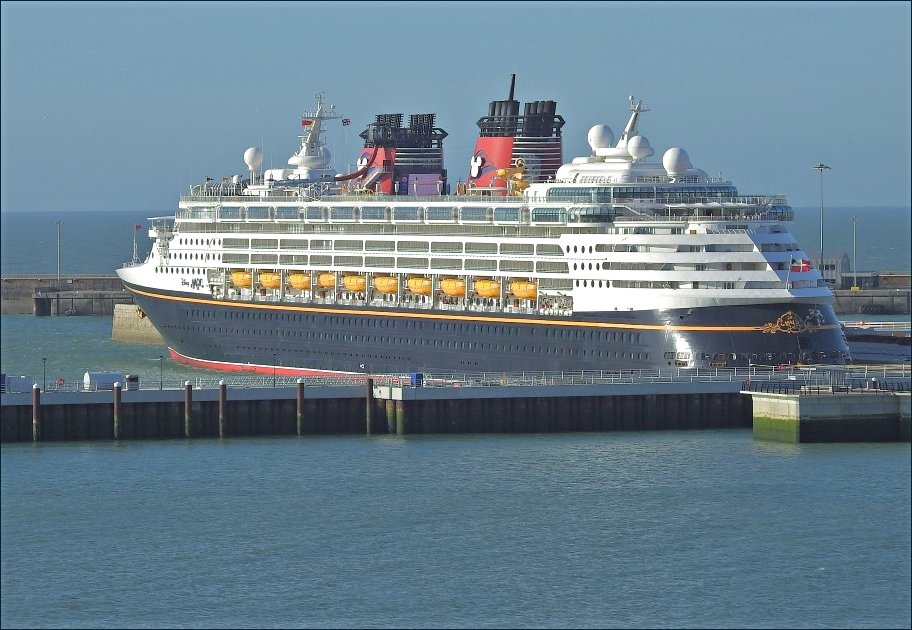 WWW.DOVERFORUM.COM/SEA-NEWS
Sea Pictures from DOVER: Featuring all the ships that come and go and work at the Port of Dover ..
... with some further coverage of the surrounding ports.
Sea News Dover
Use our SEARCH ENGINE below to find all sorts on the SEA NEWS pages....type in the topic and away you go,
or if you have the post number, just type it in the Search Box, more than
- 7000 -
nautical posts now.
Posts are welcome. just click 'Add Your Comment' below.
Upload a Max of 5 pictures....Many Thanks.
Sea News Editor Paul Boland - send info or pix to dover7@msn.com. Always welcome.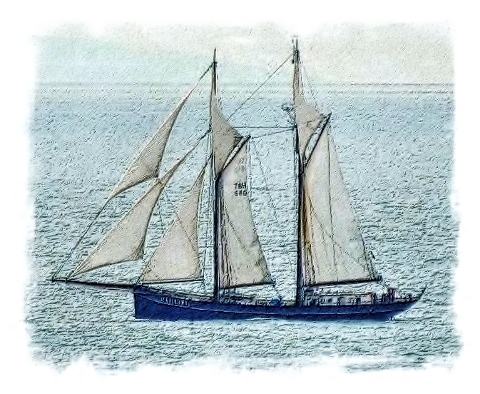 Headlines....
REGATTA CANCELLED see post 7012 below..
Doug Bannister: Open Letter re Covid-19 Critical Supply from Port of Dover CEO 6968.
PORT OF DOVER donates £40,000 to Coronavirus Fund see 6923
P&O FERRIES 1100 staff laid off and Furloughed to HMG scheme , see 6909.
P&O Ferries secure vital flow of goods, medicines...see below, post 6901.
DFDS Coronavirus announcements below see post 6880 and 6885.
P&O Ferries present record breaking cheque to Dover Lifeboat...post 6874 below.
P&O Ferries - European Expansion 6867
Hurtigruten and the Port of Dover see 6857...see also pictures in 6856 and 6859.
See SCARLET LADY pix.. FIREWORKS too..type Scarlet Lady in our SEARCH box below..
DFDS Refit Investment...luxury lounges 6821.
P&O FERRIES - POST BREXIT travel info below 6780.
P&O NEW FERRIES Images below 6775...
Port of Dover, DFDS, P&O say...Travel with Confidence from Dover.. see 6786 below.
Visit us here in White Cliffs Country see 6772
Natalie Elphicke MP - thoughts post Brexit 6784
Just type the post number from the listed Headline in the Search Box below.
Port of Dover Cruise Calls:
http://www.doverport.co.uk/cruise/find-a-cruise/
To show your pictures at their best..it could be worthwhile resizing before posting to
860
pixels wide. Our new standard size.
All pictures on these pages are the copyright of the owners and must not be reproduced without permission.
Post 2107
Sea News, Dover
Some more pictures here of the rather special Umoe Ventus as promised...this time in clearer weather and up close and almost personal. Pictures once again by our now regular contributor SARAH HEWES....the pictures look great and were taken at Ramsgate. Nice pix once again Sarah. Right in there close to the action.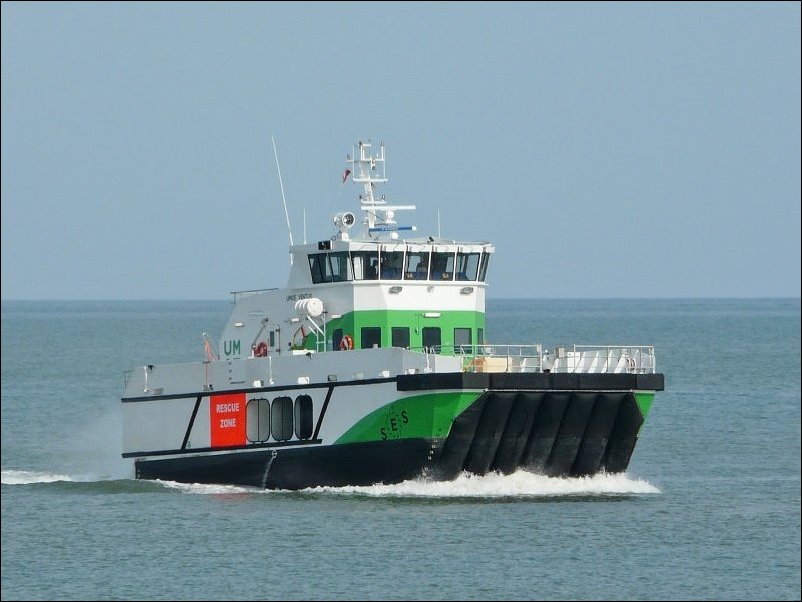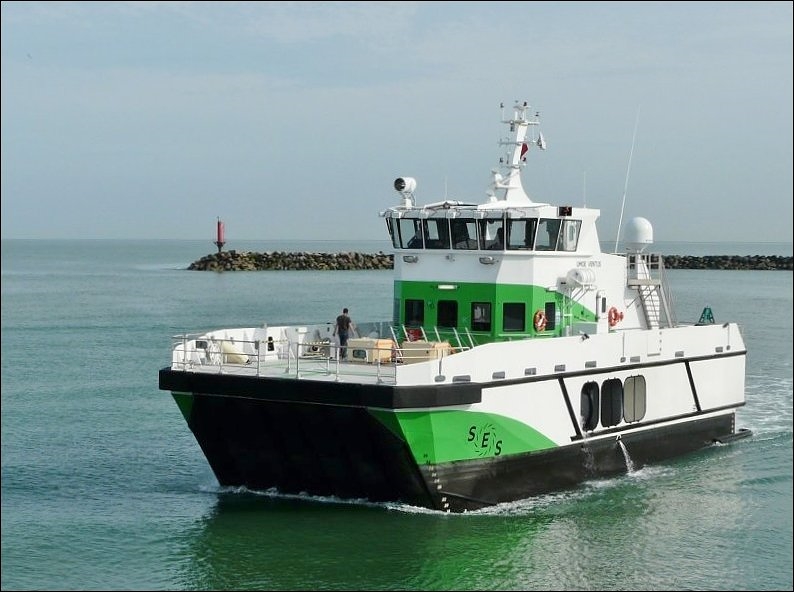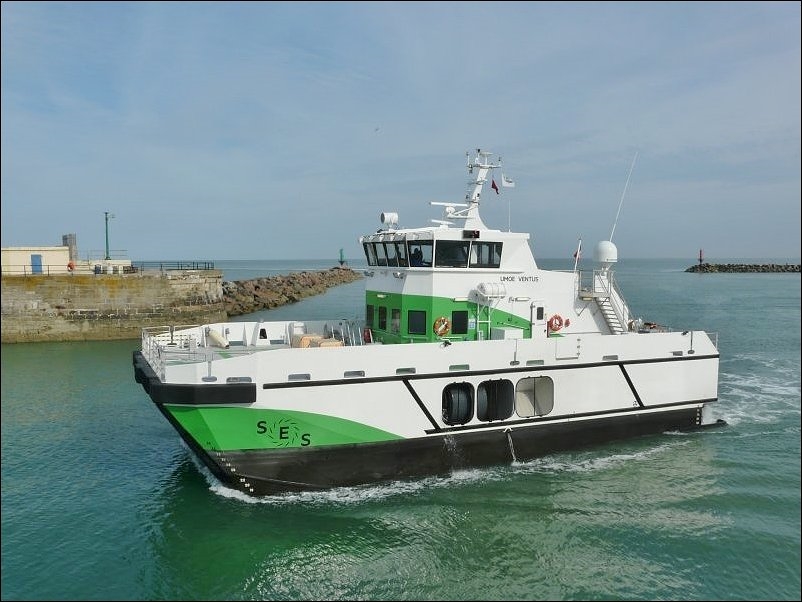 See also Posts 1630, 1632 for pix and info, 1653...
Nice picture there below Ed of our ol' friend the Schweiz Reefer. Always good to see .. especially with the White Cliffs glowing in the background.
Monday, 22 June 2015 - 07:55
Post 2106
Ed Connell, Dover
Schweiz Reefer basking in the sunshine at the DCT today.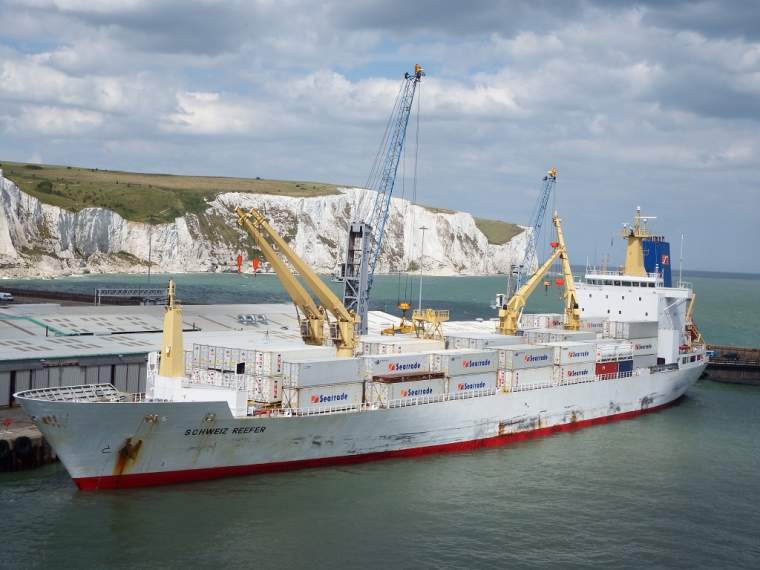 Sunday, 21 June 2015 - 15:30
Post 2105
Sea News, Dover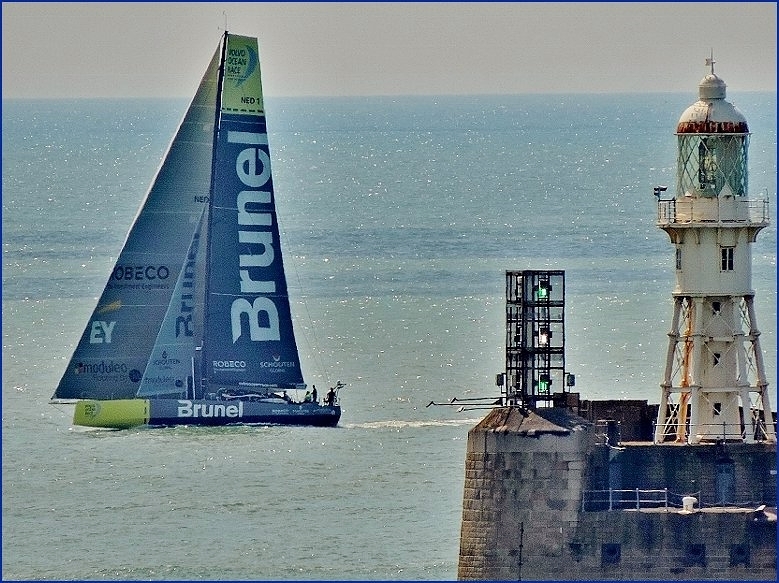 Following on from Ed's shot of it in 1652, here we are again with the Brunel Multihull Racer passing us at speed a day or two ago. Flashing past the western exit.. Yes it appears to be from the Volvo Ocean Race, the worlds premier ocean race, which is as we understand it finishing in Gothenburg Sweden this weekend after a pit stop in Holland. Exciting racers for sure. Keep an eye out just in case you spot one.
This urged yours truly to fess out this one from last year...the Oman Multihull Racer. This one last year shot past, as did several others of course, in much wilder conditions. It was very fast indeed...airborne for much of the time. Oooh you would need strong sea legs for that one...with your belt and braces!
Probably best to leave yer granny at home on this run!
Ed also has this one further down the page.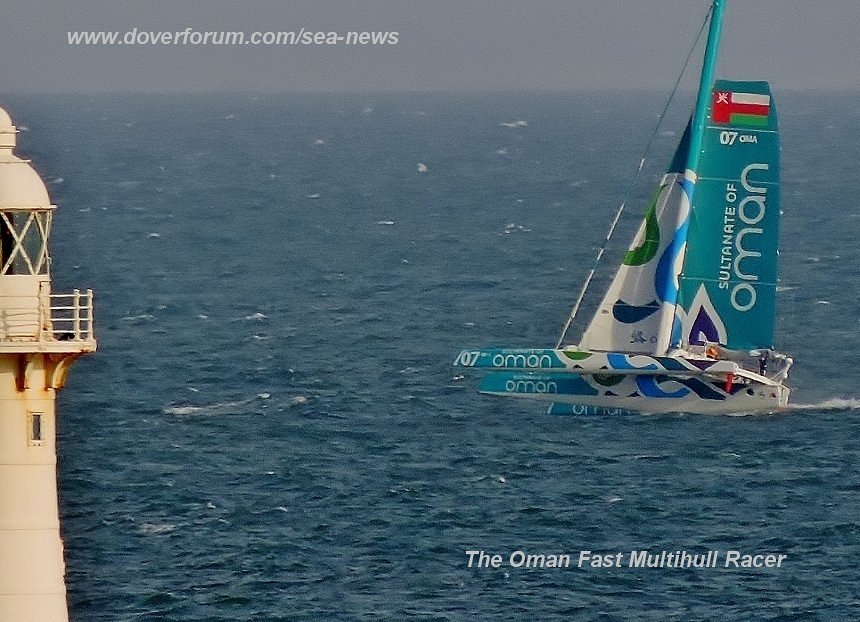 Sunday, 21 June 2015 - 06:10
Post 2104
Sea News, Dover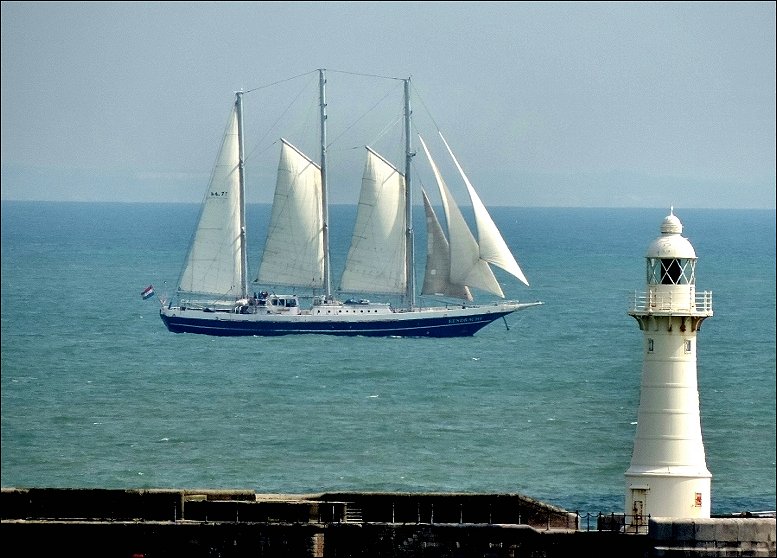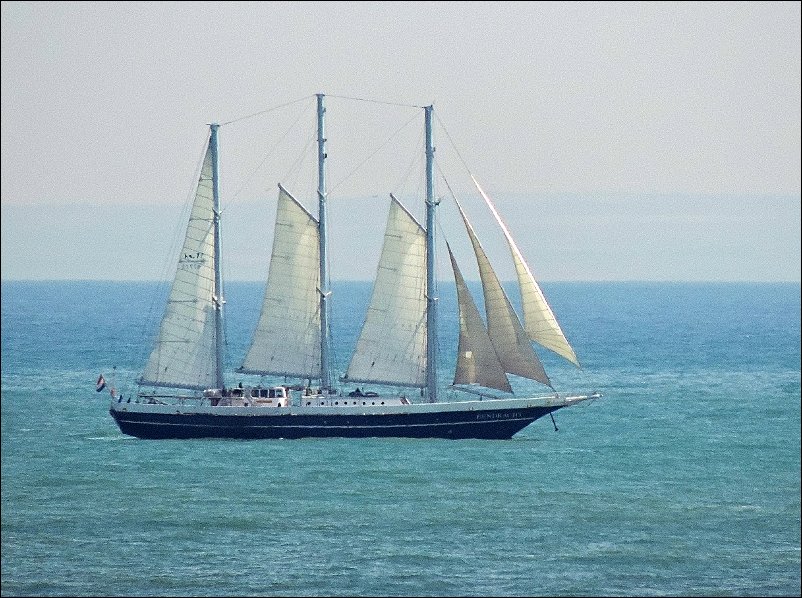 This is Eendracht in full sail just outside the harbour on Thursday evening. She seemed to linger for ages out there, perhaps contemplating coming in as on previous occasions. It had been grey earlier, then later in the day the sun burst through giving us much needed colour. She posed for us majestically for a while then moved off heading south/west. The ship has visited with us often in the past here in Dover Harbour but we have never seen her in full sail before...so there we are. See also 1652...and if you type her name in the search engine you will see previous visits.
Have added a picture below of the harbour yesterday mid-morning. Took the picture mostly in an effort to capture the jet streams once again. You usually see jet streams in the cooler atmosphere of cooler days as I understand it, and this is an indication that this summer hasn't really warmed up yet. We haven't got going at all and its the longest day of the year tomorrow. The nights start drawing in after that. Oh nooo....an 'orrible prospect!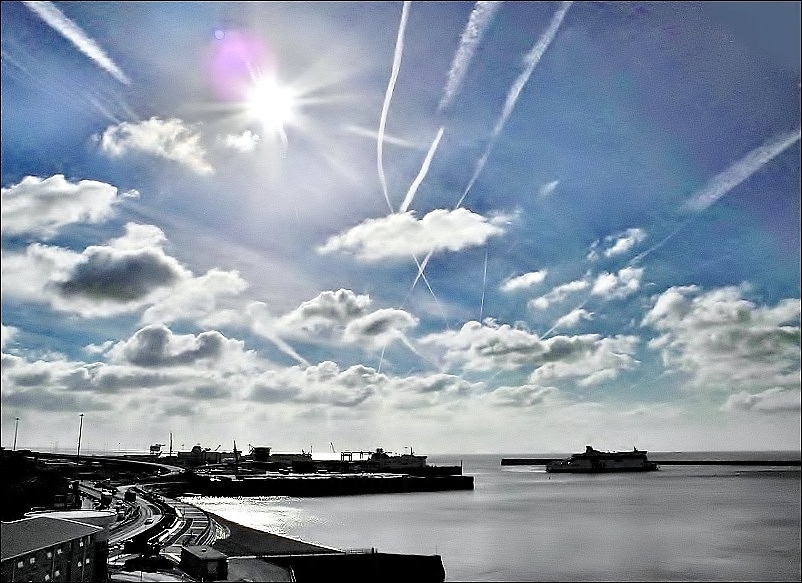 The Ocean Princess is in today. Smallish but oh so elegantly packaged...

PB.
Saturday, 20 June 2015 - 07:14
Post 2103
Sea News, Dover
Thanks for that Jeremy - I am sure all the guys contributing will appreciate that comment.

Lots more to come. PaulB.
Friday, 19 June 2015 - 16:47
Post 2102
Jeremy Ward, Whitfield, Dover (Jemward747@yahoo.co.uk)
Thankyou all for this great site, it is full of interesting articles and information which I wouldn't normally know about.

Friday, 19 June 2015 - 10:40
Post 2101
Sea News, Dover
Another couple of pictures here of the Umoe Ventus...from SARAH HEWES. Taken on the vessels arrival in Ramsgate Harbour on a gloomy day a few days ago. She certainly captured the imagination this one, see also the posts below page or over page with more pictures and info ( 1632 and 1630 ). Thanks once again to SARAH. We may have another couple of pix of this vessel coming soon. The pilot boat shown is the Estuary Elite...you may be able to just make that out.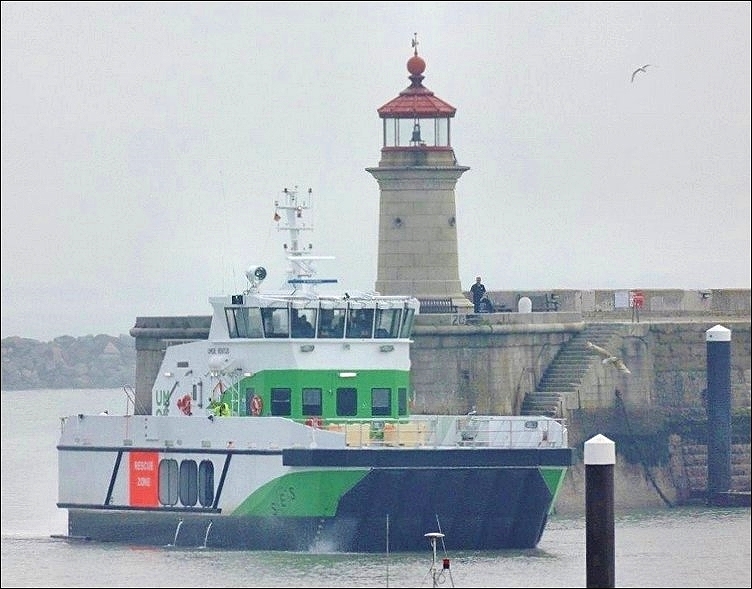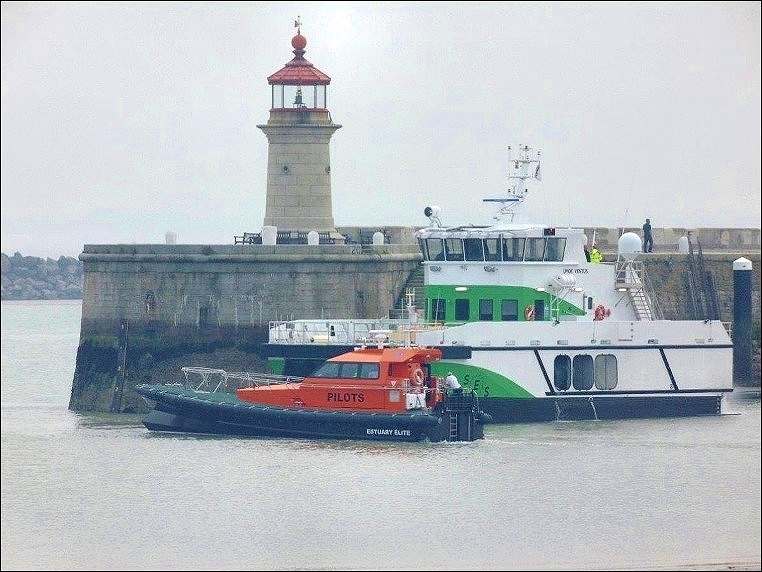 While gazing out longingly below into the gentle blue evening, casually watching the Pride of Burgundy reverse into Dover 9. This giant, this beast swept into view on a gentle tranquil evening..again just a couple of days ago. It is the Cosco England and as you can see it is one hell of a whopper. That's a technical term 'whopper' known only by a few..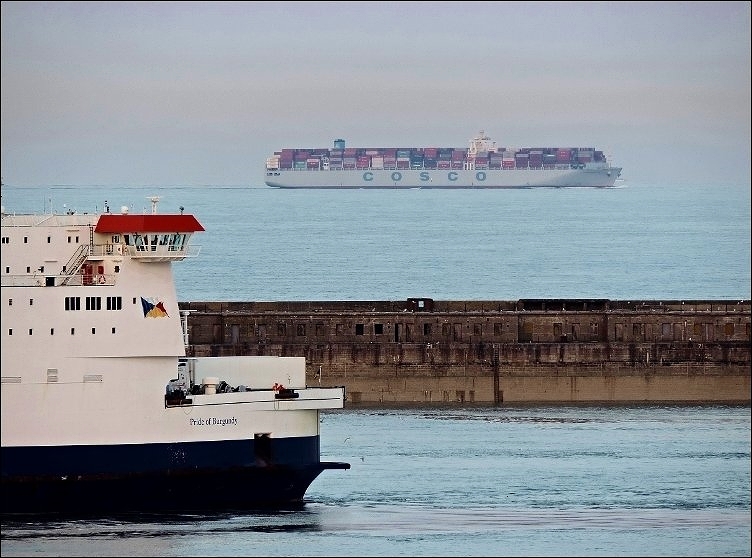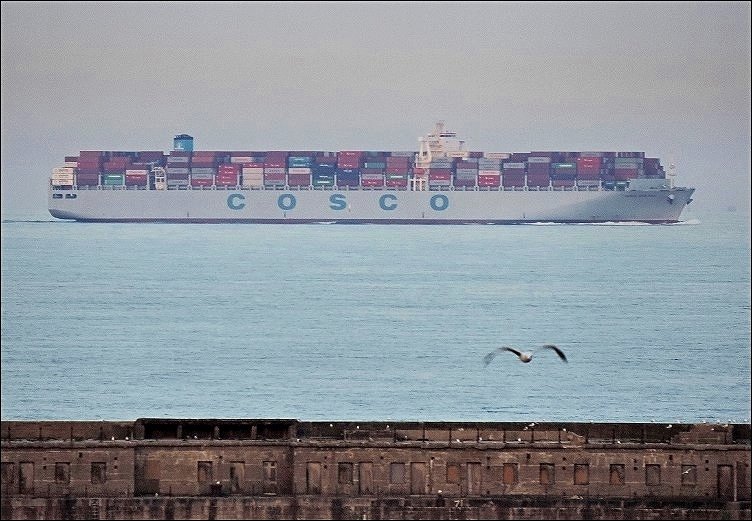 "The 157,000 tonner Cosco England is bigger than three football pitches and can carry more than 13,000 containers. It is one of three already built for Cosco, China's largest shipping line, which has commissioned another five due to be in service 2014."
Nice ones below Ed. I saw the Eendracht passing and I may have a couple of good shots of it..still in camera as I write...running behind schedule here..
Dont miss the FREE BEER with DFDS SEAWAYS...see below in 1651. PB.
Friday, 19 June 2015 - 06:48
Post 2100
Ed Connell, Dover
Dutch three masted schooner Eendracht passing Dover this afternoon.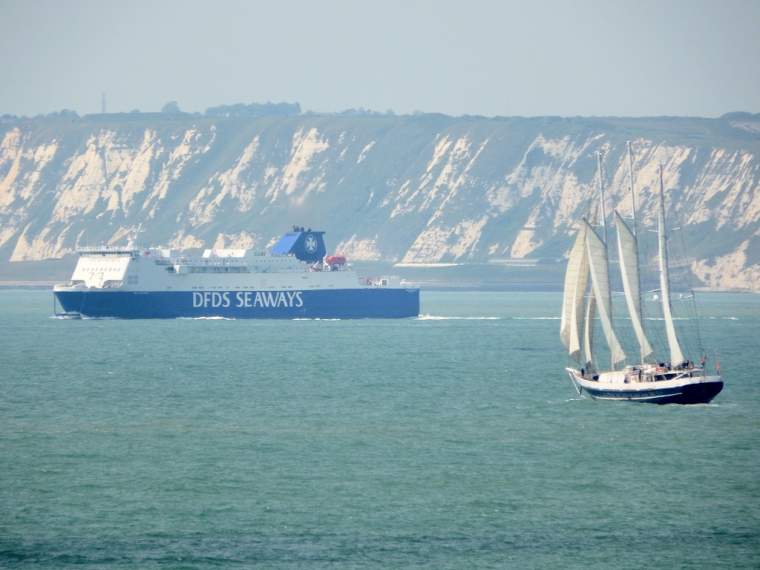 Volvo Ocean Race competitor Team Brunel off South Foreland at lunchtime.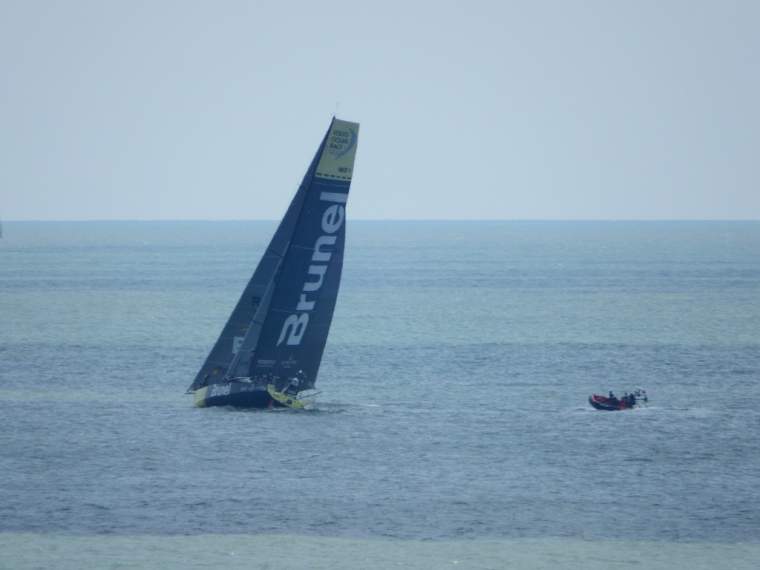 Thursday, 18 June 2015 - 14:18
Post 2099
Sea News, Dover
DONT MISS IT ! FREE BEER with DFDS SEAWAYS!


Discover why Belgian Beer is not just for men when you hop across the Channel with DFDS Seaways


___________________________________________________________________________________________________
• 60% of Belgians believe beer is equally right for men and women
• Book a return crossing on Dover-France route from £64 and receive free 6-pack of Flanders Beer
Award-winning ferry operator, DFDS Seaways, is offering passengers on its Dover-Dunkirk and Dover-Calais routes the chance to sample one of Belgium's finest beers when they book a return crossing before July 4.
To book your return crossing from £63 return, use offer code EBEER2 and you will be eligible to receive a free pack of six Affligem beer when you present your booking confirmation and car hanger at the onboard shop. The beer is from a popular Flemish brewery, which was the first to use hops in its beer.
If you thought that beer is just for men, you might be surprised to learn that many Belgian breweries are run by women, including De Ryck brewery and Ter Dolen Castle brewery. In fact, women have played a major part in the history of beer: the discovery of the brewing process has been traced back to the 6000 BC in Babylonia. All the brewers at that time are thought to have been female and brewing beer was considered a noble task for women from privileged backgrounds.
This close association continues today. A recent survey of 1,000 women* from Belgium revealed that half of them drink beer and 89% are proud of their Belgian beer. Almost two thirds (60%) of those surveyed believe that beer is equally right for men and women.
Beer is surprisingly low in calories, with 25cl of beer totally as little as 103 calories; which is less than milk (118 calories), or apple juice (120 calories). It does, however, help stimulate your appetite and many Belgians drink beer instead of wine with their food.
Beer Cuisine
**********
DFDS Seaways' top five Flemish foods best accompanied by beer:
Stoverij – Flemish beef stew, cooked with beer
Cheese – many brewers also produce cheese
Hutsepot – a "hotchpotch" dish of boiled potatoes and vegetables cooked in a single pot
Waterzooi – Flemish stew, typically originating in Ghent, made with fish or chicken
Stoemp – mashed potatoes/other root vegetables, typically with onion/shallot/bacon and cream
Max Foster, passenger director at DFDS Seaways, comments, "With over 1,000 varieties of Belgian beers being produced today, it's good to see that craft beer still makes up an important part of this industry. One of the great advantages of taking your car over to Belgium is that you're able to stock up on your favourite Flemish beer and food without worrying about luggage restrictions."
Whether you're a beer enthusiast, or looking to sample Flemish food and beer for the first time, Belgium is just a short hop from the port of Dunkirk in Northern France. DFDS Seaways sails from Dover to Dunkirk up to 12 times daily, and up to 10 times a day to the nearby port of Calais, just 30km from Dunkirk.
To book your short break to Belgium now, or for more travel inspiration visit www.dfds.co.uk or telephone 0871 521 5522.
- ENDS –
Tasty ideas above there from DFDS SEAWAYS. Huge thanks to them as ever for the information.
Cracking pictures below Ed - between us we have done a DFDS SEAWAYS Special!

Thursday, 18 June 2015 - 06:26
Post 2098
Ed Connell, Dover
Exotic trimaran zooming past at 25 knots yesterday afternoon off Dover with the Dover Seaways in the background.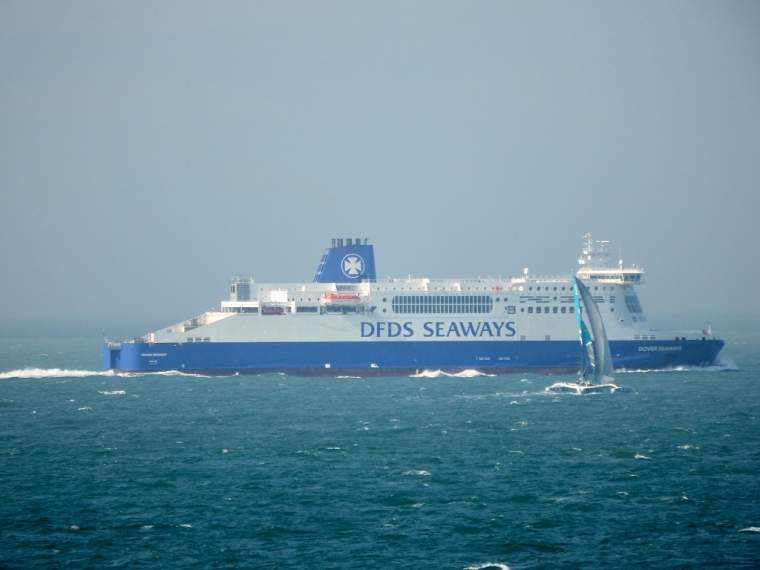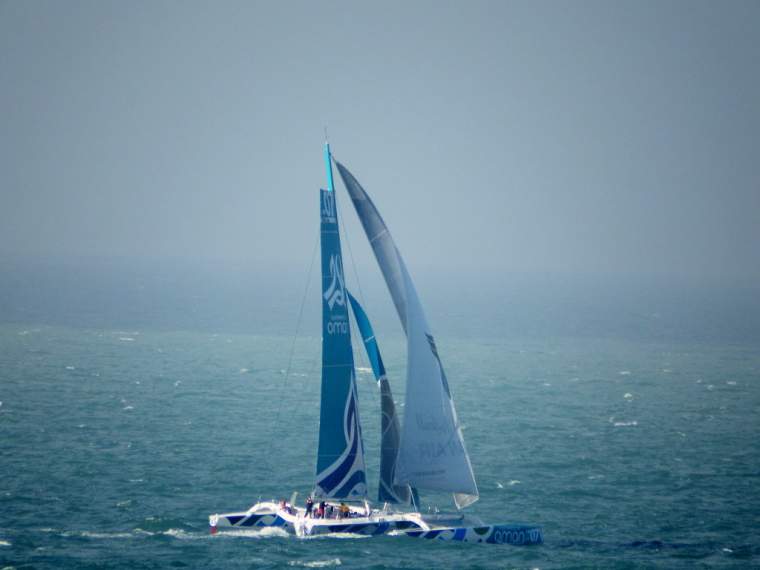 Thursday, 18 June 2015 - 04:28
Post 2097
Sea News, Dover
Just the right timing to coincide with our Post below number 1645...
Just in from DDC
TOPS FOR FAMILY FUN THIS SUMMER! - Lonely Planet recommends White Cliffs Country – Dover, Deal, Sandwich

____________________________________________________________________________________________
Lonely Planet has named Kent as its top family destination in Europe, with White Cliffs Country featuring prominently in the travel guides recommendation. From its stunning natural beauty with the White Cliffs of Dover, historic castles, and idyllic coast and countryside, it's no surprise that Dover, Deal and Sandwich are proving such a hit with families on day trips, short breaks and longer holidays.
The White Cliffs of Dover are one of the great icons of British tourism and attract millions of visitors every year. Dover Castle meanwhile is English Heritage's second most visited attraction in the country, with Deal, Walmer and Richborough castles making for a unique collection of coastal fortifications.
New attractions for 2015 include the World War II Fan Bay Deep Shelter and Sound Mirrors being opened this summer by the National Trust at the White Cliffs of Dover. Open to the public for the first time in over 50 years, this new attraction will provide the opportunity to explore beneath the White Cliffs of Dover.
English Heritage meanwhile continues to invest in new attractions, with a stunning renovation of Walmer Castle to mark the 200th anniversary of the Battle of Waterloo. The Duke of Wellington died at Walmer Castle and you can still see his boots there! Dover Castle is marking the centenary of World War I with a reinterpretation of the Fire Command Post and Admiralty Signal Station.
Famed for its country houses and estates, including Goodnestone Park and The Salutation in Sandwich, plans are also afoot for a £3 million Heritage Lottery Fund restoration of Kearsney Abbey and Russell Gardens in Dover, the latter a Grade II listed public park designed c.1900 by Thomas Mawson, the leading landscape designer of the Edwardian era. Entry to the parks is free.
Celebrating the rich natural landscape of White Cliffs Country, the Up On Downs Big Summer Festival (25 July – 9 August 2015) includes something for everyone with 60 events, most them free!
Cllr Keith Morris, DDC Portfolio Holder for Tourism, said: "'Why pay thousands to fly half way around the world when you've got such a fantastic holiday destination on your doorstep?
"Tourism is a cornerstone of the local economy. We're delighted that Kent and White Cliffs Country have been recognised as a great family destination. Continued investment in the tourism and heritage sectors is paying real dividends."
For ideas and inspiration for things to see and do with the family in White Cliffs Country, visit www.whitecliffscountry.org.uk and follow us on Twitter @VisitDover
ENDS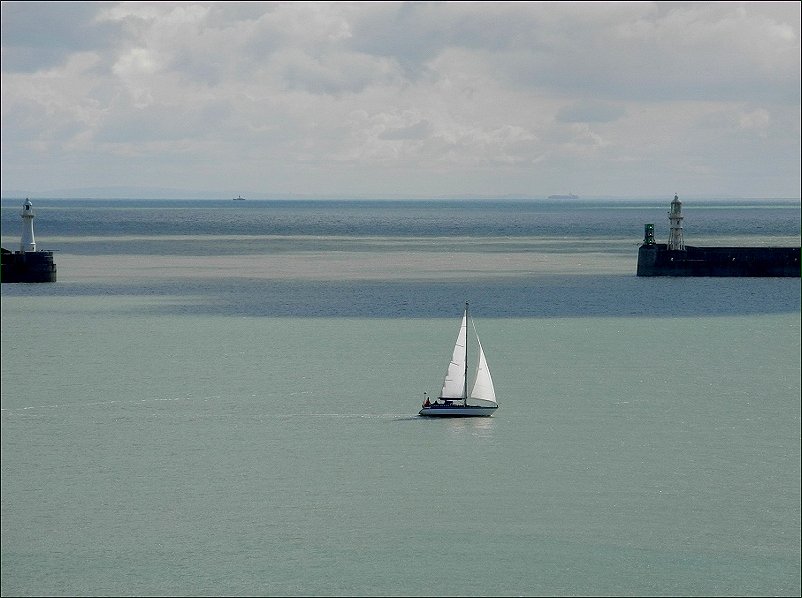 Sailing at Dover.
Wednesday, 17 June 2015 - 15:35
Post 2096
ColetteB, Dover
Summertime.......... Fabulous photos on Sea News this morning

Ed, Great pic, Braemar & White Cliffs, Luvit!!

Wednesday, 17 June 2015 - 11:02
Post 2095
JanT, Dover
Really nice to see the pictures of our lovely seafront, and nice to see Eric and his dogs taking in the sunshine, nothing better than a stroll and as said many places to stop off and enjoy an ice cream or something more substantial if you wish.
We are lucky enough to have a well looked after seafront to enjoy, I for one enjoy it as often as possible I hope others do to.

Wednesday, 17 June 2015 - 08:08
Post 2094
vic matcham, Dover
Good time of the year to take photos of the port and front and you live in the best spot to take them .

Wednesday, 17 June 2015 - 08:03
Post 2093
Sea News, Dover
SEAFRONT SPECIAL !
The seafront is looking totally gorgeous right here in Dover right now, very colourful indeed and here's the thing....all natural colour too, shown here from the wild meadow gardens along the seafront, and with more to see in the months ahead. The pictures were taken in the past week and you can see the fab colours, but also note how clean everything is. Dover is a great place for a visit or a longer stay.
There are numerous places to have coffee and/or wine and dine, The Dover Marina Hotel, right on the seafront, is very popular as is the Hythe Bay Restaurant which is right on the beach. Along the seafront we have the Dover Premier Inn with nice restaurant...and just 50 yards back off the beach we have the ever-so-nautical Cullins Yard. All do al-fresco too.. so we have the continental spirit aplenty. Lots to enjoy for Dover citizens and for our welcome visitors alike. So...the message is, pop off those cruise liners and linger.

And speaking of local people...top shot shows local man Eric Machin caught by the camera a few days ago. He was ambling along the seafront with an elderly trio of wonderful dogs when we met him...all taking the salty sea air, we took his picture while he paused on one of the many benches. The message is... don't pause or the camera could catch you...


Enjoy the wild flowers !
...with the Castle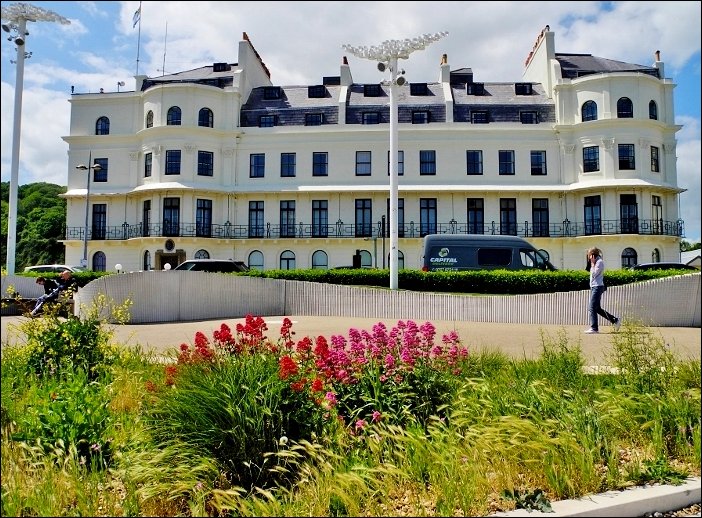 ...with Harbour House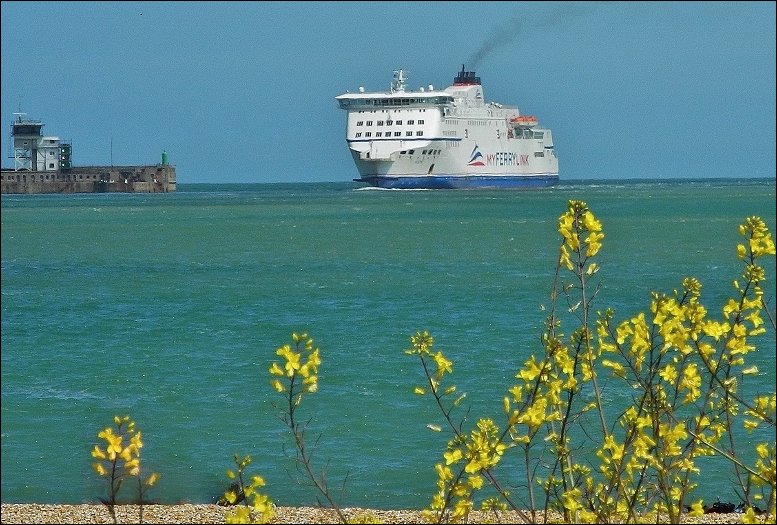 ...with the soon to disappear MyFerryLink
...with the Ice Cream vendor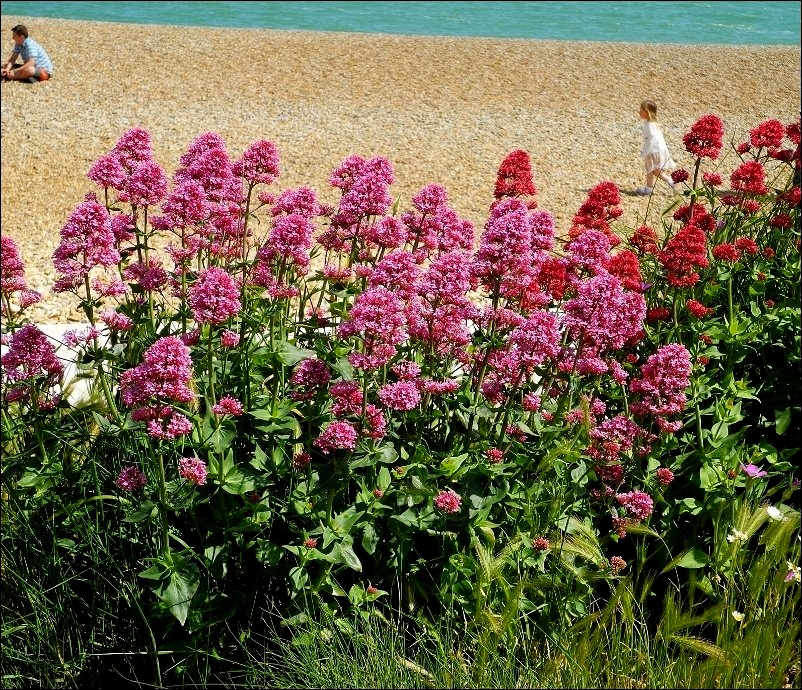 ...with the beach .. and below the general view.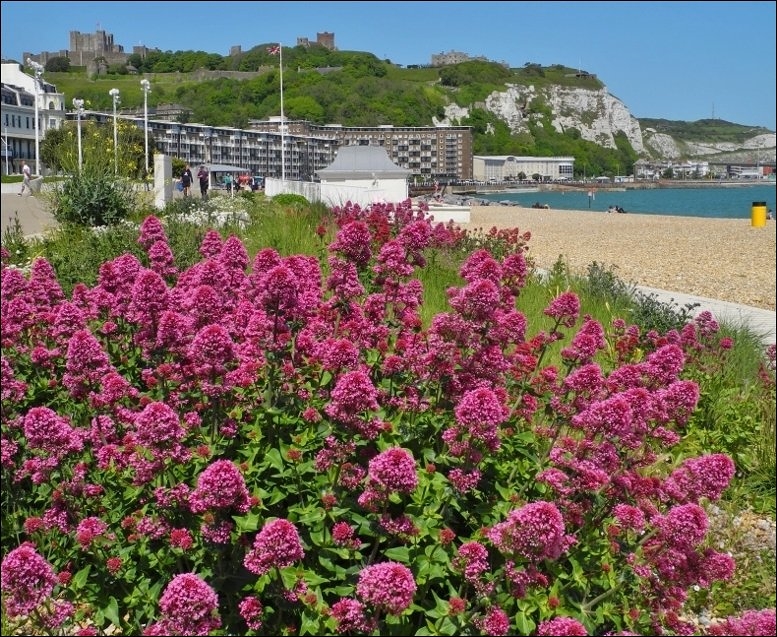 Thanks for those messages Vic and Ray.
Glad you are enjoying it all, we have lots more to come. We have pretty good viewing figures too so lots looking in and hopefully enjoying it all.
Lol! Mike I have been learning fast...I now know which is the sharp end !!

I know I probably shouldn't say this but I always have trouble trying to make the Braemar look interesting. You managed it there with that one below Ed...complete with another one of our great assets here in Dover - The White Cliffs. And always good to see the cargo ships for sure.
PaulB
Wednesday, 17 June 2015 - 06:47
Post 2092
Mike J., Dover
Post 1640 -

The ELVIRA's 'nose' - nose ?

Surely you mean 'bows' ?

Also technically known as 'the sharp end' & for the stern, 'the blunt end'

Nice photo though, even with the missing nose !

Tuesday, 16 June 2015 - 18:54
Post 2091
Ed Connell, Dover
Elvira at the DCT and Braemar departing today.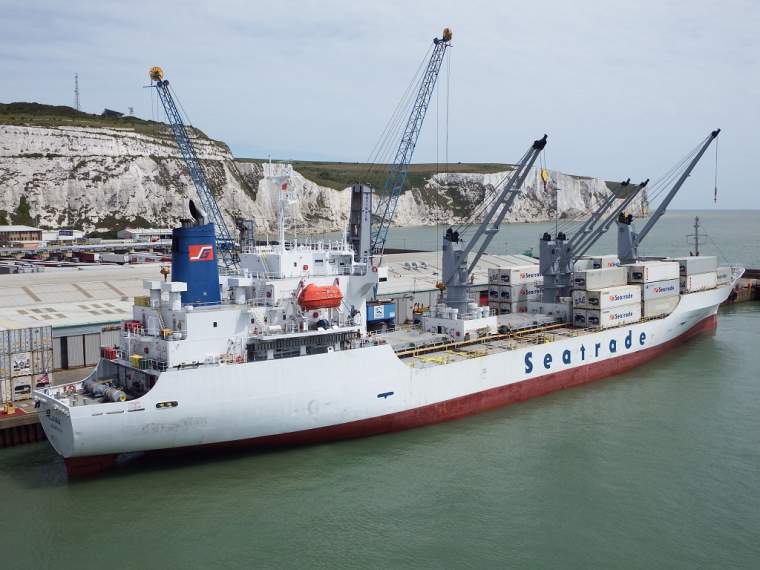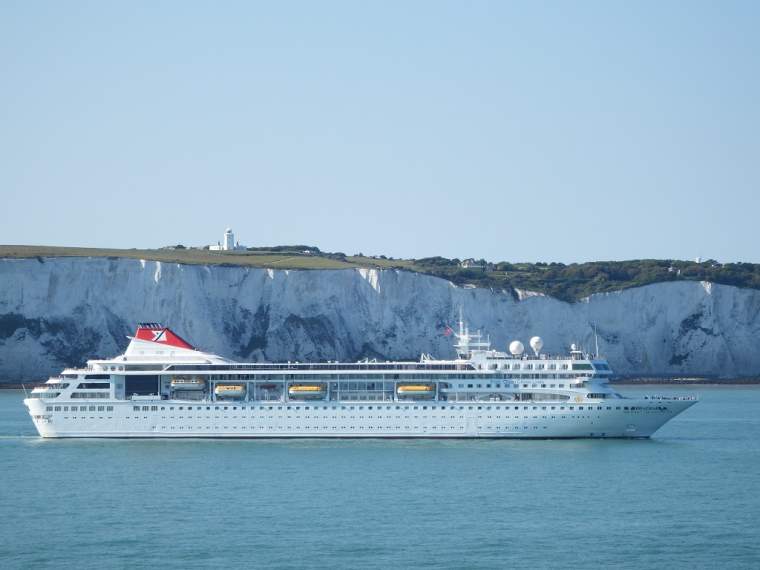 Tuesday, 16 June 2015 - 18:22
Post 2090
Ray H, Dover
Well said Vic, as a retired chap of 39 years with DHB it is good see what has been happening. Our paths must have crossed over the years but I don't recall meeting you.

Tuesday, 16 June 2015 - 18:07
Post 2089
vic matcham, Dover
As you know the only posting I do now is on this page ,I find the photos and the reports very very good ,I like to see and read about the port and on this page it keeps up with the very latest in both photos and news so again thank you.

Tuesday, 16 June 2015 - 16:51
Post 2088
Sea News, Dover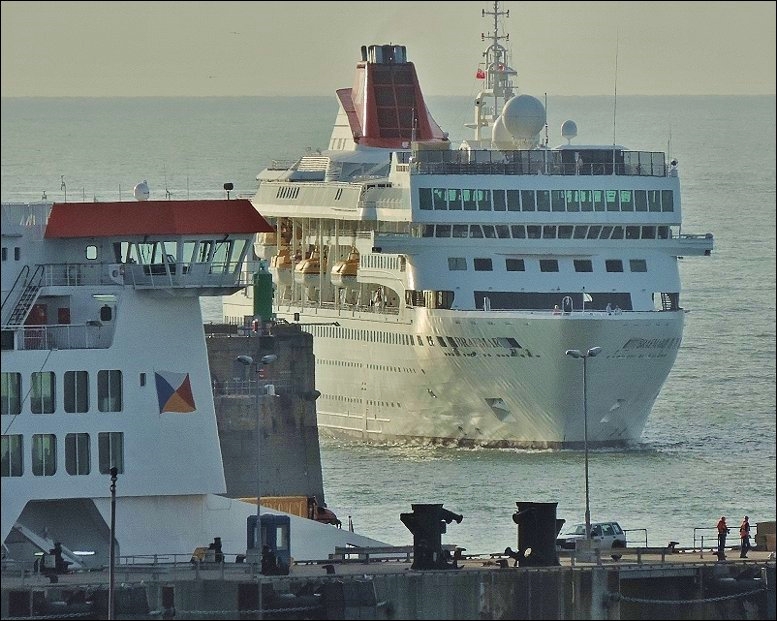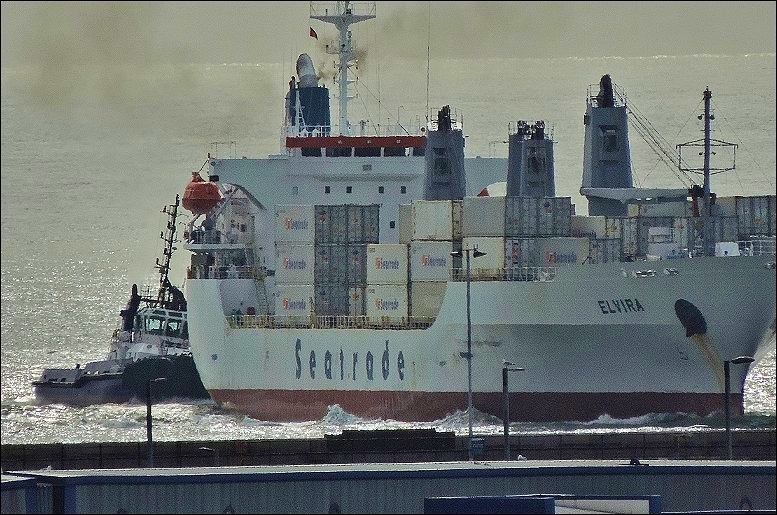 The two visitors of note today Tuesday are the Braemar in the top pic and also approaching to its eventual destination at the cargo bay...the Elvira. Both shots fairly long range pictured across the top of the harbour as it were on a sort of a wishy-washy morning. Even though it is a calm day yours truly couldn't keep the camera steady for the second one and kept cutting the nose off the Elvira...then the shot was gone. But there we are anyway, minus nose and assisted as ever by the dependable tugboat.

Ah yes indeed Vic you did some great welding down along the seafront, it held up well for sure.
Will have a bit of a seafront special tomorrow all being well..
Nice one of the Atlantic Reefer below Ed, complete with nose...

PB
Tuesday, 16 June 2015 - 15:44