Sunday, 21 April 2019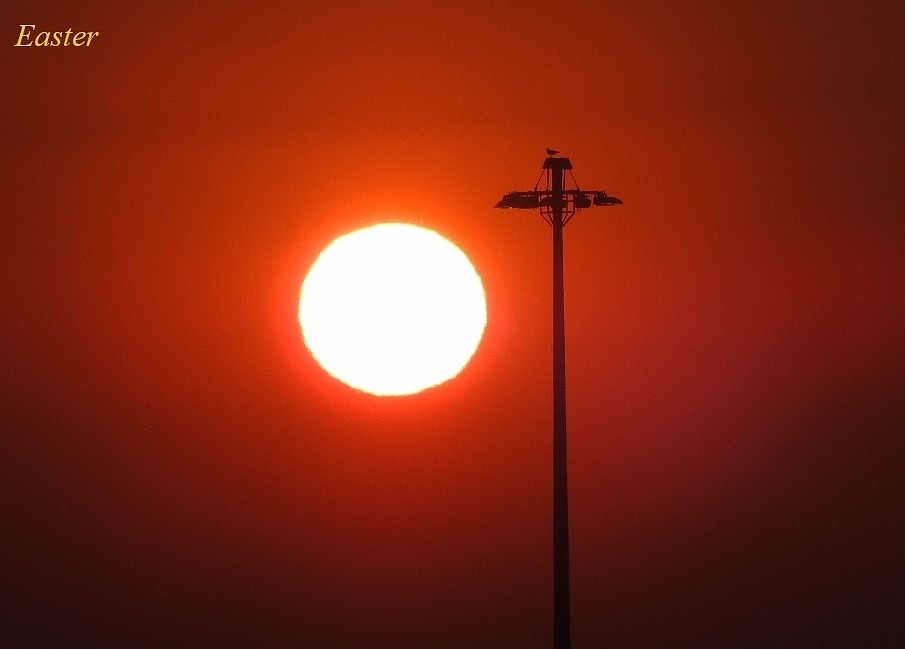 Easter Greetings to All. Top picture taken yesterday Easter Saturday looking across the Port of Dover at the rising sun.
The pic below .. a wider shot from a previous Easter.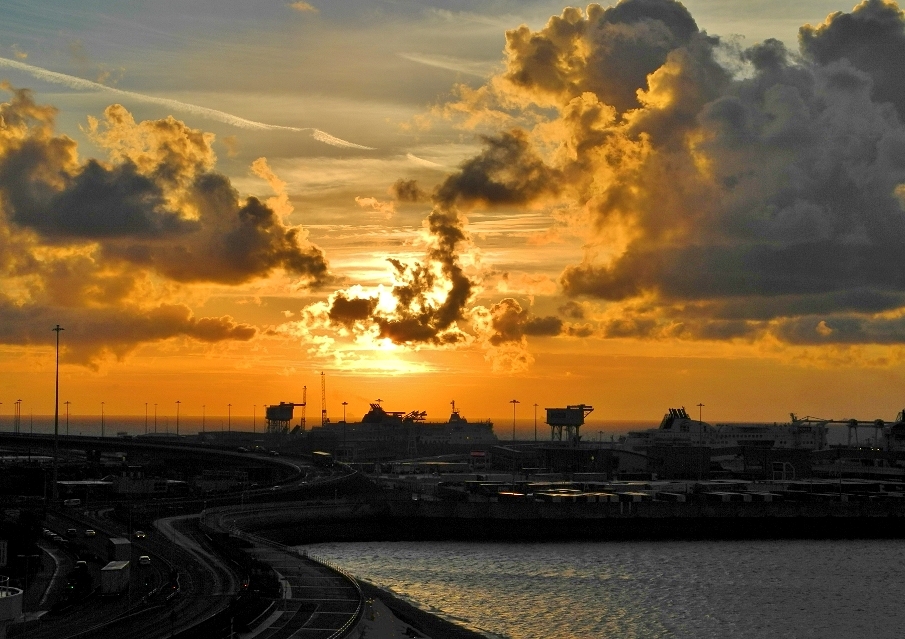 WWW.DOVERFORUM.COM/SEA-NEWS
Featuring all the ships that come and go and work at the Port of Dover ..
... with further coverage of the surrounding ports.
Sea News Dover
Port of Dover: Brexit Resilience 6123
DFDS: For apprentice information see 6125
Premier Inn completes see 6149 plus
P&O: Brexit Buffer.. Free Cancellations 6176
DFDS: ORCA 6179
P&O: Jobs Fair/Apprenticeships 6187
Port of Dover: New Cargo Manager see 6205
Use our SEARCH ENGINE below to find all sorts on the SEA NEWS pages....
type in the topic and away you go, or if you have the post number as shown above, just type it in the box,
more than - 6000 - nautical posts now.
Posts are welcome. just click 'Add Your Comment' below. Max of 5 pictures preferred although we can stretch that for special stories..
Sea News Editor Paul Boland - send info or pix to dover7@msn.com. Always welcome.
CRUISE CALLS:
https://www.doverport.co.uk/cruise/find-a-cruise/
To show your pictures at their best..it could be worthwhile resizing before posting to
840
pixels wide.
All pictures on these pages are the copyright of the owners and must not be reproduced without permission.
Post 915
PaulB, Sea News, Dover.
And speaking of Dunkerque and all things east and south...like we were...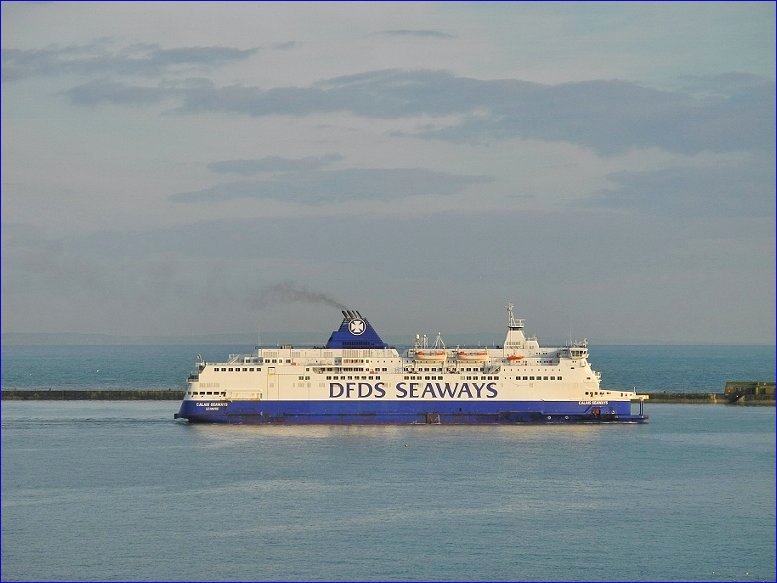 Here we are with the latest offer from DFDS SEAWAYS..good saving plus a possibility of FREE WINE in there too

______________________________________
Travel to France the Easy Way with a Cheeky Offer from DFDS Seaways !
· Travel to France on our Dover routes for as little as £24 each way for a car and nine people
· Find a lower fare elsewhere and we'll give you two bottles of wine for free!
If you find yourself needing to travel to France this week and don't want to be affected by air strikes, travel with award winning ferry operator, DFDS Seaways. Our ferry crossings from Dover to Calais and Dunkirk are quick, hassle-free and the best value around.
Fares are from as little as £24 each way for a car and up to nine passengers on DFDS Seaways' Dover-France routes, which is a £5 saving each way on your ferry crossing. And, if you find a lower fare from any other competitor sailing out of Dover, we'll even give you two free bottles of wine if you book with us.
Our ferry crossings from Dover to Calais and Dunkirk are quick, hassle-free and the best value around. The offer code for the £5 fare saving to Dunkirk or Calais is EOH. Make sure you book before 30 June, for travel until 17 December.
If you find a valid fare cheaper elsewhere for travel on the dates when the EOH code is valid, we will give you a wine voucher to claim two free bottles of wine once on board when you book with us. To claim your voucher, simply fill in the form online and if we can verify your claim you will receive a unique code by email. Just use this code when you book and you will be able to claim your wine once on board using your booking confirmation.
DFDS Seaways operates up to 44 sailings per day between Dover and France, offering ease and flexibility. You can relax on board during the short crossings and grab a bite to eat at one of the restaurants or cafes, pick up last minute travel essentials from the onboard shop or let the kids play in the dedicated children's areas.
To book your travel now, or for more information on this offer, visit
www.dfds.co.uk/cheekyoffer
* *
Picture top shows the DFDS ferry Calais Seaways having just arrived Dover harbour.
Pictured here below...The Braemar leaving us last evening. There is another Fred Olsen cruise ship in today too...the Black Watch.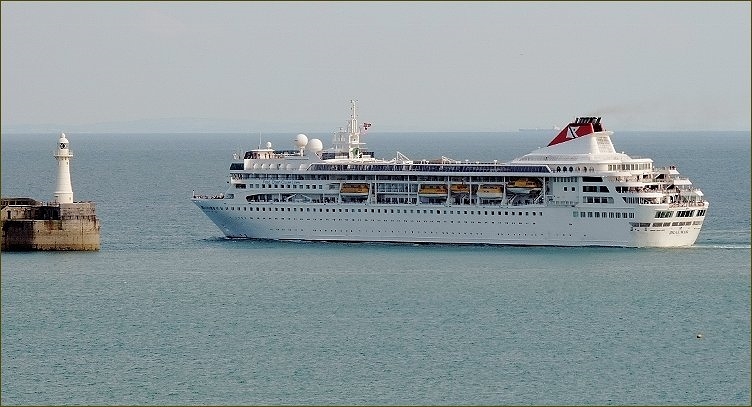 It was a bit of a wishy washy greyish evening again as she departed prior to some rain - pity - we get used to all the sunshine don't we..
Friday, 27 June 2014 - 07:02
Post 914
PaulB, Dover
Smashin' picture that Ed of Dunkerque West. Left it in pole position undisturbed so that all could enjoy it at its best in top slot.. makes a chap think about another trip to delightful Dunkerque. I think Second Mate Colin might well be right re that complex on the up-slopes across the channel in post 840, it looks modern and probably too big to be anything but a shopping complex. A couple of us googled and binged and although there are several things marked nearby...like the war cemetery for example, none really suggest such scale. Now as promised a picture of the Esmeralda leaving on Tuesday evening late...in between the small showers...took the wide view on this one by way of a change.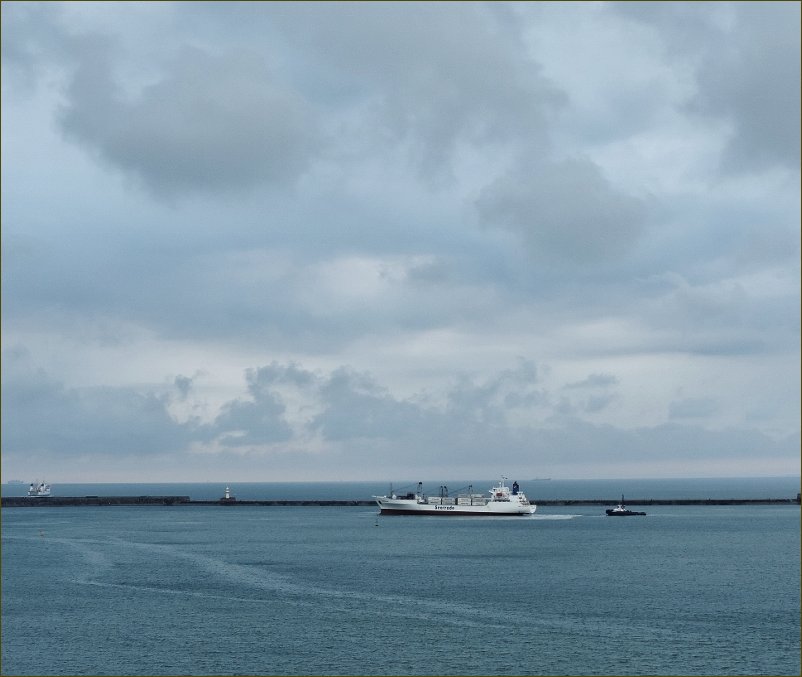 "Esmeralda..the bells, the bells ! "

Thursday, 26 June 2014 - 15:30
Post 912
Ed Connell, Dover
Beautiful sunset over Dunkerque West. Photo doesn't do it justice.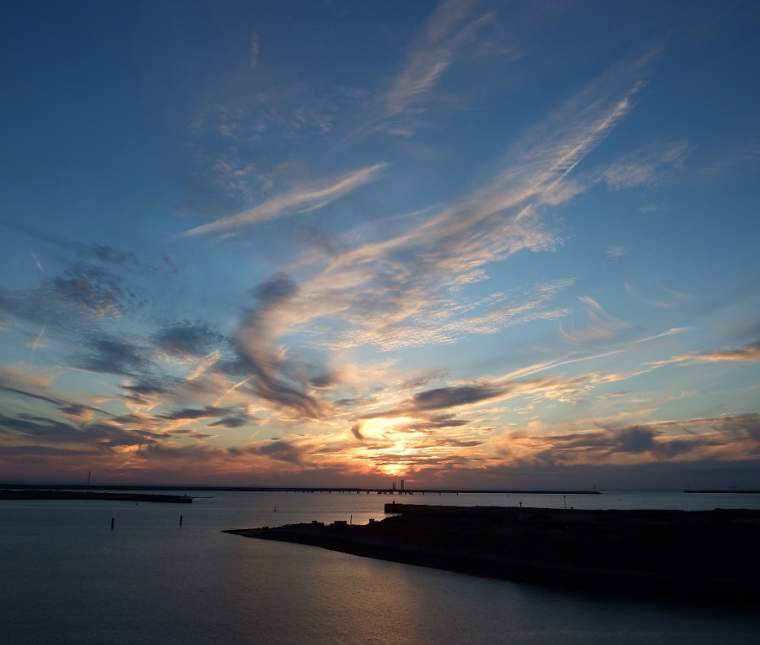 Re #840: Our Second Mate Colin thinks the building complex north of Boulogne might be a shopping outlet centre which he has been to.
Thursday, 26 June 2014 - 00:31
Post 911
PaulB, Dover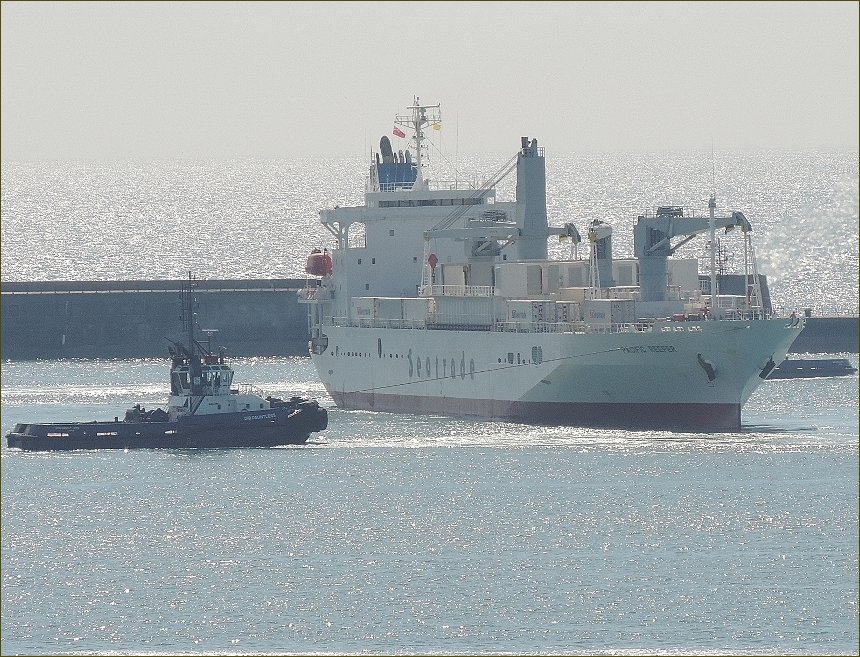 This is the Pacific Reefer arriving a couple of days ago in blinding early sunlight. The pictures were way too bright initially but was able to retrieve them to a degree. It is great to see and enjoy all the cargo ships coming these days...and great to see the Port this busy.
Ed has a more detailed shot of the ship in Post 835.
The cargo terminal is still keeping very busy...since then the Esmeralda has been in and gone. Great stuff.
Might have a reasonable picture of that one leaving last night...still in camera.
Got tied up with the football. it took a bite-size chunk out of my evening..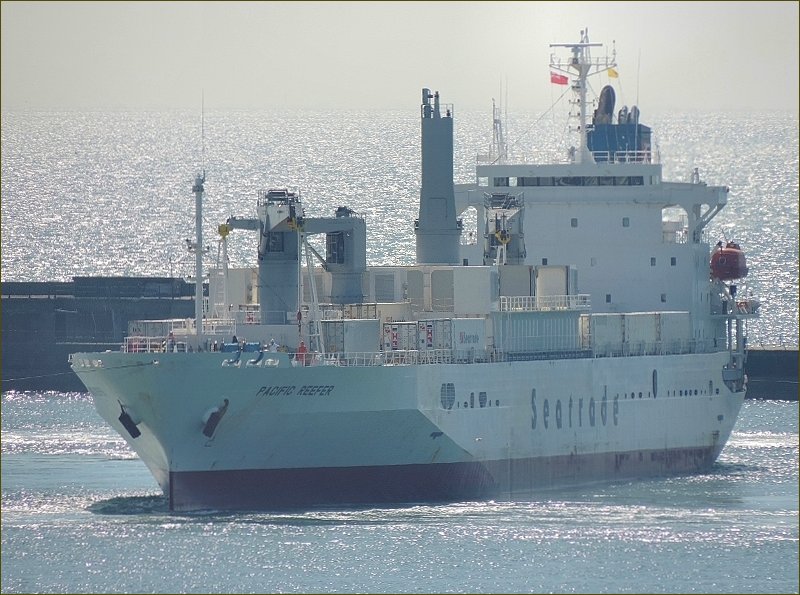 Well done guys all round for the comments below.
Will investigate a bit further in due course when I get a minute as to what that structure is across the water.
Wednesday, 25 June 2014 - 07:00
Post 910
Howard McSweeney, Dover
I have been in Deal twice over the last 4 days and it is very nice along their seafront but for those who want to look at more than an azure view Dover wins hands down.

This thread alone shows the massive variety of seagoing vessels that visit or go past very near our port, excellent work from all those that contribute photos here.

Tuesday, 24 June 2014 - 21:12
Post 909
Vic matcham, Dover
I have my own war bunker in my garden Ha Ha

Tuesday, 24 June 2014 - 16:38
Post 908
brian, dubris
there is a ww2 german bunker complex on the cliffs,near the dover patrol area.a large one at that.

Tuesday, 24 June 2014 - 15:53
Post 907
PaulB, Dover
The structure looks too big to be those Colette...ermm I think, but I just don't know. It's a headscratcher so it is!

Will try and find out.
Tuesday, 24 June 2014 - 15:34
Post 906
ColetteB, Dover
Paul, could it be the World War11 bunkers in the background of your photo ?
Agree, fascinating photos from Ed there below and I just love them sailing boat pix MrB

Tuesday, 24 June 2014 - 11:55
Post 905
PaulB, Dover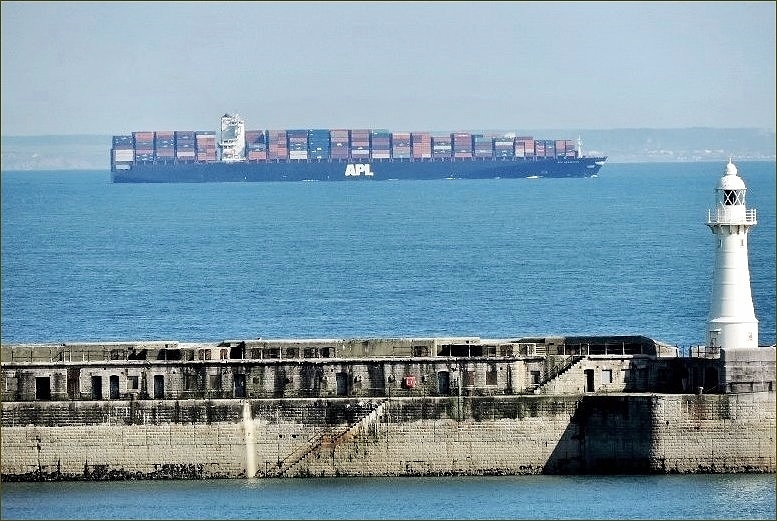 Another one of these monster APL ships making its way down the channel last evening. A few days ago we had APL Raffles, this one is the APL Gwangyang...bound for Suez. A huge ship of 350 metres long. What a load !
While taking pictures of the giant ship, I noticed this on the hillside beyond. Wonder what it is??...anybody know? could be a hospital or big factory or something. Looks to be just north of Boulogne..south of Wissant. Baffled. Cropped image below.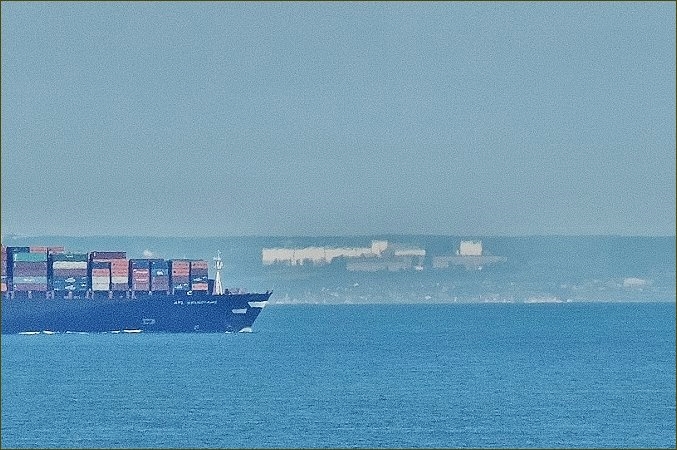 Tuesday, 24 June 2014 - 07:59
Post 904
JanT , Dover
Some lovely pictures how can anyone be critical of our seafront when you see pictures like that,and I'm sure there were plenty of ice creams sold yesterday.


Also some good pictures there from Ed shows how busy they are in the docks.
And yes Vic we do miss the jobs we enjoyed doing can't always say that these days.
Monday, 23 June 2014 - 17:33
Post 903
PaulB, Dover
Sunday was a blistering summers day..the seafront was all abuzz with swimmers and sailors and ice cream lovers and much more besides. It was as ever a great place to be. The kids in the sail boats made for spectacular viewing as ever for those doing a bit of easy dining, and there were very many. One or two were even doing a bit of wining as well..so I hear...the sea was blue and so was the sky, what more could anyone ask. Most of this post dedicated to the seasports guys...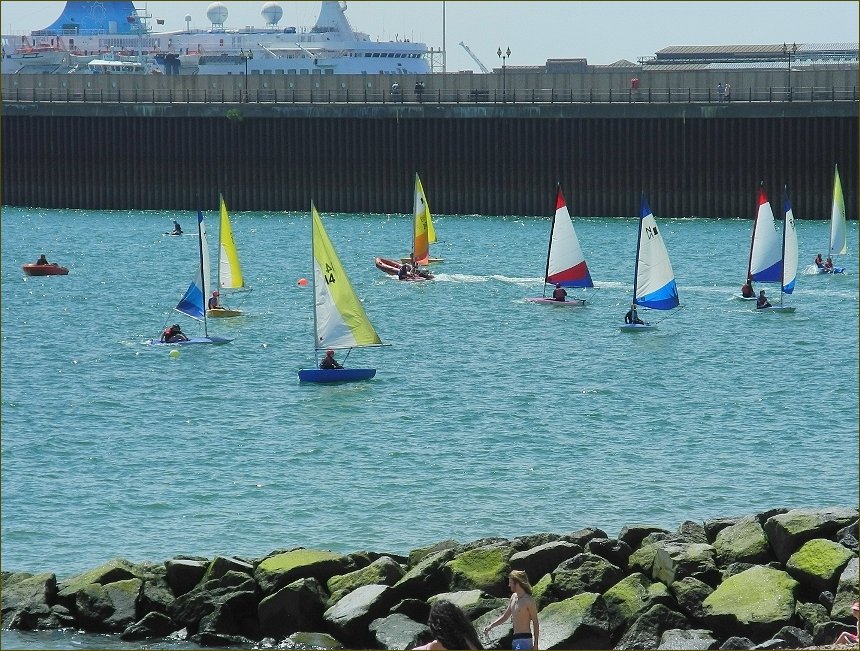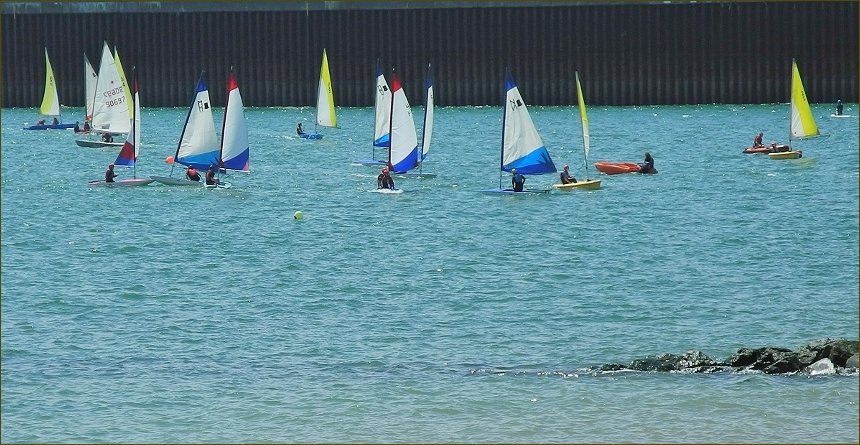 An added extra to those colourful sailboats.These wild seafront flowers are still looking good and offering spectacular colours of their own too, and still going strong.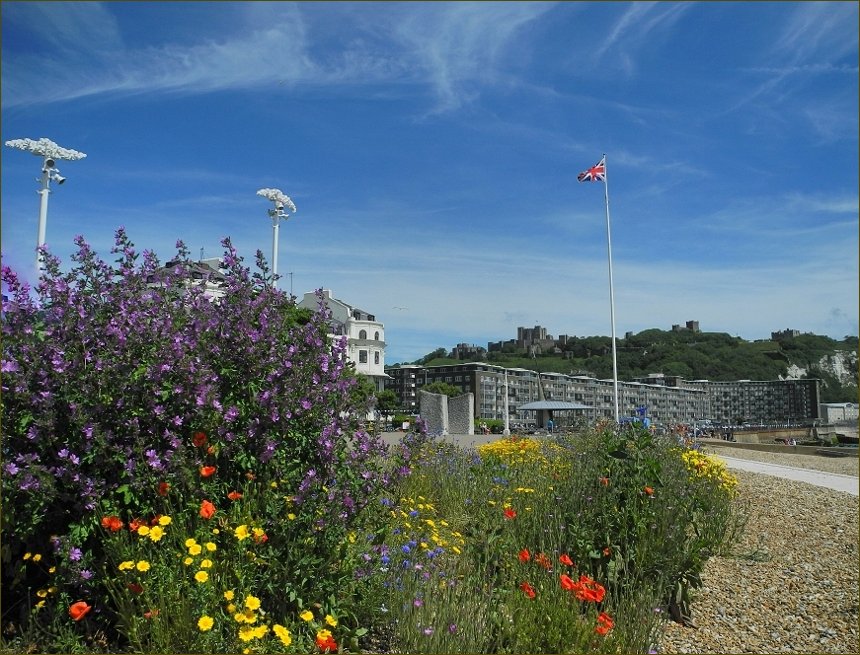 Brilliant post below Ed. Great pictures indeed..

right up close in the midst of all the action. Good to see the new developments taking shape. Saw the Pacific Reefer arriving myself, tried to get a picture but was shooting into the blinding light.
Always interesting stuff...and good to hear about your exploits down there too Vic.

Monday, 23 June 2014 - 15:28
Post 902
Vic Matcham, Dover
Just to add they are putting that new birth in over the top of one of the copper dams which was made up and welded by my mates and myself we done all the births along there bar the last one or maybe two which was done after I had packed up work

Monday, 23 June 2014 - 04:21
Post 901
vic matcham, Dover
Thanks for the good photos yes as you know that was my line of work and work I loved to do and still miss it now.

Monday, 23 June 2014 - 04:16
Post 900
Ed Connell, Dover
Multi-role vessel Avon helping to move the platform which is working on the pads on ED2, seen a couple of days ago. According to the Jenkins Marine website, "Avon is an extremely versatile 'multi-category' vessel. Offering shallow draft, deck crane, spud legs, and substantial deck space and load capacity , it is ideally suited to diving, construction, dredging support duties, salvage, and survey work." The fender installation cofferdam can be seen at top left of photo, sitting on the pier. Now back in the water working on the next fender.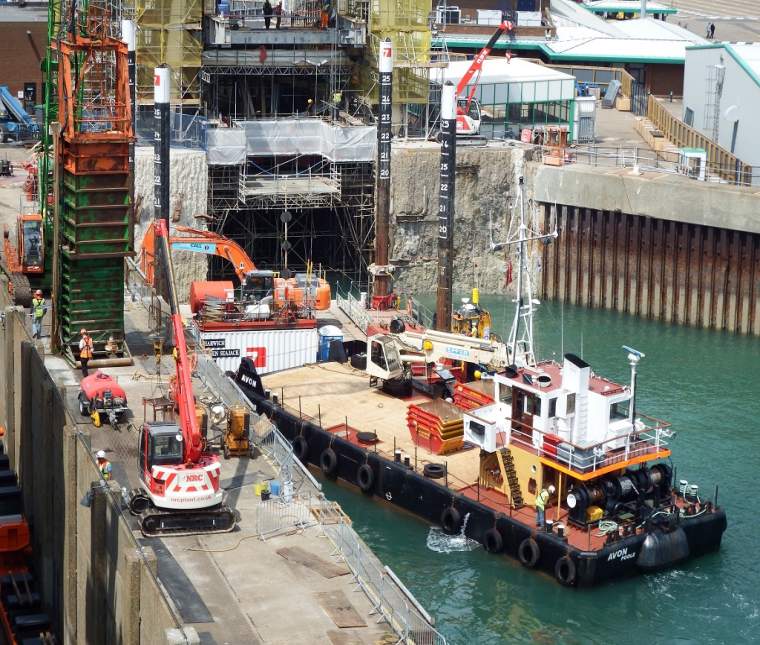 Avon together with workboat Dover Worker.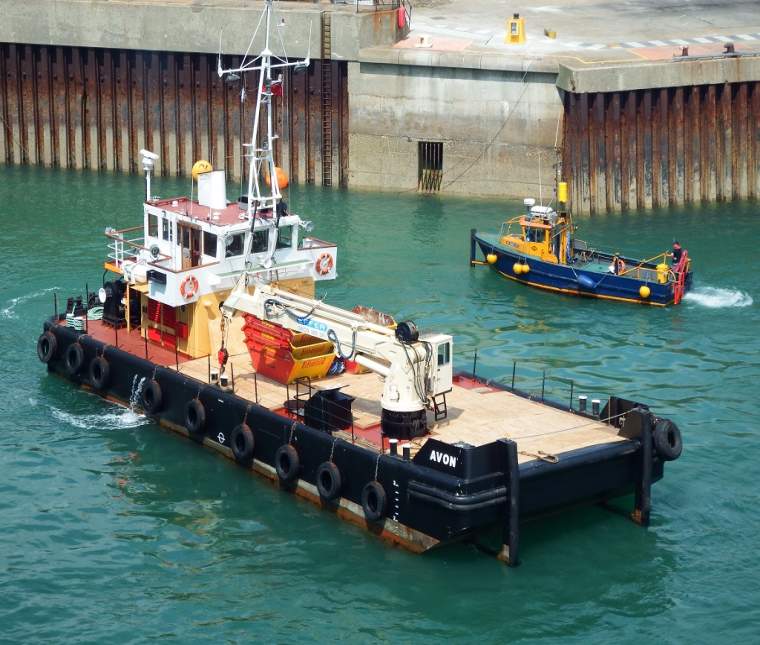 ED2 today with the platform moved to work on the other pad.
Cargoship Pacific Reefer at the Dover Cargo Terminal today.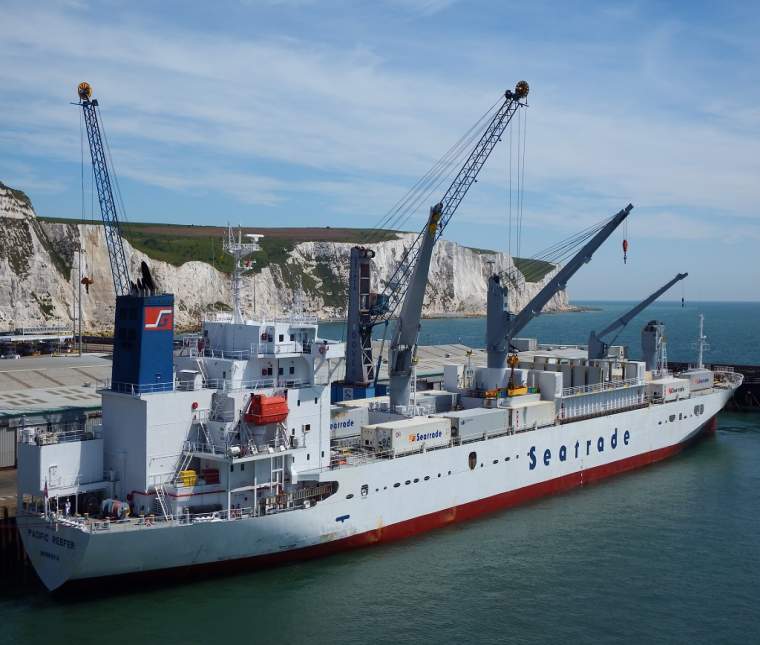 Sunday, 22 June 2014 - 23:22
Post 899
Andy MacLean, Old Wives Lees (Jazzandy@btinternet.com)
Good crowd coming on Dance to France next Saturday!

Join us! Sounds from the sixties through to the 90's on the disco. Great fun.

MV Spirit of Britain - 1830 sailing Saturday 28th. June.

Tickets still available - Phone 01227 732414

Sunday, 22 June 2014 - 09:28
Post 898
PaulB, Dover
The Ocean Princess pictured again just now...with less of that early morning yellow light as shown in the post below. The second ship Saga Pearl now also arriving as I write, more in the posts below. Its a glorious sunny day. A day for the seafront stroll for sure.
Sunday, 22 June 2014 - 07:38
Post 897
PaulB, Dover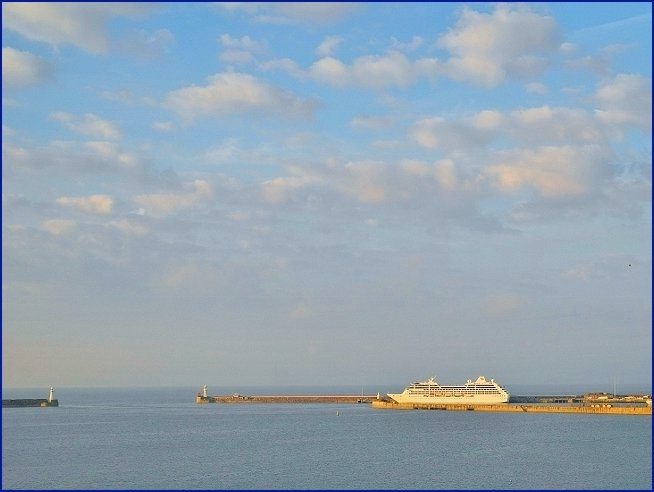 Thanks for the latest cruise liner info Colette. Arrivals are a tad thin for the moment but will soon pick up again. Having said that there are two scheduled today according to Colette's list. One already in as I write...the Ocean Princess. Must have arrived in the very wee small hours of the morning. That's her above pictured very very early, around 5.30am. You know what they say...the early bird catches the worm...a very early worm on the second longest day of the year.

Yesterday the Costa Rican Star arrived to deliver her cargo. Another early arrival..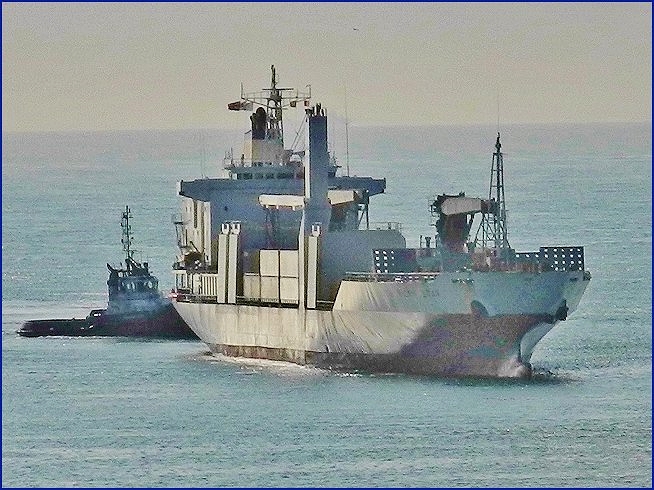 Hope you enjoyed the football Colette.
One of my neighbours went ultra big on England flags, banners, buntings, etc.. but oh dear! they have all come down already.

Sunday, 22 June 2014 - 06:52
Post 896
ColetteB, Dover
The Windquest shown above there is a looker for sure

With no cruise ships in since Tuesday last, tomorrow, as in post 784, the Saga Pearl II returns after her short cruise, to CT1, TR & the beautiful Ocean Princess returns to CT2, TR.
Then this week on Thursday 26th June, the Braemar returns to CT1, TR.
The next day, Friday 27th June, the Black Watch arrives at CT1 to debark.
The last cruise for June, the Ryndam, will cruise once again into Dover on Saturday June 27th at CT1, TR.
I will be back soon to list the first couple of weeks of the many cruises to Dover in July

And now I'm running late for the football, Byeeeee
Saturday, 21 June 2014 - 20:07
Post 895
ColetteB, Dover
Good to see the photos there MrB of the Calais lifeboat in action at the weekend.

We just happened to be in the right place at the right time to see the splendid rescue work by these great guys.
Also, terrific pic by Dover's RNLI Nicola Thomas, I remember that photo first time around. Is it really two years? How time flies!!!
Friday, 20 June 2014 - 19:52