Wednesday, 19 June 2019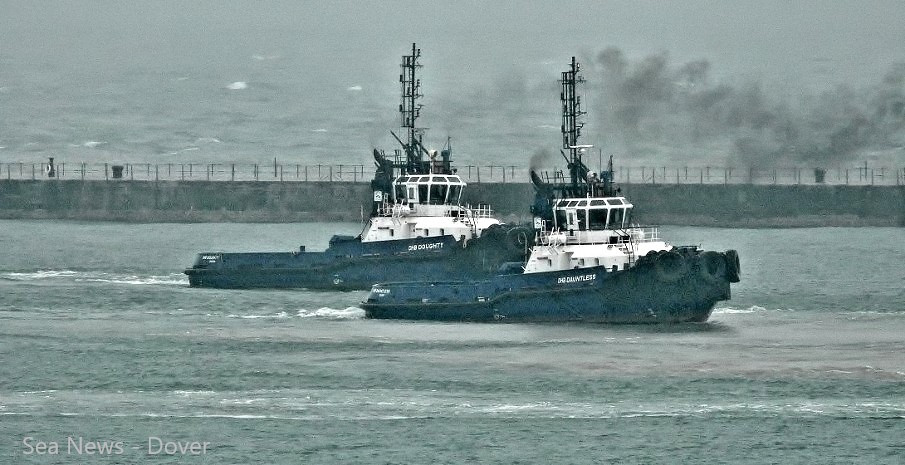 Just having sent Pacific Reefer on her way, the tugs turn back into the Summer (!!) gloom....

WWW.DOVERFORUM.COM/SEA-NEWS
Featuring all the ships that come and go and work at the Port of Dover ..
... with further coverage of the surrounding ports.
Sea News Dover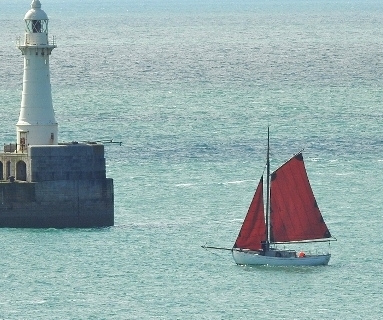 DFDS NEW SHIP for Channel see 6303
DFDS Europe's award winning Ferry Operator 6332
Port of Dover : Virgin Voyages 6289
Port of Dover: Brexit Resilience 6123

P&O Ferries: Alternative Euro Breaks 6298
P&O Ferries: Record Fundraising for Lifeboats see 6253
Port of Dover: Reducing Carbon Footprint 6332
Port of Dover: New Cargo Manager see 6205

Thames Estuary Forts 6250
SS Richard Montgomery at rest (WW II Supply Ship ) 6329
DFDS: ORCA 6179
Premier Inn completes see 6149 plus

Scroll down to see the Boudicca D-Day pictures in several posts.
Use our SEARCH ENGINE below to find all sorts on the SEA NEWS pages....
type in the topic and away you go, or if you have the post number as shown above, just type it in the box, more than - 6300 - nautical posts now.
Posts are welcome. just click 'Add Your Comment' below. Max of 5 pictures preferred although we can stretch that for special stories..
Sea News Editor Paul Boland - send info or pix to dover7@msn.com. Always welcome.
CRUISE CALLS:
https://www.doverport.co.uk/cruise/find-a-cruise/
UPDATE:
To show your pictures at their best..it could be worthwhile resizing before posting to
850
pixels wide.
All pictures on these pages are the copyright of the owners and must not be reproduced without permission.
Post 1020
PaulB, Dover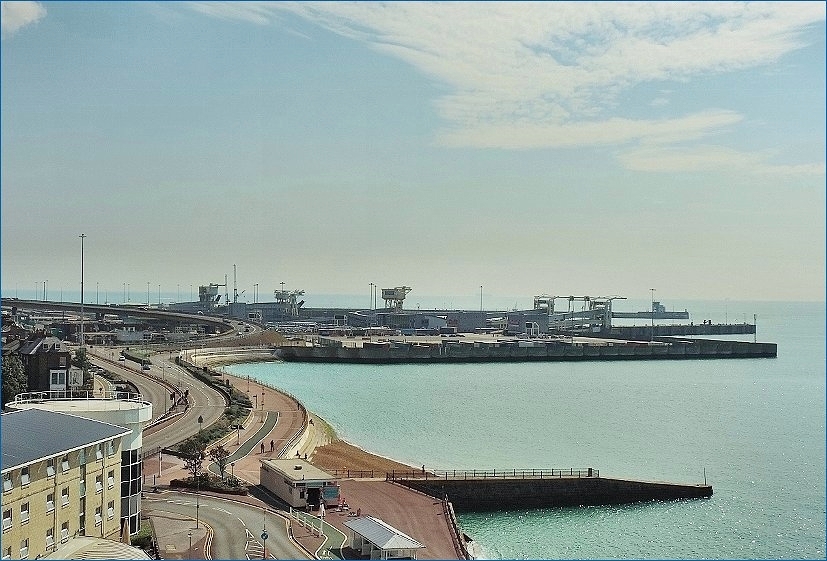 This was the unusual sight about one hour ago as I write, around 10.30am... yes an empty harbour. it is almost surreal, in the height of all the rabid activity at the moment we somehow found ourselves without a ferry in dock. Must have made an odd sight for the arriving long distant motorist who with much heat and sweat is treading his weary way to France. And speaking of France...according to Booking.com there isn't a hotel to be had in near France for love nor money at the moment. Perhaps the great British public are.. ermm.. out there celebrating the end of the recession!?
The last ferry leaving below forgot to switch the lights out..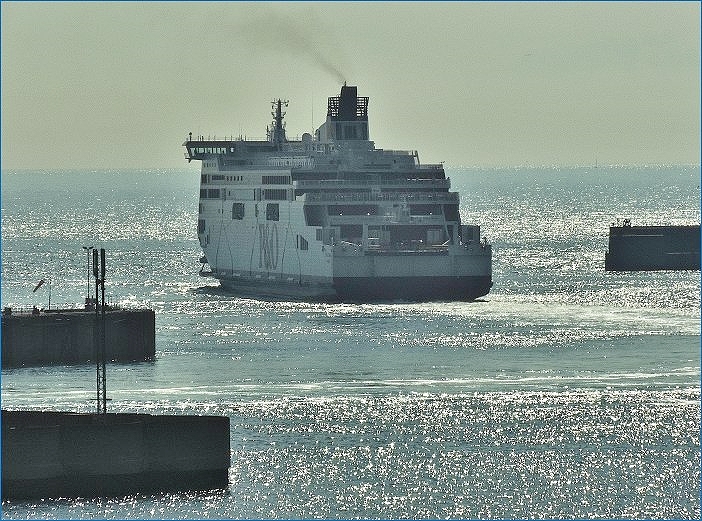 However...super normality is now fully restored. All packed with packed ferries again. Never known it to be so busy.
Thursday, 7 August 2014 - 11:46
Post 1019
PaulB, Dover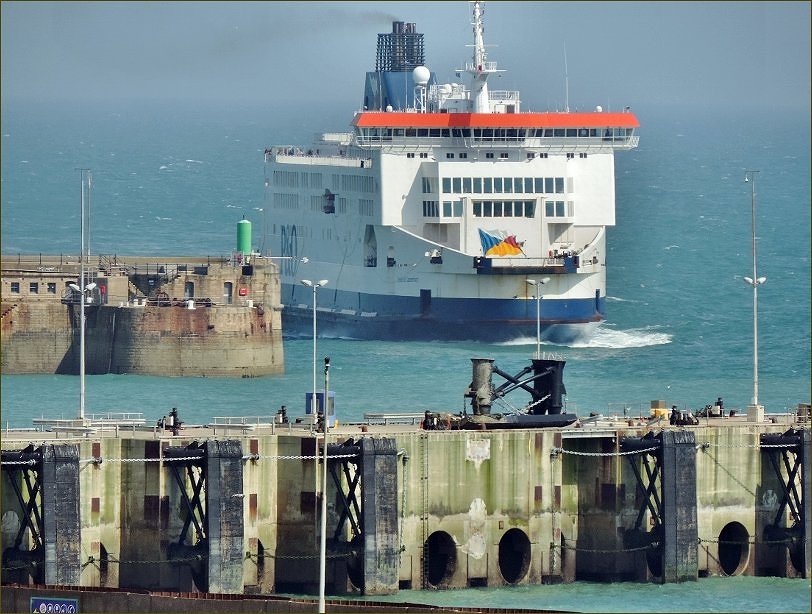 Another picture of the fender as mentioned in the earlier posts (946 in particular). This shows the severed section lying on the pier (ED9 or Dover 9) yesterday afternoon. Pier ED9 is back fully operational despite the loss of said fender. I initially thought they must have welded or fixed it back in place so that the pier could again be operational, but no they made it operational without doing so. Once again hard to give the scale but as mentioned before the fenders are large...that looks like a man sized booth to the left which gives an idea of scale. You can also see its previous location on the face of the pier below.
Oh dear an interesting if dangerous tale there below Vic. Sounds like a bit of a nautical nightmare. Glad you got out of that nasty situation okay.
Good to have you still with us today for sure..

Thursday, 7 August 2014 - 06:51
Post 1018
vic matcham, Dover
Some years ago I was called to a ship out of Ramsgate it was berthed the otherside,
They had holed just above the water line .
It was midnight when I went over the side on a rope ladder to weld it up.
I had a watchman on deck ,he went for a cup of tea, crew not seeing him thinking job done matcham back on deck so they sailed off with me hanging on over the side still .
I am lucky to live to tell the story .
They had to hold me back after I went after the watchman.

Thursday, 7 August 2014 - 06:13
Post 1017
vic matcham, Dover
Indeed Paul I love looking at the photos of the work being carried out and my kind of work to ,
As I said I do miss it all and if it had not been for my legs I would still be doing it.
I was asked only last week if I could do some welding down at the western end of the port but I had to say no but nice to be asked,

Wednesday, 6 August 2014 - 07:58
Post 1016
PaulB, Sea News, Dover.
DFDS Seaways named "Europe's Leading Ferry Operator" at World Travel Awards
________________________________________________________________
DFDS Seaways was named 'Europe's Leading Ferry Operator' at the European leg of the 2014 World Travel Awards in Athens, Greece (2 August 2014). It is the eighth consecutive year that the ferry company has been recognised for its outstanding service at the World Travel Awards.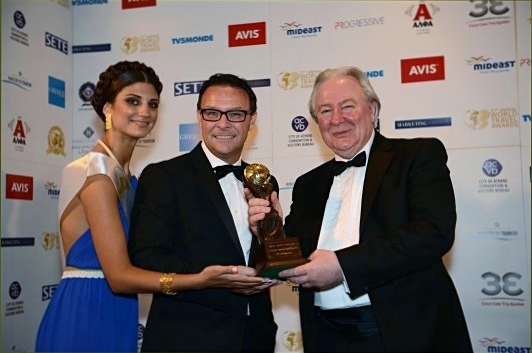 The 2014 World Travel Awards are recognised worldwide as the 'Oscars' of the travel industry and the premier industry awards programme, with the winners decided by votes from travel industry professionals and consumers. The cruise and passenger ferry firm fought off competition from rival firms Brittany Ferries, Color Line and P&O Ferries.
The award-winning ferry company puts its success down to its quality onboard offering with restaurants, bars, live entertainment, children's play areas and exceptional customer service. The operator also offers a comprehensive passenger route network, which incorporates six routes from the UK to Europe, via Dover-Dunkirk, Dover-Calais, Newhaven-Dieppe, Portsmouth-Le Havre, Newcastle-Amsterdam and Harwich-Esbjerg p roviding a gateway to Europe.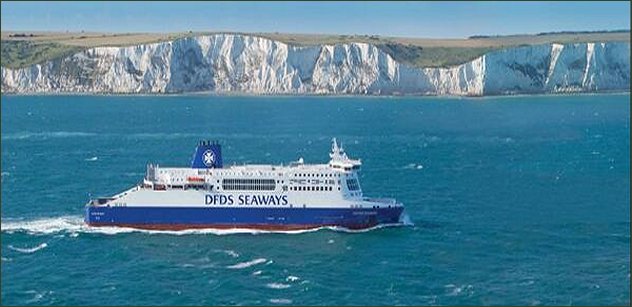 Max Foster, Passenger Director for DFDS Seaways, comments: "We're incredibly proud to be recognised by the World Travel Awards as Europe's Leading Ferry Operator. We strive to always deliver the very best service to our passengers and act as a gateway to Europe. This award recognises the commitment and hard work of our staff who all contribute to delivering an outstanding passenger service across the UK.
"We've also got our fingers crossed ahead of the Grand Final Gala Ceremony, to be held in Marrakech, Morocco on November 29, where we are nominated in the 'World's Leading Ferry Operator' category.
The World Travel Awards, founded in 1993, acknowledge, reward and celebrate excellence across all sectors of the global travel, tourism and hospitality industry. Ends.
Top picture shows Andrew Crowe Head of Sales at DFDS SEAWAYS receiving the Award.
* *
The AIDA Stella moving slowly into position upon its arrival early yesterday morning..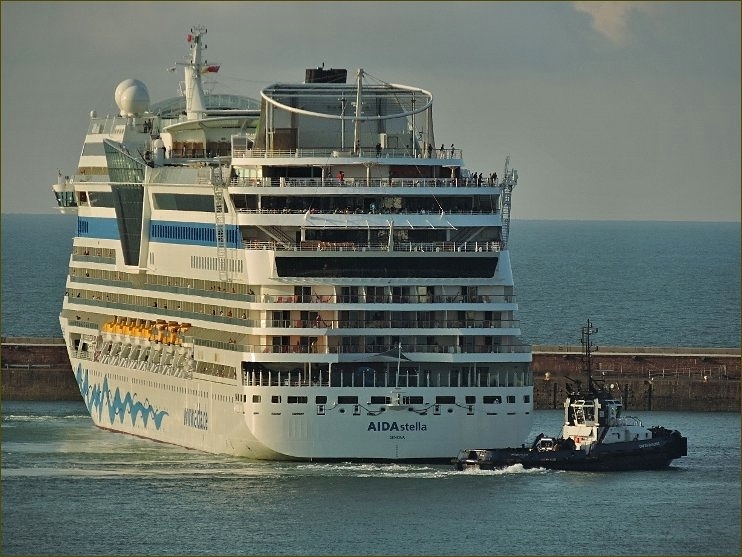 Wednesday, 6 August 2014 - 06:59
Post 1015
Howard McSweeney, Dover

Mike/Ray's photos have cleared up the confusion on the main forum "Spirit of Britain" thread.

Tuesday, 5 August 2014 - 20:02
Post 1014
PaulB, Dover
A great bit of info in the post below Mike, great stuff, now we are clear as to what happened. Thanks to Ray for the pictures. Excellent. The berth ED9 is now open again and fully functional but before it was I got the following pictures of all the activity yesterday afternoon and early evening...wasn't really sure what I was photographing at the time but went for it anyway. Here is a selection..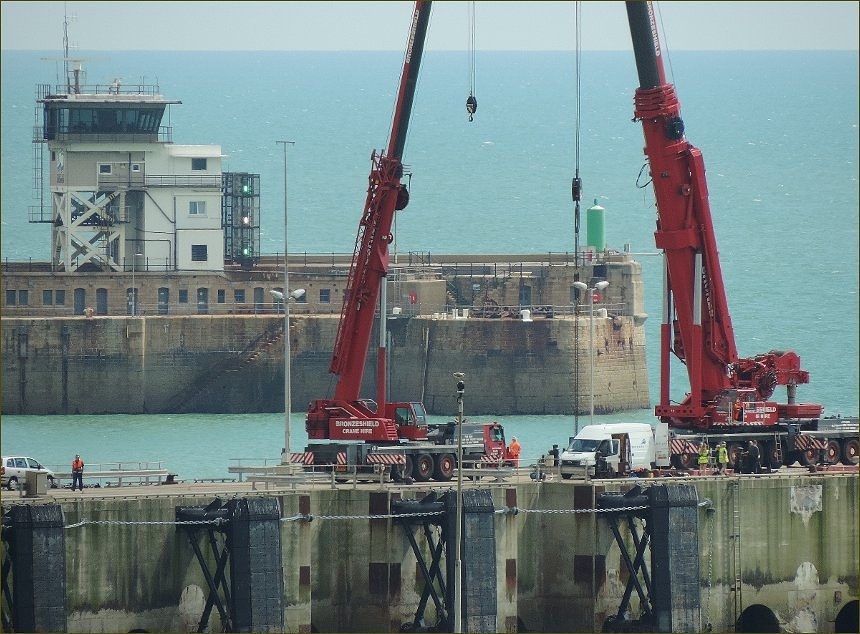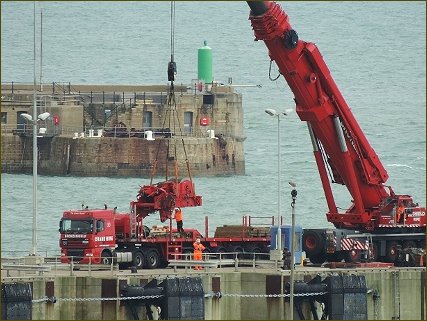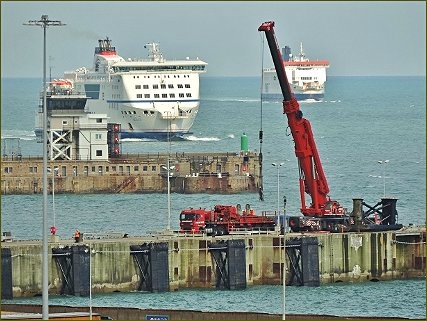 Those fenders are very large, almost larger than they look at first glance, but when you see them in relation to the cars/van/men on the pier it shows the scale. For an aerial map of the piers see Ed Connells post 815 now on Page 7.
Thanks Vic, I am sure you will be liking the engineering info and pictures currently showing.
AIDA Stella coming in...
Tuesday, 5 August 2014 - 06:16
Post 1013
Mike J., Dover
If you look at PaulB's photo of the arrival of the PACIFIC REEFER in post 944 you can see, above the two holes in the pier, that one of the vertical black rubber fenders is missing - it's location is marked by two square marks on the concrete & there are four more fenders to the right of it.
This is the site of the fender & its mounting bracket that fell into the dock after being struck by the SPIRIT OF BRITAIN.
I have just been sent a photo of the fender mounting bracket laying on the quayside after being recovered from the seabed.
Also one of the very neat repair to the stern of the BRITAIN - it looks like a giant steel Elastoplast !
Both photos © Ray Goodfellow.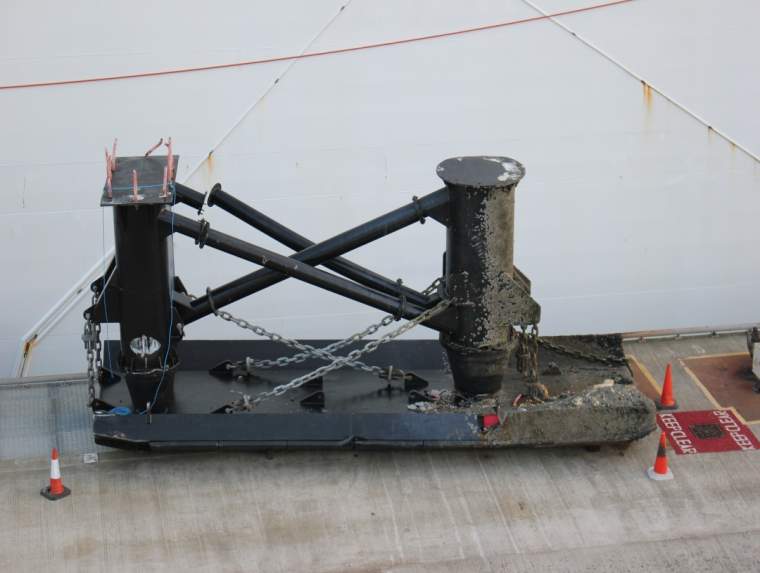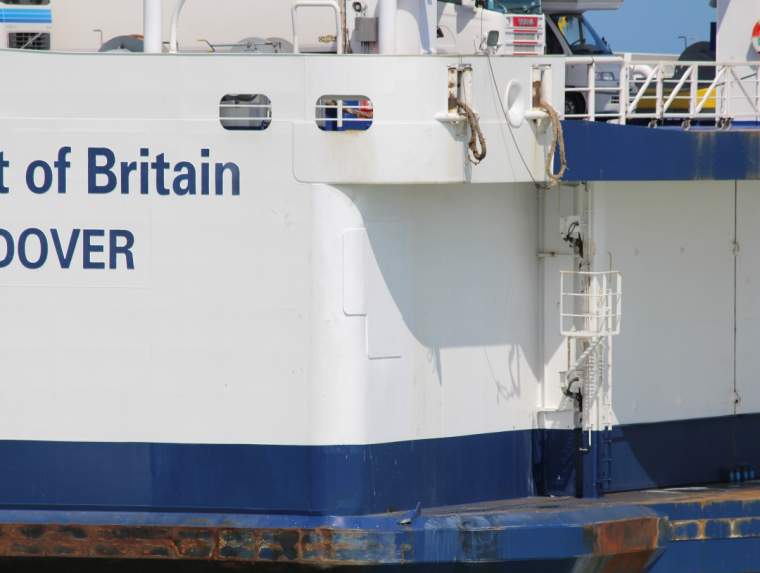 Monday, 4 August 2014 - 23:46
Post 1012
vic matcham, Dover

Thanks again some great photos of our world beating port working 24/7 never sleeps .

Monday, 4 August 2014 - 20:07
Post 1011
PaulB, Sea News, Dover.
It's easy to see that summer starts at the Port of Dover....

_____________________________________________
More than 250,000 passengers sailed to mainland Europe from the Port of Dover at the start of the summer holidays on Dover's luxury ferries.
Over 60,000 tourist vehicles (cars, campervans, coaches and motorcycles) travelled through the Port of Dover with 278,000 passengers (including freight), proving once again that summer begins at the Port of Dover. The Port of Dover summer getaway service continues to lead the way on the cross-Channel route with the Port taking over 55% of the tourist market during the key first holiday weekend since schools broke up.
Overall passenger numbers are 3.3% up year to date at Europe's busiest ferry port, having also recently seen a record number of freight vehicles depart through the Port earlier this month (9 July).
Shaun Pottage, Finance Director, Port of Dover, says: "Ferry passengers are experiencing a quality service, a dedicated team and what is really a mini cruise across the Channel to start their summer holidays. We are making great strides towards achieving our commitment to be the Best Port in the World for the benefit of our customers and community and the volumes of people choosing the Port of Dover illustrates this."
Figures are for week beginning Wed 23rd July – Wed 30th July.
Ends
* *
We saw the earlier report on the record increase in freight too..see 883..
and likewise with the cargo ships too, ever busier. Yesterday sunday was a very busy day. One ship out and the next one comes right on in..the Columbian Star out followed by the Pacific Reefer in. Keeping all in Port very active, including the busy busy tug crews.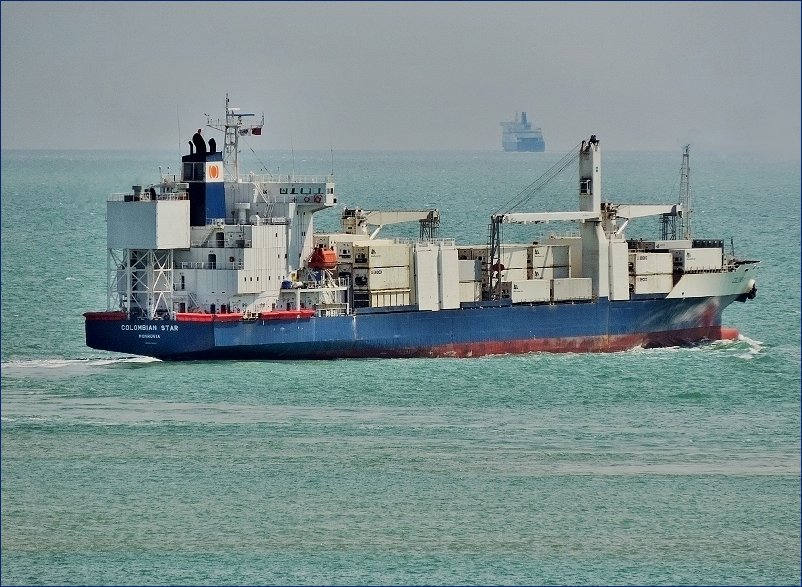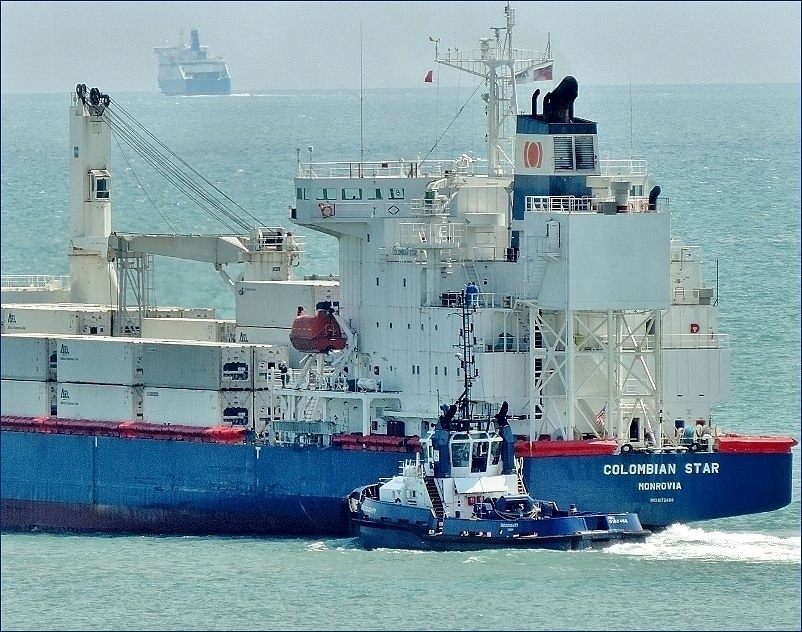 Columbian Star departing above, and the Pacific Reefer arriving below.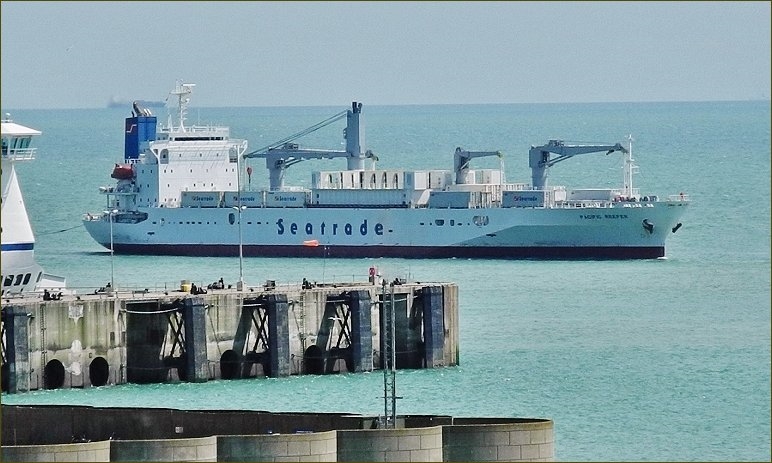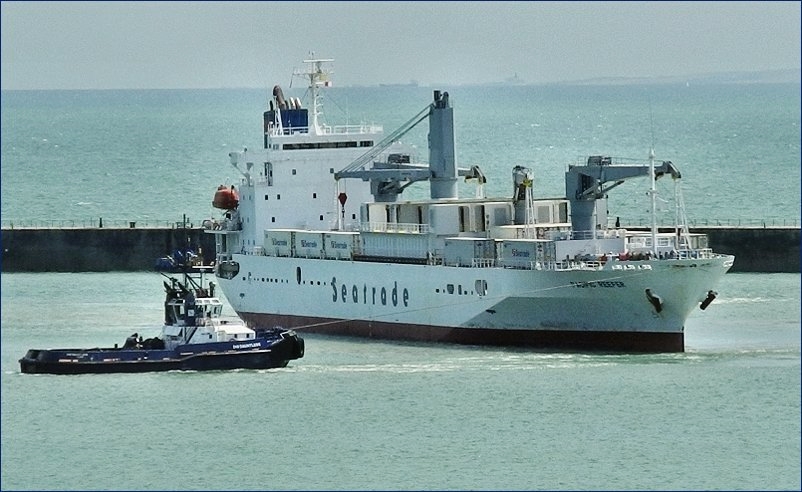 Yes the Spirit of Britain has left the Port. Reversing across the harbour at 10.10pm last night. It appears to be back in service.
Monday, 4 August 2014 - 07:13
Post 1010
brian, dover.
thanks paul,the spirit of brittain has now left the cruise terminal.

Monday, 4 August 2014 - 06:17
Post 1009
Mike J., Dover
Sunday evening - PRIDE OF KENT is back on the run but the SPIRIT OF BRITAIN remains on Cruise-1 after problems docking in No.9 berth on Saturday evening.
No.9 berth is out of action.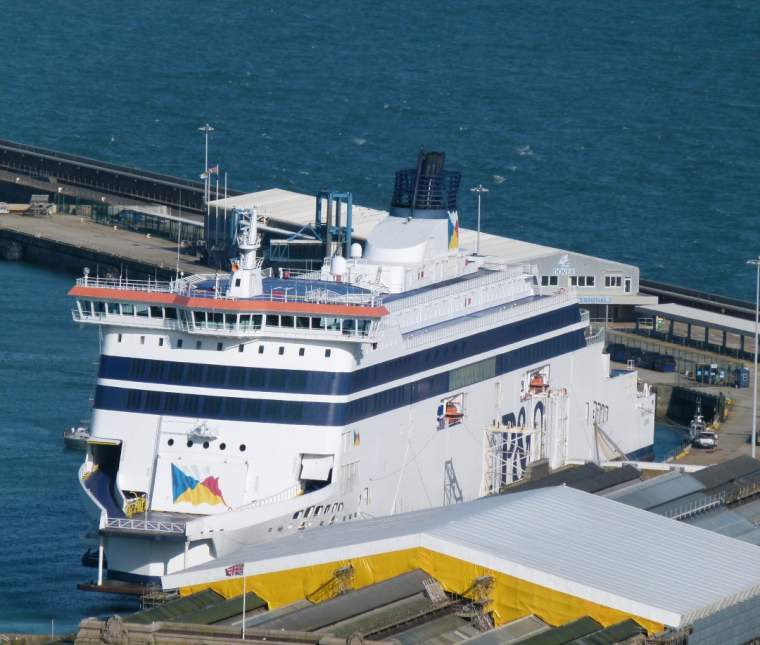 Sunday, 3 August 2014 - 20:20
Post 1008
PaulB, Dover
Oh dear! that's a bit nasty Brian. Well done finding that.
Looks like the ship will be laid up for a while. Good spot Mike that they were both out of action. Several P&O customers on twitter are disgruntled with the resultant delays on a hugely busy weekend, particularly as nobody is informing them of the situation on the ground. So the word is anyway.

Sunday, 3 August 2014 - 20:02
Post 1007
brian, dover.
https://fbcdn-sphotos-d-a.akamaihd.net/hphotos-ak-xpa1/v/t1.0-9/10475682_10152598010689787_3317472463820647453_n.jpg?oh=449be3e6fbe2c7c07caf5d6b6659b27a&oe=543E5529&__gda__=1414446655_d32a4872f8279a76e257816867a6c240
the secret hole that no one is supposed to know about.

Sunday, 3 August 2014 - 19:36
Post 1006
brian., dover
rumor has it the Spirit of Brittan has a hole at the stern end, hit something or other.

Sunday, 3 August 2014 - 16:38
Post 1005
Mike J., Dover
Ferries are occasionally taken out of service for short periods for maintenance or repairs but it is a little unusual to see two off service at the same time.
Early Sunday saw the PRIDE OF KENT & the SPIRIT OF BRITAIN 'on the wall'
But Saturday night is usually the quietest night of the week.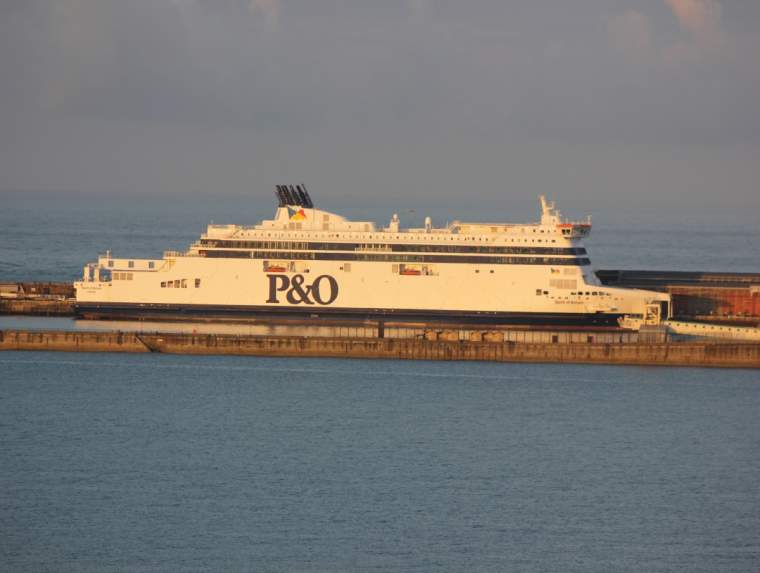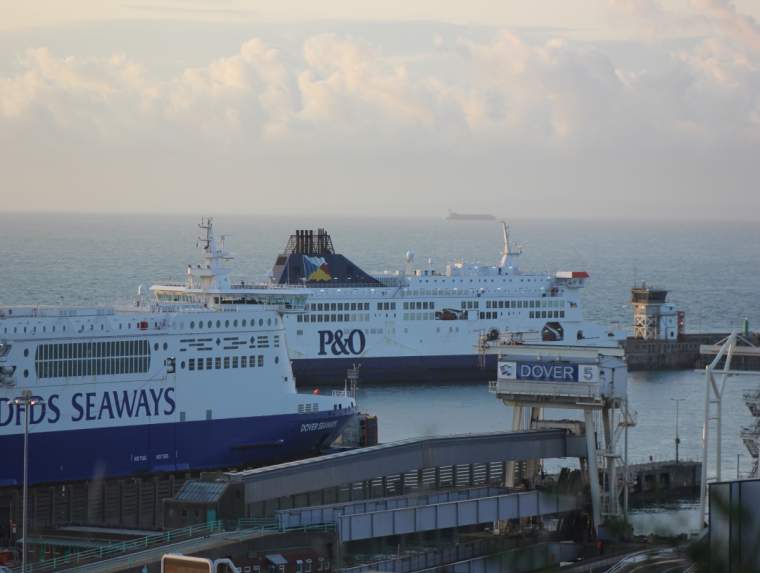 Sunday, 3 August 2014 - 06:52
Post 1004
PaulB, Dover
Here we have The Ryndam's arrival early Saturday morning...the ship was greeted by the sun rounding the headland in spectacular fashion and lighting the port and harbour with a dynamic and warm glow. A nice arrival for the passengers. Welcome to Dover.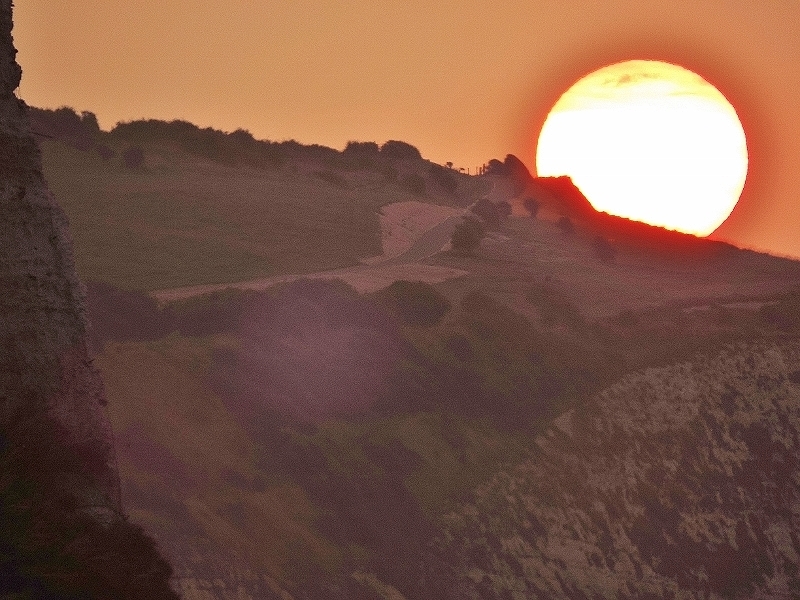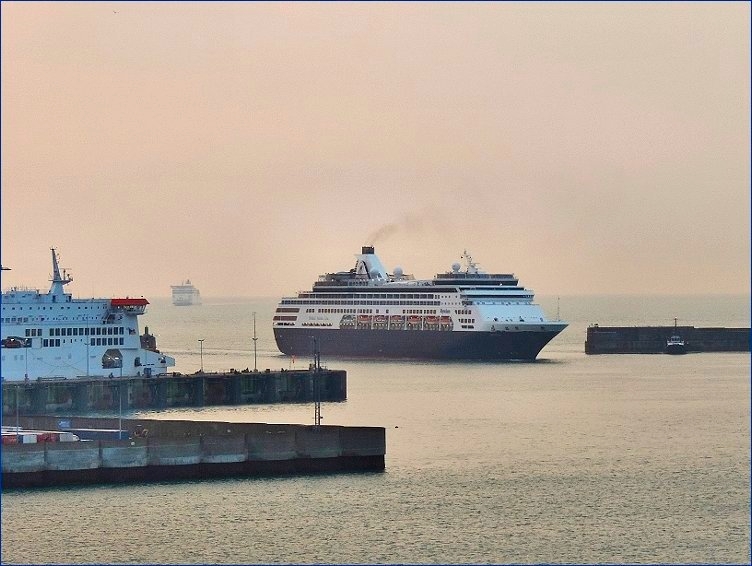 Saturday, 2 August 2014 - 11:58
Post 1003
PaulB, Sea News, Dover.
The following is a press release from Dover District Council...
***********************************************
AIR QUALITY MANAGEMENT AREA REVOKED
AT THE PORT OF DOVER
Dover District Council is lifting the Air Quality Management Area (AQMA) at the Eastern Docks relating to levels of sulphur dioxide (SO2) from shipping at the Port of Dover - the revocation of the AQMA takes effect from Friday, (1 August).
The AQMA at the Eastern Docks was set up in June 2002 after air quality monitoring showed levels of SO2 higher than Government objectives. The AQMA was declared following public consultation.
Since 2002, and following changes in EU Directives, sulphur emissions from ferries using the Port of Dover have reduced. Data collected by DDC shows that recorded SO2 levels have not been over Government objectives since 2006. This was reported to DEFRA, and the Council stopped monitoring sulphur dioxide levels at the docks in January 2013. Further reductions in sulphur content in fuels are proposed to be implemented from 1 January 2015.
For more information on air quality monitoring in Dover District, please see the DDC website at www.dover.gov.uk/Environment/Environmental-Health/Home.aspx or see the Kent Air website at www.kentair.org.uk
Ends
* *
Is the above a good move ??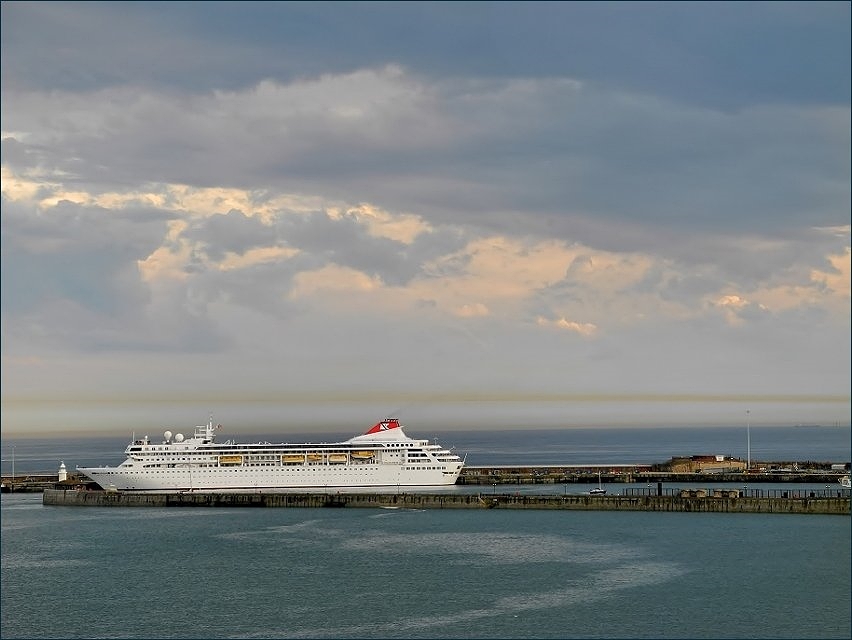 Line of pollution.
Ah yes we remember the Azamara Journey..
Saturday, 2 August 2014 - 06:08
Post 1002
jason , parker (offico@cruisebriatin .org)
I wouid like to visit you name azamara journey dover

Friday, 1 August 2014 - 16:52
Post 1001
PaulB, Dover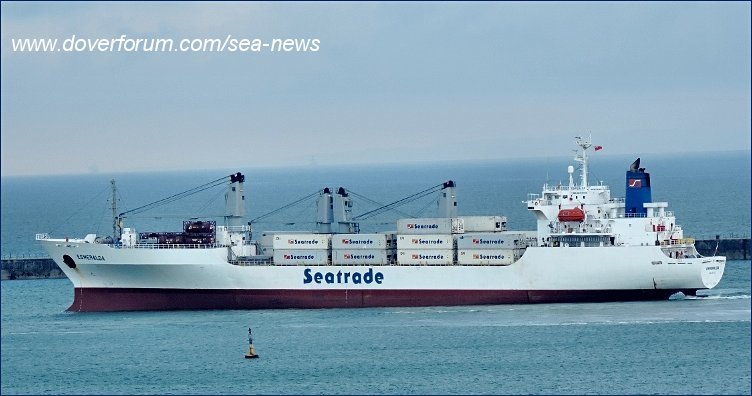 Our old friend the Esmeralda (the bells..the bells...) is in a spot of bother. It seems vast quantities of cocaine (40 kilos) with a street value of millions of pounds has been found amongst the bananas by the UK Border Agency. The Border Agency has been very vigilant locally in recent times and they would regard this as a massive coup, a massive success. The ship had come from South America with its crop of bananas and was heading via Dover to Rotterdam. The Netherlands are known for a somewhat more relaxed approach to drugs but not so here in the UK and the drugs were of course seized.
The seizure took place Wednesday night we understand.
Friday, 1 August 2014 - 16:07