Monday, 28 September 2020
www.doverforum.com/sea-news
The Shape of Things to Come....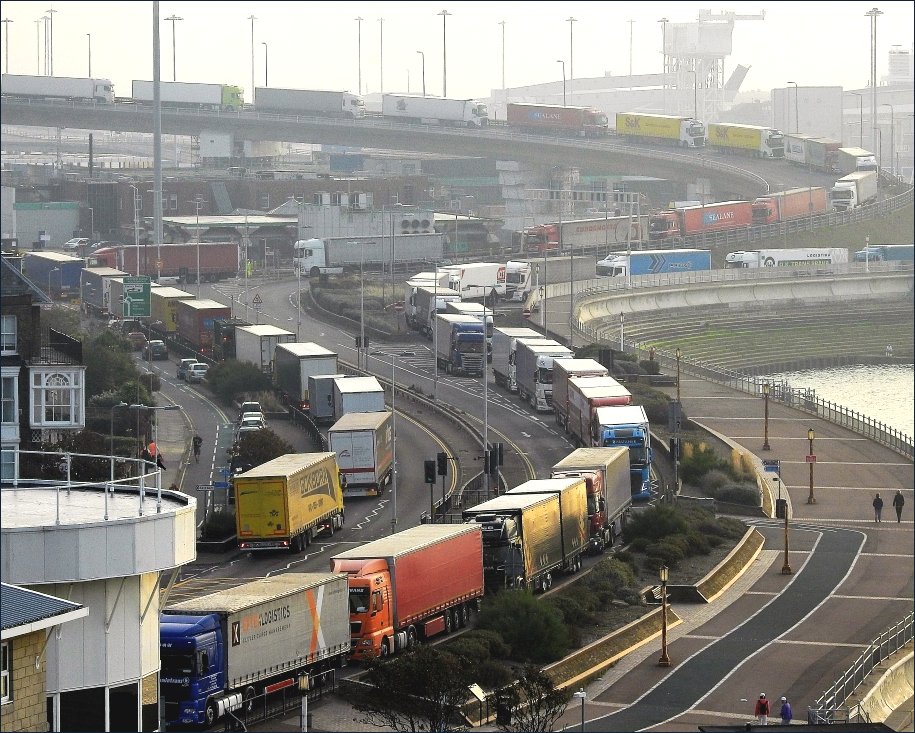 Trucks to the left of us...trucks to the right of us...into the Valley of Dover drove the 7,000 ..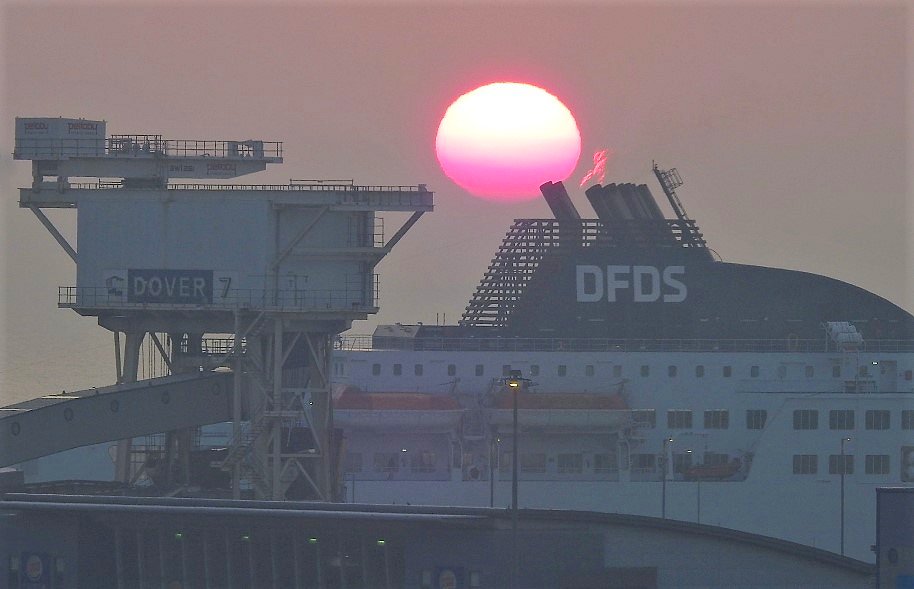 DFDS and the Dover7 sunrise.

WWW.DOVERFORUM.COM/SEA-NEWS
Sea Pictures from DOVER ....
Use our SEARCH ENGINE below to find all sorts on the SEA NEWS pages....type in the topic and away you go,
or if you have the post number, just type it in the Search Box, more than
- 7000 -
nautical posts now.
Paul Boland - dover7@msn.com
Sea News Dover:
All pictures on these pages are the copyright of the owners and must not be reproduced without permission.
Post 1396
Sea News, Dover
THE RUSSIANS ARE COMING ... or ermm in this case...going..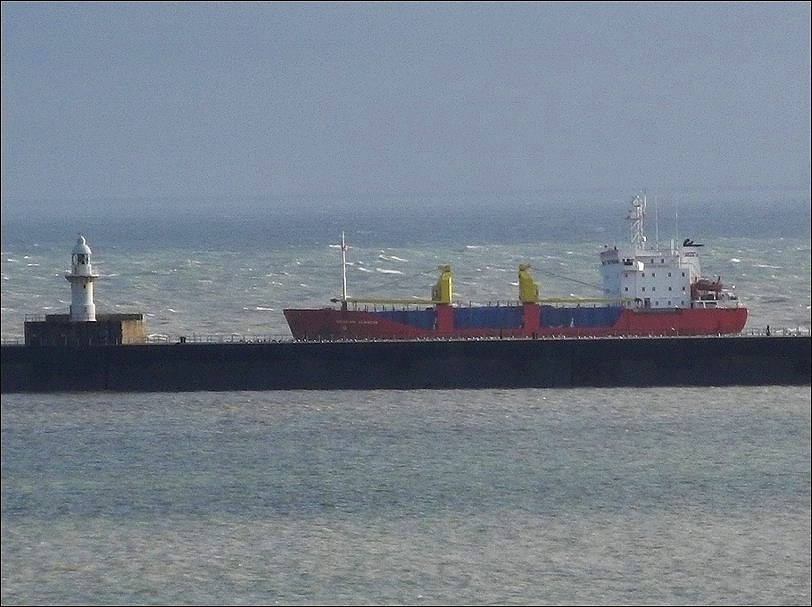 Yes indeed this Russian Cargo ship the Mekhanik Semakov took shelter with us here for the past day or so. The weather in the channel was abysmal so she turned up here in Dover, presumably to get away from the terribly rough seas which approached Storm force 10 at times. She paused here with us while on her way to St Malo and she recommenced her journey yesterday afternoon...heading northwards initially before turning south for St Malo.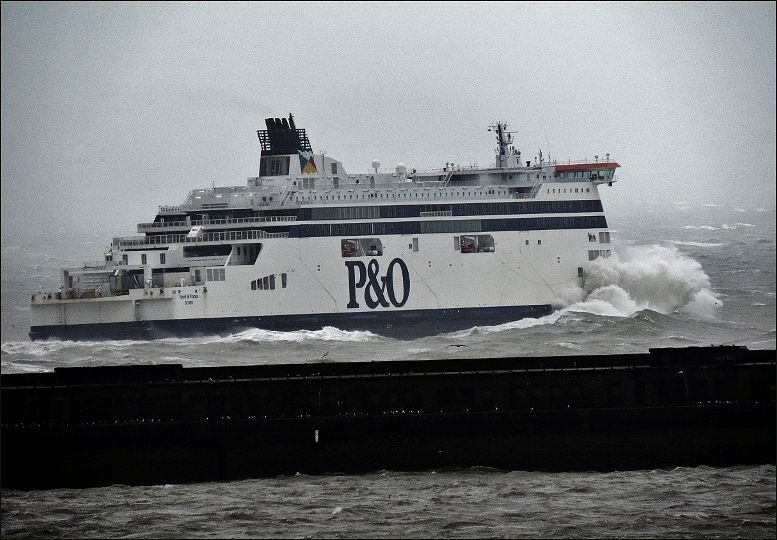 The picture above shows how the ferries struggled. This is the Spirit of France tackling those same rough seas. There were the inevitable delays of course and as a result we had the usual backlog of freight vehicles stretching back miles and miles.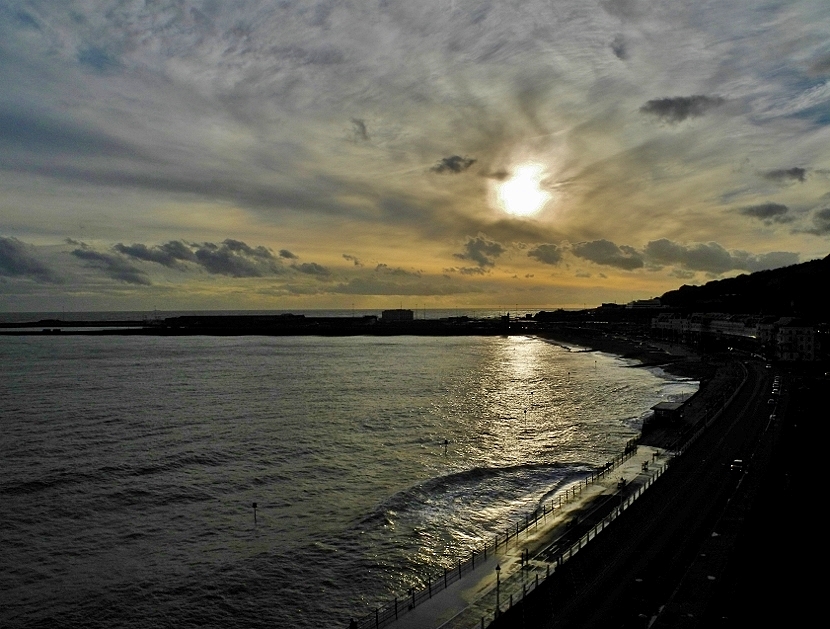 A winters day - a calm interlude.
Wednesday, 14 January 2015 - 08:25
Post 1395
ColetteB, Dover
Brian

Hear! Hear! Howard, incredible valour indeed

Tuesday, 13 January 2015 - 16:26
Post 1394
Howard McSweeney, Dover
I very nearly put my name down to volunteer for RNLI some years back,
II must have been drunk or suffering from some temporary insanity.

Those photos below show their incredible valour.

Monday, 12 January 2015 - 20:01
Post 1393
brian, disgruntald dovorin.
Colette completely agree with your post..

Monday, 12 January 2015 - 19:12
Post 1392
ColetteB, Dover
I just had to say what Superb photos of the Dover Lifeboat on New Year's Day shot from the small craft by Deputy Coxswain Jon Miell. I was down there myself on the day & watched the lifeboat going through its training in extremely rough conditions, those guys do a great job for sure.
It was good news to read that the Port of Dover had a 'Best Year Ever'

Then follows the depressing news about MFL which is a real downer. There is nothing good about this except a reduction of competition, choice & just more local traffic chaos which is already causing a major headache. Lets hope here is a good solution to this saga.
Monday, 12 January 2015 - 17:36
Post 1391
Sea News, Dover
It is a rough ol day today monday...but yesterday in brighter calmer conditions, although the sea was still fairly rough as you can see, we had the arrival of the Nederland Reefer...pictures are long range looking across the Docks as she approached. The Nederland Reefer appears to be one of our regulars now and very welcome she is too. She has already departed once again, as ever a quick turnaround.....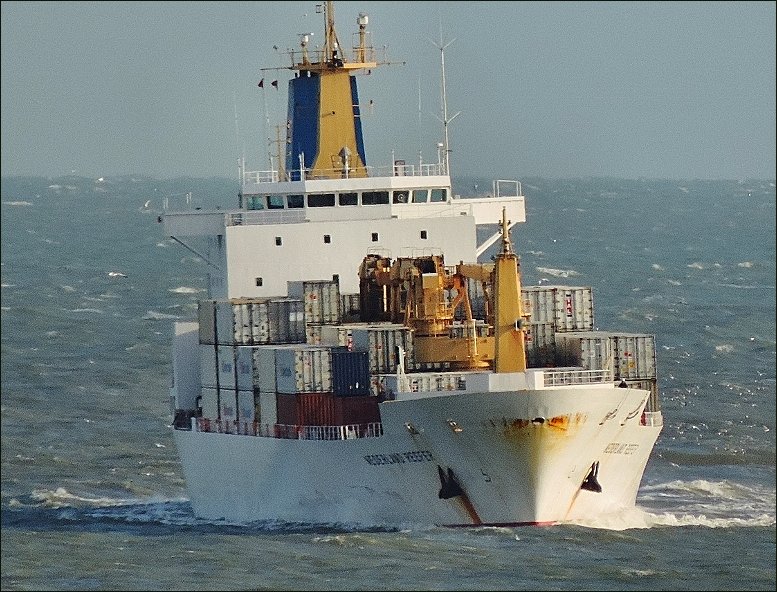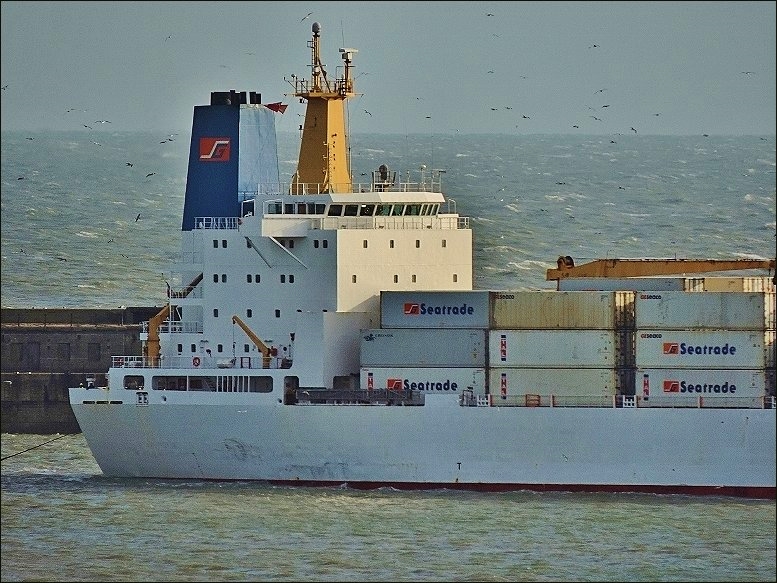 Thanks once again to Jon Miell for the thick of the action pictures of the Lifeboat below..
Monday, 12 January 2015 - 08:19
Post 1390
Sea News, Dover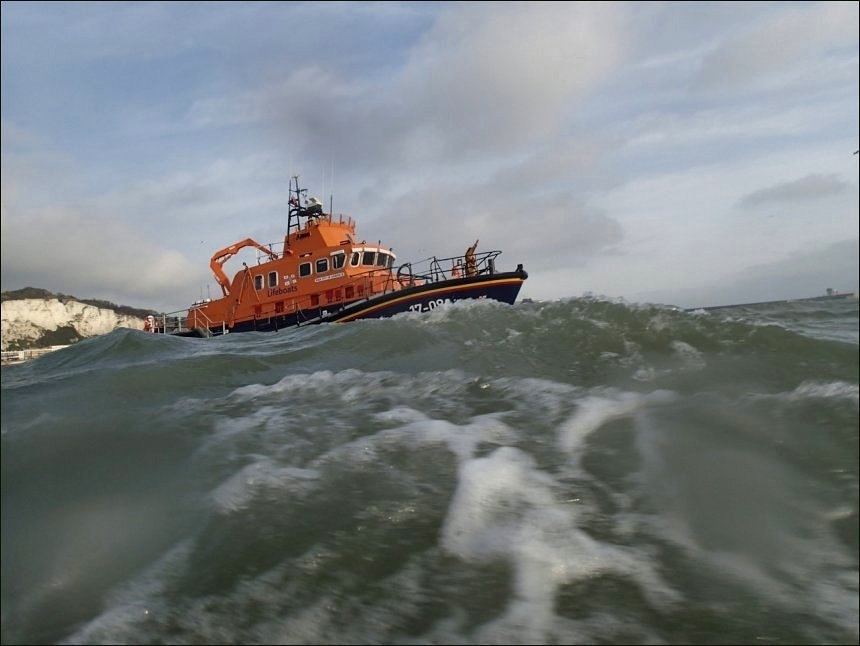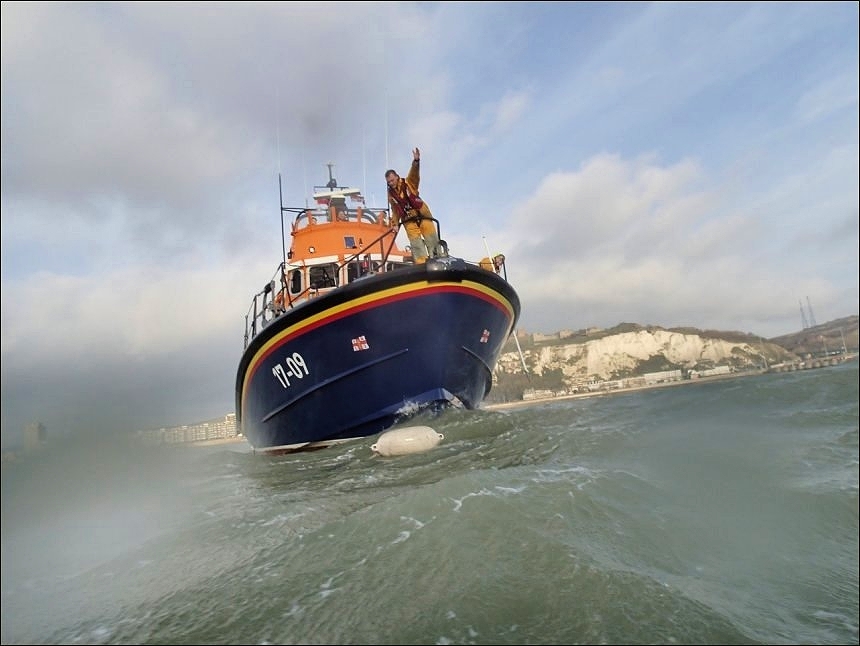 You will remember that on New Years Day, several posts back.. actually number 1295, we got some pictures of the Lifeboat in high speed action in the blustery conditions. So blustery that it was hard to keep the camera steady in order to get a picture or two. But here we are with two excellent shots from right in the thick of the action, also taken at the same time on New Years Day. The pictures here were taken by Deputy Coxswain Jon Miell and really show what it was like on the water in the rough conditions.
In the top picture of the earlier post (1295) to the right hand side you can see the rib having left the 'mothership'. Jon was clearly in the small craft when he got the pictures...it must have been difficult for sure. A very welcome addition they make. Many thanks to the guys at the Lifeboat and to Jon Miell in particular.
Sunday, 11 January 2015 - 07:17
Post 1389
Sea News, Dover
ROUGH TIMES FOR MYFERRYLINK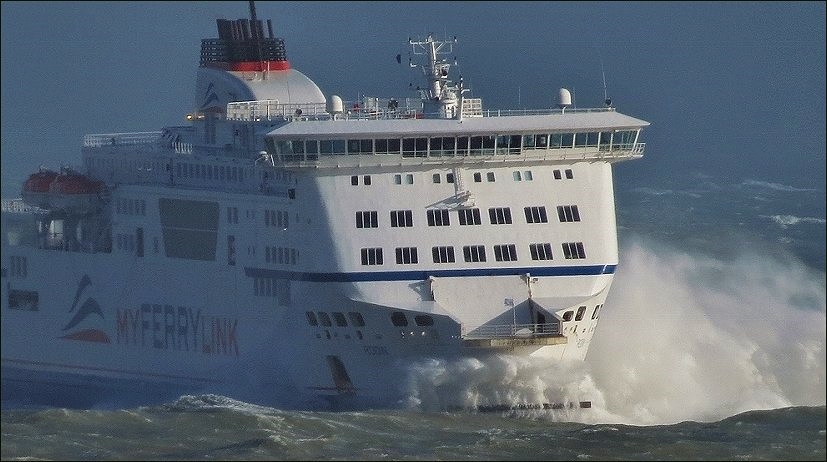 PRESS RELEASE EUROTUNNEL
9 January 2015
MyFerryLink prohibited from operating in Dover:
Groupe Eurotunnel seeks buyer for its ferry business
___________________________________________
Groupe Eurotunnel acquired the assets of the defunct company, SeaFrance, in June 2012 following an open and public process.
Groupe Eurotunnel subcontracted the operation of the ferries Rodin, Berlioz and Nord-Pas-de-Calais to an independent company, the SCOP SeaFrance.
Operations began on 20 August 2012 and in 2014, MyFerryLink, the maritime business owned by the Group achieved its objectives with close to 400,000 trucks and 350,000 cars transported.
The Competition Appeal Tribunal (CAT) recognized the validity of the case put forward by the Group and, independently, by the SCOP but decided that these were not sufficient to overturn again the decision taken by the Competition and Markets Authority (CMA), published on 18 September. This decision is illogical. It reduces competition across the short straits and it is contrary to the interests of free trade. The CAT is forcing Groupe Eurotunnel to withdraw from this activity.
Groupe Eurotunnel is proud to have created a competitive and respected cross-Channel ferry brand in just two and a half years and with no support whatsoever. Groupe Eurotunnel congratulates the SCOP, its management and staff for their professionalism and the quality of their service.
In view of the requirement to cease operations within six months, which has been confirmed, and to realise the value of the work achieved Groupe Eurotunnel will now seek a buyer for MyFerryLink.
Jacques Gounon, Chairman and Chief Executive Officer of Groupe Eurotunnel stated:
"MyFerryLink is an operating and commercial success. We are proud to have succeeded where so many others have failed. Given the position of the British authorities, the future of MyFerryLink will now be determined outside the Group".
Ends
* *
I must admit Brian it is a hard decision to understand. The Port of Dover has just had its best year ever, certainly in terms of freight, and this was achieved with all three carriers in place and working well. The three carriers offer volume and choice to the traveller, something I thought would be a blessing...just think of the local traffic levels with only two carriers in place! It reminds you of that old phrase...'if it aint broke don't fix it!!' However DFDS and P&O may not see things quite the same way. PaulB.
Saturday, 10 January 2015 - 06:47
Post 1388
brian, dover
another disgusting display of bully boy tactics from uk government and rival ferry companys.

Friday, 9 January 2015 - 19:43
Post 1387
Sea News, Dover

LATEST NEWS...Eurotunnel's MyFerryLink has lost an appeal against a decision that its service should be barred from operating between Dover and Calais.
The company was told it must quit the Cross-Channel ferry market following a ruling by the Competition Appeal Tribunal announced today January 9. It has been operating the service since 2012.

* *

9th January 2015


Port of Dover response to MyFerryLink ruling
____________________________________


Today's decision by the Competition Appeal Tribunal will be carefully examined whilst the Port works to maintain an effective ferry operation for its customers and seeks to minimise negative impacts for the community of Dover.

Tim Waggott, Chief Executive of the Port of Dover said:

"Our immediate thoughts are with those who are directly affected by this decision. The ruling comes at a time when Europe's busiest ferry port has just achieved record freight volumes and so our priority is to ensure that our customers continue to be provided with a great level of service and choice. We will also work tirelessly on delivering our ongoing major investment plans to provide extra capacity and significant new job opportunities for local people.

We will continue to consult regularly with all of our major ferry customers, and community groups, in the days and weeks ahead as we plan our way forward to future success."

ENDS




Friday, 9 January 2015 - 15:03
Post 1386
Barry W-S, Dover
I've been told that if the containers from the Globe were laid end to end, it would reach over 72 miles long, Wowser!
Friday, 9 January 2015 - 14:32
Post 1385
Sea News, Dover
Pay less when you travel with the MyFerryLink Carnet frequent traveller scheme
Dover-Calais ferry operator offers regular travellers affordable and reliable crossings
Plan ahead for travel throughout the year with the MyFerryLink Carnet and make the most of the fantastic savings with the Dover-Calais ferry operator. As well as providing, huge potential reductions on fares, the frequent traveller scheme offers customers flexibility on sailing times, great value, fixed price travel starting from just £34 per crossing for a car and up to nine passengers (including fuel surcharge) when buying 24 single tickets – a potential saving of hundreds of pounds.
Prices for 18 single tickets are £36 per crossing, 10 single tickets are £38 per crossing and six single tickets are £40 per crossing (all including fuel surcharge).
What's more, Carnet customers also have the option of arriving at the port without pre-booking and are guaranteed a sailing on one of the next two departures (excluding peak dates). One or more tickets can also be allocated to a friend or family member, depending on the number of tickets purchased.
The Carnet is valid for a year from the first originally booked departure date. A supplement applies for peak holiday dates and for motorhomes. For more details, visit www.myferrylink.com
MyFerryLink operates up to 16 daily crossings on the Dover-Calais route. Fares for a car and up to nine passengers start from £45 each way any duration, and from £29 for a 24 hour return.
To find the best fares, visit www.myferrylink.com or call 0844 2482 100
Ends
The World's biggest ship is currently visiting the UK. Yours truly snapped Richard Westcott showing us the monster on the BBC News. PB.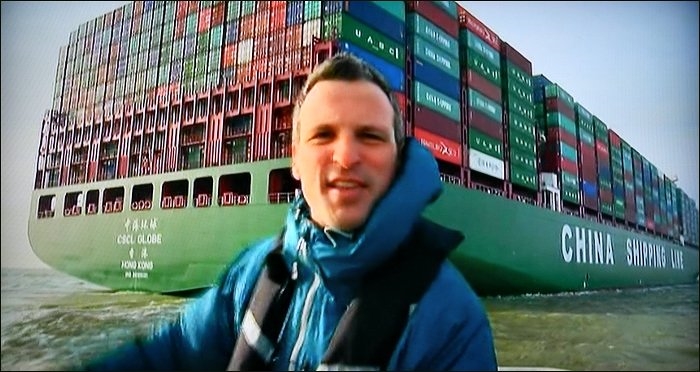 The Globe is more than 400m (1,312ft) long, the equivalent of eight Olympic-size swimming pools. It is 56.8m (186ft) wide and 73m (240ft) high, its gross tonnage is 186,000 - the equivalent of 14,500 London buses, according to the Port of Felixstowe, where it arrived on Wednesday. So there you have it. I believe it carries 19,000 containers at any one time.....wowser!
Friday, 9 January 2015 - 07:14
Post 1384
Sea News, Dover

08 January 2015


Dover Harbour Board seeks further modernising powers
_____________________________________________

Dover Harbour Board have today advertised a Harbour Revision Order (HRO) seeking further modernising powers.

It will forever embed the power for the Board to appoint two community directors, which in turn will strengthen the links between the Port and its community as envisaged in the Ministerial statement made in April 2014. These directors will bring special knowledge or experience of the position of the Port within the local community and local economy.

The HRO also puts the Port's consultative mechanisms on a statutory basis and, in line with the Companies Act 2006, provides for meetings to take place by electronic means.

The Port is a hugely important part of the local economy, ranking first as the largest ferry port in the EU. The powers sought are considered necessary to enable Dover Harbour Board to work with the community at the beginning of what will be a significant period of regeneration for the Port and its town.

Currently the Board consists of a chairman and 4 other members appointed by the Secretary of State, the chief executive officer and a further executive officer with the Board having discretion to appoint a further member. The HRO would retain the power of the Secretary of State to appoint the chairman with the other members of the Board ("directors") being appointed by the Board.

On 9 April 2014 the Shipping and Ports Minister, Stephen Hammond MP said:

"I believe Dover needs an enduring and meaningful consultative relationship with its port. This can be achieved by a legal commitment to consult interested parties, as has been done successfully at other major trust ports. The port and community forum and port user group are in their early days but these groups, among others which have been seen to work well at major trust ports, could be vehicles for delivering this legal commitment.

But we need to do more to deliver a significant and enduring relationship between town and port.

So as well as the legal commitment I have agreed with the board that an important form of permanent community involvement is seats in the boardroom. Therefore additional, community non-executive directors should be appointed to the board, as has been done at other successful trust ports.

The future board will consist of the chairman, existing non-executive specialist directors, executive directors, and now these community non-executive directors."


ENDS

Thursday, 8 January 2015 - 14:59
Post 1383
Sea News, Dover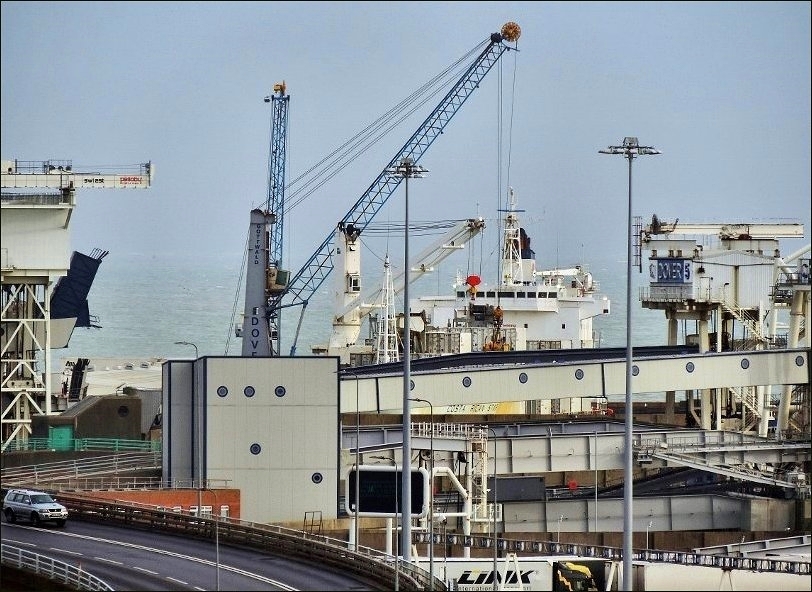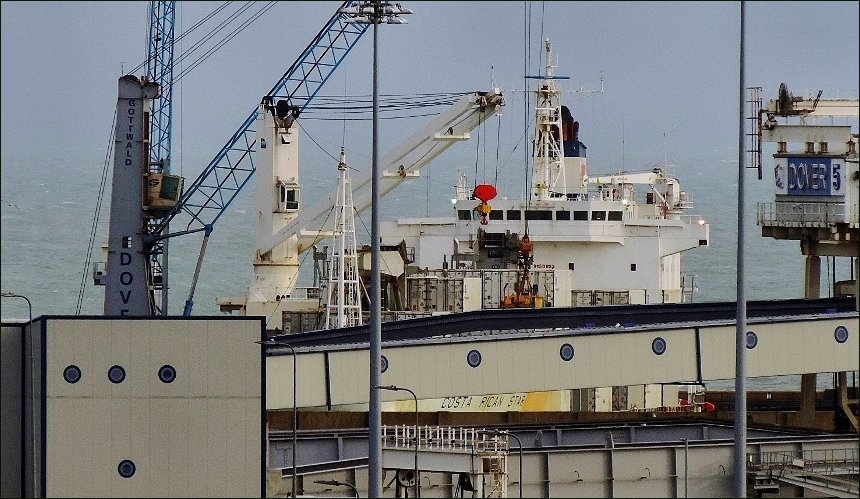 I was able to get this picture yesterday across the rooftops of our old friend the Costa Rican Star offloading. The second picture is a close crop of the first. Because the days are very very short for photographs now, it is nigh-on an impossibility to capture the cargo ships coming and going unless very lucky. They come and go in the dark. But there we are...such is life ! But better days ahead
We must enjoy that great news we carried yesterday, see the post below, about the fabulous increase in freight traffic here at the Port of Dover. It is worth reminding ourselves that this trade is with the EU and we dont want to do anything as a nation that diminishes it, lessens it substantially, or damages it.
PB.
Thursday, 8 January 2015 - 07:23
Post 1382
Sea News, Dover
RECORD BREAKING PORT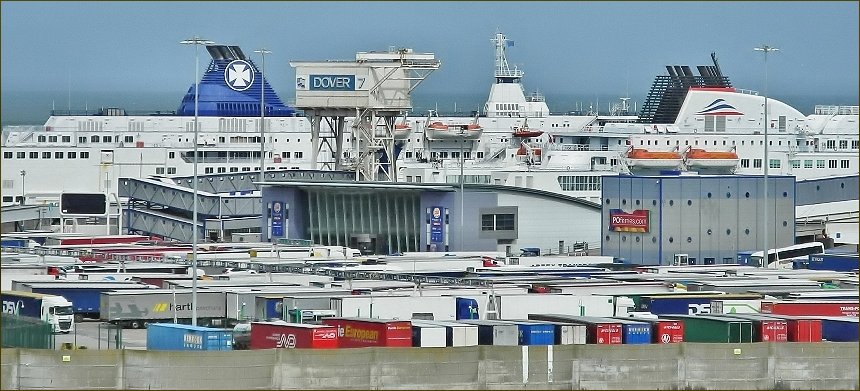 Port of Dover celebrates record-breaking freight boom

________________________________________________
The Port of Dover has just recorded its busiest ever year for freight with 2.42 million freight vehicles handled in 2014. That is a phenomenal growth story of 9.7% compared with the previous year and is 2.5% higher than the previous record of 2.36 million set in 2007.
The most recent forecasted figures for UK growth were 3.0% over the previous 12 months and yet the Port of Dover has recorded more than three times that figure in a similar period. This will hearten all the political parties in the UK knowing the UK ports are playing a vital part in this growth.
Europe's busiest ferry port is seen as a barometer of the UK economy, particularly through the freight vehicle volumes that arrive by road from across the UK and mainland Europe to deliver the goods on which we all rely.
Political parties this week begin to set out their economic credentials ahead of May's General Election, but the Port of Dover can already demonstrate its ability to support a growing economy.
Tim Waggott, Chief Executive, Port of Dover, said:
"If you want to see how the UK economy is doing, come and see what is happening at the Port of Dover. We are smashing records whilst rebuilding parts of the Port in order to provide new infrastructure that will support further anticipated growth in the years to come. In effectively handling such volumes of UK trade, the Port is establishing itself as a national economic success story."
ENDS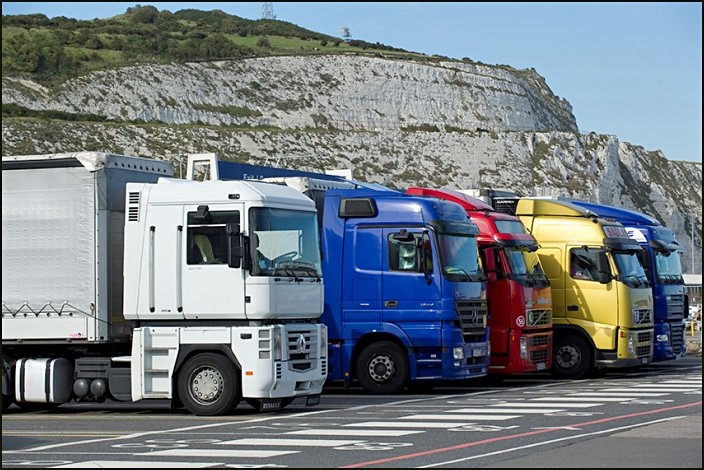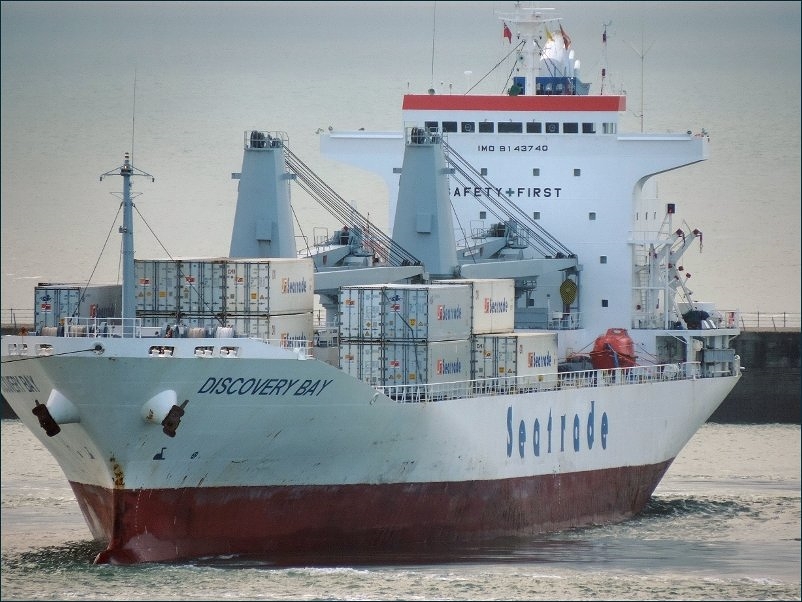 Wednesday, 7 January 2015 - 08:22
Post 1381
vic matcham, dover
Great photo just look at the size of the tanker passing her looks very small to the size of that monster

Tuesday, 6 January 2015 - 17:53
Post 1380
Mike J., Dover
A most unusual ship will be passing Dover in a few days, bound for Rotterdam on her maiden voyage from the builders yard in Korea.
The PIETER SCHELTE is the biggest catamaran in the world, 1253ft long & 380ft wide & one of her tasks will be the the removal of decommissioned oil rigs & similar structures.
She will have cranes & other equipment installed in Rotterdam.
Plenty more about her on the internet.
Tuesday midday she was crossing the Bay of Biscay & will show up on Marine Traffic AIS soon.
ETA off Rotterdam is thought to be 1300 on Friday.
Well worth keeping an eye out for this huge vessel, although you really need to be in an aircraft to appreciate her most unusual design.
Or darting across her two bows in a ferry . . . .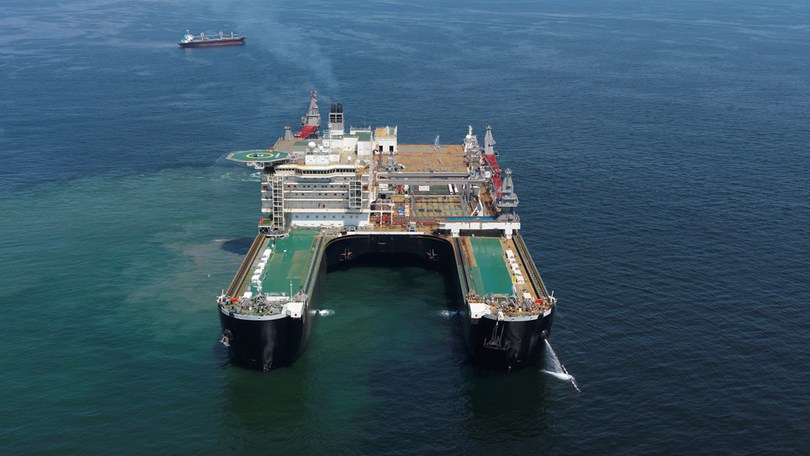 Photo from BBC News
Tuesday, 6 January 2015 - 13:26
Post 1379
Sea News, Dover
Yikes!!


Tuesday, 6 January 2015 - 09:01
Post 1378
vic matcham, dover
Paul I was told your new R.R. IS ONE OF THE NEW CARS ON IT.

Tuesday, 6 January 2015 - 07:37
Post 1377
Sea News, Dover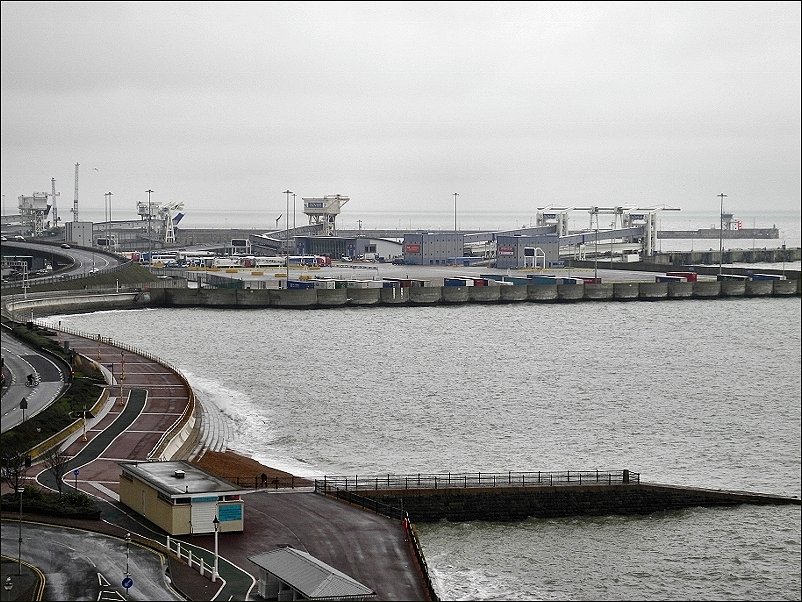 Yesterday monday was the first official day back at work for the vast majority of the population, but one glance at the picture above and you would clasp your head in horror and assume nobody had turned up. This was the Port at about 12.15 yesterday with nary a ship to be seen, nor was one approaching. The last P&O had just 'left the building' as it were and so an empty tranquillity descended over all. However its a false impression so nobody need be concerned. The Port of Dover has just had its best year ever in freight traffic and we will have the full press release tomorrow when we sort out some pictures to go with it.
We were all immensely sad to hear of the seagoing tragedies over the weekend, particularly with the loss of life off Scotland. And closer to home just along the coast at Southampton we had that massive vehicle carrier run aground. We see those huge vessels going up and down the channel regularly so the thoughts of anything untoward happening to any one of them fills a person with dread. The puzzle for the expert investigators is to find out why the ship began to list initially before being purposely run aground. The following two pictures were snapped off the television and show the Hoegh Osaka aground in the Solent with Duncan Kennedy of the BBC doing his report. The final picture at the bottom shows one of those aforementioned channel travelling monsters passing by fairly recently...this is the vehicle carrier Tongala. An impressive beast for sure.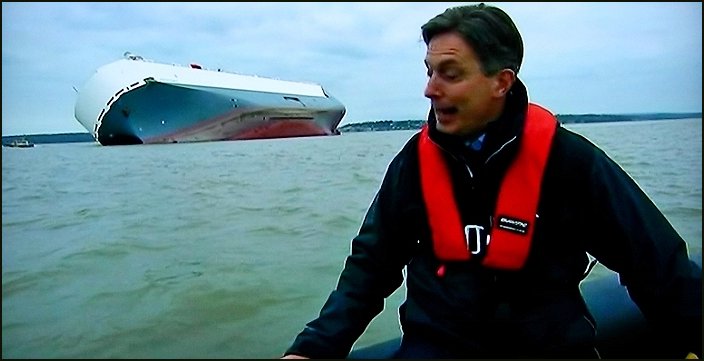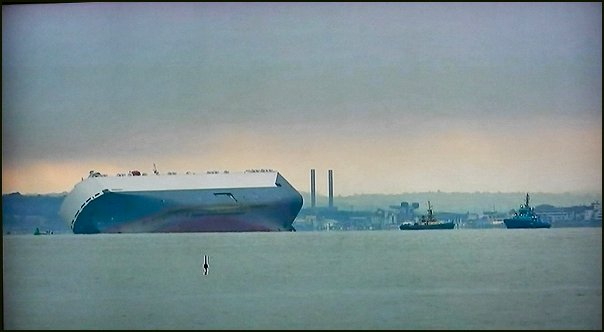 Tuesday, 6 January 2015 - 06:26