Monday, 10 August 2020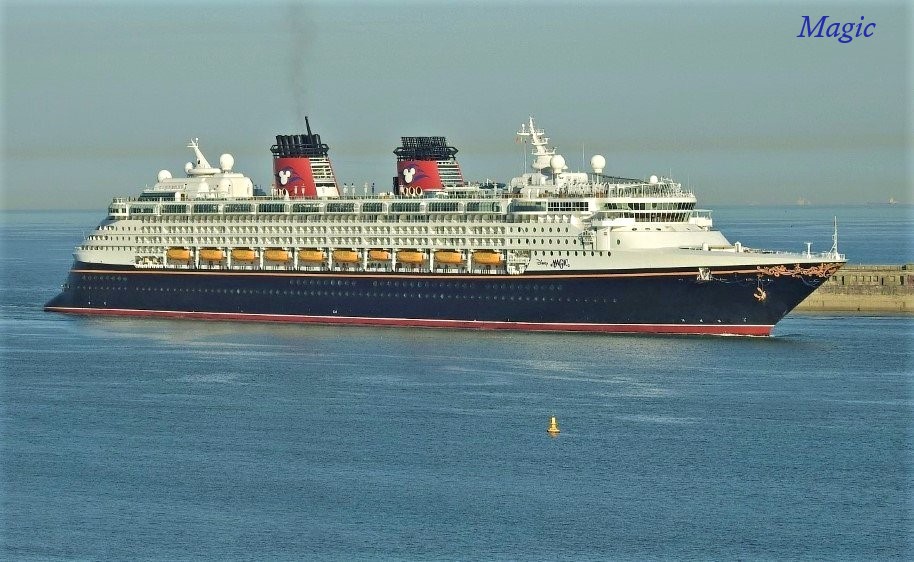 The Disney Magic entering the Port of Dover once again after a brief channel run....

WWW.DOVERFORUM.COM/SEA-NEWS
Sea Pictures from DOVER ....
Just to let everyone know...we have essentially closed Sea News.
Times have changed and these changes havent been good to us.
We will leave it open for research purposes ...if anyone wants to check anything etc etc
Other than that its all over.
A huge thanks to everyone who contributed over the 7 years.

Paul Boland - dover7@msn.com.
.
Use our SEARCH ENGINE below to find all sorts on the SEA NEWS pages....type in the topic and away you go,
or if you have the post number, just type it in the Search Box, more than
- 7000 -
nautical posts now.
Sea News Dover:
All pictures on these pages are the copyright of the owners and must not be reproduced without permission.
Post 1436
brian., fed up dovorian.
back as far as capel paul.

Saturday, 31 January 2015 - 09:53
Post 1435
Mike J., Dover

I forgot to add a comment about Paul's comment about 'ARKLOW' named ships - Arklow Shipping, an Irish/Dutch outfit operate a fleet of about 45 'bulkers' - mostly coasters but a few larger deepsea ships.

They are usually immaculate & about 30 of them are listed on their website -


www.asl.ie/fleet/


Saturday, 31 January 2015 - 08:03
Post 1434
Mike J., Dover
The ARKLOW FORTUNE took her grain to Ghent where she is currently discharging.

The return of the PRIDE OF KENT from her long refit in Dunkirk released the SPIRIT OF BRITAIN who is now heading downchannel bound for Falmouth for refit.

With the DOVER SEAWAYS up in Flushing there is still reduced capacity across the Dover Straits which may account for the occasional build-up of freight - Saturday is usually a busy day as freight tries to get back to the Continent before Sunday when most freight is banned on French roads.

The PRIDE OF KENT is probably in the 'new improved' P&O paint scheme.
The flag on the funnel has been simplified & the logo on the hull is a bit strange.



Saturday, 31 January 2015 - 07:20
Post 1433
Sea News, Dover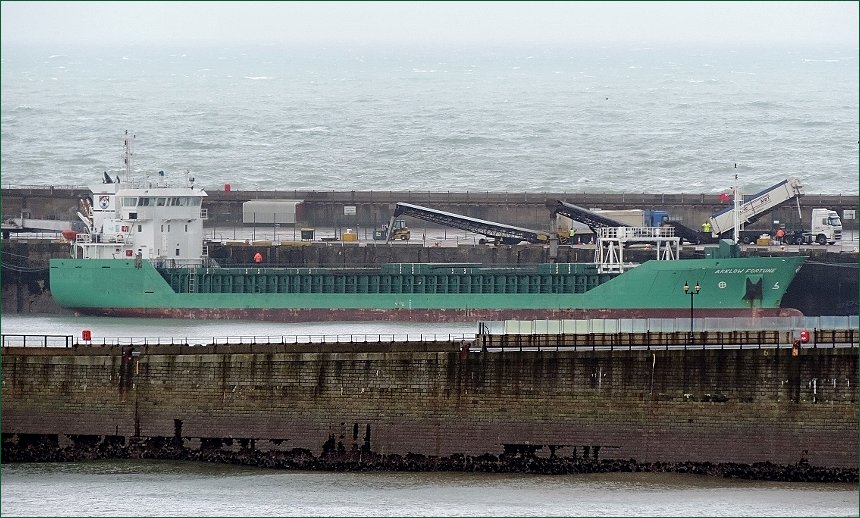 Many thanks Ray for the grain information re the Arklow Fortune and also thanks too to Mike for the extra info behind the scenes. Now that grain has been mentioned I suddenly can see it clearly in the earlier shot. Have added another picture of the ship above there, bit of a dullish pic though but cant be helped, and have also added a sliver of a picture to show the tipper trucks lining up to offload. Not a lot of people know this...but I've been to Arklow...

There seems to be quite a few vessels with Arklow in the name, not at all sure why..
Hopefully Brian is still freed up, but I notice a freight build up again so the traffic is tailing back but it is probably a good deal better than it was previously ...hoping! Below is a picture of the hard working ferries taken yesterday afternoon. It shows the Pride of Kent and the Dunkerque Seaways. Interestingly the Pride of Kent went out of service for a few hours last night and anchored off Shakespeare Cliff. It rejoined the harbour about 21.30.
PaulB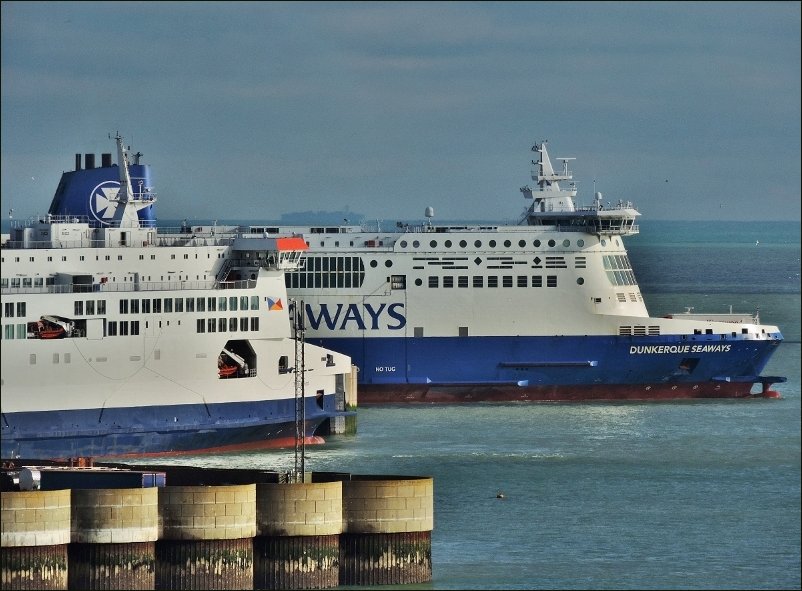 Saturday, 31 January 2015 - 06:34
Post 1432
Ray H, Dover
In your photo the Arklow Fortune is loading grain for export, when the cruise season ends the grain ships appear.

Friday, 30 January 2015 - 13:17
Post 1431
brian, dover.
clear run at 0730 this morning, both directions.

Friday, 30 January 2015 - 09:24
Post 1430
Sea News, Dover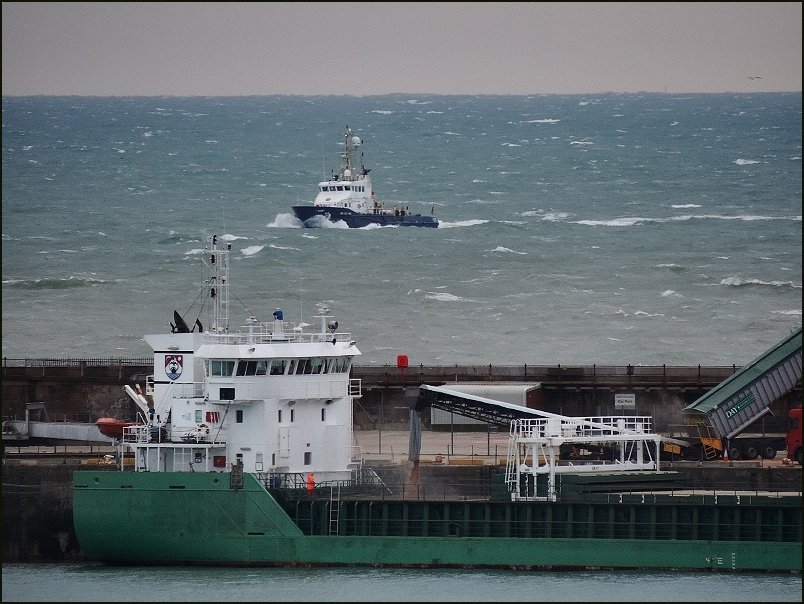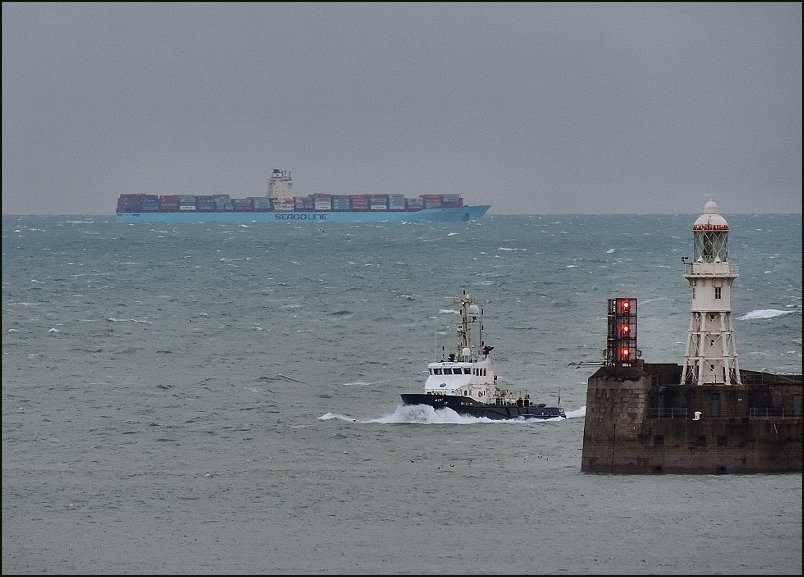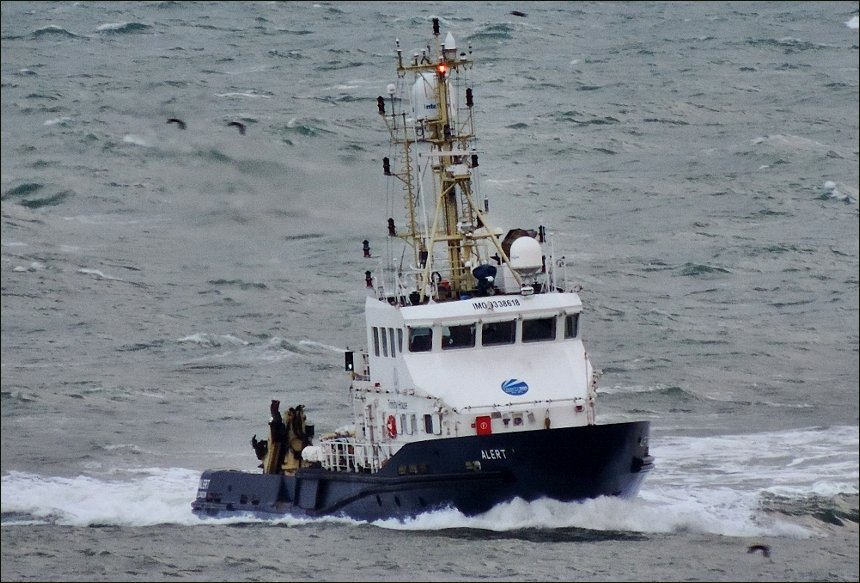 These pictures show the Trinity House vessel Alert returning to Port yesterday at around 4pm (1600) just as the light was fading. She was I understand involved in the search for the now almost certainly lost Belgian trawler the Morgenster. The news reports were not optimistic about the trawler and then a number of bodies were found off Boulogne late yesterday. Sad news indeed. The seas have been very rough and treacherous.
In the foreground of the top picture you can see the Arklow Fortune which has been with us here in Dover for most of the week...Many tipper style trucks lining up next to her, whether loading or offloading is not clear to yours truly. But yes a busy stream of trucks too-ing and fro-ing there. The Arklow left last night around 19.30.
Many thanks to Mike for the information below on the RNLI rescue efforts....good to see too the pictures of the Wessex Explorer.
Brian hopefully a bit clearer for you up there this morning.
PB.
Friday, 30 January 2015 - 06:26
Post 1429
Mike J., Dover
Sorry ! That was the WESSEX EXPLORER - amazing how you never spot errors until it's too late . . . .

Thursday, 29 January 2015 - 13:20
Post 1428
Mike J., Dover
The BBC gave the missing Belgian fishing vessel as the MORGENSTER.
This is taken from the RNLI Dover website -
. . . . . The volunteer lifeboat crews of two Kent RNLI lifeboat stations launched yesterday evening (Wednesday 28 January) to help search for a Belgian fishing trawler in the English Channel.
Dungeness all-weather lifeboat launched at 5.08pm after being tasked by Solent Coastguard to search for the 40m vessel which lost all communication earlier the same day at 1.30pm.
The Belgian-registered trawler, carrying a crew of four people, was situated 10 miles south of Dungeness when all contact was lost.
Hours after the Dungeness RNLI crew launched, Dover Coastguard requested the launch of Dover RNLI lifeboat to assist in the search. The crew launched their all-weather lifeboat just after 7pm.
Also involved in the search were coastguard helicopters Rescue 104 and Rescue 125. It is also understood several other fishing trawlers were assisting with the search.
Chris Ubee, Lifeboat Operations Manager at Dungeness RNLI, said the weather and sea conditions for his crew of five volunteers were challenging at first, but later subsided. He said: 'In the afternoon there was some strong gusting winds and the sea was very lumpy. That did later calm slightly and by 10pm the crew were searching beneath clear skies, with a moderate breeze and moderate to rough seas.'
However, for the Dover lifeboat crew conditions were set to worsen through the night, with a warning of severe gales expected after 11pmon Wednesday. Billy Hollis, Deputy Launching Authority for Dover RNLI said: 'Our crew of eight volunteers were tasked to search an area known as Varne Bank, south of Dover.
'Throughout the evening we were operating approximately eight miles away from where Dungeness lifeboat were searching, which gives an idea of the sizeable search area
At midnight, both Dungeness and Dover RNLI lifeboats were still searching for any sign of the missing trawler. The RNLI's all-weather lifeboats are equipped to search up to 100 nautical miles out to sea. At the speeds they were travelling, it was estimated the lifeboats could search for several days without needing to refuel.
Update 7am, Thursday 29 January.
Hastings RNLI lifeboat crew were asked to join he search at 12.15am today (Thursday). Dungeness RNLI lifeboat crew were stood down at 12.50am. And at 4.45am, both Dover and Hastings RNLI lifeboats returned to their stations when the search was suspended, possibly to recommence at first light . . . . .
By 1200 Thursday Marine Traffic AIS showed the Dover lifeboat had returned to sea & was searching east of Dungeness.
The Dungeness lifeboat was also searching & Trinity House's PATRICIA was also in the area.
A sad business, but the usual excellent responses from the emergency services.
On Thursday morning the survey vessel ESSEX EXPLORER was in the Tidal Basin, having come in yesterday, perhaps for shelter.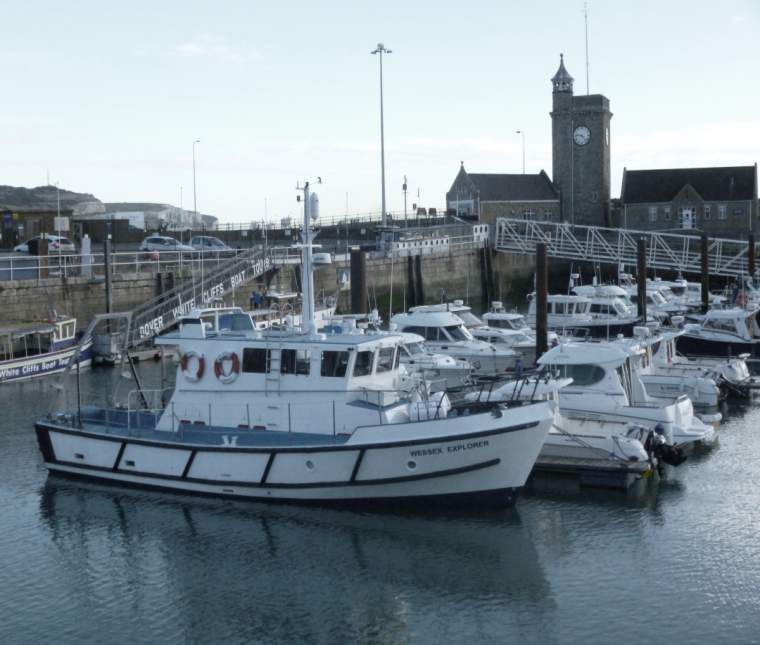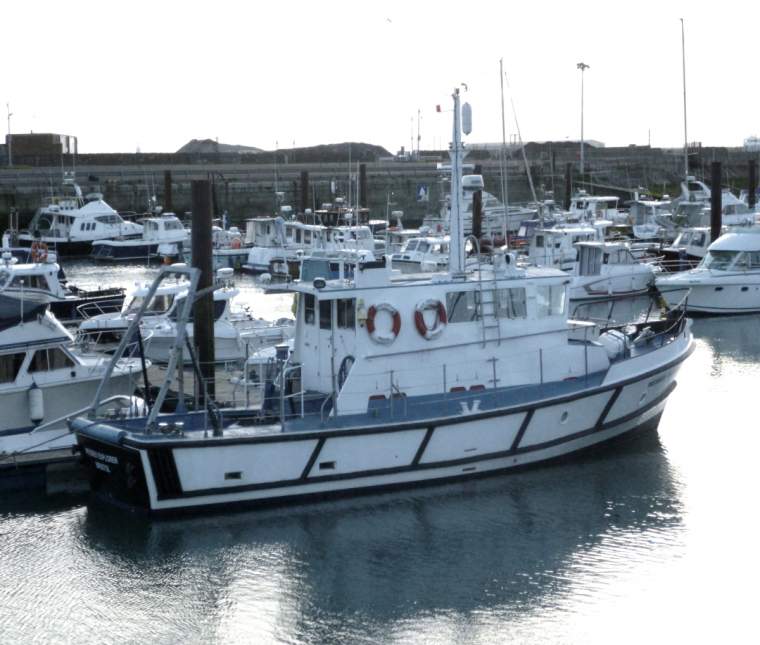 Thursday, 29 January 2015 - 13:01
Post 1427
brian, dover.
quite so paul,it has been 50 hours since the road clogged up with no end in site.

Thursday, 29 January 2015 - 09:56
Post 1426
Sea News, Dover
EU funding recognises the ports of Dover and Calais as vital to UK-European trade

___________________________________________________________________
With record freight traffic volumes currently being handled between Dover and Calais following phenomenal growth of 20% over the past two years, the need for investment in additional capacity and resilience has become ever more pressing.
The Port of Dover, together with the Port of Calais and the Regional Council Nord-Pas de Calais – owner of the port - are therefore delighted that their significant ongoing work to deliver essential short term capacity enhancements has been supported with over €14 million of EU funding from the European Commission.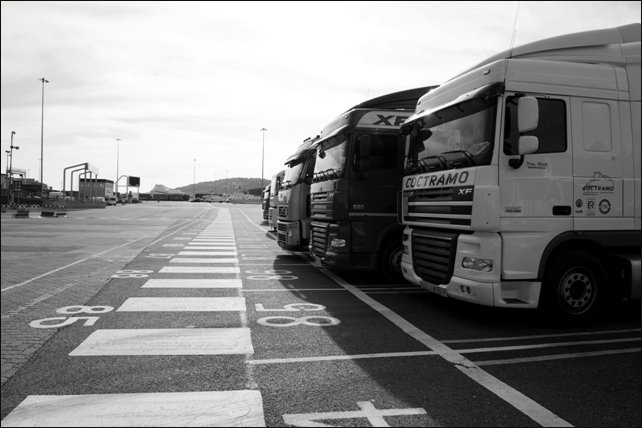 Recognising the growing importance of Dover and Calais as core ports within a key transport corridor connecting the UK with France and the rest of Europe, the partners signed a Memorandum of Understanding in April 2014 to cement long term commitment to delivering a shared vision of the future through the BRIDGE (Building the Resilience of International and Dependent Gateways in Europe) project.
BRIDGE is ensuring that Dover-Calais remains resilient in the face of significant market growth and in support of an effective and efficient European transport network and growing European trade along the corridor. This is being achieved through major investment in protecting, maximising and delivering essential short and long term capacity with enhanced flexibility and efficiency as well as exploring new development opportunities.
The funding received is for the first phase of the BRIDGE project, dedicated to short term improvements. Through the Calais Port 2015 and Dover Western Docks Revival projects, European support will also be sought in delivering the long term elements of BRIDGE.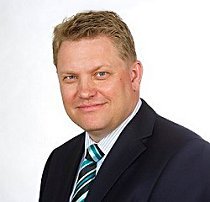 Tim Waggott, Chief Executive, Port of Dover, says:
"The Port of Dover handles £100 billion (€130 billion) of trade each year on behalf of the UK and EU. With around 80% of that trade moving between Dover and Calais, it is absolutely vital that nationally and internationally, the importance of this bridge between the UK and Europe is understood and supported. I am therefore delighted that, with our own Department for Transport's support, the European Union has recognised this and the urgency of supporting us in delivering key short and long term capacity enhancements on this core trade route by granting us €14 million of funding."
The partners look forward to delivering current and future capacity improvements on behalf of the UK, France and the EU.
ENDS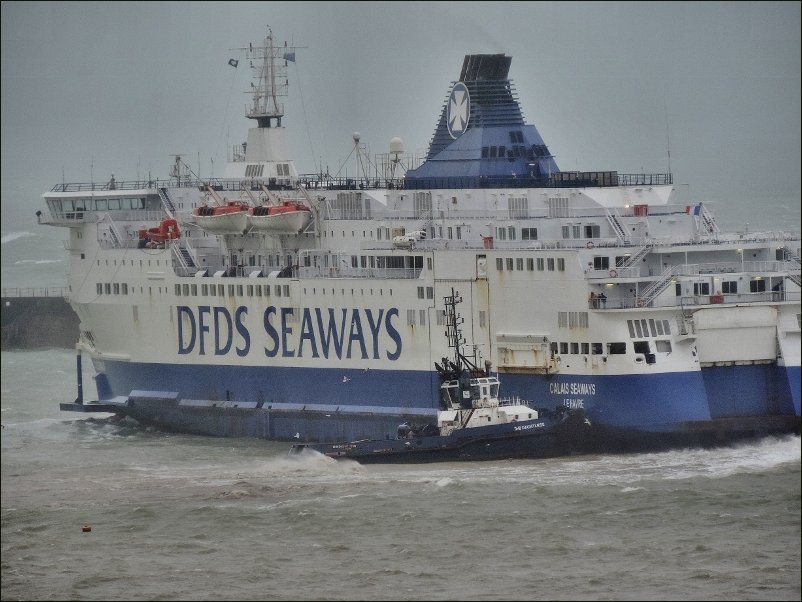 Very rough seas yesterday. The pictures above show tugbout Dauntless endeavouring to turn round the Calais Seaways in blistering winds and driving rain. When completely round the ferry was able to depart the eastern exit safely. For a time the conditions were bleak and treacherous so well done the tugboats and all at the port. Amazing how the ferries keep going in all conditions. There was a freight backlog once again..and there still is at this time of writing, this is due mostly to reduced capacity. Most people I speak to are concerned that a ferry company is to be taken off the route which will reduce capacity even further. Where will that leave us...
PaulB
EXTRA: The Lifeboat has been out in action...a Belgian fishing vessel has gone missing in the Channel and a number of lifeboats were searching through the night. Nothing found as yet.
Thursday, 29 January 2015 - 07:46
Post 1425
Sea News, Dover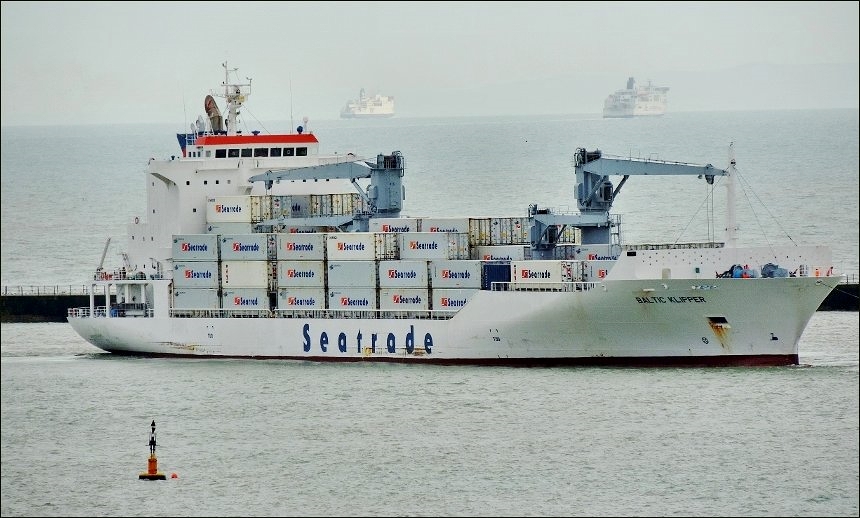 Another couple of pictures to add to the mix above...yes its another couple of the Baltic Klipper with our redoubtable tugboats included.
This vessel has since departed of course as busy busy...at the cargo terminal today is another old friend the Atlantic Reefer.
Wednesday, 28 January 2015 - 07:46
Post 1424
brian, trapped agan dovorin
yes paul rather annoying it really is. back to being blocked again this morning. 0730 ish.

Tuesday, 27 January 2015 - 07:59
Post 1423
Sea News, Dover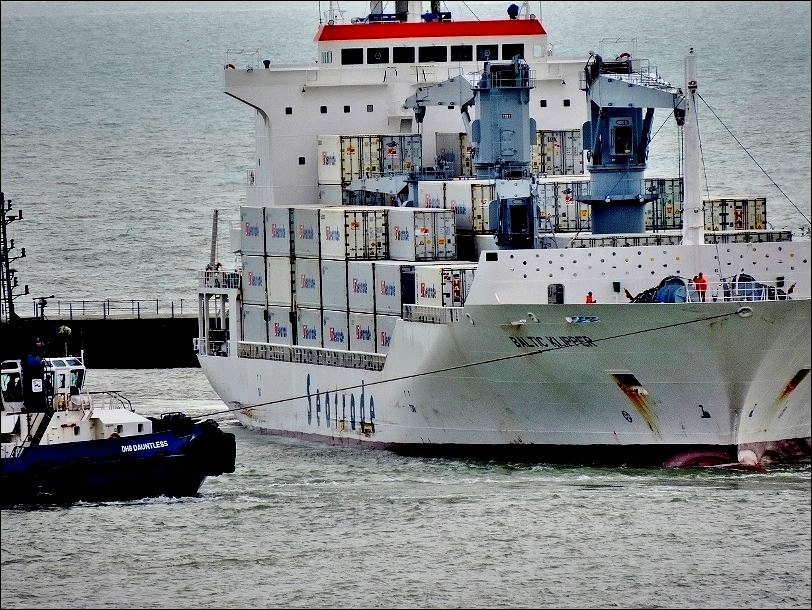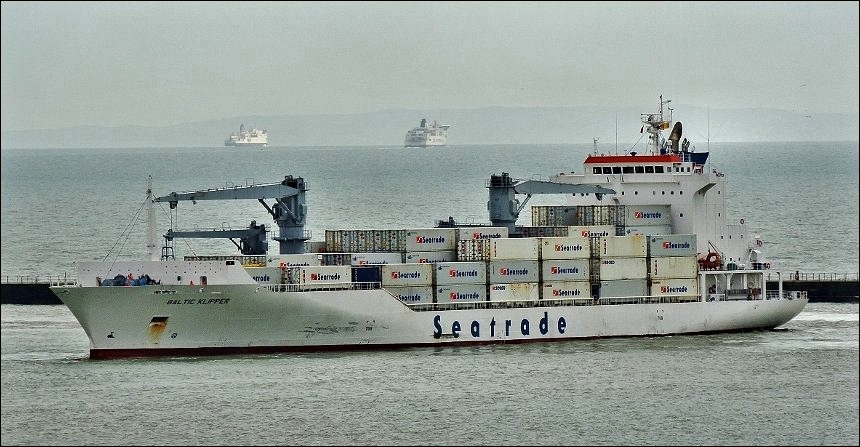 The pictures above show the Baltic Klipper arriving on sunday. I don't think we have seen this one before here in the Port of Dover...seems a new name to me. Great to see the cargo trade powering on into 2015.
Brian yes the situation got very busy again last night with trucks lining up for hours. I don't think for example that we would need one of those long winded government reports to tell us that we simply don't appear to have enough capacity. One glance out the proverbial window tells the story. At 4.30pm yesterday monday I noticed the trucks were tailing back miles again and I also noted that there was just one ship in Port...one of the P&O Spirits. PB.
Tuesday, 27 January 2015 - 07:46
Post 1422
brian, fed up dovorian.
I note that the A20 is at a stand still again.

Monday, 26 January 2015 - 19:45
Post 1421
Sea News, Dover
DFDS SEAWAYS SPECIAL
_____________________
Book Early for a Ferry Great Offer across the Channel - Save 20% on return crossings from Dover-France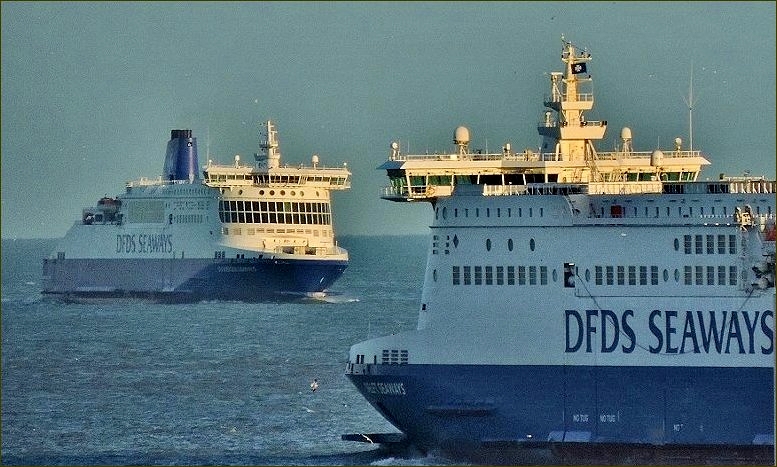 Award-winning ferry operator, DFDS Seaways, has launched an early booking offer on its crossings from Dover to Calais and Dunkirk. If you book before 28 February, you can save 20% on your ferry crossing for a car and up to nine passengers. This means you can sail from as little as £28 each way to Dunkirk and from £32 each way to Calais. Travel is for selected dates until 11 December on up to 34 daily sailings, and comes with no baggage weight or size restrictions.
Gateway to Europe
Take your car across the Channel on one of our 34 daily sailings between Dover and France and you can open the gateway to Europe and explore the continent at your own pace. Not only are our ports linked to major cities and holiday regions in France, but also in neighbouring countries. What's more our Dunkirk port is the closest port to Eastern Europe accessible from Dover.
Dover-Dunkirk
Our ferry from Dover to Dunkirk is short, taking just 2 hours, and, with the port being located just 25 miles north of Calais, is a convenient way to access France, Holland, Germany, Belgium or beyond. There are up to 24 daily sailings between Dover and Dunkirk, running all day and night, so you're sure to find a crossing to suit your time and budget.
Dover-Calais
Our ferry from Dover takes just 90 minutes to arrive in Calais. The port is conveniently located with easy access to transport and motorway links to the rest of France with up to 10 daily sailings at convenient times.
To redeem this offer use the discount code E15EBO at the point of purchase.
During your sailing with DFDS Seaways, you can enjoy a meal or snack in one of the onboard cafes or restaurants, shop for holiday essentials and luxuries, or relax as the children play in the dedicated children's area, meaning your holiday starts as soon as you board.
DFDS Seaways sails up to 34 times a day between Dover and France, providing passengers with flexible crossing times, a luxury travel experience and convenient travel options.
To find out more information, visit www.dfds.co.uk, or telephone 0871 574 7235.
* *
Here are a few pictures showing the sleek lines of the Dieppe Seaways by way of a tribute... if indeed she has gone off the route. Would be sad to see her go of course, at the very least she is immensely photogenic...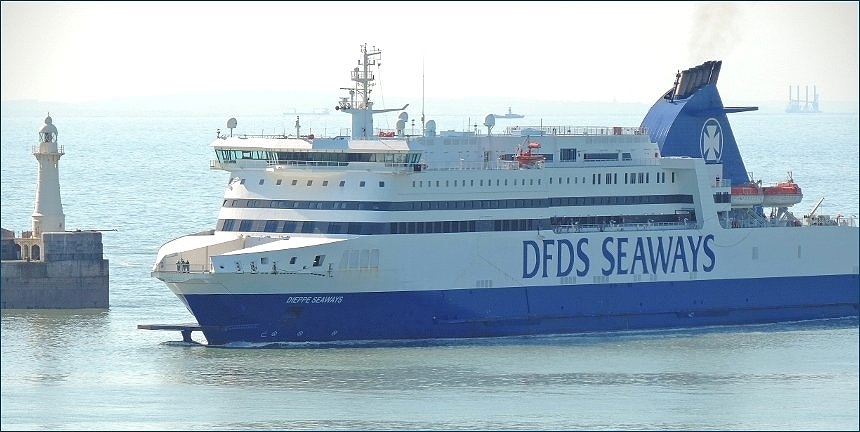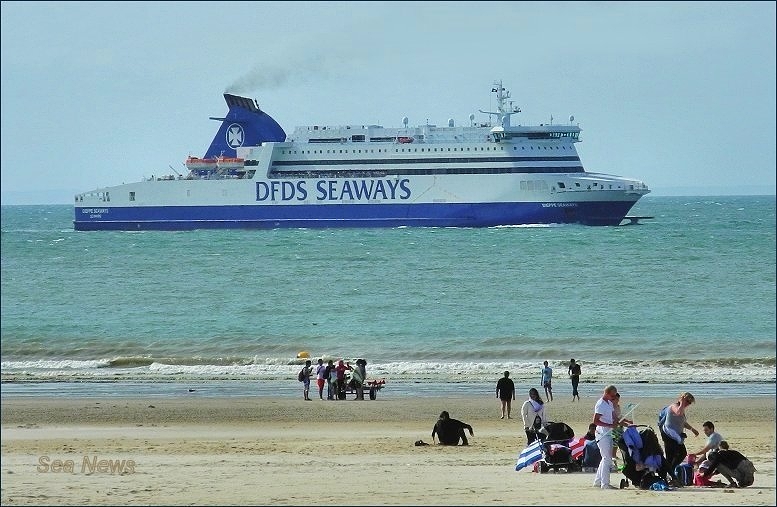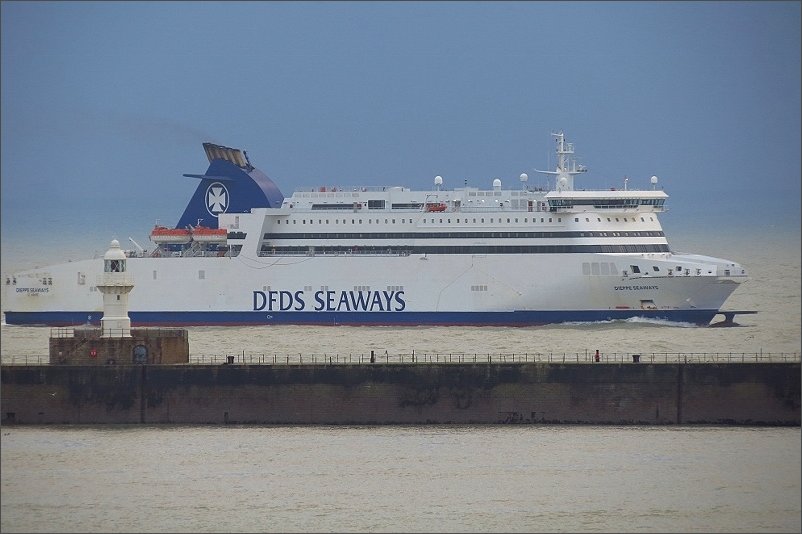 Monday, 26 January 2015 - 08:06
Post 1420
Sea News, Dover
Far Right Group en route to Blockade Port of Dover
__________________________________________
Here are a few pictures from todays far right protest. Pictures taken at approx 13.35 (1.35pm) There was an opposing group also joining in.... from the Anti-Fascist League.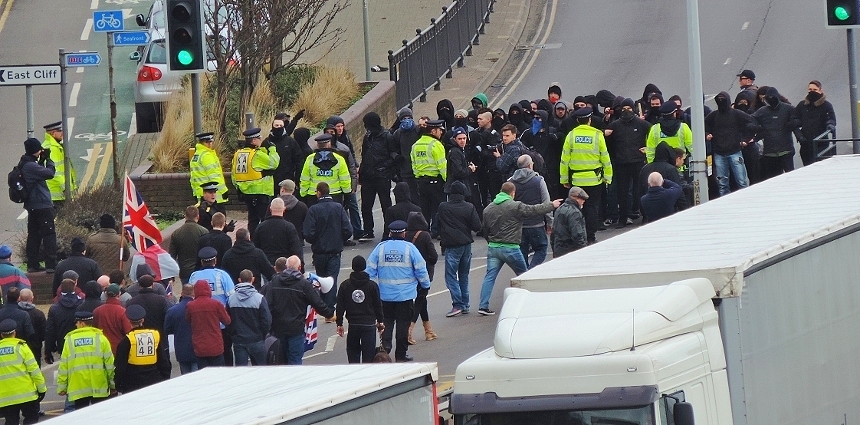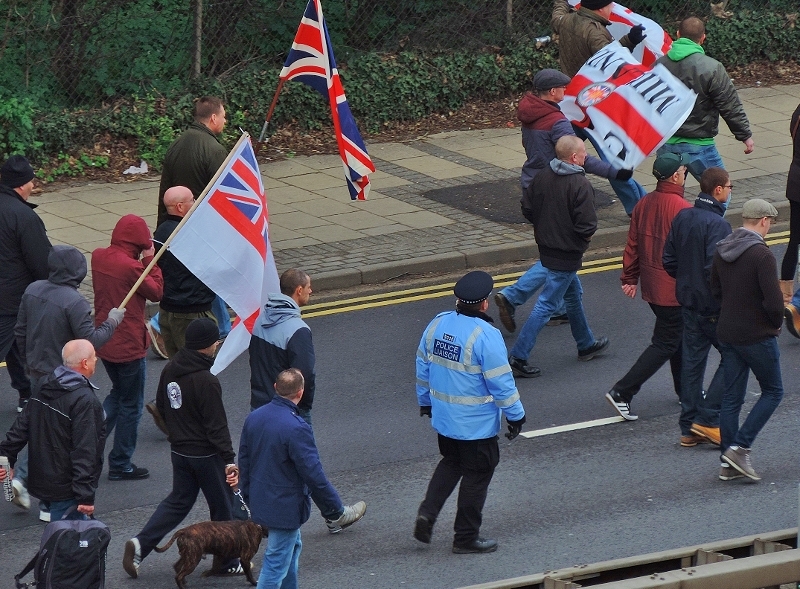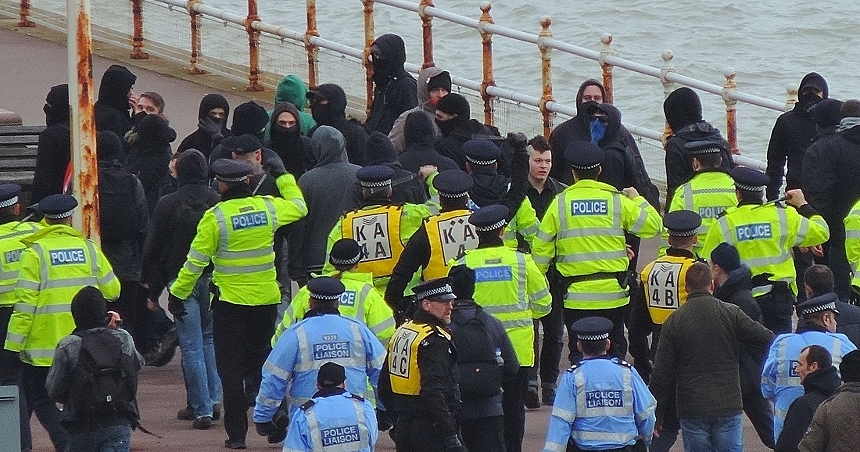 Some sinister looking images above there which is unfortunate. The Police were determined to keep the two groups apart and they were successful most of the time but when the groups moved onto the seafront scuffles broke out. The Police managed to separate them again but as ever it was an ongoing headache for the Police not to mention the other road users...unwelcome, particularly after the chaotic travel week we have already endured here in Dover. The far right group.. I'm not entirely sure who or what they are... presumably anti-foreign otherwise why target the Port of Dover, but what their ultimate aims are is unclear...other than to block the Port of course. I ought to declare at this point of course that yours truly is foreign himself so cant muster up any all-round sympathy...but there we are. We have other pictures but.... PaulB.
Pity to take Jon Miell's photo off the top...see below. Fascinating shot Jon. PB.
Sunday, 25 January 2015 - 15:58
Post 1419
Sea News, Dover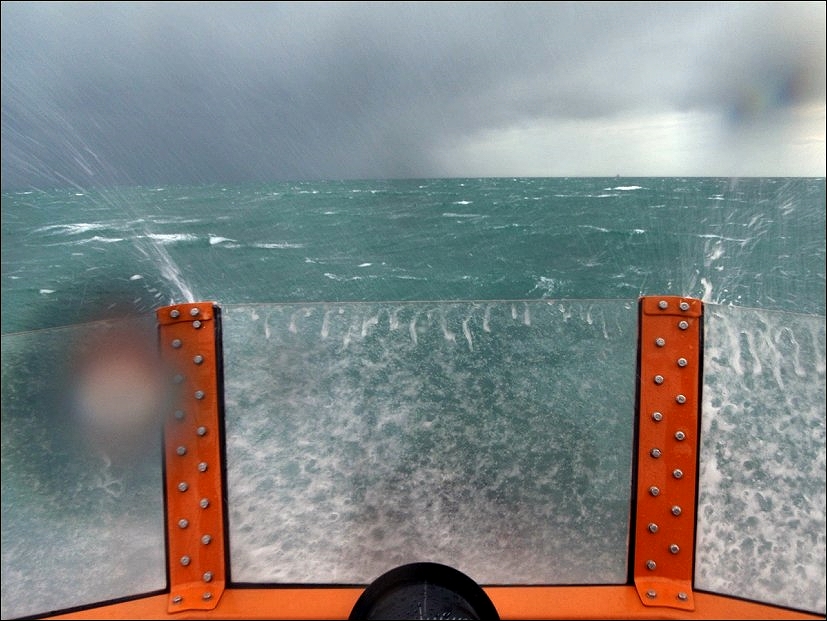 Had the fascinating picture above through from the Lifeboat guys and from Jon Miell in particular. Jon is the Deputy Coxswain and he took this picture of the lifeboat out in the thick of it. He refers I understand to the picture in post 1324 below page...
Jon says.....
"There was a picture published of the lifeboat exiting the Eastern a few days ago on it's way to search for some wreckage. The boat was out the following day, again looking for debris, with James Clapham in command. I took this picture from the flying bridge just after having a wave break over the upper steering position. It was rougher than the picture portrays but the remnants of the wave on the screen makes a nice shot."
I remember the day well and it was very rough indeed.
The opposite to rough below...a tranquil scene below as night falls over the harbour on Friday evening. We can enjoy a bit of relaxation now as the worst of the trucking backlog situation seems to be over. Brian is freed up.....
..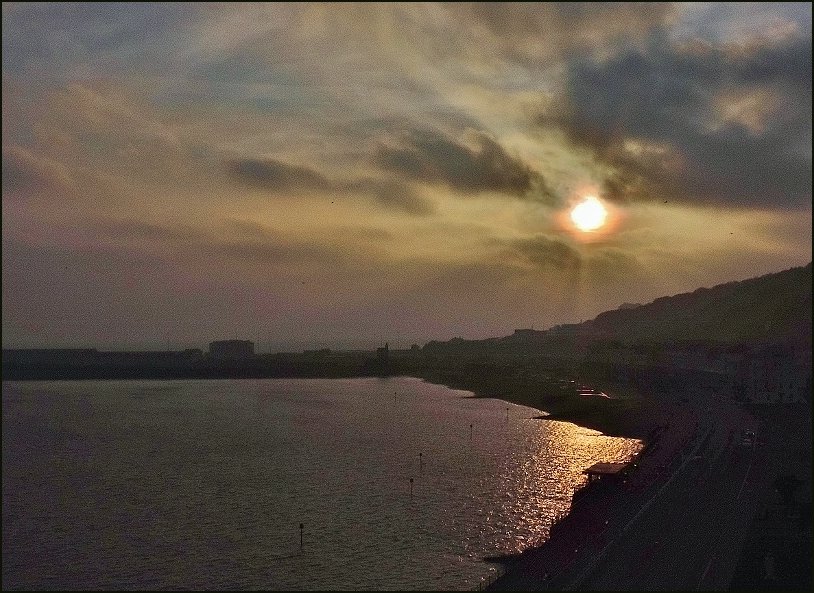 Thanks Kevin for that info. Very interesting. Got some good pictures of the Dieppe Seaways over time ...must fetch a couple out as a tribute.
Thanks once again Jon Miell. See more of Jon's pictures in post 1312. PB

Sunday, 25 January 2015 - 08:36
Post 1418
Kevin Charles, Dover
DFDS have taken the Stena Nordica on an 18 month lease to replace the Dieppe Seaways on their Dover/Calais service. A welcome capacity boost.

Saturday, 24 January 2015 - 21:40
Post 1417
brian, freed dovorian.
it just go's to show in the last week what could happen when 3 ferries go missing, and the tunnel is shut.

Saturday, 24 January 2015 - 15:38