Tuesday, 12 November 2019
Sea Pictures from Dover ...

WWW.DOVERFORUM.COM/SEA-NEWS
Featuring all the ships that come and go and work at the Port of Dover ..
... with further coverage of the surrounding ports.
Sea News Dover
Christmas Spectacular at the Port 6648.
MP Charlie Elphicke moving aside for wife..see 6646.
P&O: St Richards School trip to Calais for 6 year olds see 6630.
DFDS: Contract Cancelled see 6626.
Use our SEARCH ENGINE below to find all sorts on the SEA NEWS pages....type in the topic and away you go, or if you have the post number, just type it in the box, more than
- 6600 -
nautical posts now. Posts are welcome. just click 'Add Your Comment' below. Max of 5 pictures preferred although we can stretch that for special stories.. Sea News Editor Paul Boland - send info or pix to dover7@msn.com. Always welcome.
CRUISE CALLS:
https://www.doverport.co.uk/cruise/find-a-cruise/
UPDATE:
To show your pictures at their best..it could be worthwhile resizing before posting to
850
pixels wide.
All pictures on these pages are the copyright of the owners and must not be reproduced without permission.
Post 898
PaulB, Dover
The Ocean Princess pictured again just now...with less of that early morning yellow light as shown in the post below. The second ship Saga Pearl now also arriving as I write, more in the posts below. Its a glorious sunny day. A day for the seafront stroll for sure.
Sunday, 22 June 2014 - 07:38
Post 897
PaulB, Dover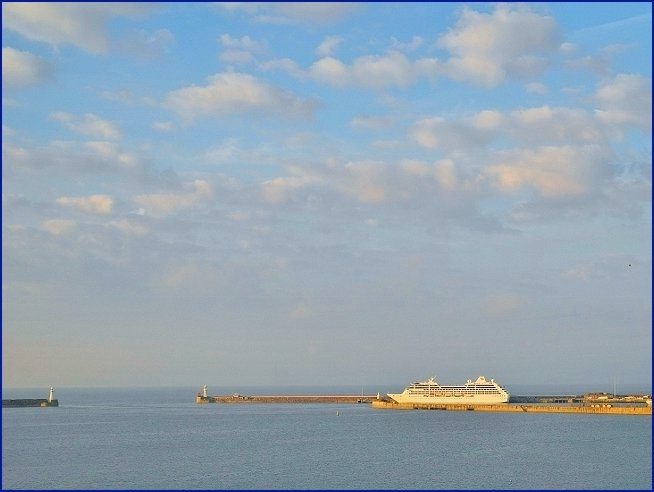 Thanks for the latest cruise liner info Colette. Arrivals are a tad thin for the moment but will soon pick up again. Having said that there are two scheduled today according to Colette's list. One already in as I write...the Ocean Princess. Must have arrived in the very wee small hours of the morning. That's her above pictured very very early, around 5.30am. You know what they say...the early bird catches the worm...a very early worm on the second longest day of the year.

Yesterday the Costa Rican Star arrived to deliver her cargo. Another early arrival..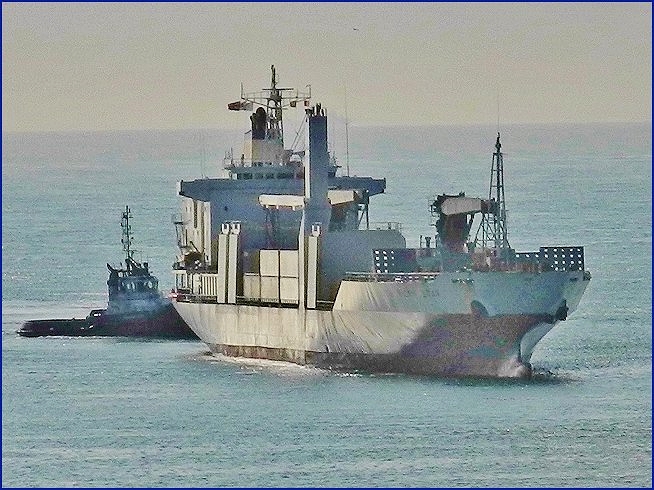 Hope you enjoyed the football Colette.
One of my neighbours went ultra big on England flags, banners, buntings, etc.. but oh dear! they have all come down already.

Sunday, 22 June 2014 - 06:52
Post 896
ColetteB, Dover
The Windquest shown above there is a looker for sure

With no cruise ships in since Tuesday last, tomorrow, as in post 784, the Saga Pearl II returns after her short cruise, to CT1, TR & the beautiful Ocean Princess returns to CT2, TR.
Then this week on Thursday 26th June, the Braemar returns to CT1, TR.
The next day, Friday 27th June, the Black Watch arrives at CT1 to debark.
The last cruise for June, the Ryndam, will cruise once again into Dover on Saturday June 27th at CT1, TR.
I will be back soon to list the first couple of weeks of the many cruises to Dover in July

And now I'm running late for the football, Byeeeee
Saturday, 21 June 2014 - 20:07
Post 895
ColetteB, Dover
Good to see the photos there MrB of the Calais lifeboat in action at the weekend.

We just happened to be in the right place at the right time to see the splendid rescue work by these great guys.
Also, terrific pic by Dover's RNLI Nicola Thomas, I remember that photo first time around. Is it really two years? How time flies!!!
Friday, 20 June 2014 - 19:52
Post 893
JanT, Dover
Good to see that the Lifeboat chaps are working just as hard the other side of the channel as ours do this side.
These chaps do a great job and it's nice to see the pictures of the Calais lifeboat.


Friday, 20 June 2014 - 08:56
Post 892
PaulB, Dover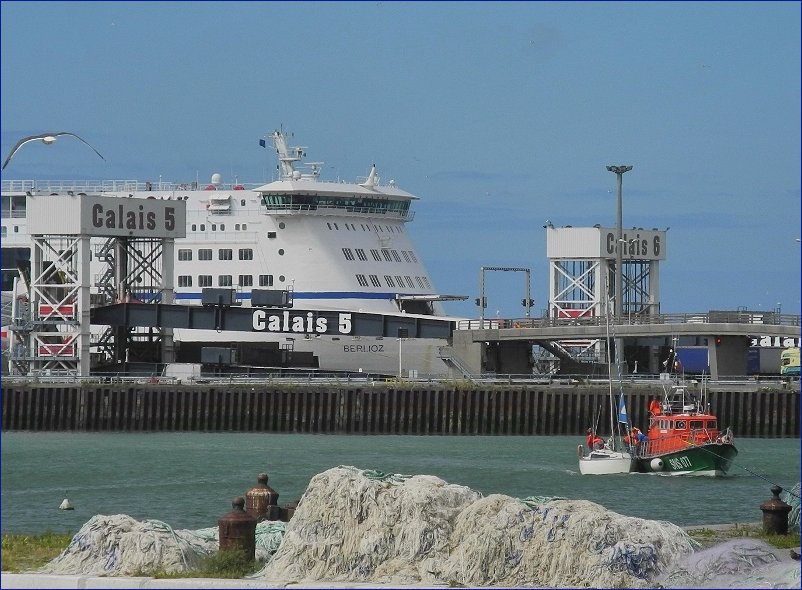 During a brief interlude in Calais the other day this small scene was played out, right on cue for yours truly, the conveniently placed cameraman. Calais Lifeboat had been clearly called out to rescue a yacht in distress and here we see the vessels concerned across the fishermen's nets of Calais Harbour...or perhaps more accurately, across the fishermen's nets of the yacht basin. The Lifeboat is escorting or indeed towing the stricken vessel back to base as you can see.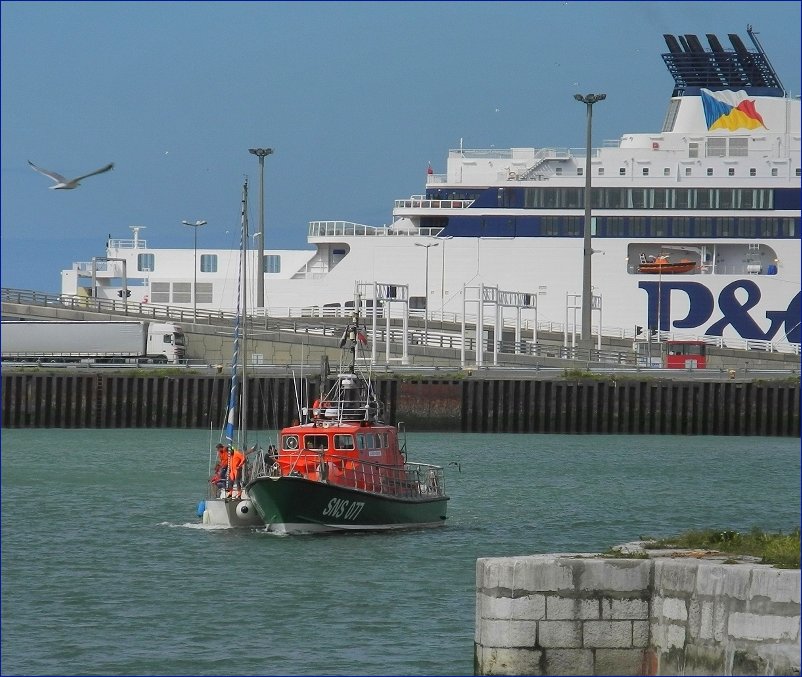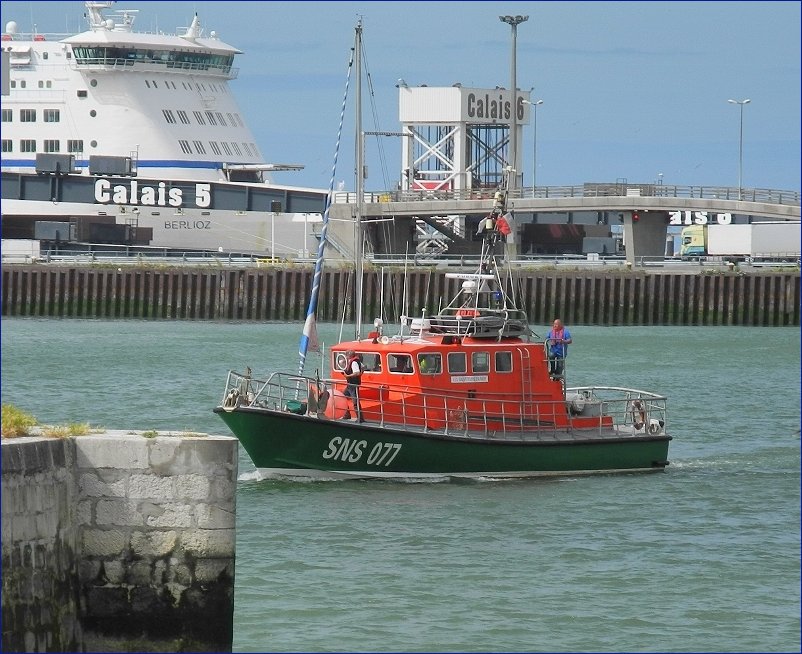 All looked to be okay, so another job well done for the Lifeboats. A thumbsup to them and indeed to Lifeboat crews everywhere. Some of you will remember this following picture below which we featured a couple of years back on our former frontpage. The picture was sent in to us at the time by the guys at Dover Lifeboat and shows the same Lifeboat in mid channel action rescuing a sinking motor boat. This picture below was taken by Nicola Thomas of RNLI Dover.
Dover and Calais Lifeboat crews working together.
Friday, 20 June 2014 - 07:06
Post 891
PaulB, Dover
THE BUSY CARGO TRADE GOES ON....
One of our regular cargo visitors the Eastern Bay moving away last evening around about 7.45pm. It had turned into a pleasant sunny evening with benign conditions as she began to move off with the assistance of both of our always very busy tugboats.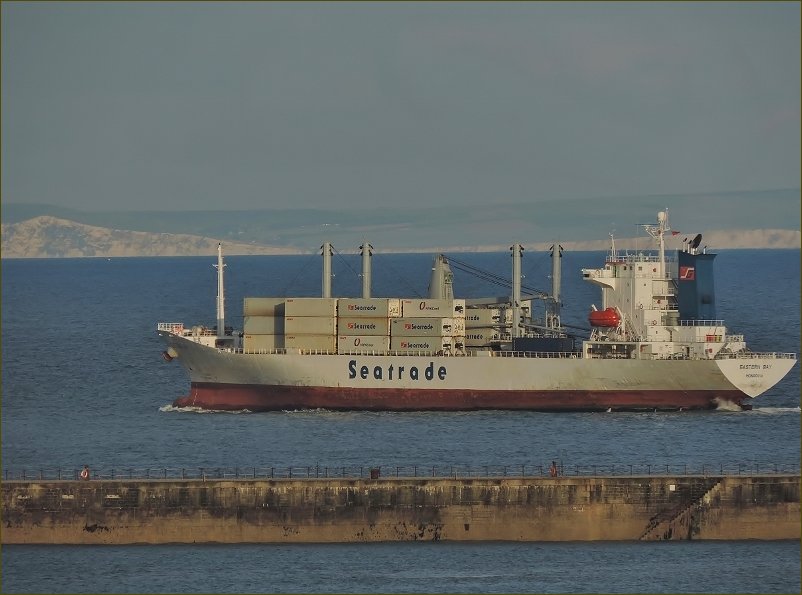 She left through the western exit, slightly unusual but good to see both exits used even more these days, not least in that it provides more picture opportunities for yours truly. Every little helps as they say in that large well known supermarket..yes indeed it all helps us to bring more coverage.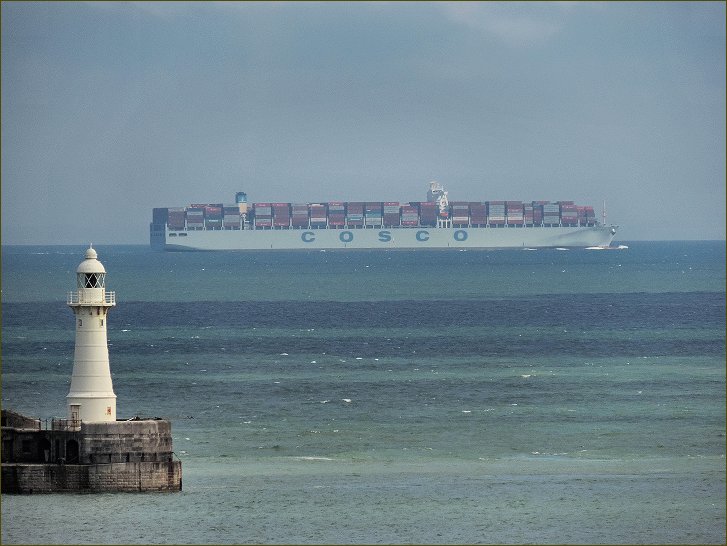 Visibilty was quite good out in the channel at the same time. There were massive ships moving south. This one is called COSCO Spain and I believe bound for the Suez Canal. It is 366metres long. That is roughly three times, yes three times, the size of your World Cup football pitch. A football pitch is about 120metres long...so there you have it. Even with my maths I can work that one out.

Just below we have another monster...369metres long, the APL Raffles...I think I can see Hyundai cars on there but...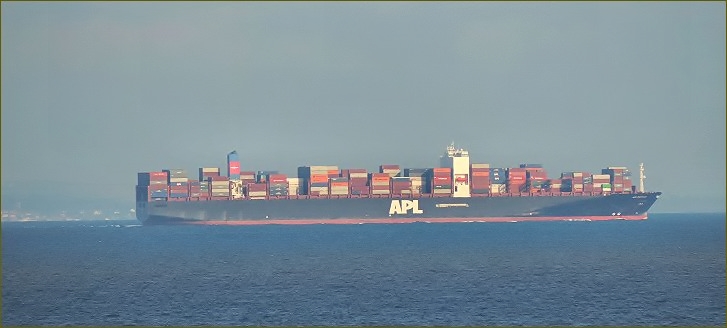 Yes that racer below was a real head turner Jan. impressively expensive looking and...very fast.
Thursday, 19 June 2014 - 06:56
Post 890
JanT, Dover
Wow great picture below very sleek little number,certainly would have turned a head had one been strolling along the seafront?


o
Wednesday, 18 June 2014 - 19:37
Post 889
PaulB, Dover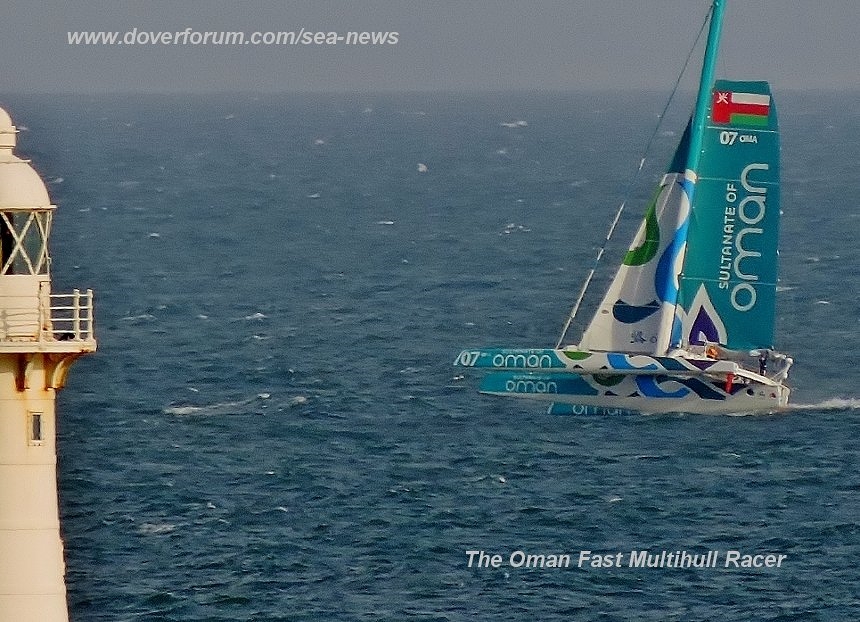 Feast your eyes on this beautiful beast...flashing past the harbour at great speed. it was airborne almost as much as it was in the water.
Wednesday, 18 June 2014 - 15:17
Post 888
brian, in a damp corner.
paul,i don't think he likes the French ferry company.
vic,you may be right.

Wednesday, 18 June 2014 - 08:15
Post 887
PaulB, Sea News, Dover.
"STAY SAFE THIS SUMMER" is the message from the Port of Dover
______________________________________________________
The Port wishes its community and visitors a very happy and safe summer.

The seafront is a very popular place for those wanting to enjoy the sun, the sea and the array of recreational water-based activities in the unique surroundings of Europe's busiest ferry port with the impressive backdrop of the White Cliffs and Dover Castle.
Students are now looking forward to a well deserved rest and some fun times after their exams and families are planning to take advantage of the good weather by heading to Dover's beach – once again in the Good Beach Guide for its excellent water quality.
We are delighted that our community want to spend their precious time enjoying our seafront facilities, so we are launching our 'Stay safe this summer' campaign in order that they can do just that.
As well as some annual reminders, we have been working hard to improve the seafront for our community with some projects still underway, so here is some advice on what to look out for in order to have a great time.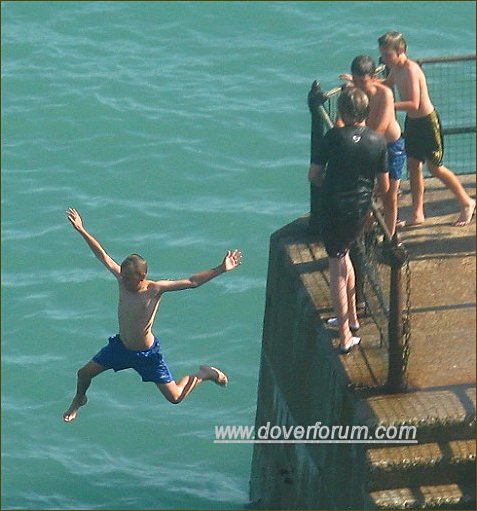 Tombstoning
Since launching what was the first initiative of its kind, the Port of Dover Police (together with Dover District Community Safety Partnership) is once again bringing the dangers of "tombstoning" into local youth clubs and elsewhere through its nationally acclaimed DVD in order to deter youngsters from the risk of serious injury. "Tombstoning" involves jumping into water from a height such as from piers, but risking serious injury through contact with submerged rocks. It can be fatal. The message is just don't risk it!
Groynes
The Port recently replaced and upgraded the seafront groynes with high quality rock groynes. This was done in order to both protect the beach and also create a much more visually appealing beach environment.
They are very hard structures that are designed to withstand the elements and we urge people not to climb on the groynes or jump off of them. When parts are submerged in the sea as the tide comes in they can also become slippery as they re-emerge when the tide goes out. They do not react favourably with people who land on them.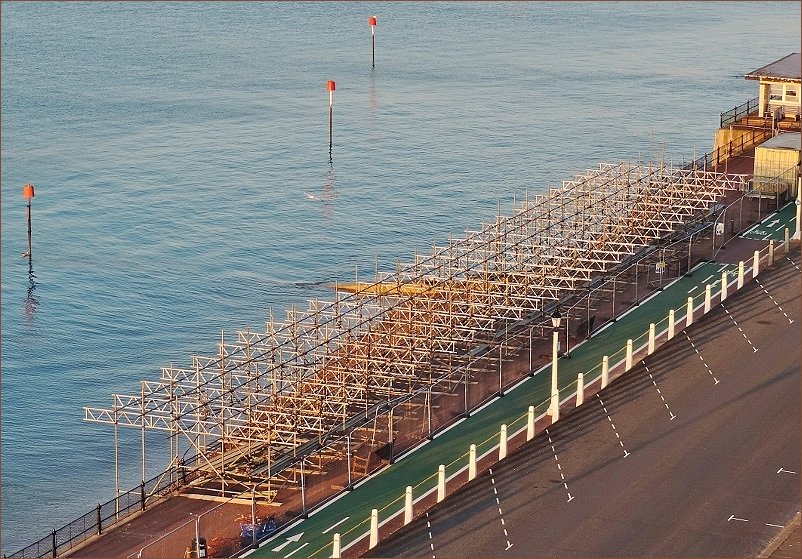 Scaffolding
Part of the promenade sea wall is being repaired and Harbour House on the seafront is also being renovated in support of the wider waterfront regeneration agenda being pursued for Dover. Both have required the erection of scaffolding. The contractors carrying out the works are suitably kitted out with personal protective gear and are experienced with moving in such environments and working at height.
Scaffolding can cause serious injury if proper safety precautions are not followed both due to the heights involved and the dangers of the scaffolding tubes themselves. Scaffolding is not a recreational facility and the Port of Dover Police will be regularly patrolling the seafront in order to ensure no-one is risking their own safety or the safety of others.
Shelters
The Port provides a number of seafront shelters for users of the promenade. They have seating and there is no need for anyone to climb on top of them, risking falling from height. Our neighbourhood police team will again be providing a regular visible presence to ensure that no-one is risking their safety and to maintain a safe and pleasant environment for all.
Heat
Please remember that the beach can expose people to intense sunshine during the hot summer months. Plenty of water and good sunscreen is strongly recommended in order that the sunshine is enjoyed and not endured.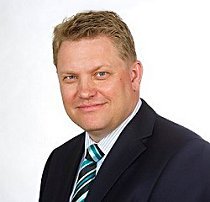 Tim Waggott, Chief Executive, Port of Dover, said: "We all have a shared responsibility for the safety of those using the seafront. Whilst it may seem obvious, it is worth reminding everyone of the dangers that can be posed by the sea and by building works. We have a great place to enjoy. Let's all make sure we do by just reminding ourselves of how to stay safe so that we can return year after year to our valuable seafront. Wishing our community a fantastic summer!"
ENDS
* *
Ah yes Vic. I think we all miss Duty Free but sadly it wont be coming back anytime soon. There are still bargains to be had though...
As I understand it..it was the end of Duty Free that finished off the Hovercrafts.
Wednesday, 18 June 2014 - 06:49
Post 886
vic matcham, dover
Bring back the duty free then there would be room for all the ferry companys the port could take.

Wednesday, 18 June 2014 - 06:44
Post 885
PaulB, Dover
The Black Watch moving out yesterday evening aided and abetted by both tugs Doughty and Dauntless. She was heading to Guernsey in the Channel Islands where hopefully the weather was a wee bit better than it was, or indeed is, here. It was as cold and as slate grey as a January morn as she left and no mistake.
Where did our summer go? ..Gadzooks! Me timbers are a-shiverin !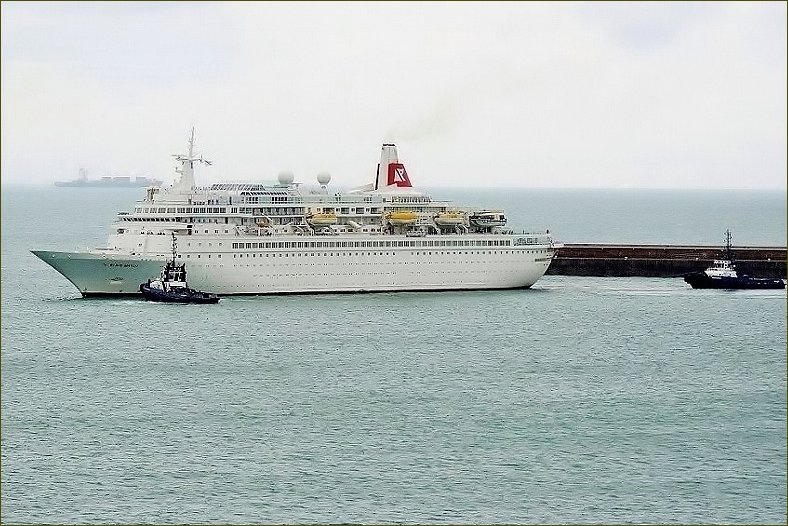 Also - The Saga Sapphire is back in today...disgorging chilled but hopefully refreshed passengers.
See also the post below.
Tuesday, 17 June 2014 - 08:15
Post 884
PaulB, Dover
Below we have Syros leaving in the afternoon yesterday, departing for Zeebrugge. Syros does a stint here in the harbour from time to time.I guess operating in the same vein as Coral Water..servicing the ferries and so on. That's the Varne Light Vessel behind in the distance. And in the further distance if you really scrutinise you can just see ..despite the grey misty conditions .. the Cathedral on top of the hill in Boulogne ( to the right of the Varne LV ).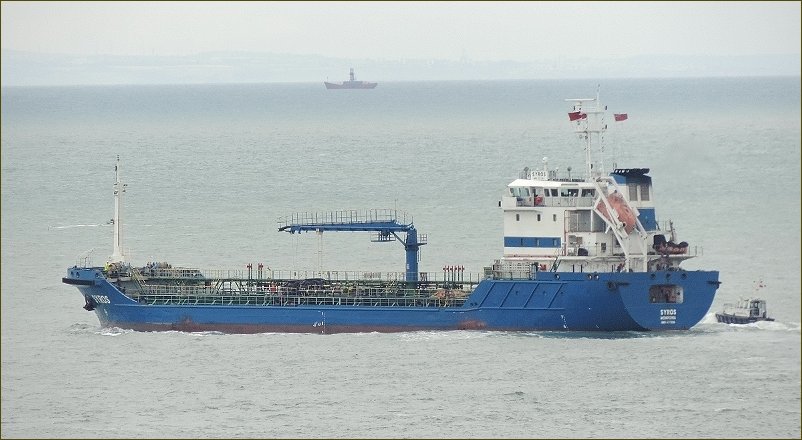 Brian yes indeed our MP Charlie Elphicke has spoken against My Ferry Link several times. Not sure of his logic on that one...
Tuesday, 17 June 2014 - 07:52
Post 883
brian, in dull corner.
Charlie being a bit cynical there about jobs,he wants the loss of 600+ jobs on my ferry link.a man with two [2] faces.

Monday, 16 June 2014 - 13:40
Post 882
PaulB, Dover
We don't really do politics on this page, this one is politics indeed but a tad different in that it is essentially just about the Port and its future as seen from the pen of our MP. Most interesting.
* *
The Latest Charlie Elphicke Newsletter.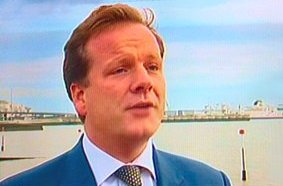 Our port is the lifeblood of our local economy. It employs hundreds of port workers and thousands of people work for the ferry businesses. In addition people work at the marina, support the cruise ships that visit and unload cargoes from ships that bring goods from round the World.
I am really proud of Dover's status as the Gateway to England. It is as true now as it has been for centuries. Visiting Hammonds' cargo unloading operation this week, I watched the unloading of a ship that had travelled from South America. It was incredible to see the speed that the cargo was unloaded. Boxes and boxes of bananas destined for British shops. Hammonds unload millions of bananas ever year. The British consumer eats an awful lot of them - on average over a box per person every year.
Yet Hammonds have little space in the Eastern Docks. So the idea is to move the operation to the West on the old hover port. This would enable Dover's cargo operation to be larger. It would expand our economy.
It's also important we create jobs for people who have long lived in Dover. It's right we bring more chances and opportunities for our people. The chance of a job and promotion is key to building the land of opportunity. A recovery we can all be part of - where we can work hard, get on and do well.
The reforms at the port mean it will now become a community led port. A port that will work in ever closer partnership with the port businesses that provide the jobs and the community in which it sits. These changes are far reaching. No one thought we could ever do this. Everyone thought the sell off scheme of the previous government would go ahead regardless of what we had to say. Yet we had the ear of government and we used it to get the change we need.
This change means we can now dare to dream about the kind of development we could make in the marina and around the Marine Station. There is real potential there for a great water side development to bring more jobs, money and visitors to our community. This and the downing of Burlington House is where the greatest potential lies for changing Dover forever.
If we get these things right we can have so much more prosperity in Dover. We can make the town more vibrant, our children and grand children benefiting from the kind of future we never had. A town that will be a true jewel in the crown of the nation. A town that is fitting for our hallowed white cliffs. A first sight of England that will impress all who travel to our isle. This is why the change we make matters so much to us all.
Best wishes
Charlie
----------
Charlie Elphicke MP
Member of Parliament for Dover & Deal
Monday, 16 June 2014 - 10:07
Post 881
PaulB, Dover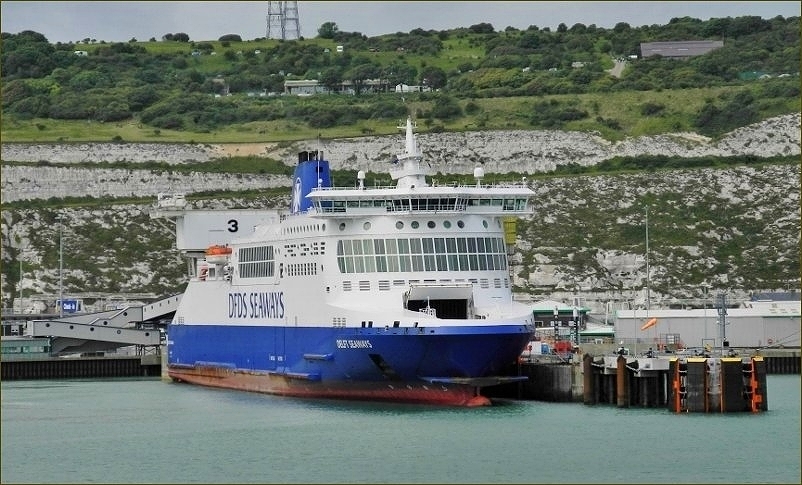 Great info there in post 815 for the landlubbers like myself Ed. I think its clear now...so with a new degree of confidence..errrmm says he hopefully, here is a picture taken yesterday to illustrate ED3 in action. Showing the Delft Seaways looking good..and below the same ship taken from slightly further afield as we approach the harbour with Dover Castle in the background.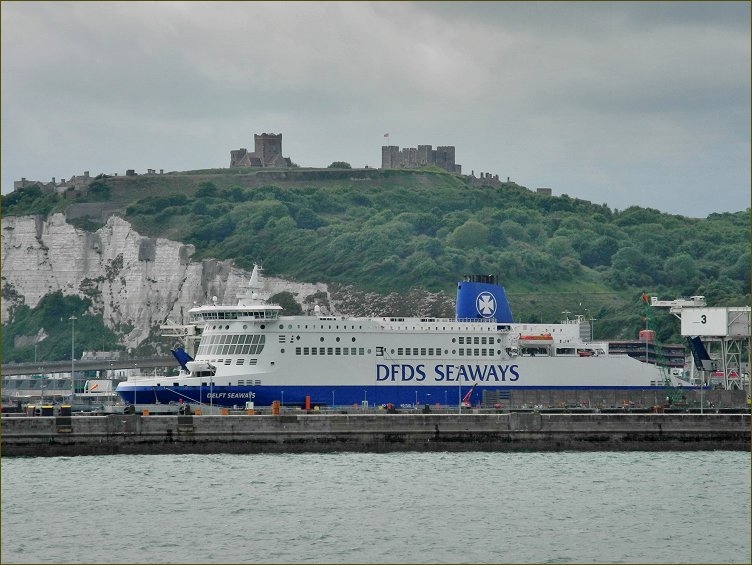 A grey ol' departure for the Saga Pearl sunday evening.
The Black Watch is in today..a dismal grey monday morning alas.
Monday, 16 June 2014 - 07:10
Post 880
Vic Matcham, Dover
Thank you for showing the plans of the births I helped to take down the old births of 1 and two and then went on to the new builds of births 2.;3,4,up to birth 7 we done the welding of the copper dams under the births very hard and wet jobs but good ones,

Sunday, 15 June 2014 - 07:42
Post 877
Ed Connell, Dover
Re #806: The reason HMS Puncher and HMS Blazer have such large crews is that they are small training vessels attached to University Royal Navy Units, London and Southampton respectively, and carry a large number of students with training officers on short trips round the coast and near continent. Both vessels are based in Portsmouth and they are frequent visitors to Dover. The undergraduates have a whale of a time with lots of functions, mess dinners, shore visits etc. Some of them later go on to join the RN. There is a pemanent crew of five RN personnel attached to each vessel. As commissioned naval vessels they fly the White Ensign.
Re #782: "Below we have a pic of the crane that's been operating down at pier 2 or as Ed calls it ED2, to give it its proper name." It was very nice of them to name all the berths after me although some people, quite wrongly in my opinion, say that ED stands for Eastern Docks. The piers are named alphabetically with a berth on each side. For example, one face of Pier A serves the linkspan on berth ED2 and the other the linkspan on berth ED3. Pier B is no longer used as the ferries grew much too large and the associated berth ED4 was dismantled, a large dolphin in between Piers A and B was also demolished for the same reason. Pier D is also no longer used, it originally served the associated catamaran berth but again there was not enough room for cats to berth safely with a ferry on the adjacent berth ED6. The cats have all gone anyway and I believe the other cat berth at the Hoverport is being dismantled. Pier E was built contiguous with Pier D to serve berth ED7.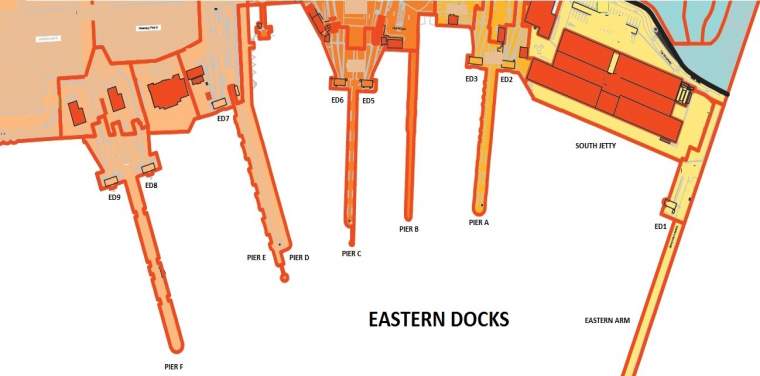 Saturday, 14 June 2014 - 13:54
Post 876
Kevin Charles, Dover
Sorry! Missed the name of the magazine out in that last post - it is, of course, Dover Life!

Saturday, 14 June 2014 - 09:30