Monday, 28 September 2020
www.doverforum.com/sea-news
The Shape of Things to Come....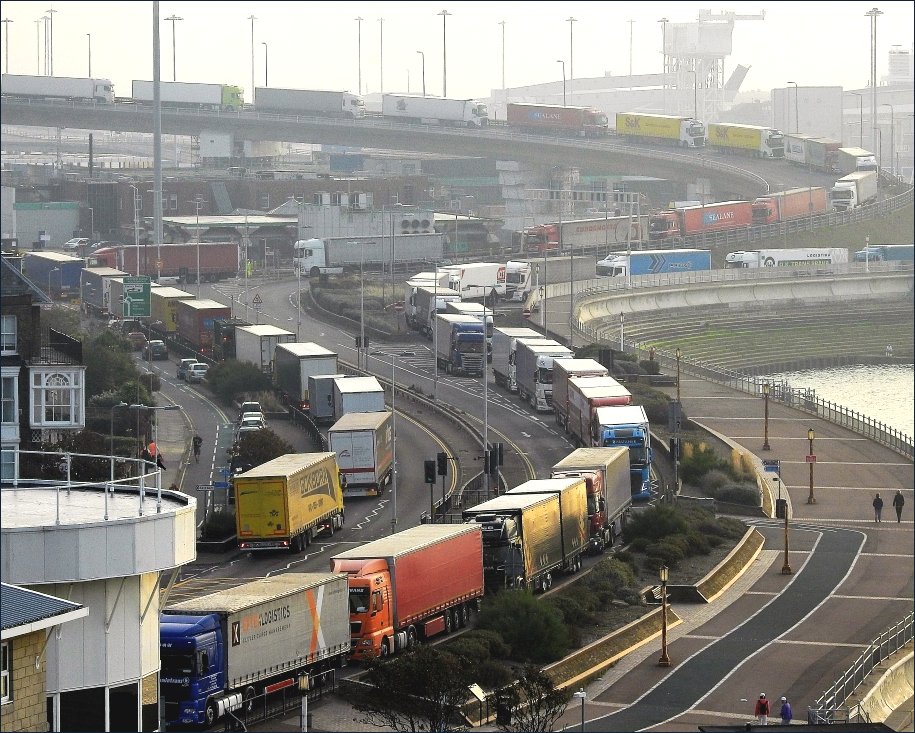 Trucks to the left of us...trucks to the right of us...into the Valley of Dover drove the 7,000 ..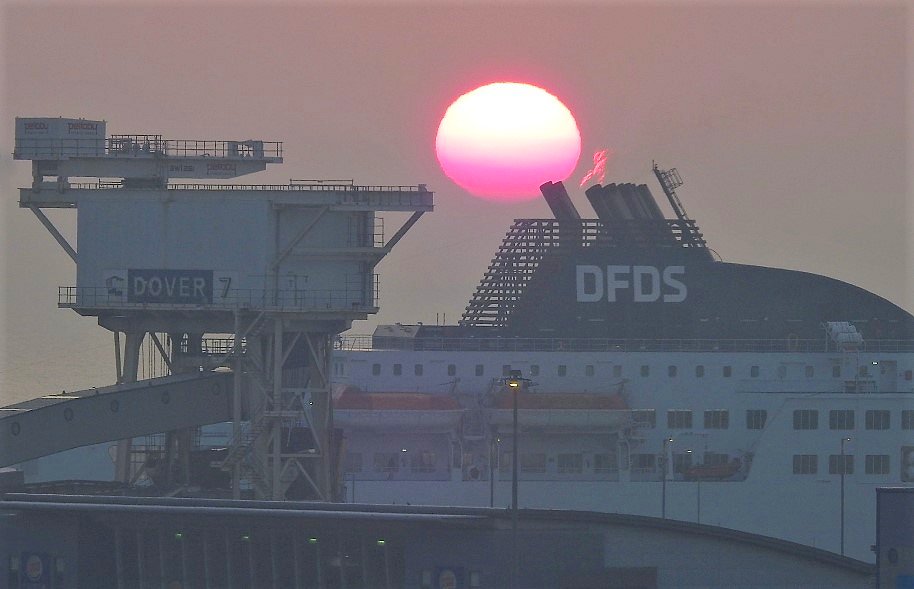 DFDS and the Dover7 sunrise.

WWW.DOVERFORUM.COM/SEA-NEWS
Sea Pictures from DOVER ....
Use our SEARCH ENGINE below to find all sorts on the SEA NEWS pages....type in the topic and away you go,
or if you have the post number, just type it in the Search Box, more than
- 7000 -
nautical posts now.
Paul Boland - dover7@msn.com
Sea News Dover:
All pictures on these pages are the copyright of the owners and must not be reproduced without permission.
Post 1065
Ed Connell, Dover
A few photos from the last few days.
Cargoship Fegulus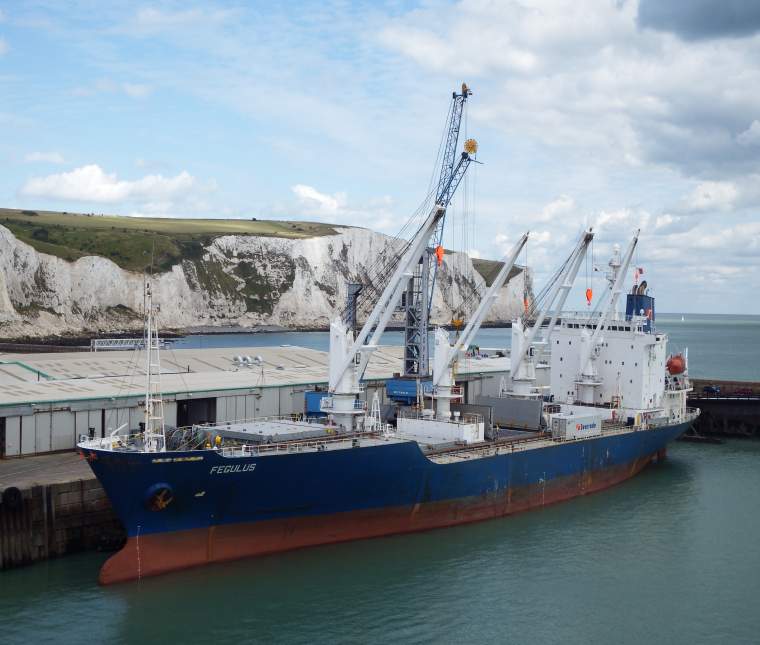 Cargoship Swedish Reefer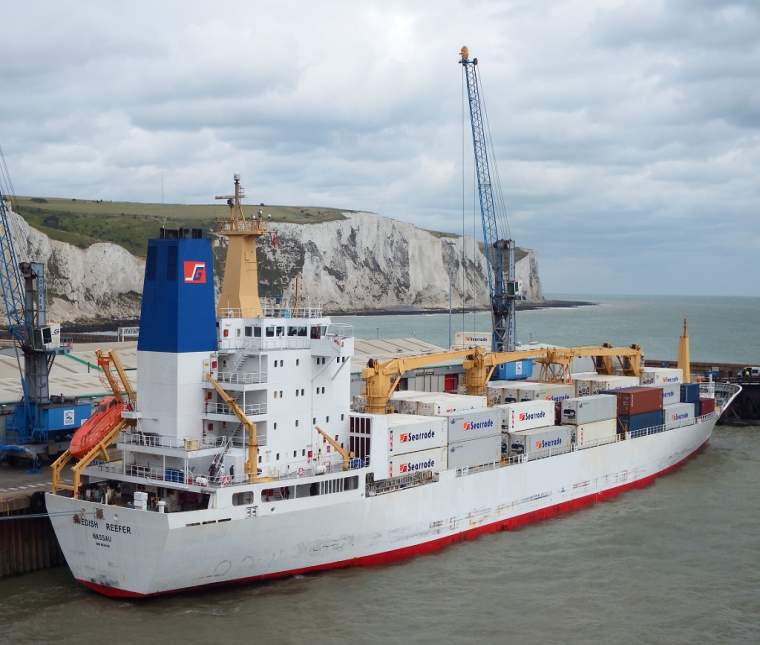 Cruise ship Sea Dream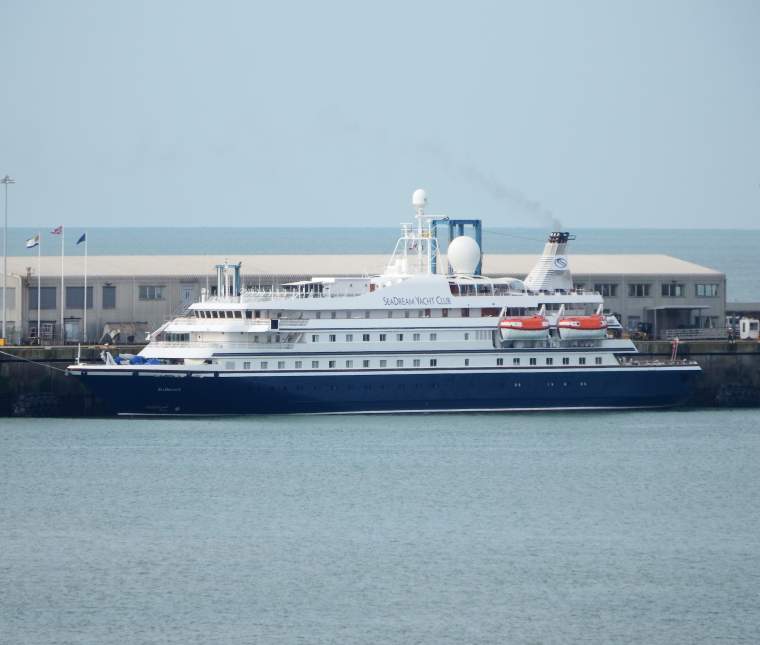 Toplift working out at the breakwater by the Knuckle.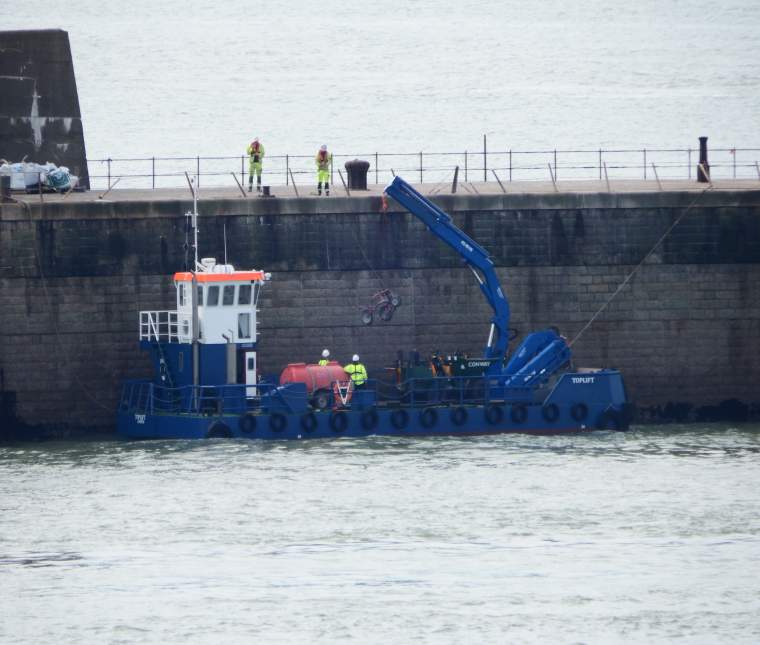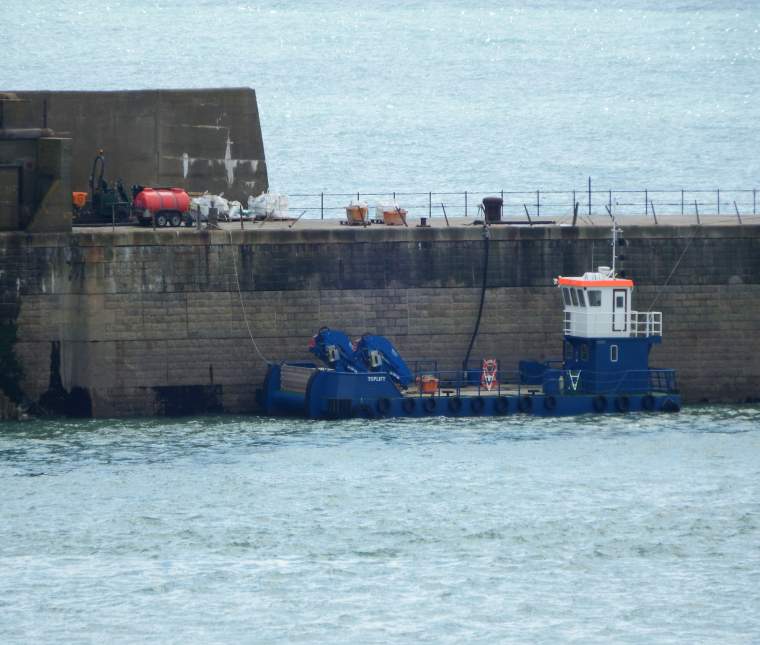 Wednesday, 20 August 2014 - 01:53
Post 1064
PaulB, Dover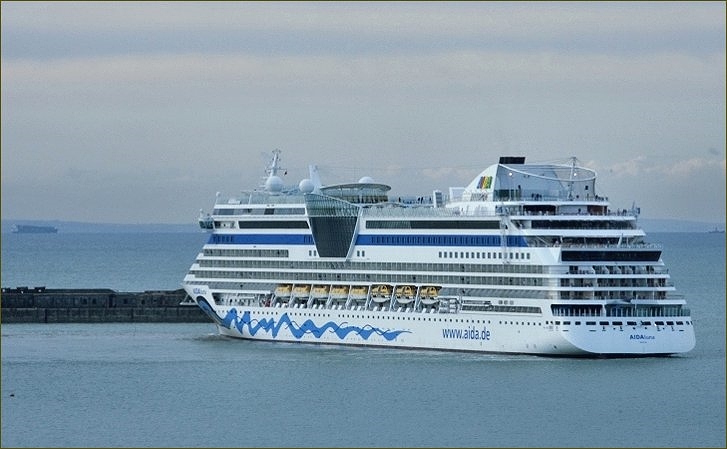 The AIDALuna arriving in calm and tranquil style at 07.50 this morning. Also in harbour today is our familiar friend the Ocean Princess.
Below we have the Crystal Symphony departing in the blustery choppy conditions a couple of evenings ago. Choppy seas there for the departing pilot. All adds to the drama of course.. picturewise.
Vic we will look further at the situation you mention and see if anything can be done.
Colette speaking of birthdays - this specialist SEA NEWS page isn't one year old yet, but its coming up very soon, end of august, and yes a good luck for the future to MyFerryLink.
Tuesday, 19 August 2014 - 07:57
Post 1063
ColetteB, Dover
Super 2nd Birthday Celebratory offer from MYFERRYLINK

It's great for us consumers to have many choices, competition IS healthy, long may it stay this way


Monday, 18 August 2014 - 15:11
Post 1062
vic matcham, dover
Thanks Paul sorry to say that does not work .
And the guns going off might have been army training.

Monday, 18 August 2014 - 10:43
Post 1061
PaulB, Sea News, Dover.
THE MYFERRYLINK BIRTHDAY FLASH SALE – ALL crossings available for £19 (save a minimum of 46%) for one day only
________________________________________________________________________________________________
18 August 2014 - Dover-Calais ferry operator MyFerryLink is celebrating its 2nd birthday with a one day (24 hour) sale on Wednesday 20 August 2014.
For one day only, customers will be able to book any crossing for travel between 4 September and 17 December 2014 for just £19 each way for a car and up to nine passengers.
This incredible flash sale means that customers will save a minimum of 46% (£16) on MyFerryLink's standard 'from' price of £35 each way and could save a great deal more on peak crossings!
In addition, there will be huge birthday cakes onboard the ships on 20 August and those actually travelling on MyFerryLink's birthday can enjoy a slice!
To find your £19 fare or for more information, visit www.myferrylink.com or call 0844 2482 100
Ends
Rodin.
Monday, 18 August 2014 - 10:07
Post 1060
PaulB, Dover
Hello Vic, I don't know as yet if the Lifeboat was called out, but I don't think they fire the gun off any more. They used to do it from the clock tower with earth shattering effect to the ear drums. Nowadays I think technology has taken over and they call the guys with pagers or mobile phones...bit less exciting but there we are...

Try pressing Ctrl and F5 at the same time on your keyboard and that will reload the page, hopefully to good effect, and all the pictures should come up. If that doesn't work let me know and we can ask technical guru Chris Tutthill himself what he recommends.

Monday, 18 August 2014 - 08:06
Post 1059
vic matcham, Dover
Please can you tell me if the lifeboat was called out last night as we heard the guns going off 3 times, Thank you,
Also I am not getting a full photo up and can you tell me why?and what I can do about it,? Thank you for any help,

Monday, 18 August 2014 - 07:50
Post 1058
PaulB, Dover
The weather got very rough again yesterday and we had the tugs in operation once again helping the ferries dock. Got these pictures around about 4pm when it was particularly rough just outside the harbour as the ferries began their journey towards France. It was a good bracing day for the passengers with lots of blustery fresh air to chase away life's cobwebs.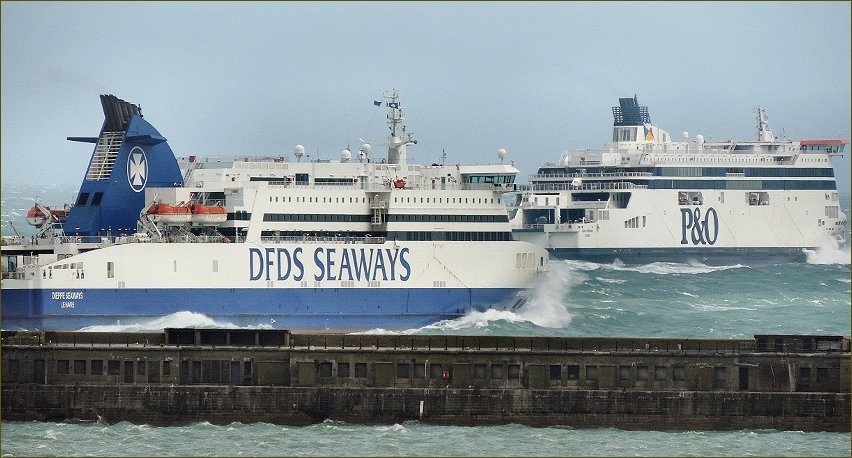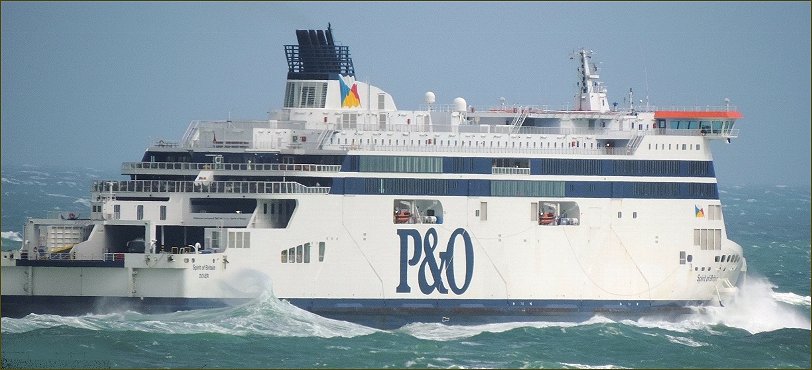 The pictures were taken over the long range in a sort of weak and watery sunlight, but they show the conditions. The ferries featured are the DFDS Dieppe Seaways and the Spirit of Britain. Incidently the Spirit was docking here bow first yesterday for some reason. Wonder if it is still suffering some fallout from the recent minor mishap.
It was a busy cargo day yesterday Sunday. This first picture below shows a cargo ship called the Swedish Reefer, don't think I remember this one before so it was very interesting to see. A tad earlier the Costa Rican Star made her way off and the Swedish Reefer took the slot. The cargo bay was in full blazing floodlit operation way past 10pm last night. It never sleeps by the looks of it.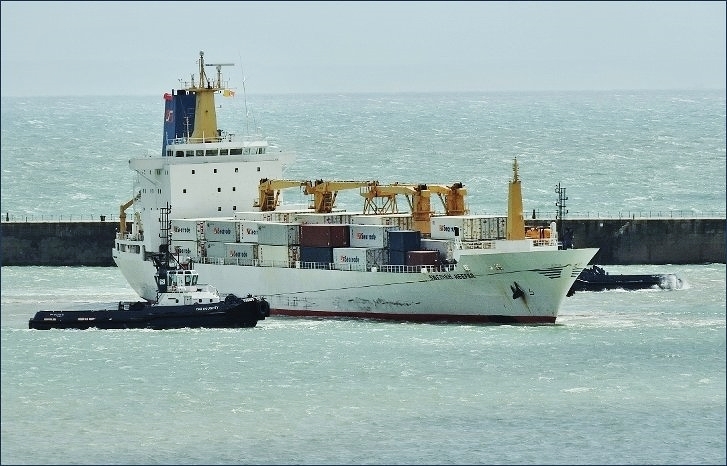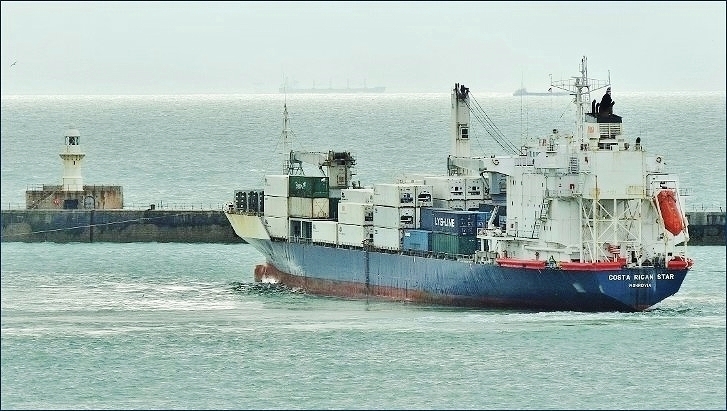 Yes Ray the Sea Dream did seem to put up a bit of a smoke trail...we will be able to have a further look when she returns on the 30th of August. We have some pictures too of the Crystal Symphony leaving last evening which will follow in due course.
Today the AIDA Cara is back in harbour..and the Saga Pearl is due..
Twas a hectic time for activity and pictures over the weekend and so it continues, lots happening in and around the Port of Dover...
Monday, 18 August 2014 - 06:27
Post 1057
Ray, Dover
Nice photos of the recent visitors to the Harbour tis a shame though that the Sea Dream seems to be trying its best to lay a smoke trail wherever it sails.

Sunday, 17 August 2014 - 12:48
Post 1056
PaulB, Dover
Worthwhile adding another couple of pictures of the luxury super yacht Sea Dream I. Picture above shows her departing on a busy sun-kissed Saturday evening..heading for Ostend. She cuts a mean dash as she powers through the briny blue. She was a very welcome visitor here in Dover for sure, quite exciting for the cameras. Have many more pictures available but we will settle on these two. The one below is an extra one of her early arrival. Now that she has departed for foreign shores we will have to put any thoughts of caviar and gin slings on hold ...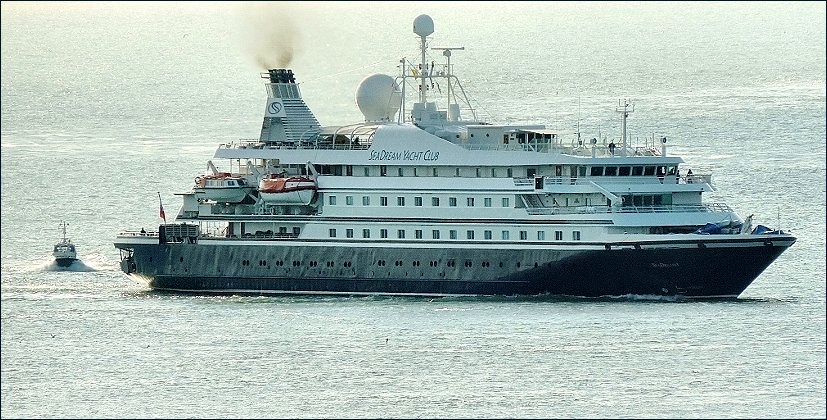 Today and already ensconced as we write, we have the Crystal Symphony in harbour.
Also due in is the Braemar, so today we have another double header.
Sunday, 17 August 2014 - 06:09
Post 1055
ColetteB, Dover
Great photos guys of the last couple of day's cruises

Good to see the ever so glamourous SeaDream 1, cavier & gin slings MrB, now you're talking

Saturday, 16 August 2014 - 20:01
Post 1054
PaulB, Dover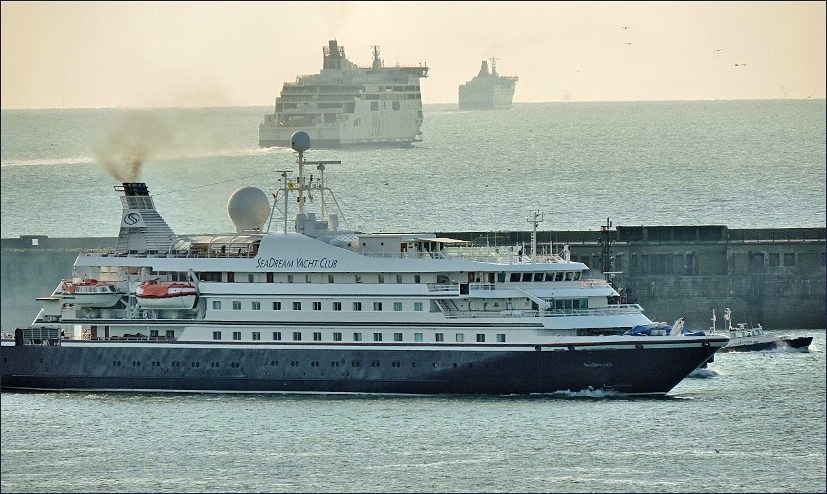 The exciting and very glamourous Sea Dream I arriving here with us in Dover Harbour just a few minutes ago as I write ( 08.10). One wouldn't say no to a gin sling on the foredeck of that one...perhaps with just an ever-so-small dollop of caviar...

A couple of pictures of the colourful departures late last evening...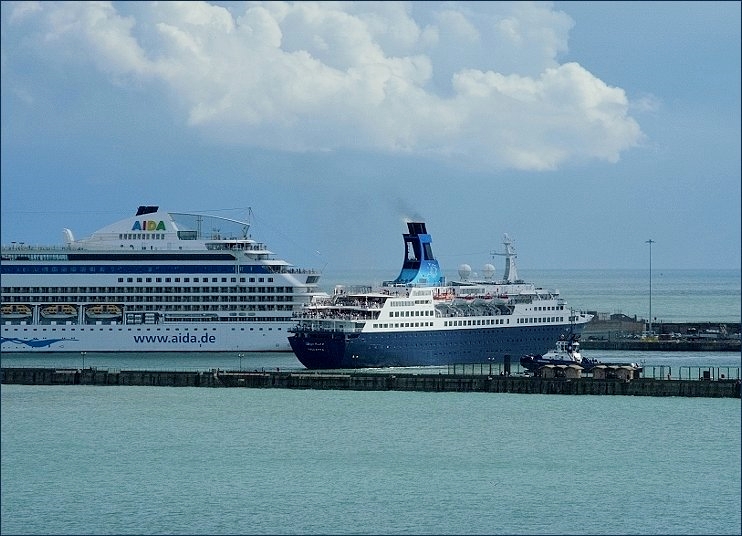 The Saga Pearl II turns in the inner harbour and is illuminated by a shaft of golden light from on high. Right next to it is the AIDA Luna which didn't go out until it was quite darkish. Earlier, in the pic below at around 19.00 or 7.00pm, the MV Azores made its way out into the open sea with France all aglow in the background enjoying the evening sun.
Well done with those ones below Mike. Great stuff!
A good reminder that one Colette...had forgotten for the moment.
Saturday, 16 August 2014 - 08:11
Post 1053
Mike J., Dover
Another view of the AZORES, the first of today's visitors.
Whilst the AIDALUNA was swinging before berthing on Cruise-2 Trinity House's ALERT sneaked out under her stern after spending the night alongside the DAVID CHURCH.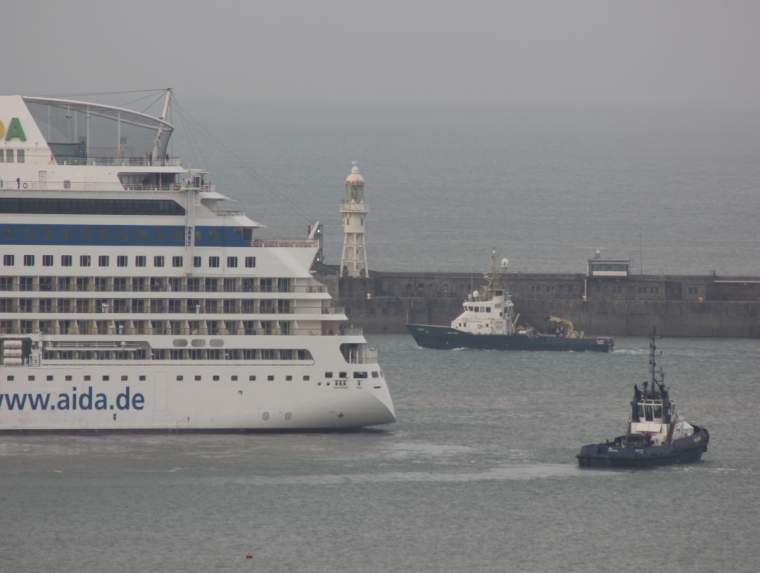 Friday, 15 August 2014 - 21:30
Post 1052
ColetteB, Dover
A Reminder:
Don't miss the inaugural visit of the luxurious SeaDream1 tomorrow at CT1


Friday, 15 August 2014 - 17:11
Post 1051
ColetteB, Dover
Beautiful photo there of DFDS Seaways with the lovely sandy beach of Calais

I will have to bag myself one of those terrific DFDS deals in September & with free wine too, Luvit!!! Rather fancy the France Gourmet week

Friday, 15 August 2014 - 15:45
Post 1050
PaulB, Dover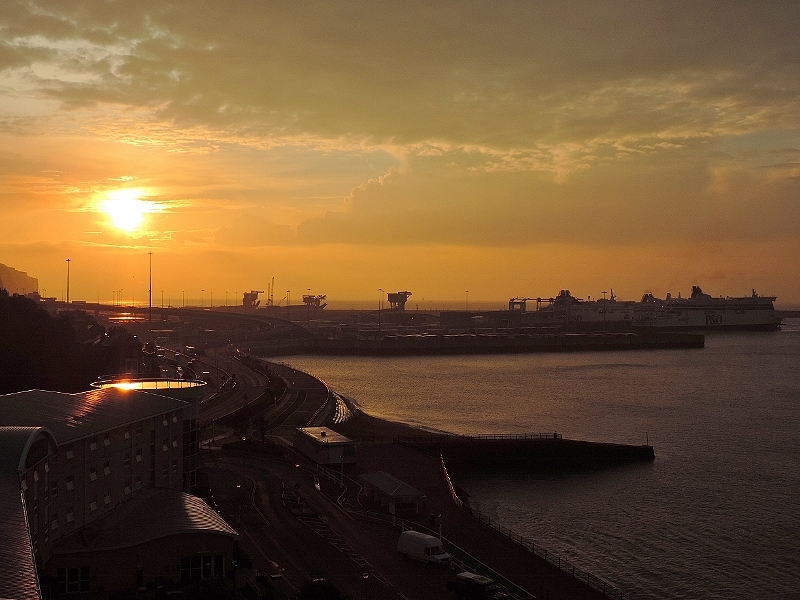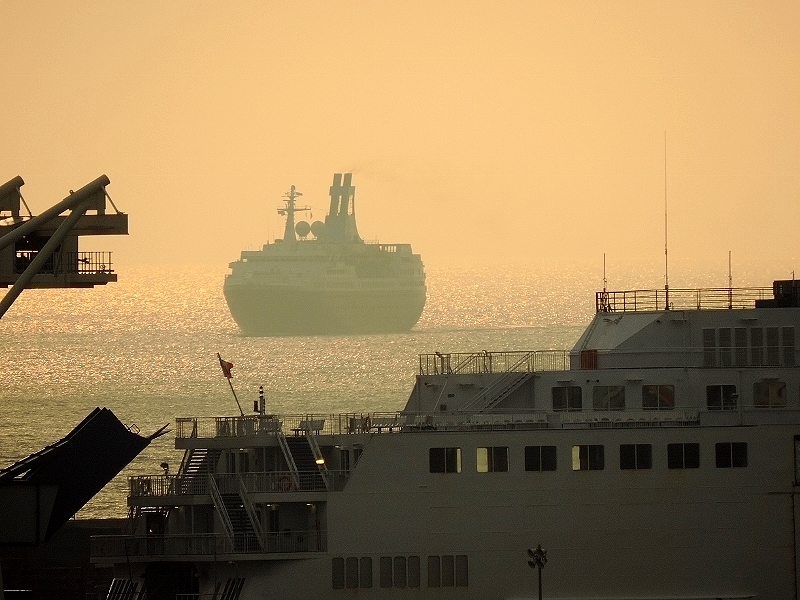 Well done Kevin, you got them covered there. Frantically busy this morning. Great to see three ships at once and all looking splendid. It greyed over very quickly but before it did I snapped the pictures above as two of the three ships approached. The other one escaped !!

.
Here we have the larger AIDA Luna and the Saga Pearl II approaching at long distance out of the early blazing sun. The sun vanished soon after.
Friday, 15 August 2014 - 11:06
Post 1049
Kevin Charles, Dover
It's a three ship Friday at Dover Cruise Port, providing an interesting contrast in cruise ship design! We have the 60 year old Azores, with the Saga Pearl II, and the modern look of AIDAluna. Great sight in the harbour.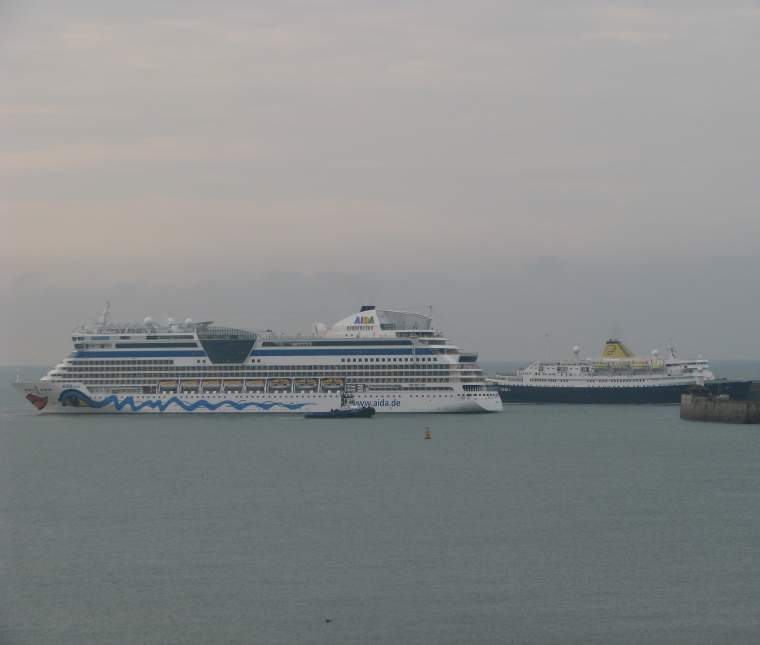 Friday, 15 August 2014 - 07:43
Post 1048
PaulB, Sea News, Dover.
"You can't 'wine' at our latest offers" say DFDS SEAWAYS
· Travel to France in September on one of our Dover-France crossings from as little as £32 each way for a car and up to nine people – saving 10%
· Book a return crossing and you'll receive six free bottles of wine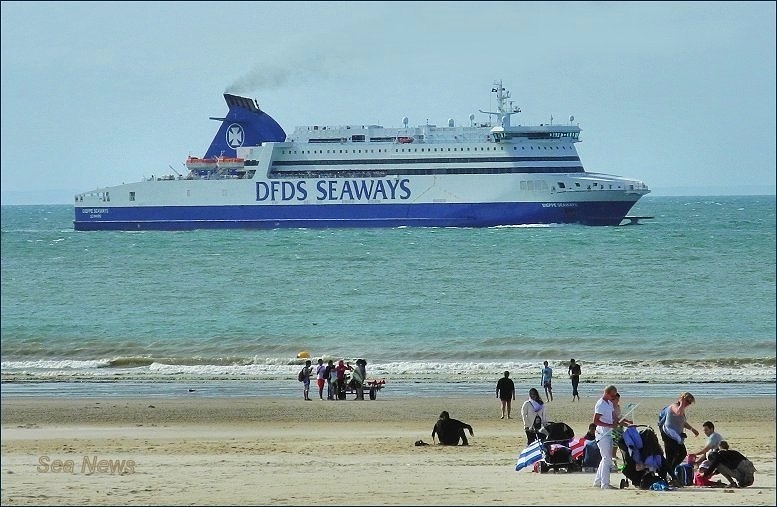 Award-winning ferry operator, DFDS Seaways, is offering a 10% discount on selected crossings during the month of September on its Dover–France routes, when booked before 31 August. Not only can you save money, you will also receive six free bottles of J.P. Chenet wine, when booking a return crossing. What a way to start your holiday!
France is the world's most popular tourist destination in Europe, with over 80 million visitors travelling across to see the beautiful country each year. Make the most of travelling in September, a fantastic time to visit France, with warm weather and fantastic events, many of which can be attended for free! A couple of highlights include:
· 6-7 September – Lille's famous street markets. Stalls pack out the city's square and streets to form one of the biggest markets you'll see in France. It has a variety of mementos and gifts on offer to take home for loved ones.
· 12–15 September – Amiens Air Centenary of the Great War. The cultural reconstruction and exhibition of the war era, a fantastic chance to show the younger generations all the memorabilia from the First World War.
· 20–21 September – European Heritage Days. You can enjoy many monuments and museums across France for free on these days as a celebration of the European heritage.
· 26 September–3 October – France Gourmet Week. To celebrate there will be a large variety of food fairs on offer all over the country to enjoy, many at little or no cost at all, allowing you to sample the country's gastronomic delights!
Ferry crossings with DFDS Seaways from Dover to Calais and Dunkirk are quick, convenient and great value. Customers travelling on the Dover–Dunkirk route can do so from as little as £32 each way, which includes a car and up to nine passengers and six free bottles of wine. Those looking to travel on the Dover–Calais route can enjoy the same offer from as little as £35 each way. This is an amazing offer for those looking to book a September getaway.
To take advantage of this offer, simply use the code EW6.
If you're not able to travel in September, be sure to make the most of the fantastic alternative deals for travel in August, October, November and December including:
· 10% off return and one-way ferry crossings on Monday to Friday during August
· 10% off all return and one-way ferry crossings between 1 October and 18 December
· Valid on all DFDS Seaways' routes from Dover–France
· Simply use the offer code EA10
DFDS Seaways operates up to 44 sailings per day between Dover and France, so you can always find a convenient time to cross. There is plenty to keep you entertained as you sail with onboard bars, a self-service restaurant and shops, where you can pick up any travel essentials that you may have forgotten.
To book your travel now, or for more information on this offer, visit www.dfds.co.uk
* * *
Thanks guys re the Lifeboat pictures, yes certainly is a tough game especially when the sea is rough like that.
RE UPDATE BELOW:Thanks for that update Colette...so we have a triple header today ..three cruise liners in all at once. Great stuff. AIDA Luna, MV Azores, Saga Pearl II. Plenty there for the cameras.
We have added the picture above to the DFDS press release, it shows the Dieppe Seaways in full flow with Calais Beach in the foreground. Many thanks to DFDS Seaways for the information as ever. A great deal for sure. Oh we love FREE WINE !
Friday, 15 August 2014 - 06:24
Post 1047
ColetteB, Dover
Cruise update for tomorrow Friday 15th August.
In addition to the AIDALuna & the Saga Pearl 11, the MV Azores will be at AP3, TR. She was last here in Dover in April this year

Thursday, 14 August 2014 - 22:32
Post 1046
Howard McSweeney, Dover
Great shots of our lifeboat in action, to think people volunteer to go out in seas like that.

Steve Ladner of the BBC is one of them.

Thursday, 14 August 2014 - 18:54