Friday, 27 November 2020

www.doverforum.com/sea-news
Sea Pictures from DOVER ....
See the OPEN LETTER from Port of Dover CEO Doug Bannister further below....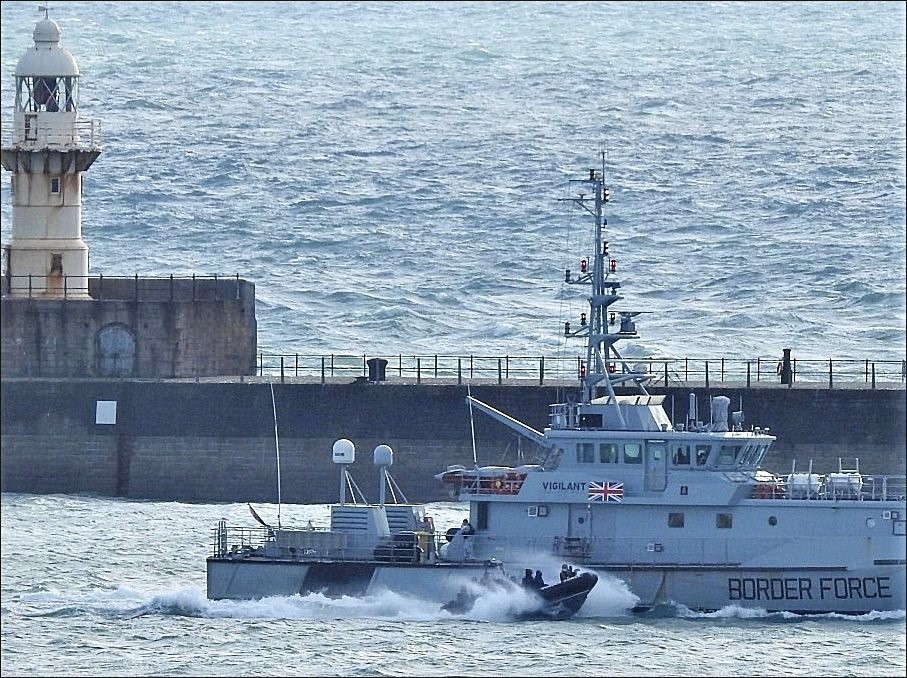 Border Force Vigilant seen here returning to the Port in the past few days...we believe the Border Force rib powering alongside contained some migrants as several incursions were reported on the day.
The Disney Magic resting tranquilly at new pier WD4 Port of Dover, the tranquility making a change from all the recent rough weather...while in the foreground the Harbour Patrol Boat meanders along keeping everything safe and secure... In the far distance you can just see the Vasco da Gama cruise ship heading for Portugal.
Below...the Sun Rising through the drizzle on the Dover Straits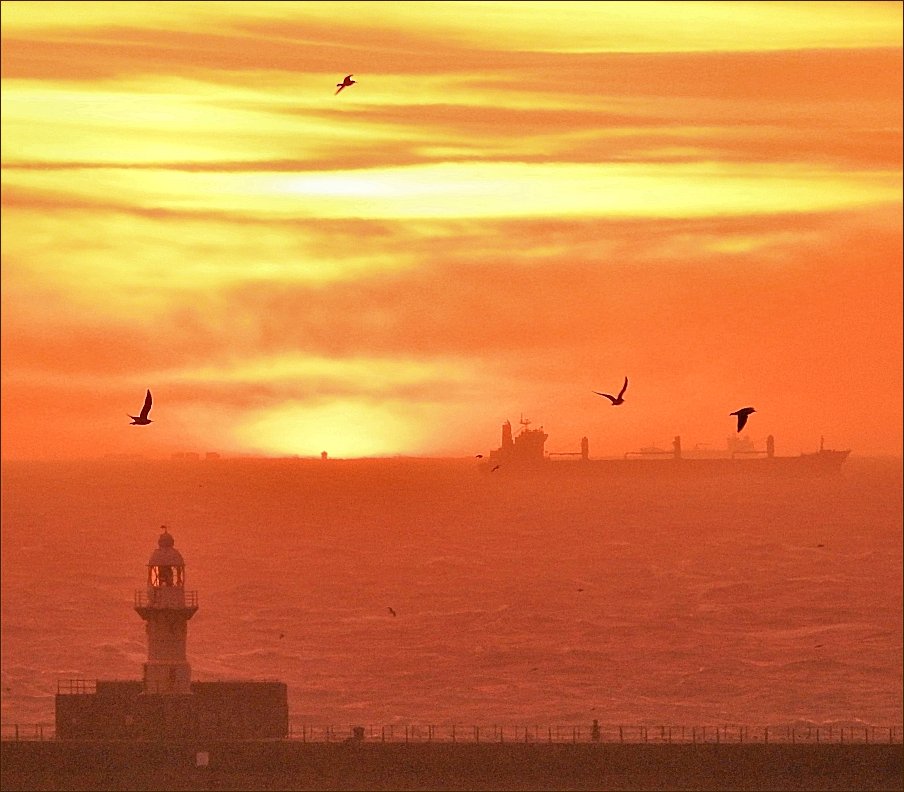 Yes the Sun rising through the drizzle... it begins to climb over Calais...as we look across the ever busy Dover Straits.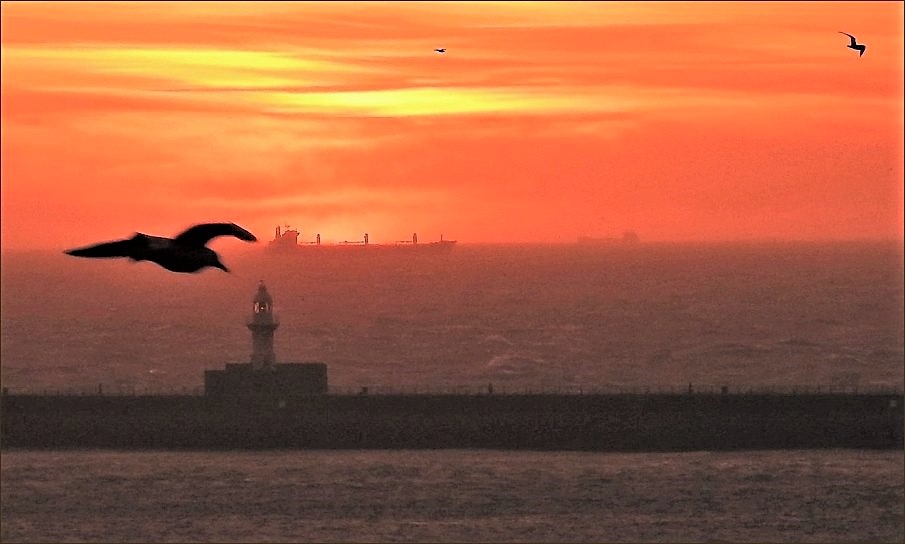 This picture taken a few moments before the one above....
November Sky - Dover Seafront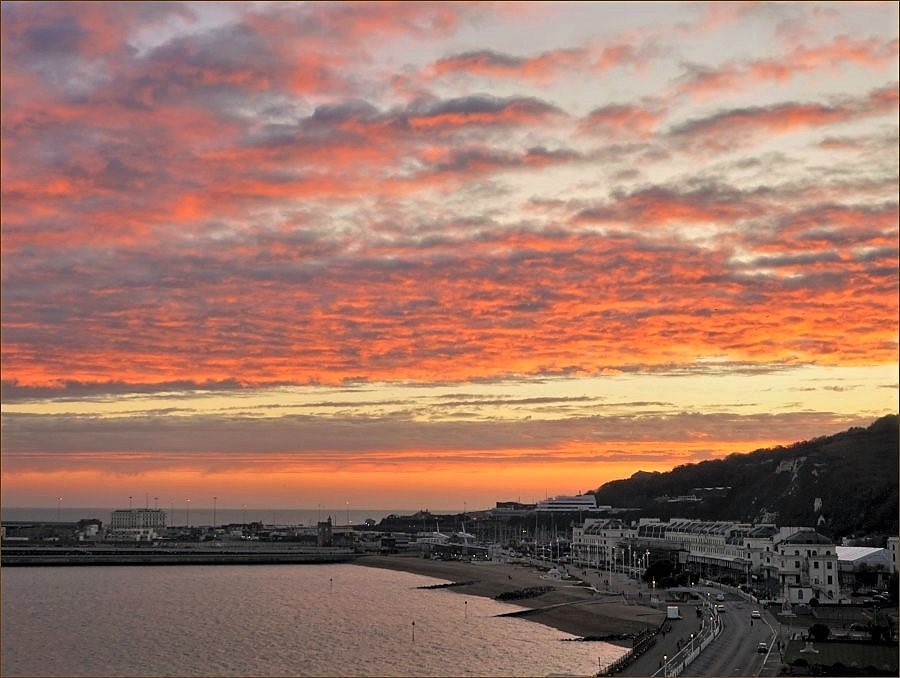 Dover Seafront November:
Striking evening sky as we look along Dover Seafront at sundown.....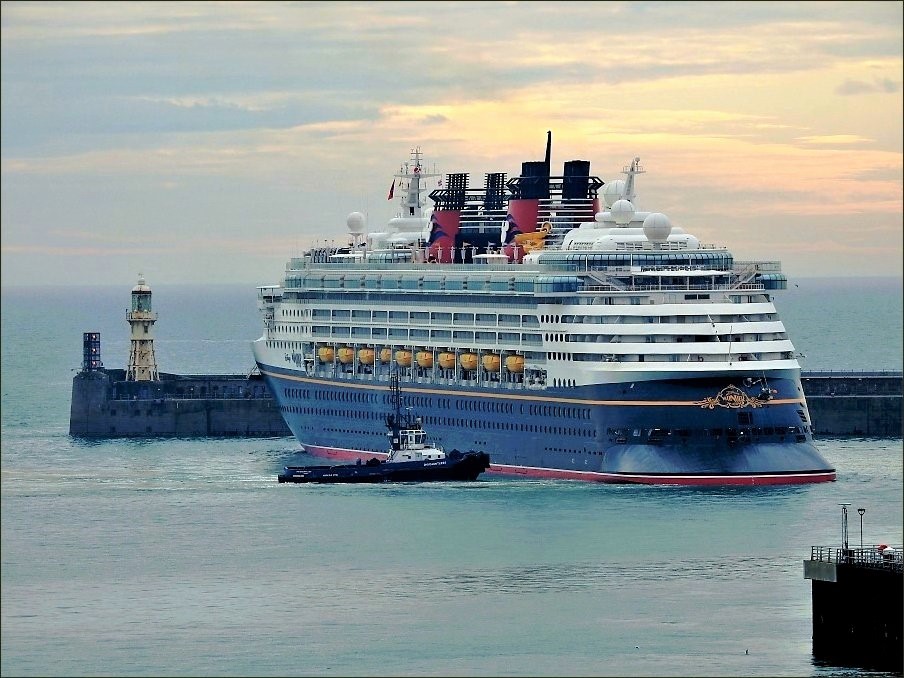 The Disney Wonder:
The Disney Wonder pulled away from Dover on the recent saturday heading for Funchal we understand...
.......a rough ol' trip in the prevailing conditions....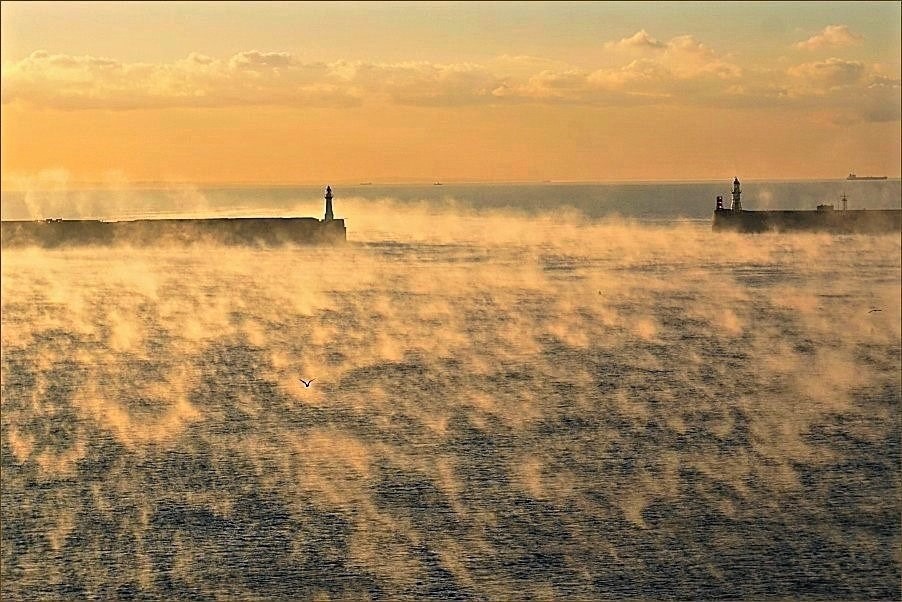 Dover Harbour: something of a rare site this...fog shimmering across the surface in this way, as shown above. Picture taken on a recent chilly but dazzlingly bright and sunlit morning.
" smoke on the water, fire in the sky "
DISNEY at DOVER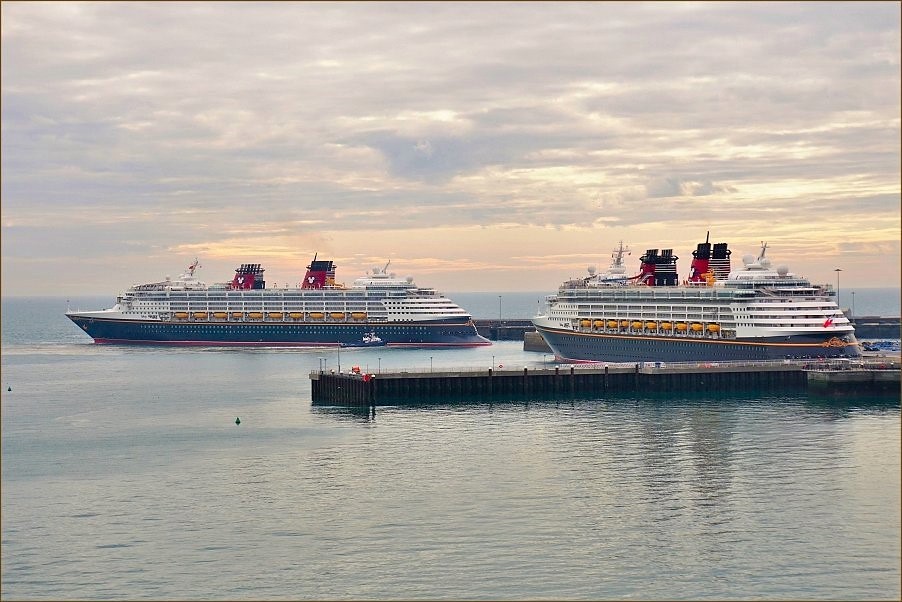 The Disney Wonder and the Disney Magic
If you quietly wish upon a star, hoping for even more wondrous magic in Dover,
...well you might just end up with two Disney's....
Fire on Western Heights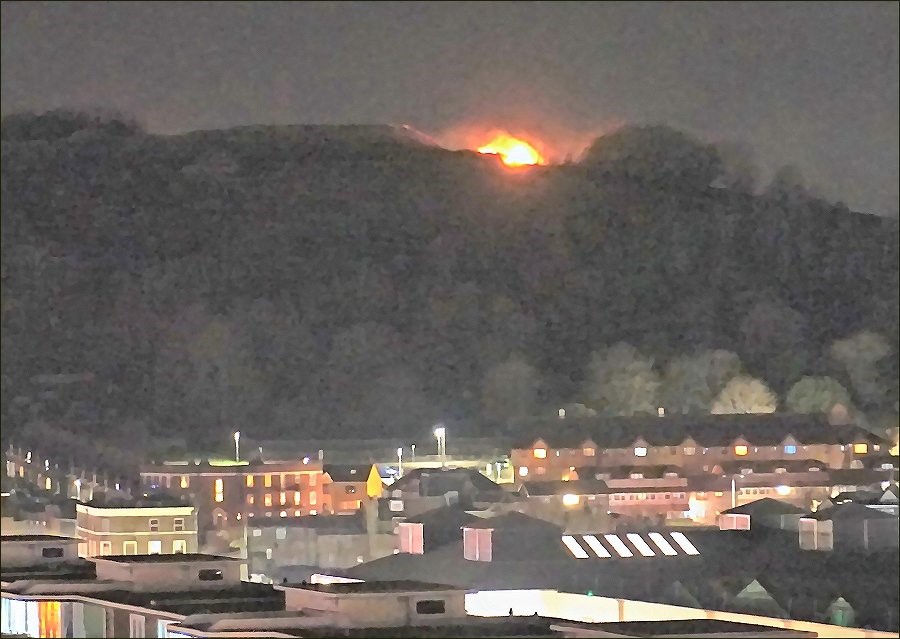 Something of a forced picture taken on friday night of the fire on Western Heights here in Dover. It seems a stray rogue firework caused it, setting scrubland alight. Four fire engines were in attendance we understand. The picture is of poor quality taken through the darkness, but it gives the general gist as we look across the rooftops.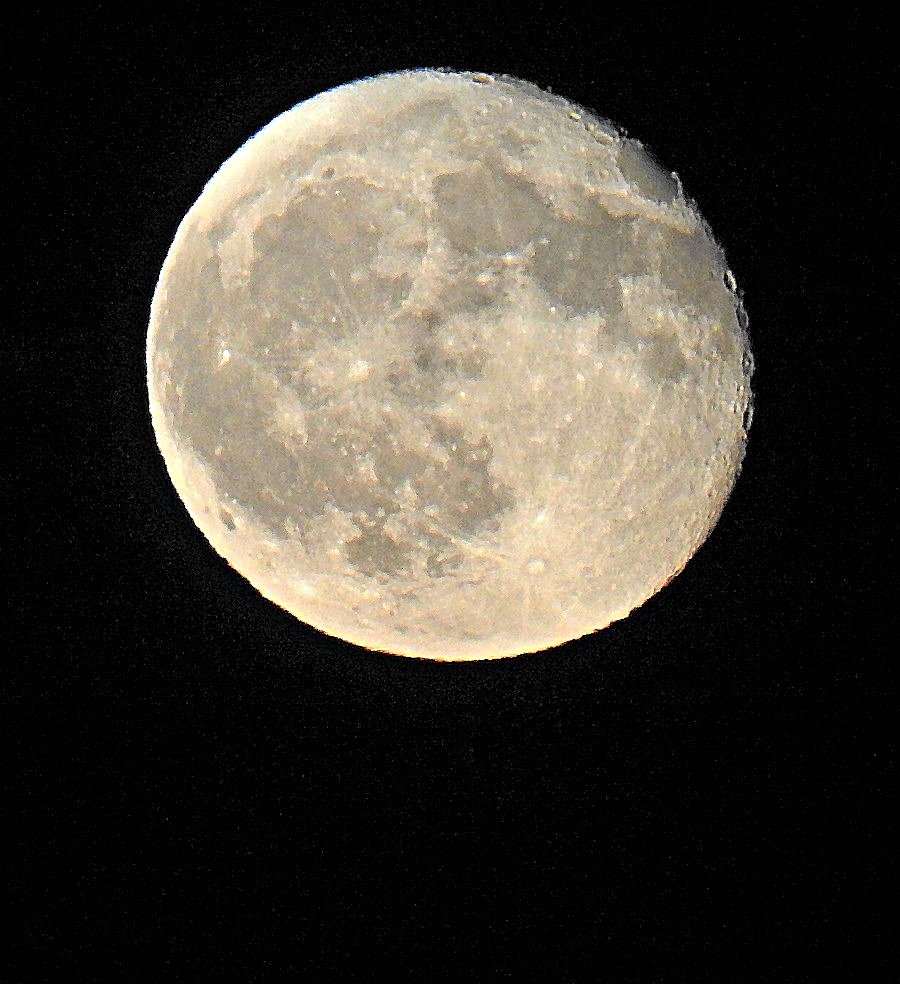 Full Moon over Dover....
The 'Blue Moon' over the Port of Dover in recent times.
Look at that rugged terrain...
* *
OPEN LETTER FROM DOUG BANNISTER, CEO, PORT OF DOVER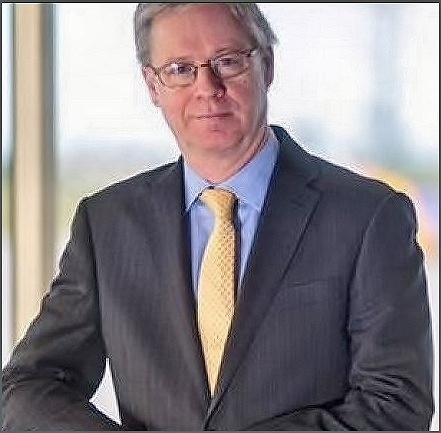 Dover is the right choice for business and consumers now more than ever
The United Kingdom Major Ports Group ('UKMPG') has issued a 'briefing paper' intended to encourage businesses to transfer cargo away from the Short Straits, the UK's most vital link to European markets.
The paper points out that the Short Straits, which includes ferry links between Dover and Calais, as well as the Channel Tunnel, has a 60% market share of 'British-Continental EU trade'. The Short Straits has achieved this market share because it is the right choice for business. Indeed, the paper acknowledges that the routes businesses use today are the right ones and the reason businesses choose the Short Straits is simple; it offers the most time efficient, cost effective and resilient access to international markets, delivering an estimated £3 billion saving for British businesses and consumers compared to alternative routes.
Our own independent analysis (Oxera 2018) has previously suggested that it would cost around £2.7 billion to take just 20% of our existing traffic in order to pay for new ferries operating on longer and slower routes. Importantly, these new ferries do not exist today and need to be built. With shipyard capacities and construction lead times, delivering such a fleet of new ferries holds significant lead time.
The UKMPG paper suggests that other ports might have capacity to take up to 60% of Short Straits traffic now, but acknowledges that this requires both Government and trader support for this offer of 'resilience' to be possible. Exponentially, this suggests that the cost to businesses and ultimately the consumer could be up to around £8 billion.
For Port of Dover, when looking at the overall UK Trade Resilience we take a systemic view – across ports, vessels, capacities, frequencies, operating models and traffic management schemes. To focus only on port capacity is terribly one-dimensional.
The geographic advantage that Port of Dover holds with the UK's largest trading partner means that a single vessel can complete up to five round voyages in a single day, making our ferries hugely productive assets. Further, our operating model delivers an average inbound dwell time at our port of just five minutes, providing unparalleled port efficiency.
Other operating models, for example containers and unaccompanied trailers may have inbound dwell times from several hours to even several days, adding inefficiency to the system-wide supply chains. For those routes with longer sea voyages, a single vessel may only make a single round voyage in a day – meaning to replicate the capacities and frequencies offered via Port of Dover would require five times as many vessels.
The UKMPG paper admits that a 'short term' constraint might be the availability of additional ferries to handle the trucks being encouraged to divert to other routes, whilst also citing wider capacity issues on the southern North Sea corridor.
The report is right to focus on resilience as we approach the end of the Transition Period, but what resilience do you have if you are sending traffic to ports where the ferries do not exist? Neither is that a quick fix. The market dynamic is important here. In fact, rather than investing in new ferries, operators at some of the alternative ports have actually been closing these longer routes with tonnage moving back to the short routes as that is what the market wants – Dover has of course kept going throughout the pandemic. This dynamic applies to the European side too, with the majority of freight vehicles choosing to route through northern France to Calais and Dunkirk as it is simply closest.
All EU-facing UK ports will be under the same rules – there will be a standard process and transaction applied everywhere. We know from examples elsewhere, such as 'Operation Wellington' on the Humber, which anticipates using parts of the M62 and M180 as holding areas for HGVs, that if there is disruption it will be everywhere. The report itself admits that there is already a risk of disruption at these alternative ports due to new systems for HGVs. Therefore, on top of this, sending more traffic to ports that do not even have the ferry capacity will make the situation far worse and create far less resilience for UK trade.
In contrast, the traffic management regimes for the Short Straits are tested and proven – in short, we know they work. For example, the recent national security operation that affected all ports with additional screening and searches left around 4,500 lorries in Operation Stack. When the security operation ended, Dover had cleared all queuing traffic and was back to normal operations within just 12 hours. Nowhere else could do that. It would take weeks with the current vessel capacities and frequencies available elsewhere. For UK trade resilience, supply chains must have the confidence in managing periods of disruption, and crucially recovery and restoration of normal flows as swiftly as possible – both areas in which Port of Dover has excellent credentials.
As we all navigate the massive economic difficulties caused by COVID, and the uncertainties as we approach the End of Transition, it is right to showcase the incredible efforts of the maritime sector, and the excellent ports that we have across the nation towards ensuring supply chains are robust and functioning well.
Come what may, we will keep working to keep the nation supplied with the essential goods people need at this difficult time and give all businesses wherever they are the benefits of Dover's unrivalled service. This is what we do all day, every day.
Indeed, as the Maritime Minister said on a panel discussion with us only the other day regarding the national trade network; 'you have to have goods and people moving around freely. So if you are to have parts moving quickly and efficiently across the Channel, and through Dover, and through the country, you have a much easier opportunity for companies that might exist in the Midlands or in the North to get involved in whatever that industry is.'
The report says that the UK has not always been reliant on the Short Straits, harking back to pre-Single Market days. Equally, the UK has not always been reliant on the internet and same day/next day/just-in-time deliveries, but it is now.
A vision that takes the UK backwards is not the vision of the future we want to see. We need one that backs consumers and businesses everywhere for the challenges and opportunities ahead of us. We feel that we should celebrate our impressive, modern and efficient supply chains across all ports and modes throughout the nation.
For Dover, we fully appreciate the essential role that we conduct for the nation, and will continue to take our responsibility with all of the due care and attention the British people would expect of us, which is why Dover will remain the clear market choice.
Doug Bannister, CEO Port of Dover.
ENDS

WWW.DOVERFORUM.COM/SEA-NEWS
Sea Pictures from DOVER ....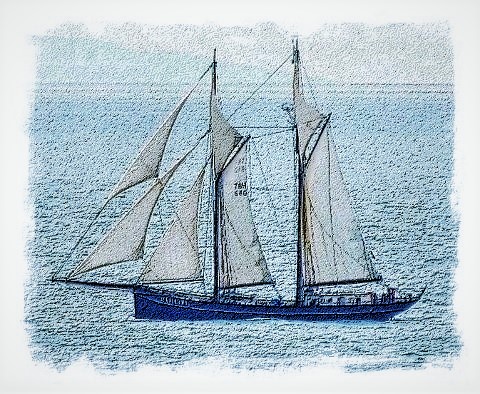 Use our SEARCH ENGINE below to find all sorts on the SEA NEWS pages....type in the topic and away you go,
or if you have the post number, just type it in the Search Box.
There are more than
- 7000 -
nautical posts in the section below.
Paul Boland - dover7@msn.com
Sea News Dover:
All pictures on these pages are the copyright of the owners and must not be reproduced without permission.
Post 631
PaulB, Dover
Exciting set of action pix below there Ed. Cracking stuff! Always delighted to see those shots from the high seas and from the thick of the action...the skill of those helicopter pilots cannot be undersold. In fact the skill of both sets of pilots cannot be undersold!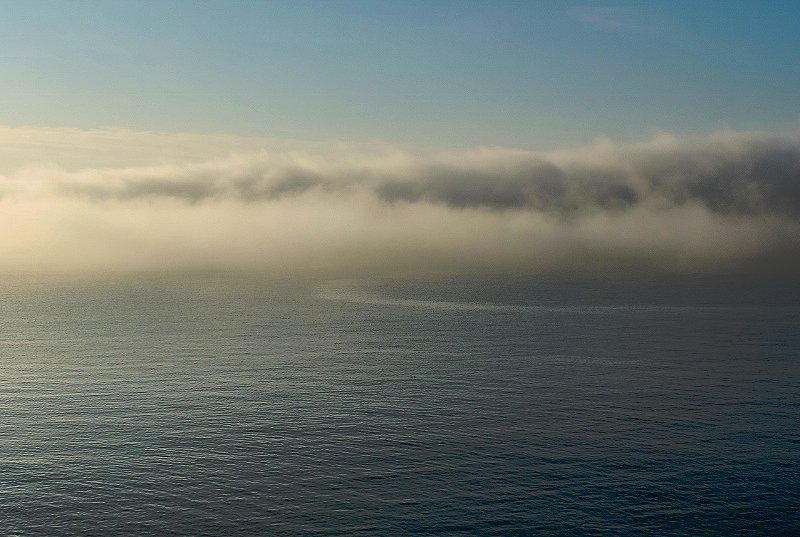 Yes I heard the foghorns and whistles go off...this is a picture of the harbour from 2 days ago. Thick fog rolling in...
Interesting comment Vic hope you enjoyed your visit...and thanks for the response and solid info below there Kevin. All good stuff.
Note : Ed's post (now below) was pinned to the top of page for a number of hours..now released.
I am currently experimenting with a newly added system to see how it works in practice... so bear with.
Further note in editorial at the top.
Monday, 7 April 2014 - 07:27
Post 630
Ed Connell, Dover
Dunkerque pilot landing on Dover Seaways the other day to monitor the Chief Officer as he worked towards the grant of his Pilotage Exemption Certificate (PEC) for Dunkerque.
The black hole in the front of the funnel is where the whistle had been removed for a few hours for maintenance - has had plenty of use since in brief spells of fog in the last couple of days!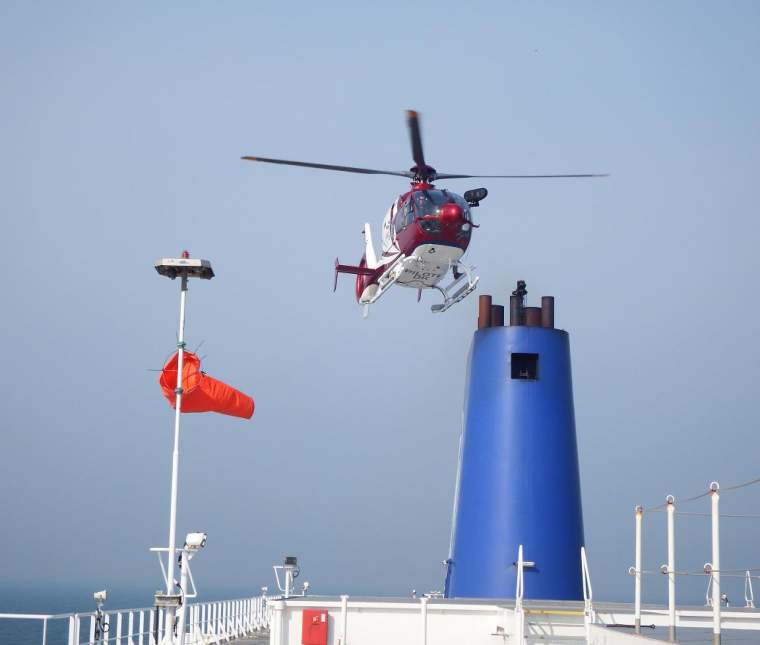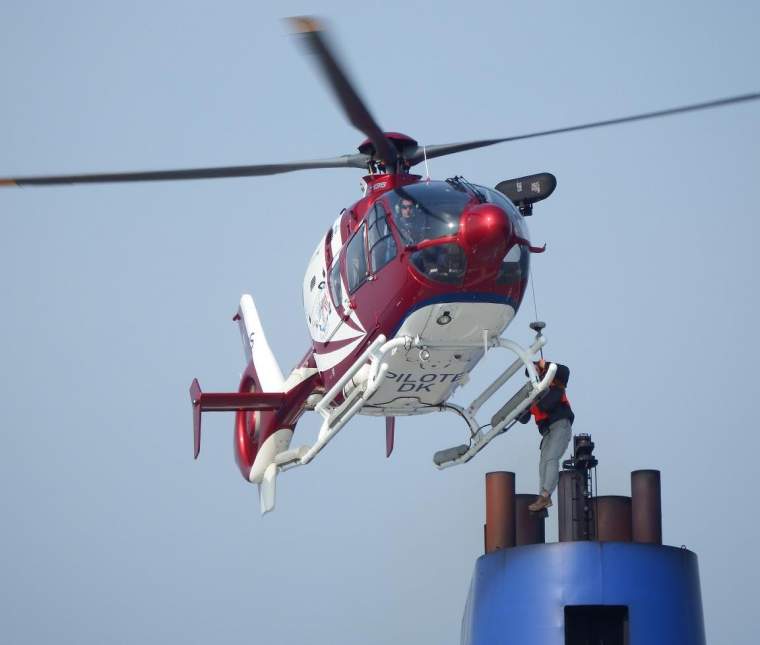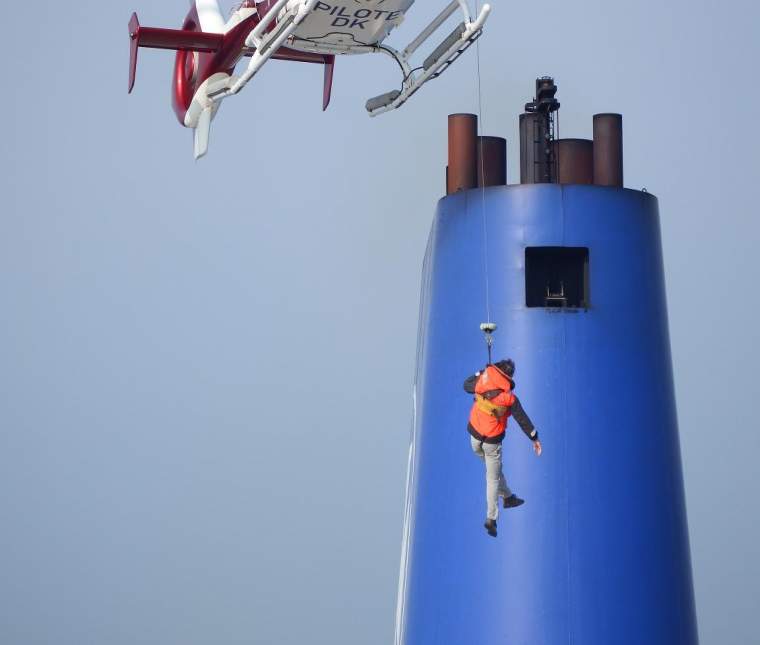 Sunday, 6 April 2014 - 22:09
Post 629
Kevin Charles, Dover
HMS Lancaster entered service with the RN in 1992 so has been in service for 22 years. The Type 23 are due to be replaced by the Type 26 which is currently in design phase. The Type 23's are all named after Dukes, including HMS Kent. HMS Lancaster is known as the "Queen's Frigate" as the Duke of Lancaster is an honorary title of the sovereign.

Sunday, 6 April 2014 - 20:28
Post 628
vic matcham, dover
It is an old war ship, when we went over it I did aske one of the officers , will this ship be taken out of service soon? I was taken back when told it will remain in service for some years yet owing to the gear it has on it.
I do not think he was talking about the life boats.

Sunday, 6 April 2014 - 15:40
Post 627
PaulB, Dover
Further Pictures of our Royal Navy Weekend...
To let everyone know again...HMS Lancaster is open to the public today sunday from 10am to 5pm. Last visitors allowed on at 4pm
I hadn't intended to attempt a further picture of Lancaster..she being so well camouflaged against the harbour wall, but suddenly the light changed yesterday evening and for some reason it was do-able and there we are above. She cuts a striking dash in the pale evening light. The downside was a red bus/coach parked on the pier right behind it. In the long range shots the bus appears to be on the rear deck of the ship and ruins the picture bigtime...so I have cropped it out. That is why the rear of the ship is missing in this case.The thing is...yours truly didn't really notice the bus at the time... doh! I'm truly parting from my marbles!!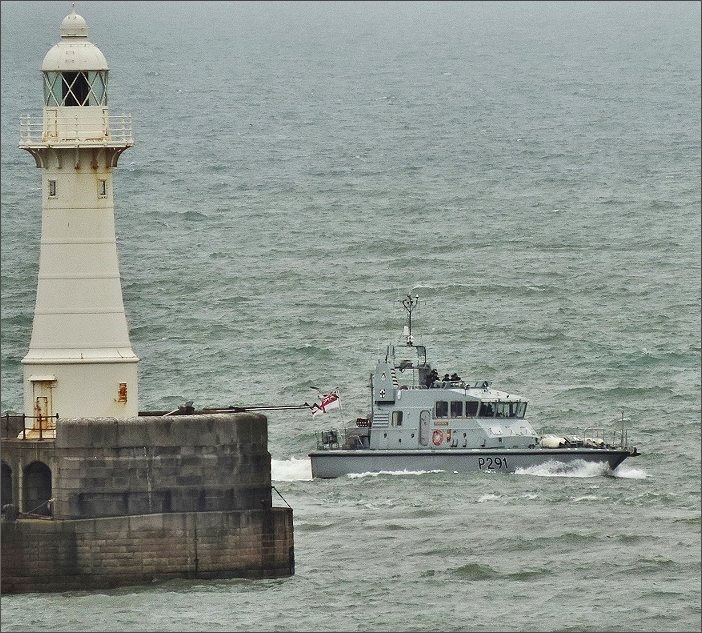 Another picture of HMS Puncher arriving to follow on from the one below further down the page. For some reason this vessel is very photogenic when most times Royal Navy ships in their slate grey are very hard to photograph, even when they float by your rear window in full view. I shall be writing to the Admiralty asking for the whole fleet to be painted white with immediate effect!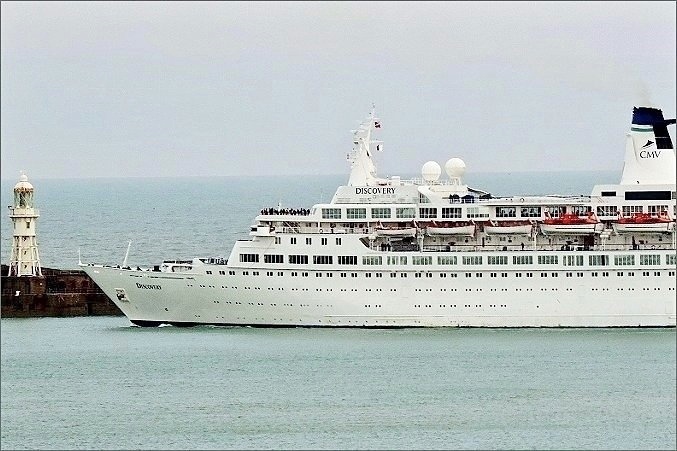 We sort of forgot about the Discovery with all the Royal Navy activity but here she is for the record leaving on Friday evening.
Enjoy your visit to Lancaster Howard. Unusual pic that below...

Sunday, 6 April 2014 - 07:06
Post 626
howard mcsweeney, dover
good action shots of the 2 naval vessels, looking forward to going onboard the frigate tomorrow.
this one was taken at samphire hoe yesterday, the swarm only lasted a few seconds and they were gone.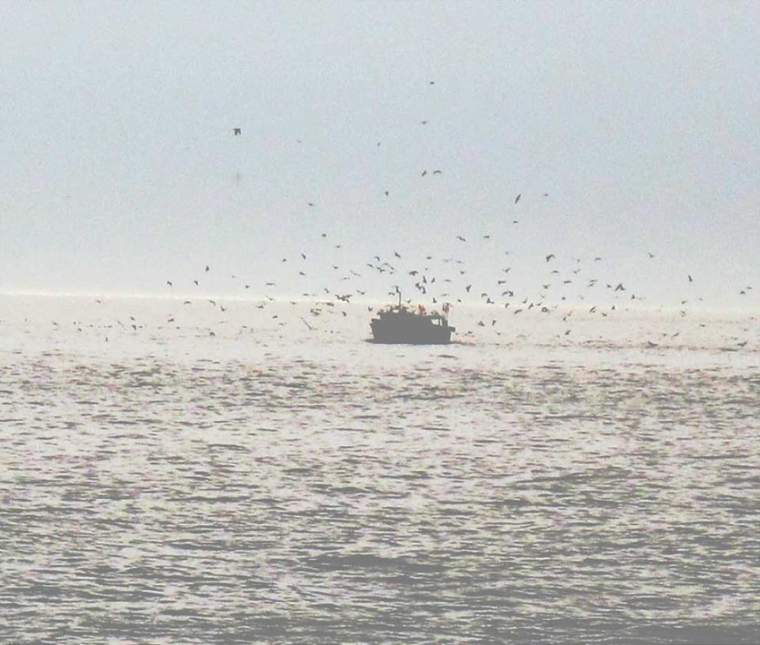 Saturday, 5 April 2014 - 14:53
Post 625
Vic Matcham, Dover
Nice to see. You only need one more Royal Navy ship here and that will be the whole Navy.

Saturday, 5 April 2014 - 11:37
Post 624
PaulB, Dover
Coming to Join the Party!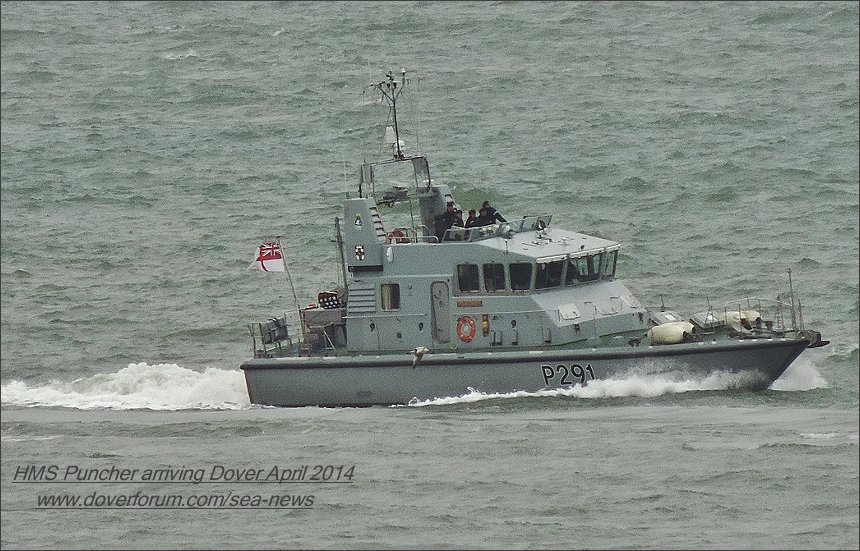 See also Post 569 below. This is a big Royal Navy weekend here in Dover and very welcome they are too, with Type-23 Frigate HMS Lancaster visiting in fine style and open to the public on Sunday. The crew of the ship will be onhand to chat to all visitors. Should be fascinating to see...it will really be worthwhile making a trip down to harbour.
The vessel above is HMS PUNCHER, a special ops vessel as I understand it, but also used in training. It made a spectacular entrance to the harbour yesterday afternoon about 15.30...powering in with gusto as you can see. Coming to join the party...
Just to mention again HMS Lancaster is at Cruise Terminal 2 and is open sunday from 10 until 5
..last visitors going onboard at 4.

Enjoy!
Saturday, 5 April 2014 - 06:55
Post 623
brian d., sunney hieghts.
that's a bit convenient init, hms open from 10 00 to 1700, and the travel show also open from 1100 until 1600.
Friday, 4 April 2014 - 16:04
Post 622
PaulB, Dover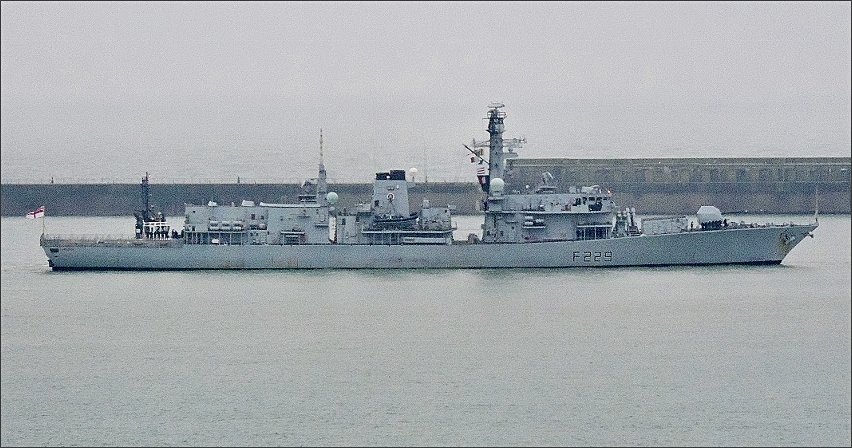 HMS LANCASTER ( type 23 frigate) arriving Dover Harbour a short while ago. Time of picture 0805. Now at CT2 for 4 day visit. Will be open to the public on sunday as mentioned by Kevin below in post 559 from 10 until 5..last visitor on at 4.
Friday, 4 April 2014 - 08:39
Post 621
PaulB, Dover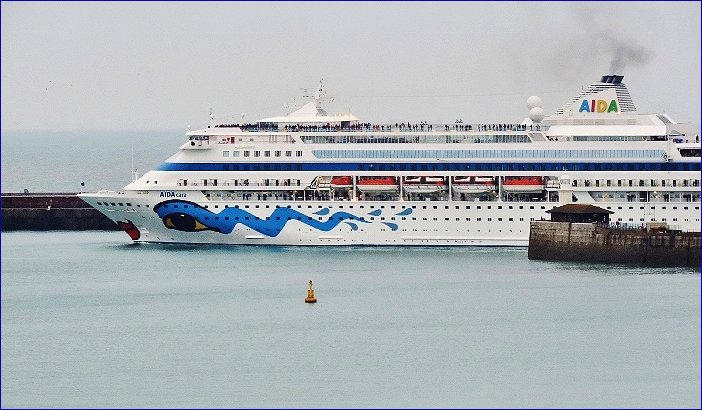 Interesting pictures as ever lads and a well said there to Vic. The night time picture from Dunkerque is a cracker, always hard to get night pictures. The pic above shows the AIDA Cara leaving last evening about 5.15 or so. Not a great pic from a grey oul evening...but as they say..better days ahead.
The Discovery is arriving as I write..very misty.
ADDED EXTRA at 08.05: HMS LANCASTER arriving in still misty conditions.
Thanks to Kevin for the earlier tip off and info in post 559.
Friday, 4 April 2014 - 07:28
Post 620
Vic Matcham, Dover
Yes they turn better than a car.
Again thank you for the great photos for the port and what is happing in and around it.
For the public that can not get about like they use to this must be a big + for them to log in to the Dover Forum and still see what is happing in Dover now they can not get out about anymore.

Friday, 4 April 2014 - 07:04
Post 619
Mike J., Dover
Driving along the A20 on Thursday I noticed the unusual sight of the DAVID CHURCH doing a spot of dredging in Granville Dock.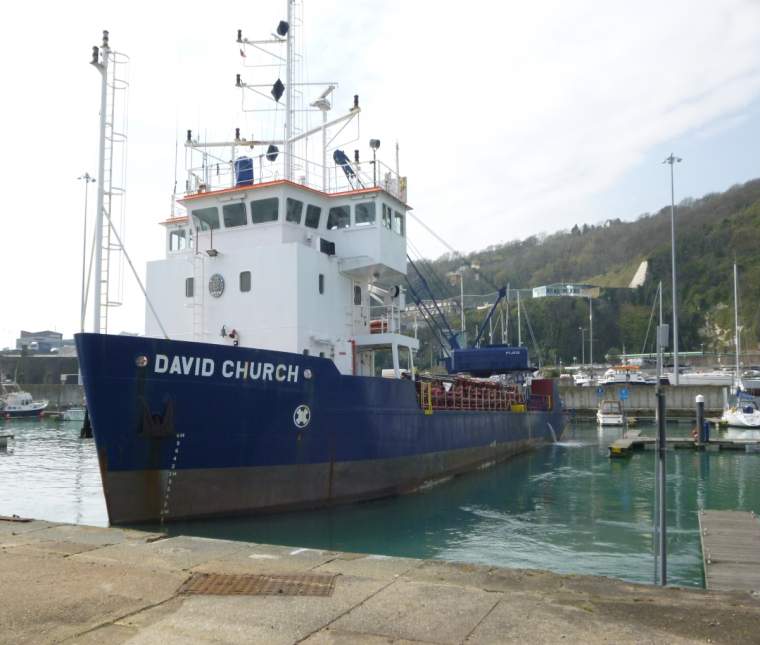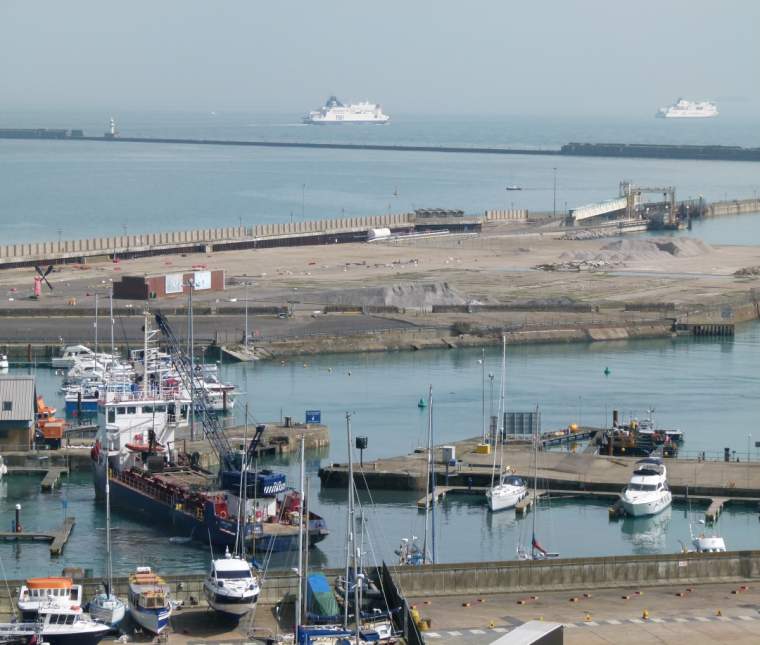 Thursday, 3 April 2014 - 22:02
Post 618
Ed Connell, Dover
Calais Seaways in Dunkerque West last night.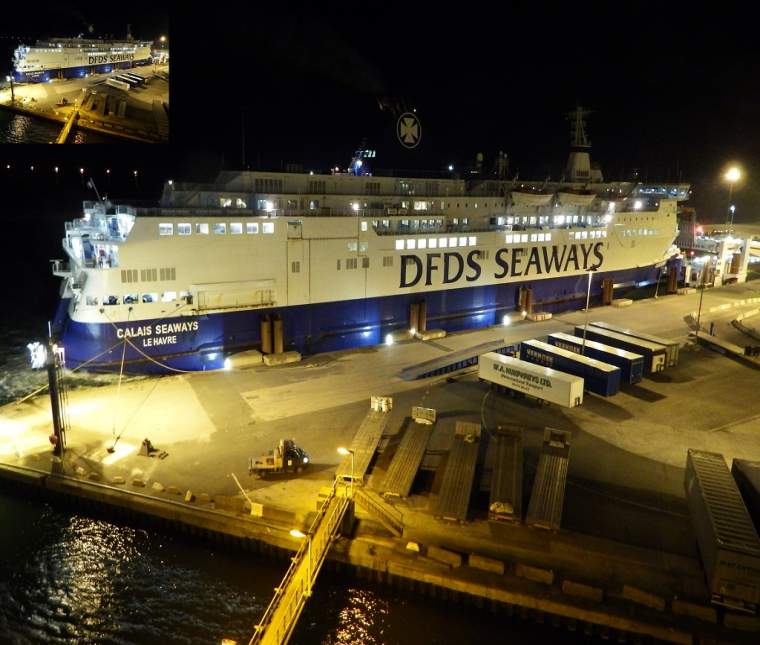 Thursday, 3 April 2014 - 18:22
Post 617
PaulB, Dover
Thanks Brian. Here we are with the official latest...
Please note : we cant do live links so please copy and paste where appropriate...
____________________________________________________________________
ISSUED AT: 15.50hrs
The industrial action in France has now ended and the Port of Calais is resuming normal operations for crossings with our ferry partners P&O Ferries, DFDS Seaways and MyFerryLink to/from Dover.
The Port of Dunkirk has remained open. However, the road from Calais to Dunkirk continues to be very busy.
Traffic heading to and from the Port of Dover can use either the M20/A20 and or M2/A2.
Please note that there may be delays to services as the Port of Calais re-opens. Therefore, customers are advised to contact their chosen ferry operator before travelling and consult the Port of Dover website (www.doverport.co.uk) or Twitter account (@Port_of_Dover) for the latest information.
Ferry Operator Contacts
Operator Type Ferry Operator Telephone No.
Freight DFDS Seaways 01304 218 400
Freight P&O Ferries 01304 863 340
Freight DFDS/LD Lines 01304 218 400
Freight MyFerryLink 01304 828 422
Tourist DFDS Seaways 0871 574 7235
Tourist P&O Ferries 08716 64 64 64
Tourist DFDS/LD Lines 0871 574 7235
Tourist MyFerryLink 0844 248 2100
Ferry Operator Websites/Twitter
P&O Ferries
www.poferries.com/tourist/content/pages/template/routes_ travel_information_sailing_updates_sailing_updates.htm
@POferriesupdate
DFDS
www.dfdsseaways.co.uk/Customer-Service/cross-channel/travel-update/
@dfdsseaways
MyFerryLink
MyFerryLink
www.myferrylink.com/PA_Article_Default?packedargs=site%3DSF_Pax_Uk%26directLinkAssetId%3D1244124660143%26directLinkAssetType%3DSF_Article_Asset
@MyFerryLink
The Port apologises for any delays or inconvenience as a result of the earlier industrial action in France.
___________________________________________________________________________
Many thanks to the Port for the above info

Thursday, 3 April 2014 - 16:13
Post 616
brian d., sunny hights.
calais reopend at 0830 this morning.

Thursday, 3 April 2014 - 09:39
Post 615
PaulB, Dover
Yes indeed a good set of pictures there Colette. Good to see the new famed fountains for the first time. Bit of a scoop! That's my first look at them and will be popping over to see the fountains and that market before long. Glad you were able to take advantage of one of our offers Colette and we had them in from all the Ferry companies...that P&O offer was good. I have a close up picture of that sculpture by Rodin at the Hotel de Ville in the system...will fetch it out...yes here we are...yes really worth visiting Howard..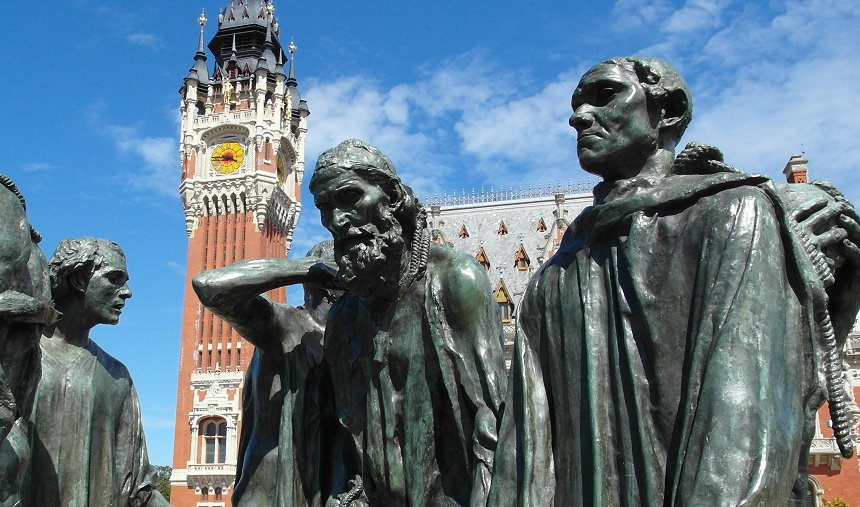 And speaking of Rodin..here we are with that other one and it is almost equally as striking...
MY FERRY LINK's RODIN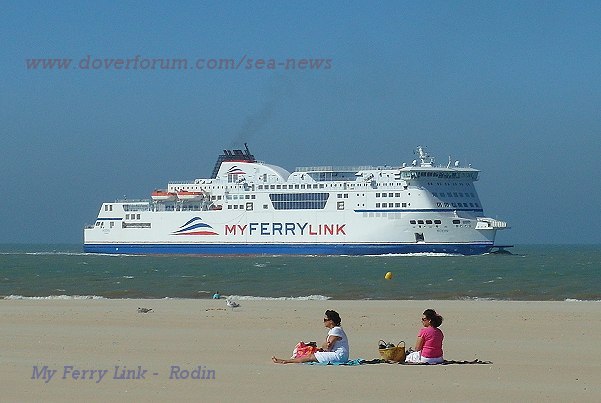 Easter fun for all the family in northern France....
MyFerryLink proposes some cracking Easter egg hunts
____________________________________________
If you're heading to France this Easter, or fancy popping over for some fun French Easter activities, Dover-Calais ferry operator, MyFerryLink, has the low down on some Easter egg hunts in stunning locations across northern France.
For those wanting to hop over for the day, the charming Hotel Hermitage Gantois in Lille has an Easter brunch and egg hunt for the children on Easter Sunday, 20 April. The grand buffet lunch starts at 12 and offers a huge range of mouthwatering dishes such as oysters, smoked salmon, roast shoulder of lamb and a selection of desserts, plus a chocolate fountain. Children under the age of 6 can eat free of charge and there will be magicians and an Easter egg hunt in the courtyard and gardens. Booking for this event is required.
The beautiful Château Vaux le Vicomte, located just south of Paris, is the setting for the egg hunt to end all hunts. Over 85,000 eggs (or three tons of chocolate) will be hidden around the French formal gardens during the Easter weekend, from 18 to 21 April. There are also special children's workshops with face painting and engraving. Château Vaux le Vicomte is a 17th century masterpiece and has formed the backdrop to many historical events in France. It is surrounded by a 500 thousand hectare estate, including the stunning French formal garden. Booking for this event is required.
The UNESCO World Heritage medieval town of Provins is organising a treasure hunt around the town, with 7,500 eggs as prizes. People dressed in medieval costumes will be handing over the eggs on the afternoons of Sunday 20 April and Monday 21 April. The event is free to children aged 13 and under. There's plenty to amazing historical buildings around the town, including the Tithe Barn, Ramparts, Caesar's Tower and Underground Galleries.
There are plenty of other family activities organized over the Easter weekend at more than 50 national monuments located around France.
MyFerryLink operates up to 16 daily crossings on the Dover-Calais route. Fares for a car and up to four passengers start from £19 each way for a short break and from £29 for a day return. There are plenty of special offers available, so check out the website for more details.
To find the best fares, visit www.myferrylink.com or call 0844 2482 100
EXTRA NOTE: the AIDA Cara is in harbour today. Keep those AIDA's coming


Cant get a picture alas.
LATEST: Port of Calais closed for 24 Hours due to Industrial action. Although we understand Dunkerque is open.
Thursday, 3 April 2014 - 06:51
Post 614
howard mcsweeney, Dover
nice photos colette, the water feature is very similar to the ones we have down the road in folkestone.

calais is worth a visit just for the town hall and the rodin sculptures alone.

Wednesday, 2 April 2014 - 21:15
Post 613
ColetteB, Dover
We took advantage of the great P&O offer on Saturday & headed for Calais. It was my birthday so the six bottles of free wine were a great bonus

The main square in the centre of Calais is now complete with water fountains & there was a thriving market going on with produce from all over France, some great bargains to be had too. We had free parking all day both in the centre of town & on the seafront. We walked up to the Magnificent Town Hall & took the free bus back to the car.
A wonderful day & all for £28 plus lunch & ice creams on the beach , also very reasonably priced & tres magnifique, now that's what I call a real bargain

Water fountains in full flow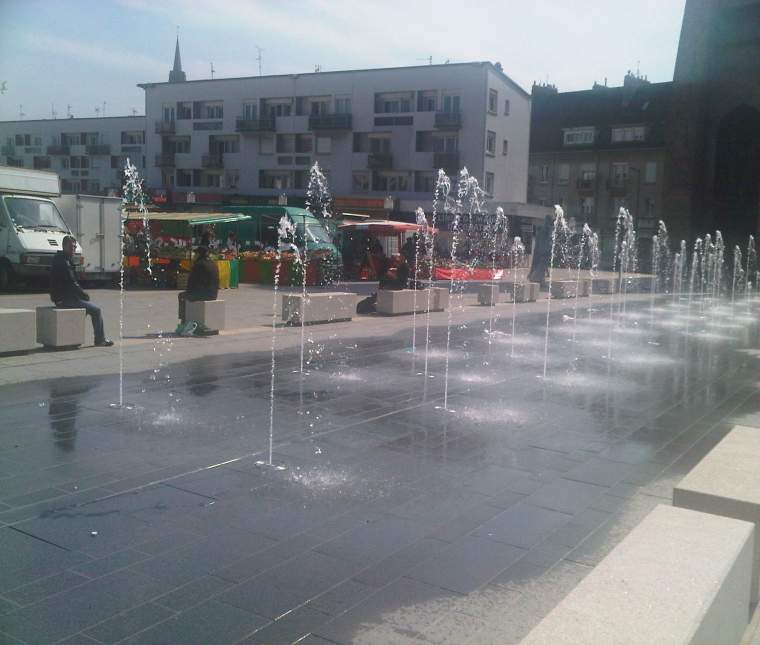 Rodin's magnificent sculpture by the Town Hall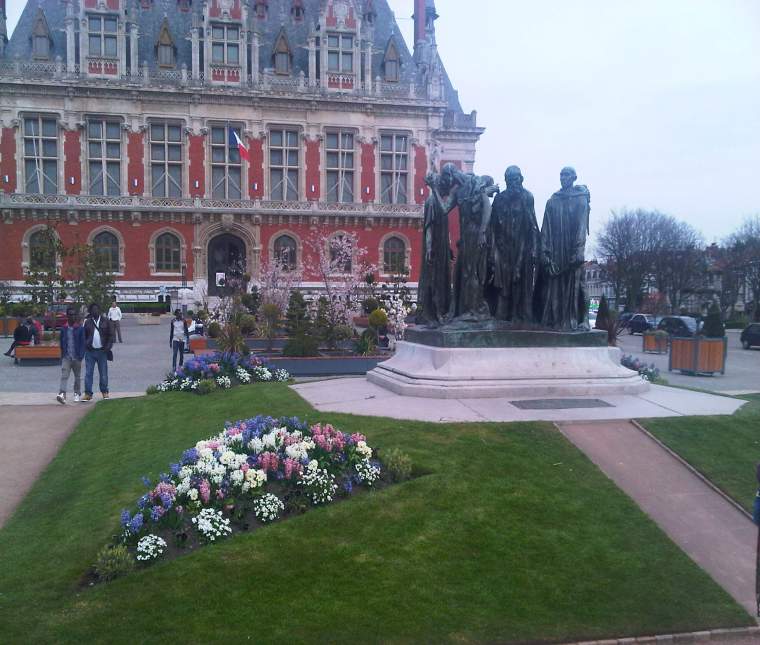 A view from the beautiful sandy beach complete with P&O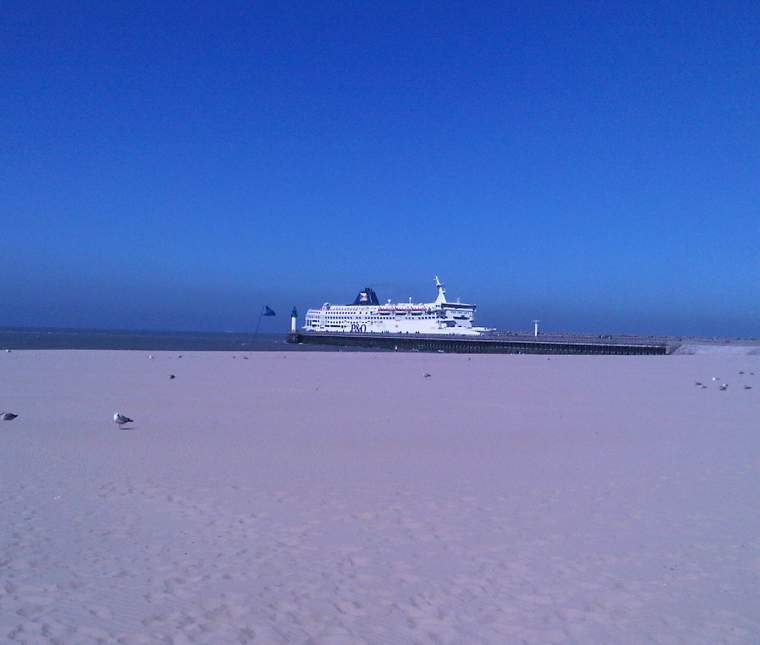 Wednesday, 2 April 2014 - 15:54
Post 612
Kevin Charles, Dover
The Royal Navy's Type 23 frigate, HMS Lancaster, will be visiting Dover from this Friday until Tuesday. She will be moored at Cruise Terminal 2 and open to the public on Sunday from 10am to 5pm. Last admission to the ship at 4pm.

Wednesday, 2 April 2014 - 15:41