Monday, 10 August 2020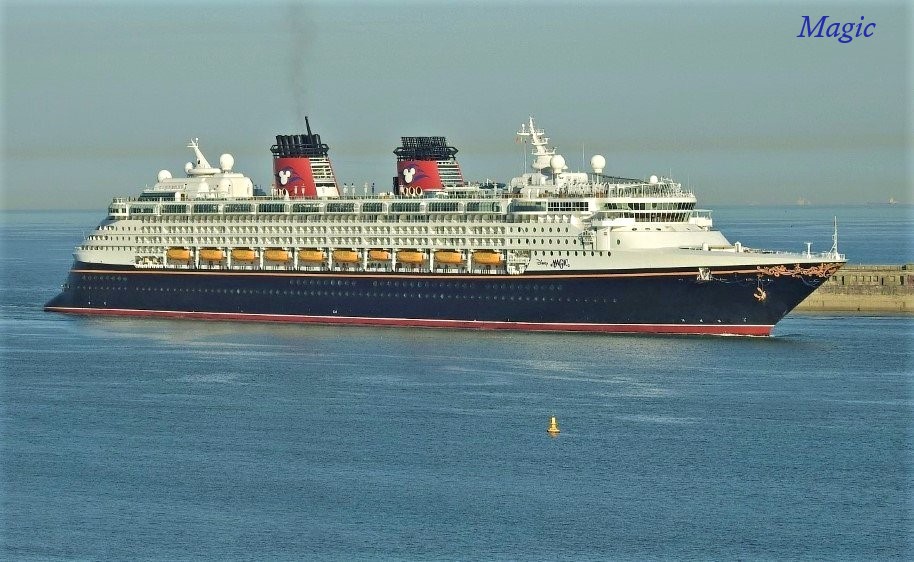 The Disney Magic entering the Port of Dover once again after a brief channel run....

WWW.DOVERFORUM.COM/SEA-NEWS
Sea Pictures from DOVER ....
Just to let everyone know...we have essentially closed Sea News.
Times have changed and these changes havent been good to us.
We will leave it open for research purposes ...if anyone wants to check anything etc etc
Other than that its all over.
A huge thanks to everyone who contributed over the 7 years.

Paul Boland - dover7@msn.com.
.
Use our SEARCH ENGINE below to find all sorts on the SEA NEWS pages....type in the topic and away you go,
or if you have the post number, just type it in the Search Box, more than
- 7000 -
nautical posts now.
Sea News Dover:
All pictures on these pages are the copyright of the owners and must not be reproduced without permission.
Post 589
PaulB, Dover
DOVER'S LOVELY SEAFRONT IS THE PLACE TO BE THIS WEEKEND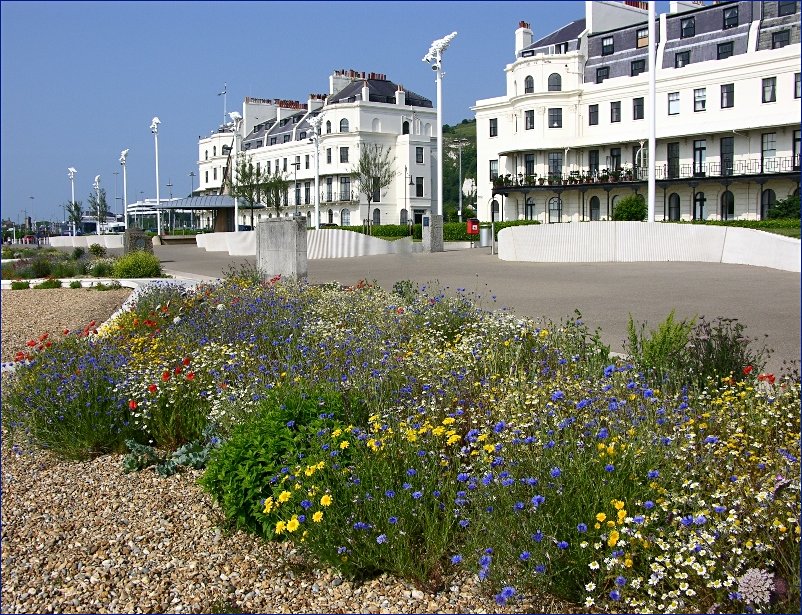 On the weekend of Saturday 29th March and Sunday 30th March 2014, the Port of Dover is supporting a charitable running festival on Dover seafront.
Featuring a full marathon each day and a 10k run on the Saturday, the festival is set to attract around 200 professional and amateur runners across the three events.
The runs are in aid of the Buttons for Brathay campaign which is raising money for the Brathay Trust. The charity works to improve the life chances of some of the most vulnerable and hard to reach children and young people. It helps them to engage positively in their communities by developing their confidence, motivation and skills to positively change their lives.
Event organiser and Port of Dover staff member, Karen Webber, said: "The Port was delighted to facilitate this event for such a great cause. Improving the life chances of young people is what we are about so it is a great fit with our Youth Engagement Scheme as well as a keep fit opportunity for some from our community."
Several free places were offered by the charity to the local and port community for participation in the 10k which starts at 11am on the Saturday and will see participants running along the seafront and Prince of Wales pier.
Kaz Hurrell, Buttons for Brathay Coordinator, said: "Thanks to the Port of Dover we have quite a unique course to run in an iconic location that I am sure will inspire the runners to reach the finish line. Teaming up with the Port is a great partnership of those aiming to be the best port in the world with those looking to achieve the some of the best times in the world and it is all for a fantastic cause."
The promenade and beach will remain open to the public for both those who wish to watch the races and those wish to go for a weekend stroll. So come along and cheer them on!
* * *
Great pictures below there Mike. Great stuff indeed. Really enjoyed those.
You were very busy for sure there.
Also welcome to Alex the early bird with that one..
Thats great news Kevin...we have to wait until next year for Disney but will be worth it..and to be going on with as it were..we have a great batch of ships coming in this year too, see Posts 532 and 533.

A couple of further pix from the Norwegian Rock delivery early this morning...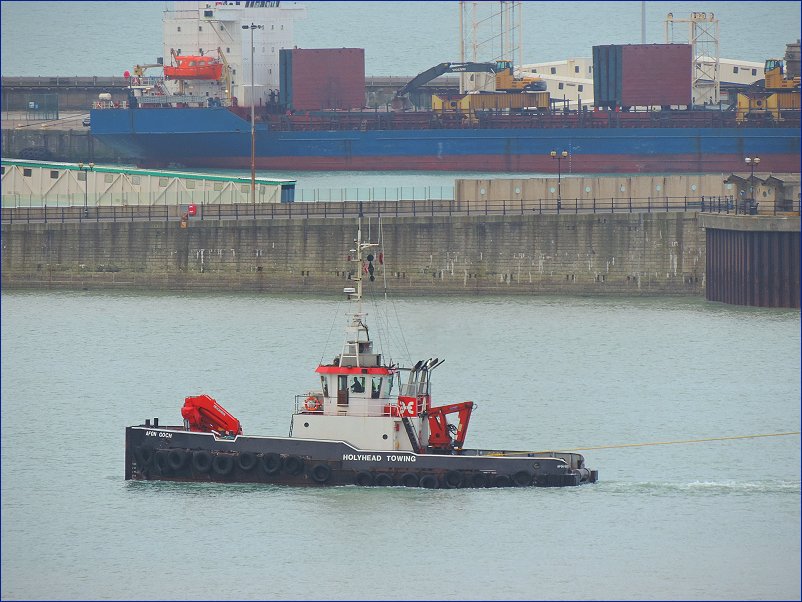 Afon Goch is a very large tug as tugs go..hard to show the scale but there we are. In the background the delivery vessel herself...Helene ..
as featured earlier by Mike.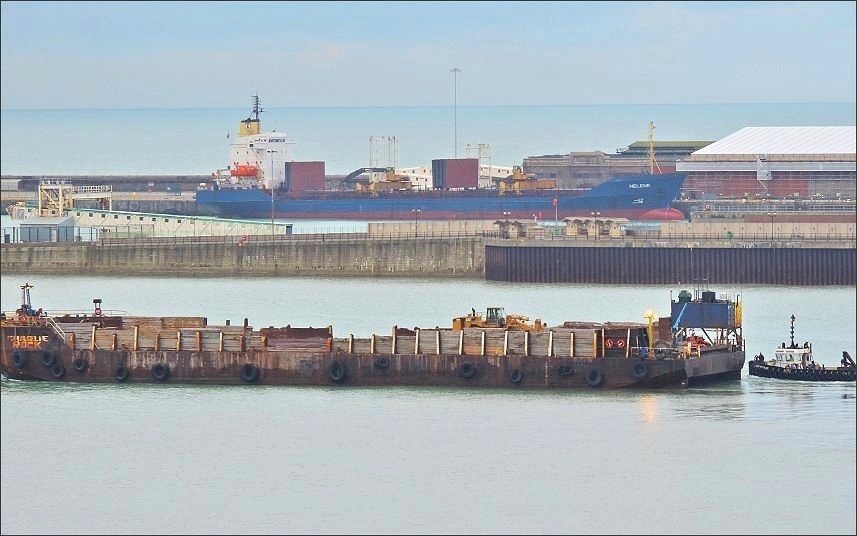 Charlie Rock making her way back to her location at western arm after delivery, with once again Helene in the background. Assisted at the rear by Roerdomp with of course out of shot but pulling from the front...Afon Goch.
STOP PRESS: as I write more rock being delivered...
Wednesday, 26 March 2014 - 16:57
Post 588
Kevin Charles, Dover
More great news for Dover Cruise Port - Disney Cruise Line have announced they'll be sailing from Dover again in 2015. Welcome back Micky!

Wednesday, 26 March 2014 - 14:39
Post 587
howard mcsweeney, Dover
this was taken early this morning by alex who was involved in setting up our food bank.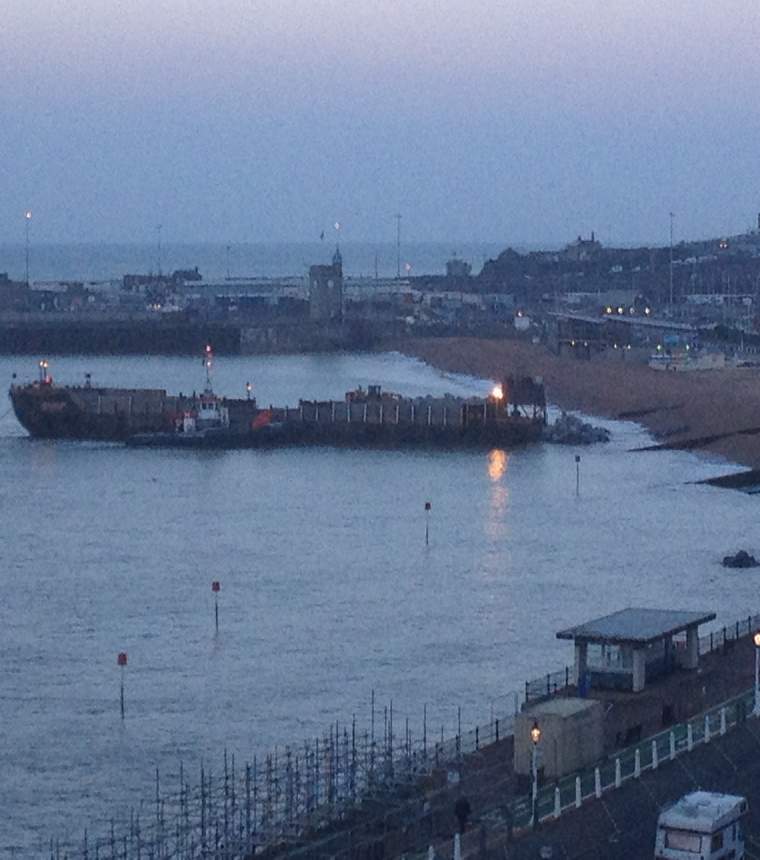 Wednesday, 26 March 2014 - 10:11
Post 586
Mike J., Dover
Dover got busy yesterday afternoon, Tuesday.
The HELENE returned with another load of rocks.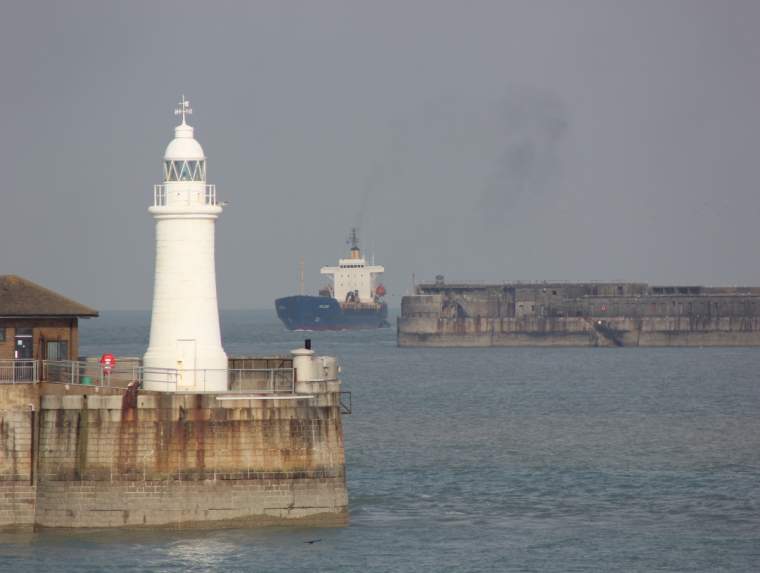 The CHARLIE ROCK came off her berth to allow the HELENE to dock, assisted by the tugs ROERDOMP & AFON GOCH.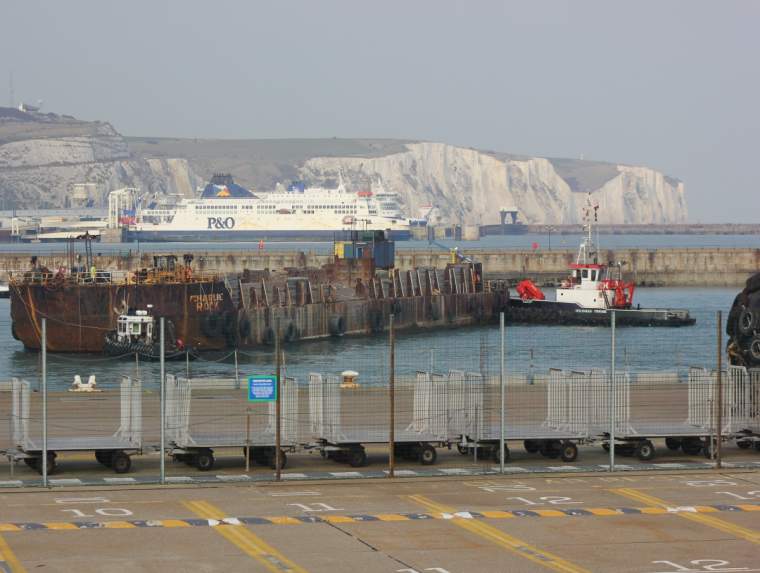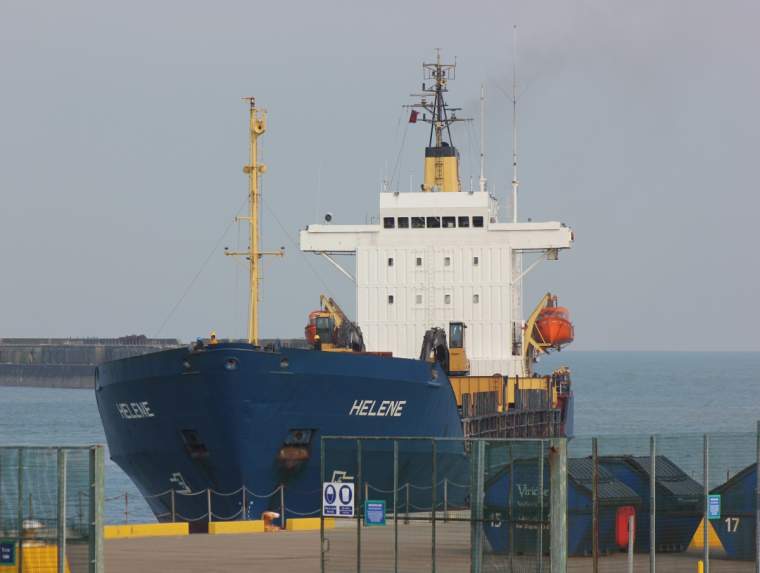 Departing reefer POLAR LIGHT waited in the bay for the SPIRIT OF BRITAIN to enter, as soon as she sailed the DISCOVERY BAY came in with yet more bananas.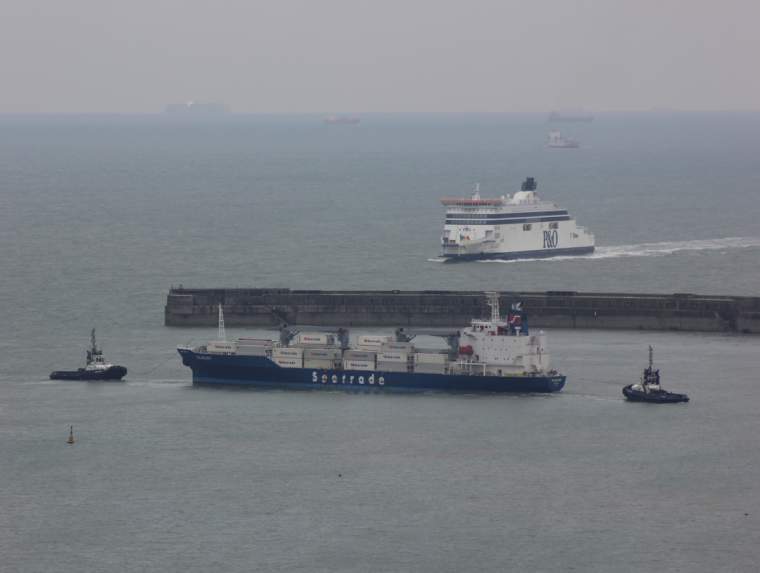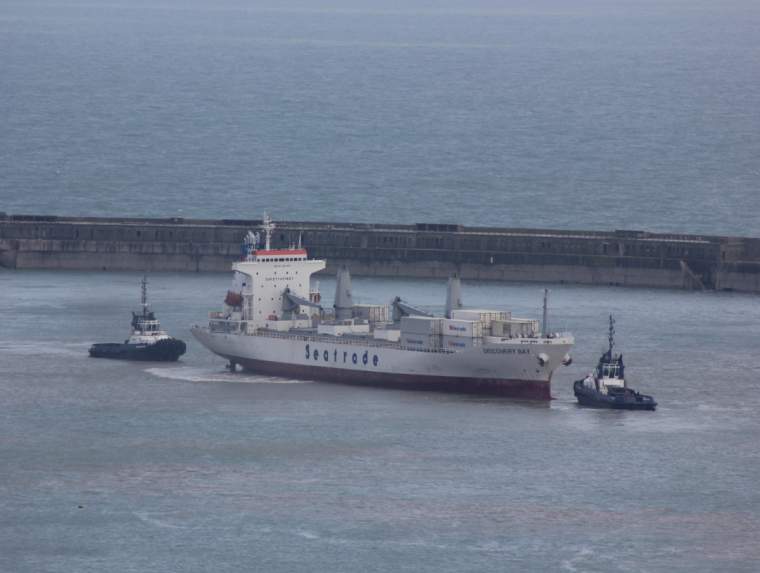 An unusual visitor was the wind farm support vessel WINDCAT 6 who popped briefly for fuel before heading off down the Channel.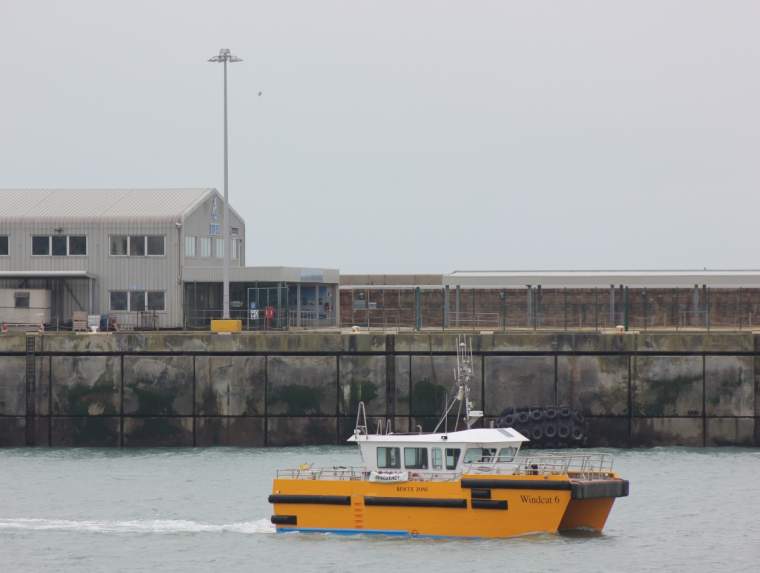 & still the ferries came . . . . .
Wednesday, 26 March 2014 - 06:58
Post 585
Kevin Charles, Dover
Looking forward to seeing our cruise ship visitors in 2014. Let's not forget that it's the job of every Dovorian to extend a warm welcome to our cruise visitors. It's the people as well as the place that make for a great destination!


Tuesday, 25 March 2014 - 21:40
Post 584
PaulB, Dover
CRUISE SEASON 2014
___________________
Even more cruise lines will call this year as the Port of Dover's 2014 cruise season gets under way this week.
Following the Port's successful hosting of the CLIA UK & Ireland Luxury Expo last year and a fruitful presence at the recent Cruise Shipping Miami 2014 to promote the Port and the Garden of England, the Port is delighted to announce a number of inaugural calls this year that further showcase Dover's appeal to luxury liners.
Included in the line up are five calls by Dover newcomer Portuscale Cruises, introducing the elegance of its two ships MV Funchal (formerly the Portuguese Presidential Yacht) and MV Azores to the first class facilities, globally recognised local attractions and excellent transport links to the Capital that are on offer from the UK's second busiest cruise port. What's more, MV Azores' inaugural call on 30th March will be the first cruise call of the year at Dover - a fitting launch to the 2014 season!
Andy Harmer, Director, Cruise Lines International Association (CLIA) UK & Ireland, said:
"We have held a series of highly successful events in Dover including a luxury expo which took place at the dedicated cruise terminal. Dover is ideally placed as more British passengers than ever before are beginning their cruise holiday from a British port. The Port of Dover and Visit Kent also form a great destination partnership, promoting the very best of Dover and Kent to an international audience."
Other inaugural visits include AIDA Cruises' AIDAbella, Sea Cloud Cruises' Sea Cloud II, Silversea Cruises' Silver Cloud, Seabourn's Seabourn Quest and SeaDream Yacht Club's Seadream I.
Ben Greenwood, Business Development Manager, Port of Dover, said: "We look forward to welcoming this year's cruise customers to the Port of Dover. Whether the cruise line, cruise vessel or one of the customers on-board, we are committed to ensuring that they all receive the very best service.
Dover regulars, Fred Olsen Cruise Lines and Saga Cruises, will be retaining a significant presence along with Holland America Line, a sign of the successful partnerships that the Port of Dover has established with its cruise line customers. AIDA's growing commitment to Dover is also reflected with 21 calls booked for 2014.
*******
Thanks for that info as ever Colette. You timed that right. I've just this minute had the above information through from the Port re the coming cruise season. Many thanks to the guys once again over there. Looks like lots of exciting days ahead. Lots of fab ships...and we will have plenty of pictures.
Good info there John. Always good to hear from you.

PS: Don't miss the information on the new Port Police Officers below in Post 530. Great to see...one a master of mathematics..wow!
Tuesday, 25 March 2014 - 15:47
Post 583
ColetteB, Dover
Well it's cruise season again starting this Sunday 30th, Mothers Day, with the historic MV Azores at CT2, thanks to Mike for the very interesting background information

Then on Thursday 3rd April we welcome back the AIDACara at CT1, PoC.
The following day, Friday 4th April we see the arrival of Discovery at CT1, PoC, she was last seen here in June 2012.
Then on Monday 14th April the MSC Magnifica arrives at CT2, PoC.
A break then until Tuesady 22nd April when the Ocean Nova calls into CT1, PoC. I can't recall this one before, over to Mike

On Friday 25th April the MSC Magnifica returns back to CT2, PoC.
The last call for April is the last day of April, Wednesday 30th, we welcome the AIDABella at CT2, PoC, this also looks like a first visit.
We have an abundance of cruise ships coming to Dover in the month of May with two & three cruise ships coming in some days, so a real treat to come. We start with the first of the Saga fleet on May Day, the 1st May with the Saga Pearl ll.
That's the first cruise call information for 2014

Tuesday, 25 March 2014 - 12:09
Post 582
John Mavin, Dover
Thanks Mike for the posting on the Saint David of London. There can't be many vessels left that flew the swastika and as far as I'm aware SDL is permanently based at Dover. I'm not sure if you're aware of her own website:

www.saintdavidoflondon.com

....this gives not only her remarkable history but photos showing her her dramatic transformation over the years which was so extensive her insurers re-classified her as a new build in 1992 .


Tuesday, 25 March 2014 - 08:57
Post 581
PaulB, Dover
PORT WELCOMES NEW RECRUITS FULL OF DETERMINATION AND DEDICATION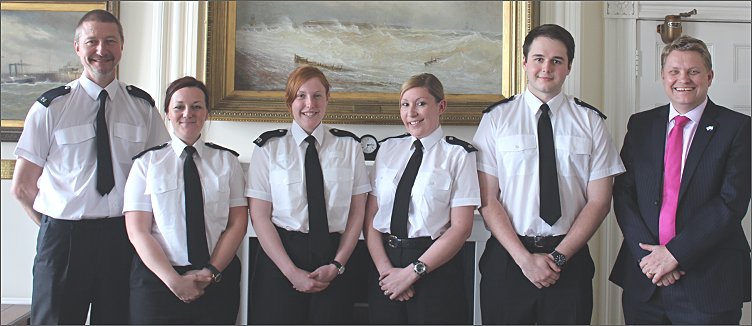 The Port of Dover has welcomed four new Port of Dover Police Officers to Europe's busiest international ferry port as they commit to playing their part in meeting the Port's vision of becoming the best port in the world for the benefit of customers and the community.
Dedicated to the safety and security of the Port, the 13 million customers who use it and the local community, the appointment of new officers reflects the ongoing commitment of the Port of Dover Police to provide a visible and effectiveness police service to the Port community.
Superintendent Paul Wilczek, Chief Officer for Port of Dover Police said:
"It's fantastic to see such enthusiastic and committed new officers joining the Port of Dover Police force which has such a great heritage of serving its Port community."
The four new recruits are:
Donna Shorter, who was previously a Courts Warrants Officer and a Kent Police Special Constable where she performed the role of A/Section Officer, responsible for up to 15 officers. Jake Griffiths has a BSc (Honours) degree in Crime and Policing and previously held the position of Freight Co-ordinater within the Port for DFDS Seaways. Jennifer Wheatley is a Master of Mathematics (2.1 Honours) and worked with Kent Police as a civilian employee in the Police National Computer (PNC) Bureau. Sarah Lavender was formerly a Community Safety Officer for Shepway District Council and has an Advanced NVQ Level 3 in Business and Administration and a Btec Level 3 in Neighbourhood Nuisance and Anti-Social Behaviour.
Tim Waggott, Chief Executive, Port of Dover, added:
"I am delighted that the Port of Dover Police has been able to recruit people who are full of such enthusiasm and with relevant academic and employment experience. I am sure that they will be highly valued by the Port's customers and community whom they will serve. I wish them well in their careers within the police service, joining at such a exciting time for the Port and for Dover."
Pictured left to right – PC Paul Skinner, PC Sarah Lavender, PC Jennifer Wheatley, PC Donna Shorter, PC Jake Griffiths and Chief Executive Tim Waggott.
Tuesday, 25 March 2014 - 06:57
Post 578
PaulB, Dover
Thanks Vic - we will continue to do our best to bring good pictures and interesting items. More to come...

Monday, 24 March 2014 - 16:16
Post 577
Vic Matcham, Dover
Great photos again of one of the most busy seaports in the world working 24/7 /365days a year and with the photos come some very good write ups.
Thank you for doing them.

Monday, 24 March 2014 - 07:01
Post 576
PaulB, Dover
DOVER HARBOUR: Springtime Sailing on a Sunday Afternoon...and on a pea green sea too...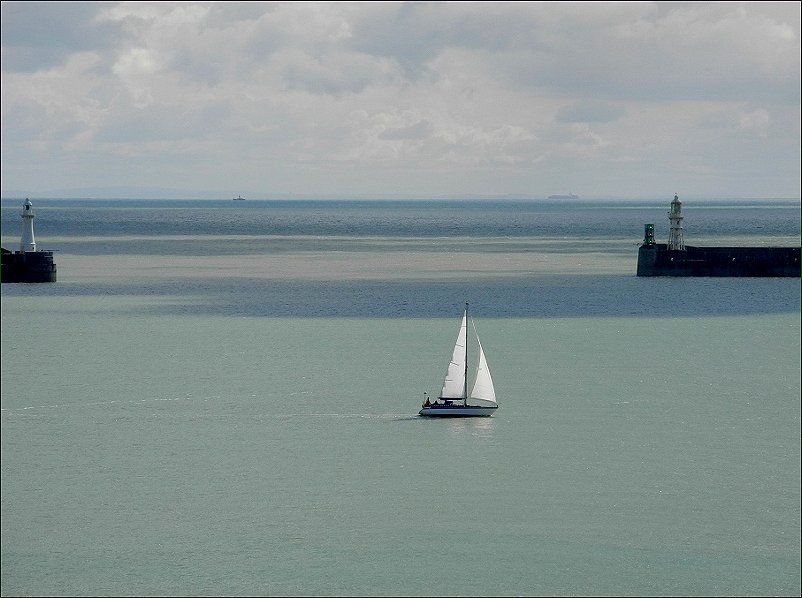 It all went jollying along in fine style until the showers started rolling in. One hardly spilt the Pimms at all. But being Spring it didnt last...you can see the heavy stuff approaching in the pictures below, coming in from the west with a hint of menace.... spoiling the genteel tranquillity.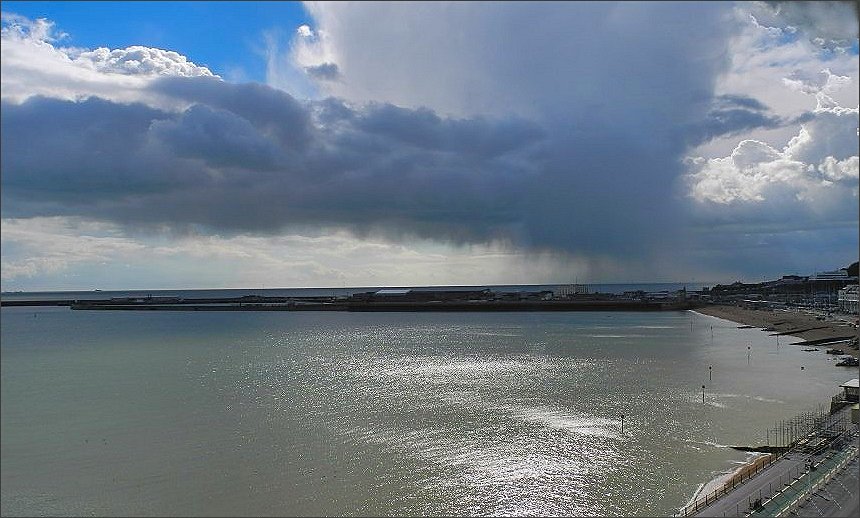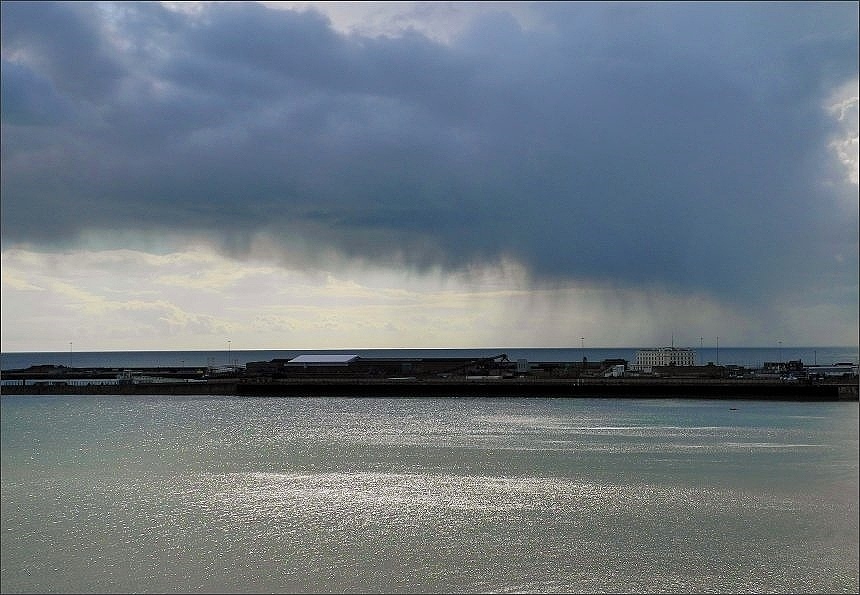 I'm afraid it was a day of sunshine and showers but once again lots of people were out and about enjoying the day. The latest trend is being photographed on the Norwegian Rocks. I suppose its a great novelty while they are still in a series of large heaps. One for the scrapbooks indeed. Before too long they will be nicely laid out in groynes and the spectacular mounds of volcanic rock will be gone, be dissipated.
Nice pictures of the Saint David below there. Took a detour to take a look at her yesterday after seeing Mike's pictures and info

Monday, 24 March 2014 - 06:19
Post 575
Andy MacLean, Old Wives Lees (jazzandy@btinternet.com)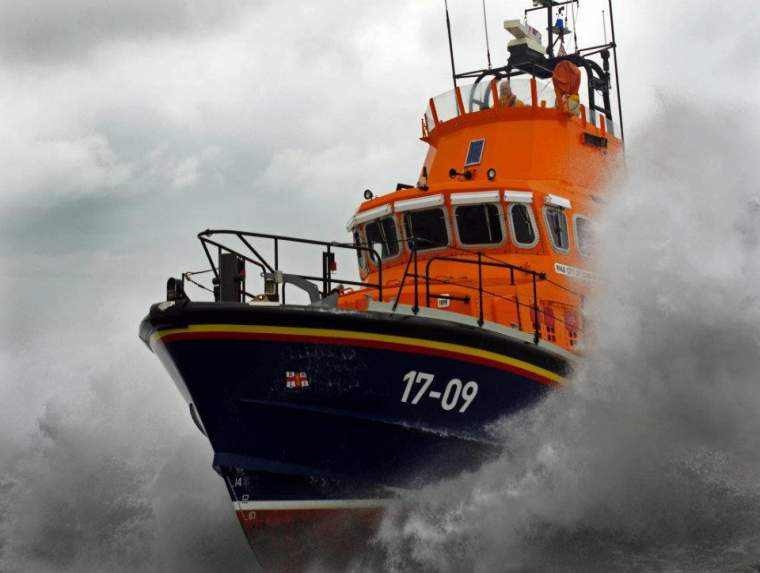 Last couple of days to aid the Dover Lifeboat and the TSS Dover restoration funds!
JOIN US ON OUR 70'S AND 80'S DISCO CRUISE ON MV SPIRIT OF BRITAIN
Saturday 29th. March at 1835. retuining by 2230 hrs.
Both cars and foot passenger availability.
Phone 01227 732414 for tickets NOW!
Sunday, 23 March 2014 - 11:50
Post 574
Mike J., Dver
Another elderly vessel was in Wellington Dock on Saturday morning & is probably still there.
The SAINT DAVID OF LONDON was built in Sweden in 1905 as a small steam passenger vessel & was later converted to a salvage vessel/icebreaking tug.
She has had an interesting & varied career, being converted to diesel power in the late 1950s.
In 1939 she was seized by the German Navy whilst carrying Jewish refugees & used as a patrol vessel during WW2.
Little remains of the original vessel apart from the hull which itself has been modified.
She has been an occasional visitor to Dover over the years.
I found most of her history on the 'Shipspotting' website, just Google the site & type in her name.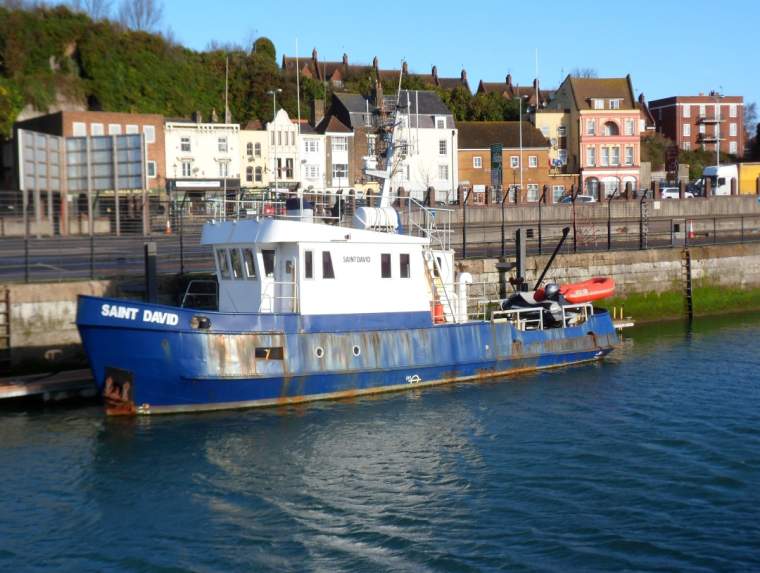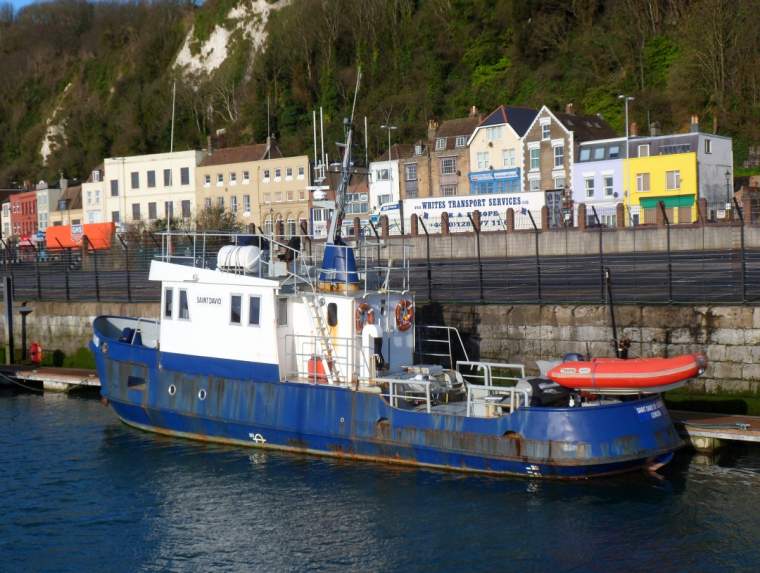 Sunday, 23 March 2014 - 09:31
Post 573
PaulB, Dover
Thanks for that info Mike, great stuff! I will certainly look out for both the cruise liner and the next Norwegian Rock delivery. Have added a pic temporarily to the top of the page which looks down from above (.. to an extent !

the helicopter was unavailable at the time! ) on barge Charlie Rock and I think you were right as you can see from the load onboard .... that they were just bringing the last of the previous rock..
Nice picture of the Athena/Azores below there too..

Yes you might be right there Howard re Folkestone...I don't know for sure either. But somehow I cant see it happening.
Sunday, 23 March 2014 - 06:23
Post 571
howard mcsweeney, dover
Will look forward to the "new" cruise liner, certainly has an interesting history.

richard suggests that my ferry relocate to folkestone but i thought the ships were too big for the harbour there. i'm willing to be corrected on that.

Saturday, 22 March 2014 - 12:19
Post 570
Mike J., Dover
PaulB -
My spies tell me that there is another shipload coming from Norway, but ETA is uncertain.
I think that yesterday's pix [very good !] was just dumping off some rocks that remained on the CHARLEY ROCK from the first delivery.
On 30/3 we have a 'historic' ship coming into Dover - the m/v AZORES, probably the oldest cruise ship still in ocean-going service.
She was built in 1948 as the STOCKHOLM & gained notoriety in 1956 when she was in collision in fog off Nantucket with the Italian liner ANDREA DORIA which subsequently sank with the loss of 46 lives, 4 lives being lost on the STOCKHOLM.
She now looks quite different from her original appearance & has had many namechanges & I think was last in Dover in 2010 as the ATHENA, being renamed the AZORES in 2013.
Saturday, 22 March 2014 - 10:15
Post 569
PaulB, Dover
Mike J was spot on re further Norwegian Larvic Rock delivery. I suddenly saw this unannounced laden monster slowly creeping across the harbour yesterday. And the vessels are of monster size for sure. Shooting into the ultra blinding sunlight gave the pictures a surreal air...the first one looks almost like a watercolour.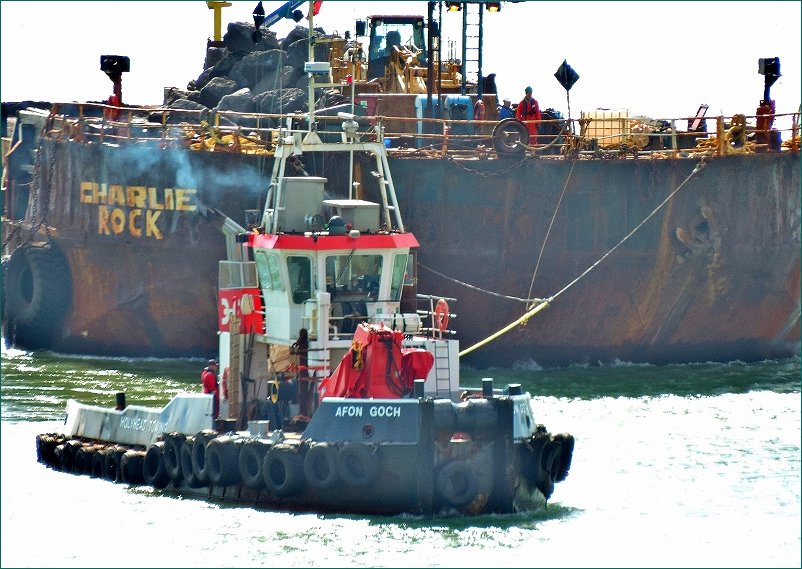 Above in the noonday sun...Afon Goch tows Charlie Rock..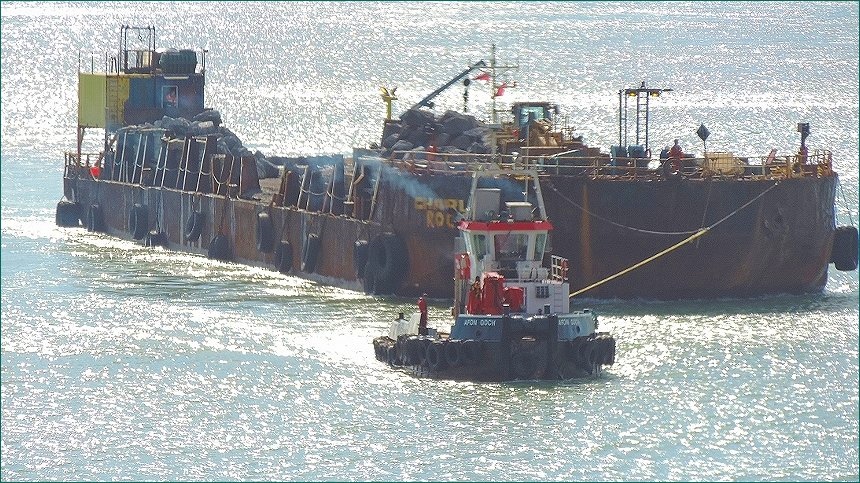 A wider shot of the same event. The huge barge Charlie Rock transporting yet more Rock to the beach for the continued groyne renewal. Lots of rock and no roll. Tons of the volcanic rock, I presume its volcanic, has arrived now and is being worked and shaped daily. Have lots of other pictures of the scene but will leave it at that for now.
Interesting comment Richard. We will have to see what happens now. I wont say much on the topic but.. it would be a shame to lose those ships.
Saturday, 22 March 2014 - 06:20
Post 568
Richard Moffatt, Elham
My Ferry Link-Why not retreat with all their kit and start up in Folkestone? It's not too late to challenge the forthcoming Harbour Revision Order and retain the harbour branch railway. The new seafront development of Roger De Haan can co-exist with a new cross channel operation to Boulogne. It's as simple as that.

Friday, 21 March 2014 - 21:09
Post 567
PaulB, Dover
Following this morning's announcement of the Competition Commission's preliminary findings.... ( Eurotunnel statement now added below)


A Statement from DFDS
_____________________

DFDS is pleased with the UK Competition Commission's provisional findings that it does have the jurisdiction to decide on Eurotunnel's entry into the Dover-France ferry market with the former Seafrance ships. In June 2013, the Competition Commission ruled that Eurotunnel must leave the ferry market, but the Competition Appeal Tribunal decided that the Competition Commission should reconsider whether it was in fact a merger and therefore within the CC's jurisdiction.

As the findings announced today are provisional, we are not able to comment further on this at the moment. We can only reaffirm our objective, which is to act in the best interests of our employees and customers. This can only be achieved if conditions for fair competition are established in the Channel.



*****************************************************************************************************************************

Or in other words and in simple terms.. My Ferry Link are back on dodgy ground again due to their association with Eurotunnel..


Here is the Eurotunnel response
_______________________________


Groupe Eurotunnel expresses incomprehension regarding
Competition Commission provisional findings

The Competition Commission has reaffirmed its competence by considering that Groupe Eurotunnel took over SeaFrance and that this takeover falls under the Merger Act. As a result, the Competition Commission has concluded that it has no reason to change its opinion and that MyFerryLink must cease operations, even though MyFerryLink provides a new and appreciated proposition for consumers.

As a reminder, The Competition Appeal Tribunal found unanimously against the original decision by the Competition Commission. In accordance with British procedure, the Commission has published an initial report to enable the parties involved to comment. The Competition Commission must publish its decision relating to Groupe Eurotunnel's acquisition of three ferries from the defunct maritime operator, SeaFrance, in July 2012 and the creation of MyFerryLink, at the beginning of May.

Groupe Eurotunnel confirms that SeaFrance ceased operations in November 2011 and was liquidated six months before it acquired the ferries and leased them to an independent operating company, the SCOP. Groupe Eurotunnel cannot understand how it is possible to acquire a company six months after it has ceased to exist and nine months after the closure of all operations. Groupe Eurotunnel also points out that the decision of the Competition Commission is completely contradictory to that expressed previously by the French competition authorities.

Groupe Eurotunnel emphasises that over the past two years the market has in no way been negatively affected by MyFerryLink. On the contrary statements by a competitor confirming that it would have to leave the Short Straits are, in the light of the evidence from public statements about their financial strength and ambitions to expand, entirely incredible.

To conclude, if prior to its final decision the Competition Commission does not wish to review its perspective on the competition which exists across the Strait of Dover in the light of the current reality, and not based on suppositions from two years ago, Groupe Eurotunnel will withdraw its ferries from the Channel.


Friday, 21 March 2014 - 08:46