Thursday, 23 January 2020
Sea Pictures from Dover....

WWW.DOVERFORUM.COM/SEA-NEWS
Featuring all the ships that come and go and work at the Port of Dover ..
... with further coverage of the surrounding ports.
Sea News Dover
Use our SEARCH ENGINE below to find all sorts on the SEA NEWS pages....type in the topic and away you go, or if you have the post number, just type it in the box, more than
- 6750 -
nautical posts now. Posts are welcome. just click 'Add Your Comment' below. Max of 5 pictures preferred although we can stretch that for special stories.. Sea News Editor Paul Boland - send info or pix to dover7@msn.com. Always welcome.
Book with P&O - Free Fuel see 6760
NEW UPDATE ..just in:
To show your pictures at their best..it could be worthwhile resizing before posting to
860
pixels wide. Our new standard size.
All pictures on these pages are the copyright of the owners and must not be reproduced without permission.
Post 210
PaulB, Dover
OFFICIAL NOTICE : PORT CLOSURE
Due to adverse weather conditions (strong winds gusting at 65 knots) the Port of Dover is currently closed (as of 6.30hrs). The primary concern of the Port and ferry operators is the safety of our customers and staff. Passengers are advised to check with their ferry operator before travelling and consult our website (www.doverport.co.uk) or twitter account (@Port_of_Dover) for the latest information.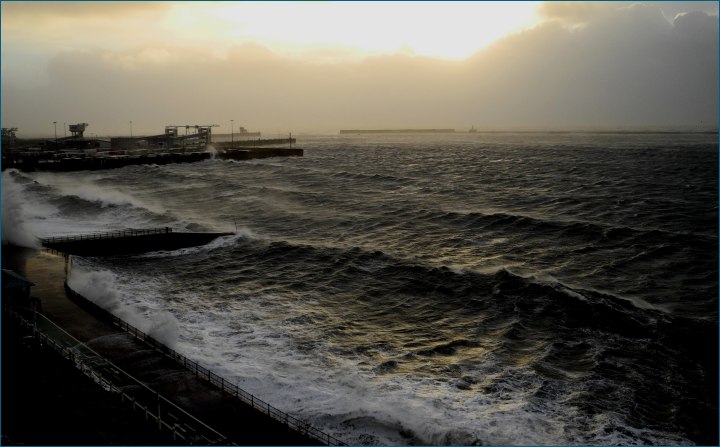 We are monitoring the weather situation closely and liaising with the ferry operators with an aim to re-open the Port once it is safe to do so. Please note that there may be delays to services when the Port re-opens.
We apologise for any delays or inconvenience as a result of this closure but you will appreciate that the safety and security of everyone is of the utmost importance. All customers are asked for their full co-operation and support.
Ends
See also below...
Monday, 28 October 2013 - 08:25
Post 209
PaulB, Dover
Well you dont need me to tell you what a rough night it has been...and the storm goes on.
Wide disruption. Here is a picture from yesterday taken in the brief afternoon sun. The sea was and is extremely rough.
The harbour wall looms for The Rodin. The entrance to harbour becomes very narrow and difficult on days like this.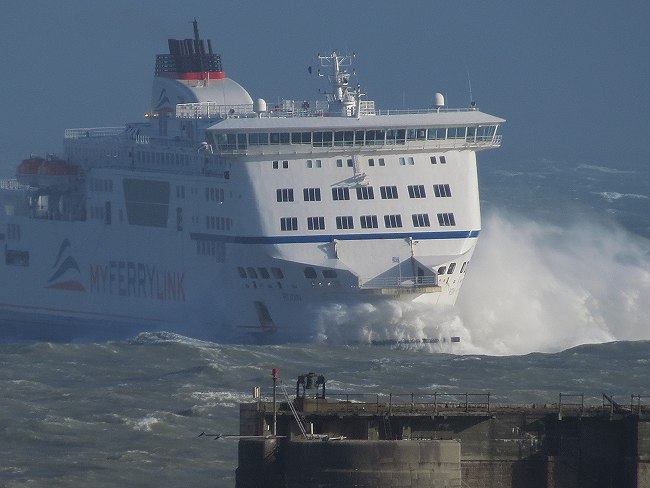 My lights are flickering as I write, so better try and upload this soonest in case the power goes.
If anyone gets some decent pictures pop them up using the ADD YOUR COMMENT button. Very welcome.
There are no ships at all in Port.
Monday, 28 October 2013 - 06:27
Post 208
PaulB, Dover
The sky has indeed been behaving strangely lately with bizarre cloud patterns. Perhaps it is just the calm before the storm..which as we all know is very impending. It was rough overnight but by all accounts worse is due.
Most definitely a case now of battening down the hatches while maintaining the stoically stiff upper lip!
Following on from the picture by Alex below, here are some I took on the same evening...
Look at the strange bubble and sweep ( no not bubble and squeek

) Bizarre looking isnt it, if there are any meteorology experts out there then please let us know what it all means..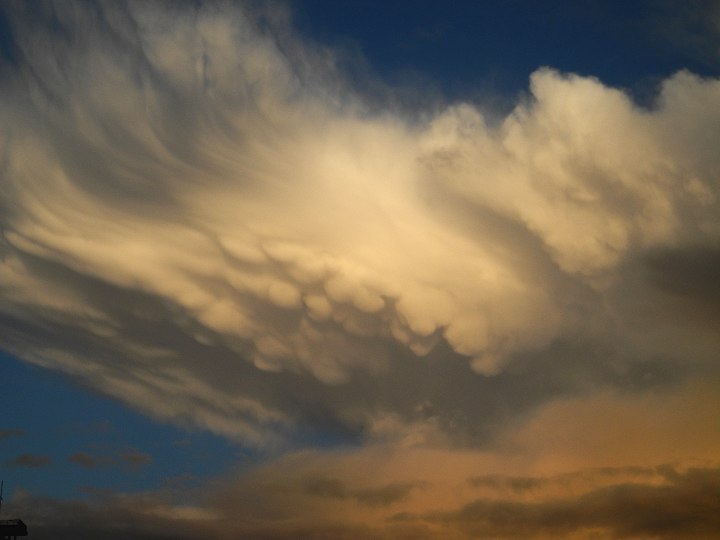 the wider view with the Port below.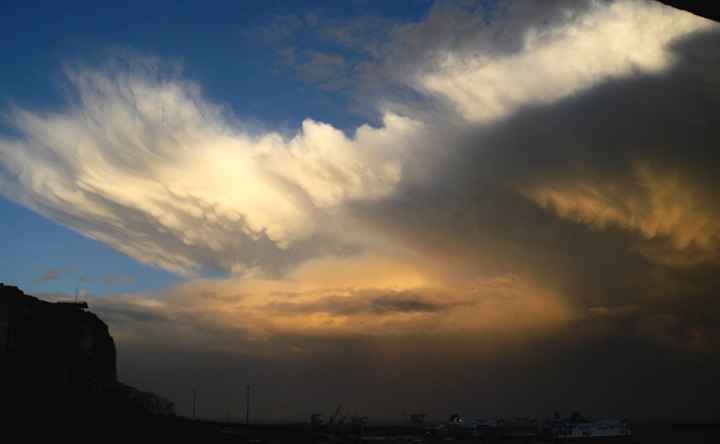 also looking in the opposite direction towards the west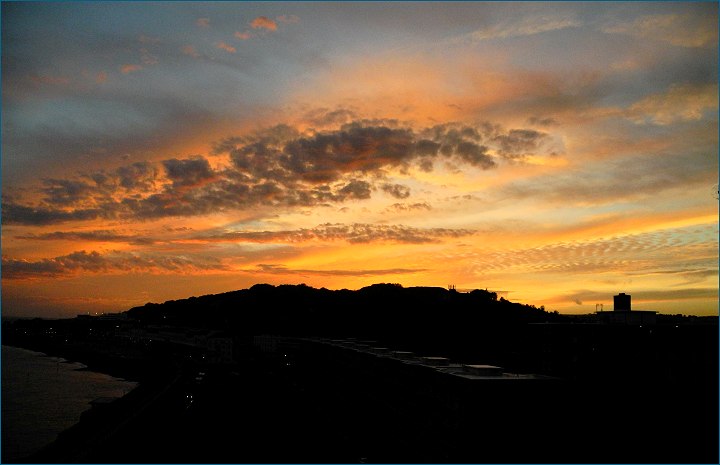 Some of the ferries further west are already disrupted. Brittany Ferries were on the News 24 channels already talking of cancellations...might well happen here too. Yes just heard..cancellations happening here too, weather "extremely poor" in Dover say MFL. Passengers who do not urgently need to travel are advised to rebook for another time.
Sunday, 27 October 2013 - 06:26
Post 207
PaulB, Dover
PORT of DOVER WEATHER INFO...

Here in Dover today friday, sea conditions in the Channel are moderate, with a South Westerly fresh breeze, force 5, and the visibility is good. The ferry terminal is operating normally with space available.

Due to adverse weather, which is anticipated over the weekend, passengers are advised to contact their shipping operator for any further information.


Friday, 25 October 2013 - 14:54
Post 206
PaulB, Dover
A very dramatic picture there Alex - well done getting that. The sky was amazing the other day..not seen anything quite like it..most unusual. Your picture reminded me that I have some too of those cloud patterns. I take so many pictures I sometimes forget what i have where.
Glad you are liking the Sea News page.

Friday, 25 October 2013 - 11:48
Post 205
howard mcsweeney, dover
alex of dover food bank is a keen follower of this thread and has sent in this photo taken last sunday afternoon.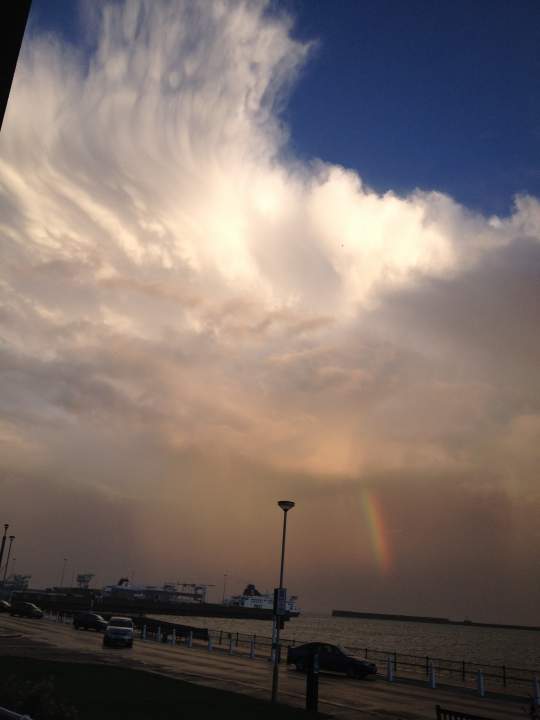 Friday, 25 October 2013 - 10:21
Post 204
PaulB, Dover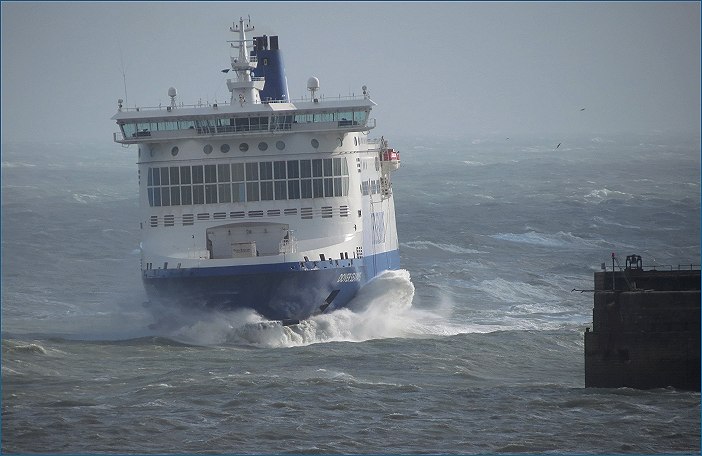 After a briefly benign situation yesterday the weather is back in rough mode today friday. Blustery wet and windy etc. On wednesday it was much the same for much of the day but with added occasional sunshine. During these outbreaks of sunshine the Dover Seaways came into spectacular view battling the elements as she approached the harbour. I snatched these pictures at that time. Our nautical man-on-the-spot Ed Connell himself would have been onboard ( see the rainbow pictures below). Several ships were queuing, stacked up off the White Cliffs at various points in the day, as it was too rough to get into harbour easily. There was a backlog on the traffic front as a consequence, everything delayed.
Gale force winds for sure in the pictures above, marginally below that level today but still not great.. It might improve later for the half term getaway. The local hotels are already looking pretty full as I write ( see the half term ideas below from DFDS and MFL).
Friday, 25 October 2013 - 07:38
Post 203
PaulB, Dover
Thanks for that info Jan.

Should be worth a look. Its a very sad story about that lovely ship. For anyone who doesnt know the vessel mentioned, there is a picture of it on page 3 while she was here in Dover. She visited us here just a week or so before destruction and eventual sinking off Cork. Now the rescue...
Thursday, 24 October 2013 - 17:43
Post 202
Jan Higgins, Dover
Real Rescues BBC1 this morning showed the tall ship Astrid rescue off Ireland plus an interview with the owner and Captain. It is such a shame that this accident happened to a beautiful looking ship.

If you want to see it on catch-up it is about 30 minutes in with another bit at the end.

Thursday, 24 October 2013 - 11:55
Post 201
PaulB, Dover
Gosh great set of pictures all round below there. Enjoying those greatly and enjoying your story Ed..hope you didnt have to do tooo much suffering for your art with the Chief. And...if you found any gold out there under that rainbow can you slip a bar or two through my letterbox

!!
Also a thumbsup for Mary Josephine with that pic.
You made me laugh there Howard...this pasty faced landlubber kept his feet firmly encased in concrete yesterday as heavens it was rough out there on the water. Have a couple of pix of the Dover Seaways myself in the rough conditions ..will delay those so everyone can enjoy the current photos first. Great stuff !
ps KIDS : if you have kids champing at the bit see the half term ideas from DFDS and MFL by scrolling down the page.
Thursday, 24 October 2013 - 07:24
Post 200
Ed Connell, Dover
A photo of the rainbow over the Dover Seaways taken at the same time from ashore by Mary Josephine and posted on the Facebook group Dover for Dovorians.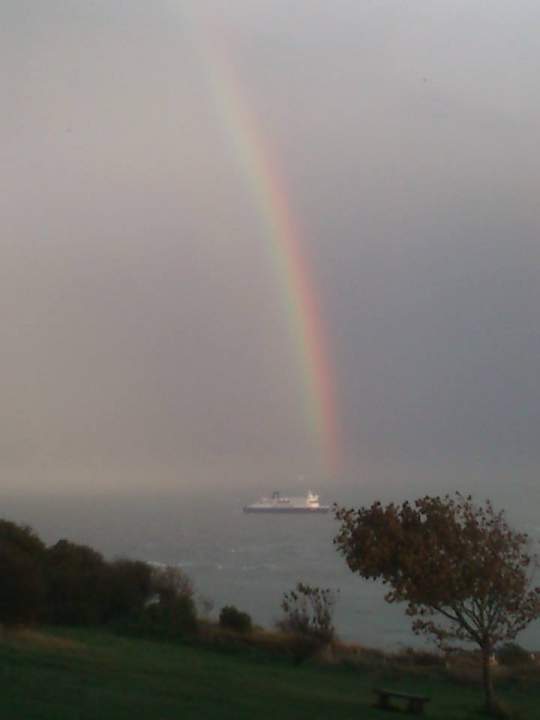 Wednesday, 23 October 2013 - 21:08
Post 199
Ed Connell, Dover
This is a vivid rainbow off Dover on the 20th. It appeared to form an arch over the ship as though we had just sailed through it.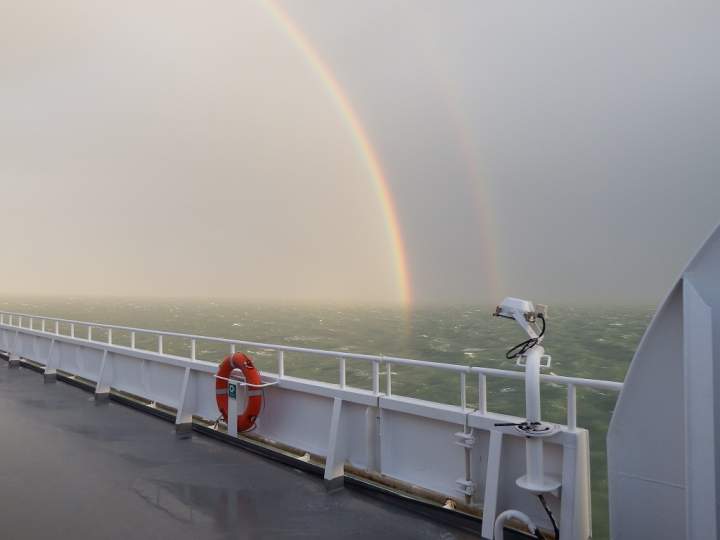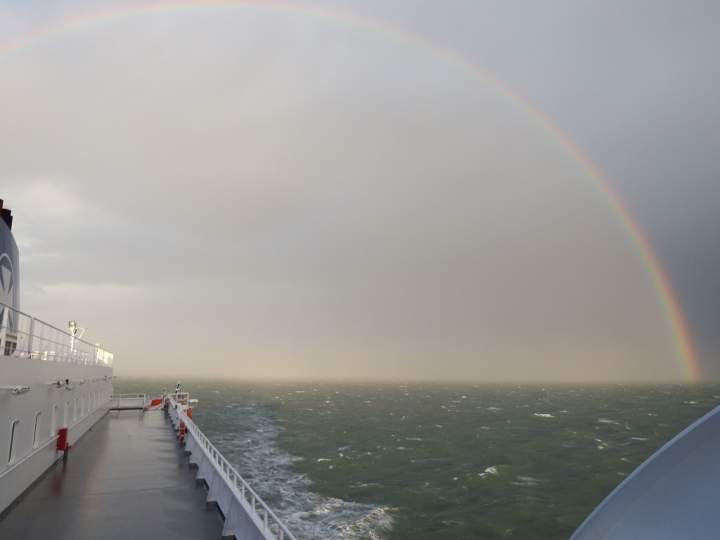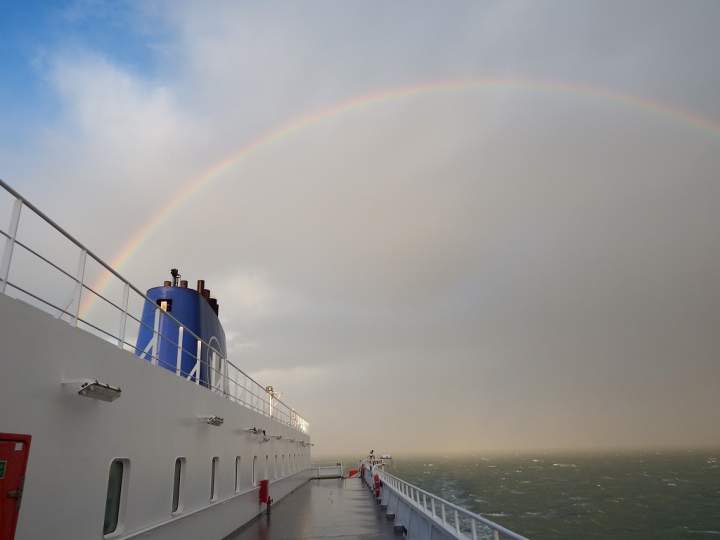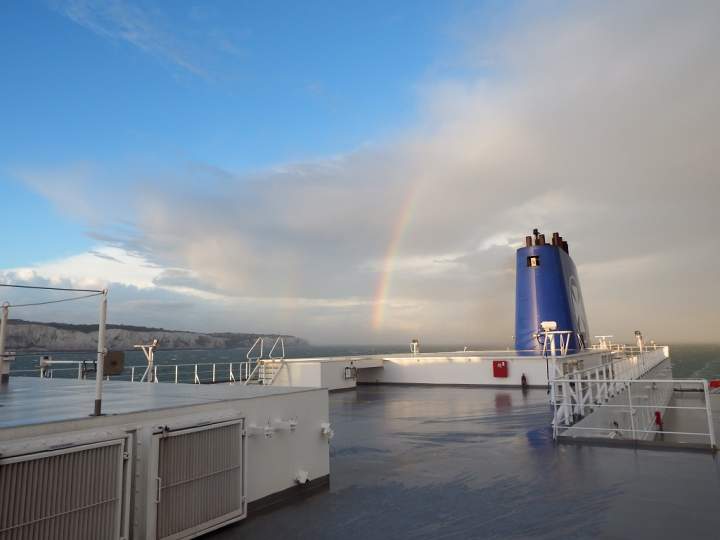 I saw this rainbow and rushed inside to get my camera and take a few quick snaps as I was working. The last photo was a bit unfortunate as I nipped up to the upper deck to take it and was standing half way between the Bridge and the funnel. The Chief Engineer had just called me on the walkie talkie and asked me to go down to the Engine Control Room to assist with moving a very large replacement generator breaker into position ready for installation. I said that I was on my way then decided to take that last quick snap before going down. Unfortunately, I installed a CCTV camera on the Bridge a couple of years ago looking back at the funnel and displaying the picture on a large TV in the control room so that the engineers could see if we were making any smoke. They were all waiting for me in the control room and suddenly I appeared on the big screen taking photos! Another call from the Chief Engineer "We can see you-hoo" so I was caught red-handed and scuttled off down below post haste!
Wednesday, 23 October 2013 - 20:06
Post 198
howard mcsweeney, dover
lovely autumn day up at st martin's battery, not so nice below.
a good day to be a pasty faced landlubber.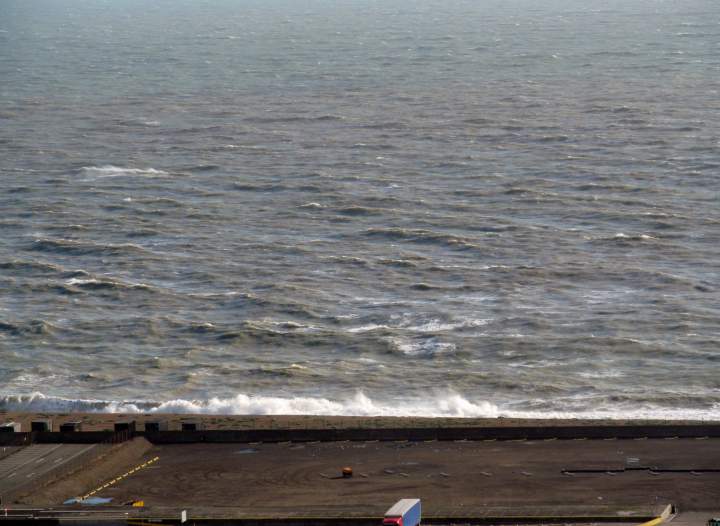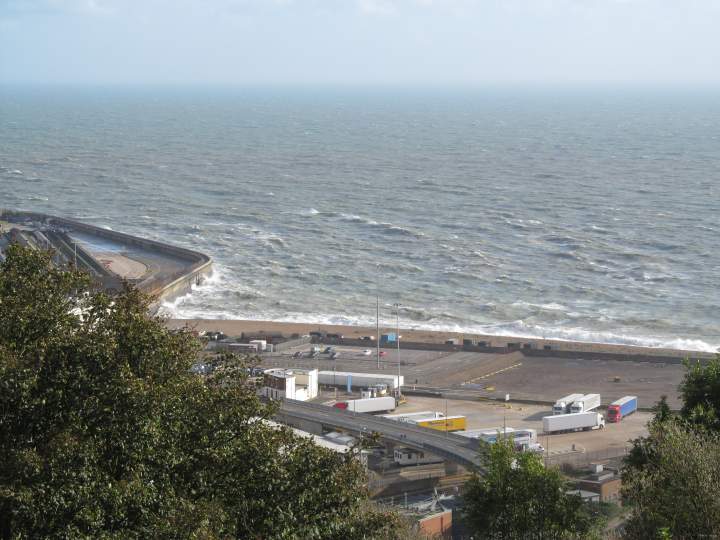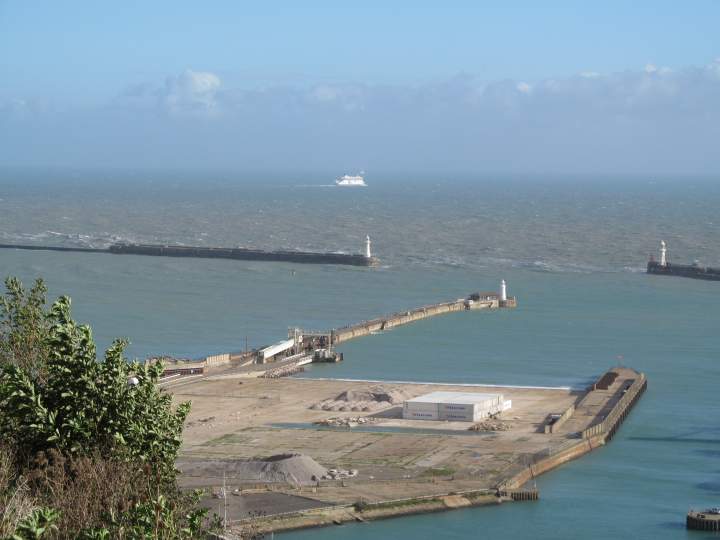 Wednesday, 23 October 2013 - 19:09
Post 197
PaulB, Dover
HALF TERM ideas below from DFDS. Picture shows The DFDS ferry CALAIS SEAWAYS departing Dover early yesterday morning just after sunrise.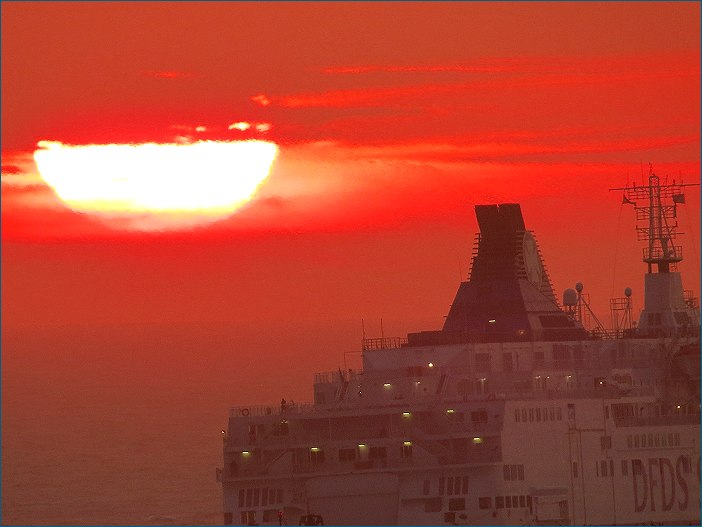 TOP THREE EUROPEAN HALF TERM PICKS FOR ALL THE FAMILY... FROM DFDS
_______________________________________________________________
Treat your kids to a last minute short break with DFDS Seaways. The award-winning ferry operator has put together its top three destinations in France and Holland to help keep the kids occupied this half-term:

Nausicaa Aquarium
For those looking to treat the kids to an altogether aquatic trip, hop across the Channel for a day trip to the Nausicaa Aquarium in Boulougne-sur-Mer, a short 30-minute drive from the ferry terminal at Calais. The aquarium is home to over 4.5 million litres of water as well as marine animals such as rays, turtles, African penguins, sea lions, tropical fish and sharks. The centre provides information about the wildlife in French and English and visiting children will be able to impress the teachers with newly learnt French animal names.
With child tickets to the aquarium starting from €10,45 and ferry crossings from Dover and Calais starting from £14.50 each way for a car and up to four passengers, half term is a great time to hop across the Channel for a day trip.

Futuroscope
For a futuristic half-term break in France, travel to Futuroscope, a fun-packed theme park located just outside Poitiers. Sail to Normandy from as little as £54 each way for a car and up to four passengers with DFDS Seaways. With two routes to the region - Portsmouth to Le Havre and Newhaven to Dieppe – you have plenty of choice for departure times and ports. Both French ports are approximately a four-hour drive from the futuristic amusement park, which is home to high-adrenaline rides such as The Little Prince, an interplanetary journey, and the Dances with Robots experience, a supercharged robot party.
Dining at the park is also a 21st century experience, which should please parents as well as children; forget the usual fast food, Futuroscope boasts Le Cristal, molecular style cuisine. The chefs have used the region's finest ingredients and combined them with the theatre of molecular gastronomy to create some show-stopping dishes.

Amsterdam Zoo
For a short half-term getaway, take the children to the Artis Zoo in Amsterdam, which is home to over 900 species of animals. DFDS Seaways runs two-night mini cruises sailing from Newcastle, from only £62 per person based on four people sharing a cabin. A two-night mini cruise with DFDS Seaways includes two nights' accommodation onboard in an en suite cabin; return coach transfers from the port near Amsterdam to the Artis Zoo and entrance tickets.
During the crossing, passengers can dine in one of the delicious onboard restaurants such as the all-you-can-eat buffet in the 7 Seas Restaurant, the Blue Riband a la carte restaurant or the Explorer's Steakhouse. While the children enjoy the play area, adults can try their luck in the onboard casino, take in a movie at the cinema or relax in one of the bars and soak up the live entertainment, before retiring to their comfortable en suite cabin for the night, arriving refreshed and ready for sightseeing in the morning.
Max Foster, passenger director at DFDS Seaways says, "There is a lot going on in France and Holland this half term for parents looking for new places to see and explore. And the beauty of taking a ferry is that your holiday starts as soon as you board, with dedicated children's facilities, as well as a range of restaurants and bars serving delicious food, there is something for everyone onboard."
DFDS Seaways sails up to 44 times a day between Dover and France with routes to both Calais and Dunkirk, twice a day between Newhaven and Dieppe and once a day between Newcastle and Amsterdam and Portsmouth and Le Havre.
To take advantage of these offers, book now or to find out more information, visit www.dfds.co.uk or telephone 0871 574 7235.
* *
My little girl, now all grown up, still loves all those suggestions above. Loves Nausicaa and you cant keep her away from zoos and animals...so there you are. Nice ideas there and definitely on the pace.
Wednesday, 23 October 2013 - 05:49
Post 196
PaulB, Dover

In the past 5 or 7 days there has been a staggering array of fast turnaround cargo ships in. As there is only one terminal for cargo they seem to have organised it very well. Slick indeed. Just in the past days we have had Lady Rasisce, Lady Korcula, Megallan Strait, Esmerelda, Santa Lucia, Star First, Hope Bay...so some going there.

The poor ould Pride of Burgundy has been in the wars recently so probably in need of a workover. Well spotted there Ed. Nice shot too of the dunes. Ive only been to Dunkerque once as I mentioned before, but it has a bit of everything from the industrial, to the dunes, to the fab harbours, not to mention some excellent bars and bistros. Will be returning for sure. Enjoyed the DFDS ferries too. Have some pictures to put up of Dunkerque showing some of the industrial aspect. I myself like all that industrial landscape, it all adds to the fascination, but for those who arent too sure, there is a most interesting town beyond anyway.

I will fetch out some of those pictures shortly.

Also FAMILIES, please see the half term ideas below from My Ferry Link.
I'm a great fan of Le Touquet myself. Been there many times at the Westminster for a bit of that old world charm and indulgence. Great dunes there too.

Tuesday, 22 October 2013 - 06:59
Post 195
howard mcsweeney, dover
yet again a great all round selection of photos and must draw attention to paul's comments about the turn round time, it is not just the ferries but containerships and cruise ships that experience a slick operation here in dover.

Monday, 21 October 2013 - 20:13
Post 194
Ed Connell, Dover
Pride of Burgundy passing Dunkerque West this morning on her way round to Dunkerque East for drydocking after suffering damage when she had a steering problem on Saturday night and collided with the pierhead entering Calais.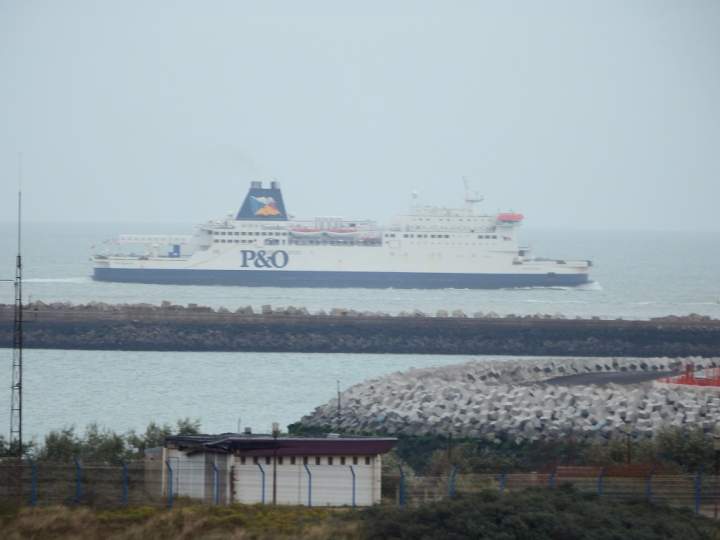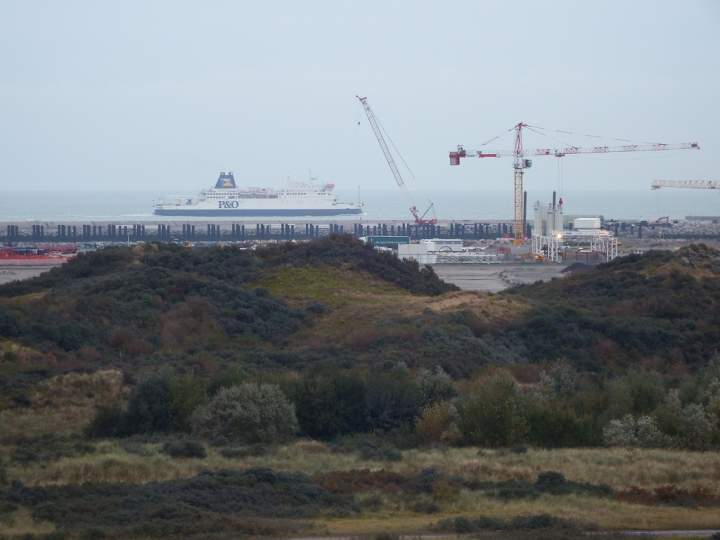 Monday, 21 October 2013 - 12:19
Post 193
PaulB, Dover (dover7@msn.com)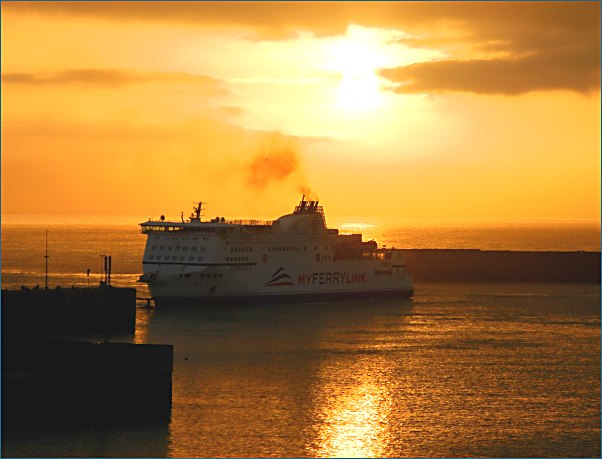 SOME IDEAS FOR HALF TERM from MY FERRY LINK
_________________________________________
Autumn half term holiday breaks from £311 for a family of four.
Book now with Dover-Calais ferry operator MyFerryLink
For families still looking for a last minute getaway during half-term, Dover-Calais operator MyFerryLink has some great suggestions. There are several family-friendly destinations all within easy reach of Calais, meaning once you set sail the fun can begin.
MyFerryLink's two superferries have plenty on board to keep kids entertained. The Playzone is an enclosed children's soft play area for two to eight year olds and is located adjacent to Le Relais self-service restaurant, where parents can relax with a coffee or meal whilst watching their kids. There are also free-to-use microwaves in the seating area of the Relais, so parents can warm up baby milk or special food for the kids.

Sainte Croix Animal Park - two day break from £311 for a family of four
Set in 120 acres of beautiful parkland, in the centre of the Parc Régional de Lorraine, the Sante Croix Animal Park is home to more than 1,500 animals from 100 different species. The animals, which roam free in large enclosures, include bears, lynx, bison, several packs of wolves and deer. There's plenty of entertainment: a train tour and opportunities to watch the animals being fed. A one night stay in a Mongolian yurt, equipped with beds, and a living area as well as two days' entry to the park and meals in the park restaurant costs just £239 for a family of four for the night of 28 October 2013. The total cost of the break, including return ferry crossings with MyFerryLink, is £311 for a family of four (£77.75 per person).

Parc Astérix – two day break from £429 for a family of four
Located just north of Paris, is the popular theme park, Parc Astérix based on the stories by Albert Uderzo and René Goscinny. The park features a number of attractions, including the largest roller coaster in Europe. Try out the 'Tonnerre de Zeus' – climb to the top of Mount Olympus and take off on a dizzying descent of more than 30 metres, reaching a speed of over 80 km/h with double humps, spirals and aerial turns. There are plenty of rides for younger members of the family and six worlds to visit including Egypt, the Vikings, ancient Greece and of course, Gaul. Shows available at the park include 'the legion is recruiting' and a dolphin and sea lion show. Prices start from £357 for a one night stay for a family of four in the park's themed Hotel des Trois Hiboux. Prices include breakfast and two days' entry to the park for the night of 28 October 2013. The total cost of the break, including return ferry crossings with MyFerryLink, is £429 for a family of four (£107.25 per person).

Pierre & Vacances Résidence Le Phare, Le Touquet – four nights from £397 for a family of four
Just over an hour's drive from Calais, Le Touquet is a fantastic destination for all the family with its elegant boutiques, adventure water park, horse-riding and cycling. Pierre & Vacances, Résidence Le Phare, Le Touquet is within easy driving distance of a number of fun activities, including the Nausicaa ocean centre. A family of four can save 25% on a four-night midweek break, staying in a self-catering studio apartment from Monday 28 October to Friday 1 November for just £325. The total cost of the break, including return ferry crossings with MyFerryLink, is £397 for a family of four (£99.25 per person).
A return Dover-Calais crossing for a car and up to nine passengers with MyFerryLink is available from just £65 based on 28 October departures. MyFerryLink operates 16 daily crossings on the Dover-Calais route. Fares for a car and up to nine passengers start from £29 each way any duration.
To find the best fares, visit www.myferrylink.com or call 0844 2482 100
* *
The Black Watch always seems to be unfortunate with the weather. Here she is leaving a day or so ago heading out into a grim blustery evening with menacing weather outlook. No pink gins on the foredeck in prospect this time. There seemed to be a fair amount of passengers onboard nevertheless, sturdy legged veterans to a man..or woman..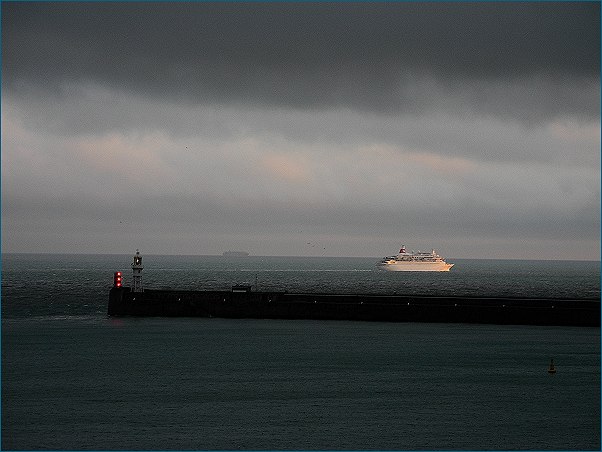 Top pic in this post shows My Ferry Link's Rodin arriving in harbour two days ago, a little after sunrise.
Monday, 21 October 2013 - 07:13
Post 192
PaulB, Dover
Sunday morning and its departure time already for the Star First. It only came in yesterday ( see previous post ) and already away. That is less than 24 hours to unload that full cargo and reload with another full cargo and off to Antwerp.That has got to be one heck of a slick operation they are running there.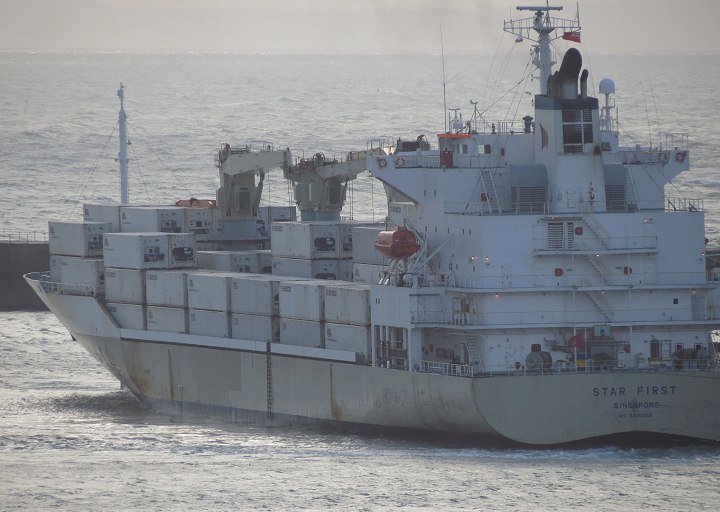 Another picture to follow..a wider view of the same departure. Here we are...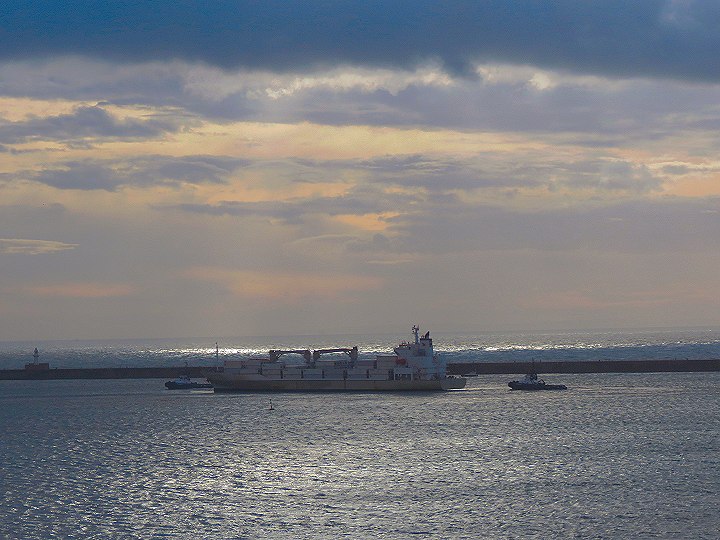 Now here's the thing..no sooner had the Star First departed than along pops another cargo ship to slip into the vacant slot. The one here now at this moment is called the Lady Korcula, no picture I'm afraid, and she is currently discharging her cargo at the terminal.
Trade is definitely on the up, never seen it quite so busy before.
Sunday, 20 October 2013 - 14:23
Post 191
PaulB, Dover
That's an interesting one Howard. I can see them now. Well spotted. I wonder what's afoot.. as they never store containers there. Perhaps it is in fact a new storage idea or else they need the content for a new building project right there in that location.
Will be fascinating to watch.
Yes and all Seatrade containers too. Here below is some of the very latest batch of Seatrade containers being offloaded from the Santa Lucia a few days back at the Cargo Terminal..maybe they are the very same batch.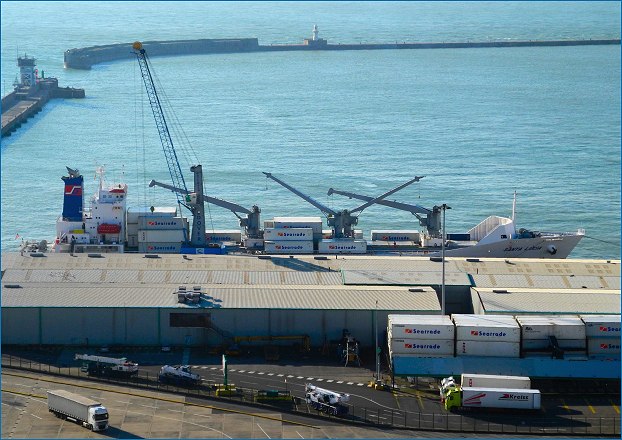 Yesterday saw the arrival of the Star First with another vast load of containers but this time mostly of the Seaco variety.
The Star First is a regular caller. Here she is in the pic below slipping into Port. The two tugs were on hand to assist.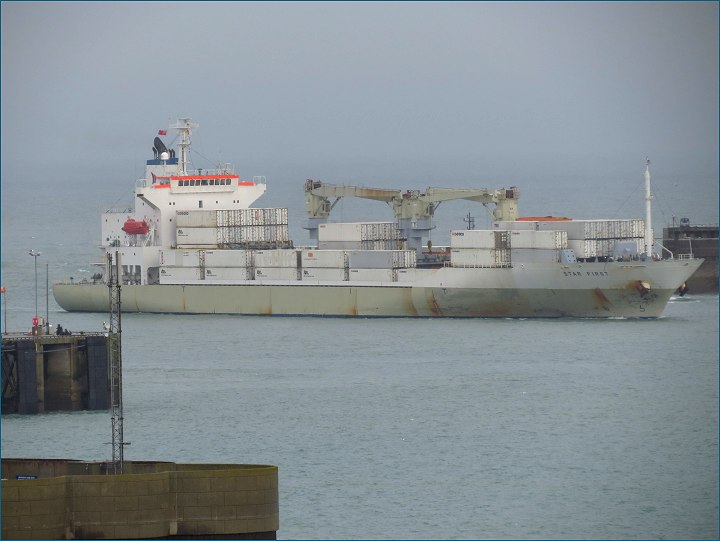 And now to put the finishing touches to the few items about the Norman Spirit..currently showing at the tip top of the page and with the extra gratuitous showing of Kelly Brook further down the page! The ship is now of course called the Calais Seaways.
Here we are with a couple of pictures of the ferry taken in yesterdays drizzle. Not of hugely great quality because of the conditions so reproduced small.
Why it says Calais Seaways with the Le Havre piece added below I dont know..why Le Havre ?
but thought it interesting.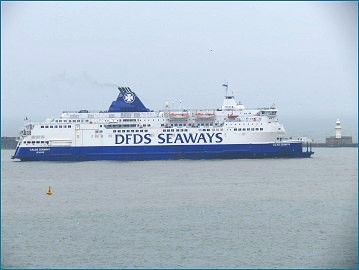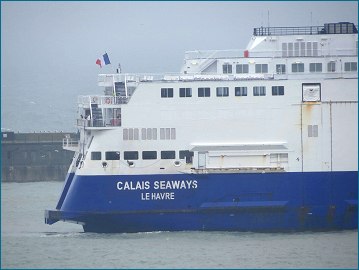 The Black Watch left last night just as it was getting dark. Tried for a few pictures, will have a look at them later to see if any are worth reproducing.
Sunday, 20 October 2013 - 08:10