Friday, 27 November 2020

www.doverforum.com/sea-news
Sea Pictures from DOVER ....
See the OPEN LETTER from Port of Dover CEO Doug Bannister further below....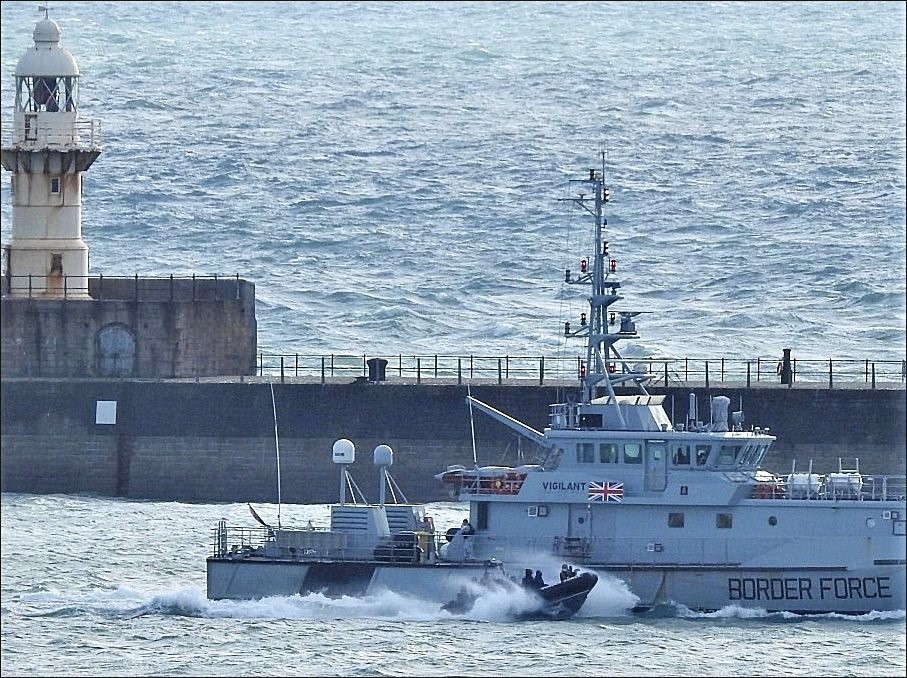 Border Force Vigilant seen here returning to the Port in the past few days...we believe the Border Force rib powering alongside contained some migrants as several incursions were reported on the day.
The Disney Magic resting tranquilly at new pier WD4 Port of Dover, the tranquility making a change from all the recent rough weather...while in the foreground the Harbour Patrol Boat meanders along keeping everything safe and secure... In the far distance you can just see the Vasco da Gama cruise ship heading for Portugal.
Below...the Sun Rising through the drizzle on the Dover Straits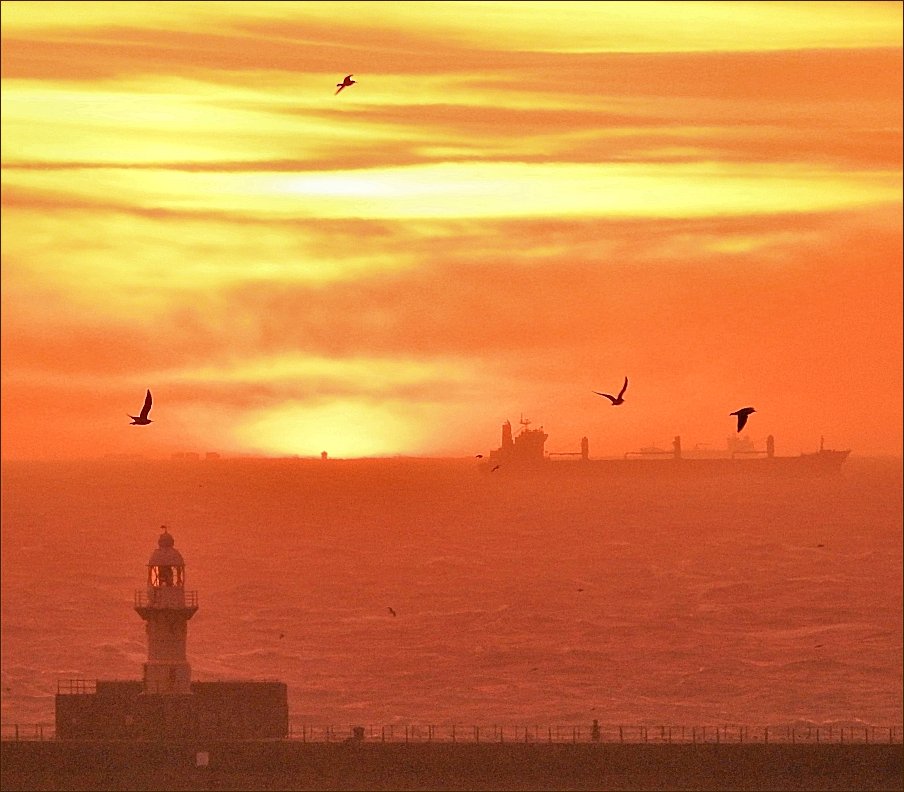 Yes the Sun rising through the drizzle... it begins to climb over Calais...as we look across the ever busy Dover Straits.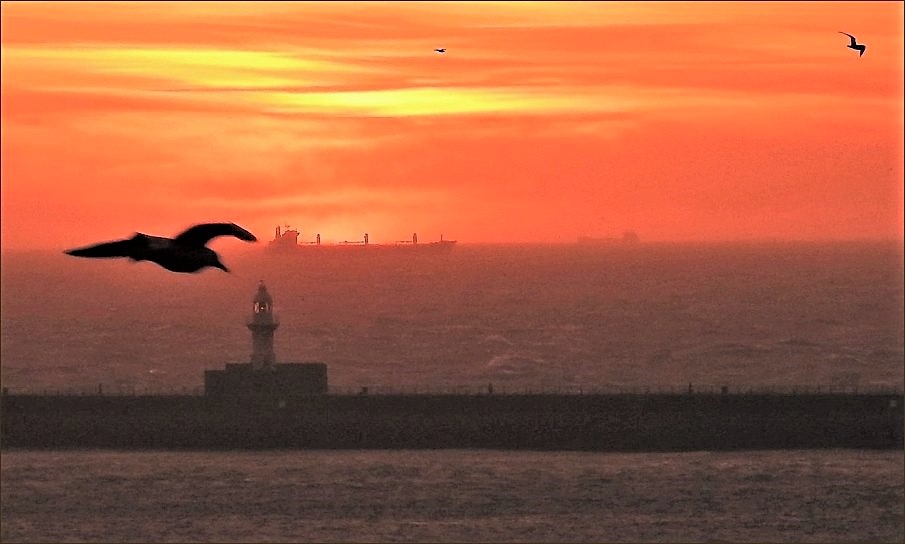 This picture taken a few moments before the one above....
November Sky - Dover Seafront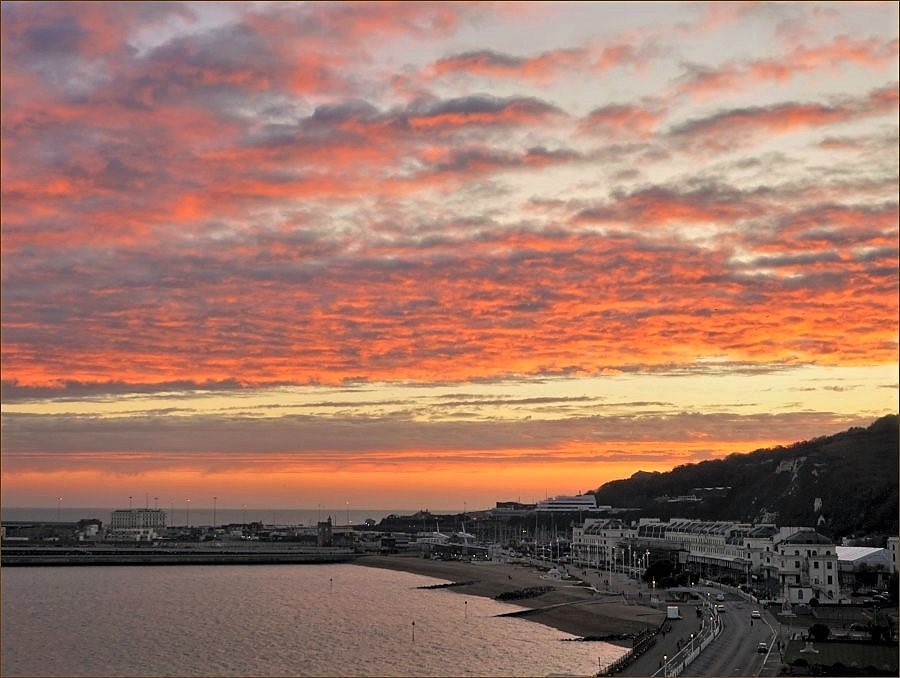 Dover Seafront November:
Striking evening sky as we look along Dover Seafront at sundown.....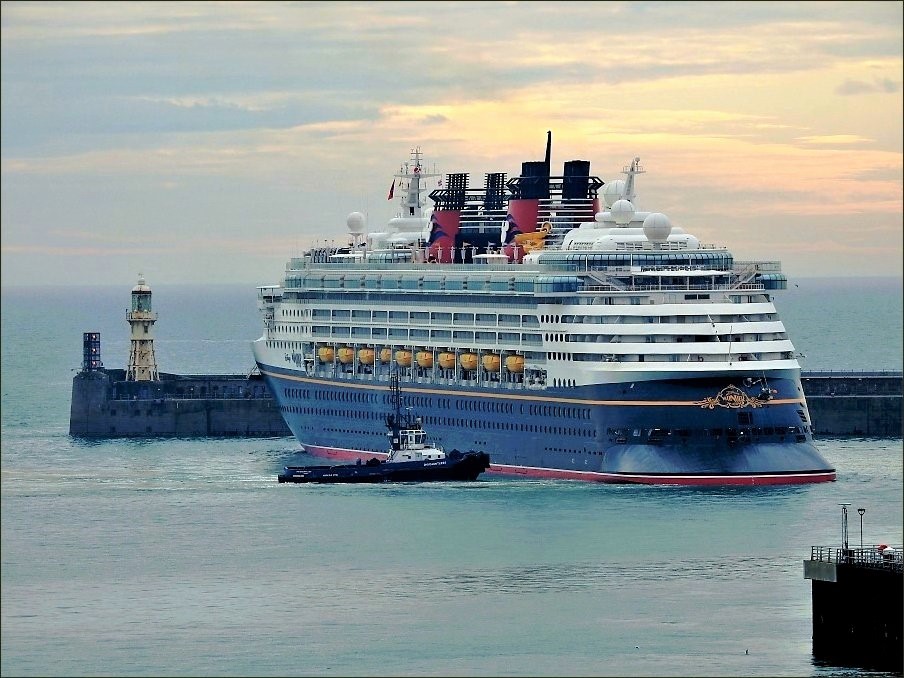 The Disney Wonder:
The Disney Wonder pulled away from Dover on the recent saturday heading for Funchal we understand...
.......a rough ol' trip in the prevailing conditions....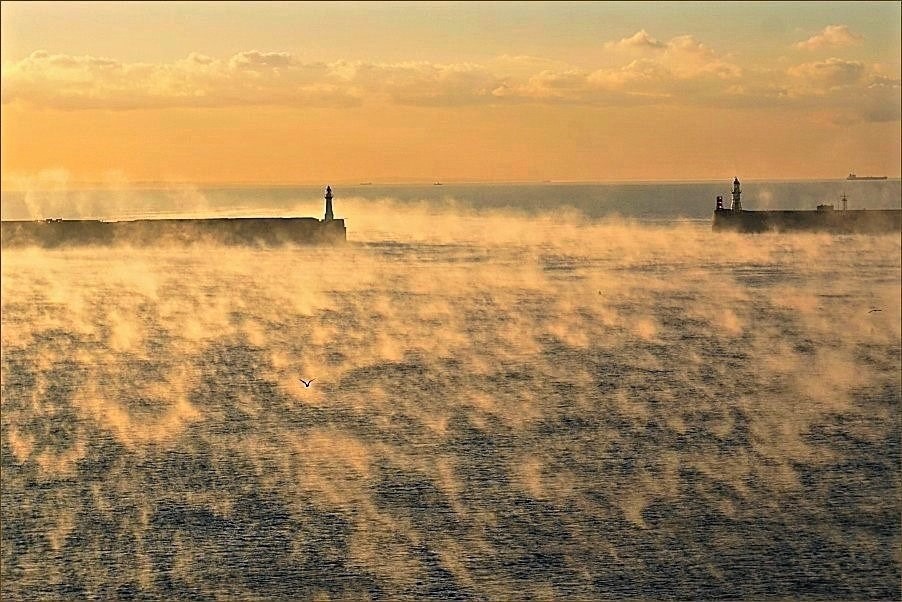 Dover Harbour: something of a rare site this...fog shimmering across the surface in this way, as shown above. Picture taken on a recent chilly but dazzlingly bright and sunlit morning.
" smoke on the water, fire in the sky "
DISNEY at DOVER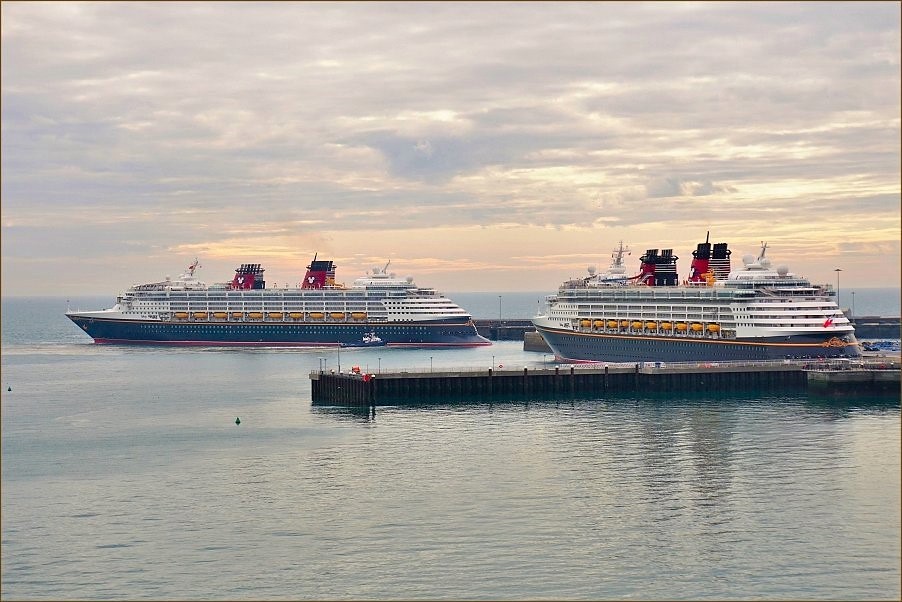 The Disney Wonder and the Disney Magic
If you quietly wish upon a star, hoping for even more wondrous magic in Dover,
...well you might just end up with two Disney's....
Fire on Western Heights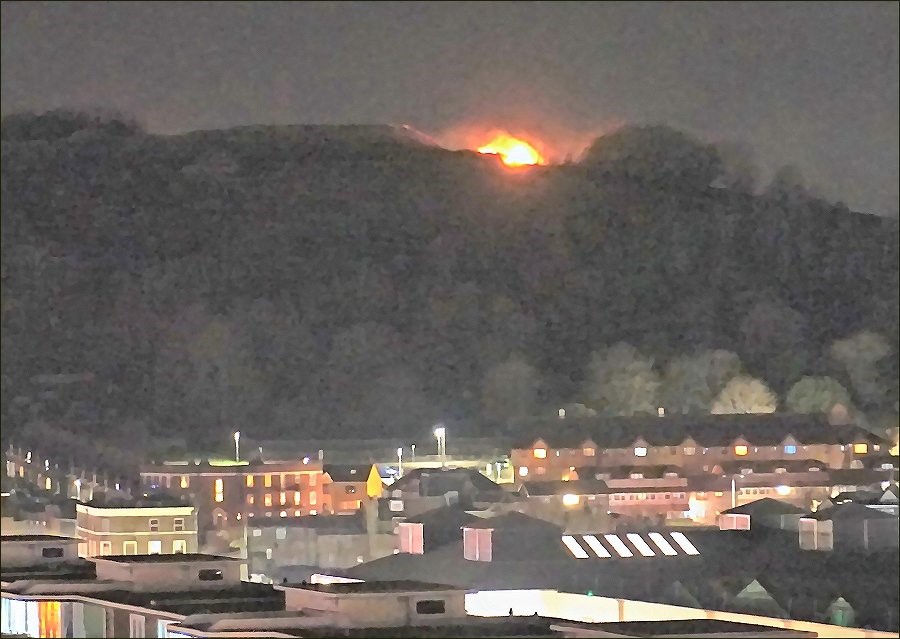 Something of a forced picture taken on friday night of the fire on Western Heights here in Dover. It seems a stray rogue firework caused it, setting scrubland alight. Four fire engines were in attendance we understand. The picture is of poor quality taken through the darkness, but it gives the general gist as we look across the rooftops.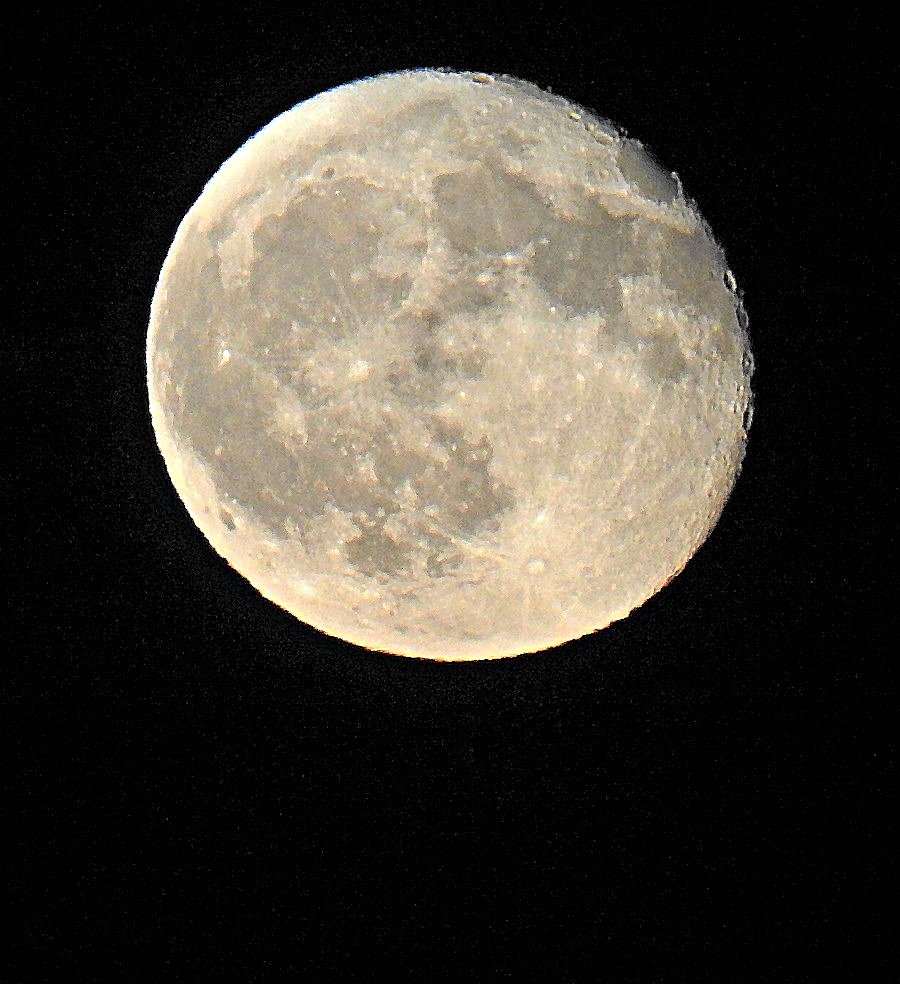 Full Moon over Dover....
The 'Blue Moon' over the Port of Dover in recent times.
Look at that rugged terrain...
* *
OPEN LETTER FROM DOUG BANNISTER, CEO, PORT OF DOVER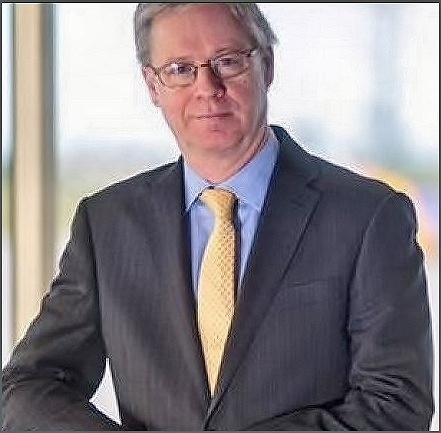 Dover is the right choice for business and consumers now more than ever
The United Kingdom Major Ports Group ('UKMPG') has issued a 'briefing paper' intended to encourage businesses to transfer cargo away from the Short Straits, the UK's most vital link to European markets.
The paper points out that the Short Straits, which includes ferry links between Dover and Calais, as well as the Channel Tunnel, has a 60% market share of 'British-Continental EU trade'. The Short Straits has achieved this market share because it is the right choice for business. Indeed, the paper acknowledges that the routes businesses use today are the right ones and the reason businesses choose the Short Straits is simple; it offers the most time efficient, cost effective and resilient access to international markets, delivering an estimated £3 billion saving for British businesses and consumers compared to alternative routes.
Our own independent analysis (Oxera 2018) has previously suggested that it would cost around £2.7 billion to take just 20% of our existing traffic in order to pay for new ferries operating on longer and slower routes. Importantly, these new ferries do not exist today and need to be built. With shipyard capacities and construction lead times, delivering such a fleet of new ferries holds significant lead time.
The UKMPG paper suggests that other ports might have capacity to take up to 60% of Short Straits traffic now, but acknowledges that this requires both Government and trader support for this offer of 'resilience' to be possible. Exponentially, this suggests that the cost to businesses and ultimately the consumer could be up to around £8 billion.
For Port of Dover, when looking at the overall UK Trade Resilience we take a systemic view – across ports, vessels, capacities, frequencies, operating models and traffic management schemes. To focus only on port capacity is terribly one-dimensional.
The geographic advantage that Port of Dover holds with the UK's largest trading partner means that a single vessel can complete up to five round voyages in a single day, making our ferries hugely productive assets. Further, our operating model delivers an average inbound dwell time at our port of just five minutes, providing unparalleled port efficiency.
Other operating models, for example containers and unaccompanied trailers may have inbound dwell times from several hours to even several days, adding inefficiency to the system-wide supply chains. For those routes with longer sea voyages, a single vessel may only make a single round voyage in a day – meaning to replicate the capacities and frequencies offered via Port of Dover would require five times as many vessels.
The UKMPG paper admits that a 'short term' constraint might be the availability of additional ferries to handle the trucks being encouraged to divert to other routes, whilst also citing wider capacity issues on the southern North Sea corridor.
The report is right to focus on resilience as we approach the end of the Transition Period, but what resilience do you have if you are sending traffic to ports where the ferries do not exist? Neither is that a quick fix. The market dynamic is important here. In fact, rather than investing in new ferries, operators at some of the alternative ports have actually been closing these longer routes with tonnage moving back to the short routes as that is what the market wants – Dover has of course kept going throughout the pandemic. This dynamic applies to the European side too, with the majority of freight vehicles choosing to route through northern France to Calais and Dunkirk as it is simply closest.
All EU-facing UK ports will be under the same rules – there will be a standard process and transaction applied everywhere. We know from examples elsewhere, such as 'Operation Wellington' on the Humber, which anticipates using parts of the M62 and M180 as holding areas for HGVs, that if there is disruption it will be everywhere. The report itself admits that there is already a risk of disruption at these alternative ports due to new systems for HGVs. Therefore, on top of this, sending more traffic to ports that do not even have the ferry capacity will make the situation far worse and create far less resilience for UK trade.
In contrast, the traffic management regimes for the Short Straits are tested and proven – in short, we know they work. For example, the recent national security operation that affected all ports with additional screening and searches left around 4,500 lorries in Operation Stack. When the security operation ended, Dover had cleared all queuing traffic and was back to normal operations within just 12 hours. Nowhere else could do that. It would take weeks with the current vessel capacities and frequencies available elsewhere. For UK trade resilience, supply chains must have the confidence in managing periods of disruption, and crucially recovery and restoration of normal flows as swiftly as possible – both areas in which Port of Dover has excellent credentials.
As we all navigate the massive economic difficulties caused by COVID, and the uncertainties as we approach the End of Transition, it is right to showcase the incredible efforts of the maritime sector, and the excellent ports that we have across the nation towards ensuring supply chains are robust and functioning well.
Come what may, we will keep working to keep the nation supplied with the essential goods people need at this difficult time and give all businesses wherever they are the benefits of Dover's unrivalled service. This is what we do all day, every day.
Indeed, as the Maritime Minister said on a panel discussion with us only the other day regarding the national trade network; 'you have to have goods and people moving around freely. So if you are to have parts moving quickly and efficiently across the Channel, and through Dover, and through the country, you have a much easier opportunity for companies that might exist in the Midlands or in the North to get involved in whatever that industry is.'
The report says that the UK has not always been reliant on the Short Straits, harking back to pre-Single Market days. Equally, the UK has not always been reliant on the internet and same day/next day/just-in-time deliveries, but it is now.
A vision that takes the UK backwards is not the vision of the future we want to see. We need one that backs consumers and businesses everywhere for the challenges and opportunities ahead of us. We feel that we should celebrate our impressive, modern and efficient supply chains across all ports and modes throughout the nation.
For Dover, we fully appreciate the essential role that we conduct for the nation, and will continue to take our responsibility with all of the due care and attention the British people would expect of us, which is why Dover will remain the clear market choice.
Doug Bannister, CEO Port of Dover.
ENDS

WWW.DOVERFORUM.COM/SEA-NEWS
Sea Pictures from DOVER ....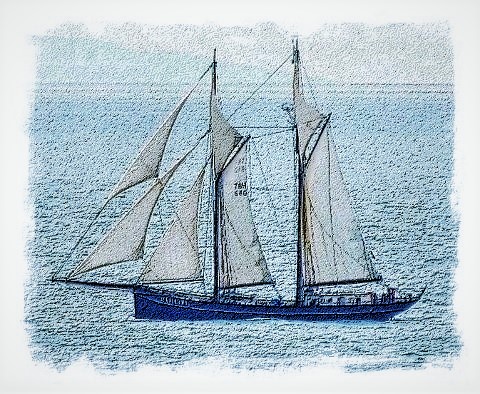 Use our SEARCH ENGINE below to find all sorts on the SEA NEWS pages....type in the topic and away you go,
or if you have the post number, just type it in the Search Box.
There are more than
- 7000 -
nautical posts in the section below.
Paul Boland - dover7@msn.com
Sea News Dover:
All pictures on these pages are the copyright of the owners and must not be reproduced without permission.
Post 259
PaulB, Dover
GREAT OFFER - BUT YOU NEED TO BOOK FAST !!
Book now for Christmas travel and receive a free magnum of wine from MyFerryLink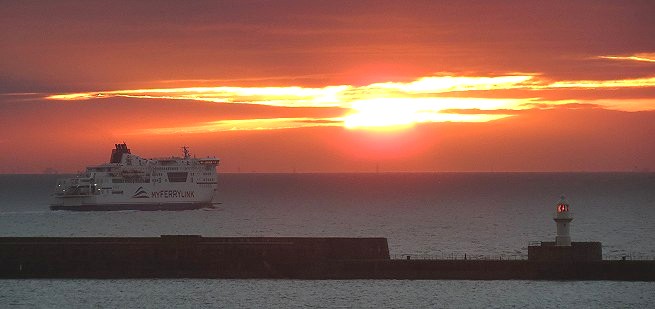 With Christmas just around the corner, Dover-Calais ferry operator MyFerryLink is giving its customers an early present of a magnum of red wine with all long stay bookings made by 17 November.
With any duration fares starting from just £29 each way for a car and up to nine passengers over Christmas, travelling by ferry is a great option for those planning to spend the festive season with friends and family on the continent.
As well as low fares over the Christmas period, all MyFerryLink bookings for stays of five days or more will receive a free magnum of Petites Folies wine as a gift. This offer is available for all bookings made by 17 November 2013, for travel between 1 December 2013 and 15 January 2014.
To BOOK, visit www.myferrylink.com and quote 'GVIN' or call 0844 2482 100
Dont let the sun go down on this one..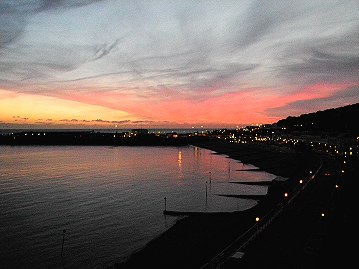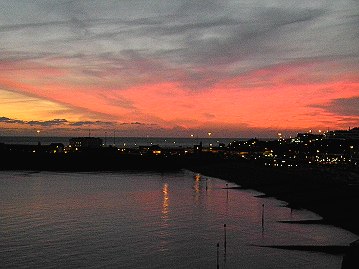 * *
Yes indeed its sad to see the ould Pride of Calais ending up beached there, but I suppose it comes to us all...the knackers yard awaits !
But as John said below there, its good to remember her in full swing.
The following pictures are from her last ever working trip. After she unloaded she moved sadly over to the western pier to await her grim fate...never to work again.
Here she is arriving into Dover from Calais for the very last time on 20 Oct 2012.
and another one below, showing a close up of her load on the bow, pic taken at the same time. She clearly had a full quota onboard for her final trip. You dont see so much of this front loading any more....not with the newer ships anyway.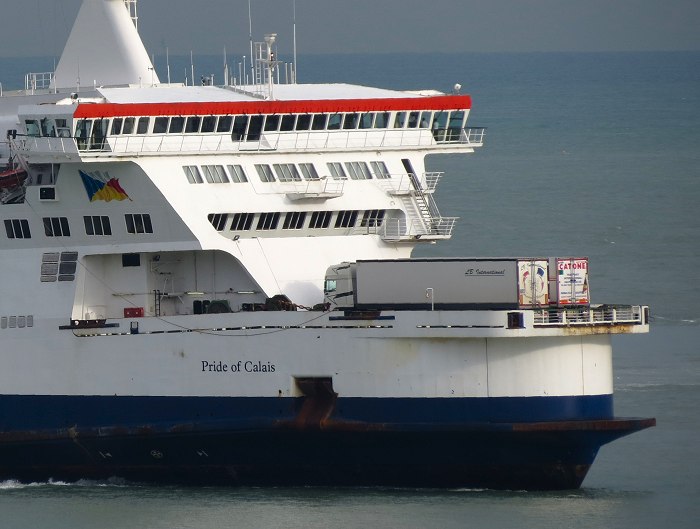 I think I did travel on her but only the once.
PS: it looks like the Rimini has left us after her visit of several days.
Friday, 15 November 2013 - 08:05
Post 258
howard mcsweeney, Dover
Thanks john and jacqui, the "rimini" shows up on the "channel traffic" now.

very sad to see the photo of the "pride of calais" in it's turkish graveyard, the only consolation is that it will provide jobs for people there.

i must admit i enjoyed travelling on the "pride" vessels more than the new "spirits".

Thursday, 14 November 2013 - 19:51
Post 257
John Mavin, Dover
It'a always sad to see a ship you are familiar with ending up on the scrapping beaches. I clearly remember a trip I made on the Pride of Calais during the first week of her service back in 1987. This included a bridge visit and it's strange to think that some of the hi-tech navigational features we gawped in amazement at back then are now available on our computer desktops!
Although I was not overly fond of the big P&O ships I'm sure this is how we prefer to remember her.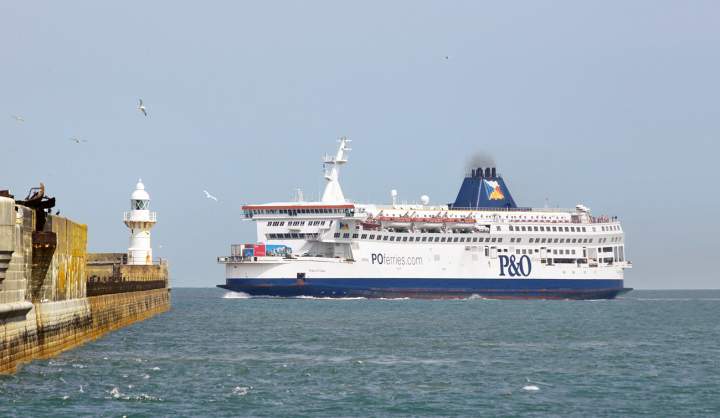 To get an idea of the scale of the scrapping business, try going to Google Earth and entering Alang, Gugarat (or Aliaga, Turkey). ..... run the cursor up the beaches and you can see what a massive trade it is.
Thursday, 14 November 2013 - 14:05
Post 256
Ed Connell, Dover
The old Pride of Calais has arrived on the beach at Aliaga for scrapping. This photo has been posted on Facebook but is copyright of the celebrated Aliaga photographer Selim Sam.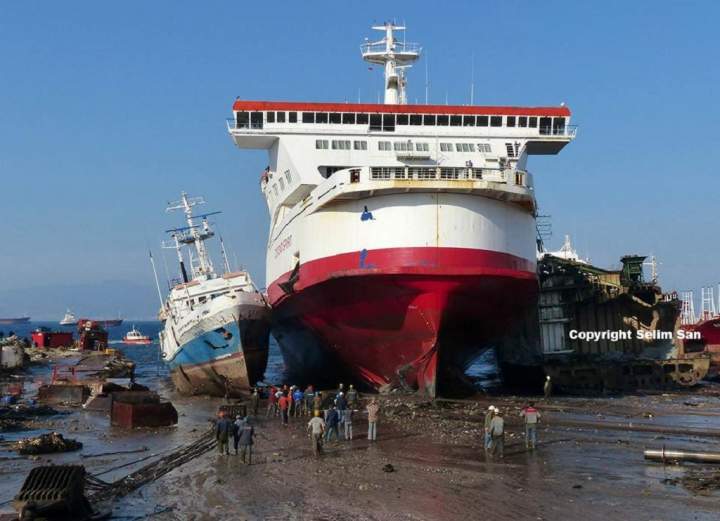 Thursday, 14 November 2013 - 00:31
Post 255
Ed Connell, Dover
Our quartermaster Ben tells me that there was a little cargoship broken down outside the Eastern Entrance yesterday morning so possibly that may have been the Rimini.
We carried an artic on the Dover Seaways yesterday which is adorned with a picture of the ship. Some of our engineers were transferring a main engine cylinder head ashore so I photographed them beside the truck.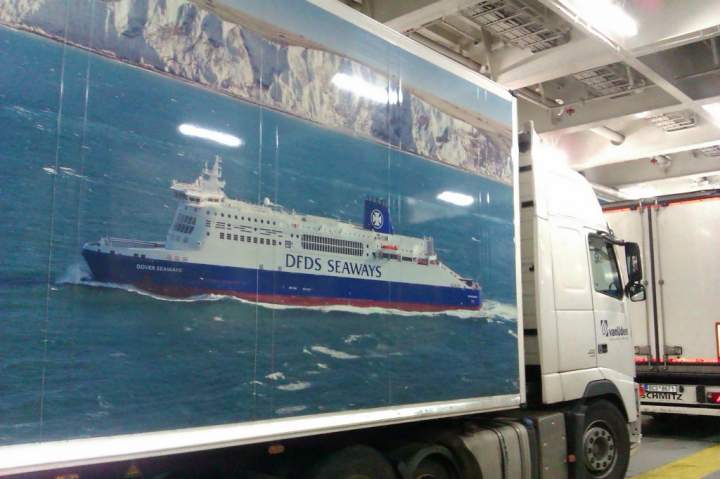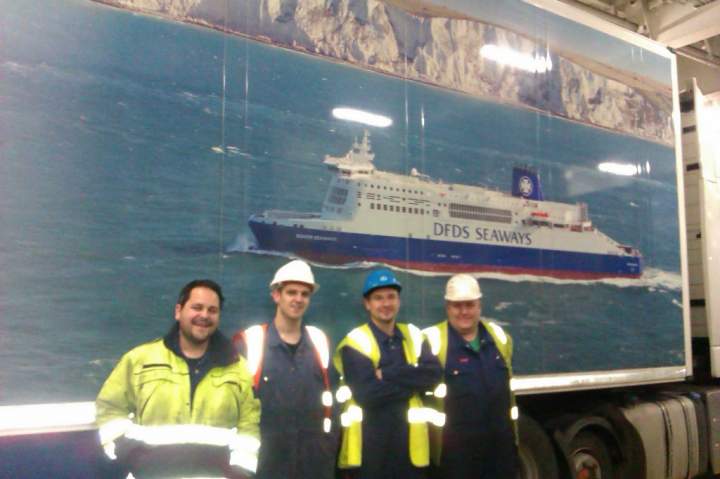 Wednesday, 13 November 2013 - 23:27
Post 254
Jacqui, Dover
Sorry John, I didn't see your answer - silly me! Hope you're well x

Wednesday, 13 November 2013 - 21:27
Post 253
Jacqui, Dover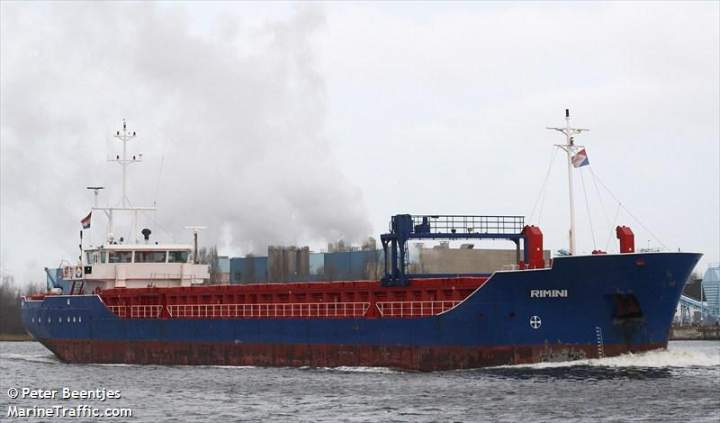 There ya go Howard!

Wednesday, 13 November 2013 - 21:23
Post 252
John Mavin, Dover
Howard, that's a grain carrier called the Rimini. During the cruise closed season a lot of grain boats use the Admiralty Pier. There's easy access, a convenient weighbridge and minimal risk of the inevitable dust affecting the ferry trade.

Wednesday, 13 November 2013 - 18:23
Post 251
howard mcsweeney, Dover
you were quick of the mark paul digging out those photos, brought back memories.
all the best to mr dodridge for his retirement.
now a mundane one, saw this earlier and cannot work out what this vessel is for.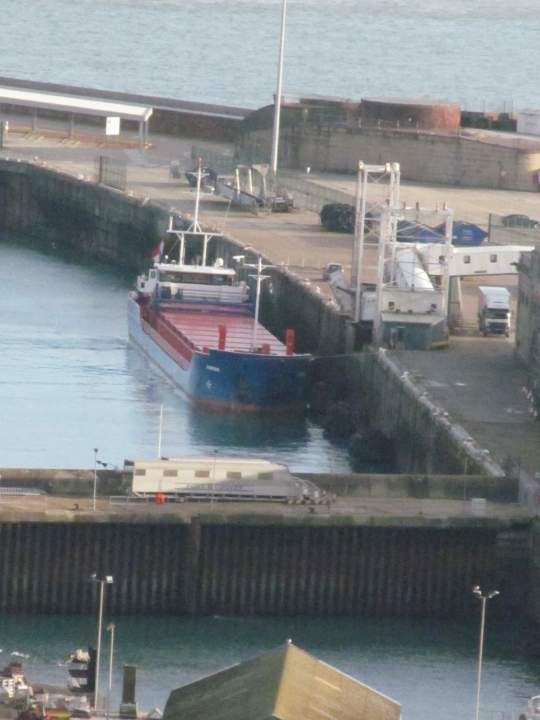 Wednesday, 13 November 2013 - 16:01
Post 250
PaulB, Dover
ROBIN DODRIDGE to RETIRE March 2014
______________________________
After a career at Europe's premier ferry port spanning more than thirty years, the Port of Dover today announces that Director of Corporate Assurance, Robin Dodridge, will retire in March 2014.
In paying tribute to Mr Dodridge, Tim Waggott, Port of Dover Chief Executive, said "I will personally miss Robin's great sense of humour and good judgment, and I would like to place on record my admiration for his many achievements in a long and successful career with the Port of Dover. I am sure our staff and many stakeholders will join me in wishing Robin a long and happy retirement."
Reflecting on his career, Robin said, "It has been a privilege to work with truly professional colleagues designing, building and operating the World's busiest ferry port. I am certain that going forward, Tim Waggott and the team will lead the Port from strength to strength for the benefit of both its customers and community".
The pictures above and below are from our own collection and the one above shows the Leader of Dover District Council Paul Watkins with Robin Dodridge onboard the inaugural sailing to Boulogne with LD Lines. The pictures were taken by ColetteB...I wasnt there myself but if I am remembering the situation correctly this is the ship pictured below that took them over that very day. Pictured prior to departure.
Sadly the LD route to Boulogne didnt last as we know.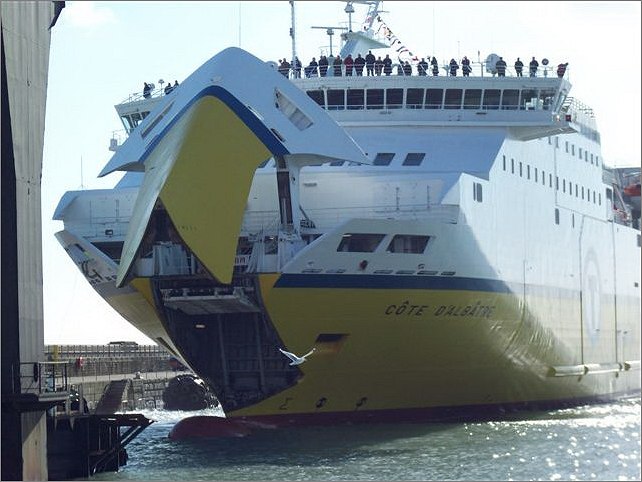 Note the seagull getting in on the shot in the foreground and the anticipating passengers waiting to depart, mostly media I believe. The ship of course is the Cote d'Albatre which I later saw used as a ferry out of Dieppe.
Wednesday, 13 November 2013 - 10:25
Post 249
JanT, Dover
The cameras have been busy with lots of great pictures below, showing us the busy channel with all the cargo ships that pass through, and also our choppy seas, those guys sure needed some sea legs.

Tuesday, 12 November 2013 - 13:49
Post 248
Mike J., Dover
Good pix of one of the Range Safety Craft losing interest rapidly on her way down to Hythe Ranges.

They usually head off down there in the morning when the ranges are 'active'

John M put up pix & details of them on 21/9.


Tuesday, 12 November 2013 - 07:53
Post 247
PaulB, Dover
Fascinating pictures and info below lads..well done with all those. great stuff!
Look at these ones from yesterday too. Cripes!..as we used to say in olde Galway..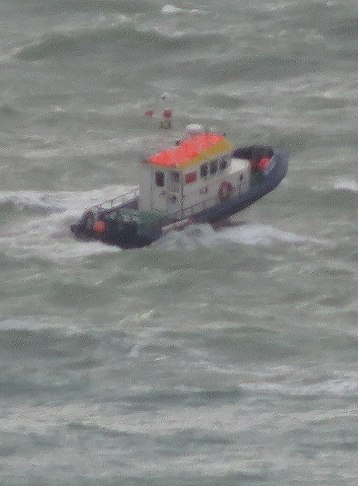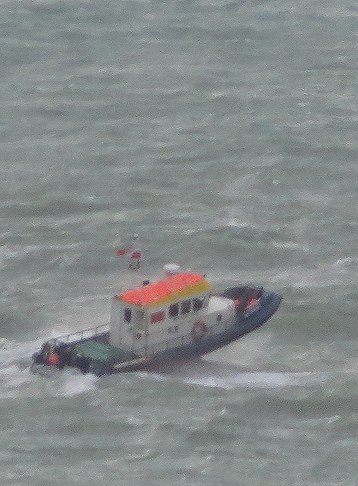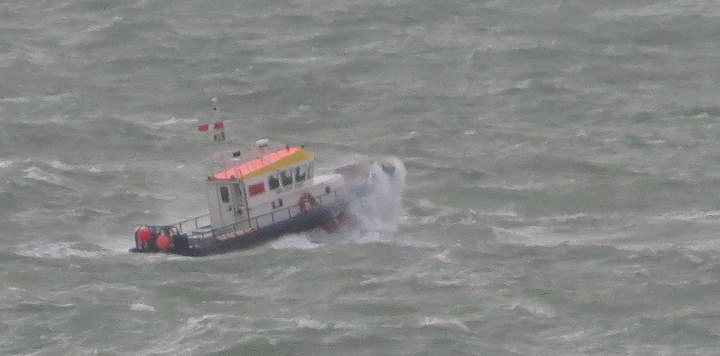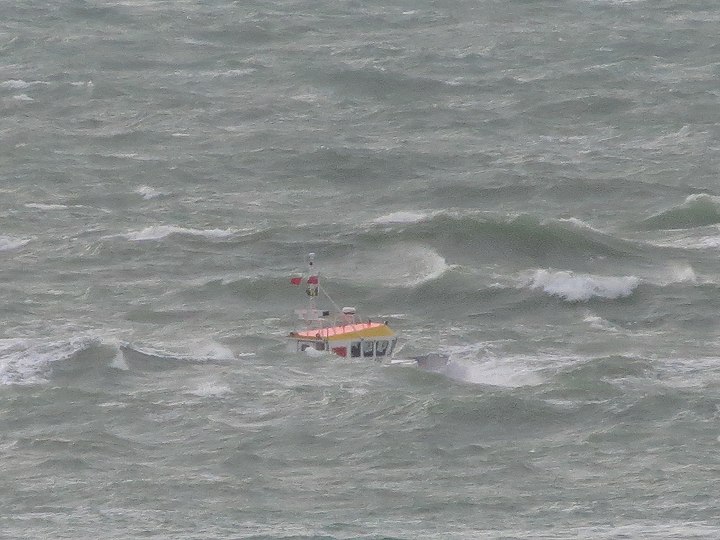 I was waiting to be picked up yesterday morning and was gazing blankly out on a rough ould sea, when two small near-identical motor boats came rushing out from the inner harbour and headed at speed to the open sea. As soon as they hit open water they were both tossed into the air. To the landlubber, yours truly, it looked foolhardy. I reached for the camera and took the pictures above. It was very rough out there at the time. Could hardly hold the window open or keep the camera steady.
The two boats were heading west into the teeth of it, heading towards Folkestone etc, but within minutes, say three to four minutes, they had returned back to harbour... Gave it up as a bad job I guess.
Tuesday, 12 November 2013 - 07:15
Post 246
Mike J., Dover
I was clicking away soon after PaulB, but after the sun had risen & the dawn was a little less dramatic, but still impressive.
The DELFT SEAWAYS came in, the CALAIS SEAWAYS was pottering about in the bay & the SPIRIT OF BRITAIN was on No.9 berth.
Highly tickled by Ed's remarks about lifeboats . . . .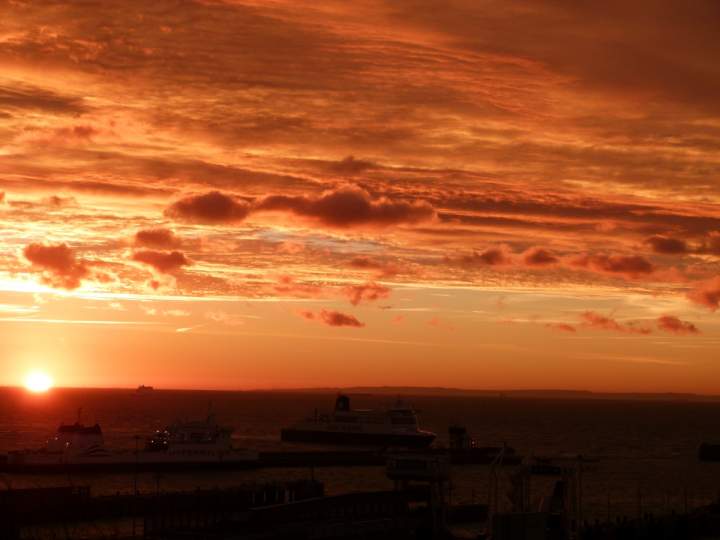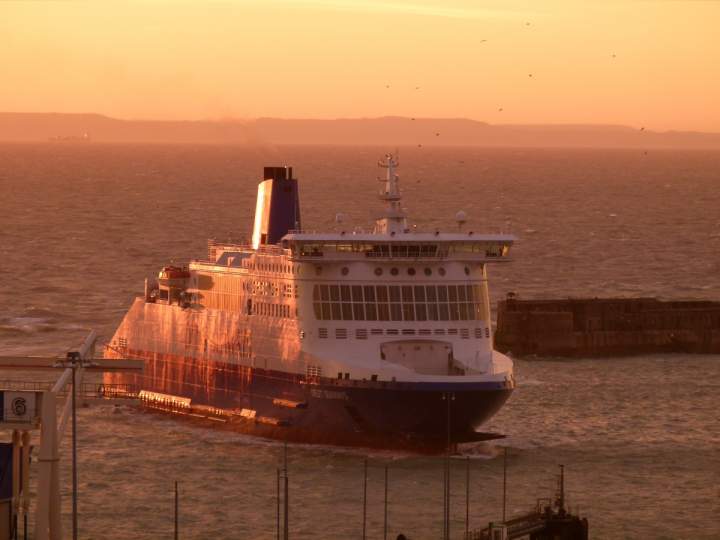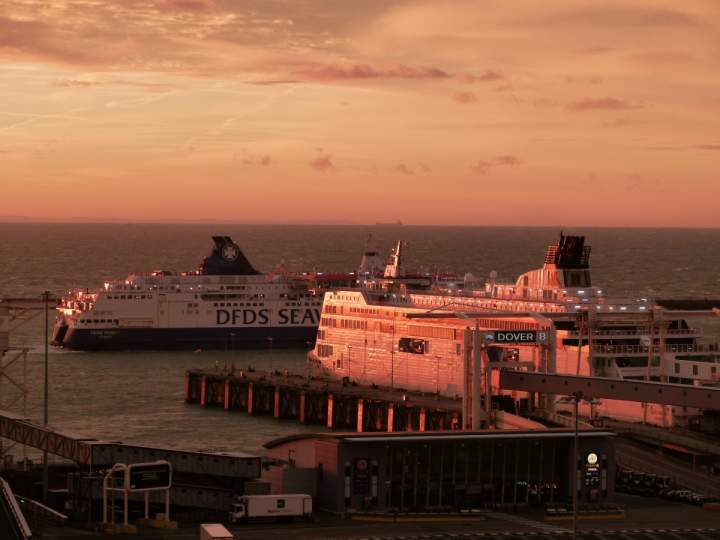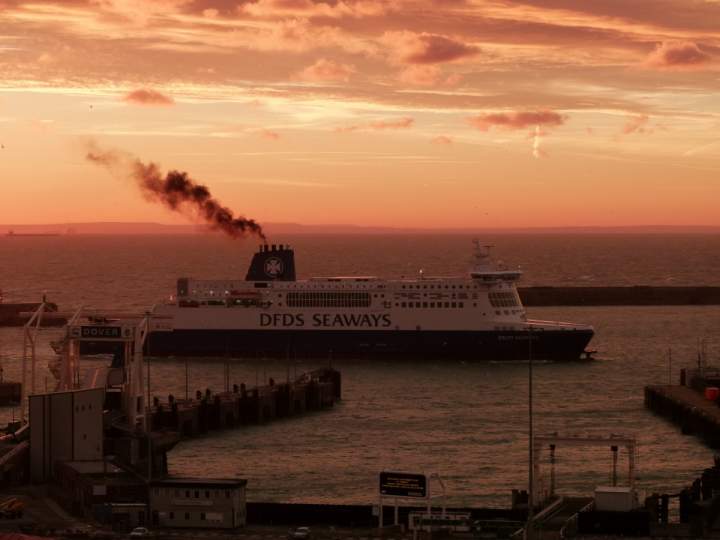 Monday, 11 November 2013 - 22:45
Post 245
Ed Connell, Dover
Regular visitor Hansa Lubeck approaching the Eastern Entrance yesterday and securing a stern tug.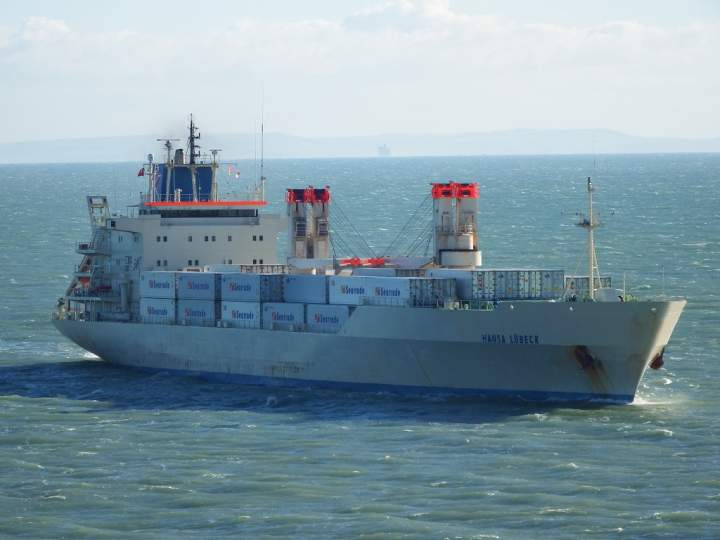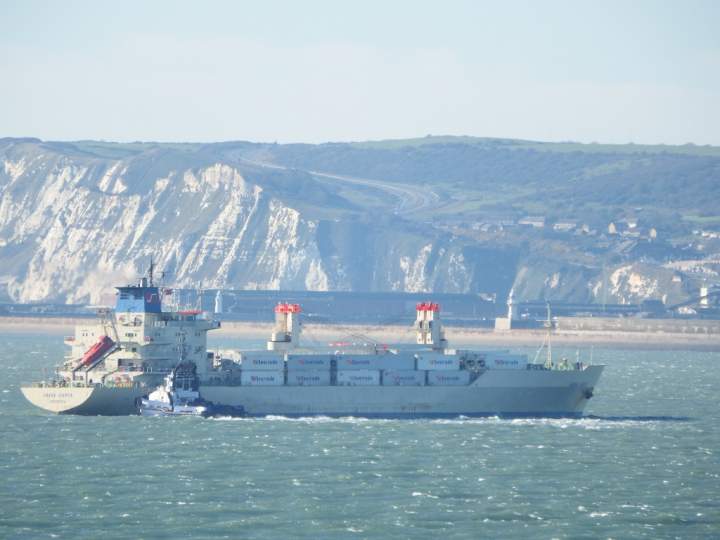 Cargoship Ivar Reefer at the Dover Cargo Terminal today, not seen this one before. Previous name still showing under the new one.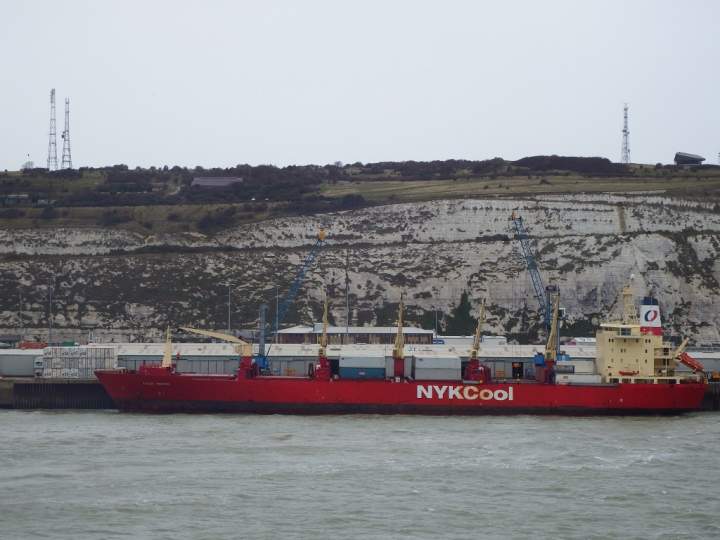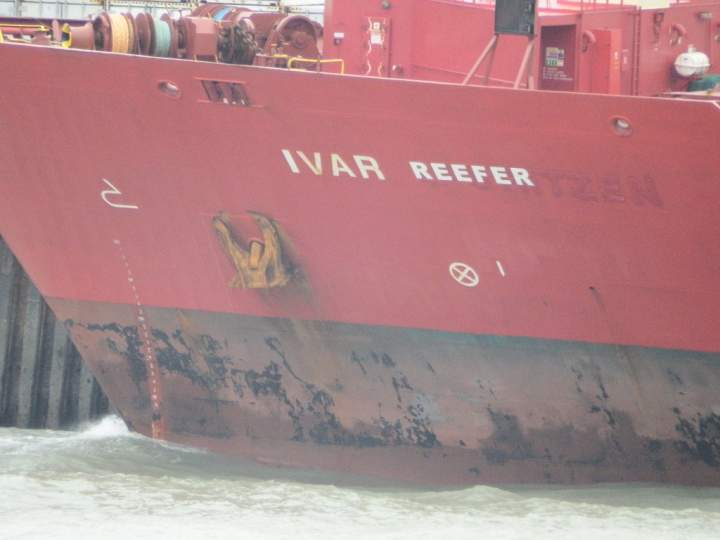 Cargoship Tingo passing Dover today on her way to Italy with a deck cargo of lifeboats, probably for a newbuilding cruise ship at Fincantieri. Can never have too many lifeboats on an Italian cruise ship, I say.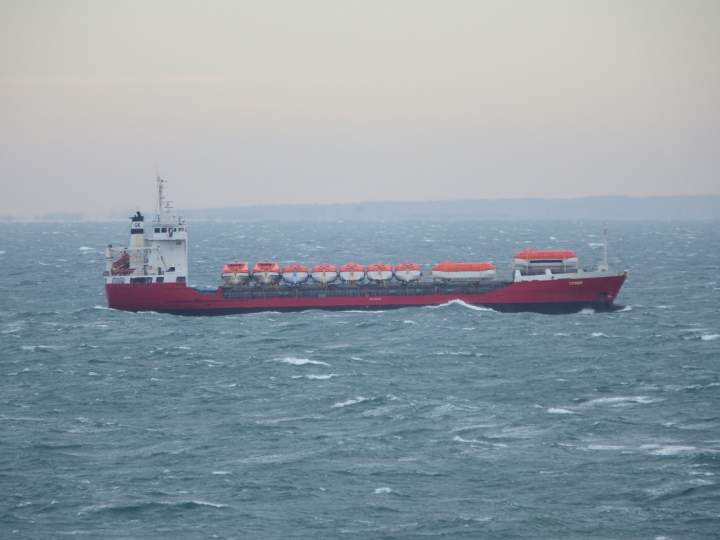 Monday, 11 November 2013 - 20:42
Post 244
PaulB, Dover
The stunning dawn a short while ago as I write..06.57am..on a very windy morning again. Hold on to yer hat!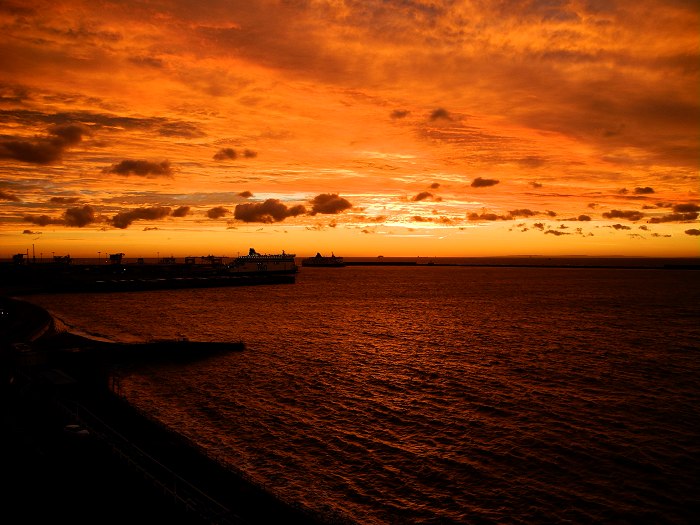 A great season for both oddball and dramatic skies. Perhaps this picture above, right on cue, heralds the new dawn for the Regatta...There was a huge turnout this year for the Regatta revival and the DHB are looking to build upon that. We did carry lots of pictures from this years event but hark back now to several years ago for the following pics from the sailpast..the information from DHB below is of course right up to date.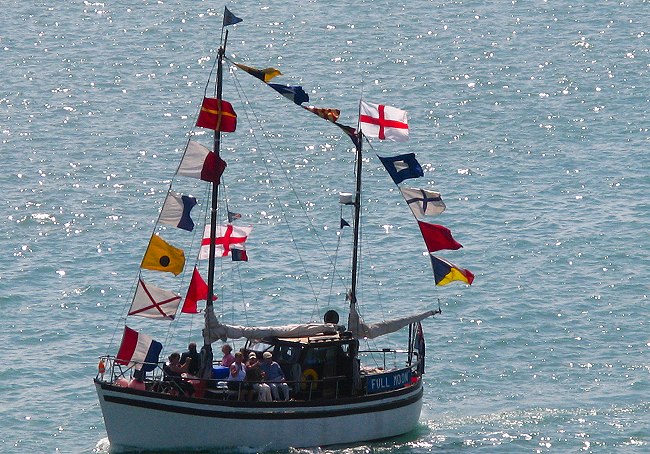 DHB REGATTA 2014 INFO:
Plans are already underway for an even bigger and better Port of Dover Community Regatta
that will take place on Saturday 26th July 2014.
___________________
Following the success of this year's event, the first of its kind to incorporate the district's community safety day into a fun-packed regatta, organisers have already received an incredible amount of interest from a variety of new major attractions and local groups looking to be involved in Dover seafront's showcase community event.
Tim Waggott, Chief Executive, Port of Dover, said: "Having delivered a successful first ever Port of Dover Community Regatta, the Port, together with its partners, has always intended improving the event. Even at this early stage of planning, much work is going on behind the scenes to bring lots more fun, more activities and more entertainment for our community to enjoy. Watch this space!"
The Dover Port Dash is set to return by popular demand, and will see teams racing across the harbour in Thames Cutters to raise money for another worthy local cause. This year's Dash raised £2,000 for Pegasus Playscheme. Those organisations wishing to compete in the Dover Port Dash or be part of Port of Dover Community Regatta 2014 are asked to email PortCommunityRegatta@doverport.co.uk in order to register their interest.
Nadeem Aziz, Chairman of the Dover District Community Safety Partnership and Chief Executive of Dover District Council said: "Incorporating the community safety day within the Port Regatta was a great way of showing how the partnership works to make our district an even safer place in a fun family atmosphere. I look forward to watching this event build into a real celebration of Dover over the coming years."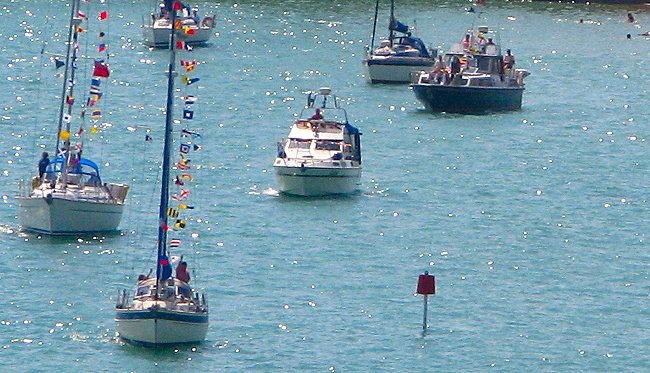 Howard yes nature is amazing at the moment. Always spectacular this time of year and right now we have the sun rising over Calais too.
Monday, 11 November 2013 - 07:43
Post 243
howard mcsweeney, Dover
those clouds don't look real to me, amazing what nature throws up.

agree about the channel traffic item paul, the only thing is that it is a bit too absorbing and a lot of time can be taken up checking the vessel specifications and history.

Sunday, 10 November 2013 - 19:58
Post 242
PaulB, Dover
Hello MIke. Thanks for all the latest information. Yes have seen the Nedlloyd Juliana out there. In roughly the same location as the one anchored there recently ( Dubai Attraction now page 4 ) but a bit further out this time for the camera. I did manage to get a picture of sorts but very long range. Next to the Juliana is the Union Boxer tug as mentioned and coming along on the left an unknown cargo vessel approaches. They have now moved off as Mike said.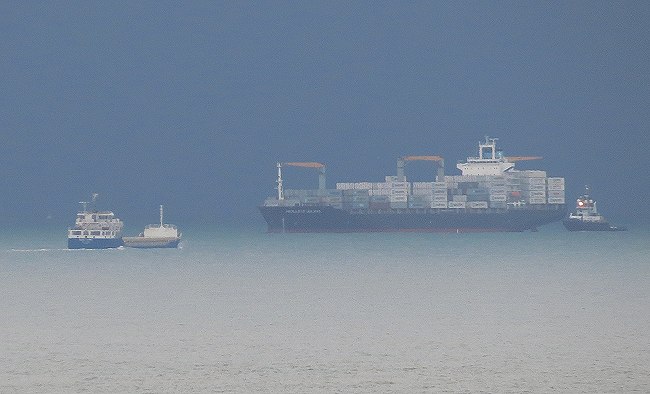 Also Mike we have an easy access to Channel Traffic already onboard. Click on the Dover.uk.com frontpage on the link in the menu left and you will see it at the tip top of page..Channel Traffic. I always use that one and it works great..thanks to our ace man Chris.
Also just to carry on with the theme of the oddest sky/cloud formations recently, here is another one to add to the mix. A very peculiar build up of cloud with a flat calm pale green sea beneath. I dunno, all looks more than a trifle weird. Pictures taken yesterday.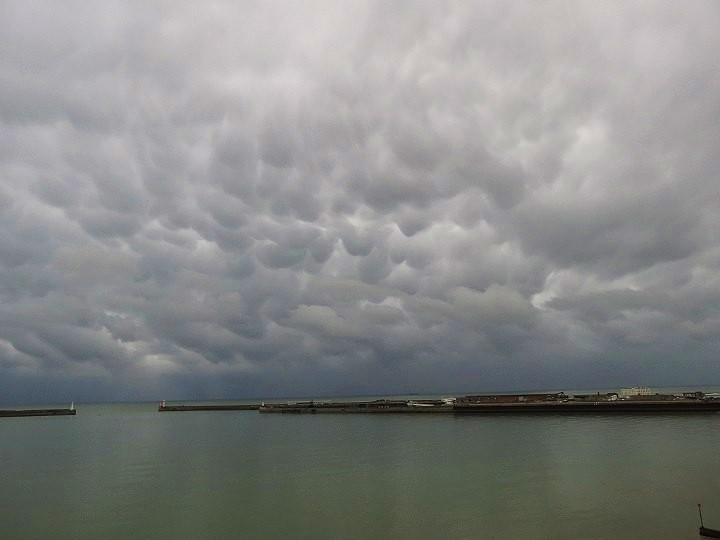 and another one below showing more sea this time. It rained for most of the day immediately after these pictures.
Sunday, 10 November 2013 - 06:39
Post 241
MikeJ, Dover
Dunno whether anyone in Dover has noticed a ship out at anchor in the southwest lane, out near the Varne lightship for the last day or two.

It's the Liberian NEDLLOYD JULIANA a smallish container ship.
She was joined during the night by the Belgian tug UNION BOXER & after a few hours they now both heading for Zeebrugge at slow speed.

It's hard to tell whether the JULIANA is under tow or whether the tug is merely escorting her after what must have been a serious engine problem.

You can follow the ships on 'AIS' which I'm sure has been mentioned here before.

It's not possible to put up 'live links' here but just do a Google for 'marinetraffic'

When 'Marine Traffic' comes up just type the ship's name into the 'Vessel' box & you will be transported, as if by magic, to the ship.

Clicking on her 'icon' can reveal all sorts of information, such as speed & destination & much else besides.

Apologies if you know this already !

Incidentally the former PRIDE OF CALAIS has arrived off Aliaga where she is to be broken as the OSTEND SPIRIT.
Currently she is still underway, waiting for the final run up onto the Turkish shipbreaking beach.
She can also be 'seen' on AIS.



Saturday, 9 November 2013 - 15:24
Post 240
PaulB, Dover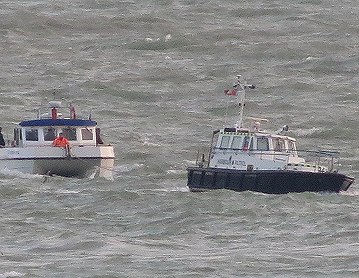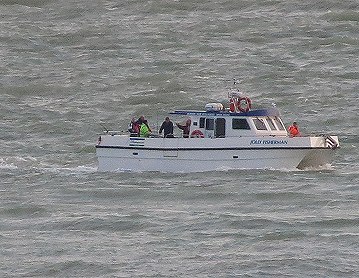 The Jolly Fisherman was perhaps not so jolly yesterday when the vessel needed a tow back to Port from a fair way out.
No need for Lifeboats or anything of that nature but as the sea was beginning to get choppy it could have been dangerous in time.
....but harbour patrol was on hand.
It was about 4pm and light was fading fast...but all on board appeared to be...well ..jolly! Jolly to be near Port safely.
The pictures above were taken while she was still well outside the harbour. You can just see the tow rope.
Saturday, 9 November 2013 - 07:44