Friday, 27 November 2020

www.doverforum.com/sea-news
Sea Pictures from DOVER ....
See the OPEN LETTER from Port of Dover CEO Doug Bannister further below....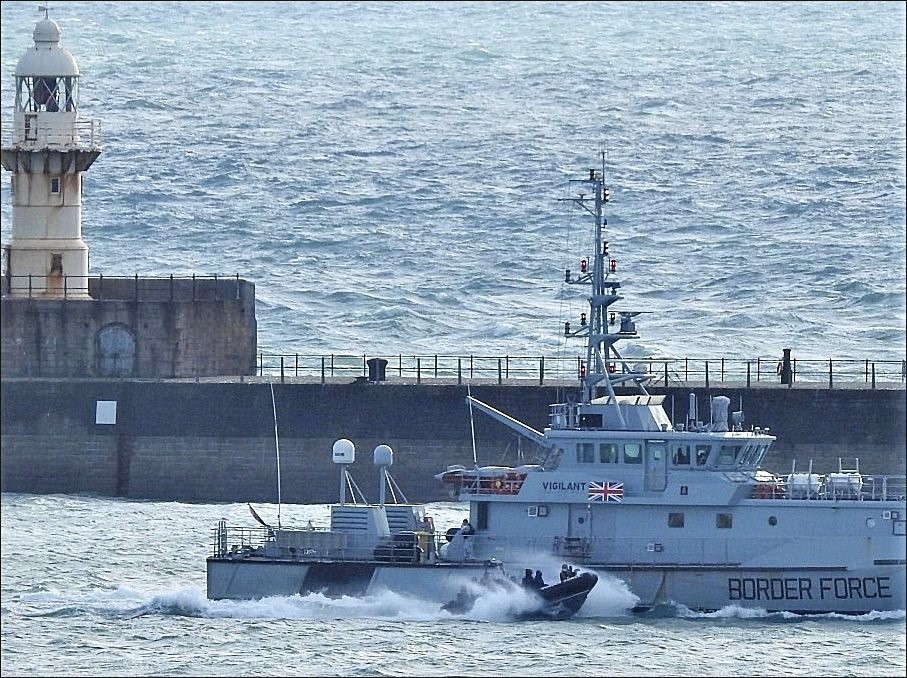 Border Force Vigilant seen here returning to the Port in the past few days...we believe the Border Force rib powering alongside contained some migrants as several incursions were reported on the day.
The Disney Magic resting tranquilly at new pier WD4 Port of Dover, the tranquility making a change from all the recent rough weather...while in the foreground the Harbour Patrol Boat meanders along keeping everything safe and secure... In the far distance you can just see the Vasco da Gama cruise ship heading for Portugal.
Below...the Sun Rising through the drizzle on the Dover Straits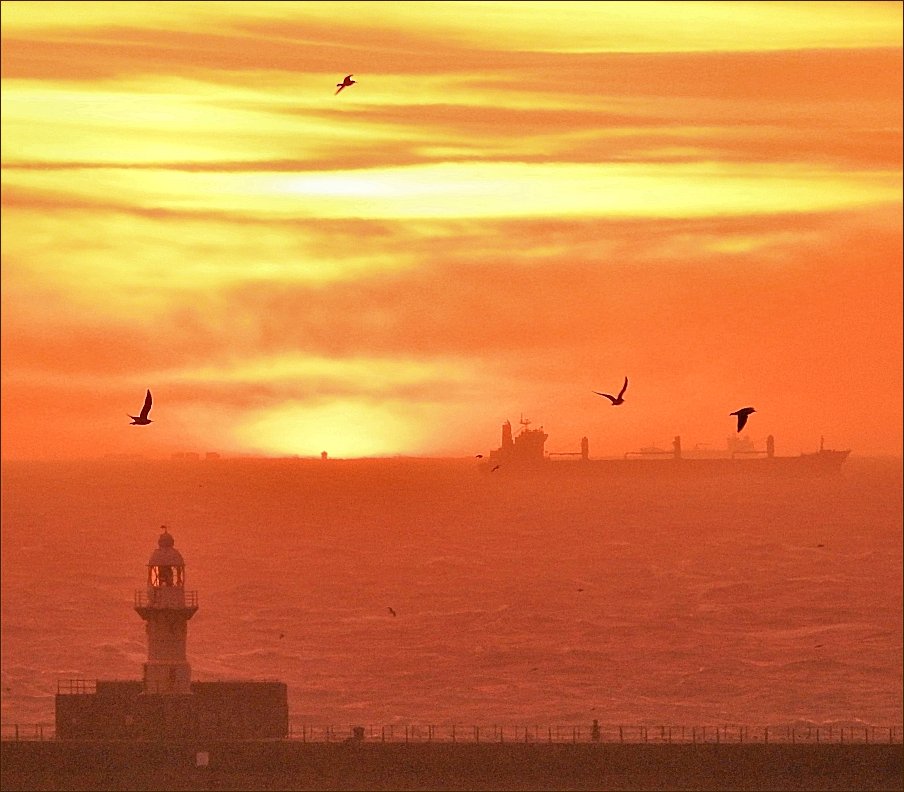 Yes the Sun rising through the drizzle... it begins to climb over Calais...as we look across the ever busy Dover Straits.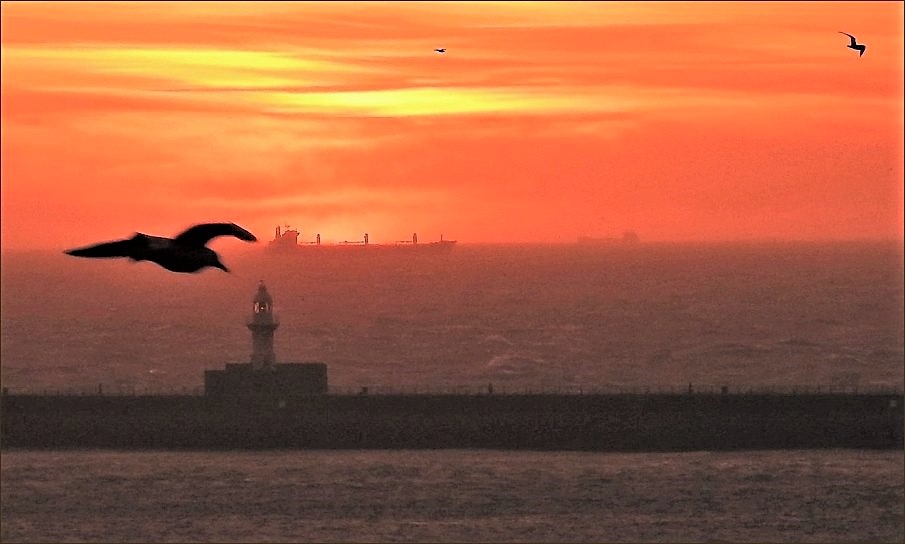 This picture taken a few moments before the one above....
November Sky - Dover Seafront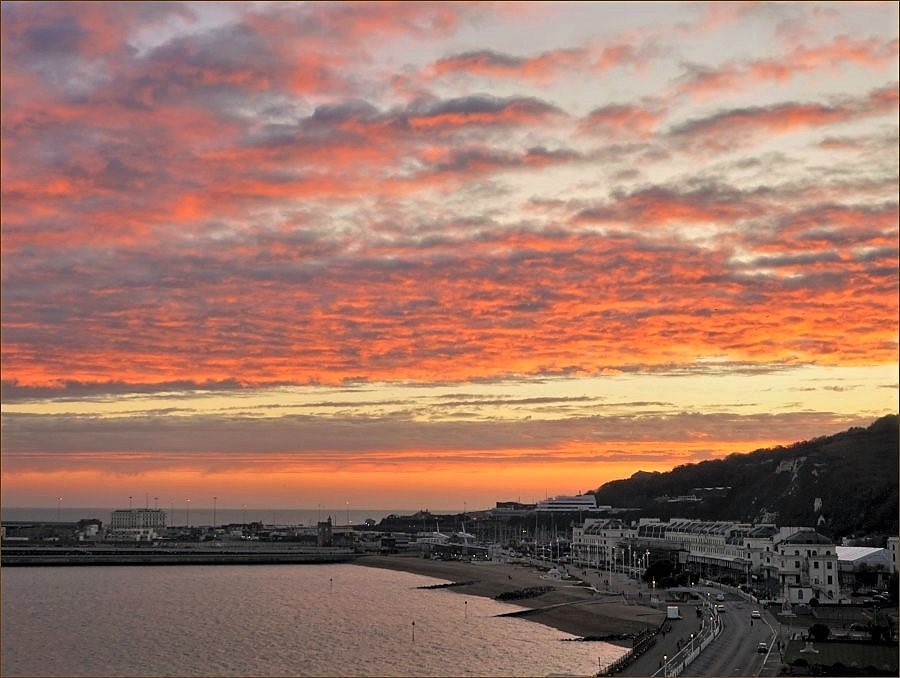 Dover Seafront November:
Striking evening sky as we look along Dover Seafront at sundown.....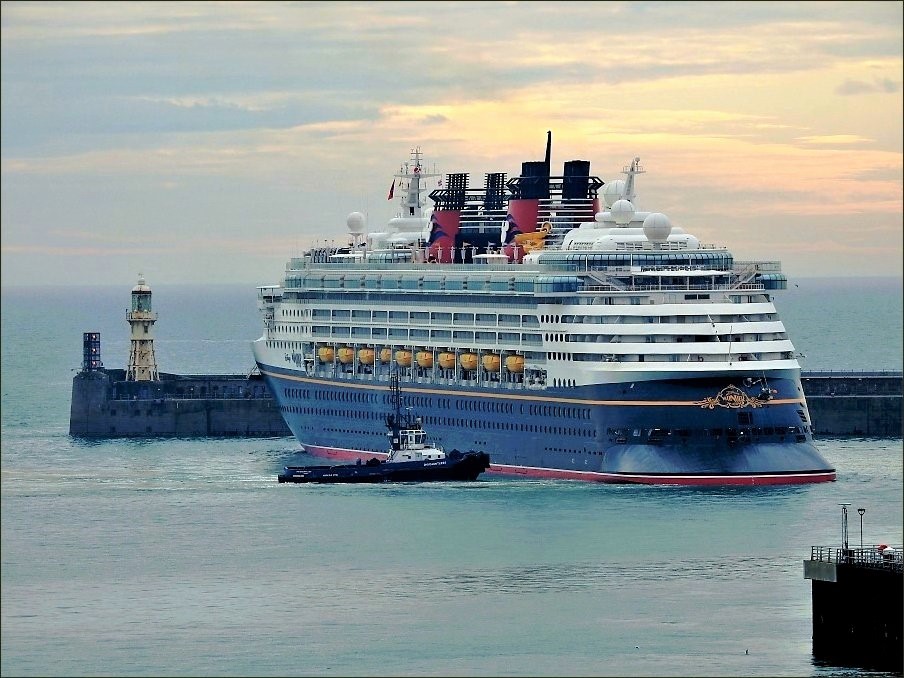 The Disney Wonder:
The Disney Wonder pulled away from Dover on the recent saturday heading for Funchal we understand...
.......a rough ol' trip in the prevailing conditions....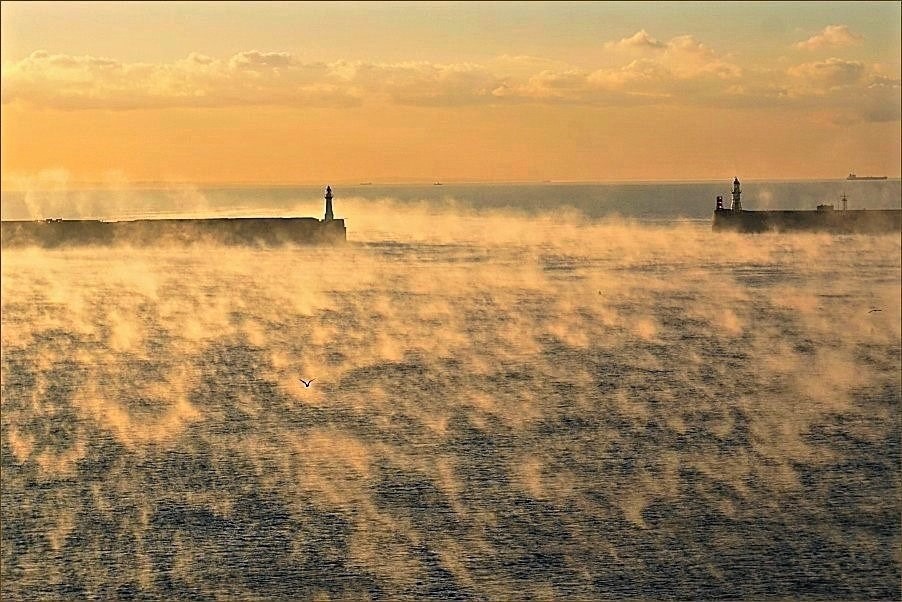 Dover Harbour: something of a rare site this...fog shimmering across the surface in this way, as shown above. Picture taken on a recent chilly but dazzlingly bright and sunlit morning.
" smoke on the water, fire in the sky "
DISNEY at DOVER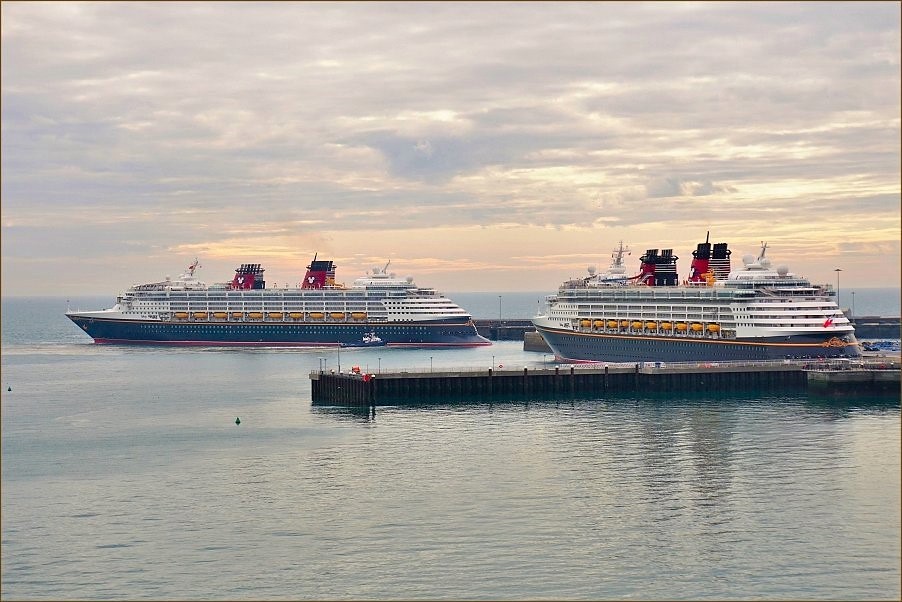 The Disney Wonder and the Disney Magic
If you quietly wish upon a star, hoping for even more wondrous magic in Dover,
...well you might just end up with two Disney's....
Fire on Western Heights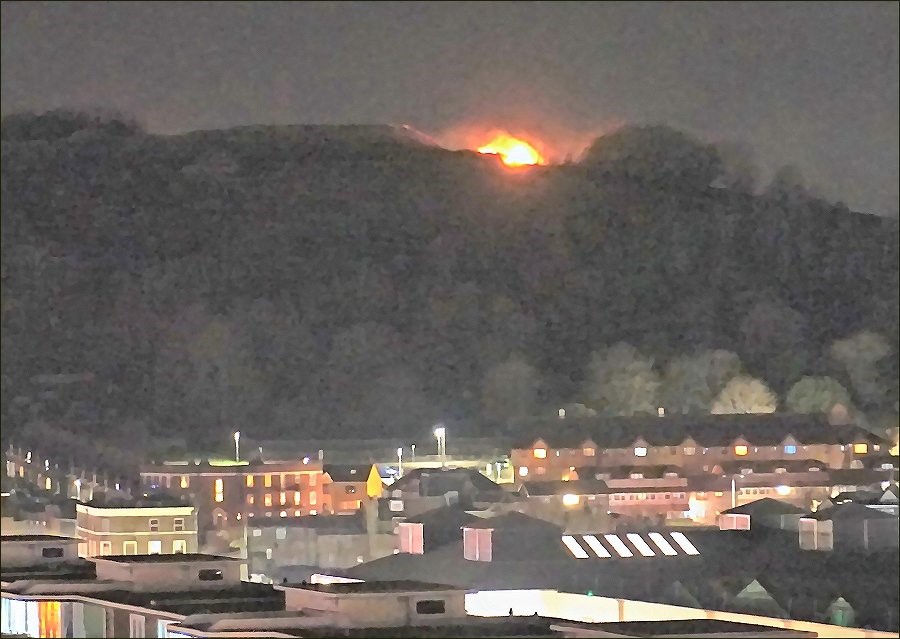 Something of a forced picture taken on friday night of the fire on Western Heights here in Dover. It seems a stray rogue firework caused it, setting scrubland alight. Four fire engines were in attendance we understand. The picture is of poor quality taken through the darkness, but it gives the general gist as we look across the rooftops.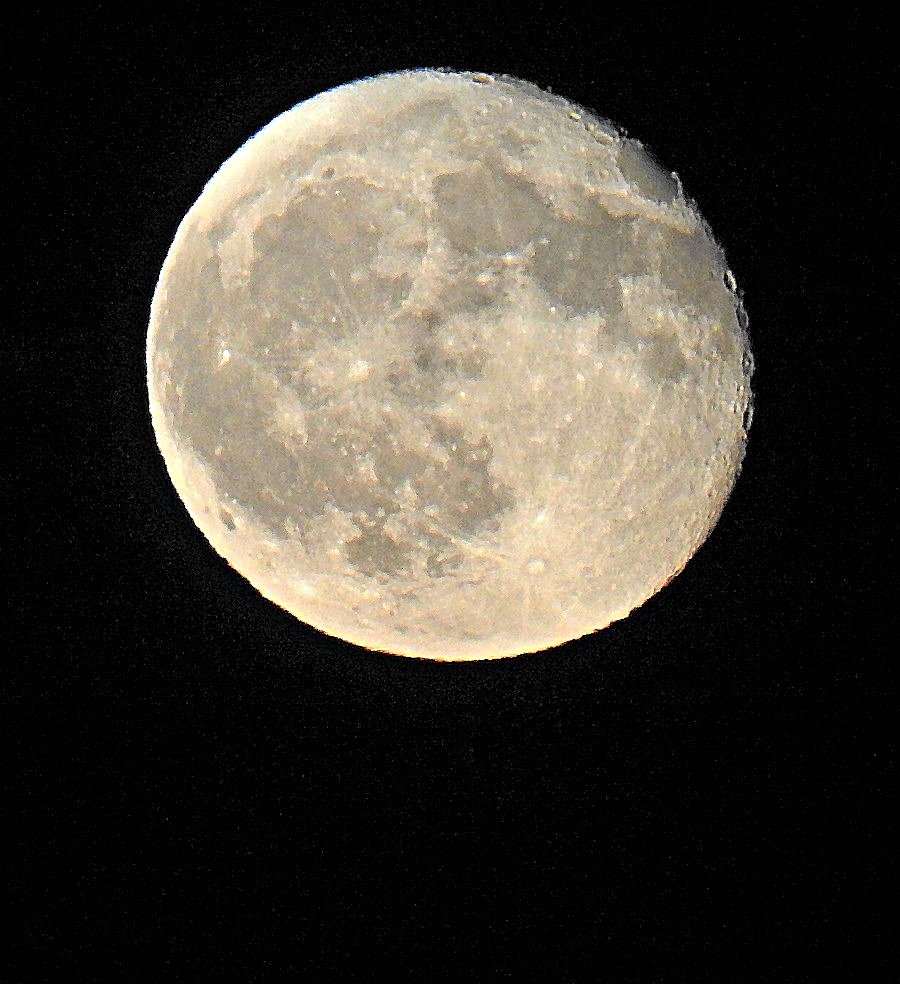 Full Moon over Dover....
The 'Blue Moon' over the Port of Dover in recent times.
Look at that rugged terrain...
* *
OPEN LETTER FROM DOUG BANNISTER, CEO, PORT OF DOVER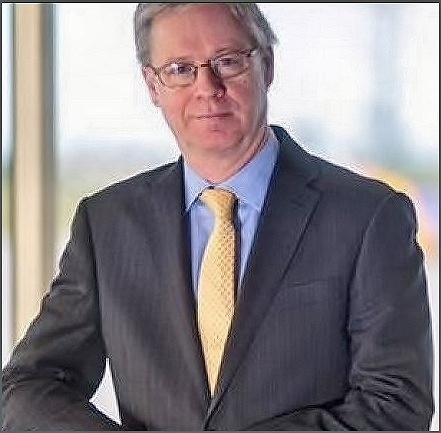 Dover is the right choice for business and consumers now more than ever
The United Kingdom Major Ports Group ('UKMPG') has issued a 'briefing paper' intended to encourage businesses to transfer cargo away from the Short Straits, the UK's most vital link to European markets.
The paper points out that the Short Straits, which includes ferry links between Dover and Calais, as well as the Channel Tunnel, has a 60% market share of 'British-Continental EU trade'. The Short Straits has achieved this market share because it is the right choice for business. Indeed, the paper acknowledges that the routes businesses use today are the right ones and the reason businesses choose the Short Straits is simple; it offers the most time efficient, cost effective and resilient access to international markets, delivering an estimated £3 billion saving for British businesses and consumers compared to alternative routes.
Our own independent analysis (Oxera 2018) has previously suggested that it would cost around £2.7 billion to take just 20% of our existing traffic in order to pay for new ferries operating on longer and slower routes. Importantly, these new ferries do not exist today and need to be built. With shipyard capacities and construction lead times, delivering such a fleet of new ferries holds significant lead time.
The UKMPG paper suggests that other ports might have capacity to take up to 60% of Short Straits traffic now, but acknowledges that this requires both Government and trader support for this offer of 'resilience' to be possible. Exponentially, this suggests that the cost to businesses and ultimately the consumer could be up to around £8 billion.
For Port of Dover, when looking at the overall UK Trade Resilience we take a systemic view – across ports, vessels, capacities, frequencies, operating models and traffic management schemes. To focus only on port capacity is terribly one-dimensional.
The geographic advantage that Port of Dover holds with the UK's largest trading partner means that a single vessel can complete up to five round voyages in a single day, making our ferries hugely productive assets. Further, our operating model delivers an average inbound dwell time at our port of just five minutes, providing unparalleled port efficiency.
Other operating models, for example containers and unaccompanied trailers may have inbound dwell times from several hours to even several days, adding inefficiency to the system-wide supply chains. For those routes with longer sea voyages, a single vessel may only make a single round voyage in a day – meaning to replicate the capacities and frequencies offered via Port of Dover would require five times as many vessels.
The UKMPG paper admits that a 'short term' constraint might be the availability of additional ferries to handle the trucks being encouraged to divert to other routes, whilst also citing wider capacity issues on the southern North Sea corridor.
The report is right to focus on resilience as we approach the end of the Transition Period, but what resilience do you have if you are sending traffic to ports where the ferries do not exist? Neither is that a quick fix. The market dynamic is important here. In fact, rather than investing in new ferries, operators at some of the alternative ports have actually been closing these longer routes with tonnage moving back to the short routes as that is what the market wants – Dover has of course kept going throughout the pandemic. This dynamic applies to the European side too, with the majority of freight vehicles choosing to route through northern France to Calais and Dunkirk as it is simply closest.
All EU-facing UK ports will be under the same rules – there will be a standard process and transaction applied everywhere. We know from examples elsewhere, such as 'Operation Wellington' on the Humber, which anticipates using parts of the M62 and M180 as holding areas for HGVs, that if there is disruption it will be everywhere. The report itself admits that there is already a risk of disruption at these alternative ports due to new systems for HGVs. Therefore, on top of this, sending more traffic to ports that do not even have the ferry capacity will make the situation far worse and create far less resilience for UK trade.
In contrast, the traffic management regimes for the Short Straits are tested and proven – in short, we know they work. For example, the recent national security operation that affected all ports with additional screening and searches left around 4,500 lorries in Operation Stack. When the security operation ended, Dover had cleared all queuing traffic and was back to normal operations within just 12 hours. Nowhere else could do that. It would take weeks with the current vessel capacities and frequencies available elsewhere. For UK trade resilience, supply chains must have the confidence in managing periods of disruption, and crucially recovery and restoration of normal flows as swiftly as possible – both areas in which Port of Dover has excellent credentials.
As we all navigate the massive economic difficulties caused by COVID, and the uncertainties as we approach the End of Transition, it is right to showcase the incredible efforts of the maritime sector, and the excellent ports that we have across the nation towards ensuring supply chains are robust and functioning well.
Come what may, we will keep working to keep the nation supplied with the essential goods people need at this difficult time and give all businesses wherever they are the benefits of Dover's unrivalled service. This is what we do all day, every day.
Indeed, as the Maritime Minister said on a panel discussion with us only the other day regarding the national trade network; 'you have to have goods and people moving around freely. So if you are to have parts moving quickly and efficiently across the Channel, and through Dover, and through the country, you have a much easier opportunity for companies that might exist in the Midlands or in the North to get involved in whatever that industry is.'
The report says that the UK has not always been reliant on the Short Straits, harking back to pre-Single Market days. Equally, the UK has not always been reliant on the internet and same day/next day/just-in-time deliveries, but it is now.
A vision that takes the UK backwards is not the vision of the future we want to see. We need one that backs consumers and businesses everywhere for the challenges and opportunities ahead of us. We feel that we should celebrate our impressive, modern and efficient supply chains across all ports and modes throughout the nation.
For Dover, we fully appreciate the essential role that we conduct for the nation, and will continue to take our responsibility with all of the due care and attention the British people would expect of us, which is why Dover will remain the clear market choice.
Doug Bannister, CEO Port of Dover.
ENDS

WWW.DOVERFORUM.COM/SEA-NEWS
Sea Pictures from DOVER ....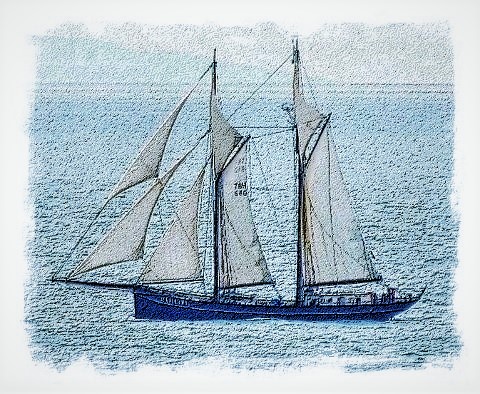 Use our SEARCH ENGINE below to find all sorts on the SEA NEWS pages....type in the topic and away you go,
or if you have the post number, just type it in the Search Box.
There are more than
- 7000 -
nautical posts in the section below.
Paul Boland - dover7@msn.com
Sea News Dover:
All pictures on these pages are the copyright of the owners and must not be reproduced without permission.
Post 280
JanT, Dover
Good to see the kids enjoying themselves on the water. As the pictures below show its all part of what takes place in the harbour even in this chilly autumn weather.

Sea News keeping us up to date with all that goes on in and around the harbour


Monday, 25 November 2013 - 15:25
Post 279
PaulB, Dover
SUNDAY SAILING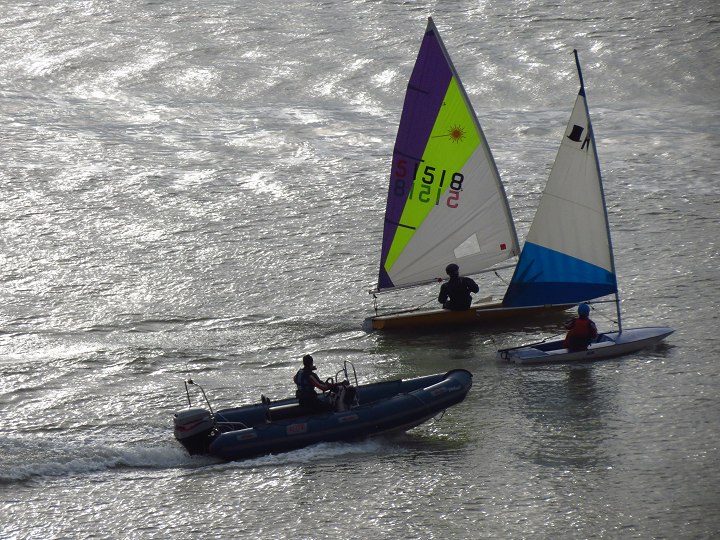 It was great to see that the kids are still out sailing away...even in late November. It was fairly blisteringly cold over the water yesterday sunday but still the jolly young sailors were out there enjoying themselves greatly. Weaving this way and that. It looks like such fun indeed. All the while they were looked after extremely well by instructors who hover alongside in RIBs..making sure all okay. Any difficulties and those instructors are right in there to help.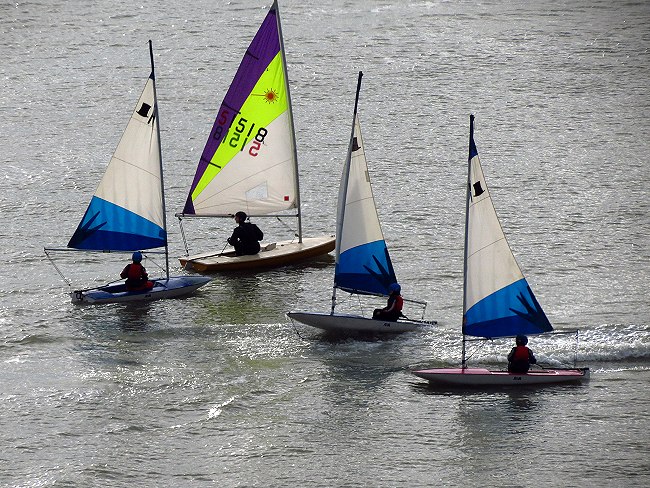 Both pictures above were taken yesterday and the following ones below were taken two or so weeks back.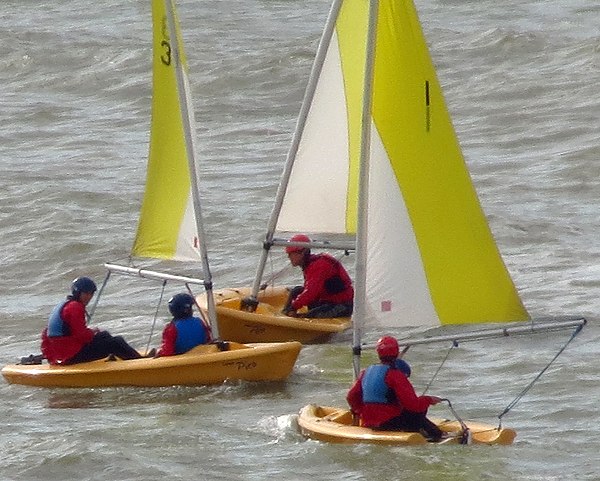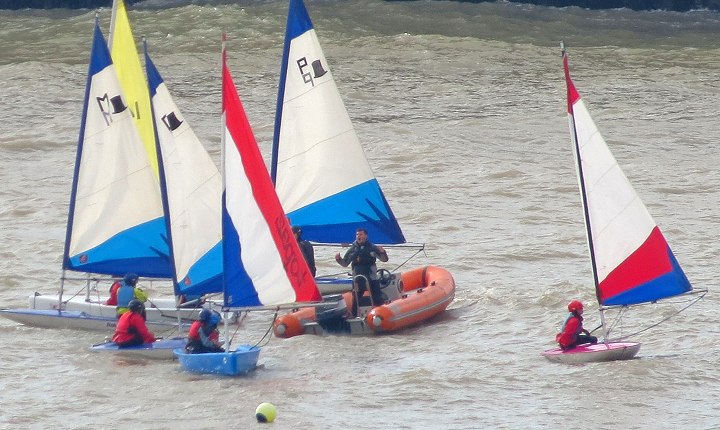 A jolly time was had by all, even if it was a tad cold.
Will these kids end up as members of the Royal Cinque Port Yacht Club in time? ...they may do indeed.
See the post about the Yacht Club further down the page.
Monday, 25 November 2013 - 07:30
Post 278
PaulB, Dover
Our old friend the Black Watch is in today, so if anyone wants to pop down for a sunday stroll and catch one of the last of the cruise ships this year.. well now is the time. Weather is calm for a change (as I write !! ) which is good as the dear oul Black Watch has been through some troubles in recent times and we dont want to see her in any difficulties. We want "a calm sea and a prosperous voyage" for all. Hopefully the recent voyage was all a-okay.
As I mentioned previously.. because its late in the year and the days are short it is inevitably dark when the ships arrive and dark when they leave. So here we are with a picture from a previous early morn arrival...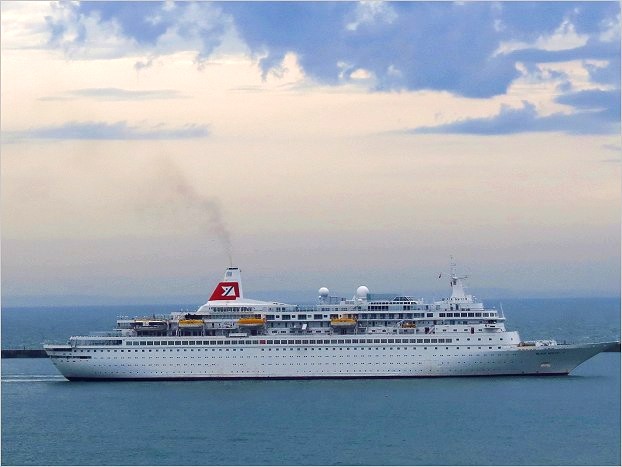 The Black Watch.
AS we see from some of the posts further down the page Fred.Olsen are enthusiastic supporters of Dover, long may it continue..
We will have a bit more on this shortly.

Sunday, 24 November 2013 - 07:54
Post 277
PaulB, Dover
LATEST : THE PORT OF DOVER JOINS ROYAL CINQUE PORTS YACHT CLUB IN FUNDING BID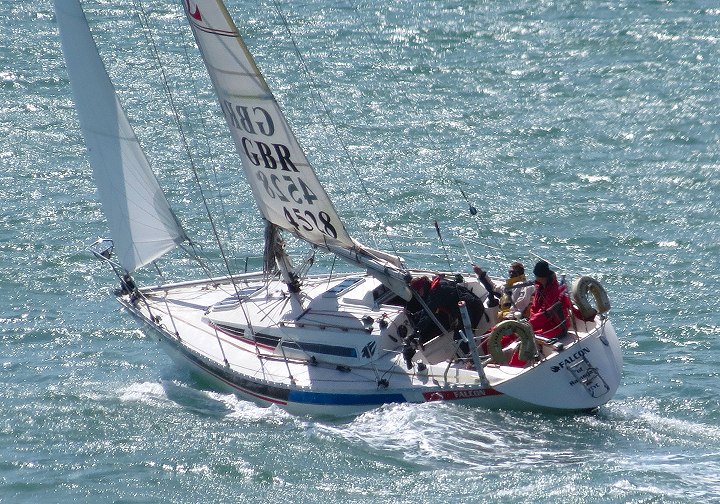 The Port of Dover is proud to announce its support for the Royal Cinque Ports Yacht Club (RCPYC) in promoting a funding bid to Sport England to improve their historic seafront facilities. RCPYC is one of the oldest yacht clubs in England and is situated on the seafront in a prime position, overlooking the busy port.
Together with the Property & Estates team at the Port, RCPYC will work up a bid to continue a successful programme of refurbishment of the premises which provide accommodation for club members and allied sailing/nautical groups funded from their own resources and largely undertaken by club members.
Despite the success of the RCPYC to date, there is a large part of their basement area which requires attention and funding in order to provide additional and improved facilities for the membership and the many visitors to Dover who use the venue each year.
In order to approach Sport England with an effective bid, RCPYC required security of tenure and a 15 year extension of their lease for their waterfront premises, which the Port of Dover has now confirmed it is happy to provide having reviewed the plans.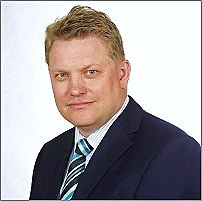 Tim Waggott, Port of Dover Chief Executive said: "We are delighted to support our many friends at the Royal Cinque Ports Yacht Club in this bid. I have seen first hand the improvements made by the Committee and members over recent years, and we are keen that future generations of leisure and community users benefit from this fantastic location."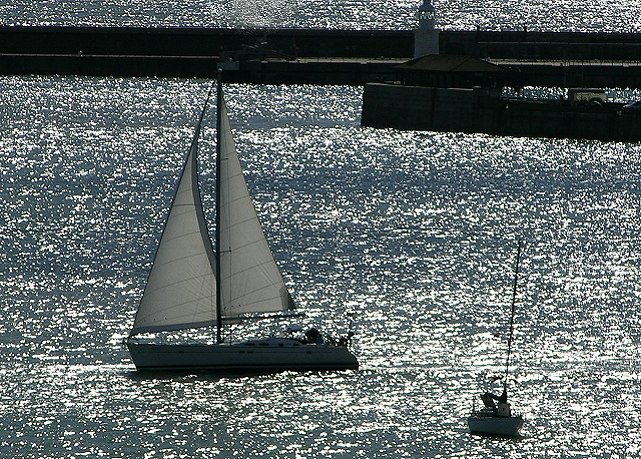 Welcoming the announcement, Bernard Sealy, Commodore of Royal Cinque Ports Yacht Club said: "We are very pleased that our excellent and continuing relationship with the Dover Harbour Board is taking a further step forward. It is clear that both our organisations recognise the opportunity for port, town and community to work together for mutual benefit."
Ends

Pictures show some of the fantastic yachting inside Dover Harbour.
Saturday, 23 November 2013 - 18:57
Post 276
Jan Higgins, Dover
What a depressingly dull and dark picture that is on Sea News.

Friday, 22 November 2013 - 18:16
Post 275
PaulB, Dover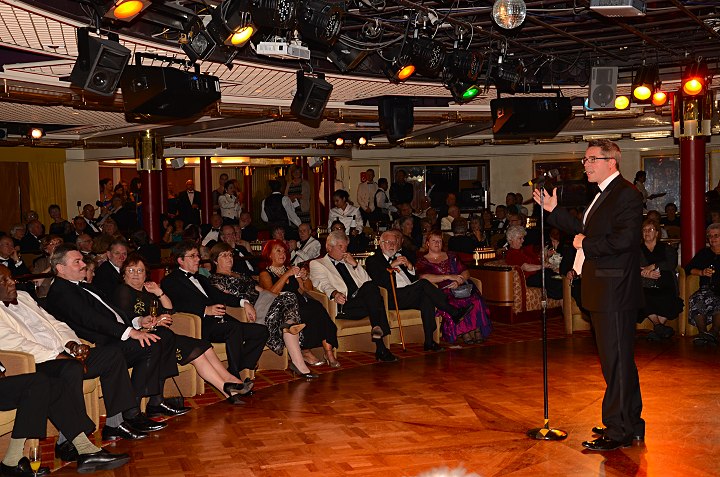 PARTY TIME ON THE BRAEMAR
_________________________
Fred. Olsen Cruise Lines was delighted to host its first-ever 'Gala Dinner' on board 929-guest Braemar on 18th November 2013, as the ship stayed overnight in the Port of Dover.
Before departing on a 10-night cruise to Tenerife and Casablanca, Fred. Olsen invited a selection of over 500 of its most loyal and valued guests, potential new customers, travel agents and media partners from all over the country to view Braemar's facilities and enjoy the fine dining and entertainment on board.
Whilst on this unique 'cruise to nowhere' in Dover, guests were treated to a 'Welcome Cocktail Party', sumptuous five-course Black Tie 'Gala Dinner' and entertainment from popular vocalists Irie J and Idreiss and comedy acts from Micky Zany and Bob Webb.
Nathan Philpot ( pictured above ) Sales and Marketing Director for Fred. Olsen Cruise Lines, said:
"Our first 'Gala Dinner' evening was a great success, with some excellent feedback from previous guests who may not have cruised with us for some time. It was an opportunity to remind guests just what makes Fred. Olsen different – which can't easily be articulated, but is so apparent when anyone experiences our unique boutique-style cruising.
"I'm delighted that so many guests have already rebooked and we hope that many more will do so over the coming weeks."
Barbara Buczek, Head of Business Development & Corporate Affairs at Dover Harbour Board, pictured said: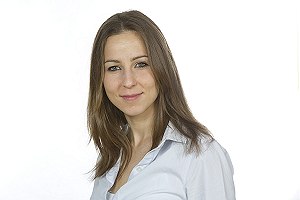 "The Port of Dover was delighted to yet again welcome Fred. Olsen Cruise Lines and MV Braemar to its shores. The evening gave us the perfect opportunity to promote Dover as a destination and showcase the port facilities to Fred. Olsen's loyal cruise passengers. The cruise business is of huge importance to the Port, Dover town as well as the Kent Region as a whole.
"The Port continues to raise awareness of Dover's position as the UK's second busiest cruise port, especially amongst Kent residents who Fred. Olsen Cruise Lines are keen to see on-board their vessels that depart from Dover."
Fred. Olsen will be departing on a total of 12 voyages from Dover for the 2014/15 cruise season, on a variety of exciting itineraries, from an eight-night 'Paris, Antwerp & Amsterdam' cruise on board Braemar to an 11-night 'Highlands, Islands & Ireland' sailing.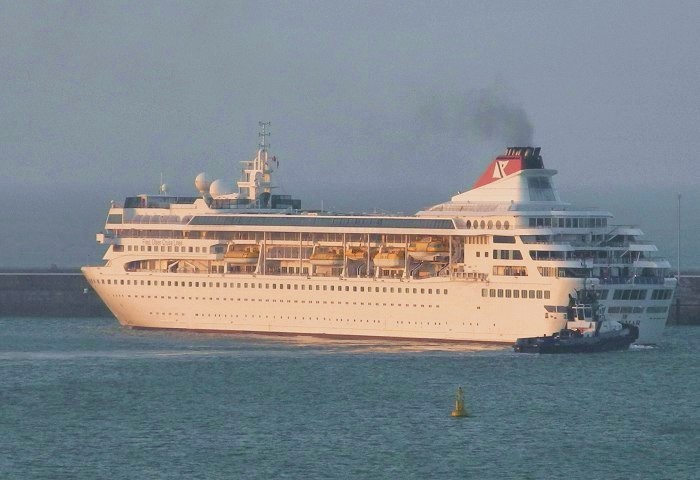 The Braemar herself.
Friday, 22 November 2013 - 07:28
Post 274
PaulB, Dover
Well done with those Phil..you are one of the team now for sure.
The size of those..wow! Monsters of the ocean blue. Cracking pictures from long range.

Thursday, 21 November 2013 - 10:53
Post 273
howard mcsweeney, dover
a couple here courtesy of phil smith taken this morning at samphire hoe.
the cma cgm andromeda.

the cosco france.

Wednesday, 20 November 2013 - 20:03
Post 272
PaulB, Dover
Yes you are right re the Sea King picture Howard. Never used before. Great excuse to use it this time as it shows the Braemar as backdrop. Couldnt get a pic of the Braemar at the time the other day.. so up pops the Sea King idea. The Braemar left last night about 4.45pm heading south to Lisbon. Twas a cold dark night when....
Great info there Ed. I think I saw the Galatea in the distance yesterday..so its great to get those pictures and the AIS chart is fascinating with Dover Seaways centred there. Yes the Joline is a frequent 'lurker' these days sadly.
* *
You will remember there was a Port Exercise a week or so ago when the emergency services kicked into action. More on that below now. This immediate picture is excellent and captures the atmosphere of such an exercise. Picture from DHB.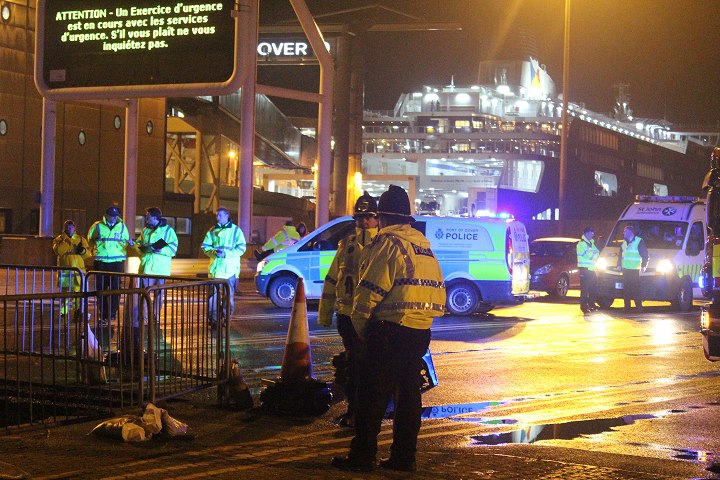 The Port of Dover, together with emergency services and key agencies from across Kent have been put through their paces in a major emergency exercise at Europe's busiest ferry port.
Designed to test the response to a major fire on board a cross-Channel ferry, staff, volunteers and specialist equipment were all in action last Saturday, as the scenario played out during the night. The Port of Dover remained open to customers throughout the exercise.
P&O Ferries' Spirit of Britain volunteered as the afflicted ferry with the fire breaking out mid Channel as the ship headed for the Port of Dover. Once at the Port, agencies came together to deal with the casualties, providing treatment and care including through the establishment of a Survivor Reception Centre.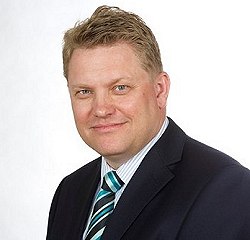 Tim Waggott, Chief Executive, Port of Dover, said: "I personally observed how important it is to work as a team with our partner agencies in dealing with potential incidents that would affect our customers."
The Services taking part were :
Kent Police
Kent Fire and Rescue Service
South East Coast Ambulance Service
Maritime Coastguard Agency
Kent County Council
Dover District Council
Environment Agency
Border Force
G4S
MOTO Services
Red Cross
P&O Ferries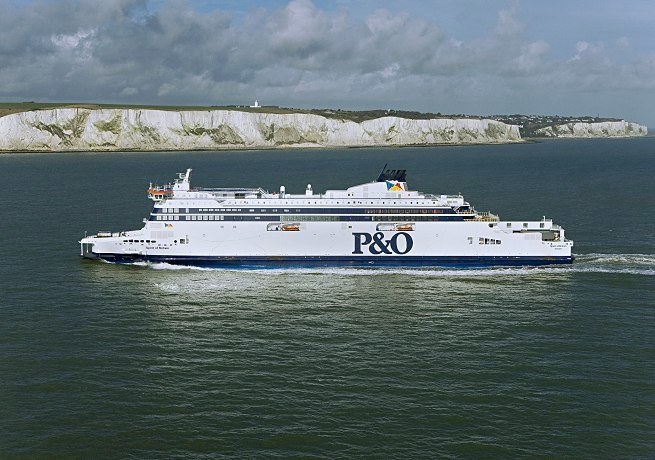 The P & O ferry Spirit of Britain which took part in the exercise..
It all helps to keep us safe.

Wednesday, 20 November 2013 - 08:05
Post 271
howard mcsweeney, Dover
one presumes it would be politically incorrect to torpedo the said vessel ed.

Tuesday, 19 November 2013 - 18:18
Post 269
Ed Connell, Dover
The Joline was skulking around off St Margarets last night, this picture taken at 1719 when it was much darker than the camera shows. Presumably waiting to nip into Dover and pick up the latest cargo of unfortunate animals.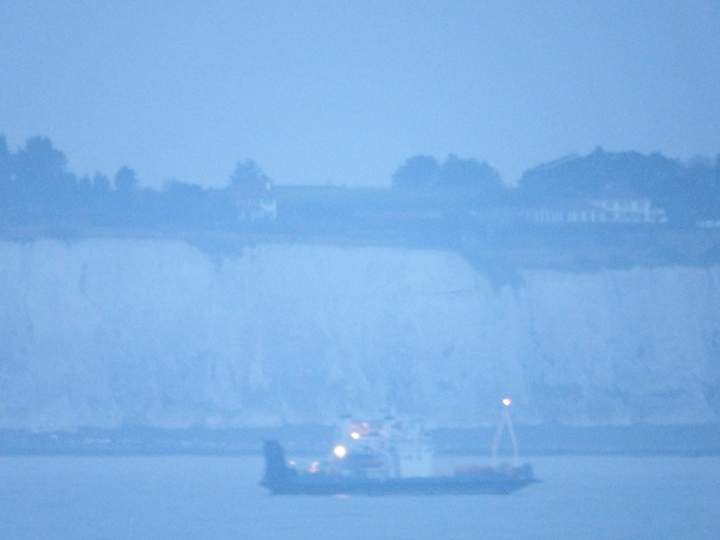 The AIS chart shows her at the same time, at the top of the chart. The photo was taken from the Dover Seaways, seen in the centre of the chart.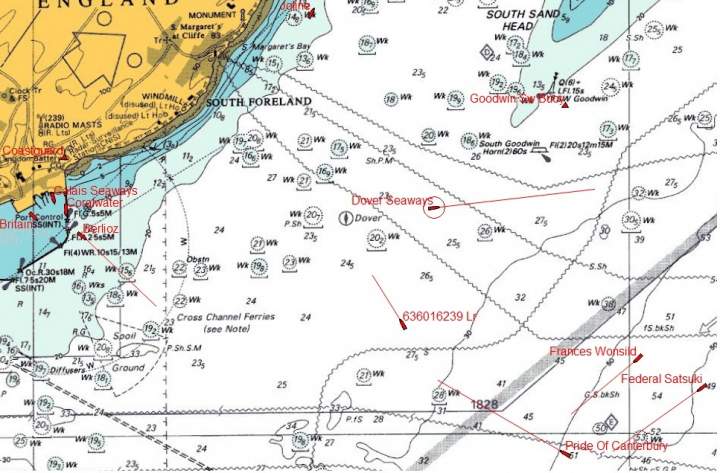 Tuesday, 19 November 2013 - 15:31
Post 268
Ed Connell, Dover
The Trinity House vessel Galatea is working in the vicinity of Dover. Seen here yesterday attending to the SW Goodwin buoy.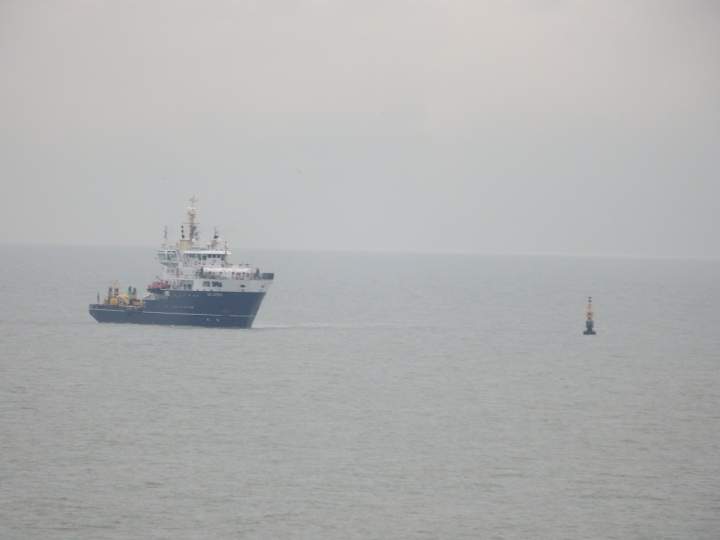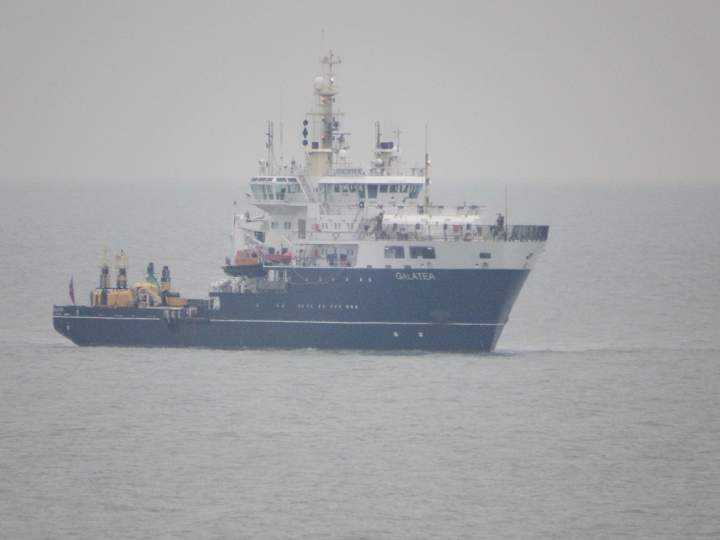 Tuesday, 19 November 2013 - 15:19
Post 267
howard mcsweeney, dover
great one of the sea king helicopter in front of the cruise ship, don't remember it being on here before.

Tuesday, 19 November 2013 - 12:09
Post 266
PaulB, Dover
The Braemar stayed on and was a terrific blaze of colour all through the night.
Here she is a few minutes ago with the ever expanding 'pyramid' to the right.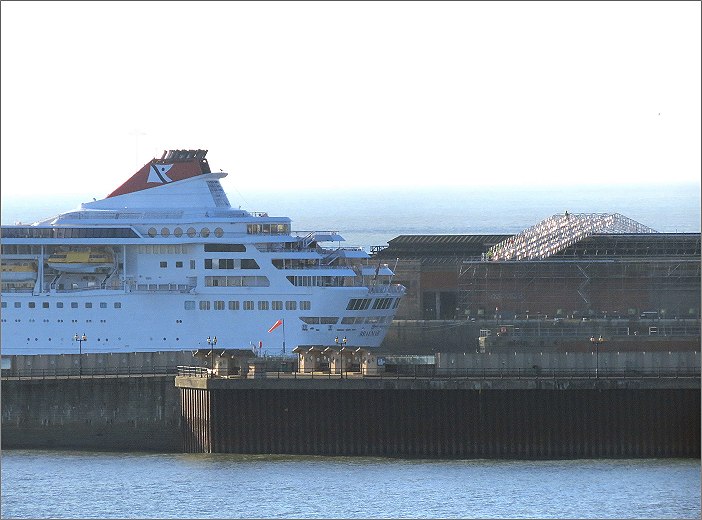 She will leave later today tuesday for the last time this year. For more on the 'pyramid' (see how its getting ever bigger above) scroll further down the page..where we refer to the £10million pound restructure to Terminal One. And now to the Terminal Two position below for another pic of the Braemar.. taken a short while back on a previous visit under another one of our big big skies.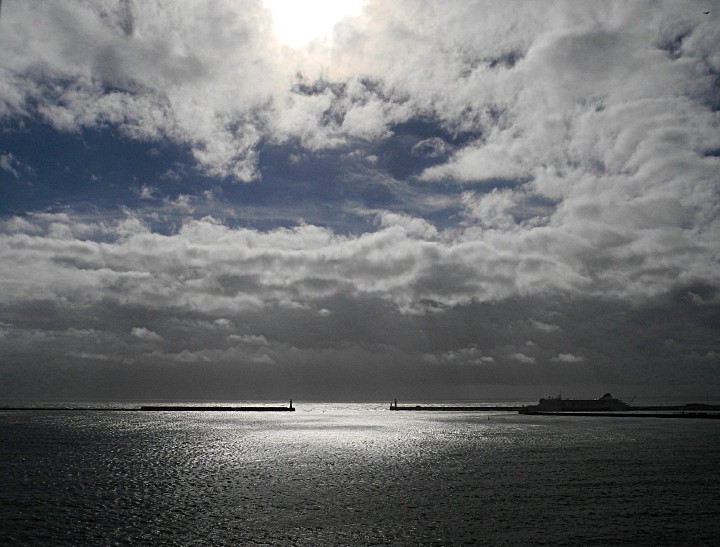 Tuesday, 19 November 2013 - 10:07
Post 265
PaulB, Dover
Still the cruise liners battle on. Its a gloomy morning for sure and through the pitch darkness of 6.30am the Braemar arrived back from its fairly long cruise in a blaze of cheery electric light. No pictures of course at that time of day, but here is one from quite a few years back. The Braemar has indeed been coming here a very long time...it makes a splendid backdrop in the picture shown for the every bit as splendid Sea King helicopter from Air Sea Rescue.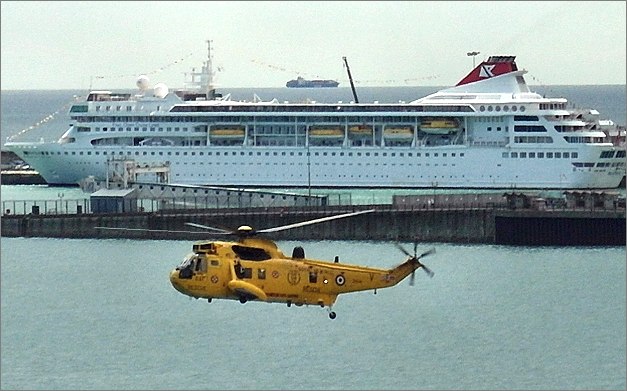 Not sure of the date the picture was taken as the originals were lost but it must be 6/7 years ago at least.
Monday, 18 November 2013 - 08:22
Post 264
PaulB, Dover
Thanks for that Kevin - you're a star. Ah yes..now I'm sure I had info through a while back on that but my oul grey cells have gone the way of Hercule's...

Will be fascinating to see how it all progresses with the roof. I managed to get a reasonable pic of the Black Watch next to it later yesterday with the improvement in light, they come in the dark and go out in the dark these days, and here she is...note also our 'pyramid' on the right of pic. Shows how much zooming we did to get that close up below...(see further down the page).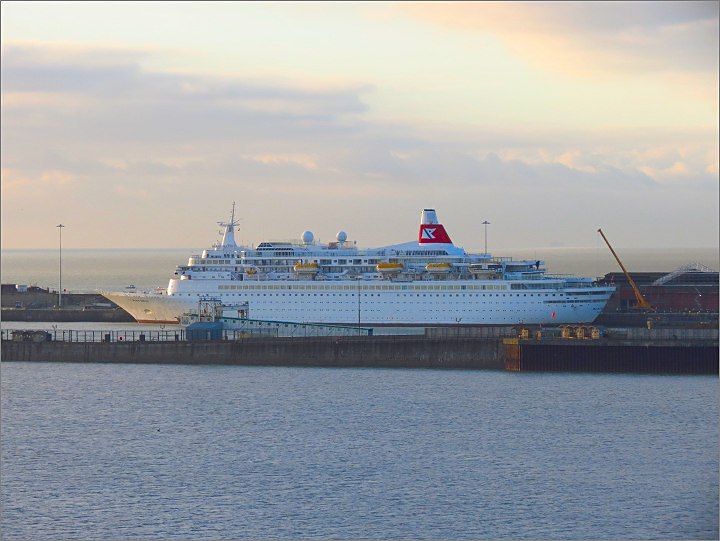 The dramatic skies continue...the situation yesterday morning shows the early ferry trying to negotiate its way around a massive container ship.
Sunday, 17 November 2013 - 07:27
Post 263
Kevin Charles, Dover
DHB are investing heavily in Cruise Terminal 1 renovating the glass roof of the Victorian building in a £10 million project. One of the port's heritage assets, the restored building will have great appeal to the cruise lines.

Saturday, 16 November 2013 - 18:06
Post 262
PaulB, Dover
Never a dull moment here in Dover harbour..something new manifests itself all the time..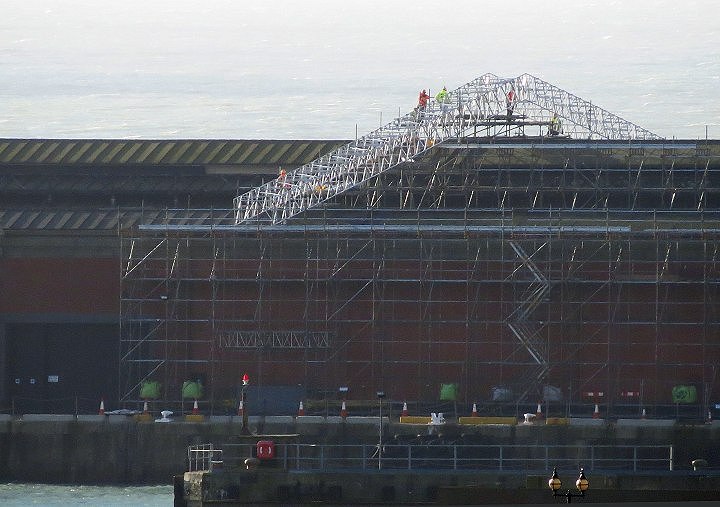 Was gazing across the harbour yesterday when something sparkly caught my eye. To dimmish eyesight in the high bright sun it looked like the glass pyramid outside the Louvre in Paris. Wow ! sez I to myself. We have reached the crescendo of the avant garde..yes right here in Dover! Binoculars soon put me right though. It was nothing more than all new scaffolding across the roof of the main cruise terminal. But.. perhaps a work of art in its own right.
The zoom lens produced the picture above.
The picture below was in a former mailing from DHB and shows the same roof from the air. I may have had some info previously re the roof but my little grey cells cant remember for the moment. Looks like fairly major re-structuring is afoot.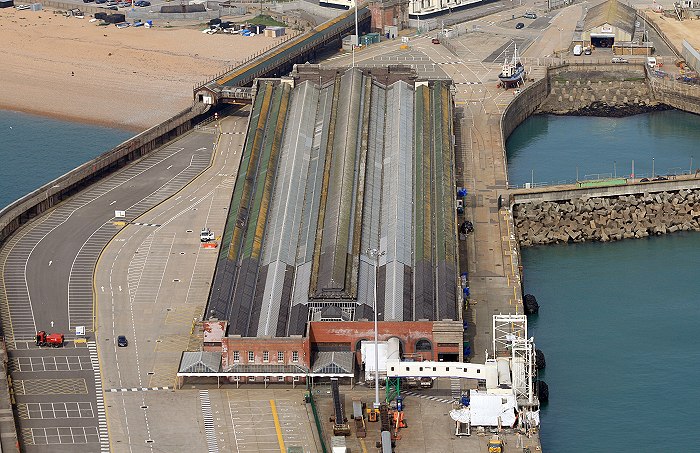 Thanks for the port call tips below Colette. Yes indeed the Black Watch is in today..now situated right next to the terminal and gangway shown above. Came in while very dark..so no pictures from today but in the oft-spoke words of those many many TV chefs, here's one I made earlier...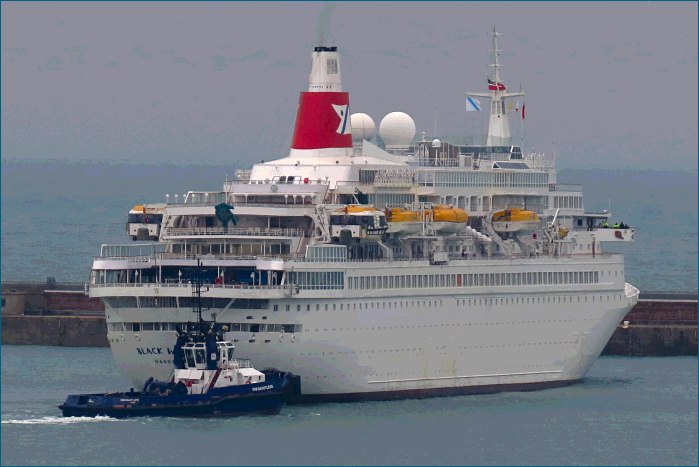 Interesting picture from Phil there below. Dont see too many birds down here other than the obvious ones...but yesterday funnily enough I saw a flock of small birds, wouldnt know the type, and they were dashing hither and tither in spectacular style. I grabbed the camera but they wouldnt stay still for love nor money..

...so got zero pictures.
Soon after a low flying Chinook rattled the foundations around here..I tried to get a picture of that one too but failed again. You only get seconds and I was all fingers and thumbs and whoosh it went right over. Great sight though again but no pictures..
PS: Just a reminder. If you want to grab the My Ferry Link bargain you have to book by tomorrow night.
Saturday, 16 November 2013 - 07:55
Post 261
howard mcsweeney, Dover
wasn't sure whether to put this one from phil smith on the wildlife thread or here, but it is a flock of brent geese flying over the harbour earlier in the week.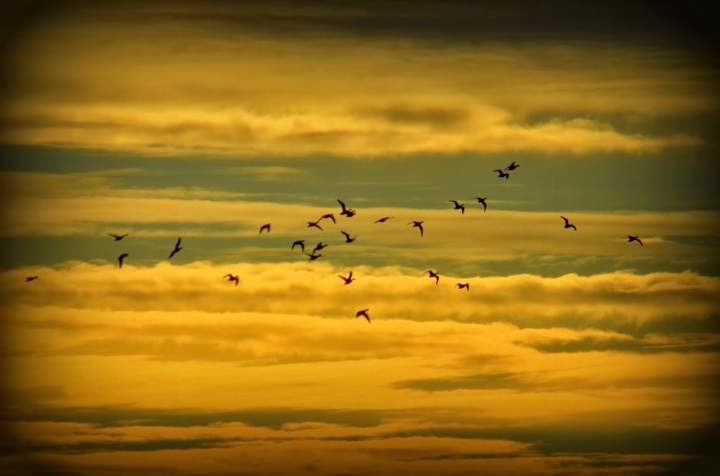 Friday, 15 November 2013 - 16:26
Post 260
ColetteB, Dover
Just to remind everyone, tomorrow Saturday 16th, the Black Watch returns to CT1, T/R.
Then on Monday 18th, the Braemar returns to CT1, debark only & embarks on Tuesday 19th for the last time this year.
A break then until Sunday 24th November when the Black Watch returns to CT2, T/R.
Love that interesting image of the Russian Sailing Ships at Dunkerque above

Yes, happy retirement to Robin Dodridge early next year, that photo of him & Watty at the inaugural sailing of LD Lines to Boulogne aboard the Cote d'Albatre ( see below ) is certainly a blast from the past, how long ago was that I wonder? True it didn't last too long to Boulogne but we sure made good use of it before it all ended. Interesting to hear that the Cote d'Albatre was later used out of Dieppe.
Friday, 15 November 2013 - 12:34