Thursday, 29 October 2020
www.doverforum.com/sea-news
Sea Pictures from Dover
See the OPEN LETTER from Port of Dover CEO Doug Bannister just below....
For Safety Sake : Not a sea to cross in a small boat......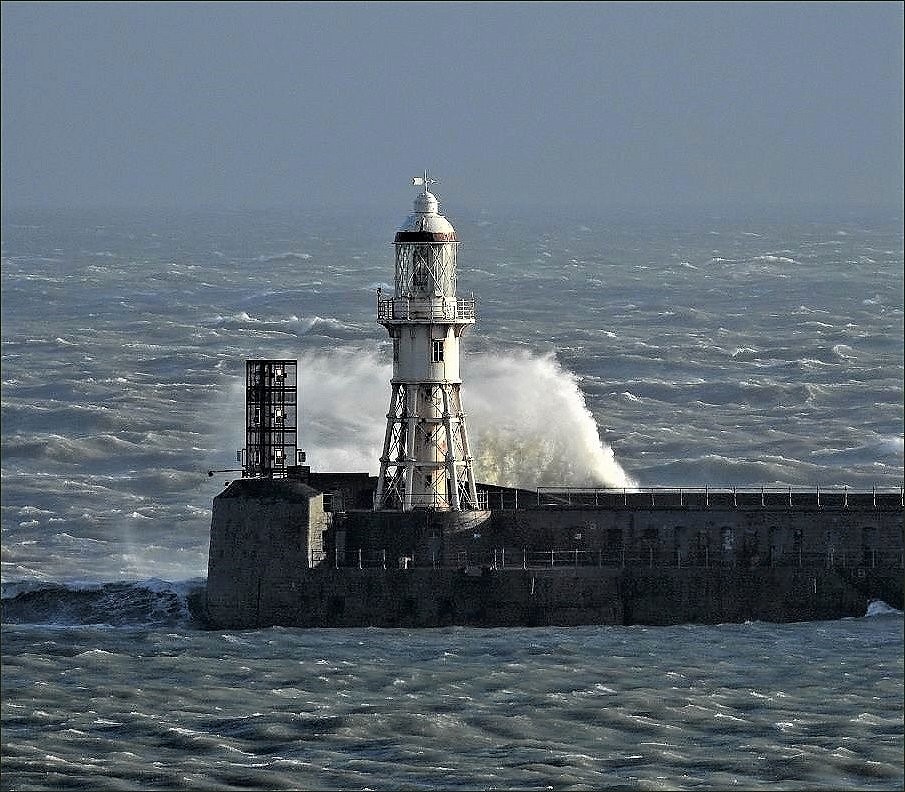 Lighthouse on Admiralty Pier, rough day Dover.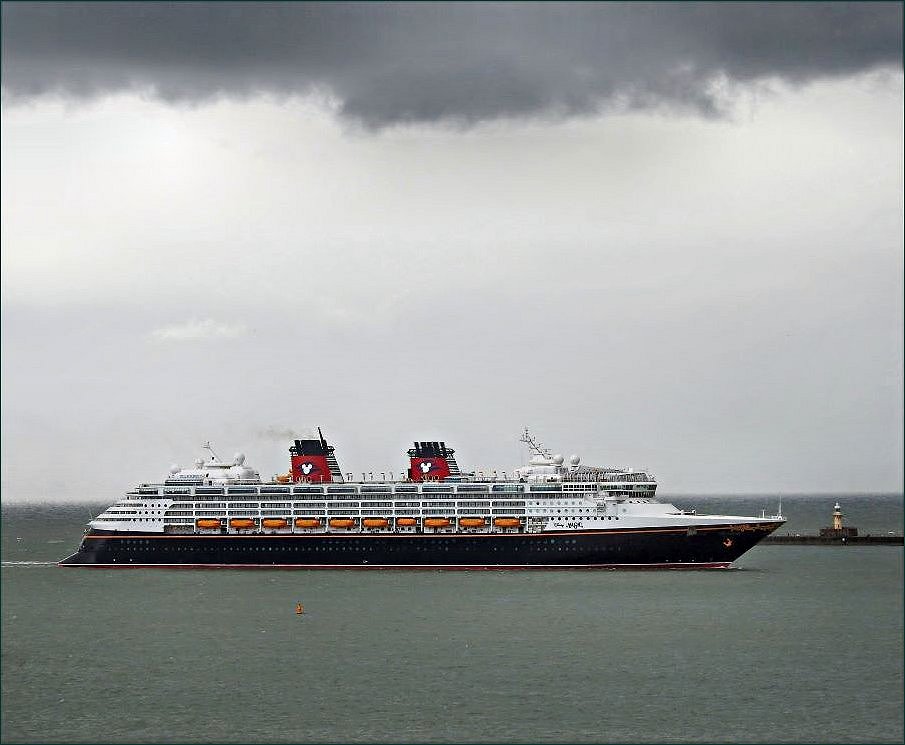 The Disney Magic setting off on a Channel run in the recent gloom....
The Disney Magic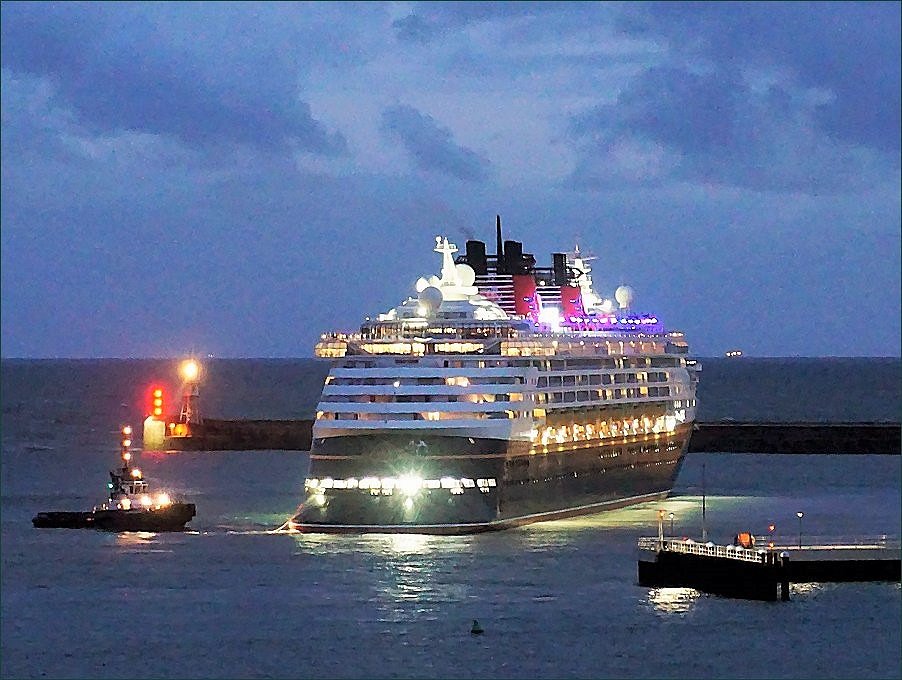 Moving the Disney Magic away from the new pier above just as night falls
...storm on its way...moving her to settle more securely on the eastern arm Port of Dover.
The Disney Wonder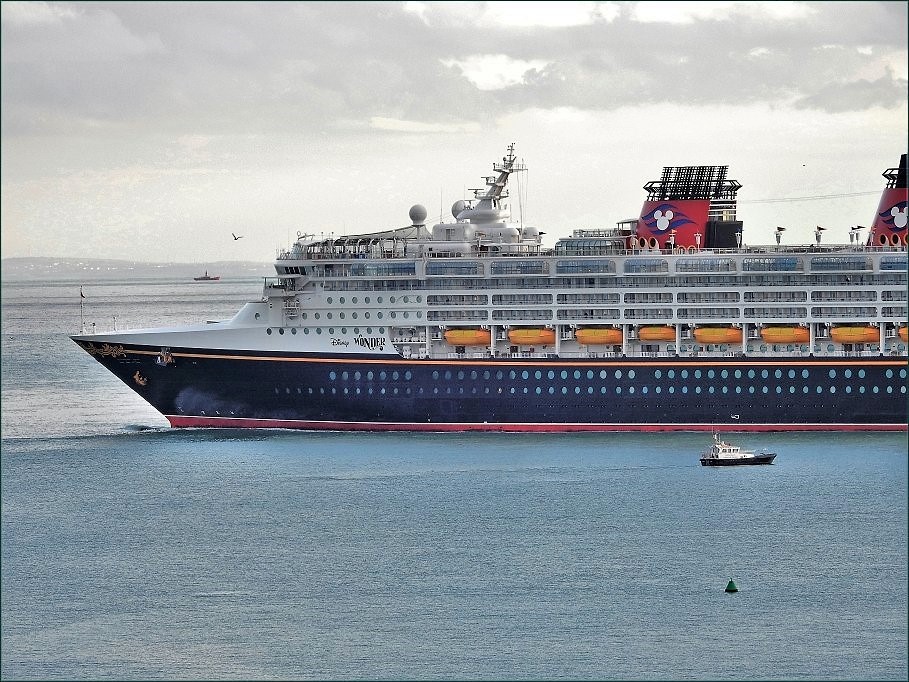 Another picture above of the Disney Wonder departing Dover... since this pic was taken the Disney Magic has returned.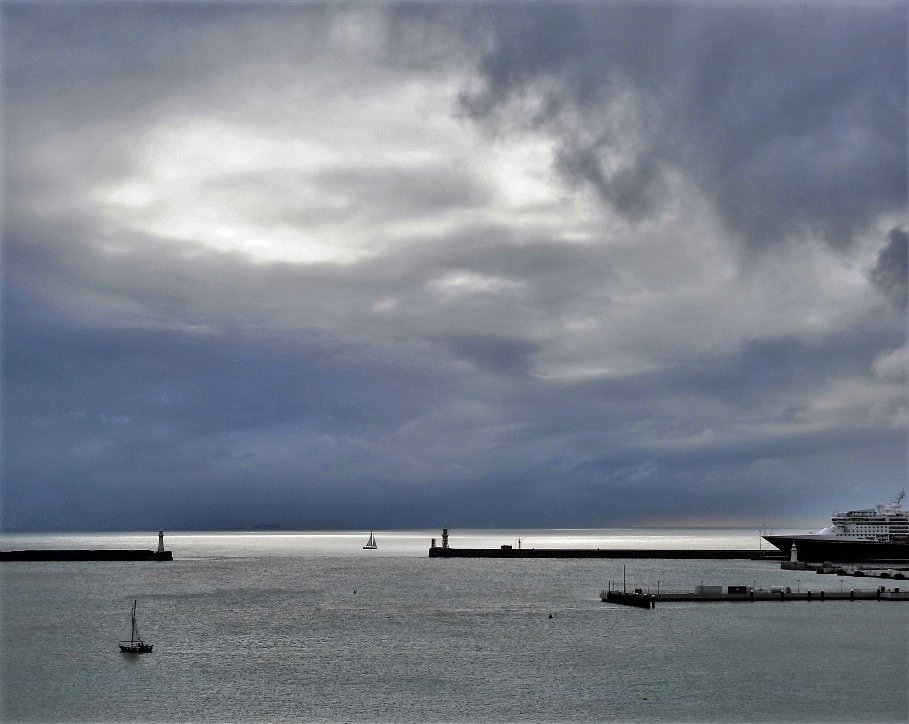 Big menacing sky at Dover above but the sea was still tranquil...for that moment anyway, but it didnt last.....
The Disney Wonder departs Dover...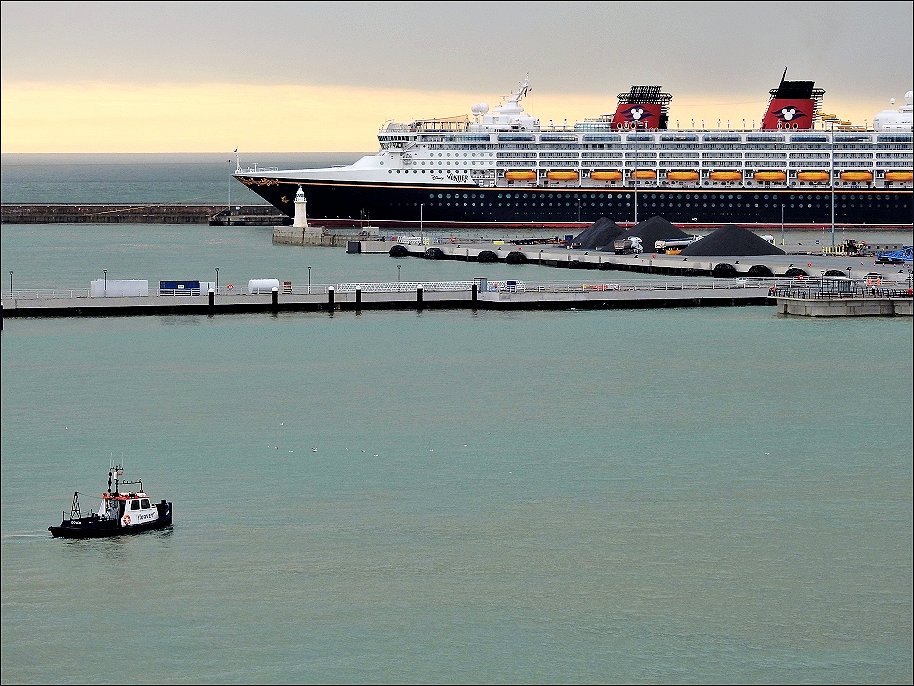 The Disney Wonder:
We had the magnificent Disney Magic with us here in the Port of Dover for such a long time until she left a few weeks ago....but now as if by wondrous magic, up pops another Disney,
The Disney Wonder...and you can see her pictured above there. Also in shot...survey boat Diana.
OPEN LETTER FROM DOUG BANNISTER, CEO, PORT OF DOVER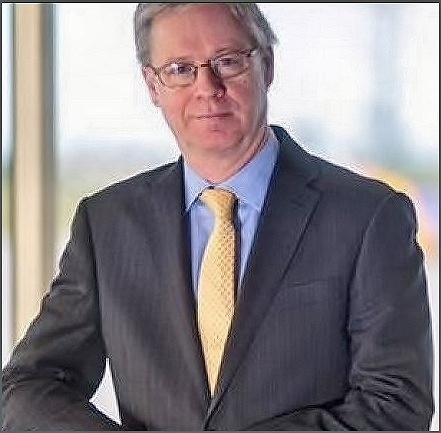 Dover is the right choice for business and consumers now more than ever
The United Kingdom Major Ports Group ('UKMPG') has issued a 'briefing paper' intended to encourage businesses to transfer cargo away from the Short Straits, the UK's most vital link to European markets.
The paper points out that the Short Straits, which includes ferry links between Dover and Calais, as well as the Channel Tunnel, has a 60% market share of 'British-Continental EU trade'. The Short Straits has achieved this market share because it is the right choice for business. Indeed, the paper acknowledges that the routes businesses use today are the right ones and the reason businesses choose the Short Straits is simple; it offers the most time efficient, cost effective and resilient access to international markets, delivering an estimated £3 billion saving for British businesses and consumers compared to alternative routes.
Our own independent analysis (Oxera 2018) has previously suggested that it would cost around £2.7 billion to take just 20% of our existing traffic in order to pay for new ferries operating on longer and slower routes. Importantly, these new ferries do not exist today and need to be built. With shipyard capacities and construction lead times, delivering such a fleet of new ferries holds significant lead time.
The UKMPG paper suggests that other ports might have capacity to take up to 60% of Short Straits traffic now, but acknowledges that this requires both Government and trader support for this offer of 'resilience' to be possible. Exponentially, this suggests that the cost to businesses and ultimately the consumer could be up to around £8 billion.
For Port of Dover, when looking at the overall UK Trade Resilience we take a systemic view – across ports, vessels, capacities, frequencies, operating models and traffic management schemes. To focus only on port capacity is terribly one-dimensional.
The geographic advantage that Port of Dover holds with the UK's largest trading partner means that a single vessel can complete up to five round voyages in a single day, making our ferries hugely productive assets. Further, our operating model delivers an average inbound dwell time at our port of just five minutes, providing unparalleled port efficiency.
Other operating models, for example containers and unaccompanied trailers may have inbound dwell times from several hours to even several days, adding inefficiency to the system-wide supply chains. For those routes with longer sea voyages, a single vessel may only make a single round voyage in a day – meaning to replicate the capacities and frequencies offered via Port of Dover would require five times as many vessels.
The UKMPG paper admits that a 'short term' constraint might be the availability of additional ferries to handle the trucks being encouraged to divert to other routes, whilst also citing wider capacity issues on the southern North Sea corridor.
The report is right to focus on resilience as we approach the end of the Transition Period, but what resilience do you have if you are sending traffic to ports where the ferries do not exist? Neither is that a quick fix. The market dynamic is important here. In fact, rather than investing in new ferries, operators at some of the alternative ports have actually been closing these longer routes with tonnage moving back to the short routes as that is what the market wants – Dover has of course kept going throughout the pandemic. This dynamic applies to the European side too, with the majority of freight vehicles choosing to route through northern France to Calais and Dunkirk as it is simply closest.
All EU-facing UK ports will be under the same rules – there will be a standard process and transaction applied everywhere. We know from examples elsewhere, such as 'Operation Wellington' on the Humber, which anticipates using parts of the M62 and M180 as holding areas for HGVs, that if there is disruption it will be everywhere. The report itself admits that there is already a risk of disruption at these alternative ports due to new systems for HGVs. Therefore, on top of this, sending more traffic to ports that do not even have the ferry capacity will make the situation far worse and create far less resilience for UK trade.
In contrast, the traffic management regimes for the Short Straits are tested and proven – in short, we know they work. For example, the recent national security operation that affected all ports with additional screening and searches left around 4,500 lorries in Operation Stack. When the security operation ended, Dover had cleared all queuing traffic and was back to normal operations within just 12 hours. Nowhere else could do that. It would take weeks with the current vessel capacities and frequencies available elsewhere. For UK trade resilience, supply chains must have the confidence in managing periods of disruption, and crucially recovery and restoration of normal flows as swiftly as possible – both areas in which Port of Dover has excellent credentials.
As we all navigate the massive economic difficulties caused by COVID, and the uncertainties as we approach the End of Transition, it is right to showcase the incredible efforts of the maritime sector, and the excellent ports that we have across the nation towards ensuring supply chains are robust and functioning well.
Come what may, we will keep working to keep the nation supplied with the essential goods people need at this difficult time and give all businesses wherever they are the benefits of Dover's unrivalled service. This is what we do all day, every day.
Indeed, as the Maritime Minister said on a panel discussion with us only the other day regarding the national trade network; 'you have to have goods and people moving around freely. So if you are to have parts moving quickly and efficiently across the Channel, and through Dover, and through the country, you have a much easier opportunity for companies that might exist in the Midlands or in the North to get involved in whatever that industry is.'
The report says that the UK has not always been reliant on the Short Straits, harking back to pre-Single Market days. Equally, the UK has not always been reliant on the internet and same day/next day/just-in-time deliveries, but it is now.
A vision that takes the UK backwards is not the vision of the future we want to see. We need one that backs consumers and businesses everywhere for the challenges and opportunities ahead of us. We feel that we should celebrate our impressive, modern and efficient supply chains across all ports and modes throughout the nation.
For Dover, we fully appreciate the essential role that we conduct for the nation, and will continue to take our responsibility with all of the due care and attention the British people would expect of us, which is why Dover will remain the clear market choice.
Doug Bannister, CEO Port of Dover.
ENDS
ITALIA STREAM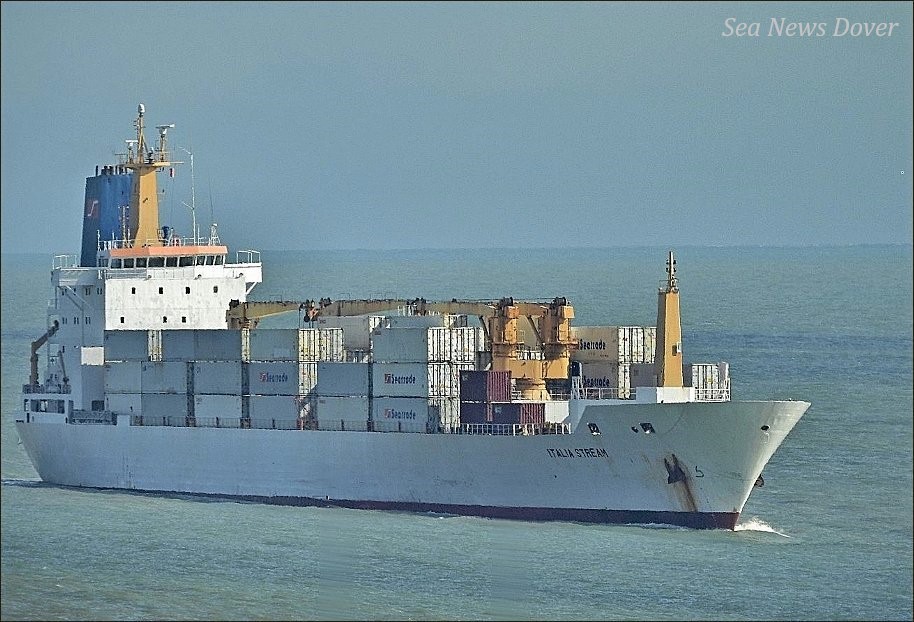 Italia Stream...regular reefer... seen here approaching the Port of Dover.

WWW.DOVERFORUM.COM/SEA-NEWS
Sea Pictures from DOVER ....
Use our SEARCH ENGINE below to find all sorts on the SEA NEWS pages....type in the topic and away you go,
or if you have the post number, just type it in the Search Box, more than
- 7000 -
nautical posts now.
Paul Boland - dover7@msn.com
Sea News Dover:
All pictures on these pages are the copyright of the owners and must not be reproduced without permission.
Post 300
ColetteB, Dover
Some great Ferry News on this Dynamic Sea News page, from some great offers, fantastic awards, photos etc and I bet MFL are very pleased with their early Christmas present

Now lets cast our minds back to cruises, well the last three of the year until next season which will start on March 6th 2014 with the AIDASol. Talking of the AIDASol, she will also be our very last cruise here in Dover on Monday 23rd December at CT2
Before that we will see the Black Watch return here this Friday 6th December at CT2 and again after a short cruise, on Tuesday 10th December for debark only.
That's it for this year, Merry Christmas to all.
Wednesday, 4 December 2013 - 16:51
Post 299
howard mcsweeney, Dover
i suspect the saga of eurotunnel/my ferry and dfds has a way to run yet which will please the legal profession.
spotted this through the gloom earlier.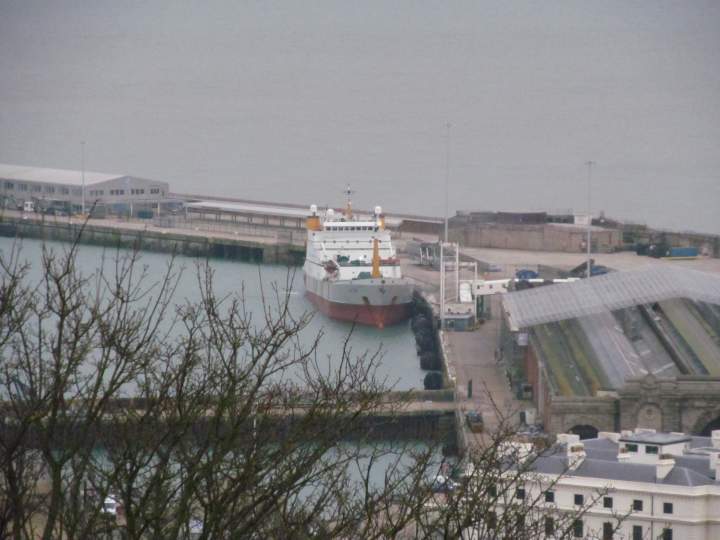 Wednesday, 4 December 2013 - 16:30
Post 298
PaulB, Dover
MY FERRY LINK HAVE BEEN ALLOWED TO CONTINUE TRADING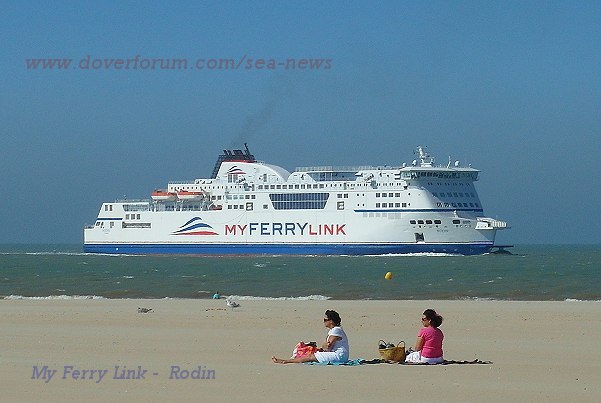 An Appeal Tribunal has overturned the previous ruling by the Monopolies Commission.
Saving 600 jobs.. almost 100 of them here in Dover.

We will have more on this in due course, but for now all looks mightily improved for MFL.
____________________________________
ADDED: A STATEMENT JUST IN FROM DHB.
THE PORT OF DOVER will study carefully the Competition Appeal Tribunal judgment in order that it can fully assess its impact on the Port and its customers and the local community. We will seek to discuss the matter with our ferry customers.
The Port's priority is providing an excellent service to the 12-13 million customers who use the Port each year and to ensure that it continues to offer value for money and choice to the consumer. Our immediate priority is to ensure service provision during the busy Christmas period.
As growth in ferry traffic is sustained, the Port is committed to ensuring that it provides the very best infrastructure and adequate port capacity to meet the demands of the market and the requirements of its major ferry business partners going forward. As it continues to review its master plan, the Port is working hard to ensure that it will be ready to respond positively to whatever demands such on-going growth places upon it.
Wednesday, 4 December 2013 - 15:06
Post 297
PaulB, Dover
Ahh - its always a sad sight to see the ferry like that in the picture in the previous post. I suppose its the inevitable life cycle in action but nevertheless.
On the upside I guess it brings somebody somewhere a job.
Good to hear of your achievements on the Lifeboats Ed...will remember to salute when I bump into you next...lol!


Yesterday was leaden grey across the entire day...a bit cold and a bit miserable. But for a brief early morning moment the blinding sun split the heavens...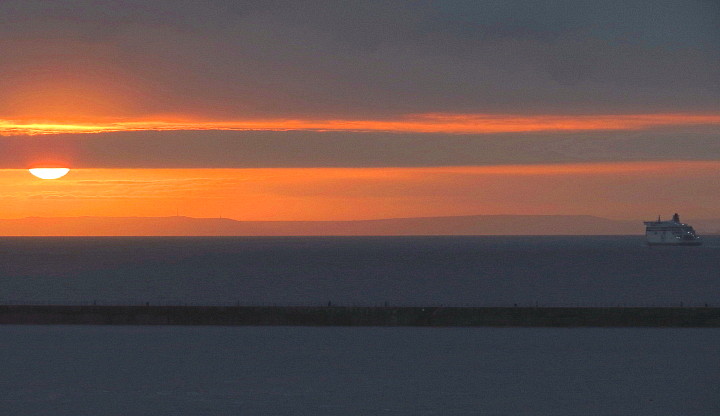 The early P&O ferry above having left Dover Harbour through the western exit/entrance heads into the burning light.
Below...well its never a good idea to fly too close to the sun. Both pics taken at roughly the same time.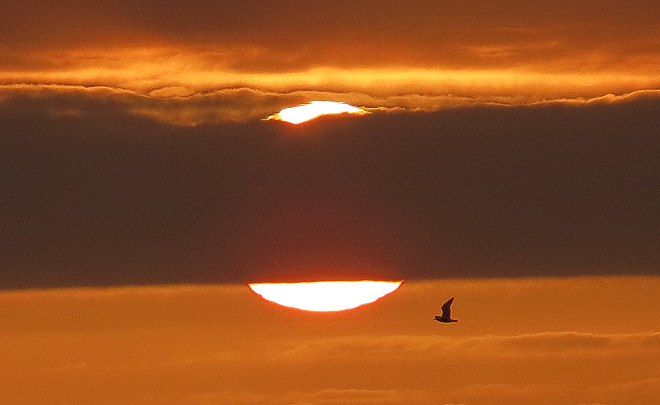 ps: Ed you can put web addresses but dont put the http bit first...just start with www - because its a live open page thats the best do-able as otherwise we could be spammed big time which happened previously.
www.doverforum.com.
Wednesday, 4 December 2013 - 08:33
Post 296
Ed Connell, Dover
Image off Facebook of the Ostend Spirit (ex Pride of Calais) being scrapped at Aliaga.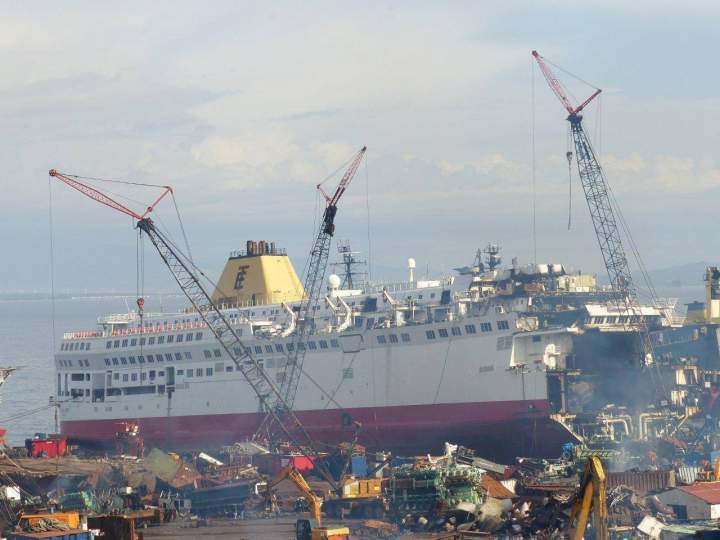 There is a video taken from the Bridge as she ran up the beach. This was the second attempt as the first one went a bit wrong. Not permitted to enter a website address in the comments section so just Google the LiveLeak website and enter "old ferry is beached" in the search box.
Wednesday, 4 December 2013 - 01:35
Post 295
Ed Connell, Dover
I have been on leave for the last two weeks, Paul, so not much from me. Half of my previous leave was spent down at Warsash doing a PSCRB course in lifeboats and rescue boats as my designated role in an emergency is as Launch Commander responsible for launching the liferafts and assisting with the lifeboats and rescue boats. Lots of ribald comments re this onboard and I now refer to myself as L.Cdr Connell PSCRB MN.

I have learned from bitter experience not to comment online on anything to do with any company I am working for! As for these awards, there seem to be a lot of them and each ferry company naturally chooses to highlight the ones which reflect well on them.

Tuesday, 3 December 2013 - 12:25
Post 294
PaulB, Dover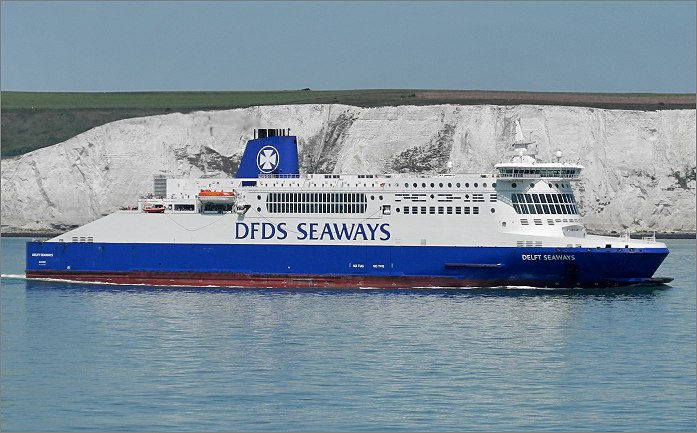 DFDS - THREE TIME WINNER
_________________________
DFDS Seaways has been awarded the prestigious accolade of 'World's Leading Ferry Operator' at the 2013 World Travel Awards Gala in Doha, Qatar (30 November) for the third year in a row.
The World Travel Awards, hailed as the premier awards programme for the travel and tourism industry, celebrates excellence throughout the global travel, tourism and hospitality sector. The winners are decided by votes from travel industry professionals and consumers.
In addition to the 'World's Leading Ferry Operator' accolade, DFDS Seaways also received the title of 'Europe's Leading Ferry Operator' at the European leg of the World Travel Awards held in August 2013. Together, these titles recognise the DFDS Seaways' commitment to excellence during the last twelve months
"We are very honoured to be awarded 'World's Leading Ferry Operator' for three consecutive years. This is a fantastic endorsement of the excellent service and standards we strive to deliver to our loyal customer base. This prestigious award is testament to the hard work and commitment of our staff, who work tirelessly to provide the very best travel experience," said Max Foster, Passenger Director for DFDS Seaways.
"We believe that a customer's holiday should start as soon as they board a DFDS Seaways ferry and are committed to continuing to provide the highest quality service and experience for everyone who sails with us."
DFDS Seaways operates a comprehensive passenger route network, which incorporates six routes from the UK to Europe, via Dover-Dunkirk, Dover-Calais, Newhaven-Dieppe, Portsmouth-Le Havre, Newcastle-Amsterdam and Harwich-Esbjerg, providing passengers a wide range of choice and a gateway to Europe. DFDS also operates a number of ferry routes across the Baltic Sea. For further information please visit www.dfds.co.uk or telephone 0871 882 0885.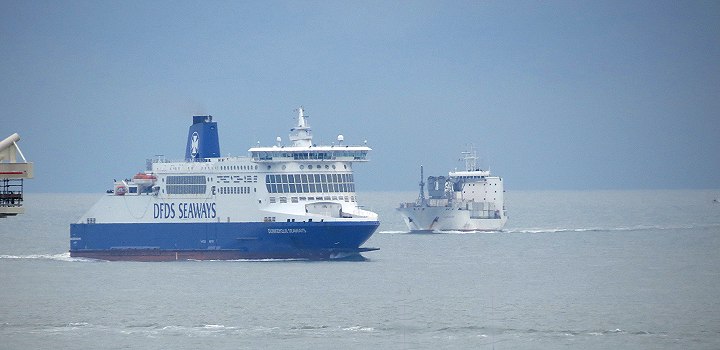 * *
You just beat me to it there Howard. Great stuff above there from DFDS SEAWAYS. Yes hopefully some comments from our mariner extraordinaire Ed on this one. Havent seen too much from Ed or the guys lately but with the changing season its difficult...not as many ships etc. Hopefully all are still enjoying things.
Interesting NOTE re GOOGLE : Yours truly isnt a huge Googler but nevertheless I was amazed to find that we have a strong position on Google among the world players. I typed in SEA NEWS the other day and there we were at the top of page 4. I was amazed and pleased at the same time as this particular page here is only going a wet day.
This gives us a great chance to flag up Dover to the wider world..show our best assets of sea, sky, seaport, sailing and ships..leading with our ferries, cruise liners, cargo ships etc etc and much more beside.


Tuesday, 3 December 2013 - 08:16
Post 293
howard mcsweeney, dover
announced earlier that dfds have won the ferry operator of the year award again.

i suppose we will have to expect ed coming on with the line "unnacustomed as i am to making speeches etc etc".

Monday, 2 December 2013 - 19:48
Post 292
PaulB, Dover
HEADING OFF TO THE LILLE CHRISTMAS MARKET WITH DFDS SEAWAYS
and enjoying a great deal at the same time. Lille here we come...!!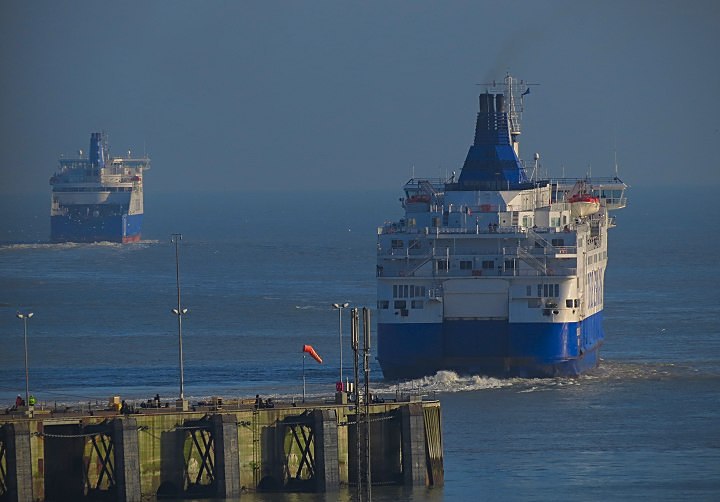 Lille Christmas Market with DFDS Seaways

- Travel to Dunkirk from 27 November to 13 December and visit the popular Lille Christmas Market

Book by 11 December to receive £10 off return crossings and £20 to spend onboard

DFDS Seaways, the award-winning ferry operator, is spreading some festive cheer with its latest cross-Channel offer designed to help people wanting to visit the Lille Christmas market this winter. Passengers who book to travel from Dover–Dunkirk between 27 November and 13 December will receive £10 off their return sailing and a free £20 voucher to spend in the onboard shop. This means you can cross the Channel on your way to the Lille Christmas market for as little as £48 return for a car and up to four passengers.
The Lille Christmas market, (Marché de Noel), is a perfect destination for a festive trip or short break at under an hour's drive from Dunkirk. The Flemish city hosts the largest Christmas market in Northern France and is especially enchanting during the festive season. A huge Christmas tree and giant Ferris wheel take centre stage in the main square and the Grand Place and the surrounding streets dazzle with lights, colour and the aromas of delicious food and drink.
The main Christmas marketplace is situated in Place Rihour where wooden chalets sell handmade toys, Christmas decorations, festive food and warming mugs of mulled wine. Lille is also a shopper's paradise, as the city centre boasts a wide range of excellent shops and boutiques, as well as a number of museums and restaurants that specialise in Flemish and French cuisine. The cobbled streets of the old part of the city have a delightfully old fashioned Christmas feel, and are home to a heady mix of boutique shops and cosy cafes and restaurants.
With your £20 voucher, you can continue your Christmas shopping onboard and take advantage of the special offers available in the DFDS onboard shop. The shop has a range of perfume, cosmetics, wines, beers and spirits as well as confectionery, toys and travel essentials on sale, ensuring there is something for everyone. You can also grab a hot bite to eat in the onboard restaurant, enjoy a drink at the bar or simply take in the fantastic sea views, while the little ones can amuse themselves in the children's soft play area.
Max Foster, passenger director at DFDS Seaways, says: "As the festive season approaches, we're getting in the spirit of giving with our latest onboard voucher offer and travel discount for passengers wanting to visit the illuminating Lille Christmas market. One of the advantages of travelling by car and ferry is that there are no luggage restrictions, which means you are free to stock up with Christmas presents, regional delicacies or wine and beer."
DFDS Seaways sails up to 24 times a day between Dover and Dunkirk, providing passengers a luxury onboard experience and flexible, convenient and fuss-free travel options.
To take advantage of these offers, book now or to find out more information, visit www.dfds.co.uk or telephone 0871 574 7235.
For more information visit our Lille travel guide to find out more. www.dfdsseaways.co.uk/travel-guides/france/lille/
For more information on the Lille Christmas market, visit www.lilletourism.com/lille_tourist_office-1-0-355-gb.html
Monday, 2 December 2013 - 07:57
Post 291
PaulB, Dover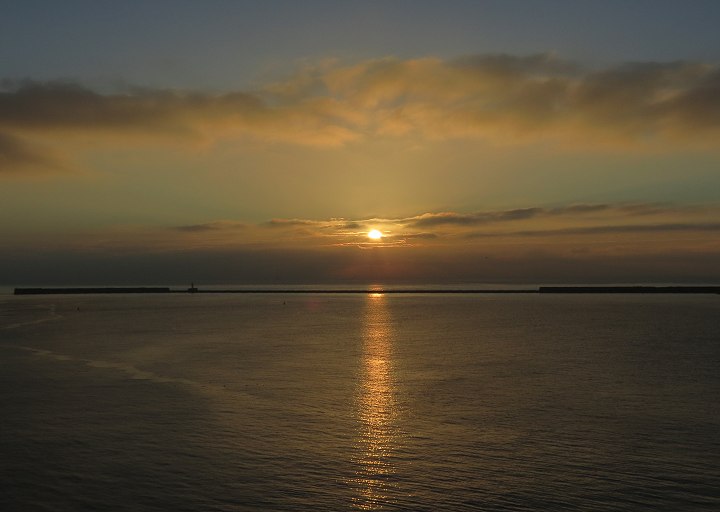 Twas very pleasant in a somewhat sunkissed Dover today sunday. The picture above was taken early this morning and you can see just how weak the colours are. Not much strength in the sun with the earth barely warming up at all. December is now upon us with all its woes. But Dover still offers these spectacular views to one and all...there are many visitors here today enjoying it all..and very welcome they are too.
The sea was calm if a little bracing but it didnt deter either the seafront promenaders or these guys below sailing. Sunday morning and all's well.
Sunday, 1 December 2013 - 17:26
Post 290
PaulB, Dover
We had a visit from the UK Border Agency yesterday saturday with their vessel called Seeker. We have seen her here before of course..and as I look now she seems to be gone, sailed off quietly in the dead of night to pastures unknown..she doesnt use her locationing system presumably for obvious reasons..dont want to give the game away to those smugglers!
First picture is from earlier in the day..taken just at the moment the cargo ship Ouro du Brasil came close to shore...presumably to drop her pilot off as seems to be the occasional norm. The Ouro du Brasil was heading right across the South Atlantic to Santos. Now thats a long oul haul in anyone's book.
That's Seeker in the foreground.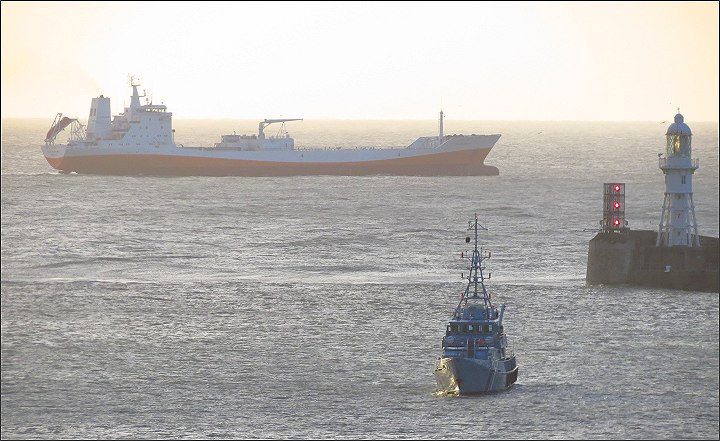 Another picture below from later in the day when the light source moved round the bay..
pictures are a wee bit wishy washy unfortunately because of the prevailing light.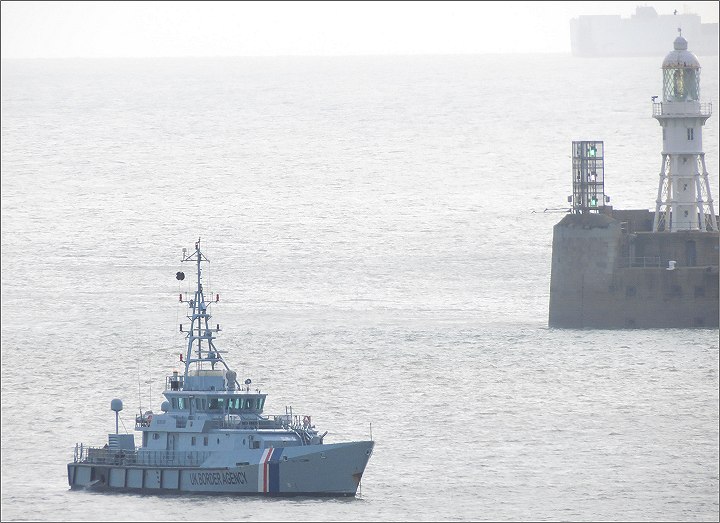 Yes a very popular area for fishing Howard..reasons are best known to anglers.
I wonder what they catch there and is it edible?
But yes well done the DDC for clearing the debris and junk away.
Sunday, 1 December 2013 - 07:54
Post 289
howard mcsweeney, dover
read that one with interest as i happened to be on deal pier a few years back when they were doing the same, and watched open mouthed at the sheer quantity of rubbish that was being brought up.

Saturday, 30 November 2013 - 09:33
Post 288
PaulB, Dover
SEABED CLEARANCE
There was a boost for local anglers this week when clearance work took place to drag the seabed around Deal Pier - the work took place on Wednesday (27 November), and removed around a ton of debris, including netting and fishing tackle with lead weights.
A trawler was specially commissioned by Dover District Council to clear the area around the pier to help 'tackle' debris on the seabed and improve fishing conditions. The work has been carried out to improve the quality of fishing and to clear the seabed, and follows ongoing monitoring and feedback from local anglers.
Cllr Nigel Collor, DDC Cabinet Member for Property, said: "We were pleased to be able to arrange for the sea bed around Deal Pier to be trawled again, to keep the area clean of debris like fishing tackle and line, and to help local anglers."
* *
Cracking pictures of the sky below there Phil and well done getting them up Howard. A big fan of big skies myself and those ones are exceptional. Obviously these days its a bit quieter for ships in the harbour, no cruise liners etc, but we are getting much info through from all the main players which is great...but the natural world as it were also qoes down very well. Will be watching for dramatic skies myself in the days ahead with an eye for everything from storms to sunrises.
Well done Phil.

Top picture shows those gentle days beside Deal Pier.
Second pic shows Cllr Nigel Collor.
Saturday, 30 November 2013 - 08:08
Post 287
howard mcsweeney, dover
not heard the term fallstreak holes before but this is what they look like, all taken by phil smith at samphire hoe 2 days ago.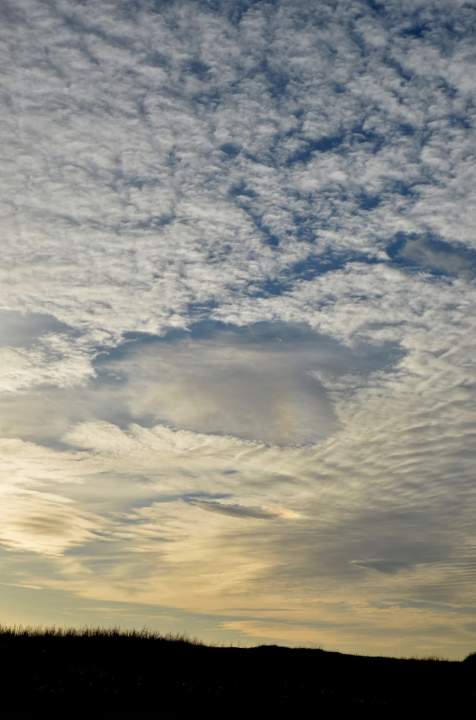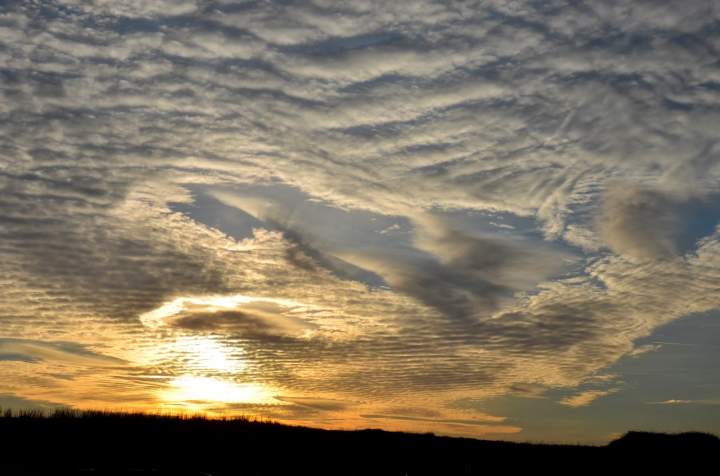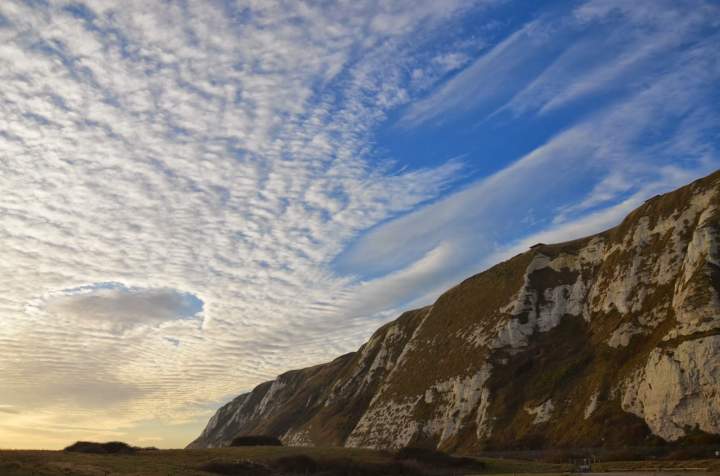 Friday, 29 November 2013 - 12:18
Post 286
PaulB, Dover
Yes indeed Jan some good deals on offer there in Calais with MyFerryLink (see thursdays post 08.09 below). We will try and bring offers from all sides when they are available if we can.. so that readers can enjoy their trip across to maximum effect.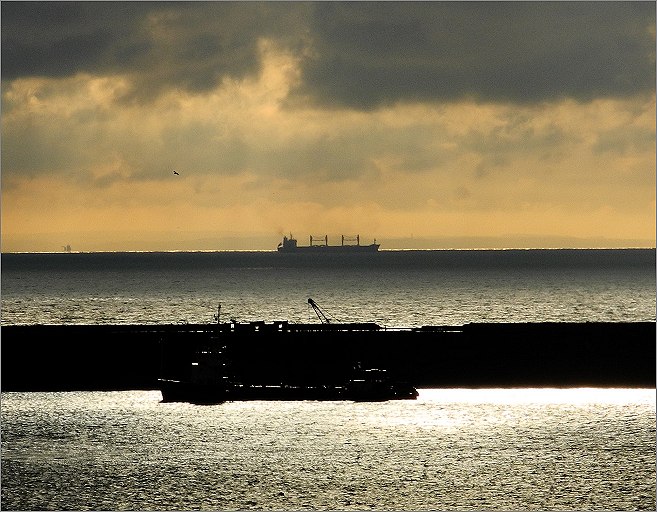 The picture above shows the ever busy dredger David Church working away by the breakwater which it does with regular efficiency. Doing a lot of heavy 'shovelling' this past week. Took the pic above a few days ago. In the background you can see cargo ship Aloe on course for Hopewell in the USA...a long way to go for that one, all the way across the wide Atlantic.
Friday, 29 November 2013 - 08:48
Post 285
JanT, Dover
Wow what a great offer from MyFerryLink, just goes to show what can be done when people work together, have frequently visited some of the places mentioned so I hope many will take up the offer.


And some great pictures below of Calais nothing quite like hopping on the Ferry and enjoying a leisurely lunch and a chilled glass of wine, while sitting in one of the pavement cafe's watching the world go by.
Somehow we don't quite manage it here in the same way


What can I say memories of lovely summer days


Thursday, 28 November 2013 - 09:33
Post 284
PaulB, Dover
Fantastic Festive offers in France... from MyFerryLink


____________________________________________________________________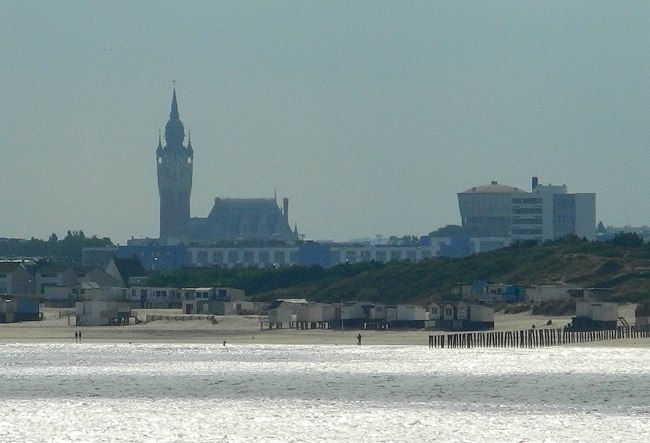 10% off in nearly 70 shops and restaurants, plus great accommodation deals
______________________________________________________________
MyFerryLink has joined forces with nearly 70 shops, restaurants, brasseries and hotels in Calais and the surrounding area to give shoppers travelling to France a huge array of festive offers. People sailing to France between now and 15 January 2014 with MyFerryLink can get a 10% discount in nearly 70 stores and restaurants such as La Maison des Vins et du Fromage delicatessen, La Fontaine des Fées gift shop and the popular Le Channel and La Sole Meunière restaurants.
There are also exclusive offers at Calais Vins and Franglais Vins wine warehouses and at two hotels; the stylish Hotel Meurice in Calais and, further afield, the luxurious four star Grand Hotel in Le Touquet for any customers wishing to extend their shopping trip into a short break.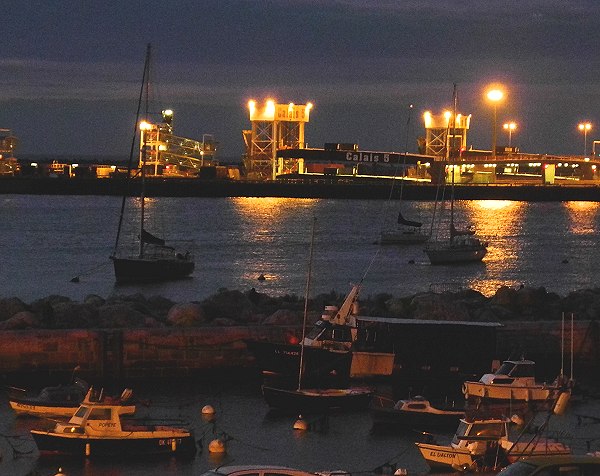 Hotel Meurice is offering a double room & breakfast for €72 (£61) per night and Le Grand Hotel in Le Touquet is offering a two-night stay for two people sharing a double room, plus breakfast and three course dinner for just €185 (£155) per person (a saving of 20%). What's more, travellers spending over £70 in the MyFerryLink onboard boutique will be given a gift of a bottle of sparkling wine or a box of French chocolates.
For full details of all the offers, visit the 'My Ferry Offers' page on the MyFerryLink website.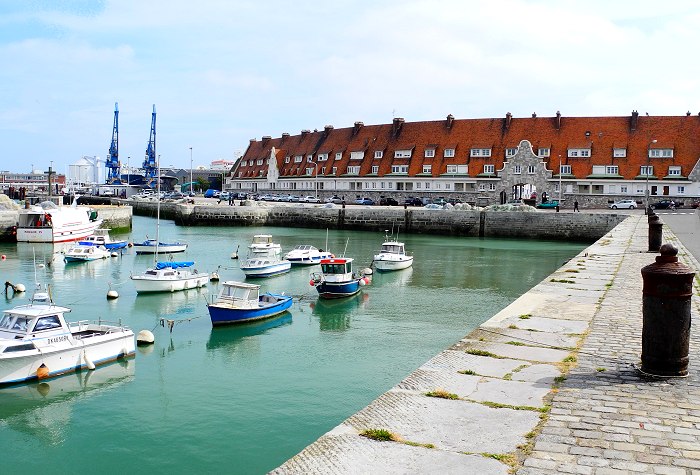 MyFerryLink operates 16 daily crossings on the Dover-Calais route. Fares for a car and up to nine passengers start from £29 for a day return (24 hours) and from £38 for a three day return (72 hours). Other fare offers are available.
>For information on all of these offers or to book, visit www.myferrylink.com or call 0844 2482 100<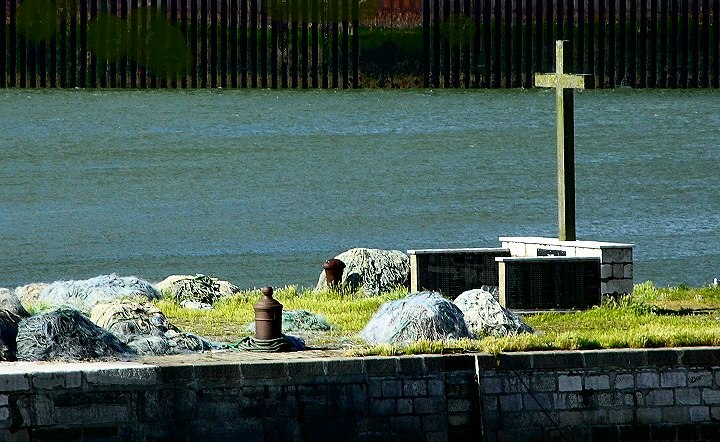 * *
Thanks to MYFERRYLINK for the information above. We have added our own pictures to the mix which focus on the harbour area, although we also have pictures in the archives of the wider town. I am a great fan of Calais myself, a town sometimes overlooked in the gallop south, and I will make use of some of those deals mentioned above. Le Touquet is also a great place to spend time. Yours truly is familiar with the establishments mentioned above. PB

Pictures : top shot shows Calais from the decks of the MyFerryLink Rodin with the fabulous architecture of the Hotel de Ville in the far distance.
Second one shows the harbour by night
Third one a slightly different view of the harbour this time by colourful day
..and the fourth one shows the memorial to those sailors sadly lost at sea.
Yes indeed guys an interesting itinerary from Fred.Olsen below there. Exciting stuff!
Thursday, 28 November 2013 - 08:09
Post 283
howard mcsweeney, dover
fantastic photo below, i don't know much about kiel but suspect it is not normally very easy on the eye.

the beautiful ships and massed ranks of people looking on show it in a great light.

Wednesday, 27 November 2013 - 20:46
Post 282
ColetteB, Dover
Now I know what I want for Christmas........... Cruising the Baltic on the Fabulous Fred Olsen Braemar......... well I can dream can't I

Awesome pic below of the Tall Ships Parade at Kiel

Tuesday, 26 November 2013 - 19:45
Post 281
PaulB, Dover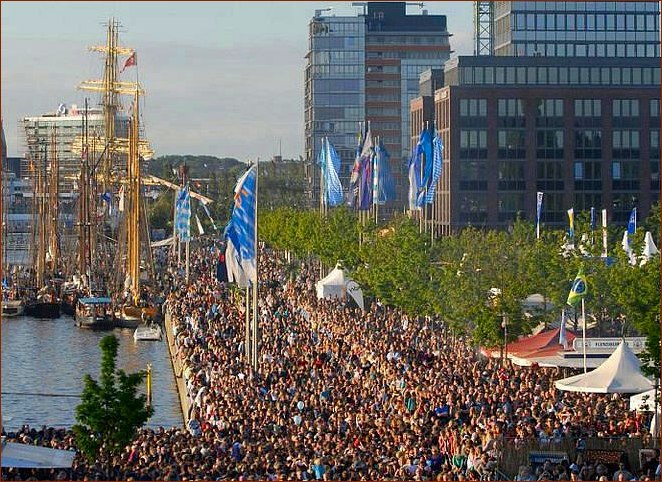 Just to show this particular spectacular cruise idea sailing out of Dover
..what a fascinating schedule and topping it all off with St Petersburg!

___________________________________________________________
Fred. Olsen Cruise Lines is offering guests a chance to experience some of the best musical festivals in the Baltic on a 'Scandinavia & St. Petersburg' cruise in Summer 2014, on board its stylish 929-guest ship, Braemar. This 14-night sailing, M1418, departs from Dover on 26th June 2014, and will take in the internationally-renowned 'Kieler Woche Festival' in Kiel, Germany, the 'Song and Dance Festival' in Tallinn, Estonia and the 'Copenhagen Jazz Festival' in Denmark.
Nathan Philpot, Sales and Marketing Director for Fred. Olsen Cruise Lines, said:
"At Fred. Olsen, we always look to give our guests so much more than just a conventional holiday experience; this itinerary offers them a chance to really immerse themselves in the rich culture and traditions of the Baltic cities that they will be visiting, and these world-famous festivals will be a real feast for the musical senses!"
The first port of call is Kiel (Germany), where the lively 'Kieler Woche Festival' will be in full swing, from 21st to 29th June 2014. Guests will be able to watch the majestic 'Tall Ships Parade', enjoy live music, which will be played all over the city, and indulge in some shopping at the vast number of local stalls and eateries that will line the waterfront.
Next stop is Travemünde (Germany), where guests can discover the wonderful gabled houses, stunning churches, gilded steeples and the unique old town, Altstadt. They can also take a tour to nearby Lübeck, one of the major ports of Germany. Situated on the river Trave, this stunning city is listed by UNESCO as a 'World Heritage Site'.
Braemar then sets sail for Stockholm (Sweden), where guests can take a relaxing stroll around Skansen, the world's first-ever open-air museum, visit the beautiful 18th Century Seglora wooden church or discover The Royal National Park, which is more than six miles long, stretching around and through the city.
The cruise then moves on to the opulent city of St. Petersburg (Russia), for an overnight stay. There is an abundance of fascinating and historical buildings to explore, including the Hermitage and St. Catherine's Palace. An evening at one of the world-class ballet performances is highly recommended.
In Tallinn (Estonia), guests can experience the 140-year-old tradition of the city's 'Song and Dance Festival', which will take place from 4th to 6th July 2014. Featuring 8,000 dancers and 18,000 singers who will perform all at once, this enormous open-air choir concert is held at the Tallinn Song Festival Grounds, and is a fantastic spectacle that will never be forgotten. The city itself offers an abundance of beautiful churches and cobbled streets and the Town Hall is one of the best-preserved medieval buildings in Northern Europe.
Copenhagen (Denmark) is the final port of call on this Baltic cruise. Here, guests can attend one of the largest music events in Europe – the 'Copenhagen Jazz Festival', held from 4th to 13th July 2014. Every summer, since 1979, this festival – one of Europe's most important international music events – has been taking over Denmark's capital, offering guests the opportunity to enjoy live jazz on the streets, and in clubs, cafés and concert halls throughout the city.
Prices for this cruise start from £1,299, based on two adults sharing an inside, twin cabin, and include accommodation, all meals and entertainment on board, and port taxes.Guests can also take advantage of Fred. Olsen's great-value 'all-inclusive' drinks upgrade package from just £10 per person, per night, and enjoy their holiday in style without any budget worries.
Fred. Olsen will be visiting 246 destinations in 85 countries in 2014/15, from ten convenient, regional UK departure ports – Southampton, Dover, Harwich, Tilbury, Liverpool, Avonmouth, Newcastle, Greenock (Glasgow), Rosyth (Edinburgh) and Belfast.
Fred. Olsen was delighted to be voted 'Best Affordable Cruise Line' and runner-up 'Best Cruise Line' in the 'Cruise International Awards 2013', and 'Best Value for Money' in the Cruise Critic 'Editors' Picks UK Awards 2013'.
For further information on Fred. Olsen Cruise Lines, visit the website at www.fredolsencruises.com Book online, call Reservations on 0800 0355 242 (Monday to Friday, 8am to 8pm; Saturday, 9am to 5pm; Sunday, 10am to 4pm), or visit an ABTA travel agent.
* * *
Many thanks to Fred.Olsen for the picture and info above. A dream cruise for sure with many fascinating destinations and of particular note to us here on Sea News is the Tall Ships Parade at Kiel pictured above. Fabulous.

Tuesday, 26 November 2013 - 08:07