Monday, 28 September 2020
www.doverforum.com/sea-news
The Shape of Things to Come....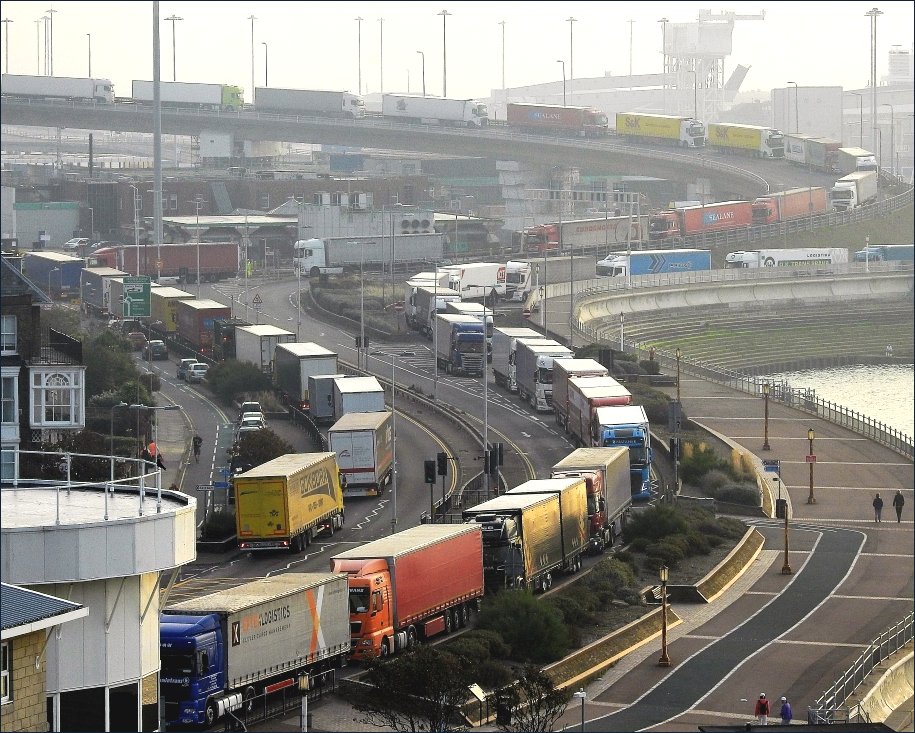 Trucks to the left of us...trucks to the right of us...into the Valley of Dover drove the 7,000 ..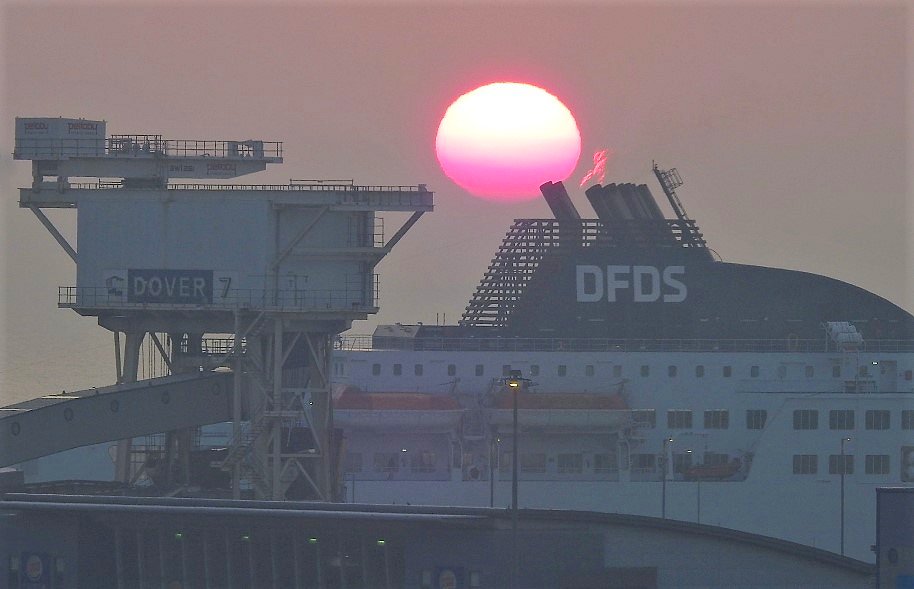 DFDS and the Dover7 sunrise.

WWW.DOVERFORUM.COM/SEA-NEWS
Sea Pictures from DOVER ....
Use our SEARCH ENGINE below to find all sorts on the SEA NEWS pages....type in the topic and away you go,
or if you have the post number, just type it in the Search Box, more than
- 7000 -
nautical posts now.
Paul Boland - dover7@msn.com
Sea News Dover:
All pictures on these pages are the copyright of the owners and must not be reproduced without permission.
Post 6856
Nike J., Dover
Friday marked marked the 33rd.Anniversary of the loss of the ferry HERALD OF FREE ENTERRISE when she capsized shortly after leaving Zeebrugge with the loss of 188 lives.
A very sad day & one that caused major changes & safety improvements in the ferry industry.
A day never to be forgotten.
* *
Arrival of the Hurtigruten expedition ship FRIDTJOF NANSEN on Friday morning from Portrsmouth.
She is ice-strengthened & has 'hybrid' power with propulsion both by diesel battery-electric power & is an 'eco-ship' with a much reduced carbon footprint. When she is in regular service she will operate mostly in Arctic and Antarctic waters.
The sun was in the wrong place for her 0800 arrival.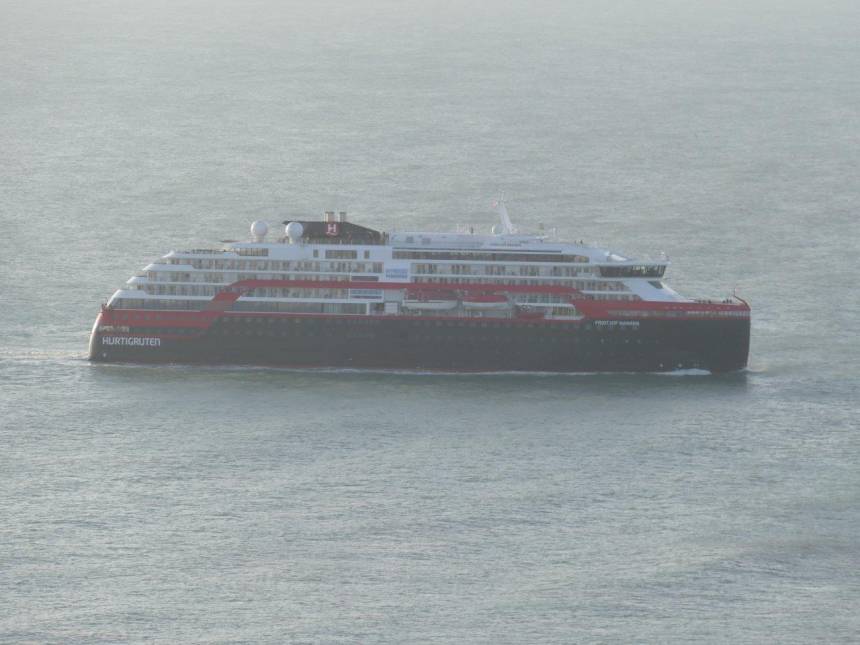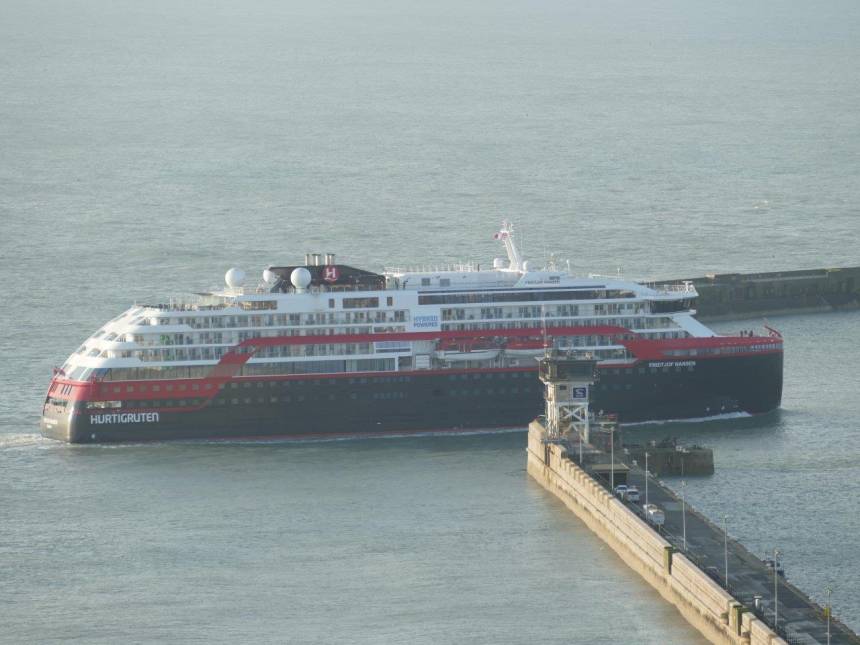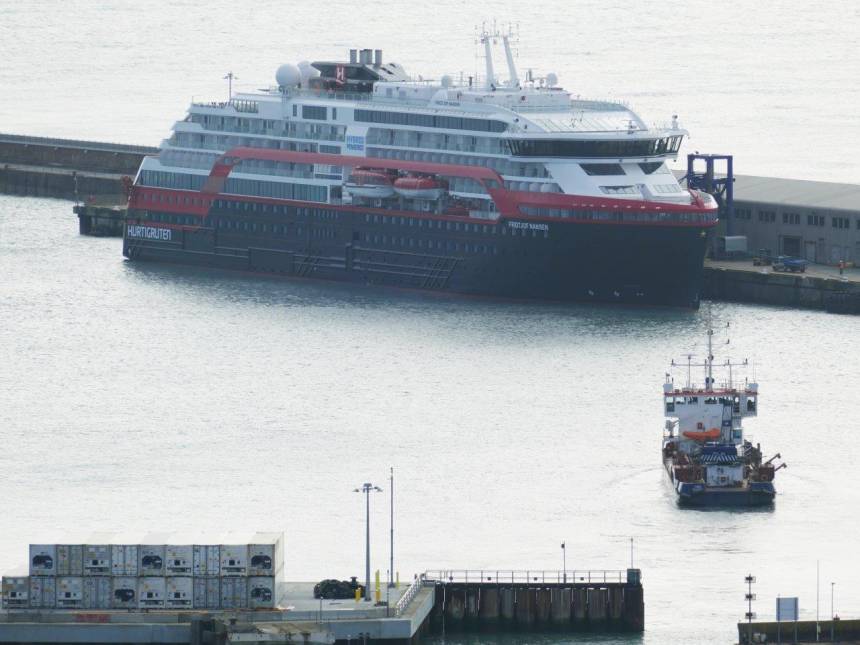 The light had improved considerably by 1700 when seen from Citadel Road.
She sailed for Tilbury at 2200.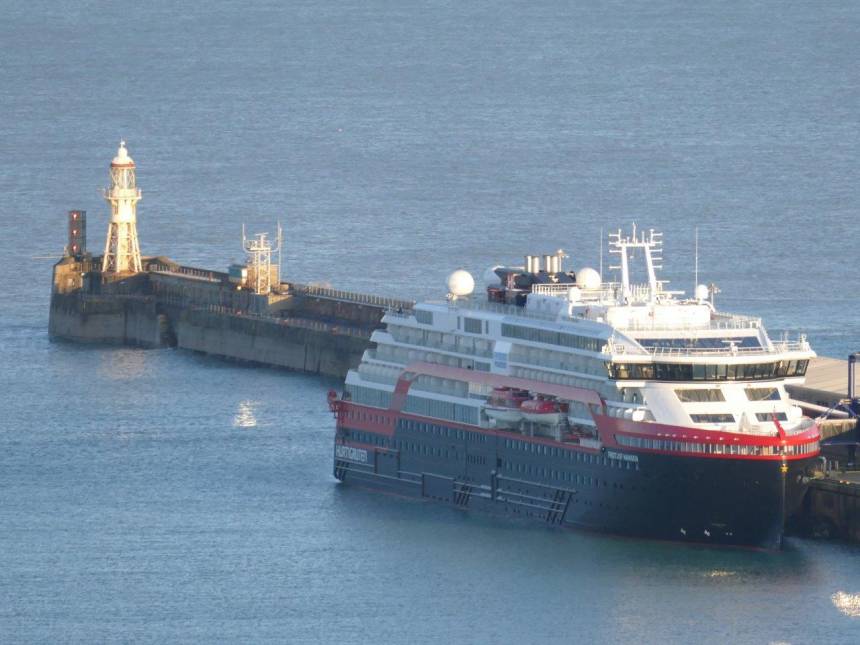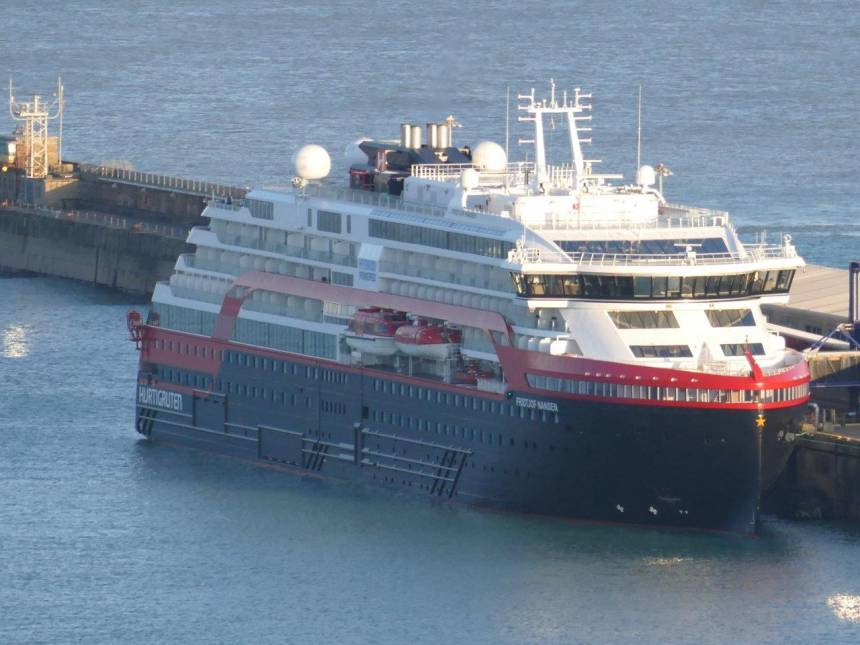 .
Fred Olsen's BRAEMAR , a frequent visitor to Dover in the past, was reported on 29/2 as having been have refused permission to enter La Romana in the Dominican Republic after a number of passegers were reported with 'flu-like symptoms' & has joined other unfortunate cruise ships in 'seagoing isolation'
Saturday, 7 March 2020 - 03:56
Post 6855
Sea News, Dover
Truly fascinating post below Mark. Hope you have a great time on the ship - bet you will. The ship looks amazing...will have pictures going up in the morning.
Shake off that lurgy...

PaulB
Friday, 6 March 2020 - 16:00
Post 6854
Mark Rushton, Northants
Your spies may have noted an unusual visitor to the Cruise Terminal today. Hurtigruten's brand new expedition ship Fridtjof Nansen is visiting the UK for a couple of weeks before she starts her normal duties in the Arctic and Antarctic. She's a genuine hybrid vessel with a substantial battery pack to supplement her diesel engines. Joining her myself in Portsmouth in a week and a half (lurgy permitting) for a quick shimmy down to the Channel Islands and back through the channel to Ostend before finishing at Tower Bridge 5 days later. Visiting Ostend is going to be distinctly weird after all these years since RMT stopped operating. If you google Nansen and Webcam you'll be treated to a live view of a beautiful sunny day in Dover Harbour (as of 10.40 am at any rate). She's off to Tilbury this evening to start a short round of taster cruises.

Friday, 6 March 2020 - 10:48
Post 6853
Sea News, Dover
Following along from yesterdays 'springlike' picture which ultimately disappointed...here we see the scene a couple of hours later...the rain is on its way and boy was it a wet one...the global warming goes on as evidenced by our eternal 'blade runner rain'.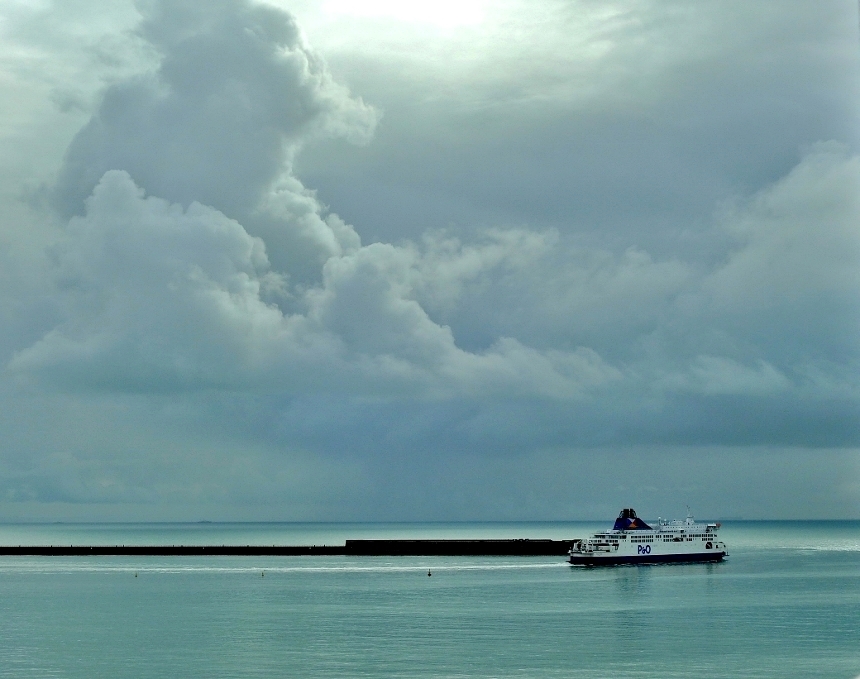 One of the P&O Prides gliding gently out through the western gateway above there..before the rain.
Dredger David Church and the Harbour Patrol Boat...working in harmony around the buoys on wednesday..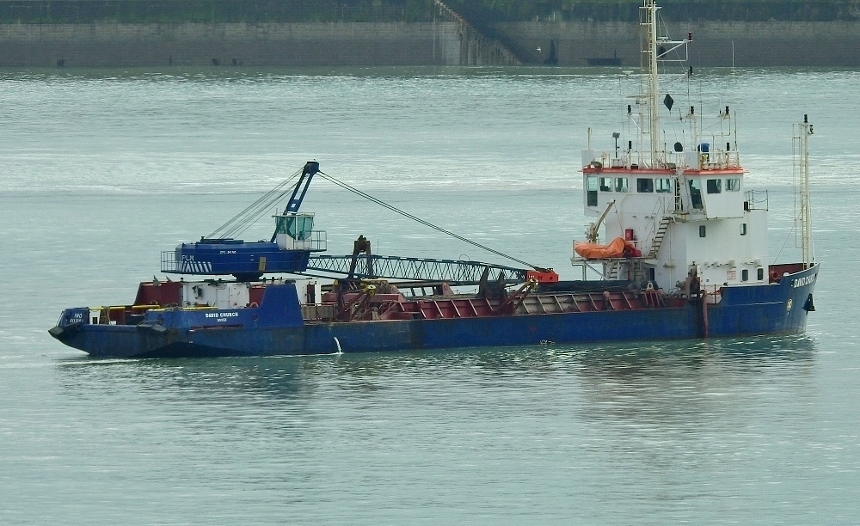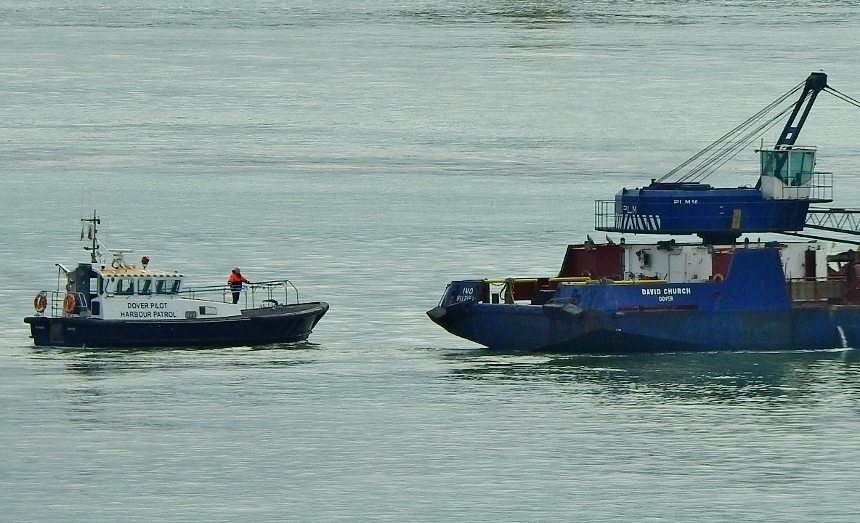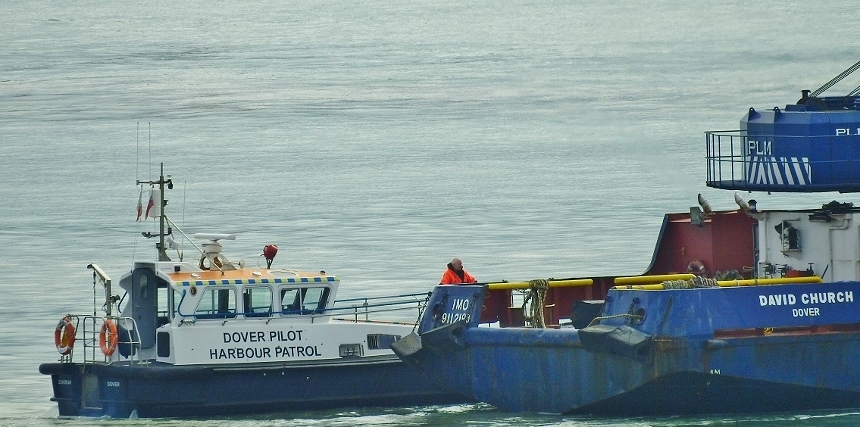 PaulB
Friday, 6 March 2020 - 07:14
Post 6852
Sea News, Dover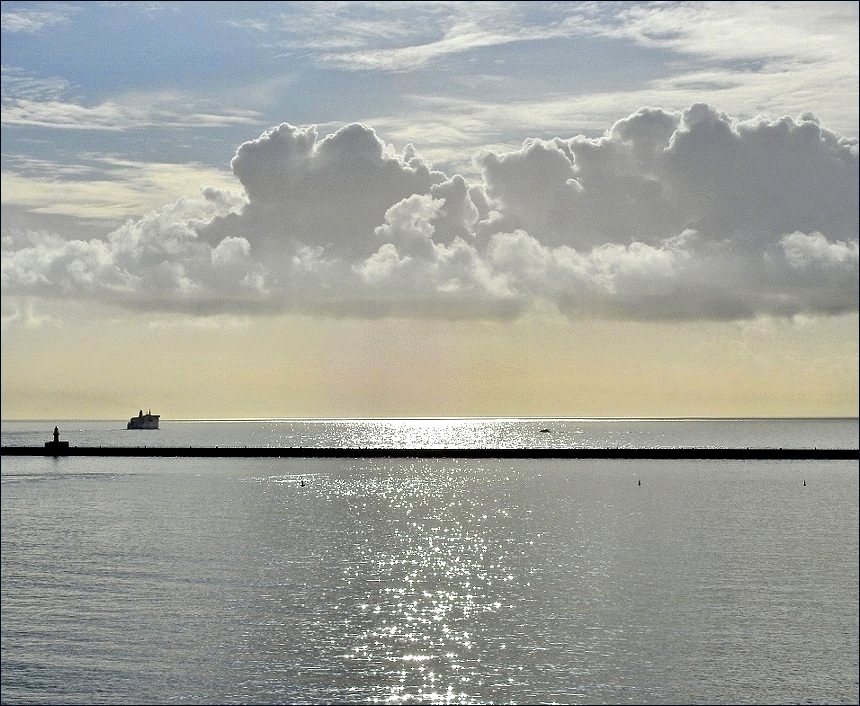 That was the scene above at 08:50 yesterday morning wednesday. For a fleeting moment it looked like Spring had arrived... a chap in such circumstances, could almost be tempted to rush off for his sunglasses and not-so-elegant shorts...but alas alas the nice prospect didn't last. We were back to grim grey damp conditions a short while later...
On Tuesday the patrol boat guys were examining the flashing marker buoys and here they are below, the second pic a crop of the first...hopefully to show more...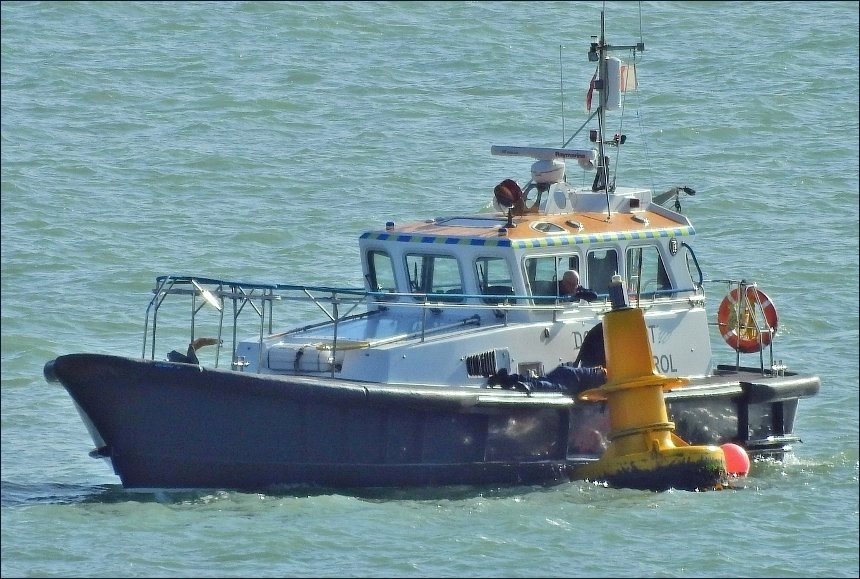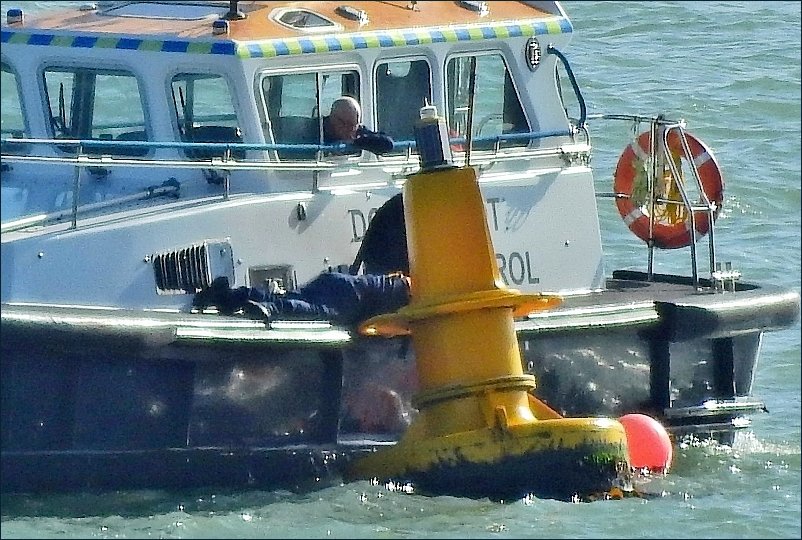 Just came across this one in the files...long forgotten. Shows the harbour patrol boat once again, this time at full pelt... a few years ago this one....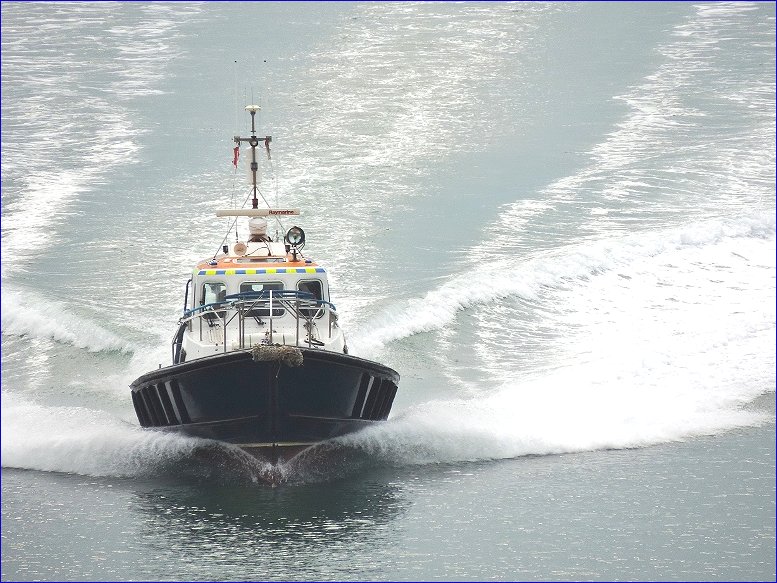 Nice Ramsgate collection below from Mike...good to see those

PaulB
Thursday, 5 March 2020 - 06:38
Post 6851
Mike J., Dover
Ramsgate on Tuesday found the weatherbeaten 53-year tug EMS DEFENDER who had arrived from Lowestoft on 28/2.
Built in Scotland as the ST.MARGARET she is now operated by marine contractors Eastern Marine Services of Lowestoft who have a large fleet of assorted vessels & an interesting website.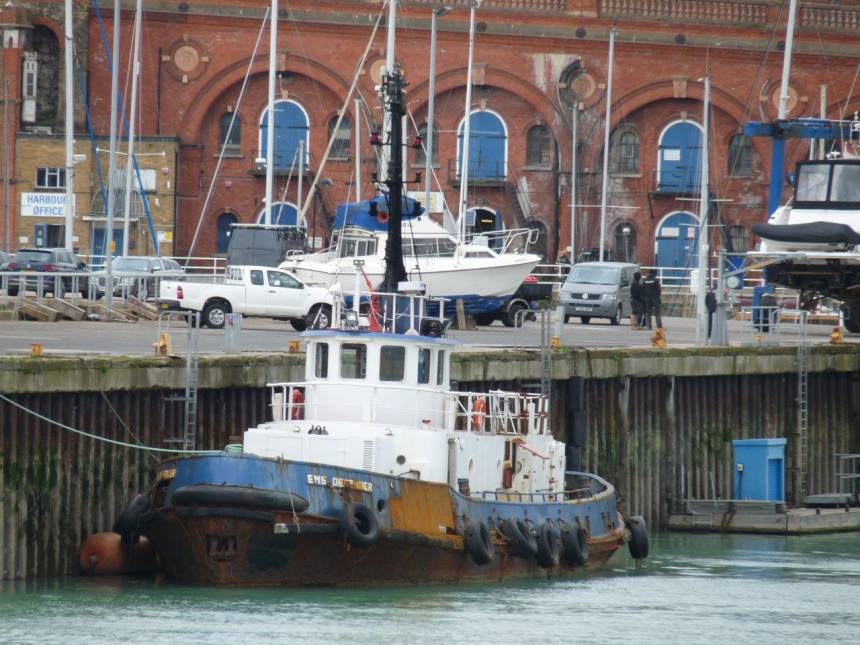 The lifeboat on the Commercial Quay is the 'Mersey' class LADY OF HILBRE, part of the RNLI reserve fleet, stored ashore to reduce corrosion of her aluminium hull.
See also Sarah's post 4931.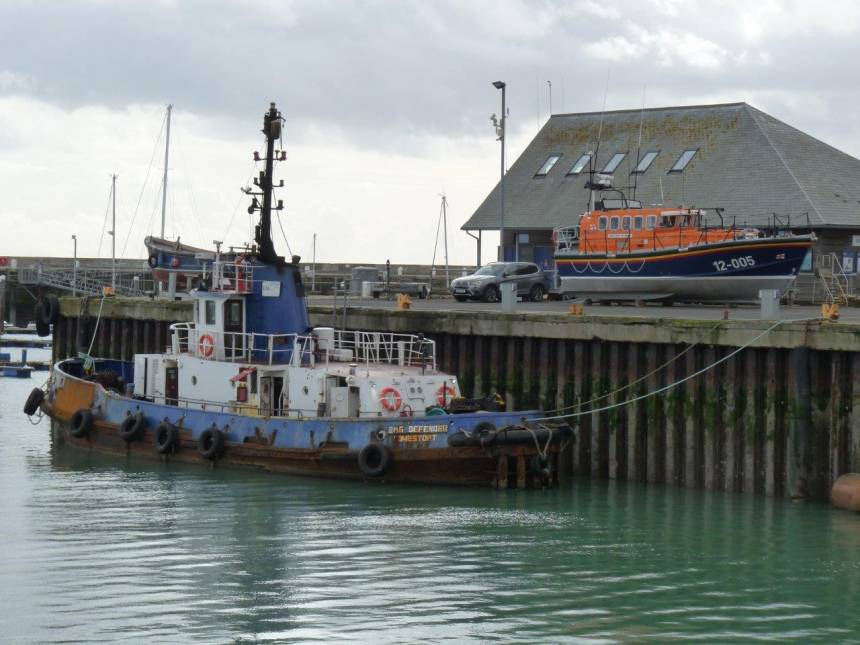 P270 HMS BITER, patrol & training vessel.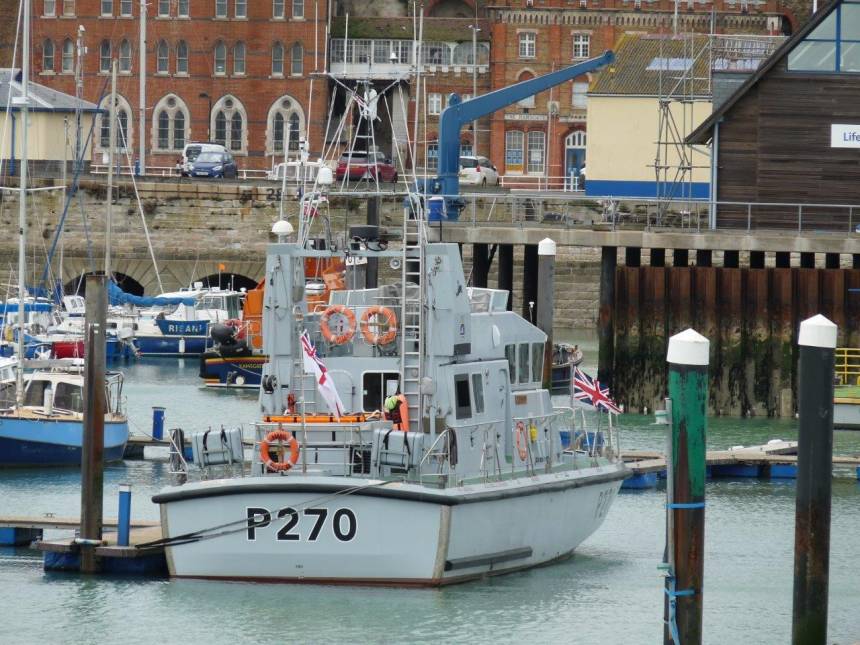 f/v STELLA MARIS, Dover-registered, but Ramsgate-based.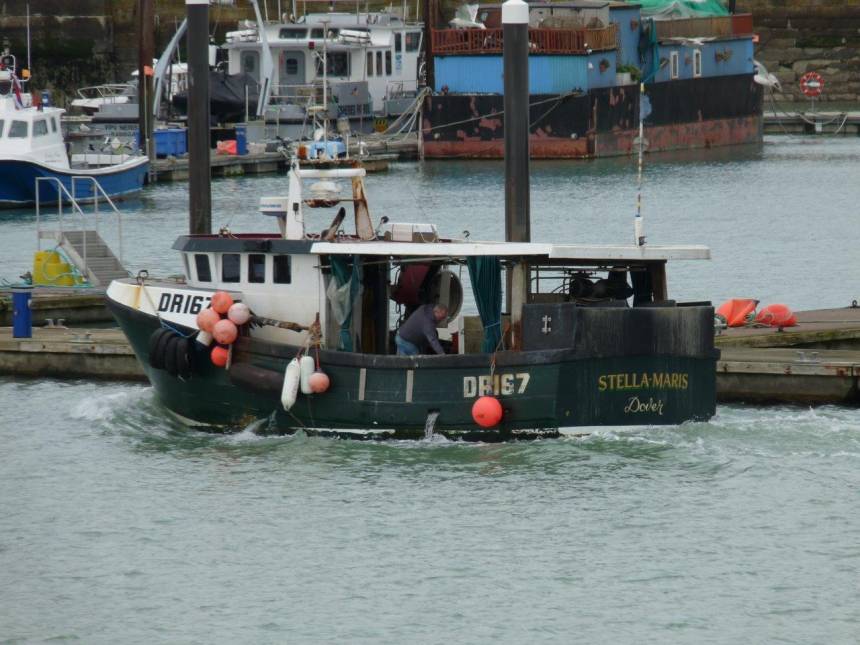 Thursday, 5 March 2020 - 01:47
Post 6850
Sea News, Dover
its a bit quiet at the moment but it gives us a chance to follow along from yesterday's pictures and catch up with another couple of shots of....
Hunter and the Lifeboat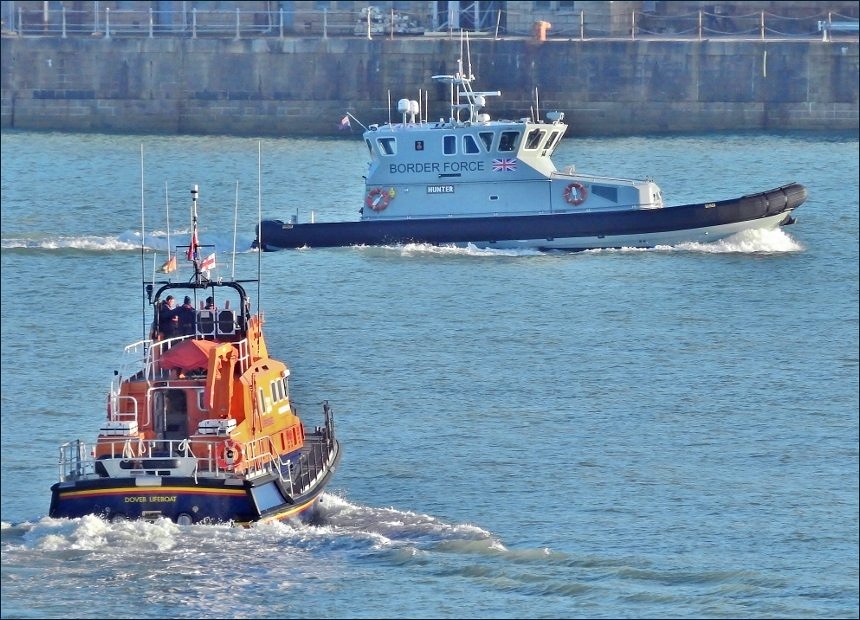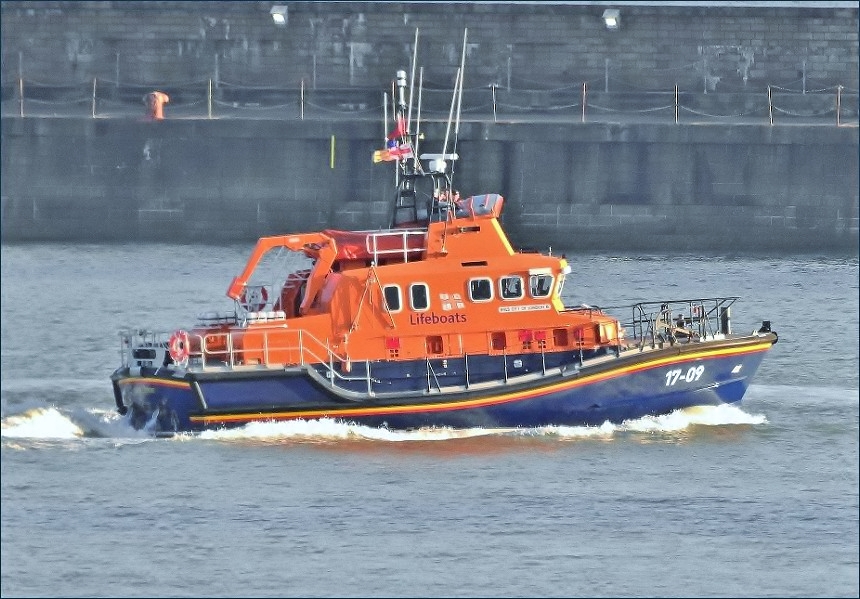 Dover Lifeboat and Border Force Hunter returning to base in the low evening sun...
Just caught Alert (Trinity House) leaving the Port through the eastern exit...the camera just caught her at the last minute, in between ferries doing their thing.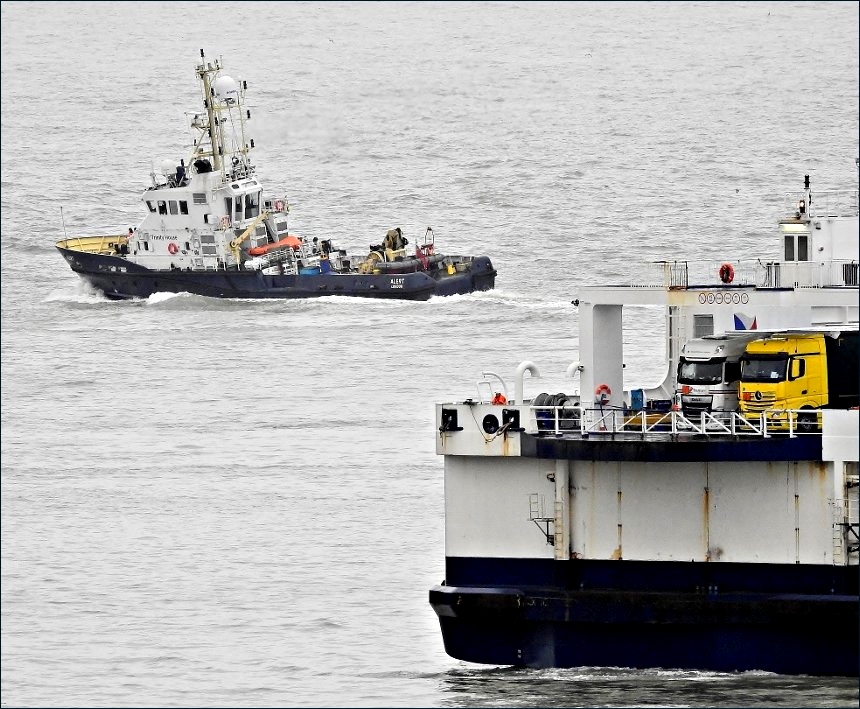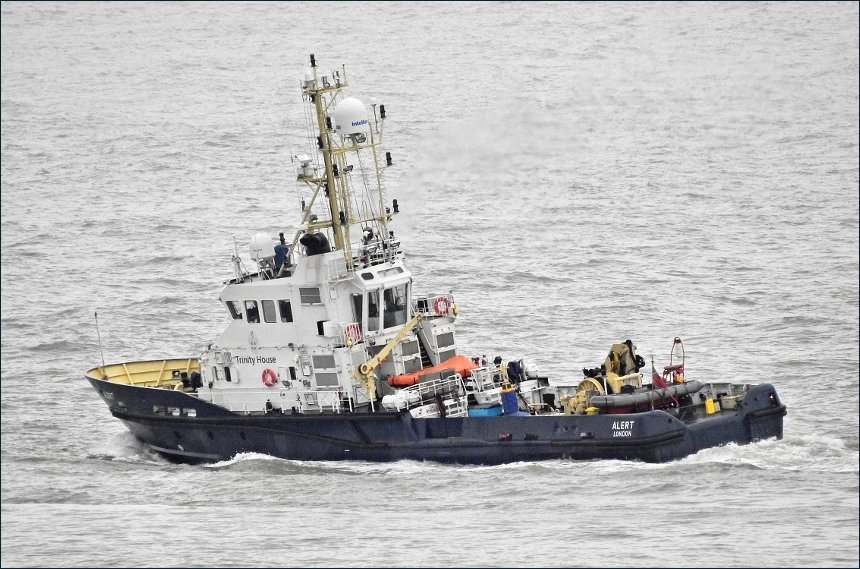 All pictures Monday.
PaulB
Wednesday, 4 March 2020 - 07:32
Post 6849
Sea News, Dover
Just following along from Mike there I noticed the Lifeboat at the last minute yesterday evening just as she pulled away from the new 'arm' where she had briefly paused for some reason. But by the time I grabbed the camera she had begun to move away and was heading back towards base. Right at that moment Border Force Hunter came into view...and here they are...
Time of picture Monday 16.27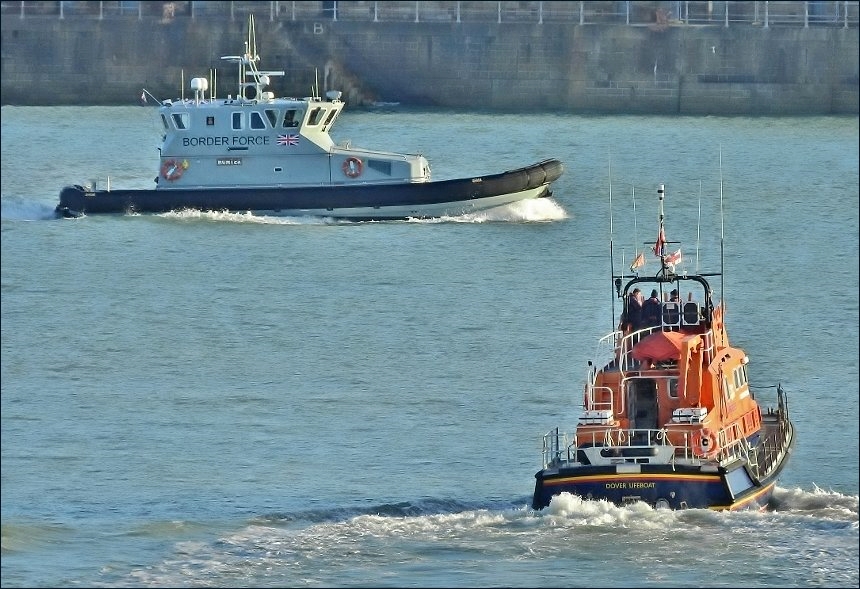 And now the other Alert...as opposed to the (THV) one currently at the top of page. This time Border Force Alert. A couple of days ago she was doing some manoeuvrings in the harbour... right in front of the 'observation tower'...
always the best place to do manoeuvrings !..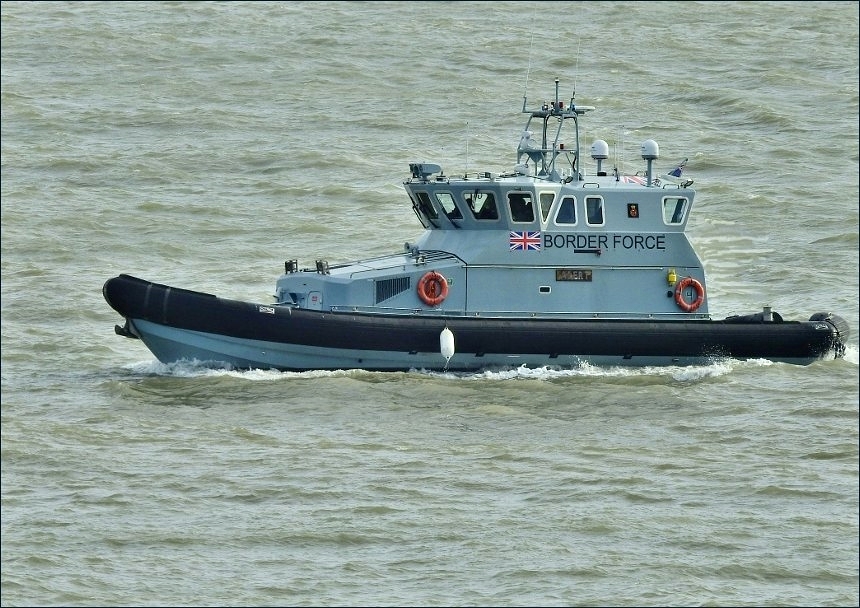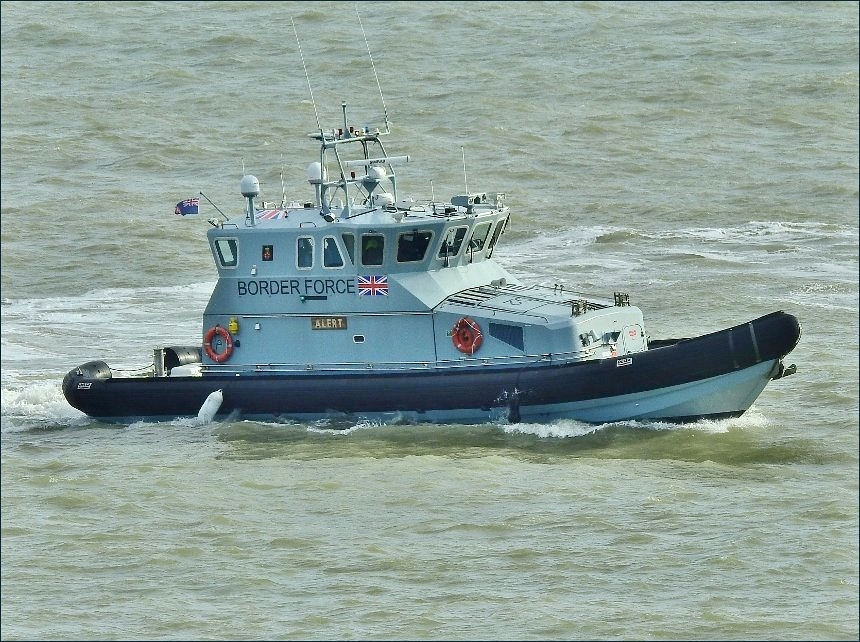 Border Force Alert
Good timing below Mike

PaulB
Tuesday, 3 March 2020 - 06:38
Post 6848
Mike J., Dover
Late Monday afternoon I arrived at St.Martin's Battery to find the lifeboat coming alongside in VERY nice light.
I could see few cars at the boathouse & not much sign of a full crew on deck.
AIS later showed that 17-09 was returning from a very short 'sortie' off the port.
Engine trials perhaps ?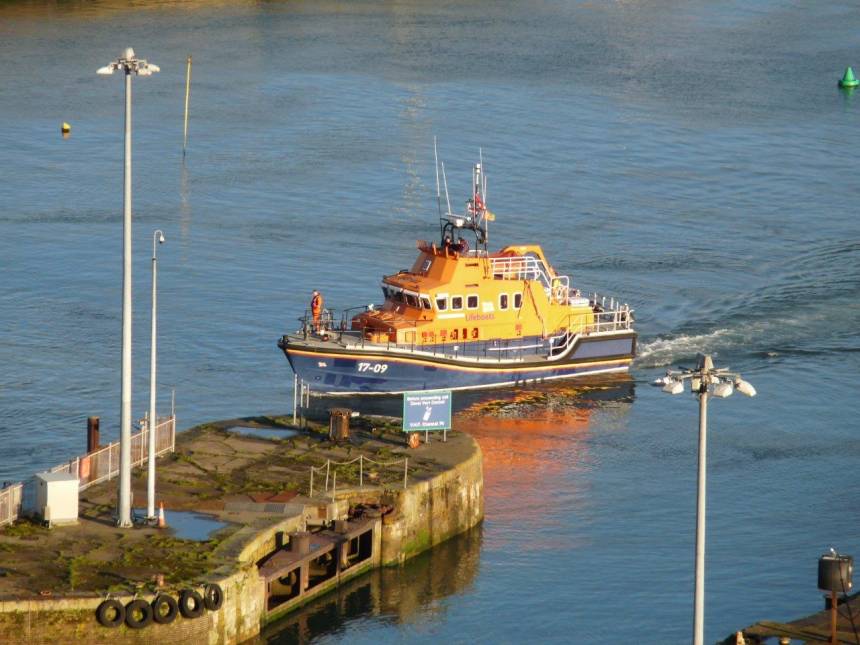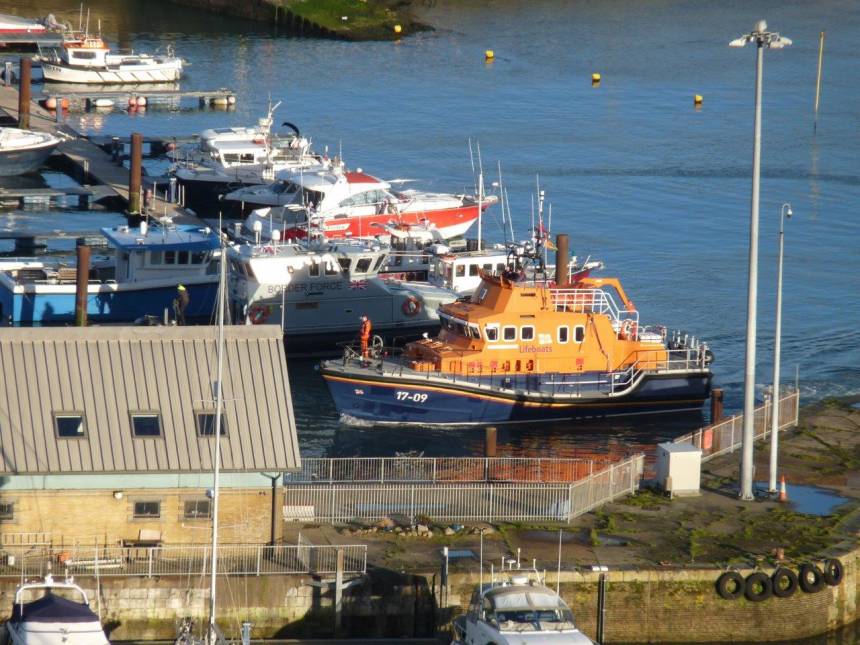 Lucky timing - had I arrived a minute later I would have missed the shots !
Tuesday, 3 March 2020 - 05:05
Post 6847
Sea News, Dover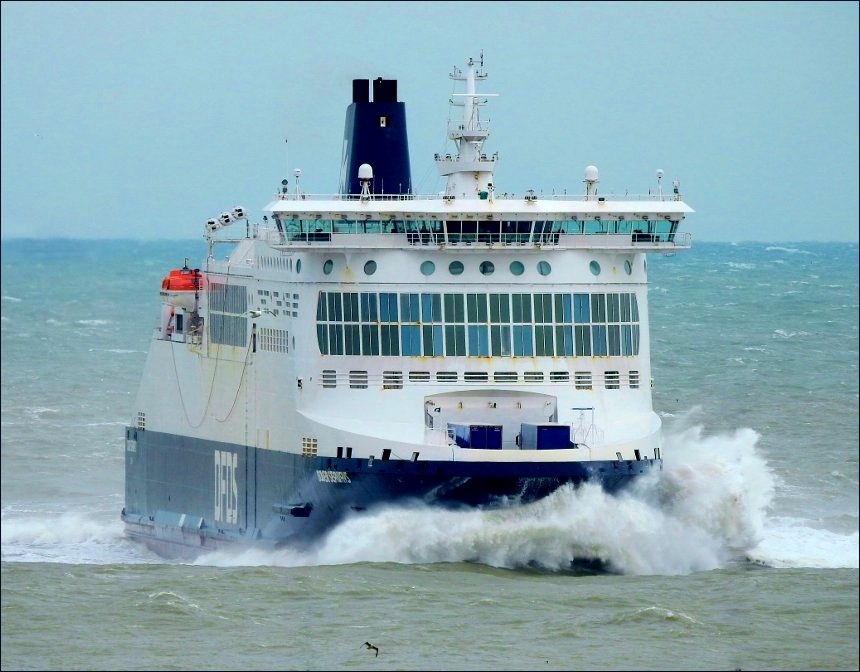 A couple of pictures of the ferries 'enjoying' the rough weather.
Top pic shows the Dover Seaways on Saturday approaching the Port of Dover in the strong wind as supplied by Storm Jorge...
and below..
the Spirit of Britain having just left the Port here and setting out for a rough one to Calais.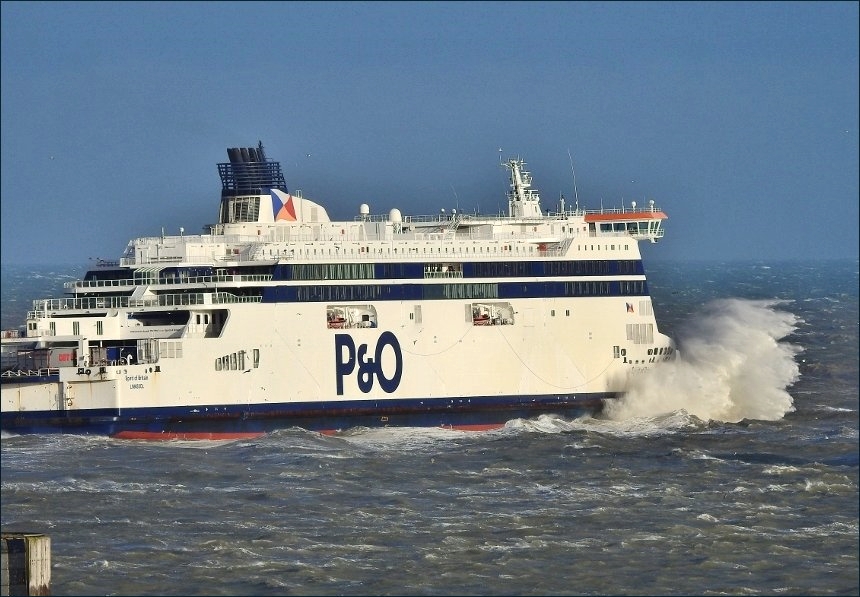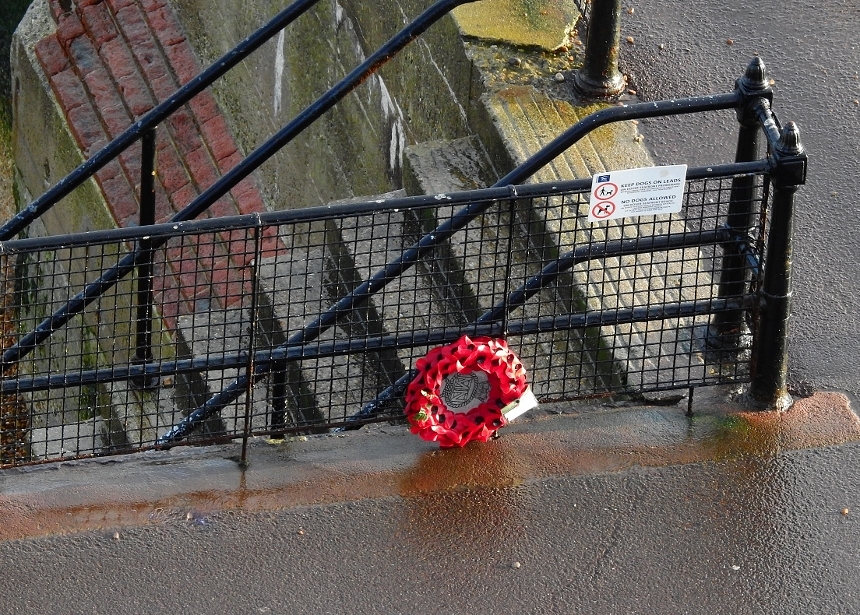 The wreath above there was whipped from elsewhere by the bracing wind and nicely and strategically placed against the seafront railings...
The rain powers down on the 'observation tower' roof as I write, with some force, heavens...when will it end??

PB
Monday, 2 March 2020 - 07:03
Post 6846
Sea News, Dover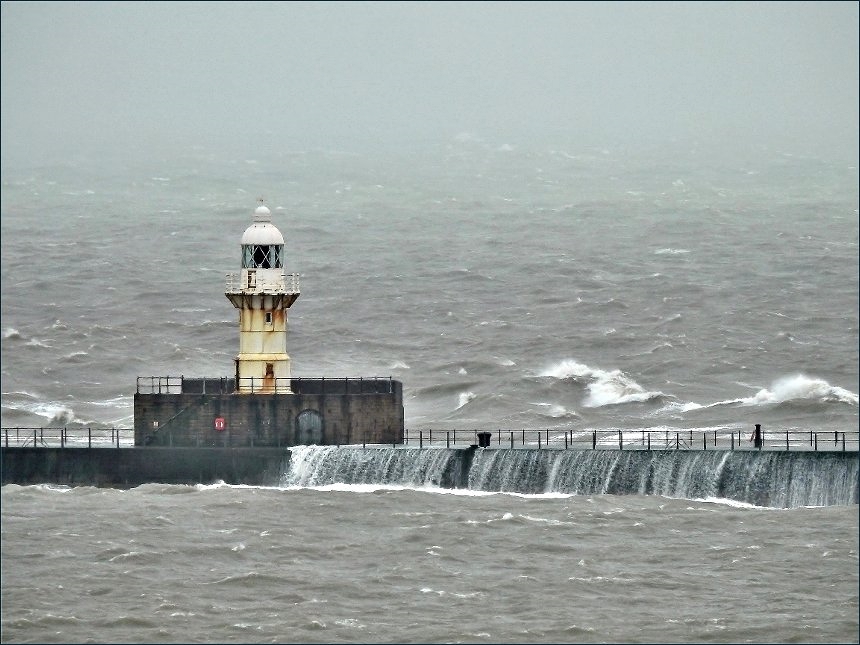 We are back in very windy conditions once again as Storm Jorge gives the nation a bashing. The picture above shows the lighthouse on the Breakwater here in Dover taking its regular inundation.... always makes for spectacular pictures however... well most of the time!
And now the Lifeboat...following along from Mike's excellent up-close pictures in the previous post, a continuation, as just a few minutes later on Friday morning here we see the Lifeboat again but this time out there in the very rough seas...just a couple of minutes after Mike's shots.
Conditions visibility etc etc very poor so the pic isn't the best quality...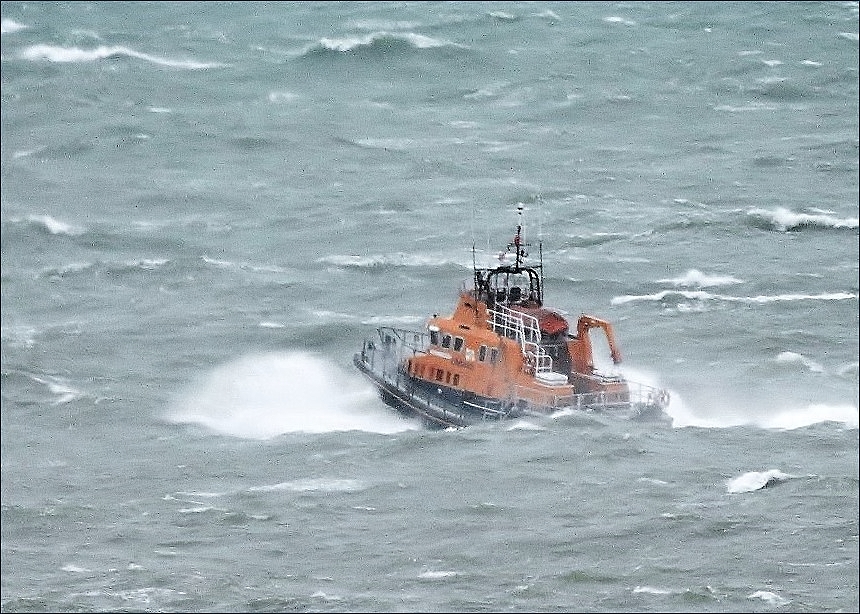 Great pictures below Mike...enjoyably right on the spot

PaulB
Sunday, 1 March 2020 - 06:10
Post 6845
Mike J., Dover
Friday morning while crossing the swingbridge I spotted the crew boarding the lifeboat & a few minutes later CITY OF LONDON 2 sailed.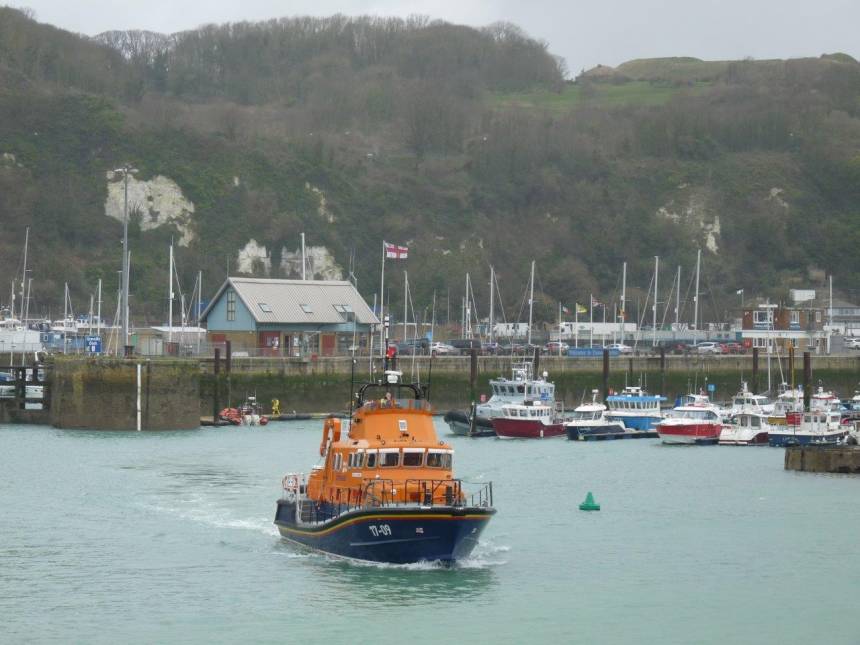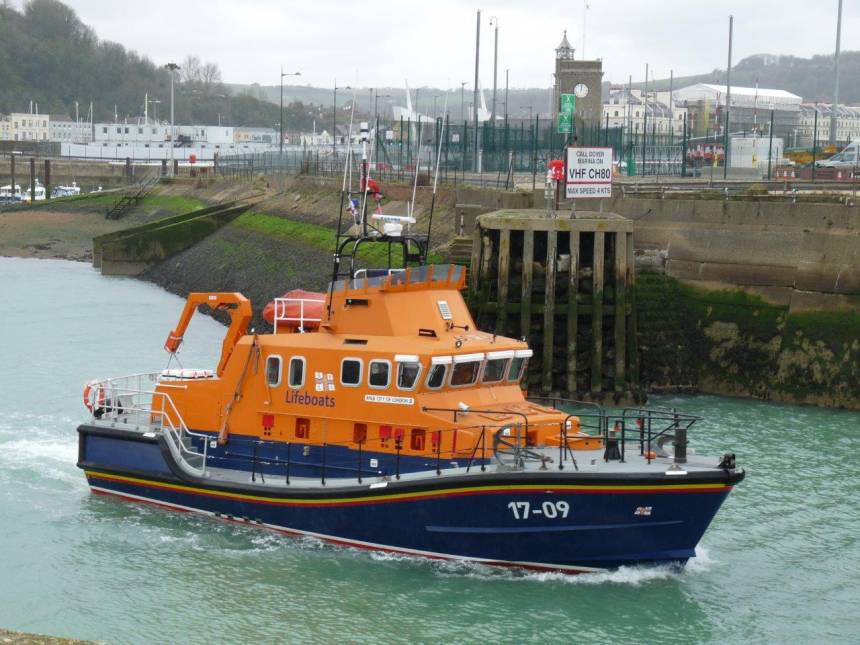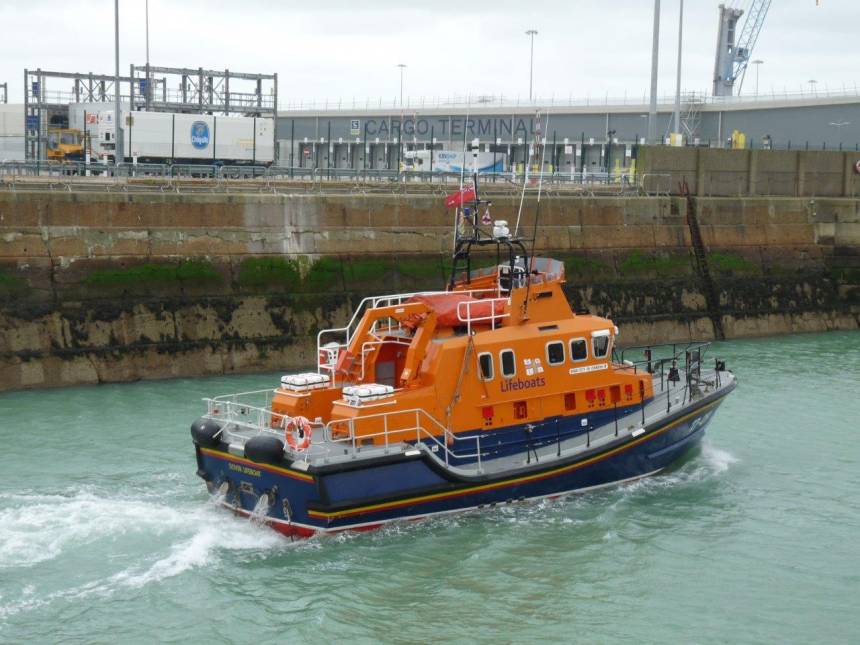 Three hours later she was back alongside & AIS showed that she had been out in the southwest lane, northeast of the Varne lightvessel.
As we get our third weekend storm in a row I see that the German tug WULF 7 [post 5521] has joined the DHB tugs in the Tug Haven.
Refit replacement ?
THV ALERT remains alongside the DAVID CHURCH
Saturday, 29 February 2020 - 09:41
Post 6844
Sea News, Dover
Chemical tanker and familiar friend Duzgit Harmony has been busy in the harbour in recent days, on bunkering duties with P&O...
Some pix to enjoy..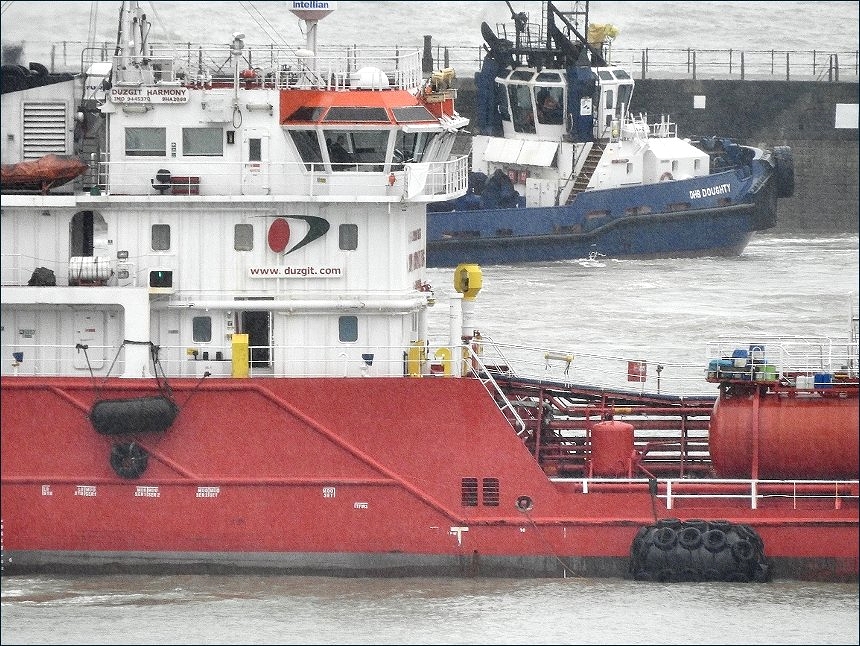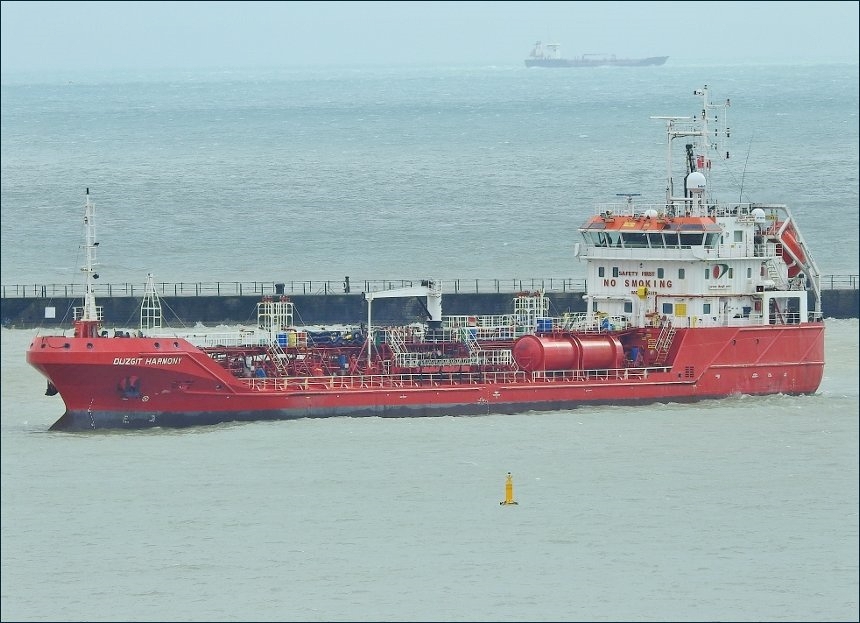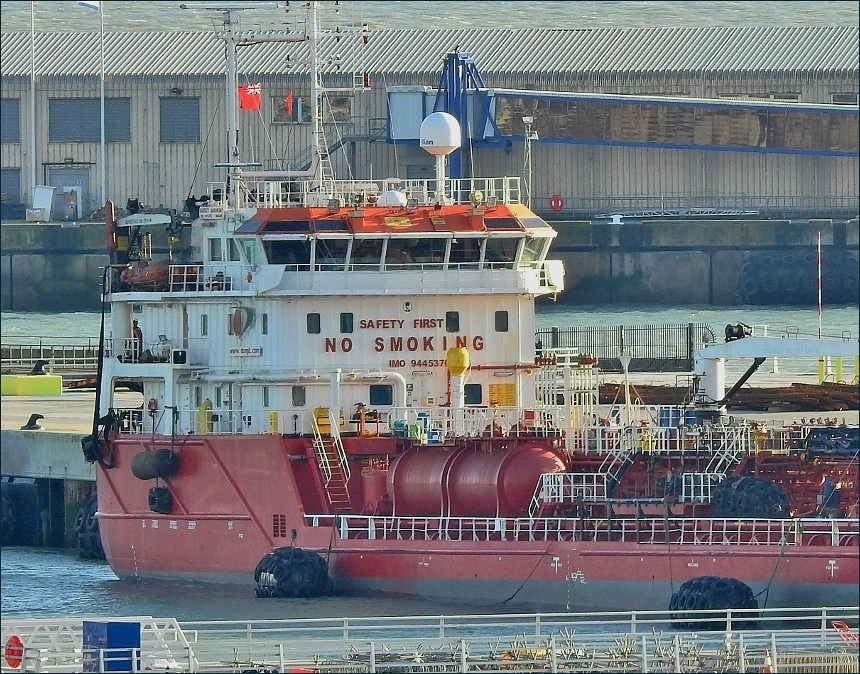 Duzgit Harmony:
Pictures above there taken at various stages on Thursday, the last shot while the vessel was over at 'the grain pier' WD4.
Mike, in his recent post, got a picture of 'new boat on the scene' Dover Grafter and here she is again...picture taken in the wider harbour on Thursday morning around 8am..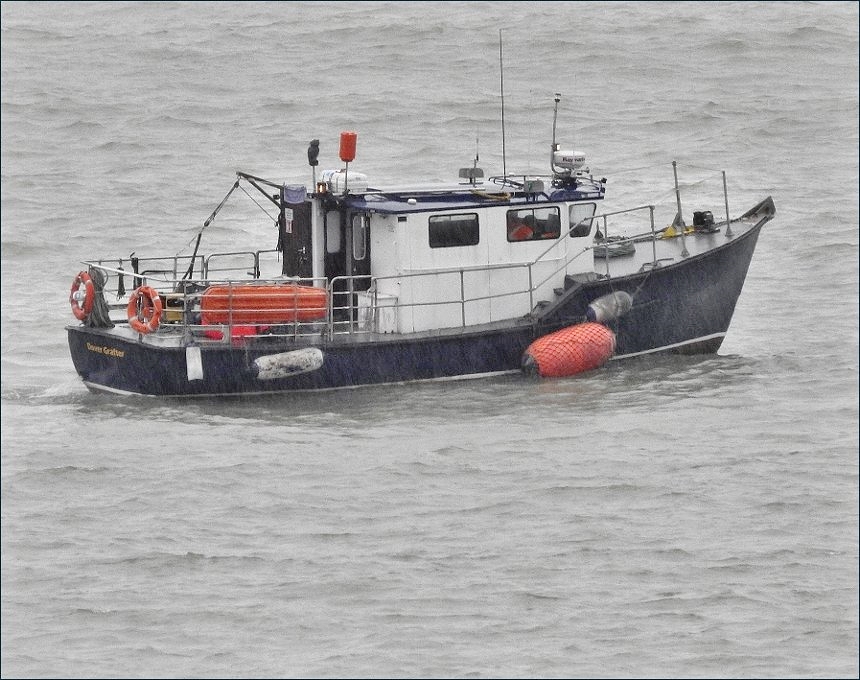 Riley Marine's Dover Grafter.
Storm Jorge is a-comin' .. keep yer head down...


PB
Saturday, 29 February 2020 - 06:39
Post 6843
Sea News, Dover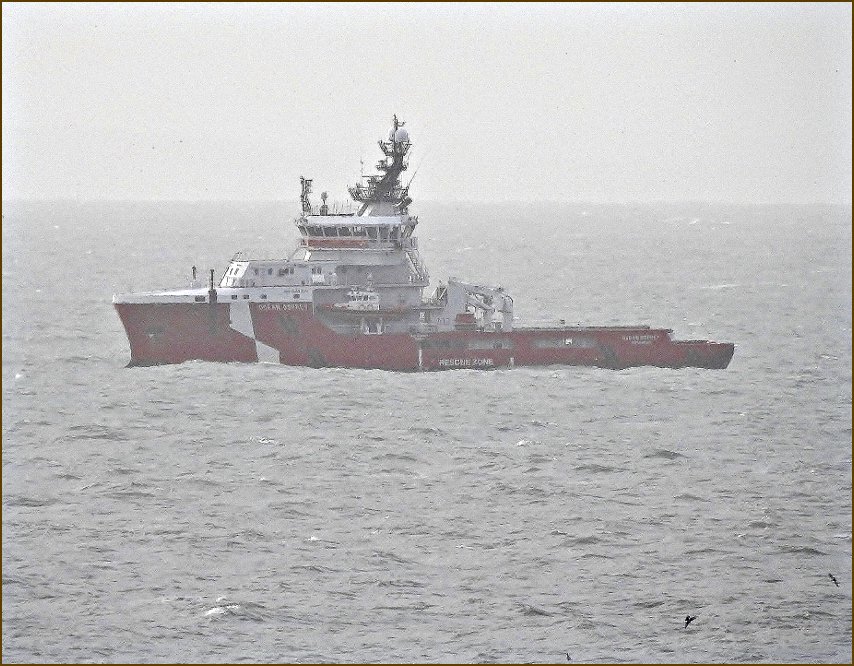 Ocean Osprey:
A few long range pictures today. The shot above shows offshore supply vessel Ocean Osprey a long way out there on a recent grey morning....picture taken through the gloom a few days back.
Here's one from the past below of same vessel...just came across this in the file while uploading and its worth another look. It certainly has more colour. Ocean Osprey and the Varne Lightship.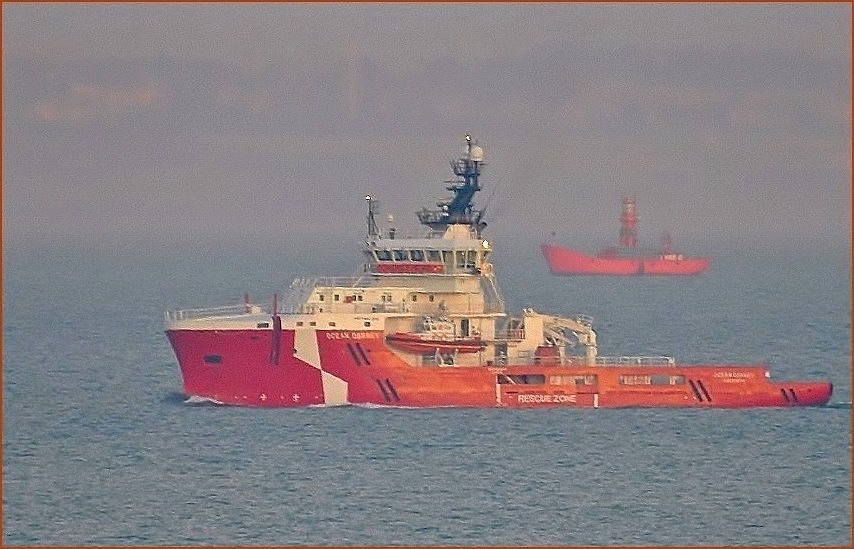 Ocean Osprey
Mike mentioned Galatea a couple of days ago...and here she be...
alas alas the quality is poor on these ones, the second one is very long range once again showing the Varne Lightship. Note the guys on the pier in the foreground of first pic... gives a perspective of sorts..
Earlier THV Galatea appeared to be carrying out work/maintenance at the aforementioned Lightship.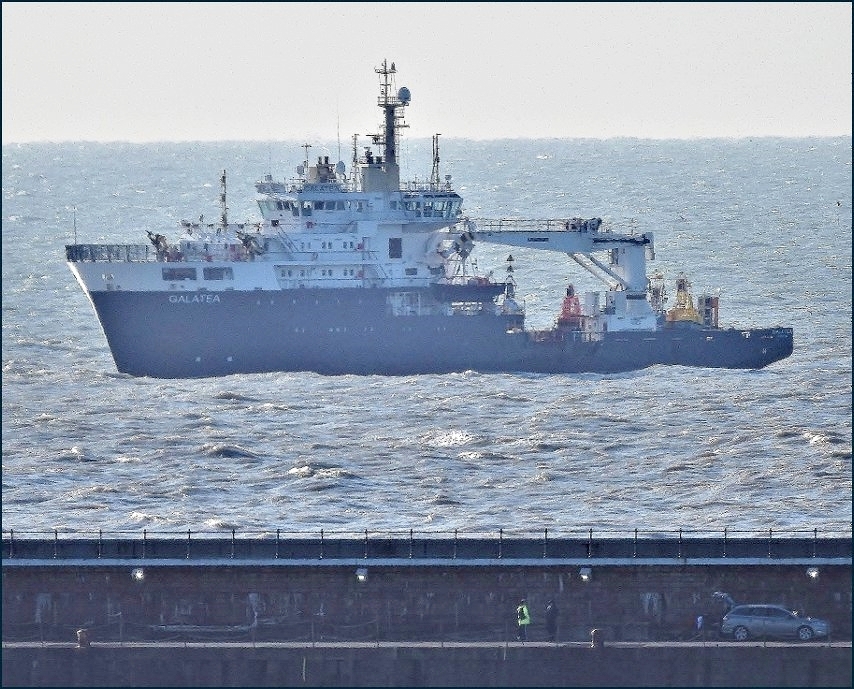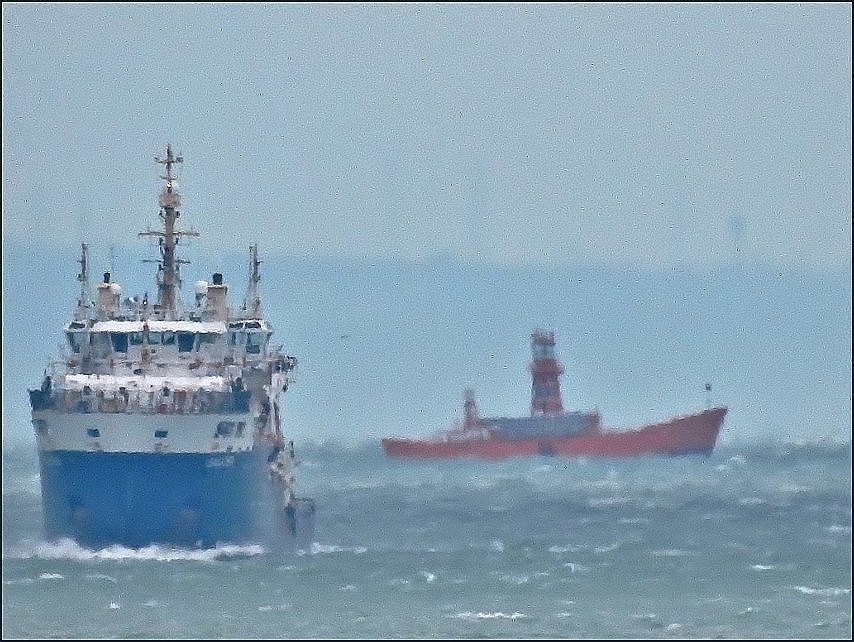 Just to cheer us all up with a bit of colour
here is bunker supply vessel Whitdawn a few days ago approaching one of the P&O Spirits......
Whitdawn at dawn on dazzling day...( or near as dammit to dawn)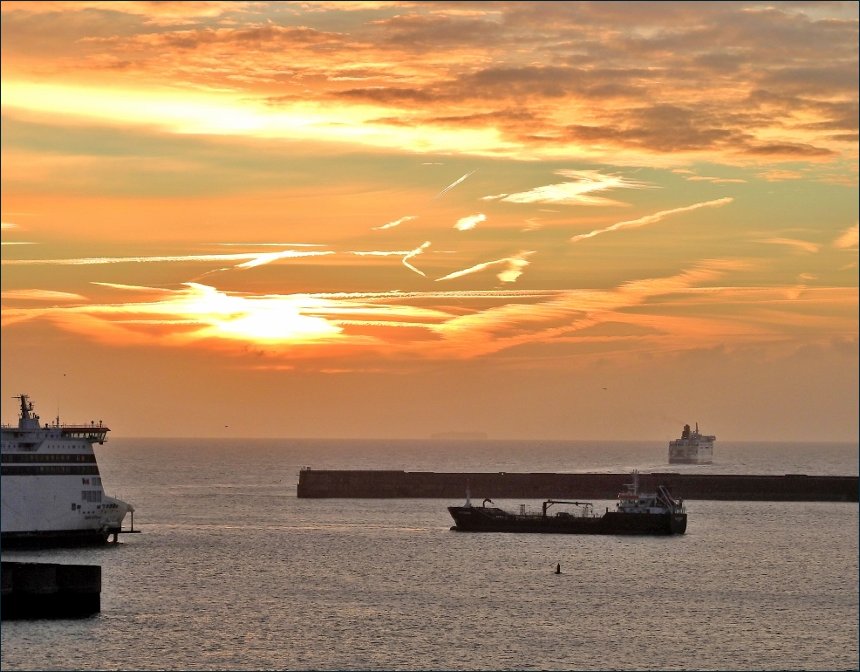 See also Mike's interesting inshore collection below....enjoyable stuff!

PaulB
Friday, 28 February 2020 - 06:12
Post 6842
Mike J., Dover
A few more ALERTs & odds & ends from Wednesday.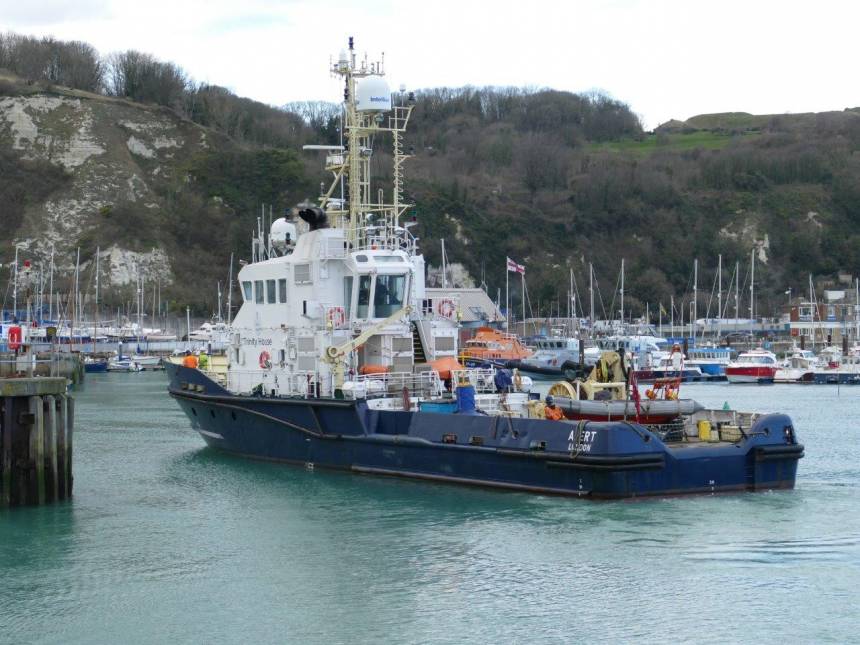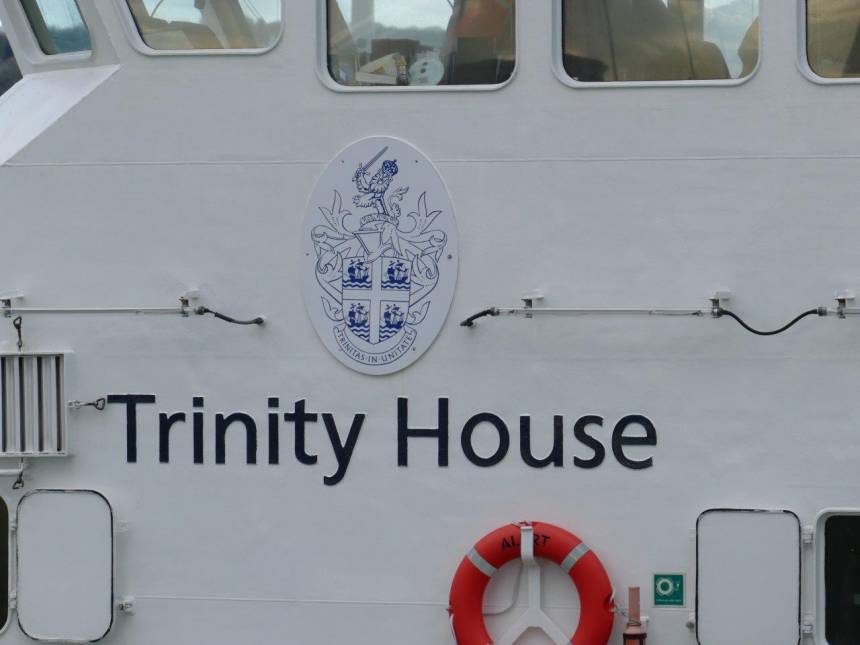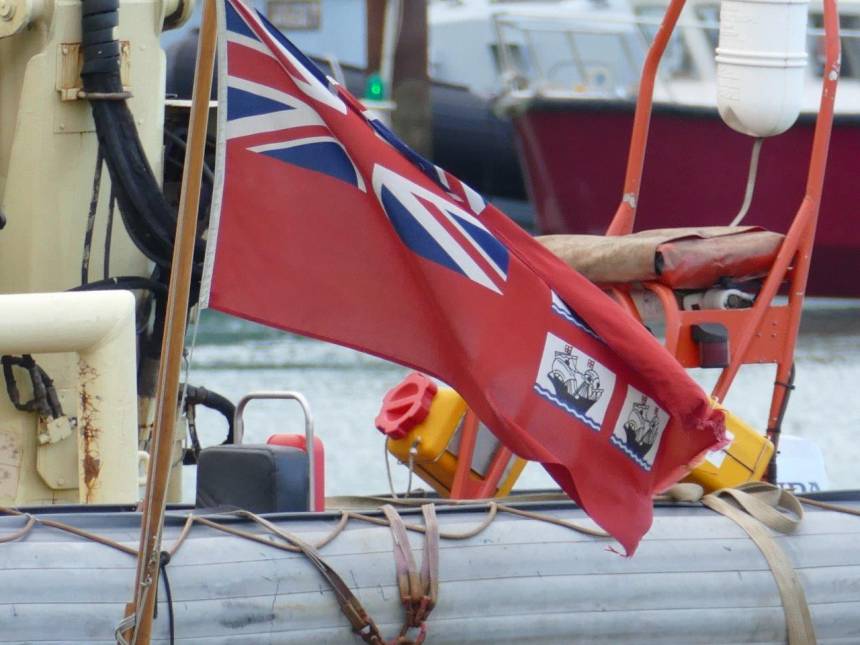 The SIKINOS didn't stay alongside the DUZGIT HARMONY very long & returned to Rotterdam early Thursday morning.
The DUZGIT HARMONY was on WD5..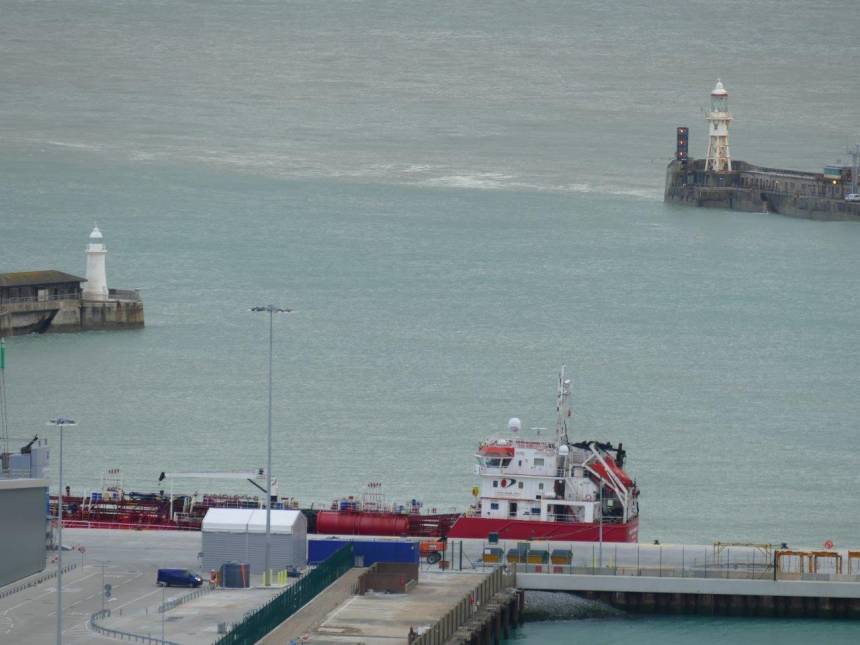 The SIKINOS was replaced by the SCOT MUNCHEN who arrived from Rotterdam early Thuesday evening & is now alongside DUZGIT on WD5.
Before the MUNCHEN arrived the DUZGIT's AIS tracks show her on WD4 before making several visits to Eastern Docks to bunker P&O as well as hanging about in the bay waiting for her next customer.
A distant view of Dover marine contractor Riley Marine's latest workboat DOVER GRAFTER entering the Wick.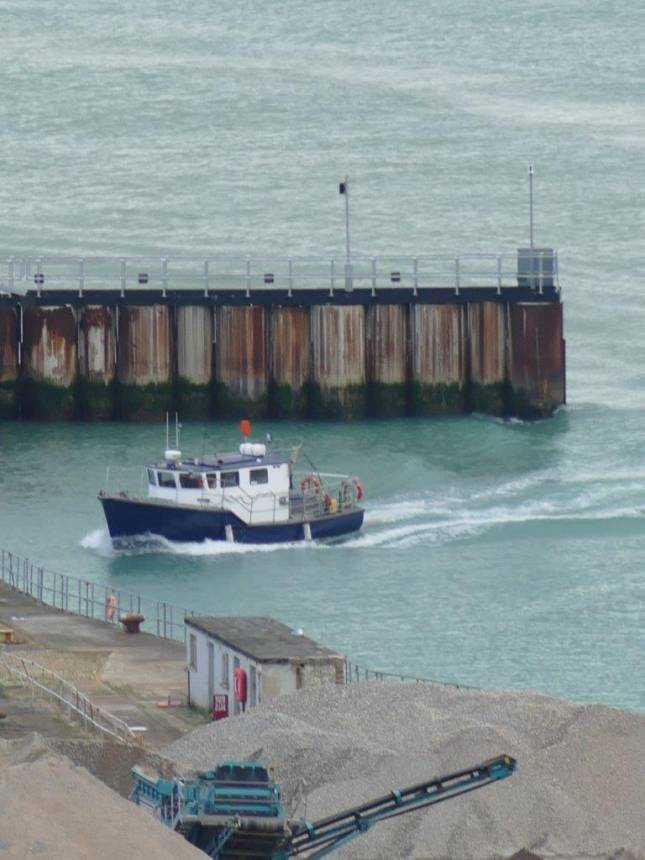 Only in the fleet for a couple of weeks she has yet to receive Riley's blue & yellow paintjob [post 6420]
The SANTA HELENA 1 sailed for the Spanish port of Pasajes late afternoon Thursday.
She's not showing on 'Marine Traffic' but can be seen on 'Vesselfinder'
Friday, 28 February 2020 - 03:06
Post 6841
Sea News, Dover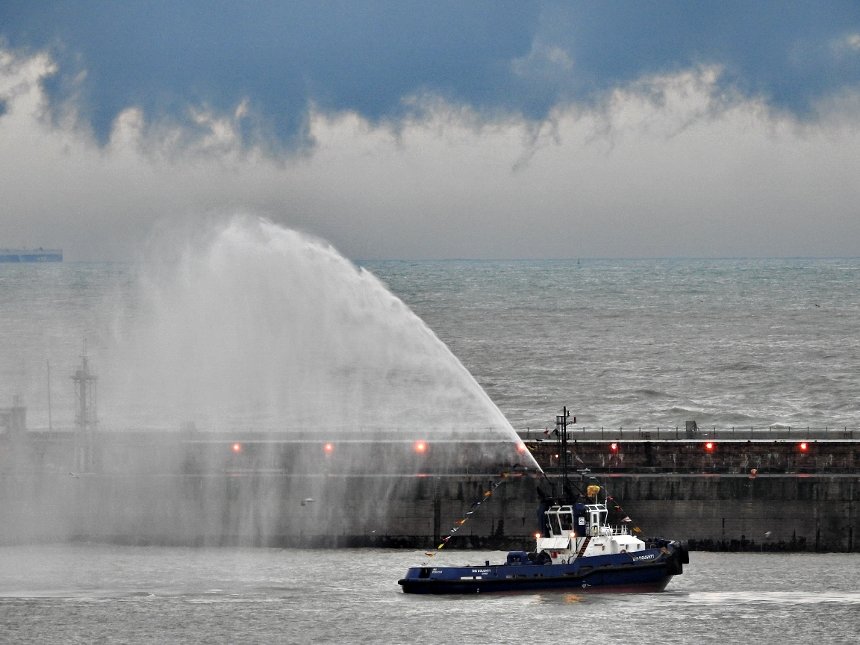 It's Tug Doughty doing a Scarlet Lady gesture spray in the pic above, under a weird sky. She is 30 metres from the bow of the Scarlet Lady there ...time 5PM Sunday... the other tug was at the rear of ship but somewhat lost across the port for camera purposes. As many will know... the tugs will do this as the ship is leaving but Scarlet Lady didn't move until 11pm (6837).
The dynamic sky again below, this time looking eastwards, taken at the same time as top shot ..as one of the Spirits enters port.
On to a grey oul Monday now and we just catch Atlantic Reefer with pilot alongside as she heads for Vlissingen... more pix further below of her arriving here in Dover in 6839....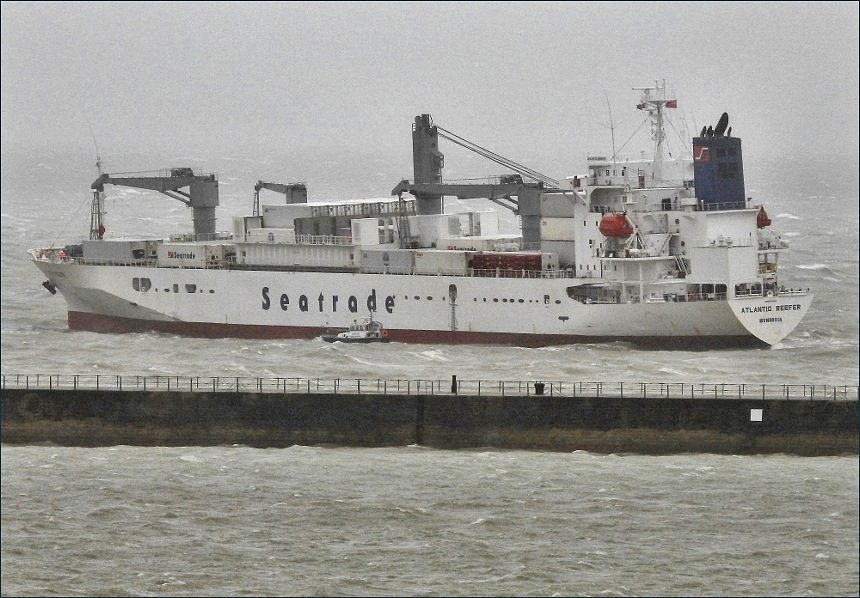 A nice collection and very useful info below from Mike our 'inshore correspondent' .. don't miss those pix.

PB
Thursday, 27 February 2020 - 06:21
Post 6840
Mike J., Dover
Excellent fireworks pix by PB.
The SCARLET LADY has now left Liverpool & is in the Irish Sea, due in New York on 7th.March.
Wednesday visitors -
Cypriot coaster SANTA HELENA 1 came in on Monday evening for shelter & was still alongside CT1.
Sleek motor yacht/gin palace [delete as appropriate] ALBORADA came in several days ago from the Solent bound for Antwerp for shipping to the US of A & remained alongside in the Tidal Basin.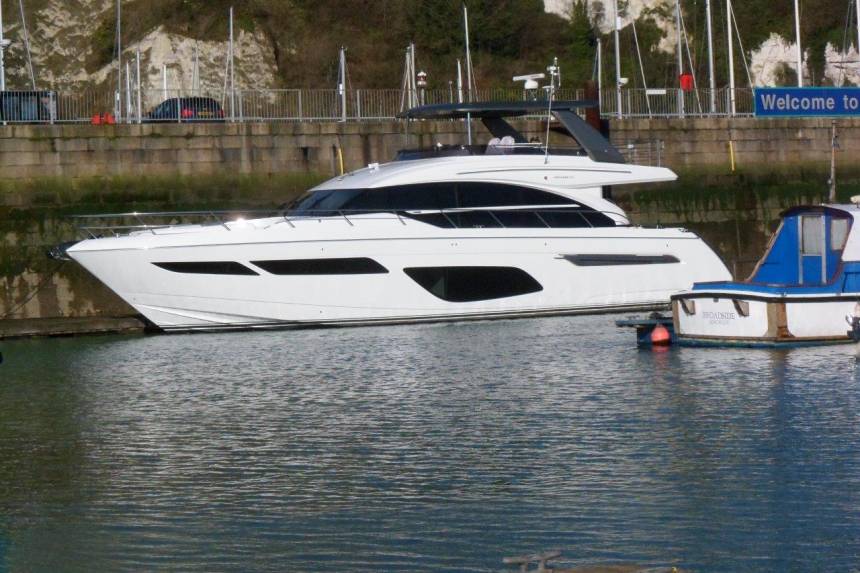 Old friend bunker tanker DUZGIT HARMONY came in from Dieppe early on Wednesday & laid alongside WD5 & was joined during the here & is now berthed alongside the DUZGIT HARMONY, doing a fuel transfer.
It looks as though DH will be working here as bunker tanker [probably for P&O] for a while.
THV ALERT came in late afternoon to moor alongside the DAVID CHURCH, passing the stern of the DUZGIT HARMONY as she entered ghe Wick Channel.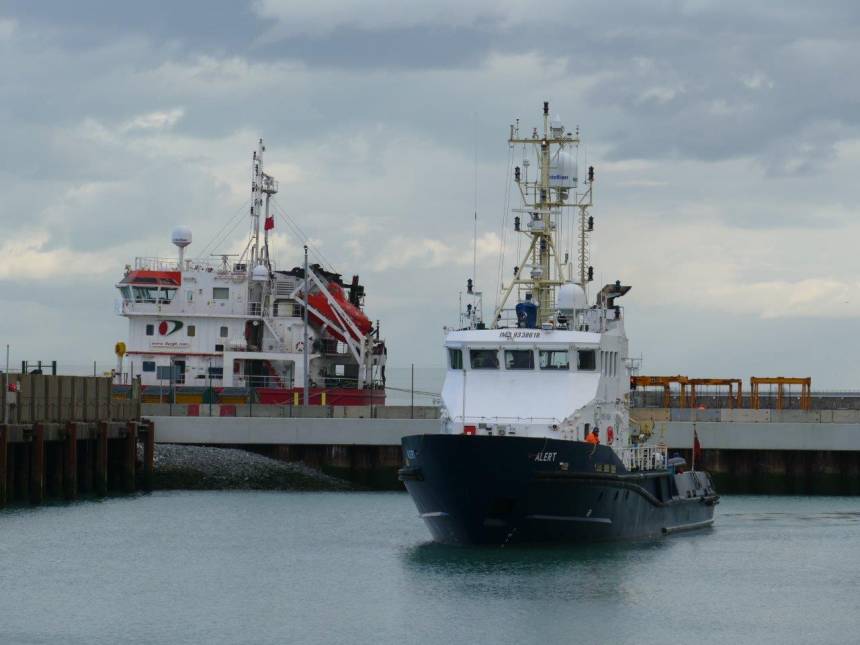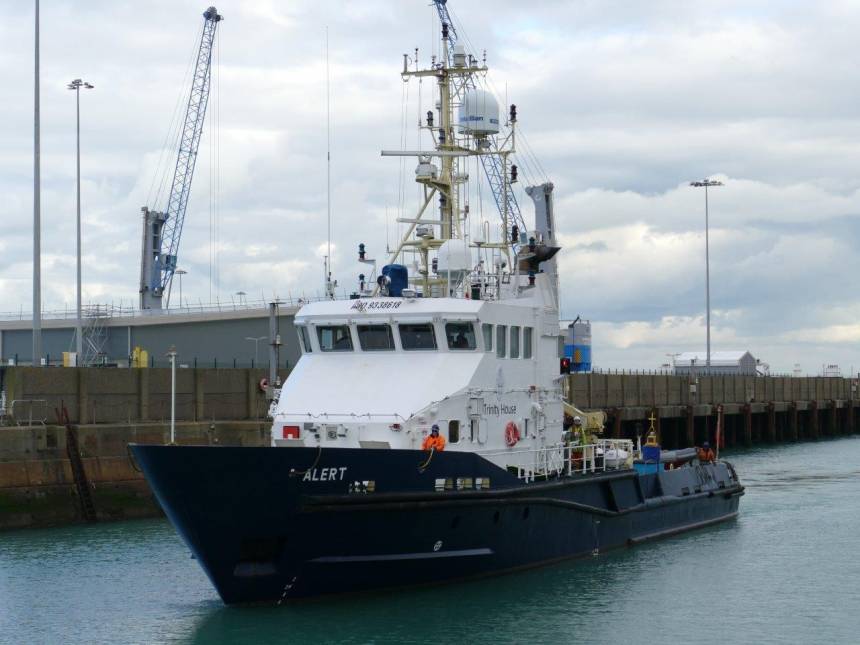 .
THV GALATEA [POST 4481] was off the port during Wednesday morning & is spending the night anchored off Deal
Thursday, 27 February 2020 - 04:01
Post 6839
Sea News, Dover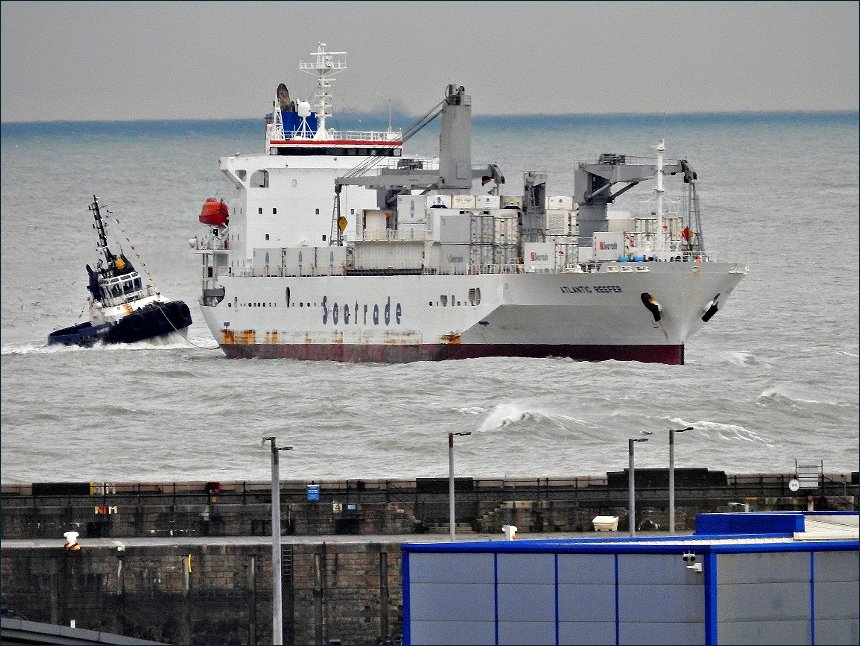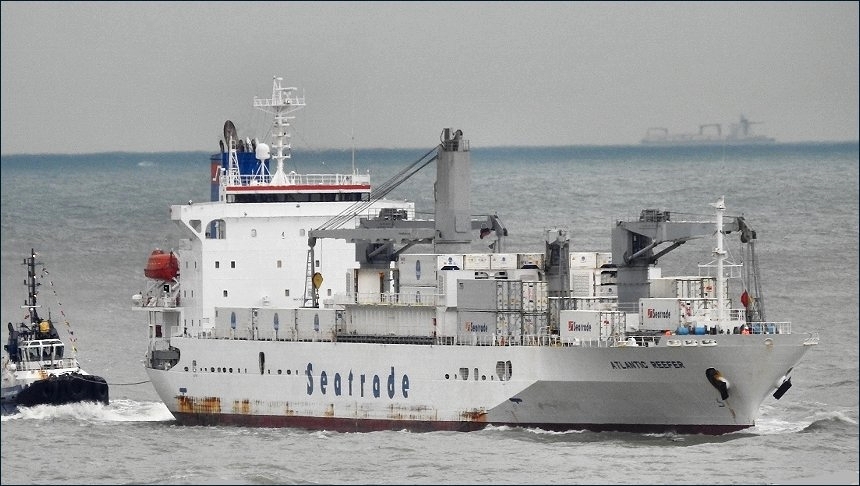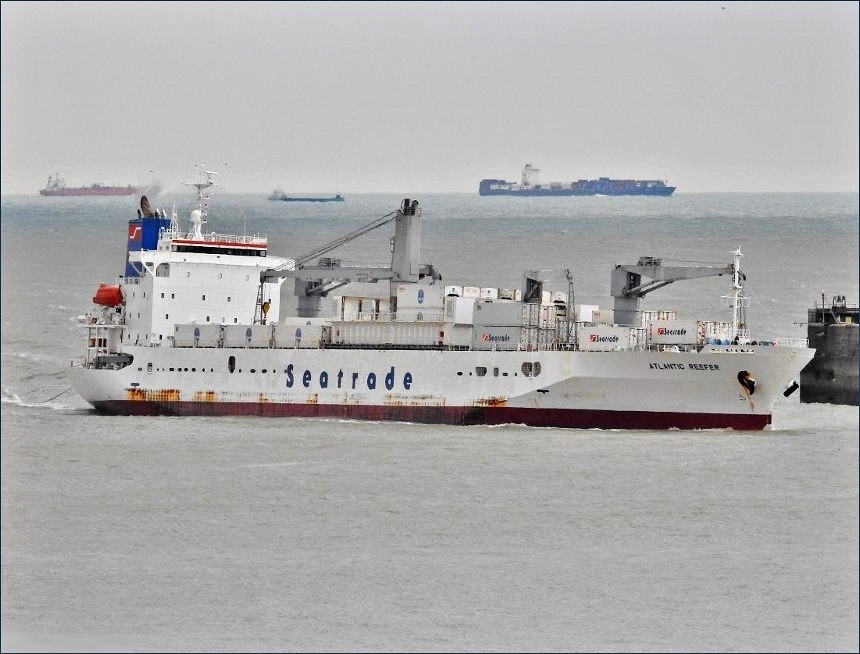 Atlantic Reefer
It is with some reluctance that yours truly leaves the glam pizzazz and excitement behind of the Scarlet Lady and her fireworks, but here we go, returning to the daily grind with renewed vigour as we see above the approaching Atlantic Reefer. Pictures taken on Sunday...she was in Port at the same time as the glam ship but understandably overlooked. But here we are making up for it now...
Great stuff Patrick... glad you enjoyed all that..

PaulB
Wednesday, 26 February 2020 - 07:24
Post 6838
Patrick, Marine Parade
Great set of pictures from Mike J and Paul.

Tuesday, 25 February 2020 - 11:38
Post 6837
Sea News, Dover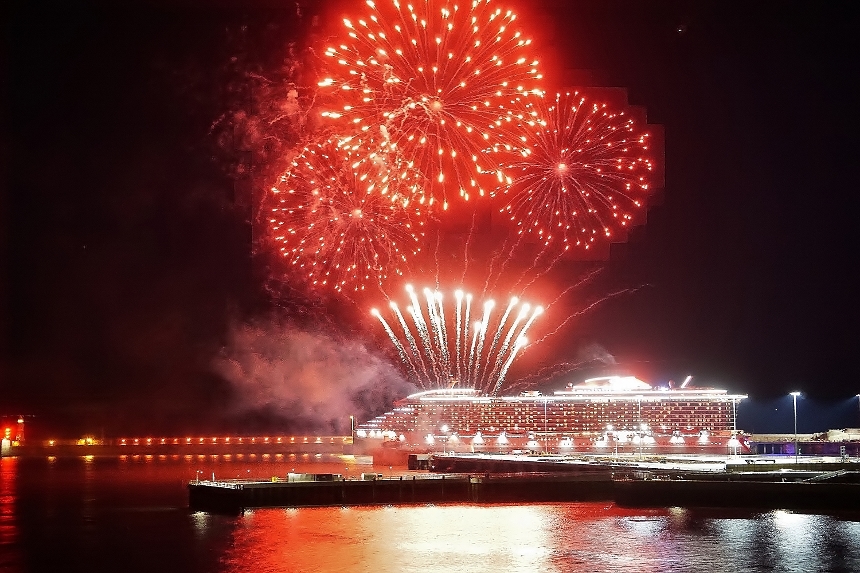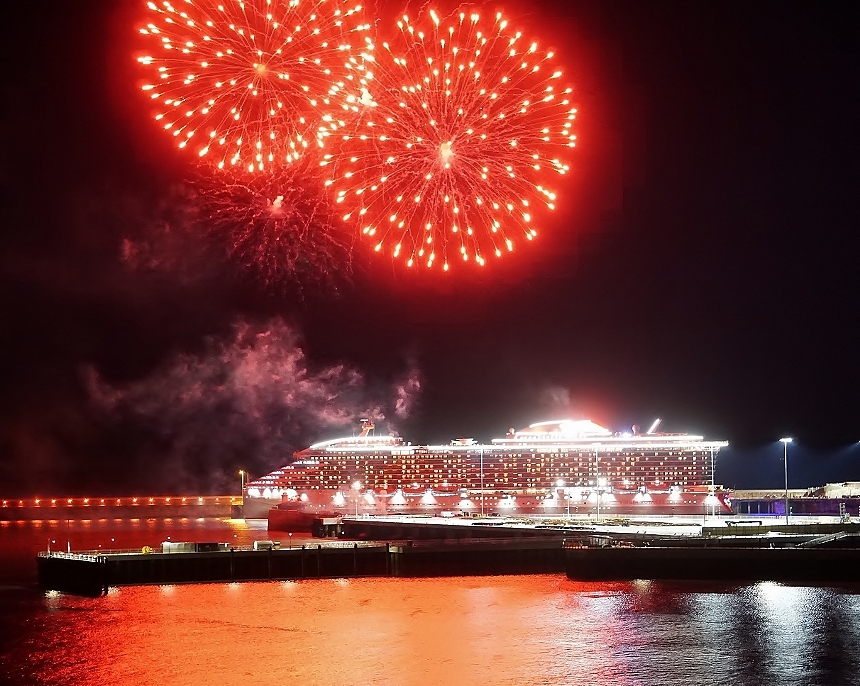 The Scarlet Lady Fireworks:
A couple of pictures above there from the Sunday display. Another great display...although as mentioned previously it went off at 6.15 instead of the scheduled 6.30 slot...catching many people out. You can see the traffic in the picture below...a much bigger crowd on sunday...more a kid friendly hour I guess...lots of kids but many still stuck in cars when the thing went off. Too many cars overloaded the seafront parking. A very popular event for sure...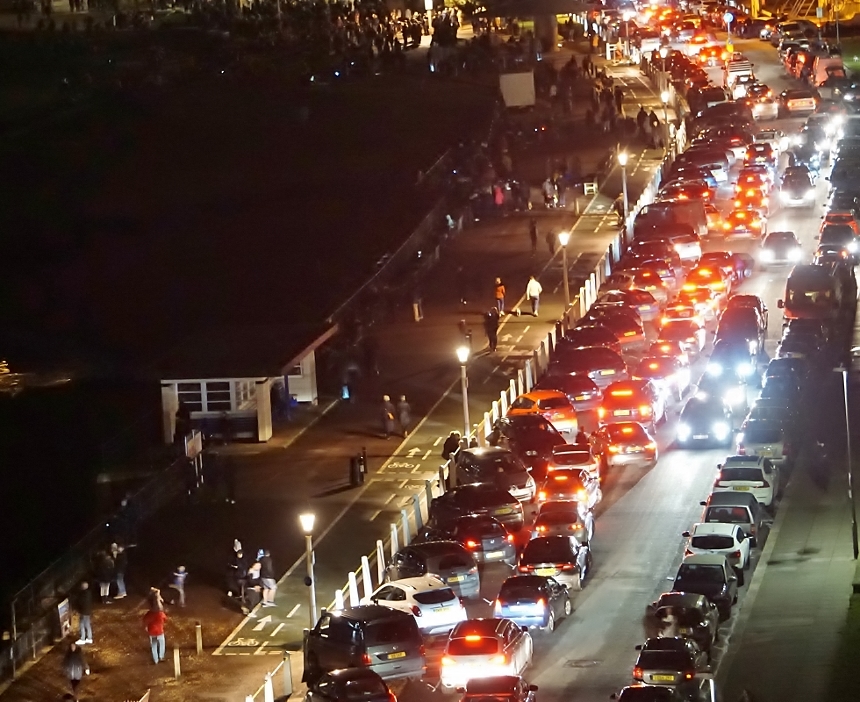 The Scarlet Lady didn't leave the Cruise Terminal until 22.50 approx. and then gently came across the harbour leaving by the eastern exit at 23.00 hours (11pm)...the pictures below...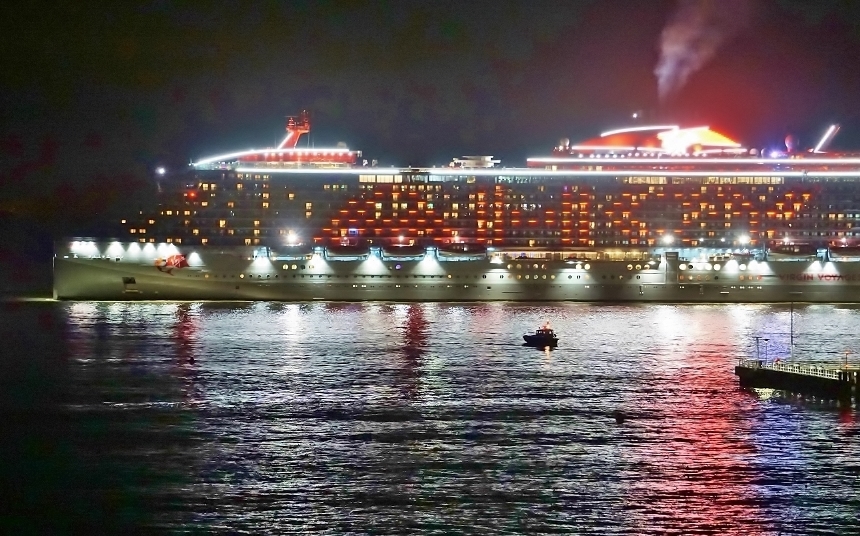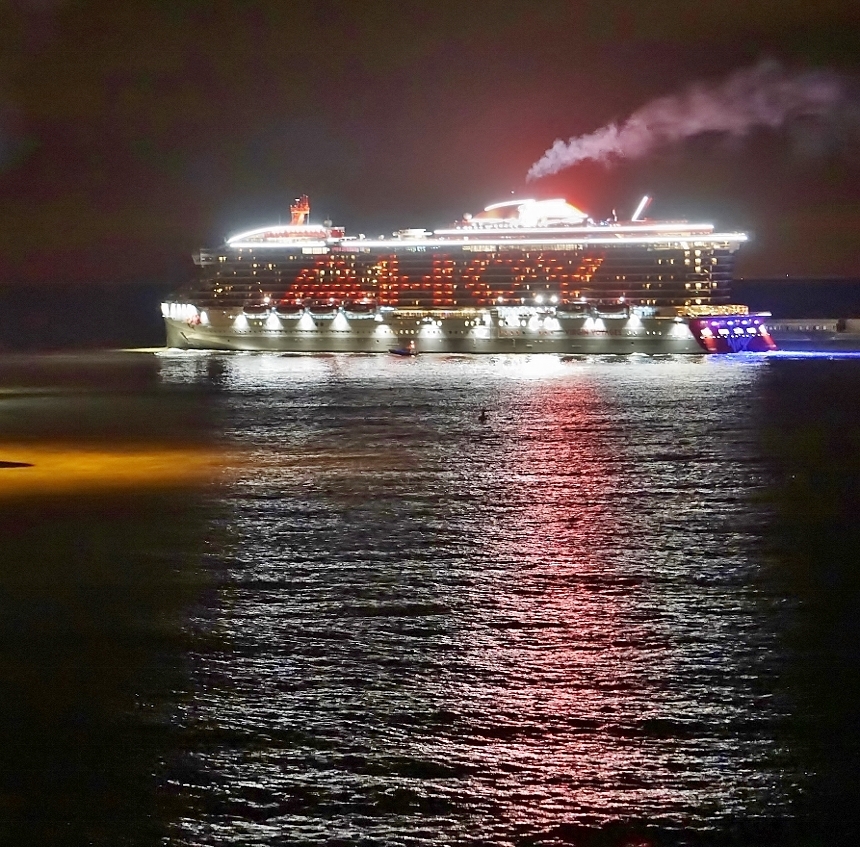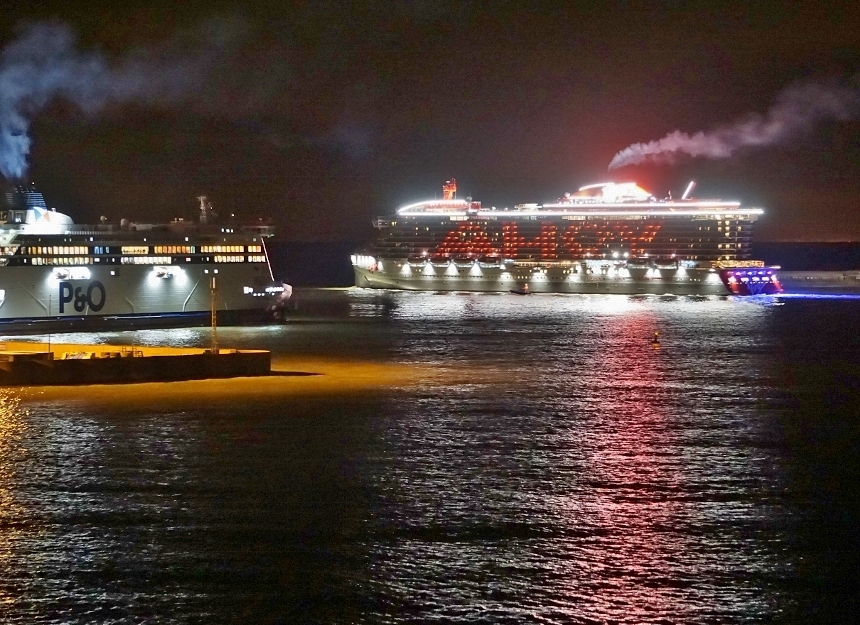 The Scarlet Lady leaving the Port of Dover.
Thanks for that info in the post below Mike

PaulB
PS: Scroll down for more Scarlet Lady pictures below...also more Fireworks (from Friday) 6831

Tuesday, 25 February 2020 - 06:09