Wednesday, 19 June 2019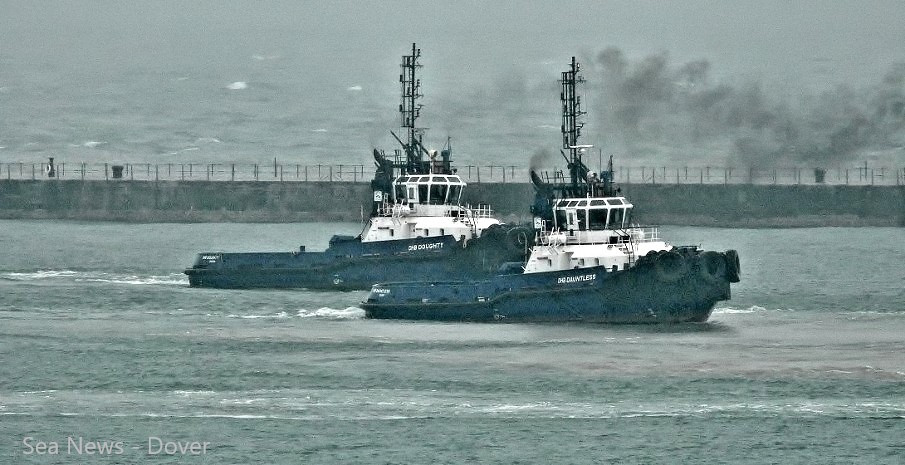 Just having sent Pacific Reefer on her way, the tugs turn back into the Summer (!!) gloom....

WWW.DOVERFORUM.COM/SEA-NEWS
Featuring all the ships that come and go and work at the Port of Dover ..
... with further coverage of the surrounding ports.
Sea News Dover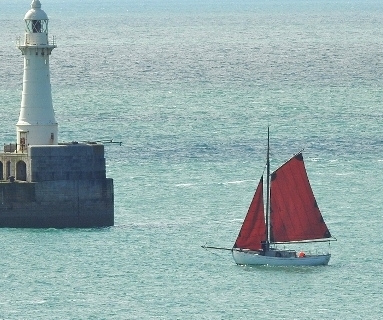 DFDS NEW SHIP for Channel see 6303
DFDS Europe's award winning Ferry Operator 6332
Port of Dover : Virgin Voyages 6289
Port of Dover: Brexit Resilience 6123

P&O Ferries: Alternative Euro Breaks 6298
P&O Ferries: Record Fundraising for Lifeboats see 6253
Port of Dover: Reducing Carbon Footprint 6332
Port of Dover: New Cargo Manager see 6205

Thames Estuary Forts 6250
SS Richard Montgomery at rest (WW II Supply Ship ) 6329
DFDS: ORCA 6179
Premier Inn completes see 6149 plus

Scroll down to see the Boudicca D-Day pictures in several posts.
Use our SEARCH ENGINE below to find all sorts on the SEA NEWS pages....
type in the topic and away you go, or if you have the post number as shown above, just type it in the box, more than - 6300 - nautical posts now.
Posts are welcome. just click 'Add Your Comment' below. Max of 5 pictures preferred although we can stretch that for special stories..
Sea News Editor Paul Boland - send info or pix to dover7@msn.com. Always welcome.
CRUISE CALLS:
https://www.doverport.co.uk/cruise/find-a-cruise/
UPDATE:
To show your pictures at their best..it could be worthwhile resizing before posting to
850
pixels wide.
All pictures on these pages are the copyright of the owners and must not be reproduced without permission.
Post 6126
Jan T, Dover
Good luck to those who passed their apprenticeships, and to those who decide to take them up,
and it's good to see DFDS leading the way.

With so much uncertainty about what is around the corner, the ships still need people to keep those ships crossing the channel.
I for one have used DFDS to cross the channel many times in the past and hope to in the future.

Thursday, 7 March 2019 - 08:16
Post 6125
Sea News, Dover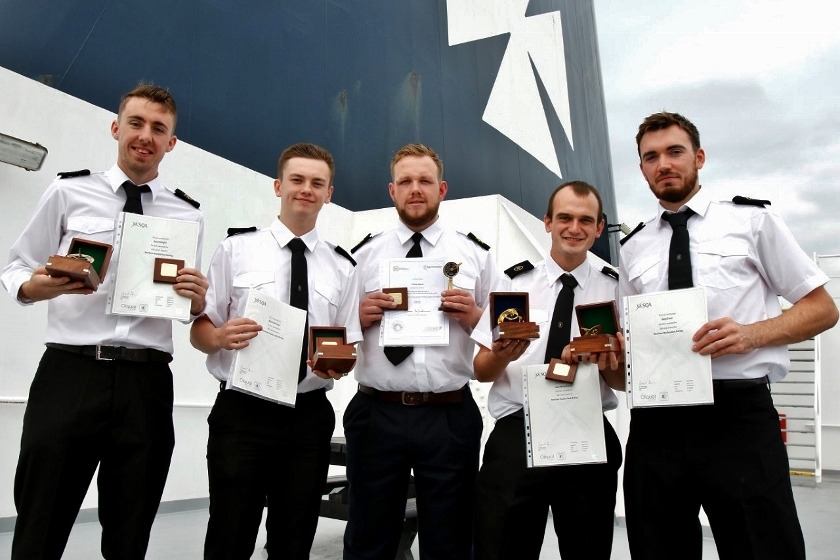 DFDS CALLING FOR NEW APPRENTICES TO BOOST THE MARITIME INDUSTRY
_________________________________________________________________

THIS NATIONAL APPRENTICESHIP WEEK
This National Apprenticeship Week (4-8 March 2019), DFDS wants to help change the maritime industry. Through promoting its apprenticeship schemes, DFDS hopes to boost seafarer ratings by encouraging those looking for a career path or wanting to change careers, to consider training for a role at sea with them.
In September 2019, the ferry company hopes to take on a full cohort of apprentices, which amounts to nine deck and three engine apprentices. They currently have eight apprentices in training; five on the deck scheme and three on the engine scheme.
Since launching the apprenticeship scheme in 2012, DFDS has seen three groups of deck apprentices and two groups of engineering apprentices qualify and take up full-time employment within the company. In total 14 have successfully completed an apprenticeship with the business.
Oliver Williams from Deal, recently completed his Maritime Studies: Able Seafarer (Deck), having started his apprenticeship with the business in 2016; "I heard about the apprenticeship scheme through a friend and after some further research in to how best to begin a career at sea, I felt that DFDS was the right path for me", said Oliver.
"A typical day as an apprentice involves a lot of training and hard work" he added, "but you adjust to the life on board, and the crew make it very easy to settle in".
Oliver passed out of his apprenticeship in October 2018, alongside fellow trainees Gary Steer, Jack Wilmshurst and Sean Knight on the deck scheme and Thomas Dignan on the engine scheme. Oliver, Gary and Jack have all secured jobs as Efficient Deck Hands with DFDS and are in the process of applying for their Able-Bodied Seafarer tickets, while Sean has been placed on a Cadetship program with City of Glasgow, studying HNC Nautical Science, in order to obtain his Officer of the Watch Certificate of Competency. Thomas Dignan is also still with the company working as a Hotel Repair Man.
"I'm aiming to work my way up towards the bridge and progress as far as I can" Oliver said, "the apprenticeship is a tough course to complete but it's worth it!"
Gemma Griffin, Vice President of HR and Crewing at DFDS commented: "We are delighted to be able to provide career opportunities for people in our local community here in Dover and surrounding areas. A career at sea really is exciting, challenging and rewarding. We offer Apprenticeships in the area of Deck working and Navigating; Engineering and Catering/Onboard Services onboard our vessels and in various other disciplines ashore such as IT, Administration and Management.
"At this time of the year when so many young people are considering their post GCSE future, I would urge students and parents alike to consider an apprenticeship in your chosen field or interest as a real and viable alternative to Sixth Form and University. Apprenticeships really do provide young people with key skills and attributes that employers want and need for the future."
DFDS offers two apprenticeship schemes; the Deck Scheme which sees students qualify as Able Seafarers, working in the deck department as a watchman and assisting with loading and unloading the ship; and the Engine Scheme which sees apprentices work towards becoming Marine Fitters within the engineering team, who are responsible for maintaining and repairing the ships.
DFDS will soon be launching a maritime caterer apprenticeship giving people interested in cooking or becoming a chef the opportunity to become fully trained chefs and ships cooks opening doors both on land and sea.
The apprenticeships are offered in partnership with the Merchant Navy Training Board (MNTB), the shipping industry's central body for promoting and developing sector-specific education and training skills.
For more information on the apprenticeship schemes, visit www.careersatsea.org/opportunities-for-ratings/
Pictured above L to R: Sean, Oliver, Thomas, Jack, and Gary.
ENDS
Great opportunities above there for a rewarding life at sea... "a life on the ocean waves"
Some of the DFDS fleet in action below. Dover Seaways mid-channel first, then Cotes des Dunes at Calais.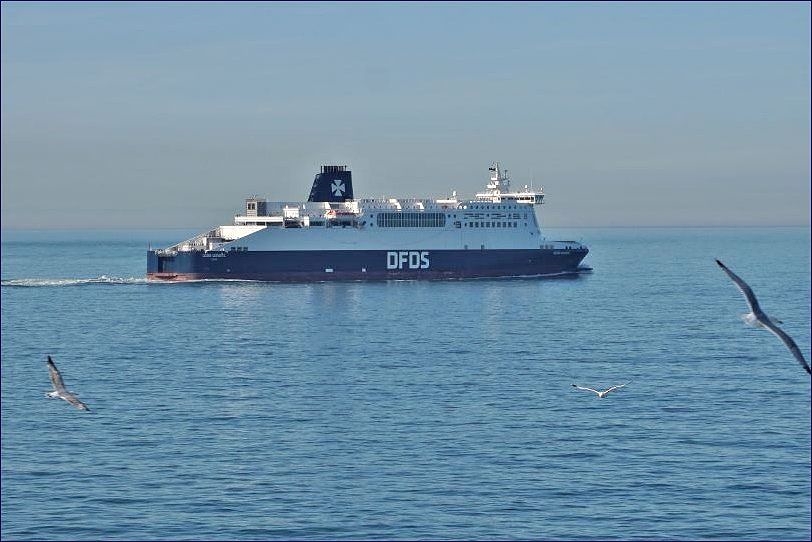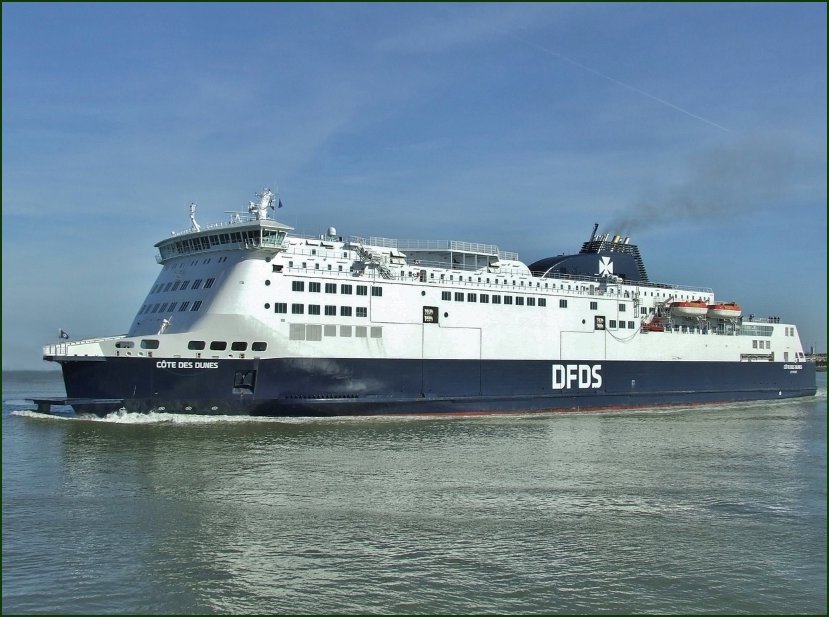 PaulB

Thursday, 7 March 2019 - 06:07
Post 6124
Sea News, Dover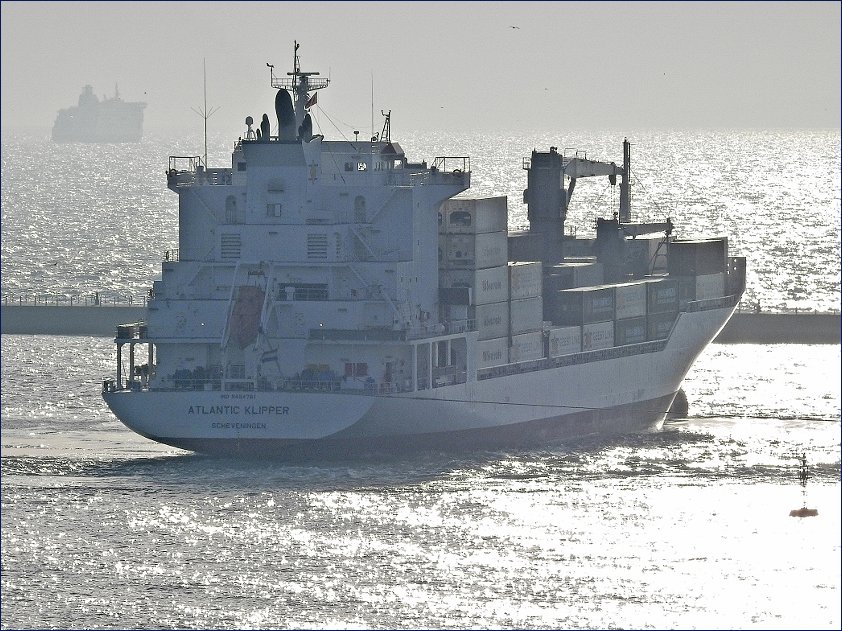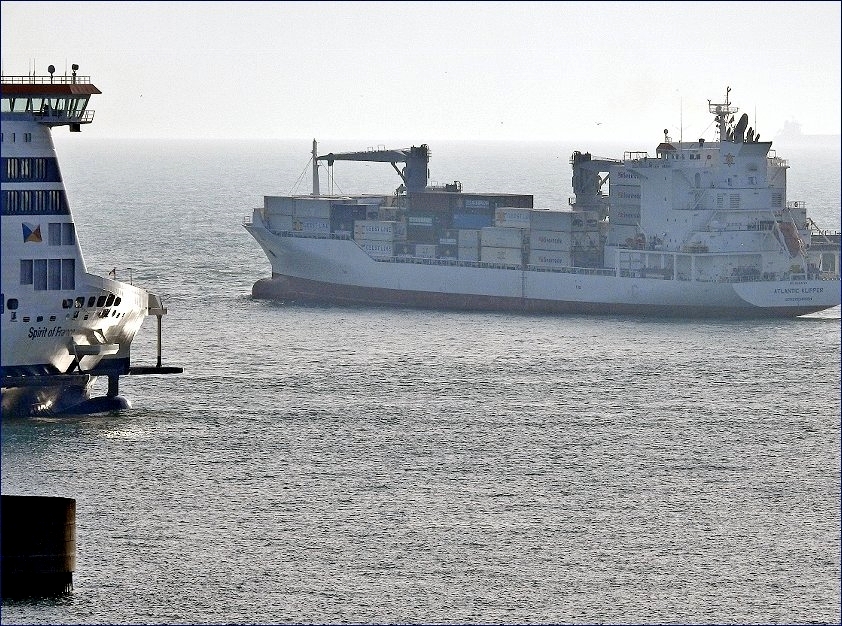 Just catching up above there with some recent pictures of the Atlantic Klipper in some blinding sunlight...turning about before heading off to Bridgetown in Barbados. Very busy cargo terminal here at the Port both before and since. We cant catch up with all the reefers but we have a go...
Below we see the Police launch as she escorts HMS Kent away on Monday morning. Both the Police boat and the Pilot boat were in attendance as the Royal Navy left Dover. The quality isn't the best on these pix below but you can get the gist of the situation as the Police launch battles fragments of storm Freya as she filters through.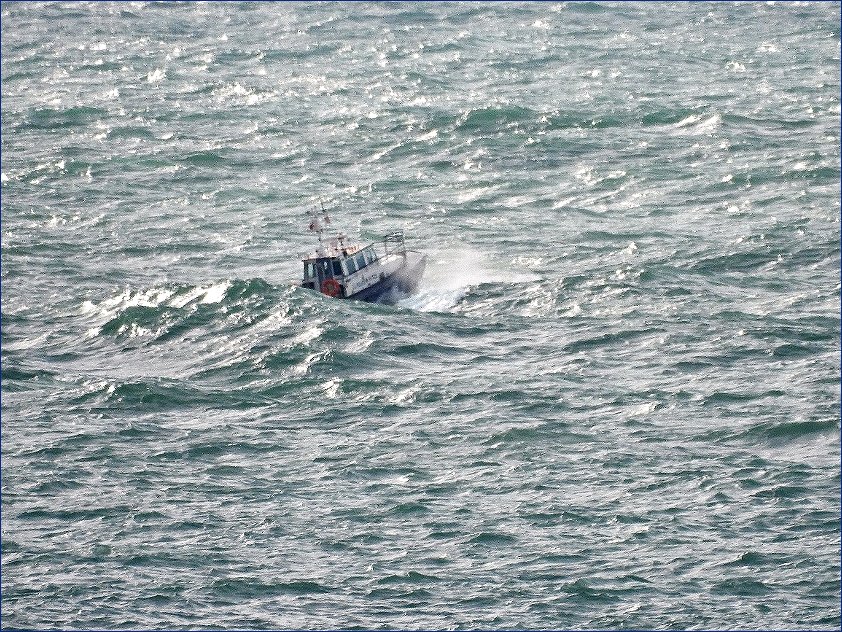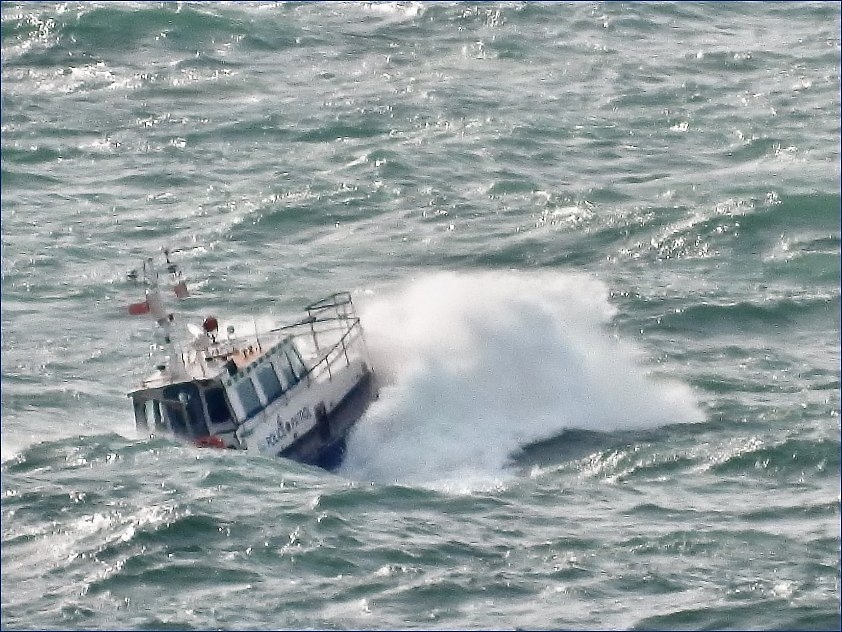 See also yesterdays major post below on the Port of Dover's resilience in the face of Brexit.
PB
Wednesday, 6 March 2019 - 06:17
Post 6123
Sea News, Dover
Port of Dover welcomes independent confirmation of Port of Dover resilience.
___________________________________________________________________
The Port of Dover welcomes today's report from Drewry Maritime and their objective analysis of traffic flows across the vital cross-Channel route via Dover.
The report highlights the UK's reliance on Dover and the challenges of attempting to replicate the unique Dover short sea system anywhere else on much longer routes. The analysis also makes it clear that there is reserve capacity in Dover to cater for additional peaking along with the opportunity to increase throughput with additional vessel capacity. This supports Dover's ongoing master planning work to develop the port of the future in order to continue the success of its ferry business beyond Brexit.
The Port of Dover is the freight market's clear preference and will continue to be so – it delivers unrivalled speed, flexibility and capacity. Brexit will not change geography and with virtually half of all of the UK's roll-on roll-off freight enjoying the advantages of Dover, re-routing even a small amount of traffic will not work and likely require additional investment of up to £2.5 billion (Oxera) to even attempt it.
The Port of Dover has been working with the Government for many months to design new customs processes that will facilitate the flow of this traffic even in the event of a No Deal Brexit. As these continue to be communicated by Government, our customers can prepare with increasing confidence.
* *
Drewry study concludes Port of Dover has the resilience to cope with moderate Brexit disruption.
___________________________________________________________________________________
London, UK, 27 February 2019 – The Port of Dover has the resilience to cope with moderate disruption arising from Brexit and there is latent short sea capacity to absorb significant overflow at the port in the event of capacity constraints, according to an independent study by global shipping consultancy Drewry.
Among the political arguments about Brexit and its consequences, there has been a surprising lack of objective and quantitative analysis of the implications for the future of the vital short sea trade between the UK and the EU, particularly for the key port of Dover, and how traffic might be routed in future if Dover faced capacity constraints.
Drewry sought to fill this information gap by carrying out an assessment of the capacity of the port, looking at its key elements and undertaking sensitivity analysis to determine under what circumstances they could become bottlenecks. The study also looked at the availability of alternative routes for freight traffic.
"Handling half of all the freight traffic moved to and from EU, Dover is by far the UK's largest RoRo port," said Tim Power, head of Drewry Maritime Advisors. "Given its importance, we were keen to assess the potential effects of Brexit on Dover capacity."
The Drewry study concluded the following:
Dover port capacity: Dover has the Border Control, check-in, embarkation area and berth capacity to cope with existing demand with some margin and could cope with a 50% increase in process times in key areas, although traffic peaks (a characteristic of the cross Channel RoRo trade) would need to be managed;
Alternative routes and modes: If Dover were capacity constrained following Brexit, some cargo that did not require high frequency short transit services could be accommodated on unaccompanied trailer and short sea container services; supply chains would need to be redesigned. Studies carried out for the Port of Dover suggest that not more than 20% of existing traffic would be suitable for re-routing;
New customs processes: New Customs processes are designed to keep traffic flowing through Dover but have not been widely tested. If they work successfully, the new processes will avoid Customs becoming a bottleneck;
Check-in: Dover Port throughput capacity would be constrained in the event of a doubling of check-in time from the present 2 minute to 4 minutes;
Vessel capacity: Vessel capacity is highly utilised; any significant delay to vessels, for example a doubling of port time in France, would lead to a reduction in service frequency and cause a bottleneck.
ENDS
Many thanks to the team at the Port for the information above.
Slight delay getting it up as we were focused here temporarily on HMS Kent....but it is a most interesting read.
The ferries below..as ever, ready for the new dawn...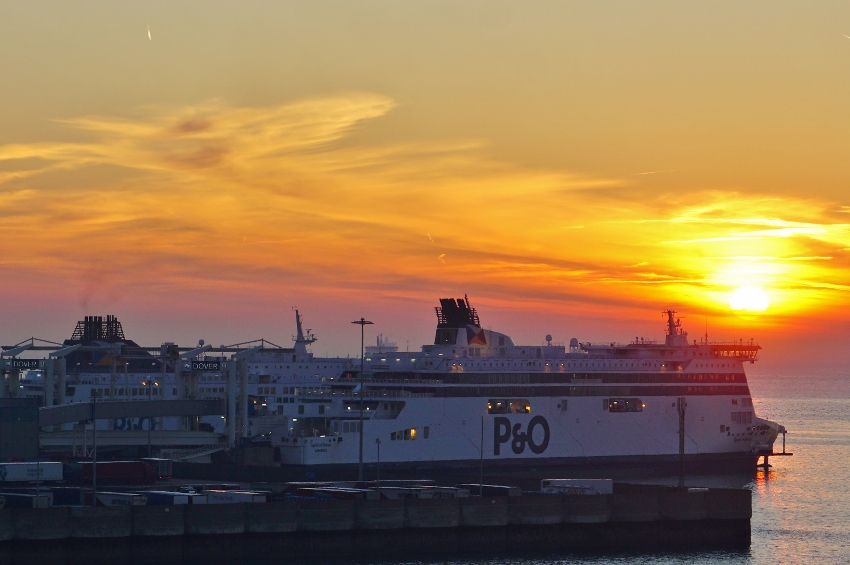 And now two further shots of HMS Kent as she moves away yesterday morning Monday. Leaving through the eastern exit at 09:13.
It was a hugely exciting visit..
HMS Kent: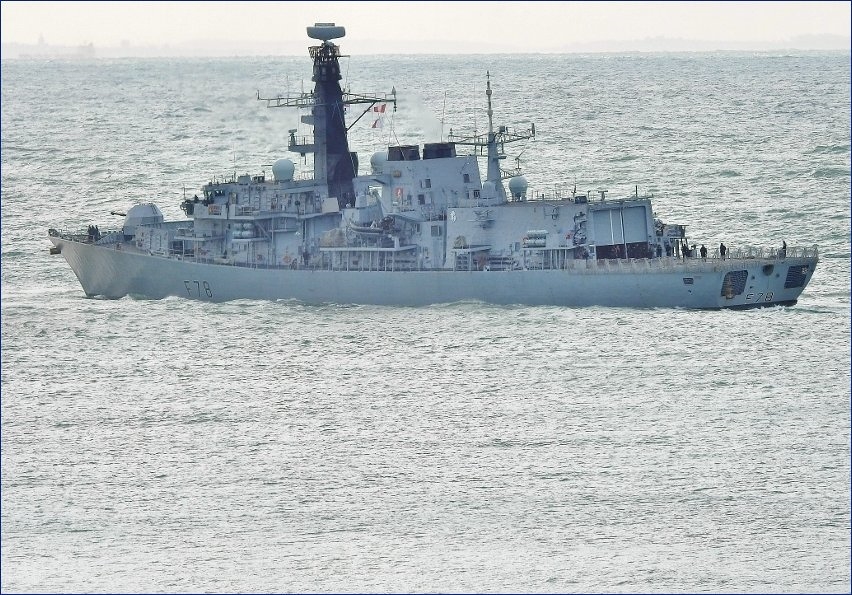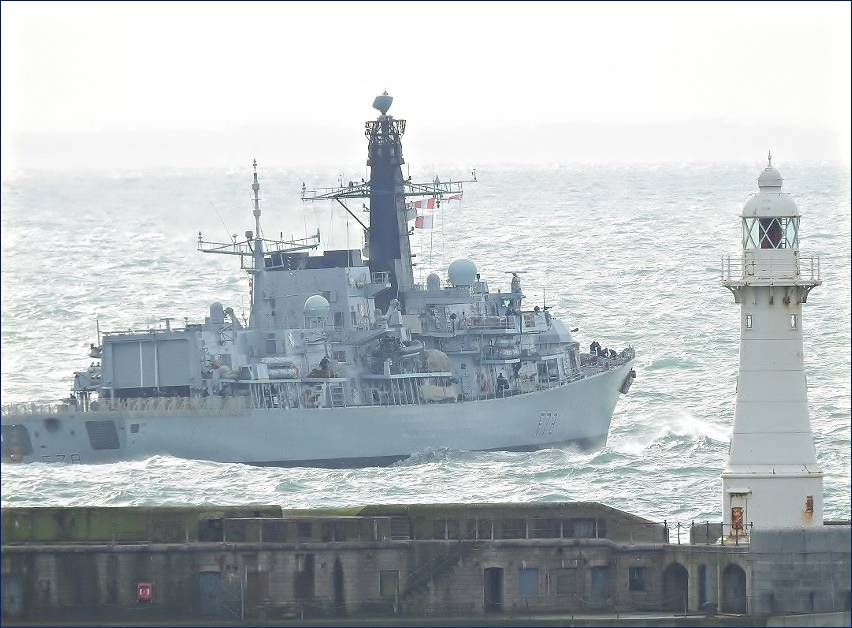 HMS Kent moves away...
* *
Great all round shots below once again Mike. Hugely enjoyable. The earlier 'detail' post of the crew of HMS Kent was a blinder. Was delighted to pin it to the top for 12 hrs.

Well said Jan T... yes very exciting stuff indeed. Wouldn't want to mess that young lady about..no sirrrrr


PaulB

Tuesday, 5 March 2019 - 06:37
Post 6122
Mike J., Dover
Catch-up time & a bit of variety – I had problems posting at the end of last month, so here's a few from 27/2, the first two-ship day of 2019 with SAGA SAPPHIRE busy taking stores on Ct1 & AIDAMAR on CT2 with the Admiralty Pier closed beyond the Turret which frequently happens when there's a cruise ship on CT2.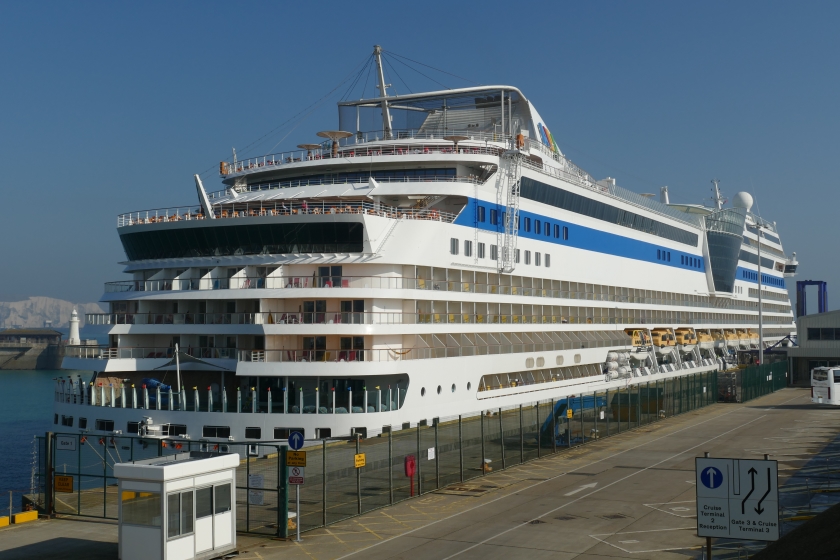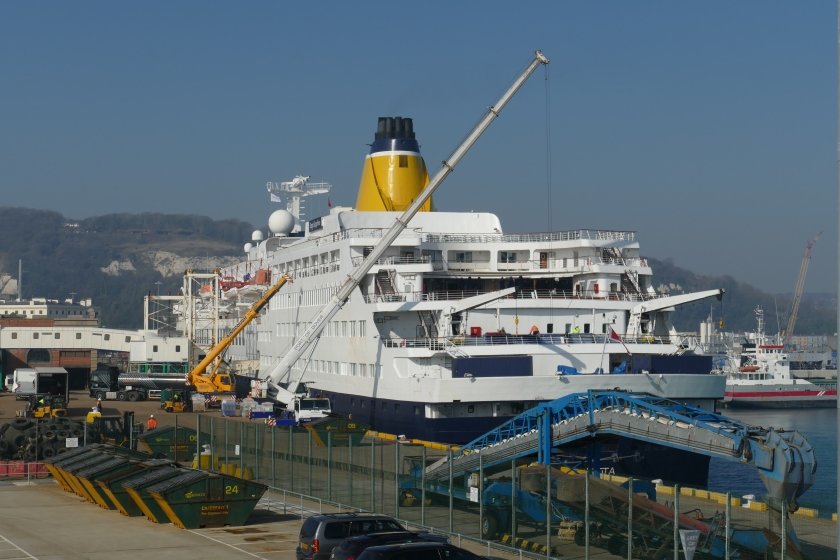 Somewhat smaller, a 'new' DWDR workboat, Volker-Brooks's NJORST in the Jetfoil terminal & heading for the Exclusion Zone on the other side of the Prince of Wales.
Actually she's been working in the port for a couple of weeks, but has been very elusive.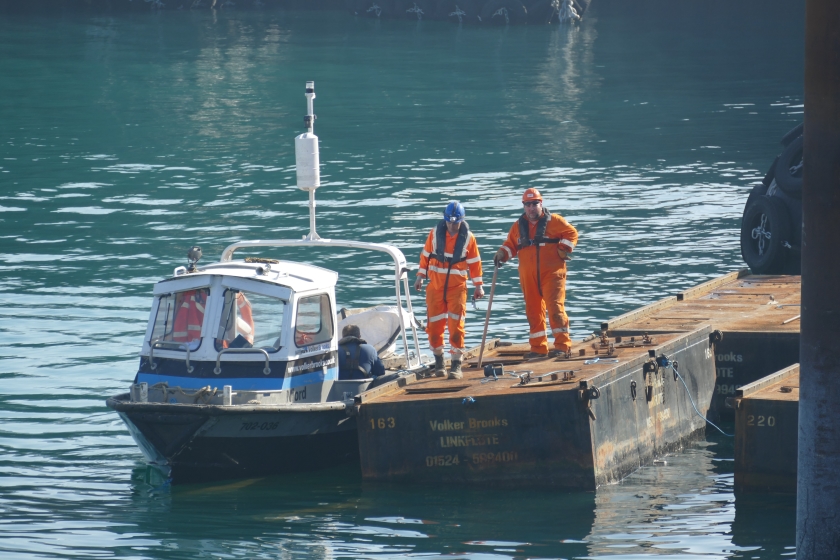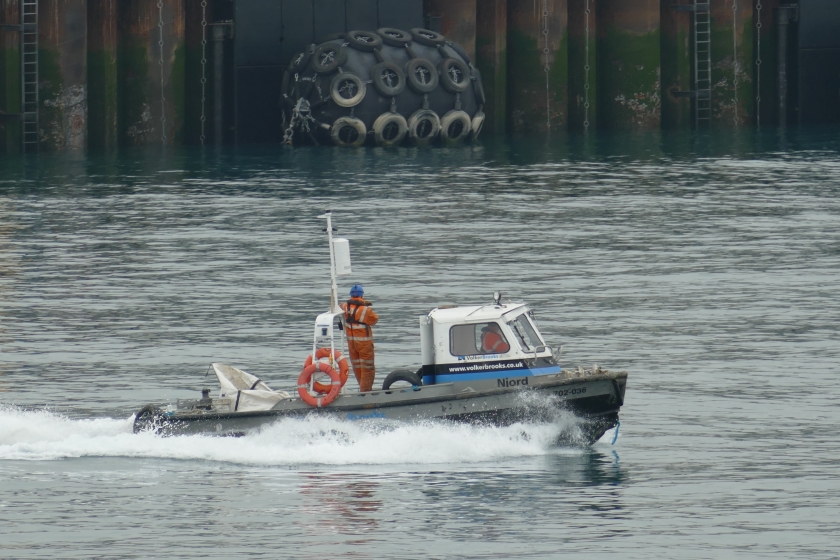 On the same day the Dutch HEKLA was unloading the second consignment of crane parts.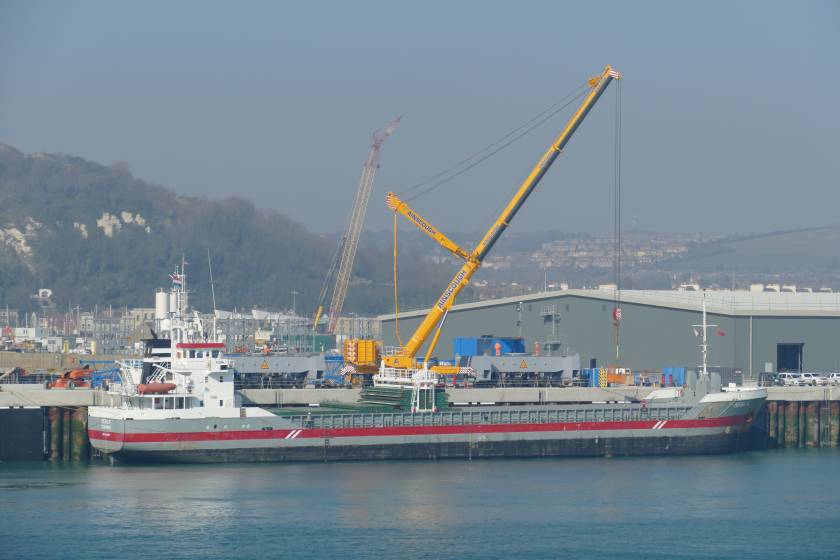 Tuesday, 5 March 2019 - 00:50
Post 6121
Jan T , Dover
Wow Mike J great pictures of HMS KENT and no you sure wouldn't want to mess with that young lady.

Monday, 4 March 2019 - 08:13
Post 6120
Mike J., Dover
HMS KENT - a few 'detail' views during her arrival -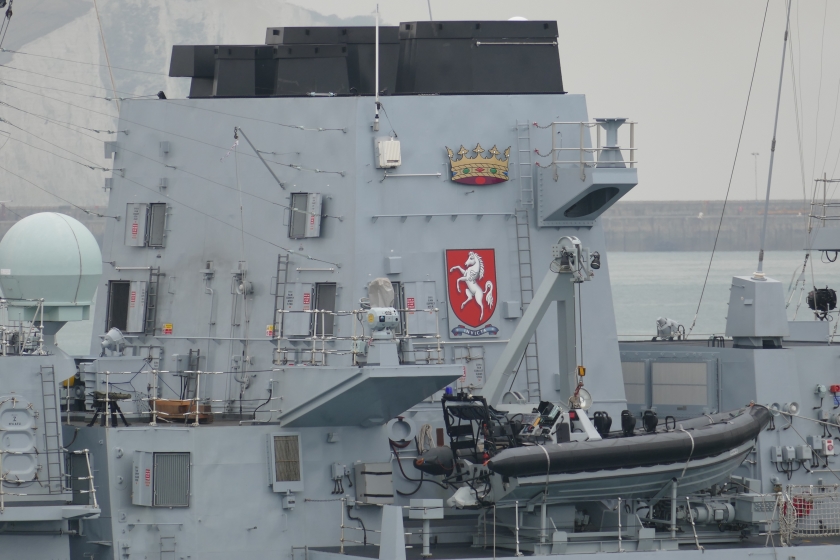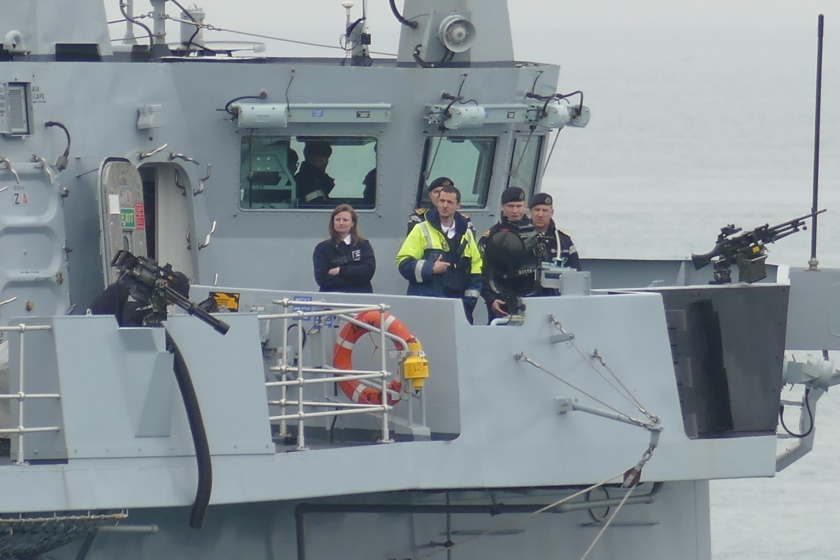 -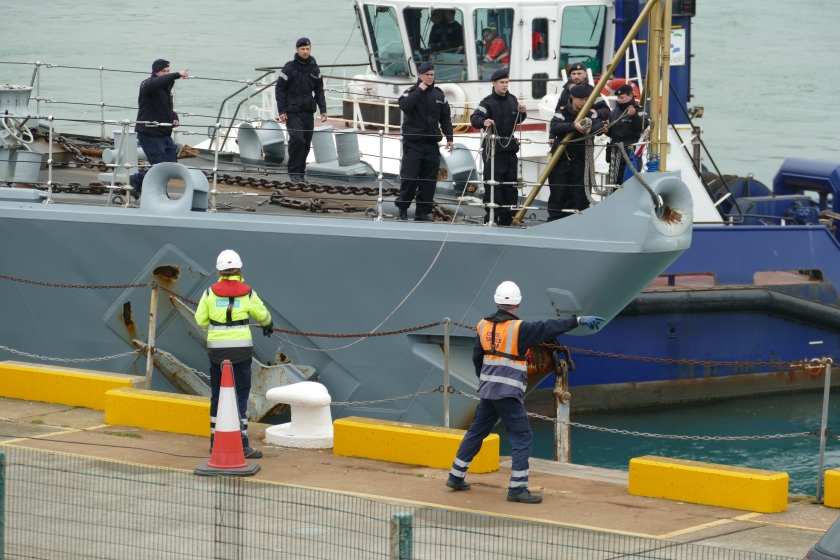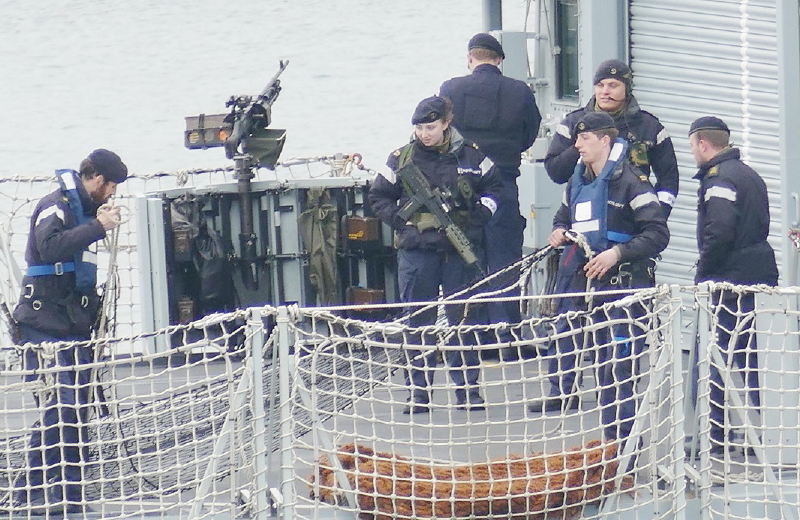 Don't mess with this lady !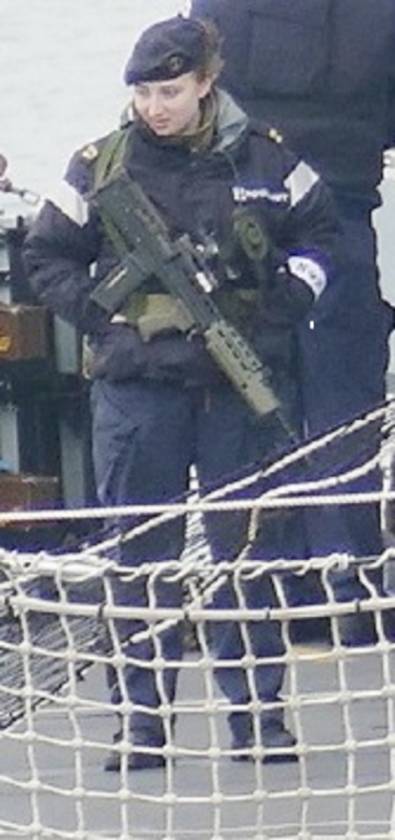 Monday, 4 March 2019 - 01:39
Post 6119
Sea News, Dover
Some more pictures now of HMS Kent arriving...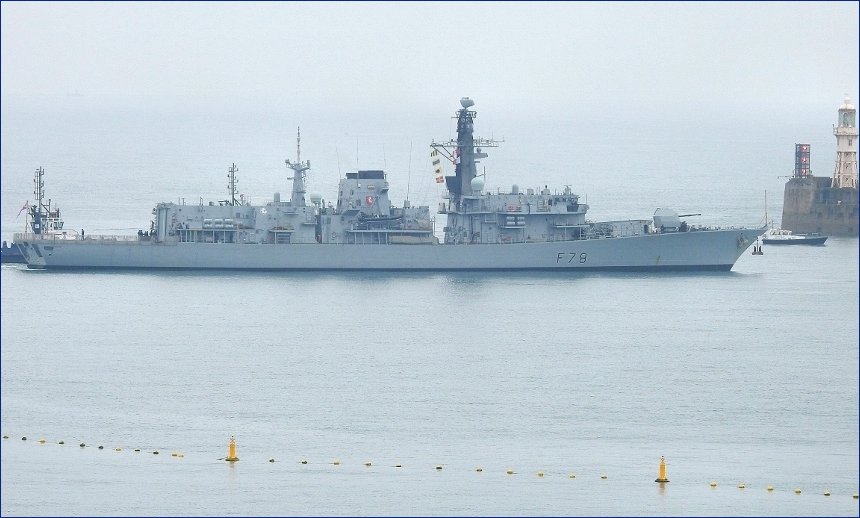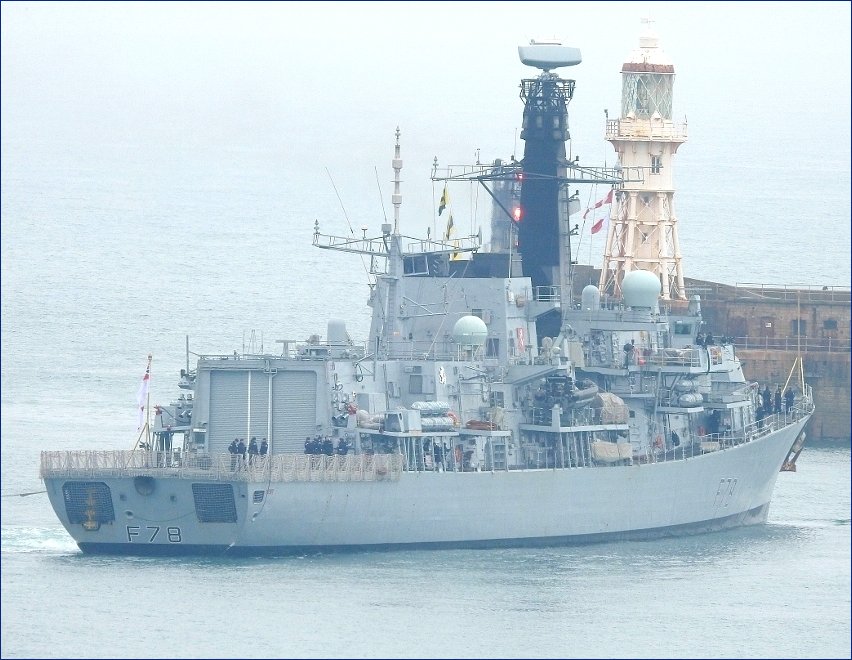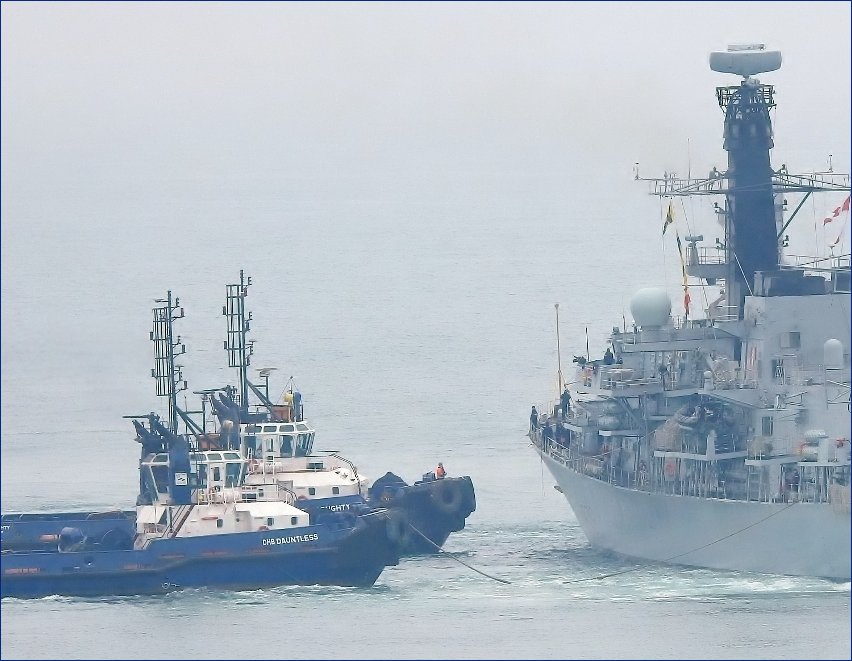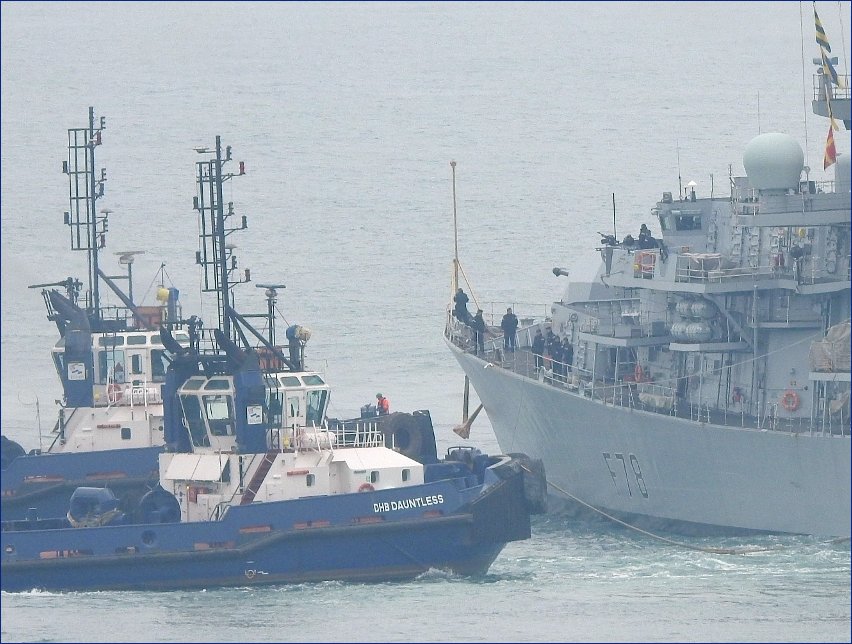 Some of the workers abandoned momentarily their labours on the Premier Inn and came out to look at the ship arriving. There were other guys too just out of shot... The Royal Navy still fascinates...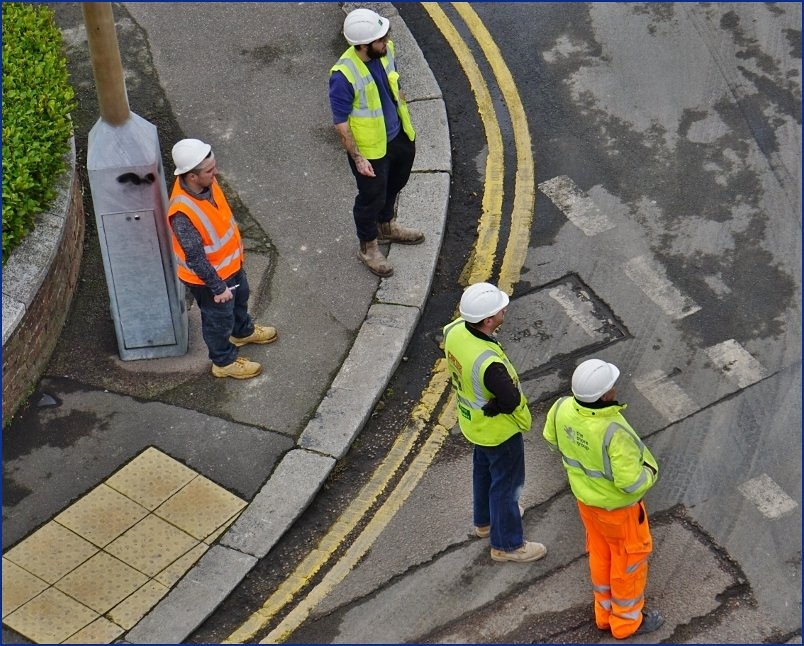 Great collection below Mike. Great stuff indeed..enjoyable pictures for sure

Nice work Patrick too. Well spotted. Fascinating new towers...

Don't miss those posts below...
PB
Sunday, 3 March 2019 - 06:51
Post 6118
Mike J., Dover
Arrival of Type 23 frigate HMS KENT on Friday from Plymouth.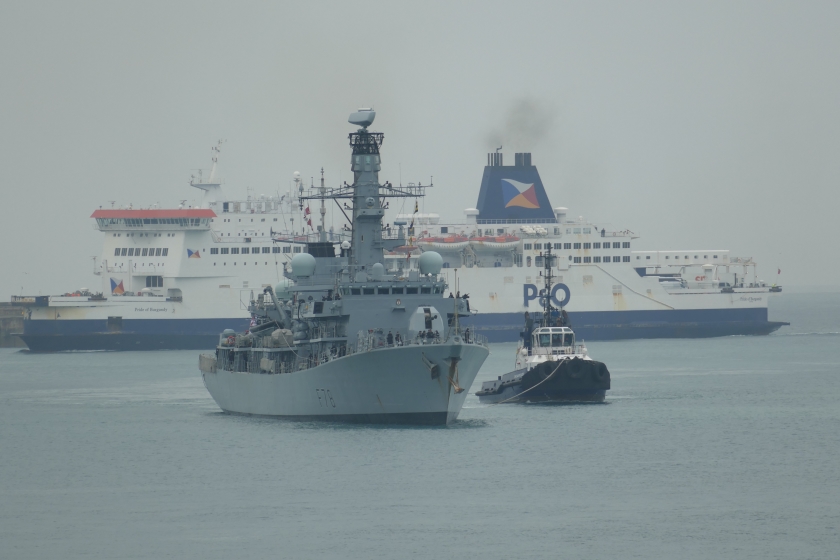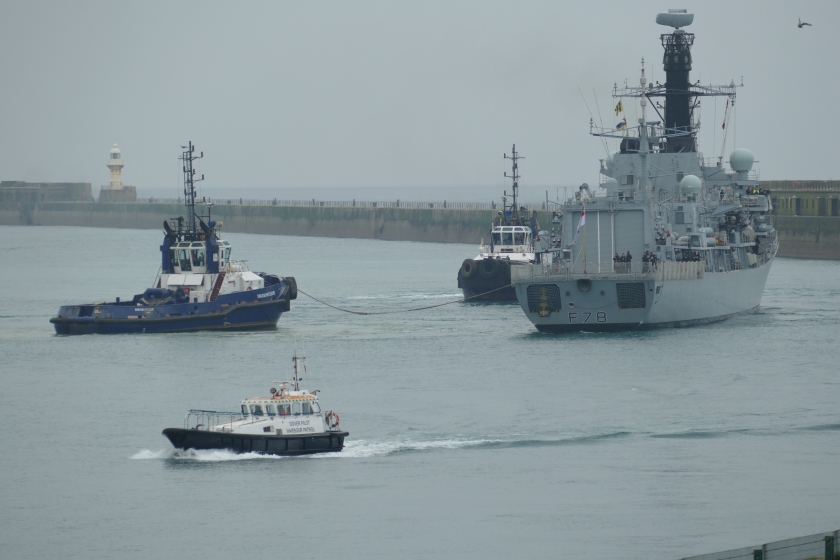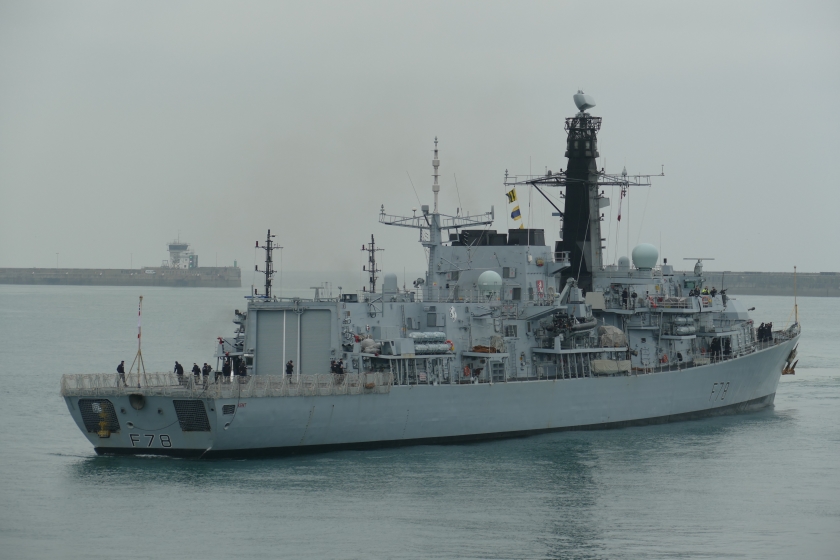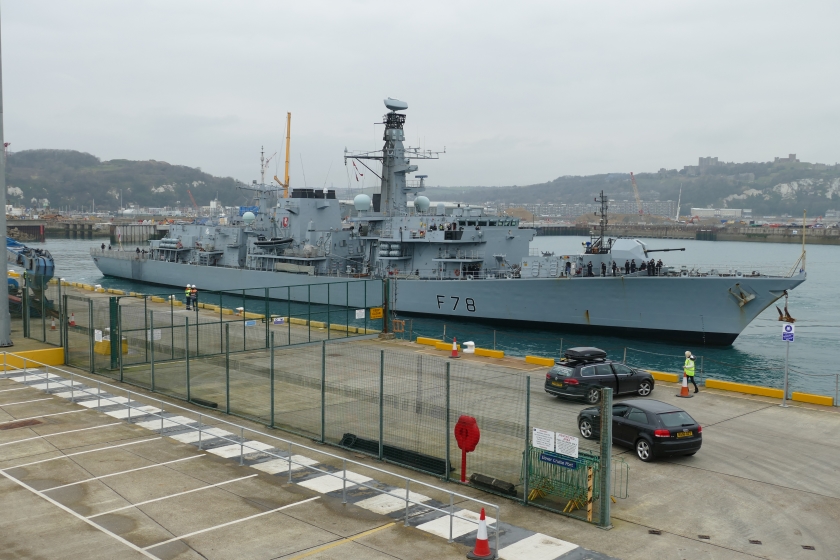 Meridian News had a short item on her arrival on Saturday saying that the ship wouldn't be open to the public.
Only the local Great & Good will be invited aboard, but Meridian said that 'thousands' would be on the Admiralty Pier to view the ship from a distance.
That'll please the weekend anglers.
With a southwesterly gale forecast for Sunday there's a chance that the Ad.Pier may be closed, never had that problem with the Prince of Wales !
Impressive pix from Patrick of the cranes - definitely science fiction !
Quite a surprise when I called in at St.Martin's Battery on Saturday morning.
The towers went up quick, there was no sign of them when I was on the Ad.Pier on Friday for the KENT.
Looks like the jibs laying on the wharf.
Lets hope that DWDR has a time-lapse camera on the construction, should be interesting.
Sunday, 3 March 2019 - 02:06
Post 6117
Patrick, Marine Parade
Two mysterious towers have appeared alongside the RCT ('banana shed') on the DWDR site at the new 'Berth A'.
Rising through the misty morn like giant metal machines from HG Wells' 'War Of The Worlds'.
These are part of the mobile cranes that will lift containers from the cargo boats
that will service the RCT - Reefers bearing produce from South America and Caribbean into 'cool store' before onward journey our shops.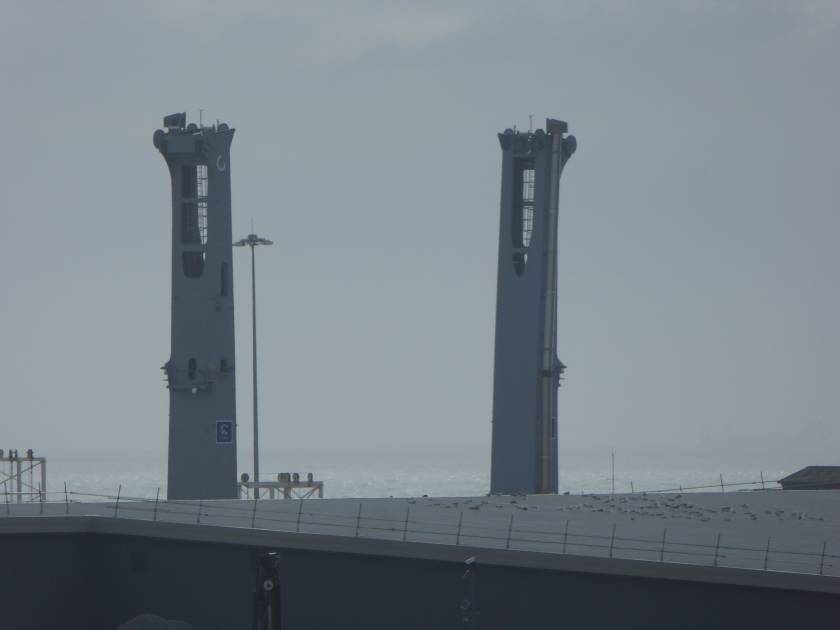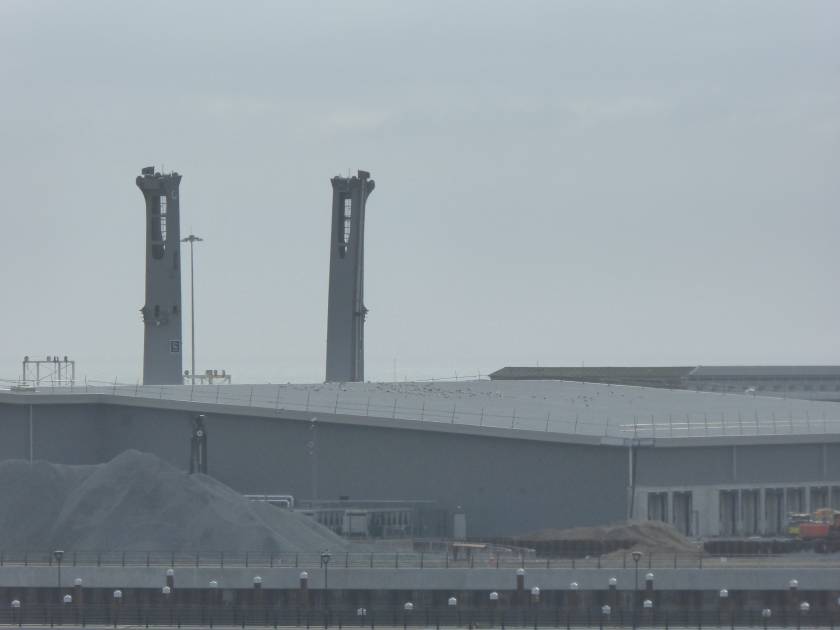 Saturday, 2 March 2019 - 23:37
Post 6116
Sea News, Dover
HMS Kent arrives at the Port of Dover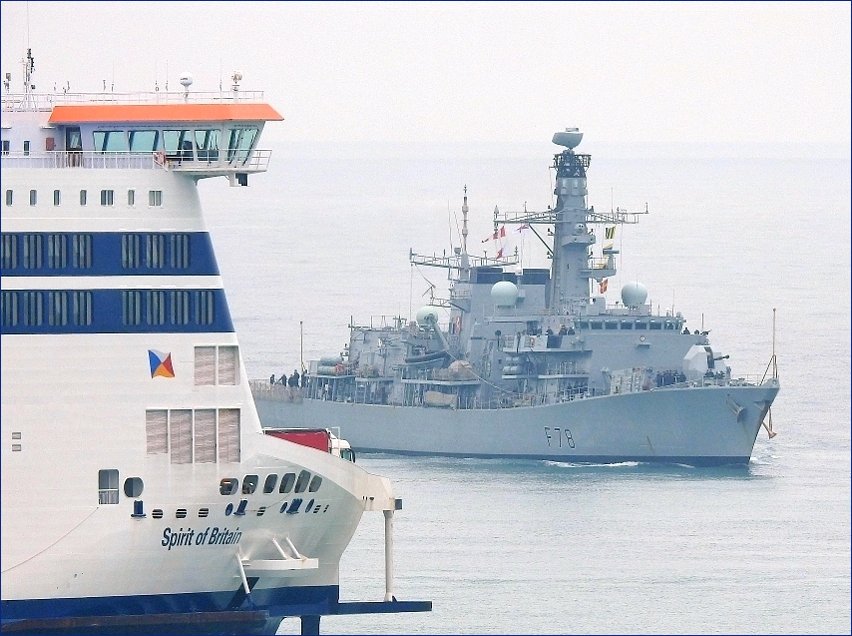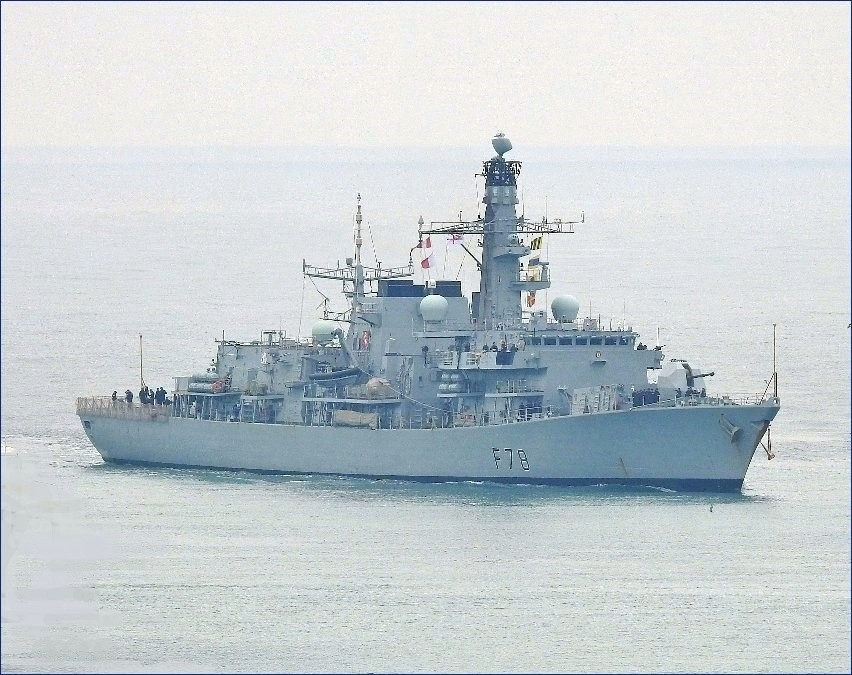 Yes there we are, HMS Kent comes into Port through the eastern entrance yesterday morning friday at 11:49. The day... well it was all quite grey, matching the colour of the ship to perfection. We hope to have another shot or two in due course ...they might need some work. The Royal Navy ship is here for up to 4 days we understand.
Thanks to Mike for the tip-off re the arrival.
Here's a shot below from a previous visit...forgot I had this one... so, delighted to use it again..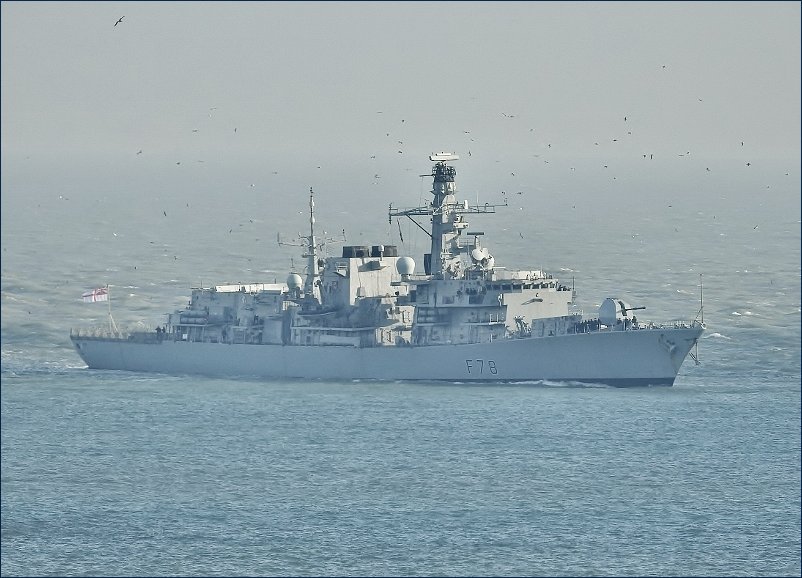 Glad you are getting through the process Del. The added fibre will do you the world of good. So they say anyway, but do we believe it??

Ah yes the grisly tale of 'Failing Grayling' grinds on, with the newspapers and almost everybody else, apart from Downing St, calling for his head again this morning. Reminds one of the 1970's film...'Bring me the head of Alfredo Garcia'. For some reason that film title leapt into the brainbox on waking today. Why? I don't know.. but you can draw parallels.
The Radio 4 Today programme were telling us yesterday friday about Graylings awful track record as Justice Secretary, when he fouled up the Probation Service...shambollickly wasting 500 Million pounds ( half a billion !). No sooner had that story finished when the latest horrid headline concerning the £33,000,000 payout to Eurotunnel (re his effed-up ferry fiasco} hit the airwaves. That's our money of course, yes indeed the humble taxpayer forks out and gets nothing for it. All wasted, when so many need it! There is a real shortage of talent at the top table..no mistake. And no, we wont mention the railways...

PaulB
Saturday, 2 March 2019 - 06:24
Post 6115
Del Styan, Norwich
I think you and I must be leading parallel lives - I changed PCs at the same time as (more or less) upgrading to "super fast" fibre. Naturally - and as I gloomily predicted - things didn't work out. Still, got there in the end - as this message proves!
Now back to the Failing Grayling show! And the ever rising Premier Inn.

Friday, 1 March 2019 - 23:11
Post 6114
Sea News, Dover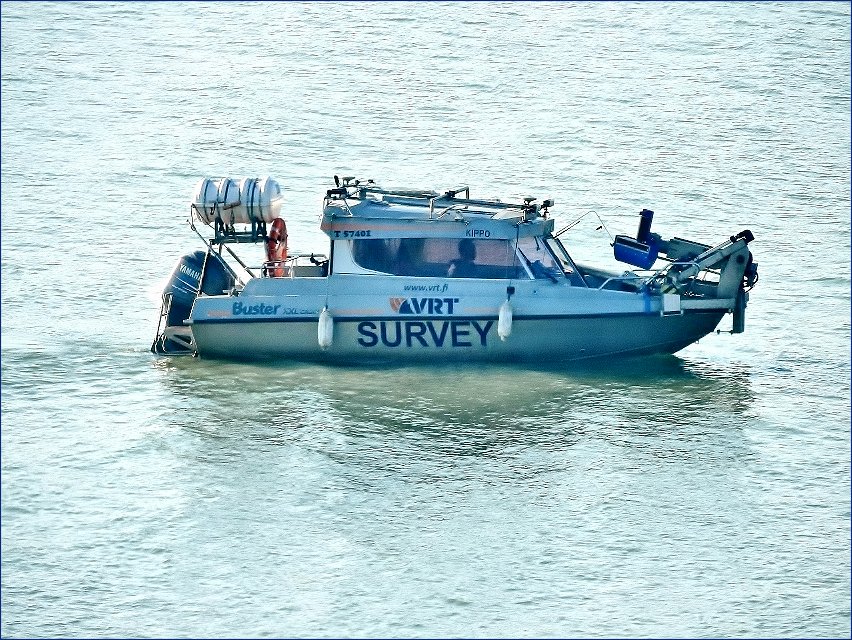 While we are on a roll with survey boats...there we go with an extra gadget-packed one above there. Pictured about a week ago. I believe it was/is called Kippo and as yours truly had no phoneline/internet at the time I couldn't be sure. It has a web listing there that suggests Finland...have since been able to confirm yes it is Kippo underwater survey boat.... haven't seen that one before.
Premier Inn: As mentioned yesterday the Premier Inn extension nears completion..a big pullout in the past day or so of all the main functions of redevelopment...offices, hardware etc etc
Here are a further three pictures showing the evolving situation...
these will be the penultimate pix as most of it done now, however will do a final post of the final finished product to top the series off. They are currently re-landscaping. I have to say the teams doing the overall development were hugely impressive, working at some considerable speed. Two companies leapt out, Carter and RCL Royland. There were other sub-contractors too.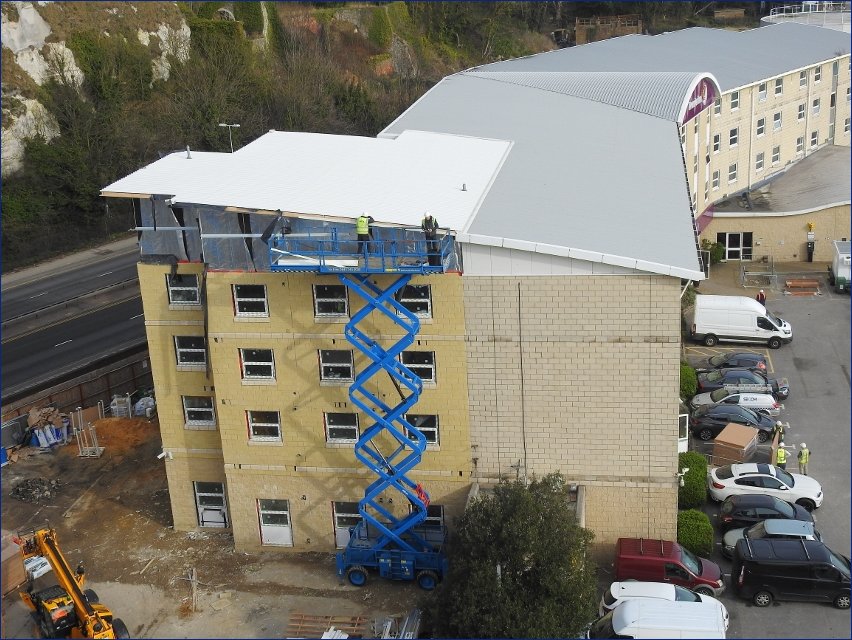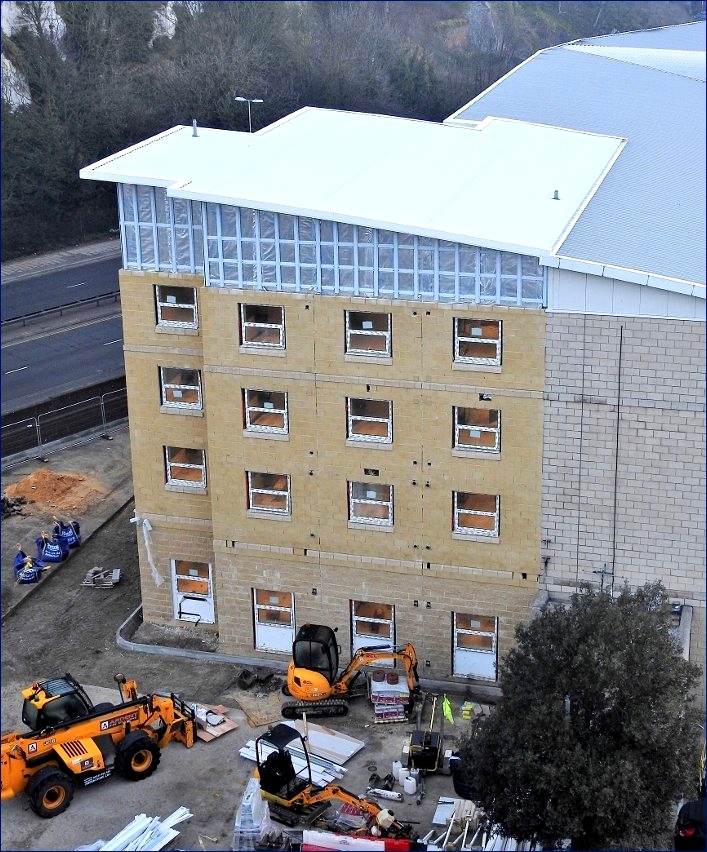 So yes will do one further post in due course when work complete to finish off the sequence.
As mentioned previously...to see it all rising from ground level type Premier Inn into the Search Engine above.
* *
Thanks Mike, yes good to be back with internet running well. Such a relief and a joy. Thanks for all the info below there - will watch for HMS Kent for sure.

Ah that's a nice shot below there Ted from Ramsgate. because we cant go very wide on Sea News we are probably not doing it justice. we're more square...


Ah yes indeed Del its never as easy as they promise is it. I had the added mess-up of a failed phoneline too. They came and fixed that, then no sooner had they left I realised OMG it still wasn't working. The guys from BT Openreach eventually came 4/5 days later and they fixed it. While all this was going on I had perhaps chosen unwisely and picked the wrong time to change my internet provider...so the complications got worse.


PaulB
Friday, 1 March 2019 - 05:10
Post 6113
Mike J., Dover
CORRECTION [& APOLOGIES]

It is HMS KENT coming to Dover on Friday, not HMS MERSEY.


Tanker GALWAY FISHER was showing Dover as her destination on AIS a couple of hours back, perhaps to bunker the KENT, but a few minutes ago she had changed her destination to the MPC buoy, mid-channel off South Foreland.
We shall see !

Post 3774 for a photo of HMS KENT, together with some superb early morning pix taken from the DOUGHTY that I'd quite forgotten about.
The smoky one of the DAUNTLESS is one to die for.
Thanks, Connor !
.


Thursday, 28 February 2019 - 23:35
Post 6112
Del Styan, Norwich
Welcome back PB. I am presently "upgrading" to fibre, so obviously having similar problems. Things seem to be getting more complicated the older I get! Or maybe it's just me!

Thursday, 28 February 2019 - 23:06
Post 6111
Mike J., Dover

Good To see PB back 'on the air' & certainly hitting the ground running with some excellent pix, particularly the dawn arrival of the AIDAMAR on Wednesday who was soon followed in by the SAGA SAPPHIRE.

Arriving before the two cruise ships was the second coaster with crane parts, the Dutch HEKLA who docked in darkness on the DWDR reefer berth & by late morning the second frame [?] had been unloaded.

I have problems posting pix today so no Ad.Pier pix of the cruise ships & HEKLA & the workboat NJORD.

Facebook is reporting the arrival of HMS MERSEY, one of the two 'Clandestine Patrol' RN vessels on Friday at 1100 on the Admiralty Pier, probably on Cruise-1.
[post 6035].


Thursday, 28 February 2019 - 14:30
Post 6110
Ted, Canterbury
Reflections at Ramsgate.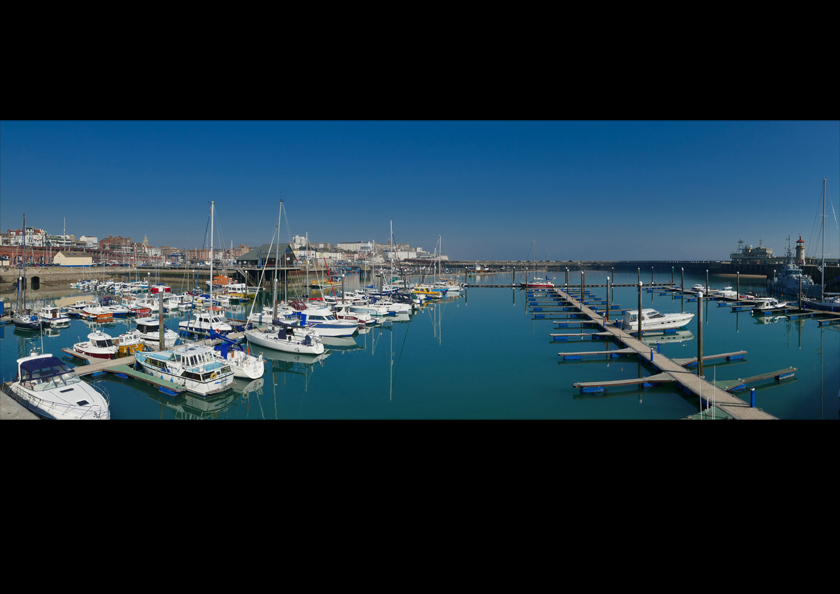 Thursday, 28 February 2019 - 12:00
Post 6109
Sea News, Dover
Some pictures from last week now of survey boat Diana working its way around the harbour...while in the distance at the end of the new DWDR long arm, much work goes on... that's workboat Pampero there in the distance..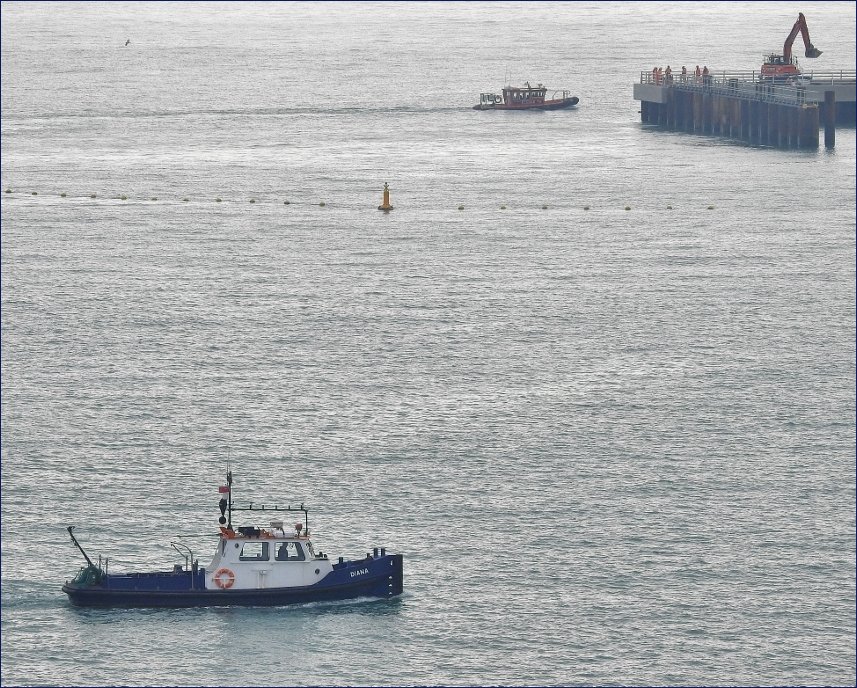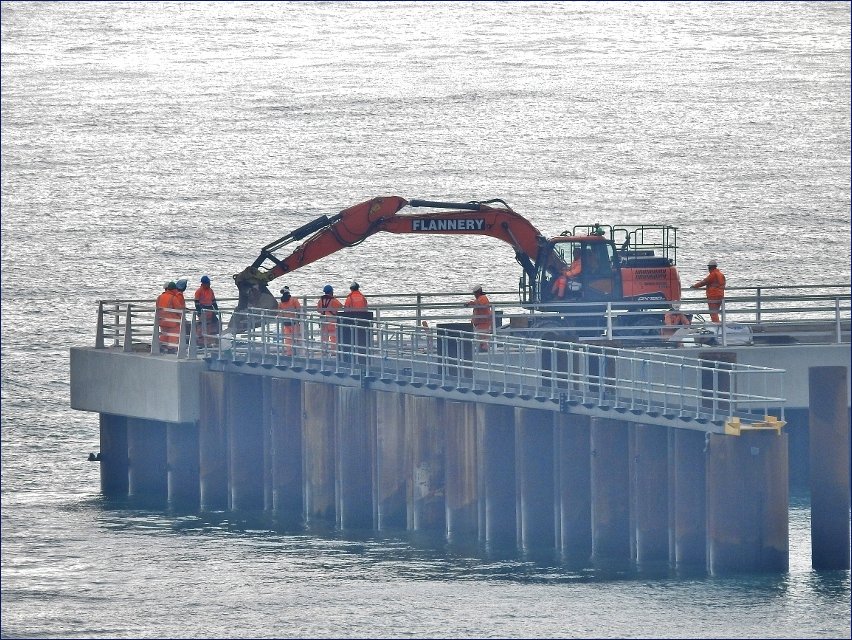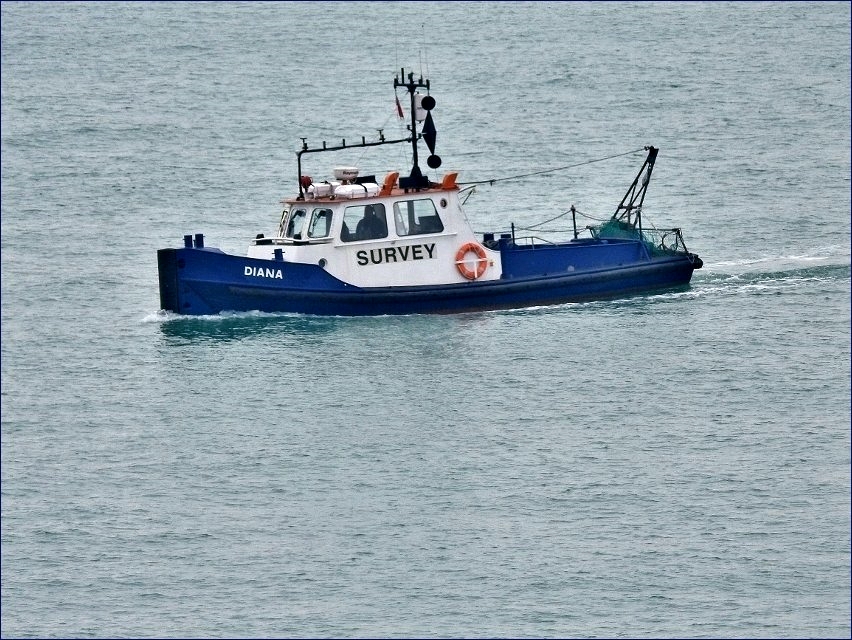 Was surprised the see yesterday the bulk of the building staff move all their offices, heavy equipment, wooden fencing etc etc away from the new Premier Inn development. To all intents and purposes it seems to be finished, barring a few minor bits'n'pieces. It is staggering to see how fast they can do these things nowadays. Will have a picture or two to follow soon. There hasn't been that much to photograph recently as completion was obvious..somehow yours truly didn't twigg ..

Thanks Brian...lots more of the same to come

PaulB
Thursday, 28 February 2019 - 06:21
Post 6108
brian dixon, dover
welcome back paul, I missed your cheeky posts.

Wednesday, 27 February 2019 - 16:27
Post 6107
Sea News, Dover
AIDAmar arriving this morning...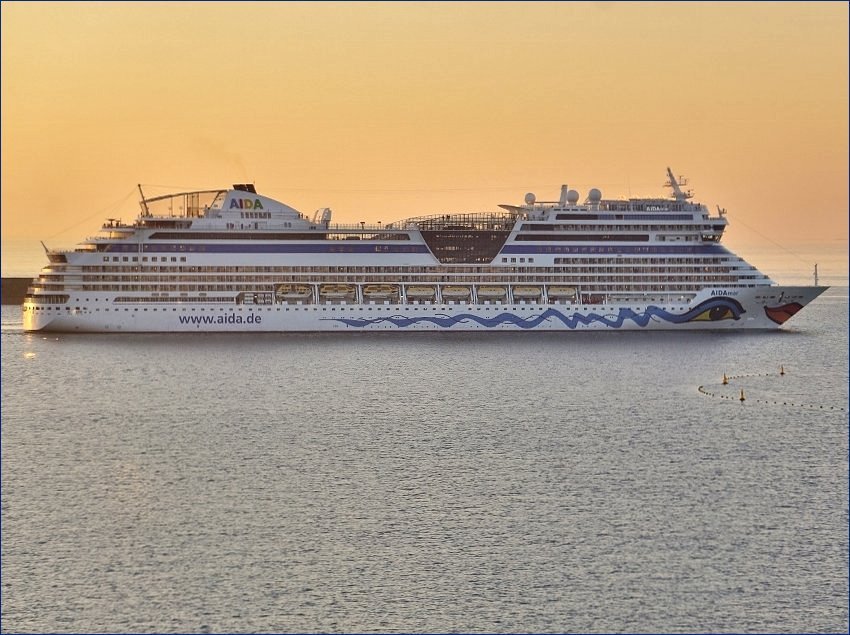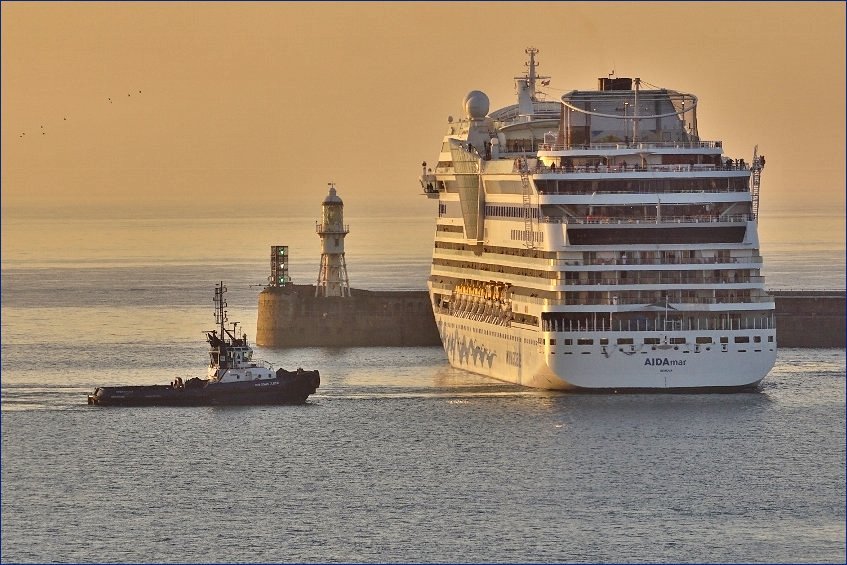 And a glorious morning it was too. Time of pictures: 07.10
PB
See todays earlier post from yours truly below.
Wednesday, 27 February 2019 - 16:09