Sunday, 21 April 2019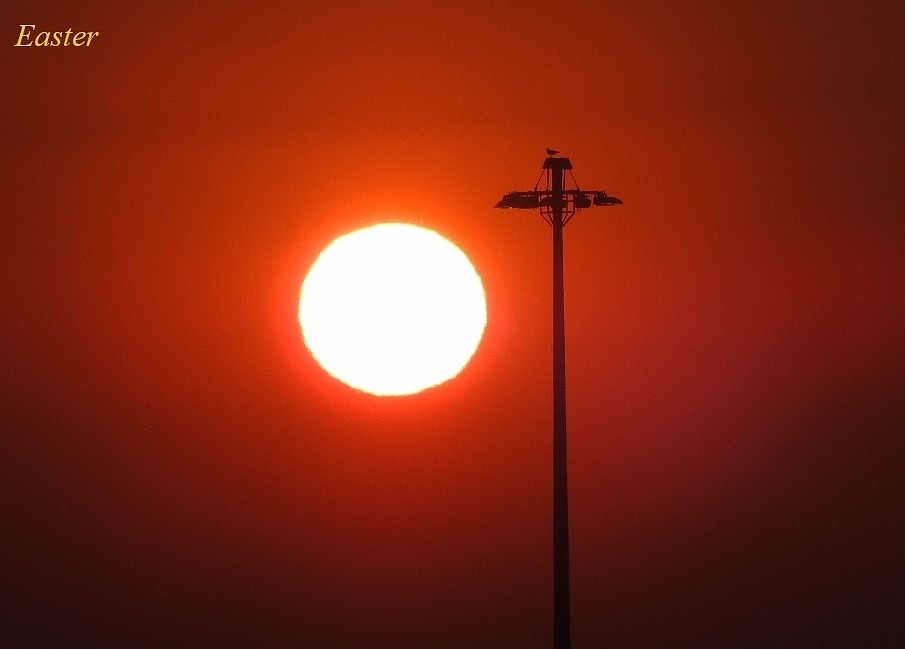 Easter Greetings to All. Top picture taken yesterday Easter Saturday looking across the Port of Dover at the rising sun.
The pic below .. a wider shot from a previous Easter.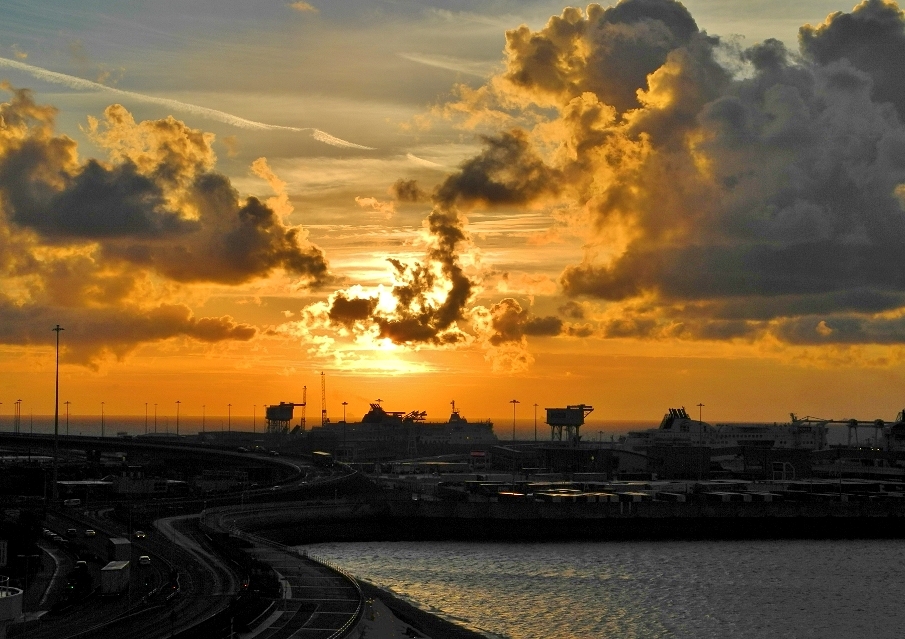 WWW.DOVERFORUM.COM/SEA-NEWS
Featuring all the ships that come and go and work at the Port of Dover ..
... with further coverage of the surrounding ports.
Sea News Dover
Port of Dover: Brexit Resilience 6123
DFDS: For apprentice information see 6125
Premier Inn completes see 6149 plus
P&O: Brexit Buffer.. Free Cancellations 6176
DFDS: ORCA 6179
P&O: Jobs Fair/Apprenticeships 6187
Port of Dover: New Cargo Manager see 6205
Use our SEARCH ENGINE below to find all sorts on the SEA NEWS pages....
type in the topic and away you go, or if you have the post number as shown above, just type it in the box,
more than - 6000 - nautical posts now.
Posts are welcome. just click 'Add Your Comment' below. Max of 5 pictures preferred although we can stretch that for special stories..
Sea News Editor Paul Boland - send info or pix to dover7@msn.com. Always welcome.
CRUISE CALLS:
https://www.doverport.co.uk/cruise/find-a-cruise/
To show your pictures at their best..it could be worthwhile resizing before posting to
840
pixels wide.
All pictures on these pages are the copyright of the owners and must not be reproduced without permission.
Post 6023
Sea News, Dover
She did go further down the coast alright Brian.
She is off Lydd as we speak and appears to be heading back here.

PB.

Thursday, 17 January 2019 - 18:45
Post 6022
brian dixon, dover
a daft question , has hms mersey gone back to home port. the reason why is I haven't seen her lurking around for a few days.

Thursday, 17 January 2019 - 14:16
Post 6021
Sea News, Dover
STATEMENT - PORT OF DOVER /DFDS /P&O FERRIES
Dover - ready to welcome customers into the future
_____________________________________________
The UK's planned departure from the EU has changed the way people think about the logistics industry and supply chains. Never has there been more public scrutiny on trade and the efficient movement of goods.
What has not changed is the ability of one port, two ferry operators and a fleet of 12 dedicated ferries to be capable of handling up to 10,000 lorries a day – a 180km trade expressway. Neither will geography change and Dover will remain the only place from which such a fleet can achieve up to 120 ferry movements a day, where each ferry is berthed, unloaded, re-loaded and heading back to France in as little as 45-50 minutes on the shortest sea crossing. With the French coast often in full view, this finely tuned engine simply cannot be matched in terms of capacity or speed.
Of course, external factors such as border controls may slow things down, but they will do that at every EU-facing gateway across the country. What makes Dover different is that it has the experience of how to deal with major disruption and find a way through – nowhere else has this experience.
That is why within a few days of the last significant incident of Operation Stack in the infamous summer of 2015, Dover was once again handling record volumes. During the course of any year, the Port of Dover manages smaller disruptions through our continuing professional approach. Dover has stood the test of time.
The entire operating system – the Port and its infrastructure, border controls and ferry operations - is designed around the fast paced, seamless movement of traffic. With the growth in our volumes, it is a strong indication that people want to continue to take advantage of the Port of Dover and its ferry partners. The Government understands this and the Port has been working closely with its Border Delivery Group for some time, a cross-Government group coordinating Brexit planning across Whitehall and with a firm remit to keep traffic flowing across the Channel.
Preparation is key. Beyond the existing close coordination with the Port and its ferry partners, it will be essential that the UK Government and its agencies as well as the European Union and its Member States expedite the provision of necessary information to the logistics community in order that it has what it needs to plan for and prepare the required documentation in advance of lorries arriving at ports.
Kasper Moos, Managing Director of DFDS in Dover, said:
"We have been preparing for a wide range of scenarios for some time along with the port and our partners. We have adapted our IT systems and are building customs expertise so we can offer customs and other services to our customers to help mitigate any effect. We are now intensifying work to ensure those customers are preparing for any new border processes in order to protect their business and keep people and goods flowing through this vital trade route."
David Stretch, P&O Ferries' Managing Director - Short Routes, said:
"As long as there are goods and people travelling between the UK and Europe, P&O Ferries will continue to provide a comprehensive ferry and logistics service to and from the continent. We have been working with the authorities on detailed preparations to support our operation at Dover which, along with our ports on the east coast of England, will continue to give customers a range of options for connecting with Europe under every scenario."
Doug Bannister, the Port's new Chief Executive, said:
"Throughout the Brexit debate, what people have been desiring is certainty. Uncertainty is continuing, but we are prepared. We will continue to manage our infrastructure professionally and our team stands ready to handle whatever comes our way. We look forward to welcoming customers on 29th March, 30th March and far into the future."
ENDS
Port of Dover - New Dawn?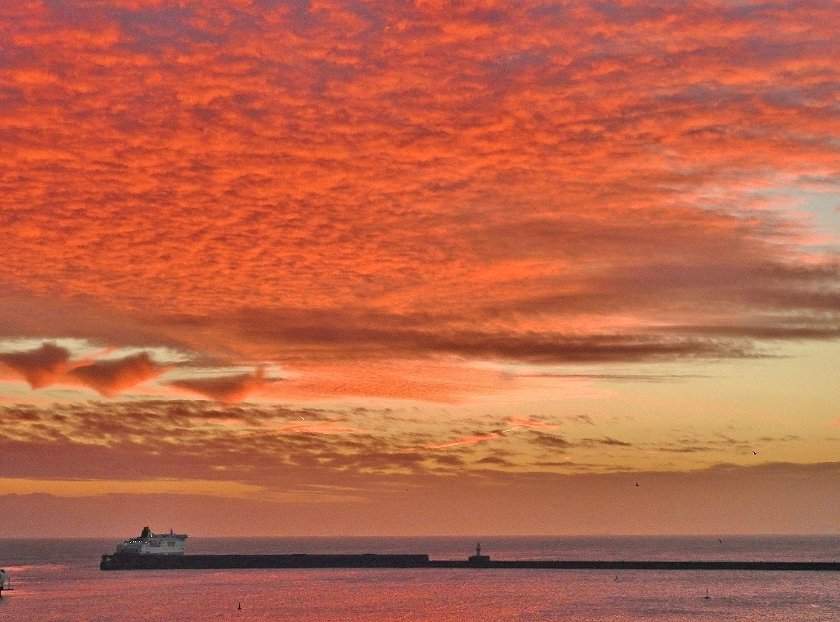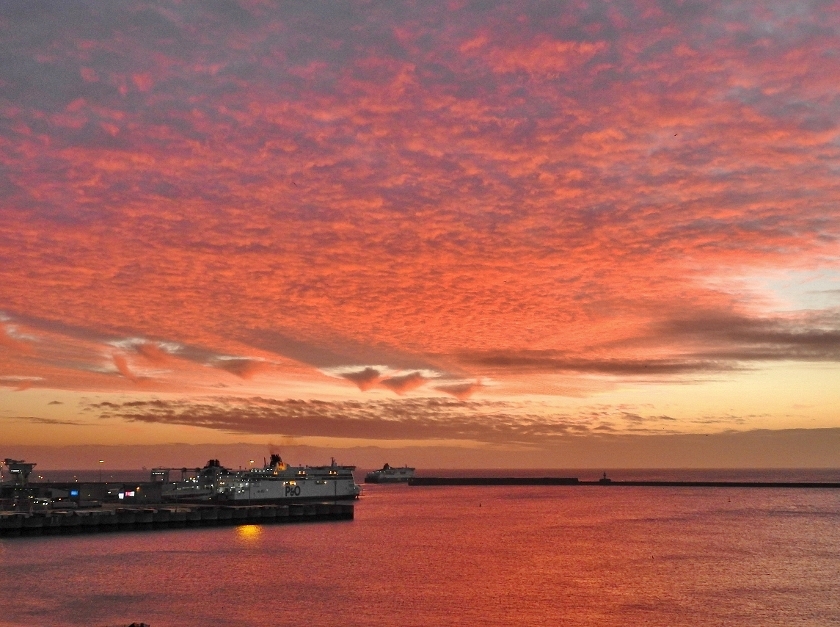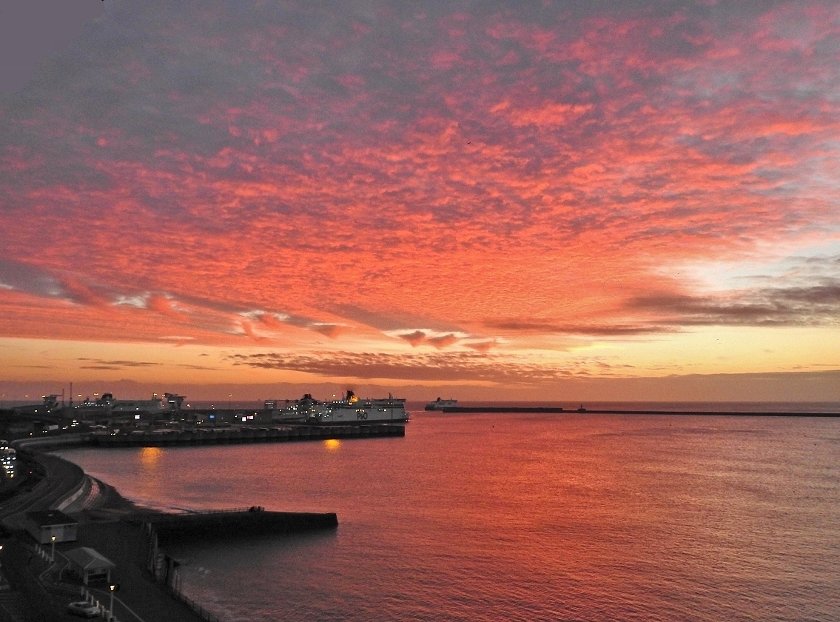 As promised the dazzling sky on Monday morning above there. Just natural photographs with nature doing all the colourful work. It was a very ordinary sky one minute and then suddenly it exploded into exciting dazzling colours. All different photographs above there.. wide, wider and wider still. Before too long alas it had drifted back into slate grey for the departure of Hellas Reefer...that's an extra shot of Hellas Reefer below with the pilot almost alongside

PaulB
Thursday, 17 January 2019 - 07:47
Post 6020
Sea News, Dover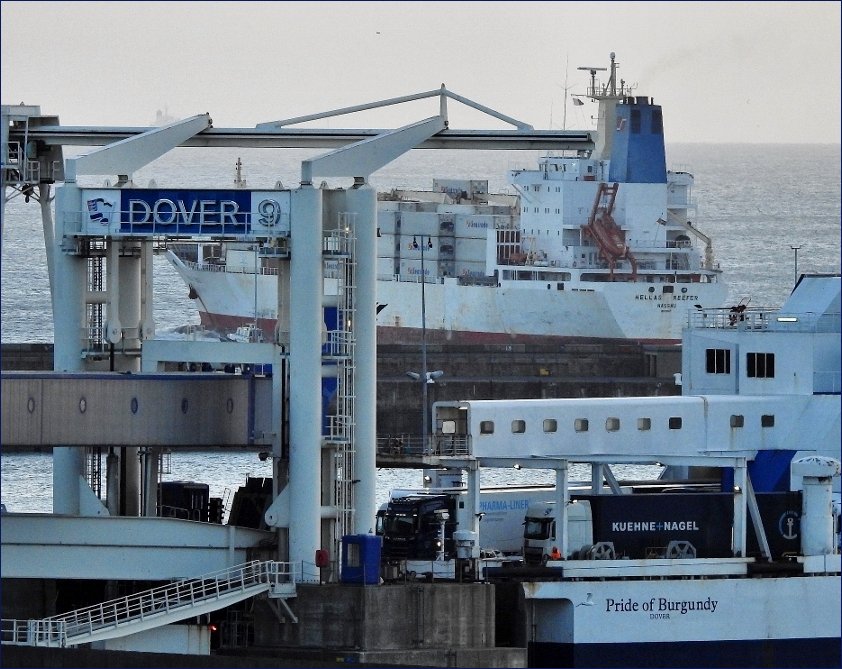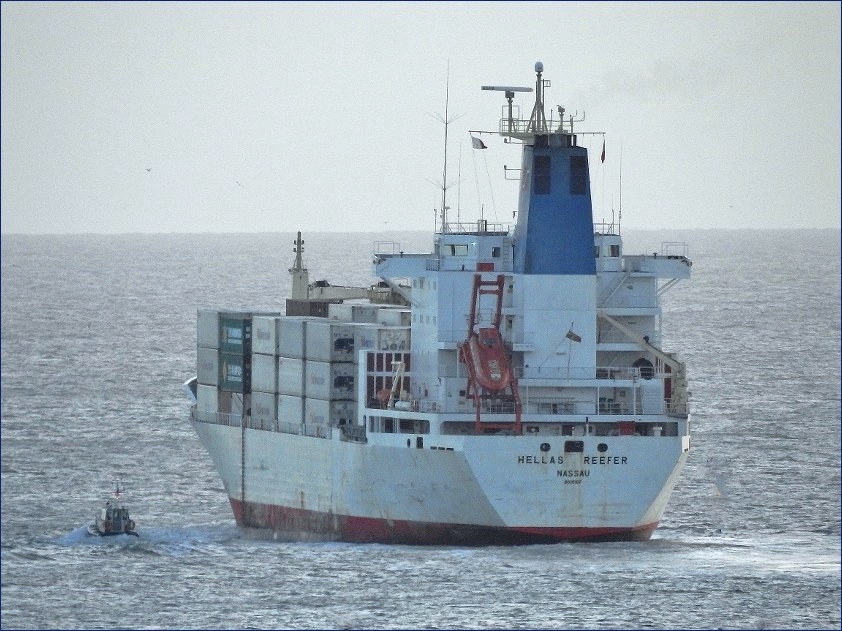 Hellas Reefer : an early morning departure for Hellas Reefer. Monday morning in fact. Yours truly just spotted her across the Port as she moved away. Off to Vlissingen in the Netherlands she was. The top shot shows her across the other side of the Port..the eastern side, as we gaze beyond Dover 9 and the Pride of Burgundy.
The second picture above shows Hellas moving away with the ever active pilot boat alongside. As you can see twas another grey day.
But early sunday morning below, a day earlier, it wasn't grey. There was some delightful colour in the sky as the Lifeboat went out on another run. Wider shots here to capture the general atmosphere. The colour didn't last. If you remember the previous picture from Sunday ( see 6019 below ) taken about 50 minutes later...the pic with the HMS Mersey in it just below...you can see how grey it had become...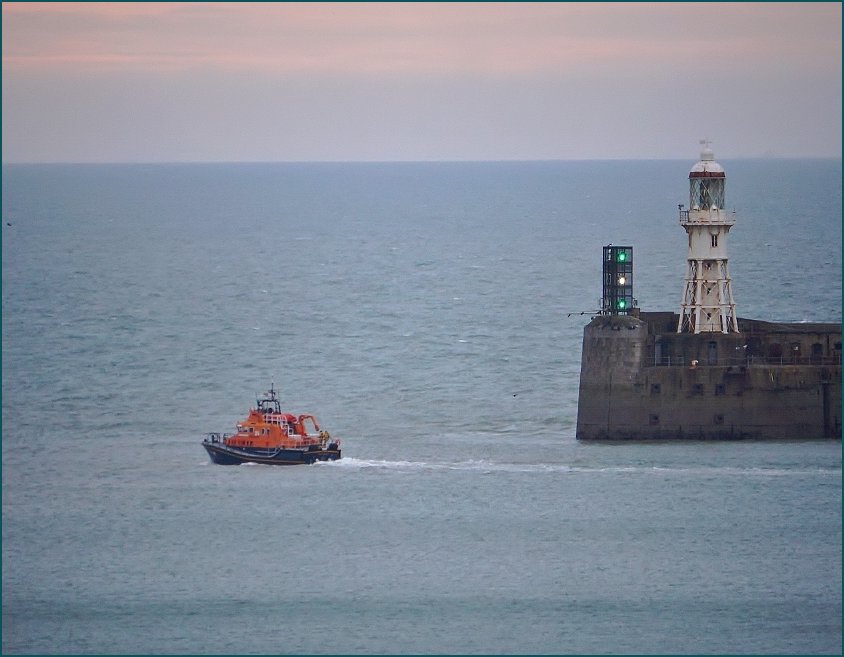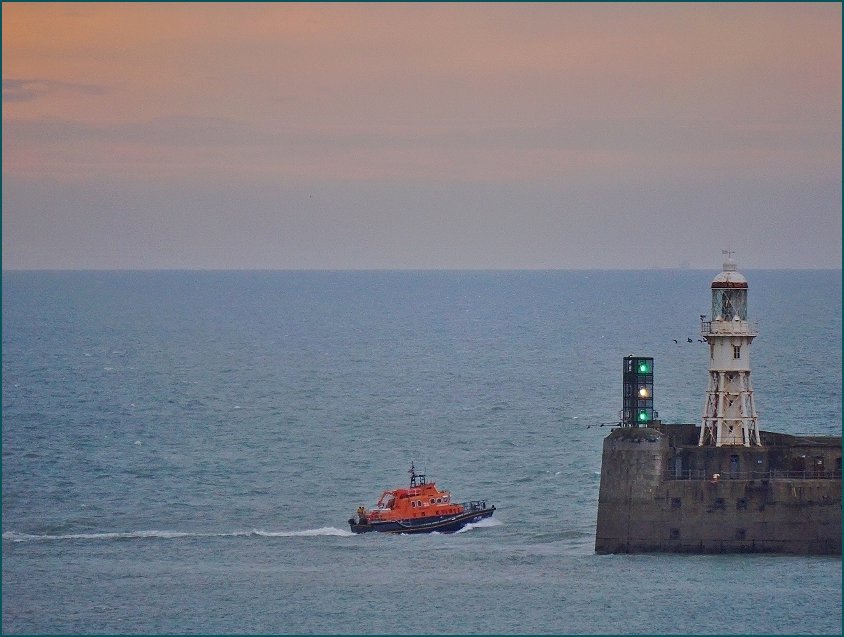 Speaking of colour....Monday very early had some fantastic colourful skies ...
will have those pix tomorrow morning. Wear your sunglasses before tuning in...

Further news on the Ramsgate - Ostend ferry proposal. It seems Ostend are not interested. They are nowhere near ready to accept a ferry service from Ramsgate. So it appears. They dismissed the notion yesterday which leaves the hapless bungling grappling Grayling with yet more egg on his face. Not that Seaborne Freight in Ramsgate are ready either...with no ferries on their books. Yet Grayling presented them with a £14Million pound contract to relieve the potentially overstretched situation here. The Brexiteers tell us we have no worries about pulling out of the EU with a 'no deal'.. but can we believe these politicians if this is the level of future planning they present to us. As we saw in the House last night, the 'dream team' cabinet chaotically shuffle and struggle from one abysmal day to the next.
PB
ps: Just an extra reminder to see also 6017 about the Cypriot reflagging of the P & O ferries.
Wednesday, 16 January 2019 - 06:05
Post 6019
Sea News, Dover
Believe it or not all these pictures are colour pictures, although in some cases you would hardly think so. Its not an artistic attempt at monochrome, its simply that the weather is so grey at the moment looking seaward....except sometimes first thing in the morning. All pictures sunday morning...
The first shot shows Dover Lifeboat returning. In the background there you can see HMS Mersey. Whether they had a liaison or not I don't know as didnt see what happened earlier...the Lifeboat may have just been returning from the same patch of water while on a sunday morning exercise.
A short while later HMS Mersey turned about and came over in this direction a bit more than usual, as you can see in the pictures below. The ship usually stays further west of the Port...but we are always glad to get a better view... so, good to see it. Better weather eventually will give us better images.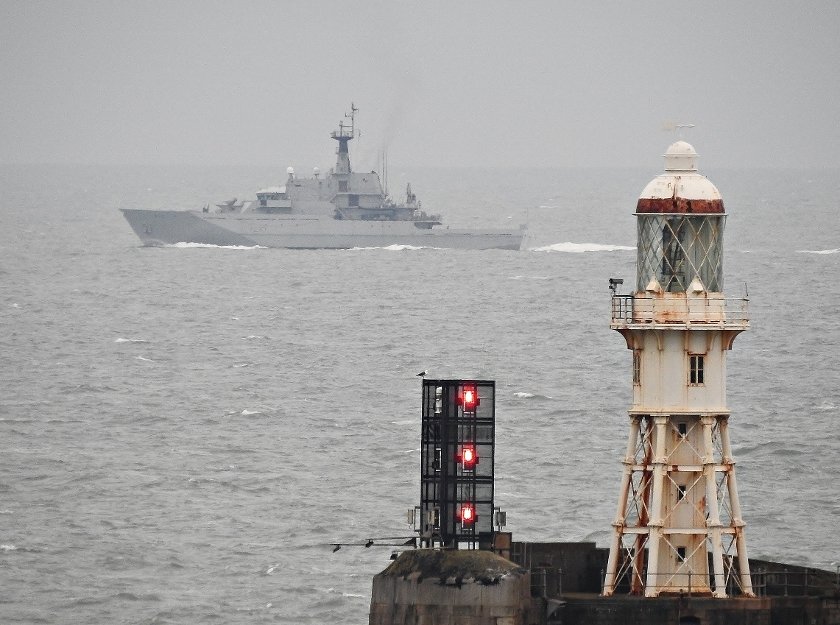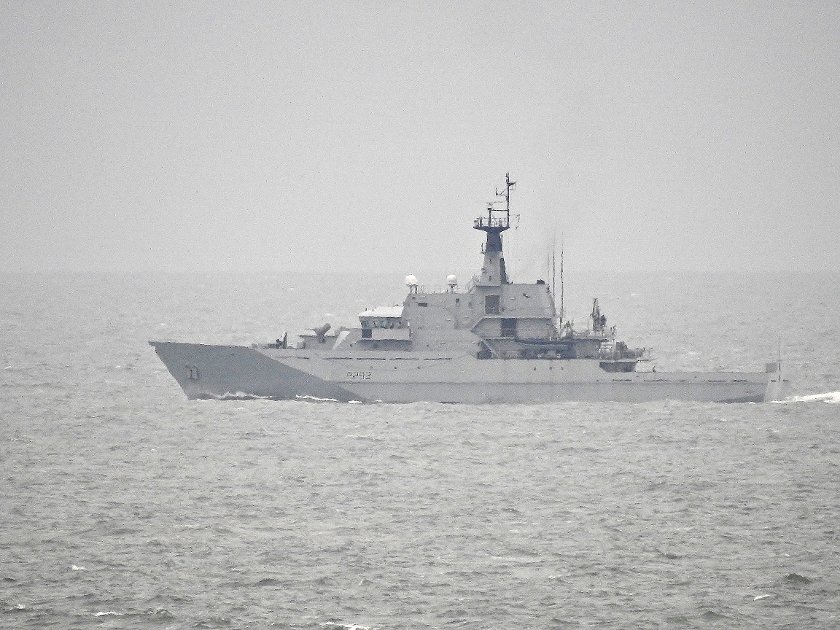 The final shot shows her veering over towards the Varne Lightship...the Lightship being hardly visible in the misty gloom.
That indeed is a great gathering of lifeboats over there Sarah... a true plethora..lol!

!
Good to see that one of the Maersk Connector too... great shot.

A very interesting post below Mike. Excellent info. Quite a bit of a shock that one. These are indeed uncertain times for all and as we can now see the Ferries have not escaped change either. And of course... a big political day today ...some pundits are saying its one of the biggest ever, and we don't know what we will be left with.
In normal times for example Grayling would not have kept his job..he seems to bungle through every position he holds in wide-eyed hapless style, but times are so difficult there is no political talent coming through to the frontline..we are stuck with the dim and the dismal.
PaulB
Tuesday, 15 January 2019 - 05:15
Post 6018
Sarah, Ramsgate
Spotted off Ramsgate today.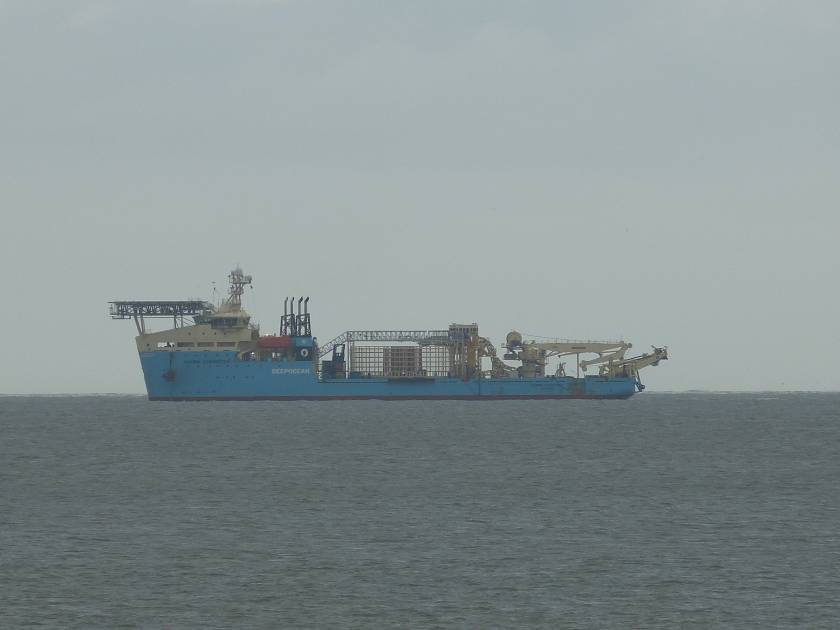 A plethora of lifeboats at Ramsgate today



Relief Lifeboats " Lady of Hilbre", "Dora Foster McDougall" & "John & Louisa Fisher", Ramsgate Lifeboat "Esme Anderson" & Gravesend Lifeboat "Oliver Laura Deare II"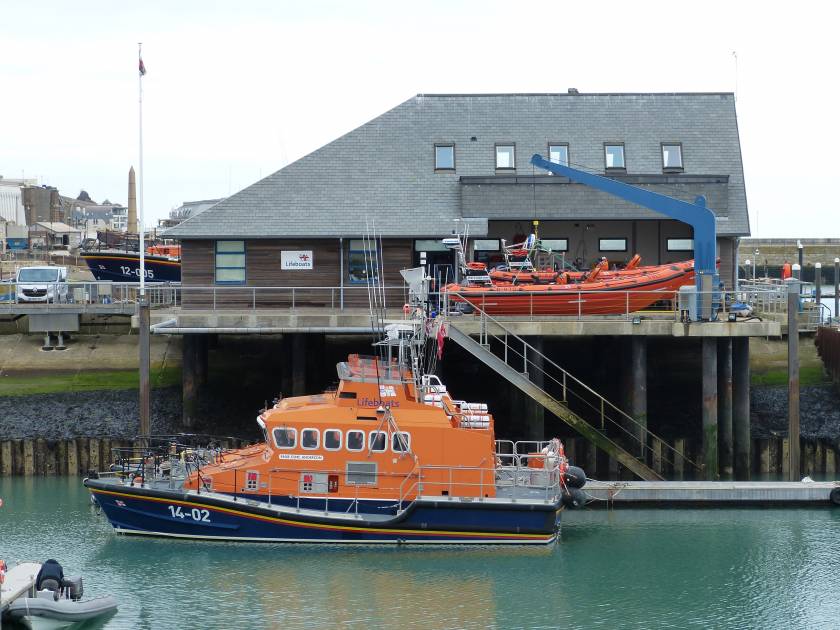 Tuesday, 15 January 2019 - 00:53
Post 6017
Mike J., Dover
SPIRIT OF BRITAIN departs Dover on Monday after resuming service on her return from her Hamburg refit.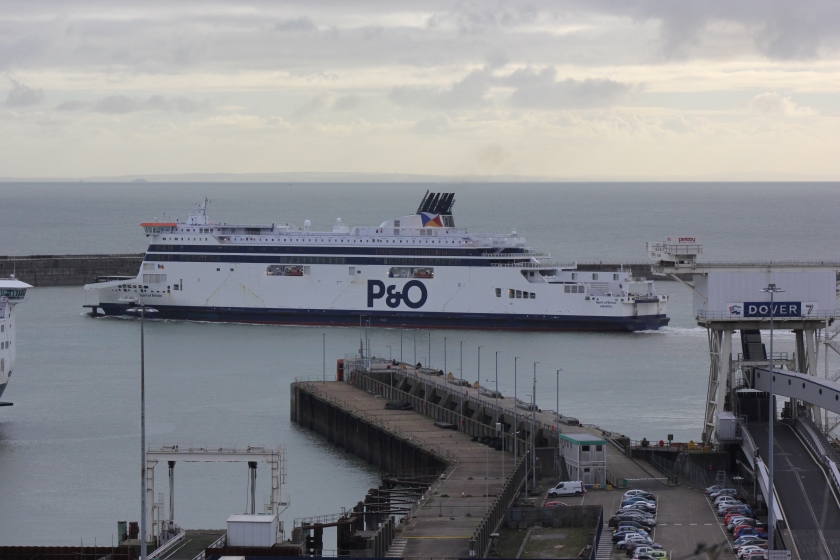 Notice anything different ?
She has been reflagged from the British Shipping Register & now flies the 'Flag of Convenience' of Cyprus & no longer has 'Dover' on her stern.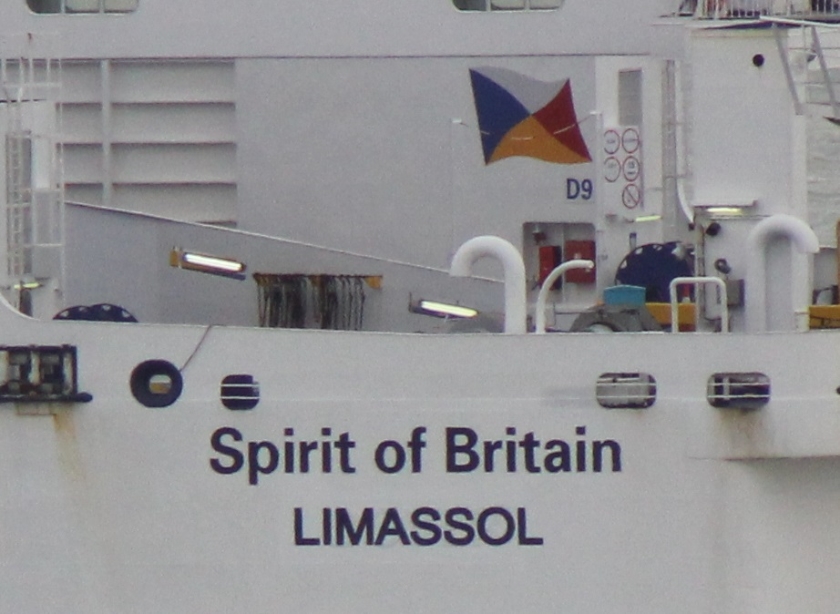 Additionally she will no longer fly the Red Ensign, except possibly as a 'courtesy flag' above the bridge.
I'm not for a moment suggesting that there will be any reduction on the very high standards of operations by all of the British ferry operators, presumably the re-flagging is is a move to obtain some useful 'flexibility' in the uncertain world of post-Brexit Europe, although there must be some unease amongst the crews onboard.
I'm sure that there will be further reflaggings in the near future.
Many 'British' ferries operating on routes away from Dover have been flagged-out for some time & indeed during the brief presence of Stena Line in Dover their ferries were registered in the Bahamas, again for tax & financial advantages.
P&O ferries are owned by Dubai Ports [a comparatively small part of their operations] & DFDS is a Danish company & neither owner has any particular loyalties to the UK, quite understandably they are in business to make money & it is their right to operate their companies in the manner that they see fit, but it doesn't build confidence in the British economy in the future.
Uncertain times indeed.
Turning away from politics the refit season is underway with the SPIRIT OF FRANCE leaving Dover on Monday morning & is due in Hamburg midday on Tuesday.
Monday, 14 January 2019 - 23:11
Post 6016
Sea News, Dover
Deal Pier Kitchen Officially Opened by Council Chairman
_________________________________________________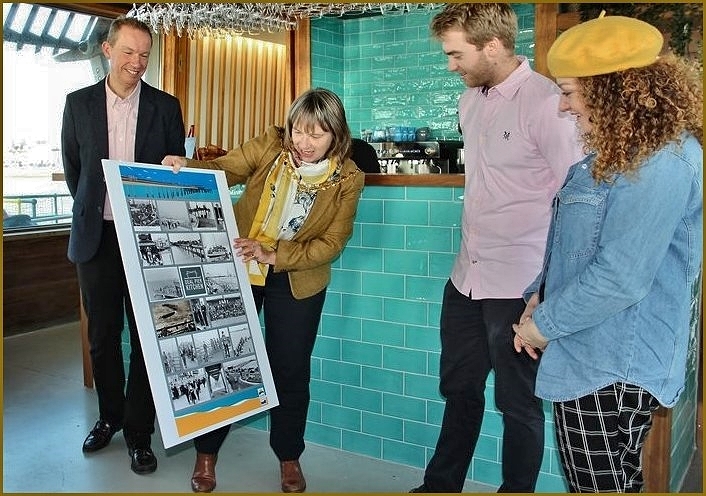 The Chairman of Dover District Council, Cllr Sue Chandler officially opened Deal Pier Kitchen recently, the new cafe restaurant at the end of the council-owned Deal Pier.
Deal Pier Kitchen is open seven days week and brings a fresh, new offer to the pier. The cafe restaurant is housed in the Royal Institution of British Architects (RIBA) award-winning building designed by Niall McLaughlin, opened in 2009, and featured on the CHALKUP21 trail of contemporary coastal architecture. The café restaurant offers outstanding views out across the English Channel.
The team behind Deal Pier Kitchen, hospitality entrepreneurs, Rebecca Hodson and Tim Biggs, were awarded a 20 year lease of the cafe restaurant following a competitive tender by Dover District Council and supported by leisure property specialists, Fleurets.
Cllr Trevor Bartlett, Dover District Council's cabinet member for corporate property, said: "We're delighted to welcome Deal Pier Kitchen as part of our £500,000 revamp of Deal Pier. We were impressed with Rebecca and Tim's vision for the cafe restaurant and the fresh new approach that they bring. The pier is very much at the heart of local life in Deal so we know they are going to be very busy!"
Tim Biggs, said: "We look forward to welcoming everyone to Deal Pier Kitchen. We've developed an exciting new menu based on local produce and creating a dining experience to make the most of this fantastic location."
ENDS
Picture L to R: Cllr Trevor Bartlett, Cllr Sue Chandler, Tim Biggs, Rebecca Hodson.
Sue presents a poster of historical Deal Pier to the couple.
Many thanks to DDC for the info above. A great treat for those who enjoy dining out.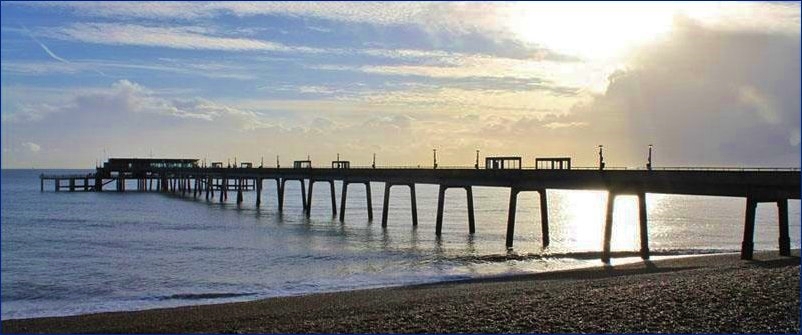 The enjoyable Deal Pier above....
and below the always photogenic fishing boats along the strand there.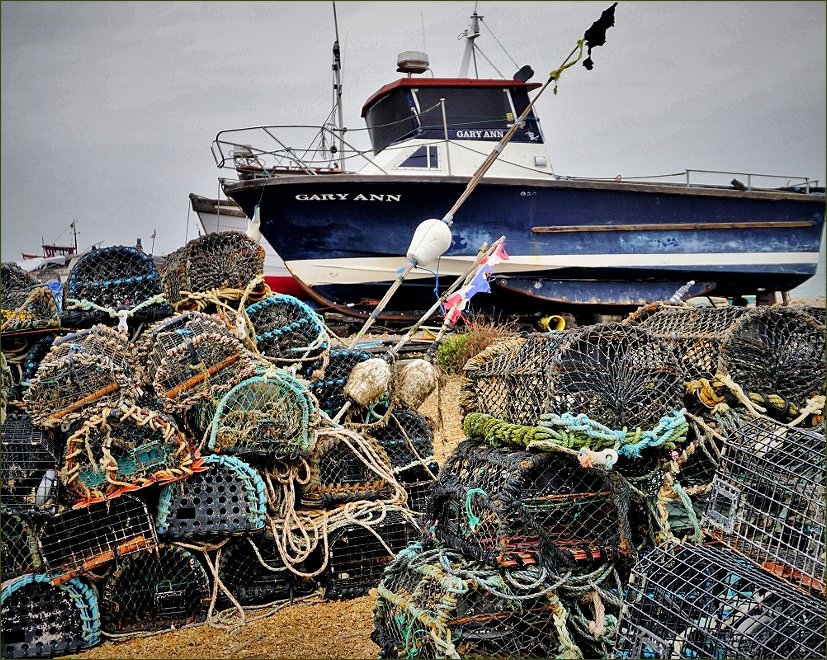 * *
Following along from Mike's excellent pictures of Viking and Vulcan in the inner sanctum see 6013...the same day I caught Vulcan in the distance heading towards Folkestone. Yours truly was merely testing the camera's changed program and Vulcan popped into view. This is fairly long range, looking across the roof of the Dover Cruise Terminal One. Time of picture 13:05 Friday.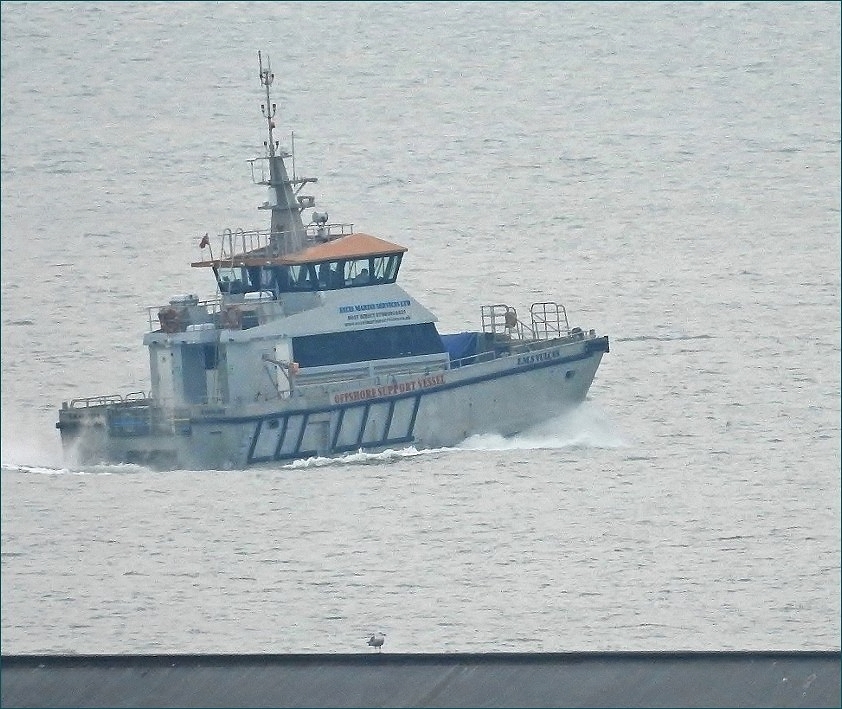 Absolutely great 'famous five' pictures below there Ted from your brother David...excellent. All great - am particularly fond of the top one taken exiting Port of Calais.
Well done Ted and David.

PaulB
Monday, 14 January 2019 - 07:25
Post 6015
Ted Ingham, Canterbury
"Five Dover ferries from the past"
A selection photographed by my brother David.
P&OSL DOVER.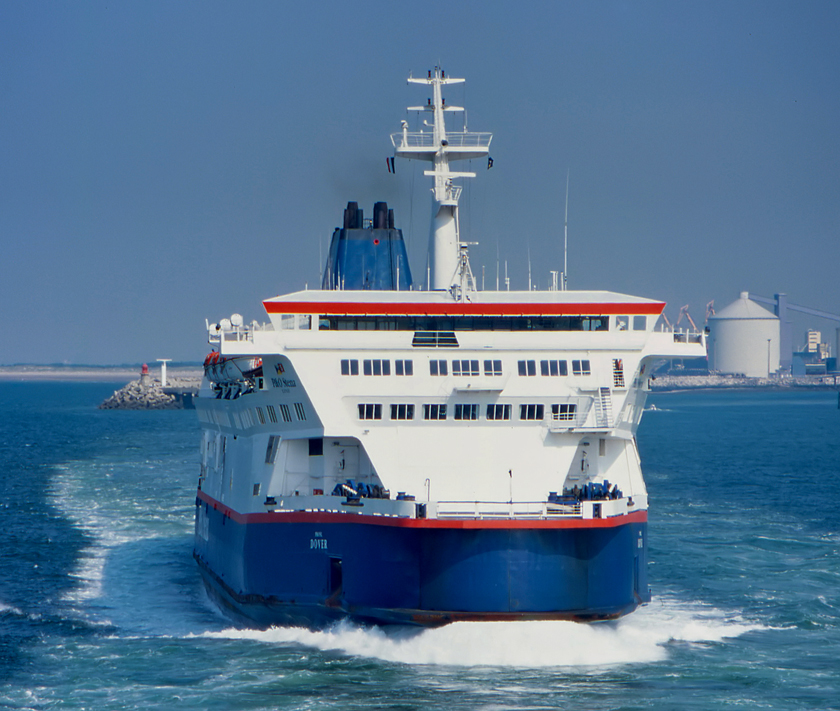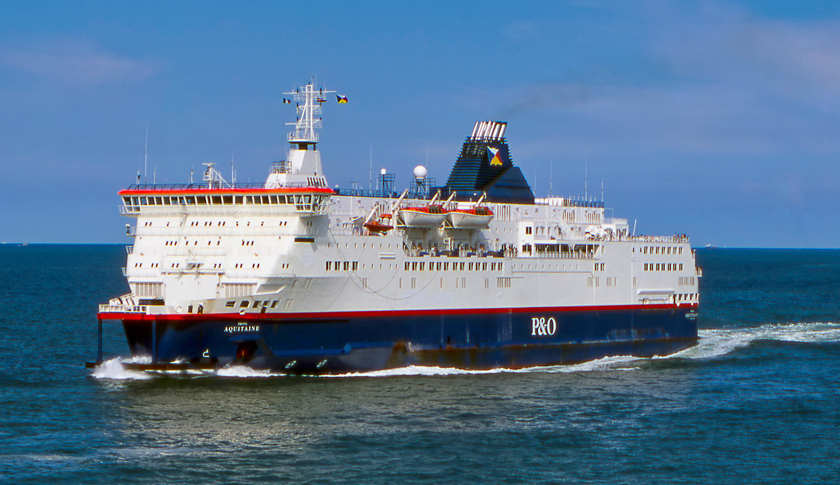 P&OSL AQUITAINE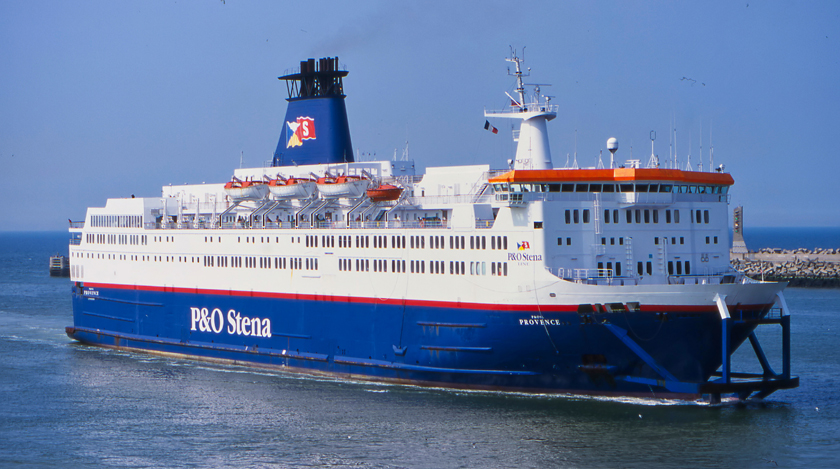 P&OSL PROVENCE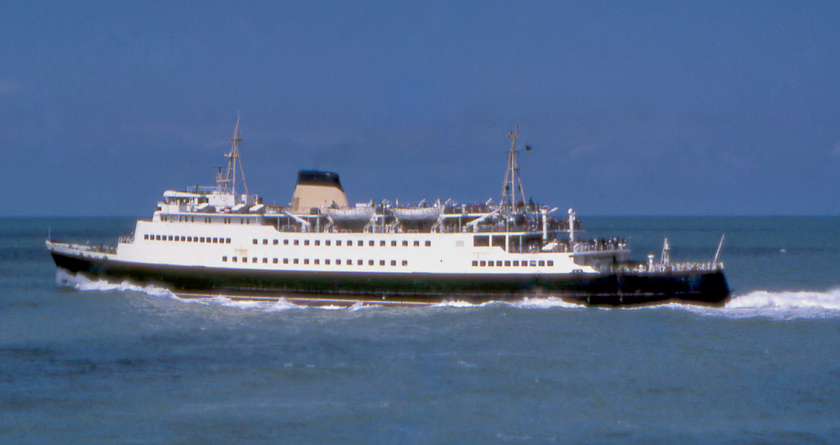 PRINSES PAOLA ..The Dover to Ostende passenger ferry known locally as "The Racing Greyhound"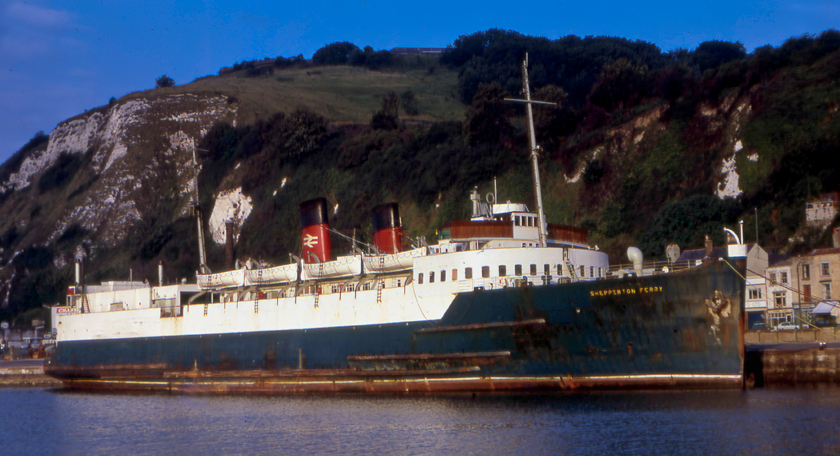 The train ferry SHEPPERTON FERRY laid up in the Wellington Dock.
Saturday, 12 January 2019 - 11:39
Post 6014
Sea News, Dover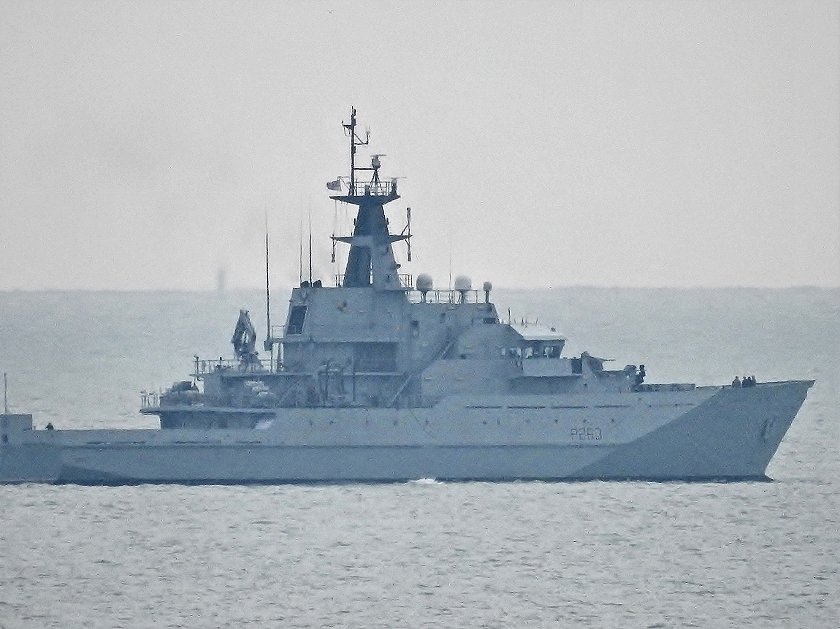 HMS MERSEY : Yes there we are with HMS Mersey again. This picture taken yesterday Friday. Still fairly long range and taken in our current ultra grey conditions, so the pic not ideal...but a bit closer anyway. You can see some of the crew there near the bow, and maybe one towards the rear of shot. She slowly patrols daily but her path of choice seems to be more in the Folkestone direction...then back towards west of Dover...then back towards...
The Latest from Charlie Elphicke MP for Dover and Deal.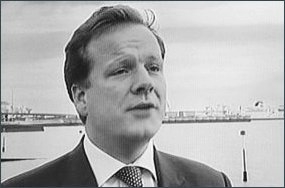 Fighting to make our borders stronger and safer
Dear Mr Boland,
The migrant crisis in the English Channel escalated yet again over Christmas and New Year, with dozens more arriving along the Kent coast.
Here at the Dover frontline, we have been fighting hard over the past few months for Ministers to take action. In November in the House of Commons, I called on the Prime Minister to tackle the traffickers and boost our border security by increasing patrols. I'm pleased to see that our campaign is now making a difference.
Firstly, the Home Secretary acknowledged this is a major incident and appointed a Gold Commander. He then listened to our calls to return the UK's two cutters back from cruising in the Mediterranean to patrol the English Channel and take back control of our borders.
I was delighted Sajid Javid also accepted my invitation to visit Dover. He was able to see how our heroic lifeboat crews, Border Force and emergency services work tirelessly along our coast to protect the border and keep people safe.
Meanwhile, the National Crime Agency have recently made arrests in connection to the smuggling network allegedly behind the recent spike in crossings. And the deployment of HMS Mersey is a welcome first measure too – as we seek to increase the deterrent in the Channel.
Now we need to see more action from the French. It's vital they immediately increase the number of craft and police patrolling their coastline – to stop these small boats from embarking. And there is a strong case for using aircraft with thermal imagery cameras to track any attempts to make these dangerous and illegal crossings.
We cannot be complacent. Because it was a lack of swift action that led to the rise of the Calais Jungle. At its height, some 10,000 people lived in the migrant camp in misery and squalor. People traffickers roamed free exploiting the vulnerable and terrorising tourists and truckers. Only after a hard-fought campaign was the Jungle dismantled and the number of migrants being trafficked plummeted. We cannot risk allowing the bad old days to return.
The Home Secretary is right to send a strong message and remind everyone that asylum should be claimed in the first country people come to, not the last. Indeed, why are they not claiming asylum in France, which is a very safe country? To return those attempting to cross to France would be the best deterrent and I hope the French will agree to that.
For too many years, the UK has gained a reputation as a soft touch on immigration. That needs to change or else people will continue to huddle on board these unseaworthy vessels, risking their lives and those of their young children.
We cannot allow this to carry on. The key is to stop the boats before they leave the French shore – and catch the ruthless people traffickers behind this crisis.
Investing more in our border security and taking firm action on illegal immigration must be a national priority.
Charlie Elphicke MP
Ends
From our newly restored Conservative Charlie there..saying much the same thing as Home Secretary Javid on his recent visit.
And we felt re-assured then didn't we...??
It is going to be an interestingly chaotic week in politics next week...Gawd knows what 'witches brew' will ensue.
There is nothing like having a stable government and ...(you know what I'm going to say next )
....this is nothing like having a stable government!!
Another picture now to finish off...showing once again the Maersk Connector leaving us on Thursday morning.. time of pic 11.30am.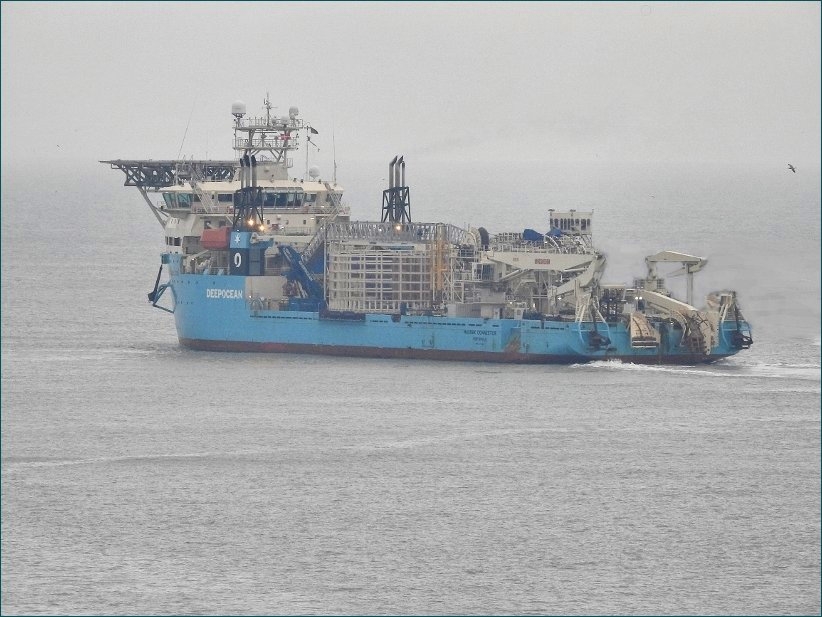 See also post 6009.
Brilliant shots below there Sarah 6012. Cracking shots. Great to have those and in such close detail too. Excellent.
Well done there.

Nice collection below there too from Mike ..from our inshore waters...always good to see those. Interestingly I tried a long range shot of Vulcan yesterday while testing the camera as she made her way westward. It might be okay - will have a look.

PaulB.
Saturday, 12 January 2019 - 07:46
Post 6013
Mike J., Dover
Nice 'underway' pix from Sarah who seems to have the knack of being in the right place at the right time.
Why am I not surprised ?
Friday morning & the long laid-up windcat EMS VULCAN has been joined in Wellington Dock by fleetmate EMS VIKING who spent Christmas at Whitstable [post 5985].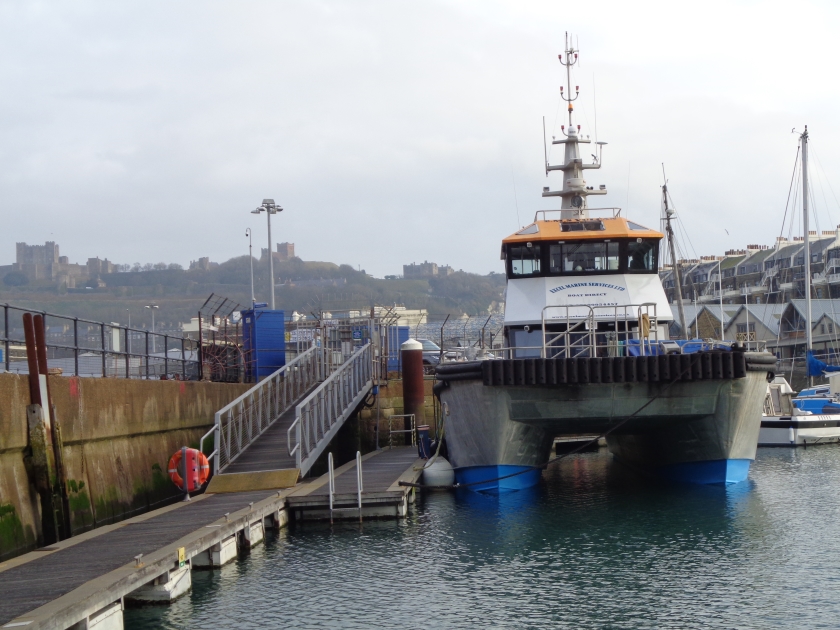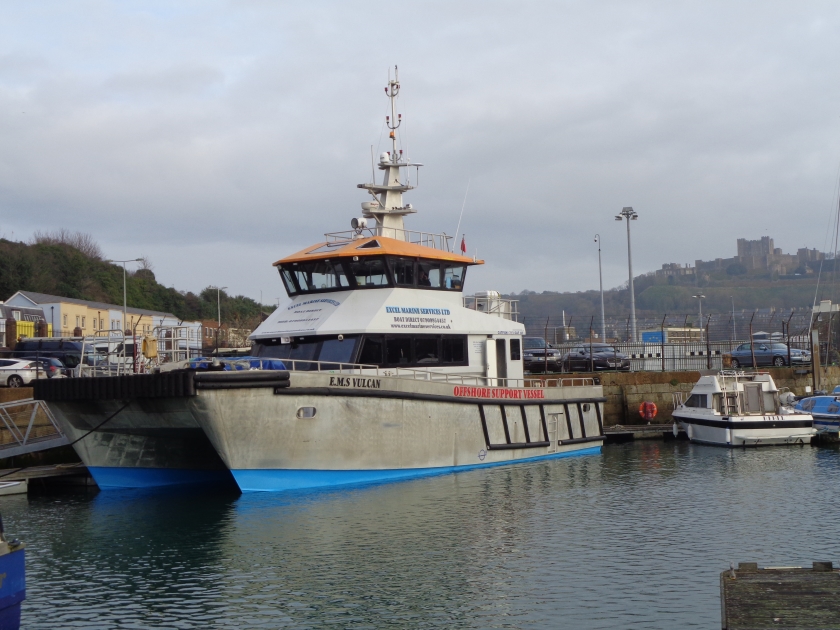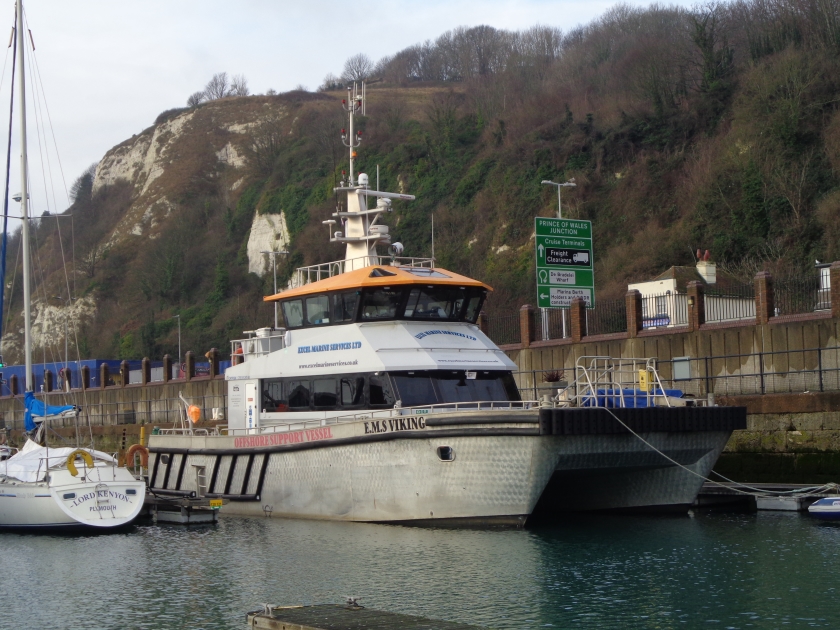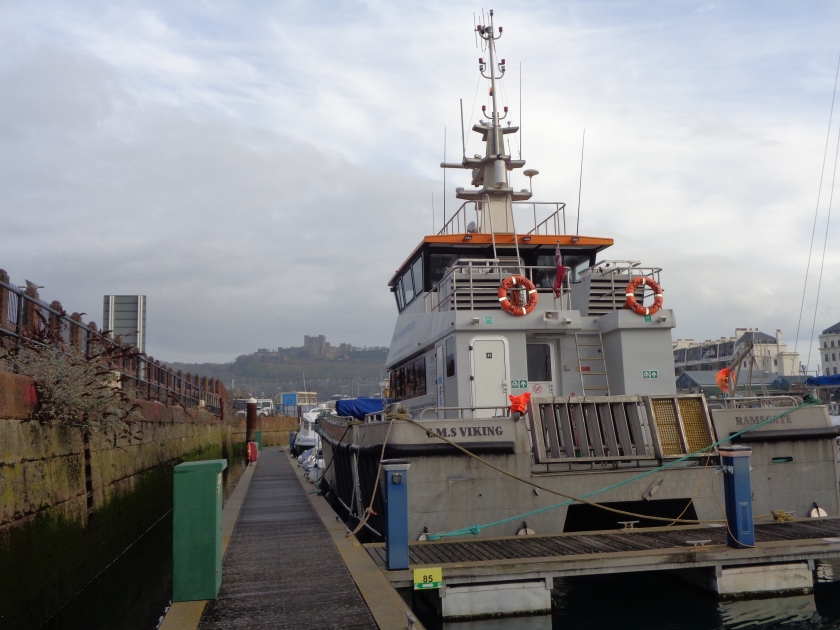 Saturday, 12 January 2019 - 00:28
Post 6012
Sarah, Ramsgate
HMC Vigilant leaving Ramsgate to go on duty in the English Channel.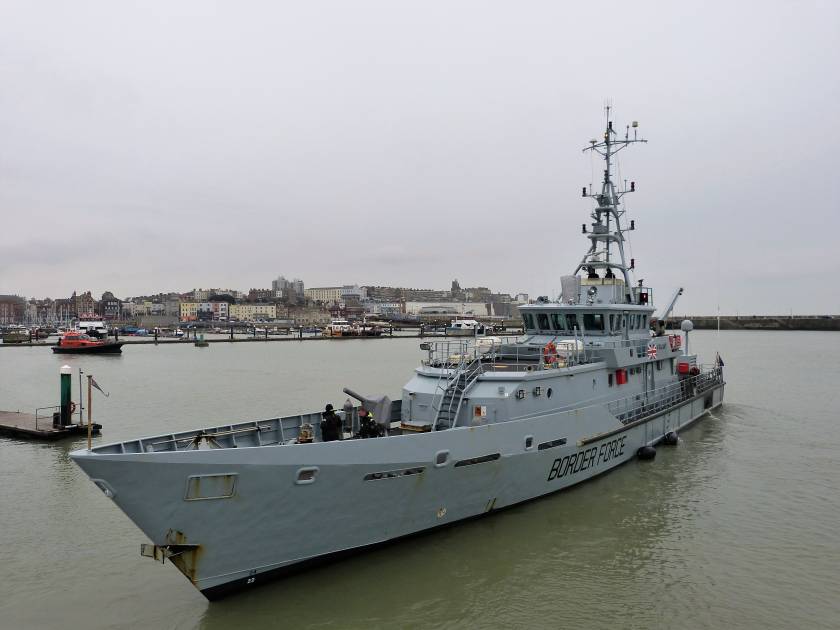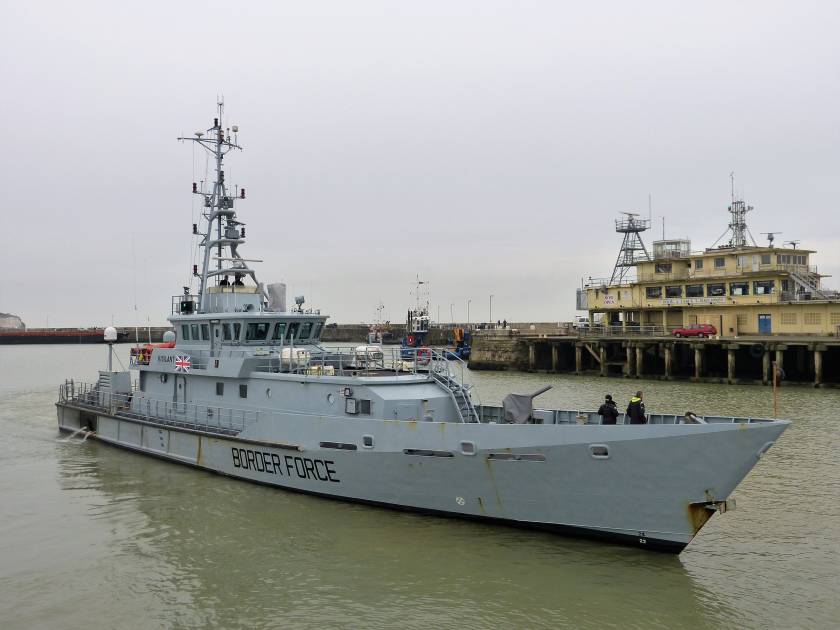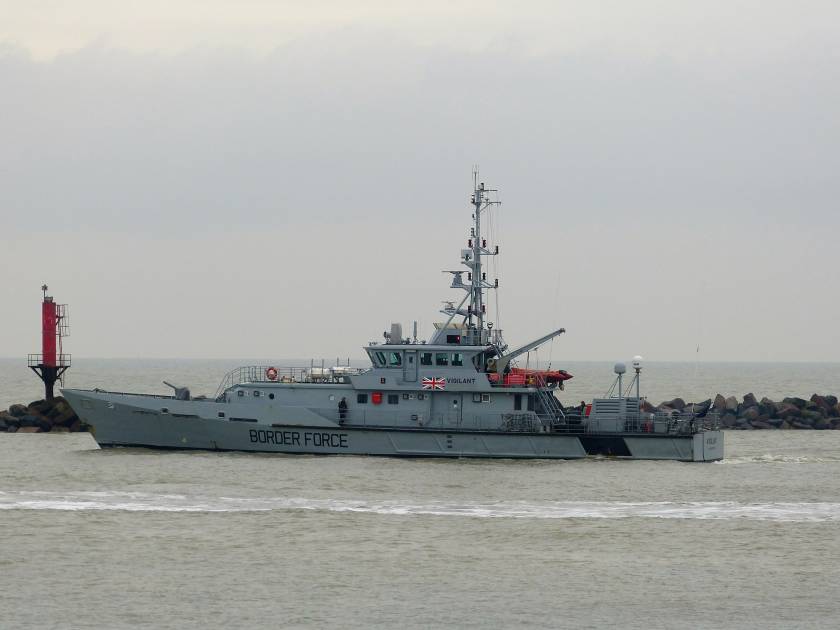 FPV Morven leaving Ramsgate.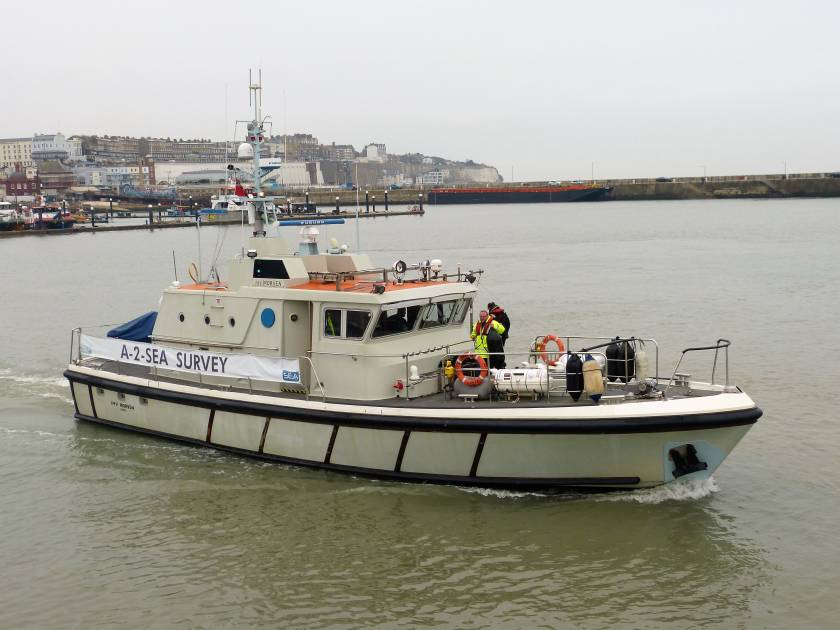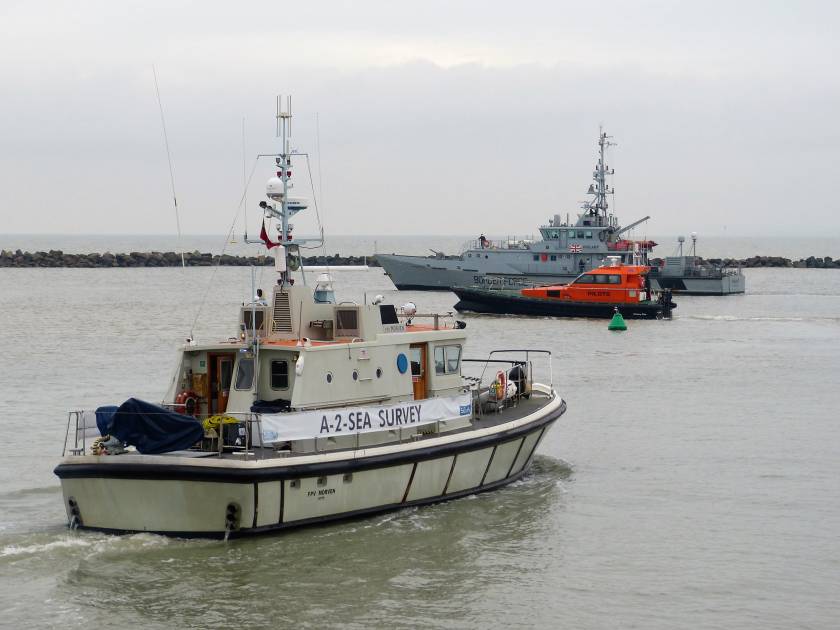 Friday, 11 January 2019 - 09:07
Post 6011
Sea News, Dover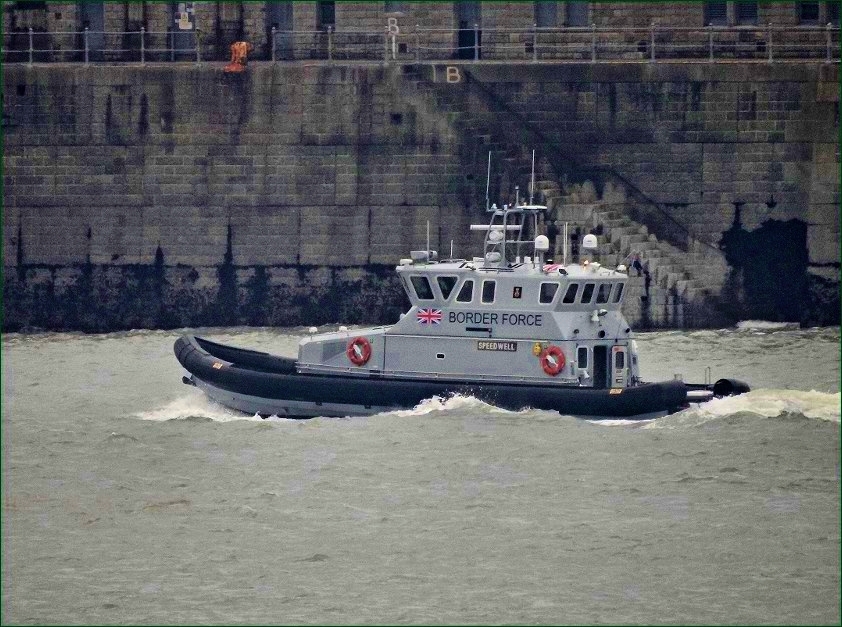 Border Force Speedwell making its way out of the Port of Dover yesterday morning..heading out for another 'tour of duty' out there in the Channel. Extra picture for this morning there, but also see todays other post below featuring the departing reefer.
PaulB
Friday, 11 January 2019 - 07:42
Post 6010
Sea News, Dover
The Atlantic Klipper heads to Vlissingen.
As promised.. some further pictures now of the Atlantic Klipper moving off earlier in the week.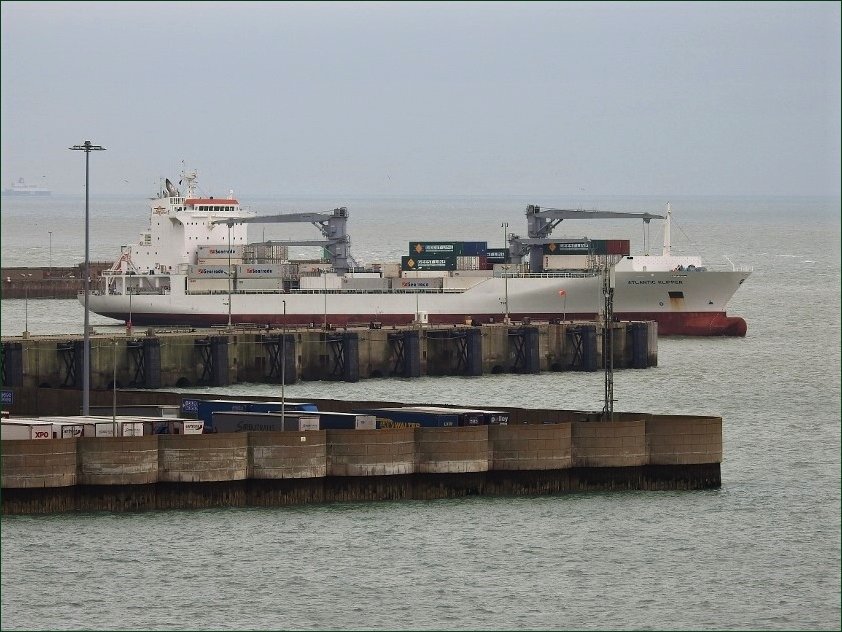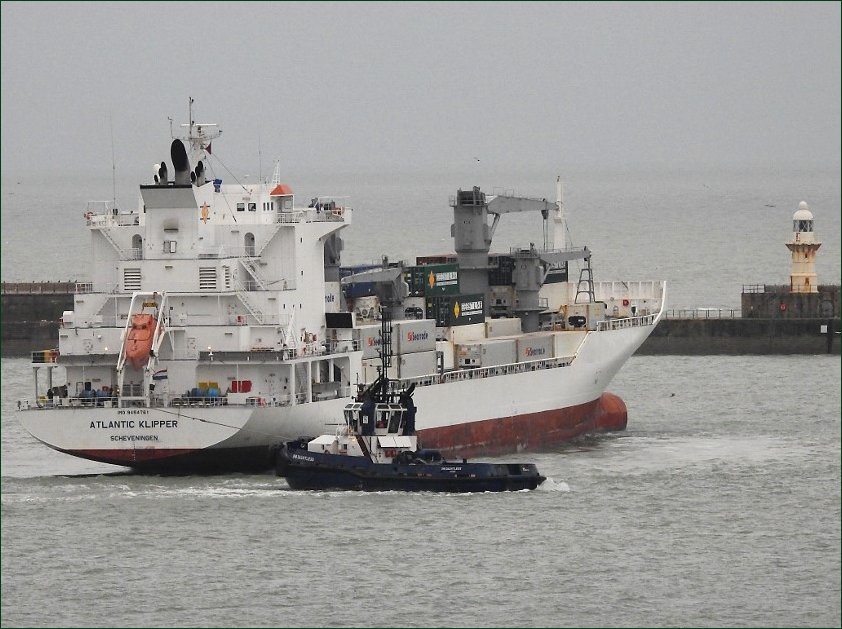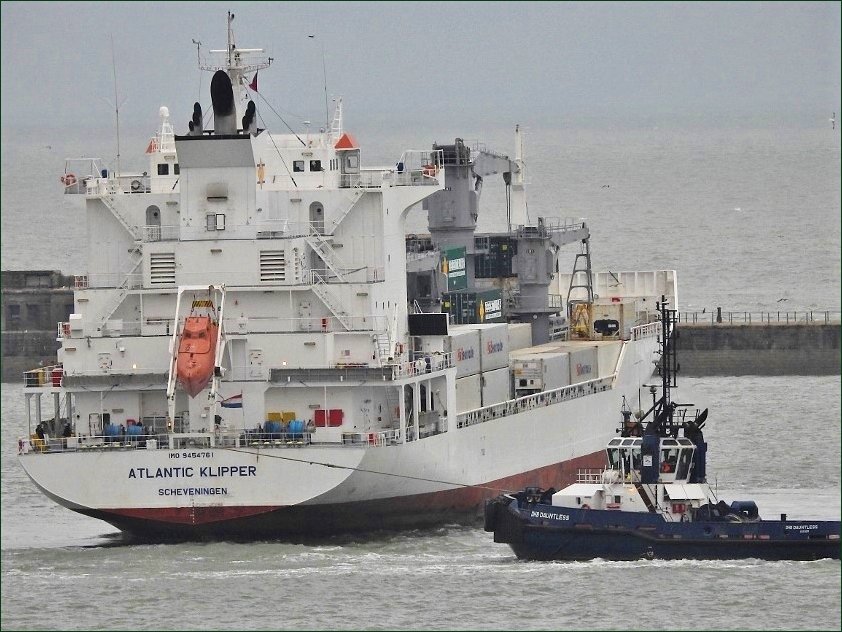 There she goes...the pictures are quite grey, we are suffering from eternal greyness at the moment. Gloom gloom all is gloom...speaking weatherwise of course

Friday, 11 January 2019 - 05:00
Post 6009
Sea News, Dover
The Maersk Connector.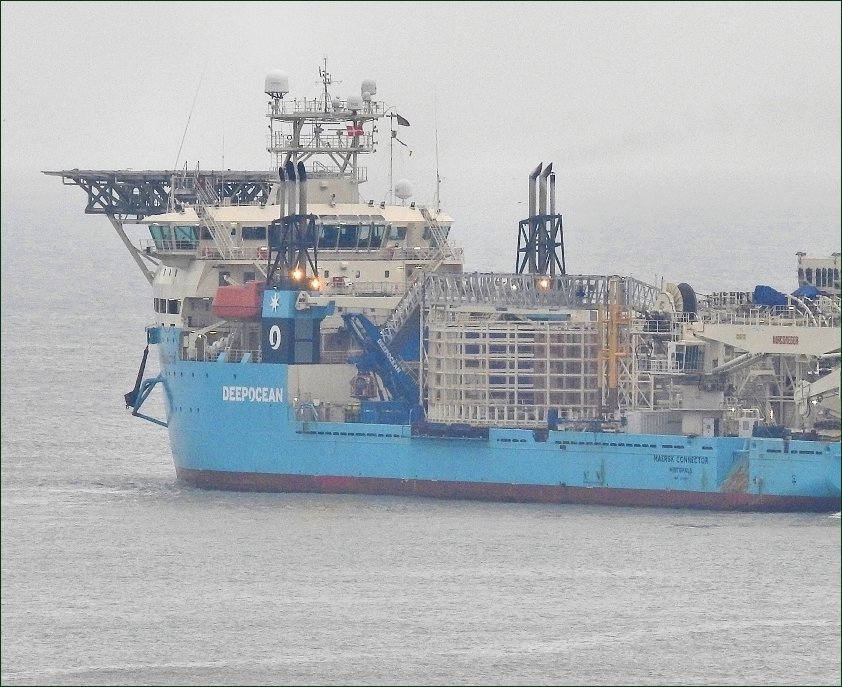 After a long stint in the Port over Christmas and the New Year, the Maersk Connector moved off today at 11.30 am this morning (Thursday). The picture above there shows her exiting the Port in the late morning gloom...she was destined to return to cable laying near Ramsgate.
Lol Brian - yes I thought something similar. You may well be right..


PB
Thursday, 10 January 2019 - 16:24
Post 6008
brian dixon, dover
pb. probably buggering of to warmer climes before Brexit sets in.

Thursday, 10 January 2019 - 14:54
Post 6007
Sea News, Dover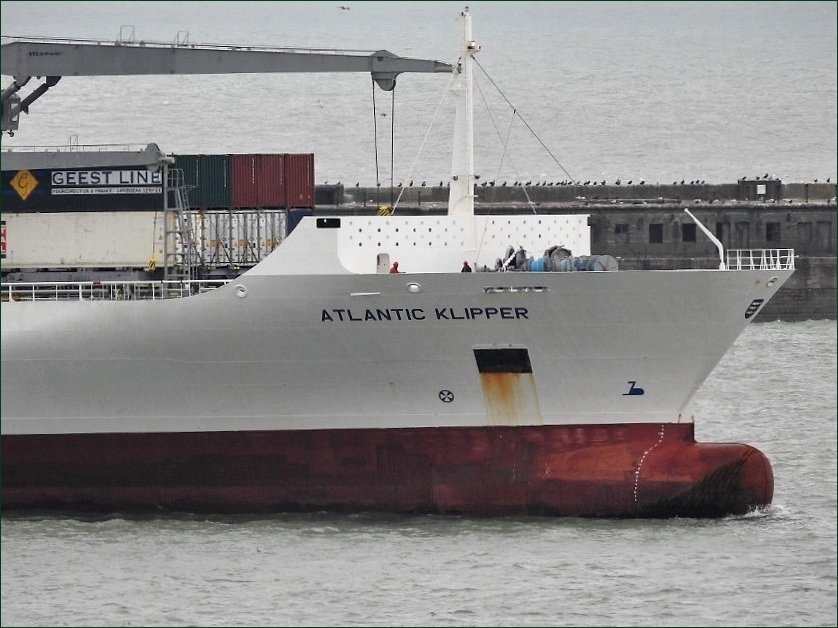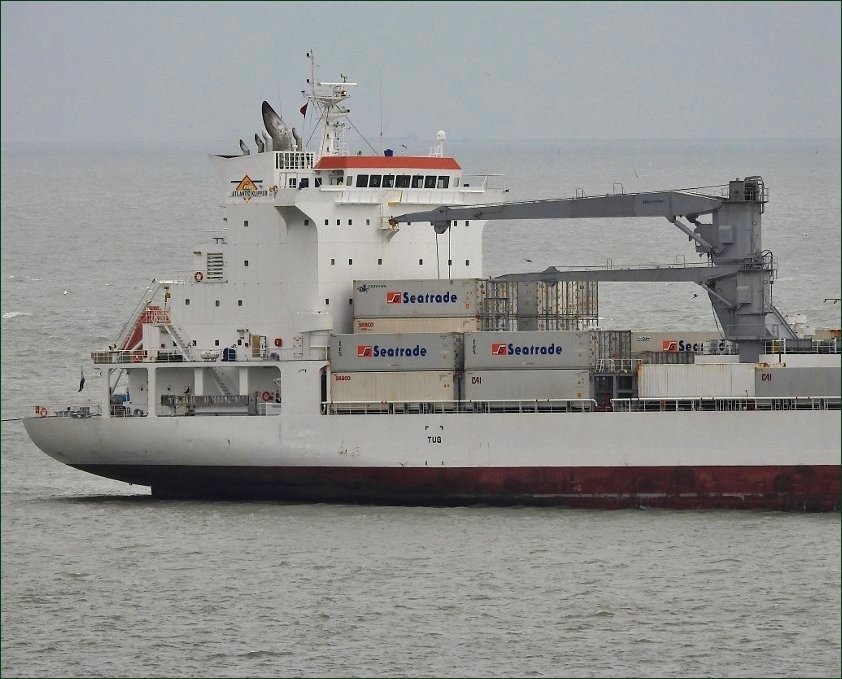 Some pictures above there of Atlantic Klipper readying for departure on monday. A bit behind schedule on this one. Just a couple of pix for the moment but will have further wider shots to add to this sequence following along in due course.
Ted is back with his 'famous five'

Cracking set of pictures below Ted...looking great.
You've got a marvellous method going with your pictures - great info too.
Don't Miss Those !
PB
PS: Just a reminder for all about our new 840 pixels wide size. If you want to resize that's the size to go for.
also
Just noticed a large group of camper vans along the seafront..they obviously spent the night here..
Has schpring schprung ?? When did that happen ??...

Thursday, 10 January 2019 - 06:06
Post 6006
Ted Ingham, Canterbury
'Five from Ramsgate'
The Water Injection Dredger JETSED.
Unlike a conventional dredger that either sucks up or grabs the mud/sand from the sea bed and then dumps it out to sea the JETSED is fitted with a very powerful pump that sucks in the sea water and then injects under very high pressure above the sea bed.
This stirs up the bottom silt layer and with the help of the tidal flow moves it elsewhere.
Used extensively on the Thames and Medway deepening berths alongside jetties where there is a very strong tidal flow.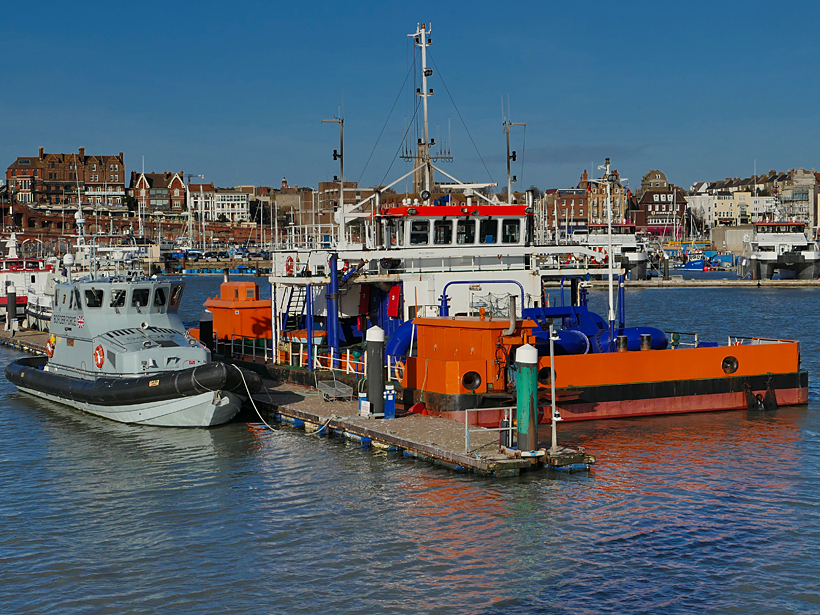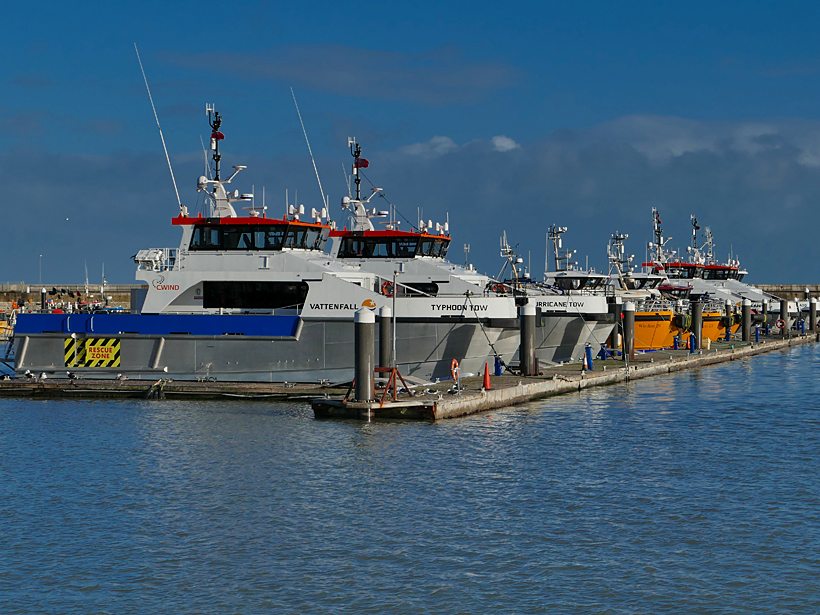 Due to the strong North Westerly winds the Windfarm vessels take a break.
The pilot cutter ESTUARY ELAN undergoing maintenance on the Commercial Jetty.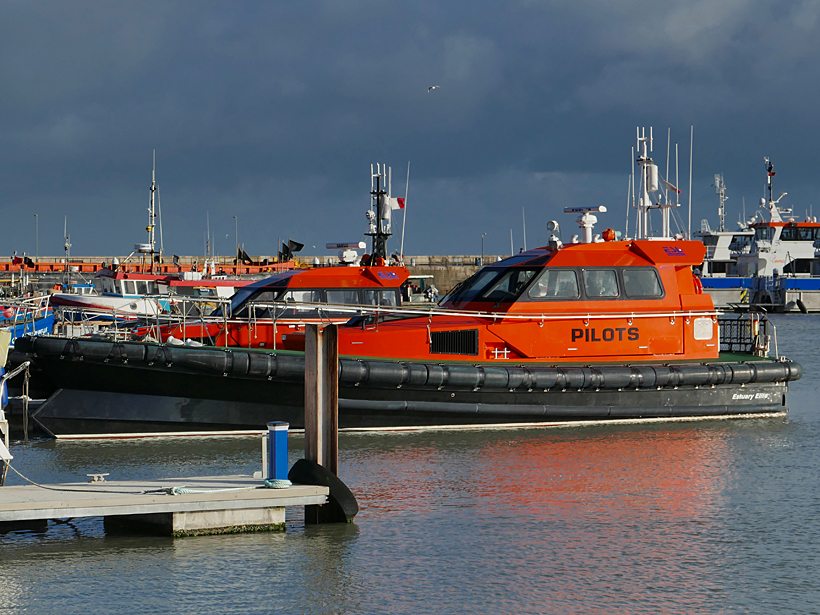 The duty pilot cutters await their pilots.
Wednesday, 9 January 2019 - 21:18
Post 6005
Sea News, Dover
Border Force Hunter and HMS Mersey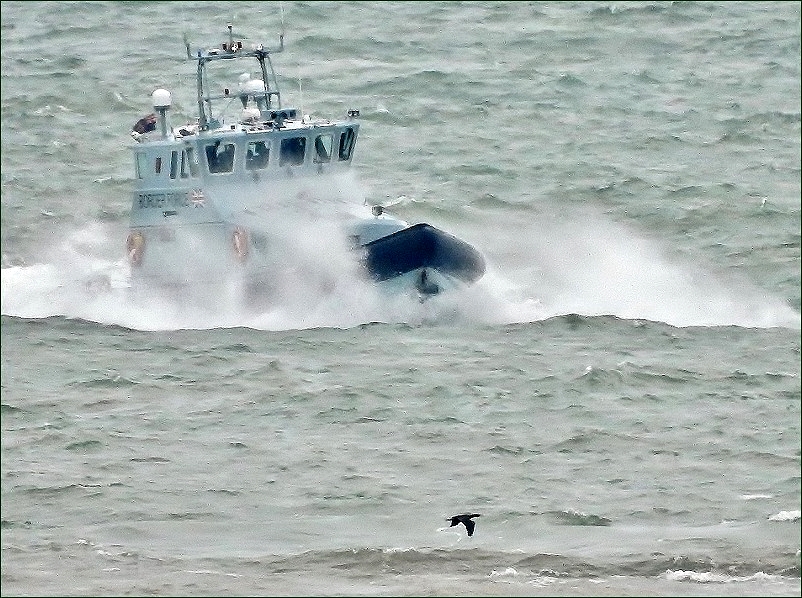 Yes indeed that's Border Force Hunter returning to base ( or one of its bases ) on Monday morning. She is powering through the grey choppy waters above there. Time of pictures which are fairly long range...11.42. And then below she reaches the inner calm sanctuary of the Port of Dover. Nearly lost her off the bottom of the shot there trying to accommodate the lighthouse...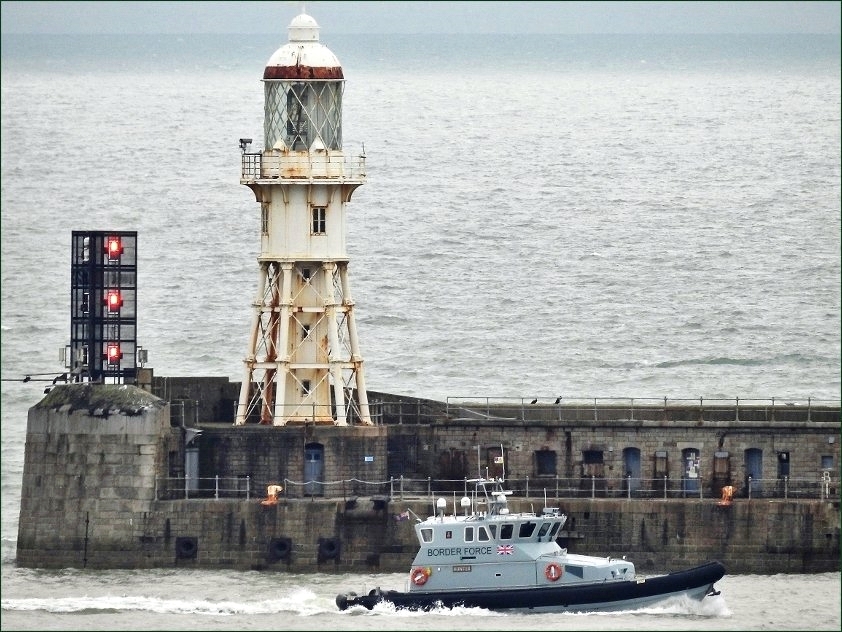 An even longer range shot below of our latest recruit to the migrant patrol...yes its HMS Mersey... picture taken yesterday afternoon round about 4pm or 16.00 hours. Once again its a bit grainy but we are getting closer, better..
Use the Search Engine above to see our previous pictures of HMS Mersey.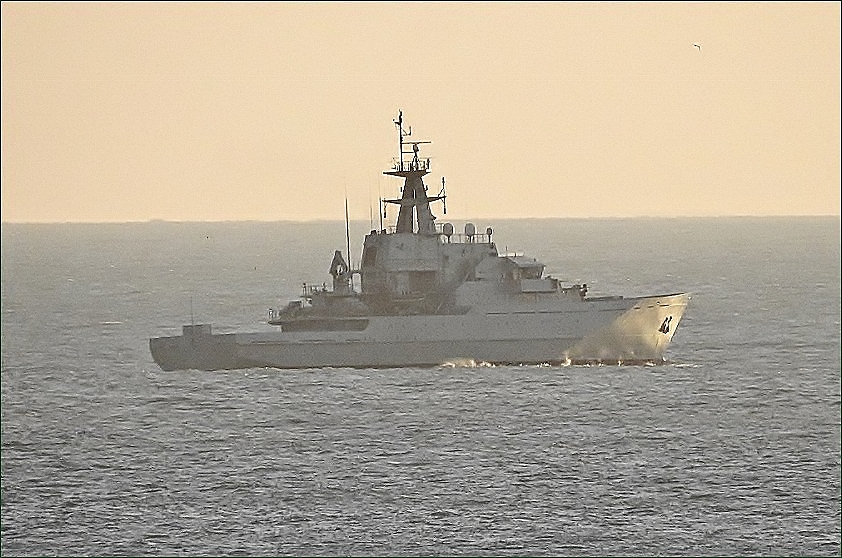 HMS Mersey.

Del there is very little clarity about anything coming from the dark corridors of the Palace of Westminster. The mother of parliaments is in disarray. And there doesn't seem to be much point in spending further money on the truck experiment anyway...as most seem to agree it didn't accomplish anything. Numbers taking part were too small... but we wait and see.
Yes the Premier Inn powers on. Nothing by way of change particularly visible now since the last shots, as most of the work seems to be going on inside...but will keep the sequence going. The port works continue...most of the water based workings seem to be over or partially over for now anyway...all the floating crane barges and the Holyhead Towing teams are gone, it drives on...

Ah yes I definitely spotted that Brian. Well done...
PaulB
Wednesday, 9 January 2019 - 07:45
Post 6004
Del Styan, Norwich
Just a thought - if today's vote is as I read it, and it's a bit technical, to put it mildly - if no money can be spent on no-deal preparations, maybe there will not be another Manston run?
On more lighter matters, how's the Premier Inn extension getting on? Have they resumed after the traditional 2 weeks construction holiday over Christmas? And has the Western Arm project restarted?

Tuesday, 8 January 2019 - 23:15