Wednesday, 19 June 2019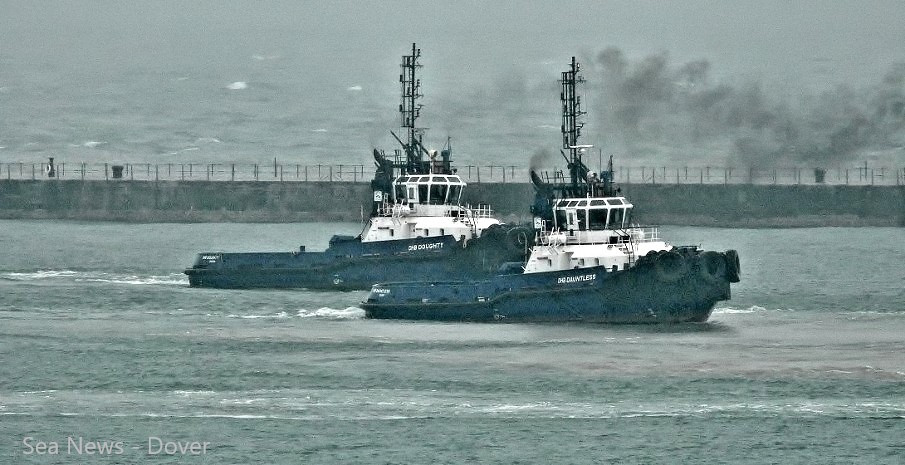 Just having sent Pacific Reefer on her way, the tugs turn back into the Summer (!!) gloom....

WWW.DOVERFORUM.COM/SEA-NEWS
Featuring all the ships that come and go and work at the Port of Dover ..
... with further coverage of the surrounding ports.
Sea News Dover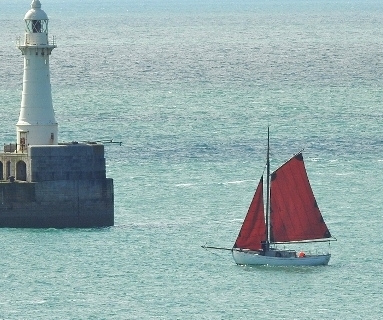 DFDS NEW SHIP for Channel see 6303
DFDS Europe's award winning Ferry Operator 6332
Port of Dover : Virgin Voyages 6289
Port of Dover: Brexit Resilience 6123

P&O Ferries: Alternative Euro Breaks 6298
P&O Ferries: Record Fundraising for Lifeboats see 6253
Port of Dover: Reducing Carbon Footprint 6332
Port of Dover: New Cargo Manager see 6205

Thames Estuary Forts 6250
SS Richard Montgomery at rest (WW II Supply Ship ) 6329
DFDS: ORCA 6179
Premier Inn completes see 6149 plus

Scroll down to see the Boudicca D-Day pictures in several posts.
Use our SEARCH ENGINE below to find all sorts on the SEA NEWS pages....
type in the topic and away you go, or if you have the post number as shown above, just type it in the box, more than - 6300 - nautical posts now.
Posts are welcome. just click 'Add Your Comment' below. Max of 5 pictures preferred although we can stretch that for special stories..
Sea News Editor Paul Boland - send info or pix to dover7@msn.com. Always welcome.
CRUISE CALLS:
https://www.doverport.co.uk/cruise/find-a-cruise/
UPDATE:
To show your pictures at their best..it could be worthwhile resizing before posting to
850
pixels wide.
All pictures on these pages are the copyright of the owners and must not be reproduced without permission.
Post 6147
brian dixon, dover
with the go slow/ strike in calias these so called migrants are taking avantage of stationary fright lorrys by jumping in the back of them. so no need for small dingys at the moment.

Tuesday, 19 March 2019 - 14:39
Post 6146
Sea News, Dover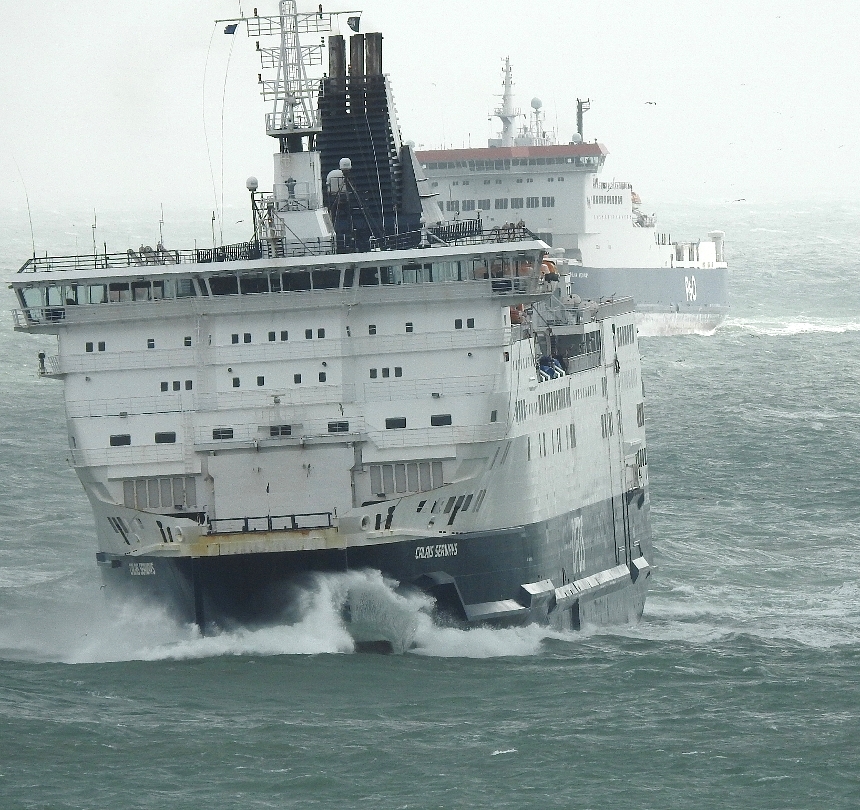 The Calais Seaways and the European Seaway approaching the Port of Dover in the rough weather a few days ago. The pictures below show the ferries a little further out in the Channel. These pictures, although not hugely dramatic, somehow give a better overall view and show the bleak weather and the grim conditions generally ...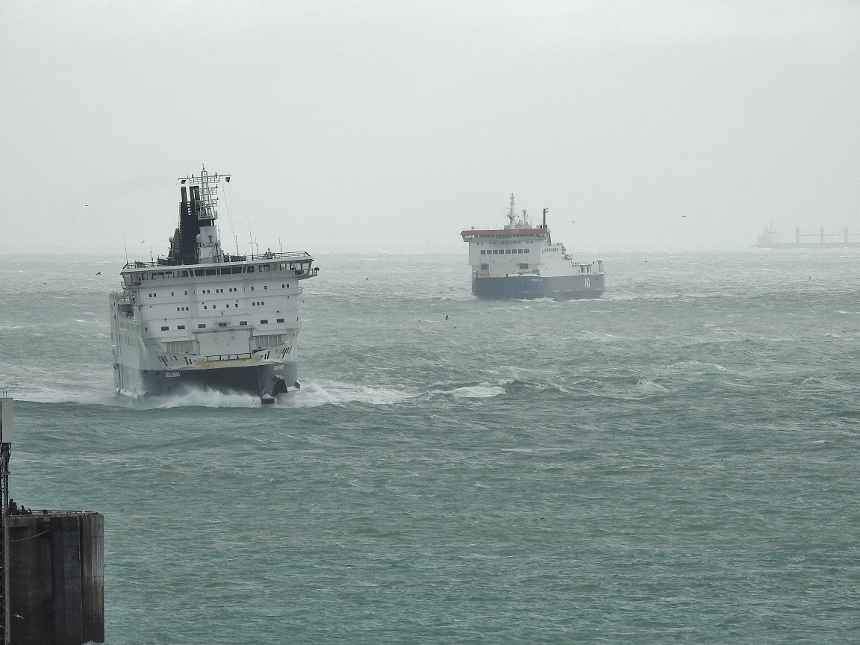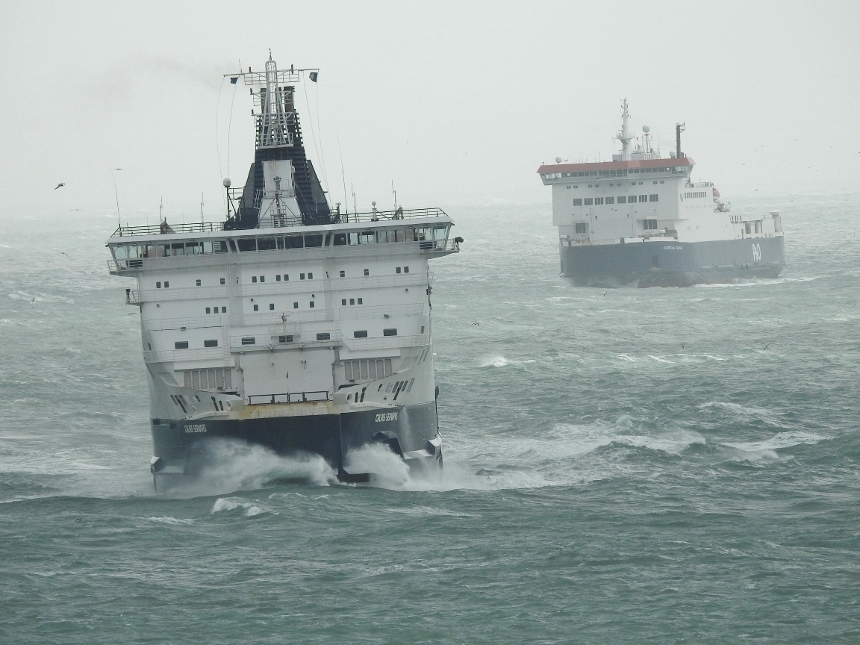 Interestingly enough, yours truly saw the first Border Force activity yesterday in a while...so Charlie's timing with this message is just about right. Perhaps the weather was just too rough. Not much chance of a migrant incursion last week or indeed recently...no small craft could possibly make it across in the fierce weather. I'm sure the Border Force know that well...
Investing in our border security
______________________________
Dear Mr Boland,
Attempts to break into Britain are becoming ever more brazen. We must remain vigilant here at the Dover frontline – because these dangerous incidents will only stop when traffickers know they will not succeed.
Just the other week, hundreds of migrants stormed a ferry docked at the Port of Calais. Dozens clambered aboard and a small group scaled the funnel. Others hid inside the ship. It must have been a terrifying experience for the crew. The French authorities need to explain how on earth such a shocking security lapse took place.
They also need to get a grip of their militant unions. Last week a strike in France caused chaos at the border. French officers decided to needlessly enforce regulations in pedantic detail. This was about pay and conditions and nothing to do with Brexit. It is surely time they found a less disruptive way of conducting workplace negotiations – one which doesn't undermine our border security. Lorries were left queuing 15 miles back as far as Dunkirk, as groups of migrants gathered nearby waiting to sneak aboard.
These incidents risk making Calais a migrant magnet once again. We will never forget the horrors of the Jungle – a desolate place where vulnerable people lived in squalor. For the truckers it was like running a gauntlet, with burning branches thrown across the highway and traffickers revving chainsaws by the side of the road.
That's why I fought so hard to get rid of it once and for all. The French authorities finally caved in and by the end of 2016 the camp was dismantled. We must never allow it to return. Not just for our security – but to protect people from the traffickers seeking to exploit them for the evil trade.
Because as we have seen with the recent spike in crossings in small boats, the traffickers don't care a jot for people's safety. Women and children – even toddlers – have been crammed into unseaworthy vessels, then kicked into the Channel in the most appalling weather conditions.
Our campaign to put a stop to it has been vital. Home Secretary Sajid Javid accepted my invitation to visit Dover, where he was able to see first-hand how our heroic lifeboat crews, Border Force and emergency services work tirelessly along the coast. He soon agreed to have Border Force cutters returned from the Mediterranean, re-assigning other patrol boats in the meantime. He then met his French counterpart and struck a joint agreement, which included sending unsuccessful asylum seekers back to France.
Yet there is much more to do. I want to see the English Channel made a joint UK/France security zone with round the clock aerial surveillance, so migrants can be picked up in French waters and returned safely to France. Because unless we send a powerful message that you cannot break into Britain, traffickers are encouraged and the migrant crisis will escalate. As will the risk of a tragedy in the Channel.
We must do more. Investing in our border security should be a national priority.
Charile Elphicke MP for DOVER and DEAL
ENDS
Thanks to Charlie for the above...
The extra vessels promised from the Mediterranean have failed to materialise...or have I missed their arrival...
?
Tomorrow we will have the final pictures of the re-structured and now finished seafront hotel.
PaulB.
Tuesday, 19 March 2019 - 07:03
Post 6145
Sea News, Dover
The Maritime Skills Academy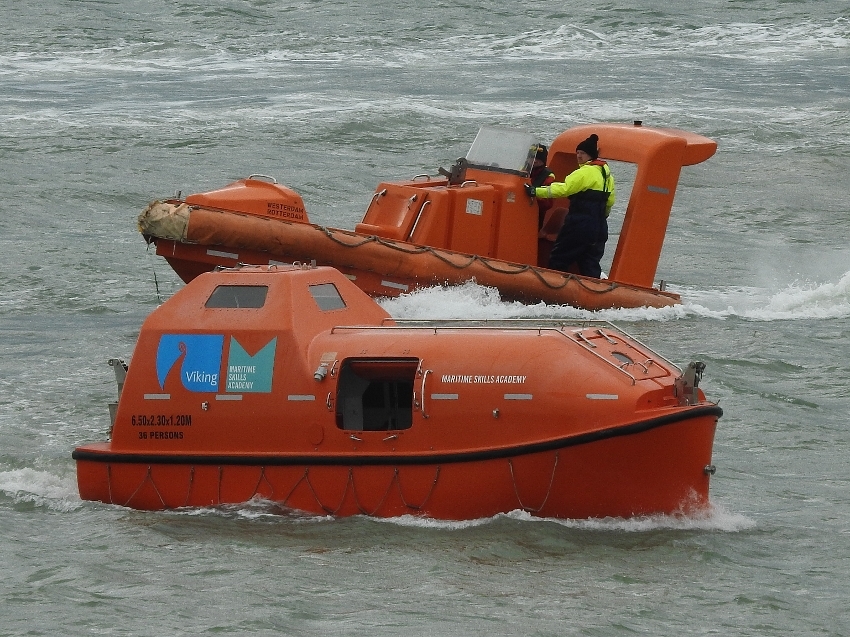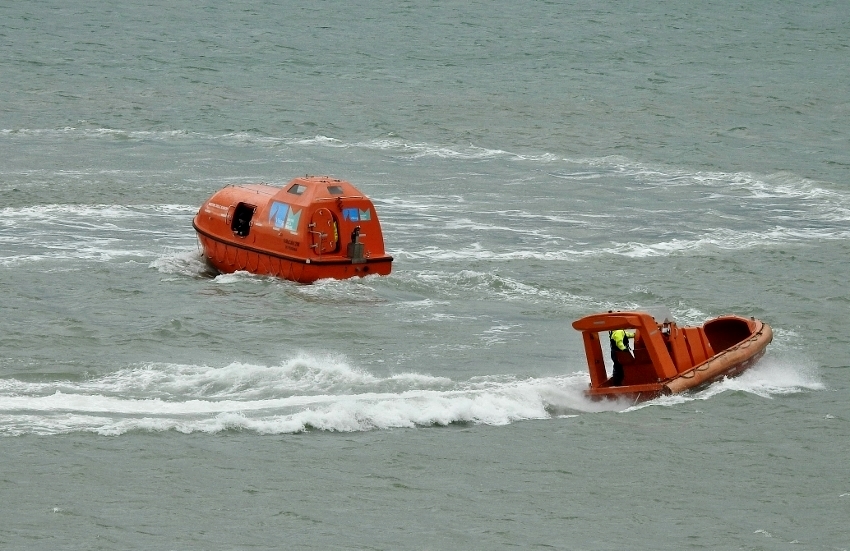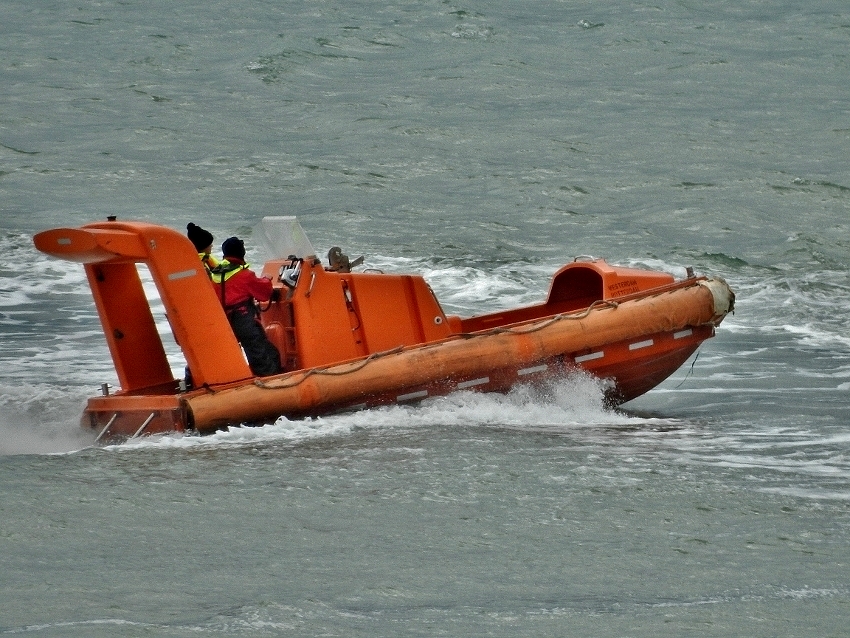 Yes its the Maritime Skills Academy carrying out exercises in Dover Harbour late last week. A very colourful display above there as you can see, they brightened up a gloomy day for sure. Great to see them.
PaulB
Monday, 18 March 2019 - 06:45
Post 6144
Sea News, Dover
Another very rough day in the channel yesterday saturday, some fierce winds. The ferries were lined up alongside the famous White Cliffs here for much of the day, waiting to enter the Port here at Dover. The rough weather of course slows everything down but the ever resilient ferries keep going.
All the pictures below feature the DFDS ferry Dunkerque Seaways. Shot number 3 also shows P&O's European Seaway as she manoeuvres into Berth 9 in the wild conditions...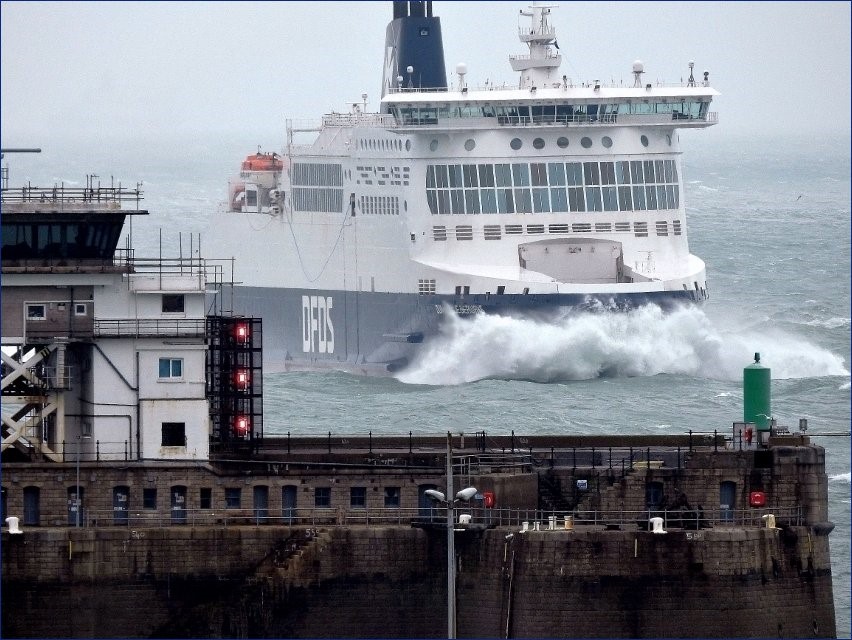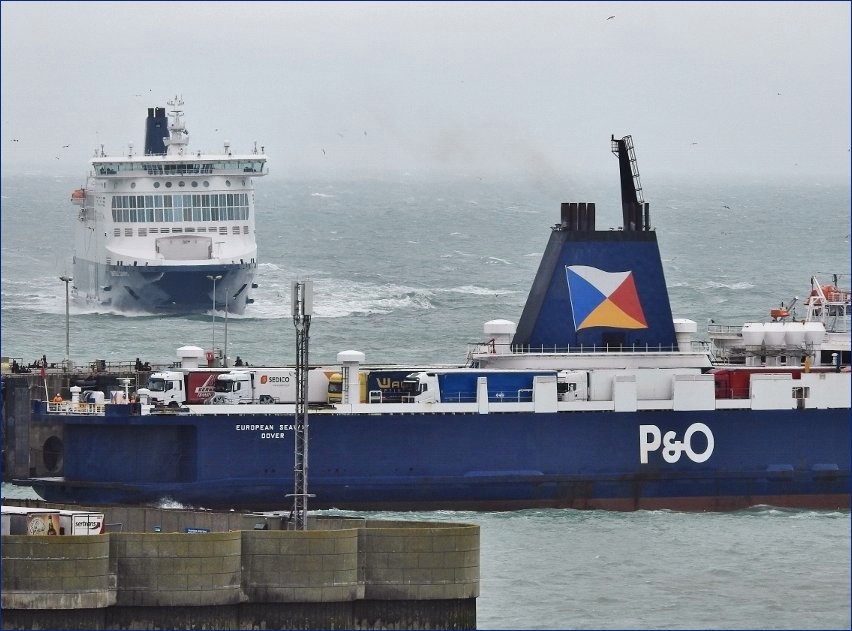 The weatherman says it will still be blustery today but the winds are lessening after a tough week. Very welcome news...yours truly might be cautiously able to unbatten his hatches...

As you can see below our 'inshore correspondent' Mike is out there in the far flung Far East. Heck of a trip...best wishes to him for an enjoyable trip out there.

PB
Sunday, 17 March 2019 - 06:11
Post 6143
Sea News, Dover
Wow Mike !!! amazing post below all the way from the Far East.
Great info as ever too - thanks for that.


PaulB
Saturday, 16 March 2019 - 16:22
Post 6142
Mike J., Teluk Intan, about 3hrs from Kuala Lumpur

Nice sequence of the SAGA SAPPHIRE, particularly the sailing shot with the Admiralty Pier lighthouse twinkling away.

The 'structure' on the SIKINOS is a hydraulic crane that carries the fuel pipelines for her 'customers' & incorporates a ladder for for access between the two vessels if this is necessary.
The same crane will handle her 'Yoko' floating fenders.

Good to see the ATLANTIC KLIPPER back in town, obviously not being put off by being recently described as the ATLANTIC KIPPER altho' a certain lady may not be on the Captain's Christmas card list this year . . . . .

The BREXIT woes & the traffic chaos have reached the media in Malaysia altho' currently & understandably overshadowed in this largely Muslim country by the Christchurch outrage.

Saturday, 16 March 2019 - 13:53
Post 6141
Sea News, Dover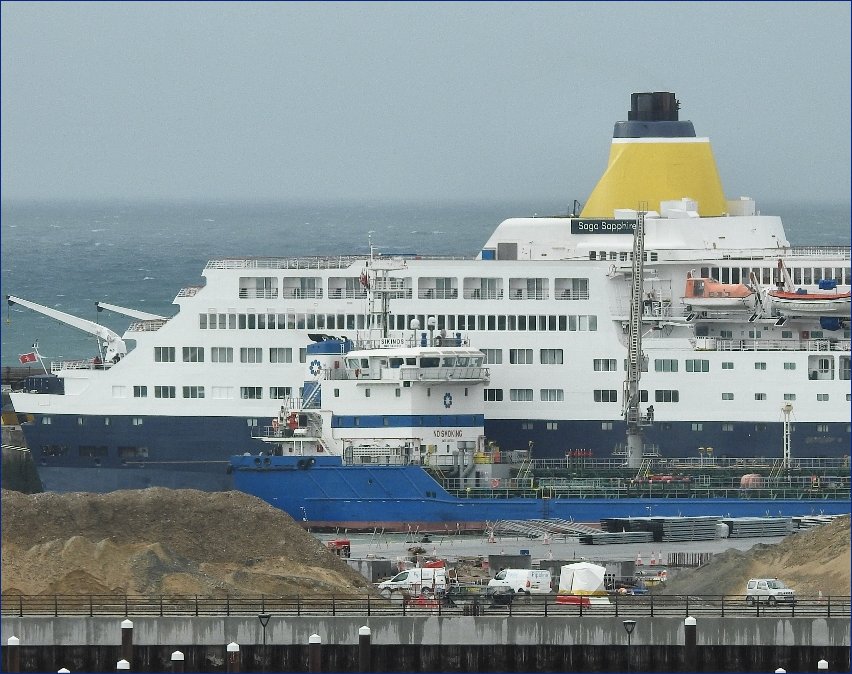 Following along from my previous post...Sikinos eventually reached the Saga Sapphire and you can see some pictures here looking across the working 'sand dunes'. I have enlarged the one below to show detail...a crew member there appears to be manoeuvring a ladder/conveyor/pump onto the Saga ship....all part of the daily workings...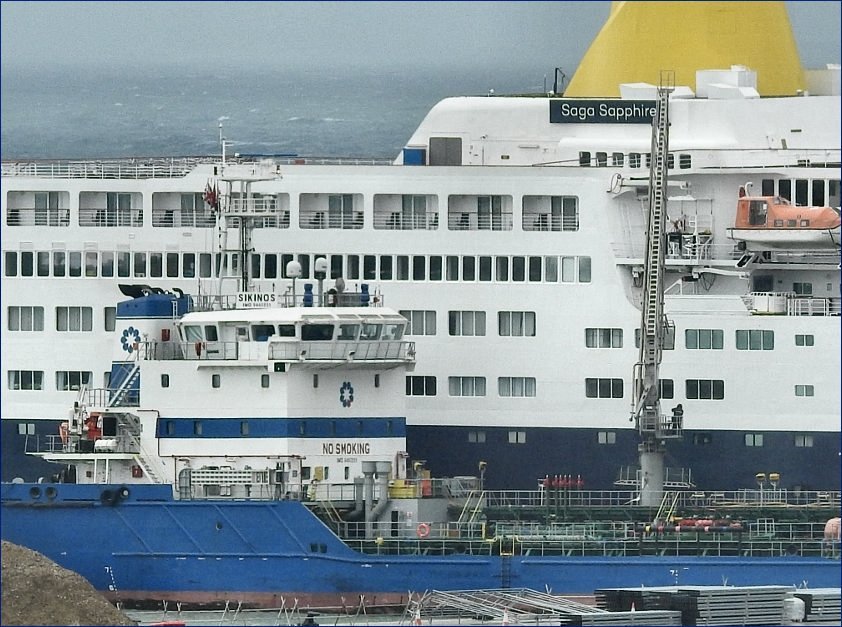 Later Saga Sapphire moved away on a dark oul night (Thursday). Below we have a shot of her doing so, leaving through the western exit while the lighthouse blazes away. In the far distance you can just catch the lights in Boulogne.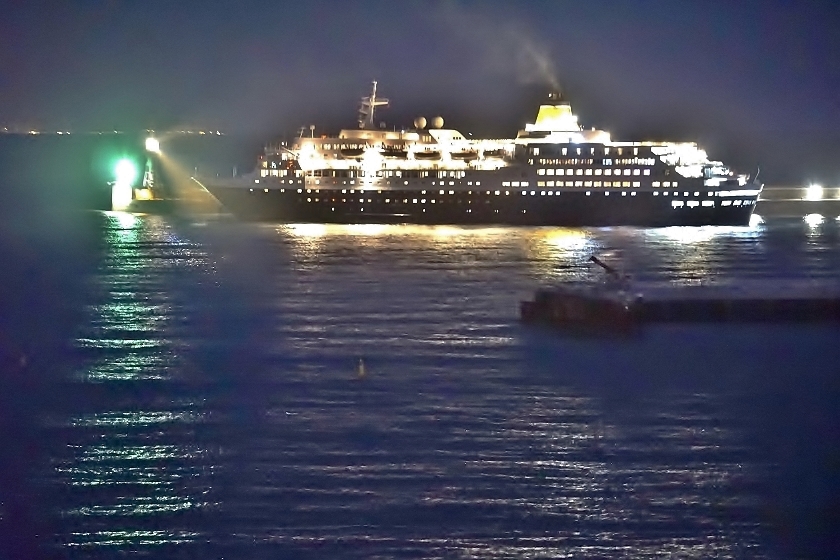 Yesterday ( Friday ) Royal Klipper arrives from Vlissingen. It was very early on a flat and grey morn, and with a wee bit of drizzle added to the mix, to the delight of the resident photographer! Have added a further picture below from a previous time to show the ship slightly better.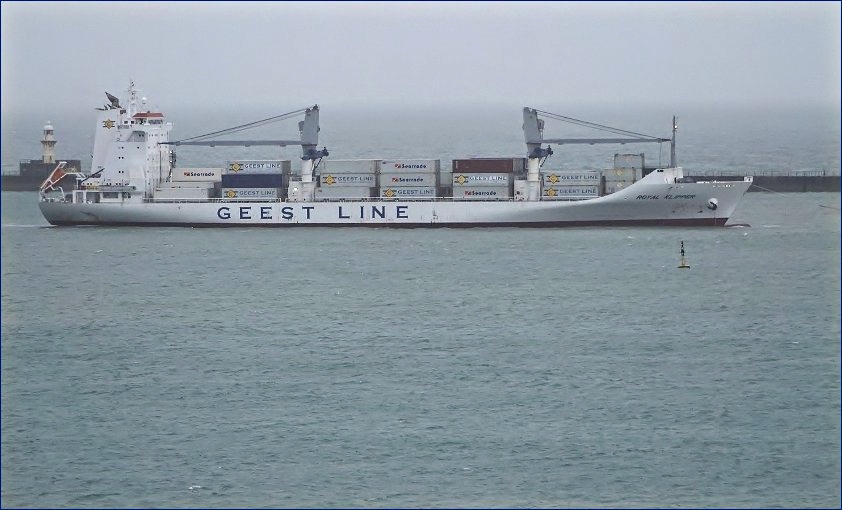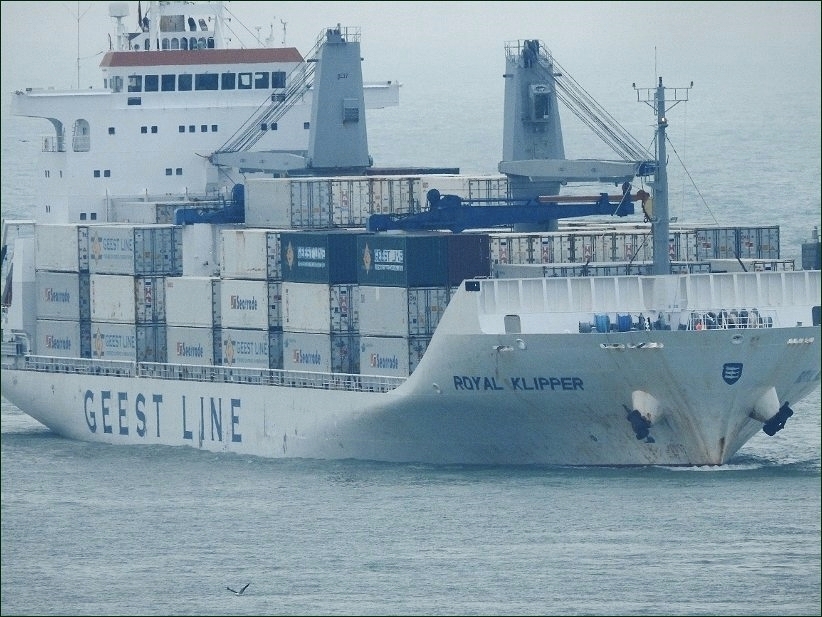 Yes Del its a depressing outlook..15 miles of lorries and alas its destined to continue. You cant rely on the Westminster bubble to fix anything nowadays, our beloved headless chickens there are insanely 'bewitched bothered and bewildered' and don't appear to have a clue what to do next... other than squabble with each other.
The last time I looked P&O are/were offering six bottles of wine free to daytrippers before the end of this month...any takers?
More gales in the forecast today for the channel...'severe gale 9'.
PaulB
Saturday, 16 March 2019 - 05:17
Post 6140
Del Styan, Norwich
Just been over to Calais - via the tunnel - and the Customs officers work to rule continues. About 15 miles of lorries waiting to get onto the trains and ferries. Both in Calais and Dunkirk. Very under reported in UK media. Nowt to do with the weather, that's just an added problem. Roll on meaningful vote number 23!

Friday, 15 March 2019 - 23:06
Post 6139
Sea News, Dover
Sikinos arriving to service the Saga Sapphire yesterday thursday....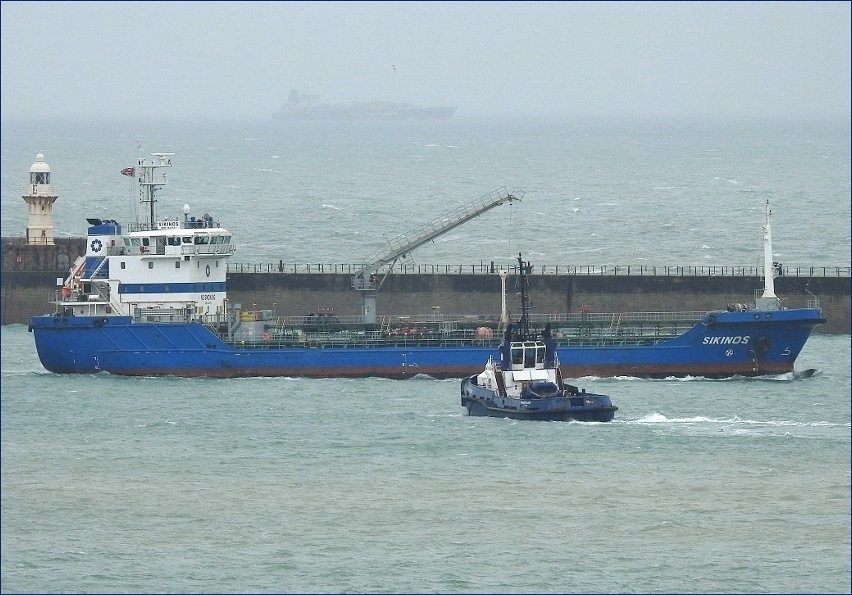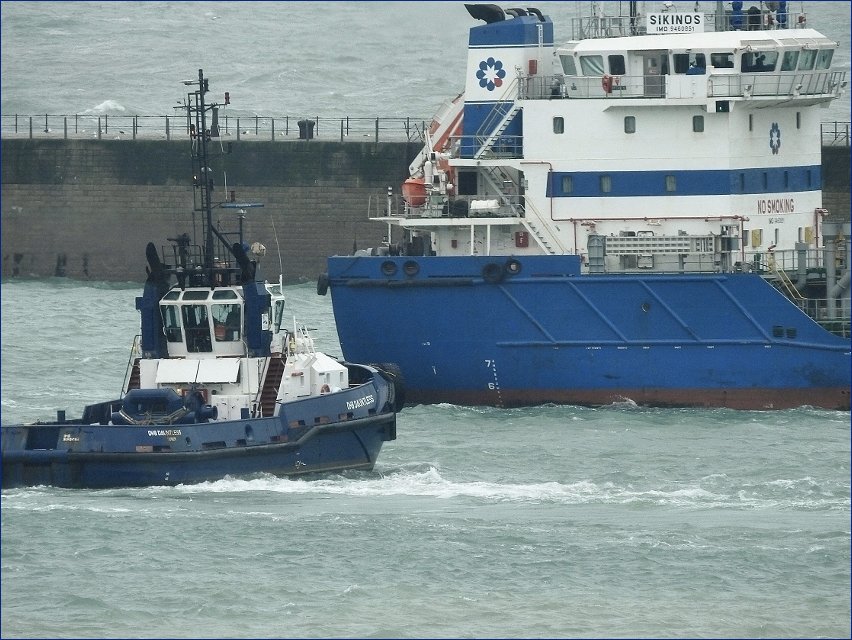 Yes Sikinos arrives in the Port in the gloomy conditions yesterday morning 09:20. Tug Dauntless currently on constant duty with the ferries, seemingly offers to lend a hand to Sikinos above there.
Early arrival at Cruise Terminal One for the Saga Sapphire below...gloomy oul picture...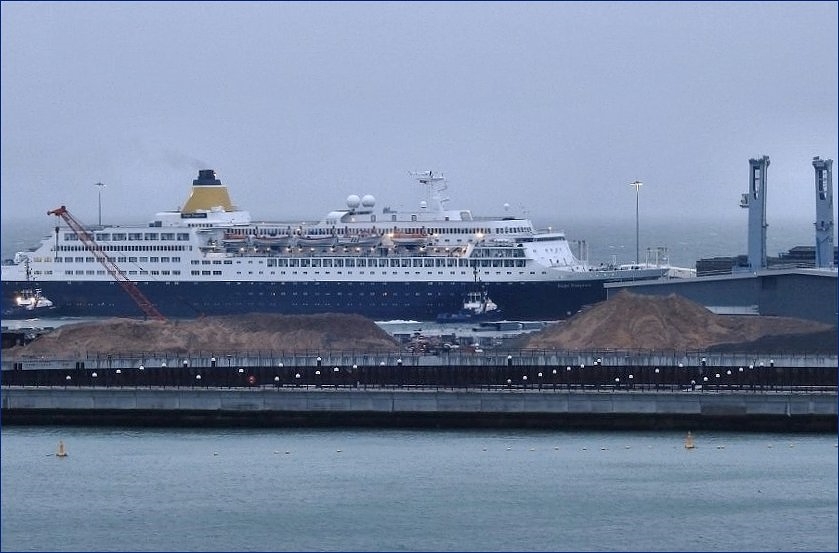 Saga Sapphire left for the Canaries last night ...'twas a dark and stormy night' for sure, yours truly may have a picture of the nightime departure....one had a go at it, will check it out!
Operation Stack is now suspended.
Yes Brian ...I have often wondered why they don't do a relatively simple redesign of Jubilee Way and have the 2 lanes coming downward towards the Port, rather than away. Its unfortunately a 3 lane road design...one lane down, two lanes up. The jams are always coming downwards towards the Port for obvious reasons. If there were 2 lanes coming downwards then normal local traffic could flow and the trucks could still occupy the inner lane if needed. Simples.

That's my theory and I'm sticking to it!

PaulB
Friday, 15 March 2019 - 06:02
Post 6138
brian dixon, dover
it was like that on the A20 this morning dispite op/stack being on

Thursday, 14 March 2019 - 15:16
Post 6137
Sea News, Dover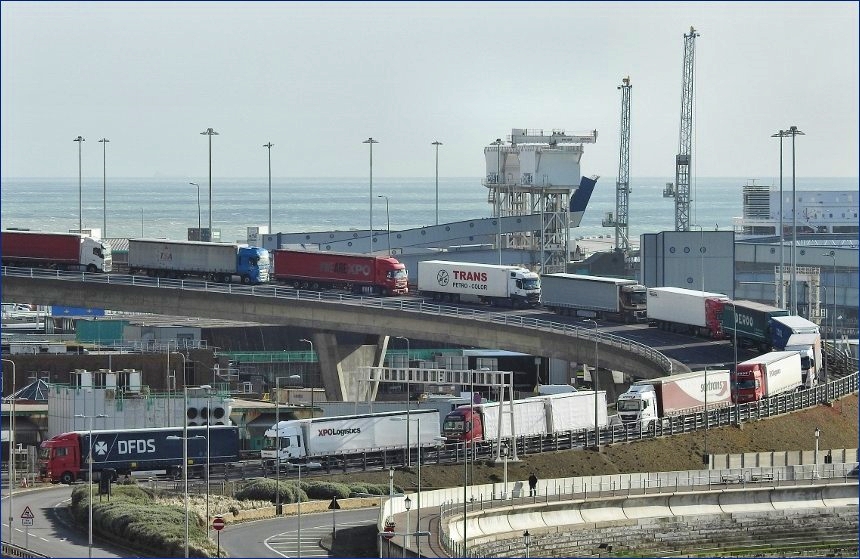 The main feature of life in and around the Port of Dover at the moment is trucks trucks and more trucks. Yes they are lined up all over the place, all day and all night. Operation Stack is in place ...official reason "Adverse Weather". Yes we are still being hit by the remnants of Storm Gareth...and nasty remnants they are too. Cruise ship Saga Sapphire has just come in to Port too. Ooh nasty weather for cruising...hardy souls.
Yours truly's hatches are battened down.
The picture above of Jubilee Way was taken yesterday morning...
Another shot of the Spirit of France to illustrate the mood and the conditions...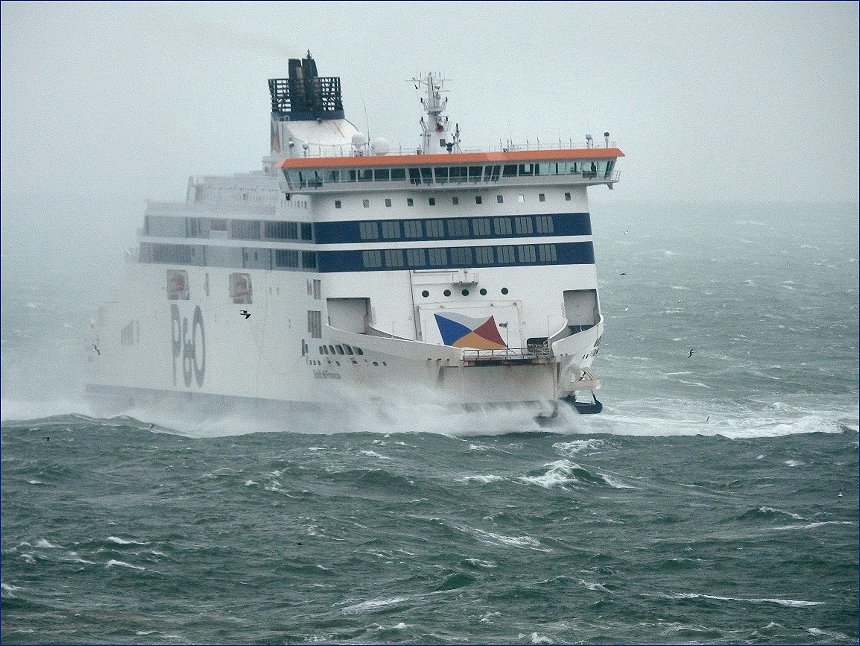 Port Statement issued late yesterday:
Adverse Weather conditions in Channel
______________________________________
Due to continuing adverse weather conditions and the volume of freight traffic, Operation Stack is anticipated to remain in place all night on the M20 between junctions 8 and 9.
The Port of Dover is open and ferry services continue to operate between Calais and Dunkerque.
Freight traffic heading to France must use the M20 route due to the implementation of Operation Stack (holding freight traffic on the coast bound carriageway junctions 8 and 9 of the M20) by Kent Police. The Port of Dover is liaising closely with all relevant partners in order to keep traffic moving as smoothly as possible.
Tourist traffic along with local traffic is advised to consider alternative routes and to allow extra time for your journey.
UPDATE: Operation Stack continues due to the ongoing adverse conditions.
PB
Thursday, 14 March 2019 - 06:01
Post 6136
Sea News, Dover
The Spirit of France in rough seas off the Port of Dover...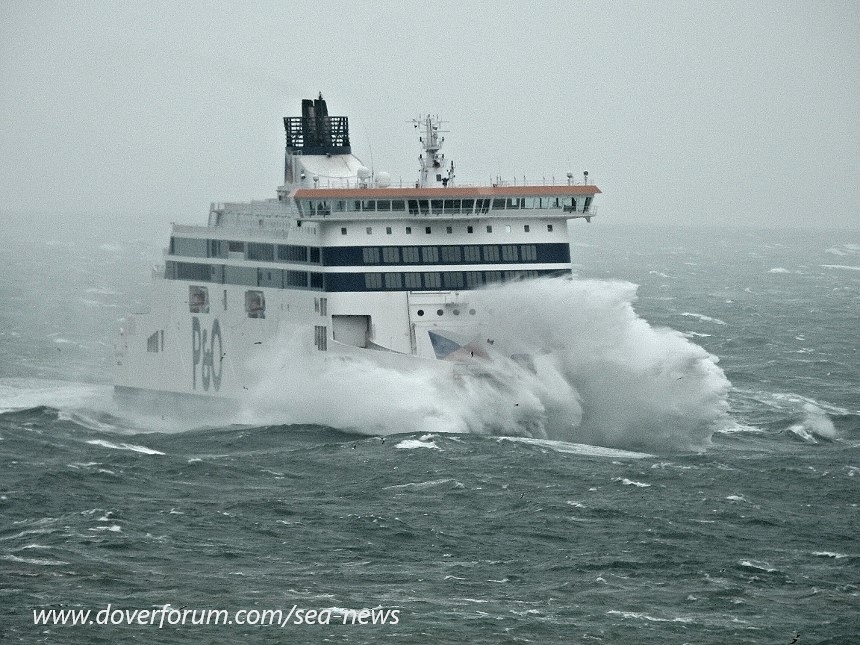 The Spirit of France feels the Force: The latest stormy weather gave us a bit of a bashing yesterday, whether it was Storm Gareth or not one is unsure...Gareth maybe coming today. Whatever they are calling it the operative word currently is 'rough'. The picture above, taken in difficult conditions, shows the Spirit of France at 09.57 yesterday.
There are queues of trucks lining the streets as we speak, held up by the stormy weather. There are also queues the other side due to the ongoing industrial dispute over there....not great to be in the haulage industry at the moment and the parliamentary Brexit chaos isn't helping...
From the RHA...
Truckers caught up in French customs dispute are magnet for migrants
_______________________________________________________________
The Road Haulage Association is very concerned that French customs action is leaving lorry drivers vulnerable to migrant attacks.
Members have reported chaos at French Channel ports and Eurotunnel as customs officials are said to be working to rule in a dispute over working conditions and fears of a no-deal Brexit.
One haulier told us they abandoned a number of planned Channel crossings last week after migrants tried to break into a lorry whilst the driver was held in a queue for 12 hours outside Dunkirk.
RHA chief executive, Richard Burnett says drivers have a right to do their job safely and shouldn't be left vulnerable to attacks from migrants and people smugglers.
"Yet again we're hearing horrifying stories of truckers running a gauntlet of people trying to break into their lorries. It's completely unacceptable. The French authorities need to do more to protect UK-bound lorries."
-ENDS-
Some pictures below of the departing Elvira on Monday night. The tug helpfully in attendance as she heads off for Vlissingen in the Netherlands... it was relatively calm then as you can see.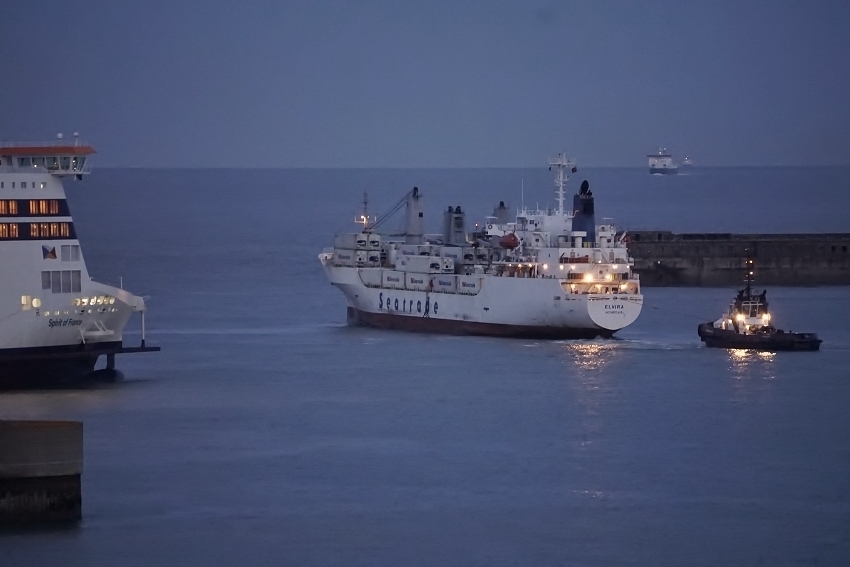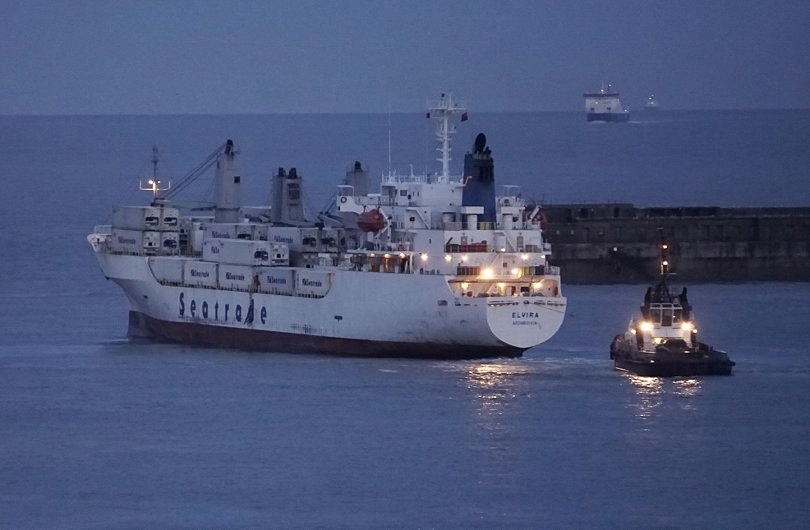 PaulB
Wednesday, 13 March 2019 - 05:59
Post 6135
Sea News, Dover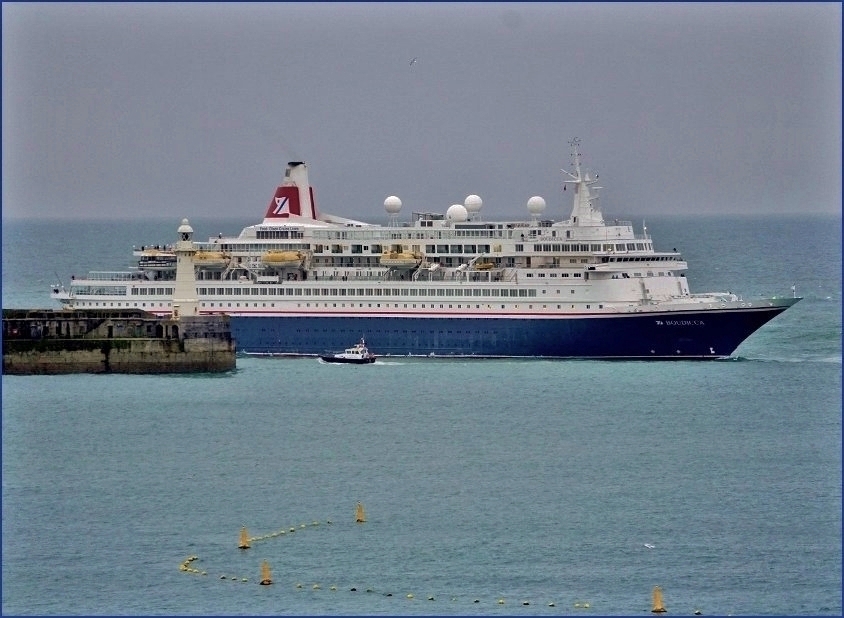 Catching up...Boudicca moves astern through the western exit a couple of evenings ago... in fact on Saturday the 9th. The shot below sees her paused outside the Port, the pilot boat in attendance in both shots. It was a very dull evening as you can see. She eventually came full about and headed south to the Canaries. This is very rough weather for cruising and no mistake.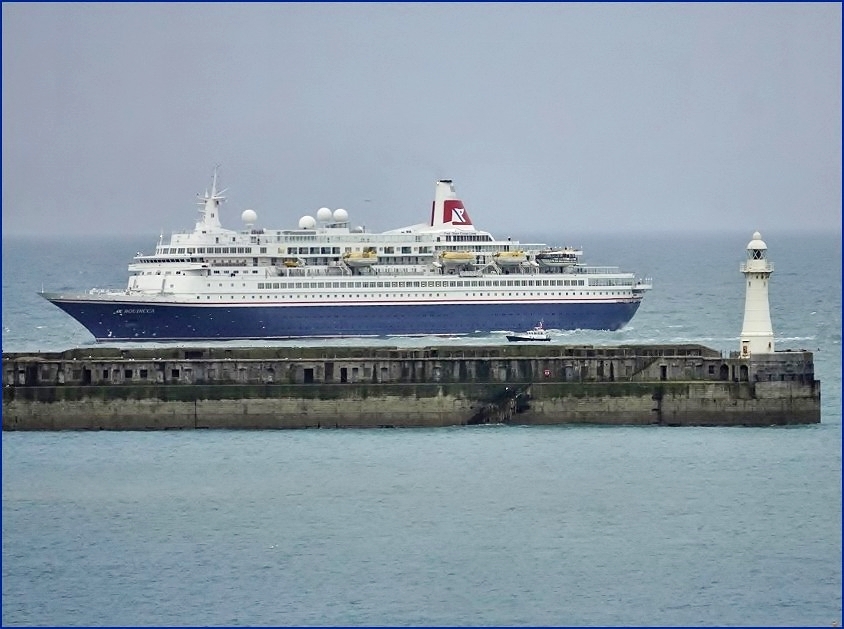 Some pictures below of oil/chemical tanker Anuket Sapphire which came into Port the same day..Saturday. The pictures show her making her way to Cruise Terminal One. She didn't stay with us very long..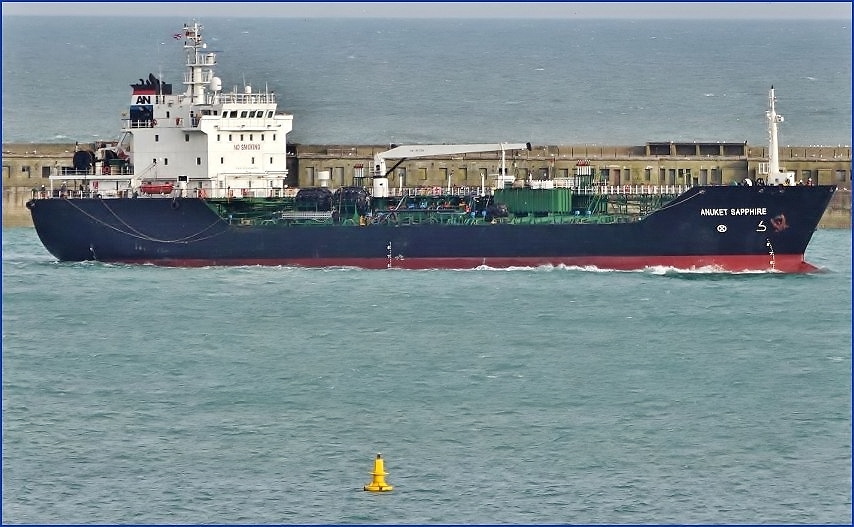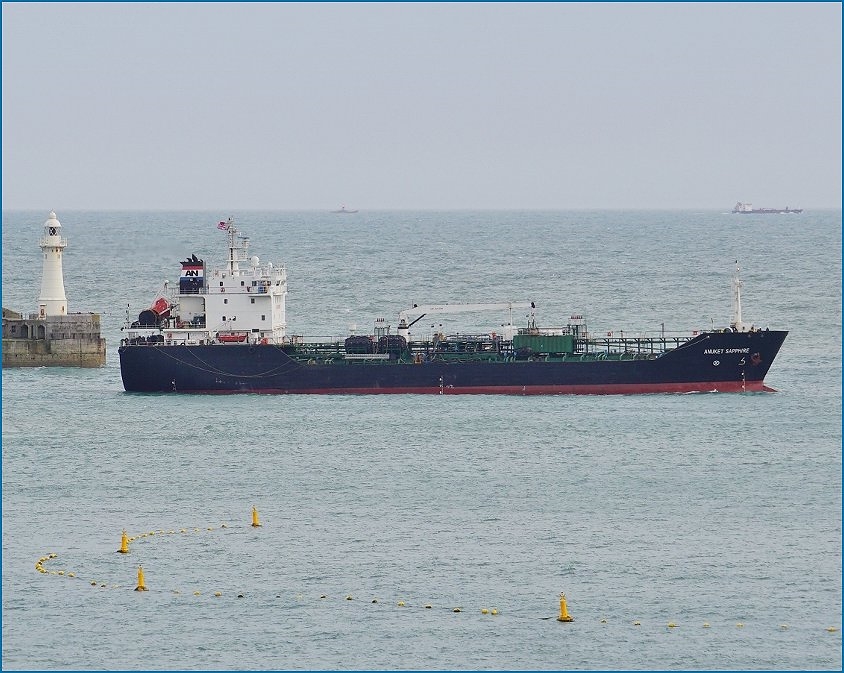 Those 'round-up' pictures today are a bit dull, but sure what can ye do.
The shipping forecast indicates that we can expect a 'Severe Gale 9' in the area today. Hold on to more than your hat !
Yes indeed Del …and forgetting the weather for a moment, we can expect a turbulent and stormy week in political circles too...

PaulB
Tuesday, 12 March 2019 - 06:02
Post 6134
Del Styan, Norwich
Glad to see Charlie is working on solutions - I wonder if they will be ready in 2 weeks time? I mean, its only been 2 and a half years...

Monday, 11 March 2019 - 23:10
Post 6133
Sea News, Dover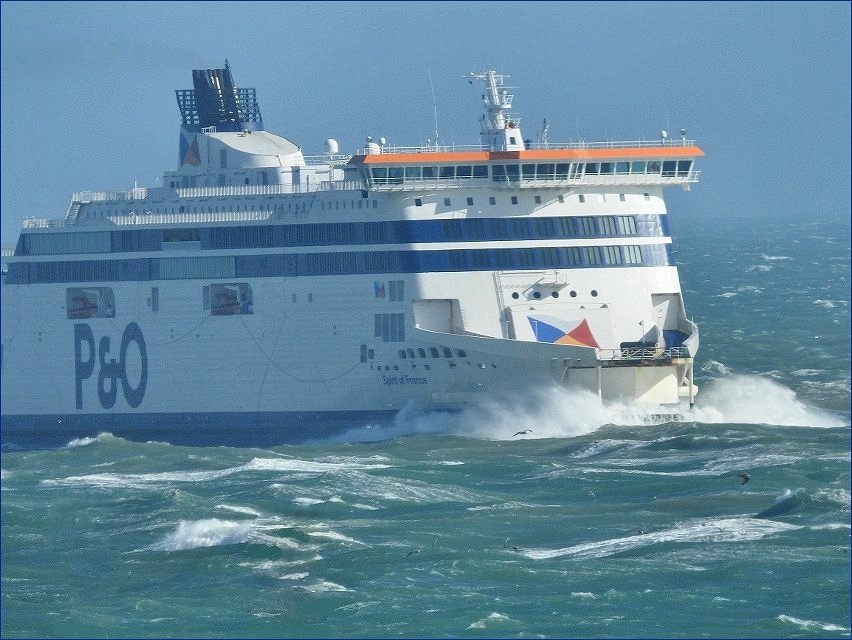 The Spirit of France:
A rough shot above there taken on a very rough day...we have been experiencing some very wild weather indeed, as you can clearly see in Sarah's stunning pictures in the post below. The picture above shows the Spirit of France making its way towards the Port of Dover on Saturday...while below we show the tug Dauntless helping the Spirit of Britain yesterday Sunday to her berth at Dover 9.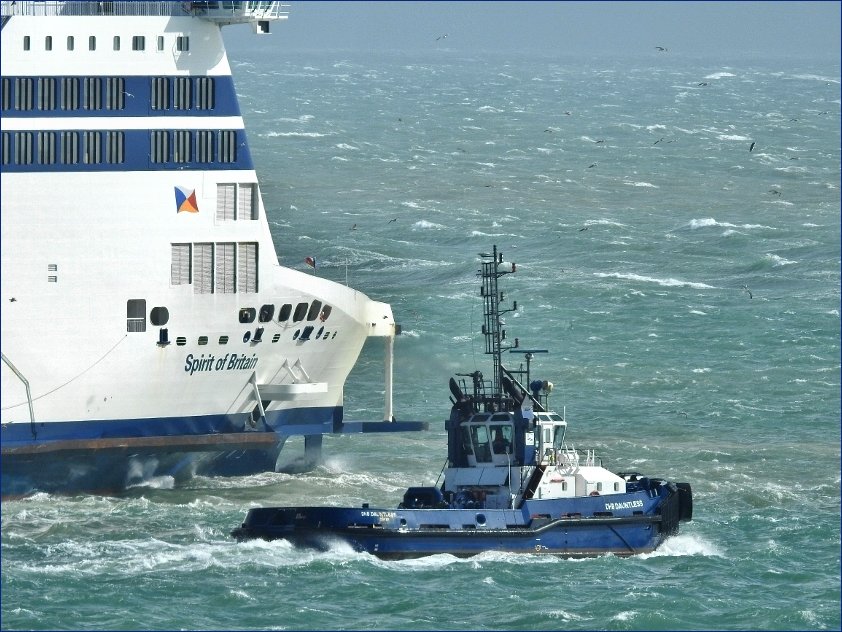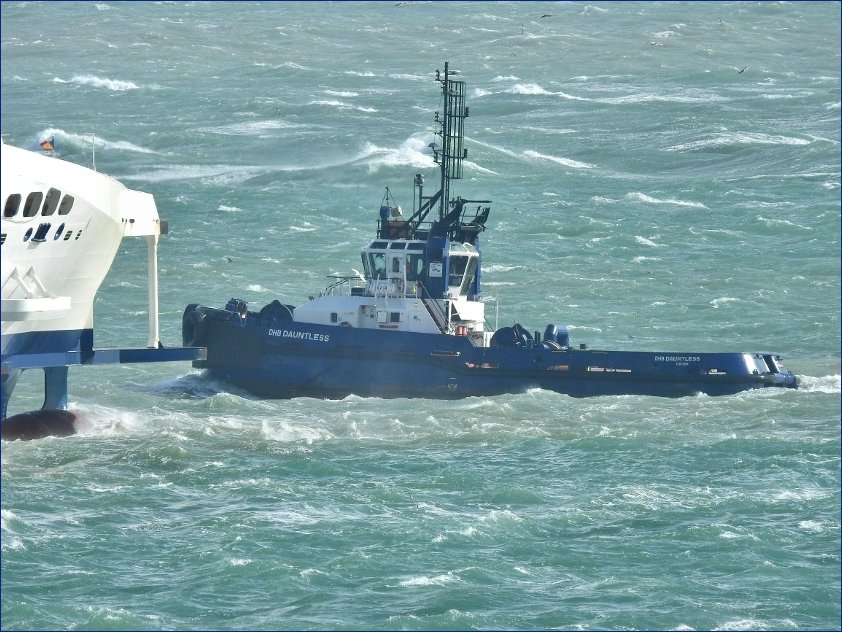 Yes wild times indeed...and speaking of wild times...
This is a big week in politics here in the UK. Downing Street have been kicking that proverbial EU can down the road for a long time, now both the time and the road have run out. A decision is now needed from a Westminster parliament that in recent times has shown us nothing but chaos. The hoped for leadership from the great and the good in those famed corridors has failed to appear.
Charlie below seems ever buoyant, sailing with whatever prevailing wind comes along...
Working to be ready at the Dover and Deal frontline...says MP Charlie Elphicke.
____________________________________________________________________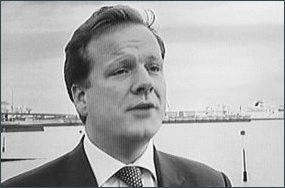 Dear Mr Boland,
We've long been fighting for more funding locally to boost Brexit preparations at the Dover frontline. Ever since the referendum we've worked hard to get the Government to be ready on day one, deal or no deal.
Not only is it a sensible precaution, it's the best way of securing a good deal for our country. European leaders need to know we mean business and are prepared to walk away.
It's also important for our area. Nowhere will preparations be more needed than at Dover and the Tunnel. They account for around a third of the UK's entire trade in goods. It's in everyone's interests that traffic continues to flow.
That's why back in 2016 I got together with industry experts and worked up a blueprint. It set out how we could be prepared for every eventuality – by investing to create a modern, world-leading border.
As a result, the Chancellor set aside £3 billion for no-deal preparations. We worked with Kent's Police and Crime Commissioner to secure £850,000 for Kent Police. Most recently I held talks with Communities Secretary James Brokenshire, demanding more cash for the Channel Ports. Last week he announced nearly £300,000 for Dover District Council.
The Dover Brexit Taskforce met again this week to review preparations. Much has been done. Yet there was one key area of concern – using Manston Airport as a lorry park. The idea that lorries will leave the M20, cross Detling Hill and go to Manston makes little sense. An even greater concern is that lorries would then be expected to travel down the often single track A256 and then enter the port by the A2's single track section. I fear this will not work and leave Dover and Deal cut off.
Moreover, the priority must be to stop port traffic causing gridlock in Dover town. A ticket system or number plate technology need to be considered. That way any trucks caught skipping the queues would be sent all the way to the back or hit with fines.
I've spent a lot of time making our case. I brought fellow Kent MPs to the Port of Dover at the end of last year, so they could see first-hand just how vital it is that we keep trucks moving. I've met numerous ministers there too. We had MPs, the port, police, Highways England, Kent County Council and Dover District Council around the table for a 'no deal' summit at the Department for Transport with the Roads Minister.
Because it's vital we get this right. I am determined to keep up the pressure so we can be prepared for every eventuality.
Brexit is an opportunity to be grasped – not a problem to be managed. That's why we must make the most of it, while being fully prepared.
Much has been done. Now we just need to have a sensible plan to enable us to be as prepared as we can be, deal or no deal.
Charlie Elphicke MP for DOVER and DEAL.
* *
A stunning collection of pictures below Sarah, capturing the fierce conditions and the fabulous Lifeboat crew in action.
Great stuff indeed!

Don't Miss Those!!
PaulB
Monday, 11 March 2019 - 06:02
Post 6132
Sarah, Ramsgate
Margate Lifeboat "Leonard Kent" on exercise - 10th March 2019.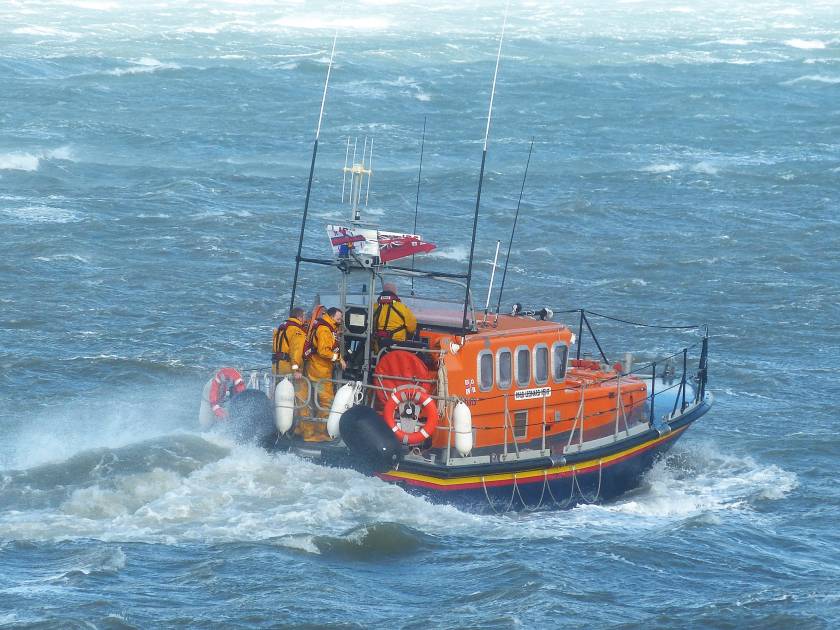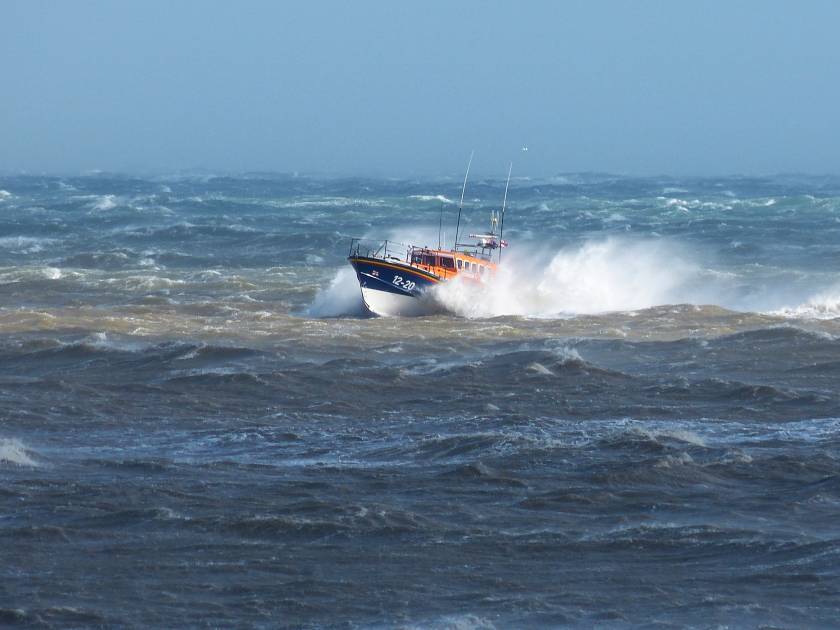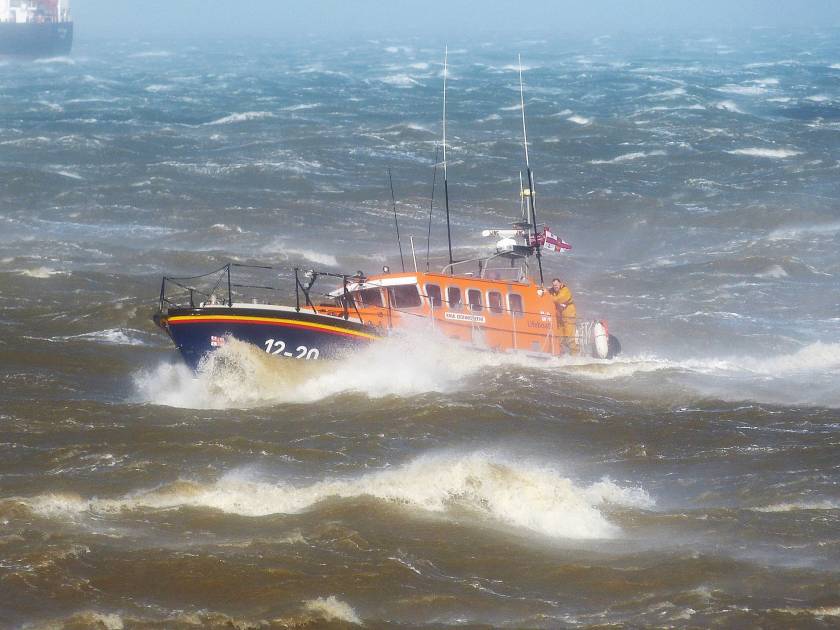 Sunday, 10 March 2019 - 17:01
Post 6131
Sea News, Dover
Following along from Mike's picture of the new reefer crane towers in post 6128...here they are from the other angle and you can see the cabin here that Mike refers to ...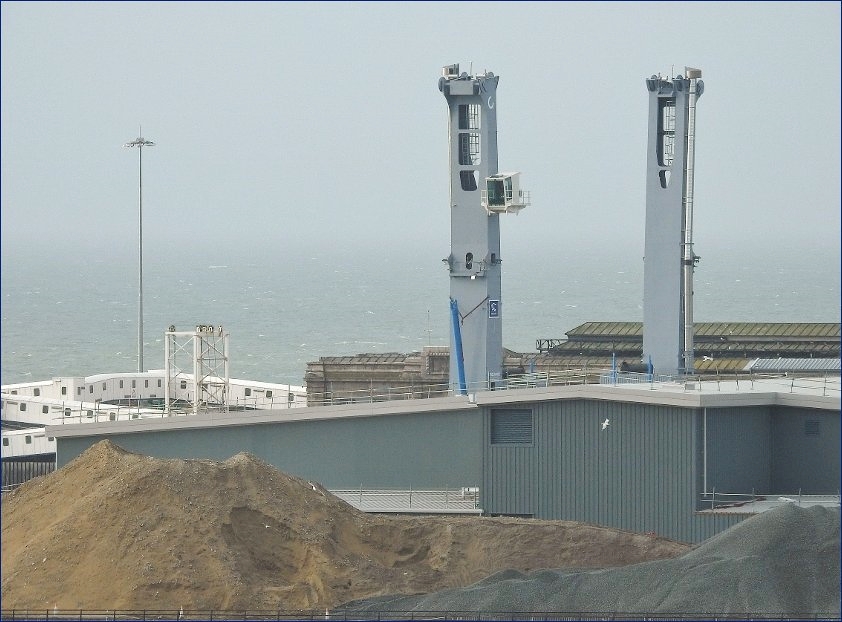 Recently we had those pictures of the Police launch being bashed about in the rough seas as she escorted HMS Kent away... emm last Monday that was. Here she is several days later calmly passing below yours truly's 'observation tower'. Wanted to do her justice...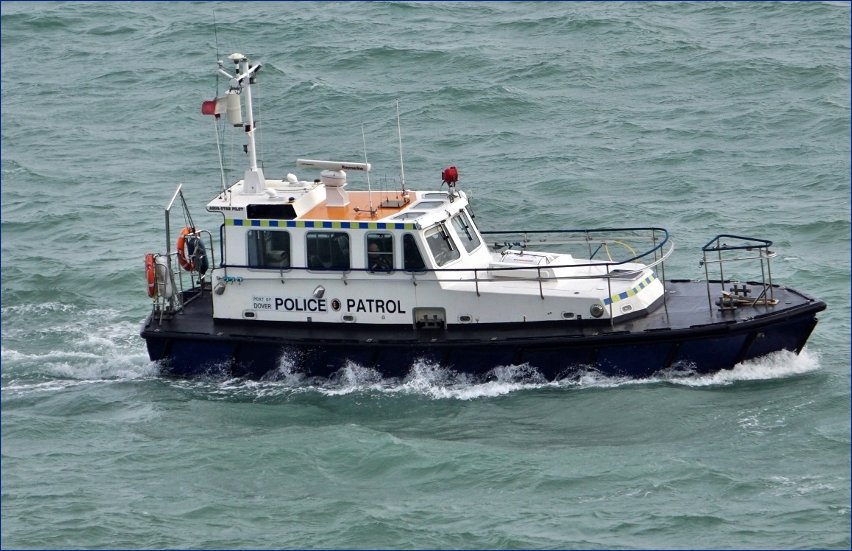 All's well.....
Great set of pictures below once again Mike. Great stuff

Don't Miss Those !
PB
Sunday, 10 March 2019 - 07:56
Post 6130
Mike J., Dover
Paul's blinding sunshine for the BOUDICCA's Friday's arrival had deteriorated (I once saw on an American TV weather map the description 'increasing lousiness') to a murky windy afternoon as I walked up the almost-deserted Admiralty Pier, luckily escaping the occasional bursts of spray.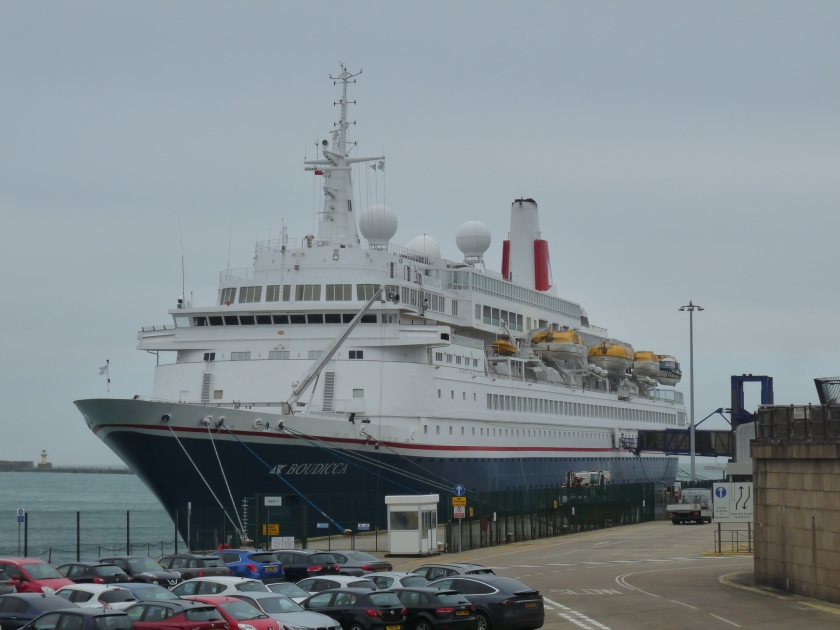 A new toy for the guests was being loaded aboard, using the BOUDICCA's crane.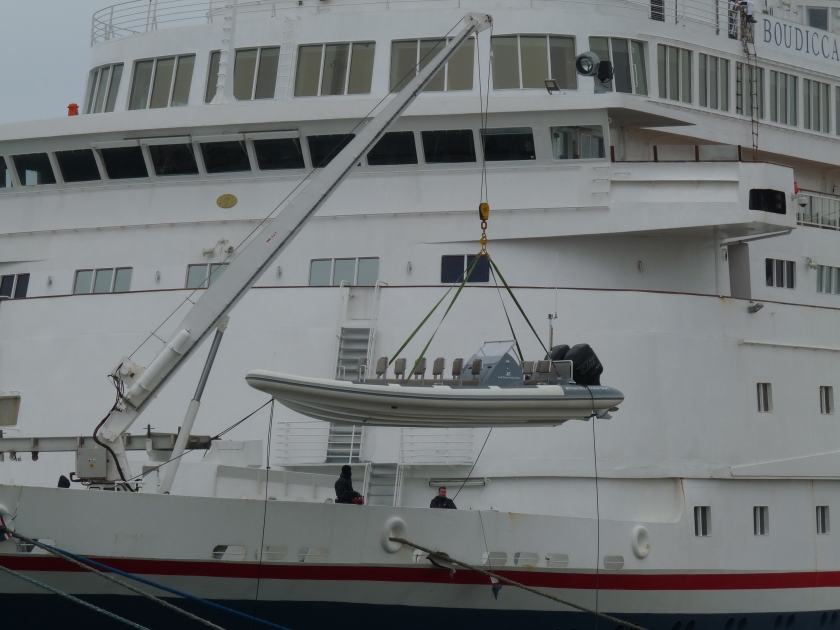 The PRIDE OF KENT returned from her Emden refit about 0900 Saturday & after a couple of hours on a ferry berth shifted across to the Eastern Arm at midday.

She sailed for Calais about 2100 & unusually berthed on the north side of the harbour, presumably waiting to go back into service.
Sunday, 10 March 2019 - 01:55
Post 6129
Sea News, Dover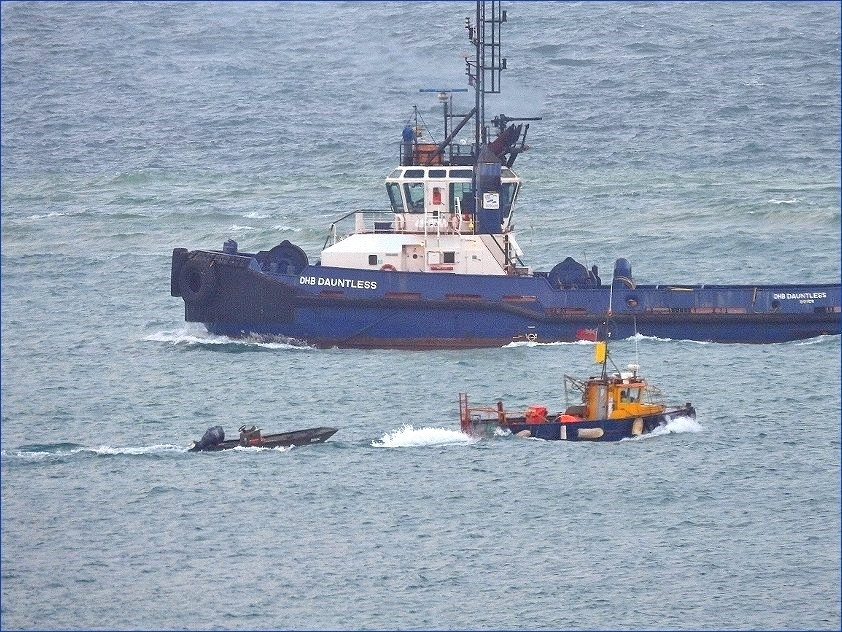 A late-in-the-day picture above there of some of the recent action. When you see what looks like a dinghy being towed in the harbour nowadays, well you assume its the latest migrant incursion. Yours truly jumped to conclusions and snapped away, but in fact its just the small workboat called appropriately Dover Worker doing the towing, all happening at the end of the long working day. Happily Tug Dauntless wandered into the shot to bring some life to it.
Below we have cruise ship Boudicca arriving early yesterday morning March 8. She arrived in blinding sunlight...it was hard to get a decent image of any proportion so it was. The ship is still here so we might get a better opportunity later...she stayed overnight.
A nice round-up general collection below there Mike. Good to see those...

See also our Herald of Free Enterprise seafront remembrance pictures just below in 6127.
PaulB
Saturday, 9 March 2019 - 06:07
Post 6128
Mike J., Dover
Still catching-up, 27/2 with the CITY OF LONDON 2 hurrying up the Wick on a 'shout'
AIS later showed her heading out to the area of the Varne lightvessel.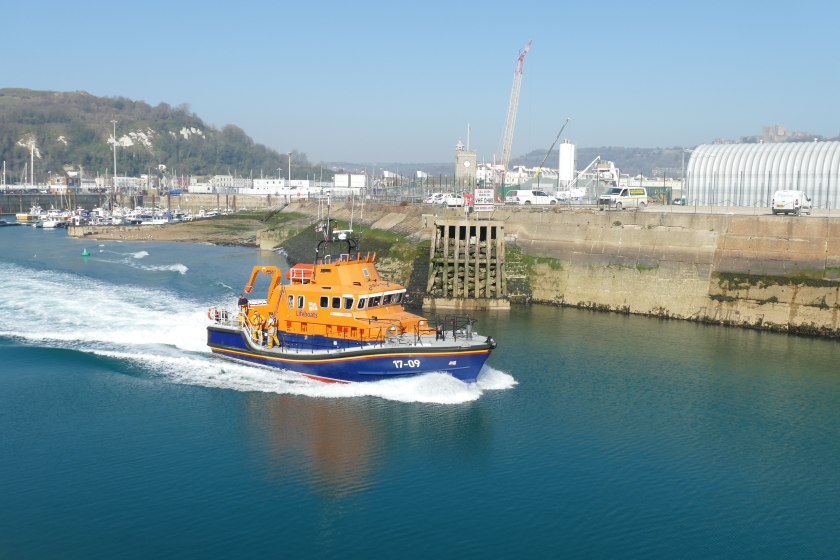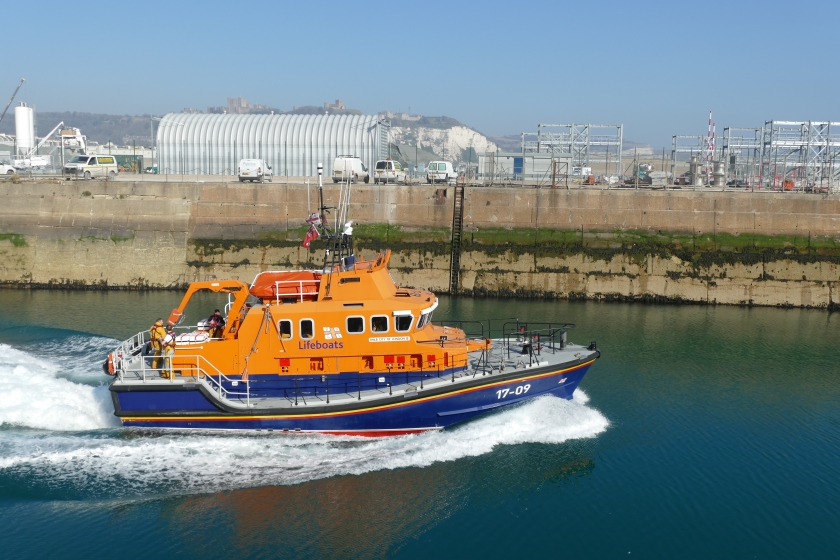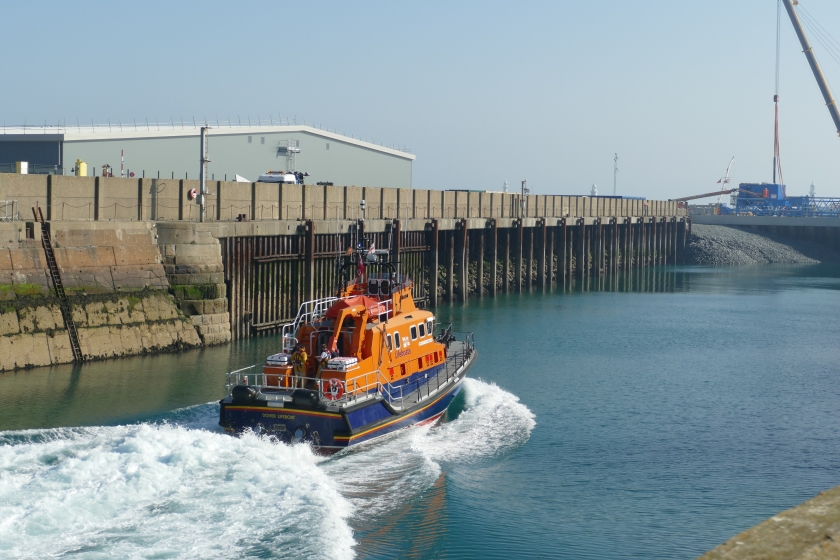 Whilst waiting for HMS KENT on 1/3 the DOUGHTY had a chat with Facebook's 'Dover Straits Shipping' & on pulling away produced her usual very brief impressive puff of smoke.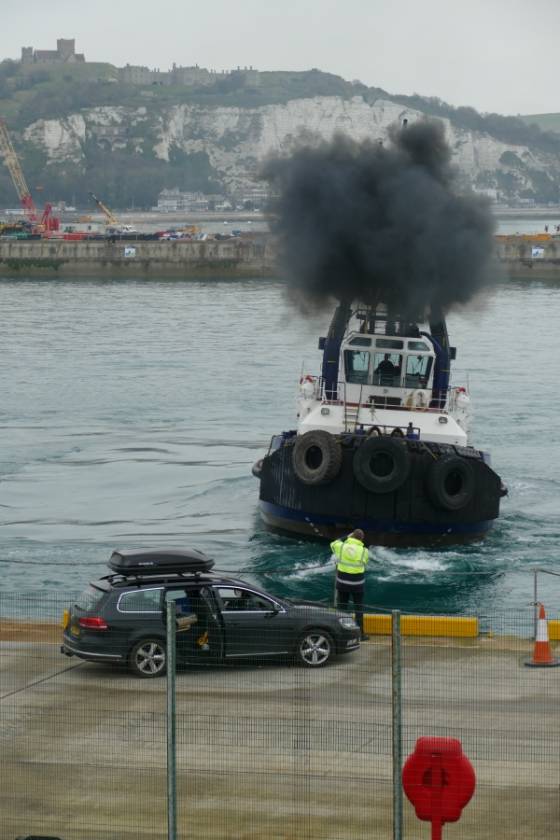 Almost up to date, Thursday with the construction of the two cranes on the reefer berth continuing.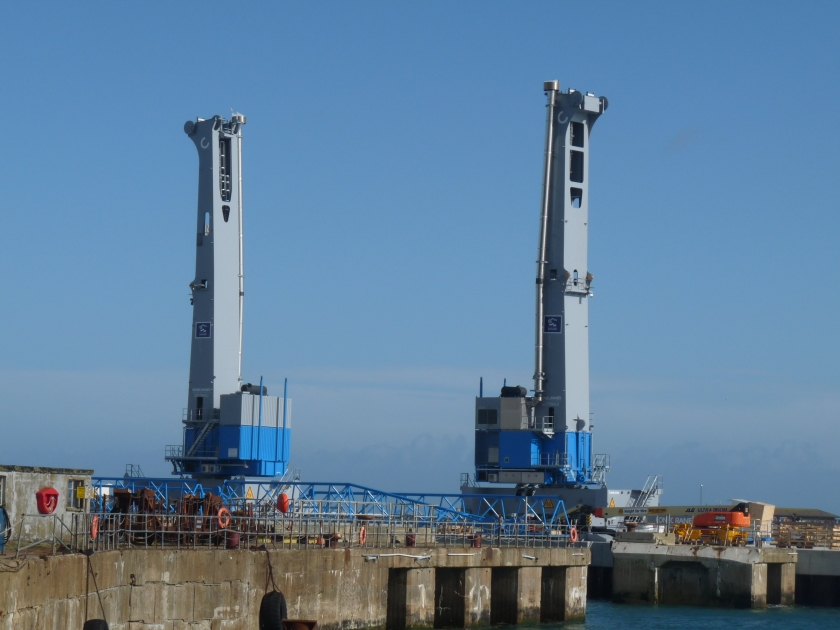 By Friday afternoon the lefthand one had acquired a control cabin halfway up the tower [almost said 'stalk'].
The outer end of the Ad.Pier, beyond the turret, is to be closed for repairs in the fairly near future for an unknown period.
Saturday, 9 March 2019 - 00:45