Monday, 11 December 2017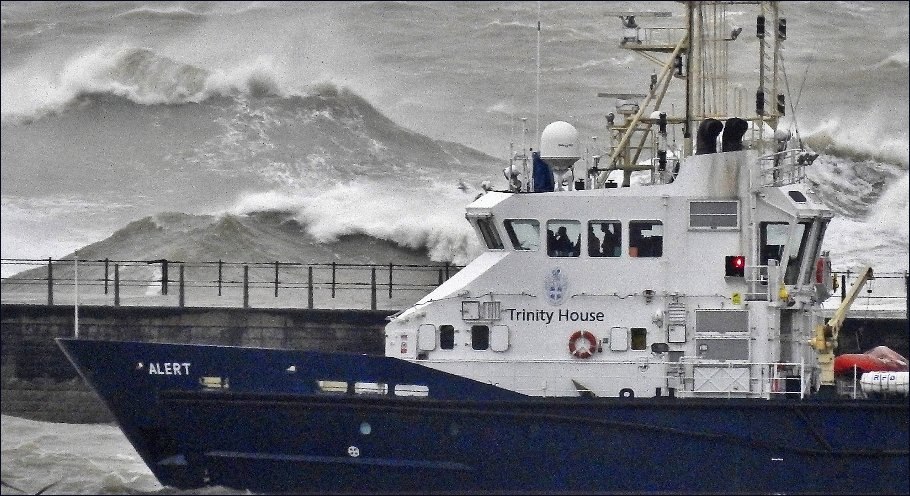 The guys onboard Trinity House Vessel Alert pause briefly before tackling the raging seas of Storm Caroline at Port of Dover. This is a zoomed-in cropped version of our picture further down the page with more emphasis this time on the rough seas.. PB.

doverforum.com/sea-news
Doverforum.com: Featuring all the ships that come and go and work at the Port of Dover with further coverage of Ramsgate, Calais, Dunkerque. Email: dover7@msn.com to send SEA NEWS pix or info.... or click ADD YOUR COMMENT below to post direct, no membership needed.

Port of Dover's Big White Christmas Ice Event. Delightful fun for all...see..http://www.whitecliffschristmas.co.uk/
See also post 4460 below.
Charlie Elphicke MP : On being suspended...see below 4424.

P&O Ferries- Britain's favourite 4465
Mammoth Tooth Find - Extraordinary at Port of Dover see 4389.
DFDS - Helping to tackle Breast Cancer - see 4377.
PORT of DOVER: COOL CARRIERS..great cargo coup. New Trade for Dover.. 4336.
P&O FERRIES...women in the workplace .. also 4336..also see 4370 for the new graduate seafarers.
also see 10 new local apprentices 4451.

PORT: Latest DWDR news and drone pictures...see 4330.

DFDS and the Maritime Catering Apprentices 4323.
P&O Ferries help children with serious illnesses cross to France 4316.
Port of Dover sponsors War Horse 4294
DFDS - Crowned Europe's leading Ferry Operator 4287.
DDC Leader Paul Watkins retires...see 4282 and 4270. Replacement 4328.

Use our SEARCH ENGINE below to find all sorts on the SEA NEWS pages..more than 200 now with more than 4000 nautical posts. Posts welcome. Max of 5 pictures preferred per post. Sea News Editor Paul Boland.
Type Cruise Visits (or indeed anything) in our Search Engine below for the latest cruise ship arrivals..
Post 177
JohnL, Dover
Port of london Authority website that should have said.

Tuesday, 29 October 2013 - 21:07
Post 176
JohnL, Dover
For anyone interesred, the Pride of Calais will be making one last pass thru the Dover straights tomorrow on her way to Aliaga, Turkey for scrapping! According to the play website she will be departing Tilbury at 11am.

Tuesday, 29 October 2013 - 21:06
Post 175
PaulB, Dover
Official Latest: The Port of Dover is now re-opened and ferry services have fully resumed from the Eastern Docks. Whilst there has only been some relatively minor superficial damage to the Eastern Docks, the Western Docks bore the brunt of the storm with around 50 Fred Olsen cruise customer cars, parked at the terminal, being damaged by the severe seas overtopping breakwaters in the high winds which at times were gusting above 70 miles per hour.
The Port of Dover confirms it will be providing every assistance to its cruise customers in dealing with insurance claims, onward travel arrangements or any other requirement to support them following this very unfortunate turn of events.
Mike Rodwell, Managing Director at Fred Olsen Cruise Lines, said: "Together with the Port of Dover, we will do everything we possibly can to ensure that none of our customers is inconvenienced due to this storm and will be liaising closely with them to prepare for their arrival in Dover next week."
Further work to assess the full extent of the impact of the storm on the Western Docks will be undertaken urgently just as soon as it is safe to do so. The Port is also clearing the shingle washed up onto the seafront in order to ensure that this important community asset is restored as quickly as possible.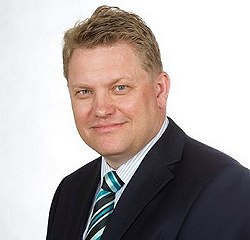 Tim Waggott, Chief Executive, Port of Dover (pictured), said: "The Port will be working tirelessly to ensure that its customers are not disadvantaged by the effects of this natural event. For their benefit and for our community, we are determined to get back to normal as quickly as possible."
Tuesday, 29 October 2013 - 06:51
Post 174
howard mcsweeney, dover
some breathtaking photos there(love the whale) from yesterday and today, the port was only closed for less than 3 hours in all that time unless i am mistaken.

quite a staggering achievement from all concerned working at the port and of course on the ferries

Monday, 28 October 2013 - 15:03
Post 173
PaulB, Dover
Yikes 82 knots Mike. I can believe it too. Twas very rocky right here and the sea is still immensely rough even right now at 2.30 in the afternoon.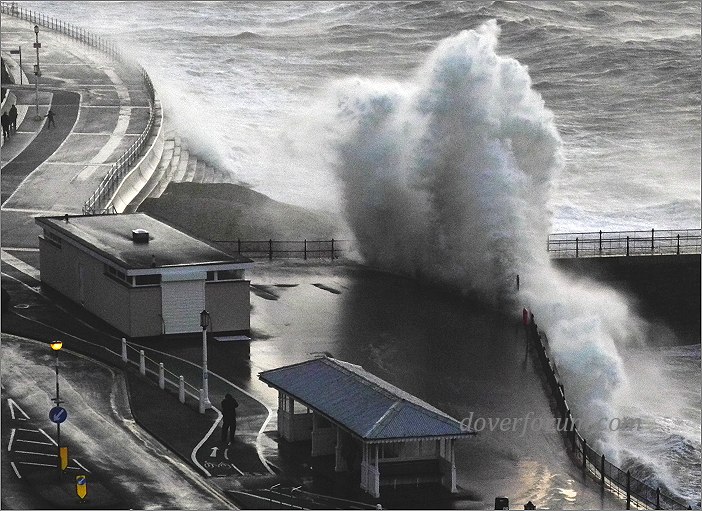 It is early this morning in the picture above and this great wall of water heads towards the new toilet facility..whoosh it went as it leapt 50/60 feet into the air and then it bashed down onto the roof...it was very rough at that time as you can see, even holding the camera was a challenge.
A little later and here we have below what looks like the Leviathan of the Deep. Yes its the great swishing tail of Moby Dick himself...or nearly !
Ferocious power.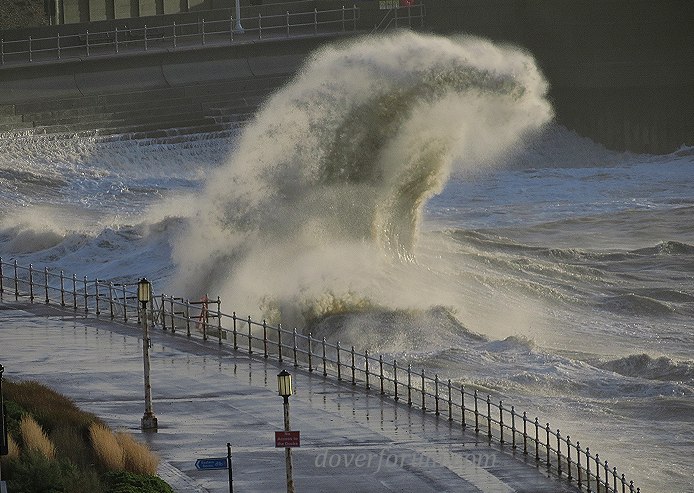 At this moment in time teams of Port employees are trying to scrape the beach back onto the beach.
A big job as beaches here were stripped bare of pebbles.
Monday, 28 October 2013 - 14:36
Post 172
Mike J., DOVER
Western Entrance at about 0800 when Langdon Coastguard reported an 82kt gust coming thru.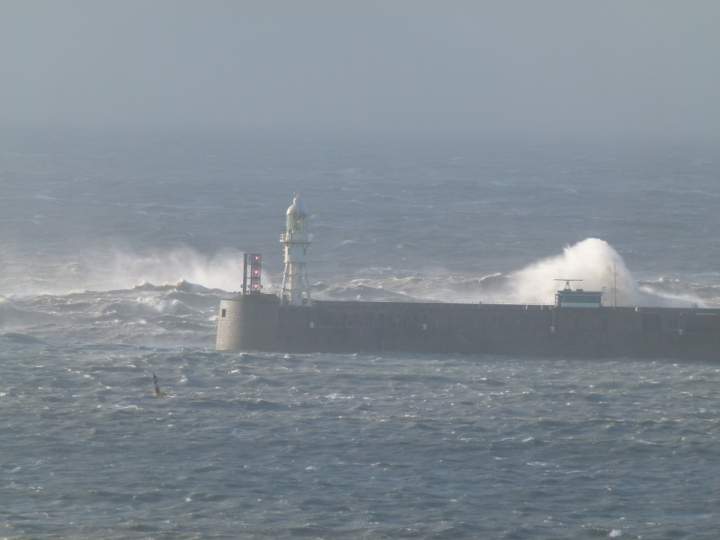 Monday, 28 October 2013 - 10:29
Post 171
PaulB, Dover
OFFICIAL LATEST : Port re-opens. First ship into Port pictured below...the Spirit of France.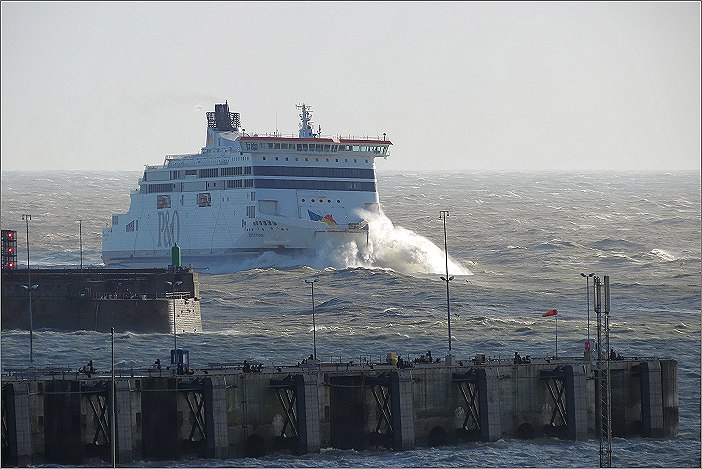 We are pleased to confirm that the Port of Dover is now open (at 09:10 Hours) and the ferry services have resumed. The Port was closed due to adverse weather conditions and concerns over customer and staff safety. The Port and ferry operators will now continue to work together to ensure that the terminal remains open and services are running with minimum disruption. Passengers are advised to check with their ferry operator before travelling and consult our website (www.doverport.co.uk) or twitter account (@Port_of_Dover) for the latest information. Please note that there may be initial delays to services as the Port re-opens.
We apologise for any delays or inconvenience as a result of the closure but you will appreciate that the safety and security of everyone is of the utmost importance. Ends.
Monday, 28 October 2013 - 09:37
Post 170
PaulB, Dover
OFFICIAL NOTICE : PORT CLOSURE
Due to adverse weather conditions (strong winds gusting at 65 knots) the Port of Dover is currently closed (as of 6.30hrs). The primary concern of the Port and ferry operators is the safety of our customers and staff. Passengers are advised to check with their ferry operator before travelling and consult our website (www.doverport.co.uk) or twitter account (@Port_of_Dover) for the latest information.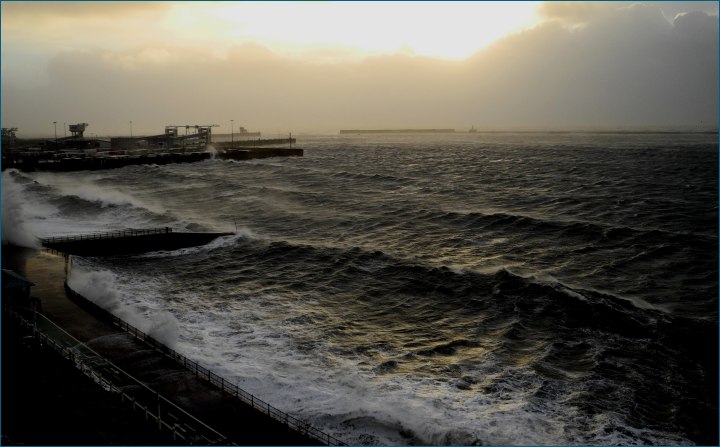 We are monitoring the weather situation closely and liaising with the ferry operators with an aim to re-open the Port once it is safe to do so. Please note that there may be delays to services when the Port re-opens.
We apologise for any delays or inconvenience as a result of this closure but you will appreciate that the safety and security of everyone is of the utmost importance. All customers are asked for their full co-operation and support.
Ends
See also below...
Monday, 28 October 2013 - 08:25
Post 169
PaulB, Dover
Well you dont need me to tell you what a rough night it has been...and the storm goes on.
Wide disruption. Here is a picture from yesterday taken in the brief afternoon sun. The sea was and is extremely rough.
The harbour wall looms for The Rodin. The entrance to harbour becomes very narrow and difficult on days like this.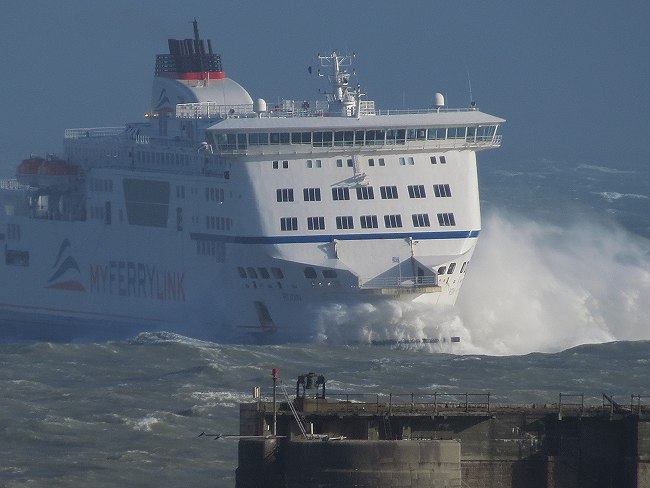 My lights are flickering as I write, so better try and upload this soonest in case the power goes.
If anyone gets some decent pictures pop them up using the ADD YOUR COMMENT button. Very welcome.
There are no ships at all in Port.
Monday, 28 October 2013 - 06:27
Post 168
PaulB, Dover
The sky has indeed been behaving strangely lately with bizarre cloud patterns. Perhaps it is just the calm before the storm..which as we all know is very impending. It was rough overnight but by all accounts worse is due.
Most definitely a case now of battening down the hatches while maintaining the stoically stiff upper lip!
Following on from the picture by Alex below, here are some I took on the same evening...
Look at the strange bubble and sweep ( no not bubble and squeek

) Bizarre looking isnt it, if there are any meteorology experts out there then please let us know what it all means..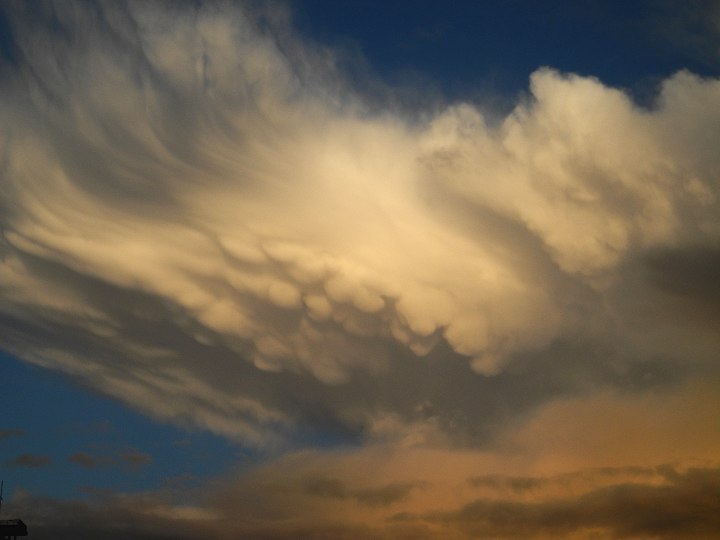 the wider view with the Port below.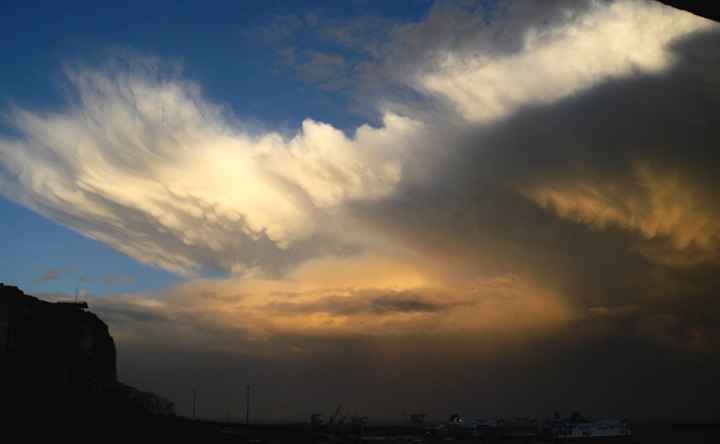 also looking in the opposite direction towards the west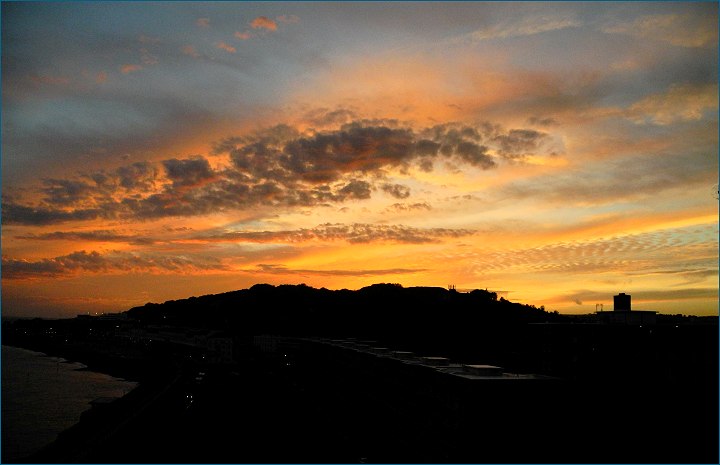 Some of the ferries further west are already disrupted. Brittany Ferries were on the News 24 channels already talking of cancellations...might well happen here too. Yes just heard..cancellations happening here too, weather "extremely poor" in Dover say MFL. Passengers who do not urgently need to travel are advised to rebook for another time.
Sunday, 27 October 2013 - 06:26
Post 167
PaulB, Dover
PORT of DOVER WEATHER INFO...

Here in Dover today friday, sea conditions in the Channel are moderate, with a South Westerly fresh breeze, force 5, and the visibility is good. The ferry terminal is operating normally with space available.

Due to adverse weather, which is anticipated over the weekend, passengers are advised to contact their shipping operator for any further information.


Friday, 25 October 2013 - 14:54
Post 166
PaulB, Dover
A very dramatic picture there Alex - well done getting that. The sky was amazing the other day..not seen anything quite like it..most unusual. Your picture reminded me that I have some too of those cloud patterns. I take so many pictures I sometimes forget what i have where.
Glad you are liking the Sea News page.

Friday, 25 October 2013 - 11:48
Post 165
howard mcsweeney, dover
alex of dover food bank is a keen follower of this thread and has sent in this photo taken last sunday afternoon.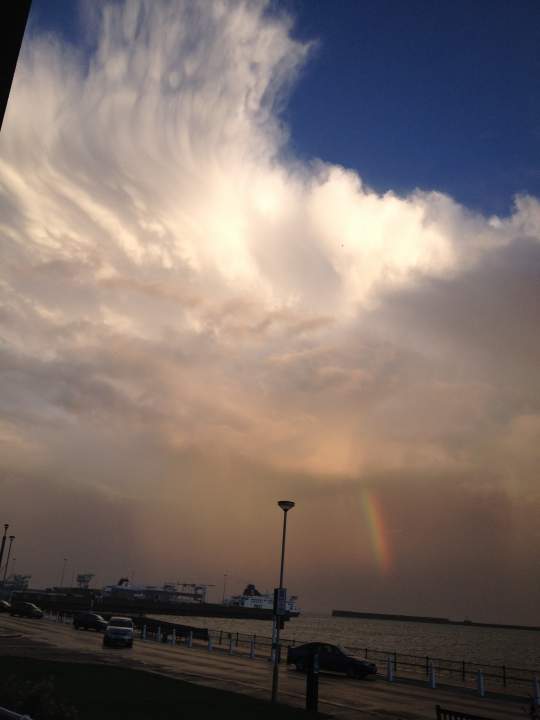 Friday, 25 October 2013 - 10:21
Post 164
PaulB, Dover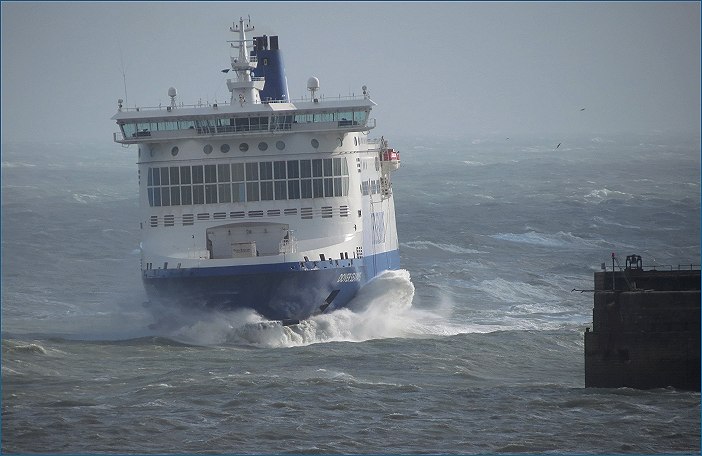 After a briefly benign situation yesterday the weather is back in rough mode today friday. Blustery wet and windy etc. On wednesday it was much the same for much of the day but with added occasional sunshine. During these outbreaks of sunshine the Dover Seaways came into spectacular view battling the elements as she approached the harbour. I snatched these pictures at that time. Our nautical man-on-the-spot Ed Connell himself would have been onboard ( see the rainbow pictures below). Several ships were queuing, stacked up off the White Cliffs at various points in the day, as it was too rough to get into harbour easily. There was a backlog on the traffic front as a consequence, everything delayed.
Gale force winds for sure in the pictures above, marginally below that level today but still not great.. It might improve later for the half term getaway. The local hotels are already looking pretty full as I write ( see the half term ideas below from DFDS and MFL).
Friday, 25 October 2013 - 07:38
Post 163
PaulB, Dover
Thanks for that info Jan.

Should be worth a look. Its a very sad story about that lovely ship. For anyone who doesnt know the vessel mentioned, there is a picture of it on page 3 while she was here in Dover. She visited us here just a week or so before destruction and eventual sinking off Cork. Now the rescue...
Thursday, 24 October 2013 - 17:43
Post 162
Jan Higgins, Dover
Real Rescues BBC1 this morning showed the tall ship Astrid rescue off Ireland plus an interview with the owner and Captain. It is such a shame that this accident happened to a beautiful looking ship.

If you want to see it on catch-up it is about 30 minutes in with another bit at the end.

Thursday, 24 October 2013 - 11:55
Post 161
PaulB, Dover
Gosh great set of pictures all round below there. Enjoying those greatly and enjoying your story Ed..hope you didnt have to do tooo much suffering for your art with the Chief. And...if you found any gold out there under that rainbow can you slip a bar or two through my letterbox

!!
Also a thumbsup for Mary Josephine with that pic.
You made me laugh there Howard...this pasty faced landlubber kept his feet firmly encased in concrete yesterday as heavens it was rough out there on the water. Have a couple of pix of the Dover Seaways myself in the rough conditions ..will delay those so everyone can enjoy the current photos first. Great stuff !
ps KIDS : if you have kids champing at the bit see the half term ideas from DFDS and MFL by scrolling down the page.
Thursday, 24 October 2013 - 07:24
Post 160
Ed Connell, Dover
A photo of the rainbow over the Dover Seaways taken at the same time from ashore by Mary Josephine and posted on the Facebook group Dover for Dovorians.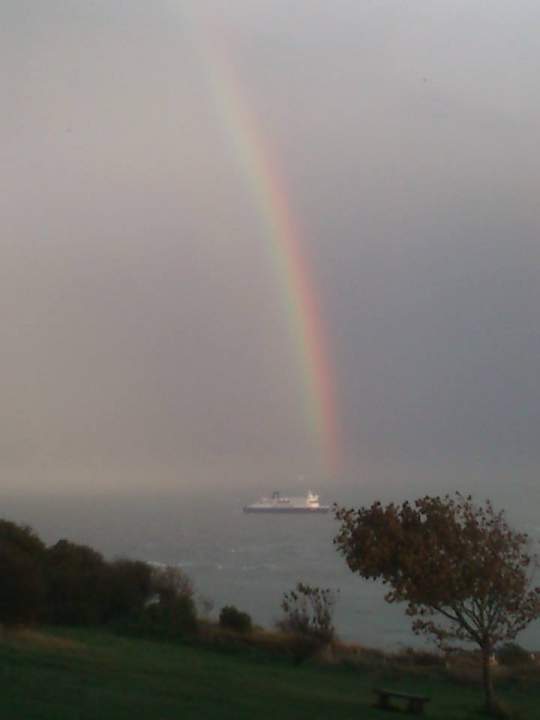 Wednesday, 23 October 2013 - 21:08
Post 159
Ed Connell, Dover
This is a vivid rainbow off Dover on the 20th. It appeared to form an arch over the ship as though we had just sailed through it.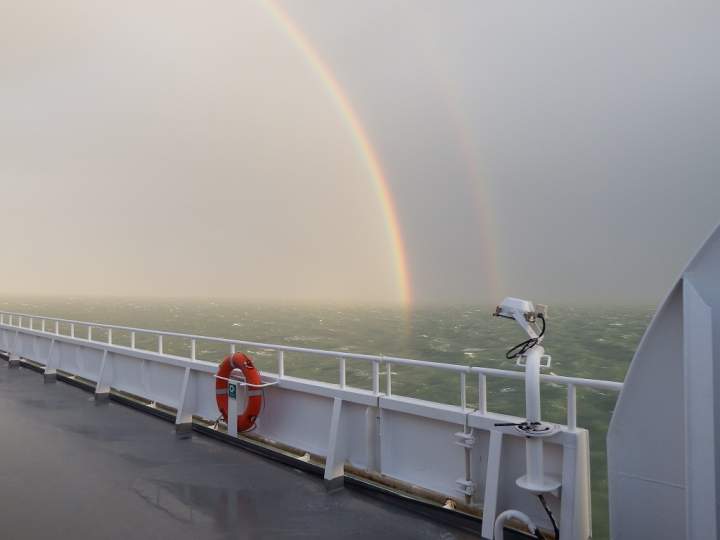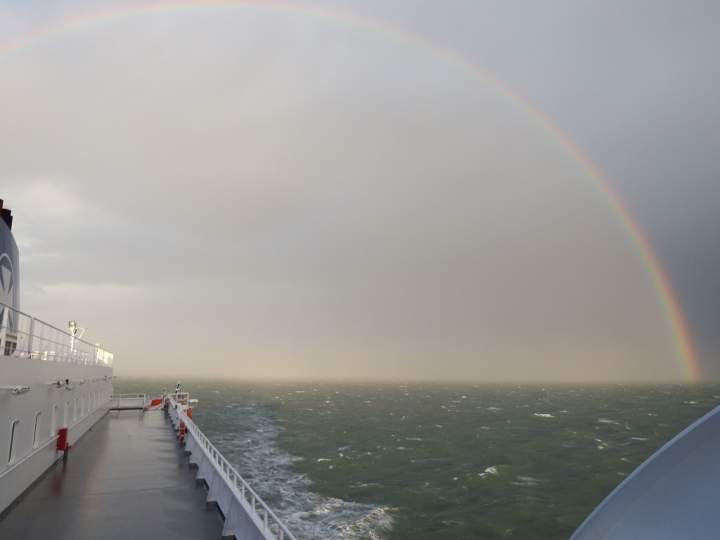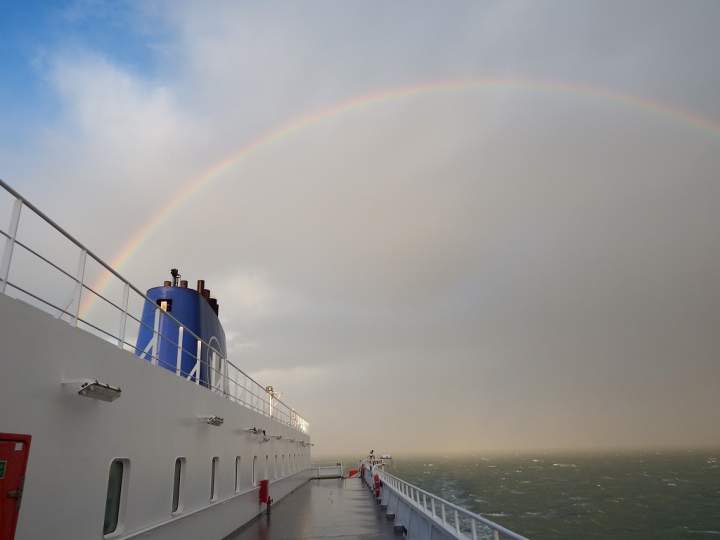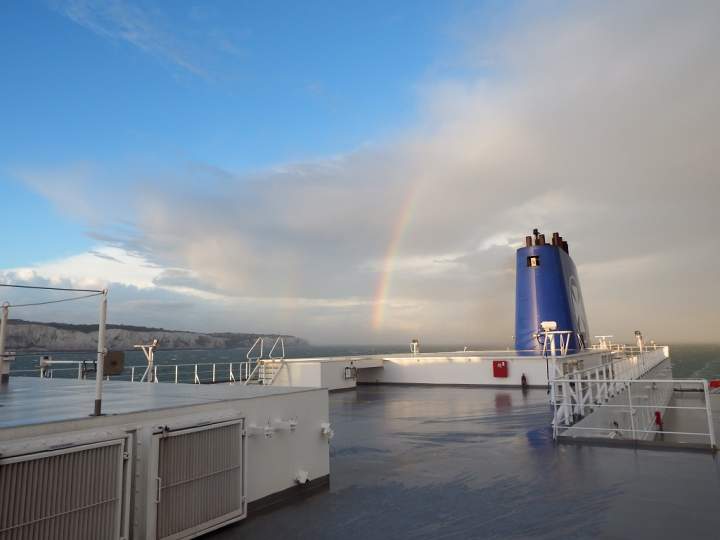 I saw this rainbow and rushed inside to get my camera and take a few quick snaps as I was working. The last photo was a bit unfortunate as I nipped up to the upper deck to take it and was standing half way between the Bridge and the funnel. The Chief Engineer had just called me on the walkie talkie and asked me to go down to the Engine Control Room to assist with moving a very large replacement generator breaker into position ready for installation. I said that I was on my way then decided to take that last quick snap before going down. Unfortunately, I installed a CCTV camera on the Bridge a couple of years ago looking back at the funnel and displaying the picture on a large TV in the control room so that the engineers could see if we were making any smoke. They were all waiting for me in the control room and suddenly I appeared on the big screen taking photos! Another call from the Chief Engineer "We can see you-hoo" so I was caught red-handed and scuttled off down below post haste!
Wednesday, 23 October 2013 - 20:06
Post 158
howard mcsweeney, dover
lovely autumn day up at st martin's battery, not so nice below.
a good day to be a pasty faced landlubber.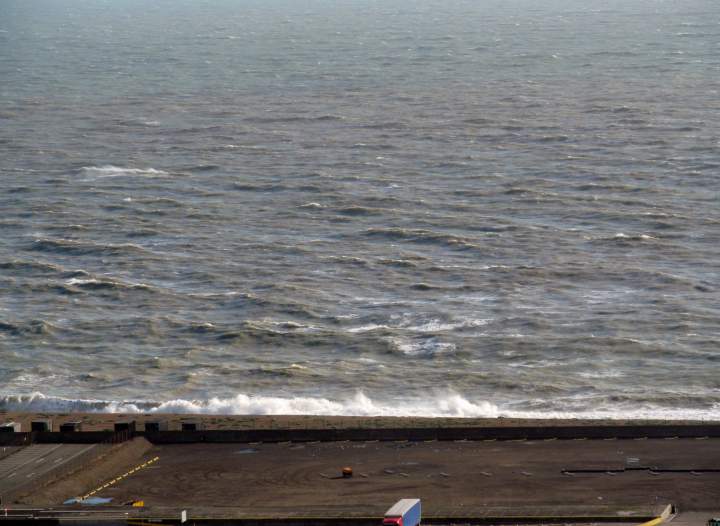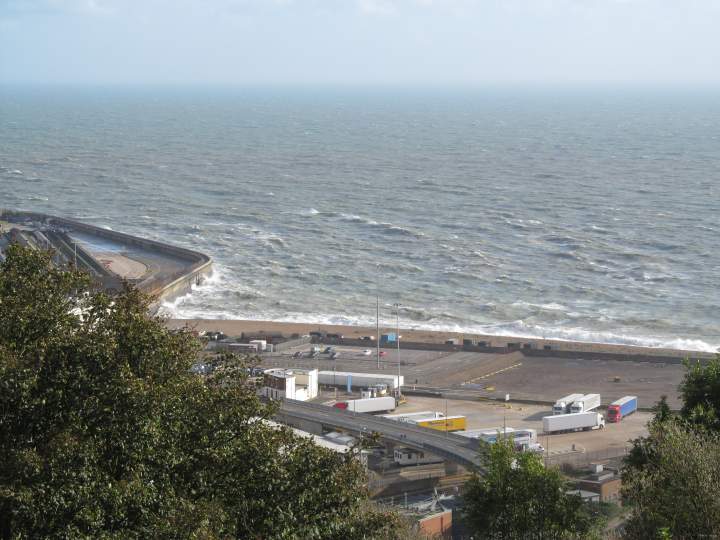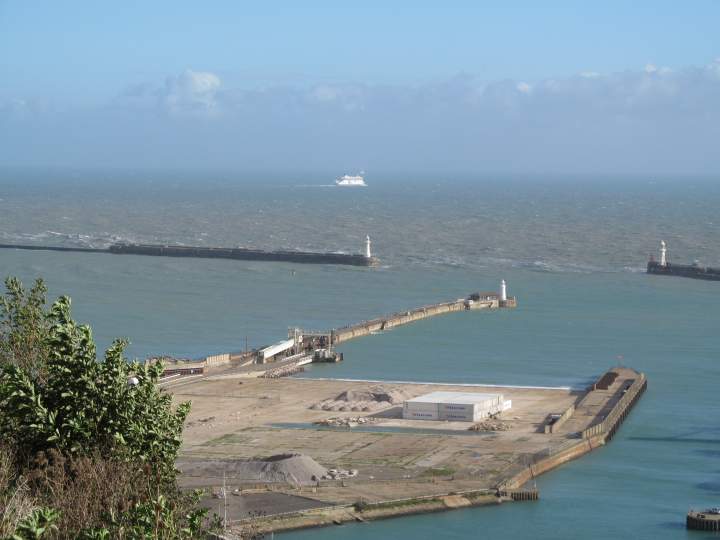 Wednesday, 23 October 2013 - 19:09