Monday, 28 September 2020
www.doverforum.com/sea-news
The Shape of Things to Come....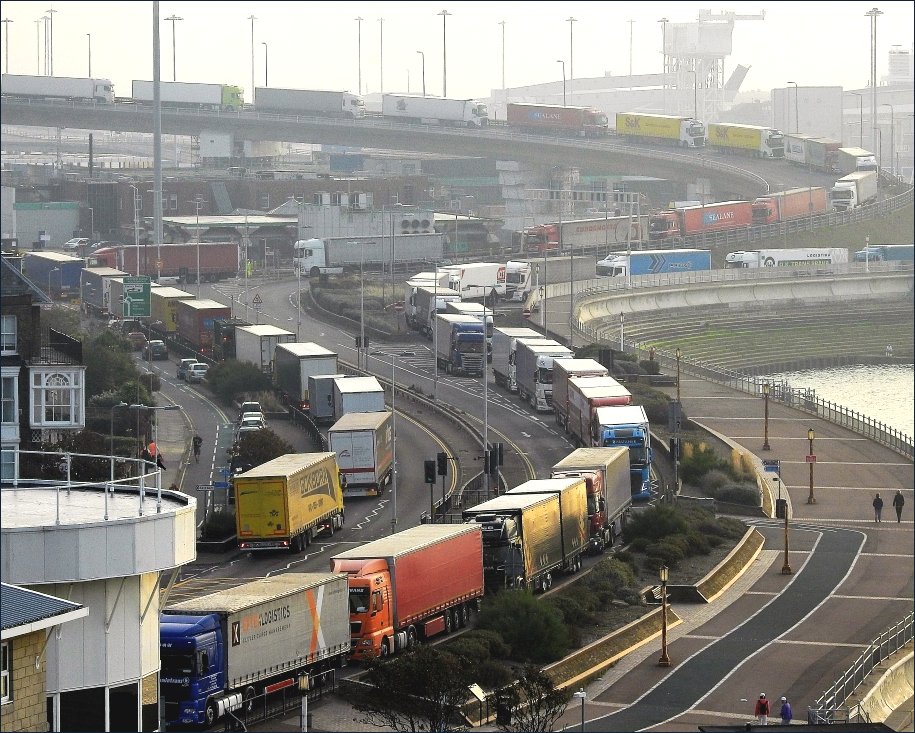 Trucks to the left of us...trucks to the right of us...into the Valley of Dover drove the 7,000 ..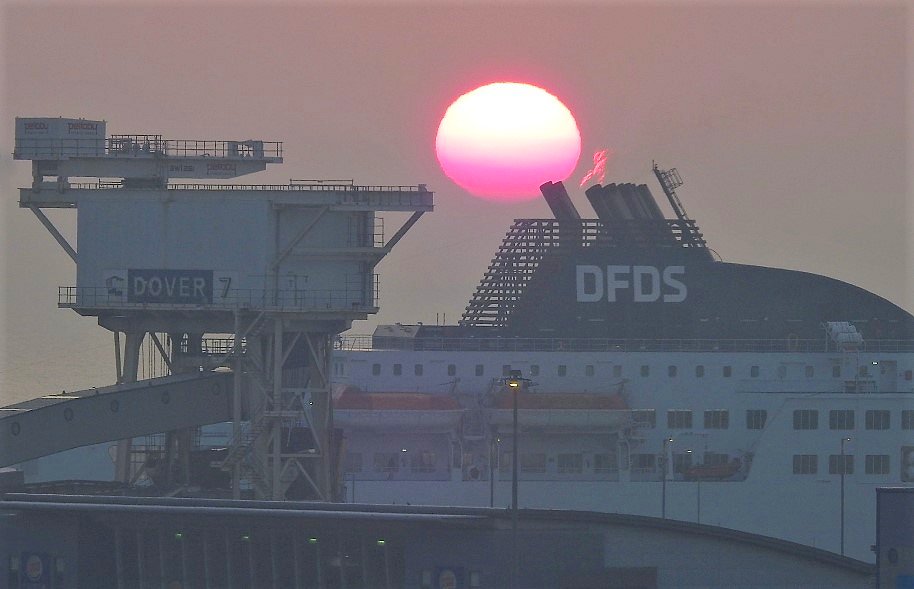 DFDS and the Dover7 sunrise.

WWW.DOVERFORUM.COM/SEA-NEWS
Sea Pictures from DOVER ....
Use our SEARCH ENGINE below to find all sorts on the SEA NEWS pages....type in the topic and away you go,
or if you have the post number, just type it in the Search Box, more than
- 7000 -
nautical posts now.
Paul Boland - dover7@msn.com
Sea News Dover:
All pictures on these pages are the copyright of the owners and must not be reproduced without permission.
Post 1478
Mike J., Dover
Nick -

The photo looks to be at the western side of the Tidal Basin, Western Docks, where the tugs & dredger & DHB small craft tie up now.

The level crossing partly visible in the foreground had tram tracks across it & the tram overhead wires confirm this.

The ferries, including the CANTERBURY, are laid-up.

The old Dover Harbour station is behind the photographer.

The station closed in 1927 but the station building still exists in other use - interestingly the new owner, who has an interest in local history, has erected 'Dover Harbour' station signs there.

I'd agree with your dating as there is no sign of the Dover Marine station which was not completed until 1914.

The area can be seen at -

www.old-maps.co.uk/#/Map/631395/141629/12/101095

A splendid picture that I'd not seen before, thanks for posting.




Sunday, 22 February 2015 - 09:21
Post 1477
Nick Catford, Swanley (nick@catford.orangehome.co.uk)
Apologies if this is not the right forum to post this to. Can anyone identify where exactly this busy Dover harbour location is? Bit dated but probably first decade of the 20th century. Any thoughts?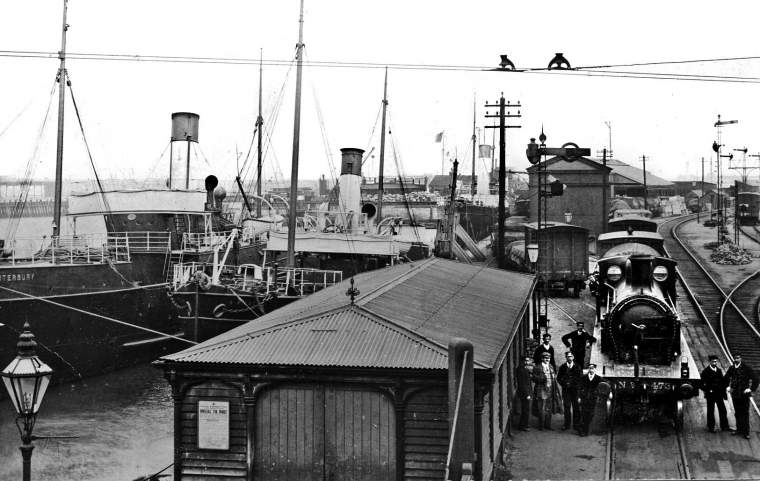 Sunday, 22 February 2015 - 06:58
Post 1476
vic matcham, Dover
Some very nice photos done there ,must say you get some great photos of both the working port and front thank you,and even good ones of what ships are passing thank you.

Sunday, 22 February 2015 - 06:35
Post 1475
Sea News, Dover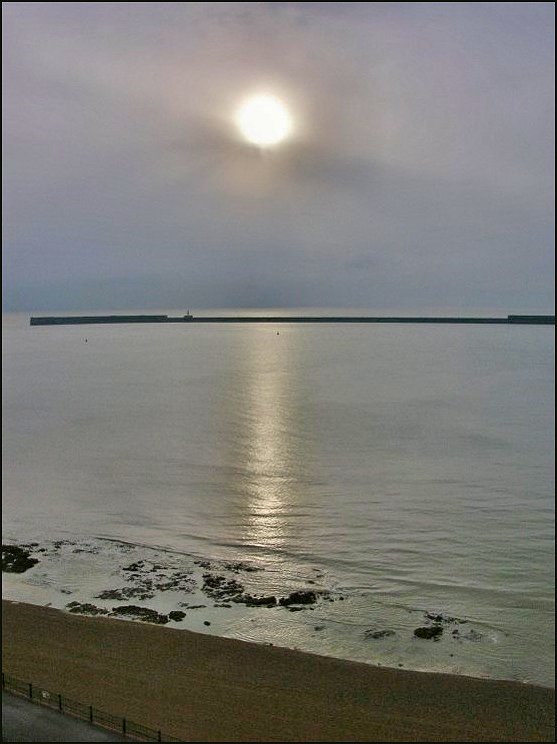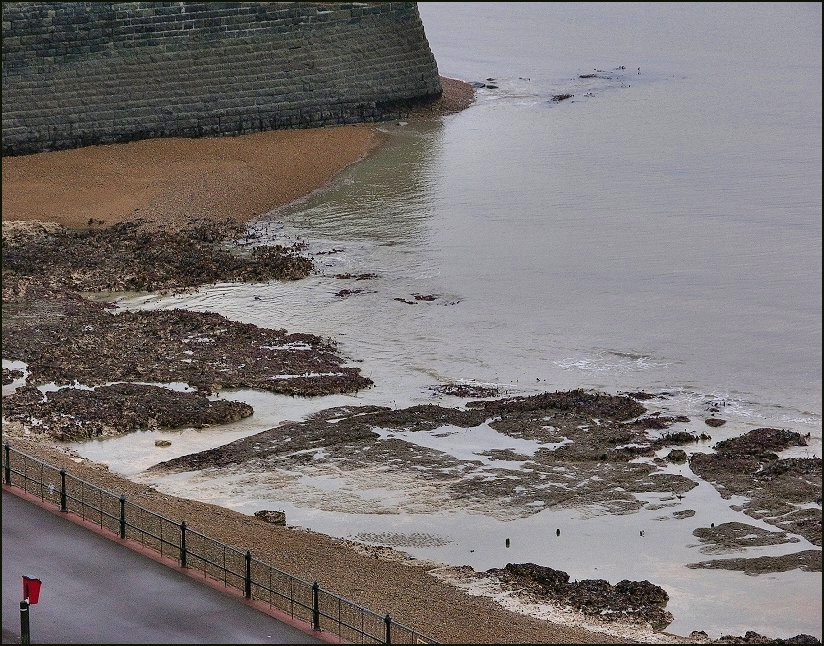 These pictures from yesterday Brian show the opposite side of the tidal coin as it were. Very high tides as seen previously with the lampshade pictures ..are now in these pictures dipped to extremely low levels...a big swing. You can almost walk the full length of the harbour at times like these without getting your feet wet...although I wouldn't necessarily recommend it just in case. Remember what the Lifeboat guys say "Respect the Water". Note the chalky base to the sea floor.
Yes for sure Vic, as long as its not on a WANTED POSTER !!

lol! PB.
Sunday, 22 February 2015 - 06:26
Post 1474
vic martcham, Dover
I would like to think my face will be put up some where in Dover.


Saturday, 21 February 2015 - 17:25
Post 1473
brian, dover
yes paul its a spring tide,slightly higer than normal.8 meters plus.

Saturday, 21 February 2015 - 14:06
Post 1472
Sea News, Dover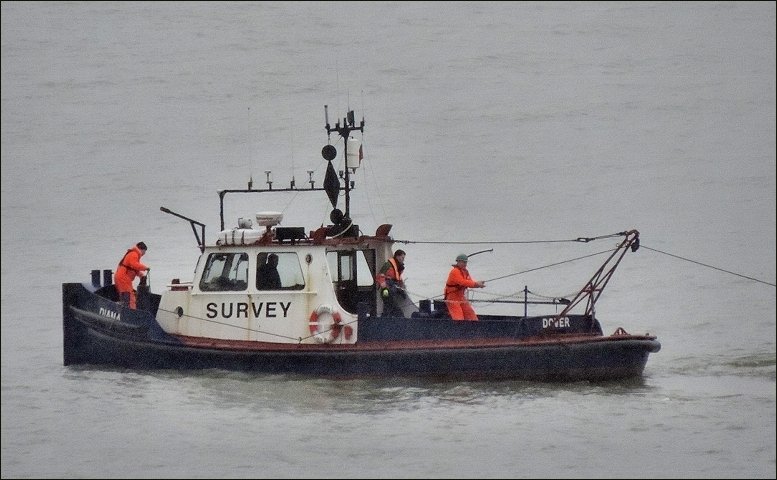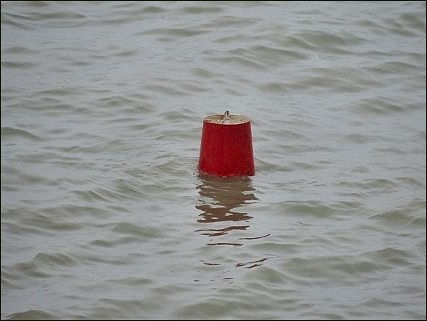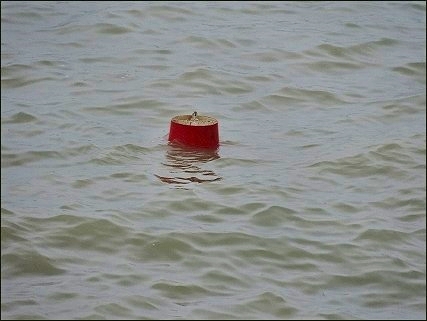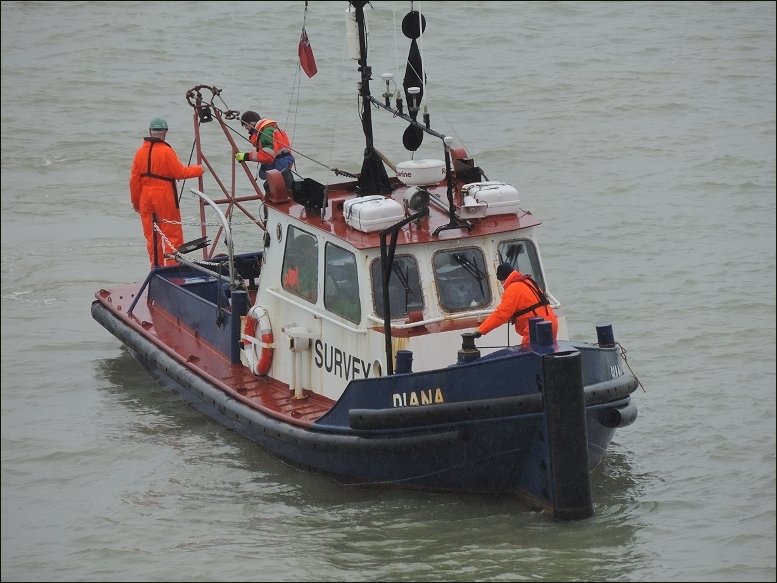 Above we have some pictures of the work and survey boat Diana working hard during the high tides of yesterday Friday. The top picture was taken at the distance and through the light rain, on what in anyone's book would be termed a miserable old day. The bottom picture was taken when she was in close to shore some time later. You can see how high the tide was on the famed 'lampshades' in the middle shots... 'twas a grey cold day out on the water,
Saturday, 21 February 2015 - 06:55
Post 1471
Sea News, Dover
Let your mind hark back to last Sunday if you will, when all was sunshine peace and tranquillity here on Dover Beach. There were lots of people out strolling and following their own pursuits, all enjoying the good weather, as were these visitors below. Good to see them enjoying things, they sang and chanted and appeared to be holding a ceremony.. and then eventually did what we all do on the beach...they threw stones into the water. This is just a section of the overall group.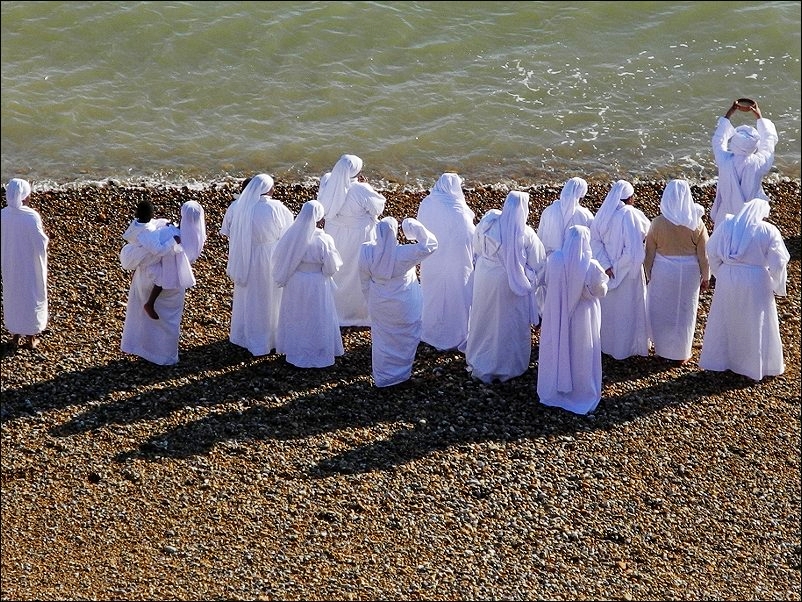 Bit of a difference in the weather yesterday...not much tranquillity to be had. Seas were very rough as you can see in the picture below. The Spirit of France begins to battle its way to Calais surrounded once again by loads of seabirds. You can see them on the wing and resting on the pier. Were there always this many or was it just that yours truly didn't notice?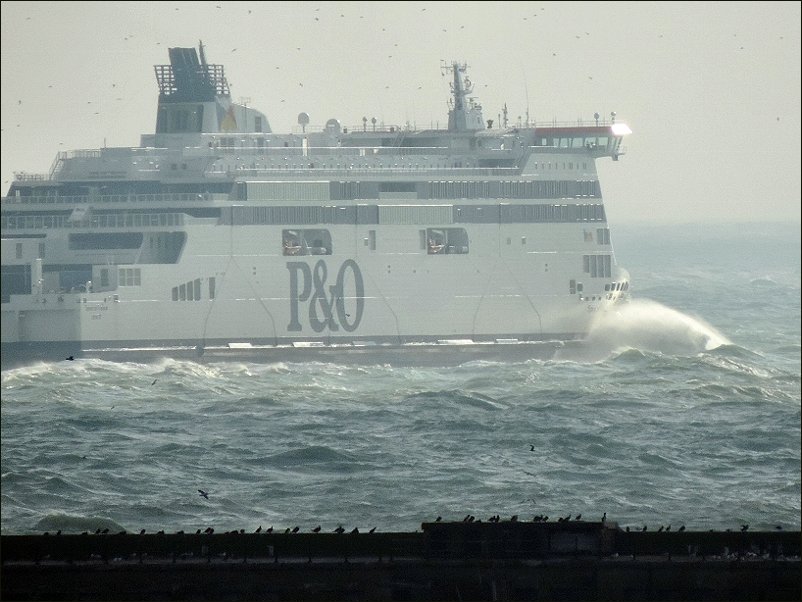 Very interesting set of pictures below Mike. Well done getting those. Enjoyed seeing them for sure. Many's the time I stood in there clutching me ticket!
Ah we wont forget you Vic. You are the unforgettable face of Dover. Who knows you may even get one of those fancy blue plaques in time!
SEARCH ENGINE : You will notice this new facility above. This will prove very handy if searching back through the now many posts on Sea News. I never thought we would have as much info to search through so a big thankyou to all those who contribute and those who send info through to us here...and once again a huge thankyou to my good friend Chris Tutthill who did the necessary technicals. Enjoy. PaulB.
Friday, 20 February 2015 - 07:55
Post 1470
vic matcham, dover
A lot of my hard work and welding done over the years going under the hammer will there be nothing left in Dover to remember me when I have gone.


Thursday, 19 February 2015 - 08:18
Post 1469
Mike J., Dover
The Travel Centre disappears as work in the Eastern Docks continues.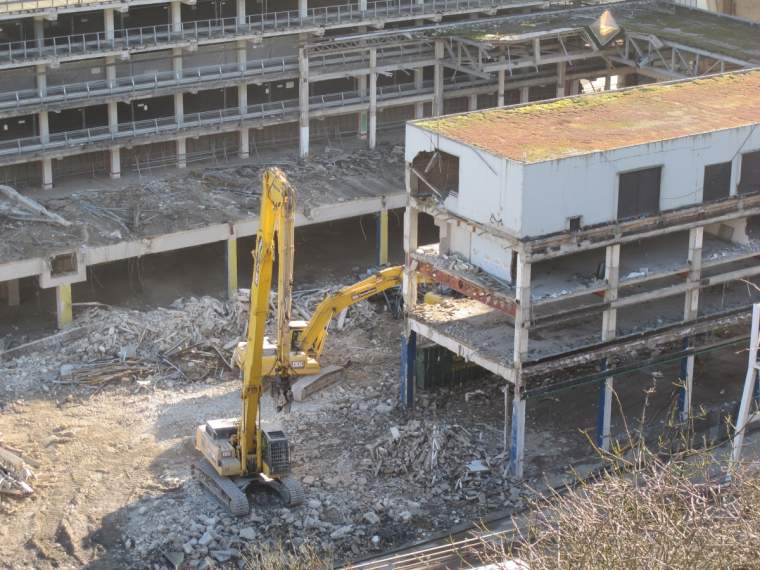 The path up to Langdon Cliffs from sea-level at Athol Terrace will be closed on 23rd.February for path improvements.
The work is expected to take six weeks.
This will disappoint a lot of walkers but those who use it will know that the path does need some work doing on it, particularly to the railings on the lower section.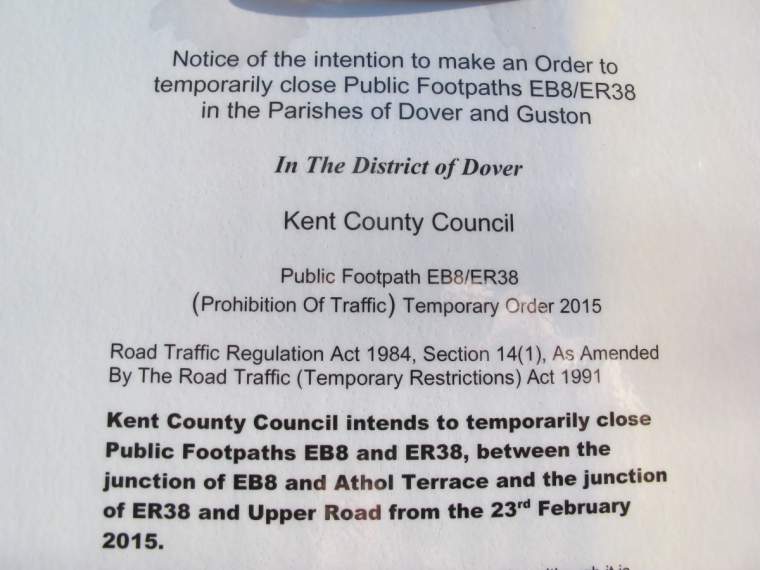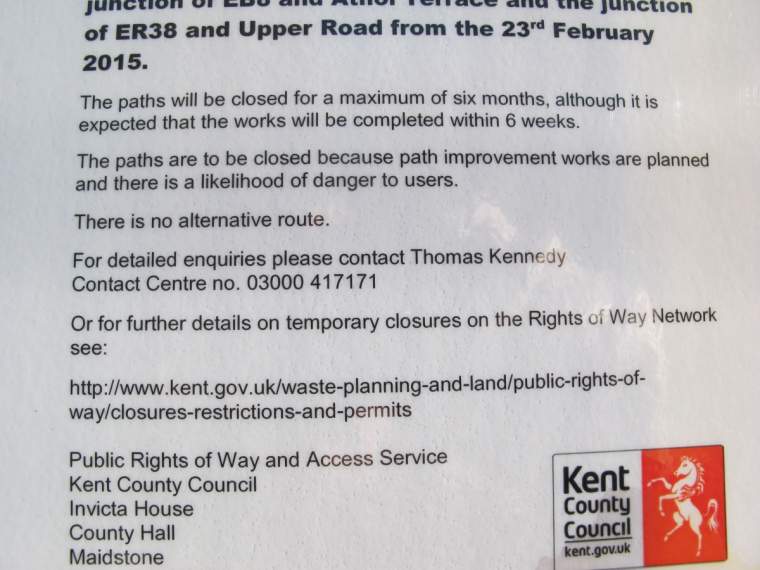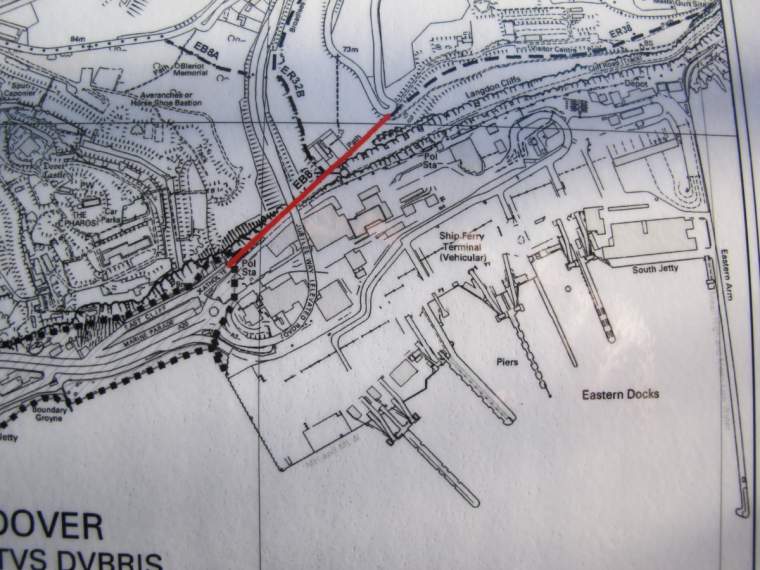 Wednesday, 18 February 2015 - 19:34
Post 1468
Sea News, Dover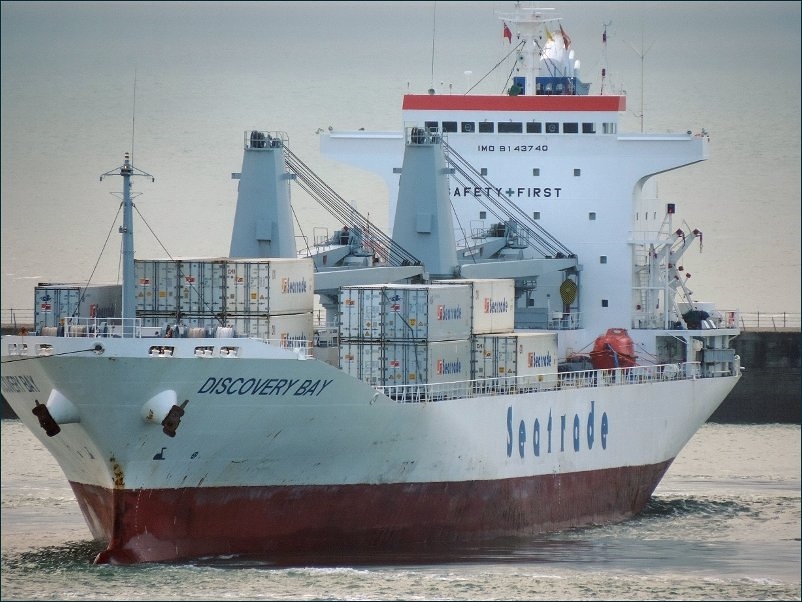 The Discovery Bay was also a visitor this week arriving just after the departure of the Schweiz Reefer see below page, so the hectic cargo schedule goes on. The Discovery Bay has also departed now...must have left us in the night. The picture shown was from a previous time as was not able to get a picture during the current visit. Pish ! They will come in the dark and leave in the dark..tut tut!!

Wednesday, 18 February 2015 - 07:29
Post 1467
Sea News, Dover
DFDS Seaways launches Priority Boarding and Sea View Lounge Access

- Passengers can now book access to the Sea View Lounge and priority boarding for cars on Dover-Dunkirk service
__________________________________________________________________________________________
Passengers travelling with award winning ferry operator, DFDS Seaways, can now upgrade their bookings to include access to the Sea View Lounge and priority boarding for cars on its Dover-Dunkirk service.
The newly rebranded Sea View Lounge provides the perfect setting for a relaxed crossing and includes a selection of complimentary hot and cold drinks. There is also free Wi-Fi access for those wanting to catch up on emails and browse the internet, or you can simply relax and watch the news on the TVs in the lounge. Access to the lounge is £8 per person, each way.
If you like to be ahead of the queue, then our priority boarding service is a great way to start your holiday as you'll be one of the first cars to board and disembark, giving you more time to relax on board. Available for just £10 per car each way, simply add priority boarding when booking.
During your sailing with DFDS Seaways, you can enjoy a meal or snack in one of the onboard cafés or restaurants, shop for holiday essentials and luxuries, or relax as the children play in the dedicated children's area, meaning your holiday starts as soon as you board.
DFDS Seaways sails up to 24 times a day between Dover and Dunkirk, providing passengers with flexible crossing times, a relaxing travel experience and convenient travel options.
To find out more information, visit www.dfds.co.uk, or telephone 0871 574 7235.
- ENDS –
Top picture shows the Delft Seaways in fine action returning from Dunkirk (Dunkerque). That's one for Ed for sure.
Yes Colette - good to see all this new investment in the Port of Dover at this time. Onwards and upwards!
Wednesday, 18 February 2015 - 07:18
Post 1466
ColetteB, Dover
Love those photos of the little sailboats bobbling along on the sparkling sea depicting the shifting effects of light, very impressionistic!

Great news release from Motis Ireland, investing £1Million to the development of Dover. Good to see that work has now begun to provide state of the art facilities at Motis Freight Clearance & Truckstop Facility within the Port of Dover, Brilliant!

Tuesday, 17 February 2015 - 12:15
Post 1465
Sea News, Dover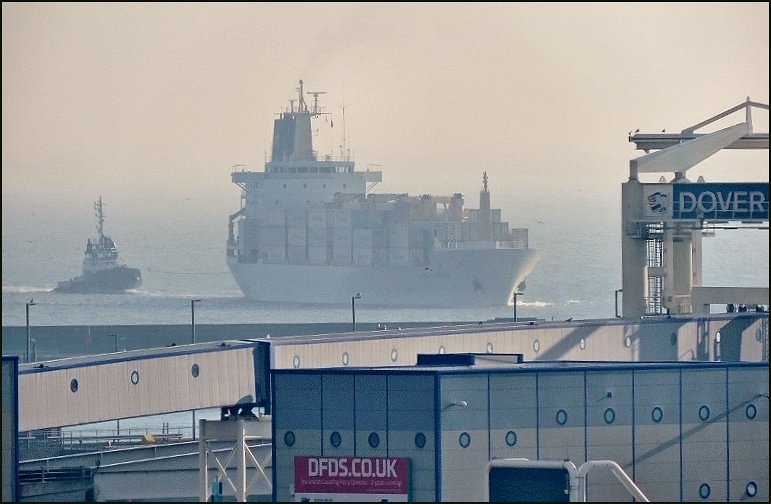 Another picture of the Schweiz Reefer approaching on Sunday - this time across the rooftops as it were. It was very busy busy for half term along the seafront and Port, lots of excitable people out and about, most heading off to pastures far.. for that brief sojourn called half term. We are all a slave to half term and the price hike that goes with it , but not so the ferries, the ferries were offering very good deals for the family and we did carry those in the earlier posts...also noted at the top of page.
Although it was misty for the top picture, the day (Sunday ) did turn into an amazing sunkissed and hugely bright day. You may need to adjust your eyewear for the following pictures. Below you can see the harbour sparkling and dazzling like the sunsoaked Mediterranean as the day went on. After taking pix of the Schweiz Reefer early in the morning - the main camera battery went flat as it so often does. Camera two is getting too old now and showing the grain! So the little compact was called into play for the following...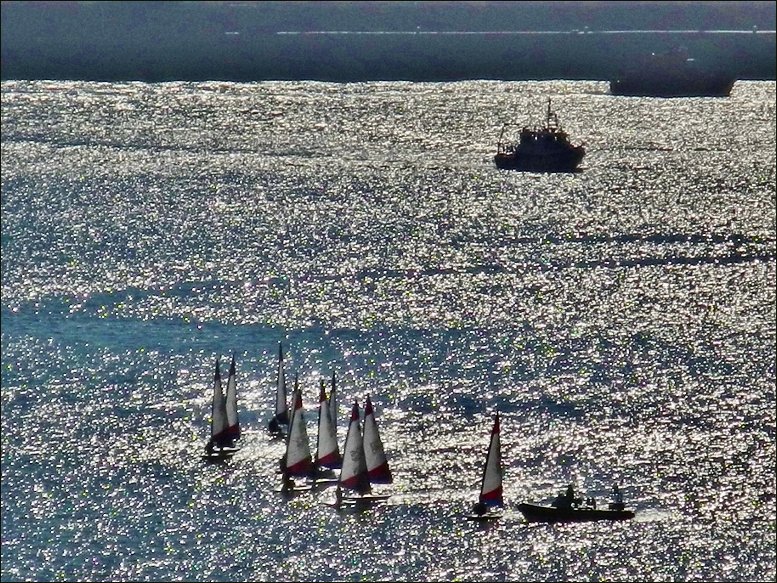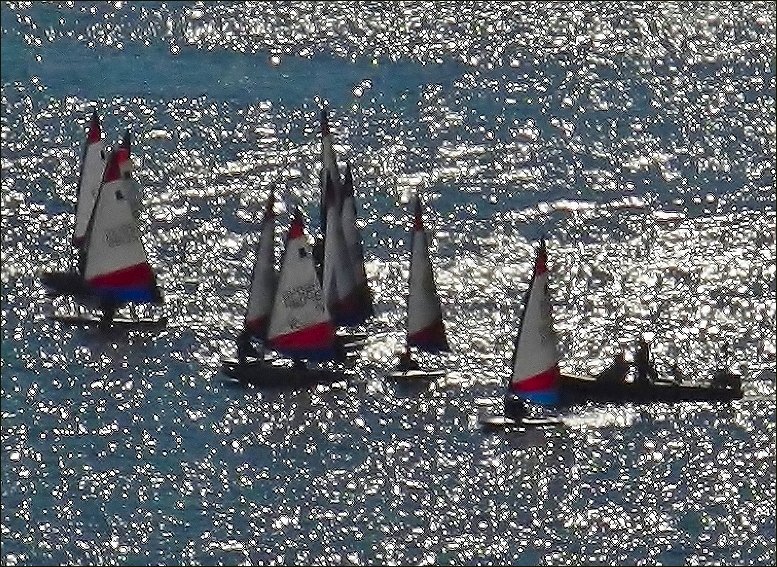 These are the same sailboats we featured a few posts below a day earlier, when it was much colder and much greyer all round.
The middle picture also shows at the top...the Lifeboat returning from its sunday practice out at sea. In the mid ground you can also see the silhouette of the Wessex Explorer still doing its thing up and down the harbour. The crew working hard seven days a week.
No rest for the wicked !

Also please note the big news release below from Motis Ireland...just un-pinned from the top slot. PB.
Tuesday, 17 February 2015 - 07:08
Post 1464
Sea News, Dover
•Motis Ireland Limited – PRESS RELEASE
MOTIS Invests £1MILLION to the Development of Dover
_____________________________________________
Motis, the freight services specialist that took over the Freight Services Agency (FSA) within the Port of Dover at the end of 2012, is investing £1million to the development of the site, creating additional employment in the process. Work has now begun to provide hauliers and drivers with state of the art facilities at Motis Freight Clearance and Truckstop Facility within the Port of Dover.
Over the coming months new toilet facilities, showers, launderette, catering and TV lounge will be added to ensure that drivers experience industry leading levels of service 24 hours a day, every day. Cargo handling facilities are also being upgraded to include ambient, frozen and chilled storage/transhipment. A hand truckwash is already in progress and will be opening soon.
The entire site will have free wifi and discounted international calls will be available. Safety and security is being further enhanced with 1km of new fencing, upgraded ANPR and additional CCTV equipment.
Located within the Port of Dover, this 320 space dedicated truck facility is ideally placed for international drivers requiring a safe haven for their legal rest period. Additional services include HGV Levy, Dart Charge, Customs Clearance, TIR Sealing, POD dispatch and digitacho download.
Rob Hardy, Motis FSA General Manager comments
"It has taken a little longer than anticipated to start the key works on site, but meanwhile we have been able to provide an interim service. Going forward we aim to be the benchmark for truck parking and have many innovative plans to further add value which we will be implementing over the coming months. Now that work has started we can really look to the future and to provide the service levels our customers expect from Motis. The site has been particularly popular with hauliers disembarking in Dover in the evening, parking overnight with us and then paying the HGV Levy on exit helping to ensure they comply with their legal break requirements.
Chris Polwart, Motis Commercial Director, added
"Motis are proud to provide these additional facilities at such a key geographic point in Europe. The majority of our customers are now passing our doorstep on a regular basis so providing these additional facilities is fantastic and natural progression to our already strong product range including Freight Ferry Bookings, Motorway Tolls, Alpine Tunnels and Rolling Highways. This facility also gives us the opportunity to offer some unique product packages to our customers based on specific requirements they may have for their vehicles / drivers on arrival in the UK".
The Motis Freight Clearance and Truckstop Facility is located off Lord Warden Square in the Port of Dover's Western Docks, a 2 minute drive from the Ferry. It operates 24 hours a day, 7 days per week and is the largest facility of its kind in the UK.
Motis Ireland Limited is a long established freight services provider and now has offices in UK, Ireland, Benelux, Poland, Lithuania, Czech Republic, Romania and representation beyond these regions. It provides Bookings on over 500 Freight Ferry routes throughout Europe, Motorway Tolls Services, Alpine Tunnel Bookings, Rolling Highway Services throughout the Alp's, Back load Services, TIPP Reclaim and other services to the European Transport Industry. We operate 24 hours a Day. See also www.motis.com.
Ends

* *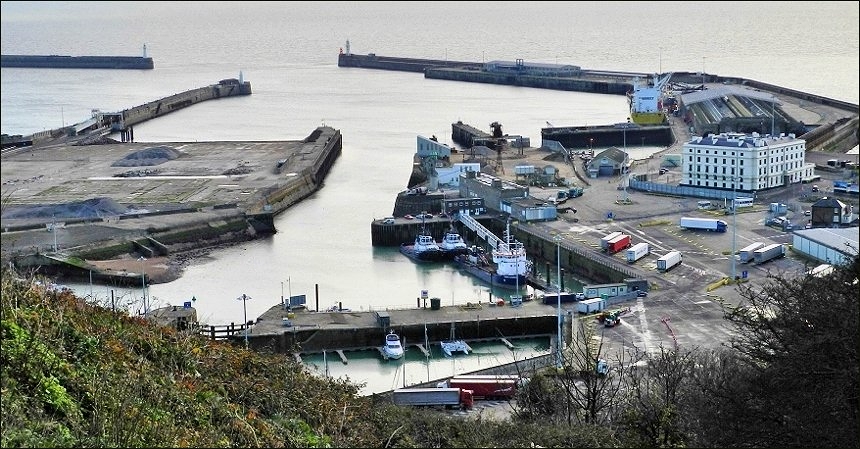 Picture shows a view of the Western Docks in Dover. That's great news from MOTIS IRELAND above...exciting times, good luck to them moving forward with the above plan. And below, just to celebrate the upsurge in all things freight, here we see the arrival of the Schweiz Reefer yesterday sunday in the early mist. The day brightened up spectacularly yesterday to give us all an early taste of spring. PaulB.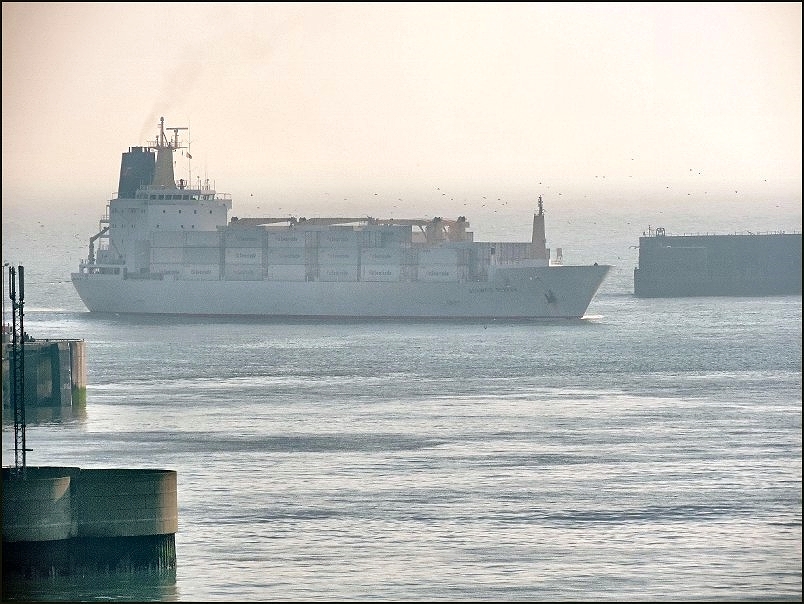 Monday, 16 February 2015 - 07:35
Post 1463
Sea News, Dover
Getting ready to go out on the water on a cold ol' winters day...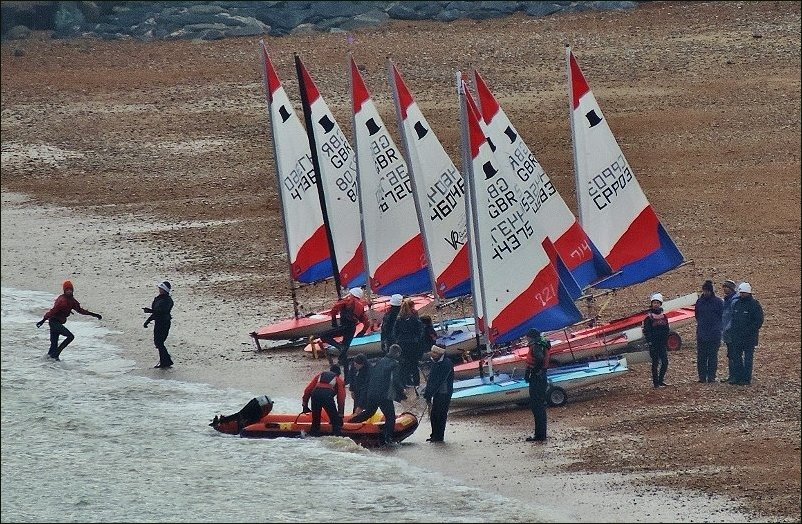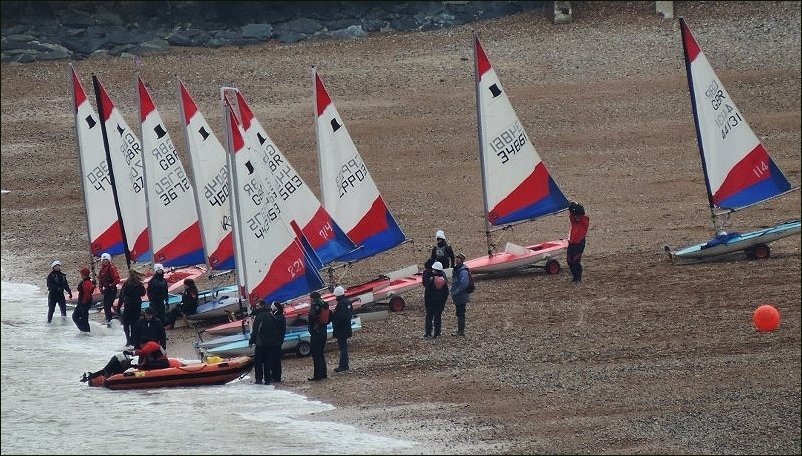 Yes its all a bit grey and miserable at the moment, not to mention chilly, but it didn't deter these hardy well wrapped up sailors yesterday saturday from getting their feet wet out on the water and taking that bracing sea air....whoosh they went, skipping through the waves hither and tither.
Below we have another picture of the Topjack platform as seen in the earlier post below from Mike. Longer range. You can just see a fluorescently-clad chap way up at the top second pole from left. Lets hope he didn't use that ladder coming down Mike !!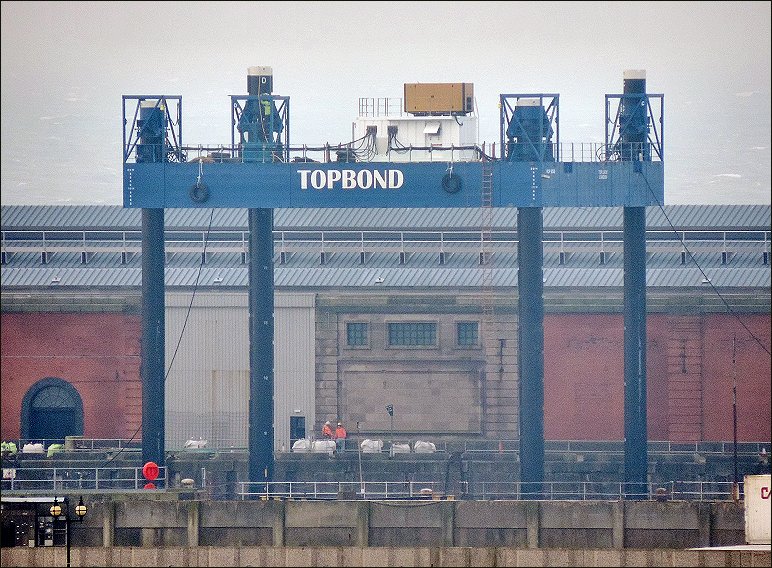 Sunday, 15 February 2015 - 08:09
Post 1462
Mike J., Dover
The jack-up barge TOPJACK doing what jack-up barges are supposed to do, jacked-up in the old Jetfoil basin on Friday morning.
Whatever you do, don't try & get off it by using the ladder . . . .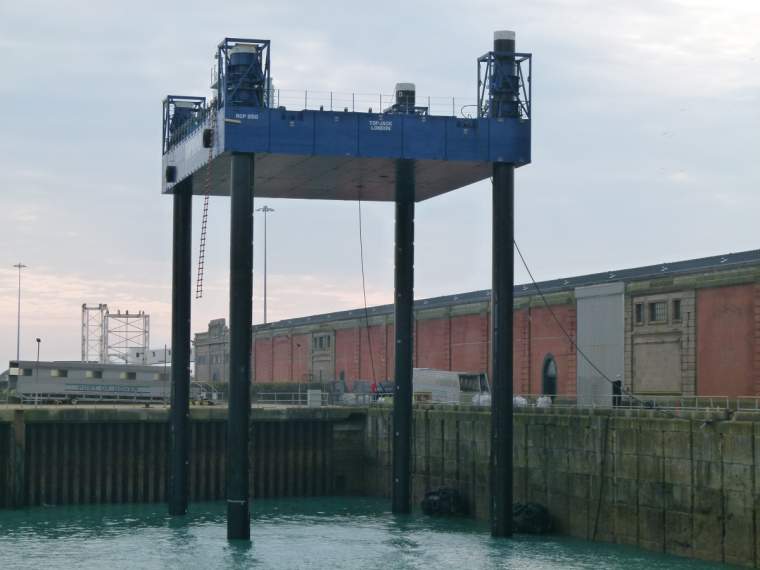 Friday, 13 February 2015 - 14:08
Post 1461
Sea News, Dover
Treat yourself to a short break with MyFerryLink's three day fare offer from just £35 each way
___________________________________________________________________________
With the pound currently at a fantastic rate against the Euro and low petrol prices, now is a great time to book that short break to France. Dover-Calais operator, MyFerryLink has some suggestions for their favourite B&B's (chambres d'hôtes) in northern France and currently offer short break (72 hour) fares starting from just £35 each way for a car and up to nine people . To book this fare offer, travellers need to quote SB15. Here are two examples:
Arrest en Baie, from €55 per room per night...
This is a cute farmhouse B&B in the Baie de Somme run by Stéphanie & Sacher Weber. They've rebuilt the barns to provide five guest rooms using many eco-friendly techniques and Stéphanie's hand painted interior decor is charming. There's a fully equipped kitchen for guests, a cupboard full of games and a beautiful courtyard to sit in. Breakfast is provided and evening meals can be booked in advance and cooked by Sacher who is a fully trained chef. A three day, two night break for two people this spring could cost as little as £76* per person, including return ferry travel with MyFerryLink!
L'Ermitage de la Fontaine des Roches, from €75 per room per night...
Magical is the best word to describe this B&B, which is situated on the edge of the stunning Forest of Compiègne in Picardy, close to Pierrefonds with its mock medieval castle used for the filming of the TV series Merlin. This charming Anglo-Norman style house has five beautifully decorated guestrooms and a cosy reading room, perfect for putting your feet up and enjoying a 10 minute read about this fascinating part of France. If you're lucky you'll catch sight of a herd of wild deer grazing in the meadow beyond the garden. A three day, two night break for two people this spring could cost as little as £91* per person, including return ferry travel with MyFerryLink!
MyFerryLink operates up to 16 daily crossings on the Dover-Calais route. Short break (72 hour) fares for a car and up to nine passengers start from £35 each way and any duration fares start from £45 each way.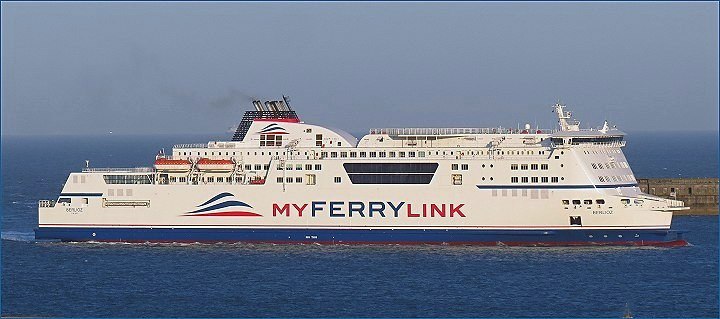 To find the best fares, visit www.myferrylink.com or call 0844 2482 100
link to ARREST en BAIE.... www.myferrylink.com/my-travel-inspiration/families-couples/chambres-dhote?packedargs=site%3DSF_Pax_Uk
link to L'Ermitage... www.myferrylink.com/my-travel-inspiration/families-couples/chambres-dhote?packedargs=site%3DSF_Pax_Uk
Copy and Paste the links to see the destination detail.
Ends
* *
Also our Sea Newsers might also like to see this release.....
TRAVELODGE TO OPEN FIRST HOTEL IN DOVER
_________________________________________
Key tenant the latest to sign up for St James's development
Travelodge is to open its first hotel in Dover at the 120,000 sq. ft. St James's leisure and retail development. The 108-bed hotel will occupy a prime location on the corner of Townwall Street and Maison Dieu Road.
Travelodge is a leading budget hotel chain with over 500 UK hotels welcoming 16.5 million guests in 2014. The company's website (www.travelodge.co.uk) is the UK's most visited hotel website.
Travelodge is the latest big name to join the line up at the St James's development in the heart of Dover town centre, including Cineworld, M&S and Frankie and Benny's. A planning application for a 16,266 sq. ft. fashion store has also been submitted on behalf of a major high street fashion retailer.
The Travelodge site also includes two restaurant units (5,016 sq. ft./4,327 sq. ft.) and negotiations with potential tenants are at an advanced stage.
Tony O'Brien, UK Development Director for Travelodge hotels, said: "The St James's development is in an excellent location and the new Travelodge hotel will be perfect both for local tourists and those using the Port. This will be a major town centre redevelopment scheme, bringing fantastic new national retailers, restaurants and cinema to the town which will provide great amenities for our customers and enables us to provide the best value hotel accommodation.  We have been working on this project with the Council and the developers for several years and so are really looking forward to opening in 2016 and becoming a key part of the community in Dover."
Cllr Paul Watkins, Leader of Dover District Council, said: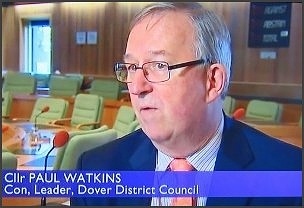 "We're delighted that Travelodge has realised the potential of Dover and the St James's development. As well as supporting the local tourist trade, the new hotel will also appeal to the 12 million passengers passing through the Port of Dover each year."
Clive Lynton of developers, Bond City, said: "St James's is building real momentum as a mixed use development with the combination of hotel, cinema, restaurants, and retail providing a real boost to the town centre economy. The addition of a strong hotel brand has always been part of our plans for the site and we're delighted to have Travelodge as a key tenant."
- ends -
Friday, 13 February 2015 - 08:12
Post 1460
Sea News, Dover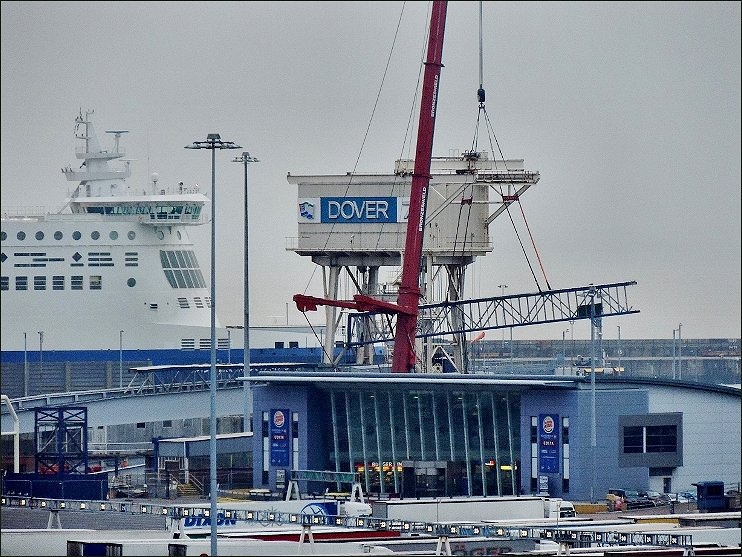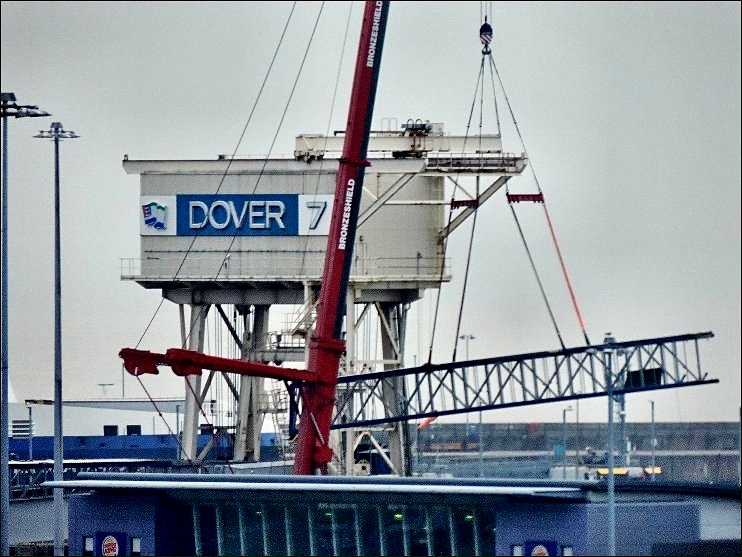 You don't need yours truly to tell you how gloomy it is...especially now around 4pm. Not the best time or day to choose to do some long range shots but here we are anyway...some over the roof pictures of the crane in operation at Dover7 pier. Not terribly good quality but possibly worth a look. See also 1378. PB.
Thursday, 12 February 2015 - 16:11
Post 1459
Sea News, Dover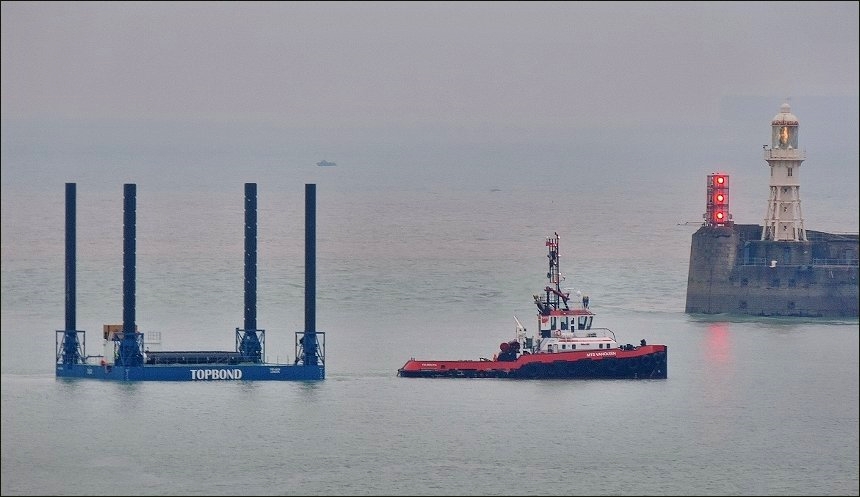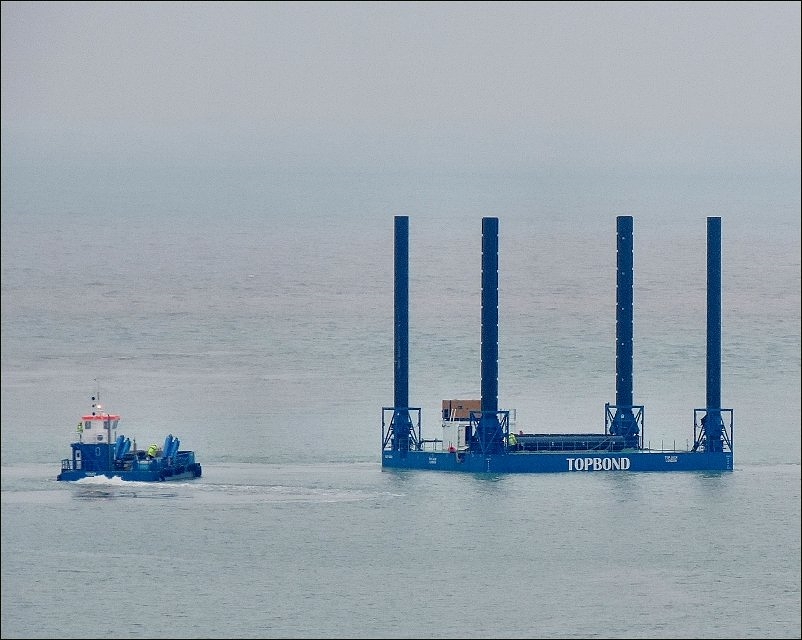 Very interesting set of pictures below Mike. I got the above couple of shots as well but wasn't at all sure what was going on ...so your information is most useful. The pictures above were taken at range through the very grey gloomy conditions of about 8am yesterday. Had to force the images a bit because of the grey conditions. Full info on the vessels ( MTS Vanquish etc) shown in Post 1378 below.
also just in from our colleagues across at the Port.....
Port of Dover recognised for its work with the Community
______________________________________________
The Port of Dover has been shortlisted in the Overall Excellence in Corporate Social Responsibility (CSR) category for this year's National Corporate Social Responsibility Awards.
The inaugural National CSR Awards, founded by Business@Brooklands is designed to celebrate business excellence and innovation within the area of CSR. It is the only one of its kind in the UK - encompassing all areas of CSR including: Sustainability, Carbon Footprinting, Community Development, Staff Welfare and Education.
CSR is at the very core of the Port's vision and commitment to be the best port in the world for the benefit of its customers and community.
Tim Waggott, Chief Executive, Port of Dover, said: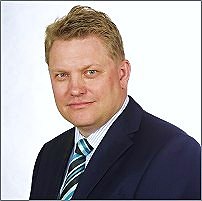 "I am delighted that our work with the local community has been noticed by the judges. Receiving an award recognising our company's CSR initiatives would be a fantastic prize for all Port of Dover colleagues. Being shortlisted alongside such great companies as Marks & Spencer, E.ON and Manchester Airports Group is a great honour and shows how well Dover is regarded. We wish all of them best of luck in the award category and every success with their initiatives."
"With the recent launch of the Port of Dover Community Fund we are very excited to have this opportunity to make an even greater contribution to Dover, its community and the local area."
ENDS

Thursday, 12 February 2015 - 07:06