Monday, 28 September 2020
www.doverforum.com/sea-news
The Shape of Things to Come....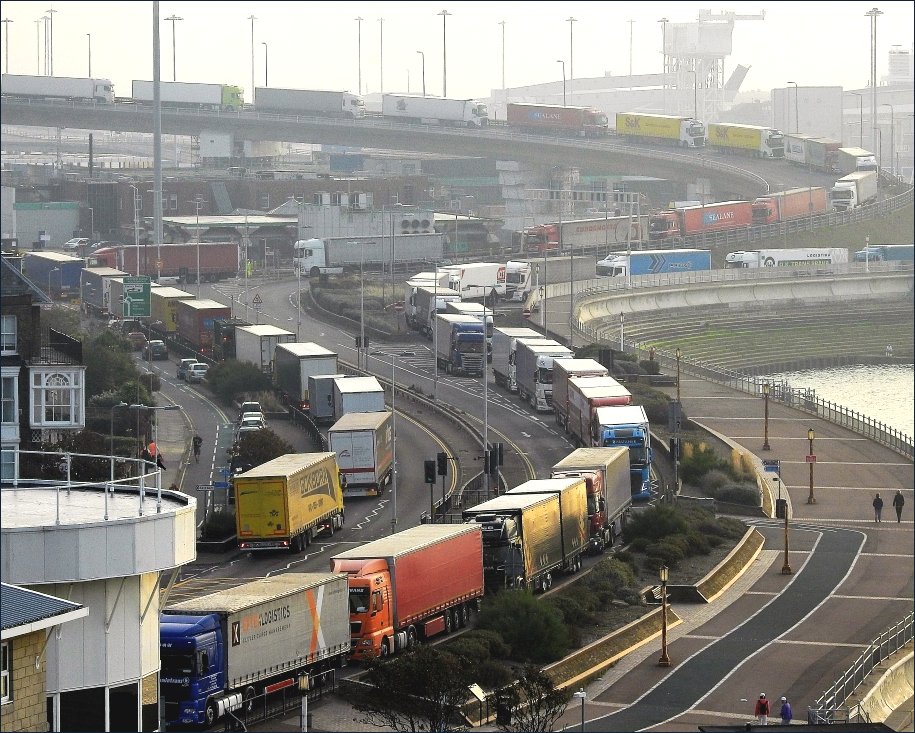 Trucks to the left of us...trucks to the right of us...into the Valley of Dover drove the 7,000 ..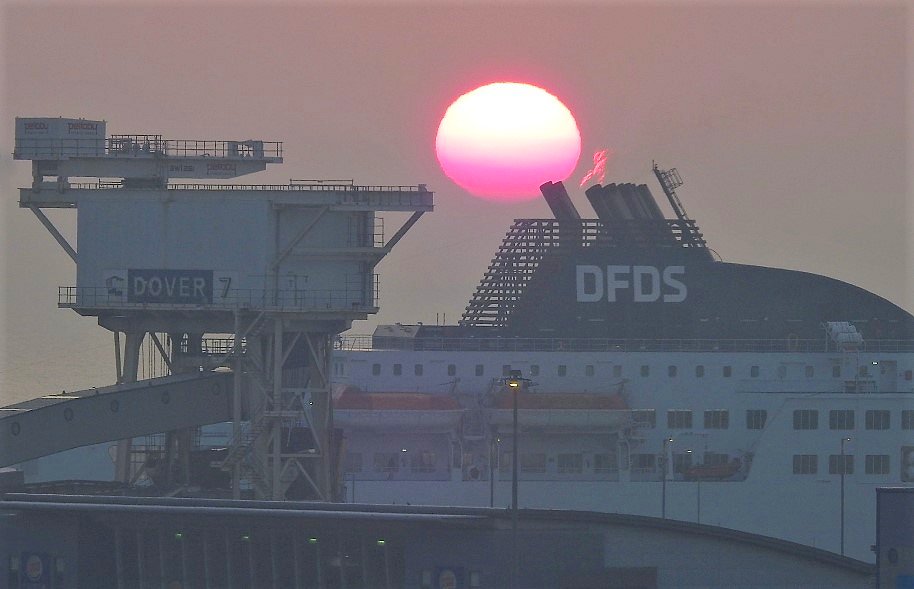 DFDS and the Dover7 sunrise.

WWW.DOVERFORUM.COM/SEA-NEWS
Sea Pictures from DOVER ....
Use our SEARCH ENGINE below to find all sorts on the SEA NEWS pages....type in the topic and away you go,
or if you have the post number, just type it in the Search Box, more than
- 7000 -
nautical posts now.
Paul Boland - dover7@msn.com
Sea News Dover:
All pictures on these pages are the copyright of the owners and must not be reproduced without permission.
Post 1458
Mike J., Dover
TOPLIFT had been awoken from her long slumber in Wellington Dock & on Tuesday afternoon was on the waiting pontoon in the Tidal Basin together with the workboat FREYA.
By Wednesday midday they had both shifted to the Ad.Pier to join the jack-up rig TOPJACK which had come into Dover overnight towed by the MTS VANQUISH who didn't linger long & was already heading back to Rotterdam.
Presumably they will be working in connection with the rebuild of No.7 berth which is barriered-off with a lot of contractors equipment & a very large crane on site.
The two sloping contraptions on the Ad.Pier are mobile conveyor belts used for loading grain into coasters from lorries.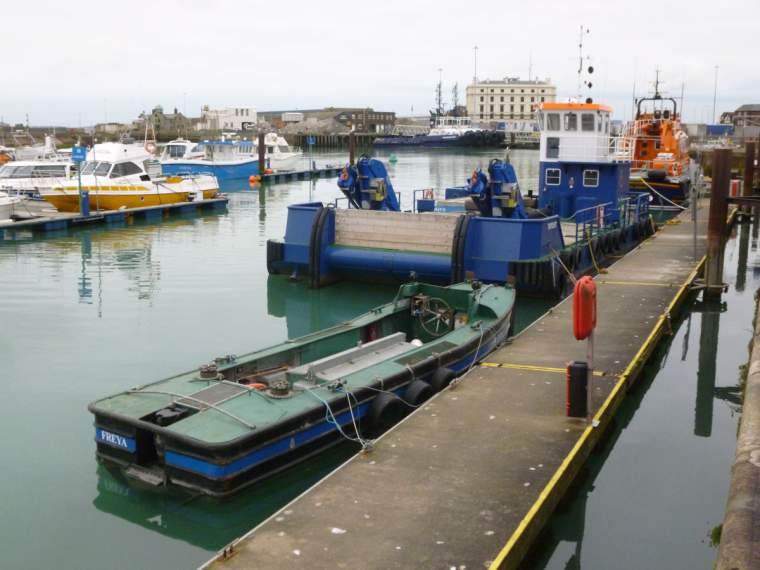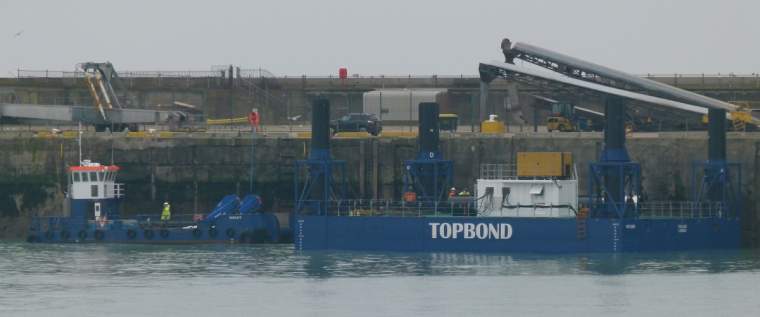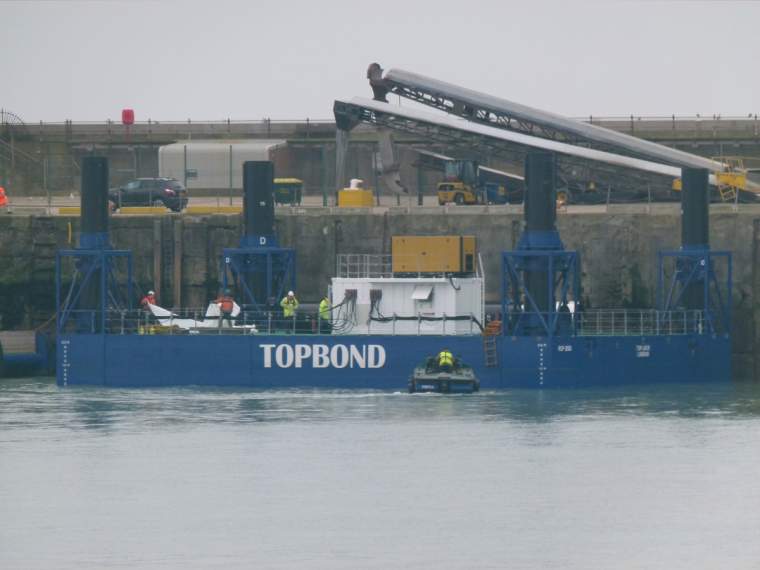 Wednesday, 11 February 2015 - 22:56
Post 1457
Sea News, Dover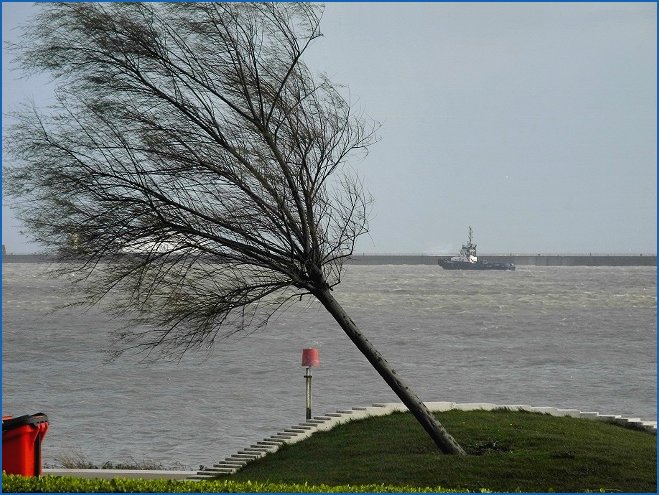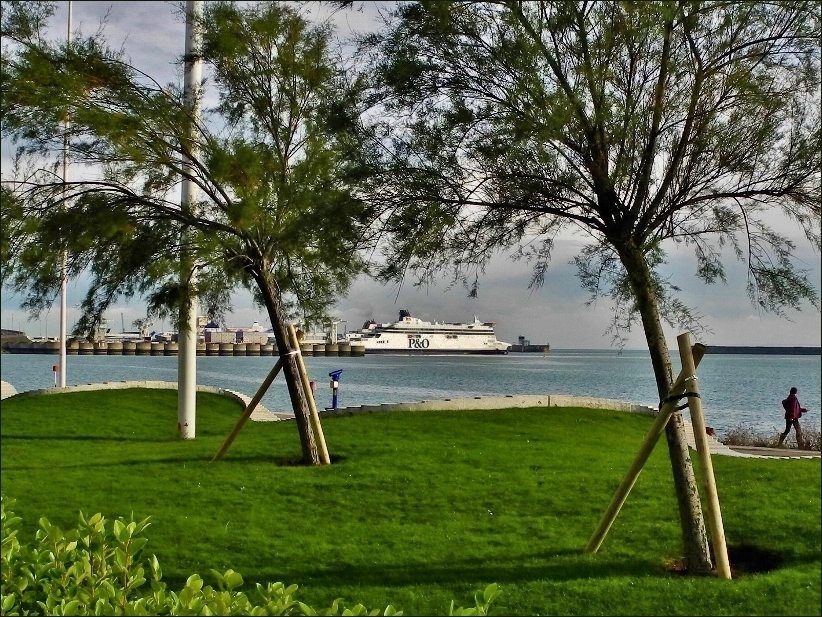 Yours truly was sad to notice last sunday that the small trees we held so much hope for are no more. All gone. Perhaps they couldn't make it in the near constant wind but nevertheless it is sad to see them disappear..was quite surprised. The top picture shows the dramatic angle of lean after last years storms.
The second picture shows them near upright again late summer last year after support was added. But it clearly didnt work out and they are now alas alas all gone. It is very sad to see them go. Even their near horizontal position was in itself a tribute to nature.
Some go...some come...
COMMEMORATIVE TREE PLANTING YESTERDAY TUESDAY
The Chairman of Dover District Council, Cllr Sue Nicholas, and a range of invited guests gathered in Connaught Park on tuesday for the planting of a tree to commemorate the centenary of the First World War.
Guests included representatives from Dover District Council, Dover Town Council, the Dover Society, Royal British Legion, and Dover Lights Out. The oak tree is planted alongside the second lawn on the lower level of the park, and the site is marked with a special plaque.
ENDS
* *
And now we have an item from Charlie Elphicke MP with his further thoughts on Dover's Gridlock Question.
This was sent over Friday of last week....
On Monday, I hosted a summit in Parliament to seek a lasting solution to Operation Stack. The gridlock we have seen in and around Dover lately is totally unacceptable. All the key players were there, including representatives from Kent County Council, Dover Port, Eurotunnel, the ferry industry, other Kent MPs, the freight and haulage industries as well as Kent Police.
We all met with a single determination. To make sure a lasting resolution to the traffic problems could be found. Our community has suffered from traffic chaos and disruption for far too long. That needs to change. It was a positive meeting. We came to agreement on what we needed to do to move forward.
Making it happen is another matter. Which is why I am pressing the Prime Minister to make this problem a strategic national priority. I have long made the case for lorry parks to hold vehicles when there is disruption at the Port of Dover or the Channel Tunnel. Last week, we secured a big victory and won £3 million from central government to press ahead with these lorry parks. Sites are being identified and the first site for a lorry park was brought forward last week.
The Port and port users have also indicated they will provide funds to help create lorry parks. Rightly so as when there is disruption at the Port, it is Dover residents and businesses who pay the price.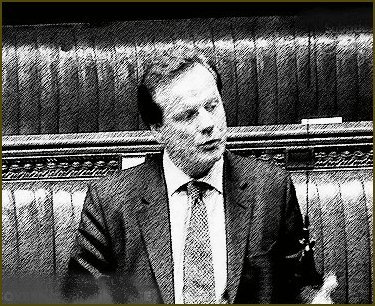 But lorry parks aren't enough on their own. There also needs to be a new form of lorry management. In my action plan, lorries should 'check-in' and be sorted at lorry parking sites before making their way through the town to the Port of Dover. This will stop long queues causing gridlock in the town centre. My preferred option for an advance check in park is at the site identified near Folkestone. This will mean lorries check in and wait there rather than plough on to Dover and create gridlock in the town.
In Prime Minister's Questions this week, I raised our plight. I asked him to make finding a long term solution a strategic national priority. I also made the case for funds to be used from the HGV lorry levy to fund it. The levy on HGVs is now raising millions and the money should go to towns like Dover most affected by lorry queues.
This is a national issue that needs a national solution. Central Government needs to ensure responsibility is taken by transport operators who will otherwise seek to shirk it. As they long have done. It's also important funds are identified to put these plans into place.
In addition and more immediately, I want to see an upgrade of the A20 to ban stopping and stationary traffic. This would ease problems on the M20 and the routes into Dover. The Police and Port Police also need to take strong action to keep traffic flowing whenever there is disruption and communicate quickly with hauliers.
It was a very productive summit. We are one step closer to finding the lasting solution to this problem that has eluded us for so long.
CHARLIE EPLHICKE MP
Wednesday, 11 February 2015 - 07:45
Post 1456
Sea News, Dover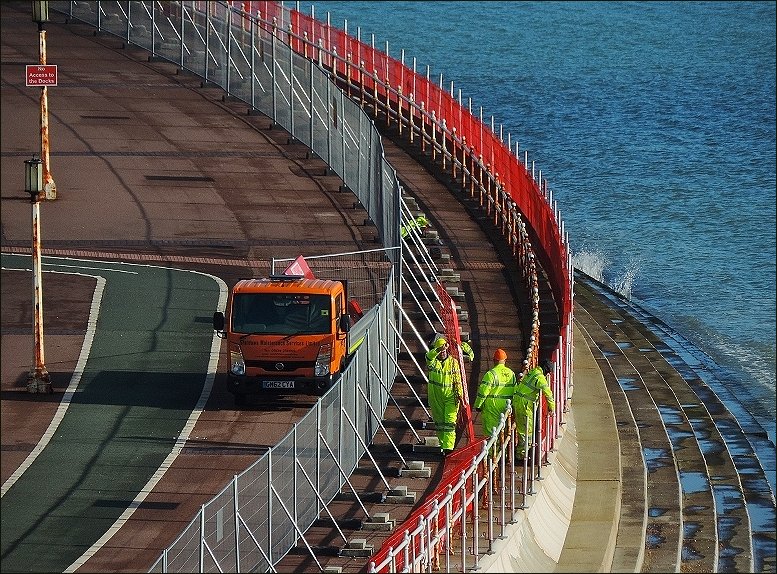 Obviously some major work afoot here. It is almost as though a whole secondary set ( or look closely even a third set! ) of seafront railings have been set up in order to repel the elements or even repel the ocean ....or heavens even repel the hordes!


But I guess its much simpler than that. The entire eastern end of the seafront has been made colourfully ready. But what's afoot Watson, as Holmes might say. We await developments with interest.....
Tuesday, 10 February 2015 - 06:42
Post 1455
Sea News, Dover
A great set of pictures below there Ed in post 1373. I am sure we all wish you good luck and bon voyage on your new ship. Must be bit of a wrench moving from the legendary Dover Seaways to the Delft Seaways after all those years but I am sure all will go well.
Have added a picture of the Delft Seaways below here for your personal delight and delectation and for that of the crew. Pic taken last summer from the cliffs.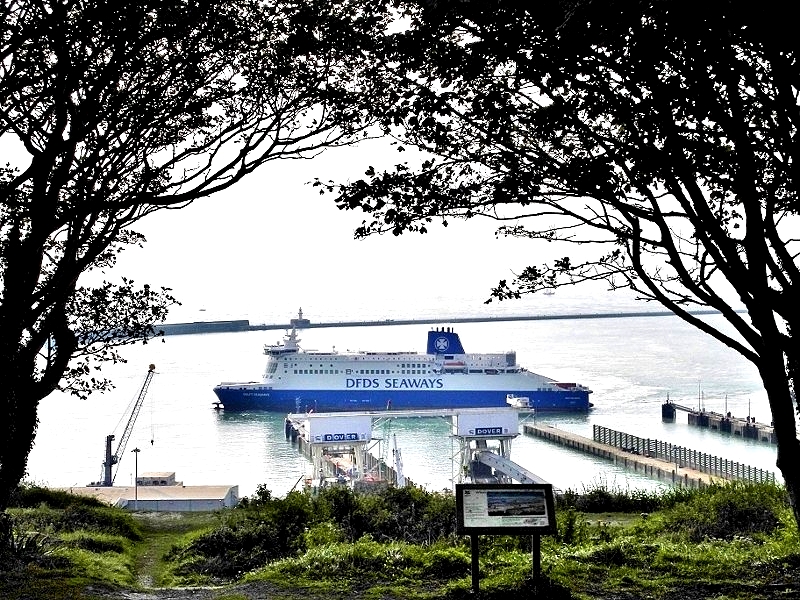 The pictures below were taken yesterday sunday. Its another couple of shots of the Wessex Explorer which was going up and down outside the 'observation tower' all day. Bit of a noisy little beggar in operation but nevertheless enjoyable to watch and photograph. They are clearly carrying out some kind of survey work...at one point they were dragging a device of some sort behind them...perhaps checking levels of this and that in the water.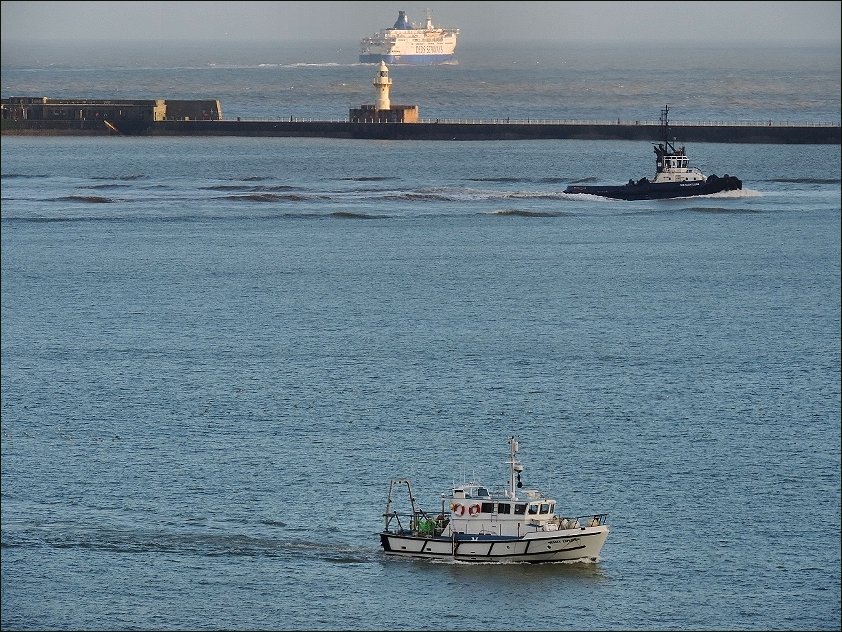 Mike yes the logos are different all round. No doubt P&O paid a lot of money to a London Agency to have them re-designed. That seems generally to be the norm in these things. The changes definitely take some getting used to...totally different, I guess they went for a simplification of both the flags and the lettering....as seen further in post 1360.
PaulB.
Monday, 9 February 2015 - 15:00
Post 1453
Mike J., Dover
The old & the new -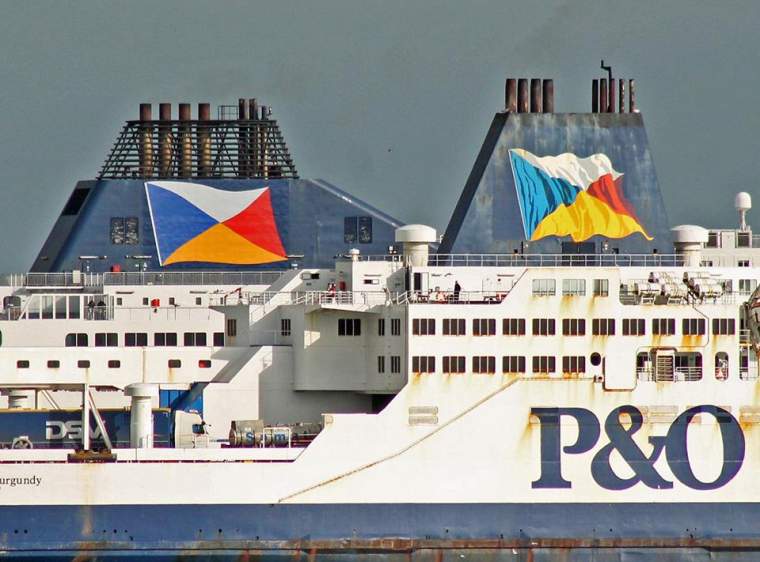 Photo copyright & courtesy of Nigel Scutt.
I know which one I prefer.
Nigel runs an excellent website that may be of interest to 'Sea News' readers.
Nominally about the Marina the website covers far more than Marina activities & is packed with information & news & photos of Dover Harbour operations & is well worth exploring.
www.dover-marina.com/
Monday, 9 February 2015 - 11:59
Post 1451
Ed Connell, Dover
Some photos from last Wednesday as have had a bit of trouble getting a sufficiently fast link to upload.
Crown Emma on the DCT.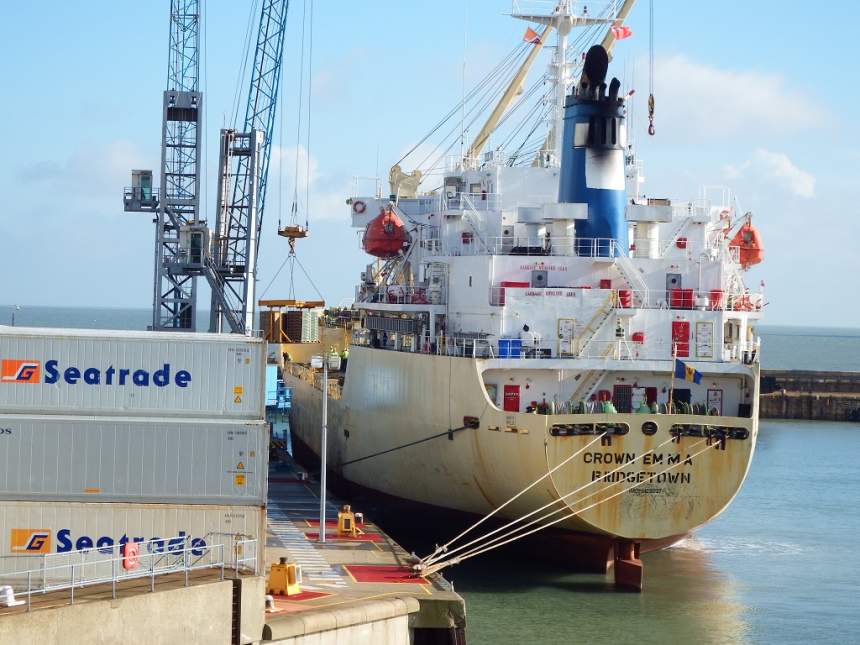 Dover Seaways letting go. I had just been onboard and collected my gear as have been transferred to the Delft Seaways after six years on my floating home the Dover Seaways, sob, sob.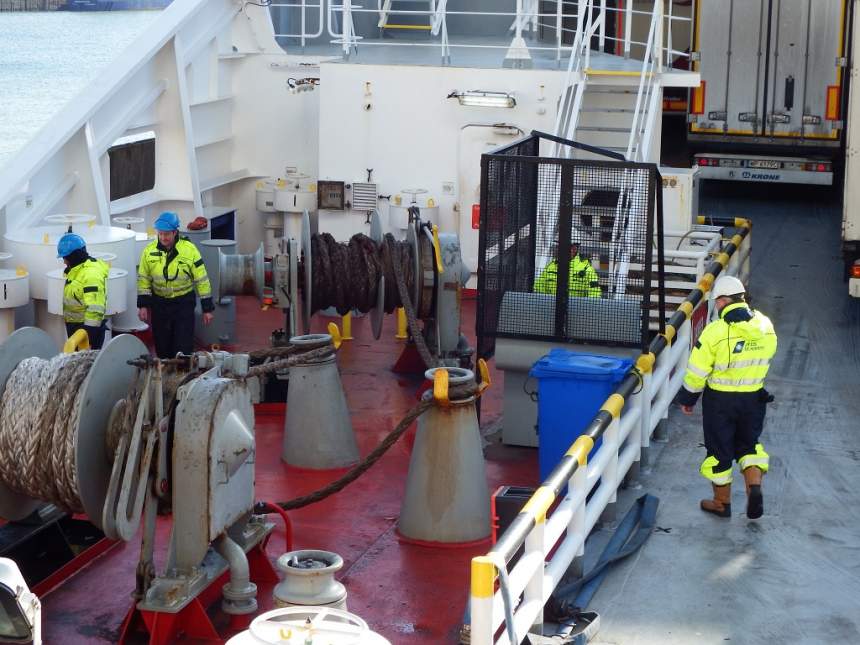 Dover Seaways departing via Eastern. Wednesday was her first full day back on the run after refit. All three DFDS "D" class ships are now back in service.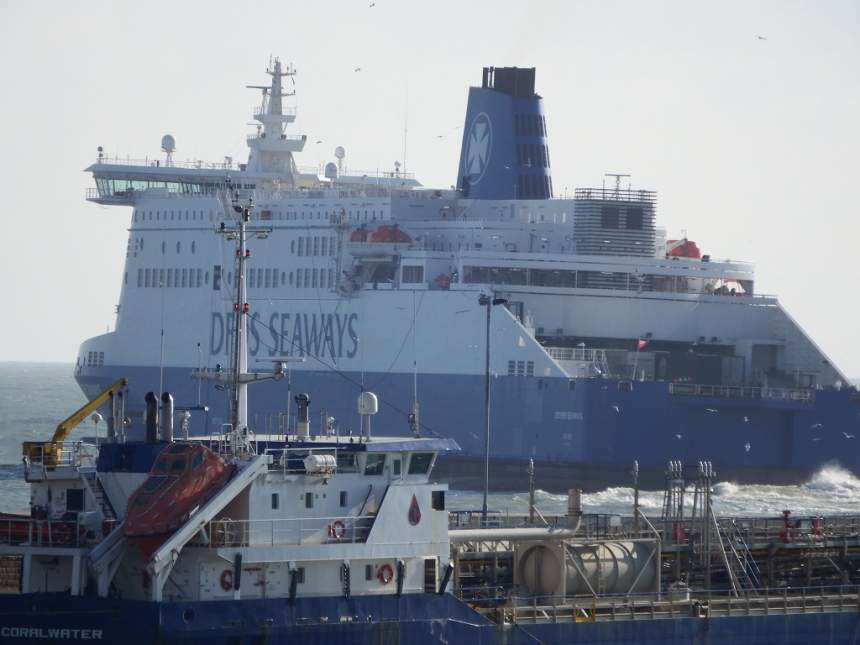 Calais Seaways on ED2 which is back in use after major upgrade.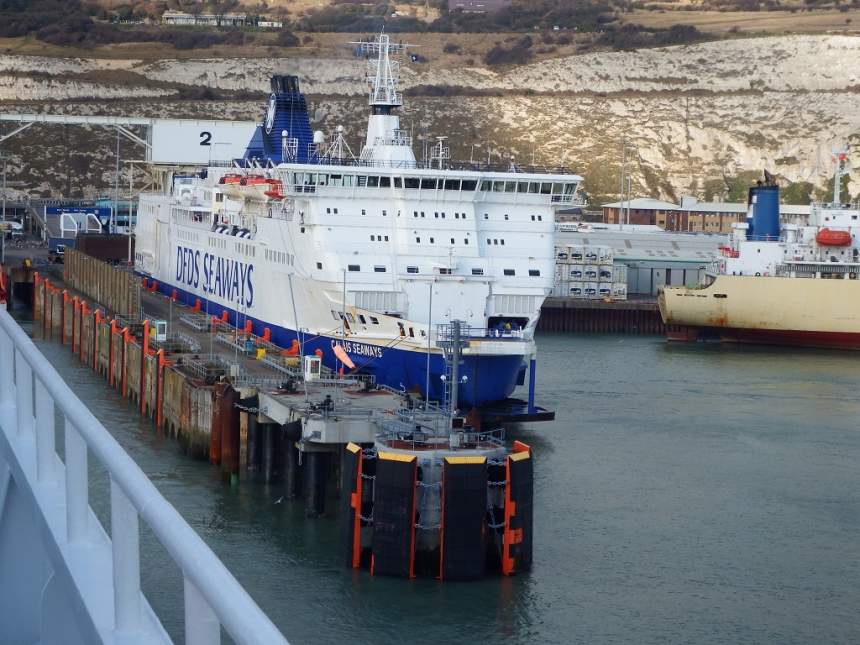 Calais Seaways, Crown Emma and Coralwater.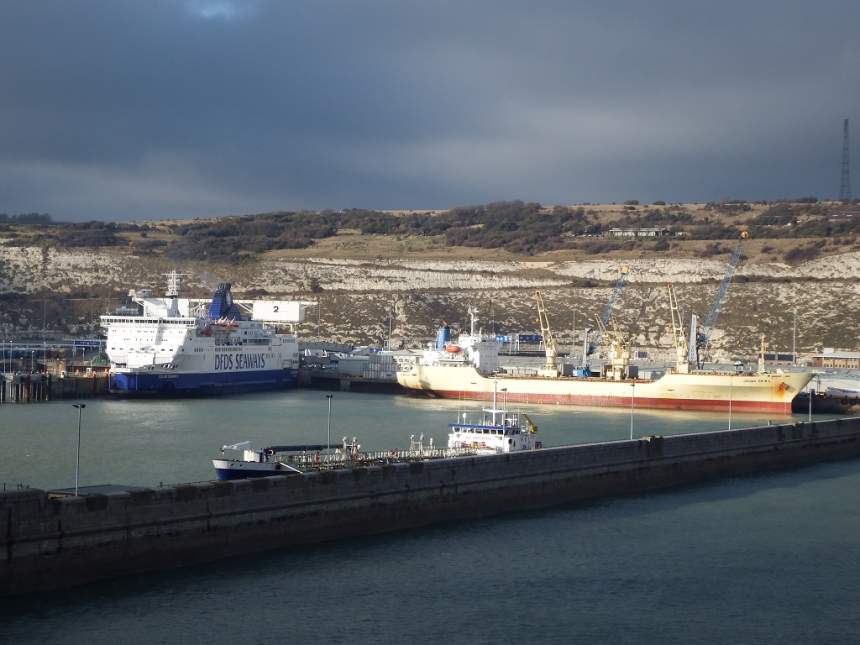 Sunday, 8 February 2015 - 17:52
Post 1450
Sea News, Dover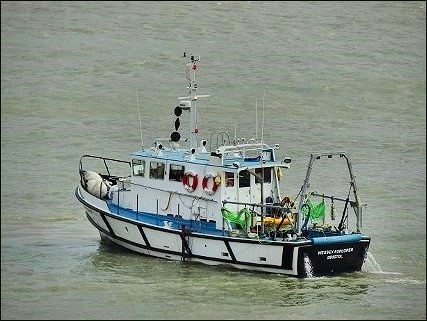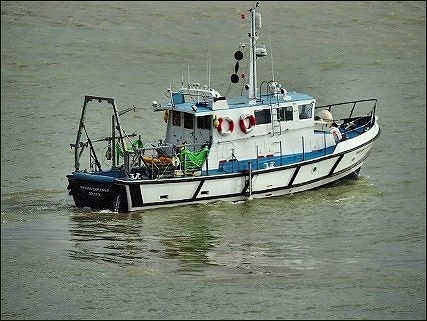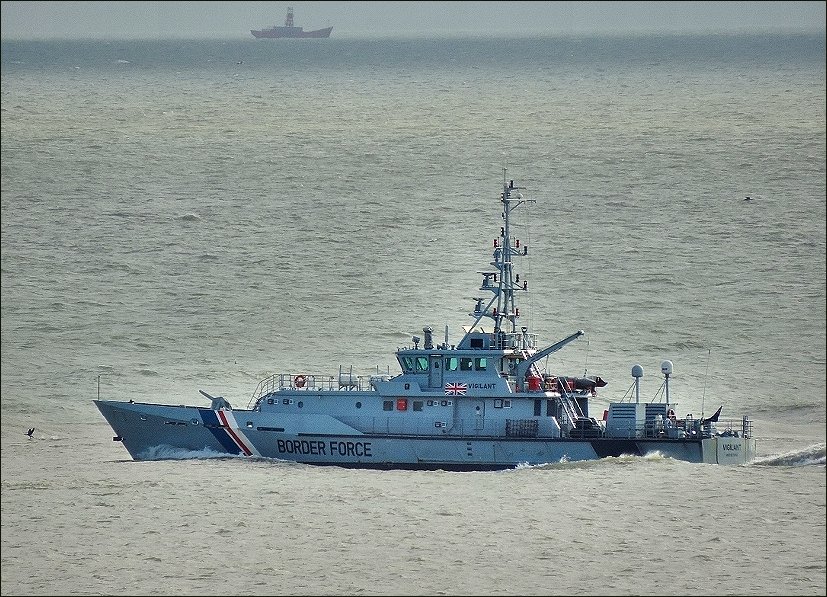 The top two shots above show the Wessex Explorer doing its thing in the outer harbour yesterday...'sea trials' says the Marine Traffic AIS. We have had close up pictures of the vessel previously from Mike in post 1350 and here she is out and about. Also above we have the Uk Border Agency springing into fine action yesterday afternoon. Its the Vigilant slipping quietly out of the harbour and then powering on. In the background we see the Varne Lightvessel.
Below...well its a beast from the wider oceans, seen here negotiating its way through a little local traffic ... the OOCL Chongqing. All pictures from yesterday.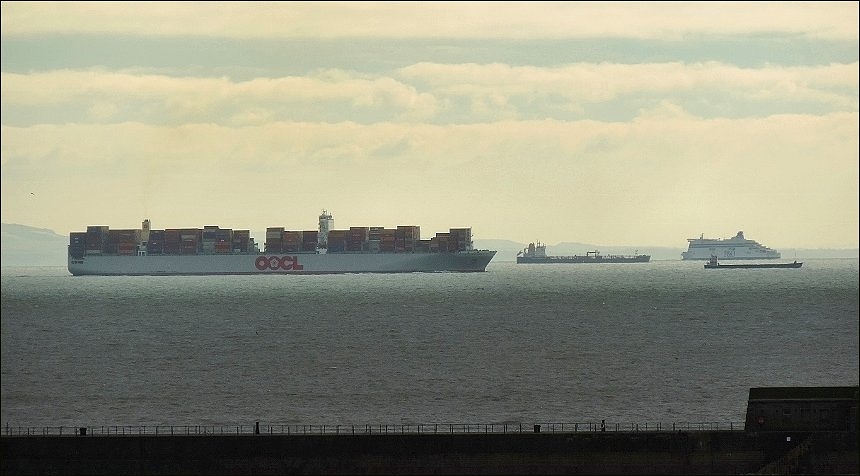 Sunday, 8 February 2015 - 07:43
Post 1449
vic matcham, dover
I hope they ( MyFerryLink ) win their case in court .They are a good sea going company and there is trade for all of the companys as we seen over the last few weeks. PO have outlets in other transport, it is greed again .

Saturday, 7 February 2015 - 10:47
Post 1448
Sea News, Dover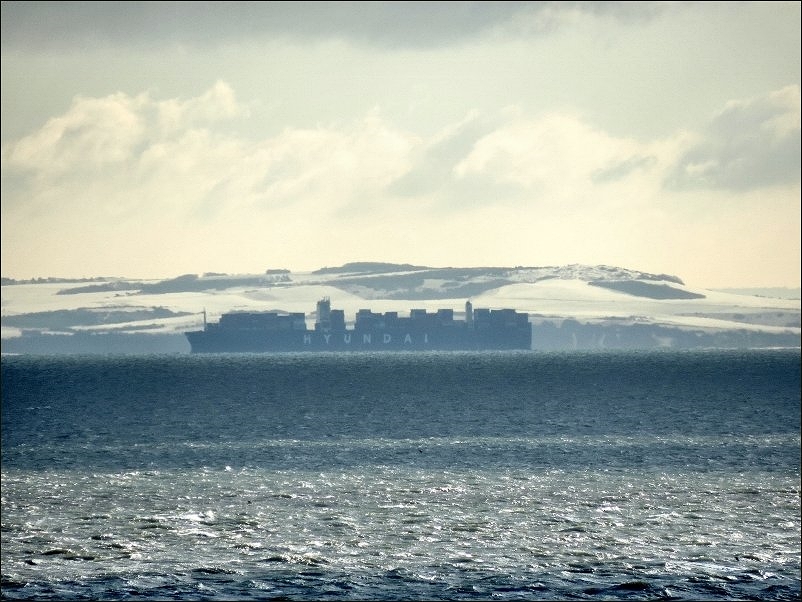 Another picture from Thursday of the snow capped hills beyond. In the foreground we have a large Hyundai carrier, unfortunately didn't get its name, arriving in Northern Europe with motor vehicles from the far flung East. Them thar hills are crying out for a bit of tobogganing...
Saturday, 7 February 2015 - 07:58
Post 1447
Sea News, Dover
Press release.....LATEST...
MyFerryLink vindicated with permission to continue its battle in the Court of Appeal
___________________________________________________________________
6 February 2015: Following a hearing in London [today], MyFerryLink has won permission from the Court of Appeal to take its fight against the CMA's attempted prohibition remedy to the appeal Court.
Today's decision now gives MyFerryLink the opportunity to overturn the earlier decision of the Competition Appeal Tribunal (dated 9 January 2015) which sought to uphold the Competition and Markets Authority's ('CMA') remittal decision of 27 June 2014, in which the CMA concluded that it did have jurisdiction to review the transaction and sought to ban Groupe Eurotunnel from operating ferry services to and from the port of Dover. The decision to grant permission to appeal reflects the strength of our arguments, in particular to examine why the Tribunal did not see fit to quash the Remittal Decision given the fact that it had found a number of errors in that decision.
A hearing is likely to take place at the Court of Appeal in London before 13 March. In the meantime, MyFerryLink will continue to operate services between Dover and Calais, focusing on delivering excellent service to our customers.
MyFerryLink operates up to 24 daily crossings on the Dover-Calais route, with day return fares from £29 each way.
To find the best fares, visit www.myferrylink.com or call 0844 2482 100.
Ends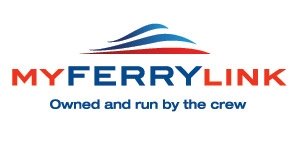 * *
Fascinating news above...the saga goes on..the fight goes on.
Wow Mike !...some horror images of the Irish Sea there in recent days, brings back some not so fond memories I can tell you. Horror of horrors - above all don't mention the Princess Maud !!

Friday, 6 February 2015 - 16:51
Post 1446
Mike J., Dover
Rather put my foot in it by not fully reading Paul's caption about the DE LIEFDE before I posted !

PB is not the only person to post impressive ferry heavy weather photos -

add 'http' to -

://gcaptain.com/stena-line-ferry-gets-tossed-entering-fishguard-harbour-photos/



Friday, 6 February 2015 - 08:46
Post 1445
Mike J., Dover
The Dutch naval research vessel HNLMS LUYMES is over the wreck of the fishing bessel MORGENSTER south of Dungeness & can be seen on Marine Traffic.
Click on 'Vessel details' for a photo.
Perhaps she'll come into Dover.

Interesting Dutch sailing vessel DE LIEFDE came into Dover yesterday en route for Shoreham & is anchored close to the Prince of Wales pier.
That looks like her on Mr.B's latest post with a wintry France in the background..
She's not as old as she looks.


Coaster CELTICA HAV is loading grain on the Ad.Pier

Friday, 6 February 2015 - 07:57
Post 1444
Sea News, Dover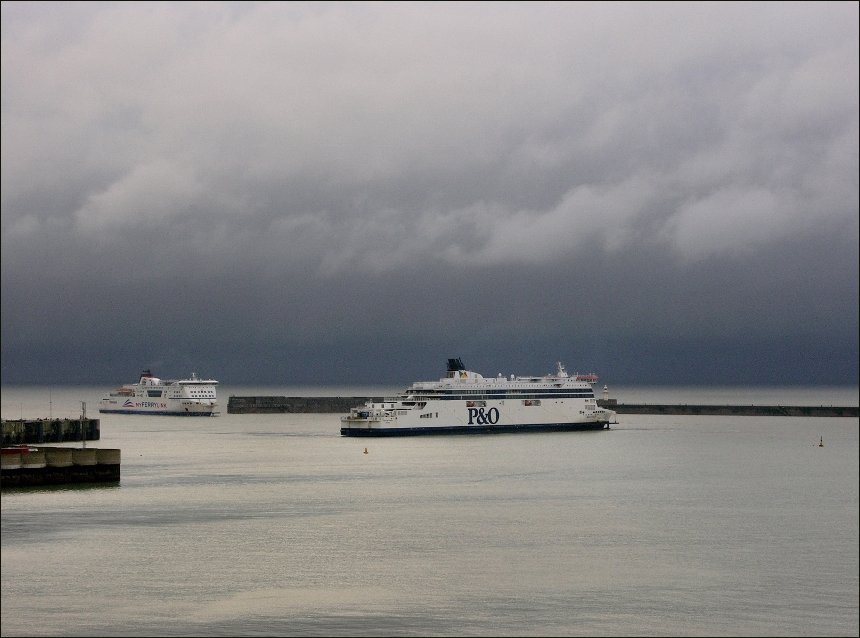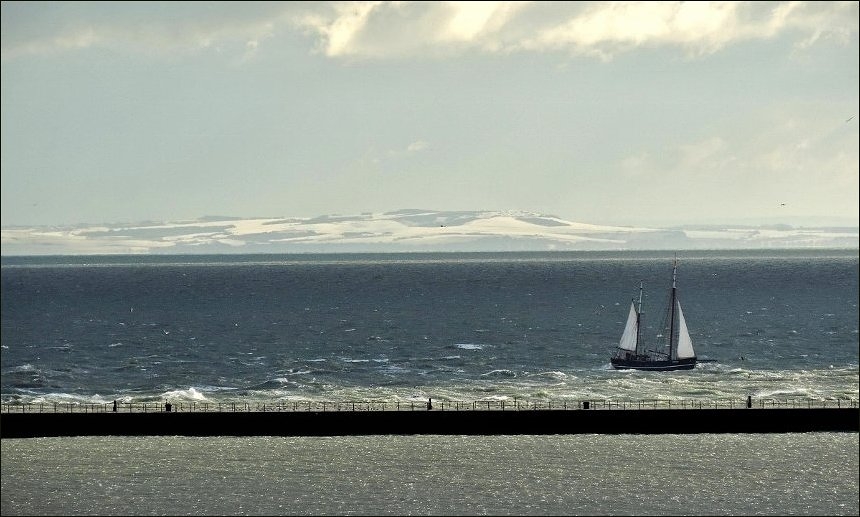 Before and after snow yesterday. A cold still harbour in the top shot with heavy dark snow clouds behind the harbour hanging threateningly over France. The second picture is from an hour or two later and in the distance you can see the freshly deposited snow on the rolling hills south of Calais and north of Boulogne. The sailing barge entered the harbour here and is still here in the outer harbour. Perhaps its taking some shelter..its a Dutch vessel called De Liefde...I think I've got the spelling right there.... PB
* *
Now more news on the traffic situation directly from the Port..
A20 junction improvements postponed to ensure right traffic solution for Dover
________________________________________________________________
The Port of Dover and its partners have been dealing with large volumes of traffic as a result of record demand for ferry services through the Port, linked to growth in the UK economy.
The Port is acutely aware of the pressure such volumes of UK and European trade place on a road network shared with the local community, particularly when combined with challenging operational factors such as the recent fire at the Channel Tunnel or adverse weather. As such, much work has been going on in terms of providing additional resource to proactively manage the day to day traffic issues.
The Port is accelerating work to deliver an additional 4km of freight vehicle holding space within the Port through the Traffic Management Improvement project. Eurotunnel is also working on creating additional freight lanes to hold a further 290 freight vehicles.
Exciting times are ahead for Dover through the Port's key Dover Western Docks Revival project and other Dover regeneration projects, such as the St James development (which also requires the removal of Burlington House), being led by Dover District Council (DDC).
With such a variety of major projects underway or on the horizon, it is important that the impact of traffic flows from these and other developments are fully understood in order that Dover receives the right long term traffic solution.
Factoring in the further impact of Government imposed exit checks for every passenger leaving the UK through international gateways such as the Port of Dover from 1 April 2015, the Port and DDC have recently been working hard to review such impacts on the A20 in Dover over the coming months and particularly the peak summer period.
Such work has led to serious consideration about the appropriateness of commencing the A20 junction improvement works in April 2015 as previously planned.
As a result, both partners have today agreed to postpone the junction improvements so that further traffic assessment work can be carried out to ensure that the regeneration of Dover is supported by the best traffic solution on the A20.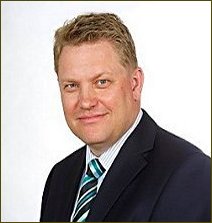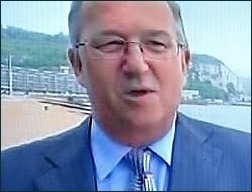 Tim Waggott, Chief Executive, Port of Dover, says:
"We are delighted that Dover District Council has accepted our proposal that the commencement of A20 Junction Works is postponed whilst we review the wider needs case for our shared vision for Dover."
Cllr Paul Watkins, Leader of Dover District Council, says:
"We are pleased to see all agencies working together to achieve solutions in response to the current pressures on the road network. This matter was raised again today during Prime Minister's Questions. Any solutions need to be sustainable to both improve management of traffic to and from the Port, and to meet the day-to-day needs of town traffic. Local businesses, residents and visitors need to be assured that these matters are addressed once and for all. To this end, we have agreed the A20 junction works should be postponed until the autumn and the outcome of the review ordered by the Roads Minister, and further assessments are carried out."
ENDS
Friday, 6 February 2015 - 07:52
Post 1443
Sea News, Dover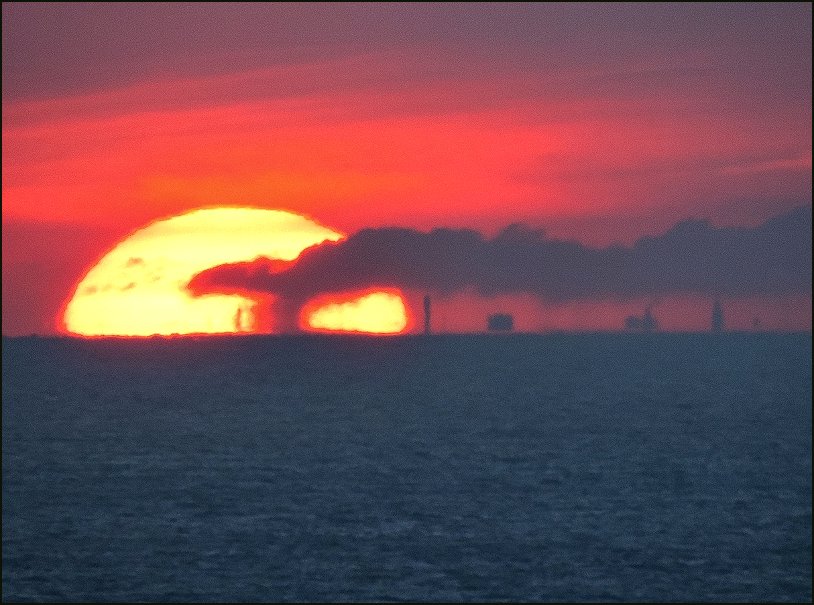 The picture above shows the 'sky dramatique' over Calais yesterday morning Wednesday. Yet more of the spectacular, with the dark shapes moving as if on a giant chessboard. The only static thing being the Hotel de Ville to the right. The dramatic rising cloud was also seen in the earlier post of a few days go ( number 1359 ). Awesome visuals to be seen once again and the picture not retouched in any way, totally as was ... so it is always worth a trip across any time of year and with half term coming up take a look at this deal from MyFerryLink...
MyFerryLink offers free children's meals for February Half Term
___________________________________________________
This February half term, MyFerryLink is offering families a special onboard meal deal. For every adult's two-course meal and drink purchased onboard at MyFerryLink's Le Relais restaurant, customers will receive a free child's meal comprising a main course and dessert. A breakfast deal is available too.
This offer is valid on crossings between 13 February and 7 March 2015, and can be booked from 3 February to 6 March 2015 using the offer code HALFTERM. It is not available on day trips. Full details are on www.myferrylink.com
Le Relais is a friendly self-service restaurant offering a range of delicious French and international cuisine for the whole family to enjoy, all freshly cooked on board the ships. The Relais' seating is situated adjacent to the children's soft play area, meaning that parents can relax whilst kids run off their lunch, and there are also microwaves available for warming up babies' bottles.
MyFerryLink operates up to 16 daily crossings on the Dover-Calais route. Fares for a car and up to nine passengers start from £45 each way any duration and from £29 for a 24 hour return.
To find the best fares, visit www.myferrylink.com or call 0844 2482 100
Ends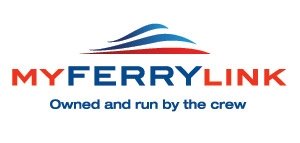 Thursday, 5 February 2015 - 08:21
Post 1442
Sea News, Dover
THE PORT OF CALAIS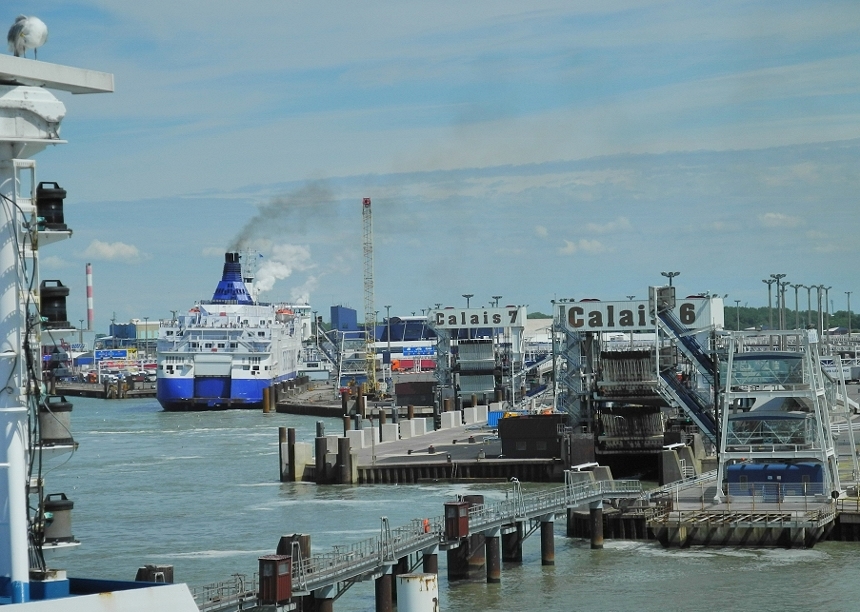 The Port of Calais issued a near identical press release to the Port of Dover re the EU Funding, both ports clearly in harmony, with just some small regional differences to the release as you might expect, here is a section showing the core message and also see the Port of Dover release further down the page ( post 1348 )....
* *
"
With record freight traffic volumes currently being handled between Dover and Calais following phenomenal growth of 20% over the past two years, the need for investment in additional capacity and resilience has become ever more pressing.
The Port of Dover, together with the Port of Calais and the Regional Council Nord-Pas de Calais – owner of the port of Calais– are therefore delighted that their significant ongoing work to deliver essential short term capacity enhancements has been supported with over €14 million of EU funding from the European Commission.
Recognising the growing importance of Dover and Calais as core ports within a key transport corridor connecting the UK with France and the rest of Europe, the partners signed a Memorandum of Understanding in April 2014 to cement long term commitment to delivering a shared vision of the future through the BRIDGE (Building the Resilience of International and Dependent Gateways in Europe) project.
BRIDGE is ensuring that Dover-Calais remains resilient in the face of significant market growth and in support of an effective and efficient European transport network and growing European trade along the corridor.
"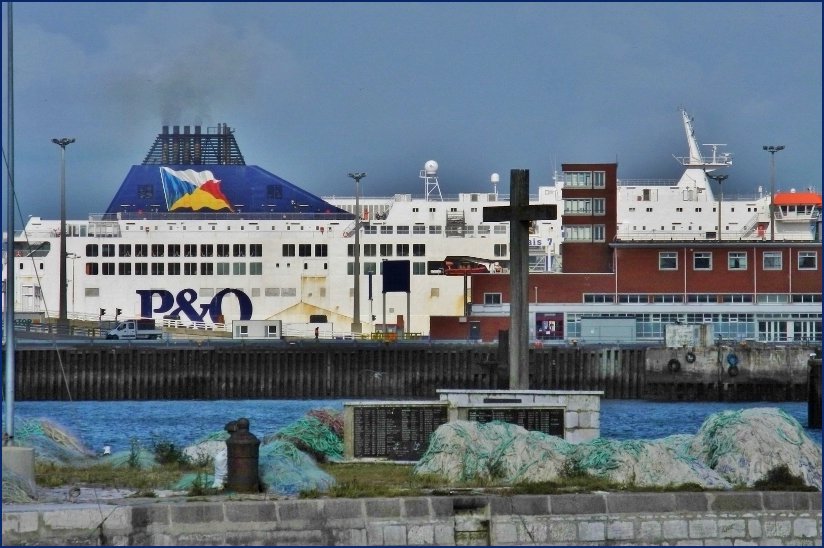 Wednesday, 4 February 2015 - 07:20
Post 1441
Barry W-S, Dover
That's good news with reference to the weighbridge closures, let us hope that the drivers understand and remember to have the correct documentation. I suppose there will be a few 'teething' problems which could be ironed out fairly easily

Tuesday, 3 February 2015 - 13:32
Post 1440
Sea News, Dover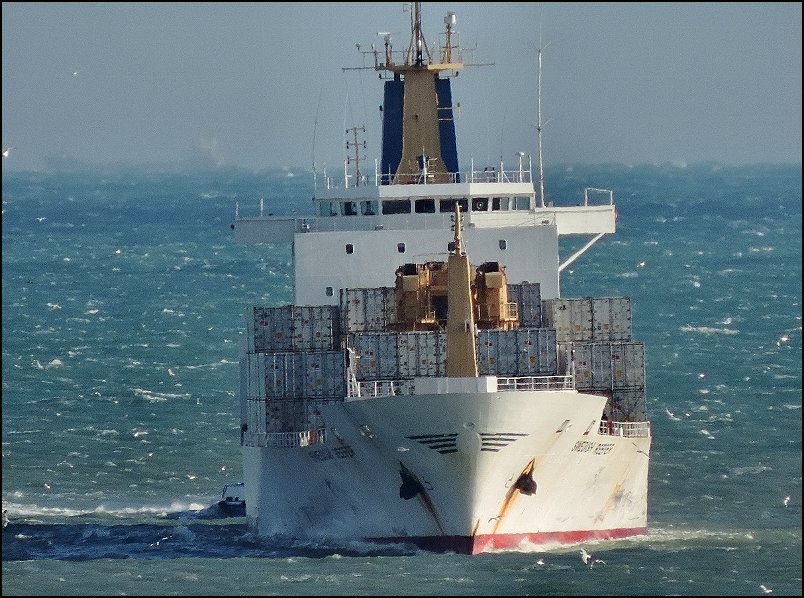 Another couple of pix above from the action packed sunday. Top shot shows the Dole Europa just outside Port early afternoon and in the background another one of those Danish Monsters...the Eugen Maersk. Denmark seems to rule the waves nowadays...along with Korea.
The second shot is another one of the Swedish Reefer, this time in full frontal approach mode. More pictures of this one down the page. The Caribbean Star left last night in the darkness..probably around 8pm heading for Antwerp. Its all go....
* *
Following on from Charlie Elphicke's comment in the post below (1361) re traffic, this quiet announcement below was made by the Port of Dover yesterday. An interesting move to try and speed flow through...as they say in that big store...'every little helps' and wow is this congestion difficulty a big headscratcher of a puzzling problem...
"
PORT OF DOVER
Freight vehicles using the Port of Dover from Tuesday 3 February 2015 will no longer have to stop for weighing before ferry boarding.
The weighing of outbound goods vehicles and other associated cargo regulations will cease from 1 February and as a result, the Port will be closing its Weighbridges 1,2 and 3 and rerouting all freight traffic using Weighbridges 4 and 5.
New traffic calming measures to complement this new routing will be clearly signposted with new signage and notification that there will no longer be a need to weigh freight vehicles.
These new regulations are a welcome result of the Government's "Red Tape Challenge", allowing operators to dispense with the costly and time-consuming process.
In order to speed up the outbound departure process it is imperative that freight drivers ensure they understand the new procedures and do not arrive at the Port of Dover without the correct weight declaration.
Ends
"
Tuesday, 3 February 2015 - 06:57
Post 1439
Sea News, Dover
TIME FOR A LASTING SOLUTION TO THE TRAFFIC CHAOS says Charlie Elphicke MP.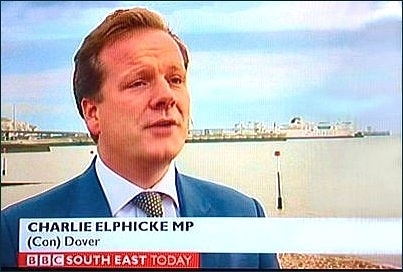 Problems at the Port of Dover or in the Channel tunnel always lead to tailbacks and congestion on our roads. This is unacceptable. The transport infrastructure fails, yet it is local residents and businesses that pay the price. For too long our community has had to suffer the pain of the traffic chaos and disruption and for too long we have seen too little responsibility taken by the Port and Tunnel. This needs to change.
The long and chaotic lines of lorries tailing back on our roads even hampered emergency vehicles. Access to Dover became a complete nightmare. When Operation Stack is put in place, travel becomes almost impossible. It is incredibly damaging to businesses and our local economy too. More worrying, the situation has never been as bad as this in the past.
I organised a meeting with fellow Kent MPs and the Transport Minister last week so we could express our residents' concerns. The need for a permanent solution is urgent. There needs to be much more off road lorry parking to take all the waiting lorries when there are problems in the Tunnel or at the Port of Dover.
I made the case to the Minister that this should be paid for by the levy on non-UK lorries which use British roads, along with the Tunnel and Port businesses. The levy was introduced in April 2014 for heavy goods vehicles from abroad and has already raised millions of pounds. Some of this money should go to communities like Dover which are adversely affected. I have also raised my concerns with the Minister about the need for the Port, Port Users and the Tunnel to recognise their responsibilities to the Kent community.
It's important to remember that it's not the fault of people in our community when a ferry crashes into the Harbour Wall. Or when a ferry runs aground. Or when there is a fire in the Channel Tunnel. Yet they bear the brunt of the huge traffic back-ups and congestion. The Port and Tunnel need to face up to their responsibilities to the people who pay the price, the businesses who lose income and the harm to our economy. The Police of Kent and the Port need to use the powers they have to take action sooner to ensure problems are dealt with swiftly and effectively.
Yet there most urgent need is for off road lorry parking. Our economy is in recovery. Last year, the Port of Dover handled a record amount of freight traffic. Traffic will increase further as recovery continues. We've come a long way together. Our long term economic plan is working. Yet Port and Tunnel need to do their bit to help fund the off road lorry parking we need when things go wrong. Our town is far more than a dumping ground for cross channel traffic and it's time we had a lasting solution that will deal with the problem once and for all.
Charlie Elphicke - MP for Dover and Deal.
* *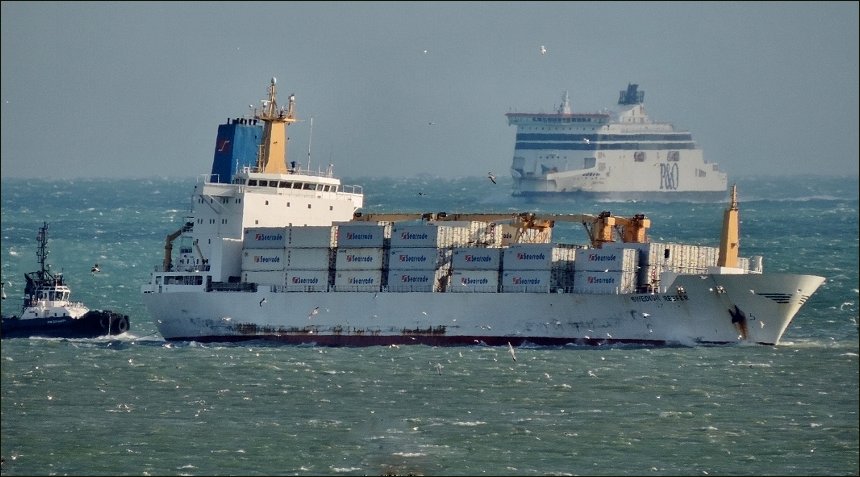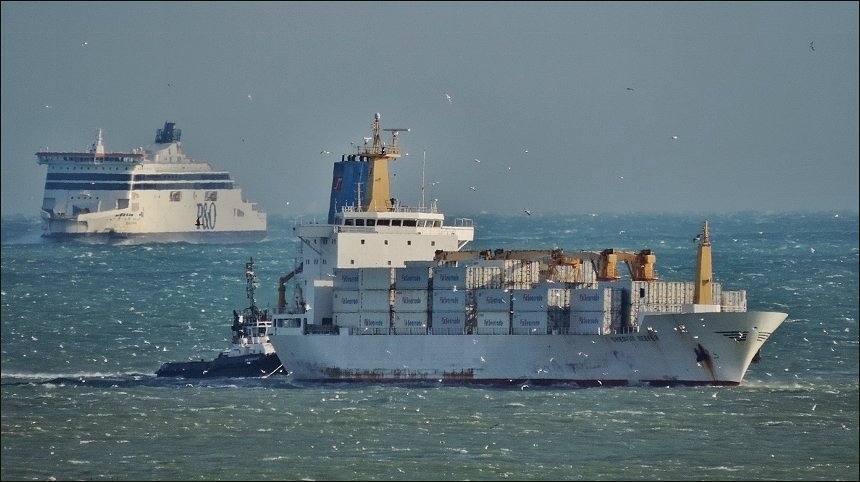 Well done Mike with the pictures below. Yes yesterday sunday was a hugely busy day at the Port. Not only did we have the two cargo ships mentioned, the Caribbean Star and the Swedish Reefer...but also lingering just outside the Port for some of the day were the Atlantic Reefer and the DOLE Europa...both with 'destination Dover' showing on the AIS. It almost looked to the uninitiated that we were overstocked ! More cargo terminals needed by the looks of it.
The pictures immediately above there are showing the Swedish Reefer approaching in different positions...with hordes of mad marauding seagulls on the wing. For the past few days there have been large amounts of birds...who knows, maybe in mid-migration or something.
The other impressive vessel was patrolling off Shakespeare Cliff for some of the day yesterday. Its a German vessel called Seefalke and painted on the side Kustenwache...will just check the spelling...yes that's right.
Yours truly does not speak German alas but I would guess the English translation is roughly .. Sea Falcon and Coastal Watch. PB.
Monday, 2 February 2015 - 15:02
Post 1438
Mike J., Dover
The CARIBBEAN STAR came off the cargo berth on Sunday morning to make room for the SWEDISH REEFER who came in during the early afternoon.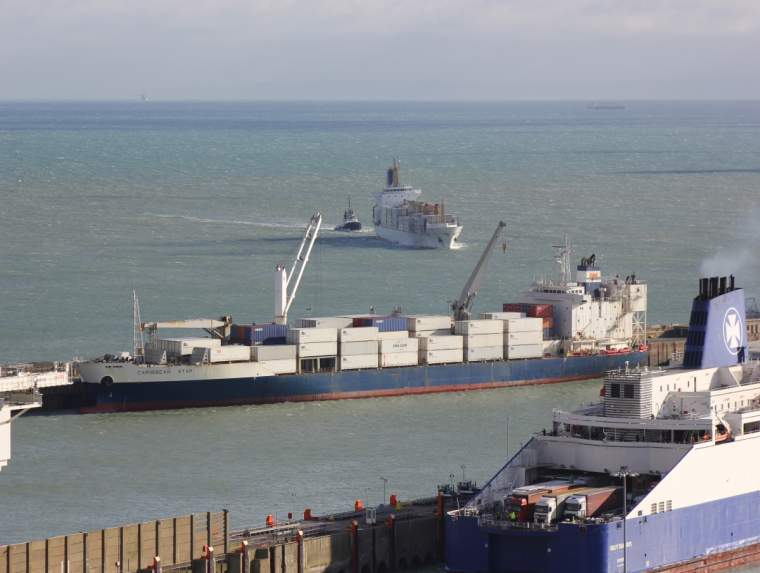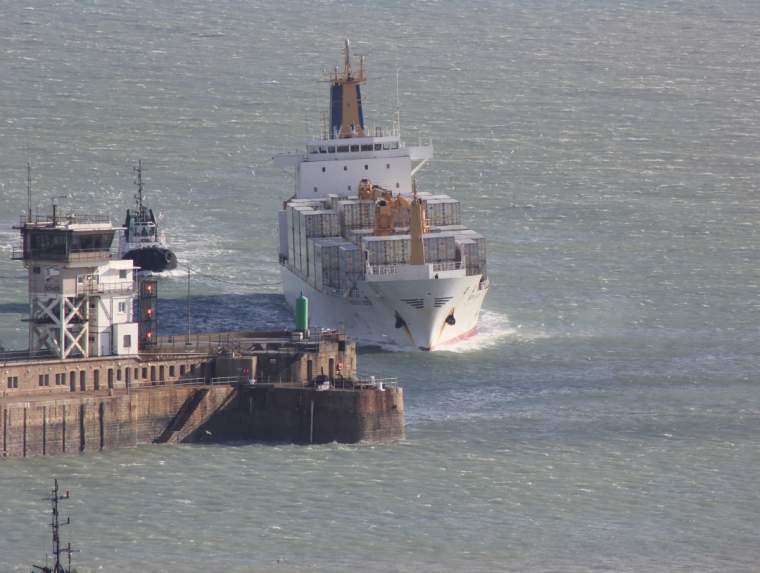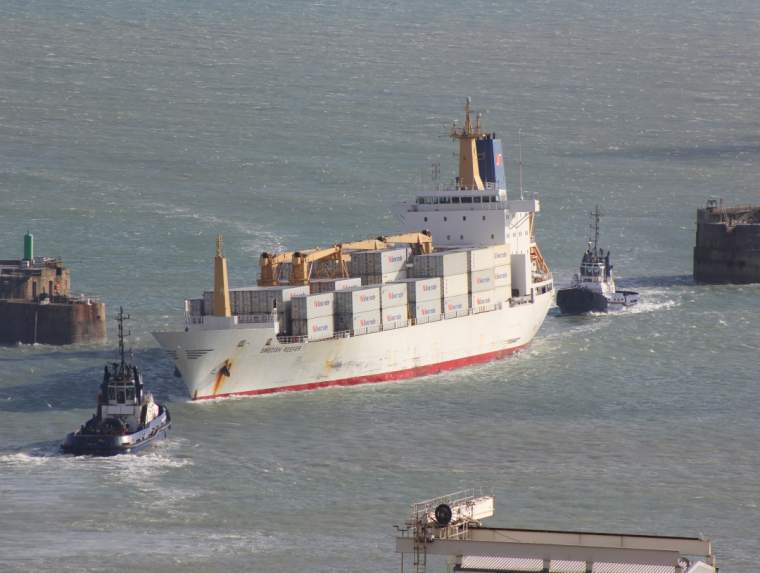 The PRIDE OF KENT came in showing the simplified flag on her funnel & the slightly odd new logo.
Cutbacks & jobs under threat, yet there is always money for 'rebranding' !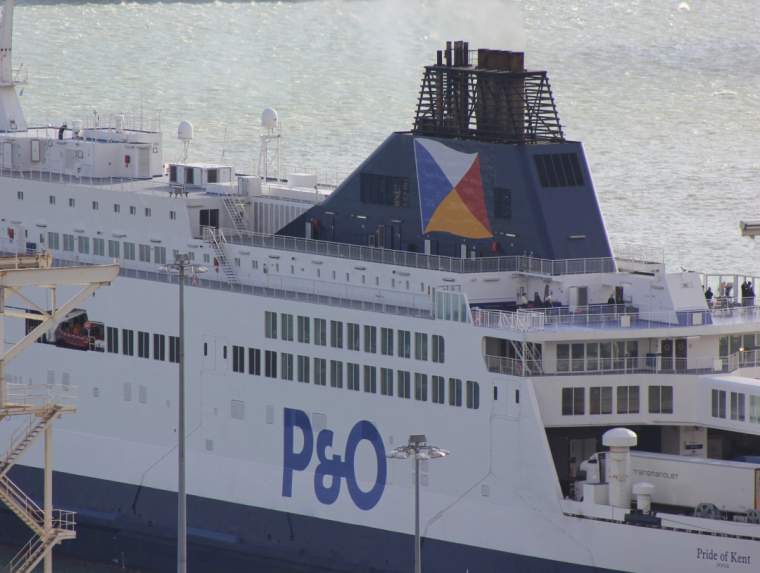 Besides the 'Granny Flat' on stilts at the back of the accommodation block which was mentioned here some time ago the CARIBBEAN STAR seems to have acquired three red/orange 'things' on the ship's side down aft - anyone know what they're for ?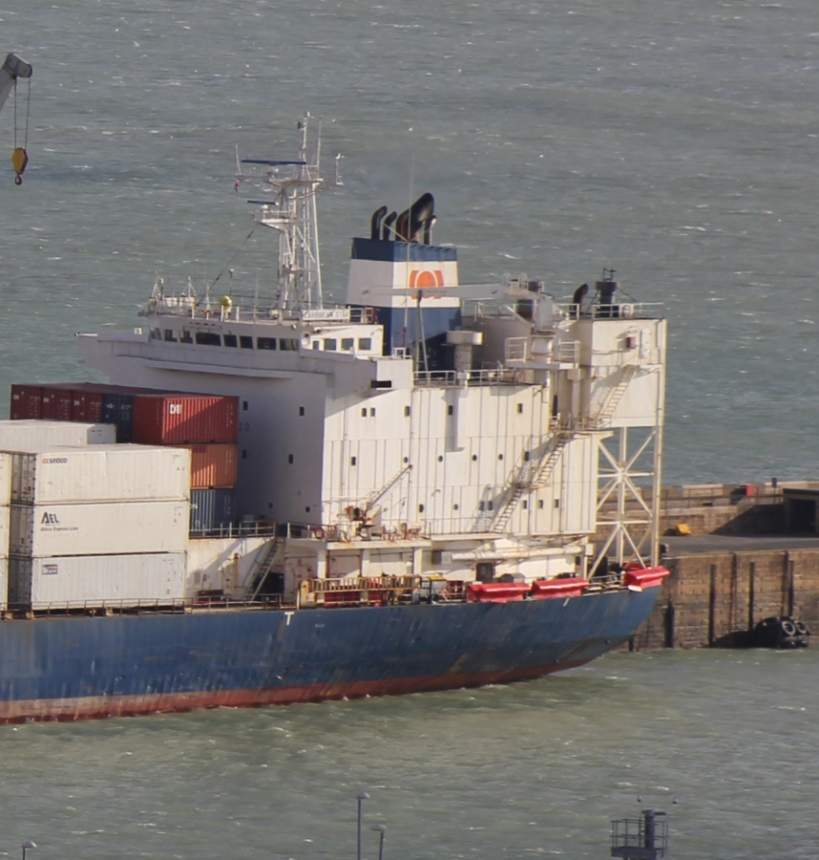 Sunday, 1 February 2015 - 23:58
Post 1437
Sea News, Dover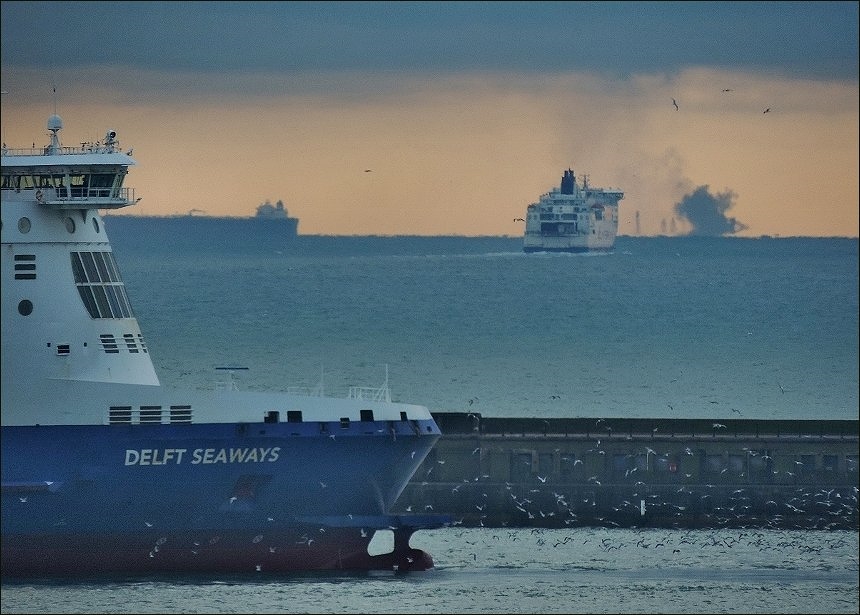 These are cold gloomy oul days out on the channel for sure. Top picture is from yesterday Saturday and the one immediately above is from Friday. The visibility for a time on Saturday morning was extremely good, even with the naked eye you could see the wind turbines just south of Calais whirling away in the bracing breeze. Don't be too alarmed at the amount of smoke leaping skywards, nothing untoward, just I guess the industrial complexes doing their thing...maybe its even the sugar refinery. Well...we all need something to sprinkle on our cornflakes !
Thanks Mike for all the info in the posts below... great stuff. I often wondered why there was so many ships with Arklow powering up and down the Channel...now we know. I had a look at the website listed by Mike ( on Windows 8 just copy and paste and put in box at bottom of page and away you go ) and a very impressive group of ships indeed. And there was I thinking Arklow was just a one horse town !

me timbers are a-shiverin' this mornin' !
Sunday, 1 February 2015 - 07:31