Monday, 10 August 2020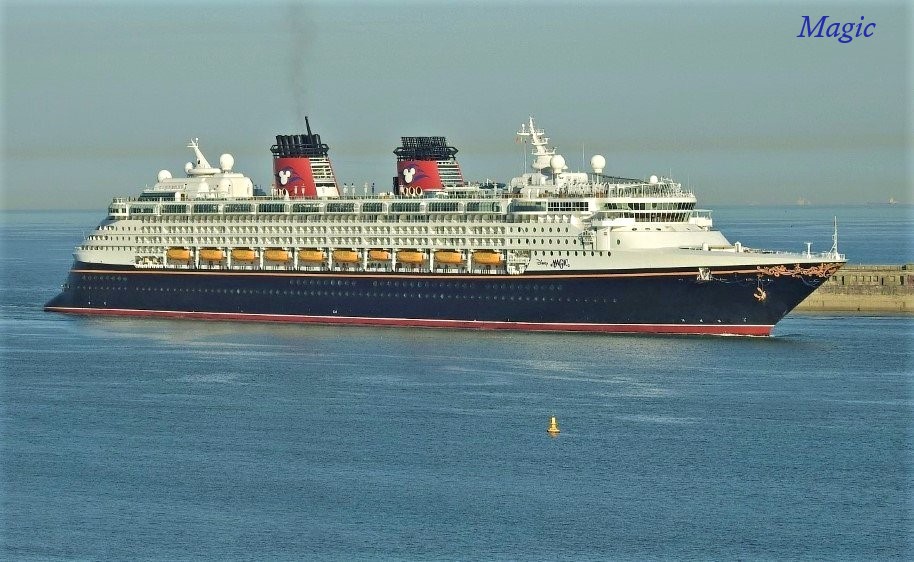 The Disney Magic entering the Port of Dover once again after a brief channel run....

WWW.DOVERFORUM.COM/SEA-NEWS
Sea Pictures from DOVER ....
Just to let everyone know...we have essentially closed Sea News.
Times have changed and these changes havent been good to us.
We will leave it open for research purposes ...if anyone wants to check anything etc etc
Other than that its all over.
A huge thanks to everyone who contributed over the 7 years.

Paul Boland - dover7@msn.com.
.
Use our SEARCH ENGINE below to find all sorts on the SEA NEWS pages....type in the topic and away you go,
or if you have the post number, just type it in the Search Box, more than
- 7000 -
nautical posts now.
Sea News Dover:
All pictures on these pages are the copyright of the owners and must not be reproduced without permission.
Post 1336
ColetteB, Dover
Great dramatic photo there of all three ferry companies battling against the high winds outside the harbour wall, good to see all three together

I heard that Towie were celebrating Essexmas this week on MyFerryLink. I've just had a little look on catch up after seeing the voluptuous Gemma Collins on our Sea News, its always good to see Dover featured on TV. That's a very nice country hotel they stayed at, the Maison de Plumes & it's not a bad price either

Friday, 12 December 2014 - 16:12
Post 1335
Sea News, Dover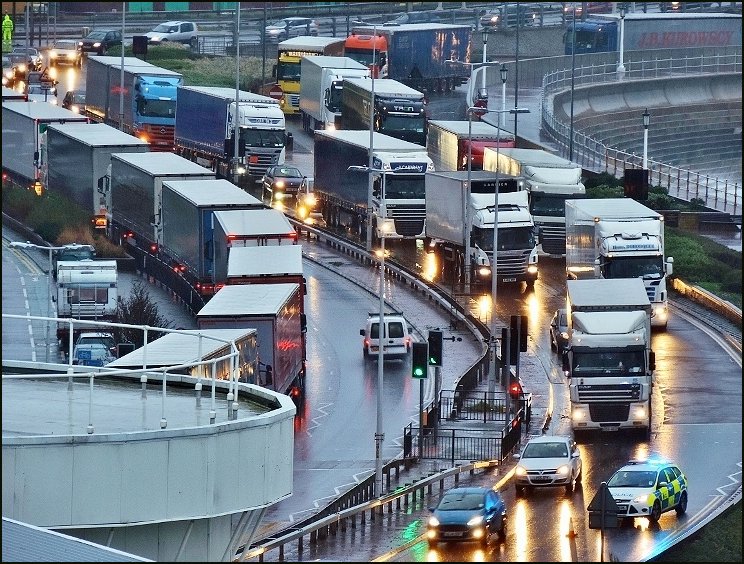 The traffic has been very heavy for the past few days. The much used recent phrase 'weather bomb' ie the extremely bad weather which hit us early this morning didn't help the flow at all. That line of trucks as seen on left of shot above seems to go on forever, stretching in never ending line into the Kent countryside...it is always there lately, something of a permanent fixture sadly. If anyone has doubts about the volume of trade going to the EU through the Port just come down to the waters edge here and take a look. The picture was taken this morning Friday.
Our ol' friend below, the Nord Pas de Calais, taking a bit of a bashing around midday as she sets off for Calais. They clearly need the window wipers going full blast on the bridge... look at the height of the wave! Strewth !
Friday, 12 December 2014 - 15:05
Post 1334
Sea News, Dover
TOWIE in TOWN.
The only way is Essexmus with MyFerryLink
___________________________________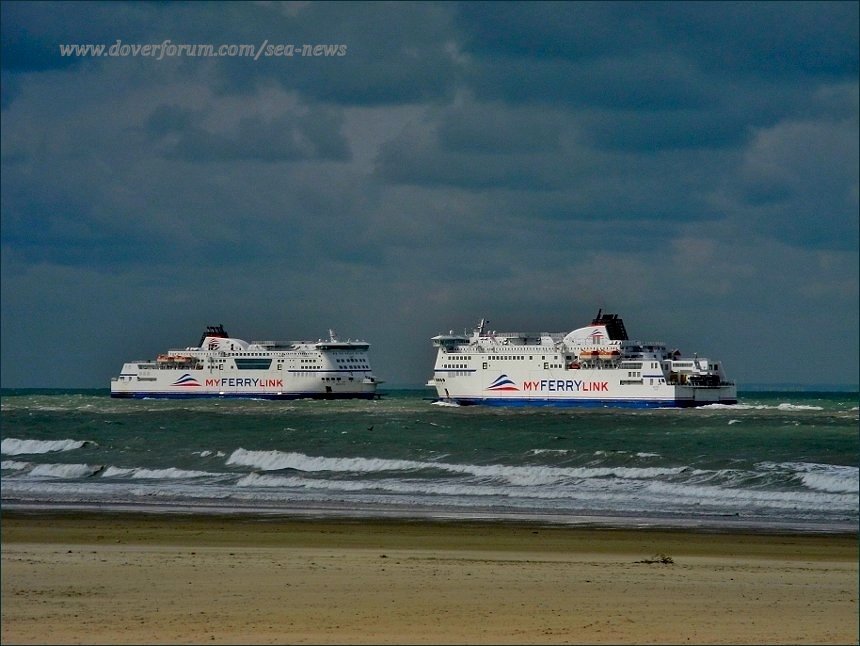 Following MyFerryLink's star turn on The Only Way is Essex Christmas Special.... fans can follow in the footsteps of the cast and take their own trip to France, visiting the same places with MyFerryLink. AND we've got some exclusive special offers for fans to enjoy.
Just like the TOWIE cast, travel onboard MyFerryLink to France and enjoy a glass or two of wine in one of our onboard bars before popping into La Boutique to check out the fantastic range of perfumes, gifts, wine & spirits.
A 24hour / day return for a car and up to 9 passengers costs from just £24 or take a 3 day short break fare from just £49 return.
Visit Calais Vins to stock up on some festive and new year tipples. Customers spending over €100 on French wines will receive a 10% discount just by showing their MyFerryLink lane hanger or booking confirmation.
Stay overnight in the exact rooms the cast stayed in at the gorgeous Maison de Plumes and enjoy a free glass of wine or Pastis on arrival if you show them your MyFerryLink lane hanger or booking reference. Double rooms cost from just 99 Euros (£78) per night.
MyFerryLink also has a number of very special offers for their customers including great discounts on accommodation in Calais and money off vouchers in the Carrefour hypermarket at Calais Coquelles. Visit the partner offers page on the MyFerryLink website for all available discounts and offers.
MyFerryLink operates up to 16 daily crossings on the Dover-Calais route. Fares for a car and up to nine passengers start from £35 each way any duration, with special offers often available online.
To find the best fares, visit www.myferrylink.com or call 0844 2482 100
Ends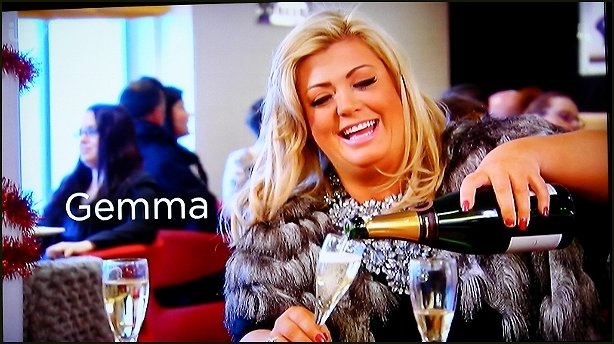 Exclusive picture of Gemma Collins above there knocking back the Champagne onboard the..was it the Berlioz, I think it was. The programma was shown Wednesday and featured a surprise turn by Gemma " I never miss a good booze cruise!" Collins...she is now surprisingly back in TOWIE as you can see and recently fresh out of the jungle where she appeared as one of the stars in I'm a Celebrity get me Outa Here. Top picture is of course the Rodin and Berlioz in fine action just off Calais beach...we have used the pic once before but worth another look for sure. It was great to see the MyFerryLink ships on the programme.
Thanks for the traffic update below Brian. It will probably be busy again today...and the rough blustery weather wont speed things up either. PaulB.

Friday, 12 December 2014 - 05:06
Post 1333
brian, dover outpost.
the traffic well past samphire hoe,both lanes at a stand still.

Thursday, 11 December 2014 - 15:18
Post 1332
Sea News, Dover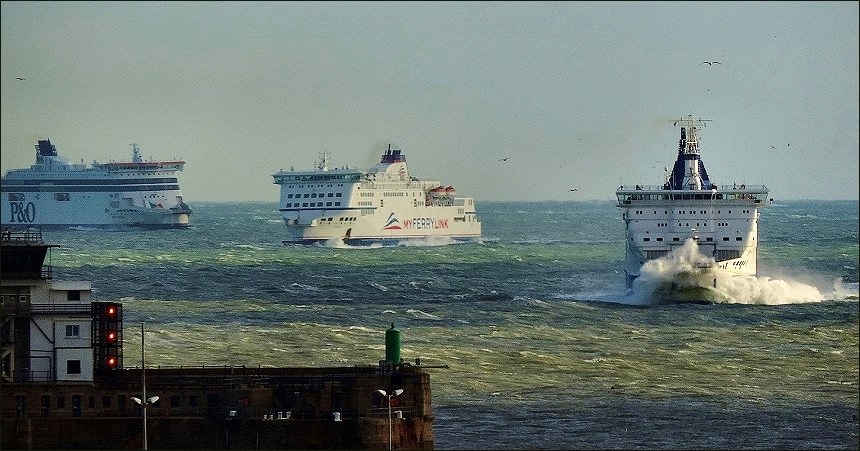 I know things are getting competitive in the Ferry business and here we are with all three companies appearing to jostle and jockey for position on the approaches at mid-day today thursday. It all made for interesting pictures. Although not terribly windy the sea was quite rough as you can see. Earlier in the day we had a build up of freight traffic on the roads once again...but all seems to be flowing okay currently. But don't hold your breath as its a very busy season.
Thanks for those comments below Vic...interesting as ever. PB.
Thursday, 11 December 2014 - 15:10
Post 1331
Vic Matcham, Dover
Well we have it both Mr Wiggins and the MP jumped off the sinking ship on to a band wagon, all the talk they have done over the last 3 years about how bad the DHB has been in running the port which we know was not true, but as I said IF YOU CAN NOT BEAT THEM JOIN THEM and that is what both of them done .
I have all ways been a supporter of the DHB and all they have done is got rid of the main men that they were up against, but by giving a seat on the D.H.B. to one of them a very good move. But as a person I am saying that should not have happened.
Thursday, 11 December 2014 - 12:51
Post 1330
Sea News, Dover
The following announcement is directly from the Dover Harbour Board....
New Appointments bring Port and Community closer
__________________________________________
Dover Harbour Board is delighted to announce the appointment in the New Year of Samantha Parker and Neil Wiggins as the first Community Directors to join the Board in 2015. These new appointments strengthen the links between the Port of Dover and the community at the start of what will be a momentous period of regeneration for both the area and one of the world's most recognised ports.
Samantha Parker was full of enthusiasm for her forthcoming role:
"I grew up in Kent and was educated at Barton Court Grammar School for Girls in Canterbury. My mother, who was one of Kent's first Super Nurses and my late father who was a Chief Navigating Officer in the Merchant Navy, instilled in me a set of virtues which I remain true to today. I am married to Carl who is a Tree Surgeon and a service veteran and we have 2 young children. I live in a village in the Dover and Deal Constituency and have dedicated over half of my life to public service. I have lived and worked in the Dover district for the past 20 years. I have worked at both the Eastern and Western Docks and my husband also worked out of the Eastern Docks on the ferries before his army career. My godfather was a Captain with Townsend Thoresen. My career has equipped me with many skills and qualities that are directly transferable to the boardroom. I am a member of a local running club and a keen supporter of my children's primary school. I am a keen participant in my village community."
"The Port is a vital part of the town of Dover and the surrounding area and we all want even stronger links to make it work for everyone. My role will be to bring an insight into the thinking of the community and act as a bridge between those involved in the Port and the future of Dover. This is a great day for everyone and anyone who has an interest in Dover, in the Port and in the jobs it will safeguard and create as part of its shared vision."
Neil Wiggins was equally delighted, reflecting on his forthcoming appointment he said:
"We have been on quite a journey over the last few years, and it is time to move on as we all work together to deliver a brighter future for Dover. I am immediately resigning as both Chairman and a member of the Dover Peoples' Port Trust in order that I can ensure my full commitment to the Port of Dover as a community voice on the board and fulfil my duties as a member of the Dover Harbour Board without any conflict of interest."
George Jenkins OBE, Chairman of the Dover Harbour Board, welcomed the new Non Executive appointments which followed a detailed interview process involving community representatives.
"We had an overwhelming response to this important appointment and a list of high quality candidates to choose from. The Minister of State for Transport, the Rt Hon John Hayes MP, said in the House of Commons that it was important to link the Port to the town. We see these new appointments as a strong statement of that intent, offering a direct link between the Board and the community that will bring a fresh perspective to assist us in our future plans."
George Jenkins believes these new appointments will add stability and strengthen the links to the local community as Dover moves forward together.
"We will now have Community Directors appointed to the Board who will have a wide ranging appreciation of the community and its views. This will bring another valuable element to the composition of the Board and we heartily welcome these new appointments. The Board are submitting a Harbour Revision Order to enshrine these new positions in legislation. These appointments and our proposed direction of travel shows we are moving forward with determination, integrity and a clear vision of where we want the Port to be in the future. The Port and the local community are working ever more closely together to achieve shared goals. We want to see the Port of Dover recognised as one of the world's great ports and a vital element in the UK economy. We will continue to work to cement Dover's reputation as the best Port in the world for the benefit of our community and customers."
Charlie Elphicke MP said that this shows real progress is being made.
"The community representatives considered the two selected candidates to be outstanding. We had no hesitation recommending them both to be Community Directors. Community Directors on the Dover Harbour Board places the community at the heart of decision making at the port. There is still further work to be done in order to ensure that the Community Director positions are enshrined in legislation and I will continue to press DHB for the HRO to enable this to happen."
"The announcement of the community directors is a big step on the continuing road to reform. It shows what a success the People's Port has been. With this landmark development much of what the People's Port Trust set out to achieve has now been completed. Once the HRO is finalised, it will be an opportune time for the People's Port Trust to be concluded."
Shipping and Ports Minister John Hayes MP welcomed the Community Director appointments.
"A great amount has been achieved in Dover since the plan for the Port was announced in April, showing that the port and town working together can really get things done. I'd like to congratulate both George Jenkins and Charlie Elphicke for leading this and all they have done in delivering the landmark of appointing two community directors. I extend my thanks and congratulations to everyone else involved in doing so much to bring together the Port, the town and its community."
ENDS

Wednesday, 10 December 2014 - 17:11
Post 1329
Sea News, Dover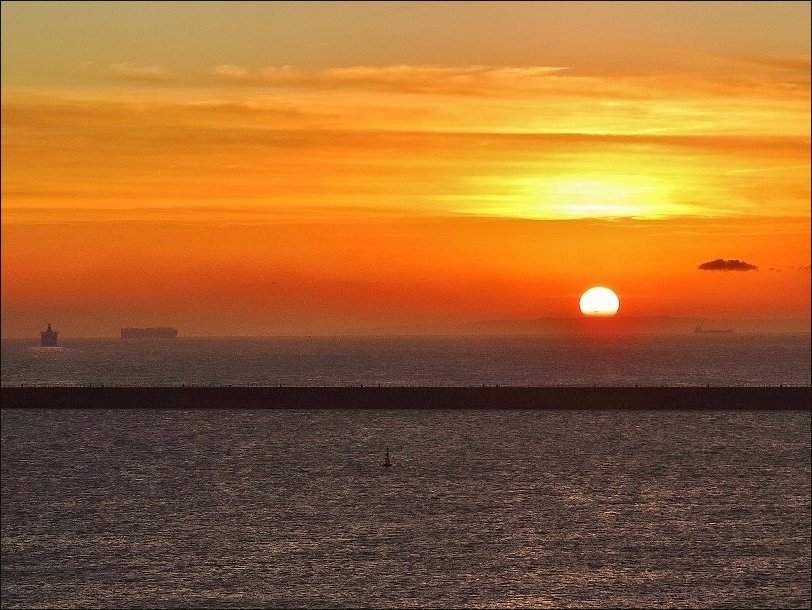 This was the striking sunrise across the Channel yesterday morning Tuesday at about 07.50. Once again a beautiful dazzling sunrise was on show, as you can see here. It was cold and biting though...note the frosty pic in the frosty post below (1250) as all the pictures were taken roughly at the same time...and there was a sharpish breeze guaranteed to make your teeth chatter and turn your nose bright pink...or red if you've been on the gin the night before!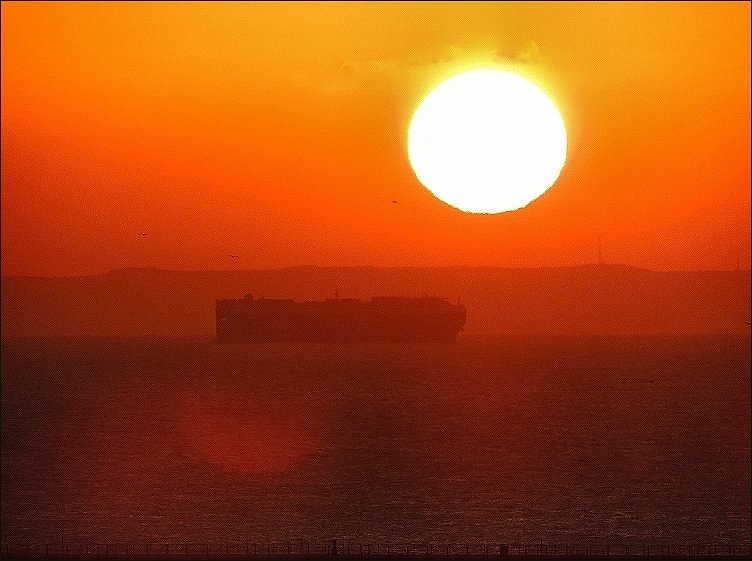 The beast of a ship on show here is the Hercules Leader. A giant Hercules competing with the blazing sun. The ship is actually a vehicle carrier and no doubt heading off to the Far Far East...probably Japan or Korea to pick up more Toyota and Hyundai for the all consuming British market. Below at the same time the Ferries dash over to Calais ever busy, loaded with trucks and freight and the excited Christmas tripper.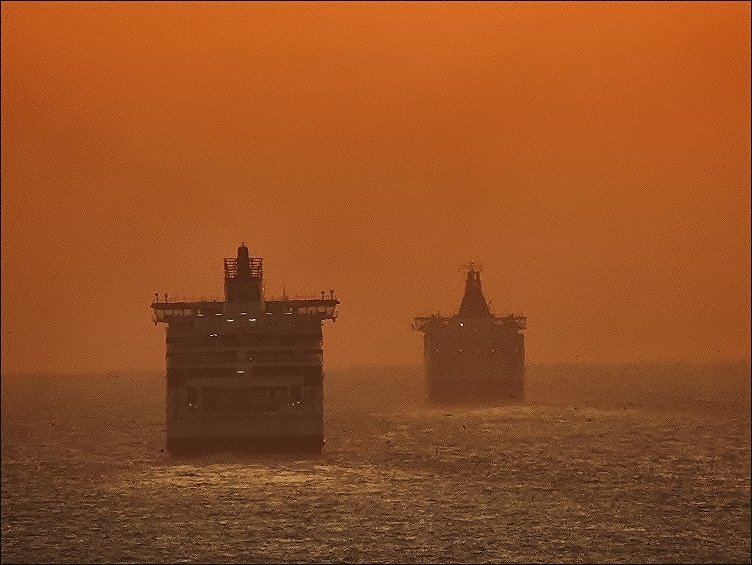 Wednesday, 10 December 2014 - 06:26
Post 1328
Sea News, Dover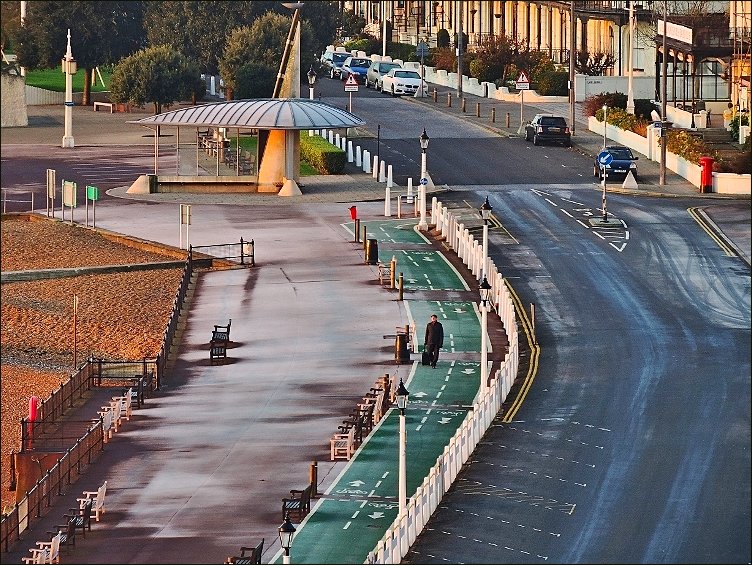 Tis a frosty oul morning along Dover Seafront and no mistake. Time for yours truly to sprint out along said seafront for a 5 mile run..or ermmm possibly not!! Fetch on the thermals more like and huddle over the central heating...gosh its cold out there. My Windows 8.1 is saying Dover -1. So there you have it. Sparing a thought for those hardy workers keeping the Port going. Look at that frost in the picture above and the road looks slippery too. PB.
See also just posted below the Costa Rican Star from yesterday.
Tuesday, 9 December 2014 - 08:13
Post 1327
Sea News, Dover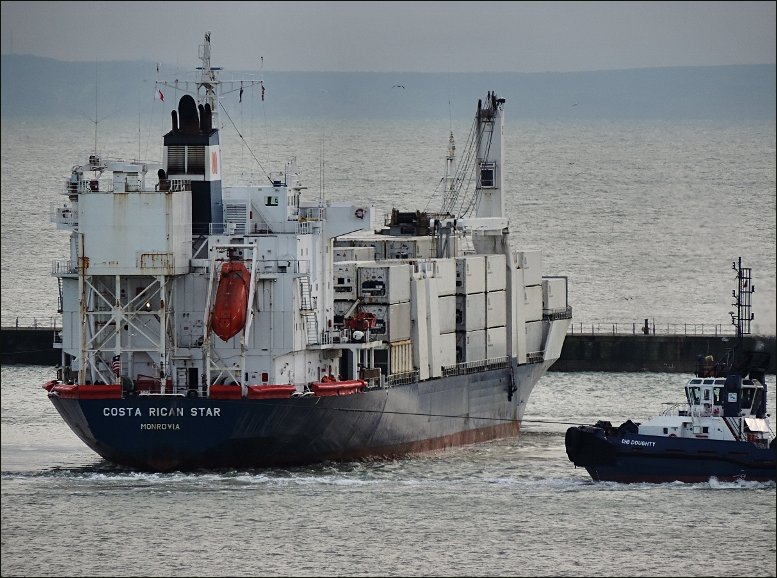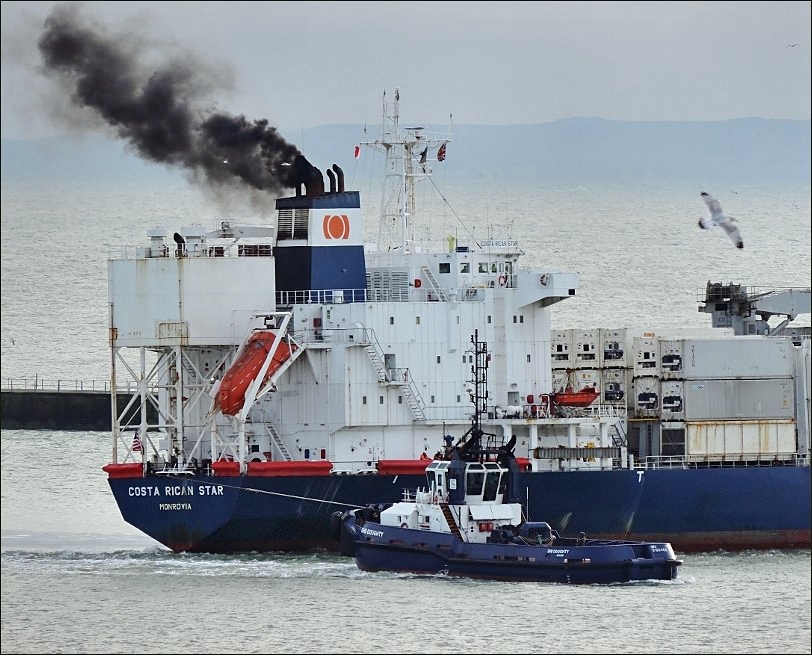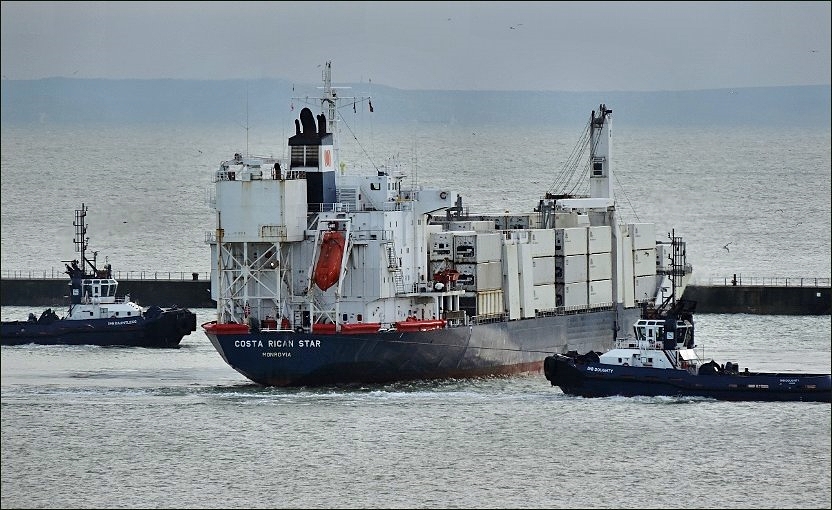 These are pictures from late morning yesterday Monday of the familiar visitor Costa Rican Star. The weather conditions were calm and fairly pleasant, makes a change, and as we can see the busy cargo trade continues apace, no sooner had the Costa Rican Star departed when looming towards the Port came the Pacific Reefer. So the tugs were back in action again in no time at all. The Pacific Reefer has also departed now too, unloading overnight, so the quick turnaround continues to be the norm.
Fortunately it appears that the Industrial Action in Calais is over. There was a considerable back up of freight traffic heading into the Port late into the night... to the disgruntlement of some local drivers, but all seems to be flowing smoothly again now early morning Tuesday. A pity about the strike as there are large volumes of Christmas Traffic going over now too...which is good for all of us, the Port of Dover, the Ferry companies and the Port of Calais.
Tuesday, 9 December 2014 - 06:17
Post 1326
Sea News, Dover

Industrial Action in Port of Calais.....


The Port of Dover regrets to advise its customers and the local community that industrial action has commenced this morning (Monday 8th December 2014) in the Port of Calais. We are currently advised that it will continue until 18h00 local time. The Port of Calais is currently planning to keep a number of berths open for use throughout the day, although the number may be less than usual.

This will have an adverse impact on ferry services and capacity at the Port of Dover. The roads in Dover are currently clear and there are ferry services departing to Dunkirk.

The Port of Dover, together with its major ferry partners, will do all that it can to minimise any customer delays and community impact but some disruption should be anticipated from a situation beyond its control.

Due to the current high volumes of seasonal traffic and the potential disruption, there may be queues on the approach roads to the Port of Dover. Customers are therefore advised to allow plenty of time for their journey and the community should consider using alternative local routes to move around the area where possible.

Customers are also advised to contact their chosen ferry operator before travelling and consult the Port of Dover website (www.doverport.co.uk) or Twitter account (@Port_of_Dover) for the latest information.

Ferry Operator Contacts

DFDS SeawaysFreight: +44 (0) 1304 874001
Tourist: +44 (0) 871 230 0440
Twitter: @dfdsukupdates
P&O FerriesFreight: +44 (0) 1304 863 340
Tourist: +44 (0) 8716 64 64 64
Twitter: @POferriesupdate
MyFerryLinkFreight: +44 (0) 1304 828 423
Tourist: +44 (0) 844 248 2100
Twitter: @MyFerryLink

We will continue to monitor the situation closely in liaison with our ferry partners and the Port of Calais in order to provide regular updates.
The Port wishes to thank its customers and community for their understanding.

...see also the Post below re the Historic Crane Restoration with pictures of the unveiling with local celebrities.



Monday, 8 December 2014 - 10:37
Post 1325
Sea News, Dover
HISTORIC CRANE RESTORATION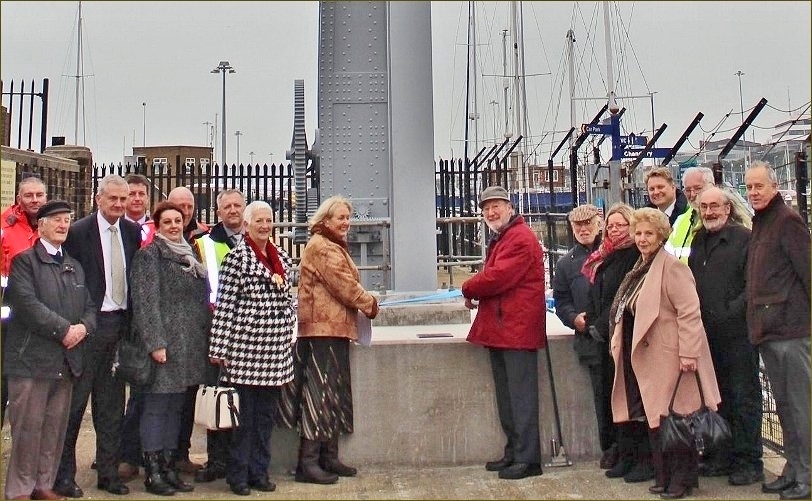 Historic crane restoration gives heritage trail a lift

__________________________________________
The historic Fairbairn Hand Cranked Crane, built in 1868 to serve the shipwrights who had workshops around the Wellington Dock in the Dover's Western Docks, has been lovingly restored by the Port of Dover. This is as part of its work together with the community to restore, promote and celebrate Dover's many heritage assets, including those associated with the Port. The aim is to create a Bluebird Heritage Trail that will appeal to the community and visitors alike in making Dover a destination of choice.
The restored crane was officially and jointly unveiled by local historian Lorraine Sencicle and Derek Leach, Chairman of the Dover Society and the Port and Community Forum.
Lorraine Sencicle explained the background to the crane:
"The Crane was purchased by Dover Harbour Board for their use to lift heavy shipping gear into and out of the ships. The crane was designed and made by William Fairbairn, who was born in Kelso, Scotland on 19 February 1789 and the son of a farmer."
Derek Leach said:
"One of the first, if not the first action of The Port and Community Forum that I chair was to form a group to produce a Bluebird Heritage Trail to publicise the many heritage assets of the town and port and to encourage visitors to come and see them as a step toward regeneration. Some 30 sites will be included on the proposed trail, but some of them were in need of refurbishment, including this historic Fairbairn Crane. As Chairman of the Blue Bird Heritage Trail Group I am very pleased that the Harbour Board has been able to restore the crane and to mark it with a suitable plaque. Hopefully, by this time next year, the Bluebird Heritage Trail and its associated website, app and leaflet guide will be a reality thanks to the efforts of many of those attending the unveiling."
Tim Waggott, Chief Executive, Port of Dover, said:
"We are proud of our Port heritage and its place as part of Dover's incredible history. I am delighted that we have restored the Fairbairn Crane and that it is accessible to the public. Alongside other major work we are continuing on the restoration of our historic Cruise Terminal 1 building, this is a clear sign of our intent to bring the Port and the community closer together through celebrating a shared heritage as part of our work to create a wonderful shared future."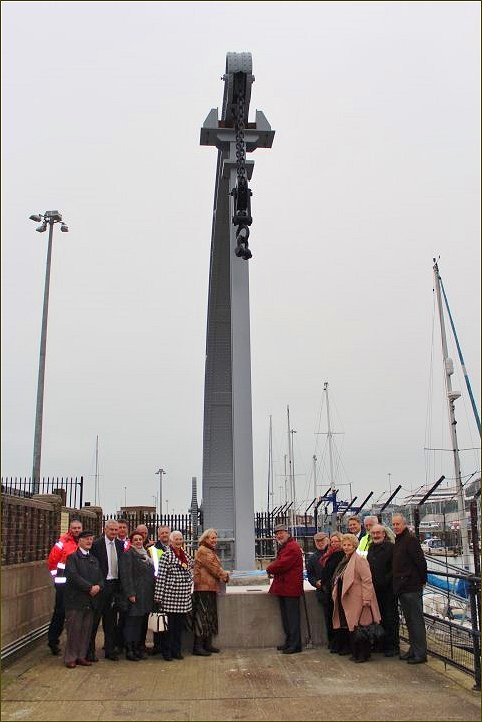 ENDS
* *
There are some very familiar local faces in the pictures above...some of whom have been at serious loggerheads in recent times, perhaps those broken fences have now been mended... so good to see all together in the pictures, working for the common good. Good luck to the Bluebird Heritage Trail and a well done to the Harbour Board for the restoration.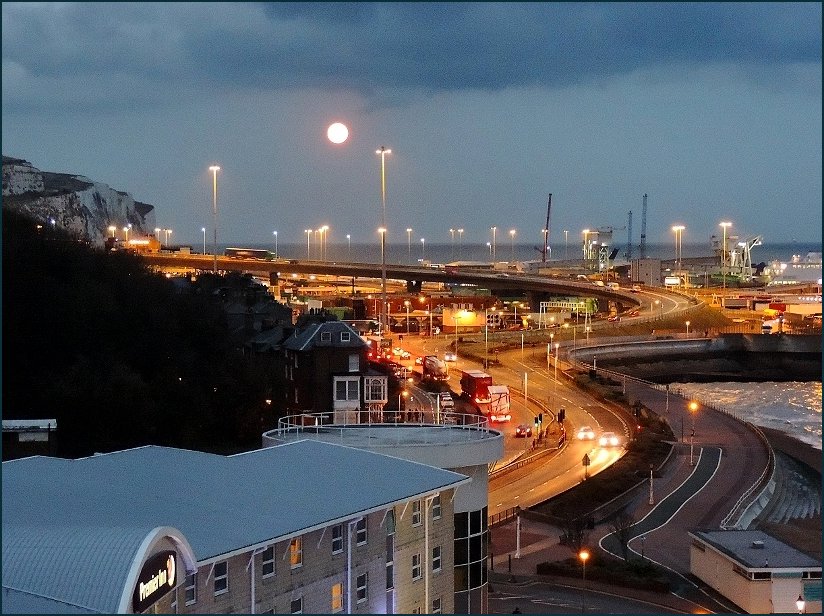 The moon has been blazingly full over the harbour the past few nights, looking very striking indeed. This is a picture of almost identical situation but this one taken about a month ago.
Mike good to see those pictures of the Norda below, that's the vessel rescued by the Lifeboat as mentioned in the post further down the page. She was on her way to Cherbourg with six people and hit difficulties. Our Lifeboat guys towed her into Dover Harbour. See also post 1240.
Monday, 8 December 2014 - 07:38
Post 1324
Mike J., Dover
Berthed in the Granville Dock on Saturday in amongst the plastic boats was the former Baltic fishing research vessel NORDA.
She was built in Denmark as the EWA in 1928 for the Polish Government & now operates as a charter yacht & has a modern sail 'rig'
Although registered in the Polish port of Gdynia she was flying a large Belgian flag.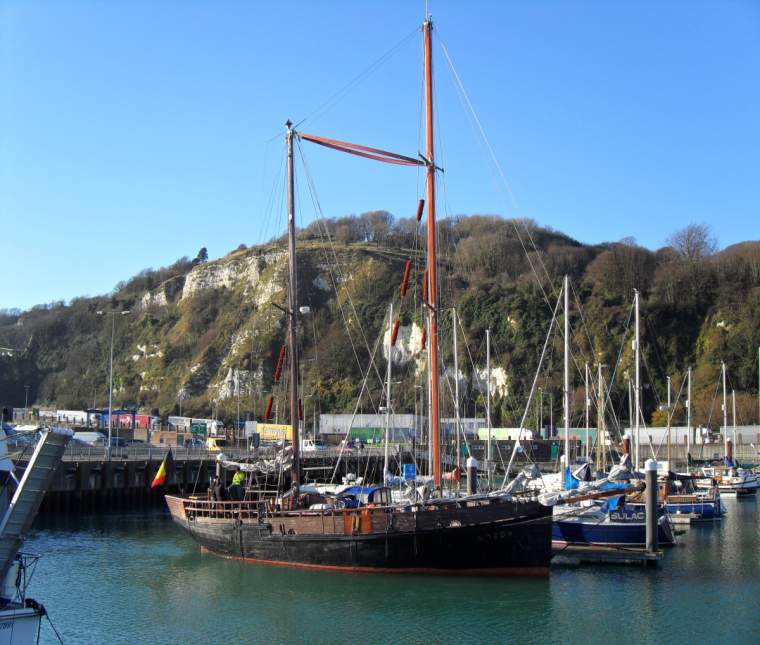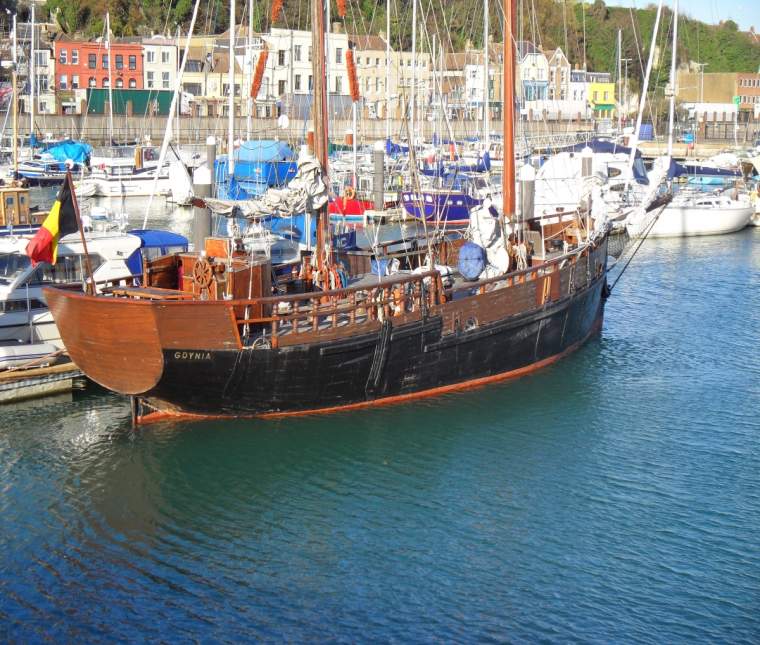 Plenty more information on her on the internet.
I came across this 'planning photo' which includes the proposed new marina & seems to show what access the public will have when the Western Docks are redeveloped & the shortened Prince of Wales pier is no longer available.
It looks as though public access may be only to the eastern pier of the new marina & that views both to the east for the ferries & west to the cruise ships will be severely restricted.
A nice walk lost. I hope that I'm misinterpreting the 'architects impression'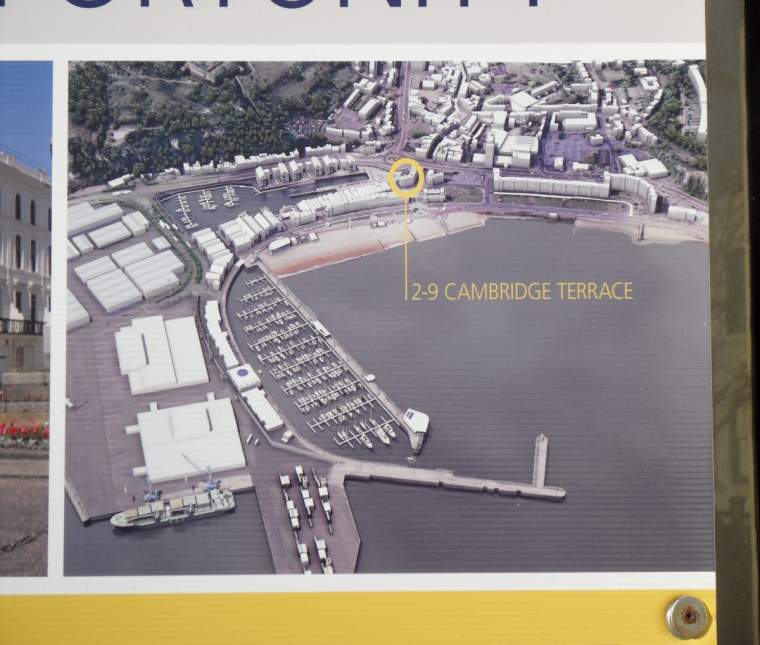 Sunday, 7 December 2014 - 07:14
Post 1323
Sea News, Dover
BALLOONS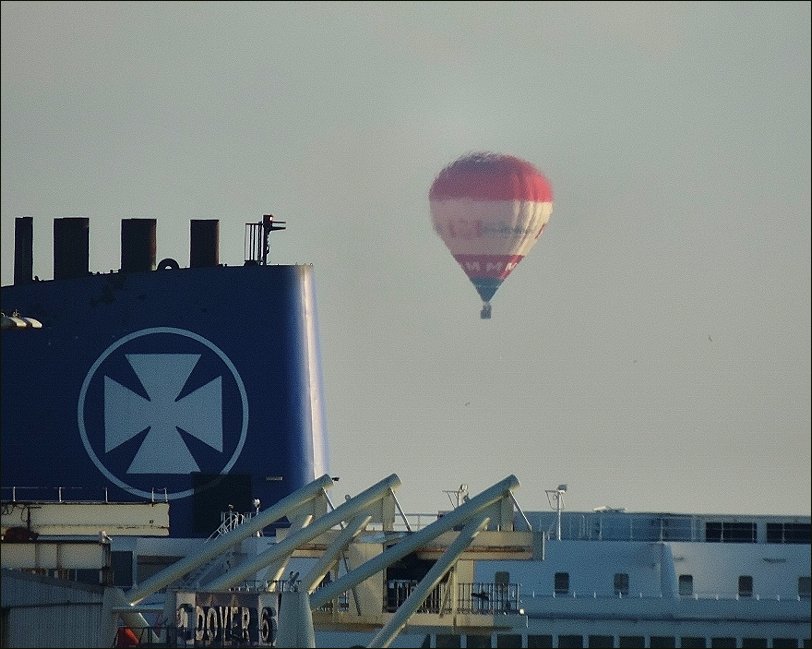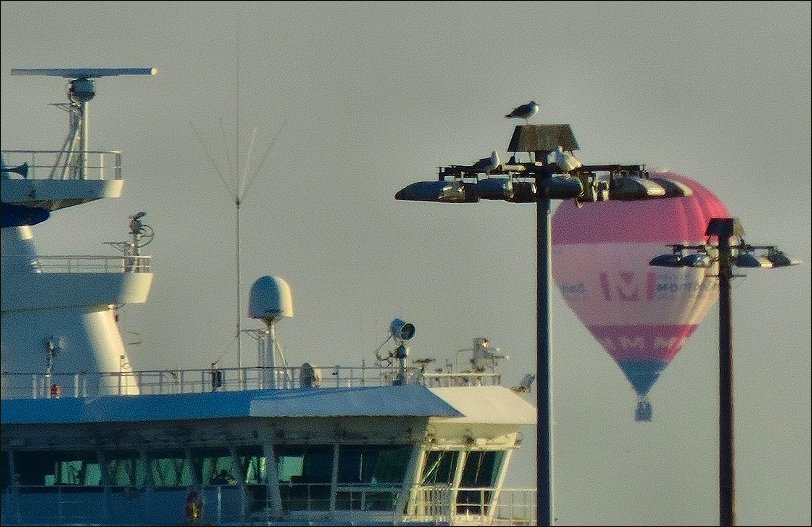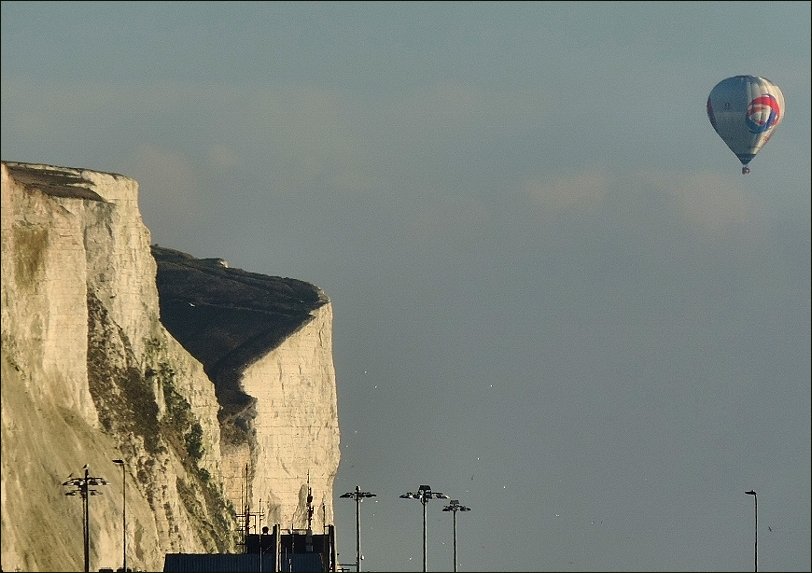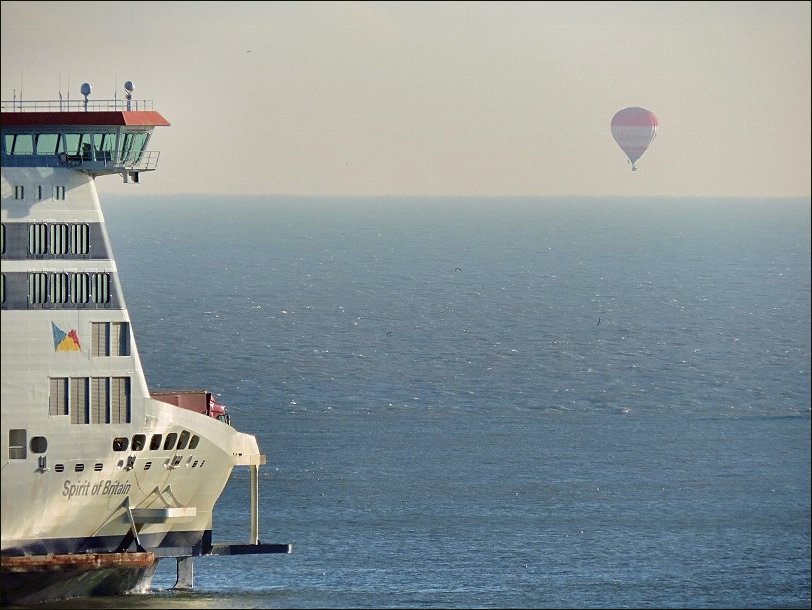 Bit of a novelty this...two balloons making there way across the channel at 10 am this morning saturday. Just 15 mins ago as I write. Quite low too...in fact you could say they were kind of 'hedgehopping'...well of sorts !! They are still visible in the sky right now but moving quite fast for hot air balloons. Heading more towards Boulogne than Calais. Quite a colourful sight. We had some nice pictures of balloons in the past too. Always worth a picture or two for sure.
Saturday, 6 December 2014 - 10:20
Post 1322
Sea News, Dover
Christmas Cheer for P&O Ferries at British Travel Awards
______________________________________________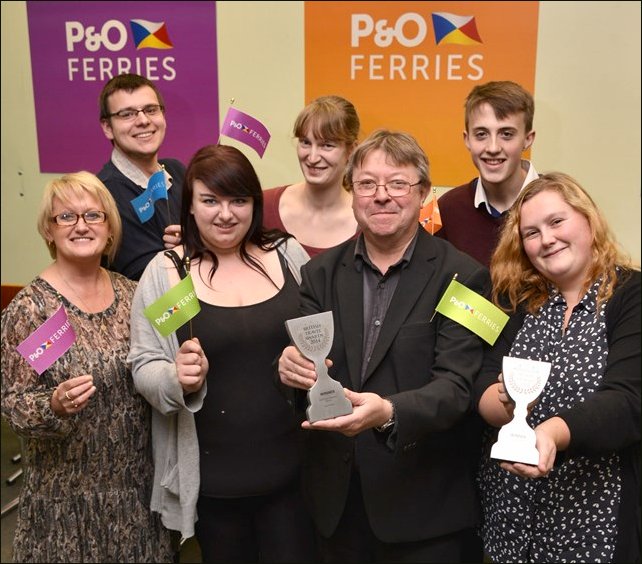 Christmas came early for P&O Ferries when they picked up two trophies at the British Travel Awards 2014 as voted for by the travelling public.
The company was awarded Best English Channel Operator and Best Ferry Operator at the Gala Awards Dinner, held at Battersea Evolution in London. It was a record breaking year with more than 1.2 million votes cast.
The British Travel Awards is the largest awards programme in the UK created to reward the best companies in travel. Votes are verified by global accountancy practitioners Deloitte.
Pictured celebrating with the awards are members of the company's Contact Centre; left to right (back row) Ryan Bowyer, Petra Strelow, Kyran Chalmers (front row): Wendy Fox, Charli Dray, Alan Terry and Gemma Pettifer.
Friday, 5 December 2014 - 06:48
Post 1321
ColetteB, Dover
Awe!!! So no AIDASol again this December, I remember she was cancelled last December too.
Just been on the DHB website which obviously has had a new rebuild, very smart indeed



Thanks Pat for that information re Saga, just saw it on the DHB website too. So a real treat on Sunday 21st, with the Saga Sapphire fresh from its refit at Rotterdam (must take a visit there some time to see the marvellous architecture) & the Saga Pearl II as well

I would love to avail of one of those drop-in workshops that the Port of Dover Team have, working with KCC Road Safety Team. I am hopeless under the bonnet when it comes to vehicle checks

Thursday, 4 December 2014 - 13:37
Post 1320
Sea News, Dover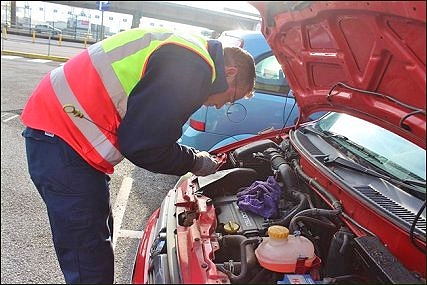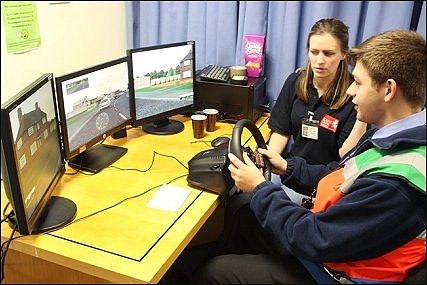 Dover determined to keep UK plc running this Winter

______________________________________________
No matter what the weather throws at Dover, the Port has gained an enviable reputation for keeping going when other forms of transport find it a hard slog. Whether it turns out to be a white, wet or windy winter, the Port's dedicated staff will be working around the clock to ensure it's business as usual for customers at Europe's busiest ferry port.
What's more, the Port of Dover team has been helping the whole Port community gear up for winter with a Winter Driving and Road Safety Day Working with the Kent County Council Road Safety Team to explain about driving on Kent's roads, general winter driving (driving plans, spotting hazards, space and time), participants have also had the opportunity to try a driving simulator with wet/winter scenarios, alcohol impairment glasses and a vision screening machine. Port of Dover's Engineering Services team provided a vehicle drop in workshop for winter vehicle checks (giving advice on fluid checks and wear and tear on tyres for example)
Tim Waggott, Chief Executive, Port of Dover, said:
"All staff at the Port of Dover are determined to ensure that it remains both operational and safe during any adverse winter weather. Traffic passing through the Port can be travelling all over the UK and Europe and we therefore take the opportunity to extend our commitment to putting road safety at the heart of our operations in promoting road safety more widely."
Ends
* *
The Port keeps right on going through all weathers even through the murk and gloom currently. This picture is from yesterday morning and not all that early either ( 07.40 ) but still looking quite dark, note the lights still blazing aboard the ferry Spirit of France with ol' friend Esmeralda in the background ( the bells! the bells !

) Crikey its even gloomier and murkier today as I write @ 07.50. PB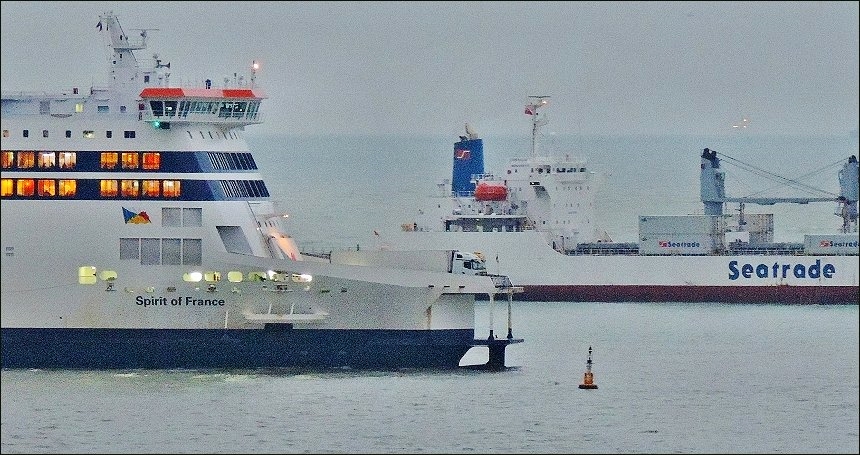 Thursday, 4 December 2014 - 07:44
Post 1319
Sea News, Dover
Latest info through from the team at the Port is that the AIDA SOL will not be calling on the 8th December. This is an update to the original list. See posts 1238 and 1239 below. Many thanks as ever to the Port for the information. PB.


Wednesday, 3 December 2014 - 16:58
Post 1318
Sea News, Dover
EARLY CALL OUT FOR THE DOVER VOLUNTEERS
______________________________________
The volunteer crew of Dover's RNLI lifeboat had an early morning call when a large German sailing vessel got into trouble this morning (3 December 2014).
The Norda was en-route from Cuxhaven to Cherbourg with six people on board when they suffered engine failure some 6 miles east of the Port Of Dover. The Coastguard paged the lifeboat crew and Dover's Severn class lifeboat, City Of London II left her berth at 4:15am with a crew of seven led by Second Coxswain James Clapham.
The lifeboat was quickly on scene and then took the 20 metre Norda in tow and took her back to the port, arriving just after 6am.
Second Coxswain James Clapham said: "This was a routine call for us and something that we train for all the time. It is thanks to the people of Dover who support their lifeboat that it is possible for us to be ready to help anyone out when they need it 24 hours a day, 365 days a year."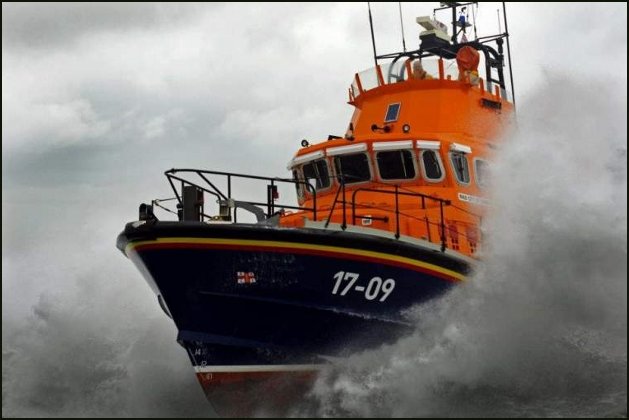 Picture by Dan Keen.
Wednesday, 3 December 2014 - 15:54
Post 1317
Sea News, Dover
One imagines its very cold in that thar water these days..would shiver anyone's timbers so it would, but these women were giving it full throttle the other day. Presumably they are hardened channel swimmers or those about to try to be. Must admit I am not quite sure what the orange ball is being towed, but you see it more often these days. These two shown were part of a group, perhaps from the USA. Good luck to them.
We are plaqued by poor visibility at the moment, it seems to have gone on for days, so it is hard to get a decent picture ...thought it worth including the one below of the vessel from Trinity House called Alert arriving in the harbour a few days ago as tugboat Doughty departs. The tug was on its way to meet a cargo ship. As mentioned the picture is poorish quality but probably worth including.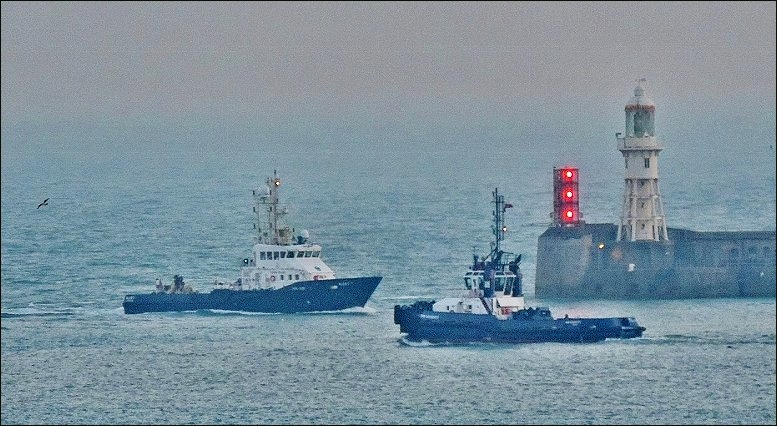 Yes indeed Colette the Saga Sapphire took us by surprise, maybe it came in because of the poor conditions but who knows maybe not. Will watch out for the AIDA SOL next Monday and hopefully the weather will be less gloomy. PB.
EXTRA : Email just in from Pat Sherratt

"
Good morning Paul
Looking at your Dover Forum ships page.
Last Sunday the Sapphire did indeed come from Spain but prior to the call in Spain (not sure which port) she had been on a Caribbean Islands Cruise and called at the Azores. She sailed in the evening to Rotterdam for a refit
On the 21st December you should get a good picture of the two Saga Ships as both are at Dover prior to going on their Christmas Cruises.
According to DHB list:
Cruise Terminal 1 Saga Sapphire scheduled 0700 to 1600
Cruise Terminal 2 Saga Pear II scheduled 0700 to 1700
Hope you are well
Kind regards
Pat Sherratt
"
Thanks for that info Pat. We will certainly be watching out for that double-header on the 21st. PaulB.
Wednesday, 3 December 2014 - 07:56