Wednesday, 19 June 2019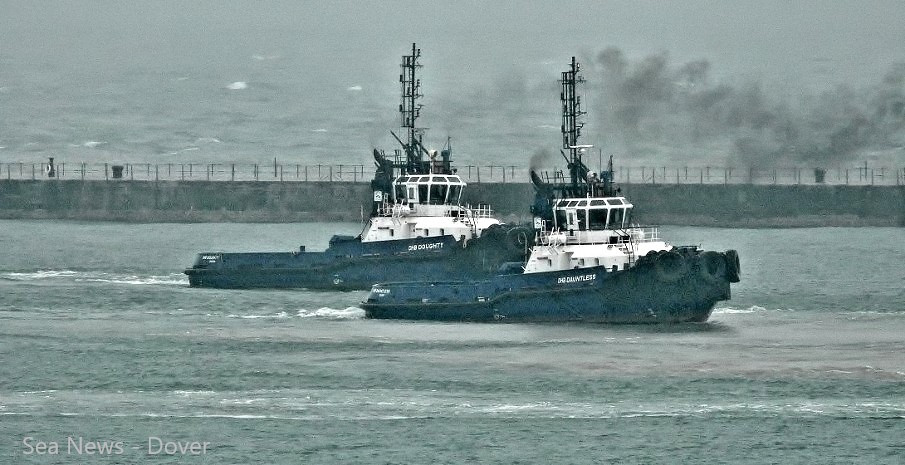 Just having sent Pacific Reefer on her way, the tugs turn back into the Summer (!!) gloom....

WWW.DOVERFORUM.COM/SEA-NEWS
Featuring all the ships that come and go and work at the Port of Dover ..
... with further coverage of the surrounding ports.
Sea News Dover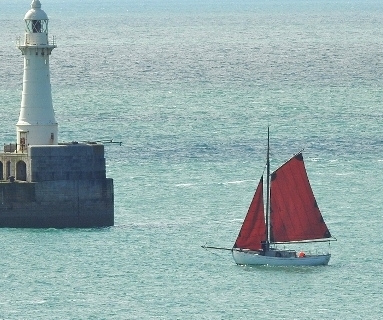 DFDS NEW SHIP for Channel see 6303
DFDS Europe's award winning Ferry Operator 6332
Port of Dover : Virgin Voyages 6289
Port of Dover: Brexit Resilience 6123

P&O Ferries: Alternative Euro Breaks 6298
P&O Ferries: Record Fundraising for Lifeboats see 6253
Port of Dover: Reducing Carbon Footprint 6332
Port of Dover: New Cargo Manager see 6205

Thames Estuary Forts 6250
SS Richard Montgomery at rest (WW II Supply Ship ) 6329
DFDS: ORCA 6179
Premier Inn completes see 6149 plus

Scroll down to see the Boudicca D-Day pictures in several posts.
Use our SEARCH ENGINE below to find all sorts on the SEA NEWS pages....
type in the topic and away you go, or if you have the post number as shown above, just type it in the box, more than - 6300 - nautical posts now.
Posts are welcome. just click 'Add Your Comment' below. Max of 5 pictures preferred although we can stretch that for special stories..
Sea News Editor Paul Boland - send info or pix to dover7@msn.com. Always welcome.
CRUISE CALLS:
https://www.doverport.co.uk/cruise/find-a-cruise/
UPDATE:
To show your pictures at their best..it could be worthwhile resizing before posting to
850
pixels wide.
All pictures on these pages are the copyright of the owners and must not be reproduced without permission.
Post 560
PaulB, Dover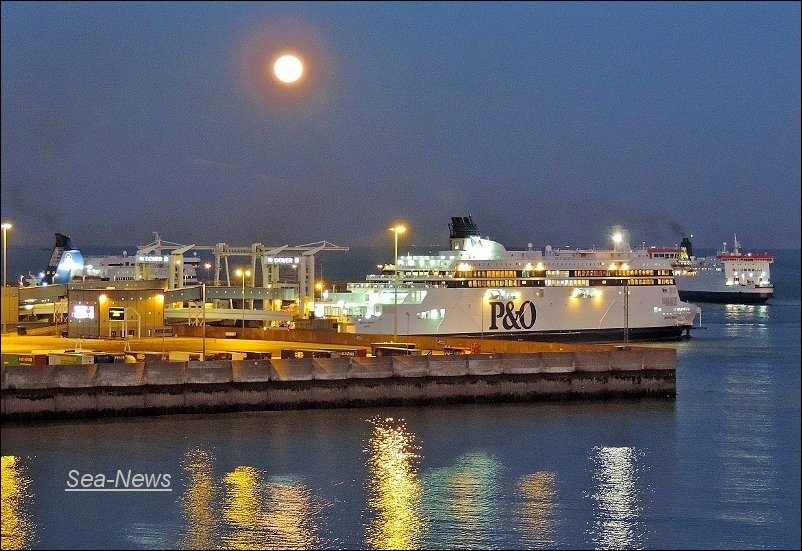 We are running a little late with this news release but still just as relevant..
PORT PLANS WIDELY WELCOMED
... progress being made to deliver the shared vision
___________________________________________
Proposals from Dover Harbour Board to develop a new multi-million pound cargo terminal have been widely welcomed by local residents and businesses in the town, signing up to the shared vision.
Dover Western Docks Revival would see the redevelopment of the Western Docks and creation of more than 600 quality jobs involved in the handling of fresh produce and other cargo for customers using the Port. The vision will provide an opportunity to kick start the regeneration of the local area and create inward investment opportunities.
Derek Leach, Chairman of the Port and Community Forum, and Dover Society, said:
"The Board's plans were warmly received by the Port and Community Forum with the possibility of several hundred new jobs, a boost to the local economy and the regeneration of the Western Docks area. The Board is also looking for the support of the community in delivering the project, which I am sure we shall do in any way possible."
Adeline Reidy, speaking on behalf of The White Cliffs Dover Hotel & Guest House Group, said:
"The dynamic team led by Tim Waggott and new members of the Dover Harbour Board have given Dover a second opportunity to rejuvenate the Western Port, securing future jobs and very welcomed engagement with the local community. The master plan and vision will come with key benefits to business and the district. We congratulate the Board and encourage the people of Dover to support this fantastic initiative."
A further 140 jobs would be safeguarded by the development of a new cargo terminal, relocating the existing operations from Eastern Docks. The expansion of activity at the Western Docks would enable the Port to accommodate increased ferry passenger capacity at new berths in the Eastern Docks.
Dover Harbour Board has been working on the plans with longstanding customers, including local business George Hammonds PLC, which handles approximately 350,000 pallets of fresh produce a year, accounting for more than a quarter of all the bananas imported into the UK.
James and John Ryeland, joint Managing Directors of George Hammonds Plc, said: "We were consulted in the run up to the announcement and are fully committed to working with the Dover Harbour Board (DHB), other stakeholders, and trade customers to generate a financial model that provides a sustainable and viable future for a multi user cargo facility. It is ironic that we would be going full circle back to the Western docks, but this zone would deliver space, multiple sheltered berths, much improved access and the opportunity to directly interact with other complimentary businesses, such as ripening and packaging services. We would not wish to imply this will be an easy project to deliver but there has been a significant and positive shift in the attitude of the DHB to drive the Port forward. We are delighted to have been included in developing this opportunity, which will both generate further employment and invigorate the local economy, something we all agree Dover is in desperate need of."
They added: "They are encouraged to hear of the proposed regeneration of the Western Docks. For some 25 years, the business has been tempered by only having one berth available and an extremely tight operating area at the Cargo Terminal. The business has been in strong growth over the last 3 years with both temperature storage and container space stretched to capacity. Hammond have just completed the build of a new temperature store at a cost of £1.2m, seen as an essential move to provide security for the increased trade projections."
Since the launch of the vision at the Port and Community Forum, the Board has issued a Prior Information Notice (PIN) in the Official Journal of the European Union (OJEU), acting as a notice that the Port of Dover is planning the investment in a major redevelopment project estimated at £100-£120 million. It will allow the Port to start an early engagement process for interested contractors/suppliers with a view to obtaining further market feedback and finalising its business plan.
Port management are maintaining dialogue with the potential customer partners who are crucial to the success of this project and who will use the facilities in the future. The team participated in Fruit Logistica 2014, the most comprehensive trade exhibition for the international fresh produce sector, where Dover Western Docks Revival was welcomed by the current and future users of the cargo facilities in Dover. Non-Disclosure Agreements are already in place. Discussions have also taken place with funding partners and there is a good opportunity to secure a funding contribution to the project, which fits with the wider East Kent regeneration agenda.
Most importantly, the Board wants to continue to speak to the community, stakeholders and customers to develop the vision and outline all the milestones that need to be achieved. A presentation and discussion regarding the vision was well received at the recent Dover Marina Berth Holders Representatives Meeting.
Andrew Pires, Dover marina user and Berth Holder representative said "Dover Western Docks Revival represents a fantastic commitment to Dover's marina, which is greatly valued by berth holders. The prospect of a new marina in the harbour and the associated waterfront regeneration will provide a wonderful future facility and create an ambience that will attract even more visitors to the area."
The Board is also clear that a project of this scale and delivery of this shared vision will require careful consideration and input from various partners and employees.
Yvonne Buddle of Port of Dover Staff Association (PODSA) said: "The feedback received from PODSA members shows they are looking forward to seeing this project materialise in the near future. Many employees are really excited about this opportunity and are keen to be involved in its delivery. The general feedback from colleagues is 'let's get on with it and get it done!'. We all feel it is an excellent idea for both the Port and the town in enhancing Dover's economy and supporting our community. We really hope that everyone gives this development the support it deserves. Let's make Dover beautiful and prosperous."
Tim Waggott, Chief Executive of Dover Harbour Board, added: "Dover Western Docks Revival would protect long-term port capacity, create much needed jobs, and enable the transformation of the Dover waterfront with a new marina boosting the local visitor economy. Recognising the role that Dover plays in the nation's economy and commitment to a prosperous town, Dover Harbour Board is supporting the work of Kent County Council, Dover District Council, and South East Local Enterprise Partnership to deliver growth and regeneration in a strategic manner.
****************************************
SEE ALSO PAGE 6 SEA NEWS FOR THE ORIGINAL STORY...
"Dover Western Docks Revival – the Board's Vision"
Picture at top shows the eastern docks in busy action under the latest full moon
Tuesday, 18 March 2014 - 06:37
Post 559
Ray H, Dover
I am wondering where the rockery will be built with any left over rocks

Monday, 17 March 2014 - 17:39
Post 558
vic matcham, dover
The more I see of the rocks the more it all looks unsafe for our young ones.
They will be climbing all over them and falling off .
A better and safer job could have been done.
The D.D.C have done a good job in Deal and still working on it now.
The D,H.B. should have looked at this from the young ones eyes.

Monday, 17 March 2014 - 08:57
Post 557
PaulB, Dover
An extra pic added to those in the previous post below, I just remembered that this picture was still in the camera...so here we are. Shown below the guys working into sunday evening as the light begins to fail..a triple whammy assault on the ocean bed and the Norwegian Larvic rocks with nature itself lapping round and about. Pretty soon the digger drivers toes will be wet. The tide waits for no man...as they say.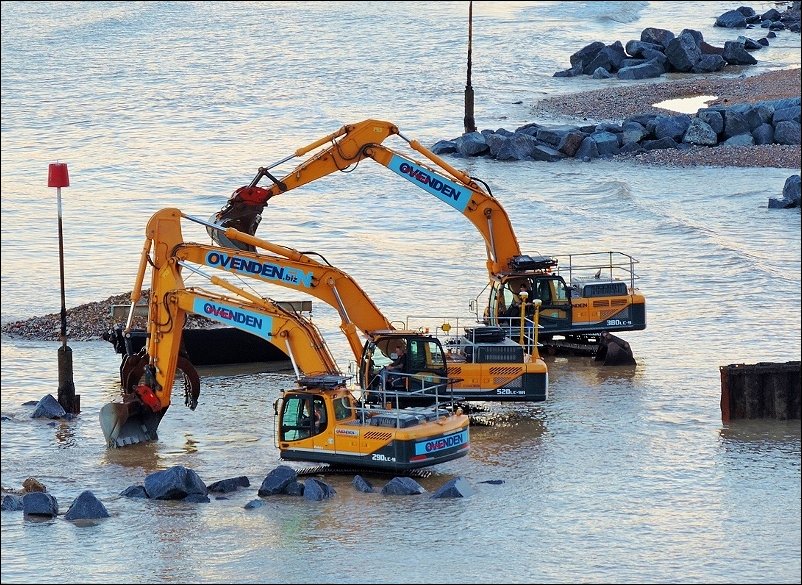 Working long hours and working to tidal times...its all action at the moment. Monday morning now and the diggers are in the sea again.
See also the newly added pictures below.
Monday, 17 March 2014 - 07:27
Post 556
PaulB, Dover
Yes nice pictures there Mike. Well done with those. I also got a few pix of the aforementioned Trinity House vessel Alert leaving Dover on Saturday morning. Heading for Harwich according to the info on Chris T's feature Channel Traffic (see top of page dover.uk.com). I will just put up one shot of Alert as Mike has it well covered in the post below there.
The picture above of Alert taken while the day was still slate grey unfortunately...many seagulls on the wing there as she moves out of harbour..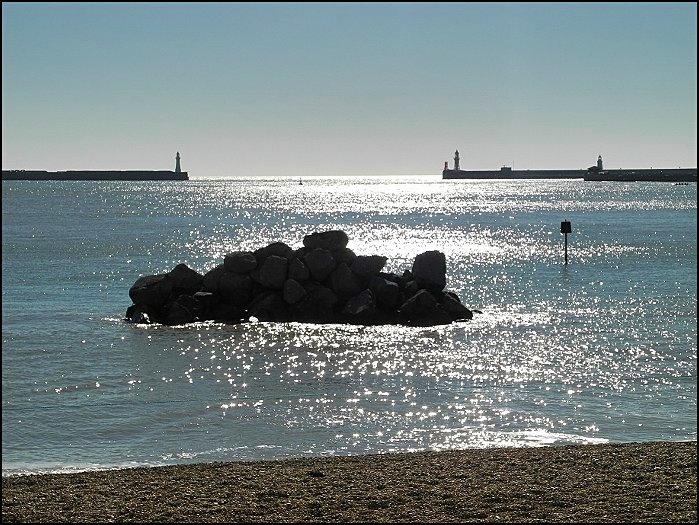 No shortage of sun on the scene above. It sizzles across the water in truly sparkling blinding form...taken from the seafront itself and shows one of our new islands during high tide Sunday morning. All I needed to make the picture complete was a mermaid sitting on top of the rocks. But no...I waited and waited..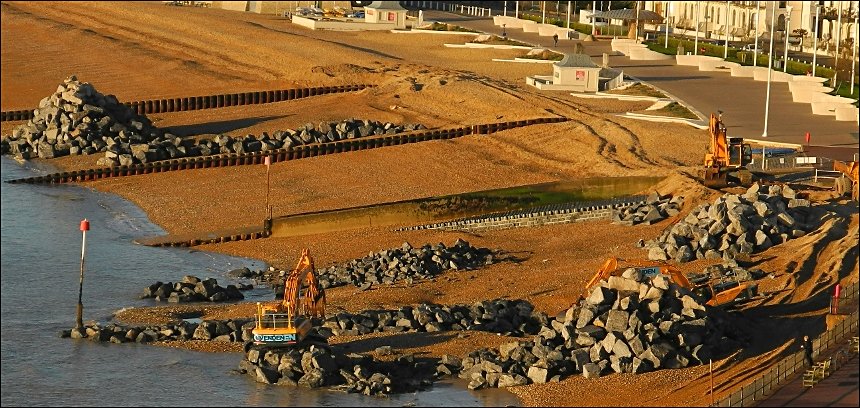 The guys seem to have been working most of sunday night...by floodlight, so the work goes on apace. The wide beach scene shown above is once again from Sunday morning. This time pictured very early though while the prevailing light was still very orange. Three diggers in action, while the early riser bottom right watches on with fascination. Hard work fascinates me too...I can sit and watch it all day..

Monday, 17 March 2014 - 05:39
Post 555
howard mcsweeney, Dover
interesting photos mike, surprised to read that there are more rocks to come - i thought that it was just a matter of moving the ones already here to their final location.

Sunday, 16 March 2014 - 20:38
Post 554
Mike J., Dover
Trinity House's ALERT sailing on Saturday morning after overnighting alongside the DAVID CHURCH in the Tug Haven.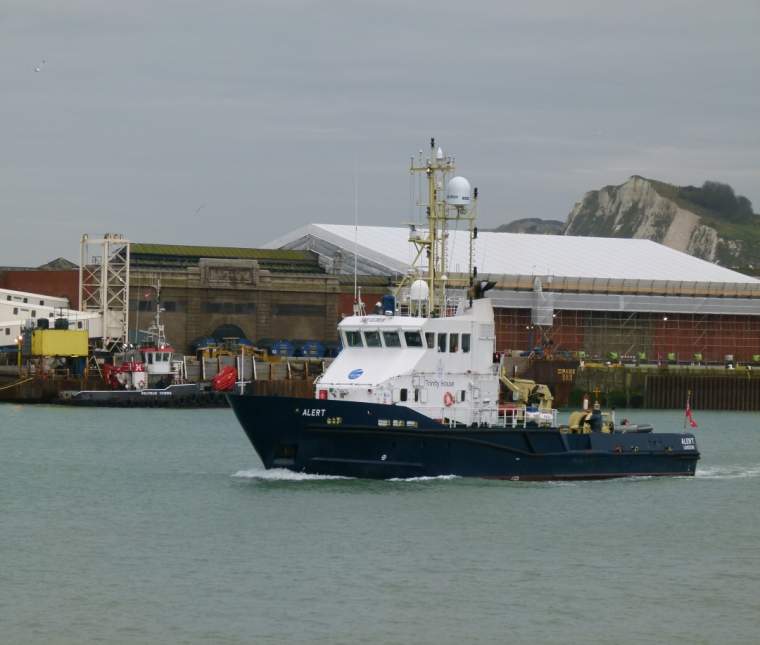 She is passing the tug AFON GOCH & the rock barge CHARLIE ROCK on Cruise-1 who are waiting for the next shipload of large chunks of Norway for the groyne replacement job.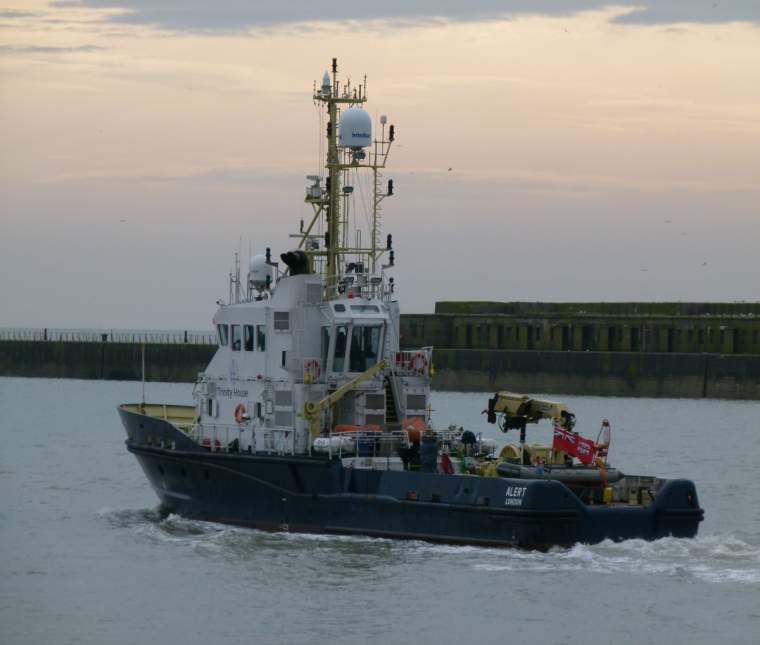 A few more views of the dumping operations on 6th.March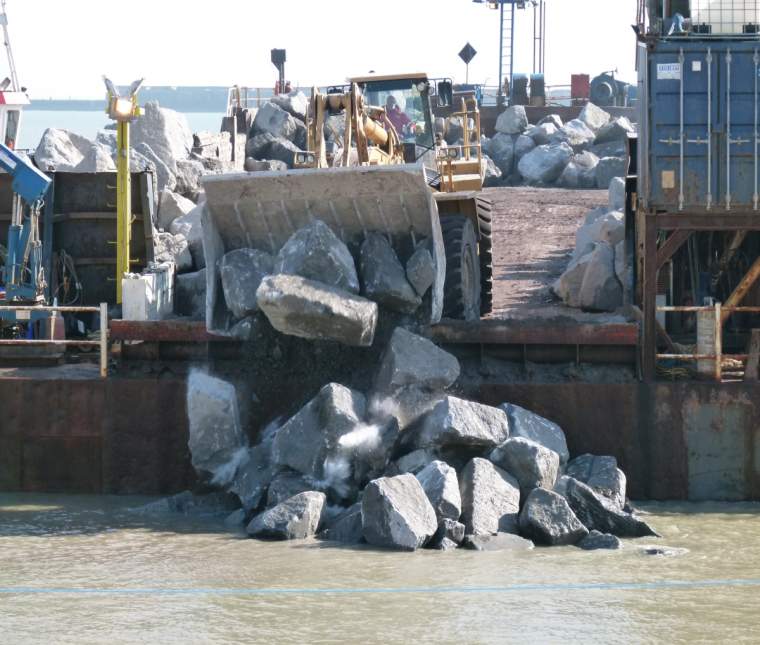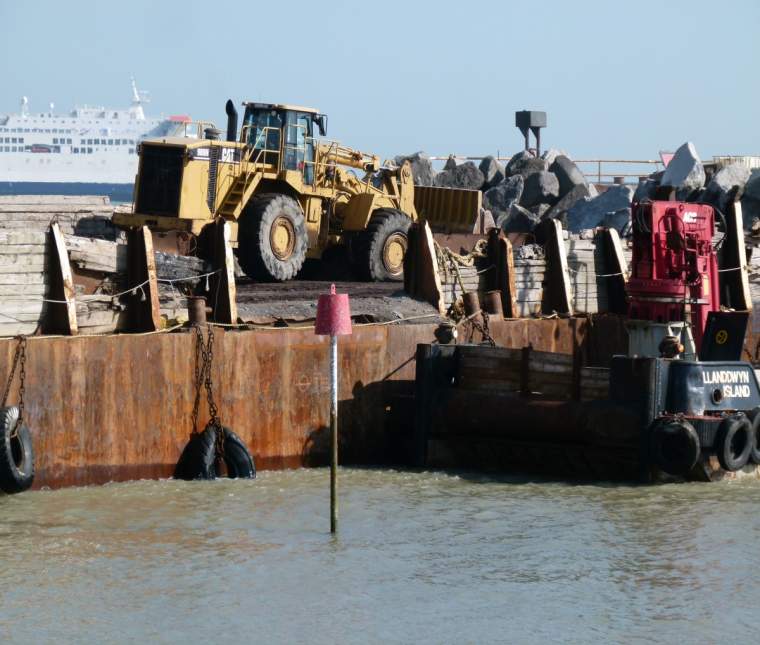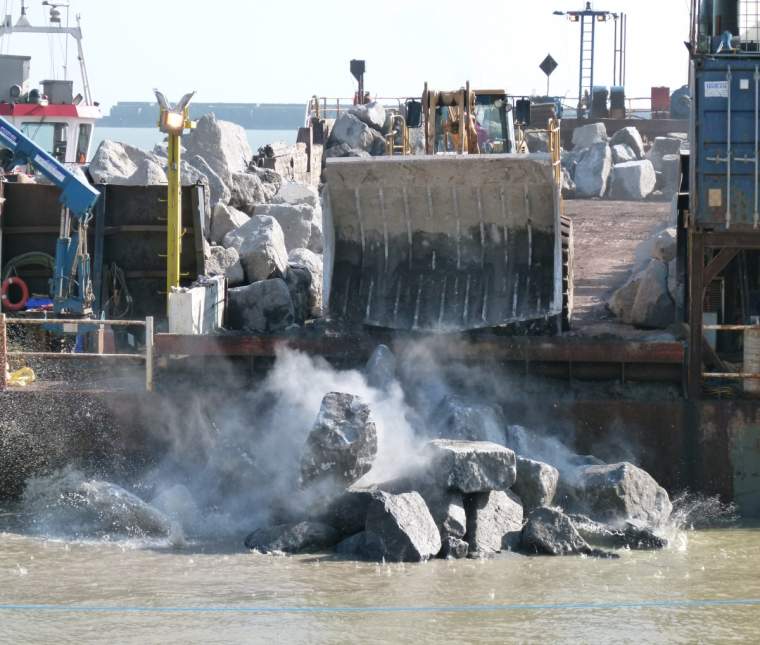 Saturday, 15 March 2014 - 22:53
Post 552
PaulB, Dover
Port of Dover supports National Ferry Fortnight

______________________________________
The Port of Dover is delighted to support National Ferry Fortnight, which runs from 15th to 29th March 2014.
As the only port member of the Discover Ferries industry body, the Port of Dover is committed to supporting its major ferry customers – P&O Ferries, DFDS Seaways and MyFerryLink – and helping to promote the great consumer choice and benefits of ferry travel available from Europe's busiest international ferry port.
This year's theme is raising awareness of how family friendly ferry travel is with no hidden costs, stress free crossings and great facilities for children and families.
Sean Chaffey, Marketing and Customer Relations Manager, Port of Dover, said: "It is great to get behind a campaign that really highlights why the Port, together with its ferry partners, represents the number one way of crossing the Channel. I am sure that there will be some great offers to further entice customers to return to Dover once again."
One big advantage of travelling by ferry from the Port of Dover is that you can take as much baggage as you can fit in your car and it is at no extra cost.
Bill Gibbons, Discover Ferries Director, said: "Free baggage is one of the great family competitive advantages of ferry travel – others include the freedom to walk around enjoying the ship's facilities and restaurants, great family value on fares, and the simplicity of driving on and then straight off at a port such as Dover which itself offers great facilities such as free customer Wifi and excellent customer service."
Friday, 14 March 2014 - 11:56
Post 551
PaulB, Dover
Thankyou NDC...Will continue and hopefully be able to deliver more...with help from the other guys who will be joining in too. Should be good when the cruise liners start. They seem late coming this year, Have just added another picture at the tip top of the page...welcoming the return of the sun. Its been a long winter.

Friday, 14 March 2014 - 07:08
Post 550
NDC, Dover
Just want to say Paul B, your photographs are brilliant, very jealous..!

Thursday, 13 March 2014 - 21:59
Post 549
PaulB, Dover
Yummm all those Chocolates and Cakes : Treat mum to a great day out ..


MyFerryLink proposes the perfect Mother's Day outing
_______________________________________________
Chocolate, cakes, shopping, beautiful scenery and a lovely market to browse - what more could mum want for her perfect Mother's Day? Dover-Calais ferry operator, MyFerryLink has come up with the ideal way to treat mum this Mother's Day, 30 March, and with day return fares starting from just £29 for a car and up to nine people, you can certainly afford to indulge her when you get to France!
The beautiful French city of Lille is only an hour's drive from Calais and it's a wonderful place for a day out. Enjoy a laid back breakfast on one of MyFerryLink's luxury superferries and indulge in some duty free shopping in the onboard Boutique before heading off on the autoroute to Lille. The morning is just the time to browse one of Lille's colourful street markets. There's a market every day of the week apart from Monday, where you can find delicious regional produce and gifts and even if you don't buy anything, the smells and sights are heavenly.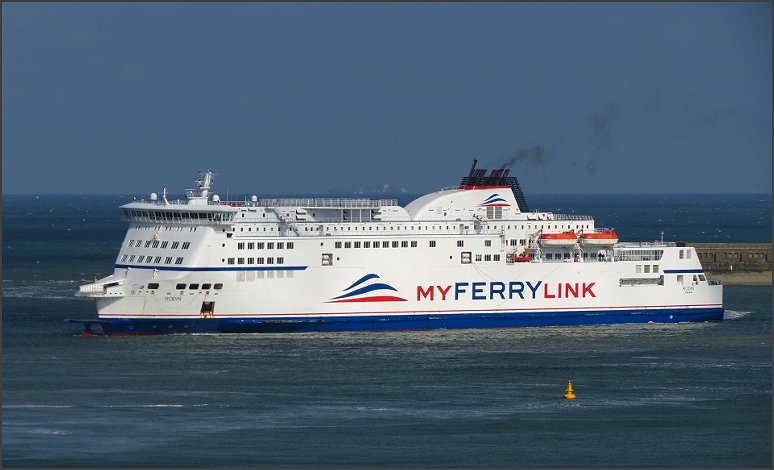 The Rodin 'superferry' just after entering Dover Harbour. Looking good for the new season.
There are plenty of restaurants around the city serving regional specialities such as Carbonnade - beer in beer - and - Waterzoi - poultry or fish in a creamy sauce. After lunch, head to Vieux Lille - the charming old quarter with its cobbled streets and 17th century architecture. Browse the shops in and around the heart of the city for those typically French goodies: local cheeses in Philippe Olivier or La Cave des Fromages; chocolates in Au Chat Bleu or the Chocolaterie Jean Trogneux; patisseries and speciality bread in Aux Merveilleux and Fou de Pain. Other gorgeous artisan boutiques include the Famille Mary honey products, Le Palais de Thes tea shop and the Compagnie de Provence soaps and bathing goodies. Of course, there are plenty of clothes shops and the famous French department store, Printemps, has a shop in Lille as well.
The highlight of the day has to be afternoon tea at Meert, Lille's iconic cake shop. Established in 1761 this has long been one of the most fashionable shops in Lille, and the place to take afternoon tea in its Louis XVI-styled tearoom created by the famous architect Cordonnier. The sumptuous cakes are simply to die for! And of course, if you travel by car, there's plenty of room to take all your gifts and goodies home with you.
MyFerryLink operates up to 16 daily crossings on the Dover-Calais route. Fares for a car and up to nine passengers start from £35 each way any duration and from £29 for a day return.
To find the best fares, visit www.myferrylink.com or call 0844 2482 100
Thursday, 13 March 2014 - 06:34
Post 548
vic matcham, dover
who are they going to hang along side me there?


Wednesday, 12 March 2014 - 21:03
Post 547
ColetteB, Dover
Well done to young Brandon Payne & of course to Gemma Griffin of DFDS, all the way to No 10 too, very impressive!!!

Terrific deals there for Mother's Day from P&O, yes Howard the clocks do indeed go forward that weekend so it will be lighter longer for all to enjoy. I'm off to drop a few not so subtle hints to the family

MrB, perhaps they're erecting a kind of pyramid on the seafront like the one at the Louvre in Paris, our very own Dover work of art

Ed, did they offer you a part in the french movie with those rugged good looks of yours

Wednesday, 12 March 2014 - 19:24
Post 546
PaulB, Dover
No problems with small boys a-climbing yet Vic. The rocks are cordoned off I believe for the moment anyway and work is still progressing on a grand scale. Very early yet but the rocks should look good when all completed. This structure below made an appearance yesterday. Photographed earlier today. Its almost a work of art...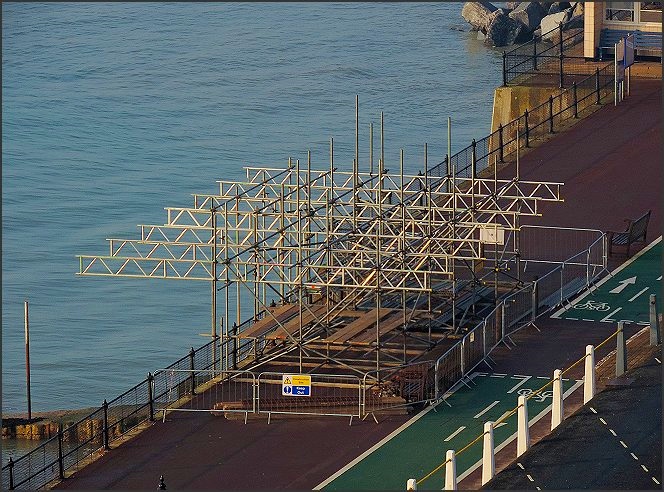 Wednesday, 12 March 2014 - 16:07
Post 545
vic matcham, Dover
O! DEAR. We are going to see lots of young folk jumping off those rocks and some will get injured, a notice will not stop them, and the rocks do look out of place, they could have done a better job then that.
Wednesday, 12 March 2014 - 12:15
Post 544
PaulB, Dover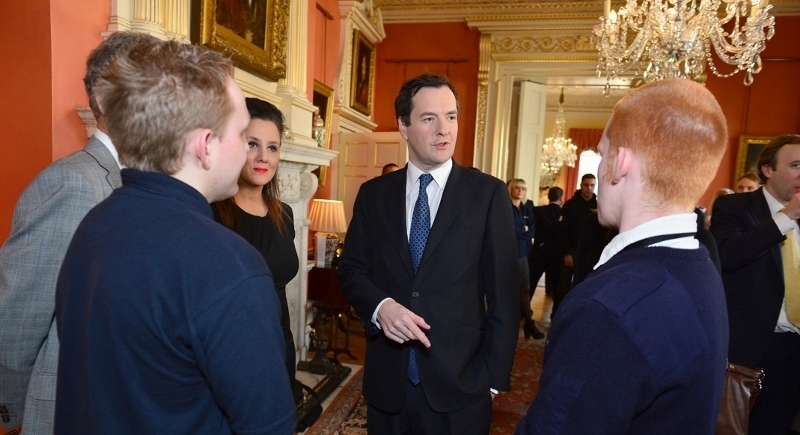 Further to our earlier story ( now at the top of page two here on Sea News) re the DFDS Trailblazer Apprenticeships. Here we see young DFDS apprentice Brandon Payne, on the right in photograph above, mixing it at No10 Downing Street with none other than the Chancellor of the Exchequer himself....George Osborne. The pictures are from the official launch of the New Maritime Trailblazer Apprentice Scheme. That is a very exciting start to anyone's career. Well done Brandon.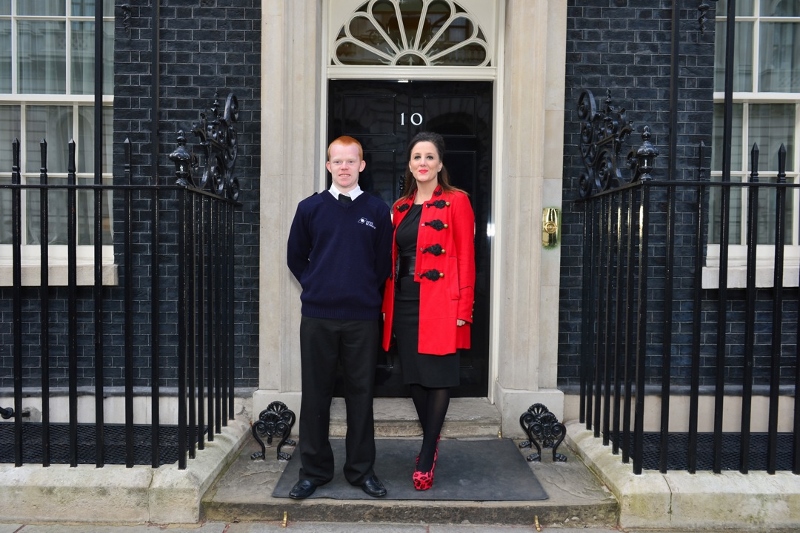 With the young apprentice at Downing Street was Human Resource Director of DFDS SEAWAYS....Gemma Griffin.
Now with an extract from the earlier press release....
Gemma Griffin, Vice President HR & Crewing for DFDS Seaways, and Chair of the Employment Committee at the UK Chamber of Shipping, chairs the Maritime Trailblazer Apprenticeship Scheme, which also includes representatives from Princess Cruises, Carnival, P&O, James Fisher and the Royal Navy. She comments:
"Employer-led apprenticeships of this kind are not only vital for DFDS Seaways, but also for the maritime sector as a whole. They help us safeguard the future of our industry by ensuring that we have young people entering the industry with the right skills, expertise and support they need to be able to work effectively and safely.
"At DFDS Seaways, we also have a ratings to officer scheme, providing our Able Seafarers with the training and support they need to progress to the top of their chosen field. That means that the apprentices who sign up to our scheme could feasibly become a Captain or Chief Engineer in the space of 15 years or so, if they demonstrate the right aptitude and competence. And although we might not be able to guarantee a job for life in our particular organisation, we can definitely help our apprentices gain a life-long career in the maritime sector."
* * * *

Many thanks to DFDS for sending the pictures through.

Yes indeed Howard very unusual pix those below re the French TV thriller...great to see.
Wednesday, 12 March 2014 - 07:18
Post 543
howard mcsweeney, Dover
fascinating photos from ed, love the clapperboard one but will it be on british television as jan assumes?

just an afterthought the clocks go forward on the mothers day weekend i believe so best to check carefully before booking.

Tuesday, 11 March 2014 - 22:08
Post 542
PaulB, Dover
GREAT DEALS HERE FROM P&O.....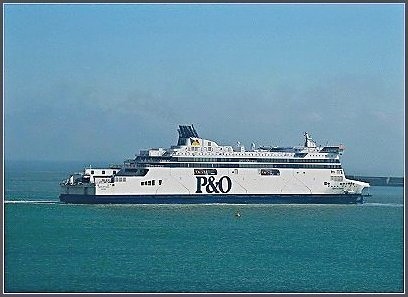 MUMS EAT FREE IN THE BRASSERIE ON MOTHER'S DAY WEEKEND

Mums get a treat by dining for free in the waiter service Brasserie when travelling with their families or friends on a P&O Ferries day trip over the Mother's Day weekend on 29 and 30 March.
In addition, book by 28 March to receive six free bottles of wine into the bargain.

The offer is open to those booking a Dover to Calais day trip for a car and up to 9 passengers with each mum dining for free when accompanied by a full paying adult. Fares start from £29 return for travel on 29 March or from £23 for travel on 30 March.
The Brasserie offers a wide range of quality freshly cooked dishes including chicken chasseur and sirloin steak with menu prices from £10. For those wishing to further indulge their mums, there's the opportunity to upgrade to the exclusive Club Lounge on board where a complimentary glass of champagne is served in relaxing surroundings. Club Lounge entry is from £12 per person booked in advance.
Also, the same weekend, Clinique will be offering free makeovers to mums and daughters on board the Dover-Calais flagships Spirit of Britain and Spirit of France.
For more details or to book, visit www.POferries.com and check out the 'offers' section or call 08716 64 66 64.
____________________________________________________________________________________________
Great stuff there Ed getting those pictures. Hopefully one day that series will come our way courtesy of BBCFOUR.
Bet that spiced up life on the Dover Seaways.
_____________________________________________________________________________________________
Tuesday, 11 March 2014 - 08:00
Post 541
JanT, Dover
Yes as said one can see below the pictures from a glorious day yesterday, great for a stroll along the seafront and a well deserved ice cream along the way.


Good to see the pictures Ed of the French film crew, loving all those foreign drama's we are seeing on BBC4 at the moment.


Monday, 10 March 2014 - 14:00
Post 540
Ed Connell, Dover
A French film crew did a round trip on the Dover Seaways yesterday filming an episode for a TV police drama series called "Les Temoins" (The Witnesses).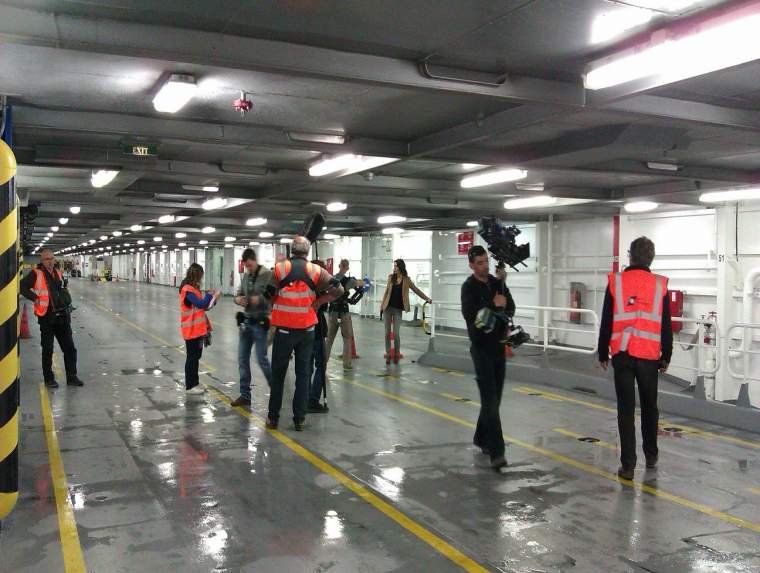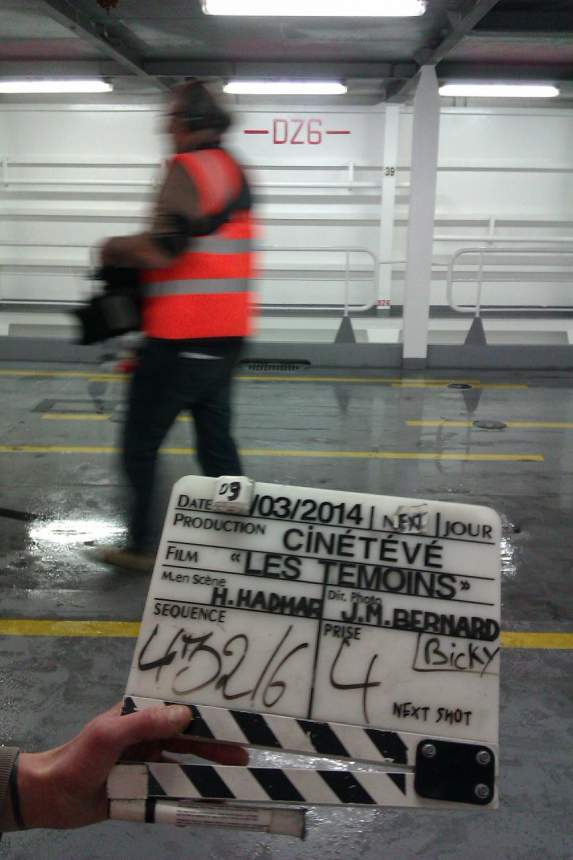 Monday, 10 March 2014 - 12:10