Tuesday, 12 November 2019
Sea Pictures from Dover ...

WWW.DOVERFORUM.COM/SEA-NEWS
Featuring all the ships that come and go and work at the Port of Dover ..
... with further coverage of the surrounding ports.
Sea News Dover
Christmas Spectacular at the Port 6648.
MP Charlie Elphicke moving aside for wife..see 6646.
P&O: St Richards School trip to Calais for 6 year olds see 6630.
DFDS: Contract Cancelled see 6626.
Use our SEARCH ENGINE below to find all sorts on the SEA NEWS pages....type in the topic and away you go, or if you have the post number, just type it in the box, more than
- 6600 -
nautical posts now. Posts are welcome. just click 'Add Your Comment' below. Max of 5 pictures preferred although we can stretch that for special stories.. Sea News Editor Paul Boland - send info or pix to dover7@msn.com. Always welcome.
CRUISE CALLS:
https://www.doverport.co.uk/cruise/find-a-cruise/
UPDATE:
To show your pictures at their best..it could be worthwhile resizing before posting to
850
pixels wide.
All pictures on these pages are the copyright of the owners and must not be reproduced without permission.
Post 831
Ed Connell, Dover
Chinese heavy lift ship Zhen Hua 25 passing on Sunday loaded with a single container crane, often see these ships carrying several container cranes or other extraordinary loads.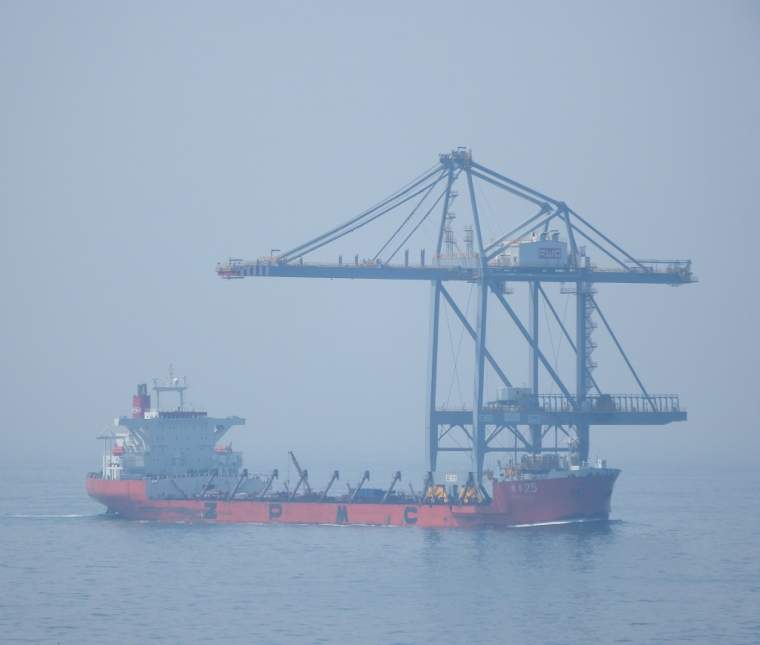 Re the reefer Summer Flower mentioned below. I took a photo of this attractive reefer some months ago and a Dutch gentleman recently contacted me and asked if he could use it in a book he is writing about the Seatrade reefers.
Re the reefer Cote D'Ivoirian Star mentioned below. Cote d'Ivoire is of course the Ivory Coast in West Africa. The main port is Abidjan and I went there several times many years ago. There was still very much a French presence and Abidjan and Dakar had the reputation of being the most expensive places on earth at the time. We seamen used to frequent an area of Abidjan which we knew as Trashville (corruption of the French spelling) which had plenty of bars and dusky maidens.
Tuesday, 3 June 2014 - 01:02
Post 830
Ed Connell, Dover
USS Mount Whitney, flagship of the U.S. Sixth Fleet in the Mediterranean, passing up the northeast lane on Monday afternoon bound for a multinational naval exercise in the Baltic.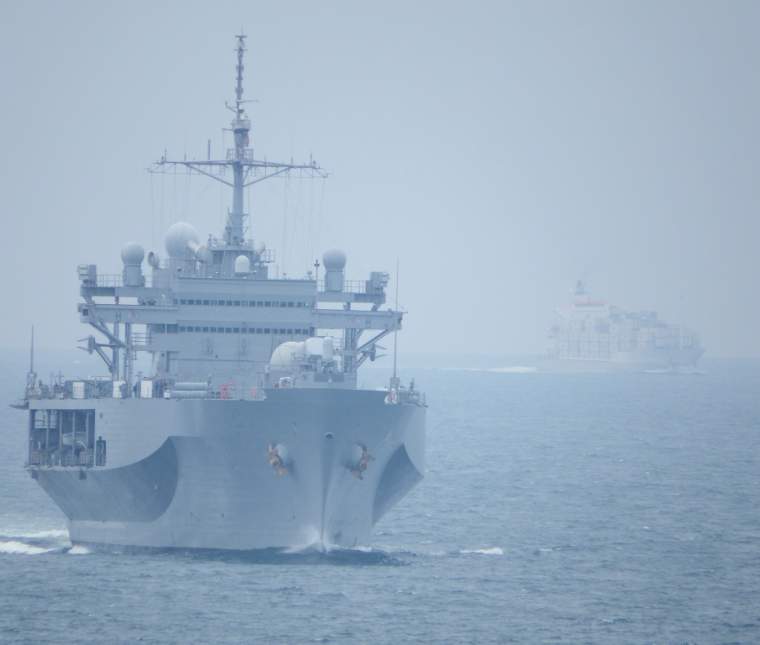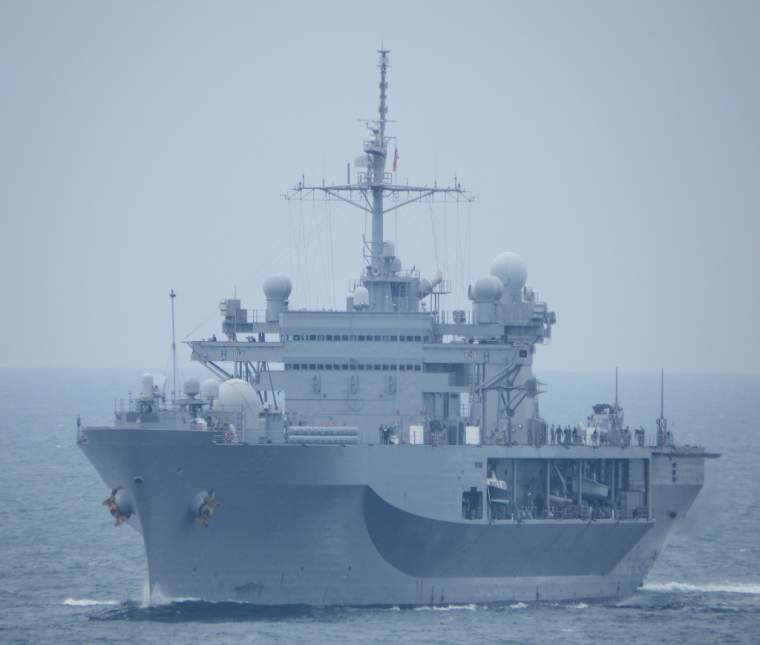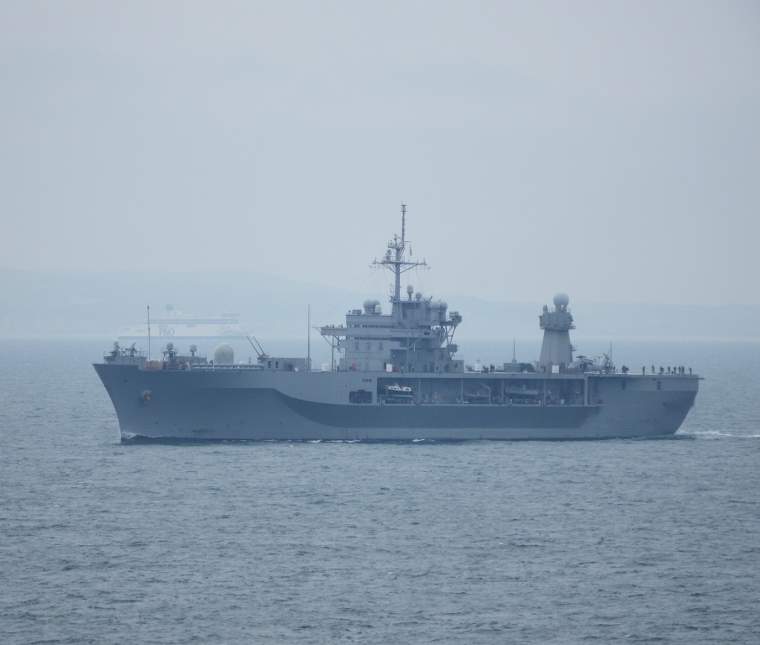 Tuesday, 3 June 2014 - 00:37
Post 829
Ed Connell, Dover
Sea Cloud II and Black Watch.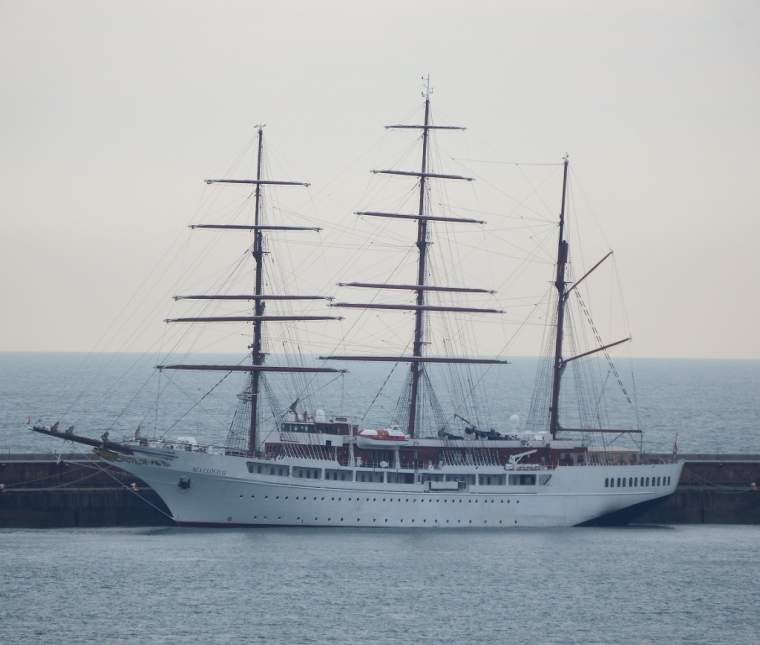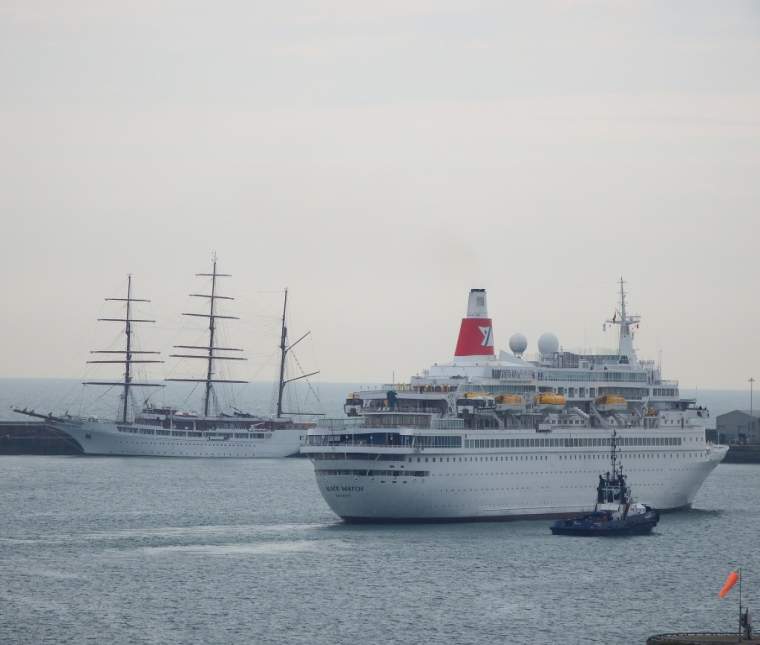 Monday, 2 June 2014 - 18:48
Post 828
PaulB, Dover
Excellent pictures below Mike...great stuff! Right in the thick of the action.

Monday, 2 June 2014 - 17:44
Post 827
Mike J., Dover
Security didn't arrive to unlock the Prince of Wales Pier until after the SEA CLOUD 2 had passed the end of the pier so no close-up 'bow-3/4' views !
She was followed in by the SAGA SAPPHIRE who docked on Cruise-1.
BLACK WATCH is due about 1800 & will only be in port for a few hours.
SEA CLOUD 2 is Maltese flag & was built in Spain in 2000.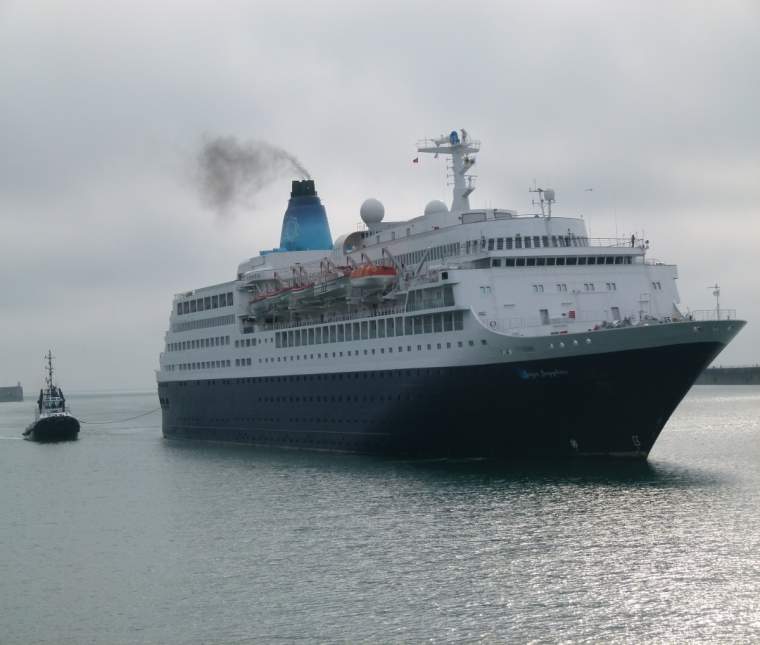 Monday, 2 June 2014 - 16:07
Post 826
PaulB, Dover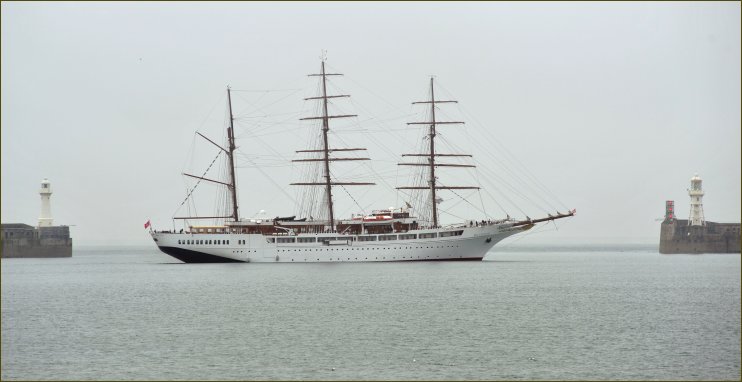 A big well done to Paul Sampson for this shot of the Sea Cloud II arriving this morning. Excellent stuff Paul, this picture saved the day as we didn't have one to speak of..also big thanks to Howard. Well done lads...

Thanks Vic...yes good to see the quick turn around with the cargo ships, saves on costs as you say, all going swimmingly there.
Monday, 2 June 2014 - 10:27
Post 825
Vic Matcham, Dover
That's what the trading companys like about Dover their ships get unloaded and back out again in record time making their costs a lot lower then other ports.
Also their goods can get to the London markets in just over the hour or two.
And again thanks for the great photos of the grand ships we have coming in and out of the port.

Monday, 2 June 2014 - 08:47
Post 824
PaulB, Dover
The magnificent Sea Cloud II is in today as is the Saga Sapphire...the great collection of ships continue to amaze here in Dover. No pictures yet of the Sea Cloud II , none that do it justice anyway. She languishes currently at the tip of Admiralty Pier in calm but very grey conditions.
In the meantime here is a look at the Summer Flower departing last evening on a glacier sea and in beautiful sunlight.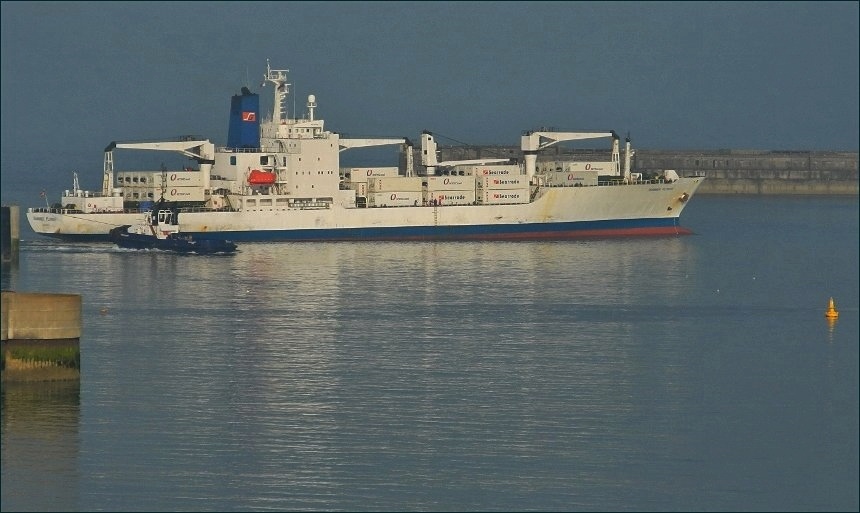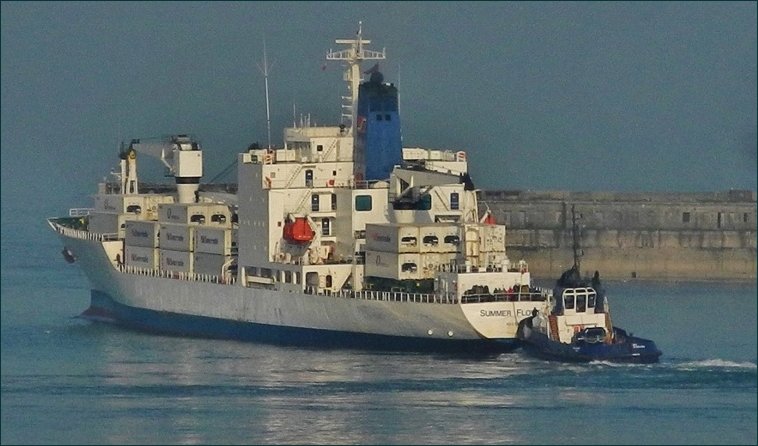 See post 760 for a full sail picture of Sea Cloud courtesy of Mike and Sea Cloud Cruises.
Monday, 2 June 2014 - 08:09
Post 823
PaulB, Dover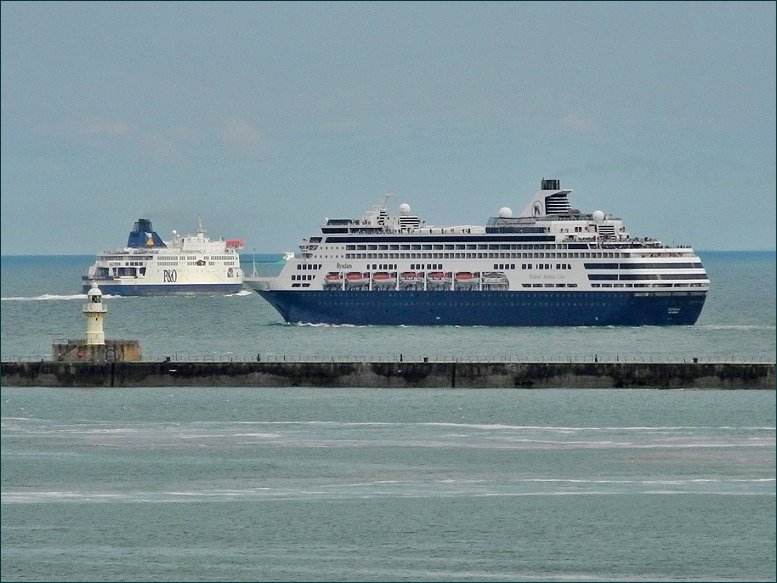 The Ryndam heads off last evening heading north into the busy shipping lanes of the English Channel...a very popular ship by all accounts. Yours truly didn't manage to get a picture of the ship arriving but managed the departure which was relatively early at around 4.15 (16.15) so there was plenty of light to play with....and there we are above.
By the way someone asked me yesterday if the orange sunrise picture of the Ryndam further below was 'photoshopped'. The answer is no. I don't have Photoshop as I am not a fan, preferring to keep things as natural as possible. Most I do generally is brighten them up and/or use the added extra facilities in the camera. I have a whole brace of orange ones from that weekend...I think the colours were down to a mixture of pollution and early sun.
Yesterday saw the arrival of..and double check the name...the Cote Divoirian Star. Very similar to Dovorian, the name threw me for a moment, so she is in the right place for sure. Bit of a plain picture alas, cant seem to do the cargo ships justice.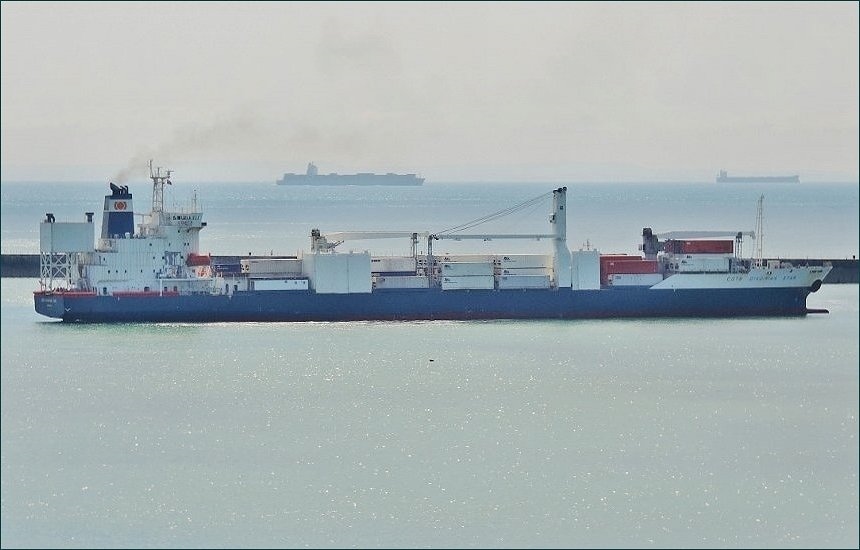 The cargo bay continues to be very busy which is always good to see. Thumbzzzupp to all involved.
Sunday, 1 June 2014 - 08:23
Post 822
PaulB, Dover
The Ryndam of the Holland America Line arriving Dover Harbour.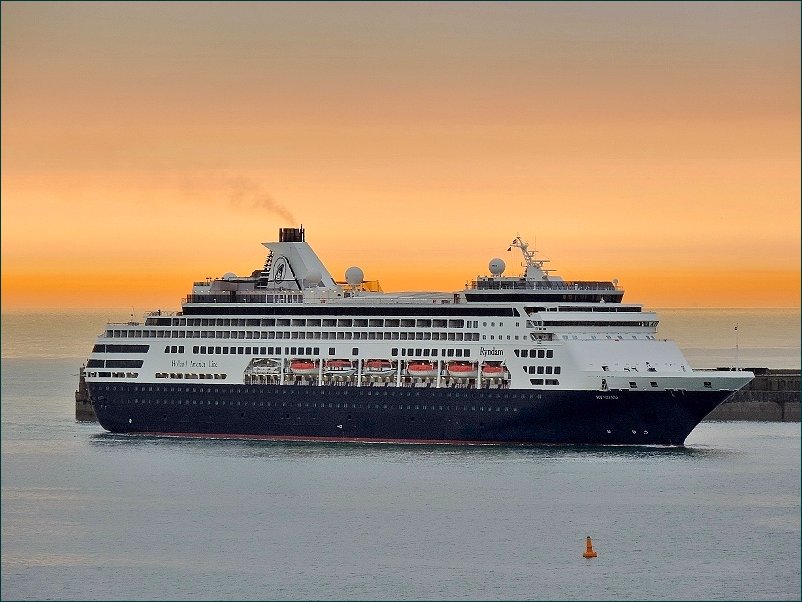 Yes our old friend The Ryndam is in this morning. The picture shown however was taken a couple of weeks ago during that period of the deep deep orange sky. Haven't used it before so took the opportunity to do so now...as missed the actual arrival this morning...sleeping tut! tut! very bad...
What a collection of ships we have had this year already and more exciting ones coming too as you can see from the other posts. Thanks for that list again Colette. Will promote it again at the top for easy reference.

Ah yes nice one below there of the Wind Surf Mike. One of the favourites for sure. So spectacular under full sail. I have a few pictures somewhere in the system too. Well done with that one.
Exciting times coming up.

Saturday, 31 May 2014 - 08:37
Post 821
Mike J., Dover
Colette/Paul -
Not my photo !
I should have mentioned that it was copyright of SEA CLOUD CRUISES & lifted from their website.
She's similar to [but different from] the WIND SURF which had five masts & a different 'rig' of sails - the SEA CLOUD is more of a 'square-rigger'
Here's a snap of WIND SURF leaving Dover via Eastern in July 2012.
Lets hope that the SEA CLOUD does the same & that the weather is good !
Friday, 30 May 2014 - 20:18
Post 820
ColetteB, Dover
Great photo there Mike of the beautiful Sea Cloud II

Also, just a little teaser for everyone, another inaugural visit to look forward to on Monday June 9th is the Silversea Cruises Silver Cloud

And now for the June cruise ship schedule (first week)
On Monday 2nd June the Saga Sapphire returns again to CT1, TR.
Also on Monday is the inaugural visit of Sea Cloud Cruises, the beautiful Sea Cloud II cruises into CT2, PoC, a real treat for us all, cameras at the ready guys

Again on Monday, when the Saga Sapphire departs from CT1, the Black Watch will cruise into its slot at approximately 1800hrs, embark only. This will be the first Fred Olsen in Dover this season, they usually come here at the beginning of the Season but alas not this year. She was last here in December 2013.
No cruise ships then until Friday 6th June when the Ocean Princess arrives at CT2, TR, last here in August 2013.
On Saturday 7th June the Ryndam returns to CT1, TR. On the same day, Oceania's cruise line, the sophisticated & elegant Marina arrives at CT2, TR. She was last seen here in September 2012.
Ending the week on Sunday, the Braemar arrives at CT2, TR for the first time this season, she was last here November 2013, also being the first cruise ship in Dover in March 2013.
That's it for now folks, Enjoy!!
Friday, 30 May 2014 - 15:34
Post 819
PaulB, Dover
Wow! that looks a bit special Mike.
Will be watching for that one camera at the ready..huge thanks for the tip off

Reminiscent in principle of the Wind Surf...do you remember that one?
Friday, 30 May 2014 - 14:43
Post 818
Mike J., Dover
& now for something completely different !
The 'sailing' cruise ship SEA CLOUD 2 is due in Dover at 0700 on Monday next.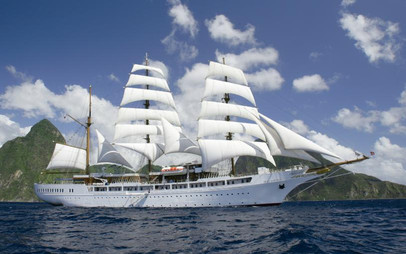 Let's hope that she makes it & is not a 'No-Show' like the expedition ship POLAR QUEST back in April.
But she's on the list on DHB's website & my spies in the docks tell me that the visit is 'on'
Friday, 30 May 2014 - 10:09
Post 817
PaulB, Dover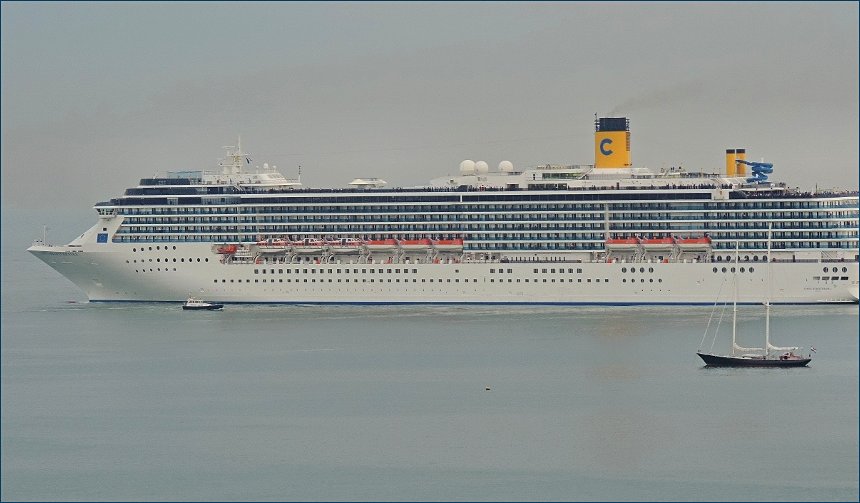 The magnificent Costa Mediterranea moving off yesterday evening Thursday roughly about 7pm. We had some very weak and watery sunlight to send it on its way. Off to Amsterdam I believe and in some style too as you can see. All this exotic cruising - well its a hard life but someone has to do it !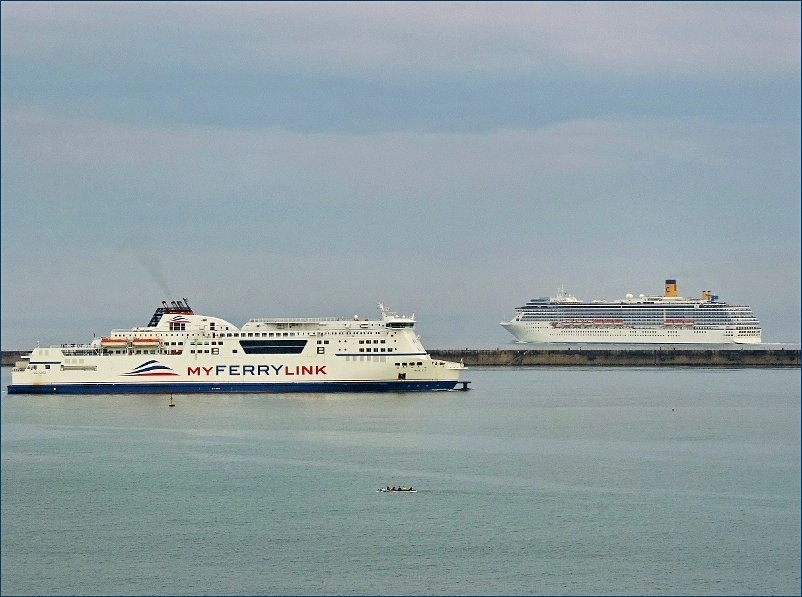 The Berlioz begins to follow the cruise liner out...on its regular trip to Calais, this time leaving by the western exit/entrance.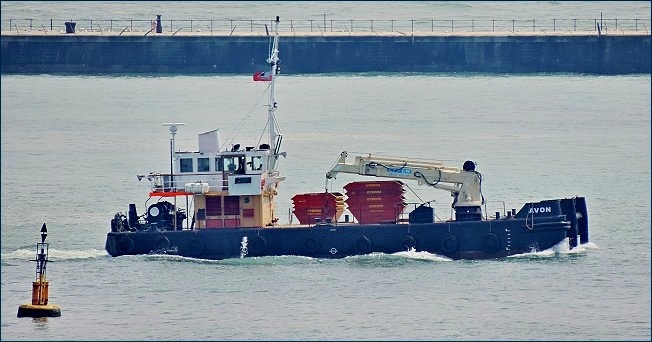 Mike got a picture of the Avon in post 709 with some added info..here she is again moving across the harbour yesterday afternoon, returning to base. The vessel is working hard on the redevolpment at Pier 2...for more on this see Ed's post no 752 below.

Thanks to one and all re the comments about Briony. Howard making us laugh out loud as ever. Jacqui yes it seems like twas only yesterday she was in school...where do the years go. Well said Colette and Brian...we will all be discovering ailments we didn't know we had now

I watched for the bikers Ed. I think I saw them heading up Jubilee Way..if it was the same batch. I couldnt get any pictures though. There seemed to be a lot of bikes around yesterday. Must be something major afoot..."the game's afoot Watson!"
Friday, 30 May 2014 - 06:53
Post 816
Howard McSweeney, Dover
Wonderful news after 6 years of hard work.

Without wishing to sound mercenary will there be a forum member's discount for treatment?

Back is playing up, knee is giving me gip and I am a martyr to my Farmer Giles.

Thursday, 29 May 2014 - 21:47
Post 815
Jacqui Whatson, Dover (rainflowers@hotmail.co.uk)
Huge congratulations to Briony! It doesn't seem that long since she left school and went to uni and now she's a doctor. Paul and Colette you must be soooo proud of her, wonderful news.
All best wishes for a wonderful future Briony, you deserve it xx

Thursday, 29 May 2014 - 18:12
Post 814
ColetteB, Dover
Indeed Paul, Congratulations to our beautiful daughter Briony, after 6 years hard work studying medicine, she is now officially Doctor Boland

A Huge Well Done to Briony xxxx



Thursday, 29 May 2014 - 17:41
Post 813
brian, sunny dover.
well I never many congrats to briony for passing out and becoming a doctor.

Thursday, 29 May 2014 - 14:20
Post 812
Ed Connell, Dover
Hi Paul. As a dedicated biker you may be interested to know that we have fifty motorbikes onboard going somewhere so you may see them streaming past you when the Dover Seaways berths some time after 1300.

Thursday, 29 May 2014 - 12:45