Monday, 28 September 2020
www.doverforum.com/sea-news
The Shape of Things to Come....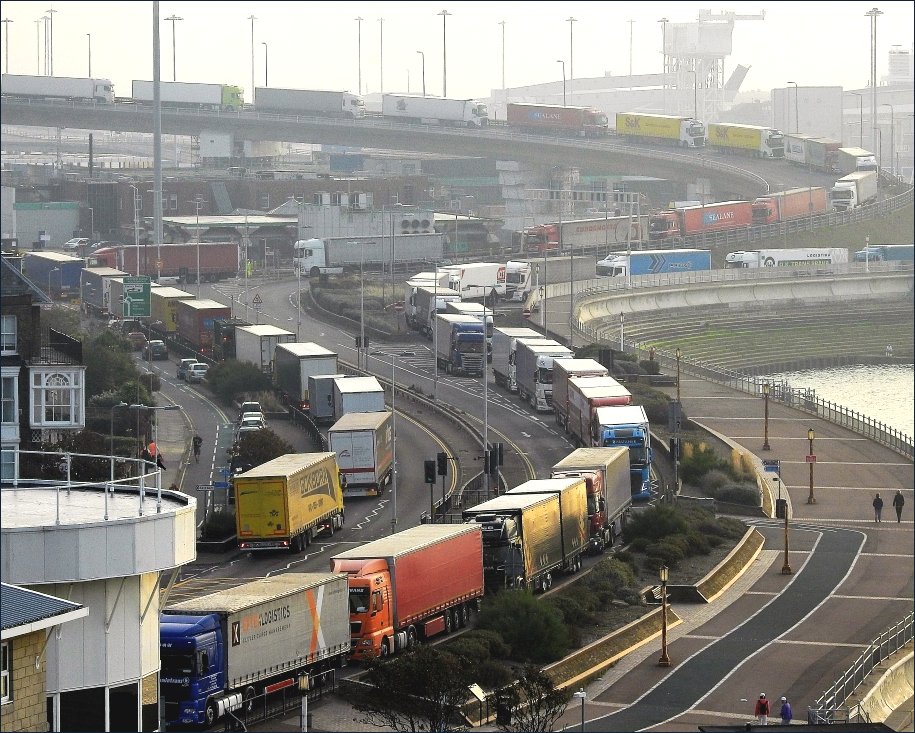 Trucks to the left of us...trucks to the right of us...into the Valley of Dover drove the 7,000 ..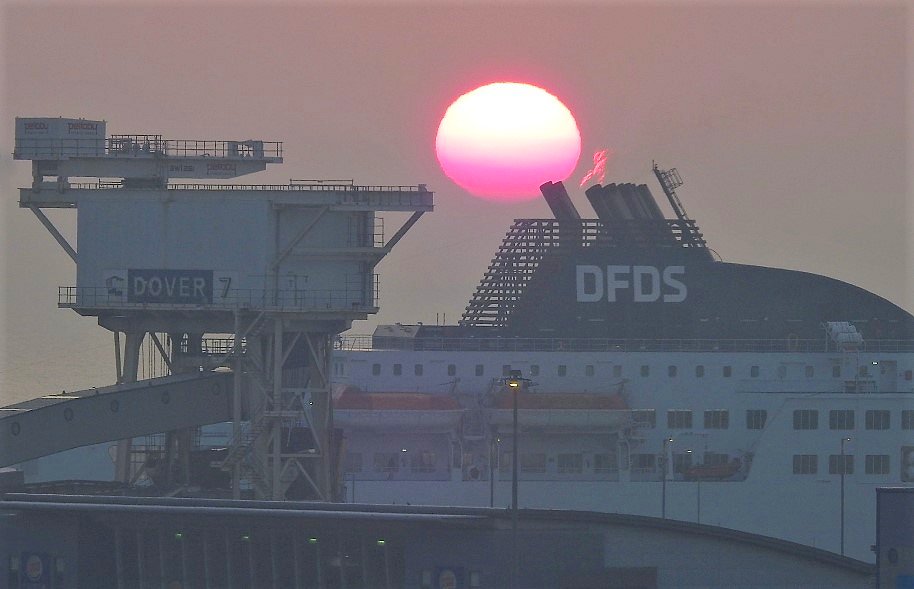 DFDS and the Dover7 sunrise.

WWW.DOVERFORUM.COM/SEA-NEWS
Sea Pictures from DOVER ....
Use our SEARCH ENGINE below to find all sorts on the SEA NEWS pages....type in the topic and away you go,
or if you have the post number, just type it in the Search Box, more than
- 7000 -
nautical posts now.
Paul Boland - dover7@msn.com
Sea News Dover:
All pictures on these pages are the copyright of the owners and must not be reproduced without permission.
Post 1295
Howard McSweeney, Dover
The Spirit of France has gone to dry dock, propeller problems apparently.

Friday, 21 November 2014 - 22:04
Post 1294
Daryl Dixon, North Yorkshire (daryldixon9@hotmail.com)
Hi just been watching the fleet Mon tracker, noticed Mv Spirit of France limping towards Rotterdam, got a lot of tweets from p&o saying all service cancelled,, anyone know whats up with her ?


Friday, 21 November 2014 - 21:56
Post 1293
Howard McSweeney, Dover
After reading about the passengers stuck on Eurostar for 15 hours yesterday after a power cut it is worth remembering how well our ferries run in all sorts of weather.

The port and ferry companies manage to keep going regardless.

Friday, 21 November 2014 - 18:01
Post 1292
Mike J., Dover
With her work on the Southern Breakwater completed the workboat TOPLIFT is laid up again in the Wellington Dock.
She has been joined by the sinister-looking CWIND ENDURANCE, a high-speed catamaran crew transfer vessel which came into servcie in 2014.
HMS GLEANER [post 1180] continues to carry out survey work in the bay & is expected to continue until mid-week next week.
Friday, 21 November 2014 - 17:39
Post 1291
Sea News, Dover
Save £££s this Christmas with MyFerryLink


Fantastic deals on restaurants, accommodation, attractions and onboard
____________________________________________________________
MyFerryLink has some fantastic offers available just in time for Christmas to ensure the whole family gets in the festive mood while watching their wallet. As well as offering peak season crossings from £39 one way for a car and up to nine passengers in the run up to Christmas, MyFerryLink has put together the following money saving deals for customers:
Grab a bargain from MyFerryLink's onboard boutique – select from a wide range of products including perfume gift sets, wines and spirits, chocolates and cosmetics
Save 10% on any French wines at Calais Vins on purchases over €100 in store – available now until 31 January 2015
· Receive a €25 gift voucher on purchases more than €200 at Carrefour Cité Europe - this voucher can be spent any time before 28 February 2015
· A room for two people from just €85.50 on a bed and breakfast basis at the modern Inter-Hotel L'Haut' Aile a short drive from Cité Europe shopping centre – saving up to 50%
· Dine at restaurant with a view La Brasserie du Thomé and receive a free bottle of wine with the €20 set menu
These offers are available exclusively to MyFerryLink customers. To make these savings, customers need to show their lane hanger or MyFerryLink booking confirmation upon arrival at the hotel, restaurant or when paying for purchases.
For more details or to take a look at other offers, go to www.myferrylink.com and click on 'partner offers' under the 'News and Travel Tips' icon.
MyFerryLink operates up to 16 daily crossings on the Dover-Calais route. Fares for a car and up to nine passengers start from £35 each way any duration and £24 return for a day trip. The best fares are available online, with offers regularly available.
To find the best fares, visit www.myferrylink.com or call 0844 2482 100
Ends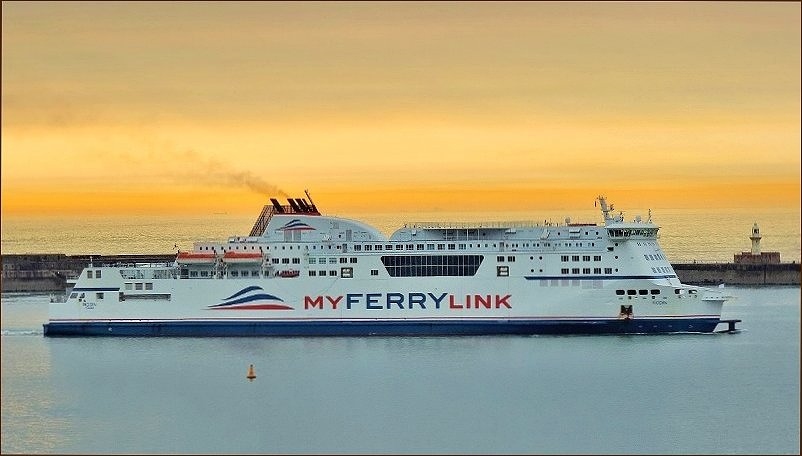 The Rodin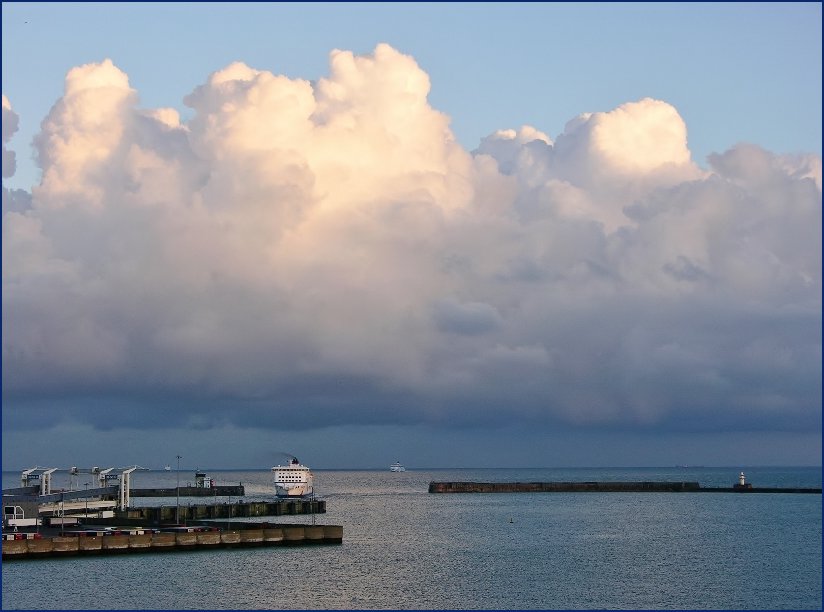 Friday, 21 November 2014 - 06:47
Post 1289
Sea News, Dover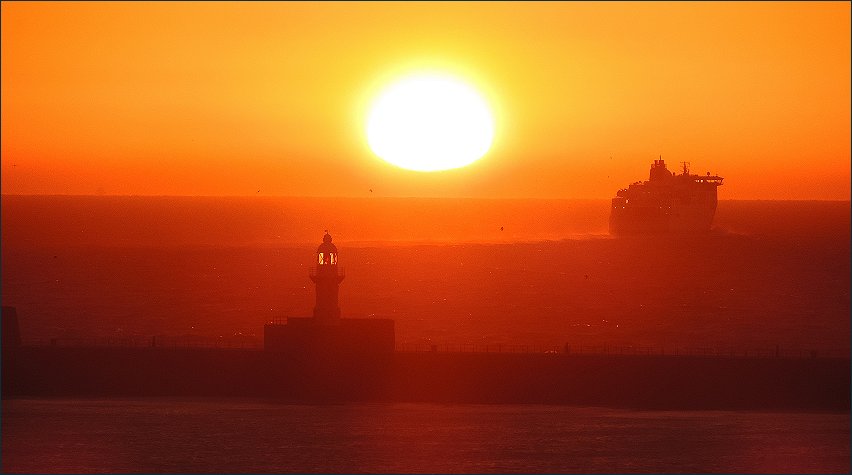 Dover offers a fast Winter Getaway this year.
The start of winter signals the ideal time to get away with skiers, partygoers and Christmas travellers looking to use Europe's busiest ferry port as their preferred departure point this year either by car, coach or on foot.
Christmas markets in Paris, Mulhouse, Avignon and across northern France kick into action at the end of November and run right through to Christmas Eve giving day trippers and travellers an opportunity to stock up on wine, Christmas gifts and sample the wide range of seasonal food and drink on offer.
It is not only day trippers taking advantage of the 90 minute crossing on the shortest route between the UK and France. There are more than 300,000 British skiers and snowboarders who travel to Europe each year driving to the French Alps to resorts such as Chamonix, La Plagne and Les Arcs. The benefit of taking your vehicle from Dover to Calais is that you can stop off along the way to relax, shop and enjoy the Winter treats of France. More importantly you don't have to suffer the pain of excess baggage charges for all your equipment and those delicacies you decide to bring back on the ferry from Calais.
Passenger and vehicle numbers continue to increase as more people appreciate the relaxed travel and round the clock departures from Dover's recently revamped ferry terminals. Dover is the UK's leading ferry port and has seen an increase of 6% in coaches and 3% in passenger traffic compared to 2013 year to date.
Tim Waggott, Chief Executive, Port of Dover, said: "Starting any journey, particularly when it's a Winter Getaway for Christmas shopping or skiing and snowboarding, should be about comfort, relaxation and enjoyment. The Port of Dover is the ideal departure point into the heart of northern France and for the French Alps. Travelling should also be about the journey and Dover's ferries are as much a part of the enjoyment as the destinations."
Ends
* *
Picture shows the early ferry, it was taken just a few days ago..just before the onset of all this current grey weather. You might need to don some sun glasses to look at it. But it shows that its still a great time of year for a nice getaway through Dover. All the immediate people I know seem to be 'going continental' in the next few weeks to those wonderfully exciting Christmas markets. PB.
Thursday, 20 November 2014 - 07:31
Post 1288
Sea News, Dover
Busy once again on the approach roads to the Port. This is the traffic a few moments ago as I write ( 3pm ) but as you can see its mostly a build up of freight vehicles, some getting a bit fraught with the freight ! The casual tripper should be fine n dandy...ermmm touch wood!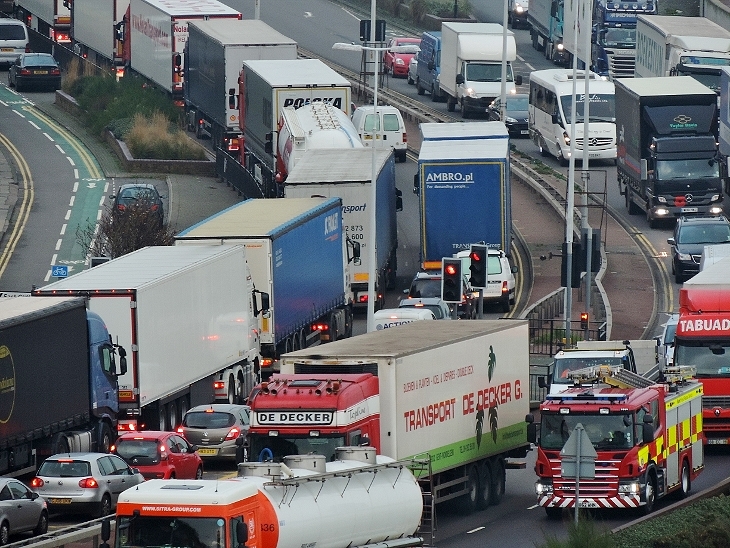 Yes should be a great night up there at the Castle with the fab P&O Choir Barry...all for worthy causes too - the RNLI and the Martha Trust. Excellent.
Wednesday, 19 November 2014 - 15:19
Post 1287
Barry W-S, Dover
To watch the P&O choir at the Saxon church by Dover Castle is a must for a great way to boost the Christmas spirit, not forgetting to have a glass of mulled wine or two with a mince pie on the side

Wednesday, 19 November 2014 - 10:55
Post 1286
Sea News, Dover
Some pictures now of the cargo ship Hellas Reefer departing around midday Monday. Great to see the upsurge in trade in recent times and here we are with one of our regular reefers, Both tugs were in operation lending assistance on a gloomy ol' day. In the background passing is at a guess one of the Trinity House vessels. Not sure which one...meant to look it up on our channel traffic device on sister page dover.uk.com but forgot completely at the time.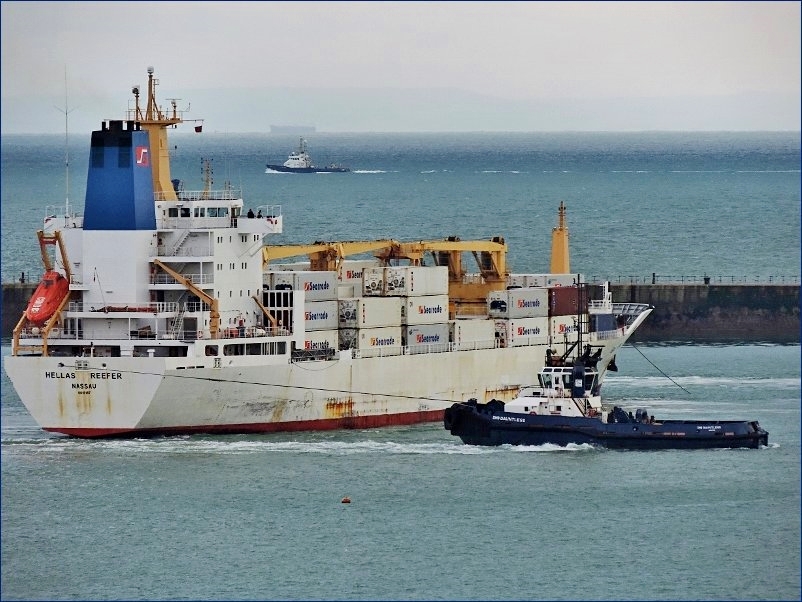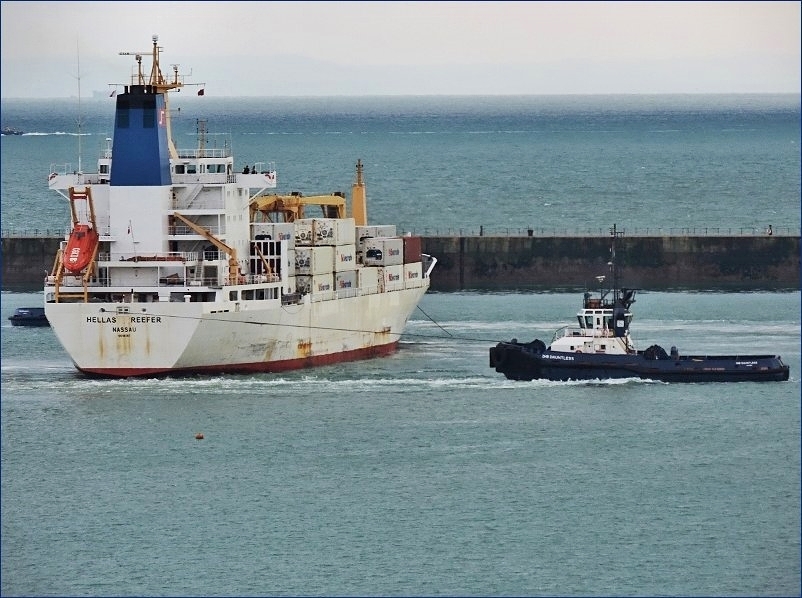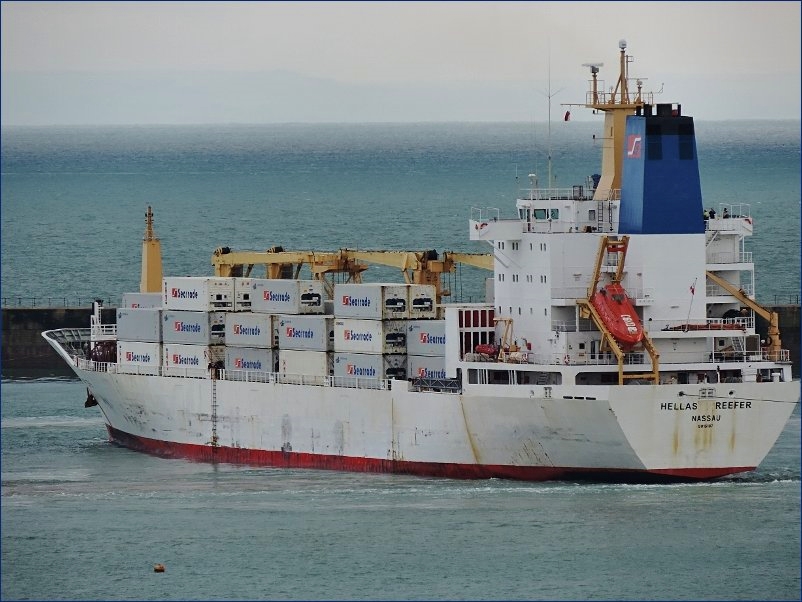 We have considerable delays to freight traffic most days again. Long queues of lorries as far as the local eye can see, just as we experienced last week. Interesting to note that one of the causes being mentioned on Twitter is that we have two ferries out of service.
Interesting...think MFL !
Wednesday, 19 November 2014 - 06:38
Post 1285
Sea News, Dover
The P&O Ferries Choir will bring its year to a close by performing in the stunning surroundings of Dover Castle.
________________________________________________________________________________________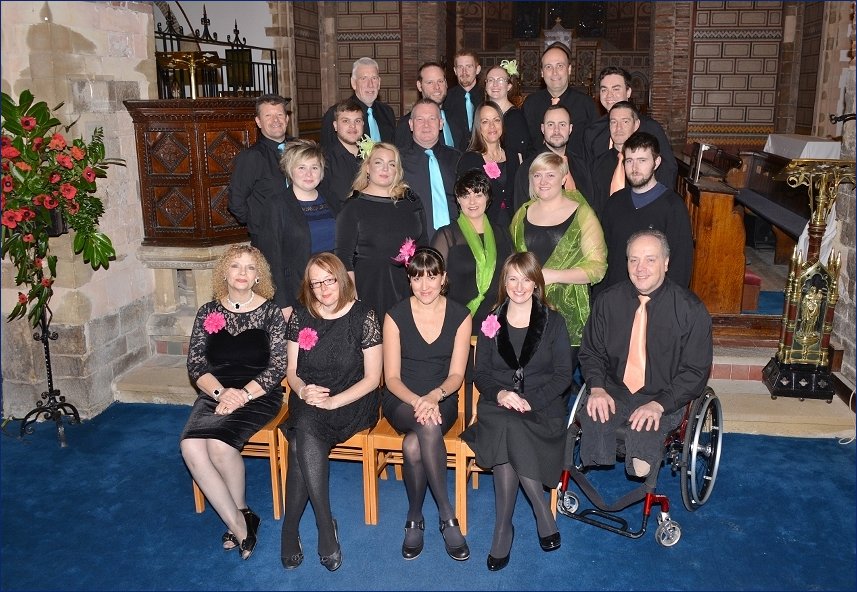 The choir has had a whirlwind year since winning the BBC TV series Sing While You Work last December. Performances have included taking to the stage with mezzo-soprano Susan Boyle at the Hammersmith Apollo, with the Royal Philharmonic Orchestra at the Leeds Castle Classical Concert, and in front of 40,000 people in Hyde Park for the BBC's Last Night of the Proms.
To bring its 2014 programme to a close the choir will perform at Dover Castle on Thursday 18 December, thanks to the generous support of English Heritage.
The concert will take place in the castle's Saxon church, St Mary in Castro, at 3pm. Afterwards the audience will be invited into the castle keep for mince pies and mulled wine and further entertainment by an ensemble from the award winning Blossom Street whose CD Sleep, Holy Babe was acclaimed as Christmas CD of the year on Classic FM.
"Our first public engagement after winning the television series was in Dover at the very start of this year and we wanted to close out the year on home ground, where we've enjoyed so much support," said the choir's Stacey Young. "In doing so we'll support two charities, the RNLI and Martha Trust, which provides long term residential, respite and day care for people with profound physical and learning difficulties."
Tickets are priced at £15 and are available by calling 01304 863863.
* *
P&O SPECIAL
See also the post below for the great Christmas idea onboard The Christmas Spirit of Britain.
Tuesday, 18 November 2014 - 07:24
Post 1284
Sea News, Dover
CHRISTMAS SHOPPING ALL WRAPPED UP WITH THIS IDEA FROM P&O FERRIES

_____________________________________________________________________
P&O Ferries is hosting Festive Christmas Crossings for passengers to stock up on good deals at low offshore prices.
The special return trips will take place on the Spirit of Britain departing from Dover on Saturday 29 and Sunday 30 November (leaving at 09:55 and 14:25). Prices for the Festive Christmas Crossings are £12 return for a car and two people, or £6 return per person for foot passengers. Passengers will be greeted with a mince pie and drink on the four hour crossing.
P&O Ferries' suppliers will be out in force with beauty consultants offering free Dior makeovers, Mavala manicures, a Bvlgari Pop Up Shop, free to enter Jack Daniels competition, tasting sessions from Starbucks, Stella Artois and Kent Crisps and child friendly activities including a Nerf and Nerf Rebel shooting range and Ponyification Station offering My Little Pony makeovers.
For more information or to book visit POferries.com or call 08712 220 122.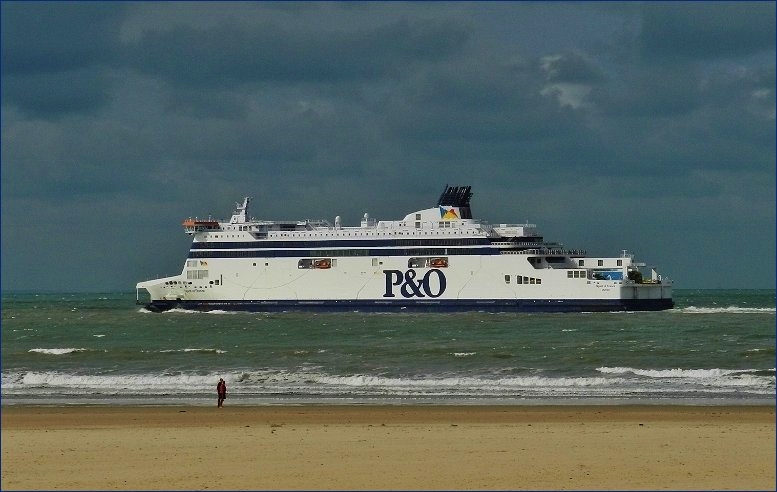 The Christmas Spirit

Monday, 17 November 2014 - 07:33
Post 1283
Sea News, Dover
Very interesting story that below Vic. We never really think about who does those kinds of jobs...but someone has do it I guess.

Monday, 17 November 2014 - 07:28
Post 1282
Vic Matcham, Dover
Because of the fuel the ships used the crew would not clean out the s/tanks so I was given the job to get four men off the doll and clean them out going from one ship to the other.
I can tell you this was one of the very unclean jobs I have ever done .I had to take both ends off the tanks to let in some air and light but the wast oil was so bad you could not see both ends at the same time then I would go first into the tanks after having put my gas meter down to see what the air was like and cut out the wast oil it was like bread then bag it up and one of my lads would pull them out ,one would tie the bag up and date the time day etc ready for the bags to be taken away,I would have one man keep the staircase and floors clean and after we done one tank at a time.
We would have to take the bags up on deck onto my pickup when the pickup was full we had to then take it to a sealed off area in the docks and take the bags off and a dock member would see that all bags were tied up and dated then he would sign my form they were then put in a container which when filled also had to be dated with times it came off the ship name the ship and day. ready to be taken away,I can tell you it was hard to find the lads each day ,they would do it once then pack up and I did not blame them.

Sunday, 16 November 2014 - 06:51
Post 1281
Sea News, Dover.
Honouring our fallen heroes by building a more peaceful World..
Following an intensive week of Remembrance Commemorations our local MP Charlie Elphicke has sent us this letter.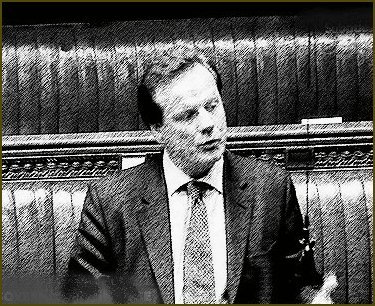 This year we have marked the centenary of the outbreak of the First World War. The war seems so long ago yet hundreds turned up in Dover and Deal this week to remember the great sacrifice that was made. 888,000 Britons died in that conflict. Hardly a village was untouched by loss.
After the war everyone vowed that such a thing would never happen again. War memorials were built to remember those who would never return home to kith and kin. Annual services were held to remember the fallen and remind us all of the futility of conflict. Yet within 20 short years war had again engulfed Europe. The Second World War was a struggle against the great evil of Hitler. It was a conflict even more dreadful than the first.
After this a stronger international system was created. The purpose being to ensure that we did not have a Third World War - for we all knew that would be a war that would be the end of us all.
Yet let's take stock. Is the World today a safer place? The lessons of the two great World Wars now fade into memory. Fewer now remember those that will not grow old as we grow old. New generations grow up that see conflict in the history books not something they have seen first hand. Each year there are fewer veterans remaining to remind us of the horrors of World War and to make the impassioned case to avoid such conflicts. Meanwhile politicians and leaders who think of conflict as a way to further their interests or popularity ratings are never in short supply.
The World today has a lot of conflict. Too much conflict. There are 50 million displaced by conflict. The conflicts in the Ukraine, Middle East and the risk of war in the South China Sea should concern us all. If the Ukraine conflict widens our NATO obligations could be called upon. That would not end well. War in Asia would not just see great loss of life but would deeply wound the global economy. While the situation in the Middle East threatens terrorism around the World.
It is important that in marking the centenary of the First World War we take heed of the lessons. It is too easy for history to repeat itself. It is too easy to sleep walk into war. And it is hard to build a strong international system where disputes among nations can be settled peacefully. Yet we must. For the weapons available today are so powerful they threaten the existence of humanity itself. This is why it is right we not only remember what happened. But we draw the lessons too. Global stability, peace and prosperity don't just happen - they have to be secured through long and hard work.
Ends
* *
Keeping the peace...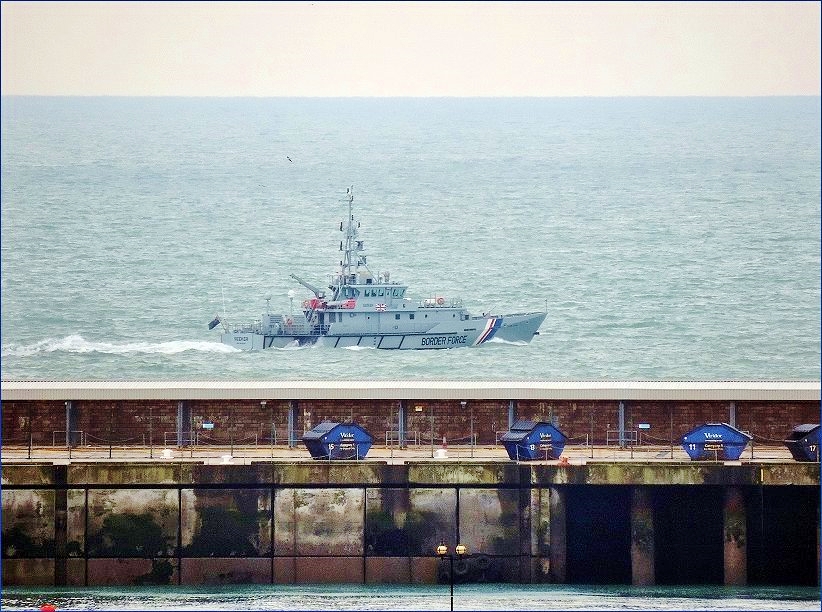 Pictures of the UK Border Agency vessel Seeker were taken yesterday Saturday about midday as she set off to do her duty in the Channel...seen here heading west. Below we have a dramatic wintery looking seafront from earlier in the week. Pic taken late in the day. Note the absence of humanity..not a soul about..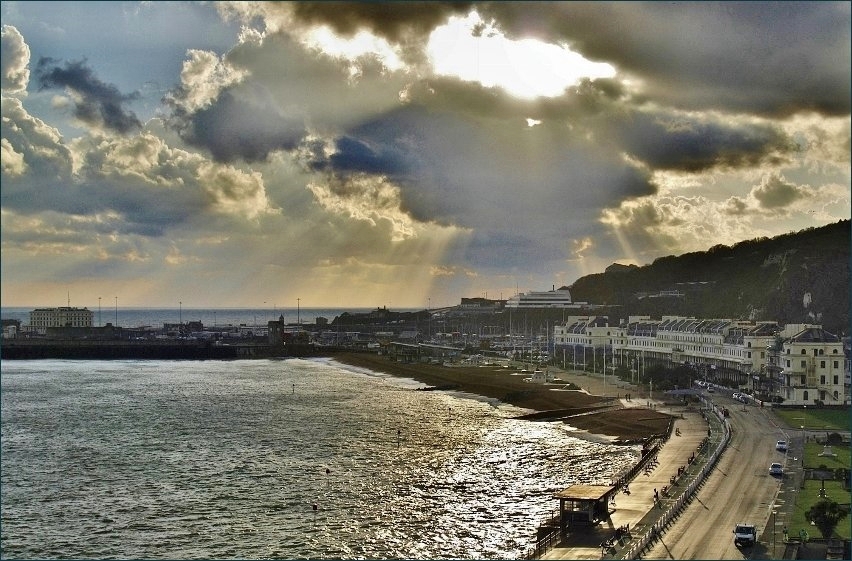 Sunday, 16 November 2014 - 06:47
Post 1280
Sea News, Dover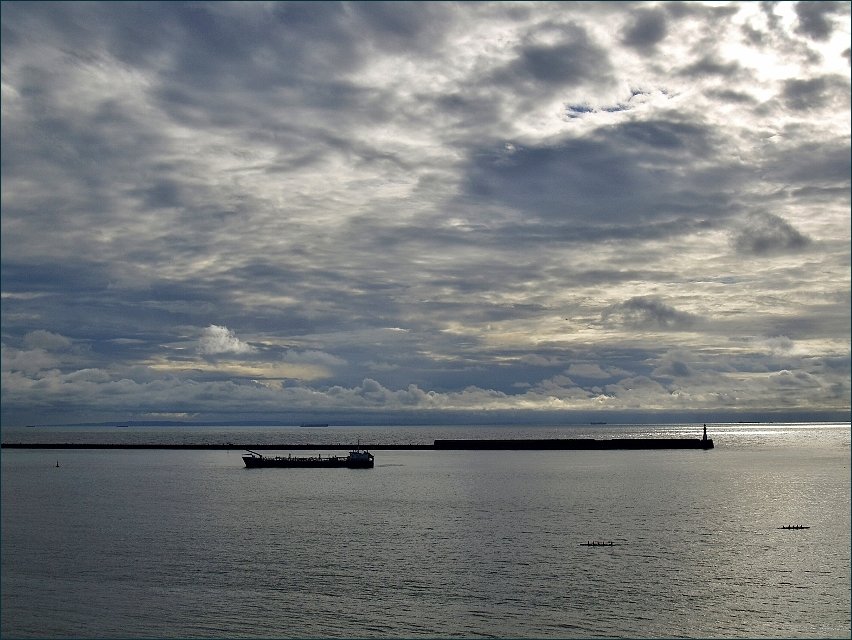 This picture shows the Coral Water under a big big sky a couple of days ago. She is waiting... pausing, before leaping into action re-fuelling the ever busy ferries. The Coral Water is referred to generally as a bunker ship but what is a bunker ship?
"Bunker is simply the name given to the Fuel that is used to operate ships. Bunkering is the action of supplying a ship with bunkers. There are various types of Fuel Oil and within the Fuel Oils there are many classifications, standards and grades...among the type of Fuel Oils are :
MGO (Marine gas oil), MDO (Marine diesel oil), IFO (Intermediate fuel oil) , MFO (Marine fuel oil), HFO (Heavy fuel oil)
The name Bunker came about because in the past when ships used to run on steam produced from coal, the storage containers for the coal was known as a BUNKER.. This word has stuck on to this day..
So the next time you hear that a ship is in port for bunkering, you know that it is there just to fill up some fuel.. Simple, isn't it..??
"
So there you have it...courtesy of the world wide web.
Saturday, 15 November 2014 - 07:05
Post 1276
PaulB, Dover
Traffic free flowing....

Friday, 14 November 2014 - 18:09
Post 1275
PaulB, Sea News, Dover.

UPDATE: LATEST INFORMATION....... @ 0900 Friday
Industrial Action at the Port of Calais
_____________________________

The Port of Dover wishes to advise its customers and the local community that an industrial action in Calais has commenced (Friday 14th November). There is currently a reduced number of berths available for discharge and loading. This is likely to have adverse impact on ferry services and capacity at the Port of Dover. Customers are strongly advised, where possible, to travel through Dover before midday (1200) on Friday.

The traffic in Dover is currently free flowing with space available at the Port of Dover.

Due potential disruptions there may be queues on the approach roads so please do allow plenty of time for your journey.

Customers are advised to contact their chosen ferry operator before travelling and consult the Port of Dover website (www.doverport.co.uk) or Twitter account (@Port_of_Dover) for the latest information


* *

POTENTIAL INDUSTRIAL ACTION - CALAIS

The Port of Dover wishes to advise its customers and the local community of potential industrial action in Calais on Friday 14th November. This may have an adverse impact on ferry services and capacity at the Port of Dover. Customers are strongly advised, where possible, to travel through Dover before midday (1200) on Friday.

Due to high volumes of traffic and potential disruptions there may be queues on the approach roads. Please do allow plenty of time for your journey.

Customers are also advised to contact their chosen ferry operator before travelling and consult the Port of Dover website (www.doverport.co.uk) or Twitter account (@Port_of_Dover) for the latest information.

Ferry Operator Contacts

DFDS Seaways
Freight: +44 (0) 1304 874001
Tourist: +44 (0) 871 230 0440
Twitter: @dfdsukupdates

P&O Ferries
Freight: +44 (0) 1304 863 340
Tourist: +44 (0) 8716 64 64 64
Twitter: @POferriesupdate

MyFerryLink
Freight: +44 (0) 1304 828 423
Tourist: +44 (0) 844 248 2100
Twitter: @MyFerryLink


We will continue to monitor the situation closely in liaison with our ferry partners and the Port of Calais in order to provide regular updates.
We expect services to return to normal late on Friday night or in the early hours of Saturday morning.

Thursday, 13 November 2014 - 14:49
Post 1274
PaulB, Dover
Beach Find
On Tuesday ones eye was drawn to a group of luminously clad officials looking headscracthingly bewildered on the beach. With the naked eye it looked like something long and silvery had washed up...oh nooo thought I...not an unexploded device of some short, a shell perhaps. So with tin hat donned one waited for the emergency services to arrive with wailing sirens. But... nobody came. I had taken some pictures, so at that point I examined them on the computer and realised it wasn't a device of any sort but a very big fish indeed. Porpoise like ...but definitely not a mackerel! By now everyone had left presumably to allow the tide to return the monster to the deep. Which it duly did.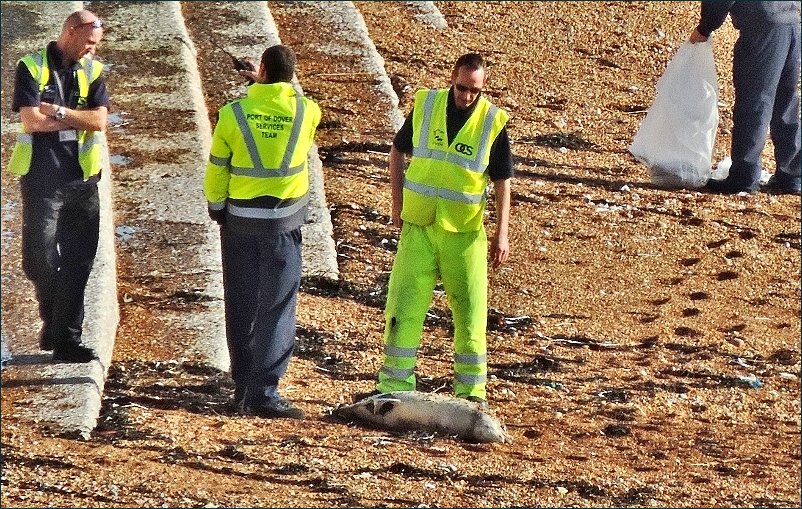 Hollywood style strapline: We just don't know whats down there..

Thursday, 13 November 2014 - 06:57
Post 1271
PaulB, Sea News, Dover.
THE PORT OF DOVER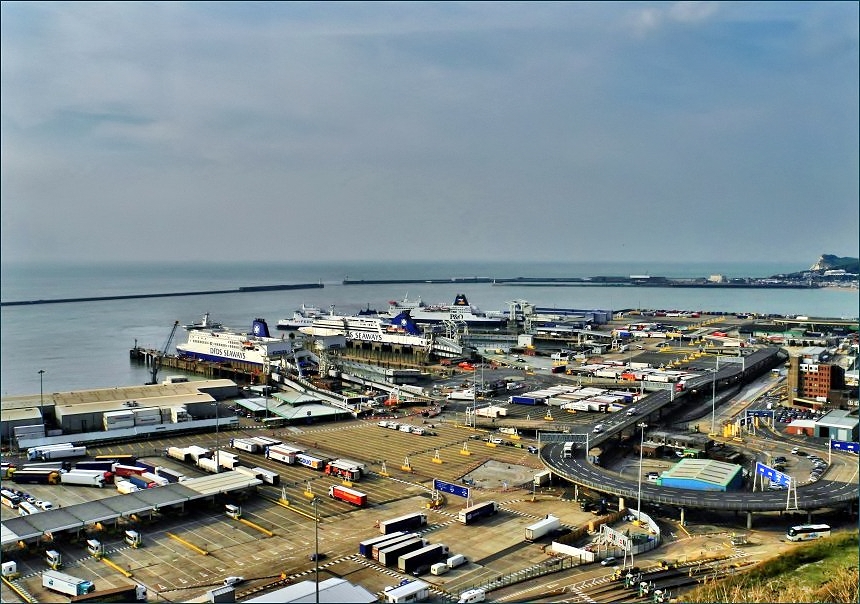 Strong growth figures buoy Port of Dover.
The link between the Port of Dover and the Chancellor, George Osborne, might not seem an obvious one, but the latest figures for the Port are more than a reflection of the state of the UK economy and should be seen as an ideal barometer to measure how well the country's economy is performing in real terms.
The Port of Dover's 2014 third quarter results show a 3% increase in passenger numbers in comparison to last year's figures. This was far higher than UK's growth of 0.7% for the same period. More importantly freight (road haulage vehicles) rose by nearly 10% both on the quarter to quarter figures and on the year to date figures. These figures are a true reflection of how the Port and its major ferry customers are securing increased market share against a backdrop of overall growing markets.
· Road haulage 2014 up nearly 10% compared to Q3 2013 (64% market share)
· Passenger numbers up 3% compared to Q3 2013
· Coaches up by just over 8% compared to Q3 2013 (68.5% market share)
· Car numbers down slightly by 0.8% compared to Q3 2013 (54.7% market share)
· The number of ferries entering the port remains the same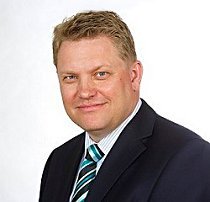 Tim Waggott, Chief Executive, Port of Dover, sees these latest figures as hugely encouraging for the Port.
"These growth figures show that we are on the right lines with our business model and development plans for the Port. They reflect our joint commitment to providing brilliant customer service and continued investment in Port capacity. The Port of Dover is often cited as the barometer of the UK economy's state of health and as the UK looks set to be the fastest growing advanced economy this year, our figures reflect that and show we are both on the right lines. We have ambitious plans for growth and the development of the Port for the benefit of our customers and the community."
The Port of Dover recently confirmed the Marine Management Organisation has approved the Dover Harbour Board's application for additional powers through a Harbour Revision Order. This will now see the start of the Dover Western Docks Revival project, which should help to kick start the regeneration of the area.
ENDS
* *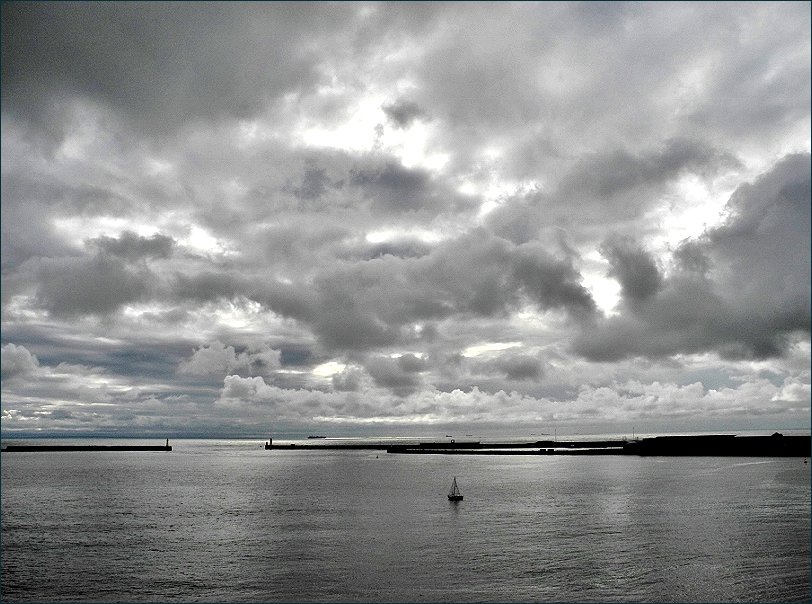 A lone yachtsman enjoys the quiet tranquillity in Dover Harbour...but the sky suggests the tranquillity wont last for long.
Wednesday, 12 November 2014 - 07:17
Post 1270
PaulB, Sea News, Dover.
To mark ARMISTICE DAY.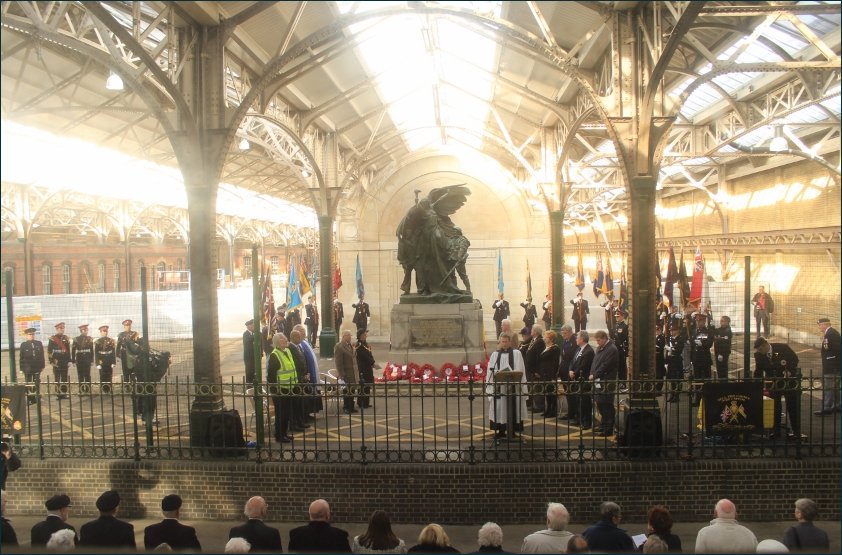 These beautiful Remembrance pictures were sent across to us from our colleagues at the Port of Dover and we are very happy indeed to be able to show them. They show the moving commemorative ceremony taking place down at the Memorial in the western harbour on Sunday. The services of Remembrance this year marked the centenary of the outbreak of the first world war but of course all the fallen are always movingly remembered on this day.
Many thanks once again for these sensitively beautiful pictures.
Tuesday, 11 November 2014 - 07:19