Wednesday, 18 September 2019

WWW.DOVERFORUM.COM/SEA-NEWS
Featuring all the ships that come and go and work at the Port of Dover ..
... with further coverage of the surrounding ports.
Sea News Dover
Use our SEARCH ENGINE below to find all sorts on the SEA NEWS pages....type in the topic and away you go, or if you have the post number, just type it in the box, more than - 6500 - nautical posts now.
Posts are welcome. just click 'Add Your Comment' below. Max of 5 pictures preferred although we can stretch that for special stories.. Sea News Editor Paul Boland - send info or pix to dover7@msn.com. Always welcome.
CRUISE CALLS:
https://www.doverport.co.uk/cruise/find-a-cruise/
UPDATE:
To show your pictures at their best..it could be worthwhile resizing before posting to
850
pixels wide.
All pictures on these pages are the copyright of the owners and must not be reproduced without permission.
Post 718
Mike J., Dover
I was unaware of the DIEPPE SEAWAYS incident as I walked up the Prince of Wales, apart from noticing heavy traffic on the A20 & hearing many sirens.
Arriving at the end of the pier I heard of the fire but could see nothing unusual in Eastern Docks, altho' traffic heading for the ferries was now at a standstill.
One report says that the fire broke out in the boiler room as the vessel approached Dover & that there were some injuries amongst engineroom crew & firemen.
A most unpleasant experience for those aboard.
The port continued working with ferries coming & going although the DOUGHTY had gone over to Eastern Docks.
Had the incident been more serious I'm sure that the port would have been closed & both tugs & possibly the lifeboat would have been in attendance & probably all the other ferries sent out to sea.
The Fire Service launched their RIB from the hoverpad & after a hesitant start it was escorted by the Patrol Launch round the end of the Prince of Wales & across to Eastern Docks.
The SAGA PEARL 2 sailed a little late at about 1630, heading off to Bergen.
She still has different markings on each side of her funnel.
The stalled A20 traffic was clearing as I walked back to the shore before going up to Langdon Cliffs where there were no sign of any problems on the DIEPPE SEAWAYS, but a lot of fire engines & support vehicles were still standing about, but little activity.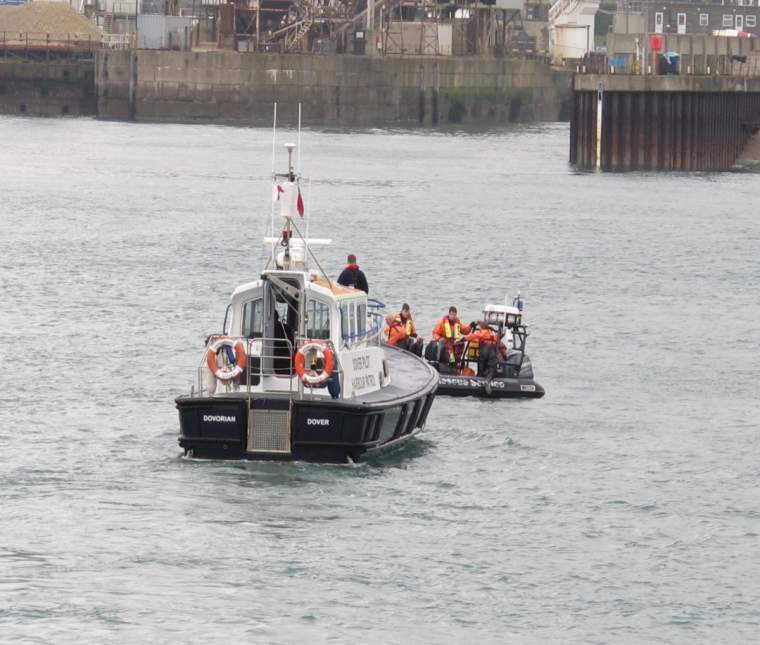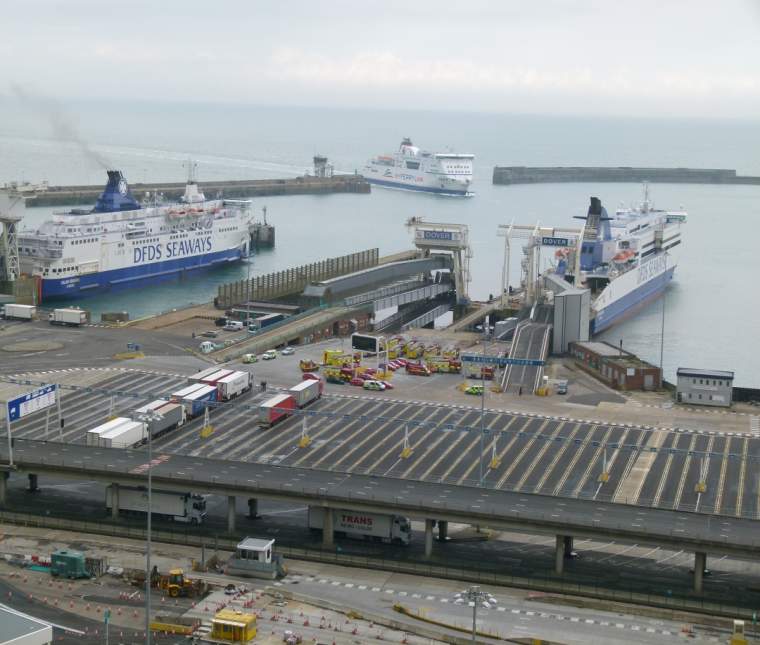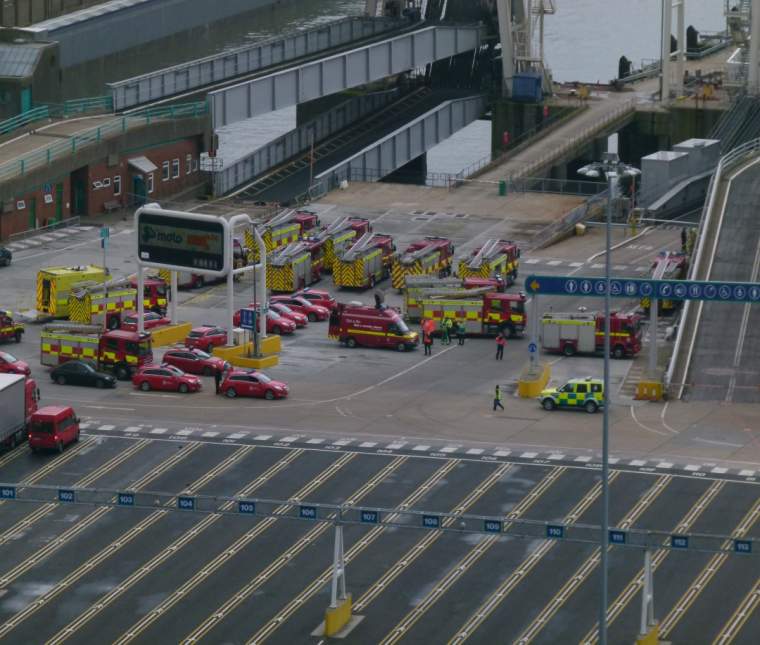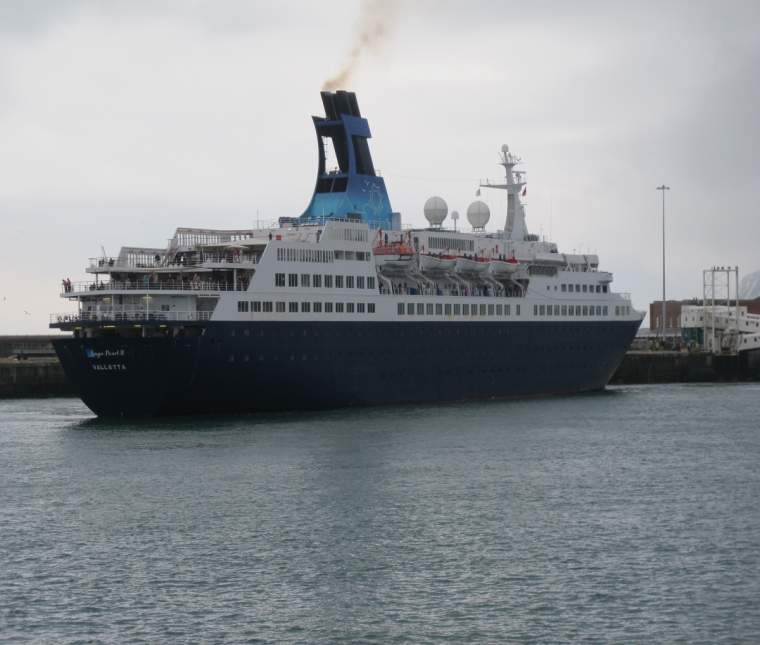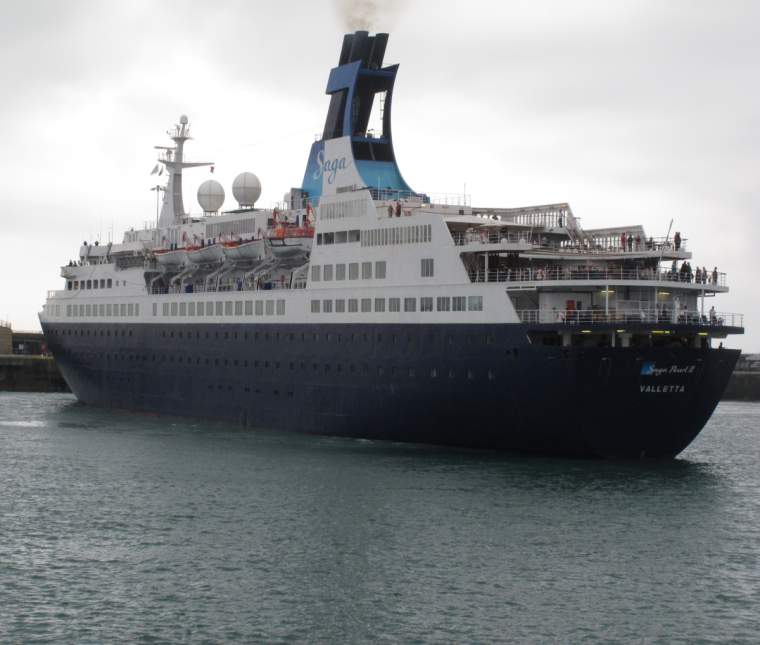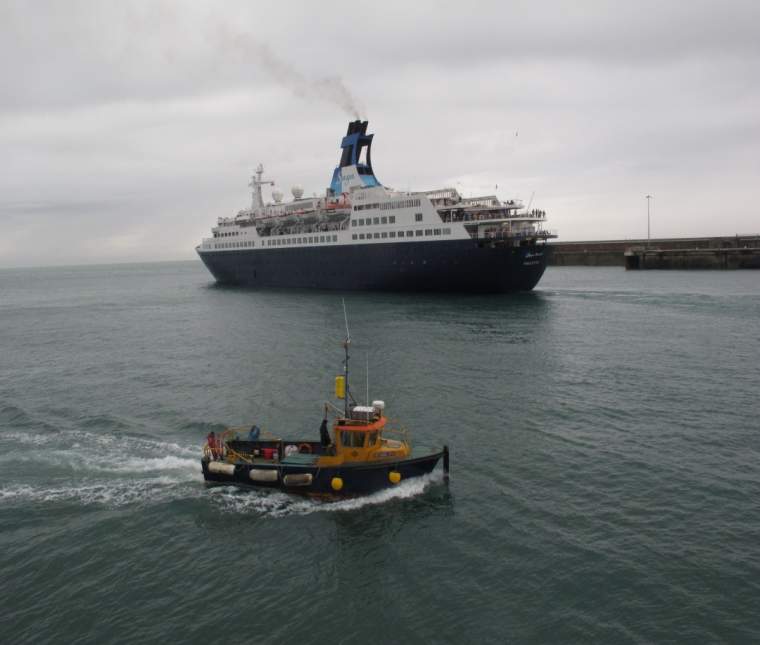 The workboat DOVER WORKER returns to the Tidal Basin after acting as a Safety Boat for work at Eastern Docks.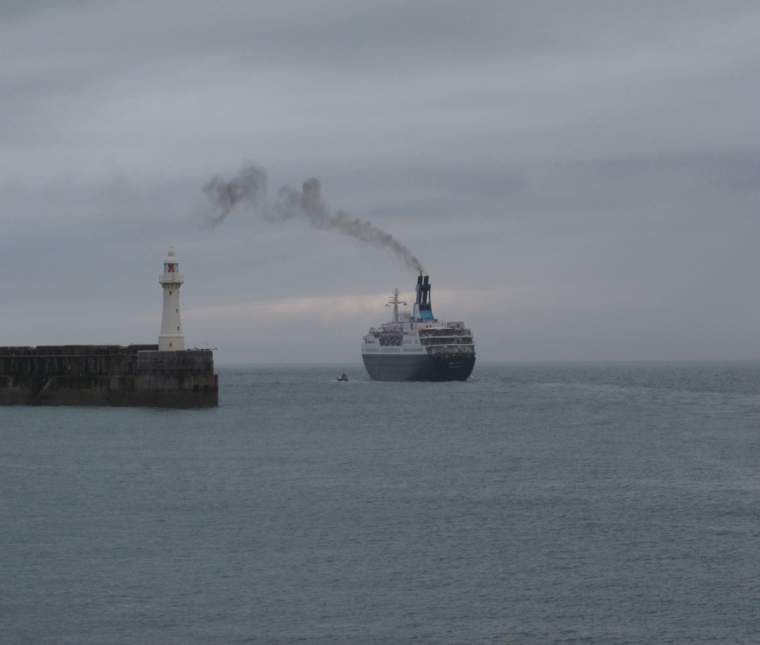 Friday, 2 May 2014 - 00:17
Post 717
PaulB, Dover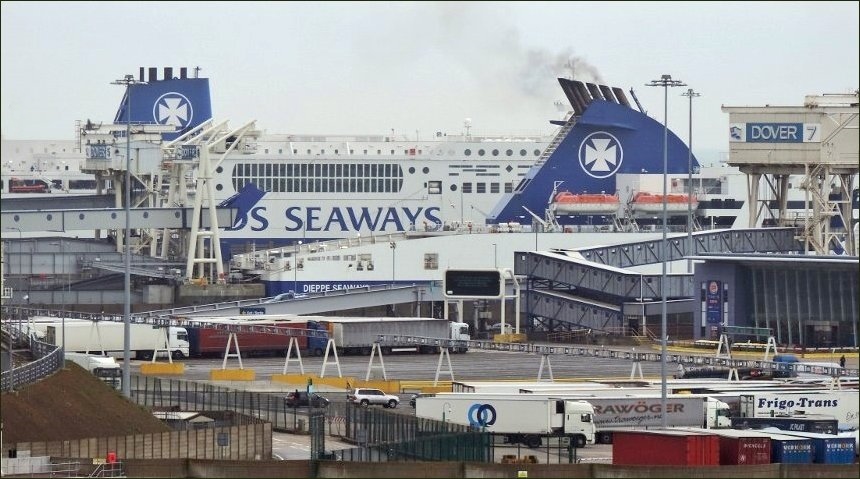 There has been a fire onboard the Dieppe Seaways while in the Port. The picture shows the scene at 4.20pm thursday. Many appliances raced to the scene...we understand there have been some flash burn injuries...
* * * *
..........UPDATED approx 6am friday with this latest bulletin through directly from the Port of Dover..
DFDS Seaways ferry incident – FINAL UPDATE @2330
___________________________________________
The Port of Dover advises customers that a small fire was located in a boiler room onboard DFDS Seaways Dieppe Seaways vessel shortly before its arrival into Dover this afternoon. The boiler room was shut down and water suppressant systems were used to cool the area and control the fire with Kent Fire and Rescue in attendance.
During the initial stages of the incident four firefighters and six members of crew were injured, some of whom were treated at the scene for minor injuries and are now back at work. Others remain in the care of the emergency services and are wished a speedy recovery by all in the Port community.
The Port's priority is the safety of all of its customers and all 316 ferry passengers who were onboard, were safely disembarked and accounted for.
The Port of Dover remains open with all other ferry operator services running normally. Some Dieppe Seaways sailings have been cancelled, but other DFDS Seaways sailings continue to run to schedule.
Customers are advised to check with their ferry operator before travelling. We will also be updating our website (www.doverport.co.uk) and Twitter @Port_of_Dover with the latest Dover travel information.
We apologise for any delays caused as a result of the incident and thank customers for their continued co-operation.
Ferry Operator Contacts
Operator Type Ferry Operator Telephone No.
Freight DFDS Seaways 01304 218 400
Freight P&O Ferries 01304 863 340
Freight DFDS/LD Lines 01304 218 400
Freight MyFerryLink 01304 828 422
Tourist DFDS Seaways 0871 574 7235
Tourist P&O Ferries 08716 64 64 64
Tourist DFDS/LD Lines 0871 574 7235
Tourist MyFerryLink 0844 248 2100
A20 Traffic congestion due to high volumes of traffic
__________________________________________
Traffic moving freely again.
Thursday, 1 May 2014 - 16:23
Post 716
brian d., dover.
re Post Below : an accident closed the road for a while.a couple of cars/lorries.the fire brigade had to cut a 4 year old out of one the cars.i do hope the child is ok.

Thursday, 1 May 2014 - 14:59
Post 715
PaulB, Dover
You can imagine the scene cant you. Rushing to catch a ferry...wife suffering hi-anxiety levels in the seat next to you coz you're running late. Kids driving you nuts with the 'are we there yet?' scenario in the back seat, and you encounter this lot...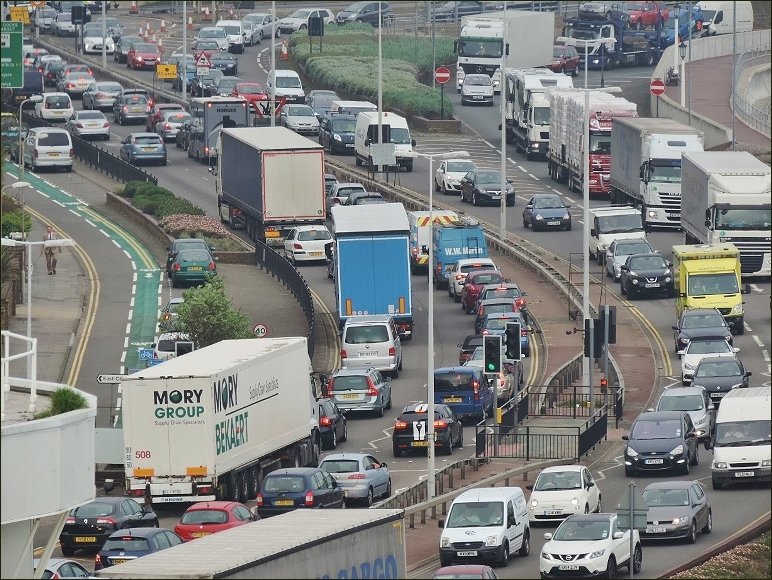 This was the overall traffic situation around 5.30pm last night Wednesday just after they closed Jubilee Way on the upslope...Grrrr!!
Thursday, 1 May 2014 - 14:51
Post 714
PaulB, Dover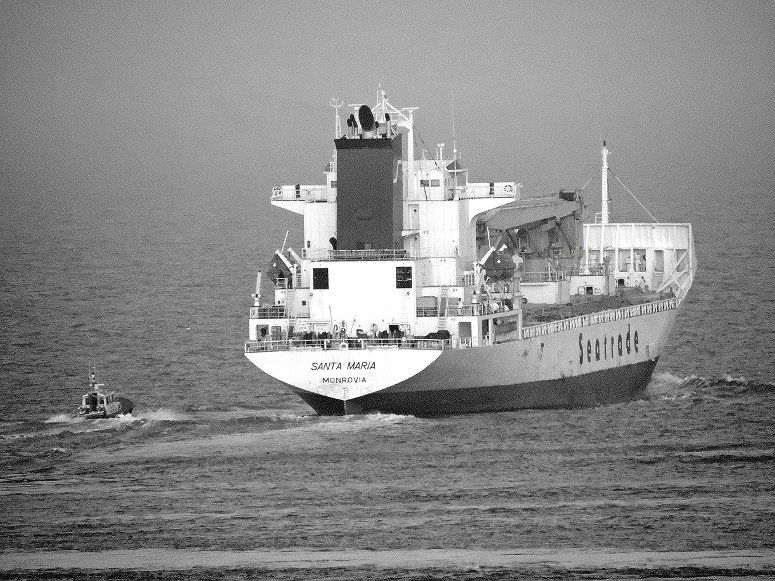 The Santa Maria cargo ship leaving last evening...the picture shows the vessel reaching the open sea. As you can see...the busy cargo schedule for the Port continues apace. In attendance you can just spot the Pilot launch doing its bit once again.
Thursday, 1 May 2014 - 12:31
Post 713
PaulB, Dover
Well done guys all round. The old gang/team of long standing, Jacqui and Brian, saved the day with the AIDA Bella..heavenly ones from on high Jacqui and that Brian Dixon feller gets about doesn't he..as does Howard. Also just to mention, the Saga Pearl is in today too so the cruise season now moving along at pace.
The AIDA Bella left in a blaze of glorious light last night at a quarter to 10pm(21.45).
Busy time for surveying for sure Mike.

Thursday, 1 May 2014 - 07:55
Post 712
Mike J., Dover
Another survey vessel, the 52 year old former trawler ARIE DIRK, left the Tidal Basin at 0845 Wednesday followed by the YANTLET.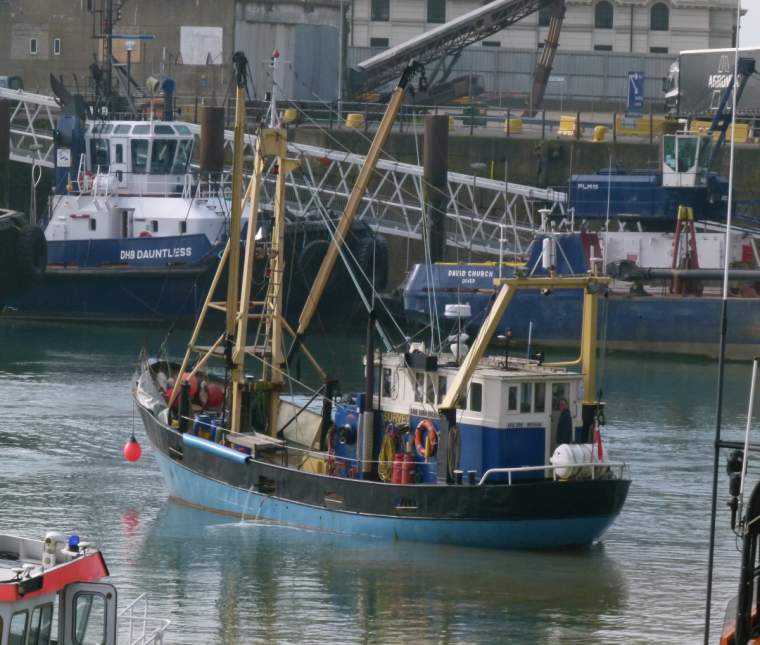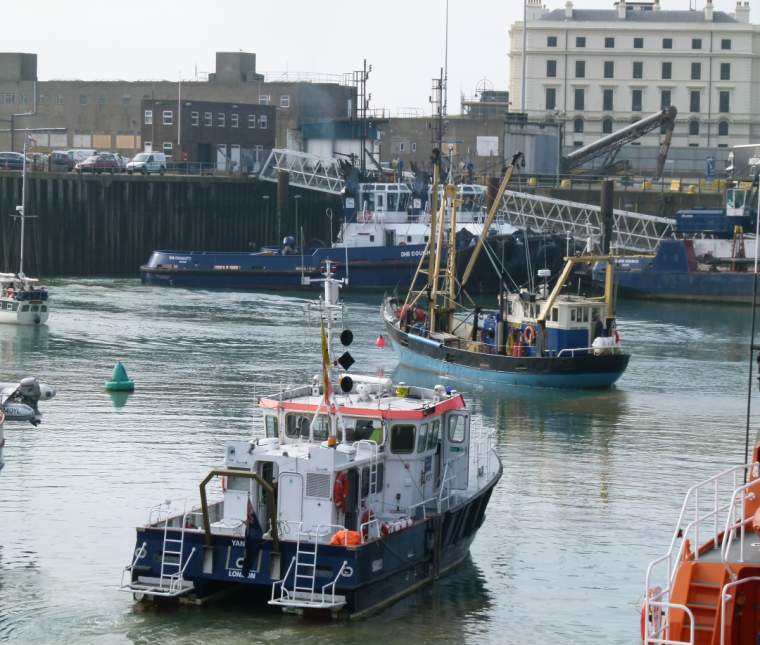 Wednesday, 30 April 2014 - 23:02
Post 711
Jacqui, Dover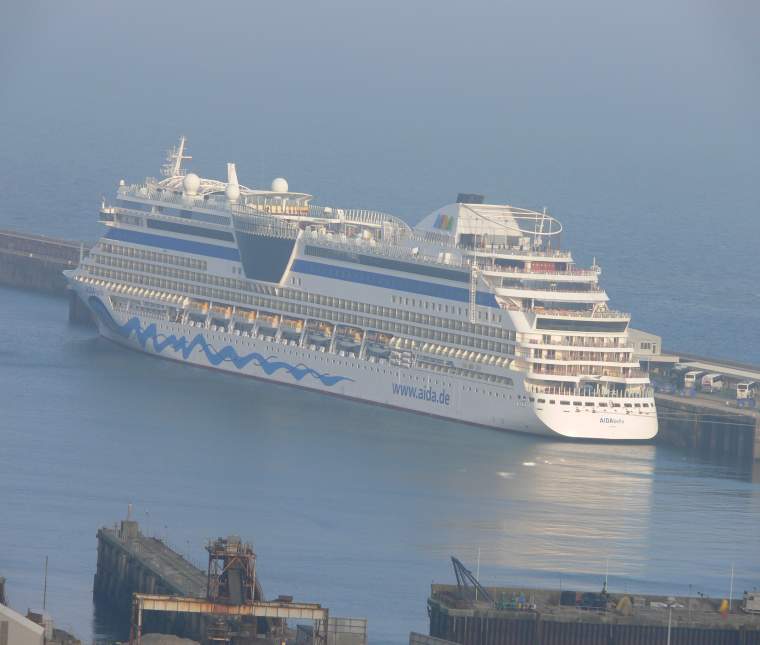 I took these this evening about 6.30pm and the sun really tried to come out for me

Wednesday, 30 April 2014 - 21:53
Post 710
howard mcsweeney, dover
mr Dixon to the rescue paul, taken from the prince of wales pier.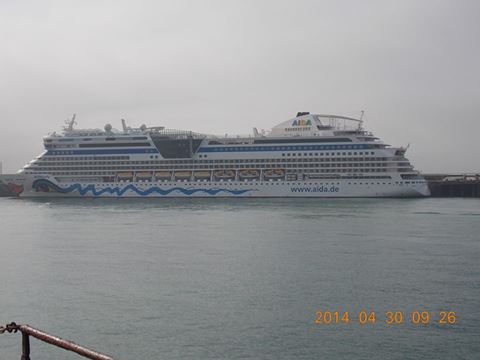 Wednesday, 30 April 2014 - 20:29
Post 709
PaulB, Dover
FOGBOUND:
Not really sure if it is worth putting this picture up...but this is the AIDA Bella arriving early today. As you can see at arrival time we were in a thick fog or a ghostly mist, whatever way you want to describe it. It looks like conditions are not getting much better so we may as well give this picture a go...a maiden call too for the ship. We aren't able to do this 70,000 ton ship justice, but as you can just see it has the familiar AIDA colour scheme...Very welcome to Dover.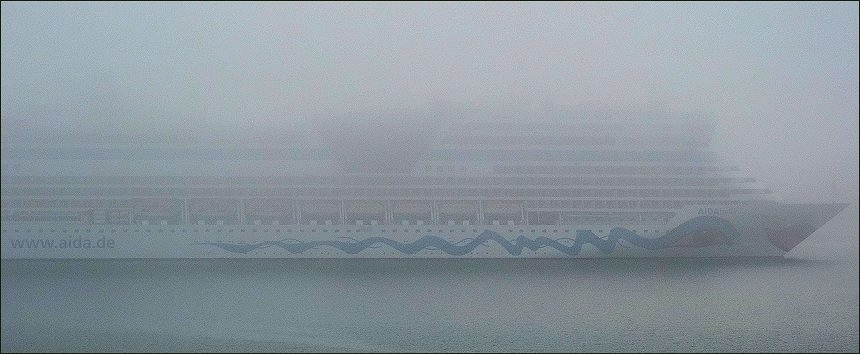 This picture is boosted believe it or not...it was actually worse in reality.
Wednesday, 30 April 2014 - 15:22
Post 708
Mike J., Dover
Paul -
Beat me to it by seconds - I was just about to post on the YANTLET as well !
Might as well stick it up as here's a bit more info & some snaps from the Prince of Wales.
. . . . the Port of London Authority's catamaran survey vessel YANTLET was doing some tidal survey work in Dover yesterday, circling the bay in huge circles all day. & this work is expected to continue today, Wednesday.
There's further details of the work on DHB's website on their 'Notices to Mariners' page & details of the YANTLET on the PLA's website . . . . .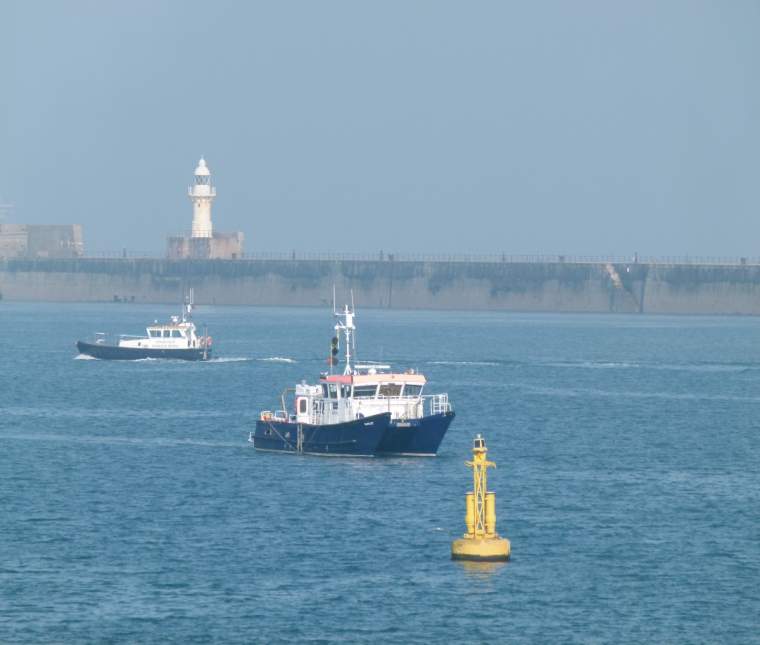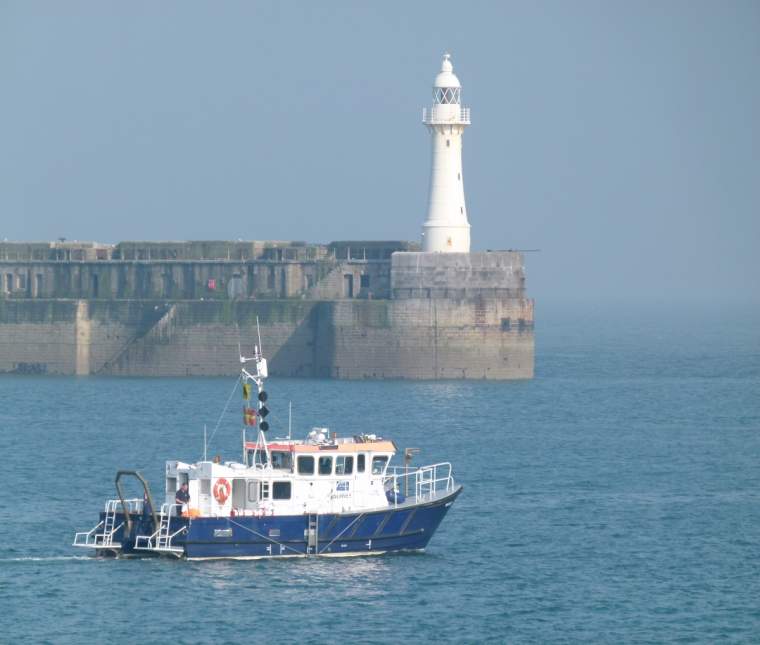 Wednesday, 30 April 2014 - 08:13
Post 707
PaulB, Dover
This boat shown called the Yantlet was moving back and forth piece by piece all day yesterday across the harbour. She is a survey or research vessel I believe and was clearly going about her duty in minute fashion. At one point she appeared to be getting in the way somewhat of a reversing P&O Spirit, hence the pictures, but all was well in the end. Just out of shot the Harbour Patrol boat looked on.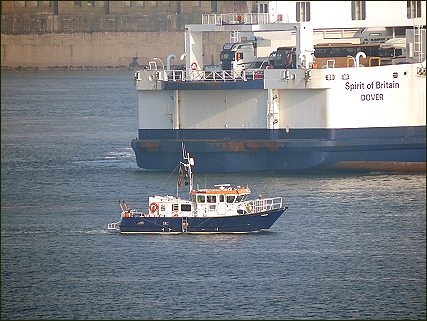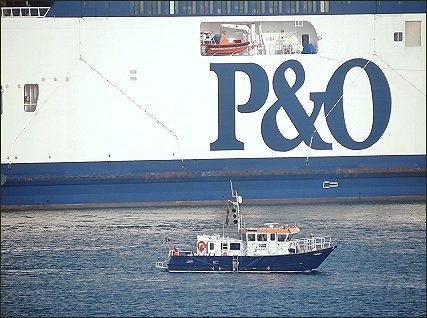 The Yantlet in easy action yesterday (Tuesday).
Visibility is bad again today unfortunately for the arrival of our next cruise liner...a maiden call for the AIDA Bella. Yours truly is experiencing a bit of a 'pea-super' right now though so pictures impossible for the moment...hmmm..
We lose our landmark Travel Centre today. She closes for the final time. See posts 629 and 645 for more.
Wednesday, 30 April 2014 - 06:05
Post 706
PaulB, Dover

Many thanks Ed re the Lifeboat rescue pictures. Did pin to top of page..now released.
Further to Ed's post...
This item below is from our main news frontpage .. Dover.uk.com...many thanks to Chris Tutthill.
The Lifeboat was clearly helping with the recovery.



TWO BODIES FOUND ON SHORELINE BELOW CLIFFS
__________________________________________

Kent Police was called at 3.15pm on Monday (28 April 2014) after a man's body was discovered on the shoreline below Langdon Cliffs in Dover.

The body has not been formally identified but the family members of a man reported missing from the London area on Sunday night have been informed.

Officers attended after the body was recovered by the RNLI. The death is not being treated as suspicious and a report will be prepared for HM Coroner.

Earlier on Monday (28 April) another man's body was found at approximately 7.15am on the shore line between Dover and St Margaret's, between Crab Bay and Fan Bay.

Officers attended the scene but the death is not being treated as suspicious. A report is being prepared for HM Coroner and work is underway to identify the man believed not to have come from the Kent area.





Tuesday, 29 April 2014 - 16:07
Post 705
Ed Connell, Dover
Lifeboat out yesterday afternoon and launching the RIB to search for a missing person. See Dover Express.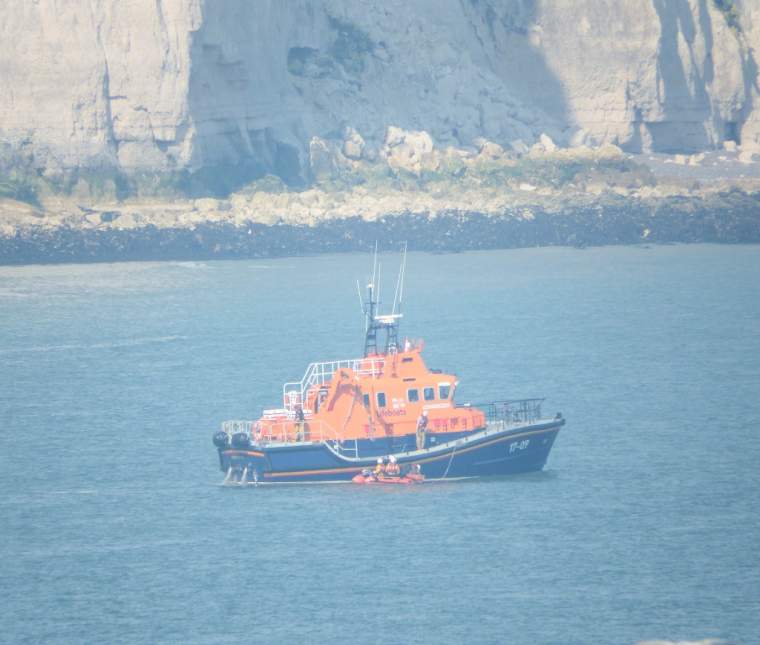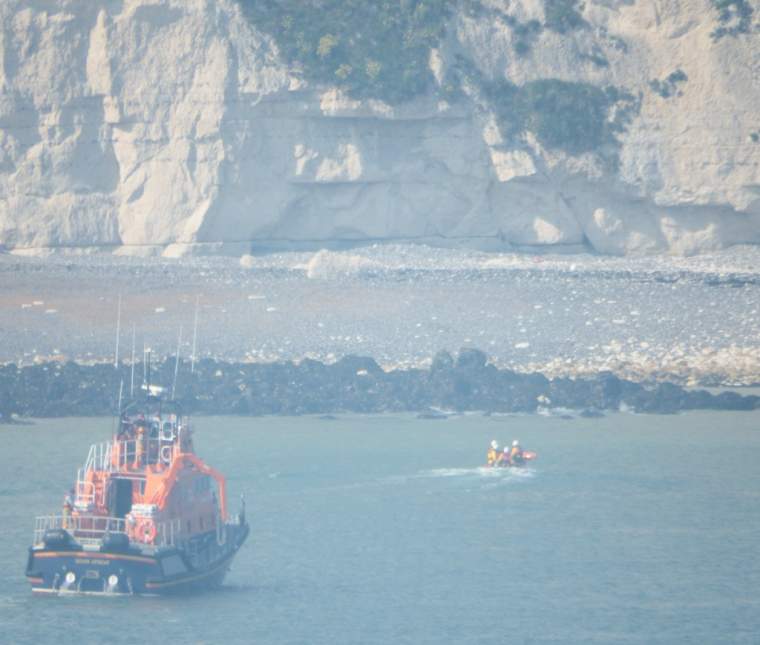 Tuesday, 29 April 2014 - 15:30
Post 704
JanT, Dover
A bit sad to see the Travel Centre and such a well known sign going, but I'm sure Dover Harbour Board know they need to keep up with their competitors in every way, and to cope with an ever growing increase in traffic both freight and passenger. They need to move with the times to be the best.
Some great pictures over the last few days keep it up chaps


Tuesday, 29 April 2014 - 13:01
Post 703
Mike J., Dover
Readers may be interested in the 'Dover Marina' website which has recently been set up by one of the berth-holders in Wellington Dock.

Despite the 'Marina' title the website, which is still under development, covers much more than the marina & features most aspects of the Dover shipping scene & is well worth a look - excellent photos & features, news & useful information & some very interesting archive photos.

We can't post links here but Googling 'dover marina nigel' should get you to the website.
Its also on Facebook [whatever that is].

The site is 'unofficial' & DHB have their own Marina website but this deals only with the Marina.


Tuesday, 29 April 2014 - 10:32
Post 702
PaulB, Dover
Here are a few final pictures by way of a fond farewell to the old Travel Centre which closes its doors tomorrow Wednesday April 30 for the last time. We have all been through it over the years haven't we...with kids and bags in tow, with wives, mothers in law etc etc. Buy your tickets at the counter and then wait...eventually the bus comes to take you to the ferry then up the gangplank you go to the top deck humping all the bags. Not too many people on shanks' pony nowadays, I dont have statistics for the humble foot passenger, but I guess most just zip through in the car now even on the simple day trip. Its even better value...with car + 9 type deals and so on.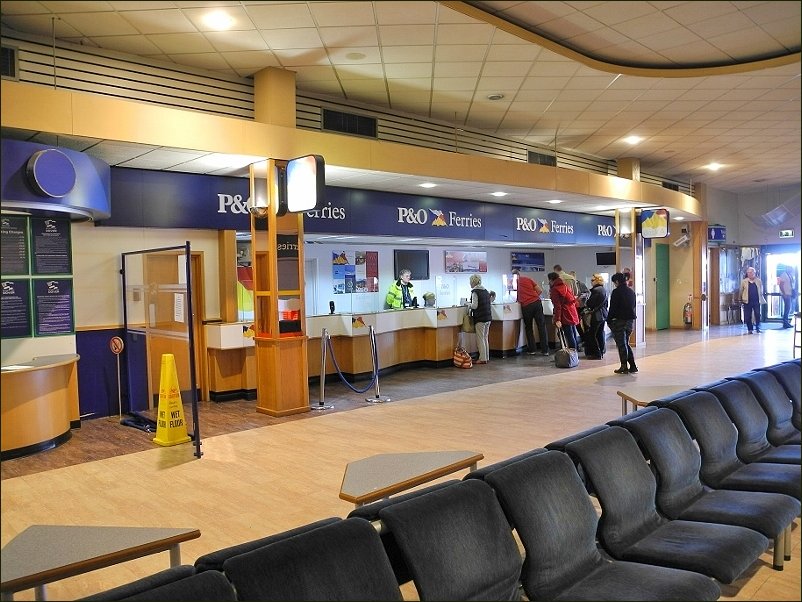 The picture above shows the scene in there last sunday. Just the P&O Counter open now..all else was closed on the day, the cafes etc all closed.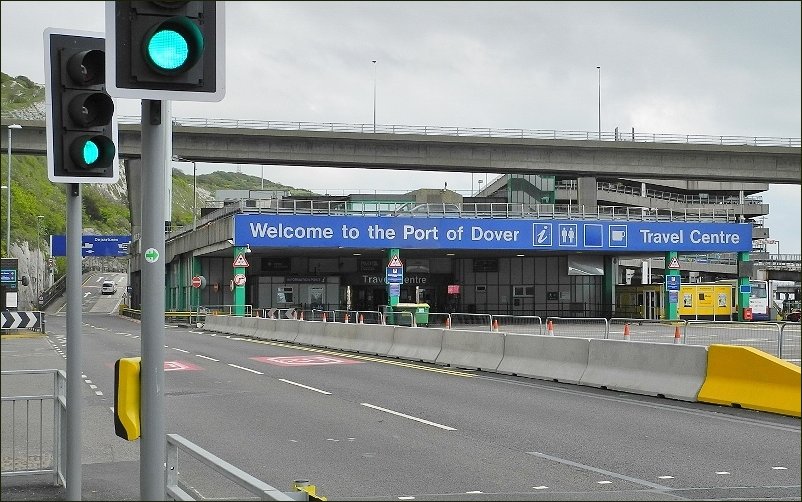 Above the green light for demolition shines forth.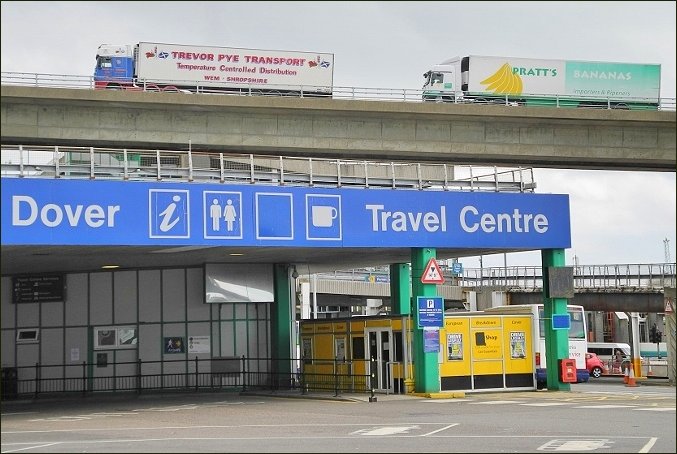 High above the old Travel Centre the trucks trundle on to all points north. That's Jubilee Way going right over head for those who aren't familiar. Bananas going to all corners of the UK and so on.
Tim Waggott, Chief Executive Port of Dover said...
"The Travel Centre has faithfully served our customers over a long period of time, but in order to be the best port in the world, we need to move with the times and that means keeping the £89 billion of goods that come through the Port moving. I offer my continued appreciation for the understanding of our customers whilst we improve the Port for their journeys of the future and to our community whilst we work to reduce possible congestion in the town."
So there you have it.
See also Post 629.
Tuesday, 29 April 2014 - 05:20
Post 701
ColetteB, Dover
Brilliant set of photos since I was on here yesterday, Sea News certainly moves on swiftly, great stuff!!! Thanks for confirming 2010 re MSC Orchestra Kevin & the Maiden call of AIDABella, I will have to get down there on Wednesday to see it. Terrific photos of the Azores Mike

Good idea MrB re adding cruise calls to the top, with so many cruises in May it will be great not to have to search for it


Monday, 28 April 2014 - 12:06
Post 700
Vic Matcham, Dover
Again thank you for the great photos of the great port of Dover working 24/7 365 days a year.
Keep them coming.

Monday, 28 April 2014 - 11:26
Post 699
Kevin Charles, Dover
Thanks for the update, Collette. Things certainly ramping up for Dover's cruise trade as the ships head north for Summer. Although their ships are now a very familiar sight in Dover, I believe AIDAbella is a maiden call. MSC Orchestra was last in Dover on 31 August 2010.

Monday, 28 April 2014 - 06:51