Monday, 10 August 2020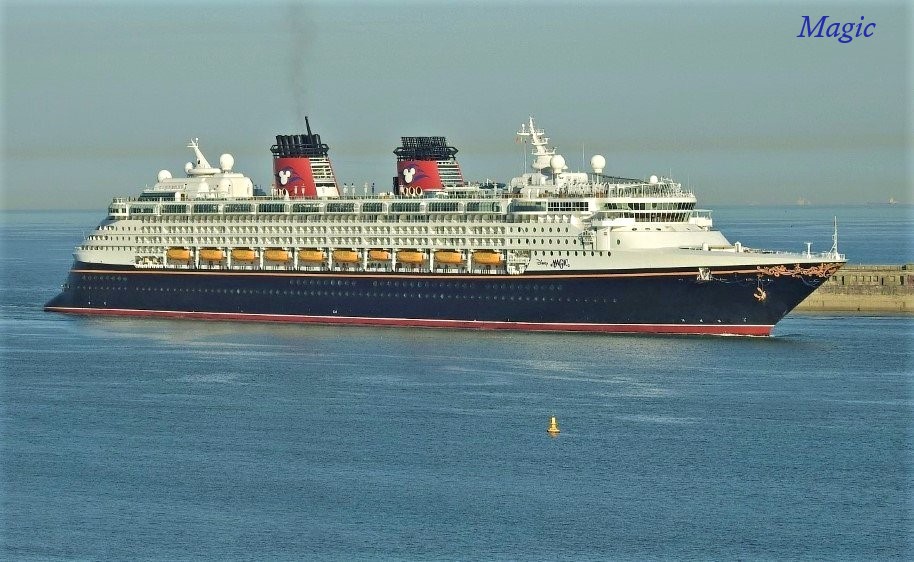 The Disney Magic entering the Port of Dover once again after a brief channel run....

WWW.DOVERFORUM.COM/SEA-NEWS
Sea Pictures from DOVER ....
Just to let everyone know...we have essentially closed Sea News.
Times have changed and these changes havent been good to us.
We will leave it open for research purposes ...if anyone wants to check anything etc etc
Other than that its all over.
A huge thanks to everyone who contributed over the 7 years.

Paul Boland - dover7@msn.com.
.
Use our SEARCH ENGINE below to find all sorts on the SEA NEWS pages....type in the topic and away you go,
or if you have the post number, just type it in the Search Box, more than
- 7000 -
nautical posts now.
Sea News Dover:
All pictures on these pages are the copyright of the owners and must not be reproduced without permission.
Post 1205
Ed Connell, Dover
The Greenpeace vessel Esperanza passing down the Southwest lane past Dover at 1630 today bound for Funchal in Madeira.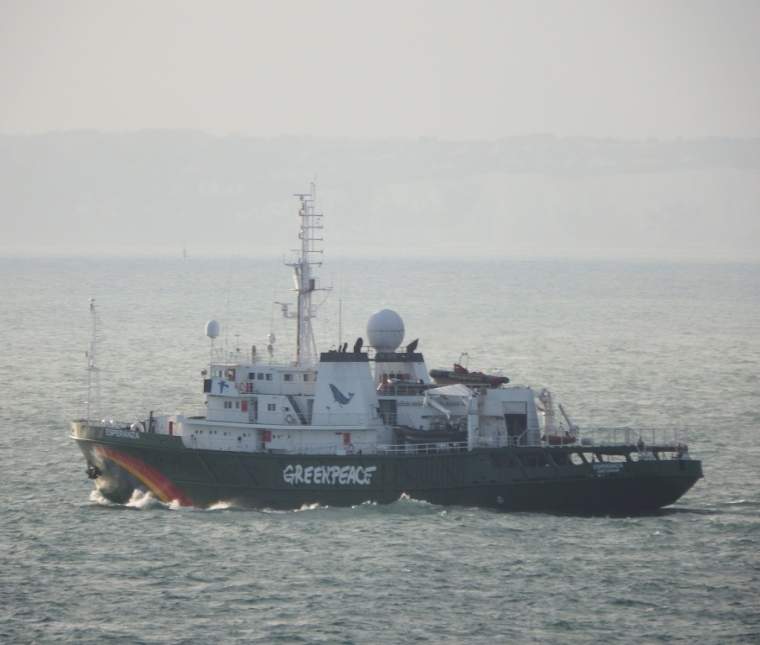 Friday, 10 October 2014 - 23:53
Post 1204
Mike J., Dover
The Seacat berth demolition continues.
Most of the steelwork has gone & the contractors are demolishing the concrete supports while local diving firm SEALIFT DIVERS are cutting away at the piles underwater.
If the Western Docks project goes through most of the sea visible in the photos will disappear when land is reclaimed & the public will lose access to the Prince of Wales pier.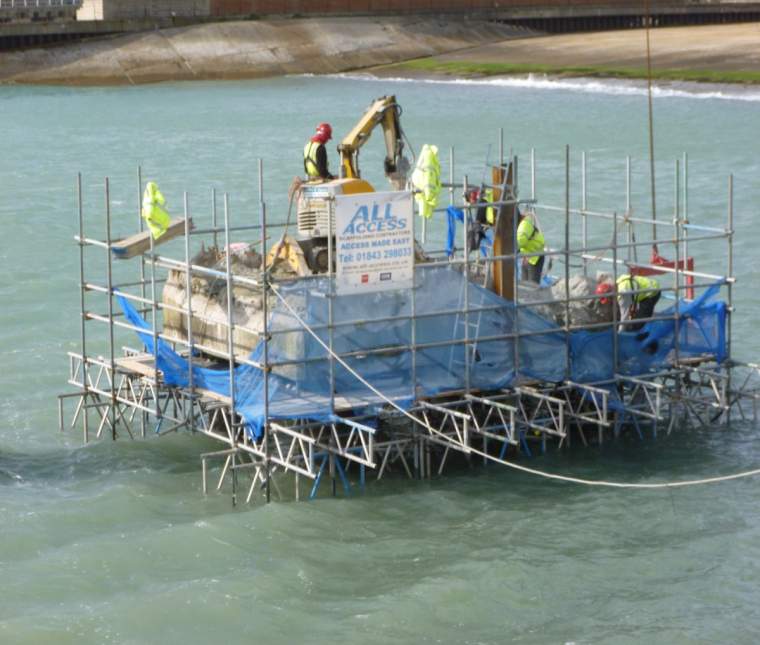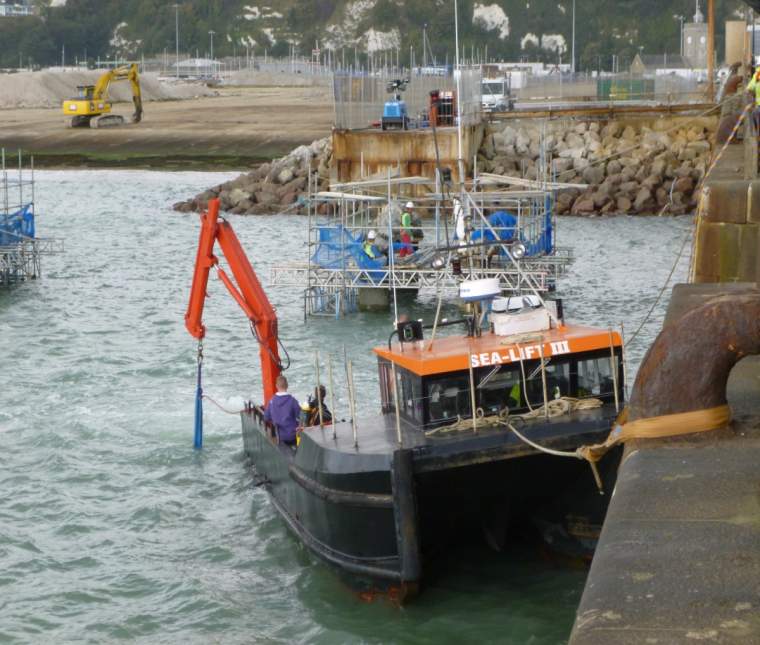 Friday, 10 October 2014 - 21:57
Post 1203
PaulB, Sea News, Dover.
Port of Dover commits £¼ million to launch community fund
________________________________________________
The Port of Dover is delighted to announce that it has committed £¼ million to launch the community fund.
The fund will also benefit from an ongoing annual contribution of 1% of pre-tax profits.
Tim Waggott, Chief Executive, Port of Dover, said:
"We have been working hard to establish a community fund for Dover and have positively engaged with our community on how to make it really effective. I am personally very grateful to the Bishop of Dover, the Right Reverend Trevor Willmott, for his guidance and input and offer my sincere thanks to all those who have given their time to help us move forward in delivering a key element of our shared vision for Dover."
The Bishop of Dover, Right Reverend Trevor Willmott, said:
"People are passionate about Dover and are passionate about how this fund should be used. We must come together to ensure that Dover receives the best opportunity from this significant new fund which the Port is establishing together with its community. I am delighted to be playing my part in guiding this process on to make sure this happens. "
Ends
* *
Good news for the community above. Moving forward together.

All this talk of money has prompted me to use this photo taken on Wednesday evening. My personal leprechaun tells me regularly that there's gold at the end of the rainbow. So there must be stacks of it onboard the Pride of Kent. I'm off, shovel in hand, to join the search for treasure. Although why I would need a shovel onboard the Pride of Kent I don't know but its an obligatory piece of equipment for the gold prospector!... The featured picture shows that brief moment in the midst of all the horrible weather when the late sun bursts through, creating strange intense colours and...yes...the magical rainbow.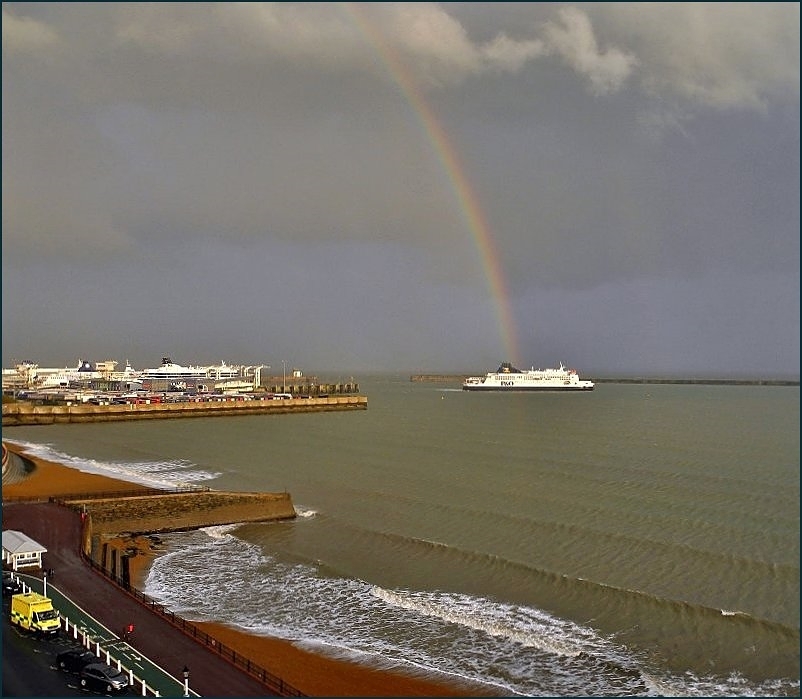 Friday, 10 October 2014 - 07:14
Post 1202
PaulB, Dover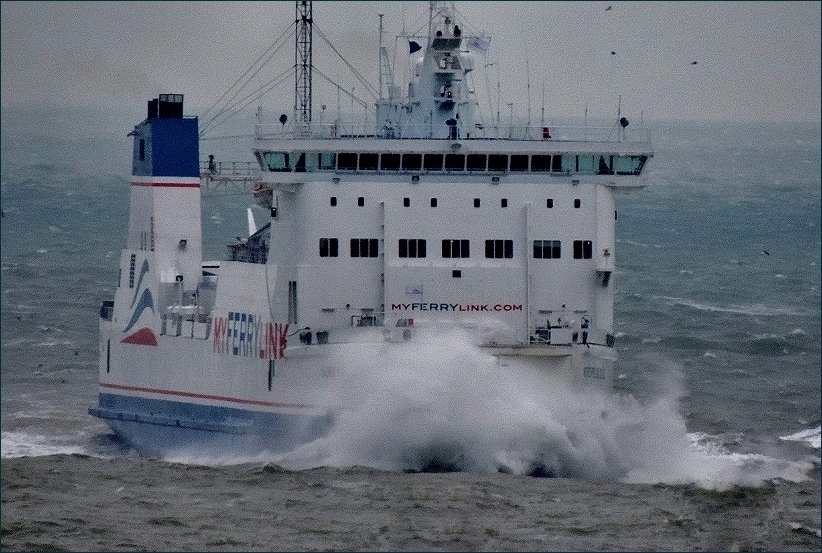 A rough oul day again yesterday and probably with more to come today. Took the pictures shown at different times of the day yesterday, and conditions didn't improve much if at all as the day wore on... and today once again it looks a tad dismal ( a master of the understatement). Perhaps not the best spell of weather to take advantage of the offers from the Ferry Companies...not for bringing your granny over perhaps. As they say in pubs everywhere...'beware the mal de mer'

Top shot shows the ever busy Nord Pas de Calais which of course is a freight only vessel with MYFerryLink. A hard working vessel too and seems ever popular with the truckers. Below we have another pic from yesterday, this time from the afternoon which was perhaps a mite less rough, and we see the old favourite Calais Seaways again... battling homeward. Look at that crewman right on the bow and up at top right you can see the Captain (?) checking out the angle of lean !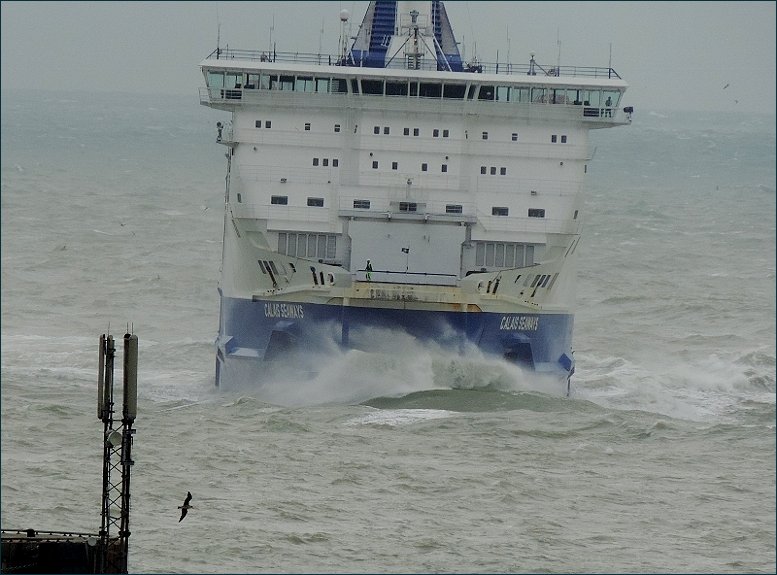 By the way Mike...meant to say, that was a great piece of film of the Norman Spirit/Calais Seaways approaching the harbour. You have to be full of admiration for the crews when you see that. Easy to see it too... I just copied your link in post 1129 and placed it at the bottom of page in Windows 8.1 and it does the rest...no need for the http:// bit.
Blimey Colette I mustnt be getting out enough...yours truly hasn't been to either Lille, Bruges or Amsterdam..

Thursday, 9 October 2014 - 06:58
Post 1201
ColetteB, Dover
Terrific Ferry photos there Guys & with some great deals for half term too

I love Lille, Bruges & Amsterdam, I remember doing these with my daughters on school breaks when they were younger, sweet memories. We actually done Bruges again not so long ago

Wednesday, 8 October 2014 - 14:54
Post 1200
PaulB, Sea News, Dover.
From DFDS SEAWAYS - Join the 12.5 million British people taking multi-generational holidays from just £35 each way for a short break to Europe for a car+9 passengers
If you're stuck for ideas for the family this autumn, then a short hop across the Channel with the kids and their grandparents could be just the ticket. And with ferry travel from Dover-France with DFDS Seaways starting at just £35 each way for a car and up to nine passengers for a short break, you needn't go overboard on the cost!
Recent research shows that a third of the 12.5 million people who go on a "3G" holiday with at least three generations travelling together, find it more enjoyable than a conventional holiday. The vast majority (80%) of those surveyed said having multiple generations together had a positive impact on their break away.
Max Foster, passenger director at DFDS Seaways, said: "Taking a trip to France, Belgium or Holland can be a great way to spend a fun family time together. There are some fantastic places to visit on the other side of the Channel, and in under an hour's drive from Dunkirk you could be sitting down to a delicious family lunch in a local French restaurant in Dunkirk or Lille, or sampling Belgian chocolates and beer in Bruges.
"For those living further north, a two-night mini cruise to Amsterdam could provide the perfect mix of historic sights, culinary delights and adventure for all the family."
We have listed below some of our top family-friendly destinations for your trip:
· France – Dunkirk boasts a unique combination of traditional Flemish cooking and excellent seafood, as well as 15km of sandy beaches, offering an ideal family trip for kids, parents and grandparents alike.
· Belgium – At under an hour's drive from Dunkirk, and around an hour and 20 minutes from Calais, Bruges is not only 'choc full' of culinary delights, it is also one of the prettiest cities in Europe, with the state of the art, interactive Historium museum, complete with special effects designed to catapult you back to Bruges' Golden Age in the mid-15th Century.
· Holland - Amsterdam Zoo is a great place to visit in the heart of Amsterdam, with over 900 species of animals and more than 200 species of trees to see. It is the oldest zoo in Holland and offers a selection of zookeeper talks and guided tours. DFDS Seaways offers a dedicated mini cruise, offering entrance tickets and return transfers to the zoo with two nights onboard accommodation as part of the package.
DFDS Seaways operates up to 44 sailings a day between Dover and France, as well as two daily sailings between Newcastle and Amsterdam. All DFDS Seaways ferries are equipped with a range of high quality onboard facilities so your break starts as soon as you board the ferry. The cruise ferries, which sail on the Newcastle-Amsterdam service, also offer passengers a range of comfortable cabins to relax in during the overnight crossing.
To find out more or to book your trip visit www.dfds.co.uk. Crossings from Dover-France with DFDS Seaways are available from just £35 each way for a car and up to nine passengers. Mini cruise deals on our Newcastle-Amsterdam route start at just £39.50 per person, based on five people sharing a family cabin.
DFDS Seaways operates sailings between Dover-Dunkirk, Dover-Calais, Newhaven-Dieppe, Portsmouth-Le Havre and Newcastle-Amsterdam.
Ends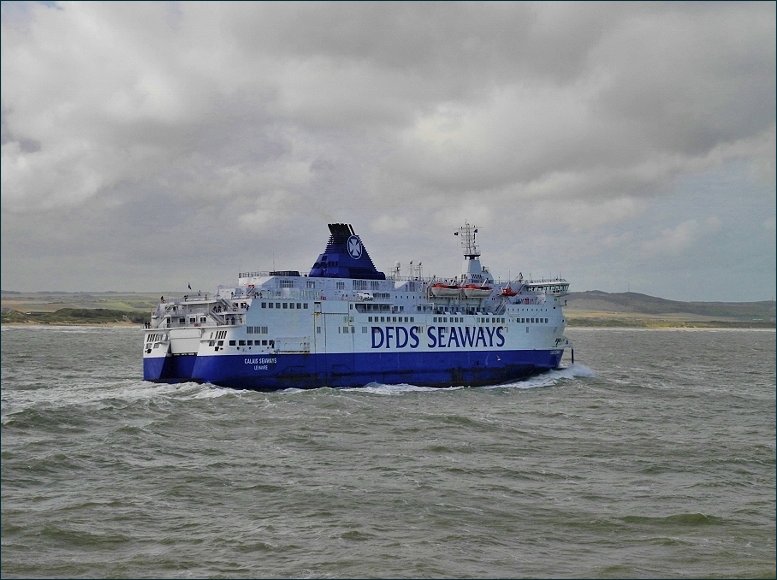 Many thanks to DFDS Seaways for the information above. Pictures added to the info from the Sea News files.
Both pix taken recently. The Delft Seaways top of page and the Calais Seaways immediately above.
Picture below shows one of the rainbows yesterday..a by-product of the turbulent weather. Brrrrr...
Nice pictures Ed. Great to get the close up of the Atlantic Klipper and most definitely an unusual one of the Dunkerque Seaways.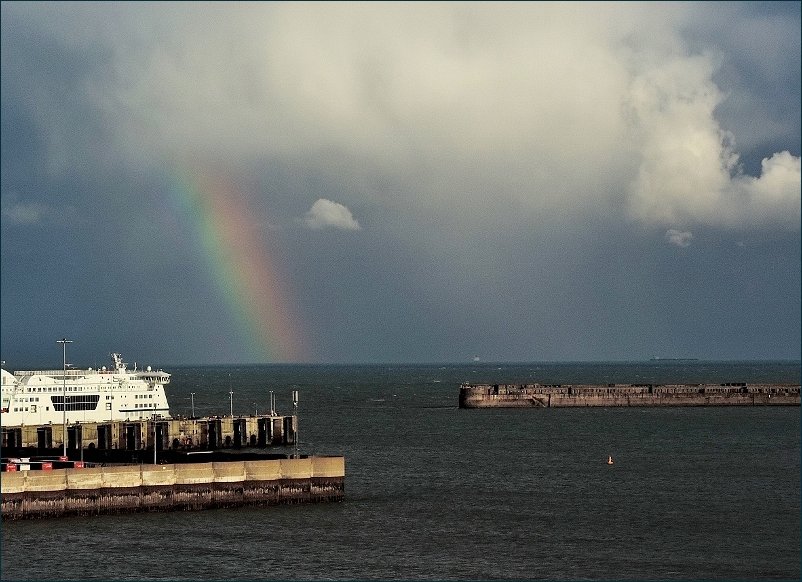 Wednesday, 8 October 2014 - 07:49
Post 1199
Ed Connell, Dover
This is the Dunkerque Seaways entering as viewed from Port Control. I enjoyed a look round a couple of years ago with members of Dover Ferry Photos but we were asked not to post any photos. Guess this one is OK unless the pot plant is on the secret list.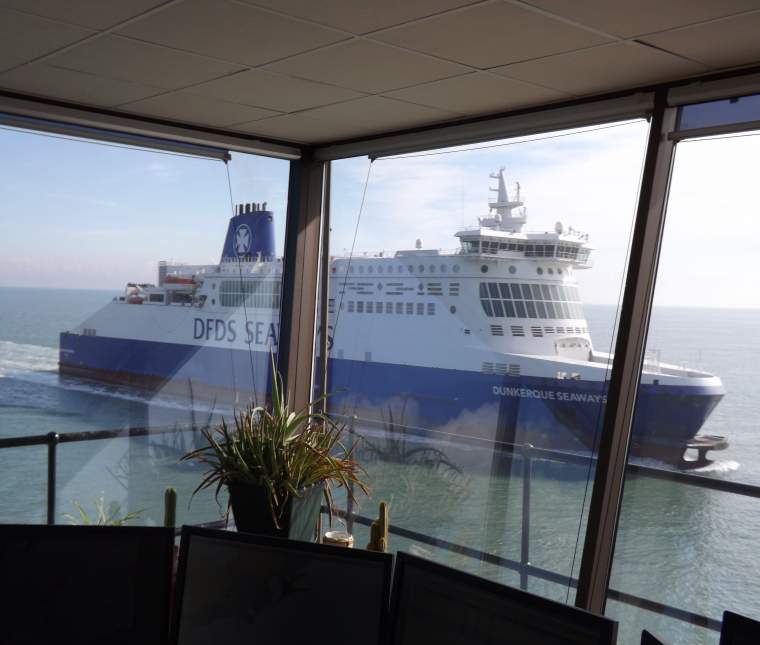 Here is a cargoship I forgot to put on weeks ago but shall add now as think she had not paid a visit before. Atlantic Klipper at the DCT on 22nd September.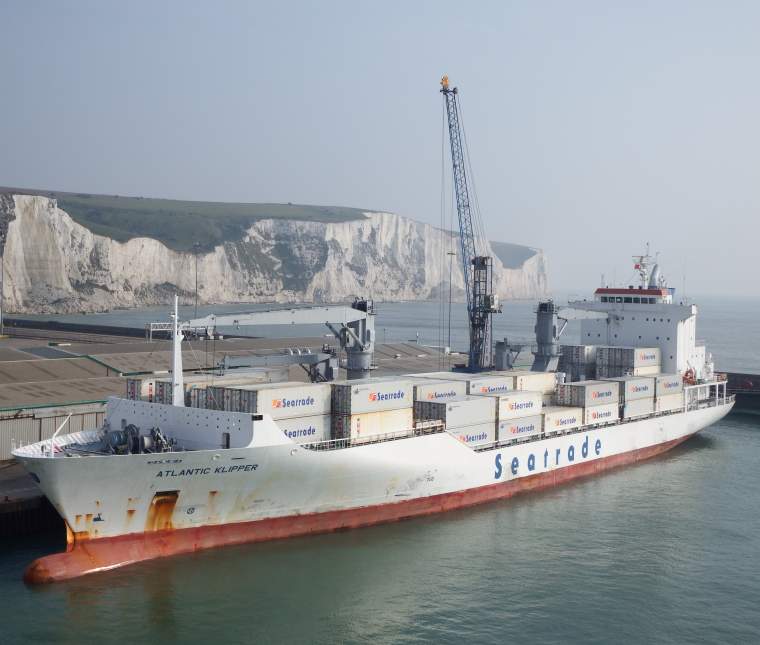 Tuesday, 7 October 2014 - 08:29
Post 1198
PaulB, Sea News, Dover.
Running a little late with this one. To get the offer book now....see the details below.
Many thanks to MyFerryLink for the info as ever.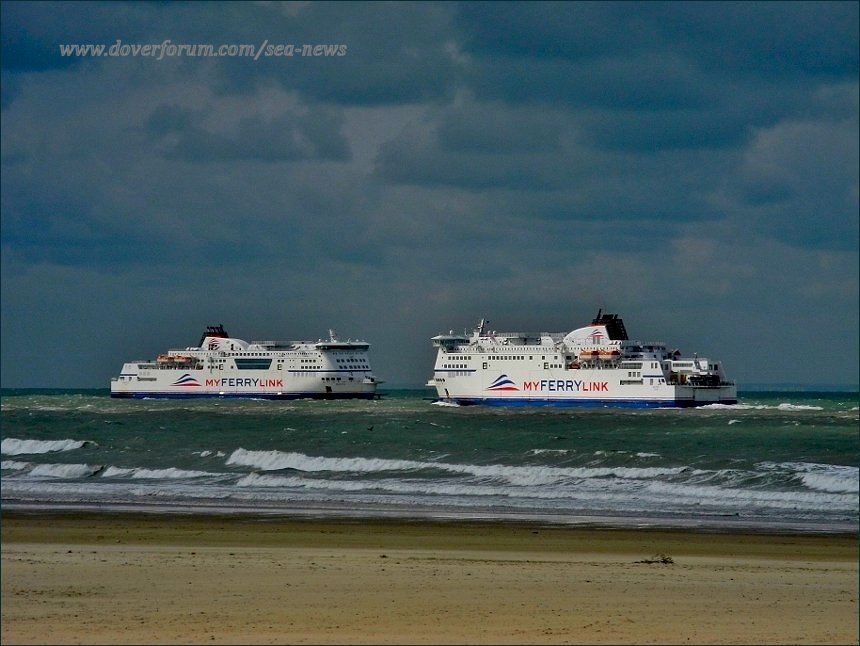 KIDS EAT FREE ON BOARD MYFERRYLINK
Book now and receive a free "François Ferret the chef" cuddly toy
Dover-Calais ferry operator MyFerryLink is offering families travelling during October half term free children's meals in its onboard restaurant Le Relais and an exclusive free soft toy of its mascot, François Ferret.
This offer is valid on crossings between 23 October and 2 November 2014, subject to availability, and must be booked before 8 October 2014 using the offer code HALFTERM. For each adult meal purchased (main course, dessert and drink) a child's meal will be given free. An alternative breakfast option is available on morning crossings. In addition, families who book the half term kids' meal offer will also receive a complimentary MyFerryLink cuddly toy – an exclusive François Ferret, complete with chef's uniform!
Le Relais is a family-friendly self-service restaurant offering a range of delicious French and international cuisine for the whole family to enjoy, all prepared on board by MyFerryLink's chefs. The Relais' seating is situated adjacent to the children's soft play area, meaning that parents can relax whilst kids run off their meal, and there are also microwaves available for warming up babies' bottles.
MyFerryLink operates up to 16 daily crossings on the Dover-Calais route. Fares for a car and up to nine passengers during October half term start from £35 each way, with special offers often available online.
To find the best fares, visit www.myferrylink.com or call 0844 2482 100
Tuesday, 7 October 2014 - 07:47
Post 1197
PaulB, Dover
Thanks Mike - will have a look at that link.
Forgot to mention, the ferry in the picture (1128) is the Dunkerque Seaways.

Tuesday, 7 October 2014 - 07:25
Post 1196
Mike J., Dover
PaulB -

Excellent photo of the DFDS heading for the 'Hole in the Wall'

For a most impressive video of the CALAIS SEAWAYS, when she was sailing as the NORMAN SPIRIT for LD Lines in 2012, coming in on a very rough day,
try this link

www.youtube.com/watch?v=Hv7iOuYwHi0

To get the link to work you'll need to put 'https://' in front of it.


Tuesday, 7 October 2014 - 00:12
Post 1195
PaulB, Dover
No room for error...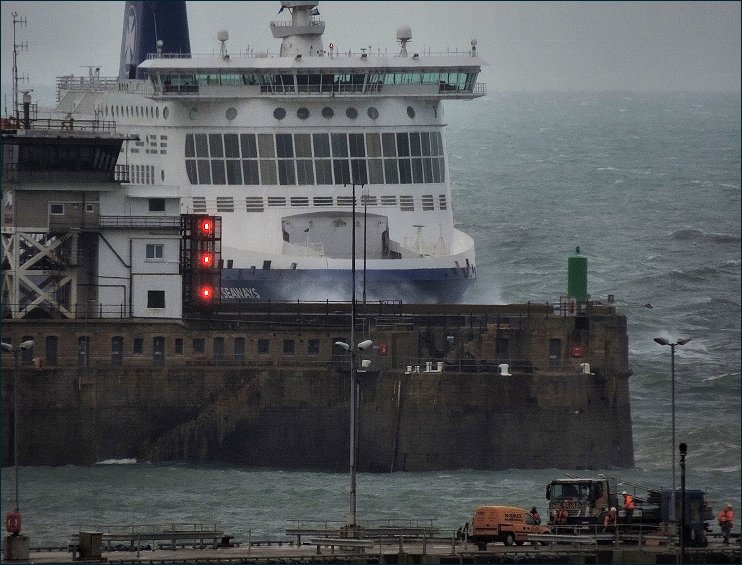 Its a rough oul day and no mistake. But the work goes on..
Monday, 6 October 2014 - 15:27
Post 1194
PaulB, Sea News, Dover.
Appointment of new Head of Marine Operations
_____________________________________
The Port of Dover is delighted to announce the appointment of Steven Masters as the new Head of Marine Operations.
Steven, a resident of East Kent, comes to the Port from Disney Cruise Line where he has held the role of Marine Operations Manager. He was previously Marine and Port Manager at Kent-based Saga Cruises.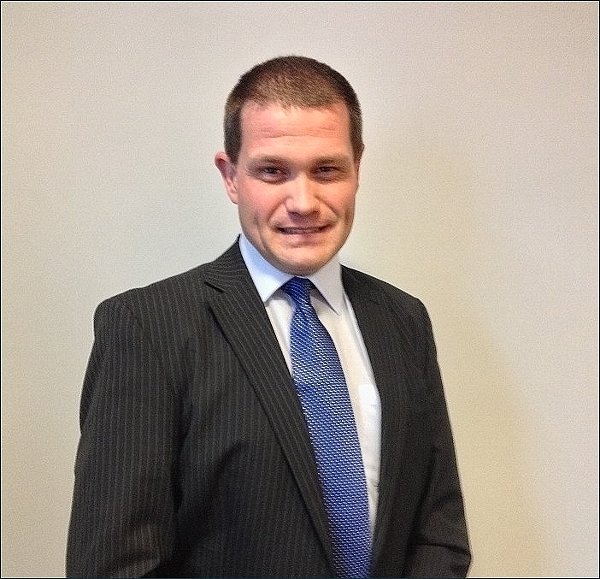 Mr Masters said:
"It is marvellous to return to my local area having gained some wonderful experience with some of the great cruise lines that have also called Dover their home. As a previous customer of the Port, I am now looking forward to utilising this insight to further enhance the fantastic customer service that the Port already provides.
"Living locally, I am aware of all the major development plans and the shared vision being developed in Dover. These are exciting times for the Port and Dover and I am thrilled to be coming on its journey."
Tim Waggott, Chief Executive, Port of Dover, said:
Steven brings with him a wealth of experience from some of our most valued customers. This will help us to develop and improve our product even more through a greater understanding of our customers' needs. I and the whole organisation welcome Steven as he joins team Dover."
Ends
* *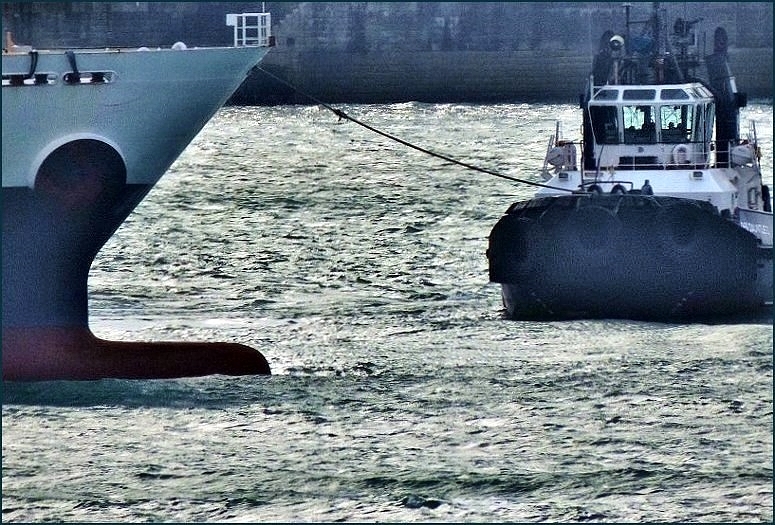 Some additions here of the tugboats in action over the weekend. Both Doughty and Dauntless into the fray. The ship featured here is the Caribbean Star both coming and going. Arriving in the top shot and departing in the two below. Soon after she left the Hellas Reefer arrived keeping the cargo flow going in fine style.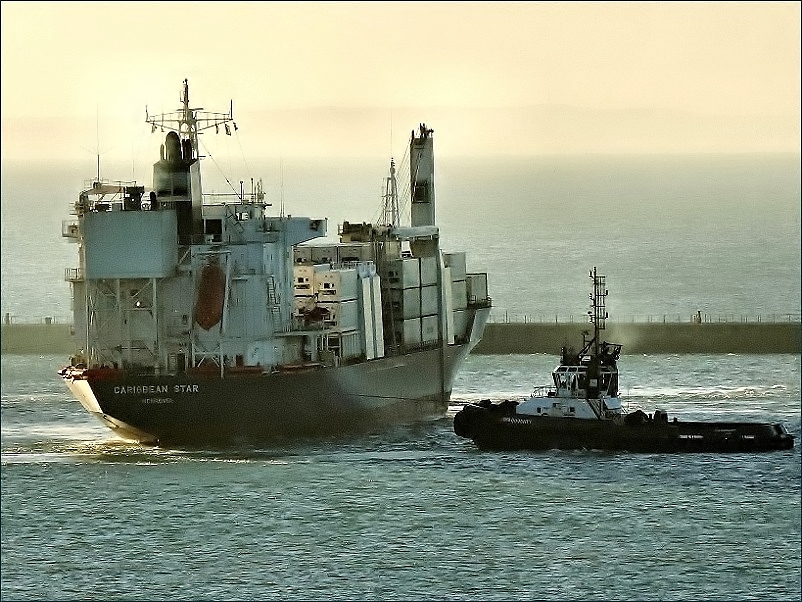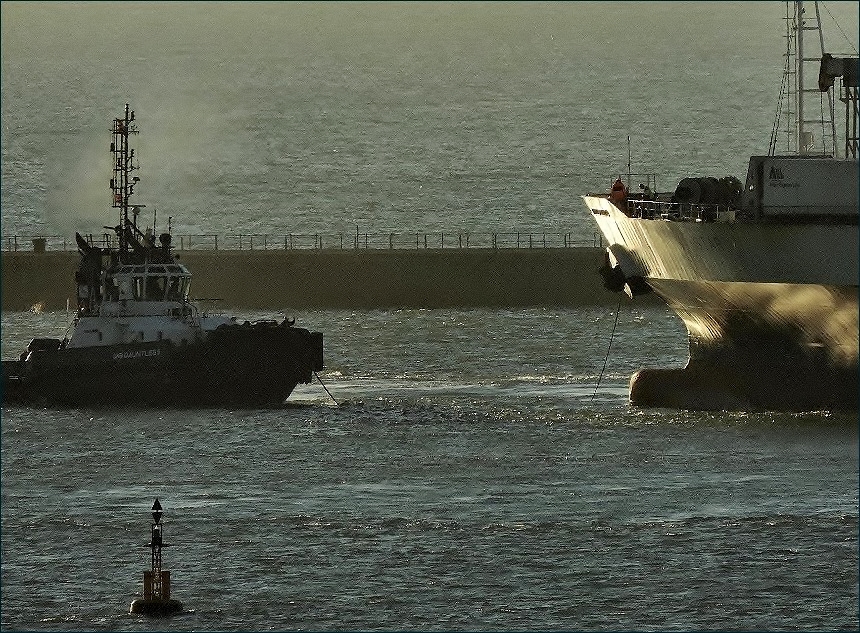 Monday, 6 October 2014 - 07:36
Post 1193
PaulB, Dover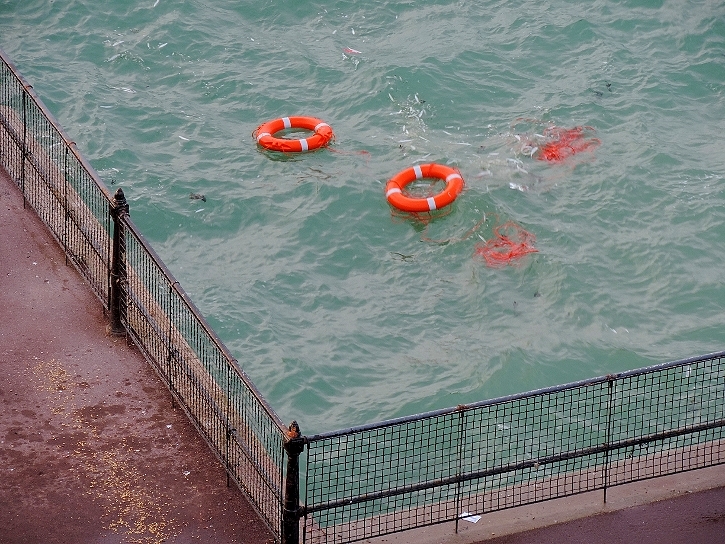 Two lifebelts were seen floating in the water on Saturday morning...how they got there heaven knows. Whether it was the result of some raucous activity or just accidental mishap..who knows. But there they were. Wthin minutes the Harbour Patrol vessel turned up. It is brilliant how these guys spot even the smallest tiny detail within the harbour...they sure don't miss much. Then with grappling hooks to hand..one of the guys leapt unto the pier and sought to retrieve the floating objects of value.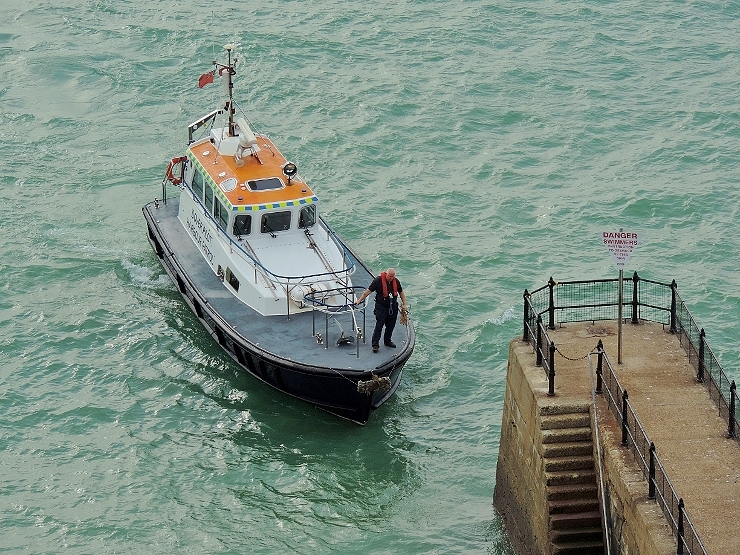 Above you can see the boat moving slowly into position while the waves roll them back and forth.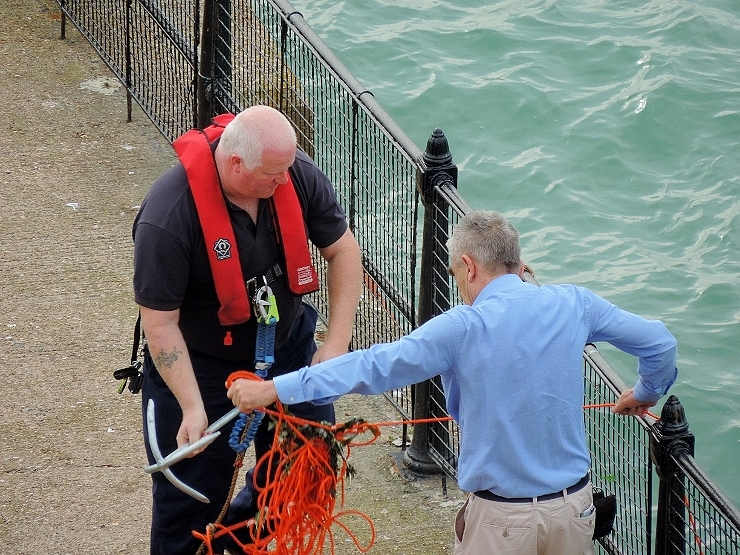 Then suddenly alongside the chap from the Harbour Patrol Boat was none other than Tony Hawkins of RNLI Lifeboat Dover fame and between the two guys they retrieved the items with the grappling hook. One assumes Tony was just a casual passer by so a well done to Tony. Well done those guys all round.
Then with the belts under their ermm belt...the guys on the Harbour Patrol Boat unleashed some raw power in the pic below as they sped off.
That boat knocks out some power I can tell you....whoooosh!!
ace

Sunday, 5 October 2014 - 06:08
Post 1192
PaulB, Dover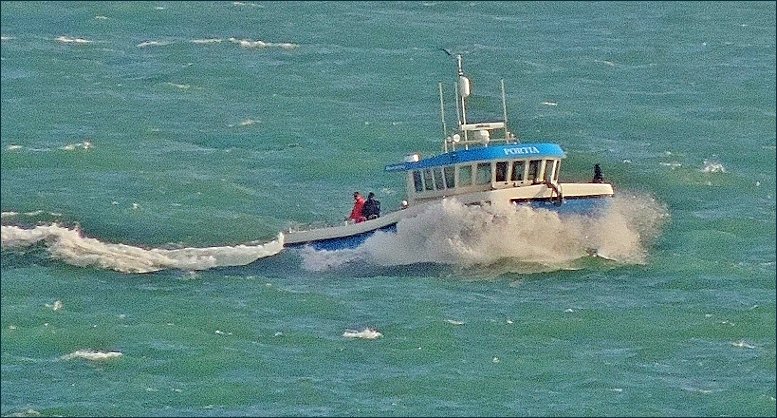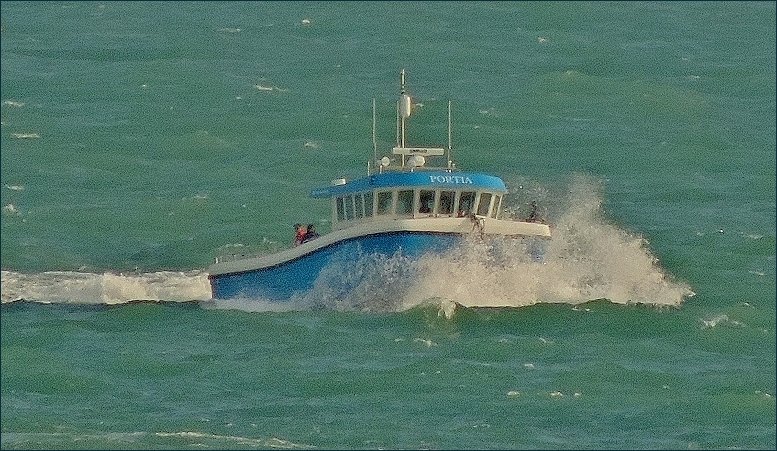 Some long range pictures here of the fishing charter boat Portia returning to base a couple of evenings ago. She clearly had been out for a days fishing in the well stocked channel. Initially it wasn't clear to me if this was a working service vessel approaching but a bit of research told otherwise. We may have featured the vessel before but it would have been a while back. Although it was by all accounts a lovely evening, the sea was more than a bit rough as you can see...appearances can be deceptive out there on the water.
Here is a little bit more about the vessel...
"
Portia is purpose built with many extra features, island wheelhouse giving all round fishing positions, Cummin's engines providing 900HP, cruise 18-20 knots top speed of 30 knots, fully silenced exhaust's, sound insulated engine rooms, flexible mounts on engines and shafts - all giving a smooth quiet ride. Engine intakes funneled through wheelhouse roof eliminating engine noise and smells onto deck area, moulded fins between hulls giving greater stability at speed, comprehensive electronics package including Simrad sat compass giving the most accurate position available on the market, making wreck fishing spot on! Only charter boat in the harbour to have this. Commercial vessel built to seafish certification and part 1 registration, 10 watertight bulkheads throughout making an extremely safe and strong vessel.
"
if you fancy a bit of wild fishing or even tranquil fishing you can contact the local team via Google or Bing. Just type in Portia...marina parking is great in Dover too, right next to the vessel I understand. So there you have it ...get yer tackle out !
I tried a bit of extra close cropping in the pic below but with only limited success..
Saturday, 4 October 2014 - 06:31
Post 1191
ColetteB, Dover
From 'A New Dawn' (luvin that pic above) to dusk there is never a dull moment down at Dover Seafront from German Warships a passing to Dredgers at work not to mention those oh so cute ship watching foxes. I bet they are watching you watching them MrB

Friday, 3 October 2014 - 17:41
Post 1190
Vic Matcham, Dover
Thank you Paul for letting it stay for all to read.
Going back to myself just maybe I should have gone for the post because I would have done it without any payment for myself. It is just some kind of payback because I have had a great life in Dover with my family and our family history going back to the 1500s .

Again great photos of the port and what ships go by and call,

and the foxs
Friday, 3 October 2014 - 11:24
Post 1189
PaulB, Dover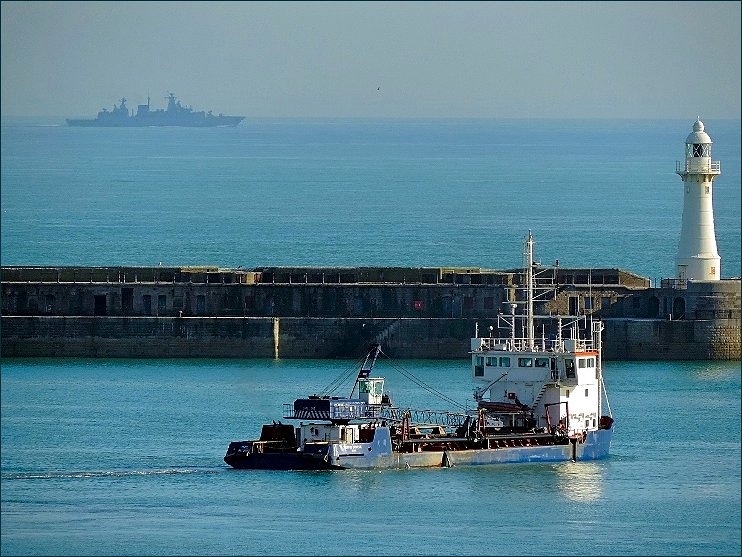 This is essentially a picture of the German warship Bayern, I believe its a Frigate, moving down the channel last evening. Yours truly was trying to get a closer shot of it but alas it was impossible in the misty poor long range visibility. So when the dredger David Church moved into the immediate view the picture was complete. I know nothing about military history so wouldn't profess to spout further other than to say I understand there was a German class of battleship at the time of the first world war called the Bayern-class battleship. This however is clearly the modern Bayern, I know this thanks to our channel traffic info on our sister page Dover.uk.com.. but.. other than that...( and it has nothing at all to do with that other well known Bayern...Bayern Munich !

!! )
And now by way of a bit of light relief and some total frivolity for a friday...I saw these guys watching the ships the other evening...just 50 yards across the way from the left wing of my observation tower. They were doing some ship-watching, then in turn doing a bit of funpacked frolicking, then a bit of hi-octane scratching and biting, then a bit of yawning, then back to a bit of ship watching...etc etc..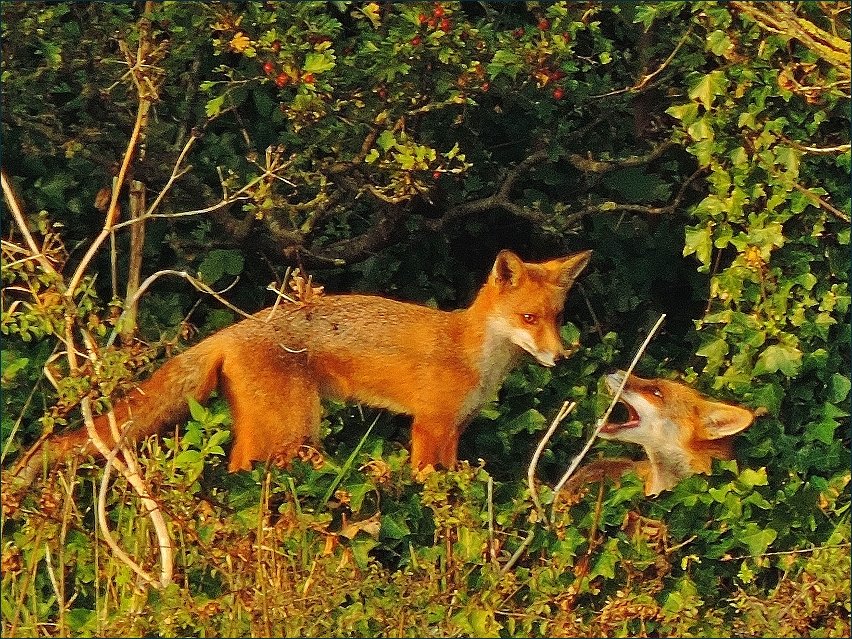 Interesting comments Vic. I am sure all the relevant players will have seen your input there and will take the comments onboard.
These are exciting times for the Port indeed ( see more in post 1119)
Friday, 3 October 2014 - 07:15
Post 1188
vic matcham, Dover
The post should not go to Mr Neil Wiggins as a non-executive of the D.H.B.because from day one he was against the port staying in the hands of the D.H.B. AND now like the MP is jumping ship,my old saying is "you can not run with the foxs AND hunt with the hounds.Why should the D.H.B now pay him to over see anypart of the upgrade of the Port ,after he was one of the main leaders that slowed this from happing in the first place.
I get on well with Mr Wiggins and he knows only to well how I feel about it.
Yes I would have liked to had ago for the post myself but do not have the brain for that.

Thursday, 2 October 2014 - 07:44
Post 1187
vic matcham, Dover
The D.H.B. plans are very good. If the Port had gone in any other way (1) like the public of Dover port plan which was never going to happen anyway. We would have seen the port nose dive because there would not have been the cash about to pay for any upgrade of the port ,with paying back a big loan+giving the town the £50million they said would happen
it was a nonstarter from day one and the party in power was thinking the same.
Dover MP was just jumping on that ship to get votes if it happened ,as it did not happen he has now jumped ship again and backing the D.H.B. just to keep his seat in the house of power . Anyway the best is going forward now but at my age I might not be around to see it to the end.
Thursday, 2 October 2014 - 07:34
Post 1186
PaulB, Sea News, Dover.
A DOVER HARBOUR BOARD SPECIAL........
Dover Harbour Board's biggest ever investment in Dover starts now

________________________________________________________
A momentous day for the future of the Port and the fulfilment of a promise to deliver for Dover, today Dover Harbour Board has agreed to move forward on the first substantial phase of works to transform the Port through its Dover Western Docks Revival project.
Representing an initial and major part of the biggest single investment that will have ever been made by the Board in Dover and its port, tenders are being invited for construction companies to get involved in one of the most exciting development opportunities in the region.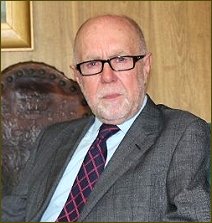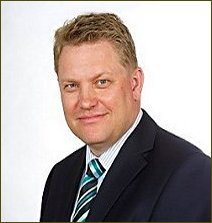 George Jenkins OBE, Chairman of Dover Harbour Board, said:
"Today's positive decision is a bold one that demonstrates the Board's commitment to deliver for Dover. It is far sighted and reflects the shared vision that has been created by the Port, together with its customers and community to create long term prosperity for Dover and for the nation."
Tim Waggott, Chief Executive, Port of Dover, said:
"I am absolutely thrilled by this decision. It represents a further investment of up to £120 million in Dover and the employment prospects of current and future generations of local people over the next few years. The message today is that we are 100% for Dover, we are putting our money where our mouth is and we very much hope that this will give others the confidence to do the same.
"The studies have been done and the conversations have been had with our customers, with our community and with our staff. Now it is time for action. Now it is time to deliver for Dover."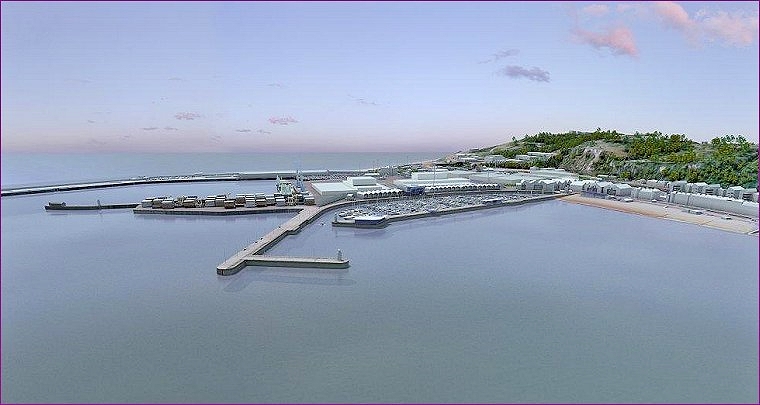 Above...The Vision.
Portrait pictures above: George Jenkins OBE left. Tim Waggott right.
Ends
* *
Community Director
________________
Dover Harbour Board has announced that it is delighted with the recent interview process in respect of an upcoming non-executive Board role.
There was considerable interest in the position with a number of high quality applications from some very strong candidates.
The interview panel has unanimously agreed to invite some of the candidates to participate in the next stage of the process. This will involve a second meeting, this time with members of the Dover Harbour Board Nomination Committee only, before they make a referral to the independent representatives for a final recommendation.
The independent representatives who will make the final recommendation include the Leader of Dover District Council, the Deputy Mayor of Dover, the local MP, and the Chairs of the Port & Community Forum and Port Users Group as well as the Chair of the South East Local Enterprise Partnership.
It is expected that the new Board Member will take office in January 2015.
Ends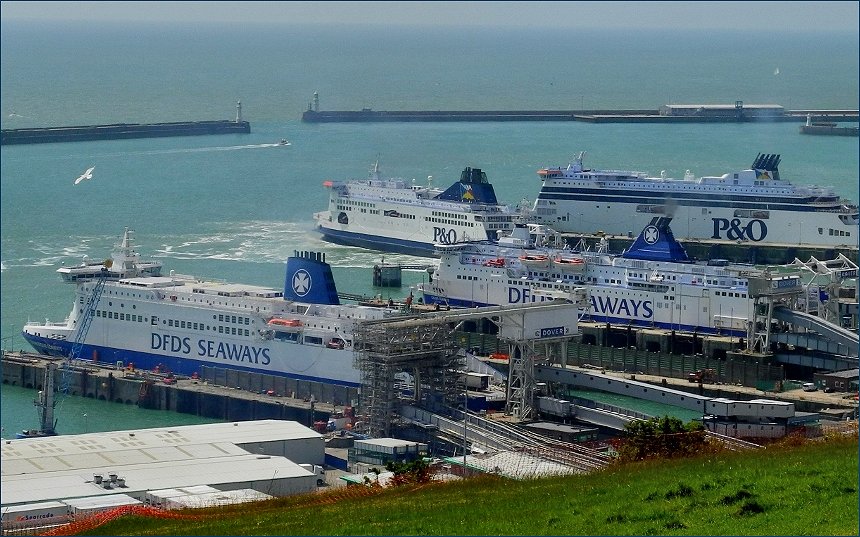 The Port of Dover is always busy but has been exceptionally busy over the past few days with big volumes of traffic.
Thursday, 2 October 2014 - 06:42