Monday, 1 June 2020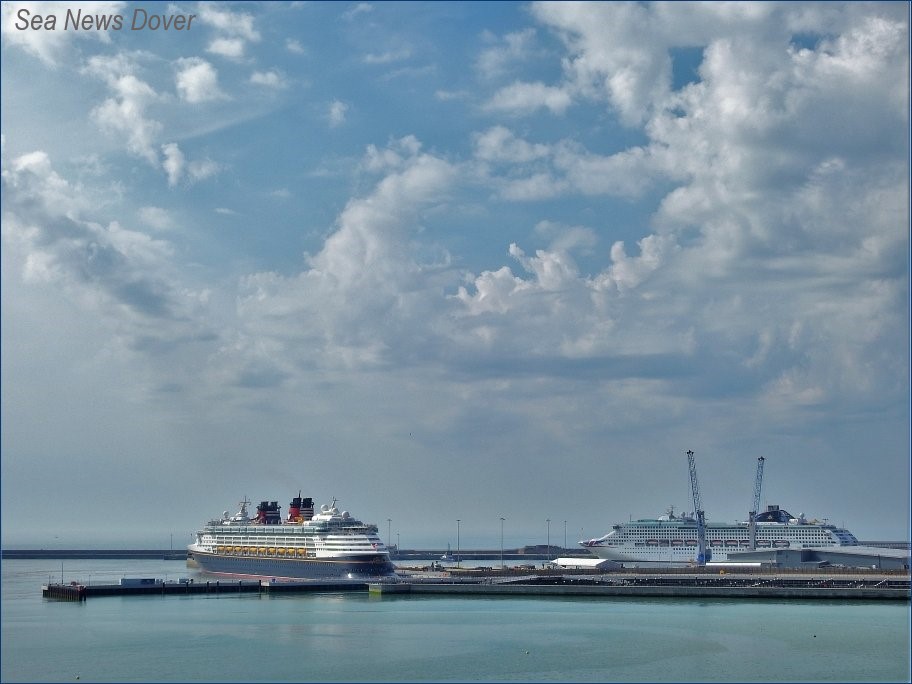 Big Sky over the Port of Dover with Disney Magic and Oceana.
And zooming in on Disney Magic below....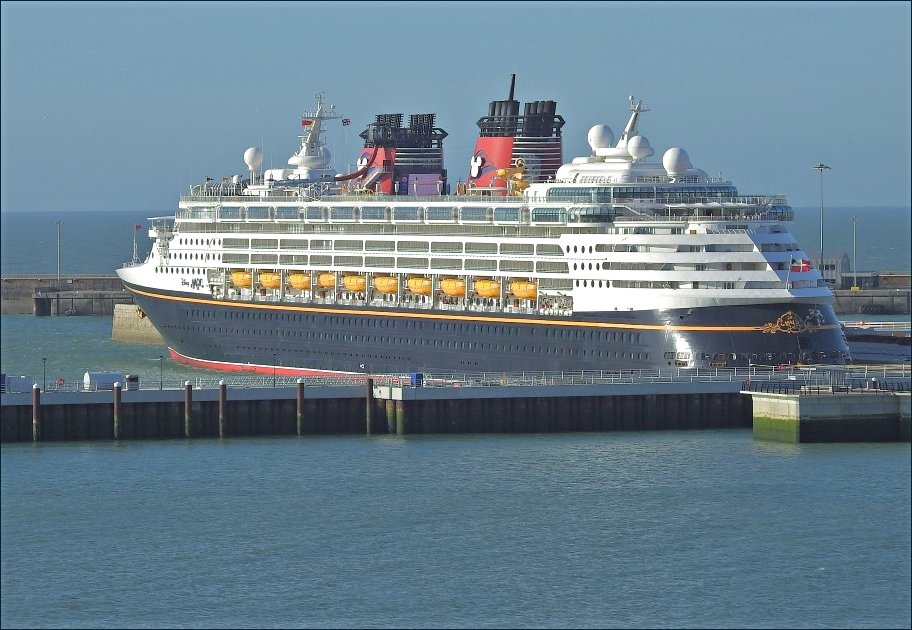 WWW.DOVERFORUM.COM/SEA-NEWS
Sea Pictures from DOVER: Featuring all the ships that come and go and work at the Port of Dover ..
... with some further coverage of the surrounding ports.
Sea News Dover
Use our SEARCH ENGINE below to find all sorts on the SEA NEWS pages....type in the topic and away you go,
or if you have the post number, just type it in the Search Box, more than
- 7000 -
nautical posts now.
Posts are welcome. just click 'Add Your Comment' below.
Upload a Max of 5 pictures....Many Thanks.
Sea News Editor Paul Boland - send info or pix to dover7@msn.com. Always welcome.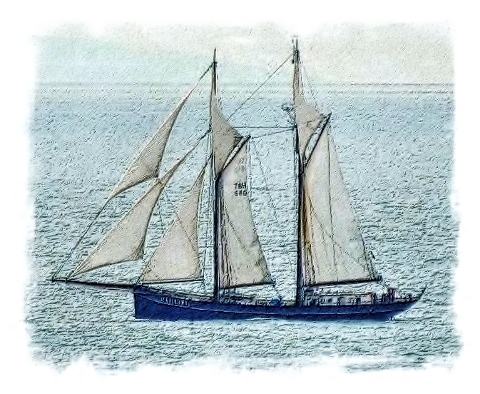 Headlines....
REGATTA CANCELLED see post 7012 below..
Doug Bannister: Open Letter re Covid-19 Critical Supply from Port of Dover CEO 6968.
PORT OF DOVER donates £40,000 to Coronavirus Fund see 6923
P&O FERRIES 1100 staff laid off and Furloughed to HMG scheme , see 6909.
P&O Ferries secure vital flow of goods, medicines...see below, post 6901.
DFDS Coronavirus announcements below see post 6880 and 6885.
P&O Ferries present record breaking cheque to Dover Lifeboat...post 6874 below.
P&O Ferries - European Expansion 6867
Hurtigruten and the Port of Dover see 6857...see also pictures in 6856 and 6859.
See SCARLET LADY pix.. FIREWORKS too..type Scarlet Lady in our SEARCH box below..
DFDS Refit Investment...luxury lounges 6821.
P&O FERRIES - POST BREXIT travel info below 6780.
P&O NEW FERRIES Images below 6775...
Port of Dover, DFDS, P&O say...Travel with Confidence from Dover.. see 6786 below.
Visit us here in White Cliffs Country see 6772
Natalie Elphicke MP - thoughts post Brexit 6784
Just type the post number from the listed Headline in the Search Box below.
Port of Dover Cruise Calls:
http://www.doverport.co.uk/cruise/find-a-cruise/
To show your pictures at their best..it could be worthwhile resizing before posting to
860
pixels wide. Our new standard size.
All pictures on these pages are the copyright of the owners and must not be reproduced without permission.
Post 1146
PaulB, Sea News, Dover.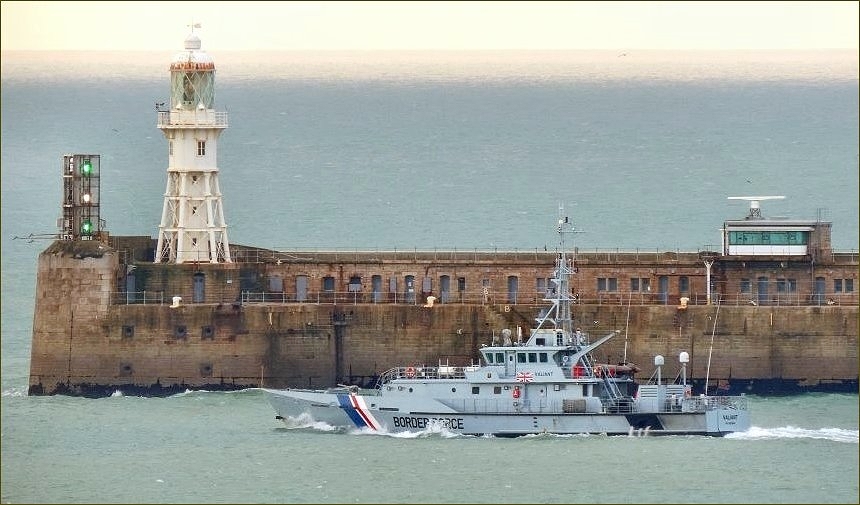 HMC Valiant of the UK Border Agency is seen here powering out into the channel to do battle for yet another day, keeping our borders safe from the intruder.....pictures once again from a busy sunday morning...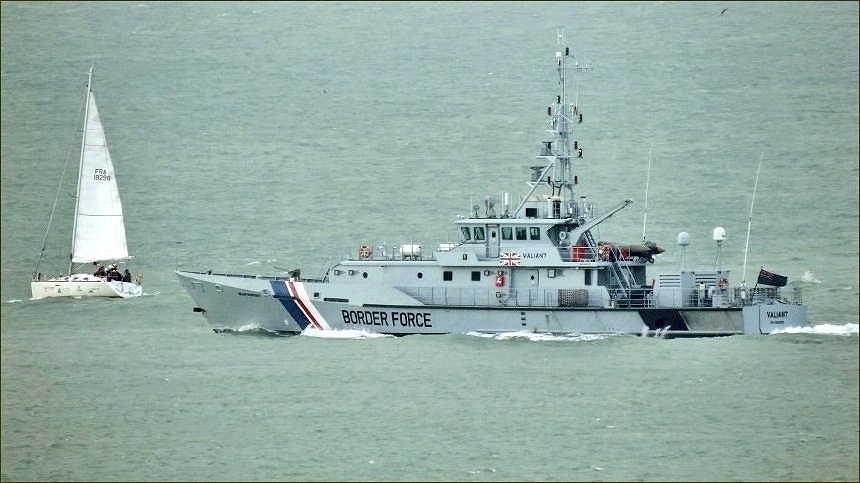 * *
Paul Watkins and KCC not at one over truck park suggestion, but what to do with them all...
LEADER EXPRESSES CONCERNS
AT LORRY PARK PROPOSAL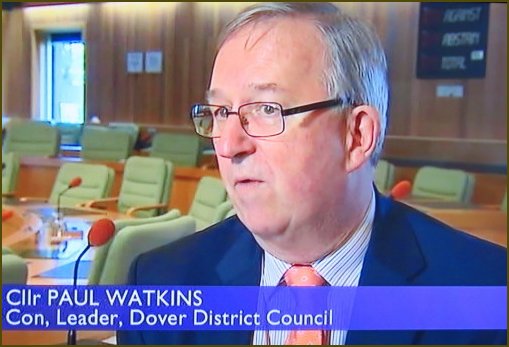 The Leader of Dover District Council has expressed concerns that the White Cliffs Business Park has been identified as one of three possible sites for a potential lorry park, in a recent report by Kent County Council.
Cllr Paul Watkins, Leader of Dover District Council, said: "We have serious concerns that this proposal is not appropriate for this site. With growing investor interest in the business park, and with the nearby housing development, this use does not sit comfortably with the Council's wider growth and regeneration agenda, and would not make best use of this land. It is also entirely inappropriate to consider a lorry park on the A2 route in advance of improvements to the route, which DDC has been lobbying for over many years.  
"Although this proposal may not be seen as an immediate priority for Kent County Council, we are concerned that a lorry park of this nature could impact on investor confidence, and create uncertainty in the locality, whilst also prejudicing the nearby facilities operated by Priority Freight."
- ends –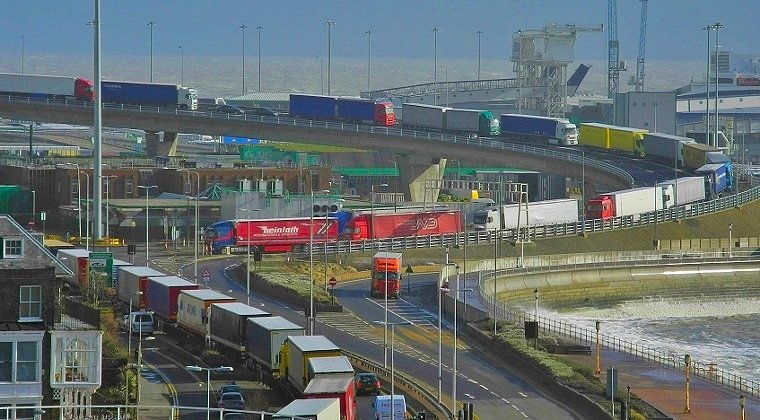 Tuesday, 16 September 2014 - 06:42
Post 1145
ColetteB, Dover
That Swedish sailing ship is a real beauty for sure, nice photo despite the cloudy conditions. I do love the little 'Red Sails in the Sunset' one at the top of the page

Monday, 15 September 2014 - 12:27
Post 1144
PaulB, Dover
This magnificent sailing ship went down the channel yesterday morning sunday...made quite a sight..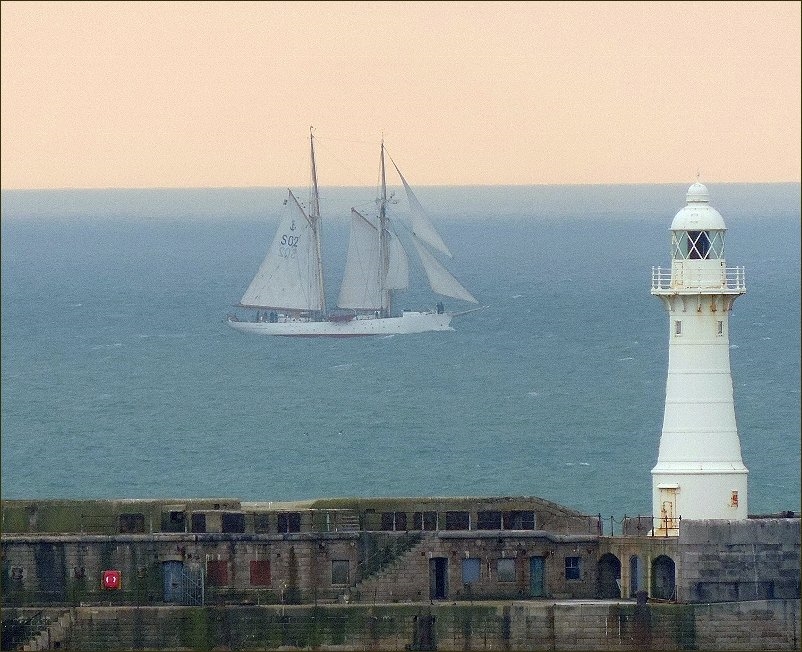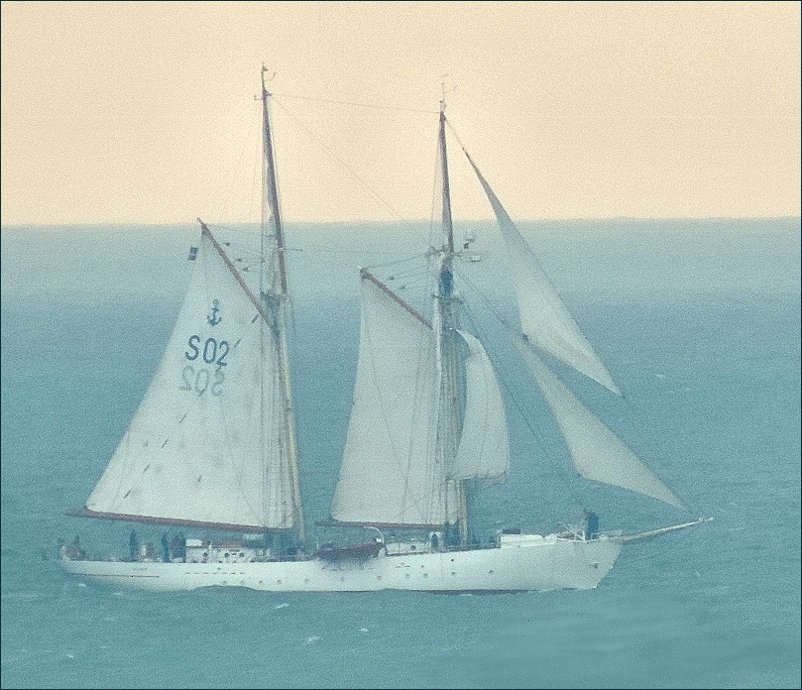 She is a Swedish sailing vessel called HMS Falken ( means falcon in English I guess ). While she was gliding gently by yesterday morning we had disappointingly heavy cloud cover, I say disappointing as most of the day was beautifully bright, so the pictures suffered a tad as a consequence. I don't know much about the ship other than the fact that she was heading for the Channel islands...Alderney . Will add some info later if I can find out more.
"The schooner HMS Falken, commissioned under Royal Swedish Navy, sails with 9 officers, 19 midshipmen and 5 crew members. The vessel is 132 ft long and is part of a Schooner Squadron that helps train cadets of the Royal Swedish Navy. The cadets get a strong foundation of basic seamanship during their weeks onboard." The ship dates from 1946 we believe..
Glad all fine now Jacqui

Monday, 15 September 2014 - 07:28
Post 1143
Jacqui, Dover
Wow! That was quick! All fixed now. Thank you Paul x

Sunday, 14 September 2014 - 09:05
Post 1142
PaulB, Dover
The Saga guys continue to organise Spitfire displays for their passengers. As soon as either the Saga Sapphire or Saga Pearl leave port and are a mile or so out the display begins. Would be better for us of course if they did the display right over the harbour but you cant have everything. These pictures are from a week or so ago and we had intended to show them earlier but they slipped by the grey matter..

You can see three ships in the picture...two DFDS ferries and the rear of the Saga Sapphire herself. The event is just a tad far away to do pictorial justice to the Spitfire...have cropped the above picture and shown it below to max impact the situation.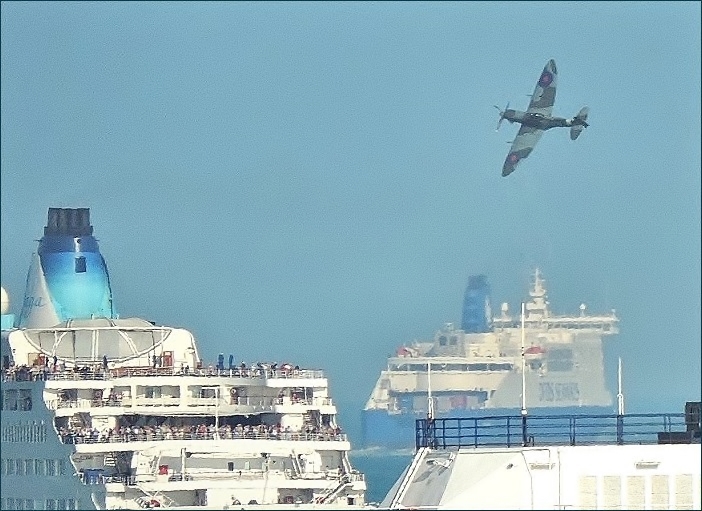 Jacqui I can see there might be a bit of a posting problem there, will email the guys straight away so that they can look into it.
Sunday, 14 September 2014 - 06:39
Post 1141
Jacqui, Dover
Two comments.
1. Vic I think that was an extremely stupid comment to make. These operations are for the safety of all of us and in this day and age even more important. You should be glad that our security people are taking this seriously and making inane comments as you did is insulting, Rant over.

2. Paul I can't post on the other forum for some reason. I've logged in ok but it won't let me post. Any ideas please boss?

Saturday, 13 September 2014 - 23:30
Post 1140
PaulB, Dover
Yes its all happening down at the Port tonight but don't do anything rash Vic as I am sure they wouldn't see it as amusing. Its going to be very busy, a sort of organised mayhem.. so all should steer clear in the interests of safety first. There will be the sound of gunfire and explosions so its going to be an interesting night on the seafront..picture of the Port below at night under the full moon of a few nights back. Not a great pic but..it shows the port at night. Capturing the mood I hope. See also Post 1069.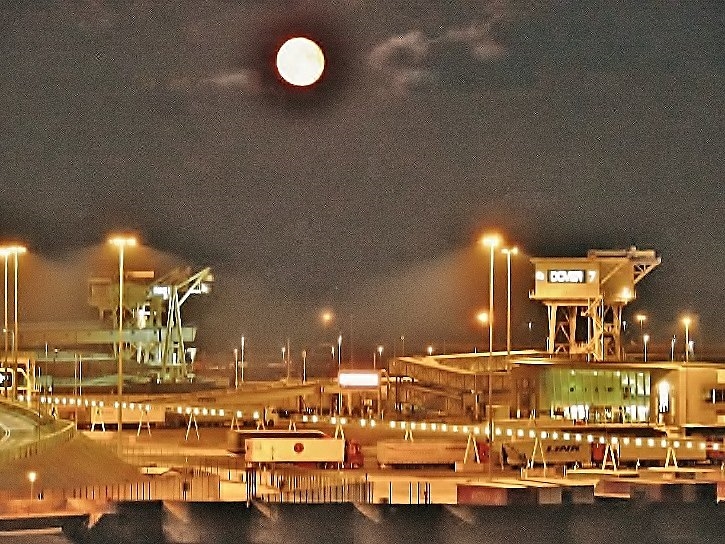 Another pic below of the Saga Pearl II. Here she is leaving last evening with the pilot boat in close attendance and in close harmony. The Marine Traffic listing said she was heading for Stockholm but in fact she went south. So there you have it..visibility was quite clear which made a change from recent days.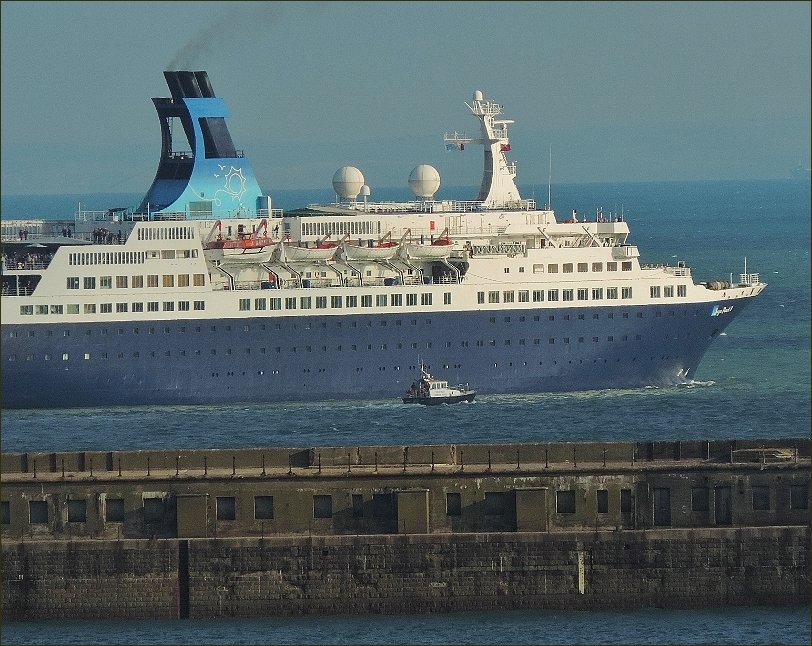 The Braemar is in Port today.
ADDED: ..ermm but surprisingly not for long. it slipped quietly away again at a quarter to nine..08.45..heading for Southampton.
Saturday, 13 September 2014 - 07:04
Post 1139
vic matcham, Dover
Even with what is happing this weekend in the port,as an OAP. with only one working leg I could get in the port without them knowing and mix with them and not get stopped once .
My training in the Army was all about just doing that, ANY BETS.

Friday, 12 September 2014 - 11:36
Post 1138
PaulB, Dover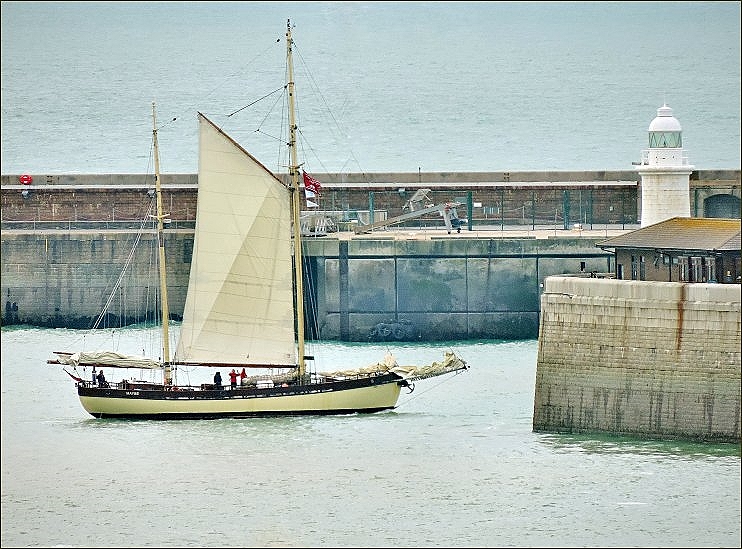 Here we are with the sailing vessels as promised. A couple of days ago quite a few sailed past Dover but the visibility was touch and go for the cameras. This one above called Maybe popped in to see us here in Dover. Managed to see it and managed to get a shot. A great looking vessel.
Below we have a mixture. Out in the channel the sailing boat is called...wait I have it here somewhere.. yes the Queen Galadriel. Beyond that we have a P&O ferry catching the sunlight. In the near distance you can see the guys working on the breakwater with the workboat on its way out to join them. Busy picture...hard work fascinates, one can sit and watch it all day..

The computer now back to normal. I always operate the layout and so on with the visuals set to 110% on the scale...that's the best operating visual situation for yours truly and as a consequence the layout fits accordingly.
See also the earlier post below for the latest cruise info.
Friday, 12 September 2014 - 11:14
Post 1137
PaulB, Dover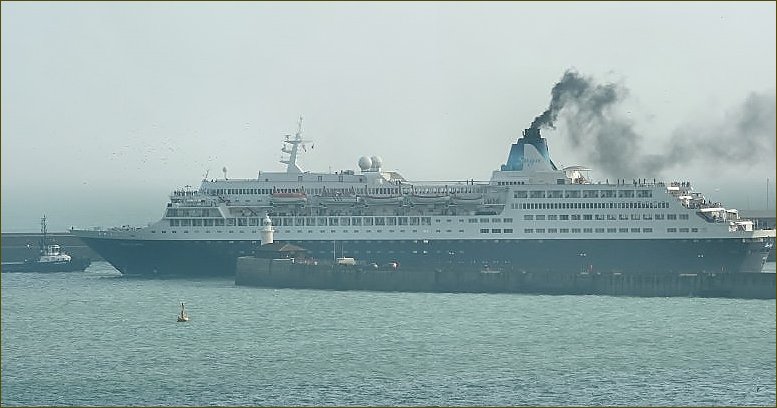 A couple of grey ol pictures of the Saga Sapphire from yesterday thursday. Conditions were murky...the top shot looks very much like times past...fog mist and smoke and all at once. It was actually worse in reality, I have managed to diminish it somewhat in the picture. Brings a chap back to the industrial smog of olden times. Not that one remembers such things personally you understand. The smoke was just while moving off, everything eventually settled down. Off to the sunnier shores of Lisbon she was.
Below a picture of the ship arriving earlier in the day.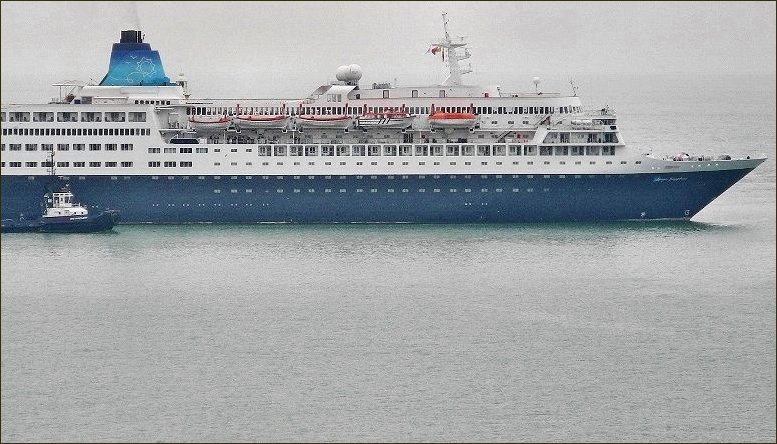 Had intended to add an extra couple of pictures of sailing vessels but Windows 8.1 has automatically updated itself overnight and has rehashed itself into something very large indeed. Everything onscreen is twice the size it was before...has anyone else had a similar unwelcome update. It has thrown yours truly out of sync never mind the computer...will have to try and fix it before I do anything further.
Saga Pearl is in today.
Friday, 12 September 2014 - 07:24
Post 1136
PaulB, Sea News, Dover.
PORT OF DOVER EXERCISE THIS COMING WEEKEND
__________________________________________
A major live multi-agency exercise is to take place at the Port of Dover on the night of Saturday 13th September 2014 through to the early hours of Sunday 14th September 2014.
The exercise is the third and final part of a series of pre-planned exercises designed to ensure that the Port and its partners are best placed to deal with a variety of emergency situations.
Due to the nature of the exercise, the Port will be closed between midnight and 5am. Some mock explosions or sounds of gunfire (using blank rounds) may be heard and the Port and Kent Police would like to reassure everyone, particularly the local community and Port customers, that this is part of the exercise and is therefore not something to cause alarm.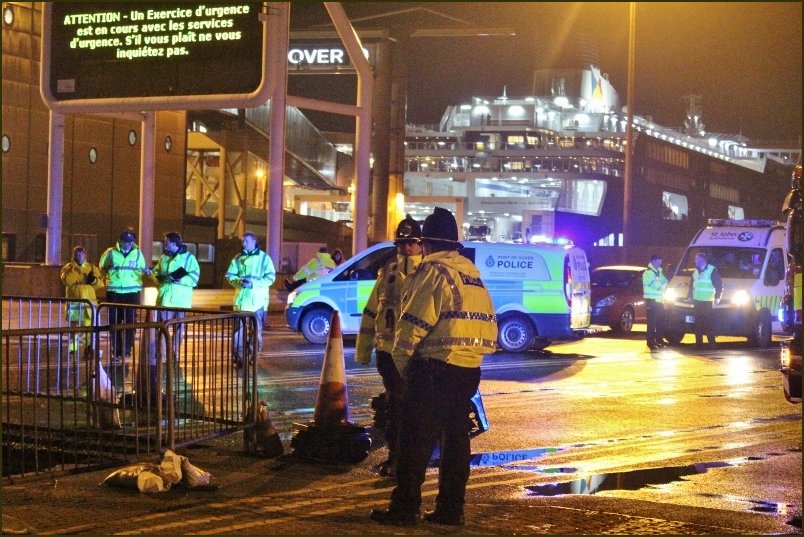 Tim Waggott: Chief Executive, Port of Dover, said: "Such exercises, which we conduct from time to time with our partners, are extremely important in ensuring that we proactively prepare for any eventuality. As Europe's busiest ferry port, it is vital that we keep the safety and security of all those who work in and travel through the Port at the forefront of our operations."
Superintendent Andrea Bishop, Kent Police, said: "Dover is the gateway to the UK and Europe and one of the world's busiest ports. Consequently, it's of huge strategic importance. Keeping the port safe and secure for the millions of people who travel through it or work there is a priority for us and our partners. Kent Police has the expertise and resources to ensure that people can go about their business safely but it's important that we periodically put those to the test. Such exercises are vital to make sure that we can effectively and professionally deal with potential incidents in the best way possible."
The Port, Kent Police and all of the emergency organisations involved would like to thank the media, the local community and the Port's customers for their understanding and patience whilst such an exercise is conducted.
* * *
Thanks for that info once again Colette. Sad to see the inevitable thinning of cruise visits.. now we begin to realise with a sigh that summer is over.
We will certainly have less to photograph on Sea News that's for sure.
Thursday, 11 September 2014 - 07:00
Post 1135
ColetteB, Dover
Absolutely Awesome 'Super Duper' shots of the fabulous Costa Cruisers from you guys, a Huge Well Done



And now for some more September Cruises

Tomorrow, Thursday 11th September the Saga Sapphire arrives here for its last appearance this year at CT1, TR.
Then on Friday the Saga Pearl II is back at CT1, TR. She is here for the last time on Saturday 27th September, again at CT1, TR.
On Saturday 13th September the Braemar makes her last appearance this year at CT1 to Debark.
No cruises on Sunday, Monday & Tuesday.
On Wednesday 17th September, the MV Empress makes her final appearance this year at CT1, TR. She was here a few months back, in May.
Be back with more soon

Wednesday, 10 September 2014 - 15:37
Post 1134
PaulB, Dover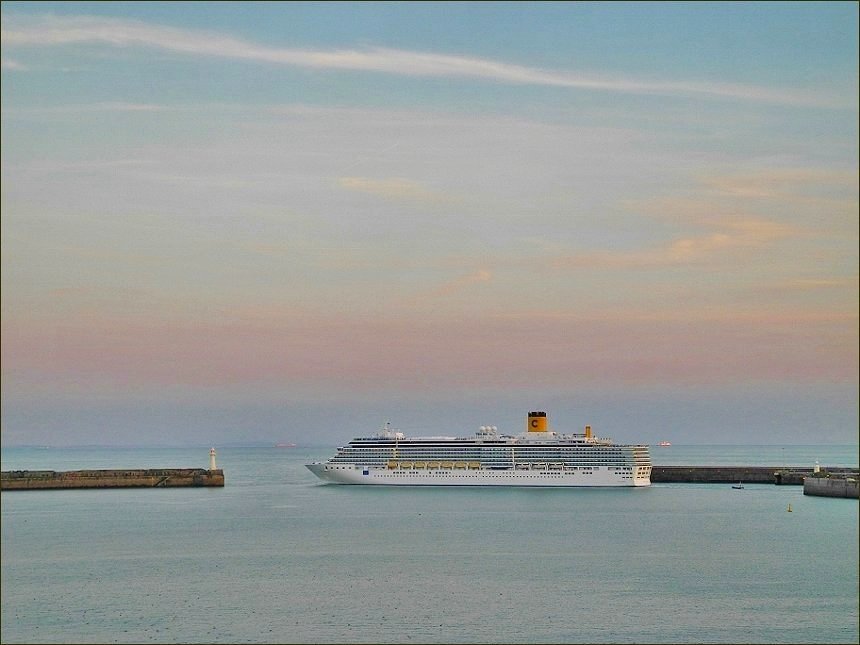 The light was fading fast so I went for the distant sweep on this pic as the Costa Luminosa made its way out into the open sea. There was lots of subtle evening colours as the sun was going down out of shot. As the picture was being taken yours truly was unaware of the moon lurking to the left. This you can see splendidly in Phil Smith's excellent pictures below in previous post 1065.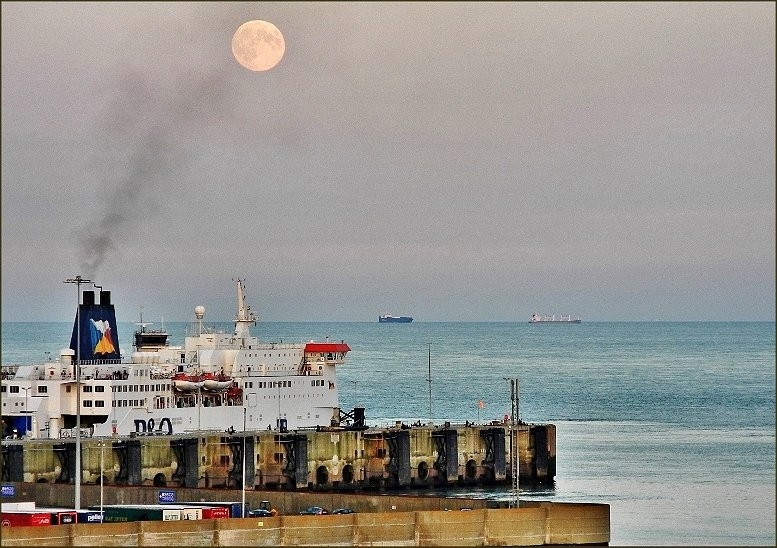 At the eleventh hour the penny dropped ..it sometimes takes a while..

and the moon was spotted hanging over the Port, and it looked like a full moon too. The ship might be the Pride of Burgundy but not sure. All we needed was someone flying on a broomstick to fill the void on the right !
Earlier in the evening the Costa neo Romantica left us in some style. Always stylish those Italian ships.
A great few days for the Port of Dover.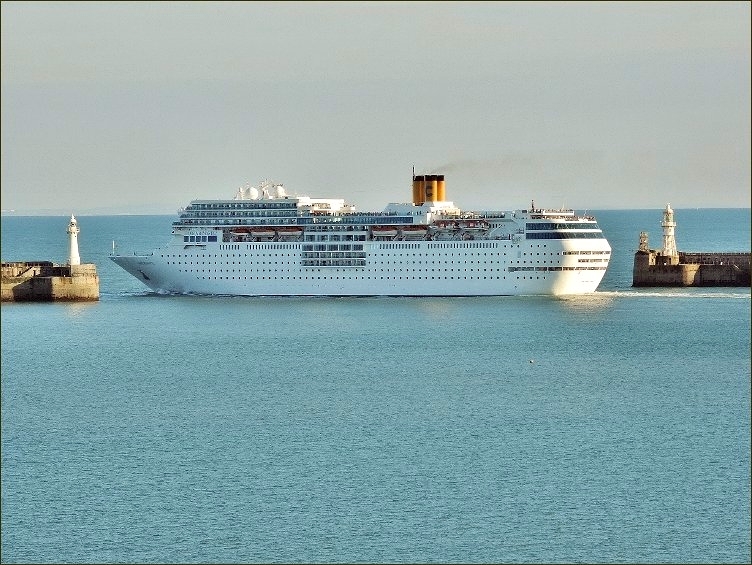 Wednesday, 10 September 2014 - 15:06
Post 1133
PaulB, Dover
Wow! terrific stuff from Phil there . I had a couple to put up but will now pause Howard while we enjoy those blinders ...

Wednesday, 10 September 2014 - 06:35
Post 1132
Howard McSweeney, Dover
On the subject of the "Luminosa" Paul, Phil Smith took these last evening.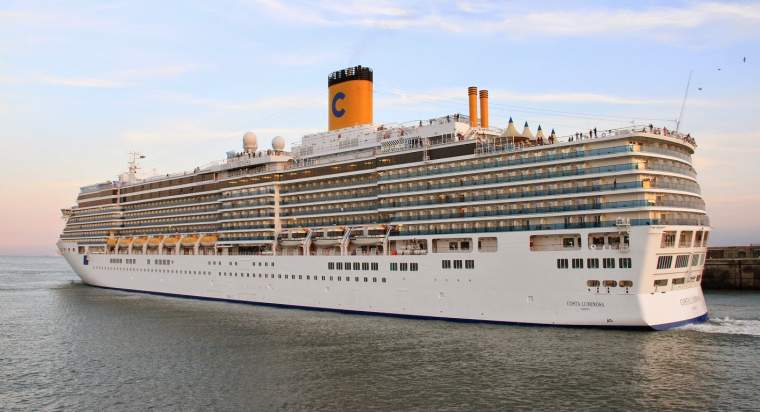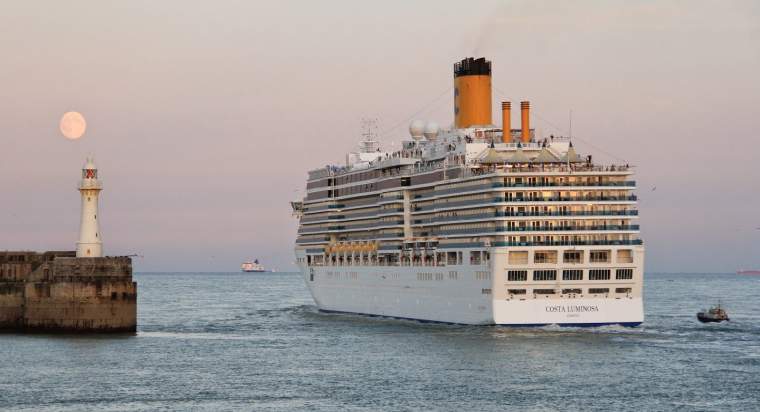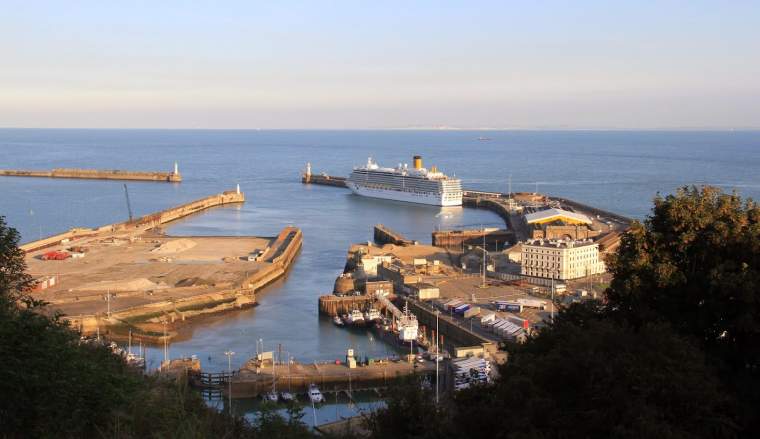 Tuesday, 9 September 2014 - 21:10
Post 1131
PaulB, Sea News, Dover.
Official confirmation re the destiny of the Ryndam......
Dover farewell to Holland America Lines' cruise ship Ryndam
_________________________________________________
Holland America Line cruise ship Ryndam and its passengers were given a fond farewell with the Port of Dover's tugs saluting its valued customer with water cannons as the ship departed for the last time..
This year, the Ryndam made 13 calls at Dover as part of a series of select itineraries including both Baltic and Northern European ports.
The 16 year old ship, which carries more than 1,500 passengers, is one of four in the Statendam Class, and will now join the P&O Cruises Australia fleet in 2015.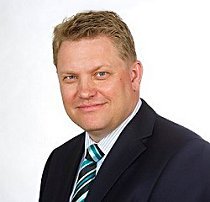 "It has been a pleasure hosting the Holland America Line vessels and passengers over the last few years and we very much hope to welcome them again soon," said Tim Waggott, Chief Executive, Port of Dover. "With the restoration of Cruise Terminal 1 soon to be completed, it would be great to see such a long-established line with an excellent reputation call again at this historic terminal."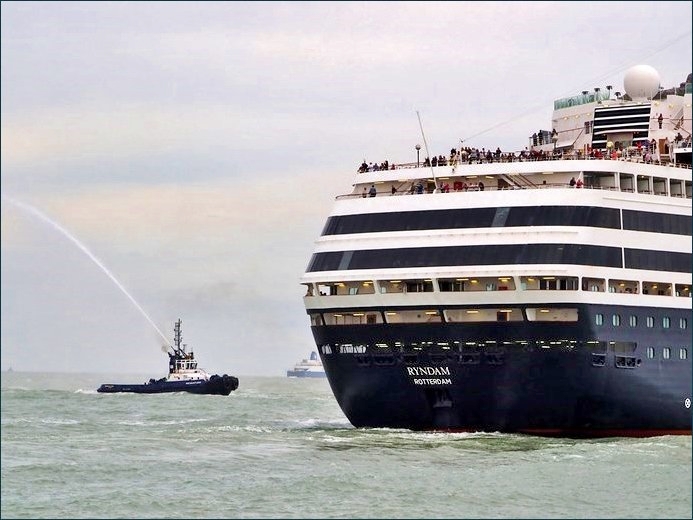 See also the earlier post 1041 covering the evening of departure. Already over on page 2.
* *
Another huge day yesterday monday for the Port of Dover, with two fabulous Costa ships in.
Here is a picture of the Costa Romantica ( or NeoRomantica) as she begins to move away last night with the Costa Luminosa in the background. Will have more pictures to follow in due course.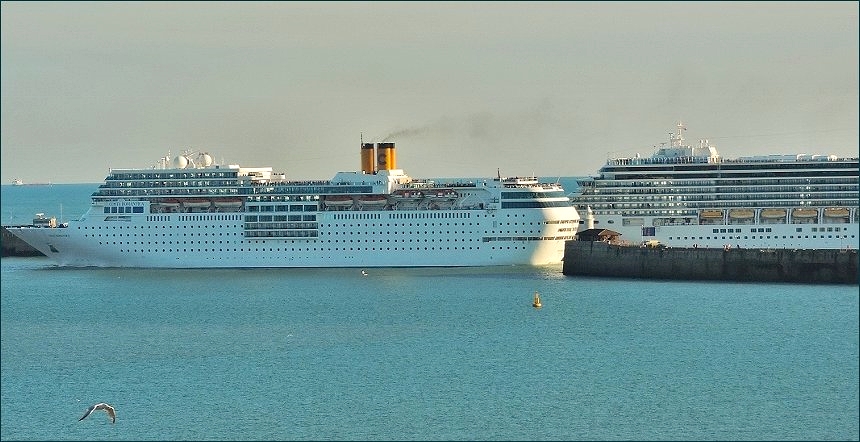 Tuesday, 9 September 2014 - 06:08
Post 1130
Mike J., Dover
The 'Seagull' photo of the Seacat berth - how did they do it ?

Probably put the cameraman in a basket dangling from the crawler crane which is on the timbers on the Prince of Wales.

The basket is usually used by the welder to get at inaccessible spots.

Monday, 8 September 2014 - 17:57
Post 1129
ColetteB, Dover
Great set of pictures today from the team at the Port..wow!!

Monday, 8 September 2014 - 10:49
Post 1128
PaulB, Sea News, Dover.
Further letter about the Port from Charlie Elphicke, our Member of Parliament.
______________________________________________________________
Applications have now closed for the post of Community Director at the Port of Dover. So I thought this would be a good moment to write about the appointment process and plans for the future of the port.
When I was elected back in 2010, the port was about to be sold off to the French or whoever. This was the plan of the previous Government. All that was needed was the flick of the Minister's pen and it would all have been over. With the community, I campaigned passionately and relentlessly to stop the port sell off. For our community to be able to own the port and make it a People's Port if it was to be sold off. The Dover referendum and my defeating the Government in a key Parliamentary vote finally saw us triumph. After a long and hard campaign we had won and stopped the sell off. Yet it was never going to be enough to let matters rest there. There had to be change and reform at the port.
The port needed new leadership and to be able to raise money to invest if it was to realise its potential. The port needed to be seen to benefit the town and community. And there needed to be a proper link between the community and the port. The leadership at the port was changed and made much progress. The Ports Minister came some months ago and announced further changes. The port will now be able to raise the money needed to make the transformation. There will be a community benefit fund. And there will be community directors enabling a community led port to rise at the docks.
It's important the community directors are treated the same as all the other directors. That means they should be paid the same as the other directors. Otherwise our community's voice would be diminished before it even gets into the boardroom. It's important these directors are genuine - chosen by our community to represent our community's interest. For this reason, the interviewing panel will include the Labour Mayor of Dover, the Conservative Leader of Dover District Council, the Chairman of the Local Enterprise Partnership and the Member of Parliament. In addition it will include the Chairmen of the Port Community Forum and of the Port Businesses Group. All levels of Government and representative groups will be involved in the choice.
It's really positive that everyone who cares about Dover and the success of the port is coming together in this way. I am so proud elected representatives of our community are continuing to work together cross party and working with the Harbour Board on the interviewing panel. This is essential if we are to see the true partnership that has been needed for so many decades.
Ends
* *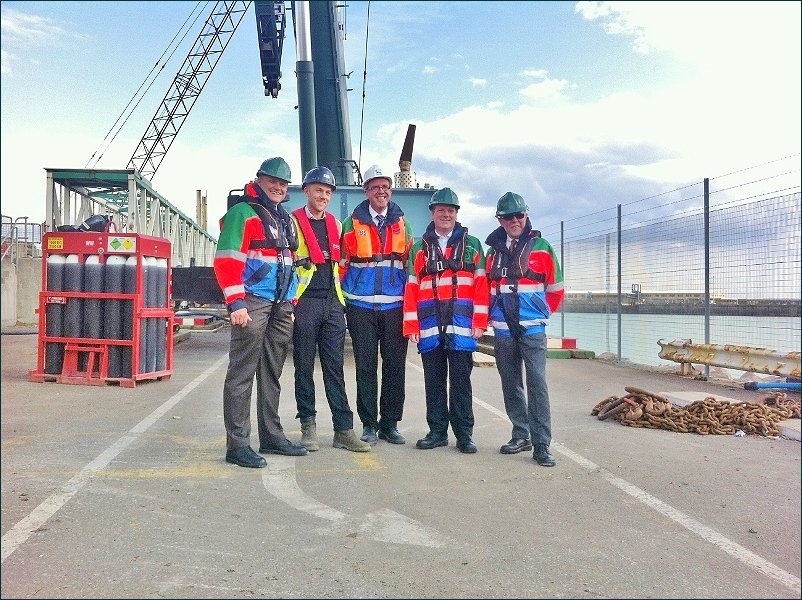 This is a good opportunity to show these extra WORKS pictures sent over to us from the team at the Port of Dover. You will have seen the previous picture of Charlie Elphicke MP with Chairman George Jenkins OBE and Chief Executive Tim Waggott on site, here is the latest one to add to the mix. Two other chaps in the picture this time, engineers I guess, but we don't have their names to hand at the moment. Tim Waggott is on the left, George Jenkins right, Charlie Elphicke next to right. All fully equipped and ready for high octane action.
Below we have the seagulls eye view of the work in progress, fascinating picture, how did they do it??
For more on the 'Works' see also posts 1036,1016,1006.
* *
Two fabulous Costa ships in today. We are seeing a great brace of ships right now.
Ah a pity about that Howard re post below. Yes we were blighted by misty muddy visuals for most of the day.
But hopefully we muddled through.
Many thanks once again to the team at the Port of Dover for the pictures shown here.

Monday, 8 September 2014 - 07:48
Post 1127
Howard McSweeney, Dover
You must have timed that right with the photo Paul i was up at the castle at midday and took snaps of the liner from 3 different vantage points but the mist rendered them useless.

Sunday, 7 September 2014 - 20:28