Monday, 1 June 2020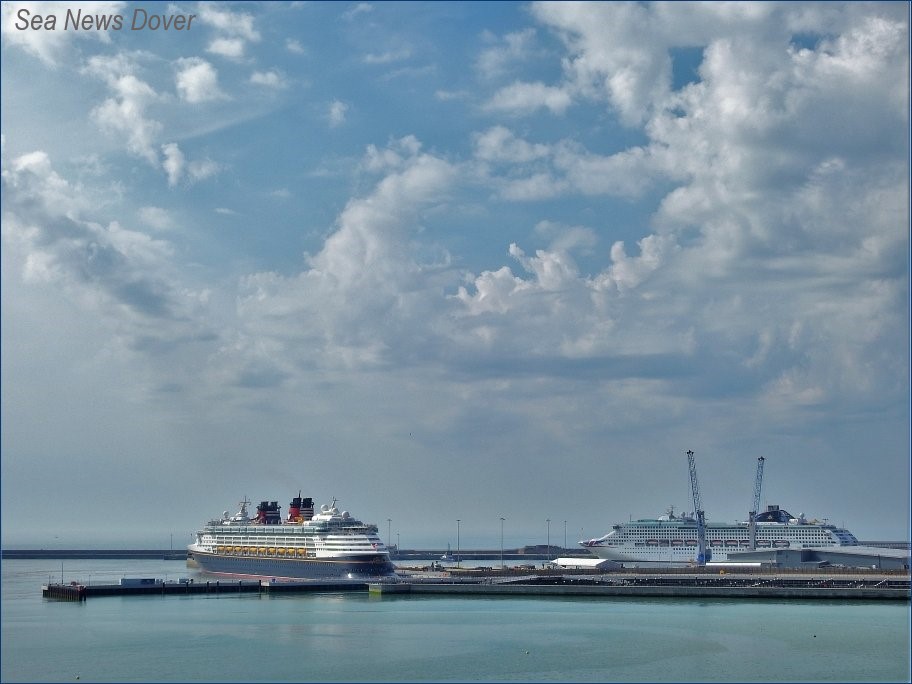 Big Sky over the Port of Dover with Disney Magic and Oceana.
And zooming in on Disney Magic below....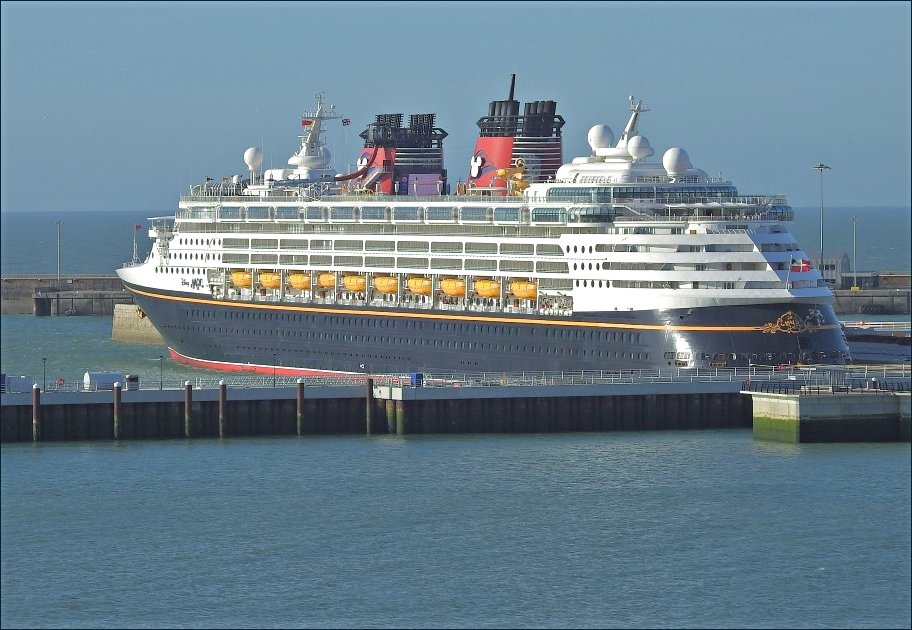 WWW.DOVERFORUM.COM/SEA-NEWS
Sea Pictures from DOVER: Featuring all the ships that come and go and work at the Port of Dover ..
... with some further coverage of the surrounding ports.
Sea News Dover
Use our SEARCH ENGINE below to find all sorts on the SEA NEWS pages....type in the topic and away you go,
or if you have the post number, just type it in the Search Box, more than
- 7000 -
nautical posts now.
Posts are welcome. just click 'Add Your Comment' below.
Upload a Max of 5 pictures....Many Thanks.
Sea News Editor Paul Boland - send info or pix to dover7@msn.com. Always welcome.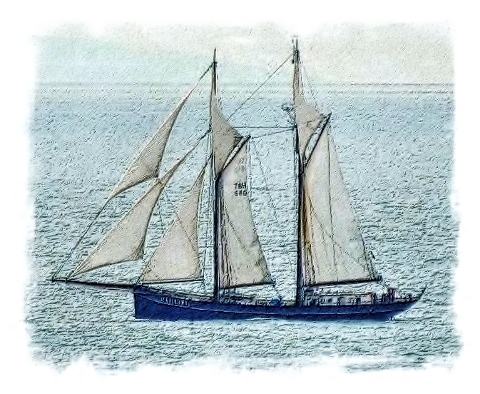 Headlines....
REGATTA CANCELLED see post 7012 below..
Doug Bannister: Open Letter re Covid-19 Critical Supply from Port of Dover CEO 6968.
PORT OF DOVER donates £40,000 to Coronavirus Fund see 6923
P&O FERRIES 1100 staff laid off and Furloughed to HMG scheme , see 6909.
P&O Ferries secure vital flow of goods, medicines...see below, post 6901.
DFDS Coronavirus announcements below see post 6880 and 6885.
P&O Ferries present record breaking cheque to Dover Lifeboat...post 6874 below.
P&O Ferries - European Expansion 6867
Hurtigruten and the Port of Dover see 6857...see also pictures in 6856 and 6859.
See SCARLET LADY pix.. FIREWORKS too..type Scarlet Lady in our SEARCH box below..
DFDS Refit Investment...luxury lounges 6821.
P&O FERRIES - POST BREXIT travel info below 6780.
P&O NEW FERRIES Images below 6775...
Port of Dover, DFDS, P&O say...Travel with Confidence from Dover.. see 6786 below.
Visit us here in White Cliffs Country see 6772
Natalie Elphicke MP - thoughts post Brexit 6784
Just type the post number from the listed Headline in the Search Box below.
Port of Dover Cruise Calls:
http://www.doverport.co.uk/cruise/find-a-cruise/
To show your pictures at their best..it could be worthwhile resizing before posting to
860
pixels wide. Our new standard size.
All pictures on these pages are the copyright of the owners and must not be reproduced without permission.
Post 1126
PaulB, Dover
I was hoping to be able to get extra pictures of the Costa Pacifica leaving but its not going to be the case...the magnificent ship is still here but the light is fading badly now as its just gone 7pm ( 1900). So with a touch of the all hands to the pump philosophy, and the fall back quip of many a TV chef...here's one I made earlier...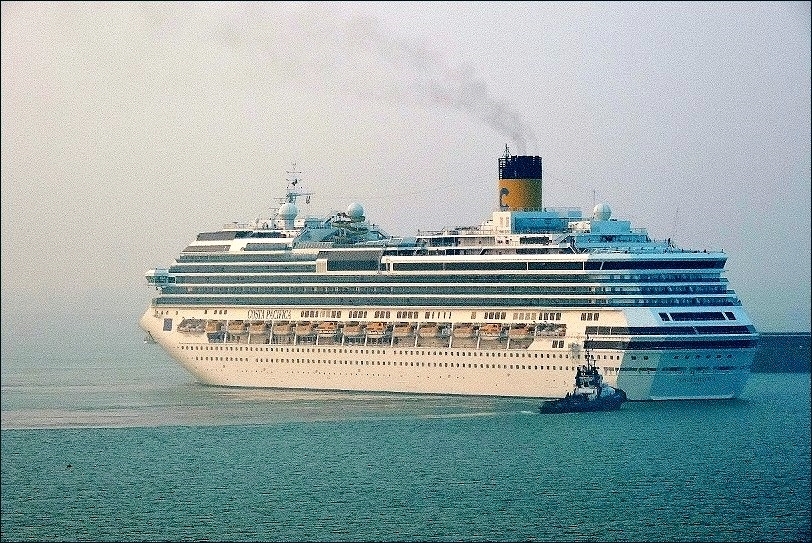 Early morning arrival above and all's well....Tonight she leaves for the Umbrellas of Cherbourg !
Don't forget there are TWO MORE Costa ships coming tomorrow...its all happening!


Sunday, 7 September 2014 - 19:03
Post 1125
PaulB, Dover
Another absolutely stunning ship arriving...out of the fog and sun she came..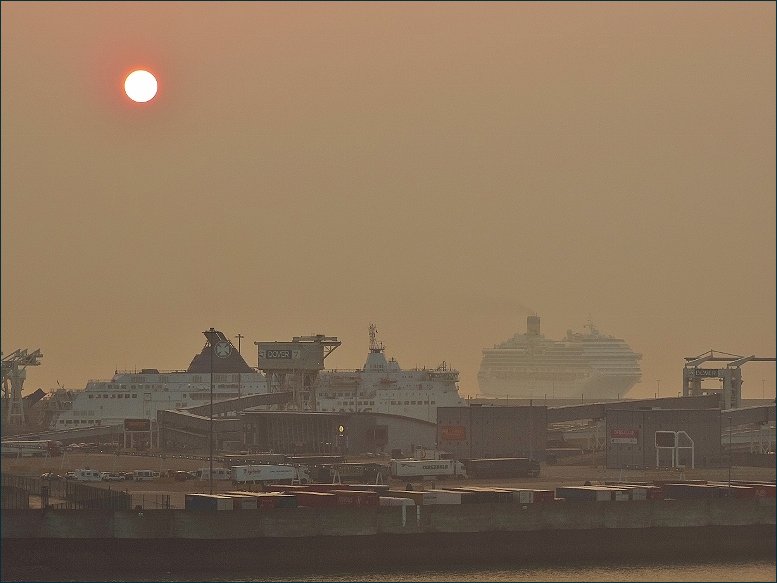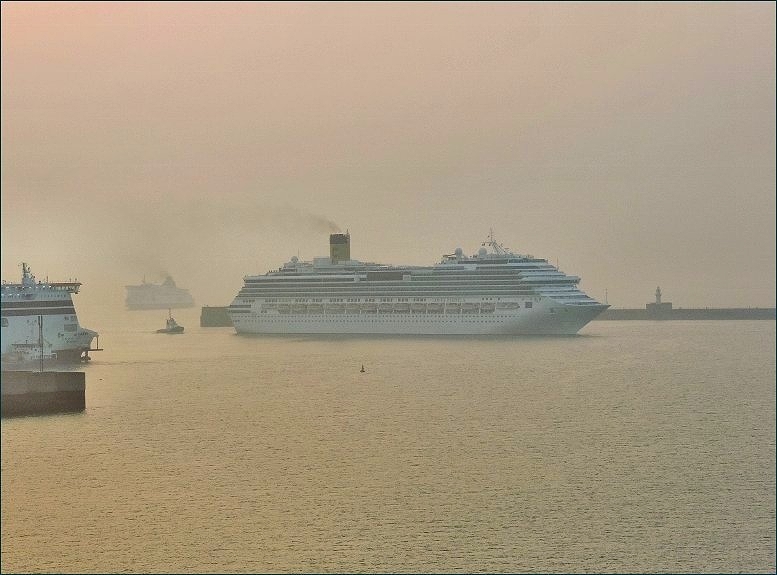 This ship above is the fabulous Costa Pacifica. It is an awesome beast indeed, approaching 115,000 tons and even bigger than the MSC Magnifica.. what a sight...its totally terrific to have her here at the Port of Dover. She glided in slowly out of the hovering rising misty sun at about 7am. The picture colours are a tad moody twilight-ish but I guess its all part of the great atmosphere. Very welcome.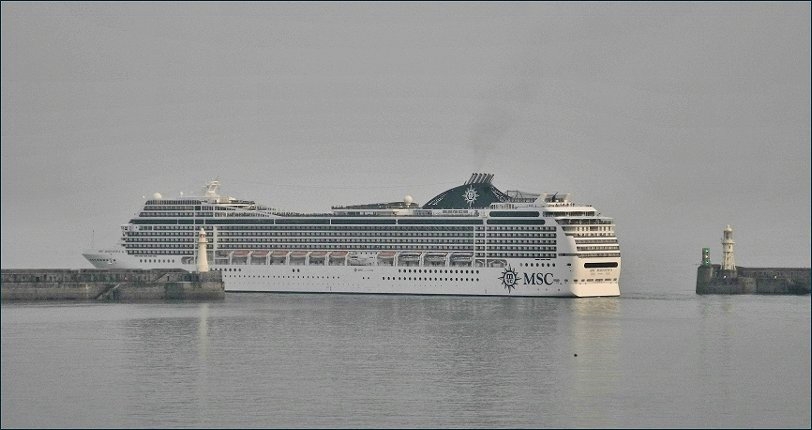 The final vision of the MSC Magnifica as she leaves us last night for the last time this year. We hope to see many more MSC cruise visits next year.
Sunday, 7 September 2014 - 07:27
Post 1124
PaulB, Dover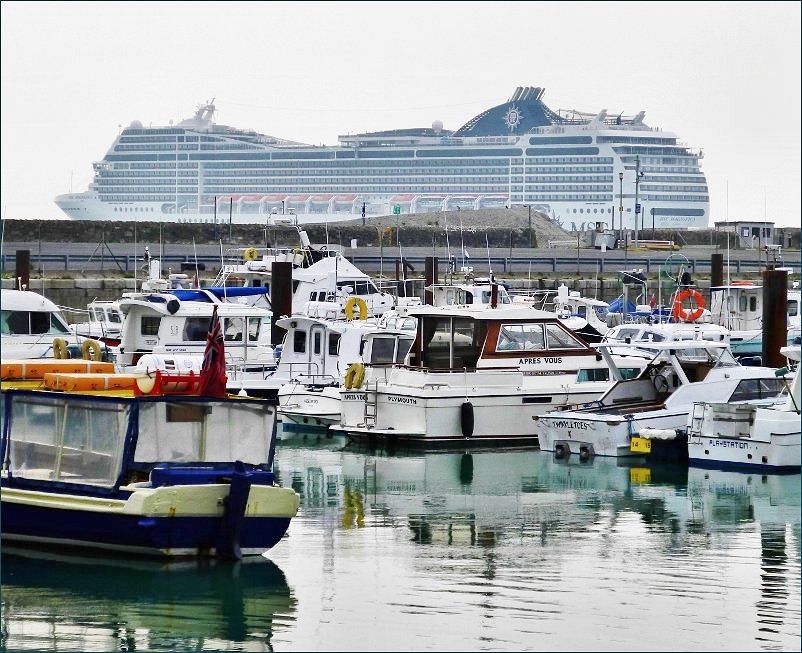 We were able to photograph the MSC Magnifica at last. Its brighter now but alas the weather is a bit grey dull and misty. Here is the enormous ship pictured from across the busy Marina...this morning Saturday.
Saturday, 6 September 2014 - 10:23
Post 1123
PaulB, Dover
Its 6am and the great MSC Magnifica is arriving in a blaze of lights. Being helped into place by tugboat Dauntless. It is huge of course, more than 95,000 tons and takes some manoeuvering. Unfortunately it is both misty and dark so no pictures...as yet anyway. We did have pictures of the ship previously of course. Always worth popping down to the Port to see these great ships, particularly if you haven't seen them before. This is your last chance to see this one this year.

Saturday, 6 September 2014 - 06:05
Post 1122
PaulB, Dover
Some pictures now of Thursdays exciting visitor...The Artania, both arriving early and departing late. Another fine ship to add to our fabulous repertoire.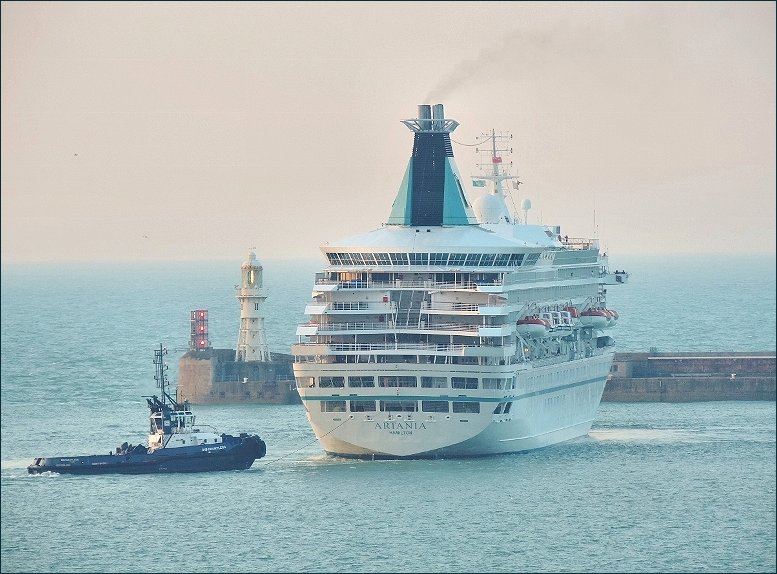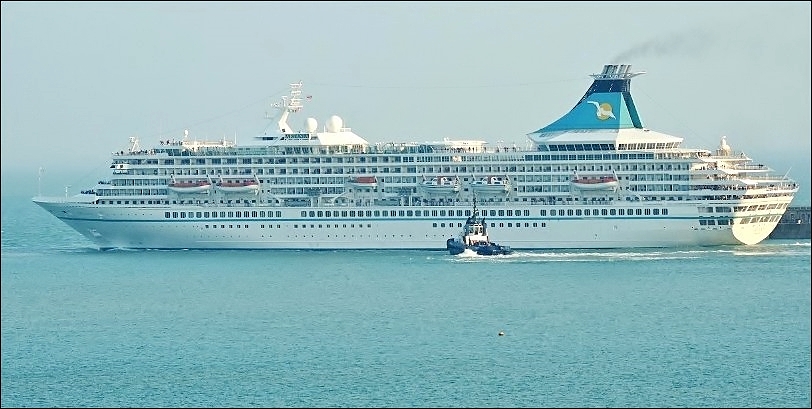 Nice pictures below Mike..very good to see. The ship looks great from on high where you can really see the scale of it, and I must admit I didn't know there was another Norwegian Plaque in the location mentioned. Has it been forgotten in favour of the newer one....ponders...
I must go and have a look for it Howard at some point.
Friday, 5 September 2014 - 11:30
Post 1121
Howard McSweeney, Dover
Great photos all round, Mike makes a valid point about the Norwegian plaque at the junction of Pencester/Maison Dieu roads, the plaque is only visible during the depths of winter when all the greenery is gone.

Thursday, 4 September 2014 - 20:42
Post 1120
Mike J., Dover
The MARINA sailed for St.Malo at about 1600, a little earlier than most cruise ship departures.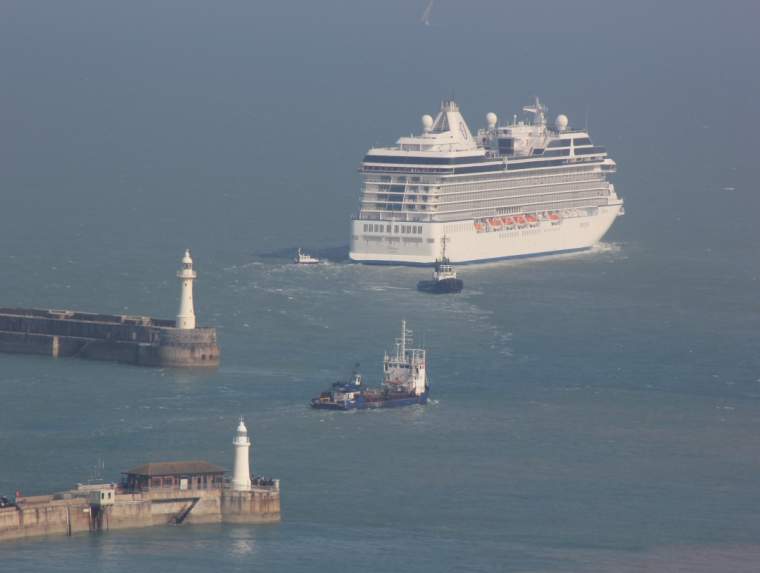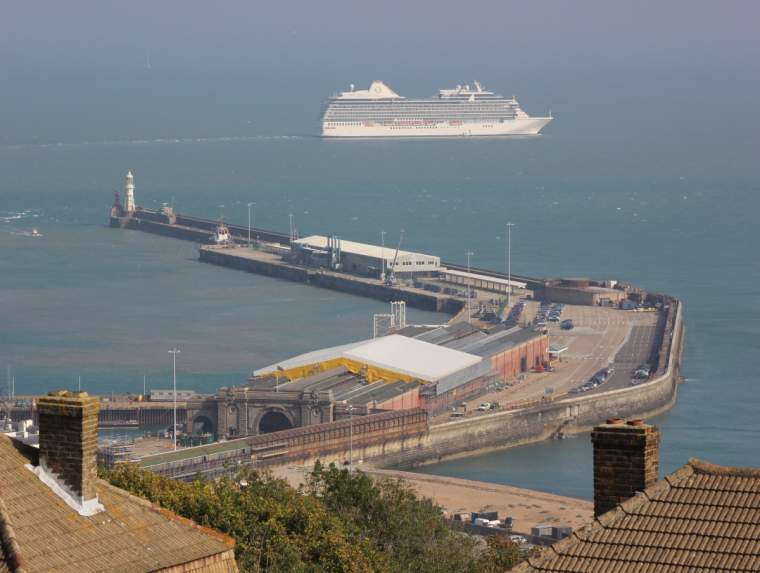 Nice photos of the ceremony on the seafront & a wonderful display of flowers in the Norwegian Memorial Garden.
Almost forgotten & often invisible behind the vegetation, in the little memorial garden on the corner of Pencester & Maison Dieu, is the simple memorial to the WW2 activities of the Norwegian Minelaying Flotilla .
Hopefully this was also visited yesterday as part of the seafront ceremonies.
Thursday, 4 September 2014 - 09:56
Post 1119
PaulB, Sea News, Dover.
Here we are with some pictures from the Merchant Navy Day Memorial Service on the seafront yesterday Wednesday Sept 3. The service at the seafront memorial statue follows on from the earlier service at the Town Hall. Many dignitaries in attendance both at the Town Hall and on the seafront. The occasion was well attended and well supported all round and is always a soulful yet somehow uplifting experience.
It was something of a double ceremony this year as the Royal Norwegian Navy unveiled a Plaque in the beautiful Norwegian Memorial Garden which is situated just next to the Merchant Navy monument along the seafront. This Garden commemorates the action and losses of the Royal Norwegian Navy which operated out of Dover in WWII. The pictures show the Norwegian Officer making the final speech and the actual moment of unveiling... picture three shows the wreaths after the laying. The wreaths are still in location so well worth a visit to see.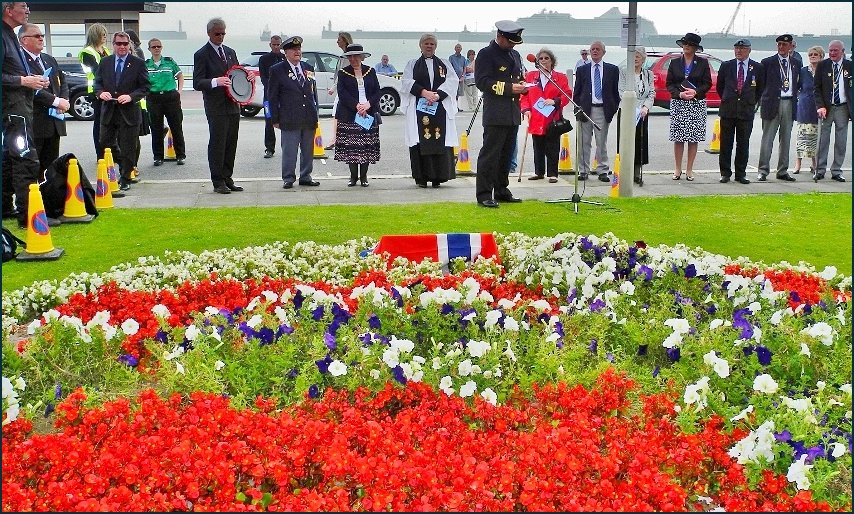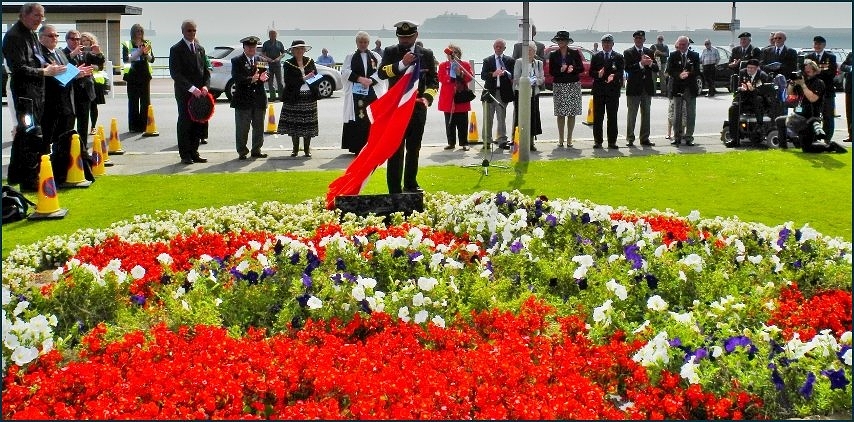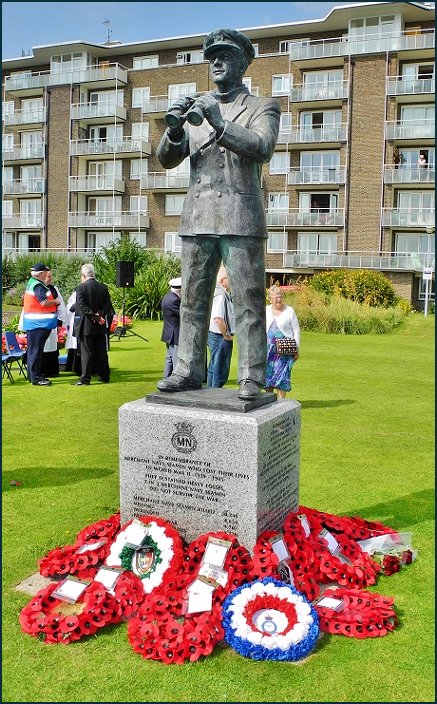 * *
In the background of the pictures above you can see the Marina cruise ship. it slipped away un-noticed yesterday ...it must have been around about 4pm. So here is a picture of the ship from earlier in the season in better visibility. Another nice ship in today...the Artania.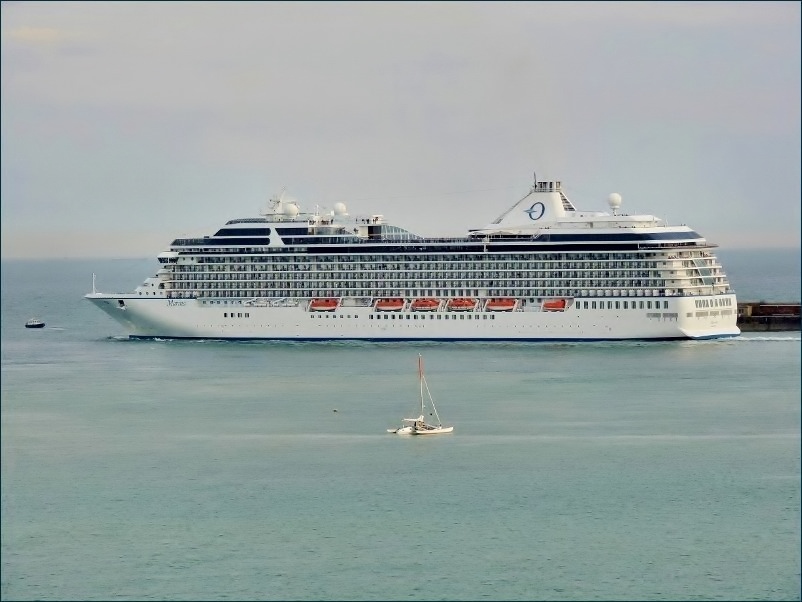 The Marina earlier in the season.
Visibility is hazy again today but hopefully we might see a tall ship or two Mike. Pity many have passed through already. It would be nice if they would all line up for the camera just off the harbour and on a clear day too...one lives in hope

Thursday, 4 September 2014 - 07:04
Post 1118
Mike J., Dover
Further checking has shown that many have already passed Dover & are between Deal & Southend where they will probably anchor before coming up the Thames in a 'parade of sail' on Friday.

Wednesday, 3 September 2014 - 20:45
Post 1117
Mike J., Dover


The 'Tall Ships' mentioned in post 1042 are on the way & can be seen on Marine Traffic - the leaders have passed Dungeness & the field is well stretched out with the stragglers, including the ROYALIST are only just passing Eastbourne.

Hopefully there will be a few to be seen on Thursday morning.

Wednesday, 3 September 2014 - 20:18
Post 1116
PaulB, Sea News, Dover.
2.3 MILLION TOURIST PASSENGERS passed through the Port of Dover this summer, making it a fantastic year for Europe's leading ferry port with 2.5% extra passengers using the ferry services compared to last year...
...that's a thumbsup for sure!

____________________________________________
LUCKY PASSENGER SURPRISE AT DOVER FERRY PORT
To celebrate the last day of a successful summer, one lucky family on the Dover to Calais route was presented with a bottle of Champagne by Tim Waggott, Port of Dover's Chief Executive.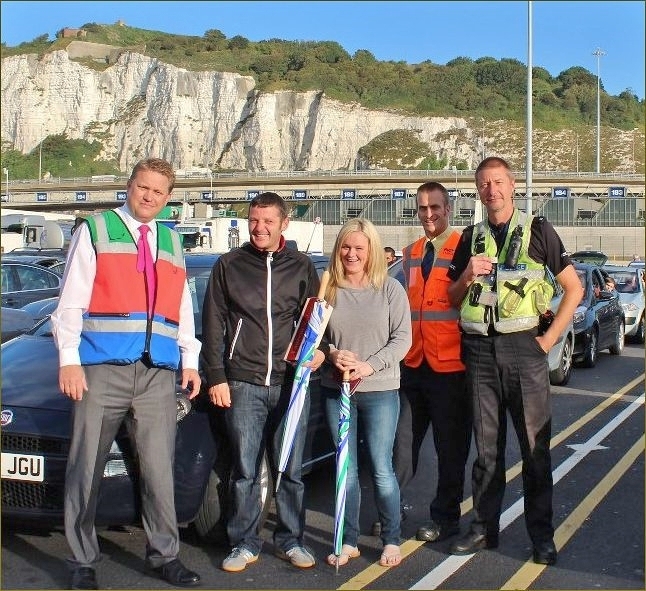 David and Jenny Young and their two children from Bacup in Lancashire were heading off on holiday to the Paris region when they were presented with the bottle while waiting to board P&O Ferries' Pride of Kent to France.
Picture shows left to right:
Tim Waggott, Chief Executive Port of Dover, David and Jenny Young, Andy Goss, P&O Ferries; and PC Paul Skinner, Port of Dover Police.
Tim Waggott was delighted to present the Champagne to a surprised Mr and Mrs Young.
"This has been a really strong summer for the Port of Dover's ferry operations. We are seeing significant growth in the number of passengers using the ferry terminal and this year's figures are even more satisfying as we continue the revitalisation of the port. Ferries from Dover have been creating the perfect start to family vacations in Europe for generations. It is great to see that they still are."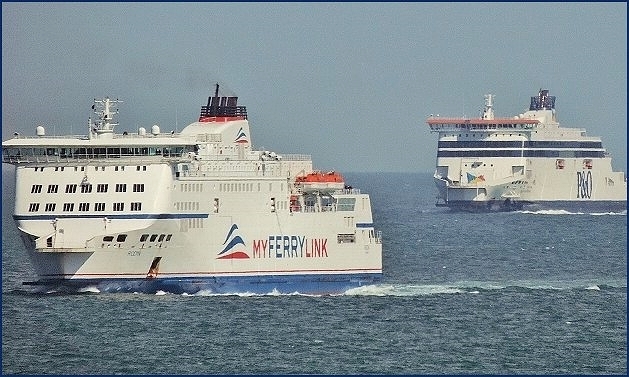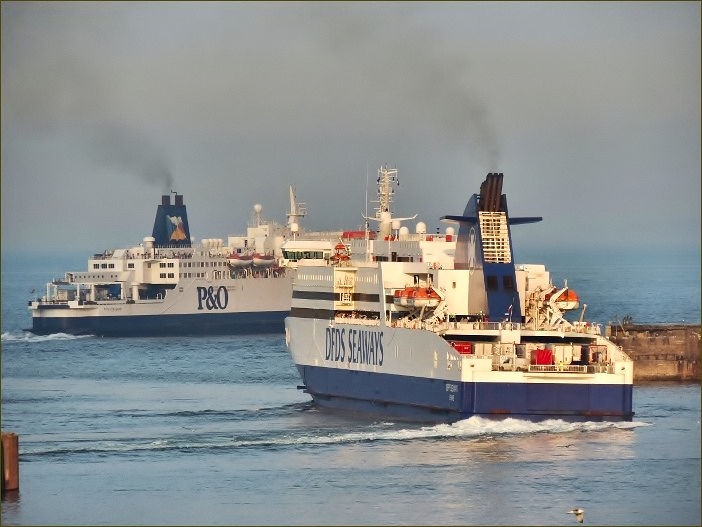 The ferries in busy busy action above during the fantastic season for Dover.
* *
Good set of pictures below Mike. Good to see those. All the action there.
The Marina already in Port..arrived way too early for yours truly's camera. But hopefully will get some pix later.
Wednesday, 3 September 2014 - 06:34
Post 1115
Mike J., Dover
PaulB -
Thanks for the interesting Breakwater pix.
Tuesday morning the German tug BUGSIER-3 came downchannel & was escorted in thru the Western Entrance by the pilot boat & docked on Cruise-2.
She is still in port but has shifted off the cruise terminal to a berth nearer to the lighthouse.
Presumably to make way for the OCEANA MARINA on Wednesday morning on what I think is her first Dover visit.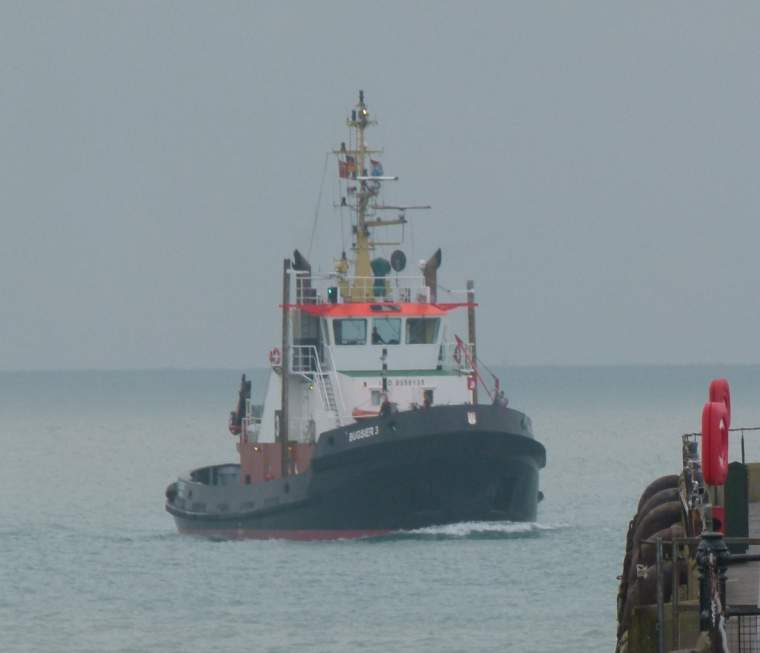 The Border Agency's VIGILANT sailed after a night alongside the DAVID CHURCH, preceded by Dover's smallest 'ferry' the TOPLIFT, heading for the breakwater with a dumper truck.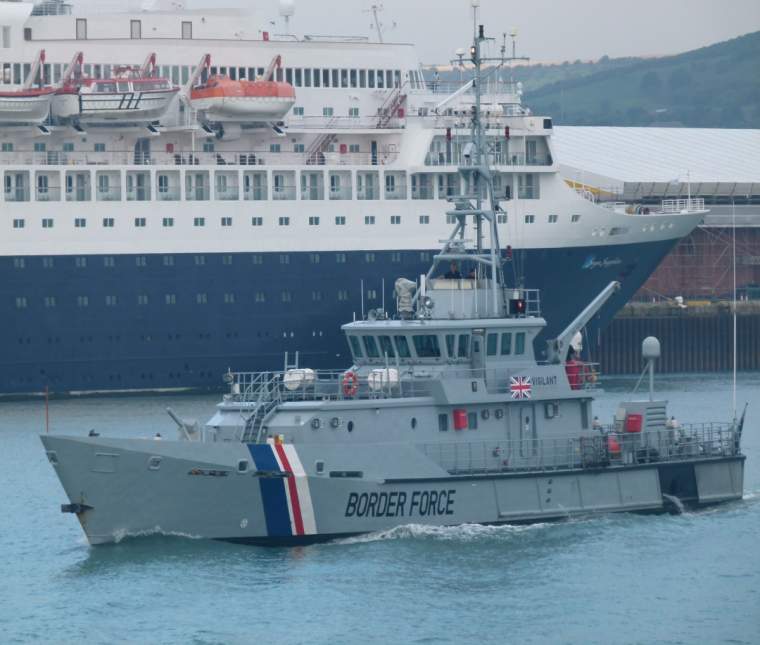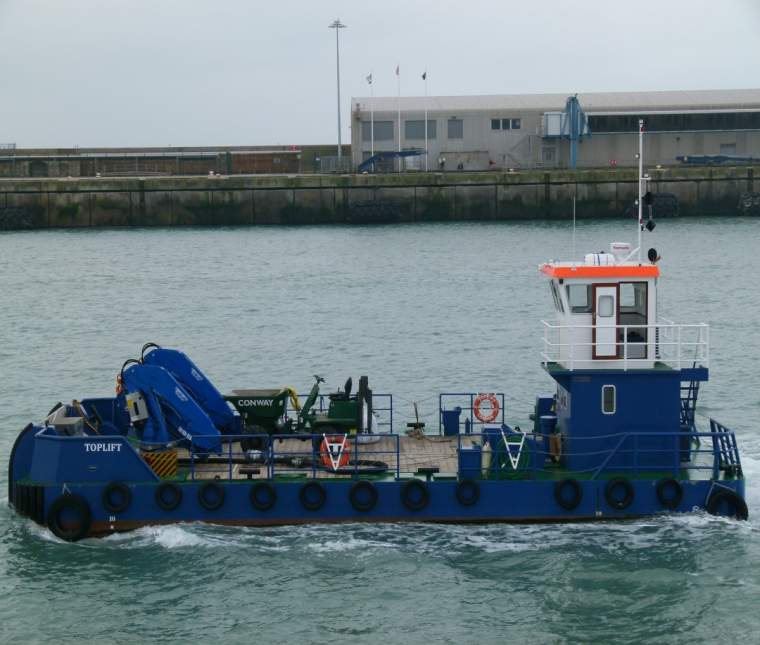 I later noticed on AIS a second visiting tug - the DOCKMAN who sailed from the former Jetfoil Terminal & at 1900 she was north of Whitstable bound for the Medway, only doing 4 kts so maybe she is towing something.
Tuesday, 2 September 2014 - 22:19
Post 1114
PaulB, Dover
A CARGO SPECIAL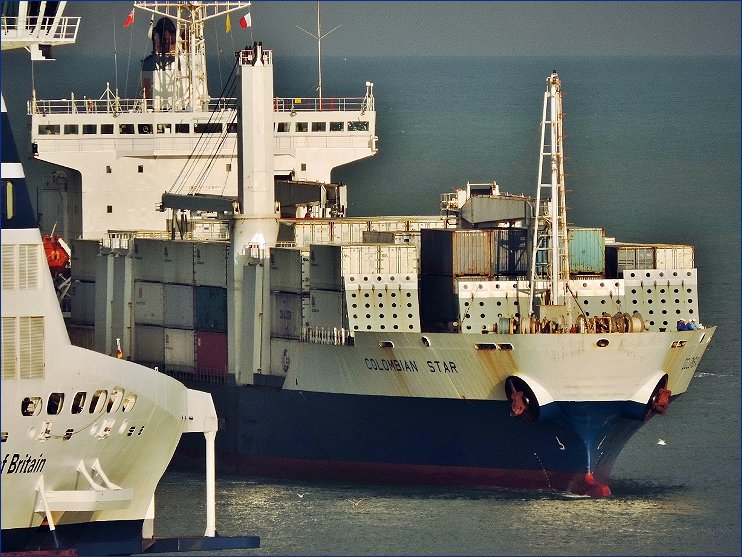 We are still powering ahead on the cargo front. Here we are with a selection of recent visits. Picture above shows the Columbian Star arriving on sunday evening in the low sun. This one waited and lingered offshore while the one below, the Schweiz Reefer, readied itself for departure. As soon as the Schweiz popped off the Columbian popped in. Ed mentioned about the Hellas Reefer in an earlier post, that it might be a first visit, not sure...but this one the Schweiz Reefer is a new one on me so could be another first visit. Onwards and upwards we go.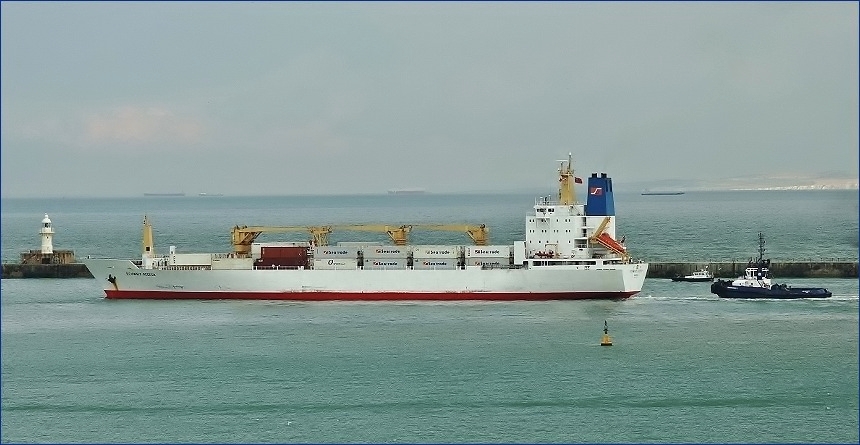 The Schweiz Reefer in the colourful late day sunshine. See also above....about to depart here for Hamburg.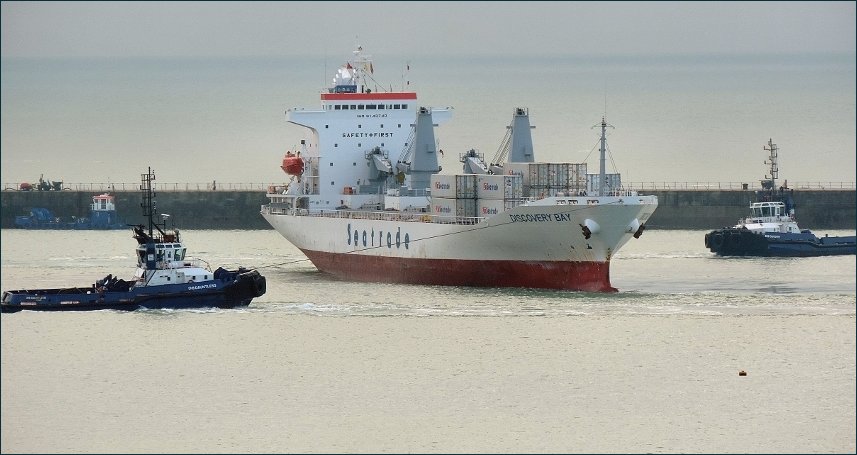 Today saw the early arrival of this one...the Discovery Bay. Seen here being helped into position by the ever busy tugboats. You can also see some of the guys on the breakwater again in this picture. An extra pic below in close up...after these pix I can feel the salt sea spray and ocean going grit in every corpuscle..
....well, sort of !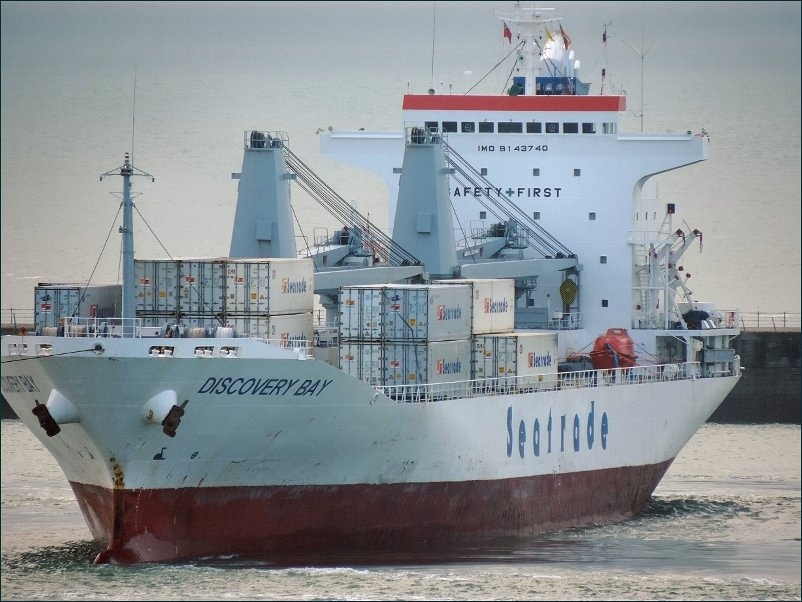 Hi again Vic. Bet you wish you were out there on the breakwater with the lads.
Always good to hear about your hard working exploits.
Tuesday, 2 September 2014 - 15:21
Post 1113
vic matcham, dover
Again you are looking at more of my work I was just one of a gang that renewed and done repairs to hand rail and building out there some years ago.

Tuesday, 2 September 2014 - 07:12
Post 1112
PaulB, Dover
Here are some pictures of the guys and indeed the boats working out there on the breakwater in the breezy weather. I am not entirely sure what's afoot out there but I guess its basically essential maintenance ahead of the winter turbulence. Much work has also been done on the harbour walls generally as we know, so it looks like a heavy maintenance schedule is in full swing throughout the Port.... anyway here we are with the pictures, they were taken just prior to the weekend..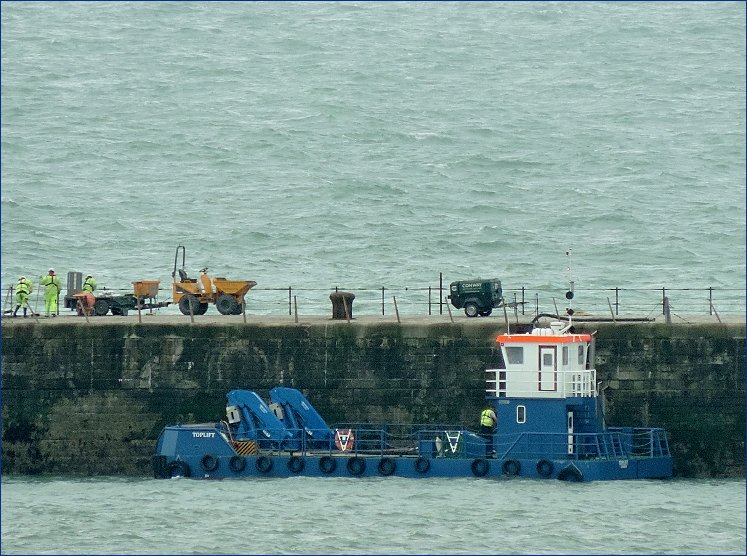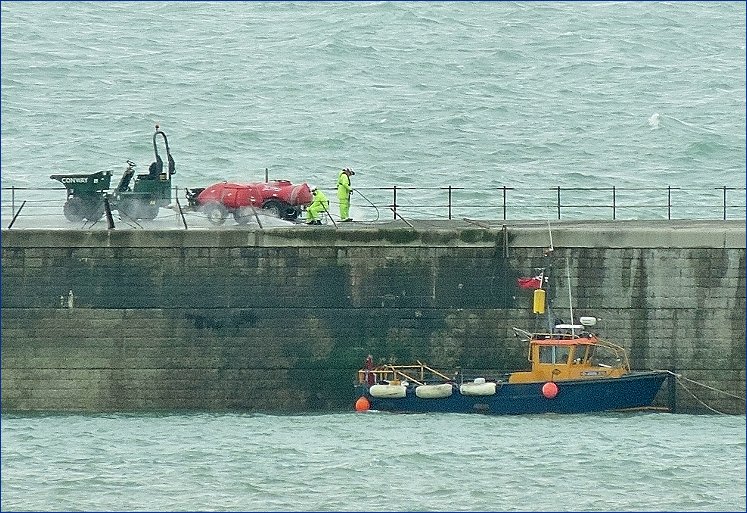 Good spot that one below Phil. Keep your eye on the channel for any further excitements. Always welcome and thanks Howard as ever.

There was some good cargo ship activity in the harbour recently too, getting ever busier, pictures of those to follow in due course.
Tuesday, 2 September 2014 - 07:01
Post 1111
Howard McSweeney, Dover
This is the "Eugen Maersk" going down the channel yesterday, the world's longest containership at 400 metres long.
Photo by Phil Smith.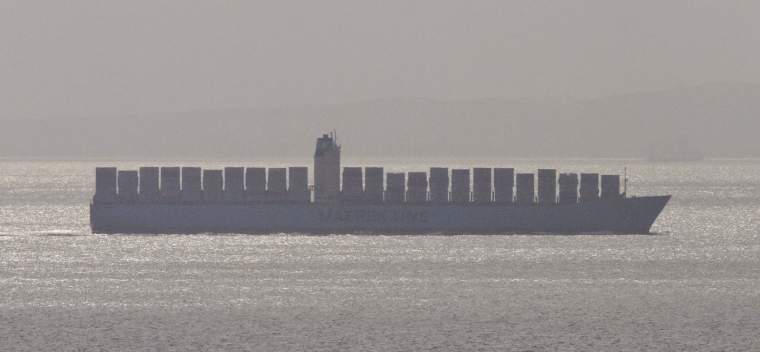 Monday, 1 September 2014 - 18:42
Post 1110
PaulB, Dover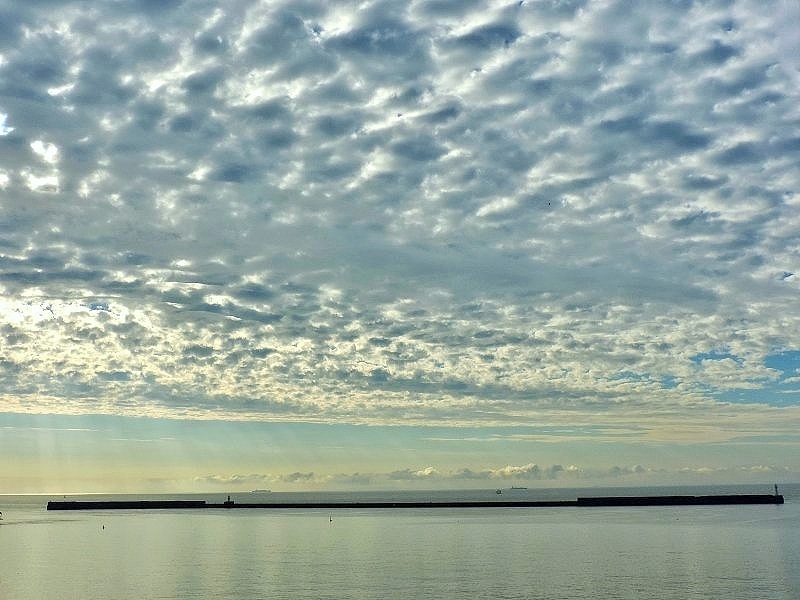 Thanks for that info Mike...will keep watch. I have a few appointments on Wednesday but will keep watch when I can. Its great to get the tall ships where possible. in the pic above you can see Jantje as a speck this morning. This is the sailing vessel as featured currently at the top of page. I was actually photographing the strange sky when I noticed the sailing vessel. This was the sky as was, quite unusual, it isn't doctored other than brightened a tad ( yours truly doesnt have any of that fancy photoshop stuff ).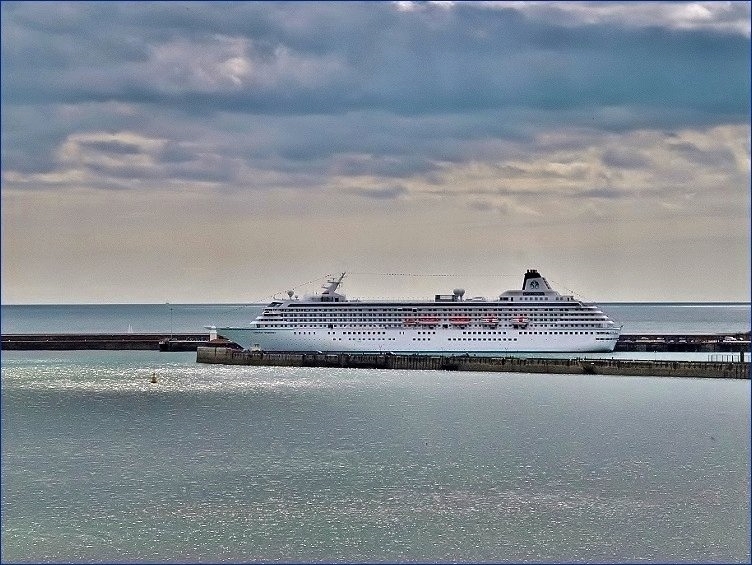 Just catching up with the Crystal Symphony, shown here prior to departure on...gosh forget which evening it was as I write...over the weekend anyway.
Monday, 1 September 2014 - 16:14
Post 1109
Mike J., Dover
Tall Ships 2014 -

Currently down at Falmouth the fleet is expected to sail for Greenwich on 3rd.September.

Hopefully they'll take the Inshore Traffic Route & pass close to Dover.

Monday, 1 September 2014 - 09:54
Post 1108
PaulB, Dover
A FINAL FAREWELL TO THE RYNDAM
I think we were all quite surprised to see the ballyhoo on Saturday evening surrounding The Holland America Line's Ryndam as she departed the Port here in Dover. But then in due course the penny dropped and it dawned on us that she was leaving here for good. It was the final goodbye. So a commonplace departure turned into a sad farewell to an old staple. She heads off to pastures new we understand.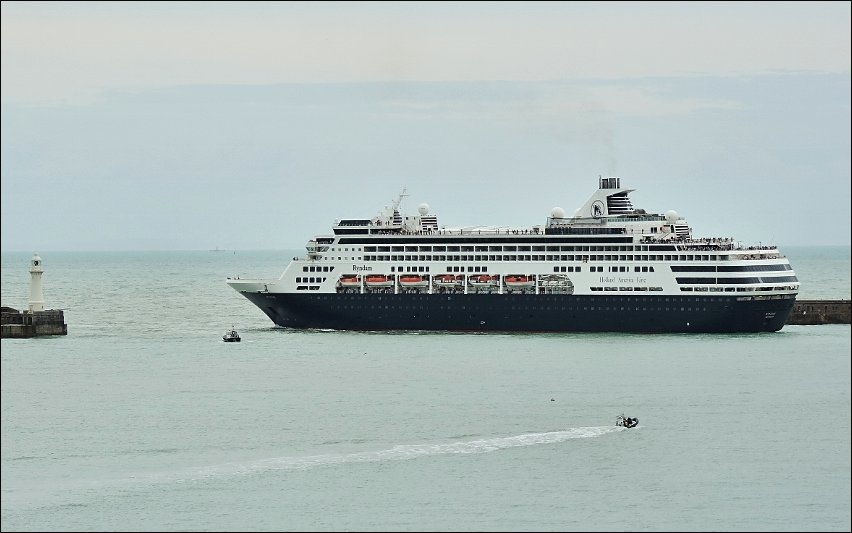 it was a still but slate grey evening as she moved away. The tugboat Dauntless led the way out into the open sea spraying vigourously and high into the calm cool air..you can see the beginning of proceedings in the picture below. The whole thing almost un-noticed on the Prince of Wales Pier..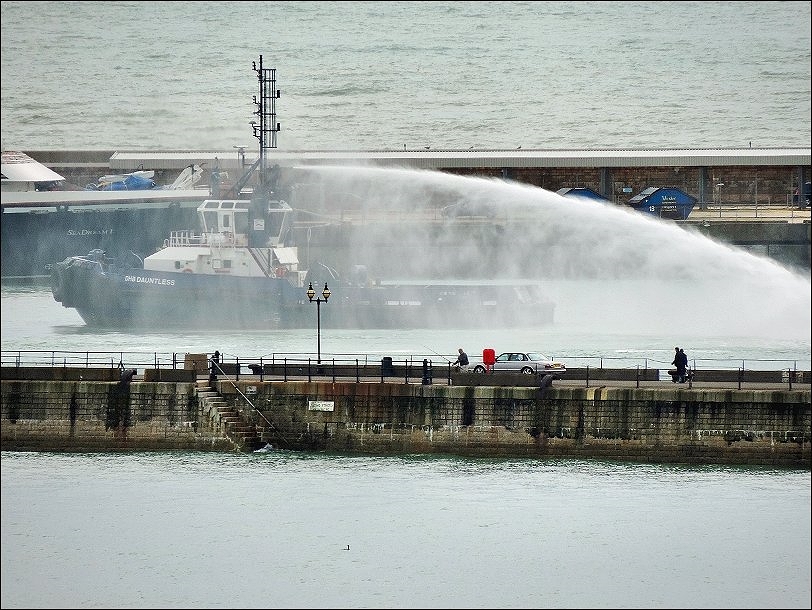 Out into the open sea she goes below, almost posing for the last picture, while Richard Mahoney's White Cliffs Boat Tour trundles by in the foreground - with not too many takers in the cool sharp evening.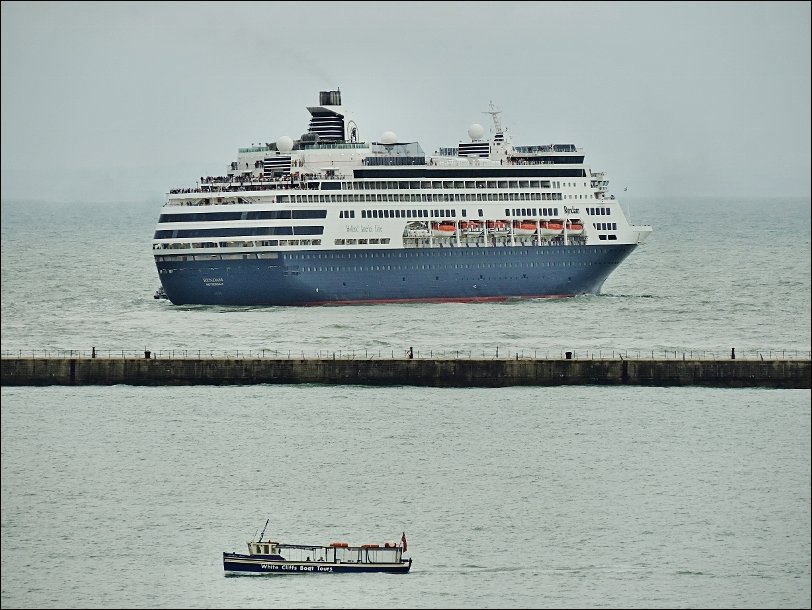 Monday, 1 September 2014 - 05:30
Post 1107
PaulB, Dover
Thanks for the information girls. Great stuff!

Colette have added the latest post number to the top listing as per usual, we still have some good and fab ships coming which is a satisfying and exciting prospect.
Jacqui thanks for that. We have had a varying info re the Ryndam since but nothing seems clear. Whatever happens to the ship in future.. well it certainly now looks that Dover wont be part of that future. Will have pictures of the final departure in the morning.
Sunday, 31 August 2014 - 18:18