Tuesday, 18 February 2020

WWW.DOVERFORUM.COM/SEA-NEWS
Sea Pictures from DOVER: Featuring all the ships that come and go and work at the Port of Dover ..
... with some further coverage of the surrounding ports.
Sea News Dover
Use our SEARCH ENGINE below to find all sorts on the SEA NEWS pages....type in the topic and away you go, or if you have the post number, just type it in the box, more than
- 6750 -
nautical posts now. Posts are welcome. just click 'Add Your Comment' below. Max of 5 pictures preferred although we can stretch that for special stories..
Sea News Editor Paul Boland - send info or pix to dover7@msn.com. Always welcome.
Port of Dover, DFDS, P&O say...Travel with Confidence from Dover.. see 6786 below.
DFDS Refit Investment...luxury lounges 6821.
P&O FERRIES - POST BREXIT travel info below 6780.
P&O NEW FERRIES Images below 6775...
P&O Ferries - new Catering Apprentices see 6790...
Book with P&O - Free Fuel see 6760
Visit us here in White Cliffs Country see 6772
Natalie Elphicke MP - thoughts post Brexit 6784
Just type the post number in the Search Box below.
NEW UPDATE:
To show your pictures at their best..it could be worthwhile resizing before posting to
860
pixels wide. Our new standard size.
All pictures on these pages are the copyright of the owners and must not be reproduced without permission.
Post 970
PaulB, Dover
The Saga Pearl II arriving on a slate grey Tuesday morning. The day did warm up but it took a while, but as they say..better late than never.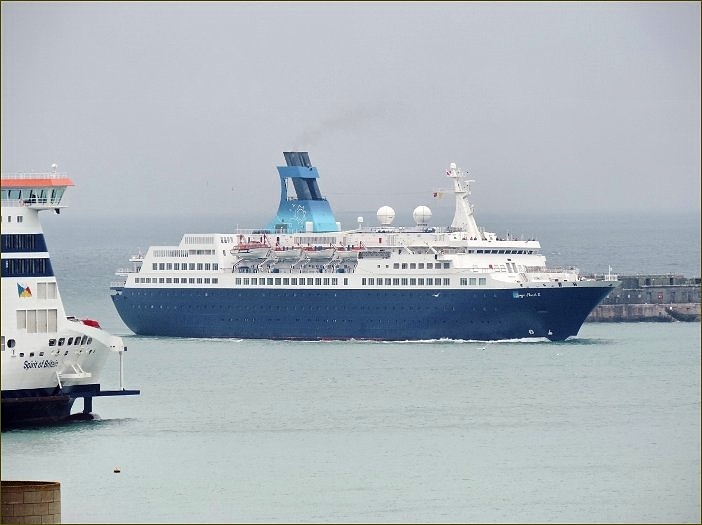 And below another one of these Military Ops/training vessels HMS Smiter arriving in the harbour..on Monday I believe it was. Just spotted it at the last minute and this was the only picture. She left yesterday heading west. We are seeing plenty of these types of naval vessels and have featured them previously...worth scrolling back for some better pictures. By the way..that's the new buoy already playing a featured role.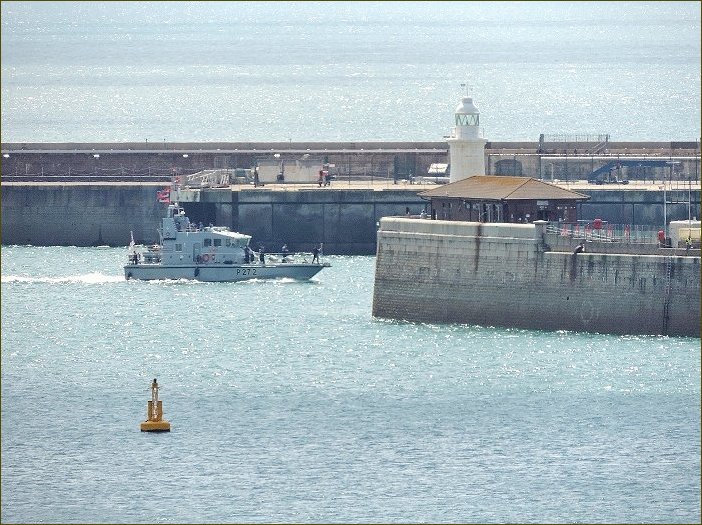 Good link that Brian. Went and had a look. Freaky Friday for sure

Wednesday, 23 July 2014 - 06:43
Post 969
brian, dover
the film clip that mike j, mentions is now on the main forum.

Tuesday, 22 July 2014 - 06:59
Post 968
PaulB, Dover
Late last week the dredger David Church and the Harbour Patrol boat moved across the harbour with intent. What was afoot? ..wondered the passer by with a scratching of the head. It was a nice day for it whatever it was, with the sun beating down all was right with the world.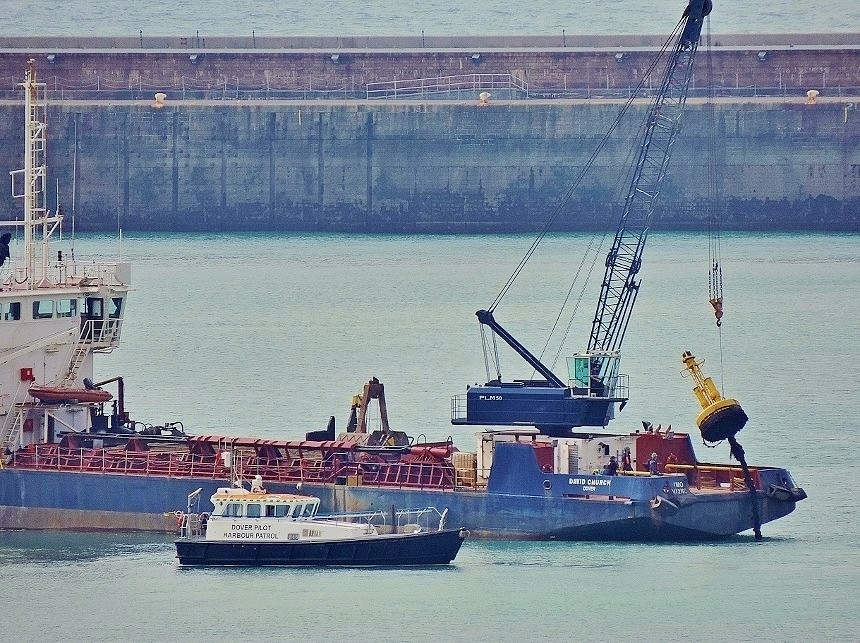 Before too long all became clear as one of the large buoys was lifted out of the water..presumably to repair it thought the same passer by. But no...it looks like a new buoy has replaced the old one, at least so to the untrained eye of the landlubber. All change again. Part of the ongoing all round improvements.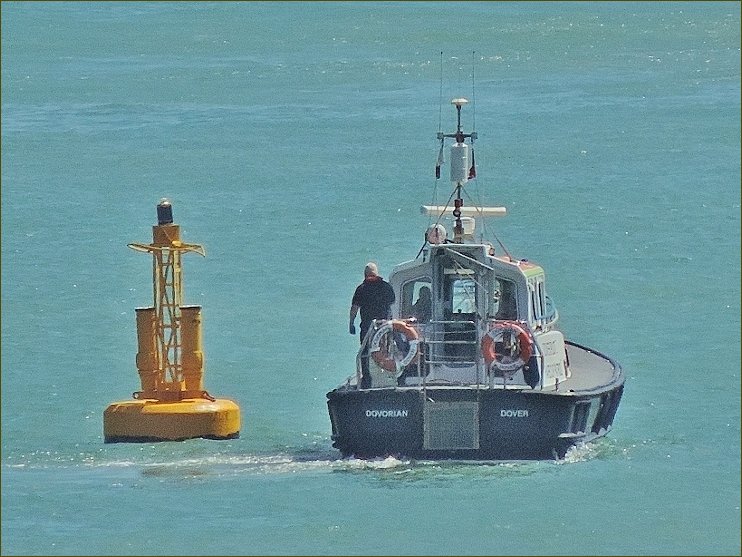 Tuesday, 22 July 2014 - 06:51
Post 967
PaulB, Dover
Thanks for the tip Mike, will have a look for that. I agree with you ..never seen anything quite like it before and the speed of its arrival was astonishing...I put this picture on the main forum in colour, the colour wasn't good as it was quite late and with a rather odd light and rather odd atmosphere, so have experimented in black and white and here we are..but it doesn't do the phenomenon justice.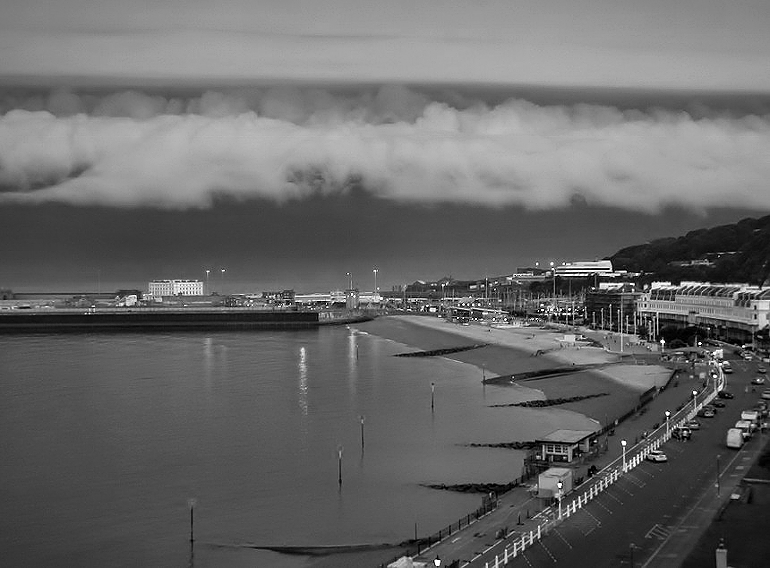 See also the earlier picture in 896.
Monday, 21 July 2014 - 18:55
Post 966
Mike J., Dover

Re the roll cloud & the freaky weather last Friday night mentioned & illustrated in posts 896 & 897.

Somone aboard the BRAEMAR filmed it's arrival as the ship headed downchannel after sailing from Dover.

We can't post links on here, but if you go onto the YouTube home page & type 'Frightening Storm in the English Channel' into the YouTube search box it should pop up at the head of the offerings.

Impressive.

Here in Dover I've never seen the wind pick up so quickly from almost nothing - dust & debris flew past almost horizontally for a few minutes.



Monday, 21 July 2014 - 16:19
Post 965
PaulB, Dover
The Ryndam a-coming and a-going....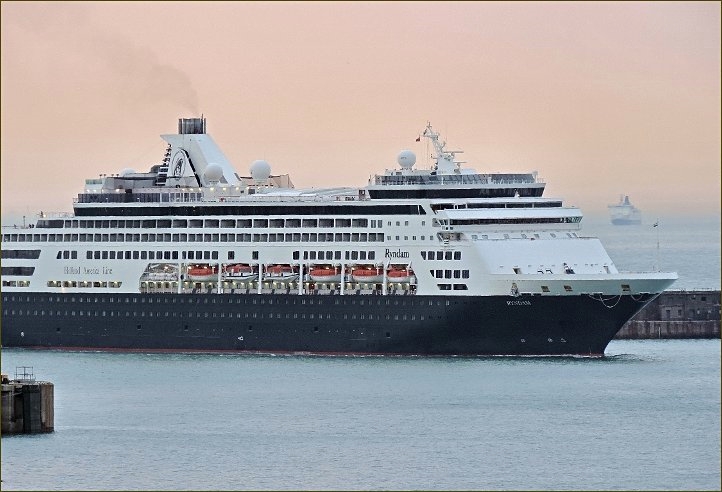 A busy weekend for cruise liners again here in Dover. Yesterday we had the double header of the Braemar and the Ocean Princess. Unfortunatly for much of the day general poceedings were shrouded in a grey oul' fog or a terribly romantic mist..depending on your aspect. And speaking of all things romantic...the pictures here are of the Ryndam from Saturday, both coming and going, with both arrival and departure blessed by subtle perfume-advert style pastel colours.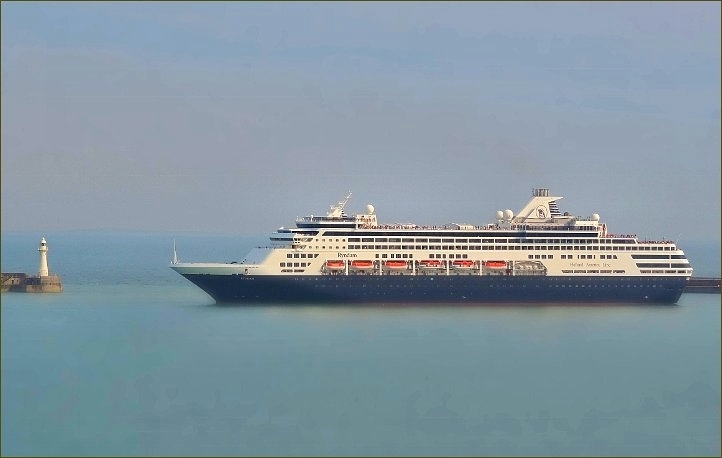 Bon Voyage !
Monday, 21 July 2014 - 07:02
Post 964
JanT, Dover
Watching last night from the top of Buckland estate it was certainly a very dramatic storm, have never seen anything like it, started across the seafront and across the western heights and it travelled very quickly across Whitfield.
Followed by some very dramatic lightning, love the picture below captures some of the eeryness of it all.

Saturday, 19 July 2014 - 10:35
Post 963
PaulB, Dover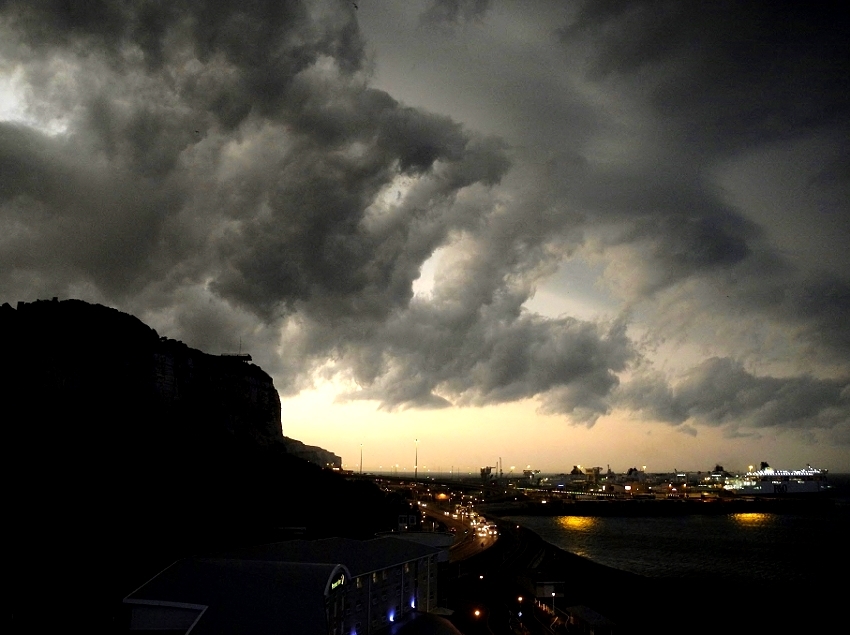 Woe! what a night. and it all changed so fast from calm tranquillity to violence within minutes. The most unusual skies ever were overhead and then whoosh. Firstly it appeared to yours truly as though there was a big fire across the harbour in the area of Lord Warden House, but then I realised that Shakespeare Beach itself had become quite spectacularly airborne, I tried to get a picture of this but was hit myself by what I can only describe as a shockwave. Because doors were open due to heat etc, all furniture crashed over and all belongings scattered everywhere within seconds here in the 'control tower'...and then just as quickly the shockwave was gone.. and the thunder and lightning began.
But before all that in the calm of a summer evening, the Braemar headed off to Honfleur. A lovely place Honfleur as you can see in the picture below.
Took the picture about 3/4 years ago.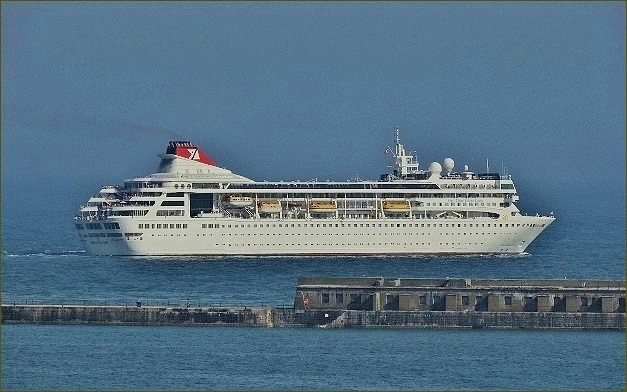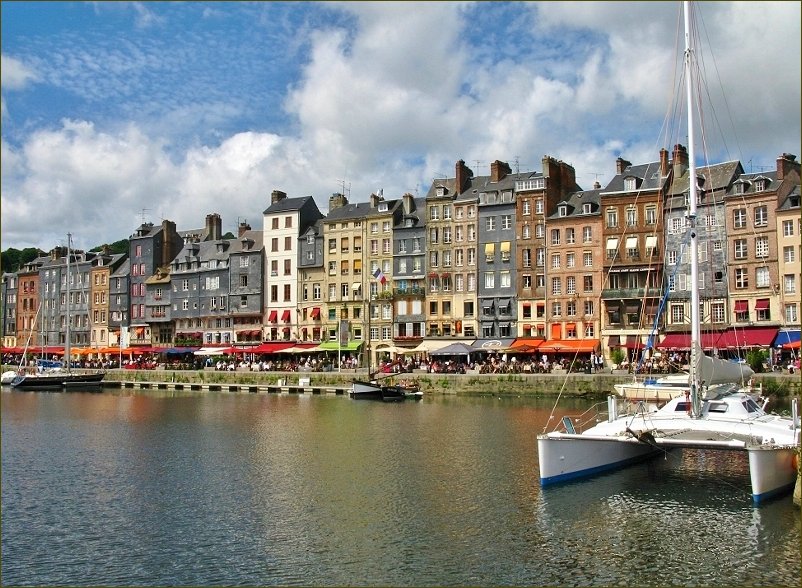 Smashing pictures below guys all round. Thanks once again for the cruise info Colette.
Saturday, 19 July 2014 - 06:48
Post 962
Howard McSweeney, Dover
Re; John's comment on the Sea Sport centre, I was one of the few that liked it from day one.

It won a major design award and the sunrise photo there shows it at its best.

I think it is a British thing to rubbish any new architecture, we have some lovely buildings along Marine Parade and they are not diminished by new offerings.

Friday, 18 July 2014 - 21:05
Post 961
ColetteB, Dover
Some great photos below there from John, Phil & Mr B, I'm certainly looking forward to Regatta day next Saturday



And now for the rest of our July cruise ships

Tomorrow Saturday 19th July, the Ryndam arrives back to CT1, TR.
Two cruise ships on Sunday 20th, the Ocean Princess returns to CT2, TR & the Braemar arrives back to CT1 from her short cruise to the beautiful 'Honfleur'.
No cruise on Monday but on Tuesday the Saga Pearl 11 cruises back to CT1, TR.
No cruise on Wednesday, on Thursday 24th July the Saga Sapphire arrives back to CT1, TR.
Then nothing until Wednesday 30th July when once again the Saga Pearl 11 returns to
CT1,TR.
We end this month on the last day of July, Thursday 31st with the familiar Saga Sapphire again at CT1, TR.
That's all for now folks, will be back with lots of cruises in August, some nice surprises too

Friday, 18 July 2014 - 17:06
Post 960
John Mavin, Dover
Looking at Howard's post on the main Forum regarding the Sea Sports Centre, I think it's clear that despite the early cynicism it has established itself as a very attractive seafront feature - lovely at sunrise.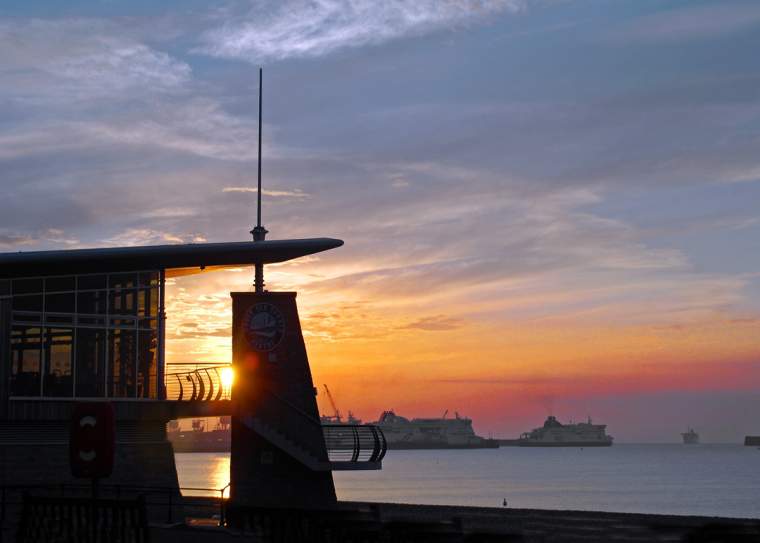 Friday, 18 July 2014 - 10:02
Post 959
PaulB, Dover
This beautiful and tranquil picture of a Belgian ketch off Samphire Hoe was taken and sent in by Phil Smith who is a spectacular wildlife photographer.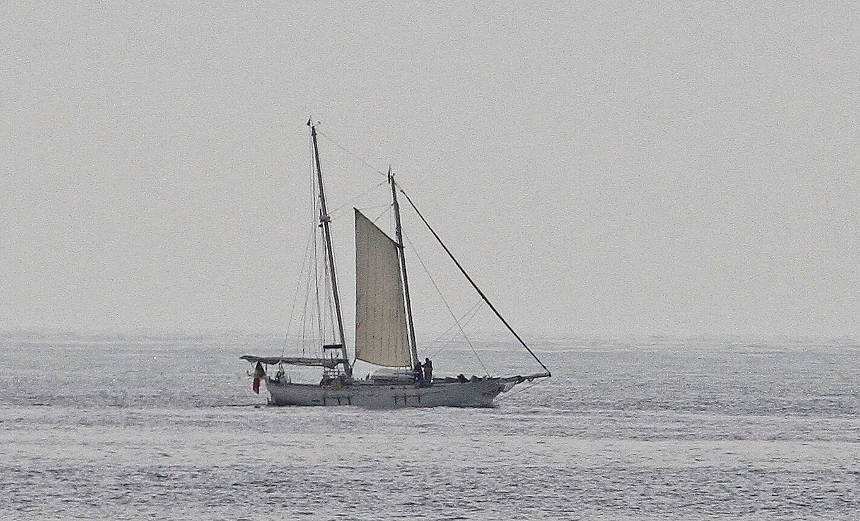 Many of Phil's wildlife pictures can be seen in the Forum. Nice one above Phil. Thanks also to Howard for sending it through so that we can all enjoy.
Friday, 18 July 2014 - 06:34
Post 958
Kevin Charles, Dover
Always an enjoyable event, well supported by many people. Before that, don't forget the three day Dover Music Festival starting tomorrow and continuing throughout the weekend. There will be free music events in Pencester Gardens and Market Square.

Thursday, 17 July 2014 - 20:28
Post 957
brian, sunny aycliffe.
dependant to the weather of course.

Thursday, 17 July 2014 - 16:43
Post 956
JanT, Dover
Yes certainly looking forward to next weekend. Reading the post below, there sure looks like there will be a lot going on, for kids and us grown ups alike so why not come down to the seafront and enjoy the day.


Also a very good opportunity for those with cameras to get some good pictures.

Thursday, 17 July 2014 - 09:34
Post 955
PaulB, Dover
The post below number 887 has us all agog with excitement for the coming Regatta. It should be a great day out for the entire family as there is lots to do for absolutely everybody. This is the scene last year, oceans of people enjoying the sunshine day and all the activities on Dover Seafront and it is a great seafront for just this kind of day.
After a brief lull the Regatta kicked off again last year in fine style and now with momentum gathered should be even better this year and above all - its FREE.
Puts a chap in mind of some of the great Regatta days in the past. Remember the Sea Kings of long service...this guy came chopping by my rear window one year at a blistering rate of knots. Didn't half rattle the bone china and damn near knocked the Renoirs off the wall !! But it was brilliant though. I don't think the Sea Kings come any more as they are at pensionable age now...but there will be flying machines..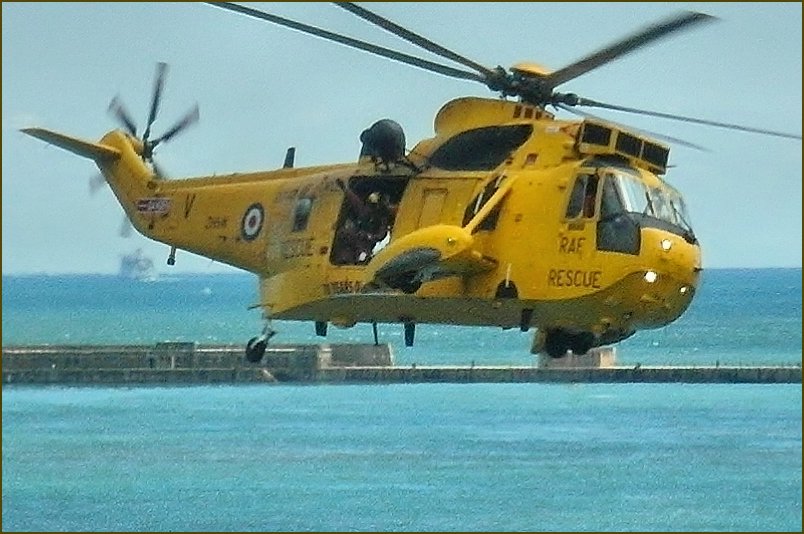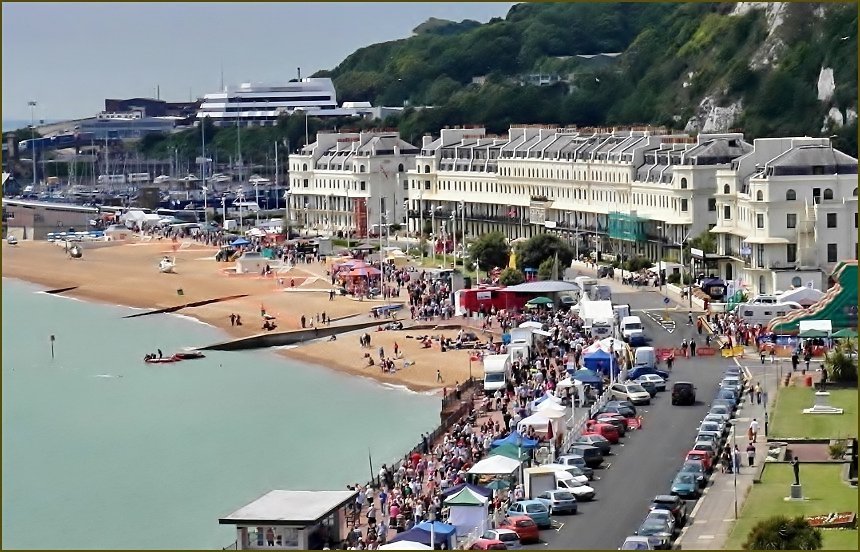 Long range pic from 2011 and its early morning still. The Regatta hasn't got into full swing yet...took this pic before going off and joining in, got in the queue for the face painting early..

* *
Late evening departure for the Southern Bay on Tuesday. Picture taken about 8.30pm in fading light. I shudder to mention it but the evenings are already shortening....oh dear!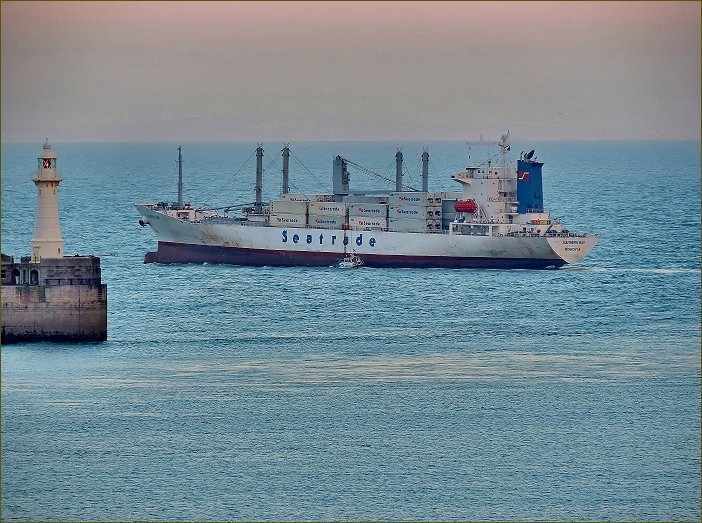 Thursday, 17 July 2014 - 07:48
Post 954
PaulB, Sea News, Dover.
THE COUNTDOWN BEGINS TO DOVER'S FLAGSHIP FAMILY EVENT –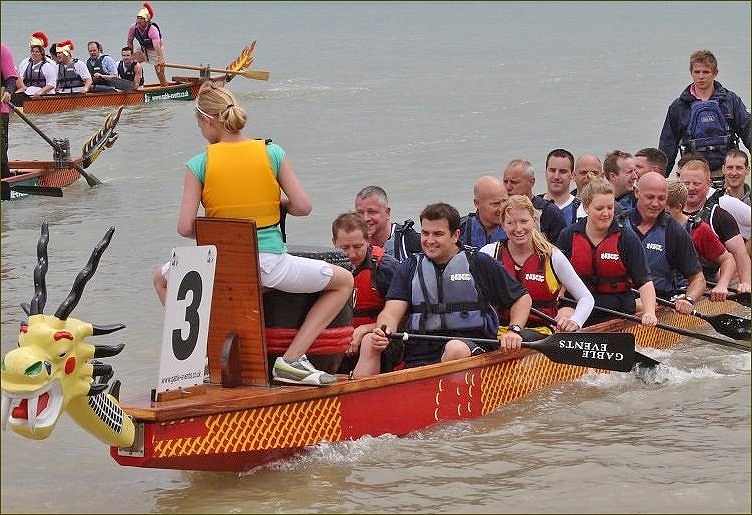 THE PORT OF DOVER COMMUNITY REGATTA
With just over a week to go, the Port of Dover Community Regatta is on track to delivering one of the biggest and best family events in the town this year. Packed with stalls and offering a wealth of entertainment on land, sea and air, the event promises something for all the family.
Starting at 10am, the 16 adult and four junior Port Dash teams will already be on the water, pitting their techniques against each other as they row in the harbour. In the true spirit of the race, we have a wide range of names including Bish, Bash, Bosh, The Misfits, I can't believe we're not better, Skull Duggery, Shark and Oar, the Lynx Effect and the Turtle Heads. With names like that, you can be sure there will be some fun and games on the water as they compete to be crowned this year's winners!
The event will officially be opened by the Admiral of the Fleet the Lord Boyce KG GCB OBE DL on the music stage at 10.45am, followed by the start of a full day's musical entertainment on the stage including Mel Harris, Ben Mills, Dover Has Talent, Jodie South and the Electric Beatles, all guaranteed to get the crowds up and dancing.
In the arena, the Kent Fire and Rescue Services and a range of blue light services, will be demonstrating their skills by dealing with a dramatic kitchen fire, and the Dover and Walmer RNLI boats will stage a breath-taking sea rescue in the harbour, showcasing their bravery and dexterity on the water.
Over 300 classic cars and bikes will be on display along the eastern end of the seafront and over 100 stalls selling a wide range of food including tasty treats from Germany, Spain and the Caribbean and hand-made cakes and sweets, to crafts, ceramics and plants.
There will be plenty of community information available from charities including the Dover Lions Club, Emmaus, the Royal Life Saving Society and the British Heart Foundation through to Health Trainers, KCC Wardens and the Air Cadets.
A climbing wall, fair rides, face painting and glitter tattoos will be some of the activities available for the children, although not exclusively as we are sure there are plenty of mums and dads who would like to have a glitter tattoo or try their hand at climbing the wall!
Bringing the event to a close will be an air display over the harbour by the renowned Blades aerobatics display team, who are all former Red Arrows pilots. The 15 minute display will include more than 30 exhilarating manoeuvres containing a variety of mind-blowing aerobatic stunts flown just feet apart.
We hope you can come along and support this fantastic community event and look forward to seeing you all on the day.
THE EVENT TAKES PLACE ON SATURDAY JULY 26 - it's the place to be.
Picture: that's one from the archives of the famous dragon boat races of yore. The guys from the RNLI in action there.
* *
The UK Border Agency were back on the case again on Monday. This is another pic of Searcher to add to the mix below. See also 886, 884.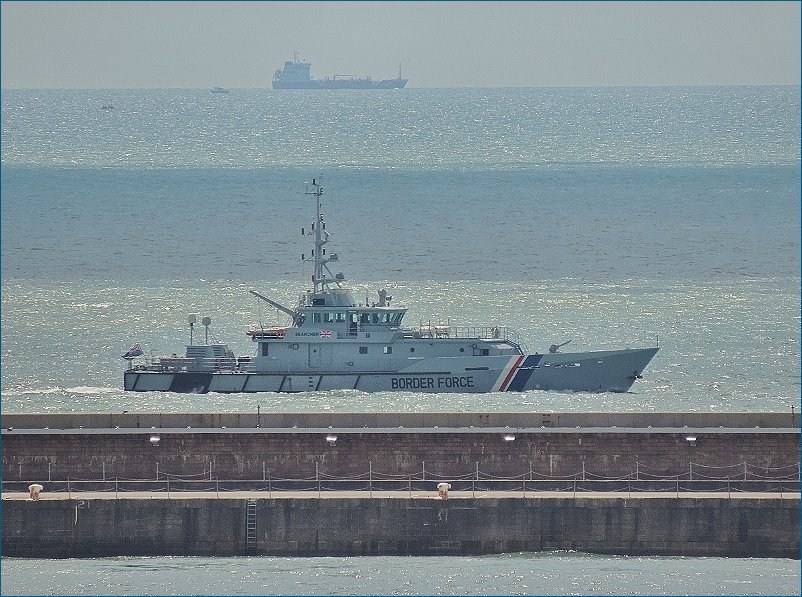 Tuesday, 15 July 2014 - 06:57
Post 953
PaulB, Dover
UK BORDER AGENCY SPECIAL
You will remember what we said in the earlier post 884 about the highly visible presence of the Border Agency over the weekend...well here we are with more pictures taken mostly on Saturday which show some of the high profile and hopefully effective presence.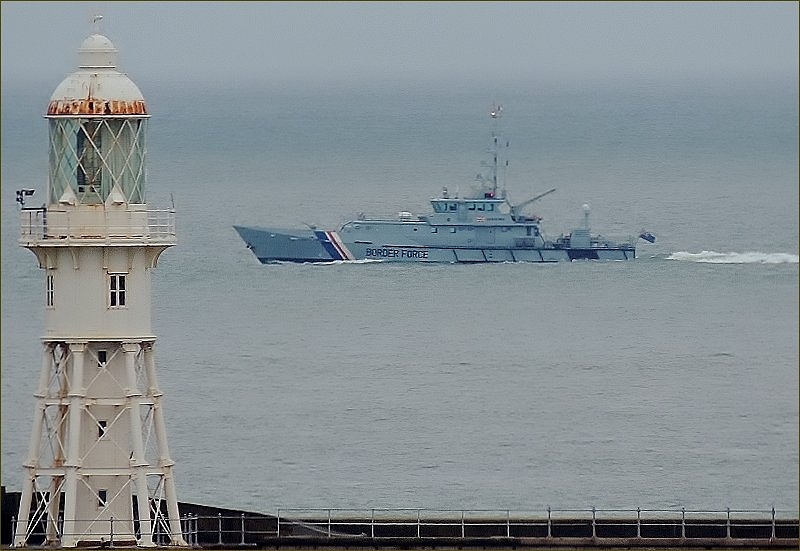 it was a surprise to find two of these identical or near identical ships in close inshore water activity. Yours truly believed he was photographing just the one vessel when vessel number two popped onto the scene. The photograph in the previous post below page (884) showed Searcher, now we have Vigilant entering the fray.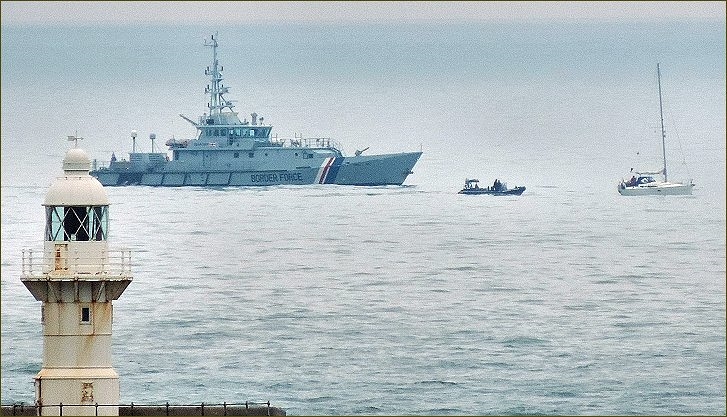 Long range shot above and it appears that the UK Border Agency guys have lowered a RIB to investigate and escort a mid channel yacht. This Border Agency vessel appears to be Searcher.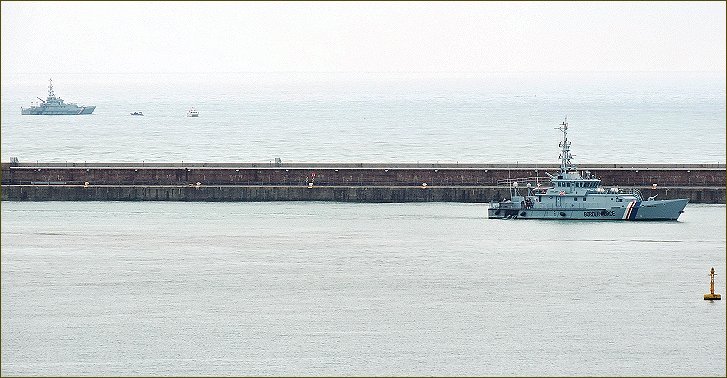 Above you can see both Agency vessels in the one picture...confirmation if you like that both were actually here in fine operation keeping our borders safe.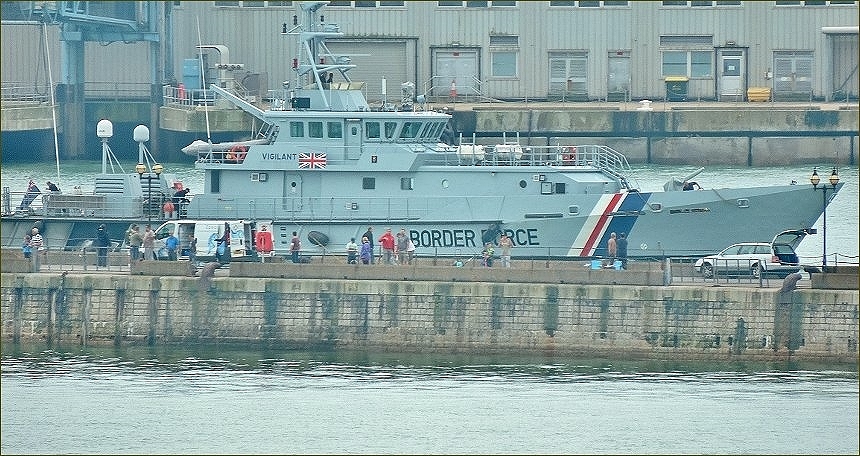 The Vigilant whispers in to the inner harbour. The people strolling on the Prince of Wales pier have hardly noticed her presence as she slowly prowls in.
Monday, 14 July 2014 - 06:50
Post 952
PaulB, Dover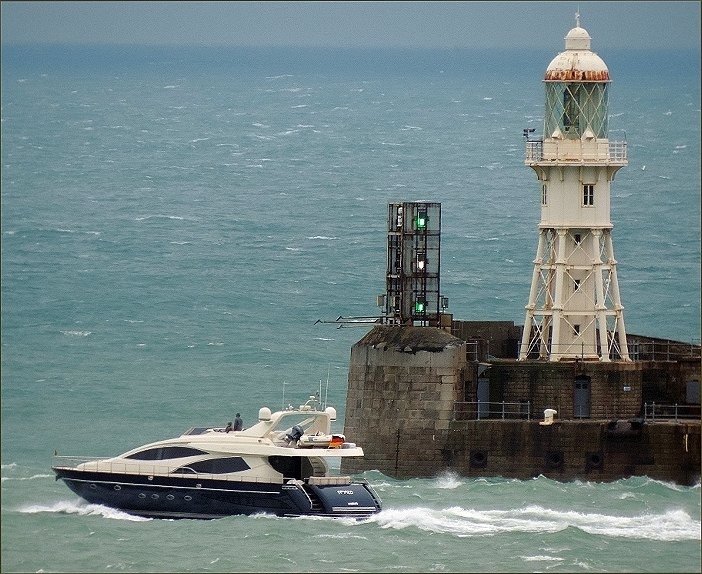 We mentioned Spyro further down the page ( 878 ) and here she is departing to pastures new early on in the weekend. She gave a majestic wave as she left. For the first part of her stay she remained in the outer harbour but then after a couple of days moved into the safety of the cosy Marina. It did get blustery in the outer harbour for a while. It is not too calm as they leave either as you can see. Let's hope they enjoyed their stay here in Dover.
Its been a grey ol' weekend. The Ryndam paid us a visit yesterday Saturday in very gloomy weather. The picture below of the arrival looks like a black and white picture...but no. With the ship being black and white and the conditions being slate grey it would be any easy assumption to make. However it is actually colour. If you look to the left you can just see a smidgen of green on the exit lights. Wowser!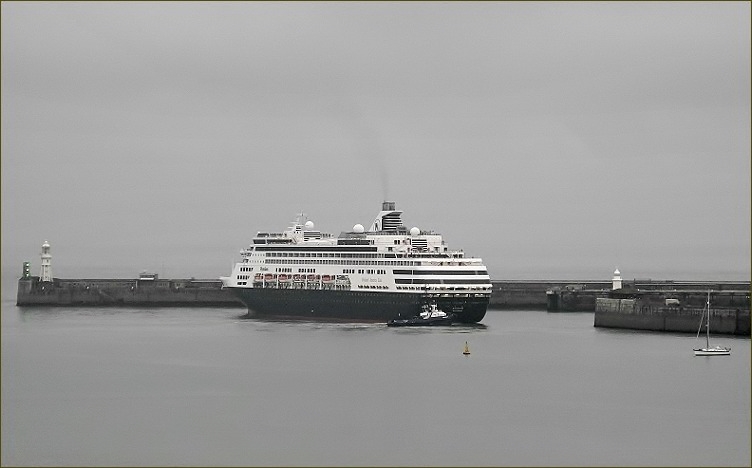 She left yesterday evening Saturday for Bergen.
The UK Border Agency are having a busy hi profile weekend. See post below. We will have more pictures tomorrow.
Sunday, 13 July 2014 - 07:27
Post 951
PaulB, Sea News, Dover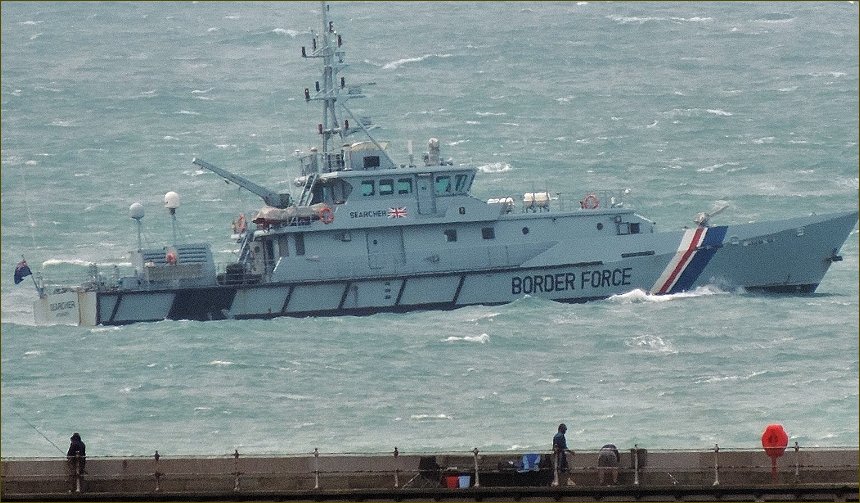 This is the UK Border Agency showing some hi-visibility on Thursday. The vessel is called Searcher...a longer range zoomed in picture as you can see.
According to the BBC, specialist UK Border Force teams are being posted to Dover to identify human traffickers and their victims. It comes as the cross-Channel border is under increasing pressure from migrants trying to reach Britain. We know that a number of audacious and dangerous attempts have been made recently, several even by the humble dinghy.
Earlier this month, police in Calais cleared camps occupied by migrants who were hoping to enter the UK.
Now we appear to be in top vigilance mode.
These pictures immediately below of regular visitor Braemar were taken on Thursday which was one heck of a gloomy day for July..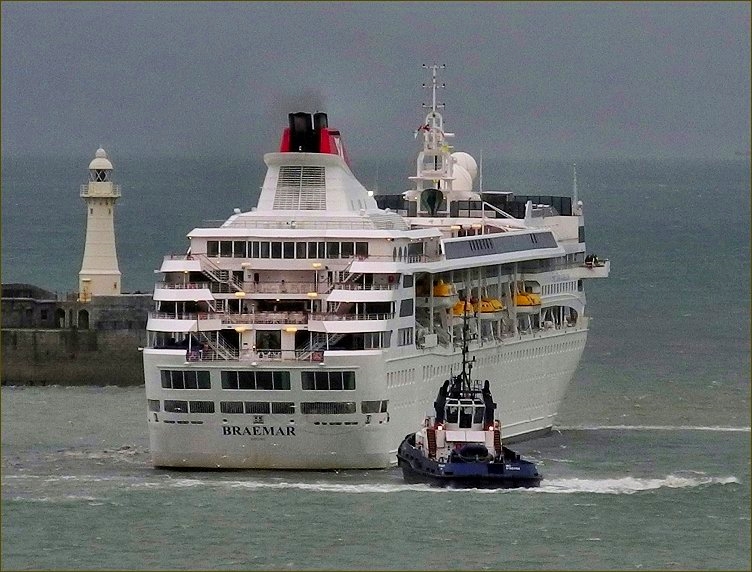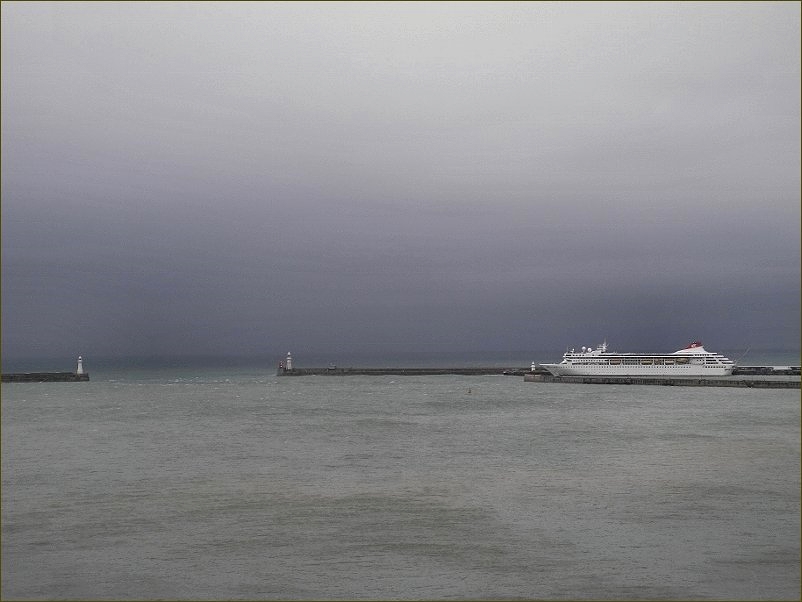 Bleak outlook above.
Also .. this press release below from DDC will be of interest as it has references to seafront and its further development...
GOVERNMENT FUNDING FOR TRANSPORT PROJECTS IN DOVER DISTRICT
Several transport schemes in the Dover district have secured funding commitments from the £442.1 million South East Local Enterprise Partnership (SELEP) Growth Deal announced today. The Growth Deal is designed to support delivery of four key priorities areas in the SELEP's Strategic Economic Plan:
1. Enhancing transport connectivity
2. Increasing business support and productivity
3. Raising local skill levels
4. Supporting housing and development
The plans in the Dover district include a commitment from the Department for Transport (DfT) to work with the Local Enterprise Partnership to develop further the business case for improved links between Dover Waterfront and Dover Town Centre. This will include detailed analysis of the costs and benefits arising directly from improved links, and also to understand how the proposed Port of Dover Western Docks Revival scheme can benefit the town.
Also included are plans for a new link road in North Deal to help facilitate the free flow of traffic, addressing safety concerns at existing junctions, and improving access to a new residential development site. The delivery of the scheme will create 150 new jobs and facilitate the delivery of 150 new houses.
Dover District Council has also welcomed the news that funding has been allocated for the creation of a new Manston Parkway station to support the continued success of the Discovery Park Enterprise Zone.
Cllr Paul Watkins, Leader of Dover District Council, said: "We welcome these important commitments to improve transport infrastructure in the district. We've worked hard with fellow authorities representing coastal communities to get a good deal.
"These schemes will play a key part in our growth agenda by ensuring that the port and town of Dover complement each other, and that Deal has the road infrastructure to support its growing popularity as a place to live."
ENDS
Friday, 11 July 2014 - 06:53