Tuesday, 12 November 2019
Sea Pictures from Dover ...

WWW.DOVERFORUM.COM/SEA-NEWS
Featuring all the ships that come and go and work at the Port of Dover ..
... with further coverage of the surrounding ports.
Sea News Dover
Christmas Spectacular at the Port 6648.
MP Charlie Elphicke moving aside for wife..see 6646.
P&O: St Richards School trip to Calais for 6 year olds see 6630.
DFDS: Contract Cancelled see 6626.
Use our SEARCH ENGINE below to find all sorts on the SEA NEWS pages....type in the topic and away you go, or if you have the post number, just type it in the box, more than
- 6600 -
nautical posts now. Posts are welcome. just click 'Add Your Comment' below. Max of 5 pictures preferred although we can stretch that for special stories.. Sea News Editor Paul Boland - send info or pix to dover7@msn.com. Always welcome.
CRUISE CALLS:
https://www.doverport.co.uk/cruise/find-a-cruise/
UPDATE:
To show your pictures at their best..it could be worthwhile resizing before posting to
850
pixels wide.
All pictures on these pages are the copyright of the owners and must not be reproduced without permission.
Post 771
PaulB, Dover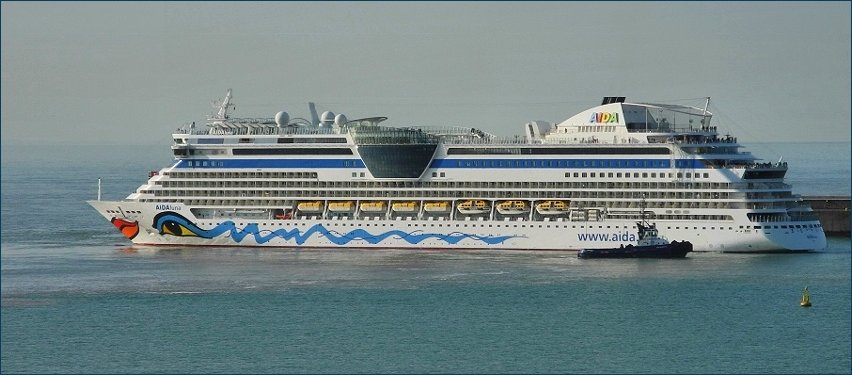 The AIDA LUNA arriving this morning in fine sunshine and in fine style. As you can see many passengers on the decks enjoying the glorious the White Cliffs and the harbour as they arrive....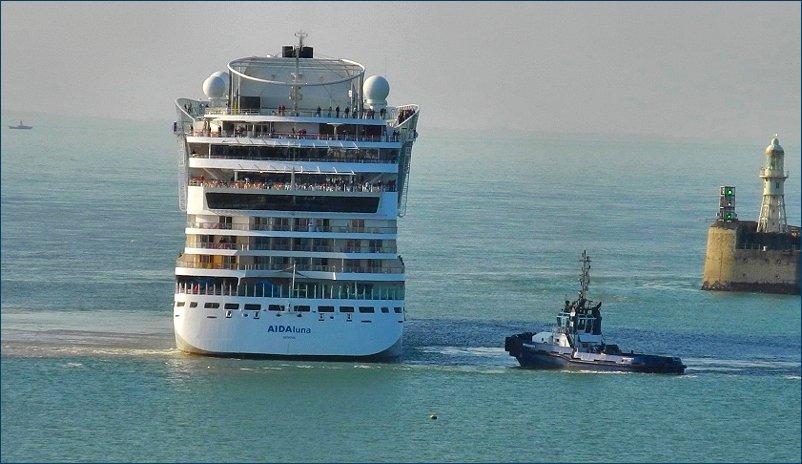 Mike - good info there. Have now checked the number on the side of the frigate and its actually...F239.
Thursday, 15 May 2014 - 15:51
Post 770
Mike J., Dover
Its one of ours ! [I think]

It looks like a Royal Navy Type 23 frigate, but I canna read the pennant number on the hull.

It MIGHT be F238 in which case its HMS NORTHUMBERLAND.

Warships don't usually show up on AIS [Marine Traffic] but I've occasionally seen those little patrol craft that come into Dover showing up as 'COALITION WARSHIP'

Thursday, 15 May 2014 - 10:05
Post 769
PaulB, Dover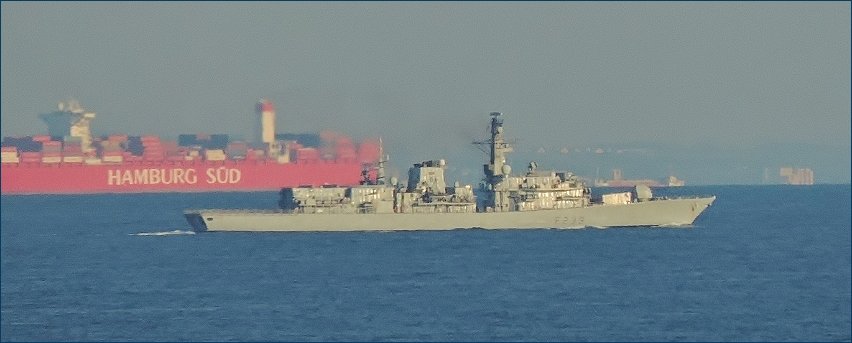 Thanks guys for the comments as ever. The AIDA Luna is back in today after her short cruise...will get a picture uploaded later. But in the meantime I saw this guy prowling down the channel last evening in the bright sunshine. Obviously a navy vessel but not sure which navy...is it the Royal Navy? Might be. There was nothing showing up on our Channel Traffic feature on main frontpage. But thought it worth showing...one huge monster container ship moving north as the navy move south. In the background you can spot the south part of Boulogne. A very long distance shot this, so some quality loss.
Good to see the Avon there.
Thursday, 15 May 2014 - 09:18
Post 768
Vic Matcham, Dover
Good photo of the old Avon only small but it has done a lot of work over many years they look after it well.
I t would nice to think that after its working life they will still look after it.

Thursday, 15 May 2014 - 07:18
Post 767
Mike J., Dover
Three superb sunset photos Paul, well done !
I particularly liked the first one, more like a painting than a photo.
By way of a contrast to the AIDA STELLA - here's an Ugly Duckling -
The workboat AVON came into Dover this afternoon & parked-up in the old Jetfoil terminal.
She started life in 1969 as the CROSSNESS. a Port of London salvage vessel.
That's the 'local' DOVER WORKER alongside her.
The AVON is probably here in connection with contractors working in Eastern Docks.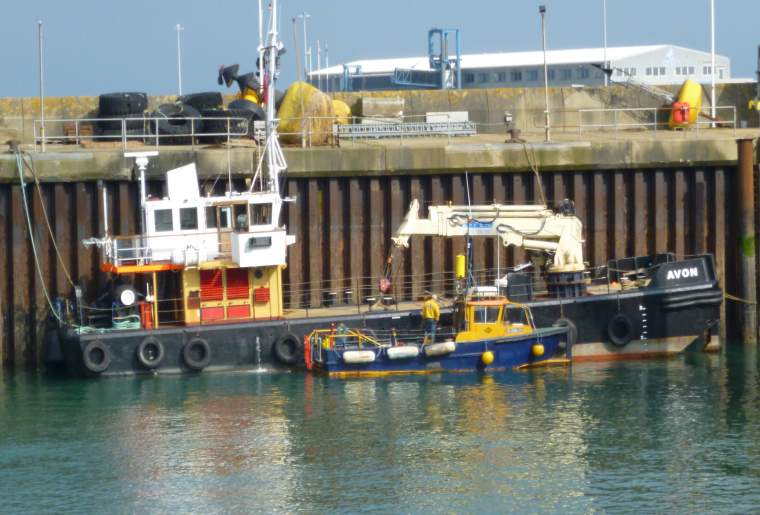 Wednesday, 14 May 2014 - 21:28
Post 766
ColetteB, Dover
Beautiful pastel shades and a very tranquil scene for sure MrB

I love that poem Dover Beach by Matthew Arnold, one of my favourites

Love the silvery moon too, I feel a song coming on, By the light of the silvery moon....
Wednesday, 14 May 2014 - 18:24
Post 765
PaulB, Dover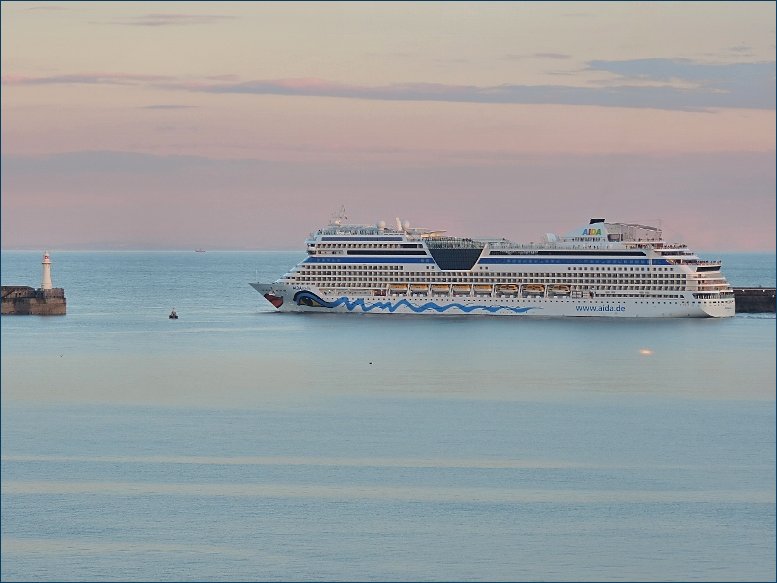 Some gentle pastel shades were prevalent when the AIDA Stella left the harbour last night Tuesday. She left at 8pm on the nose in unusual lighting conditions as you can see. The tranquil scene was lit by both a slanting sun and a rising full moon...and all on a flat calm sea too. Never a dull moment here in Dover, all constantly changing. No camera manipulation with the colours here, this is as was..as they say in all the best houses..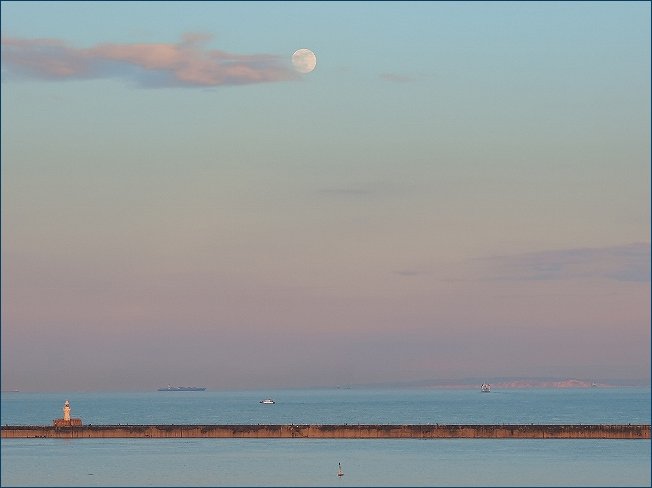 The moon eventually turned silvery and the channel looked magnificent..just like in the famed poem. "The tide is full, the moon lies fair upon the straits..." These pictures were taken while there was still remaining daylight as you can see, in that brief period of sun and moon. Otherwise known as.. the twilight zone..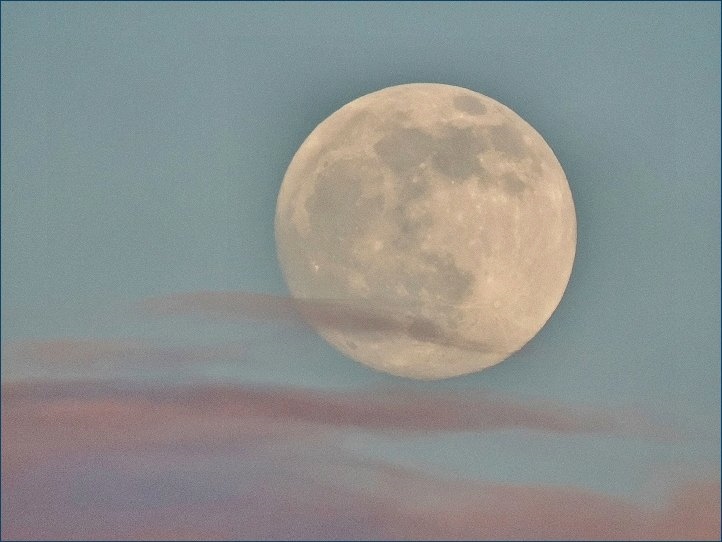 Will aim to pop along to the Dover Marina Open Day...see Post 704 below.
Good luck with the Dance to France Andy (705)...if you get a chance pop up some follow-up pictures of the event in due course.
Will watch for that Seacat Mike just in case.
Wednesday, 14 May 2014 - 15:26
Post 764
Mike J., Dover
Remember the SEACAT FRANCE ?
One of the early highspeed Cats that used to run out of Dover.

She's just left Tilbury after many years laid-up in Tilbury Docks & is under tow by the tug HUNTER & bound for Piraeus, Greece.

The HUNTER can be seen on AIS but unless she speeds up will pass Dover during the night.


Wednesday, 14 May 2014 - 14:38
Post 763
Andy MacLean, Old Wives Lees (jazzandy@btinternet.com)
Please share this to spread the word far and wide!!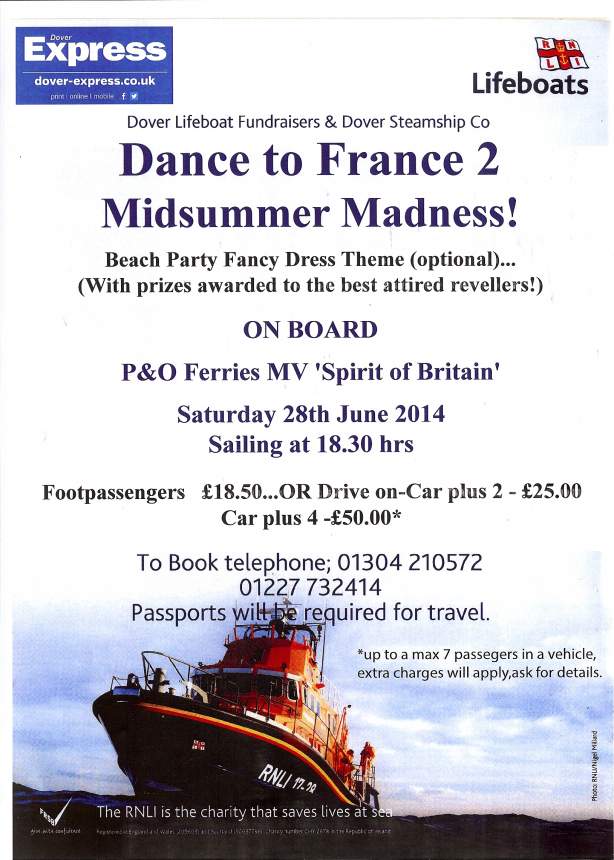 Tuesday, 13 May 2014 - 18:42
Post 762
PaulB, Dover
Dover Marina Open Day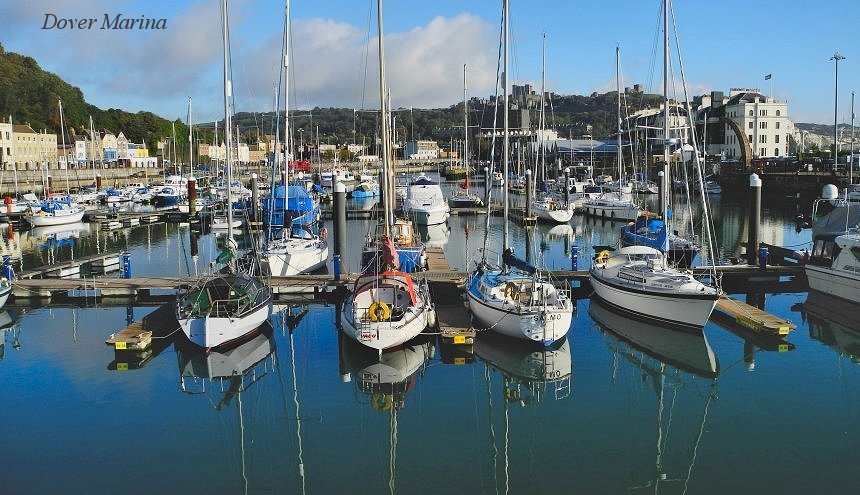 Back by popular demand, Dover Marina Open Day returns on Saturday 17th May to provide both budding mariners and those already enjoying the fantastic community benefits of sailing at the Port's award-winning marina with the chance to try something new.
In partnership with the Royal Cinque Ports Yacht Club (RCPYC) and international yacht brokers Clarke & Carter, the free event will bring together the local sailing community and industry experts for a day of family fun filled with water displays, exhibitions, local food stalls, children's entertainment and a second-hand boat sale if you really get the bug!
Taking place on the Crosswall Quay from 9.00am until 5:00pm, free parking will also be available, so there is no reason not to come along and explore what Dover's waterfront has to offer.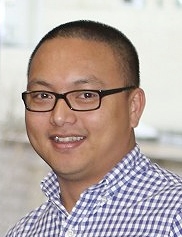 Ben Greenwood, Business Development Manager – Marine, said:
"This is a great day out that gives seasoned sailors fresh opportunities and introduces newcomers to the charms of sailing and the sea. Ultimately, it is about building a thriving sailing community in Dover that brings people together, creates a buzz and puts Dover further on the map as a vibrant sailing location."
As well as trying something new, why not experience something old by exploring Dover's very own Bronze Age Boat replica before being brought right back to the 21st century with a bang by entering a draw to win an iPad if you come and complete our treasure hunt.
The open day forms part of the Port of Dover's participation in the Royal Yachting Association's (RYA) Active Marina Programme, which offers additional training, cruising and social opportunities throughout the year. Being run in association with the RCPYC as well as the British Marine Federation's 'On the Water' campaign, practical workshops will take place during the day.
Bernard Sealy, Commodore, Royal Cinque Ports Yacht Club, said: "The return of this event and the growing partnership with the Port of Dover demonstrates the great work going on to promote Dover as a destination – somewhere to savour a rich maritime heritage and somewhere to experience and enjoy the delights of the sea."
* *
Had a listen to Ed's link re the MSC Magnifica sound display ( see post 700 )..,.wowser! brilliant stuff indeed. Wonder could we get them to do that here.

Will give Disney a go.
Another AIDA cruise liner in today..this time the AIDA Stella.
Also just arriving, caught me unawares...the Saga Sapphire.
Another double header for Dover !
Tuesday, 13 May 2014 - 07:20
Post 761
Mike J., Dover
Further to Ed's comments on the tune played on the MSC MAGNIFICA's whistles - Disney do the same stunt, playing the first few bars of 'When you wish upon a star'

Listen out for it when you're watching a Disney ship sail from Dover in 2015 !

To hear it now, use Ed's trick & remove the spaces -

h t t p : / / www.youtube.com/watch?v=Q7UXsxloiWg


Tuesday, 13 May 2014 - 05:56
Post 760
PaulB, Dover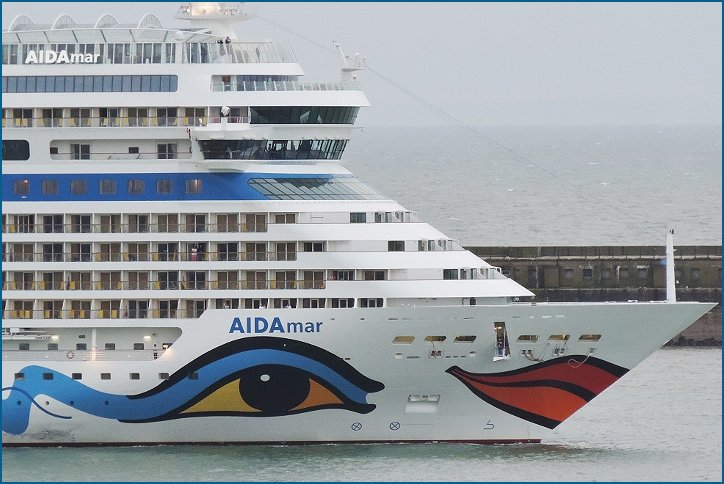 Great to see all the AIDA ships coming here to Dover, very welcome they are, this picture from this morning shows the AIDA Mar arriving for its first visit of the year, gliding across the harbour in gentle fashion. Colette gave us the nod on this one with her list in post 691. Will just show the nose here this time to make everyone smile...who can resist..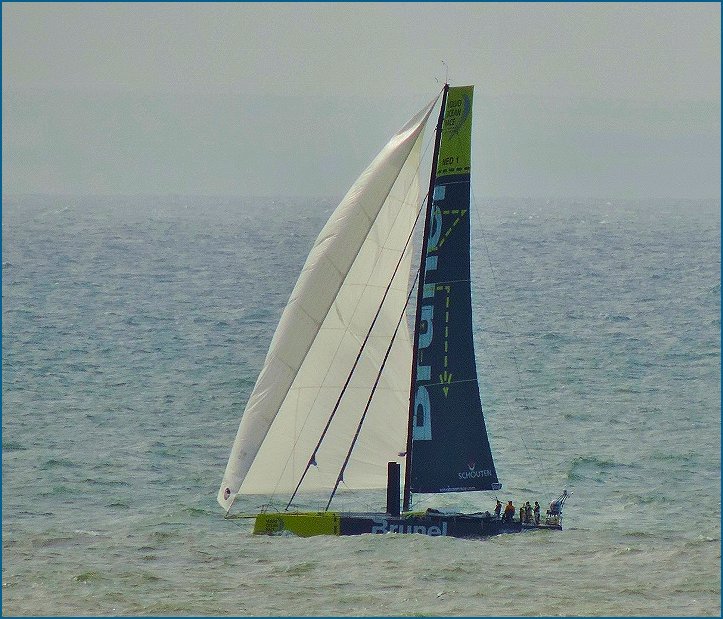 Mike J gave me the tip off re this one.. I didn't see it coming. An ocean going long distance racer by the looks of things. A serious bit of kit for sure...she raced by the harbour around mid morning. She didn't drop in. Sponsorship by Brunel or Brunei. Just got a couple of shots in time before the camera died of terminal battery exhaustion. But there she is...thanks Mike for the info.
Will check out that link Ed..should be good.
Yes was choppy indeed Jan..those pix below show just how choppy.

Monday, 12 May 2014 - 15:07
Post 759
JanT, Dover
Some cracking pictures below showing our choppy sea over the weekend,certainly a lot calmer this morning and yet another cruise liner gracing seafront


Monday, 12 May 2014 - 12:06
Post 758
Ed Connell, Dover
One of our regulars,MSC Magnifica, leaving Hamburg this week. Playing a tune on the ships whistle. We have enough trouble keeping ours working on my ship without trying anything like this!

Reminds me of the episode of The Navy Lark where the Queen was reviewing the fleet and HMS Troutbridge played God Save the Queen on the ships whistle!

Cannot paste links on Sea News so have put some gaps in the HyperText Transfer Protocol command at the beginning so just remove them and hopefully it will work.

h t t p : / / metro.co.uk/2014/05/11/cruise-ship-plays-white-stripes-anthem-seven-nation-army-using-horns-4724140/

Monday, 12 May 2014 - 11:57
Post 757
PaulB, Dover
Yes indeed Howard a tough few days for the crews..as promised here is a special 'ommage to the tugboat guys.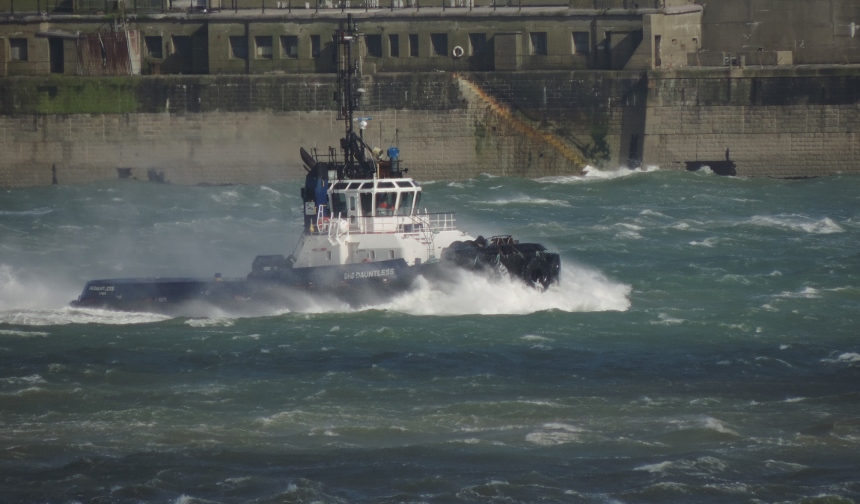 Spectacular shots taken over the weekend in the high winds of up to Force 9. In all this the tugs kept right on going. Sometimes right under the various ferries bows and so on.. right in the thick of it, and all the while rolling and lolling and battling the conditions. These pictures shows Dauntless almost awash. In post 696 below we featured Doughty.
AIDA Mar in today.
Monday, 12 May 2014 - 07:11
Post 756
howard mcsweeney, dover
looking at the photos below brings home what our people on the smaller vessels and on the decks of the ferries have to put up with.

they were not taken on the high sea but in or just outside the harbour during late spring in the south of England.

it was rough enough in the sheltered area that I live in, doesn't bear thinking about what seafarers were putting up with.

Sunday, 11 May 2014 - 20:38
Post 754
PaulB, Dover
Sunday Morning 06.30 : A Police investigation has closed much of the main road... Blocked off heading west away from the Port as you can see...one inside lane looking okay for getting to the Port. I am not sure what exactly is happening, obviously an unusual occurrence, maybe more later..A very quiet sunday morning otherwise you could imagine the traffic chaos..
UPDATE at 07.20: all roads open again.
EXTRA: Sadly we believe a man died in an accident at the crossing shown around 1am. Always sad to hear of such things.
* * * * * *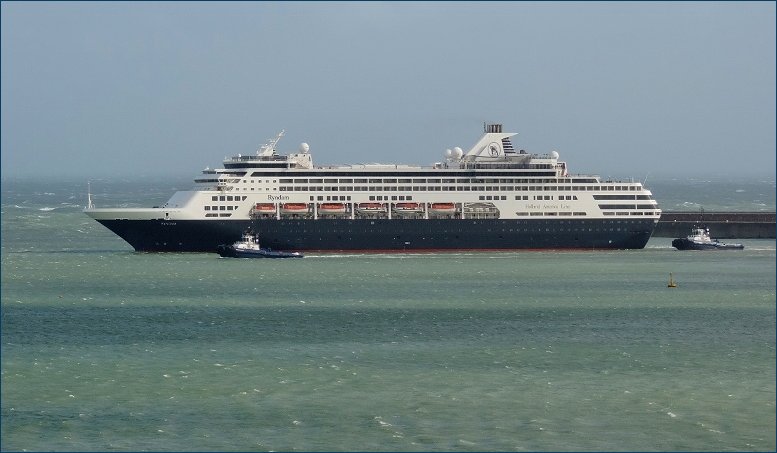 The Ryndam left last evening approximately between 5.30 and 6pm in very rough conditions. A lttle bit of watery sun sent her on her way...but I understand there was a Force 9 out there in the channel at the time. One hopes the passengers were hardy souls with leaden boots. The ship looked good when leaving though as you can see, and in the conditions was aided and abetted by both tugboats. She was heading for Oslo and left through the eastern exit. Tough day yesterday for the tugs...see also below. I might have another suitable tug picture...will check. Well done those guys.
Sunday, 11 May 2014 - 06:41
Post 753
PaulB, Dover
Its been a tough old day today Saturday for the crews. Took the following picture earlier today in strong gale force winds and driving rain and you can see two crew men in this difficult shot. One at the bow of the Pride of Burgundy and the other and the front of the tugboat Doughty in the very rough very tough conditions...look at that flag on the Burgundy..it gives you an idea.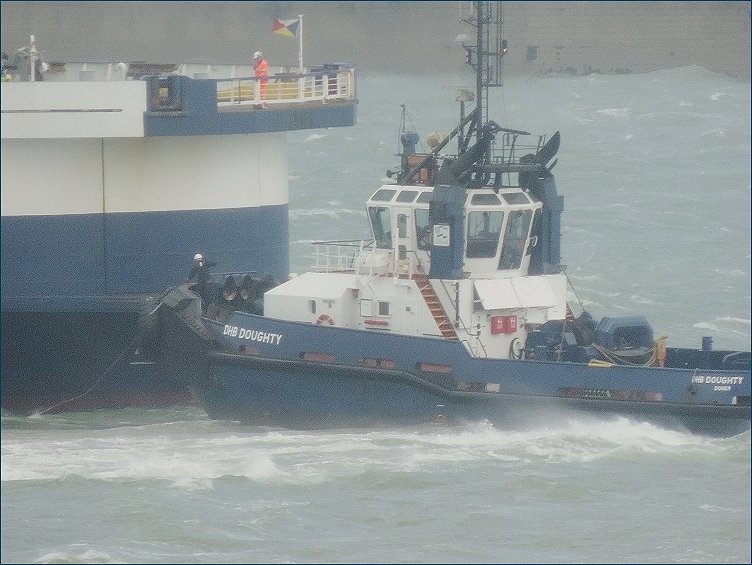 Pictured mid harbour.
Saturday, 10 May 2014 - 16:51
Post 752
PaulB, Dover
THE CALAIS SEAWAYs coming and going late afternoon yesterday...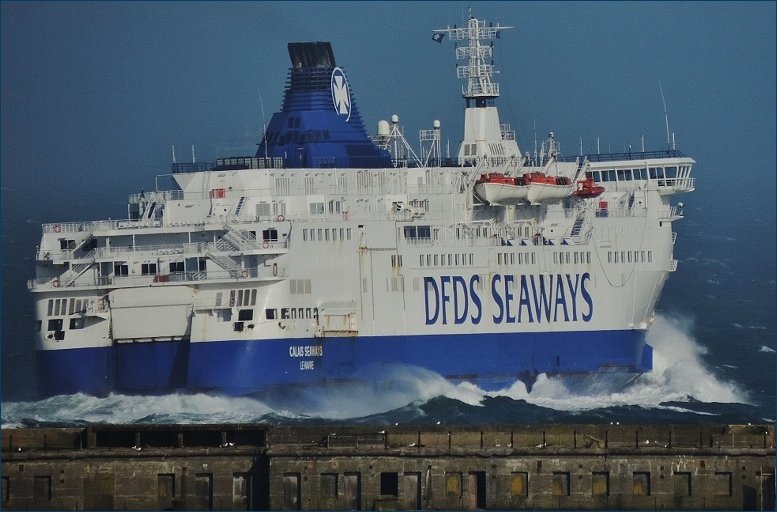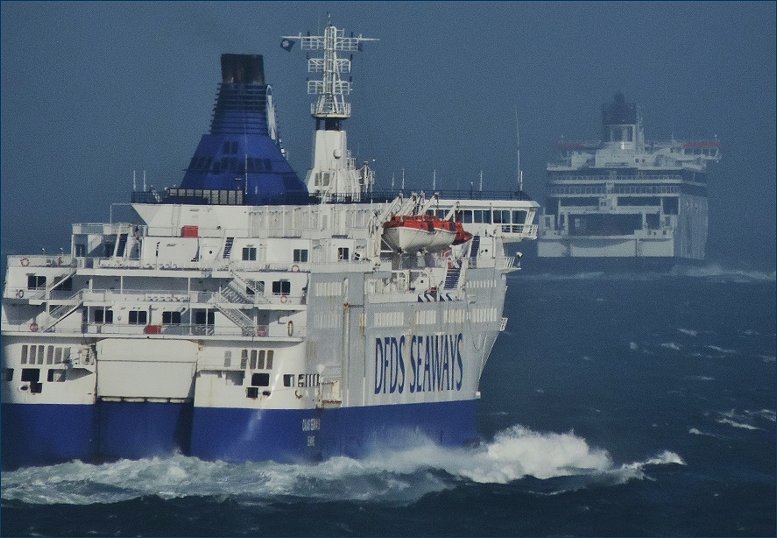 No sunlight today alas...not so far anyway. Rain and gloom greeted the return of Ryndam this morning. If you want to come down and see it bring rain gear preferably windproof! But yesterday Friday was different, we had a combination of blinding sunlight and rough seas, which of course always helps to make the pictures more interesting. We have had more dramatic pictures in the past, mid winter pictures, but these pictures above are from a 'nice' spring day! No problem for the sea captains though who have seen it all before. One or two of the passengers though may have been a tad queasy...

Saturday, 10 May 2014 - 05:59
Post 751
PaulB, Dover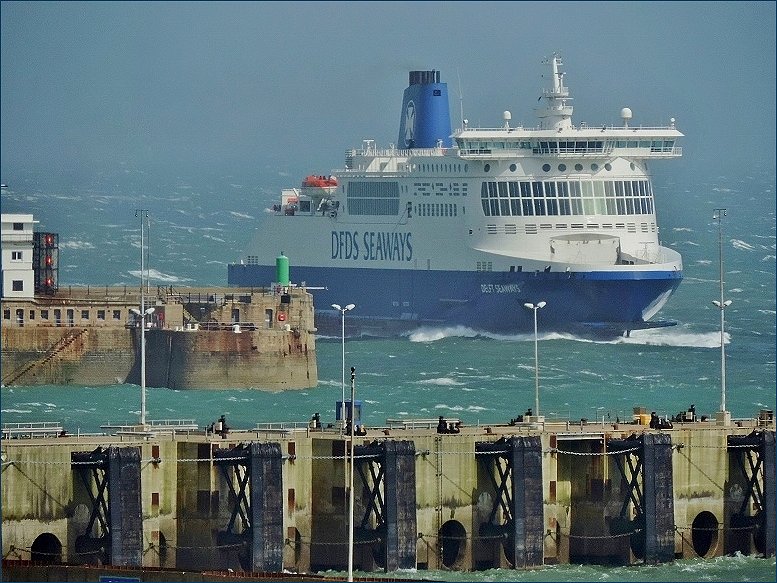 Unusually rough weather for the month of May I'm thinking. Must be a force 7 out there or maybe even a force 8. Me timbers here are a rattlin' and a shiverin' .This DFDS Ferry, the Delft Seaways shown above, was battling its way against the very strong winds all the way down from Dunkerque. Tough trip.
Picture from a few moments ago as I write..(see the timing of post below of course).
Glad you are enjoying the page Vic as always, much more to come so keep coming back.
Thanks for that listing again Colette...excellent...keeps us up to speed.
Good one Mike...keep it up.

Friday, 9 May 2014 - 15:18