Tuesday, 12 November 2019
Sea Pictures from Dover ...

WWW.DOVERFORUM.COM/SEA-NEWS
Featuring all the ships that come and go and work at the Port of Dover ..
... with further coverage of the surrounding ports.
Sea News Dover
Christmas Spectacular at the Port 6648.
MP Charlie Elphicke moving aside for wife..see 6646.
P&O: St Richards School trip to Calais for 6 year olds see 6630.
DFDS: Contract Cancelled see 6626.
Use our SEARCH ENGINE below to find all sorts on the SEA NEWS pages....type in the topic and away you go, or if you have the post number, just type it in the box, more than
- 6600 -
nautical posts now. Posts are welcome. just click 'Add Your Comment' below. Max of 5 pictures preferred although we can stretch that for special stories.. Sea News Editor Paul Boland - send info or pix to dover7@msn.com. Always welcome.
CRUISE CALLS:
https://www.doverport.co.uk/cruise/find-a-cruise/
UPDATE:
To show your pictures at their best..it could be worthwhile resizing before posting to
850
pixels wide.
All pictures on these pages are the copyright of the owners and must not be reproduced without permission.
Post 690
Kevin Charles, Dover
Fog clearing and yes, MSC Magnifica has arrived. At over 90,000 tonnes, one of our big visitors. But I see an even bigger "celebrity" is due to call next year!

Friday, 25 April 2014 - 08:47
Post 689
PaulB, Dover
Thanks for the ace reminder Kevin. Unfortunately fog has blighted the situation this morning..cant see a thing as I write. Don't know if she is in or not...but hopefully the weather situation will get better so everyone can see. Pity that...yours truly was camera ready for the returning monster cruise liner.
Wow!..great barge. Can you set that one up for me on the Seine Mike, just 300 or 400 metres east of Notre Dame will do...Im moving in !!


Friday, 25 April 2014 - 07:20
Post 688
Kevin Charles, Dover
Always fancied the idea of a trip on a canal barge and that one looks like just the job! A quick reminder that the MSC Magnifica is due into Dover again tomorrow.

Thursday, 24 April 2014 - 19:49
Post 687
Mike J., Dover
Came across this Dutch luxury canal-boat in Wellington Dock this morning.
Dunno how long she's been here.
Further details if you Google HAKVOORT SHIPYARD TIGRE D'OR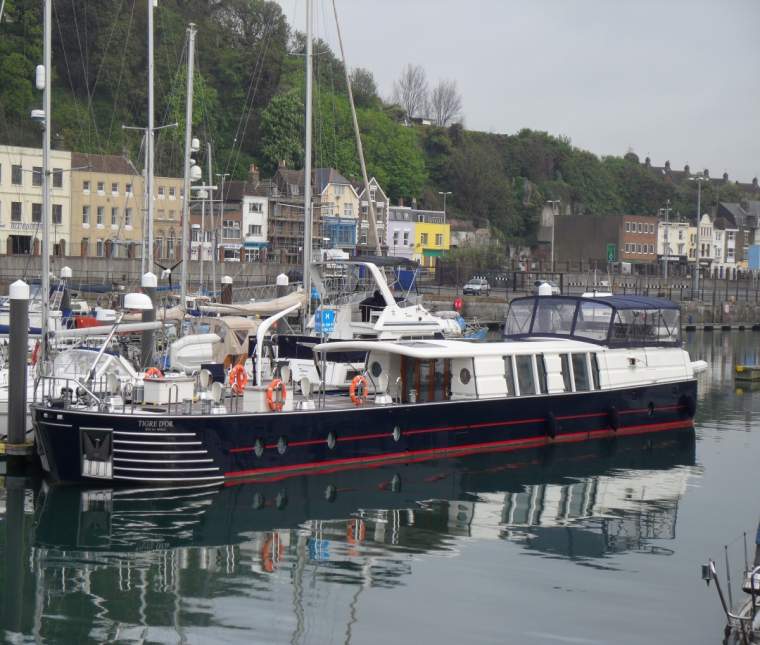 Thursday, 24 April 2014 - 11:35
Post 686
PaulB, Sea News, Dover.
TRAVEL CENTRE CLOSING....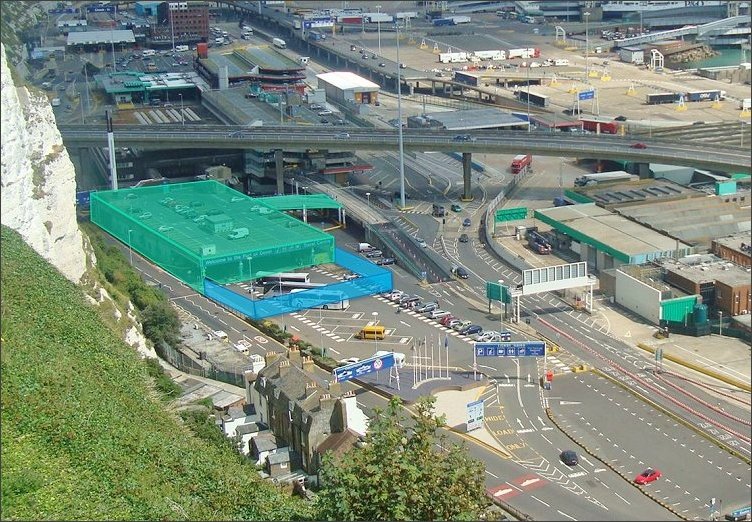 Key point in Port transformation arrives with closure of Travel Centre
________________________________________________________
The Port of Dover's Travel Centre, the building that has welcomed millions of passengers to Europe's busiest ferry port for the past 30 years, is to close at 8pm on 30th April 2014. The familiar building is closing in readiness for demolition, representing a key point in the Traffic Management Improvement (TMI) project that is transforming the Port.
Tim Waggott, Chief Executive, Port of Dover, said: "Freight vehicle numbers have virtually trebled over the past thirty years and we want to create a new welcome for our customers, one that delivers enhanced efficiency, flexibility and fantastic customer service."
During the demolition, which is due to be completed by mid-September 2014, two outbound traffic lanes will be maintained during peak times with minimal impact anticipated on inbound tourist and freight traffic.
The Arrivals Area of the Passenger Handling Building has been fully refurbished to provide new and permanent facilities in order to accommodate the existing tenants of the Travel Centre. A new Passenger Lounge has also been provided as an additional customer waiting facility during peak times.
Mr Waggott added: "The Travel Centre has faithfully served our customers over a long period of time, but in order to be the best port in the world, we need to move with the times and that means keeping the £89 billion of goods that come through the Port moving. I offer my continued appreciation for the understanding of our customers whilst we improve the Port for their journeys of the future and to our community whilst we work to reduce possible congestion in the town."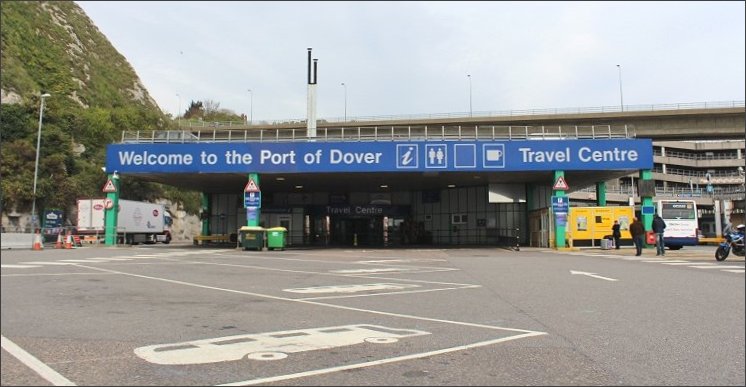 Thursday, 24 April 2014 - 06:26
Post 685
brian d., sunny hieghts.
ah yes I seen it in the bay this afternoon.

Wednesday, 23 April 2014 - 20:44
Post 684
PaulB, Sea News, Dover.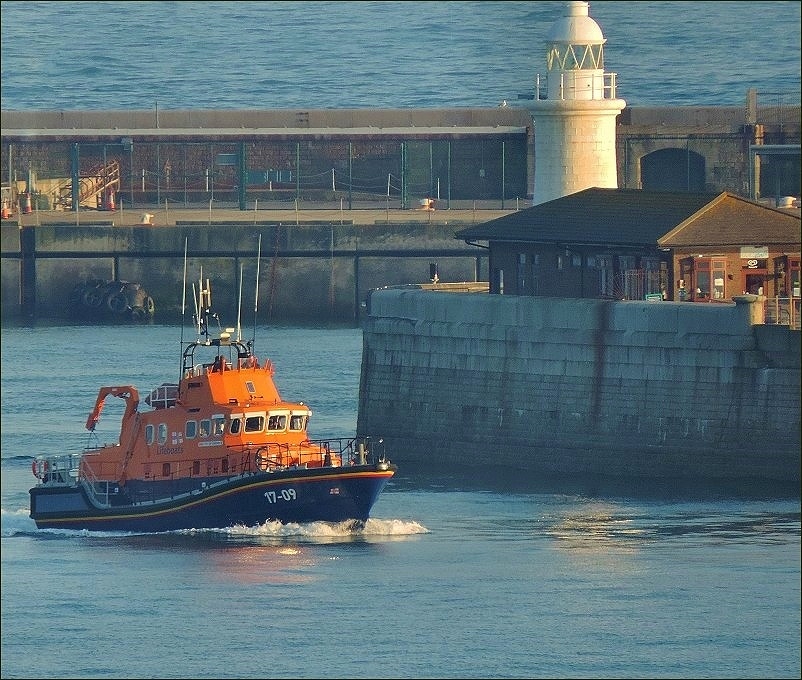 It was a very busy harbour last evening as you can see..with lots of sizzling activity. The Lifeboat joined in with the sunlit action. They were on a training run we can assume, as there was no immediate danger to be seen. All was sunlit tranquillity itself. But they certainly cut an exciting colourful image as they rounded the café and lighthouse on the Prince of Wales pier and headed in our landlubber direction. They made for some nice pictures but we can settle on the one above.
I promised another pic of the Star Trust and here she is below... I managed to get some of the overly orange evening colour out of the picture and here we are. Not too bad. As mentioned in the previous post...she left again not all that long after arriving...about 7.30 or so. And yet another cargo ship arrived today called the Hope Bay...was too hazy at the time to get a good picture of it though.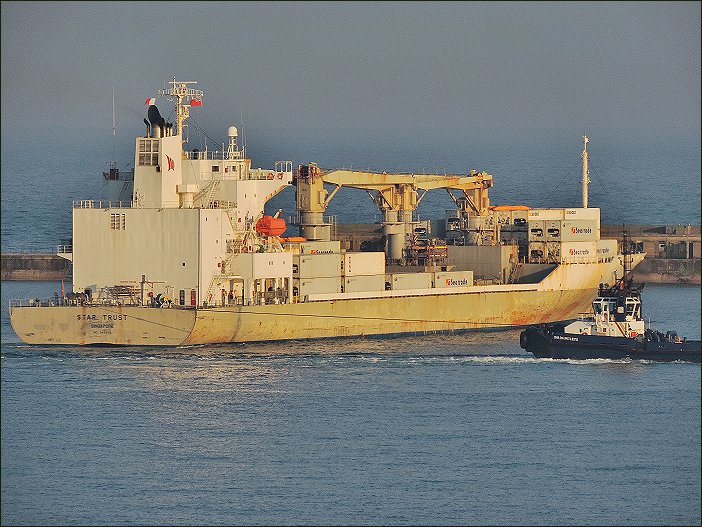 Wednesday, 23 April 2014 - 16:00
Post 683
PaulB, Sea News, Dover.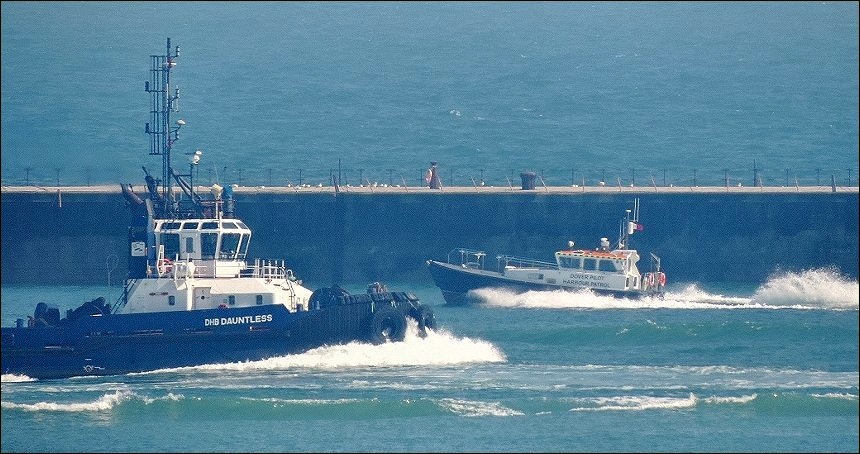 Just immediately after assisting the Star Trust cargo ship into Port yesterday, tugboat dauntless returns to base in the picture above. The Star Trust below was also assisted by Doughty which is just out of shot. In the background above you can see the Pilot launch boat powering eastwards at full speed. Time was about 3.30pm. I believe the Star Trust had come all the way from the Panama Canal. That is some trip! Definitely long hail. The interesting thing... by 7.30 early evening she was on her way again. presumably had just dropped off some cargo/containers here and was heading onwards, perhaps to Antwerp...
We have some pictures of her leaving but all a tad too orange in the late dying sun. I will try to un-orange them in due course. Wish me luck...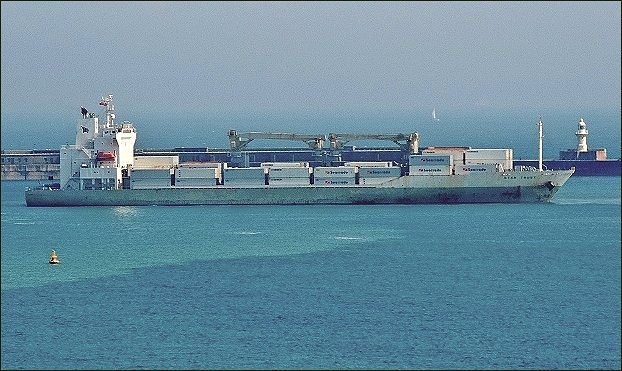 The Star Trust is a regular visitor here of course. Its great to see our cargo ship too-ings and fro-ings increasing all the time. As Howard says below there...quite a surprise to see the amount and different variety of ships passing through the Port these days. Great to see.
Indeed Howard the input from our resident experts always hugely welcome.
Wednesday, 23 April 2014 - 06:38
Post 682
howard mcsweeney, Dover
quite astonishing to see the variety of vessels that frequent our port.

most of us see dover as a ferry port plus cruise liners in season.

paul sees them all from his eagle's nest and resident experts give the lowdown, great stuff.

Tuesday, 22 April 2014 - 22:22
Post 681
PaulB, Dover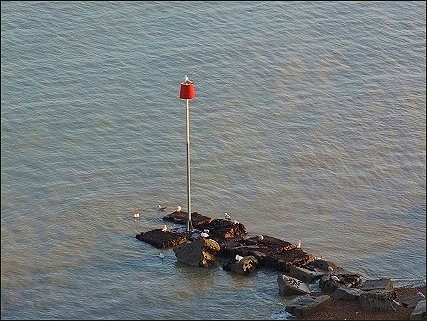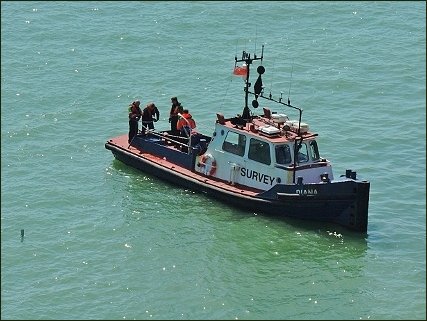 As mentioned in the previous post these are the pictures showing the arrival of the new groyne marker 'lampshade'. Replacing the one that fell heroically in the winter storms. Yours truly didn't actually see the new fitting taking place but noticed the survey boat Diana next to it earlier in the day. You can just see the tiny bit of marker pole sticking out of the water. Diana then moved away but later when I looked all was in place and here we are.. see also the post below plus posts 581, 583, 584, on page 3.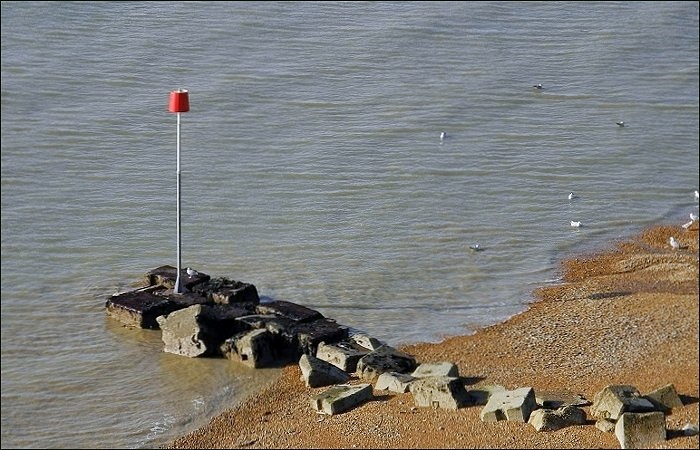 Tuesday, 22 April 2014 - 07:47
Post 679
PaulB, Dover
Very interesting pictures and info below there John and Ed. Had no idea the Cornelis Vrolijk had ever been into Port. And there we are..great stuff as ever lads!
Now by way of that tidal novelty again...
These pictures are from a few days back, the last few days, and you can see the tidal line very pronounced in the harbour. No work was going on or anything to contribute to the distinctive line but some days it is very pronounced...not often though. In the lower right of top picture you can just see the new groyne marker pole. Since then the 'lampshade' and extension have been added to it to bring it in line with requirements. Will have some pictures etc...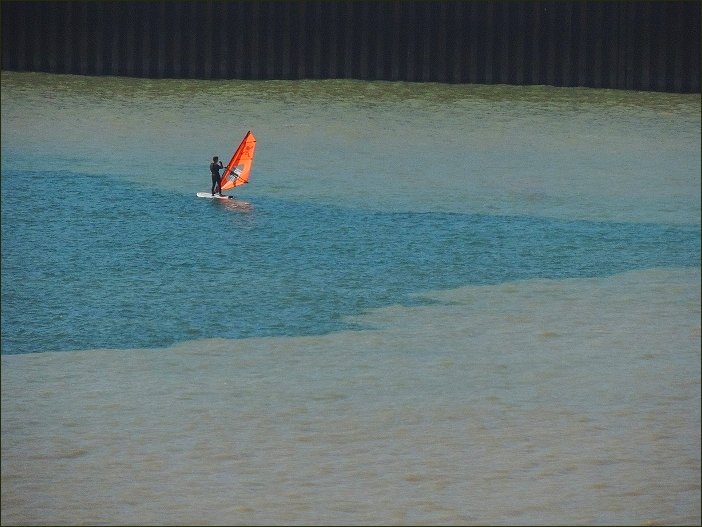 Slightly later and on a different camera...a colourful windsurfer tackles the now breaking tide line with panache and gusto.
Monday, 21 April 2014 - 07:00
Post 677
Ed Connell, Dover
One of Cornelis Vrolijk on the South Jetty a few years ago. Registered in Hull and flying the Red Duster.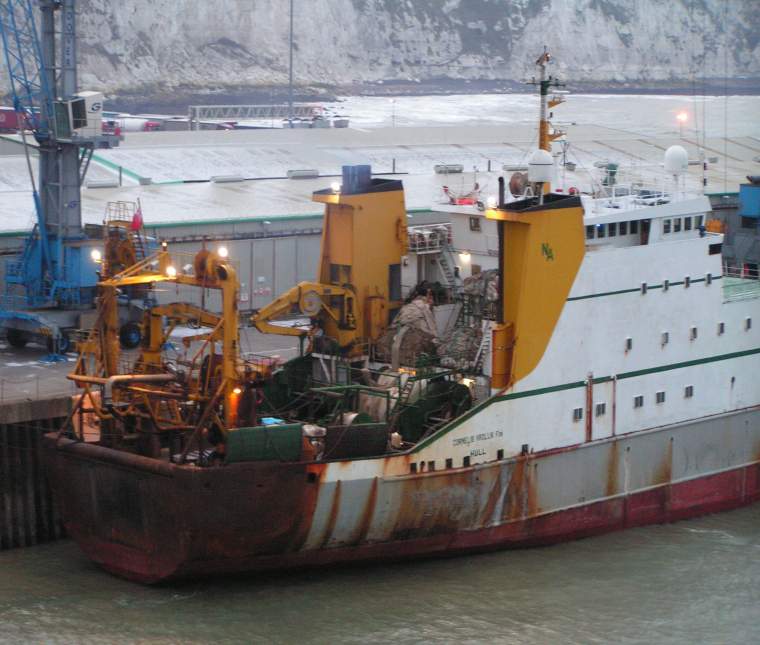 Sunday, 20 April 2014 - 11:31
Post 676
John Mavin, Dover
That's the Cornelis Vrolijk Fzm. She calls at Dover from time to time, usually for a crew change - which I guess is what's happening here. If you Google her name you can see her company website.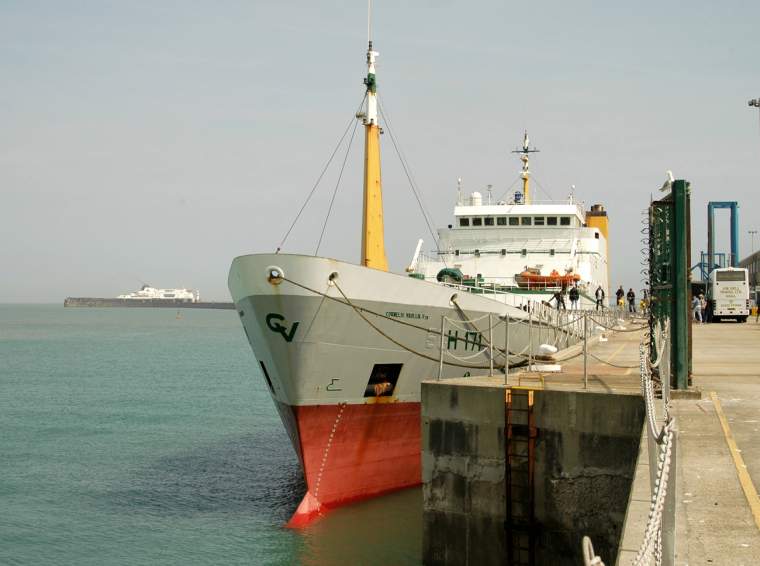 Sunday, 20 April 2014 - 11:11
Post 675
PaulB, Dover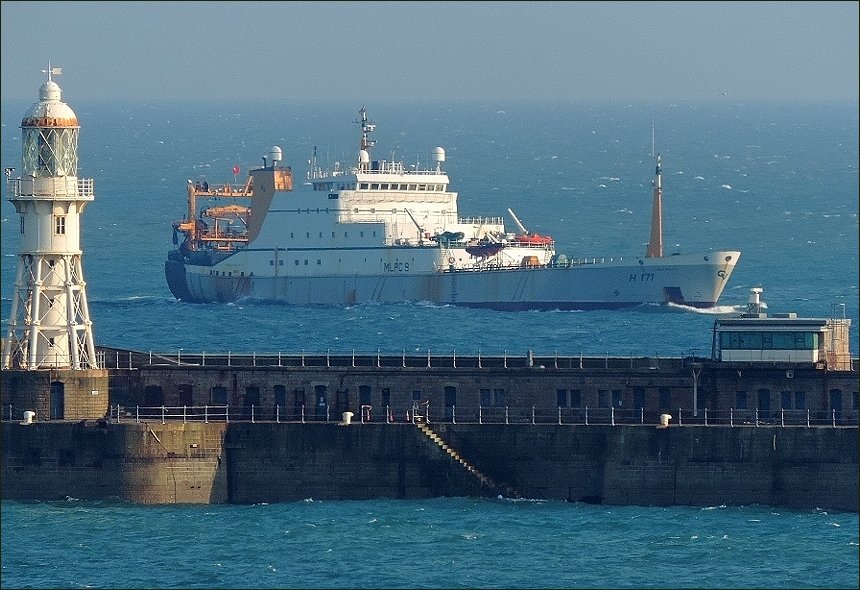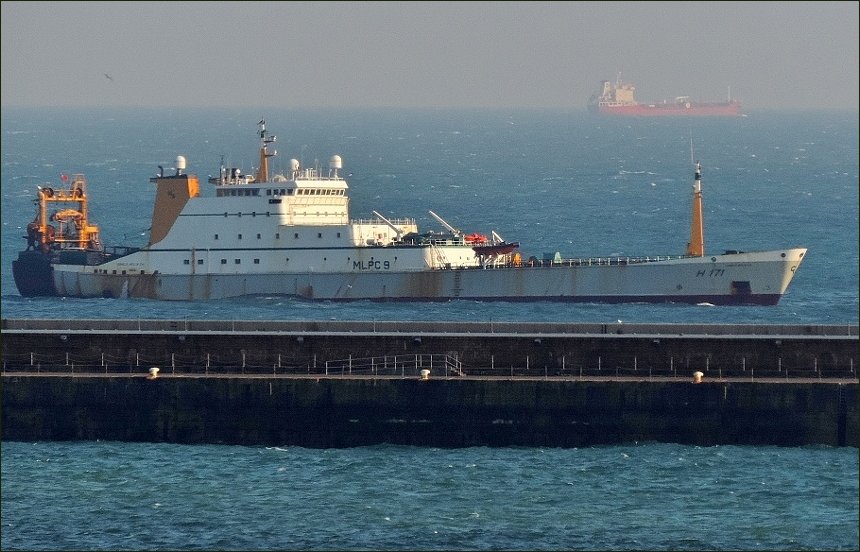 For about an hour yesterday Easter Saturday between 5 and 6 pm...this fishing trawler above circulated around the western entrance. It was met in due course by the small launch from George Hammond. What was going on was impossible to tell..but after a short time all necessities were completed and courtesy of our Channel Traffic info ( top of page Dover.uk.com ) the ship carried on on its journey to...and ive had to double check the spelling on this post..to Ijmuiden in Holland. I must admit I have never heard of Ijmuiden before. So there you are, you learn something new everyday.
The ship is called the Cornelis Vrolijk.
Sunday, 20 April 2014 - 06:48
Post 674
PaulB, Dover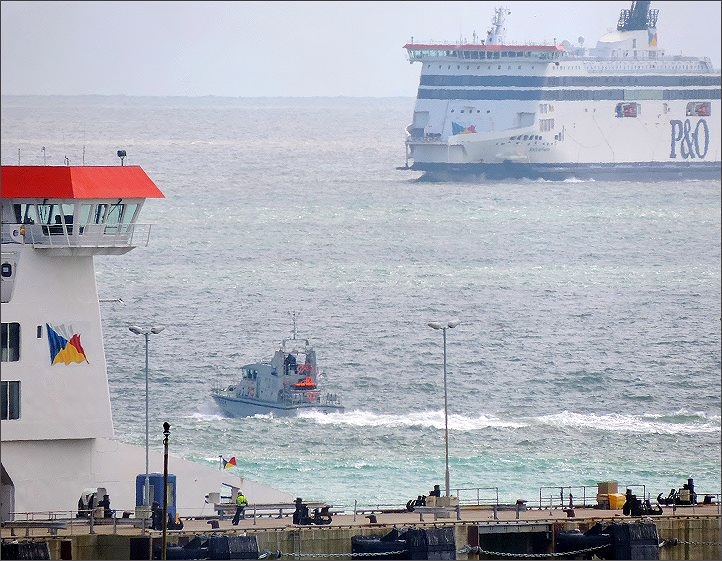 This is another one of these special ops vessels...we seem to have had quite a number of these guys visiting in recent times. Quite a new phenomenon. More pictures of the other ones down and over the page. This most recent one is called HMS Example and I just caught the tail end of her visit as she departed around 11.30am earlier today...slipping out of harbour between ferries.
Saturday, 19 April 2014 - 12:10
Post 672
PaulB, Dover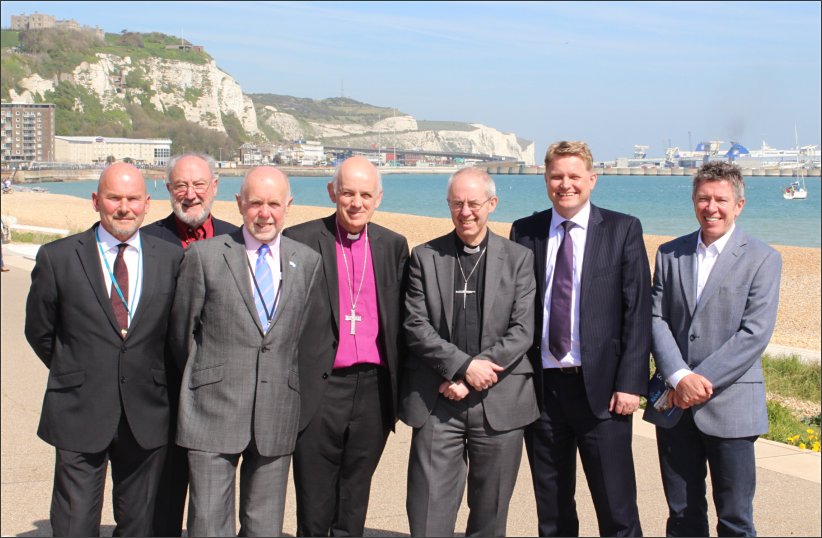 Archbishop shares in the 'stirring vision for Port and town'

______________________________________________
The Archbishop of Canterbury, the Most Reverend Justin Welby, has this week visited the Port of Dover to see the transformation taking place at one of the UK's key international gateways.
Archbishop Welby, accompanied by the Bishop of Dover (The Rt Revd Trevor Willmott), met the Port's Chairman (George Jenkins) and Chief Executive (Tim Waggott).
During the visit, Archbishop Welby, the head of the 85 million strong international Anglican Communion, toured the Port with local chaplains to see for himself the massive investment being made to ensure the Port can provide the 13 million customers who use Europe's busiest international ferry port each year with the very best customer service, and meeting the dedicated professional team who deliver that service.
Tim Waggott, said: "We were all delighted and honoured to welcome Archbishop Justin to the Port and to show him how we are all working together to transform the Port by serving our customers and community in the best way we can."
The Archbishop also met with the independent chairmen and vice-chairmen of the Port's two key consultation bodies – the Port & Community Forum and Port Users Group - witnessing the unifying effects of the shared vision being developed for the future development of the Port and its contribution to the local community.
Archbishop Welby, on leaving the Port, said he was: "very grateful for generous time from busy people, and a stirring vision for port and town."
Photo (Right to Left this time) : Robert Hardy (Managing Director of Motis and Independent Vice-Chairman of the Port Users Group), Tim Waggott (Chief Executive, Port of Dover), Archbishop Justin Welby, Bishop Trevor Willmott, George Jenkins (Chairman, Dover Harbour Board), Derek Leach (Chairman of The Dover Society and Independent Chairman of the Port & Community Forum) and Dick Fuller (Independent Vice Chairman and independent local representative of the Port & Community Forum)
* * * *
Following the various incidents at Eurotunnel, The Port of Dover would like to advise its passengers that the traffic to the Port is currently flowing without any delays. Ferry services are operating normally with space available. We hope that the disruptions to the traffic on M20 have not caused any major delays to passengers' journey. Please consult the Port of Dover website (www.doverport.co.uk) or Twitter account (@Port_of_Dover) for the latest travel information.
Customers wishing to book ferry tickets are advised to contact their chosen ferry operator using following numbers or visit their websites:
Operator Type - Ferry Operator - Telephone No.
Freight - DFDS Seaways 01304 218 400
Freight - P&O Ferries 01304 863 340
Freight - DFDS/LD Lines 01304 218 400
Freight - MyFerryLink 01304 828 422
Tourist - DFDS Seaways 0871 574 7235
Tourist - P&O Ferries 08716 64 64 64
Tourist - DFDS/LD Lines 0871 574 7235
Tourist - MyFerryLink 0844 248 2100
P&O website - http://www.poferries.com/
DFDS website - http://www.dfdsseaways.co.uk/
MyFerryLink website - http://www.myferrylink.com/?packedargs=site%3DSF_Pax_Uk
The Port apologises for any delays or inconvenience as a result of the earlier traffic congestion at Eurotunnel.
UPDATE at 06.50 friday: there are some traffic delays now due to volume !
Friday, 18 April 2014 - 06:13
Post 670
PaulB, Dover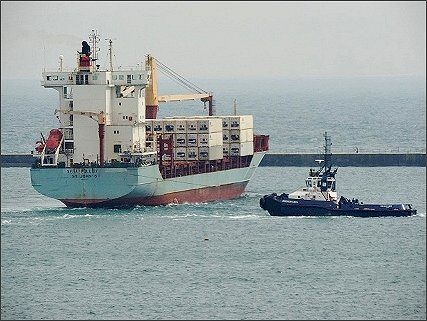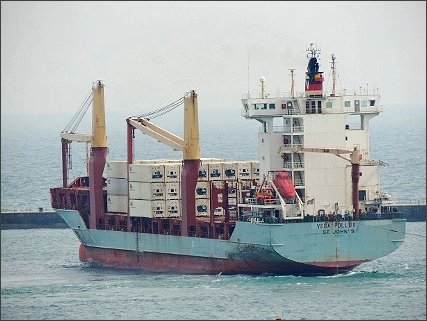 The busy cargo traffic carries on in fine style and long may it continue. This ship, called the Vega Pollux, is shown getting ready to depart earlier today Thursday around 3pm. Rotterdam may have been the destination. The tugboat doing the..ermmm tugging.. is none other than Dauntless herself. I don't think I recall the name Vega Pollux before?
Thursday, 17 April 2014 - 21:57
Post 669
PaulB, Sea News Dover
DFDS SEAWAYS SERVES UP NVQ QUALIFICATIONS
_________________________________________
Eleven stewards from DFDS Seaways' Dover-Dunkirk route have been enrolled onto an National Vocational Qualification (NVQ) Level 2 in Professional Cookery, as part of an ongoing investment in personal development.
The onboard stewards, from across the UK and Europe, have previously held positions as Kitchen Porters and are now being given the opportunity to train to become fully qualified Chefs on the Dover-Dunkirk ferry route. From the 12 March all eleven candidates are being trained to achieve the NVQ, furthering their knowledge of catering, from the preparation of food to cooking and storing dishes.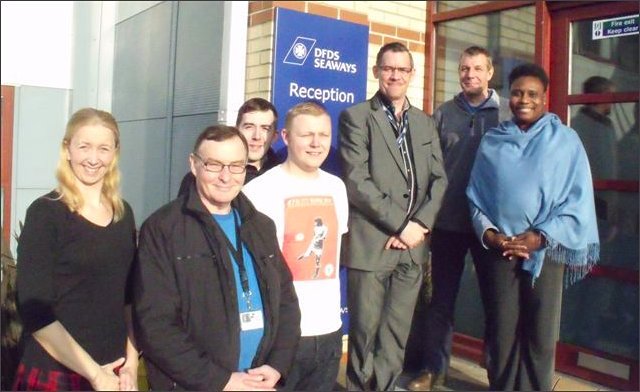 Commenting on the enrolment, Matthew Mcphail, Food and Beverage Onboard Sales Department at DFDS Seaways, said, "We are very pleased to announce our continuous development with this enrolment for our kitchen staff, designed to help build skills and experience. We strive to ensure our staff have the highest possible qualifications to provide the best quality food and service for our passengers whilst they dine onboard."
Photo above from left to right: Nicola Steer, HR and crewing officer, John Wilson, Kitchen Steward, Liam Richards, Kitchen Steward, Richard King, Kitchen Steward, Matt McPhail, Food and Beverage Manager, Les Potts, Head Chef on Dunkerque Seaways, Faustina Gaituak, assessor from Runway Training.
There are up to 24 sailings a day between Dover and Dunkirk providing passengers with flexible crossing times, a luxury on-board travel experience and convenient travel options. Whilst onboard, passengers can dine at the Self-Service Restaurant, visit the Lounge Bar or grab a snack at the Food Express. For more information about DFDS Seaways or to book a ferry crossing visit www.dfds.co.uk or call 0871 574 7235.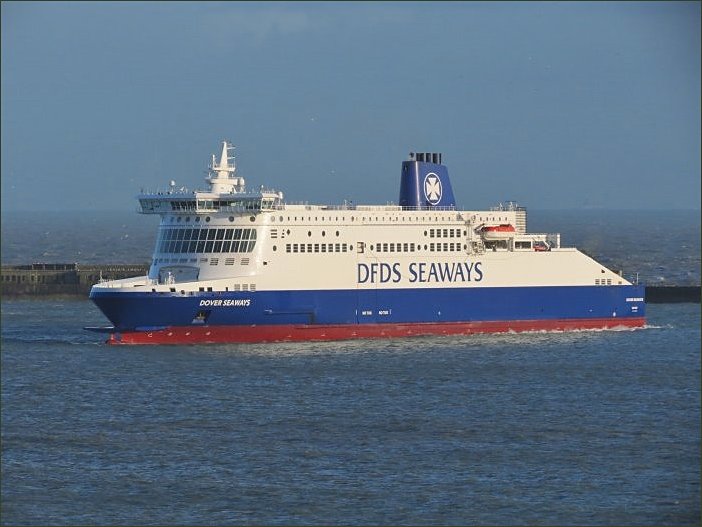 Always worth remembering that DFDS is Northern Europe's largest integrated shipping and logistics company, with a network of 30 routes and 50 freight and passenger ships. In 2012, DFDS Seaways transported 5 million passengers across the 11 passenger routes. DFDS Seaways prides itself on offering world-class facilities and services and the widest choice of ferry routes into northern Europe.
In the UK, the company operates passenger ferry services on routes from Dover to Calais, Dover to Dunkirk, Harwich to Esbjerg, Newcastle to Amsterdam, Newhaven to Dieppe and Portsmouth to Le Havre.
* * * * * *
Many thanks for that Vic. Glad you are liking the page. All being well ..we will have lots more exciting stuff to come.
Good story that Jacqui..made me chuckle too.

Thursday, 17 April 2014 - 06:37
Post 668
Vic Matcham, Dover
By showing the great photos of the port as you do it is helping get more of the public down to see it all for themselves.
It is by far the best page not only in the Dover Forum but the best of all the forums thank you.

Thursday, 17 April 2014 - 04:12
Post 667
Vic Matcham, Dover
I know I KEEP SAYING THANK YOU,BUT THEY ARE GREAT PHOTOS AND I LOVE LOOKING AT THE MOON MYSELF. THIS IS BY FAR THE BEST PAGE ON ALL THE FORUMS NOT JUST DOVER,
Anyone from outside the town and see this they would be rushing down to look themselves, you are doing well by showing them all to the public.

Thursday, 17 April 2014 - 04:09