Tuesday, 12 November 2019
Sea Pictures from Dover ...

WWW.DOVERFORUM.COM/SEA-NEWS
Featuring all the ships that come and go and work at the Port of Dover ..
... with further coverage of the surrounding ports.
Sea News Dover
Christmas Spectacular at the Port 6648.
MP Charlie Elphicke moving aside for wife..see 6646.
P&O: St Richards School trip to Calais for 6 year olds see 6630.
DFDS: Contract Cancelled see 6626.
Use our SEARCH ENGINE below to find all sorts on the SEA NEWS pages....type in the topic and away you go, or if you have the post number, just type it in the box, more than
- 6600 -
nautical posts now. Posts are welcome. just click 'Add Your Comment' below. Max of 5 pictures preferred although we can stretch that for special stories.. Sea News Editor Paul Boland - send info or pix to dover7@msn.com. Always welcome.
CRUISE CALLS:
https://www.doverport.co.uk/cruise/find-a-cruise/
UPDATE:
To show your pictures at their best..it could be worthwhile resizing before posting to
850
pixels wide.
All pictures on these pages are the copyright of the owners and must not be reproduced without permission.
Post 646
PaulB, Dover
PASSENGERS ARE SPOILT FOR CHOICE WITH DFDS SEAWAYS - read more !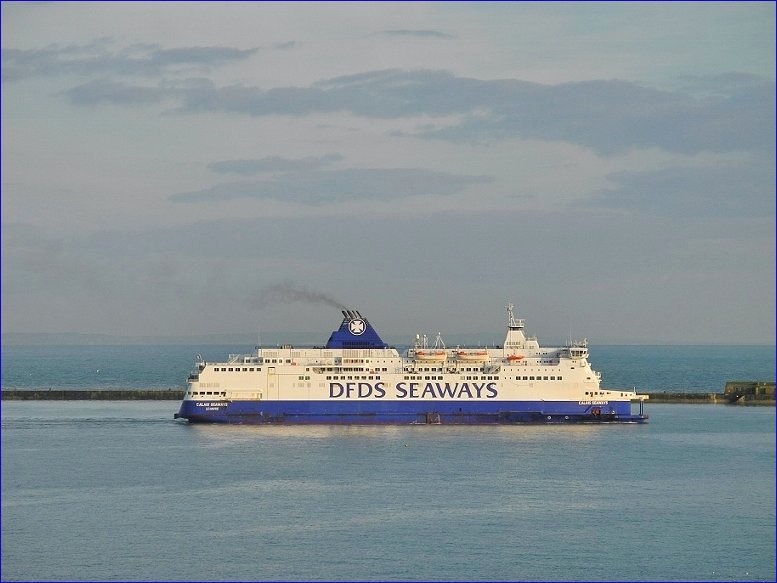 PASSENGERS - SPOILT FOR CHOICE WITH THE LATEST DFDS SEAWAYS OFFERS!

- Up to 50% discount available on crossings between Dover and France
________________________________________________________________
Award winning ferry operator, DFDS Seaways, has launched a trio of discounts for passengers to choose from, with discounts of up to 50% available on both the Dover-Dunkirk and Dover-Calais crossings.
You can choose from the following discounts, which must be booked by 21 April, for travel between 7 April and 30 June 2014:
- 50% off sailings in both directions between 02:00 and 04:00
- 20% off sailings in both directions between 22:00 and 01.30
- 10% off all remaining sailings in both directions
Whether you're looking to travel to Northern Europe by car with your family or friends or hit the open roads on your motorcycle, crossing the Channel with DFDS Seaways is the perfect way to start your journey.
Max Foster, passenger director at DFDS Seaways, comments:
"We already offer passengers a choice of ferry routes from Dover to both Dunkirk and Calais and now we're offering even more choice by introducing our new range of discounts - so you can choose what works best for your holiday! If you like to maximise your time away, take advantage of our 50% off discount and travel through the night to enjoy quieter roads, however if you're looking for a more leisurely start to your trip, travel during the day and save 10% off crossing prices."
DFDS Seaways operates up to 44 sailings per day between Dover and France, offering passengers a choice of departure times and flexibility. Passengers can relax onboard during the short crossing and grab a bite to eat at one of the restaurants or cafes, pick up last minute travel essentials from the onboard shop, let the kids play in the dedicated children's areas or explore the ship's deck and take in the sea air.
To find out more information, visit www.dfds.co.uk/chooseyourdiscount or telephone 0871 574 7235 to book.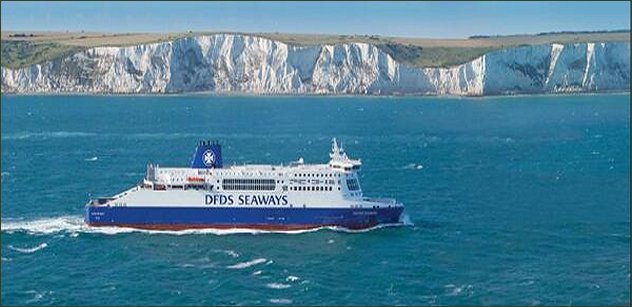 * * * * *
Fantastic collection of nauticals below there Ed...absolutely brilliant. Left them in pole position for as long as I could. When we look at those we can feel the salty spray on the wind and hear the yelp of the seagull on the wing. Great stuff! Some fantastic zooming there...I wonder if you have a new camera. They add wonderfully to the mix on here for sure...we are amazingly seen far and wide these days on Sea News too, more so since relaunch, never ceases to amaze. I guess its thanks to our solid positioning on the search engines Google and Bing ( just type in Sea News ) something that surprised me...but of course 'twas a very welcome surprise.

Friday, 11 April 2014 - 07:39
Post 645
howard mcsweeney, Dover
you certainly never come up short with the photos ed along with many others here.

Thursday, 10 April 2014 - 23:12
Post 644
Ed Connell, Dover
Three masted barque "Kaskelot" passing Dover Seaways in the Northeast Lane on 28th March. Used for film and charter work around the UK.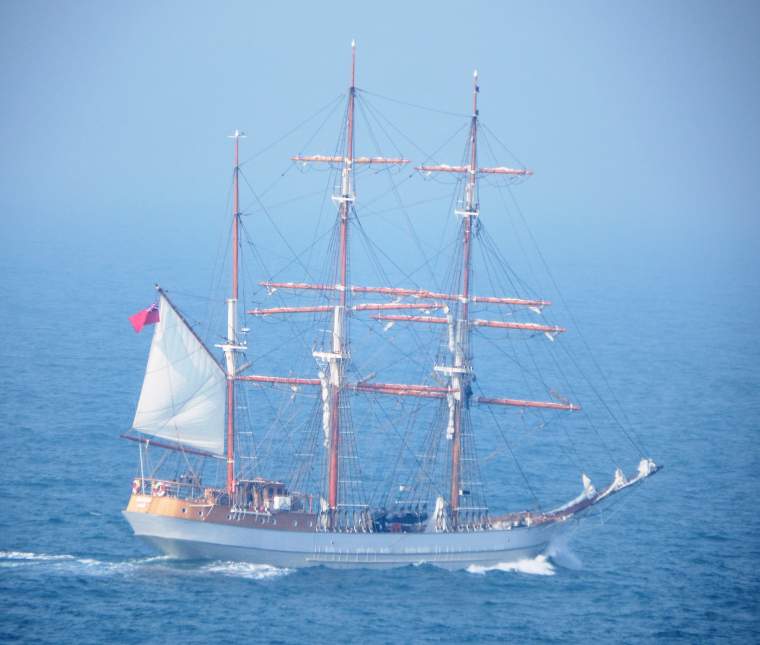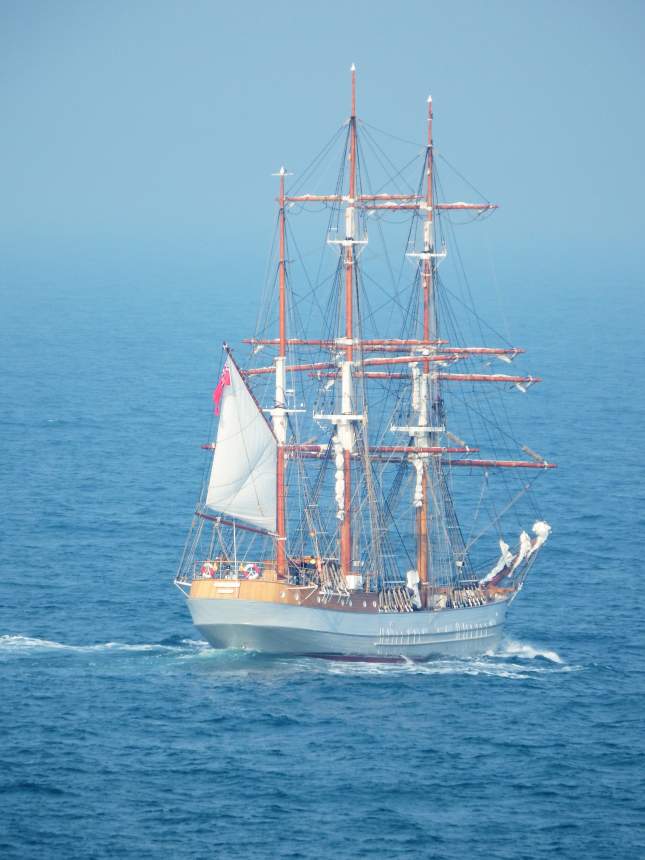 Thursday, 10 April 2014 - 15:30
Post 643
Ed Connell, Dover
Reefer "Caribbean Star" approaching Eastern Entrance on Saturday with DHB Doughty making fast aft and DHB Dauntless enveloped in a brief cloud of smoke whilst waiting under the Knuckle Light.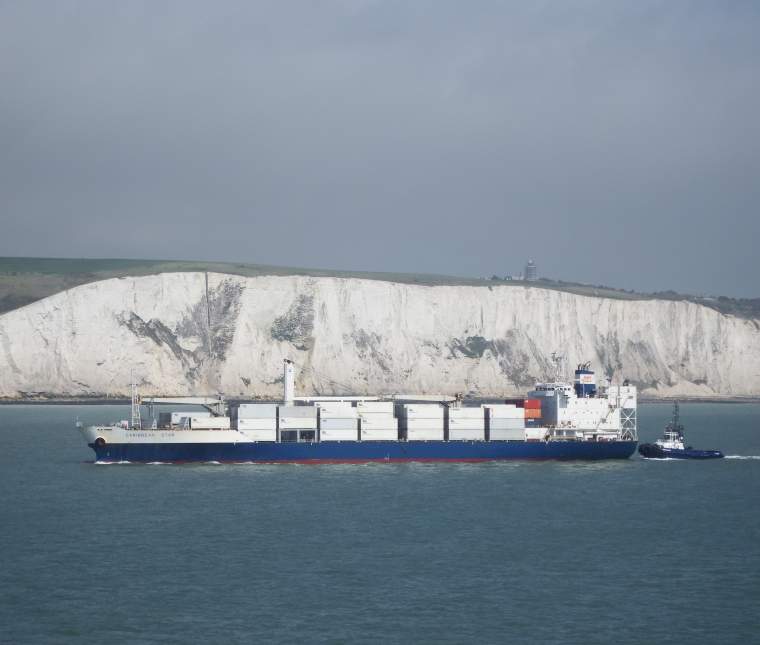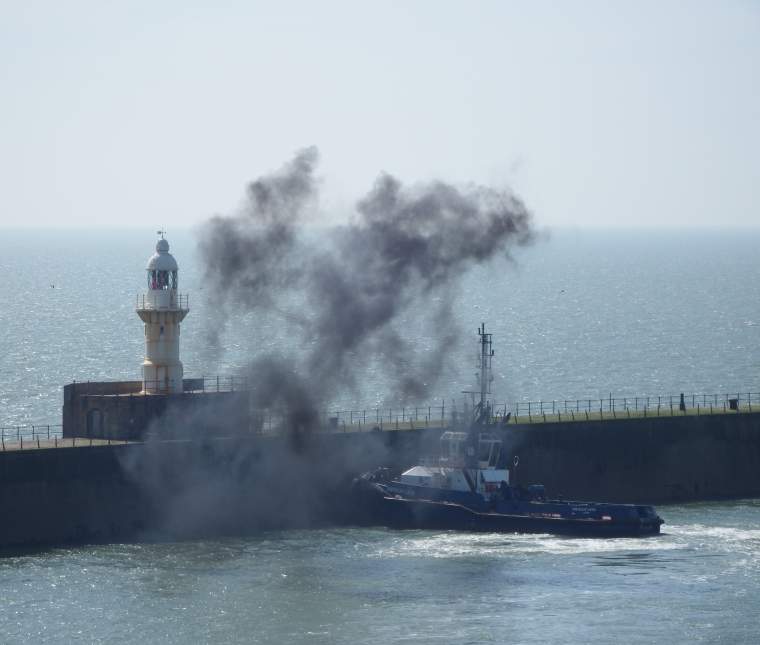 Thursday, 10 April 2014 - 15:12
Post 642
Ed Connell, Dover
French Navy patrol vessel "Cormoran" passing Dover Seaways off Calais on Tuesday.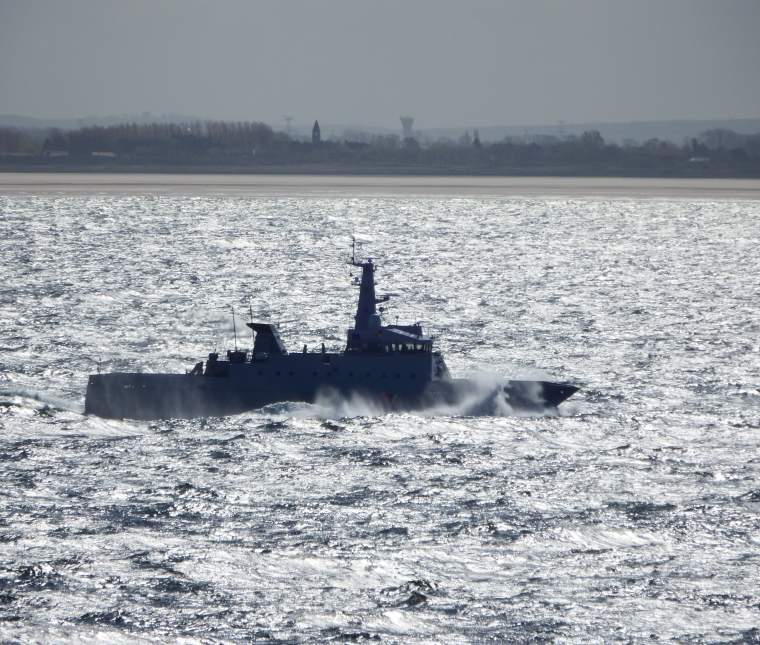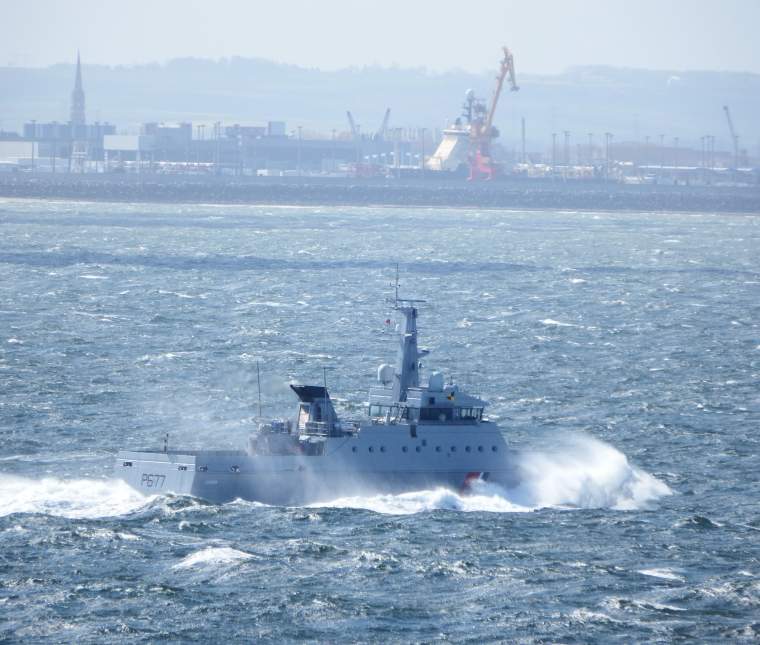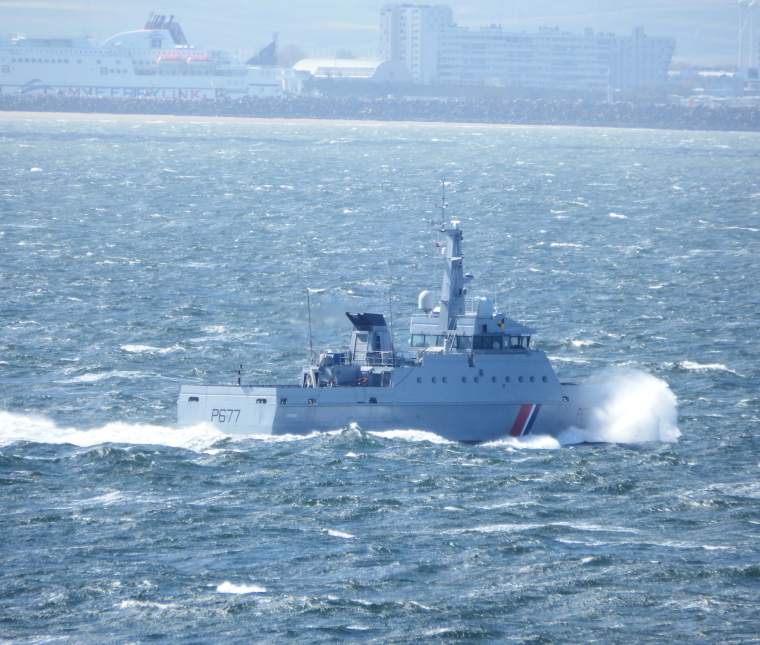 Thursday, 10 April 2014 - 14:59
Post 641
Ed Connell, Dover
French Navy command and replenishment ship "Somme" passing Dover Seaways off the Dyck buoy on Monday. Somali pirates mistakenly attacked her a couple of times in 2009 and 2010 and paid the price, their ship identification skills leaving a bit to be desired.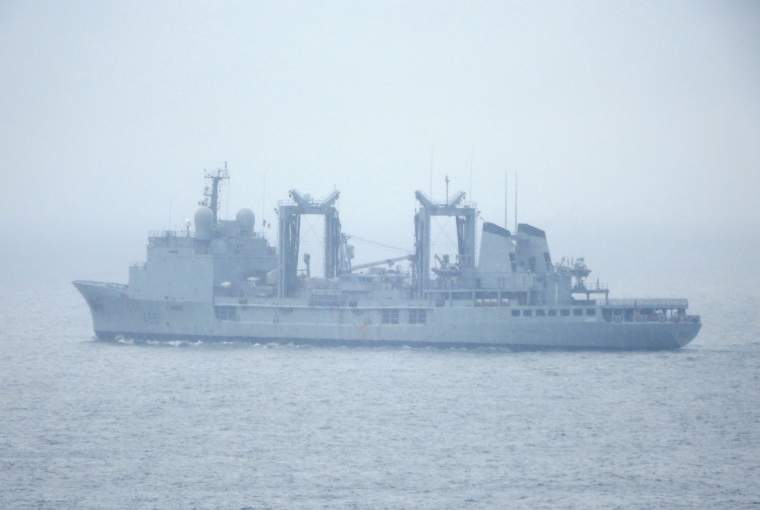 Thursday, 10 April 2014 - 14:39
Post 640
Ed Connell, Dover
Last couple of HMS Lancaster showing her departing CT2 with Folkestone looming large in the zoom lens.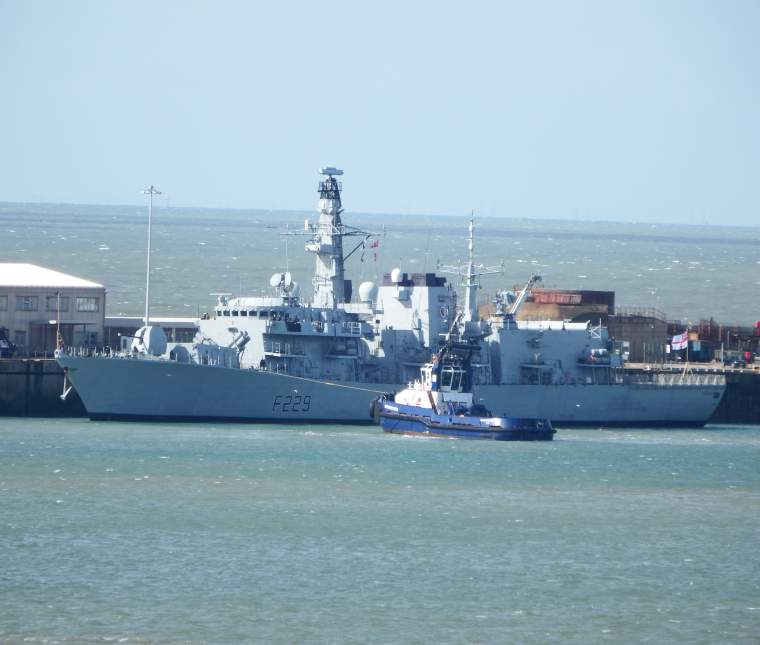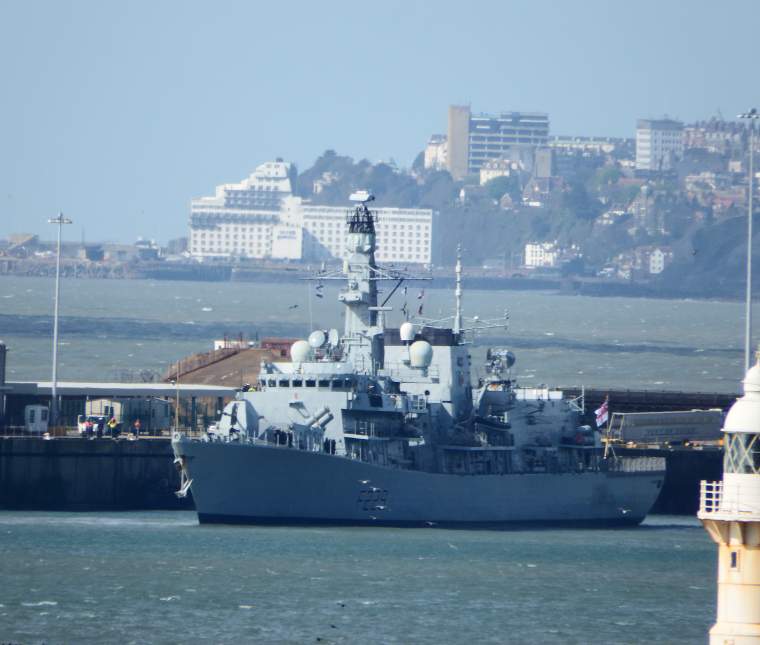 Thursday, 10 April 2014 - 12:18
Post 639
Vic Matcham, Dover
Very good news that the great port of Dover is to stay a Royal one and that the new look D,H,B, will carry on running it.
Any other way could have seen the port sold off at some point and the plan of having it turned to a /public of Dover port was doomed before it got off the ground it never had worked.
But now the D.H.B. can loan more cash to make major improvements is also good news .
In my own view the Dover MP, and Mr Wiggins and the others were doing what was good for Dover in their own minds and indeed they might have help in seeing the improvements that are about to happen to the port but their plan of loaning well over £300 million pounds ad on top of that saying that they could give the town of Dover funding of around £50million was pie in the sky and I am glad that that plan is now dead.

Thursday, 10 April 2014 - 07:42
Post 638
PaulB, Dover
Press release issued yesterday wednesday 9 April.......
Port Welcomes Minister to Dover.
_____________________________
The Port of Dover has welcomed the visit of Shipping & Ports Minister Stephen Hammond, who has today set out his plan for the Port of Dover to continue as a Trust Port.
George Jenkins, Chairman of the Dover Harbour Board, said
"I welcome the praise of the Minister for the work that has been done by the refreshed board and executive team in improving relationships with Port users, while also re-launching and developing engagement with the local community. With our recently announced vision for the Dover Western Docks Revival capable of supporting major inward investment into Dover, I am delighted that the Minister wishes to give us his backing in creating a thriving port which in turn supports and delivers for a thriving town. We will be resolute in continuing our engagement with the community; this is a real opportunity for the Port and Town of Dover to come together and deliver an exciting future for all."
During his visit Mr.Hammond viewed some of the developments in port infrastructure that have been delivered in the last 12 months.
He said: "The port has put in an excellent performance over the past year with a 13% increase in ro-ro traffic, and an £85 million investment programme in key infrastructure projects. This includes the completed berth 6 and traffic management improvement works which include the creation of a new holding area with capacity for 220 freight vehicles. This is equivalent to taking almost 4 km of traffic off Dover's roads."
Mr.Hammond added "I would also like to thank everyone at the port for their remarkable resilience in ensuring that the port continued to operate effectively during the appalling weather we experienced this winter."
Commenting on the visit and the announcement, Port of Dover Chief Executive, Tim Waggott said:
"I am grateful to the Minister for praising our hardworking team on all they have achieved, and for providing the certainty on Trust Port status they have craved for some time. Our commitment to be the Best Port in the World for the benefit of our customers and community is clear, and I look forward to further enhancing our relationships as we develop a shared vision to the benefit of future generations."
ENDS
* * * * *
Just catching up today...
HMS Lancaster left us on Tuesday morning around 10.15 am. We have carried other Royal Navy pictures earlier in the process ie further down the page, but here are a couple more to wish her bon voyage on her further adventures.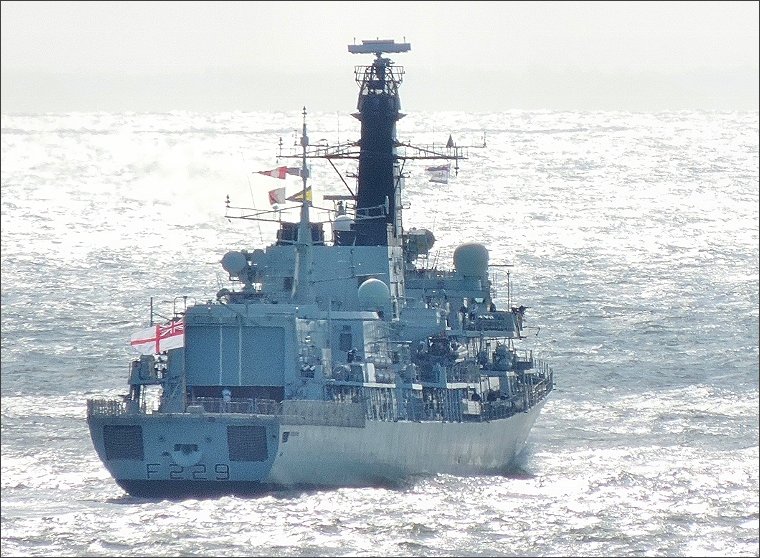 Top pic shows her just after leaving the eastern exit...once outside the harbour HMS Lancaster pulled sharply right in the midst of all the traffic and headed off through the blinding sparkling sea.. as in picture 2.
Many thanks to the guys at DHB for the unsolicited info sent in below on the groyne pole. Always good.
Looks like Ray H called it right below there

Thursday, 10 April 2014 - 06:50
Post 637
PaulB, Dover
Many thanks for your comments guys.
We also have had the following comment through from the Port re the Groyne marker problem mentioned below in post 581.
Port of Dover:
'Thank you very much for very useful observations and photos. Indeed there is a top section to add to the pole. This is because the opportunity was taken to fit the base section during the recent low Spring tides when access was good. The top mark is being galvanised and will be fitted to the correct height when returned.
We look forward to seeing more pictures posted by the Members of the Forum.'

Wednesday, 9 April 2014 - 14:56
Post 636
Ray H, Dover
Time will tell but you may just have a shorter pole there until the new fixings harden, there may be a workboat come along and drop the top section over the pole complete with new daymarker. Only a guessing but it would be easier than trying to plant a full length pole and marker on those rocks.

Tuesday, 8 April 2014 - 23:00
Post 635
Kevin Charles, Dover
Post #580 - Dover has always benefited economically from the port. Direct and indirect employment, local suppliers, local hotels, guest houses, etc.

Tuesday, 8 April 2014 - 22:43
Post 634
PaulB, Dover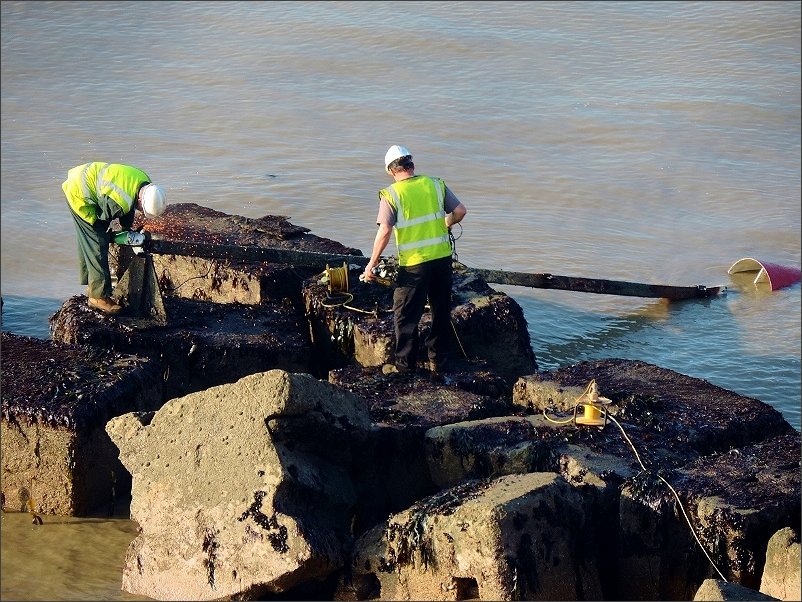 This is probably a bit of a dull one but I thought I might point it out and hope the guys from the Port are looking in. But the story goes thus...in the winter storms, the marker to tiny groyne no 1 ( counting from the busy port side) collapsed in the fierce weather, bruised battered beaten and ..probably bewildered!

There has been loads of work going on down here on the seafront as we know, and in the midst of all this action several workmen came to cut the old pole and 'lampshade' down in order to take it away. And so they did...that's the picture at the top.
However they replaced it with another marker pole ...its not yet had its lampshade. But there seems to be a problem. The picture below left shows how small it is, its not up to the right level. The pictures below are two feet below high tide and once hide tide gets here fully...this marker is menacingly just below the surface and unseen...and could be a danger to boating, to all craft. Also shown in the final picture is an older marker further along and you can see how high it is above the tide. Pic 2 and 3 were taken at the same time. I know I might be teaching my grandmother to suck eggs here but just in case...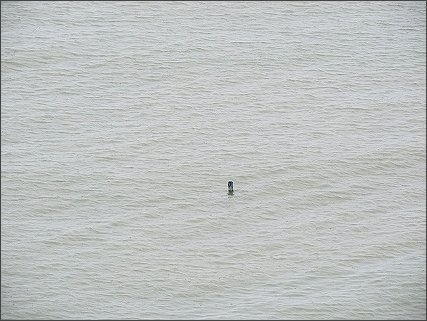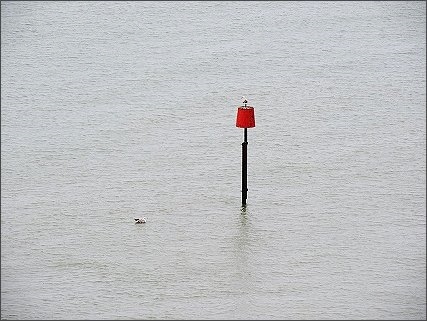 * *
Yes Roger an excellent report below. And yes indeed that is a staggering amount of trade. Thumbzzup Dover

Tuesday, 8 April 2014 - 19:09
Post 633
Roger, Dover (lindenrog@aol.com)
Very good write-up below and an important evaluation of the Port of Dover.

Hopefully DHB will use this to support EU funding; it should also be used to convince the Government of upgrading the A2.

It will also be good to know when Dover Town (not the Town Council of course) will benefit.



Roger

Tuesday, 8 April 2014 - 08:06
Post 632
PaulB, Dover
THE PORT OF DOVER's CONTRIBUTION TO THE UK AND EUROPEAN ECONOMY CONFIRMED...
___________________________________________________________________________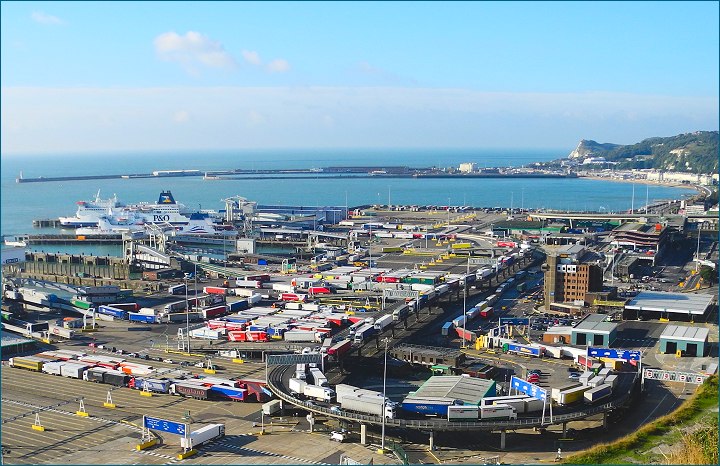 Proof that the Port of Dover is a national asset – and crucial to the performance of the Kent economy – has been demonstrated by an economic impact survey.
" Its staggering" says Tim Waggott
________________________________________________________________________________________________________________________________
Independent economic consultancy Oxera has calculated the 2.2 million freight vehicles a year using the Port carry goods worth an estimated £89 billion, reinforcing Dover's reputation as Europe's busiest ferry port.
The report also highlights Dover's role as one of Europe's most important ports, with 98 per cent of its freight traffic by weight either originating in or destined for the EU.
Tim Waggott, Chief Executive, Port of Dover, said: "This report shows the real, and too often unseen, value of the Port and the work of the team on behalf of UK plc, and the customers it serves. The scale and value of goods handled by the people working at the Port is staggering and demonstrates its importance to the nation and the need for continued and major investment."
The report also found the combination of Dover's location and the efficiency of its operations resulted in a net benefit to its customers of some £2.3 billion.
Tim Waggott added: "Being the closest UK port to mainland Europe means a reduced crossing time, coupled with excellent service and capacity, this adds up to a remarkable saving to hauliers who choose to travel through Dover."
To add further value, Dover Harbour Board recently announced plans for the revival of the Western Docks with the development of a new cargo terminal and associated facilities. This includes the prospect of creating more than 600 jobs, which would generate an additional £25 million of Gross Value Added (GVA) per year for the district's economy.
Tim Waggott added: "The report is proof positive that every day we are delivering for the UK economy, as demonstrated by our current investment of £85 million to upgrade the Eastern Docks.
"We are also looking to protect this nationally vital trade route by securing long-term capacity through our Dover Western Docks Revival vision, and must secure additional powers in order to deliver this effectively. The timing is right, our customers share our vision, and so enabling the Port to quickly pursue the revival and regeneration of Dover's Western Docks makes eminent commercial and economic sense."
Andrew Meaney, Managing Consultant of Oxera, said: "Following a robust economic analysis, it is plain to see the Port of Dover is a vital cog in the UK economy and European logistics chain. It already adds significant value and, given the right powers, can add so much more. Without it, the UK would be less competitive and the cost to industry would be substantial."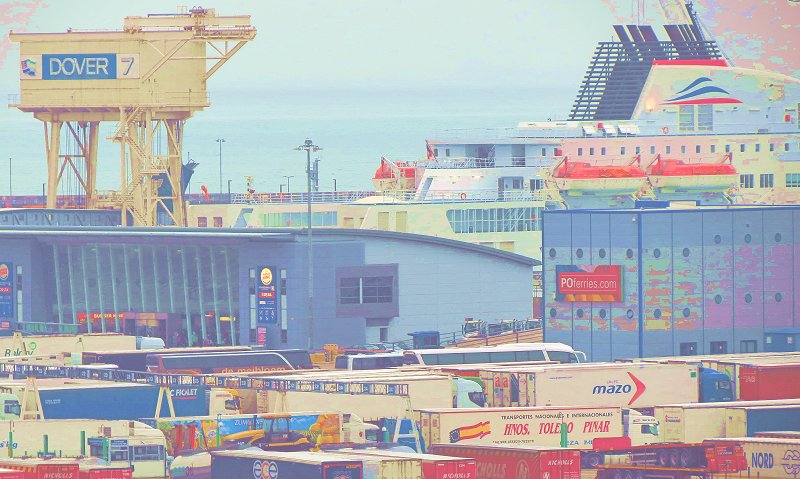 Tuesday, 8 April 2014 - 07:01
Post 631
PaulB, Dover
Exciting set of action pix below there Ed. Cracking stuff! Always delighted to see those shots from the high seas and from the thick of the action...the skill of those helicopter pilots cannot be undersold. In fact the skill of both sets of pilots cannot be undersold!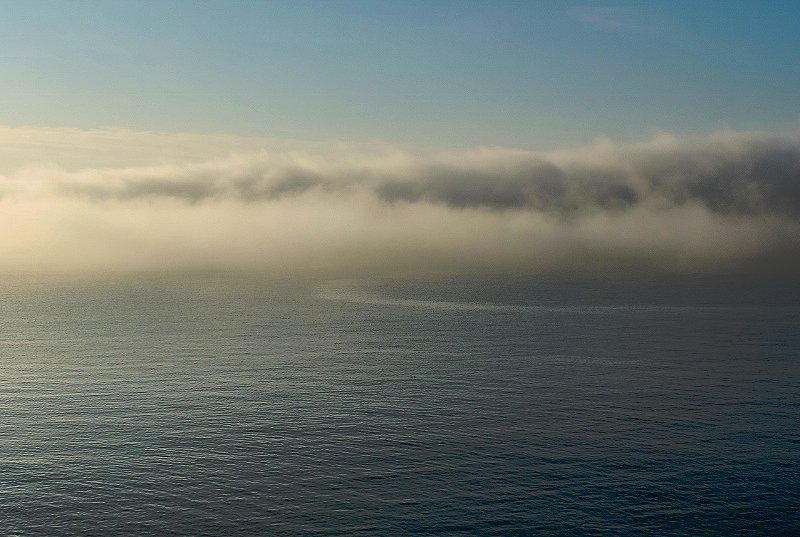 Yes I heard the foghorns and whistles go off...this is a picture of the harbour from 2 days ago. Thick fog rolling in...
Interesting comment Vic hope you enjoyed your visit...and thanks for the response and solid info below there Kevin. All good stuff.
Note : Ed's post (now below) was pinned to the top of page for a number of hours..now released.
I am currently experimenting with a newly added system to see how it works in practice... so bear with.
Further note in editorial at the top.
Monday, 7 April 2014 - 07:27
Post 630
Ed Connell, Dover
Dunkerque pilot landing on Dover Seaways the other day to monitor the Chief Officer as he worked towards the grant of his Pilotage Exemption Certificate (PEC) for Dunkerque.
The black hole in the front of the funnel is where the whistle had been removed for a few hours for maintenance - has had plenty of use since in brief spells of fog in the last couple of days!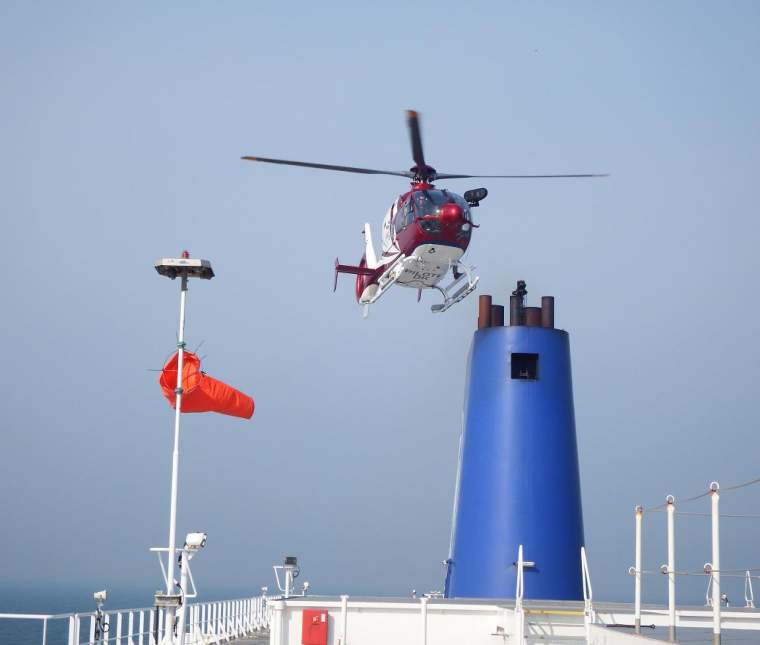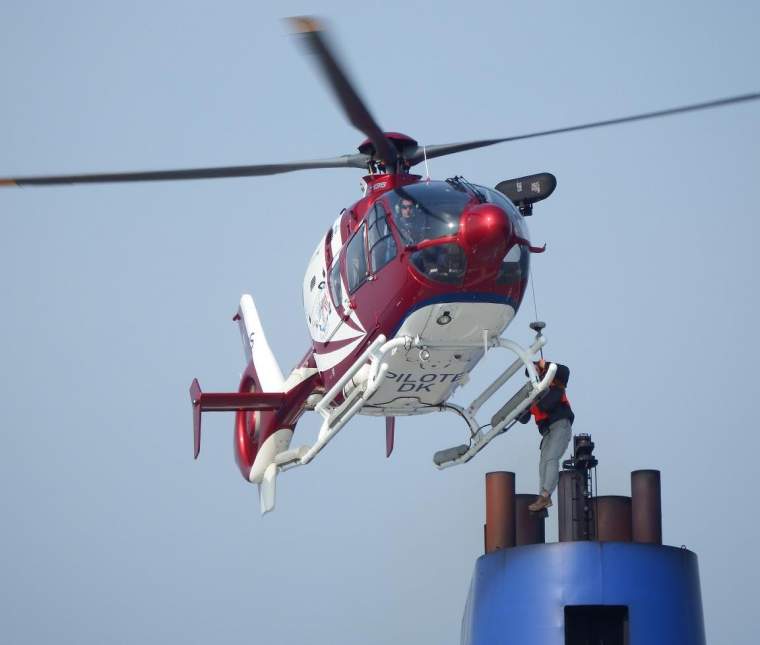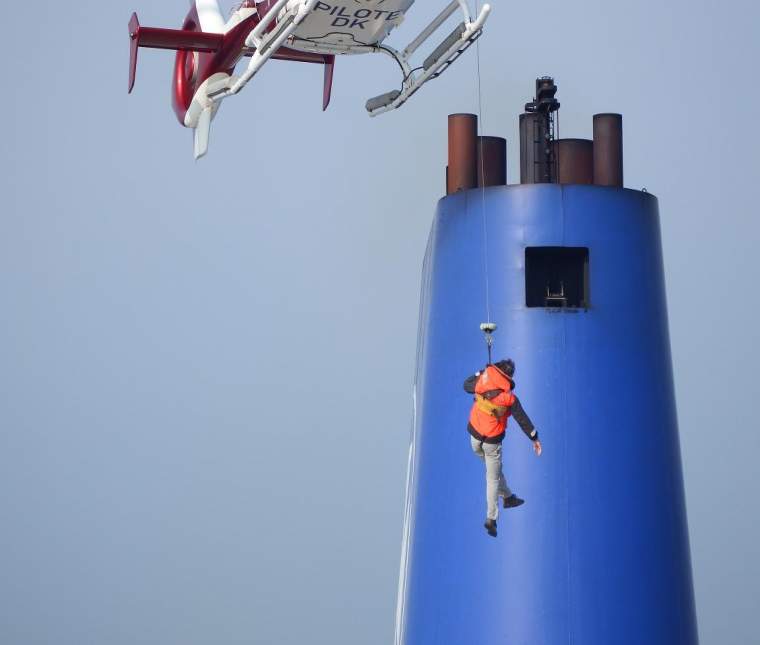 Sunday, 6 April 2014 - 22:09
Post 629
Kevin Charles, Dover
HMS Lancaster entered service with the RN in 1992 so has been in service for 22 years. The Type 23 are due to be replaced by the Type 26 which is currently in design phase. The Type 23's are all named after Dukes, including HMS Kent. HMS Lancaster is known as the "Queen's Frigate" as the Duke of Lancaster is an honorary title of the sovereign.

Sunday, 6 April 2014 - 20:28
Post 628
vic matcham, dover
It is an old war ship, when we went over it I did aske one of the officers , will this ship be taken out of service soon? I was taken back when told it will remain in service for some years yet owing to the gear it has on it.
I do not think he was talking about the life boats.

Sunday, 6 April 2014 - 15:40
Post 627
PaulB, Dover
Further Pictures of our Royal Navy Weekend...
To let everyone know again...HMS Lancaster is open to the public today sunday from 10am to 5pm. Last visitors allowed on at 4pm
I hadn't intended to attempt a further picture of Lancaster..she being so well camouflaged against the harbour wall, but suddenly the light changed yesterday evening and for some reason it was do-able and there we are above. She cuts a striking dash in the pale evening light. The downside was a red bus/coach parked on the pier right behind it. In the long range shots the bus appears to be on the rear deck of the ship and ruins the picture bigtime...so I have cropped it out. That is why the rear of the ship is missing in this case.The thing is...yours truly didn't really notice the bus at the time... doh! I'm truly parting from my marbles!!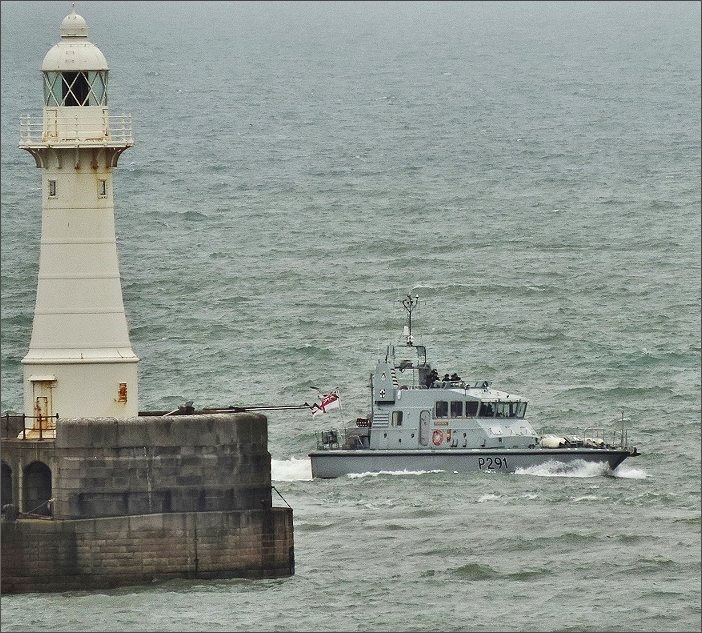 Another picture of HMS Puncher arriving to follow on from the one below further down the page. For some reason this vessel is very photogenic when most times Royal Navy ships in their slate grey are very hard to photograph, even when they float by your rear window in full view. I shall be writing to the Admiralty asking for the whole fleet to be painted white with immediate effect!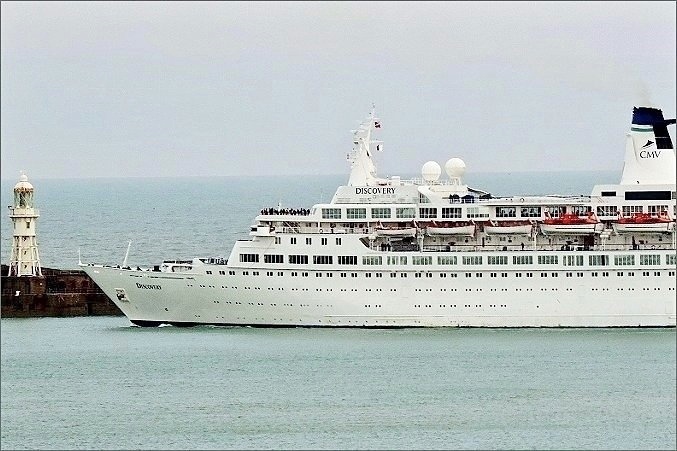 We sort of forgot about the Discovery with all the Royal Navy activity but here she is for the record leaving on Friday evening.
Enjoy your visit to Lancaster Howard. Unusual pic that below...

Sunday, 6 April 2014 - 07:06