Tuesday, 19 March 2019

WWW.DOVERFORUM.COM/SEA-NEWS
Featuring all the ships that come and go and work at the Port of Dover ..
... with further coverage of the surrounding ports.
Port of Dover: Brexit Resilience 6123
DFDS: For apprentice information see 6125
Sea News Dover :
Use our SEARCH ENGINE below to find all sorts on the SEA NEWS pages....
type in the topic and away you go, or if you have the post number just type it in the box,
more than - 6000 - nautical posts now.
Posts are welcome. just click 'Add Your Comment' below. Max of 5 pictures preferred although we can stretch that for special stories..
Sea News Editor Paul Boland - send info or pix to dover7@msn.com. Always welcome.
All pictures on these pages are the copyright of the owners and must not be reproduced without permission.
To show your pictures at their best..it could be worthwhile resizing before posting to
840
pixels wide.
Post 133
howard mcsweeney, Dover
another taken by paul s yesterday, the "mair" which is a buoy/lighthouse maintenance vessel.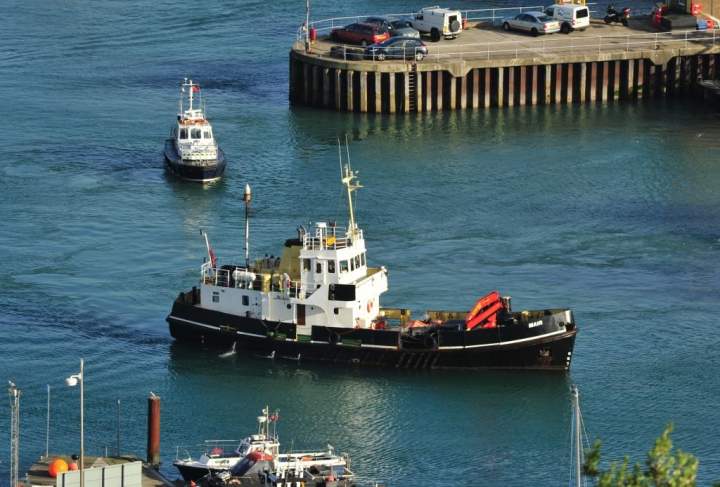 Friday, 27 September 2013 - 10:26
Post 132
PaulB, Dover (dover7@msn.com)
A great set of pictures all round there guys. Well done with those. Great stuff.
Yes indeed Dover gave the Saga Ruby a terrific send off. It was a mite sad to see her go, with the horns sounding and the water spraying. But age catches up with us all in the end I suppose. She really had that old world different era look to her..but now gone.
It was a spectacular goodbye though for sure..here are a few pix from me to add to the collection.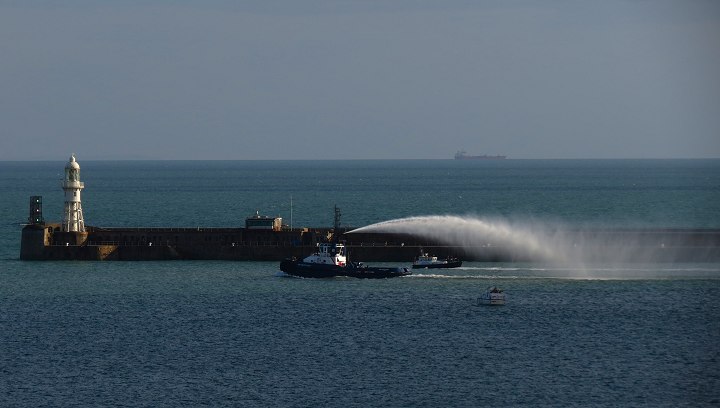 One of the tugs spraying in her path as she begins to move away out of shot.
The second tug doing the business as the Saga Ruby reaches open water..I didn't get a pic of the two spraying together unfortunately.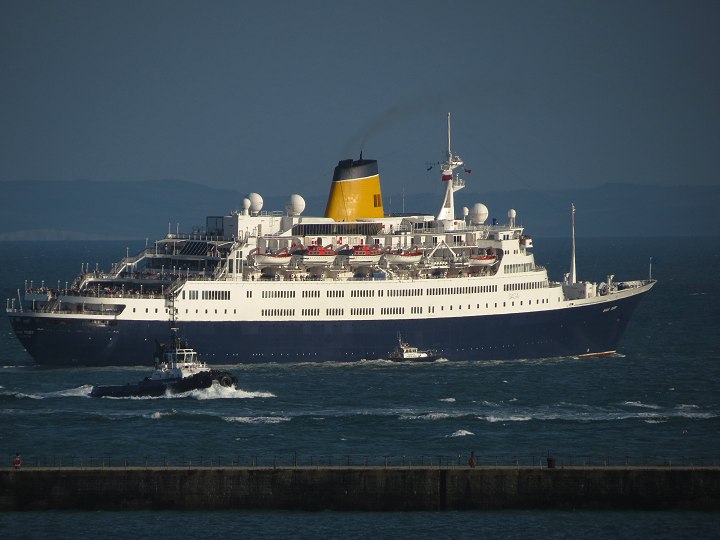 She begins to turn for Funchal with the pilot in attendance and one of the tugs returning. The send off complete.
Friday, 27 September 2013 - 07:03
Post 131
Mike J., Dover
Ed -

Re the DAVID CHURCH - the answer to my query might be in DHB Notice to Mariners 34/12 which mentions shoaling & changes to currents in the vicinity of the blockship.

It's not possible to put up 'live links' here & even a partial one would take up two lines of text so it's probably better to go to the DHB website home page, then in turn -

MORE
GENERAL MARINE INSTRUCTIONS
NOTICES TO MARINERS

Thanks for the Interesting photo of the contractors on the Breakwater, first time that I've seen vehicles out there.
Never imagined the DAVID CHURCH as a vehicle ferry !





Thursday, 26 September 2013 - 23:29
Post 130
Kevin Charles, Dover
Fitting send off from the Port of Dover tugs to a loyal cruise customer. Here's hoping Saga have plans for some new tonnage to grace Dover, in addition to the Saga Sapphire and Saga Pearl II

Thursday, 26 September 2013 - 20:15
Post 129
Dovert, Dover
...and another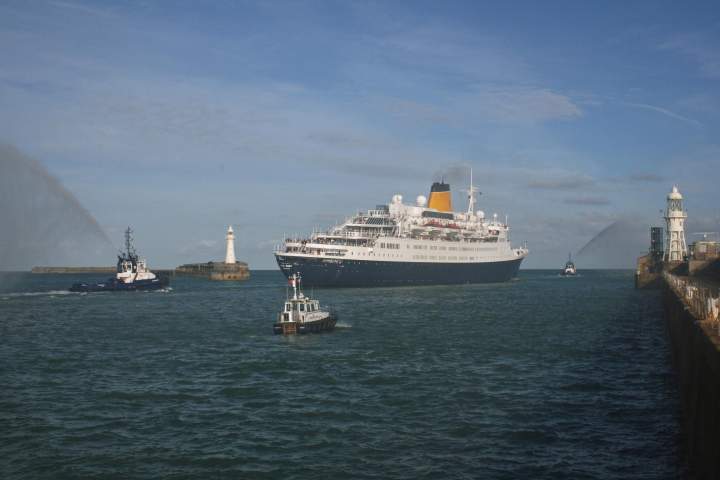 Thursday, 26 September 2013 - 20:06
Post 128
howard mcsweeney, Dover
many thanks to paul sampson of w.c.c.p for sending these in, taken late afternoon from st martin's battery.
a fitting farewell to the "saga ruby".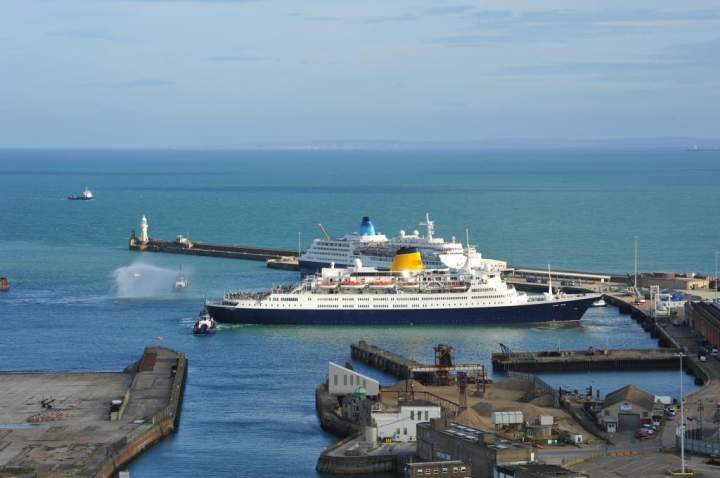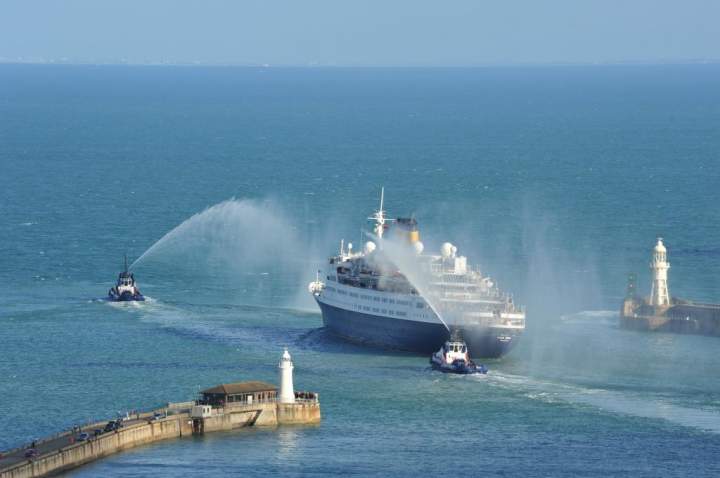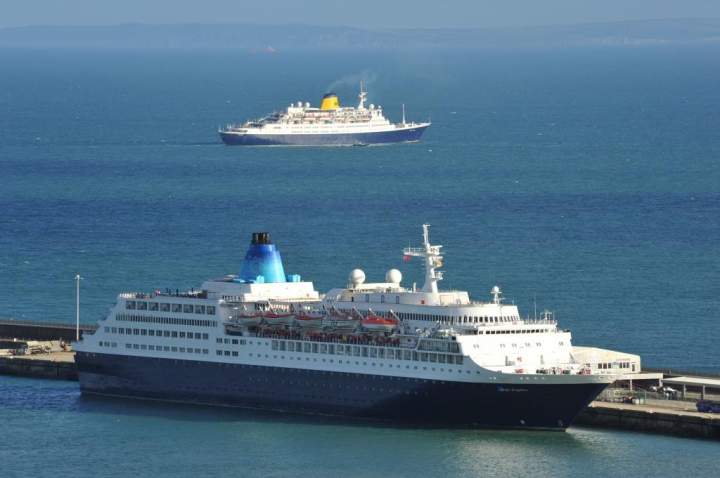 Thursday, 26 September 2013 - 20:03
Post 127
JanT, Dover
Yes good luck to the new team at DHB, hopefully they will continue to keep Sea News updated as before, always good to hear of any projects they have in the pipeline.


Some nice pictures guys always sad to see the end of the cruise ship season,but we have been treated to a fab array of pictures of the ones that have graced our seafront this season.


Thursday, 26 September 2013 - 17:54
Post 126
Ed Connell, Dover
Mike: Re the David Church dredging over the remains of the Spanish Prince. Don't know if there is still any build up of silt as there used to be when the blockship was still present. However, presume the area still has to be dredged in the same way as the rest of the harbour. David Church was over at the Knuckle Light yesterday landing her grab on the breakwater, and can also see a dumper truck in the photo. Very misty accounting for poor quality.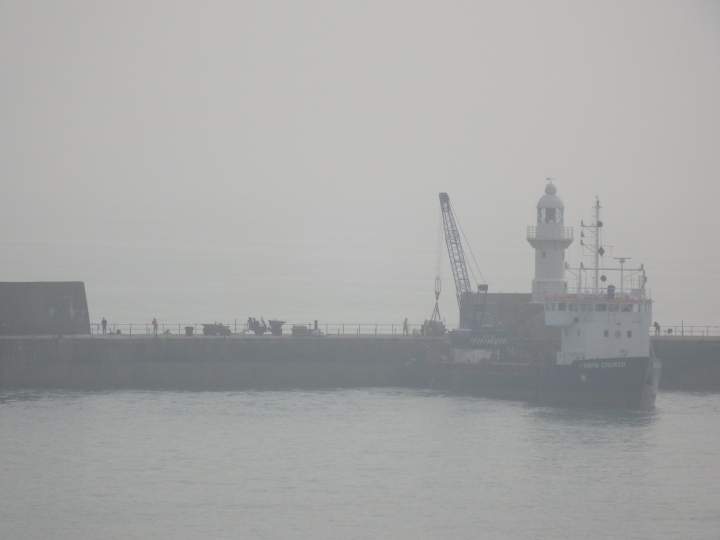 Thursday, 26 September 2013 - 15:54
Post 125
Ed Connell, Dover
Dunkerque Seaways conducting the annual exchange of one of her MES (Marine Evacuation System) units during the weekly layover in Dunkerque West on Saturday night.
Thursday, 26 September 2013 - 15:44
Post 124
Ed Connell, Dover
Another view of the Messina Strait at the Dover Cargo Terminal a couple of days ago, with Lyrika still on the Eastern Arm and listed as dead ship awaiting spares.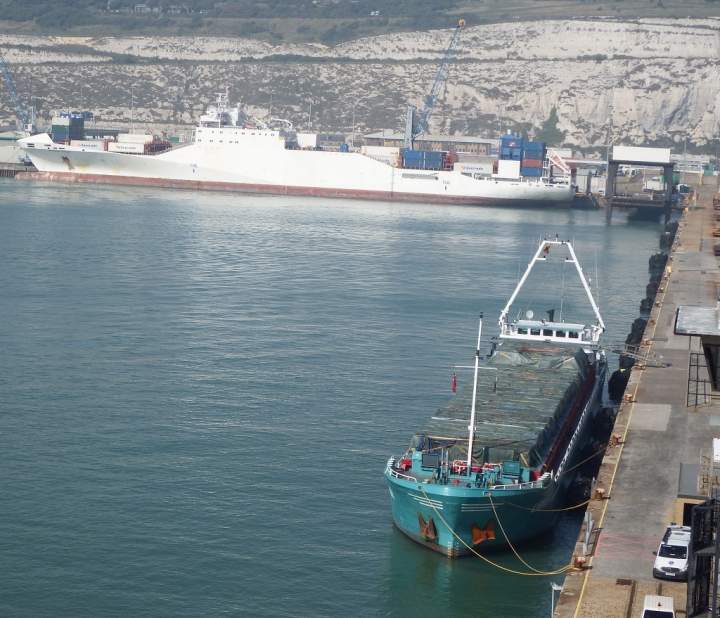 Thursday, 26 September 2013 - 15:38
Post 123
PaulB, Dover (dover7@msn.com)
Gosh you did very well getting that picture from the heights Howard. It looks great. I saw the Carnival Legend leaving last evening but could only see it faintly in shadowy outline sort of thing. She slipped away quietly in the foggy gloom and is sadly gone now and maybe for good...which is a bit of a pity. Thanks for all the very useful info Kevin. Yes saw the dredger Mike...Ed might know the answer to that one when he comes on. I think we did have discussion previously about the blockship effect heralding a change in the tidal situation.
And now as promised here we are with pictures of the new team at DHB. Clare Newman has departed as we saw in my previous post below.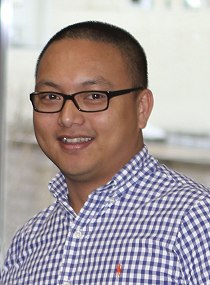 Barbara Buczek on the left is now Head of Business and Corporate Affairs and Ben Greenwood on the right takes over as Business Development Manager, replacing Clare Newman, and will report to Barbara...there is more fuller info in my previous post below from yesterday if you scroll down..

Good luck to the new team.
I cant let the departure of the super Carnival Legend go by without a picture from yours truly. So in the best tradition of those TV pundits of yore..
...here's one I made earlier.
The Saga Ruby is in harbour for the final time as i write with the other Saga (Saga Sapphire) approaching. Visibilty still not great yet but not as bad as yesterday..it might improve.
Thursday, 26 September 2013 - 07:10
Post 122
Mike J., Dover
Does anyone know why the DHB dredger DAVID CHURCH has been spending a lot of time in the last month or so working near the blockship by the Western Enntrance?

Is there unexpected shoaling there since the wreck was 'reduced' a year or two back ?

Thanks.

Wednesday, 25 September 2013 - 22:13
Post 121
Kevin Charles, Dover
Larger reefer tonnage is now calling at Dover which would account for interesting statistics from DHB last week that Dover Cargo Terminal handles 26% of UK banana market. Interesting thought when your next in the supermarket!

Wednesday, 25 September 2013 - 21:34
Post 120
Kevin Charles, Dover
The season is certainly drawing to a close as the cruise ships head for warmer waters. Hope to see Carnival back soon although they are not operating in Northern Europe next year due to the high costs of air travel. They source passengers predominantly from the US.

The quieter winter months will see the roof on cruise terminal 1 replaced in a major £10 million contract.

Wednesday, 25 September 2013 - 20:45
Post 119
howard mcsweeney, Dover
sorry to say that the mist did not clear colette, took this at 2. 45 pm.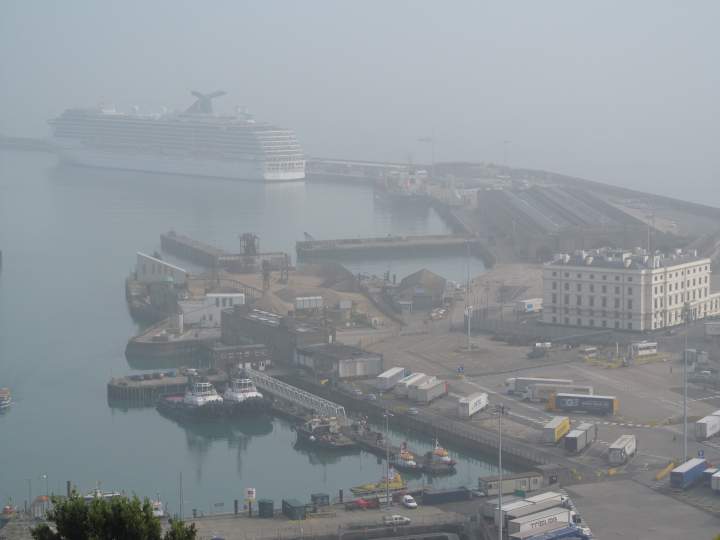 Wednesday, 25 September 2013 - 19:00
Post 118
ColetteB, Dover
The Carnival Legend is here today as scheduled, hopefully we will have some photos later when the mist clears as this is her final visit this season

Tomorrow we have the two Sagas in port, the Saga Ruby at CT2, T/R. as Kevin has already said this is her last visit to Dover before her retirement in December. The Saga Sapphire also returns to CT1. T/R. This is her last visit this season so it's the very last chance to photograph them both together.
Then on Sunday 29th September the Albatros returns to Dover at CT1 with a PoC for the last time this season. She was last here in August.
Monday brings the MV Empress back to Dover with a PoC at CT1, again for the last time this season. She was last here in May.
There are five cruise ships scheduled for October, the first one arrives on Tuesday October 1st in the shape of the AIDAmar at CT2, PoC. This is her first appearance this season, she was last here in September last year.
On Thursday October 3rd the Black Watch arrives, again for the first time this season for an embark only at CT1. She was last here in November last year.
Then on the following day Friday 4th, the Braemar is here again at CT1, T/R. No cruise ships then until she arrives back on Monday October14th, again at CT1, T/R.
A break then until Saturday 19th October when the Black Watch returns to CT1, T/R.
That's it for now until November 5th

Wednesday, 25 September 2013 - 12:18
Post 113
PaulB, Dover (dover7@msn.com)
Thanks for the reminder Kevin. Will certainly watch out for the final trip of the Saga Ruby and hope to get a decent picture or two.
Thats a smashin' pic you added there in the post below.
The other legend..the Carnival Legend, is in today. A great supership. There wont be many visits left now this year for the giants so always worth a look. At the moment as I write it is shrouded in mist and un-photographable.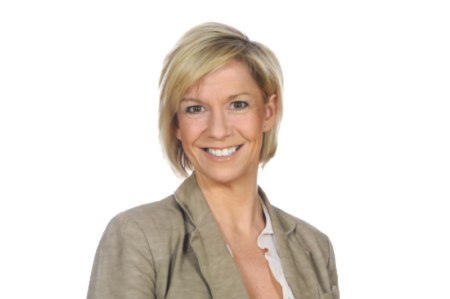 FAREWELL CLARE NEWMAN
The Port of Dover has appointed Ben Greenwood as Business Development Manager (Marine) as the Port looks to build even better relationships and develop stronger products with and for its cruise customers.
Ben, who originates from Australia, previously worked as Specialist Sales and Partnership Manager for Carnival Australia, part of Carnival Corporation PLC which represents the world's most popular cruise brands, comprising of approximately 80 per cent of the global cruise market.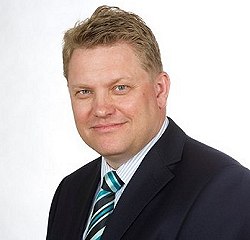 Tim Waggott, pictured above..the Chief Executive, Port of Dover, said: "The appointment of Ben comes at an exciting time when we are working hard with our cruise business partners to deliver the very best customer service and explore new opportunities. Ben's experience will be instrumental in taking our relationships and services to the next level."
Ben takes over from Clare Newman, former Port of Dover Business Delivery Manager, who is moving to London sightseeing firm City Cruises as Head of Sales and Marketing. Ben will be reporting to Barbara Buczek, Head of Business Development and Corporate Affairs, who has overall responsibility for business development at the Port of Dover, including cruise.
The new-look cruise team is at Seatrade Europe 2013 in Hamburg this week, Europe's meeting point for the cruise industry. What better place to start work than at a gathering of over 260 cruise line executives! The Port of Dover will be at stand 405.
Mr Waggott added: "Our warmest wishes to Clare as she leaves this most famous stretch of sea for the most historic of rivers. We are sure that the experience gained and commitment she has shown working for the best port in the world will help her to be a fabulous success as she moves to the finest capital city in the world."
WILL HAVE PICTURES OF THE NEW TEAM LATER.
* *
Yesterday we had a visit from the Messina Strait and here she is making her way through the gloom to the sound of rampant foghorns in the background, helped as you can see by our regular tugs Doughty and Dauntless. She is doing the full 180 degree turn in the pic.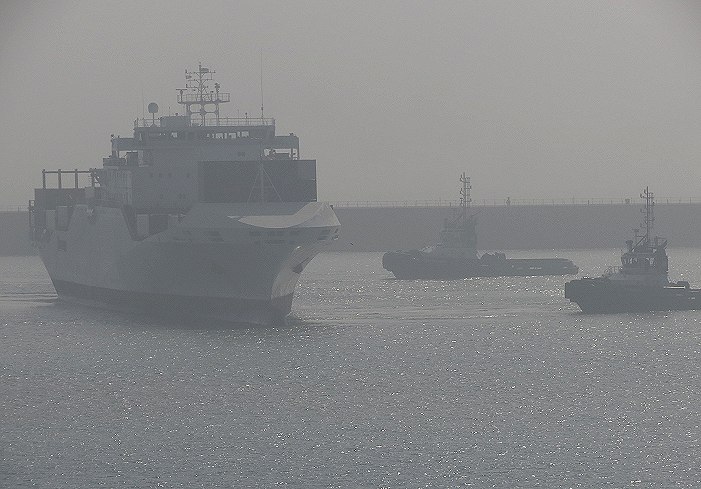 The very odd shape baffled us all in the beginning. Along with her equally unusual twin, the Magellan Strait, they are both new and it seems regular visitors here now at the cargo terminal. It was just in from Vlisengen ( I think that's how you spell it ! )

Wednesday, 25 September 2013 - 06:53
Post 112
Kevin Charles, Dover
Just a reminder that this Thursday (26 September) will be the last opportunity to see the classic Saga Ruby as she makes her final visit to Dover. She is being retired by Saga in December following a final cruise from Southampton.
She will be in Dover for the last time on Thursday alongside the Saga Sapphire. Saga Ruby is the last cruise ship to be built in Britain by Swan Hunter in 1973.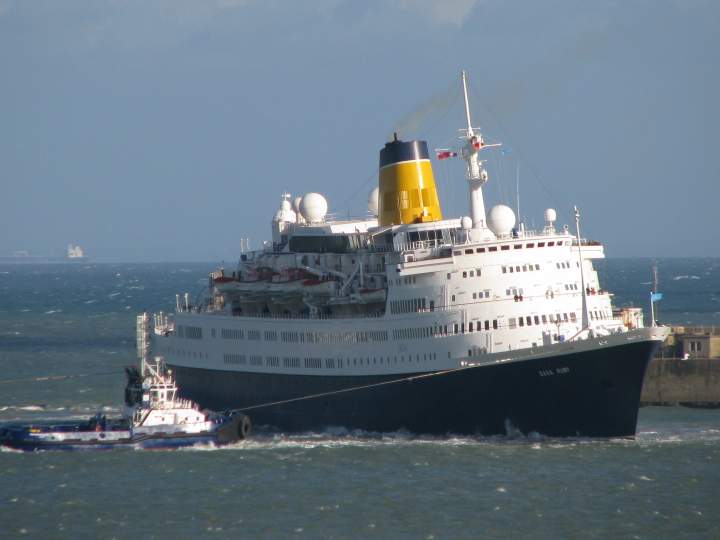 Tuesday, 24 September 2013 - 21:41
Post 111
PaulB, Dover (dover7@msn.com)
The scene across the harbour this morning tuesday.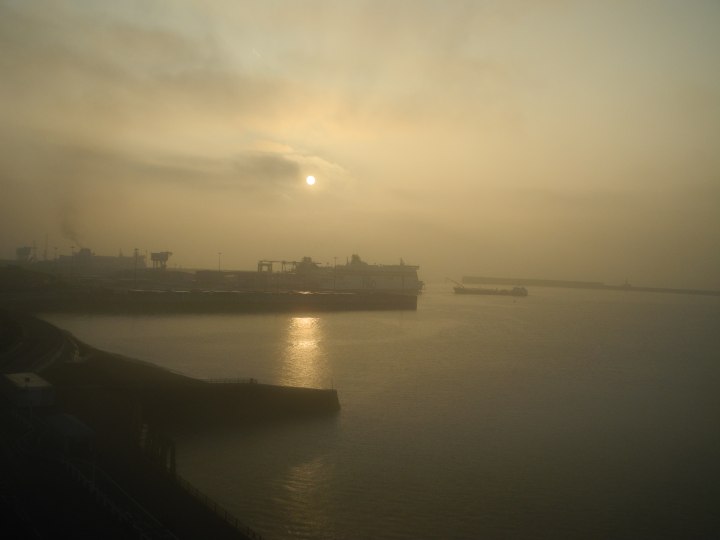 Yes its certainly a bit foggy this morning and no mistake, but for a short while earlier the sun peaked through the gloom so I got the above picture. But with autumn mists surrounding us it might just be the right time to start thinking about hitting those fantastic ski slopes in the months ahead. See the following just in from our newest ferry company...
MY FERRY LINK
GETAWAY DURING THE SKI SEASON BY CAR AND SAVE ALMOST £500

With the ski season just around the corner, ski lovers can save money and avoid mounting airline charges for their extra baggage and ski equipment by travelling by car with MyFerryLink, the Dover-Calais ferry operator.
Any duration car crossings start from just £30 each way, for up to nine people with skis and all of their luggage. There are plenty of fantastic ski resorts all within a day's drive of Calais and even taking into account petrol costs and road tolls, driving to the slopes this year could save a family of four nearly £500!
For those looking for the ultimate winter escape on a budget, travelling by car offers the perfect solution. Holidaymakers have the freedom to travel with all their home comforts, ski boots and equipment, luggage and even food for the drive, without worrying about any hidden costs.
Additionally, opting to drive gives the whole family a chance to take in the sights and enjoy the scenic countryside, all the while avoiding the inconveniences of modern flying. To find out how much a family of four could save skiing this winter, check out MyFerryLink's ski calculator table below. ( ah..I wasnt able to reproduce the table but it points out the price penalties of trying to get ski equipment onto a plane )
MyFerryLink operates 16 daily crossings on the Dover-Calais route. Fares for a car and up to nine passengers start from £30 each way any duration and from £30 for a day return. To find the best fares, visit www.myferrylink.com or call 0844 2482 100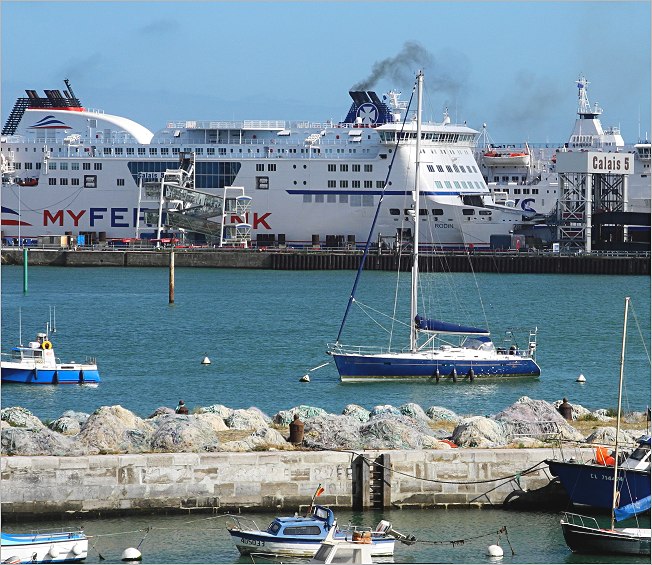 The Rodin at Calais 5.
Tuesday, 24 September 2013 - 08:24
Post 110
Mike J., Dover
Howard -

Tugs often last considerably longer than 'regular' merchant ships due to their much more robust construction & a life of 20 or 30 years or more is not unusual, although they tend to change hands many times.

Sometimes they are completely stripped & rebuilt with a completely different appearance, with only the hull remaining to show their age.
Often steam tugs were re-engined with diesel engines & continued in service for many years. Some undoubtedly still exist.

The KINGSTON is a little unusual that despite many modifications she essentially retains her 1960s appearance.
She is still using her original Mirlees diesel engine.

For her specs & history see -

www.griffintowage.co.uk/

riverthames.sosugary.com/displayimage.php?pid=1582

[You'll need to insert 'http//:' to get the links to work].


Monday, 23 September 2013 - 22:15