Tuesday, 12 November 2019
Sea Pictures from Dover ...

WWW.DOVERFORUM.COM/SEA-NEWS
Featuring all the ships that come and go and work at the Port of Dover ..
... with further coverage of the surrounding ports.
Sea News Dover
Christmas Spectacular at the Port 6648.
MP Charlie Elphicke moving aside for wife..see 6646.
P&O: St Richards School trip to Calais for 6 year olds see 6630.
DFDS: Contract Cancelled see 6626.
Use our SEARCH ENGINE below to find all sorts on the SEA NEWS pages....type in the topic and away you go, or if you have the post number, just type it in the box, more than
- 6600 -
nautical posts now. Posts are welcome. just click 'Add Your Comment' below. Max of 5 pictures preferred although we can stretch that for special stories.. Sea News Editor Paul Boland - send info or pix to dover7@msn.com. Always welcome.
CRUISE CALLS:
https://www.doverport.co.uk/cruise/find-a-cruise/
UPDATE:
To show your pictures at their best..it could be worthwhile resizing before posting to
850
pixels wide.
All pictures on these pages are the copyright of the owners and must not be reproduced without permission.
Post 666
Jacqui, Dover
Made me laugh when she was coming across the harbour the other day Paul. I was listening on SW radio and Port Control told her - "No more than 8 knots in the harbour please sir". She quickly slowed down lol. Lovely sight though, seeing her stream in the Eastern entrance. Love all your photos.

Wednesday, 16 April 2014 - 20:40
Post 665
PaulB, Dover
We are having a very busy time of it with the Royal Navy popping in and out and generally hovering about in the immediate vicinity. Herewith the latest....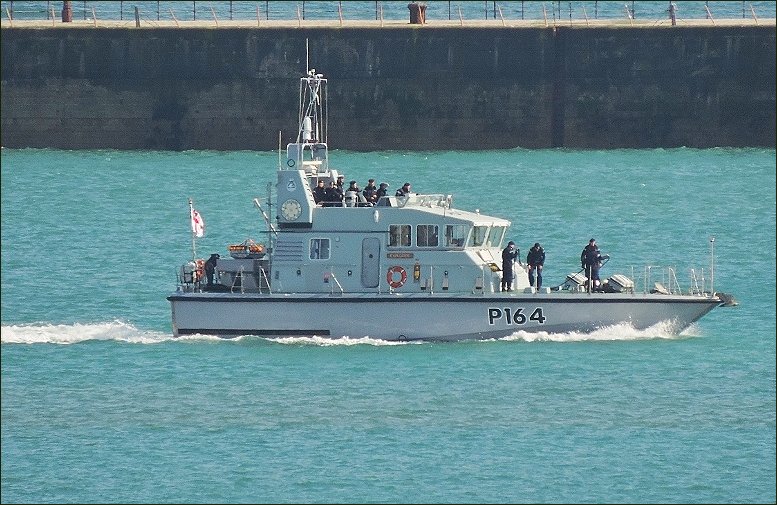 Above we have HMS Explorer which powered across the harbour 2days ago. Visiting the same day as the mighty MSC Magnifica. As always they cut a mean dash. We had the similar HMS Puncher recently too. Pictures of HMS Puncher over on page 2 and on page 3. These are patrol or special ops vessels as I understand it but also used in training these days.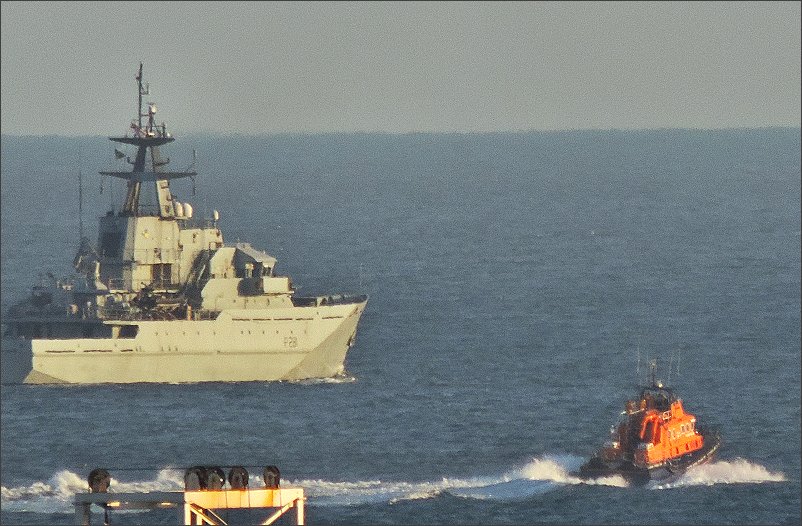 Thanks to Kevins tip off I had a go at getting a picture of HMS Tyne which was just off Port last evening. Very long range picture so a wee bit soft alas. Right on cue the Lifeboat powered past...clearly out on a shout! The Tyne just went off afterwards too in roughly the same direction as the Lifeboat...heading west into the low evening sun.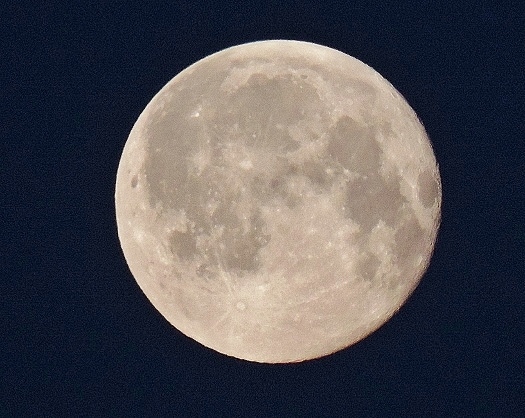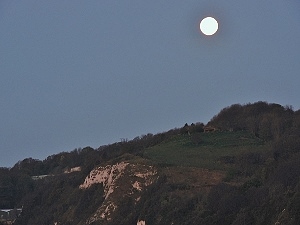 We are all having a go at the moon. Blimey! and why not. Well done with that one Jacqui/Adam. The previous moon shot by yours truly further down the page was taken early evening while the great orb was hanging above Calais. These latest ones above were taken early this morning..very early..while hovering above Western Heights.
Wednesday, 16 April 2014 - 15:30
Post 664
Jacqui, Dover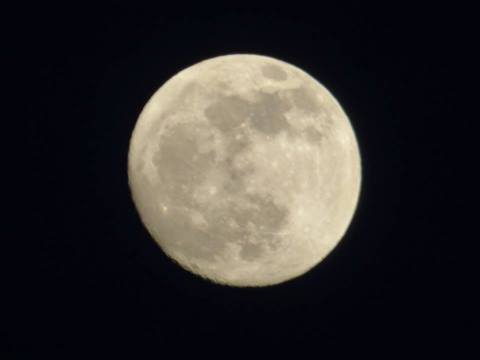 My son Adam took this with his new camera from his bedroom window. I think it's rather good.
Wednesday, 16 April 2014 - 12:55
Post 663
PaulB, Dover
Cracking pictures John

Great spot Kevin re HMS Tyne. Had a stab at getting some pix. Very long range though..will see if any good a bit later

Wednesday, 16 April 2014 - 06:57
Post 662
John Mavin, Dover
It's true what Paul says about shooting the moon and I've never trusted in-camera metering for these sorts of situations. This was taken handraulically using an old Weston meter I've had for forty years.
The second picure, from June 2010, is interesting because I don't think I've ever seen a full moon so low in the sky.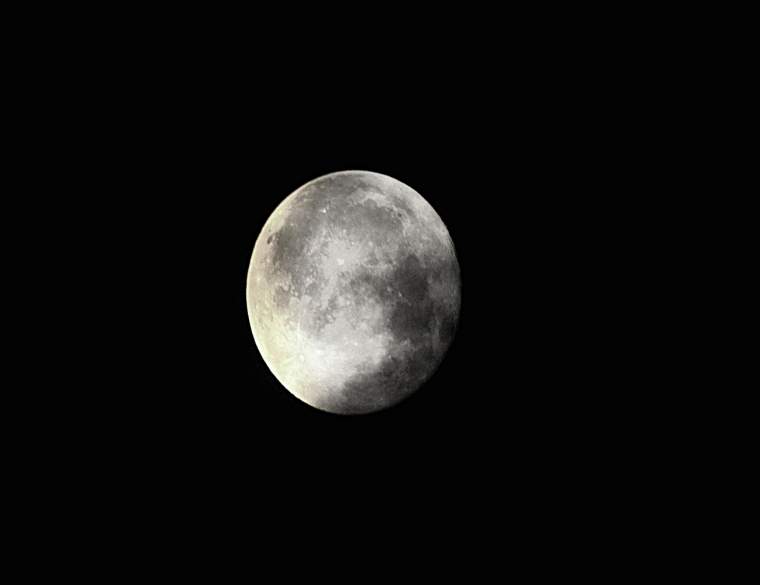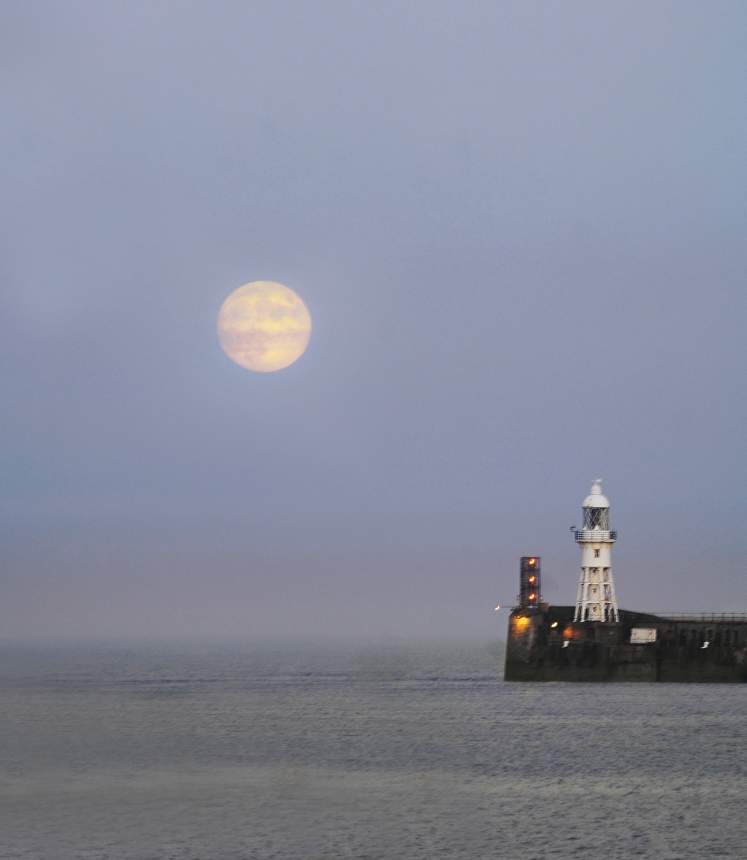 Tuesday, 15 April 2014 - 21:47
Post 661
JanT, Dover
Over the last few days some really great pictures, showing our lovely seafront and all that goes on, keep those cameras clicking chaps

And with this very pleasant spring like weather and the start of the cruise ships, really feels like summer is on its way.

Tuesday, 15 April 2014 - 19:03
Post 660
Kevin Charles, Dover
The Royal Navy River class patrol ship, HMS Tyne, is currently off the Western Entrance.

Tuesday, 15 April 2014 - 19:01
Post 659
PaulB, Dover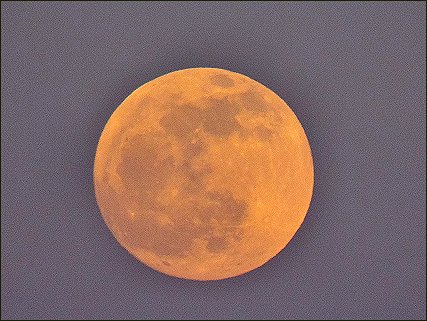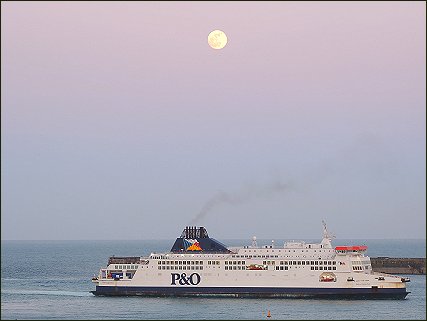 These pictures are of last nights magnificent full moon. It rose early while there was still light so that helped with the shots. The moon is never very easy. But as the night wore on, down here at the lapping waters edge, it conjured up an eerie spooky feel...well shiver me timbers but I'm sure I saw Long John Silver walking the plank at one point...but it may have been a mirage, or an ethereal vision...or maybe that extra glass of...

Yes its great Kevin to see the kids getting all that marvellous local nautical training. Indeed one of them may well be on an MSC bridge one day before too long. Nice shot that Colette from your phone...but don't forget to get that nice camera of yours out too. The ship above is the Pride of Canterbury.
Tuesday, 15 April 2014 - 17:28
Post 658
ColetteB, Dover
Terrific photos guys of the MSC Magnifica, 95,000 tons + Blimey!!!
Like Kevin, I love the one with the sailing boats too, great shot there Mr B

I was on my way back from Ashford late yesterday afternoon & as I came into Dover I couldn't resist driving along the seafront to see her. Jumped out of my car & took a shot but alas only had my mobile & it was too far away but here it is anyway. She will be back on the 25th so must remember my camera.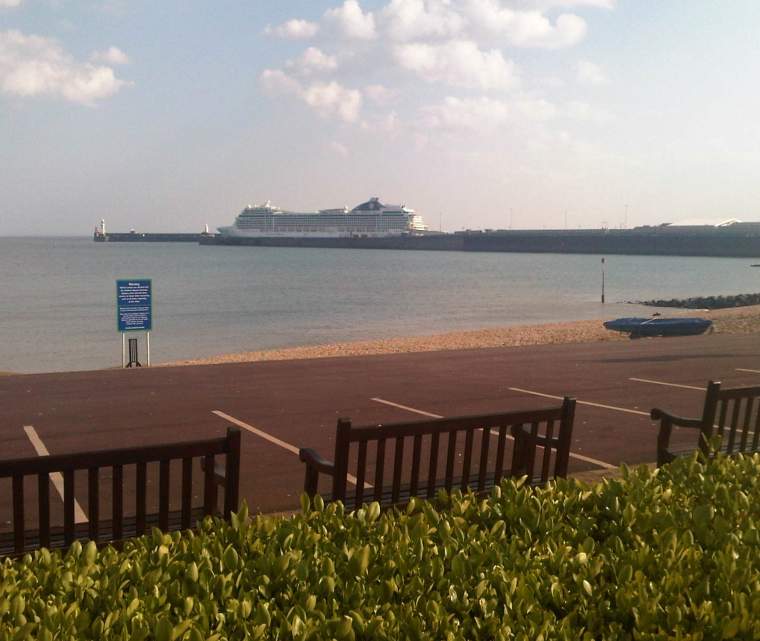 Tuesday, 15 April 2014 - 13:41
Post 657
Kevin Charles, Dover
Great photos, Paul. I especially like the one with the sailing boats. With the great work of the sea sports centre and the new maritime skills academy up at Whitfield, some of those kids may well end up on the bridge of ships like the MSC Magnifica!

Tuesday, 15 April 2014 - 08:09
Post 656
PaulB, Dover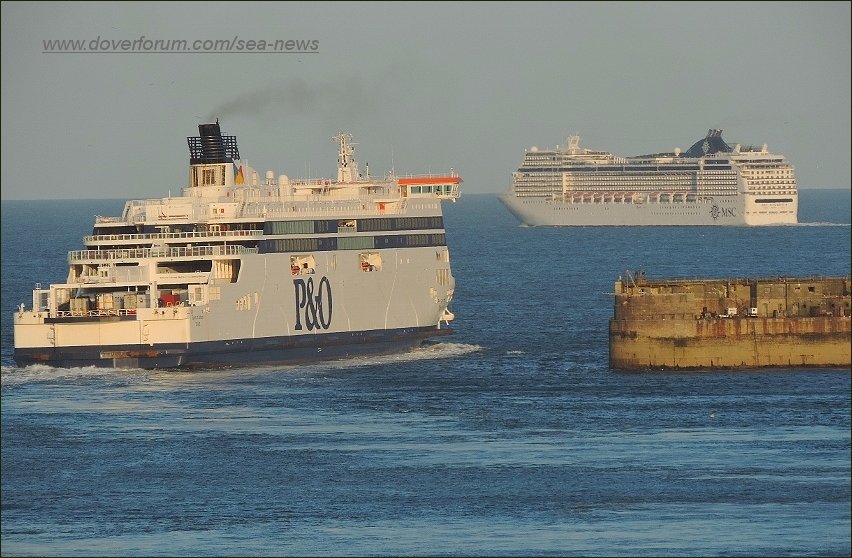 More on the MSC Magnifica. Nice picture in the post below there Kevin, took quite a few myself as she was leaving. The time was approximately a quarter to seven as she began to move away, and in nice but low evening sunlight too. As you say the views would have been quite spectacular from onboard. There were hundreds on the top deck enoying the visuals. As she moved off towards Amsterdam...the Sprit of Britain moved out into the channel also. Right on cue. It made a great sight as the day began to draw to a close. By the way...that P&O offer for a £23 day trip with 6 bottles of wine for FREE is still on...if you book by April 21.
You can travel up until the 9th may.
The picture below was taken earlier in the day monday and shows the kids training onboard their little sail boats. It gave me a chance to use the old classic Nikon ( in digital terms ) as everything else was charging...the curse of the modern era ! But what a mighty backdrop for the kids...the MSC Magnifica. You can see just how big she is in this particular shot.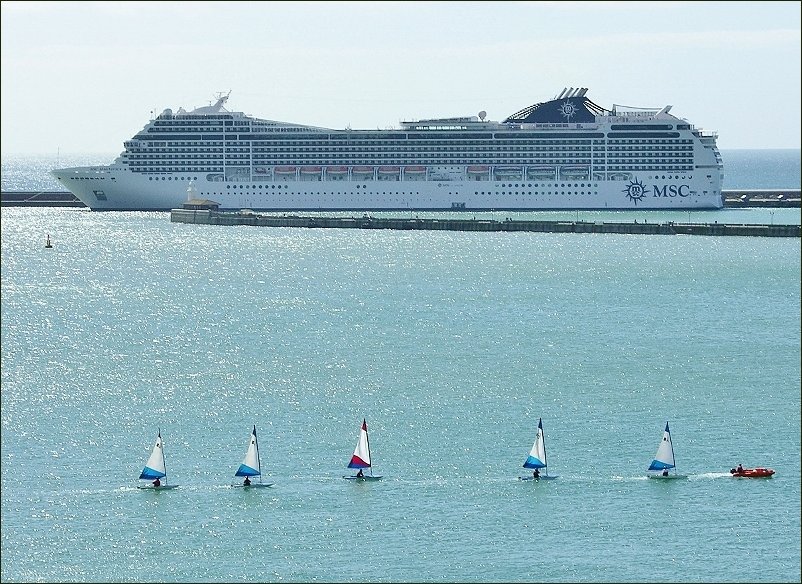 Tuesday, 15 April 2014 - 06:21
Post 655
Kevin Charles, Dover
Great to see MSC Magnifica back in Dover today. The passengers were certainly treated to some fine weather and her departure in the evening sun with the town, port, castle, and White Cliffs as backdrop must surely make Dover the most scenic UK cruise port!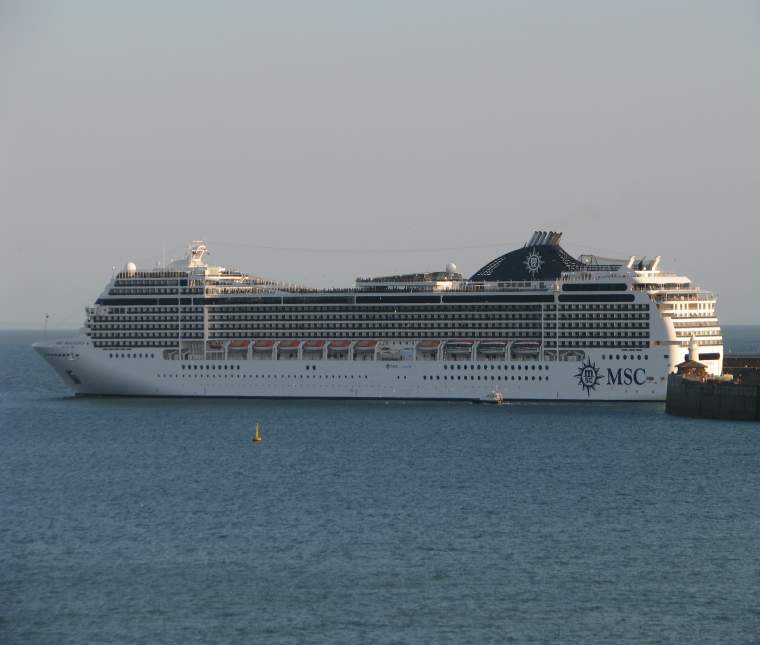 Monday, 14 April 2014 - 19:41
Post 654
PaulB, Dover
WELCOME MSC MAGNIFICA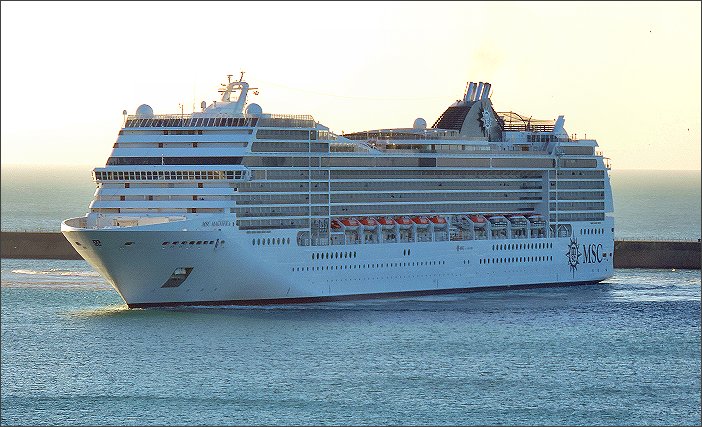 This is cruise liner number 3 this season but it is the first of the big players, the first of the heavy hitters. It is totally huge. Kevin mentions below that it weighs in at more than 90,000 tons ( update: 95,000 tons +) and of course is carrying masses of passengers, all eager to see both the local sights and the treasures further afield. Let us hope many stayed locally but as ever the ship was met by a large number of coaches.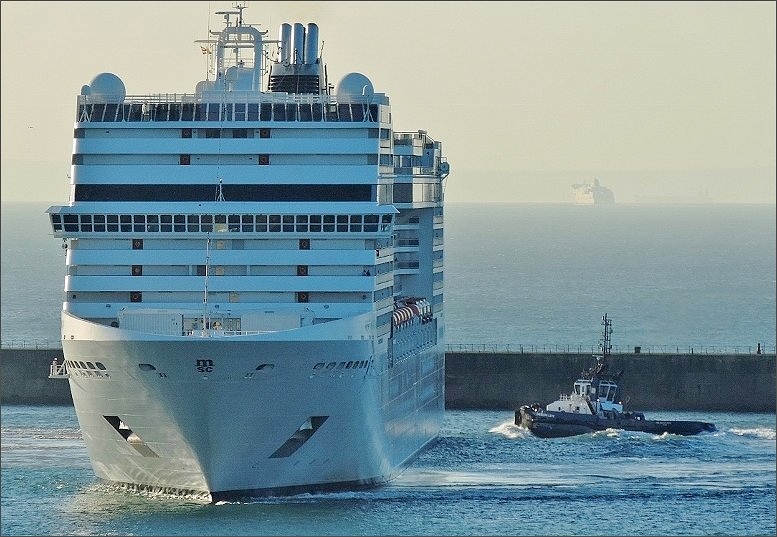 The massive ship turned around on a tiny circle...it didnt appear to need a great deal of input from the tugboat Dauntless, and then reversed into its position at CT2. It was all accomplished with what appeared to be considerable ease...however yours truly wouldn't like to try reversing something on that scale. No Sirreee ! A wider view below as she reverses into position.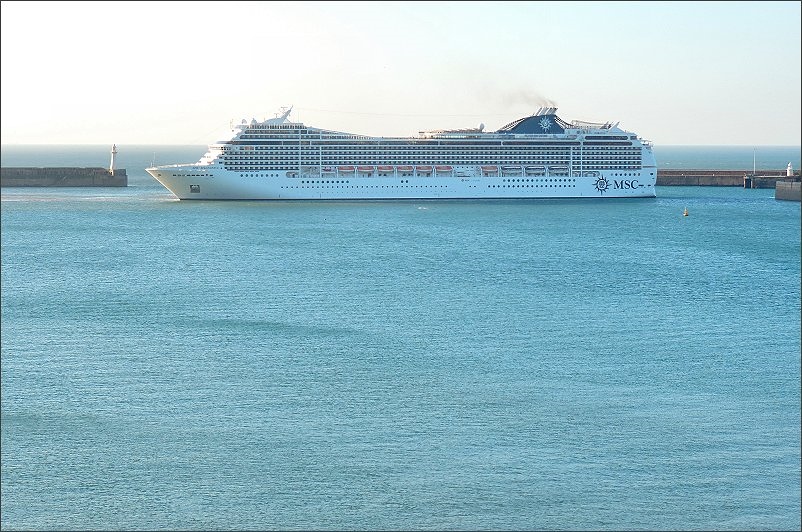 Wot a whopper !

Monday, 14 April 2014 - 11:31
Post 653
PaulB, Dover
THE BRIDGE !
BRIDGE strengthens links between Dover and Calais

With freight traffic between Dover and Calais expected to rise by 40% by 2030, the importance of strengthening the route between the two independent ports is currently the focus of cross-Channel collaboration and major investment.
Seeking to protect the long-term resilience of this internationally important trade link, described as a 'European motorway of the sea', the BRIDGE (Building the Resilience of International and Dependent Gateways in Europe) Project brings together the Port of Dover and Port of Calais.
Currently those two busiest Roll–on Roll–off (Ro-Ro) ferry terminals in Europe handle more than one third of RoRo cargo between the UK and continental Europe, representing goods worth more than 70 billion euros.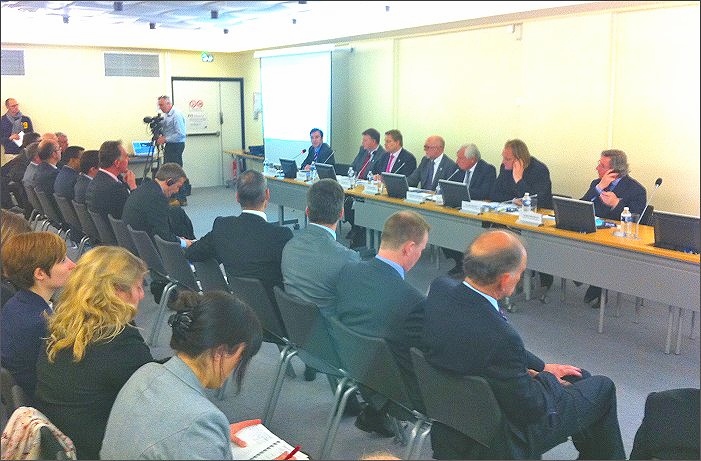 The BRIDGE Project, which aims to ensure that Dover and Calais are part of European efforts to create a fully integrated freight corridor combining road, rail and maritime transport and linking the UK with Northern France, Benelux and North-East Spain, was recently unveiled at a joint event held in the French port.
Calais Port 2015 sets out plans to increase capacity through the development of a new harbour, a new cross-Channel terminal with a further three cross-Channel berths and one Ro-Ro berth, and 80 hectares of new platforms. To handle the increased traffic, Calais, like Dover, is reorganising cross-Channel traffic flows and the road networks in and around the Port. Major investment being undertaken under the Calais 2015 banner also includes the development of a rail motorway terminal linking the Port in Nord-Pas de Calais with Perpignan in the south of France, enabling the transhipment of trailers between rail, road and ferry in the Port.
Tim Waggott, Chief Executive, Port of Dover, said:
"BRIDGE recognises that, by collaborating, we can complement each other and enhance the resilience of this international trade route. We connect the United Kingdom and the Republic of Ireland with the continental mainland, so it is essential that Dover works closely with our opposite numbers in Calais. By developing efficient port facilities and transport connections on both sides of the Channel we will be perfectly placed to meet the needs of our customers, communities and strengthen the local economies."
In the short term, the BRIDGE project will ensure that the two ports operate efficiently by adapting the berths to the highest technical standards of ship accommodation, as well as focussing on the enhancement of the local transport networks to improve the resilience of the trade route.
At the Port of Dover, three berths are being enhanced with two piers recently extended. To improve the short-term operational performance and safety on the Kent side of the English Channel, a further three major berths will be refurbished by 2015.
The ports of Dover and Calais, each recognised by the European Commission as strategically important, and designated as 'core ports' under the TEN-T network 2014-2020, have been working together on the BRIDGE Project.
During the event, and in the presence of their stakeholders and the Nord-Pas de Calais Council (as the owner of the Port of Calais), a Memorandum of Understanding between the two ports was signed by the Côte d'Opale Chamber of Commerce and Industry (as the port manager) and Dover Harbour Board.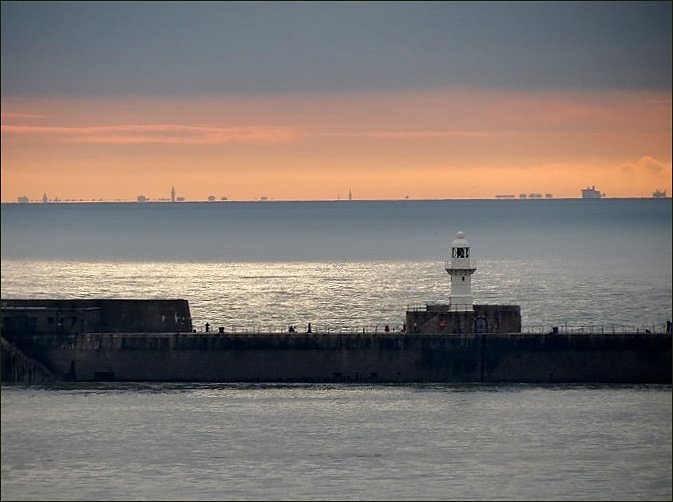 * * * *
Thanks for that ace reminder Kevin. I have a tendency to forget what's coming where and when myself. Always great to get a tip off.
No sign of anything as I write.
Terrifically encouraging to see these new moves forward as shown in the press release above.
ADDED EXTRA: Cruise liner MSC Magnifica arrived into harbour at 07.25. Truly magnificent. We will have pictures later.

Monday, 14 April 2014 - 06:35
Post 652
Kevin Charles, Dover
Just a quick reminder that the first of the big cruise ships of the season is due tomorrow, the MSC Magnifica. At over 90,000 tons and with 2,500 passengers, it should be a busy day for Dover!

Sunday, 13 April 2014 - 09:26
Post 651
PaulB, Dover
Very long range shot of the cargo ship Baltic Jasmine after she left Dover last night. Quality isn't great because of the range and the fading light but you can get the gist of the situation. Time of picture about 7.30pm in low yellowing light as the sun went down. You can see the pilot has just departed. The ship is just off South Foreland Lighthouse as a rough estimate at the time of picture.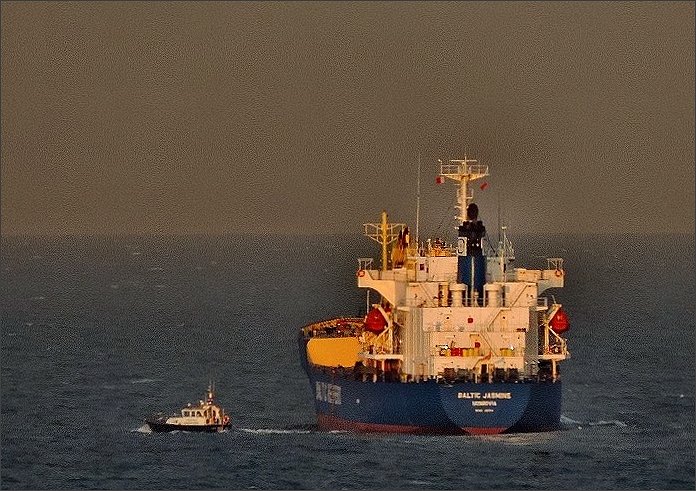 The Baltic Jasmine was indeed heading for the Baltic and to the glorious St Petersburg in Russia in particular. Her slot here in the harbour has already been filled by yet another cargo ship. One in one out. Very busy. There is most definitely an urgent need for cargo facility development here in Dover... as per the Ports new plans...an avenue to potential growth and prosperity lies in wait, with regard to cargo development in particular.
Sunday, 13 April 2014 - 08:15
Post 650
vic matcham, Dover
There you have it in photos, wait till we see the younger ones doing it .

Saturday, 12 April 2014 - 12:17
Post 649
PaulB, Dover
Kids on the Rocks!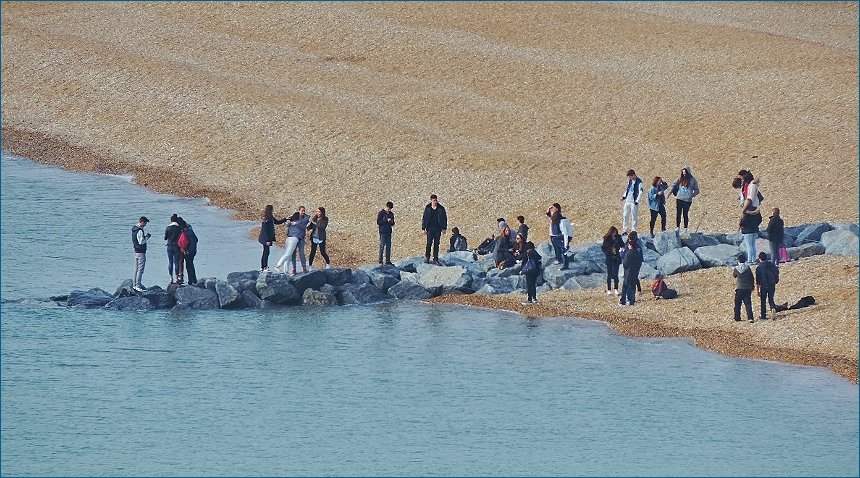 The rest of the beach might be entirely empty but where the rocks are the kids will surely follow. The Norwegian rocky groynes are already weaving a strange spell on kids from everywhere. These particular kids look like students passing through. Of course in time they will become slippery...the rocks that is not the kids ! and the mighty sea may well claim the odd mobile phone or dampen the odd trainer.

Yes always plenty going on Howard, will be even more too once the cruise liners get into full swing. Yes indeed the patrol vessel cut a dash yesterday.
Saturday, 12 April 2014 - 07:21
Post 648
howard mcsweeney, Dover
great photos of the harbour patrol boat paul, as you say there is never dull moment in our harbour.

people station themselves on the langdon cliffs, st martin's battery etc for hours on end to watch the action.

Friday, 11 April 2014 - 20:04
Post 647
PaulB, Dover
The harbour patrol guys powering onto the scene earlier today. I think the pictures speak for themselves but it looks thrilling and spectacular.
Very busy boat that.. always plenty to do. There's never a dull moment here in Dover.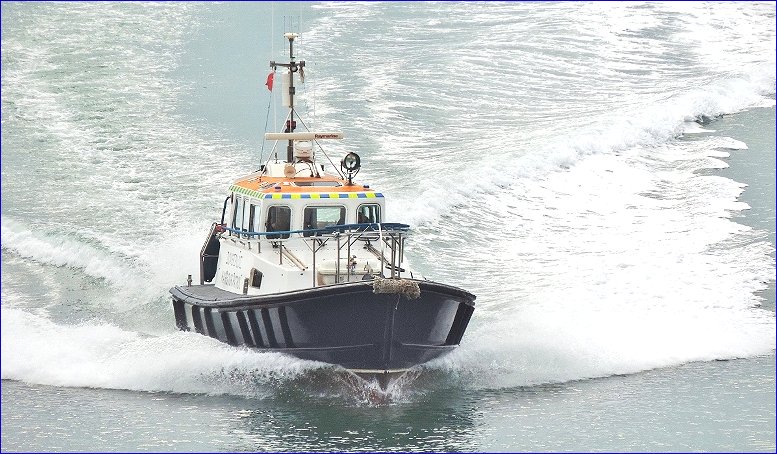 Friday, 11 April 2014 - 15:50