Wednesday, 18 September 2019

WWW.DOVERFORUM.COM/SEA-NEWS
Featuring all the ships that come and go and work at the Port of Dover ..
... with further coverage of the surrounding ports.
Sea News Dover
Use our SEARCH ENGINE below to find all sorts on the SEA NEWS pages....type in the topic and away you go, or if you have the post number, just type it in the box, more than - 6500 - nautical posts now.
Posts are welcome. just click 'Add Your Comment' below. Max of 5 pictures preferred although we can stretch that for special stories.. Sea News Editor Paul Boland - send info or pix to dover7@msn.com. Always welcome.
CRUISE CALLS:
https://www.doverport.co.uk/cruise/find-a-cruise/
UPDATE:
To show your pictures at their best..it could be worthwhile resizing before posting to
850
pixels wide.
All pictures on these pages are the copyright of the owners and must not be reproduced without permission.
Post 548
vic matcham, dover
who are they going to hang along side me there?


Wednesday, 12 March 2014 - 21:03
Post 547
ColetteB, Dover
Well done to young Brandon Payne & of course to Gemma Griffin of DFDS, all the way to No 10 too, very impressive!!!

Terrific deals there for Mother's Day from P&O, yes Howard the clocks do indeed go forward that weekend so it will be lighter longer for all to enjoy. I'm off to drop a few not so subtle hints to the family

MrB, perhaps they're erecting a kind of pyramid on the seafront like the one at the Louvre in Paris, our very own Dover work of art

Ed, did they offer you a part in the french movie with those rugged good looks of yours

Wednesday, 12 March 2014 - 19:24
Post 546
PaulB, Dover
No problems with small boys a-climbing yet Vic. The rocks are cordoned off I believe for the moment anyway and work is still progressing on a grand scale. Very early yet but the rocks should look good when all completed. This structure below made an appearance yesterday. Photographed earlier today. Its almost a work of art...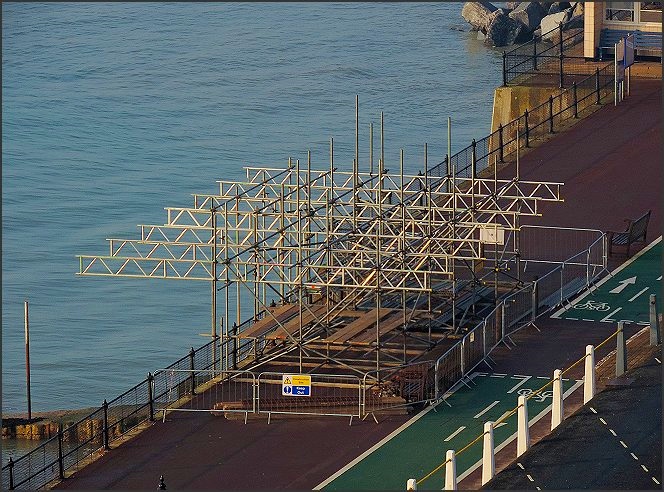 Wednesday, 12 March 2014 - 16:07
Post 545
vic matcham, Dover
O! DEAR. We are going to see lots of young folk jumping off those rocks and some will get injured, a notice will not stop them, and the rocks do look out of place, they could have done a better job then that.
Wednesday, 12 March 2014 - 12:15
Post 544
PaulB, Dover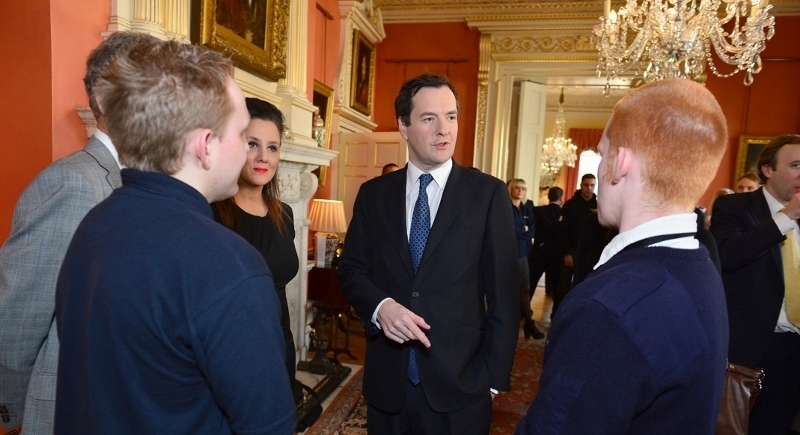 Further to our earlier story ( now at the top of page two here on Sea News) re the DFDS Trailblazer Apprenticeships. Here we see young DFDS apprentice Brandon Payne, on the right in photograph above, mixing it at No10 Downing Street with none other than the Chancellor of the Exchequer himself....George Osborne. The pictures are from the official launch of the New Maritime Trailblazer Apprentice Scheme. That is a very exciting start to anyone's career. Well done Brandon.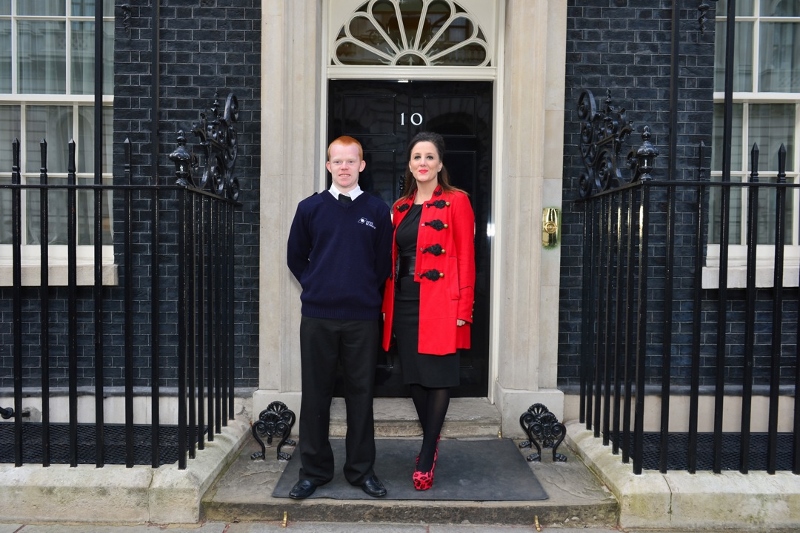 With the young apprentice at Downing Street was Human Resource Director of DFDS SEAWAYS....Gemma Griffin.
Now with an extract from the earlier press release....
Gemma Griffin, Vice President HR & Crewing for DFDS Seaways, and Chair of the Employment Committee at the UK Chamber of Shipping, chairs the Maritime Trailblazer Apprenticeship Scheme, which also includes representatives from Princess Cruises, Carnival, P&O, James Fisher and the Royal Navy. She comments:
"Employer-led apprenticeships of this kind are not only vital for DFDS Seaways, but also for the maritime sector as a whole. They help us safeguard the future of our industry by ensuring that we have young people entering the industry with the right skills, expertise and support they need to be able to work effectively and safely.
"At DFDS Seaways, we also have a ratings to officer scheme, providing our Able Seafarers with the training and support they need to progress to the top of their chosen field. That means that the apprentices who sign up to our scheme could feasibly become a Captain or Chief Engineer in the space of 15 years or so, if they demonstrate the right aptitude and competence. And although we might not be able to guarantee a job for life in our particular organisation, we can definitely help our apprentices gain a life-long career in the maritime sector."
* * * *

Many thanks to DFDS for sending the pictures through.

Yes indeed Howard very unusual pix those below re the French TV thriller...great to see.
Wednesday, 12 March 2014 - 07:18
Post 543
howard mcsweeney, Dover
fascinating photos from ed, love the clapperboard one but will it be on british television as jan assumes?

just an afterthought the clocks go forward on the mothers day weekend i believe so best to check carefully before booking.

Tuesday, 11 March 2014 - 22:08
Post 542
PaulB, Dover
GREAT DEALS HERE FROM P&O.....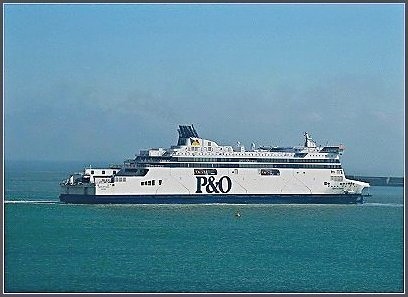 MUMS EAT FREE IN THE BRASSERIE ON MOTHER'S DAY WEEKEND

Mums get a treat by dining for free in the waiter service Brasserie when travelling with their families or friends on a P&O Ferries day trip over the Mother's Day weekend on 29 and 30 March.
In addition, book by 28 March to receive six free bottles of wine into the bargain.

The offer is open to those booking a Dover to Calais day trip for a car and up to 9 passengers with each mum dining for free when accompanied by a full paying adult. Fares start from £29 return for travel on 29 March or from £23 for travel on 30 March.
The Brasserie offers a wide range of quality freshly cooked dishes including chicken chasseur and sirloin steak with menu prices from £10. For those wishing to further indulge their mums, there's the opportunity to upgrade to the exclusive Club Lounge on board where a complimentary glass of champagne is served in relaxing surroundings. Club Lounge entry is from £12 per person booked in advance.
Also, the same weekend, Clinique will be offering free makeovers to mums and daughters on board the Dover-Calais flagships Spirit of Britain and Spirit of France.
For more details or to book, visit www.POferries.com and check out the 'offers' section or call 08716 64 66 64.
____________________________________________________________________________________________
Great stuff there Ed getting those pictures. Hopefully one day that series will come our way courtesy of BBCFOUR.
Bet that spiced up life on the Dover Seaways.
_____________________________________________________________________________________________
Tuesday, 11 March 2014 - 08:00
Post 541
JanT, Dover
Yes as said one can see below the pictures from a glorious day yesterday, great for a stroll along the seafront and a well deserved ice cream along the way.


Good to see the pictures Ed of the French film crew, loving all those foreign drama's we are seeing on BBC4 at the moment.


Monday, 10 March 2014 - 14:00
Post 540
Ed Connell, Dover
A French film crew did a round trip on the Dover Seaways yesterday filming an episode for a TV police drama series called "Les Temoins" (The Witnesses).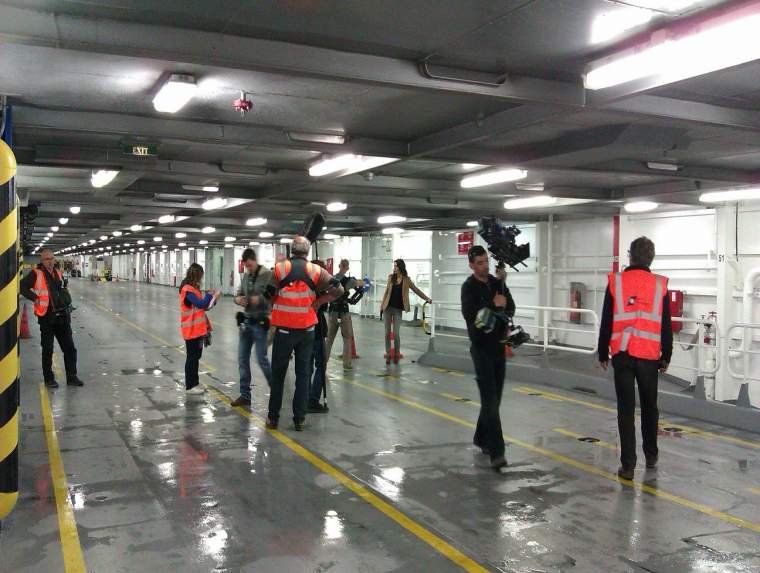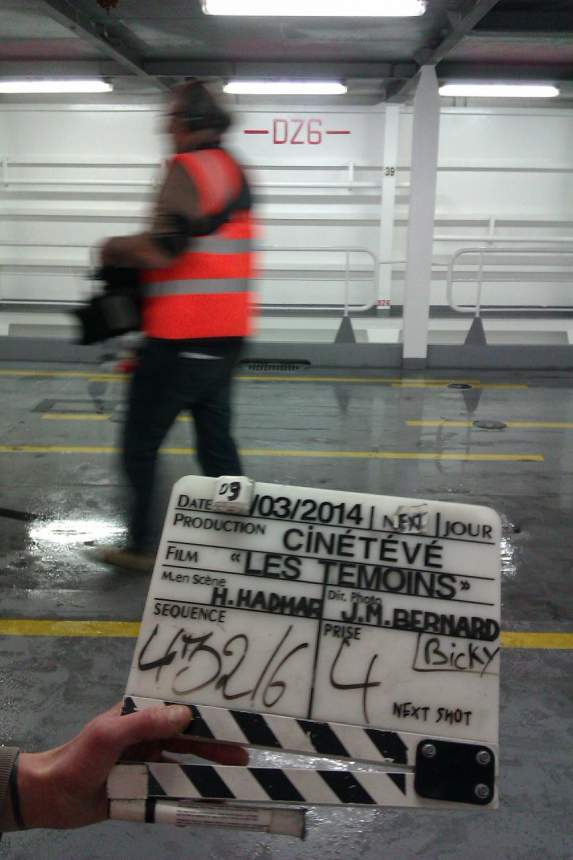 Monday, 10 March 2014 - 12:10
Post 539
PaulB, Dover
Sunday was a sunkissed mesmerising day along Dover Seafront. Hundreds were out and about strolling in the surprising weather. It made such a change after the recent horrors of wintry howling winds and ever turbulent seas. But this time all was tranquil...much to the delight of everyone. Dover Seafront really does look good in the sunny weather and is always worth a visit for fine times. Could it be that Spring is here at last. Even the ice cream lady was doing very well, don't tell anyone but yours truly went for a double whopper!
Of course our newly acquired Norwegian Larvic Rock formations are currently providing the fascination. The picture above I thought was mildly amusing...no diving...rocks below! That's the warning in normal times but even more apt nowadays. You wouldn't want to hit those after your high triple somersault !
Great to see the sailing boats out there. Looking good and glorious in the picture above as they sail hither and tither in the blinding sunshine and in the shadow of one of our newly acquired features.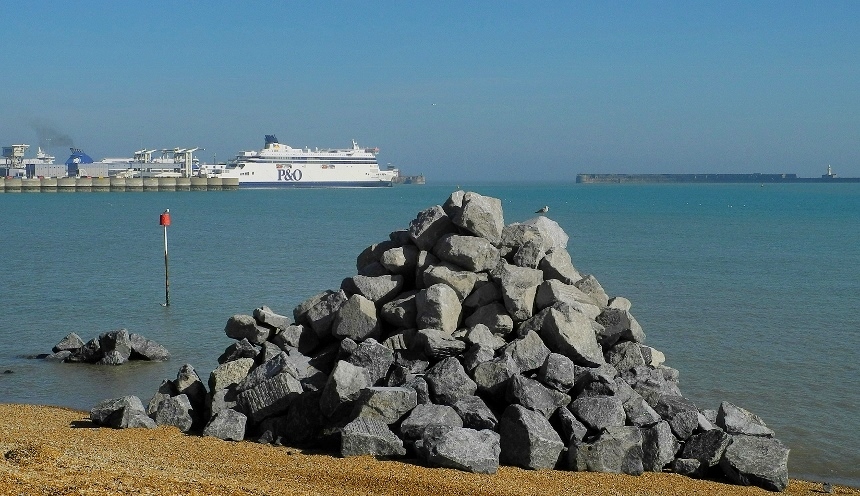 In the distance one of the P&O Spirits readies itself for imminent departure to Calais.
Andy a very good picture there below of the TSS Dover. Hope the Dance to France goes well...all for a good cause.

Monday, 10 March 2014 - 10:54
Post 537
Andrew MacLean, Canterbury (jazzandy@btinternet.com)
Dance to France ticket sales really taking off this weekend!
Help raise money to restore this grand old lady named TSS Dover and hopefully to be returned to her original home port!
Also raising money for another great cause, the Dover Lifeboat.
This should be the last week of general ticket sales!!!
Call me on 01227 732414 for tickets either by car or as foot passengers.
Sunday, 9 March 2014 - 11:08
Post 536
PaulB, Dover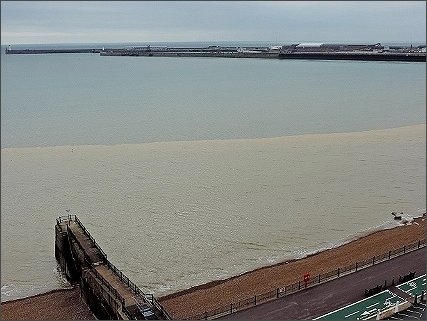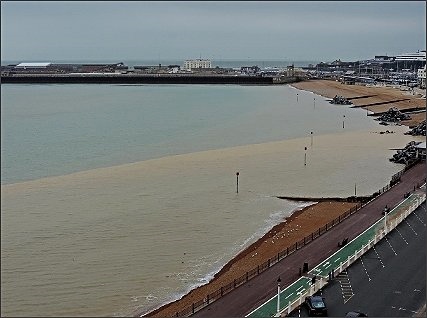 Our old friend the tidal line is back. Here she is in graphic line right across the harbour yesterday. The distinctly different colours presumably fuelled this time by the beach and groyne workings which as we know are currently taking place. Thought it was worth showing, worth taking a few easy snaps. It is quite an unusual phenomenon in all its simplicity.
The cargo ship below is called the Ecuador Star. Pictured about 3pm yesterday afternoon as the tugs readied her for instant departure. In the background you can see the Dieppe Seaways in its all new livery heading towards Calais.
I noticed from Chris T's great Channel Traffic page at the top of dover.uk.com, which he has now expanded even further, that the Ecuador Star was off to mother Russia and St Petersburg in particular. I thought I would undercut the cruise liners that go there from here...so I offered my services as a deck swab onboard for the entire trip at low wage, but the captain wasn't having it. I could have done up to two hours a day too, as long as I got rum and fags...but no.
Ah well pity...always wanted to visit L'Hermitage.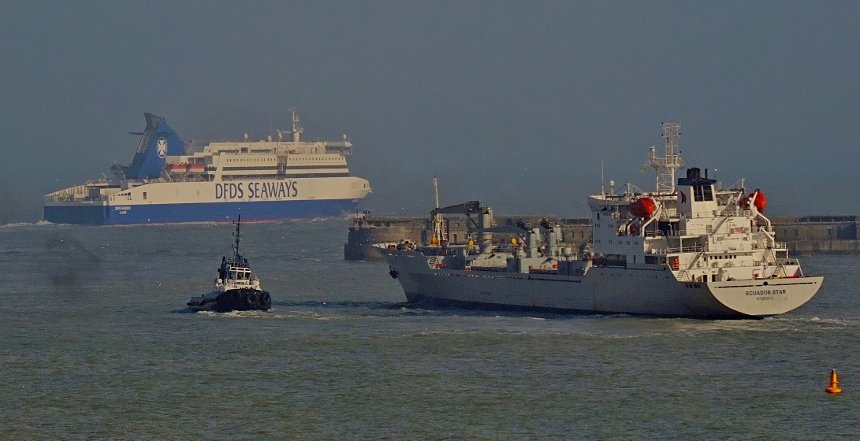 Kevin yes they should look great when finished. Will change things on the beach for the better. All great stuff !
Nice pic below Mike

. Local wildlife will like 'em for sure !
Saturday, 8 March 2014 - 06:24
Post 535
howard mcsweeney, Dover
very droll mike i will have to get down there on the morrow to see things myself now that summer has been predicted for the weekend.

great photos all round but good to see things in the flesh.

Friday, 7 March 2014 - 23:13
Post 534
Kevin Charles, Dover
I think the new Larvick rock groynes will look great. It's been fascinating to watch, although a little noisy one night! As well as looking aesthetically pleasing, I presume they will also be good for marine life.

Friday, 7 March 2014 - 12:51
Post 533
Mike J., Dover
Re Vic's concerns - the locals are climbing all over the rocks already . . . .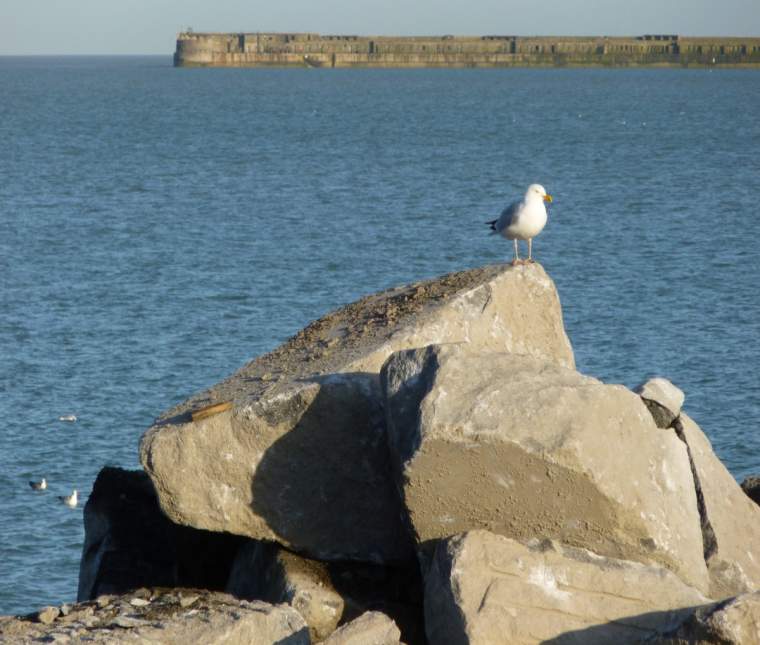 Friday, 7 March 2014 - 11:00
Post 532
PaulB, Dover
HARD ROCK !
I don't know about you but this rock is starting to look beautiful. Perhaps it was all that sunshine yesterday. Its gone straight to my head. There is no doubt about it...Spring hits a chap hard after that long winter..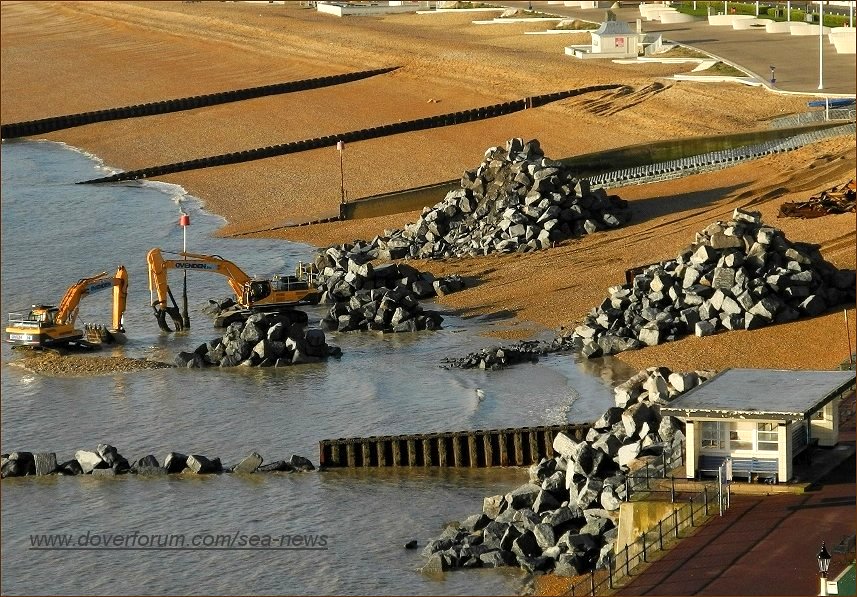 The pictures shown here were taken yesterday. Top one is the early morning shot and shows the diggers working hard while the tide is out. The rock formation increasing yet again as you can see..with substantially more delivered the night before. You can understand why kids might want to climb it as Vic has said. Might have tried it myself a year or two back!
The picture below shows the evening scene last evening. All this brilliant sunshine basking the seafront in an evening glow with our new monoliths raising their prehistoric-looking peaks out of the water. All in fab weather. Bizarre times indeed weatherwise and no mistake.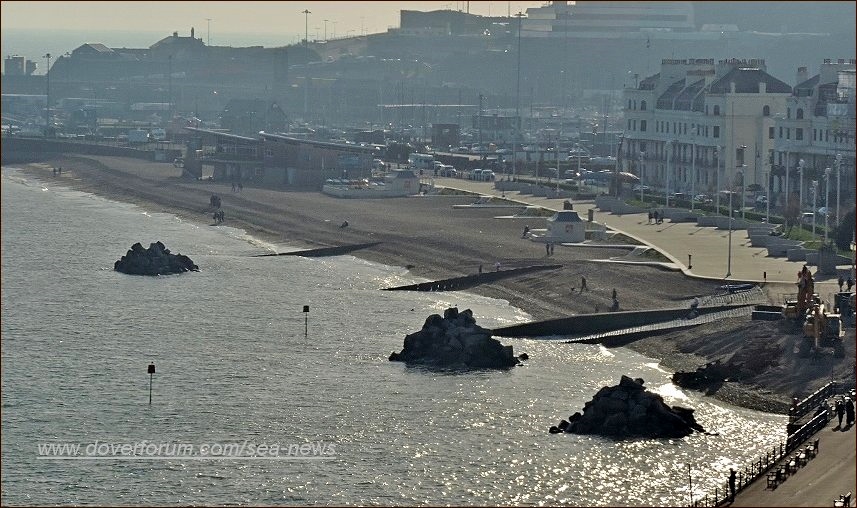 Well done lads with the pictures below. First time I have ever seen that zig zag path..wow! that looks risky these days, especially with the cliffs being soft with all that rain. A welcome picture....was just what Karlos was asking for. Smashin' selection from Mike.. who was clearly right down there in the thick of the action.
Good to see the two Jans enjoying the pictures too.

Friday, 7 March 2014 - 07:14
Post 531
JanT, Dover
Some really great pictures there guys of what is happening on the sea front, a big job indeed and they seem to have bought in the heavy guys.

Keep the pictures coming its interesting to see their progress


Thursday, 6 March 2014 - 12:35
Post 530
Karlos, Dover
Thanks for the photos. Your photo Ed is the shot I was looking for showing the fall affecting the path.

There's a picture in a (Dover Express website article I can't link to) article suggests that the path could just about be accessible for the brave.

dover express . co . uk
Safety-warning-cliff-path-collapses-close-forever/story-19717349-detail/story.html


Thursday, 6 March 2014 - 11:16
Post 529
Mike J., Dover
A few more from ground level.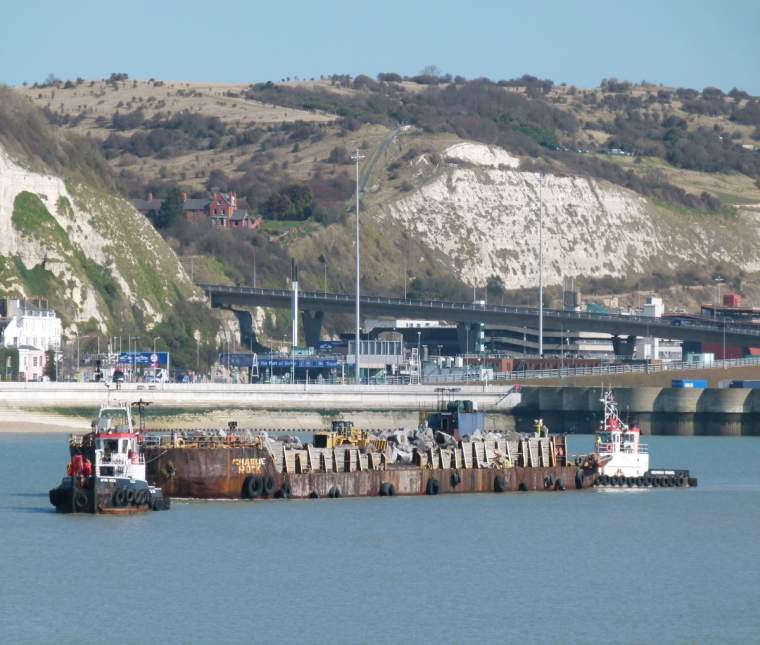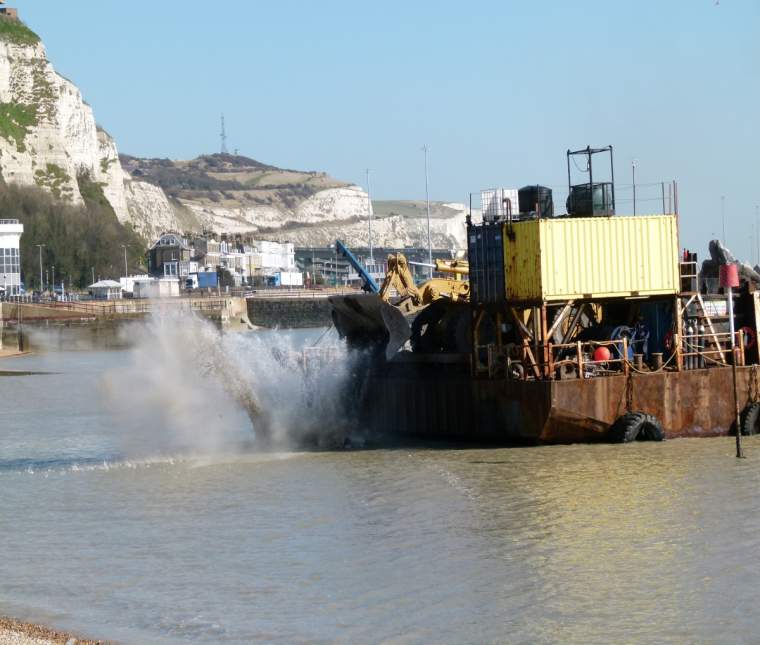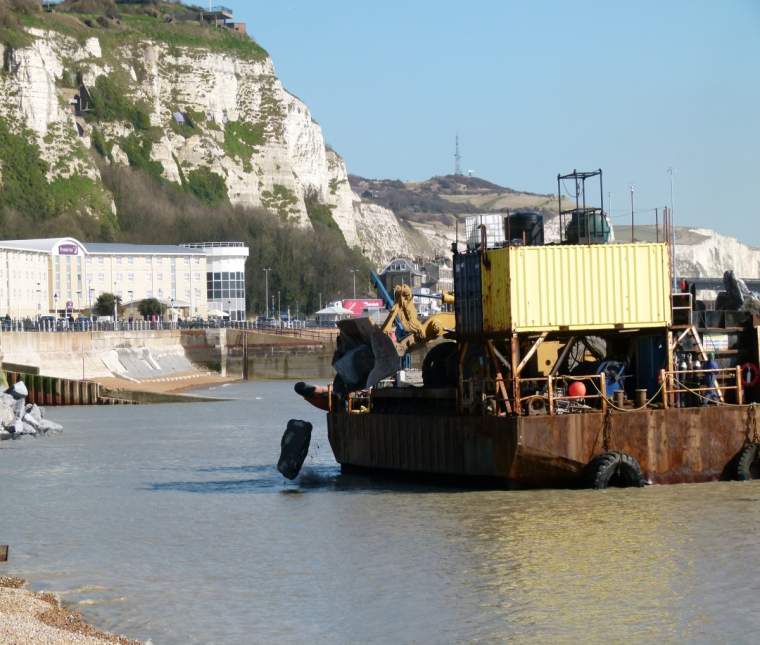 Karlos -
Was this the cliff fall that you were enquiring about ?
Crab Bay, just to the east of Langdon, 10/3/12.
There's spectacular footage of a recent cliff fall at Birling Gap on the BBC SUSSEX website - look for 'Section of cliff falls into sea'
Thursday, 6 March 2014 - 07:04
Post 528
Ed Connell, Dover
Karlos: Wider view of the Zig Zag taken at the same time as that of the ladder.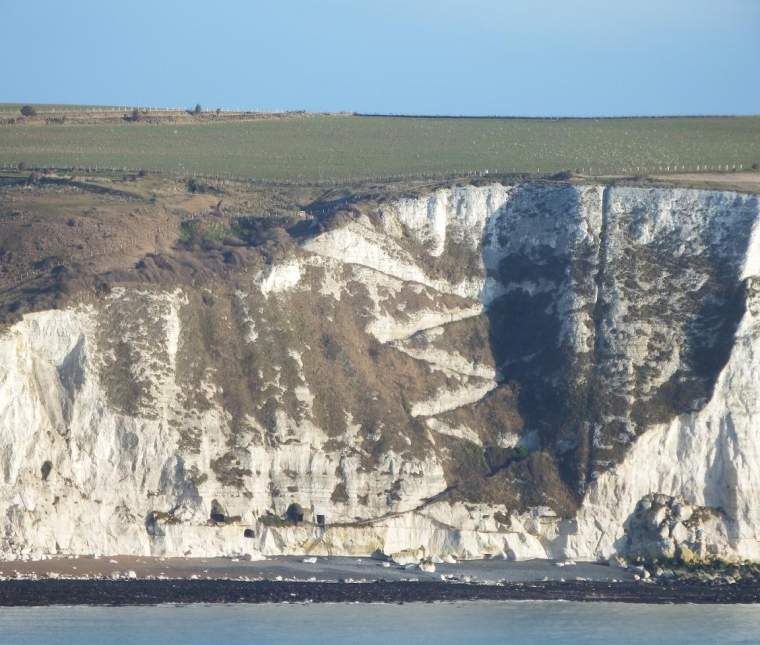 Thursday, 6 March 2014 - 03:09