Tuesday, 12 November 2019
Sea Pictures from Dover ...

WWW.DOVERFORUM.COM/SEA-NEWS
Featuring all the ships that come and go and work at the Port of Dover ..
... with further coverage of the surrounding ports.
Sea News Dover
Christmas Spectacular at the Port 6648.
MP Charlie Elphicke moving aside for wife..see 6646.
P&O: St Richards School trip to Calais for 6 year olds see 6630.
DFDS: Contract Cancelled see 6626.
Use our SEARCH ENGINE below to find all sorts on the SEA NEWS pages....type in the topic and away you go, or if you have the post number, just type it in the box, more than
- 6600 -
nautical posts now. Posts are welcome. just click 'Add Your Comment' below. Max of 5 pictures preferred although we can stretch that for special stories.. Sea News Editor Paul Boland - send info or pix to dover7@msn.com. Always welcome.
CRUISE CALLS:
https://www.doverport.co.uk/cruise/find-a-cruise/
UPDATE:
To show your pictures at their best..it could be worthwhile resizing before posting to
850
pixels wide.
All pictures on these pages are the copyright of the owners and must not be reproduced without permission.
Post 626
howard mcsweeney, dover
good action shots of the 2 naval vessels, looking forward to going onboard the frigate tomorrow.
this one was taken at samphire hoe yesterday, the swarm only lasted a few seconds and they were gone.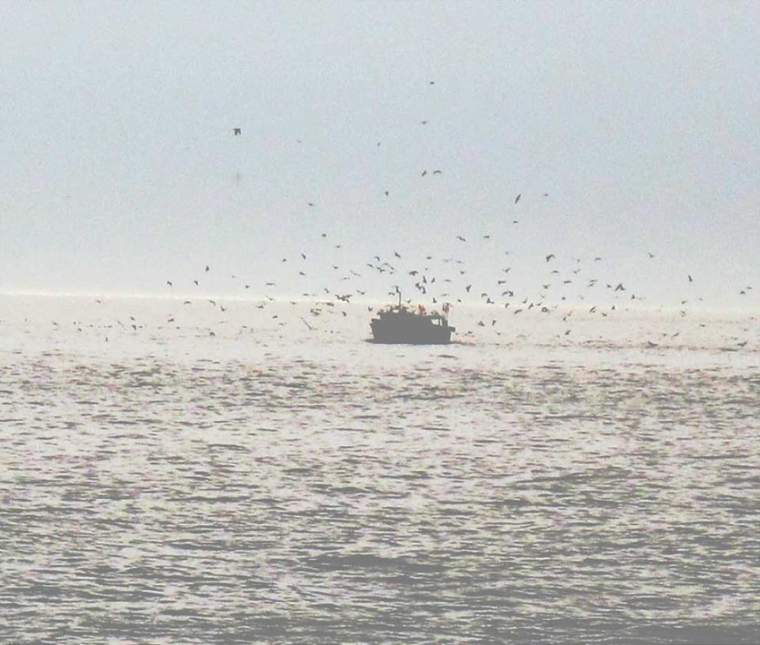 Saturday, 5 April 2014 - 14:53
Post 625
Vic Matcham, Dover
Nice to see. You only need one more Royal Navy ship here and that will be the whole Navy.

Saturday, 5 April 2014 - 11:37
Post 624
PaulB, Dover
Coming to Join the Party!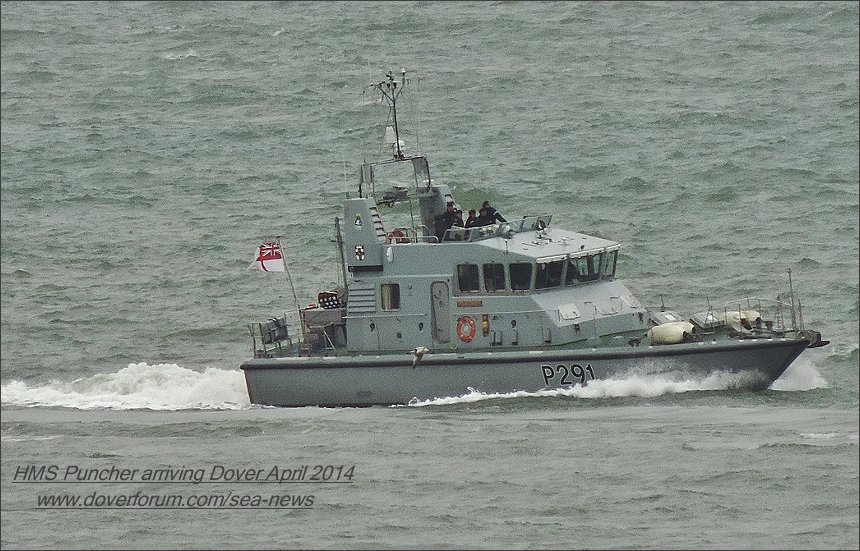 See also Post 569 below. This is a big Royal Navy weekend here in Dover and very welcome they are too, with Type-23 Frigate HMS Lancaster visiting in fine style and open to the public on Sunday. The crew of the ship will be onhand to chat to all visitors. Should be fascinating to see...it will really be worthwhile making a trip down to harbour.
The vessel above is HMS PUNCHER, a special ops vessel as I understand it, but also used in training. It made a spectacular entrance to the harbour yesterday afternoon about 15.30...powering in with gusto as you can see. Coming to join the party...
Just to mention again HMS Lancaster is at Cruise Terminal 2 and is open sunday from 10 until 5
..last visitors going onboard at 4.

Enjoy!
Saturday, 5 April 2014 - 06:55
Post 623
brian d., sunney hieghts.
that's a bit convenient init, hms open from 10 00 to 1700, and the travel show also open from 1100 until 1600.
Friday, 4 April 2014 - 16:04
Post 622
PaulB, Dover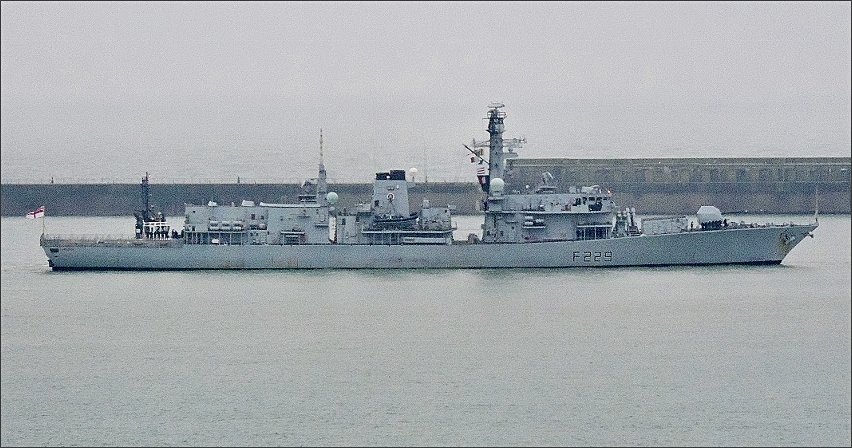 HMS LANCASTER ( type 23 frigate) arriving Dover Harbour a short while ago. Time of picture 0805. Now at CT2 for 4 day visit. Will be open to the public on sunday as mentioned by Kevin below in post 559 from 10 until 5..last visitor on at 4.
Friday, 4 April 2014 - 08:39
Post 621
PaulB, Dover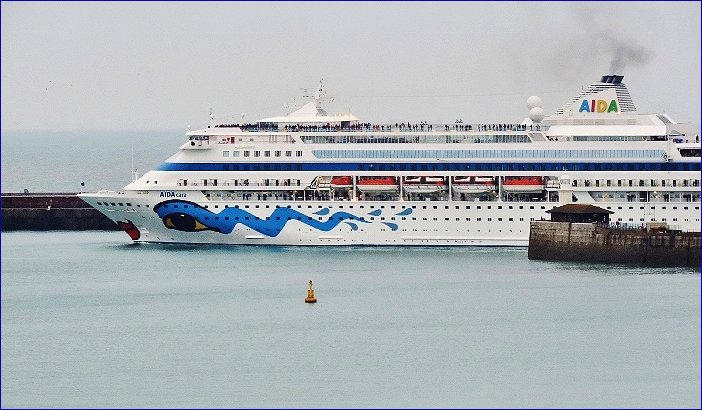 Interesting pictures as ever lads and a well said there to Vic. The night time picture from Dunkerque is a cracker, always hard to get night pictures. The pic above shows the AIDA Cara leaving last evening about 5.15 or so. Not a great pic from a grey oul evening...but as they say..better days ahead.
The Discovery is arriving as I write..very misty.
ADDED EXTRA at 08.05: HMS LANCASTER arriving in still misty conditions.
Thanks to Kevin for the earlier tip off and info in post 559.
Friday, 4 April 2014 - 07:28
Post 620
Vic Matcham, Dover
Yes they turn better than a car.
Again thank you for the great photos for the port and what is happing in and around it.
For the public that can not get about like they use to this must be a big + for them to log in to the Dover Forum and still see what is happing in Dover now they can not get out about anymore.

Friday, 4 April 2014 - 07:04
Post 619
Mike J., Dover
Driving along the A20 on Thursday I noticed the unusual sight of the DAVID CHURCH doing a spot of dredging in Granville Dock.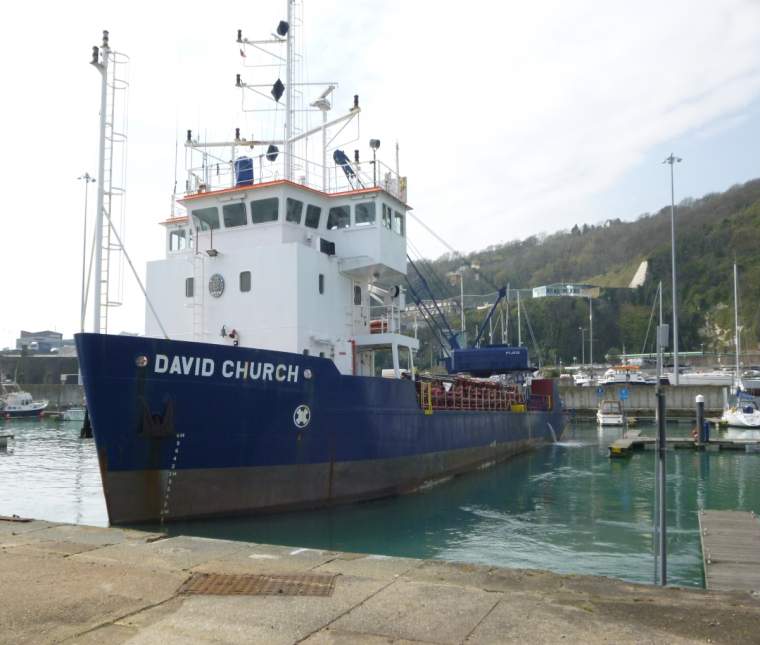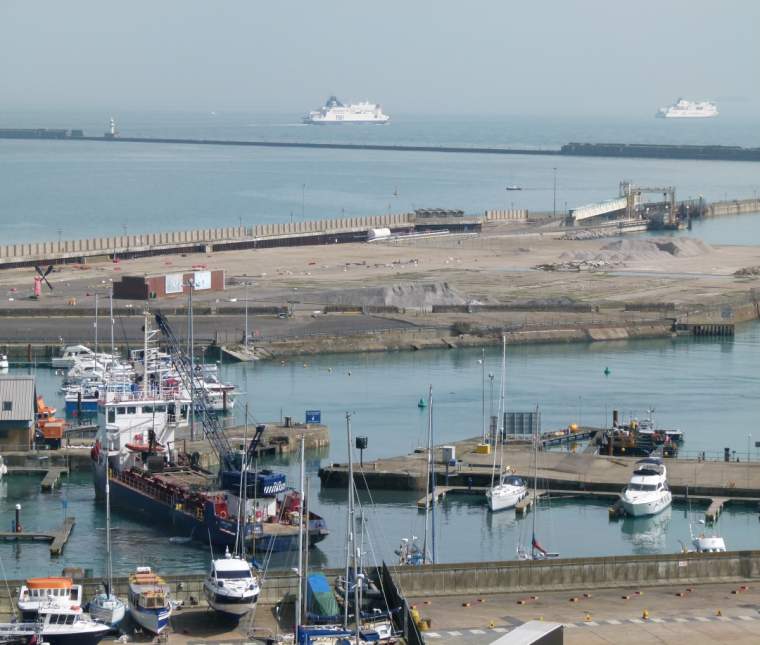 Thursday, 3 April 2014 - 22:02
Post 618
Ed Connell, Dover
Calais Seaways in Dunkerque West last night.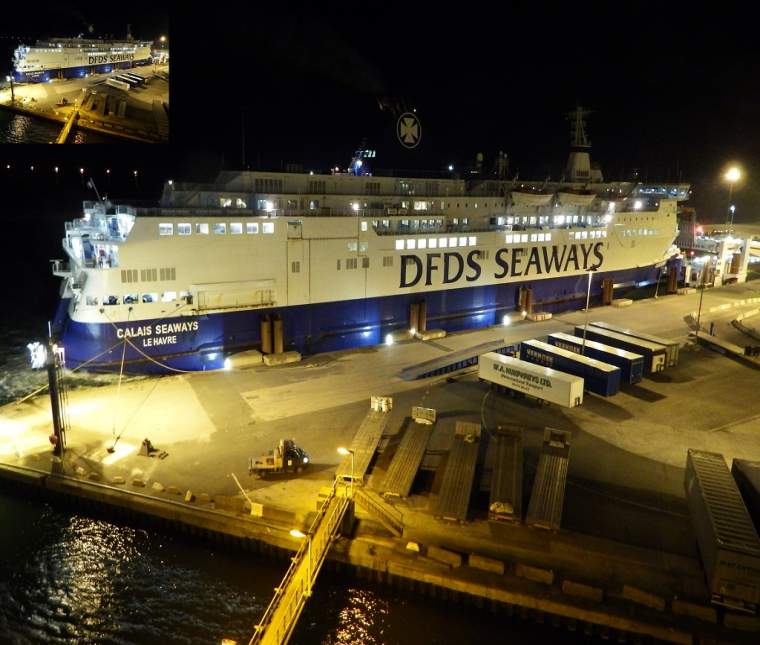 Thursday, 3 April 2014 - 18:22
Post 617
PaulB, Dover
Thanks Brian. Here we are with the official latest...
Please note : we cant do live links so please copy and paste where appropriate...
____________________________________________________________________
ISSUED AT: 15.50hrs
The industrial action in France has now ended and the Port of Calais is resuming normal operations for crossings with our ferry partners P&O Ferries, DFDS Seaways and MyFerryLink to/from Dover.
The Port of Dunkirk has remained open. However, the road from Calais to Dunkirk continues to be very busy.
Traffic heading to and from the Port of Dover can use either the M20/A20 and or M2/A2.
Please note that there may be delays to services as the Port of Calais re-opens. Therefore, customers are advised to contact their chosen ferry operator before travelling and consult the Port of Dover website (www.doverport.co.uk) or Twitter account (@Port_of_Dover) for the latest information.
Ferry Operator Contacts
Operator Type Ferry Operator Telephone No.
Freight DFDS Seaways 01304 218 400
Freight P&O Ferries 01304 863 340
Freight DFDS/LD Lines 01304 218 400
Freight MyFerryLink 01304 828 422
Tourist DFDS Seaways 0871 574 7235
Tourist P&O Ferries 08716 64 64 64
Tourist DFDS/LD Lines 0871 574 7235
Tourist MyFerryLink 0844 248 2100
Ferry Operator Websites/Twitter
P&O Ferries
www.poferries.com/tourist/content/pages/template/routes_ travel_information_sailing_updates_sailing_updates.htm
@POferriesupdate
DFDS
www.dfdsseaways.co.uk/Customer-Service/cross-channel/travel-update/
@dfdsseaways
MyFerryLink
MyFerryLink
www.myferrylink.com/PA_Article_Default?packedargs=site%3DSF_Pax_Uk%26directLinkAssetId%3D1244124660143%26directLinkAssetType%3DSF_Article_Asset
@MyFerryLink
The Port apologises for any delays or inconvenience as a result of the earlier industrial action in France.
___________________________________________________________________________
Many thanks to the Port for the above info

Thursday, 3 April 2014 - 16:13
Post 616
brian d., sunny hights.
calais reopend at 0830 this morning.

Thursday, 3 April 2014 - 09:39
Post 615
PaulB, Dover
Yes indeed a good set of pictures there Colette. Good to see the new famed fountains for the first time. Bit of a scoop! That's my first look at them and will be popping over to see the fountains and that market before long. Glad you were able to take advantage of one of our offers Colette and we had them in from all the Ferry companies...that P&O offer was good. I have a close up picture of that sculpture by Rodin at the Hotel de Ville in the system...will fetch it out...yes here we are...yes really worth visiting Howard..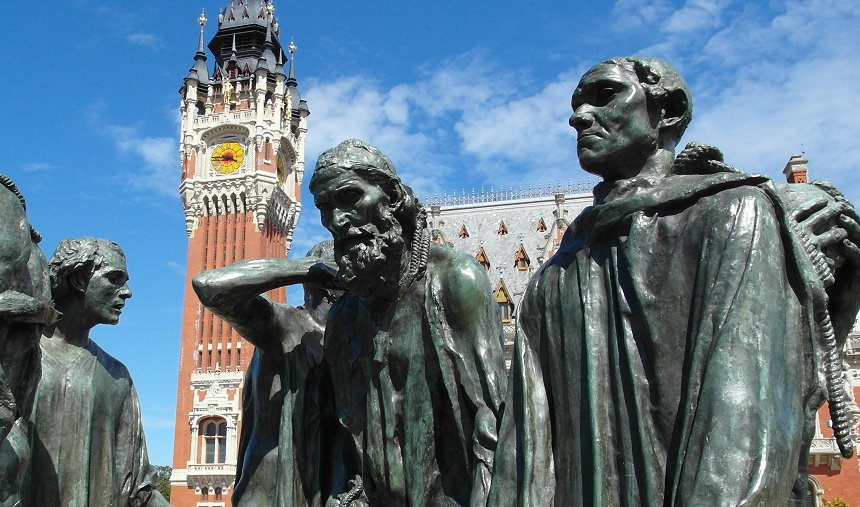 And speaking of Rodin..here we are with that other one and it is almost equally as striking...
MY FERRY LINK's RODIN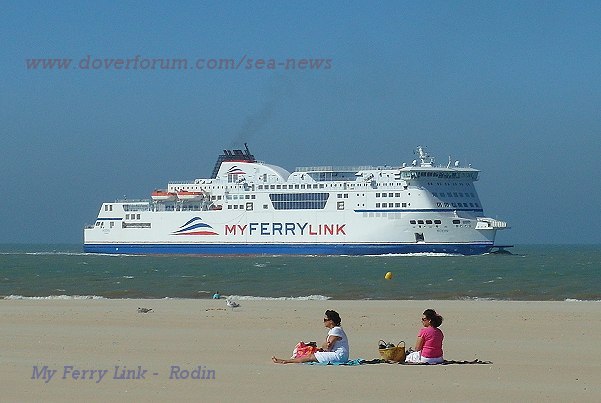 Easter fun for all the family in northern France....
MyFerryLink proposes some cracking Easter egg hunts
____________________________________________
If you're heading to France this Easter, or fancy popping over for some fun French Easter activities, Dover-Calais ferry operator, MyFerryLink, has the low down on some Easter egg hunts in stunning locations across northern France.
For those wanting to hop over for the day, the charming Hotel Hermitage Gantois in Lille has an Easter brunch and egg hunt for the children on Easter Sunday, 20 April. The grand buffet lunch starts at 12 and offers a huge range of mouthwatering dishes such as oysters, smoked salmon, roast shoulder of lamb and a selection of desserts, plus a chocolate fountain. Children under the age of 6 can eat free of charge and there will be magicians and an Easter egg hunt in the courtyard and gardens. Booking for this event is required.
The beautiful Château Vaux le Vicomte, located just south of Paris, is the setting for the egg hunt to end all hunts. Over 85,000 eggs (or three tons of chocolate) will be hidden around the French formal gardens during the Easter weekend, from 18 to 21 April. There are also special children's workshops with face painting and engraving. Château Vaux le Vicomte is a 17th century masterpiece and has formed the backdrop to many historical events in France. It is surrounded by a 500 thousand hectare estate, including the stunning French formal garden. Booking for this event is required.
The UNESCO World Heritage medieval town of Provins is organising a treasure hunt around the town, with 7,500 eggs as prizes. People dressed in medieval costumes will be handing over the eggs on the afternoons of Sunday 20 April and Monday 21 April. The event is free to children aged 13 and under. There's plenty to amazing historical buildings around the town, including the Tithe Barn, Ramparts, Caesar's Tower and Underground Galleries.
There are plenty of other family activities organized over the Easter weekend at more than 50 national monuments located around France.
MyFerryLink operates up to 16 daily crossings on the Dover-Calais route. Fares for a car and up to four passengers start from £19 each way for a short break and from £29 for a day return. There are plenty of special offers available, so check out the website for more details.
To find the best fares, visit www.myferrylink.com or call 0844 2482 100
EXTRA NOTE: the AIDA Cara is in harbour today. Keep those AIDA's coming


Cant get a picture alas.
LATEST: Port of Calais closed for 24 Hours due to Industrial action. Although we understand Dunkerque is open.
Thursday, 3 April 2014 - 06:51
Post 614
howard mcsweeney, Dover
nice photos colette, the water feature is very similar to the ones we have down the road in folkestone.

calais is worth a visit just for the town hall and the rodin sculptures alone.

Wednesday, 2 April 2014 - 21:15
Post 613
ColetteB, Dover
We took advantage of the great P&O offer on Saturday & headed for Calais. It was my birthday so the six bottles of free wine were a great bonus

The main square in the centre of Calais is now complete with water fountains & there was a thriving market going on with produce from all over France, some great bargains to be had too. We had free parking all day both in the centre of town & on the seafront. We walked up to the Magnificent Town Hall & took the free bus back to the car.
A wonderful day & all for £28 plus lunch & ice creams on the beach , also very reasonably priced & tres magnifique, now that's what I call a real bargain

Water fountains in full flow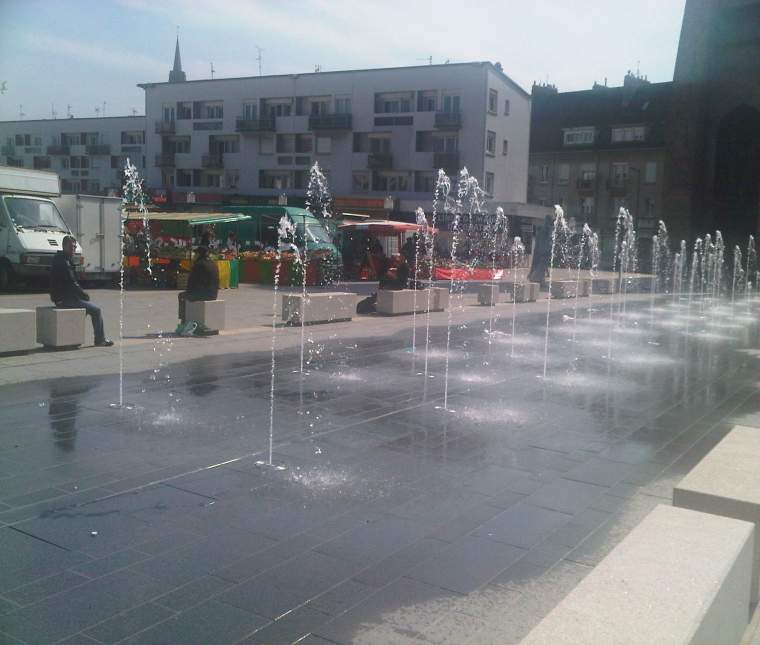 Rodin's magnificent sculpture by the Town Hall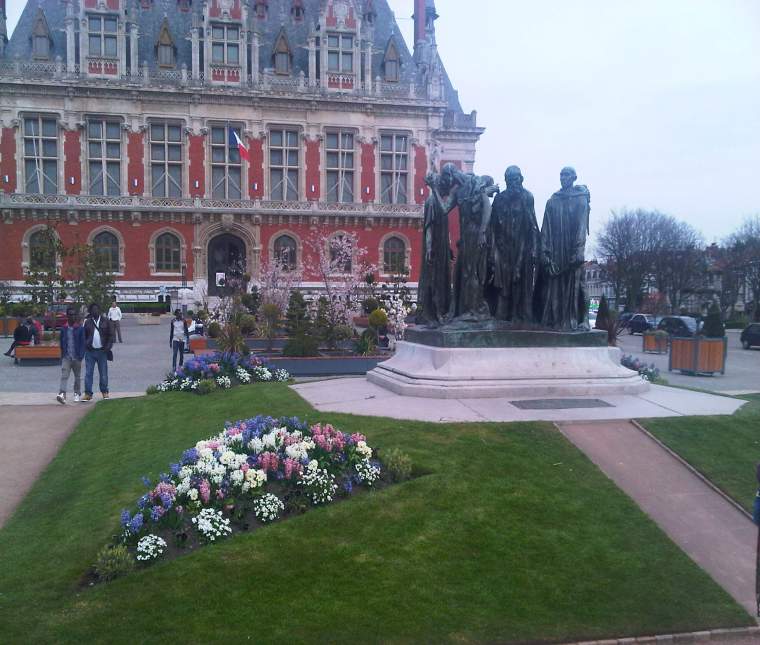 A view from the beautiful sandy beach complete with P&O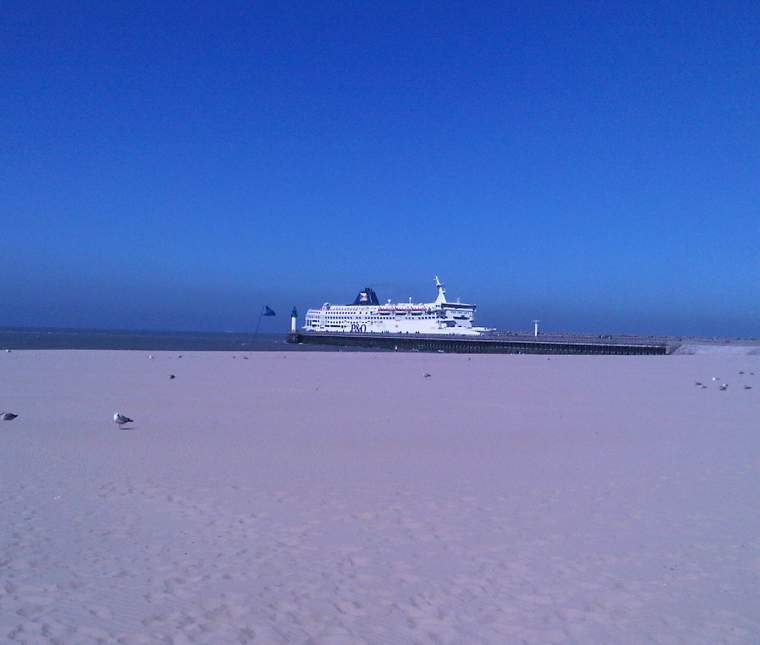 Wednesday, 2 April 2014 - 15:54
Post 612
Kevin Charles, Dover
The Royal Navy's Type 23 frigate, HMS Lancaster, will be visiting Dover from this Friday until Tuesday. She will be moored at Cruise Terminal 2 and open to the public on Sunday from 10am to 5pm. Last admission to the ship at 4pm.

Wednesday, 2 April 2014 - 15:41
Post 611
PaulB, Dover
_____________________
THE REGATTA NEEDS YOU
_____________________
CALL FOR PORT DASHERS – THE PORT OF DOVER COMMUNITY REGATTA NEEDS YOU!

The sun is beginning to shine, the temperature is warming up and 26 July 2014, the date of the Port of Dover Community Regatta, is coming up fast. Interest is building and Port Dash teams are coming on-board, so make sure you secure your place before it is too late!
Sponsored by the Port of Dover and back by popular demand, the Dover Port Dash will see teams race across the harbour in 'Thames Cutters' pitting their wits against the waves and challenging their fitness in a bid to raise money for local charity, the Cinque Port Pirates.
There are only 10 places left for mixed adult teams of six, with a cox supplied by the Dover Sea Sports Centre. Entrance fee is just £90 which will be donated to the charity. However, any donations secured by yourselves over and above that will be much appreciated.
For the first time, there will also be a Junior Port Dash, which is FREE to enter for teams of six, aged 10-16 years. 12 places are still available, so why not give our younger stars the opportunity to show the adults how it is done!
Facilitated by the Port of Dover, with the support of the Dover District Community Safety Partnership and the Dover Sea Sports Centre, the free Regatta will return with all of the family fun of last year, and continues to incorporate the popular Dover District Community Safety Day. The Regatta will also feature some notable additions, such as a big classic car rally, an entertainment stage throughout the day, family activities along the whole of the seafront, and a spectacular cutting-edge aerobatic display by the world renowned Blades to conclude the day."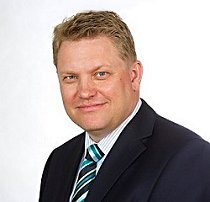 Tim Waggott, Chief Executive, Port of Dover stated;
"Last year's Port Dash was great fun to watch with teams from across the local community taking part and entertaining the crowds throughout the day. We're delighted to support the race again and providing a great event for the community to enjoy, whilst importantly supporting a great local charity."
Nadeem Aziz, Chairman of the Dover District Community Safety Partnership and Chief Executive of Dover District Council said:
"We are looking forward to another successful event on Dover Seafront. Incorporating the Community Safety Day within the Port Regatta is a great way to create a fun day out for the whole family, and to show the community how the partnership continues to work to keep our district a safe place to live, work and visit."
Also on the water will be paddlesports, sailing tasters, pedalos and more, organised by Dover Sea Sports Centre. On land there will be demonstrations by Kent Fire and Rescue Service and a range of blue light services as well as community agencies organised by the Dover District Community Safety Partnership and a host of stalls offering entertainment and local produce.
Further event details will be announced over the next few months, but in the meantime please register your interest in taking part in the Dover Port Dash by emailing
....Alyson Hudson at PODCommunityRegatta.co.uk
Ends
* *
That reads like a lot of fun above. Should be a great day out indeed.. right now though more Dashers needed.
The cropped pic top shows the huge crowd that turned out last year. It really was great fun!

As were the April Fools posts below yesterday. I didn't even realise it was April 1st til I saw those


Wednesday, 2 April 2014 - 06:35
Post 608
howard mcsweeney, Dover
excellent stuff from john and mike, the ones at charlton green were taken about 2 years ago i think.

Tuesday, 1 April 2014 - 12:01
Post 607
John Mavin, Dover
Early this morning we nearly lost a piece of Dover's architectural heritage. A HUGE rogue wave crashed onto Shakespeare Beach, taking the Golden Arrow with it as it receded...... it did!
With the help of a Bulgarian lorry driver named Bogdan I managed to secure a rope and, using his tractor unit we pulled the old Fleche d'Or back and returned it to its original location ...... true!
The trouble is that in these cynical days you tell a story like this and no-one believes you! ....Tchhhh.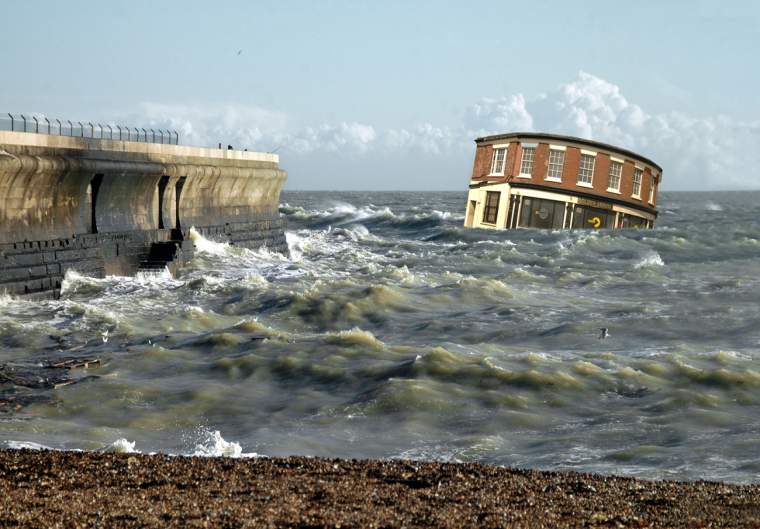 Tuesday, 1 April 2014 - 08:43
Post 606
Jan Higgins, Dover
That is a good one Mike.





Tuesday, 1 April 2014 - 08:11
Post 605
Mike J., Dover
Dredging is taking place at Charlton Green in preparation for the new Cruise Terminal.
When works are completed cruise ships will be able to dock in the centre of Dover.
After the preliminary works are finished the DAVID CHURCH will come up the Dour to complete the dredging & Morrisons will become Cruise Terminal 3.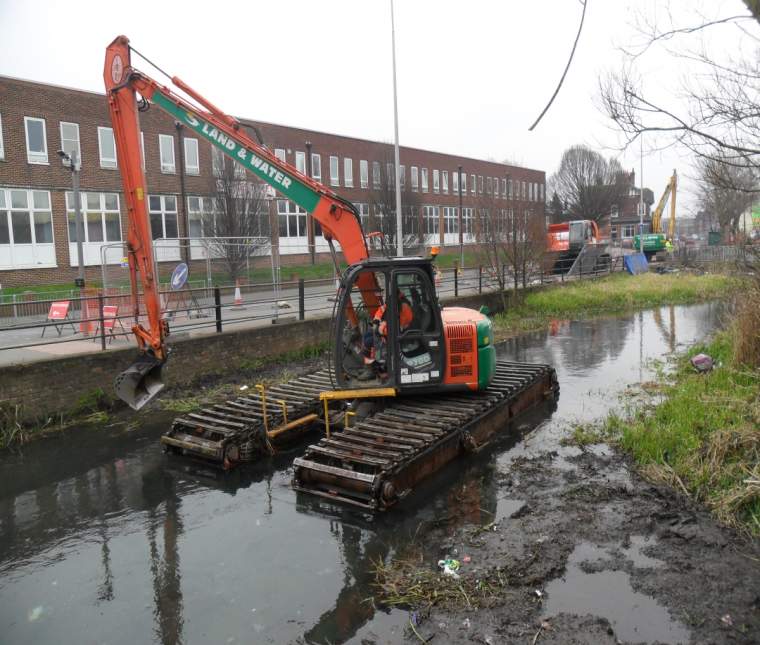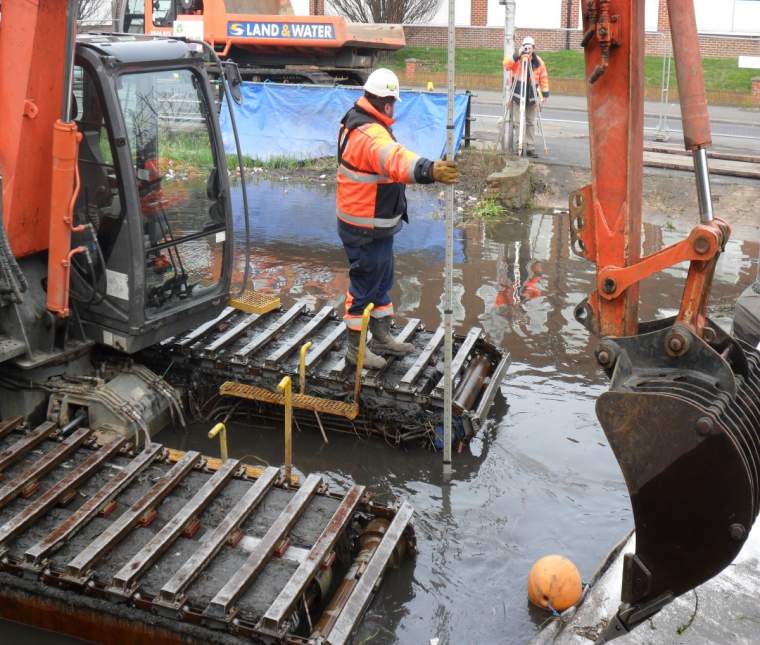 Tuesday, 1 April 2014 - 07:54