Friday, 27 November 2020

www.doverforum.com/sea-news
Sea Pictures from DOVER ....
See the OPEN LETTER from Port of Dover CEO Doug Bannister further below....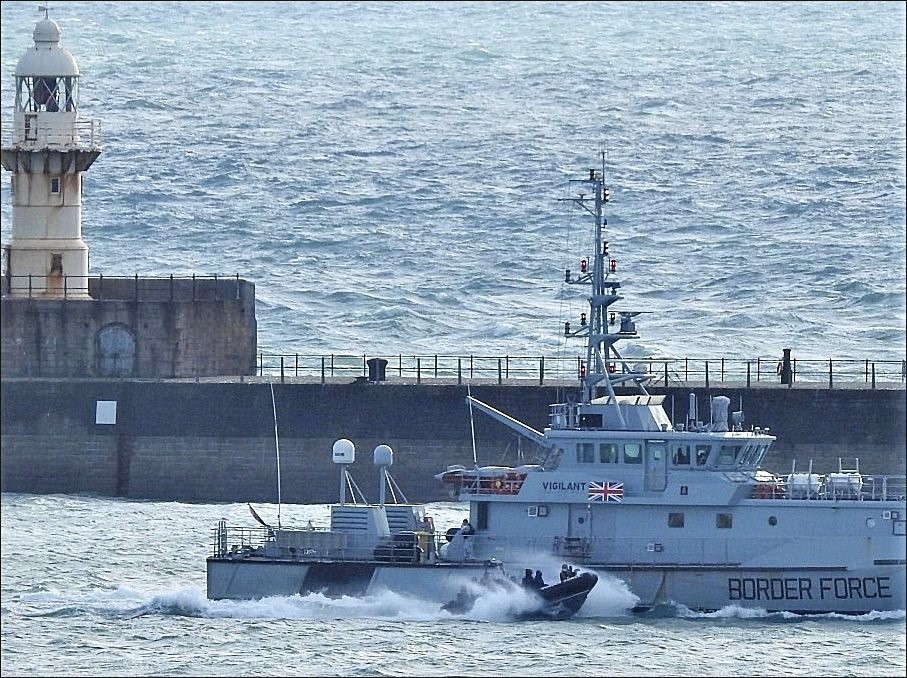 Border Force Vigilant seen here returning to the Port in the past few days...we believe the Border Force rib powering alongside contained some migrants as several incursions were reported on the day.
The Disney Magic resting tranquilly at new pier WD4 Port of Dover, the tranquility making a change from all the recent rough weather...while in the foreground the Harbour Patrol Boat meanders along keeping everything safe and secure... In the far distance you can just see the Vasco da Gama cruise ship heading for Portugal.
Below...the Sun Rising through the drizzle on the Dover Straits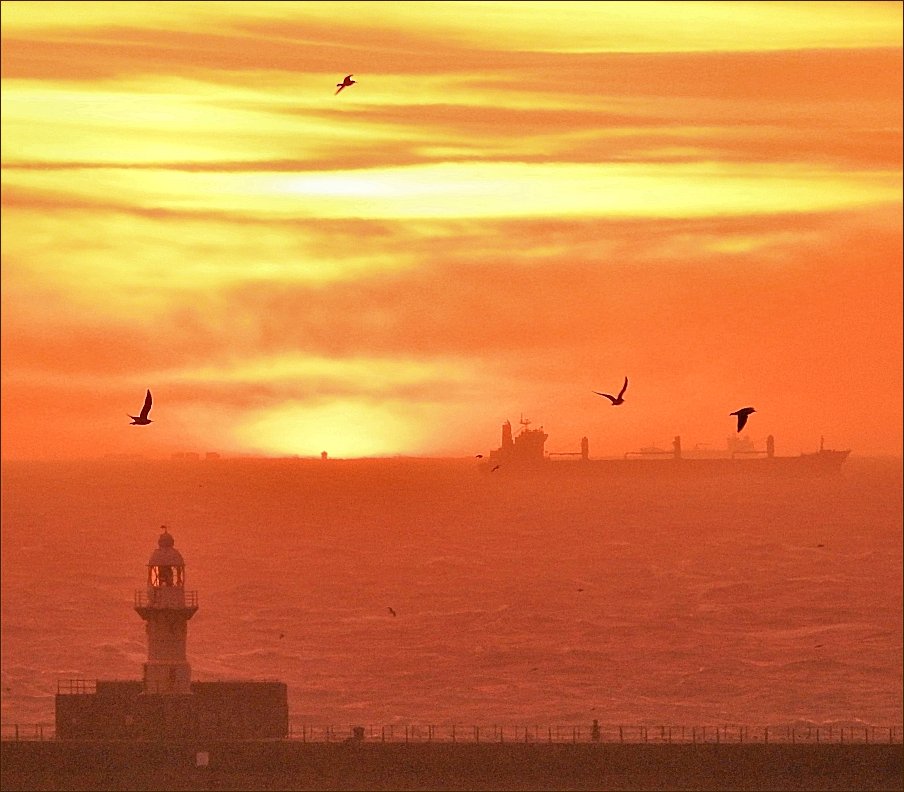 Yes the Sun rising through the drizzle... it begins to climb over Calais...as we look across the ever busy Dover Straits.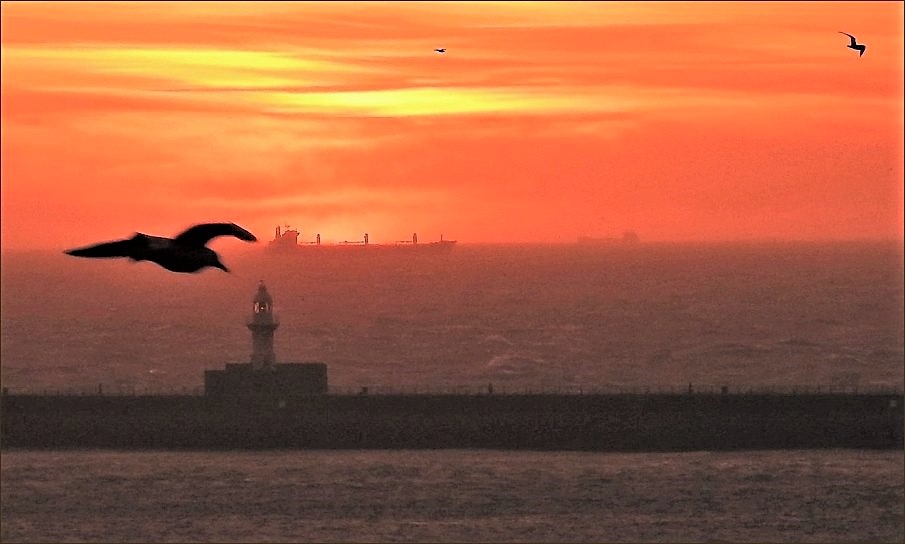 This picture taken a few moments before the one above....
November Sky - Dover Seafront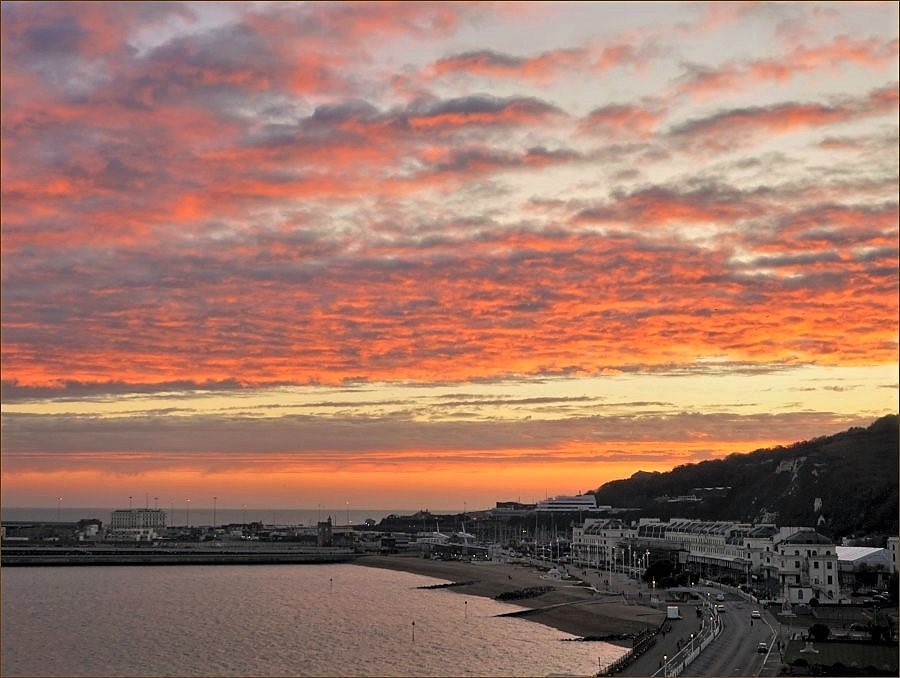 Dover Seafront November:
Striking evening sky as we look along Dover Seafront at sundown.....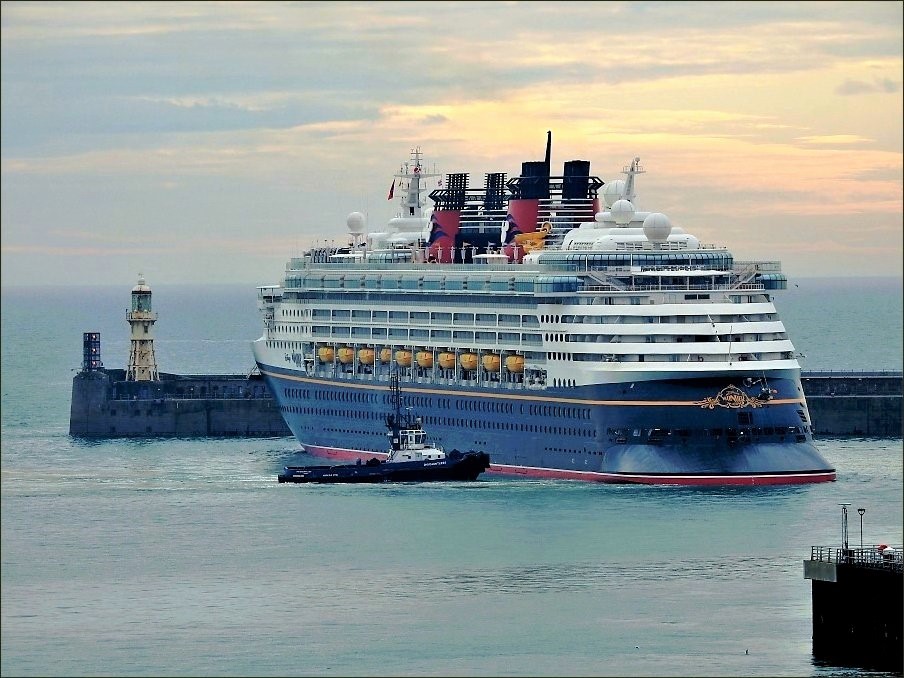 The Disney Wonder:
The Disney Wonder pulled away from Dover on the recent saturday heading for Funchal we understand...
.......a rough ol' trip in the prevailing conditions....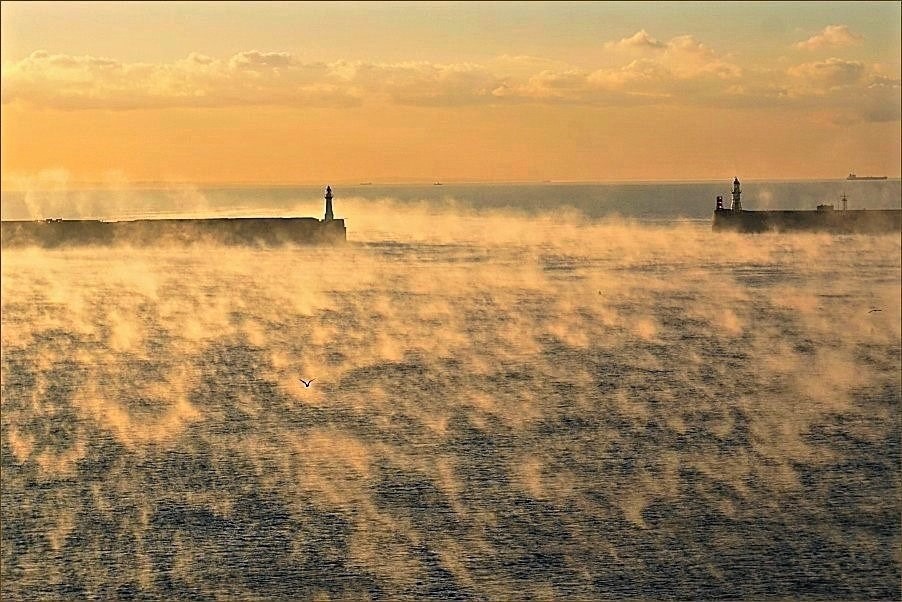 Dover Harbour: something of a rare site this...fog shimmering across the surface in this way, as shown above. Picture taken on a recent chilly but dazzlingly bright and sunlit morning.
" smoke on the water, fire in the sky "
DISNEY at DOVER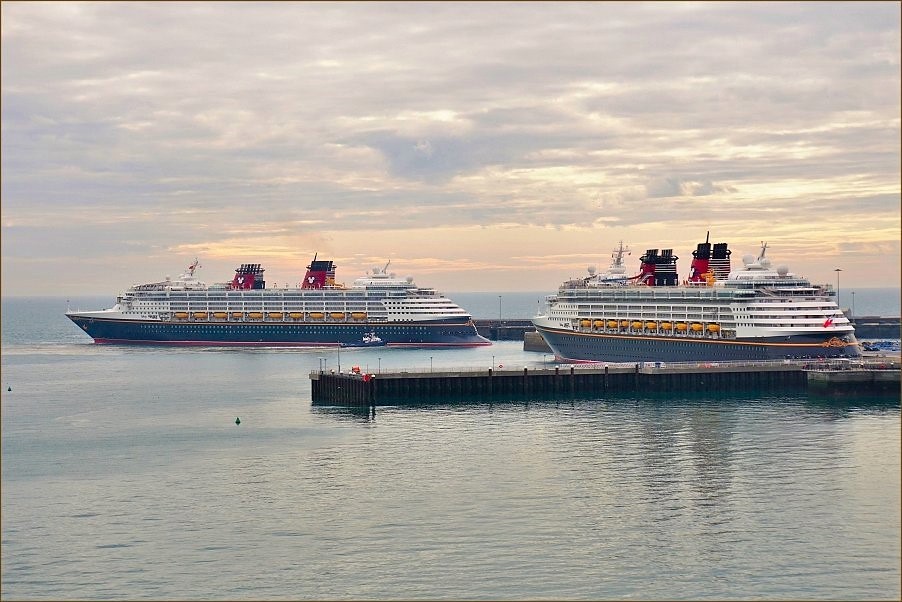 The Disney Wonder and the Disney Magic
If you quietly wish upon a star, hoping for even more wondrous magic in Dover,
...well you might just end up with two Disney's....
Fire on Western Heights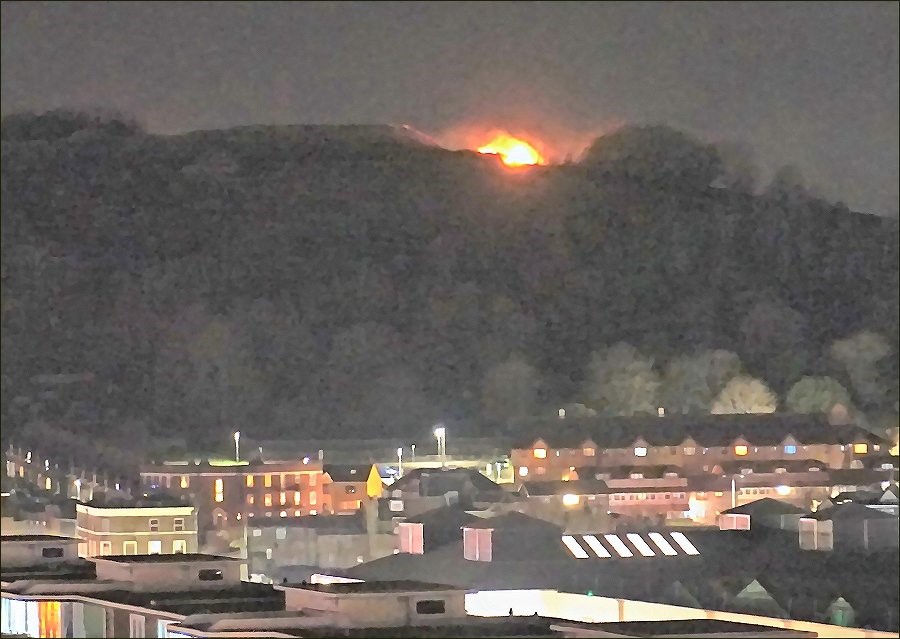 Something of a forced picture taken on friday night of the fire on Western Heights here in Dover. It seems a stray rogue firework caused it, setting scrubland alight. Four fire engines were in attendance we understand. The picture is of poor quality taken through the darkness, but it gives the general gist as we look across the rooftops.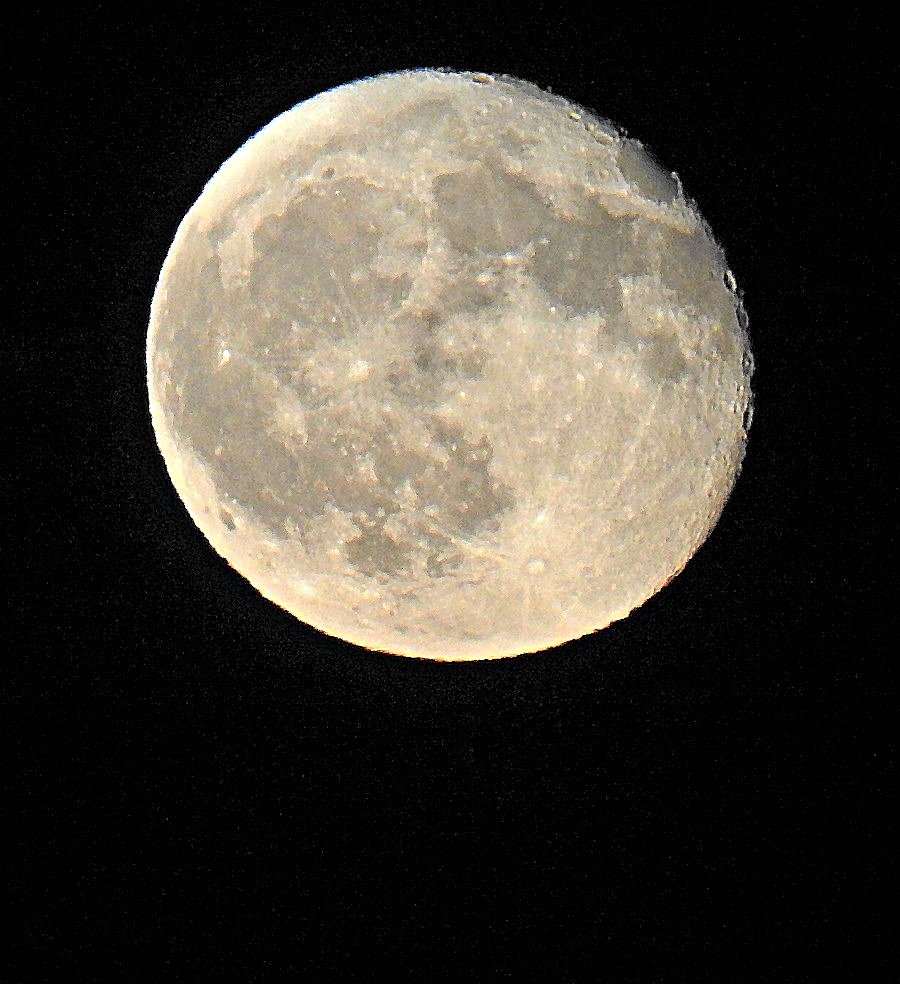 Full Moon over Dover....
The 'Blue Moon' over the Port of Dover in recent times.
Look at that rugged terrain...
* *
OPEN LETTER FROM DOUG BANNISTER, CEO, PORT OF DOVER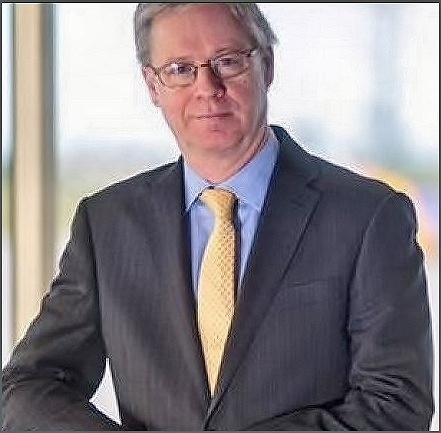 Dover is the right choice for business and consumers now more than ever
The United Kingdom Major Ports Group ('UKMPG') has issued a 'briefing paper' intended to encourage businesses to transfer cargo away from the Short Straits, the UK's most vital link to European markets.
The paper points out that the Short Straits, which includes ferry links between Dover and Calais, as well as the Channel Tunnel, has a 60% market share of 'British-Continental EU trade'. The Short Straits has achieved this market share because it is the right choice for business. Indeed, the paper acknowledges that the routes businesses use today are the right ones and the reason businesses choose the Short Straits is simple; it offers the most time efficient, cost effective and resilient access to international markets, delivering an estimated £3 billion saving for British businesses and consumers compared to alternative routes.
Our own independent analysis (Oxera 2018) has previously suggested that it would cost around £2.7 billion to take just 20% of our existing traffic in order to pay for new ferries operating on longer and slower routes. Importantly, these new ferries do not exist today and need to be built. With shipyard capacities and construction lead times, delivering such a fleet of new ferries holds significant lead time.
The UKMPG paper suggests that other ports might have capacity to take up to 60% of Short Straits traffic now, but acknowledges that this requires both Government and trader support for this offer of 'resilience' to be possible. Exponentially, this suggests that the cost to businesses and ultimately the consumer could be up to around £8 billion.
For Port of Dover, when looking at the overall UK Trade Resilience we take a systemic view – across ports, vessels, capacities, frequencies, operating models and traffic management schemes. To focus only on port capacity is terribly one-dimensional.
The geographic advantage that Port of Dover holds with the UK's largest trading partner means that a single vessel can complete up to five round voyages in a single day, making our ferries hugely productive assets. Further, our operating model delivers an average inbound dwell time at our port of just five minutes, providing unparalleled port efficiency.
Other operating models, for example containers and unaccompanied trailers may have inbound dwell times from several hours to even several days, adding inefficiency to the system-wide supply chains. For those routes with longer sea voyages, a single vessel may only make a single round voyage in a day – meaning to replicate the capacities and frequencies offered via Port of Dover would require five times as many vessels.
The UKMPG paper admits that a 'short term' constraint might be the availability of additional ferries to handle the trucks being encouraged to divert to other routes, whilst also citing wider capacity issues on the southern North Sea corridor.
The report is right to focus on resilience as we approach the end of the Transition Period, but what resilience do you have if you are sending traffic to ports where the ferries do not exist? Neither is that a quick fix. The market dynamic is important here. In fact, rather than investing in new ferries, operators at some of the alternative ports have actually been closing these longer routes with tonnage moving back to the short routes as that is what the market wants – Dover has of course kept going throughout the pandemic. This dynamic applies to the European side too, with the majority of freight vehicles choosing to route through northern France to Calais and Dunkirk as it is simply closest.
All EU-facing UK ports will be under the same rules – there will be a standard process and transaction applied everywhere. We know from examples elsewhere, such as 'Operation Wellington' on the Humber, which anticipates using parts of the M62 and M180 as holding areas for HGVs, that if there is disruption it will be everywhere. The report itself admits that there is already a risk of disruption at these alternative ports due to new systems for HGVs. Therefore, on top of this, sending more traffic to ports that do not even have the ferry capacity will make the situation far worse and create far less resilience for UK trade.
In contrast, the traffic management regimes for the Short Straits are tested and proven – in short, we know they work. For example, the recent national security operation that affected all ports with additional screening and searches left around 4,500 lorries in Operation Stack. When the security operation ended, Dover had cleared all queuing traffic and was back to normal operations within just 12 hours. Nowhere else could do that. It would take weeks with the current vessel capacities and frequencies available elsewhere. For UK trade resilience, supply chains must have the confidence in managing periods of disruption, and crucially recovery and restoration of normal flows as swiftly as possible – both areas in which Port of Dover has excellent credentials.
As we all navigate the massive economic difficulties caused by COVID, and the uncertainties as we approach the End of Transition, it is right to showcase the incredible efforts of the maritime sector, and the excellent ports that we have across the nation towards ensuring supply chains are robust and functioning well.
Come what may, we will keep working to keep the nation supplied with the essential goods people need at this difficult time and give all businesses wherever they are the benefits of Dover's unrivalled service. This is what we do all day, every day.
Indeed, as the Maritime Minister said on a panel discussion with us only the other day regarding the national trade network; 'you have to have goods and people moving around freely. So if you are to have parts moving quickly and efficiently across the Channel, and through Dover, and through the country, you have a much easier opportunity for companies that might exist in the Midlands or in the North to get involved in whatever that industry is.'
The report says that the UK has not always been reliant on the Short Straits, harking back to pre-Single Market days. Equally, the UK has not always been reliant on the internet and same day/next day/just-in-time deliveries, but it is now.
A vision that takes the UK backwards is not the vision of the future we want to see. We need one that backs consumers and businesses everywhere for the challenges and opportunities ahead of us. We feel that we should celebrate our impressive, modern and efficient supply chains across all ports and modes throughout the nation.
For Dover, we fully appreciate the essential role that we conduct for the nation, and will continue to take our responsibility with all of the due care and attention the British people would expect of us, which is why Dover will remain the clear market choice.
Doug Bannister, CEO Port of Dover.
ENDS

WWW.DOVERFORUM.COM/SEA-NEWS
Sea Pictures from DOVER ....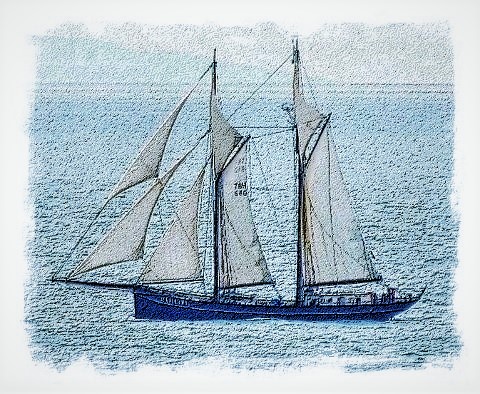 Use our SEARCH ENGINE below to find all sorts on the SEA NEWS pages....type in the topic and away you go,
or if you have the post number, just type it in the Search Box.
There are more than
- 7000 -
nautical posts in the section below.
Paul Boland - dover7@msn.com
Sea News Dover:
All pictures on these pages are the copyright of the owners and must not be reproduced without permission.
Post 524
vic matcham, Dover
great photos, is putting rocks down where the children can get on them a good plan? we will have to wait and see.
Wednesday, 5 March 2014 - 08:36
Post 523
PaulB, Dover
NATIONAL APPRENTICESHIP WEEK - A Life on the Ocean Waves...

DFDS Seaways Lights the Way in Launch of New Maritime Trailblazer Apprenticeships Scheme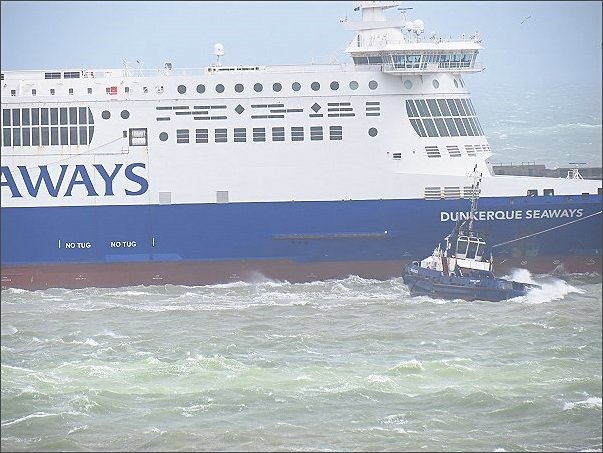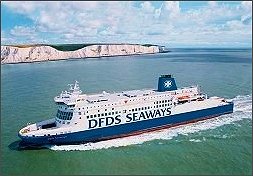 - First ferry operator to sign up to apprenticeship scheme with six deck ratings apprentices (2012) on Channel
- DFDS to take on six further deck and engine ratings apprentices in 2014
DFDS Seaways is one of the key organisations taking part in the second round of the new employer-led Trailblazer Apprenticeship Scheme launched today (March 4) by the Department for Business, Innovation and Skills (BIS). Trailblazers are tasked with testing the new approach to apprenticeships recommended by Entrepreneur Doug Richards in his Apprenticeship Review in November 2012.
DFDS Seaways was the first ferry company to introduce ratings apprenticeships for deck and engine trainees on its cross Channel service to Dunkirk, underlining its commitment to both the British shipping industry, as well as local people from the South East of England looking to enter the important maritime sector.
The first six apprentices joined DFDS Seaways on the Merchant Navy Training Board (MNTB) developed apprenticeship scheme in December 2012 as deck ratings, working towards their Able Seafarer Certificate, which will enable them to work in the navigation (deck) department of any ship. The scheme is a two year initiative which comprises a mixture of on the job training with DFDS Seaways, as well as classroom based learning, which the apprentices undertake at North West Kent College in Gravesend, Kent. Four of the apprentices are currently on track to receive their Efficient Deck Hand certificate, marking the half way point in their apprenticeship.
DFDS Seaways has launched the second wave of its apprenticeship scheme this week (Monday March 3), as part of National Apprenticeship Week, taking on an additional six apprentices, comprising three further deck ratings and three engine ratings. The engine ratings will receive practical, hands on experience and training in welding and other workshop skills designed to give them the knowledge and expertise they need to become certified Able Seafarers (engine). This includes the day to day monitoring and maintenance of the engines and equipment in the engine room, as well as maintenance activities elsewhere on the ship.
Gemma Griffin, Vice President HR & Crewing for DFDS Seaways, and Chair of the Employment Committee at the UK Chamber of Shipping, chairs the Maritime Trailblazer Apprenticeship Scheme, which also includes representatives from Princess Cruises, Carnival, P&O, James Fisher and the Royal Navy. She comments:
"Employer-led apprenticeships of this kind are not only vital for DFDS Seaways, but also for the maritime sector as a whole. They help us safeguard the future of our industry by ensuring that we have young people entering the industry with the right skills, expertise and support they need to be able to work effectively and safely.
"At DFDS Seaways, we also have a ratings to officer scheme, providing our Able Seafarers with the training and support they need to progress to the top of their chosen field. That means that the apprentices who sign up to our scheme could feasibly become a Captain or Chief Engineer in the space of 15 years or so, if they demonstrate the right aptitude and competence. And although we might not be able to guarantee a job for life in our particular organisation, we can definitely help our apprentices gain a life-long career in the maritime sector."
UK Chamber CEO and former seafarer, Guy Platten said:
"The UK is known the world over for its seafaring skills and the UK has a proud maritime history, but this investment proves we are determined to build a maritime future too.
"The long-term prosperity of the UK shipping industry depends completely on the people entering it. Training must equip seafarers with key skills and develop their careers as fully as possible while meeting the needs of employers, and today's Trailblazer announcement is a huge step towards this."
Gemma Griffin will be attending the official launch event for the second wave of Trailblazer Apprenticeships at 10 Downing Street on Thursday March 6. She will be accompanied by DFDS Seaways deck ratings apprentice, Brandon Payne.
For more information about DFDS Seaways, which operates up to 44 crossings a day on its Dover-Dunkirk and Dover-Calais services, please visit www.dfdsseaways.co.uk.
* * * * * * * *
Great stuff above there from DFDS and great stuff below from Ed and Mike. Well done with all that lads and a great call by Capt Andy. Fascinating to see those pictures below there from the base of the cliffs and indeed of the old wreck of the Preussen.
NORWEGIAN ROCK ARRIVES ON SEAFRONT: As mentioned by Mike here is the Afon Goch below left from Holyhead Towing...(don't talk to me about Holyhead as I always get a touch of the tremors arrrgh!!) She was perusing the scene yesterday prior to her and other vessels dropping off a huge amount of Norwegian rock on the seafront in the dead of night last night. Worth popping down to have a look. Yes sir!...Norway has come to town in boulder-size lumps. Ed mentioned low tide, the guys picked the right time of year to do the work..there is also high tide in counter of course..here we see it below right pinning the workgroup to a tiny corner of beach.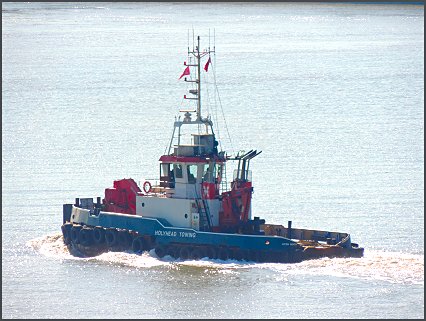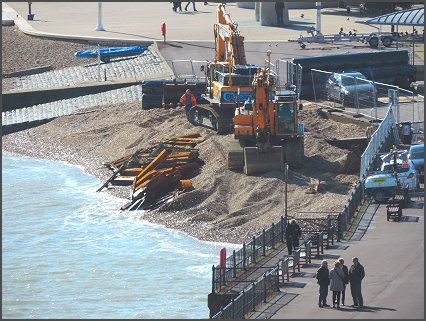 Yes indeed will have more pictures following in due course.
Wednesday, 5 March 2014 - 07:05
Post 522
Ed Connell, Dover
Very low water on monday morning. Called on the walkie talkie by Capt Andy Armstrong and took the opportunity to take some photos:
You could see underneath the piers in the Eastern Docks.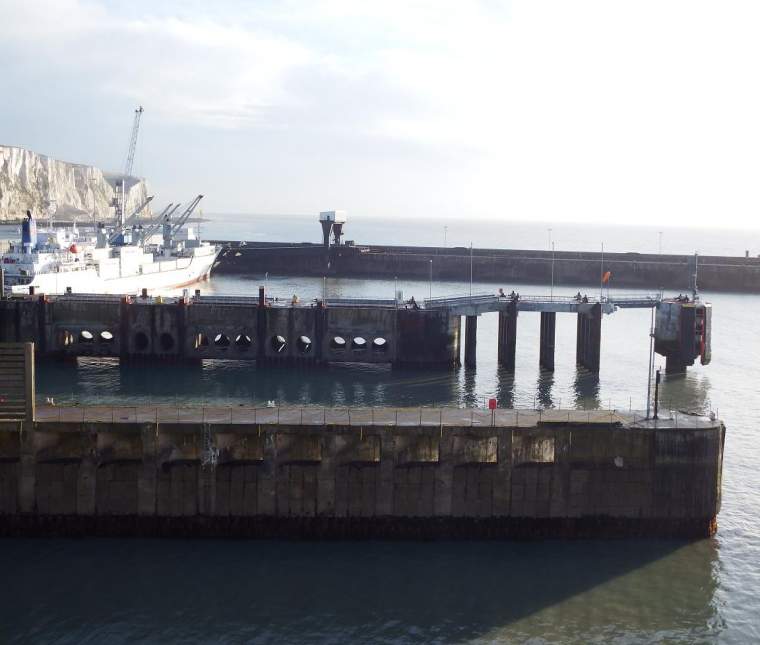 The ladder at the bottom of the zig zag down to Fan Bay.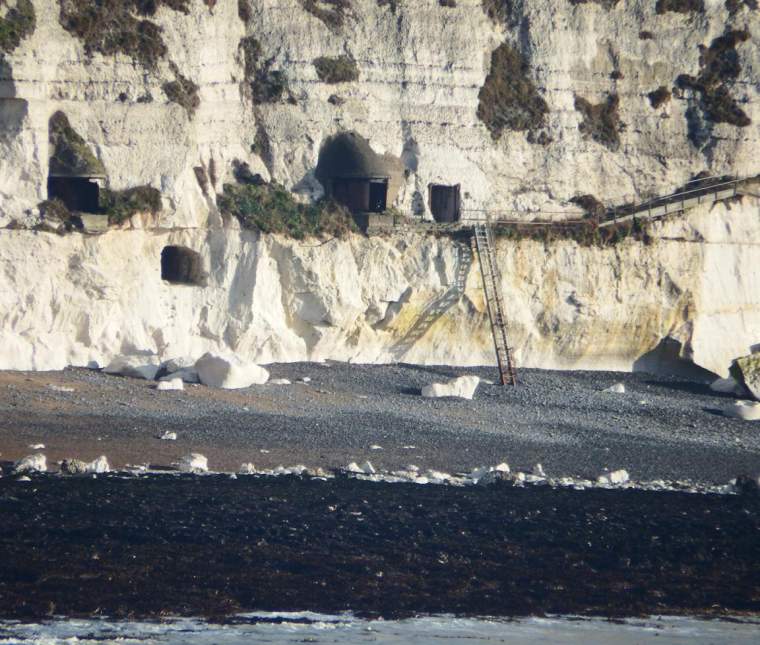 The wreck of the Preussen at the foot of the cliffs with the groove up which the cargo was removed.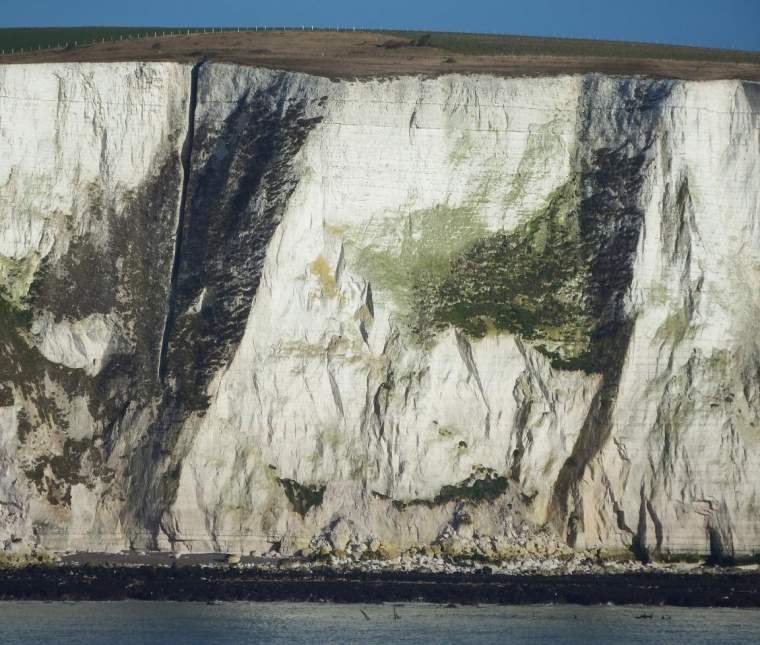 The remains of the five masted German sailing ship Preussen, wrecked in 1910.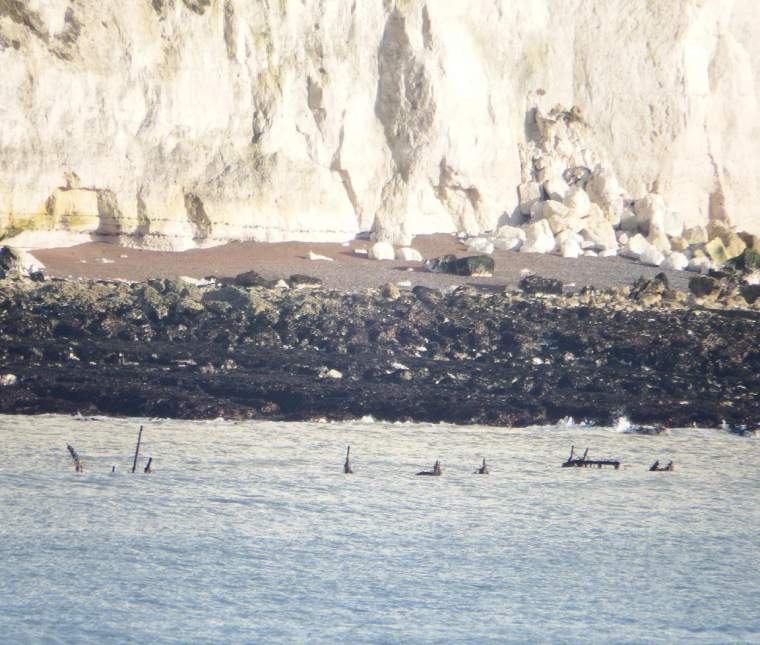 Wednesday, 5 March 2014 - 01:57
Post 521
Mike J., Dover
The HELENE arrived on Cruise-1 on Monday night, loaded with rock for the groyne replacement job.
On Tuesday morning the tug/workboat LLANDWYN ISLAND arrived with the flat-top barge CHARLIE ROCK & this was tied up alongside the HELENE.
The tug/workboat AFON GOCH also arrived.
By Tuesday afternoon the HELENE was unloading rock onto the barge & the two tugs were tied up alongside the CHARLIE ROCK who has a large JCB aboard & this will be used for placing the rocks.
At least one of the tugs will be needed for moving the barge.
HELENE before arrival of CHARLIE ROCK - one of the Range Safety launches departing for Hythe or Lydd ranges.
The groyne replacement work will be something different to see on the seafront & I'm sure that we'll be getting some high-level views from PaulB !
Tuesday, 4 March 2014 - 21:27
Post 520
Andrew MacLean, Canterbury (jazzandy@btinternet.com)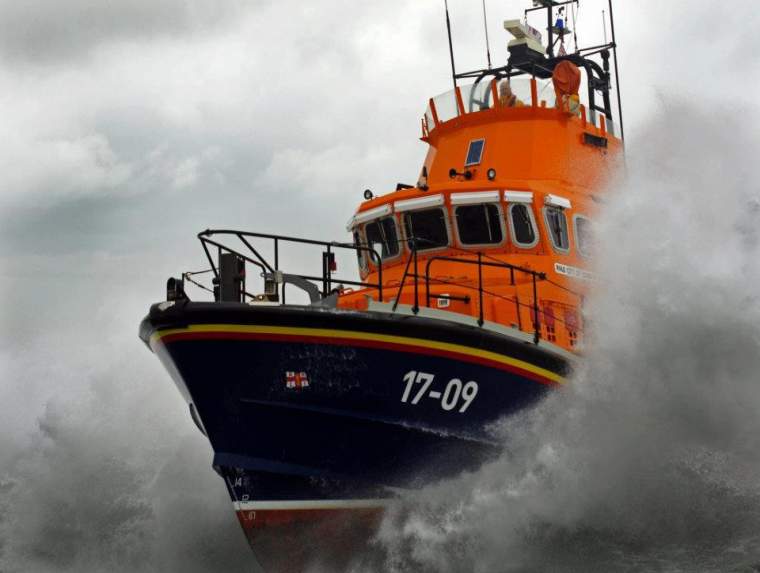 GREAT NEWS!! We're now accepting foot passengers on 'Dance to France' in aid of Dover Lifeboat and the restoration of TSS Dover.
On board MV Spirit of Britain - Saturday 29th. March - 18.35 sailing returns by 2215.
Buses from Priory Station at 1730 - Passports needed!
Tickets from 01227 732414
Book early as numbers are strictly limited!
Tuesday, 4 March 2014 - 16:12
Post 519
PaulB, Dover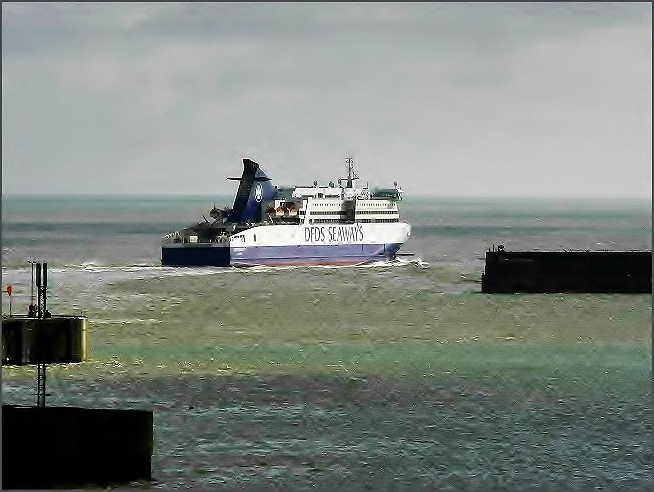 FREE CHOCOLATES : Travel to Bruges This Spring for a Sweet Deal with DFDS Seaways
____________________________________________________________________
•• Free exclusive Belgian chocolates for passengers visiting Bruges
•• 20% off return ferry crossings from Dover to Dunkirk
If you are looking for a sweet deal on a short break this Spring, then Bruges could be your perfect destination. Renowned as one of the world's chocolate capitals, the beautiful city of Bruges is less than an hour's drive from the French port of Dunkirk.
DFDS Seaways is offering 20% off its Dover-Dunkirk ferry crossings if you book before March 17, for travel throughout March and April, using code EBRG, making now the perfect time to book your break away. And if that isn't a tempting enough offer, those travelling on to Bruges can also claim a free box of exclusive Belgian chocolate swans from any Guild of Chocolatiers shop in the city on presentation of your DFDS Seaways booking reference.
A paradise for chocolate lovers, Bruges is home to the Bruges Guild of Chocolatiers, which seeks to preserve the art of chocolate-craft in the city. The historic Belgian city also houses 70 specialist chocolate shops in the city alone, many of which make their chocolate on site.
If there's one thing Belgium does as well as its chocolate, then it's beer and Bruges is no exception to this rule. Visit De Halve Maan brewery, the oldest in the city, and you can enjoy a panoramic view of the city, a guide to the brewing process and samples of Brugse Zot Blond beer. Most bars and cafes in Bruges stock a huge range of beers and it is not uncommon for the number to reach into the hundreds!
DFDS Seaways operates up to 24 sailings per day between Dover and Dunkirk, offering passengers excellent flexible sailing times. Passengers can relax onboard during the short two-hour crossing and grab a bite to eat at one of the restaurants or cafes, pick up last minute travel essentials from the onboard shop or let the kids play in the dedicated children's areas.
To book your travel now, or for more information on travelling to Bruges, visit www.dfds.co.uk.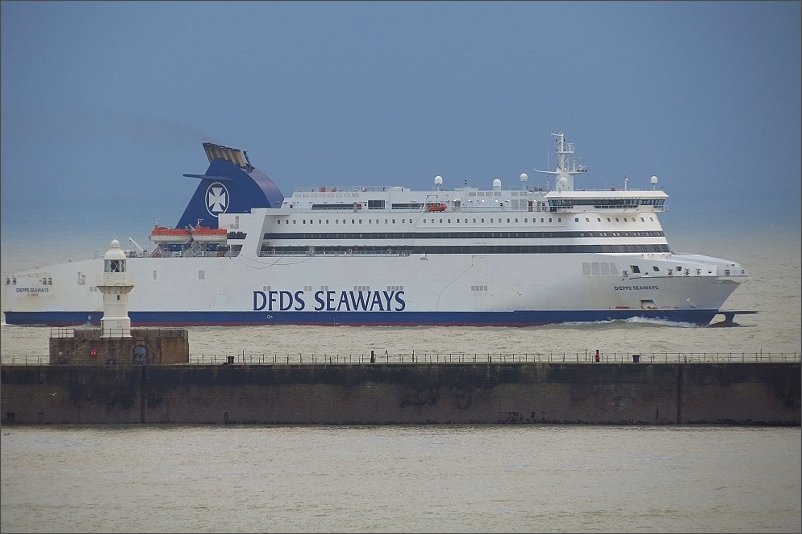 Hark.. you might be thinking! Two pictures, but is this the same ship?? yet it looks different somehow?
well indeed it is the same ship, the Dieppe Seaways, but it now has a different livery, a different design...
but which is the newer picture??

* *
Glad you are liking the groyne pictures lads. Yes you are dead right Vic. They seem to be cutting them across at the base. Looks a big and laborious job. Once the cutting is done the brute force of the JCB takes over. That seems to be the formula. The destruction of the second groyne is now underway.
Tuesday, 4 March 2014 - 06:46
Post 518
Vic matcham, Dover
Yes you can see the burner and his tools there,as you can see all he has done is cut the old pile off as low as he can.they will just cover them up and lie the stone down go job all does is burnthem off and then on stand by till he does the next one,that the jobs I loved to do,one you do not have to think about first.

Monday, 3 March 2014 - 20:57
Post 517
howard mcsweeney, dover
interesting photos - clearly going to be a long and arduous task, have no idea how deep down they go.

going to be rather a lot of truck journeys disposing of the old ones as against the new ones coming in by sea.

Monday, 3 March 2014 - 20:17
Post 516
PaulB, Dover
A PAIN IN THE GROYNE !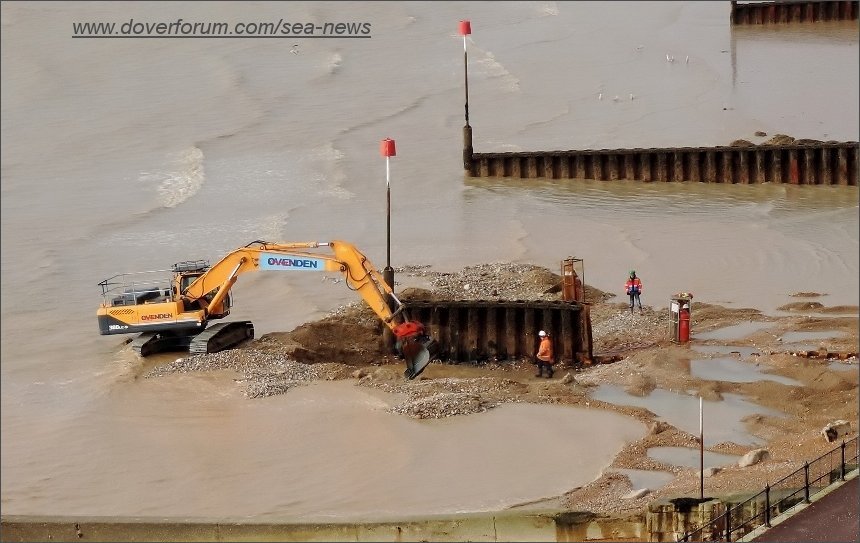 These pictures were taken on sunday morning. For a while the scene was semi floodlit by a weak and low early sun as the guys fought swiftly against the incoming tide. They worked for many hours as you can imagine, but towards the end several hefty kicks from the JCB type vehicle were required and eventually the groyne fell over with a thud. Then with the tide getting ever closer the fallen groyne was scooped up in quick time and taken back up the hill as it were to terra firma. Number one groyne was down.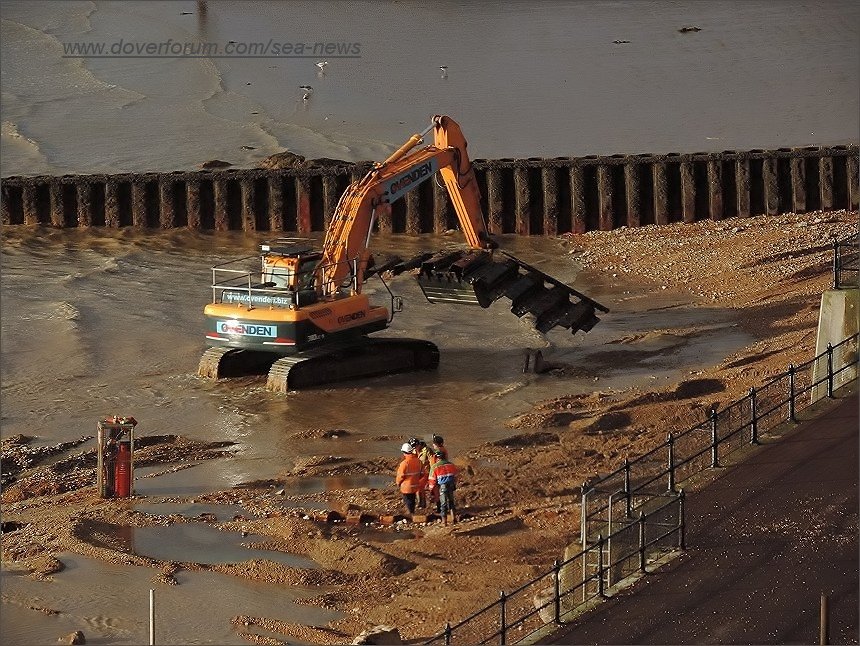 I have further pictures but we better leave it at that for the moment
Thanks for the info there Vic. Far from an expert me...but I think they are replacing all the metal groynes with specialised hard-wearing stone ones. Whether welding of any kind will be required I don't know myself...but we will see all develop as we go along. The following is a quote from the news release.."work will commence to replace the existing groynes with new rock groynes made of Larvic rock from Norway, one of the most durable types of rock, that will both defend and protect the beach but also create a much more visually appealing beach environment. Part of the promenade sea wall will also be repaired at the same time".
So there you have it...
Monday, 3 March 2014 - 06:11
Post 515
vic matcham, Dover
Will they do a good job or just a patch up one,you can see the holes is the sheet piles the good job and what needs to be done is that they are all pulled out and replaced by newones,or newones put down on the faces of the old ones,all we done last time was weld patchs over the old ones,if they do it that way it will not last a year because the rest of the pile around the new patch is all rotton.
If they go for new ones then there will be no sleep for any of you living down there or half of Dover if done at night if the tide is low .Cover your ears up ,Thats why I can not hear much today because of the years puting down piles and cuting them off.

Sunday, 2 March 2014 - 18:40
Post 514
vic matcham, Dover
THis job is just up my street I need to get down there and offer my help.

Saturday, 1 March 2014 - 09:47
Post 513
PaulB, Dover
DEMOLITION DOVER! see also RNLI LIFEBOAT information re our Mystery below.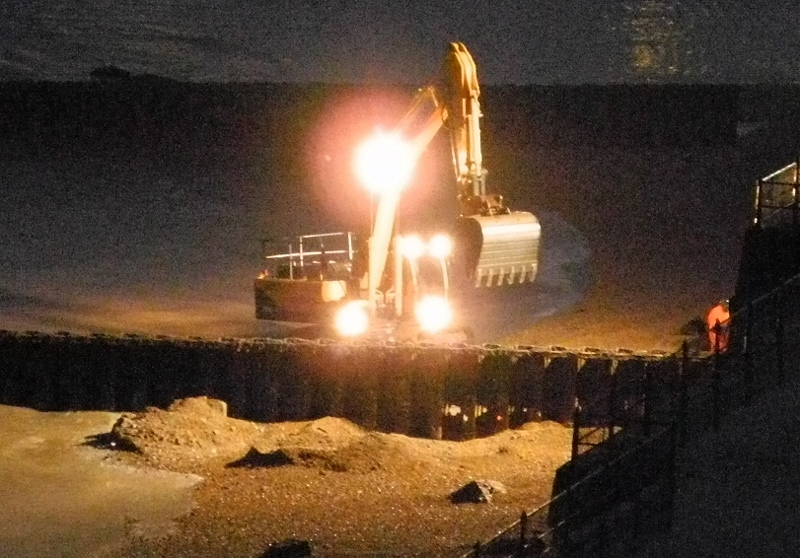 The work began in earnest on our seafront defences last night in the dark. This is the scene at about 6.10pm last night friday. The guys were working while the tide was out for obvious reasons. On page 3 you can see the official notification in a news release re the work commencing... and here we are in earnest now..it has kicked off. The seafront groynes, as they are called, are being replaced and renewed.
Have added the extra pic below just to give a better idea of the exact location of the work..its at the eastern end of the main beach, if I can put it that way. The groyne being tackled in the pictures is now partially gone as I write. The guys are working again right now to once again make hay as it were while the tide is out.
Another chance to see the initial news release below.......saves trawling back to page 3.
"
PORT OF DOVER: Having withstood the elements for many years, the seafront groynes are to be replaced and upgraded with the highest quality of rock groynes in order to provide the best beach protection and frontage for Dover's community.
The current groynes are reaching the end of their life and the Port of Dover wants to ensure that they are replaced with the very best to support the wider waterfront regeneration agenda being pursued for Dover.
From 24th February, work will commence to replace the existing groynes with new rock groynes made of Larvic rock from Norway, one of the most durable types of rock, that will both defend and protect the beach but also create a much more visually appealing beach environment. Part of the promenade sea wall will also be repaired at the same time.
Jack Goodhew, General Manager – Technical Services, Port of Dover, said: "We were determined to combine our desire to preserve and enhance the beach for the long term with our wider vision of a quality waterfront that is part of reviving Dover as a destination."
Access to parts of the beach will be limited as the work progresses in order to ensure the safety of everyone. The Port is currently engaging with all those who live or work on the seafront and interested local organisations on the project in order that they are fully informed about the works.
Mr Goodhew added: "We are starting the work this month in order that it is completed for the Summer season. The beach is valued greatly by our local community and we want to ensure that it is ready for when the summer holidays begin."
The Port apologises for any inconvenience that the work may cause as it works to deliver an improved seafront for the benefit of its community.
"
_______________________________________________________
ALSO JUST IN RE THE LIFEBOAT MYSTERY FURTHER DOWN THE PAGE
Had the following through from the RNLI LIFEBOAT guys.. from James Clapham in fact, much thanks to James for this.
"
Hi Paul
Was looking on the Dover Forum this afternoon, and saw a picture of the lifeboat near the Castle jetty.
To put your mind at rest the lifeboat was on a training exercise at anchor using our breeches buoy to the jetty. Not that clear in the photo.
Hope that helps.
Kind Regards
James
James Clapham
F/T 2nd Coxswain / Mechanic
Dover Lifeboat Station
"
Many thanks again James.

Saturday, 1 March 2014 - 07:12
Post 512
PaulB, Dover
Channel Dash Memorial – keeping Dover's important memories alive
_______________________________________________________
Whilst the Dover Straits are today synonymous with the movement of cross-Channel ferry traffic between Europe's busiest international ferry port and the Continent, 72 years ago the Straits represented a narrow divide between Great Britain and occupied Europe. The Port of Dover is extremely mindful of the extraordinary wartime heritage that exists in Dover, much of it associated with the role of the Port itself.
As such, having supported the establishment of the Channel Dash Memorial in 2012, commemorating the incredible bravery of those who took part in Operation Fuller, the Port is once again honoured to support the Channel Dash Memorial Trust in developing an IT educational project to remember such a poignant episode and honour the memories of those who took part.
Tim Waggott, Chief Executive, Port of Dover, said: "It is really important for us to recognise the ultimate sacrifice made by the 146 young men who gave their lives fighting for our country. The IT Educational Project, proposed by the Channel Dash Memorial Trust, will help keep it in our memories and we are very proud to be able to support it. We recognise that this part of history is hugely important for both the town and community of Dover."
Together with representatives from the local community through the newly established Port and Community Forum, the Port has been developing a heritage strategy that connects important parts of Dover's history in order to tell its unique story. A significant part of that is revealing Dover's maritime heritage, both in war and in peace. The educational project will make a very meaningful contribution to that work in remembering and interpreting what was an amazing chapter that recognises such incredible commitment to a cause, whatever the odds.
Jim Williams, Trustee of the Channel Dash Memorial Trust, said: "Dover Harbour Board supported us in 2012 with the Operation Fuller Memorial and has kindly offered to help us take this project a step further. It is fantastic to know that the Port is keen to be a part of this community initiative to keep the memory alive of the airmen who took part in the wartime Operation Fuller - known as the Channel Dash."
* *
The picture from our collection shows the Channel Dash Memorial on Dover Seafront.. taken during the balmier days of last summer.
Friday, 28 February 2014 - 06:26
Post 511
PaulB, Dover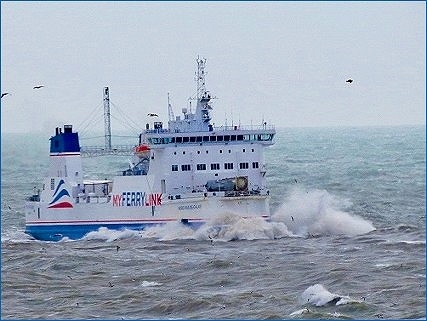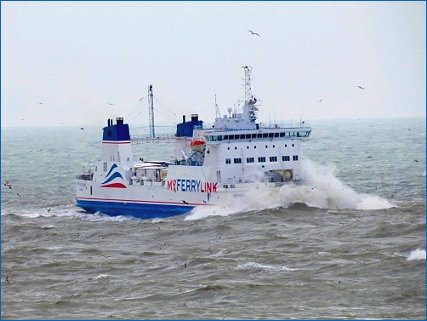 Here we see our old friend the battling Nord Pas de Calais grinding its way homewards in dire conditions an hour or so ago...in conditions that fluctuated between a gale force 8 and a severe gale 9. it was rough and tough out there but all home safe and sound now.
Fortunately as i write all is almost benign again now with the sea...but it was difficult for a time there this morning. It is amazing how quick it all changes, sometimes for the worst and of course sometimes for the better.
Yes Mike you might well be right re an exercise. Normally they let people know about exercises and the like...but we will wait and see and perhaps we will get some info through in due course.
Thursday, 27 February 2014 - 11:22
Post 509
Mike J., Dover
A training exercise perhaps ?

Thursday, 27 February 2014 - 08:48
Post 508
PaulB, Dover
Yes its very odd Howard, there has been no news at all anywhere about what was going on with the Lifeboat. I have had a trawl around several times now to see if there is any news anywhere...but no mention. As you say even if its a false alarm 'shout' some news is usually issued. The guys I knew there previously have left I believe too...so..I guess we will just have to wait on this one.
Weather extremely grim again today out on the ocean waves. Very rough with poor visibility. But..better days ahead...says he hopefully. It has been a long gruelling winter for sure this time.
Here is a picture of the Rodin in the fairly rough conditions of Tuesday mid-day.. but alas its even worse out there today.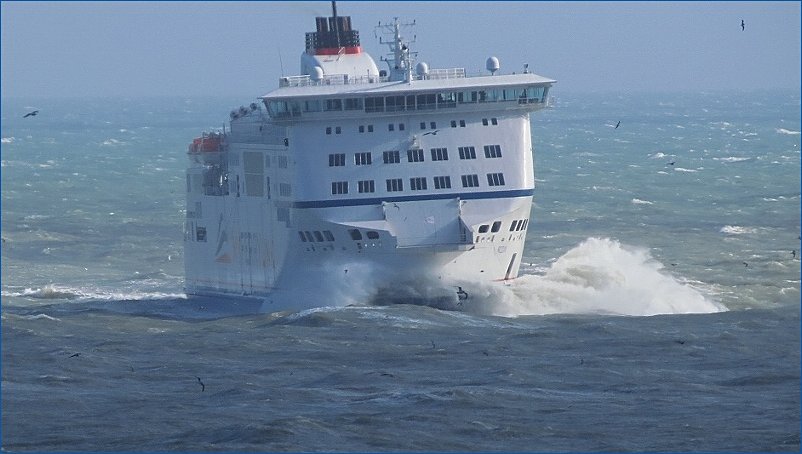 Thursday, 27 February 2014 - 07:39
Post 507
howard mcsweeney, dover
all rather strange, nearly 24 hours since the incident and no press release from the rnli as far as i can ascertain.

they always report on false alarms as well as rescues.

Wednesday, 26 February 2014 - 20:14
Post 506
PaulB, Dover
A bit of a drama was played out last night right under our noses here on Dover Seafront.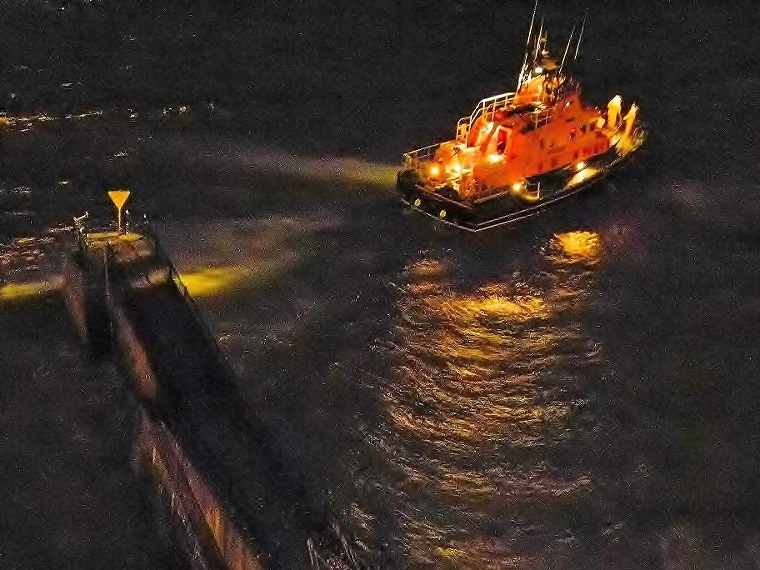 The Lifeboat arrived around 8pm and appeared to be searching the water with floodlights and so on...with several of the crew standing at the bow looking directly into the water. They remained for 40 minutes in approximately the same spot...while other personnel appeared to be searching the main beach in the near distance with lights/torches etc.
It was very dark at the time but I attempted to get some sort of image and there we are. If and when we hear anything further will let all know.
Wednesday, 26 February 2014 - 07:17
Post 505
PaulB, Dover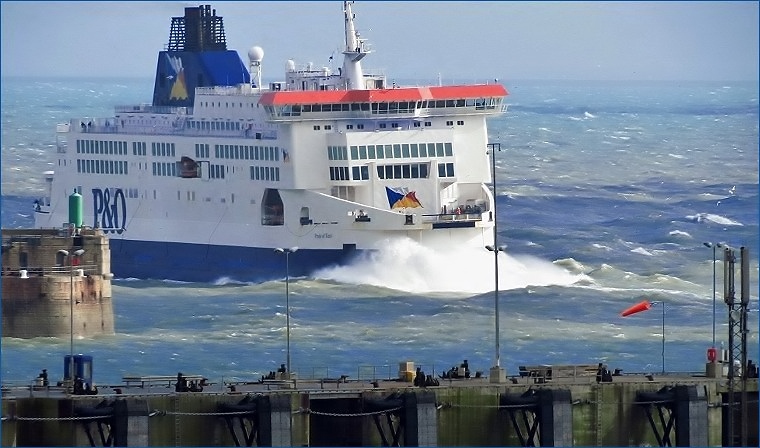 Thanks for the info again as ever Mike. It turned out to be a bit of a filthy day alright..very rough at times with a gale force 8 a-blowin'.
There was a bit of a burst of sunlight at one time so I gave a few pictures a go, the brightness caught me out though...the picture was a bit brighter than expected, have had to try and tone it down. But it captures the battling conditions around lunchtime today. The ship is the Pride of Kent. Another tough day!
Just a further note about how important the cargo terminal has become. No sooner had the Wild Lotus moved out than the Fegulus moved in to slot.
Its like a warm bed in a doss house. As soon as one guy gets out another one gets in !!

Tuesday, 25 February 2014 - 15:55
Post 504
Mike J., Dover
The BURGUNDY is about to go off for refit & will probably be having an MES [Marine Escape System] deployment sometime today, so expect some activity around her when the rafts are in the water.

The majority of the crew will go down into the rafts. All good fun.

Filthy day for it.

Tuesday, 25 February 2014 - 07:31