Monday, 10 August 2020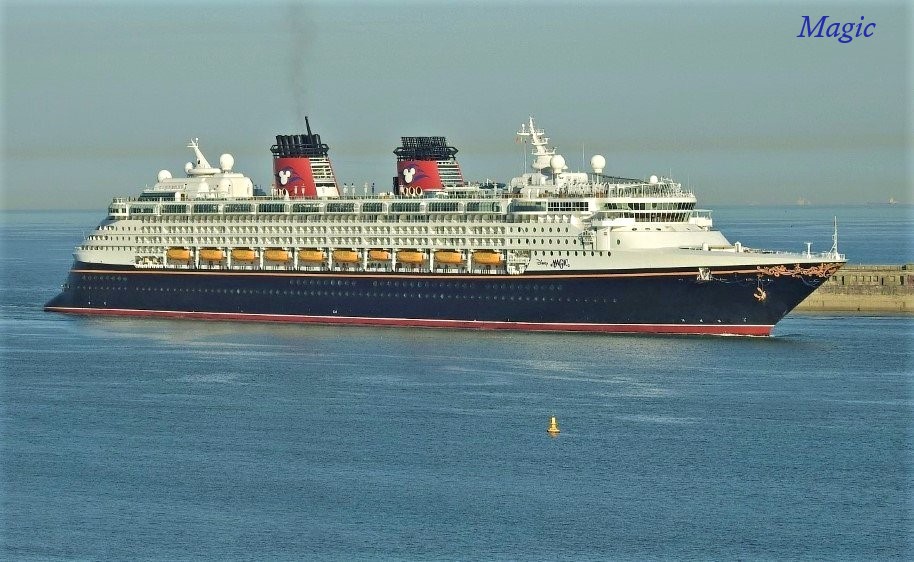 The Disney Magic entering the Port of Dover once again after a brief channel run....

WWW.DOVERFORUM.COM/SEA-NEWS
Sea Pictures from DOVER ....
Just to let everyone know...we have essentially closed Sea News.
Times have changed and these changes havent been good to us.
We will leave it open for research purposes ...if anyone wants to check anything etc etc
Other than that its all over.
A huge thanks to everyone who contributed over the 7 years.

Paul Boland - dover7@msn.com.
.
Use our SEARCH ENGINE below to find all sorts on the SEA NEWS pages....type in the topic and away you go,
or if you have the post number, just type it in the Search Box, more than
- 7000 -
nautical posts now.
Sea News Dover:
All pictures on these pages are the copyright of the owners and must not be reproduced without permission.
Post 503
PaulB, Dover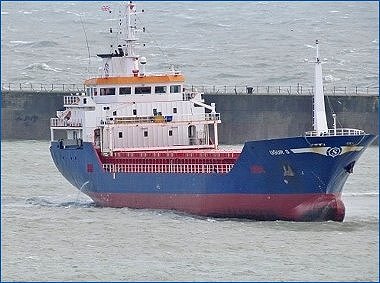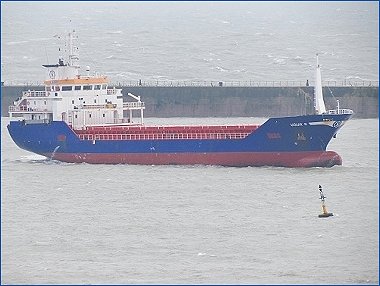 Another busy time for cargo vessels. Above..currently on the western arm at Cruise Terminal 1 is the Ugurs. It did some posing for us the other day as it arrived, doing the 360 degree turn outside the rear window. It arrived two days ago and it has been here ever since..also at the same cruise terminal as we speak is the Coral Water which recently had mechanical failure but is now returned to the fray with all bits fully functioning.
The ship below from NYK COOL is the Wild Lotus. Don't remember this one previously but this vessel slipped into position at the regular cargo terminal yesterday and is now as we speak being helped with departure by the tugboats in the very strong gale force wind. The cargo terminal as we see is in very big demand and ripe for expansion...one way or another. More expansion with cargo equals more jobs.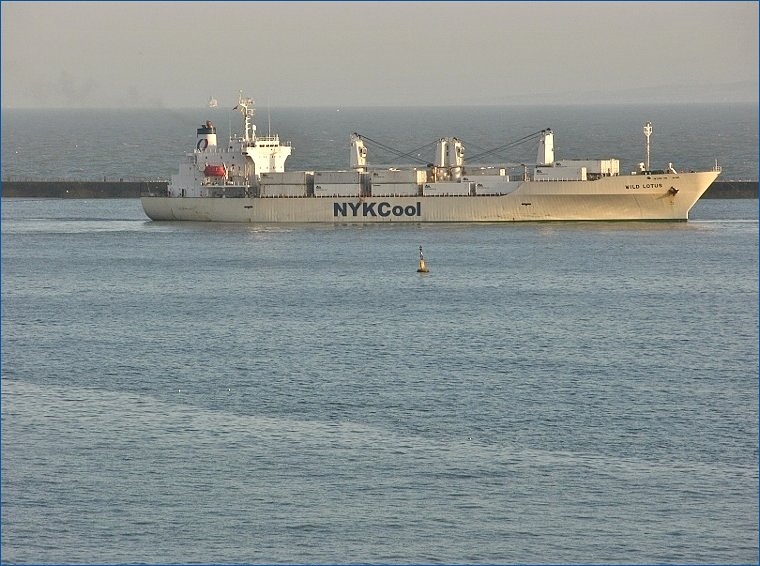 Our old friend the veteran warhorse the Pride of Burgundy is currently resting at CT2, been there since last night..presumably she is experiencing problems..anybody know anything re her condition?
Tuesday, 25 February 2014 - 06:58
Post 502
PaulB, Dover
EXPORTING EXPERTISE
The Port of Dover Expertise Goes Global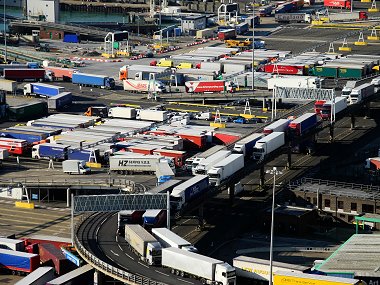 The Port of Dover, together with its international partners Mott MacDonald and Buchan Group, is delighted to announce that it has been successful in securing a significant contract to guide the major future development of three ports managed by Taiwan International Ports Corporation Ltd (TIPC).
Having established strong relationships with TIPC, cemented through the signing of a Memorandum of Understanding in 2011, the Port of Dover's world-class expertise in port management and port development has been showcased both in Taiwan and in the UK. The contract is a clear recognition of the global reputation that the Port has now achieved as a valuable consultancy partner when requiring a team made up of the best international experts.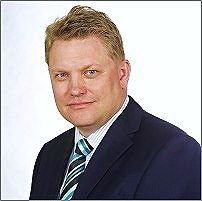 Tim Waggott, Chief Executive, Port of Dover, said: "This is a fantastic achievement for the Port team, its partners, and for the global reputation of the British maritime industry. Moreover, it gives our staff an incredible platform for career development and reflects the vision that we have for our community in providing new and inspiring opportunities."
As the consultancy business develops and Dover's port expertise is required elsewhere as well as still in Dover, this will lead to the creation of high quality jobs at Dover with exciting prospects for all those associated with the Port. This is a further strand of the Port's drive for transformation, nurturing talent in Dover that then delivers expertise all around the world with Dover's name becoming synonymous with opportunity, quality and excellence. In turn, this will contribute towards inward investment as Dover becomes a hub for maritime expertise, furthering the Port's ability to act as a catalyst for regeneration.
Beating off stiff competition, the partners also received fantastic support from UKTI (the British Trade & Cultural Office in Taiwan) in promoting British expertise in Taiwan.
Chris Wood, Director, BTCO said: "This is a great boost to Britain's international reputation in port planning and with such a strong partnership evident between Mott MacDonald, Buchan Group and the Port of Dover, goes to show that with the right expertise and our support, the UK can play a major role in global maritime affairs."
The contract is focused on carrying out master planning activities for the three Taiwanese ports of Keelung, Kaohsiung and Anping in order to promote the ports' domestic and international passenger transport and tourism services, including the construction and modernisation of passenger terminal facilities.
Glen Curry, Mott MacDonald said: "This is a very exciting contract to have won and with the specialist skills and experience of the Port of Dover supporting our port planning and engineering expertise, we are confident we can plan great things for Taiwan's ports."
The partners will conduct research and analysis on the location and characteristics of Keelung Port, Kaohsiung Port and Anping Port in order to carry out a detailed investigation of possible domestic and foreign development projects. They will then produce the final master plan presenting the most appropriate developments, their location and size, configuration and the types of industry suited to the ports.
* *
Yes Howard I suspect half term may have something to do with the seafront being deserted. Lots of traffic going over all week. Busy busy!
Sunday, 23 February 2014 - 17:48
Post 501
howard mcsweeney, Dover
very stark photograph of the rainbow paul, two answers to your question.

a) people were still indoors because of the storm.

b) parents, usually the mums, are at the end of their tether towards the end of any half term/easter/christmas break and just want to park their offspring at the school gates.

Saturday, 22 February 2014 - 21:56
Post 500
PaulB, Dover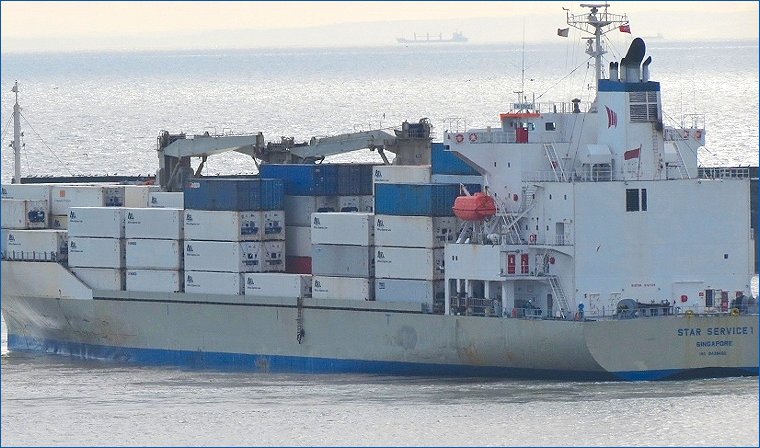 Thanks Mike. I didn't realise that re the Polarstream. I am not at all surprised that occasionally some of the stacked up containers take flight...this is the Star Service departing about 2 or 3 days ago and you can see she has a very full load onboard. Well stacked up for sure this time. Must be heck of a handful in very rough weather.
Saturday, 22 February 2014 - 08:04
Post 499
Mike J., Dover
PaulB -

Superb photo of the JOLINE & the big boxboats !

The POLARSTREAM apparently had damage when she came in the other day, she had lost containers overboard in bad weather.
Some containers still on deck were damaged & the ship herself had received minor damage.

For photos Google 'vessel tracker polarstream' & follow the links.

She was luckier than the MAERSK SVENDBORG who lost 520 containers overboard in bad weather in the Bay of Biscay on 14th.February.


Friday, 21 February 2014 - 08:00
Post 498
PaulB, Dover
A touch of the ould King Canute is needed these days..forever commanding the sea to go back, or in our case more particularly, commanding the beach to go back to the beach. Despite all the recent massed effort with assorted guys brushing and shingle shovelling, the big guns were needed yesterday and here we are...bring on the JCB...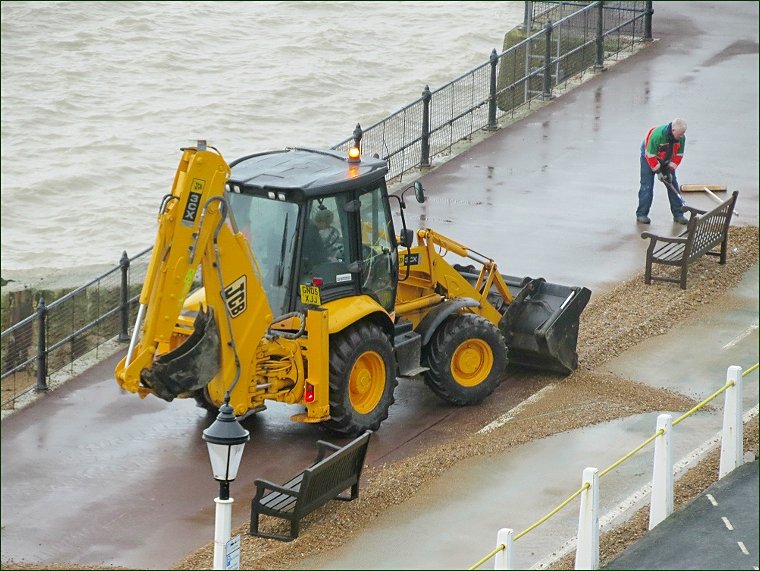 While it all goes on.. there is of course business as usual..getting ready below for the arrival of the Spirit of France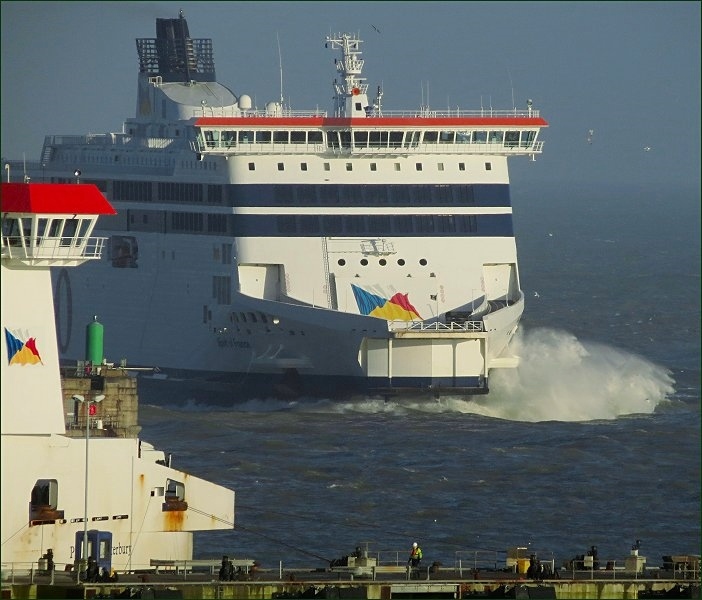 Thanks Howard. Will hopefully have lots of topical shots to come with the cruise season not that far away. Yes indeed the Joline carries on.
Brief Note For All : If you have Windows 8 or 8.1 you can click on the open book icon at the bottom of the page in the address bar and the whole page takes on a different personality completely and goes into reader mode...moving from left to right. Looks very different..and very good too says he with all humility.


Friday, 21 February 2014 - 07:52
Post 497
howard mcsweeney, dover
great photos paul, especially the one of the sun rising, such a pity that the "joline" continues to ply her unpleasant trade.

Wednesday, 19 February 2014 - 21:22
Post 496
PaulB, Dover
As mentioned earlier the Joline paid us a visit this morning. This vessel as we know is involved in the trading of Live Animal Exports ..which horrifies many. The craft is a strange beast itself, hardly suitable for the task in hand. The visit this morning was quite brief...it has long since returned to Calais. Whether it carried a load this time around I know not. But here are a few pictures of the scene early this morning.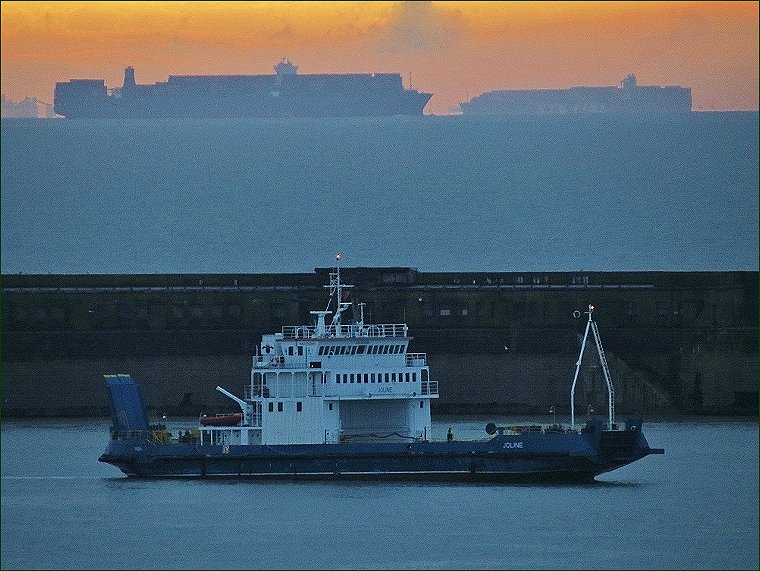 The Joline arriving in harbour, but look at those monsters out in the channel. Huge ships indeed. To the left you can just see Calais.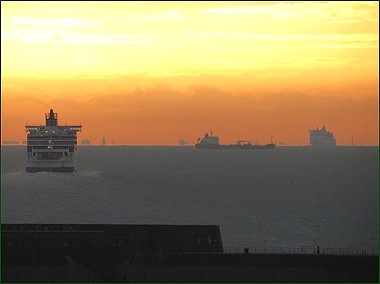 Picture left shows the Joline waiting offshore prior to entering harbour. In the foreground you can see the lifting cranes of the Polarstream. Picture right shows the busy channel at the same time with Calais playing the role of backdrop.
and from a day or two ago...nature exactly as is..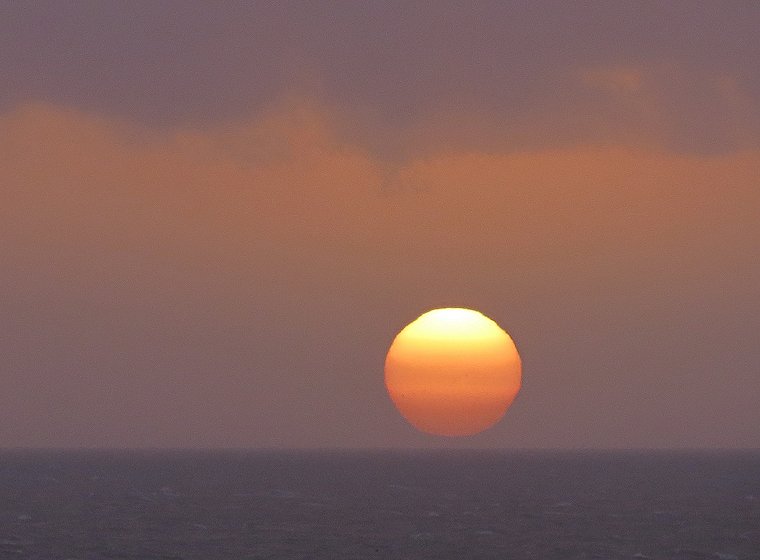 The Sun rising over the water.
Wednesday, 19 February 2014 - 18:49
Post 495
JanT, Dover
So good to see the weather back to some sort of normality,and the pictures below show how calm the sea is now lets hope we have seen the worst of it.

But there has been some great pictures,and I see yesterday the guys were about shovelling all those pebbles back onto the beach.


Wednesday, 19 February 2014 - 11:23
Post 494
PaulB, Dover
There were two cargo ships offloading in the harbour yesterday. One was the Polarstream and the other one of the regular Star ships. Unfortunately I didn't get a picture of the Polarstream as didn't spot it arriving. I noticed it though in position next to the regular cargo terminal on the eastern arm. A bit out of camera range for yours truly. The Star Service slipped in beside it there about 4.30pm yesterday. I didn't get a picture of that one either as the light was so poor...but here's one I did earlier of The Star Service...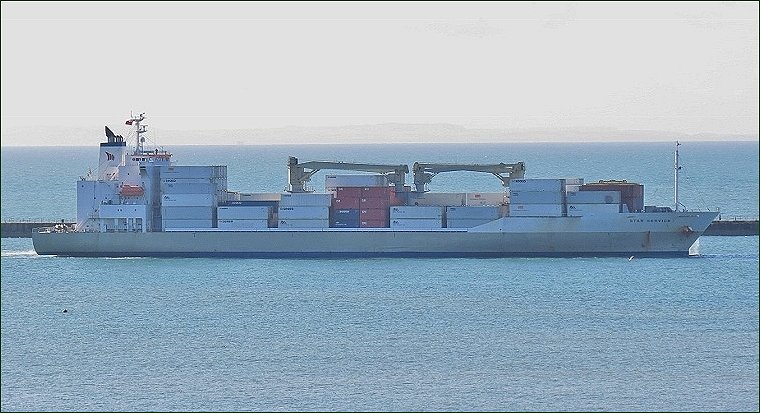 Dover struggles to cope with more than one cargo ship at once at the current time...so the vision to expand cargo activity could be very achievable and a great boost..the immediate obvious benefit being more jobs, apart from anything else. More ships, more jobs...Both ships yesterday appeared to be carrying full loads too. Trade is on the up!
A few days back we had this one below... the Pacific Reefer.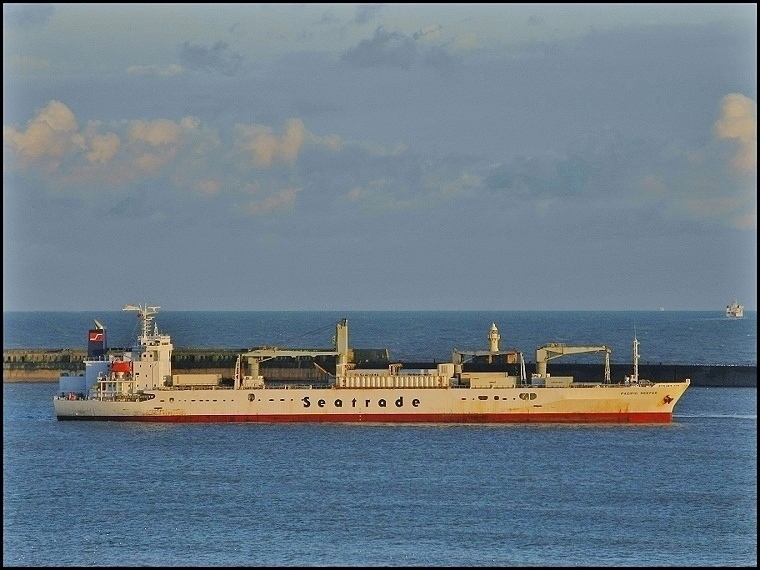 The flow goes on and on like never before, good news for Dover, but most people recognise now that more terminals are needed. Have just checked with our Channel Traffic link, see top of page Dover.uk.com, and both ships the Polarstream and the Star Service are still in harbour.. if anyone wants to see them in the flesh. Also alas heading towards harbour as I write is the unfortunate vision of the MV Joline...she of the live animal exports.
Wednesday, 19 February 2014 - 07:10
Post 493
PaulB, Dover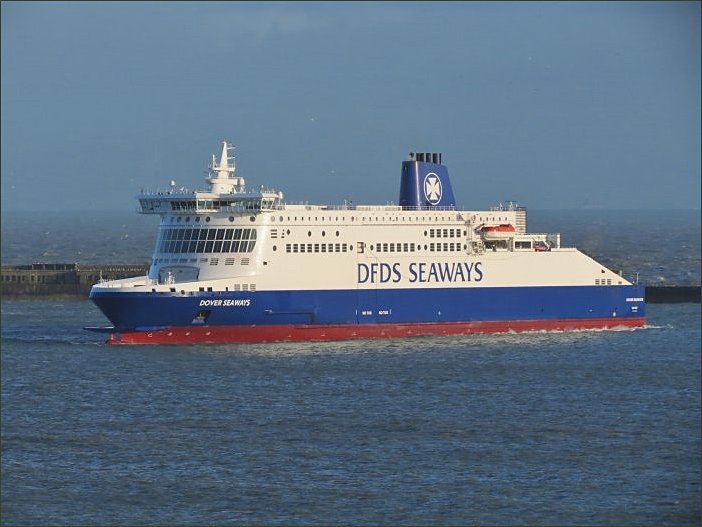 I understand that yesterday was the second anniversary of the launch of the DFDs Dover to Calais run. We haven't had any official notification through but heard it through the grapevine as they say. Yours truly has travelled with DFDS to Dunkerque, not to Calais as yet, and it was all very enjoyable and very clean. I did the trip on the Delft Seaways....good luck to DFDS for a solid future on the run.

I took the picture of the Dover Seaways above in the past 7 or 10 days. It looks great as you can see, all brand spankingly super clean and smart... all ready for the new season. Ed is on there I'm sure as we speak.
The picture below is a DFDS shot.. the ships always look good with the cliffs as backdrop.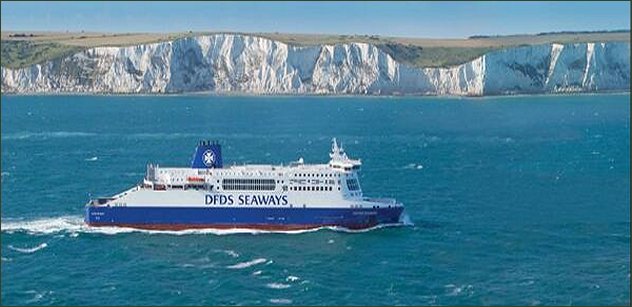 Tuesday, 18 February 2014 - 07:03
Post 492
PaulB, Dover
"They stretched in never ending line along the margin of the bay
Ten thousand saw I at a glance..."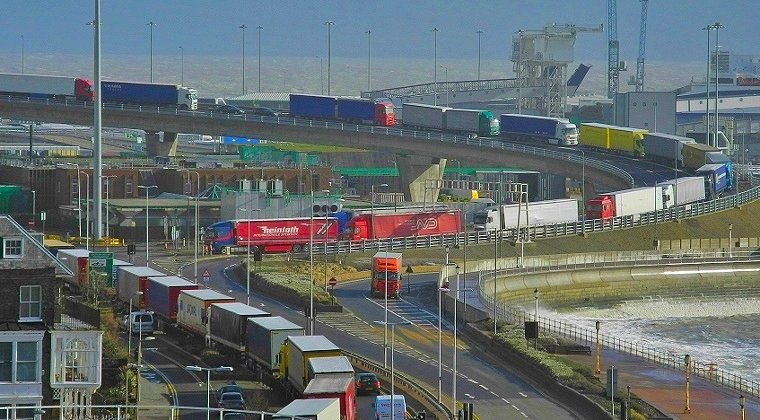 But cheer up the worst of the weather and the worst of the traffic problems are now behind us...aren't they!?
Well done with those pics below Steve...always welcome.

Monday, 17 February 2014 - 08:44
Post 491
howard mcsweeney, Dover
the photo from paul below would make a good promotional piece for dover.
calm before the storm indeed, these two from steve walker of wccp were taken during the storm at samphire hoe.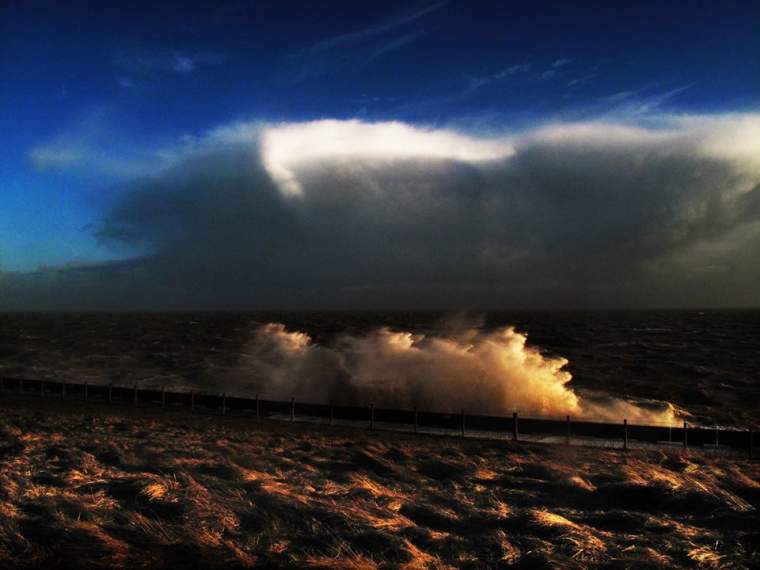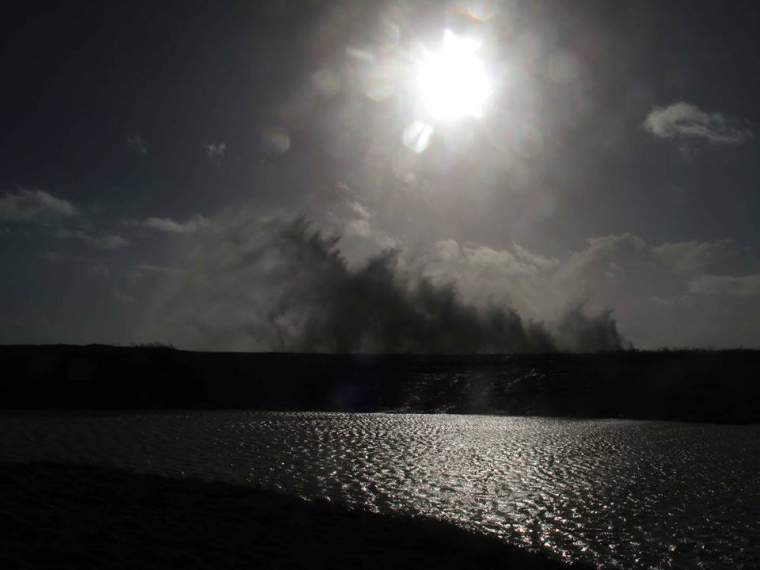 Sunday, 16 February 2014 - 17:55
Post 490
PaulB, Dover
Everything seems to be operating normally again, there is no backlog of traffic as I write. Yesterday we had the storm and indeed the after effects of the storm to deal with ( see also the post below ), all this combined with the massed half-term getaway...so the immediate Queens Highway was in a state of near chaos. But all tranquil again - touch wood!
This is the scene looking west across the harbour before the worst of the storm broke on Friday night.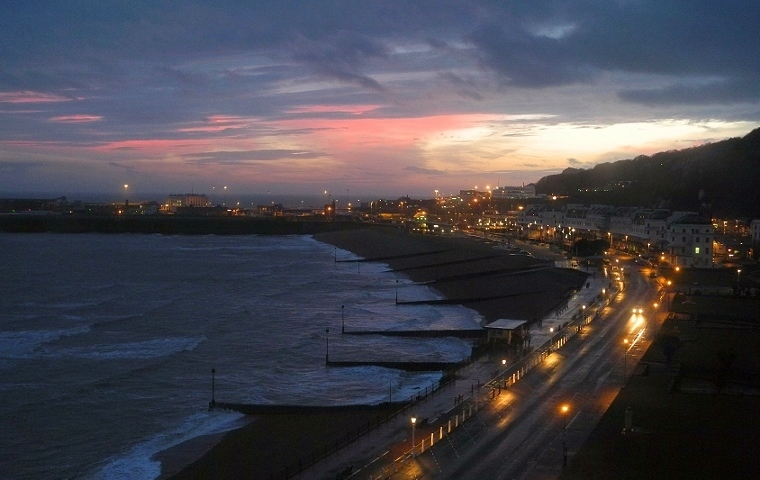 Sunday, 16 February 2014 - 07:05
Post 489
PaulB, Dover
Traffic and Weather update through from the Port of Dover
______________________________________________

Please be advised that the Port of Dover remains open with delays to ferry crossings caused by the adverse weather conditions. The Port was closed last night due to high winds and concerns over customer and staff safety.

Phase one of Operation Stack is still in place due to bad weather and a build up of freight traffic queuing for the Port and the Channel Tunnel. For more information please visit www.kent.police.uk/news/latest_news/140215_stack.html.

The terminal continues to be busy and Port of Dover staff and ferry operators are working hard to keep the traffic moving and to get our customers on their way. The uplift of traffic is improving with multiple ferries being able to enter the Port with support from tugs. Ferry operators are also reporting space available on some crossings. A shuttle service is in place with passengers being embarked on the first available vessel.

We understand that a number of customers have been affected by the disruptions to ferry crossings and we do apologise for any inconvenience caused. We would also like to apologise to our community for the traffic disruptions in Kent due to queues caused by the adverse weather conditions.

We would like to thank everyone for patience and understanding that the safety and security of everyone is of the utmost importance. We will aim to provide the next update as soon as possible but please be advised that the adverse weather is due to continue until the late hours.

Passengers are advised to check with their ferry operator for further updates. Please also visit our website (www.doverport.co.uk) or twitter account (@Port_of_Dover) for the latest information. Sea condition in the Channel are rough with West-Sou-Westerly moderate gale (force 7) and good visibility

* *

A sad tale there John about the passenger on the Marco Polo. Conditions were totally abysmal out there last night and it was a most unfortunate incident.
Good that you were able to show us a picture of the ship in question.



Saturday, 15 February 2014 - 19:06
Post 488
John Mavin, Dover
Today's stormy conditions gives us a sad item of news involving an occasional visitor to Dover. The veteran cruise ship Marco Polo was hit by a freak wave in the south-western approaches of the Channel. A window was smashed and an 85 year old male and a woman in her seventies sustained injuries which required them being airlifted to hospital. Sadly the man later died.
A number of other passengers received minor injuries and are being treated on board.
As I write Marco Polo is just off the Cherbourg peninsular en-route to her home port at Tilbury where she is due to arrive in the early hours of Sunday.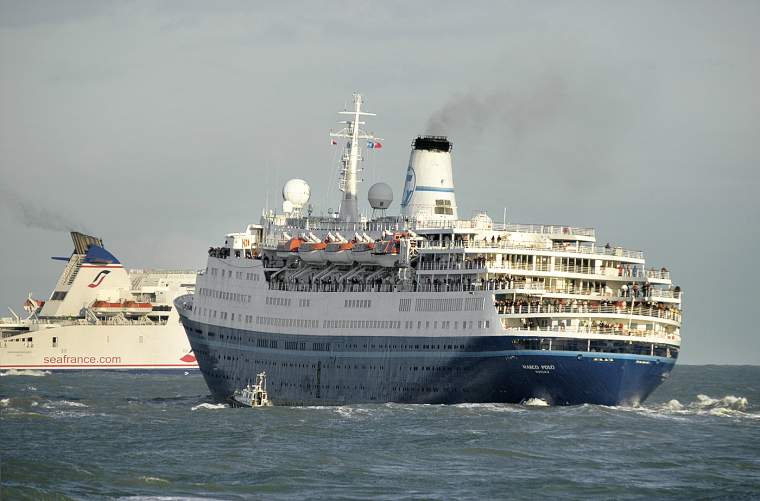 Saturday, 15 February 2014 - 01:51
Post 487
Andrew MacLean, Canterbury (jazzandy@btinternet.com)
Only six weeks to go until Dance to France on the MV Spirit of Britain with disco in the forward lounge. Saturday March 29th.
Book now - numbers are strictly limited!
Phone 01227 732414 for tickets
Friday, 14 February 2014 - 17:36
Post 486
PaulB, Dover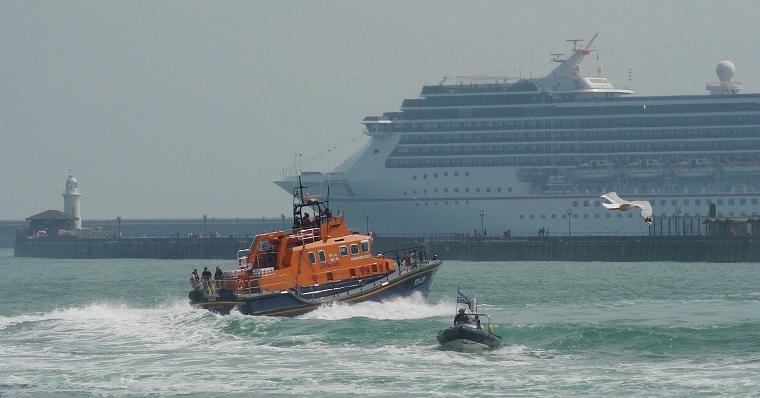 PORT OF DOVER COMMUNITY REGATTA – BIGGER AND BETTER - the date for the Regatta is July 26, 2014.
Whilst we all wait for the winter wind and rain to pass, here's some summer fun to look forward to. We said that the Port of Dover Community Regatta would return bigger and better and that is what we are going to deliver.
Facilitated by the Port of Dover with the support of the Dover District Community Safety Partnership and the Dover Sea Sports Centre, the free event will return with all of the family fun of last year but with some notable additions such as a big vintage car rally and a cutting edge aerobatic display by the world renowned Blades.
Tim Waggott, Chief Executive, Port of Dover stated; "We're delighted to support the Regatta, making the most of our beautiful harbour and providing a great event for the community to enjoy, whilst supporting a local charity. The event couldn't take place without the dedication of our enthusiastic partners and the support of the community. After a successful launch last year, we look forward to staging a bigger, more vibrant event this year to provide a fantastic festival of family fun on land and sea at the Port of Dover."
Back by popular demand will be the 'Dover Port Dash' tournament, sponsored by the Port of Dover, which will see teams race across the harbour in 'Thames Cutters' pitting their wits against the waves and challenging their fitness in a bid to raise money for local charity, the Cinque Port Pirates. The charity's aim is to ensure sailing is accessible to all, no matter of ability, cultural, social-economic, racial or religious background they come from, by offering every child low-cost membership and weekly sailing lessons, giving them the opportunity to meet new people, make new friends and experience a wide variety of sea-based activities in a safe environment.
Mr Waggott added; "We are delighted to sponsor the Dover Port Dash for such a worthy beneficiary."
There are places for 14 adult mixed teams and, for the first time, 14 mixed junior (ages 10-16 years) crews. Teams will comprise six rowers plus a cox. Entry will be free to the junior teams. So the call is well and truly out to all aspiring Dashers, to get their teams together, get practicing and get set to join in all the fun!
Also on the water will be paddlesports, sailing tasters, pedalos and more, organised by Dover Sea Sports Centre. On land there will be demonstrations by Kent Fire and Rescue Service and a range of blue light services as well as community agencies organised by the Dover District Community Safety Partnership as well as a host of stalls offering entertainment and local produce.
Karen Amber, Commodore of the Cinque Ports Pirates, said: " 'Sailing isn't just my hobby mum, its my passion!' Jarrod, age 12. This comment is just one of the reasons we are so delighted and grateful to the Port of Dover Community Regatta for choosing the Cinque Ports Pirates Sailing Club as the beneficiary of this year's event. Sailing is traditionally an elitist sport but we believe ALL children should have the opportunity to learn to sail and sail regularly. The money raised from this event will help us get more of Dover's children on the water; sailing for fun, friendship and fitness on one of the countries most fantastic expanses of water - Dover Harbour. "
Nadeem Aziz, Chairman of the Dover District Community Safety Partnership and Chief Executive of Dover District Council said: "We are looking forward to another successful event on Dover Seafront. Incorporating the Community Safety Day within the Port Regatta is a great way to create a fun day out for the whole family, and to show the community how the partnership continues to work to keep our district a safe place to live, work and visit."
Further event details are to be announced in due course but in the meantime please register your interest in taking part in the Dover Port Dash by emailing Alyson Hudson at PODCommunityRegatta.co.uk
Ends
* *
The Regatta was huge fun last year. It was great to see it revive..there were literally thousands and thousands of smiling faces on the day enjoying the event and enjoying the cracking sunshine too. Lots of people worked very hard and one person in particular did a fine job...not here with us in Dover any longer though.

Friday, 14 February 2014 - 07:07
Post 485
PaulB, Dover
Five day half term breaks in Belgium from just £52 per person
MyFerryLink offers great value fares and a fun holiday idea for all the family..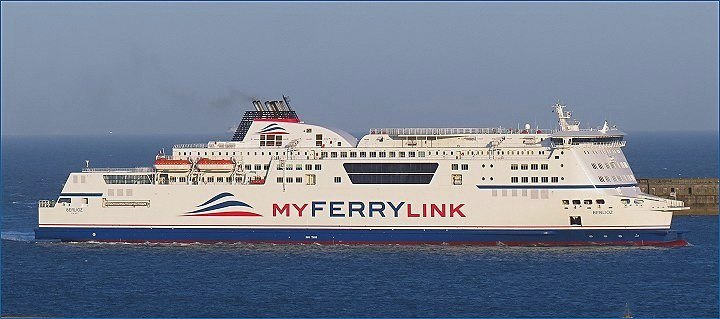 Dover-Calais ferry operator, MyFerryLink has come up with a fantastic family holiday idea for this half term that certainly won't break the bank. Families taking advantage of last minute deals from Belgium based Sun Parks holiday villages can get away from 17-21 February this half term from just £52 per person (based on a family of four), including four nights' self-catering accommodation and return ferry crossings with MyFerryLink!
Sun Parks holiday villages offer all-weather holidays in Belgium with comfortable self-catering villas and a wide range of on-site facilities and activities, perfectly suited to a family break. Situated in the Kempen region of Flanders, just under three hours' drive from Calais, the Kempense Meren holiday park is surrounded by idyllic natural beauty. Indoor facilities include the Aquafun subtropical swimming pool with wavepool, slides, whirlpool, sauna, solarium, jacuzzi and Aqua Café. Families can also enjoy badminton, bowling, table tennis and other sports, not to mention the Kids World indoor play centre. There are also plenty of places to visit on a day out, including the Plopsa indoor amusement park and the Olmense Zoo with its huge 2,000m2 tropical hall where exotic animals rule. And, talking of animals, pets are welcome at Sun Parks too.
Last minute offers, for 17 February arrivals, from the Kempense Meren holiday park include four nights in a self-catering villa for four with two bedrooms, fully equipped kitchen, bathroom and living room with TV for just €159 (£131). Dover-Calais ferry crossings for a car and up to 9 passengers with MyFerryLink start from just £37 each way for the same period, meaning a family of four can get away for five days from just £51.25 per person!
For more information or to book, visit www.sunparks.com and www.myferrylink.com or call 0844 2482 100
Thursday, 13 February 2014 - 14:36
Post 484
PaulB, Dover
Great to see the info on the Lizrix and the French Cutter lads..and great pictures too. And a big well done too to Brian for getting those storm pix just outside the western arm. Brian and the camera are newly acquainted and his pictures below show exactly what it was like yesterday.

Yes Jan always good to get the information coming in from both DHB and the ferry operators..all of them are adding to the mix and very welcome they are.
Have more news and general information in the pipeline as I write.
What awful weather.. it was horrendous here yesterday. Hurricane force winds in some areas. Off the south coast of Ireland a 110mph wind was recorded. A heck of a gale...You wouldn't get me out on the Princess Maud in that one.

Thursday, 13 February 2014 - 07:46