Monday, 28 September 2020
www.doverforum.com/sea-news
The Shape of Things to Come....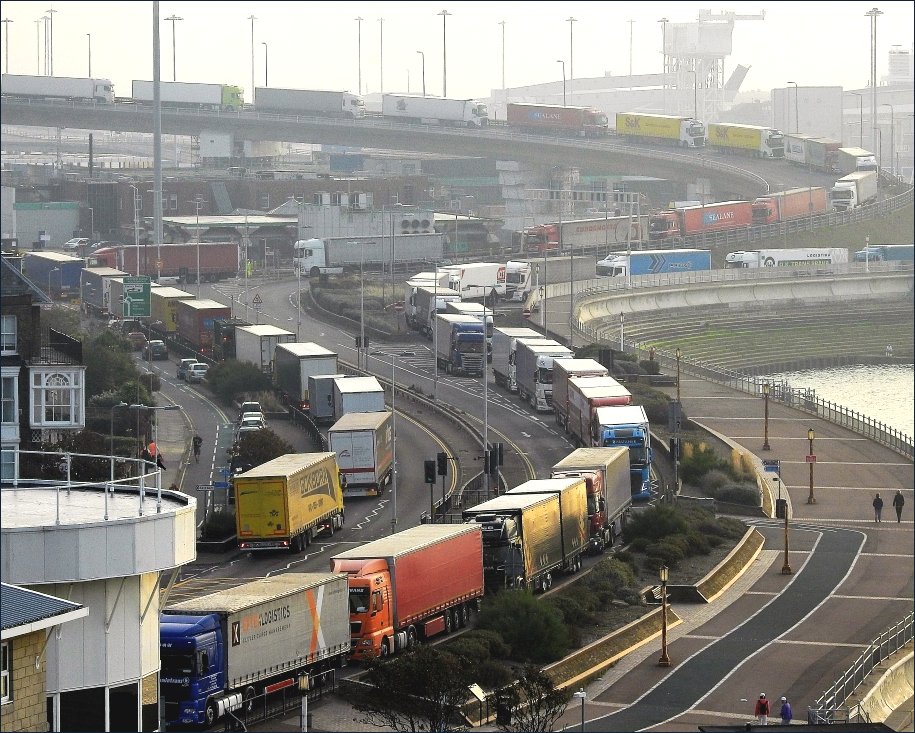 Trucks to the left of us...trucks to the right of us...into the Valley of Dover drove the 7,000 ..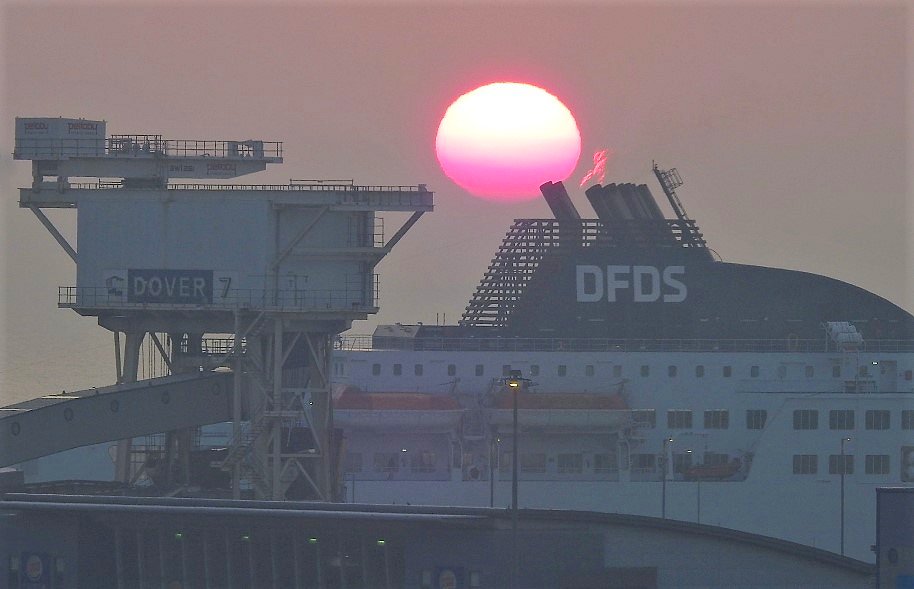 DFDS and the Dover7 sunrise.

WWW.DOVERFORUM.COM/SEA-NEWS
Sea Pictures from DOVER ....
Use our SEARCH ENGINE below to find all sorts on the SEA NEWS pages....type in the topic and away you go,
or if you have the post number, just type it in the Search Box, more than
- 7000 -
nautical posts now.
Paul Boland - dover7@msn.com
Sea News Dover:
All pictures on these pages are the copyright of the owners and must not be reproduced without permission.
Post 483
JanT, Dover
Not sure about any of you guys but I am sure fed up with this weather,

had enough of this wind and rain.

But well done guys you have been busy with those camera's,to get some great pictures for the sea news page.

And its always good to get up to date info from DHB especially at the moment.

Wednesday, 12 February 2014 - 16:52
Post 482
brian, dover.
western arm howard westrn arm.

Wednesday, 12 February 2014 - 15:46
Post 481
howard mcsweeney, Dover
Nice action photo of the cutter.
paul spoke of the calm before the storm, brian took these of the eastern arm a little while back.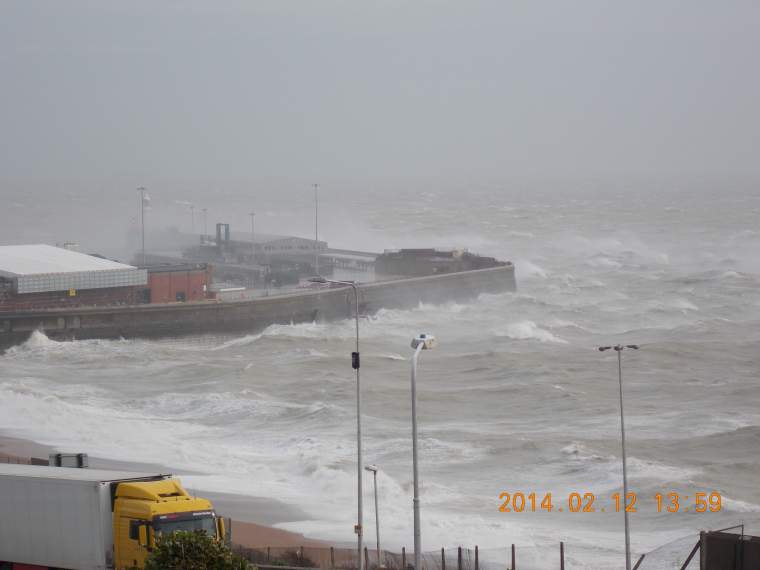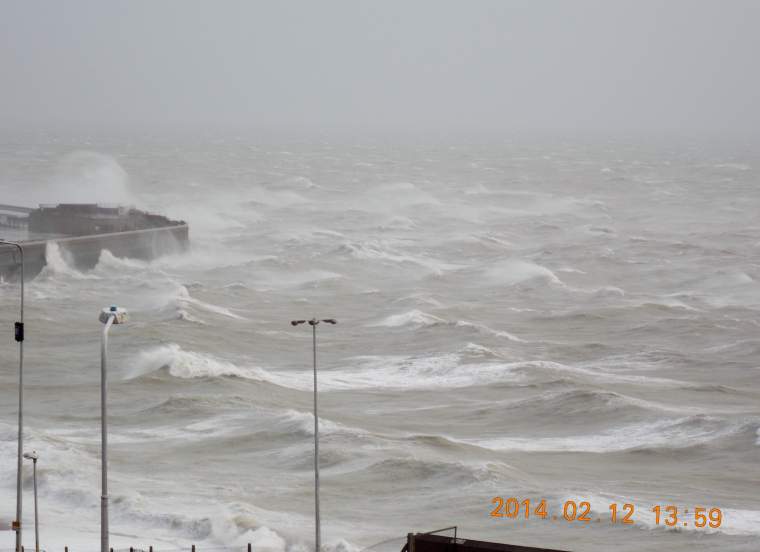 Wednesday, 12 February 2014 - 14:45
Post 480
Ed Connell, Dover
French customs cutter overtaking a fishing boat in the Dunkerque approaches yesterday. Jason the Second Mate and Ben the Quartermaster drew it to my attention. We saw crew preparing the RIB for launching from the cutter and thought we were witnessing a drugs bust but the cutter carried straight on by!
Wednesday, 12 February 2014 - 11:16
Post 479
Mike J., Dover
The LIZRIX returned from Zeebrugge & was on Pier D on Monday evening.
By Wednesday morning she was anchored off Deal, probably to avoid the imminent unpleasantness.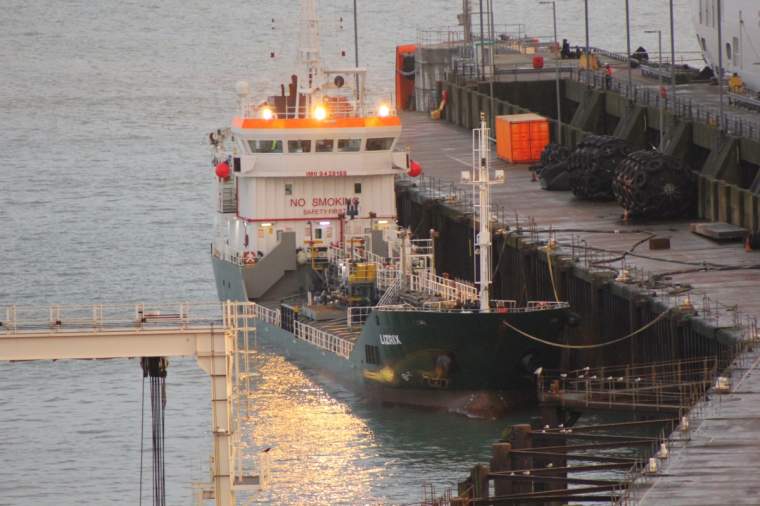 Wednesday, 12 February 2014 - 10:49
Post 478
PaulB, Dover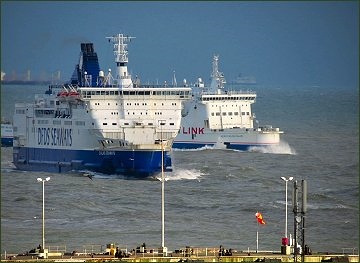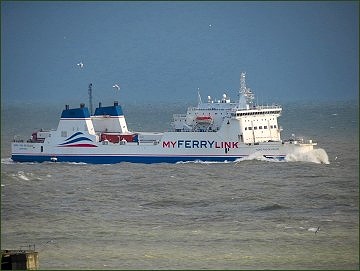 Ive probably got a tad over-excited picturewise today, thanks to being thoroughly spoiled with the wee bit of sunlight late yesterday, and have featured the Nord Pas de Calais again ...mostly because she was the one in immediate range when the sun burst through. Also in the pictures is the Calais Seaways. See also the extra pic at the top of page. They were both heading for the standard eastern exit/entrance but at seemingly the last minute the Nord changed course and bore down on the western entrance/exit. Our old friend as you can see has clearly had a magnificent makeover or wash n brushup or refit and is looking spic and span for the new season. But...Don't let the pictures lull you into a sense of sunshine and better days...maybe, but not just yet, more storms are scheduled for later today. When will it all end !!?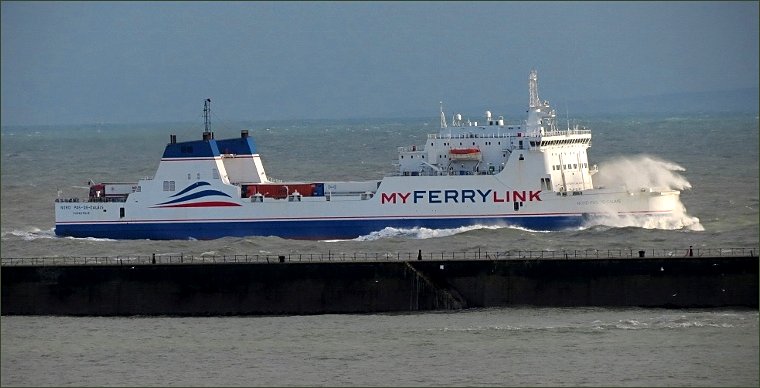 The sea was calming down somewhat as the pictures were taken but was still a bit rough as you can see.
Wednesday, 12 February 2014 - 07:24
Post 477
PaulB, Dover
Ah yes indeed Howard. The oul Nord pas de Calais seems like it has been around forever under various guises. Its not a ship one gallops out to photograph, so it did tend to get overlooked...its not quite the swan but always there as a workhorse almost un-noticed. But she is still going strong and still battling the elements. I think I even have very grainy pictures of her somewhere in the files from years ago when she broke down mid-channel one time. So even oul tough workhorses have their bad days.
Yes Vic these are very tough times for the crews and the port staff generally. But yes the crews have had to endure that buffeting and rolling day after day lately. Very tough. Weather has been exceptionally bad as we know. Sea conditions are dire...and still remain so. Today looks bad again...but maybe there is light at the end of the tunnel. Having said all that yesterday was a calmer day...you get these brief lulls and away it goes again.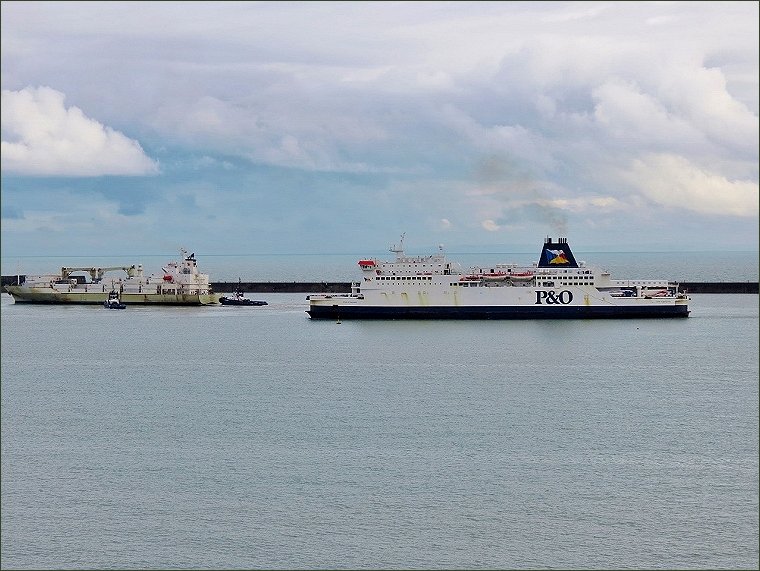 The vessels shown here look slightly the worse for wear after all the 'orrible weather...the picture was taken yesterday late afternoon during the brief tranquil lull. On the left we have another one of the Stars...its the Star First this time and there she is above setting off for Antwerp with the help of both tugs Doughty and Dauntless. On the right anxious to get into its slot and not be held up is the Pride of Burgundy. The Burgundy had just arrived via the Western Entrance.
Tuesday, 11 February 2014 - 07:38
Post 476
howard mcsweeney, dover
the "nord pas de calais" seems to have been around for ever, must have earned its owner a few bob.

some time back i remember paul b bemoaning the fact that he couldn't find a picture of said ferry, by sheer coincidence i had been on a non lander the day before and i had taken one of the "npdc" in calais harbour.

Monday, 10 February 2014 - 18:52
Post 475
vic matcham, Dover
I feel sorry for the poor old crew, no rest up from it all for weeks now ,and some do a week about now,so to have to stay on them for a whole week going across 6times or more a day, no fun, when I worked on them it was 12hours on 12hours off so not to bad.But keep up the photos,as you know I still have my L PLATES up but geting better photos as I go along.

Monday, 10 February 2014 - 12:30
Post 474
PaulB, Dover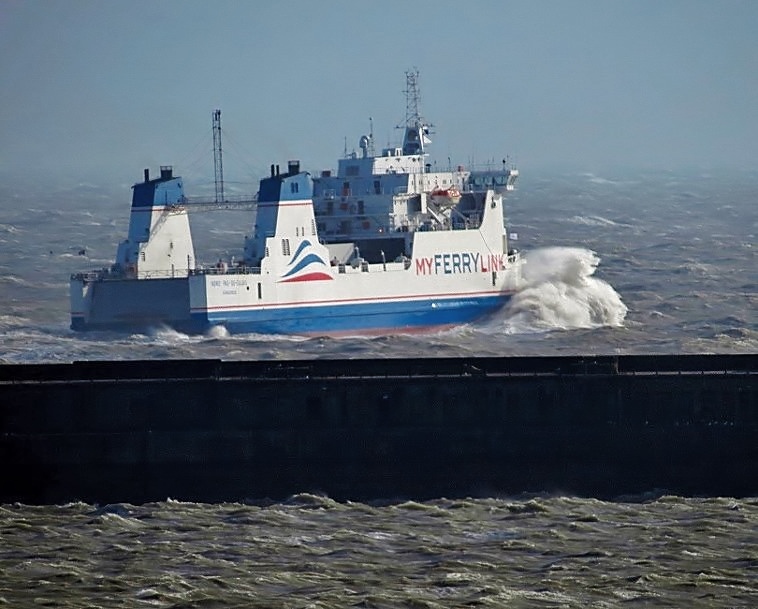 Glad you are liking the page Vic. We will certainly keep it going through rough weather and calm...so keep enjoying

Huge thanks Mike for the info re Lizrix. I got a wee bit baffled there on that one. I await her return now.

yes Colette, Howard made me chuckle too...and yes indeed, another wow for those submarine pictures below.
All pictures showing here were taken yesterday. The camera could barely adjust to the flood of bright light after all the gloom. Top one shows the familiar Nord Pas de Calais heading out into the very rough channel yesterday morning around 11am and gosh was it rough out there! At least Severe Gale 9 but I believe it reached Storm 10 level for a while. Not a day onboard for the fry up breakfast! No sirreee bob!
It also was not a day to read the sunday papers in the seafront shelter.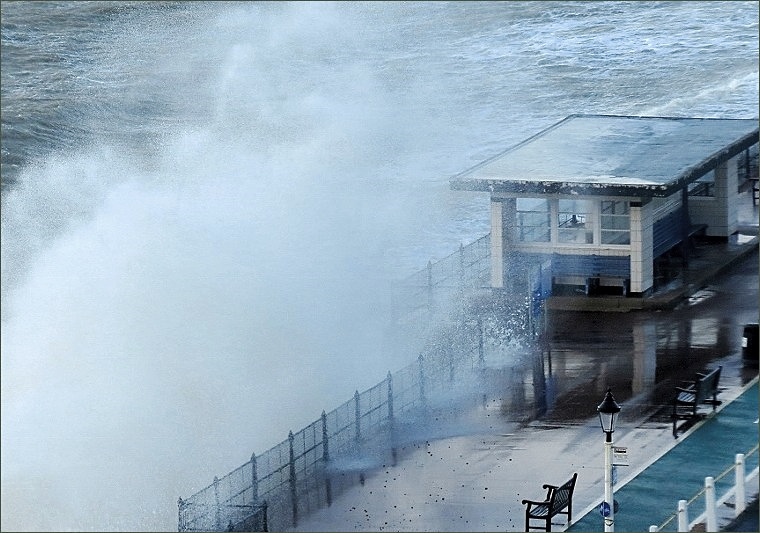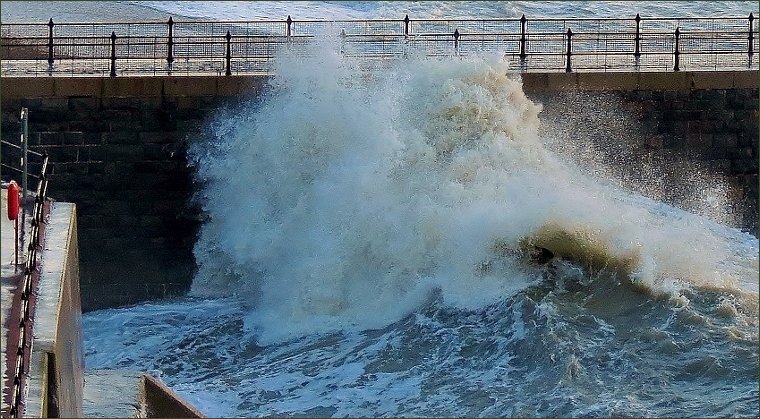 Monday, 10 February 2014 - 07:49
Post 473
vic matcham, Dover
great photos of the sub and this is very good for all the sea news and the port please keep them coming.

Sunday, 9 February 2014 - 20:00
Post 472
ColetteB, Dover
lol!!! Howard re Ed's terrific submarine photos, I know what you mean, the German submarine looks Oh so menacing hovering about there in the sea
Indeed, great topical photos from the Guys

I'm learning so much from this Great Sea News Blog.
Sunday, 9 February 2014 - 17:55
Post 471
Mike J., Dover
Re Paul's nice 'evening light' photo of the LIZRIX & his query -

. . . . I thought it odd she should leave so soon...not sure what's afoot..perhaps the Lizrix didn't fit the bill . . . .

'Marine Traffic' AIS shows her currently in Zeebrugge with an ETA back at Dover of 0400 on Monday.

She has been stocking up with another shipful of bunkers for the ferries.

The CORAL WATER used to slip off to Rotterdam from time to time for the same reason.


Sunday, 9 February 2014 - 11:59
Post 470
howard mcsweeney, Dover
great topical photos from paul and ed there.i did wonder for a moment after seeing the submarine ones that unpleasantness had started again.

Saturday, 8 February 2014 - 22:23
Post 469
PaulB, Dover
Wow... exceptional pictures below Ed. Fab to see.


Saturday, 8 February 2014 - 15:47
Post 468
Ed Connell, Dover
German submarine U31 passing up the Northeast lane around 1600 yesterday afternoon bound for Eckernforde, the German Navy submarine base in the Baltic Sea, via the Kiel Canal.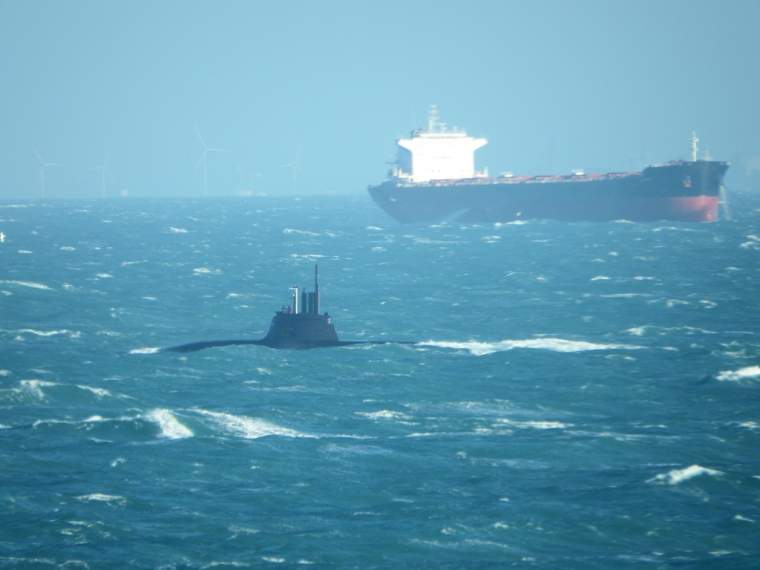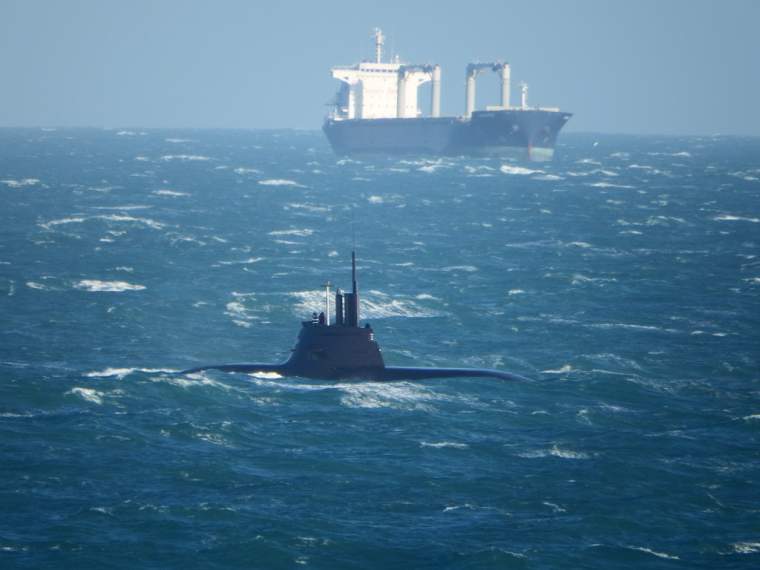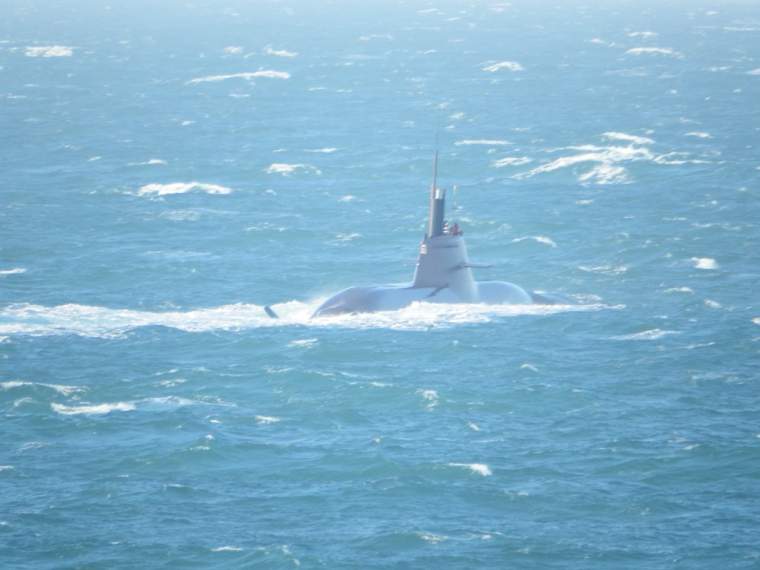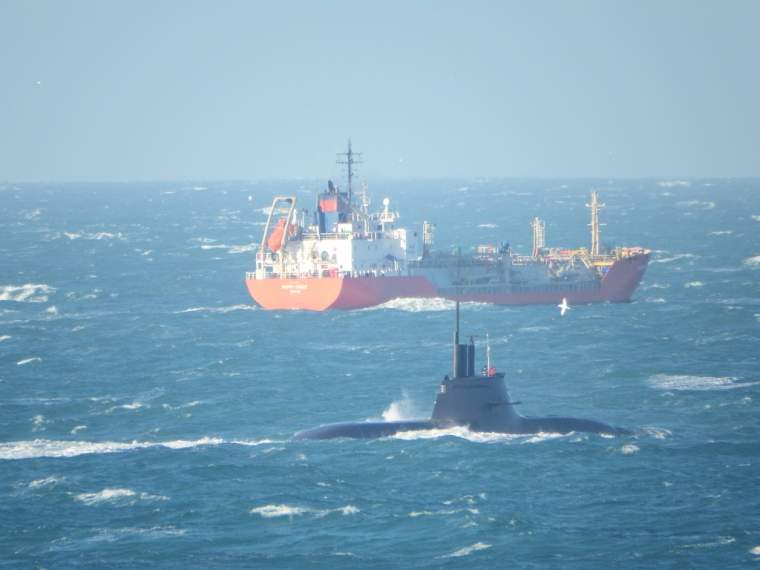 Saturday, 8 February 2014 - 14:58
Post 467
PaulB, Dover
The Lizrix and the Ile D'aix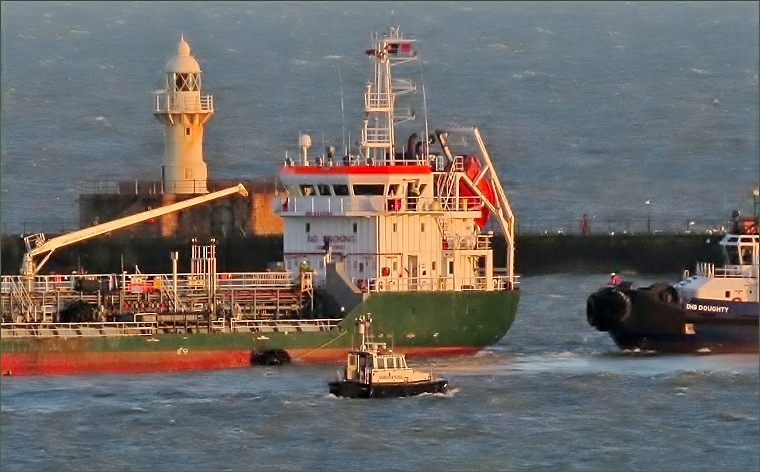 In the dying sun of late yesterday I noticed the Lizrix being readied for departure to the open seas. This prompted me to look her up on Chris T's Channel Traffic link ( see the frontpage of Dover.uk.com on menu left ). It seems she was bound for Zeebrugge...and off she jolly well went in the evening sun. As she came initially as a replacement for the Coral Water which is out of action due to rudder damage I thought it odd she should leave so soon...not sure what's afoot..perhaps the Lizrix didn't fit the bill.
Also while browsing the Channel Traffic device I noticed that the Ile D'aix is back in Calais. Visitors too-ing and fro-ing to Calais will have noticed here there from time to time. I got these pictures last summer and meant to use them earlier but what with one thing and another and changing the website layout we never did show them. She is a cable layer...works away out there laying cables on the ocean floor. Fascinating ship. Is that a heliport at the front or something else entirely?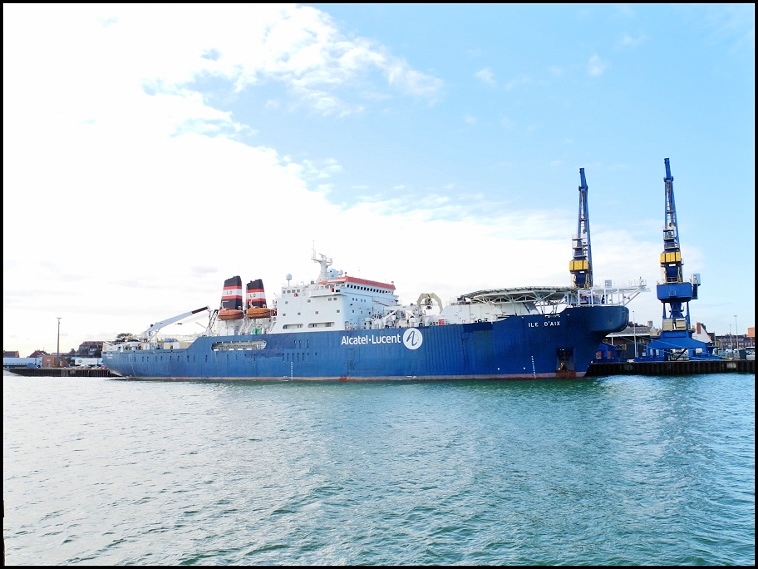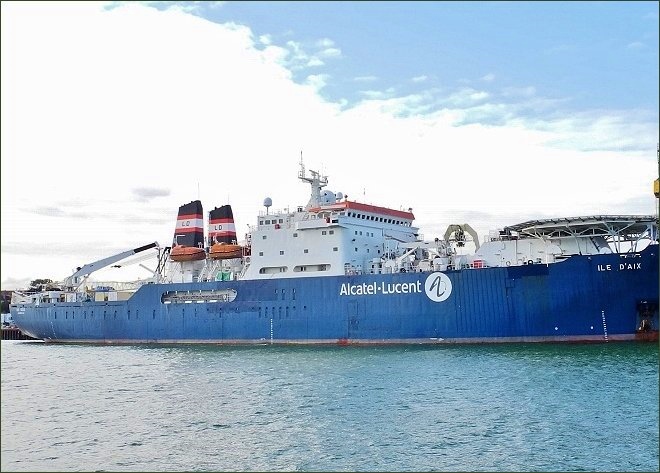 Quite stormy again as I write with at least a Severe Gale 9 rattling the timber frames. A case of battening down the hatches yet again. Good luck to all today.
Saturday, 8 February 2014 - 07:04
Post 466
PaulB, Dover
LATEST information below from DHB - on securing a quality beach for the future....
Having withstood the elements for many years, the seafront groynes are to be replaced and upgraded with the highest quality of rock groynes in order to provide the best beach protection and frontage for Dover's community.
The current groynes are reaching the end of their life and the Port of Dover wants to ensure that they are replaced with the very best to support the wider waterfront regeneration agenda being pursued for Dover.
From 24th February, work will commence to replace the existing groynes with new rock groynes made of Larvic rock from Norway, one of the most durable types of rock, that will both defend and protect the beach but also create a much more visually appealing beach environment. Part of the promenade sea wall will also be repaired at the same time.
Jack Goodhew, General Manager – Technical Services, Port of Dover, said: "We were determined to combine our desire to preserve and enhance the beach for the long term with our wider vision of a quality waterfront that is part of reviving Dover as a destination."
Access to parts of the beach will be limited as the work progresses in order to ensure the safety of everyone. The Port is currently engaging with all those who live or work on the seafront and interested local organisations on the project in order that they are fully informed about the works.
Mr Goodhew added: "We are starting the work this month in order that it is completed for the Summer season. The beach is valued greatly by our local community and we want to ensure that it is ready for when the summer holidays begin."
The Port apologises for any inconvenience that the work may cause as it works to deliver an improved seafront for the benefit of its community.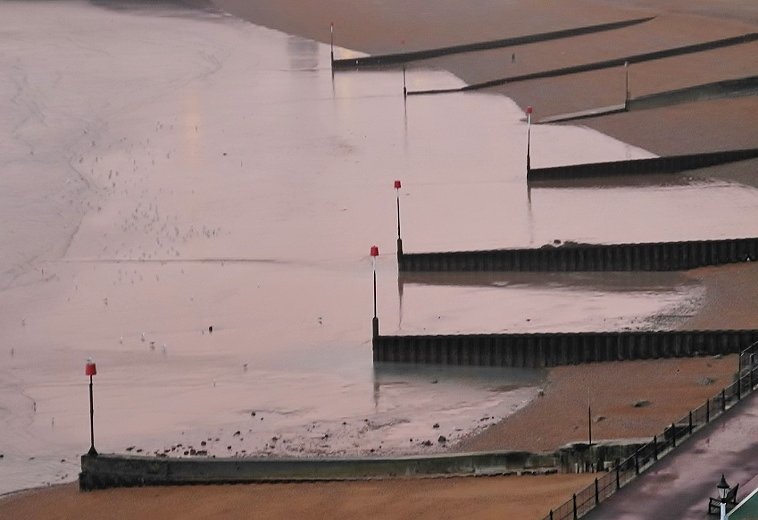 Friday, 7 February 2014 - 08:11
Post 465
JanT, Dover
Wow some very dramatic pictures there of yesterday's weather, pounding away at our seafront we certainly are experiencing exceptionally bad weather.
I do not envy anyone who has to cross the channel in that, but thanks to DHB for keeping us well informed.

Thursday, 6 February 2014 - 10:58
Post 464
v ic matcham, Dover
See my welding is holding up to all the bad weather and it was done years ago.

Thursday, 6 February 2014 - 09:12